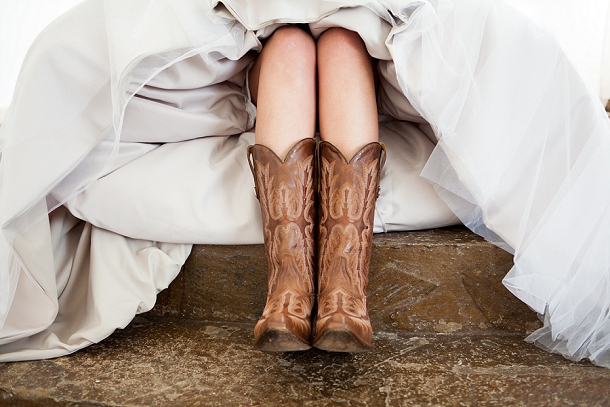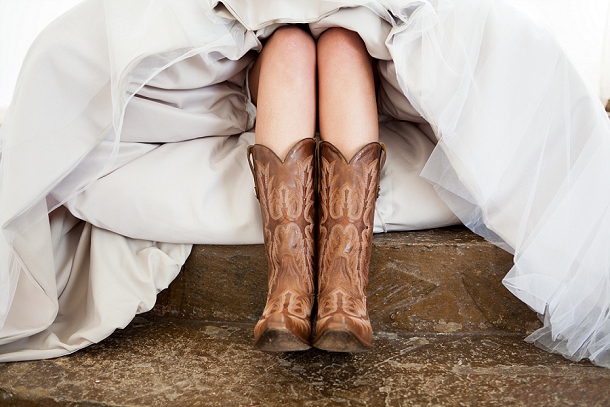 You know how everyone has that guilty pleasure movie, that they've seen a hundred times but wouldn't admit to a film buff? For me, that's Young Guns II. I was pretty much obsessed with it in high school (or was that obsessed with Emilio Estevez, I don't know?). Even though it's hardly representative of the Western genre (and let's be honest, in a cage fight between Clint Eastwood and the Brat Pack, we know who would win), it did give me a love of all things cowboy. Years later, I visited New Mexico and fell head over heels for the scenery, but that's another story. The fact is, we all love a bit of a high noon, gun-totin', quick-drawin', OK corral-showdownin' Western, even if we're from the south of Africa rather than the south of America. Today's couple, Lana-May and Duke (how could you be called Duke and NOT have a cowboy-themed wedding?) pulled on their stetsons and cowboy boots and gave their guests a western wedding to remember, complete with line dancing, moonshine and rustic decor details hotter than a Texas summer. SO FUN. Marinda May was there to capture every fabulous moment.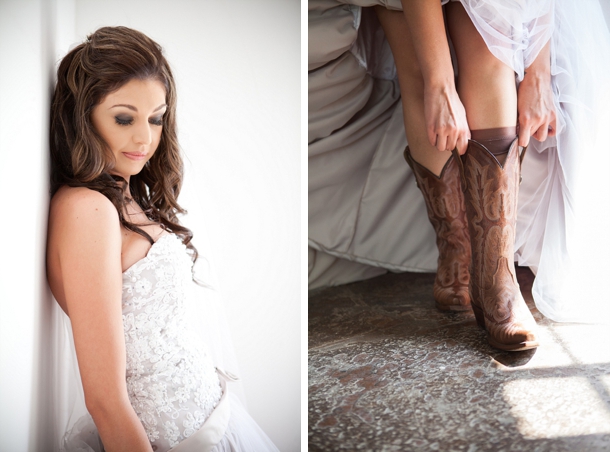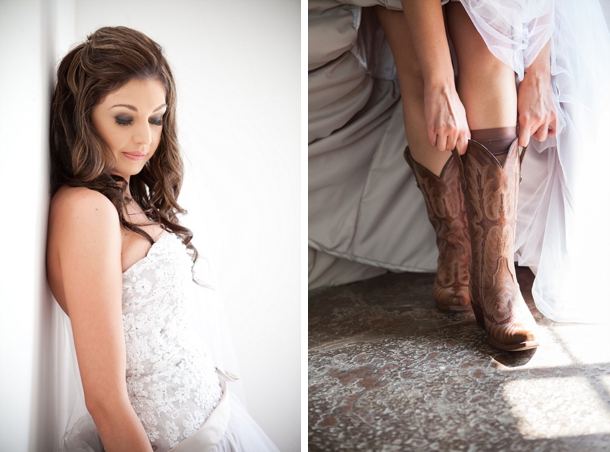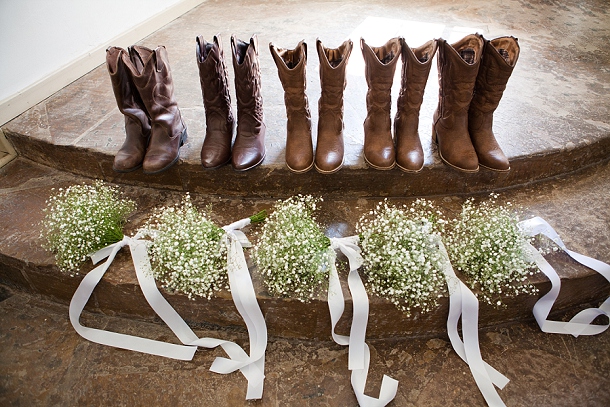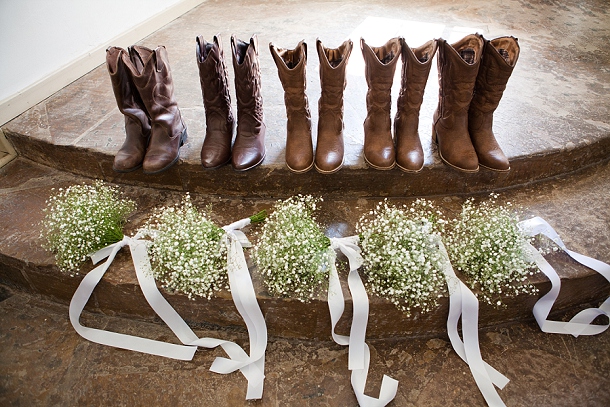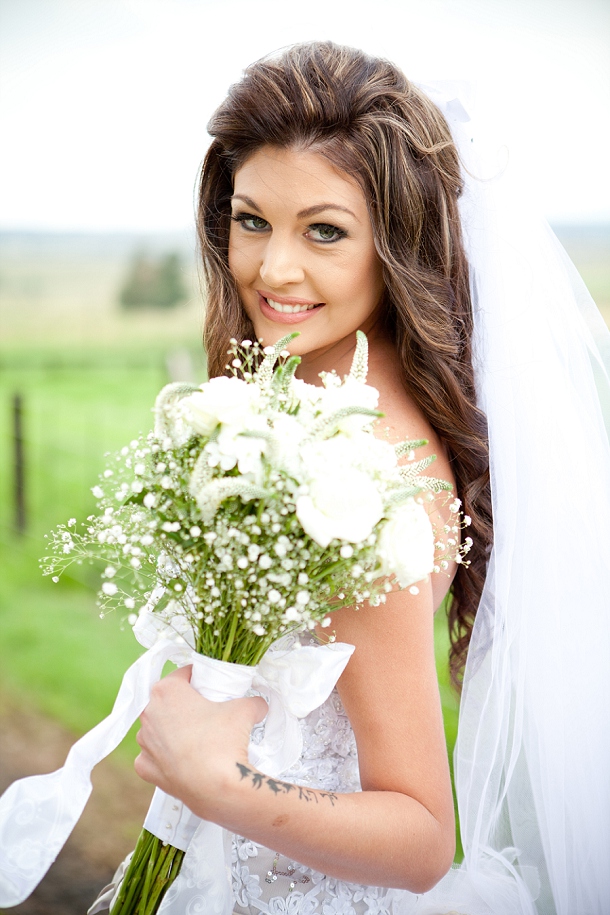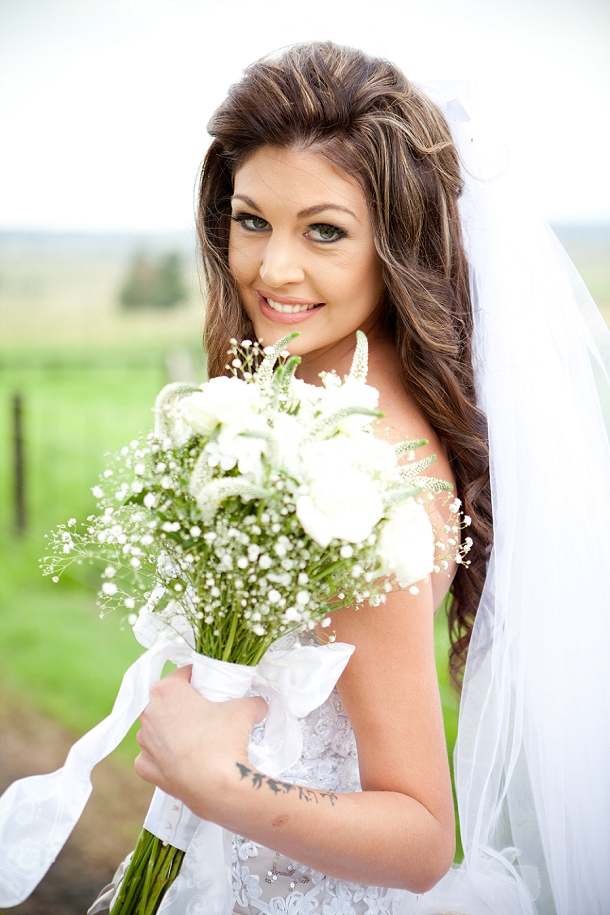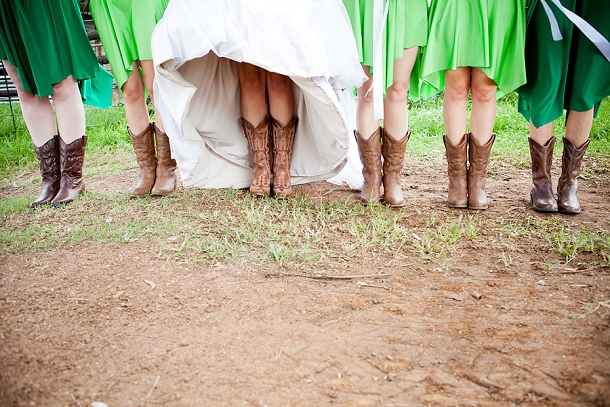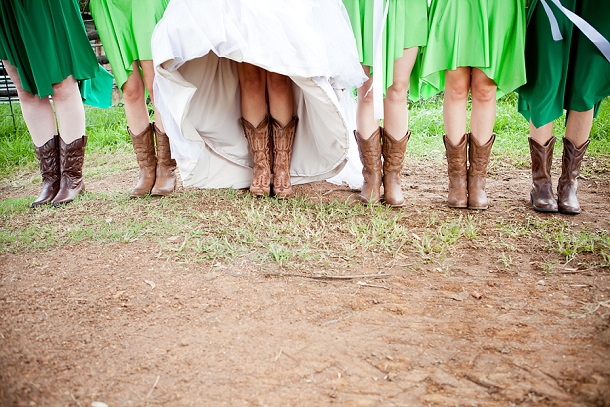 Love Story
We met on Facebook – after months of just chatting day and night we decided to meet in person. We met at a restaurant in Centurion and had the most amazing night. In a very old fashioned but so so sweet way Duke asked me to be his girlfriend. Six months later we moved in together and here we are today…. married and crazy happy!
The Proposal
We went on holiday to Mozambique to a very nice resort called Bilene. On our first day Duke booked us a boat to take us to the next island. When we got to the island (Honeymoon Island) a picnic was ready with snacks and champagne. The locals wrote a big "WILL YOU MARRY ME" in the sand and decorated it with sea shells. Duke was very very nervous and instead of going on one knee he fell down on both knees and asked me to marry him – it was so special and we had a lot of laughs. When we got back to our resort we had drinks overlooking the lagoon, he planned for people to light Chinese lanterns but the wind was just too heavy. It was a great night!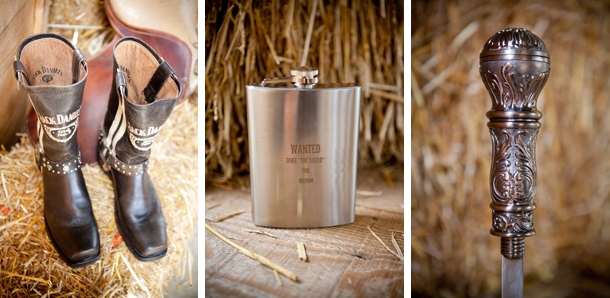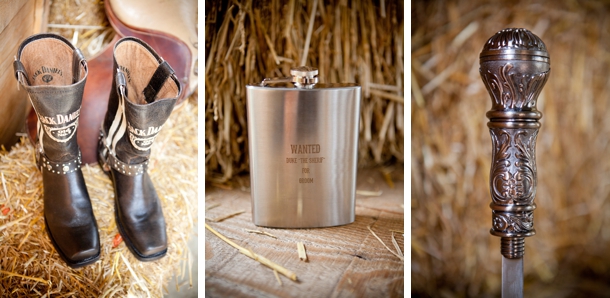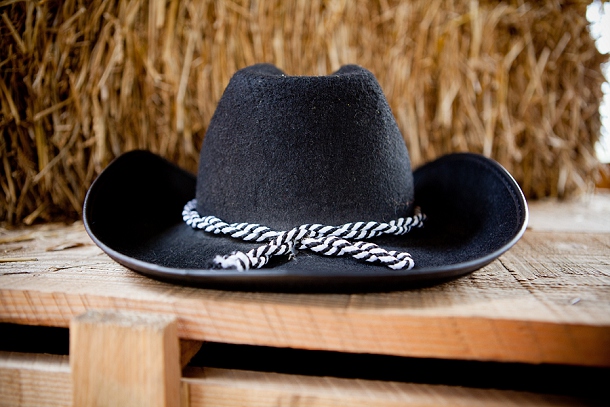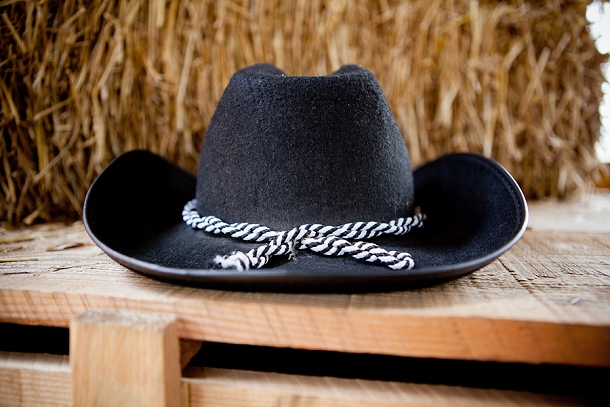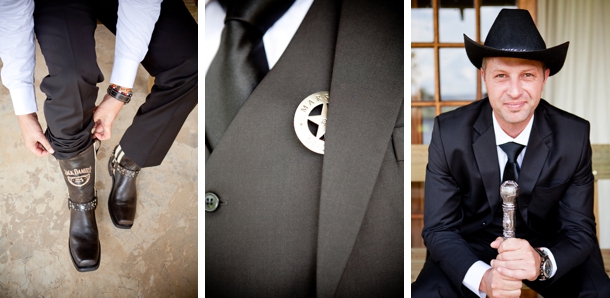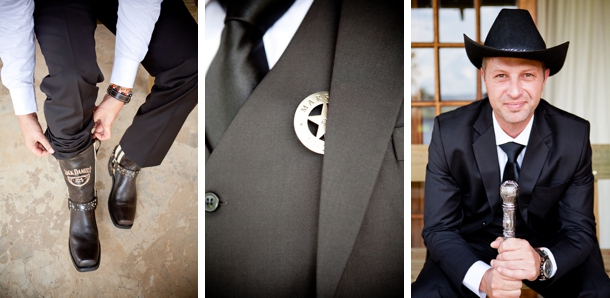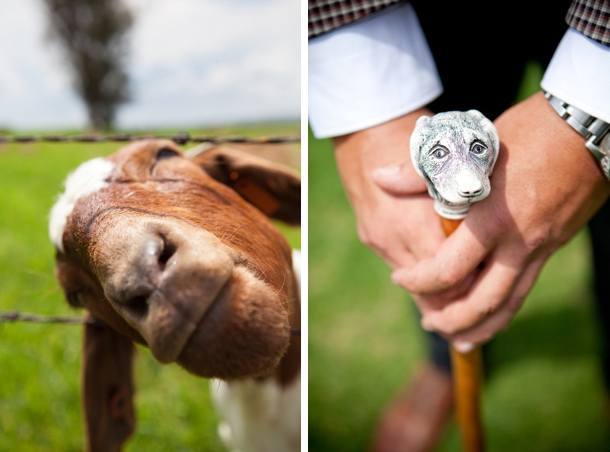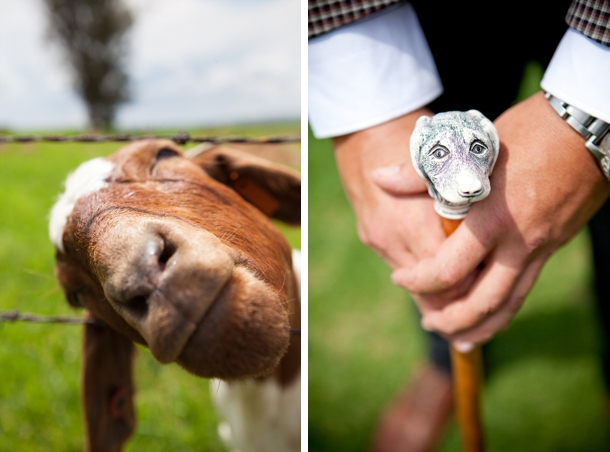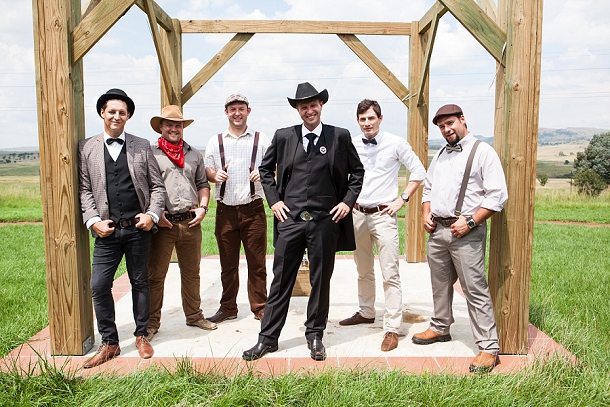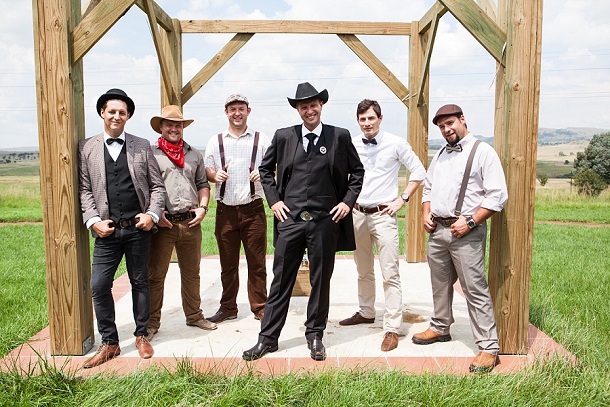 Wedding Style
Ours is not your everyday love story, and our wedding was not your everyday wedding. We wanted to do something different for a change, so we had a western themed wedding. Our colours were light brown, green and black. Our venue was very rustic and the theme was completed with cowboy hats for each guest, moonshine and line dancing. We both wore cowboy boots and we asked our guests to wear something western. It looked great!
The Venue
We wanted to get married in a wooden barn but in South Africa there are not a lot of barn wedding venues. We then came across The Stone Cellar, which was affordable and just what we wanted. Very rustic with a hint of glam and the surroundings were just beautiful. The chapel and the reception venue are walking distance from each other together with the big old farm house where our guests spent the night, so that meant that no one had to travel late at night.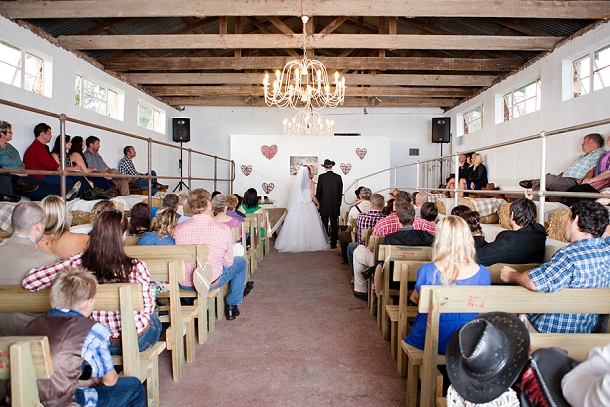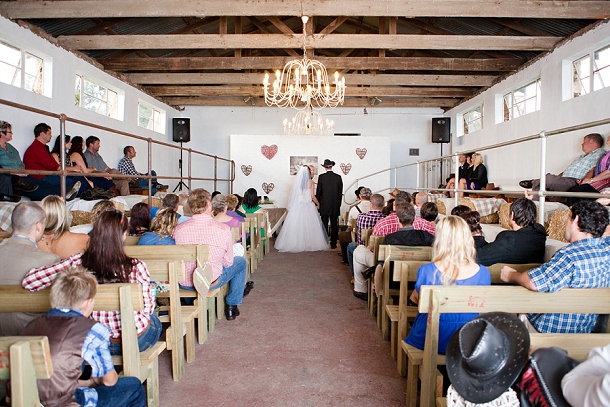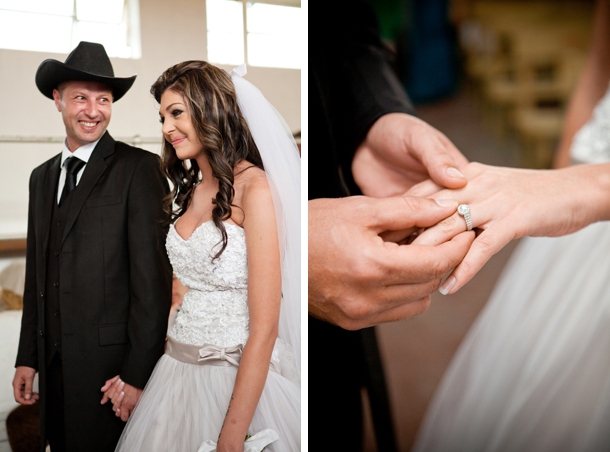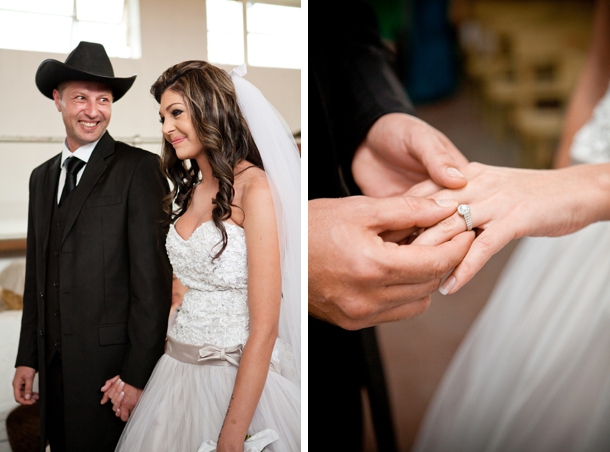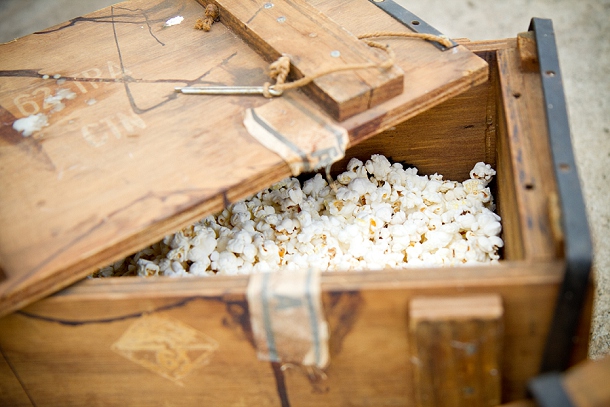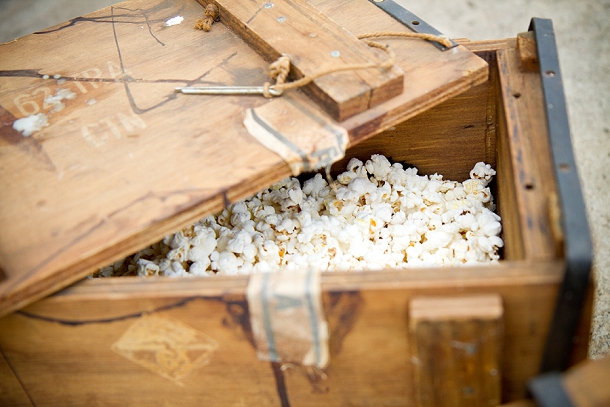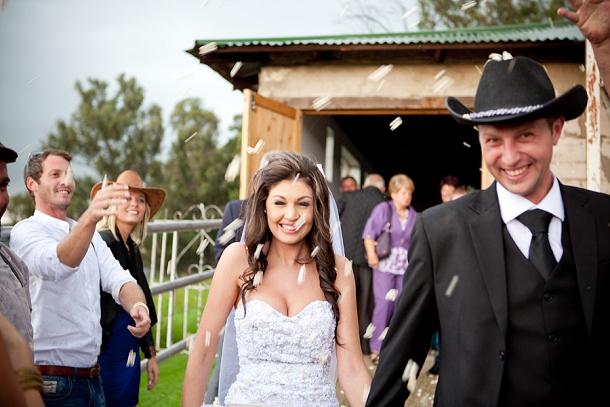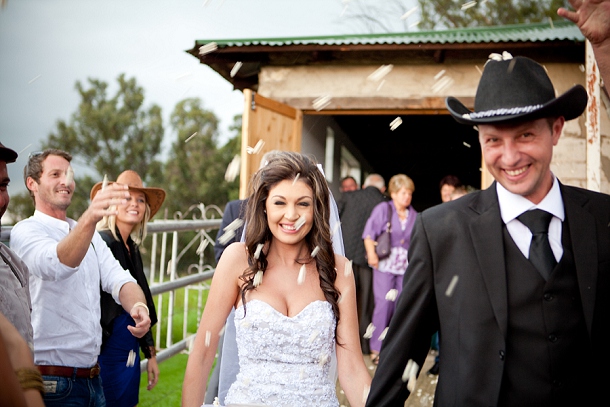 The Wedding Day in Three Words
WET!!!! (It rained a lot.) FUN!!!! (The moonshine and line dancing was a great combo for a whole lot of fun.) PERFECT!!!! (I would not change anything if I could go back.)
DIY Elements
Most of our décor was DIY. My mother made everything – the table runners, the cloth serviettes, the table numbers, the chalkboard under plates, the tins with candles for the tables, the wooden boxes for the flowers, the tablecloths in the chapel, the décor in the chapel, the seating charts, the little brown bags with the cutlery in….. she really helped us out on our budget.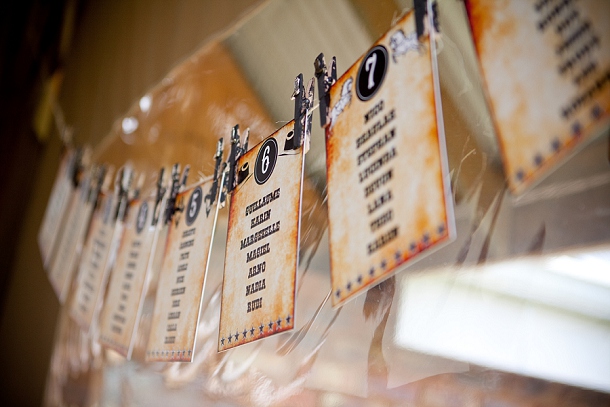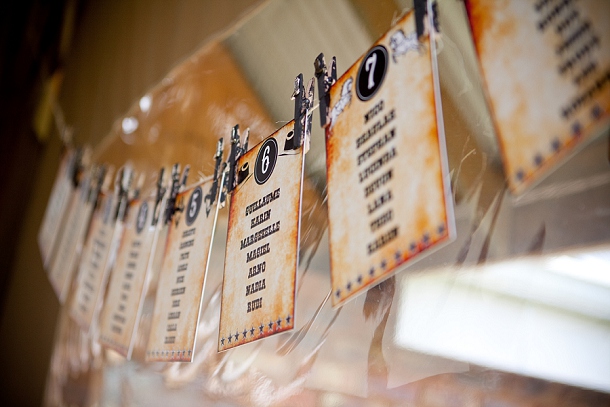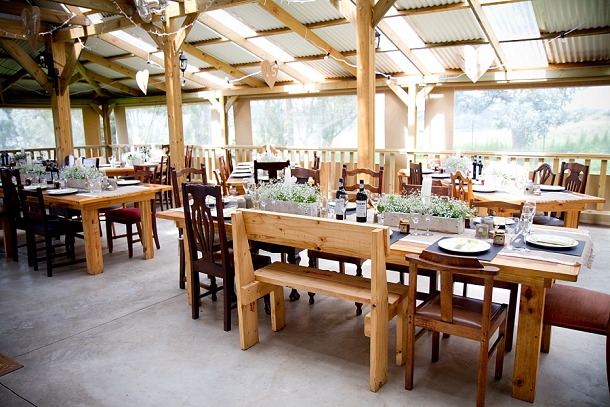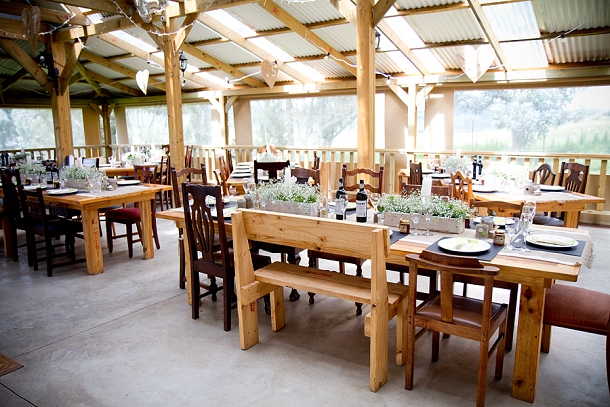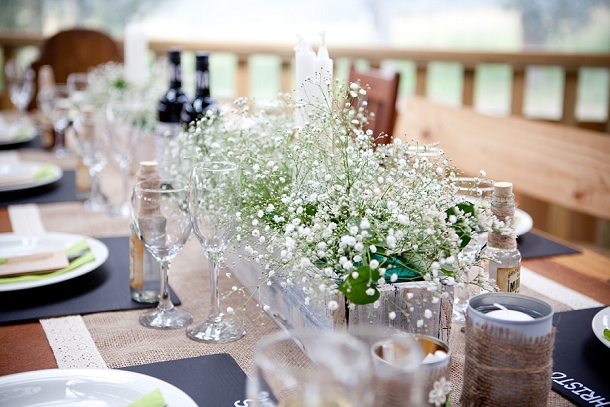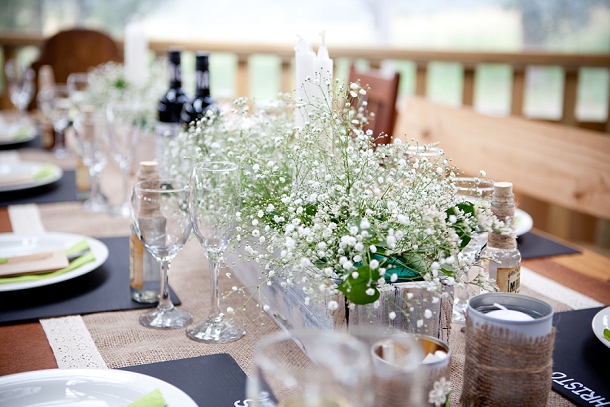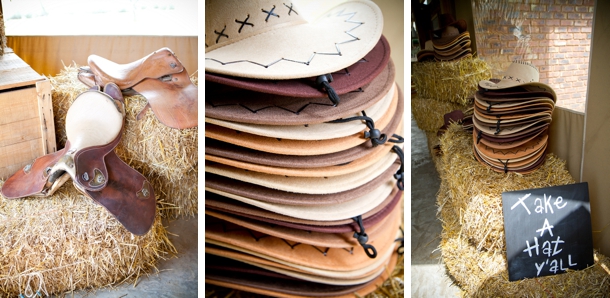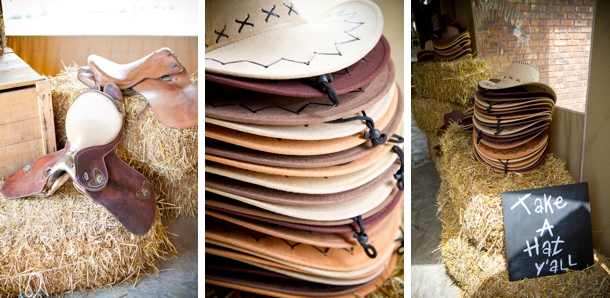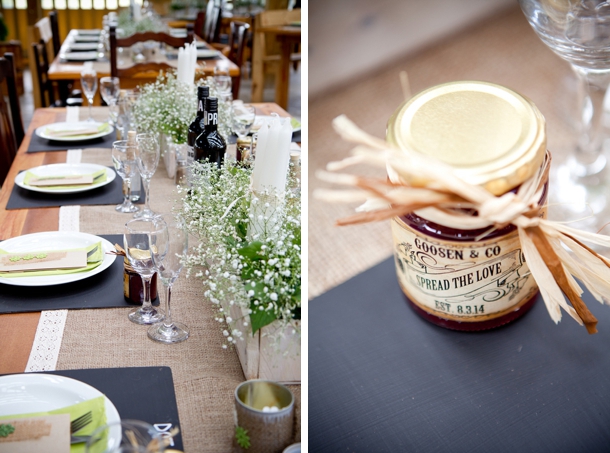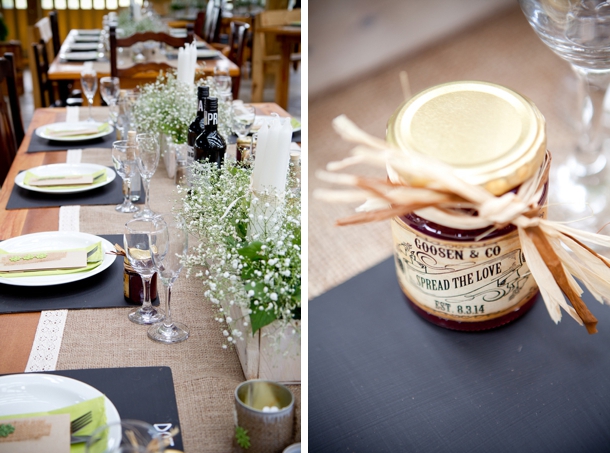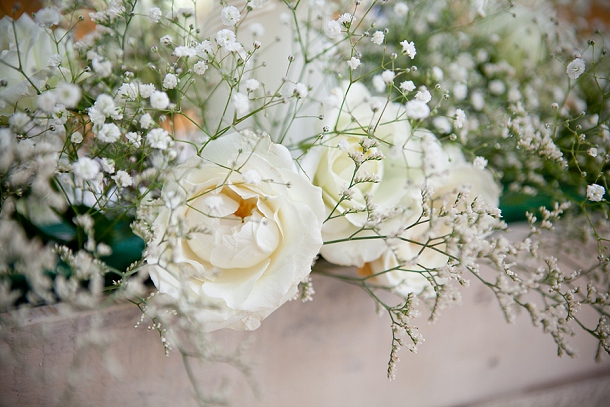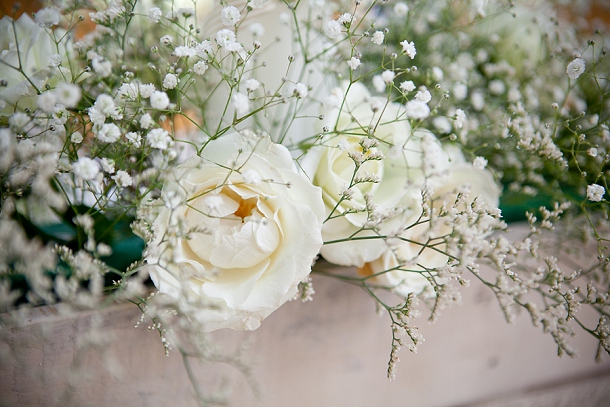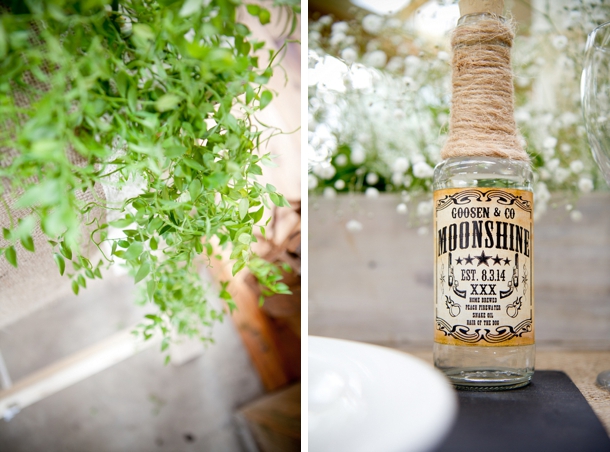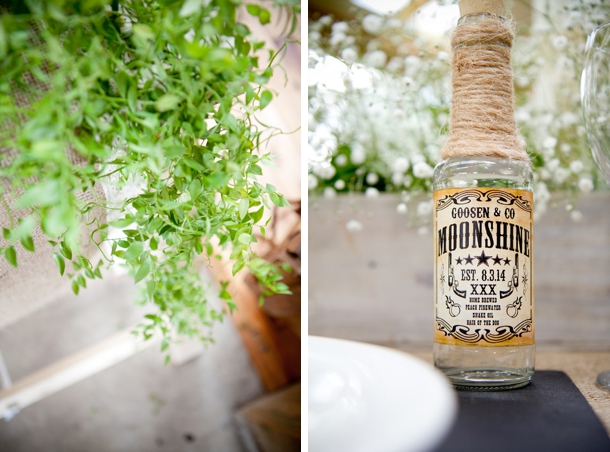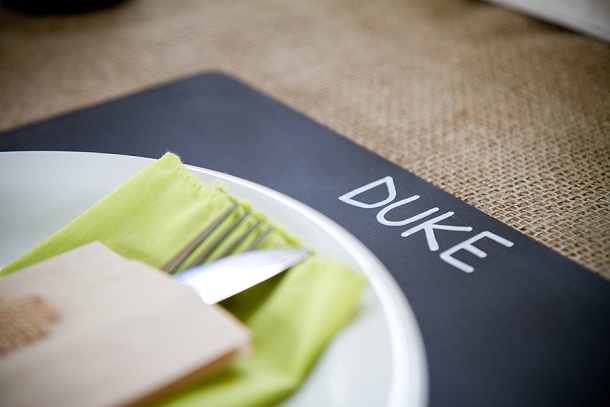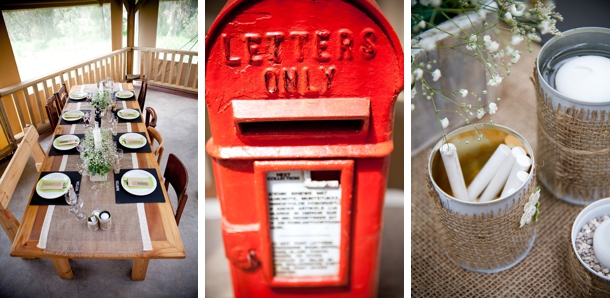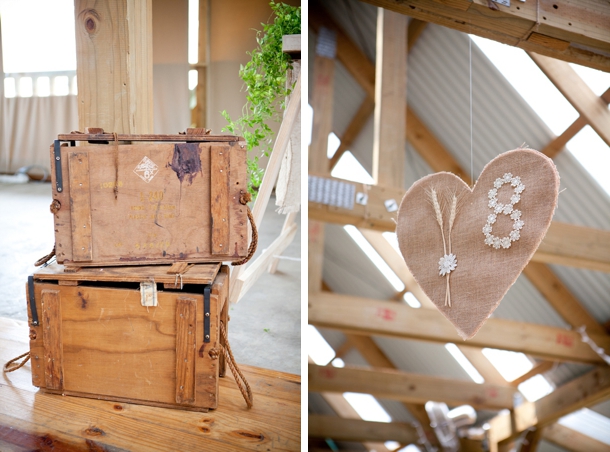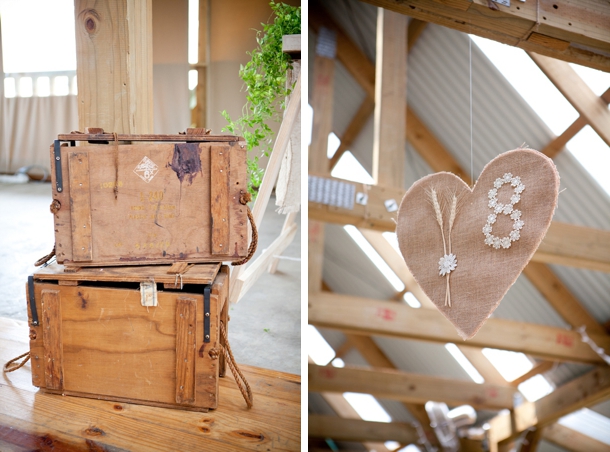 The Flowers
We had to choose something that suited our theme. We tried to keep everything rustic and as western as possible so big, bold flowers would not have worked. We chose baby's breath – it looked stunning and once again worked with our budget.
The Dress
I was inspired by a picture on the internet – as soon as I saw it I fell in love with it. I had something similar made, which was great because I could change a couple of things so that it would suit my personality better and work with the western theme.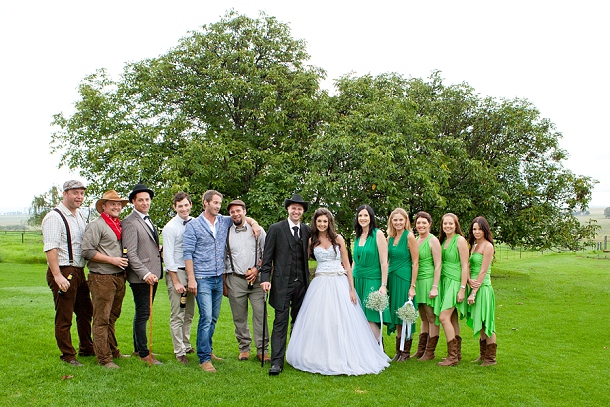 Memorable Moment
We traded our first dance for line dancing. We hired an instructor to come show everyone how to line dance. It was so much fun, EVERYONE joined and the people loved it and it suited our personalities perfectly as we are not the "close dance" type, we love having fun.
The Honeymoon
We went to Zanzibar to a lodge called Diamond Dreams of Zanzibar – it's so beautiful there. We had to get special injections before we could go so I knew from the start where we were going. We also picked the place together which was a lot of fun!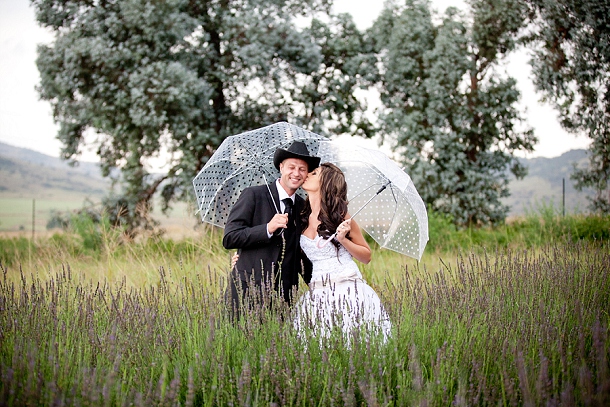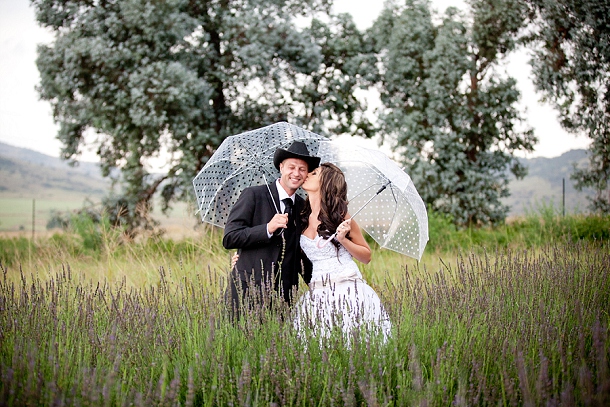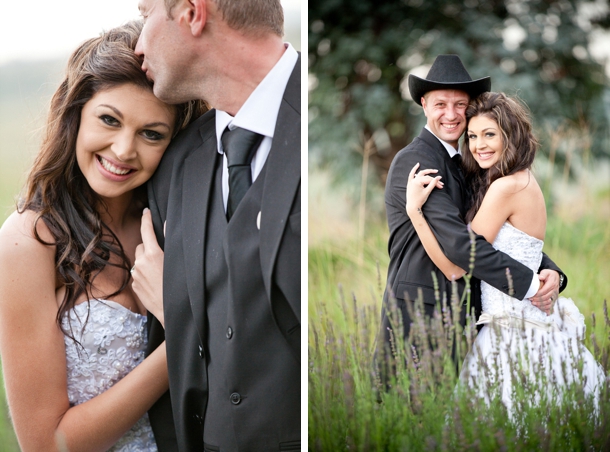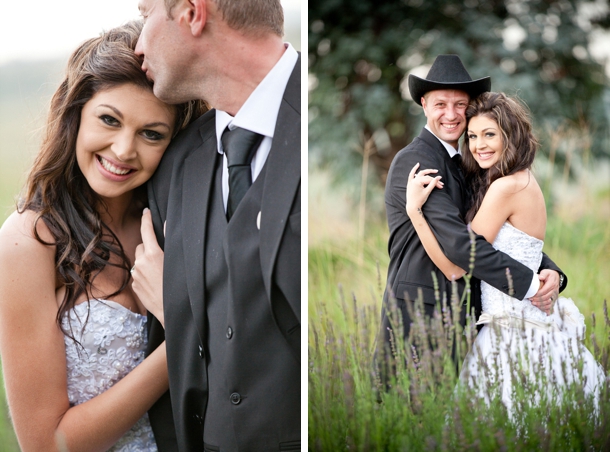 Advice for Future Brides & Grooms
Speak to a lot of people that are married and ask them what they would've done differently. We got a lot of tips this way. Make sure you have a solid schedule for the day and try to stick to it. And the most important – enjoy every second of the planning! It might feel like a hassle now but once you are married and there is nothing left to plan, you will miss it terribly.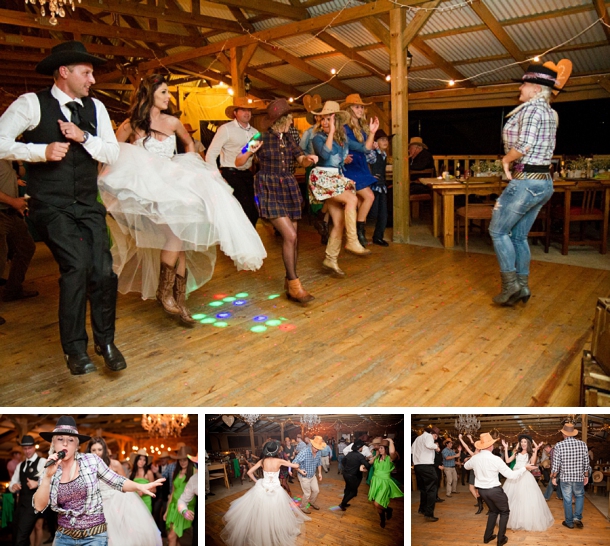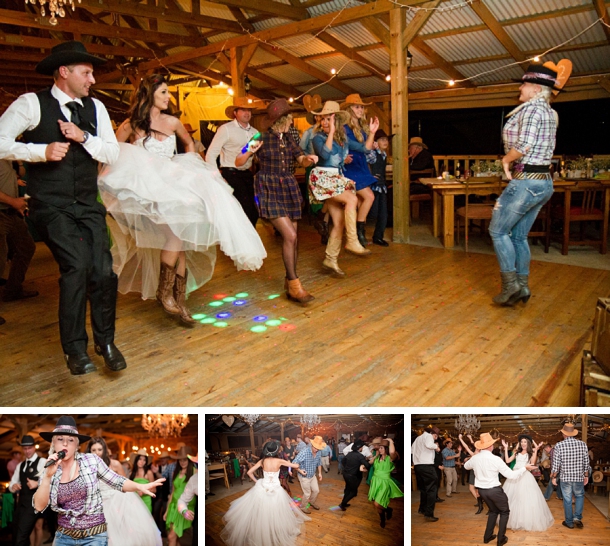 You can see more from this wedding on Marinda May's blog.
SERVICE PROVIDERS
Venue & catering: The Stone Cellar | Photographer: Marinda May | Hair & makeup: Kryolan | Line dance instructor: Kerryn Stow