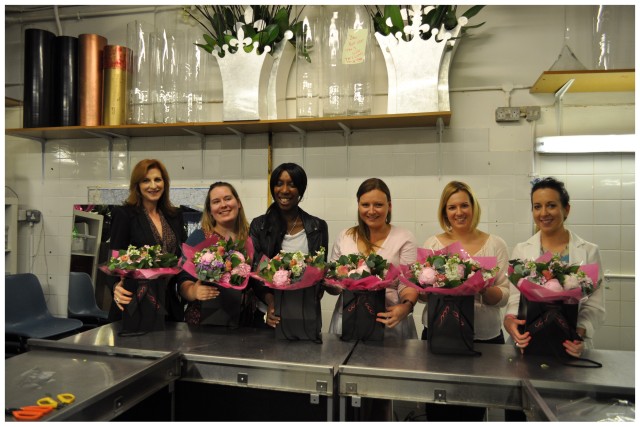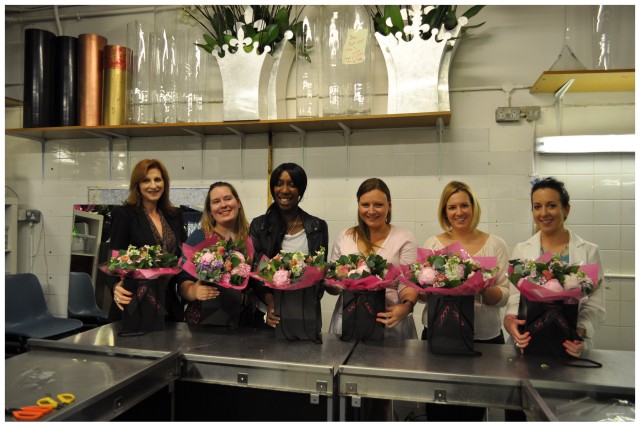 Sometimes I get to do the coolest stuff. Like a couple of weeks ago, when I got a certain invitation in my inbox. Did I, it asked, want to go and hang with William Clarke Flowers and a bunch of fabulous wedding bloggers, learning to make a hand-tied bouquet while sipping champagne? Did I? Pff. Stupid question. So the following Saturday, off I went to the William Clarke studio in London. My dear friends Louise of b.loved and Amma of Beyond Beyond were there too, and I also got to meet the lovely Meryl of Homegrown Bride, Michele the Bridal Coach and of course Nicola of Propose PR, not to mention William Clarke himself, the delightful Brian, and associate Deborah Zwetsloot of Wedding Day Hire. (And you know that thing I said yesterday about South Africans secretly taking over the world? Well, William's in on it. He's a born and bred Saffa, who started out in hotels and moved into flowers, and now posh people pay him to make their dining room tables always look like they've been styled by Homes and Gardens.) So there we were, drinking Pimms and champagne before noon (well, it was five o'clock somewhere) and snacking on breakfasty canapes and generally just feeling impossibly glamorous. Brian and Deborah took us to see their secret stash of awesome in the showroom next door, where brides and grooms can have a full consultation to weigh up their decor options.
After that, Brian and William gave us a demo of some of the arrangements they make on a regular basis – an incredible long arrangement stuffed with roses, hydrangea, pincushions (eek!) and lillies in autumn colours that I totally coveted, smaller table arrangements, and a huge, elegant arrangement that would have been amazing in my front room if only I'd been able to fit it in my purse without raising suspicion. Then it was our turn. We learned to trim our stems, to spiral (yep, that's an actual thing), and how to tie our bouquets so they didn't fall apart. Even how to wrap them up so they looked all fancypants. You guys, it was SO FUN.
Here's the reeeeally good part. (Okay, this is the good part for you. The good part for me was that I got to drink pink champagne and play with peonies on the same day!) This isn't just something you can do if you're in with the bloggistas. This is something you can actually experience yourself, or better yet, with your girlfriends or bridesmaids, mum or mum-in-law. You can take a class for fun, or you can use it as the activity for a hen night or shower (and believe me, and I say this from actual experience, it is way more dignified than learning a Broadway-style hat and cane dance routine to Shania Twayne's Man, I Feel Like a Woman). Better yet, for long distance brides like you lot, William will actually customise the workshop for you if you're nice to him, and base it around your own wedding flower design. He'll even do a workshop where he teaches you how to DIY your wedding flowers (which is a MUCH better idea than just going into it with no experience). I learned a lot actually. But it's also the best girly fun day I have had in ages, and I would love to do it again. (So can someone please invite me to their hen party, because all my mates are hitched.)
New workshops start in September. Contact: www.williamclarkeflowers.com ♥ telephone 020 7402 3399 ♥ email [email protected].
Find out more and see some behind-the-scenes flower arranging action in this video.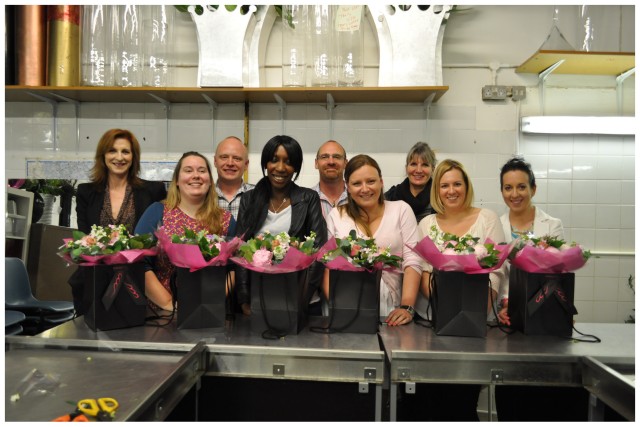 All images above, courtesy of Propose PR