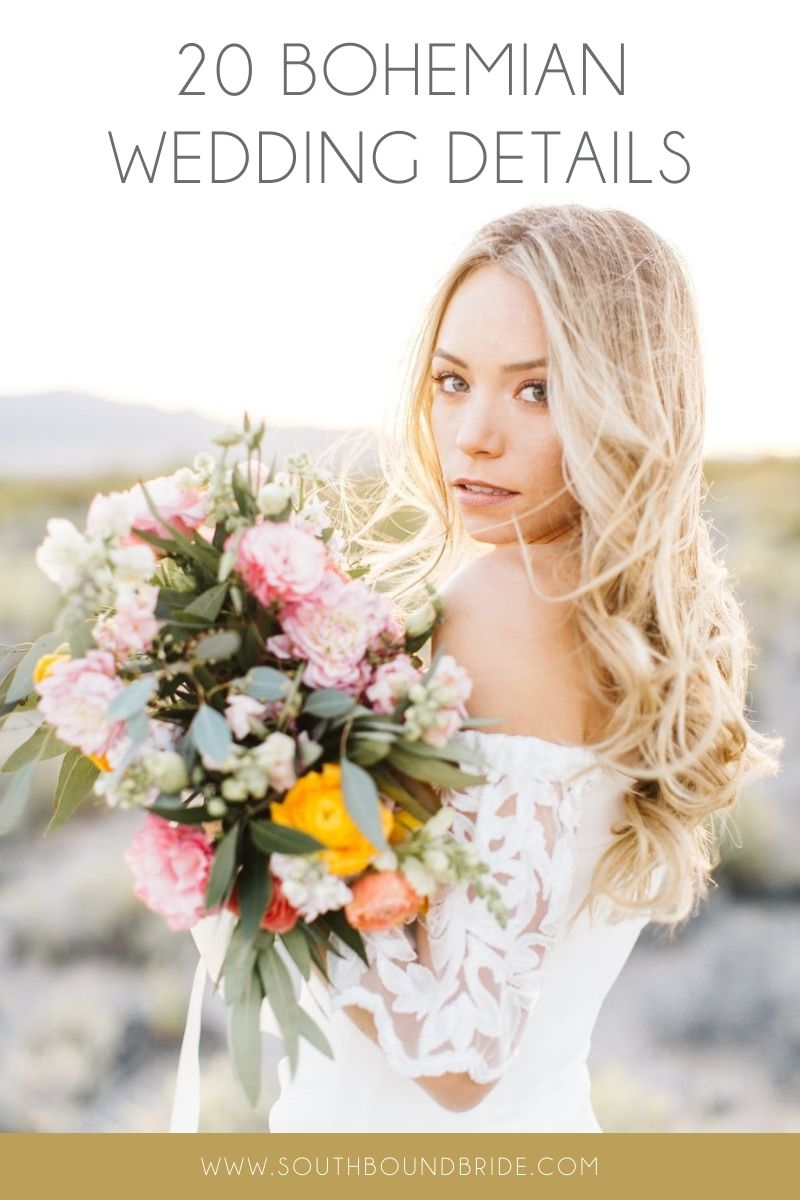 Image credit: Julia Stockton Photography/Rosie Posie Flowers on SouthBound Bride
*UPDATED FOR 2021* Confession: I feel kind of weird writing a post about the elements that will help you put together a bohemian wedding. Because, after all, the whole point of bohemianism is that anything goes, right? For a truly boho bride, you're going to really make it up as you go along and just include the things that you love, that are in season, and that are at hand. And that's awesome. In my view, wedding design should always be about what you love rather than conforming to what you think is expected of you. But let's be honest, boho has become a 'look', and if that's a look you're trying to achieve, it's my job to help you do that. And there are certain ingredients that immediately scream boho – a flower crown, a fishtail braid, perhaps a '70s style crochet lace dress, a ceremony out in the open, a festival style reception. I still love all of those things, but for today's roundup, I wanted to focus on the less obvious boho wedding ideas that you could include in your design. There are some seriously cool little boho wedding details here, so dive in, and see what takes your fancy!
*Links in bold denote affiliate links. The cost to you remains the same, but SBB may receive a commission for any sales made.
1. MISMATCHED BOHO BRIDESMAIDS
Get your girls rocking some mismatched Kate-Moss-at-Glastonbury-style festival chic, complete with crochet and vintage touches, hats, or flower crowns. This bridal party does it to perfection – I especially love how all the ladies are wearing the same necklace, a pretty unifying touch.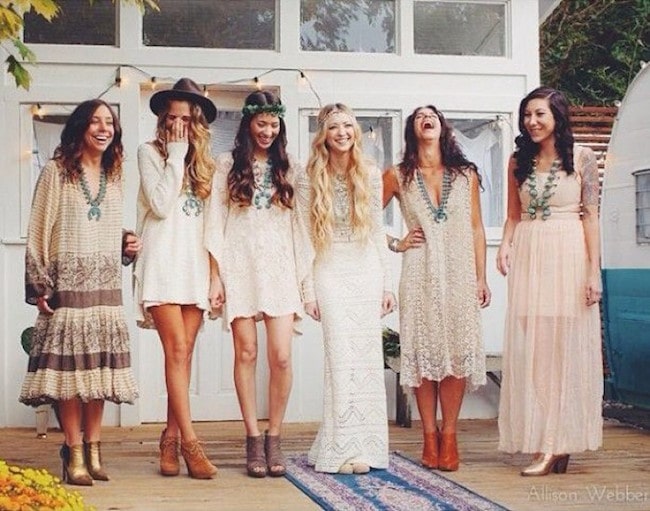 Image credit: Allison Webber via Minted
And don't forget the flower girls!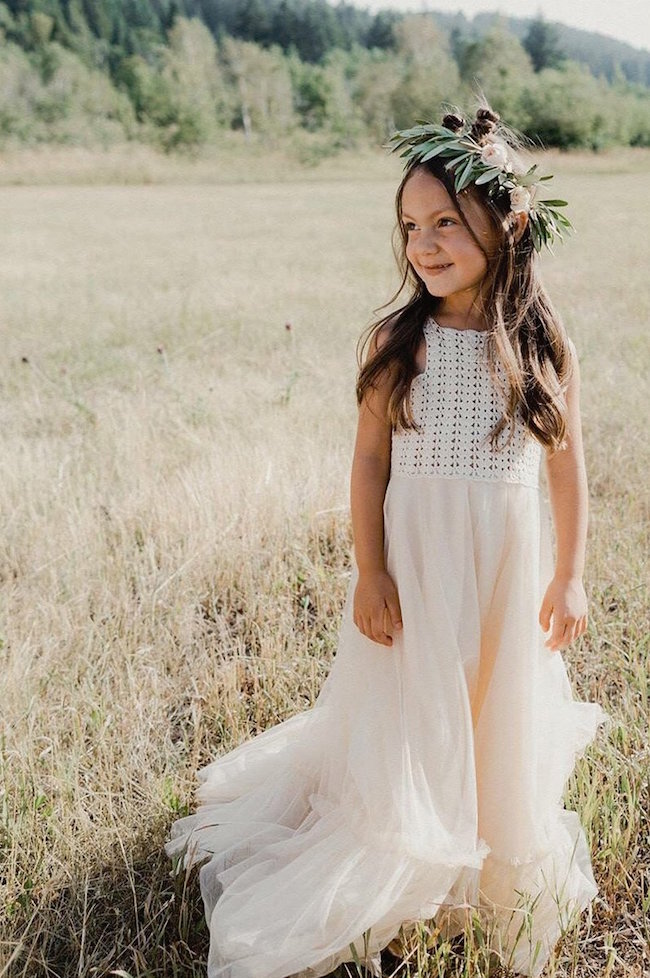 Ivory or Cream Boho Flower Girl Dress by Aylinka Shop
2. DREAMCATCHERS
I've been seeing some beautiful dreamcatcher details popping up in weddings, from favours to hanging lace versions in the ceremony or reception area. So pretty.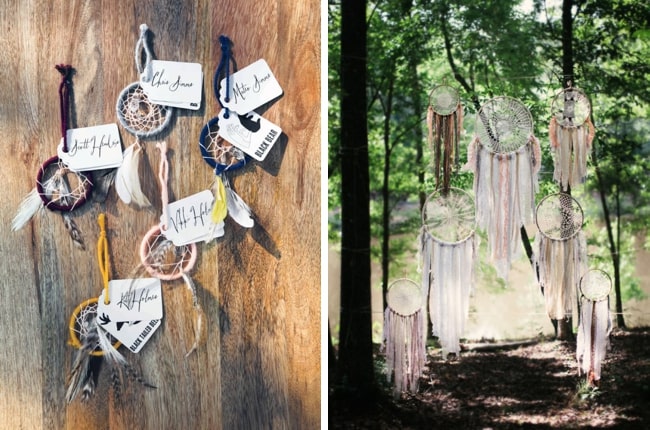 Image credits: Erin Kunkel via Popsugar (left) | Starling and Sage/MadeByBettyB via 100 Layer Cake (right)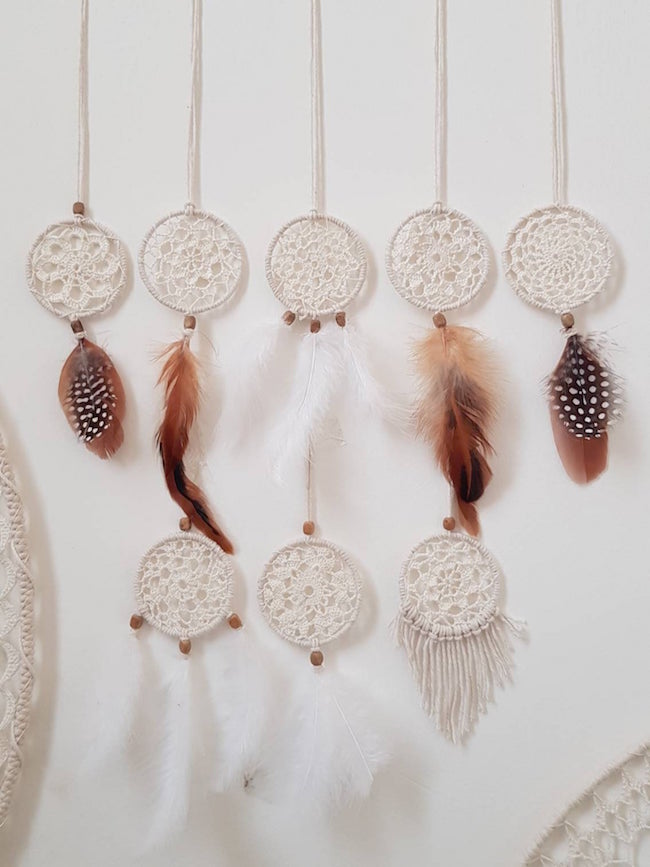 Crochet Dreamcatcher Boho Wedding Favors by Palma Boho
3. VW CAMPERVAN PHOTOBOOTH
Campervans are an iconic ingredient for boho-style weddings, and of course can be used to bring the bride, groom and their entourage to or from the ceremony, or for gorgeous images in the couple shoot. But I absolutely LOVE the idea of commandeering and decorating a van as the ultimate boho backdrop for your photobooth. Your guests will adore this little detail!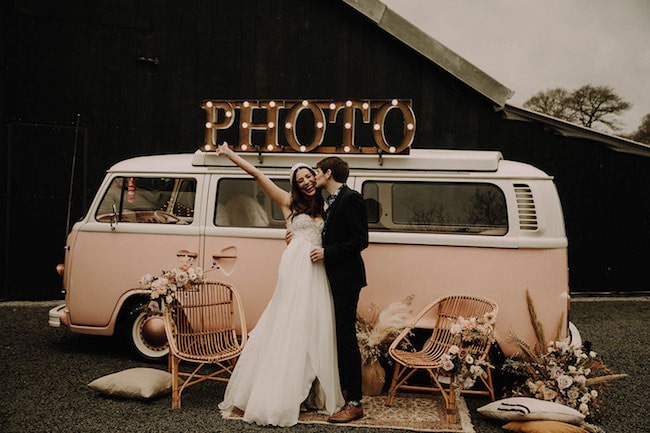 Image credit: Esme Whiteside Photography via Wed Inspire

4. ANKLE CUFFS
A boho bride is often a barefoot bride, but what's better than barefoot? Cuffed. In fact, ankle cuffs are huge fashion news at the moment – look out for them on the Victoria's Secret models – and they're a lovely addition to a beach boho look especially, whether for you or your bridesmaids. And you don't have to go for handmade – flower cuffs are just as lovely.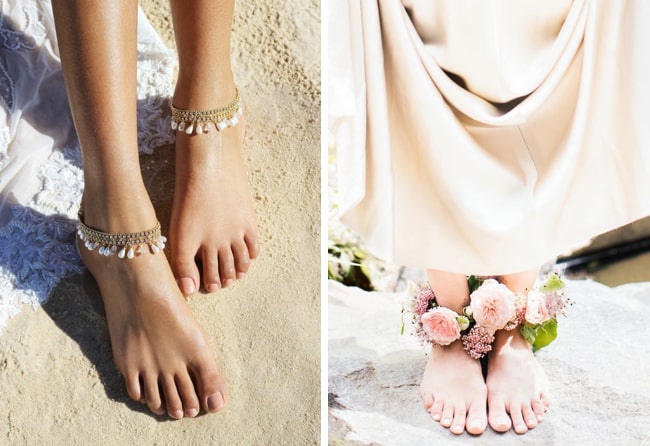 Image credits: Mazi Gold Pearl Anklet by Forever Soles (left) | Reverie Supply/Lori Tran via Bridal Musings (right)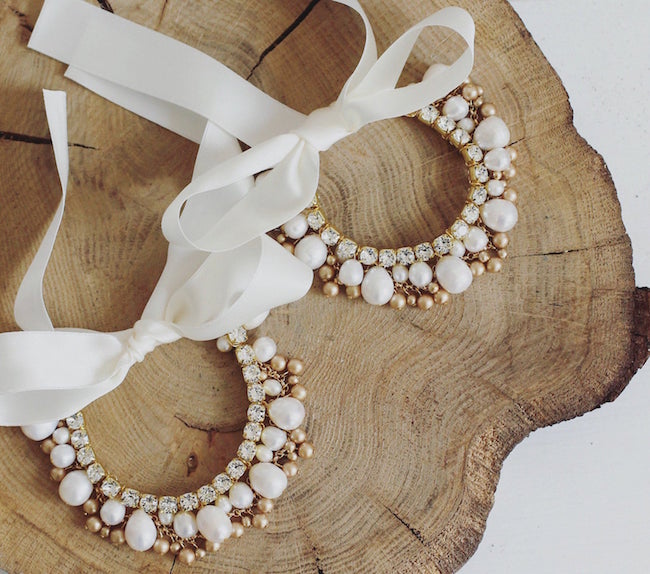 Boho Bridal Anklet by Joanna Reed Bridal
5. CANDLES
Candles create a deliciously romantic and intimate atmosphere, and they're absolutely perfect for boho weddings. We especially love long rows of mismatched antique candlesticks down the centre of long tables (with or without greenery and flowers) and collections of pillar candles at a sunset ceremony.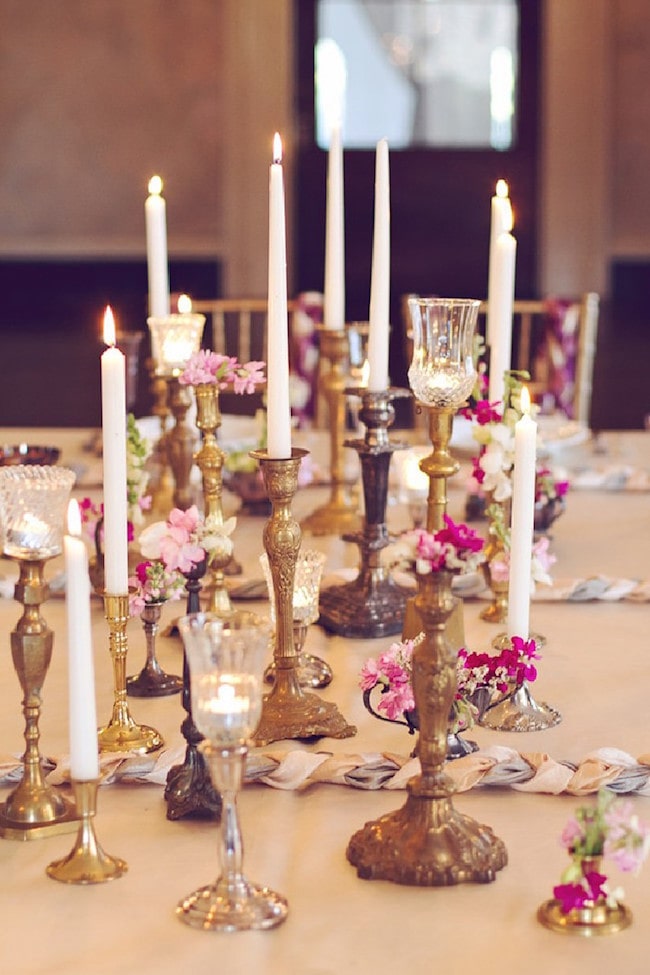 Image credit: Amy Nicole Photography/Kelly Dellinger Events via Ruffled
6. FLOATING BLOOMS
If you have a pool (or a fountain, or even a birdbath!) at your venue, fill it with floating petals or blooms, for a beautiful and whimsical boho touch. Or simply float flowers in pretty bowls as part of your table decor.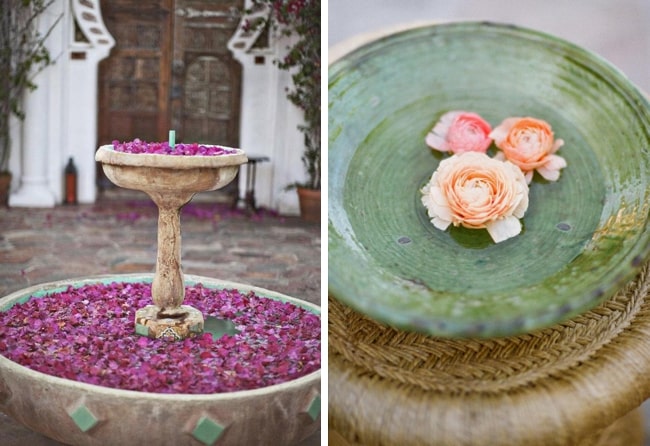 Image credits: Joy Marie Photography/Amy Kaneko Events/The Velvet Garden via Style Me Pretty (left) | Aaron Delesie/Oh, How Charming!/Mindy Rice via Style Me Pretty (right)
7. MOROCCAN DETAILS
Morocco is another country and culture with strong bohemian links, so why not borrow some gorgeous details from this rich treasure trove of design? For a full roundup on incorporating Moroccan details into your wedding, see our feature here.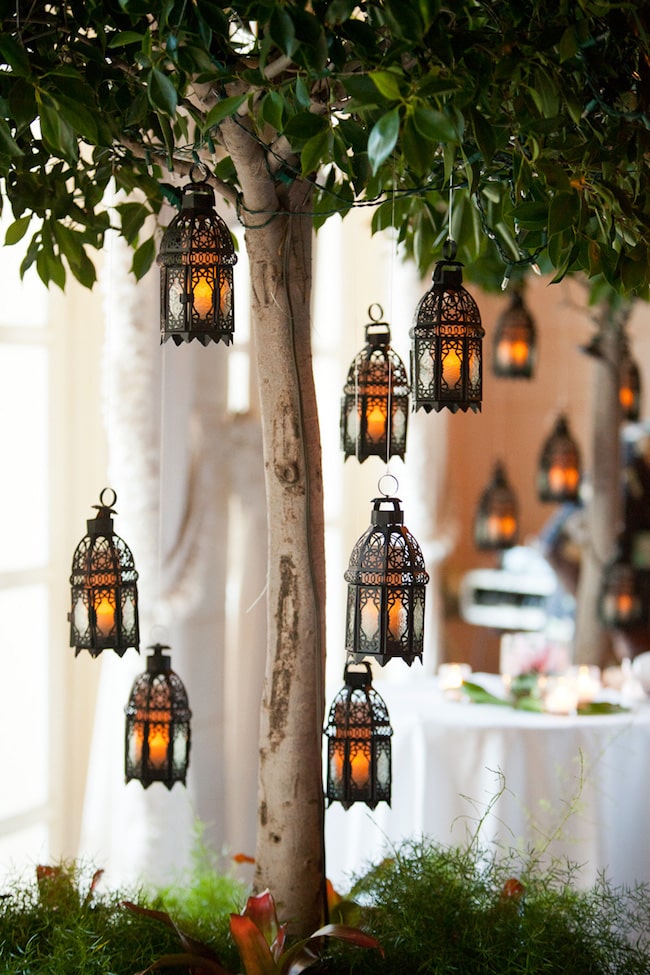 Image credits: James Christianson/Bill Beers via Elizabeth Anne Designs (left) | (right)
8. MACRAME DETAILS
Since its resurgence in the 1970s, macrame has always been linked with hippie culture, and it can add lovely retro touch to boho decor. We've been seeing lots of macrame details in weddings – see our special roundup of yarn and macrame details here.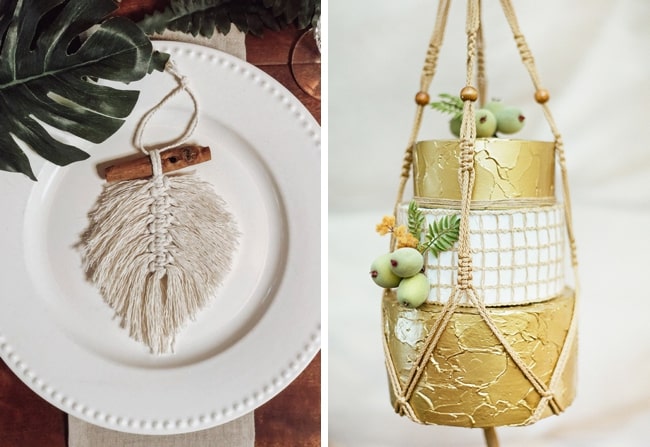 Image credits: Mini Boho Macrame Wedding Favors by 9 Lives Designs Co. (left) | Clayton Austin via Ruffled (right)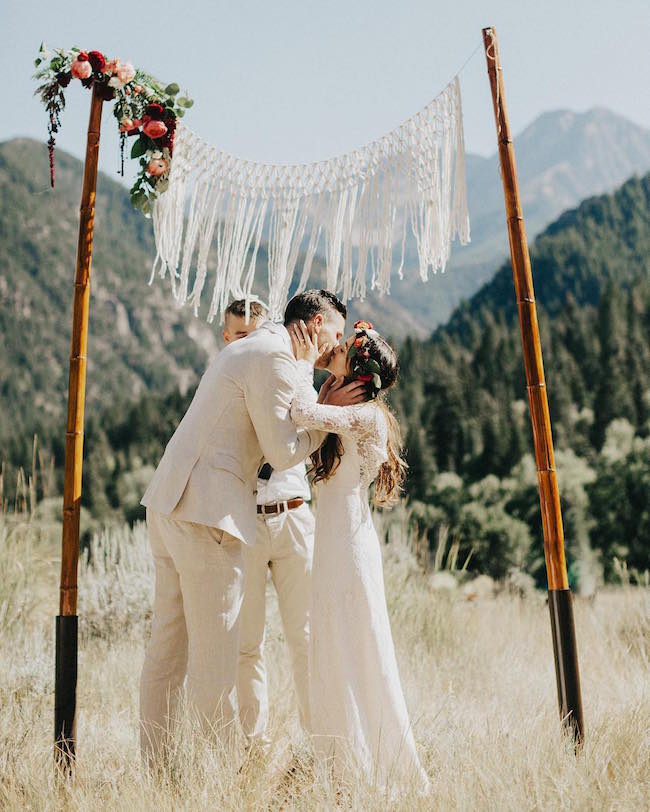 Rustic Macrame Wedding Backdrop for Altar by The House Phoenix (Image by India Earl)
9. GREENERY BOUQUETS
This trend lends itself particularly well to the laid-back, organic vibe that most boho brides and grooms are going for. The bonus of course is that they're budget friendly too! See our roundup of 20 gorgeous greenery bouquets here.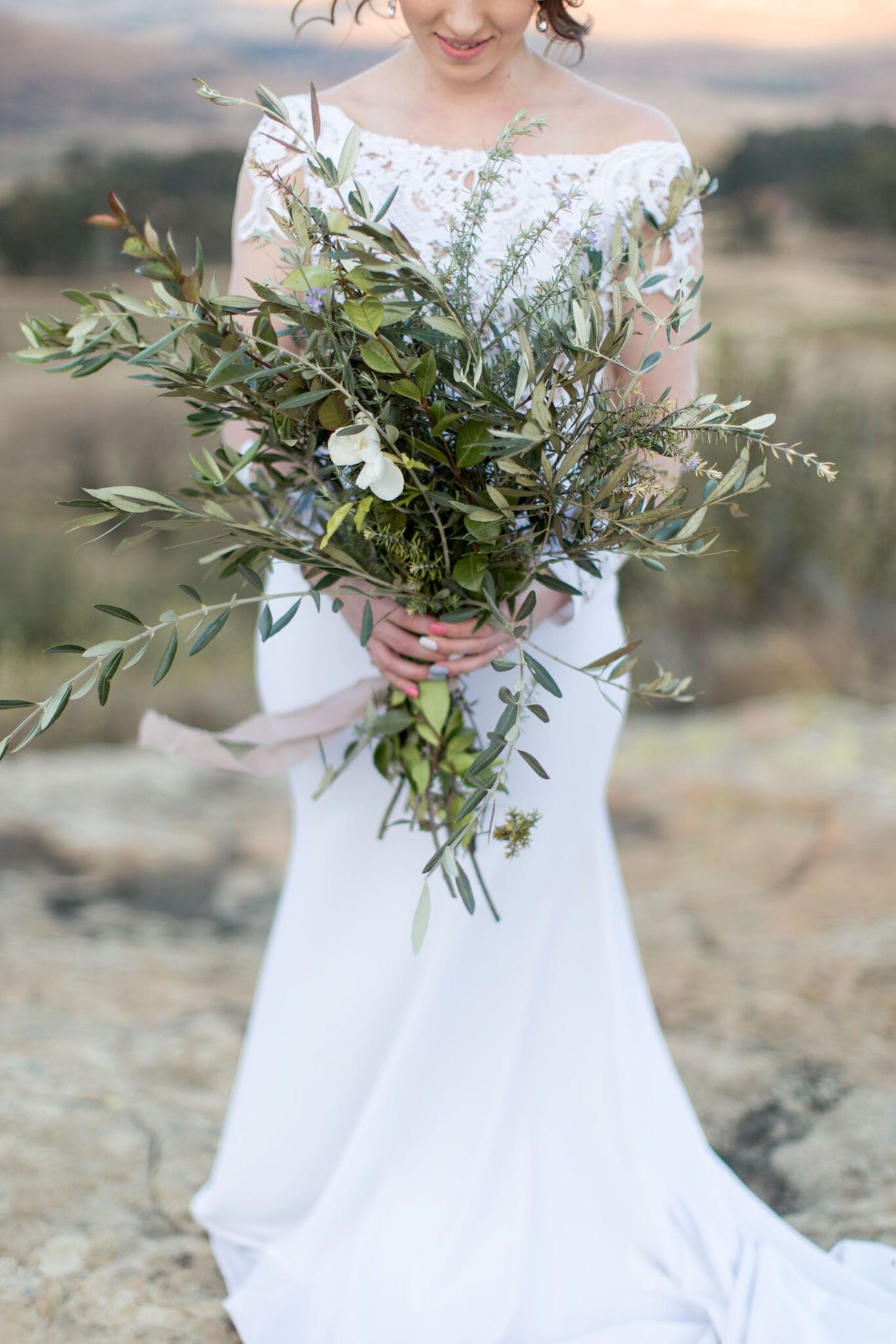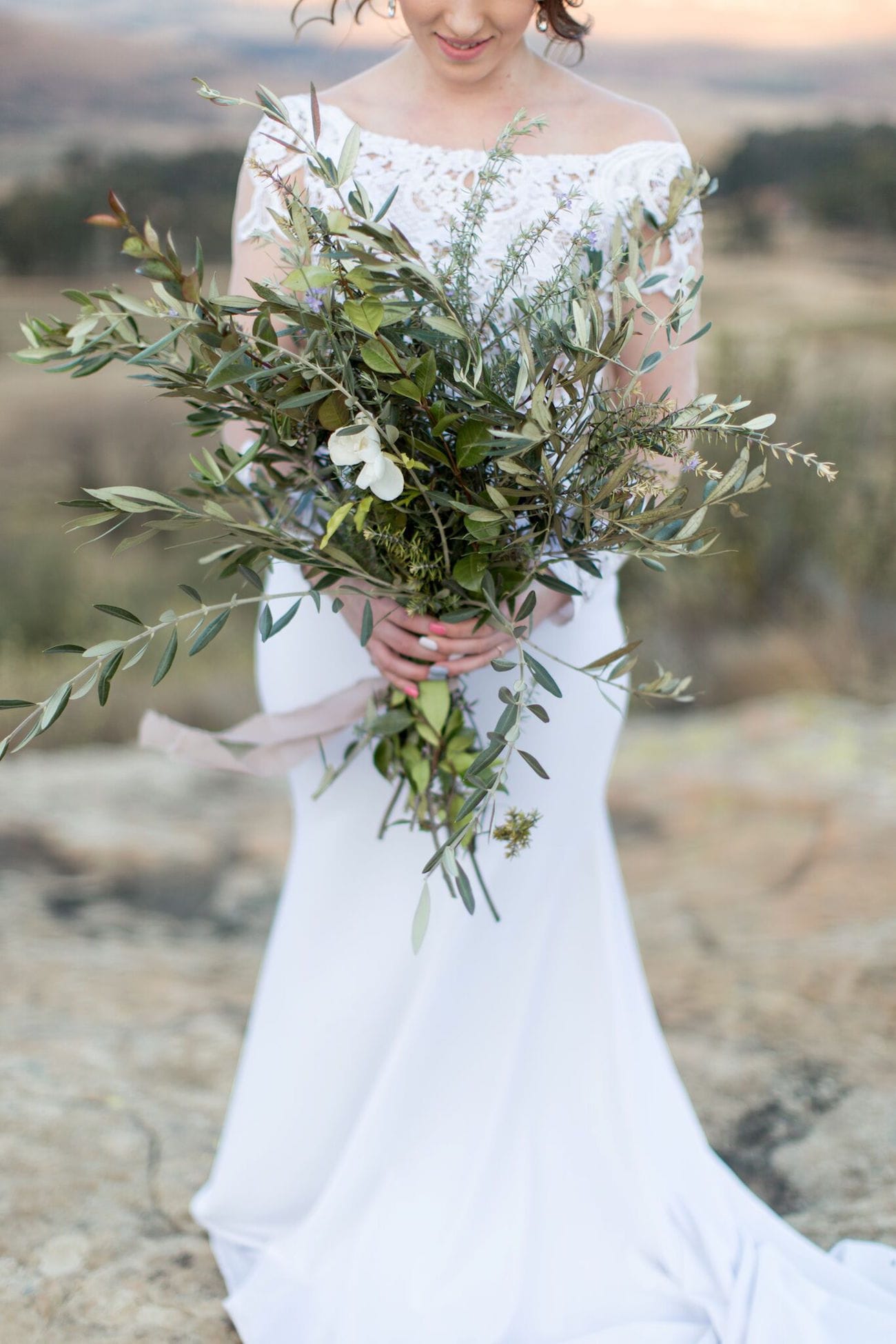 Image credit: Ian Odendaal Photography/Melissa B Photography on SouthBound Bride
10. WEDDING TIPIS
Who doesn't love a tipi? Of course, some couples rent a huge tipi-style tent for their reception, but even if you're not going this route, you can include a bit of festival-style whimsy in your reception. Set up a tipi for two and share a few moments (and maybe a picnic) between wedding and reception. Put a tipi in your breakout area for guests to enjoy during cocktail hour. Or pitch and decorate one especially for the children to enjoy – the only problem will be in getting them out of it!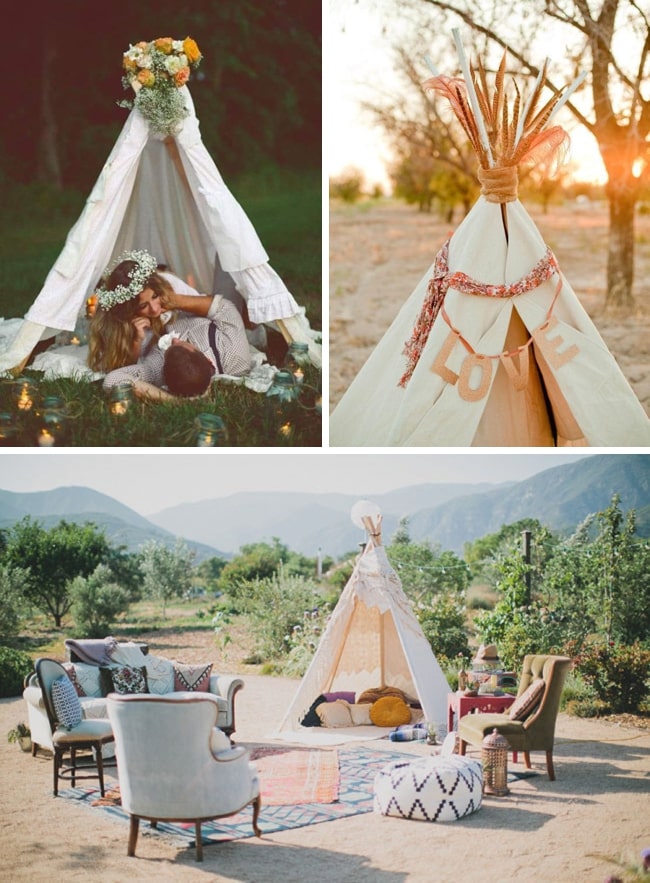 Image credits: Megan W Photography via Ruffled (top left) | Elyse Hall Photography/Eventology Events via Style Me Pretty (top right) | Katie Pritchard via Green Wedding Shoes (bottom)

11. TAMBOURINE FAVOURS
I love this idea! Hand them out to guests before the ceremony or leave on their seats for a joyous reception to your first kiss – and you can be sure they'll turn up on the dancefloor later on too!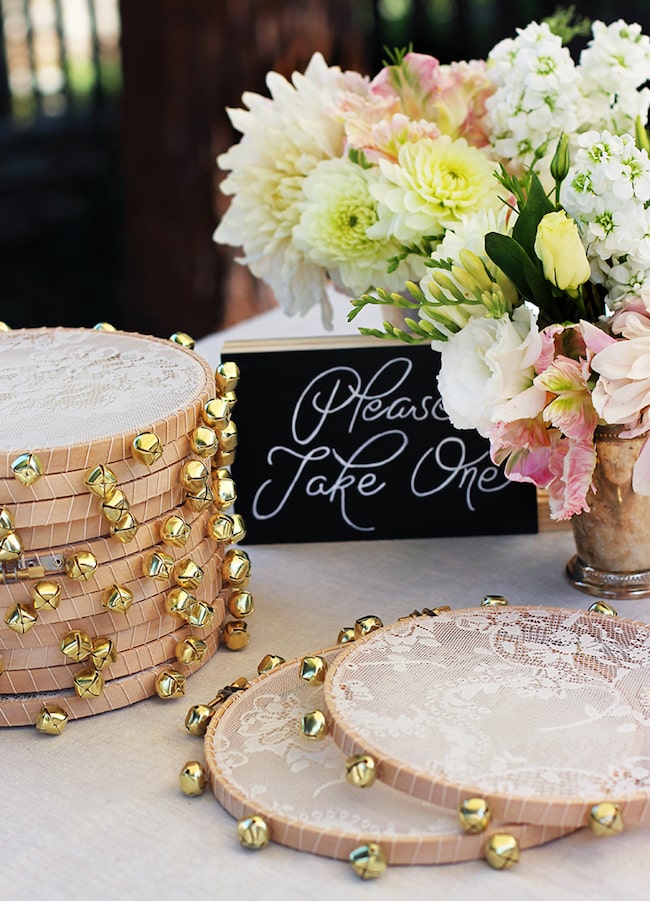 Image credit: Honestly WTF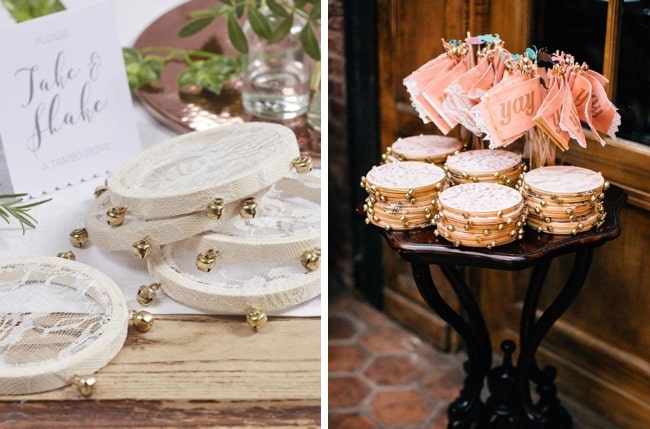 Wood and Lace Tambourines by Decorations de Mariage (left) | Jen Rodriguez/Enchanted Garden Floral Design via Style Me Pretty (right)
12. HANGING FEATHERS
Feather garlands are the boho answer to bunting. And, if you love this idea, look out for our fab roundup of feather DIYs!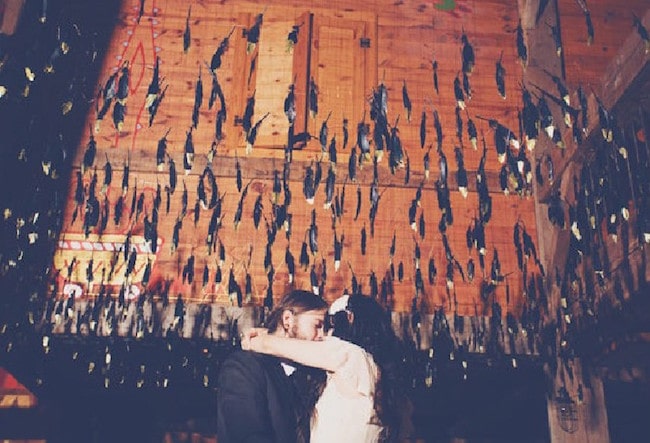 Image credit: Brooke Schwab/The Byrd Collective via 100 Layer Cake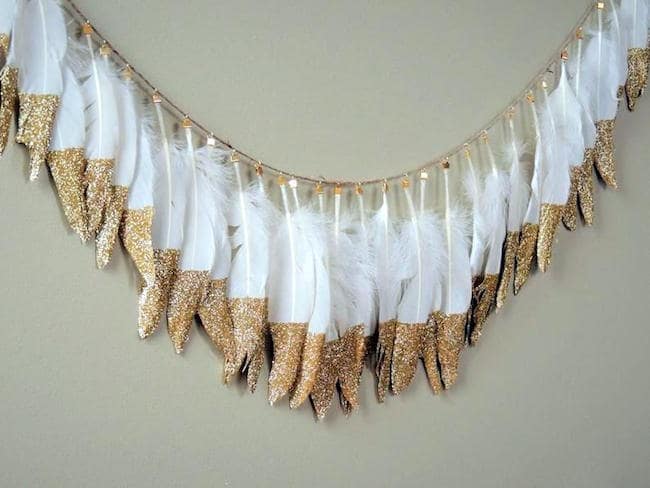 Glitter Dipped Feather Banner by Jade and Jo
13. FEATHER DETAILS
I'm loving feather detailing at the moment, and there's so many options! From escort cards to table decor to confetti… and feathers just so happen to be a perfect boho motif.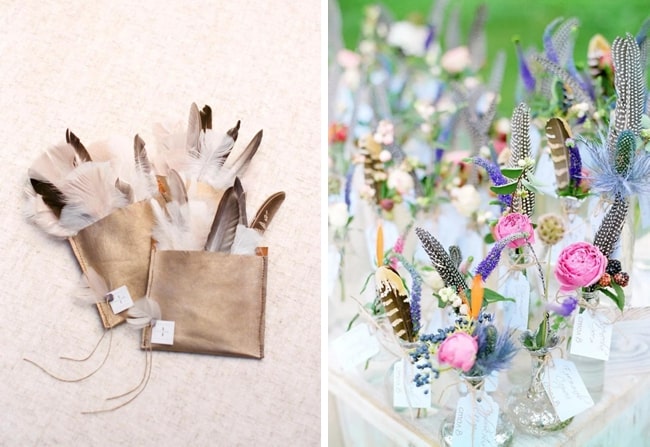 Image credits: Aaron Delesie/Oh, How Charming!/Mindy Rice via Style Me Pretty (left) | Max Koliberdin/Ajur-Wedding/Latte Decor via Magnolia Rouge (right)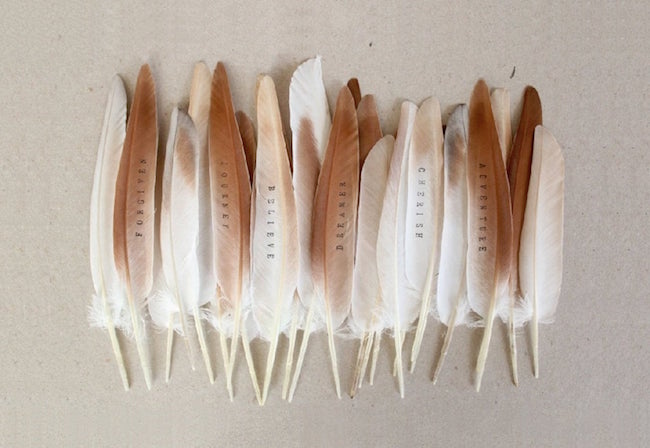 Personalized Red Feathers Boho Wedding Favors by The Lonely Heart Co
14. LEATHER BELTS
Aside from a flower crown, there's nothing quite like a leather belt to finish off a boho bride's outfit. Who knew something utilitarian could look so pretty!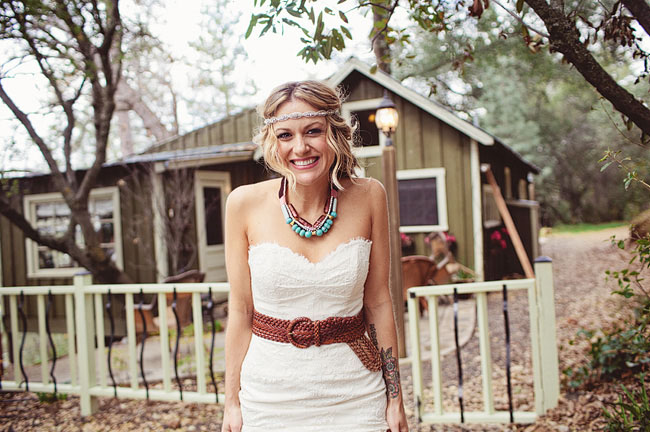 Image credit: Ellie Grover/Whitney Werts/Emily Baker Creative via Green Wedding Shoes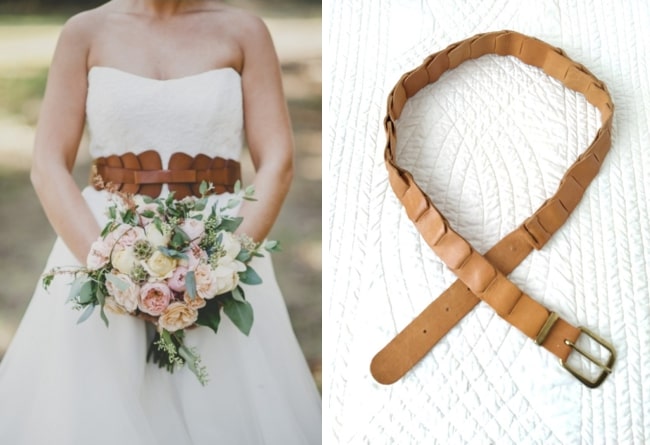 Image credits: Brandon Lata/Morgan Gallo Events via Wedding Chicks (left) | Link Strap Leather Belt by Nata Trade (right)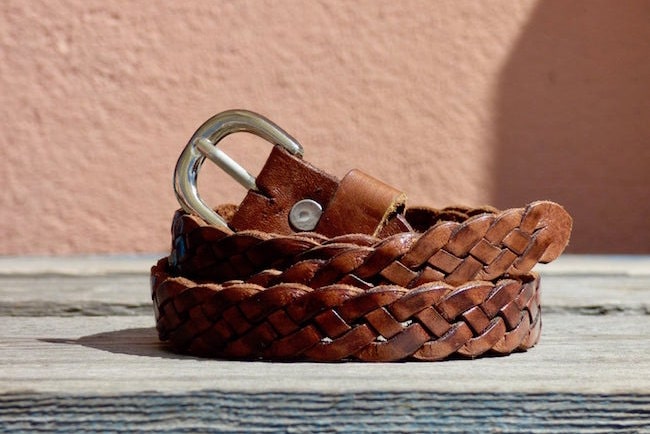 Fine Braided Leather Belt by Socco So
15. IKAT PRINT
Bali is a boho lover's paradise, so why not take a bit of inspiration from the island's signature fabric? You'll find lots of gorgeous Ikat inspiration on the wedding web, from cakes to stationery to table decor. Ikat? Ilove!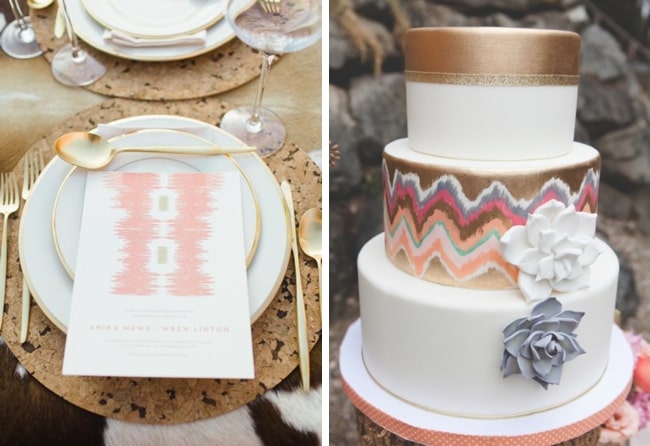 Image credits: Jess Barfield Photography/Lindsey Zamora/Bella Figura via Style Me Pretty (left) | 3Photography/The Wedding Cake Shoppe via Wedding Chicks (right)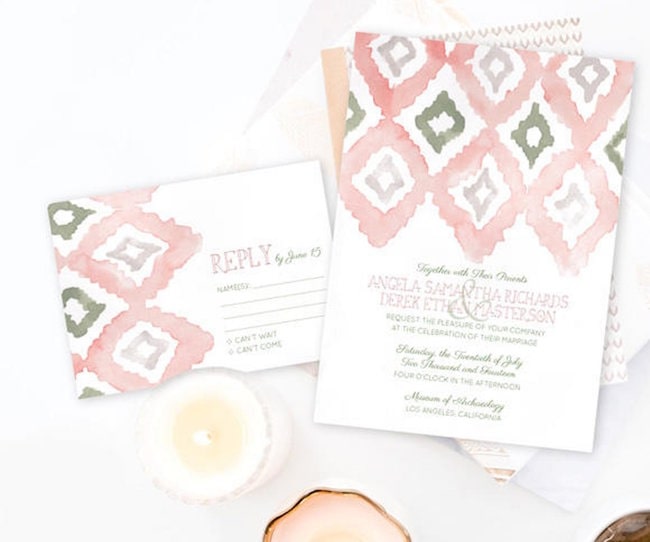 Ikat Wedding Invitation by Hand Painted Weddings
16. PICNICS
What better way to enjoy laid-back bohemian style than with a picnic in place of a formal, sit-down meal? Add colourful blankets, comfortable cushions, picnic baskets or else a braai/barbeque or food truck for food, and all your guests will be super chilled and happy. See all the picnic weddings from our archive here.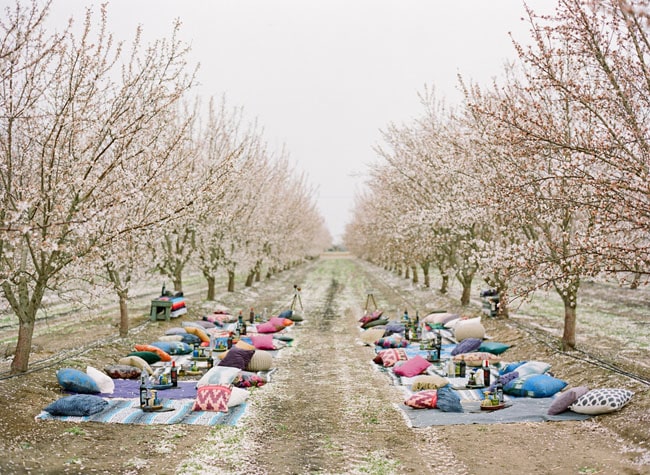 Image credit: Josh Gruetzmacher via Green Wedding Shoes

17. FRUIT CENTREPIECES
Fruit on a table has a lovely, organic look that works brilliantly for a boho wedding. Stock up on (or hire) vintage-style stands and vases, stack up some colourful fruit and/or vegetables, and you're good to go! Bonus points for adding a few stray wildflowers.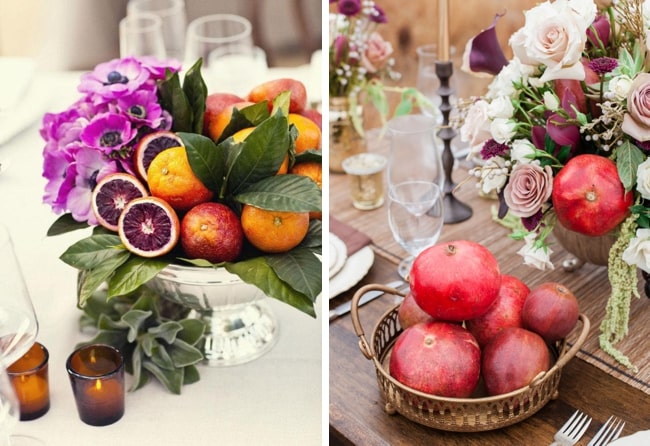 Image credits: Joy Marie Photography/Amy Kaneko Events/The Velvet Garden via Style Me Pretty (left) | K A T S P H O T O S/The Blossom Shop of Summerville via Rustic Folk Weddings (right)
18. CRYSTAL ESCORT CARDS
Crystals and gemstones are close to a bohemian girl's heart, so why not share the love with your friends and family? Extra points for choosing gems with properties that have special meaning to your loved ones.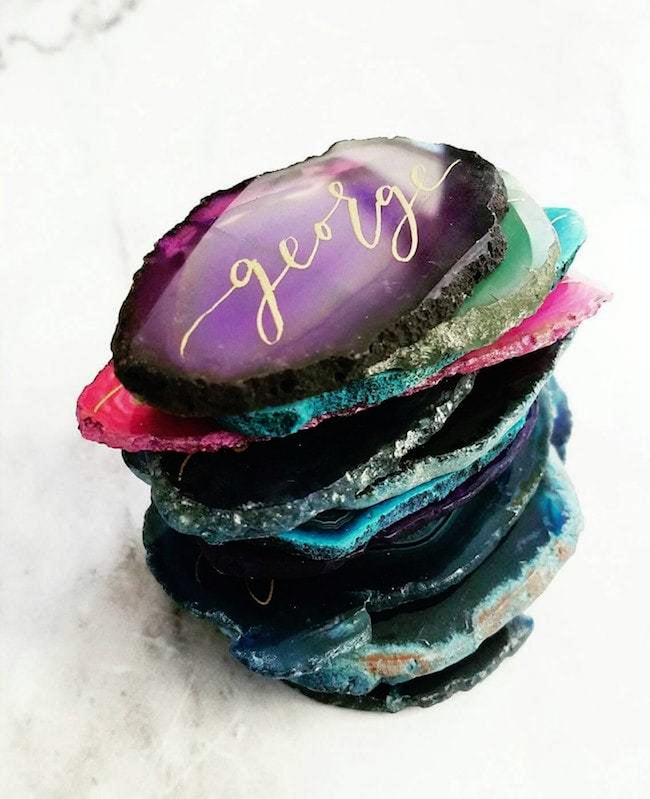 Agate Slice Escort Blank Place Card by Crystal River Gems
19. HULA HOOPING
Remember how fun this was as a child? With their Indigenous American origins and flower child peak in popularity, hula hoops are the perfect addition to cocktail hour lawn games for a boho bride and groom.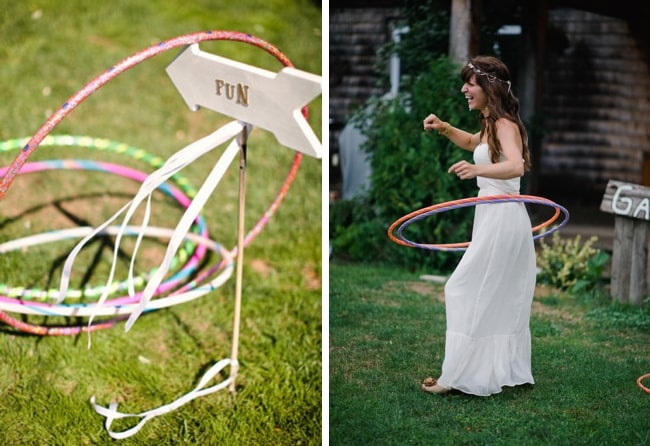 Image credits: Kate Harrison/Sitting In A Tree via Green Wedding Shoes (left) | Wild Eyed Photography via Style Me Pretty (right)
20. BREAKOUT AREAS
Having a gorgeous breakout area for your guests is the perfect way to keep that relaxed atmosphere you're trying to create going throughout the night. Whether you go for couches and little tables, or blankets and cushions, it's a great way to allow your nearest and dearest to feel comfortable.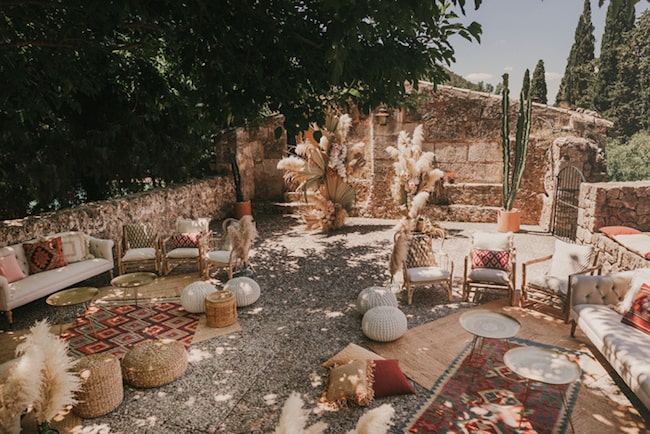 Image credit:Pablo Laguia/Paloma Cruz Eventos via Junebug Weddings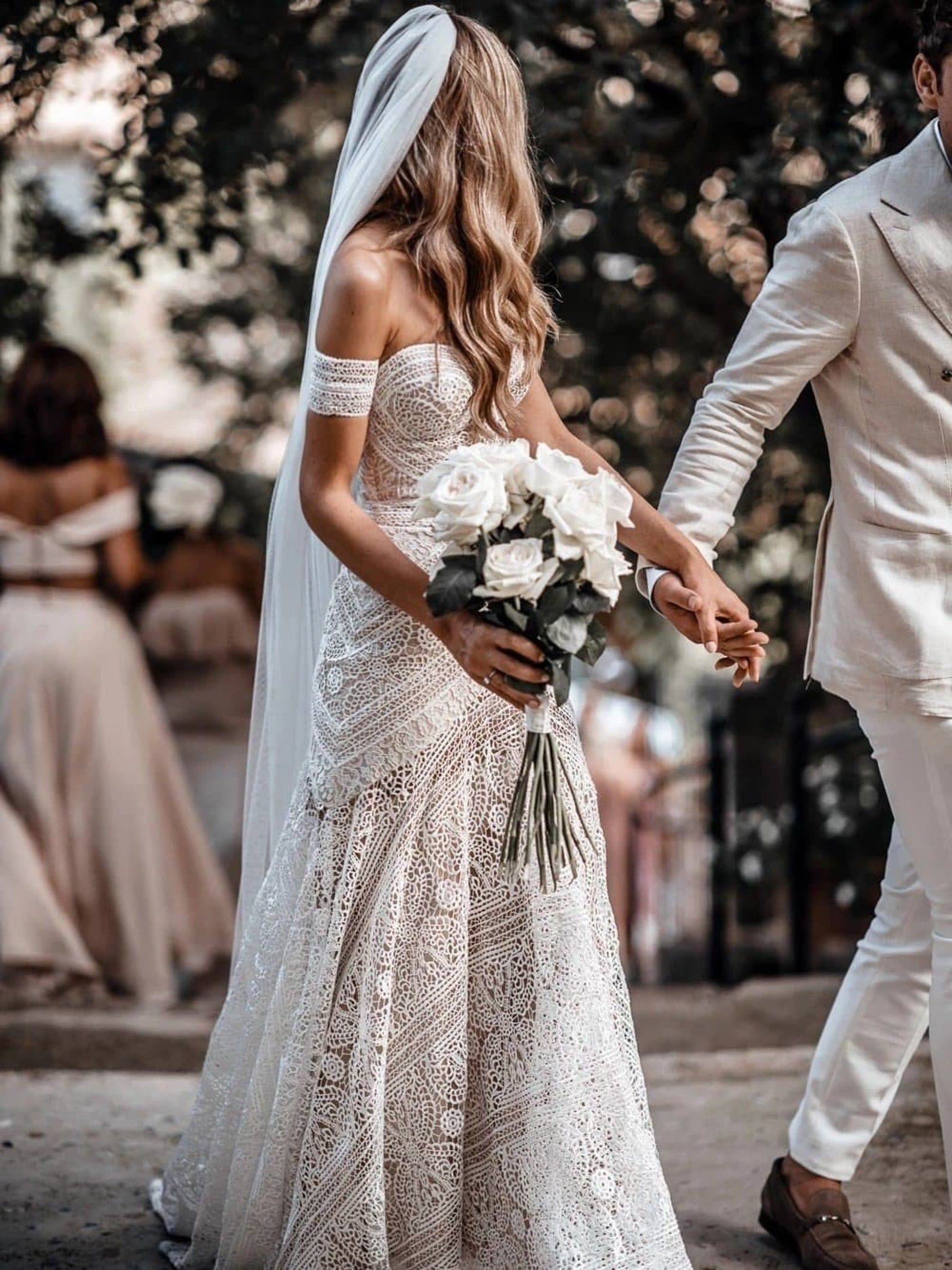 Boho Wedding Dress by Bliss Gown (See lots more gorgeous bohemian wedding dresses in our roundup!)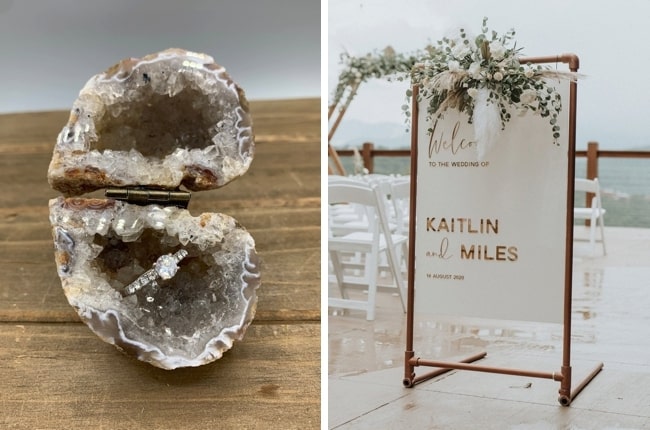 Geode Ring Box by Roccia Roba (left) | Acrylic Wedding Welcome Sign by Stone and Co Designs (right)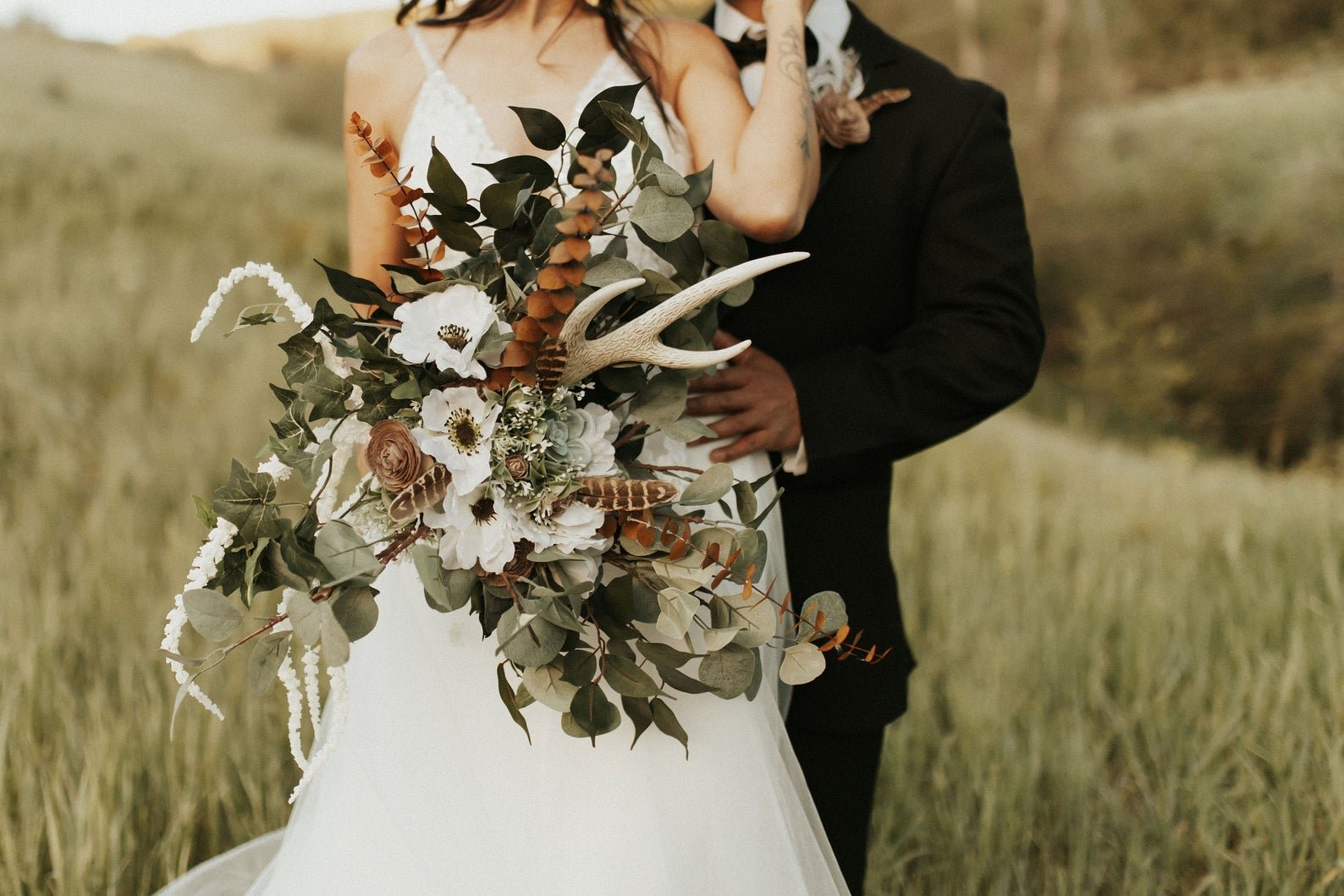 Antler Feather Bridal Bouquet by Nomad Glitter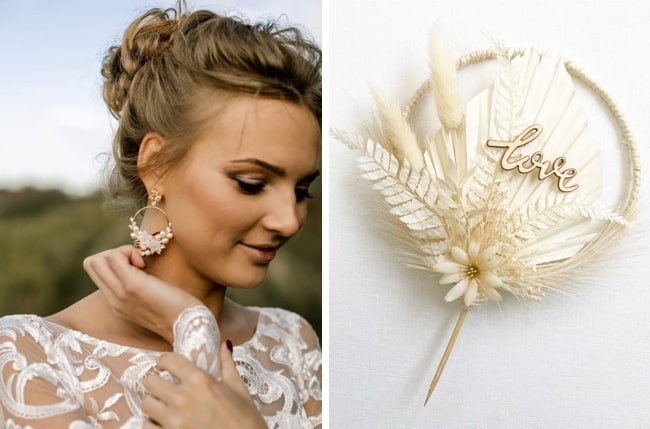 Floral Wreath Bridal Earrings by LANKA Accessories (left) | Love Cake Topper by Flowers By The Vase (right)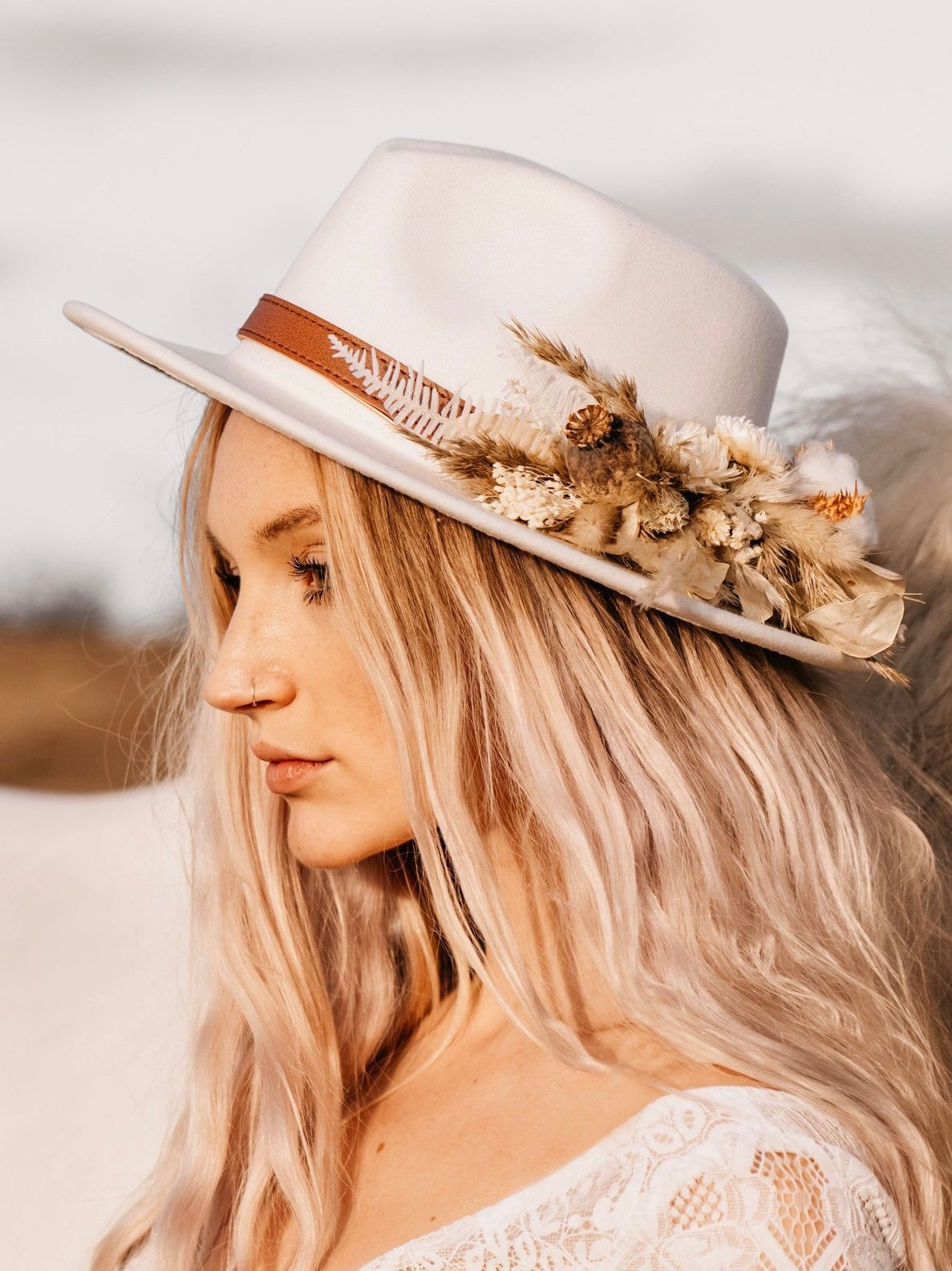 Coco Dried Flower Bridal Fedora Hat by Luna and Wild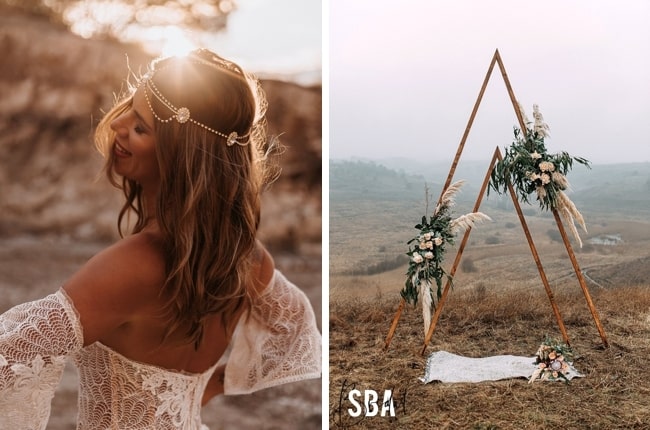 Boho Headpiece in Gold by Diadem Diamant Shop (left) | Boho Triangle Wedding Arch by Stylish Bride Accs (right)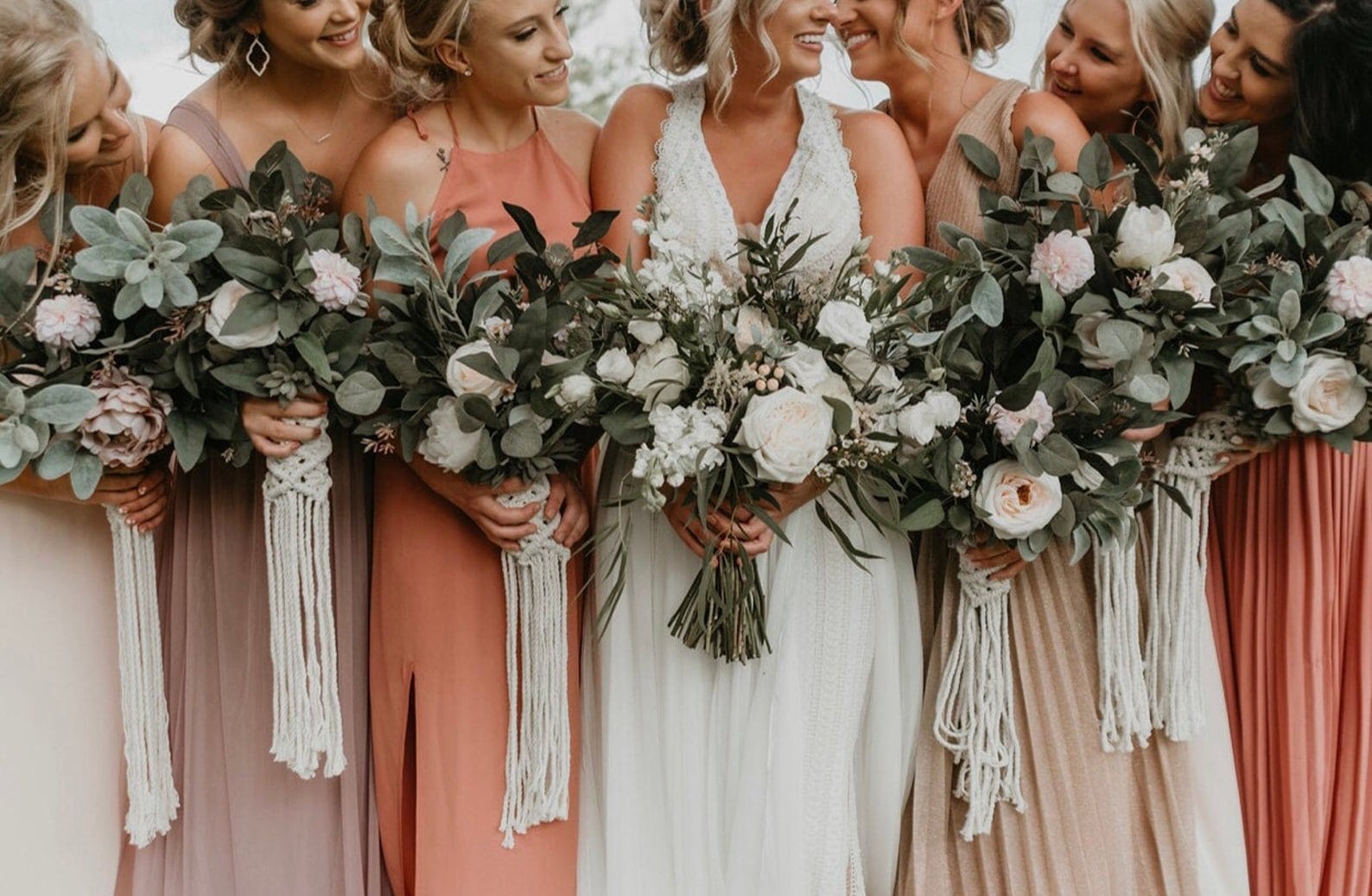 Macrame Flower Wrap by Macrame Bouquet

Boho Wedding Invitations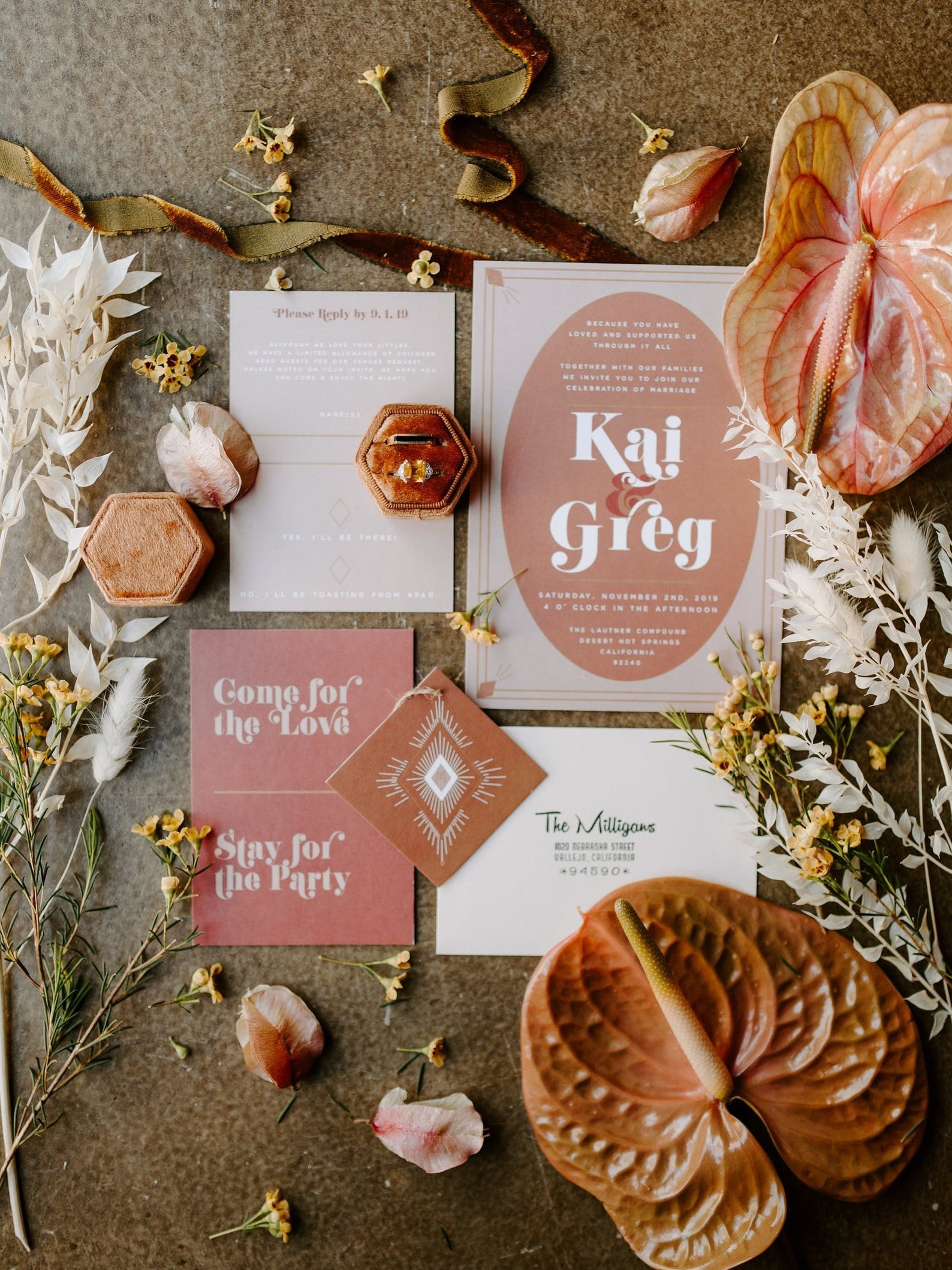 Retro Palm Springs Wedding Invitation Suite by Gold Dust Design Goods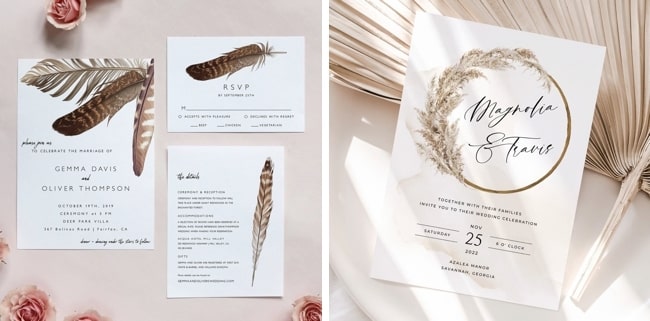 Boho Feather Wedding Invitation Set by Cecilia Sebastian Co (left) | RAE Boho Wedding Invitation by Boheme Paperie (right)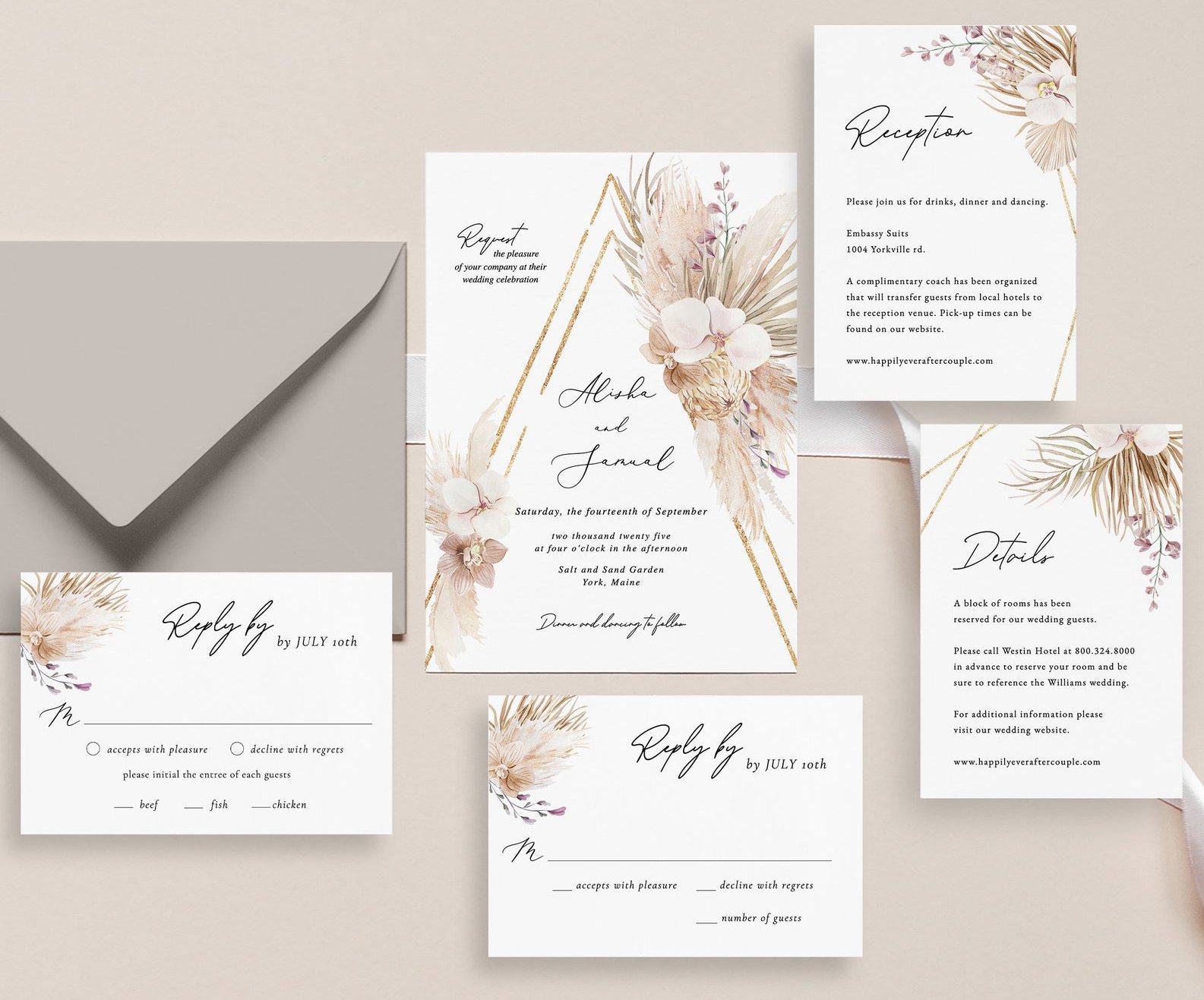 PAMELA Boho Wedding Invitation by Sweet Cloud Design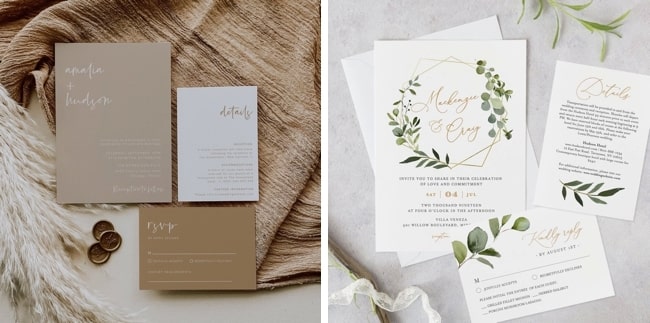 Beige Earth Tone Bohemian Wedding Invitation Suite by Stickearte (left) | Greenery Wedding Invitation Template by Minty Paperie Shop (right)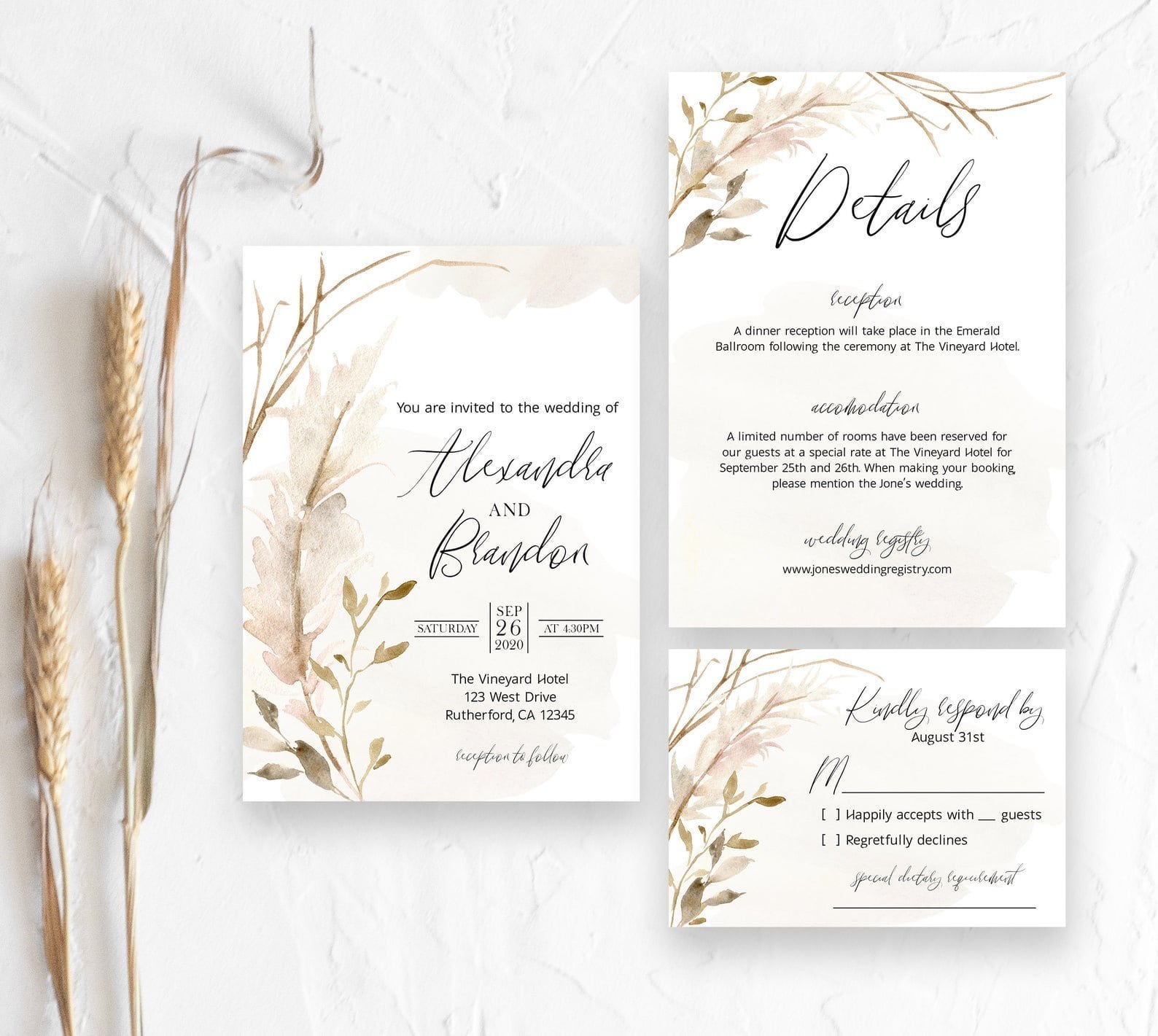 Boho Wedding Invitation Set by Printed By Mer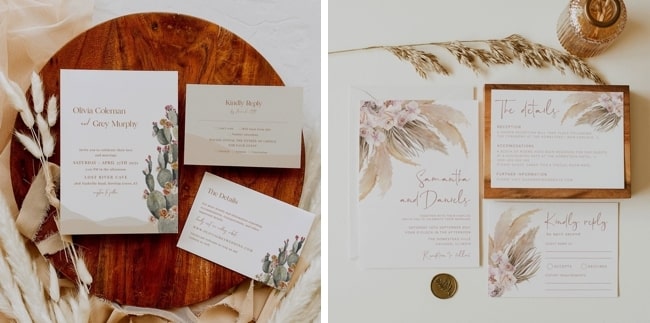 Desert Wedding Invitation by Rosemary Lines (left) | Pampas Grass Wedding Invitation Set by Stickearte (right)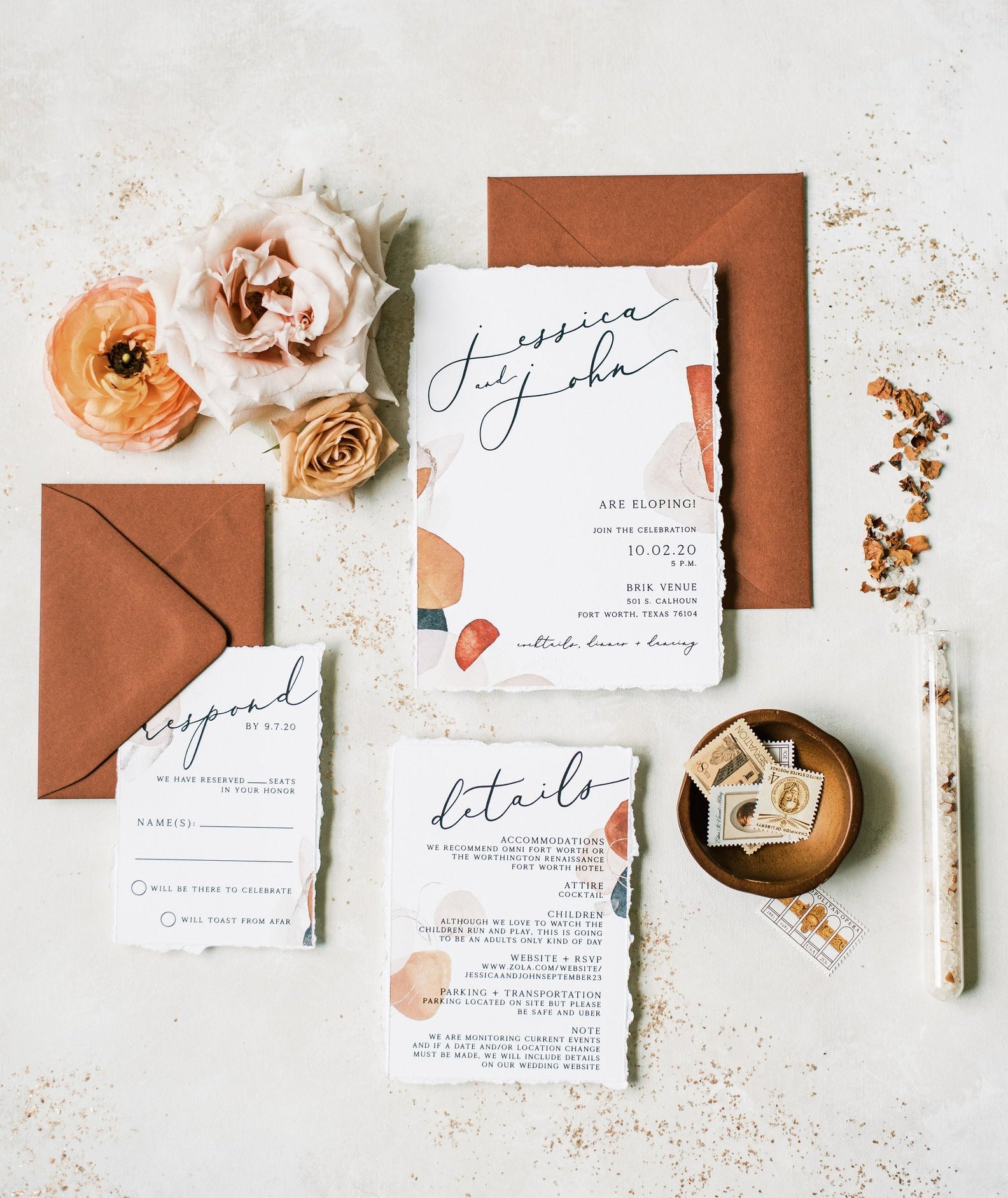 Boho Wedding Invitation with Abstract Shapes by Brown Fox Creative

MORE BOHO WEDDING IDEAS: