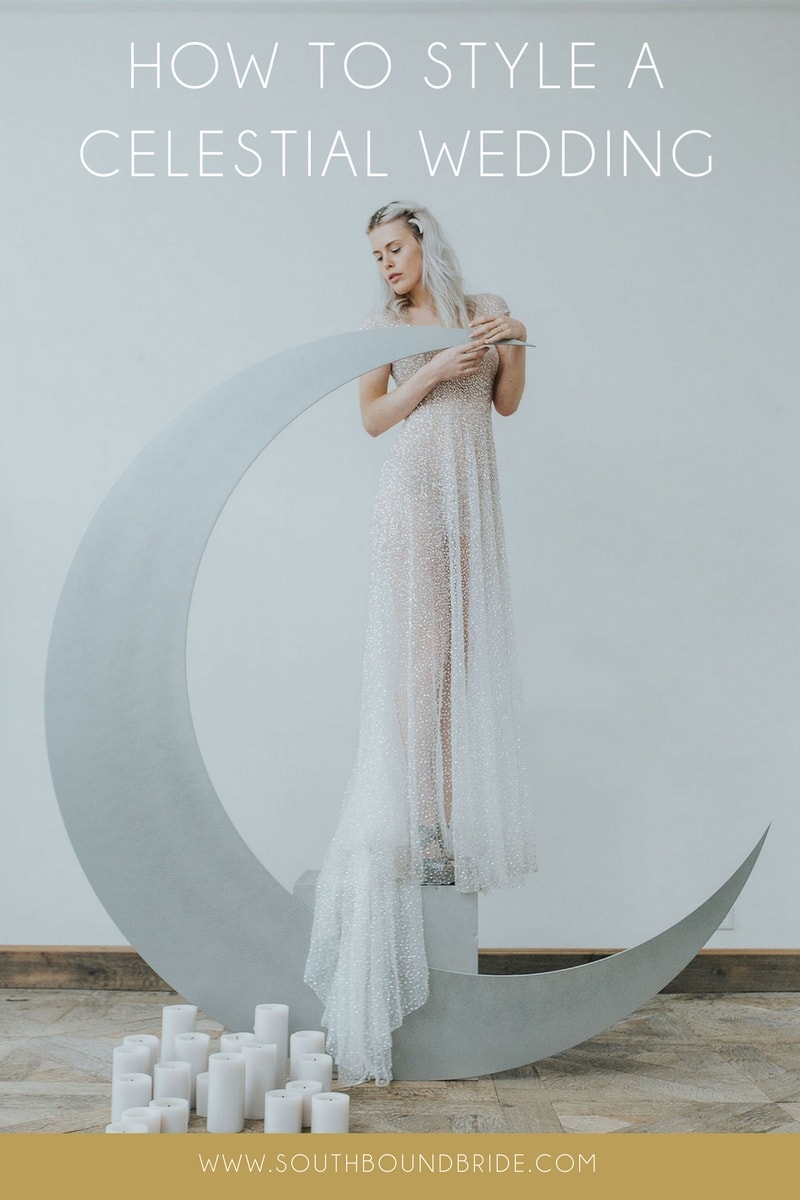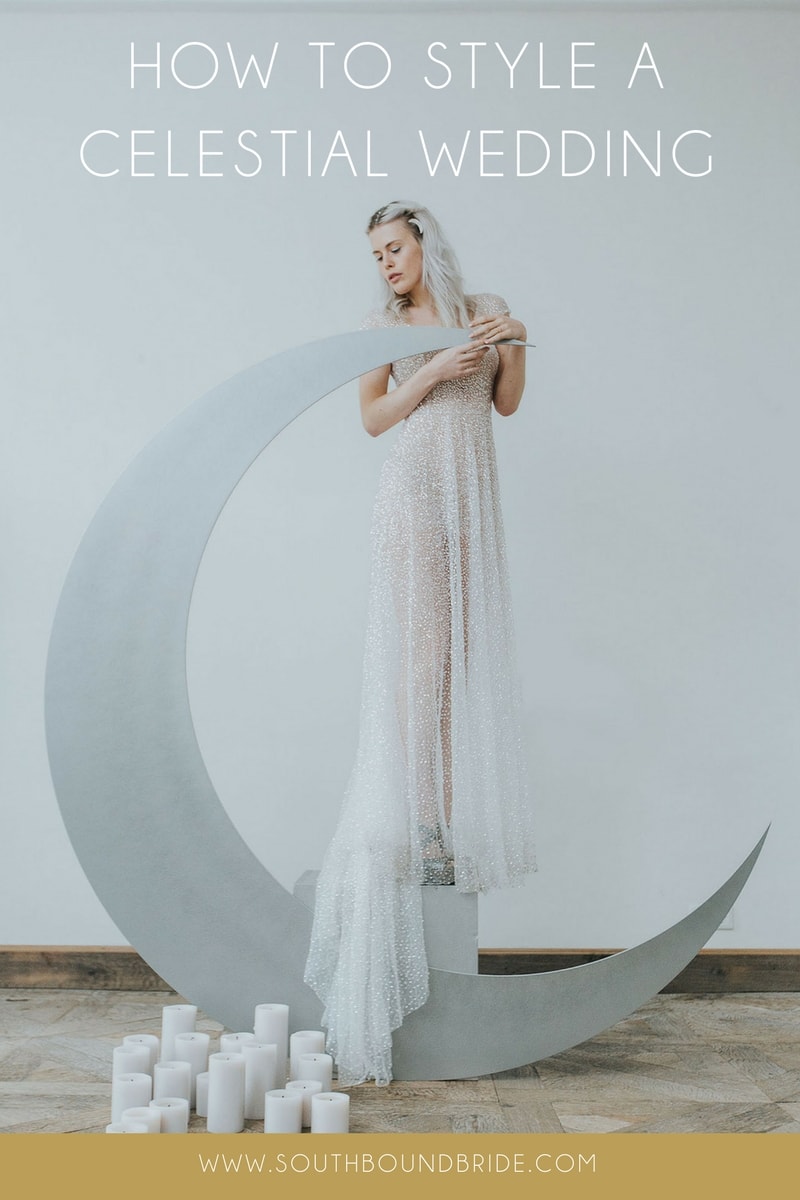 Image credit: Cornelia Lietz/Kiss from Fleur/Nice Plume on SouthBound Bride
*UPDATED FOR 2021* I don't know about you, but the night sky is one of the most romantic things to me, and one of life's greatest pleasures, and it's been inspiring poets and lovers for centuries. Bringing that into your wedding… well, it's just lovely. Whimsical, ethereal, magical, and a great tie-in to update travel themed weddings or for those of you who love astronomy, stargazing, science… or just feel like you want your wedding to have an epic, otherworldly feel (after all, you love your bae to the moon and back, right?) Here are ten star and celestial themed wedding details you can add to your wedding that will have your guests truly over the moon!
*Links in bold denote affiliate links. The cost to you remains the same, but SBB may receive a commission for any sales made.
1. STARRY TABLE DECOR
I'm so crazy for this table decor we featured a couple of weeks ago, which paired round star chart settings with beautiful velum menus, black cutlery, and billowy silk linens. Just beautiful!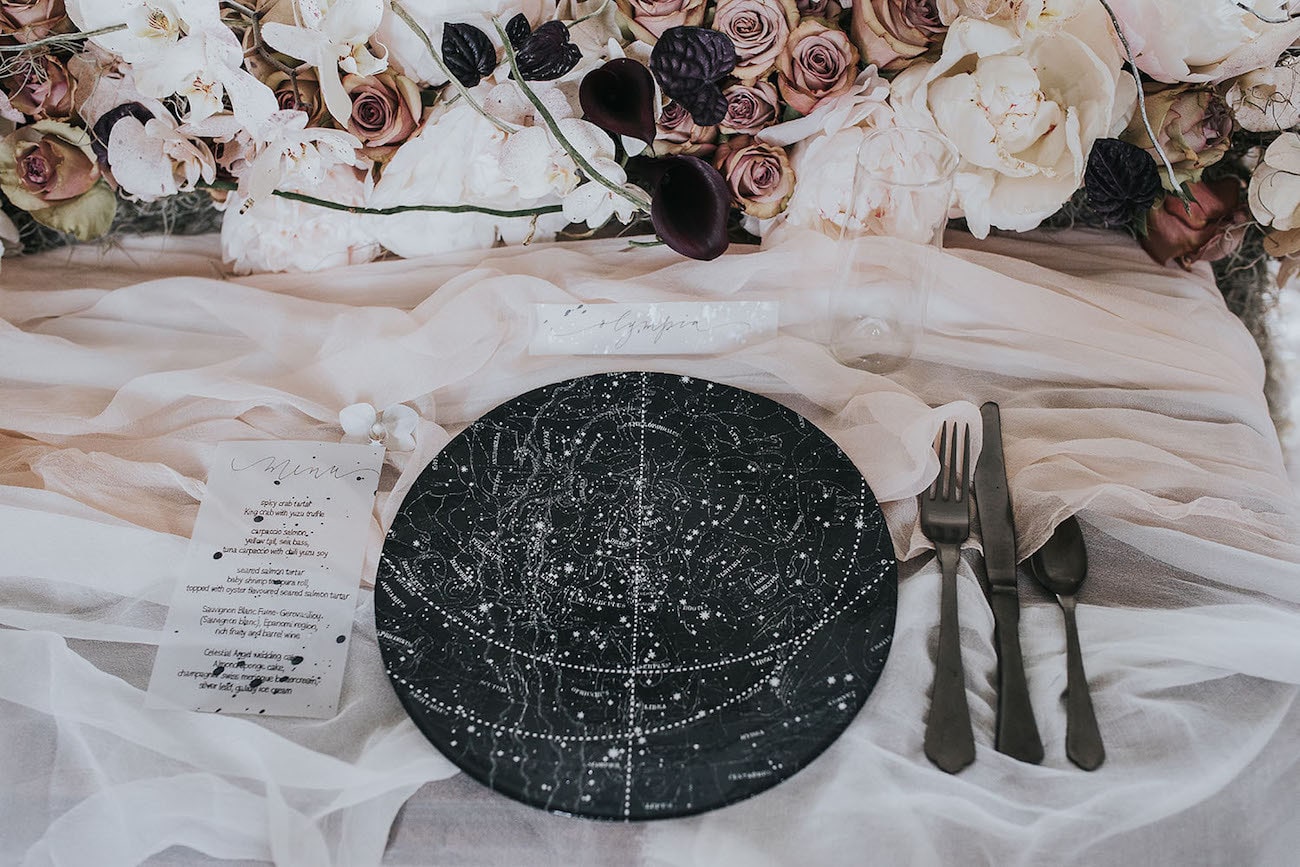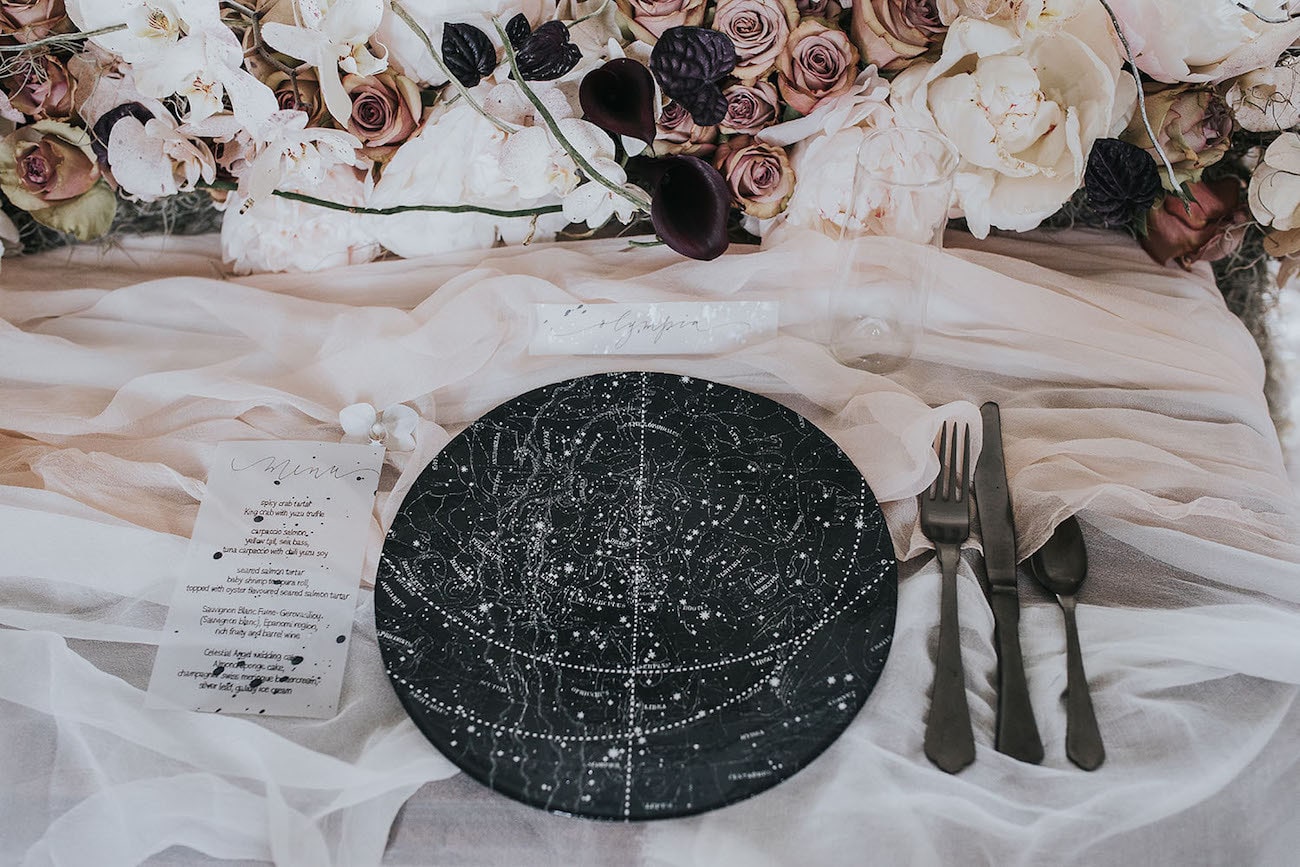 Image credit: Cornelia Lietz/Kiss from Fleur/Nice Plume on SouthBound Bride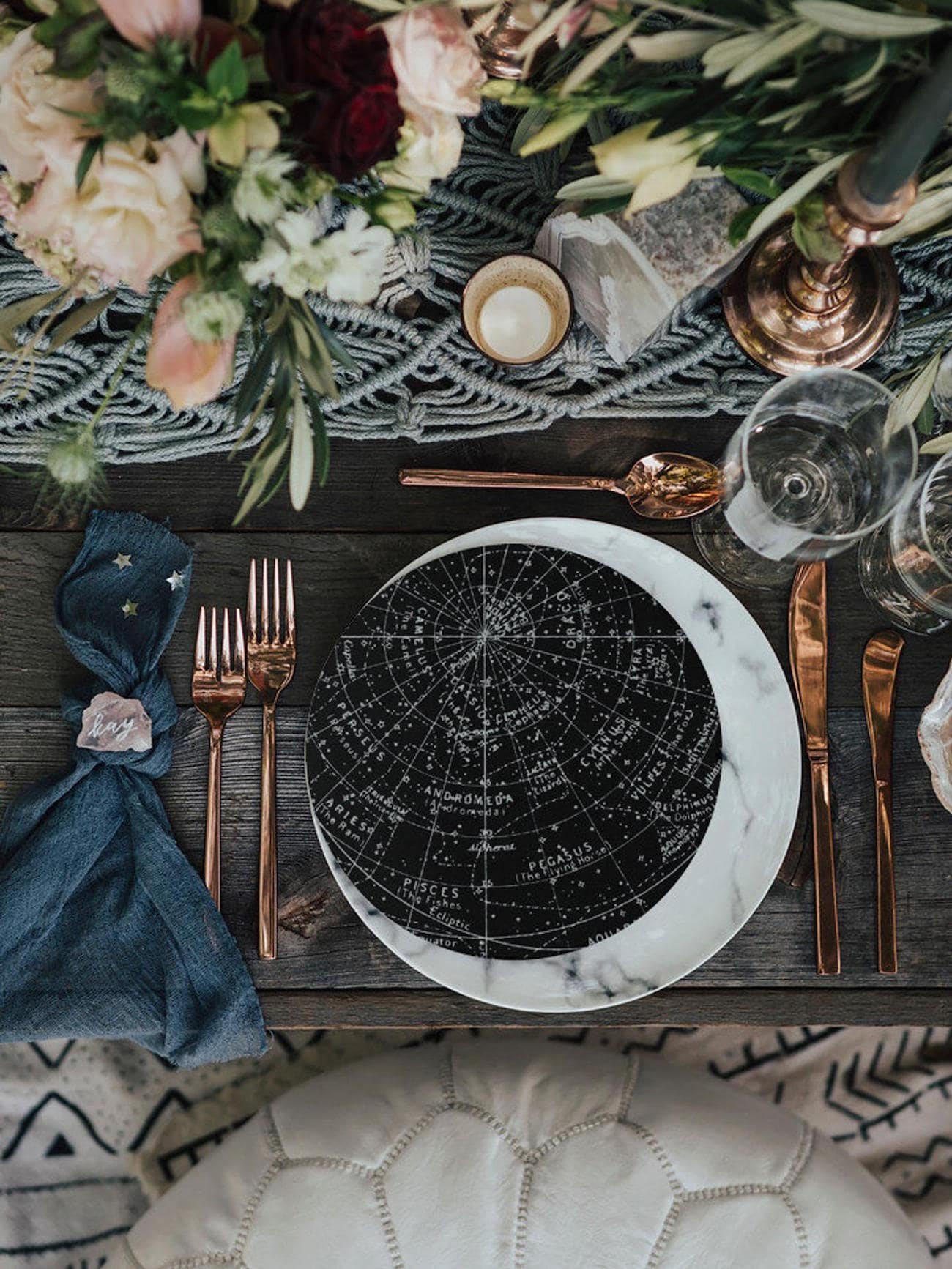 Celestial Menu Template by INVITALIA
2. A SKY FULL OF STARS
There's nothing subtle about this idea, but you have to admit, there's something so whimsical and fabulous about creating a literal sky full of stars with a hanging display of star lanterns at your ceremony or reception!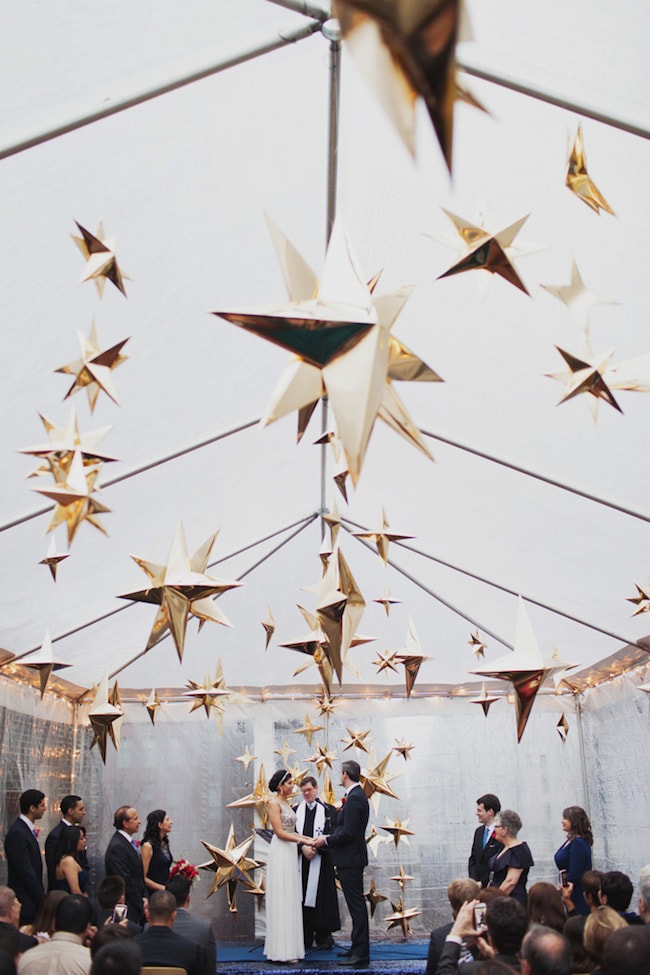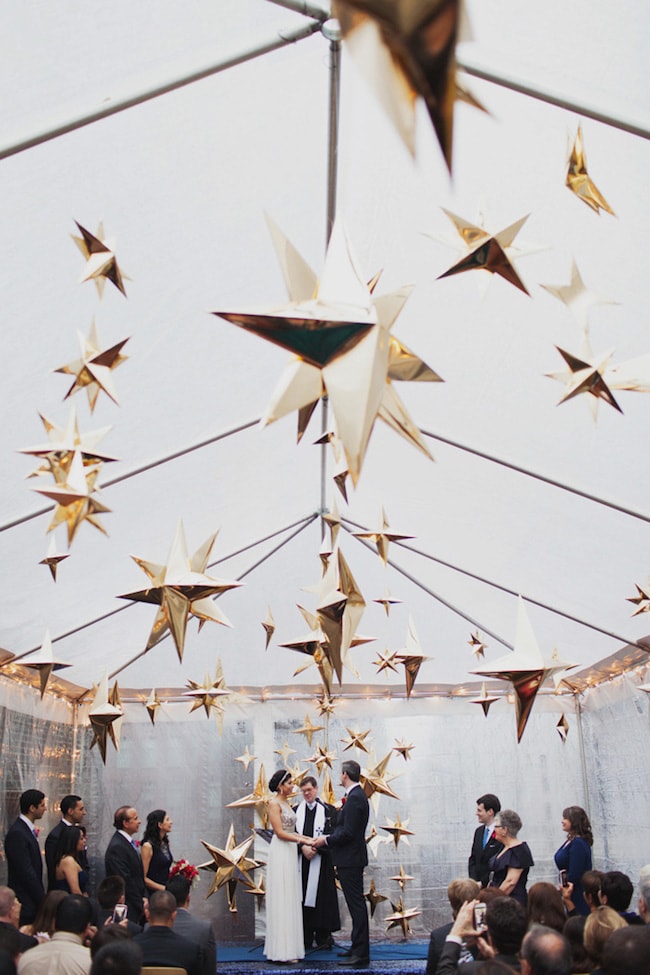 Image credit: Michelle Edgemont via Bride Magazine

3. STAR MAP SEATING CHARTS
I love the idea of using star maps for your table plan because it allows you to really make a display of the night sky and bring the celestial theme to the fore, while also tying into constellation-named tables (see below). Print out a vintage star map and add paper pins, design a custom galaxy themed seating chart, or how about a giant star finder (love the interactivity of this!)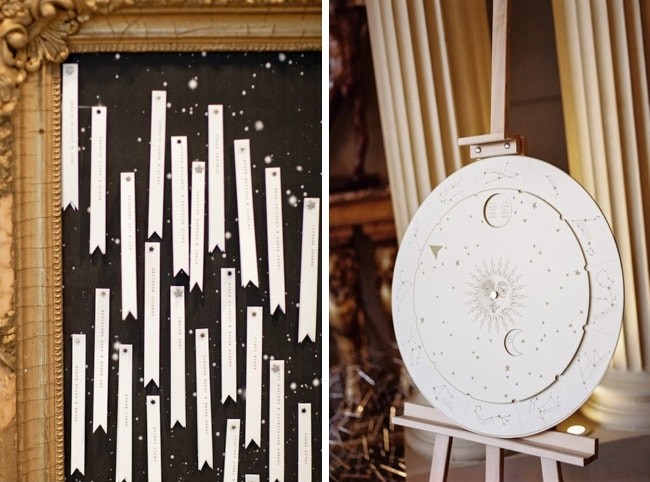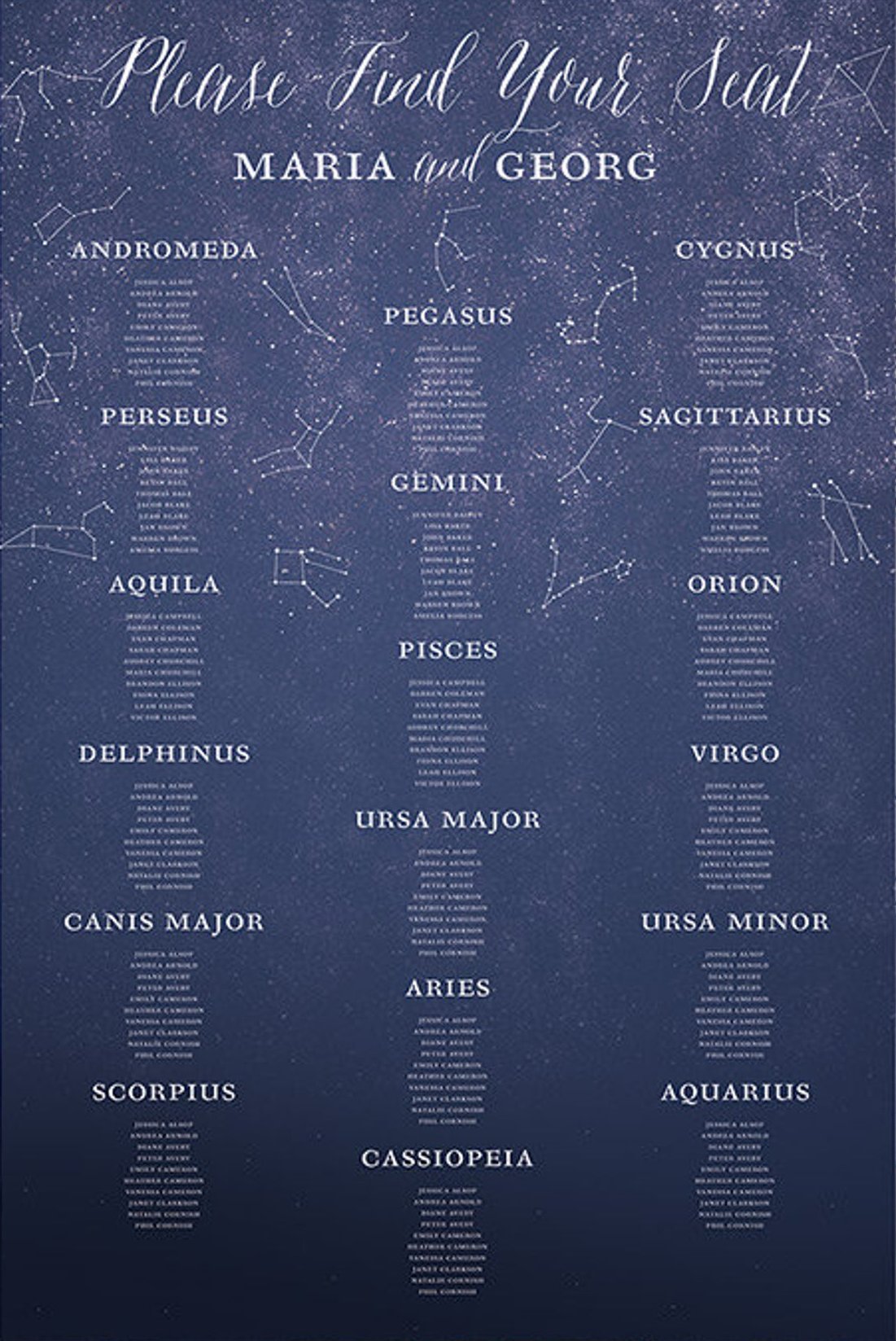 Image credits: Apryl Ann Photography/Bows and Arrows via Ruffled (top left) | Ann-Kathrin Koch/ Tom Gautier via Junebug Weddings (top right) | Starry Night Seating Chart by Soumyas Designs (bottom)
4. CONSTELLATION TABLE NAMES
Name each of your tables for a constellation instead of just giving it a number, and then place a picture of that constellation (framed) on the table. You could choose constellations meaningful to you or the people at that table, or simply pick a few with pretty names and don't overthink it!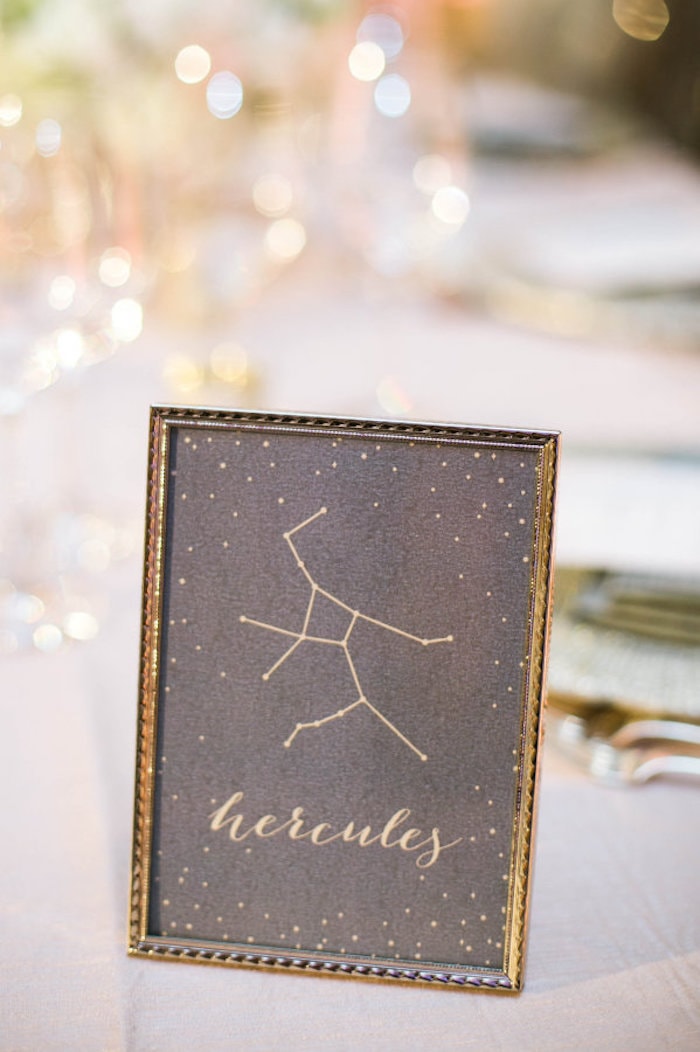 Image credit: Jasmine Lee Photography/Charmed Events Group via Mod Wedding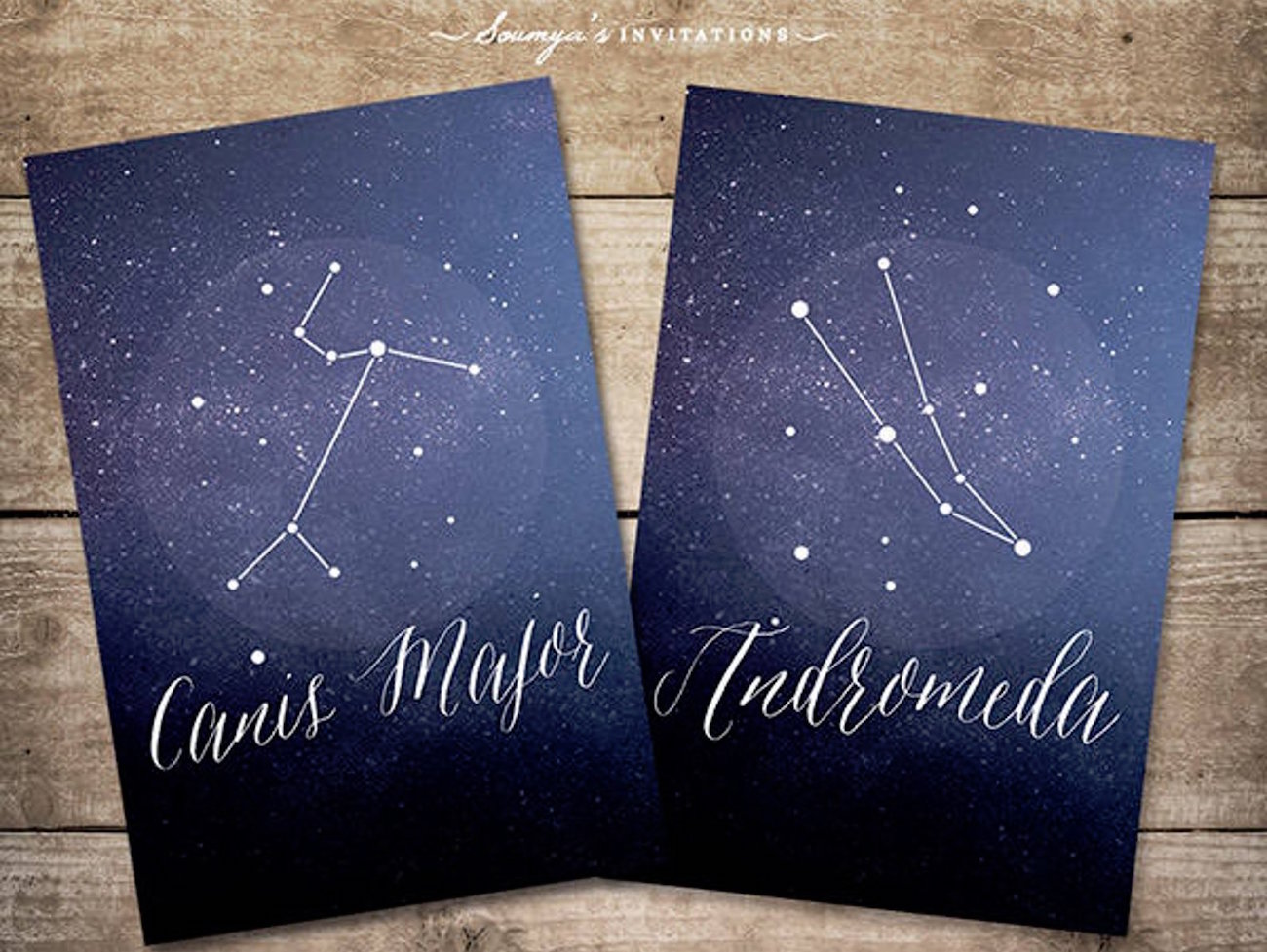 Constellation Starry Night Table Numbers by Soumyas Designs
5. MOONSTONE ENGAGEMENT RINGS
The trend towards coloured and gem engagement rings is going strong, so if you're a star-struck kinda gal, why not opt for an opal engagement ring? There are some seriously beautiful options available!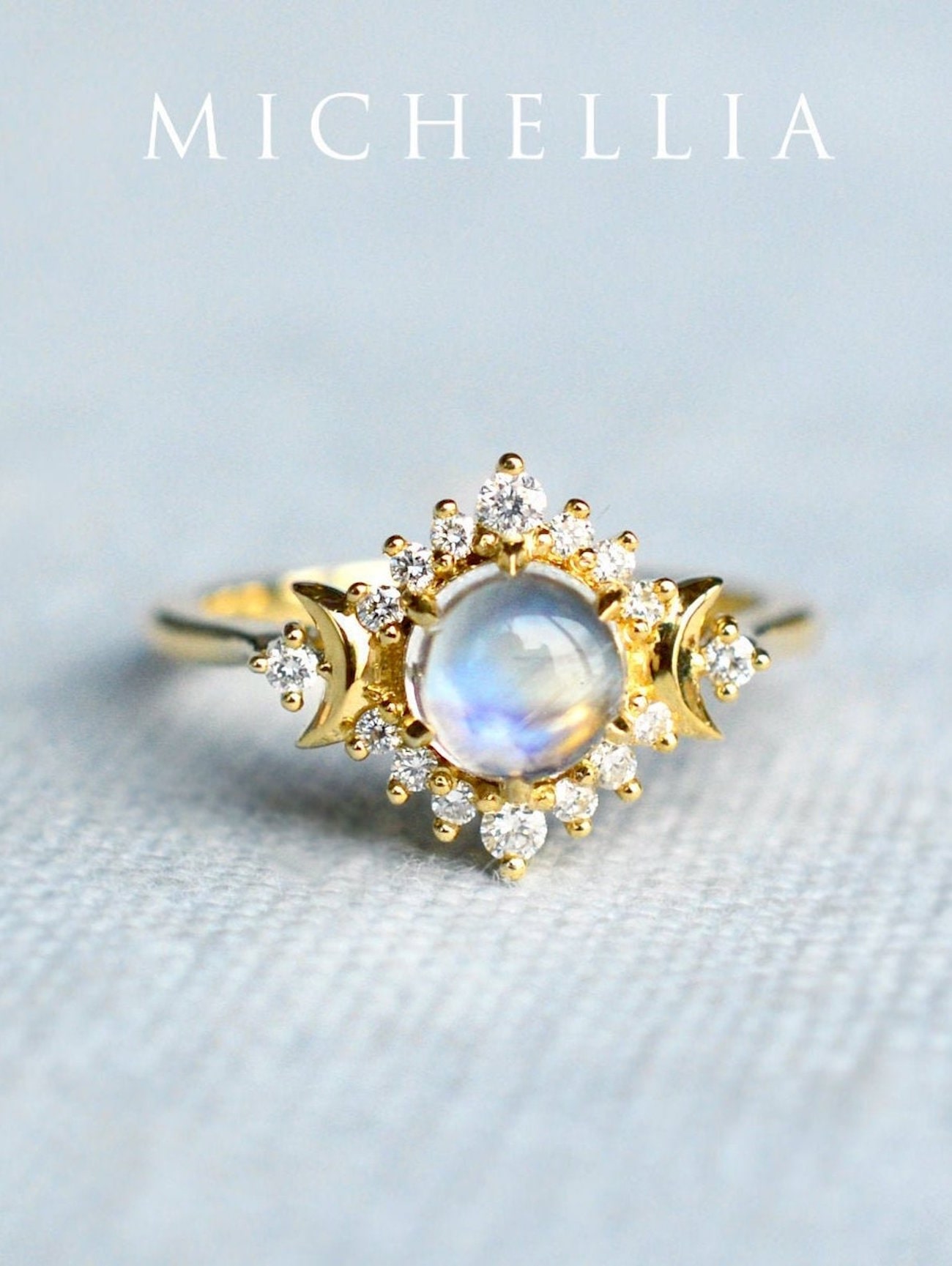 Selene Moonstone Engagement Ring by Michellia Fine Jewelry
6. MOON PHASE MACARONS
How. Cool. Is. That? The cleverest (and sweetest!) celestial detail: macarons (or is that maca-moons?) coloured to look like the phases of the moon. LOVE. Display the full set, place one at each place setting, or pop one each in navy blue velvet jewellery pouches for a super pretty favor.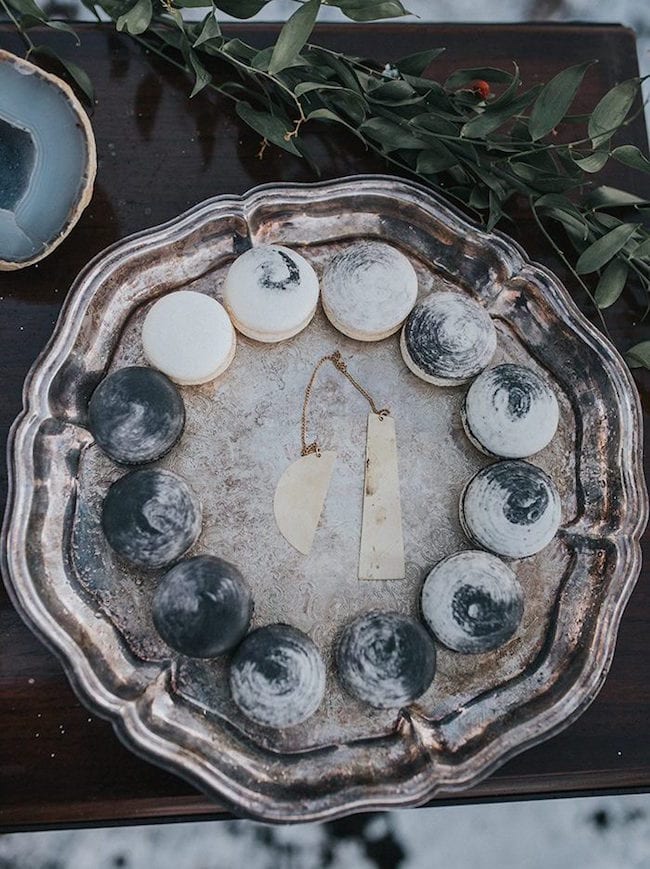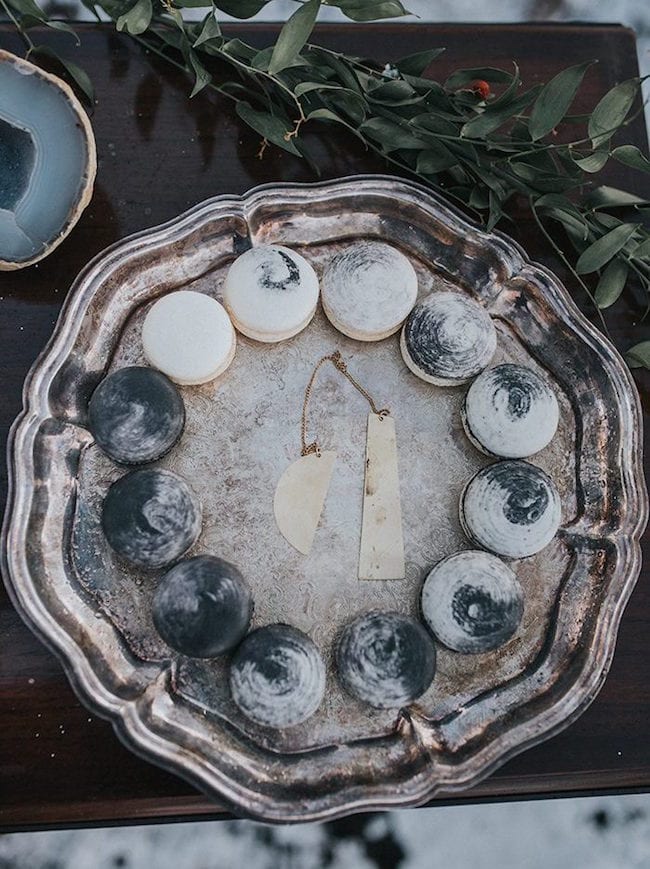 Image credit: Maggie Grace Photography/Emily Aitken Events/Flour Child via Junebug Weddings

7. NIGHT SKY BRIDESMAID DRESSES
Midnight blue is an obvious (and lovely!) choice for celestial bridesmaids, but a look I personally adore is a mix of blue tones and silver mismatched bridesmaid dresses, with a few touches of sequin and sparkle and shine for added texture. Out of this world!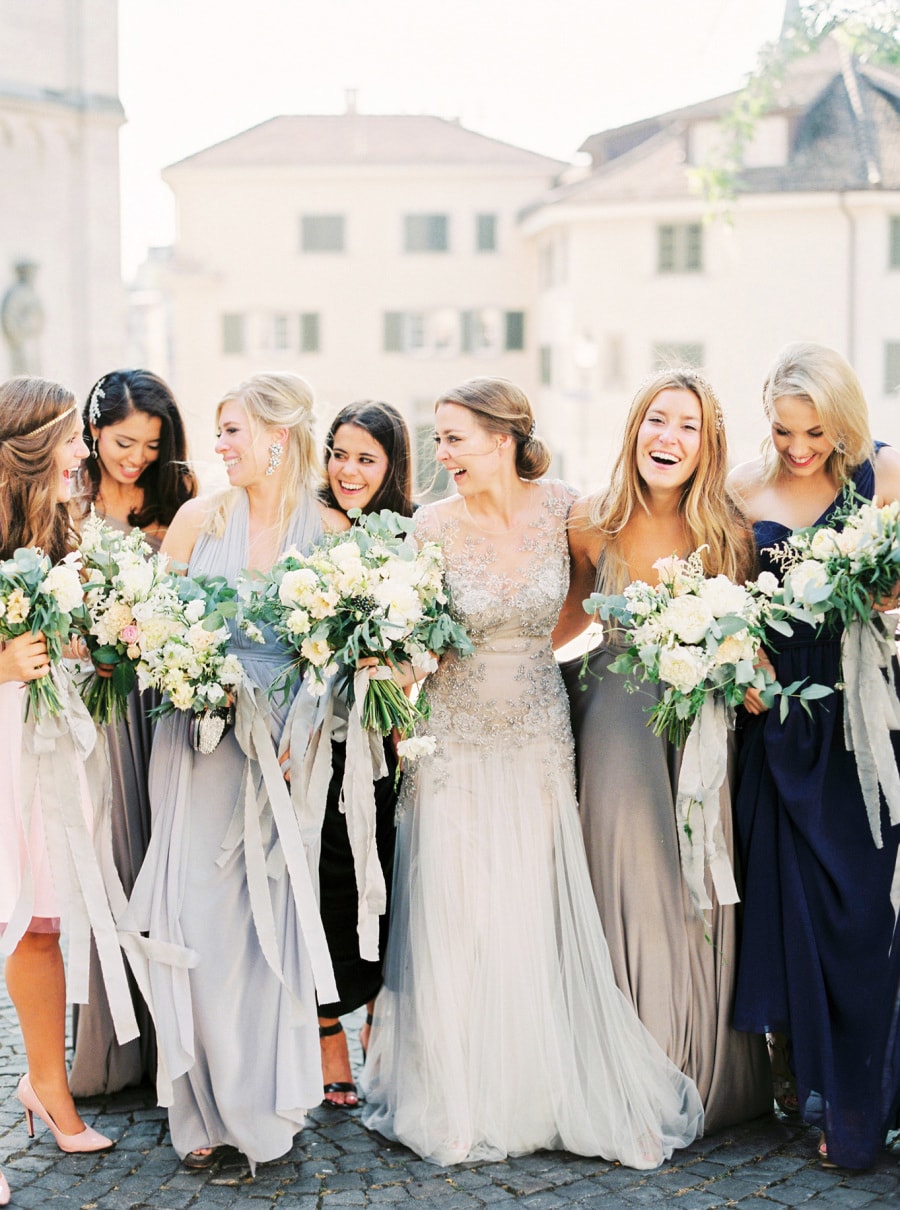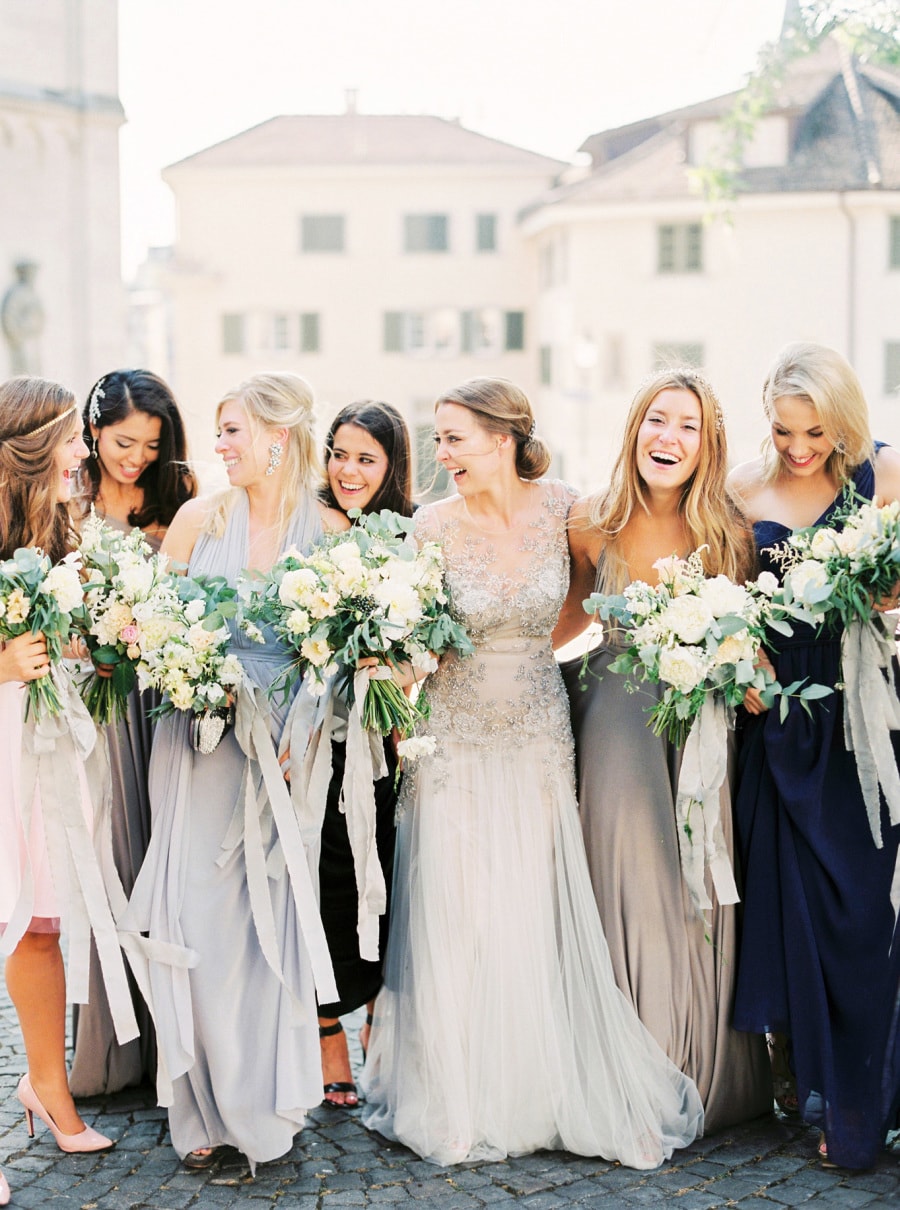 Image credit: Peaches And Mint/Flowerup/twobirds Bridesmaid via Style Me Pretty
8. GALAXY WEDDING CAKES
This year, marble wedding cakes go next level with a galaxy spin. The one below is a particular fave, but I'm absolutely loving the Milky Way inspired creations that are popping up at the moment. Classy and whimsical. If you love the idea but don't want to go the whole way, then consider a star-inspired cake topper instead (see some examples in the Shop the Look section below).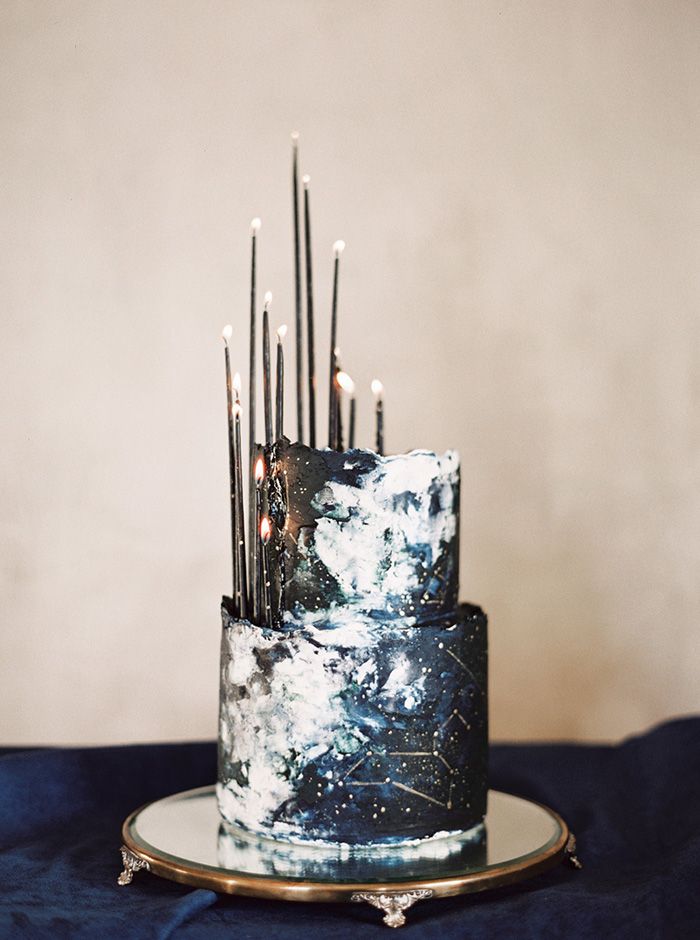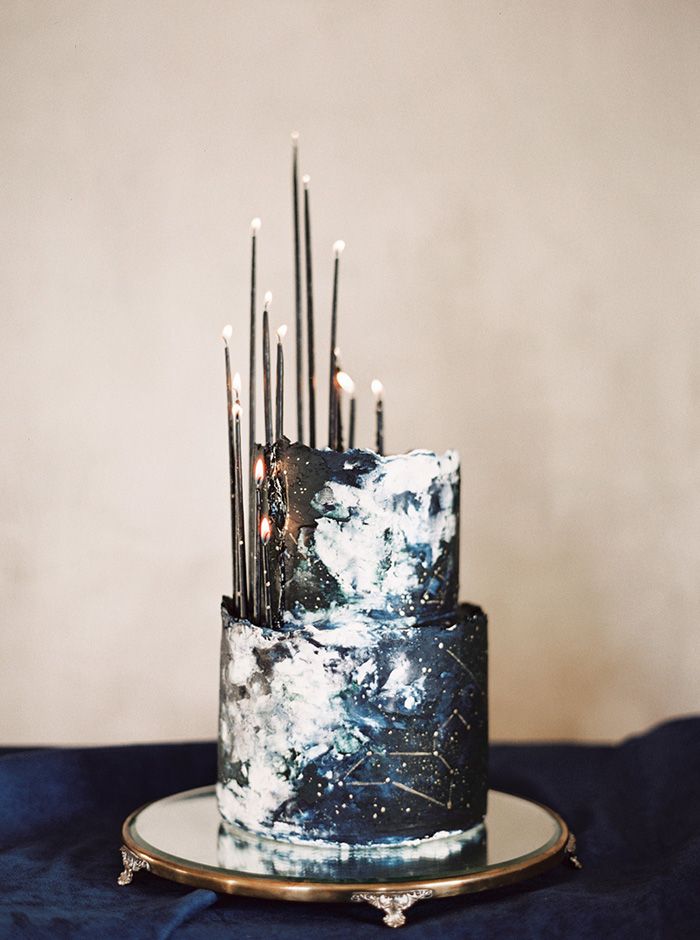 Image credit: Orange Photographie/Whipped Confections via Cottage Hill Magazine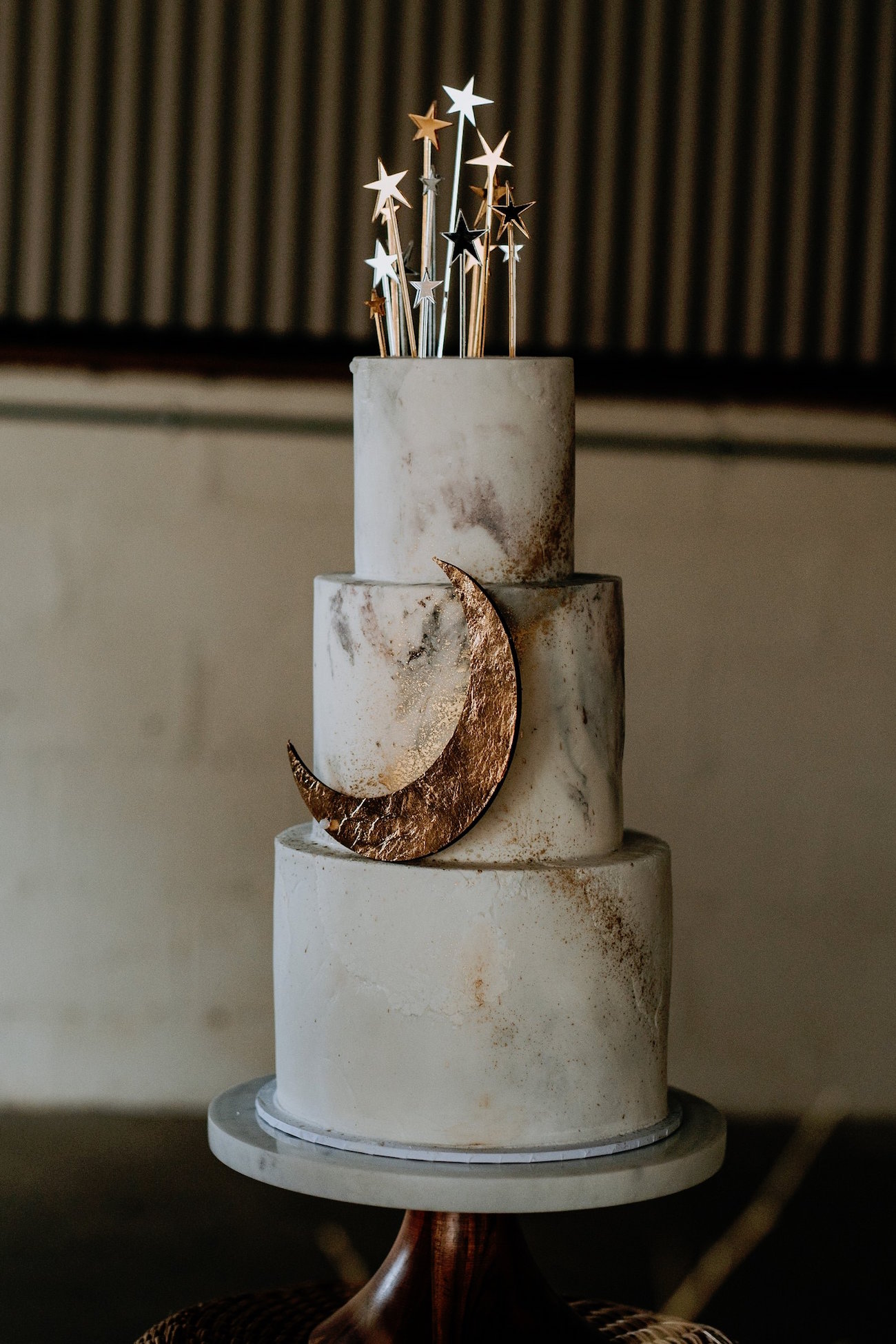 Star Wedding Cake Topper by Suzanne Oddy Design
9. CELESTIAL INVITATIONS
Of COURSE the paper elements of this theme were going to be a highlight! So much to choose from here – moody watercolours, star motifs, moon phases, even this incredible interactive invitation that included a mini telescope. So romantic!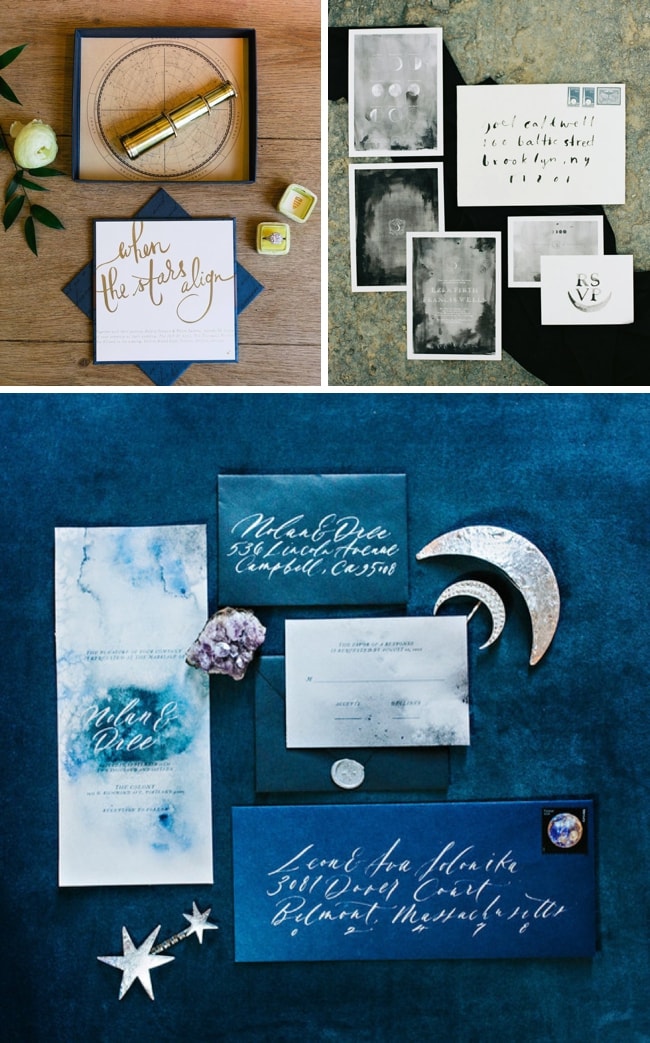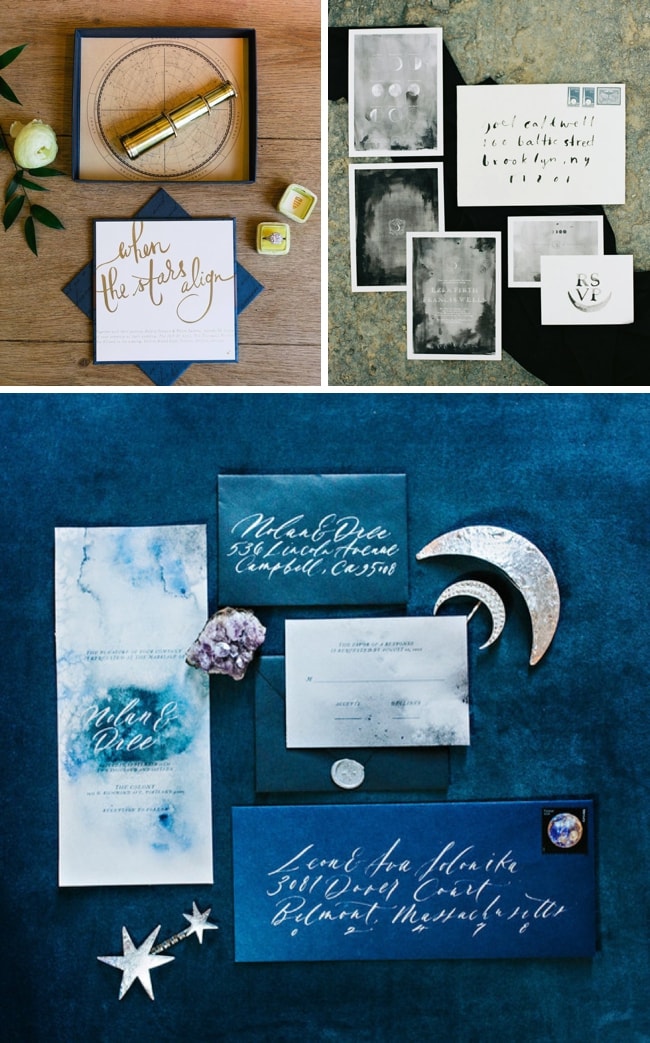 Image credits: Corina V Photography/Cynthia Martyn Events/Ferris Wheel Press via WedLuxe (top left) | Winsome and Wright/Brumley & Wells/The Wells Makery via Green Wedding Shoes (top right) | Hazelwood Photo/Something Borrowed Portland/Ginger and You/Rachel Jacobson via 100 Layer Cake (bottom)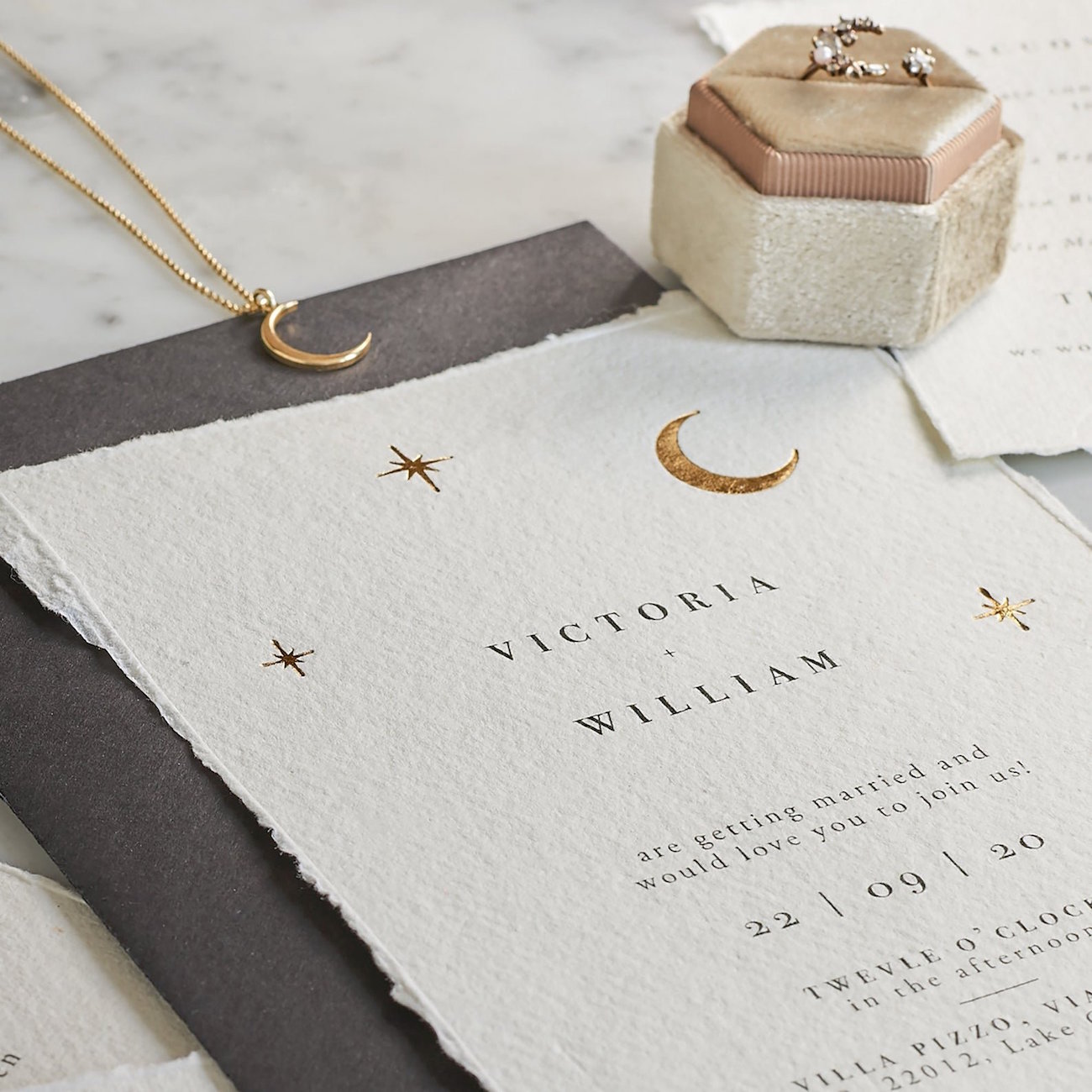 Moon & Stars Wedding Invitation Suite by Paigen Co
10. STARDUSTED WEDDING GOWNS
Last but not least, why not infuse the celestial theme into your bridal attire? We've already done a roundup of gorgeous moon goddess bridal accessories, but since your dress is the main event, why not let it have a touch of startdust too? We've been dying over the starry dresses that have been appearing on catwalks, from Jenny Packham to Mira Zwillinger to Hayley Paige. Talk about being the star of the show!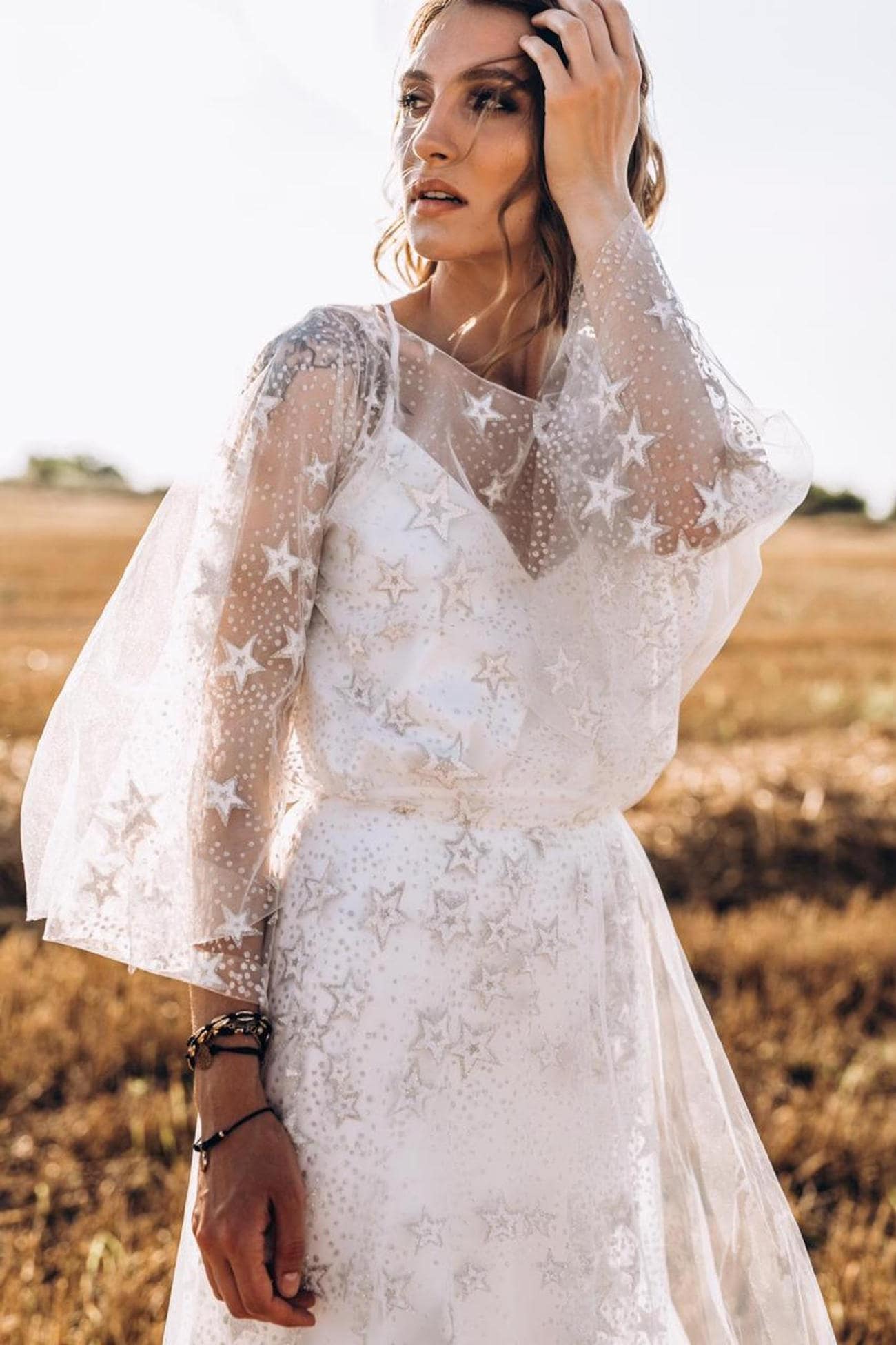 Simple Sparkle Star Celestial Wedding Dress by A and M Enterprises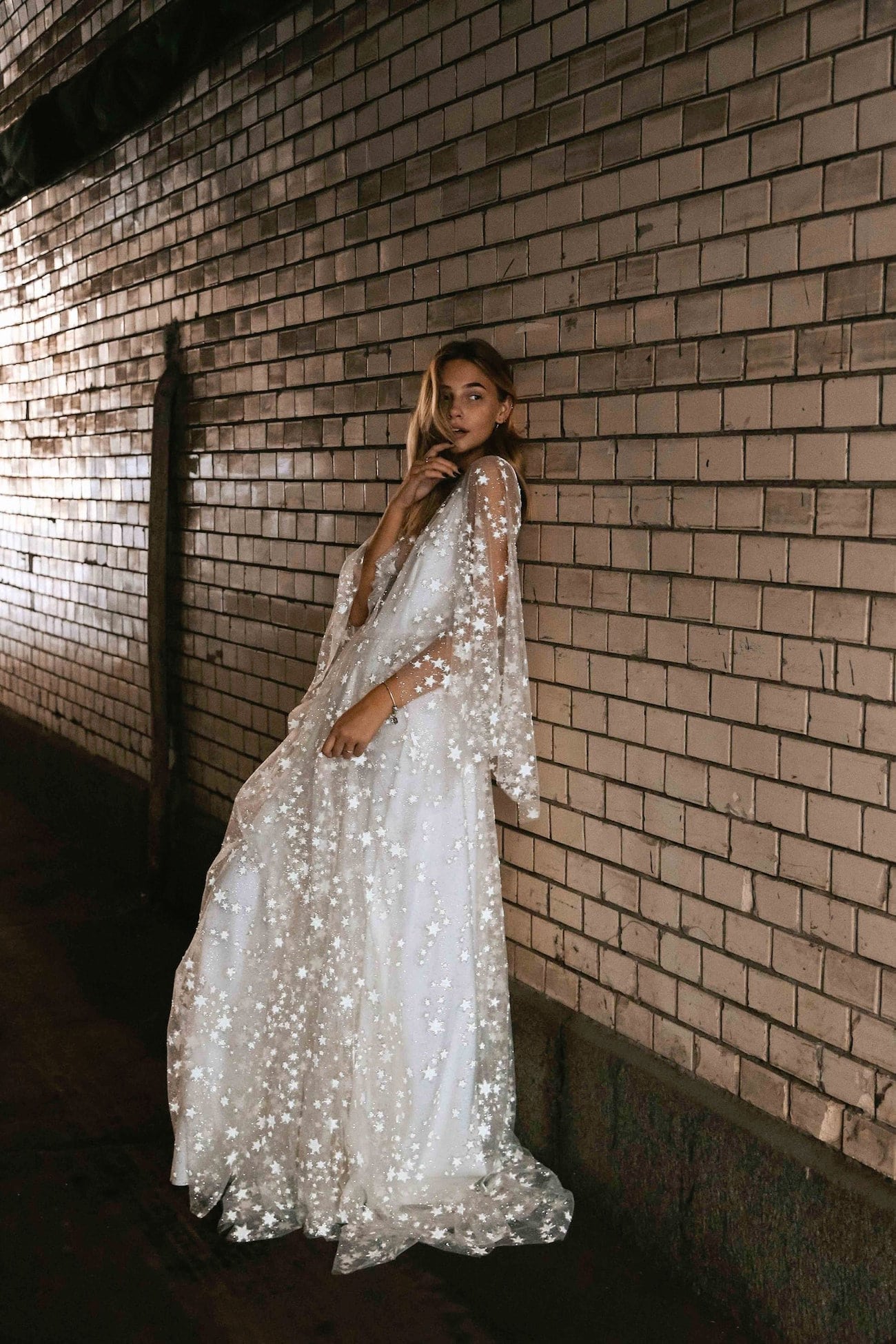 Counting Stars Boho Wedding Dress by Boom Blush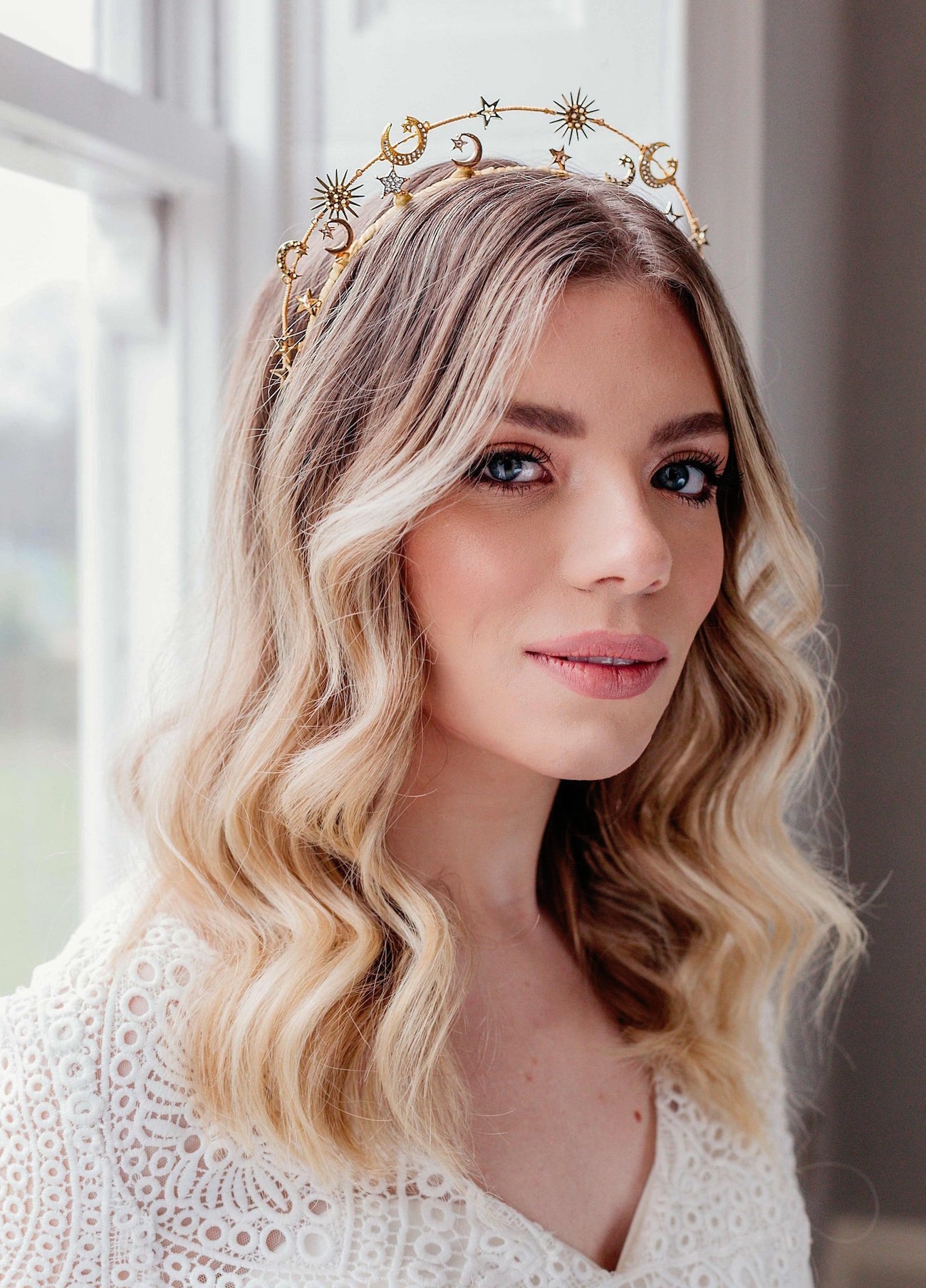 Celestial Tiara by Rachel Chaprunne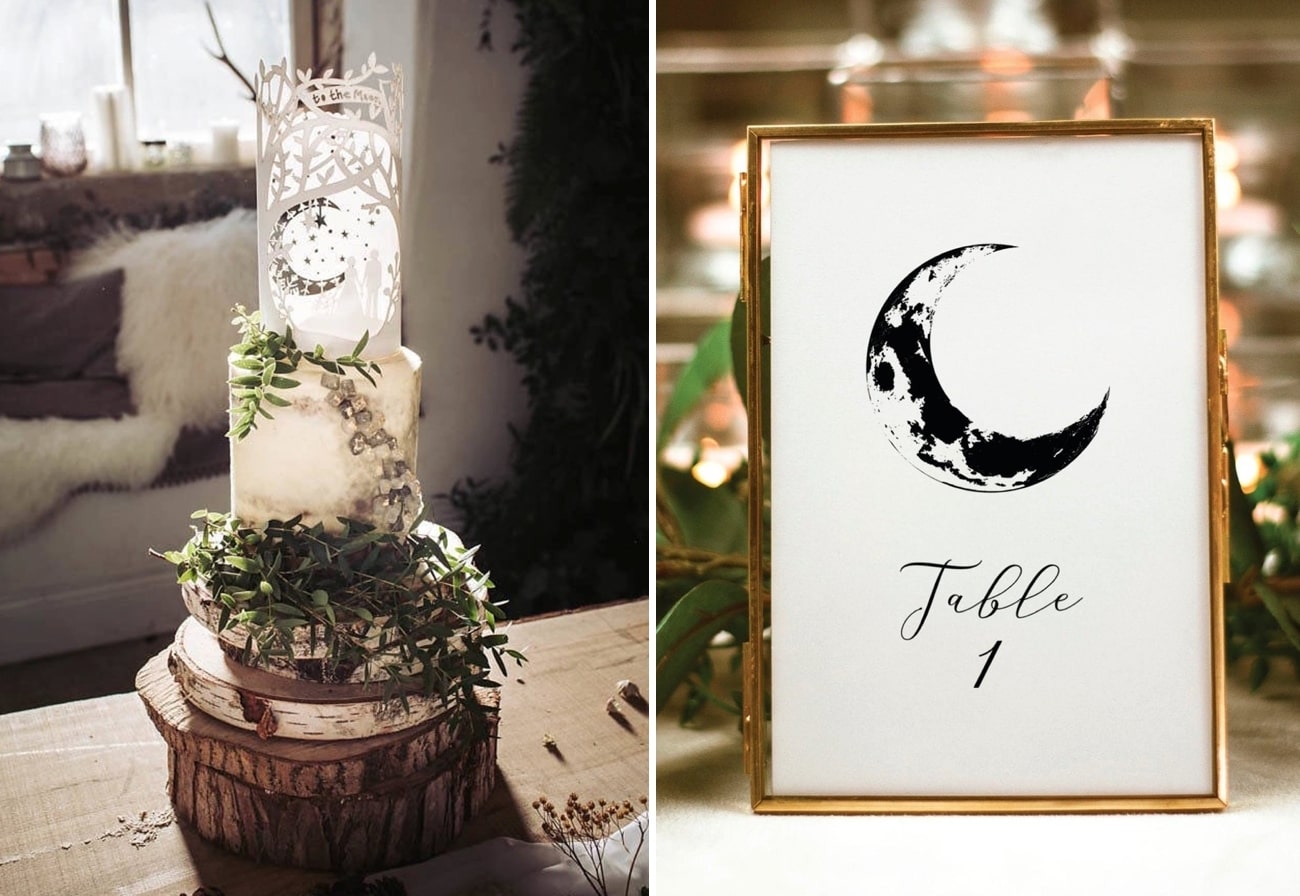 Laser Cut Celestial Cake Topper by Suzanne Oddy Design (left) | MOON FLOWER Table Number by Fawcett Ave Paper Co (right)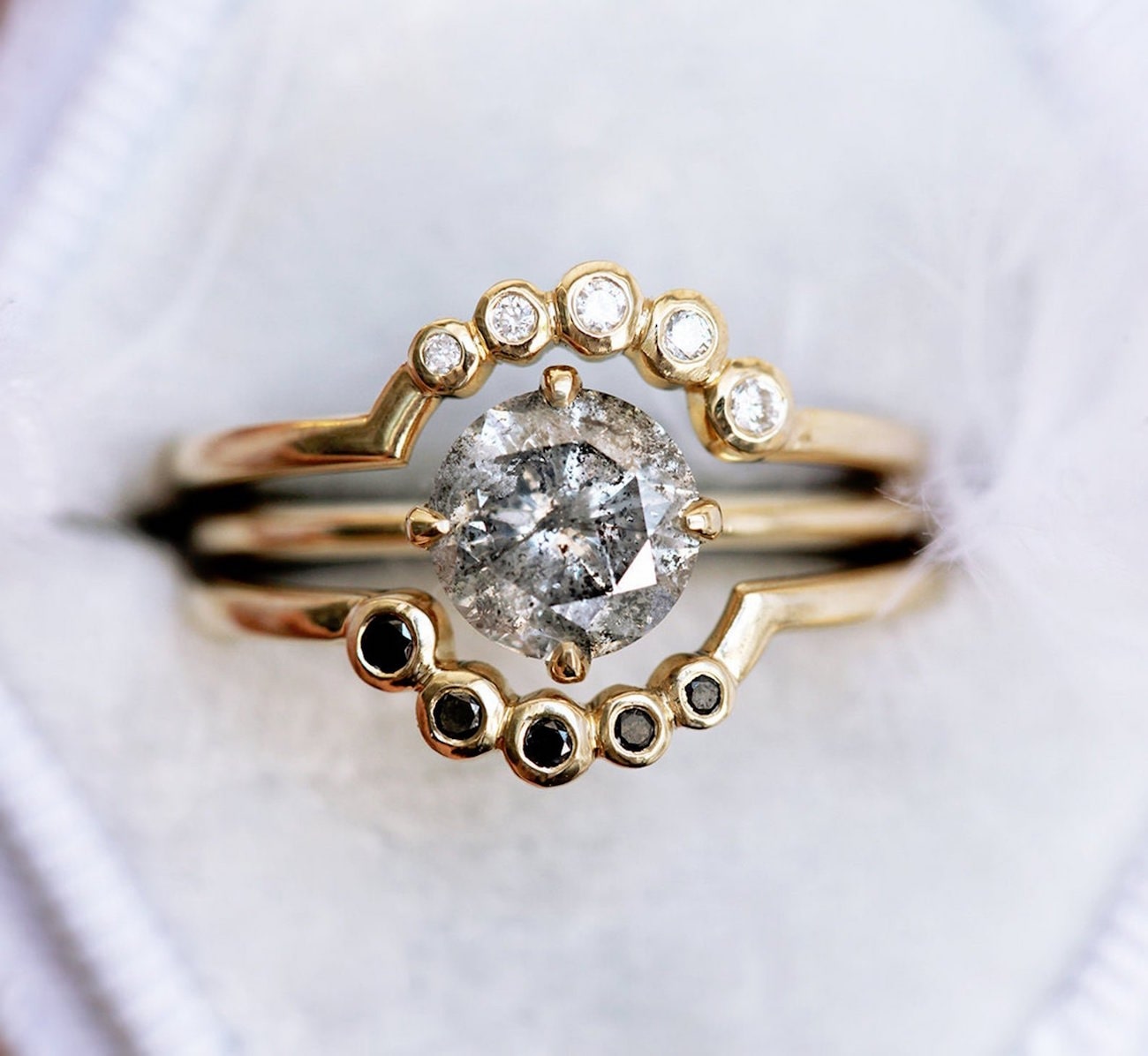 Celestial Diamond Ring Set by Minimal VS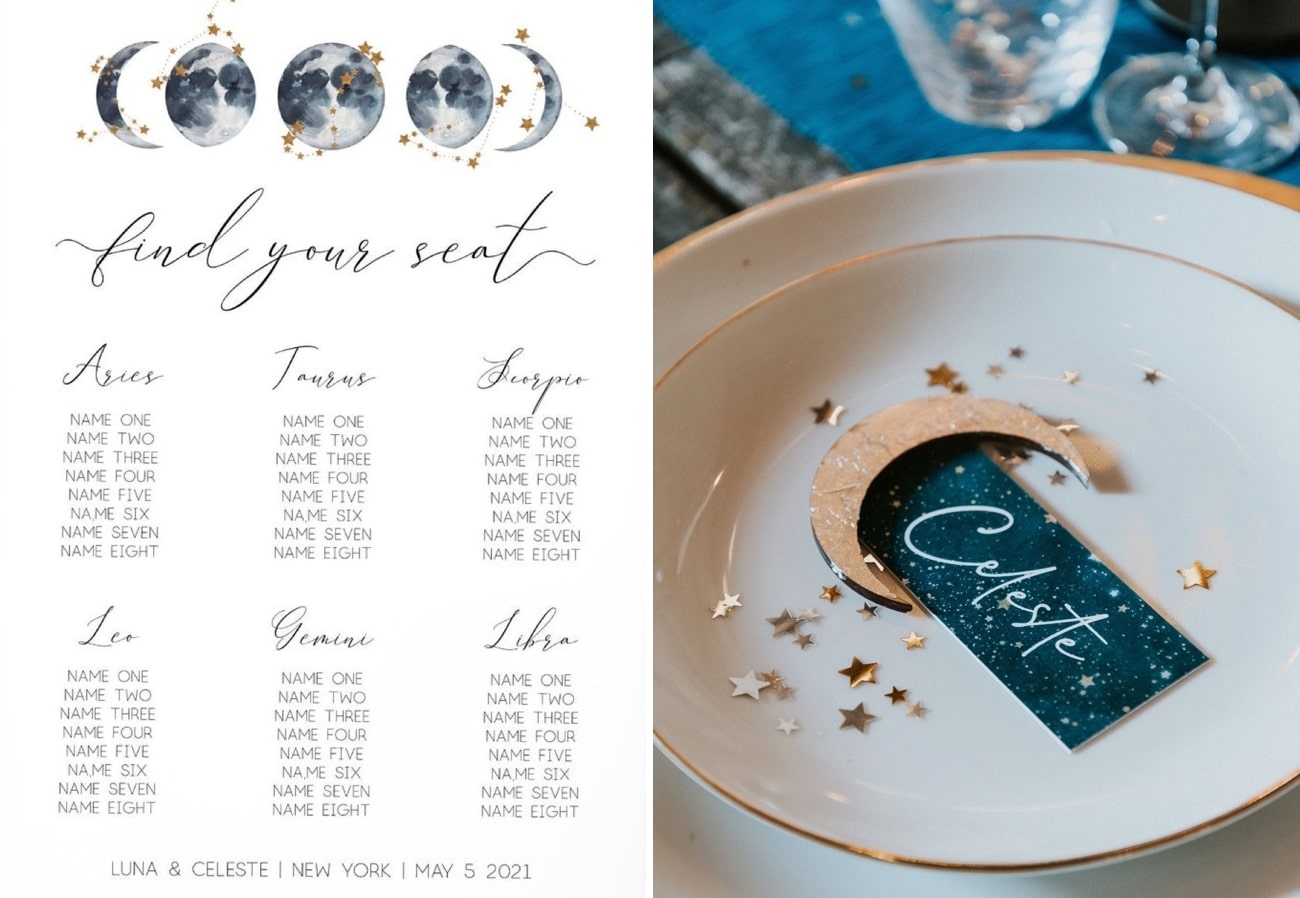 Celestial Seating Chart by Bohemian Sunday Design (left) | Celestial Wedding Place Card with Gold Leaf by Suzanne Oddy Design (right)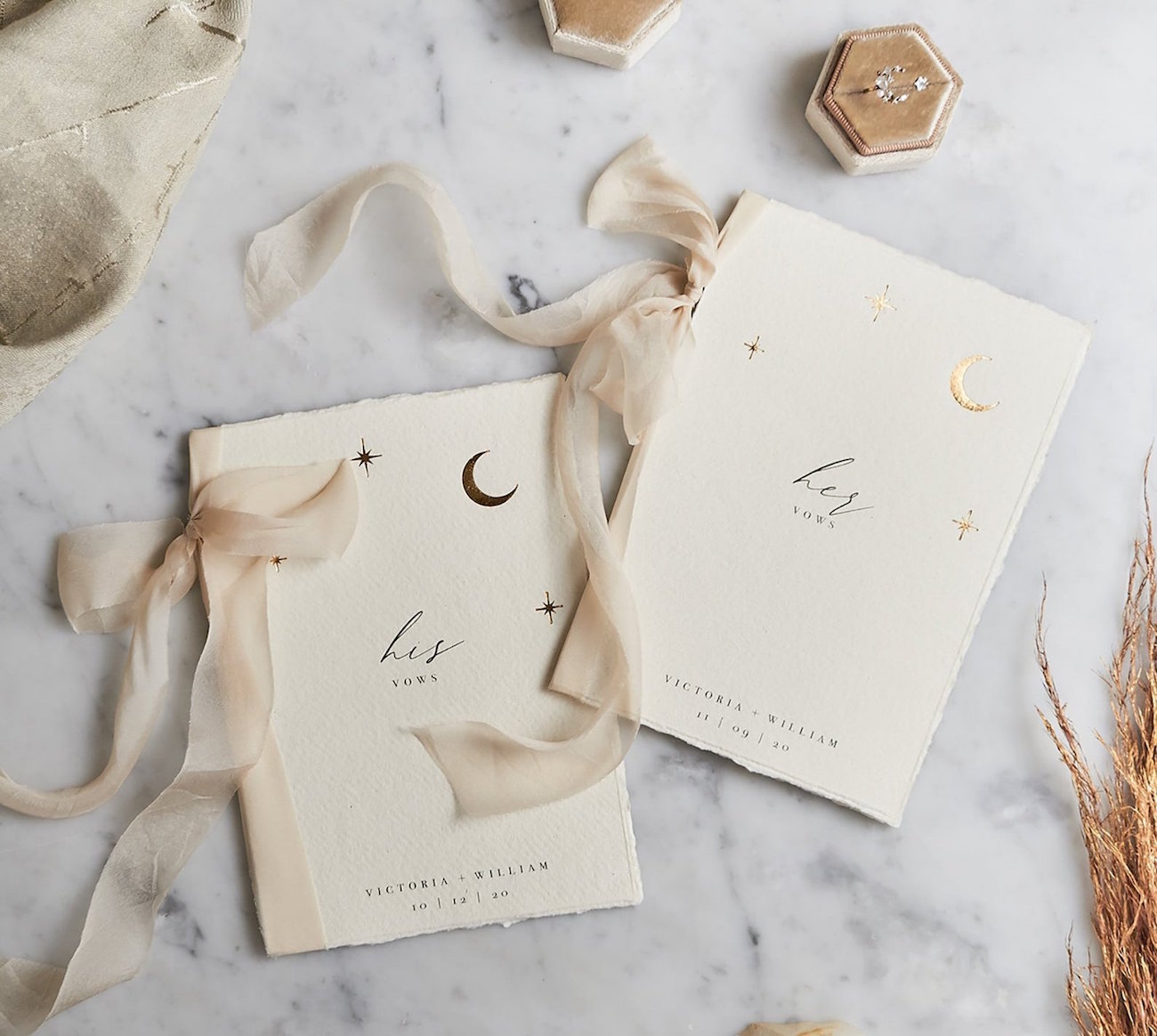 His & Hers Personalised Vow Books by Paigen Co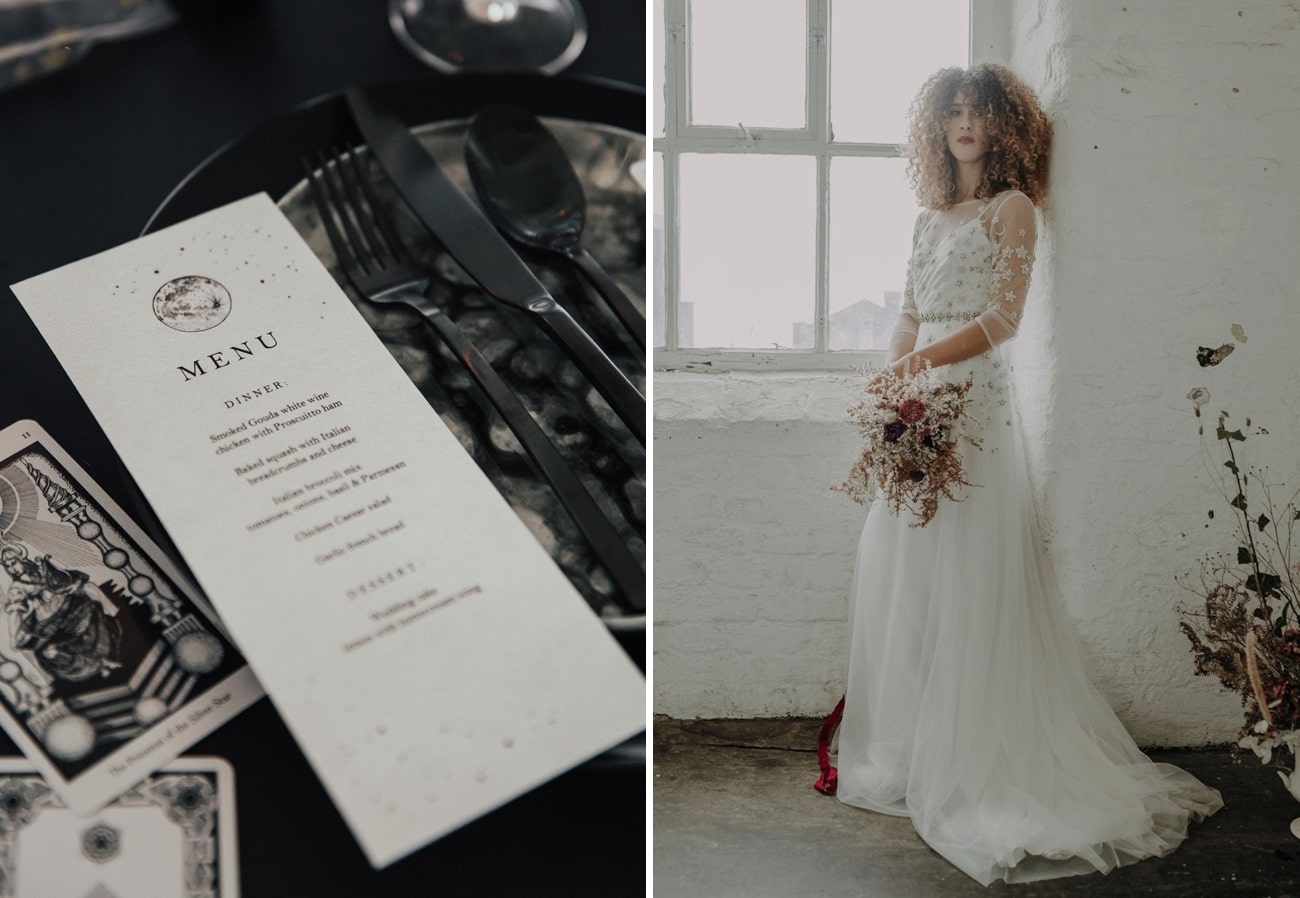 Celestial Moon Menu by Adoration Design (left) | ASTRID WEDDING DRESS by Wilderness Brides (right)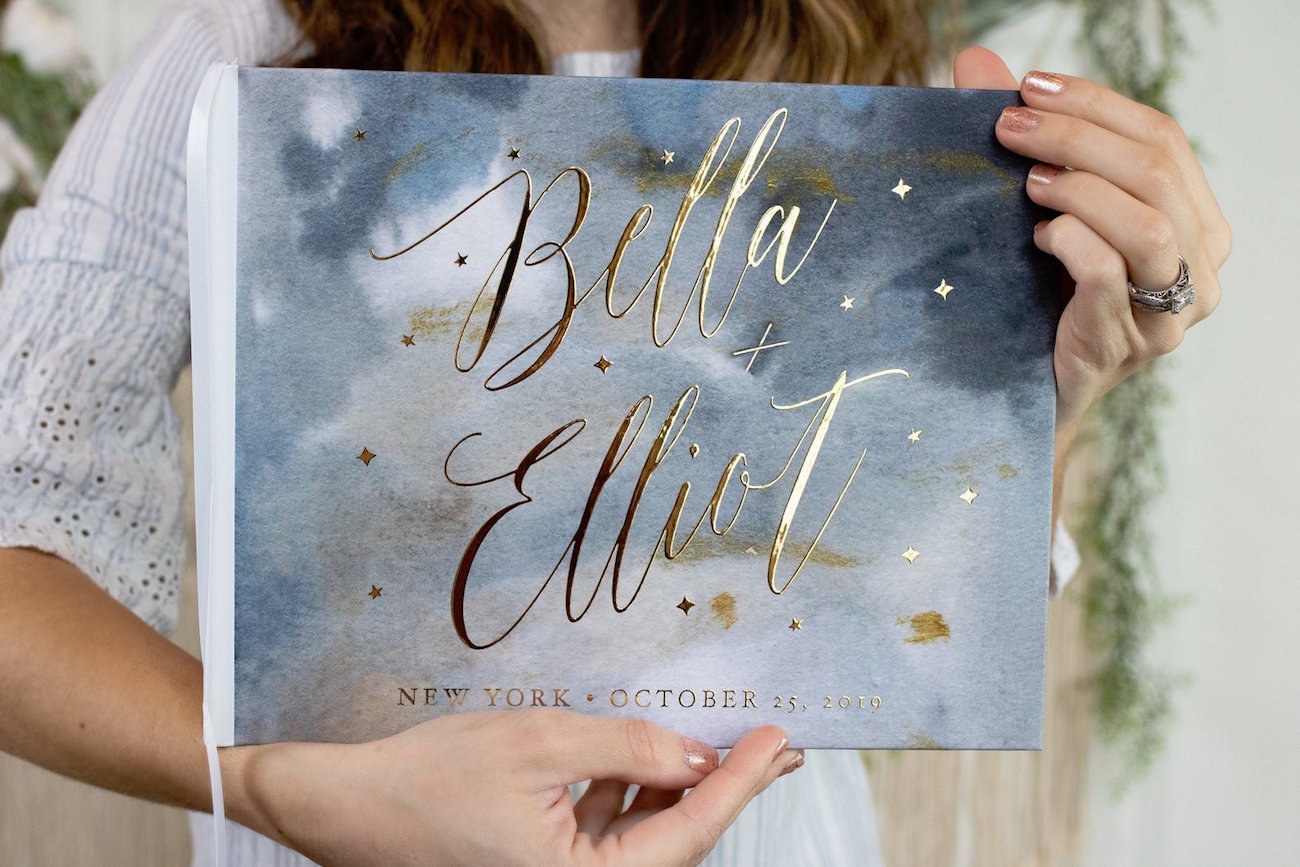 Celestial Wedding Guest Book by Paper Peach Shop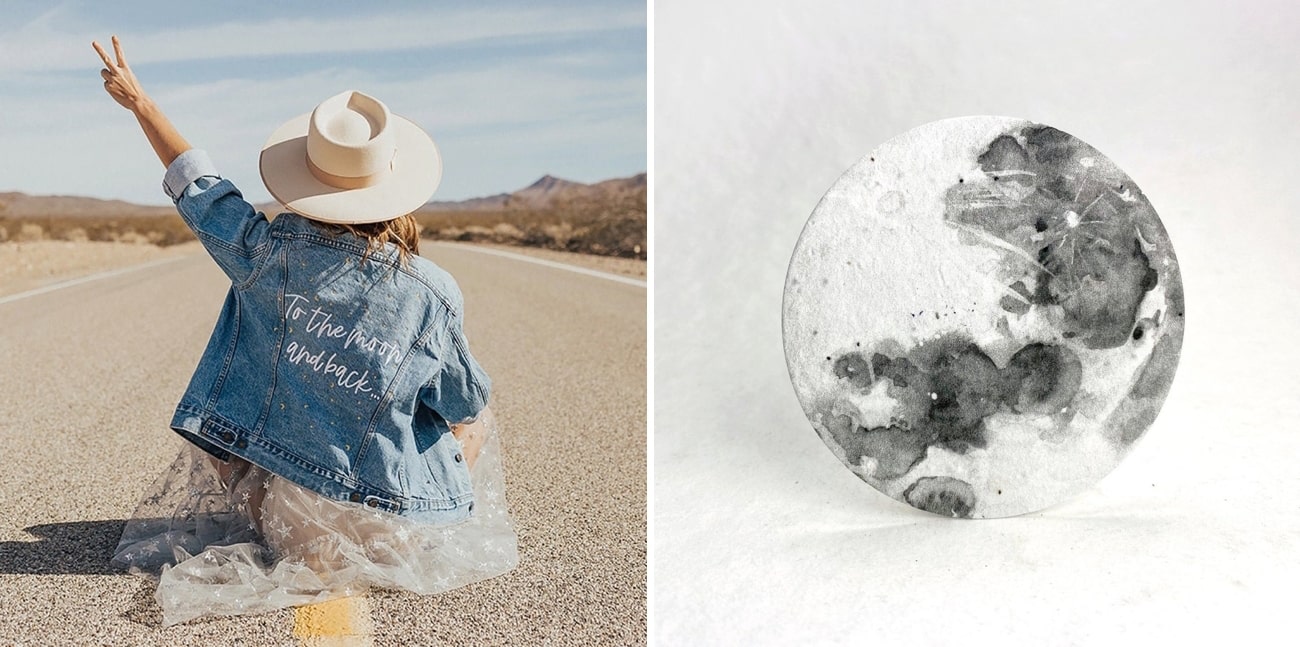 Moon & Back Wedding Embroidered Denim Jacket by River and Indie (left) | Moon Seed Paper Circles Wedding Favors by Flower Seed Paper (right)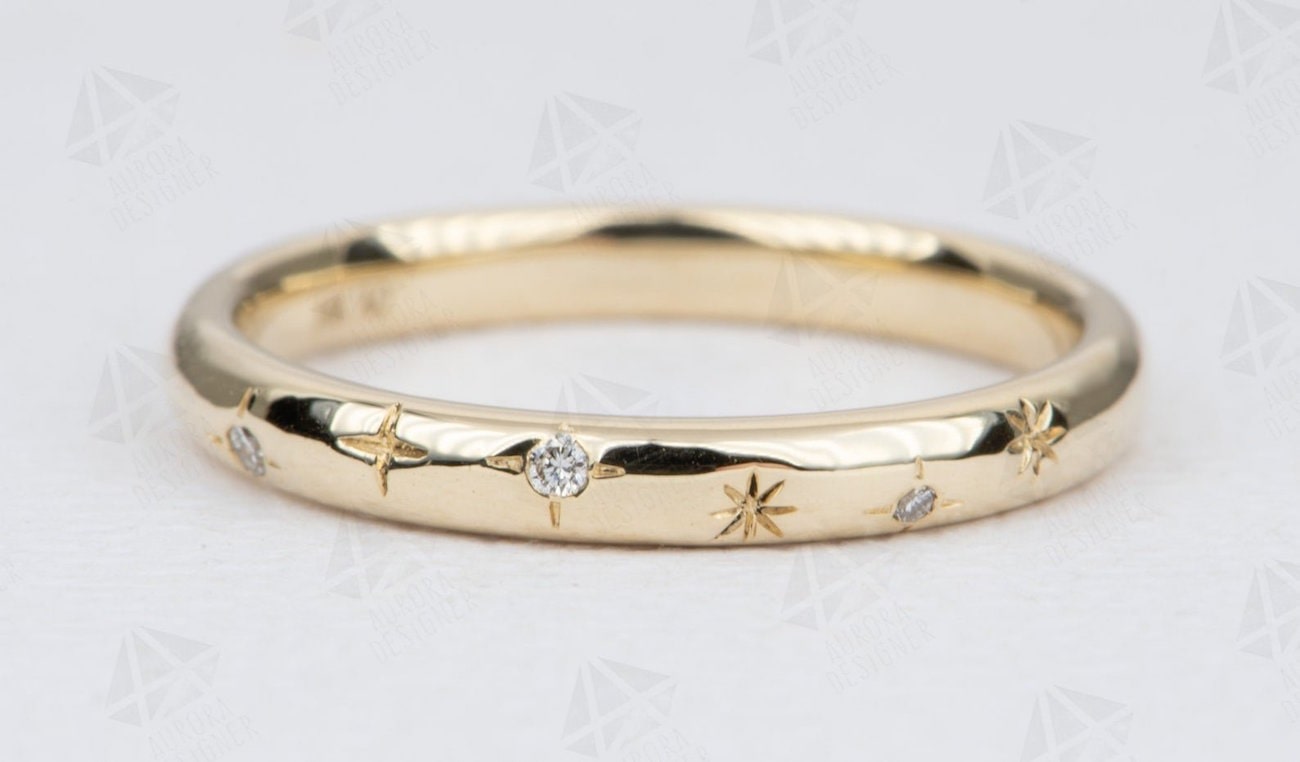 Diamond and Stars Gold Wedding Band by Aurora Designer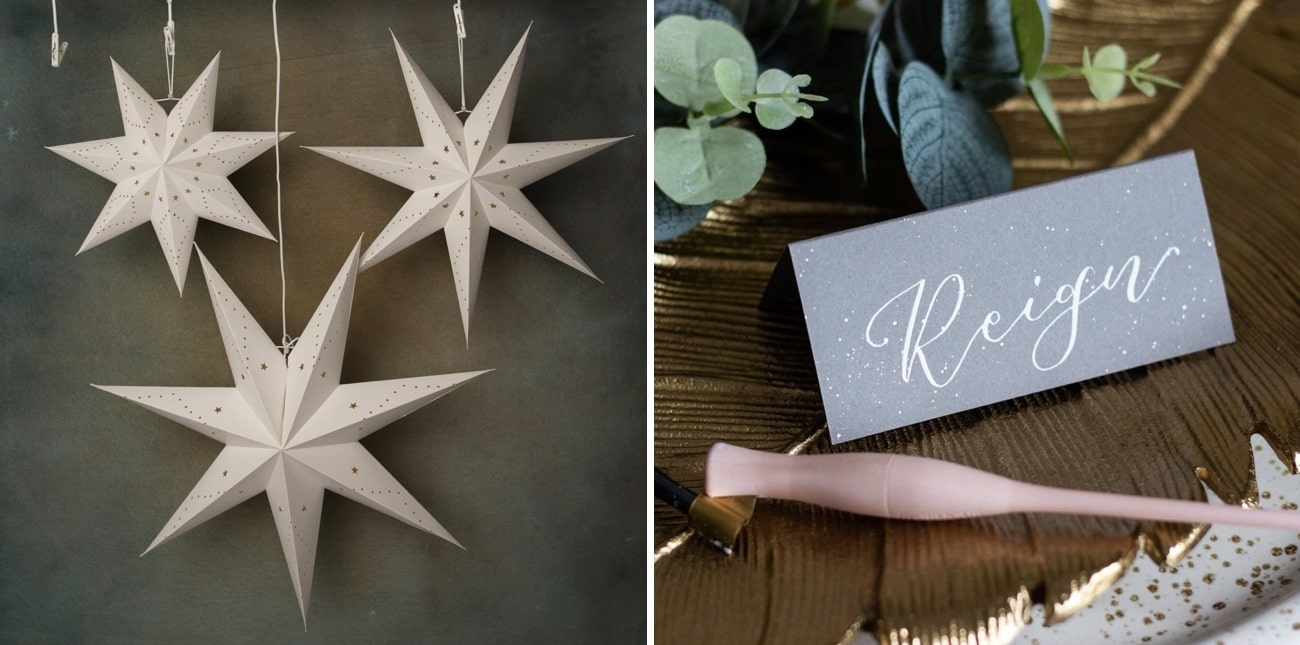 Christmas Hanging Star Lanterns by Vindeed (left) | 'Starry Night' Handwritten Calligraphy Place Cards by Fawkes Quill (right)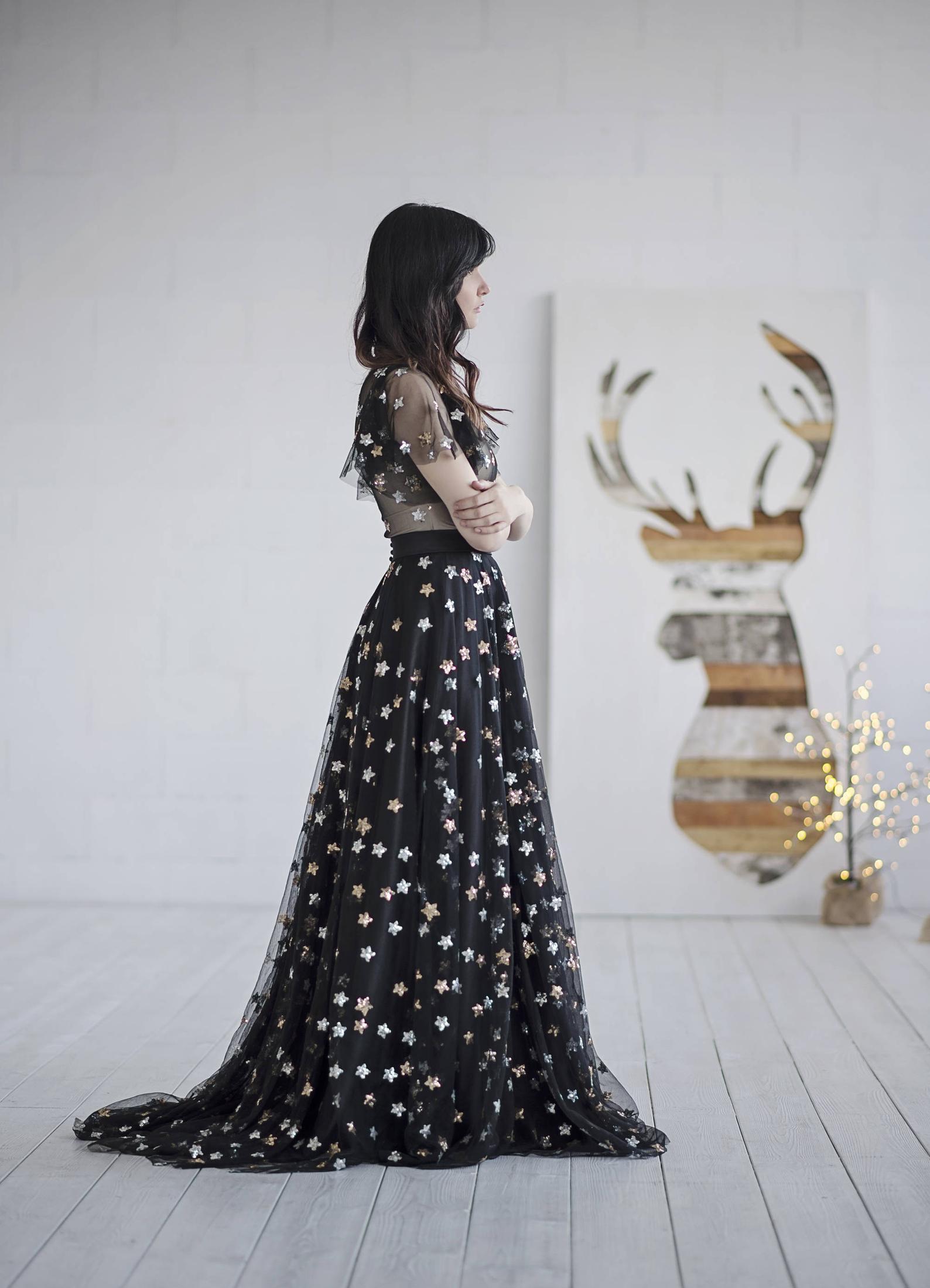 Tamsin Black Dress with Sequin Stars by Wardrobe By Dulcinea
More Celestial Wedding Invitations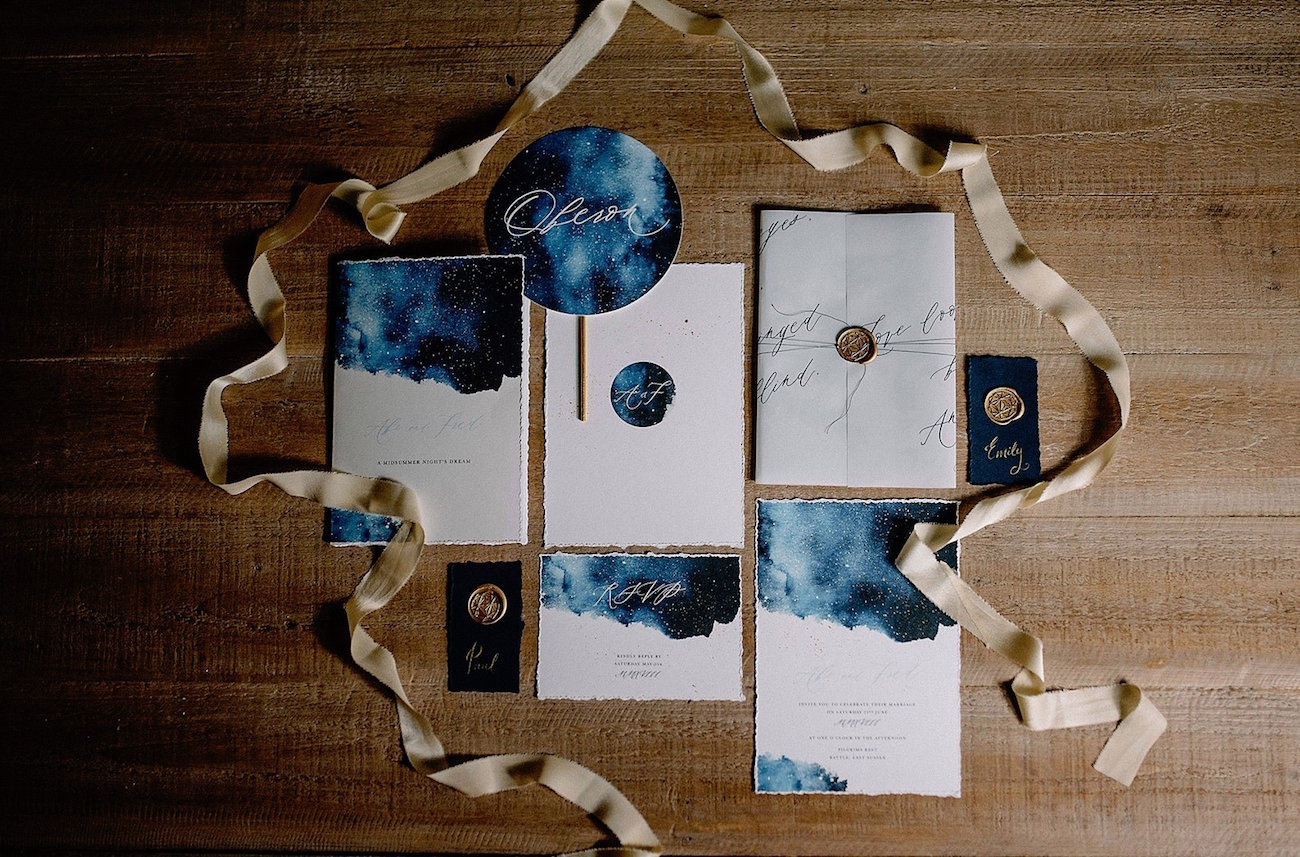 Midsummer Nights Dream Wedding Stationery Suite by Lynda Loves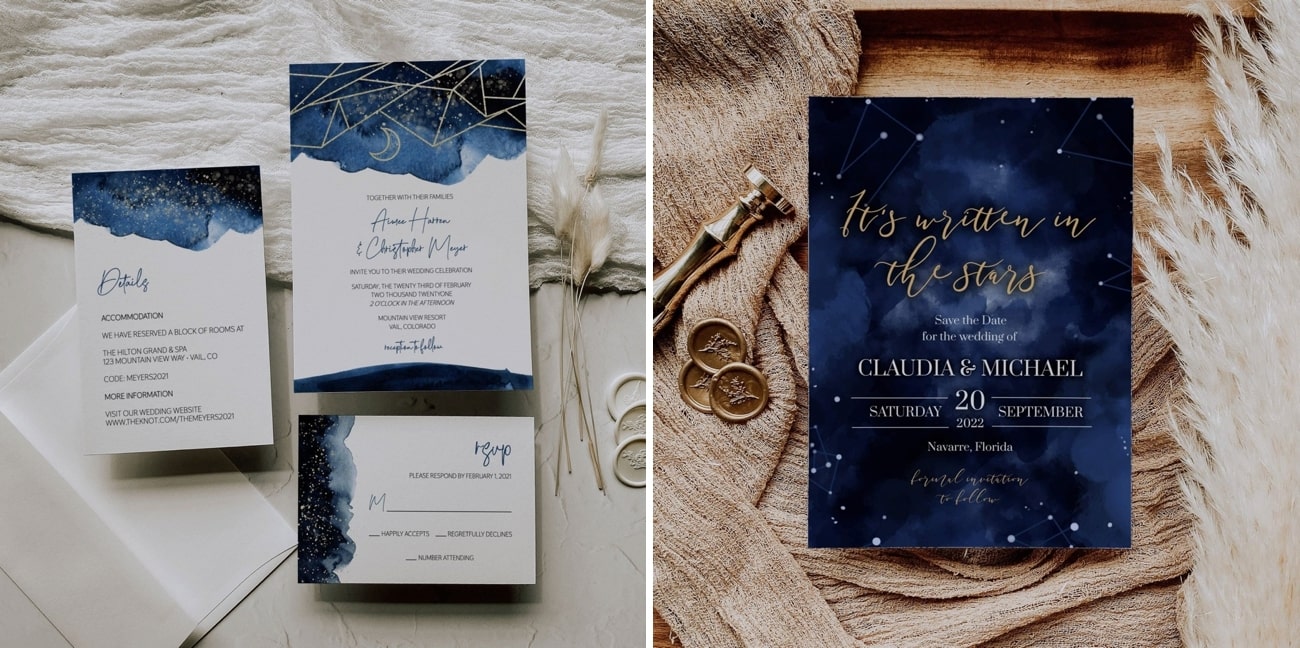 Celestial Wedding Invitation Template by Aim Beth Designs (left) | Celestial Wedding Save the Date by The Lovebirds Design (right)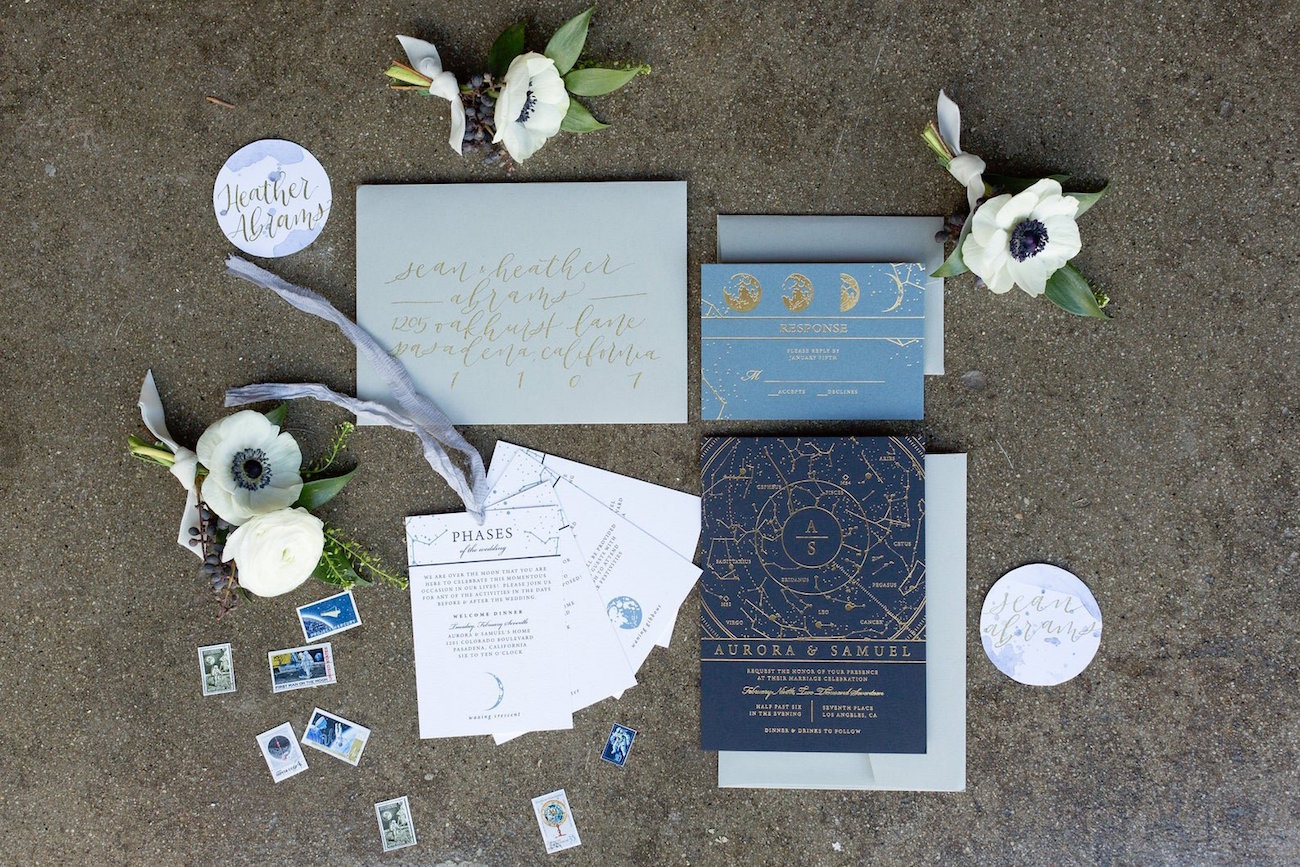 Constellation Celestial Invitation Suite by Paper Plum Co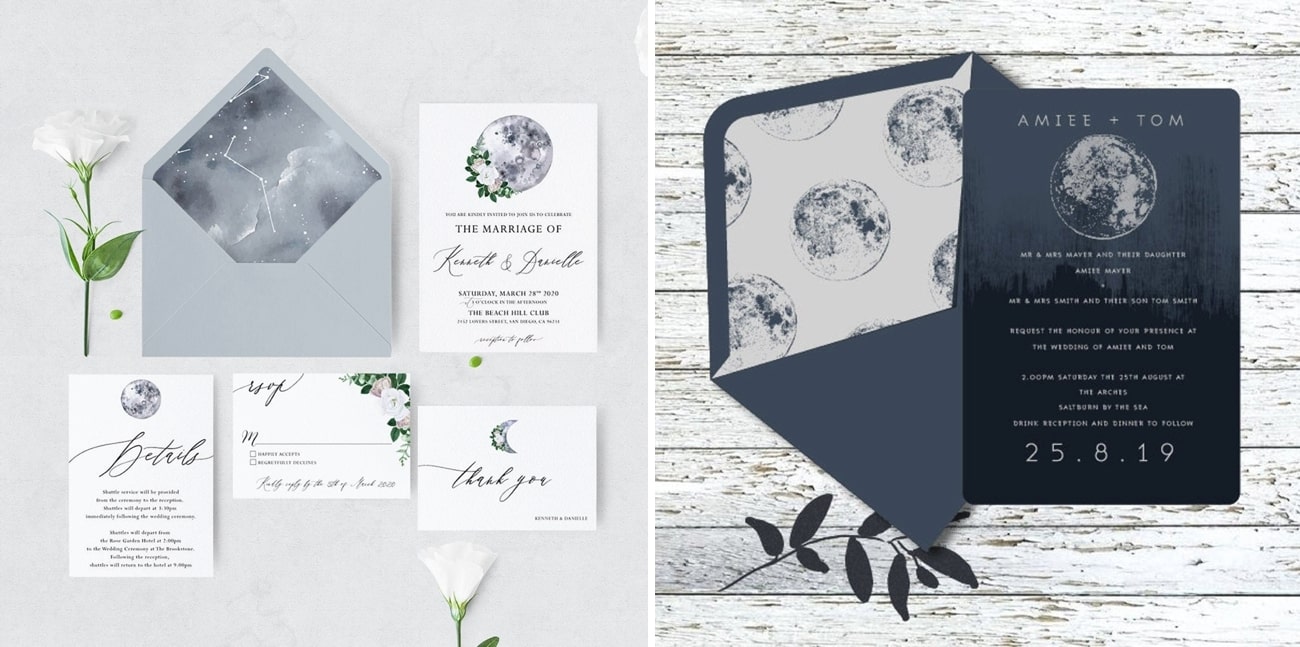 Printable Moon Wedding Invitation Suite by Boheme Prints (left) | Moonshine Ombre Wedding Invite Suite by Ink and Paper Design Co (right)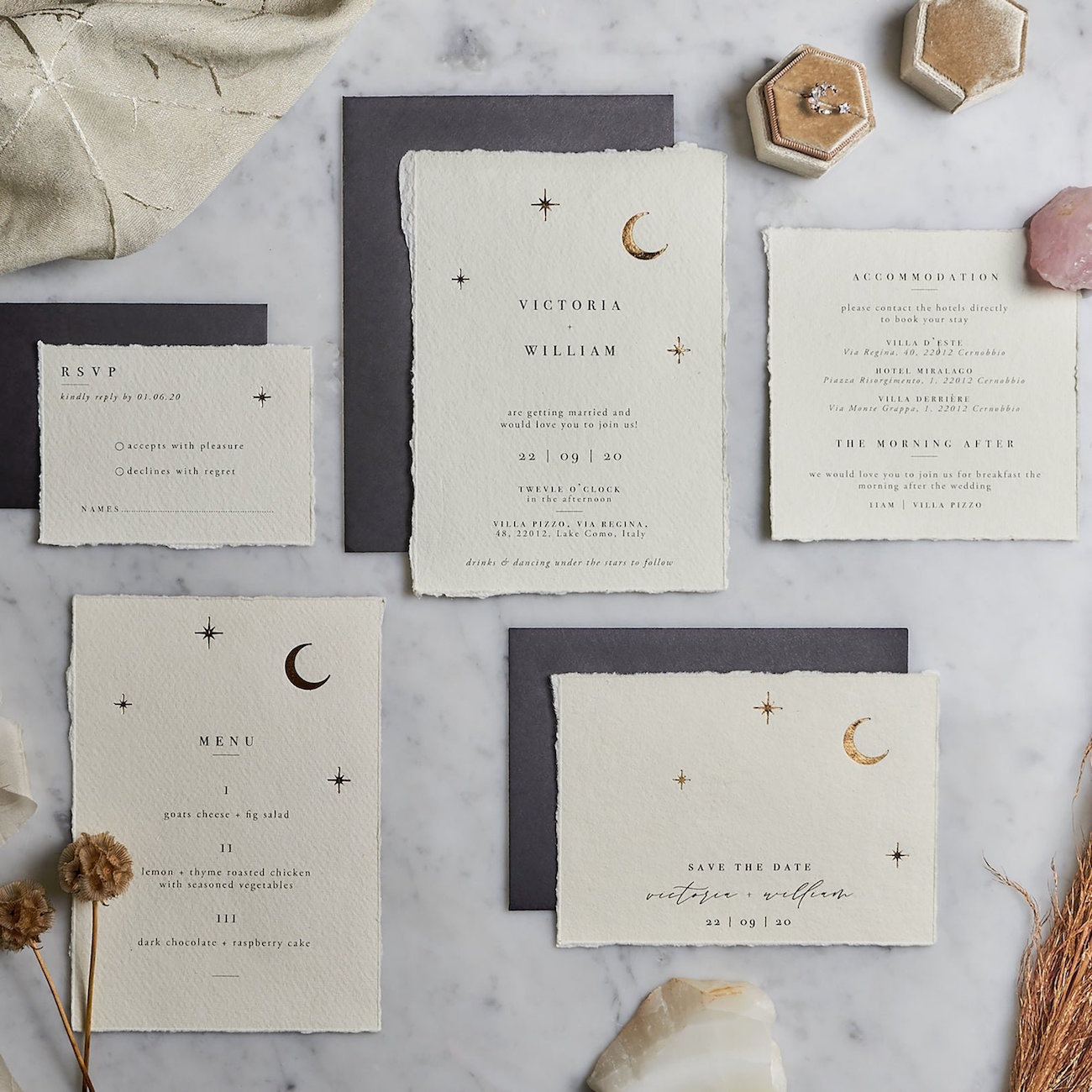 Moon & Stars Wedding Invitation Suite by Paigen Co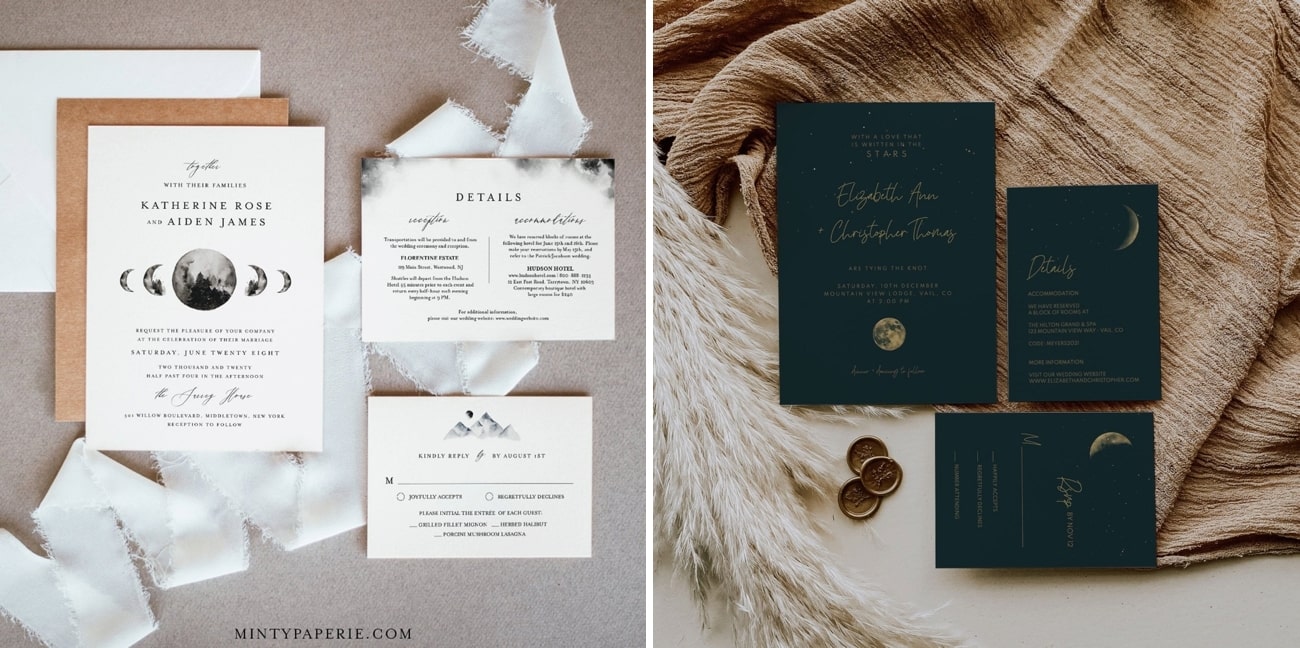 Celestial Wedding Invitation Set by Minty Paperie Shop (left) | Written in the Stars Wedding Invitation Suite by Aim Beth Designs (right)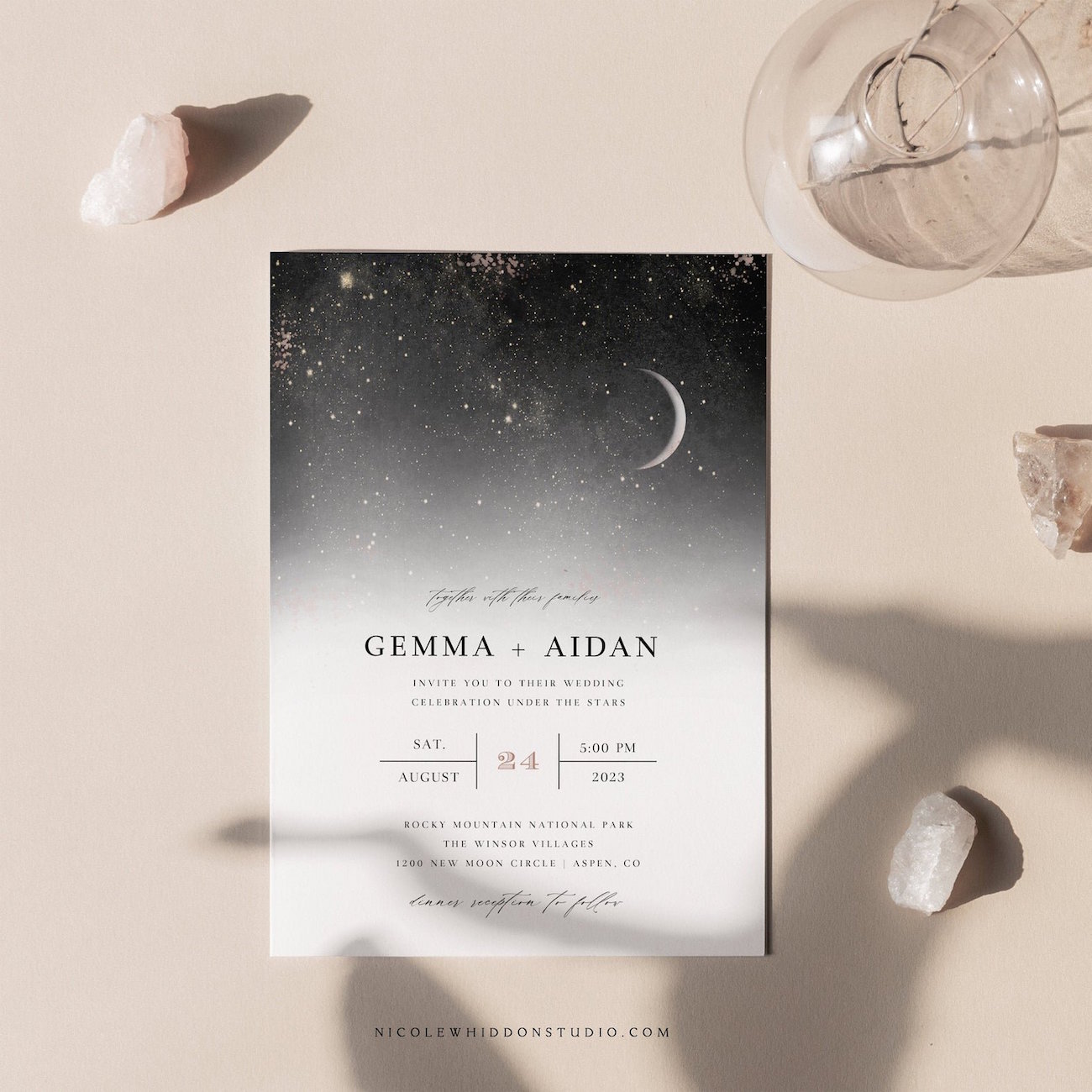 Celestial Night Sky Wedding Invitation Set by Nicole Whiddon Studio