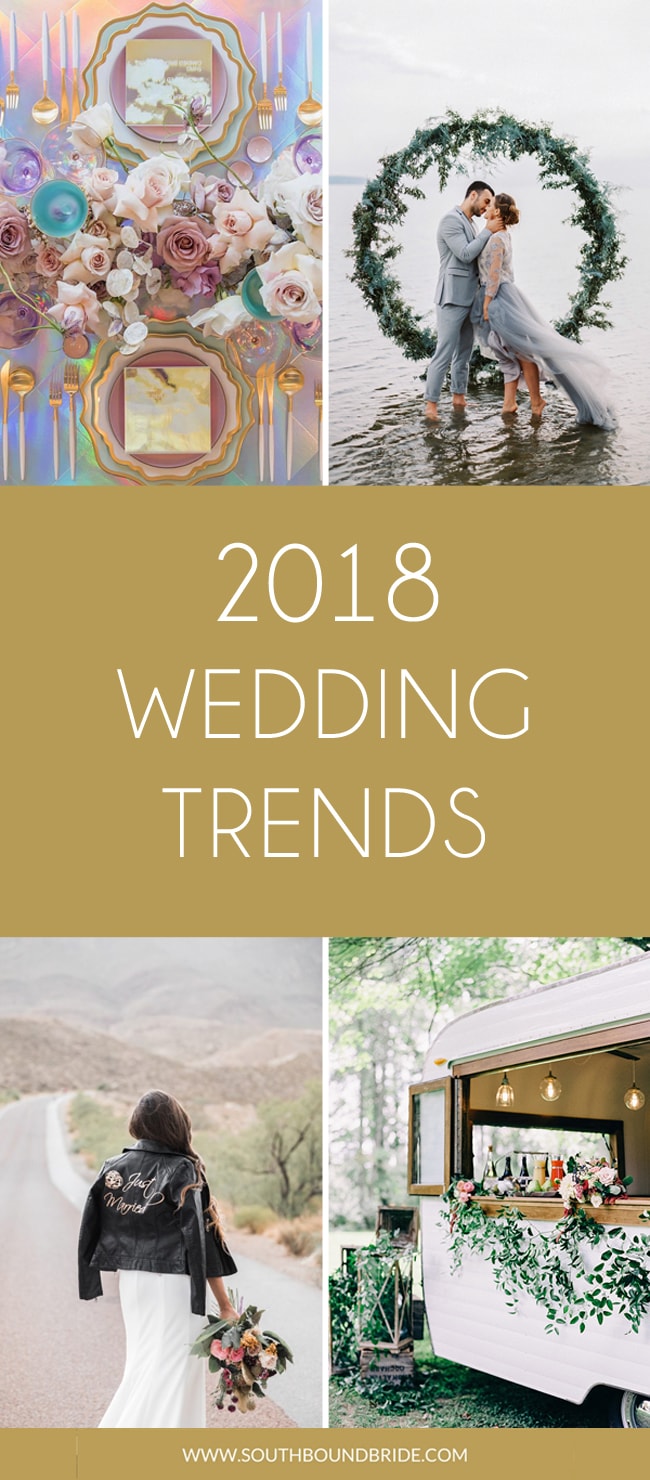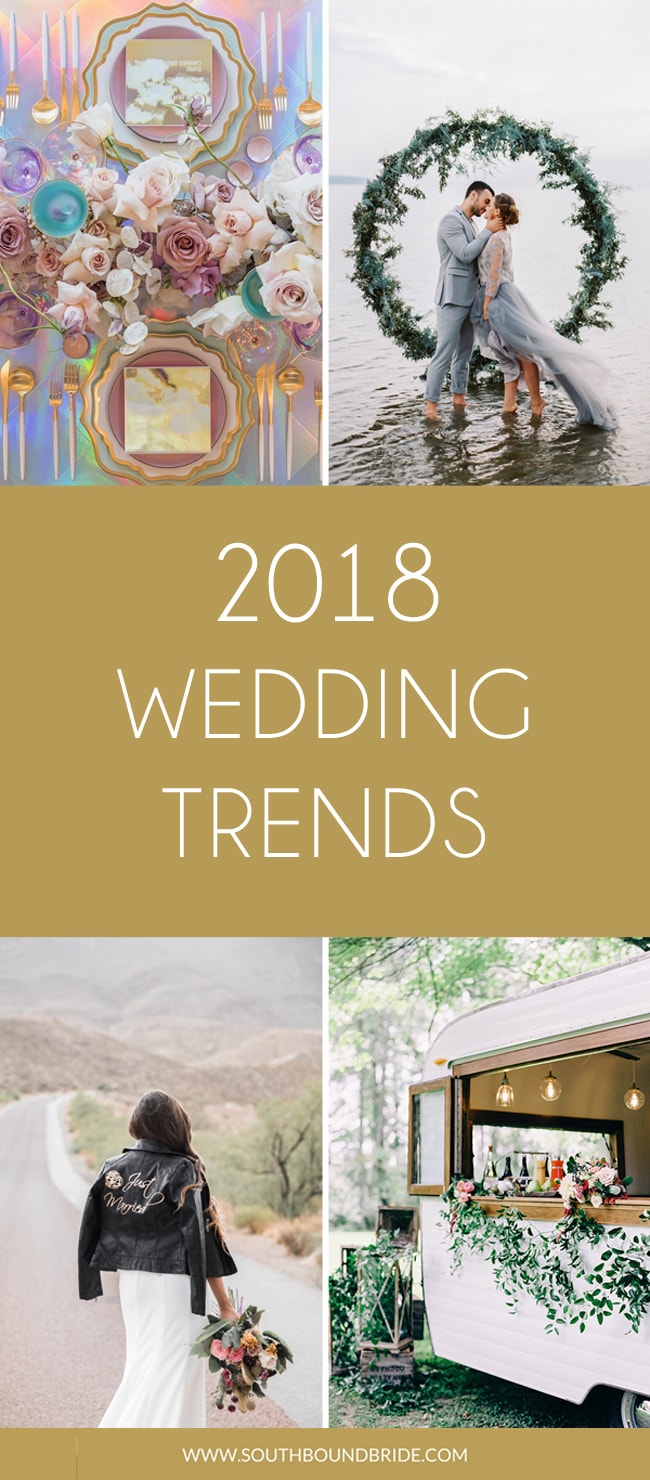 Welcome, friends! It's back to work for me today, and I'm kicking off our 2018 editorial programme with our traditional post rounding up the Top 10 trends of 2018. In years past, we've nailed many of the trends that are now so very familiar, and it's always fun to look back and see a progression. This year is no exception! There are some really lovely trends coming through from the worlds of fashion, design, and interiors that we'll be seeing all over the place in weddings. So let's get started – and let's get excited! Here are my predictions – find one or two that resonate with you, and then add your own twist to make them all yours. (This post contains some affiliate links, marked in bold. SBB may receive a commission on any sales.)
1. TRANSPARENCY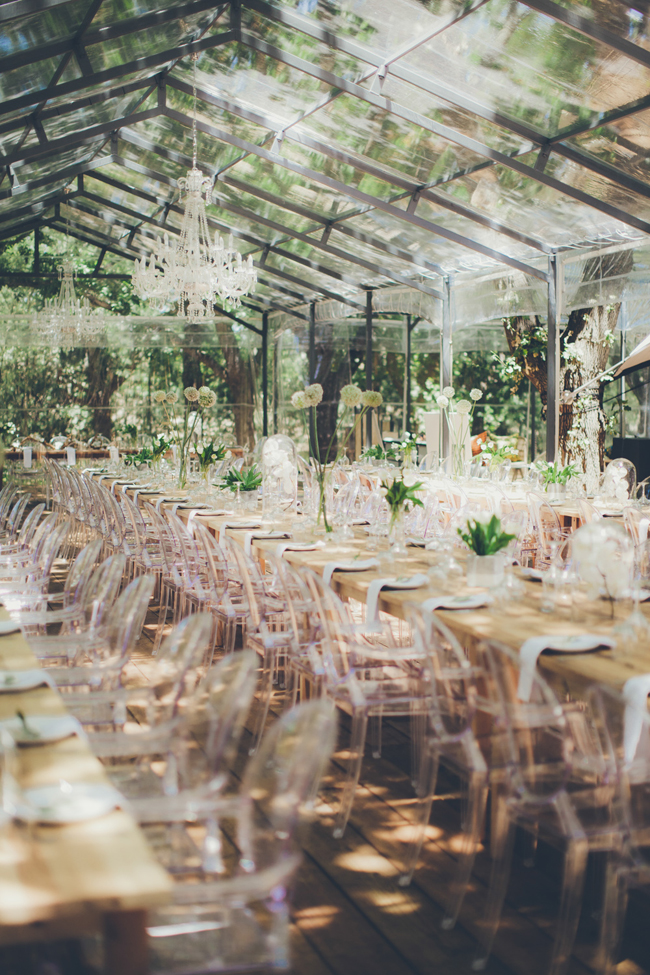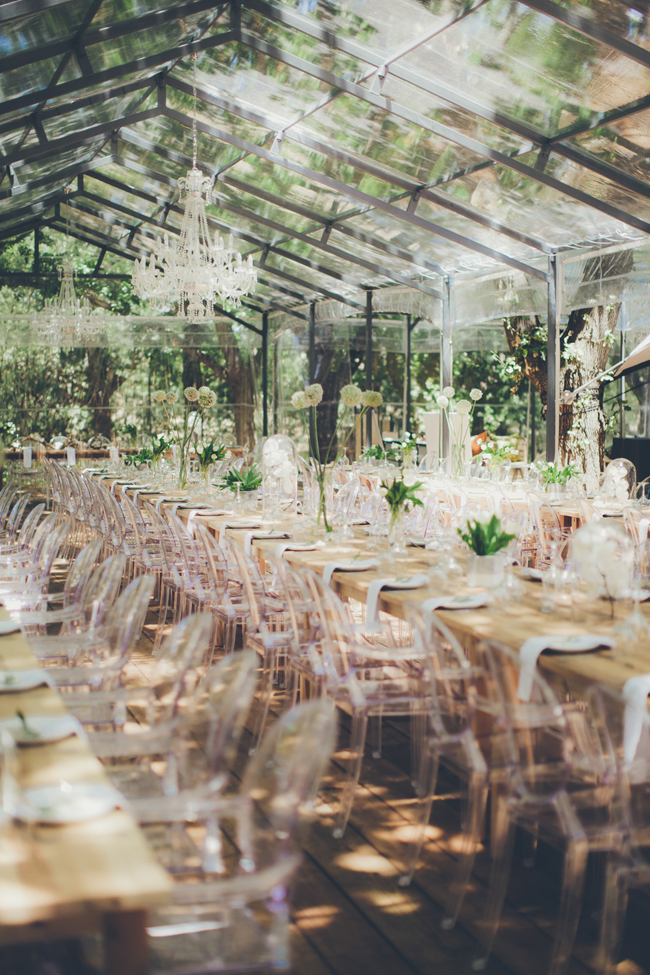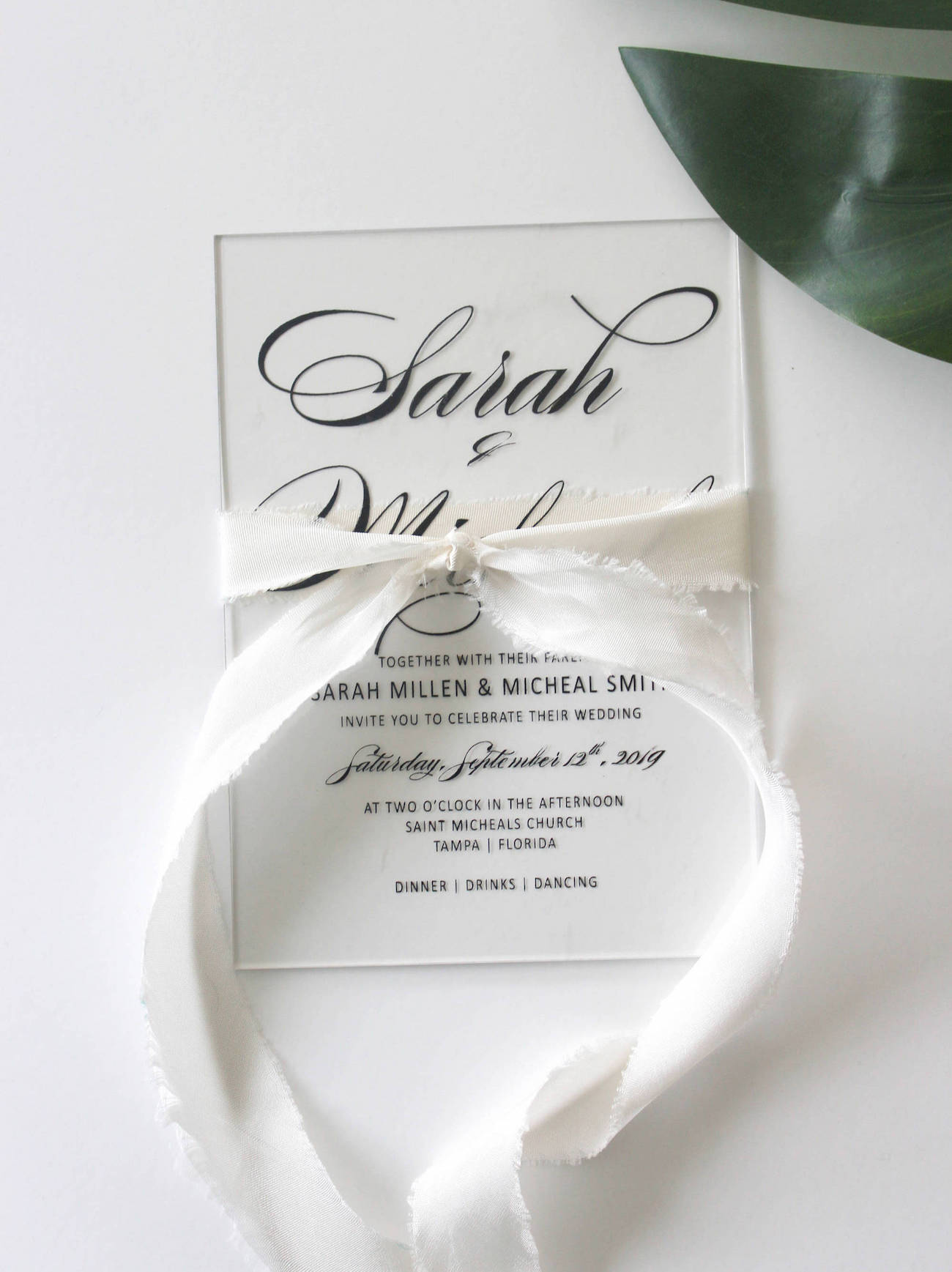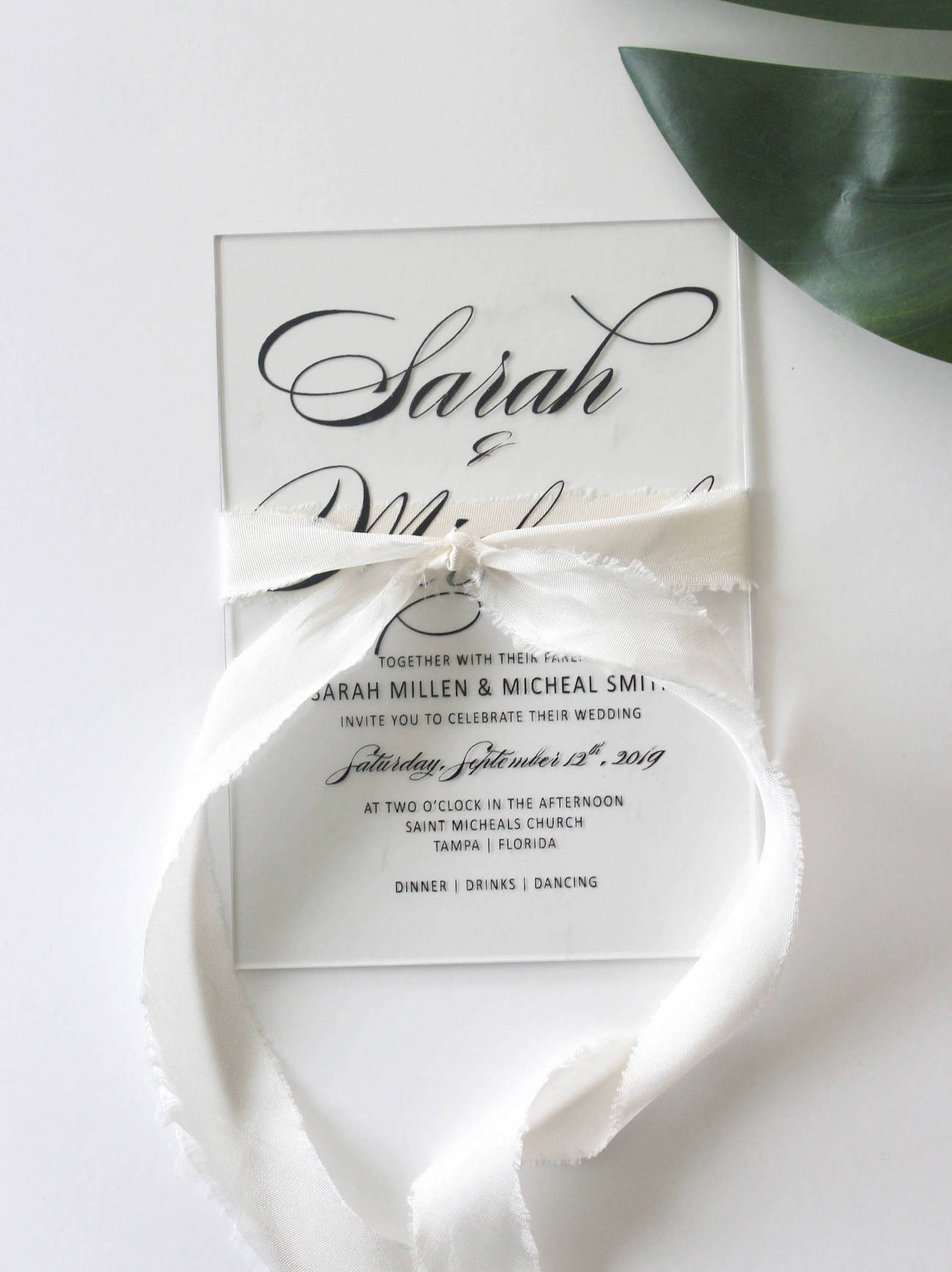 Credits: Fiona Clair Photography/A Little Thing Called on SouthBound Bride (top) | Transparent Acrylic Wedding Invitation by Green Mango Kraft on Etsy (bottom)

Straight up, I think this is my favourite trend, because there is so much that can be done with it! This year we'll be seeing loads of transparent details: decor and stationery made of perspex or acrylic, glass marquees and clear tents, ghost chairs, glass vases, velum invitations, etc. etc. Wedding design in 2018 is all about texture, and transparency adds a lovely contrast to that mix, plus it's the perfect complement to the elegant modern minimalism that many couples are opting for. In South Africa we're extra fortunate, as we have some fabulous venues with glass marquees incorporated, like Die Woud, Cabbage & Rose, the Conservatory, and Shepstone Gardens.
See more:
2. UNICORN WEDDINGS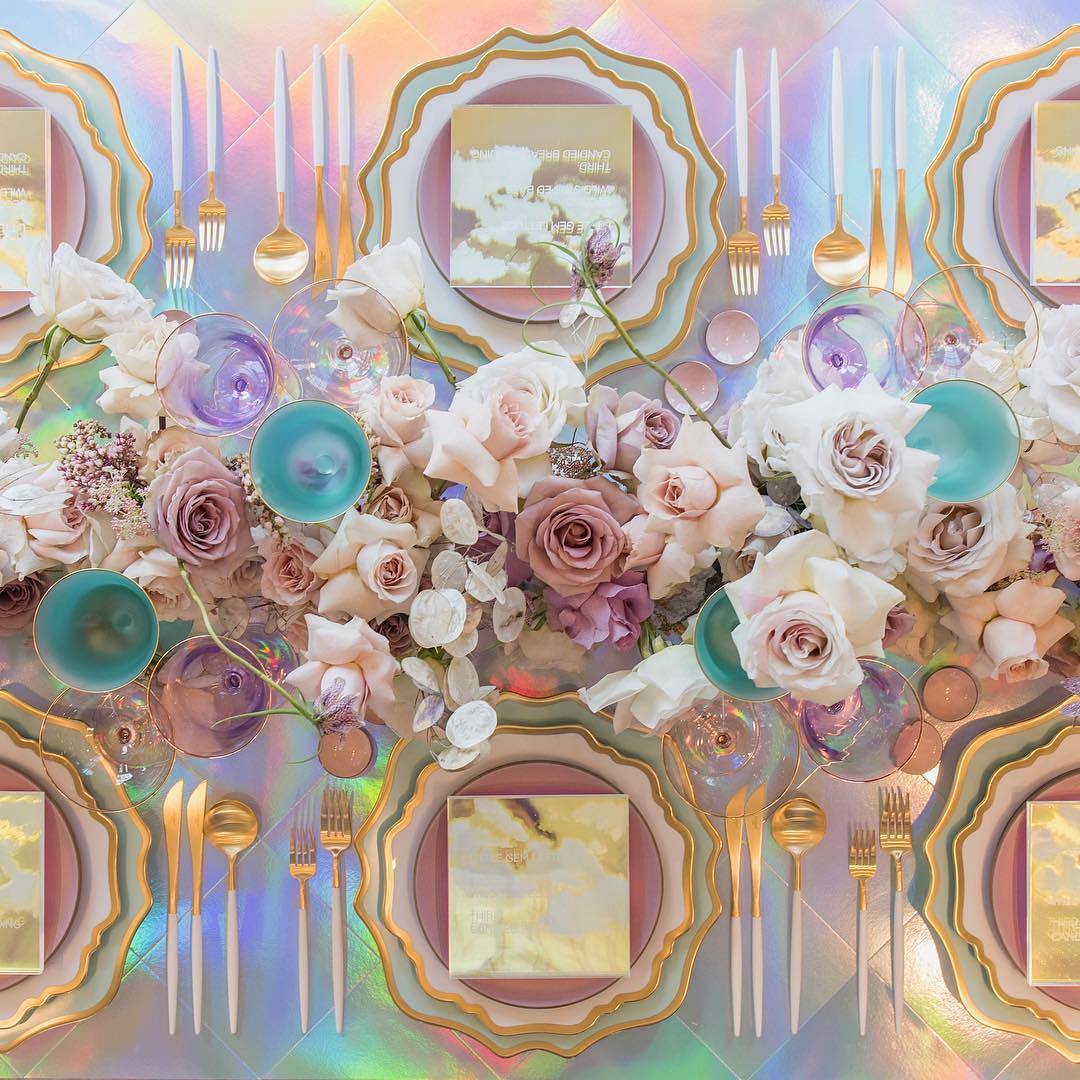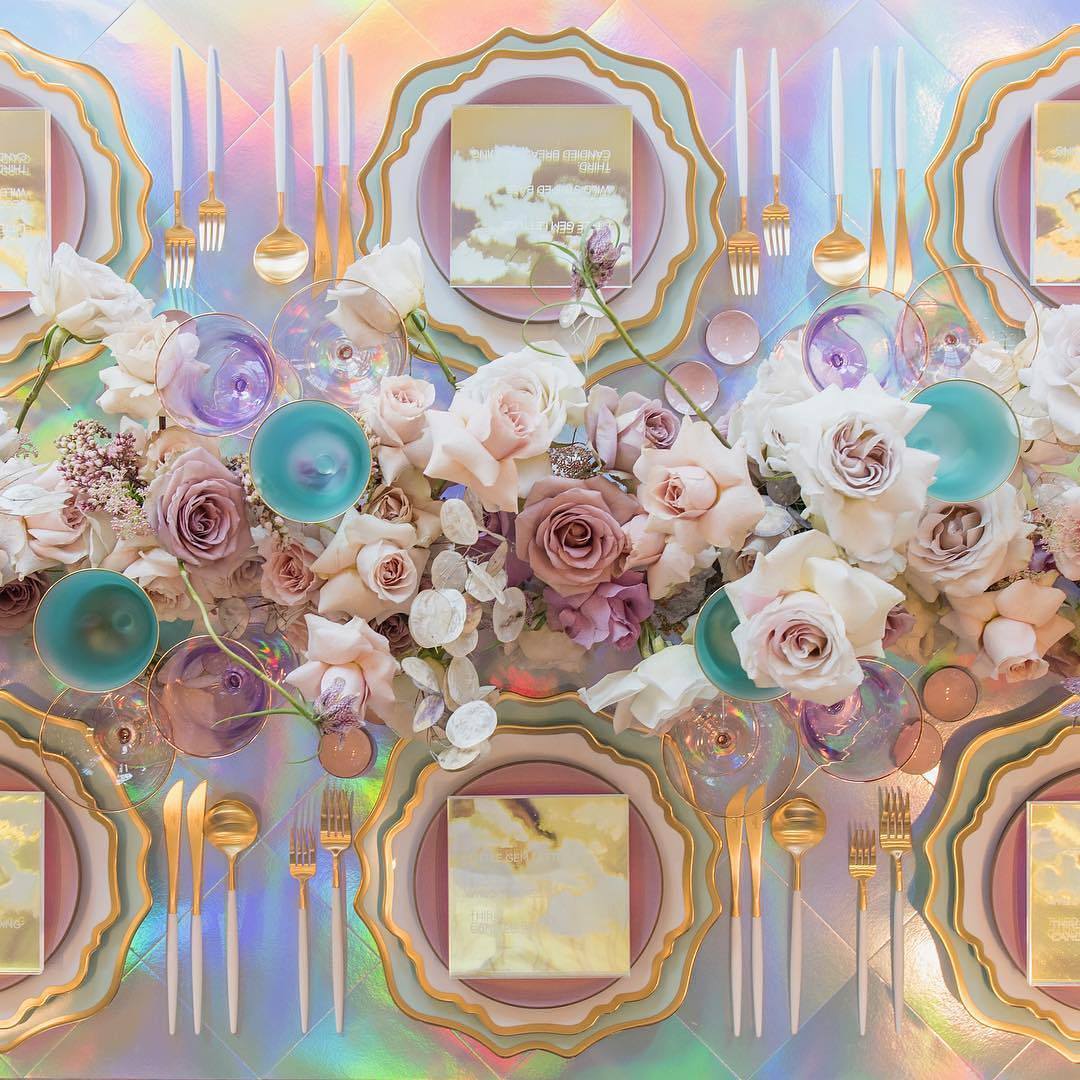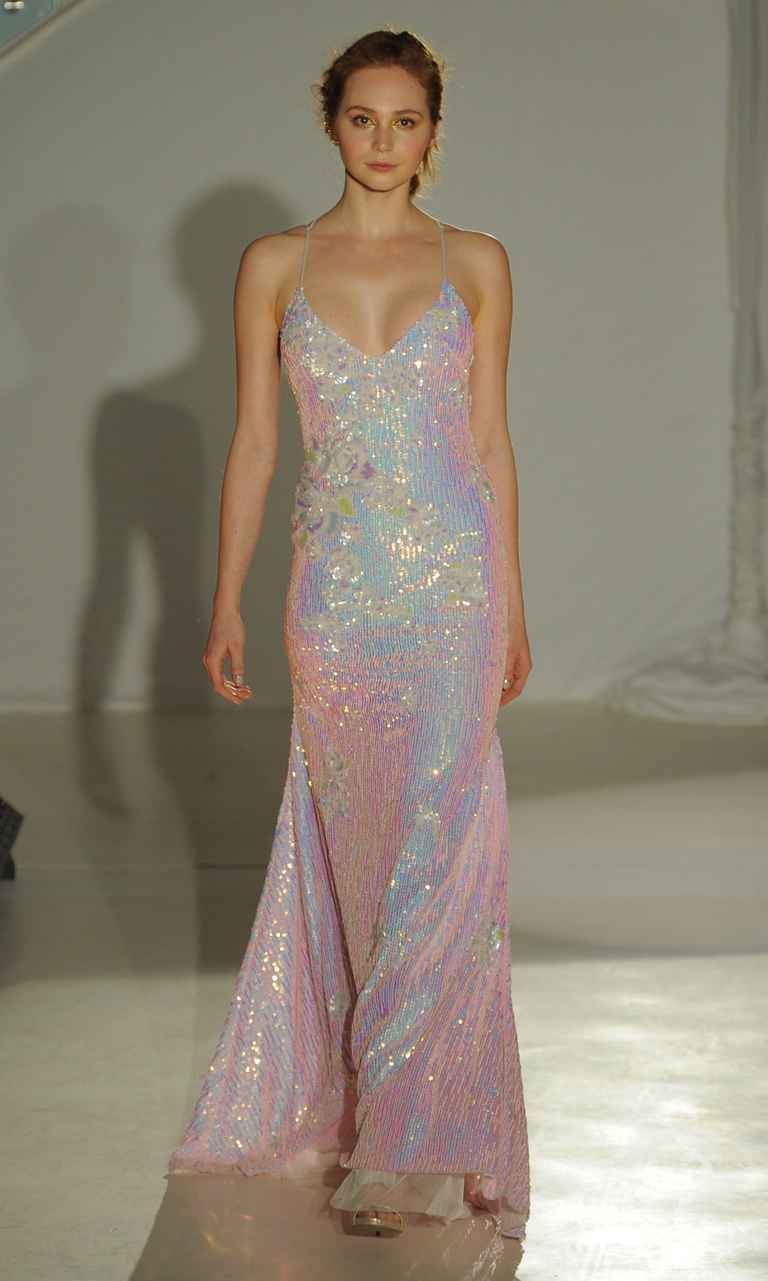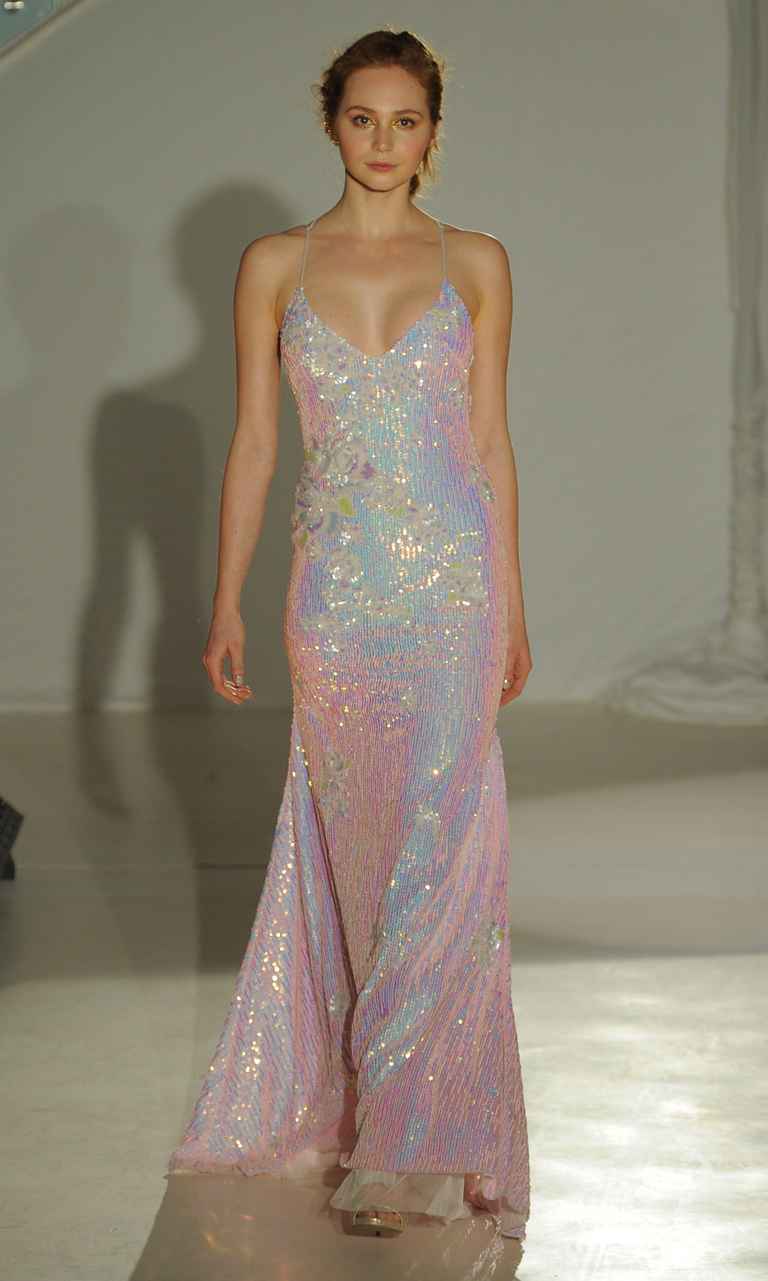 Credits: Casa de Perrin/Amber Moon Design/Megan Gray on Instagram (Wedluxe) (top) | Hayley Paige/Maria Valentino/MCV Photo on The Knot (bottom)
To be clear, I'm not really suggesting we'll be seeing loads of unicorn-themed weddings. But the explosion of unicorn/mermaid iridescence over the last couple of years has finally influenced wedding design, and this year we'll definitely be seeing holographic and iridescent touches all over the place. It's the perfect complement to 2018's Pantone Colour of the Year, Ultraviolet, and also fits nicely in with a trend I picked last year that will also be huge in 2018: celestial weddings.
3. VELVET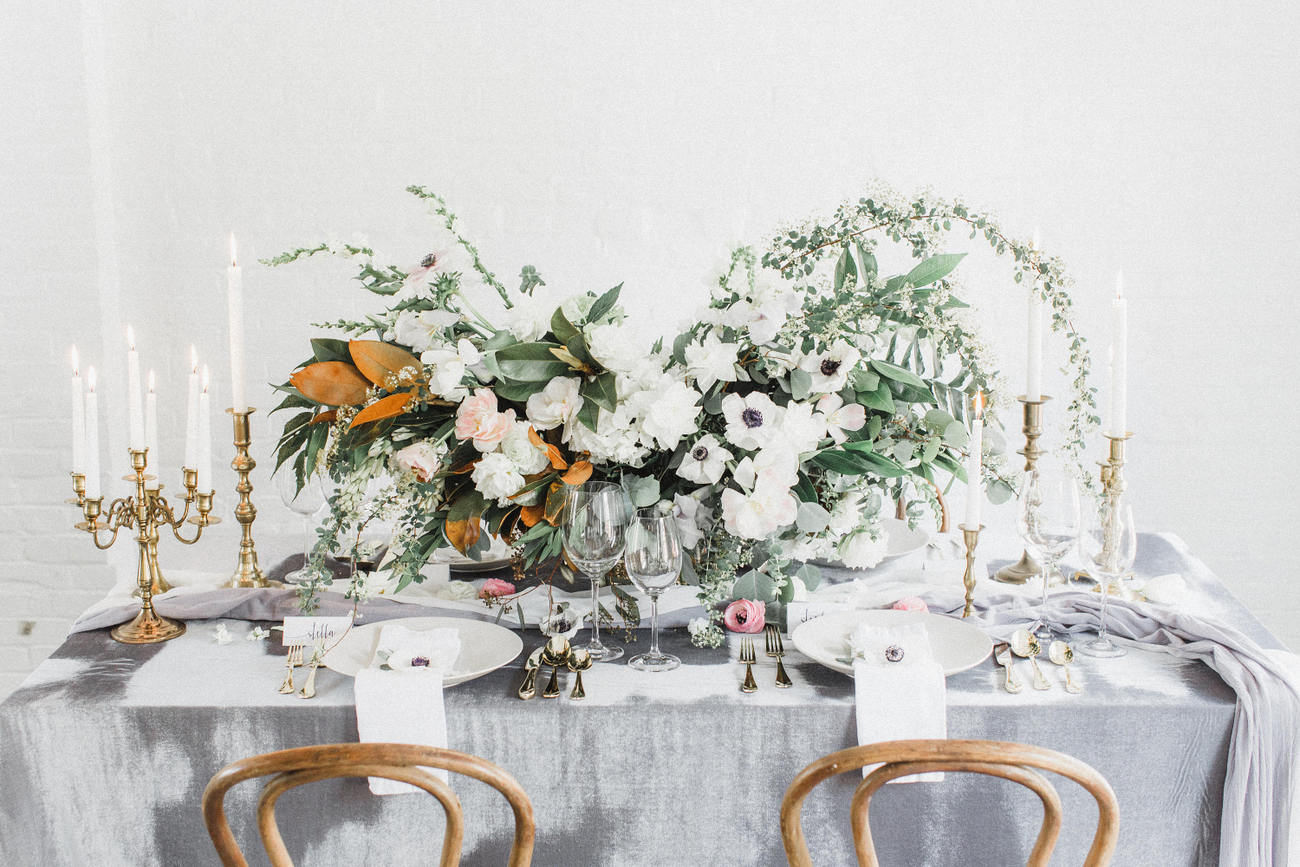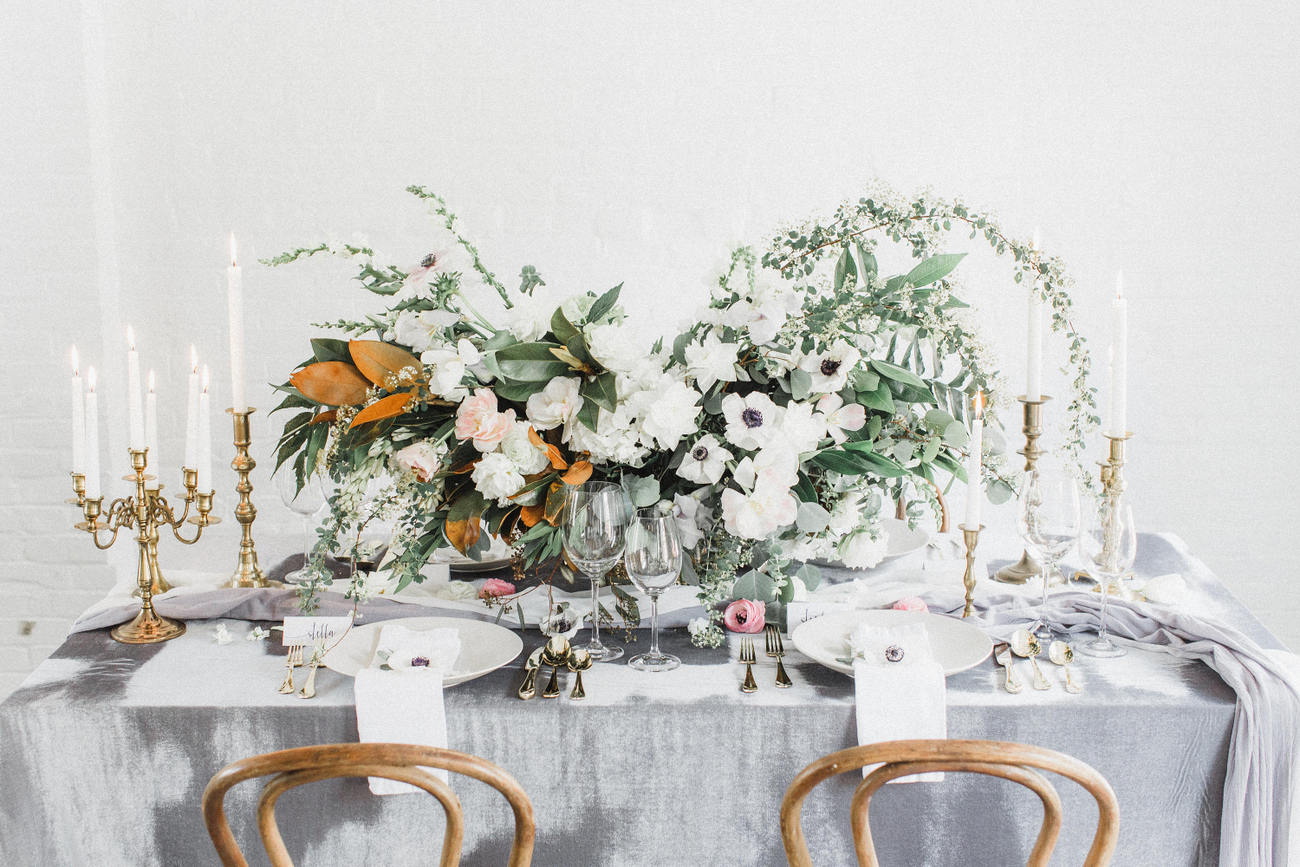 Credit: Velvet Table Linen by Lino & Co. on Etsy

First velvet swept the runways, and now it's making a major impact on wedding world. As mentioned above, texture is super important right now, and velvet adds that gorgeous, luxe feel, whether it's through table linens, bouquet ribbons, bridesmaid dresses, grooms' blazers, or plush furnishings. I have no doubt we'll see even more creative uses of velvet coming through in 2018. It's also the perfect complement to our next trend…
See more:
4. DARK & MOODY DETAILS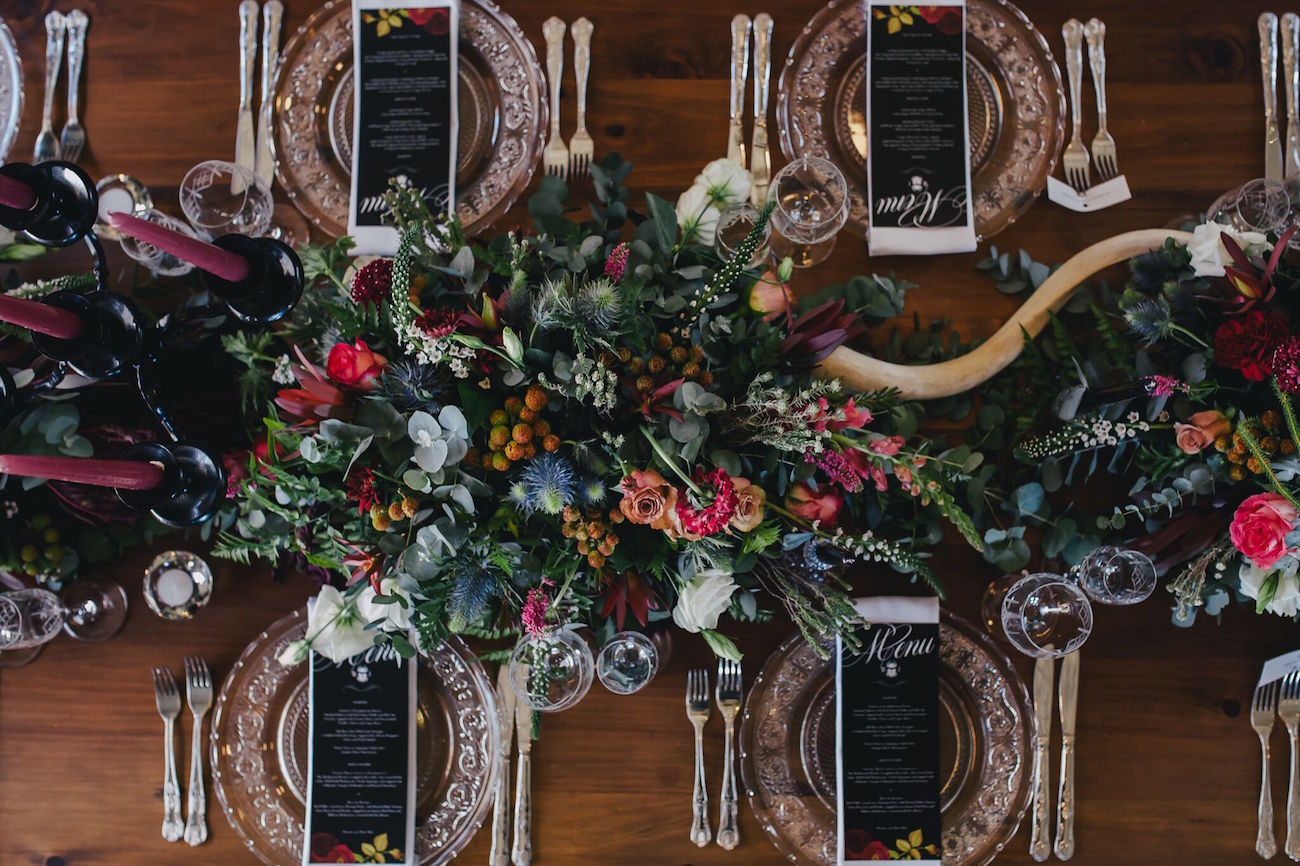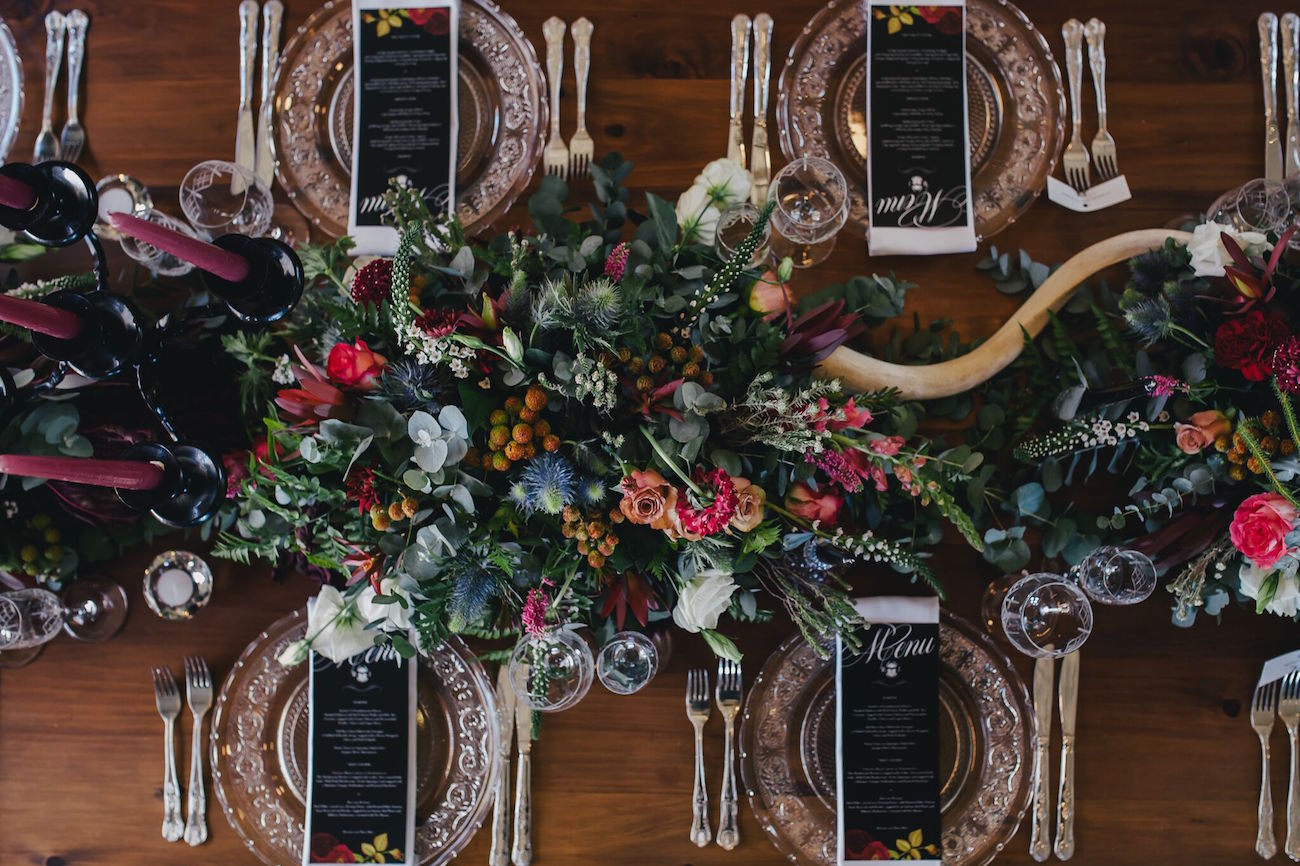 Credit: Vanilla Photography/Oh Happy Day/Adore Weddings on SouthBound Bride

Last year, trendsetting South African brides embraced their 'dark' side, choosing moody jewel-toned hues and wintery palettes over pastels and traditional white. Dark and moody photography is also a growing trend, and 2018 is the year that it all comes together into an explosion of rich, heavy detailing and Baroque, slightly Gothic opulence. Love it! This is especially good news for flower lovers – can't wait to see all those aubergines, maroons, and burgundy blooms! You don't need to go full-scale dark & moody either – consider adding a detail like burgundy bridesmaid dresses, velvet linens, or a black cake.
See more:
5. STATEMENT BRIDAL ACCESSORIES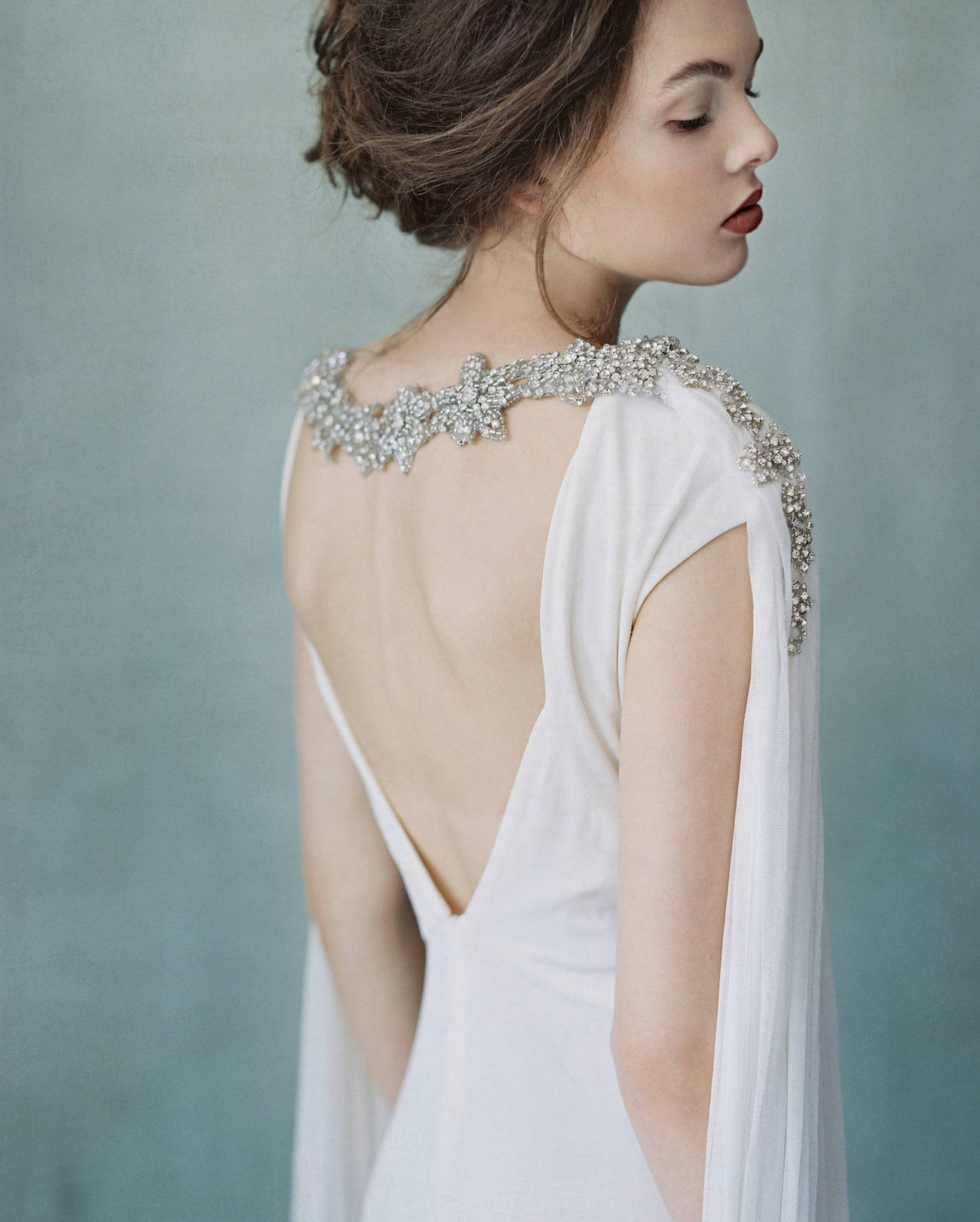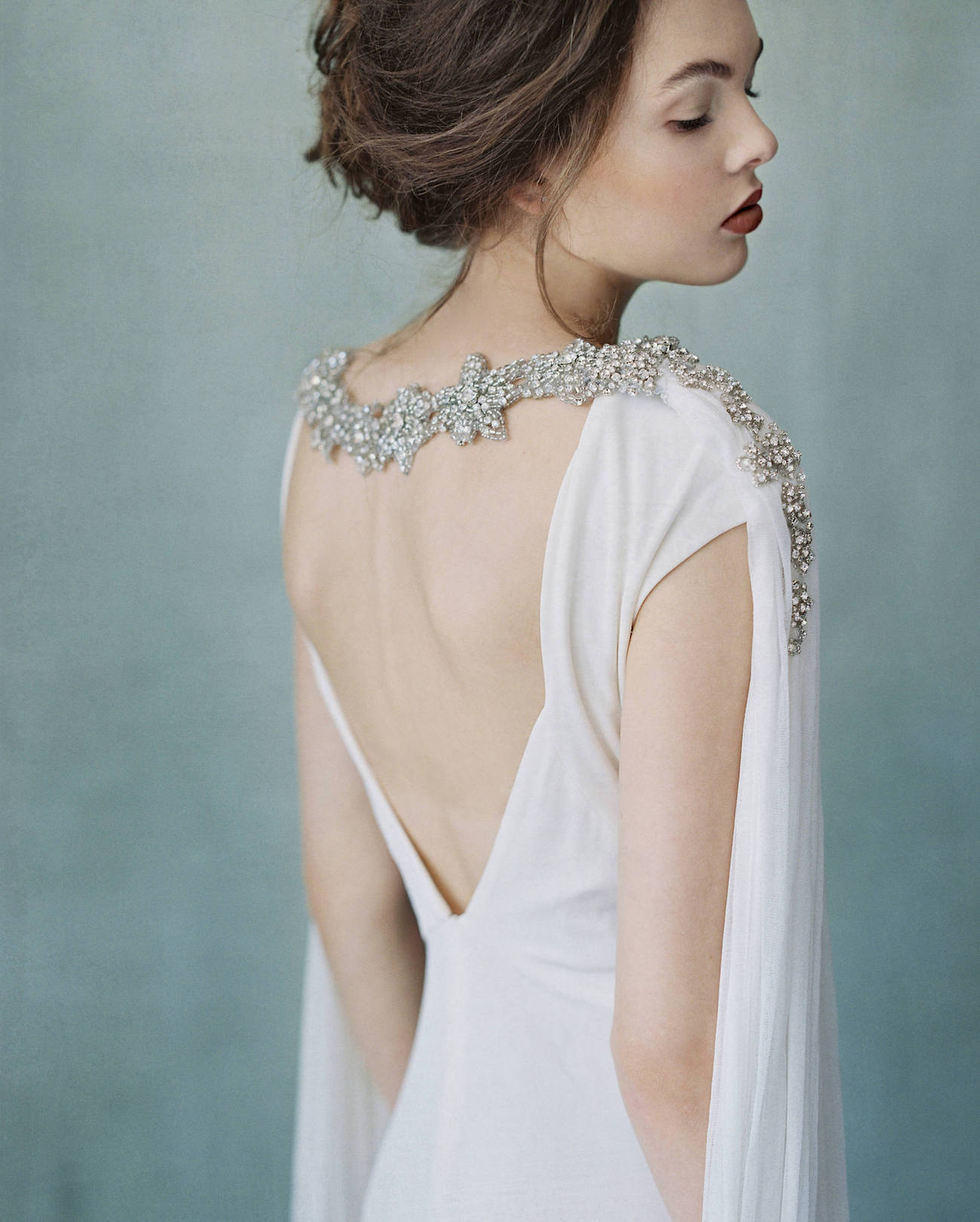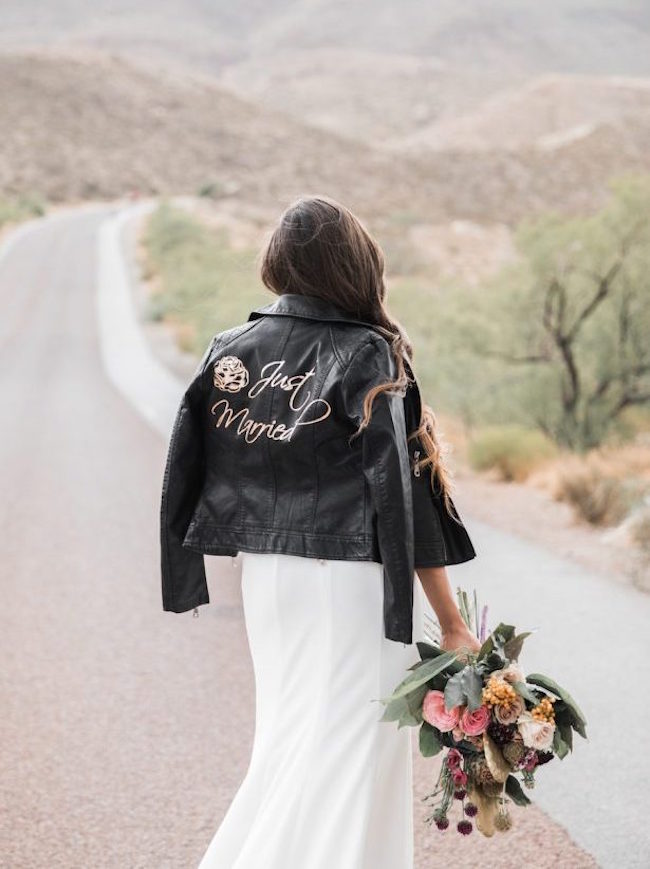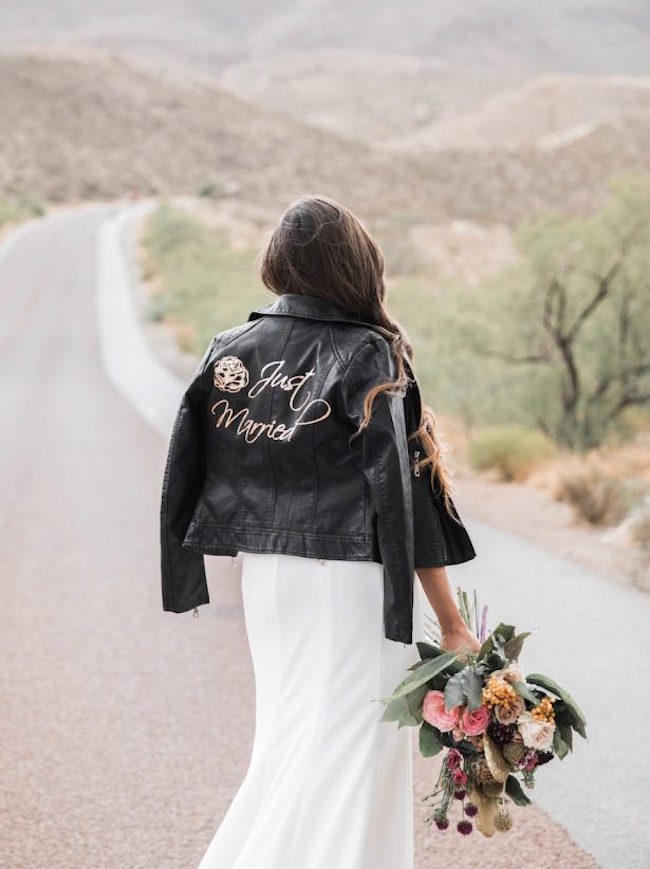 Credit: Midnight Couture Crystal Cascading Silk Cape by Gibson Bespoke on Etsy, image by Sue Neuenschwander (top) | Coffee Creative  Photography on Belle the Magazine (bottom)

We've seen them popping up for a couple of seasons on the bridal runways, but this is the year that capes really take bridal fashion by storm. The beauty of these statement accessories is that they can give the beautiful shape and ethereal quality you get from a long veil, but in a less formal way, and of course they also provide a touch of warmth. Plus, what bride doesn't want to be a  little bit superhero on her wedding day? Have cape, will slay. It isn't just capes though – we're also seeing cool-girl leather and denim jackets pop up, as well as hats, statement headpieces, and body jewellery, as brides look to bring their mainstream fashion sense to their big day look.
See more:
6. CIRCULAR ARCHES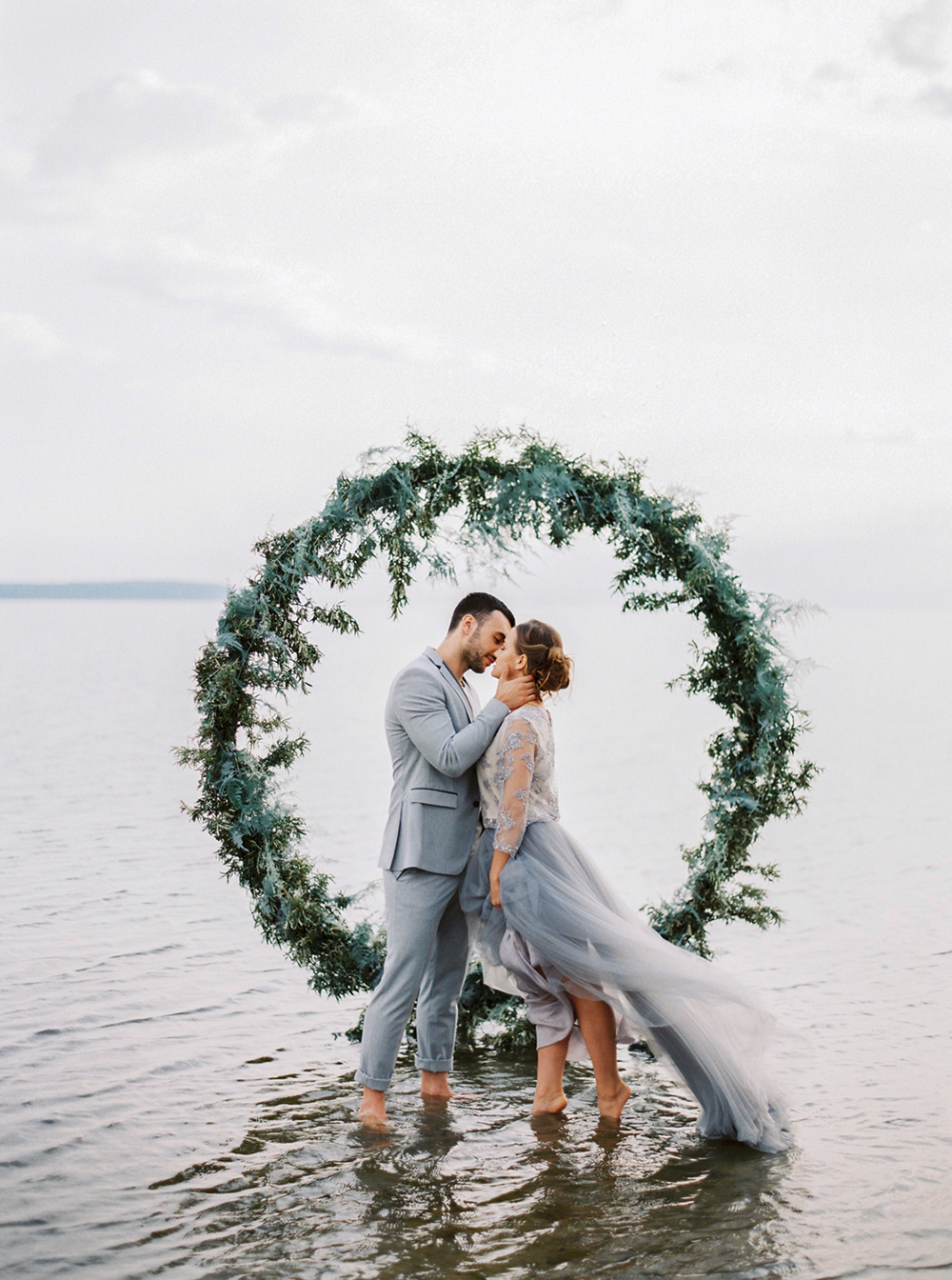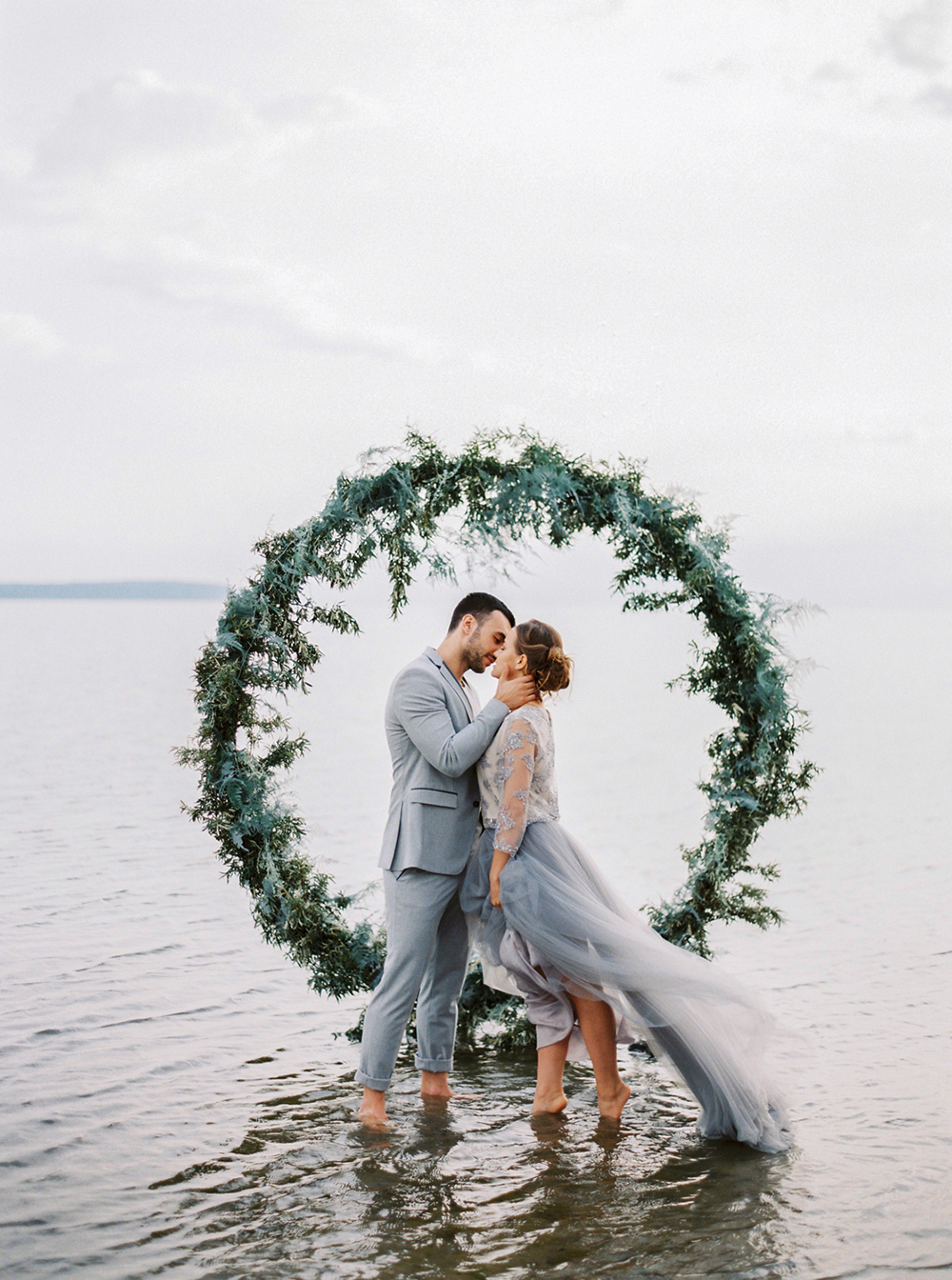 Credit: Muravnik Photography/Atmosphere Wed/Tatiana Bugaeva on Ruffled
We fell in love with floral arches all over again a couple of years ago, and now they're even prettier, with circle arches popping up all over the place. It's a fabulous way to decorate for your ceremony and ties into the move towards wreaths in wedding decor and bouquets, but it's also beautifully symbolic, with a circle representing eternal love.
See more:
7. NEON LIGHTS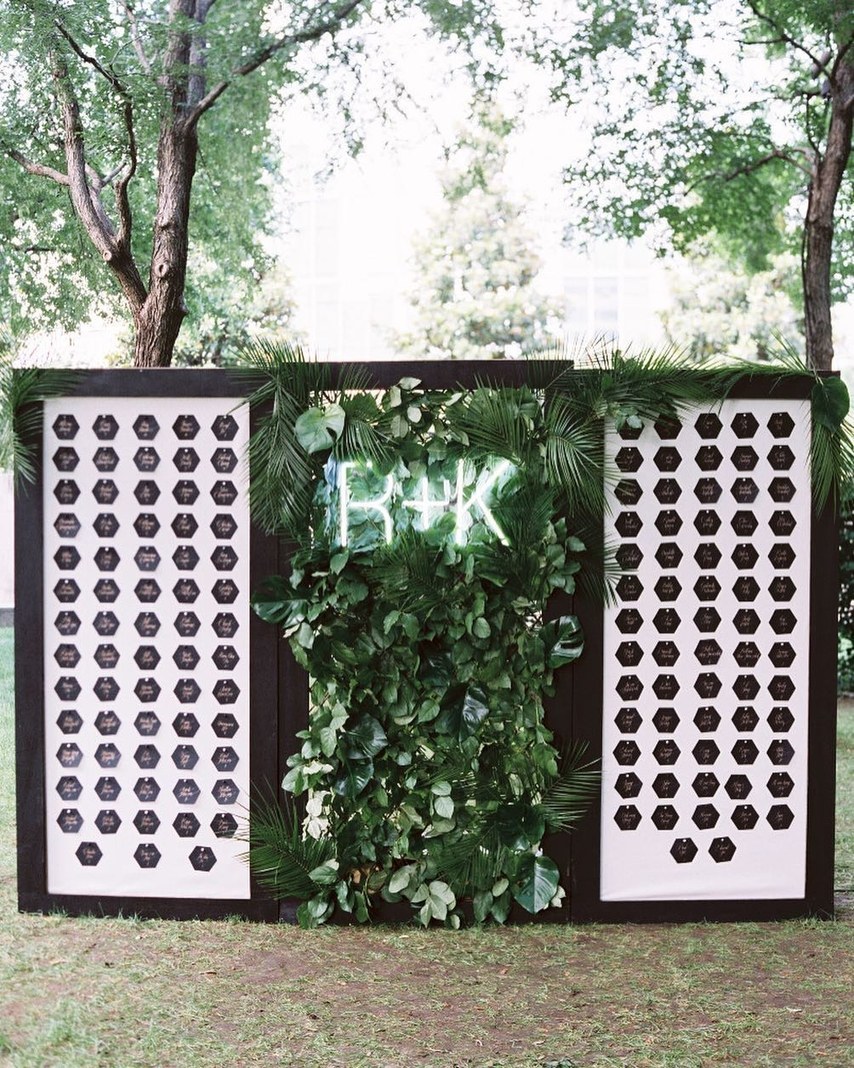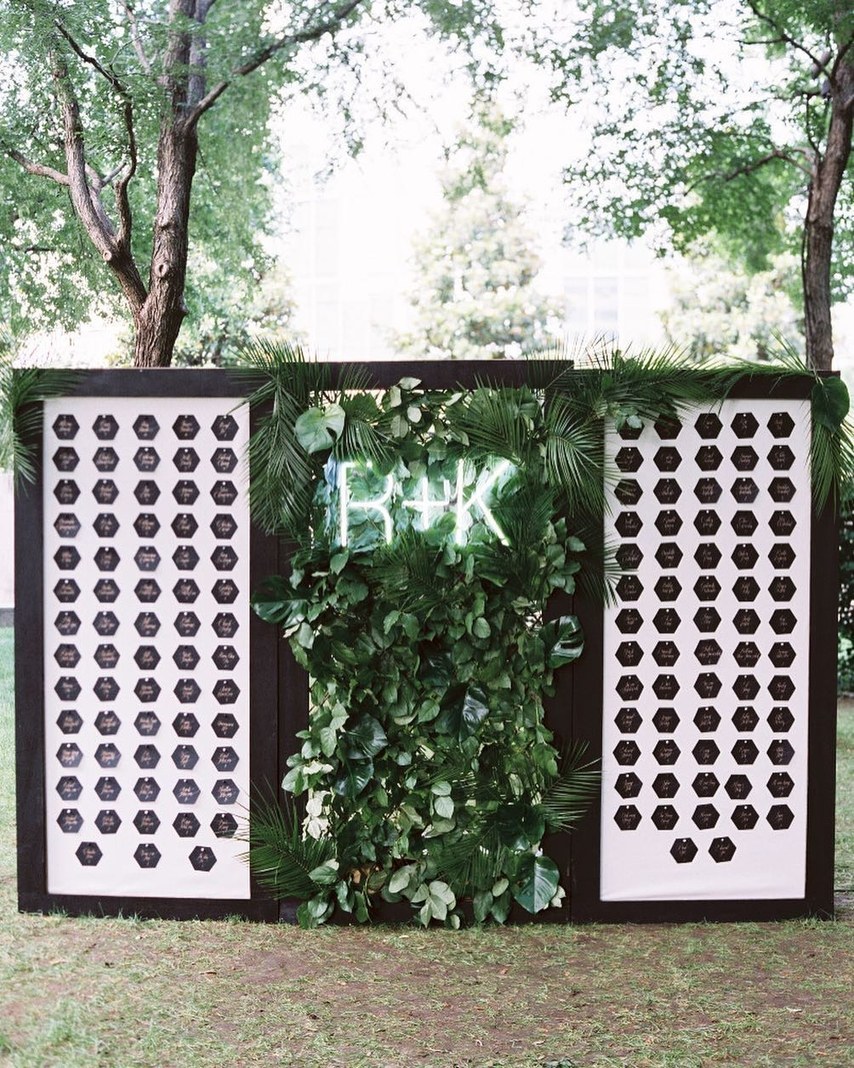 Here's a rock 'n' roll twist on one of last year's big trends that I'm loving! Greenery shows no signs of disappearing, but it's moving from tables to walls, and tropical greenery installations will be seen in many lovely weddings this year, complete with a statement neon sign, which stands out beautifully against the greenery. That's not the only place we'll be seeing neon signage in 2018 – and the best part about this piece of custom decor is that it looks great in your home afterwards!
8. BALLOONS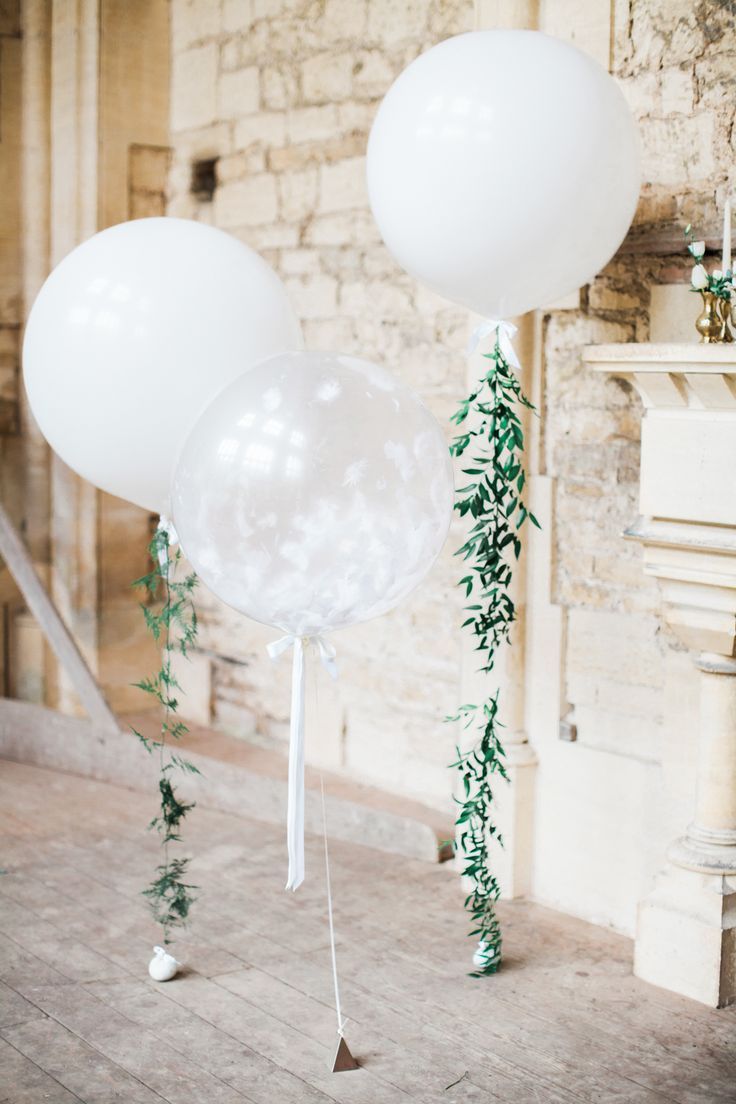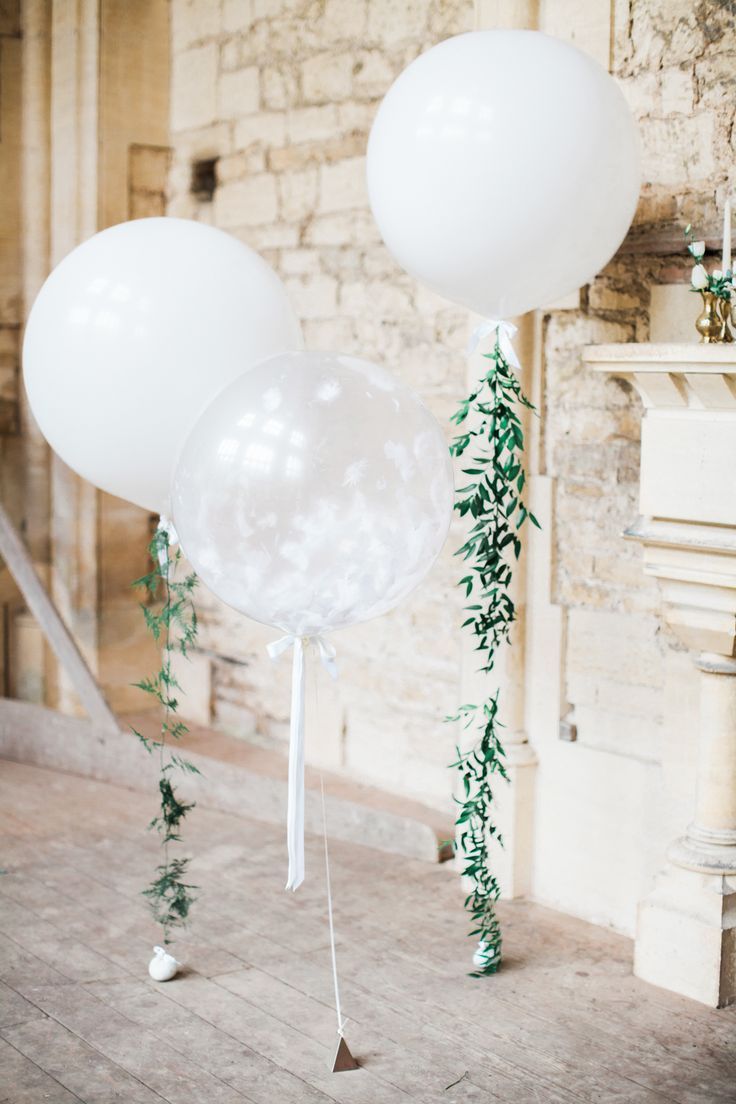 Credit: Daisy Says I Do/The Giant Balloon Company/Bowtie & Belle on Rock My Wedding

In their recent trend report, Pinterest noted that 'filled balloons' had gone up 86% in search. And filled balloons aren't the only twist on balloon decor we've been seeing. Balloon arches have grown up, and are now a mix of flowers and balloons, and I have to say, they look incredible! We've also seen balloon walls, glittery balloons, balloons with calligraphy… it goes on. I'm looking forward to seeing lots more of this fun trend in 2018. But while I love the balloons, I'm hoping we see a big decrease in balloon releases, as the balloons and strings can end up in horrible injuries or death for birds and wildlife, which is really not what you'd like that beautiful, whimsical gesture to do, right? But it does. Keep 'em tethered!
9. BOUTIQUE BARS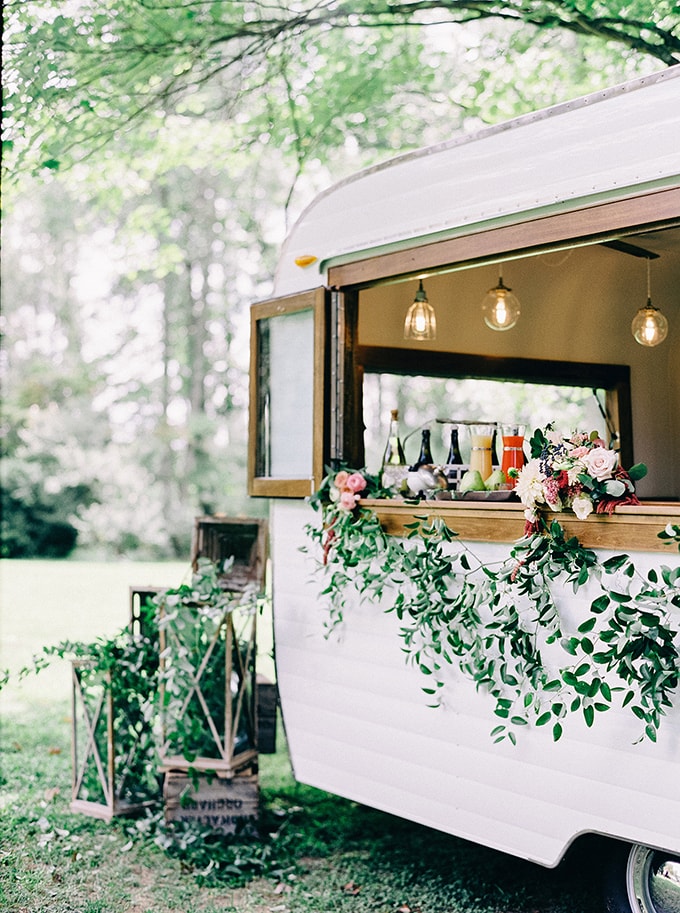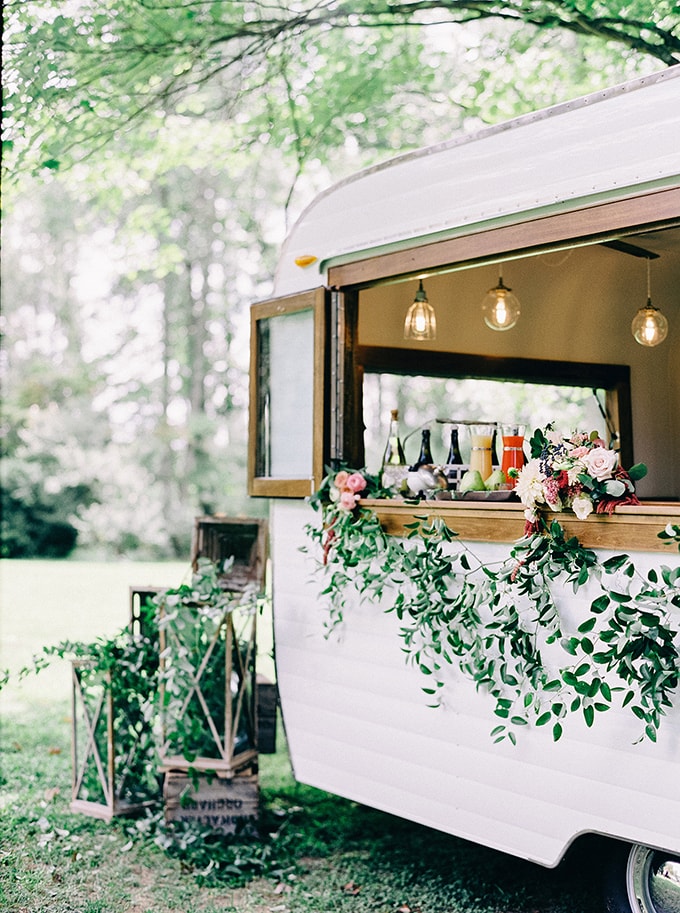 Credit: Aisle Society for David's Bridal/Nikki Santerre Photography/Amanda Burnette/Cozy Caravan Club on Glamour & Grace

Now here's a trend I can really get behind! Last year we started seeing gin bars all over the place – partly led by the fact that South Africa is now producing some delicious (and beautifully packaged!) gins. In 2018, cocktail hour gets even cooler, with more single variety bars turning up (bourbon is big in the States right now, for example) and pop-up bars in quirky vehicles like little prosecco vans and fully stocked caravan bars like the one pictured above. The key to a great bar is that it's beautifully styled and often gives guests the opportunity to do a little interaction, like putting their own gin cocktail together. SO FUN.
See more:
10. DRIED BOTANICALS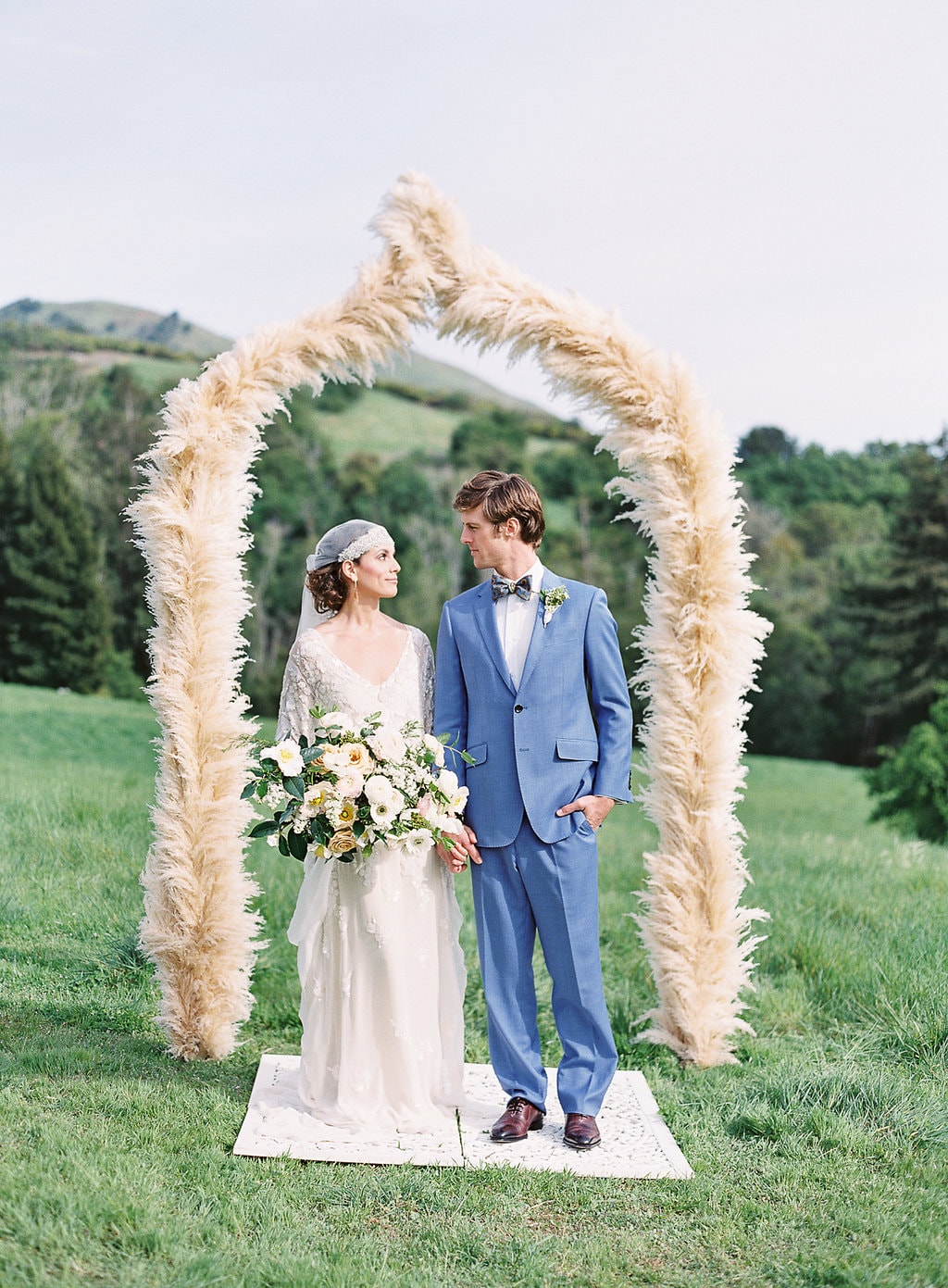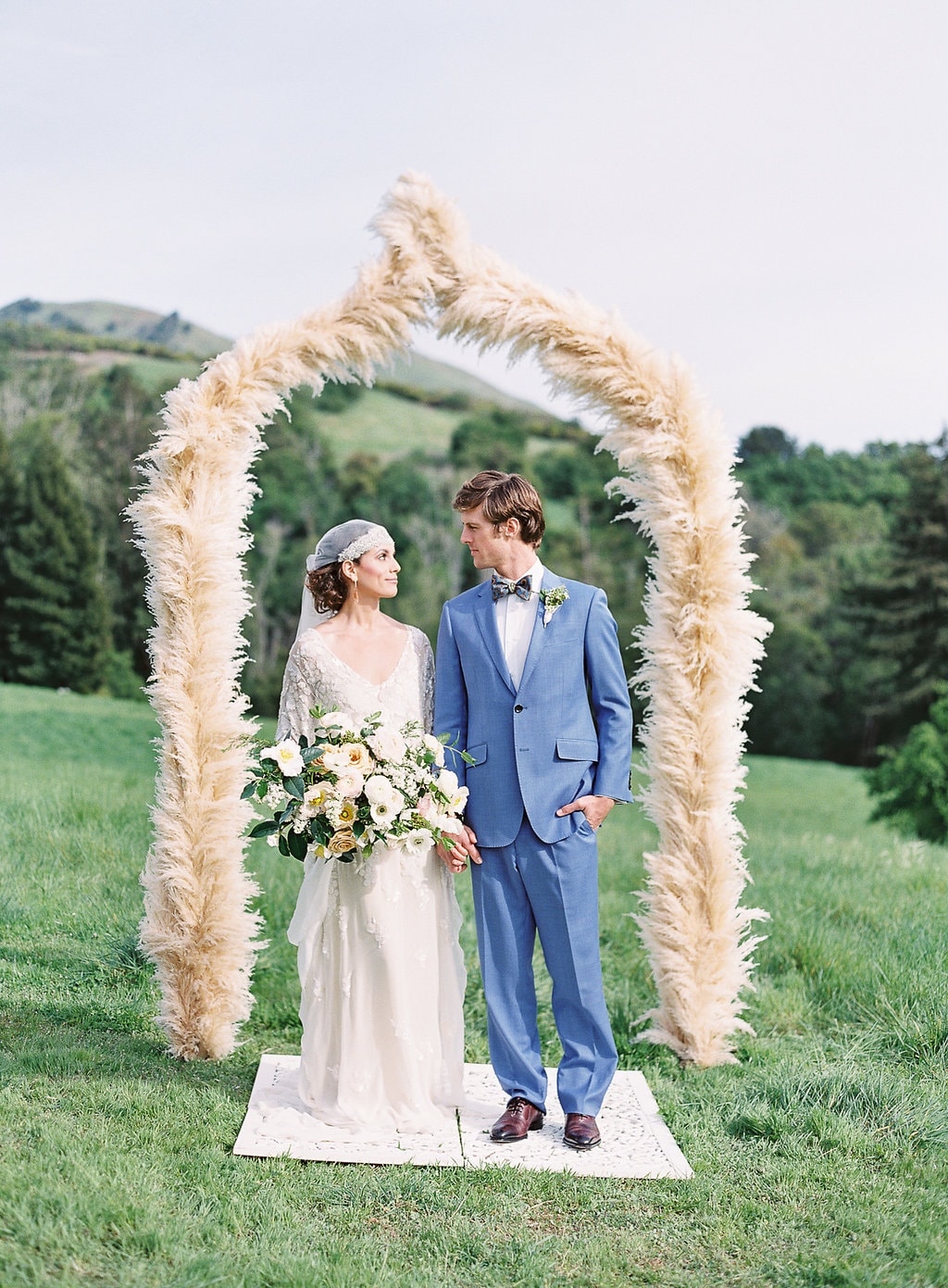 Credit: Carlie Statsky/Christine Cater on SouthBound Bride

While fresh flowers will always be king in wedding world, a fusion of the boho, desert and botanical trends have given rise to something new: dried florals. It all started with pampas, which has been making a show in boho ceremony decor, but now we're seeing wheat, foliage, and various other grasses. Dried botanicals can add drama with sculptural installations, add texture to living bouquets and centrepieces, or keep table decor simple, sweet and homely-vintage. Pressed flowers are also a pretty addition to stationery, or added to escort cards. But take heed: dried botanicals look simple, but they're not for DIYing or cost saving. Leave them to the professionals, not least because there are some rules and regulations that they need to know. For example, pampas is an alien invasive in South Africa and needs to be handled with great care (and destroyed properly after use) – florists can often suggest less tricky alternatives to fulfil your Pinterest dreams!
So that's my top 10. Which is your favourite?
Want more on-trend wedding inspiration? Follow SBB on Pinterest!