It's that time of year again! I love these annual trend roundups, writing them always fills me with excitement for the year ahead. Of course, trends aren't the most important thing in planning your wedding – they're not even close to the most important thing – but as with fashion and interiors, it's good to know the sort of looks that will be big (and more easily available!) in the year ahead. The other thing to bear in mind is that unlike fashion, wedding trends tend to have a little more longevity, so there'll still be plenty of the trends I identified last year (and the year before) in 2015. Many of them have simply evolved. But for today, we're focusing on the new and the beautiful. Here are my Top 10 predictions.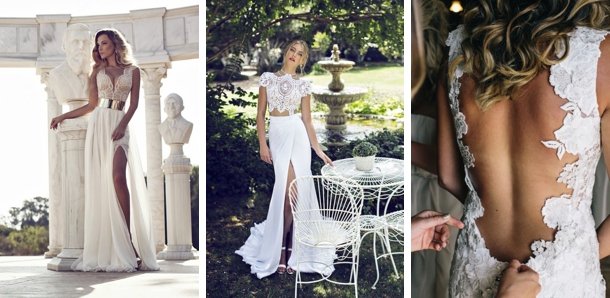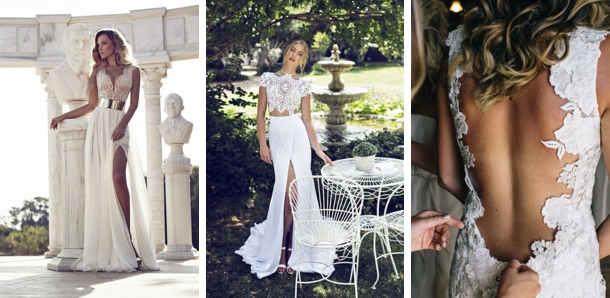 Credits: Julie Vino (left); Riki Dalal (centre); VUE Photography via LWD Bridal (right)
1. Wedding Dresses Get Sexy
There are lots of exciting trends in wedding dresses – in fact, Candice is going to be taking a closer look at dress trends tomorrow – but one of the biggest is that designers are bringing sexy back. From deep V-necklines to low backs, thigh-high slits to bared midriffs, nude lace to sheer fabrics, many of the details on the runways last year were as sensual as they were pretty. Bold brides can combine two or more of these trends – a look pioneered by Israeli designers like Julie Vino and Mira Zwillinger. Or stick with a single daring detail, like a deep back on an otherwise conservative lace dress, or an off-the-shoulder gown.
SEE MORE: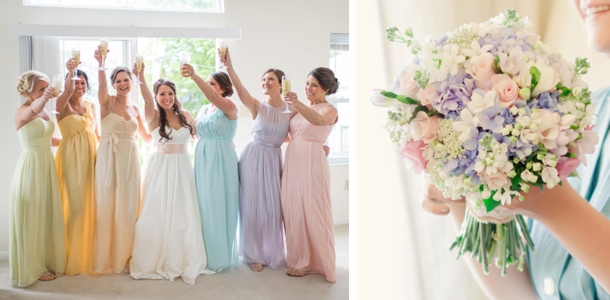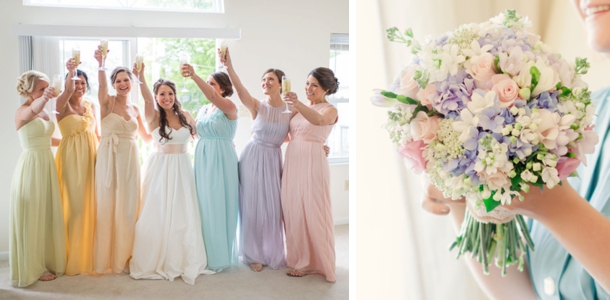 Credits: Karena Dixon via Southern Weddings (left); Matt And Lena Photography/Martins Alves via Style Me Pretty (right)
2. Pastels Take Centre Stage
Pastels are hardly anything new for weddings (albeit in single colours or two-shade combos), but in the last couple of years they've been experiencing a real moment in the sun, especially in the form of mixed multicolour pastels. We've also seen loads of gorgeous pastel bouquets starting to come through, and with watercolour details riding high, this is very much the Year of the Pastel. On the other end of the spectrum, rich berry colours are coming to the fore, providing a vibrant alternative. But why choose? Combine bold shades with cool pastels, or add gorgeous metallics to your pastel palette – there's no need to stick to a single colour anymore.
SEE MORE: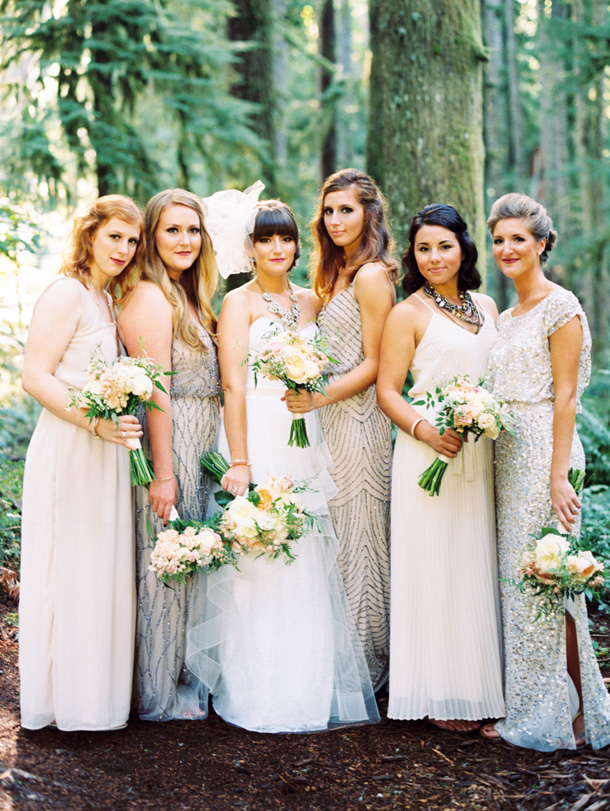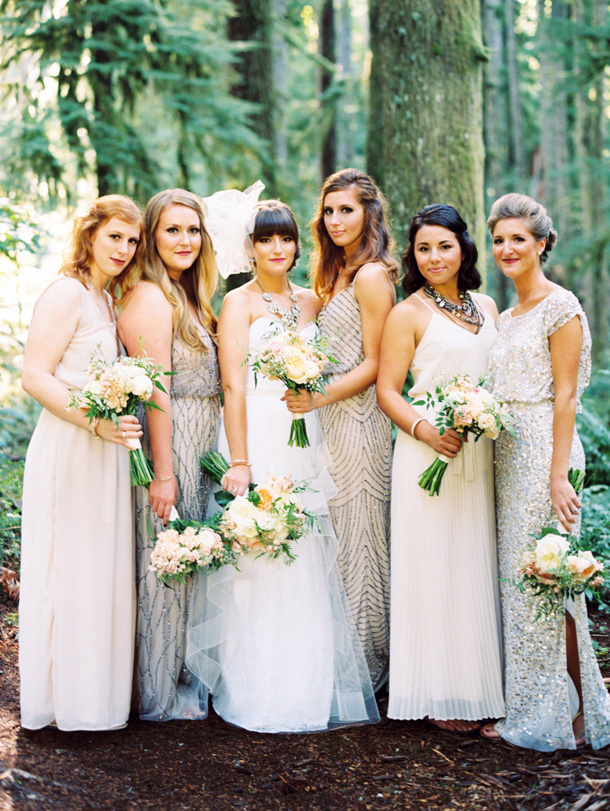 Credit: Erich McVey Photography via Style Me Pretty

3. High Glamour & Embellished Bridesmaid Dresses
There are bridesmaid dresses and then there are bridesmaid DRESSES. With the mismatched bridesmaid trend (still happily ongoing) as well as the introduction of texture and sequins to bridal parties, we're now seeing bridesmaids in individual prom-style gowns, gorgeous creations that wouldn't look out of place on the red carpet. I personally LOVE this trend when budget allows – not only does it look amazing and super sophisticated, but having your besties feel like a million bucks is a definite win in my book.
SEE MORE: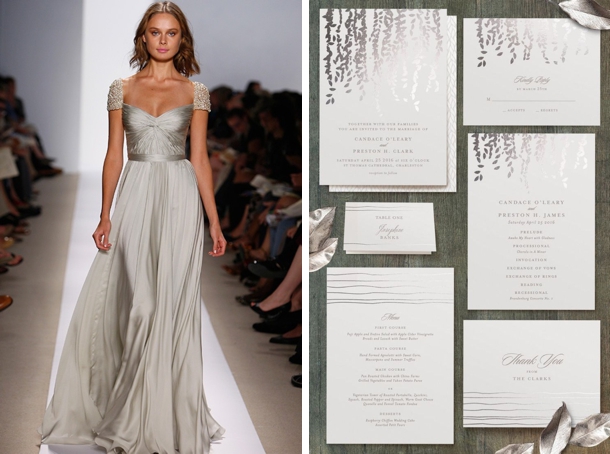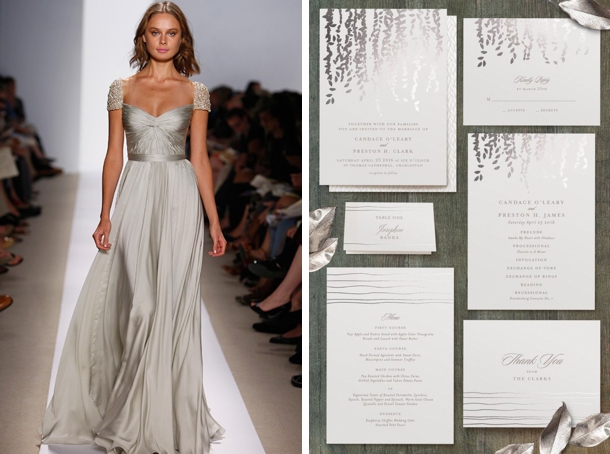 Credits: Reem Acra (left); Minted (right)
4. Silver Lining
The last few years have been ALL about metallics – predominantly gold, but moving over to rose gold, copper and brass. Mixed metallics have taken wedding design by storm, and bridesmaids have been donning sparkly sequined dresses. None of those are going anywhere in 2015. But if there's one metallic that's been a bit neglected, it's silver. Well, no longer. The New York runways saw the most beautiful blue and silver gowns last time around, and now silver detailing is popping up on everything from dresses to shoes to foiled invitations to cakes. Brides love having grey as one of their colours, and silver is really the perfect accent. It's time for this baby to shine.
SEE MORE: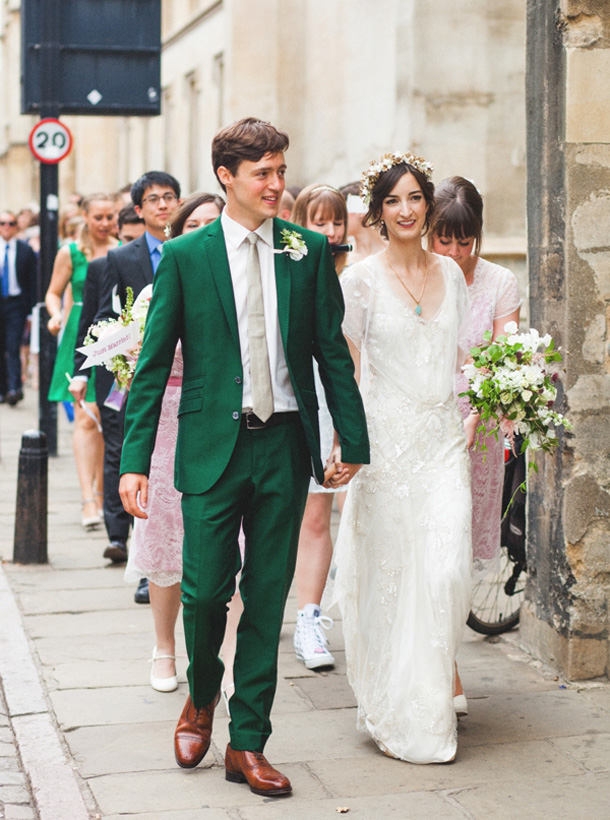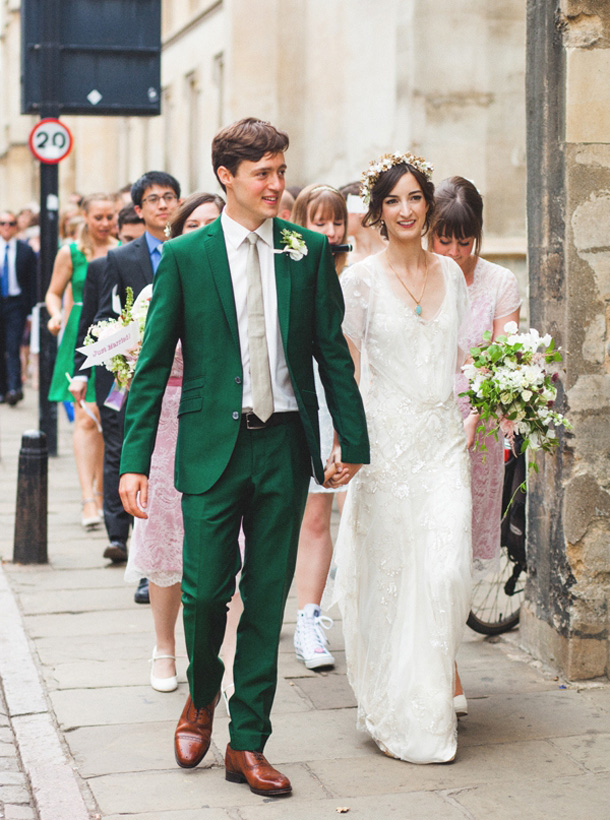 Credit: M&J Photography/Tiger of Sweden via Love My Dress
5. Colour is the New Black
First brides started ditching the traditional white dress, and now grooms are ditching boring suits in favour of a range of colour and texture (as well as smart casual options for less formal weddings). But my favourite groomswear trend is the coloured suit. Navy is leading the way, but labels like Tiger of Sweden have a number of stylish alternatives in their current collections.
SEE MORE: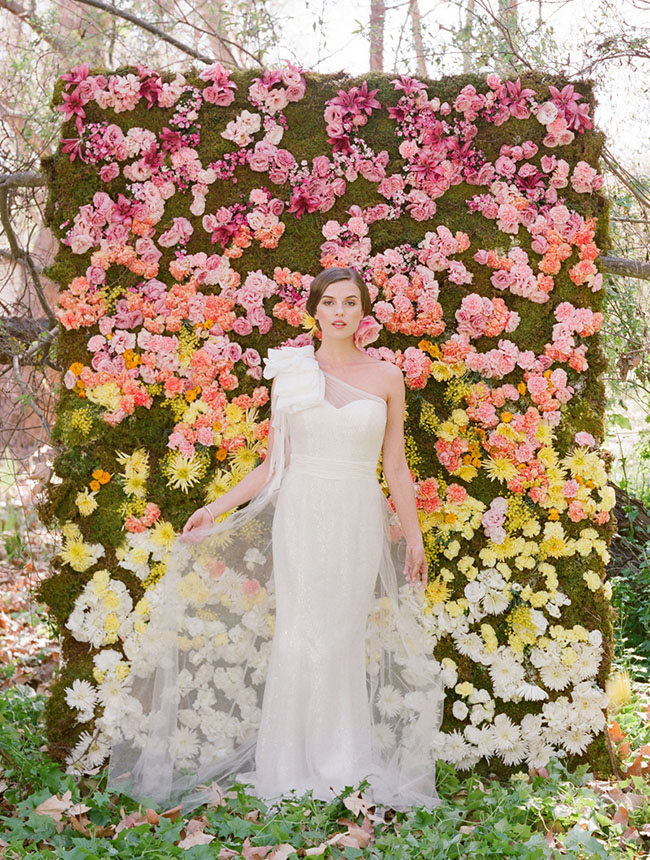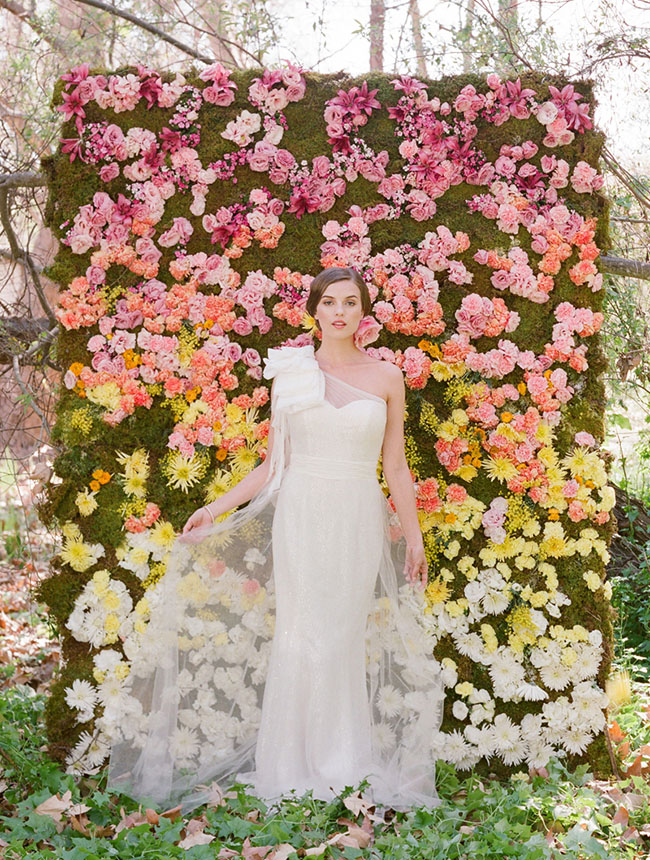 Credits: Elizabeth Messina via Green Wedding Shoes
6. Floral Arches & Backdrops
Opulent florals are a huge trend for 2015, following on from the floral garlands and wreaths that started really wowing us last year. The look is especially successful in ceremony blooms, with floral arches and amazing backdrops taking centre stage, as well as floral chandeliers. With a high flower content and very little in the way of stalks and greenery showing, this is a bit of a budget buster, but can make a fantastic statement that really forms the visual centrepiece for your big day. We especially love floral backdrops re-used during the reception as a focal point behind the main table, or as a photobooth.
SEE MORE: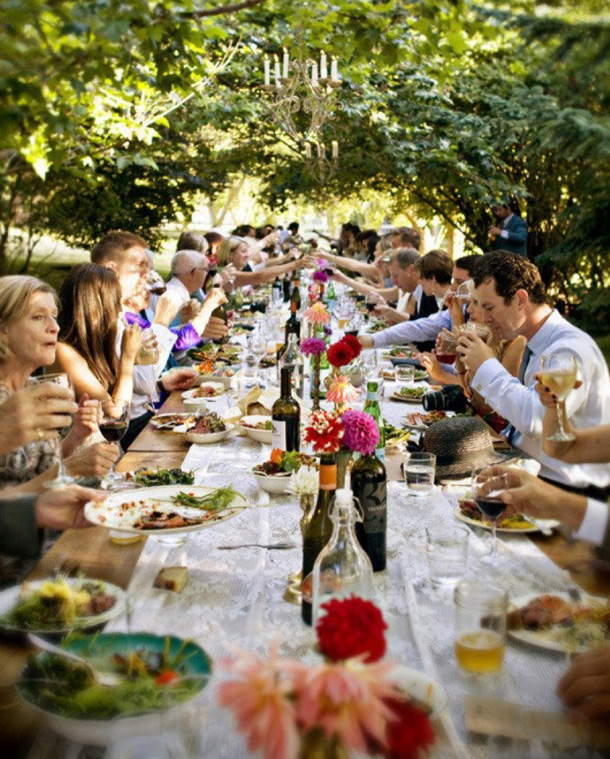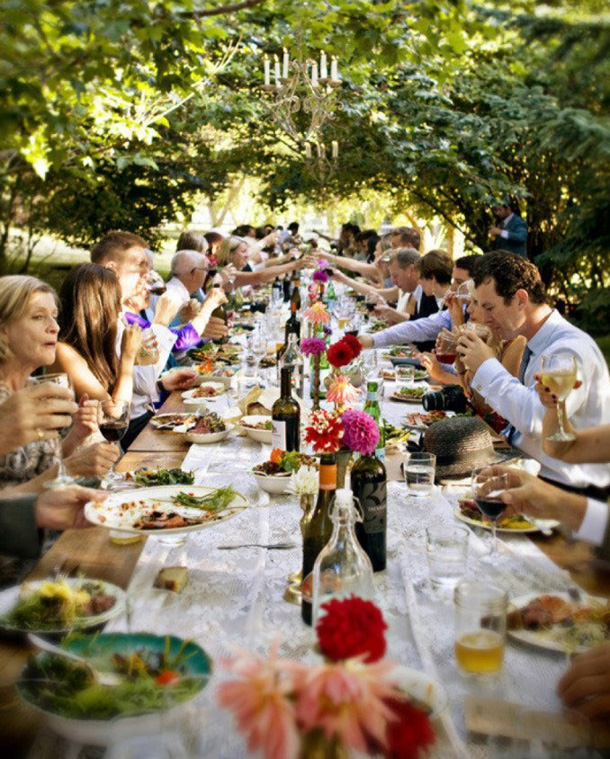 Credit: Those we Fancy Photography via Style me Pretty
7. Family Style Dining
Family style dining (i.e. food served on platters from which guests help themselves, the way it might be at a family dinner) has been growing in popularity for the last few years and 2015 will be when it really goes mainstream. It's a brilliant middle ground between buffet and formal dining, since your guests don't have to queue for ages to get their meal, cafeteria-style, but they also get to eat as much as they want (and with slightly fewer waitstaff). It's also lovely and social, and perfect for al fresco weddings and those with long tables, and creates a really relaxed ambience. I went to a family style dining wedding myself recently and it was still new to many of the guests, but they loved it!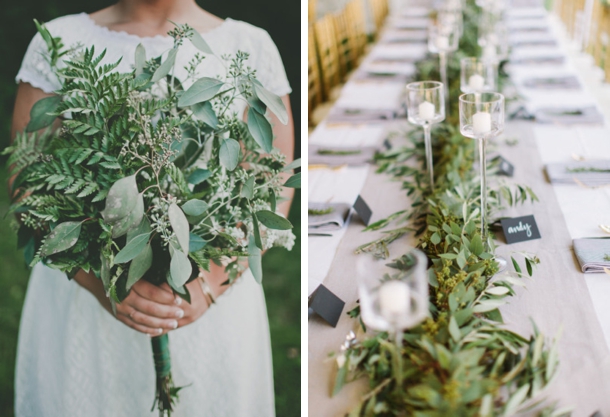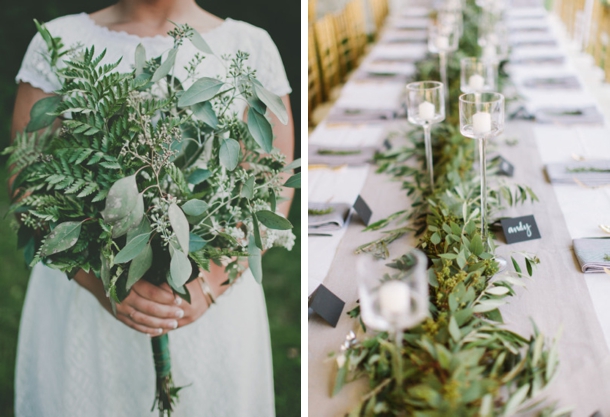 Credits: Justine Montigny via Style Me Pretty (left); Loft Photographie LLC/Verbena Floral Design via Style Me Pretty (right)
8. No Flower Weddings
The other side of the coin to the opulent floral trend I mentioned earlier is a move towards no or minimal flowers, which ties in with the shift towards more eco friendly weddings. Paper flowers have long been an alternative, but now couples are turning more toward greenery (and fynbos, in South Africa) as a flower alternative, from tables with leafy runners to olive and fern accents, to green wreaths and garlands and even gorgeous greenery bouquets.
SEE MORE: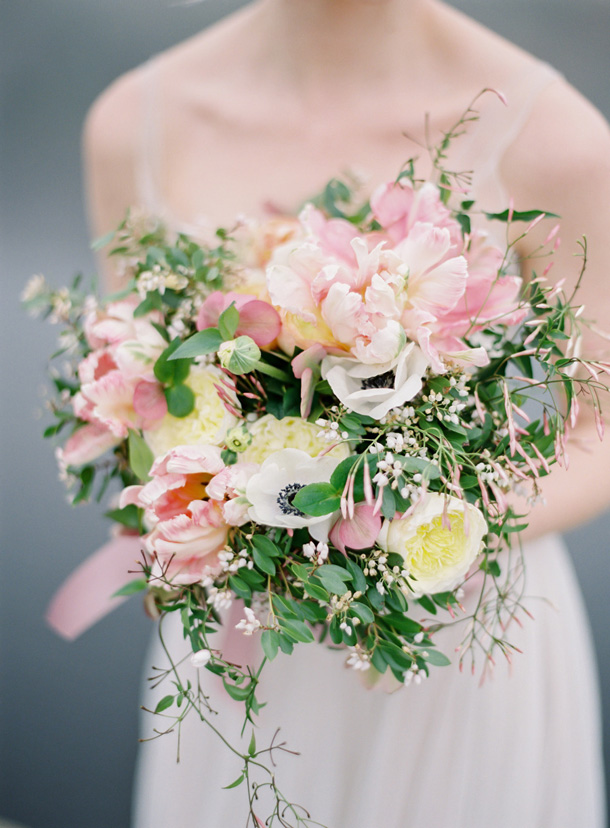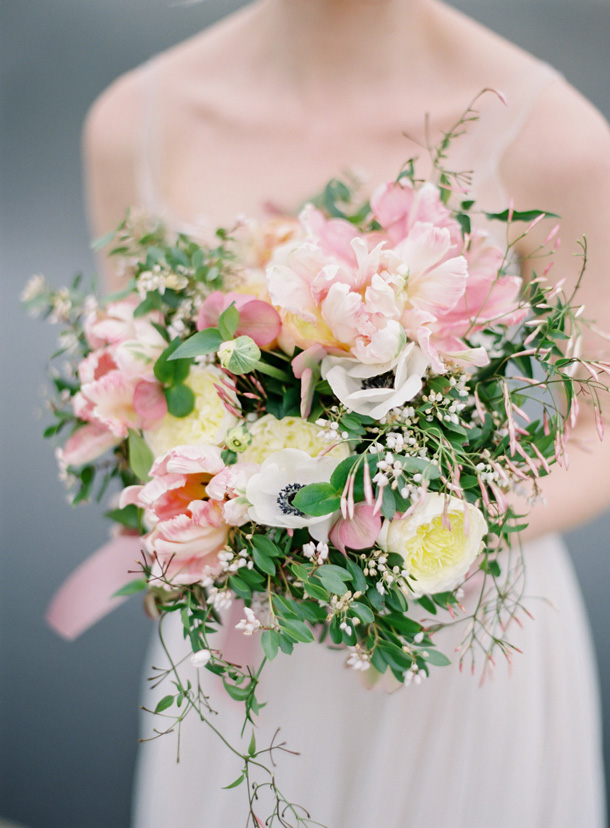 Credit: Coco Tran/Vo Floral Design via Style Me Pretty
9. Wild, Handtied Bouquets
Following on from last year's move towards cascade bouquets as well as the organic and boho wedding trends, 2015's bouquets will be loose and wild and lovely. The idea is to seem as if they've been randomly plucked from a field of wildflowers, or gathered from a garden. SO. PRETTY.
SEE MORE: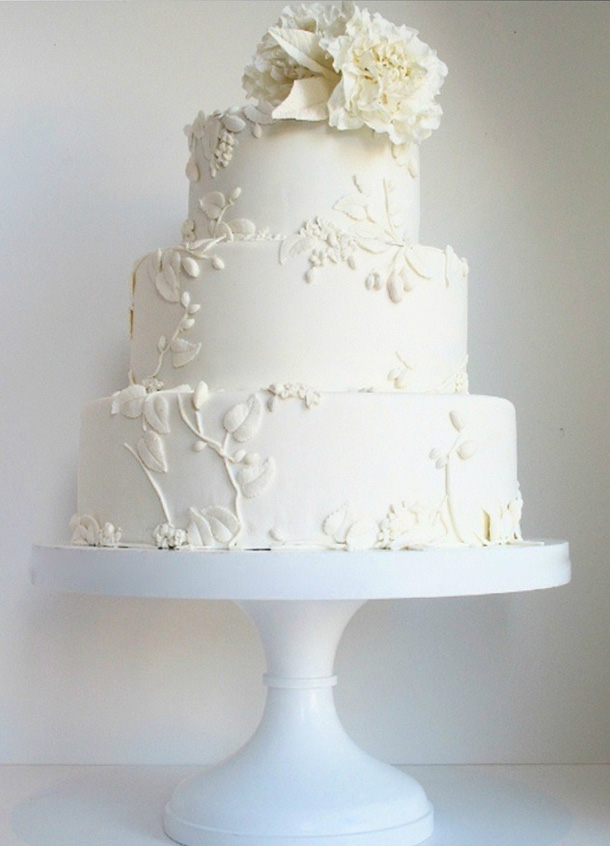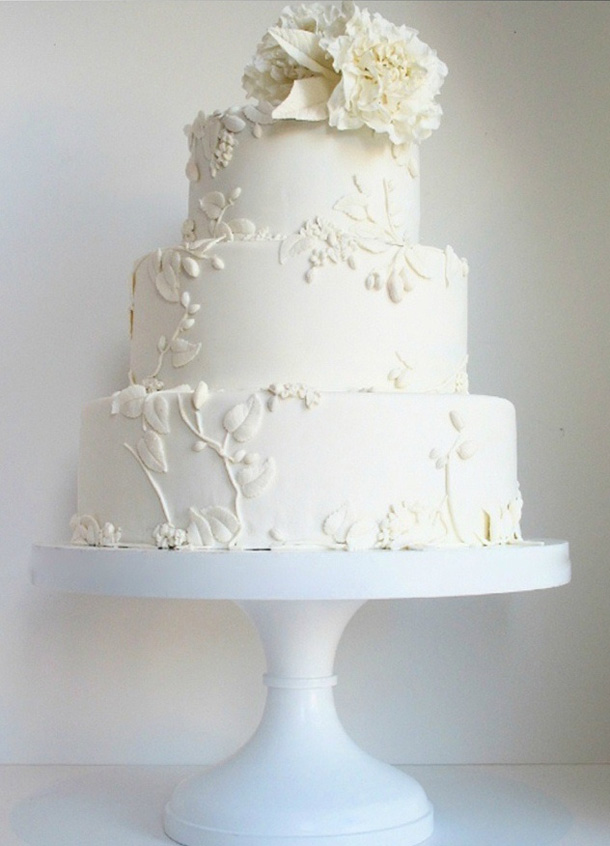 Credit: Maggie Austin Cake
10. Classic Cakes
Last year, cakes went super luxe, sporting metallic finery and sparkly texturing. While couples are still opting for these gorgeous options, we're seeing a return to classic white tiered cakes – a return to the traditional after several years of wedding cake alternatives and colourful fondant fancies. Of course, simple doesn't have to be boring – 2015's reworked classics will feature fine white on white detailing like lace, pattern, Swiss dot and florals. Love!
SEE MORE: