What do J-Lo, Camila Alves and Beyonce have in common? Probably quite a bit, but for today, it's that they've recently been rocking the latest trend in bridal on the red carpet, and looking oh so gorgeous doing it. Nude lace is one of the key trends in the 2015 bridal collections, a beautiful, feminine, sexy development from the lace and applique detailed look that has been so popular for the last couple of years. The key feature of the style is a nude or blush-coloured underlay with a full or part-body overlay, allowing the detail on the lace or applique to really shine through. Some versions of the look are more daring than others, but one thing's for sure – it's taking bridal designers by storm. I've been a fan ever since we featured Haloise and Jaco's wedding earlier this year, when our fashion-forward SouthBound Bride wore an absolutely gorgeous, statement gown. Designers like Zuhair Murad and Mira Zwillinger have made me love it even more since then, but I think my absolute favourite example is the dress worn by European royal, Claire Lademacher, in her wedding to Prince Felix of Luxembourg. And if it's good enough for Beyonce AND a princess? It's good enough for me. Here's a roundup of some gorgeous nude lace dresses, both on and off the catwalk.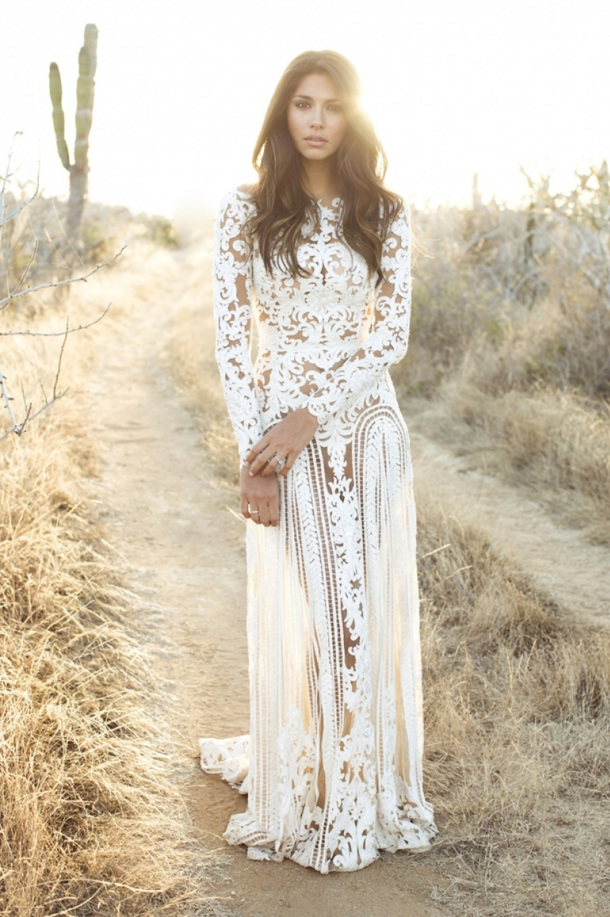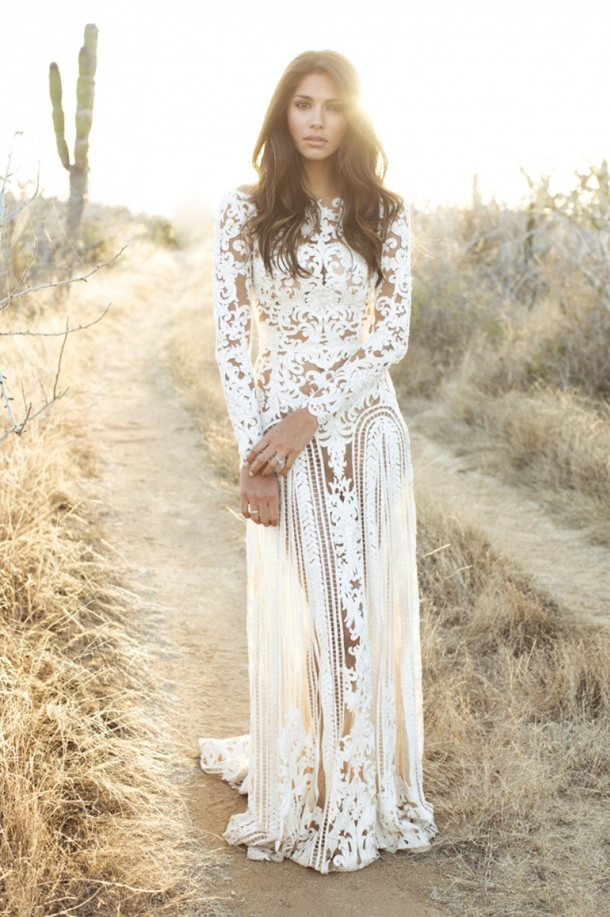 (How AMAZE is this one?)
Above, the Luxembourg royals. That dress!
And let's have a quick look at those red carpet looks, shall we? You'll recognise one of them from the above gowns, but all are pretty amazing.
Image credits (top to bottom, left to right): 1- Clayton Austin/Joy de Vivre/Bride's collaboration with Shu Hsien Ryu and Dream Creations via Green Wedding Shoes; 2- Christina McNeill/Ulla Maija "Simone" via Ultimate Bride via Ruffled; 3- Brklyn View Photography/Gabriella via Brooklyn View Blog; 4- Lauren Ross/Karissa Fanning/Zuhair Murad via The Lane; 5 & 6- Clayton Austin/Joy de Vivre/Bride's collaboration with Shu Hsien Ryu and Dream Creations via Green Wedding Shoes; 7- via New My Royals; 8- Jess + Nate Studios/BCR Events/Monique Lhuillier via Style Me Pretty; 9- Cameron Ingalls/Mark Padgett Event Design/Allure Bridal via Ruffled; 10- GingerAle Photography on SouthBound Bride; 11- Mira Zwillinger; 12- Zuhair Murad; 13- Angela and Alison; 14- Anna Maier ~ Ulla-Maija via Brides; 15- Rivini; 16- Watters; 17- Mira Zwillinger; 18- D.I.D. by Watters via Wedding Inspirasi