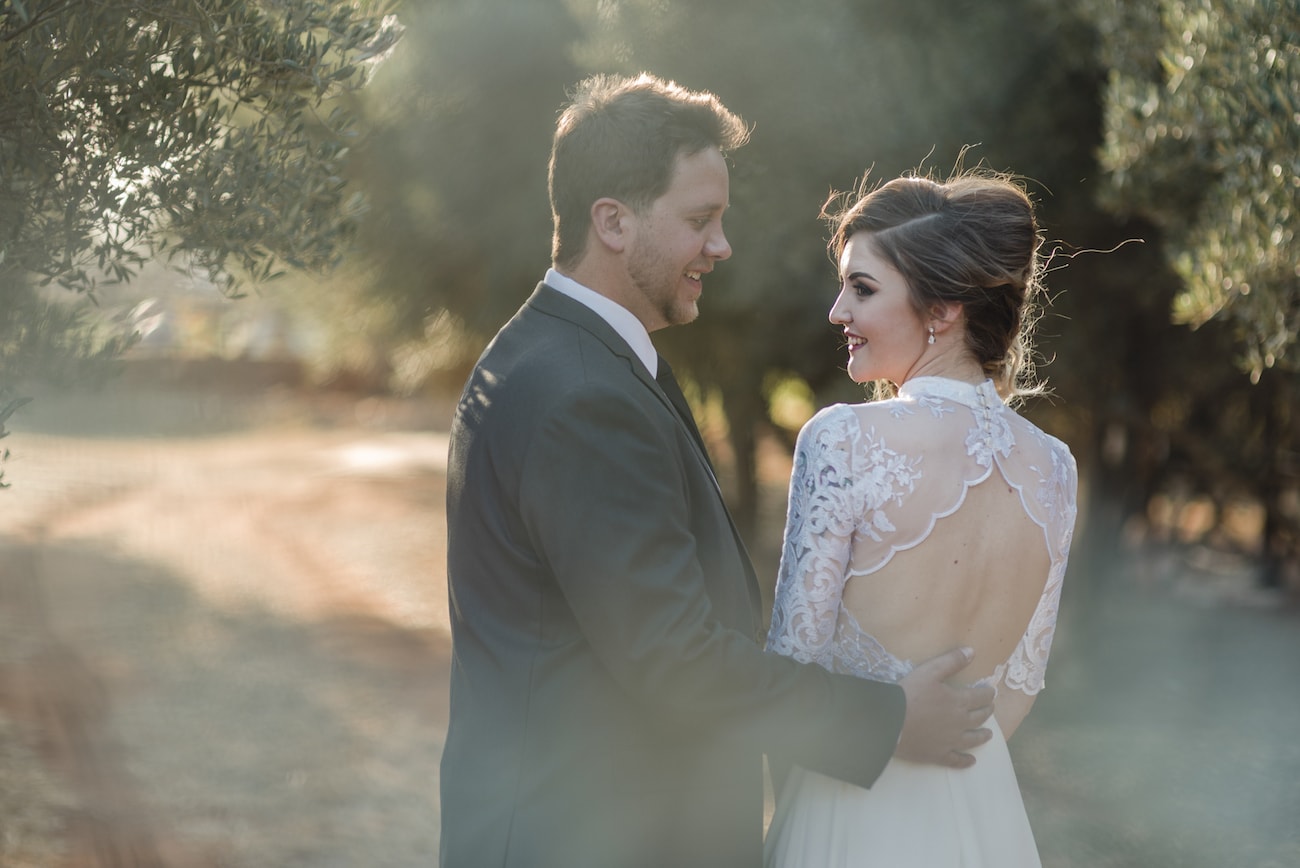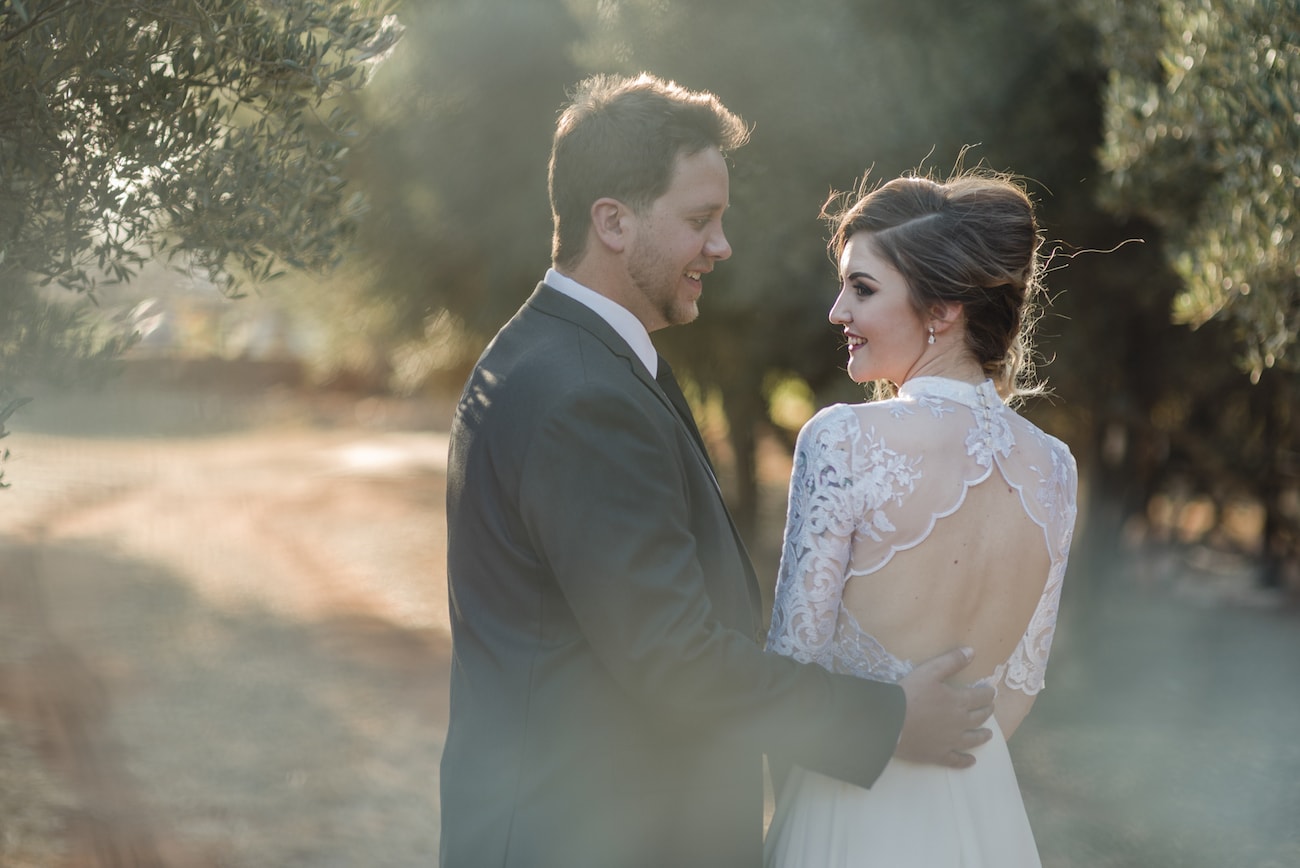 Think back for a second, folks, and remember your high school crush. And ok, let's skip over the fact that for most of us, that's a what-was-I-thinking-dude moment, and remember all the intensity and hope and adorableness of that feeling. Now imagine you grow up, and that crush turns up at a party, and he or she is better than you remember them, and not only that but they're finally noticing you and are as smitten as you are. I mean, it's a whole Taylor Swift song right there! That's how Jan-Peet and Nadine, today's sweet bride and groom, began and if their story is the cutest, wait till you see their wedding! Both have a lovely sense of fun that they brought into their big day, with origami details like cranes and cootie catchers on the tables, a wordsearch seating plan, cake pops and malva puddings for dessert, and even a magician to entertain their guests. At the centre of it all of course, was their grand romance, and Wynand van der Merwe captured the perfect mix of dreamy portraits and playful details to share with you today. Oh! But I can't not mention the fashion! Nadine's dress is a stunning high-neck lace beauty, and her bridesmaids rock separates (mismatched tops – love!) in grey and white – gorgeous!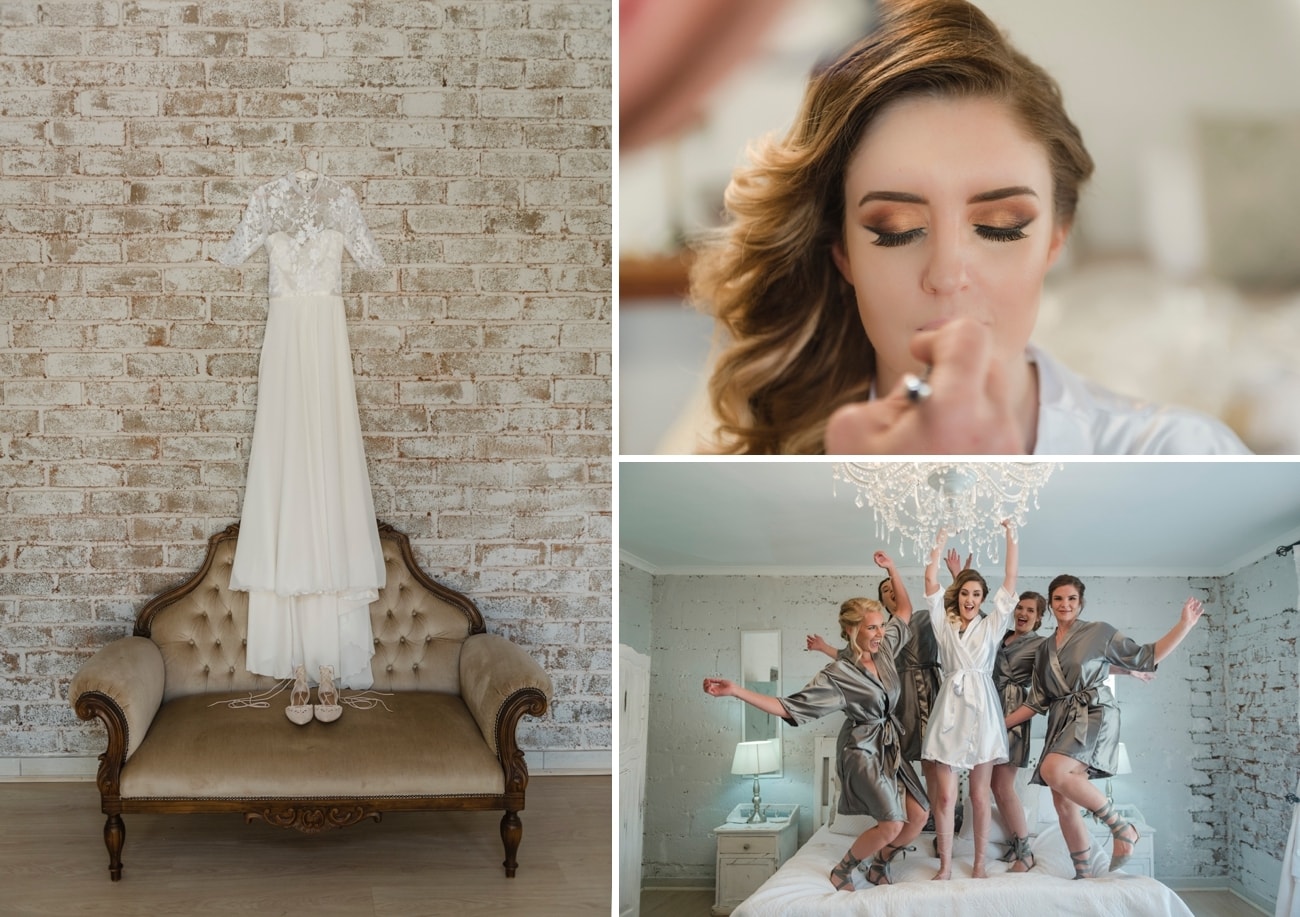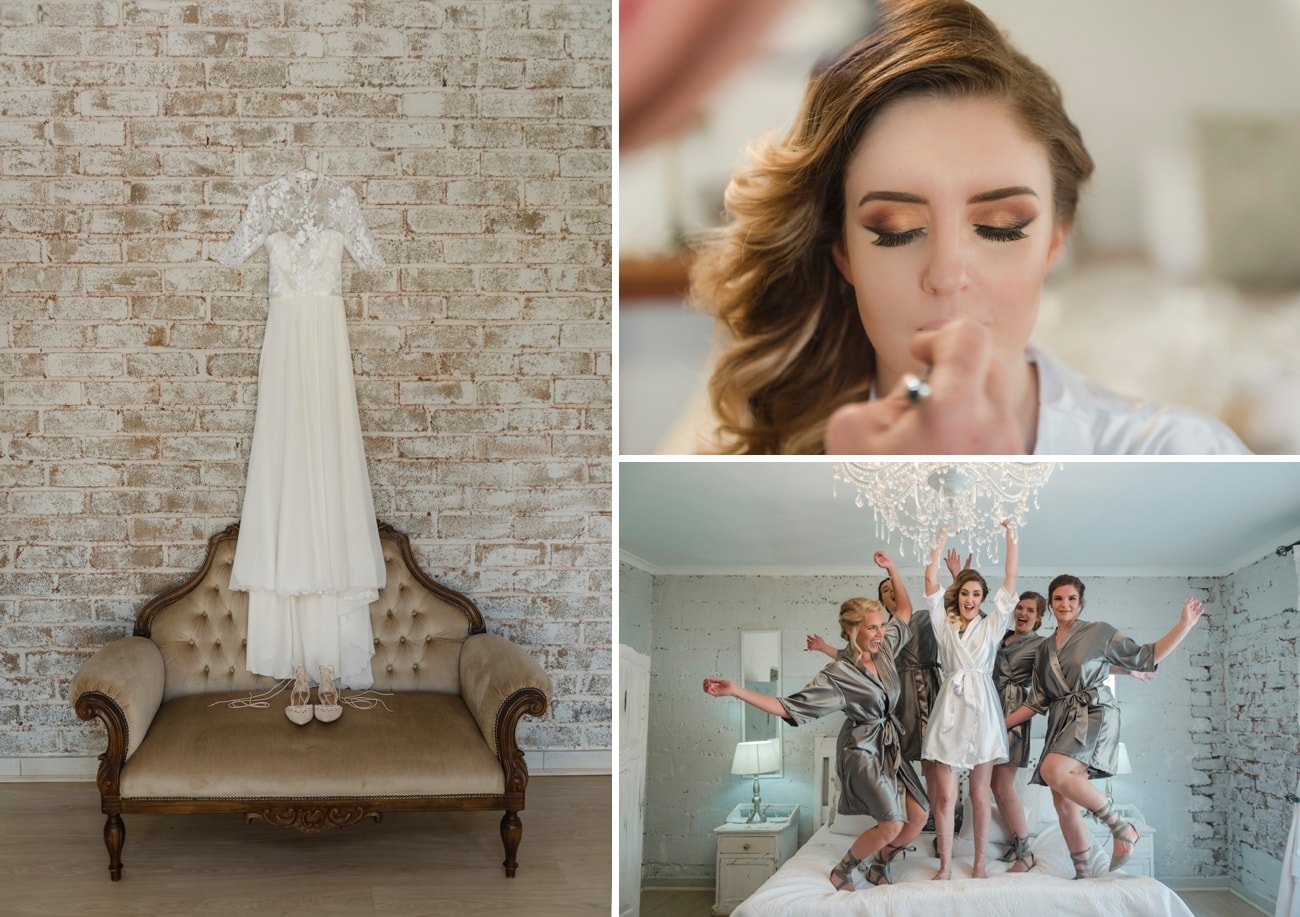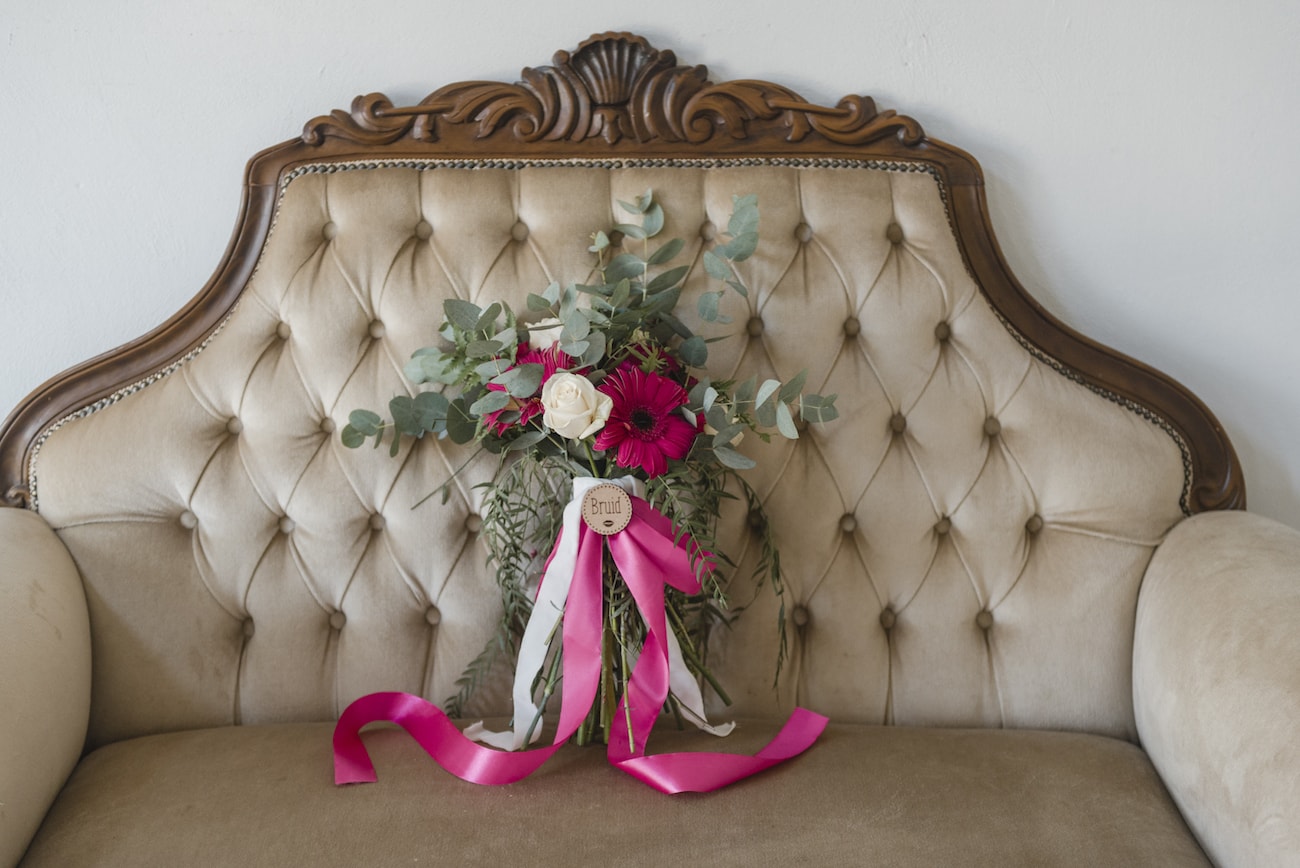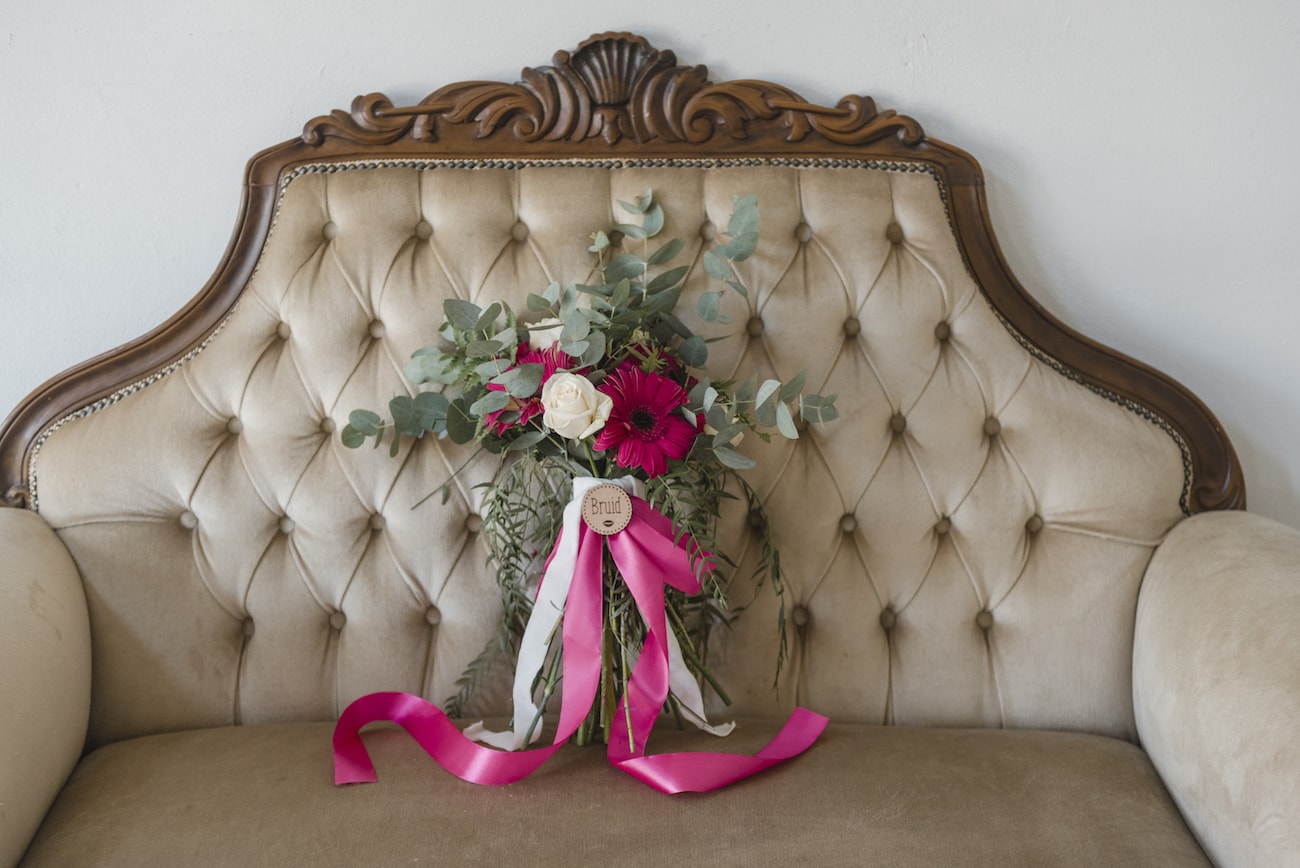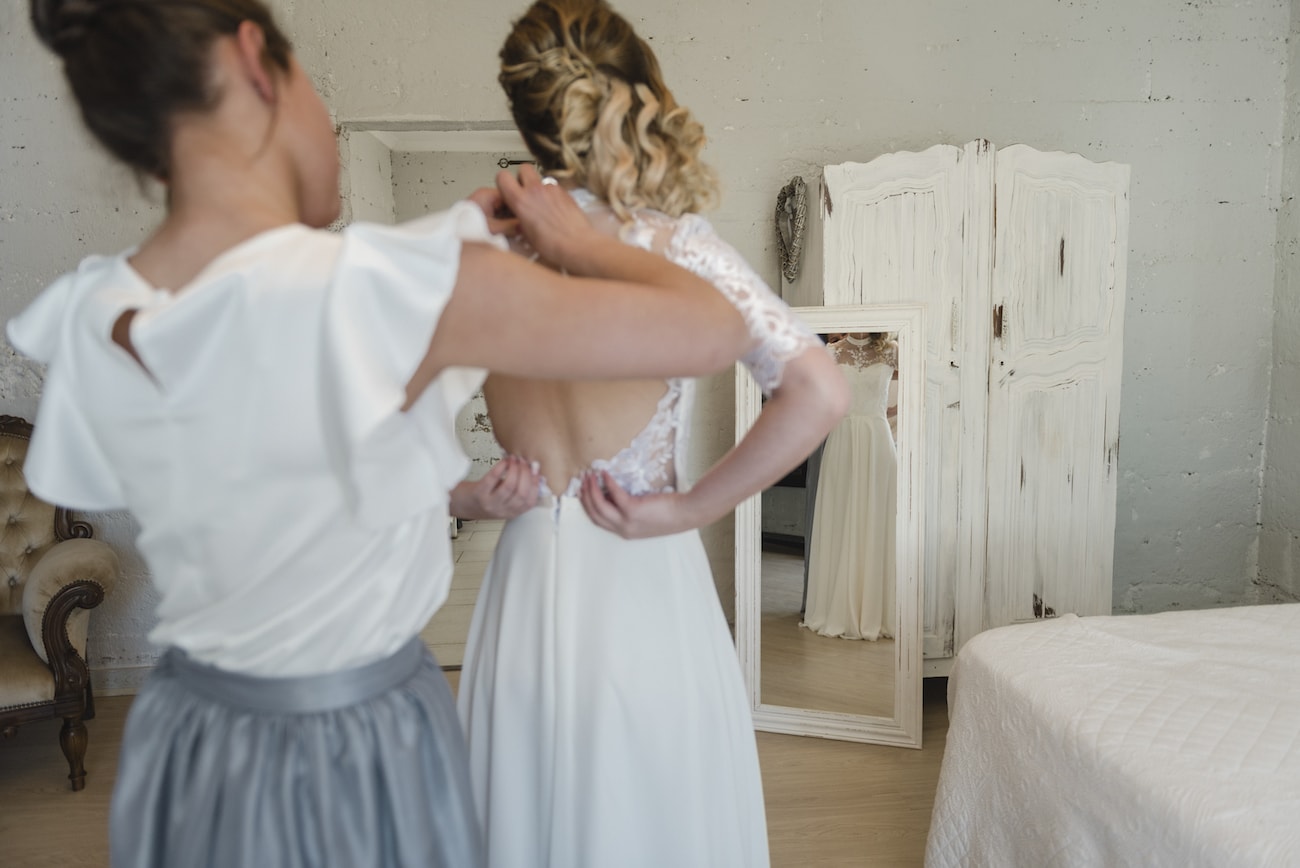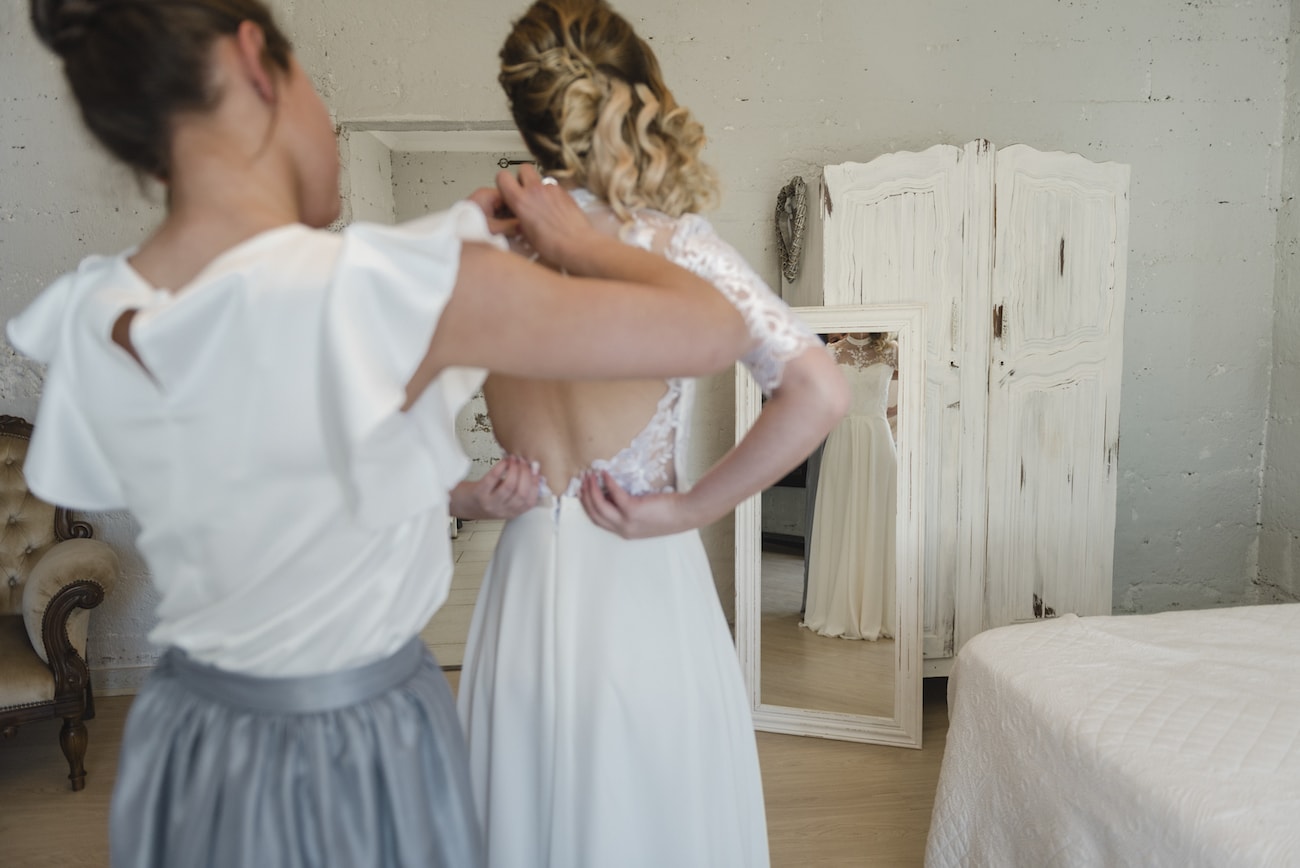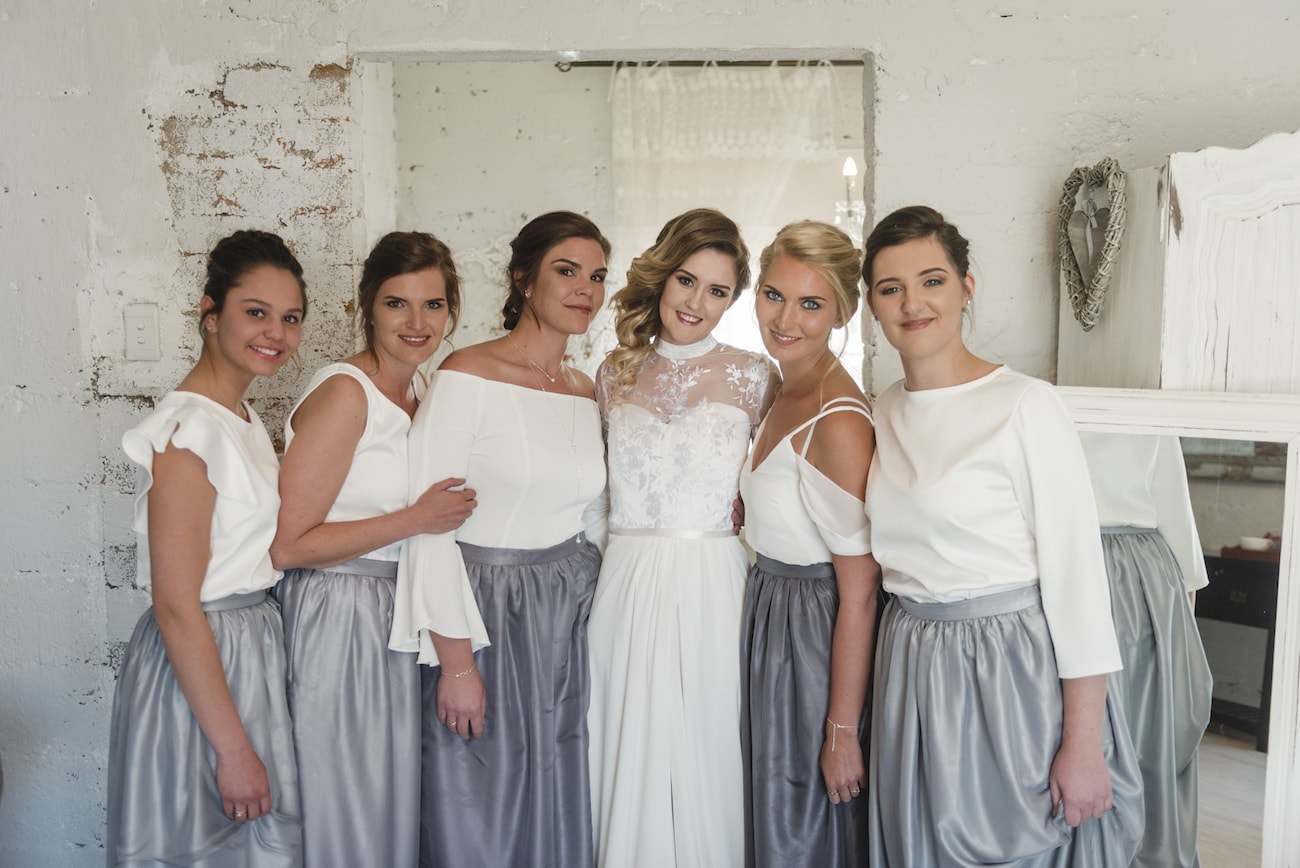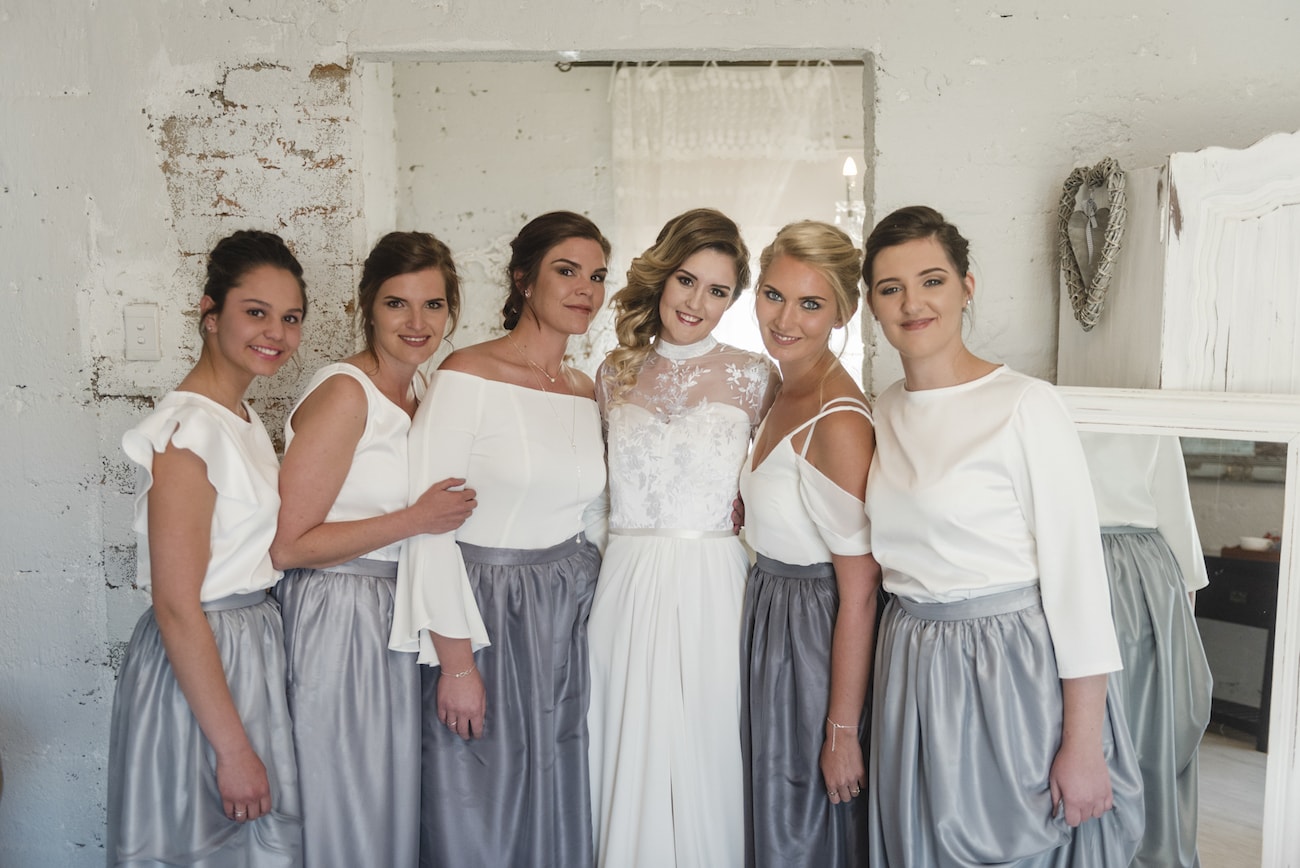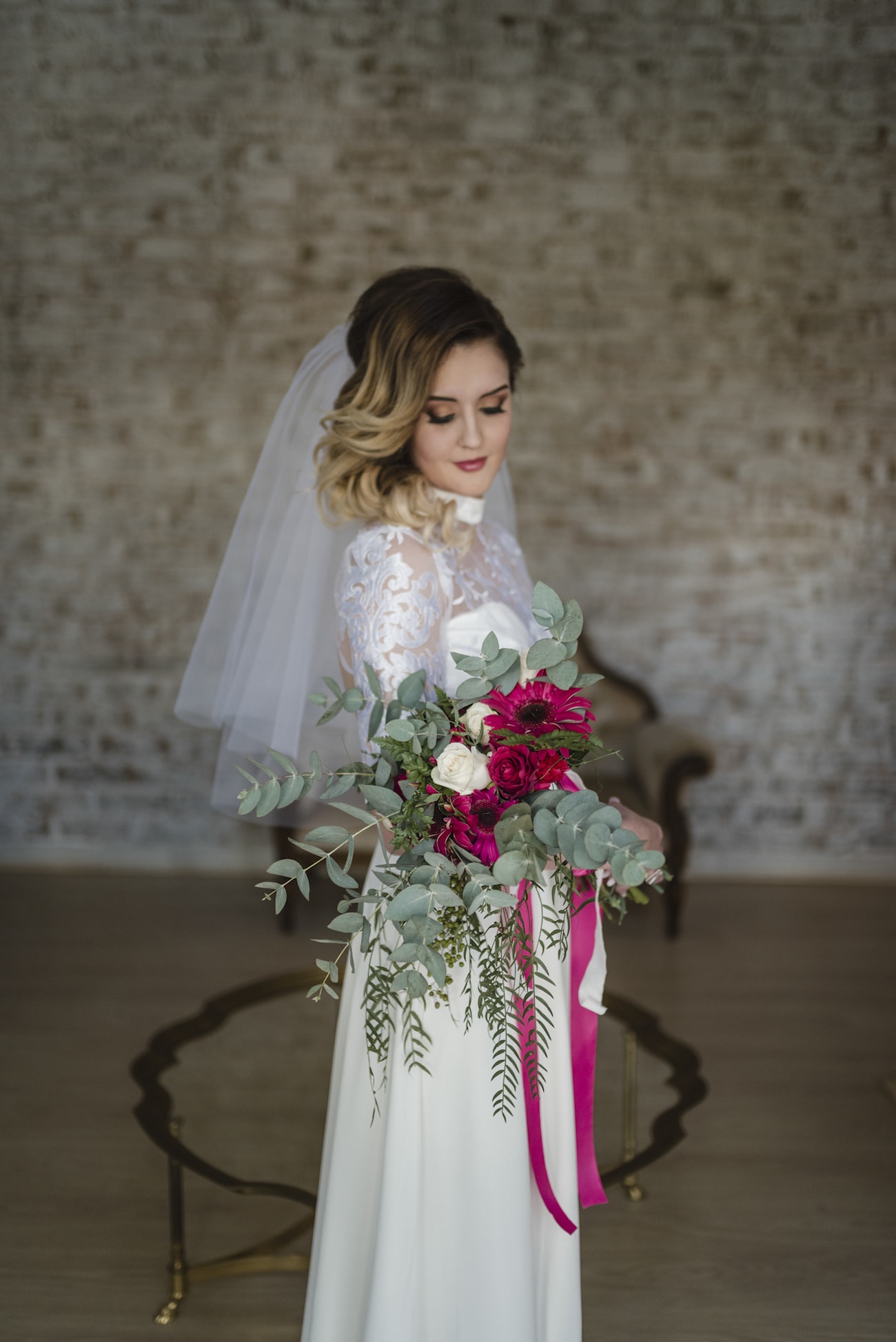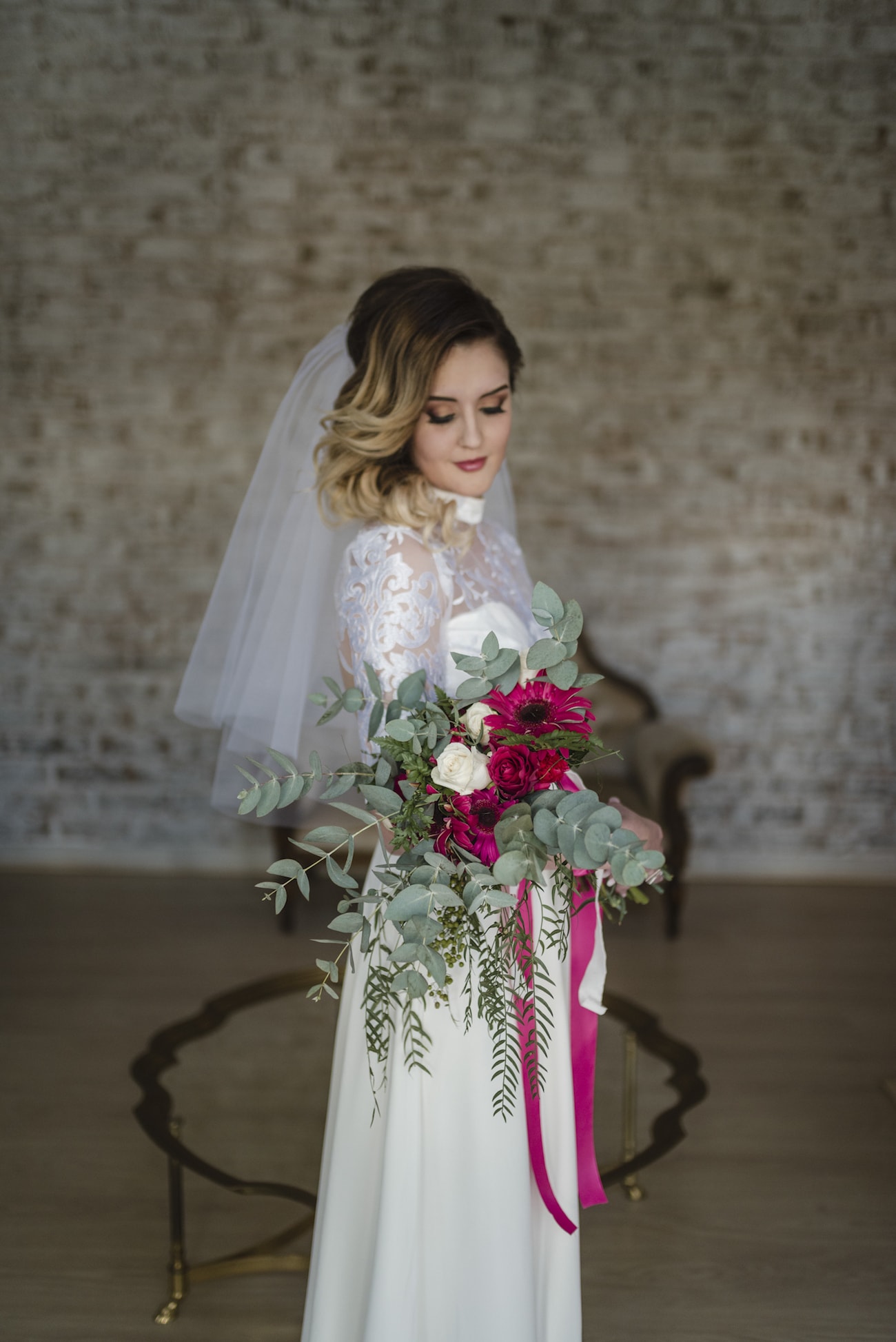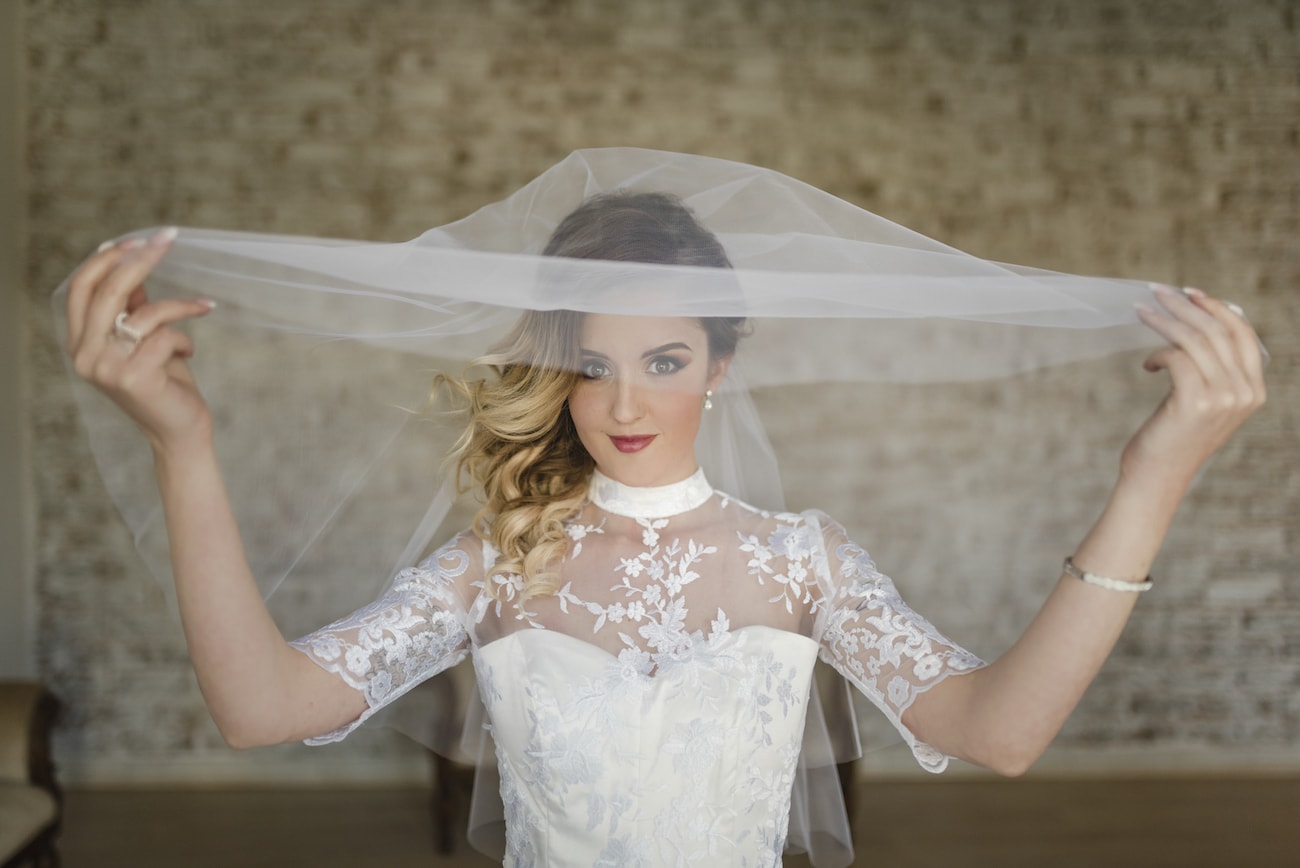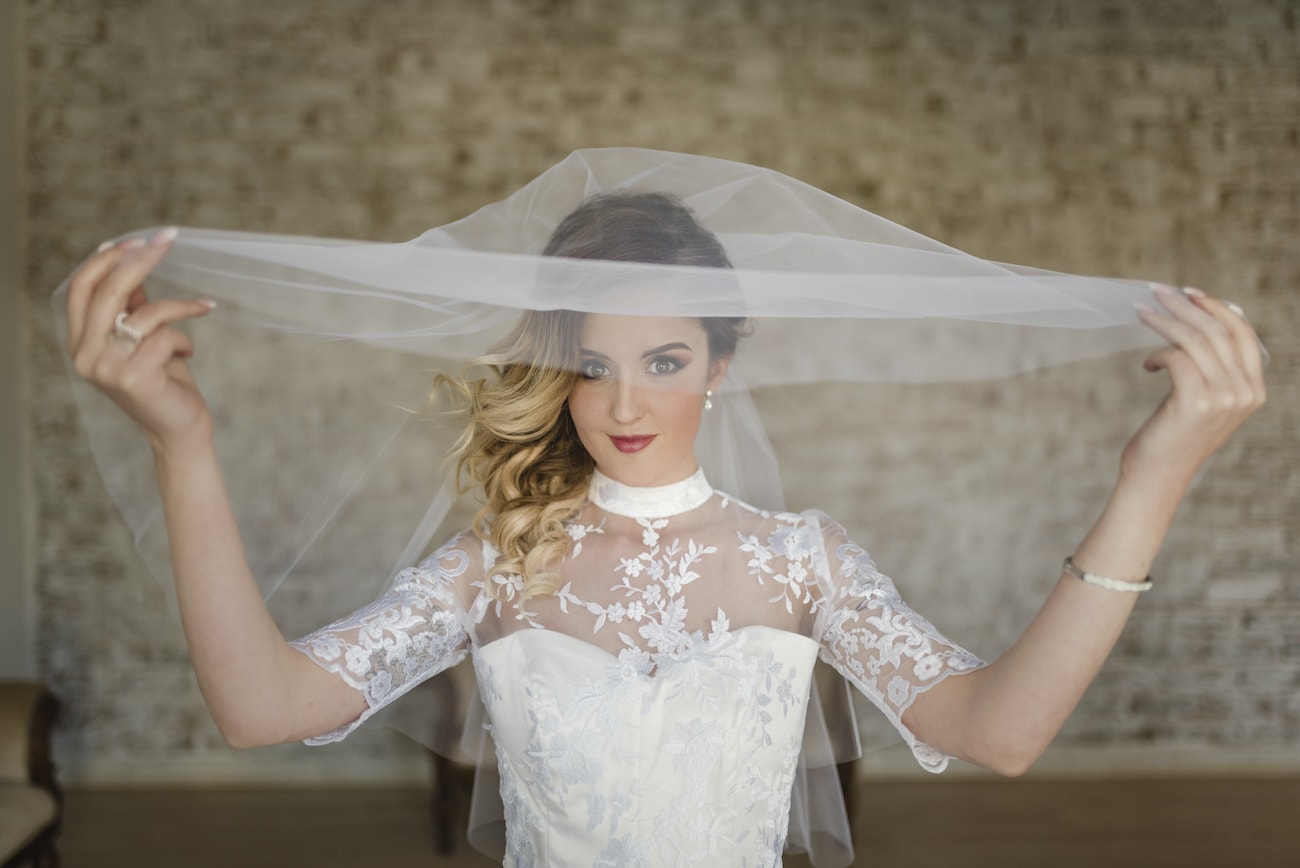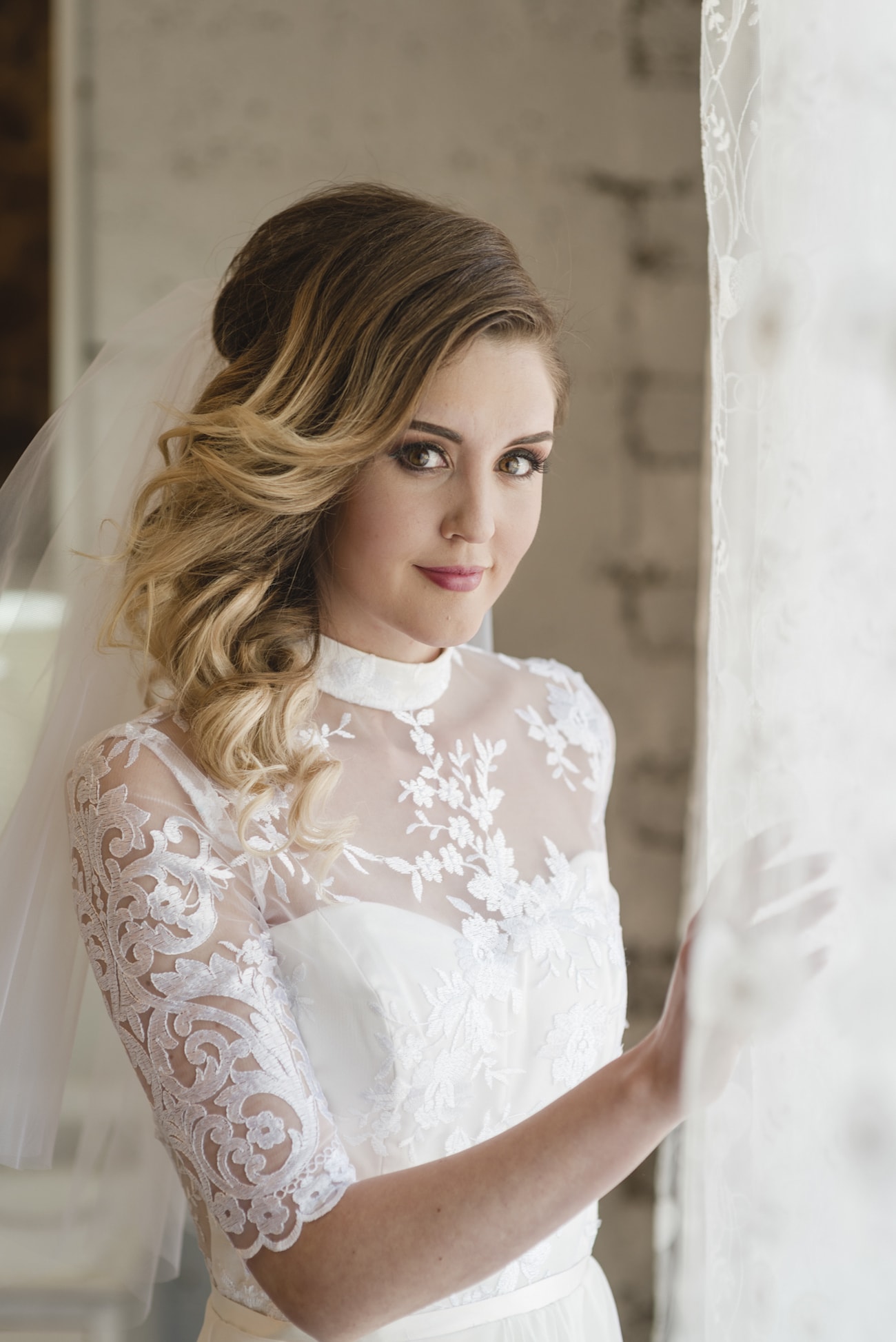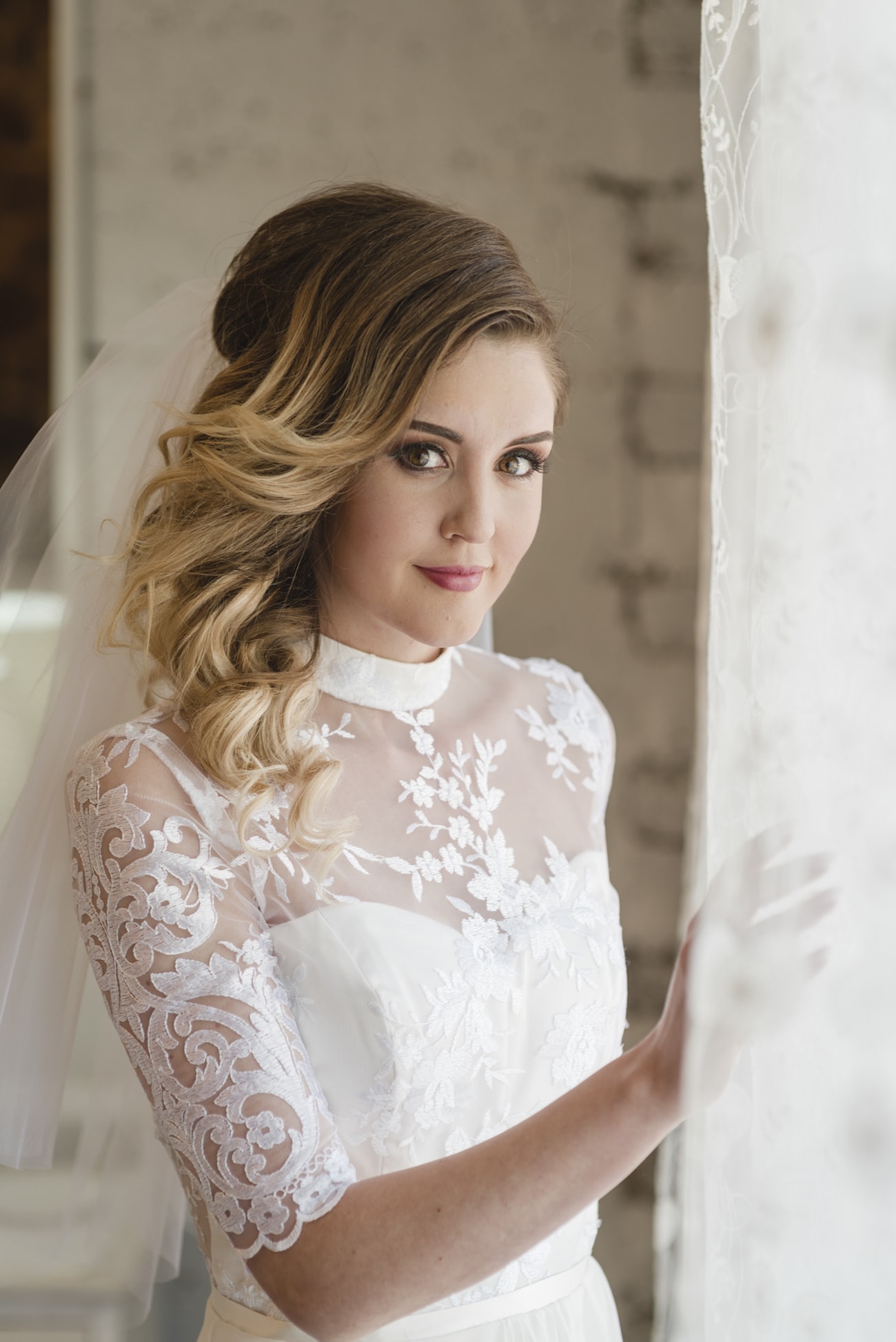 Love Story
I had the biggest crush on Jan-Peet in high school, but he didn't know me at that time. I finally met him at a mutual friend's house. Five years later, we saw each other again at the same friend's farewell party and we started chatting about how we would rob a bank together in order to live a comfortable life (so if you hear on the news about a couple that made robbing a bank a fun-filled experience for the "hostages", then you know it was us! ;) ) A few weeks after the farewell, Jan-Peet contacted me and that's when we started dating.
The Proposal
We went to Thailand together with my brother and two of our close friends. One evening on Phi Phi island, we all went for a walk on the beach and sat down in front of one of the hotels where Jan-Peet made a small speech – of course everyone else knew what was about to happen. He then told me to help him look for shells in the water with him, so that I could remember this exact moment when I looked at them later on. I thought that it would be difficult to see shells in the water, rather than looking for them on the beach, but I entertained his request anyway. We started looking around and Jan-Peet announced that he had found the perfect shell. He then went down on one knee. I kept wondering "what is he doing" until I saw the ring and he asked me to be his wife.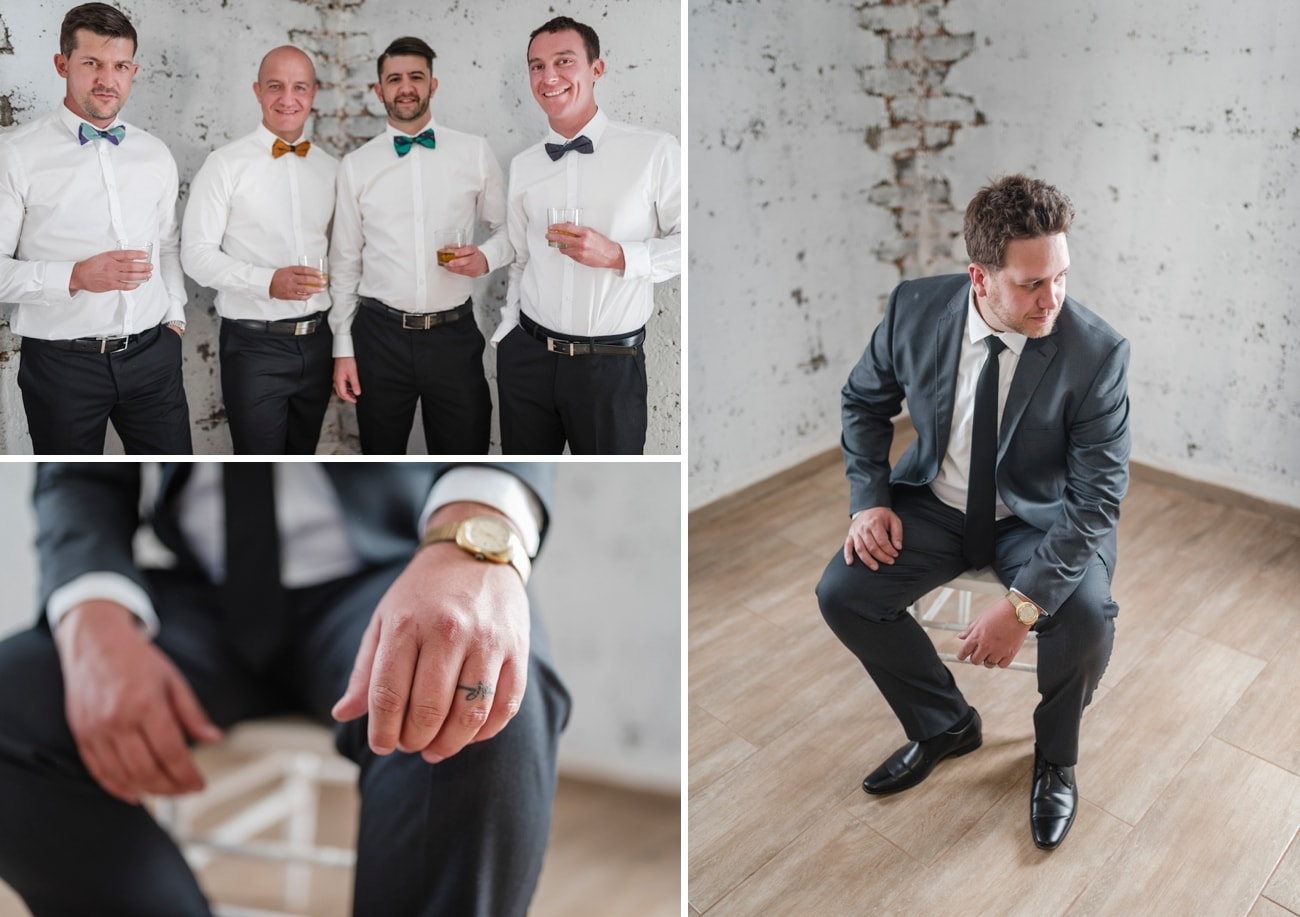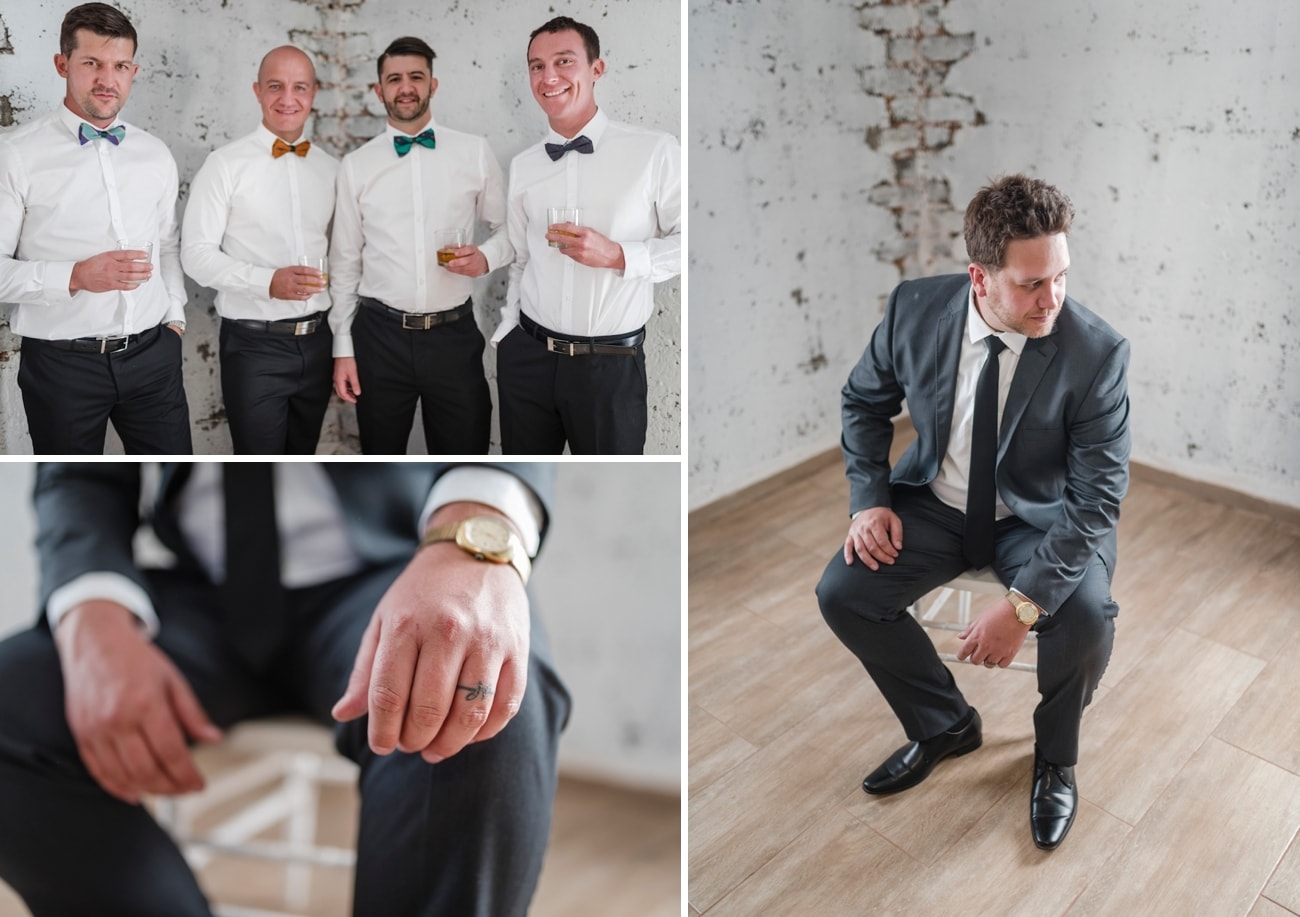 The Venue
I saw photos of our venue at the Bridal Expo at the Dome in August 2016. I then made an appointment to view the venue the weekend after. When we walked in I knew immediately that this was the place where I would like to get married. I fell in love with the elegant but rustic look of the venue. It was filled with beautiful flowers and green grass and the outside dance floor was something different. Each time we visited the venue before the wedding, we were greeted with hugs, and the Bell Amour staff made us feel at home.
Wedding Style
When we got engaged, we started talking about what our theme would be and we agreed on something playful as we are both silly beings. Our cake topper was a laser cut piece of the two of us giving a high five. Our menus were cootie catchers (I remember enjoying making and playing with them as a kid). We also agreed on having origami cranes in the decor – Jan-Peet taught me how to fold them when we first started dating.
Wedding Details
We hired a magician to entertain our guests while our photos were being taken. During the planning process Jan-Peet suggested this. He told me about a magician that he met in Knysna many years ago and he still remembered the feeling he experienced when the magician included him in one of his tricks. He wanted our guests to experience that on our big day – something to remember it by.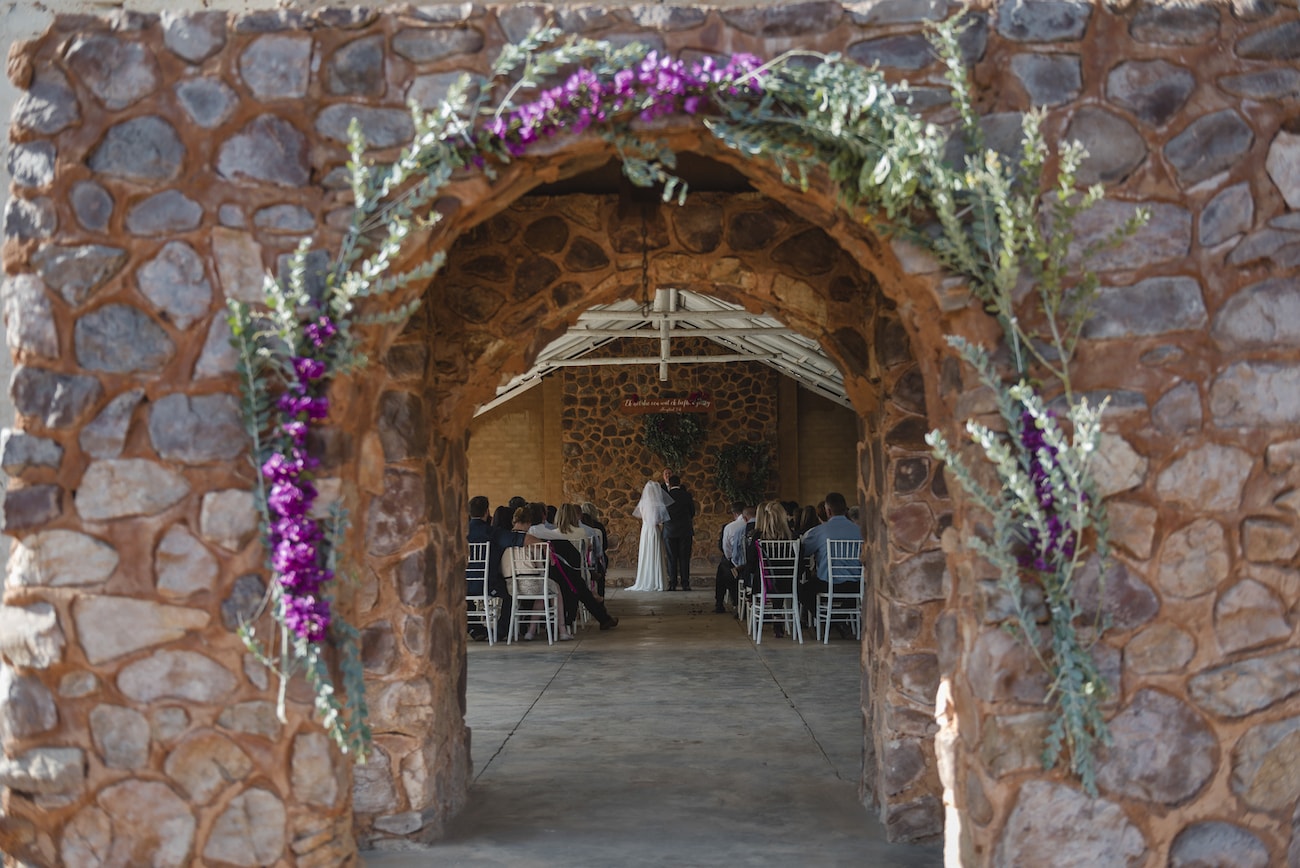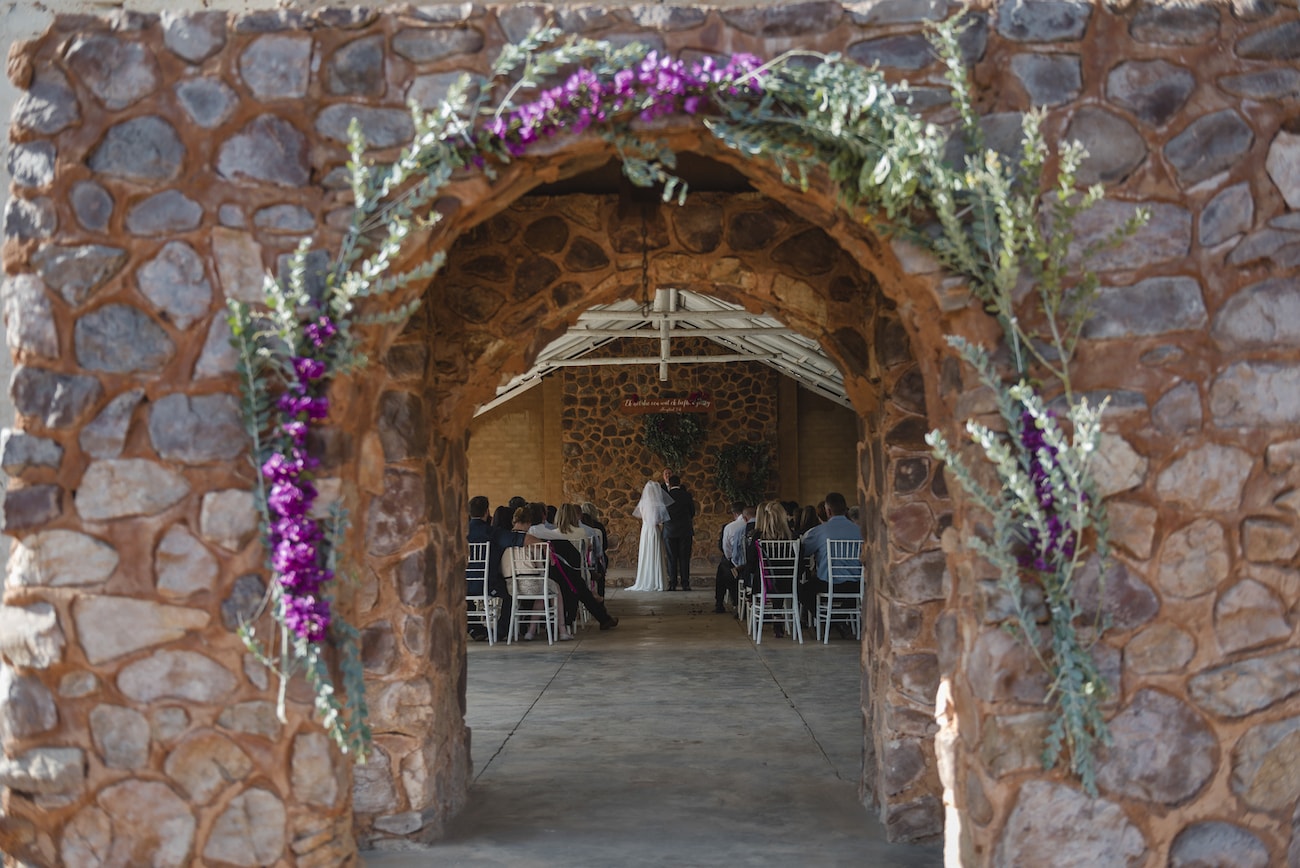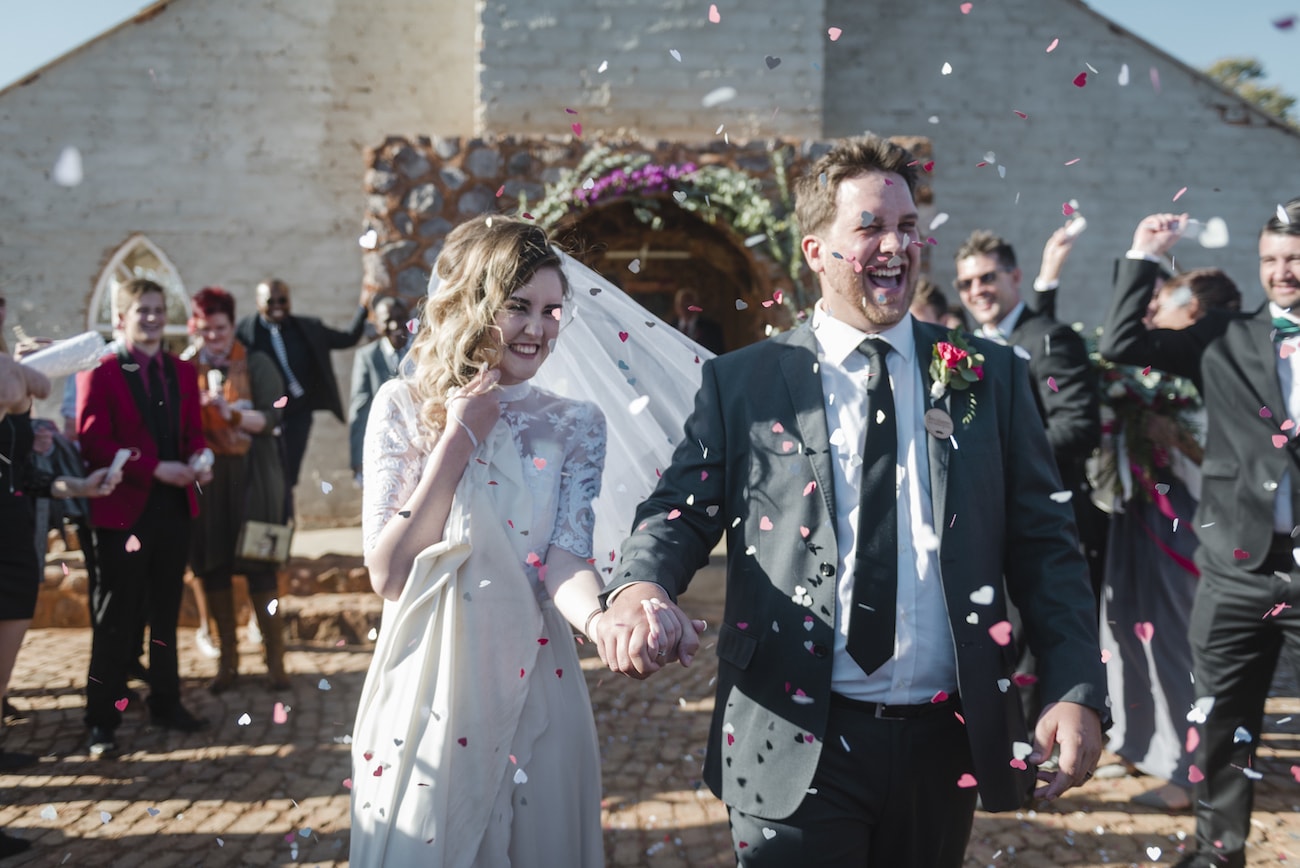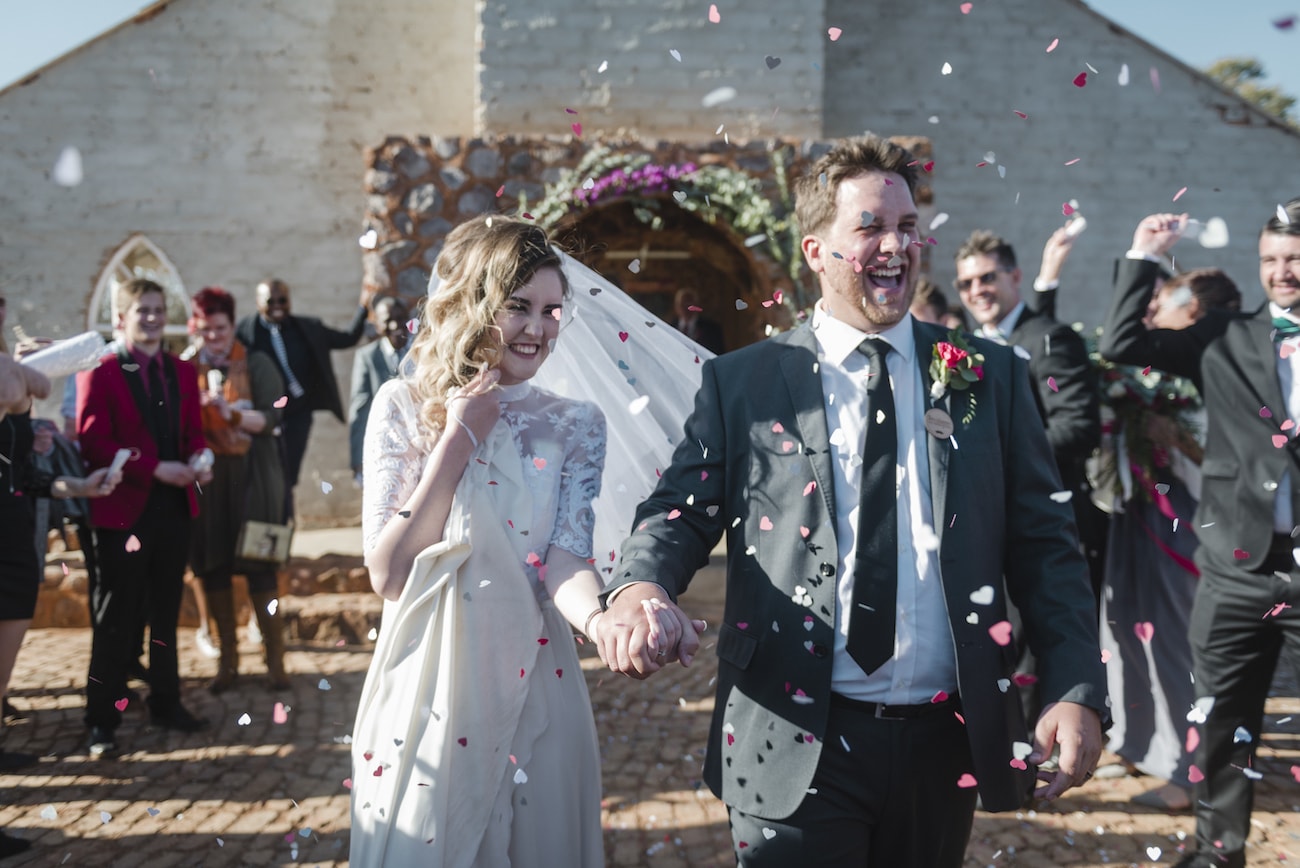 DIY Elements
We made the centerpieces ourselves. We bought small white trees from vendors on the side of the road and hung the origami cranes that we folded from them. We also made the doily confetti cones ourselves and hung them on each person's chair in the chapel. My aunt made blocks of fudge as wedding favours.
The Dress
I always thought that there were only certain styles of wedding dresses: for example. the mermaid dress, the big princess dress, etc., until I saw a photo of a dress on Pinterest which defined me perfectly. I made some alterations to the design and asked one of my bridesmaids' mother to make it for me. I knew I had made the right decision the moment I laid my eyes on the dress and when our photographer told me that he thought it was an expensive designer dress!
The Bridesmaids
I had four bridesmaids. I would describe their style as a bit boho, but elegant. Their skirts were long and each one had a different shade of grey. Their tops were white, but they had the freedom to choose the style.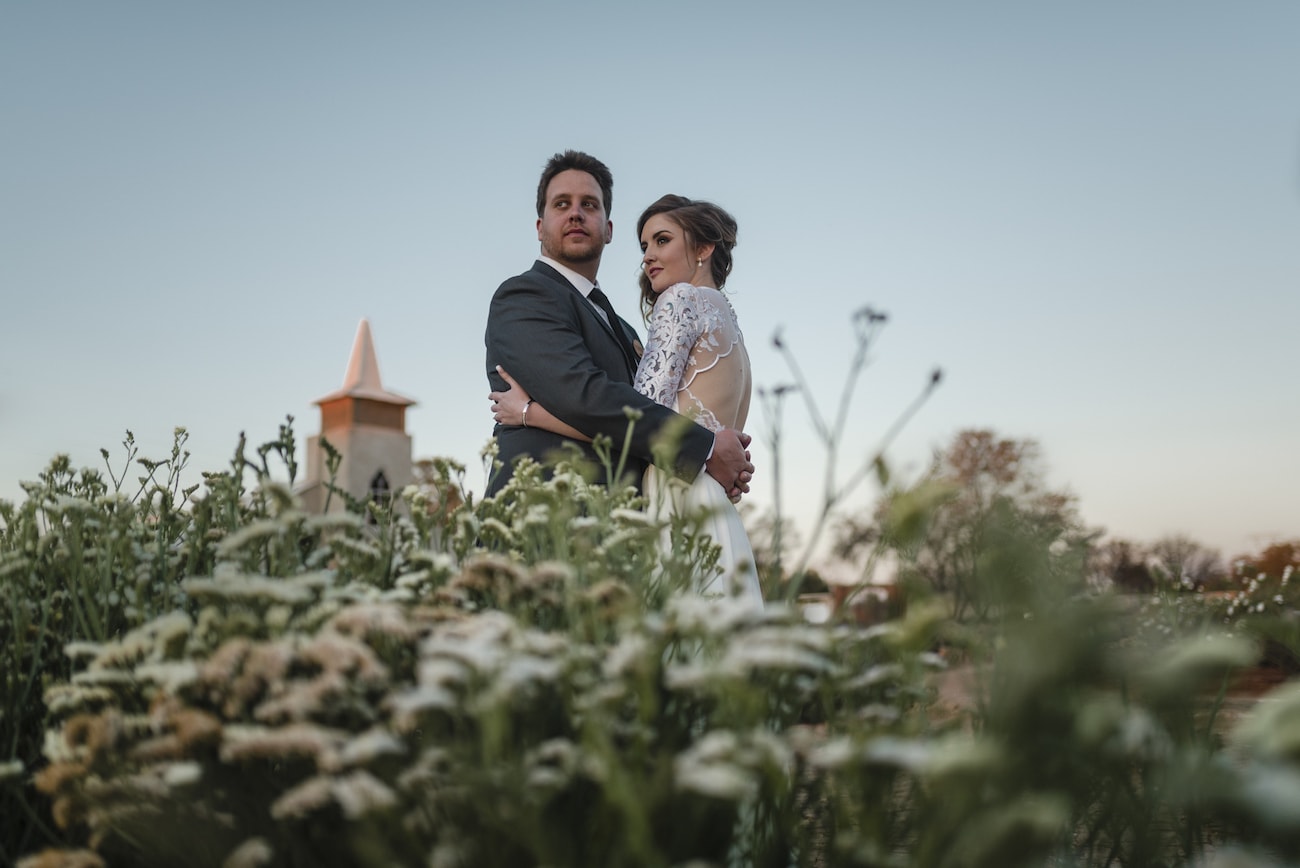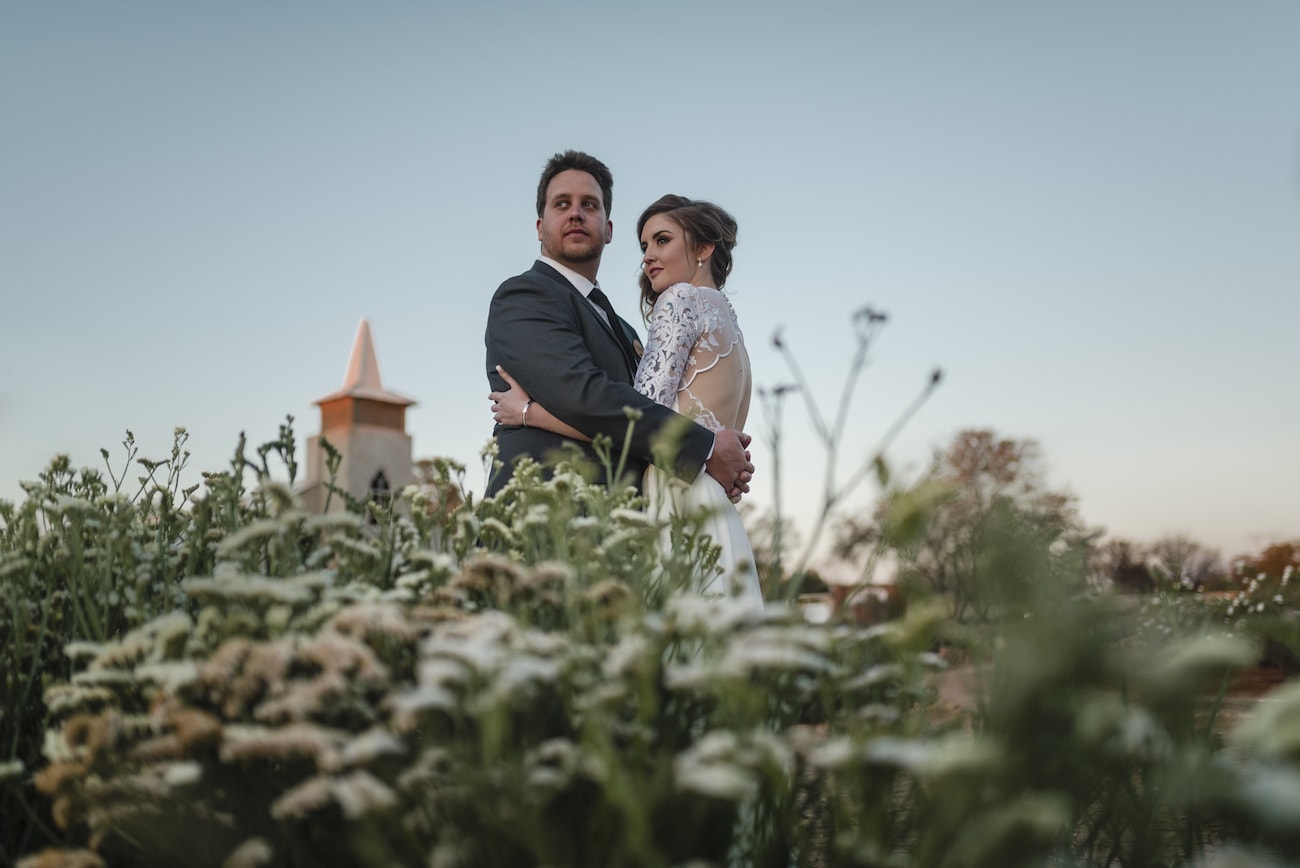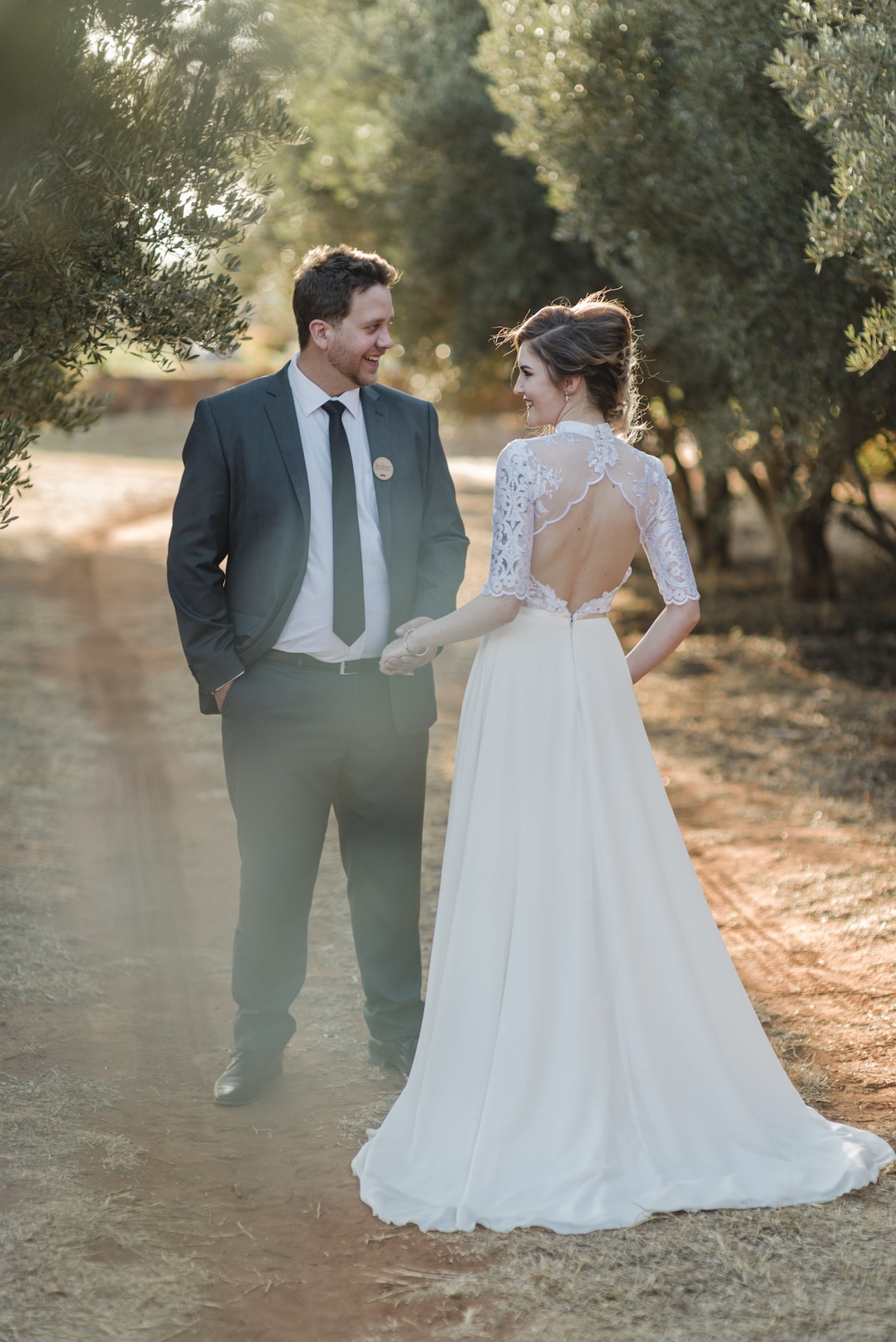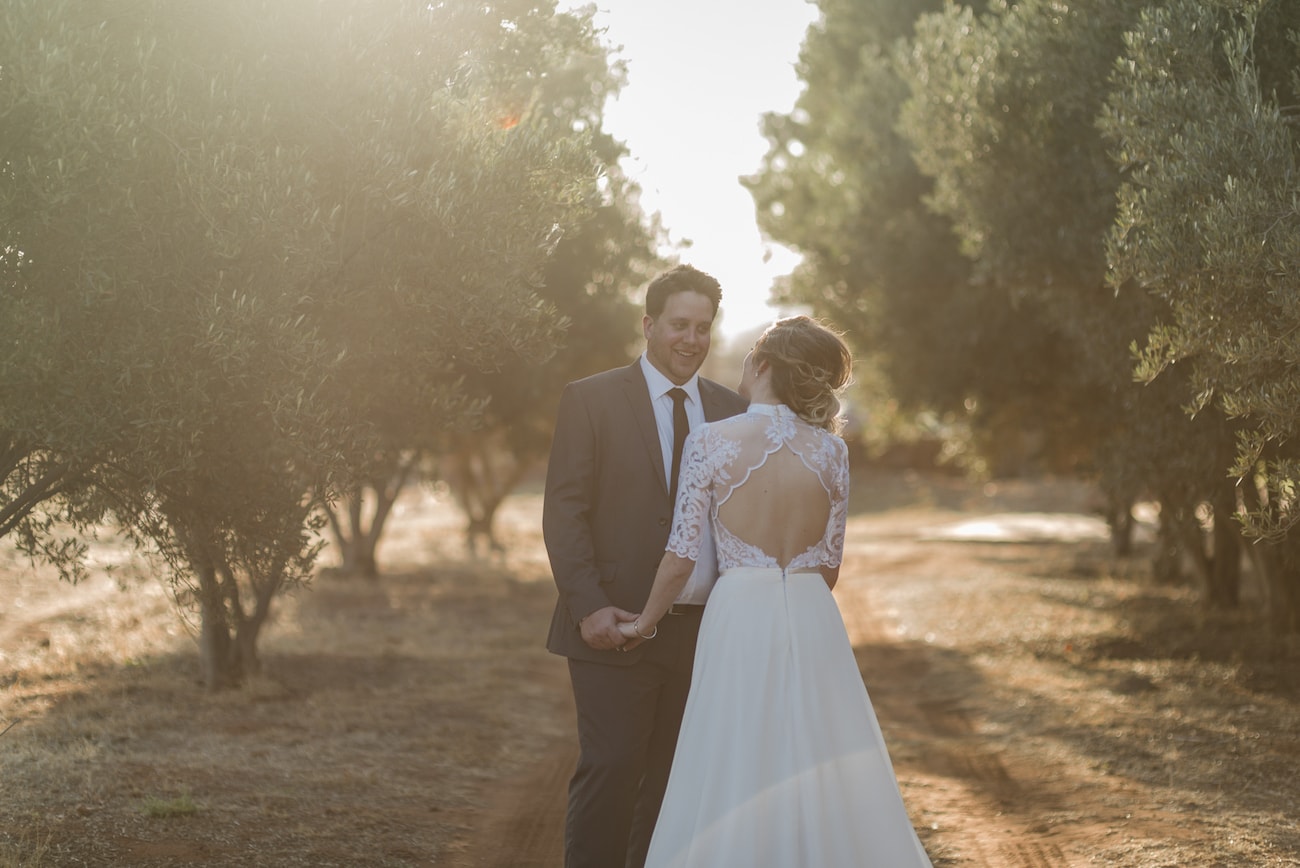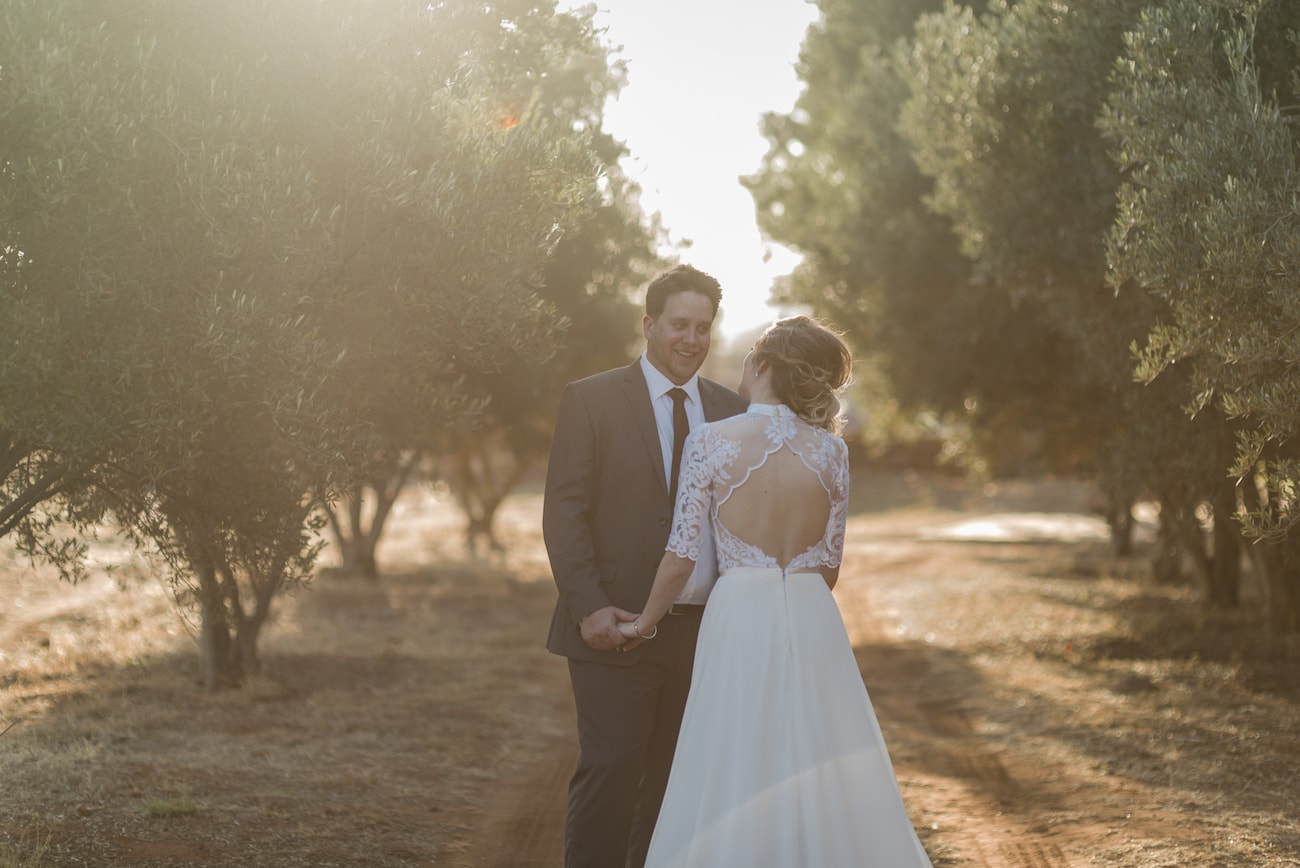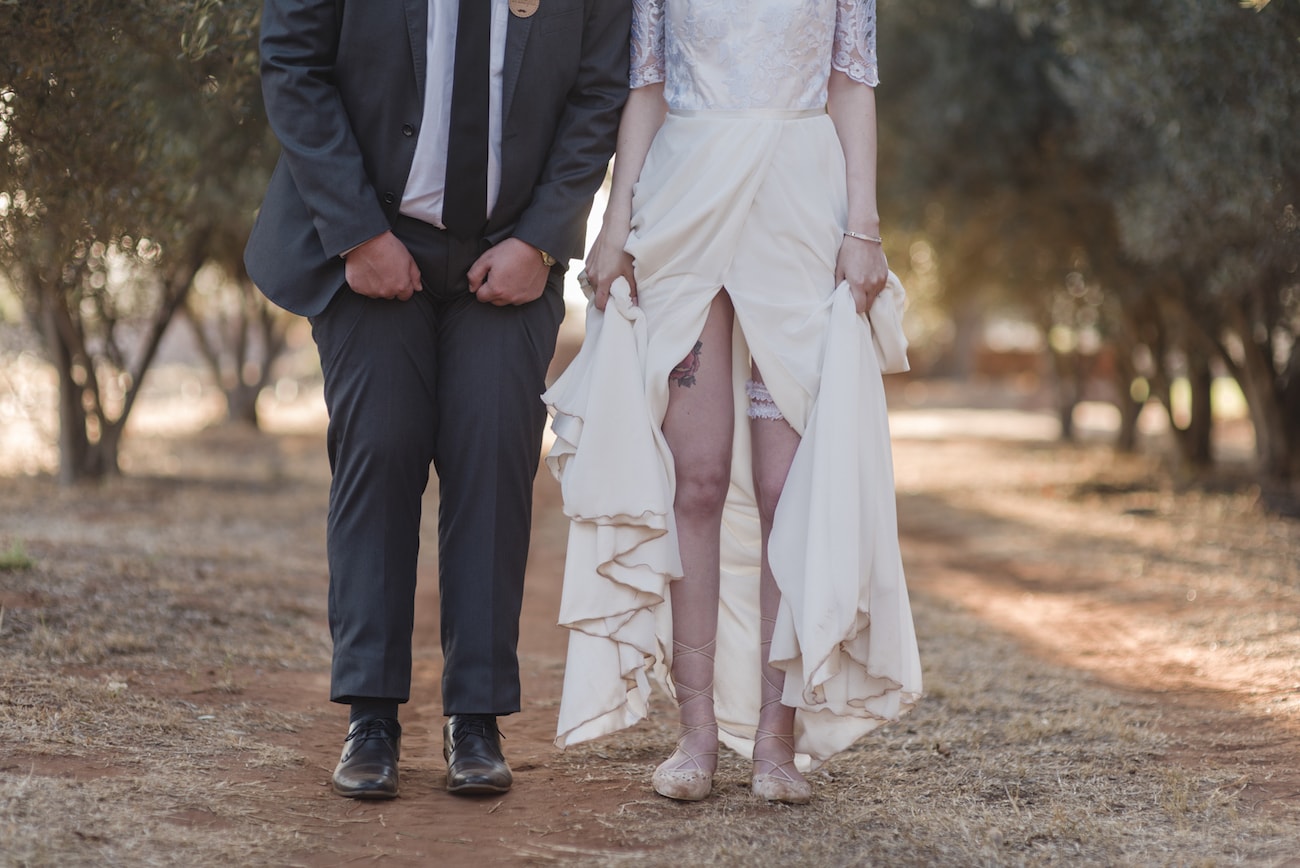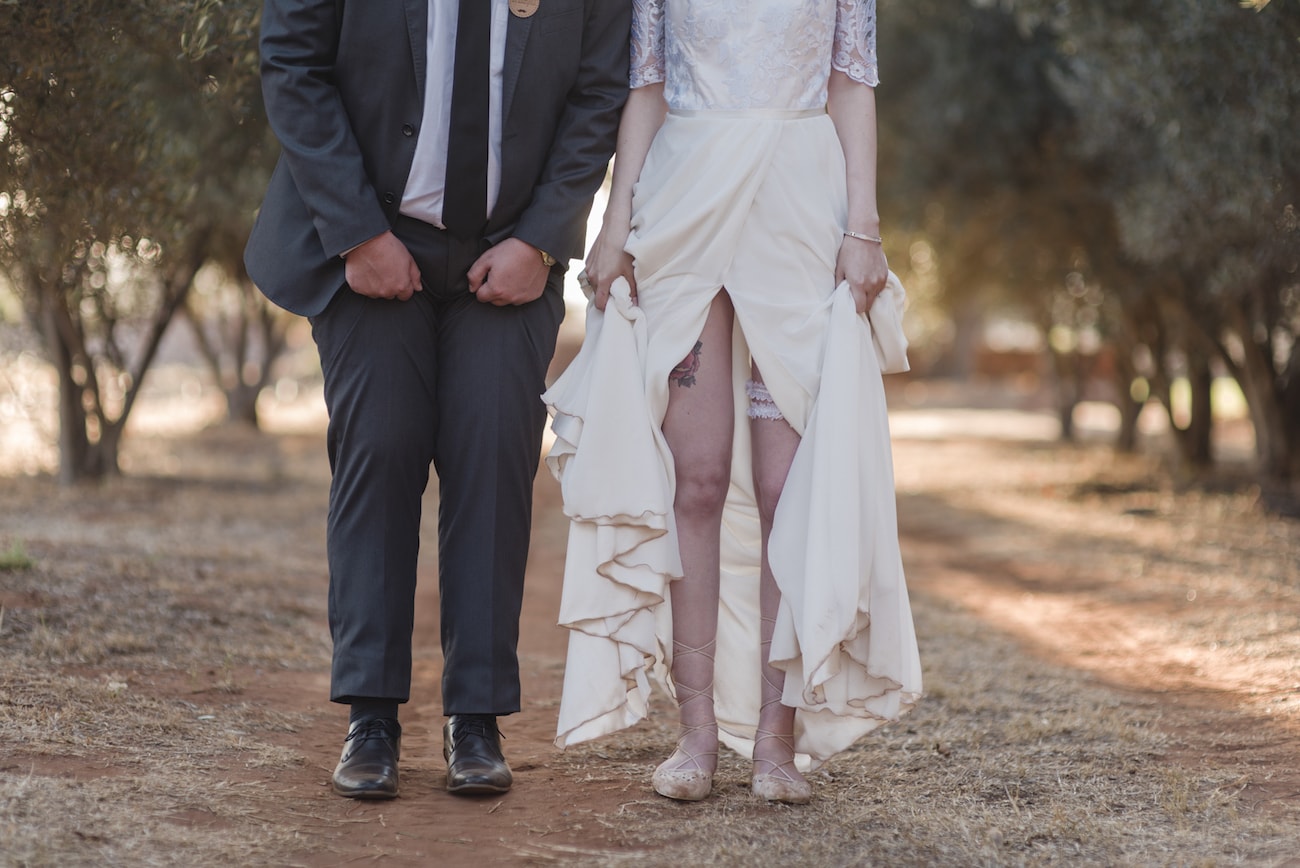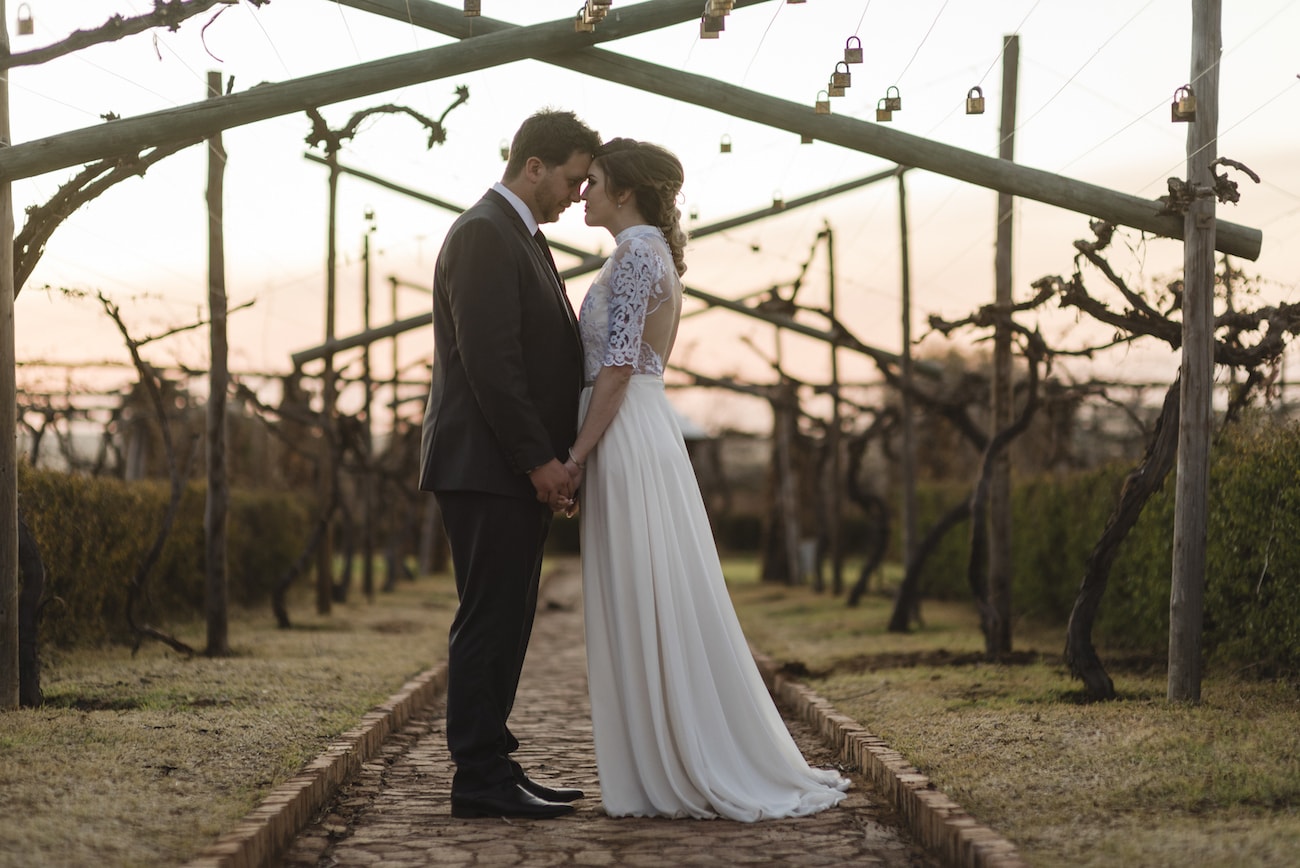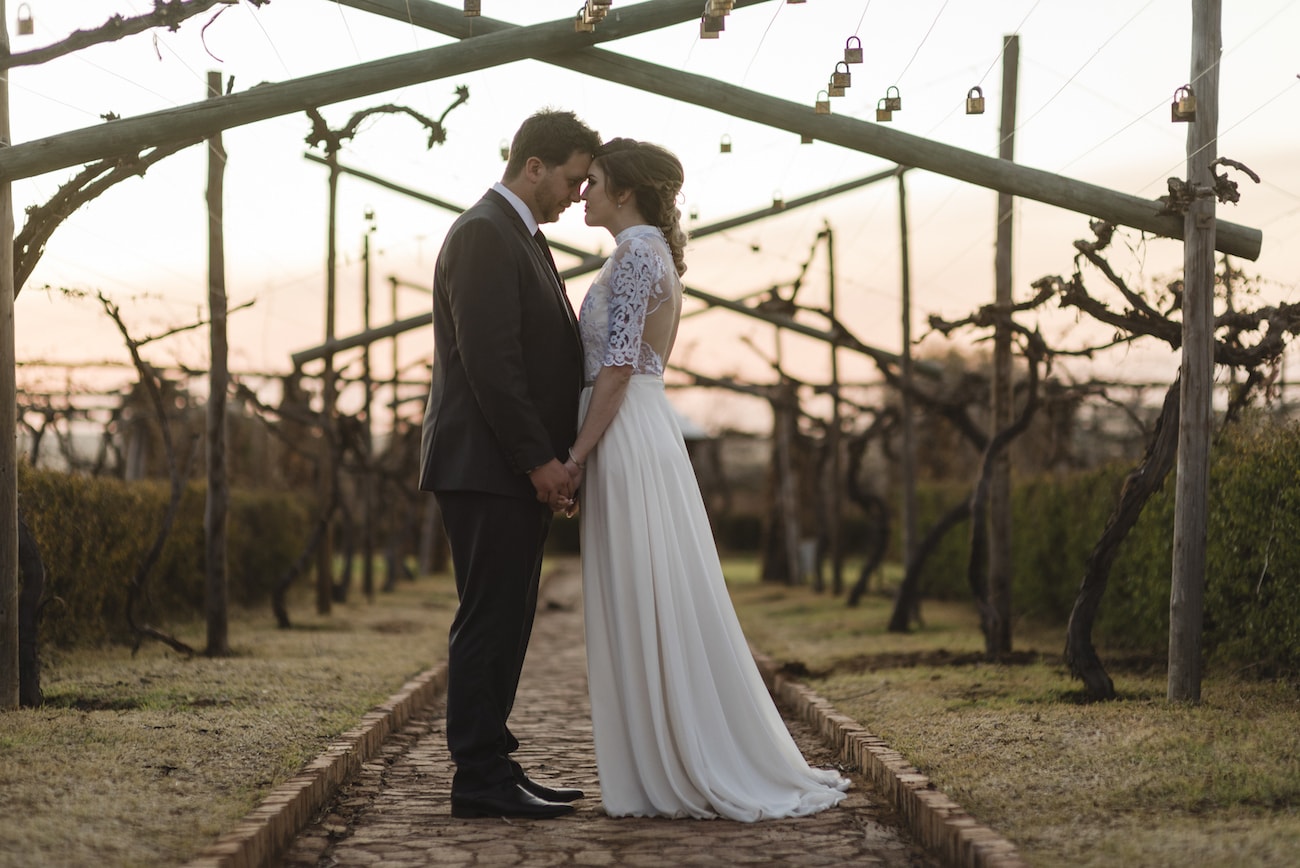 The Flowers
Our wedding colours were magenta, white, green, and silver/grey. I knew that I wanted these colours in our bouquets. My only request was to have some Gerbera daisies in between, as it is my mother's favourite flower.
Memorable Moment
That would definitely be the moment I walked into the chapel and saw Jan-Peet look at me with tears in his eyes. I could not wait to finish up that day to meet him at the end of the aisle. I will also never forget the moment before we entered the reception area to be introduced as Mr & Mrs Viljoen – the magician caught us just before he left and did a personal magic trick with just the two of us. He asked me to pick a card and I had to write my name on the front. Jan-Peet then had to choose a card and write his name on the back of that card. The magician took both cards and shuffled the whole deck and told us that in this big, busy world we found each other and then he found both cards together in the pack. He then said that after this special day we are one. He smacked the cards against each other and then Jan-Peet's name was on the back of my card :) We still have this as a keepsake.
Proudly South African Details
Jan-Peet's favourite pudding in the whole world is my mother's malva pudding. My mother baked malva pudding for our wedding and we arranged with the venue to serve it with the other desserts.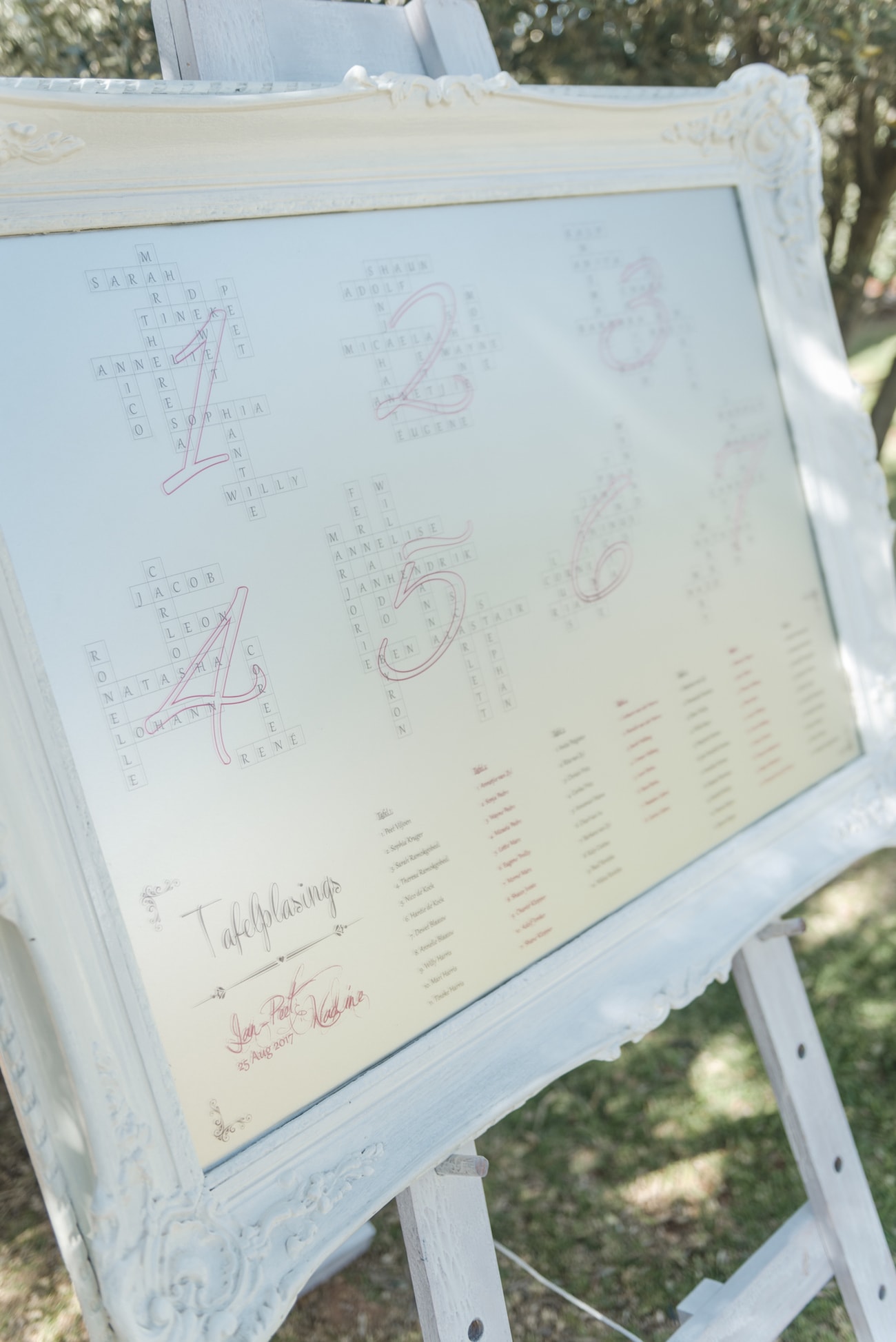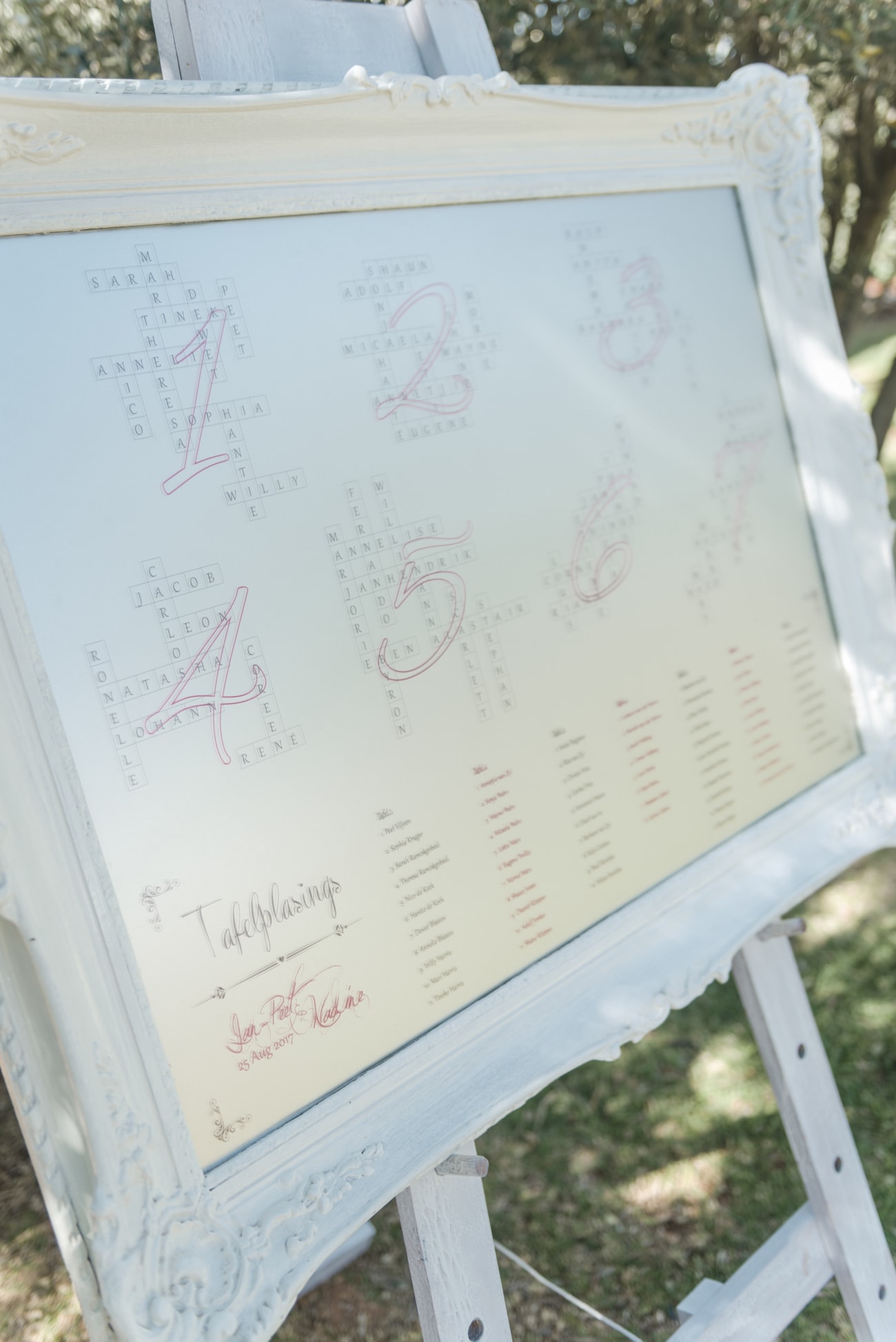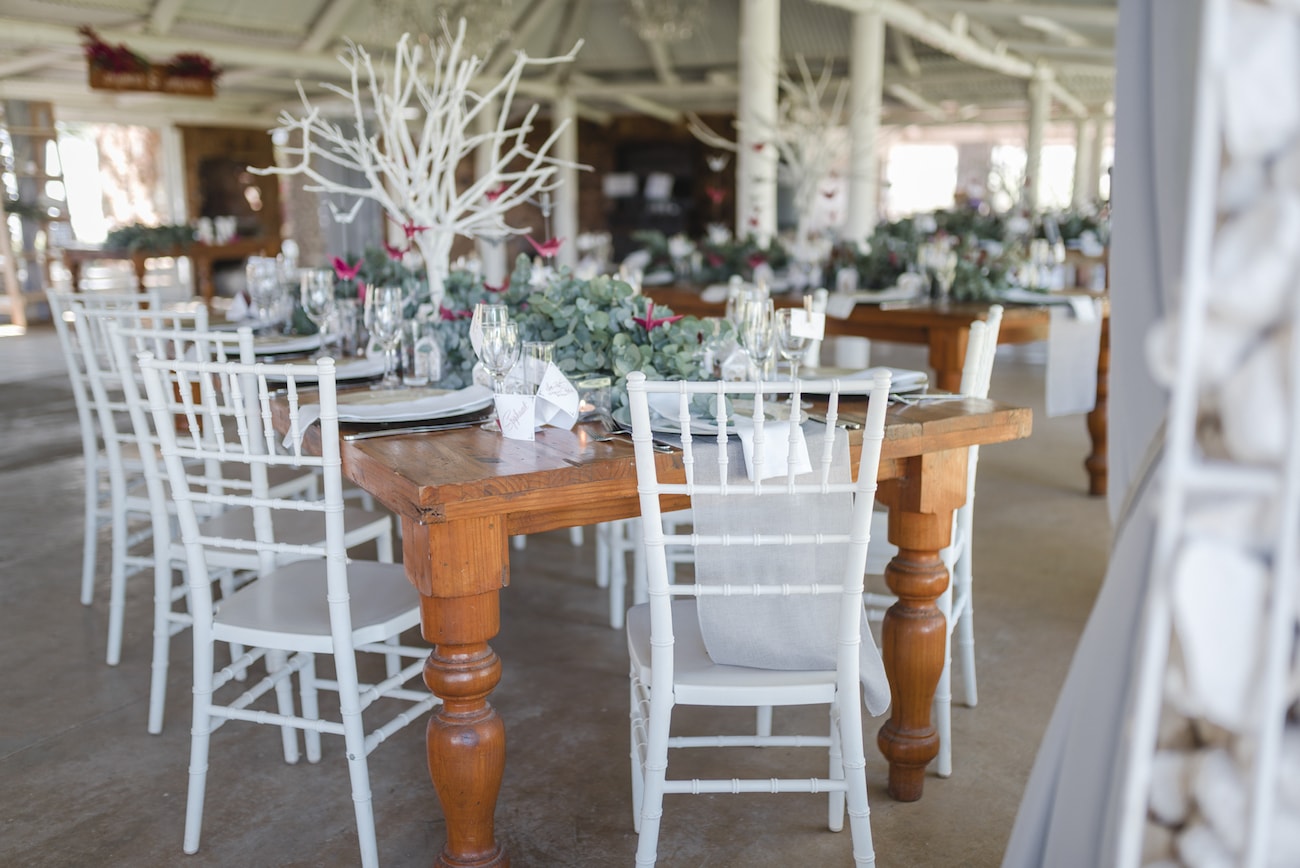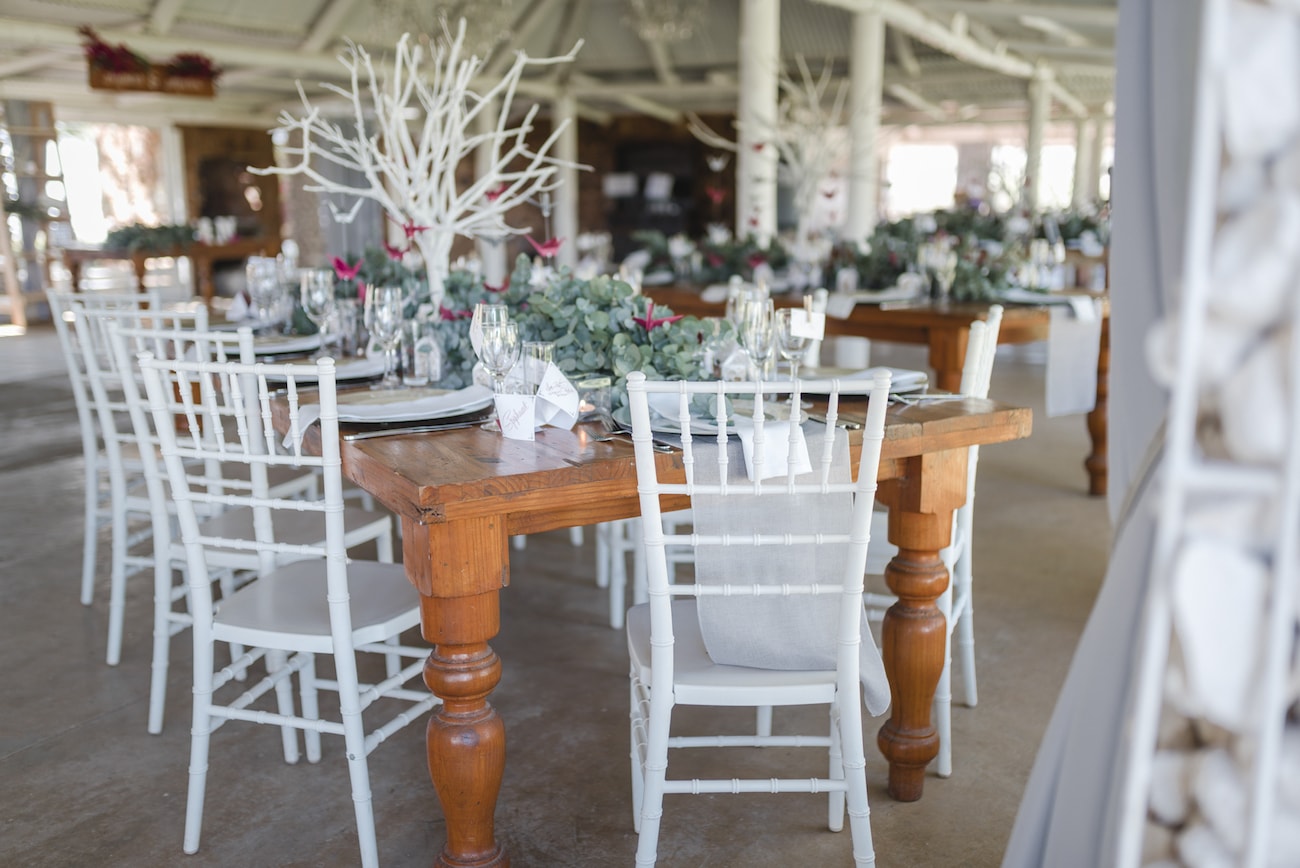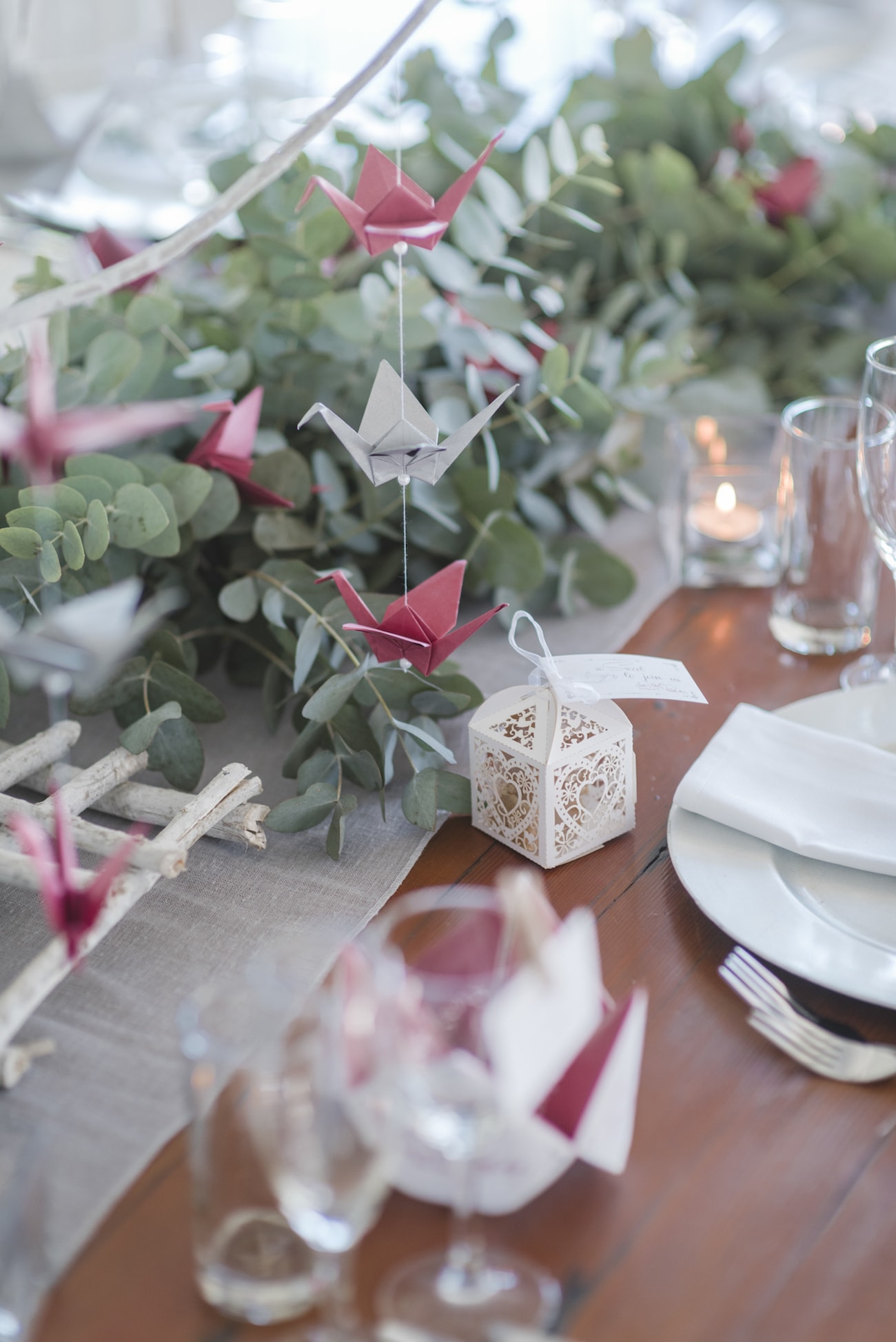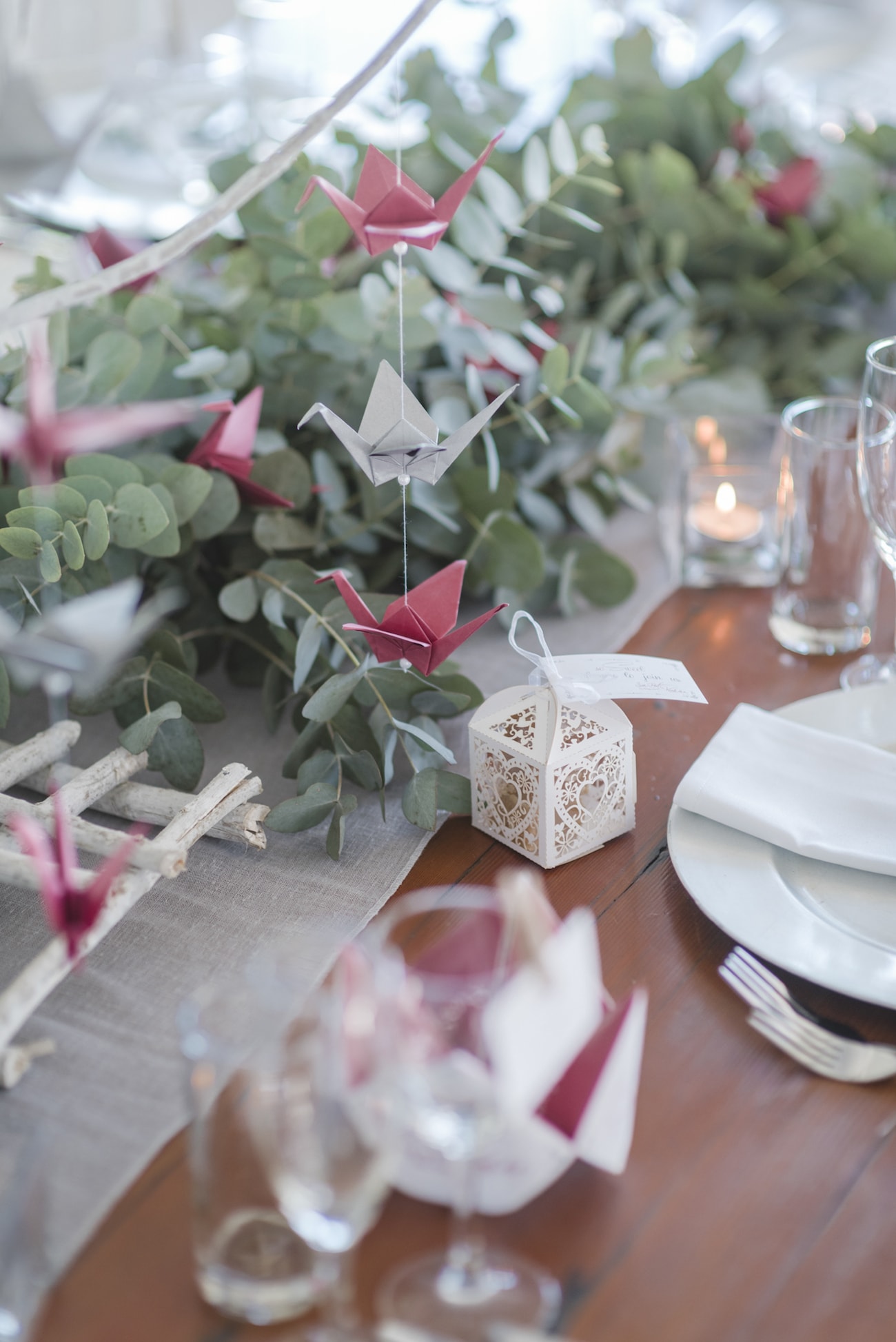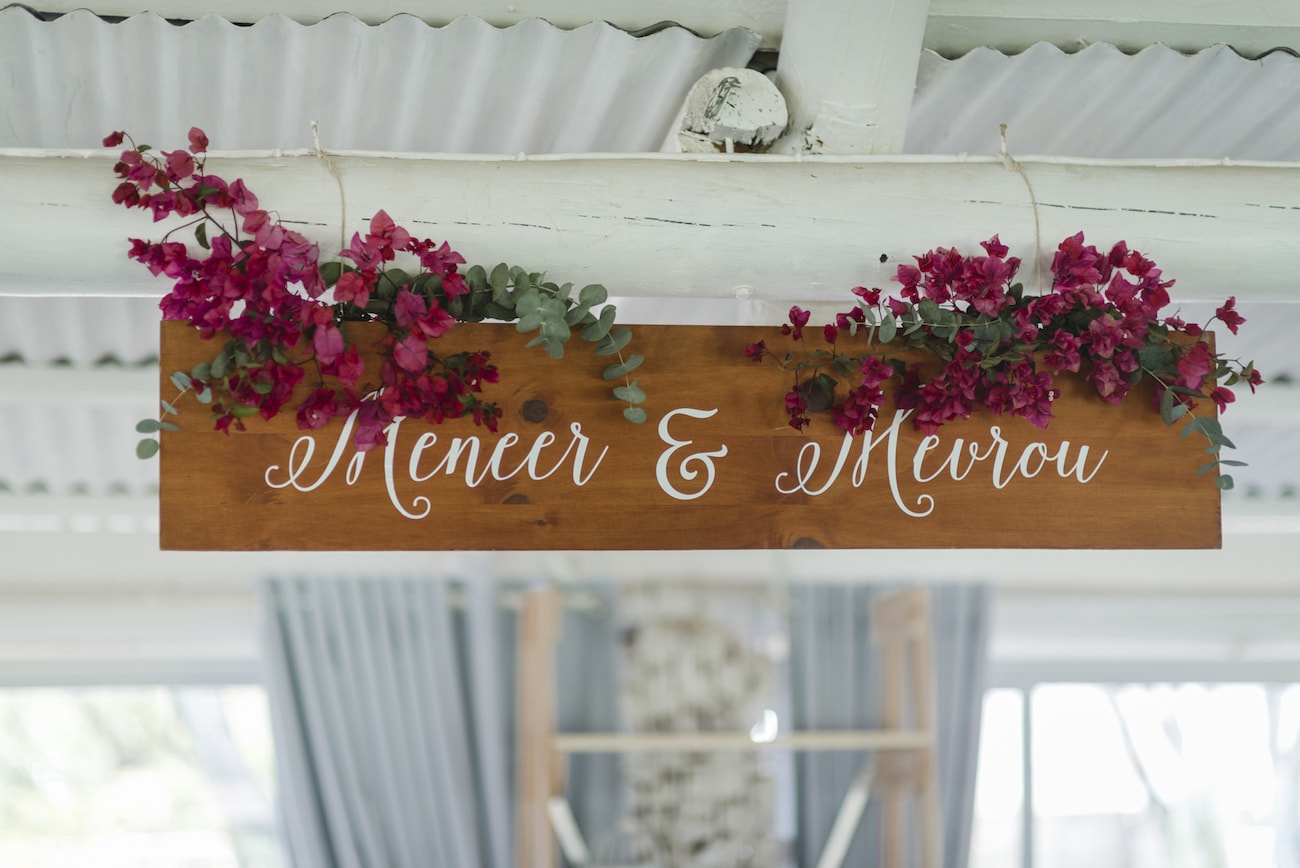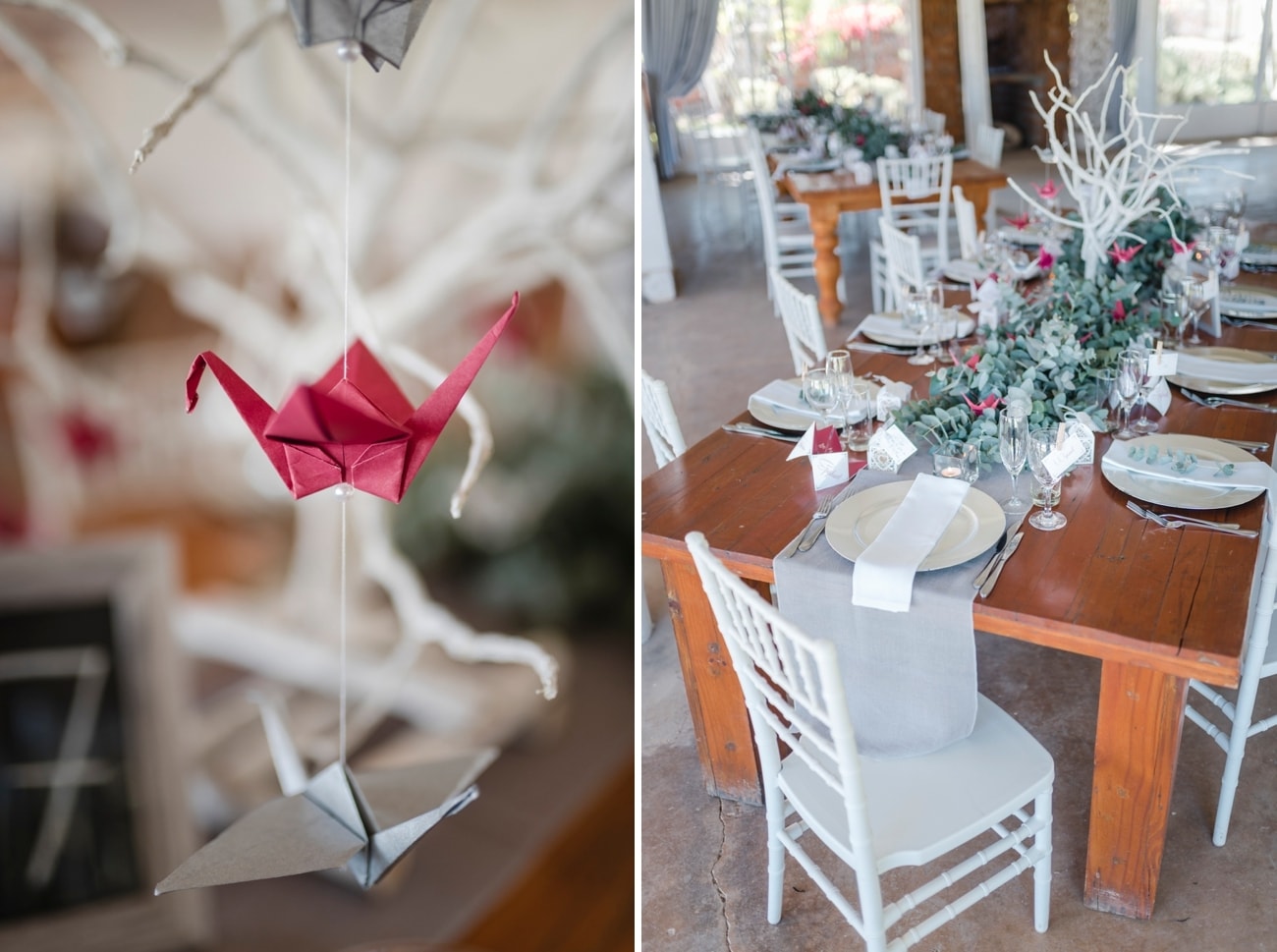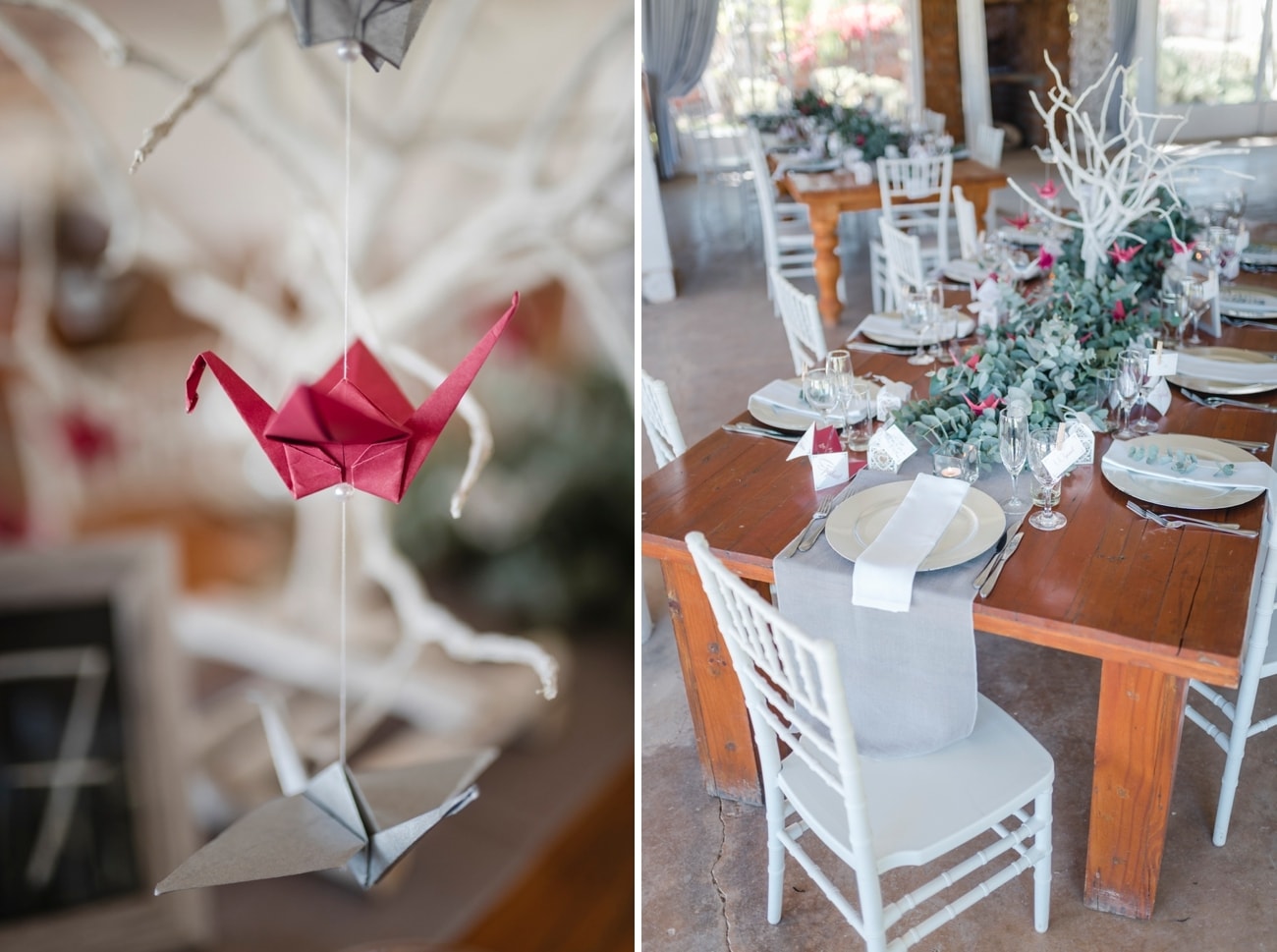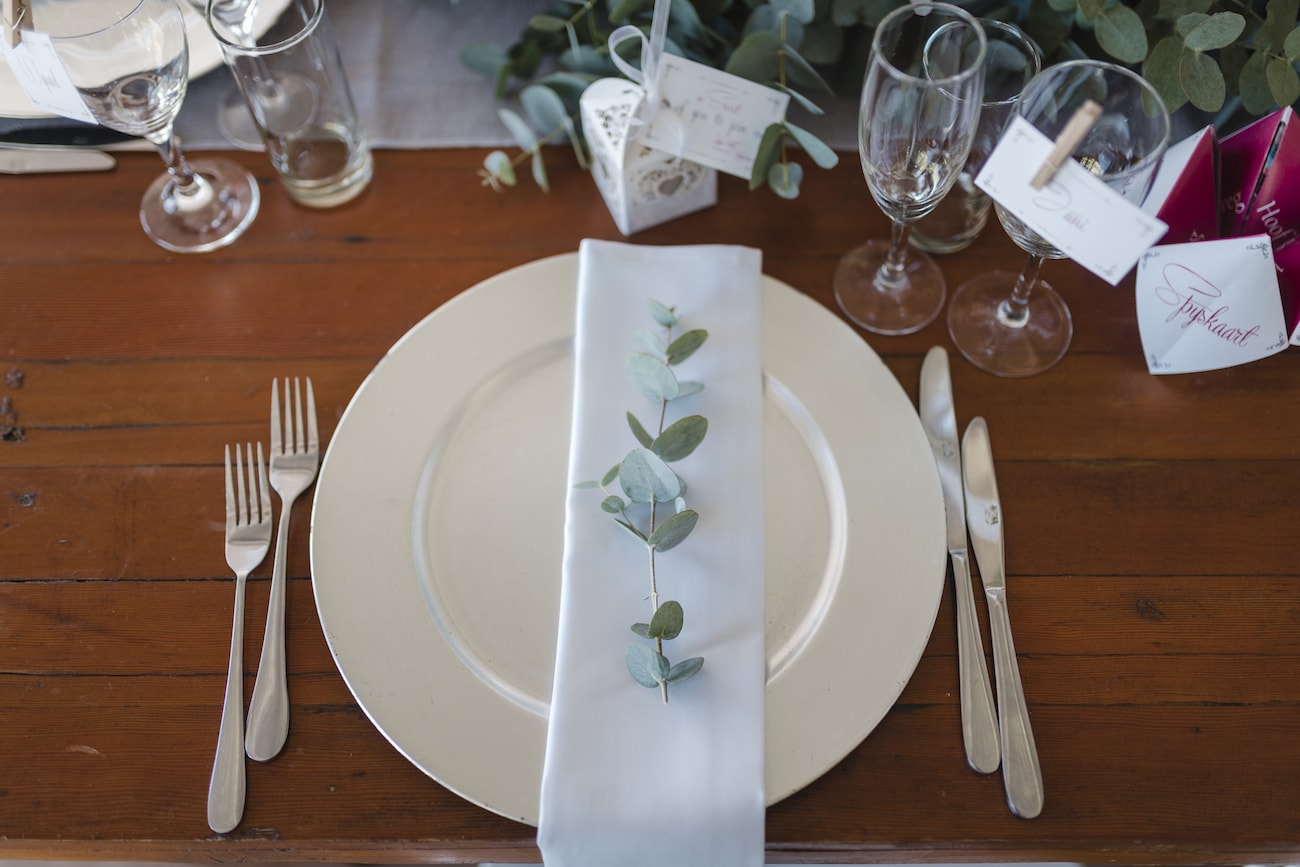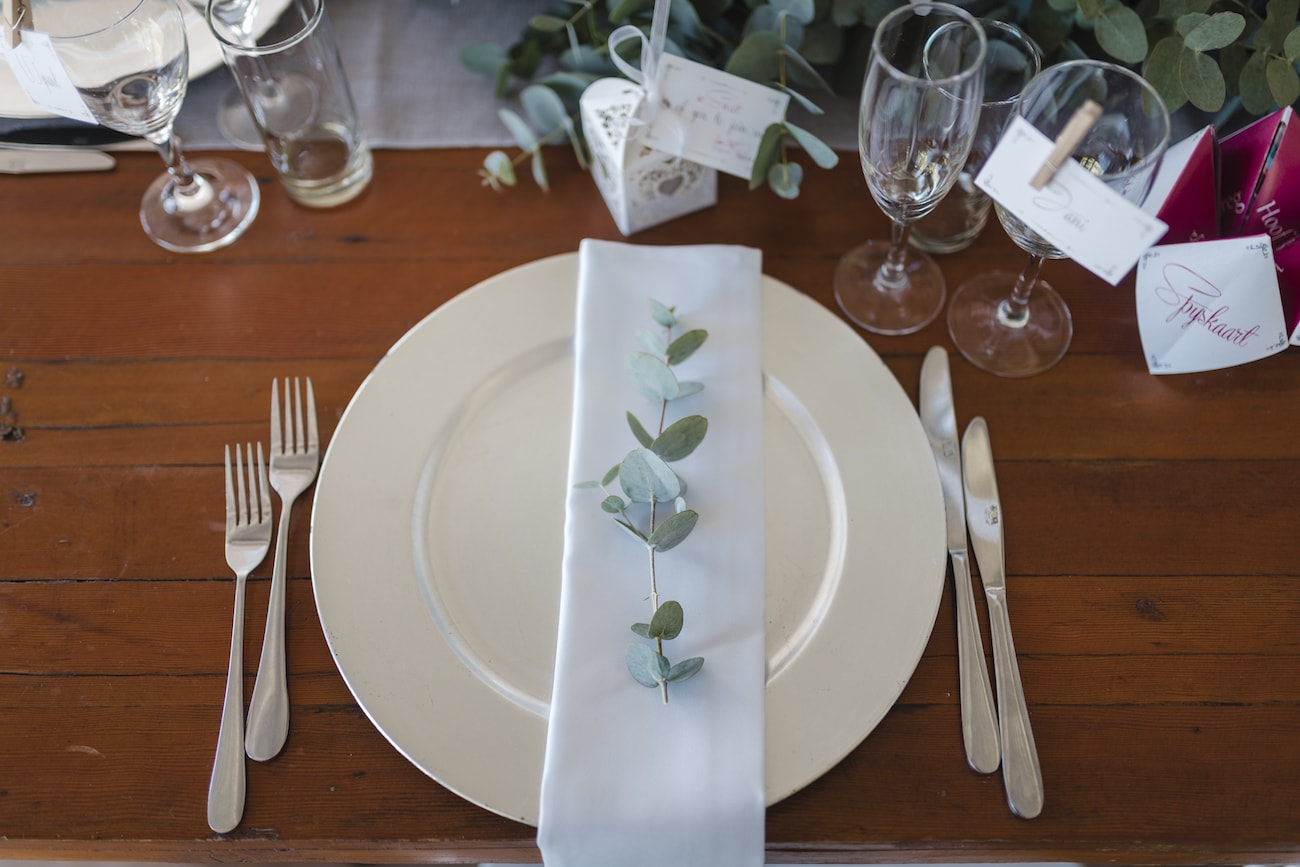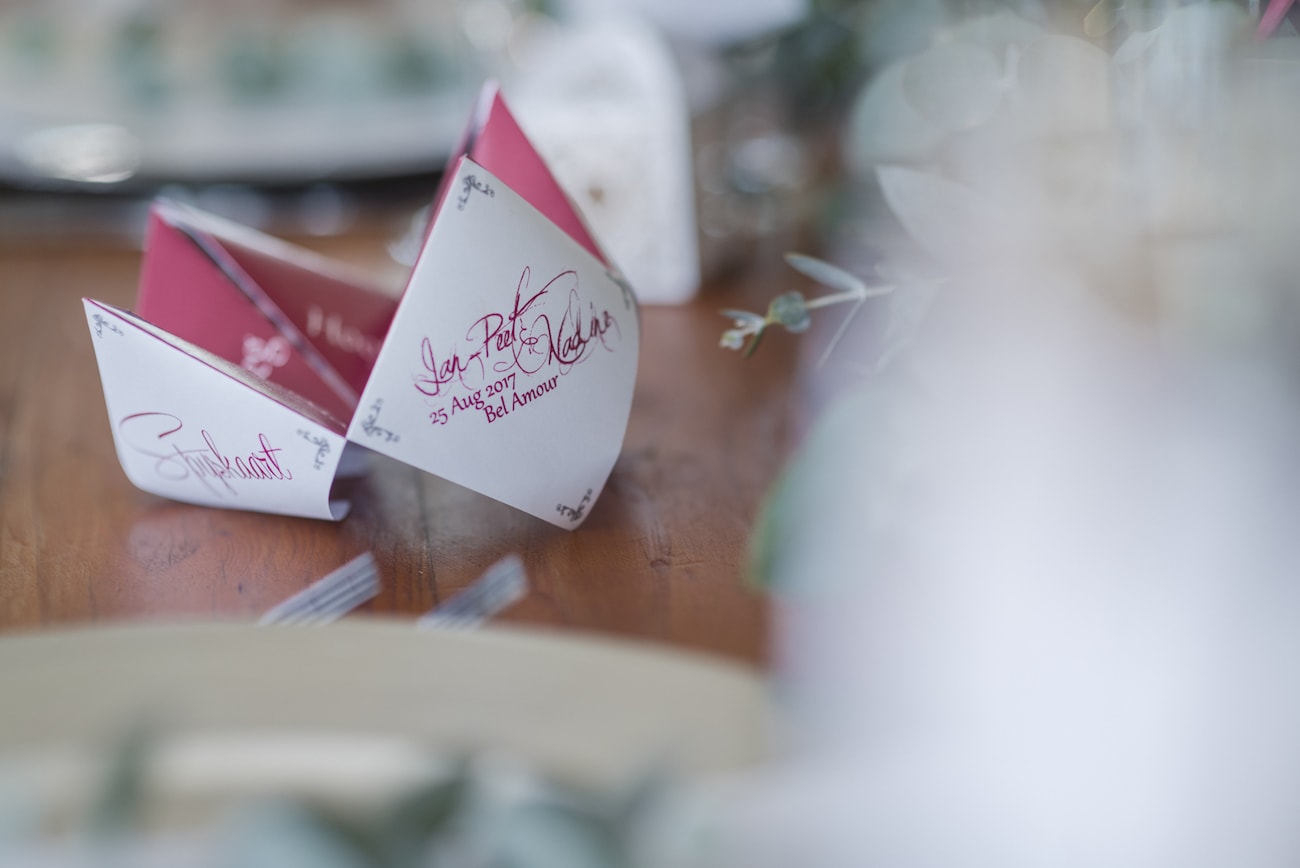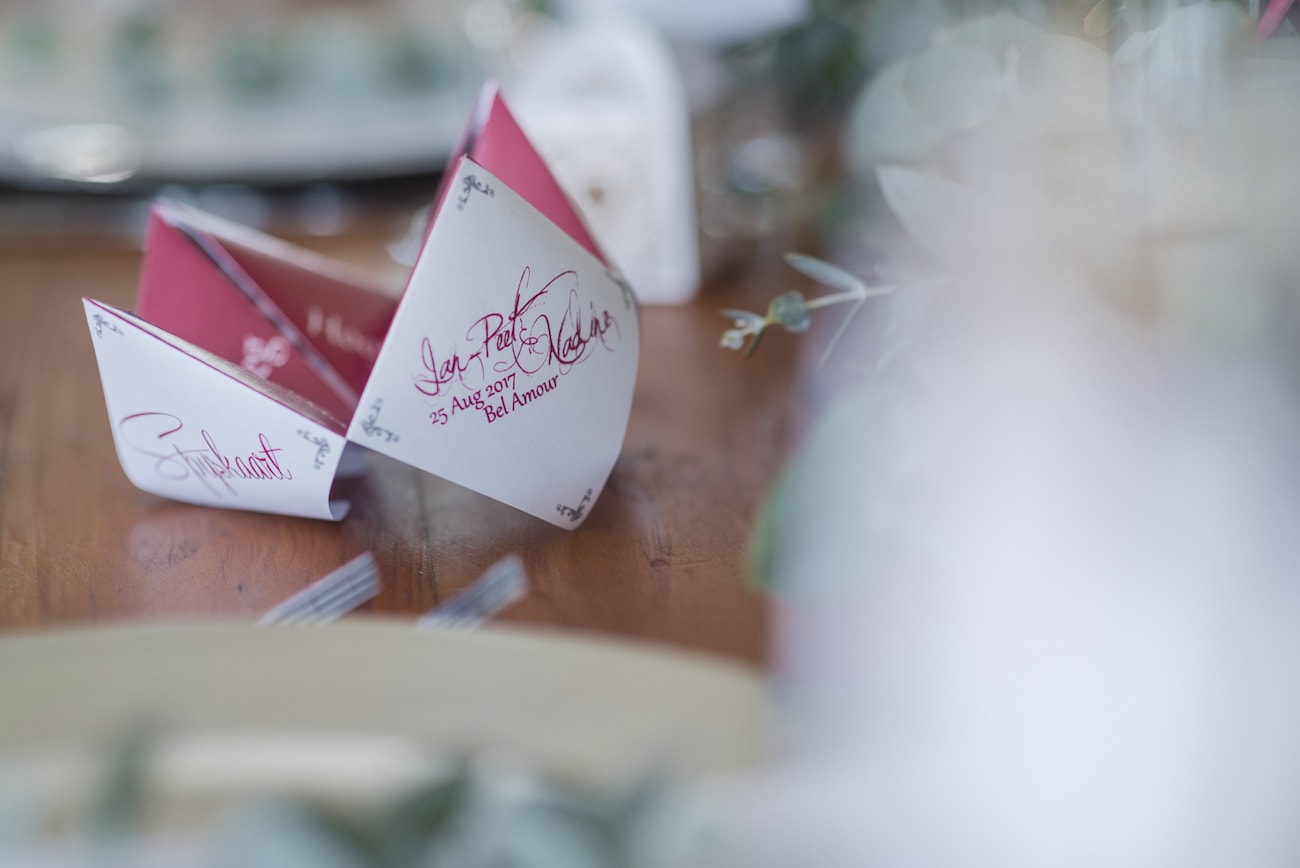 Best Decision
Choosing Wynand van der Merwe as our photographer! He is absolutely brilliant and had little freak out moments whenever he took a really awesome photo. That was quite funny. Each time I look at our photos all the feelings of that day come rushing back – that is how perfectly he captured our special day.
Advice for Future Brides & Grooms
Enjoy every moment as it goes by really fast. Take a moment to be alone with each other. Smell your flowers and taste your food. Forget about the small things that might have gone wrong – no one else noticed.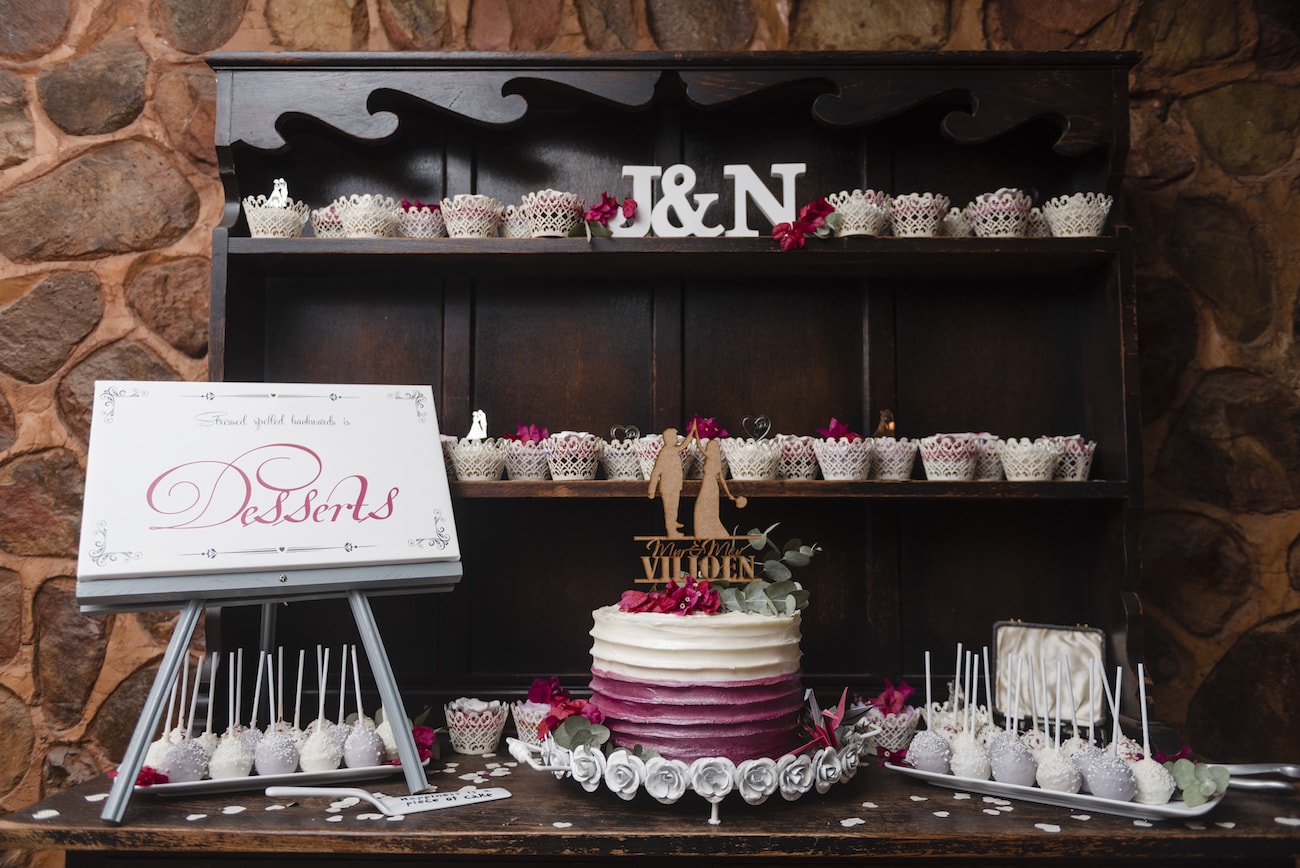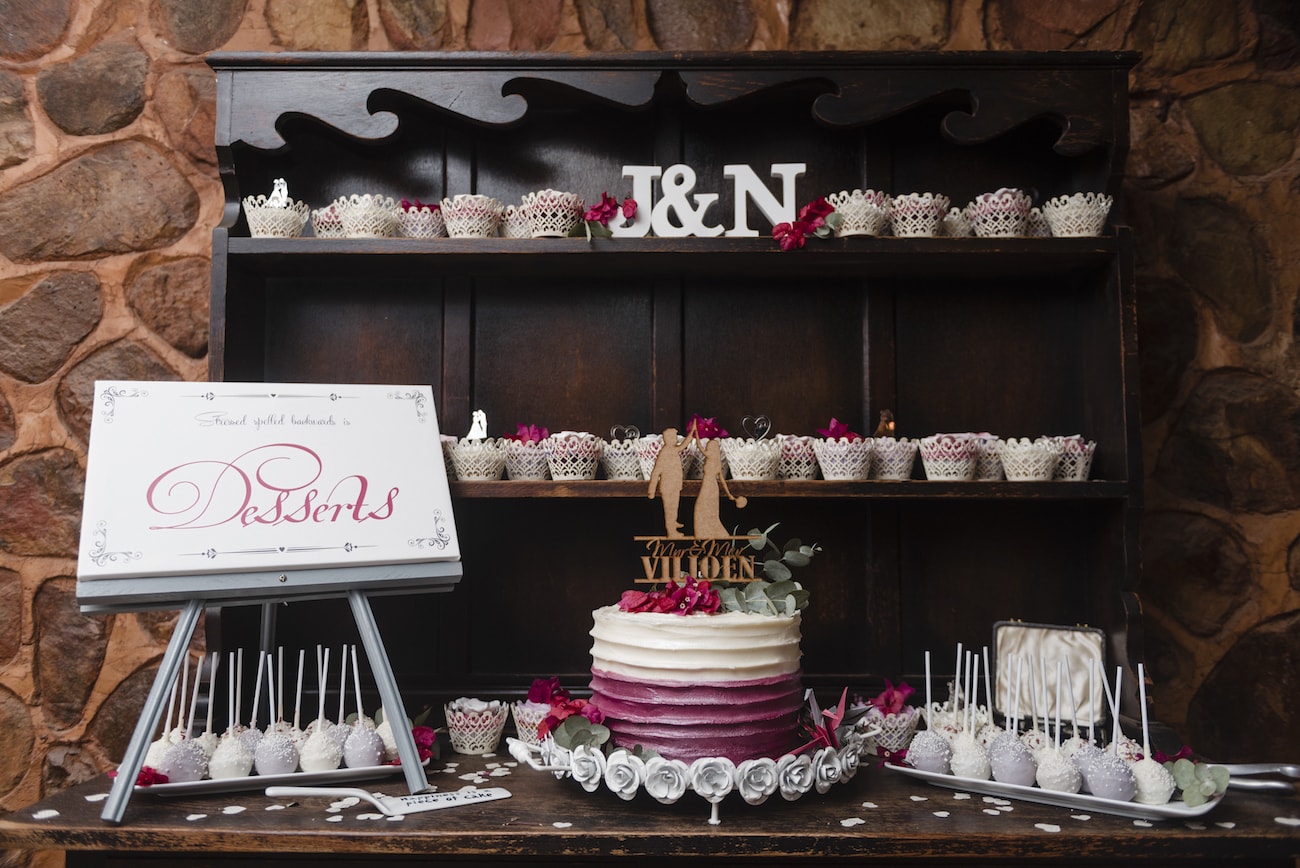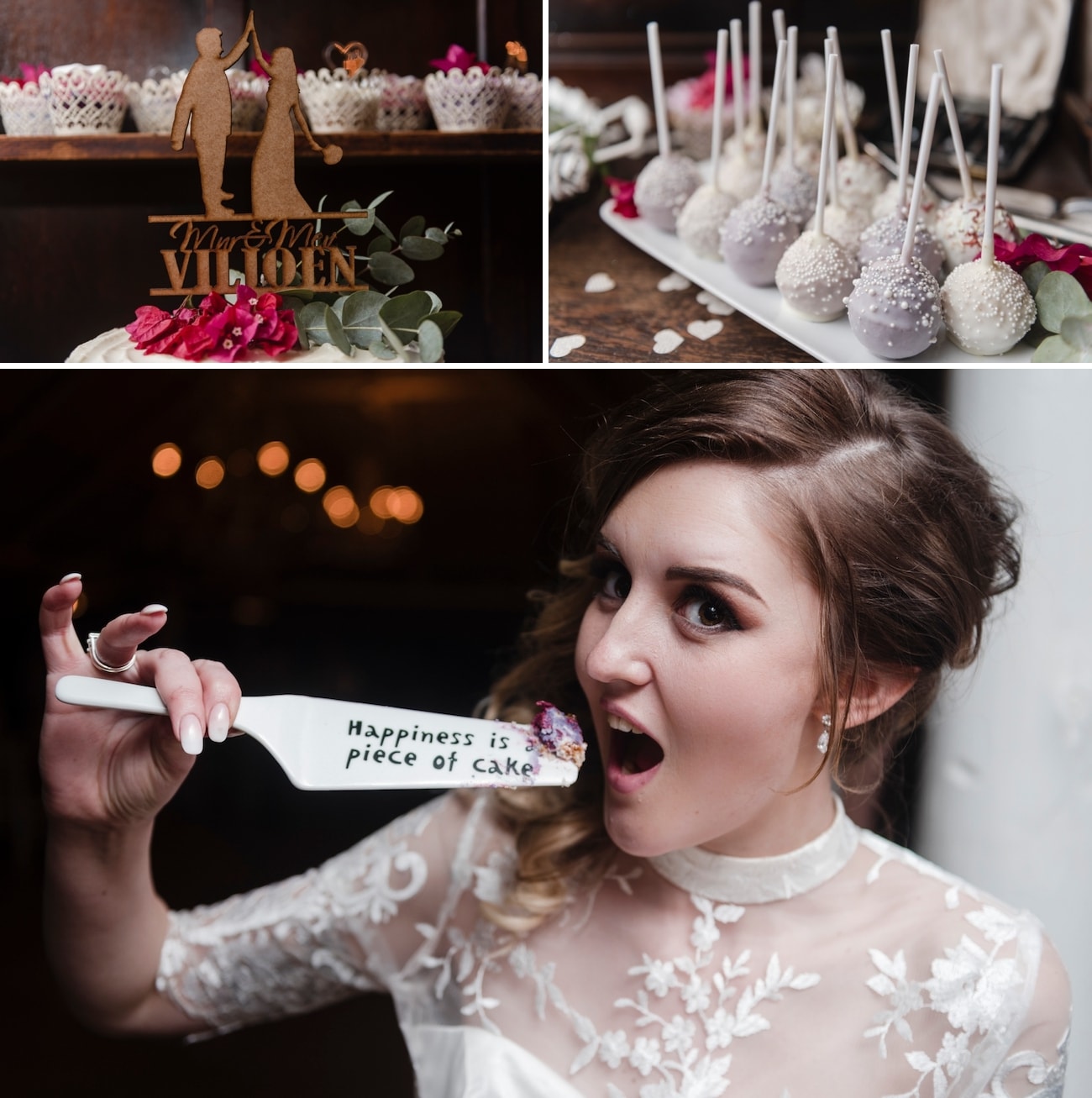 You can see more from this wedding on Wynand van der Merwe's blog.
SERVICE PROVIDERS
Venue & catering: Bell Amour | Photography: Wynand van der Merwe Photography | Flowers & décor: The Love Knot | Stationery: Imaginex | Cake: L's Creations | Bride & bridesmaids' dresses: Laurethe Holmes | Bride's accessories: Aldo Jewelry (shoes) + Lovisa (jewellery) + Laurethe Holmes (veil & garters) | Hair & makeup: Morné Marx | Groom's attire: Civic Tailors & Outfitters, Braamfontein | DJ: DJ Kings | Magician: Werner van der Merwe on behalf of David Felix