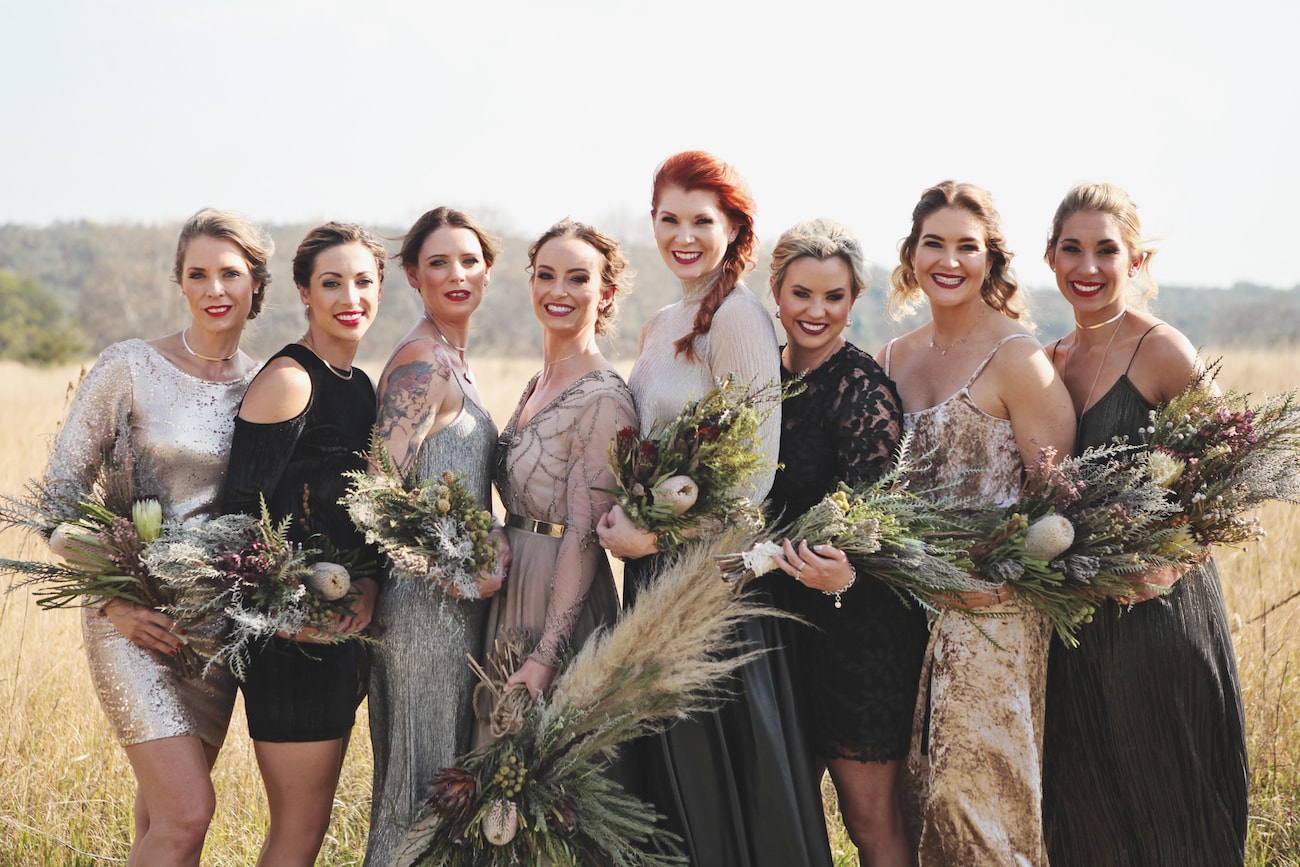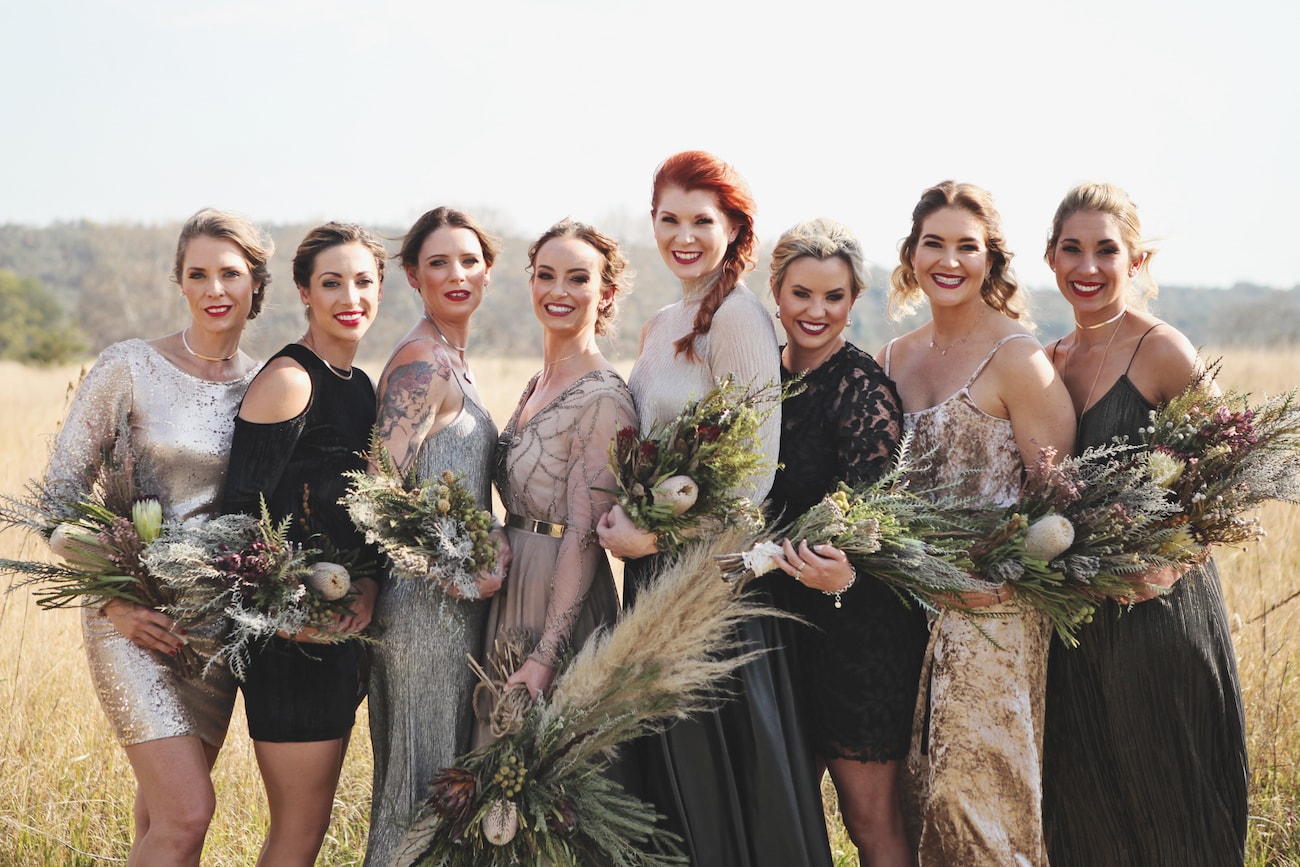 Just when you think you've seen boho weddings get as amazing as they're ever going to get, this one comes in and is like: "Hold my beer." Every picture from Carmen Roberts is so shut-the-front-door beautiful, you can't help but stop and stare – it's almost hard to believe it's real life (that is, if it weren't for the smitten looks on bride and groom Lisa and Russel's faces – can't fake that!). So how do I describe it? Well, boho sure. Glamorous (especially with the bridesmaids in their red-lip-slinky-dress-faux-fur getup which pretty much wins the mismatched style prize forever – and wait till you see Lisa's gown!). Natural and Rustic. A little Game of Thrones, as talented event designer (and bridesmaid!) Joelene of Oh Happy Day pointed out. It's a winter wedding in the forest, and it's both on trend (pampas arch!) and beyond trend, if that makes any sense. It probably doesn't. I think it pretty much defies definition, so I'll stop talking and you start looking. Because however else you want to define it, it's GORGEOUS.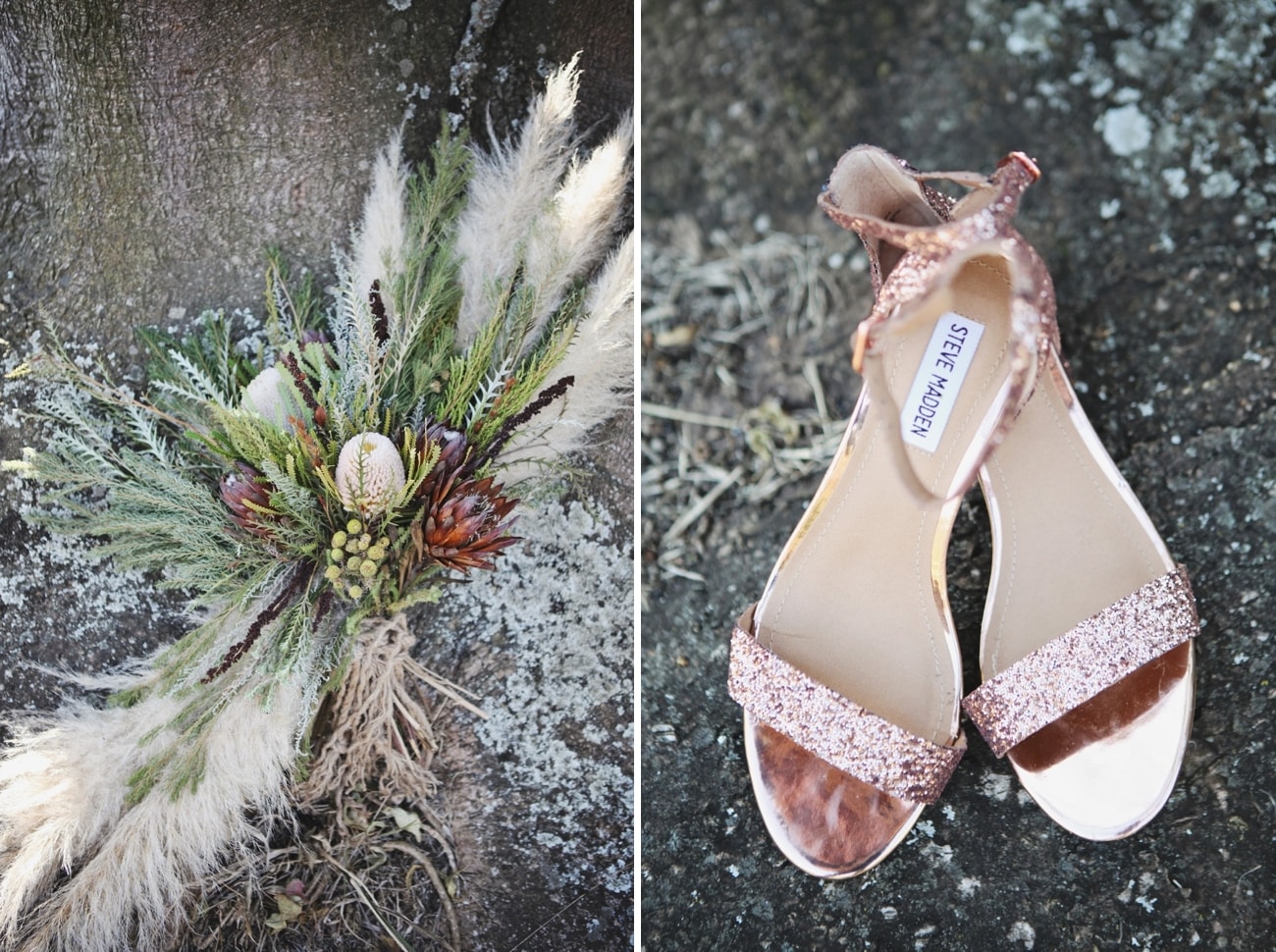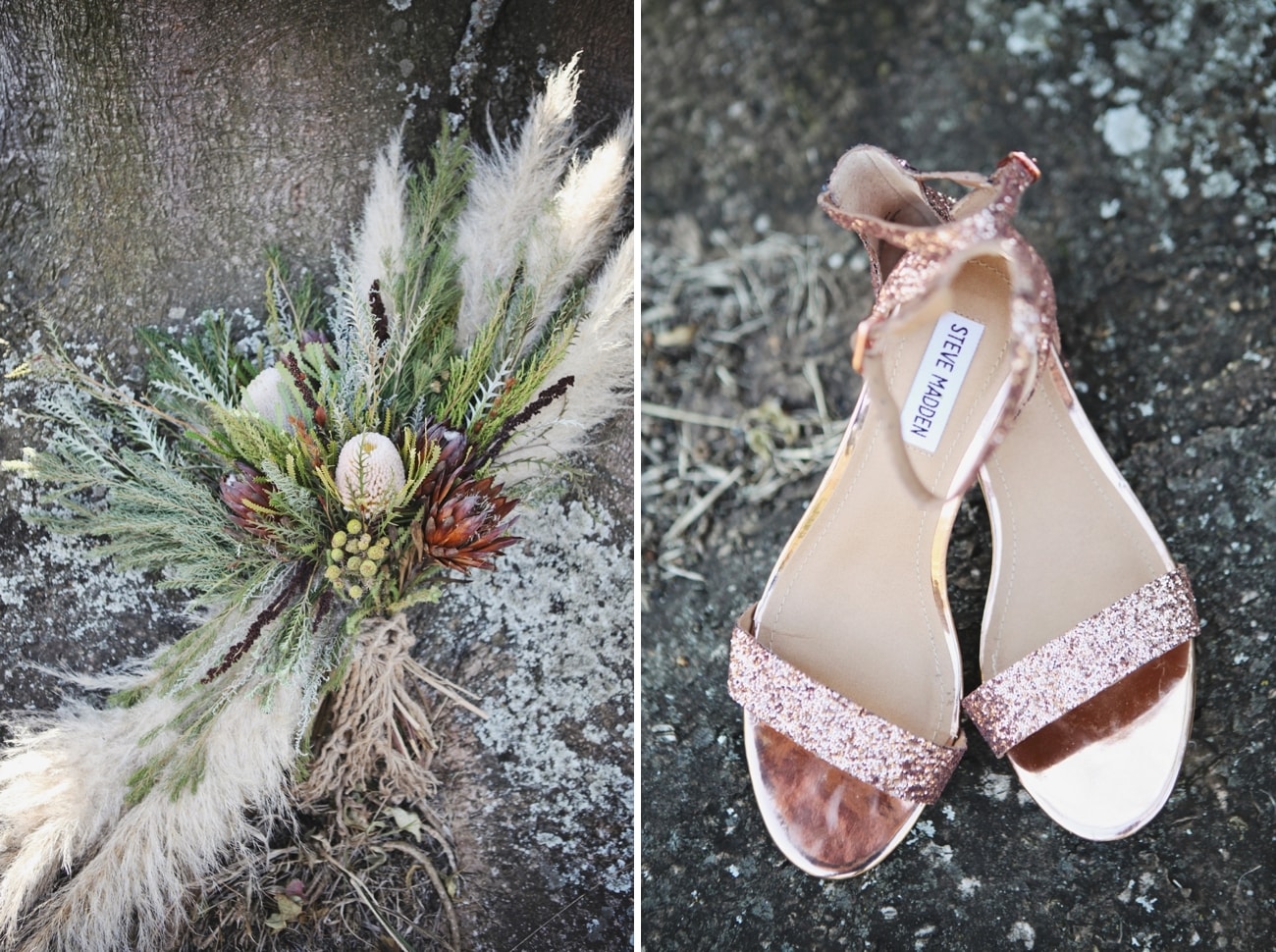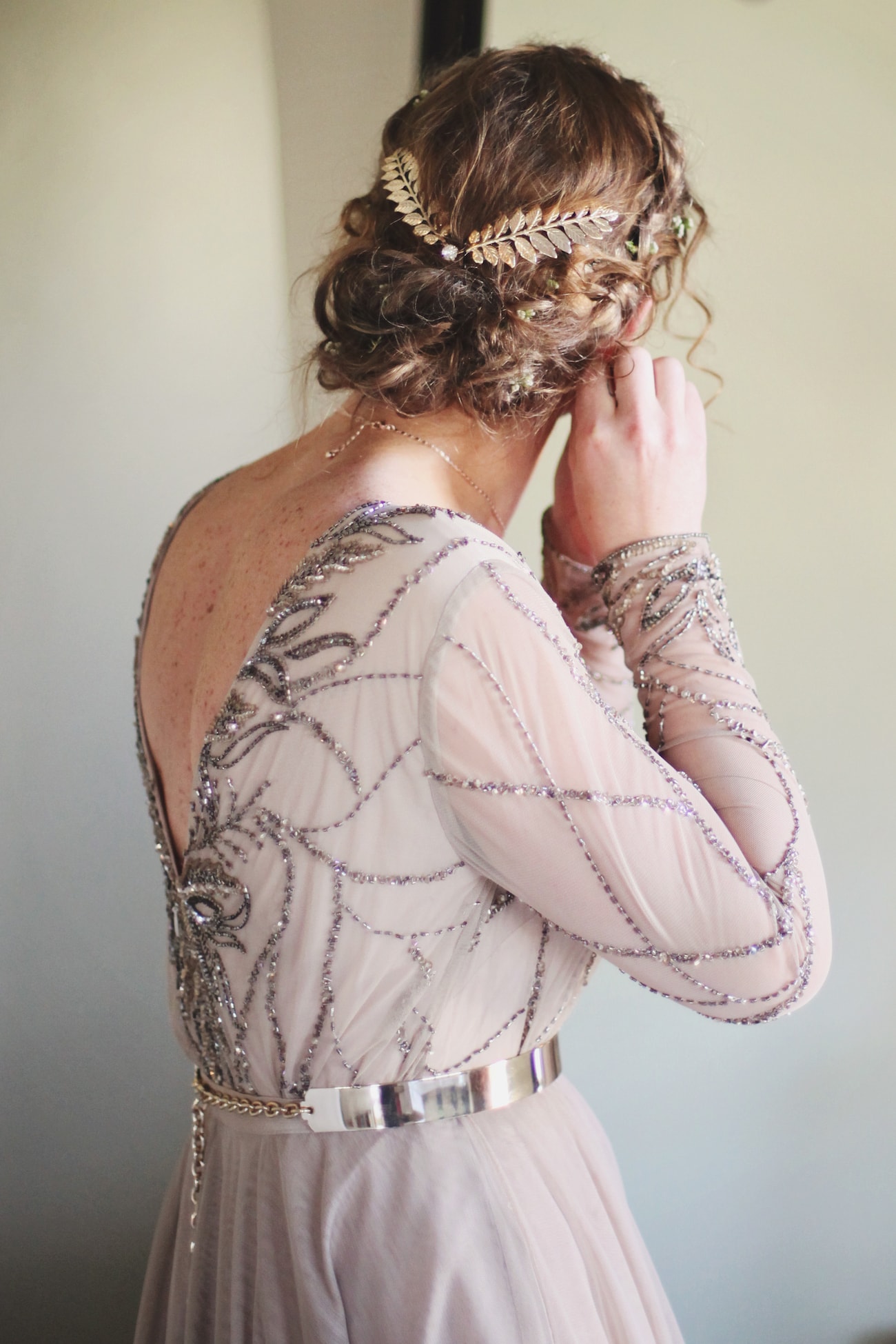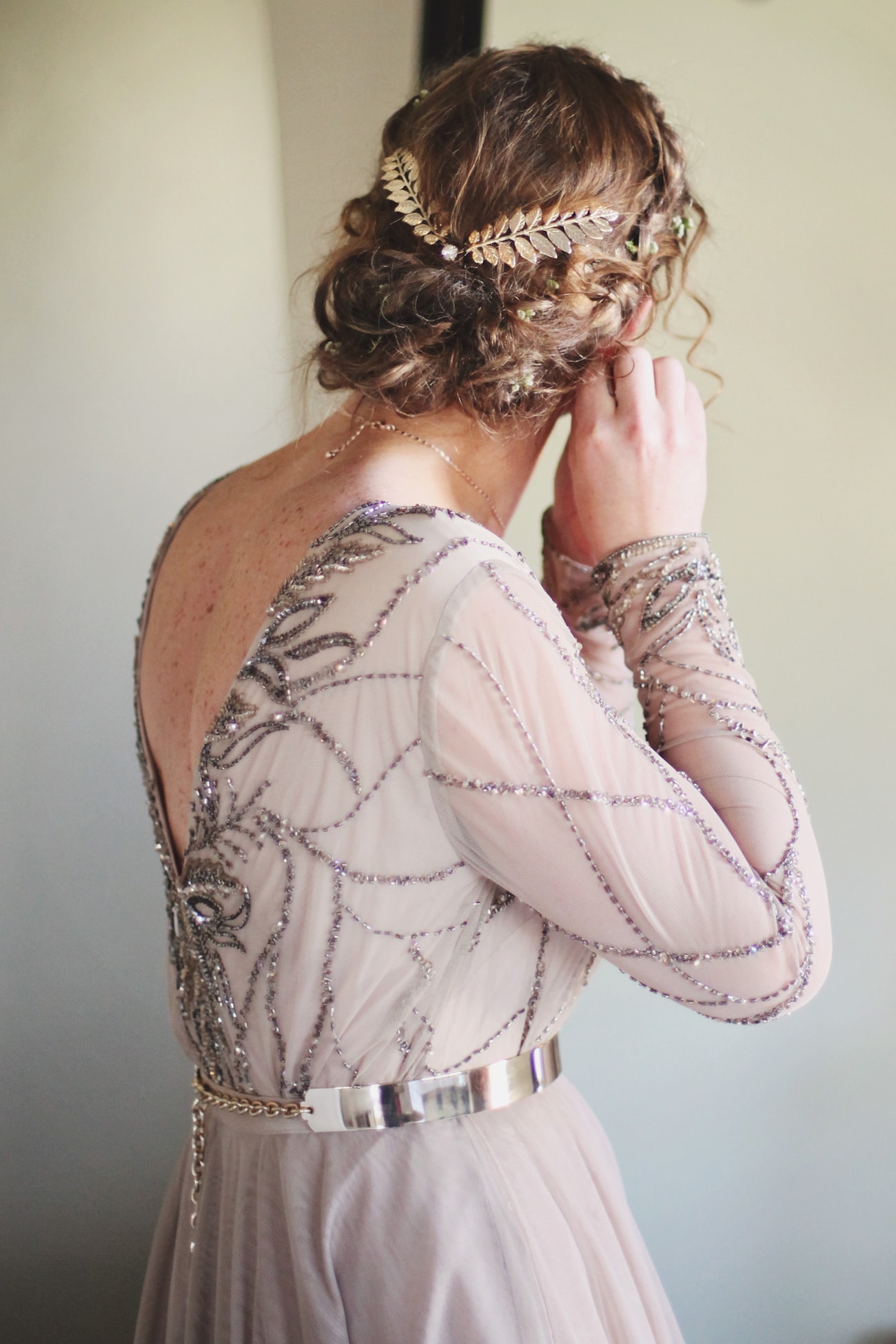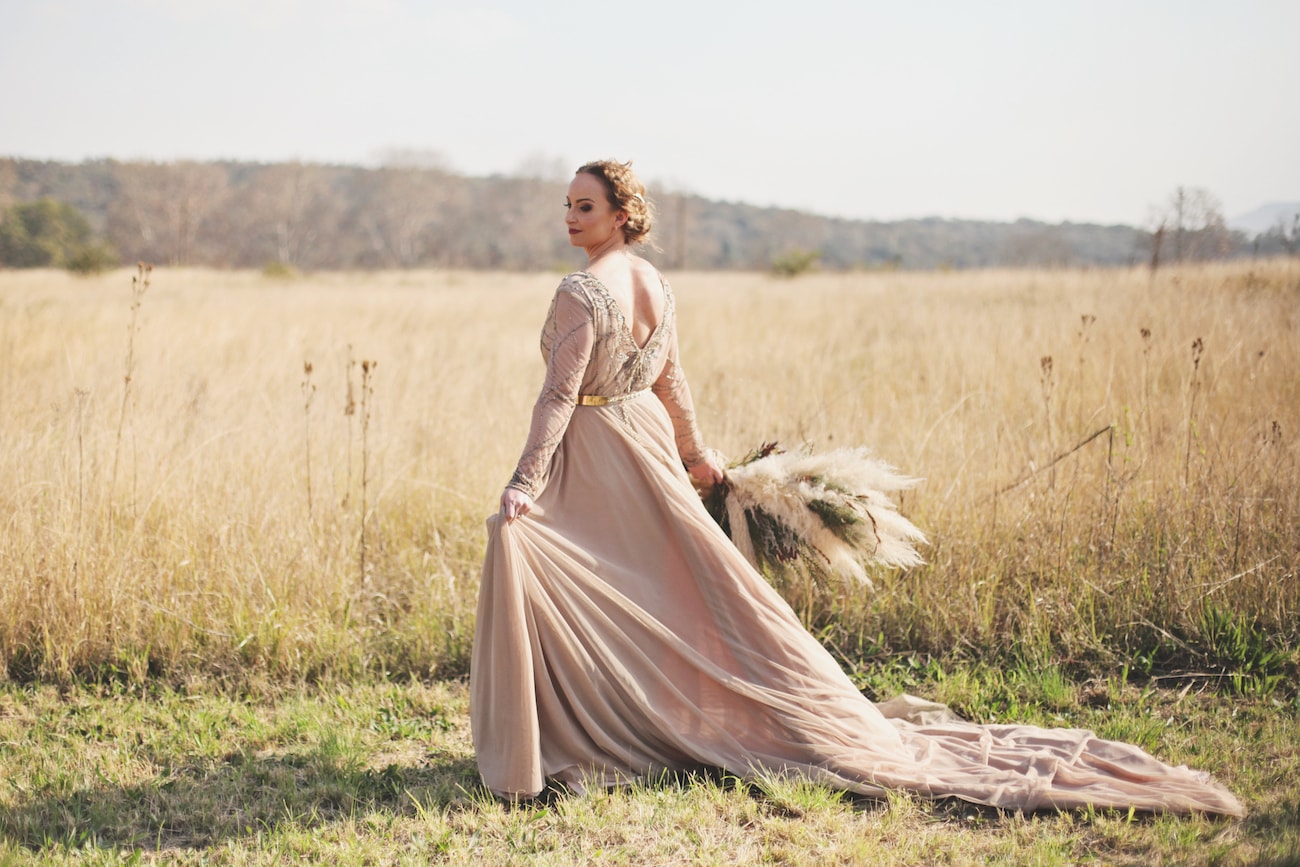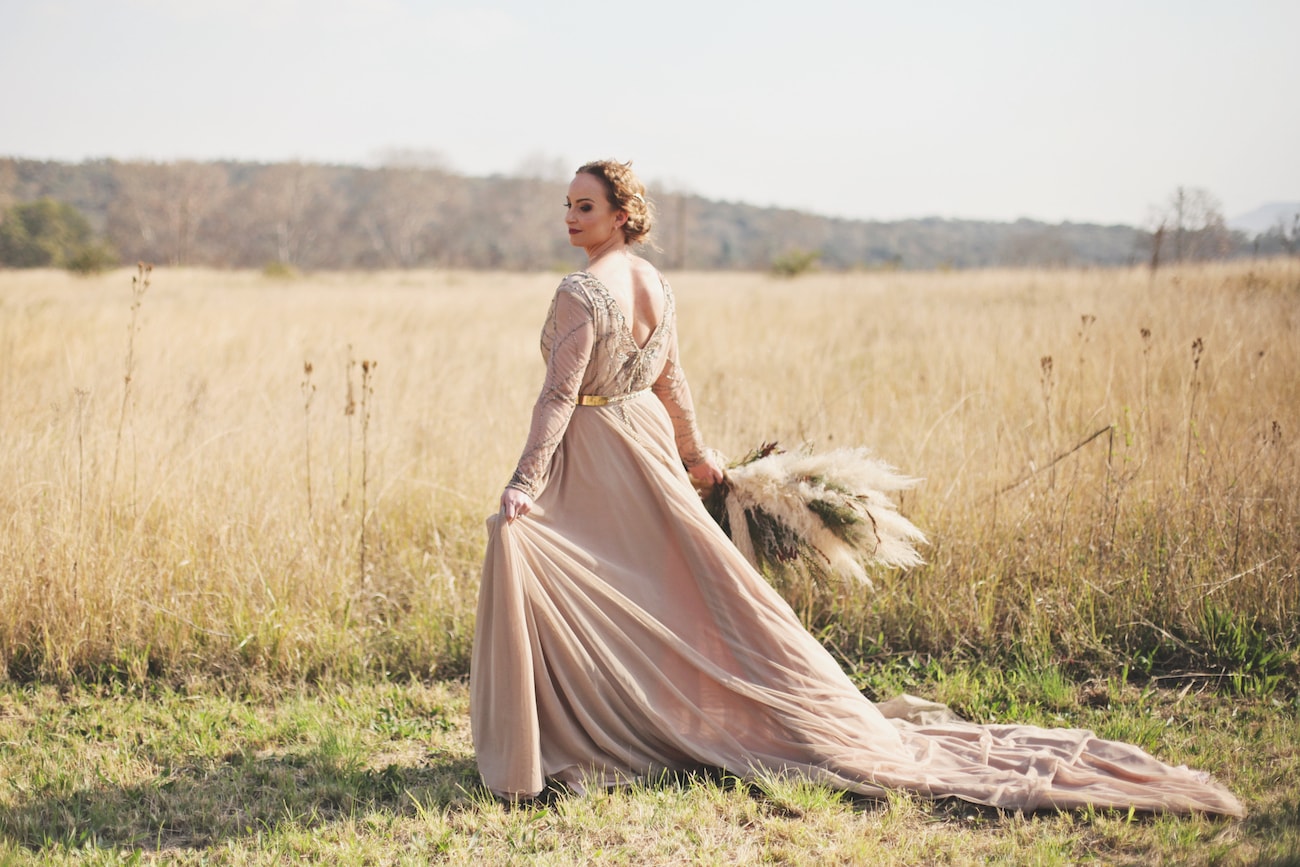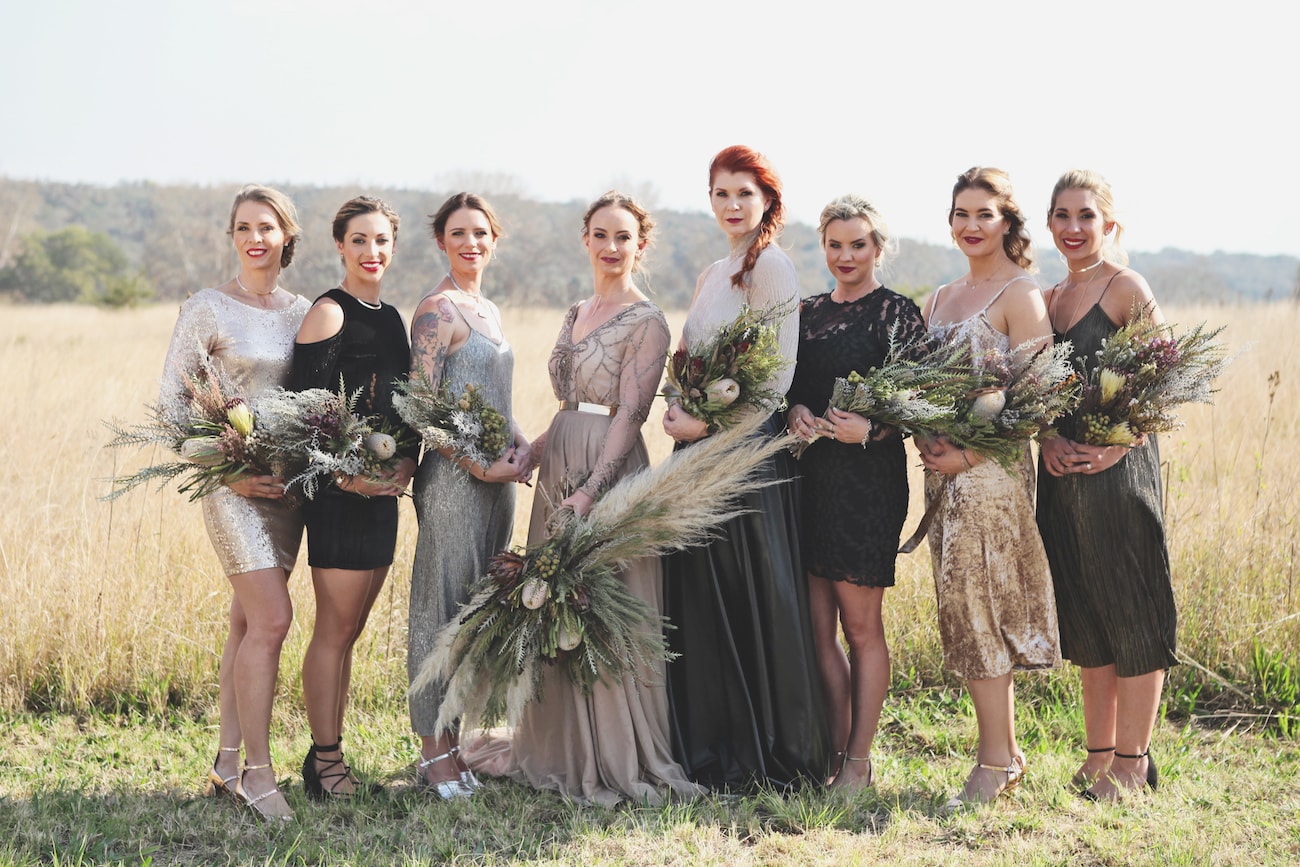 Love Story
The cliché of all clichés, our relaitionship started out with Russell as my personal trainer! Clearly the man did something very right in those training sessions because boy did those love chemicals flow freely! I tried my utmost to ignore them, but in the end I was utterly defeated and gave in to them – the best decision of my life.
The Proposal
True to my husband's raw and earthy character, without frill or fuss, he waited until our parents (who both live far away) were present, and over a family dinner got down on that knee (the transition from seated to bended knee was seamless) and popped the big question.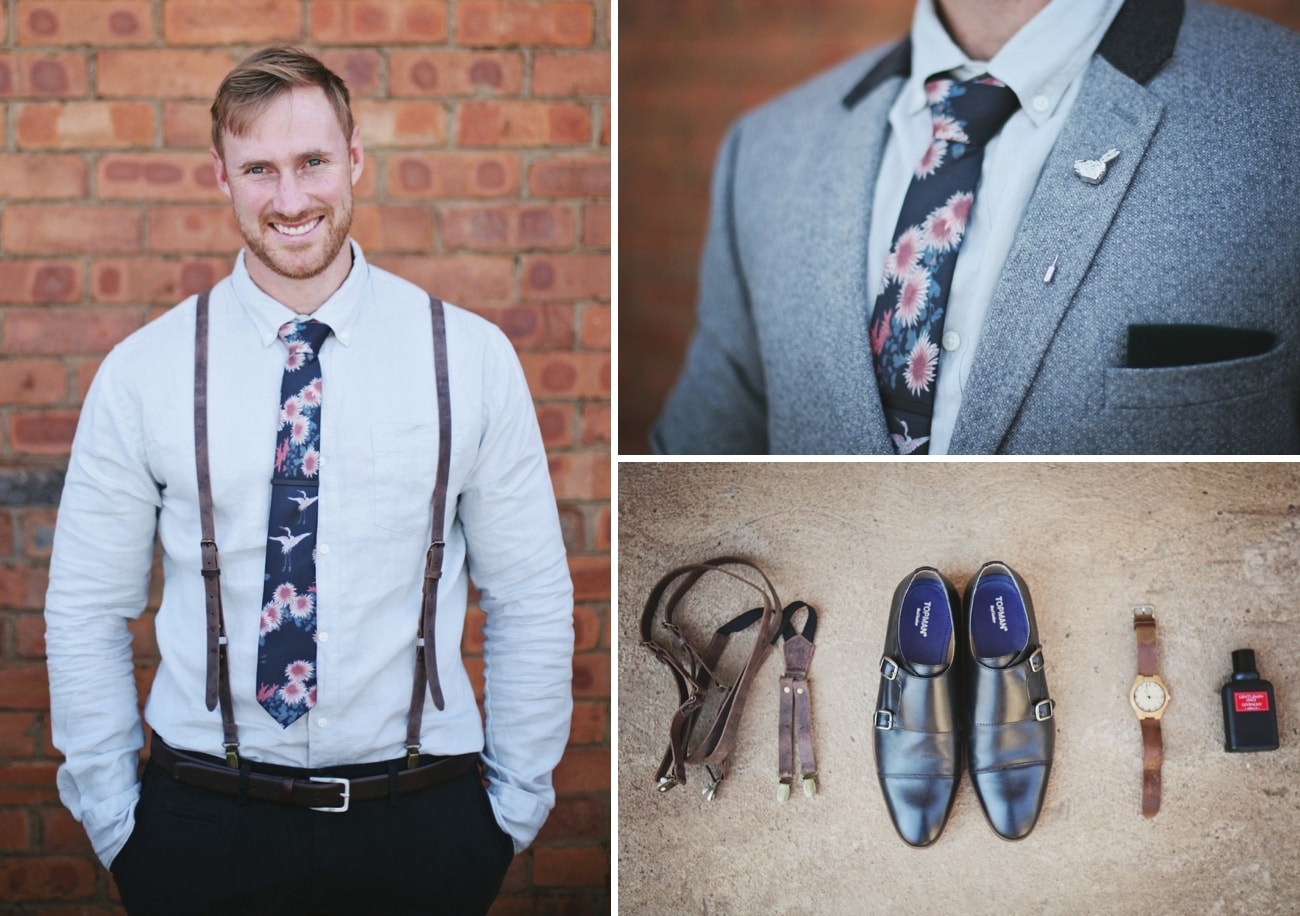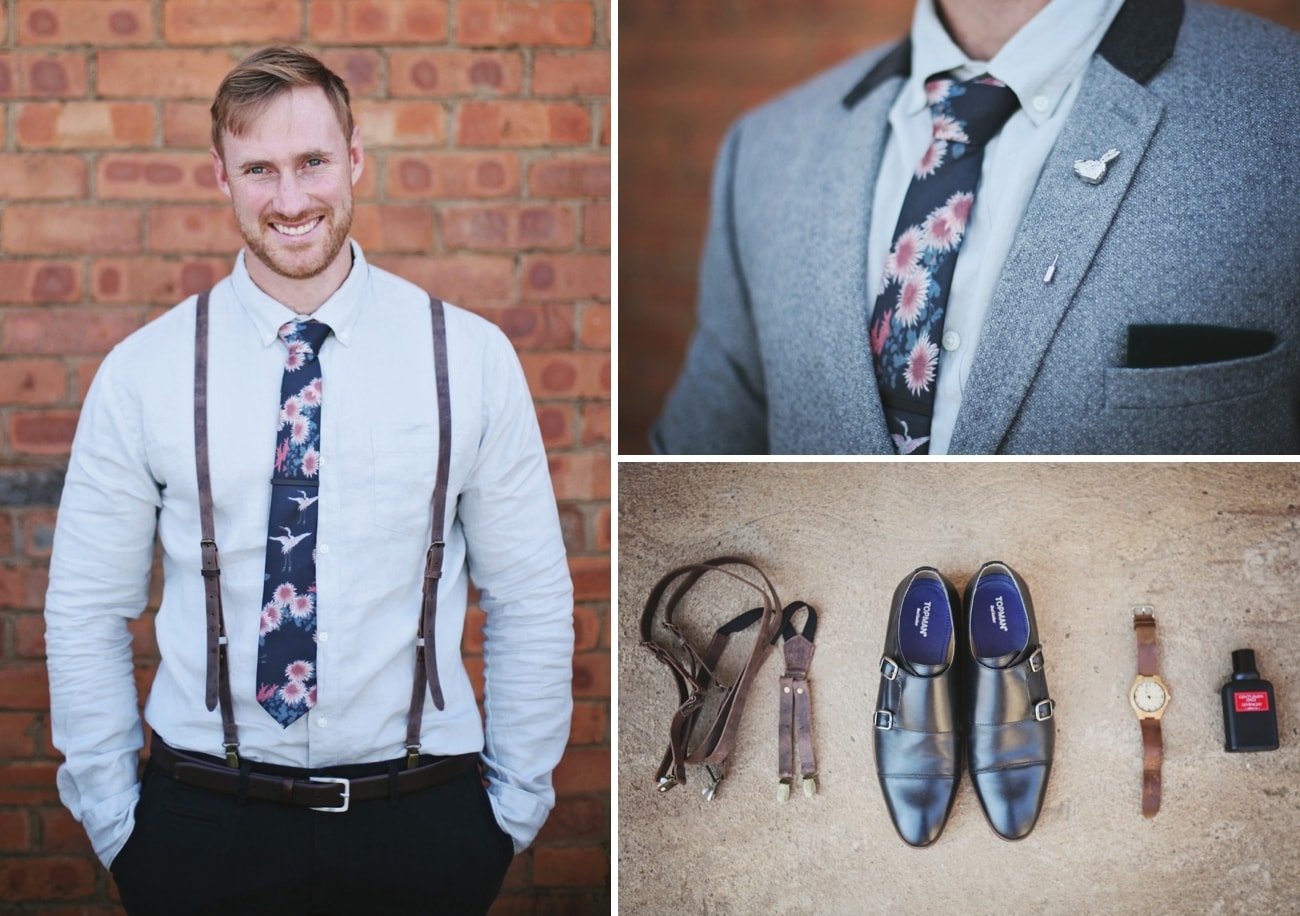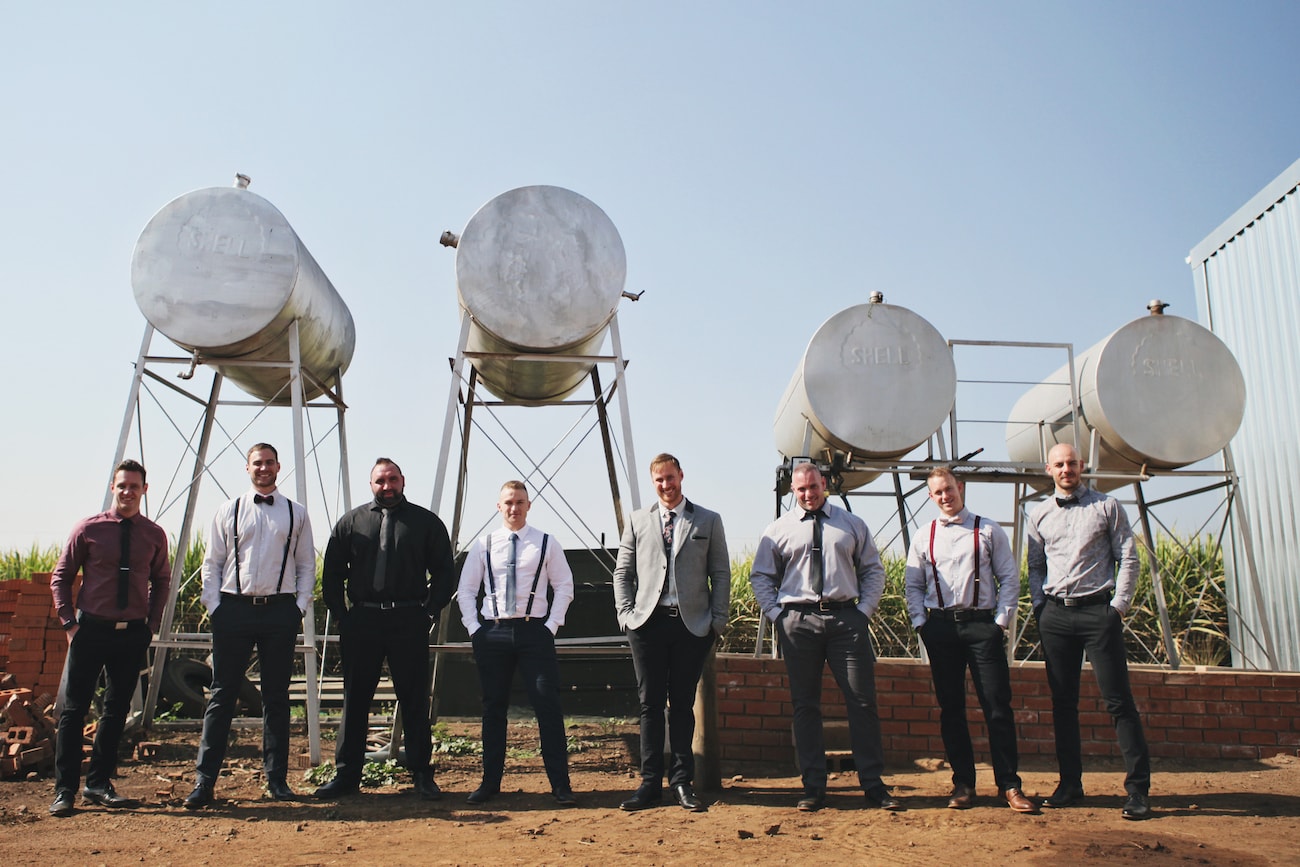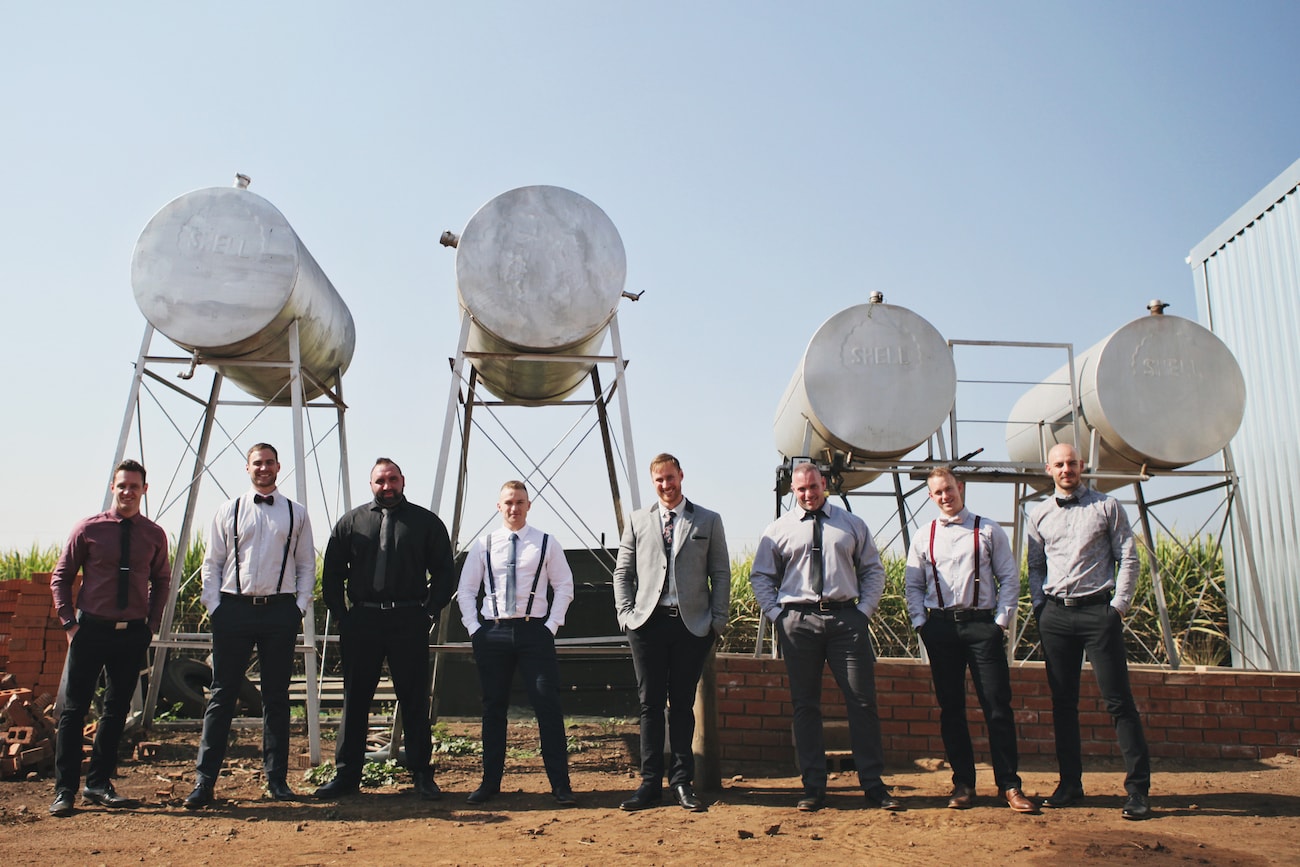 Wedding Style
We wanted our wedding day to be a perfect reflection of ourselves as a couple. We both like keeping it real, and have an ardent love of nature, and it was important to us to create a relaxed environment where our guests could truly kick back and enjoy our celebration of love. Shalwyn offered us the perfect setting to have our dream winter wonderland wedding (in the woods!) and collaborating with Oh Happy Day on this vision made it nothing short of perfect – my dream became a reality. Colours and decor all spoke to the beauty that nature has to offer, and ensured our vision came to life in a truly romantic and whimsical backdrop. We used items from home as part of our decor (horns, animal skins, chair in forest, vessels carrying foliage), as well as wall hangings printed with special quotes.

DIY Elements
Macrame type hangings and handwritten name cards.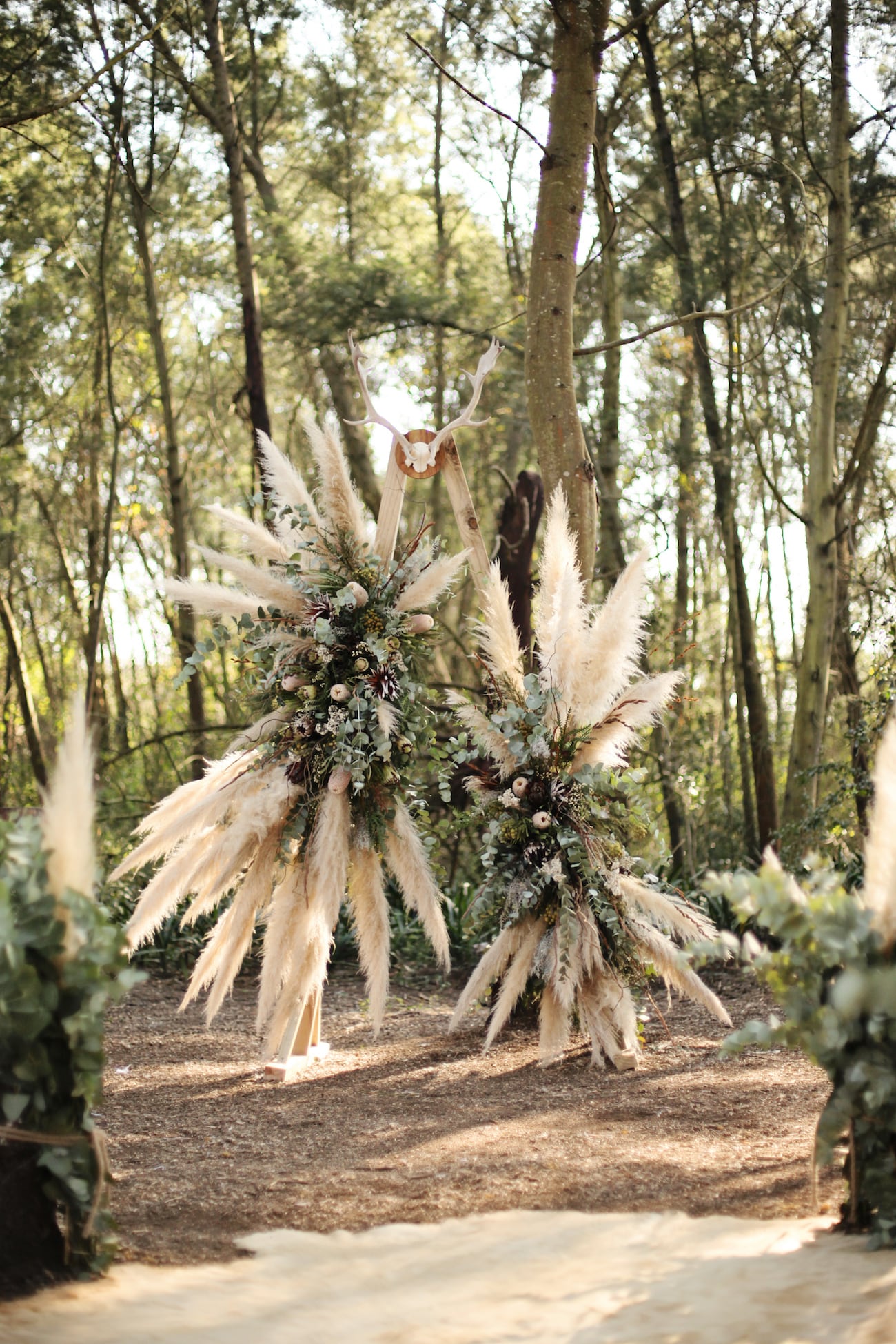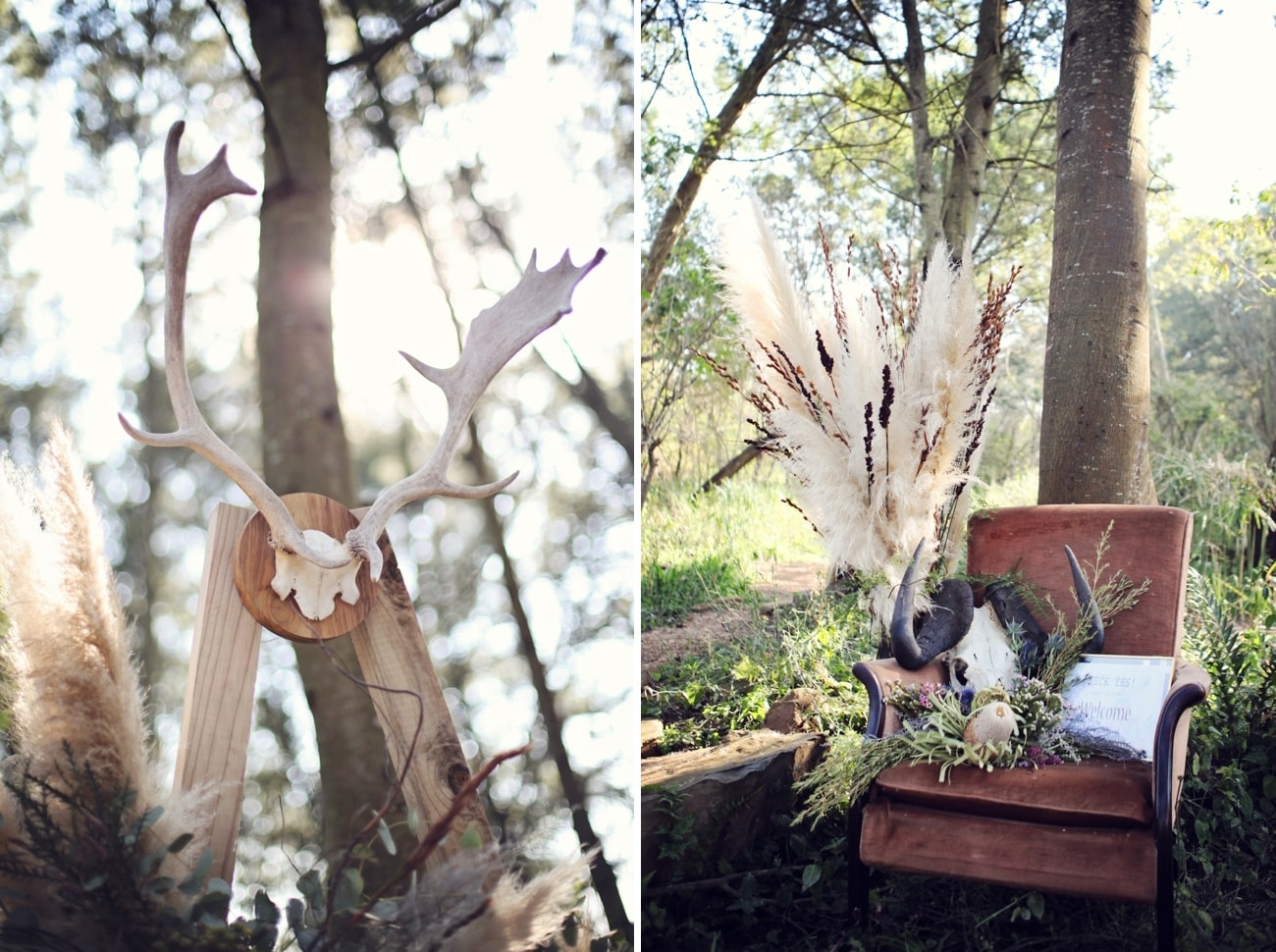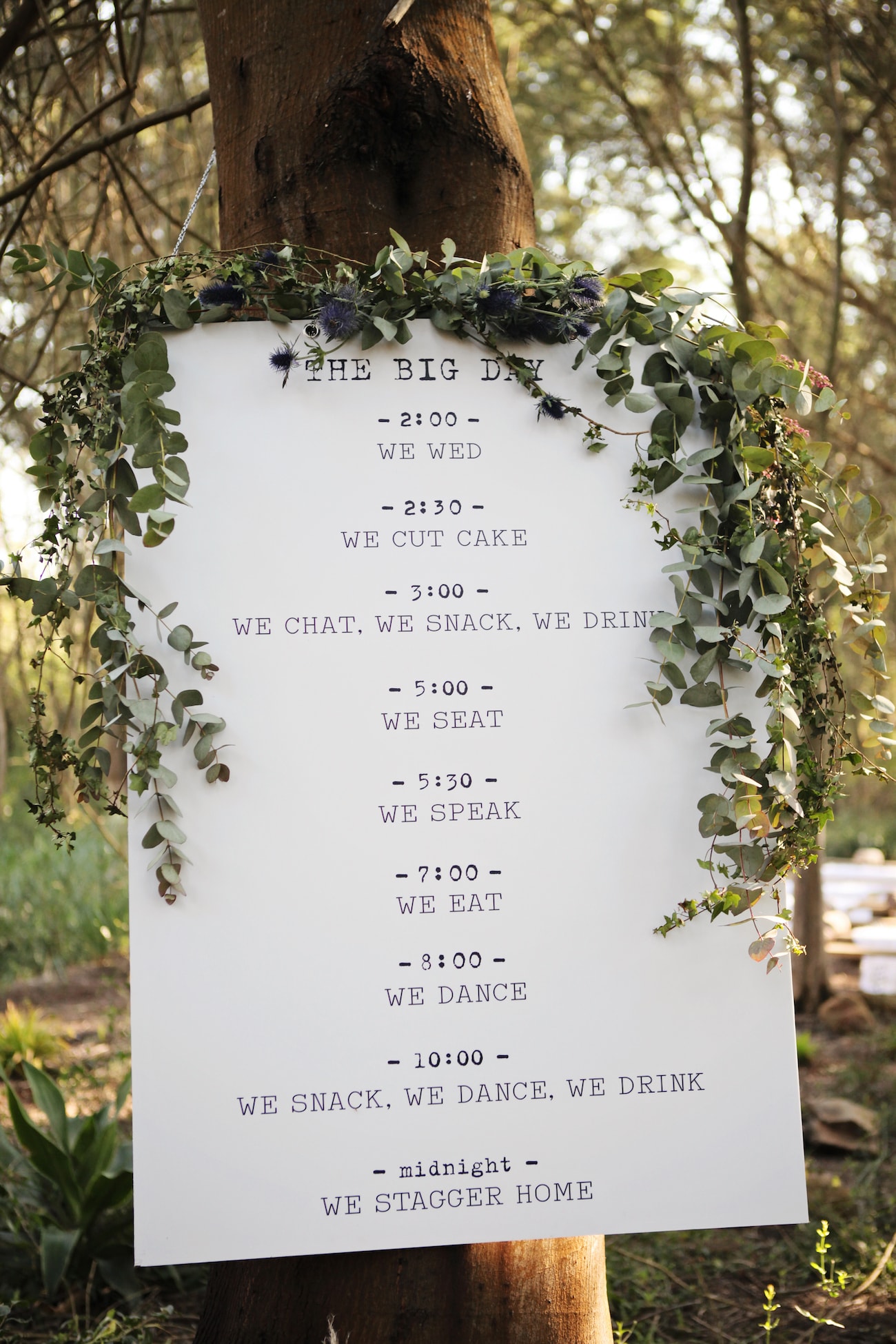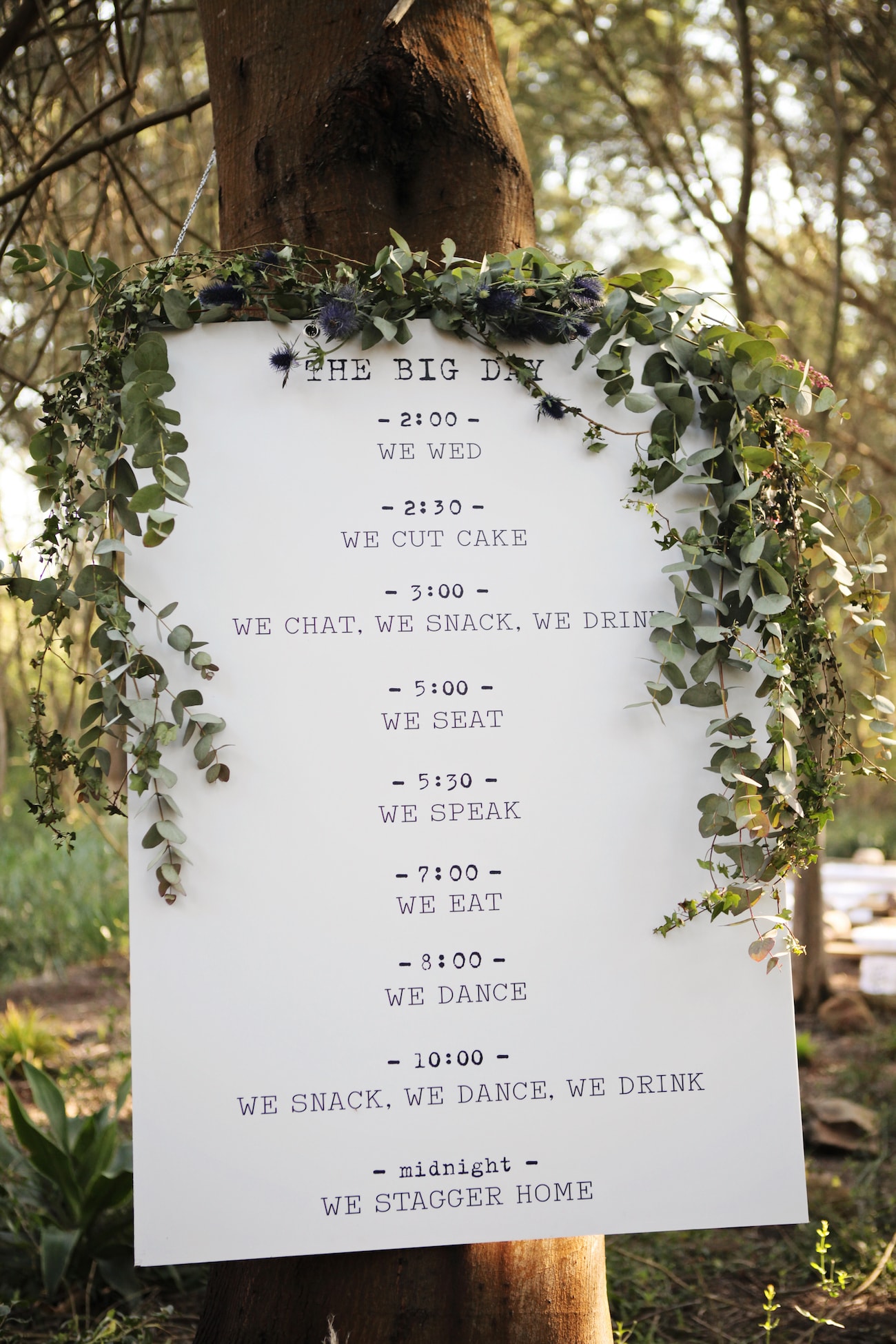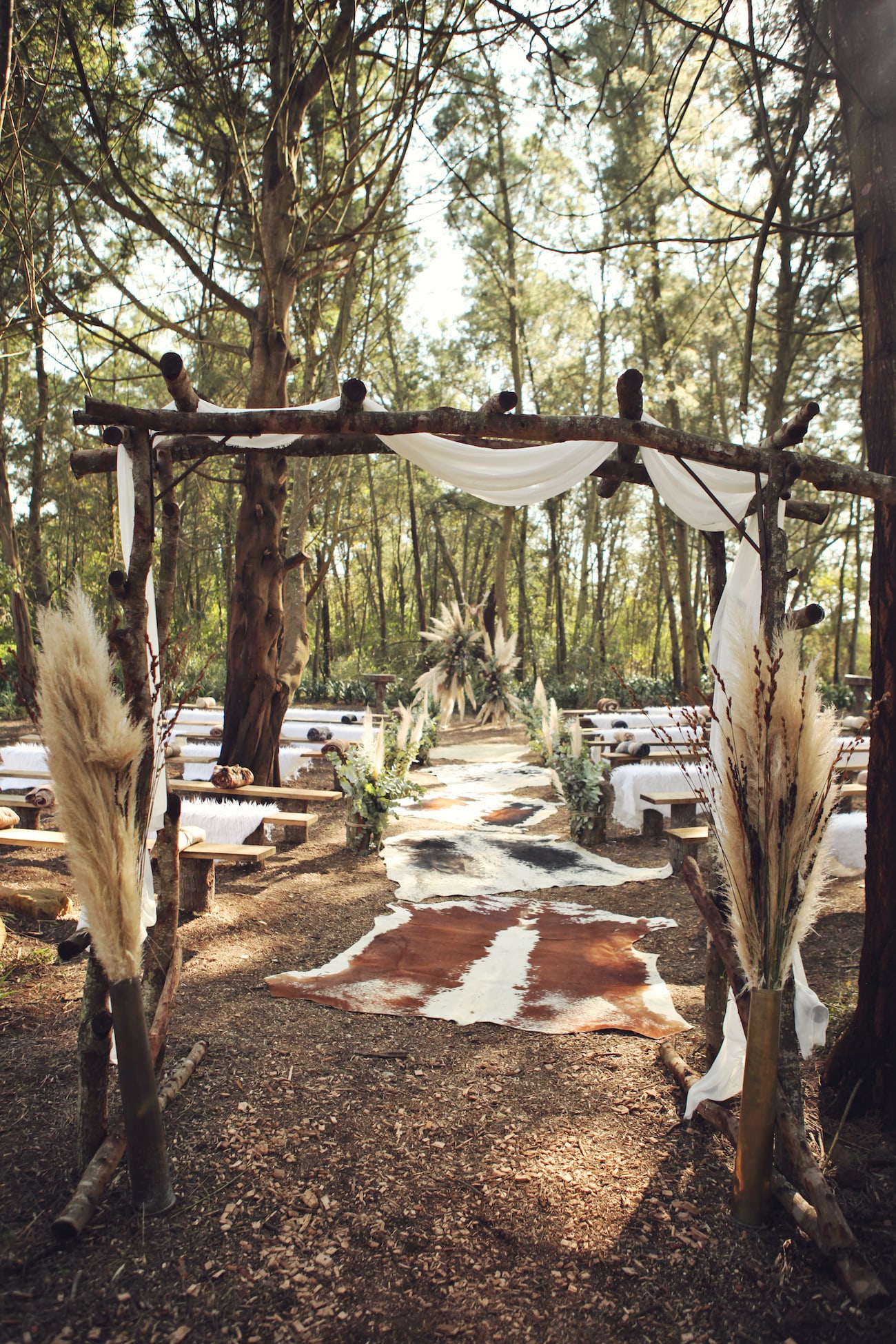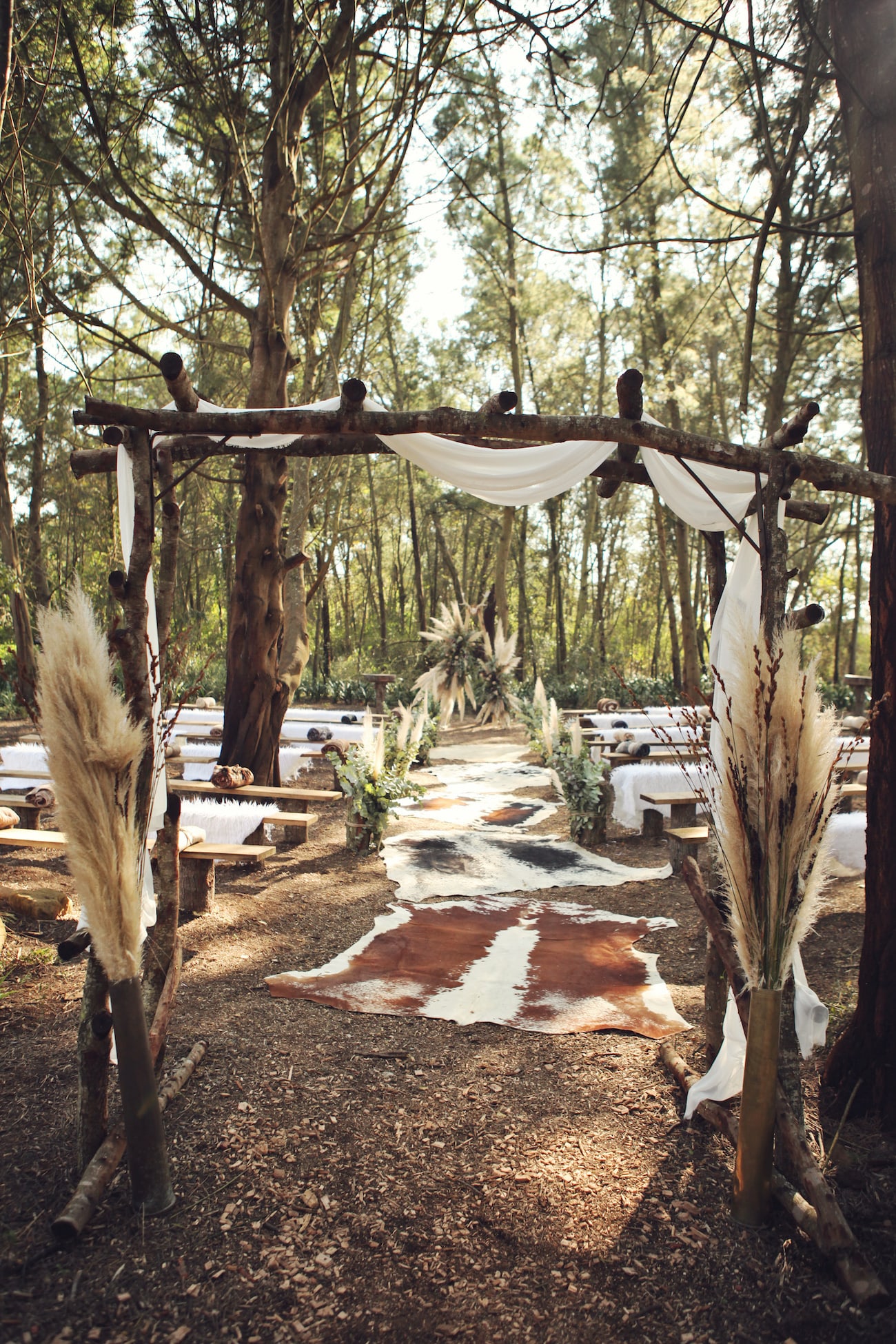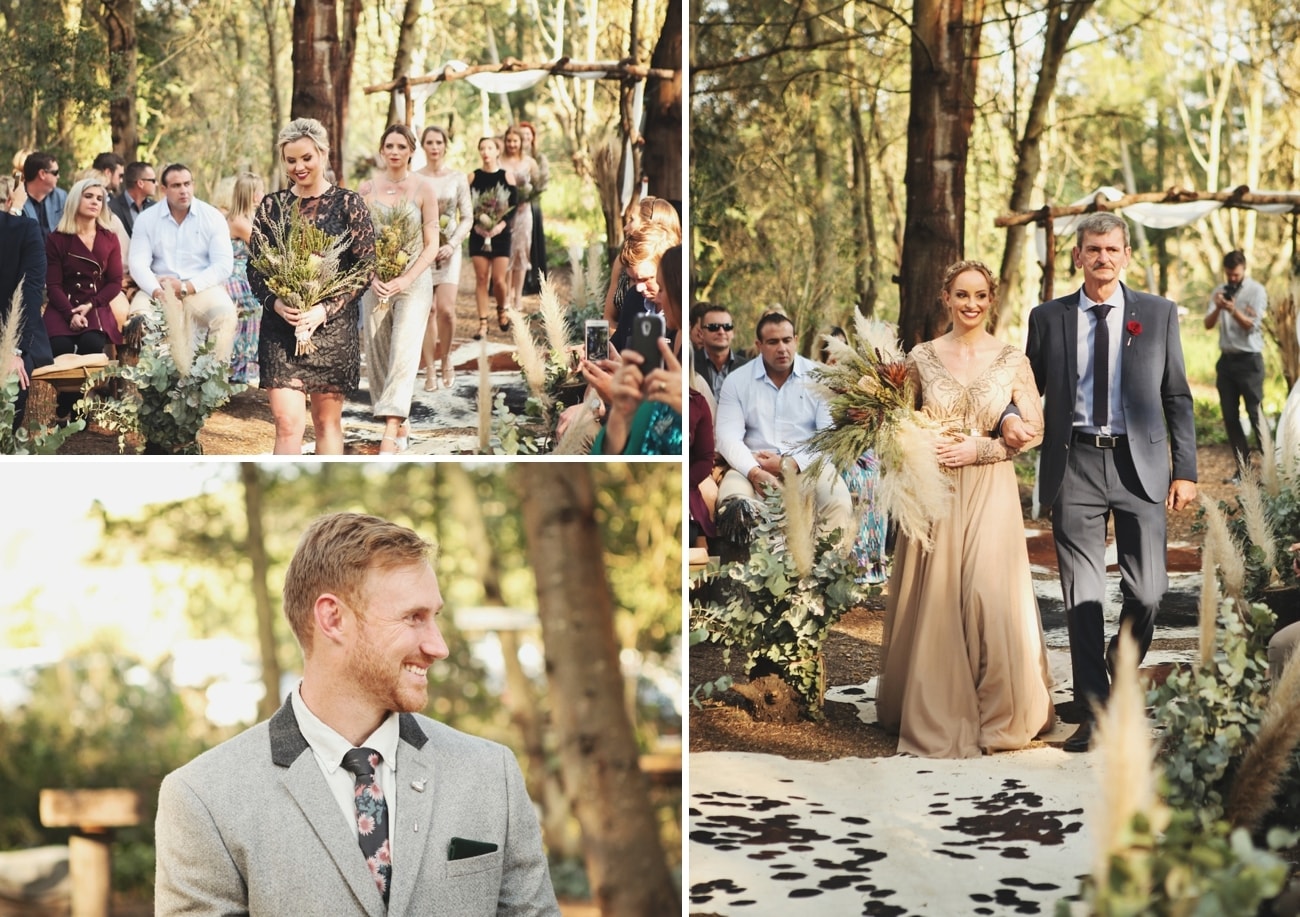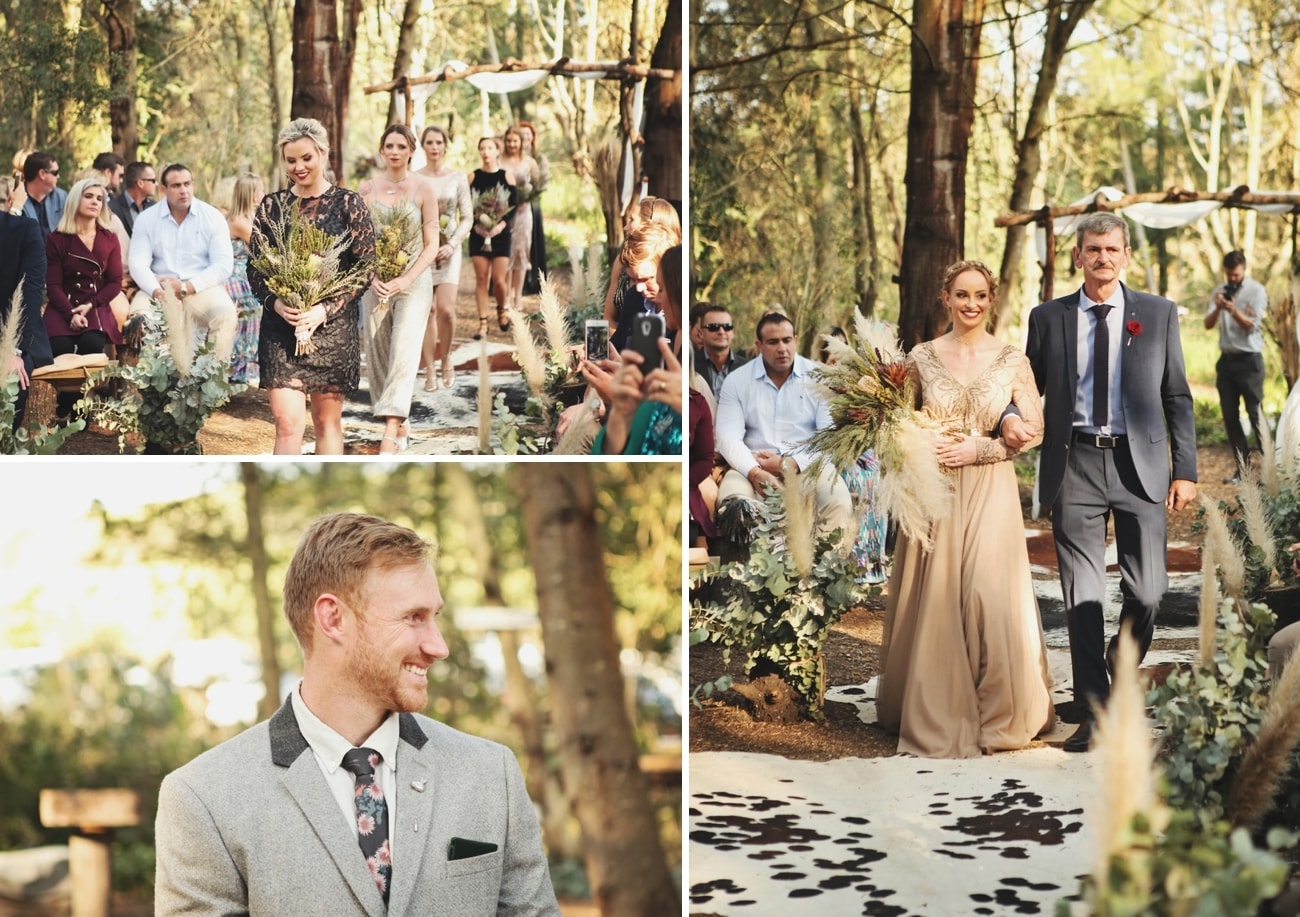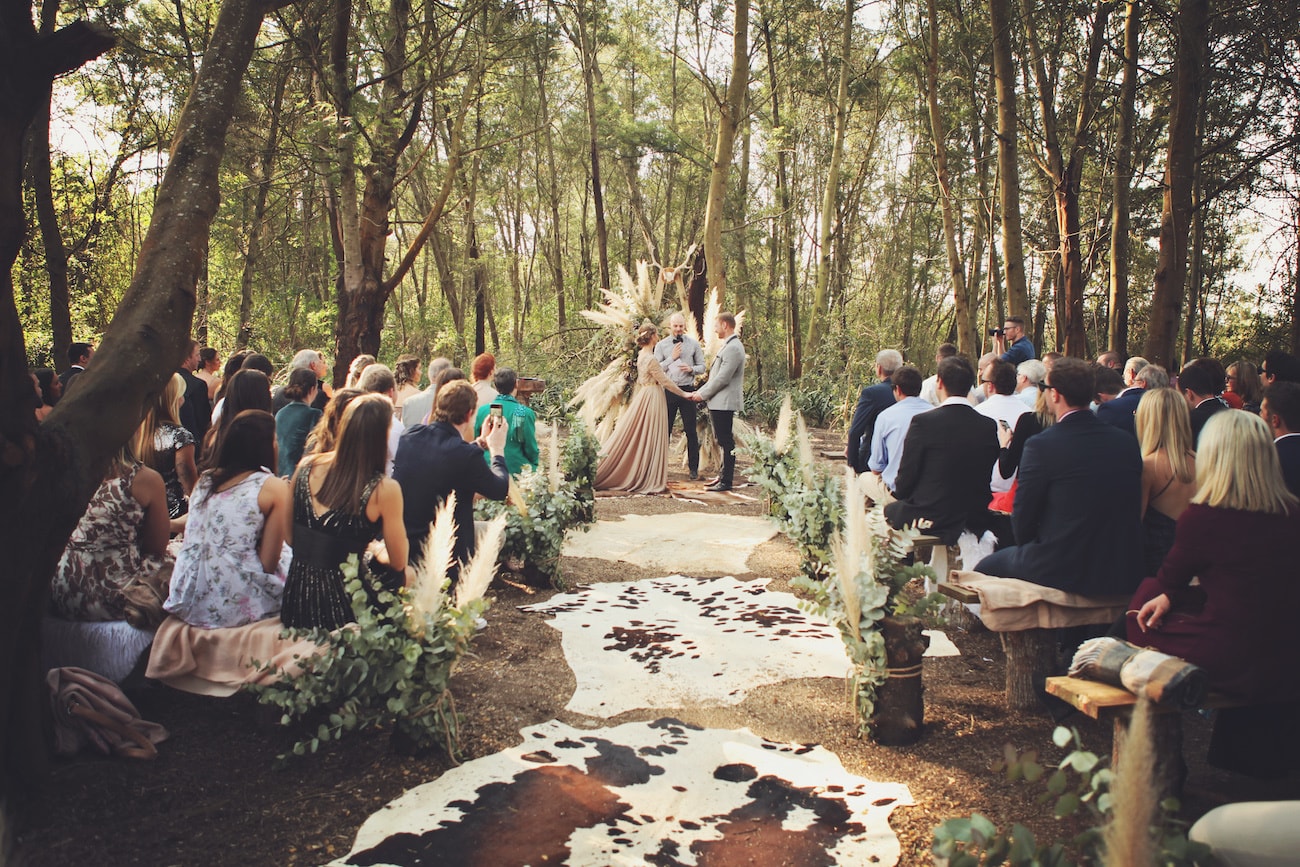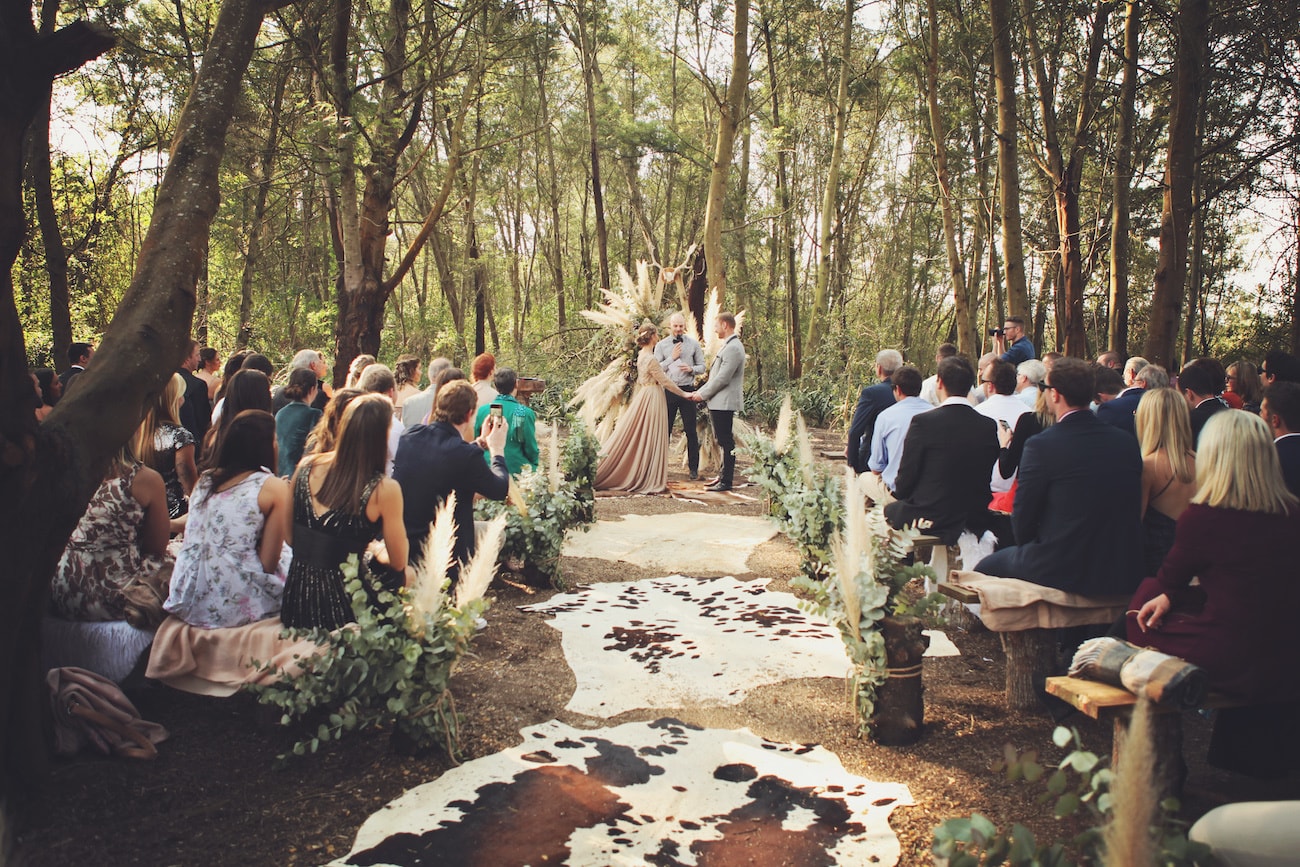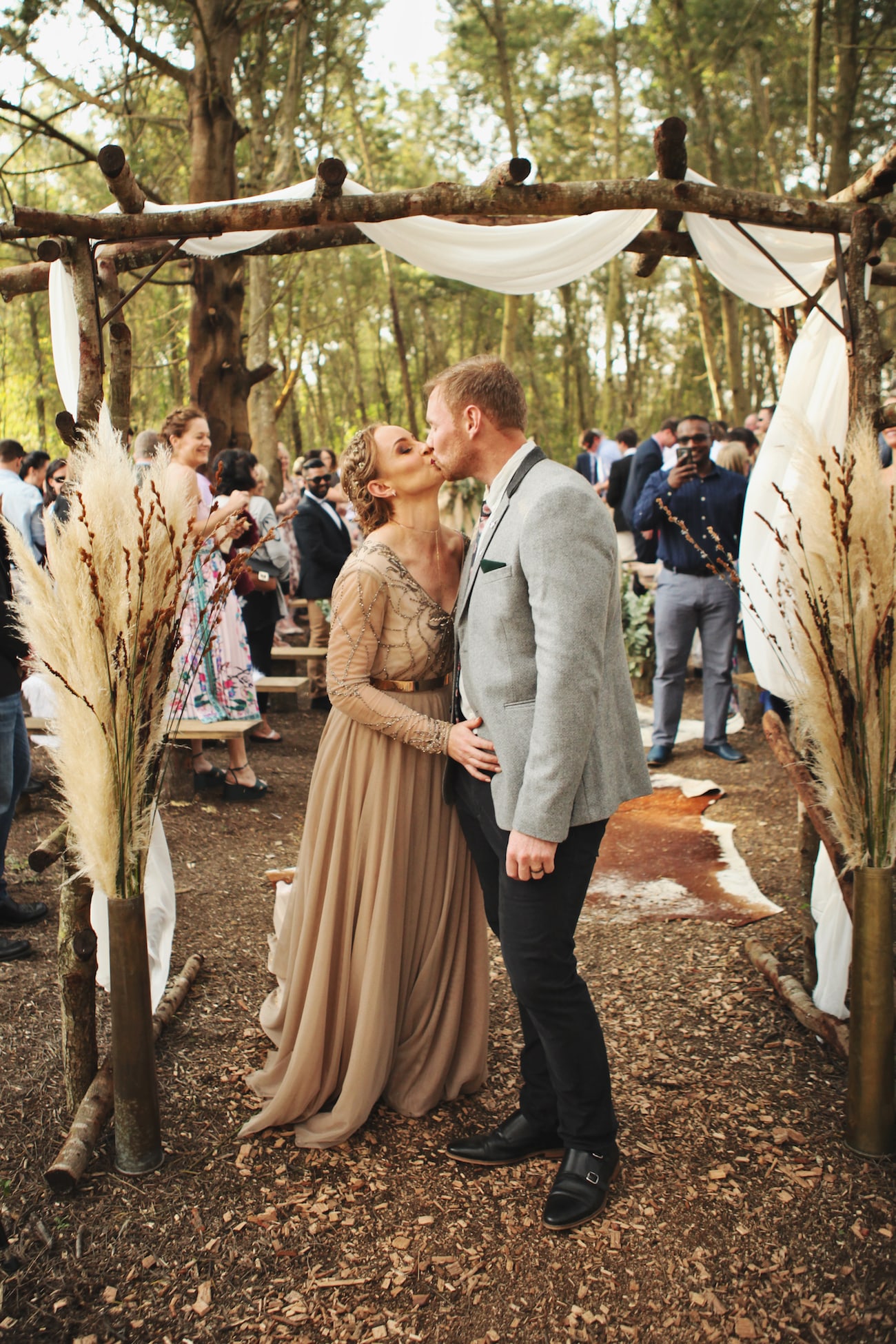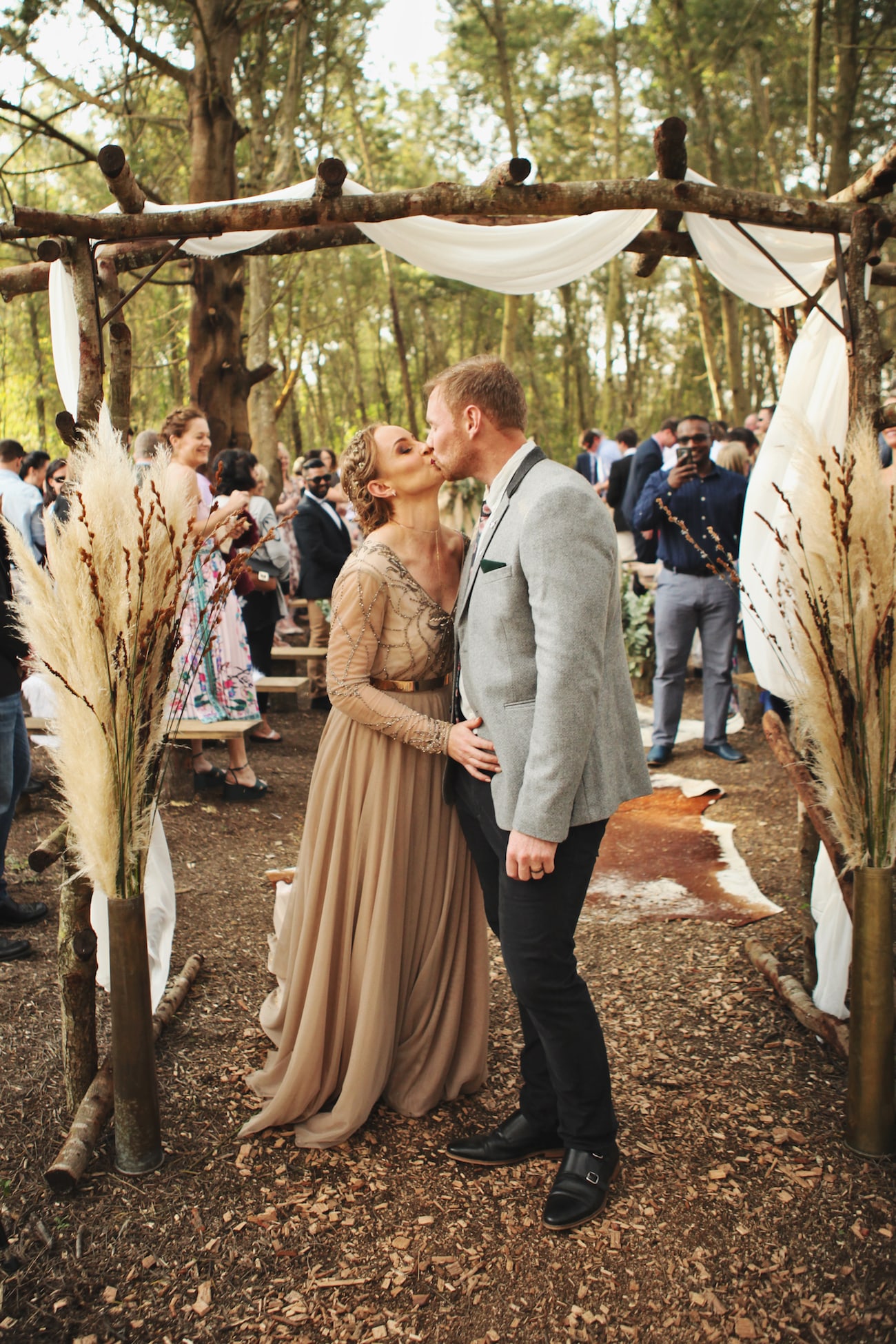 The Dress
My wedding dress is quite a story, but the short version is that I never laid eyes on it, until it had travelled all the way across the Indian Ocean, inside my MOH's travel bag, and was finally delivered to me, from India to South Africa. Shortly after we were engaged, my MOH travelled to a fair in India, and was blown away by the many beautiful things she was surrounded by – and I prompted her to make a purchase on my behalf if she believed I would love it… and it was perfect.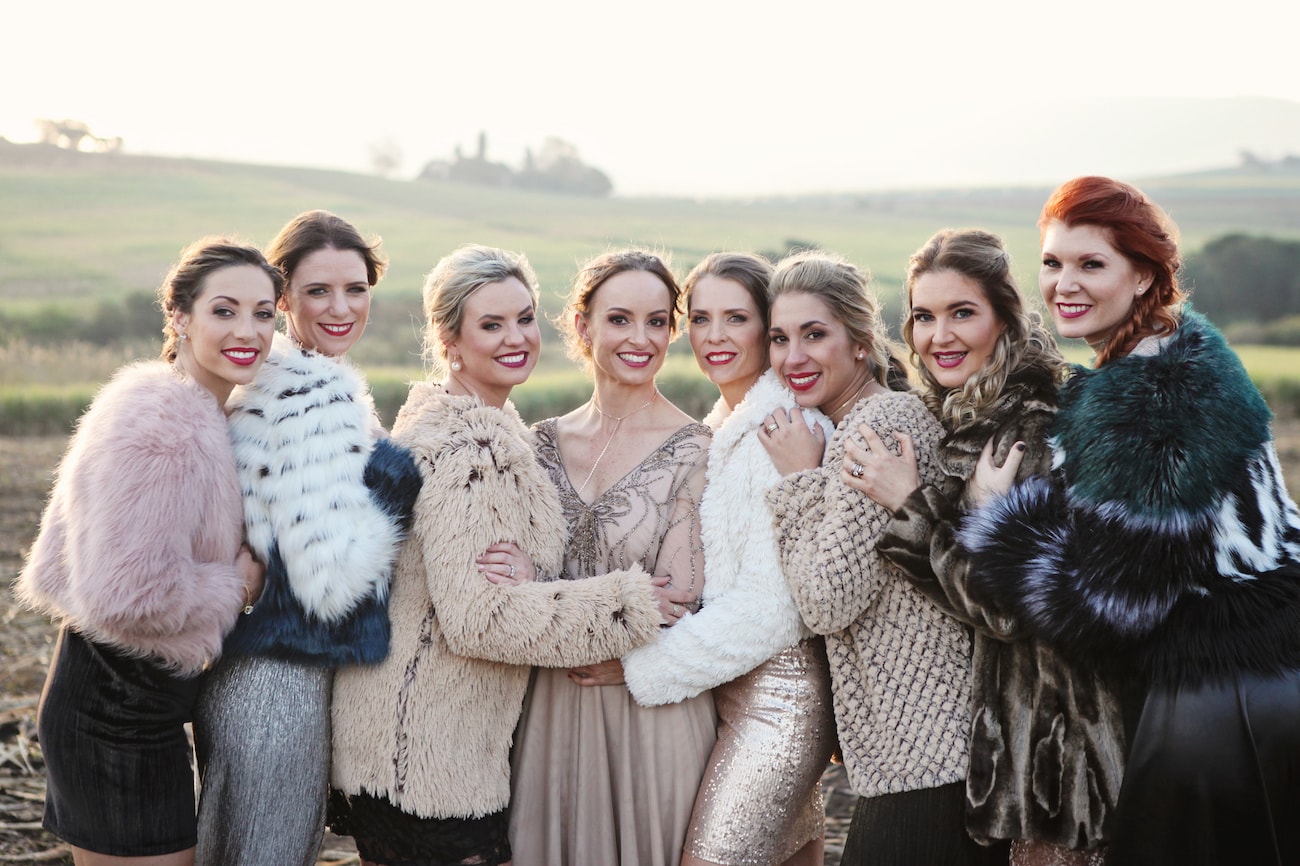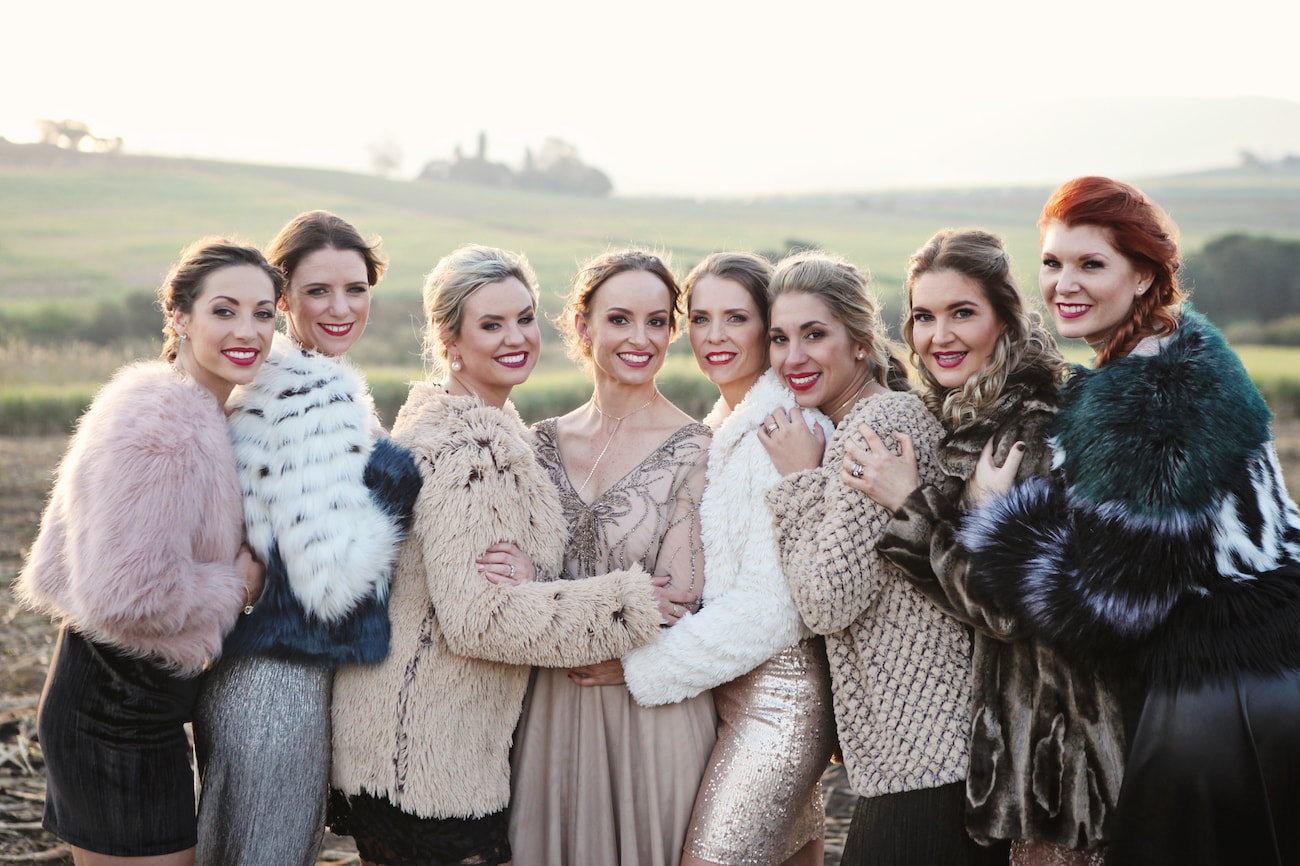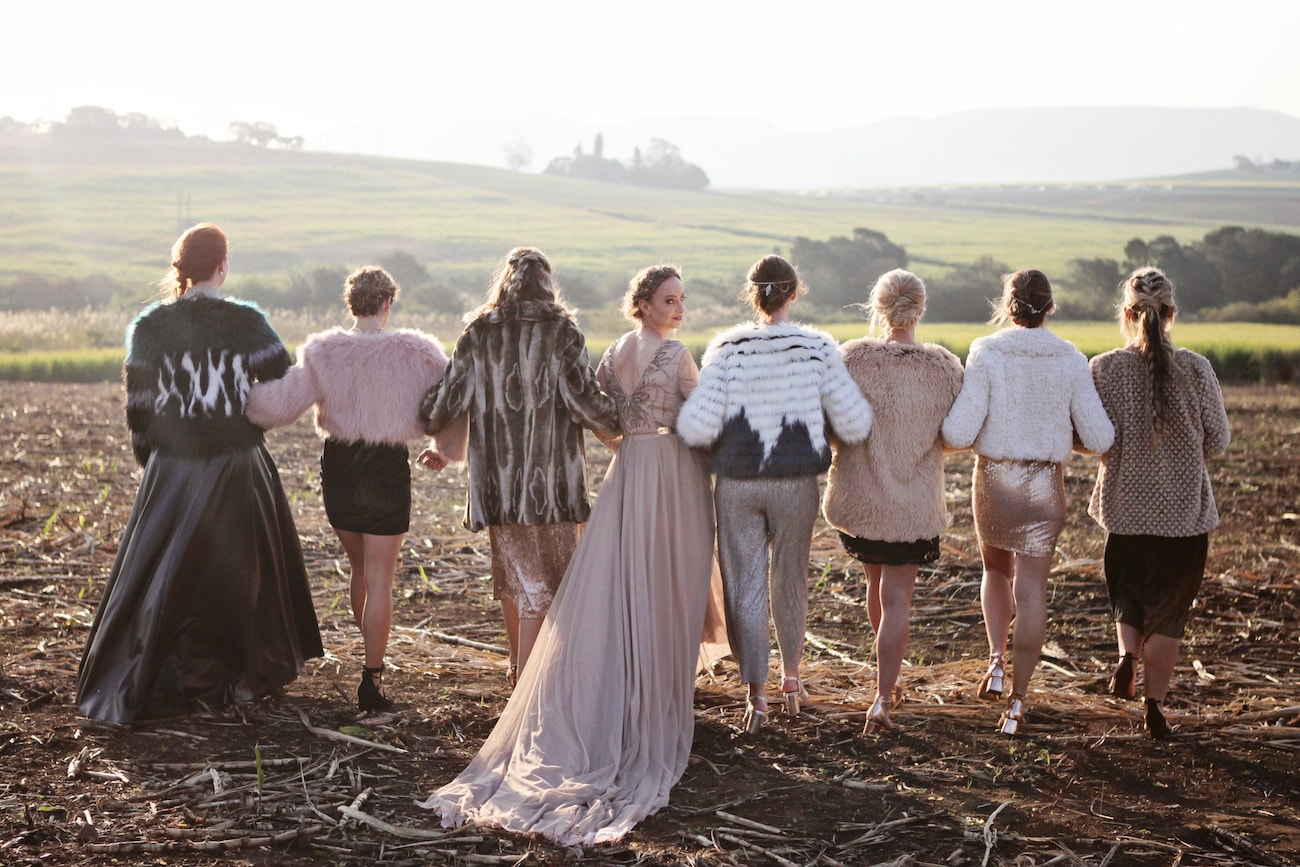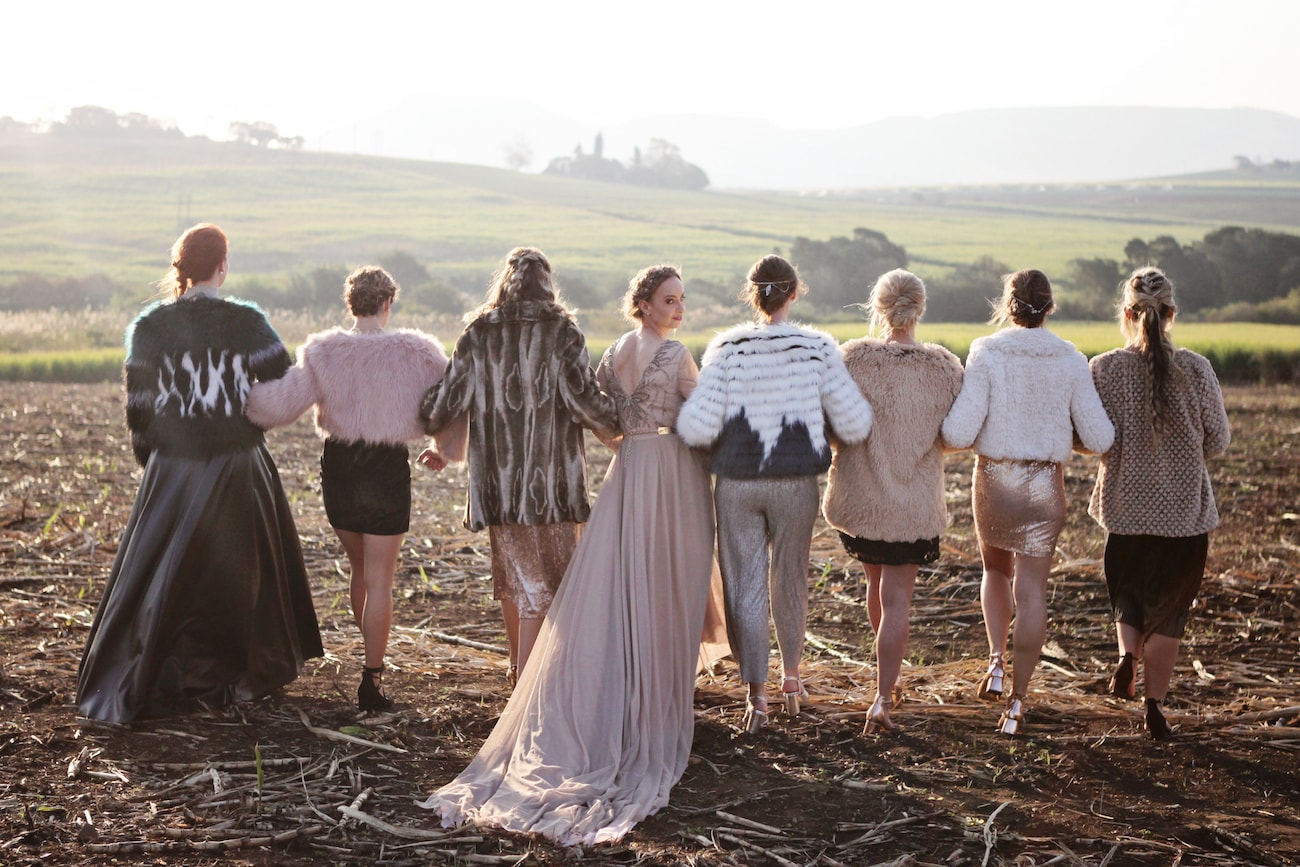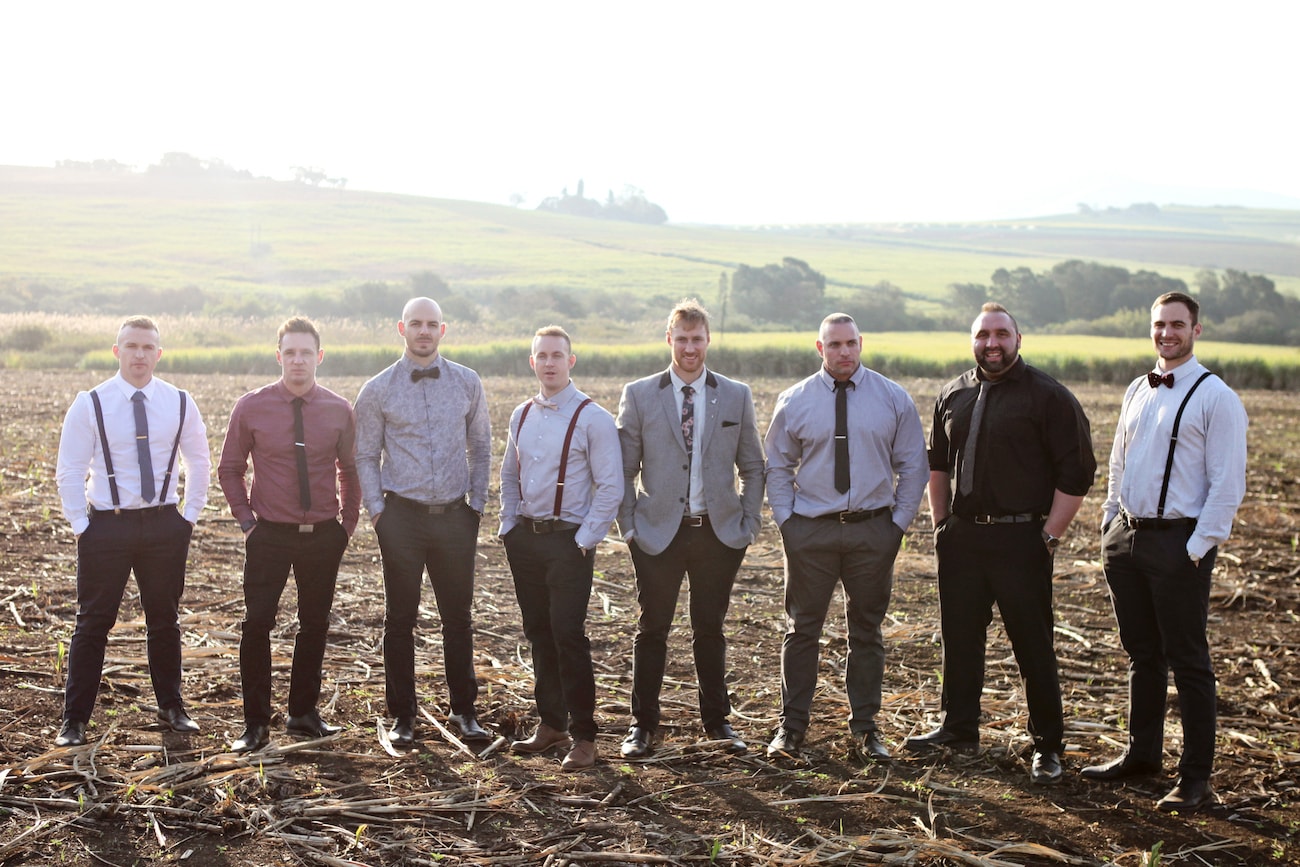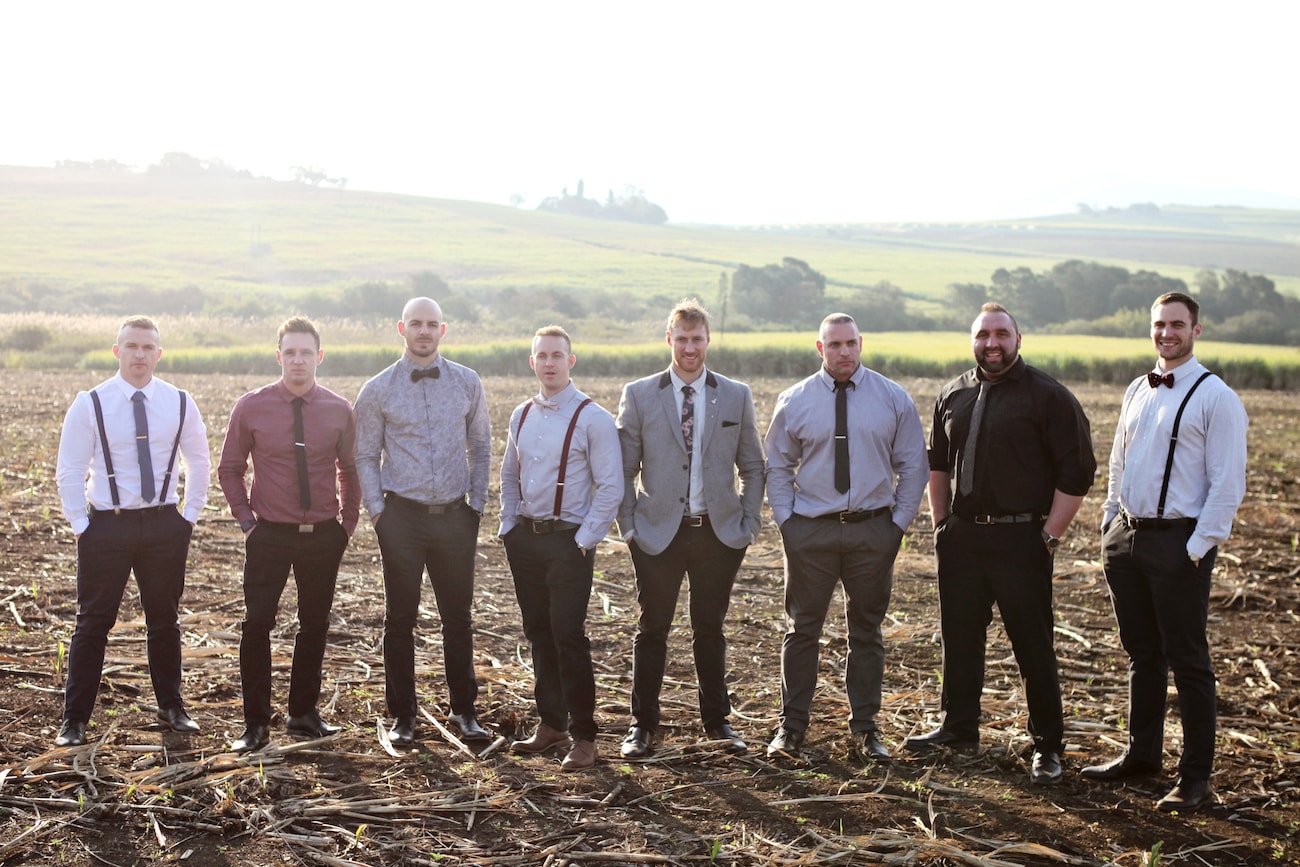 The Wedding Party
I am also fortunate to travel regularly with my profession, and I gathered my groom & our bridal party's attire from a collection of different stores from the high street in London. The vision was that each person remained unique in their own individual outfit, a mix and match ensemble that would add a bit of glam.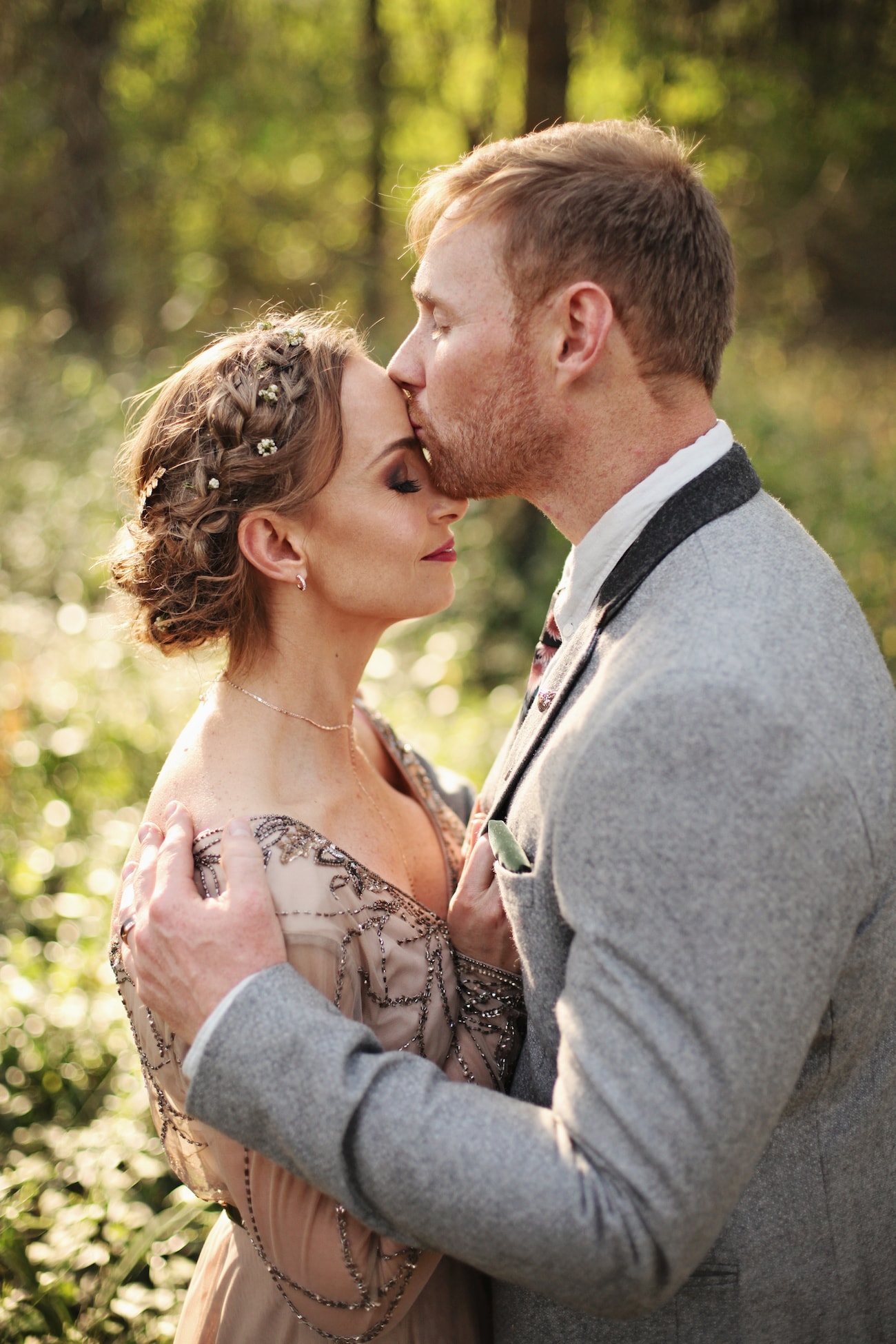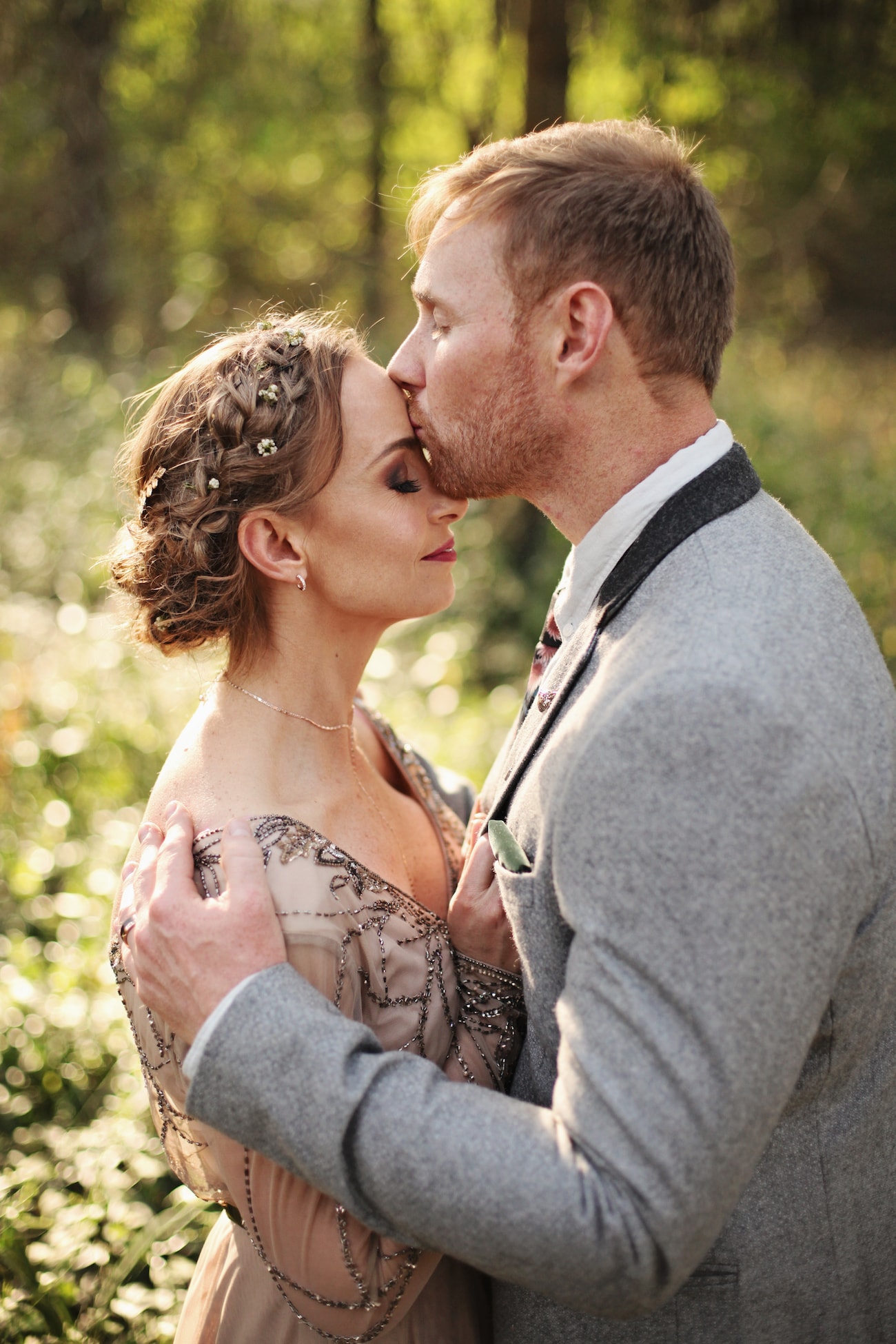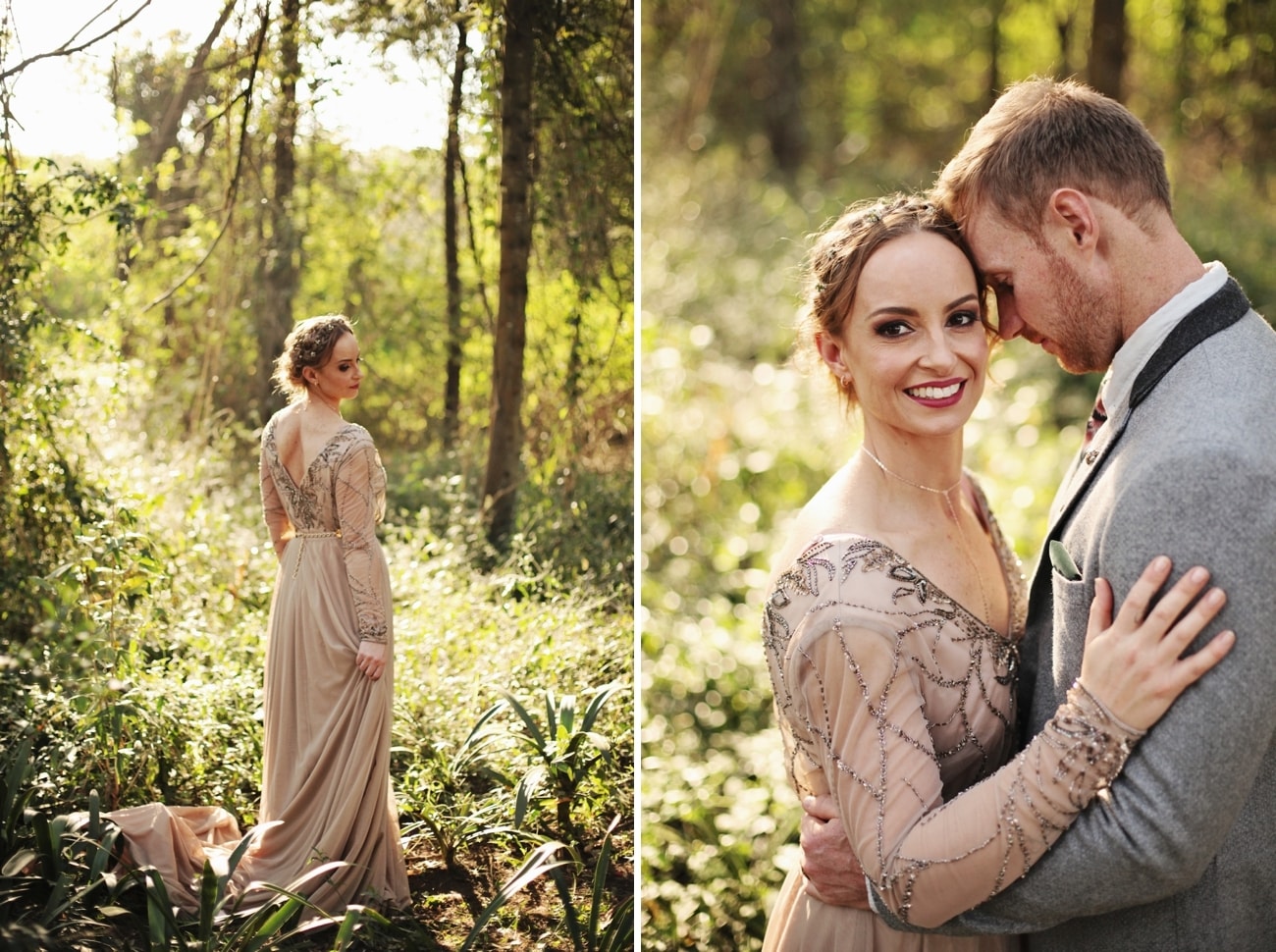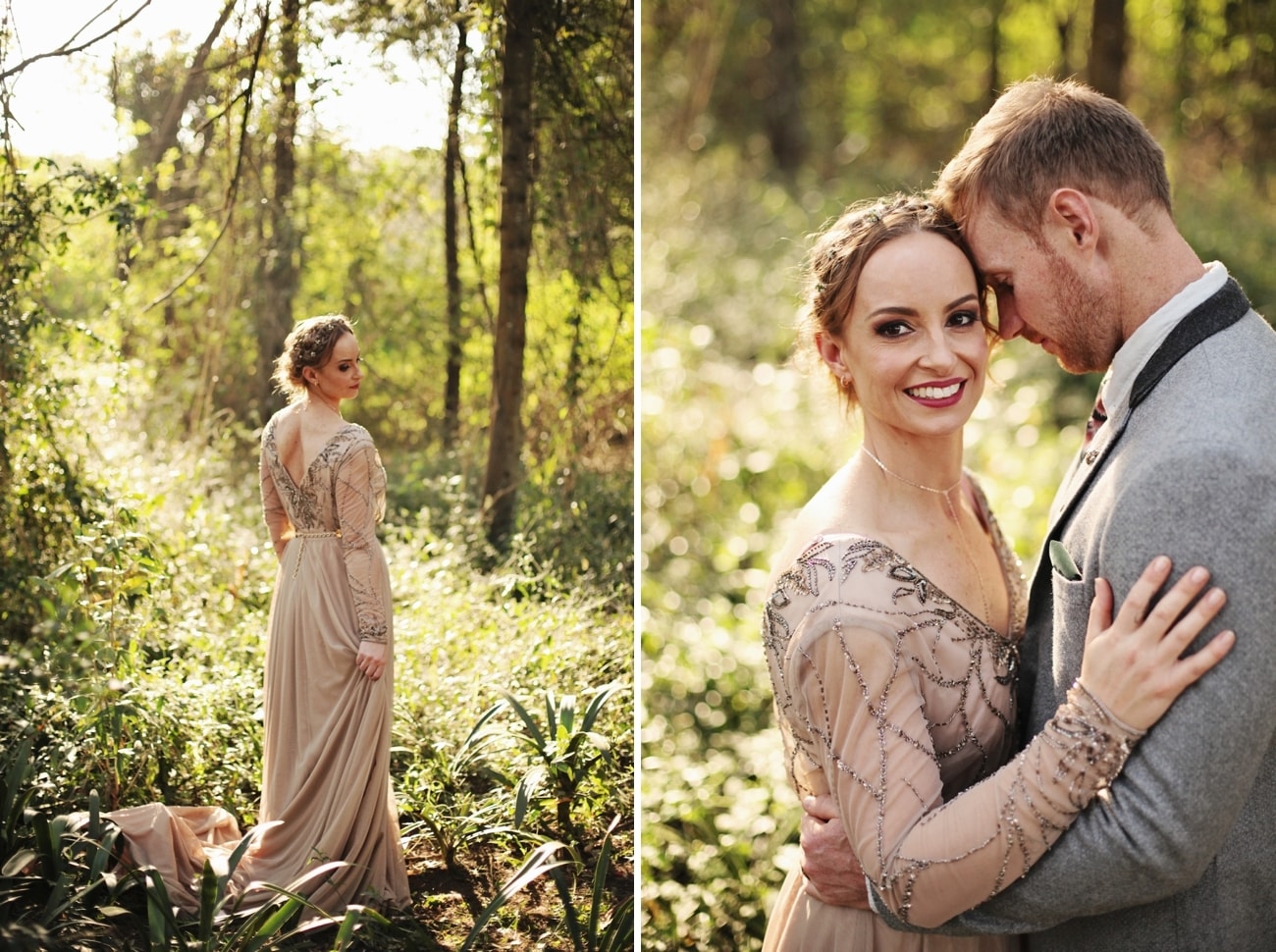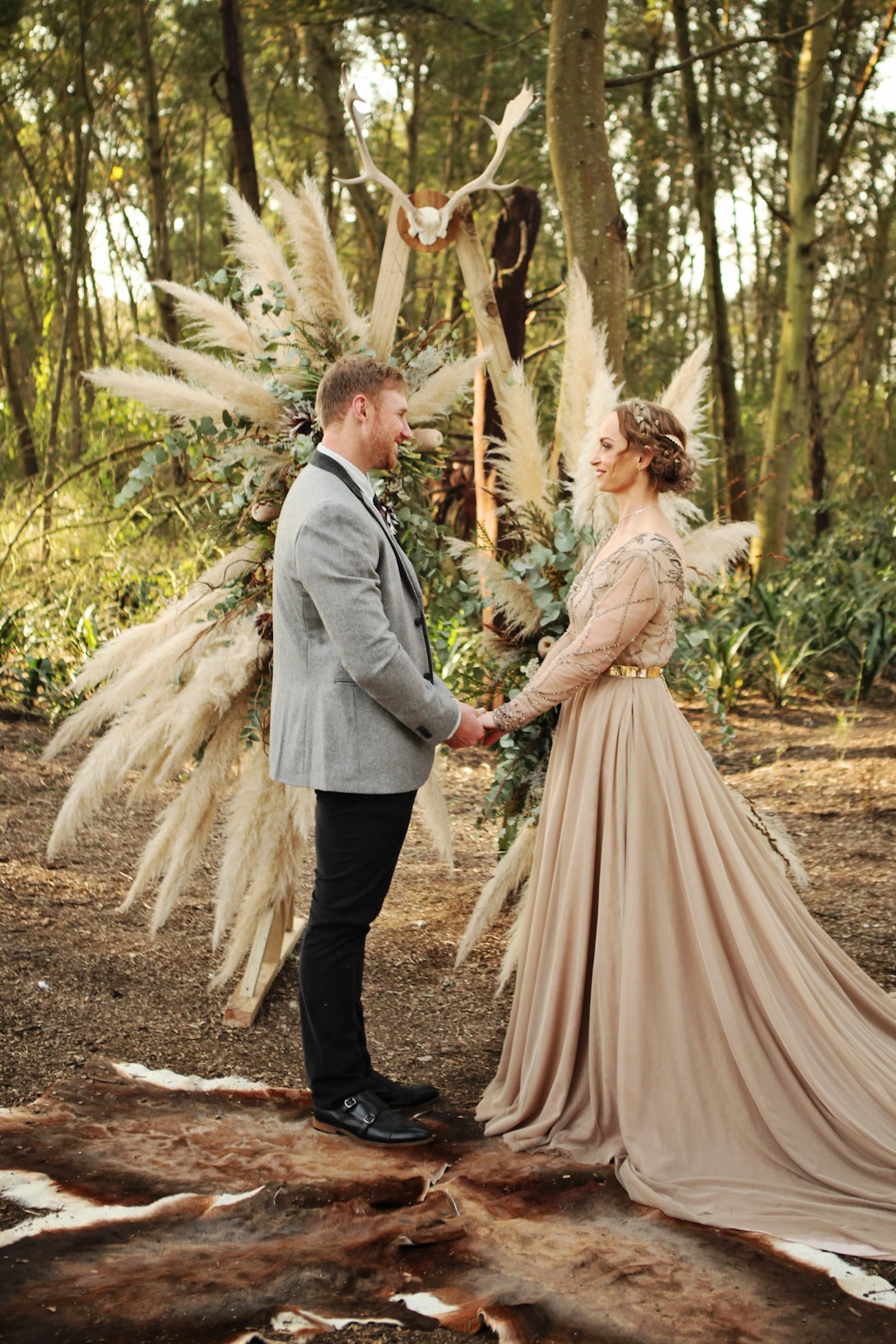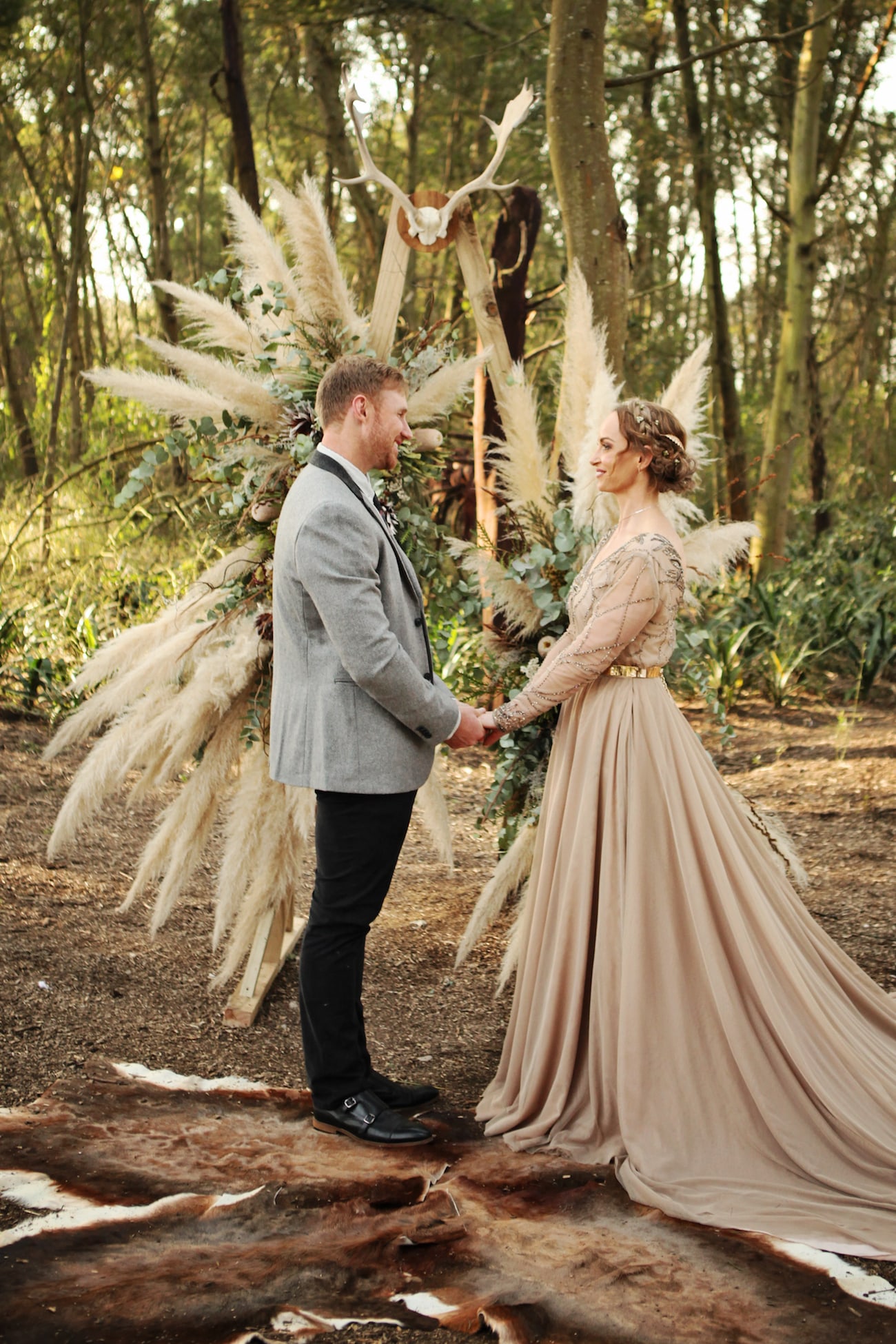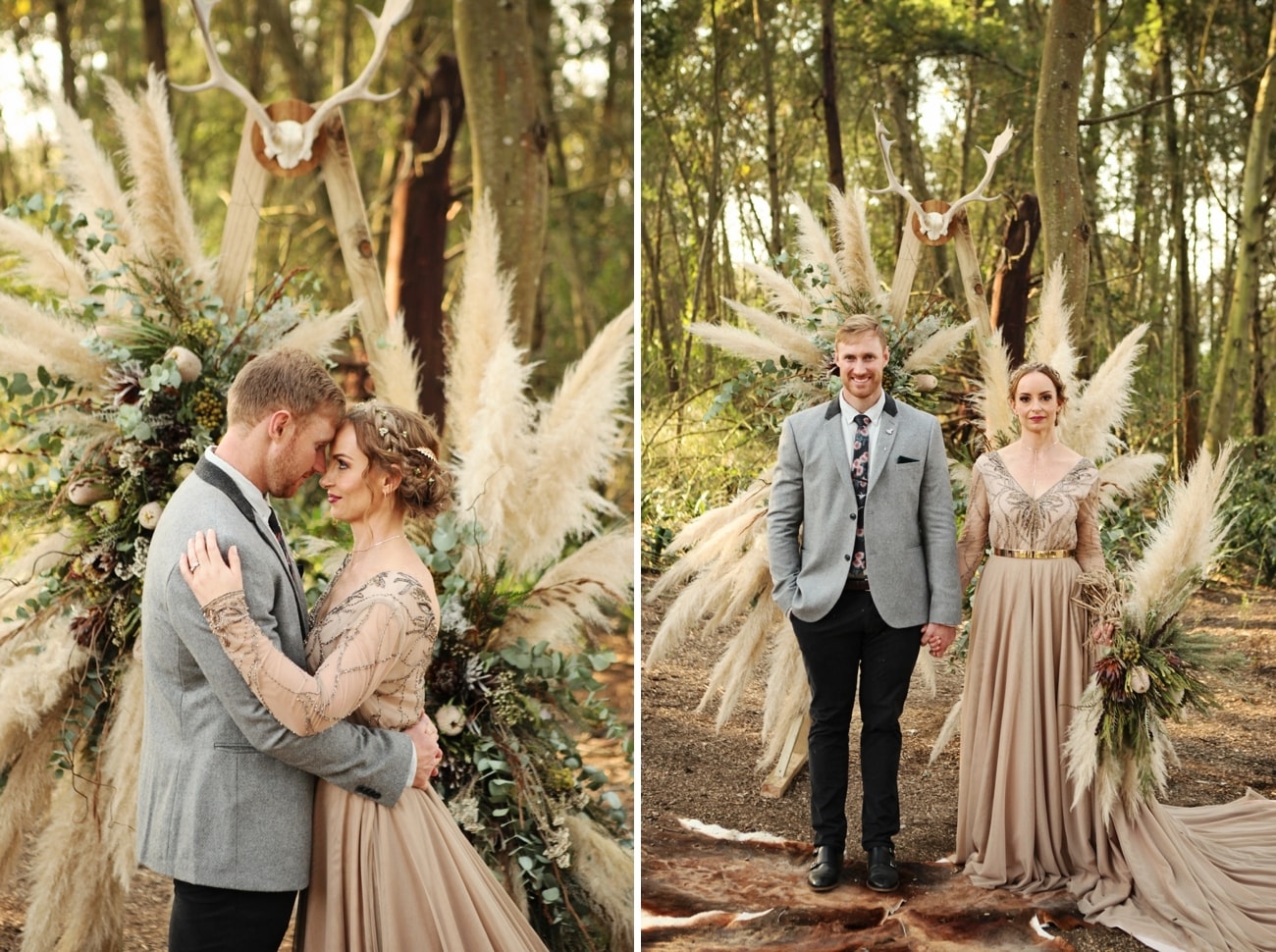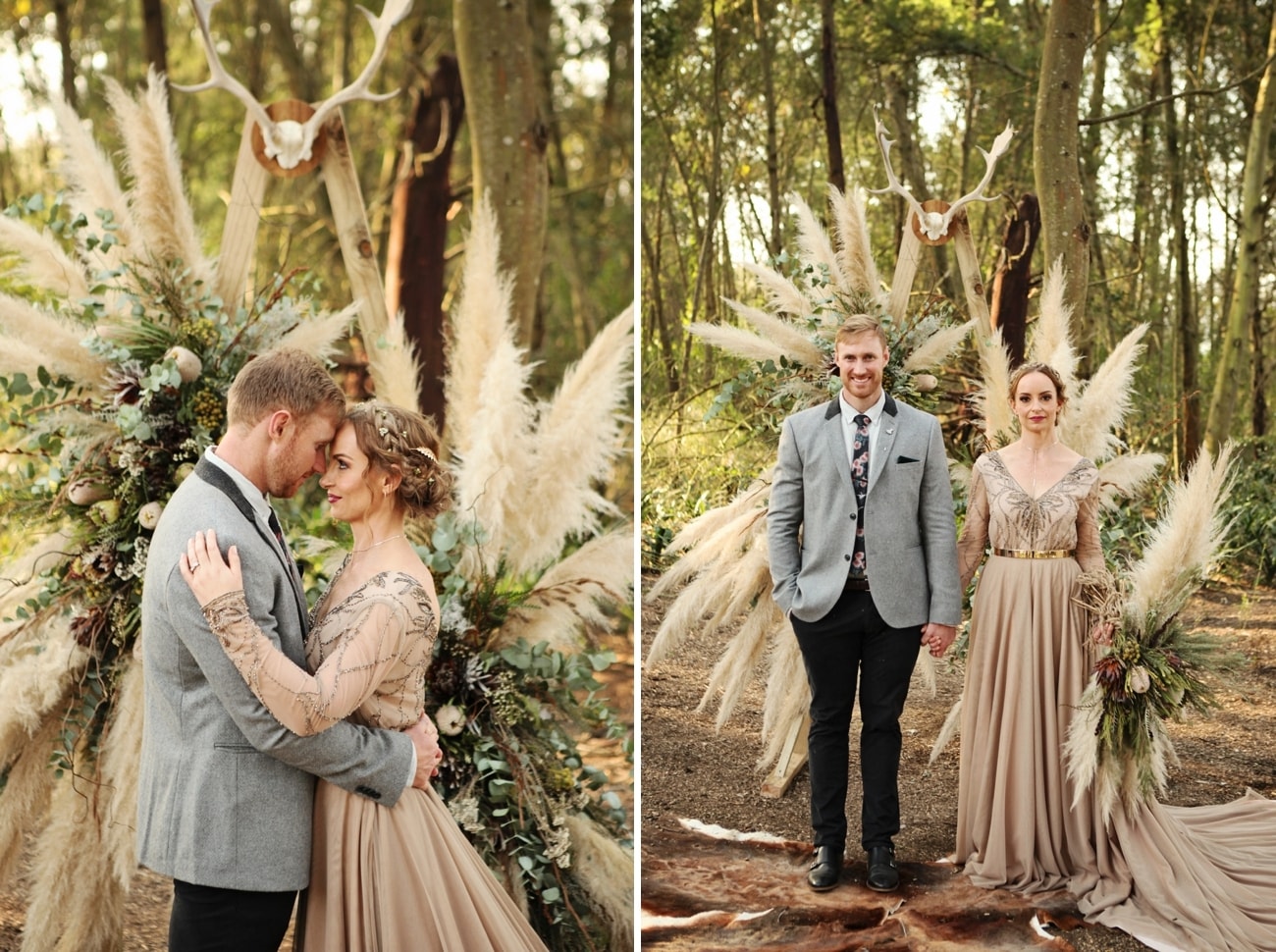 The Flowers
I have vivid recollections of when I was a small girl, standing in the garden that my grandmother nutured and loved with all her heart, and in this garden were tall shoots of soft puff-like clouds of cream – pampas grass. Weeks before the wedding my bridal party and I started foraging the natural Kwa-Zulu Natal countryside for this pampas grass – we needed lots of it! I loved the idea of dead fynbos, live foliage and these creamy puffs all mixed together, to be suspended from above, sprouting vases and smothering table tops. Oh Happy Day turned this vision into a perfect reality – to this day I can still daydream and obsess about my breathtaking bouquet and foliage encrusted arch, which we had commissioned our dear friend from GIH Studio to make.
The Cake
My dearest friend and bridesmaid, Danielle Wright, is in the food industry, and without question she took on the task (alongside her bridesmaid duties) of creating our two sensational cakes. For the savoury she sourced cheeses from local Natal dairy farms, and for the sweet she embraced the challenge of converting my favourite Pannetonne Trifle into a decadent wedding cake. There wasn't even a crumb left over.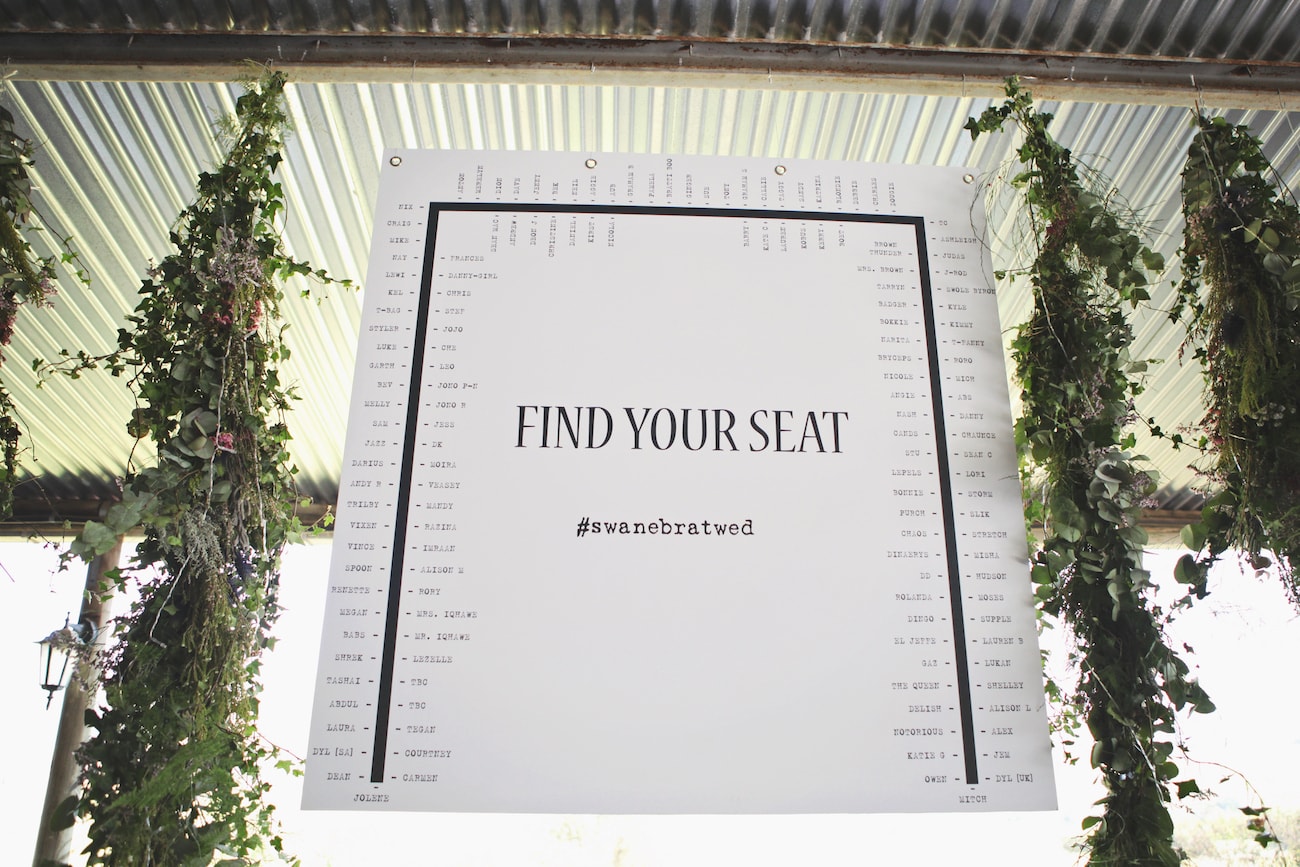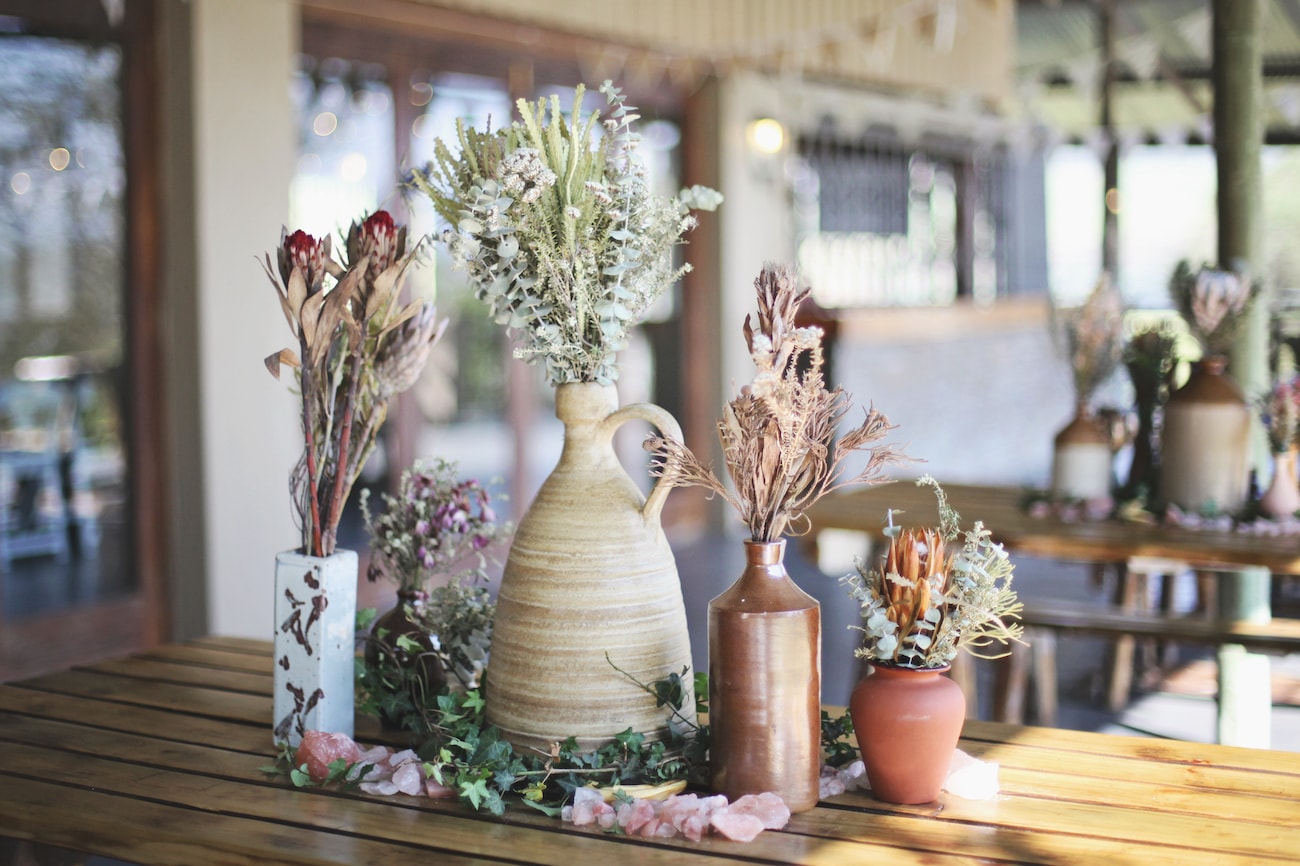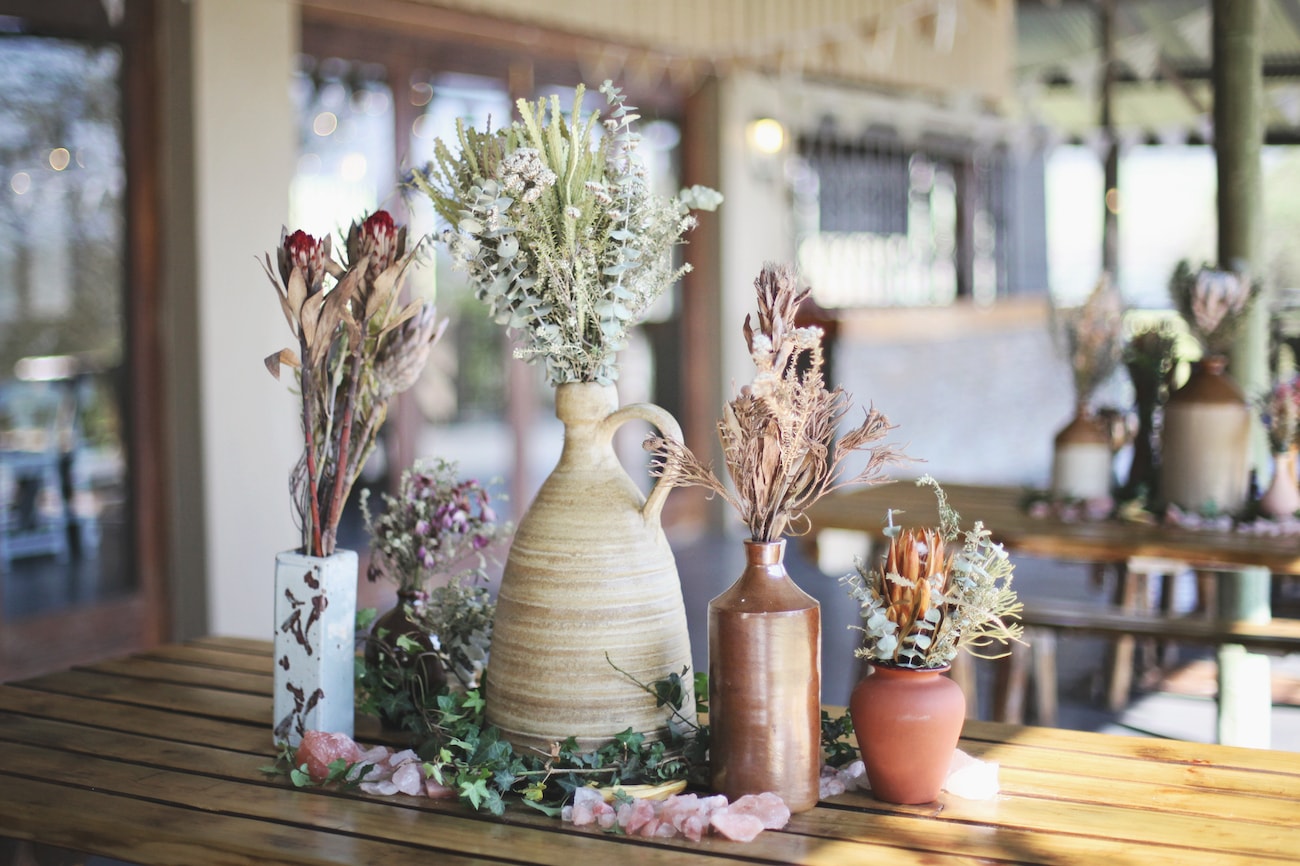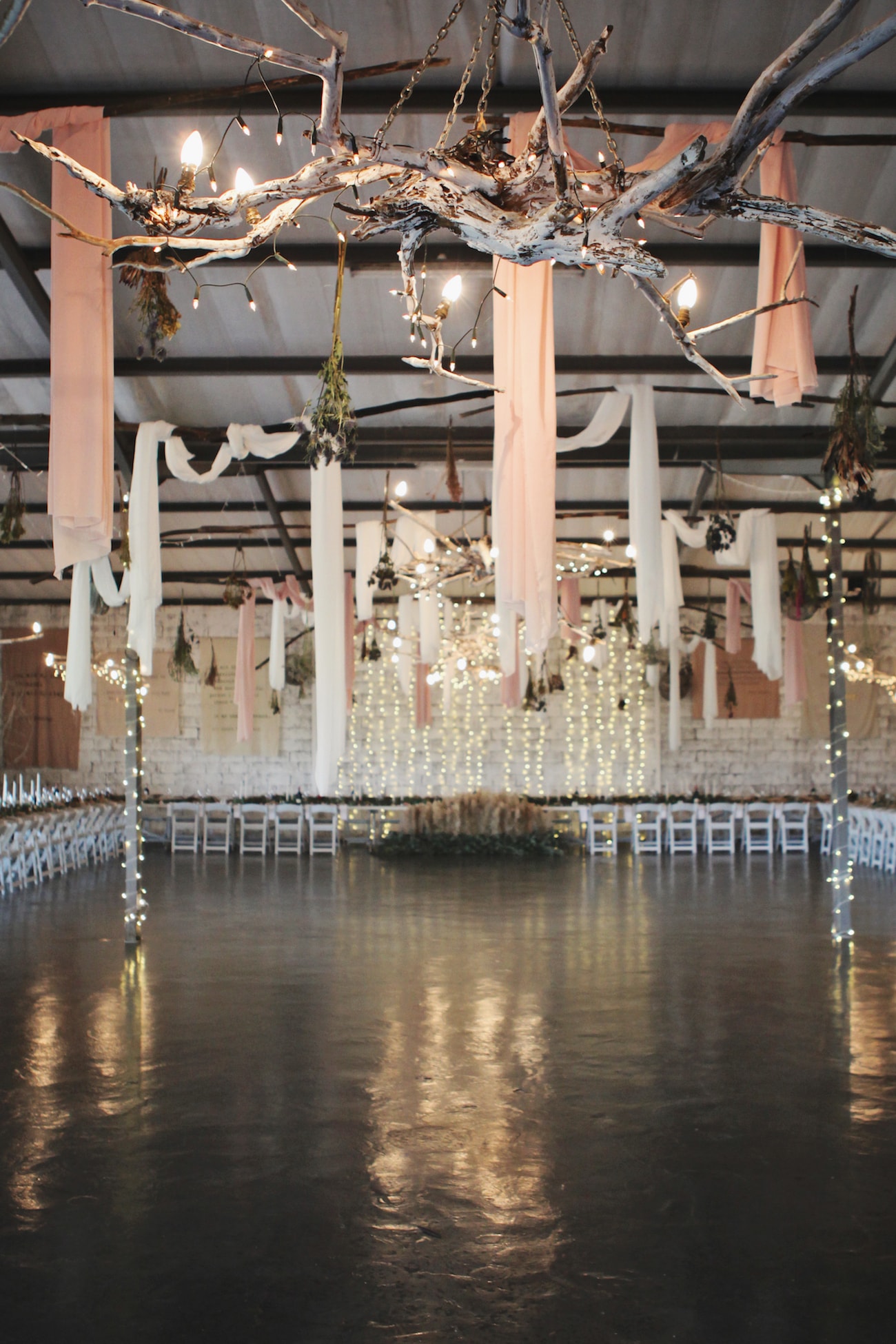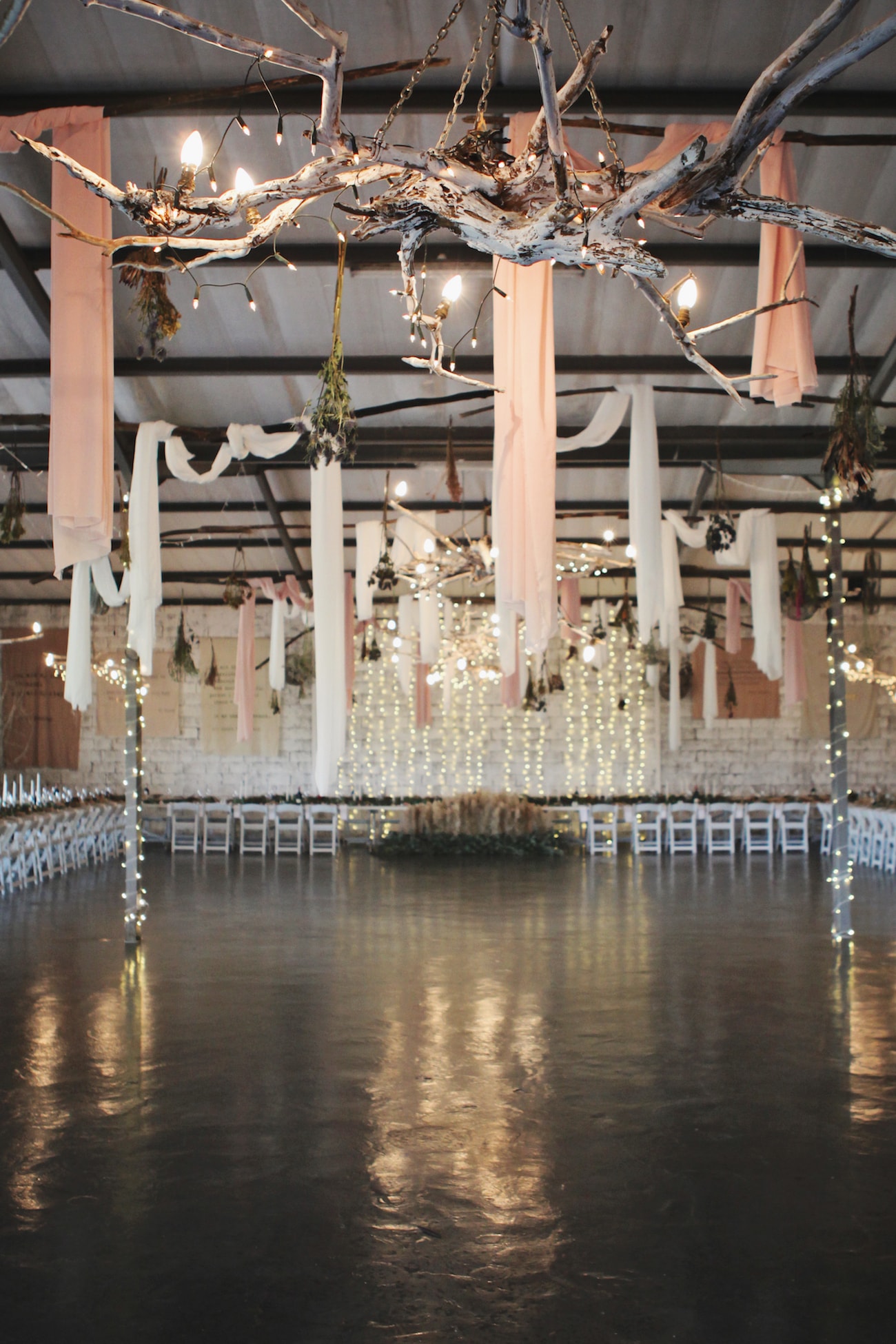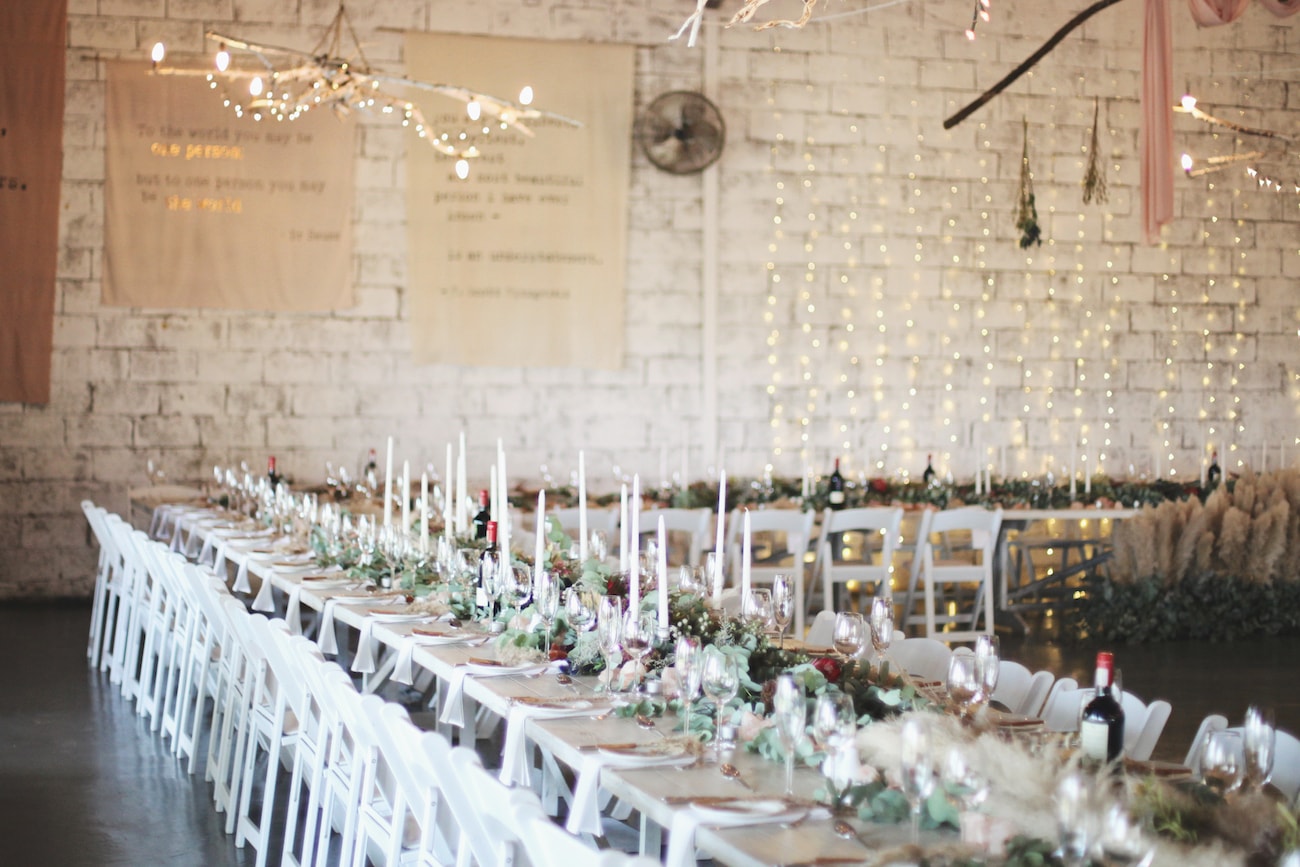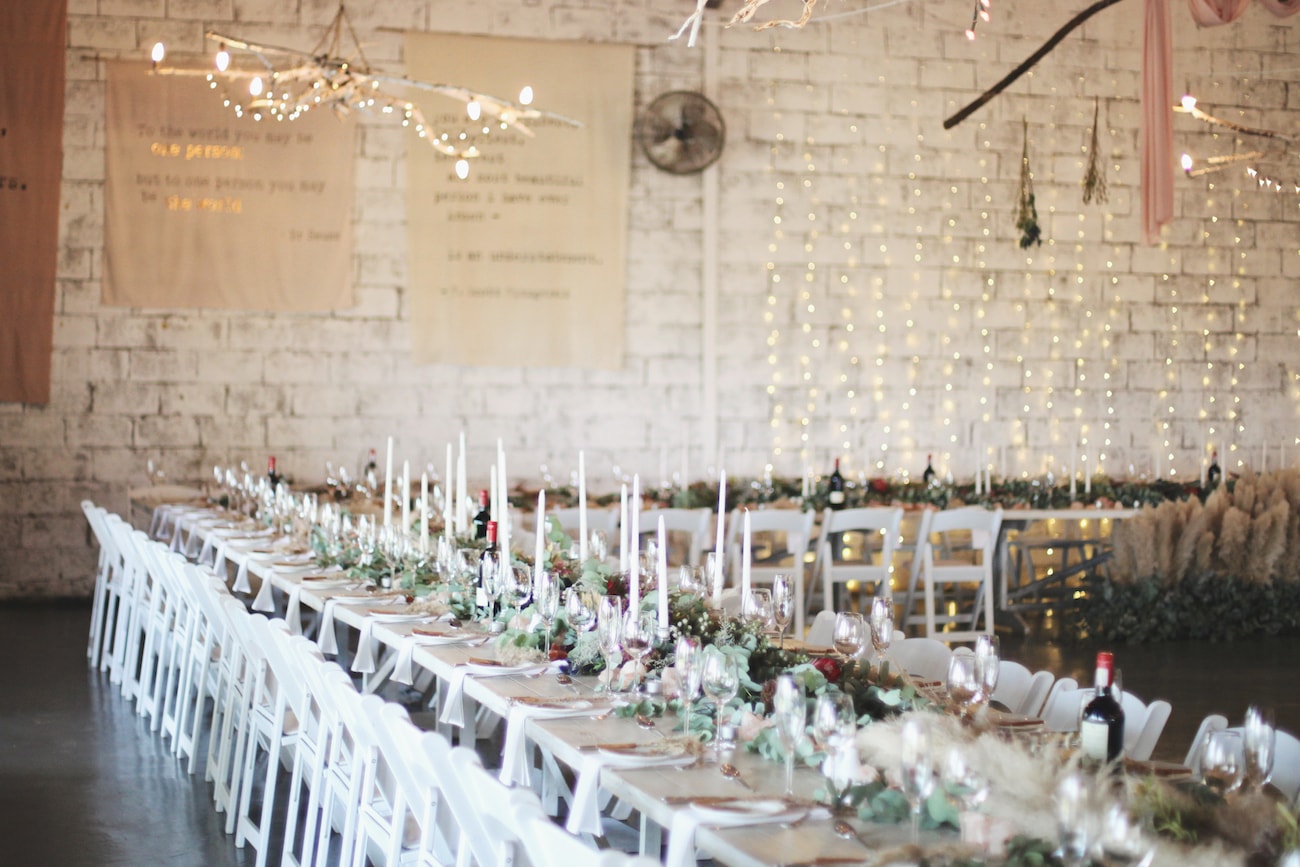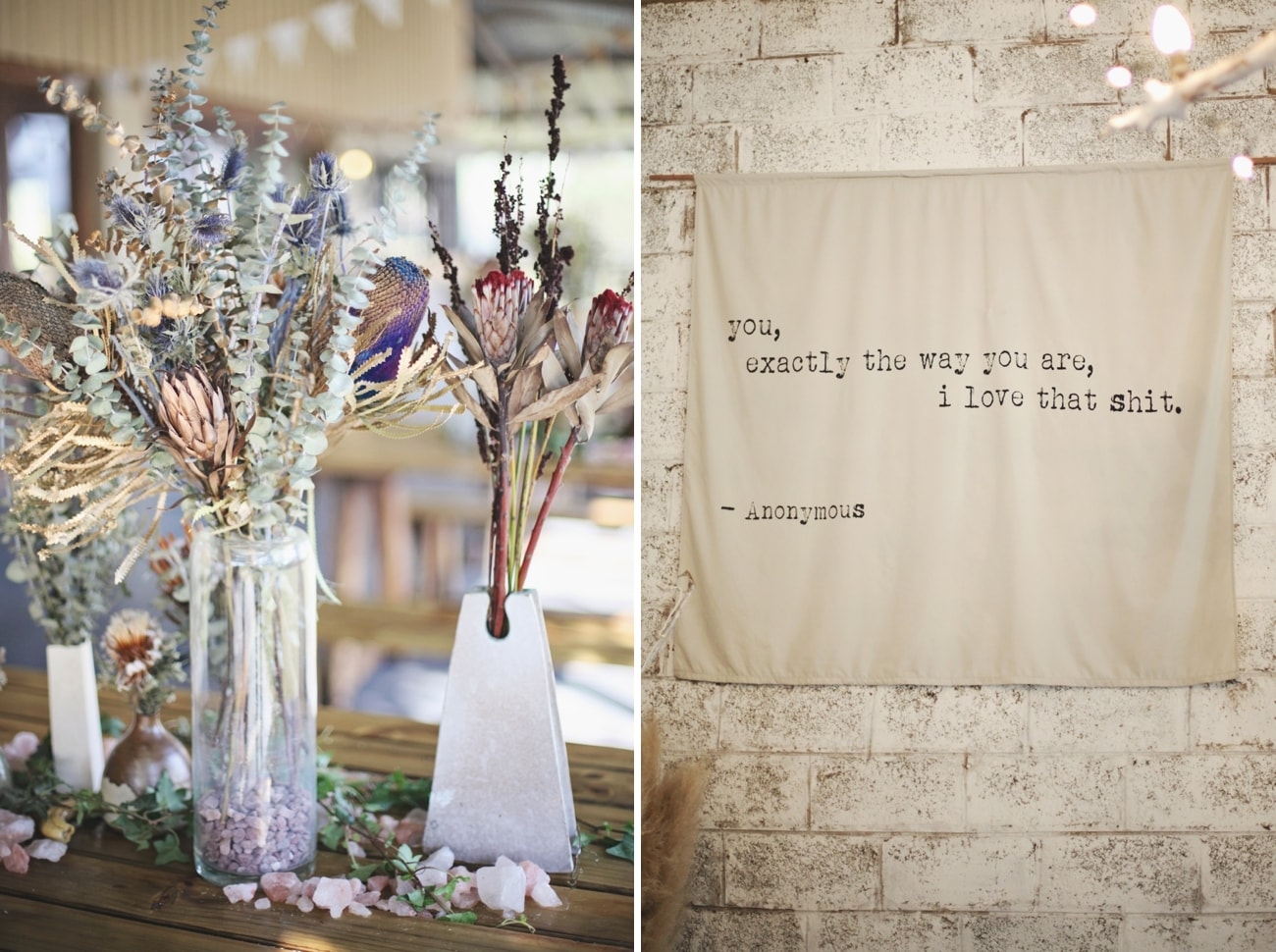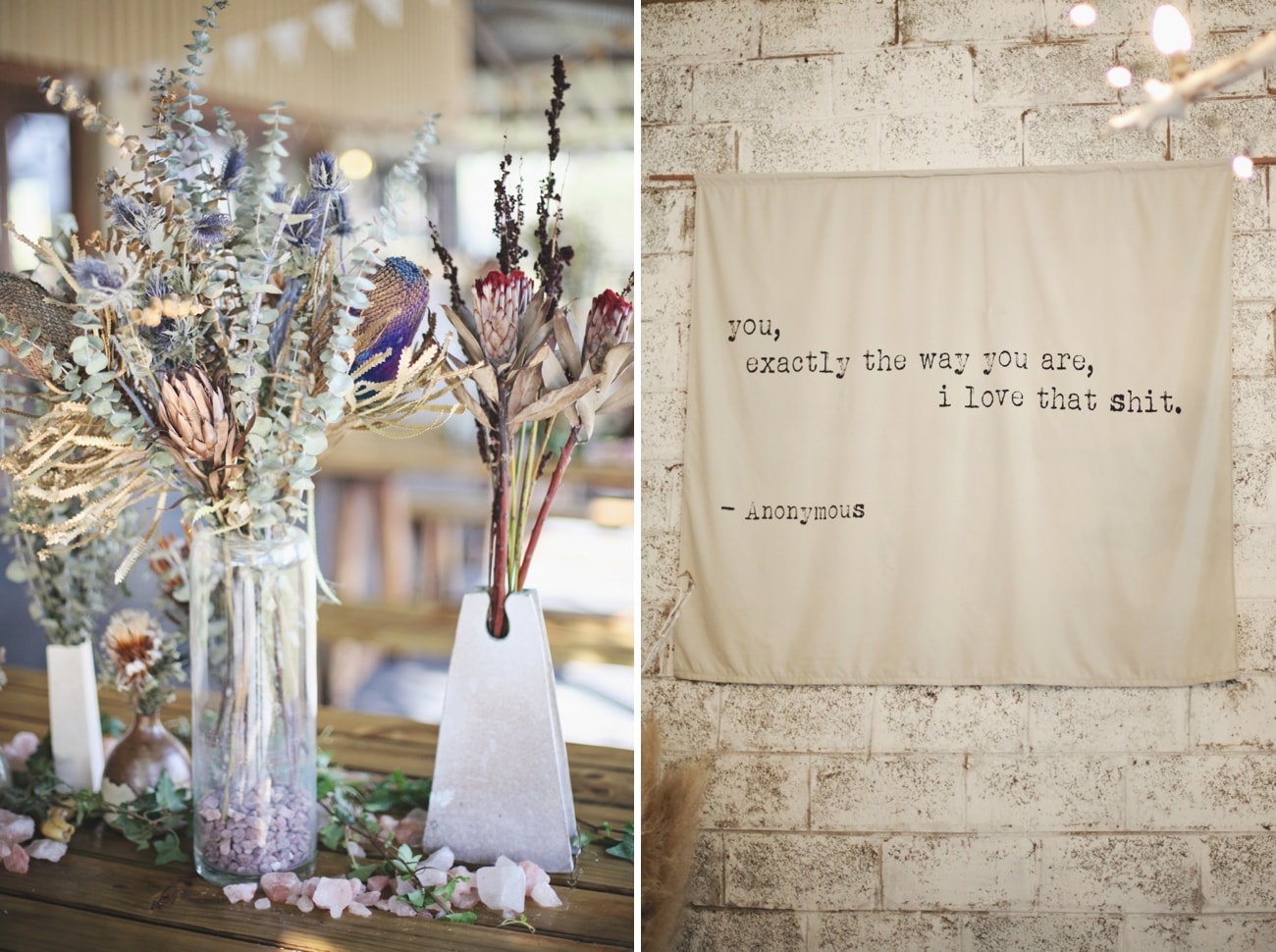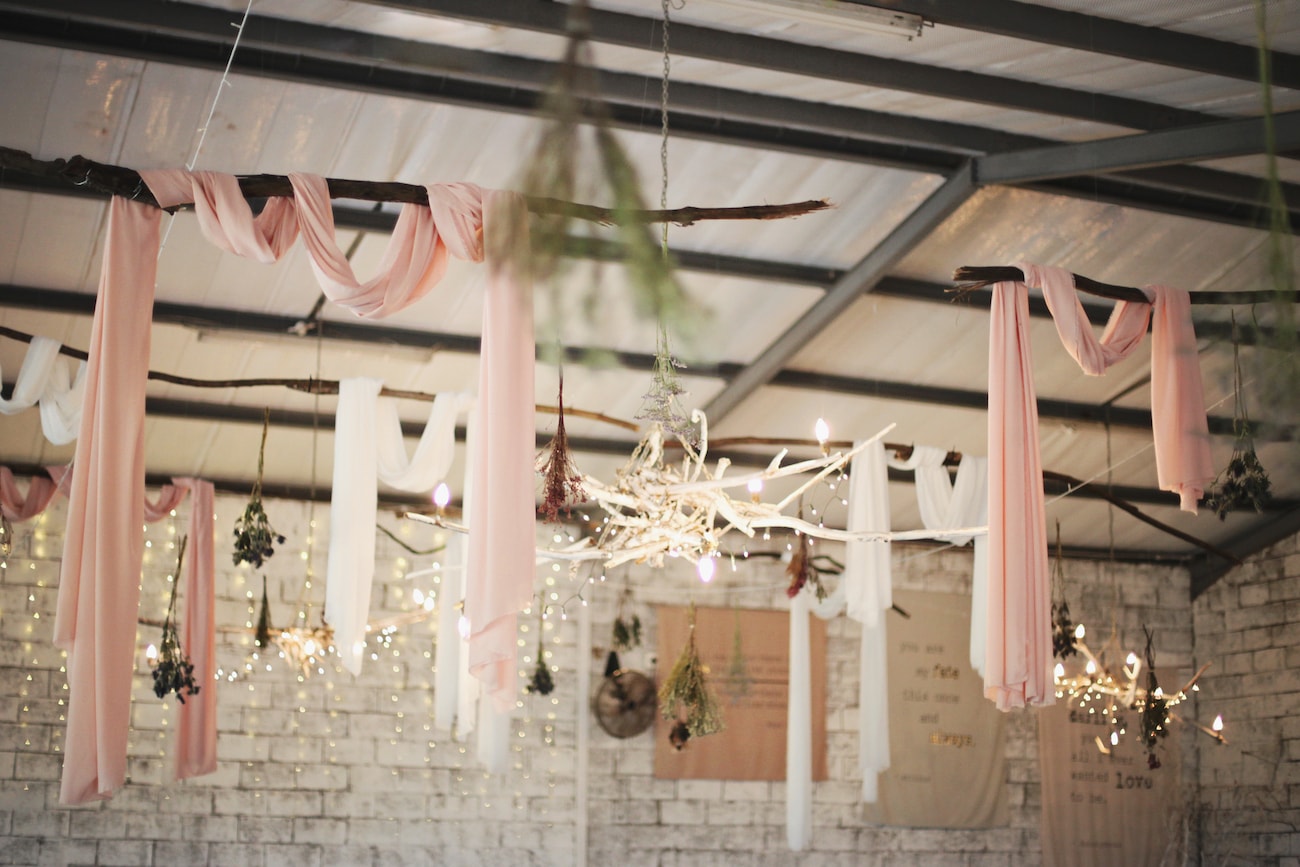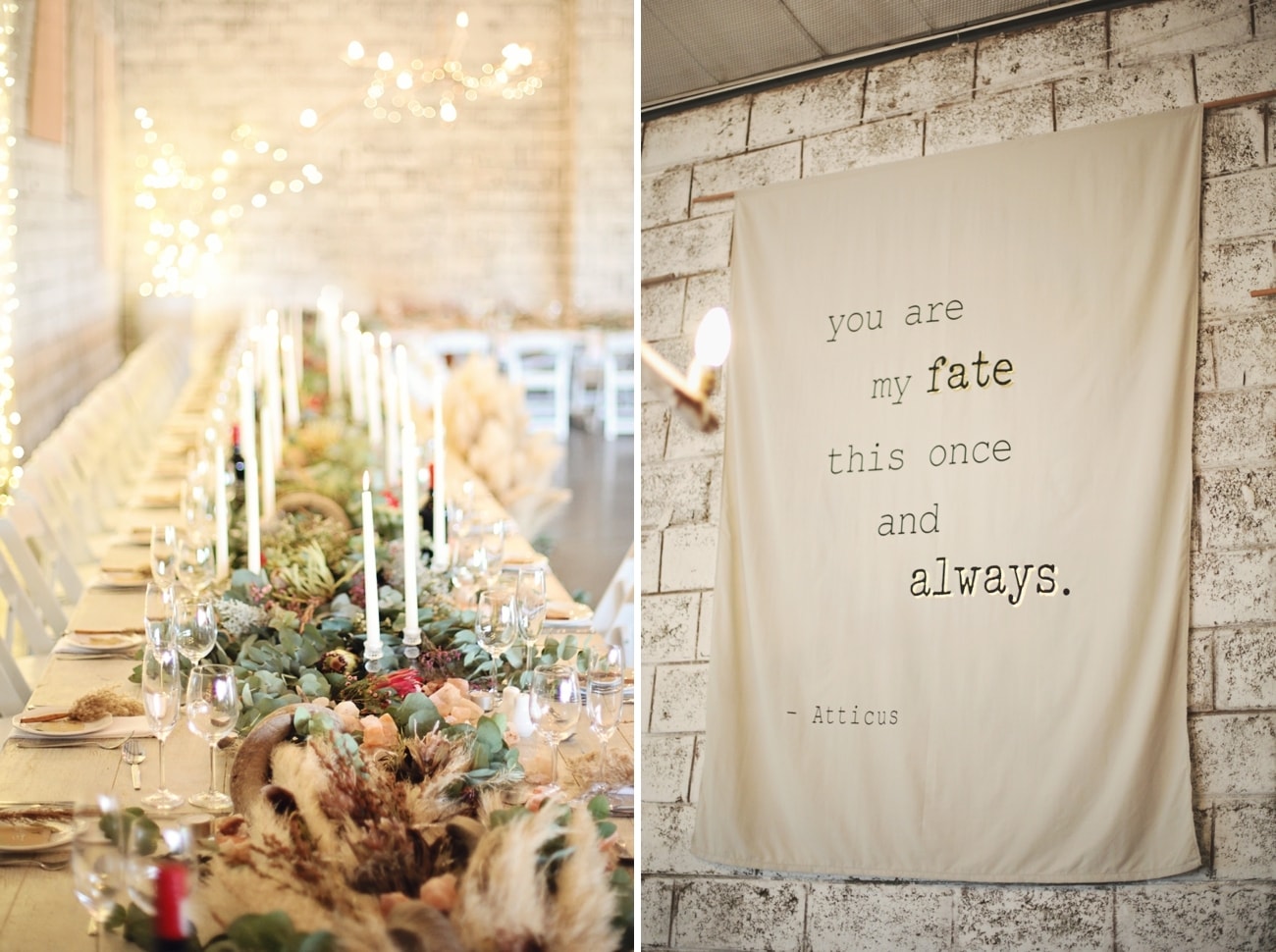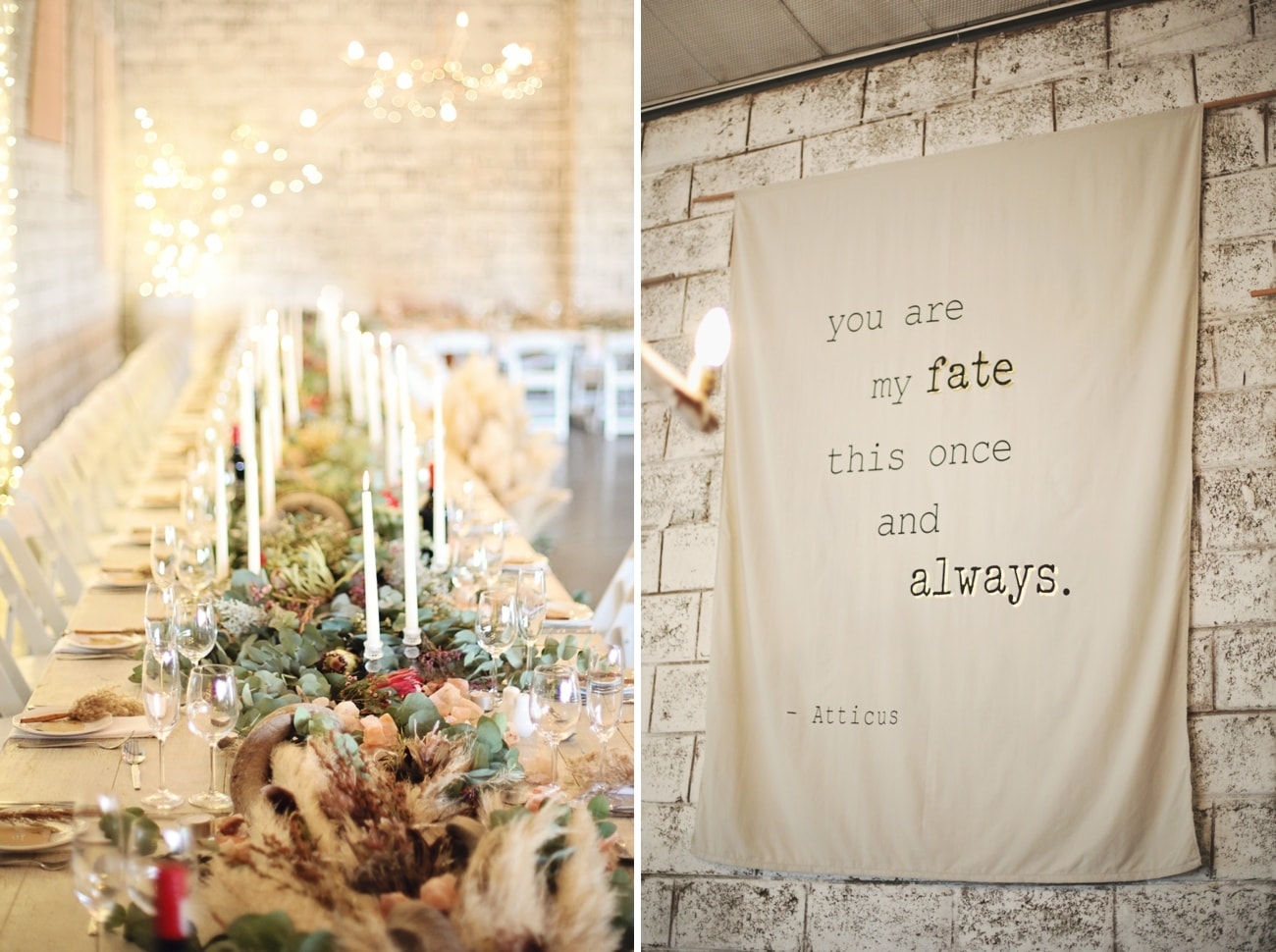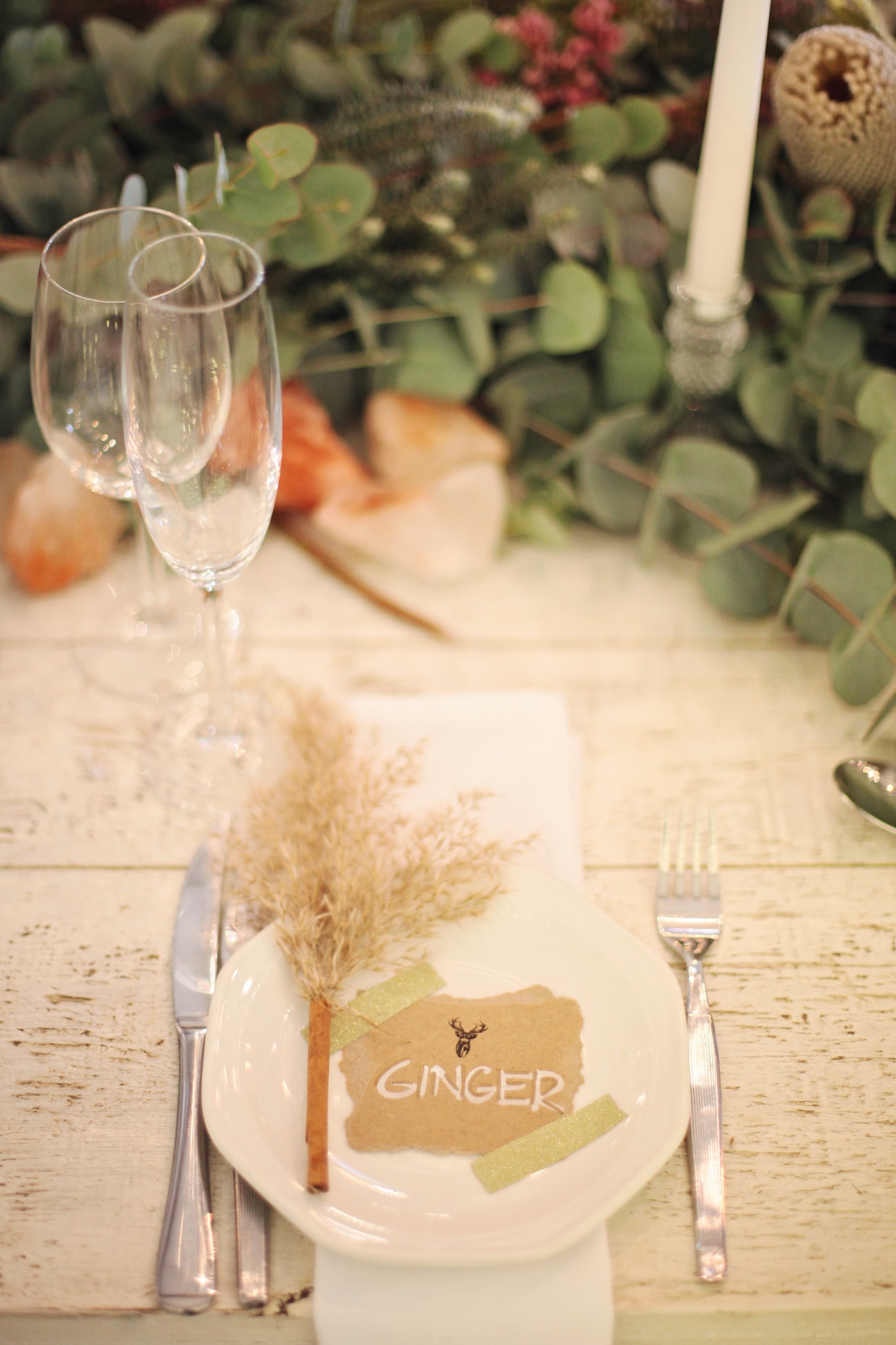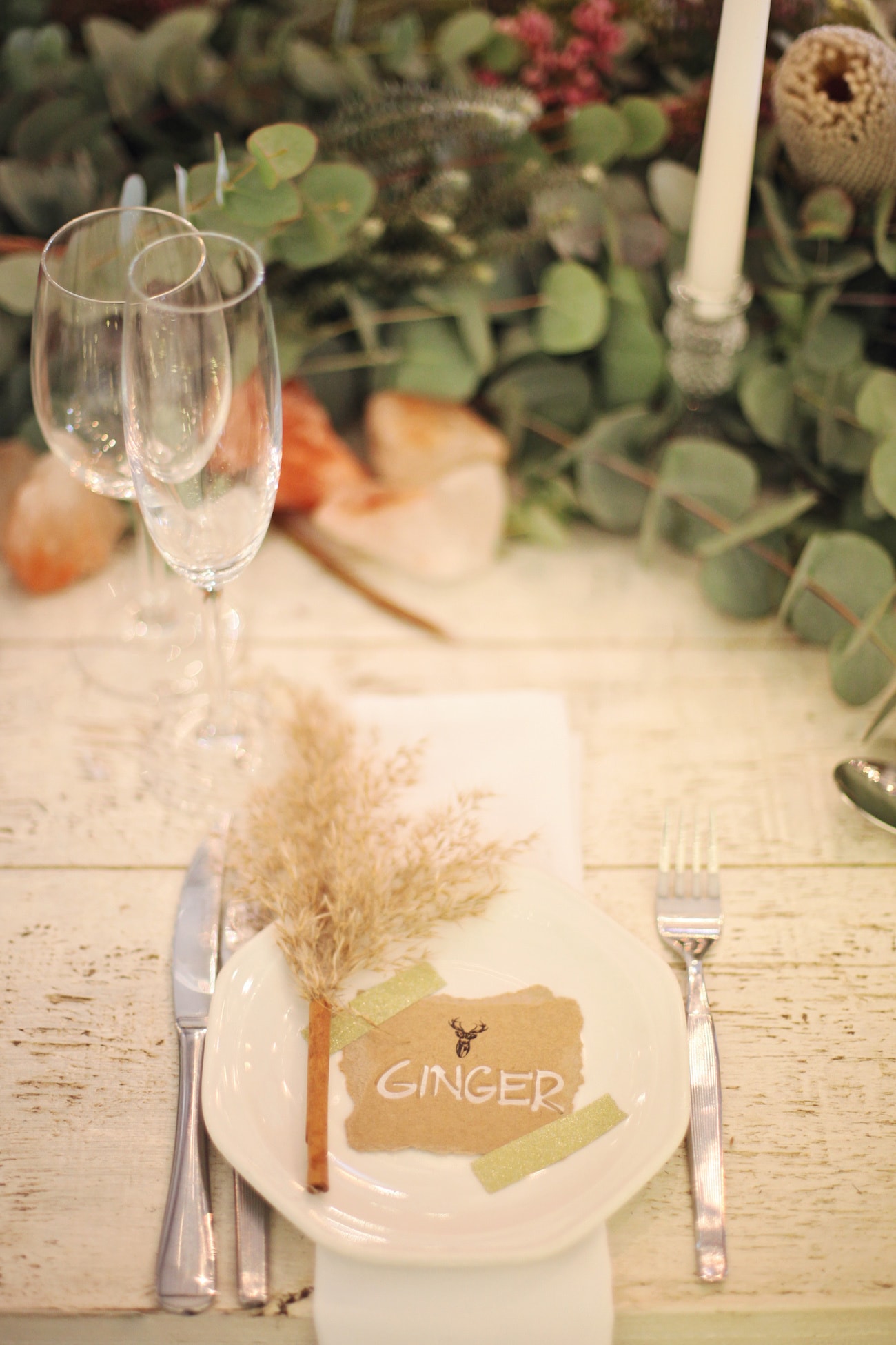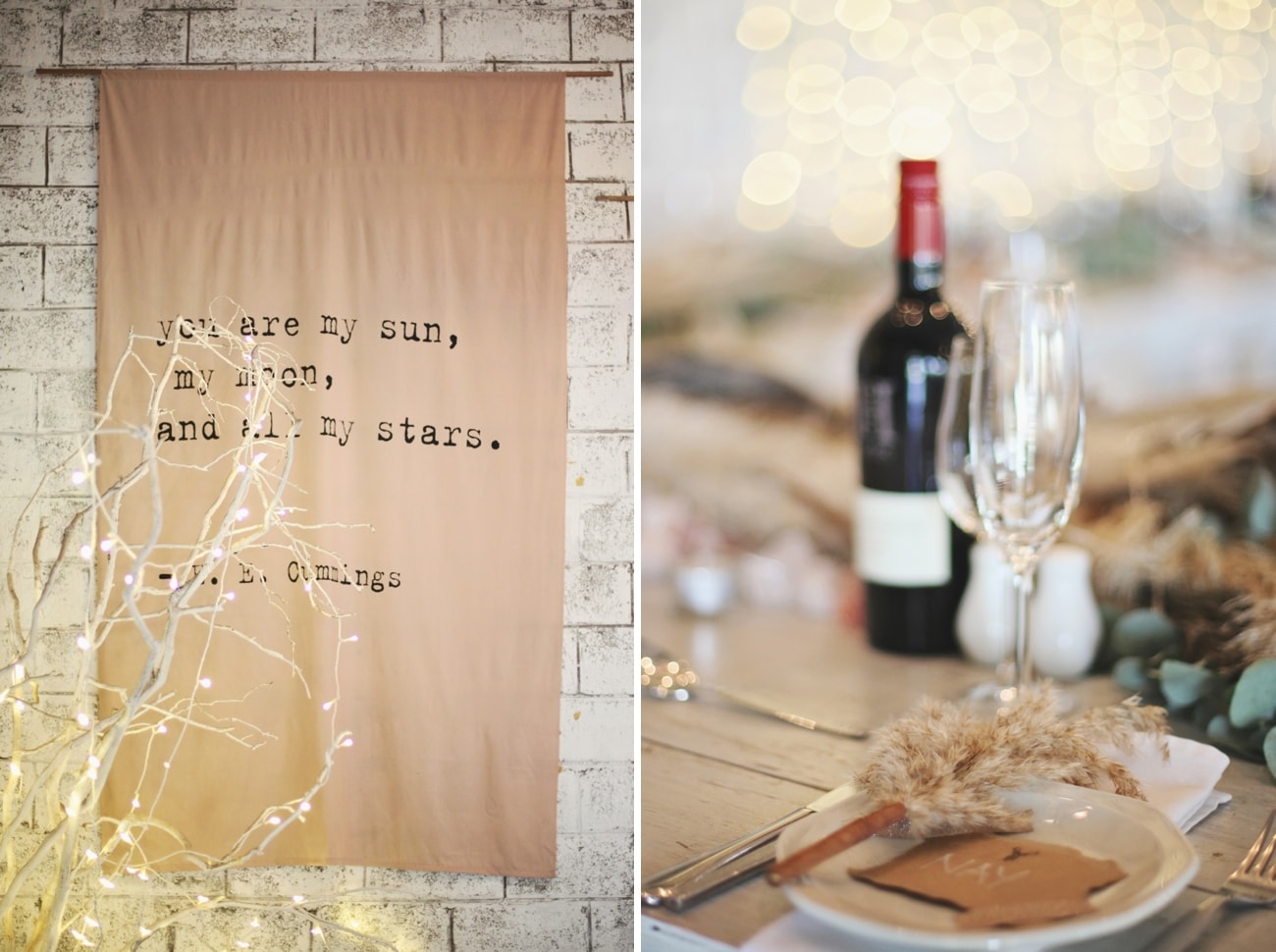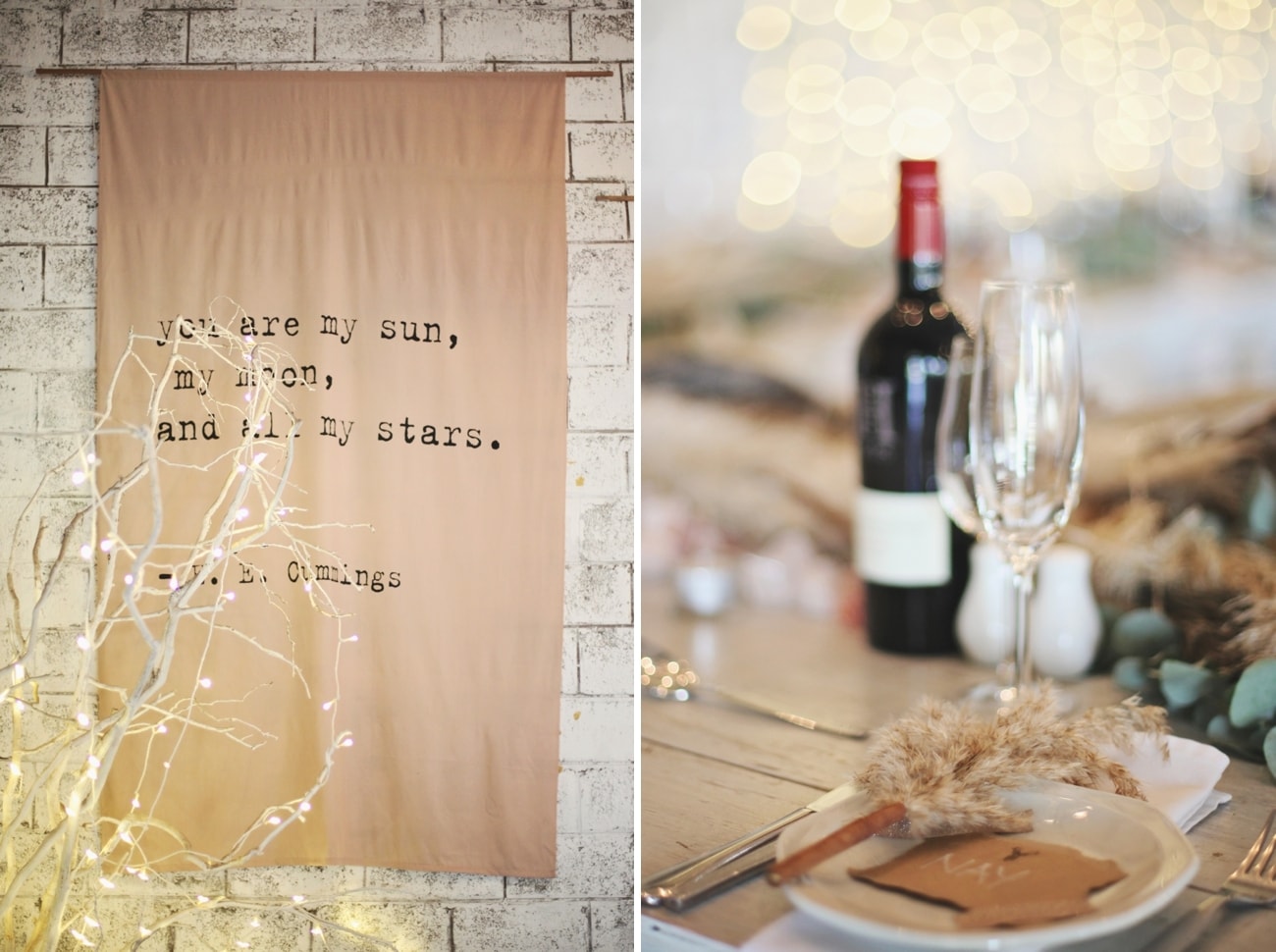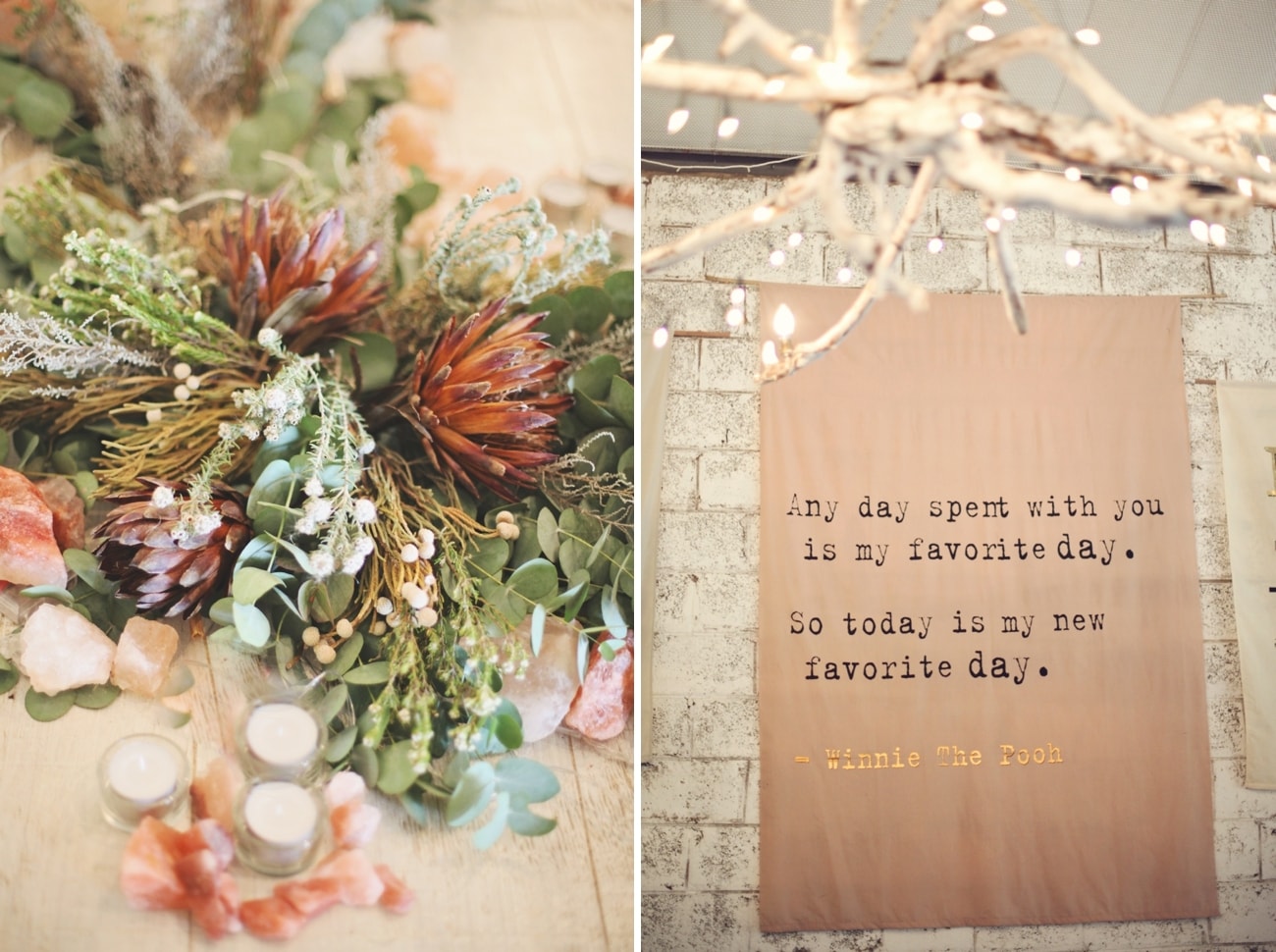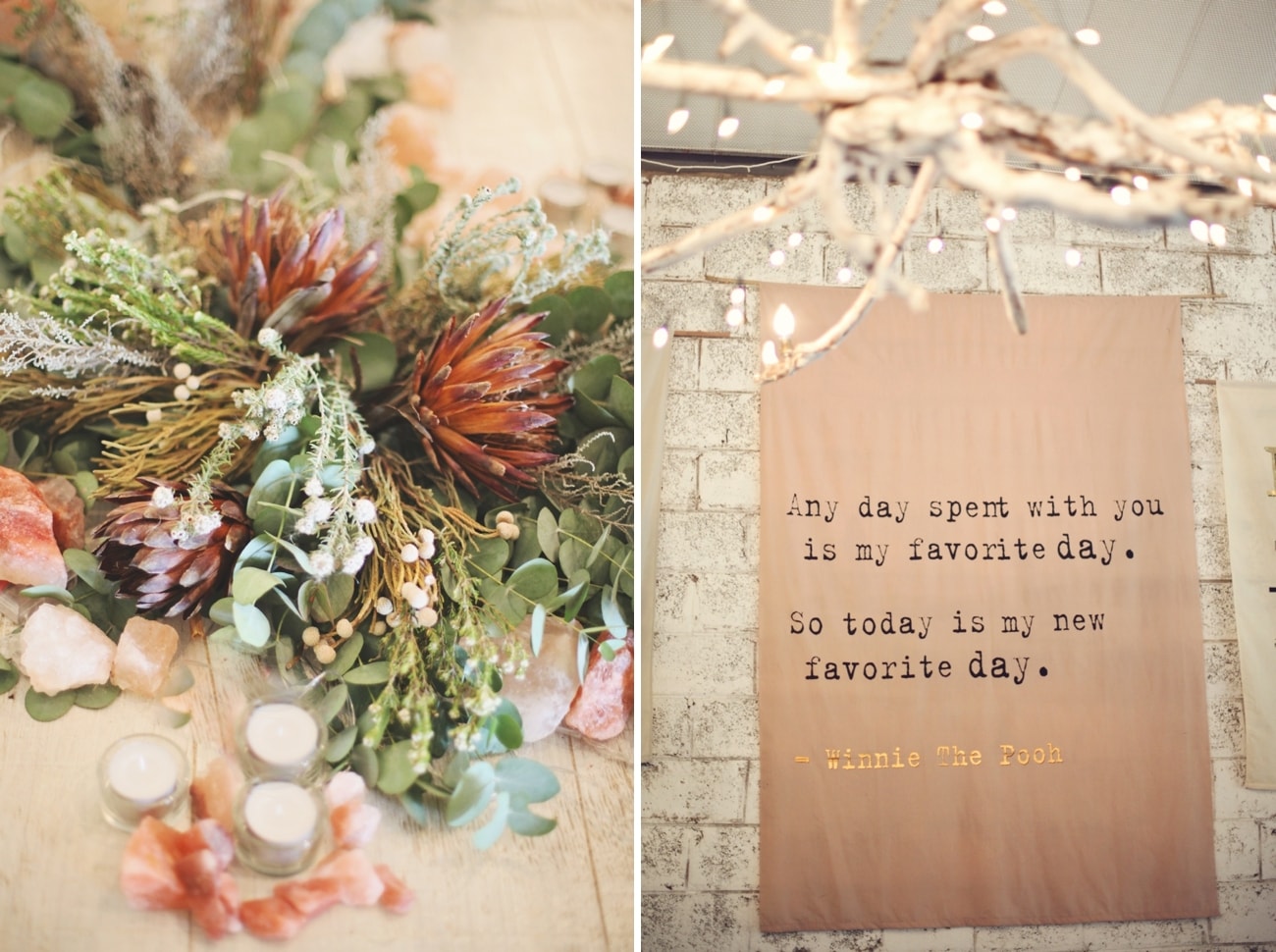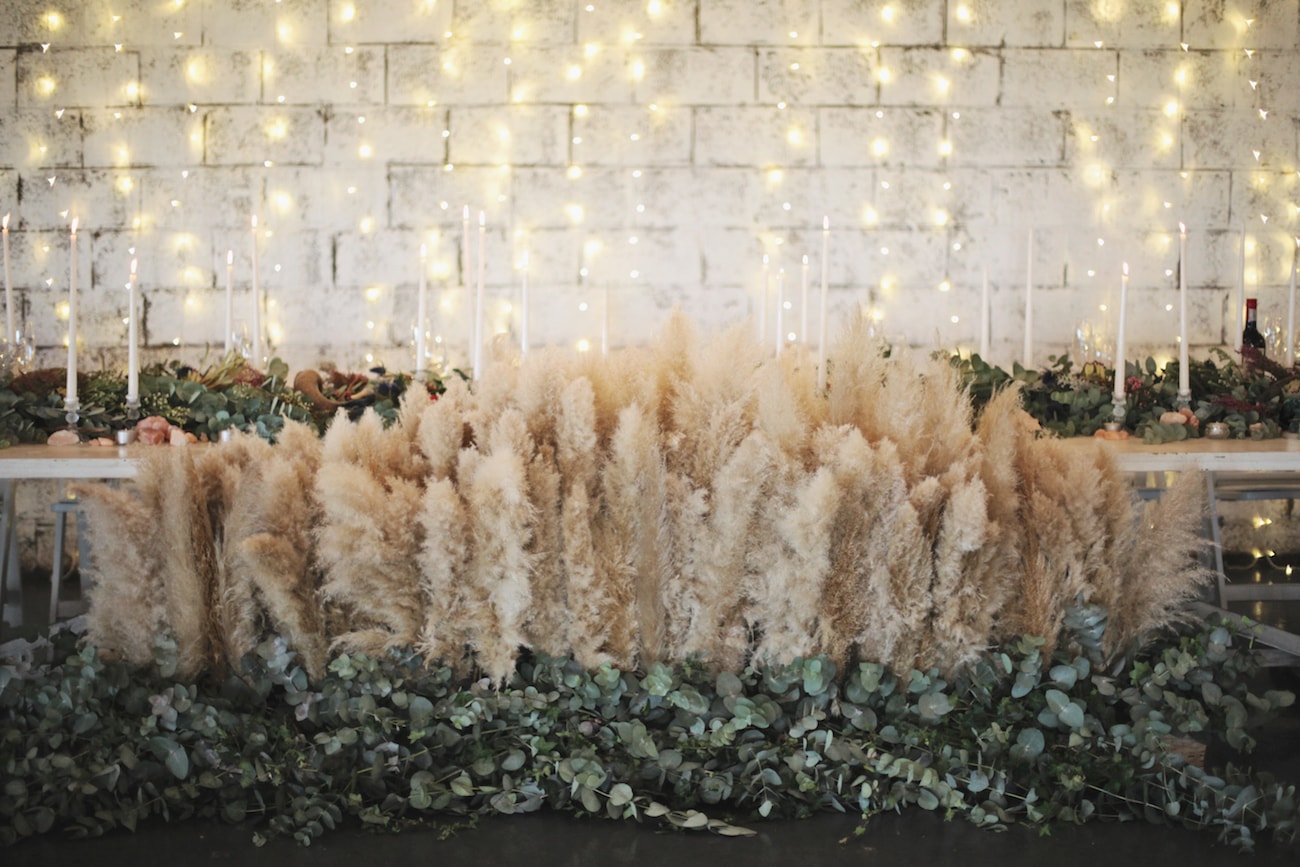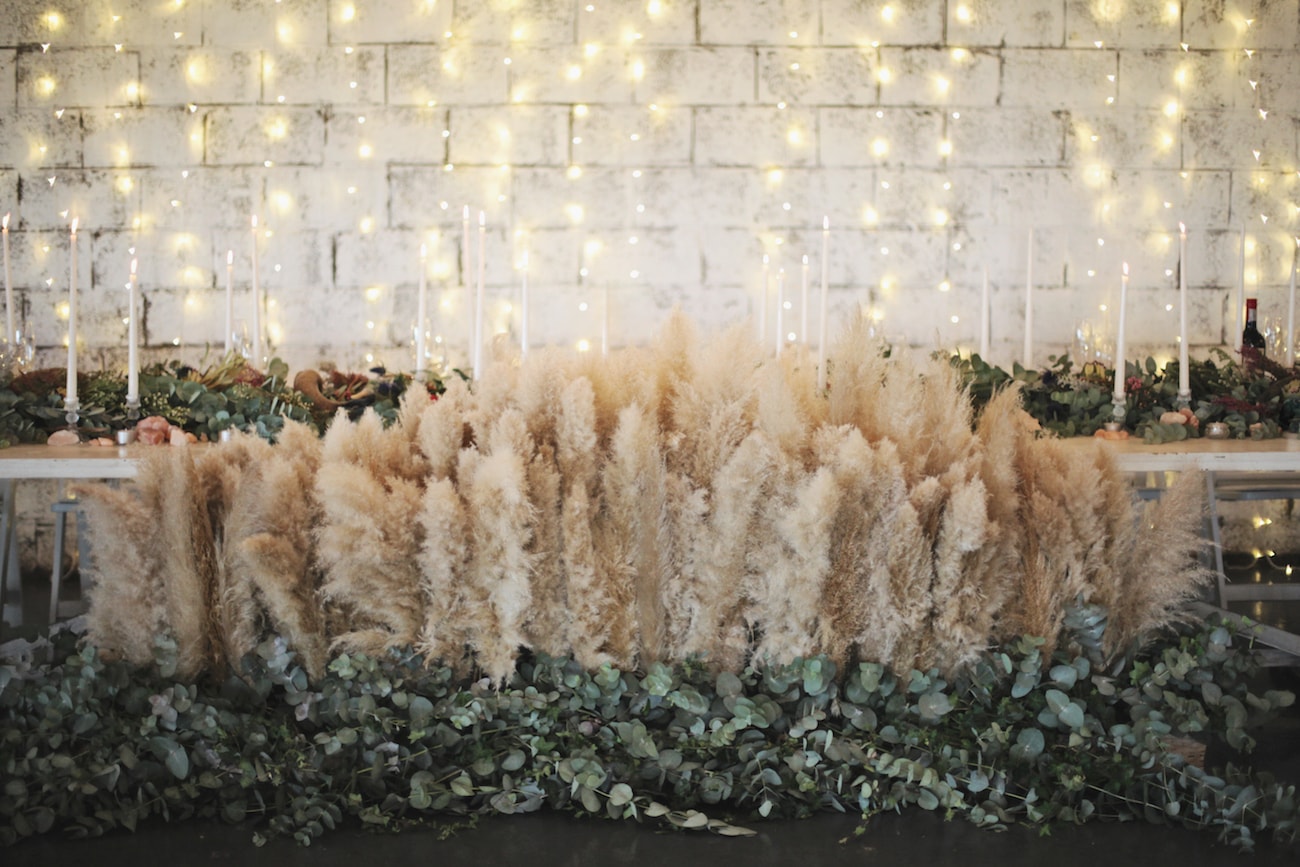 Memorable Moments
The entire day from start to finish was everything dreams were made of, and every part holds a special place in our hearts.
Proudly South African Details
We wanted our food to revolve around what we have all grown up with and keep it simply South African, and this incorporated vetkoek, the good old South African staple – a braai, and Malva pudding, accompanied with local wines from Hermanuspietersfontein and bubbly from Moreson.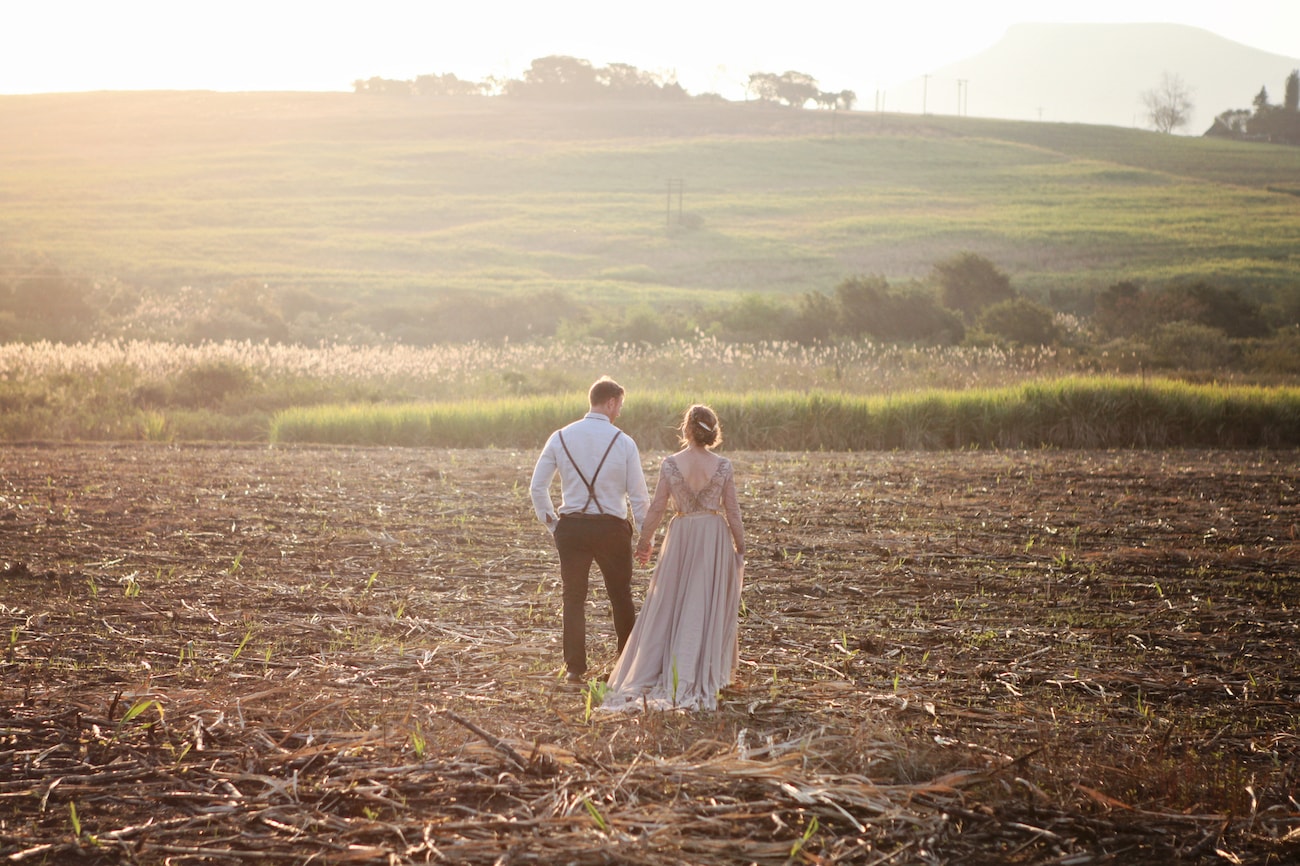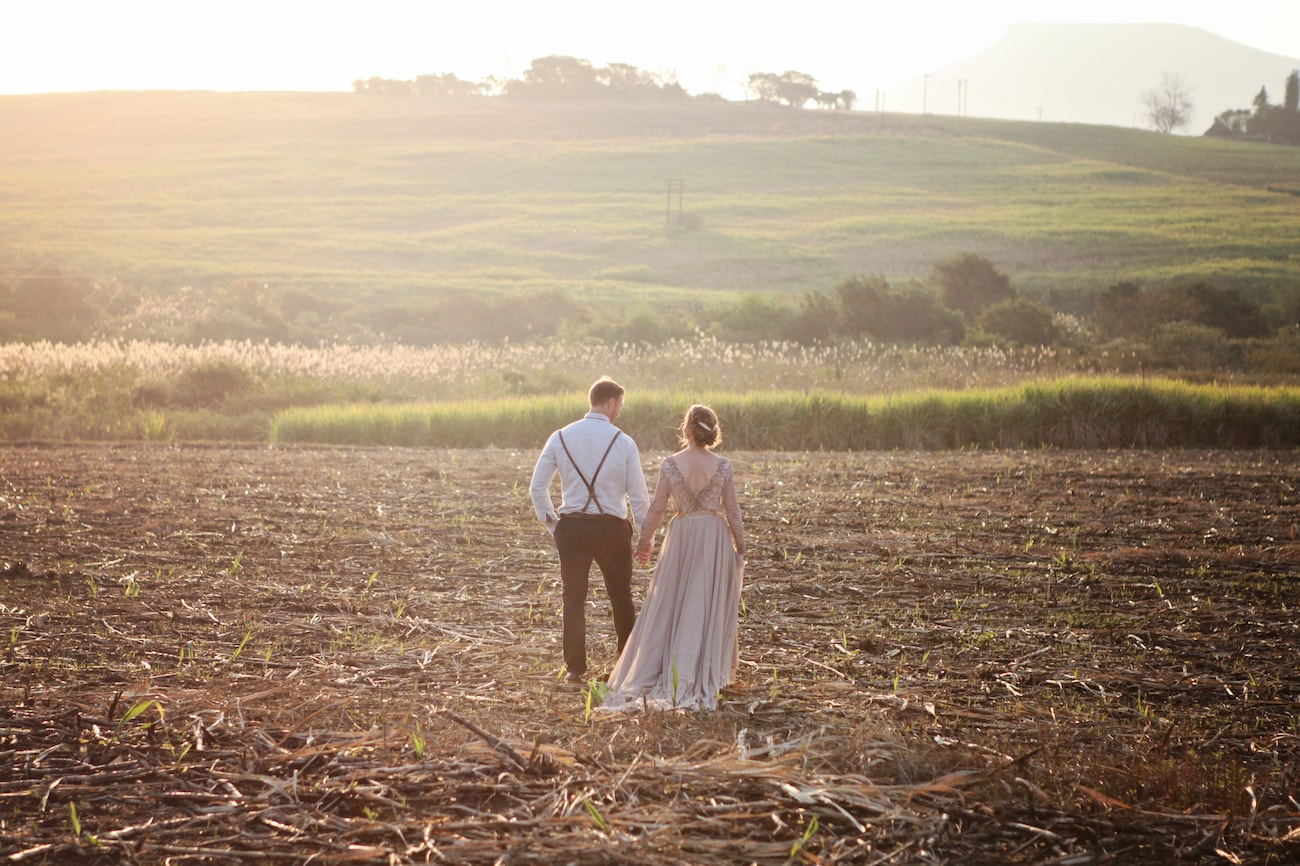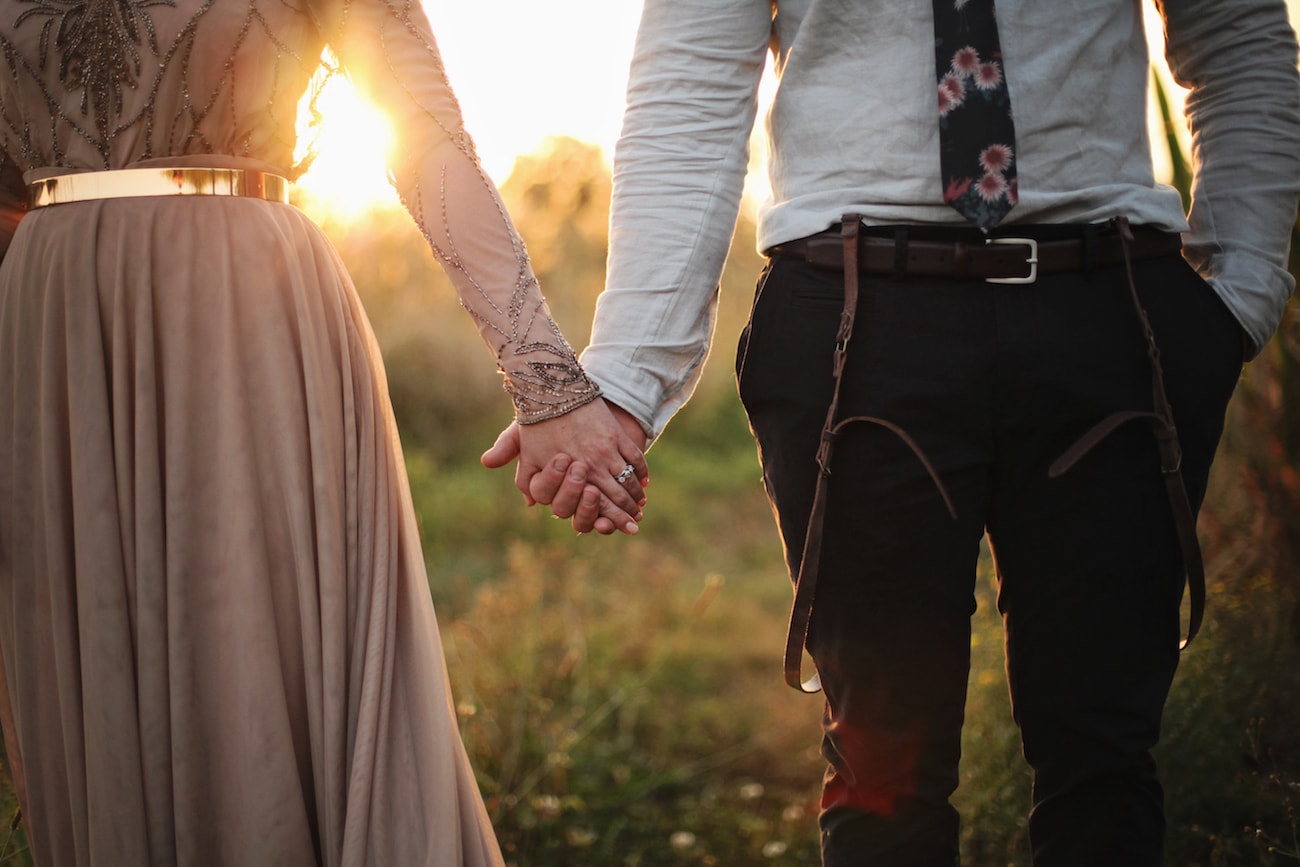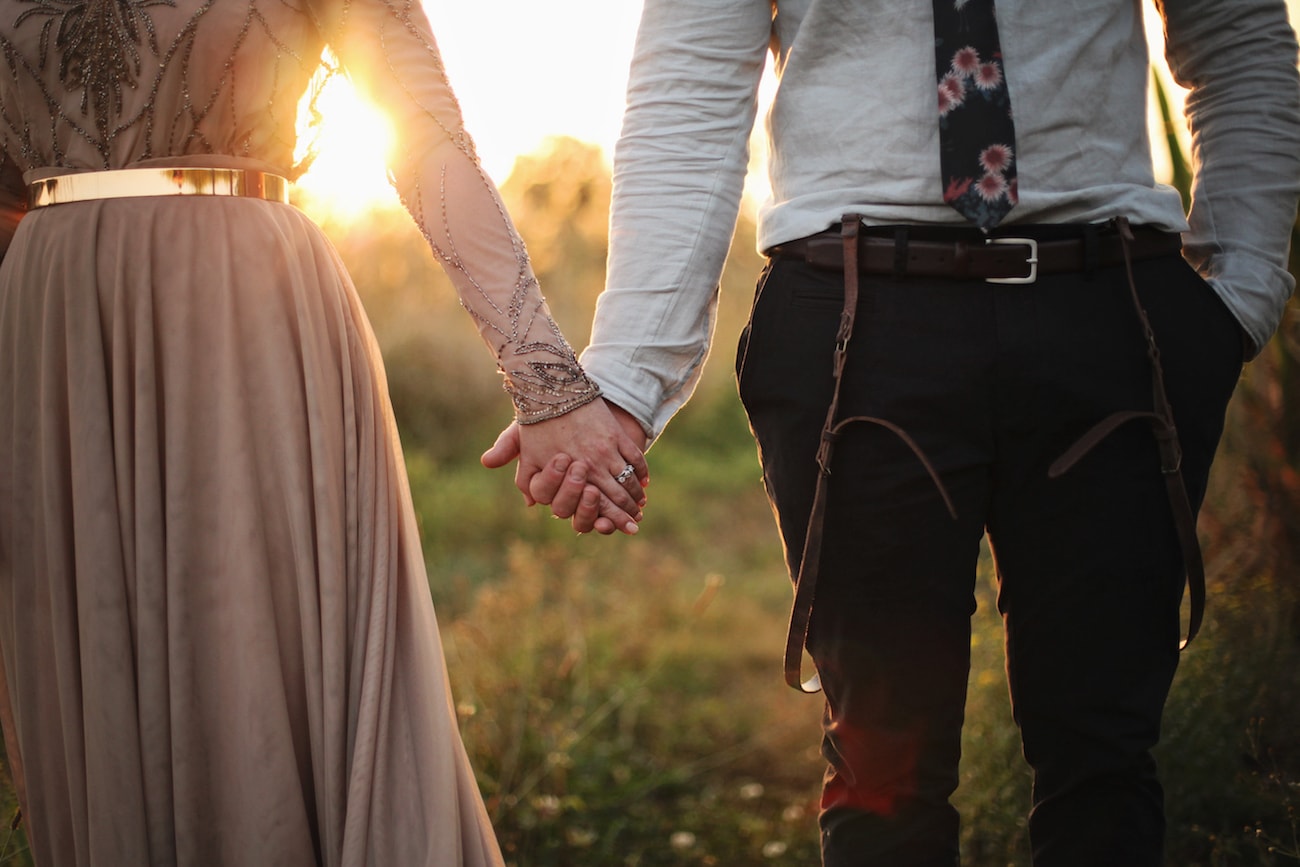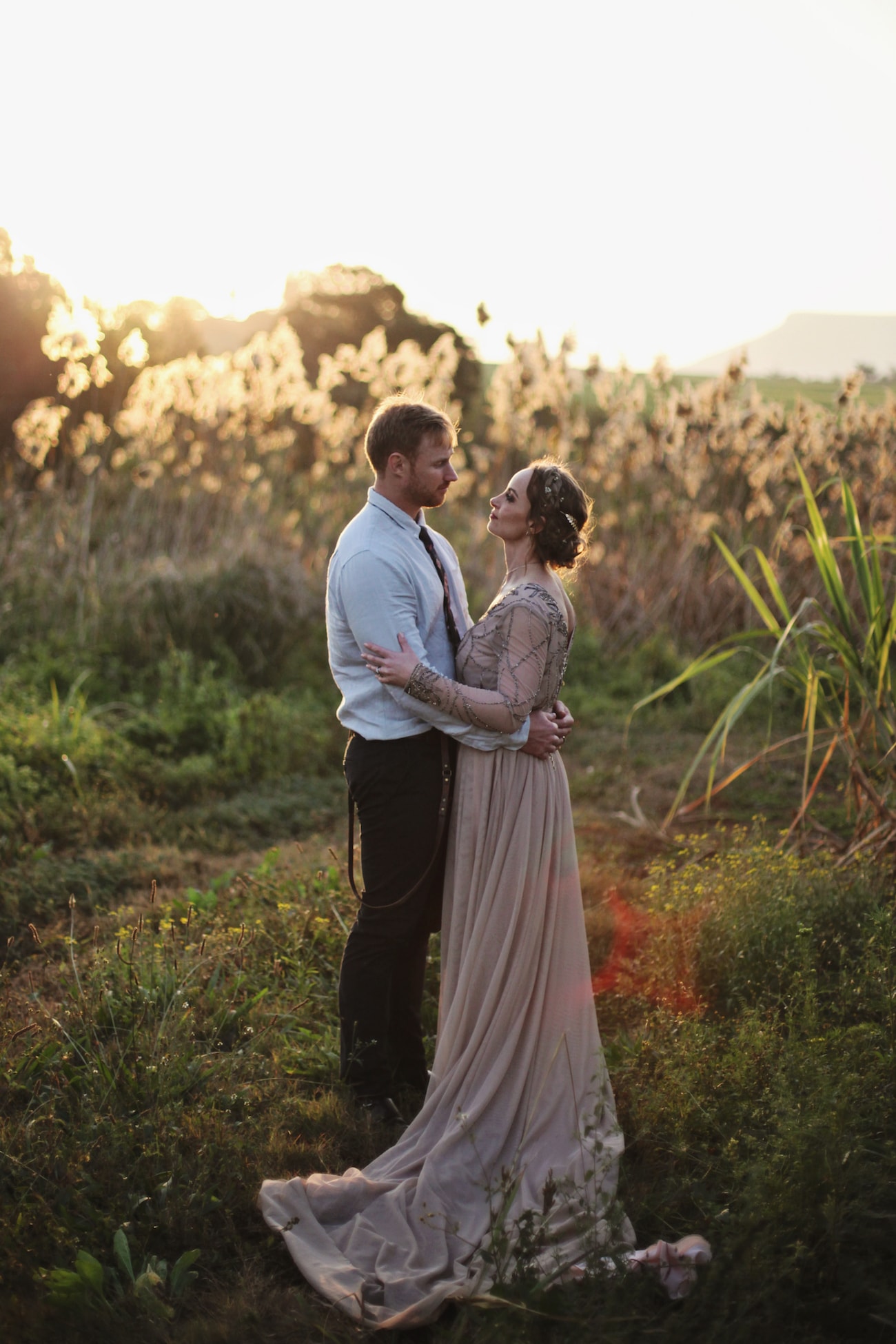 Advice for Future Brides & Grooms
Pinpoint the three most important things that you want your wedding day to be defined by, what this day means to you, focus on those, and let the periperhals fall into place naturally around them. Also, get a wedding planner! They change lives!
SERVICE PROVIDERS
Photography: Carmen Roberts Photogrpahy | Ceremony Venue: Shalwyn | Reception Venue: Shalwyn | Event Planning: Oh Happy Day | Floral: Oh Happy Day | Videography: James Peters Filming | Hair: Claire Carter @ Fusion Hair | Makeup: Brittany Jane Make Up and Hair | Groom's Attire: Topshop | Bride's Shoes: Steve Madden | Headpiece: Topshop | Submitted via: Matchology