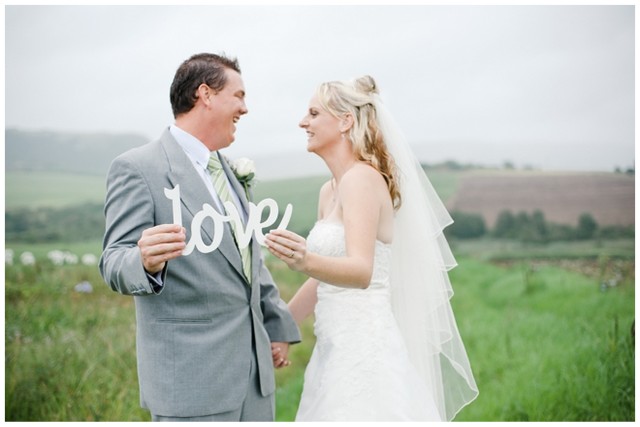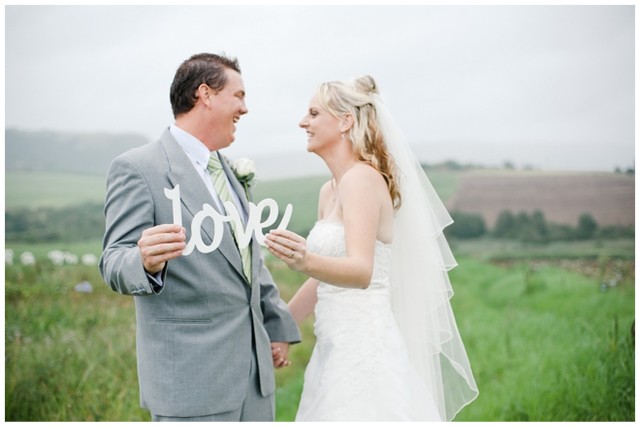 So, you know how sometimes you think you are totally over someone, and then one day you see them in a new light and suddenly you find yourself thinking about them all over again and you have to admit you've loved them all along? No, I am not talking Made in Chelsea (because Louise, Louise, why WOULD you?). I am talking fairy lights. See, there was a point where I felt a bit blah about them – like maybe they dated along with chair covers. So I put them to one side and got on with my life. But everytime I'd see them at a wedding, I would still get a little thrill. And recently, that little thrill has turned into a full blown crush. And now I admit it, I still love them. They're just so… twinkly. So you'll understand why today's wedding got me all a-fluster, because the whole thing is full of twinkly twinkliness. I don't know if that's because Taryn & Lloyd chose rustic Shalwyn in the Tala Valley, KZN, as their venue, and the lights really shine against the barn-style surroundings. Or if it's the fact that they're reflected in the crystal 'trees' they had adorning every table (tying nicely into their little bird theme). Or just the fact that the couple are so shiny and happy themselves. But whichever, this wedding makes me feel all sparkly. Enjoy these lovely images from Durban-based Brightgirl Photography.
From the bride, Taryn:
Lloyd and I met at a friend's dinner party. He asked me out twice, but I felt I wasn't ready for a relationship. On his 21st birthday, we got together, and I asked him to ask me the question again. We started dating and five years later, Lloyd proposed. We were staying at Calderwood Hall in the Midlands, where on the second night he organized a romantic dinner by the fireplace in the venue's drawing room. During dessert, he went down on one knee and popped the question.
I knew I wanted a venue with rustic appeal but still had all the luxuries – Shalwyn was perfect and the owner was confident and really made us feel at ease. We chose silver, green and white as our colours, and had a bird theme, with a touch of lace (including a lace runner on the main table, which I just loved!). We had a bird cake topper made by my mom, of two little silver birds in a tux and veil. My uncle also arranged water bottles with a picture of us and a thank you note to our guests.Other highlights of the evening were Chris Jensin on the saxophone and the shoe wedding game that my sister arranged, as well as having all our families and friends around us.
My advice is to get all professionals and trust them – then enjoy every moment and spoil yourself! Get a wedding diary to keep track of appointments and a To Do list that you can split up between your hubby-to-be and your bridesmaids.
Congratulations, Taryn and Lloyd! Hope your life together is as fun and sparkly as your wedding was! And a big thanks to the fantastic Eileen of Brightgirl – you can see more from this wedding over on her blog.
SERVICE PROVIDERS
Venue: Shalwyn | Photography: Brightgirl Photography | Flowers & decor: Wendy Gillit ([email protected]) | Decor: Hamblins | Cake: Brenell Desserts | Stationery: Fuschia Wedding Stationery & Design | Bride's dress: VIP Brides | Bridesmaids' dresses: Shonna's | Makeup: Nicky G. | Hair: Cassandra for Jagged Edge Hair Salon ([email protected]) | DJ: Erin Fourie | Saxophone: Chris Jensen | Video: Beyond Measure