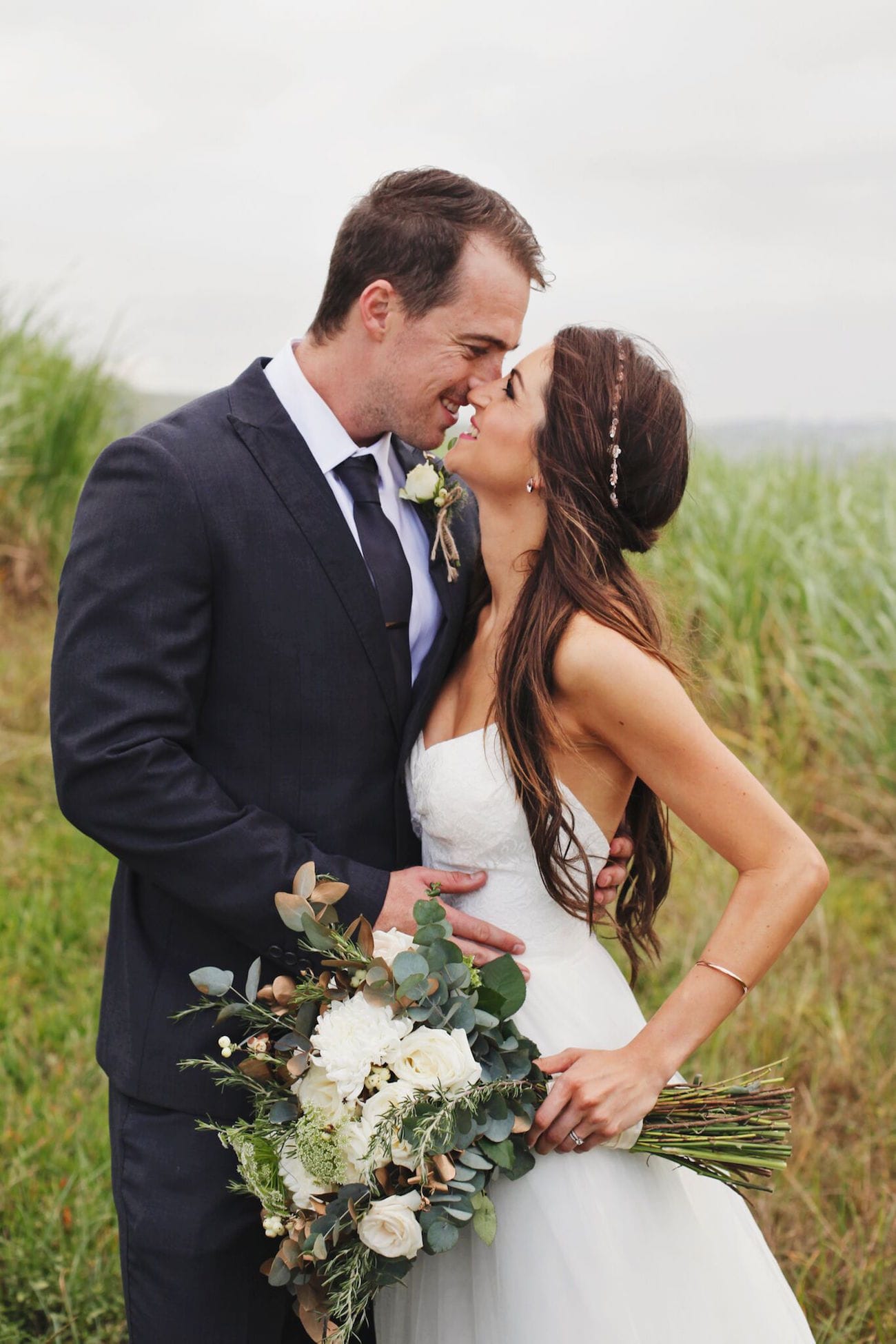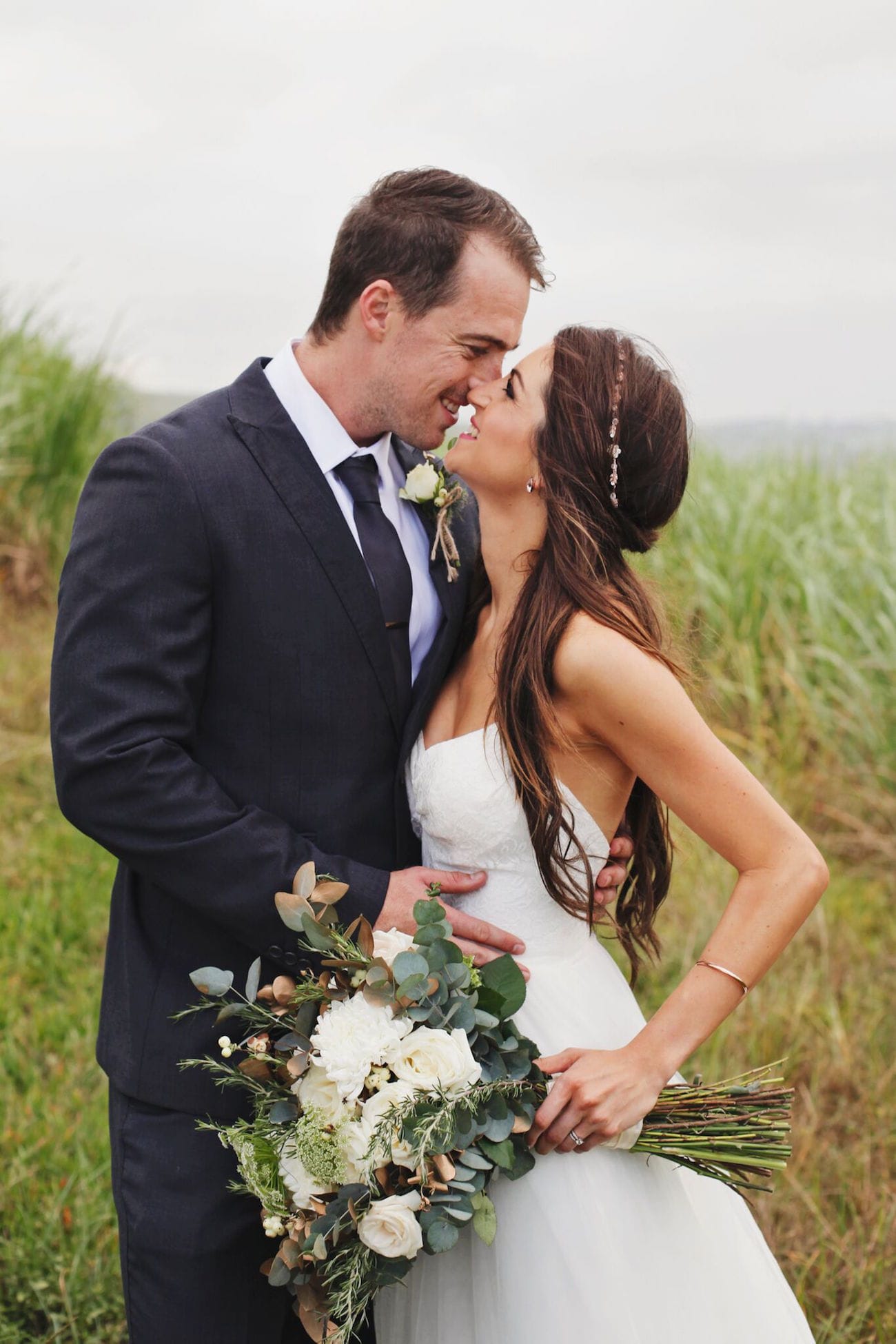 It's Friday! And while we can't pop the bubbly until after work, Lauren and Sean's wedding has just the right amount of fizz and sparkle to keep us more than happy until champagne 'o clock. This effervescent couple chose the lovely Maroupi as their venue and dressed it up with greenery and a dusting of glitz in the form of shimmery linens and gold sprayed eucalyptus – so pretty! And for an extra touch of festive flair, they placed a cracker at each setting – I love this Christmassy touch which is sure to delight your guests whatever the time of year. (For a cracker making tutorial, see here.) I'm also utterly in love with Lauren's gown, which comes from chic boutique Toujours Wedding House, and fit the bride like a glove! But my favourite idea? The wine and charcuterie spread for cocktail hour – (clearly this is a couple after my own heart!) Carmen Roberts took these lovely pics – cheers to all the pretty!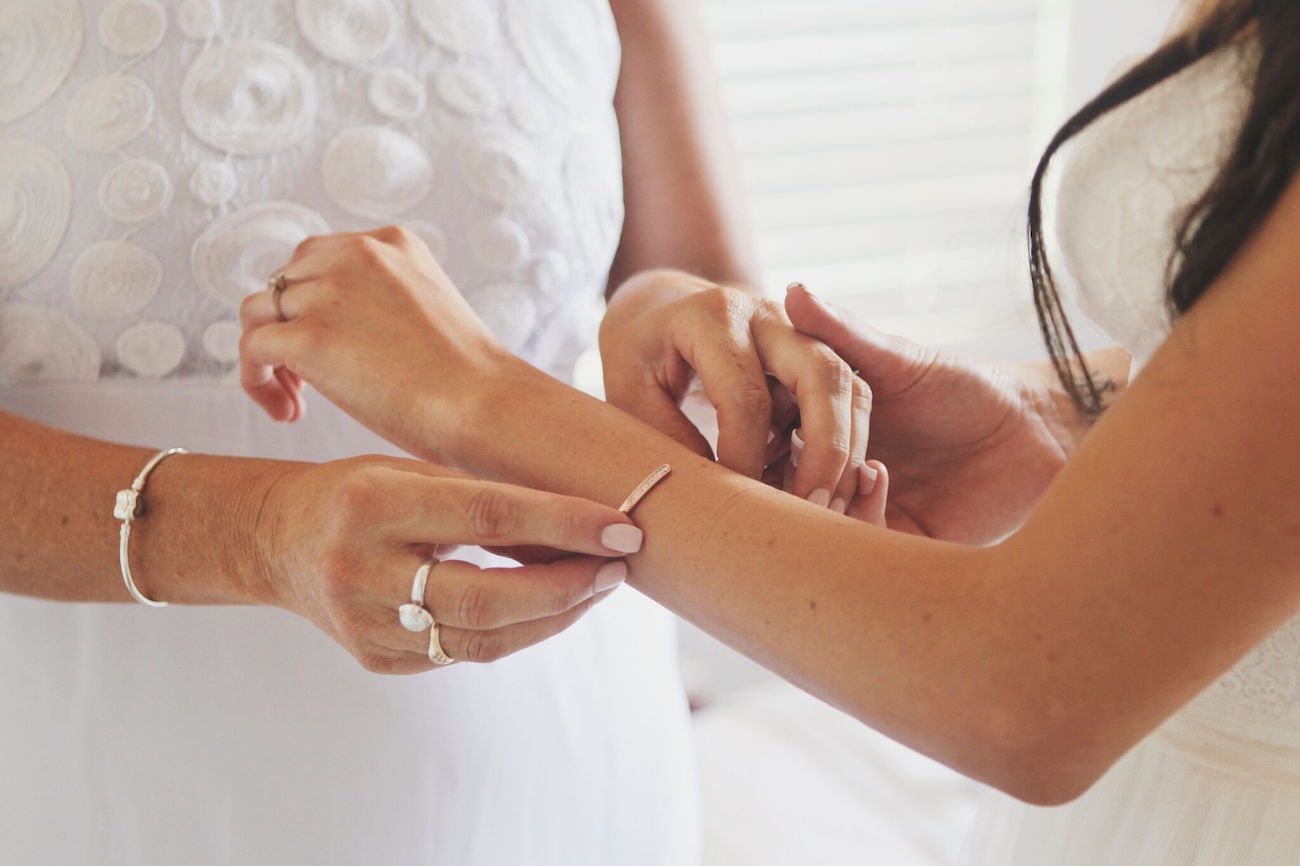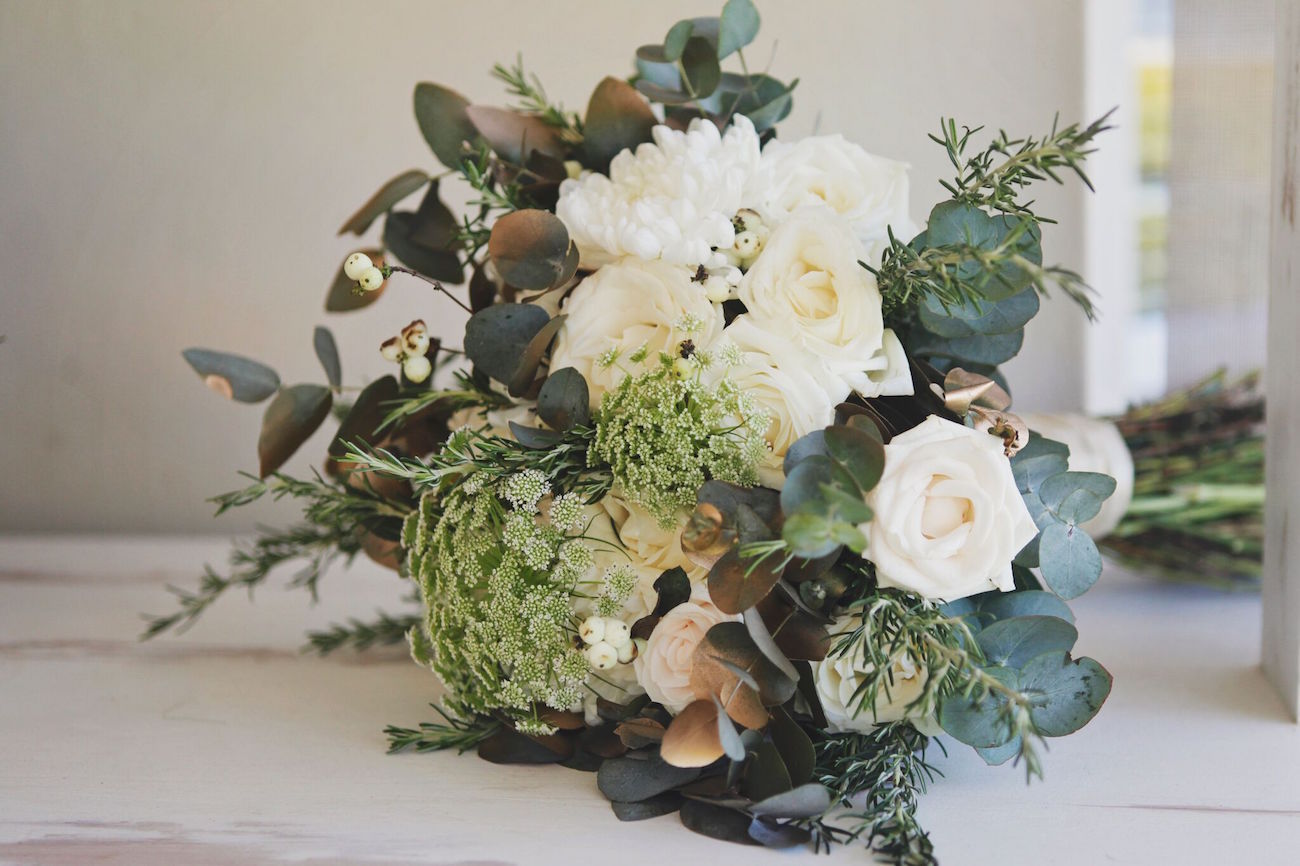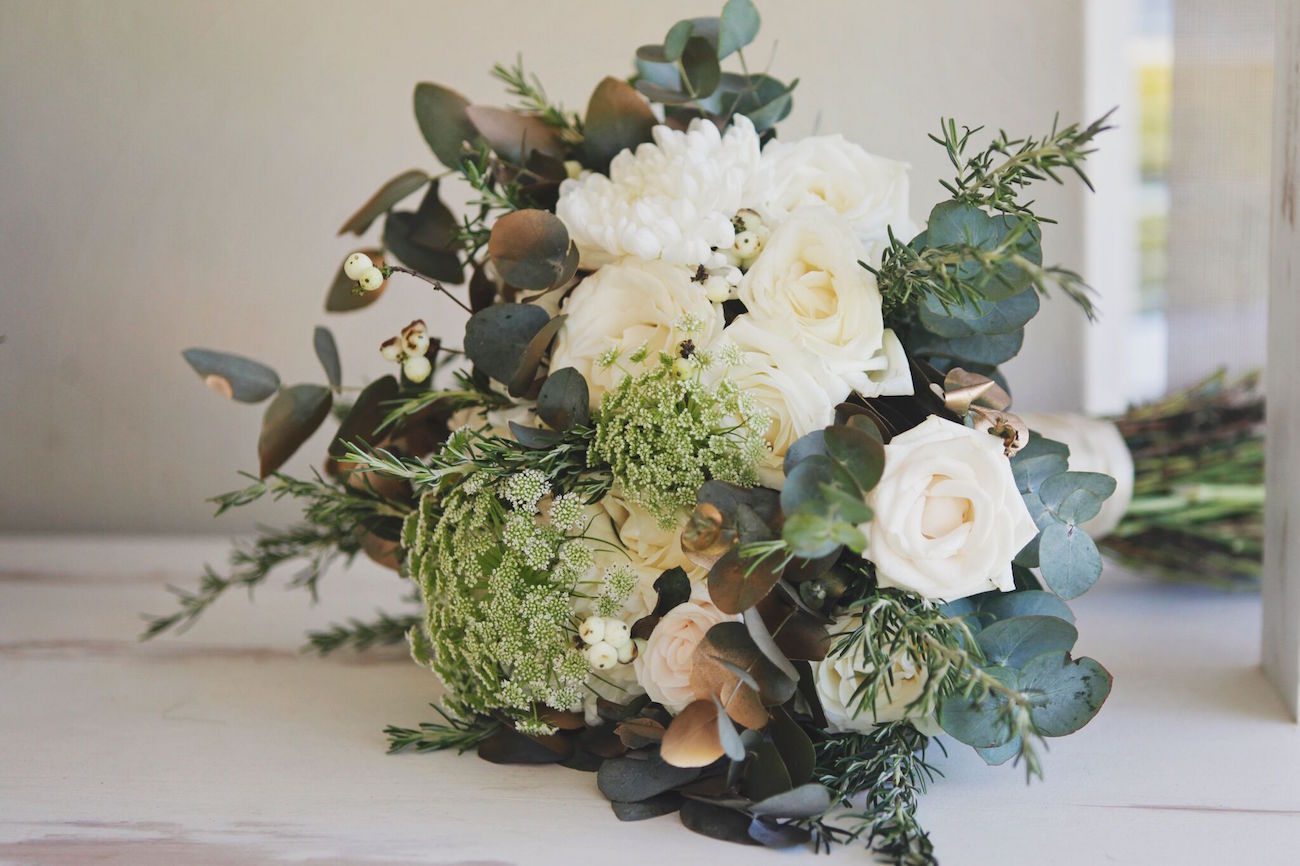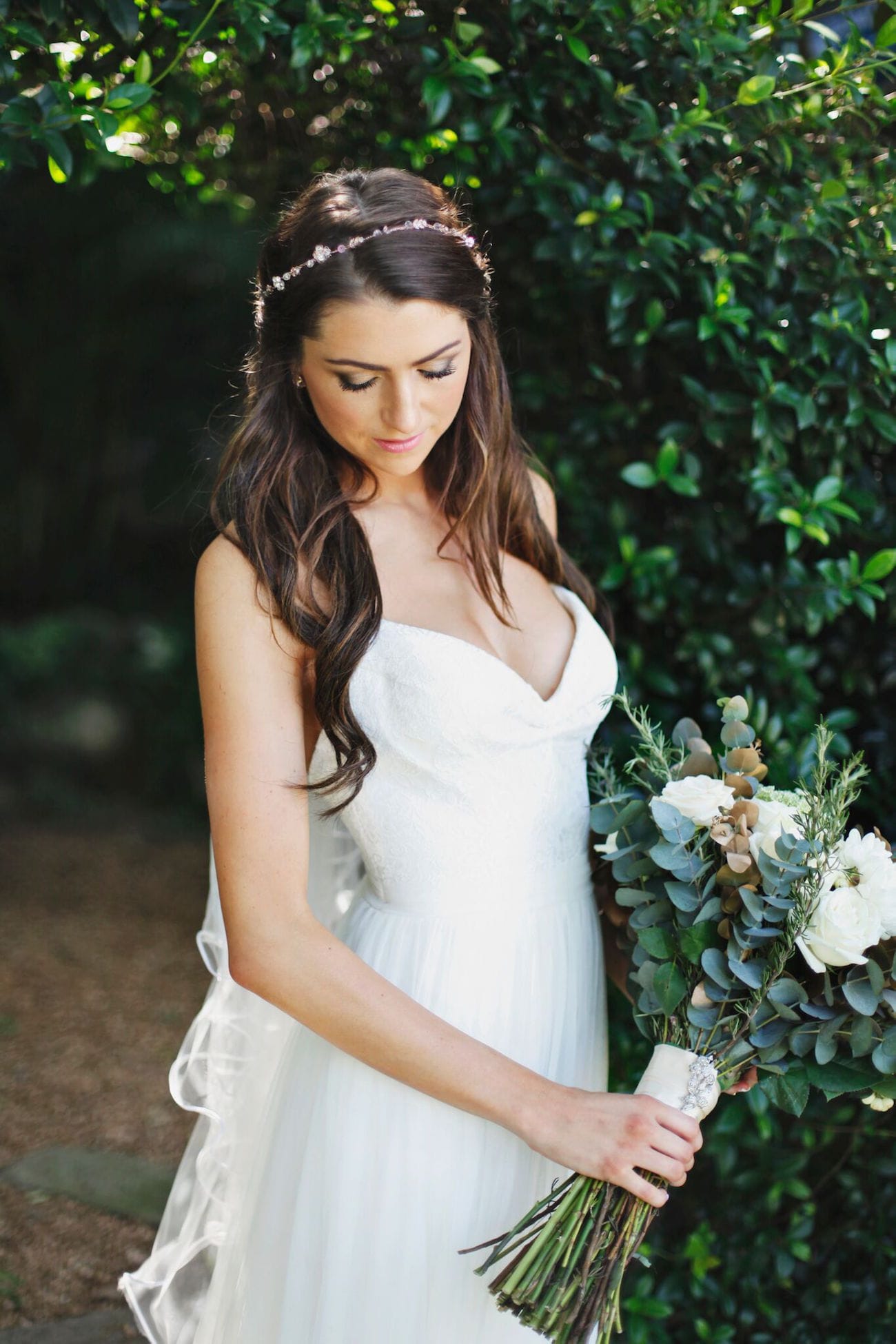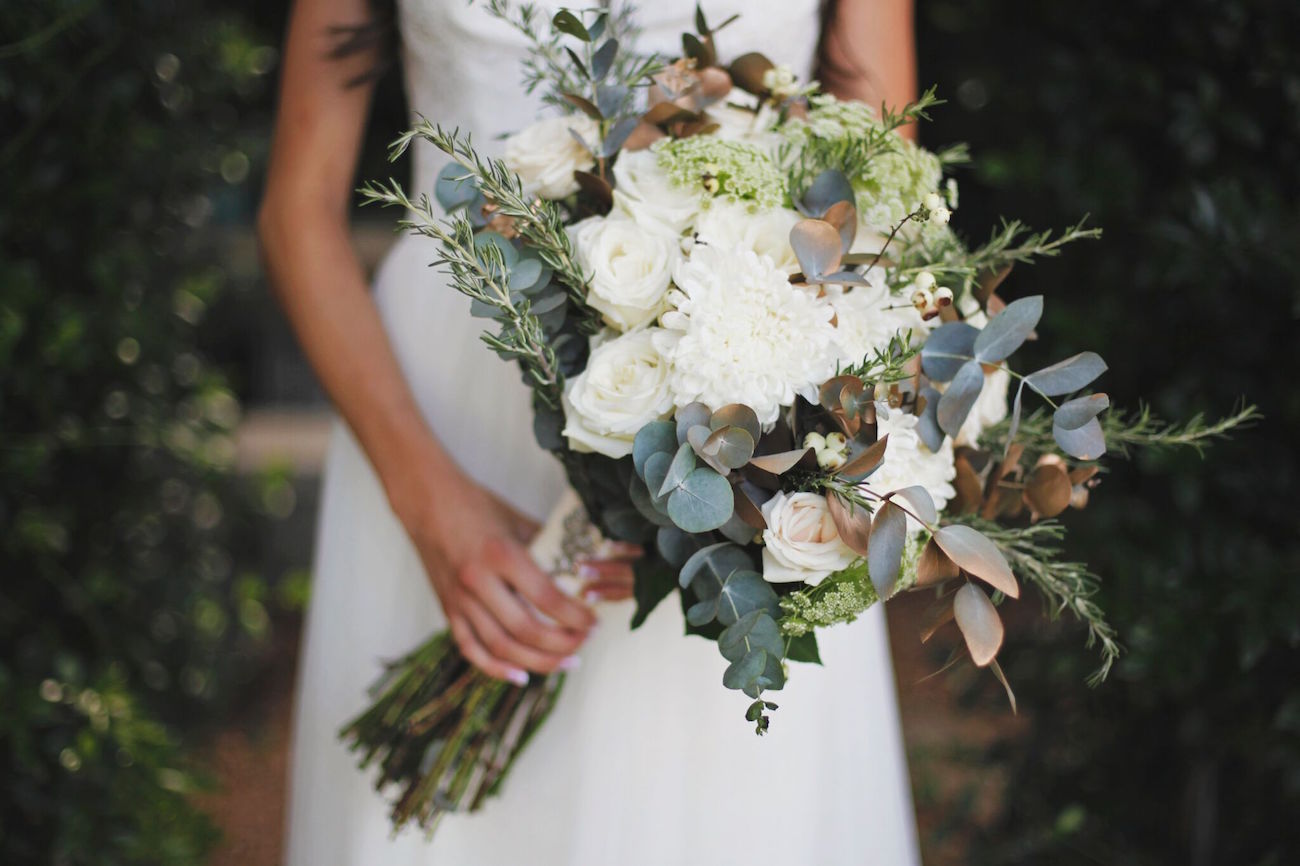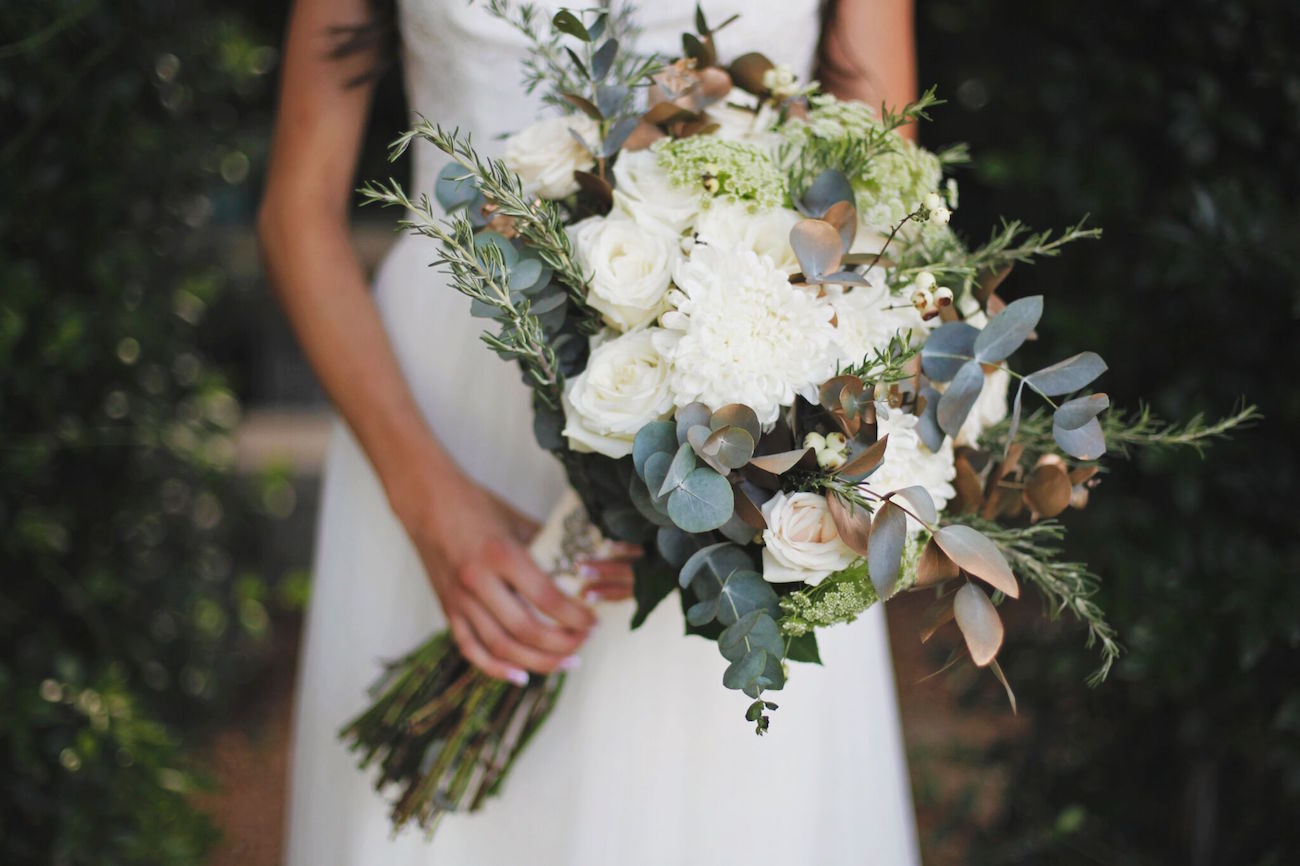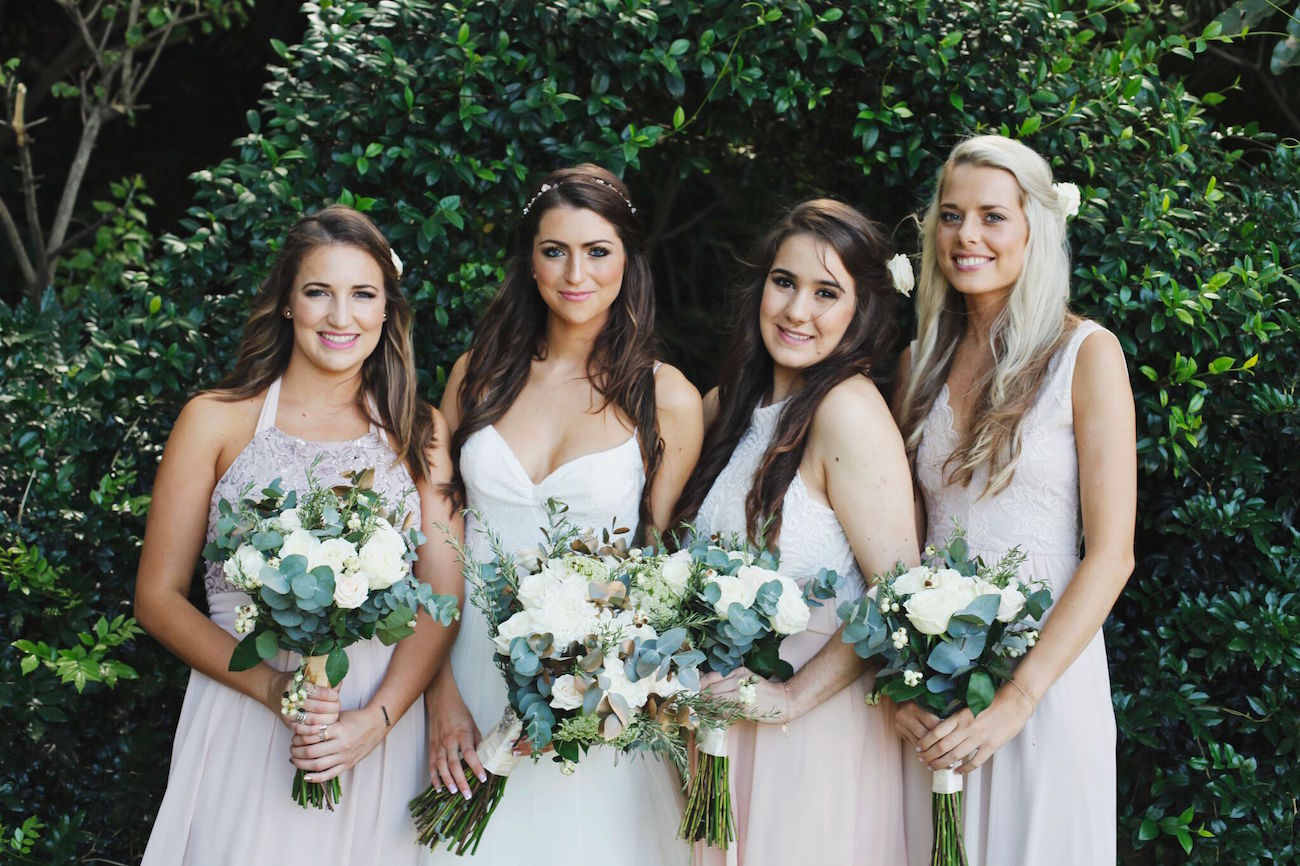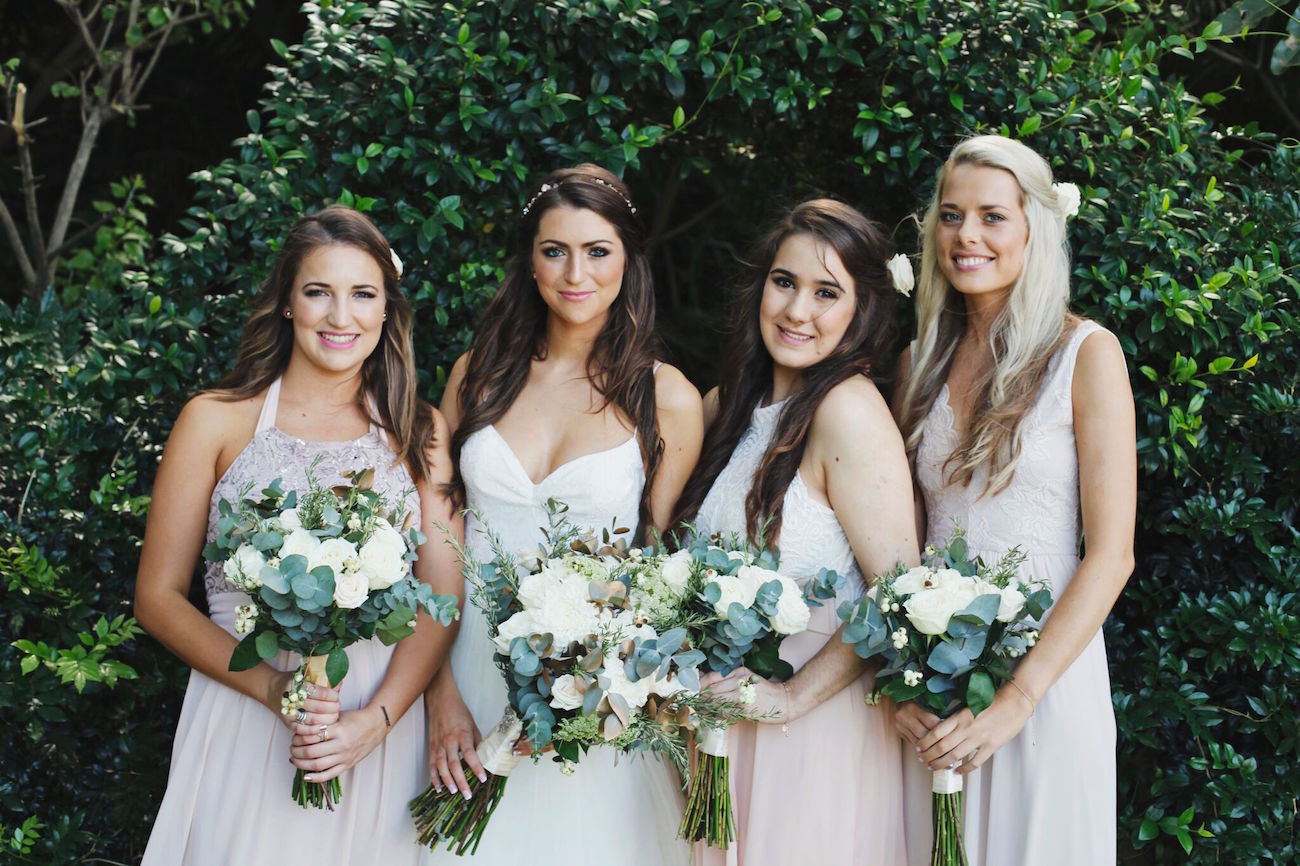 Love Story
Sean was living in Cape Town at the time and I in Umhlanga. He was home visiting his family over December and we were both out in the town on the Friday when work closed for Christmas. Both of us are super lively, energetic people and he says he spotted me bouncing around the pub and liked my energy. Instead of coming over and offering me a drink he came over and bought me a Fanta! He made me laugh so much that night trying to woo me with his humour. From then on we couldn't get enough of each other and I went to visit him in Cape Town. After a couple of months of long distance, he made the move back home for me and his job, which lucky for us relocated him to Durban!
The Proposal
It was very unexpected! We made a list a few months before with all kinds of cool things we would like to do together on the weekends. So one week he asked me what I'd like to do on the list that Saturday. I said we should go for the picnic in these beatiful gardens we had never been to and he was keen. On the day we got there he had already organised a basket of goodies, champagne and a map. I was impressed that he had already planned so much for our picnic! We walked the garden and he kept wanting to find a secluded spot. Once we found a lovely hidden part in the garden and set up our picnic, he then started telling me how much he loves me and about our life together. It was beautiful to hear and then I knew what was happening. It was an incredible surprise and he did such a good job!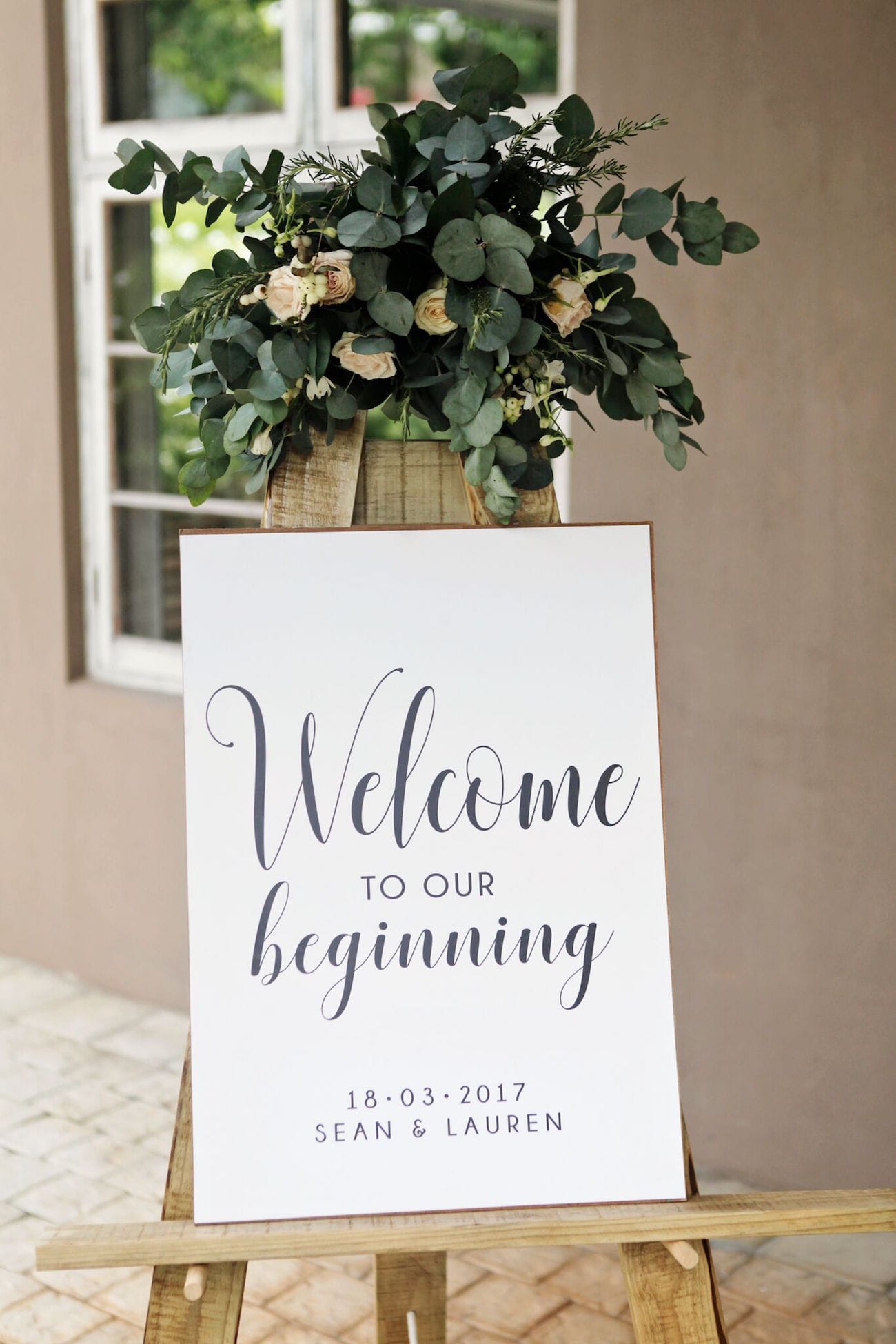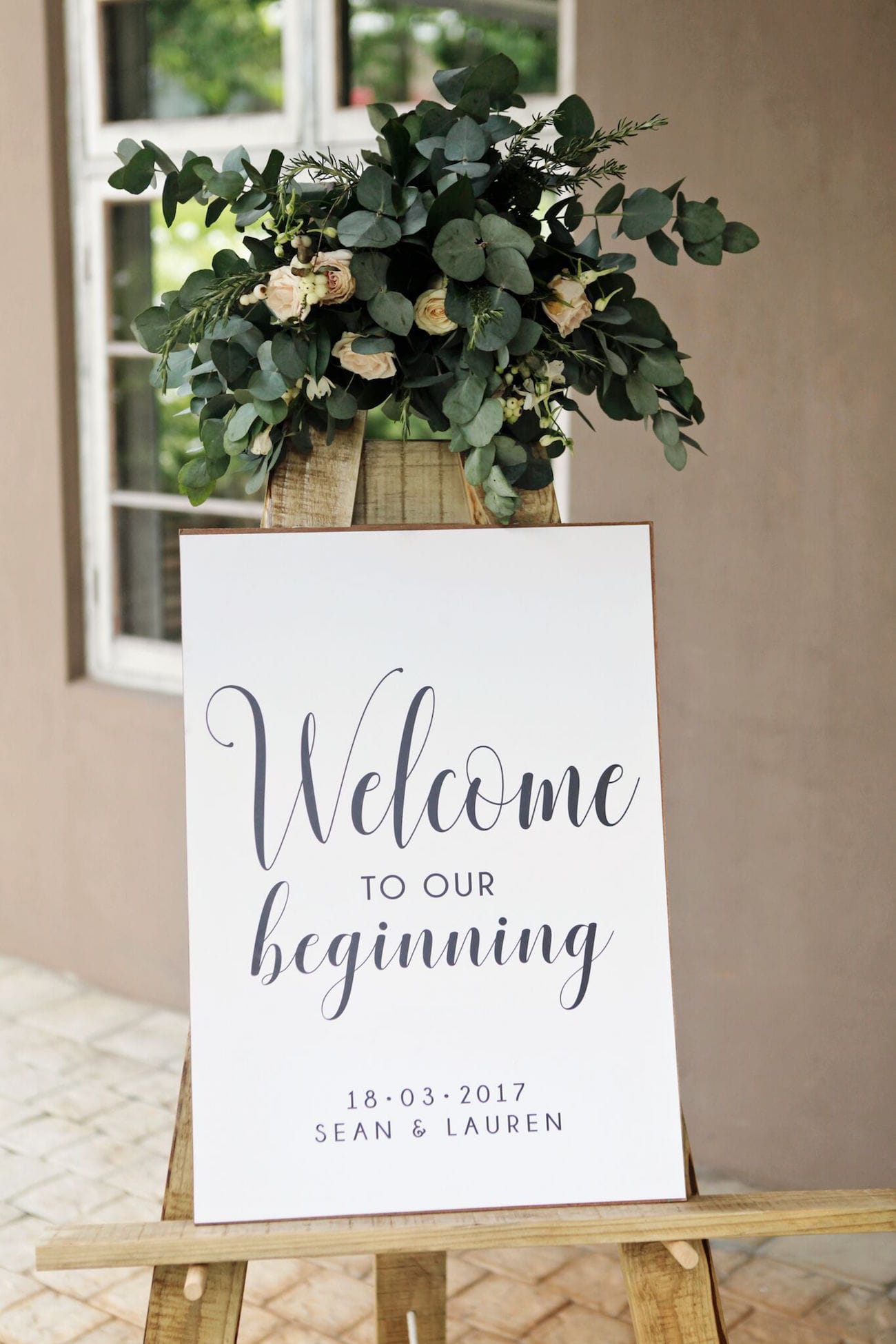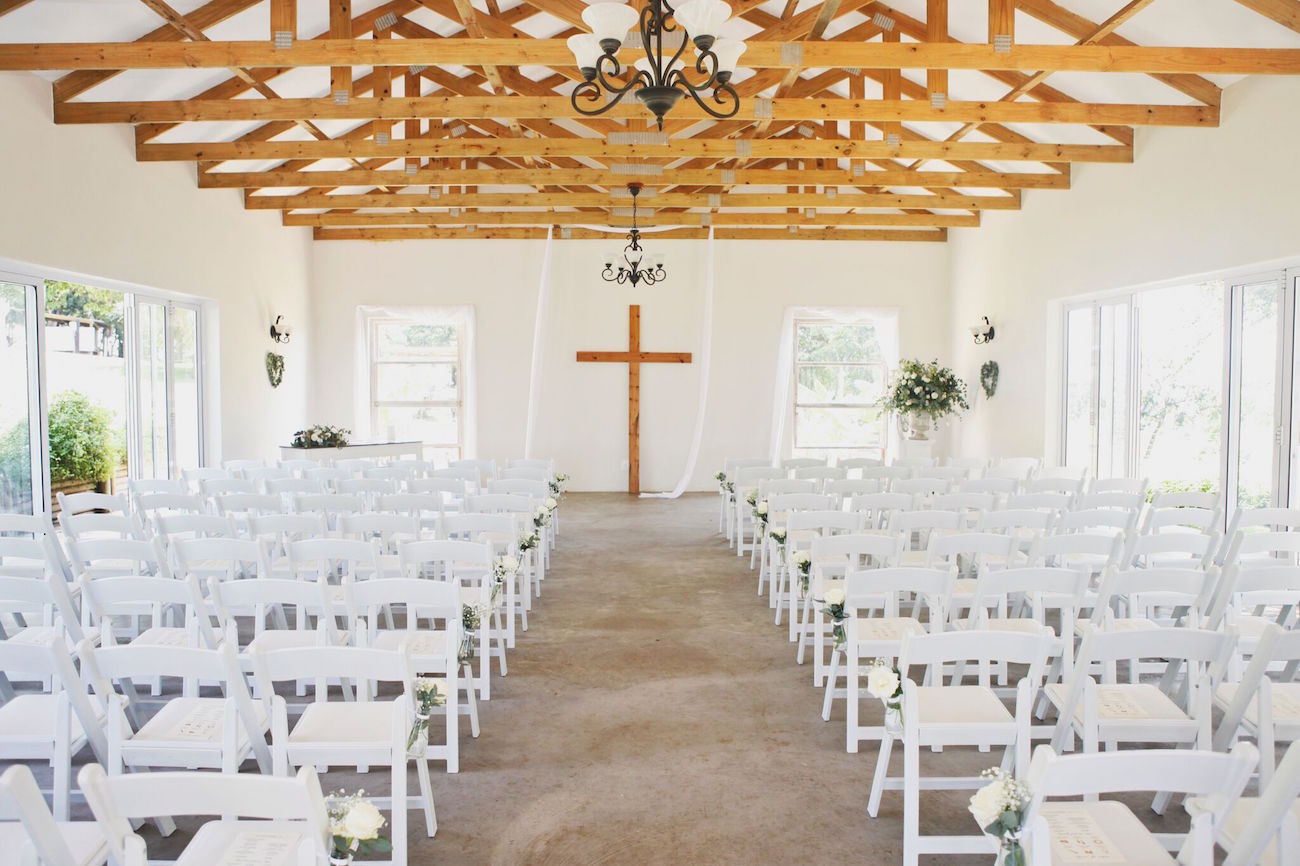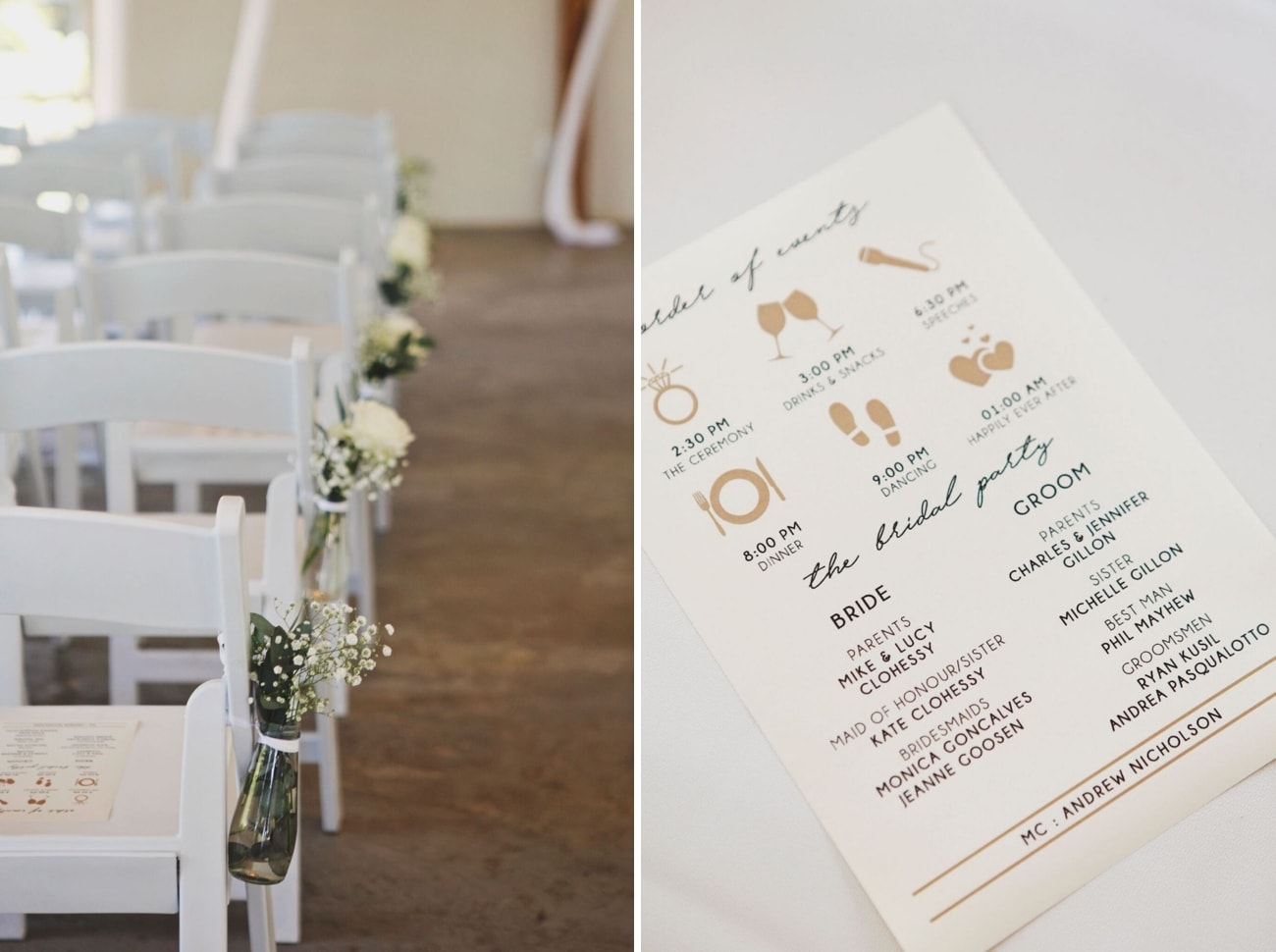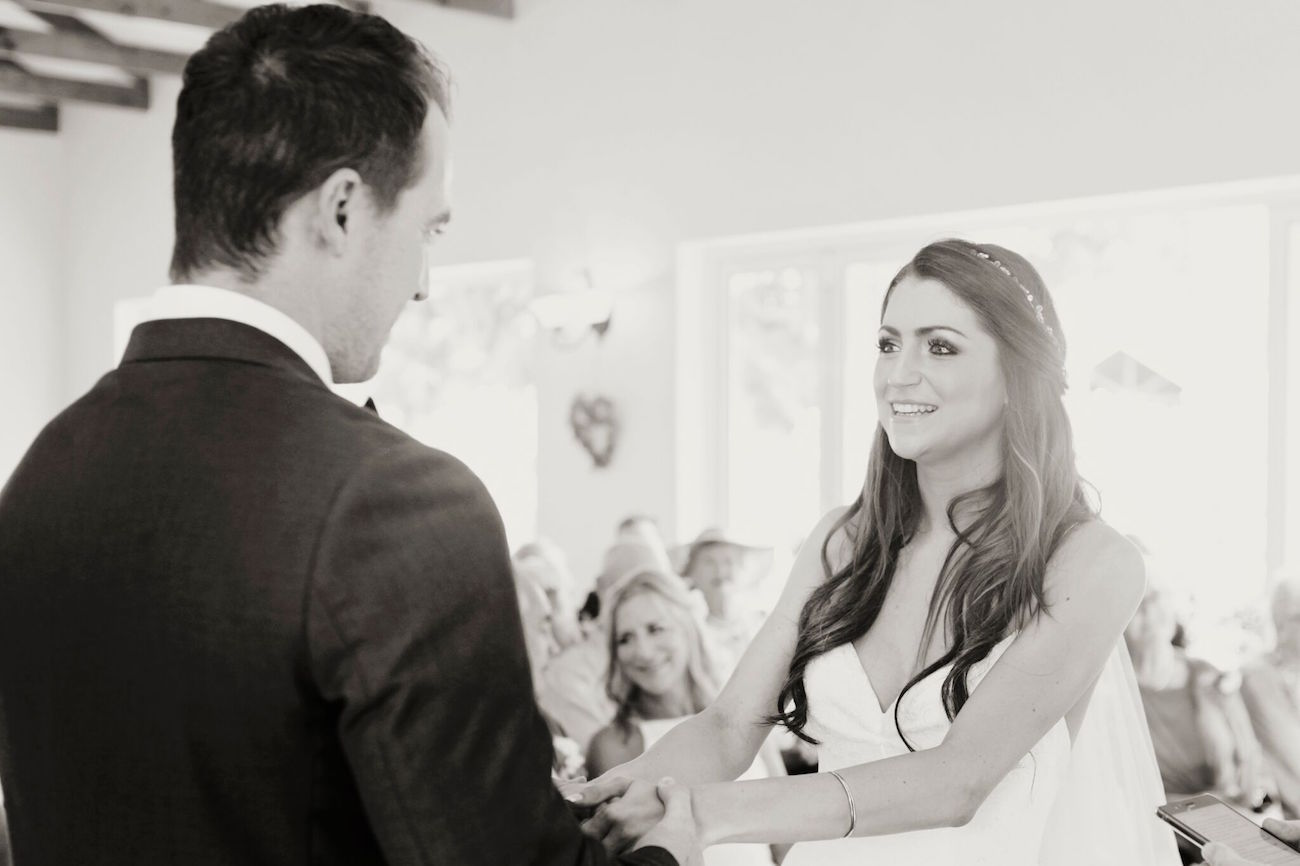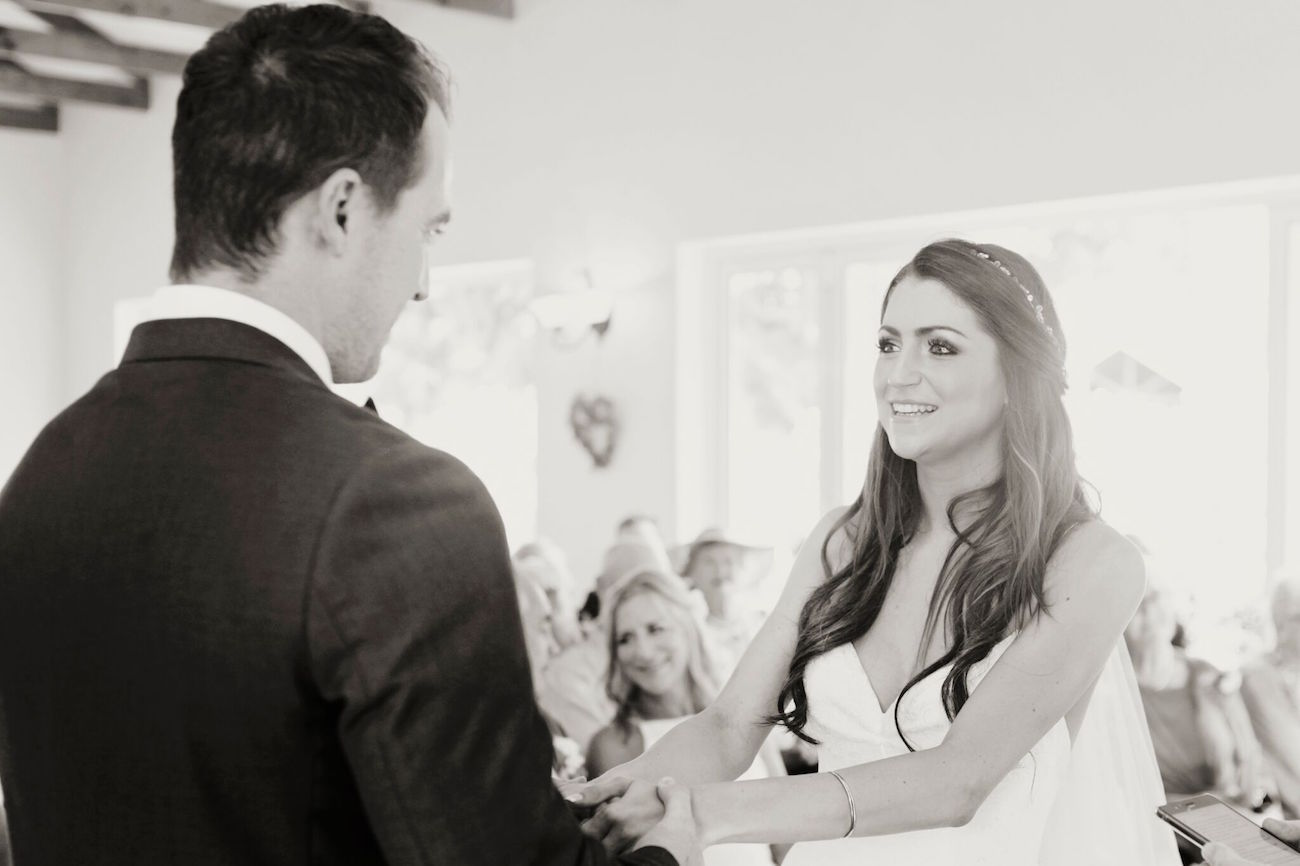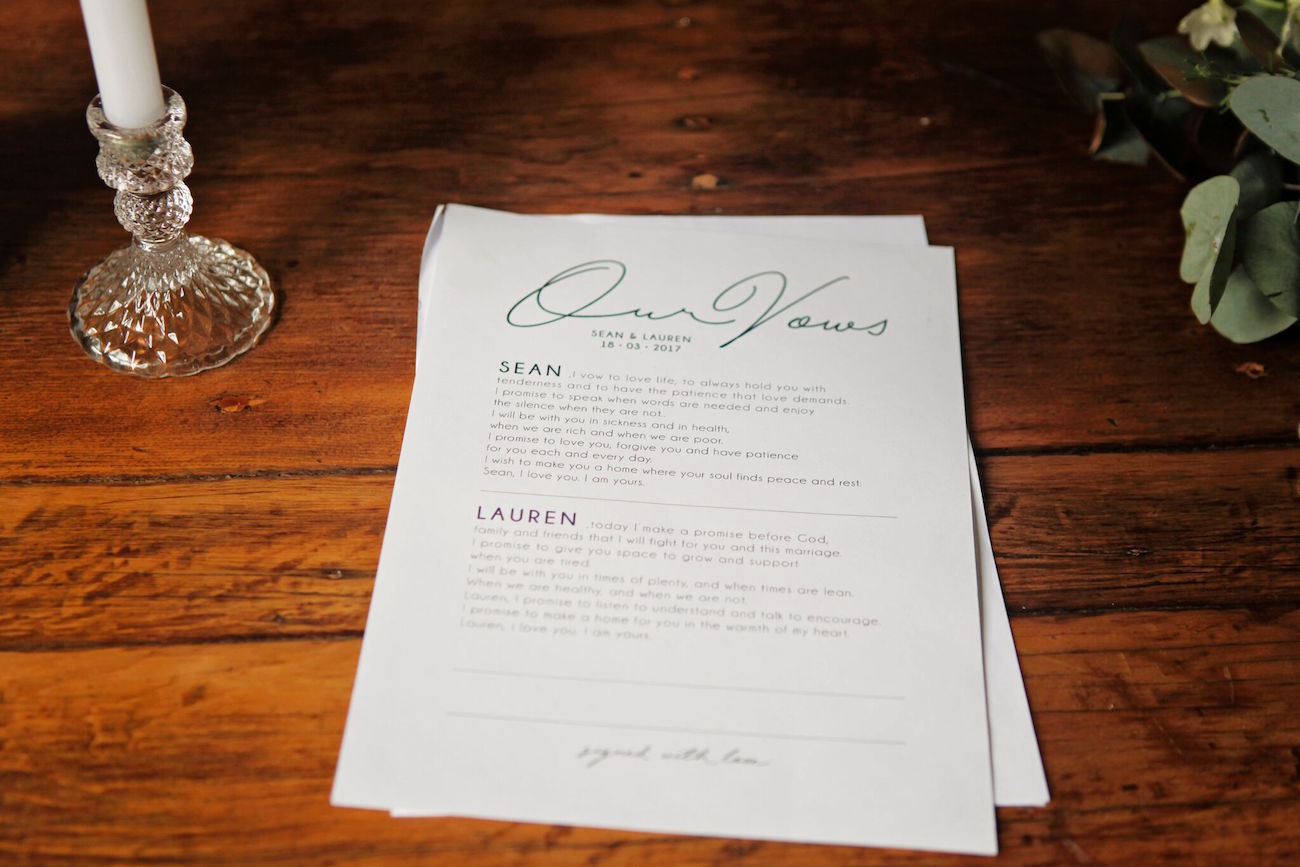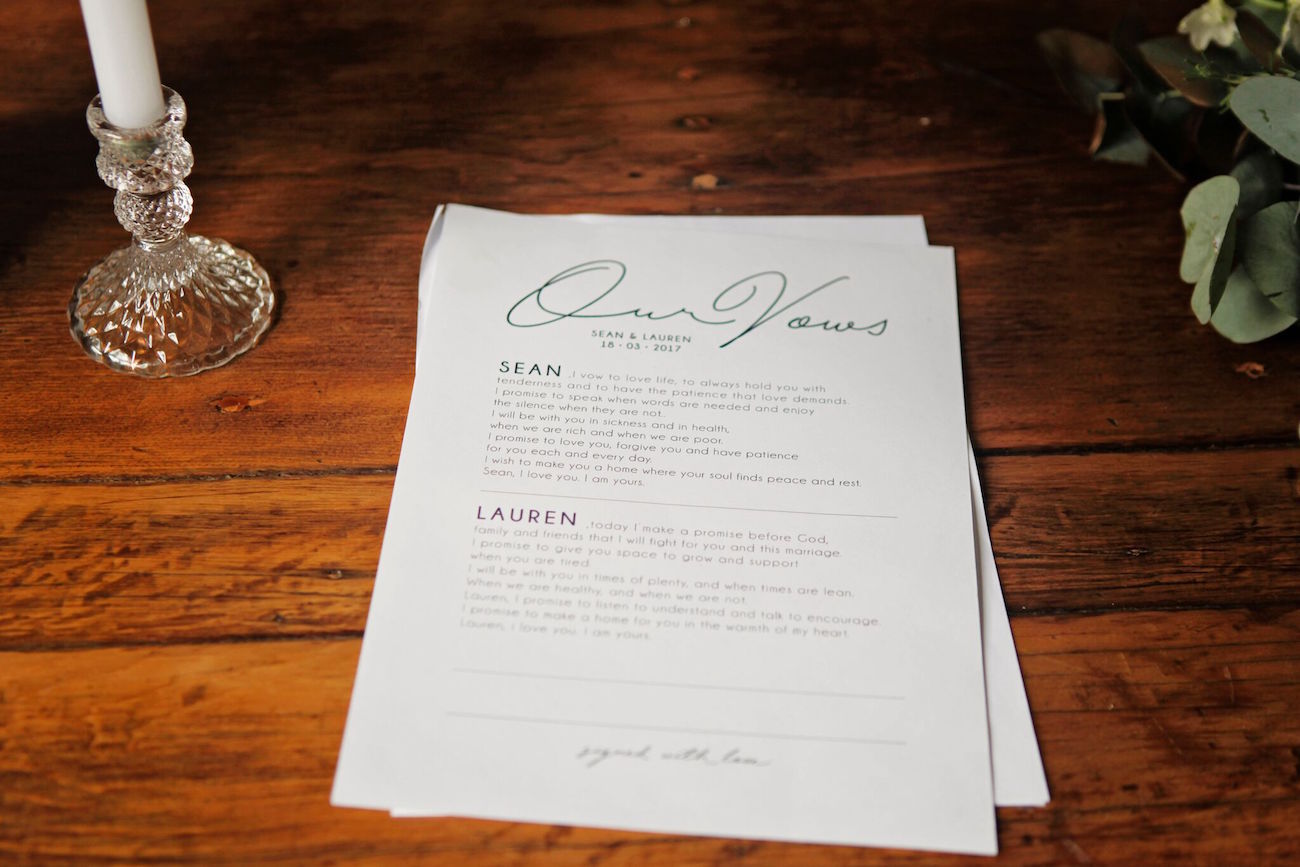 The Venue
We did not even shop around for venues. A friend told me to look at their website and I fell in love with the photos of the garden. When we visited Maroupi were sold right away. The dirt road through the sugar cane farms to get there felt like a little adventure. It was a beautiful day and the light through the large trees and lush garden was just too stunning! We booked a date right away!
Wedding Style
I wanted to keep the day light and classic. Our colours where mostly white and grey, with touches of gold. Because the venue's garden is so stunning, we made the most of being outside and appreciating the beauty of the venue and not over-decorating it.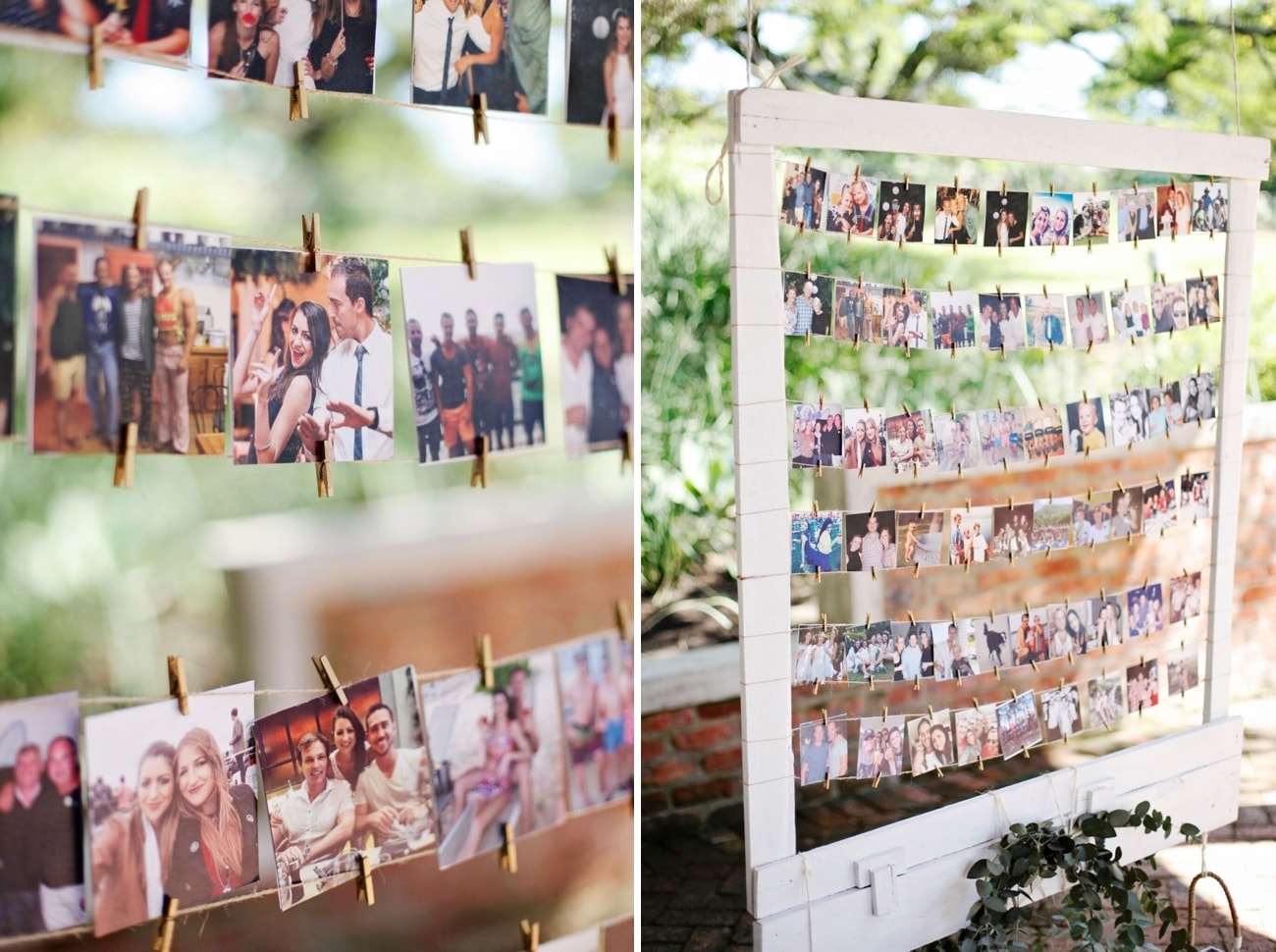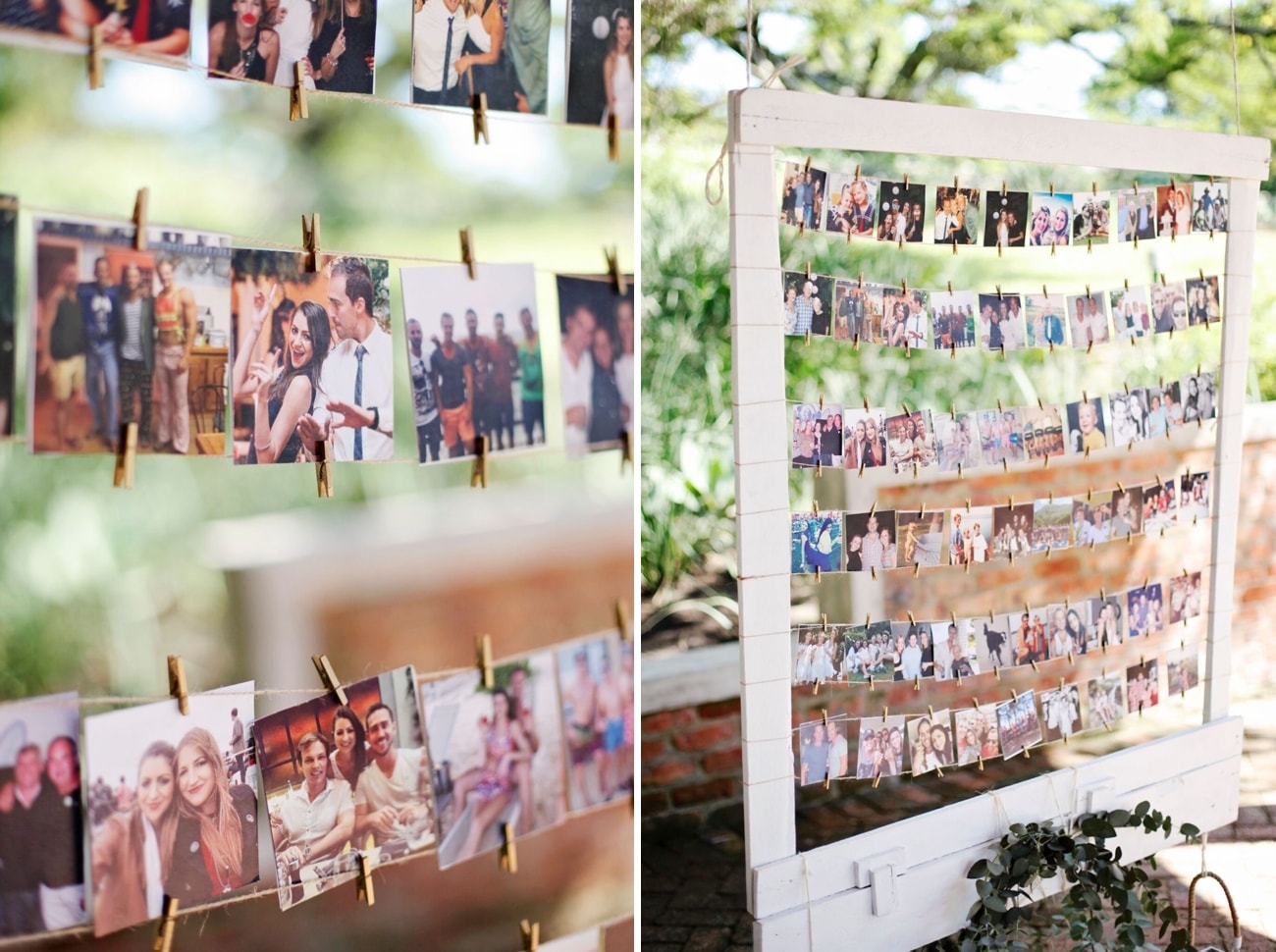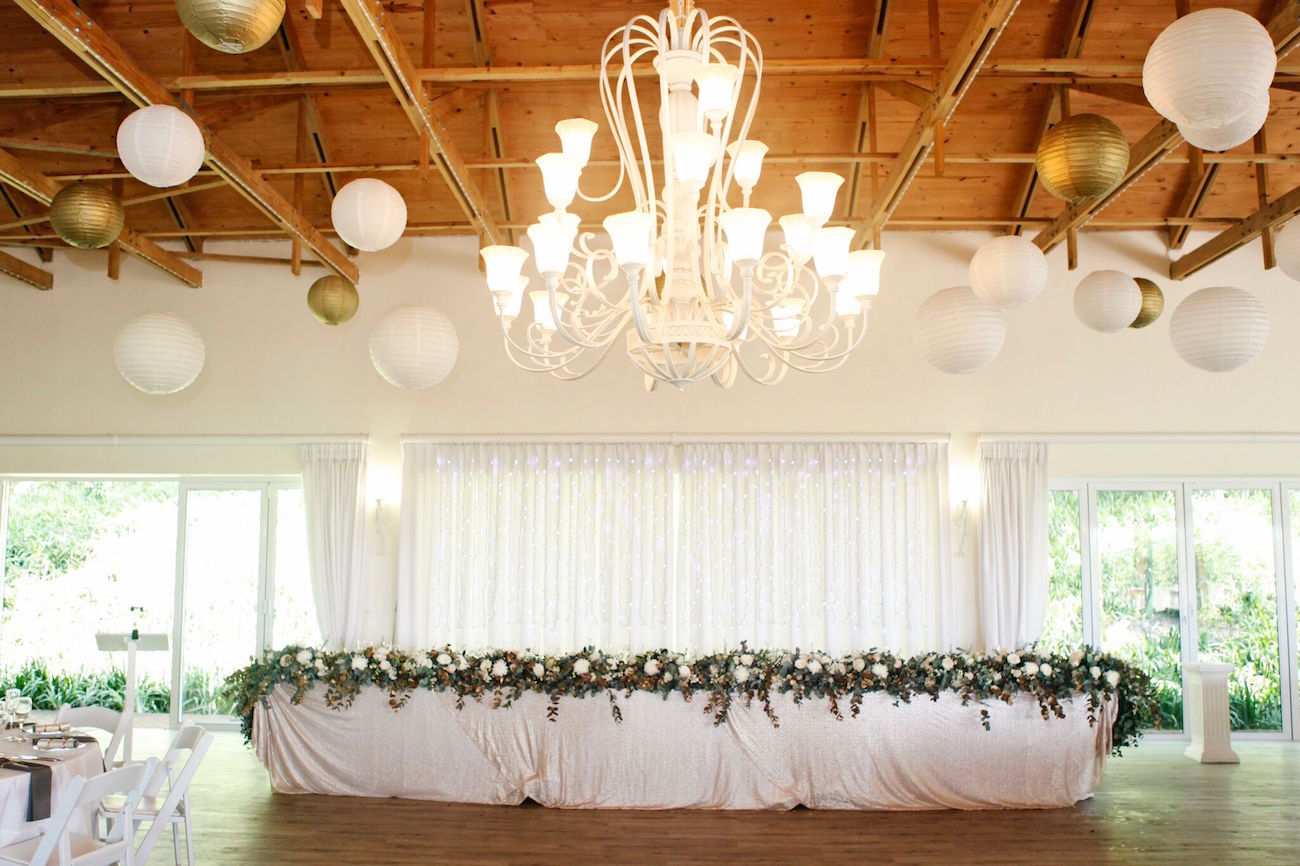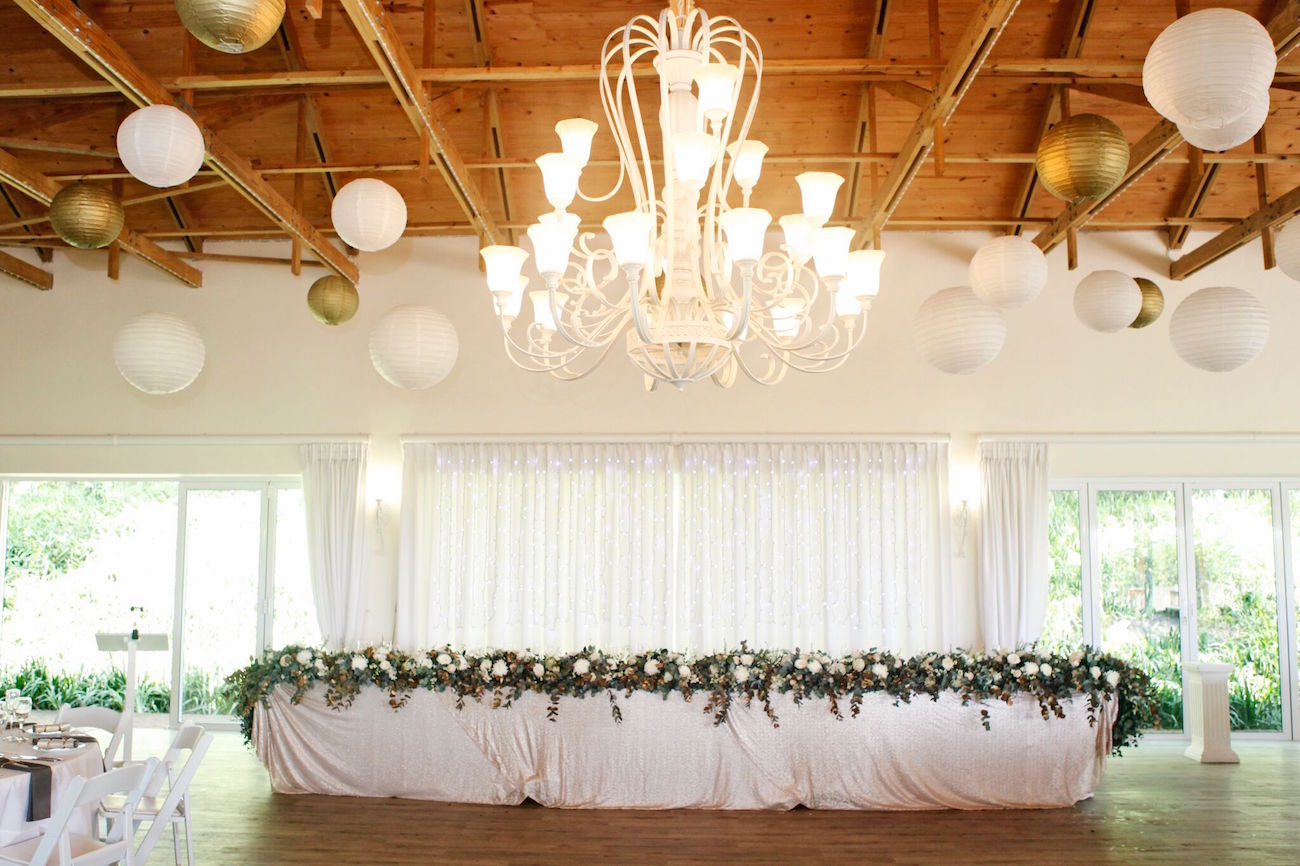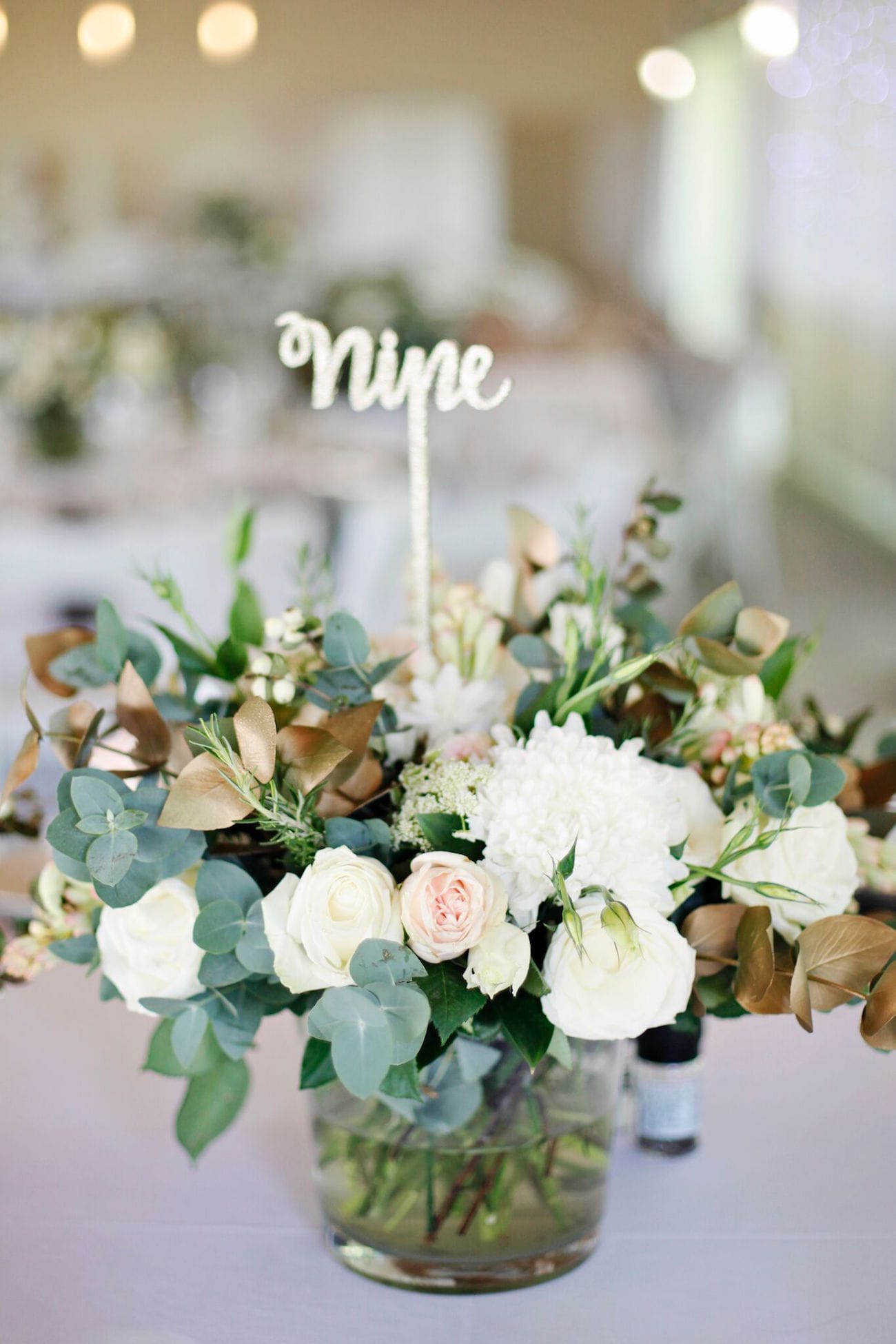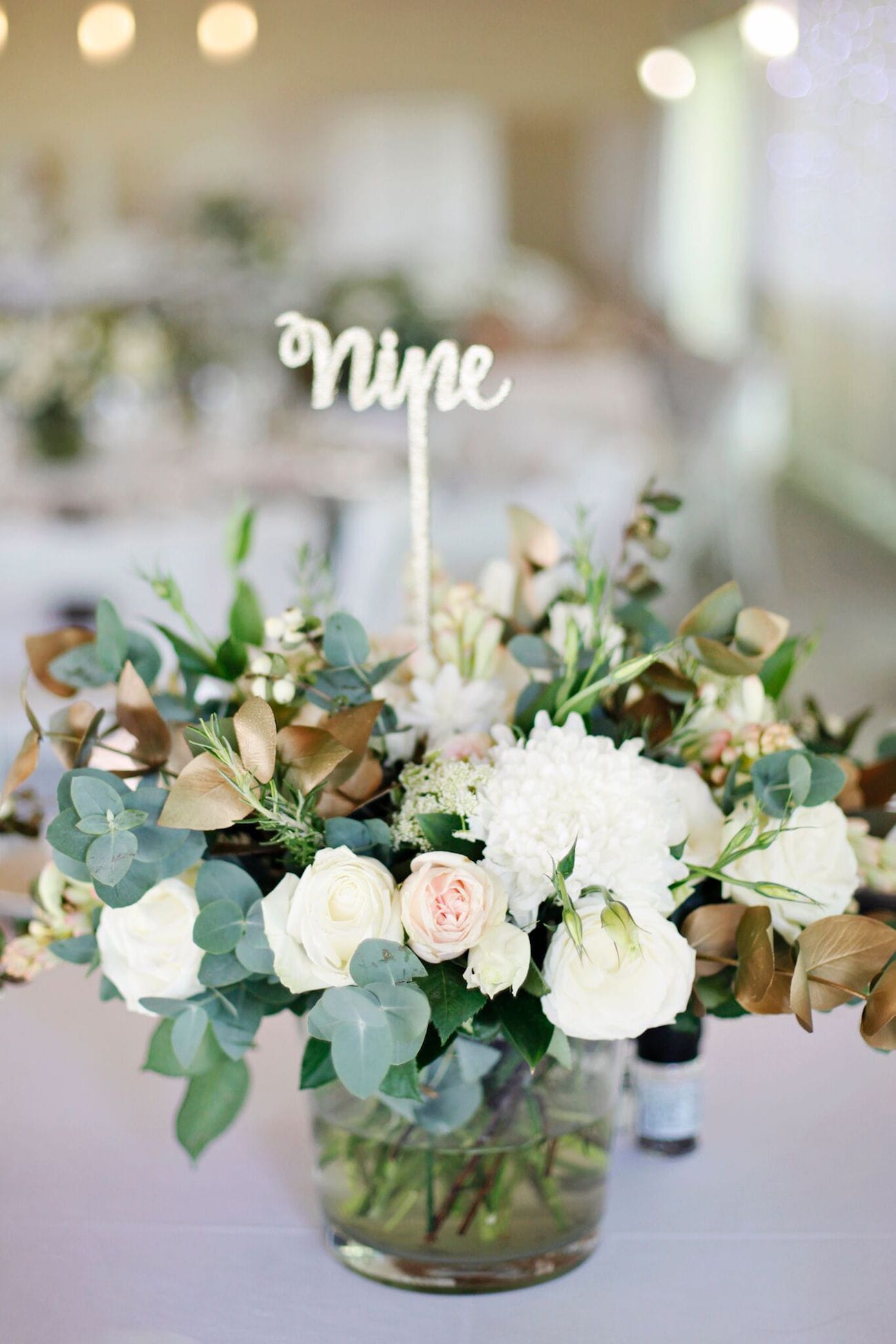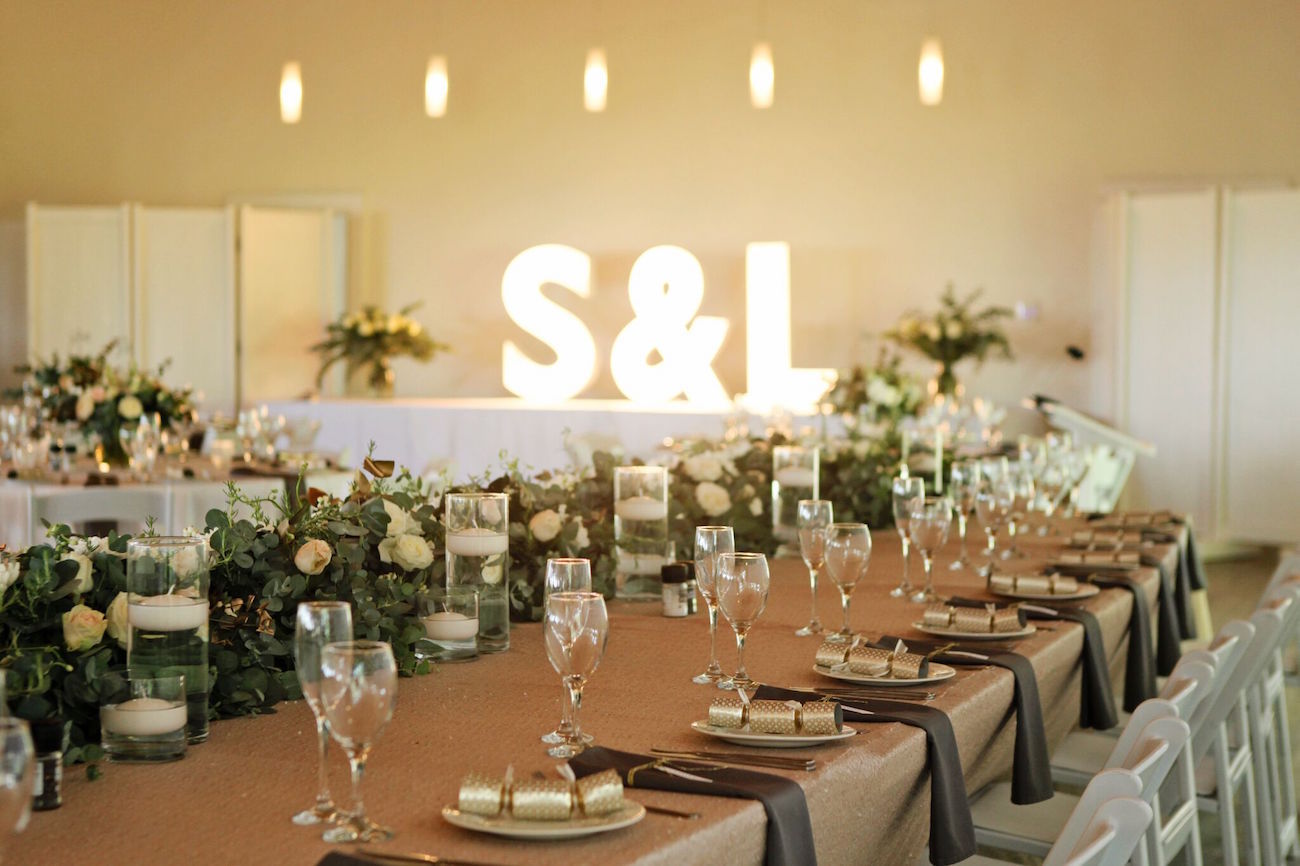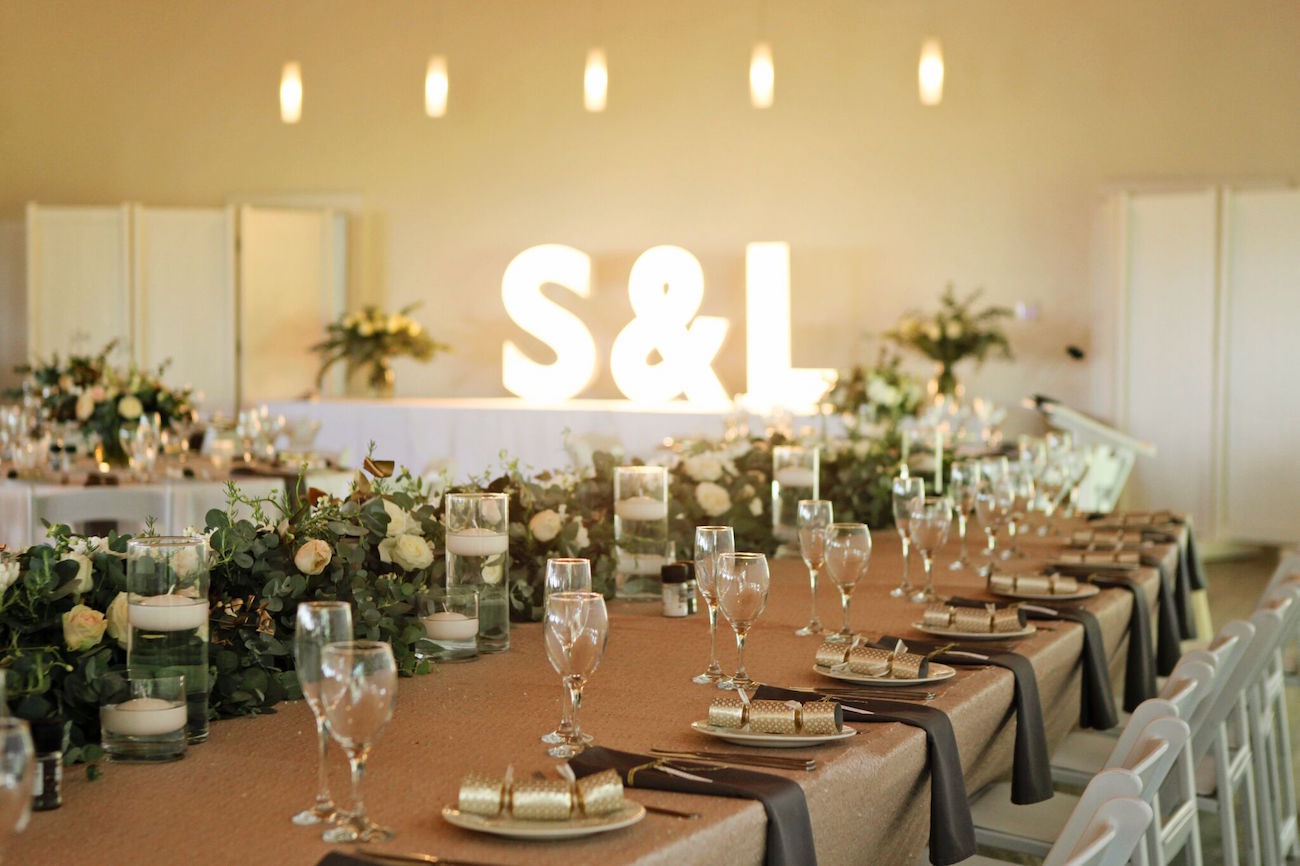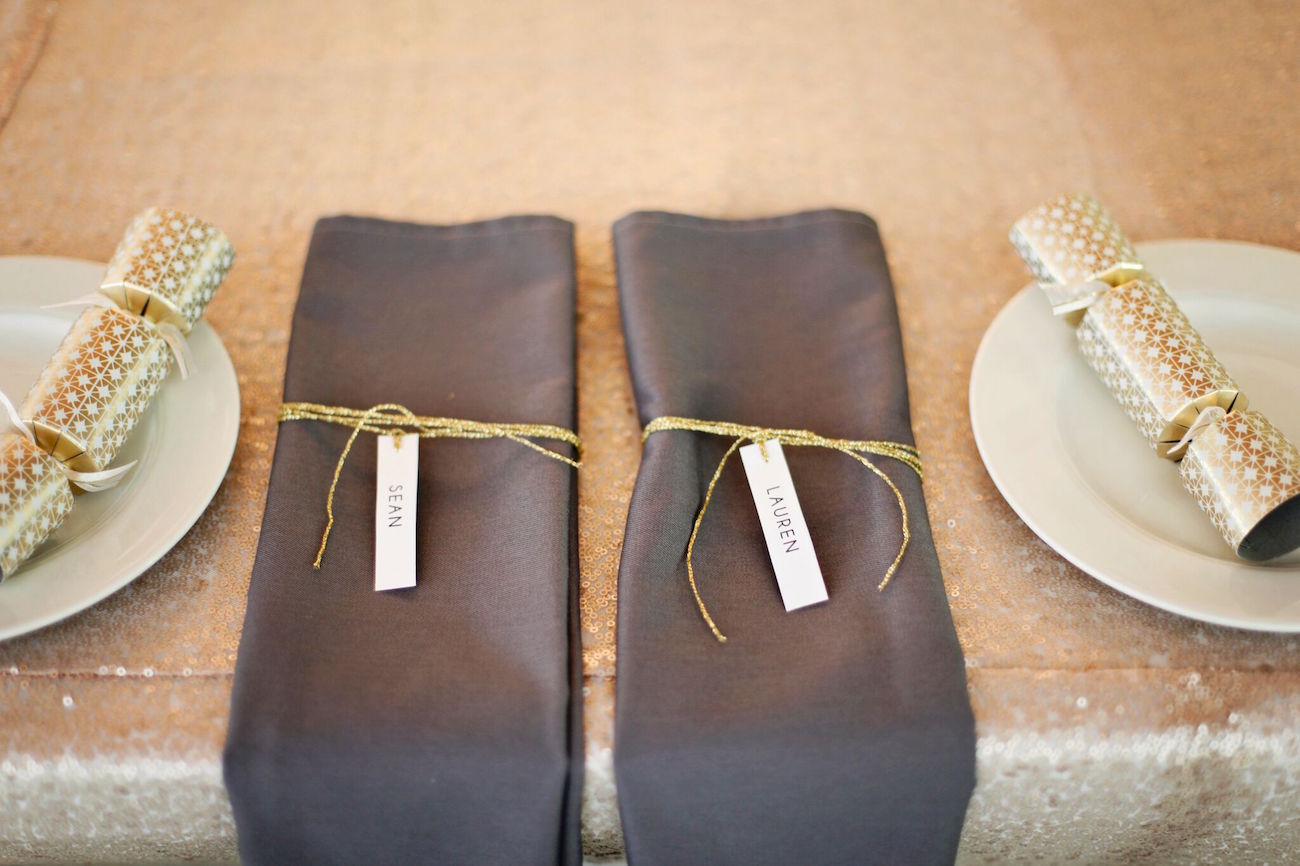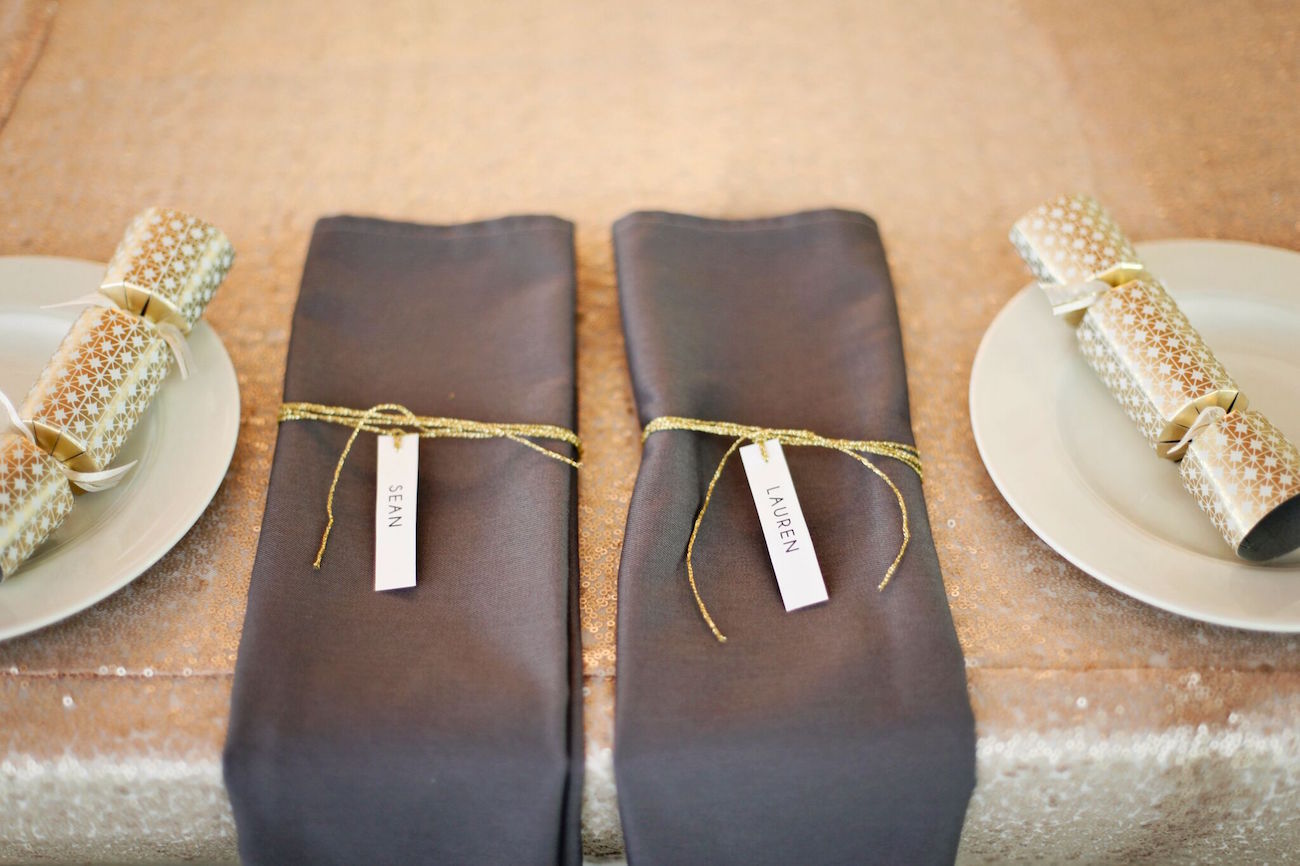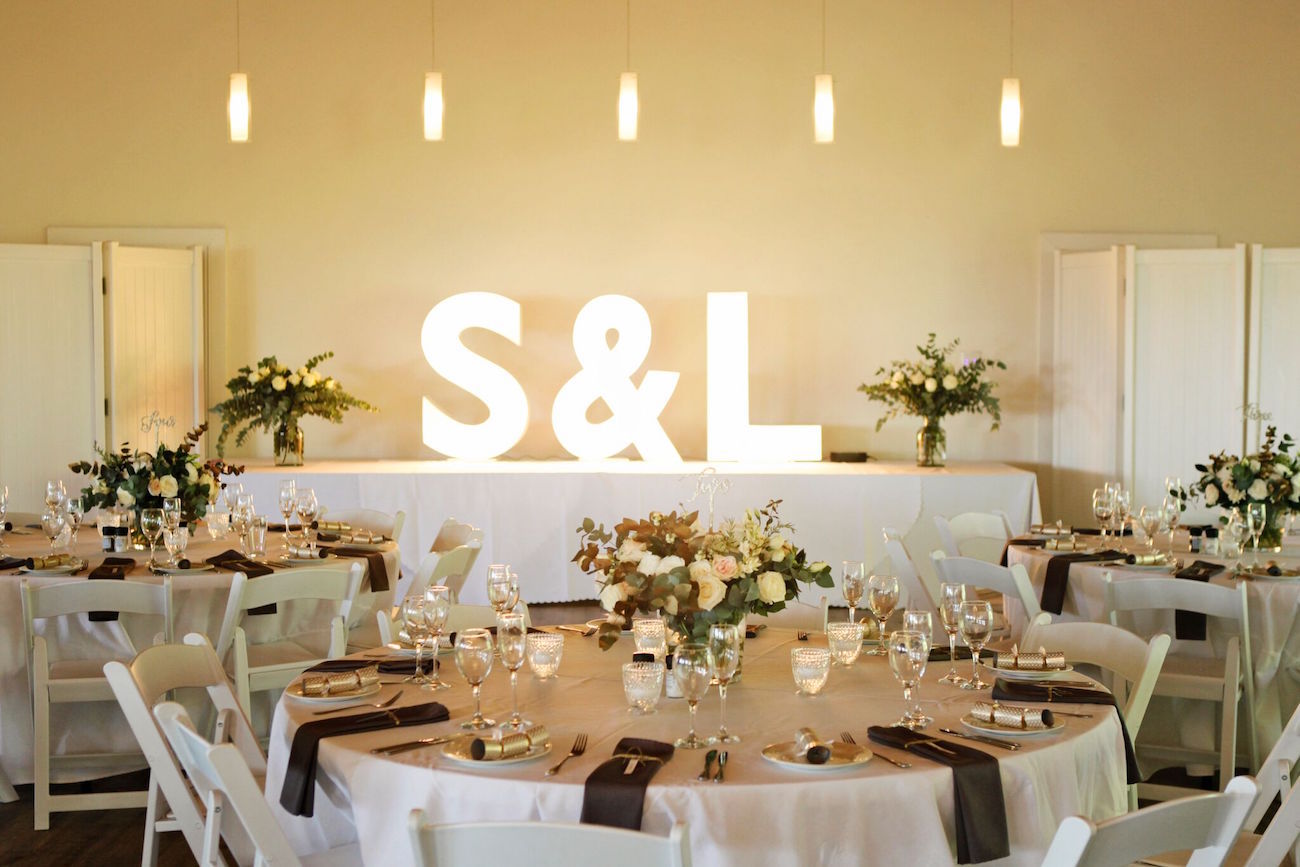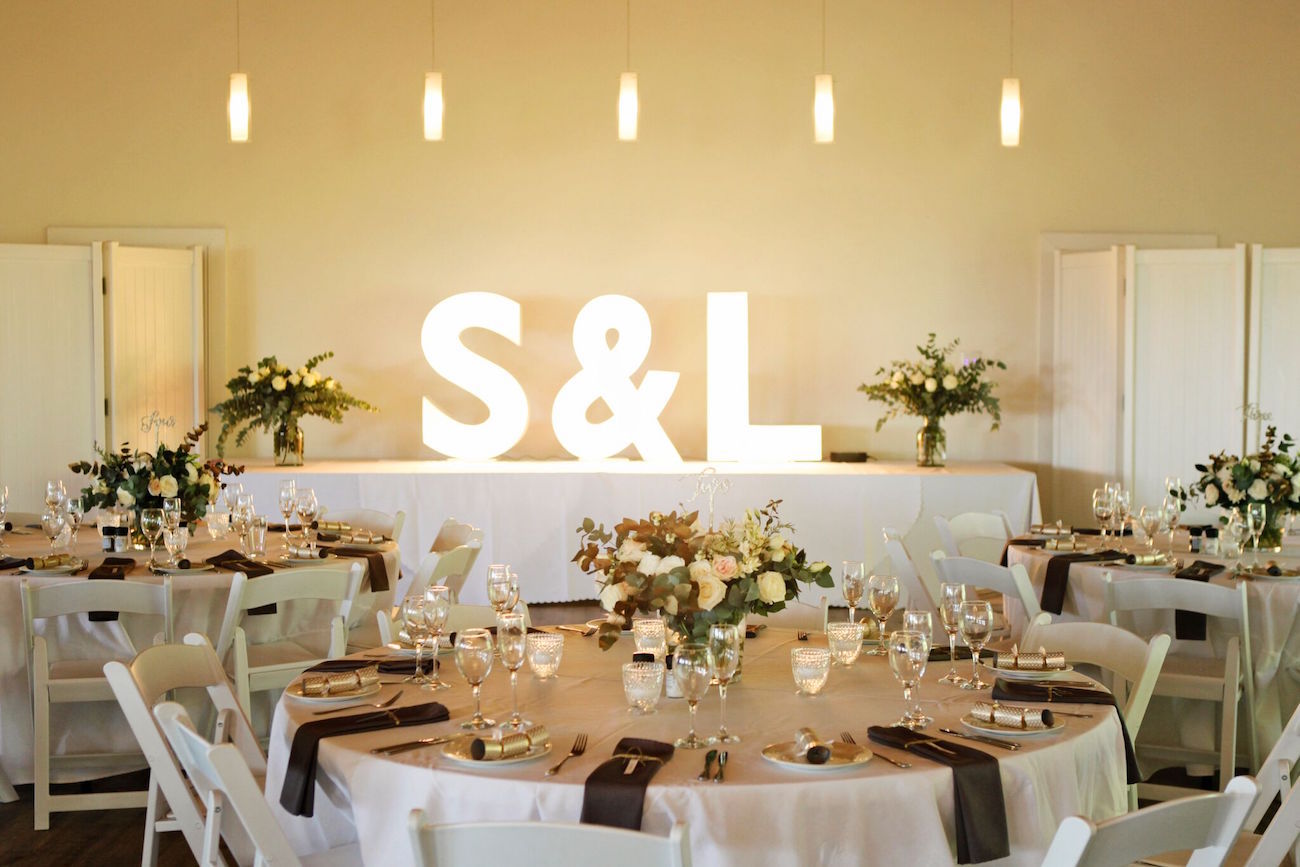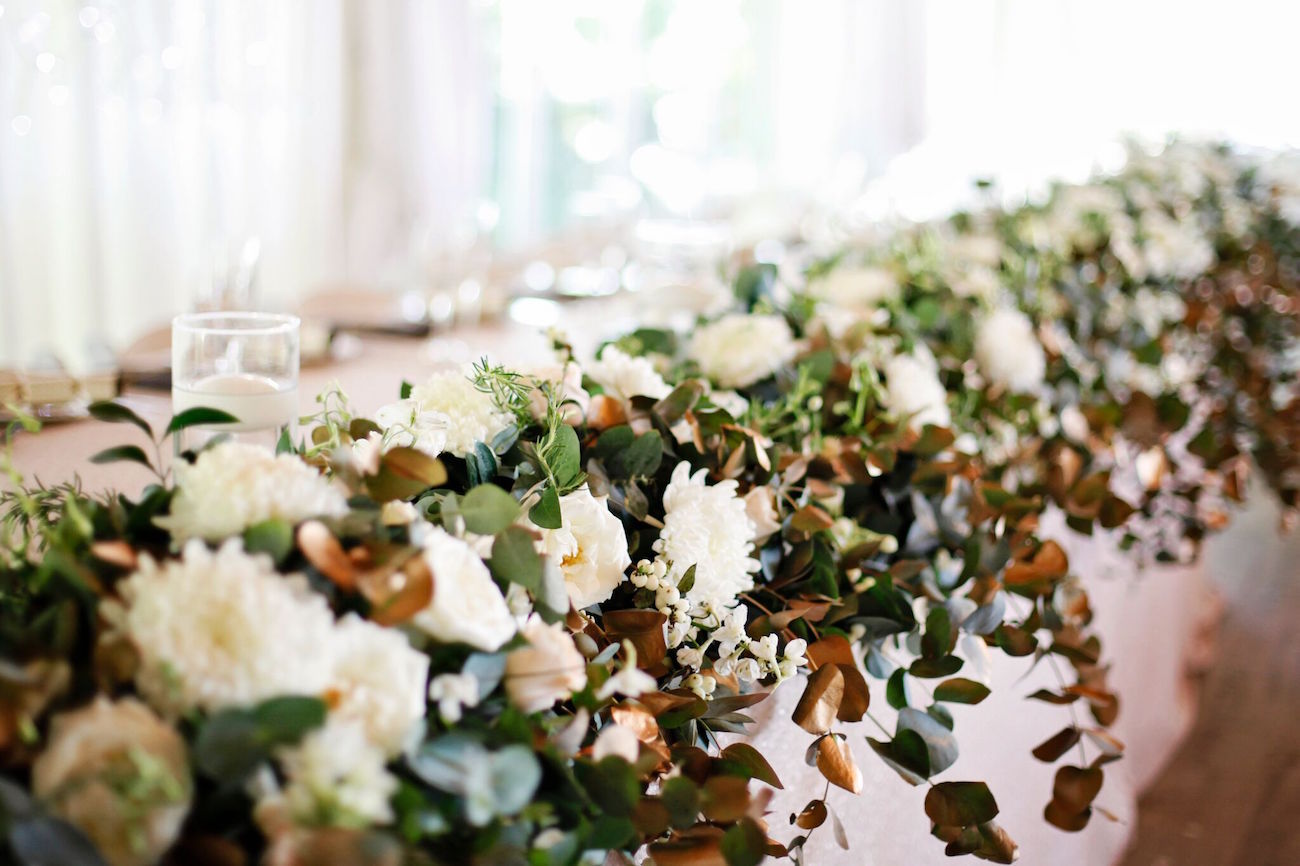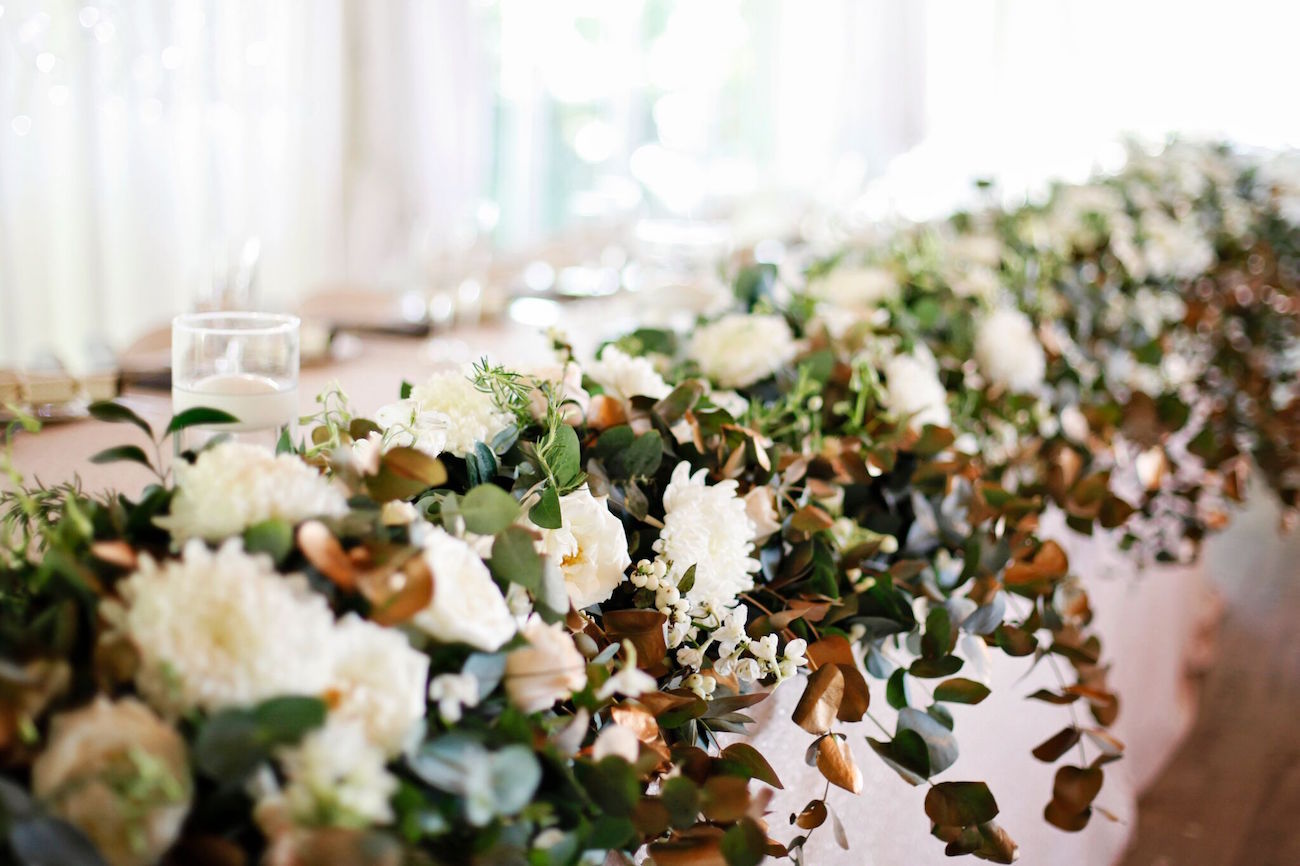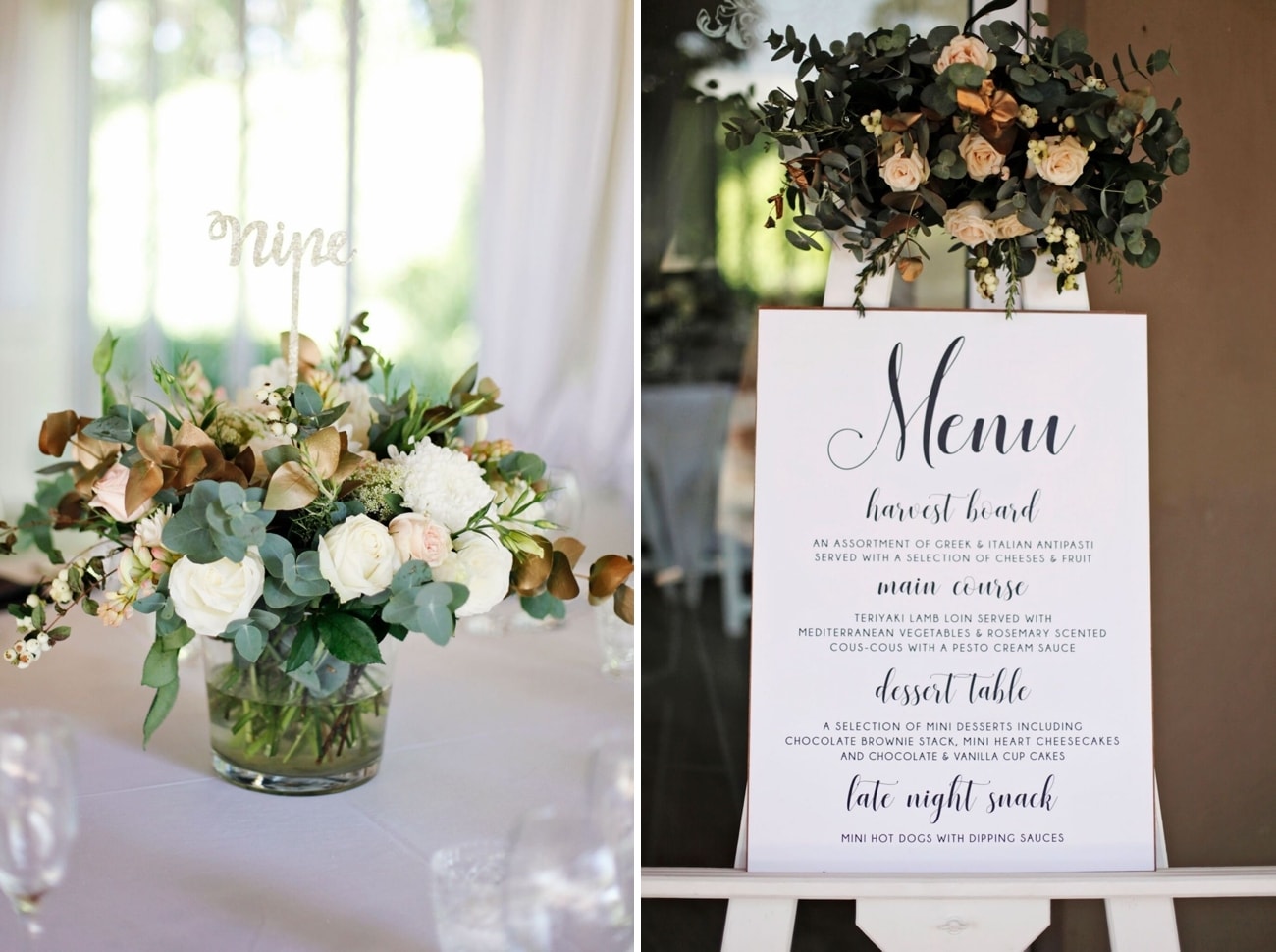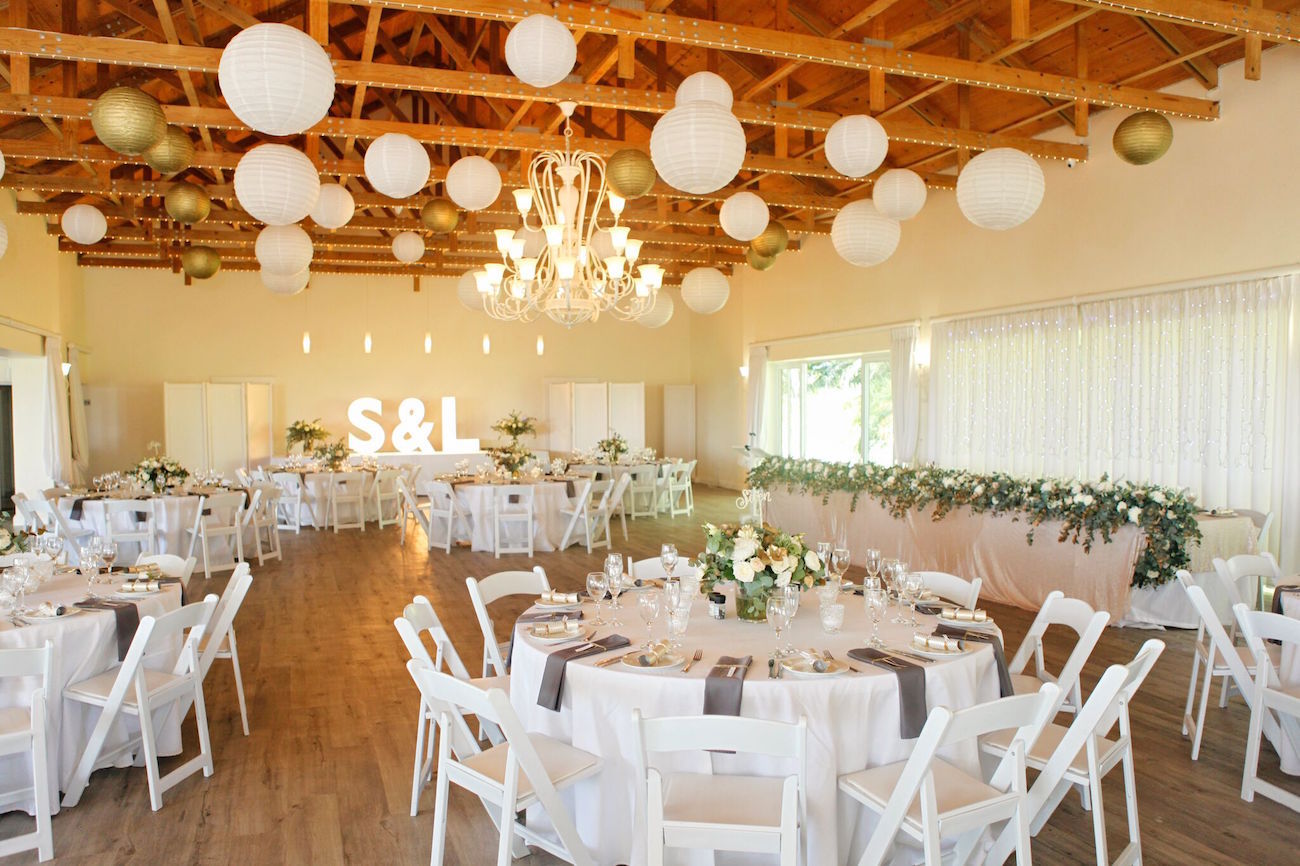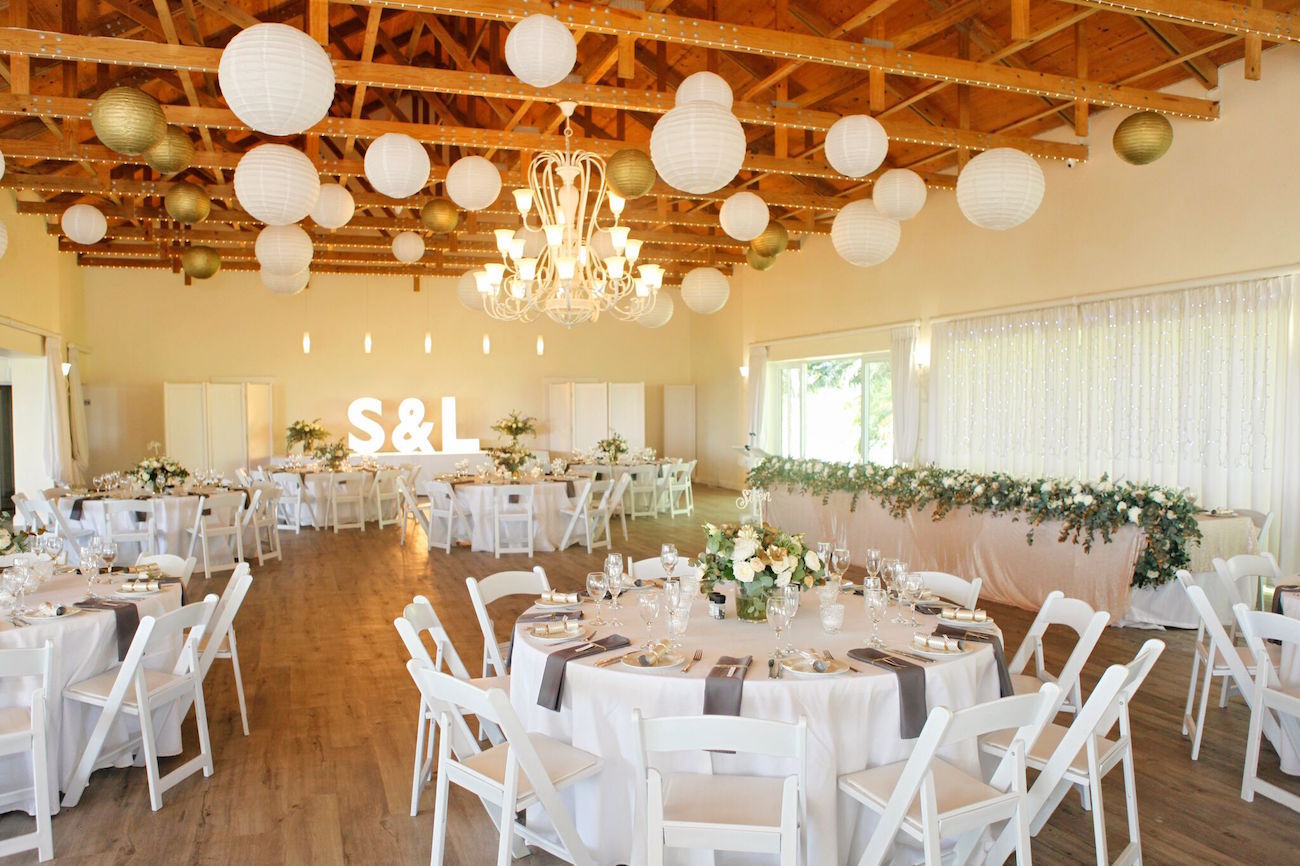 Wedding Details
We had a large frame with Polaroid photos strung up. All of our guests featured on the frame, which was very important to us. We are very close to our families and have a large group of special friends, and they are all part of what has made our relationship grow. We also love wine… a lot! So we had a "wine party" after the ceremony with beautiful harvest boards and a large help-yourself wine table!
DIY Elements
I own a wedding stationery business so I loved being involved in the printed elements. I did all of the designs and printing myself, from the seating charts to bottle stickers. Its my absolute passion and it was so special for me to do this for my own wedding.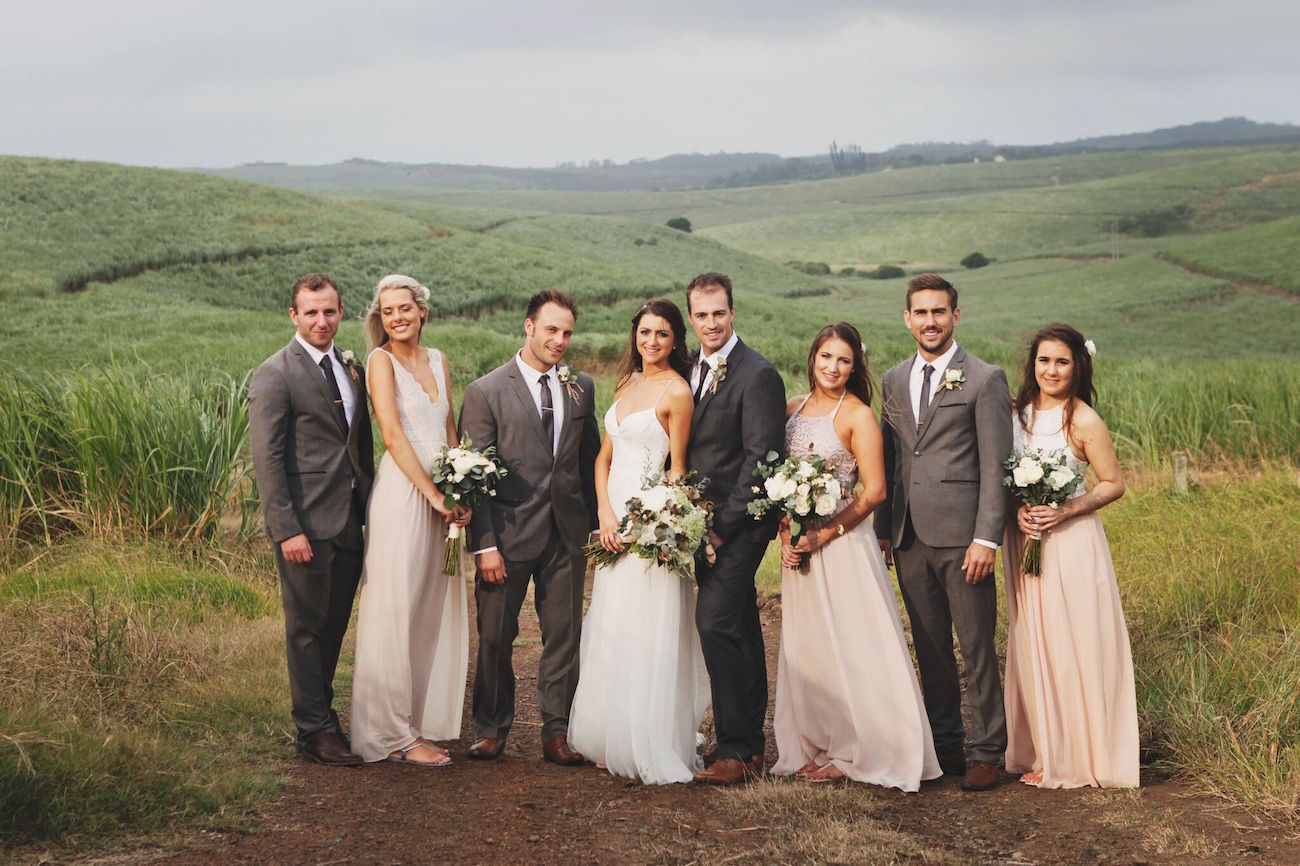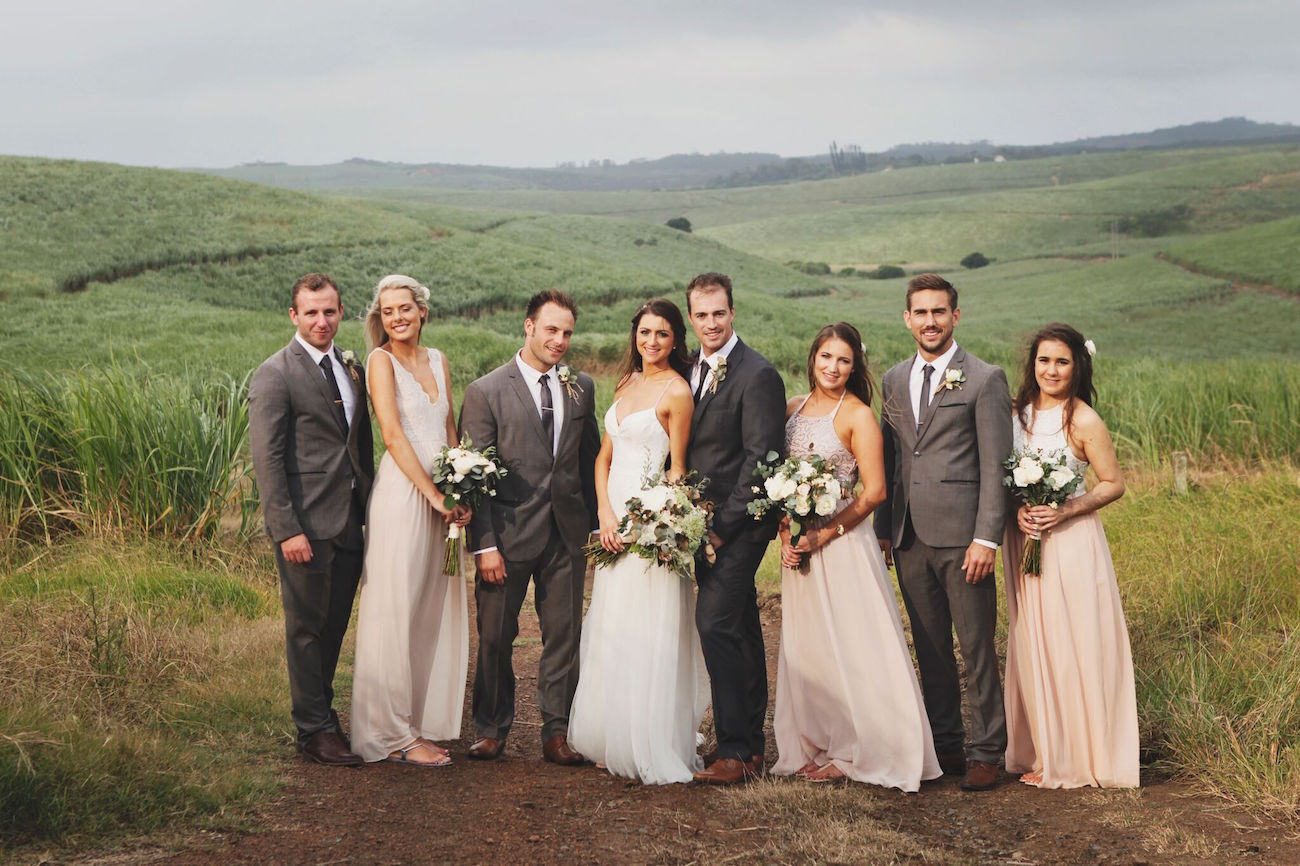 The Dress
I'm not one for wasting time at numerous shops. So I made one appointment at Toujours Wedding House with my mum. The second dress I tried on was the one! It had long sleeves and looked very different but I loved the soft tulle skirt. So together with Tracey the owner we chopped and changed it to fit what I wanted. I really wanted something light and comfortable as I like a good party and I wanted to dance and have fun in my dress. My mum and I were the only ones who had seen my dress until the reveal; it was a very special time for us to share.
The Bridesmaids
Sean and I didn't want to have too big a bridal party, so we each had three bridesmaids and groomsmen. I wanted the girls in different style dresses so that they all felt comfortable and gorgeous. I took each one shopping with me separately and we chose the perfect dress to suit their bodies, that would make them look the best. I did make sure that the colours suited the theme of the wedding and worked well together.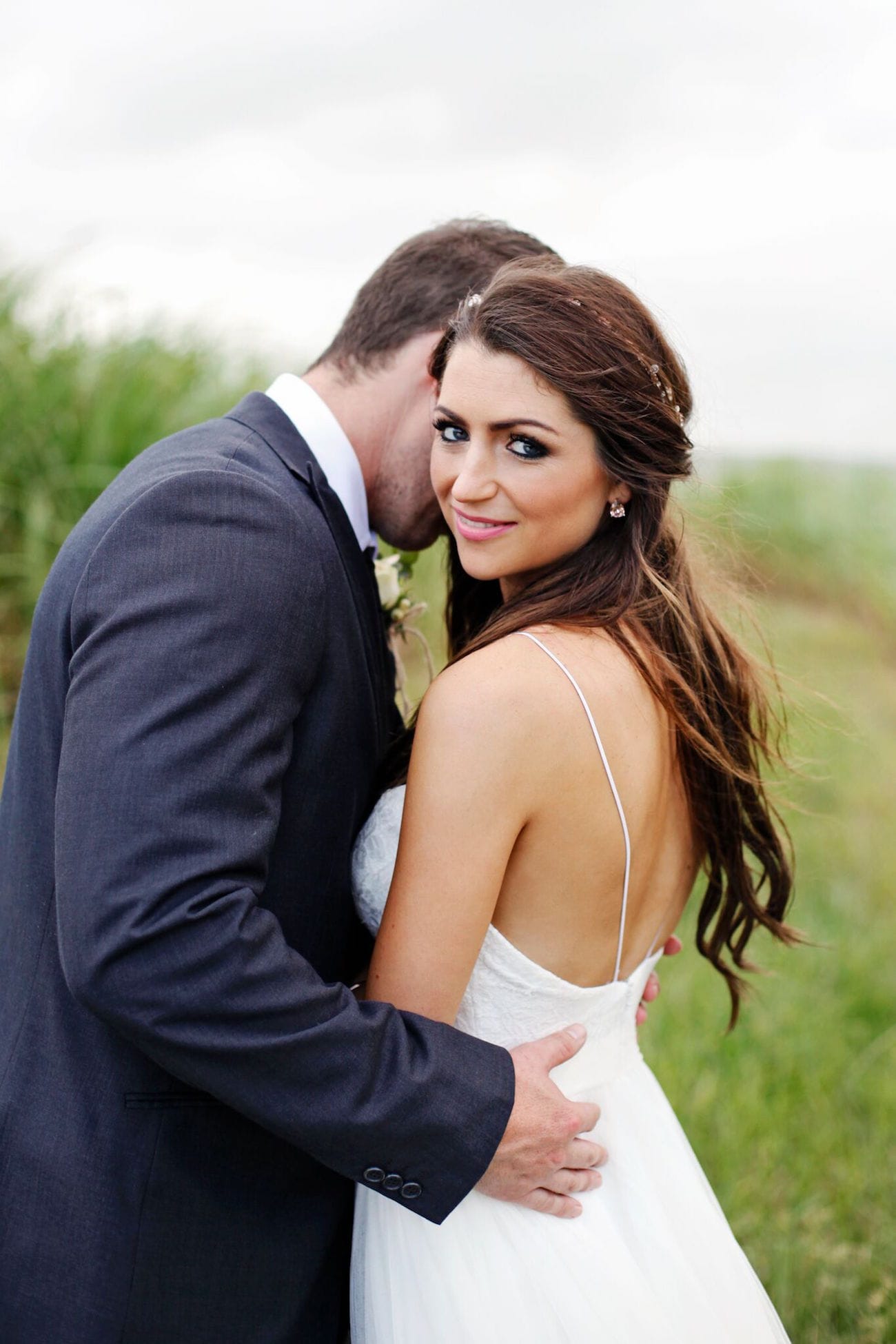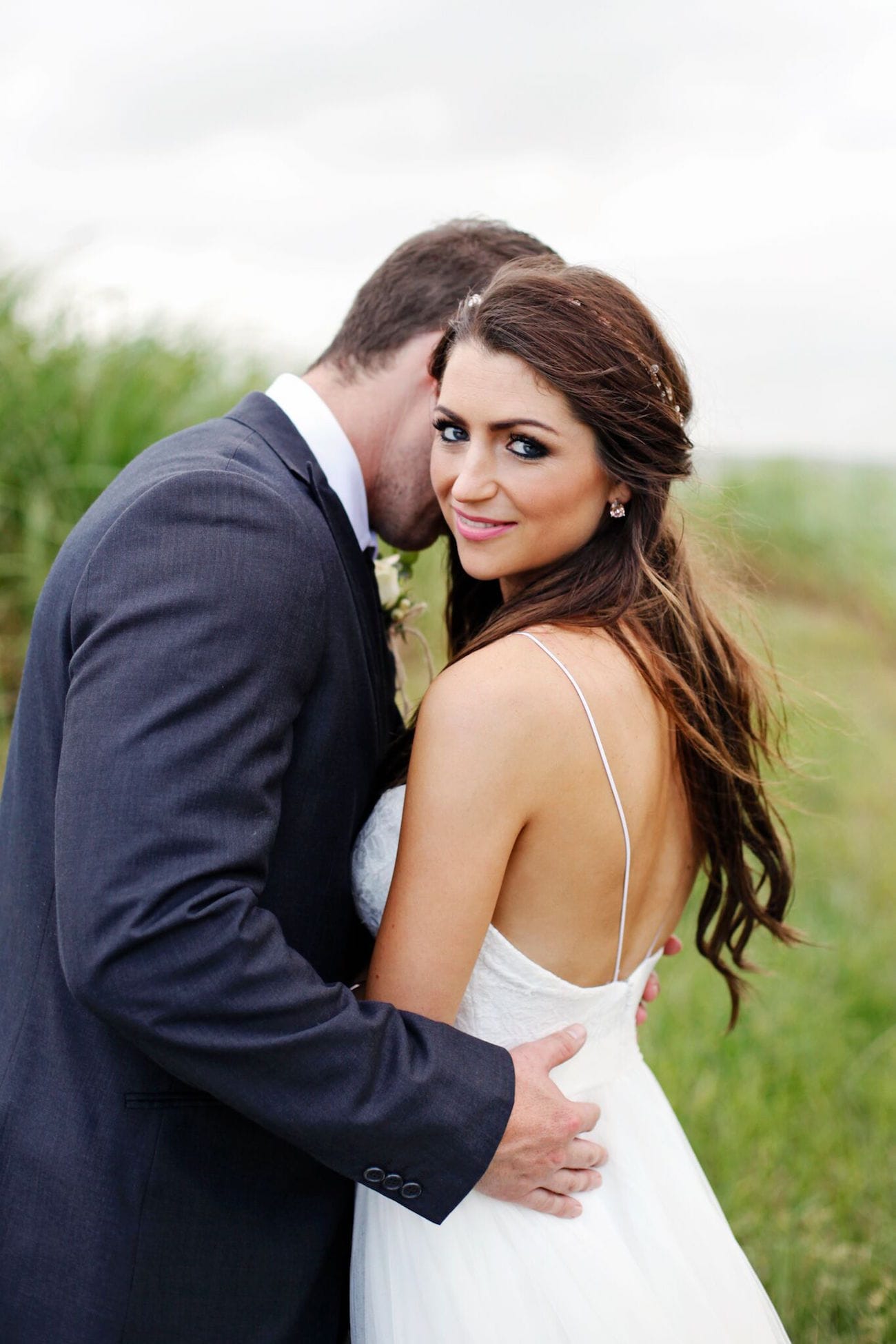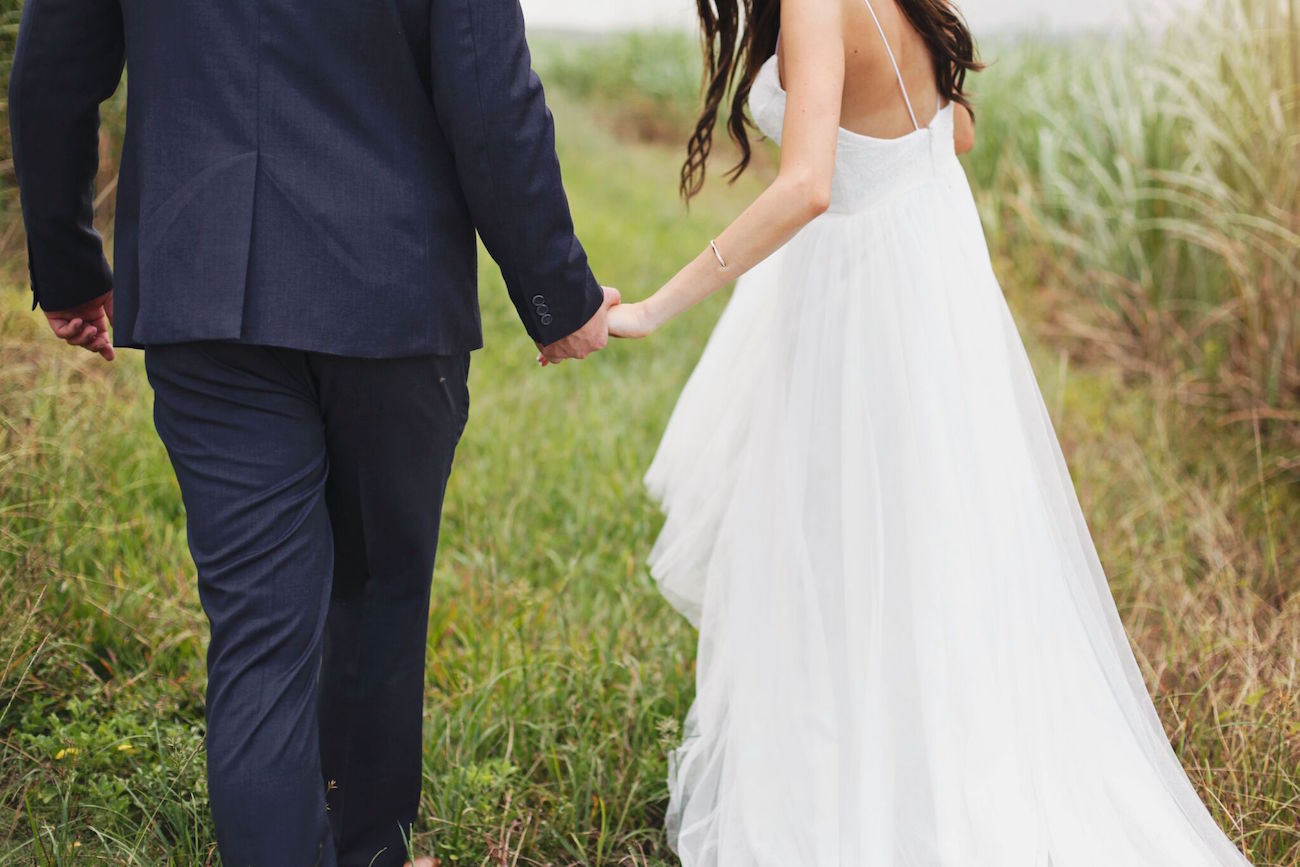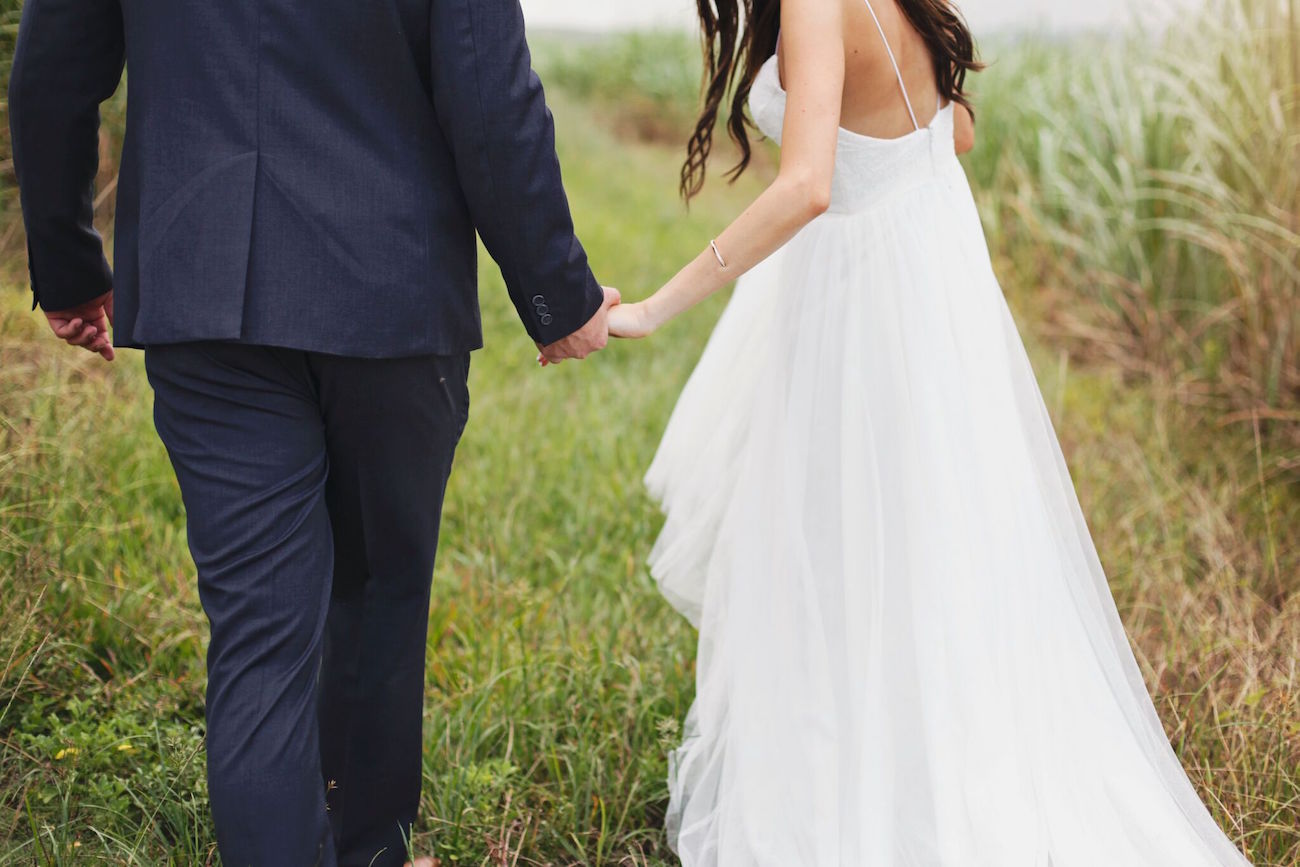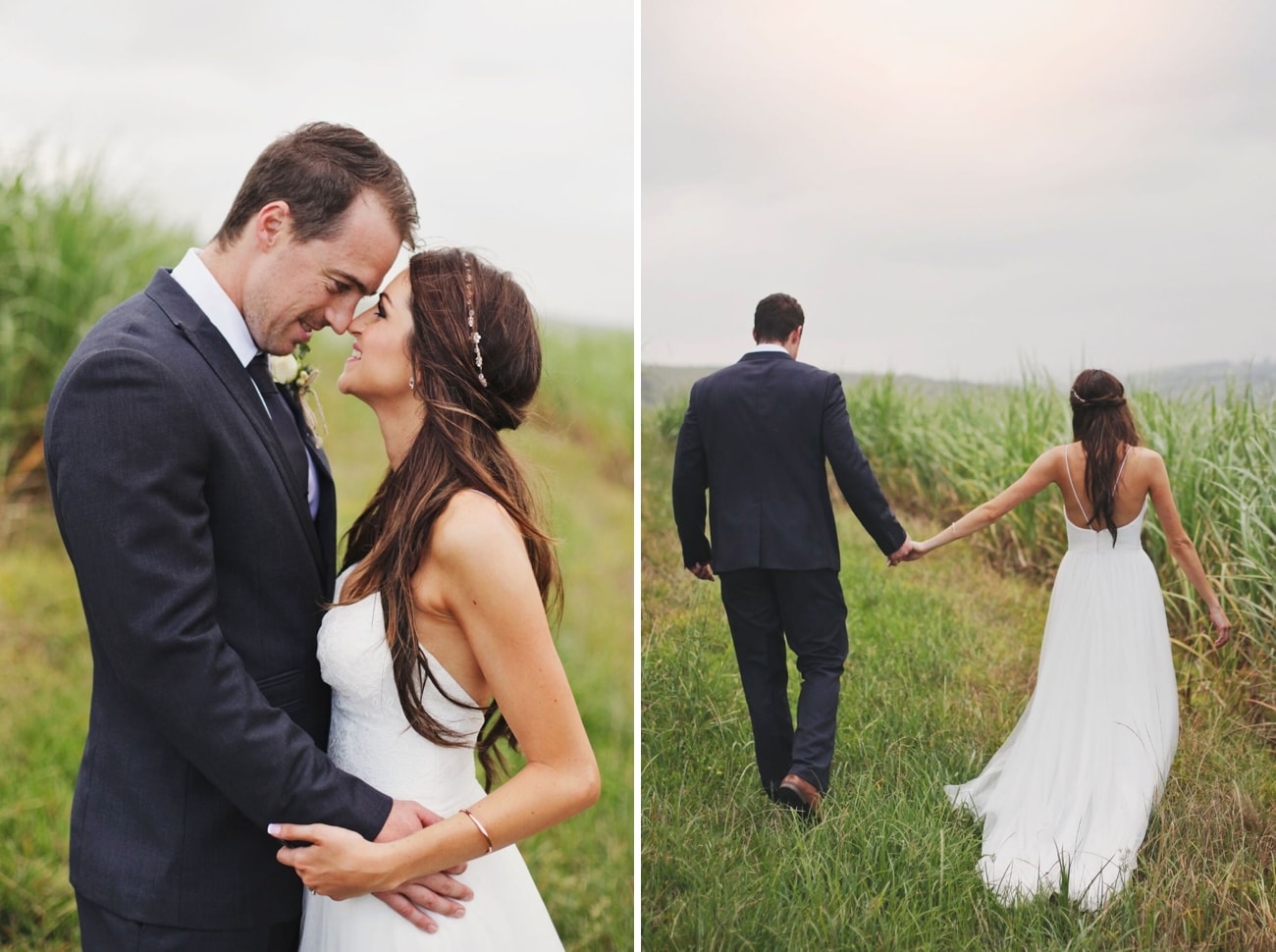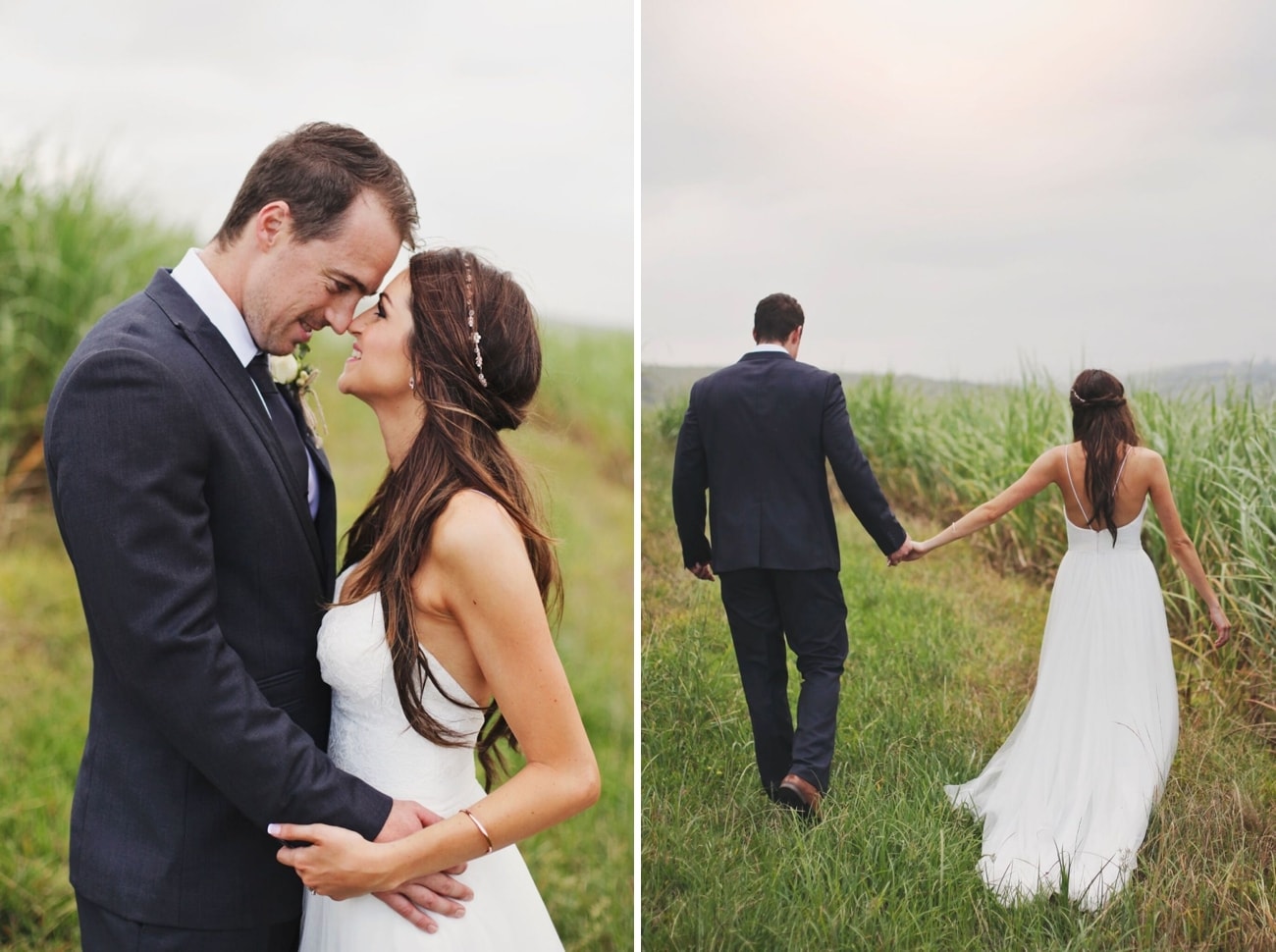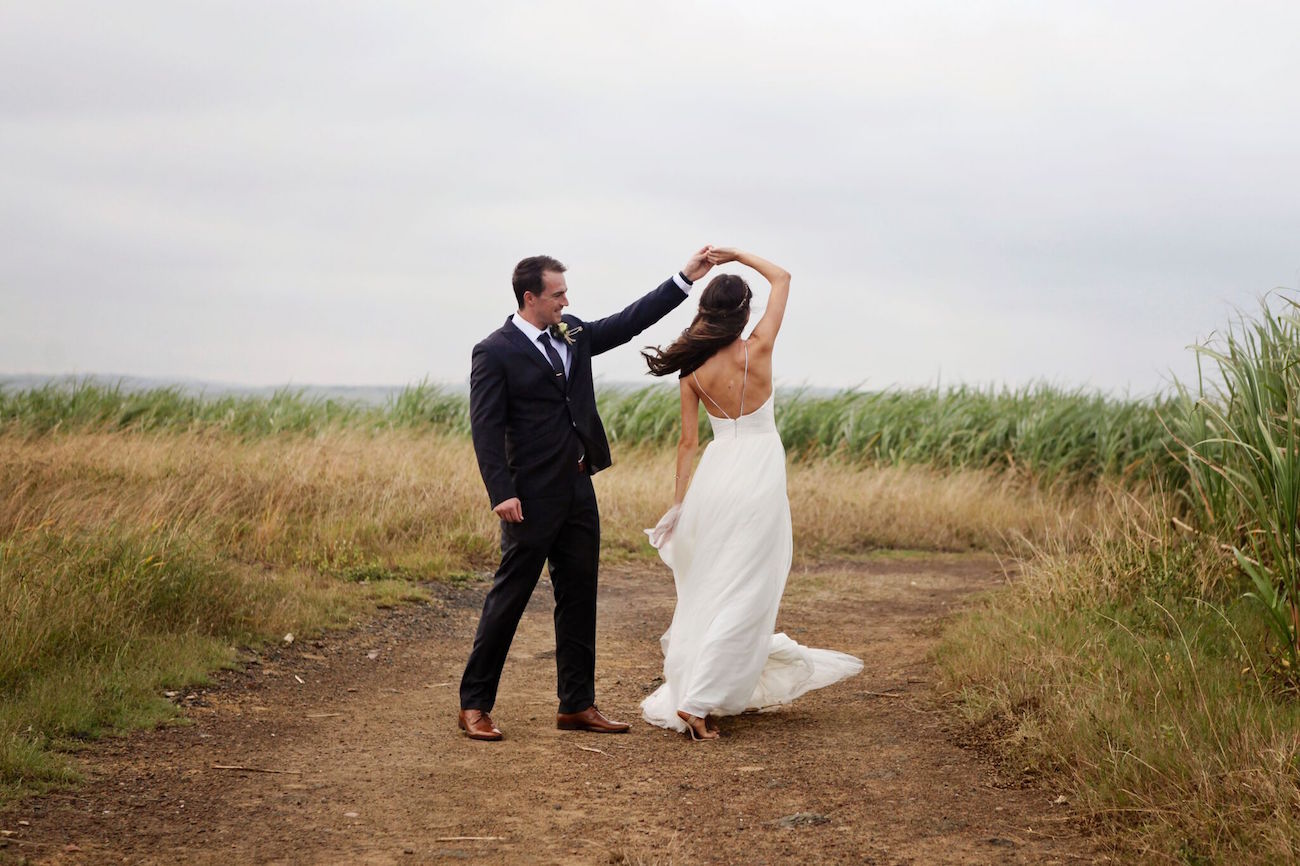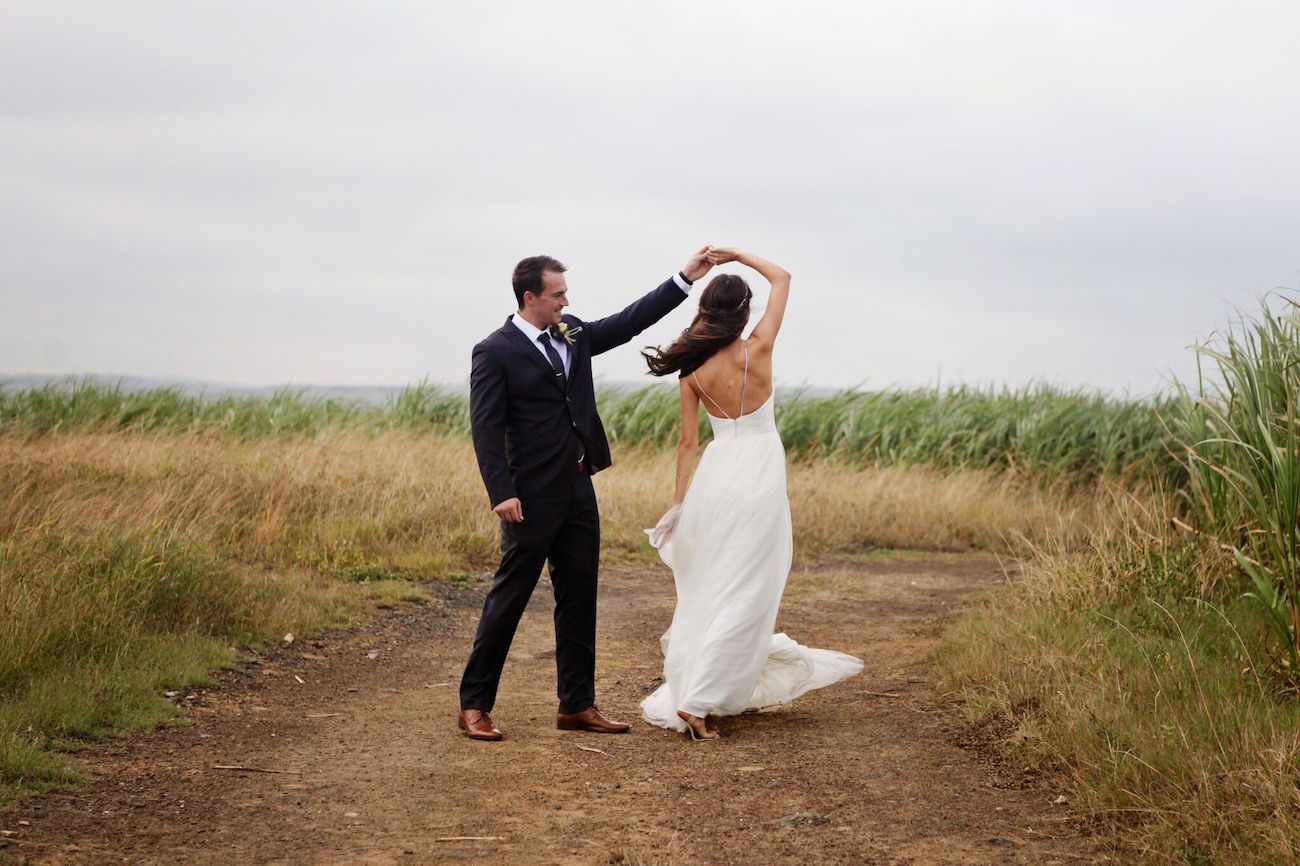 The Flowers
My mum is amazing with flowers so I gave this job to her. All I wanted was lots of white and penny-gum with a spray of gold. She worked closely with our florist and they put it together beautifully!
Memorable Moment
When we went off with our bridal party for our photos, it was so windy – we all looked so windswept when we got back to the venue. So Sean and I went to the cottage on the venue where he had stayed the night before and we had a little chill there while I fixed my hair and makeup. It was so nice to just be alone together for a little during all the excitement and take in what had just happened; it was a special moment.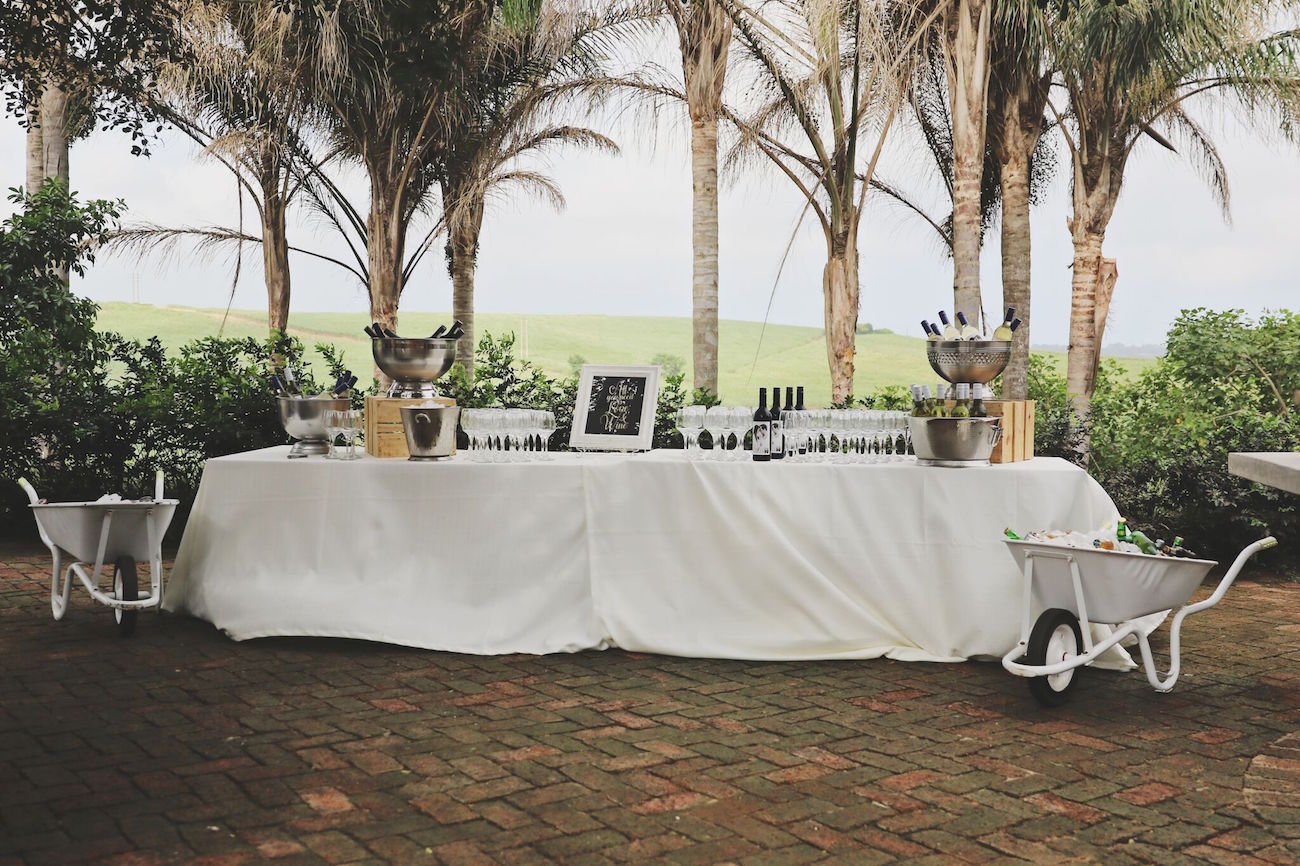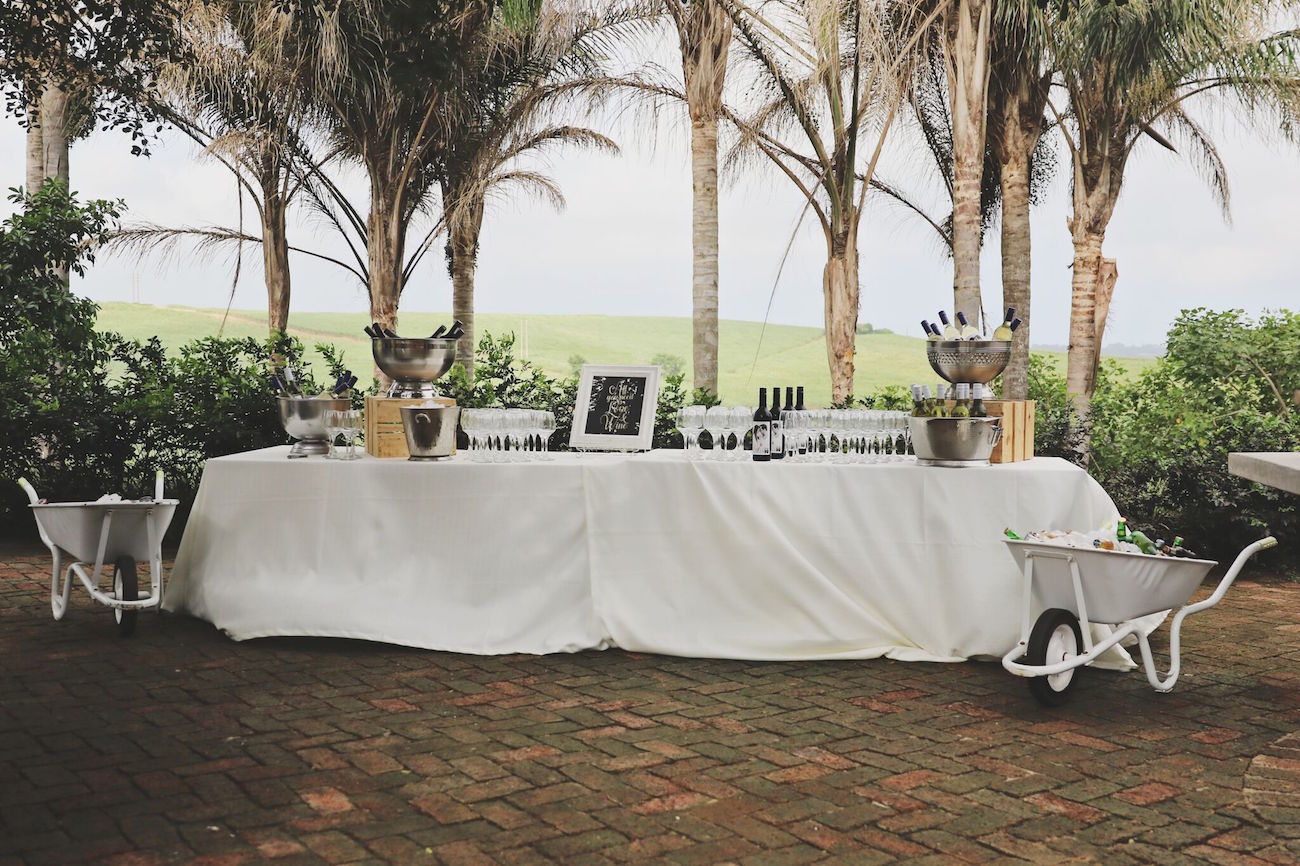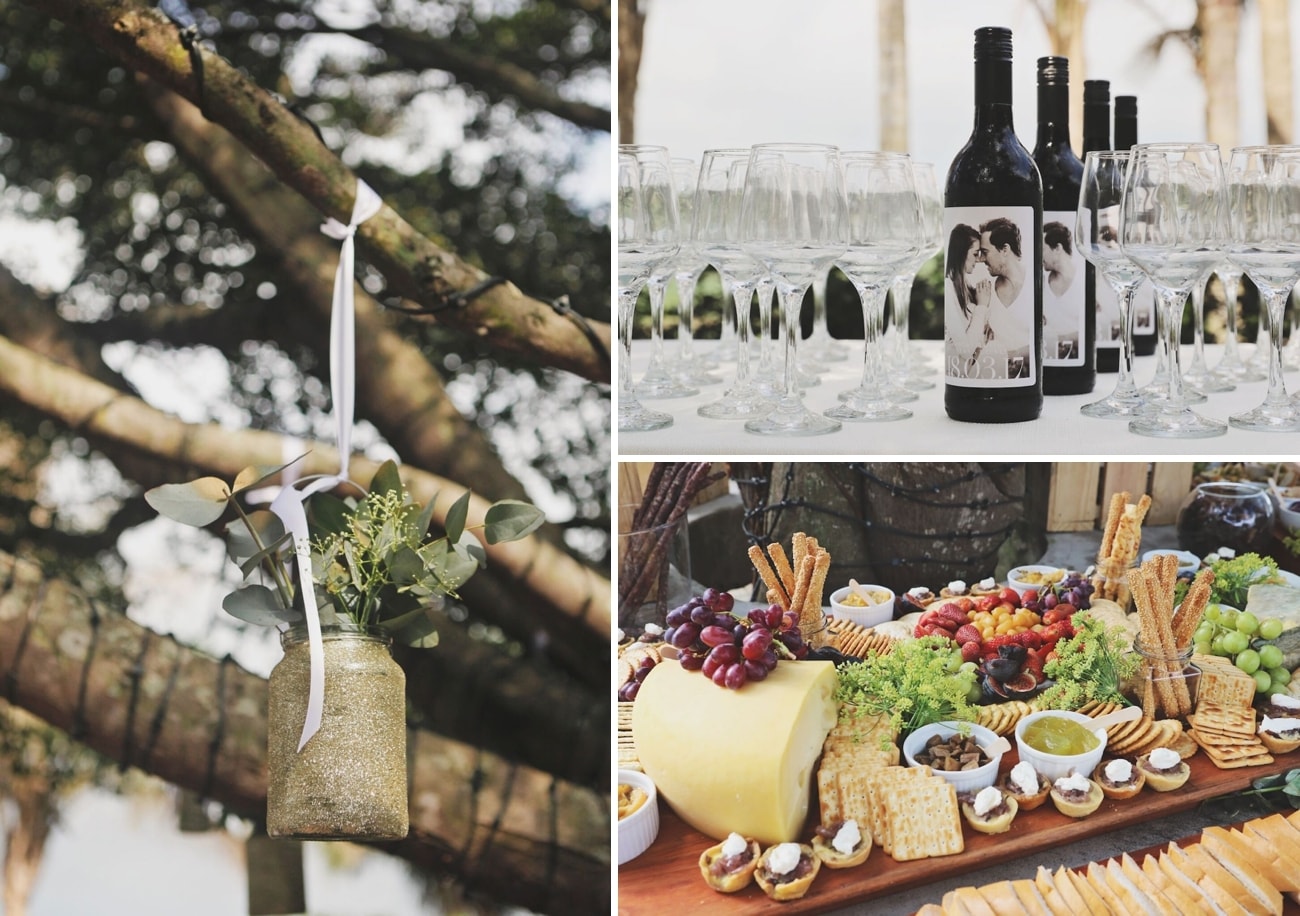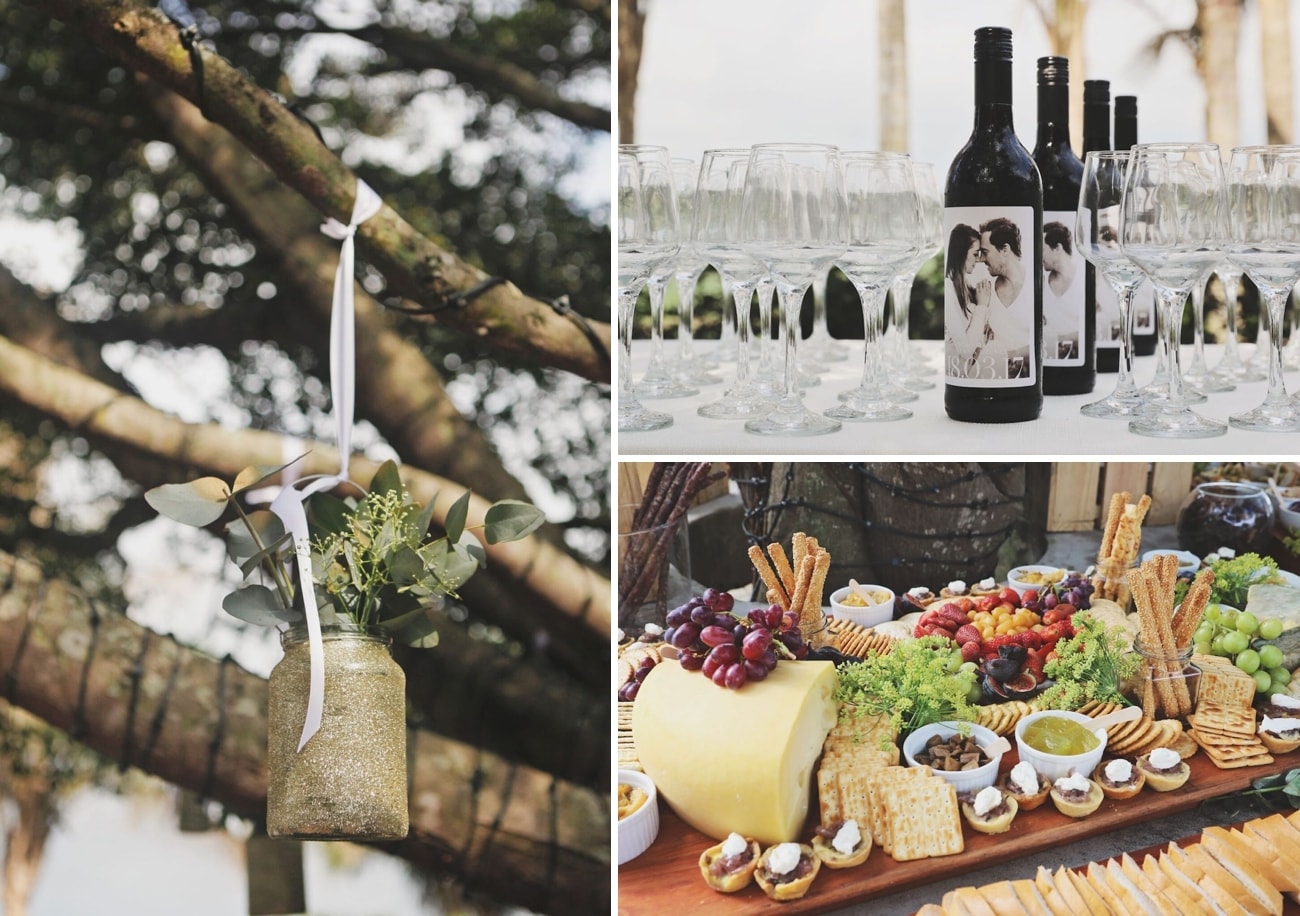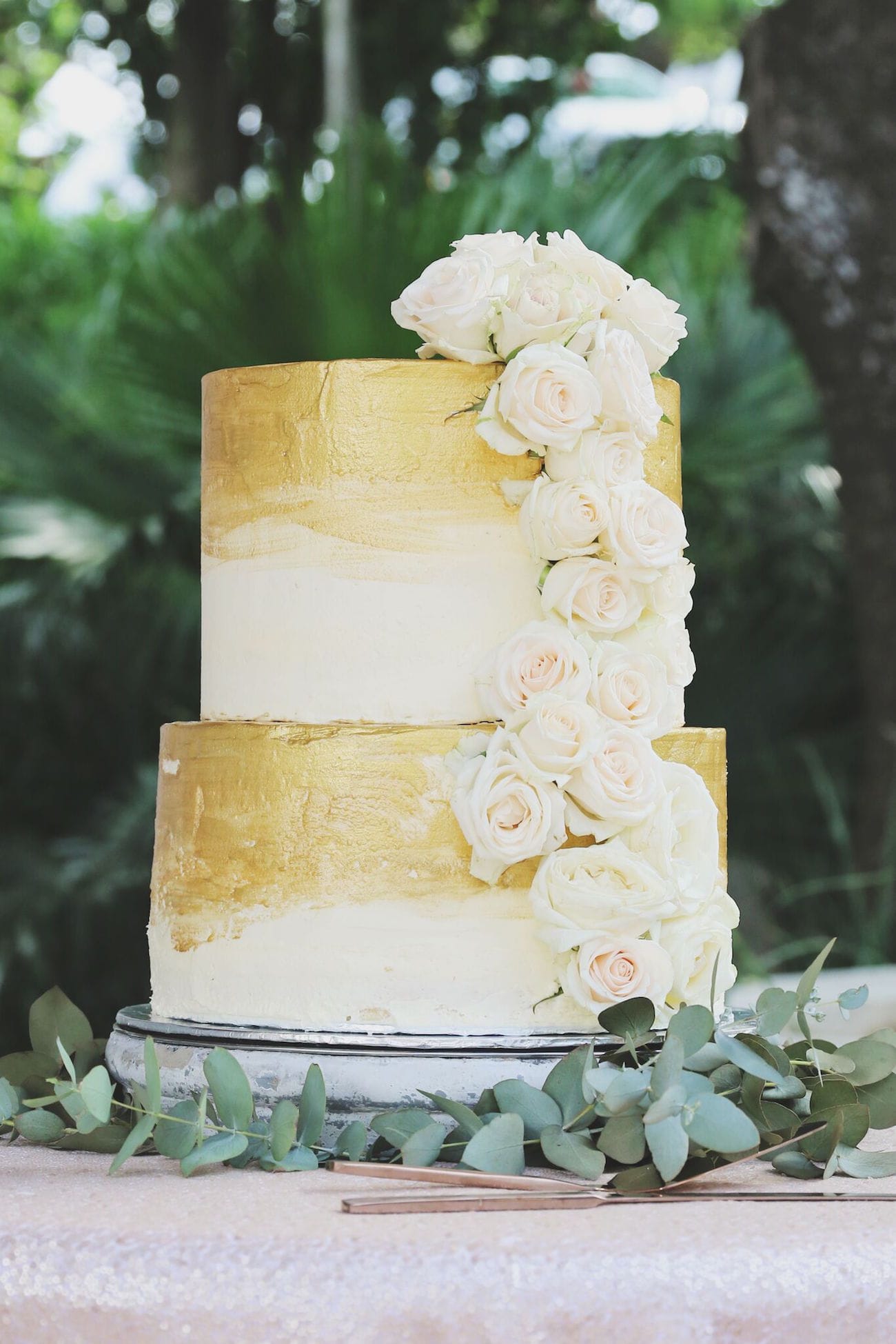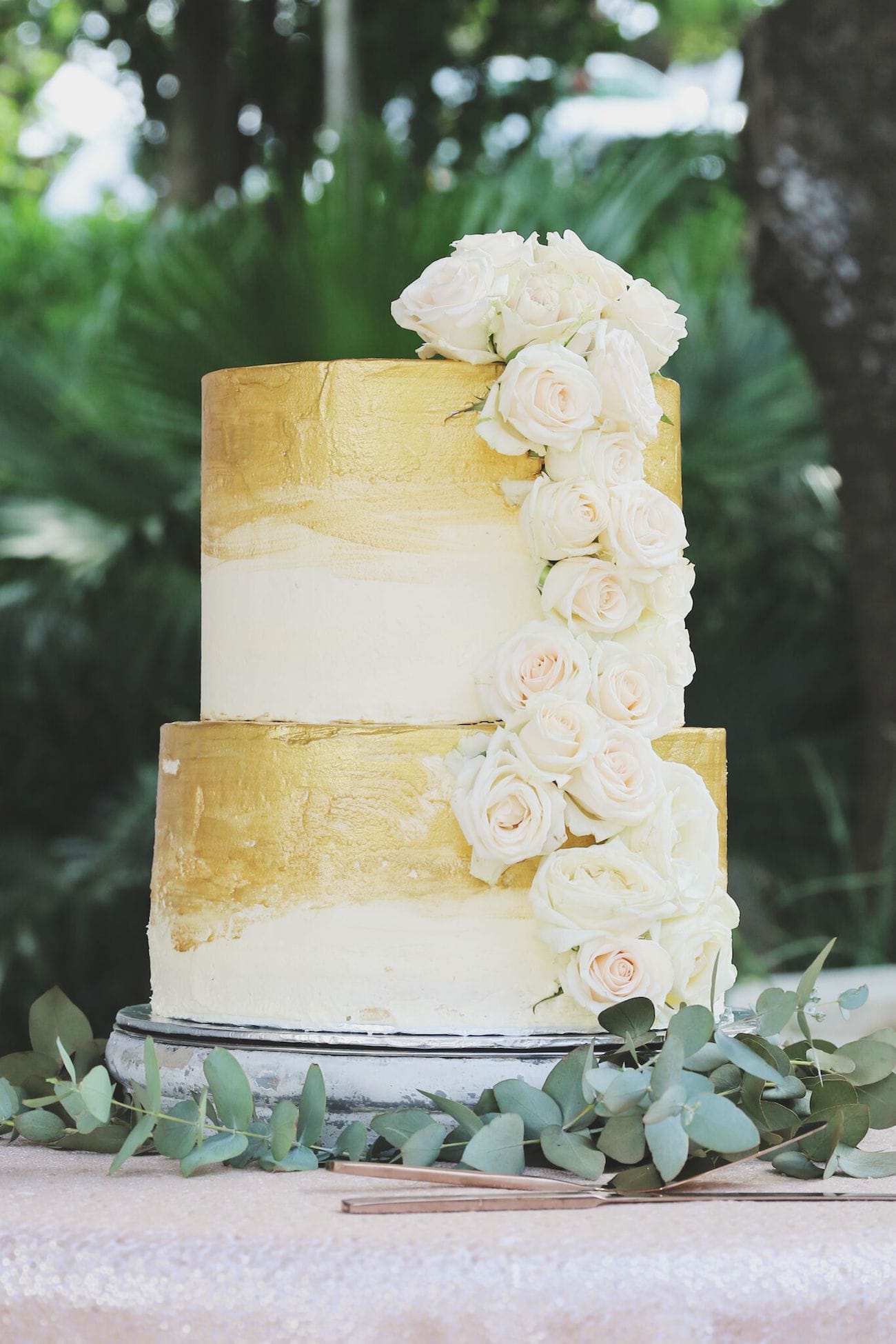 Best Decision
We wanted our wedding to be full of delicious food, drinks and fun as after all, it is a party! We made sure that we chose an amazing caterer that would feed the guests plenty of food throughout the day, and we had an open bar so that people could really enjoy themselves! I'm glad we focused on this because it's a long day for guests, and you don't want to have people starving!
Advice for Future Brides & Grooms
Don't over-think things and take too long to make decisions, especially as there are so many things to plan and decide on – it's better to not give yourself too many options and too much hard work. Also start to get things done early on so that you can both have fun during the week of the wedding! This is one of the best parts; the lead-up to the event is so much fun as everyone is involved in the excitement, and you don't want to be rushing around stressing because you have last minute things to settle.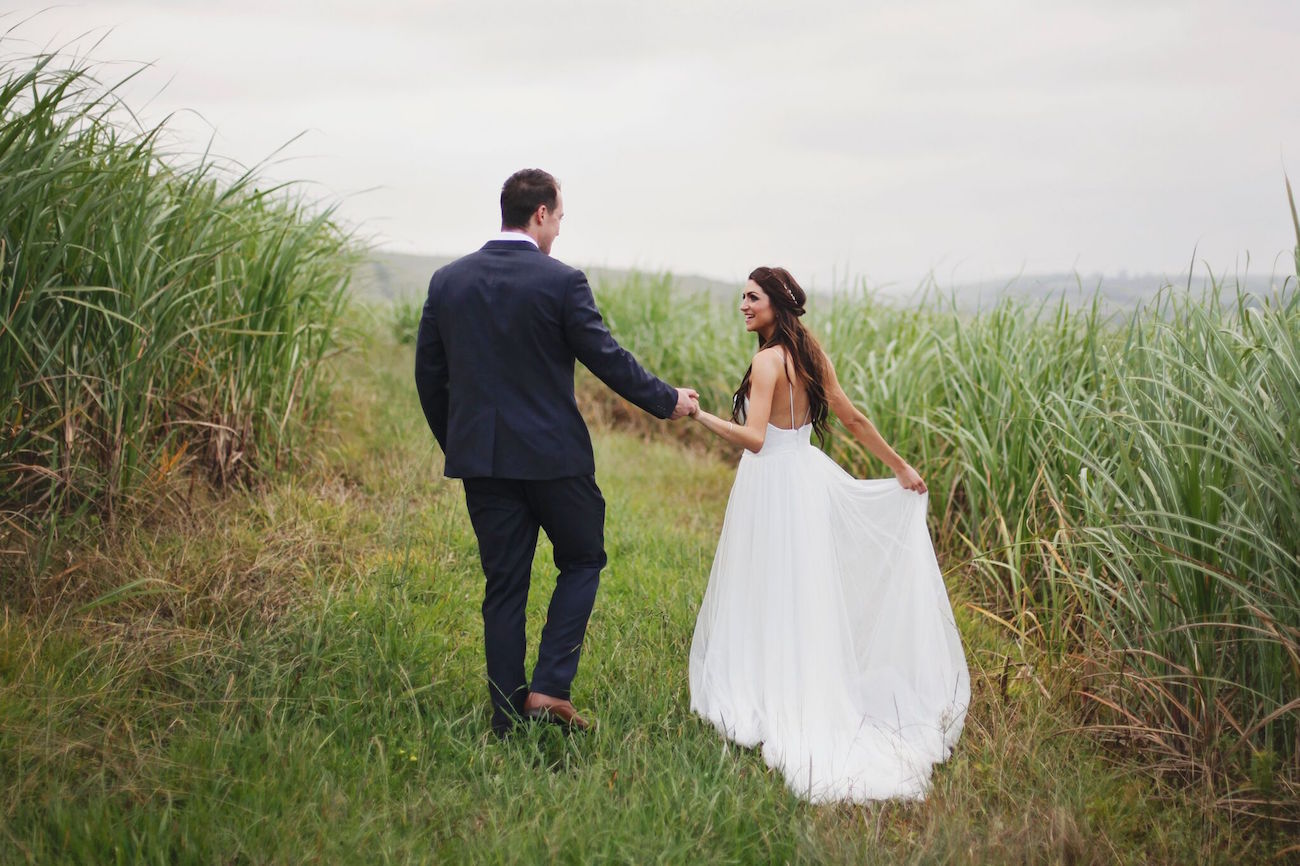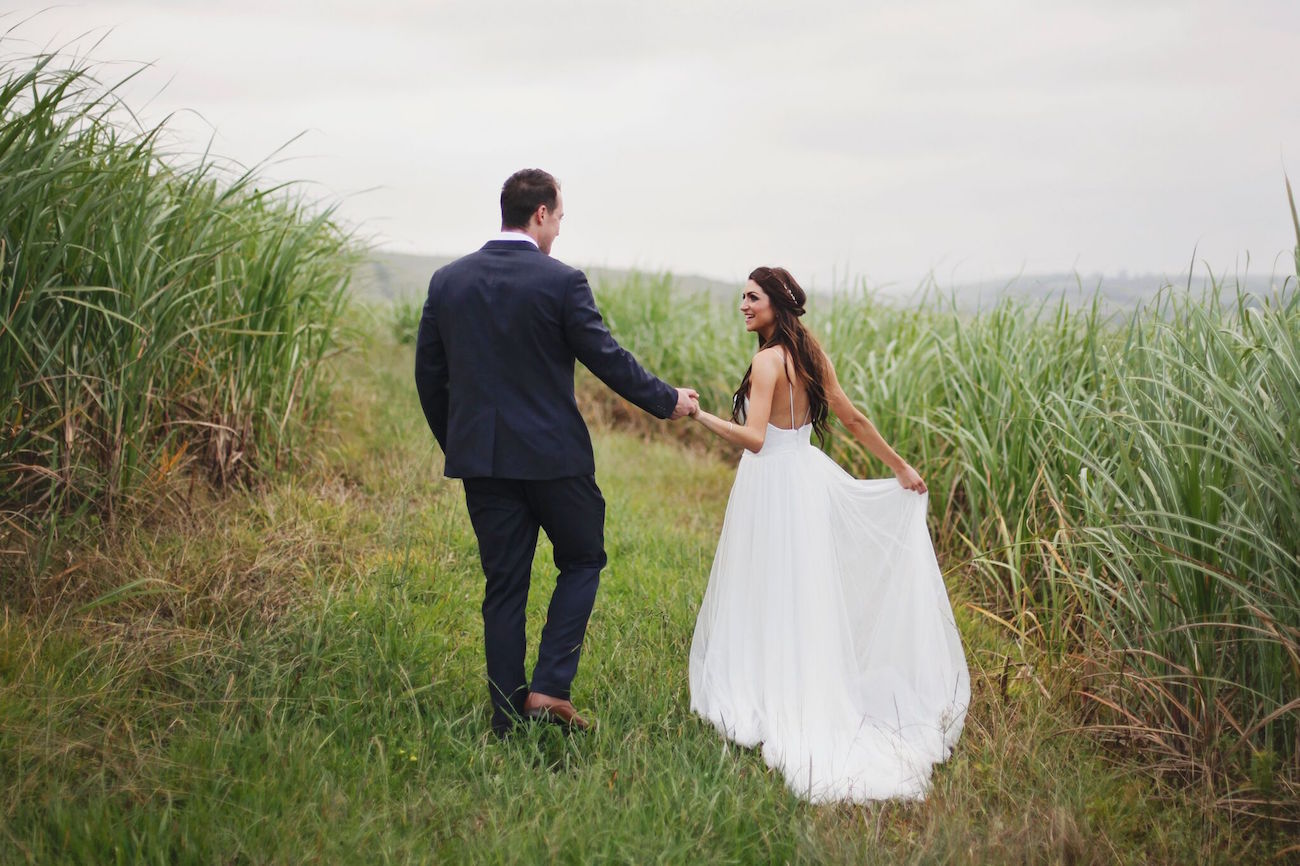 You can see more from this wedding on Carmen Roberts' blog.
SERVICE PROVIDERS
Venue: Maroupi | Catering: Cherry On The Top Catering | Photography: Carmen Roberts Photography | Flowers & décor: Love Laugh SA | Stationery: Laurie Lee Design | Cake: Forever&cake | Bride's dress: Toujours Wedding House | Hair: Futuristic Hair | Makeup: Ruby Petal Makeup | Bridesmaids' dresses: YDE | Groom's attire: Belle & Bravado | Hiring: Aisle Hire It (marquee letter lights) | DJ: DJ WORX