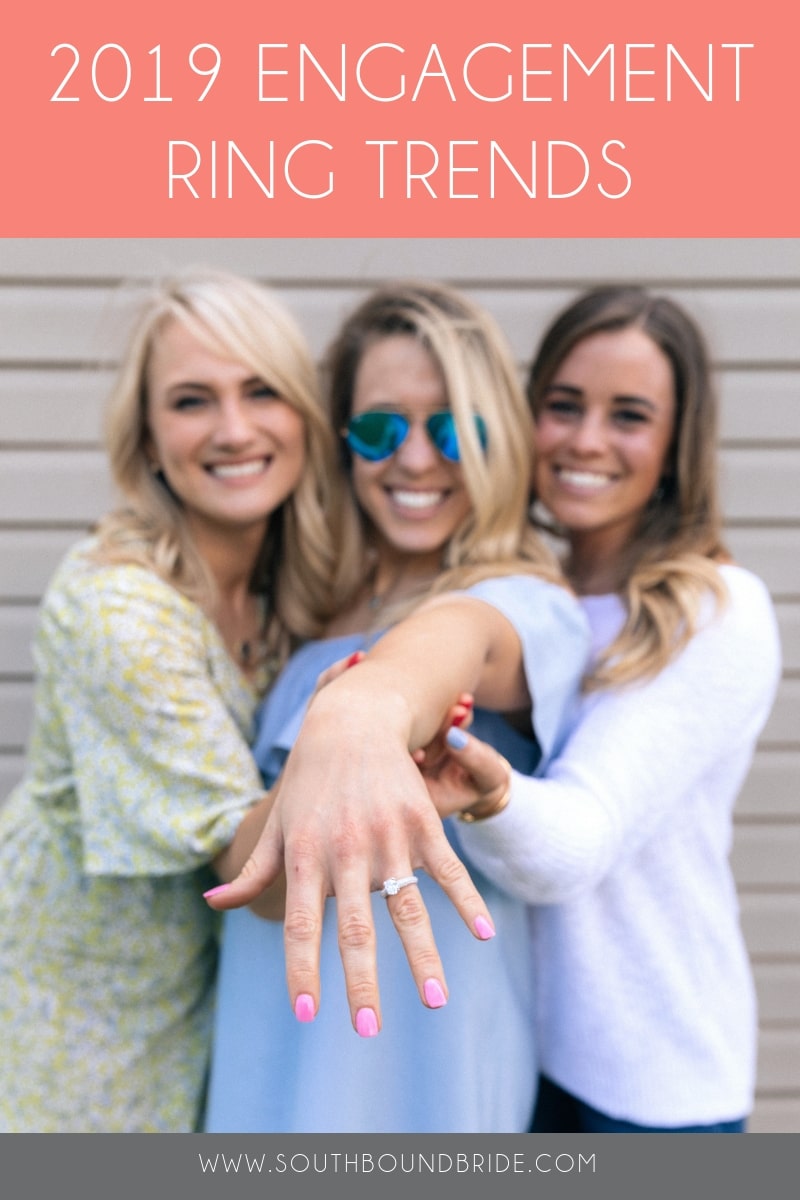 So you're engaged, or thinking of getting engaged, and you can't wait to get that engagement ring on your finger. But hang on, WHICH ring? Picking an engagement ring is a massive decision (whether you do it together or leave it up to your partner) – it's a piece of jewellery you'll have to wear and love for the rest of your life. The good news is that long gone are the days where pretty much everyone was after a platinum round-cut solitaire. These days, there are SO many incredible options, and you can pick whichever one suits your personal style (even if that IS a platinum round-cut solitaire!). With ethical diamond concerns, couples have opened their eyes to other gems or natural diamond substitutes, and traditional cuts have expanded to include many more of the so-called fancy shapes (for more on diamond shapes, see our guide!). And with celebrities having such a massive influence on design and fashion, there are always new styles and twists emerging alongside the classics. Here are the eight 2019 engagement ring trends that are taking the world by storm, and a selection of gorgeous engagement rings from Etsy to inspire you!
Links in bold denote affiliate links. The cost to you remains the same, but SBB may receive a commission for any sales made.
ELONGATED CUTS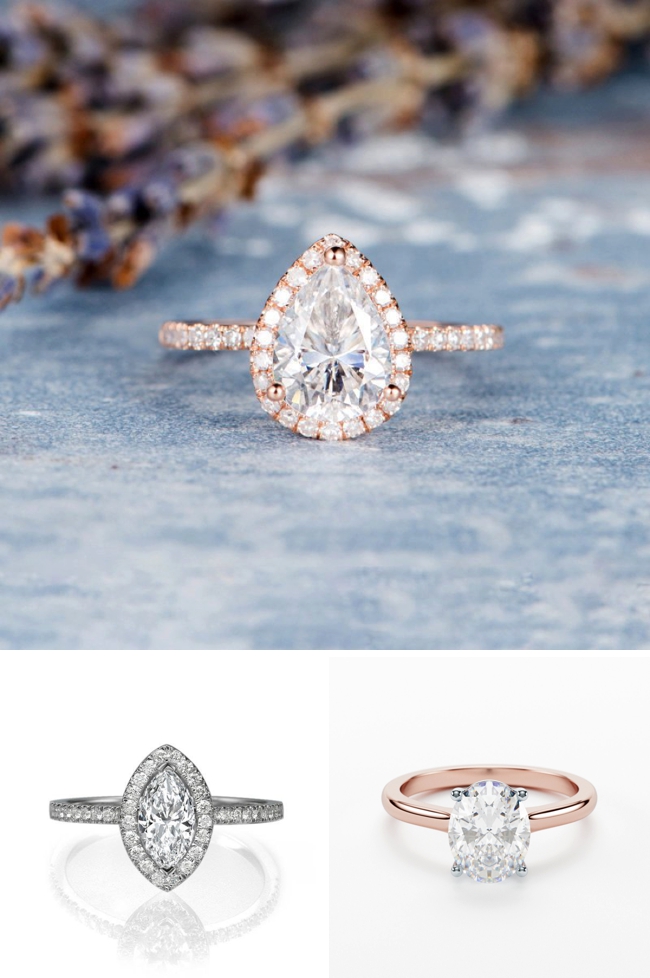 Ovals have been gaining in popularity for some time, but recently, pear and marquise cuts have also started to make a big impression on the engagement ring market. In fact, some experts are calling this the year of the pear! Either set as solitaires or combined with halos or additional stones, the elongated cuts are elegant and flattering, giving the illusion of long, slender fingers. They can also make a small stone look larger.
Rings: Rose Gold Pear Shaped Engagement Ring by Moissanite Rings (top) | Marquise Diamond Ring Halo by Diamonds Mine (bottom left) | Solitaire Oval Ring by Bocaj Narima (bottom right) – all via Etsy
COLOURED GEMS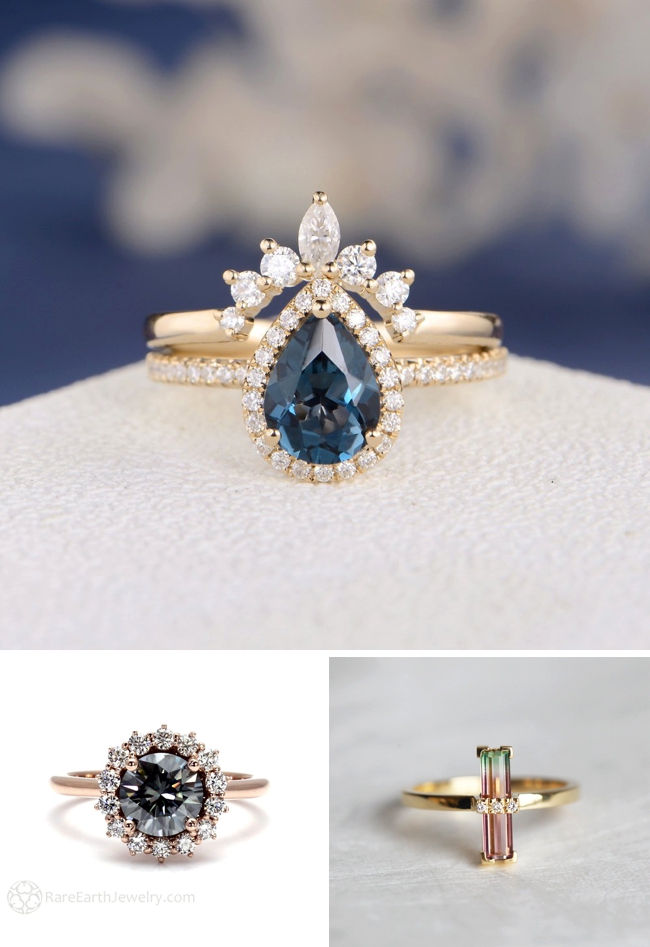 I'll always love a classic diamond, but I can't help but cheer on this trend, which has been going from strength to strength over the last few years and continues to rise. There are SO many gorgeous white diamond alternatives, like smoky grey diamonds, sapphires, rubies, emeralds, the popular pink morganite, or (my latest love) two-toned watermelon tourmalines. Pick a colour you love and celebrate it!
Rings: Rose Gold Bridal Set with Blue Topaz by Love Rings Design (top) | Watermelon Tourmaline Ring by Minimal VS (bottom left) | Gray Moissanite Engagement Ring by Rare Earth (bottom right) – all via Etsy
HEXAGON HALOS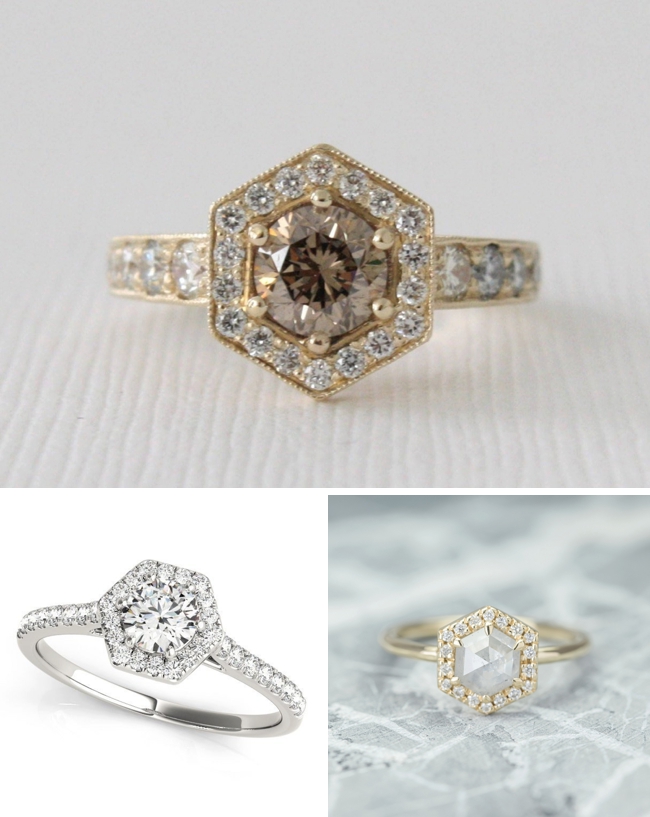 Hexagons have been huge in fashion and design for the last couple of years, and halos have become super popular too, so it was only a matter of time until these two trends met. It gives a very modern look to a round-cut diamond that I love.
Rings: Champagne Diamond Hexagon Halo Engagement Ring by Studio 1040 (top) | Hexagon Halo Diamond Petite Cathedral Ring by MDC Diamonds NYC (bottom left) | 0.97 Carat Hexagon Diamond Halo Engagement Ring by Point No Point Studio (bottom right) – all via Etsy
EAST-WEST SETTINGS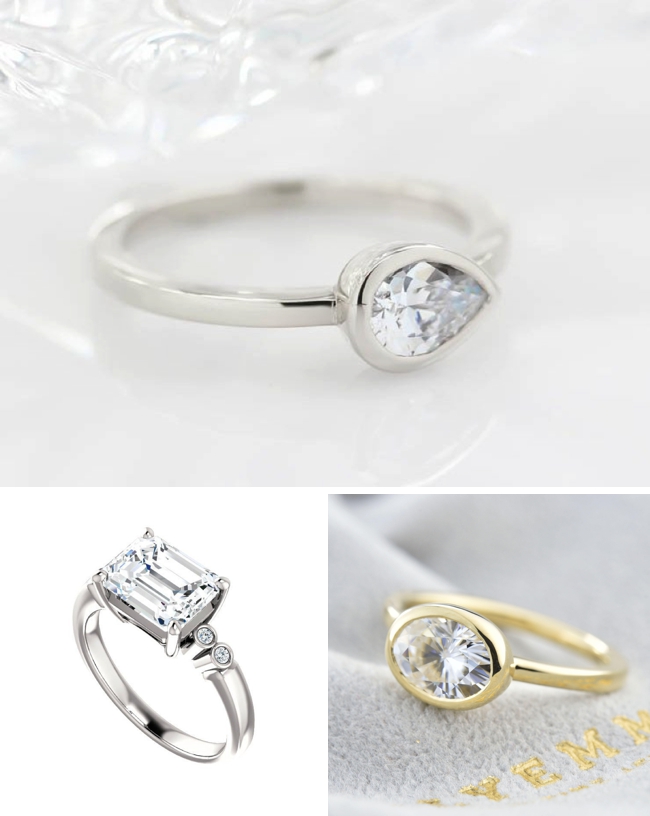 Here's a fun twist I never saw coming! East-West settings are all the rage right now, partly because of stacking rings (see below) and partly as brides look for something unique and quirky for their engagement rings while still employing traditional cuts and materials. What I especially love about this trend is that it's very adaptable – if down the line you feel that you'd like to switch to a more traditional setting, it's easily done, so you don't have to worry that the look will outdate.
Rings: Pear Diamond Shape Solitaire Engagement Ring by Stella Norte Jewelry (top) | Emerald-Cut Moissanite & Diamond Bezel Engagement Ring by Raven Fine Jewelers (bottom left) | East West 1.5 Carat Moissanite Oval Engagement Ring by Lily Emme Jewelry (bottom right) – all via Etsy
YELLOW & ROSE GOLD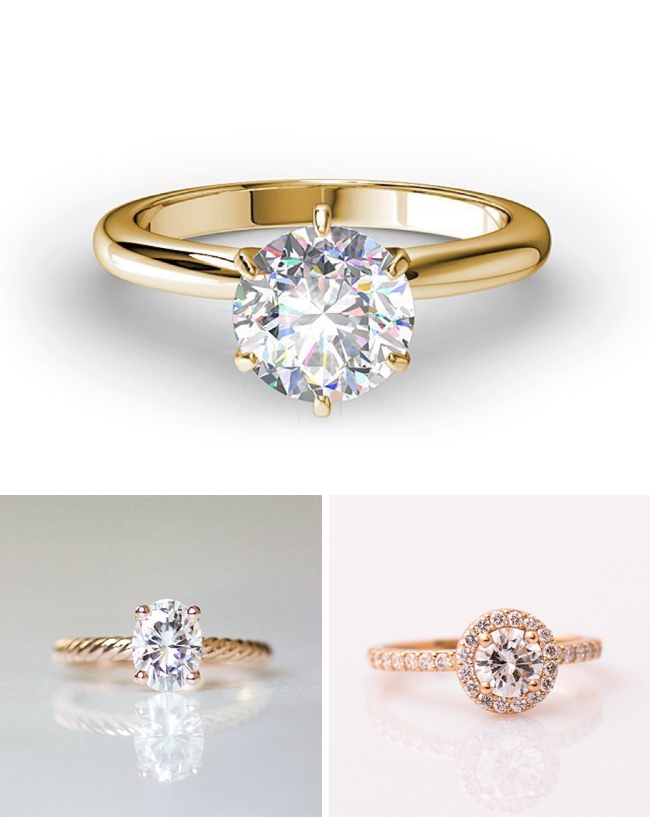 Yellow gold is back, yay! Following the popularity of rose gold the last few years (which isn't going anywhere) has warmed things up from the white gold and platinum that dominated the 2000s, and with Megan Markle choosing a yellow gold band, it was official. Can't choose which gold you like best? Mixed metals are also totally having a moment, so mix and match away!
Rings: Six-Prong Yellow Gold Engagement Ring by Dream Stone Rings (top) | Oval Engagement Ring with Twisted Band by Evorden (bottom left) | Halo Engagement Ring by Nir Oliva (bottom right) – all via Etsy
STACKED SETS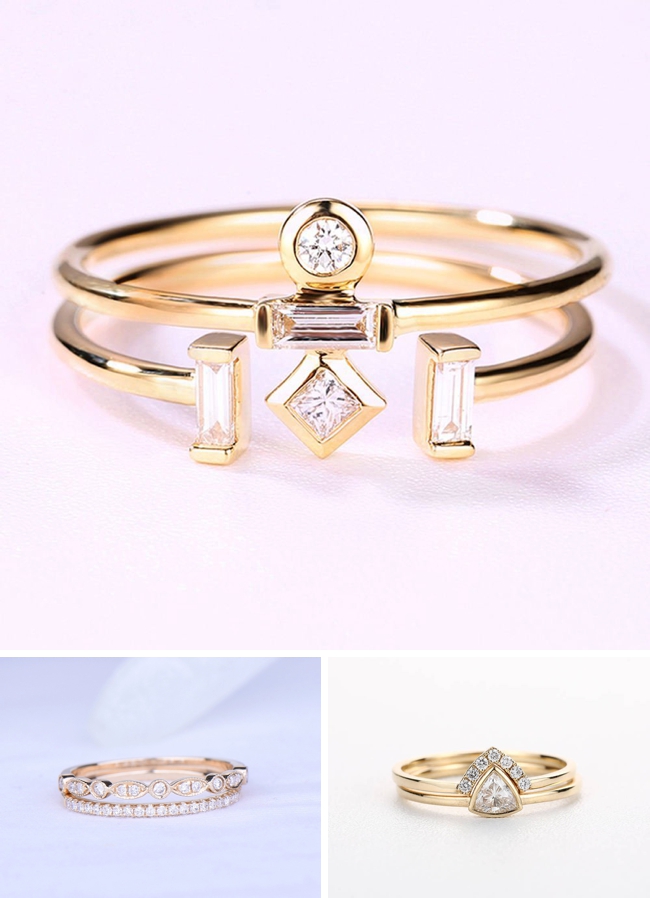 The ultimate boho cool girl engagement ring, stacks are another trend that we've been spotting lots of. Love the versatility, and the way that milestones and anniversaries can be used to add to your stack! Plus, they're often a more affordable option.
Rings: 14K Gold Stacking Antique Bridal Set by Ring Only (top) | Diamond Wedding Ring Stacking Set by yvelove (bottom left) | 14K Gold Stacking Art Deco Trillion Diamond Set by Ring Only (bottom right) – all via Etsy
ART DECO INSPIRED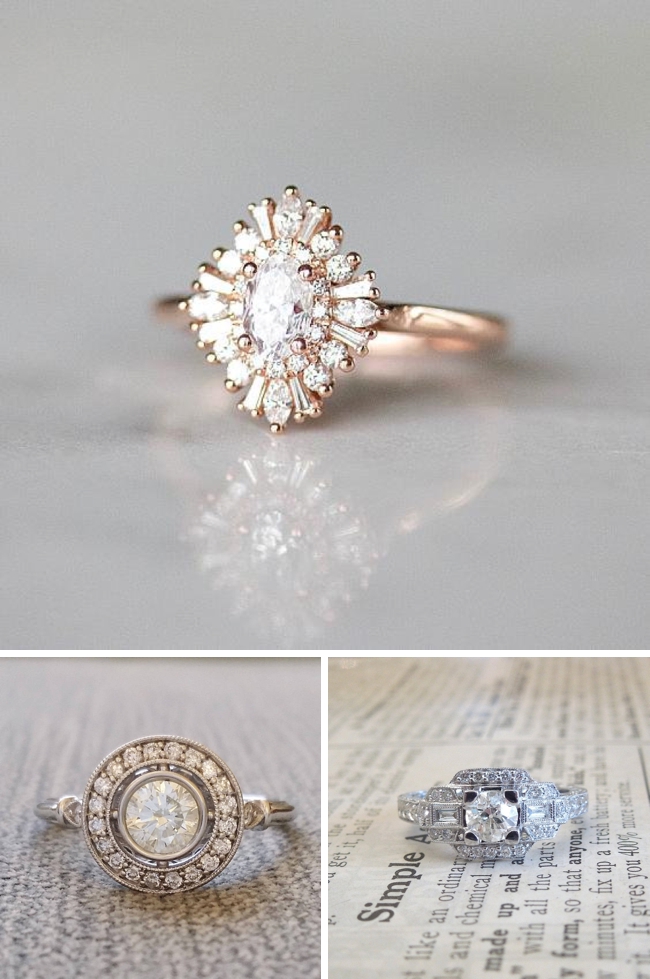 I personally ADORE Art Deco jewellery, especially cocktail rings, so I've been thrilled to see Gatsby-esque engagement rings going more mainstream, especially those with sparkly geometric baguette details. Genuine vintage is of course always a great option, but there are lots of Art Deco-inspired styles available if you want something new.
Rings: Gatsby Style Engagement Ring by Evorden (top) | 'The Hattie' Moissanite and Diamond Halo Antique Engagement Ring by Penelli Belle (bottom left) | Half Carat Diamond and White Gold Art Deco Style Engagement Ring by AJ Martin Jewelry (bottom right) – all via Etsy
TWO STONE RINGS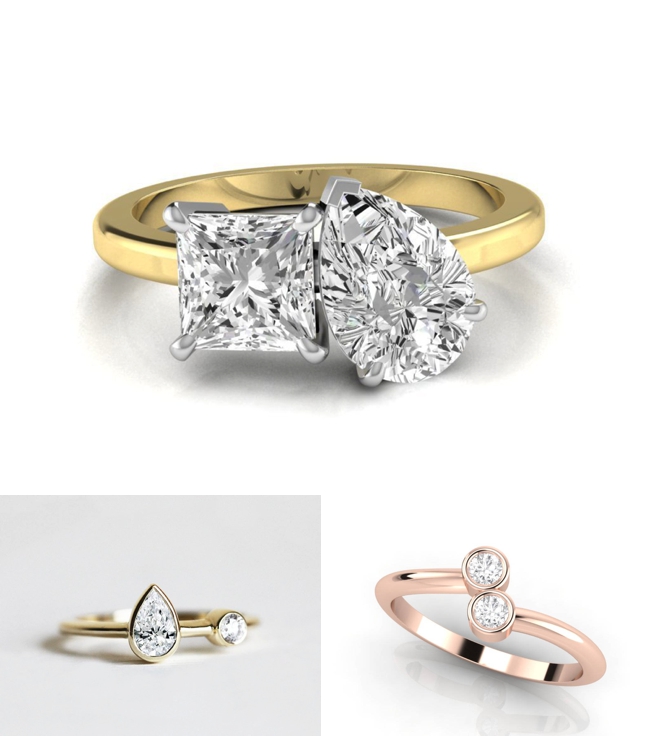 Emily Ratajkowski definitely won 2018 with her chunky two-stone engagement ring (similar to the top one, above) and since then, we've been seeing lots of unusual two-stone rings popping up. For a slightly more traditional look (but one that is also still very much on-trend) opt for three stones, like Harry and Meghan (catch our roundup here).

Rings: Double Stone Engagement Ring by Armante Design (top) | Unique Pear Diamond Ring by Minimal VS (bottom left) | Rose Gold Diamond Twist Ring by Ascheron (bottom right) – all via Etsy
Love these 2019 engagement ring trends? Pin them to come back to later!