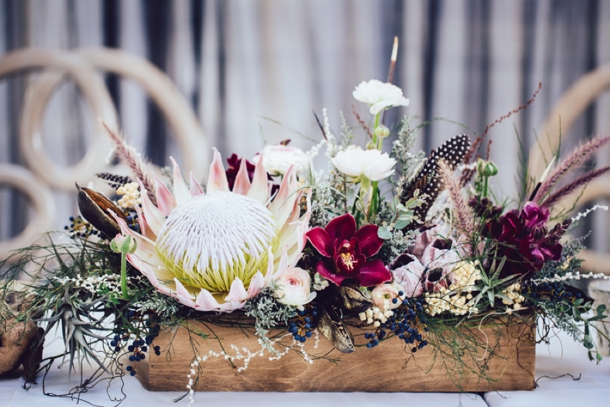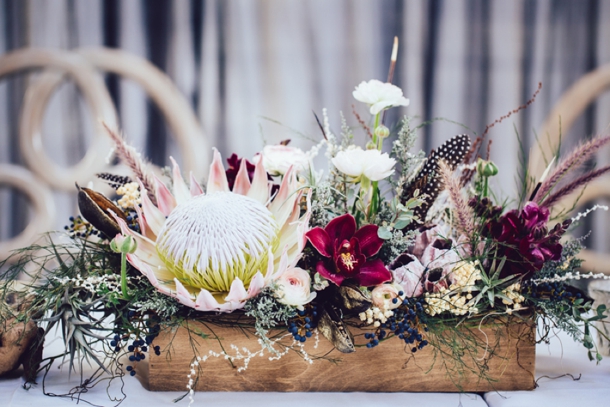 Good morning, SouthBound brides! I have such lovely inspiration to share with you today, which comes from the fab Fennec Deuchar from Fox&Co. (a Cape Town based event and decor specialist) and one of our fave photographers, Stephanie Veldman. You already know I'm a huge fan of proteas and fynbos, as well as some of the beautiful South African patterns and textures we have at our disposal, and I also know we have a shared love of glitter, right? Well, put the two together, and you have one of the loveliest tables I have seen in quite a while. Gorgeous muted jewel tones, big king protea blooms, porcupine quills, guinea fowl feathers and a beautiful touch of gold glam. I just love it! And that's even before we get to the floral arch – wow. The perfect venue for this glamorous homegrown look is Pure at Hout Bay Manor (check out this amazing wedding we featured here a couple of years ago).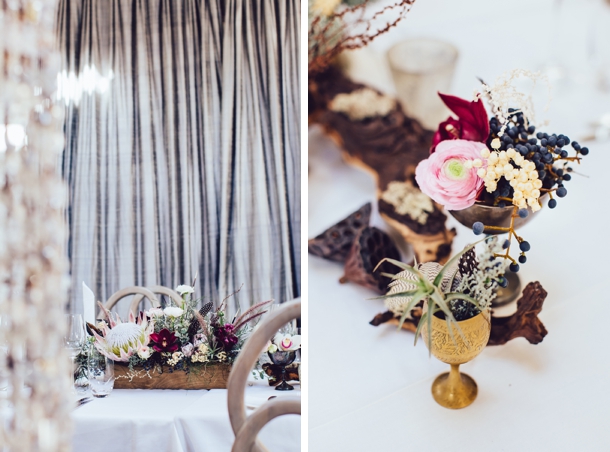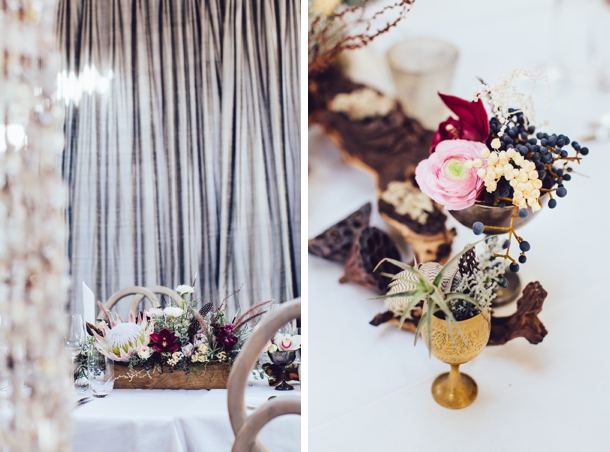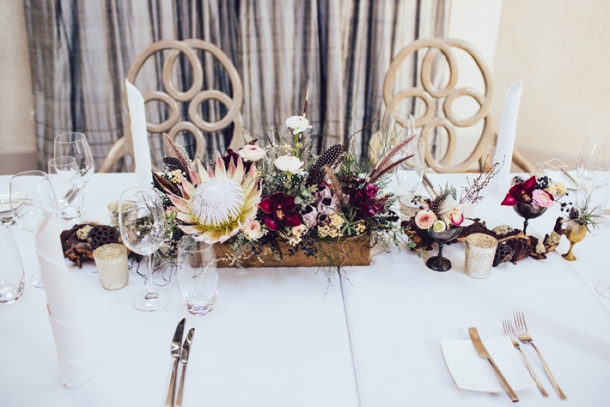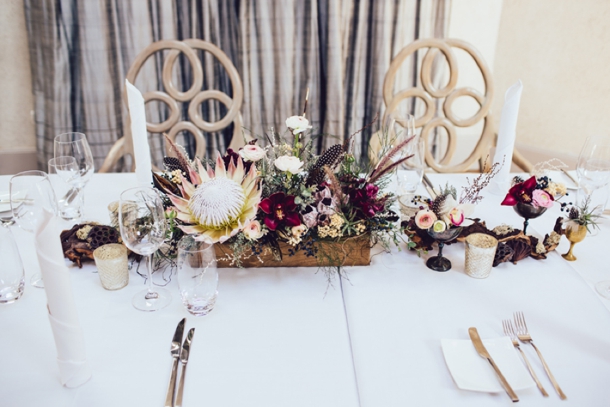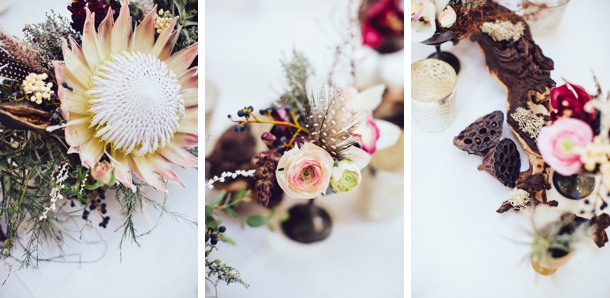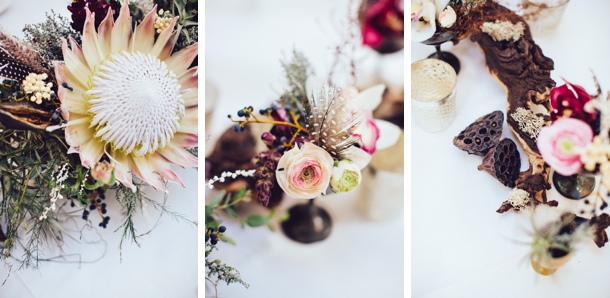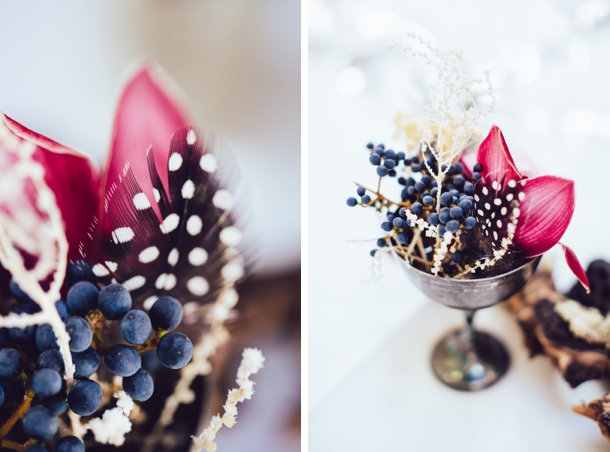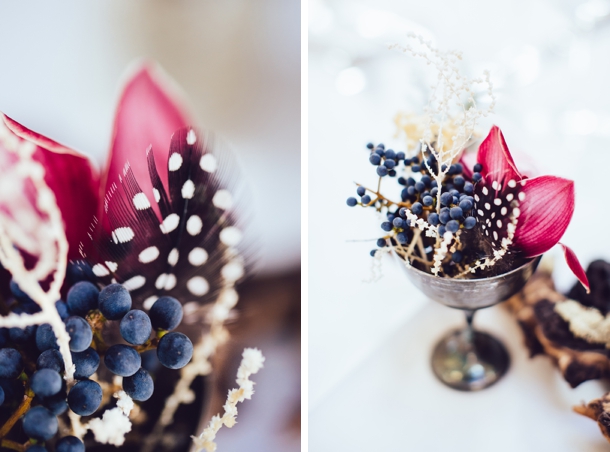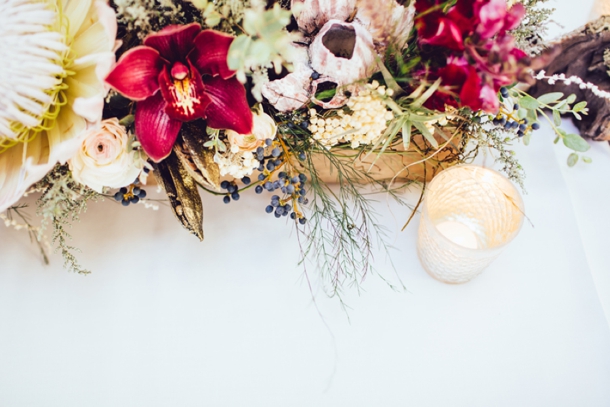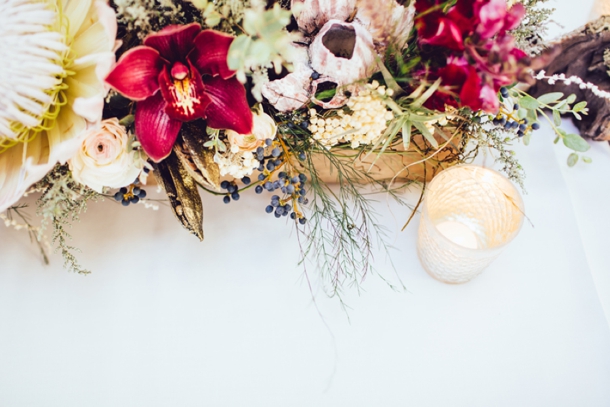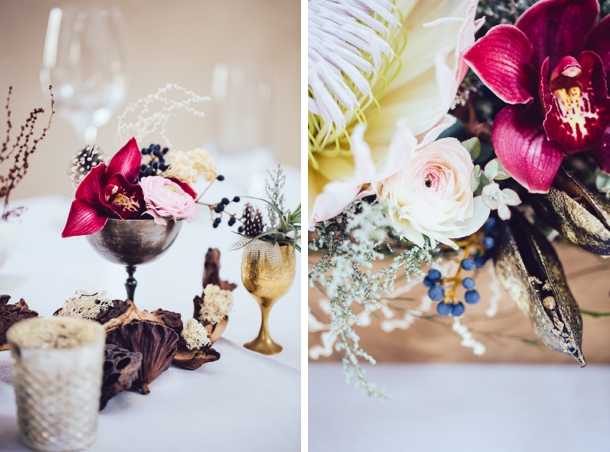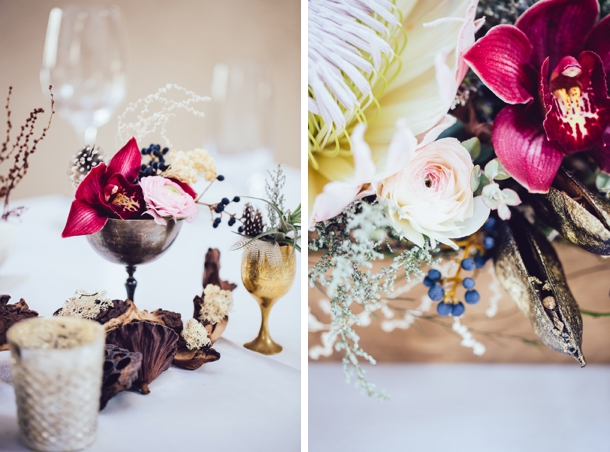 Fennec sent over some background on her inspiration, written by Katie Mason:
With experience in interior design, floristry and luxury brand and hospitality management, wedding event and décor stylist, Fennec Deuchar, embarked on an inspiring journey in 2011 when she launched Fox&Co, a boutique enterprise that offers personally tailored event styling for weddings and special events in South Africa. For this shoot, Fennec searched off the beaten track for Cape Town venues that possessed quirky charm and unusual interior design aspects that strayed away from the norm. Nestled in the heart of Hout Bay, she discovered the charm and grace of Hout Bay Manor, a popular destination for both the discerning South African and overseas traveller. The hotel's elaborate style was conceptualised by Geordi Ferguson of Cécile & Boyd who recently redesigned the hotel reception areas and the upstairs guest bedrooms, displaying a juxtaposition of Zulu and Xhosa inspired textiles, natural elements and rustic textures. It was these qualities that Fennec was keen to incorporate into her concept for the shoot. "I wanted to create a sophisticated, yet slightly bohemian atmosphere for a wedding that was in keeping with the rustic touches in the venue," she explains, "and I wanted to create a table setting that would complement the décor that also was romantic, pretty and that would include items gathered from the vegetation of this area."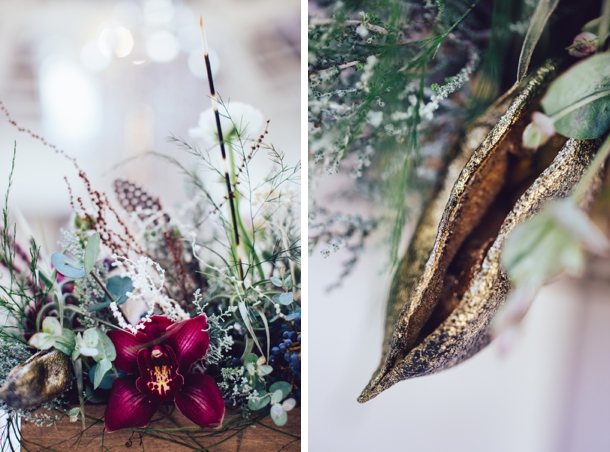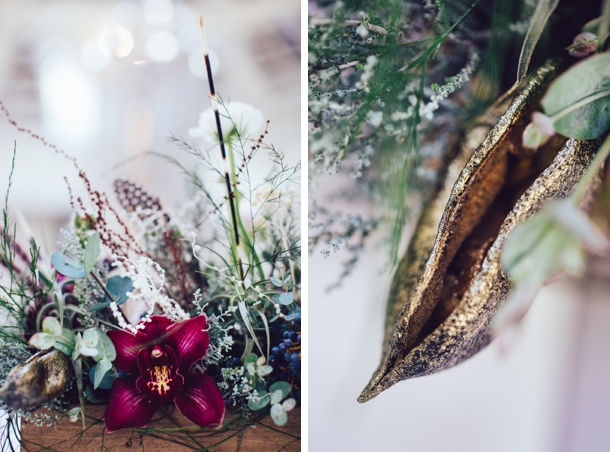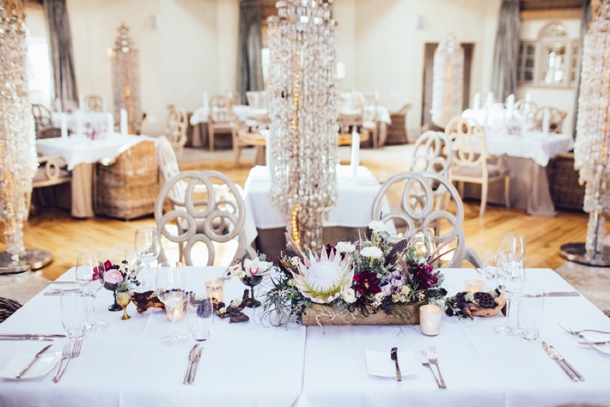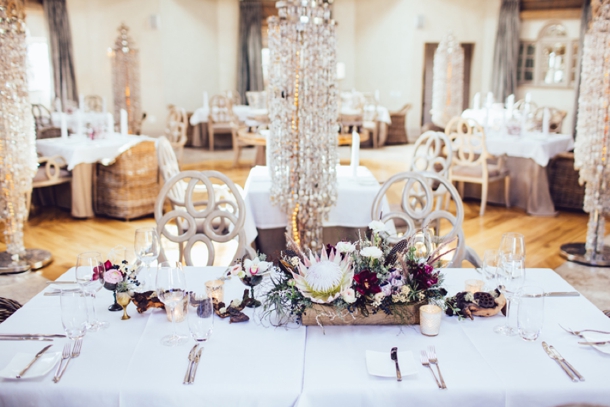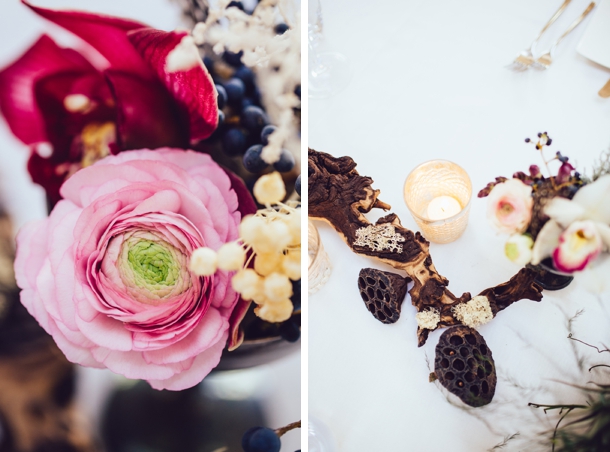 In keeping with her vision for an inspired, winter wedding, Fennec opted for seasonal blooms including cream and plum cymbidiums, ranunculas, purple snap dragons and pennygum complemented with charming natural touches like seed pods and berries, tied together with neutral grey-green tones of the airplants, vine stumps, slangbos, moss and dried lotus pods. Fennec then added texture using porcupine quills, coral shell and guinea fowl feathers to introduce her more unusual wedding décor elements, leading guests on a visual journey through woodlands, beaches and gardens.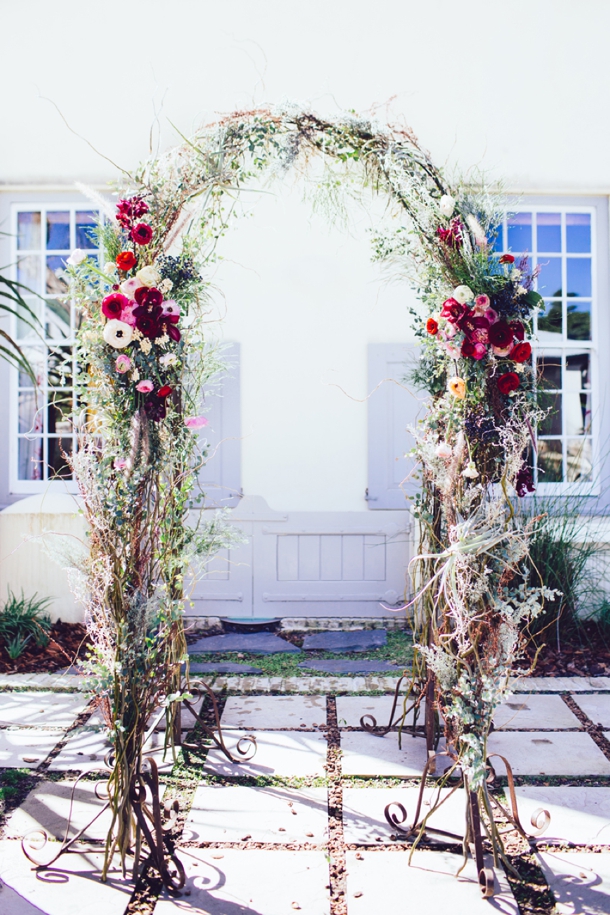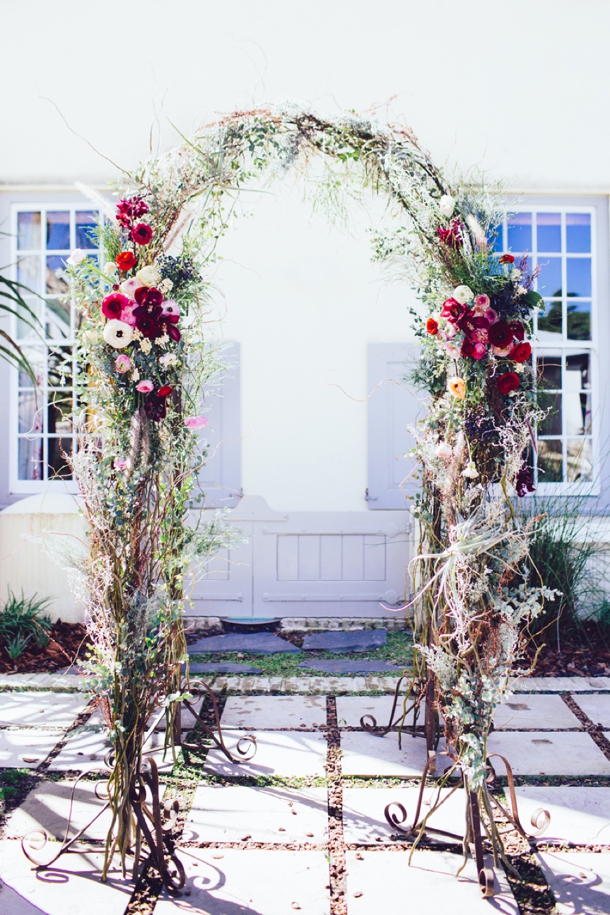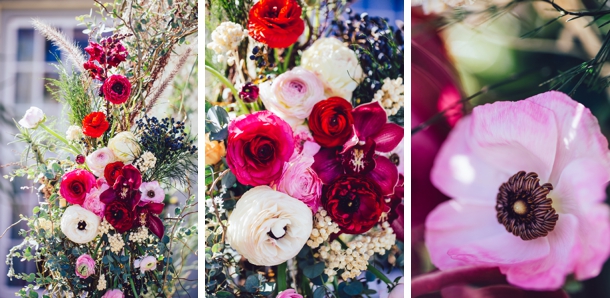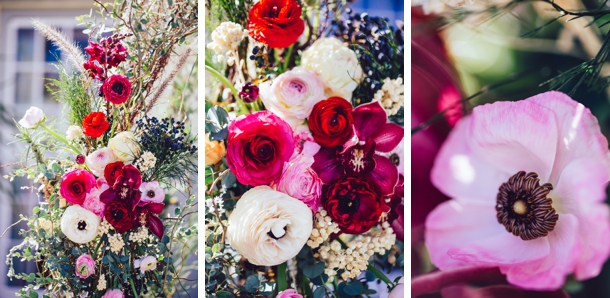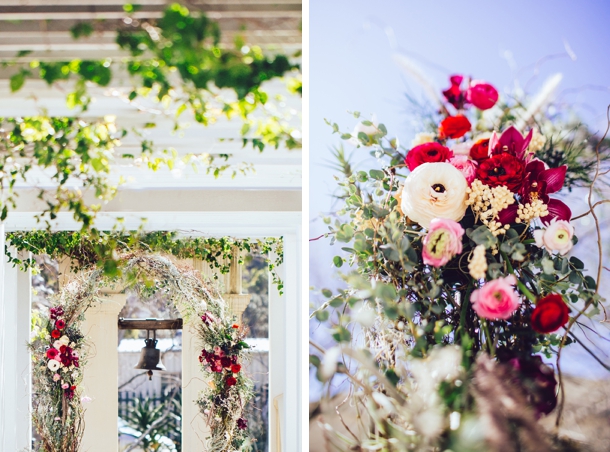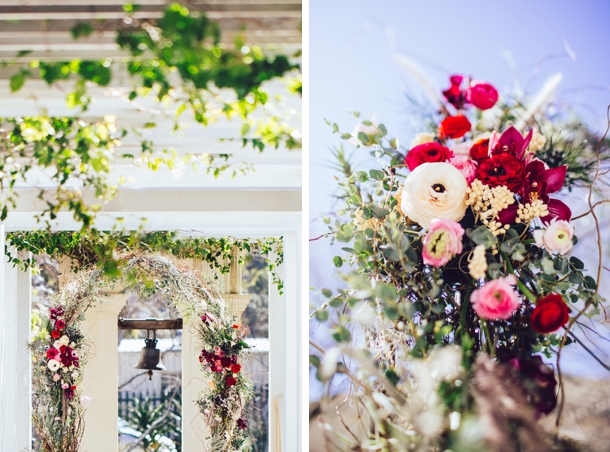 The area set aside at Hout Bay Manor for wedding ceremonies is a courtyard in the shade of a large maple tree with the shuttered manor house as a backdrop. It's the perfect place for a romantic arch, so Fennec set about layering a rustic iron arch with blooms and foliage in berry, sorbet and grey-green shades to complement the grey hues used in the restaurant and on the shutters of the building. Touches of aubergine, plum and blush pink were used to add pops of colour to the palette. Airplants, tortured willow and delicate strands of dried slangbos brought in shades of soft grey-green and woody brown.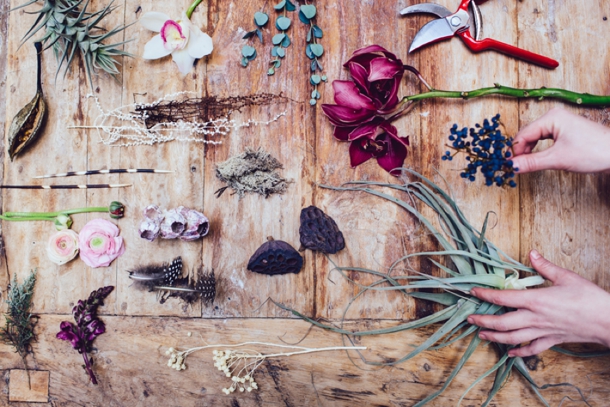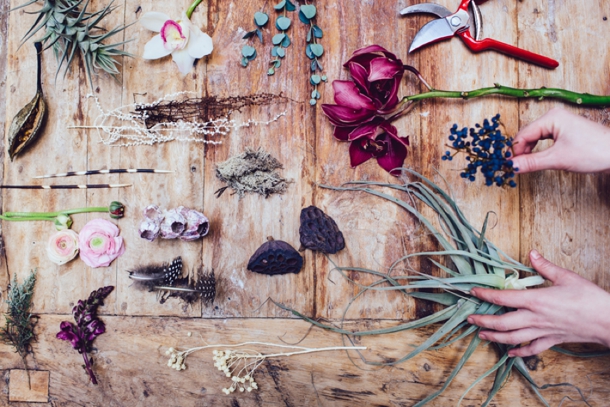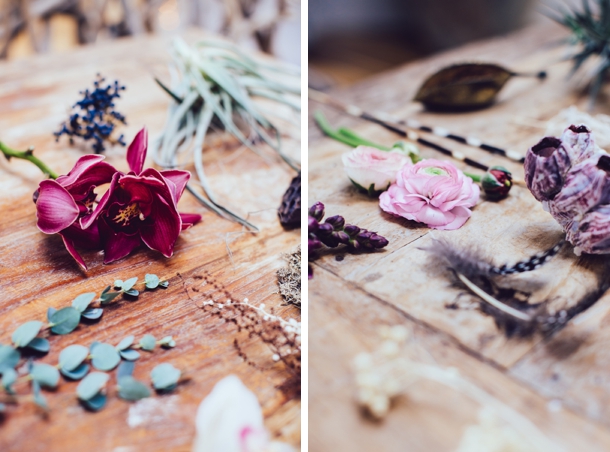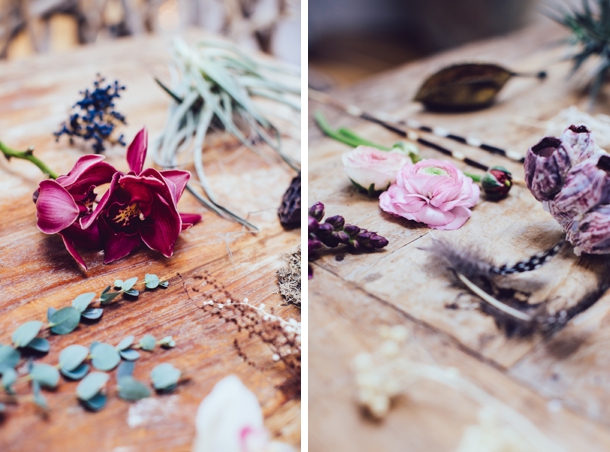 SERVICE PROVIDERS
Photography: Stephanie Veldman Photography | Concept, styling & florals: Fox&Co. | Hiring (arch): Puccini Creations | Venue: Hout Bay Manor