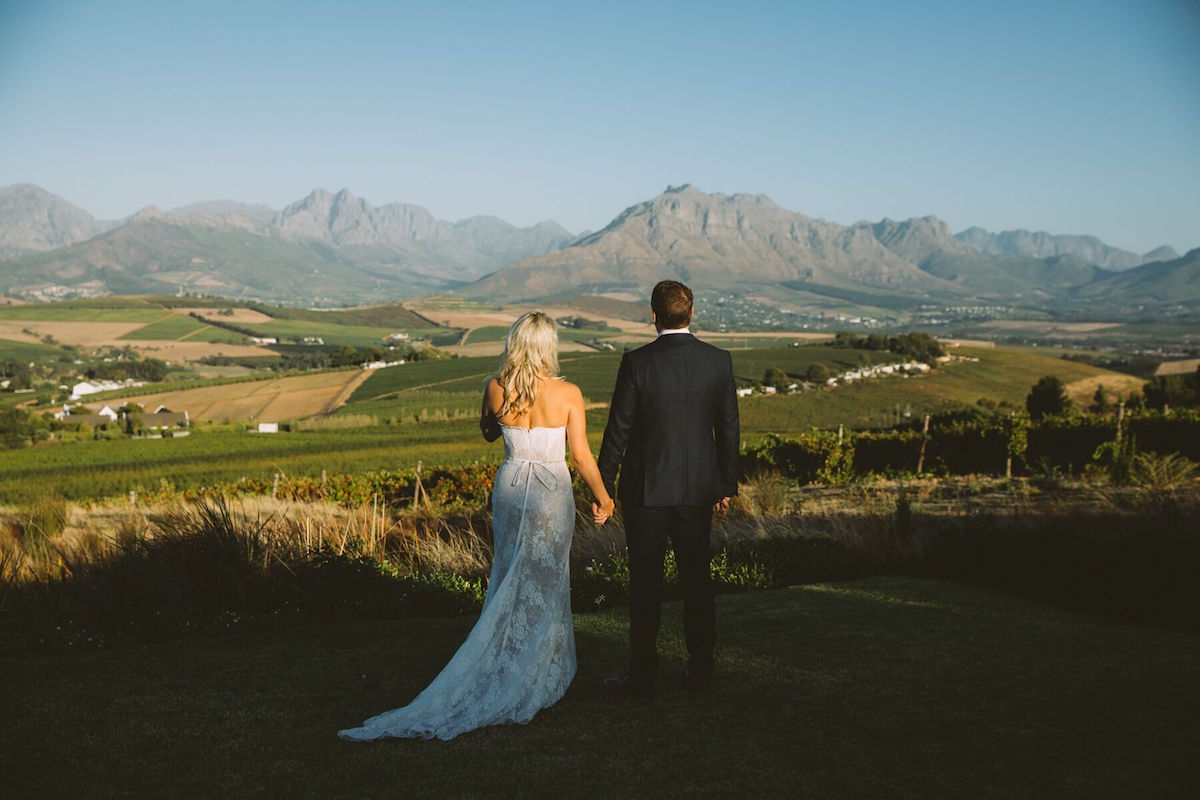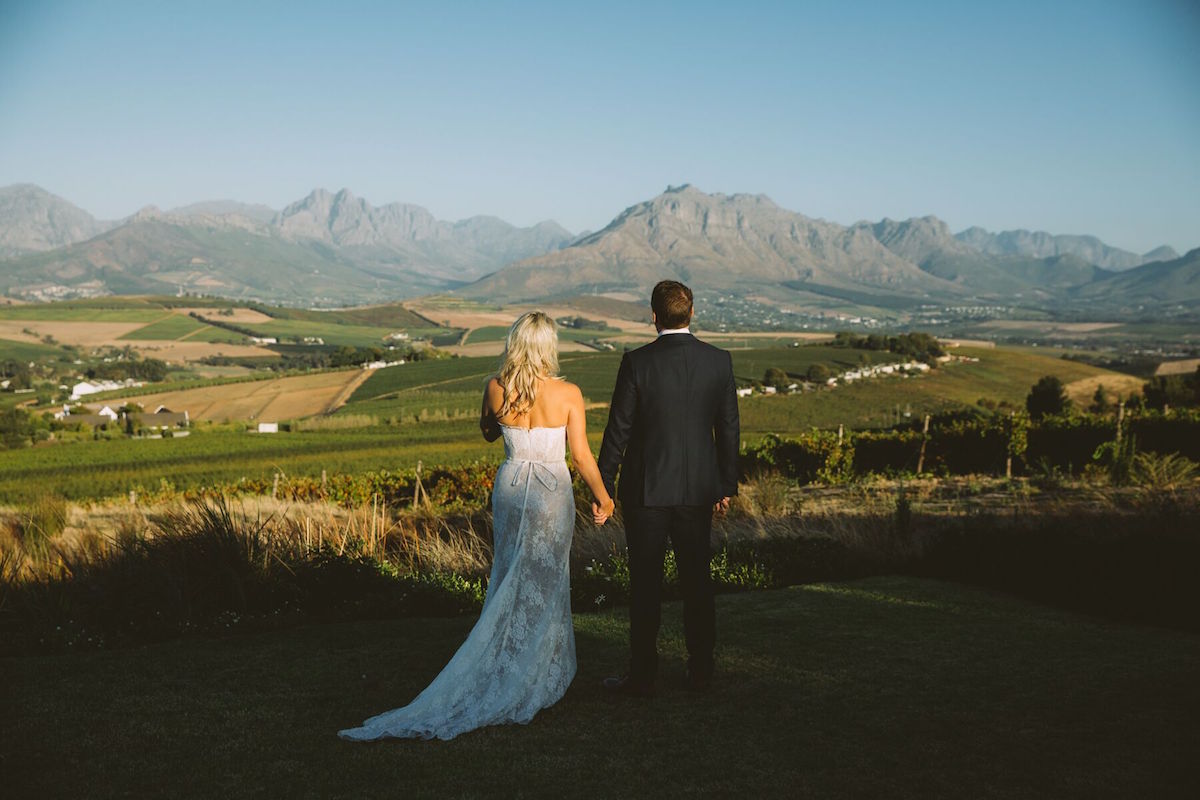 As an Oud Matie I'm more than a little bit biased, but I think that the view over Stellenbosch is the most beautiful view in the world. Those mountains against a summer sky just take my breath away every single time! Which is what makes it the most breathtaking backdrop for a wedding, and one of the reasons why Katherine and Rupert chose Landtscap as their venue. This adorable pair, who met and legally wed in London and headed to South Africa for their wedding celebration, had a simple plan for their big day – classic colours, gorgeous textures, and a light and romantic feel. With the help of some very talented vendors (right down to our fave catering supremos, Two Chefs), they pulled that off. I especially love Okasie's beautiful florals – the shelves of greenery and blooms behind the bridal table, the flower arch, the bright bouquet. And with the bride rocking a stunning lace Anna Georgina gown and the groom in Hugo Boss, it was unfussy but glamorous style all the way. The lovely Stephanie Veldman took these happy pics.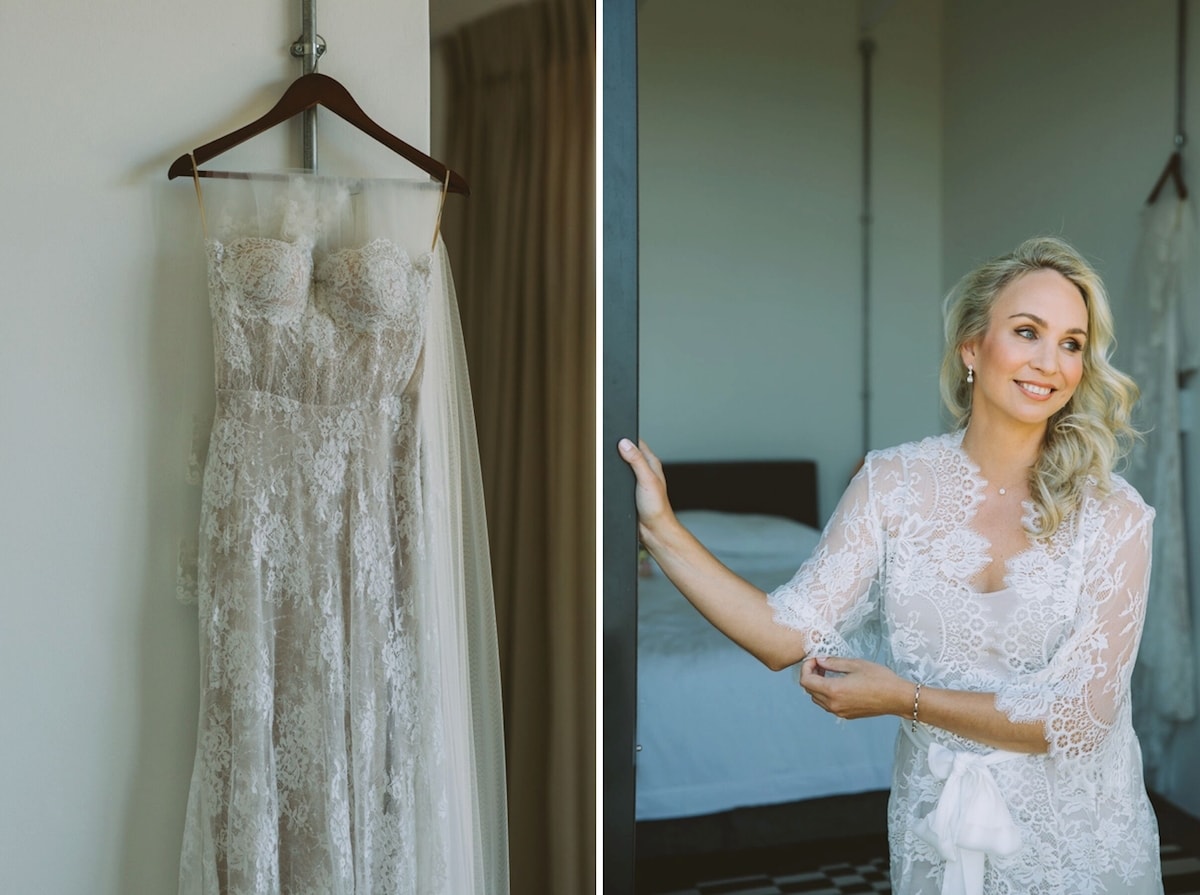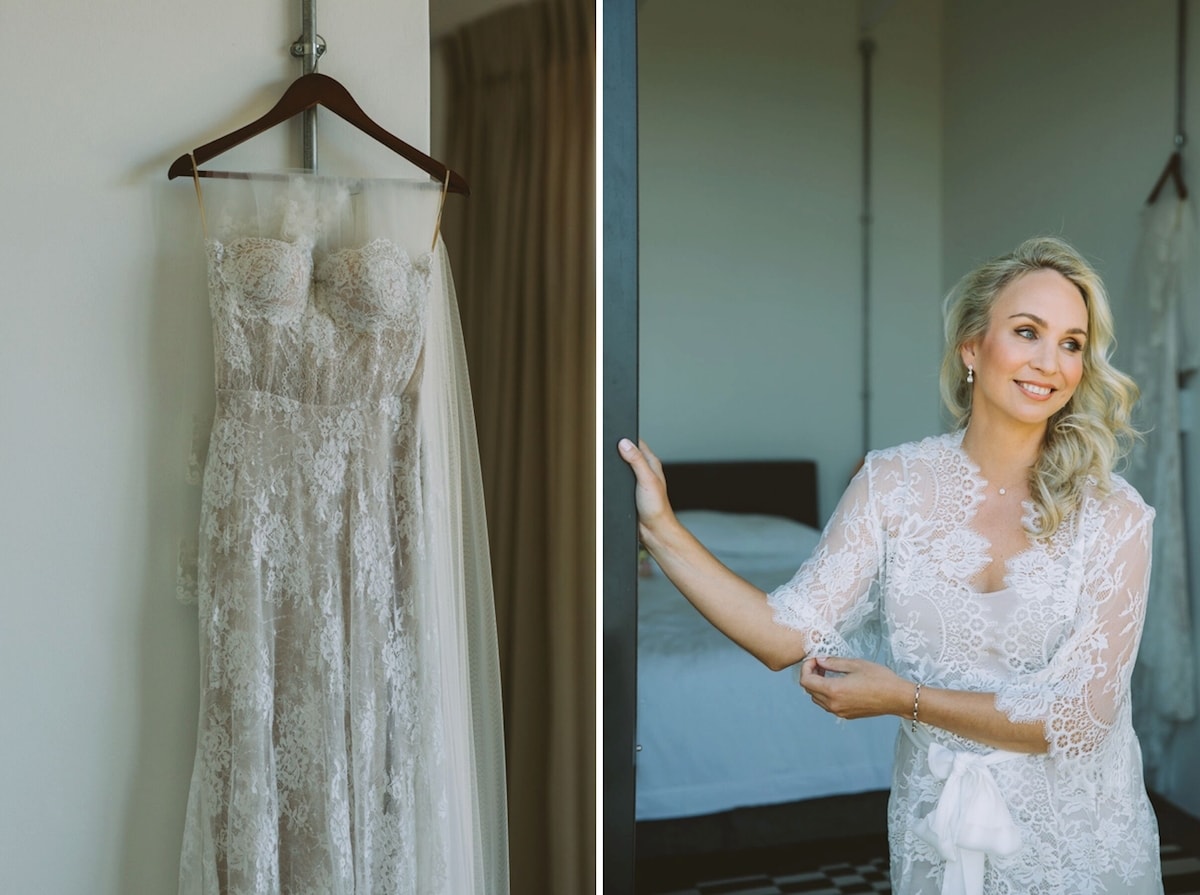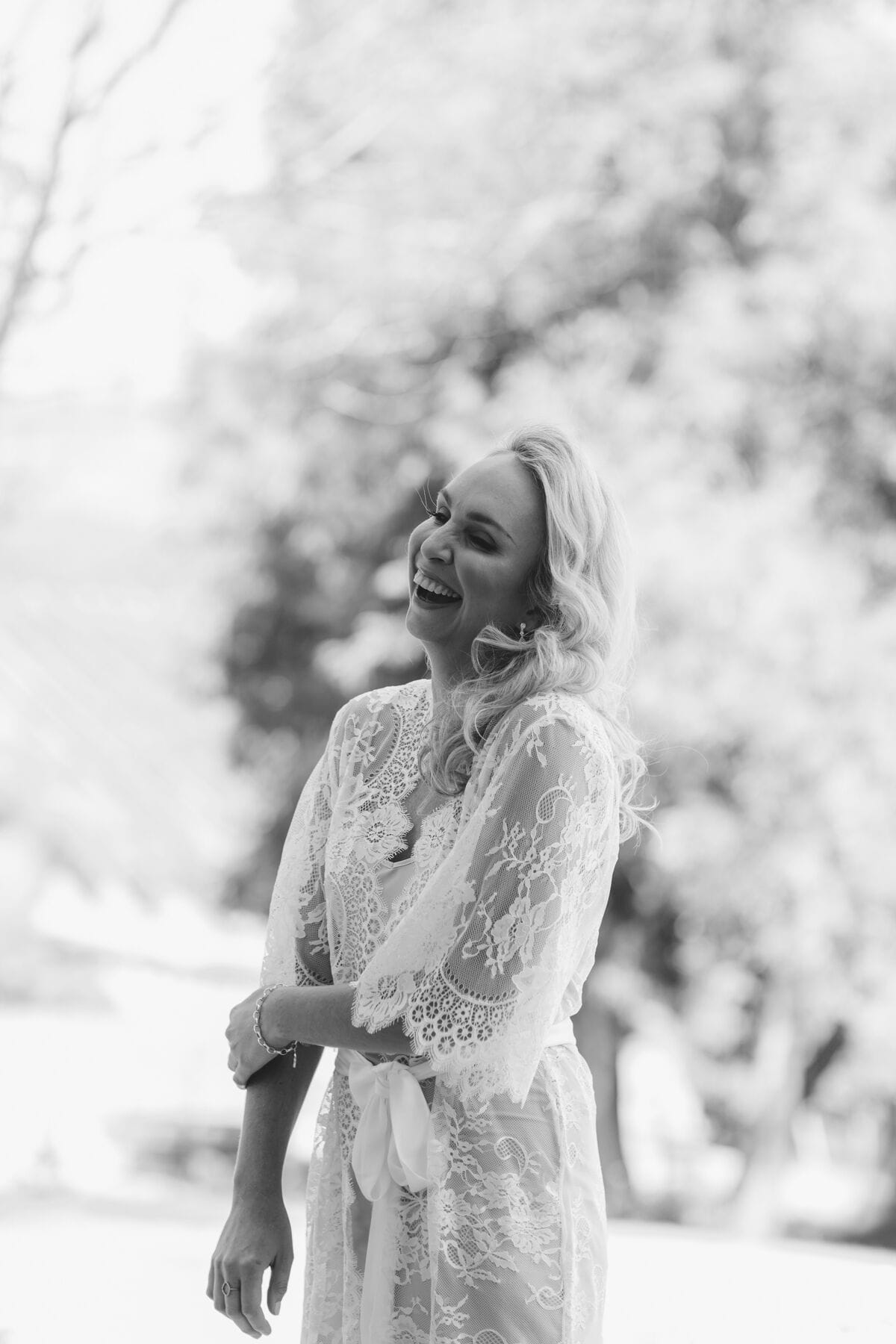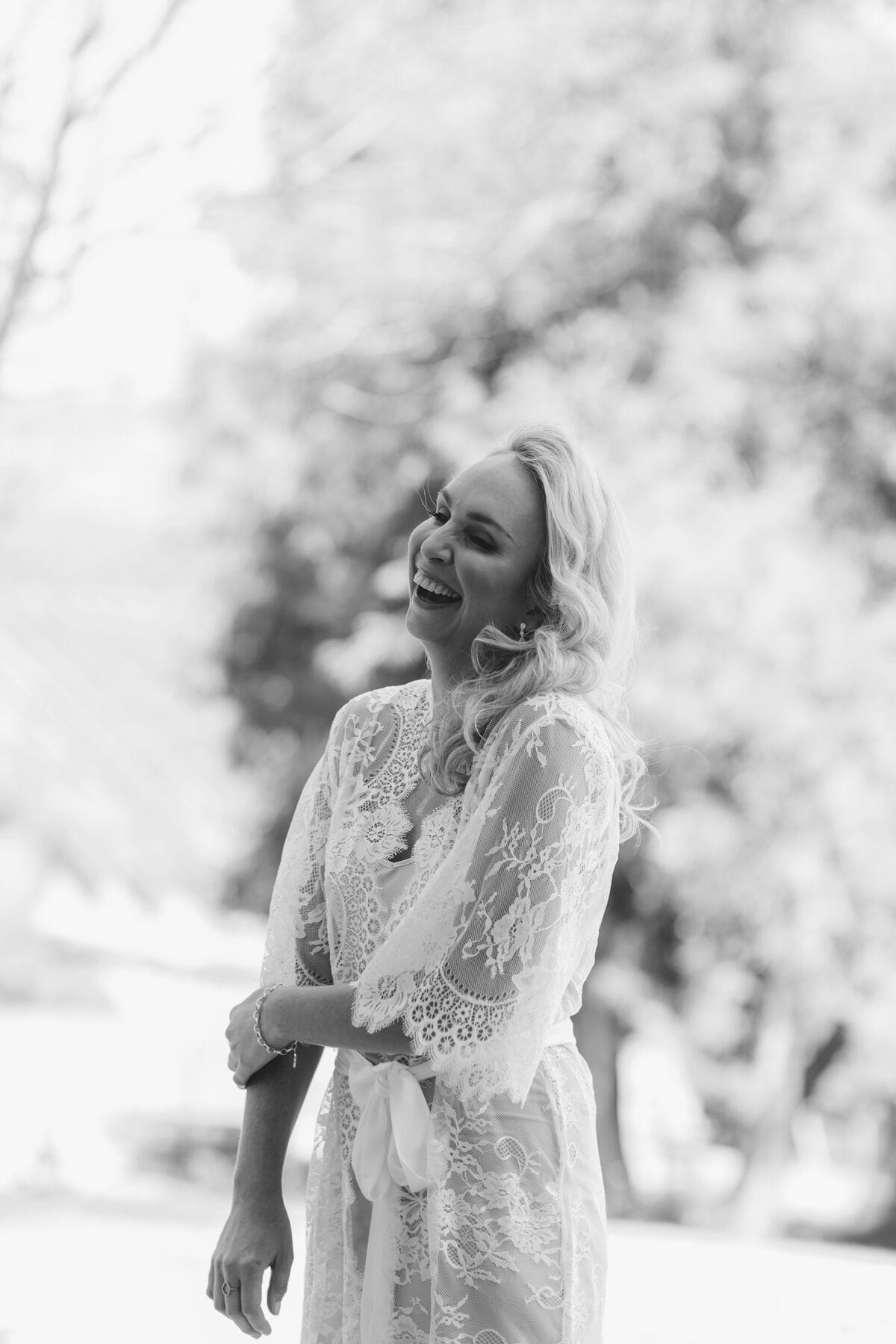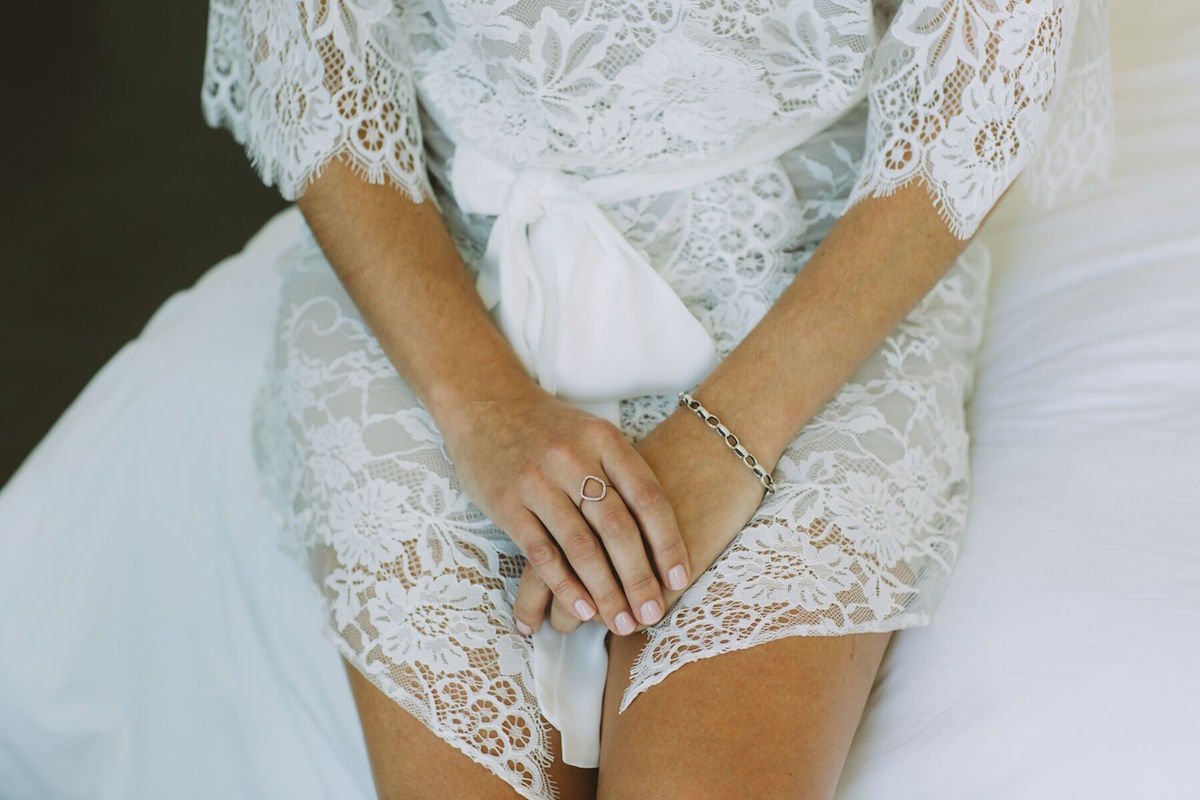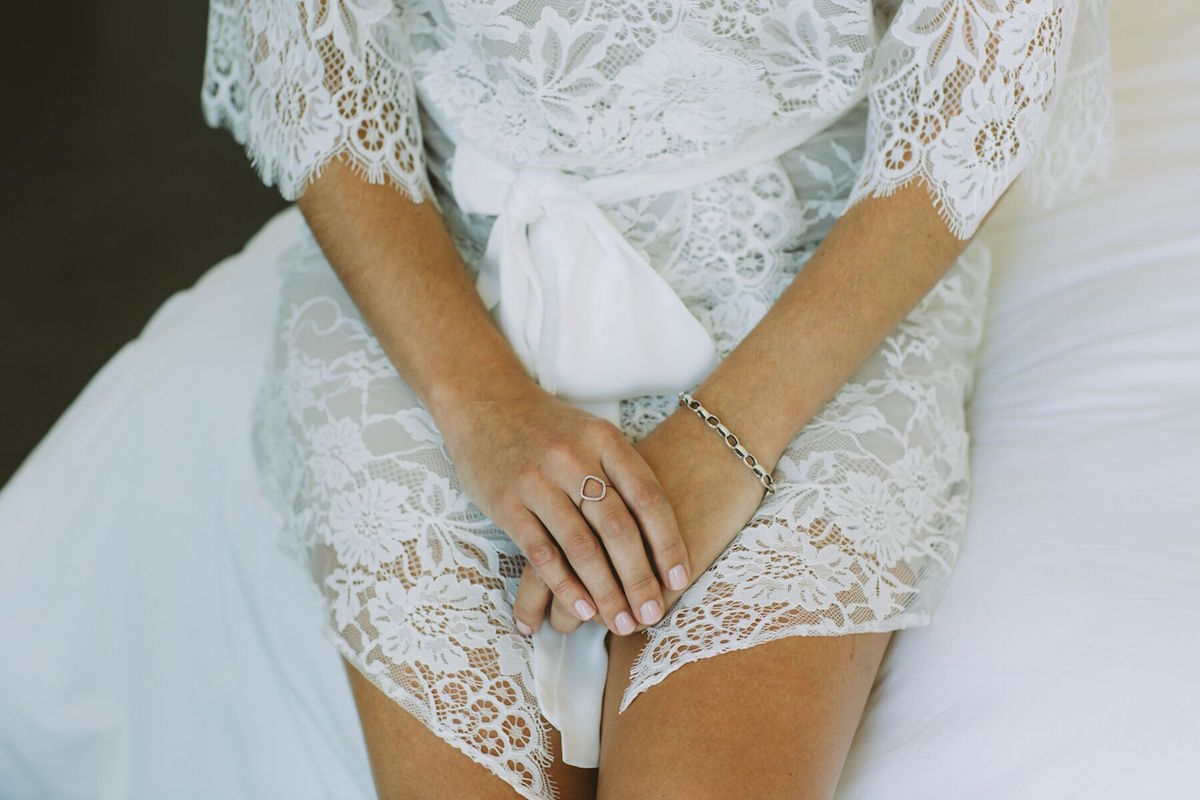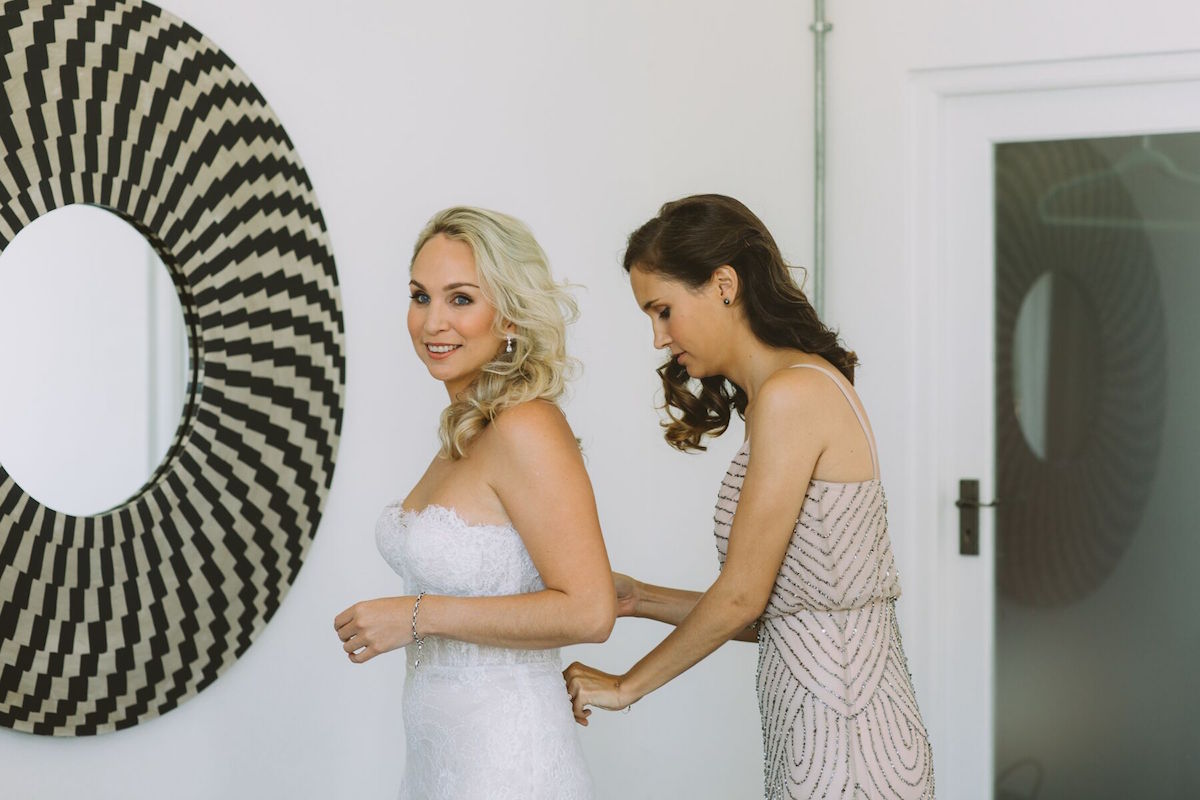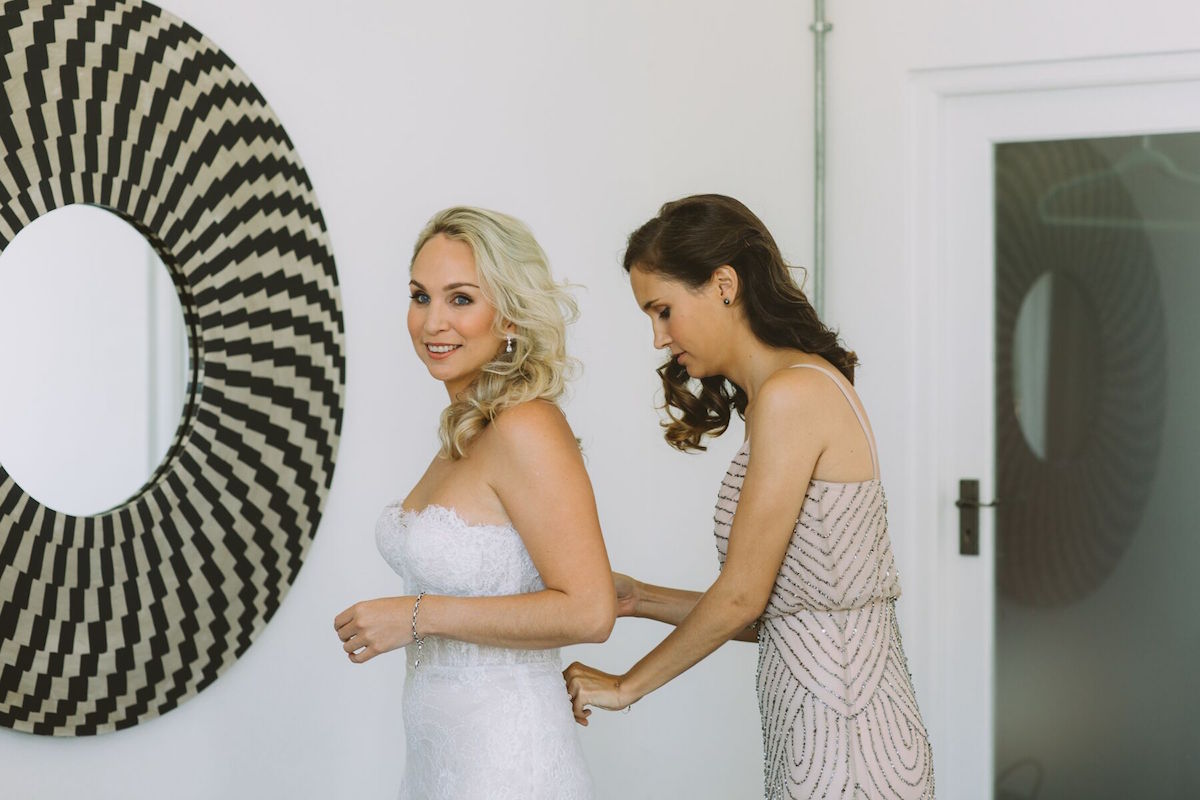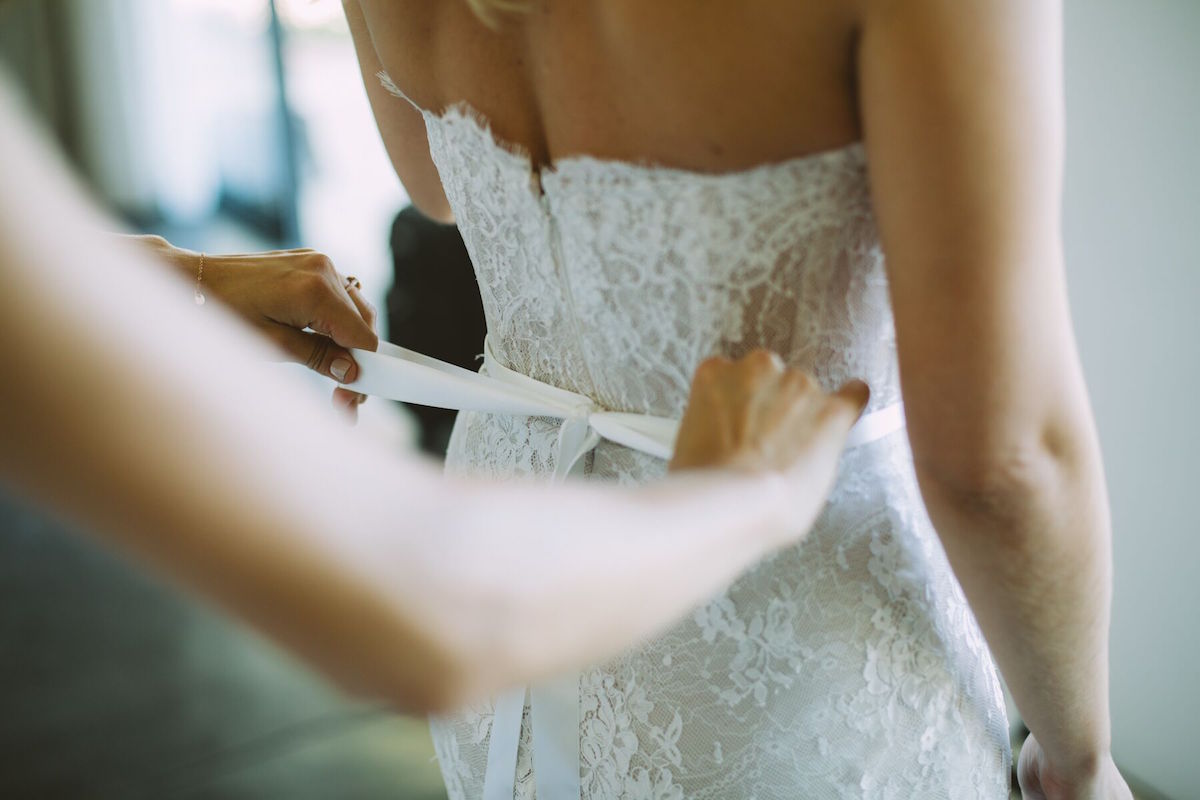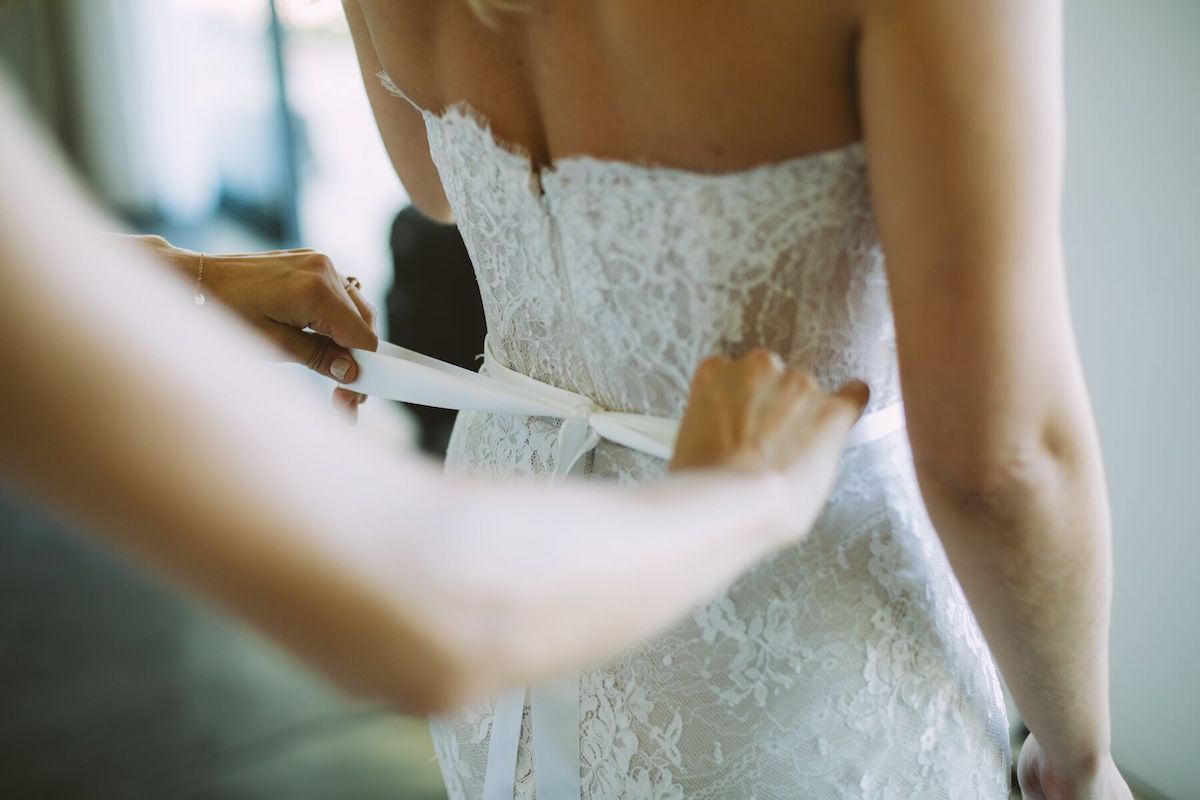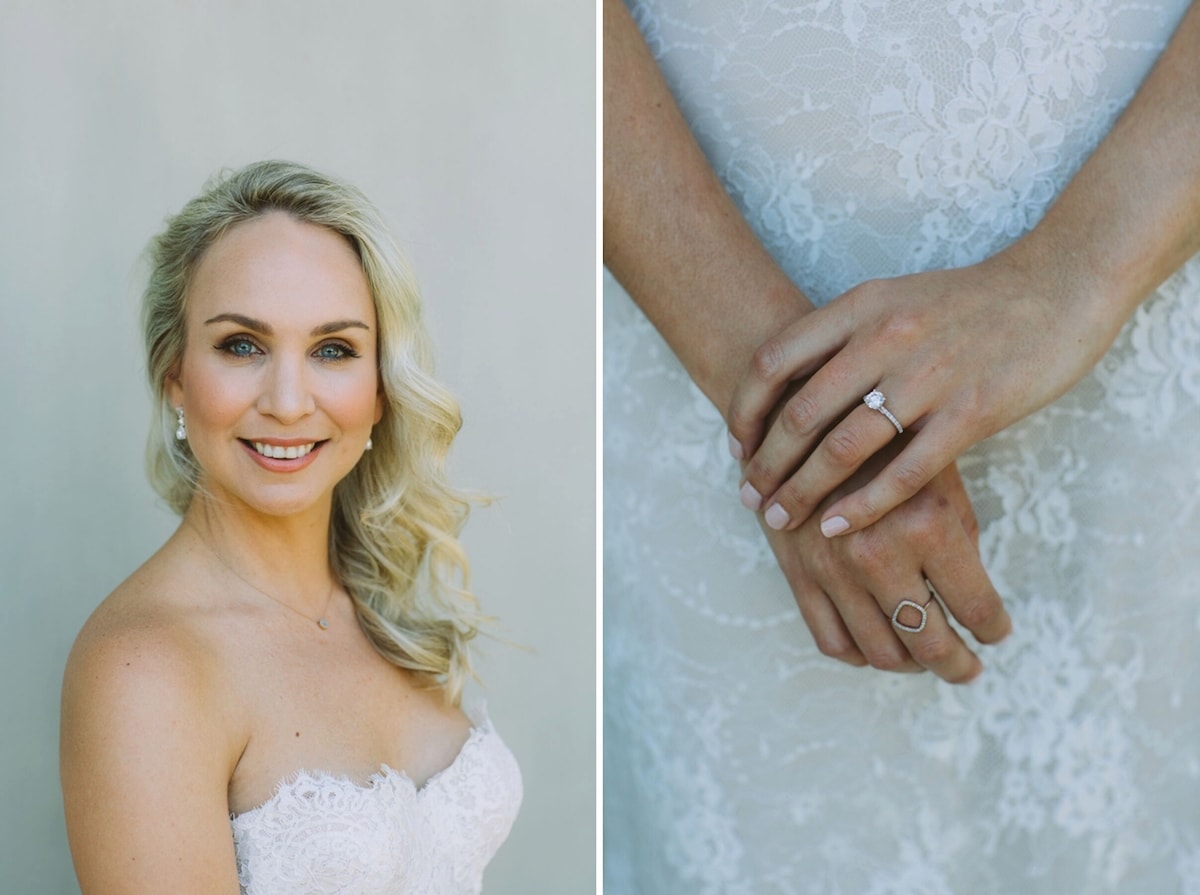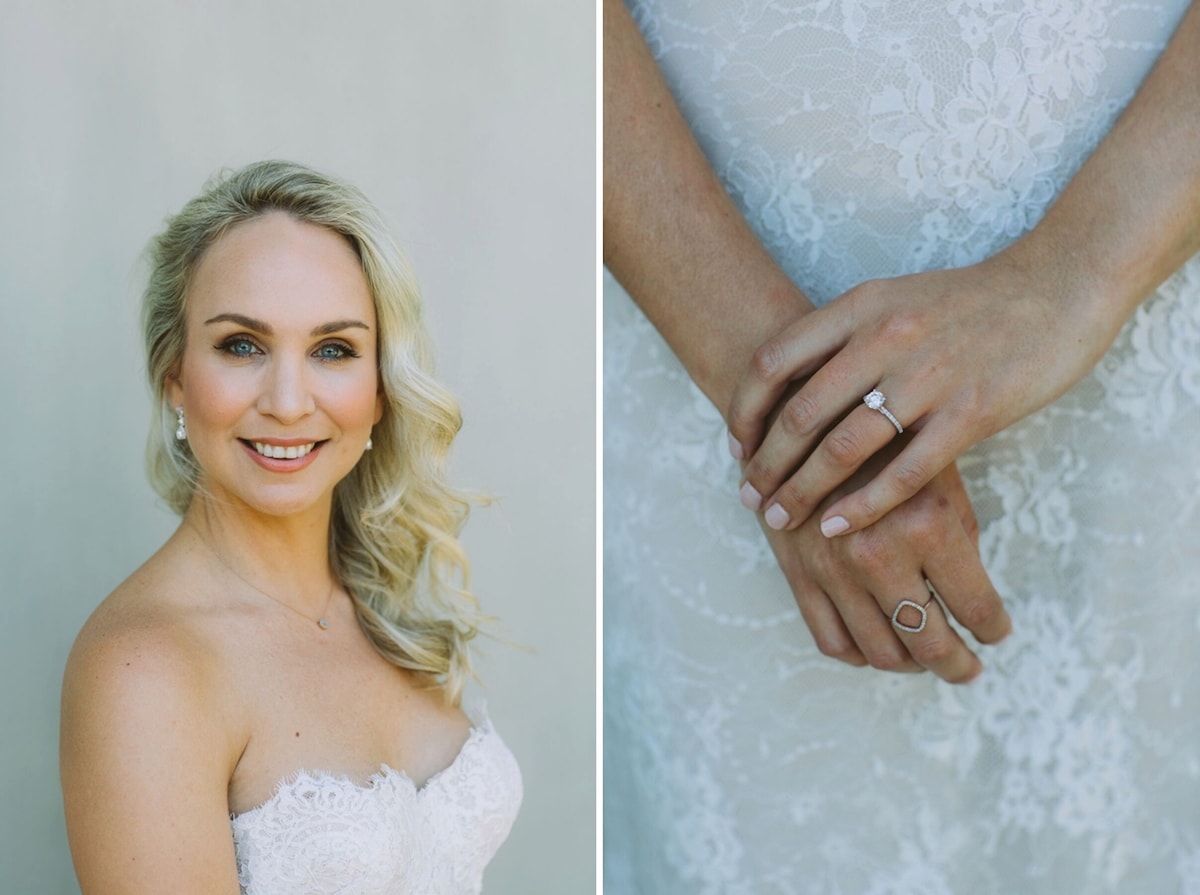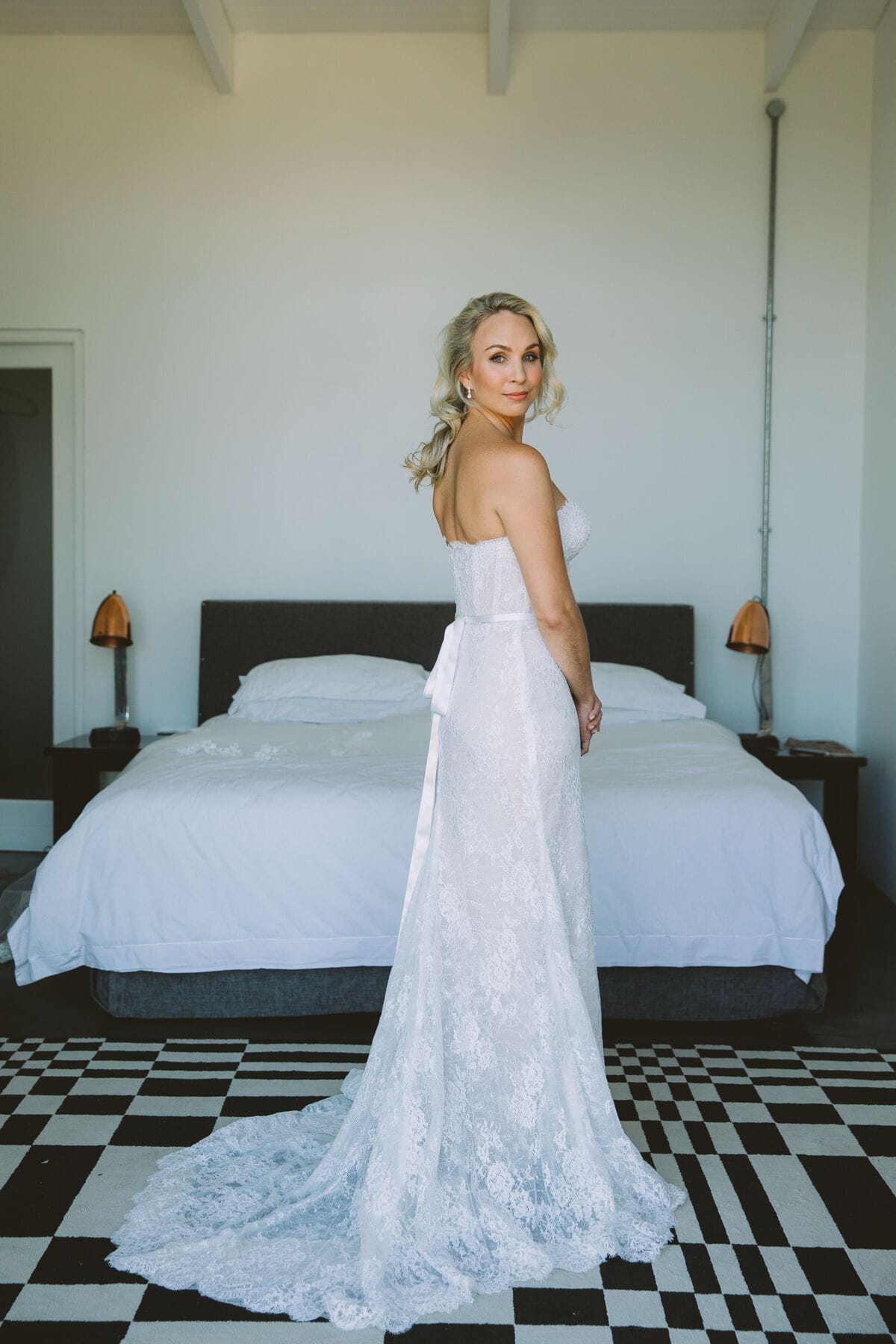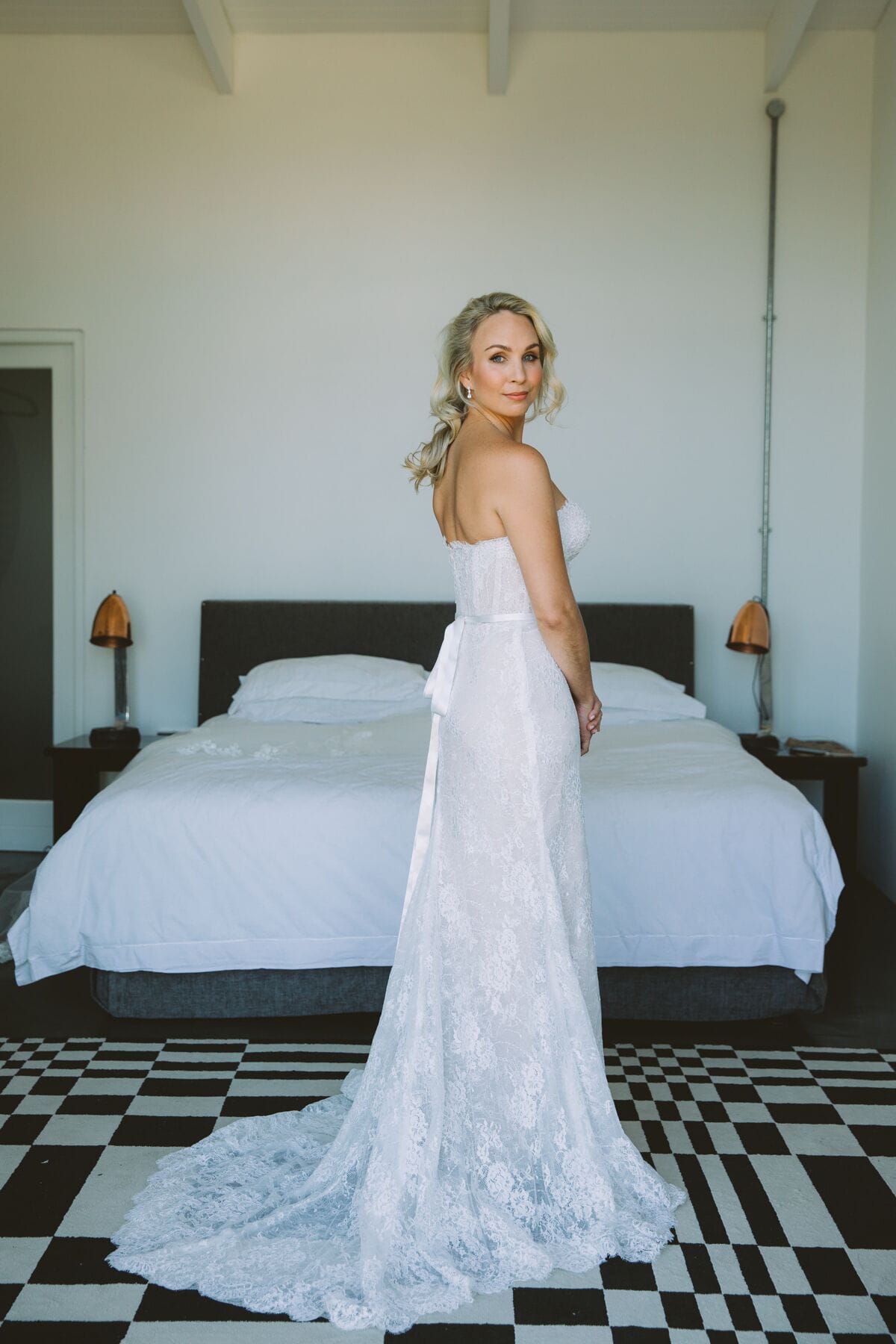 Love Story
Rupert and I met in a little pub in Wandsworth, while watching the rugby one winter Saturday. My friend was meeting her personal trainer and a few of his mates, and invited me to come along – totally casual. It was the England vs. SA game, and the competition between the South African meisies and English lads added to the banter and flirting. Rupert and I clicked immediately and I was drawn to his energy, charm, and humour. We swapped numbers early on in the afternoon, both definitely keen to meet up again, and as I entered my name and number into his phone he said 'You're a Wilson?'. I said yes, and he replied 'Me too! Funny that, if we married, you'd never have to change your surname!'. The Boks won that afternoon, but it was victory for both of us. The afternoon carried on into late night dancing, kissing, laughing and fun. We went on two or three dates and connected really quickly. While I didn't want to rush into things too soon, he bowled me over by asking me out. My heart melted – I mean in what era do guys still ask a girl out? I didn't admit it to myself or my friends but I was beyond smitten.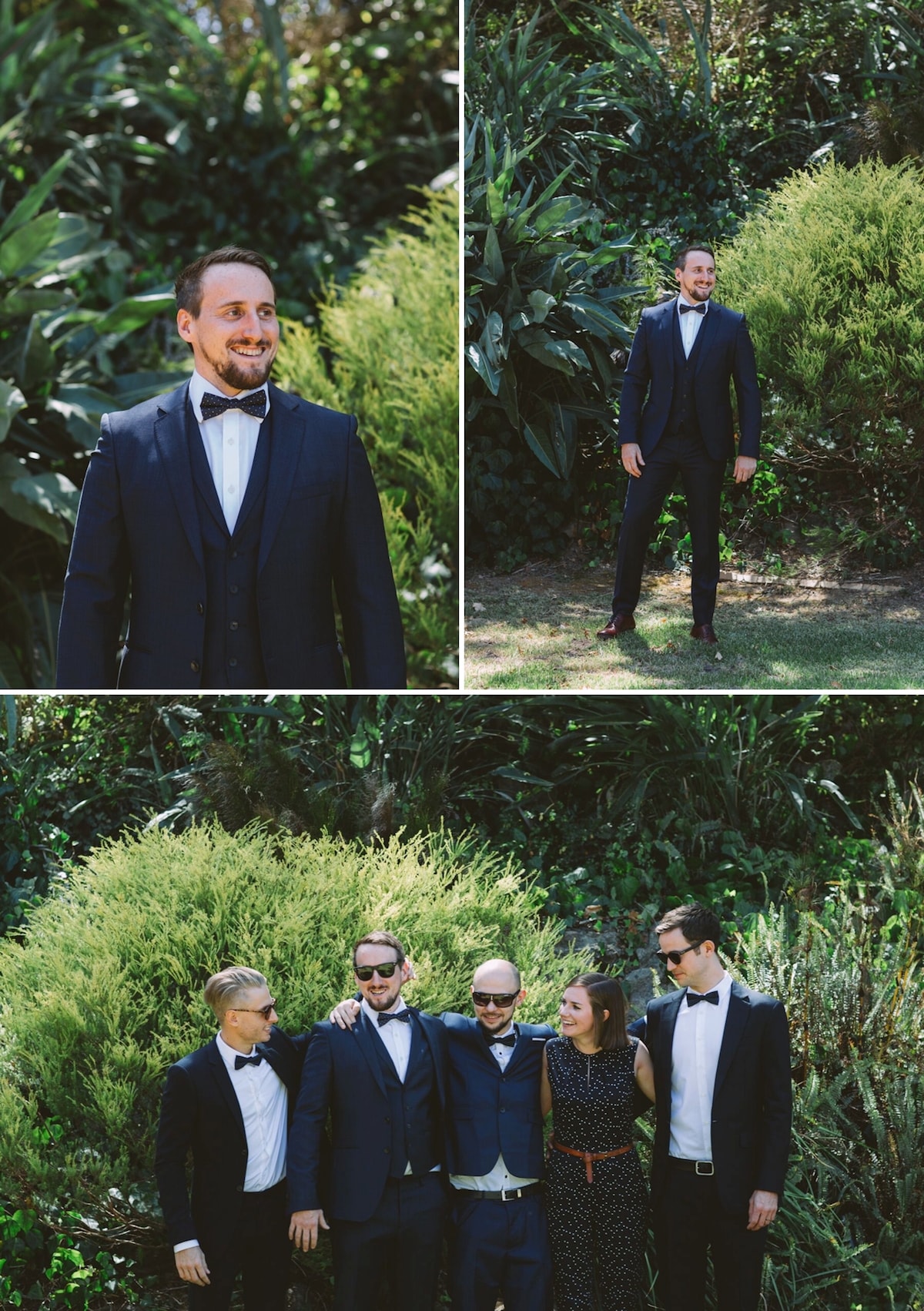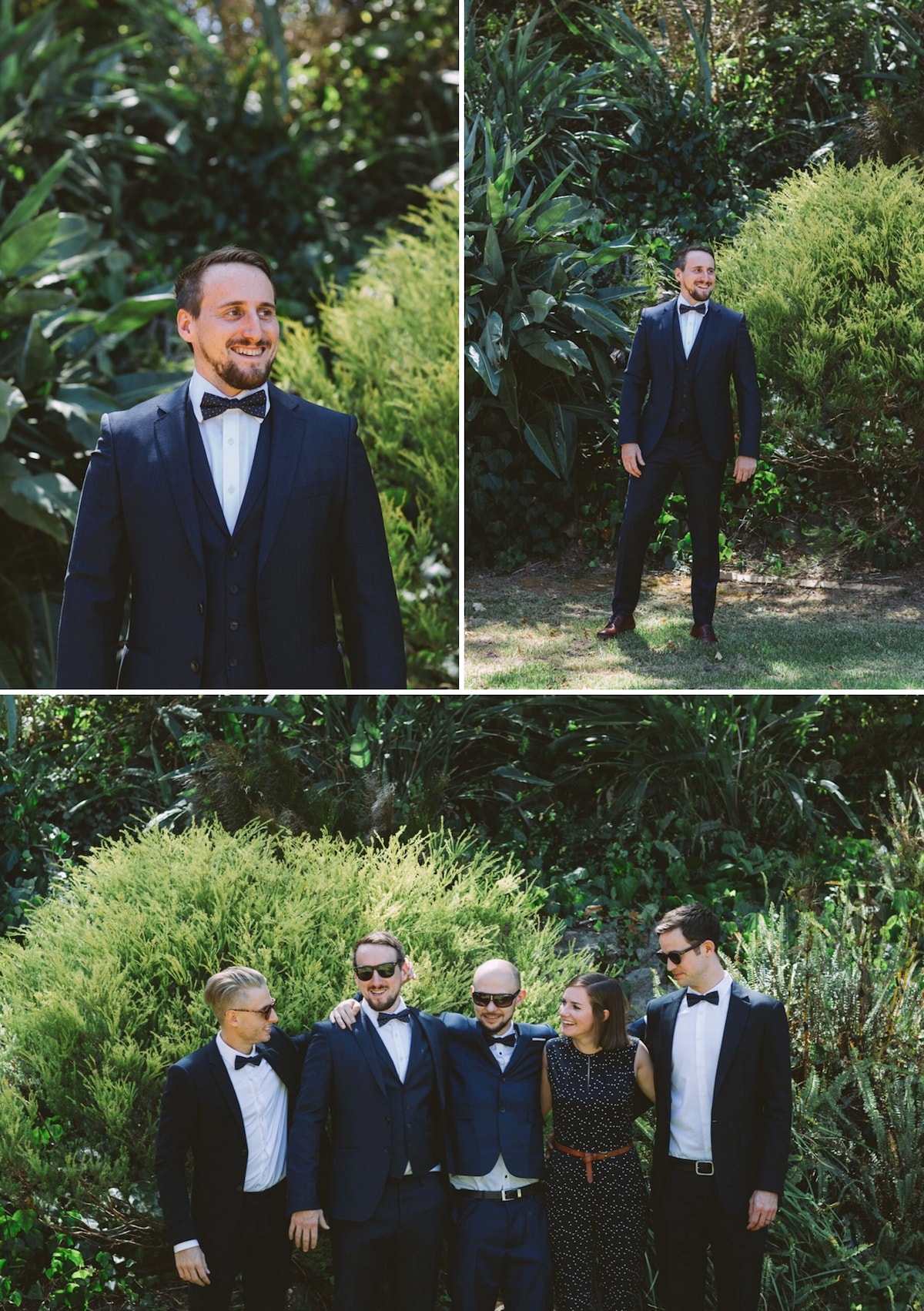 The Proposal
We had just been going out for over a year, and Rupert was joining me for a trip to Cape Town to meet my family and friends. I was sort of waiting for it to happen – I thought I had a bad poker face, but Rupert isn't great at keeping a straight face at all! On Christmas Eve, while with his family, his mum had given him a 'Christmas present', an old family emerald and diamond ring, which she wanted me to have. His mood had become a little more serious following 'present opening time', and after all the festivities were over I asked him what was up. He showed me the box, and I nearly fainted. I thought "you chop, why are you showing me this?" but then "oh my god, is there a diamond ring in there?" He explained to me that he wanted to propose to me in CT but he got so excited he didn't want to keep it from me, but still wanted to meet my family first and speak to my dad and ask his permission. The holiday turned out amazing as it was his first time in SA: the beauty, friendliness, food, vibe; everything just played so well in our favour, but most importantly, I got high fives from my family and friends for meeting such an incredible man. They loved him. After two weeks, I realised there weren't many opportunities left for Rupert to have some 'alone time' with my dad, so suggested my mom and I go shopping. And still I waited… We had been dying to go up Table Mountain, but the mountain had been closed for a few days due to wind, so I suggested Lion's Head instead on our last day of holiday. We set off in the early morning to do the hike. Being typically English, Rupert expected a certain level of health and safety measures during our uphill climb – he even expected there to be a stand selling water when we reached the top! When we started the climb he also announced his intense fear of heights. So his anxiety, coupled with fear of falling and only having half a bottle of water left before we even reached the chains already sent him into a spiral. Oh, let's not forget the nerves of proposing. We nearly turned back twice, but poor Rupert stuck it out! He was resolute. We made it to the top after 90 minutes and by that time we had no water and it was scorching. We caught our breath and took in the incredible view and after he composed himself he dropped to his knee and proposed. Not wanting to draw too much attention, a few tourists and other active mountain goats immediately ran over and cheered us on. We were both laughing and kind of relieved that it was over. Well, the first part of it… we still needed to get down. Rupert bum shuffled most of the way and when it became easier to walk on the gravel we paused and high fived and gave each other the biggest hug and kiss.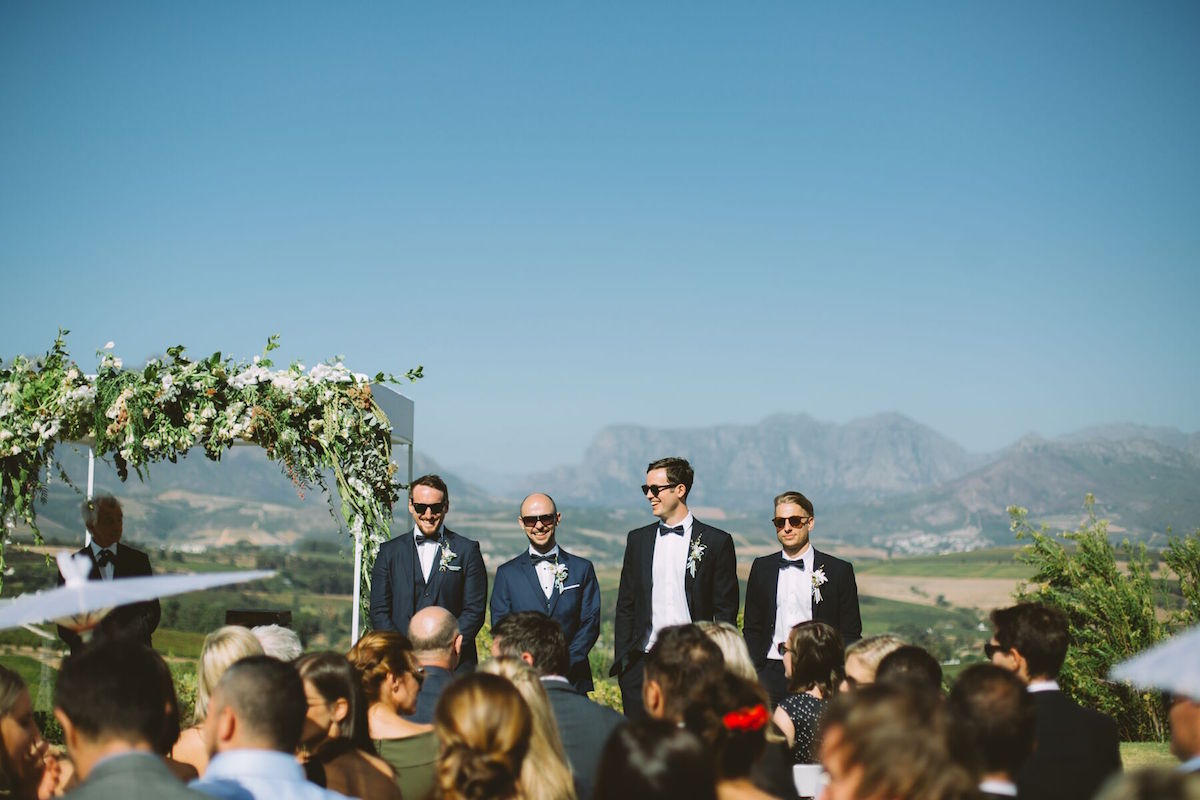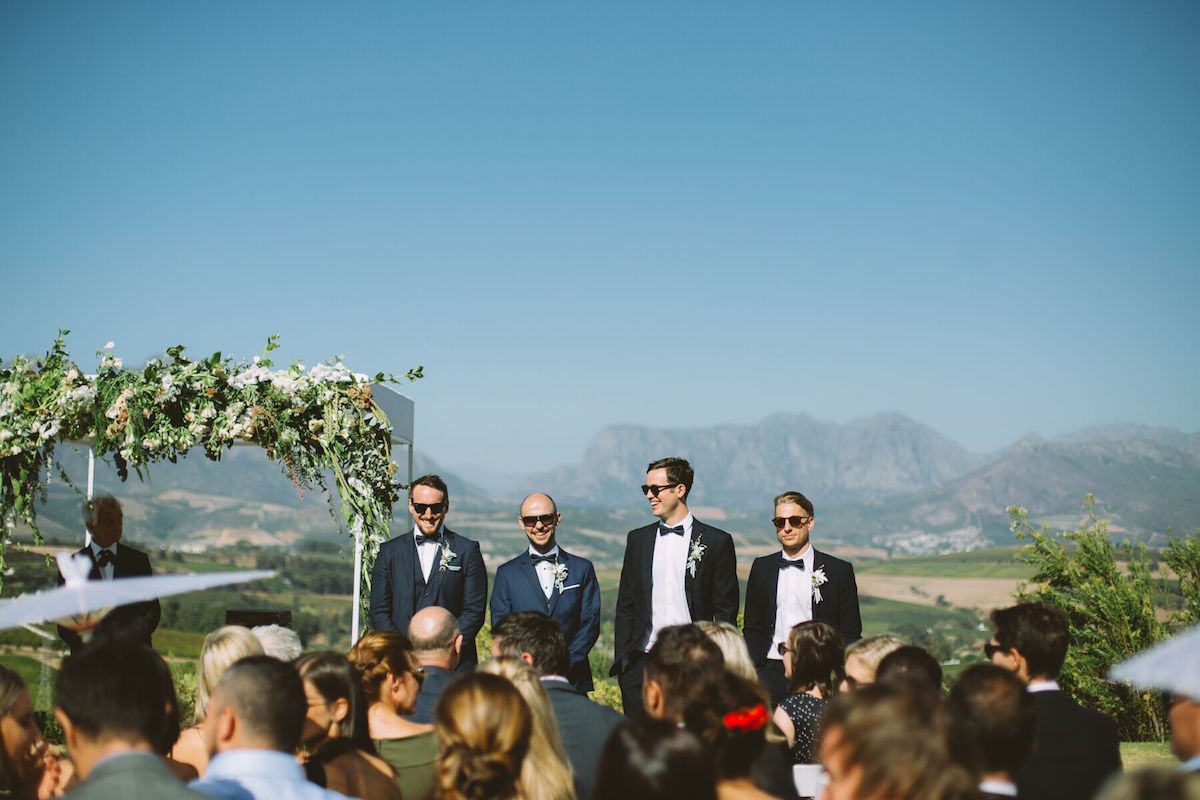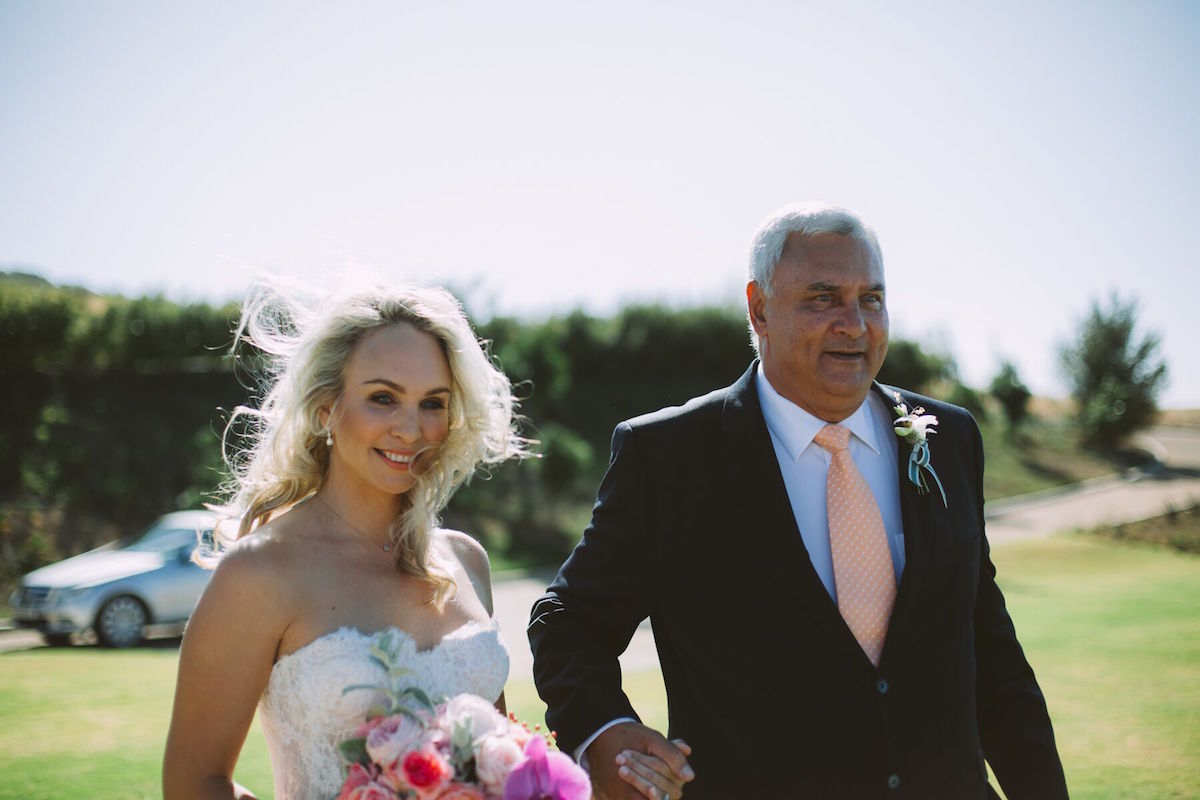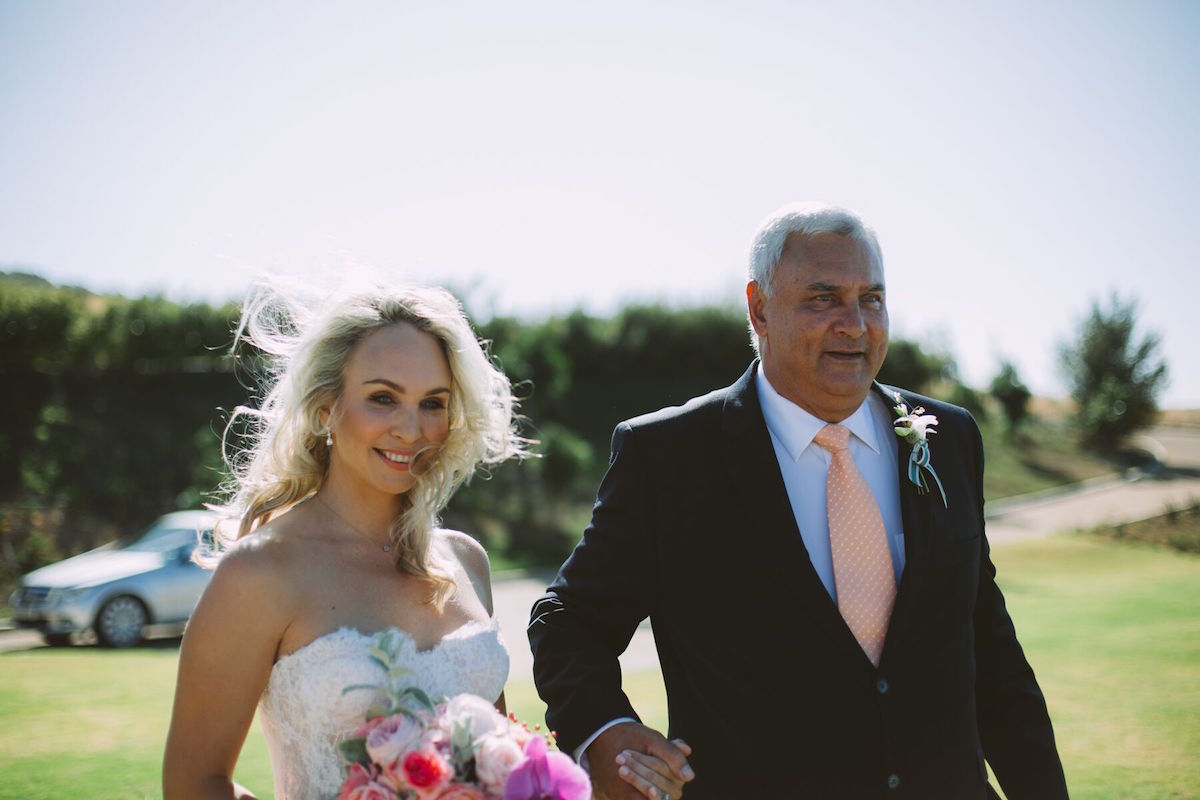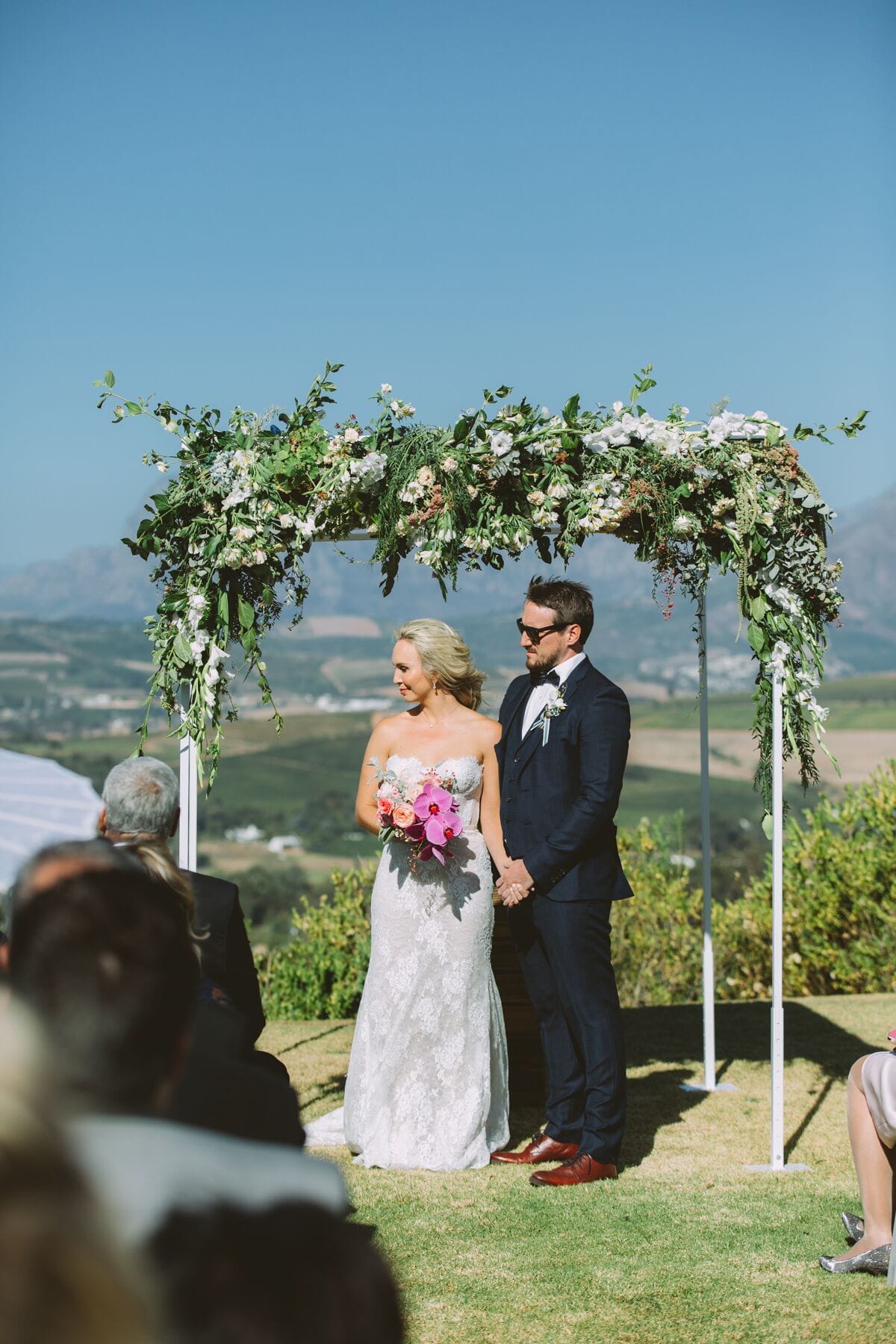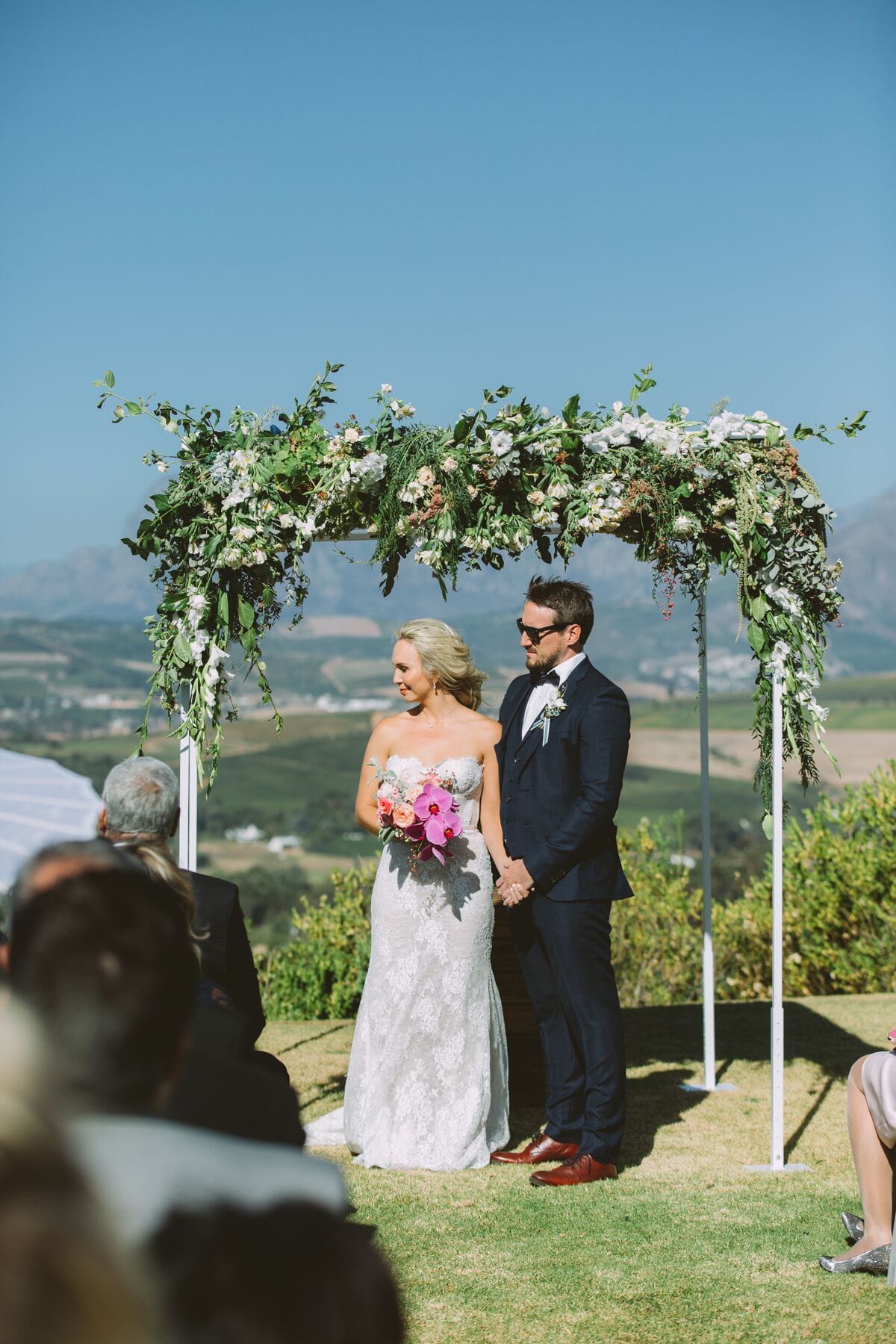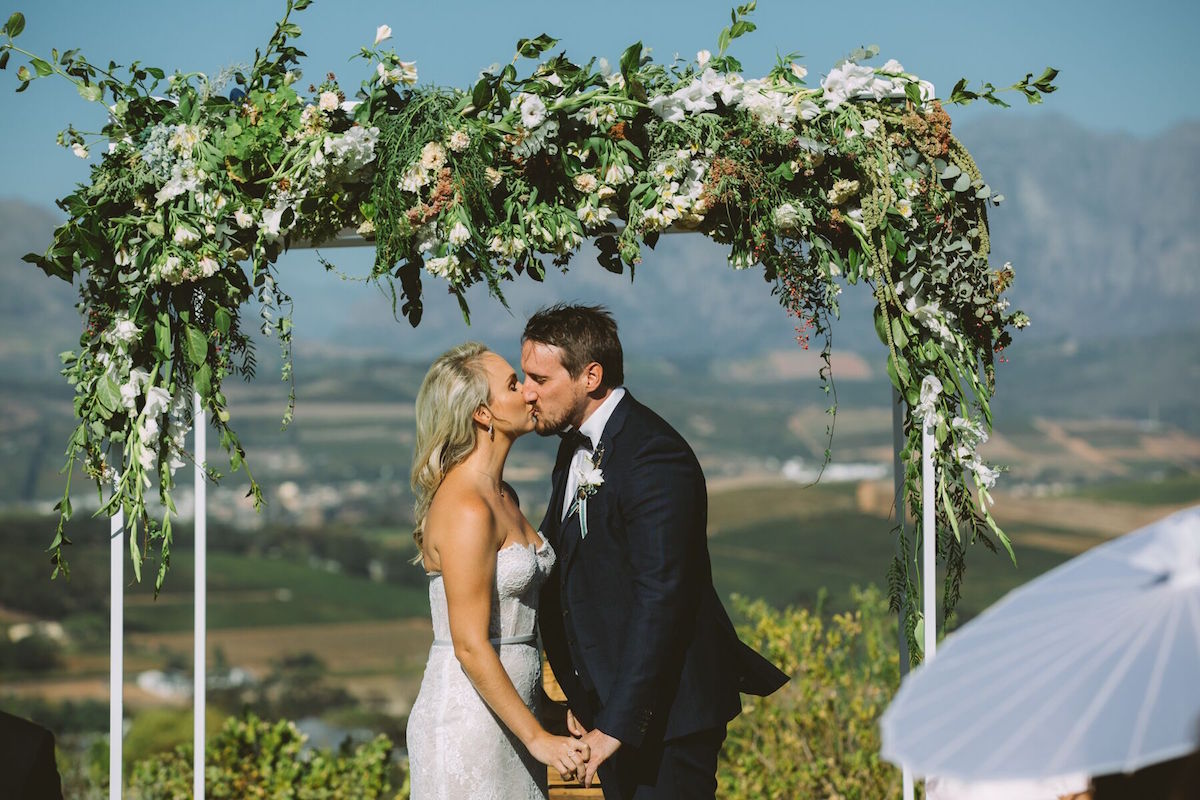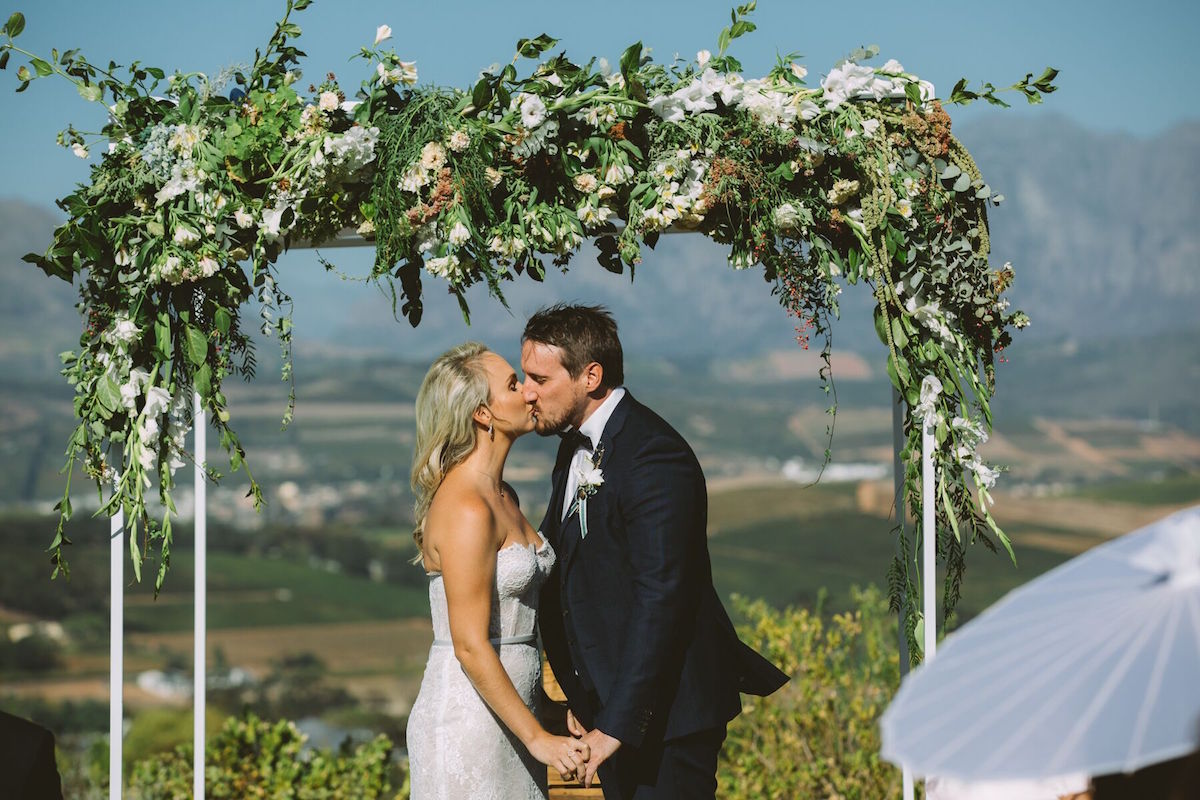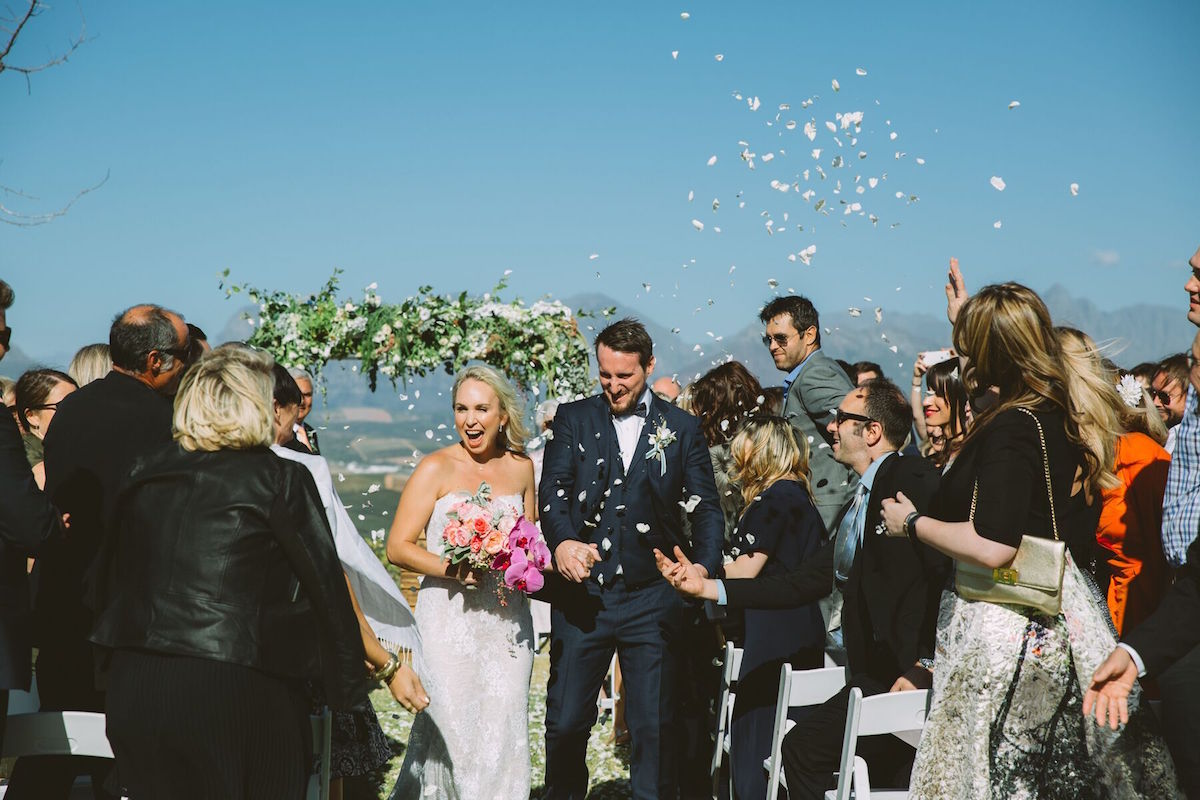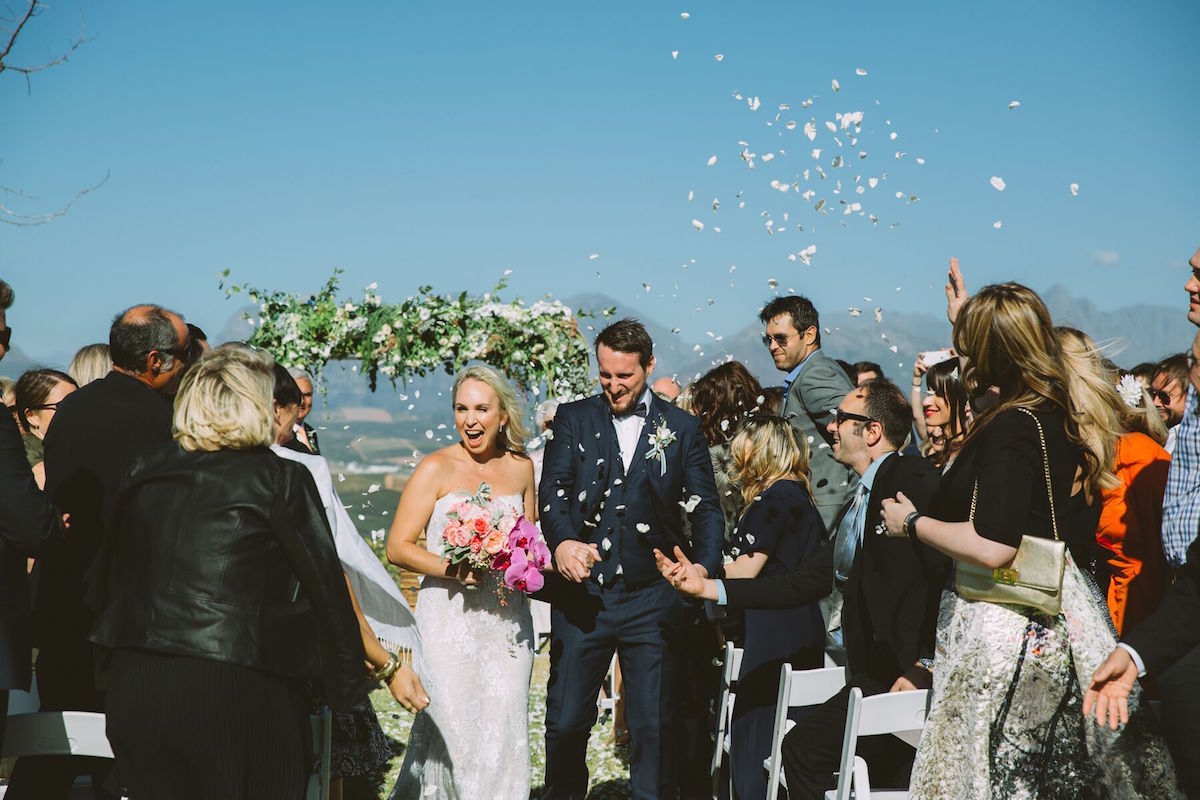 The Venue
Landtscap has the most incredible views over Stellenbosch and I had imagined getting married against a scenic sunset backdrop in my home country. The venue itself is modern, simple, and unfussy, giving you the opportunity to add your style without it being too prescriptive. I loved the glass windows and doors opening up to the beautiful view and setting. It really beats getting married in the English countryside.
Wedding Style
We wanted to have a light and romantic feel to our wedding, nothing too complicated or too dramatic. We're not that kind of people, and as this was our second wedding (we got legally married in London the previous October), a theme of warm and casual romance was what we opted for.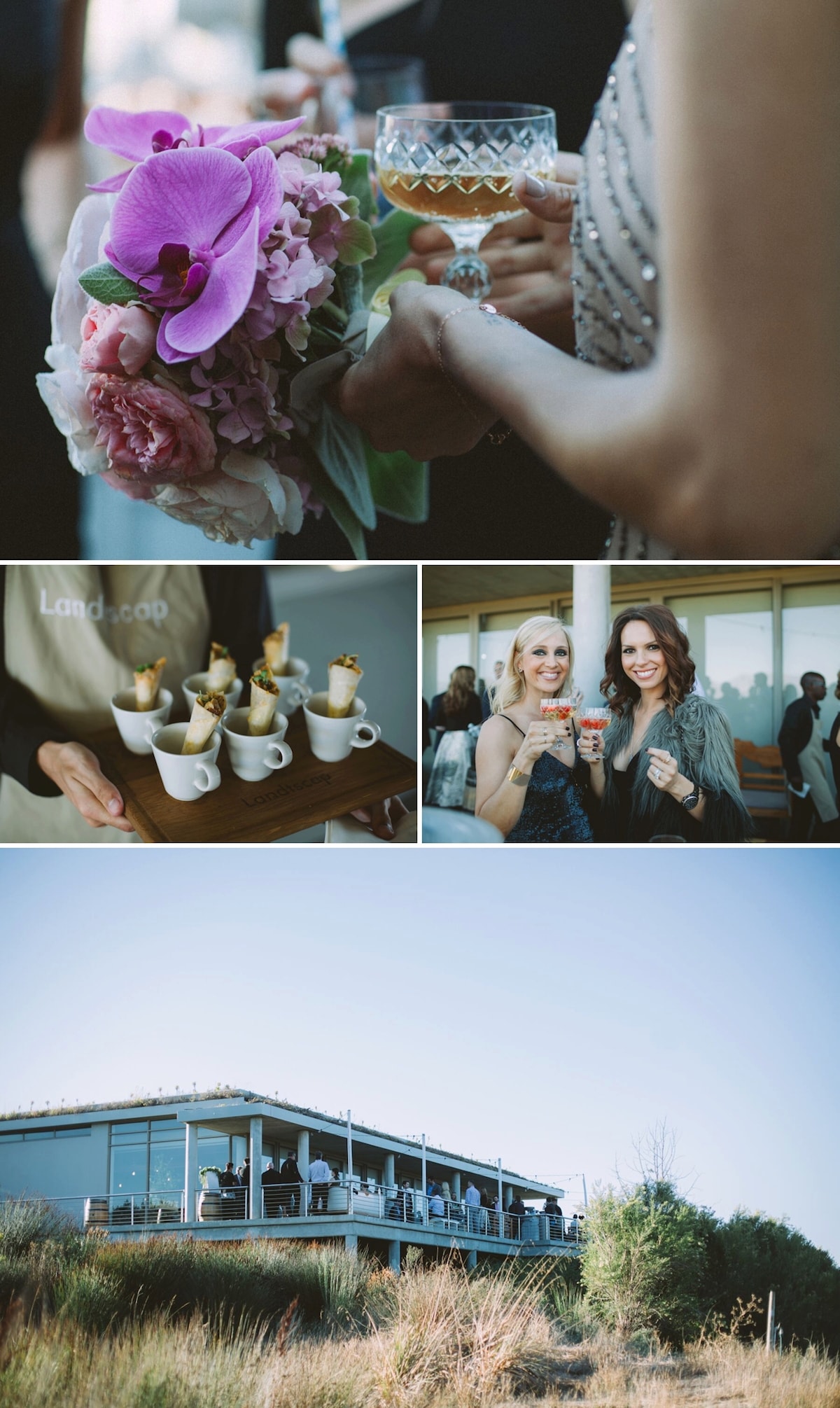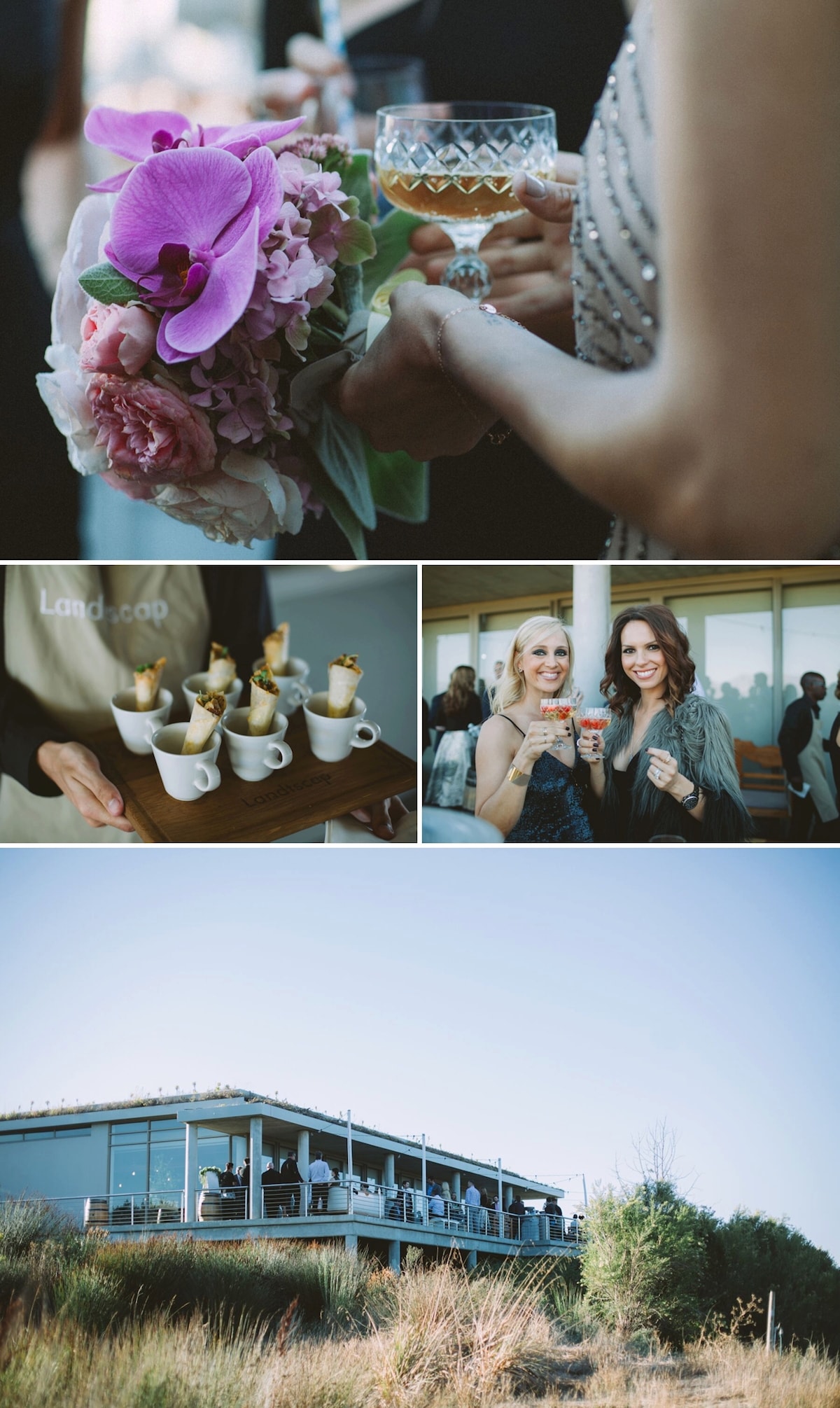 The Dress
I loved my dress from Kobus Dippenaar! Deciding was easy, I actually had my heart set on two dresses, one by Kobus and another from Israeli designer Limor Rosen. I caved and bought Kobus – the Isabella dress sat beautifully and I adored the lace.
The Bridesmaid
My sister was my maid of honour, again having already done the first wedding I wasn't precious over the bridesmaids' traditions. There wasn't a firm brief for Lara, as long as she wore a long dress in line with the blush palette I was happy. She wore a beaded gown from Adriana Papell which I ordered online from the US. Easy peasy. And she looked elegantly gorgeous!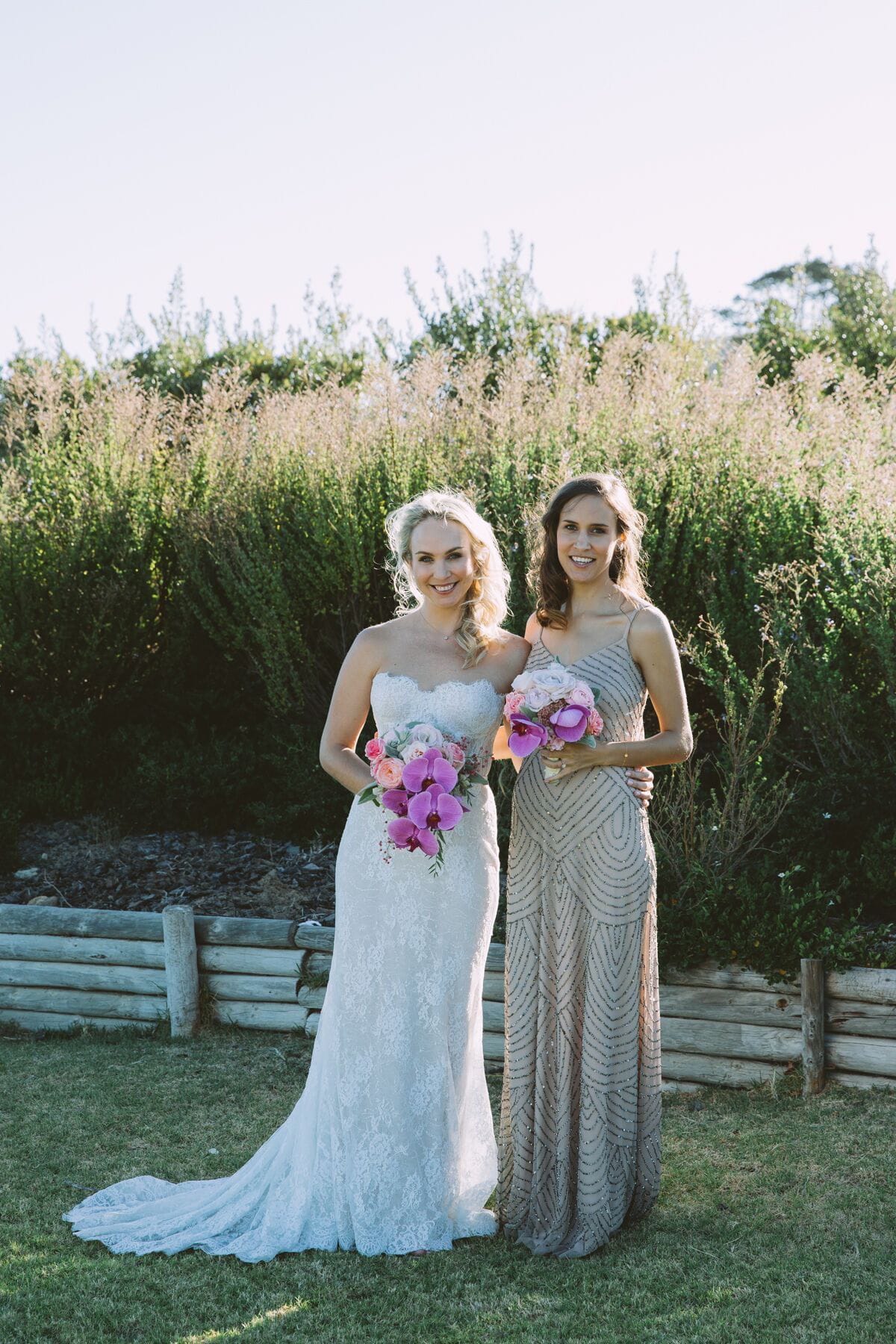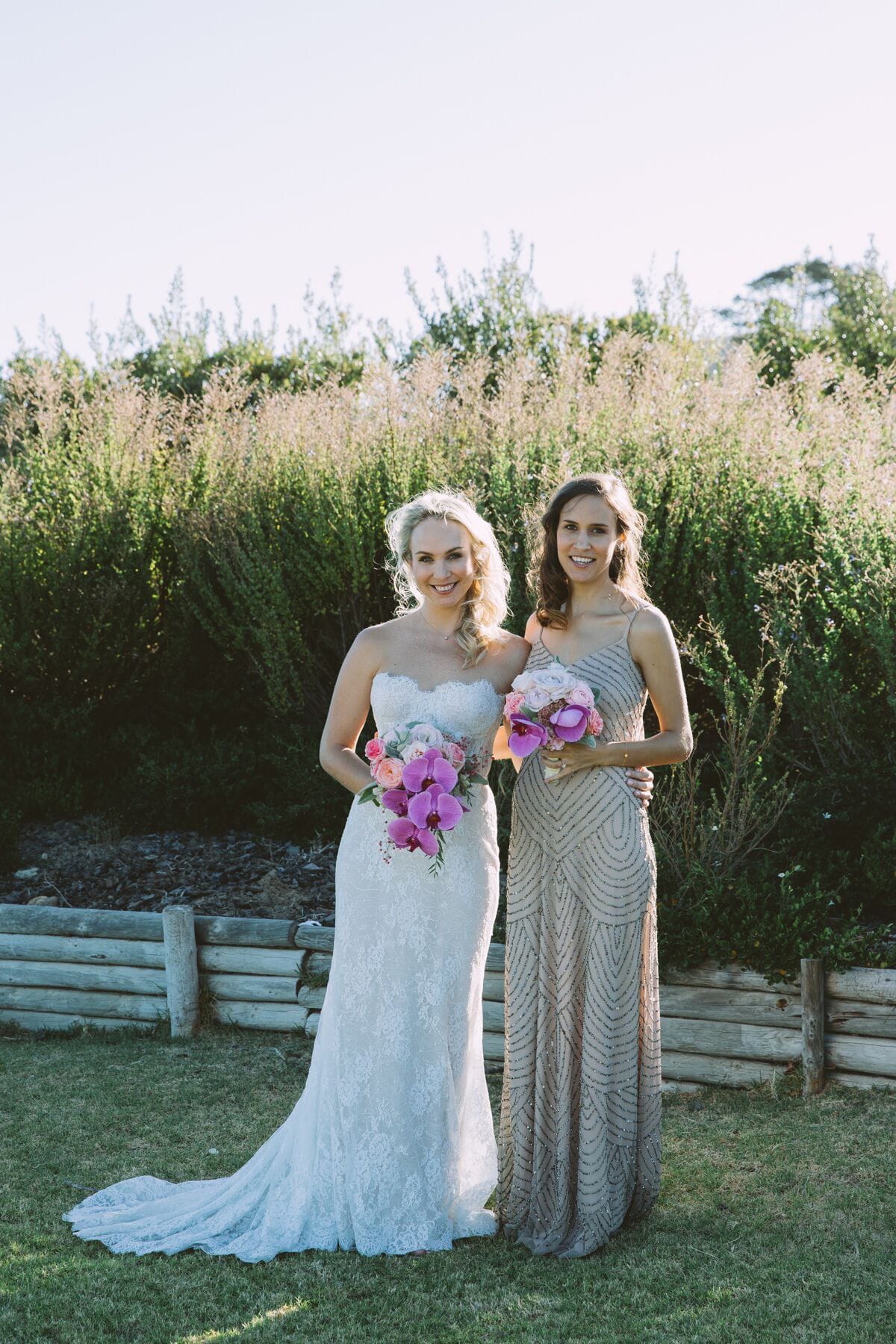 The Flowers
I think my initial brief to Okasie was: casual/chic/relaxed/modern/awesome with a colour scheme of blush, ivory, and green. (I'm clearly not that great at writing briefs!) The flowers were incredible: soft, romantic and the hues were in keeping to the theme. My favourite part was the bridal table where we had our own panelled wall with foliage to create more depth and atmosphere to the room. Jeez, I had an idea in my head but had not imagined how beautifully it could all look until I walked into the room for the first time after saying "I do"!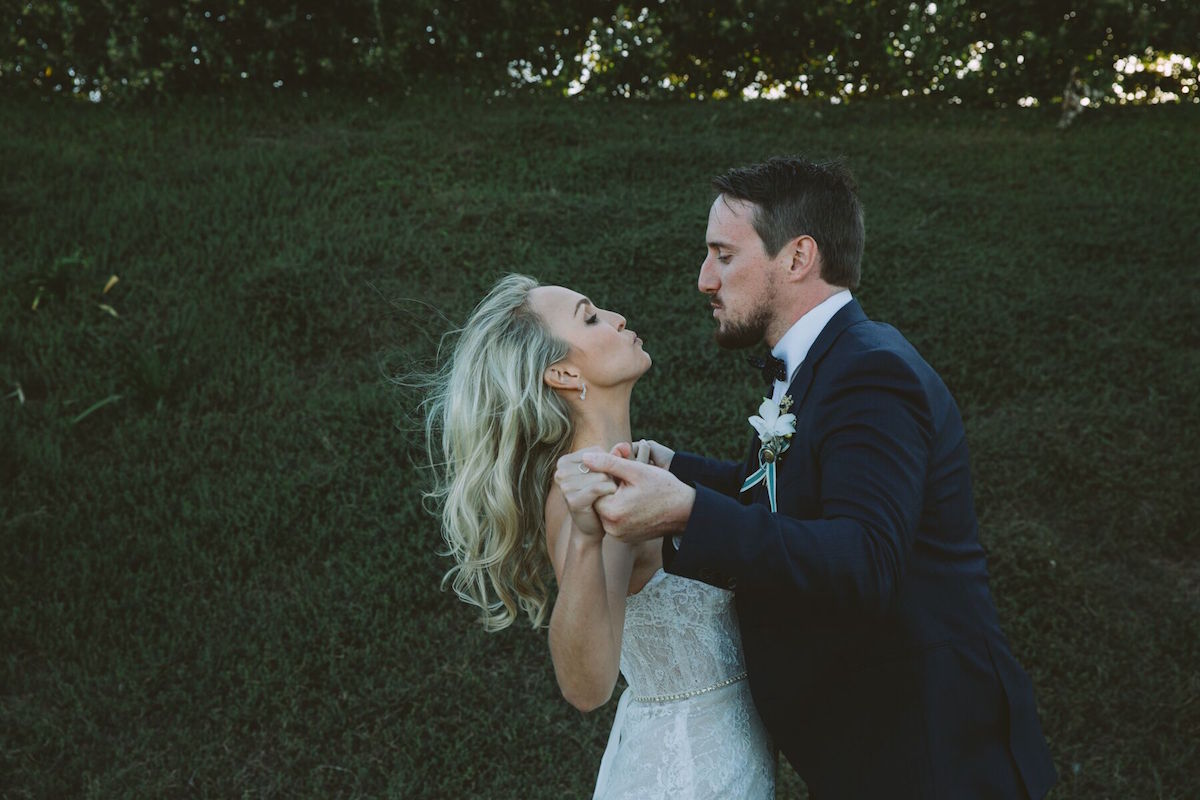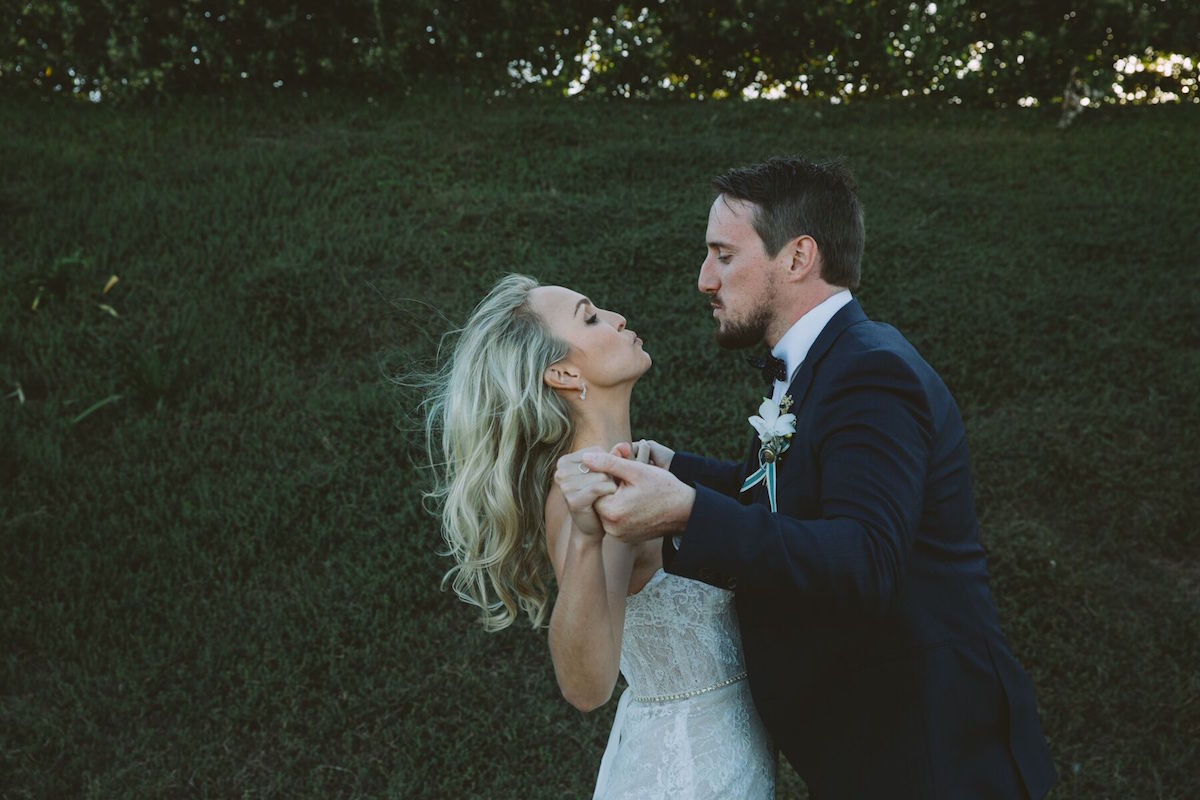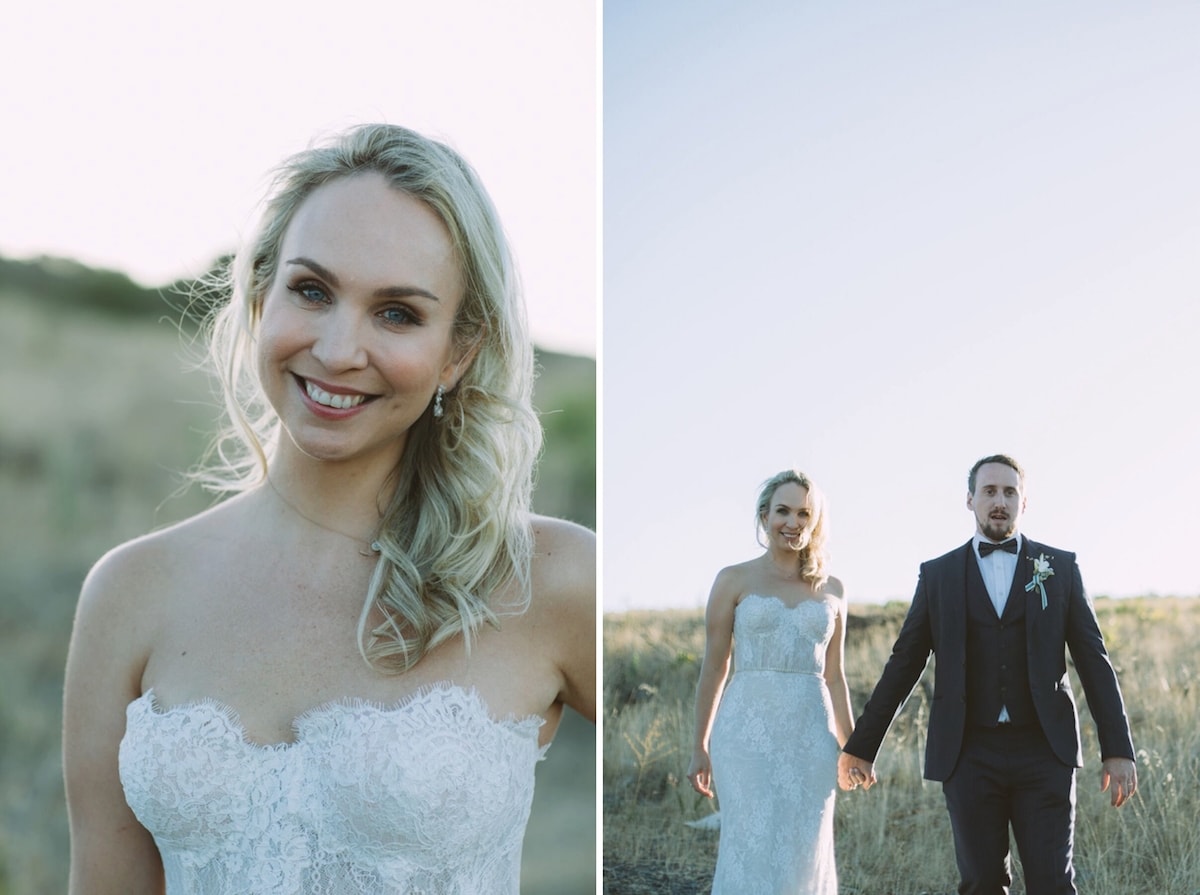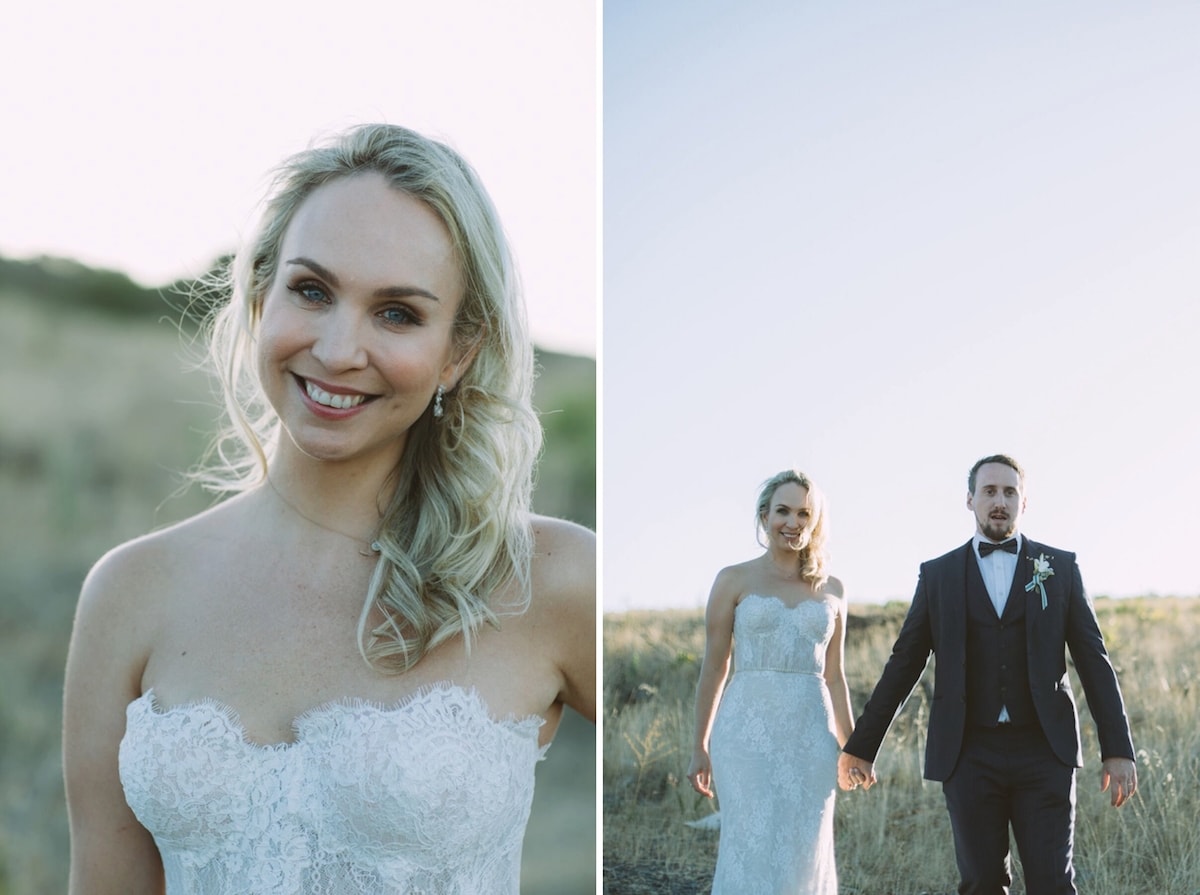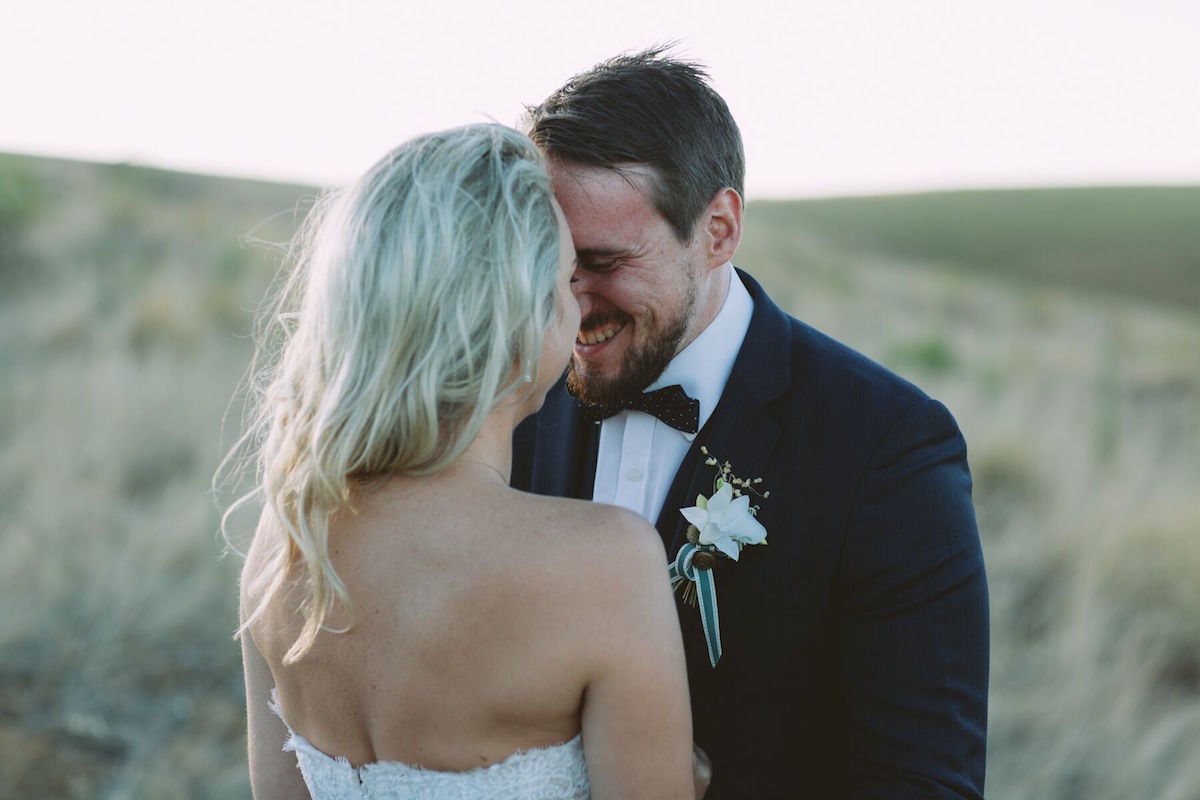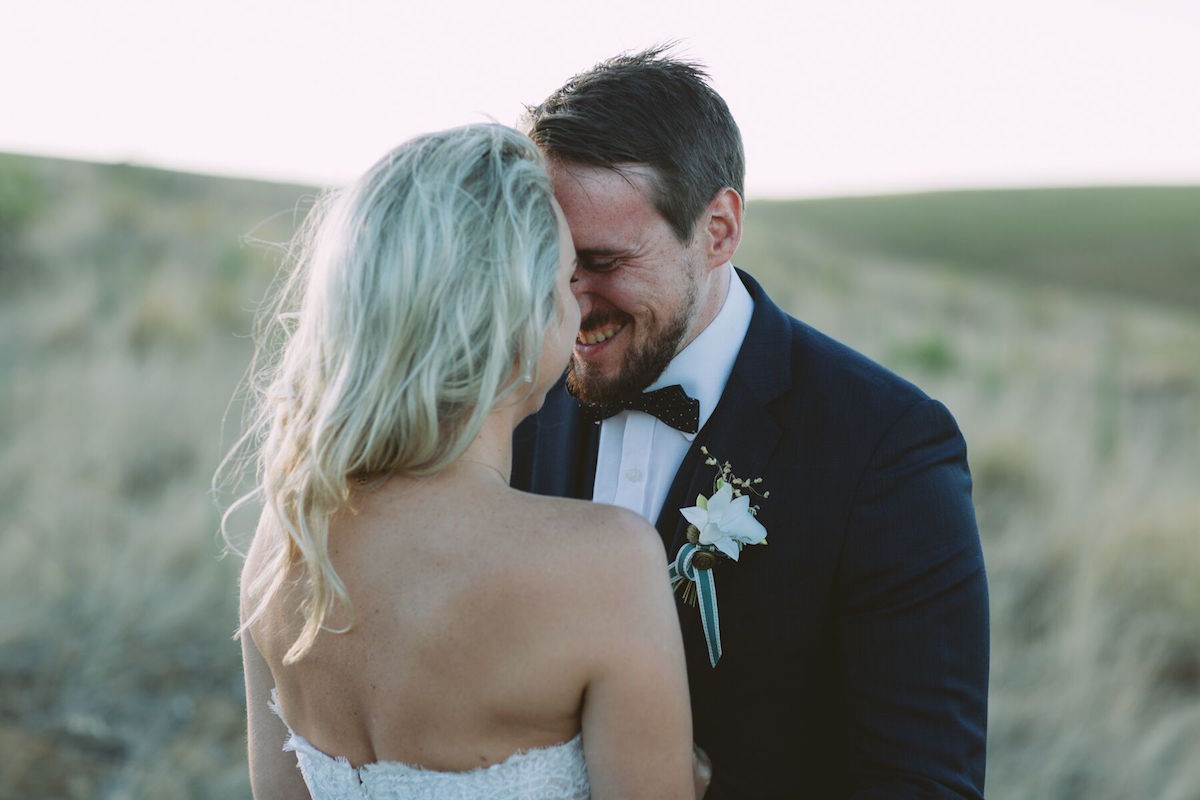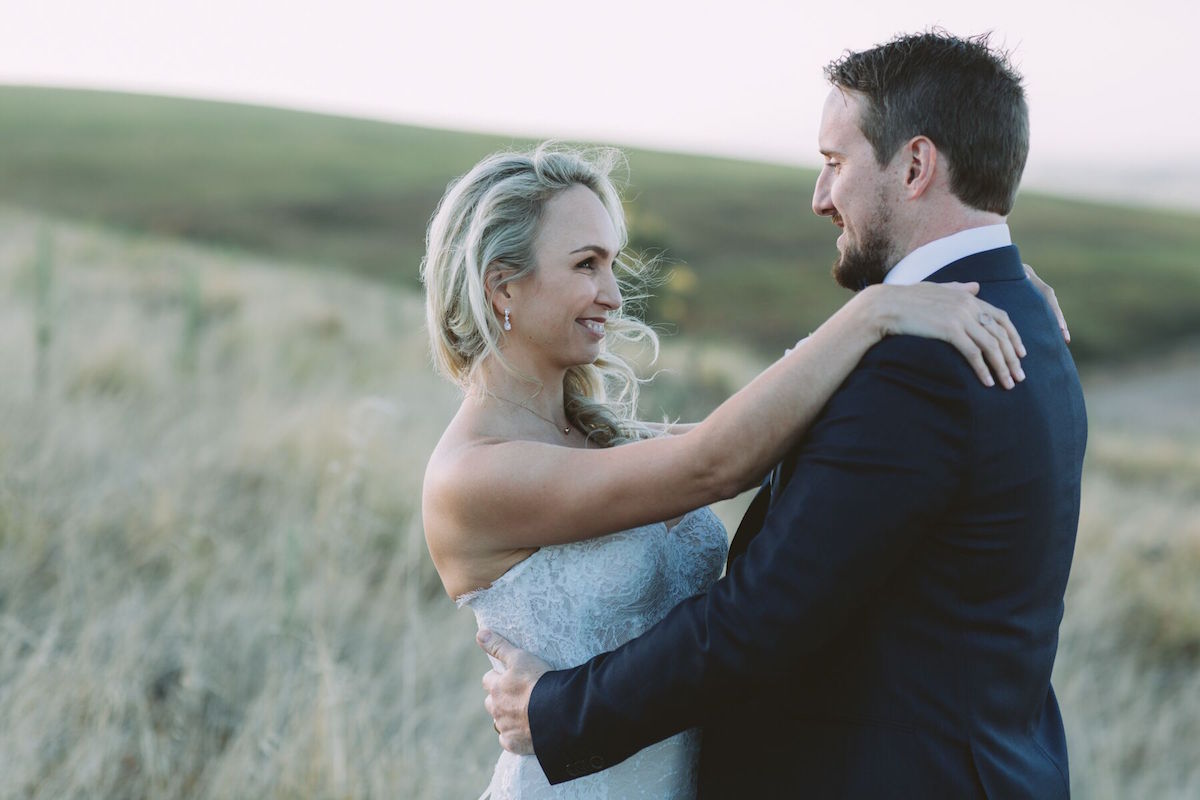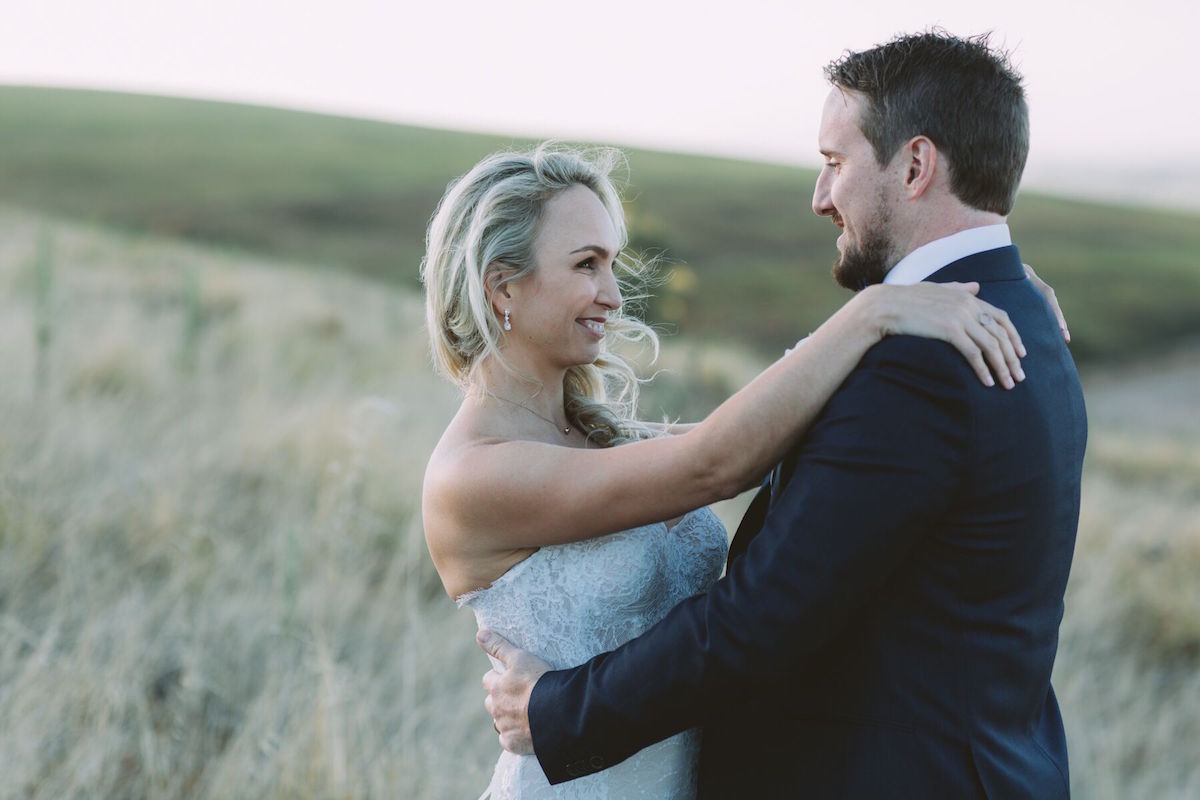 Memorable Moments
I really loved Rupert's speech. He can be very reserved when it comes to speaking from the heart, but his words were so heartfelt, humble and real (unlike my speech which was some me, mostly Google!) My heart was bursting with pride and love for this guy. The most memorable moment was sometime later into the evening, long after all the formalities were over, when we met up beside the bar and had our own little dance-off and kisses out of sight of the crowd. We just had our own, real moment (as if we were dancing alone in our living room); no pretence, no formalities. I could see how much he was enjoying himself, and it was so reassuring to know that all the anxiety, pressure and heartbreak (largely his family and friends didn't make it to SA because they had already attended the UK wedding) had relaxed in him and he was having a jol. Rupert's favourite part of the day was our couple shoot – it really wasn't like a traditional 'posey' shoot. We were laughing non-stop and Rupert kept the vibe humourous and less stiff. We had a lot of fun with Steph and Ebert and Mikayla.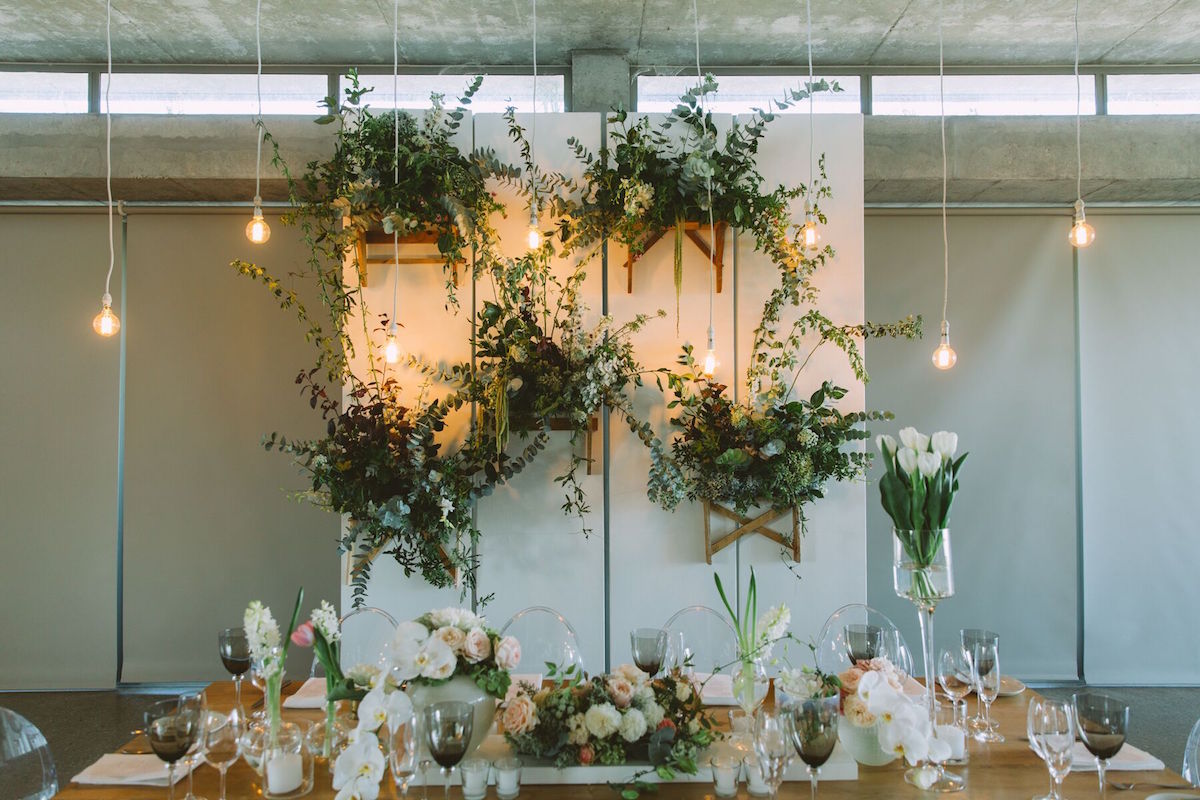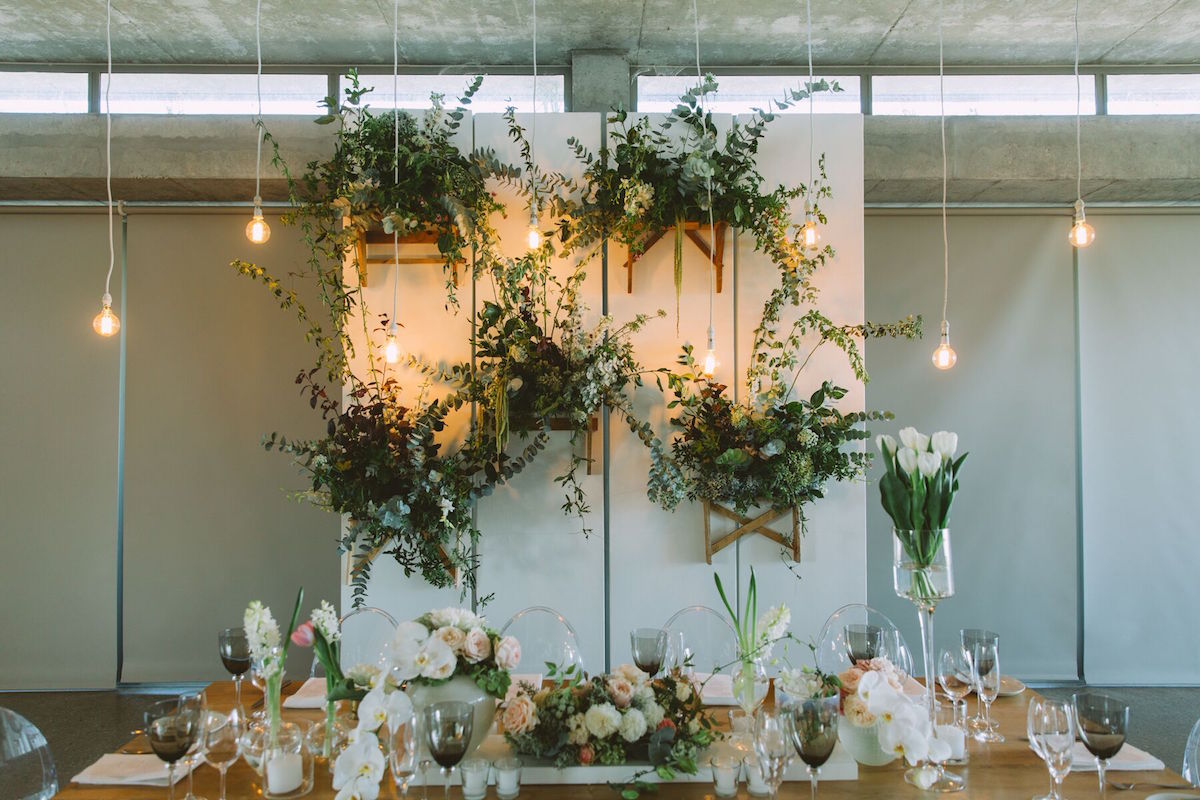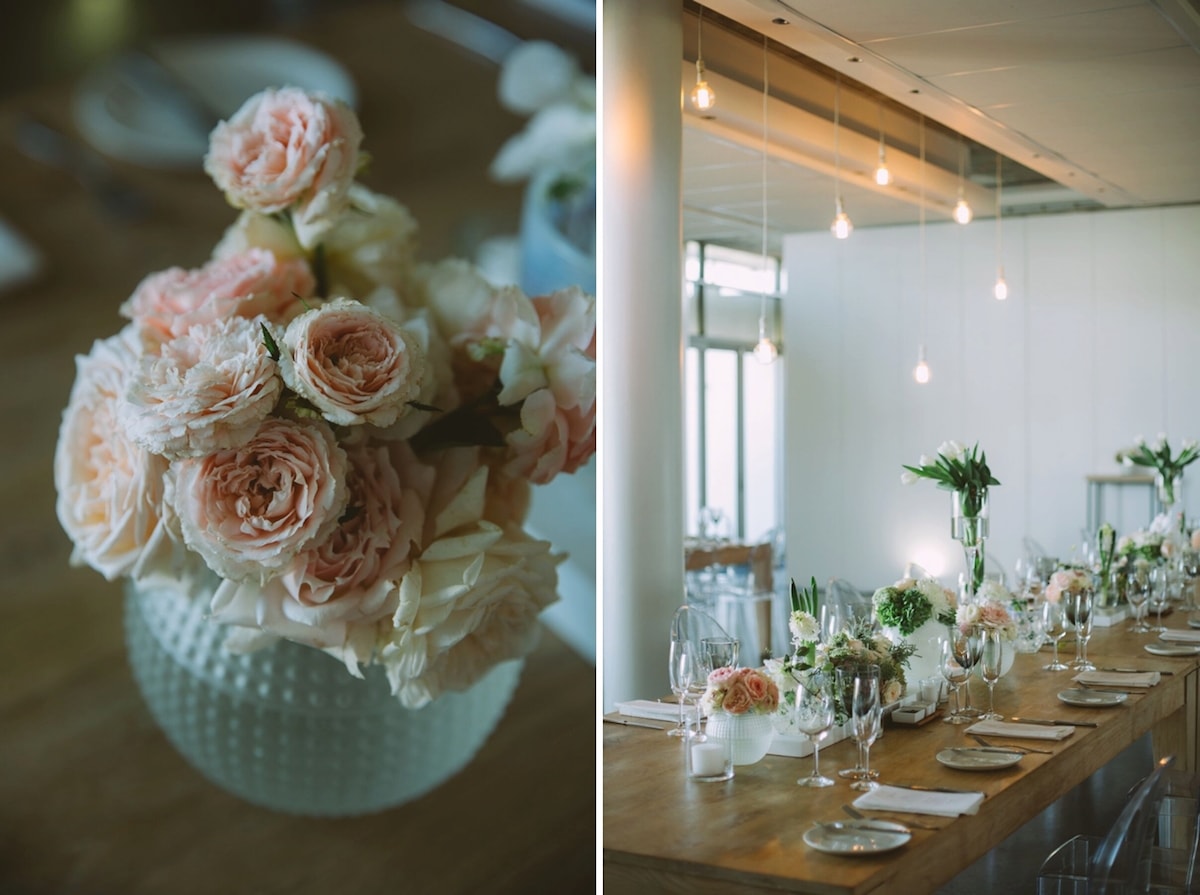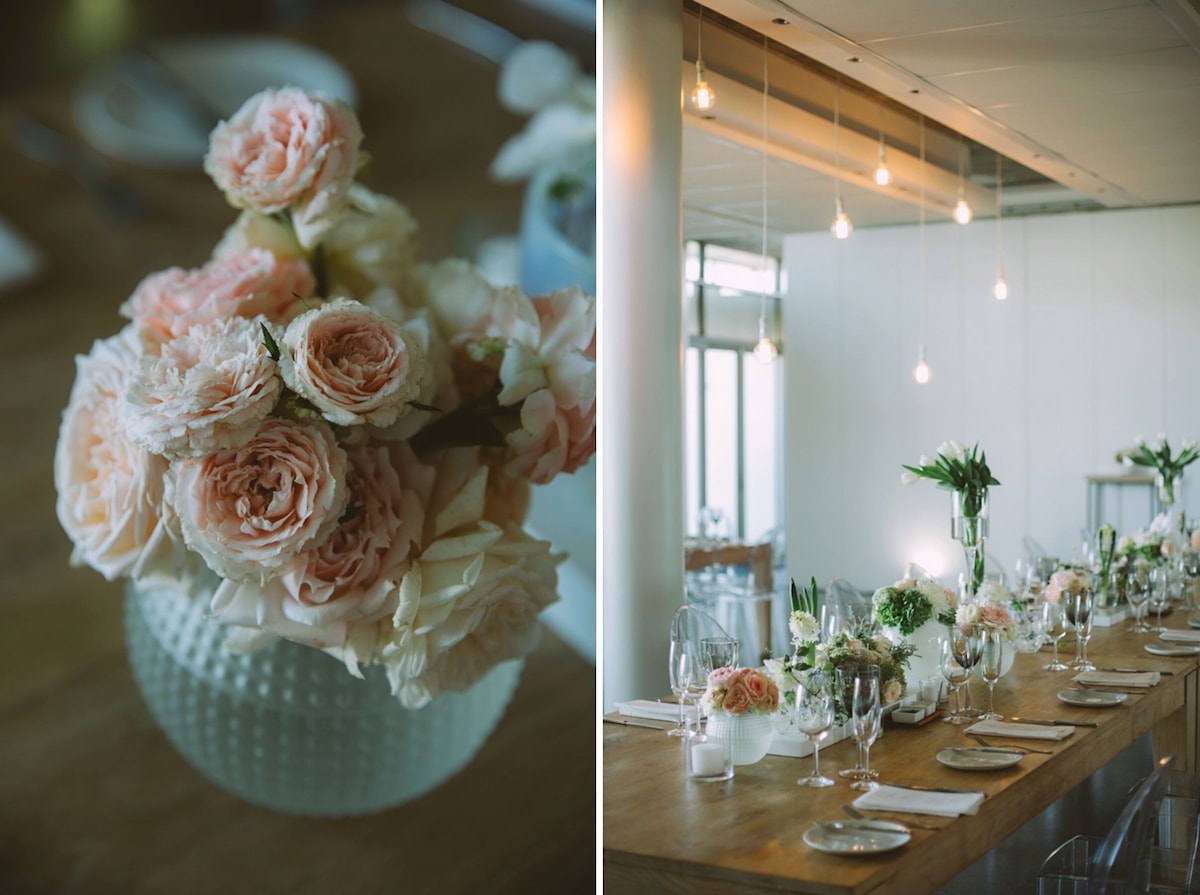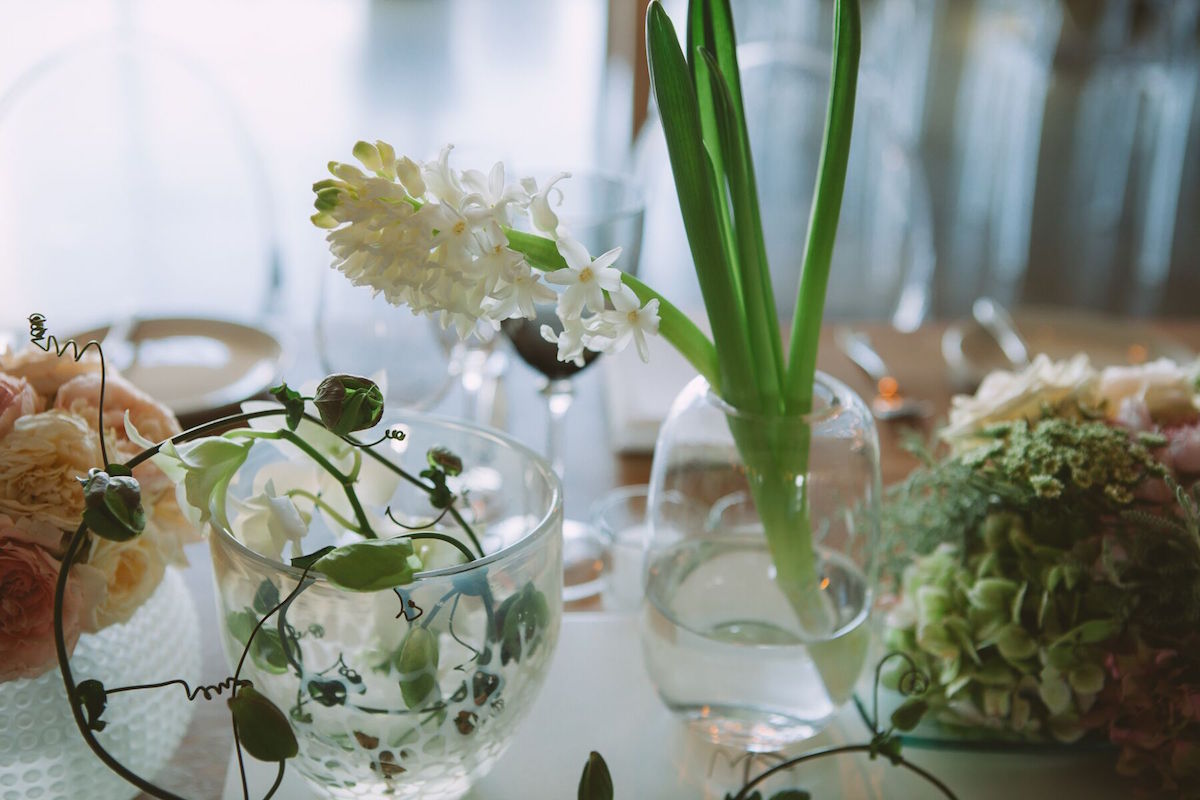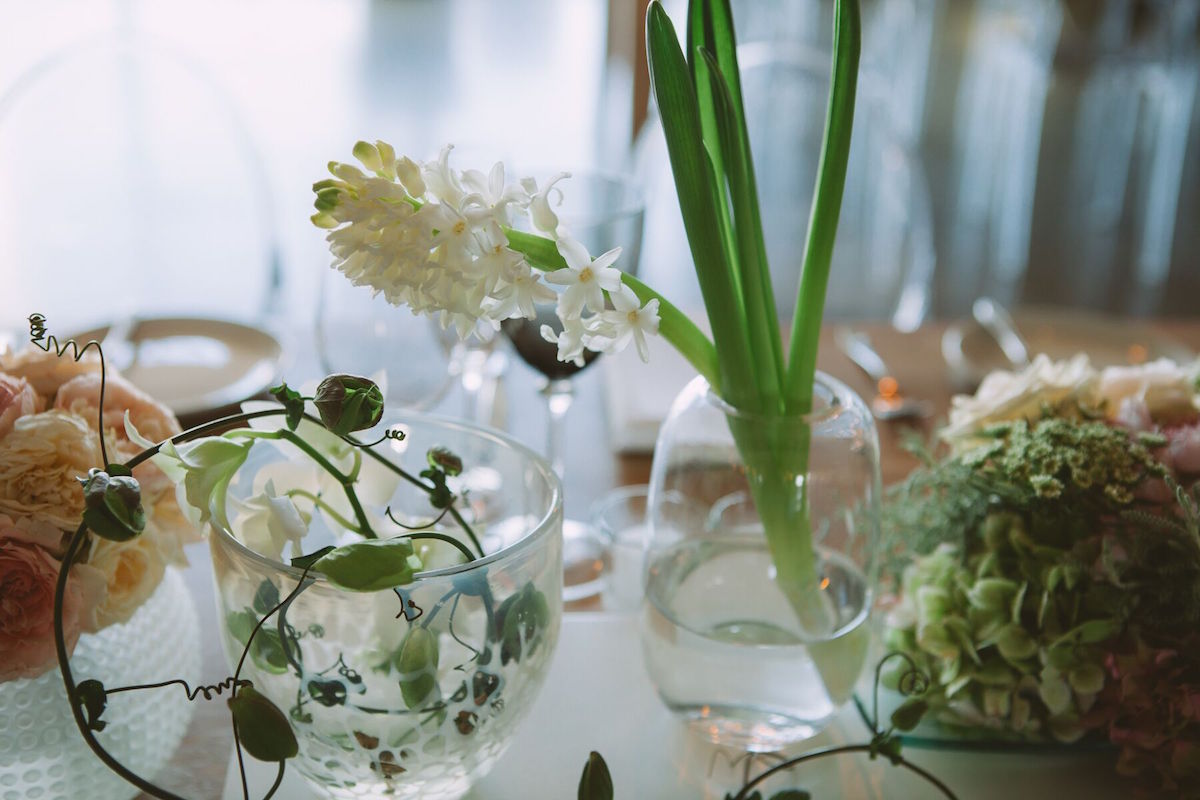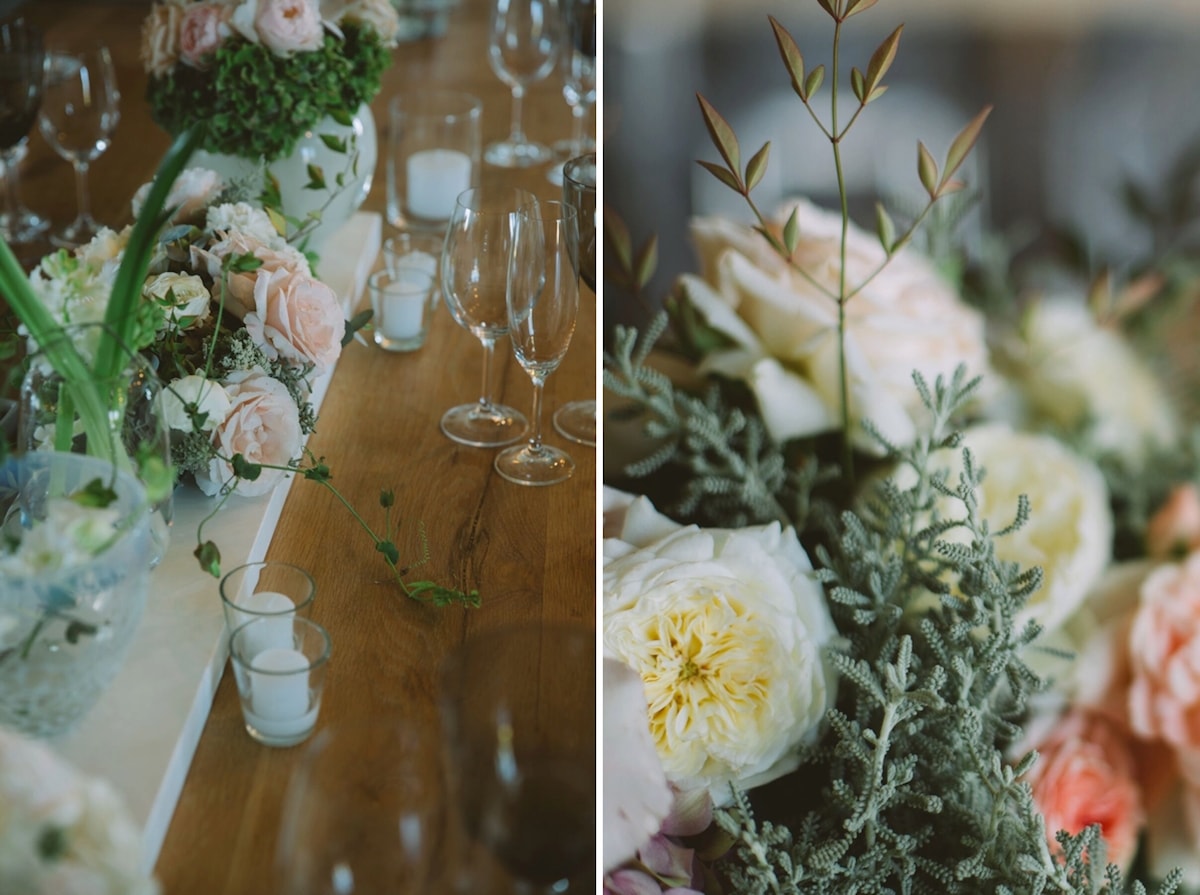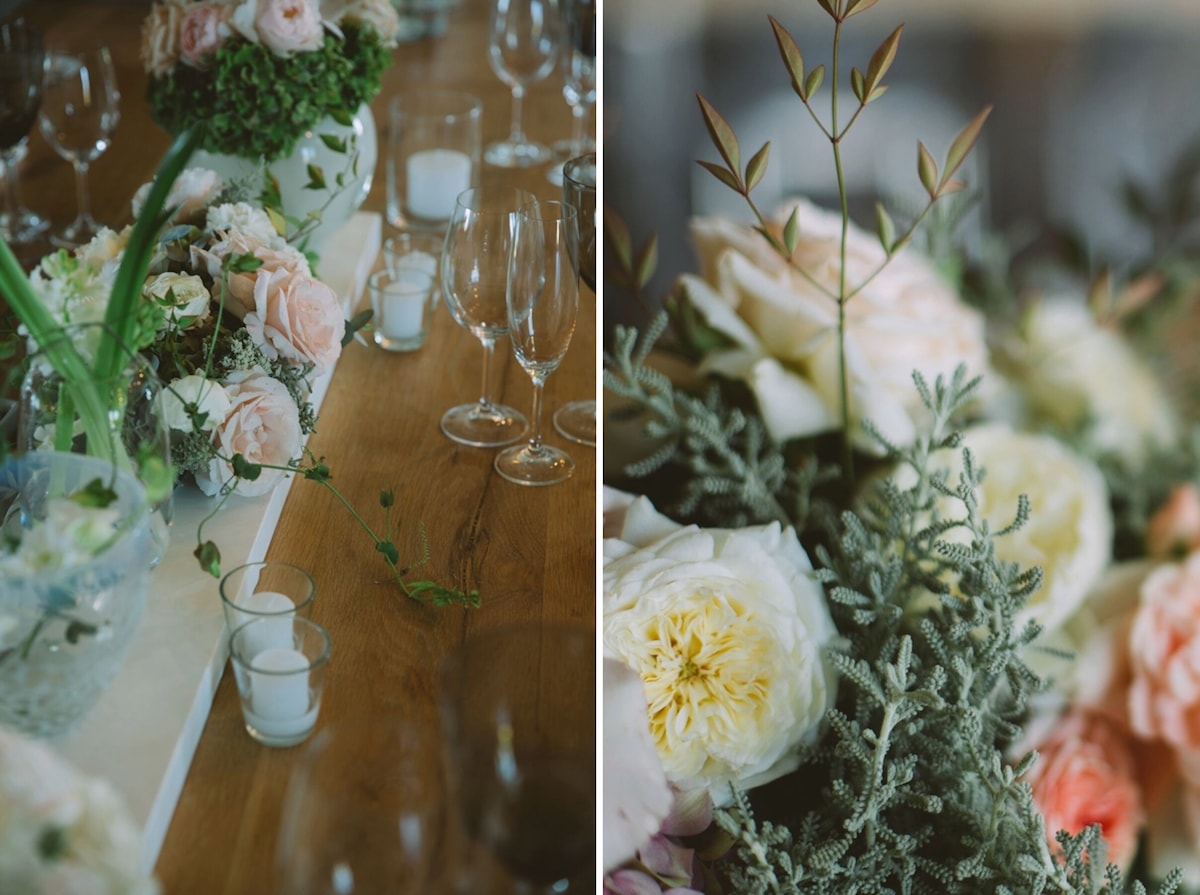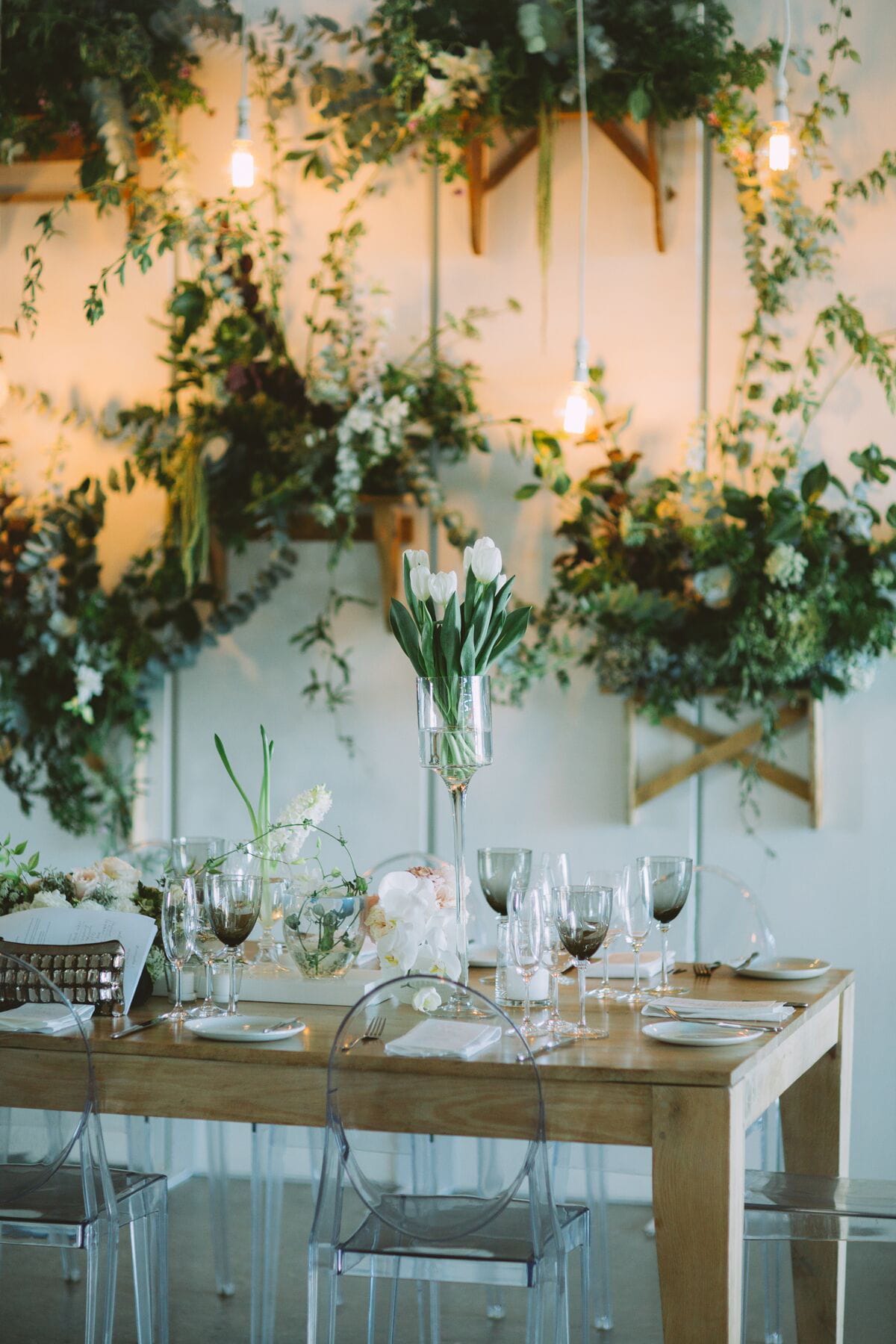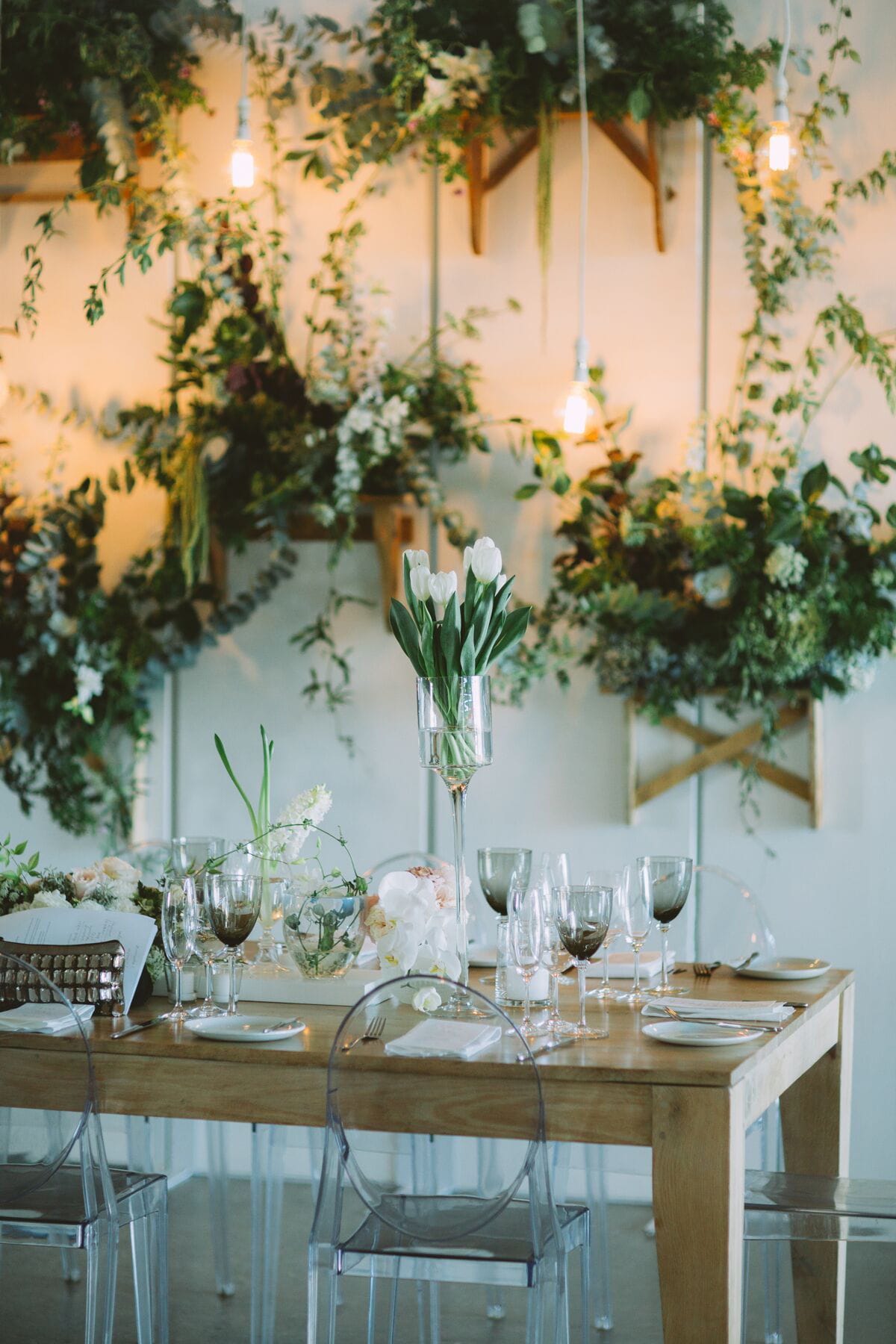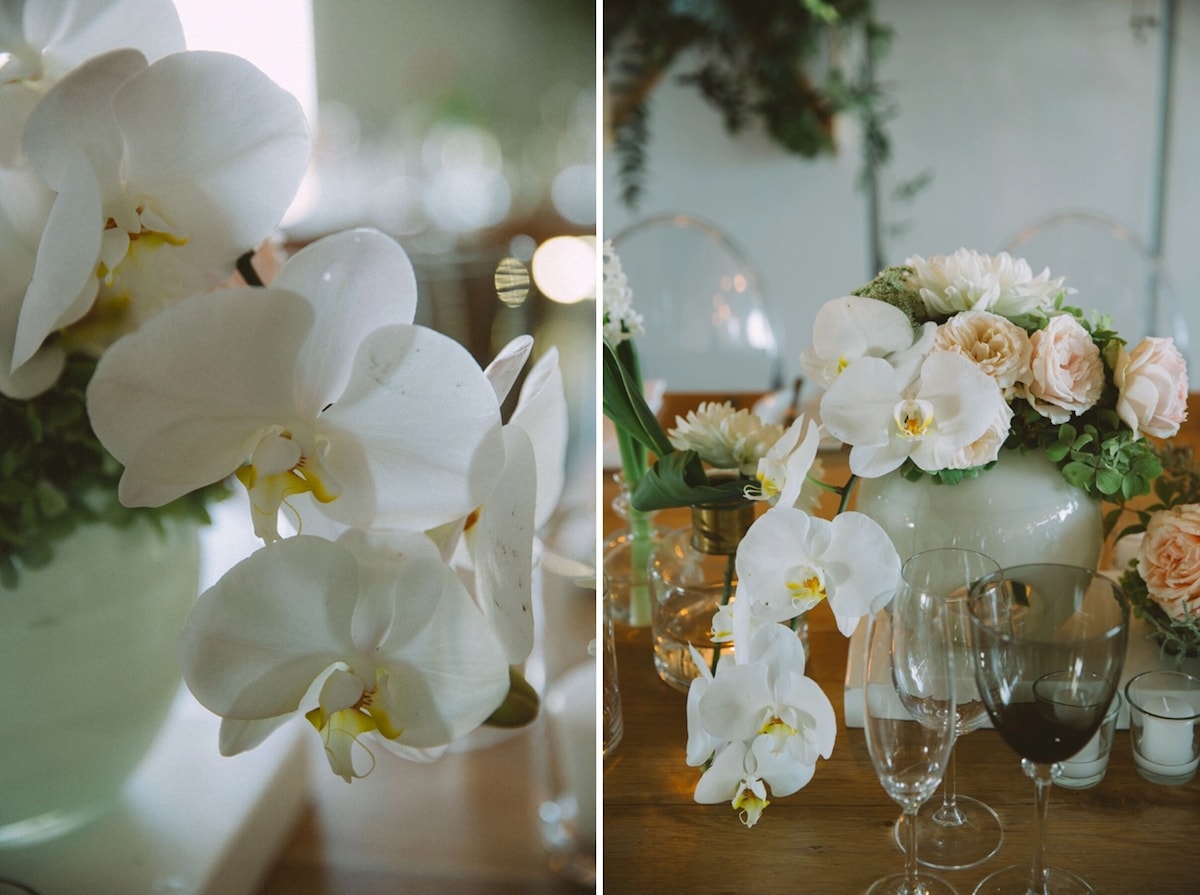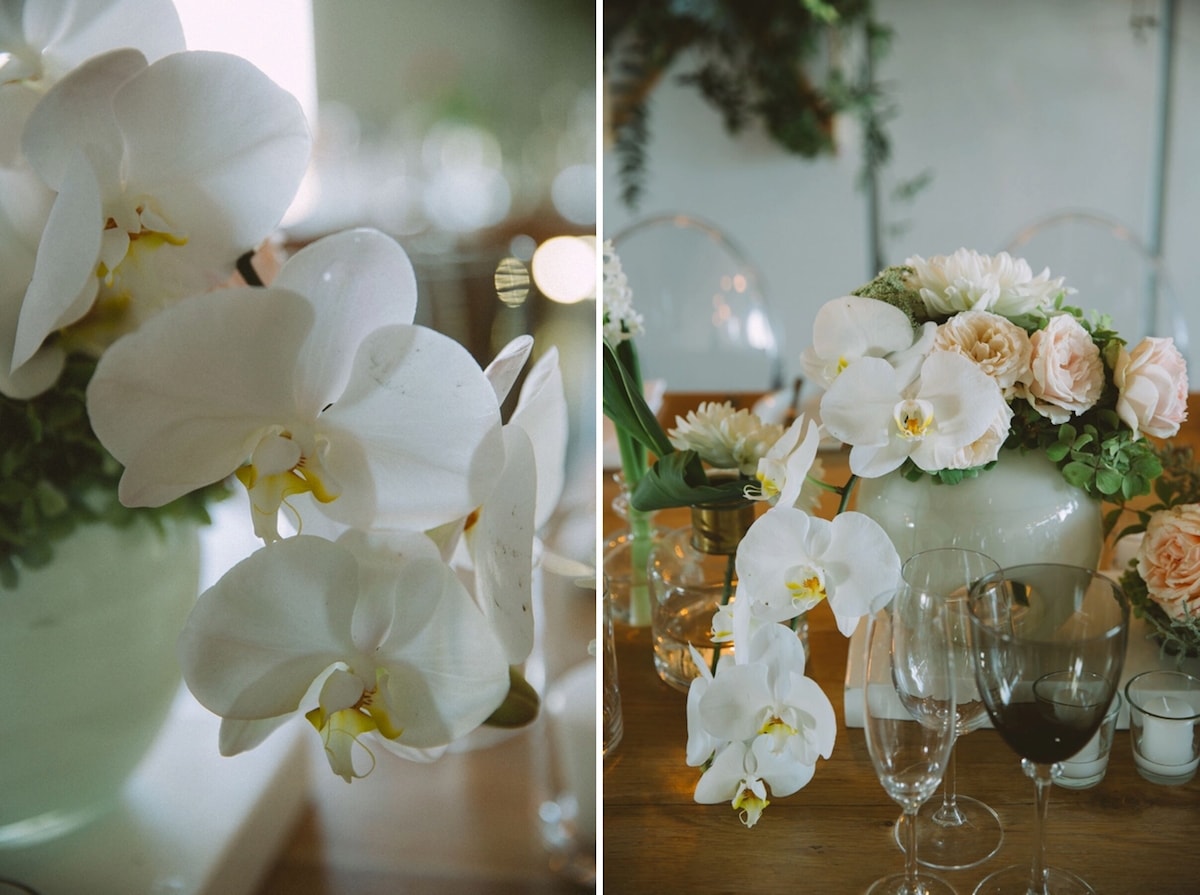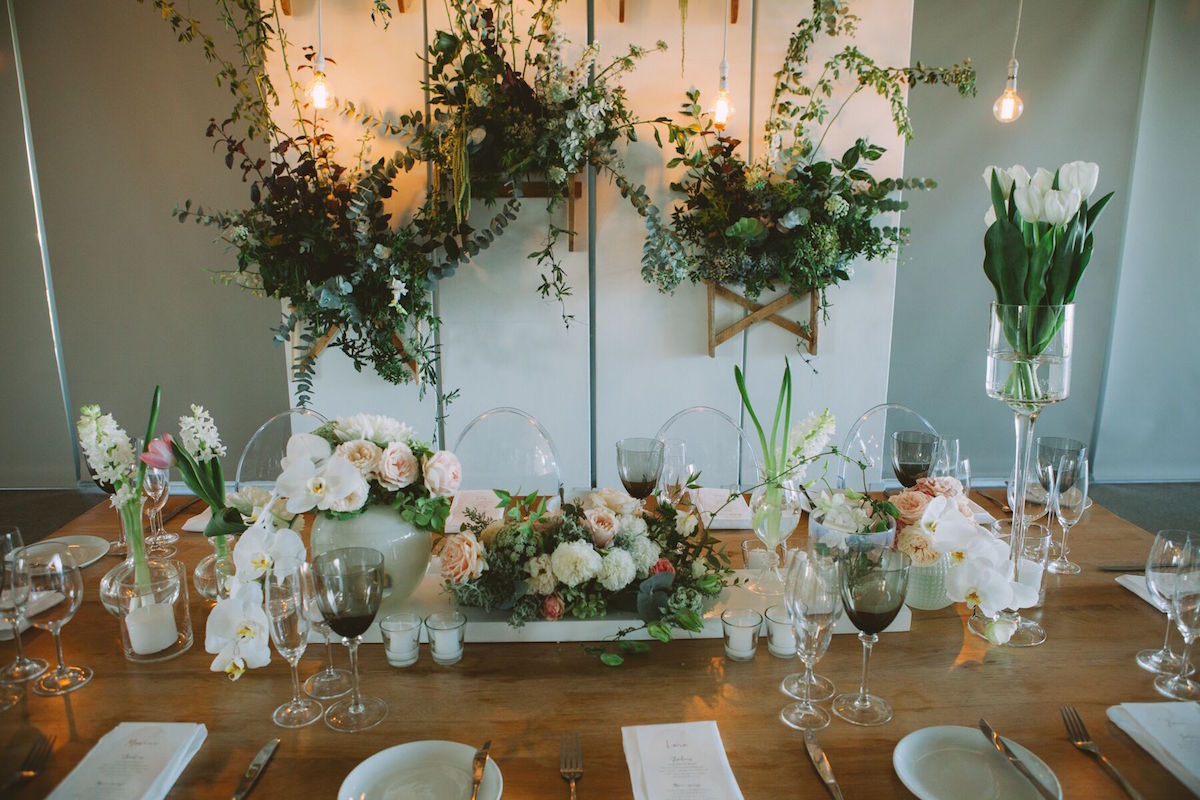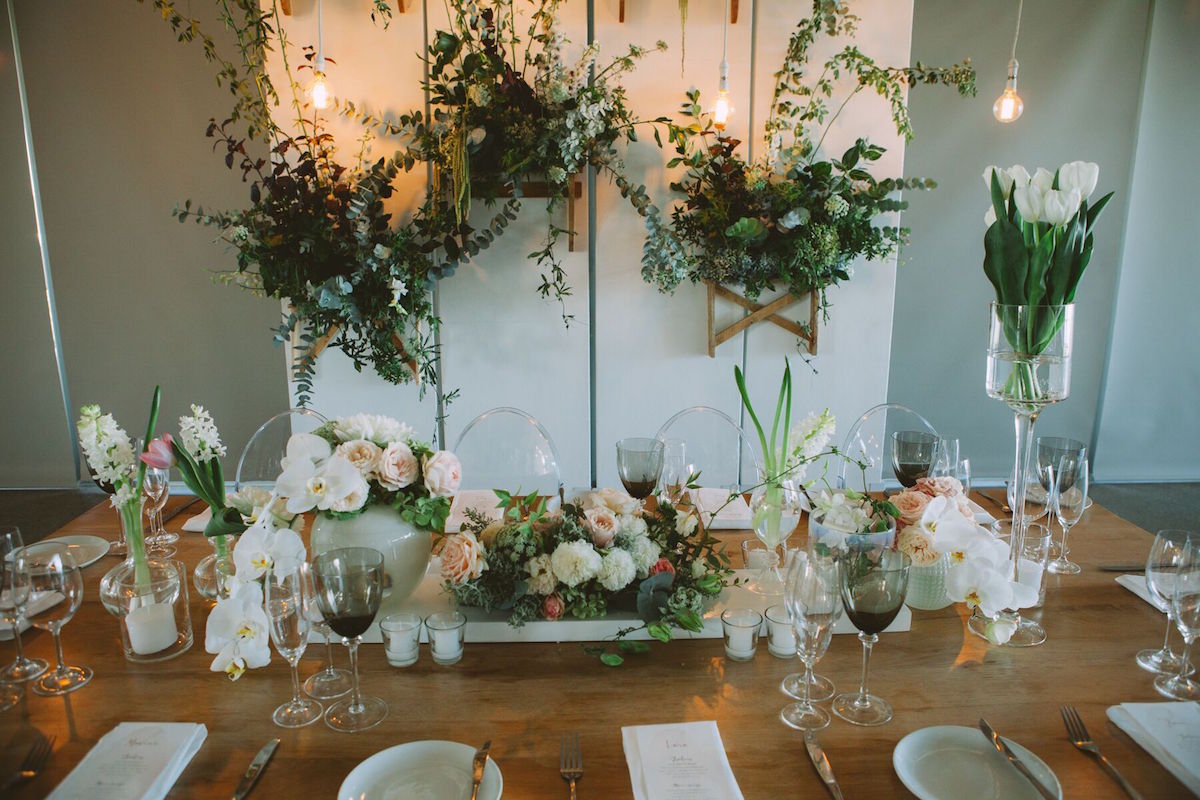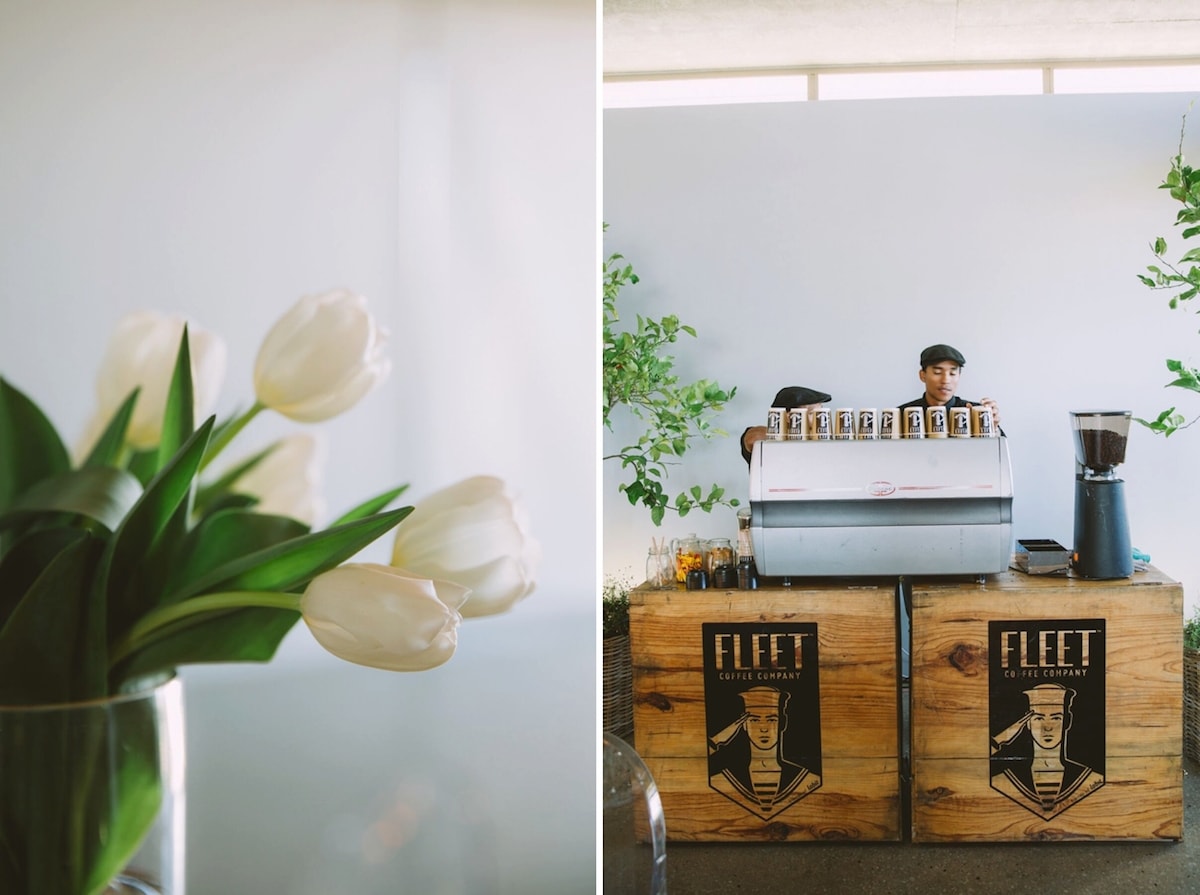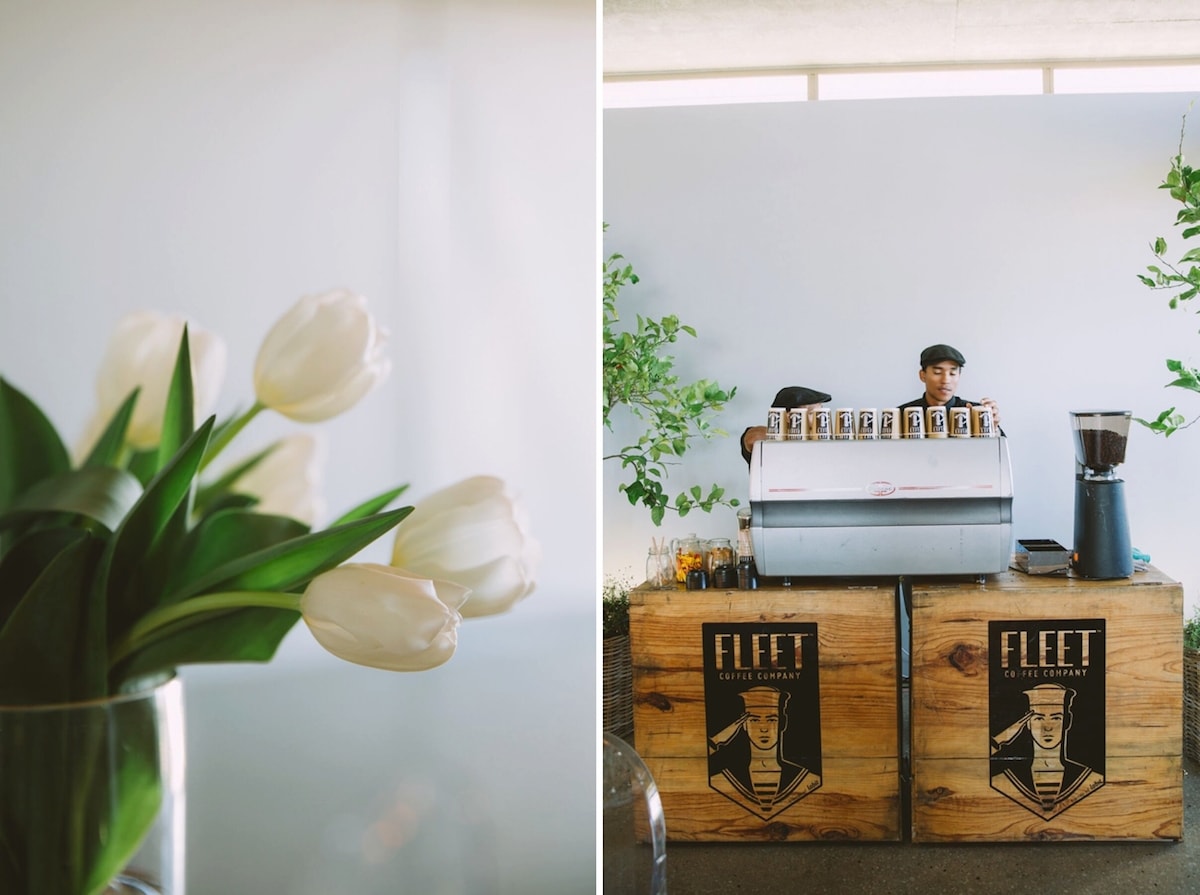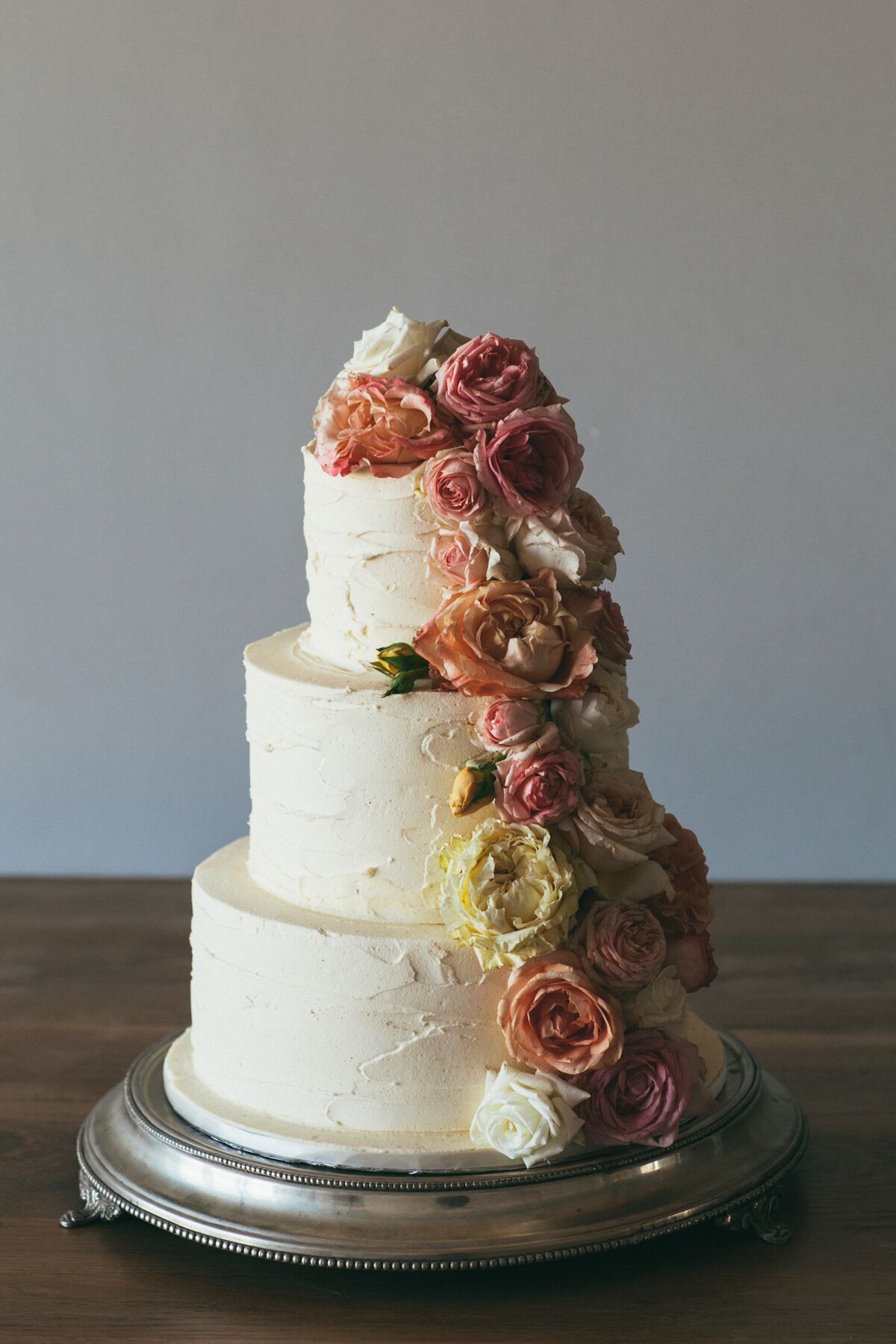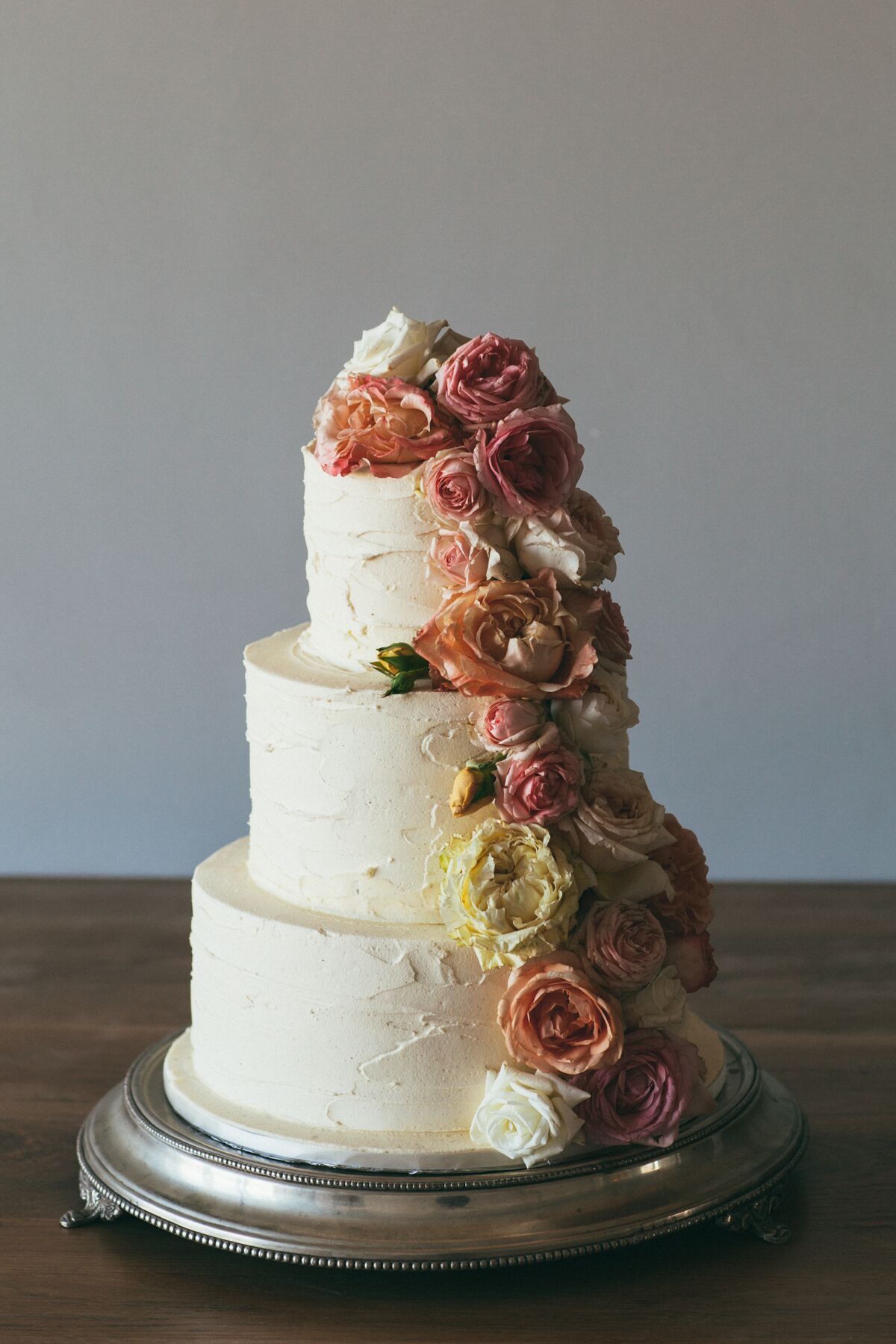 Best Decision
Best decision? Having Elizabeth coordinate and manage my wedding for me. I guess its personal, but it was the best investment for me. I hope she agrees, but we had the most effortless relationship: everything was always okay and I felt no pressure, prescribing, or micro-managing. Again, having had a wedding before and using the Cape Town wedding to focus more on the celebration rather than the nuptials, having Elizabeth manage everything for me meant that I could spend the important time in the days leading up to wedding day, and the wedding day itself with the people who matter most – our family and friends.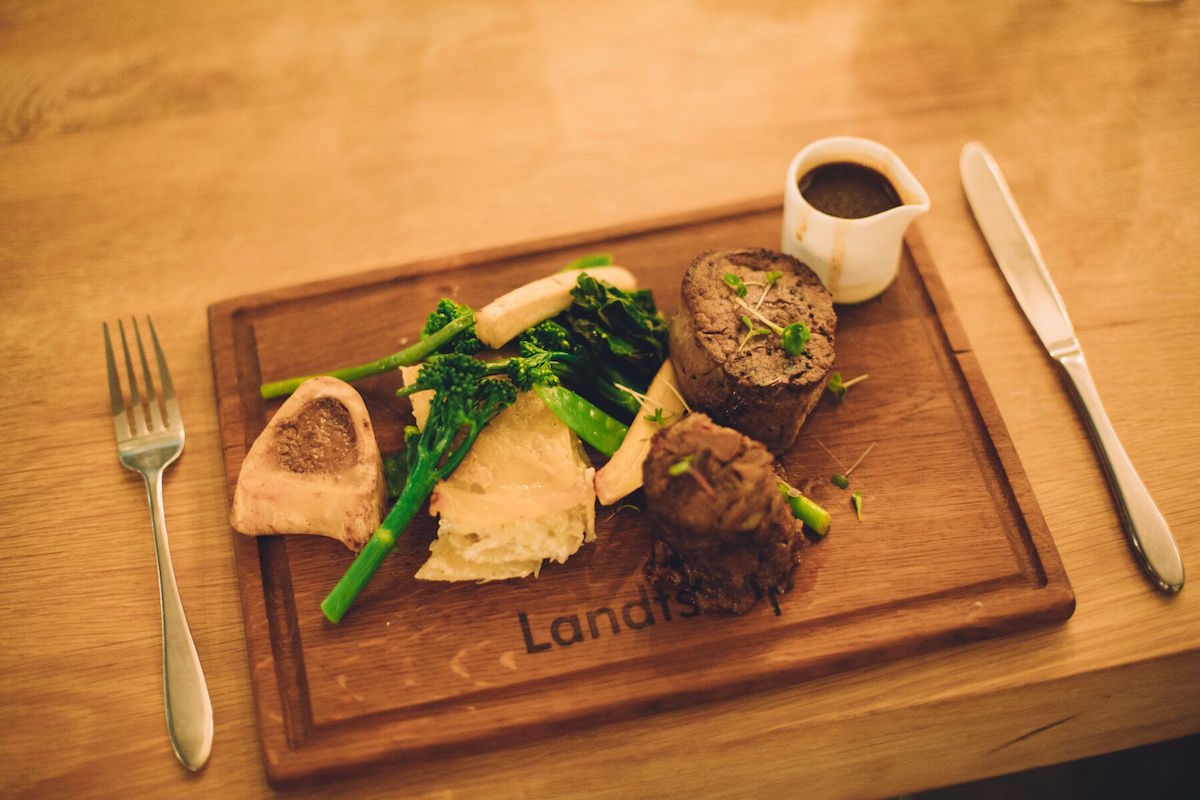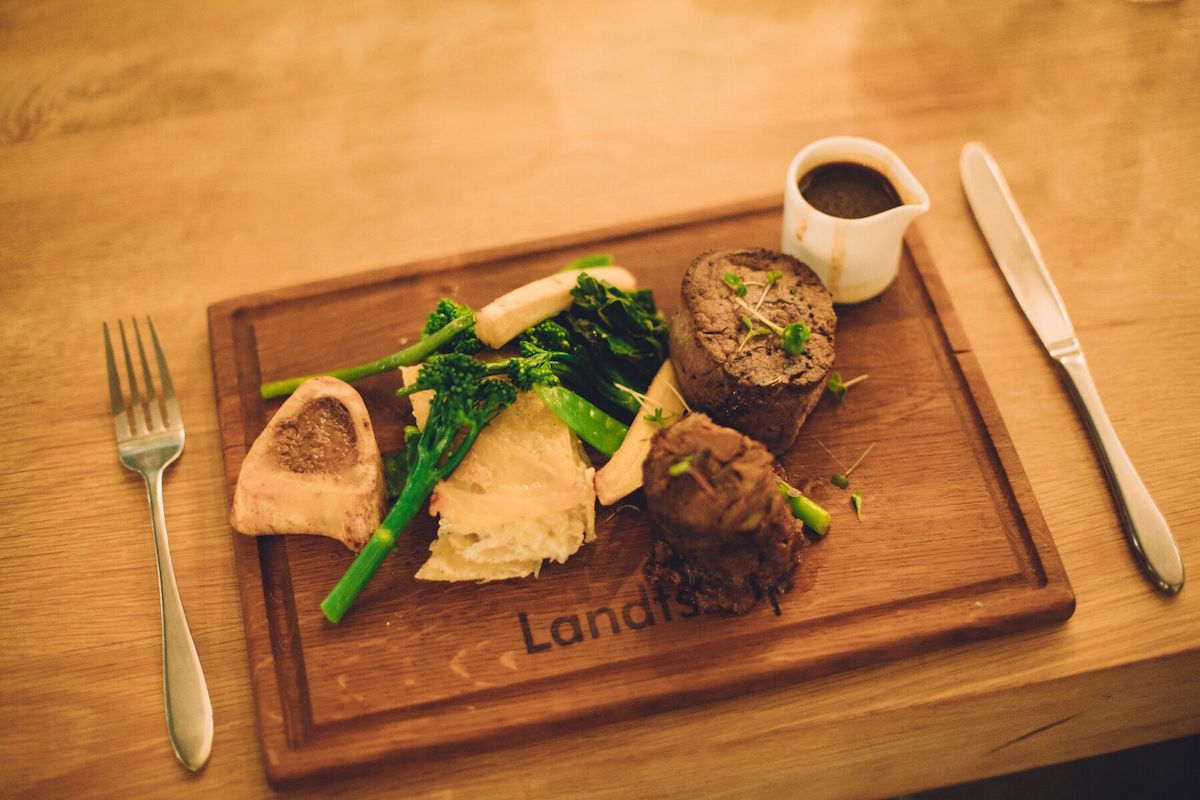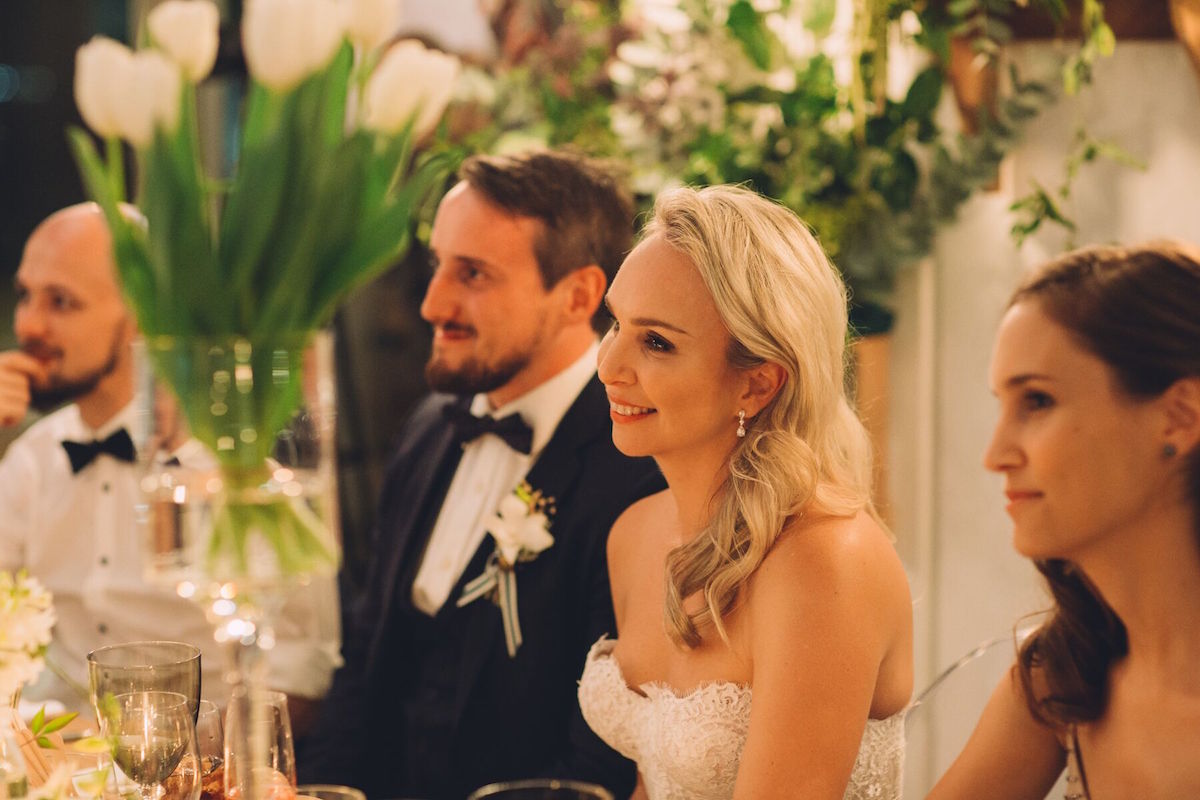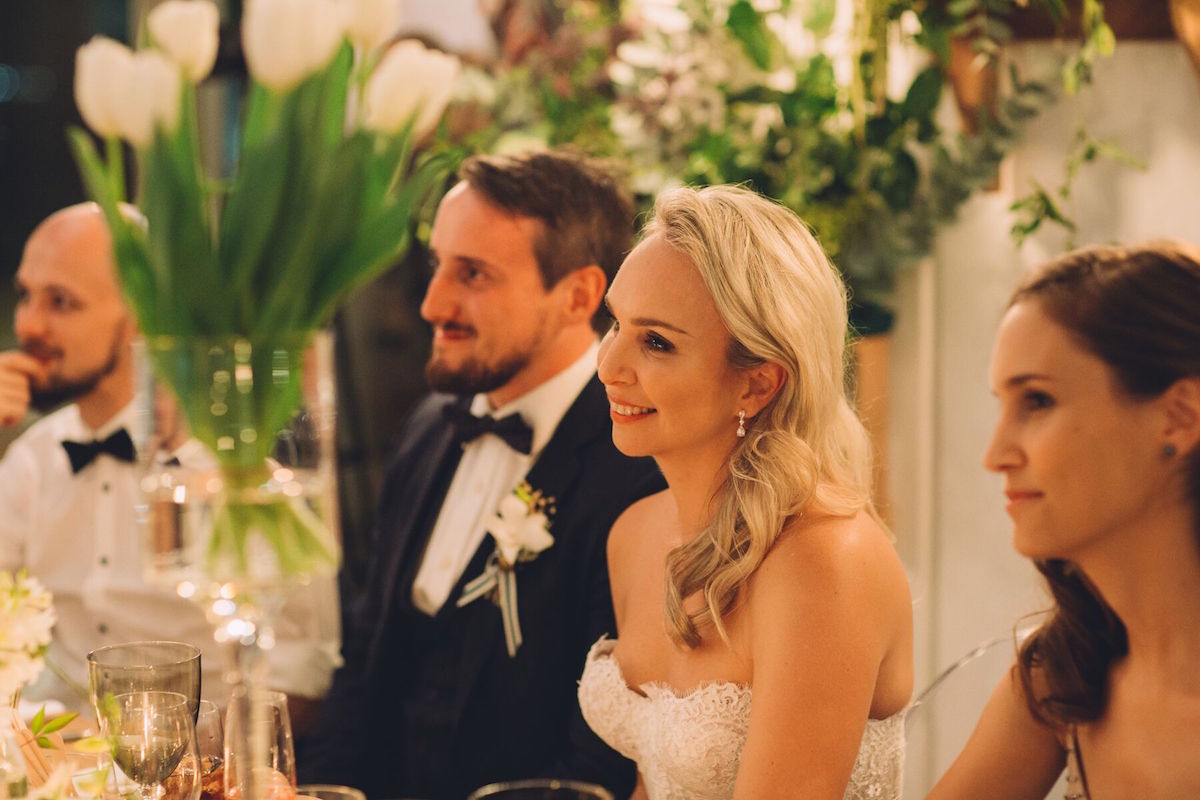 Advice for Future Brides & Grooms
Once you've determined your budget, be clear on what you are wanting to spend more and less on. As it was more of a celebration of our marriage rather than getting married, we focused on the ambience and entertainment rather than on the ceremony. There are a lot of details that go into a wedding – my advice is to measure it all up and if you go with it, then appreciate it on the day. Your wedding day goes by so quickly – soak it all in.
SERVICE PROVIDERS
Venue: Landtscap | Catering: Two Chefs | Photography: Stephanie Veldman | Co-ordination: BonTon Event Specialists | Flowers & décor: Okasie | Stationery: Seven Swans | Video: Ebert Steyn | Cake: The Birdcage | Bride's dress: Anna Georgina by Kobus Dippenaar | Bride's accessories: Calegra Bridal House (veil) + Reiss (shoes) + Girl with a Serious Dream (robe) | Hair & makeup: Yolande du Toit | Bridesmaid's dress: Adrianna Papell* | Groom's attire: Hugo Boss | DJ: DJ Chopper | Lighting: Goeters | Entertainment: Gerry Liberty | *affiliate link