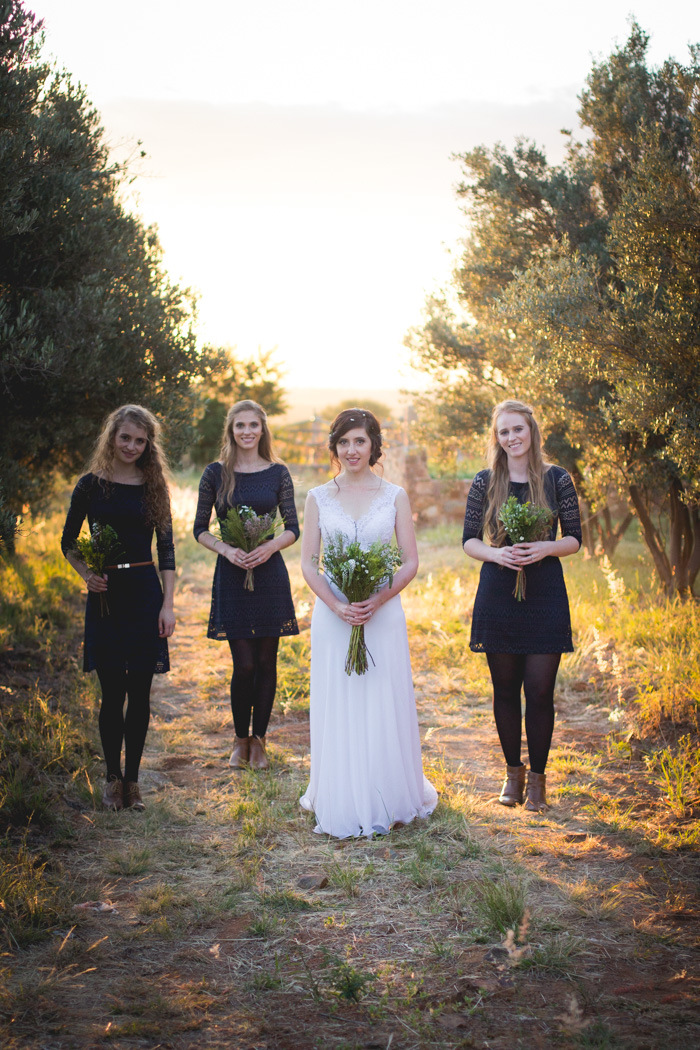 There's nothing I love more than a country wedding filled with fynbos and laughter and love, especially when that wedding was handmade by all the special people in the couple's life, just for them. Pieter and Renée's wedding was just that, and it set the tone for a sweetly personal affair in the cool air of autumn, embellished with a host of darling DIYs. But my favourite part? That incredible, intense moment when bride and groom see each other for the first time at each end of the aisle. Tears! And the way they look at each other in every lovely frame by Those Photos, you just know they're the real deal.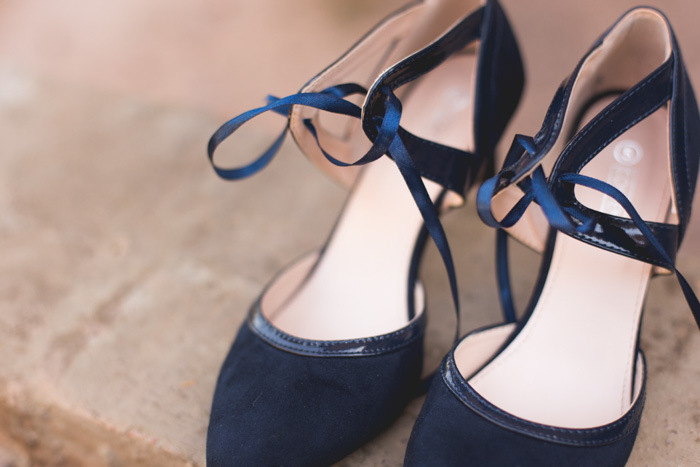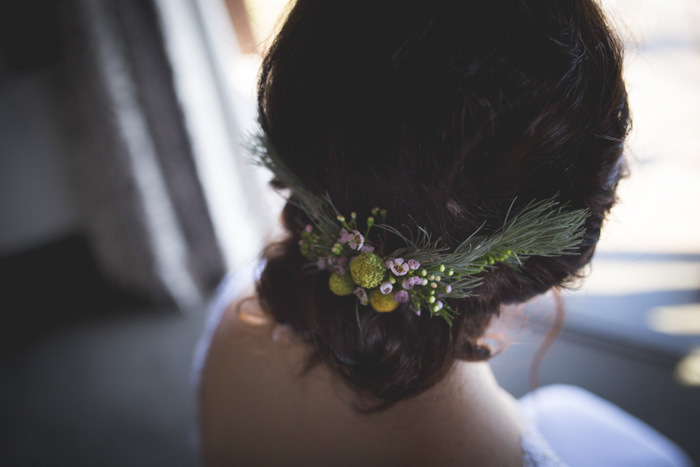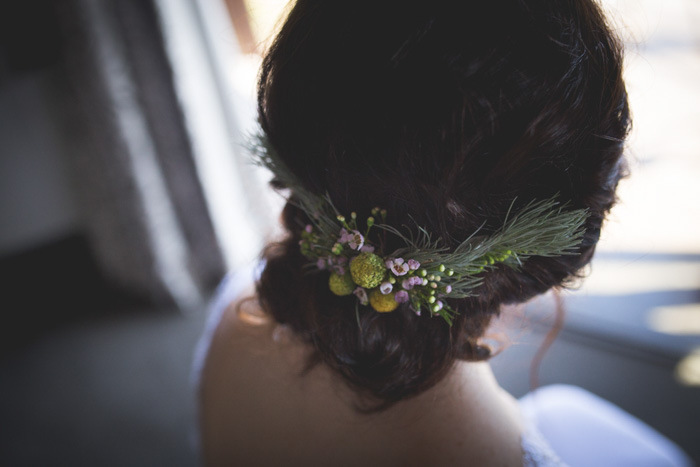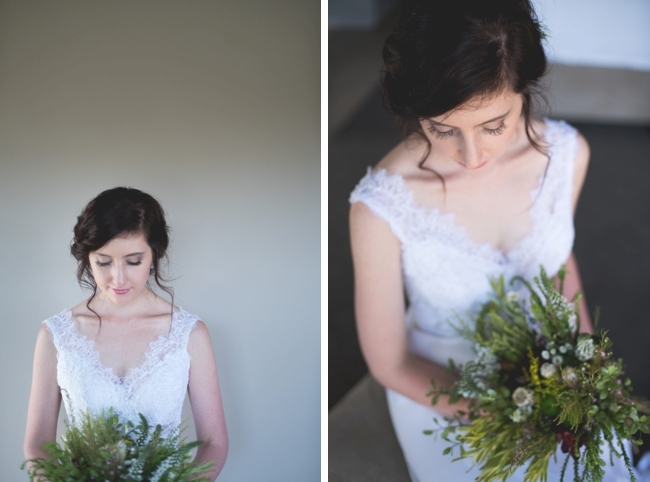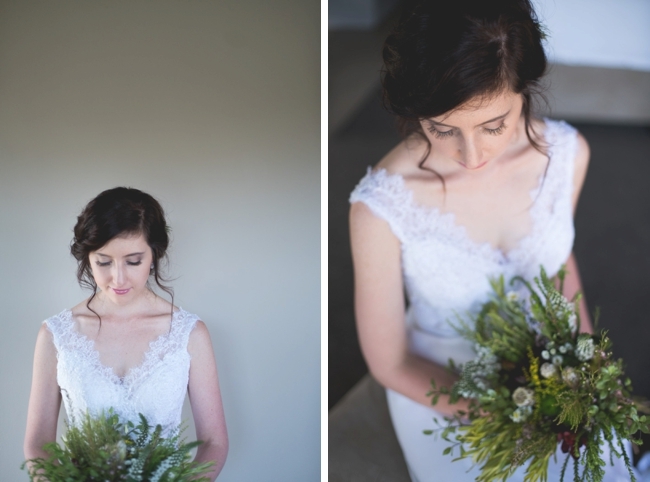 Love Story
Pieter and I met at University. We both studied Architecture at the University of Pretoria. I remember noticing him before we met – he had the type of smile that could light up a room, but I never thought that he would be interested in me. At the end of our first year he worked on a project with one of my friends. We got talking about architectural style drawing and I remember teaching him how to draw trees. I was completely oblivious that he liked me and we were really good friends for about six months. It was only after an outreach to Swaziland and Mozambique that I got to know Pieter's heart. His passion for helping people and his singing talent made me fall in love with him.
The Proposal
After completing our undergraduate studies, Pieter and I moved to Korea for a year to teach English. We lived in two different cities. The commute was quite intense. We had to take three buses or two trains and a bus to get to each other. Because it was a four hour commute we only had weekends together. That really made us realise how much we hated being apart. A month after we got back from Korea, we were visiting family in Natal. Pieter and I took a day trip to Oribi Gorge, I was under the impression that we would only have lunch at this amazing game lodge called The Gorge. When we got there Pieter surprised me with a whole special day. I got pampered at the spa, after which we took a late afternoon stroll in the forest. It was here where Pieter got down on one knee and asked me to be his wife. It was really special and such a perfect setting for the proposal.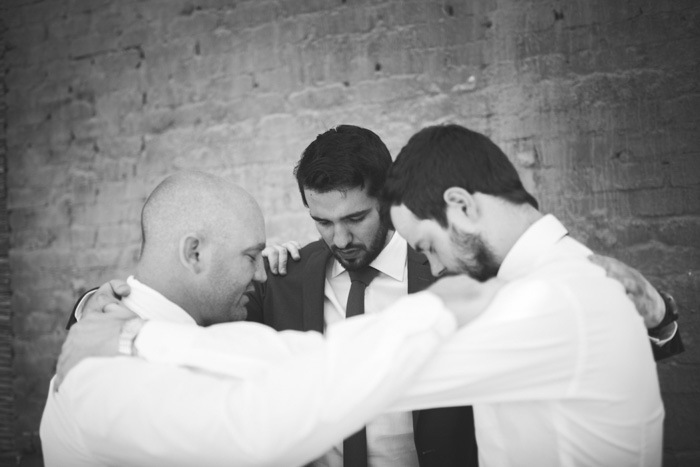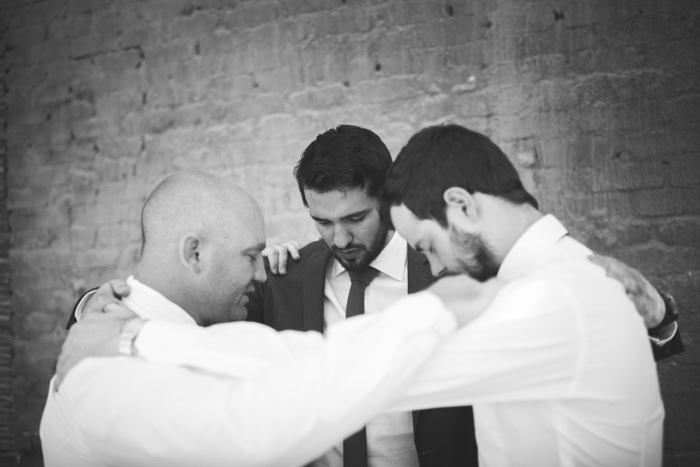 The Venue
After spending so much time apart in Korea, Pieter and I knew we didn't want to have a long engagement. We got engaged in October and knew that we wanted to get married early the next year. We searched high and low for venues and a lot of venues were booked a year in advance. We came across Bell Amour online and it looked quite new. The venue's location, the beautiful views, the simplicity of the chapel and reception and the vineyard made it the perfect canvas for us to make our dream wedding come true.
Wedding Style
We wanted to keep it simple. Instead of having flowers we envisioned earthy tones with lots of greenery everywhere. I always dreamed of getting married in a forest but when that didn't happen we decided to bring the forest feel to the wedding. Our color scheme just evolved naturally. The initial ideas that I had changed but it all came together in the end.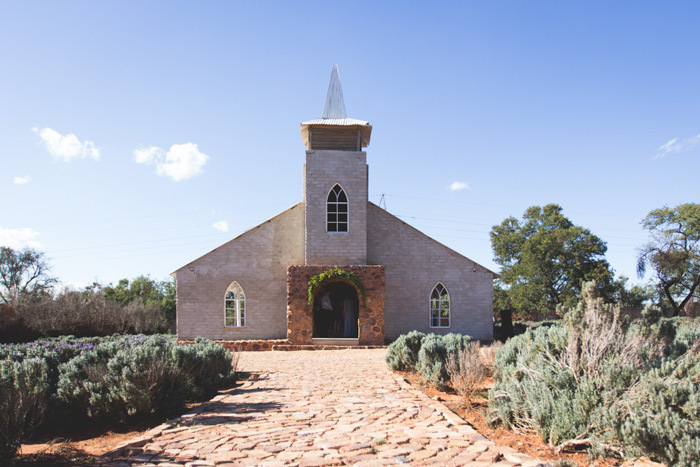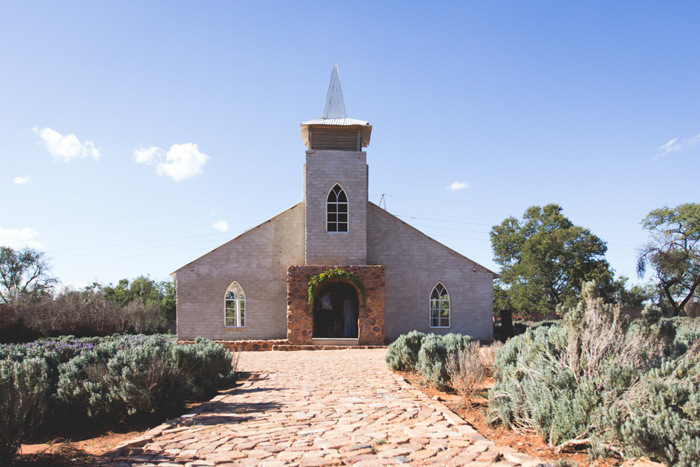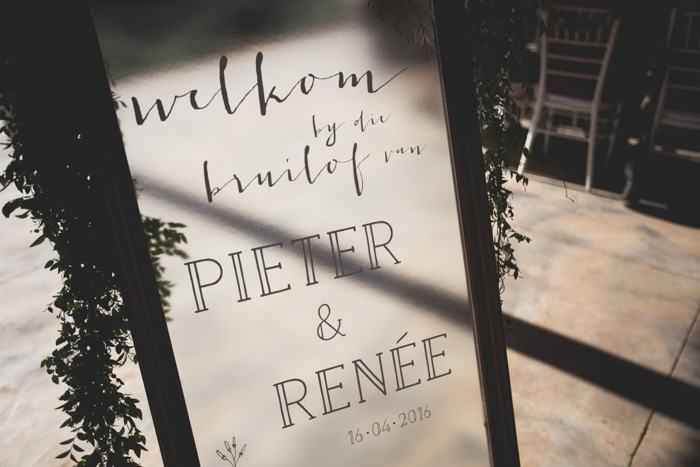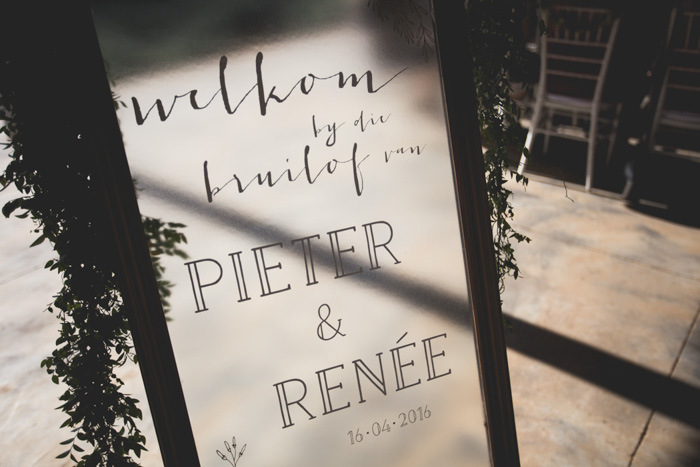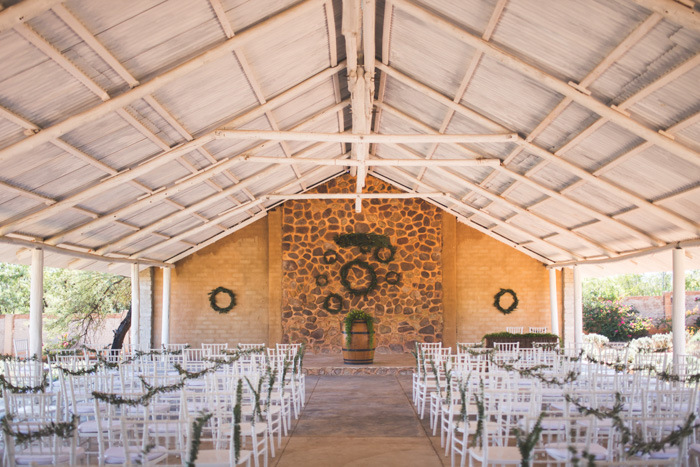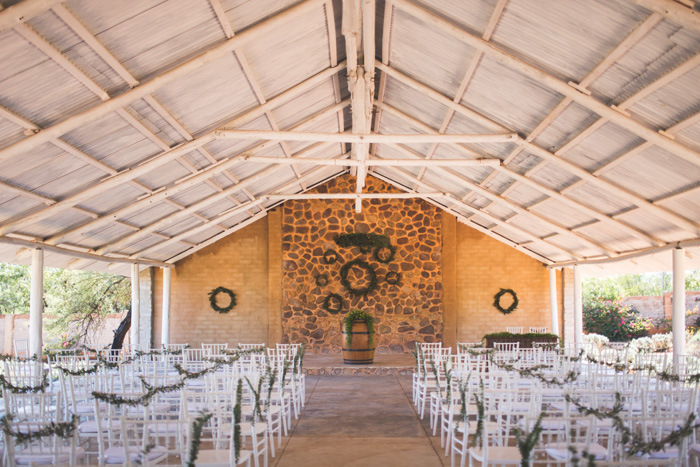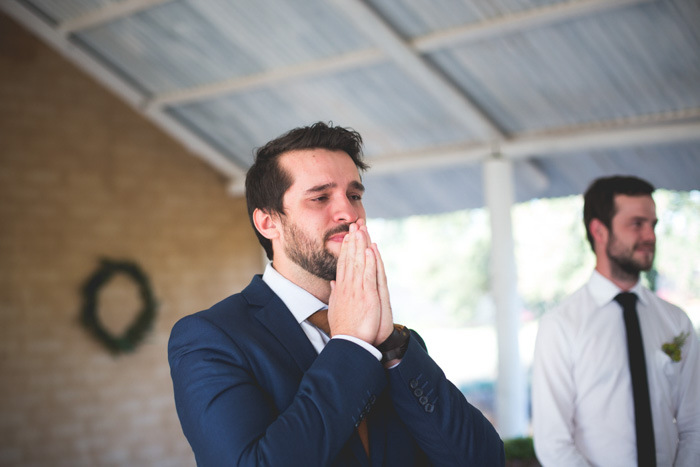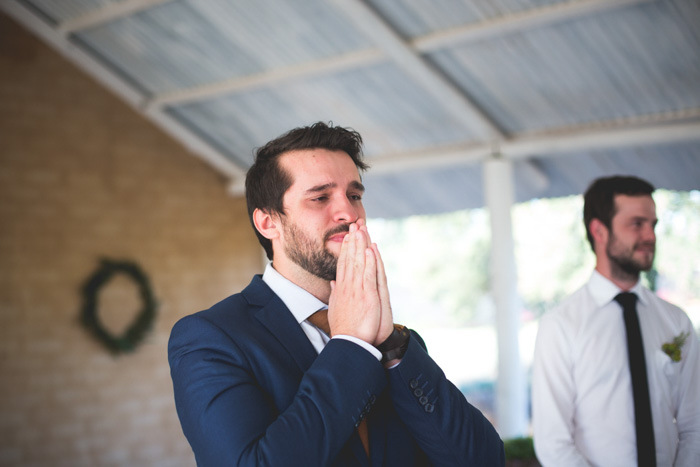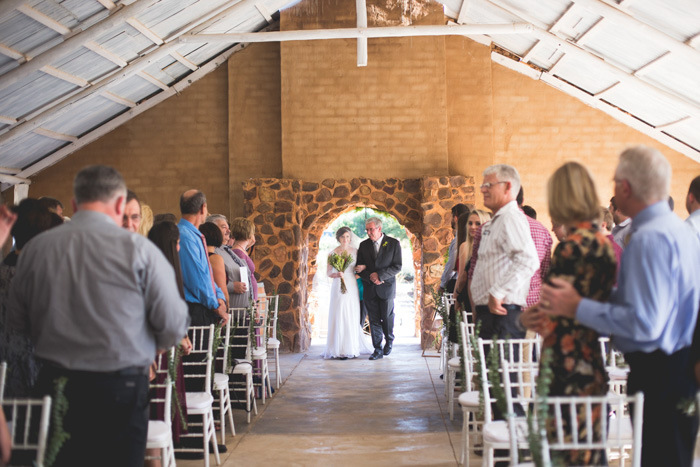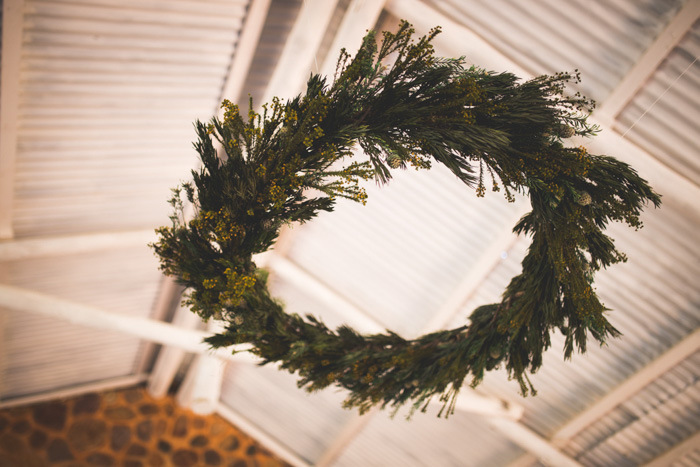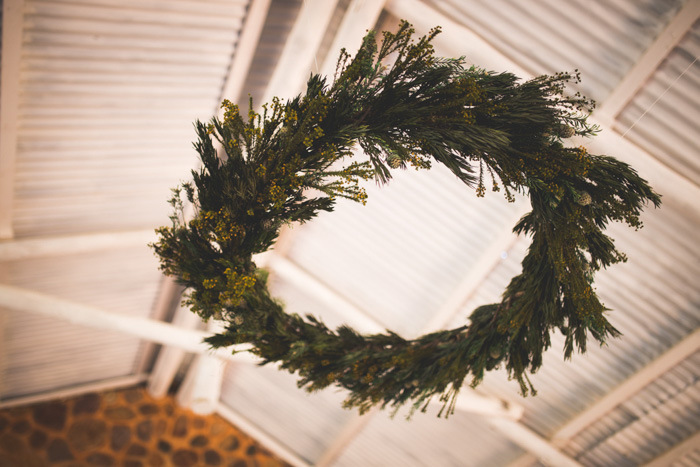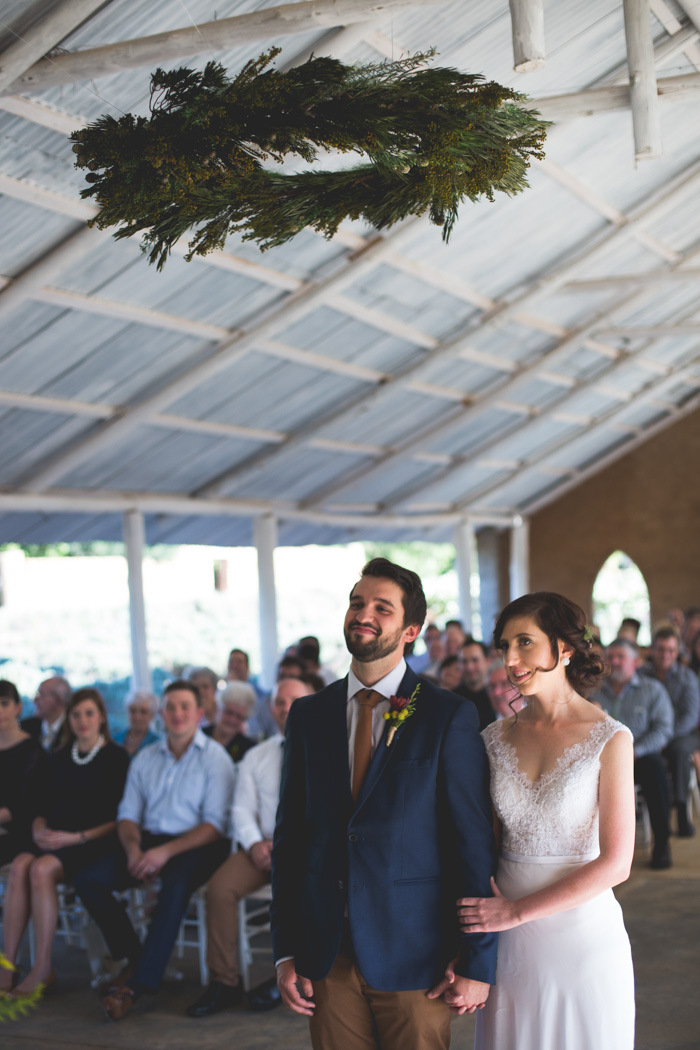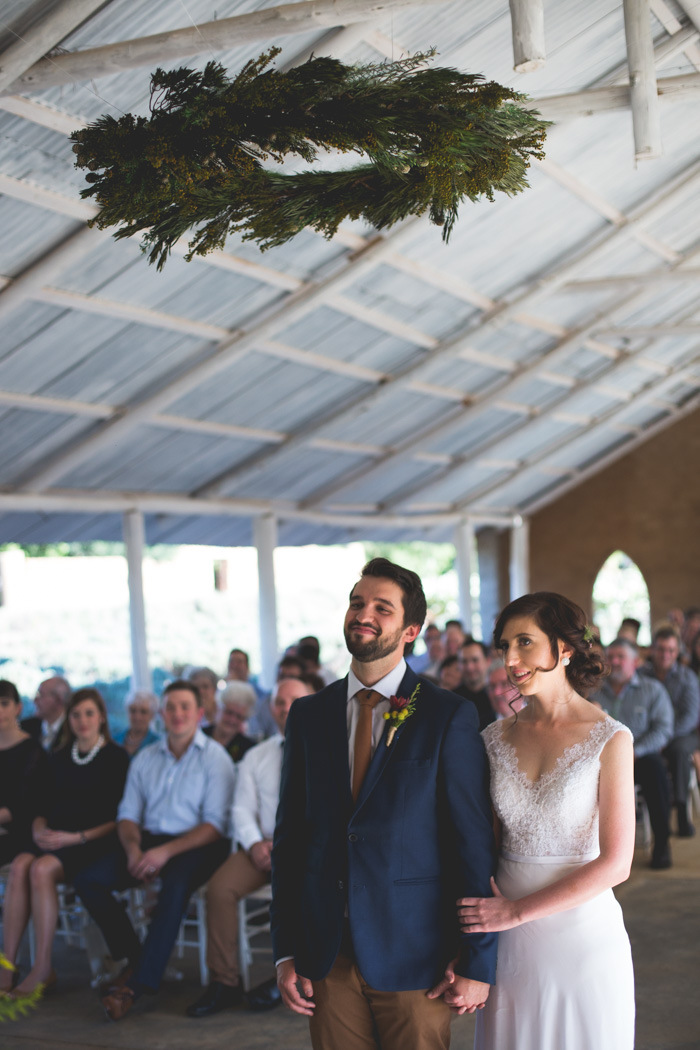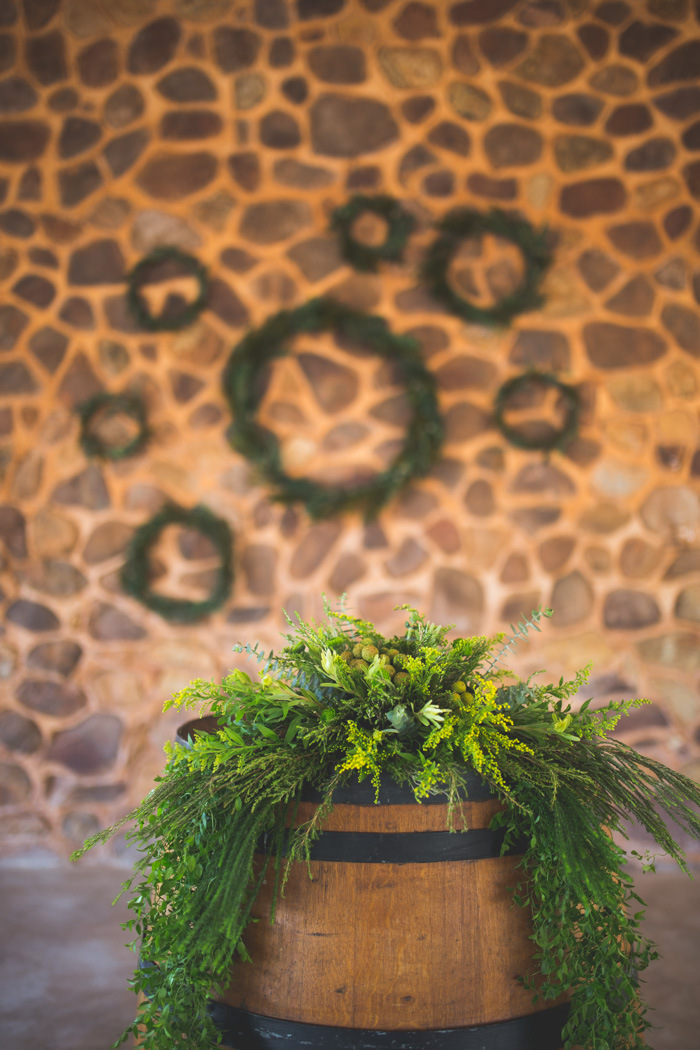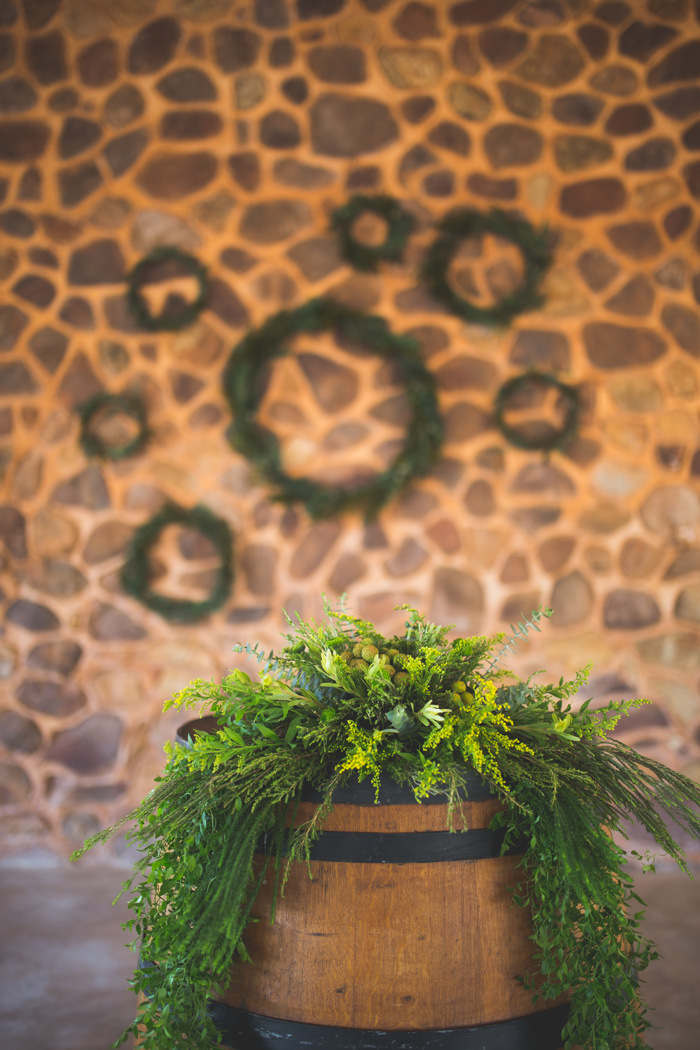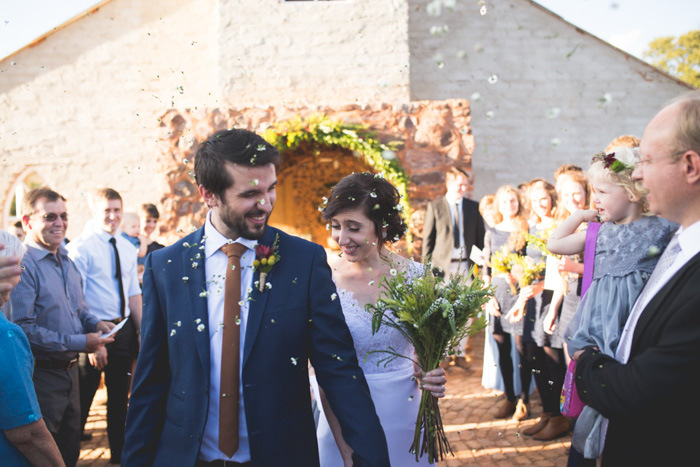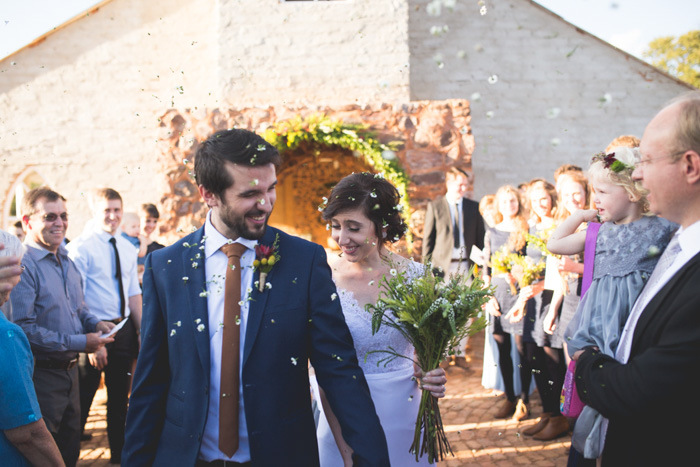 Wedding Details
To us the ceremony was really important. We decided to write our own vows. It was so special to hear Pieter's promises and to be able to say mine in front of all our loved ones. We also have a passion for coffee which actually started in Korea (I never drank coffee before we went), so we decided to get a barrista for the day and gave the guests coffee as a thank you gift.
DIY Elements
I love everything creative so I knew I wanted to have a lot of DIY elements. Unfortunately I was in the middle of my Honours degree in Architecture so I didn't have as much time as I had hoped to make everything. Luckily I have an amazing mother-in-law. She did our flowers and decor. Whenever I had an idea I would show her and she would not stop until she made that vision come true. I saw an idea of a woven place mat on Instagram – after I showed her we experimented with our own designs. She came up with this really cool pattern and managed to weave 120 mats. She also made all the serviettes . We bought bottles and sprayed them bronze and melted candles over the bottles to give them that rustic feel. All the olive branches at the back of the chairs were made by my amazing friends and sister-in-law. Her and her husband came from Cape Town a week before the wedding to help out. Our welcome sign and table placements were also a DIY project. My mother in law found two old frames which she sprayed and my father in law built frames. One of my bridesmaids and I worked on the design and sent it in to be printed as a decal. I then stuck it on the glass. It ended up being more complex than I had anticipated but I thought it was a nice detail. One of my bridesmaids and I also designed and made all of the stationery ourselves, and my sister made our wedding cake which consisted of various cheeses.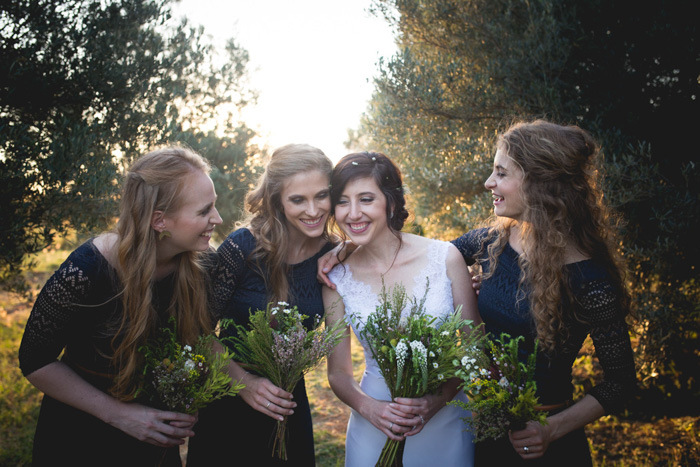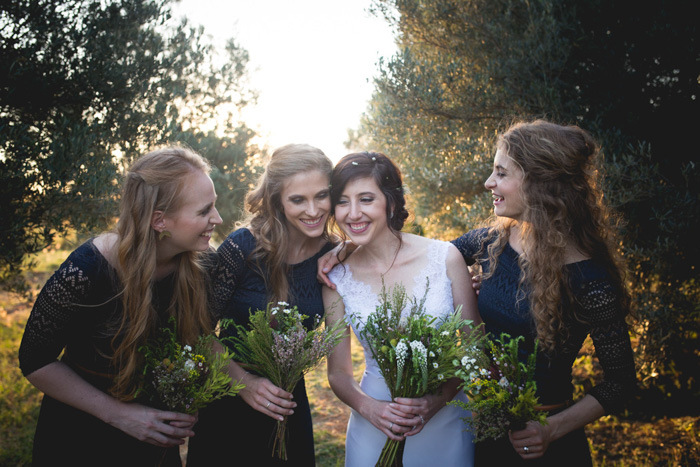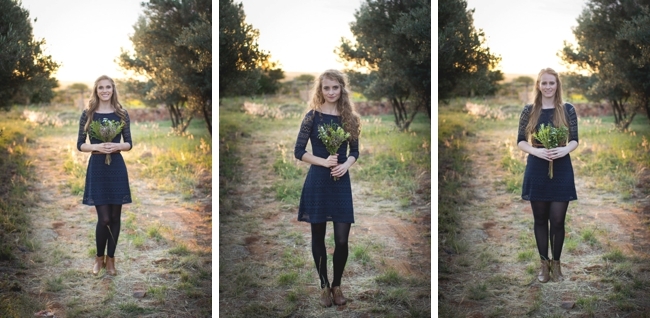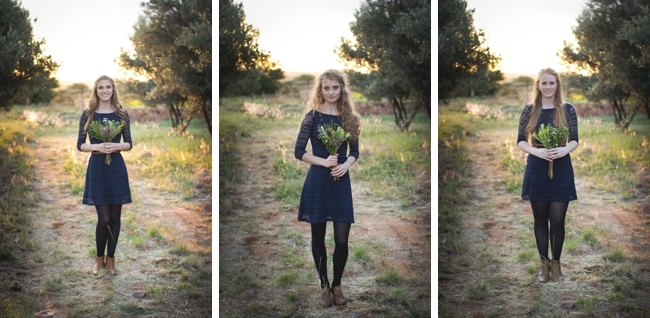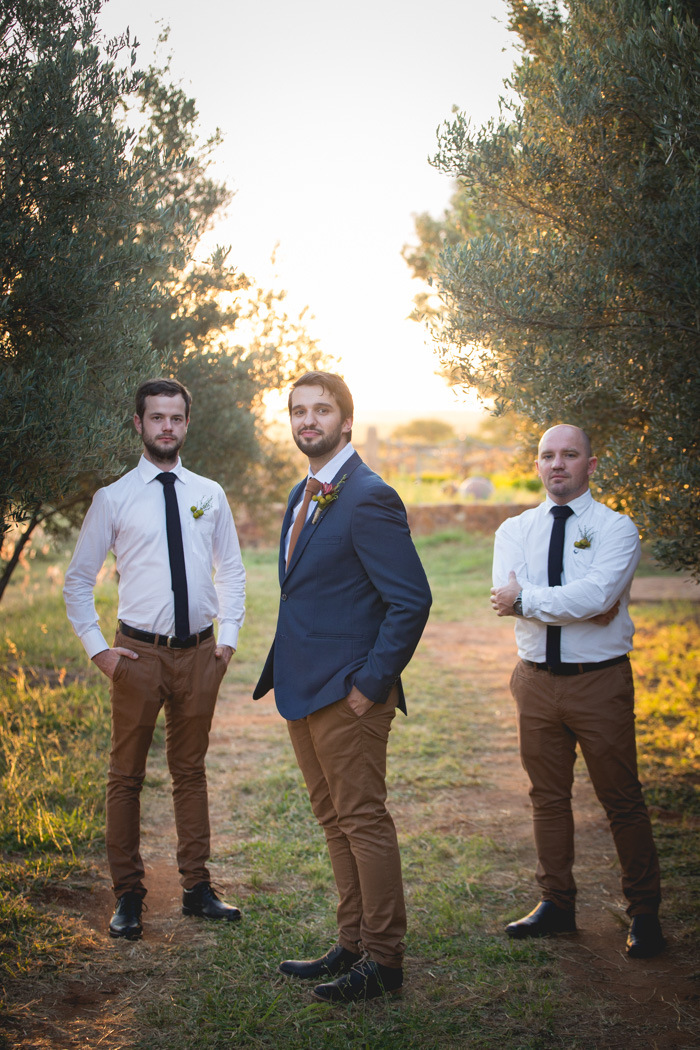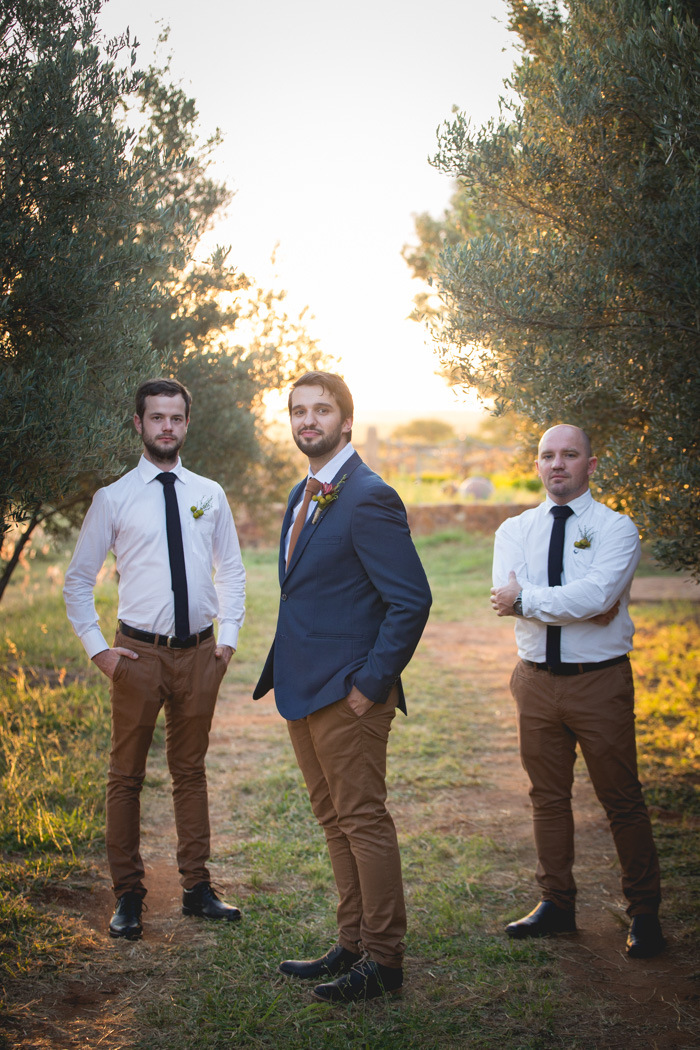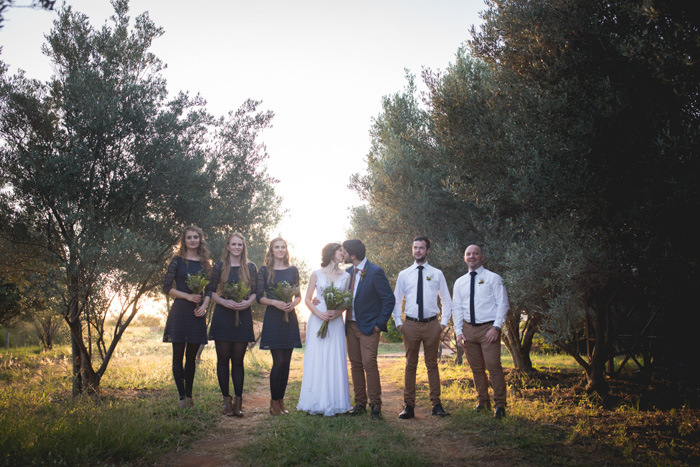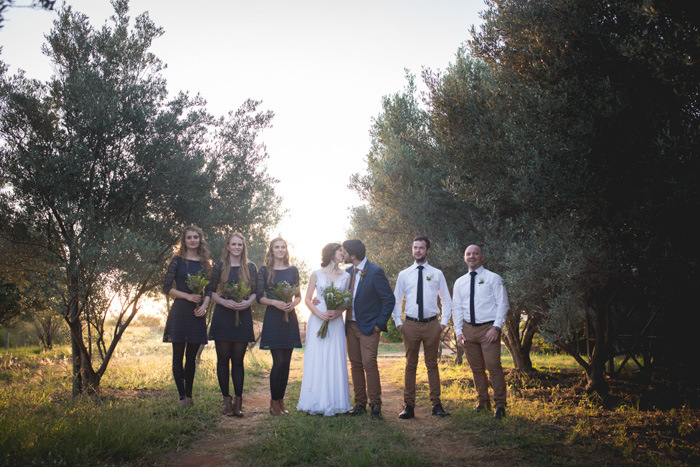 The Dress
I searched far and wide to find a ready made gown. After endless Saturdays spent trying on dresses and being disappointed I approached Rina from Catherine's Collection. Two of my friends had made their dresses there and I knew she would make my vision come true. She was so meticulous and made sure that the dress fitted my body perfectly. We also used the most beautiful French lace on the bodice which accentuated the low v-back, something I knew I wanted from the beginning.
The Shoes
I never planned on having colorful shoes. Because I'm not a heels kind of girl I really struggled to find shoes that were pretty and comfortable. I remember looking for shoes and Pieter actually pointed to the blue shoes and said they look kind of cool. I was hesitant at first but ended up buying them. I was so glad I did, since I was able to walk in them the whole night.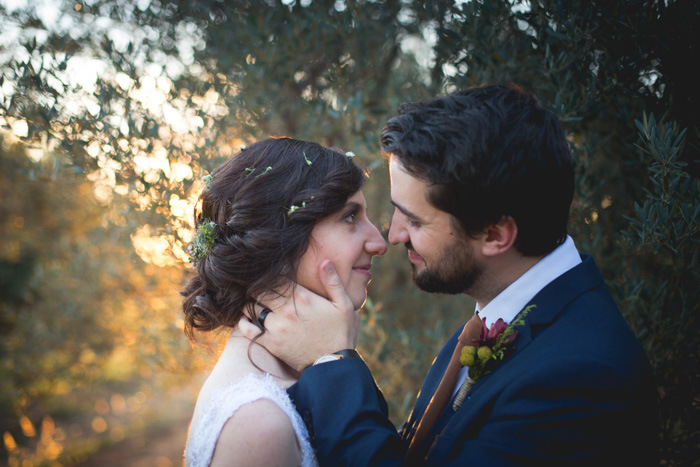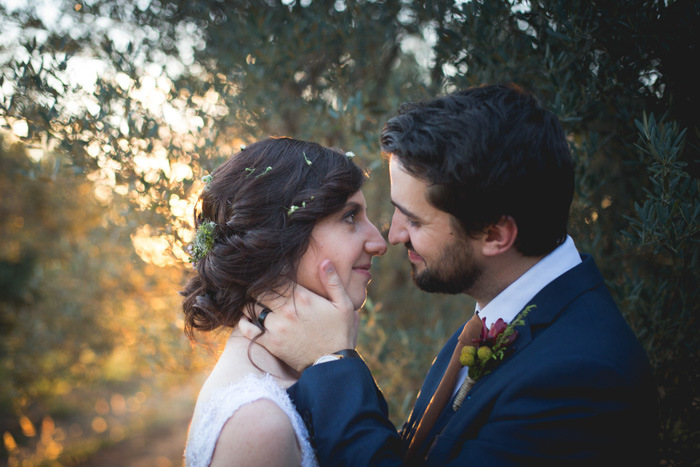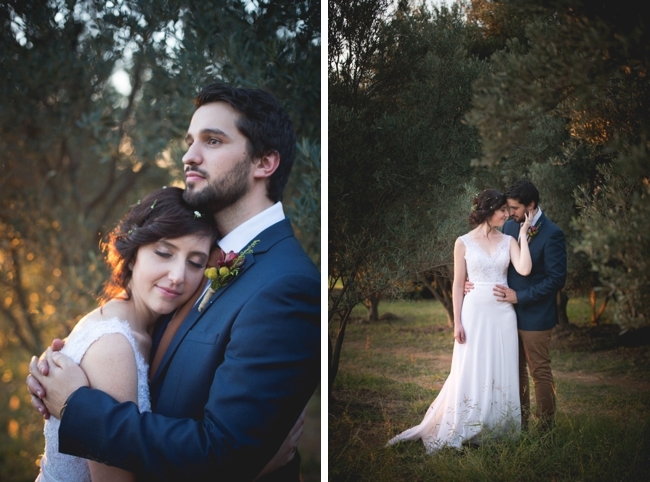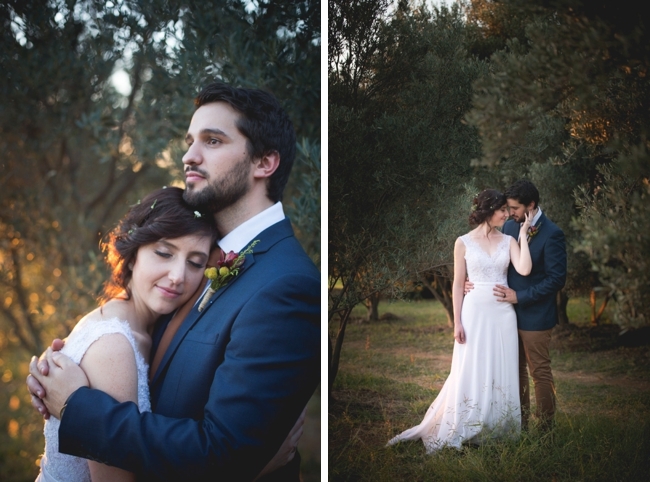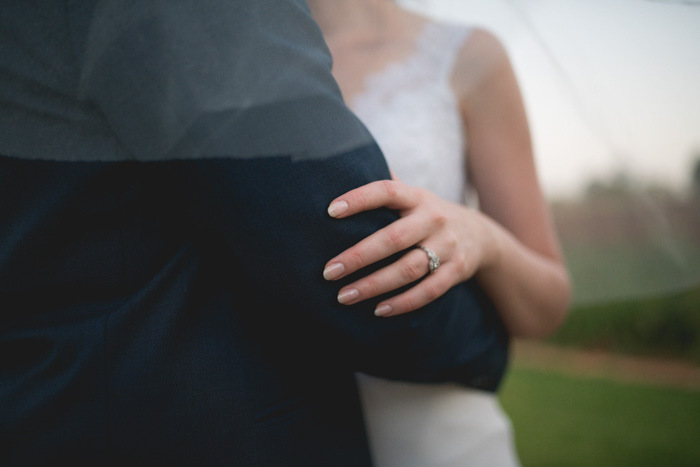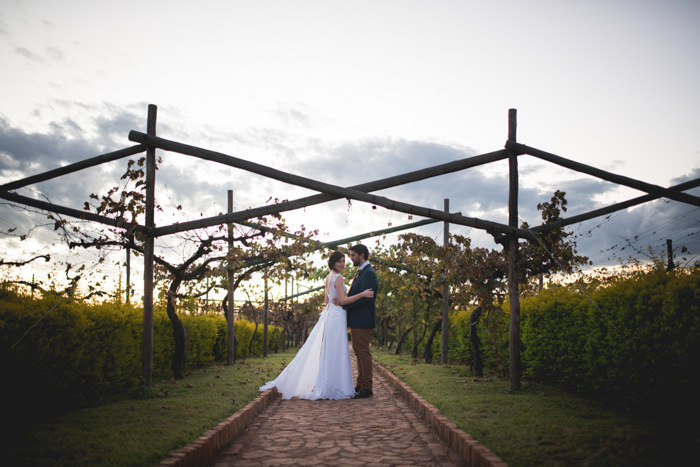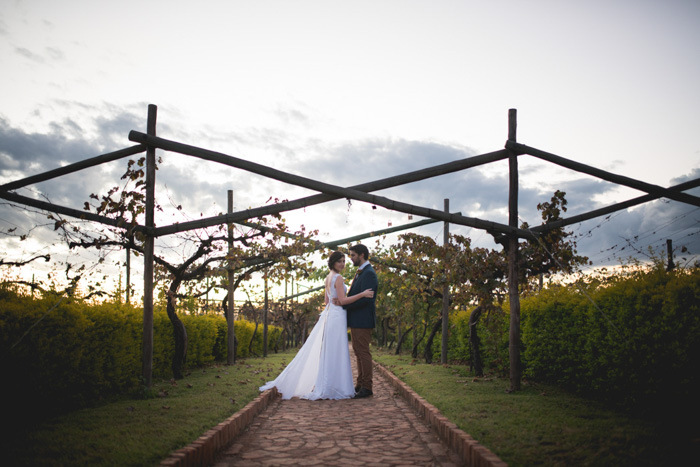 The Bridesmaids
I had three. Because it was an autumn wedding I was scared that it might be chilly. I knew I didn't want something conventional. I actually found the a nice dress and bought it for myself. After some thought I realised it would look really great as a bridesmaid dress and the girls would be able to wear stockings with it in case it was cold that day. We weren't planning on using navy as a wedding colour but it ended up matching Pieter's blazer and the accents of tan in their shoes and belts were also picked up in the groomsmen's pants.
The Flowers
I would describe it as being simple but elegant. I love fynbos – it's so beautiful in itself and I wanted to celebrate that. We used a lot of fynbos and added extra foliage to compliment the monochrome look we were going for.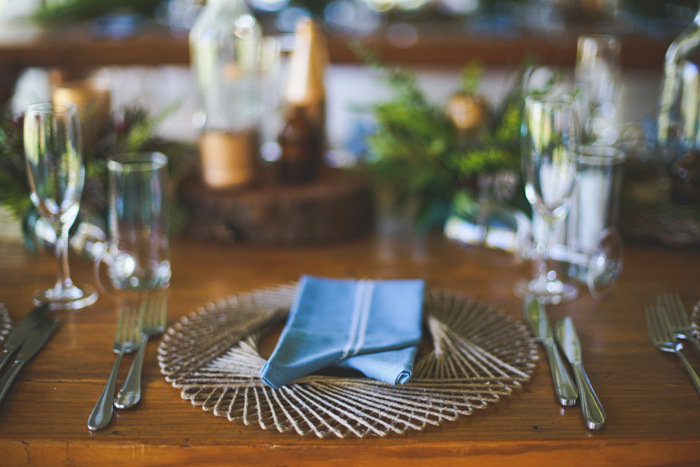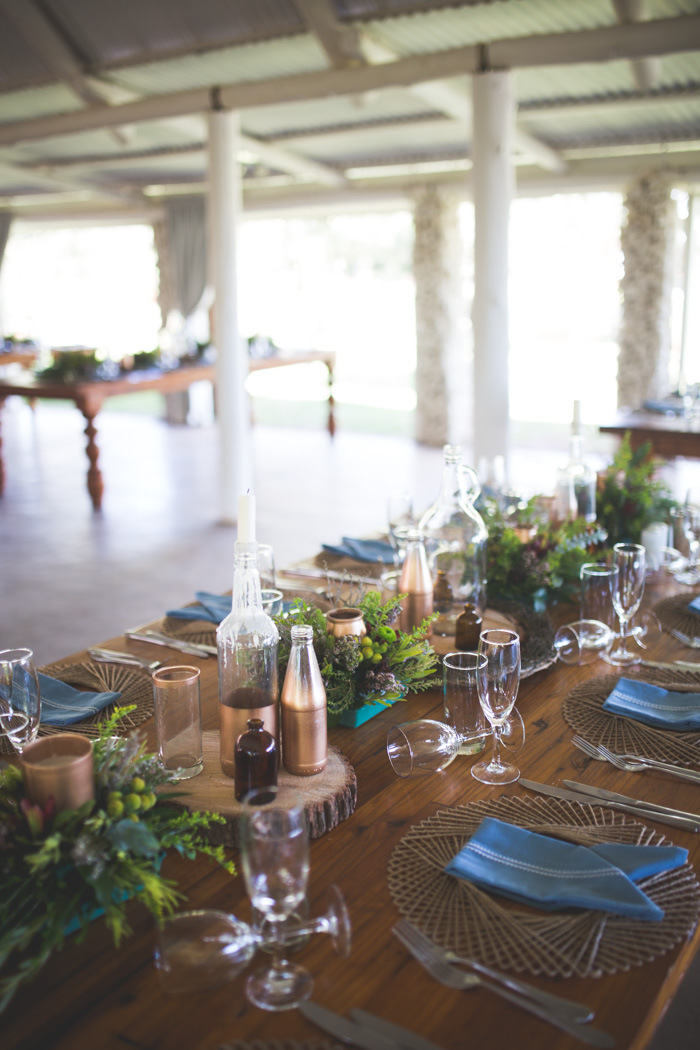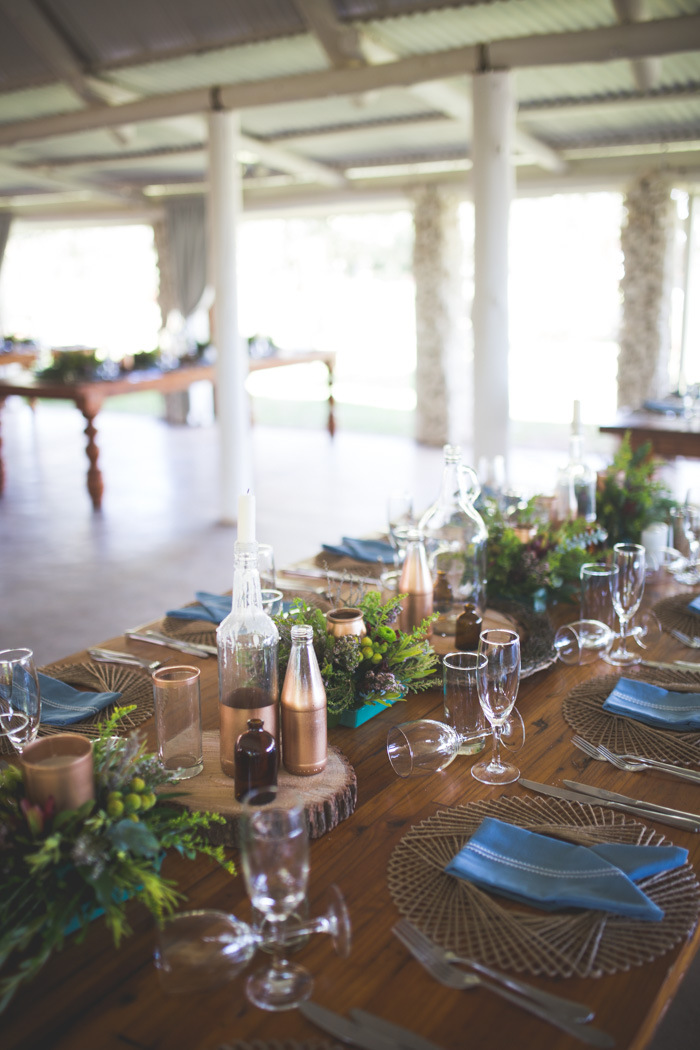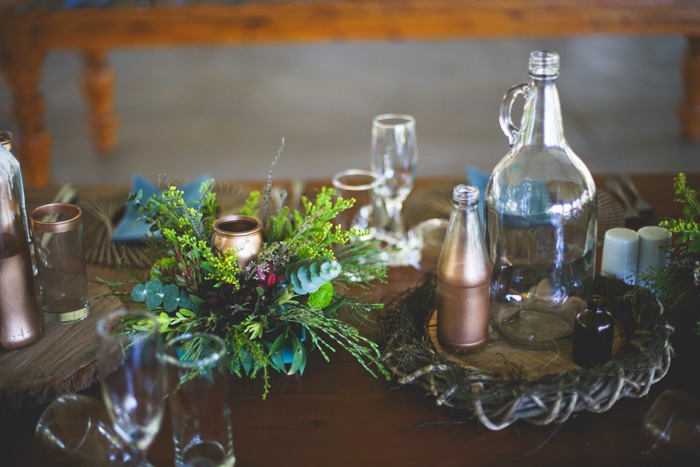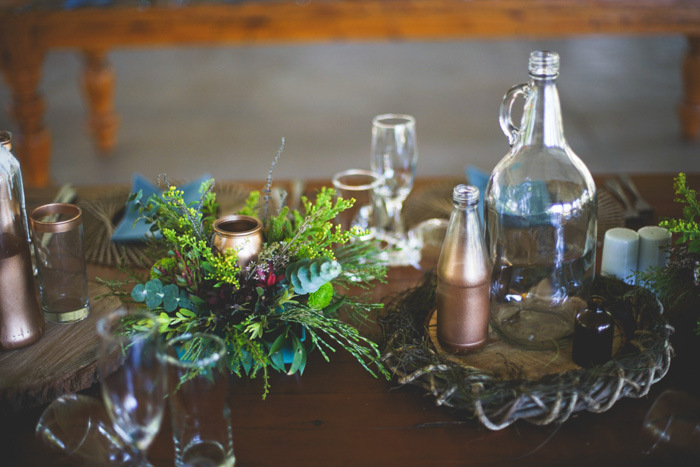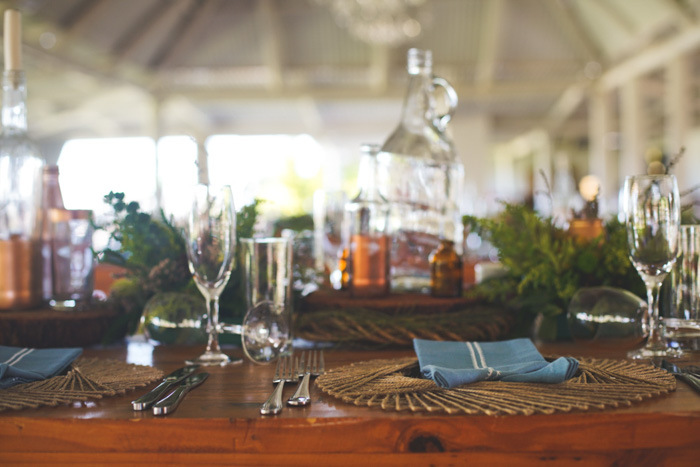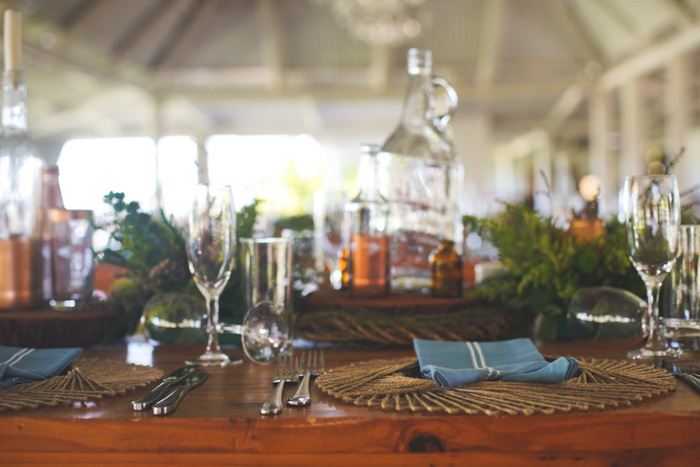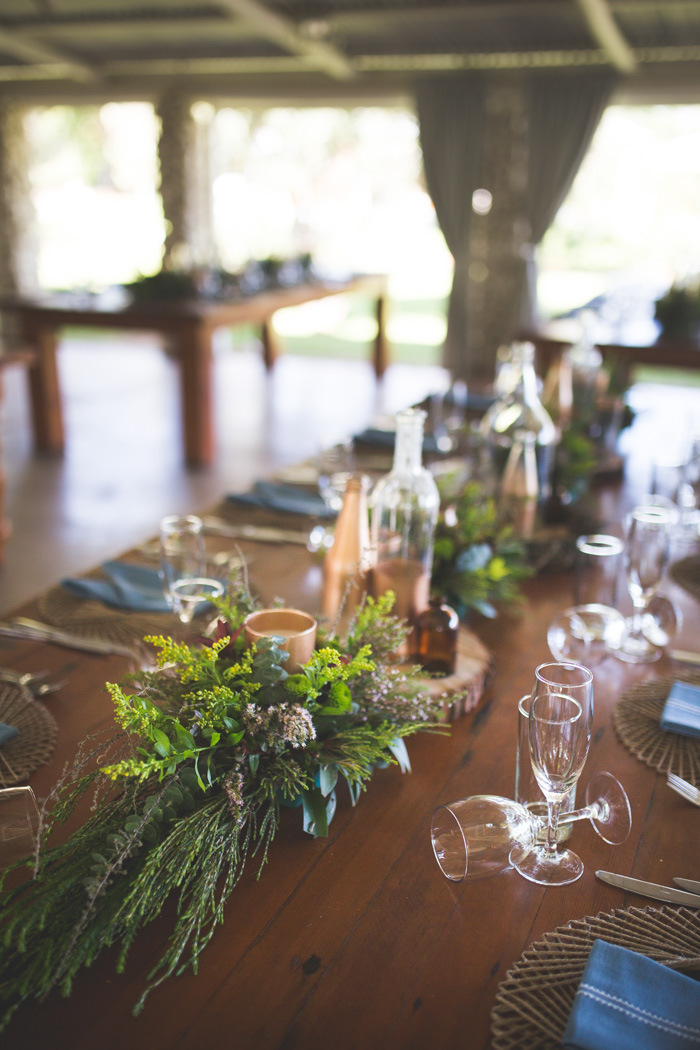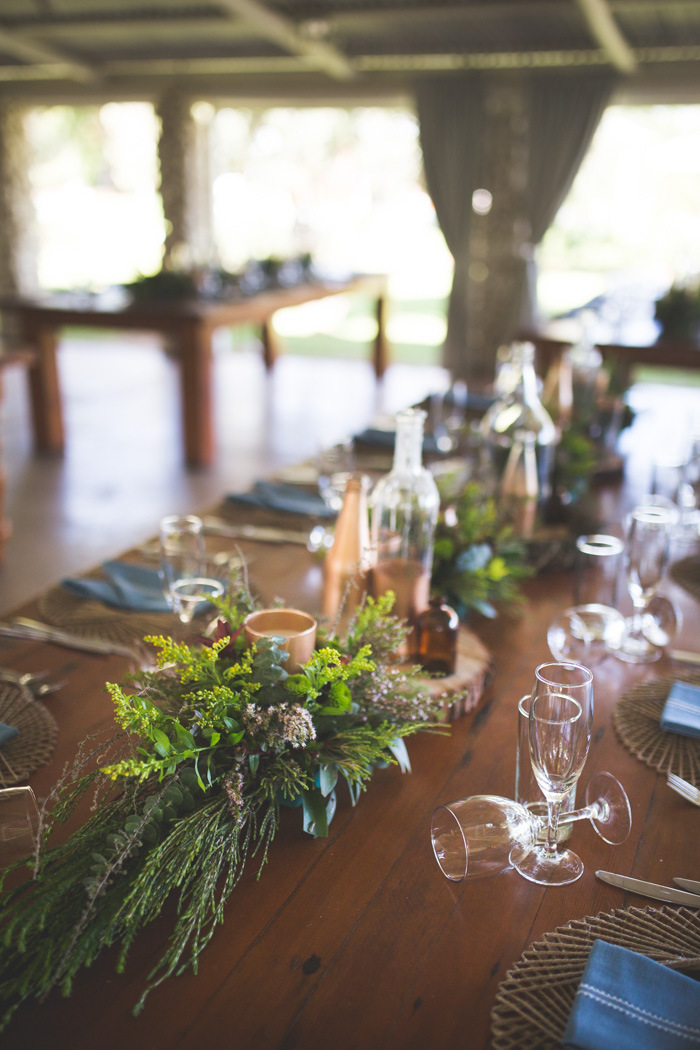 Memorable Moment
The moment I was about to walk down the aisle. I remember turning and seeing Pieter at the end of the aisle crying. I was so overwhelmed and started crying too. It was so special and it is the most vivid memory that I have of the wedding. There is just something about seeing the man you love cry the moment he sees you walking down the aisle.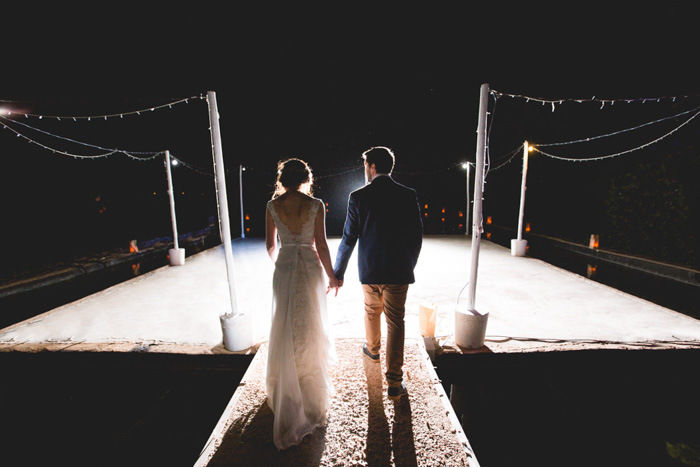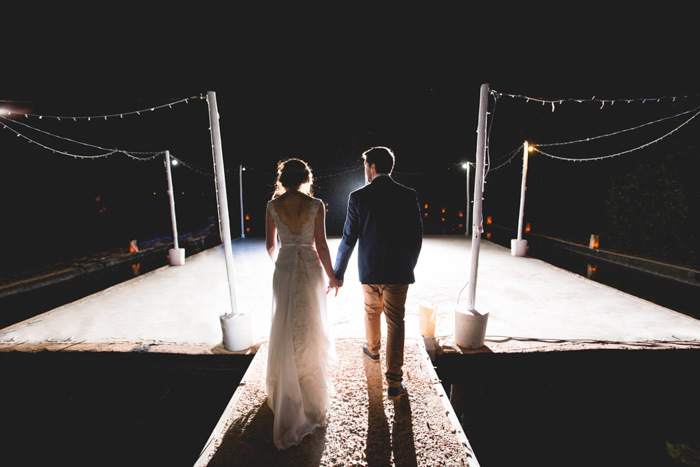 Best Decision
Asking for help. I don't like asking for help, but I realised that I wouldn't be able to do everything on my own, especially in between my studies. I have the best friends and family. My parents and in-laws were especially amazing!
Advice for Future Brides & Grooms
Try to spend some time not talking about the wedding. It gets overwhelming especially if you take on a lot of DIY projects. Through it all it is important to stay focused on what the day is all about. Your love for each other. And don't sweat the small stuff. Things go wrong sometimes but it's amazing how all of that seems to disappear the moment you see your partner at the end of the aisle, waiting to start the rest of your lives together.
You can see more from this wedding on the Those Photos blog.
SERVICE PROVIDERS
Venue & catering: Bell Amour | Photography: Those Photos | Flowers & décor: Marina Minnaar | Stationery: Bride & bridesmaid | Video: Mighty Fine Productions | Cake: Ilana du Toit (bride's sister) | Bride's dress: Catherine's Collections | Hair & makeup: Monique from Dandy M Studios | Bridesmaids' dresses: Truworths | Groom's attire: Country Road | DJ: Multi Music
Save
Save