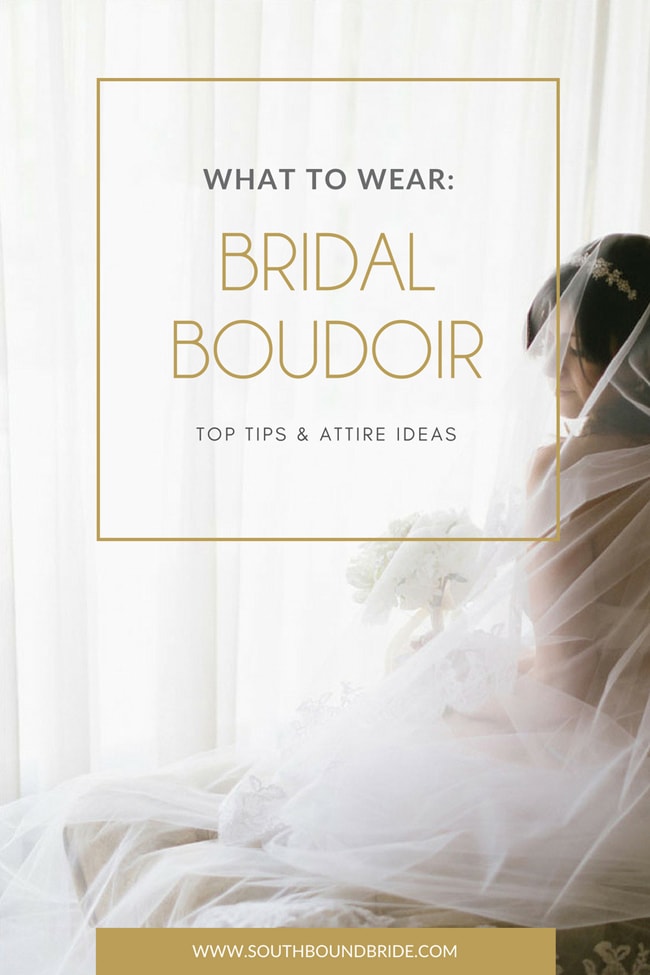 Louise Vorster on SouthBound Bride
For me, boudoir is a great way to make a bride-to-be (or any woman!) feel beautiful – it can be a gift for your fiance sure, but I think it's really a gift to yourself. Because let's be honest, when it comes to our bodies, most of us are pretty unforgiving of ourselves. Seeing yourself through a photographer's lens is a chance to see yourself differently, in the best light really (flaws and all) – the way that your partner sees you. Which is all awesome, but what the hell do you wear for a boudoir session? ;) Now personally I'm a fan of the more subtle form of boudoir rather than the FHM-style shoots, but however you choose to play it, the key thing is to wear bridal boudoir outfits that make you feel comfortable as well as gorgeous. You can go as covered up or as daring as you like, but most importantly, you want to feel confident. So no matter what your shape or style, here are some top tips for what to wear, as well as some beautiful bridal lingerie to inspire your shopping choices.
*Shopping sources and links in bold contain affiliate links. The cost to you remains the same, but SBB may receive a commission for any sales made.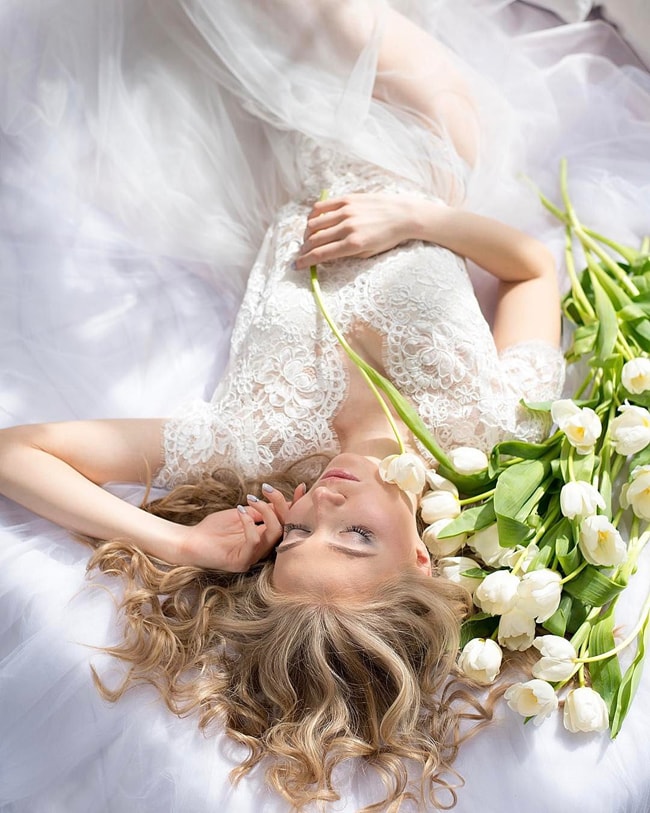 Boudoir Dress by Tati Magic
A selection of bra and panty sets is a good place to start, because they're a base piece that can be accessorised with other pieces and built on as needed. For that reason, I'd recommend classic black or white, although it can also be fun to throw a cute print or fun colour into the mix. Fit is the most important thing for your bra, so get professionally measured if possible, especially if you're on the larger or smaller end of the boobie scale. In general, lacy little numbers look better than full size padded, satin or T-shirt style bras, although again, it really depends what makes you feel comfortable and pretty. For your undies, consider options with more coverage like boy shorts, French knickers (or frilly ones!), which can generally be more flattering in pictures. High waist pants can give you a bit of a vintage look, especially if you go for a pin-up style with your hair and makeup too. As with your bra, be sure the fit is good, and you don't have elastic digging into your sides.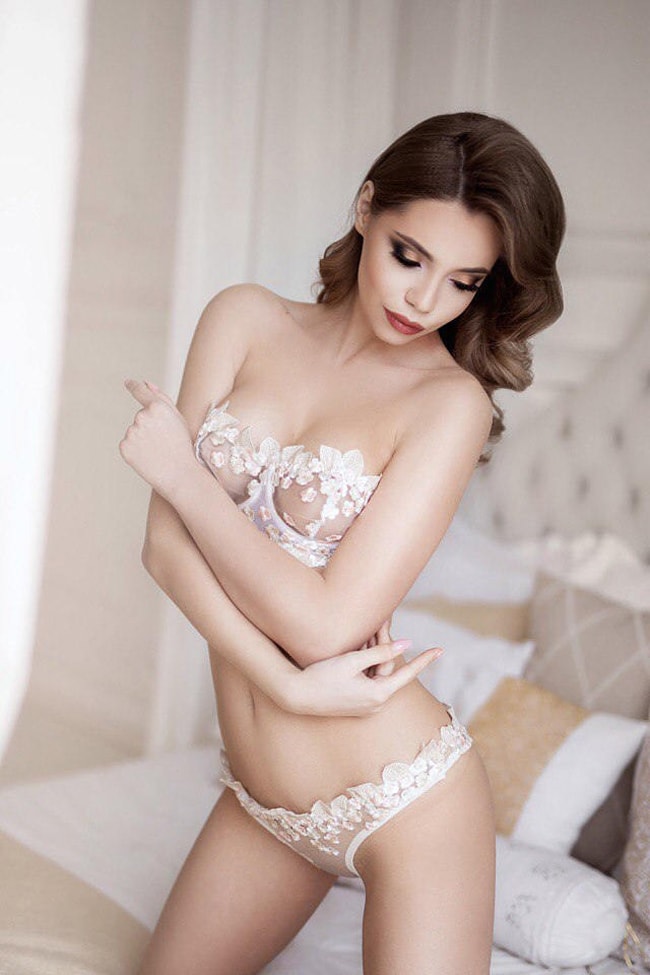 Bridal Lingerie Set by Allechanto
Corsets are another popular choice for boudoir, although photographers' opinions vary on whether they're more or less flattering. On the upside, they create a waist and pushed-up cleavage and can look super sexy. On the other hand, depending on how the corset sits and how you're photographed, they can create some awkward flesh spillage.
A softer, more romantic option is to choose one of the huge range of other intimates on offer: baby dolls, slips, teddies, chemises, camisoles. In fact, these are often more flattering than a bra and panties, although sheer is what you're going for, rather than solid and baggy. The details on these pieces often make for lovely photographs, so pick one that you absolutely love. Honeymoon undies, sorted.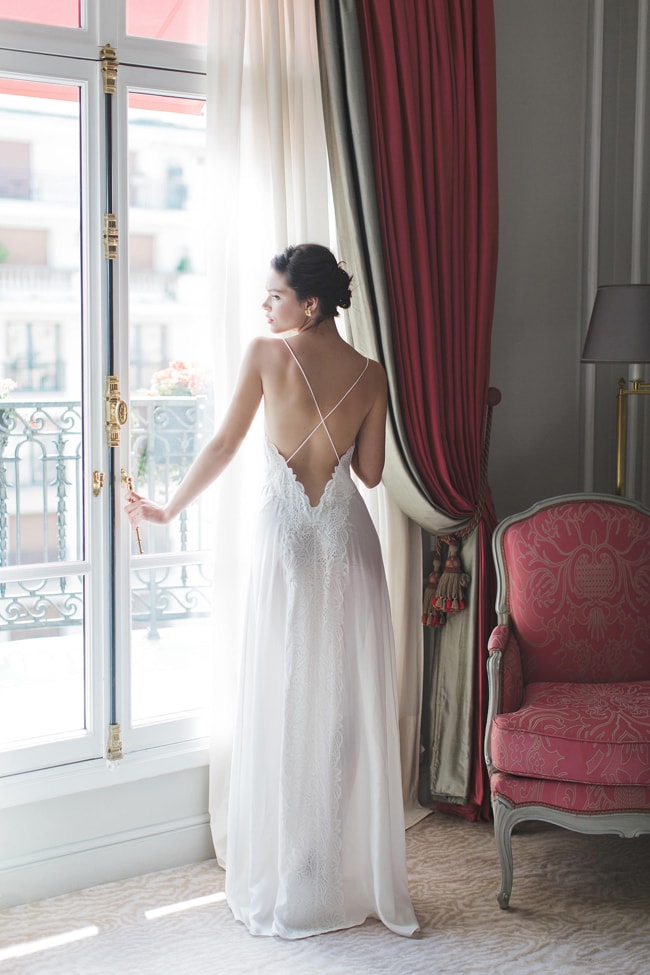 Long Silk Bridal Nightgown with Open Back by Apilat Lingerie
Whichever of the options above you choose, a garter belt is a great addition, along with thigh high stockings. Going for the garter rather that the elastic-top version can be a good idea unless you have really slender thighs, but whatever your shape, the stockings will make your legs look long and lush. And definitely add a pair of sky-high heels, which further elongate the legs and look fabulous!
When it comes to accessories, this is your chance to really show your personality. Snuggle up in a loose jersey (and let it drape seductively off one shoulder), a pretty robe or one of his own shirts (guys love this one!). Adorn yourself in strings of pearls, or a crown of flowers. Wrap yourself in a luxe fabric like a glittering shawl, or take the opportunity to get photographed with your veil, especially if it's a cathedral length one.


A few more quick tips:
Don't wear clothes or undies with tight fitting elastic to your session as the grooves they make in your skin may take a while to wear off.
Same goes for socks and shoes!
Be judicious with your self-tanner. Even the gods of Photoshop can't fix a terrible tideline.
Avoid hectic sports or activities where you might get bruised the week before. Small ones are fine, but bigger ones will be a problem. (And if it happens anyway, trust me, arnica cream is the business!)
Paint your nails! You don't want to go to all that effort of getting dolled up and photographed just to ruin it with one scruffy detail.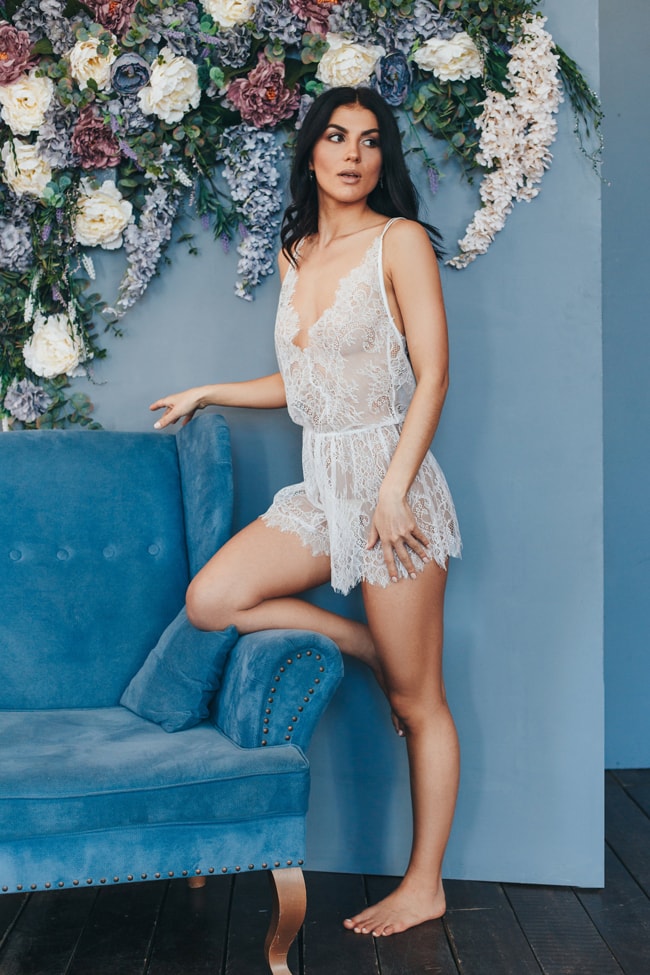 Tulle Boudoir Gown by LOFFECT
You can find even more top tips for boudoir and how to choose and work with your phographer in our feature here.