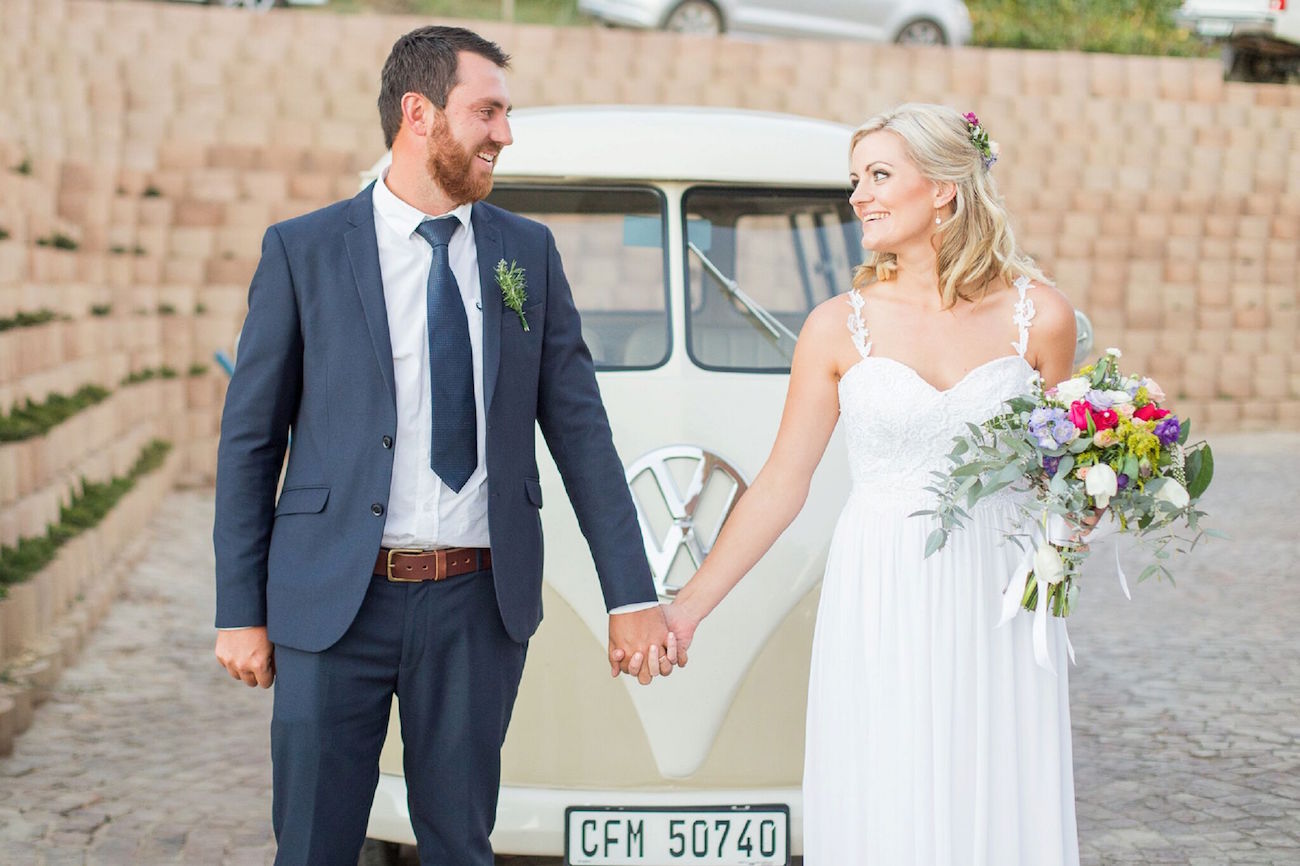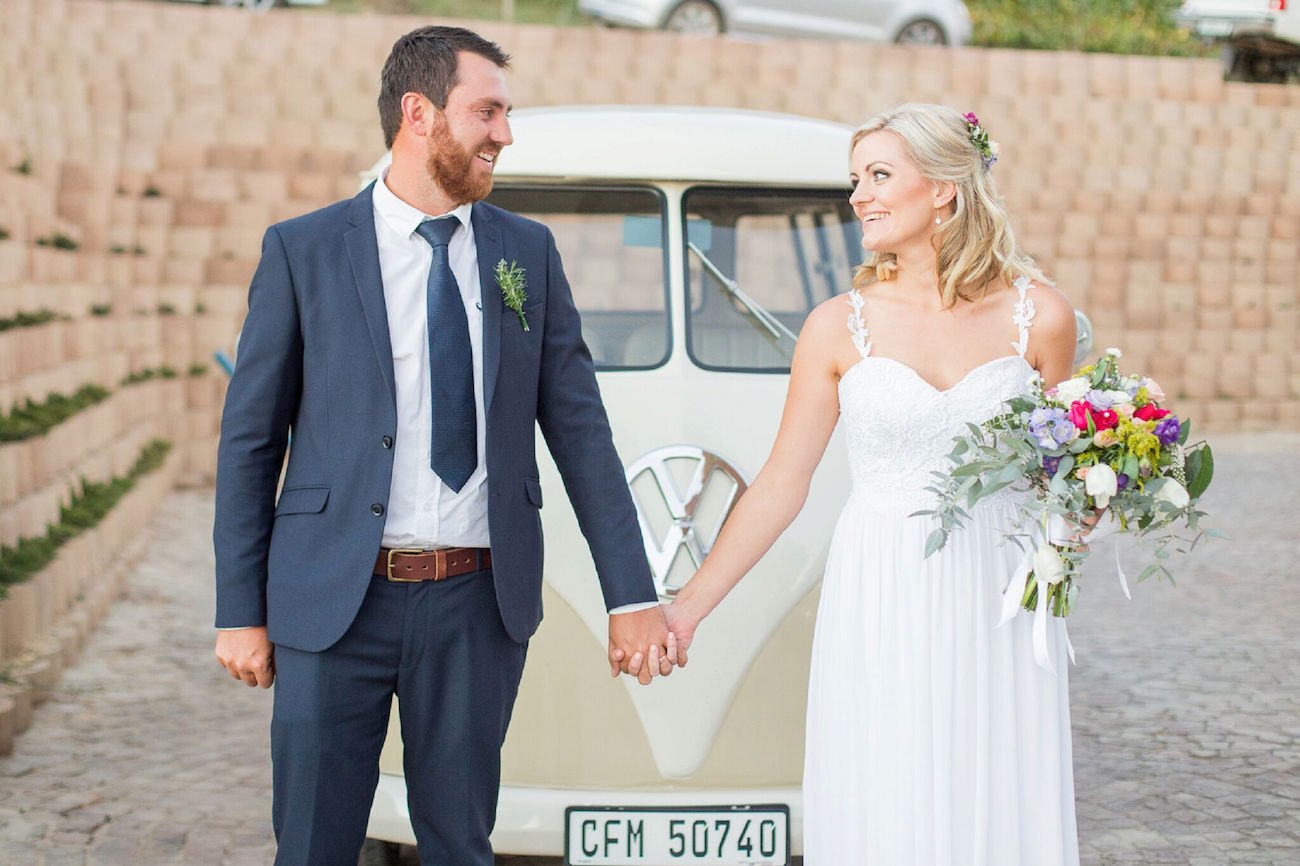 Today's bride had such a unique approach to her wedding colour palette and I LOVE it. Emma didn't want to look back on her wedding in twenty years and wish she hadn't picked this or that colour that was trendy at the time, but was now super dated (OMG that is sooooo 2017). So she picked all the colours. Bright, fun, summery pinks and purples and reds and yellows and greens, and you know what? It looks amazing. Effortlessly elegant, and filled with sweet details like a naked cake, a foliage monogram installation, and greenery chandeliers that look like they're raining hearts. Zander and Emma are completely adorable, and the laid back vibe and mix of colours reflect their joy and happiness, captured with heart by photographer Adele Kloppers.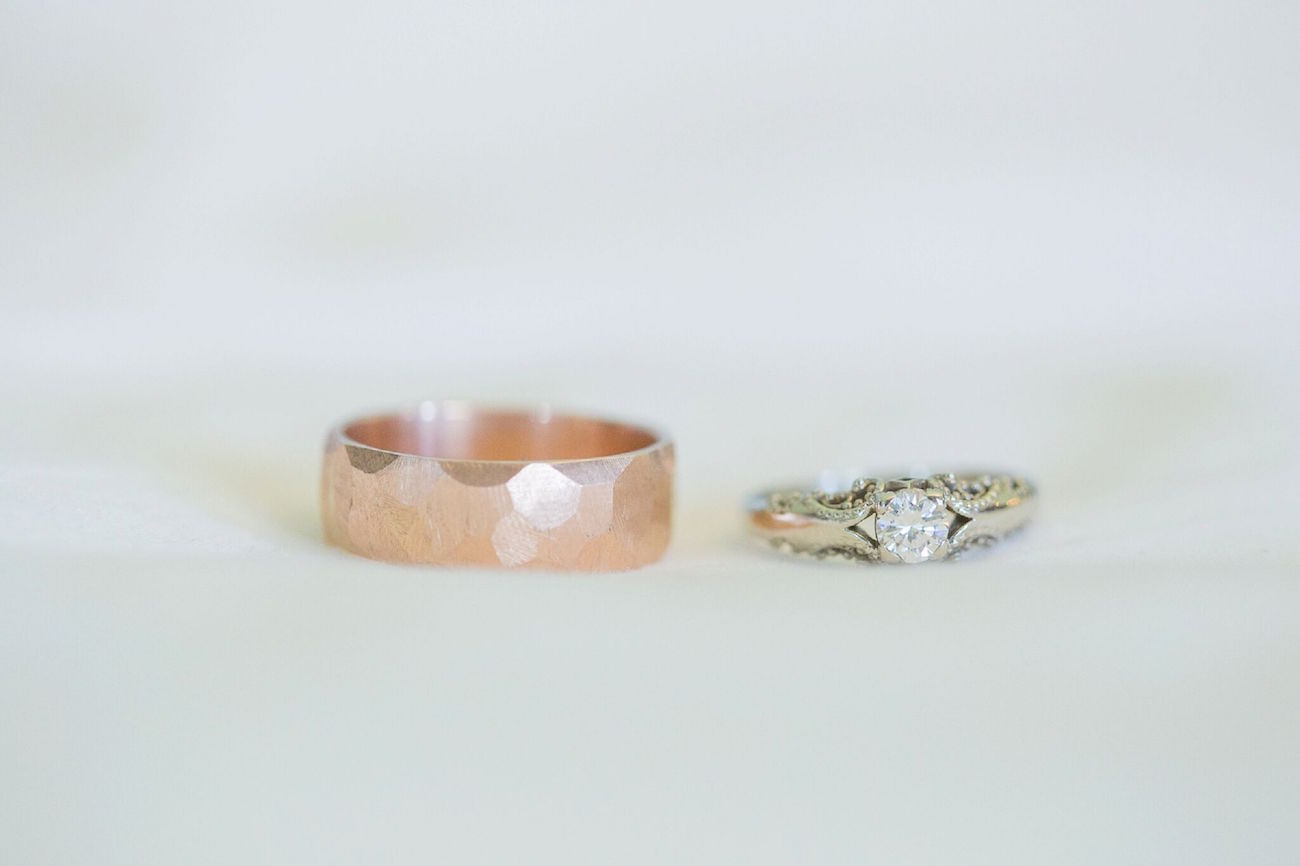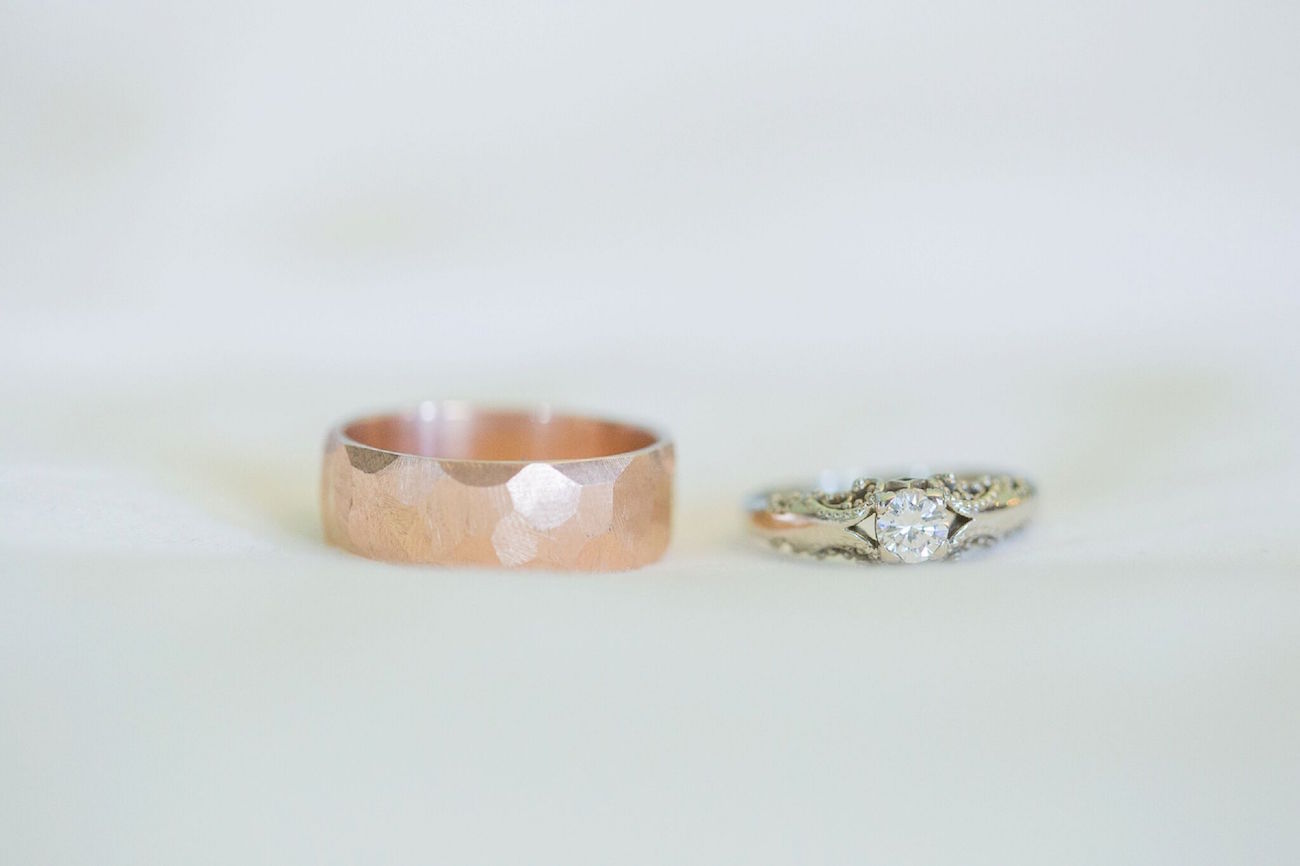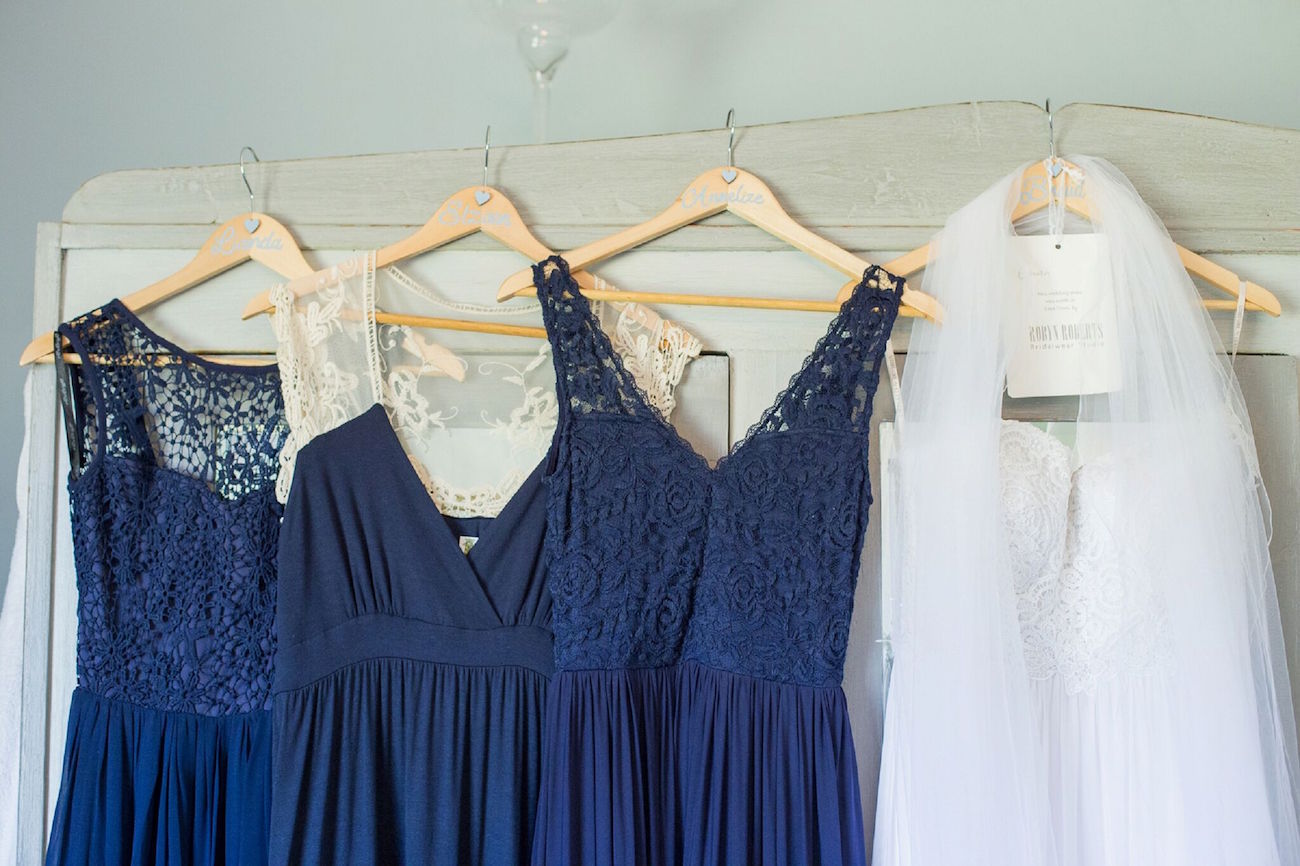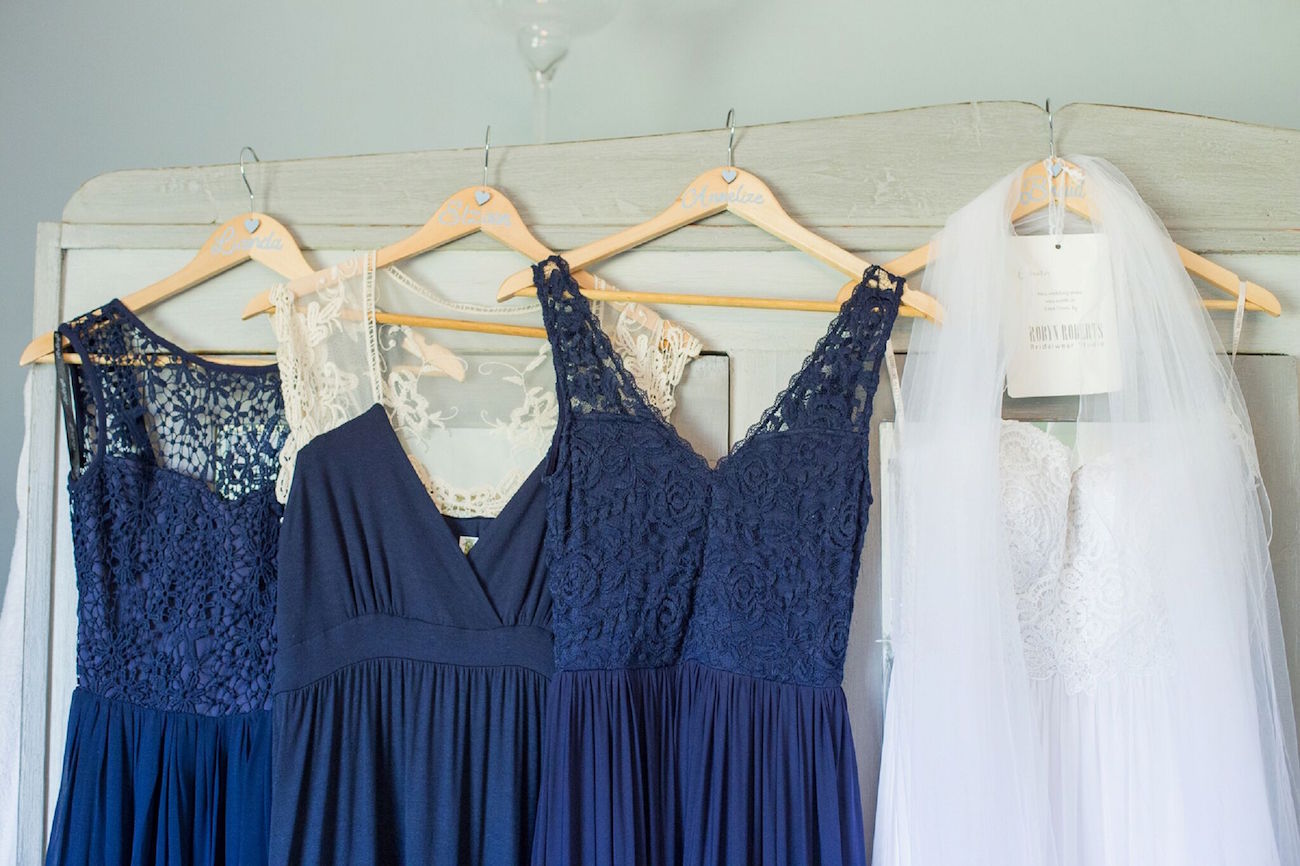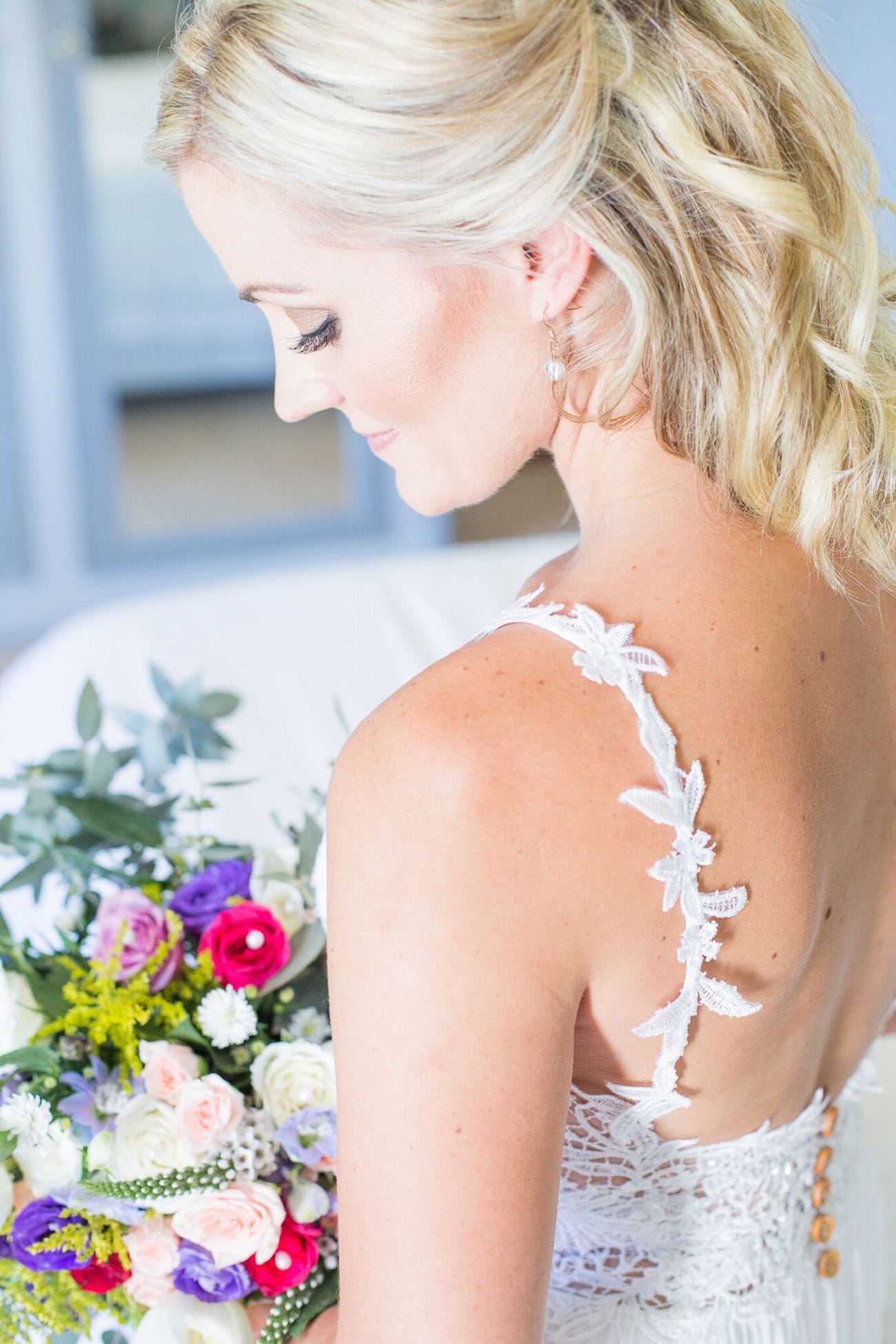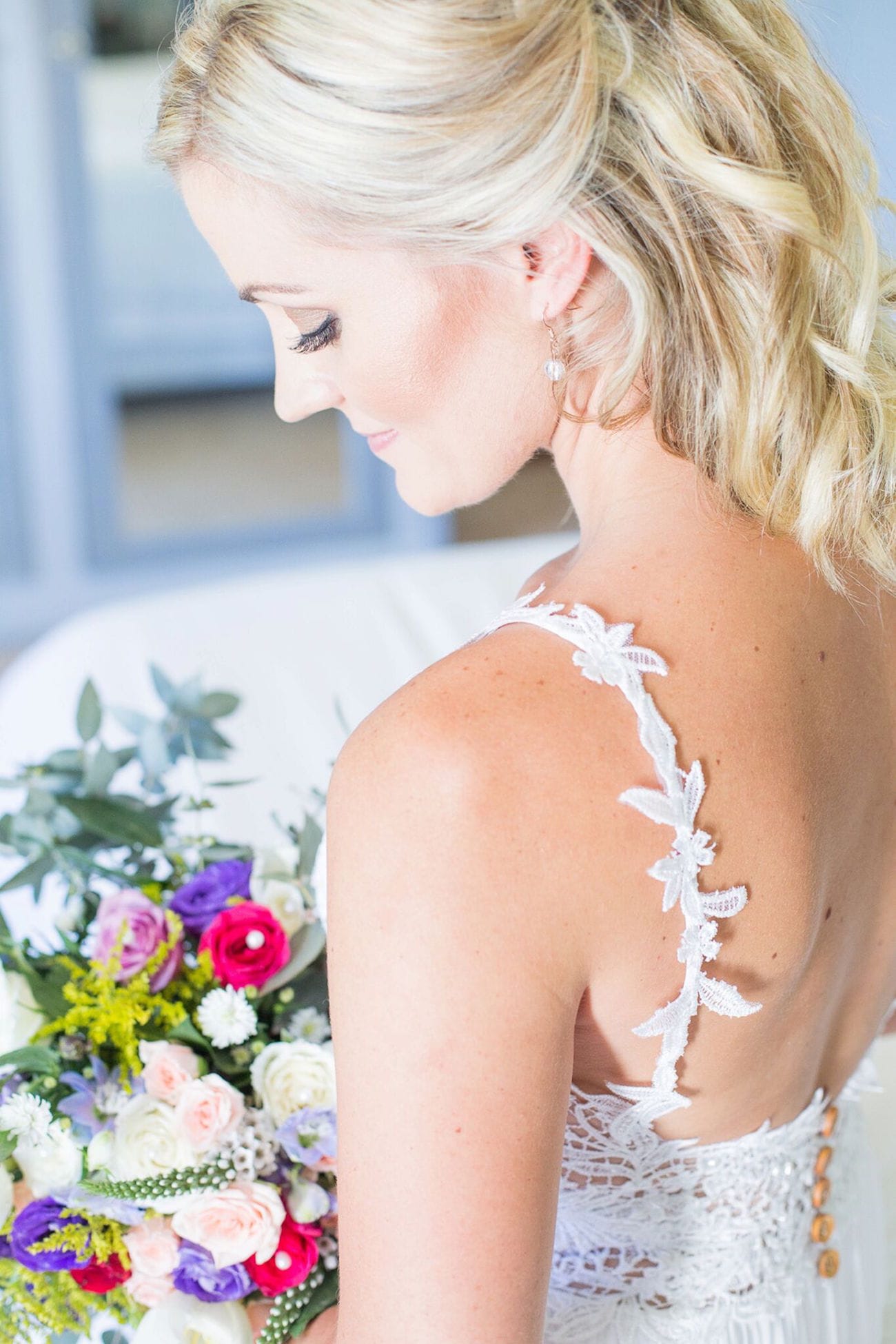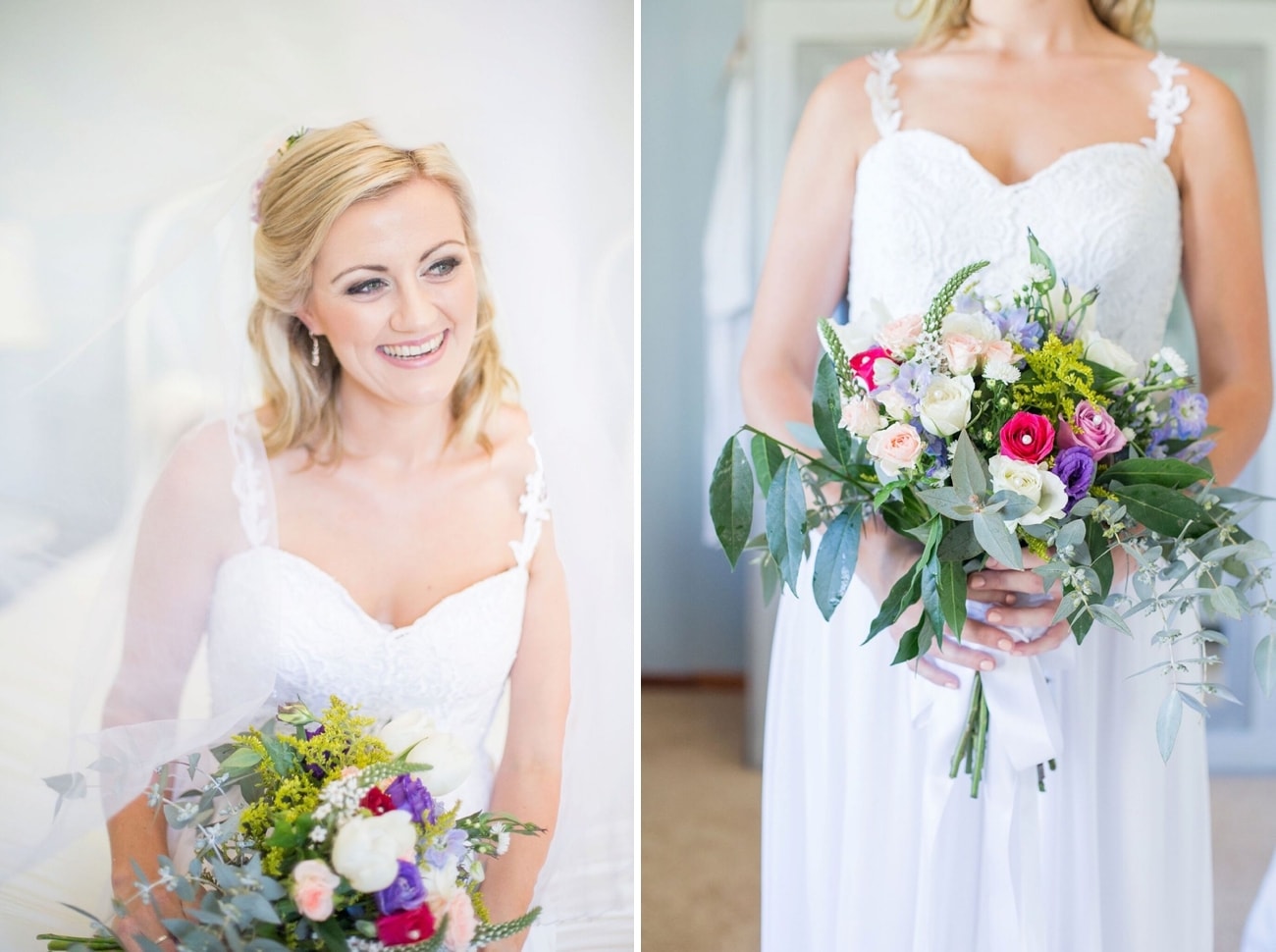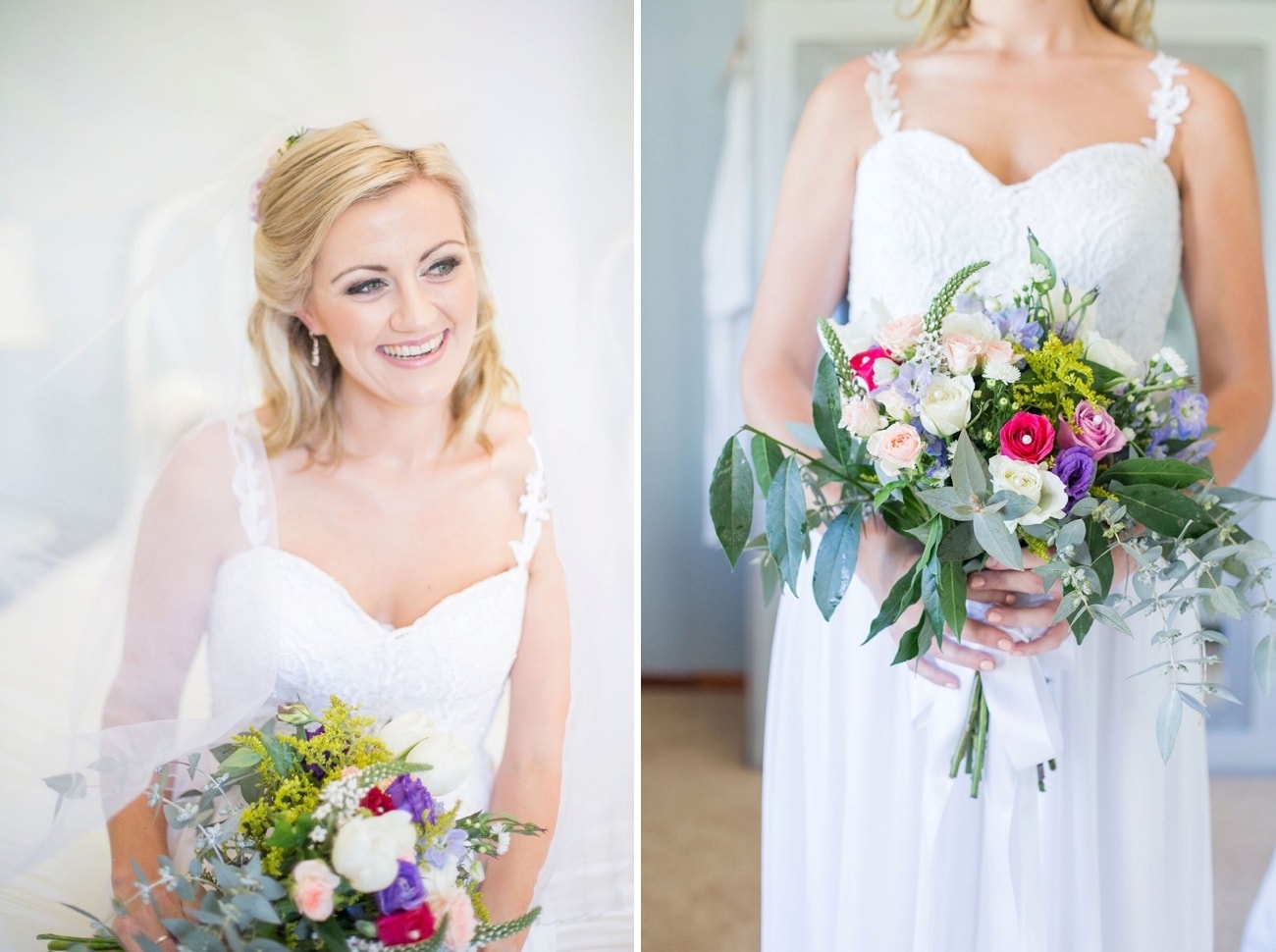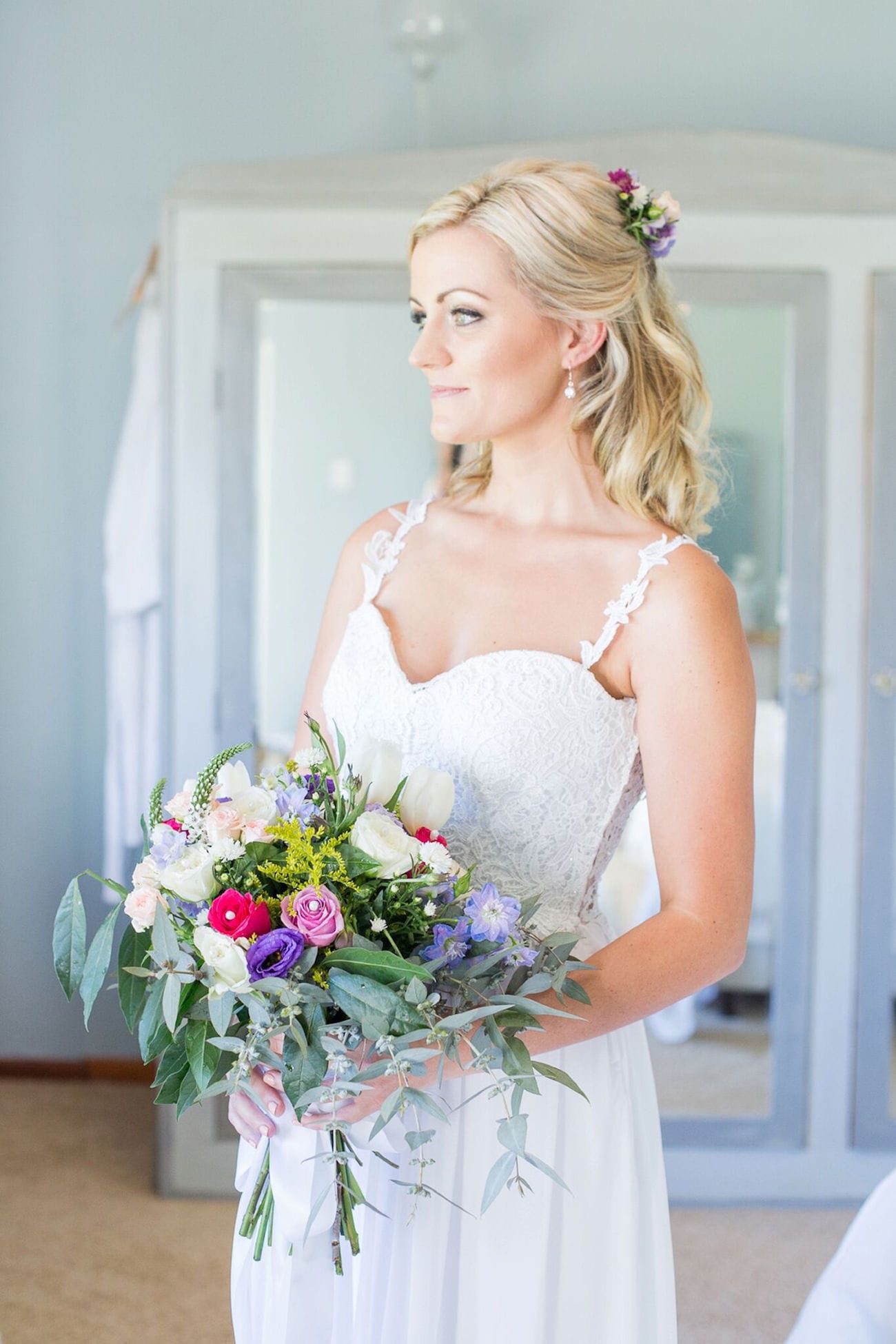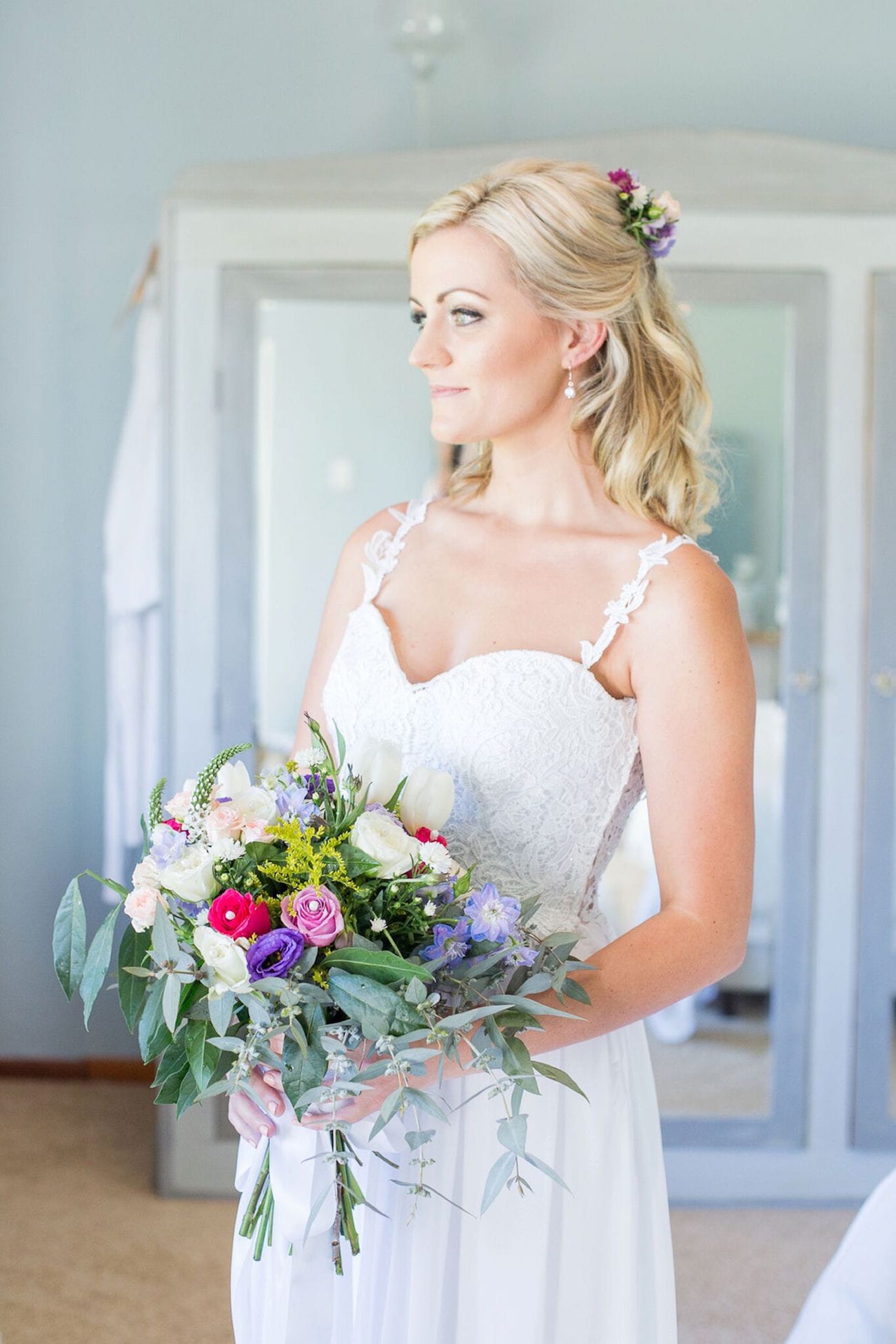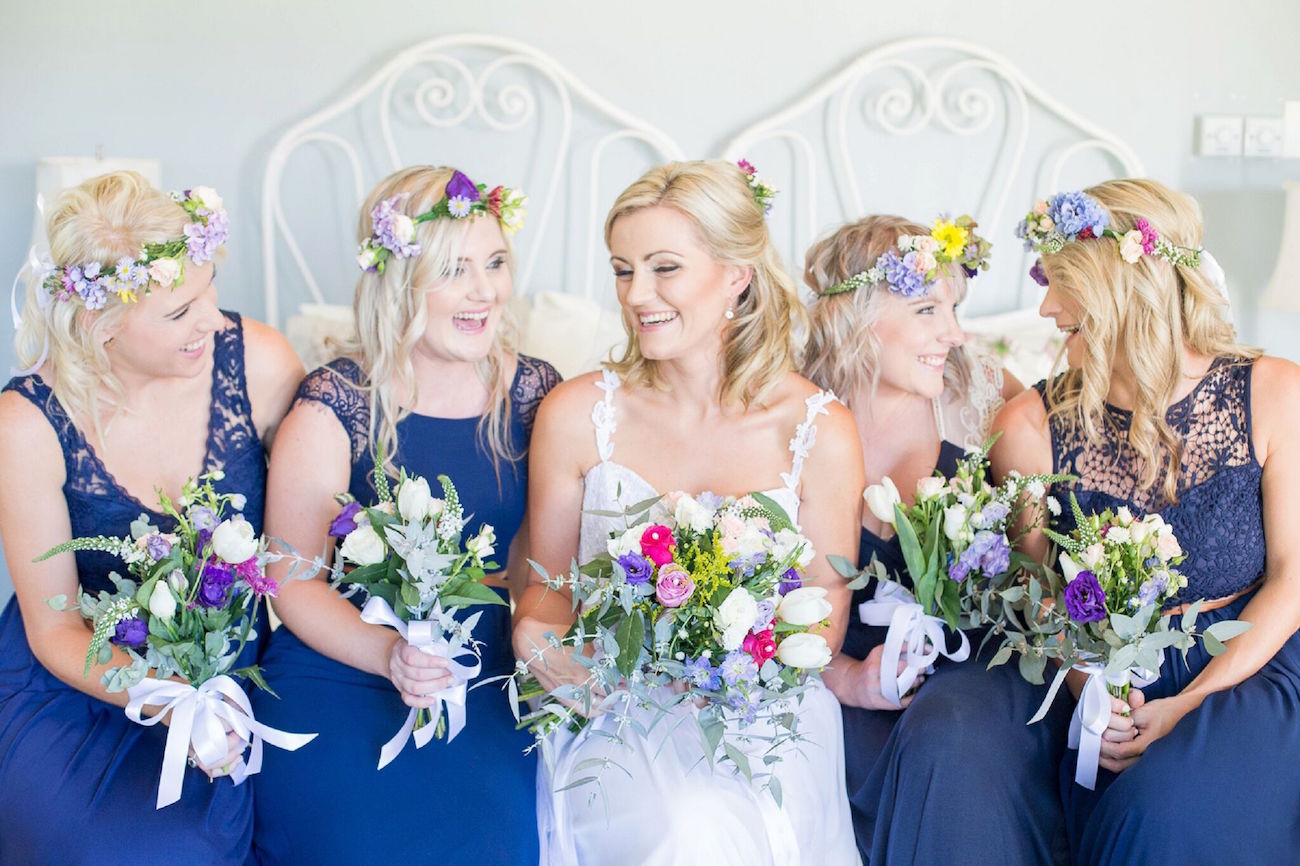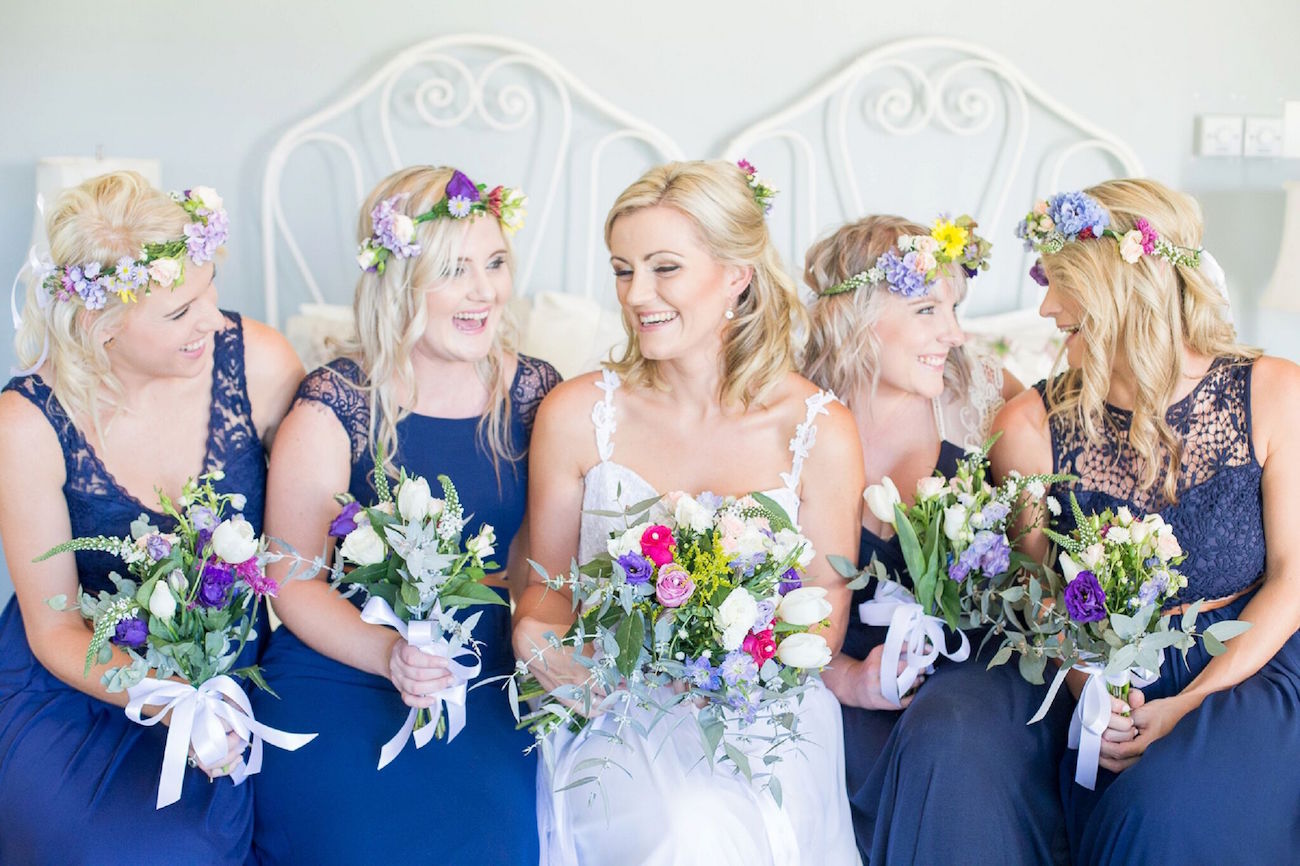 Love Story
I'm from Worcester and Zander is from Pretoria. So I know the fact that we got to meet each other was purely because it was all in God's plan for our lives. Zander works in construction and they got a contract for work in Worcester. He met my brother on a site and they became friends. Soon after that, he rented the cottage on our farm from my parents. I was studying in Stellenbosch, but came to Worcester as we had a practical block and obviously stayed with my parents. I met Zander and he had dinner with my parents and I a few nights a week. During the weekends we started going out to friends together and it was much more convenient to drive everywhere with him instead of on my own. Soon after that, we both realised that we were becoming more than friends. He asked me out in Bloubergstrand while having dinner. After I completed my final year I went to Kimberley to complete my comm-serve year. We had to do a bit of long distance. Luckily he went to Bloemfontein for work and drove to and from Kimberley every day to see me. It was then I knew he was a keeper; five years down the line we got engaged and today he is my HUSBAND!
The Proposal
I knew the ring had been made, and that it would happen soon. On the night before my birthday, Zander booked a guest house for the evening. I thought it was going to happen there but then he said he hadn't got around to asking my parents. I was disappointed but nevertheless excited for the evening away. We stopped at a couple of nice places along the way to have a drink and relax (a perfect Friday!), and had lunch at Bourbon Street in Robertson. When we finished, he kept saying we should stay a little longer, and ordered more wine, dessert, etc. In the meantime, our friends were at the cottage, preparing the whole setting for the proposal. To cut a long story short, eventually we drove to McGregor and arrived at a beautiful cottage – as he opened the door, the entire room was filled with candles, flowers and champagne. When I turned around he was already on one knee. I don't remember a lot from there but I was over the moon!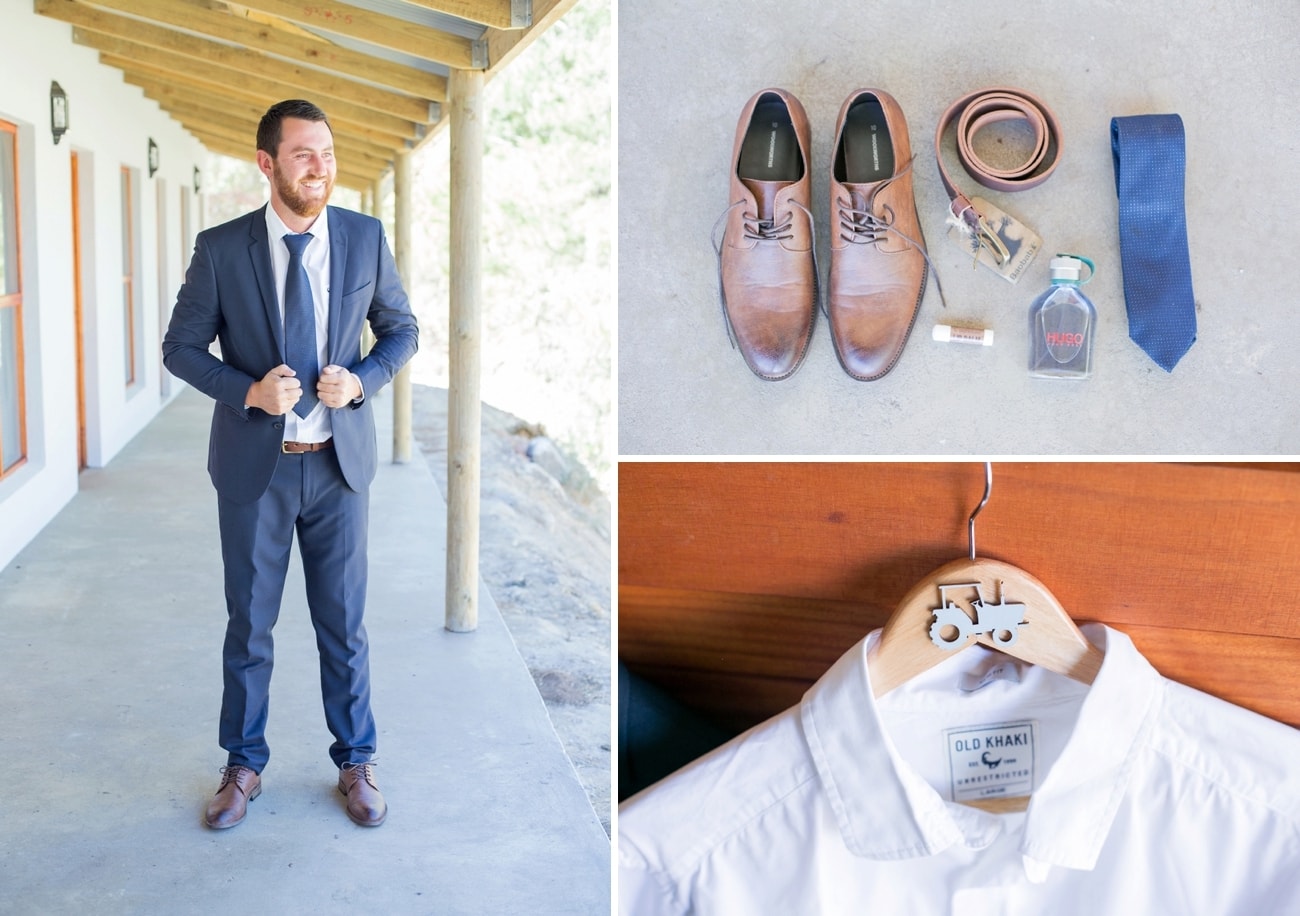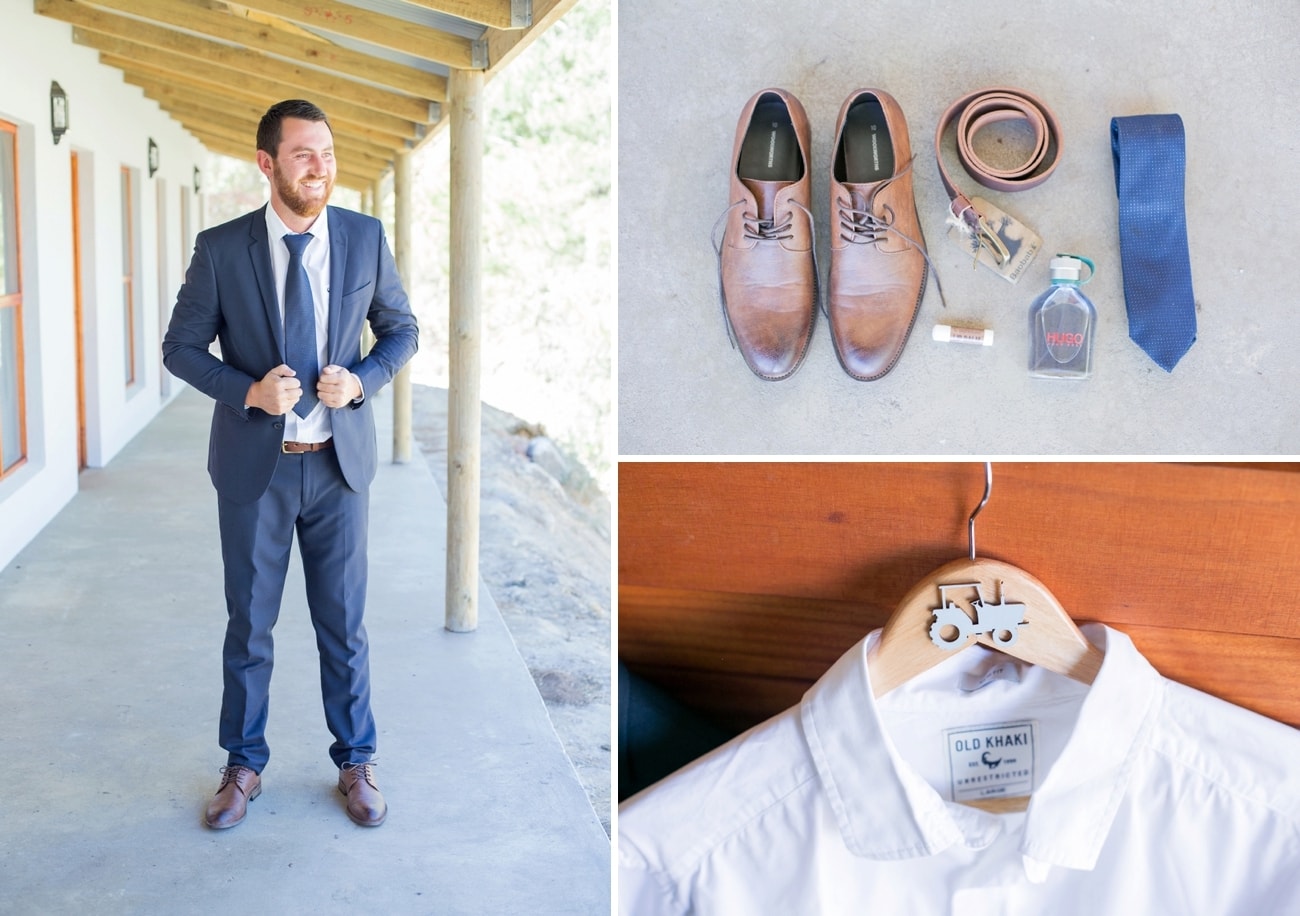 The Venue
We originally had a different venue in mind that we both liked, but when we got to Bergland Venue ( even though at that stage they were still building, finishing the garden, hanging the chandeliers, etc.) we both immediately knew that was it! We loved the view and the cleanness of the venue. It's like a blank canvas and already beautiful even without decor.
Wedding Style
I always said I didn't want to look at the photos in twenty years and feel 'what was I thinking choosing THAT colour for our wedding?'. I just wanted it natural with lots of flowers and candles.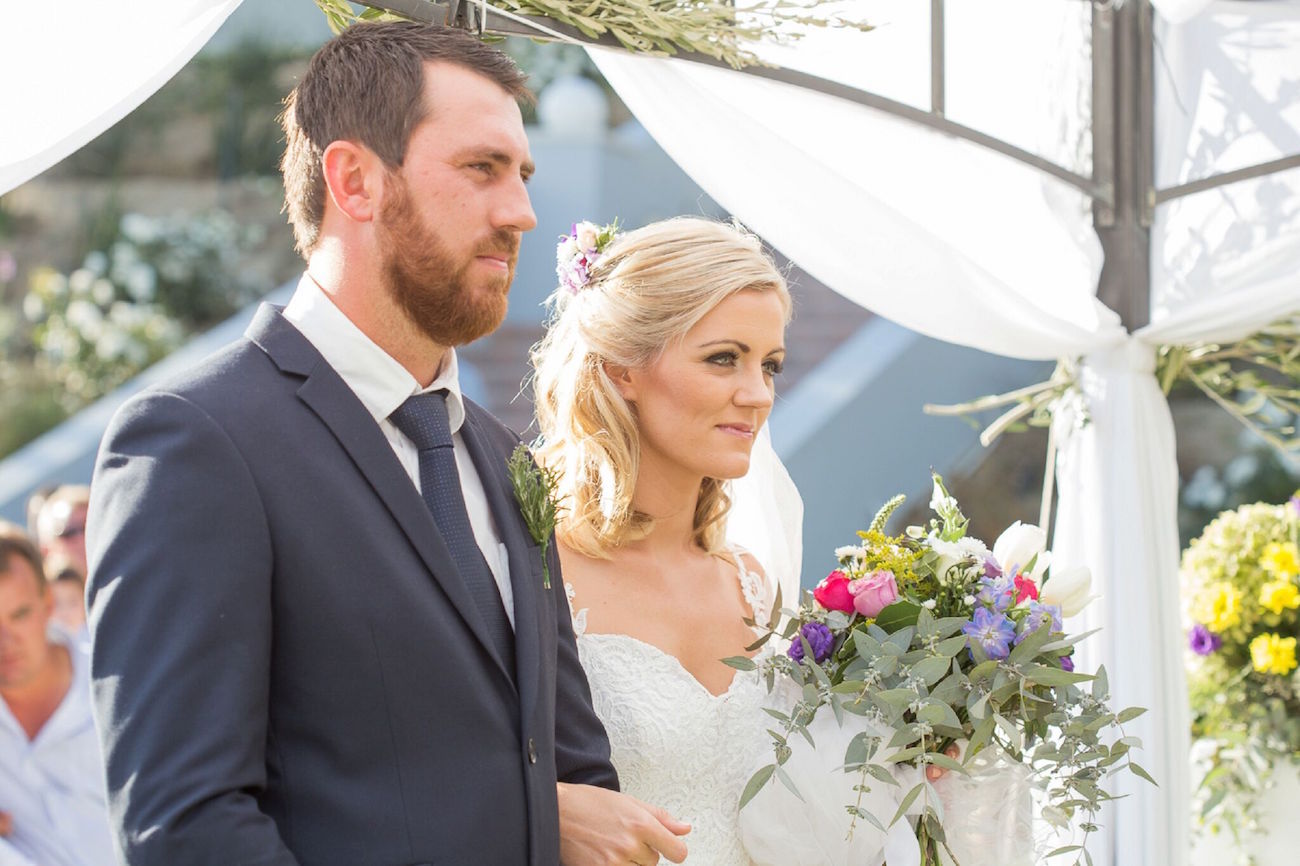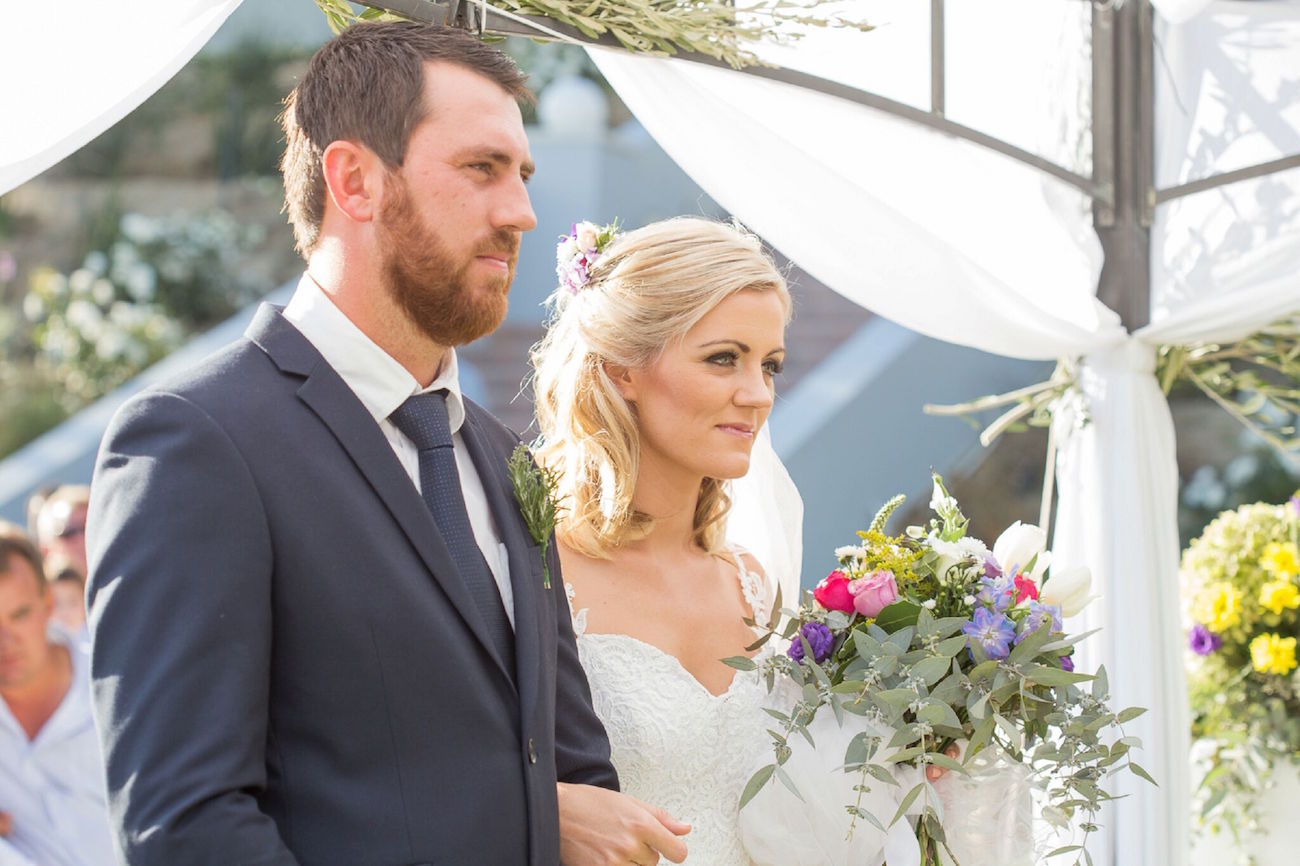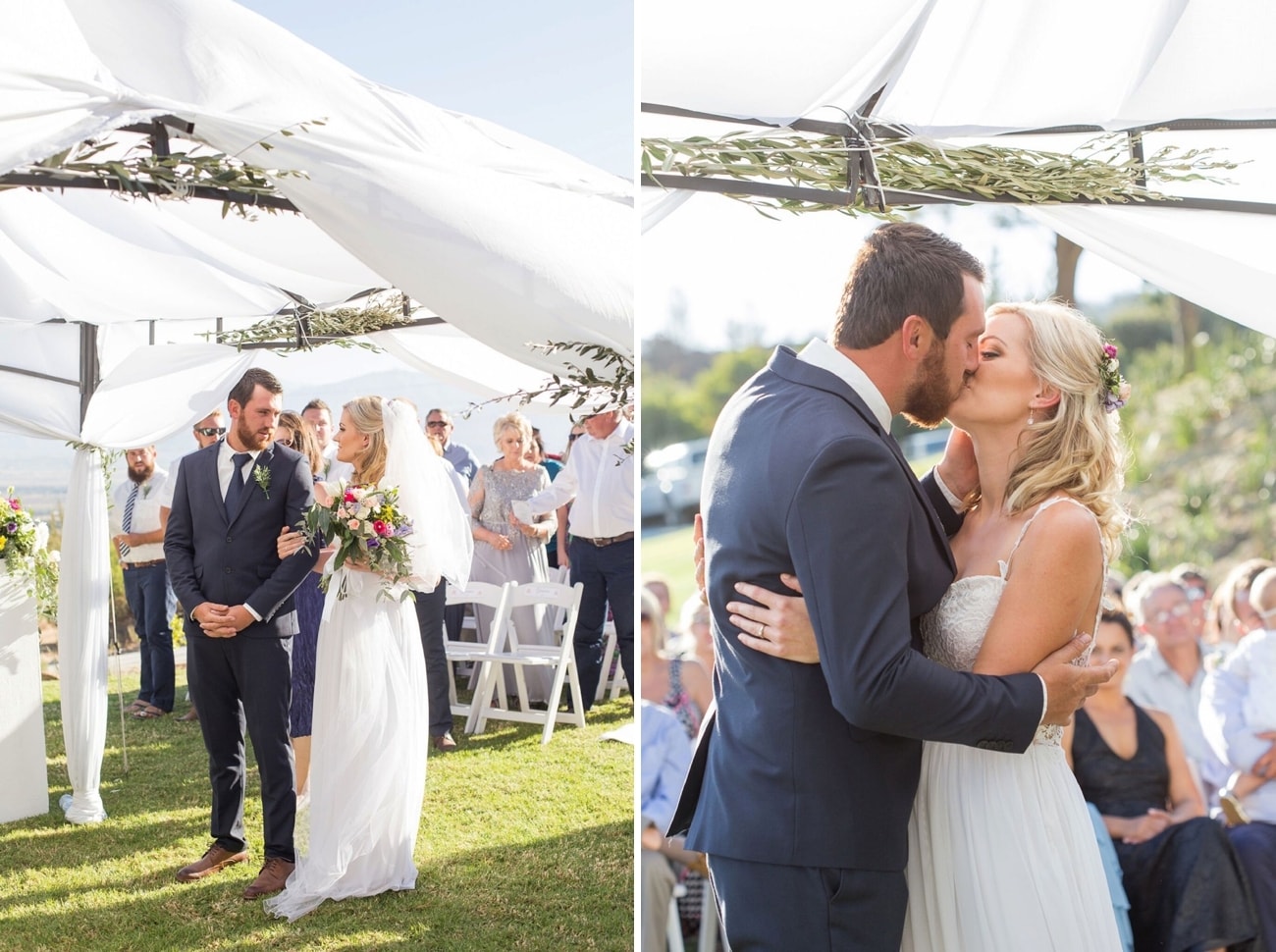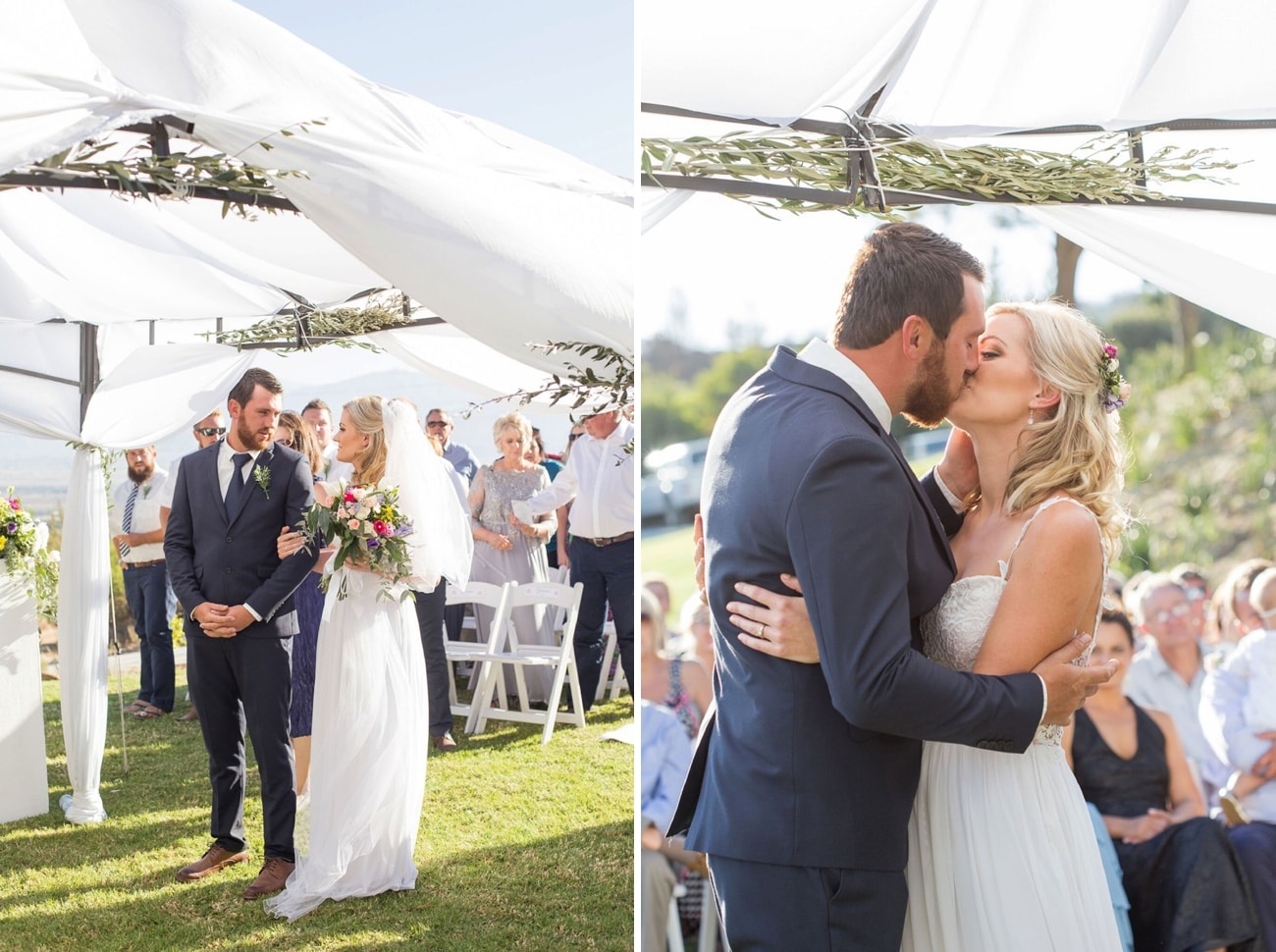 Wedding Details
From the start of planning I wanted round hoops with lots of green leaves hanging from the ceiling with paper hearts hanging from them. I stitched all the heart strings. I also wanted to let every person feel special and welcome so I put something personal about every person on their name card at the table. I loved doing it and with every card I finished I knew that that person was meant to be at our wedding.
DIY Elements
The big Z+E behind the bridal table was made by Zander. I just put the leaves on it. Zander also made the wooden blocks holding the menus, the table setting board and the hoops hanging from the roof. I made the menus, the little boxes of chocolates (gifts), the paper hearts and the name cards.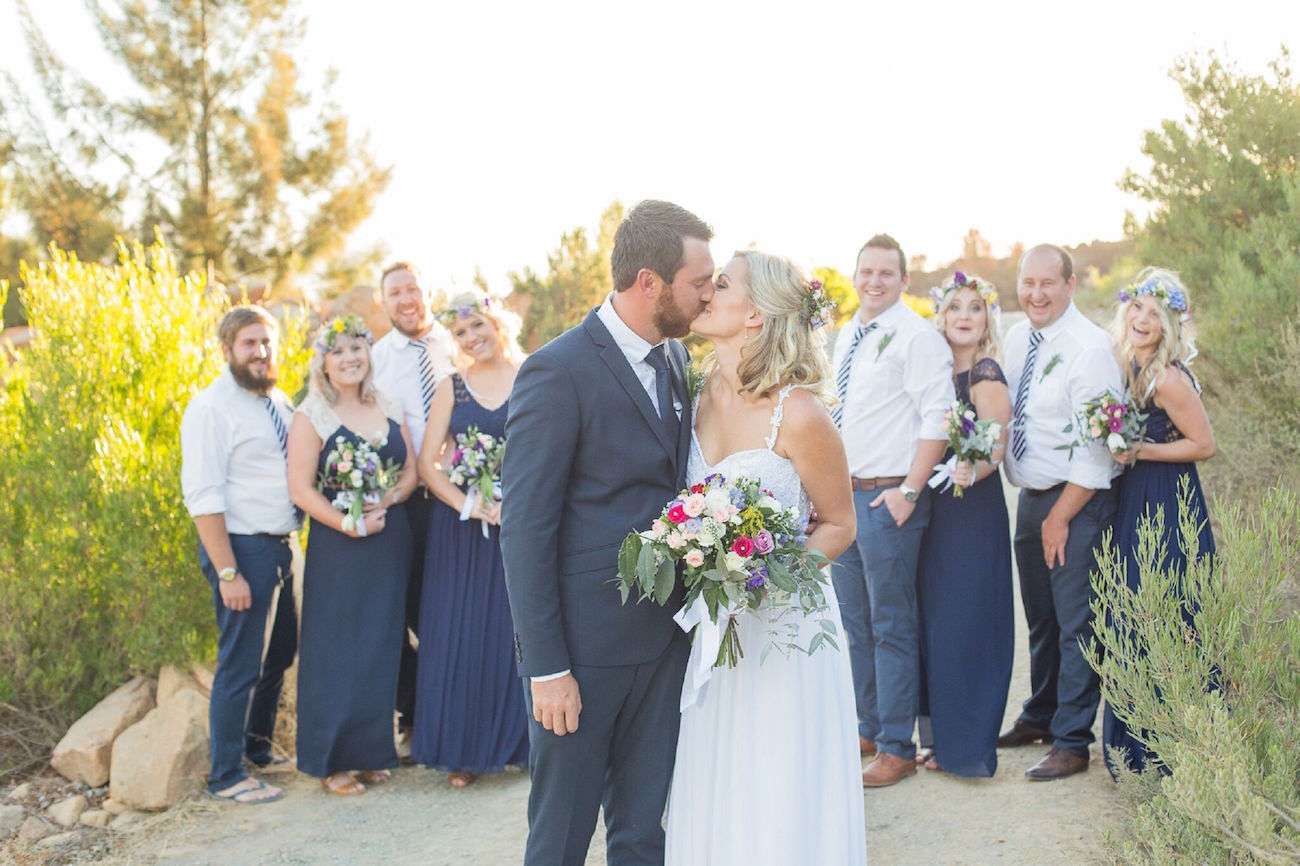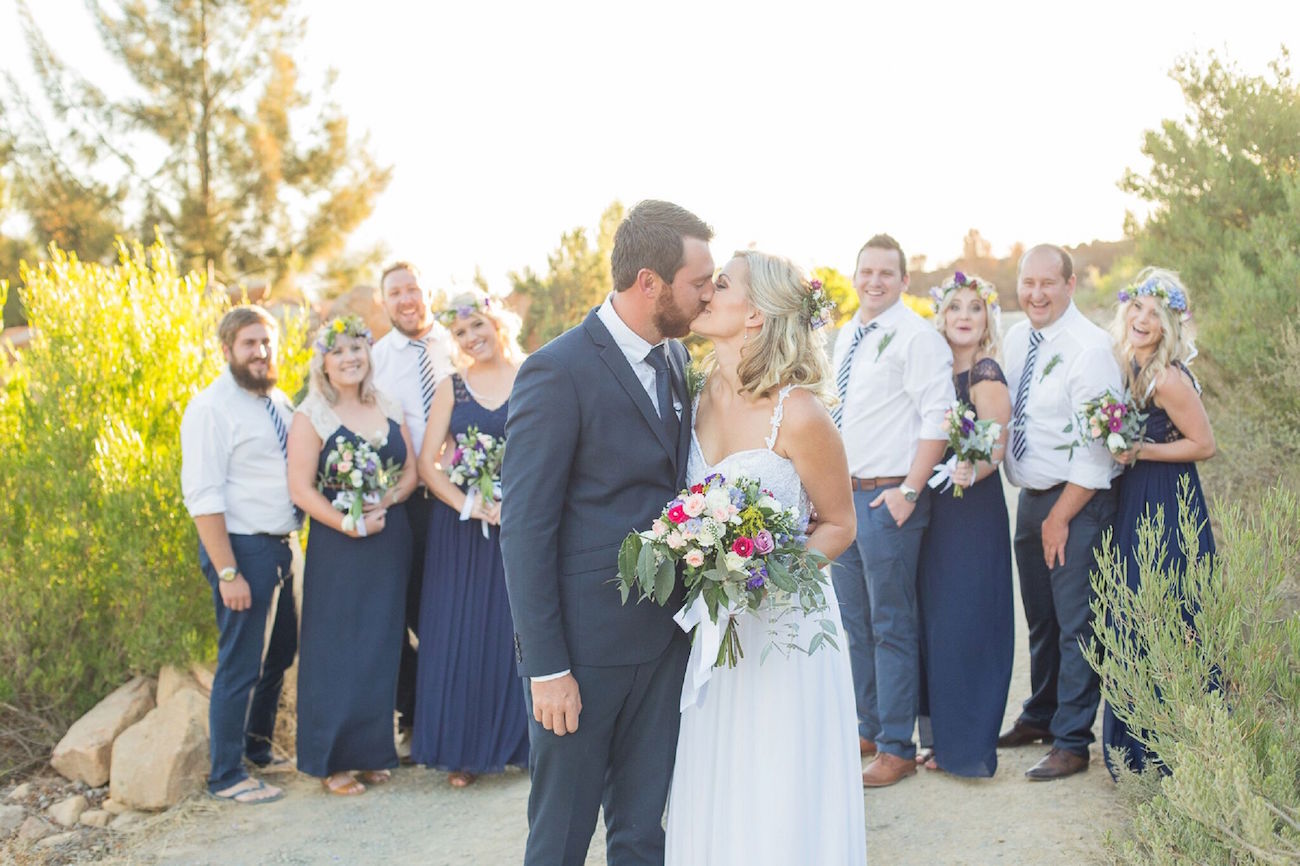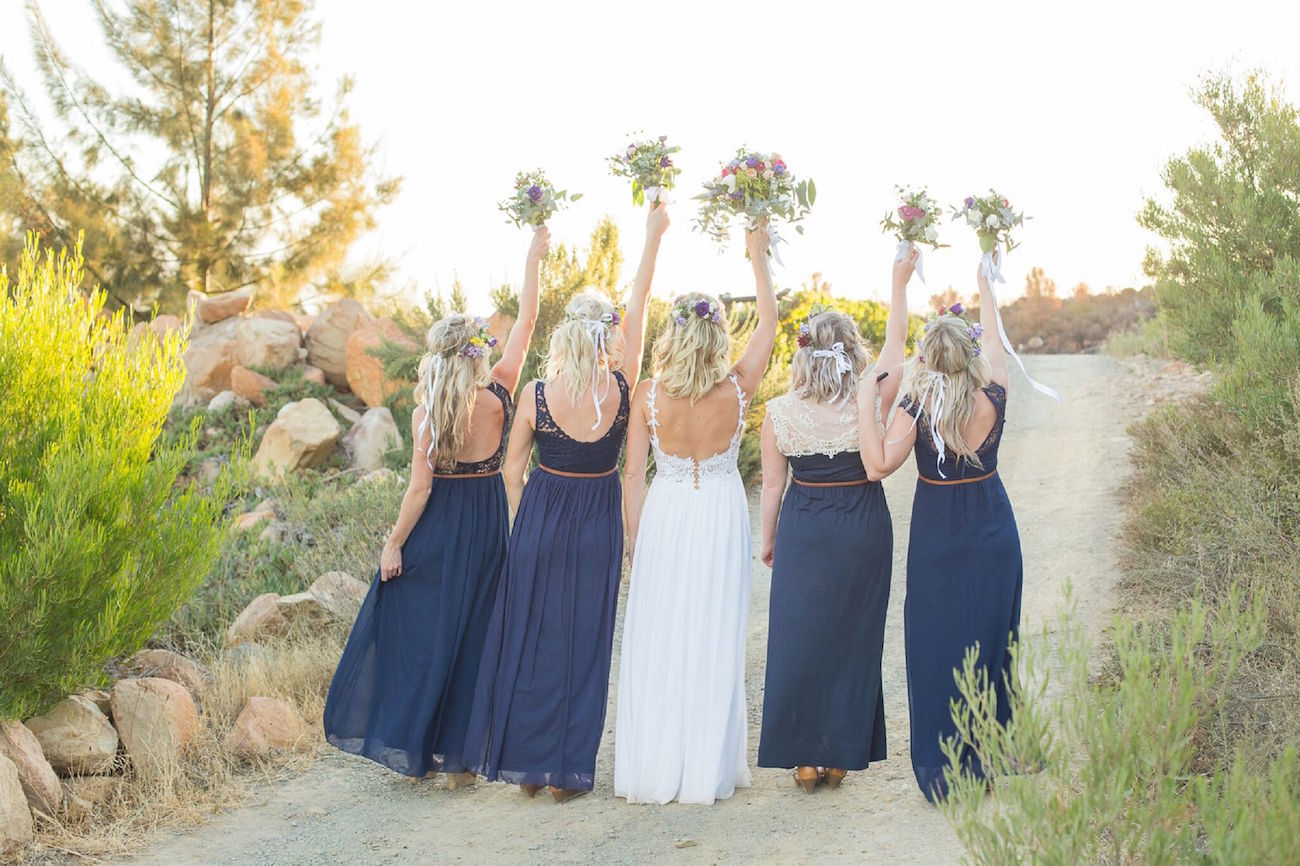 The Dress
My dress was from Robyn Roberts. From the moment I went into her studio I knew I was about to find my dress. I wanted it flowy and comfortable and that is exactly what she did for me. I could wear my dress every day. I just love it!
The Bridesmaids
I had four bridesmaids – all four really amazing friends. I wanted them to feel comfortable and beautiful. We all went shopping together so they could choose their own navy dresses, and they accessorised with flower crowns and thin brown leather belts.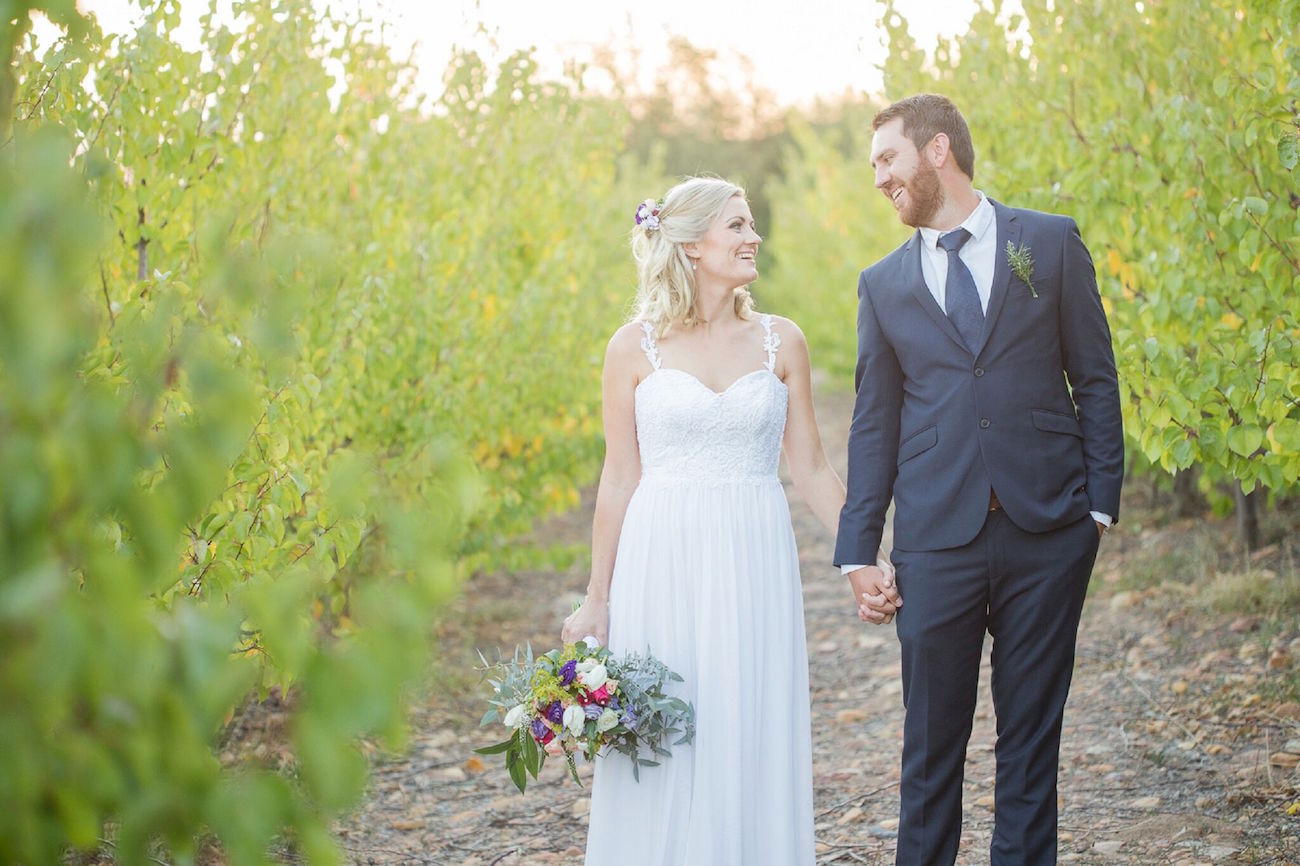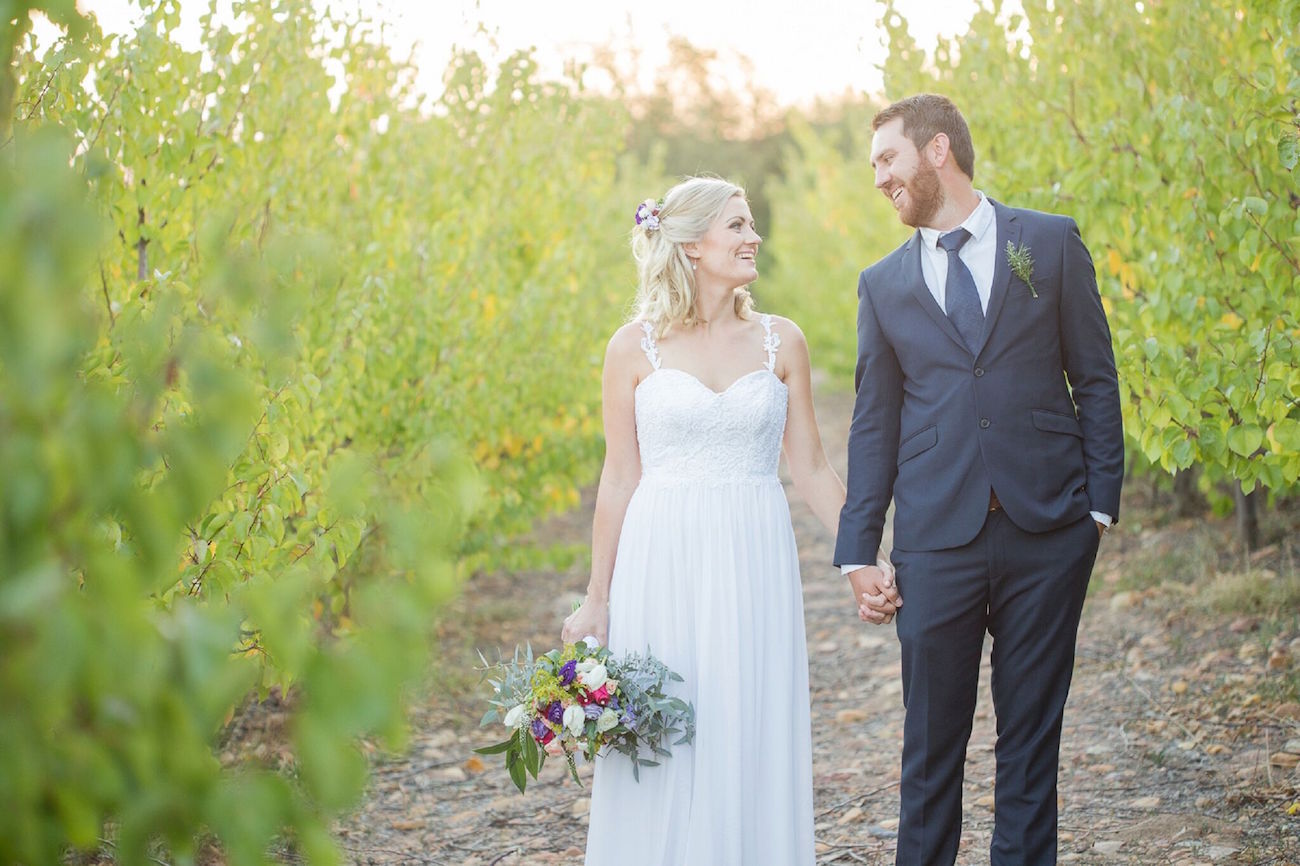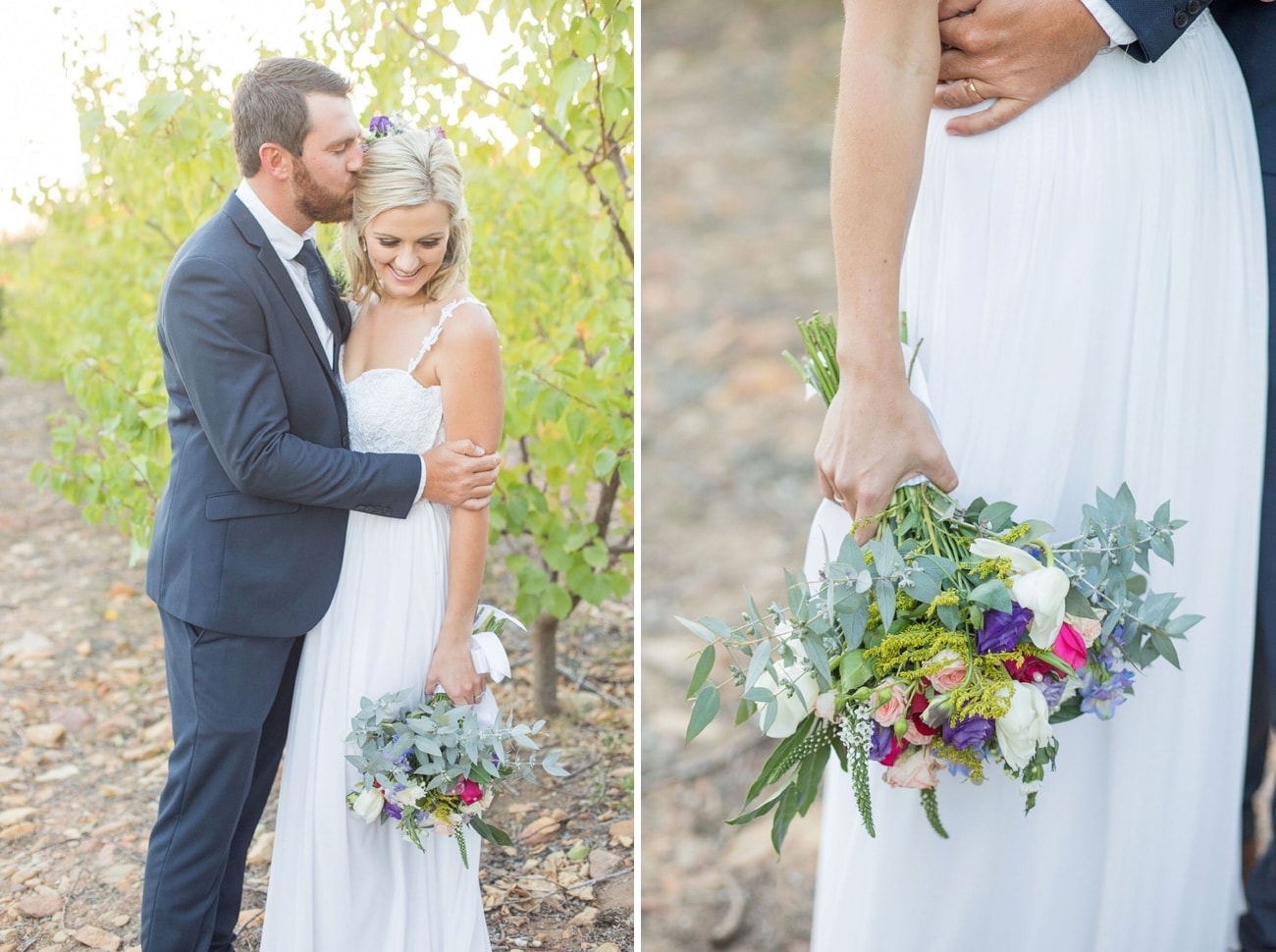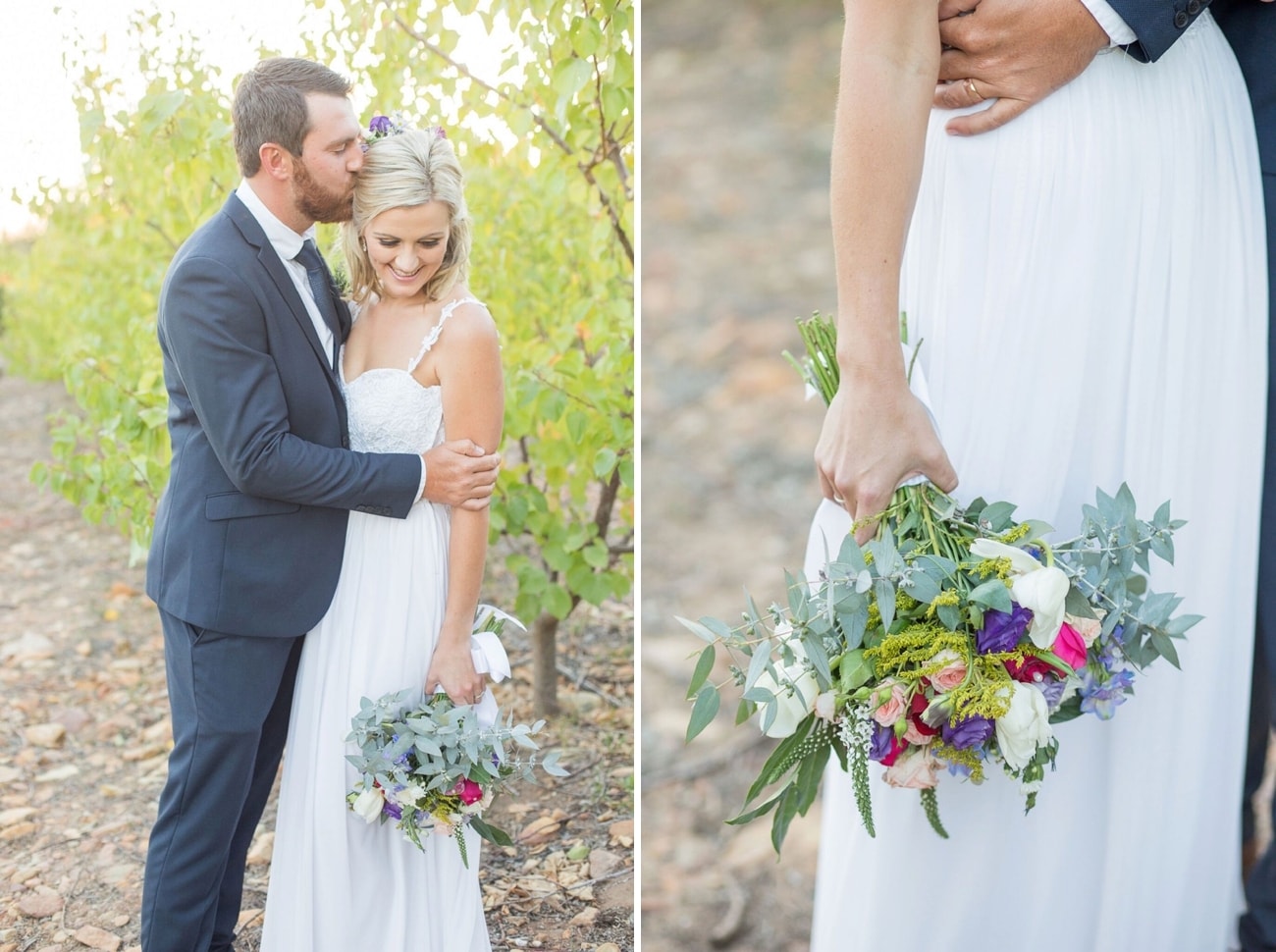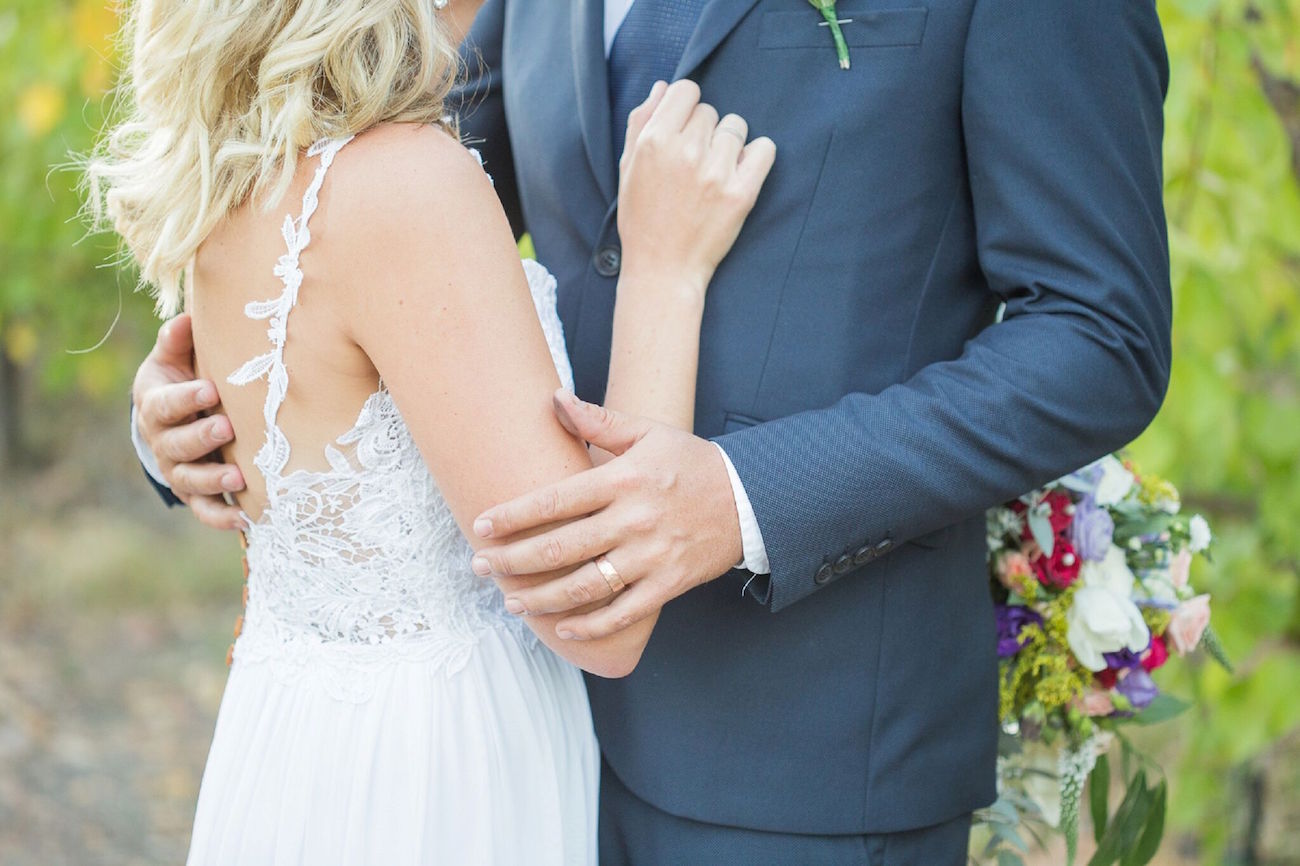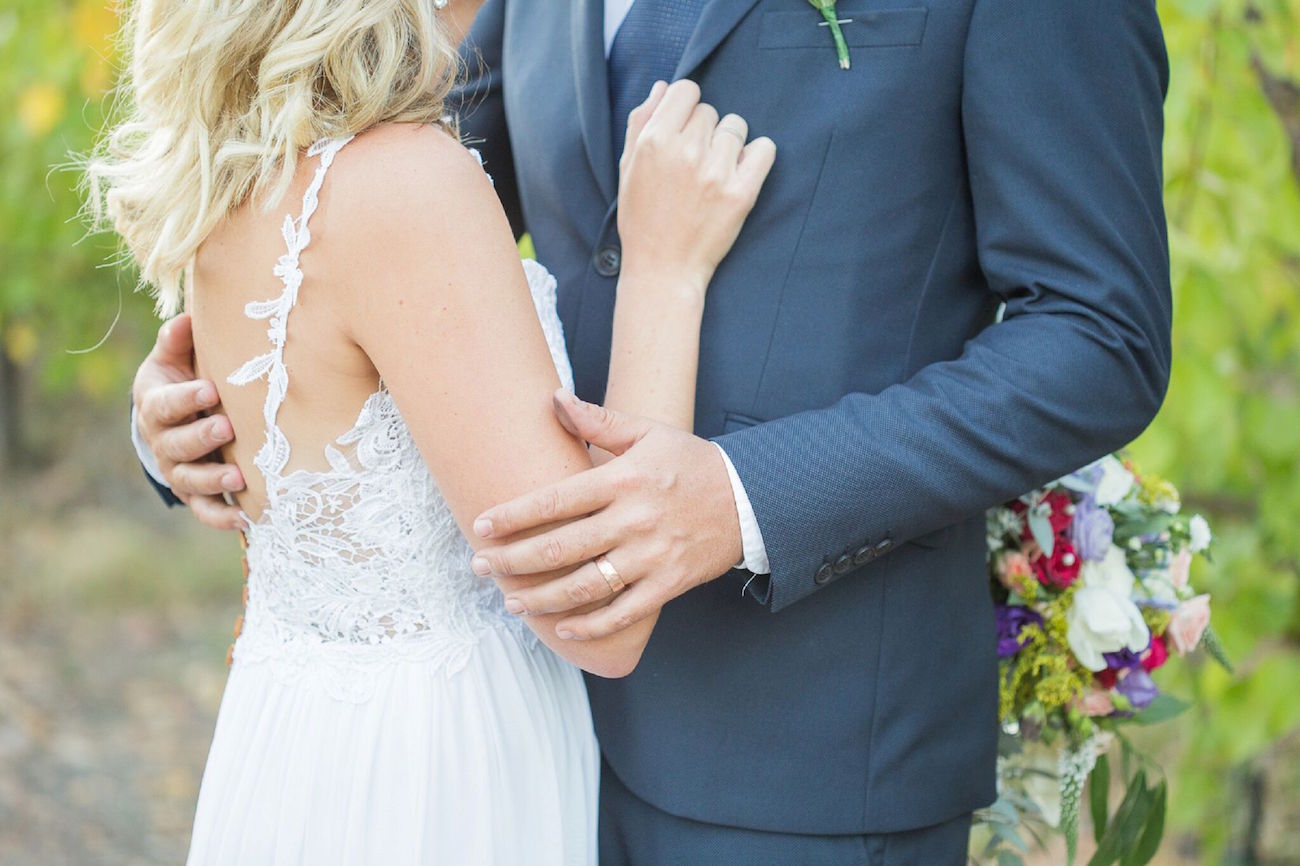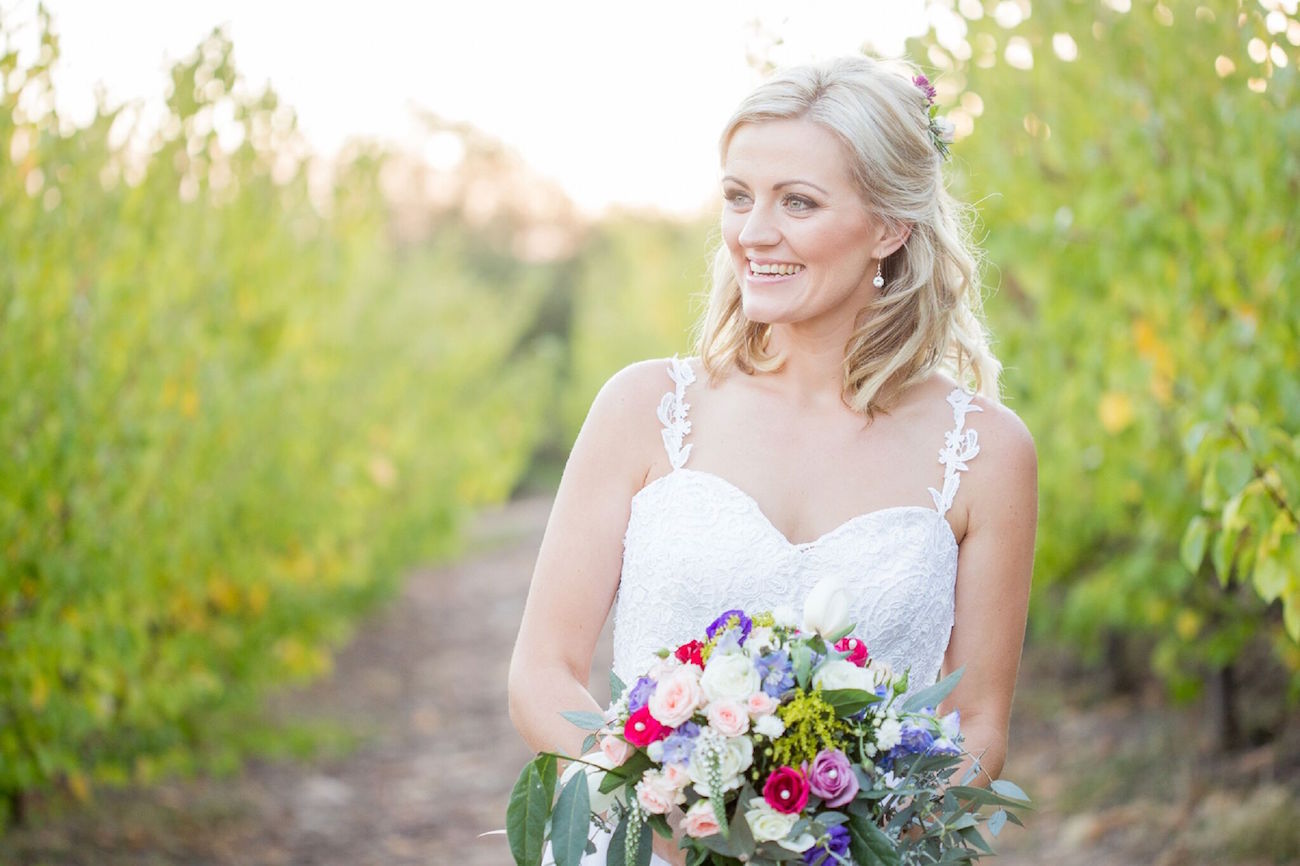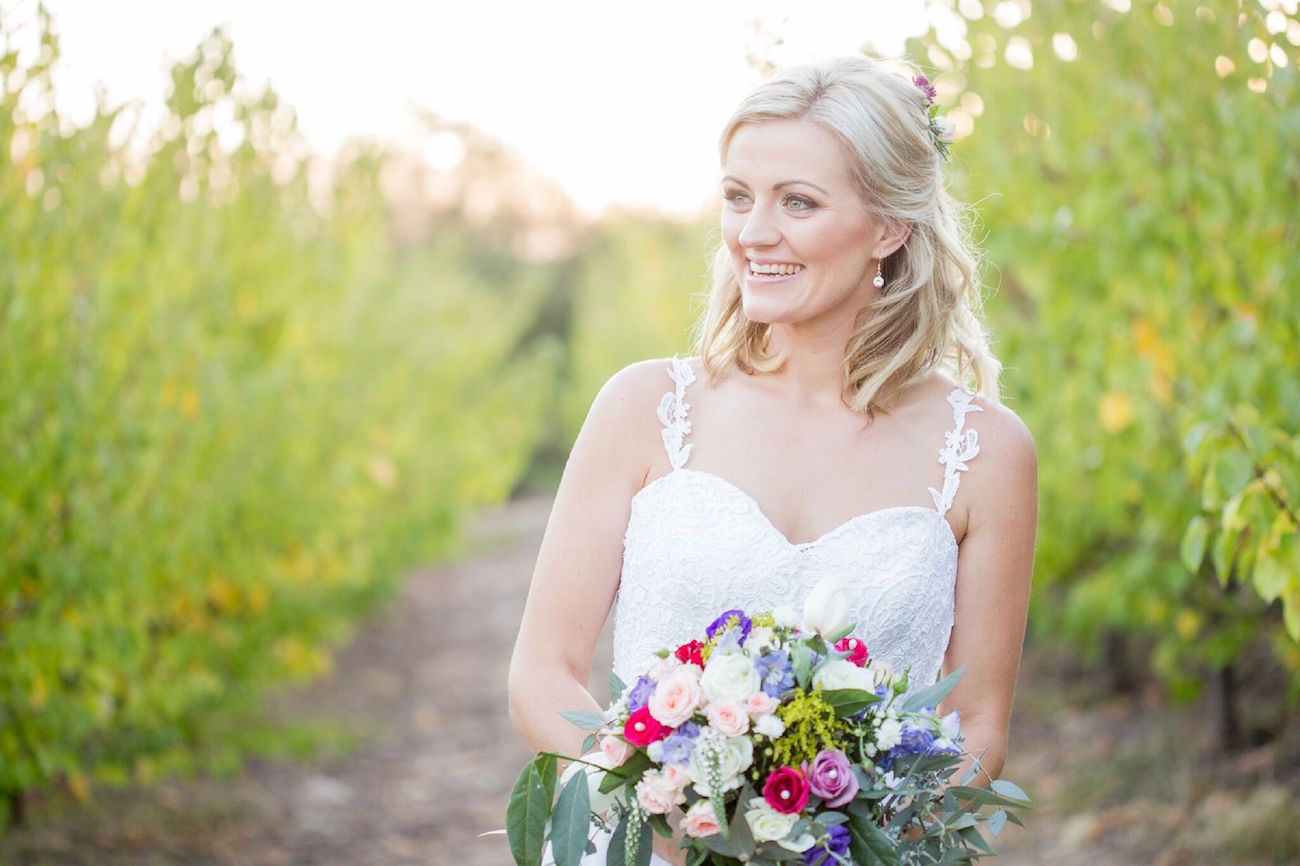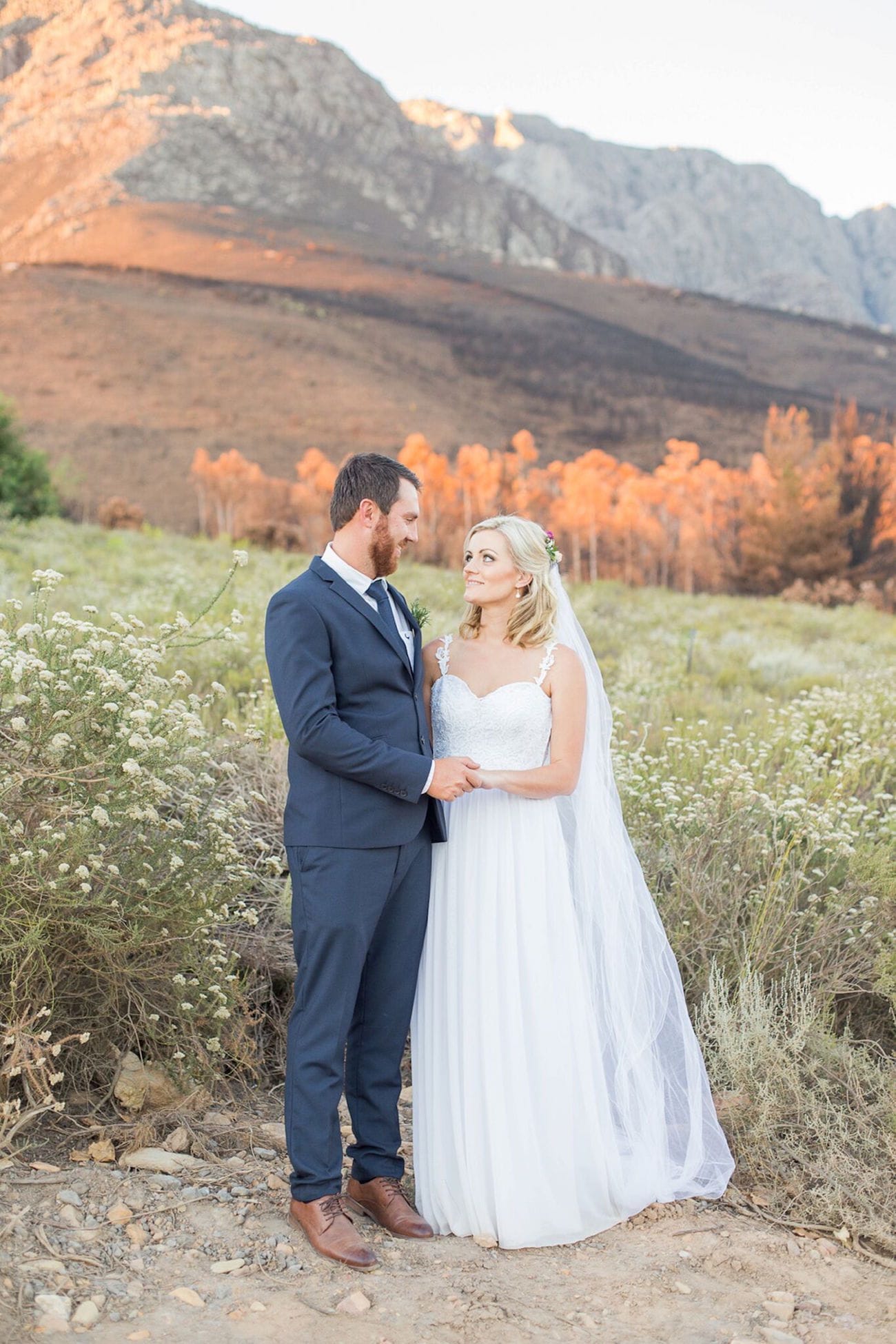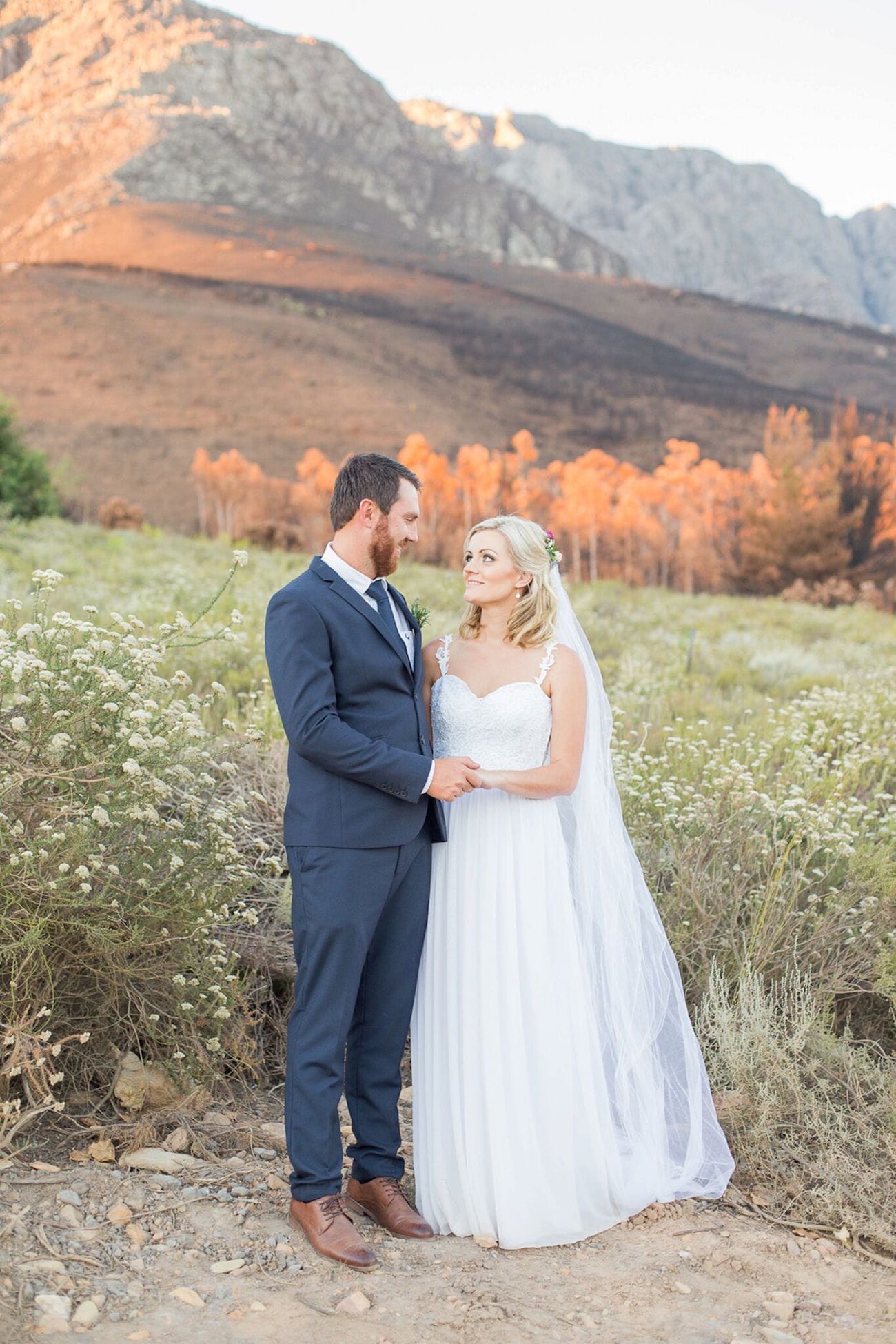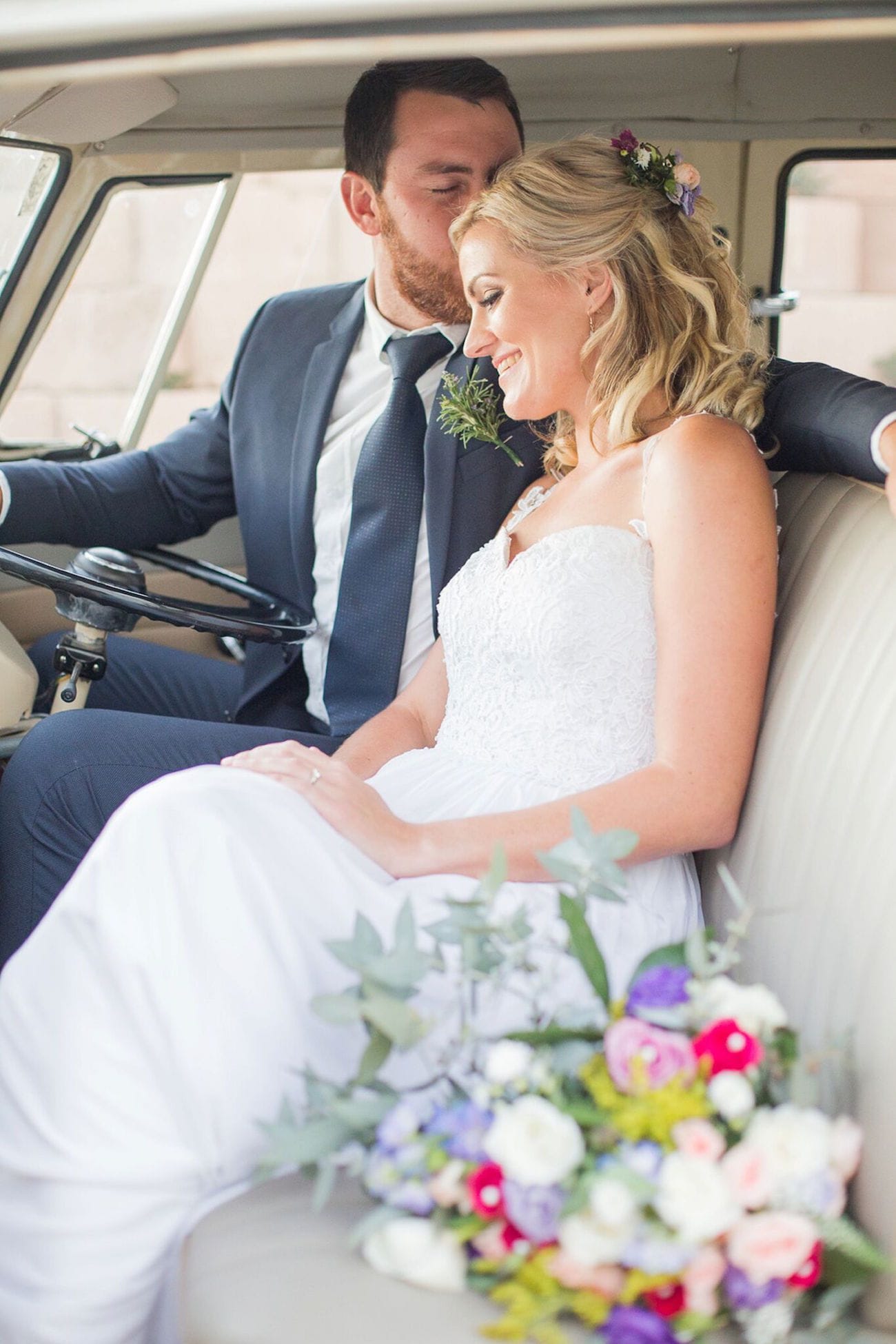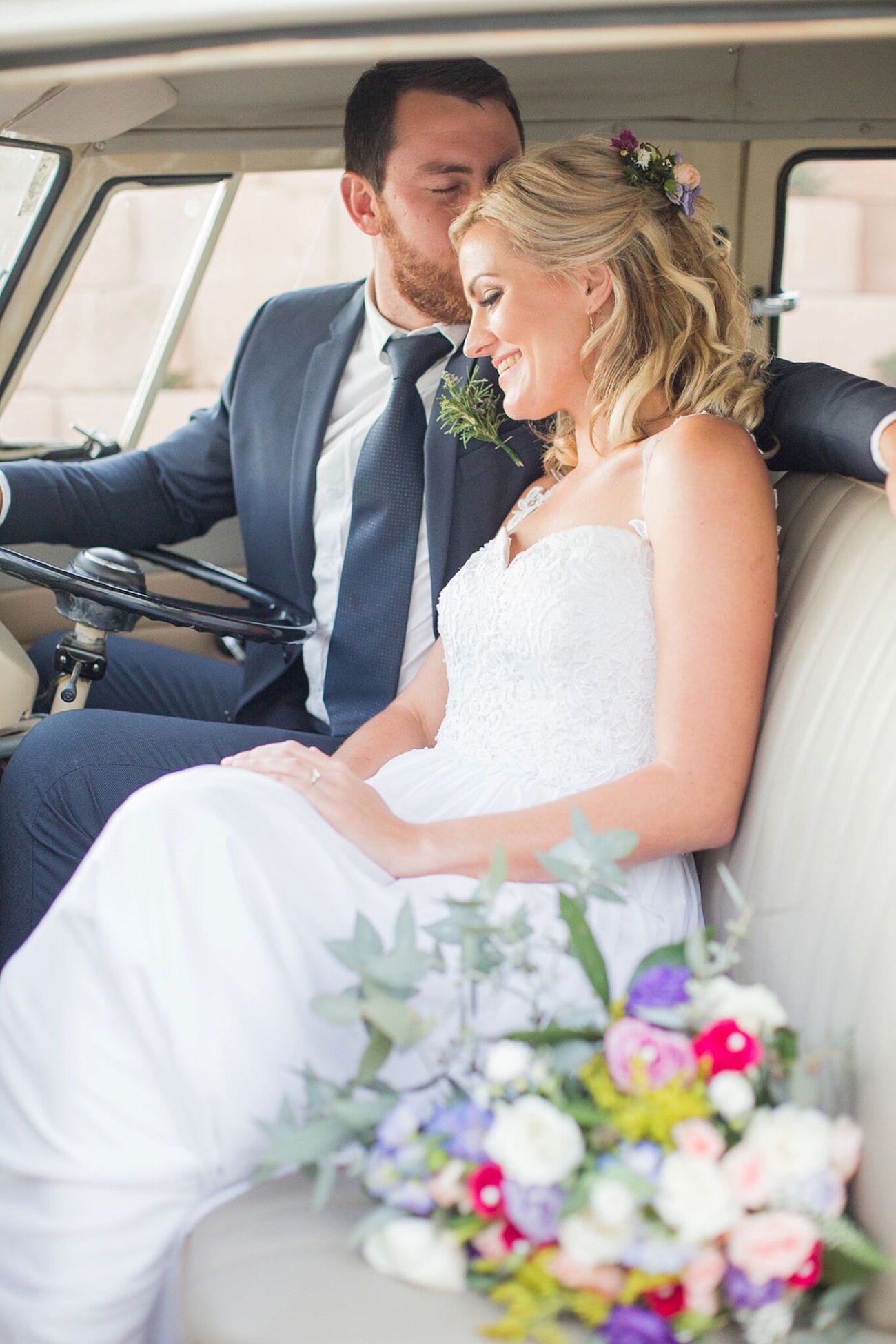 The Flowers
My aunt from 99Occasions is amazing and all I said was that I want lots of flowers, natural, and different colours. She did an amazing job and some of my mom's friends also came and jumped in. They are all really talented and just did it out of love!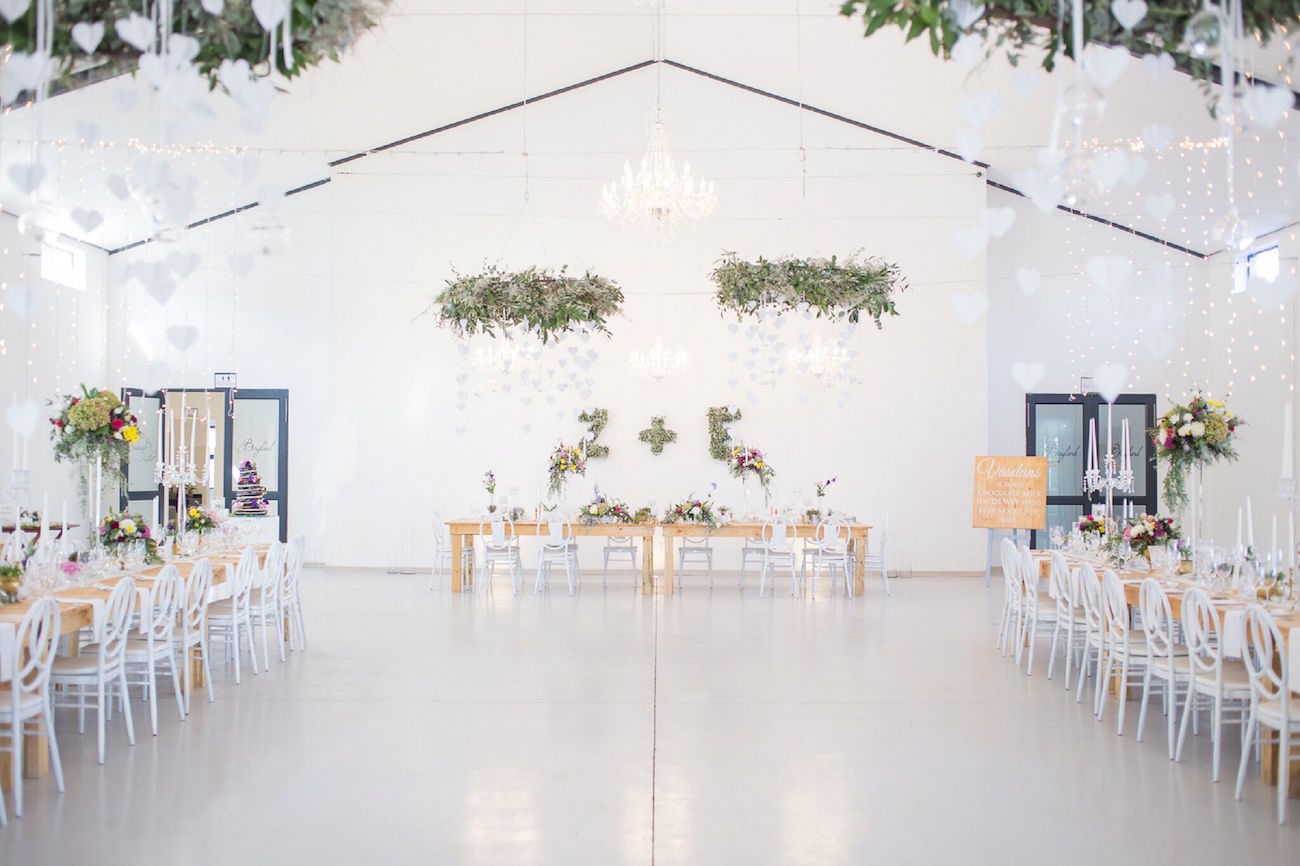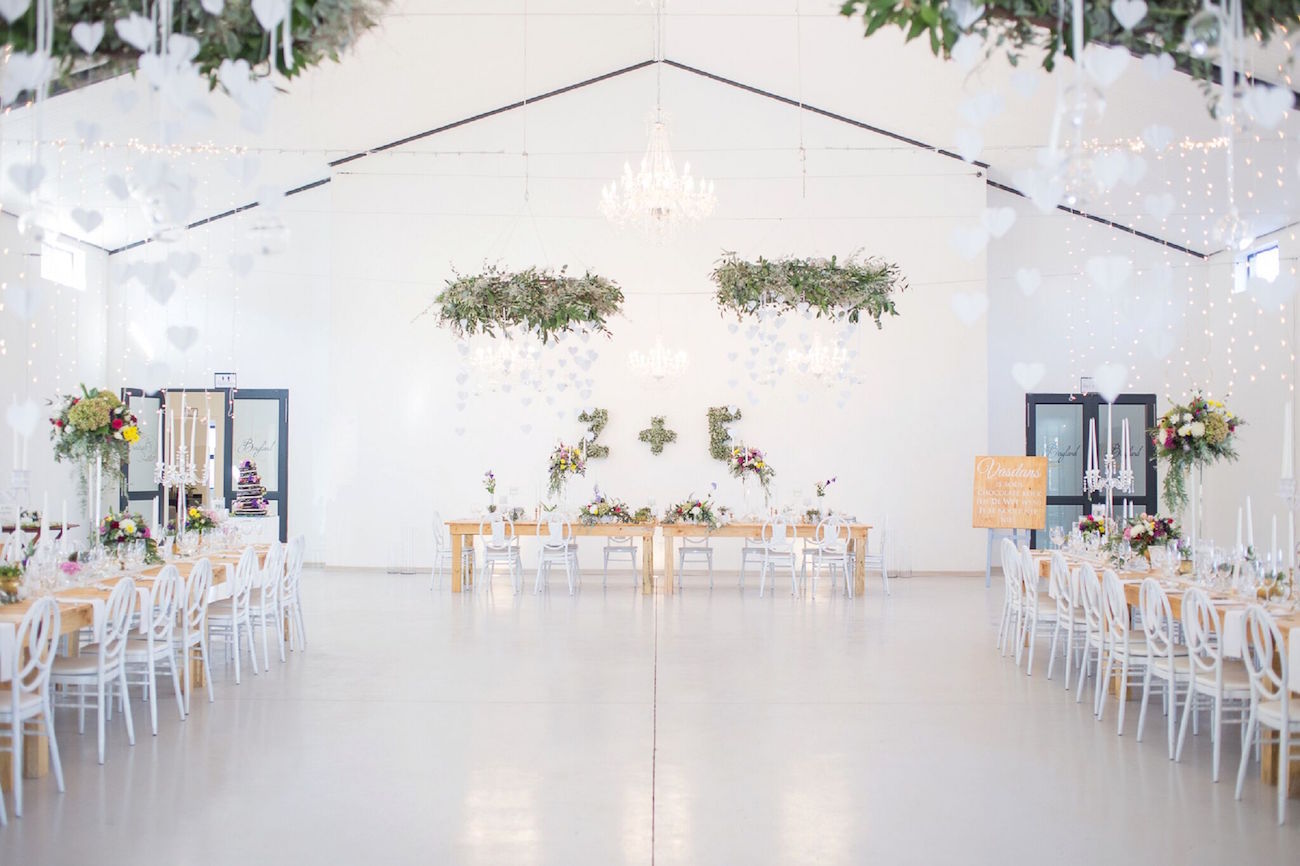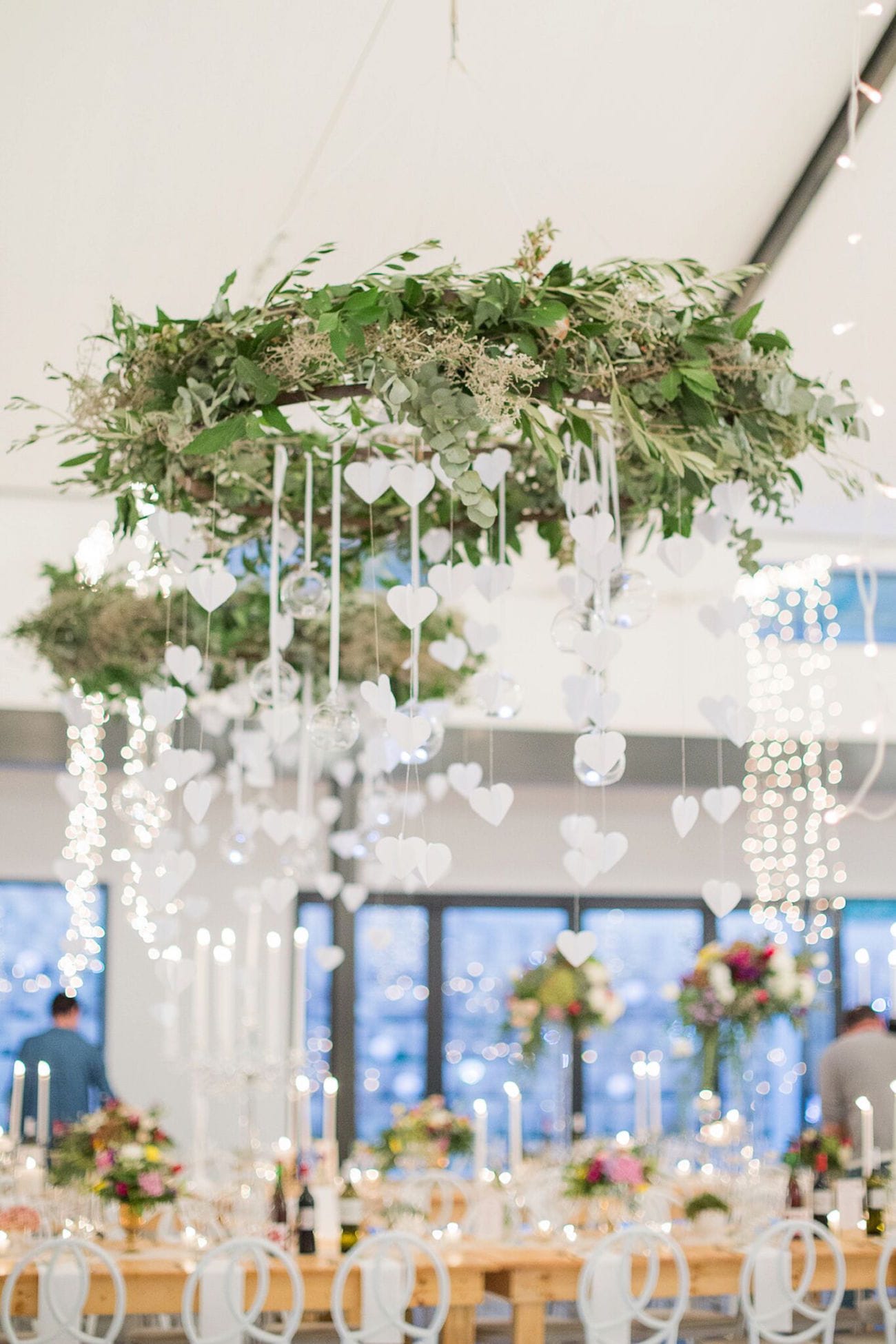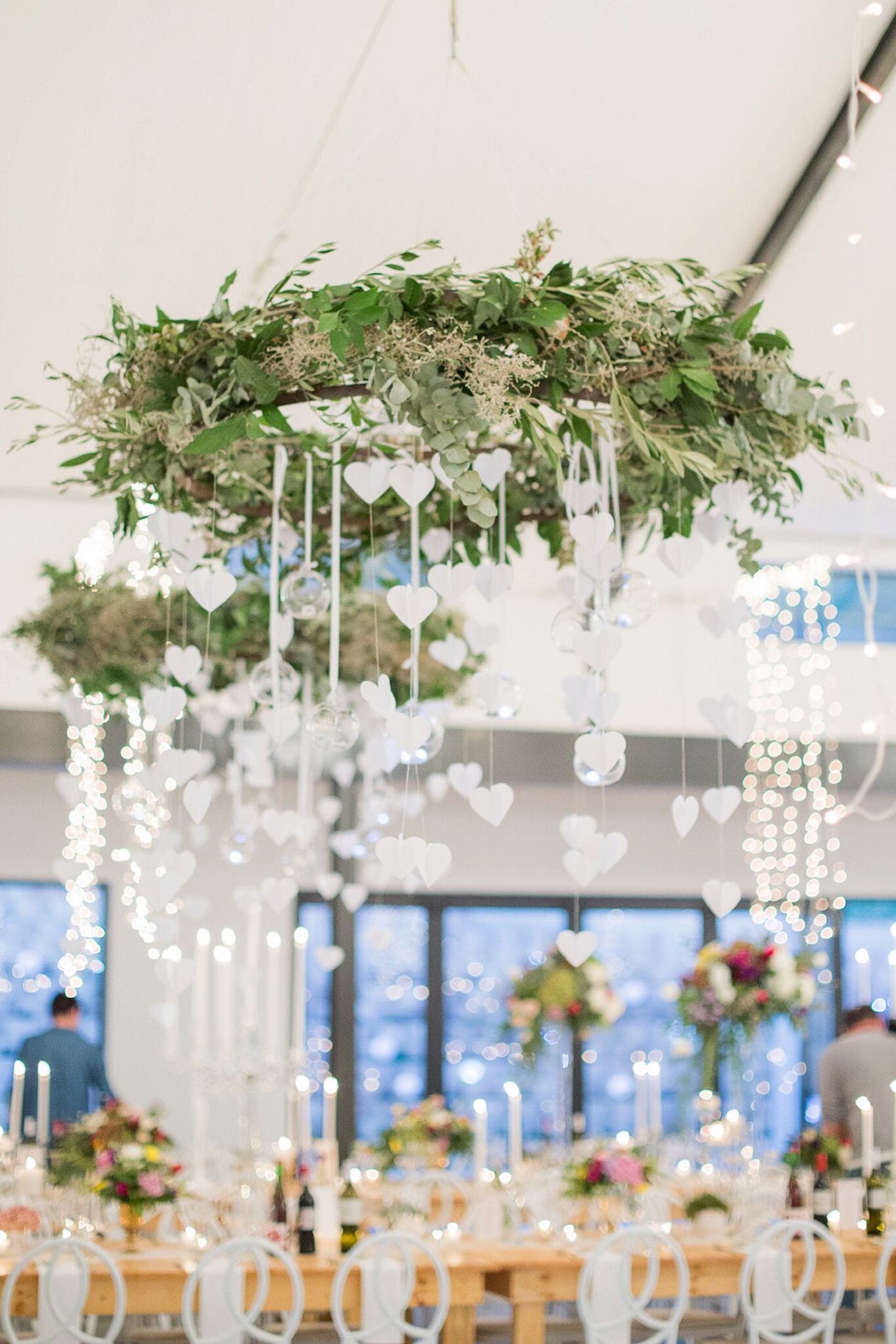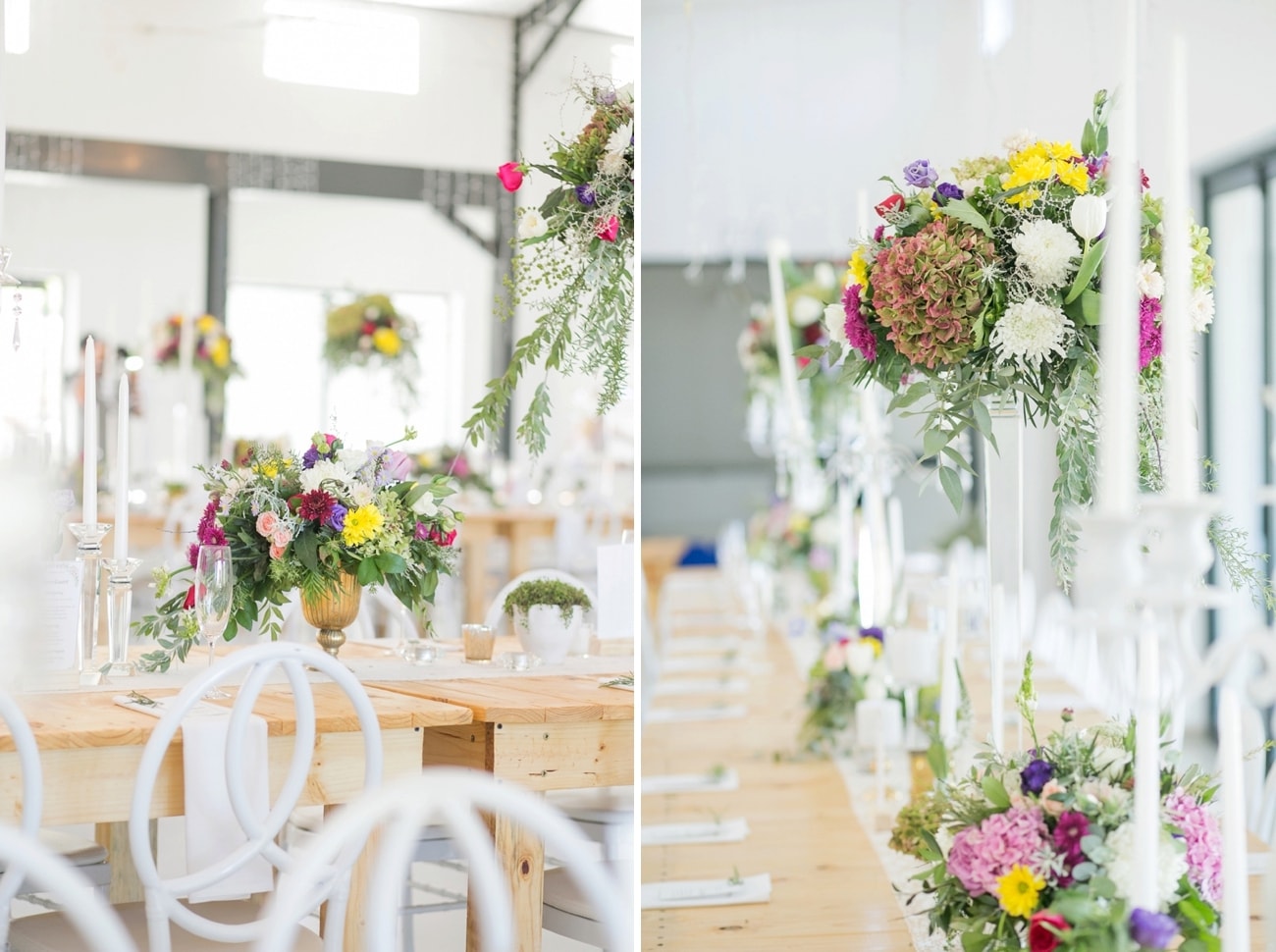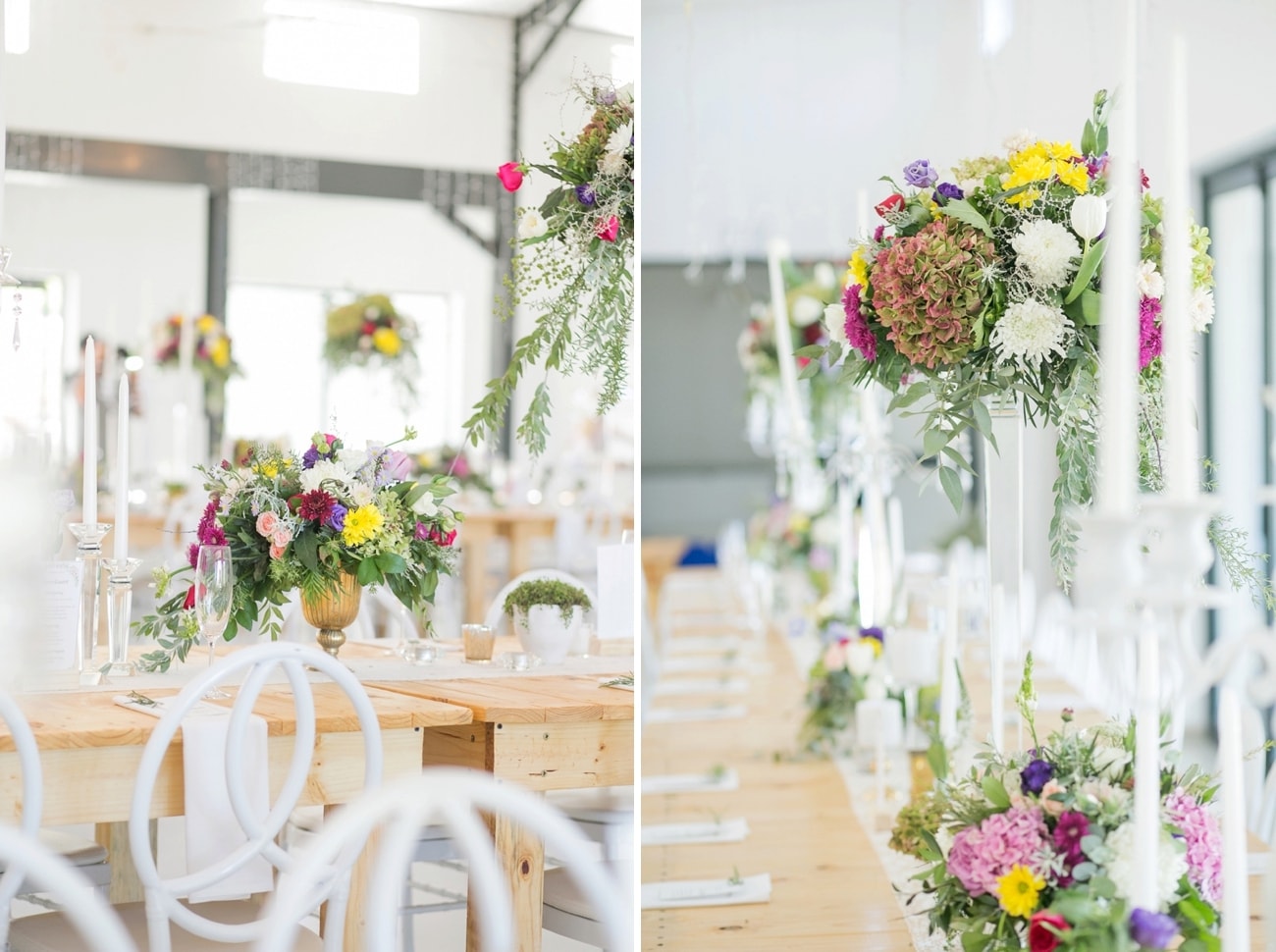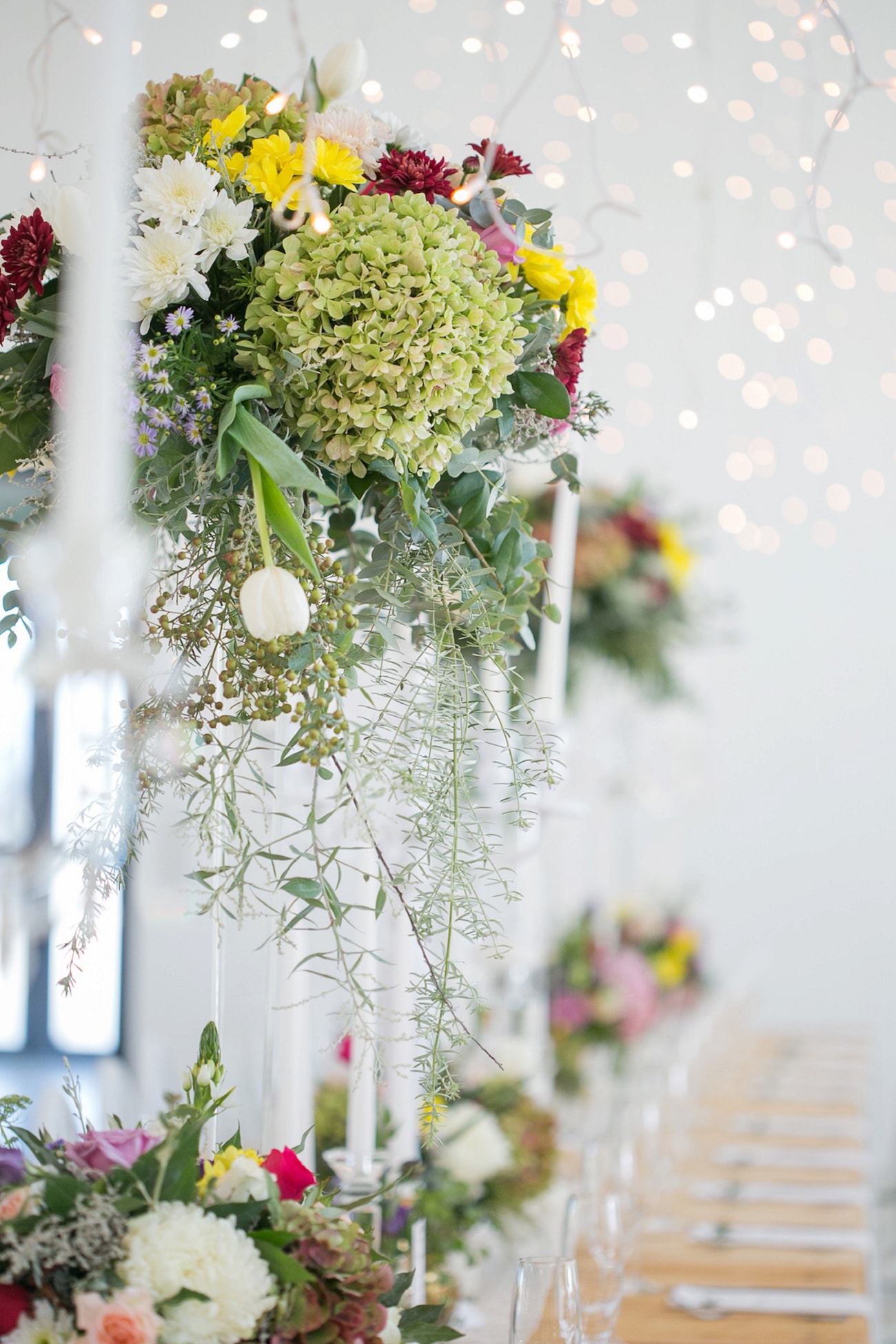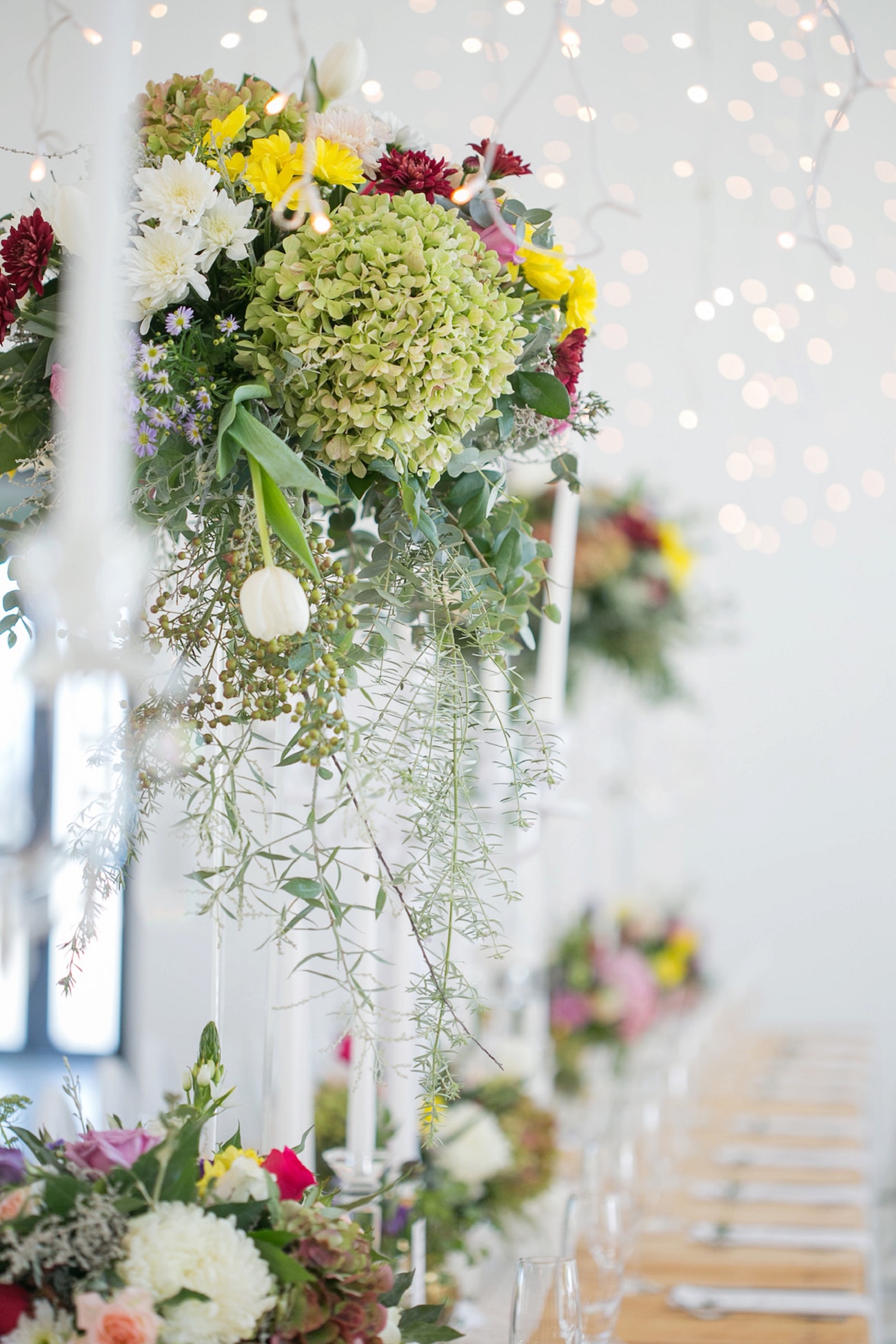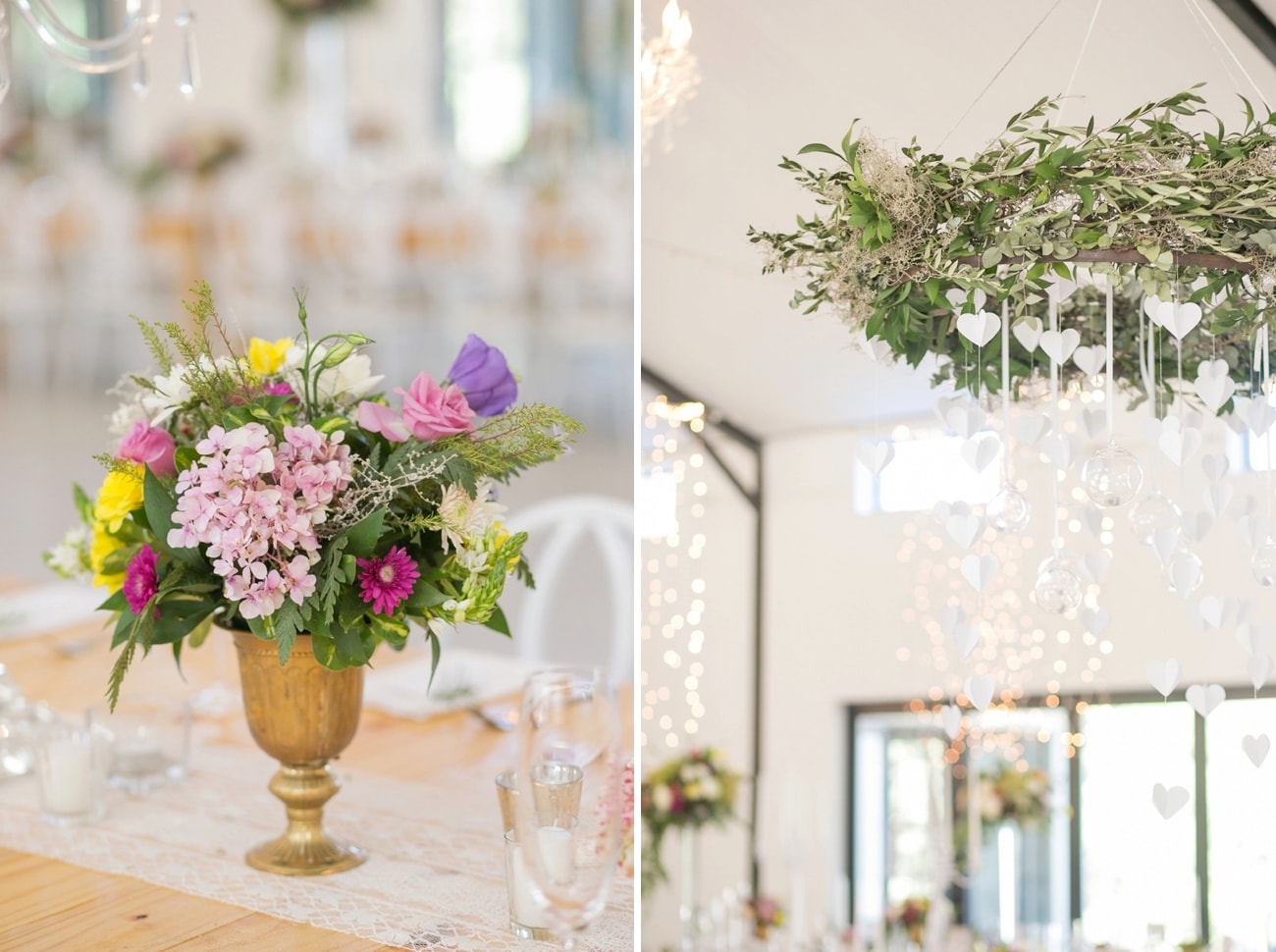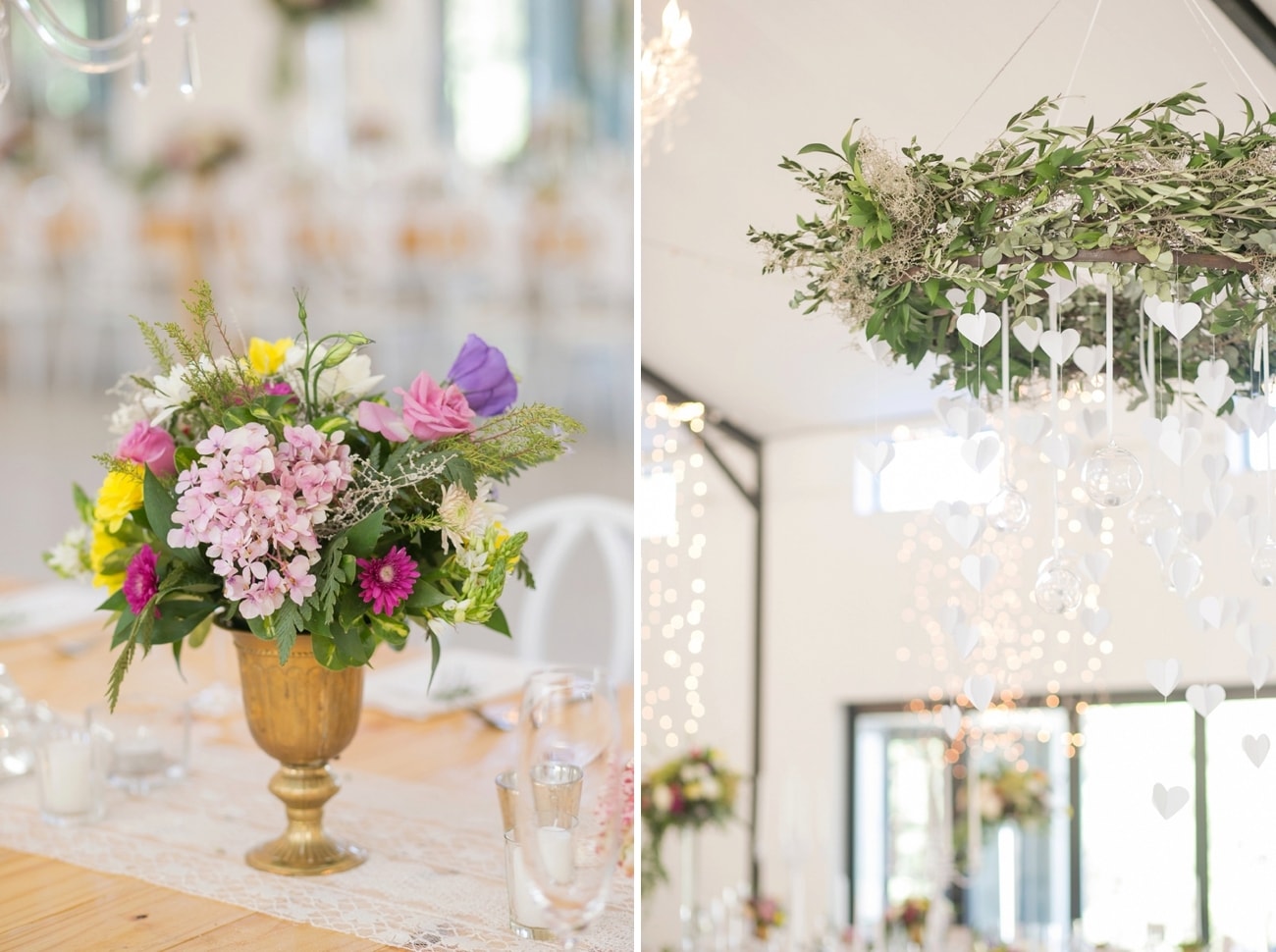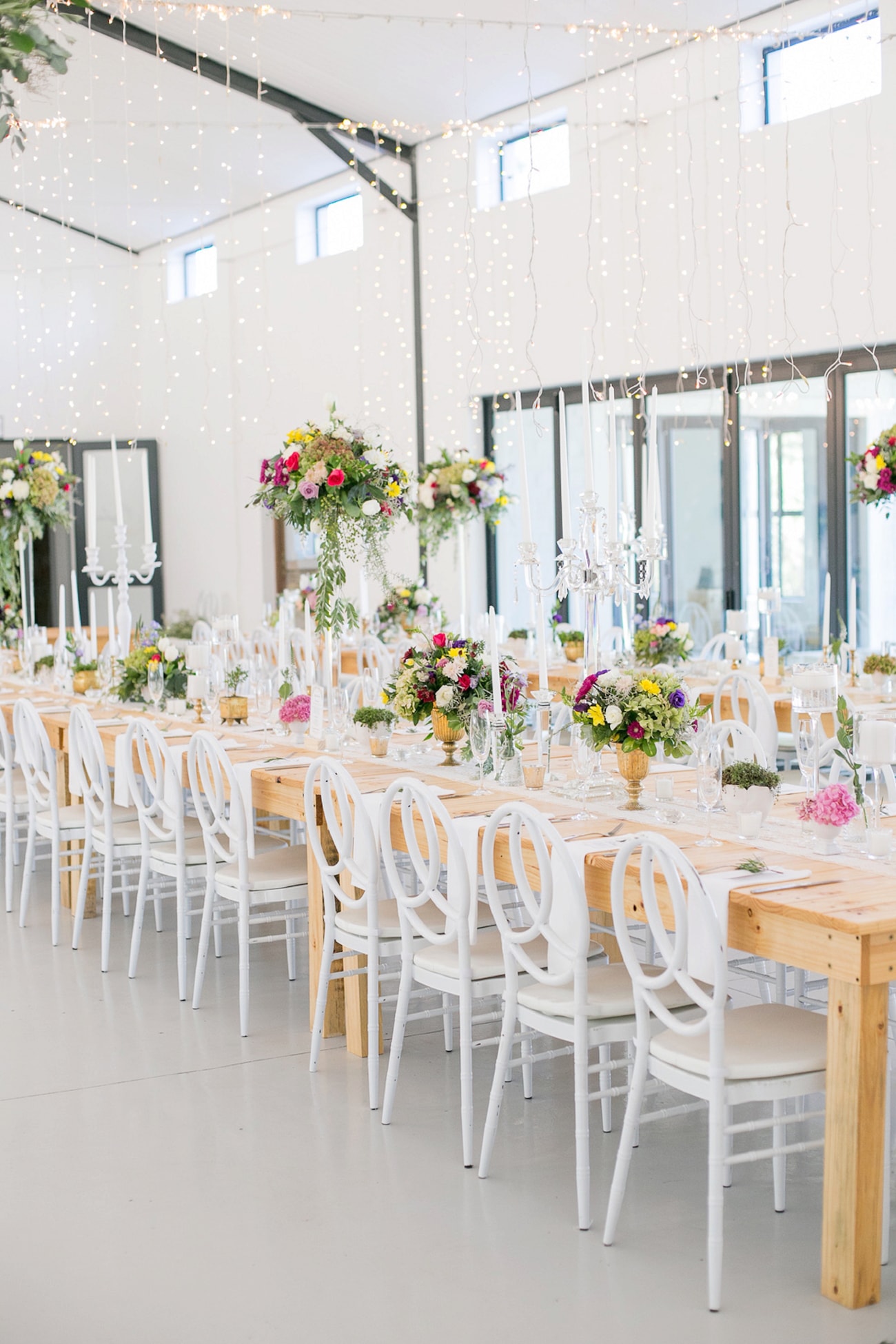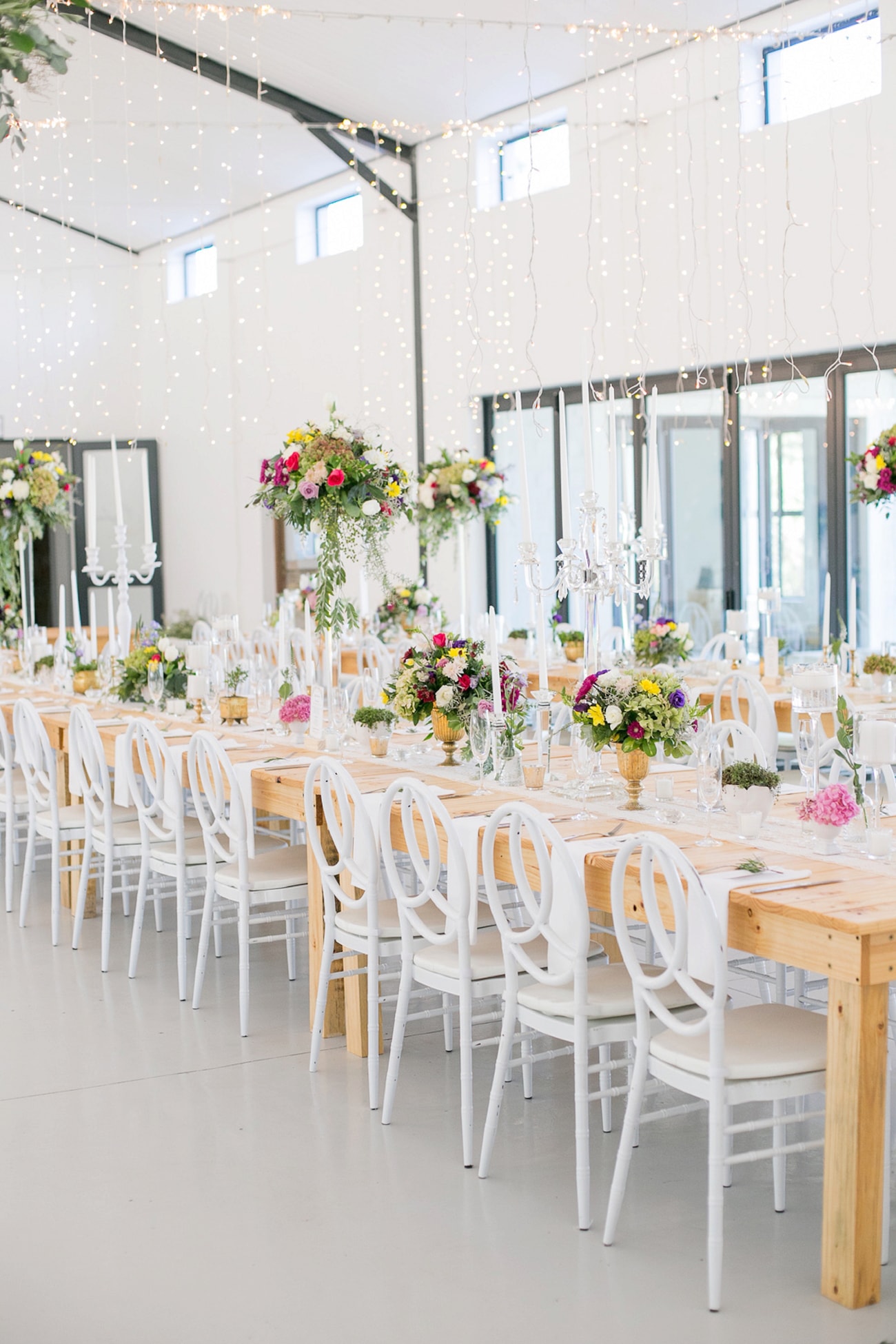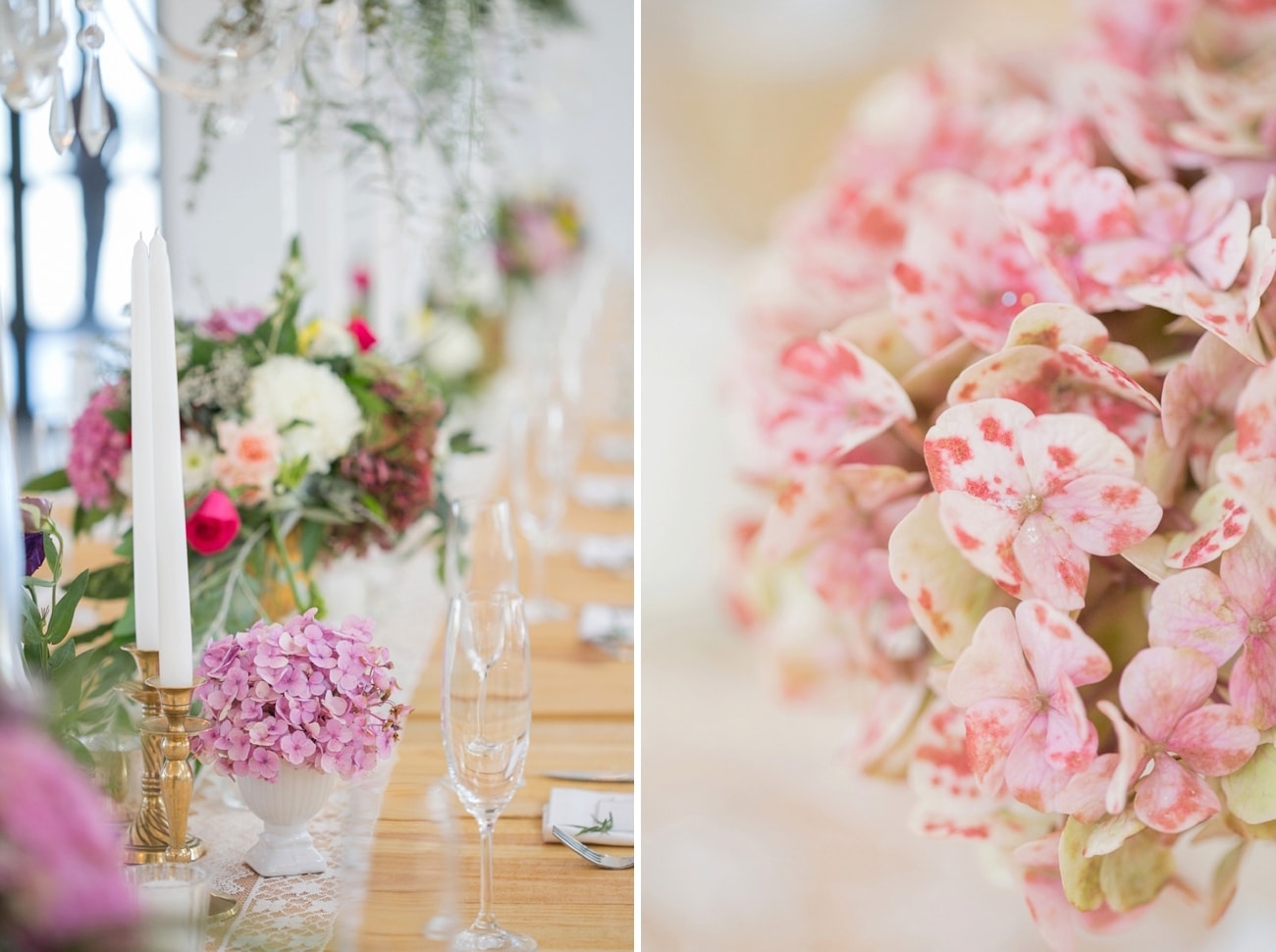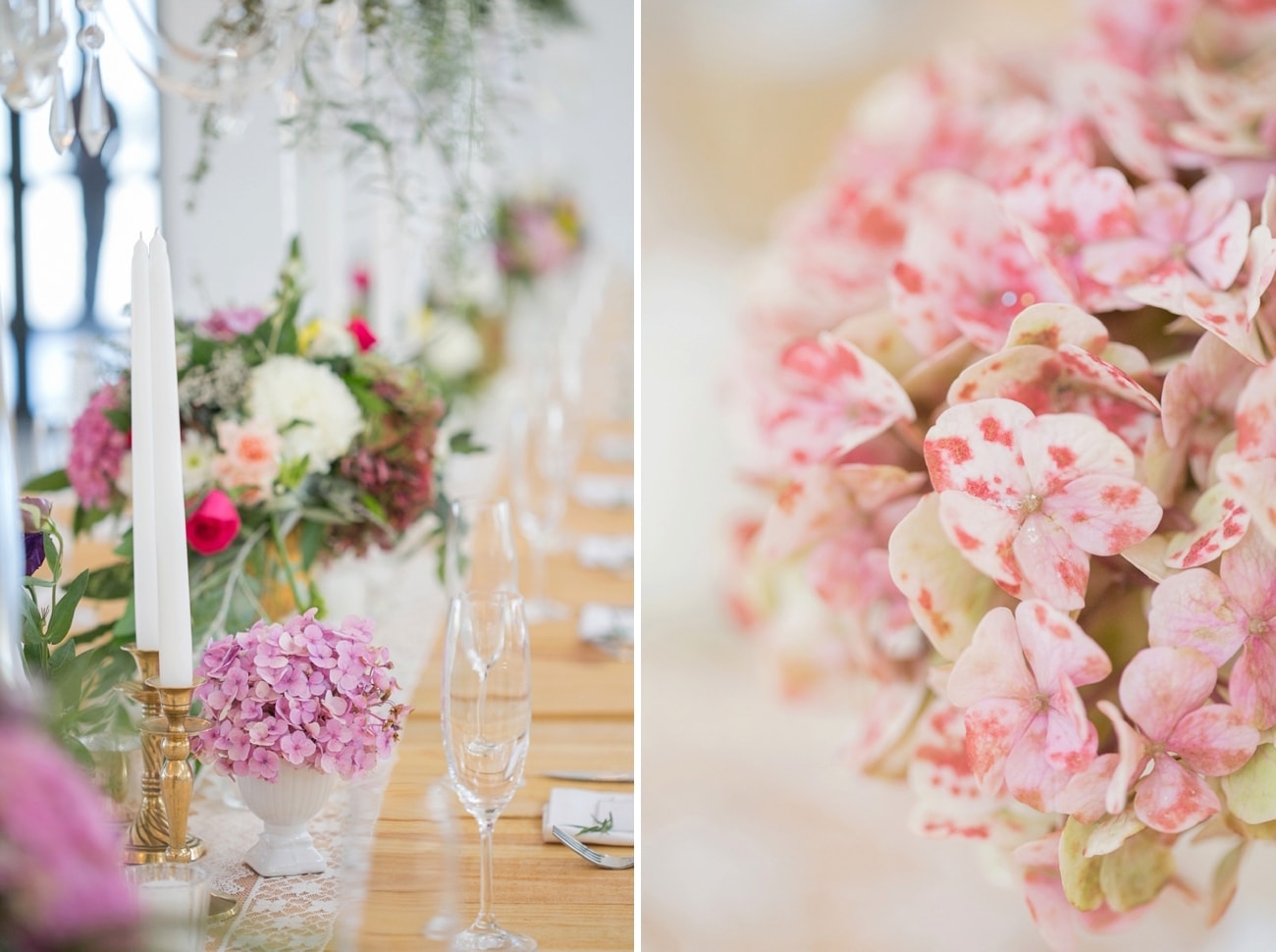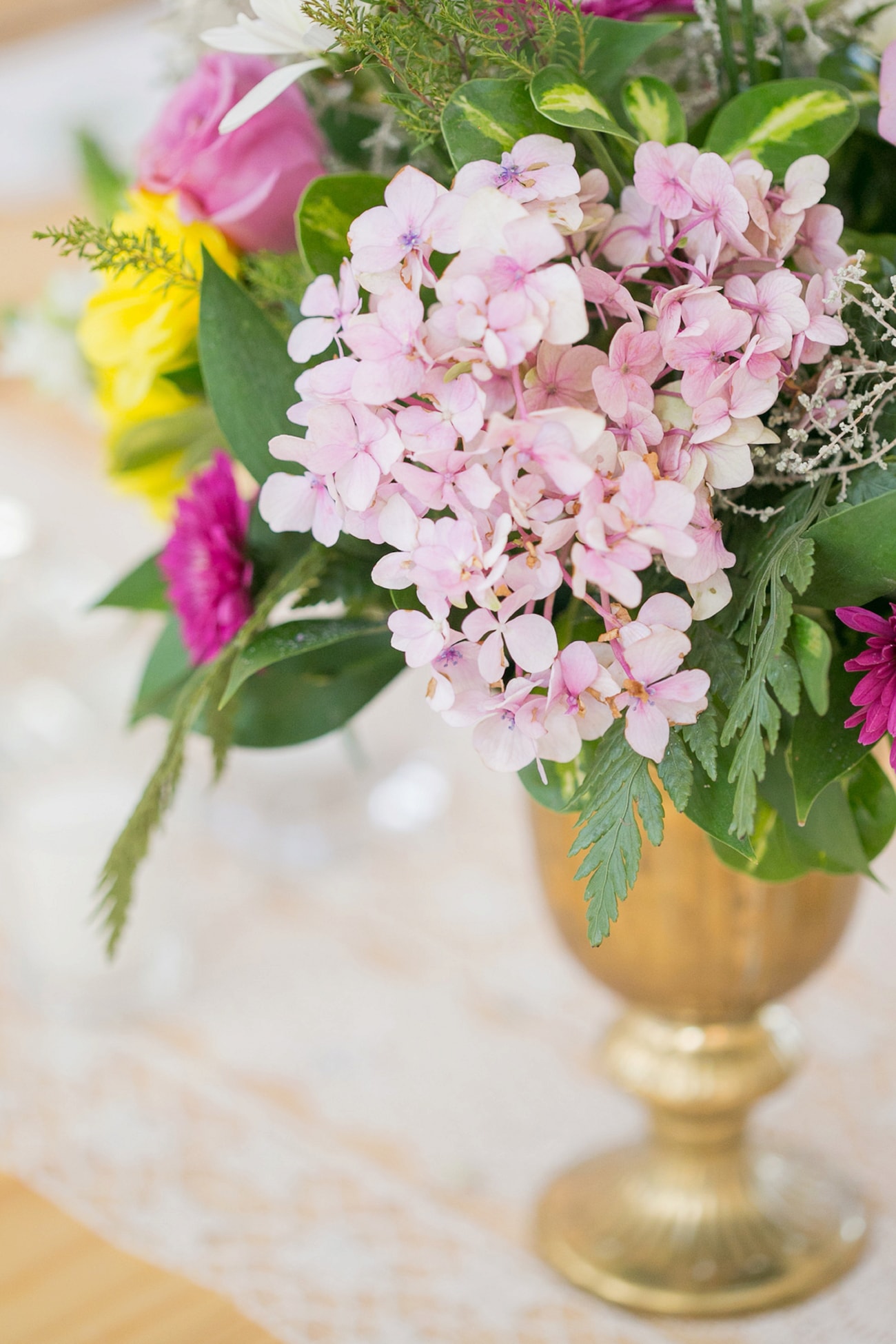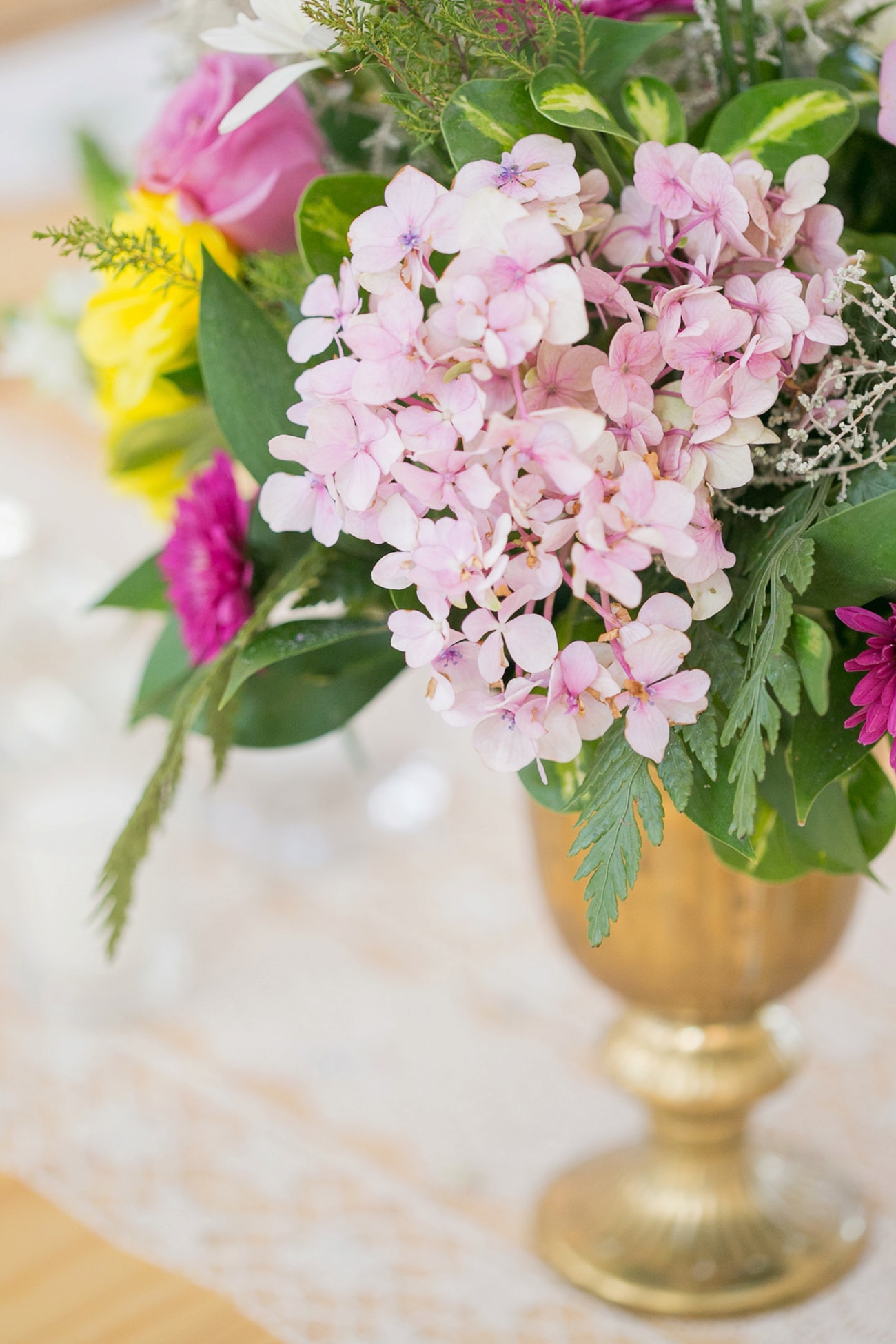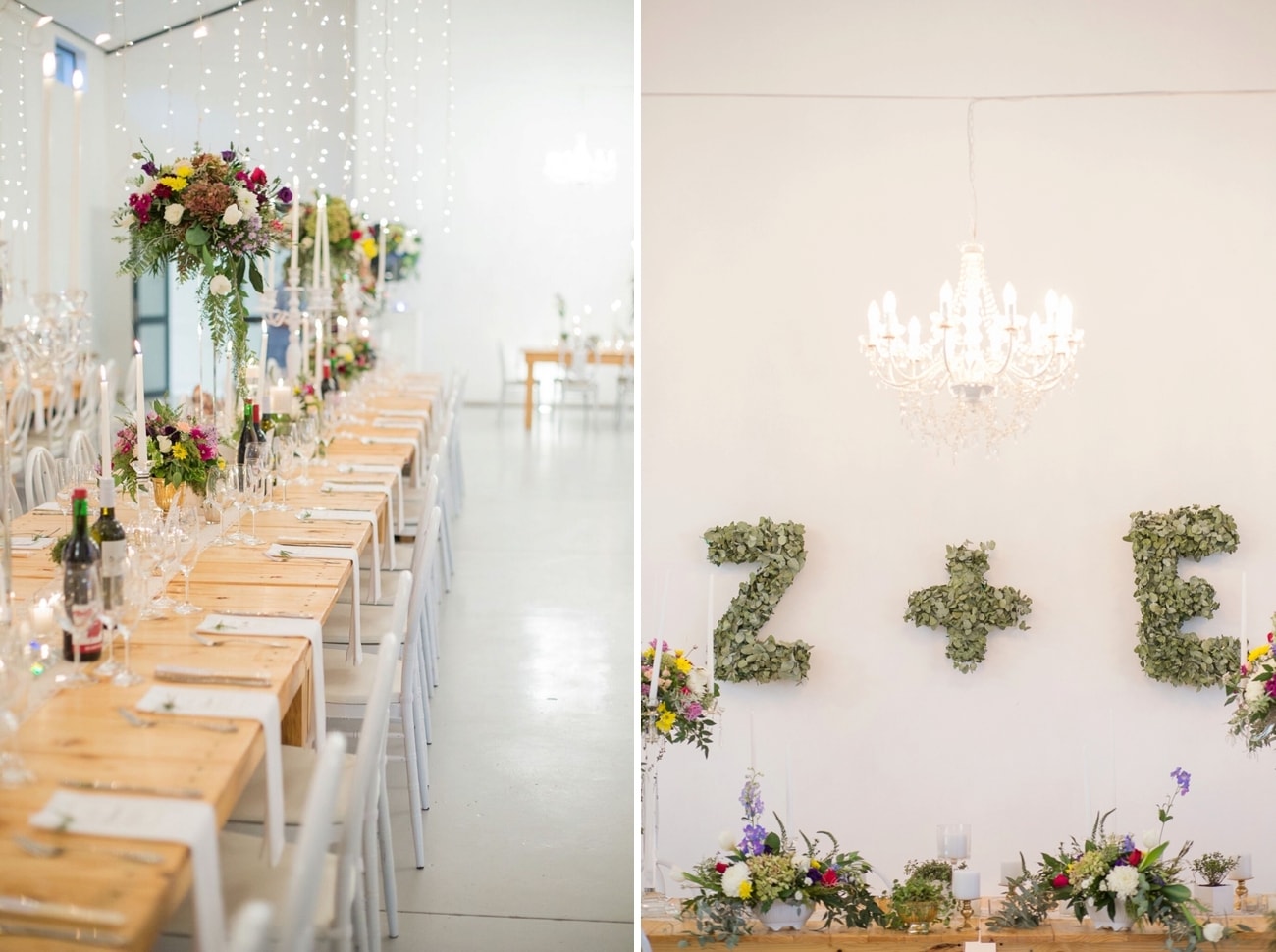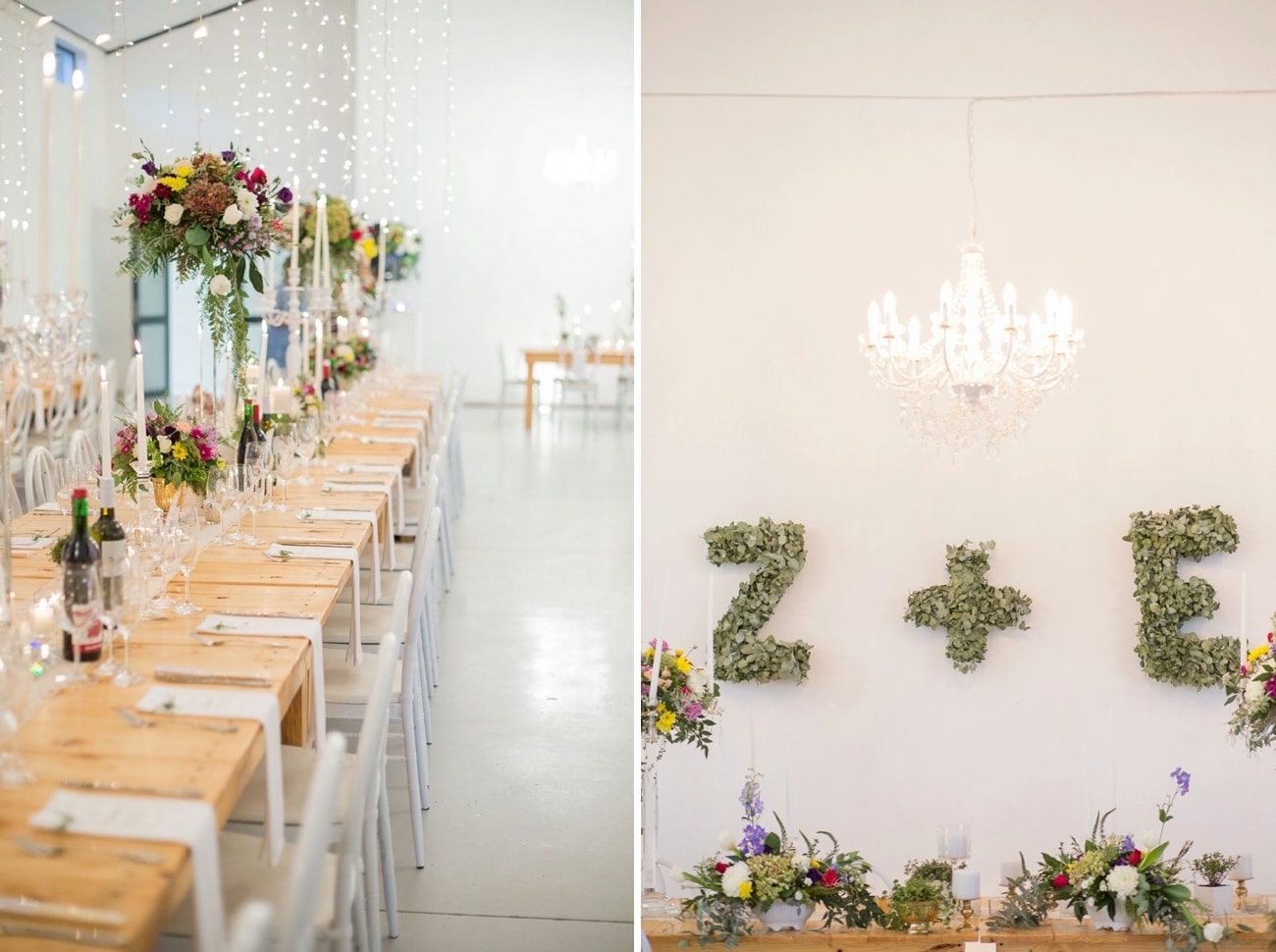 Memorable Moment
Oh wow. The entire day was just amazing. But I'll have to say when we walked into the reception hall as MR and MRS Swanepoel and I saw everyone I love standing there… that was special!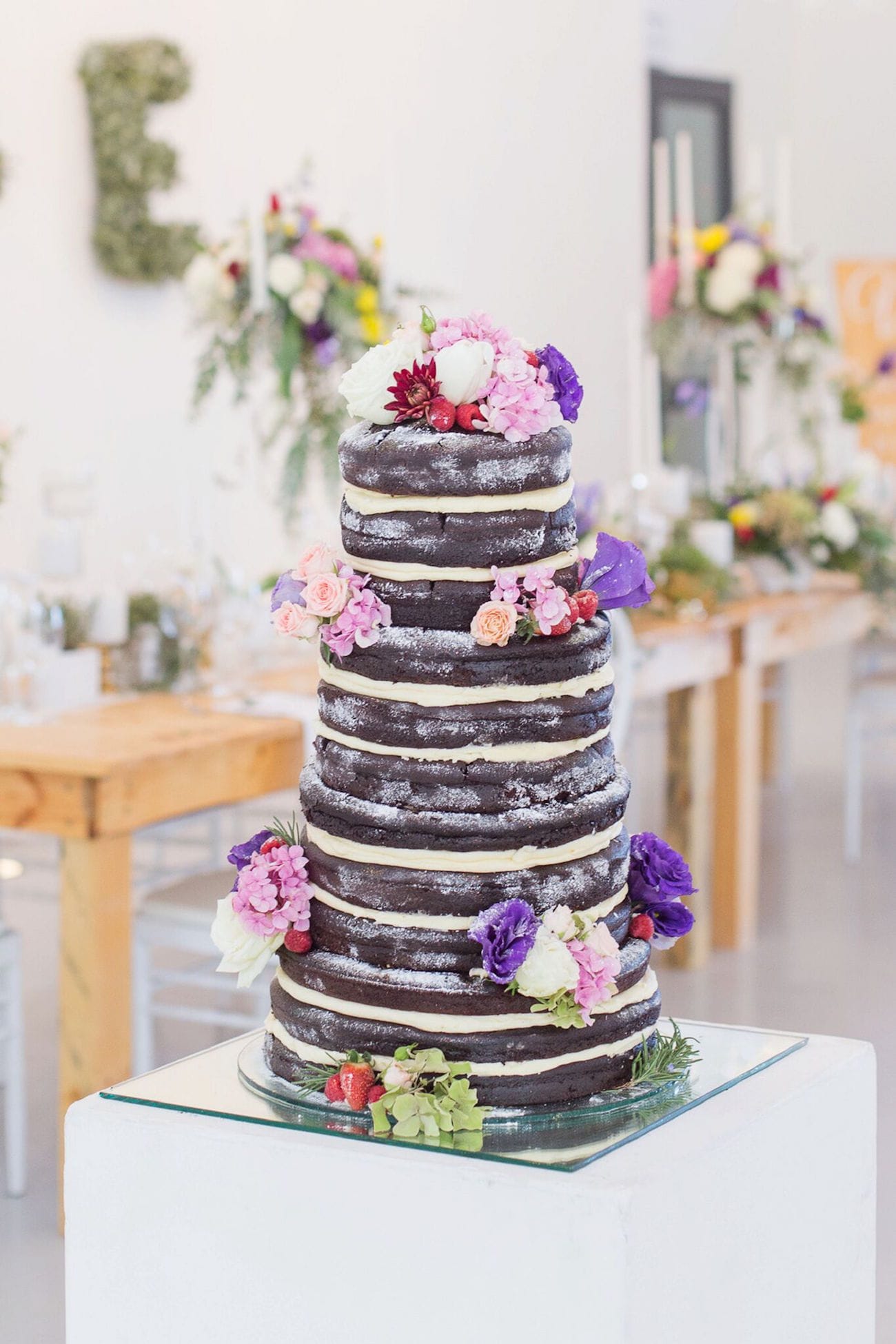 Best Decision
Having professionals planning and coordinating is really important! Planning ahead and not leaving everything till the day before the wedding. – I made a list with EVERYONE'S cellphone numbers on (from the bridesmaids, pastor, photographer, caterer, etc.) and emailed it to everyone. By doing this you ensure that no one needs to phone the bride on the morning of the wedding.
Advice for Future Brides & Grooms
Make a decision to enjoy EVERY moment and not to let the little things get to you. Listen to other's opinions even though you don't always agree. My mother always said during the time of planning: "Once the wedding is over, the only thing you'll have left is the relationships with everyone." – there is really no point in messing up relationships for the sake of small details in your wedding. We had a great time planning, a great wedding day and all the relationships are still wonderful!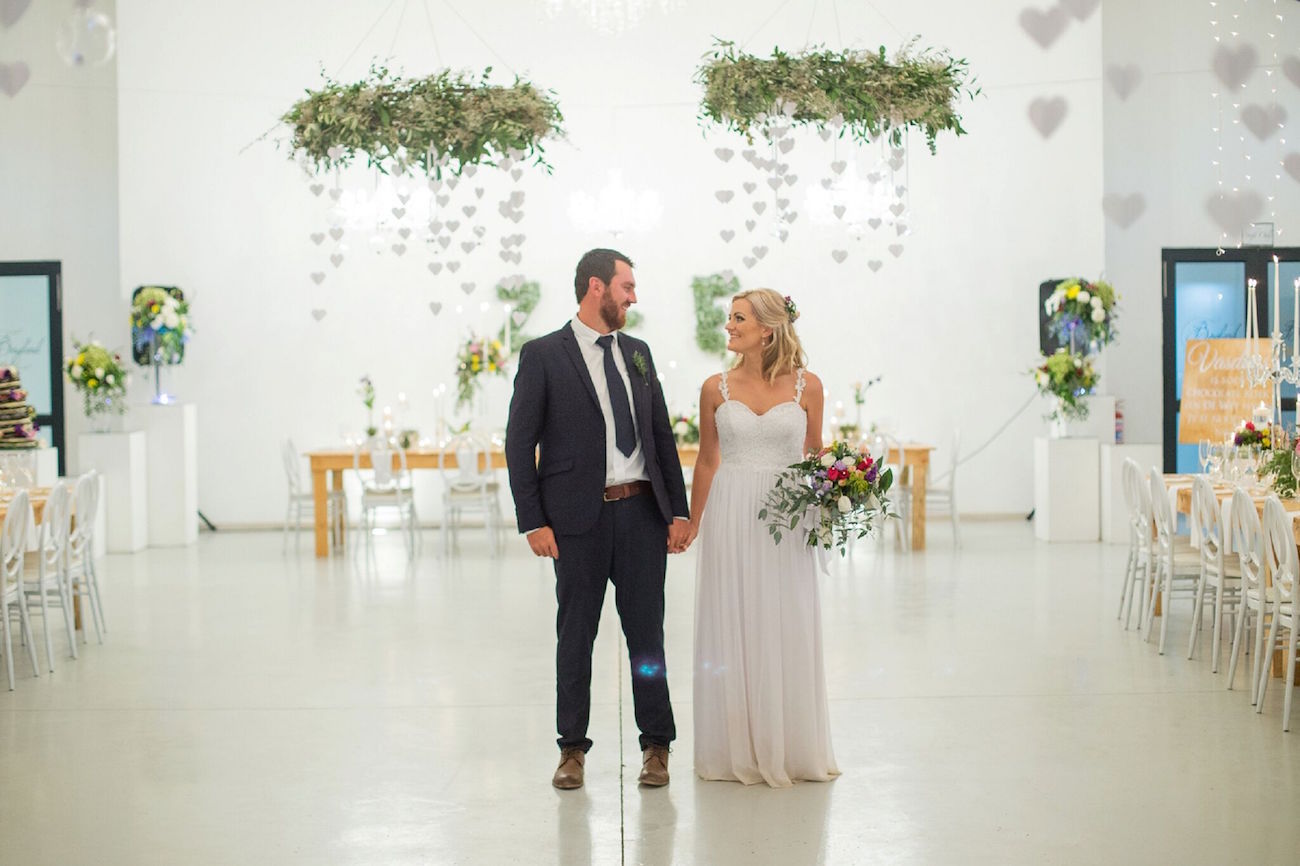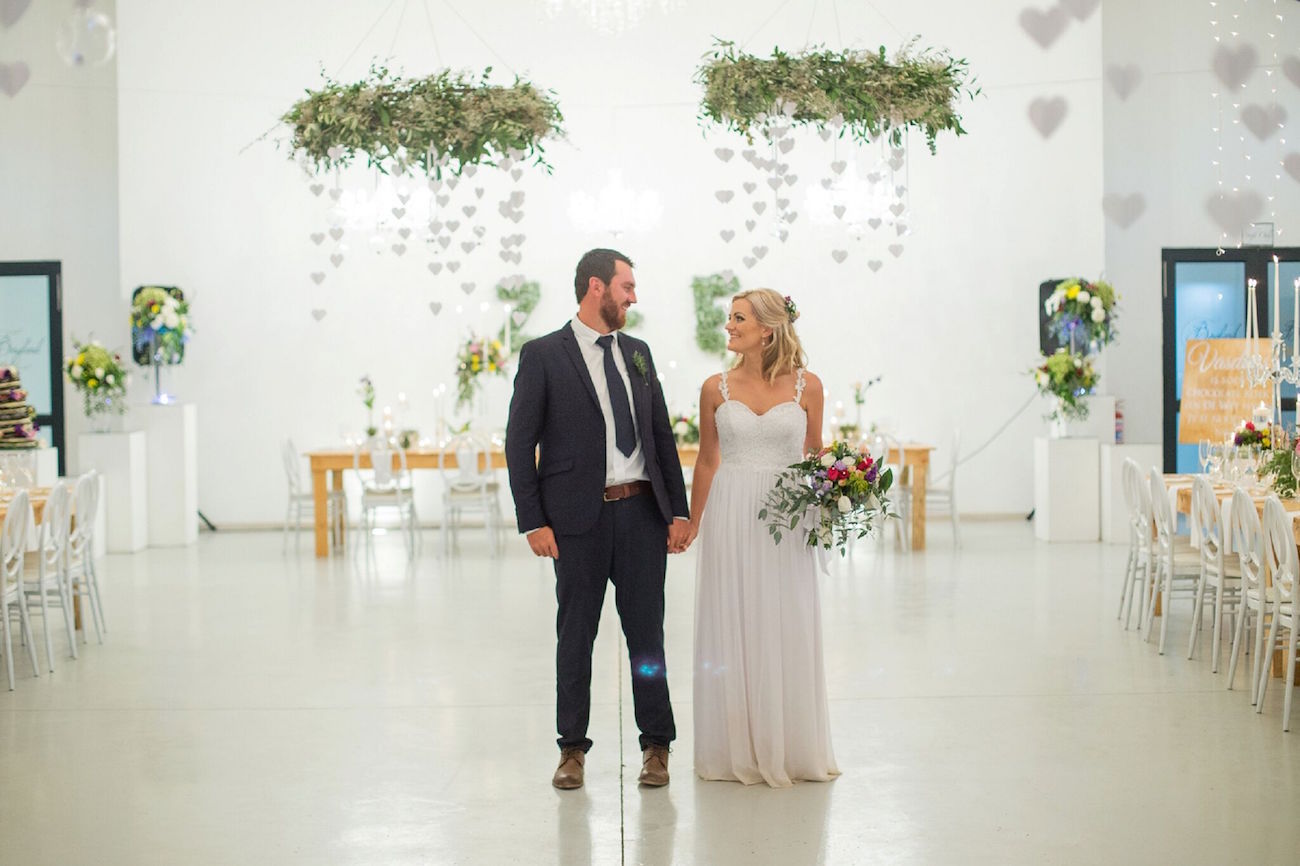 You can see more from this wedding on Adele Kloppers' blog.
SERVICE PROVIDERS
Venue & catering: Bergland Venue | Photography: Adele Kloppers |Flowers & décor: 99Occasions | Stationery: Cloudnest Design | Cake: Maletti's | Bride's dress: Robyn Roberts | Hair: Ahead | Makeup: Jonetha Theron | Bridesmaids' dresses: YDE | Groom's attire: Woolworths | DJ: De Villiers Musiek