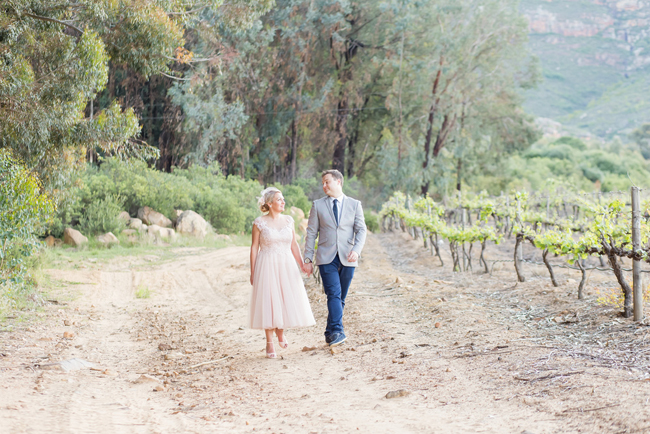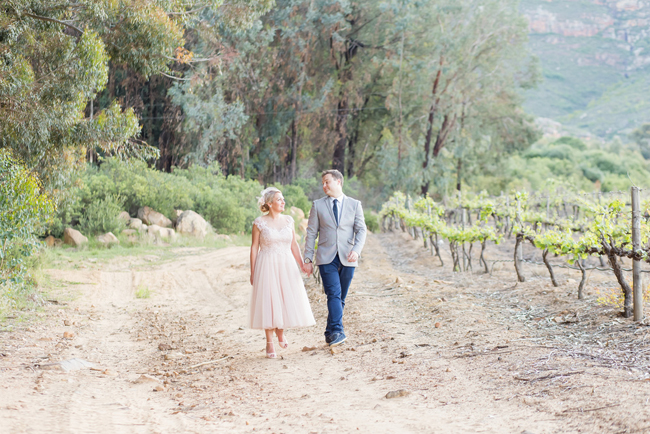 I have to tell you, Anel and Marius, today's adorable bride and groom, had me at 'Braailofsfees'. Because okay, I'm South African, so a braai is always a good idea (to paraphrase Audrey Hepburn in a totally Saffa way), but also because their description of their big day also shows how playful and relaxed they were about it all. But a braai wedding where the groom wears jeans and the bride says she feels as comfy as if she was in shorts and flip flops? Surely that can't also be… pretty? Well, this wedding shows that it can. Big time. The couple's big day had all the details we love here at SBB – soft flowers in mismatched vases, wreaths, bunting and fairylights, a short blush wedding dress, chalkboard stationery, a romantic bouquet… but it was also the kind of laid-back celebration that totally suited the bride and groom. And it's officially the first wedding we've featured that I can really call a SouthBound Braai. Love it. Adele Kloppers took these lovely pics.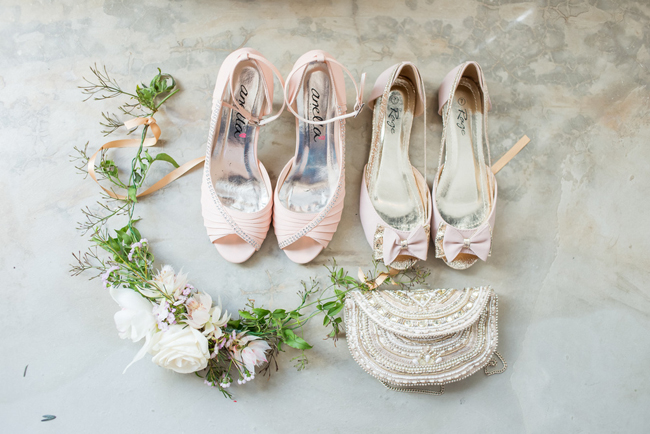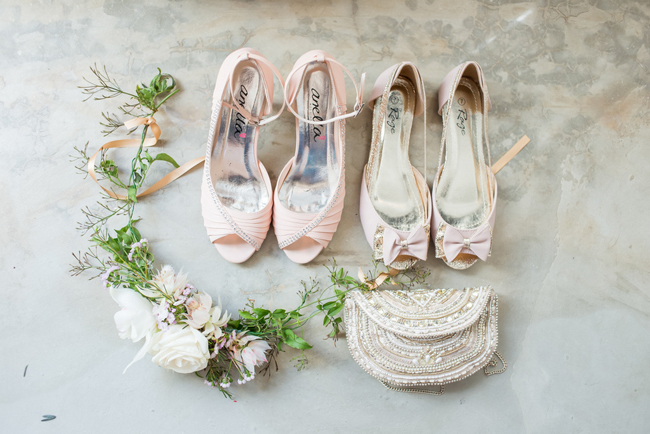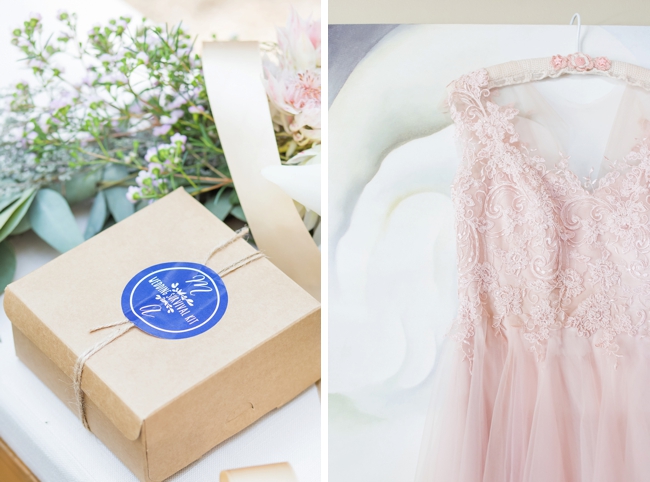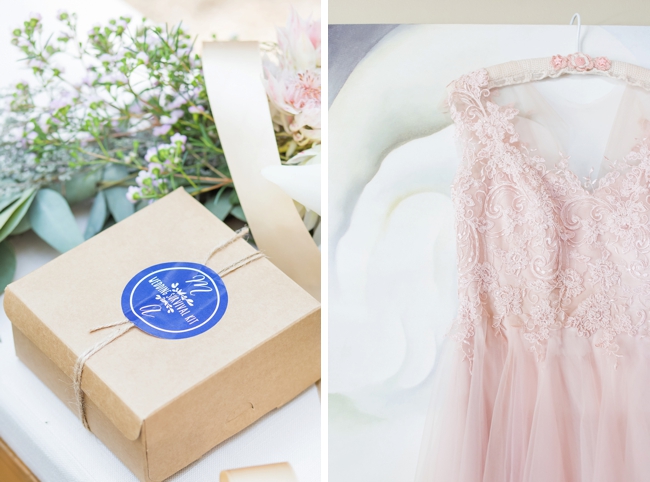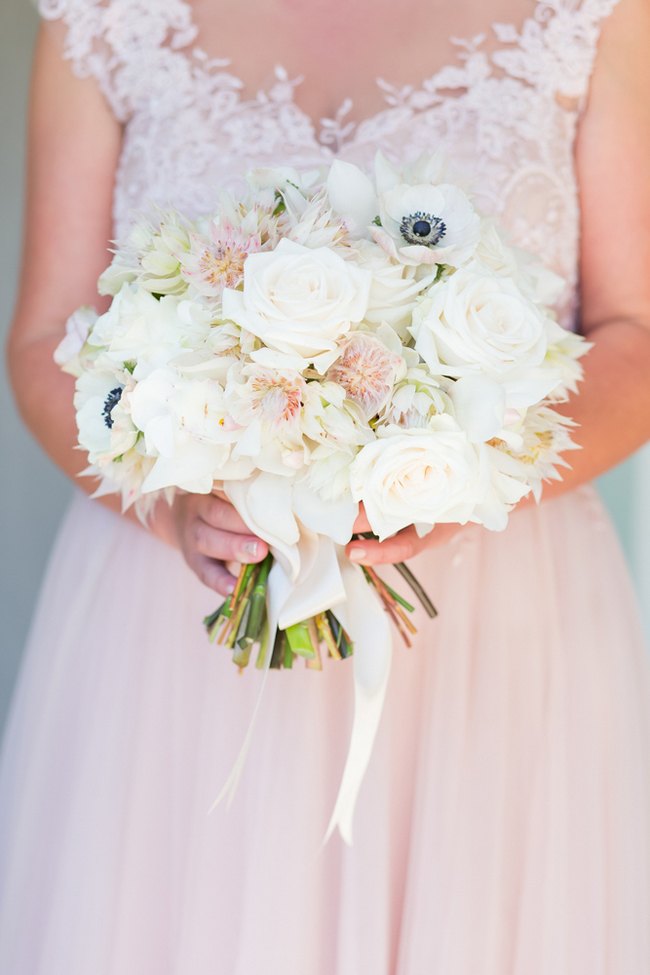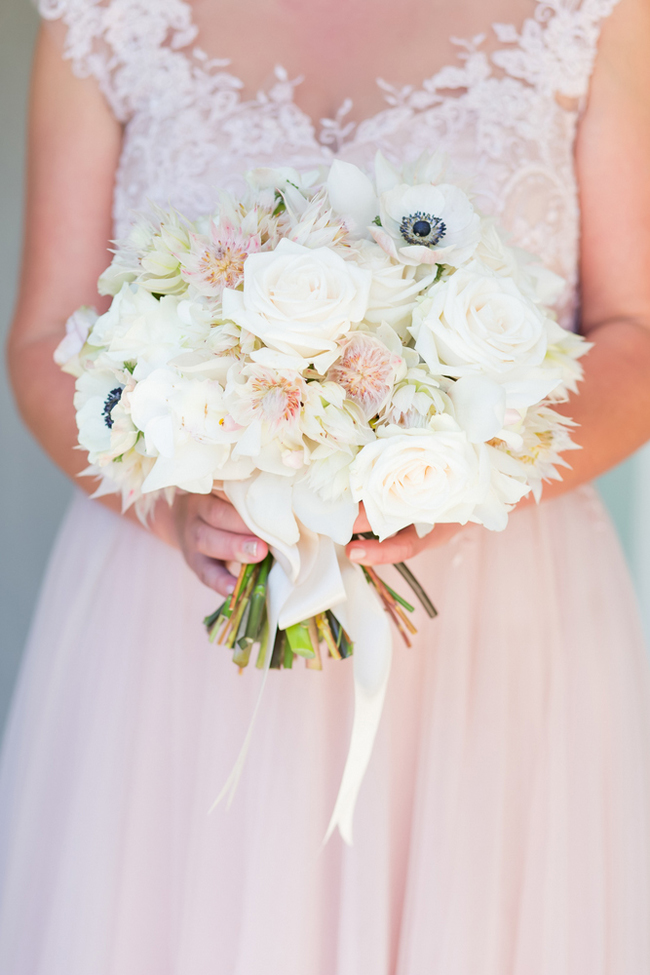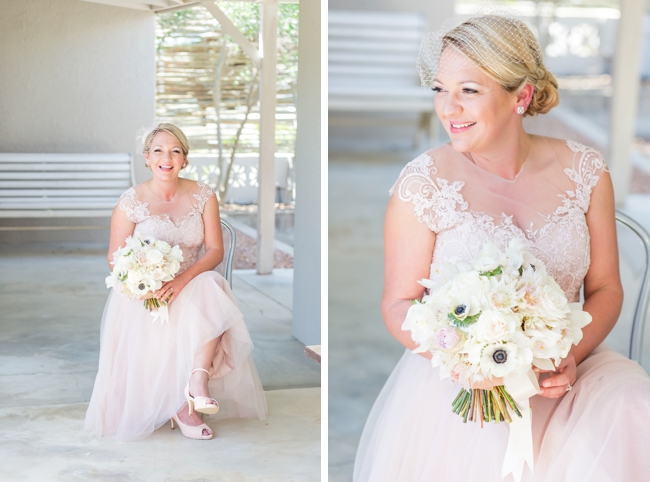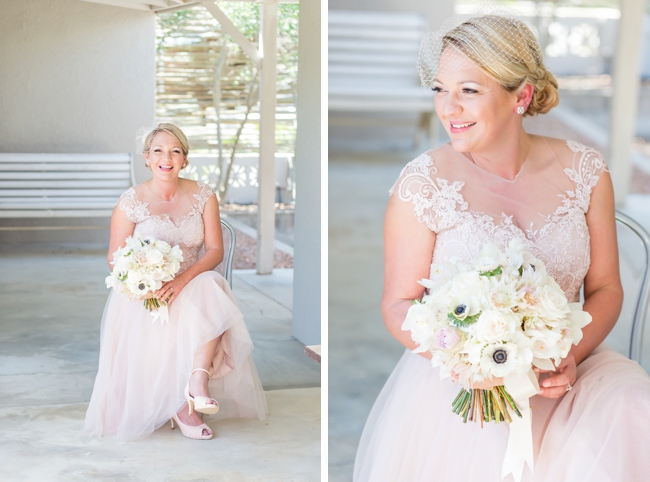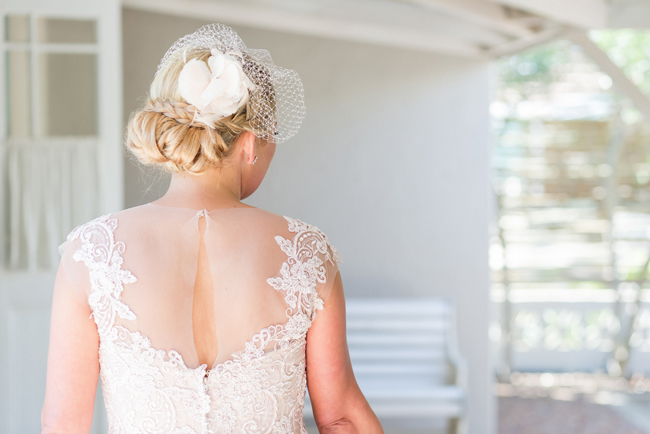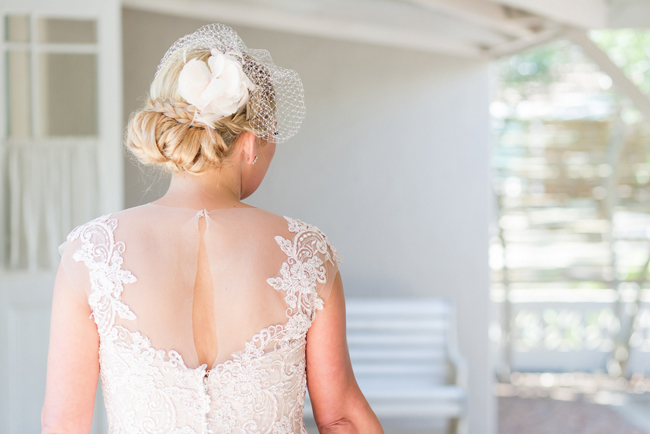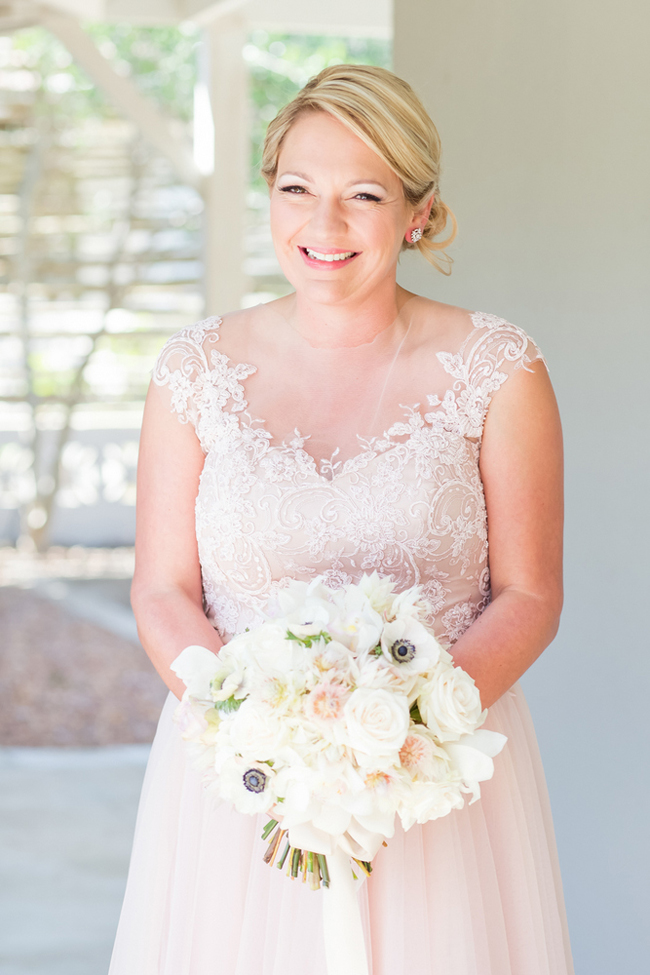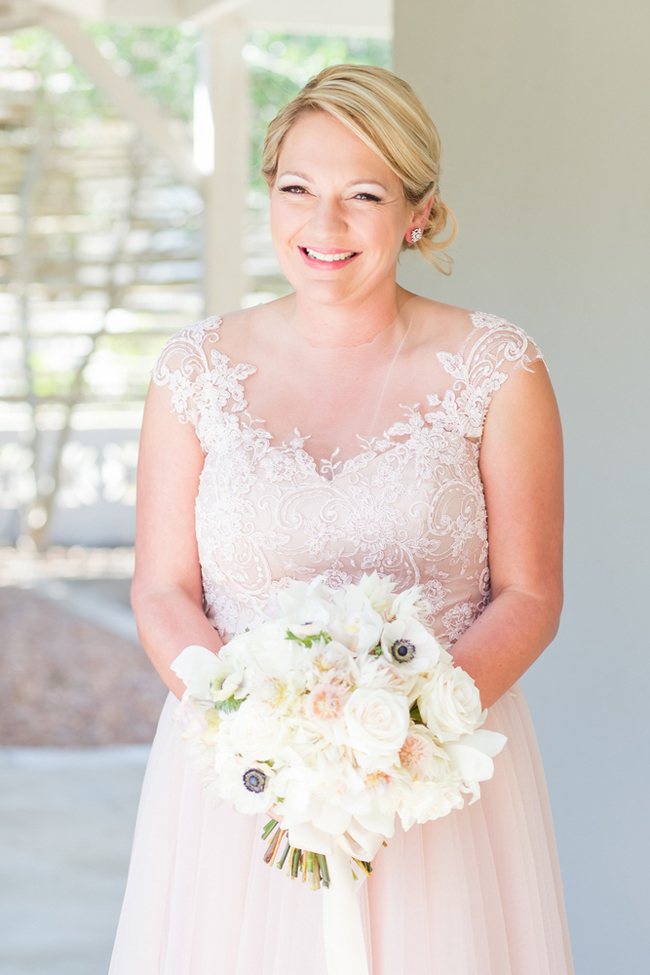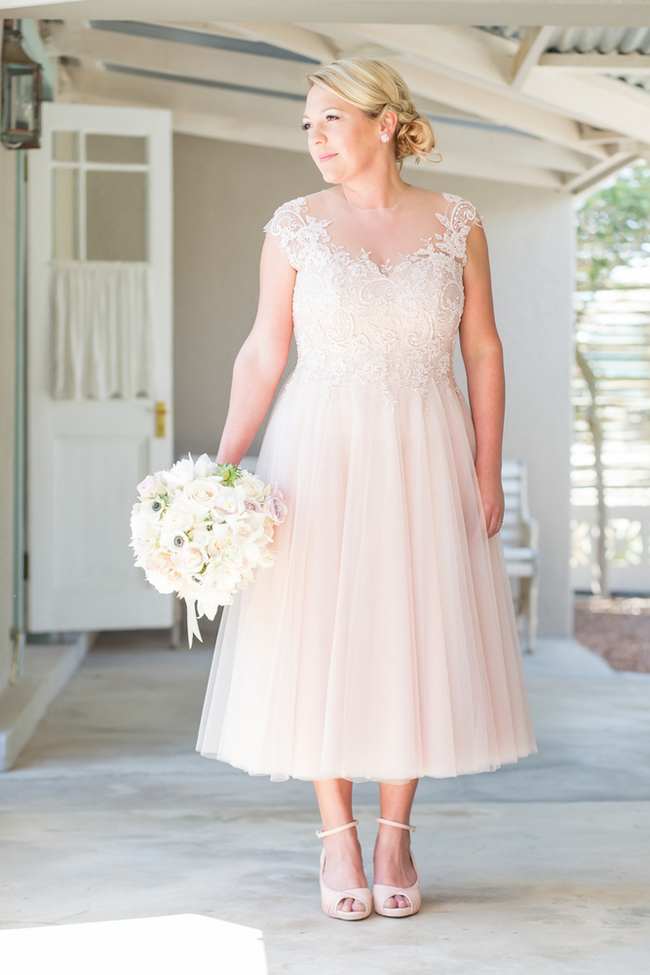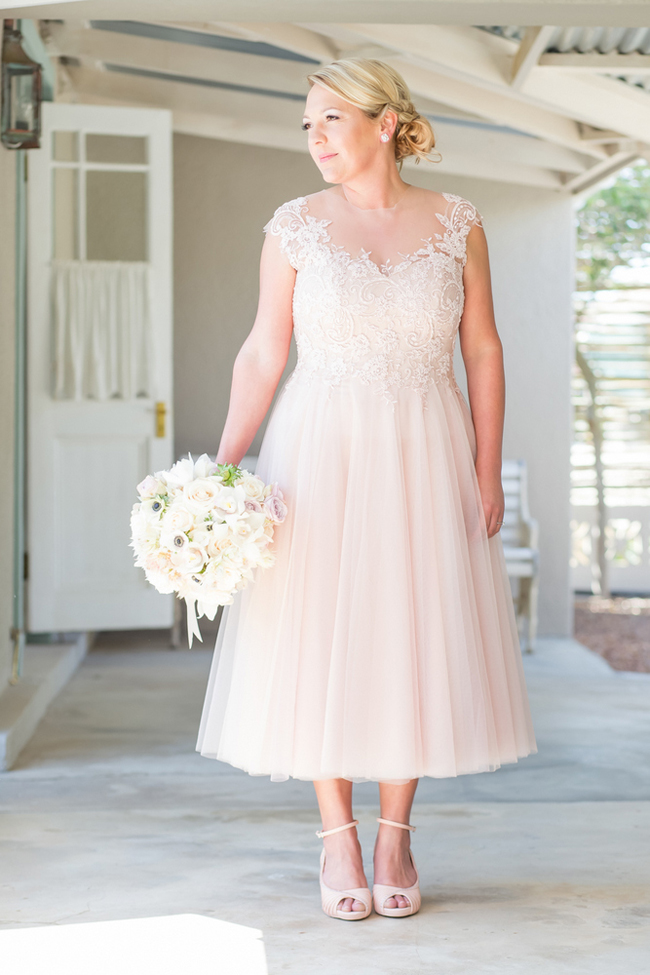 Love Story
I'll try to make it short and sweet – and it is sweet! We were both chefs when we met, first at the restaurant where I was working. He had just joined Allesverloren (which is also the place where we got married seven years later!) They hosted a Tourism Lunch which I was invited to. Marius served the most amazing chocolate truffles with coffee, and my friend, who was sitting next to me, absolutely loved them. She called the hostess, as she wanted to get the recipe from the chef, who turned out to be Marius. As a joke he asked her: "What are you willing to pay?", and she said: "You can have Anel". I wanted the earth to swallow me! She didn't know we're already exchanged numbers the week before. When I got to my car, there was a letter folded between my car's wipers with a vanilla pod, with the recipe for the chocolate truffles written on it – but only the ingredients. He wrote: Method to follow. And as they say… the rest is history.
The Proposal
The biggest surprise of my life! I really did not expect this at all! We were supposed to be on our way for a weekend break away to the Elgin Valley with my brother and sister-in-law. When Marius suddenly pulled over at the top of the Sir Lowry's Pass and proposed, it turned out they were not joining us at all. We were actually on our way to Greyton – where he had planned the best weekend of my life!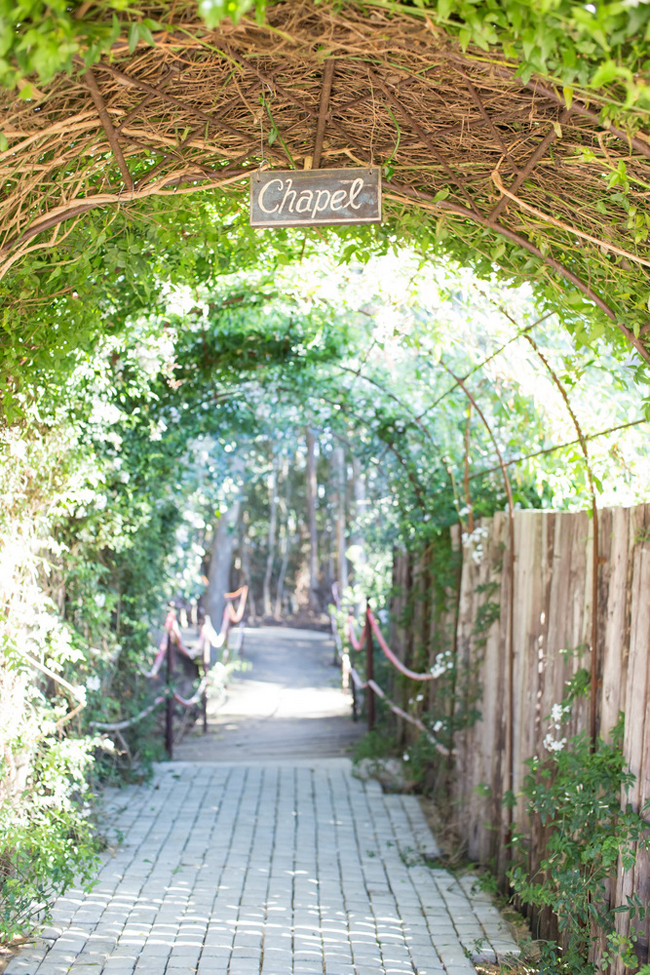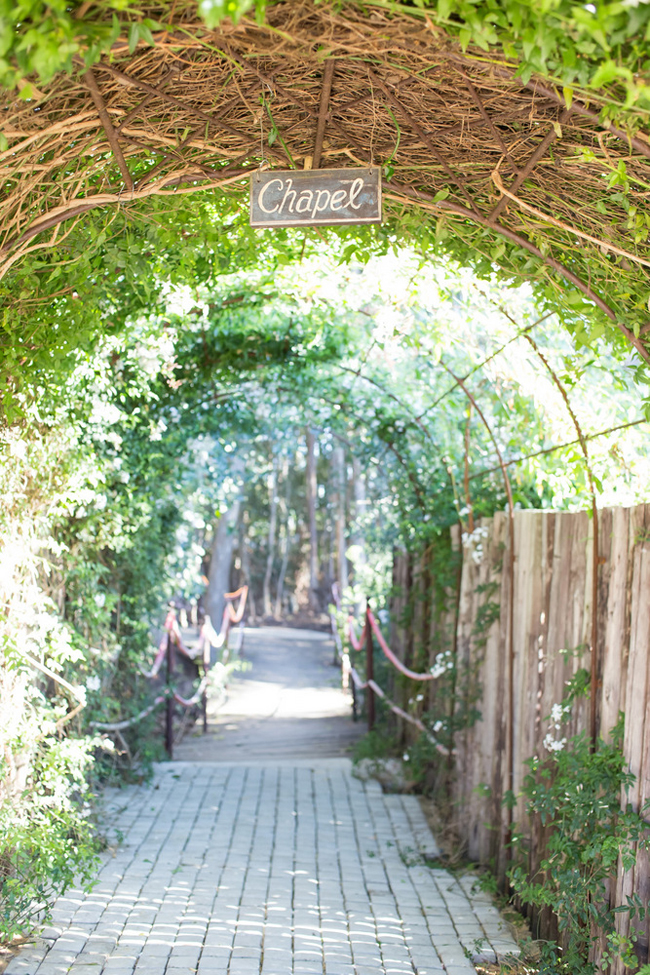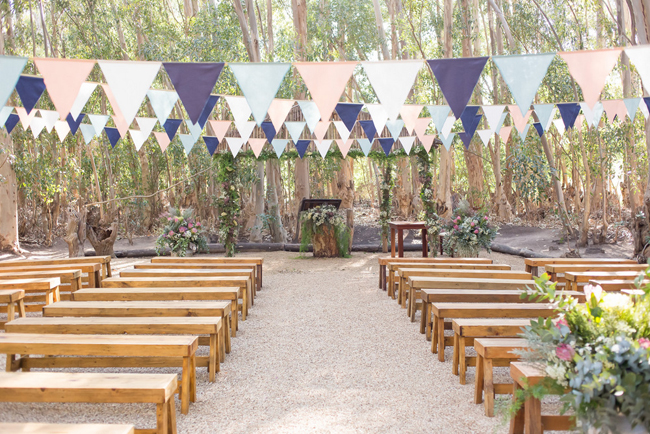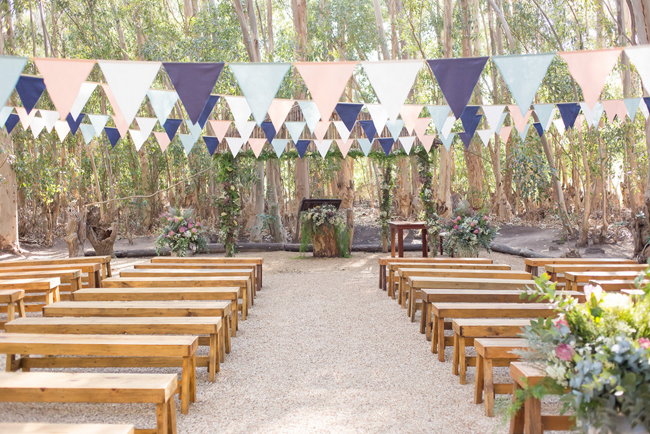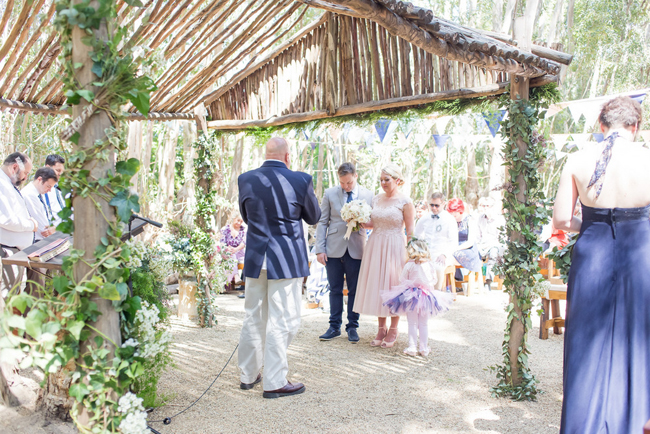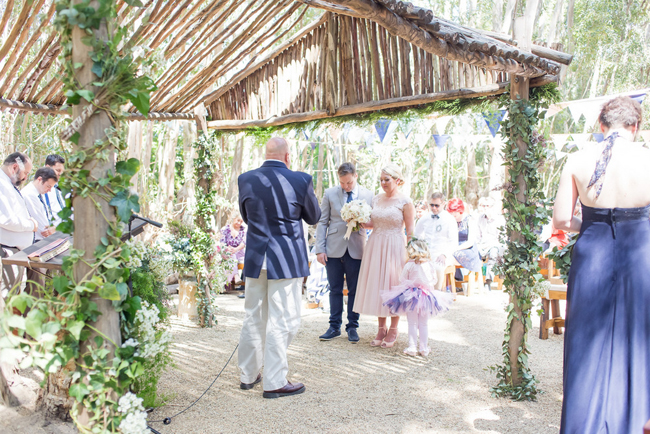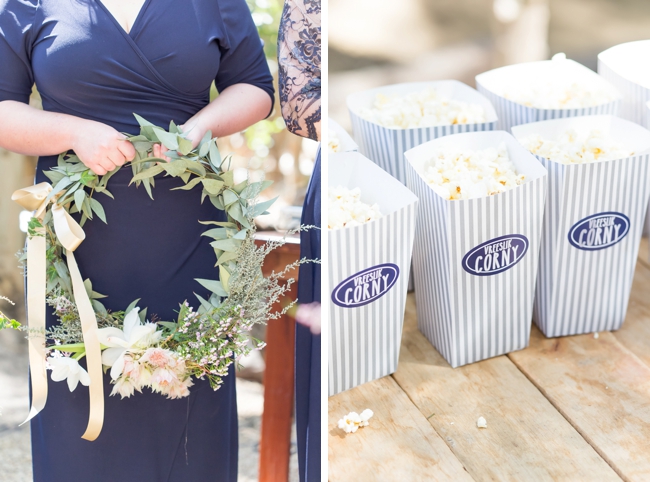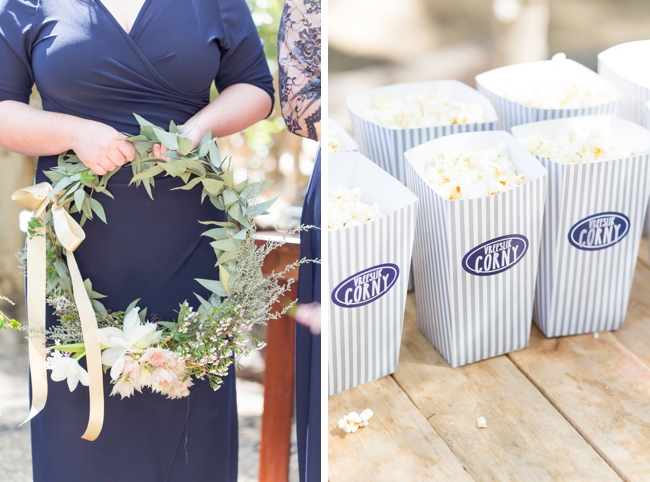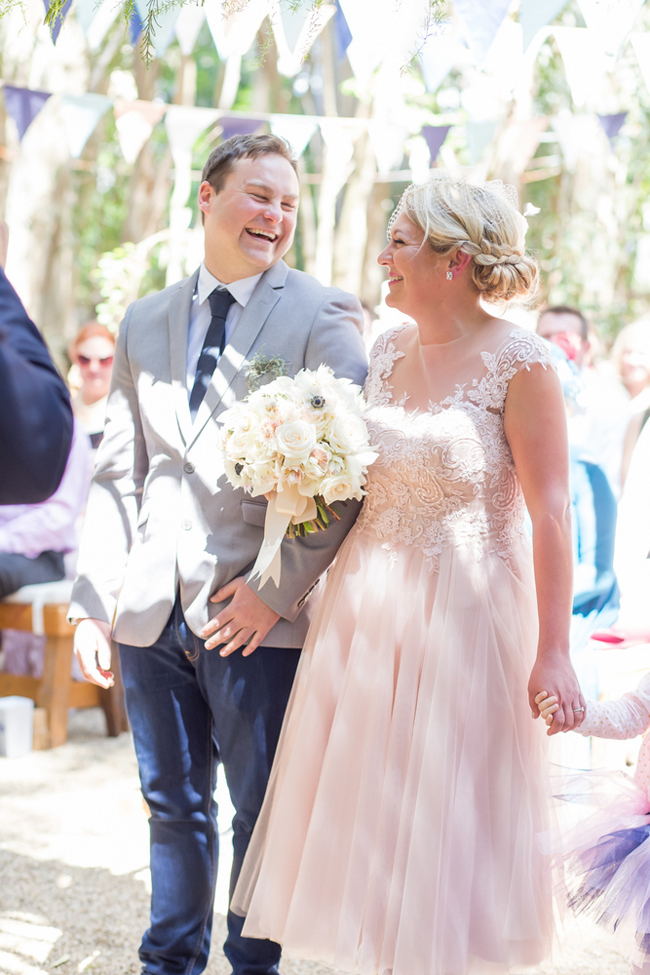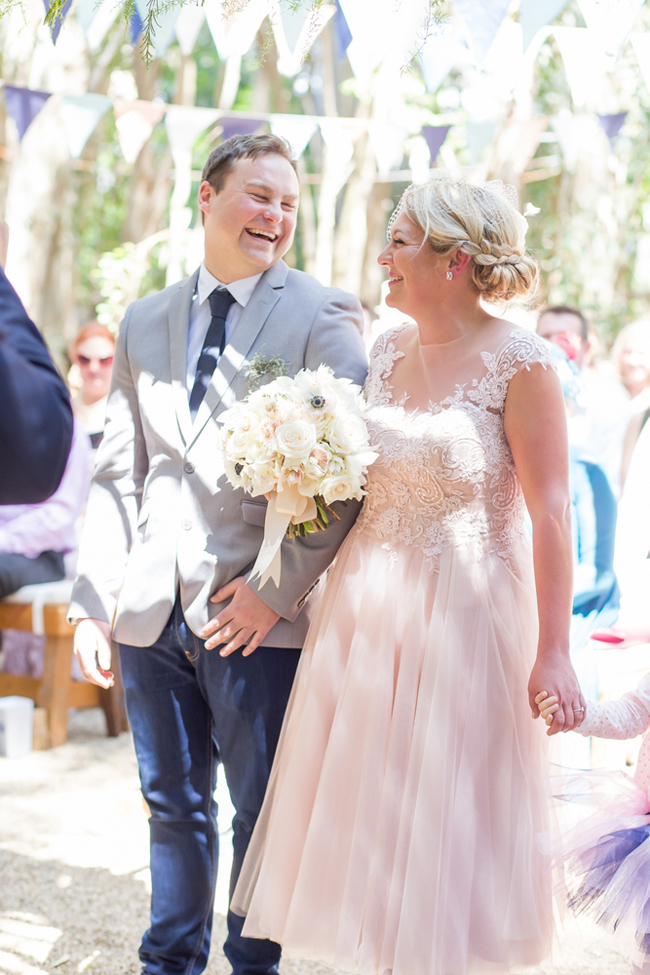 The Venue
As mentioned earlier, he worked at Allesverloren when we met, and Riebeek West is also my home town. I grew up on a farm just outside the little dorpie.
Wedding Style
So… very unexpectdly we decided to get married on Braaiday, so we had a BRAAILOFSFEES! Being two proper Afrikaners, I guess there is no better day to choose! We are very social and love to entertain. We wanted a casual, relaxed wedding, but still very beautiful, stylish and pretty of course. I wore a tea length dress and Marius was in skinny jeans – we got married at noon and had the best party ever with all the special people in our lives. We served a more formal starter and thereafter it was just lekker 'kuier kos'. Each guest got a personalised wooden platter, which served as the wedding favour.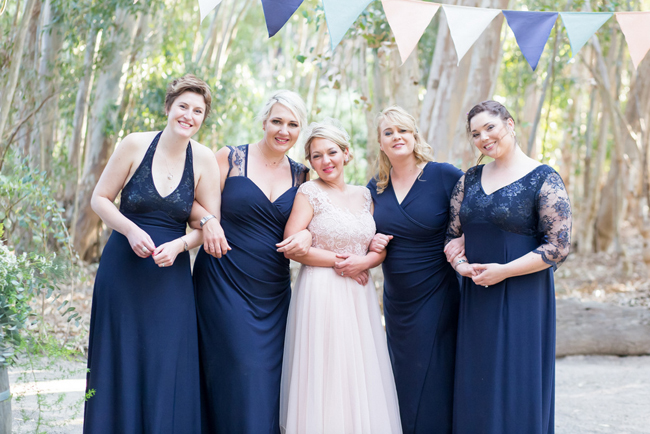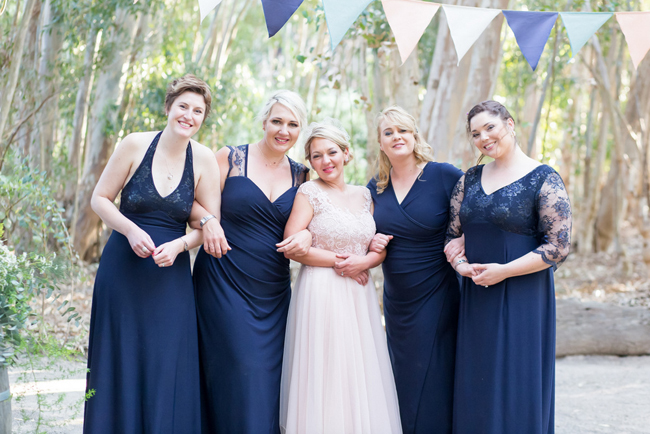 Wedding Details
Everything was just magical… Our student car Volla was supposed to be our wedding car but it broke down on the morning of our wedding. We quickly borrowed our neighbour's Volkswagen and had so much fun – there wasn't even a window for the passenger seat! My dad passed away five months before my wedding, so I had my garter made out of pieces of his favourite 'laphoedjies'. My brother also wore 'kruisbande' from my dad on the day.
DIY Elements
Shoooo….almost everything was DIY! It was an amazing project between family and very close friends. My aunt was amazing and made like 200 metres of bunting for the church and the venue. She also made all the serviettes herself! I do pottery as a hobby, so I made all the butter dishes and side plates (with some help!). My mother-in-law did all the flower arrangements at the church. My dad's best friend made the wooden platters – what a job! Each had a metal heart on it. We packed each guest a Wedding Survival Kit, which so many people helped us to pack.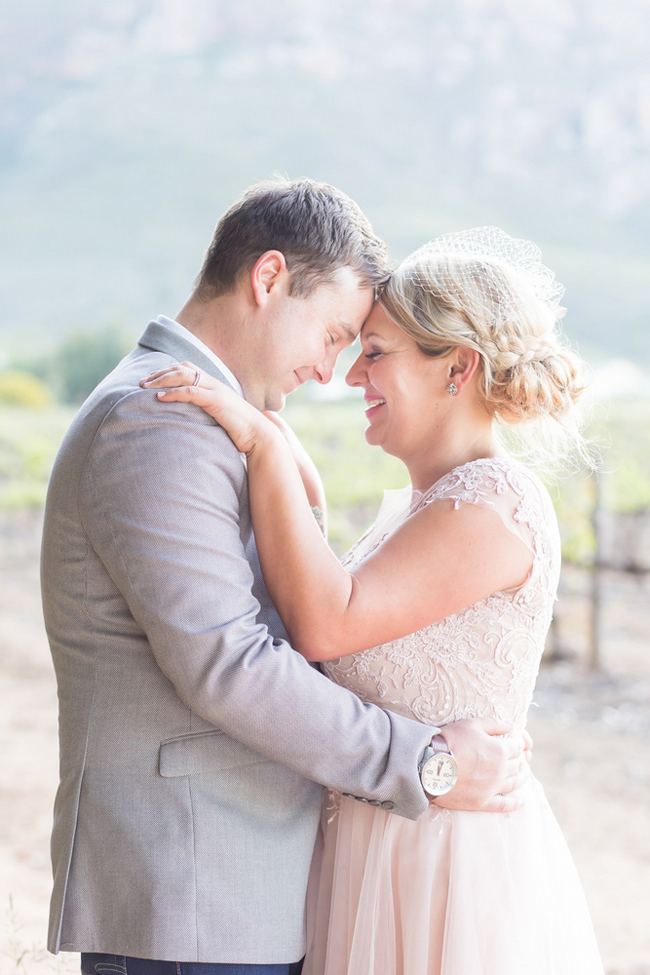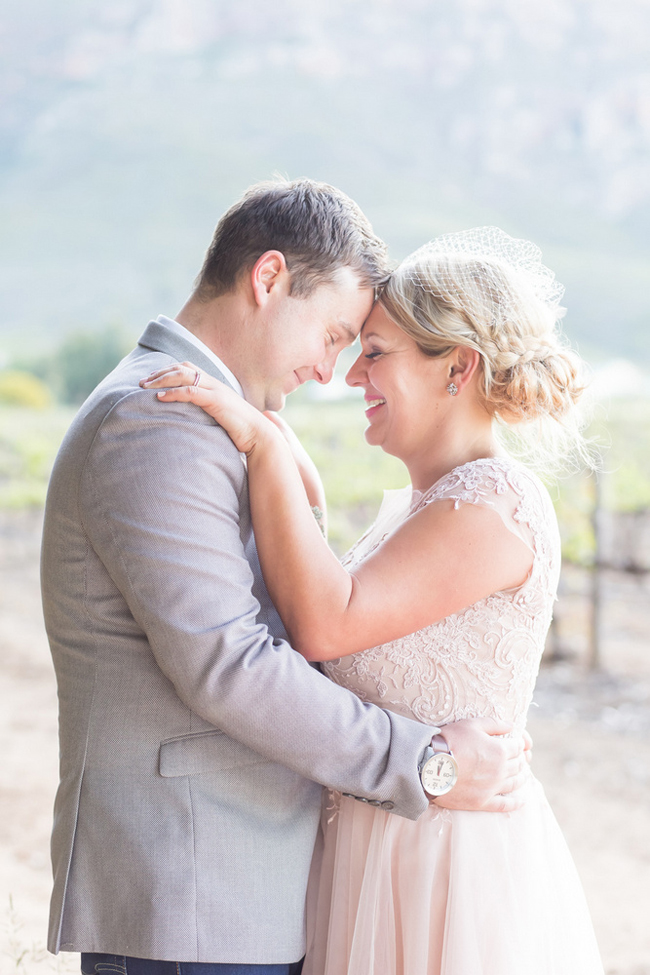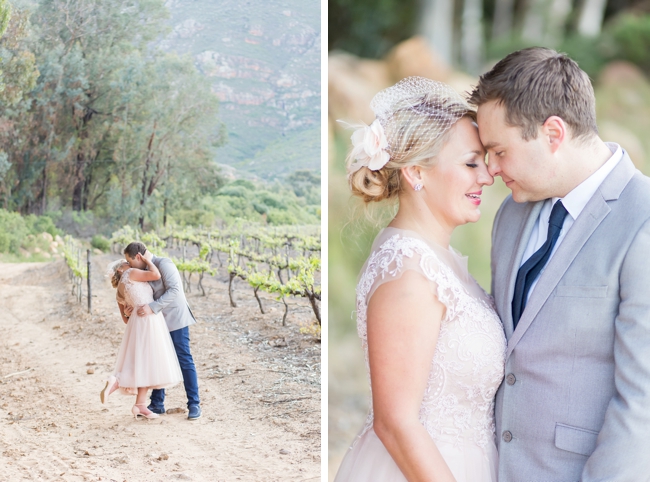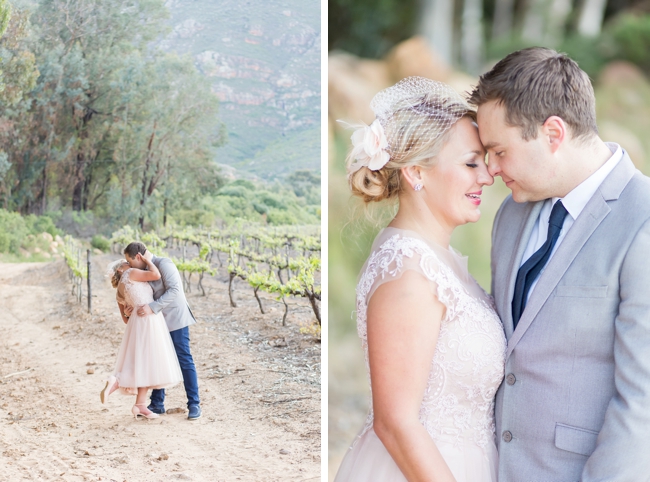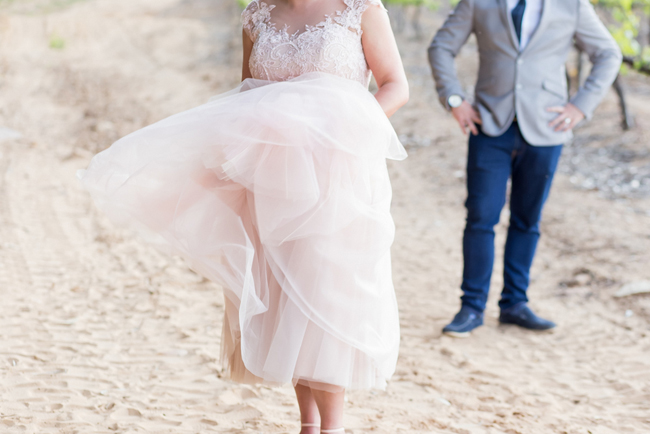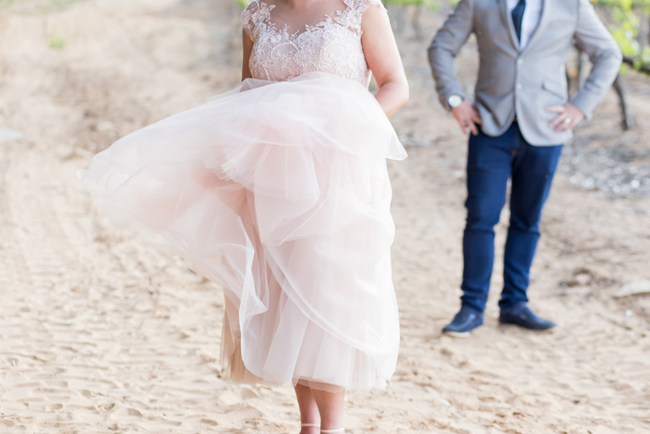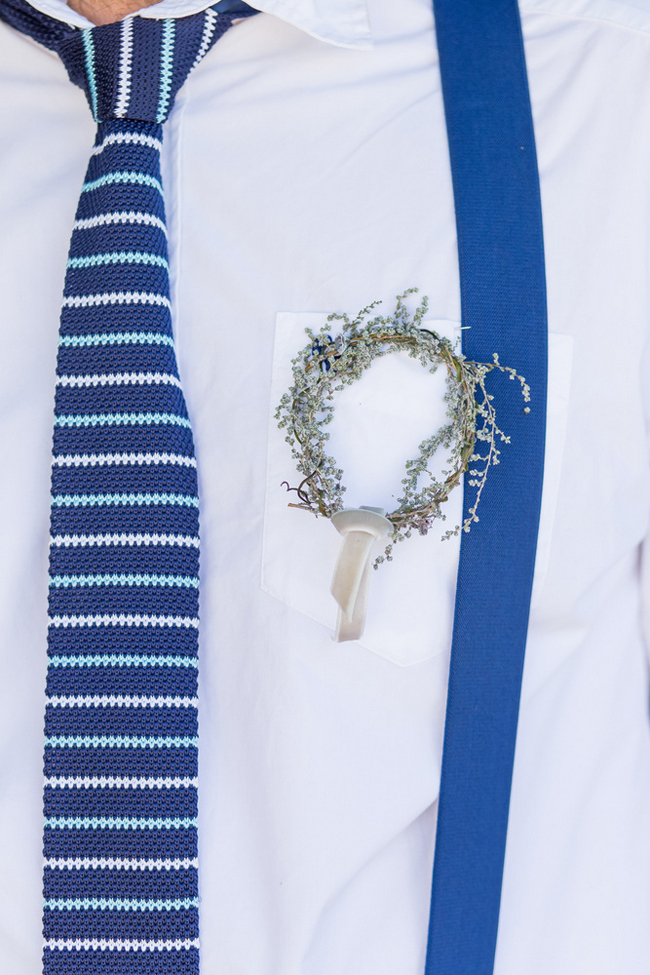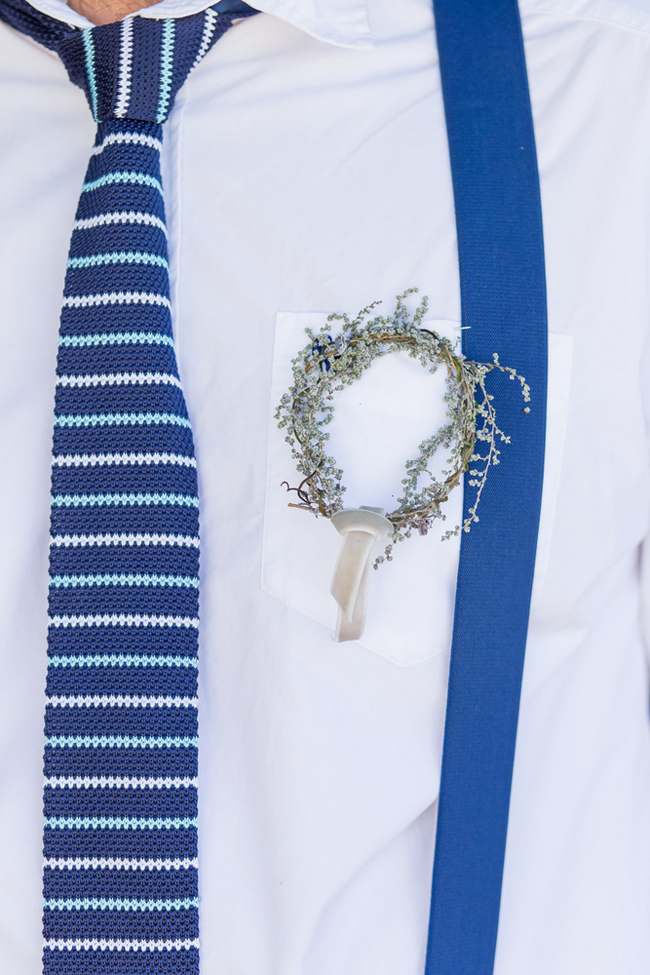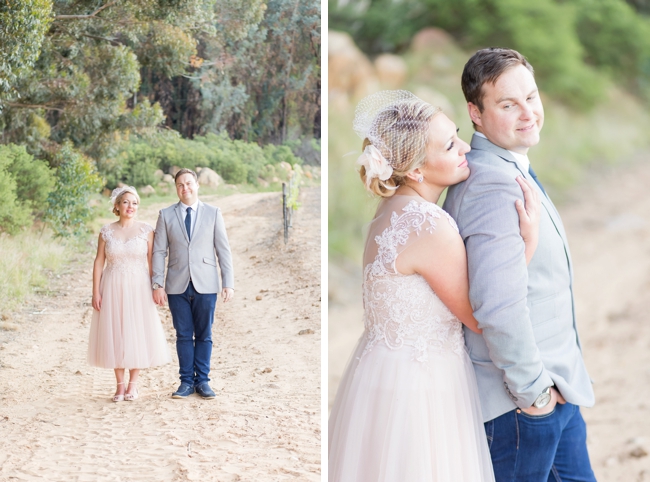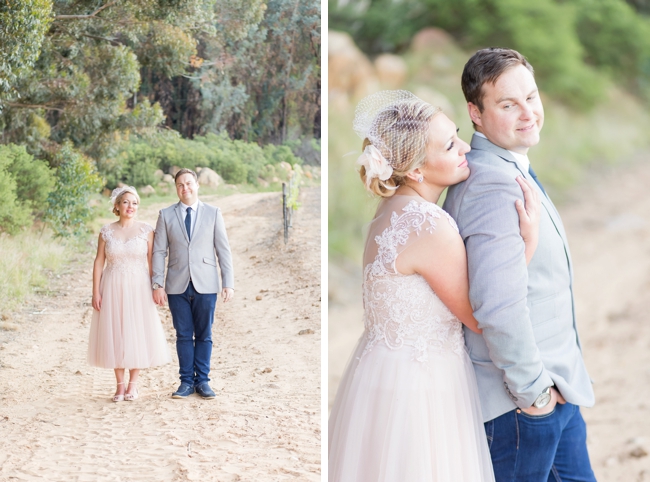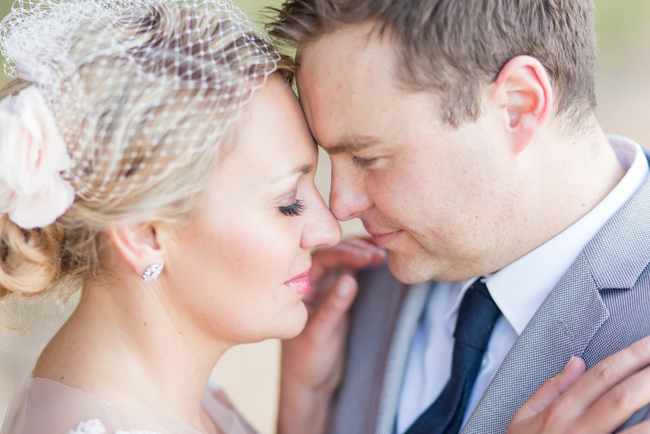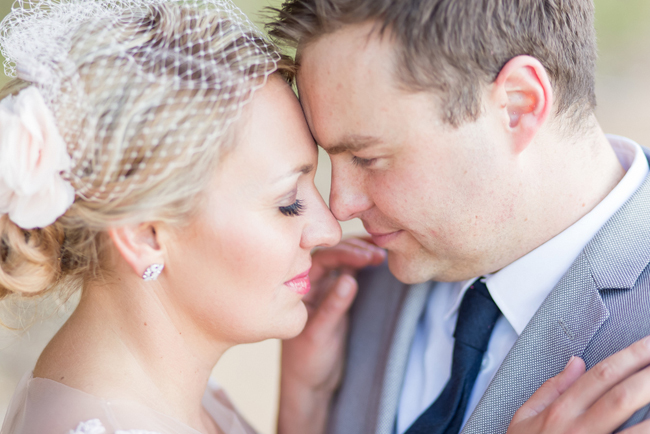 The Dress
I am not at all a Long White Dress girl…you will mostly find me in shorts and plakkies. So I went to try on some dresses, and nothing felt right. Then I accidentally found Magda Grove on a Facebook ad – one of the best things that could have happened to me! She is just amazing. Since the wedding was also not that formal, and blush dresses became fashionable – I decided to be a little brave and wear a blush tea-length dress. It made me feel like I was in a scene from Dirty Dancing. I was extremely comfortable on my wedding day – it was just like wearing shorts and plakkies!
The Bridesmaids
I had four. I bought some fabric in midnight blue and they all got to choose their own design. My friend, who was the dressmaker, was also the flower girl at my parents' wedding many moons ago!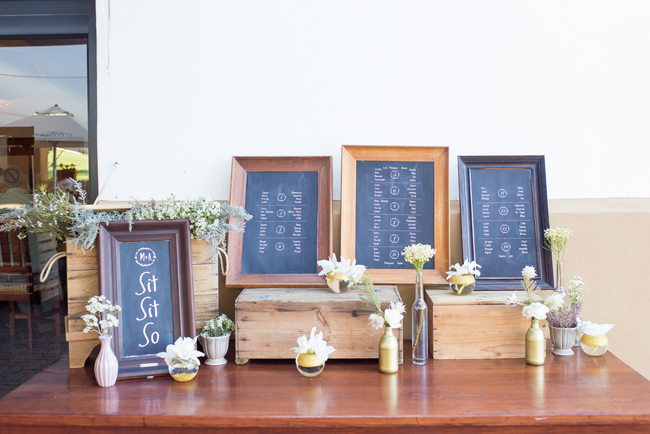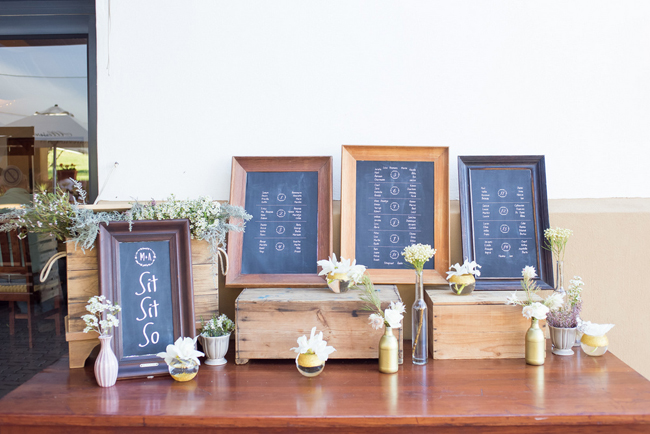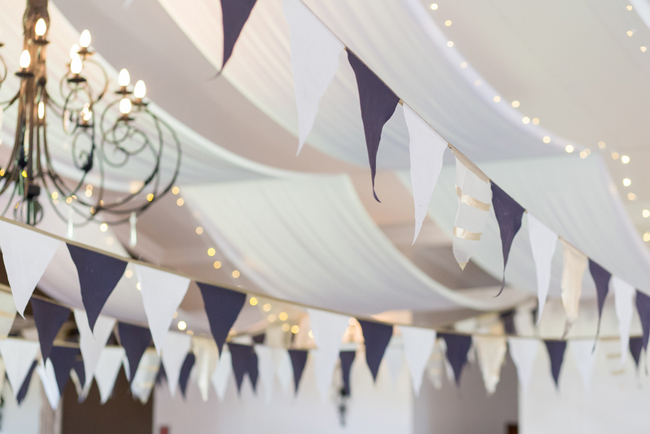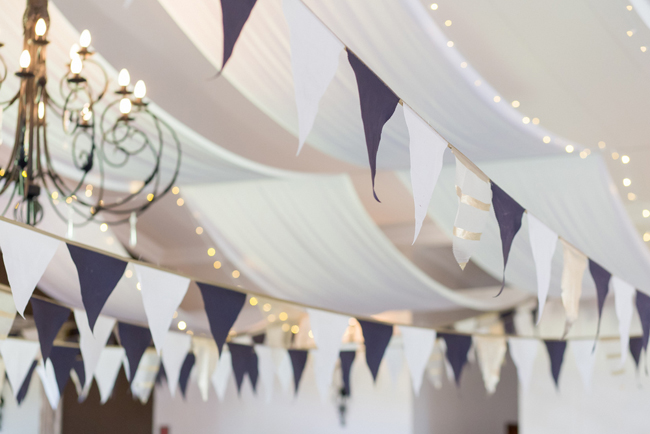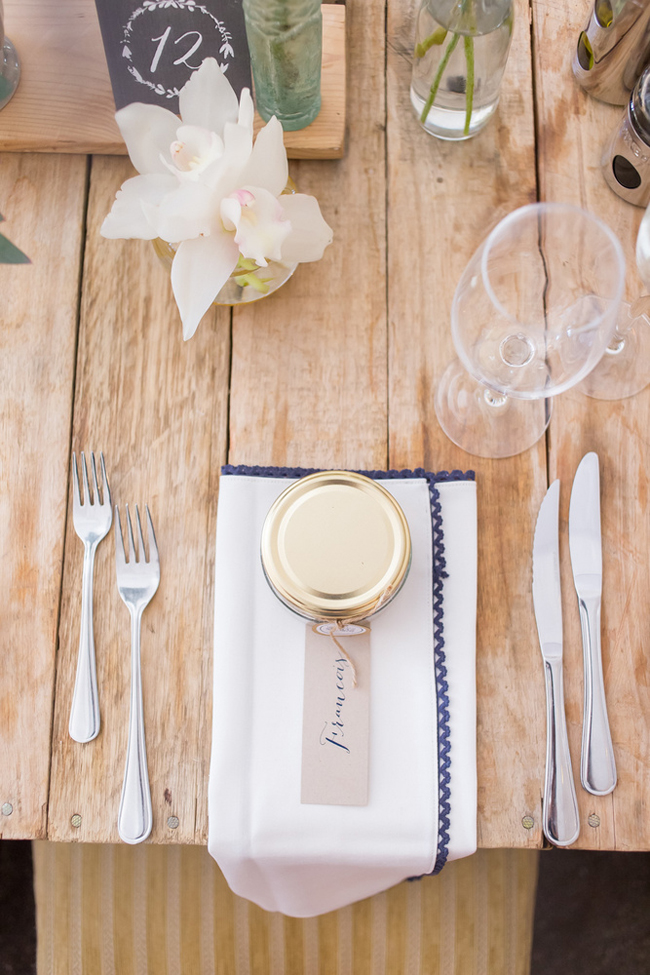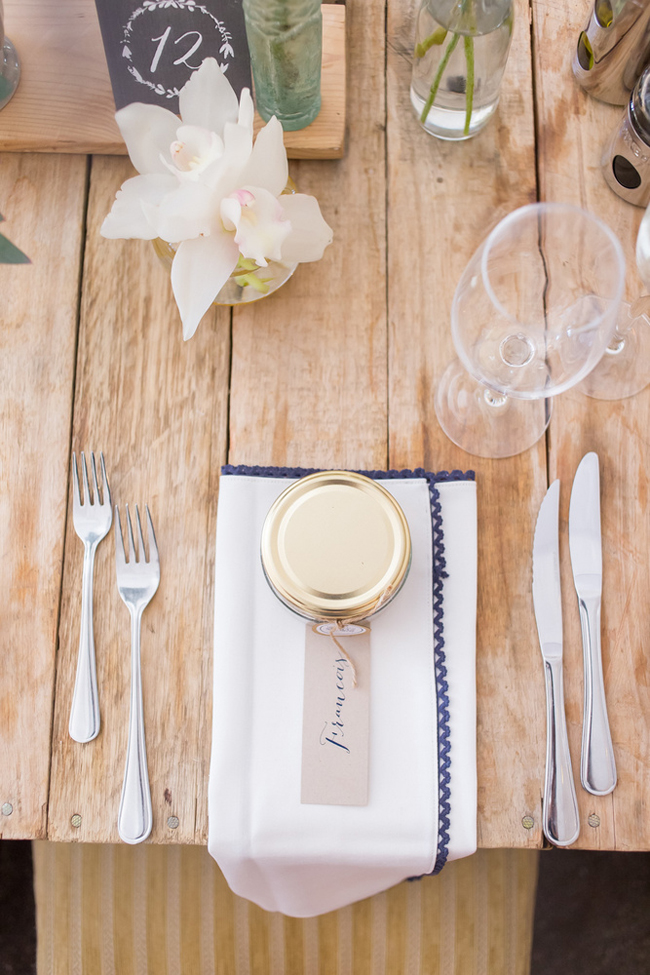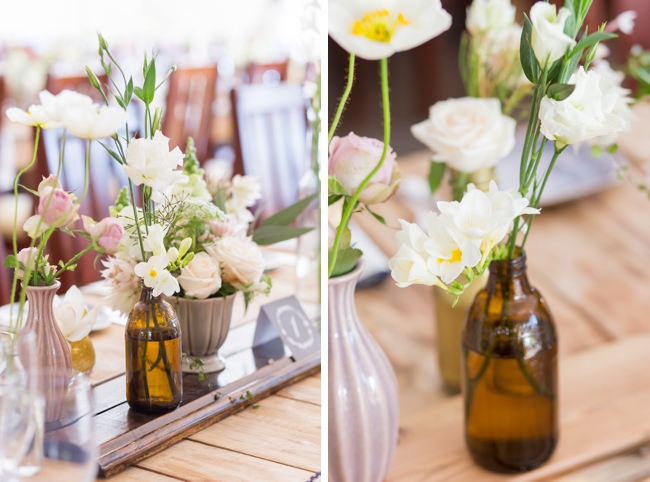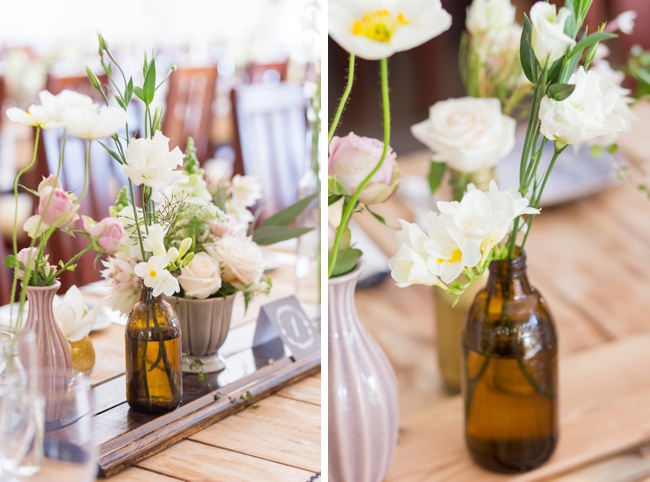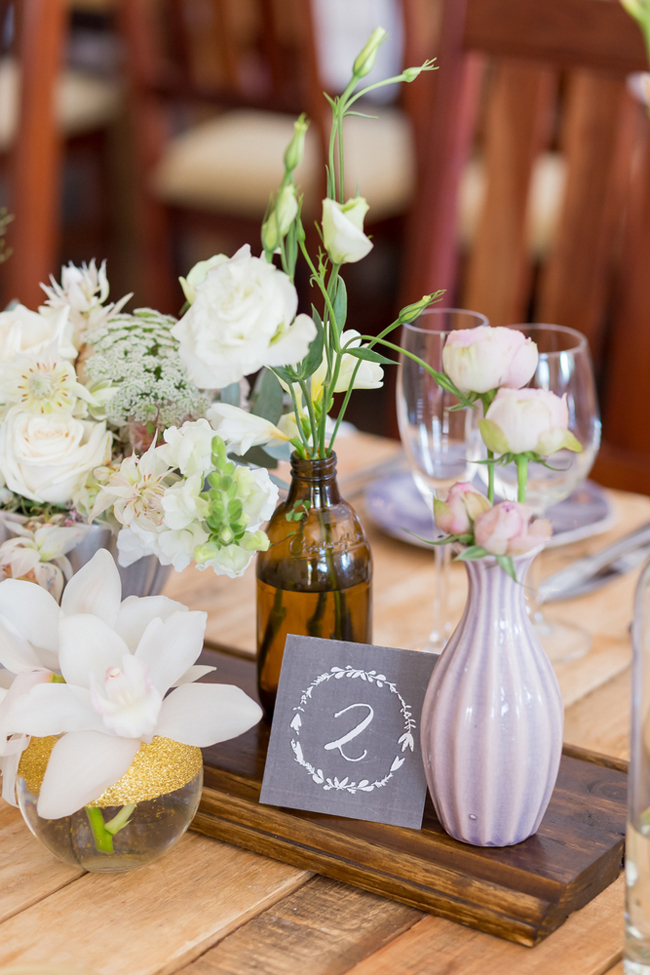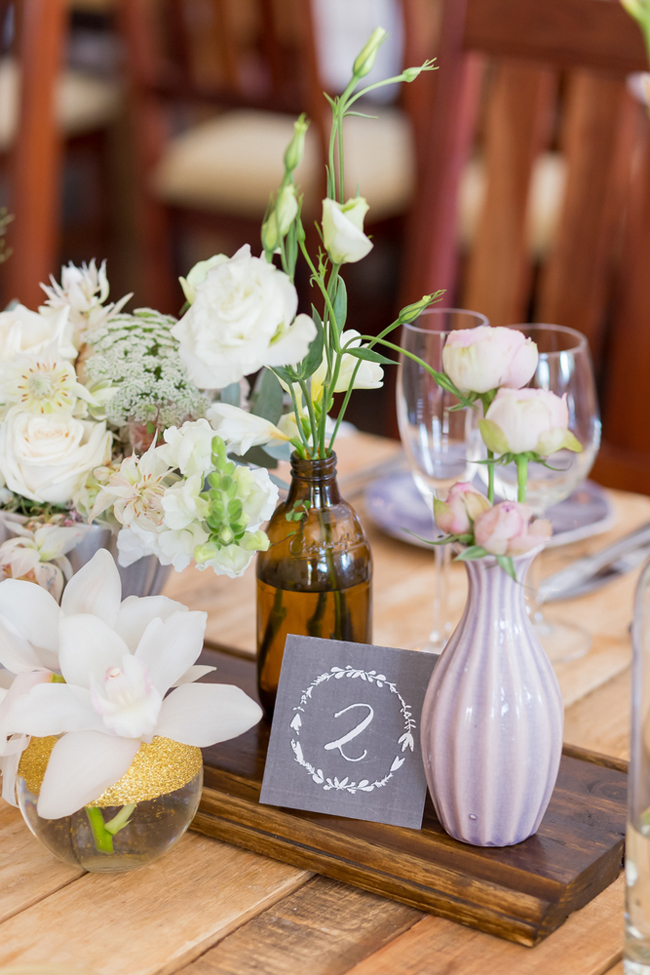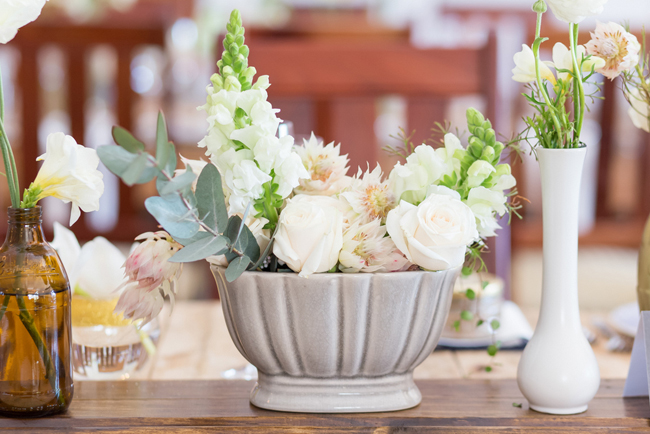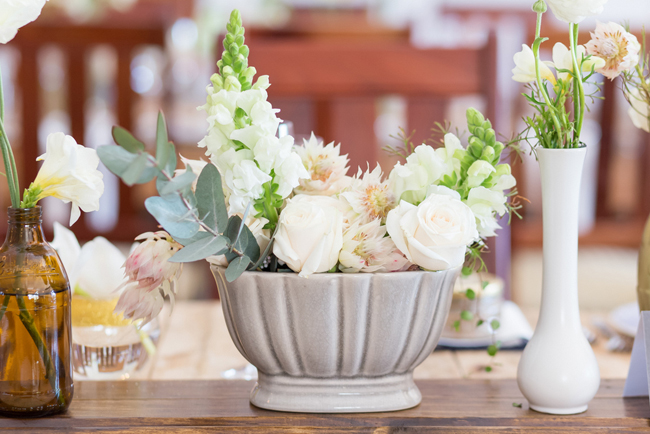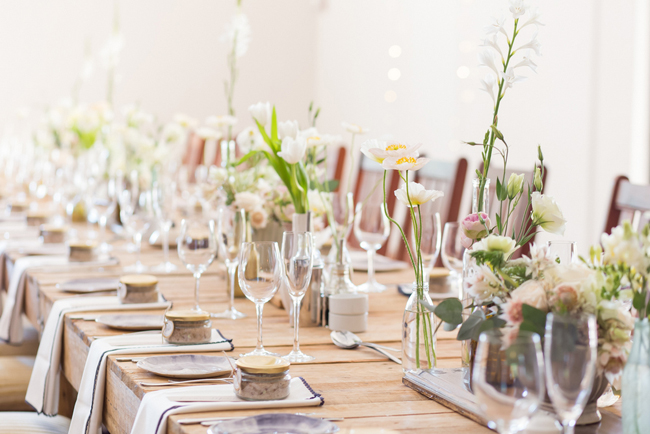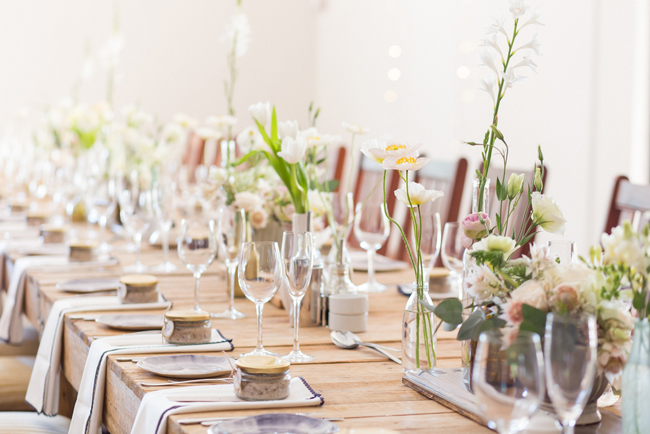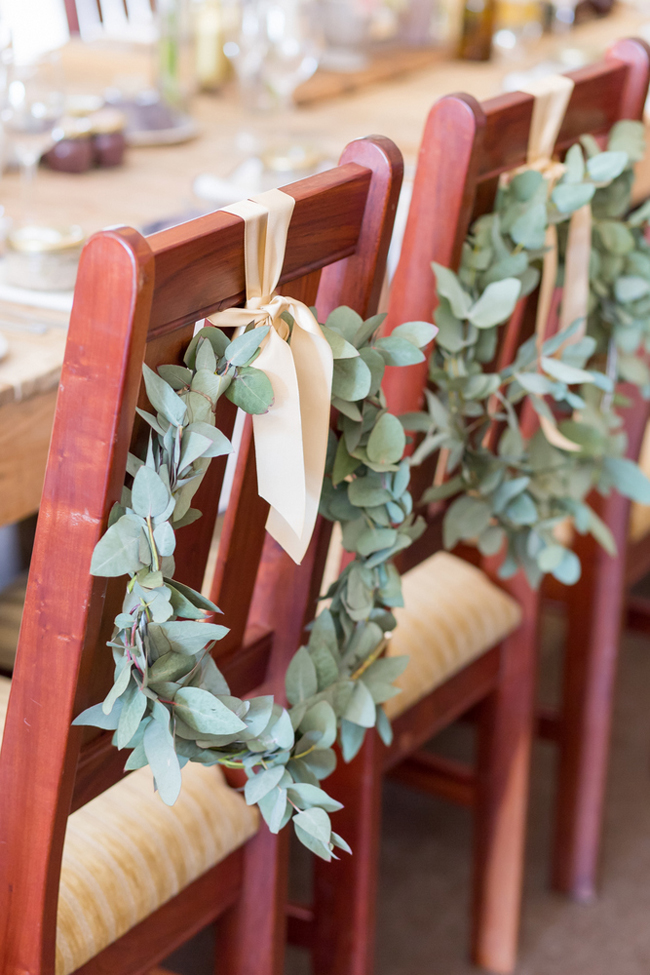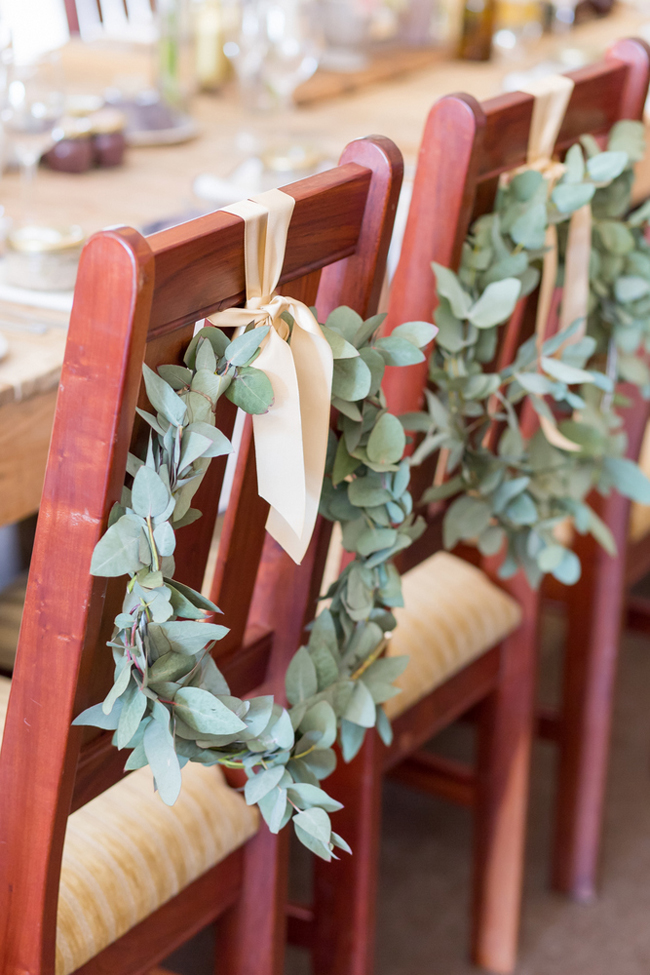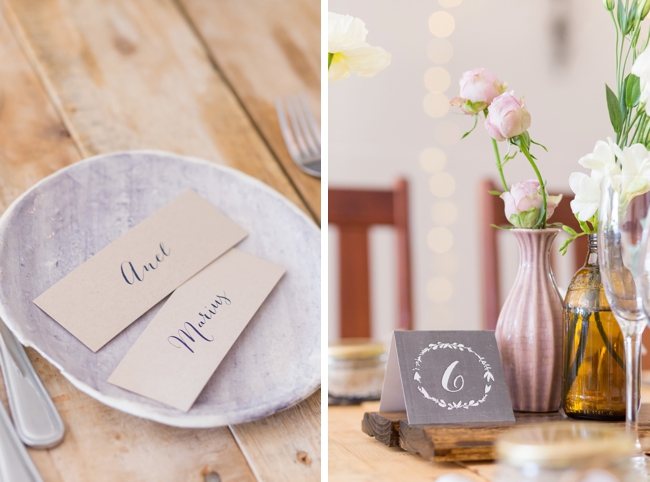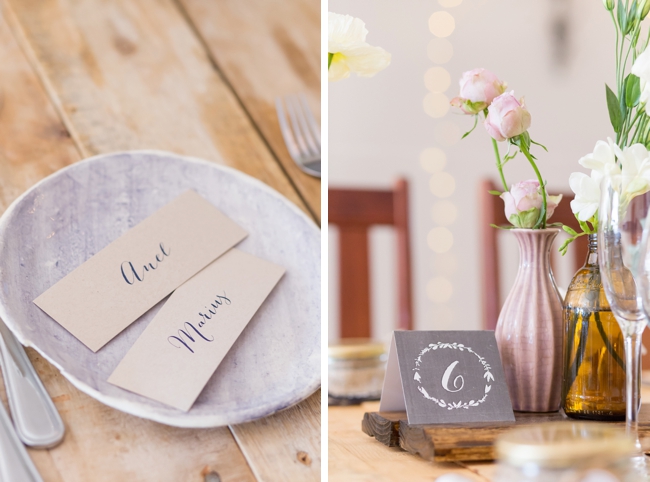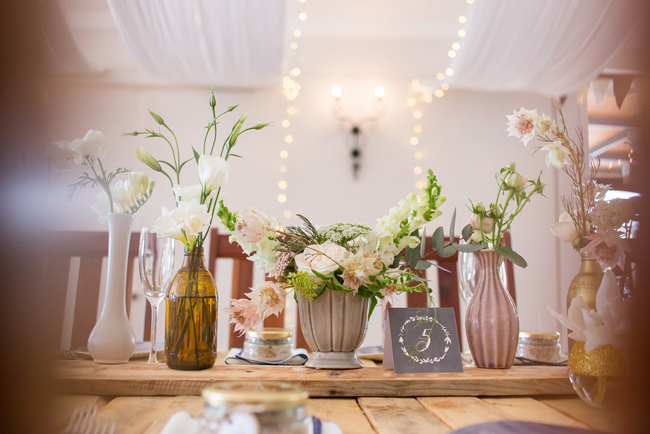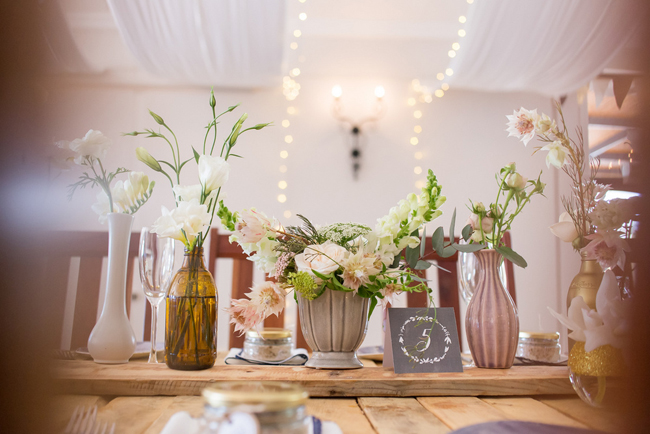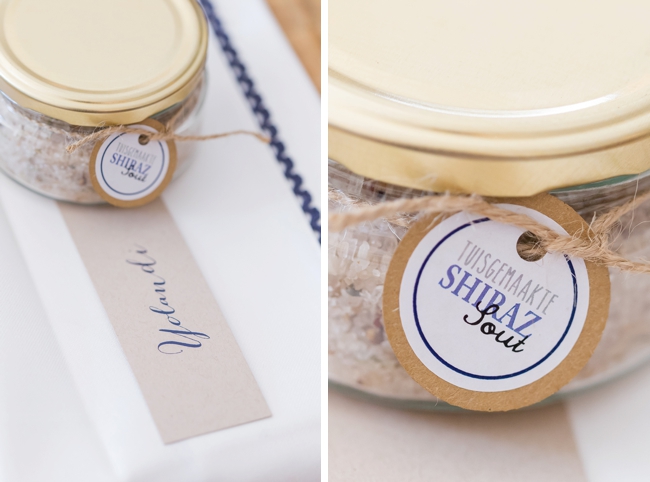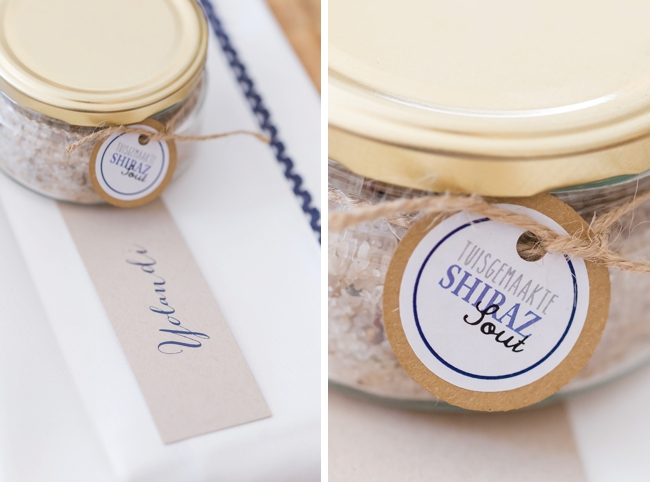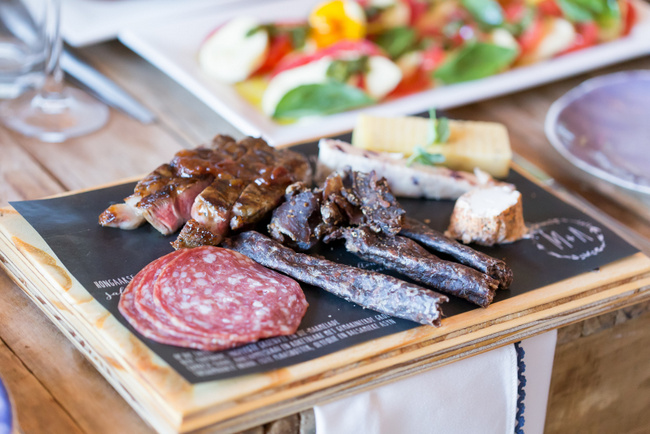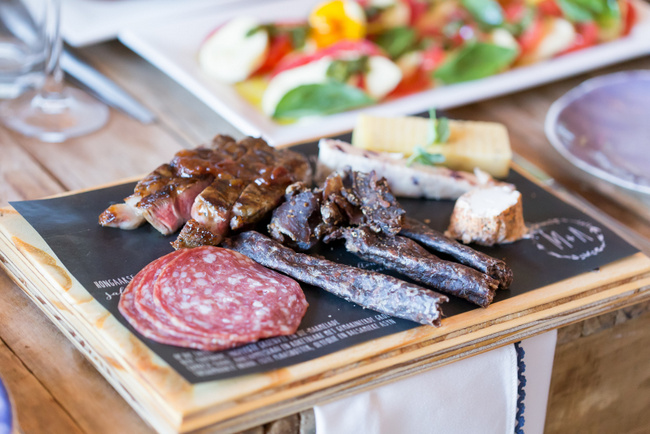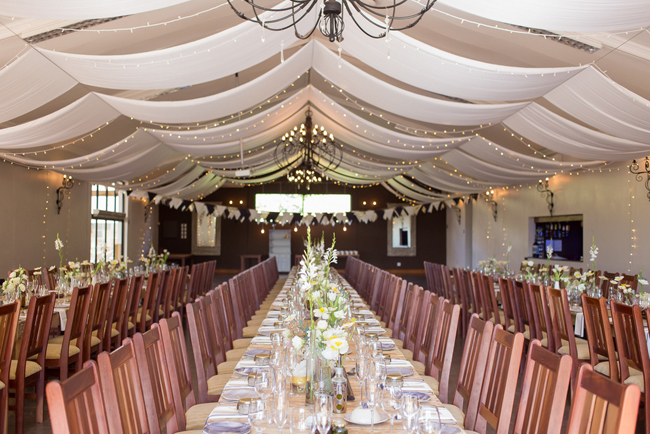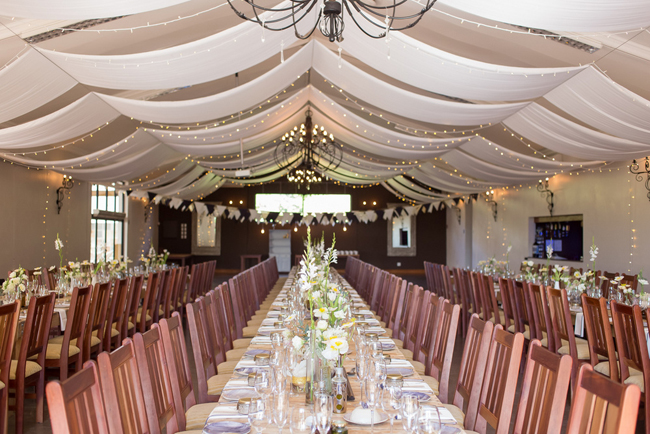 The Flowers
Like my sister-in-law said, it was like a Botanical Laboratory. They were the prettiest flowers I have ever seen, and it smelled like a heavenly garden. It was an informal mix, in all different shapes and sizes of vases, of all my favourite flowers: blushing brides, poppies, tulips, Geraldine Wax, snapdragons, sweat peas, jasmine, orchids and roses. And just look at my beautiful bouquet!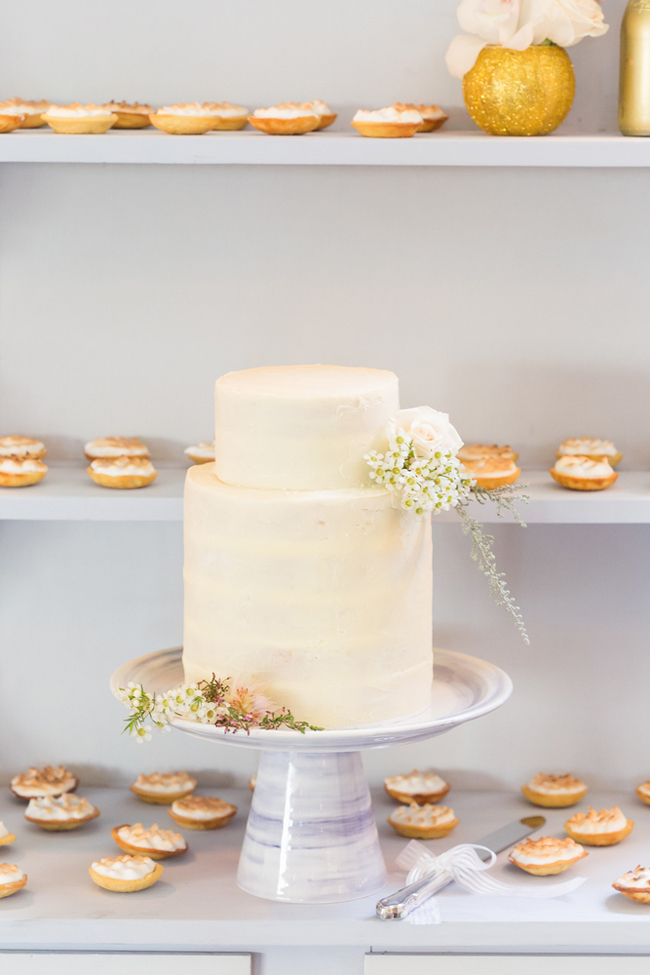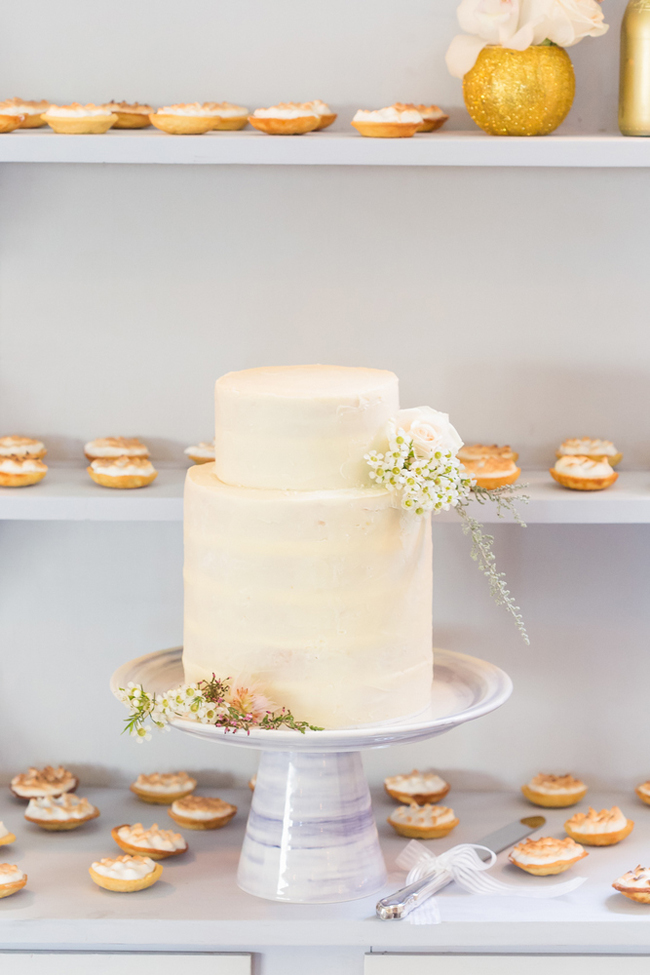 Memorable Moments
I just loved every single moment of our wedding, but I must admit, I could not wait to walk down the aisle. That must have been the highlight. I couldn't wait to see Marius, and also all our guests!
Proudly South African Details
It was a BRAAILOFSFEES on Braaiday…so there was Boerewors…and Biltong and Boeries for the 'bitter-einders".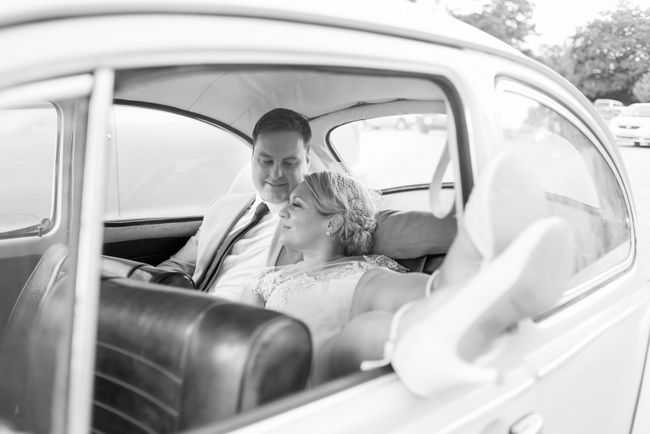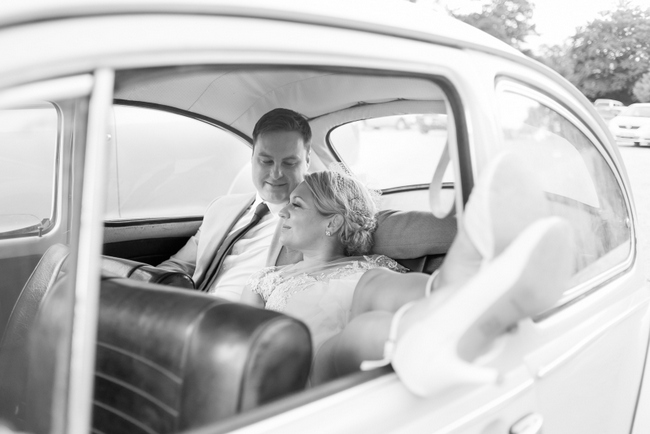 Best Decision
Trying not to have too many fixed ideas – if a plan/idea did not work, I moved on to the next!
Advice for Future Brides & Grooms
Enjoy the planning part as well – do not get tied up in too many little detailed issues. Only you will know about it later. Choose the perfect photographer – we felt super comfortable in front of Adele. Remember to enjoy your wedding day – it is in fact about you and your partner – and we DID!
We have a lovely video to share with you as well:
You can see more from this wedding on Adele Kloppers' blog.
SERVICE PROVIDERS
Venue & catering: Allesverloren | Photography: Adele Kloppers | Flowers & décor: Paradiso Flowers | Video: Schane Kritzinger | Invitations: Joli Design | Printable stationery: Ina Adlem | Cake: Yolandi Heyneke | Bride's dress: Magda Grove | Bride's shoes: Anella Wedding Shoes | Birdcage veil: Kathleen Barry | Hair & makeup: Madeleen | Bridesmaids' dresses: Hanna Mari | Hiring: Goeters | Ice cream: N2Ice Cream