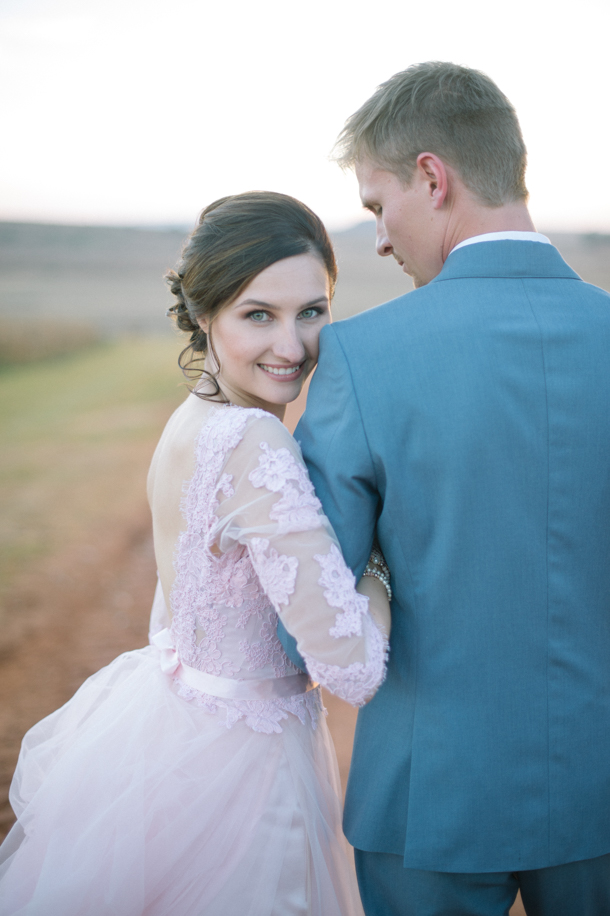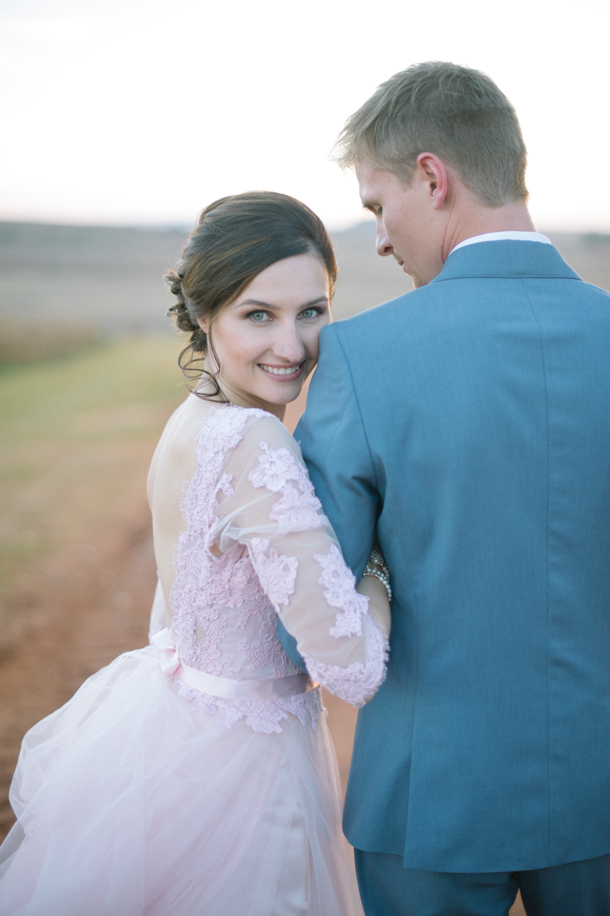 The next time I come across a bride who's wavering about a 'first look' photo session because she doesn't want to spoil 'that moment' (you know, the one where you lock eyes from opposite ends of the aisle and even though you're in a room full of your family and friends you can only see one another and your heart's beating out of your chest and you're gripping your dad's arm but you're looking at each other and it's amazing) – well, next time I am just going to show her Evette and Emile's wedding. Because they had a first look (the sweetest of first looks for this pair of childhood sweethearts) and some gorgeous portraits with their awesome photographer Laura Jansen before the ceremony. But when Evette's walking down that aisle – wow. The emotion in these pictures is so real, it actually brings a tear to MY eye. I have a feeling these two are going to be looking at one another like that for a lifetime. For their big day, they picked a beautiful pastel palette (including a gorgeous blush dress for the bride), and like the ballerina she is, she danced through ceremony and reception, right through to a first dance with her handsome groom that looks like it came from a movie. Ah, love. It gets me every time.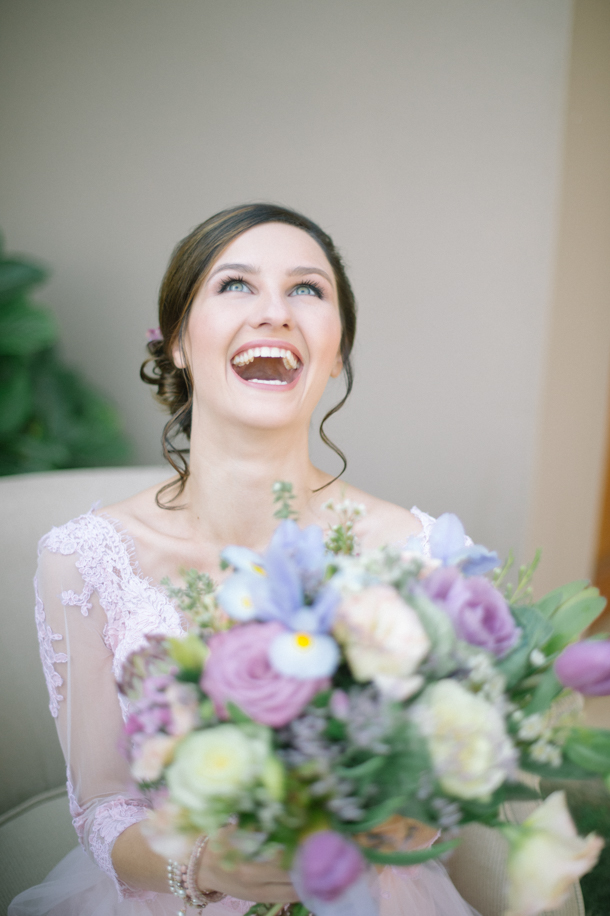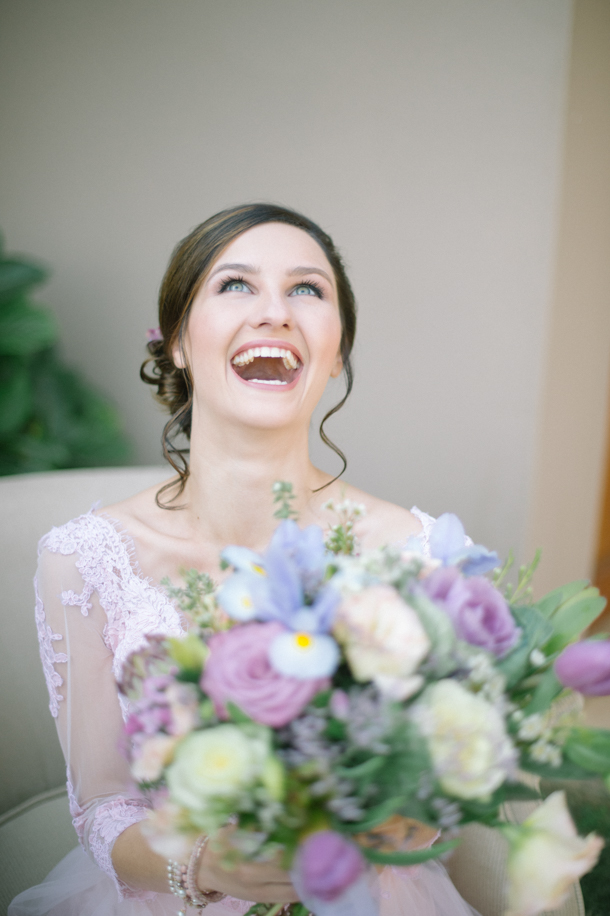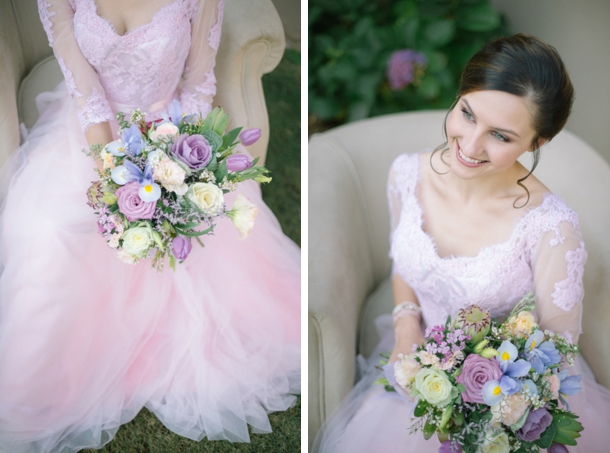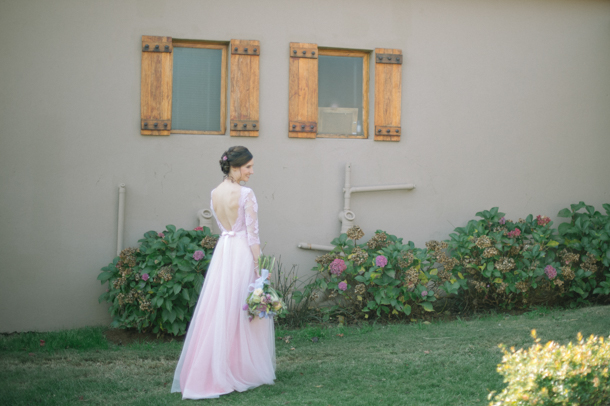 Love Story
Our love story starts many years ago, when Emile and his family moved from Potgietersrus to Pretoria and this red-cheeked, blue-eyed boy landed up in my classroom. We were only ten years old at the time, but I fell in love with him immediately. He was my first childhood love and we dated on and off growing up. After school, we sat on a balcony and joked about how we would probably end up getting married one day. However, both being young and reluctant to think about such commitments, we went about studying and travelling and pursuing other interests. It would be eight years after this conversation, that Emile would arrive on my doorstep one night as my childhood friend, but leave as the perfect suitor for my for ever after.
The Proposal
Emile is very energetic and loves participating in sports and outdoor activities. I am happiest with my nose in a book. However, our interests crossed paths when I mentioned one day that mountain biking seemed like a great deal of fun. He was excited and arranged a day of off-road cycling near Cullinan. It was a great idea, had I not been so awfully unfit and unskilled on a bicycle and I said that I would never attempt this again. So to my dismay, a few months later, one December morning I was greeted with the prospect of going mountain biking again. I begged and pleaded to stay, but Emile was adamant that this time it would not be as hard as the first time and I would actually enjoy it. He asked me to unpack his backpack and start packing up the gear, only to come storming into the room and ask me to rather pack lunch (I would later find out that the ring was stashed in the backpack and I was about to stumble upon it!) Off we went to Rosemary Hill, a venue I have always wanted to see and have often admired on wedding blogs, so I will admit, the hang lip recovered slightly upon hearing this detail. Emile made sure we received our cycling passes, chatted to a lady about the best routes and off we went. Emile told me that he had noticed there was a Geocache site somewhere on Rosemary Hill and since I have always wanted to find one, we set out to find the treasure as well. We cycled to a beautiful little forest, with building ruins inside, here we stopped for a bit and started up the GPS to locate the treasure. We soon found a box under a little bridge and felt like Indiana Jones, I was so excited. We looked through all the trinkets people had left, we read all the notes about their experiences. But then there was an extra trinket with no logbook entry. I opened the ring box and was startled to see our names in it and a little plastic ring. I looked up at Emile and he just smiled and asked me if I liked the ring. I didn't know what to say. By now I knew what was going to happen, but it's still such a magical moment, that it felt completely surreal. He pulled out another ring box, and stole my heart all over again, when he proposed. Turns out, this Geocache site was made specifically for me. Emile had planted all the trinkets and wrote the whole logbook. But he feared someone might snatch my ring; so he placed a dummy ring just a surprise. This day I cycled up a mountain and through more ruins and forests and didn't even get tired. I was Emile's fiancé and it was the best feeling in the world.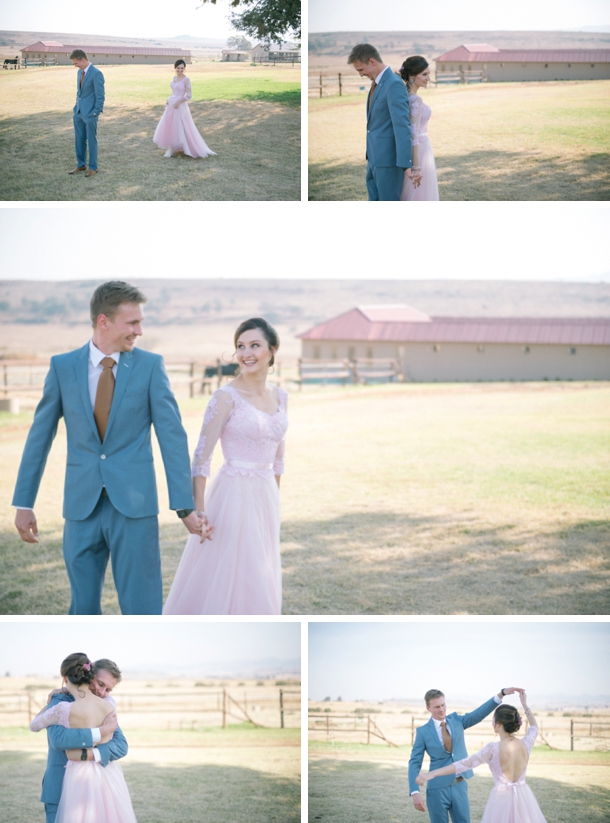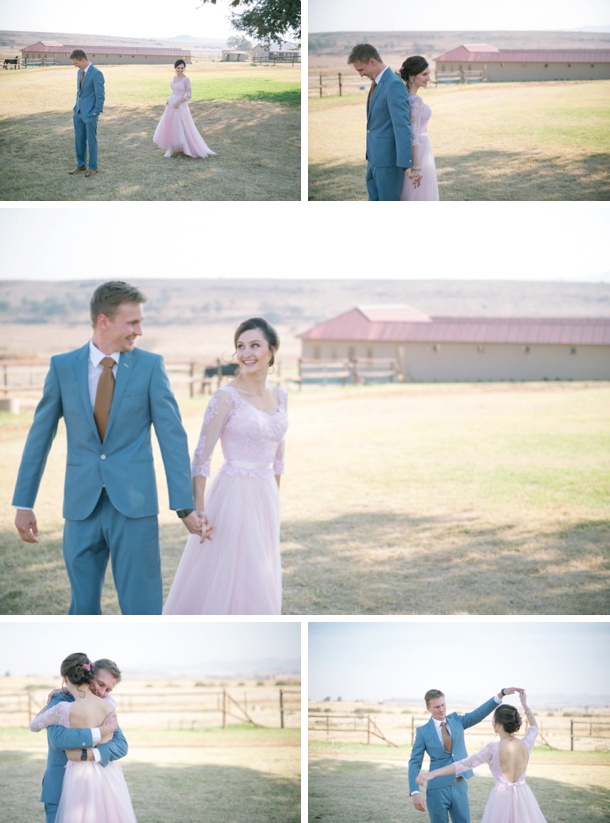 Wedding Style
We didn't have a theme, we just wanted it to be as informal as possible. We didn't have a lot of formalities such as cutting the cake, garter toss or bouquet toss. We had only three speeches, of which two were Emile and myself. We wanted our wedding to be a big celebration, a coming together of families and not a timed and perfectly planned affair. It was important to us to honour the covenant that was being made between man and wife, and that emphasis be placed on the covenant between God and man as the basis for this union. As for colours, Emile loves pastels, and since we couldn't decide on one or two, we opted to have them all.
The Venue
We both wanted a venue that was laid back and didn't have formal or Tuscan trimmings. We wanted a space where the city seemed like a distant memory so we turned our focus to the countryside. We searched high and low through Hartbeespoort and Muldersdrift. We didn't find anything so we expanded our search to Heidelberg. Lezar Opstal hadn't been on our original list of venues to visit, but we saw the sign next to the dirt road and decided to follow it. We were greeted by the horse-riding instructor (as we had arrived without prior notice or appointment) and she was so kind. She enthusiastically showed us around and as Emile and I stood on the stoep of the reception hall, we both looked at each other and just knew this was it. It had the most beautiful lands, horses grazing to your left, the chapel to your right. Mielie fields and weeping willows danced in the wind and we felt at home.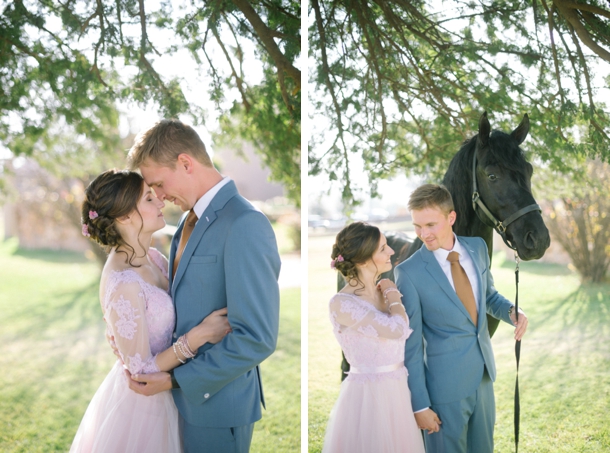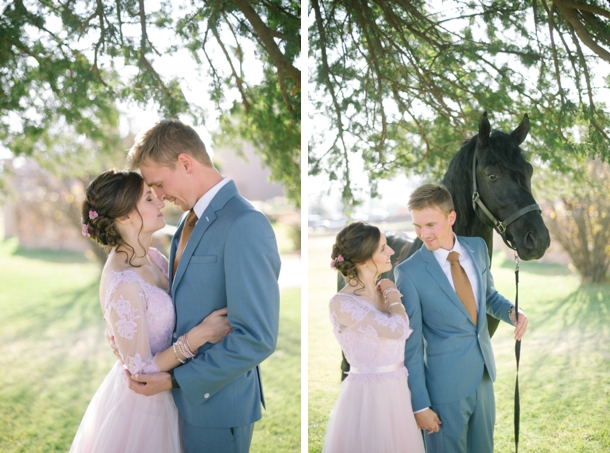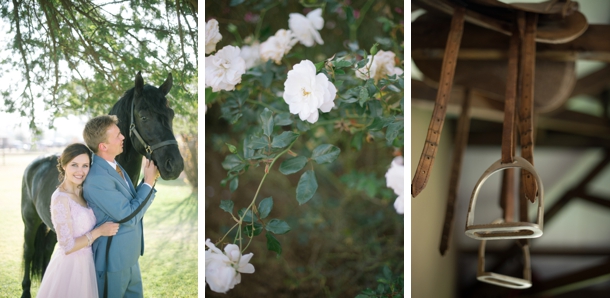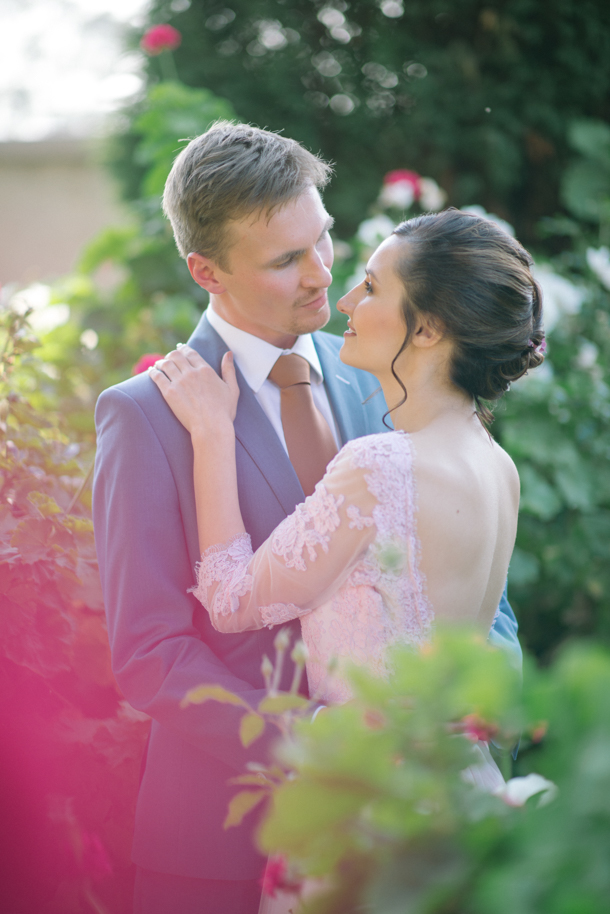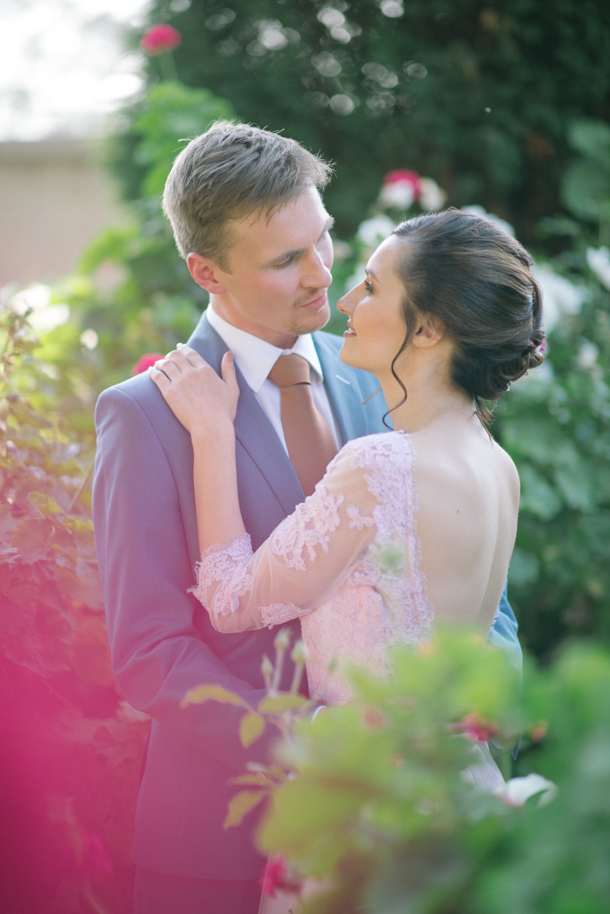 Wedding Details
My wedding shoes were the punk part of my attire. I hardly ever wear dresses and so felt it necessary to have a part of me that is funky and vibrant. The shoes I found on modcloth.com and was sold immediately. They were vintage on the top and had graffiti on the bottom. Emile originally thought that he would opt for a brown suit, but we found this stunning blue suit whilst on holiday in KZN and after a quick deliberation we knew safe colours would not be applicable to our day. Emile is such a vibrant, confident man, that I felt this would complement that perfectly.
DIY Elements
We made all the stationery (invitations, table numbers, order of service, seating arrangements, party favours) ourselves and also asked our immediate family to save their wine bottles, which we decorated with burlap and lace for table decorations.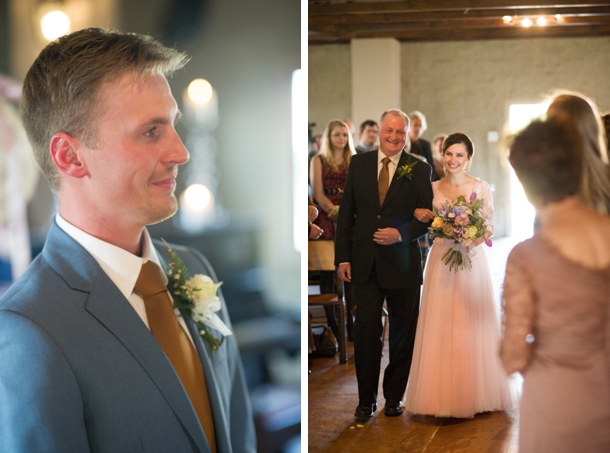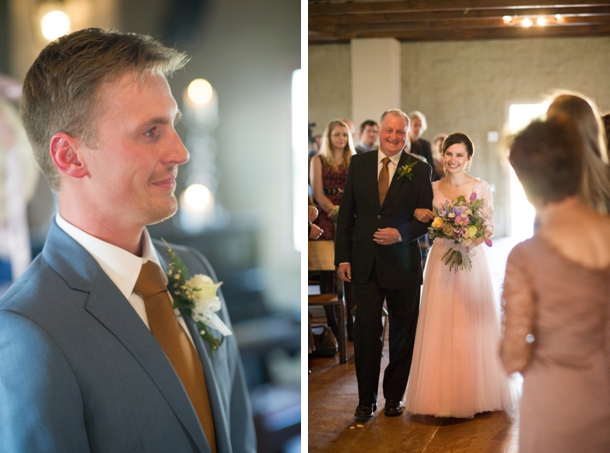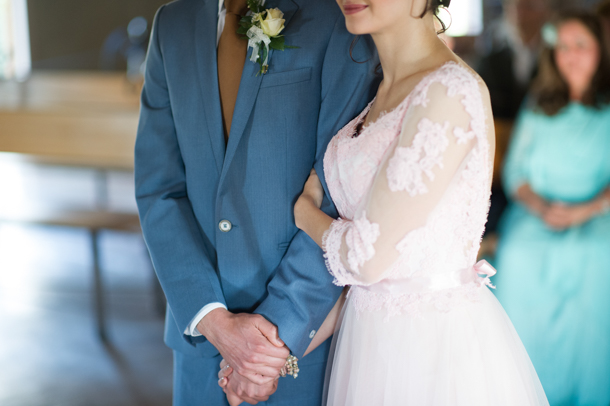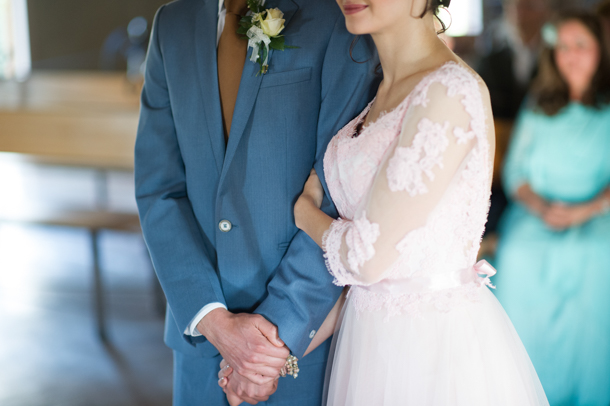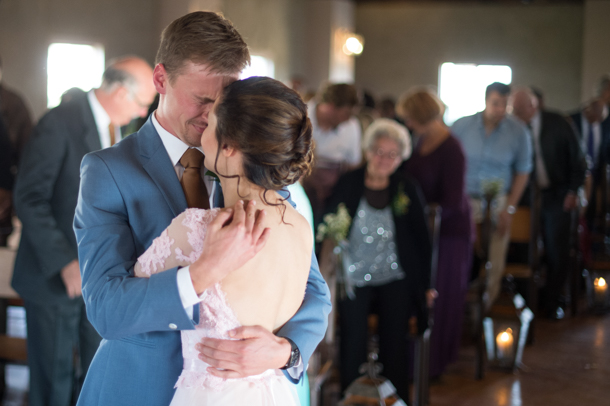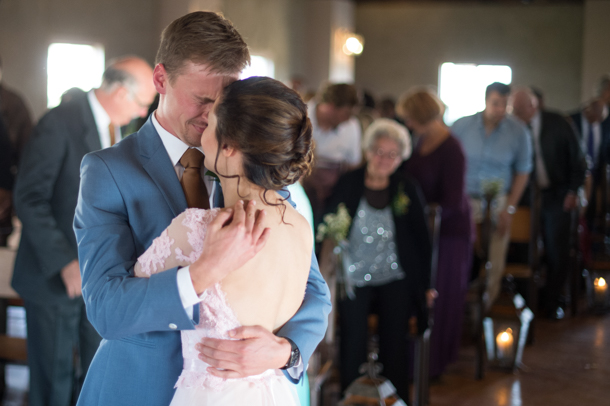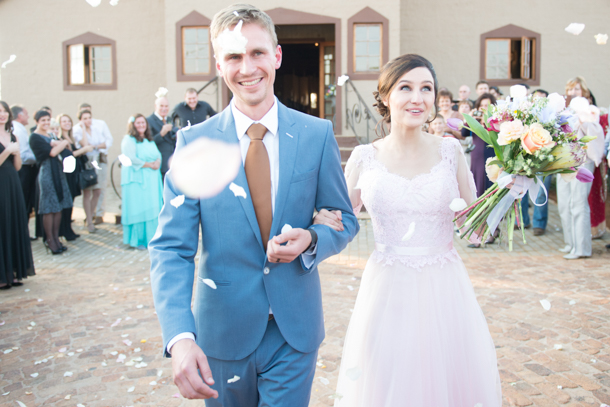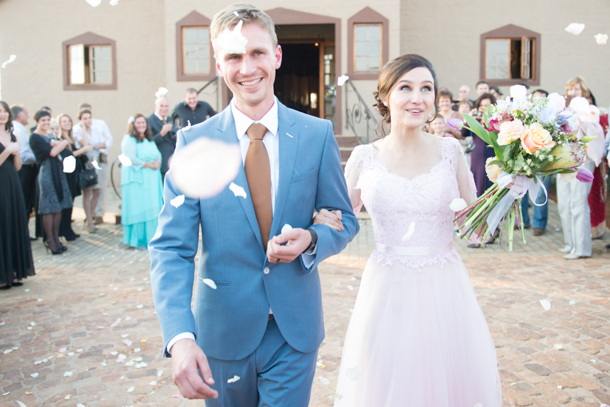 The Flowers
We wanted the flowers to have a feeling of being picked from the fields or someone's garden. We wanted a very informal arrangement that would be happy and welcoming. Wena did an absolutely wonderful job in capturing this feeling. Not wanting one flower to dominate the arrangement, we gave her free range to do what she thought would suit, as long as it was all the pastel colours under the sun.
The Dress
I wanted a pink wedding gown, so we opted to have my dress made. My lovely sister-in-law referred me to the lady who made her wedding dress as well, and together with Rina from Catherine's Collections my dream became a reality. We spent many days discussing and tweaking designs, looking for the right fabric and dying lace and fingers. Being a trained ballerina with a very active imagination, I wanted a dress that allowed me to move and dance, yet still make me feel like I was the star of my own fairytale.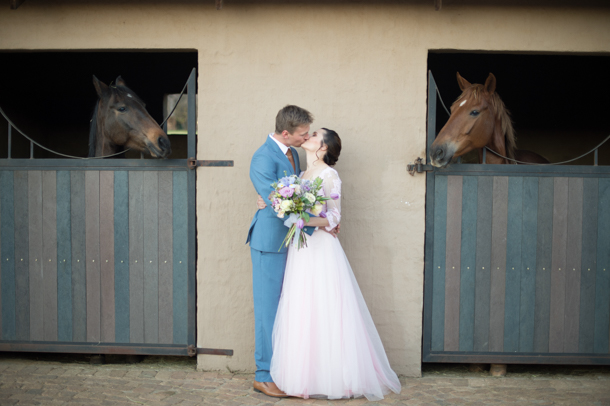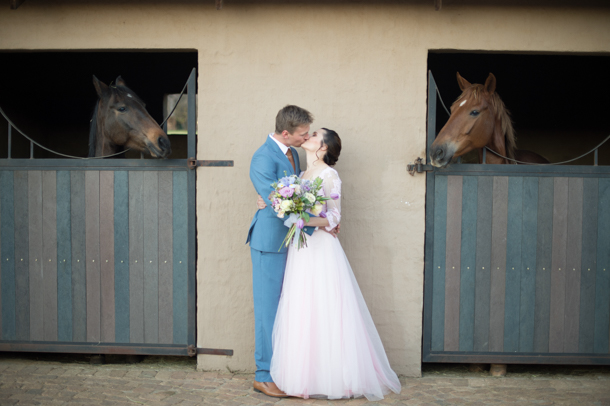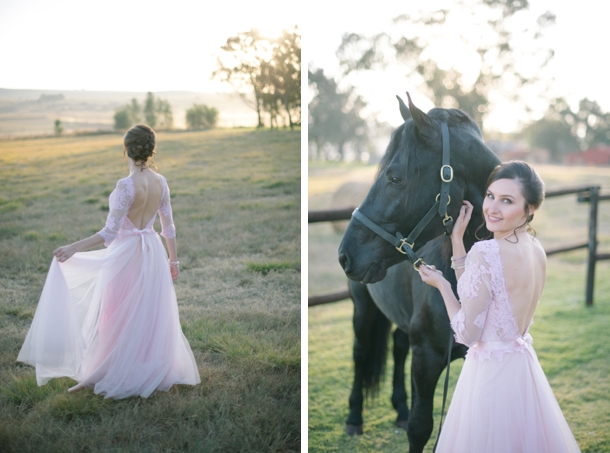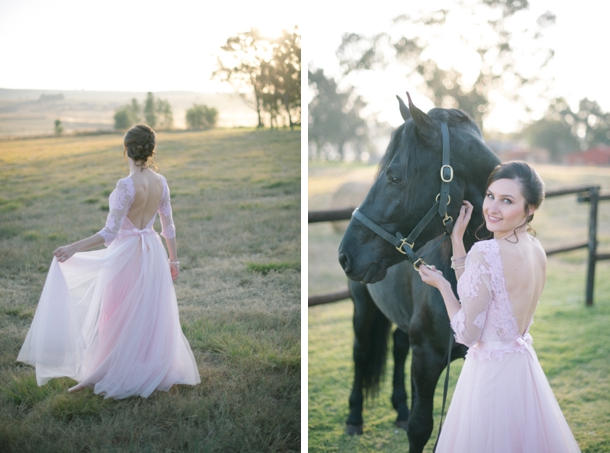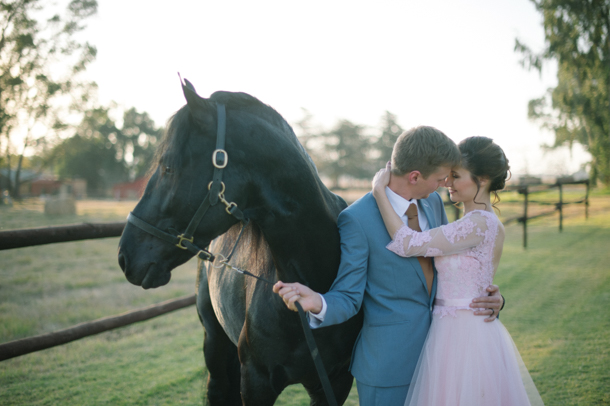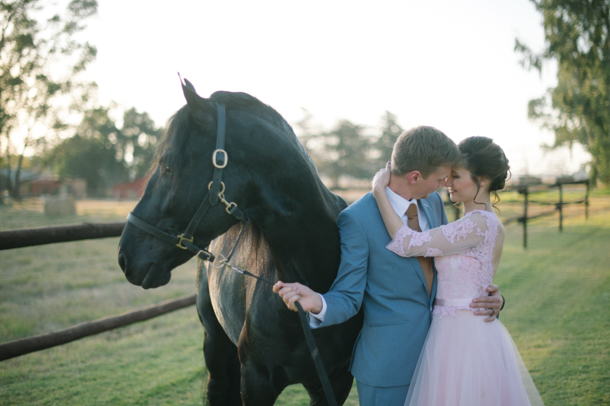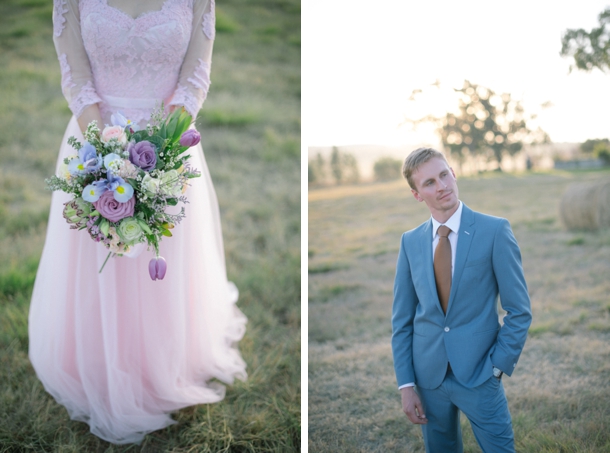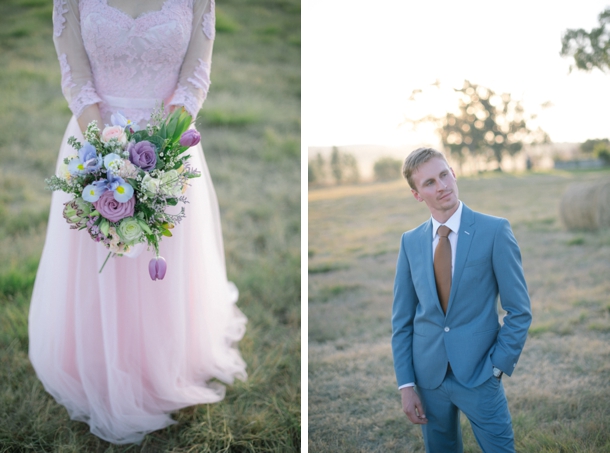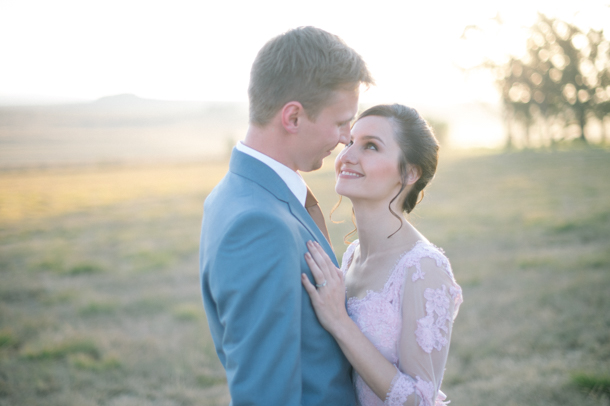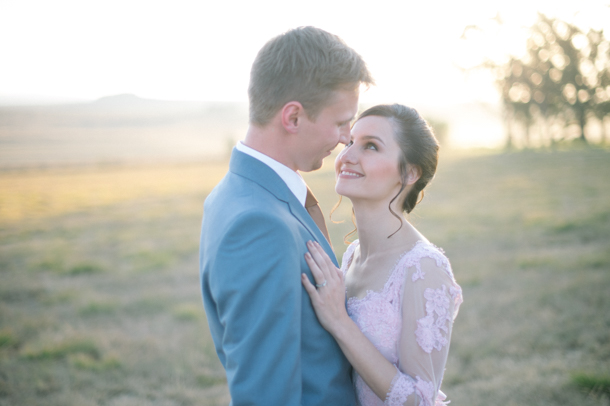 Favourite Detail
In terms of details, I would have to say, my bouquet was one of my favourites. I explained in two sentences what I wanted, we never even made a mock up of the bouquet prior to the wedding, but when Wena came and greeted me that afternoon and brought my bouquet, it felt like she was family and she had made an art piece. I decided to give my bouquet to my in-laws as a symbol that they can rest assured that I will take care of their son and that as long as I live, he will be loved.
Memorable Moment
The most memorable moment for me was as the clock struck midnight, we greeted our last guests and my husband took me by the hand and smiled like he was the proudest man on earth. We were so happy and content in that moment, the day had been a spectacular success and I knew that I was loved. We couldn't have asked for more, we couldn't have hoped for better. It was picture perfect, it was filled with wonderment and joy and my cup was truly overflowing.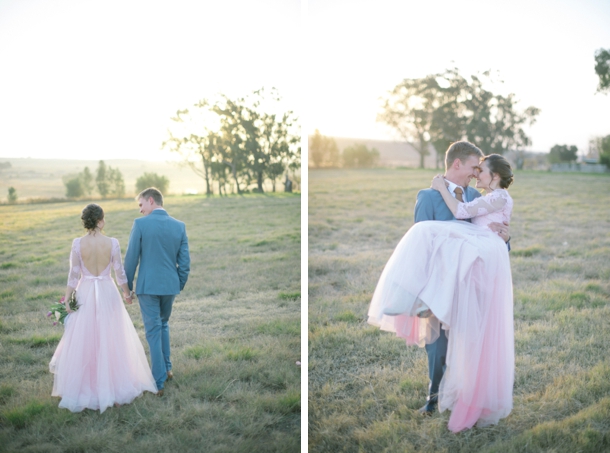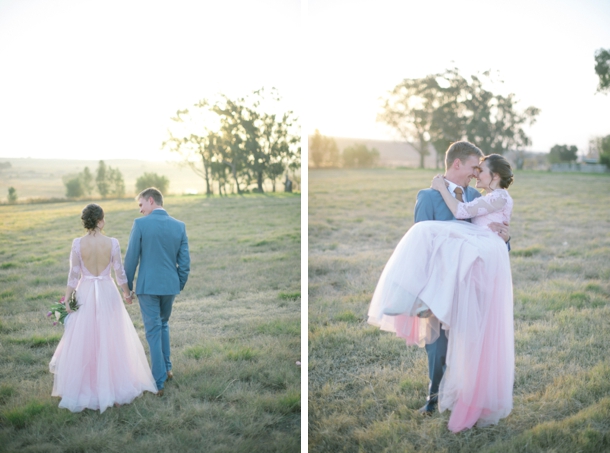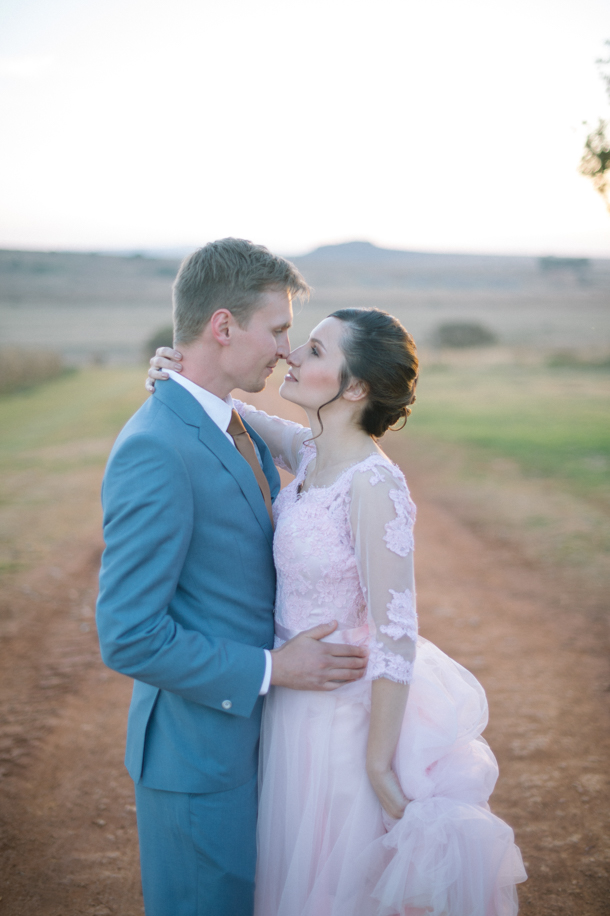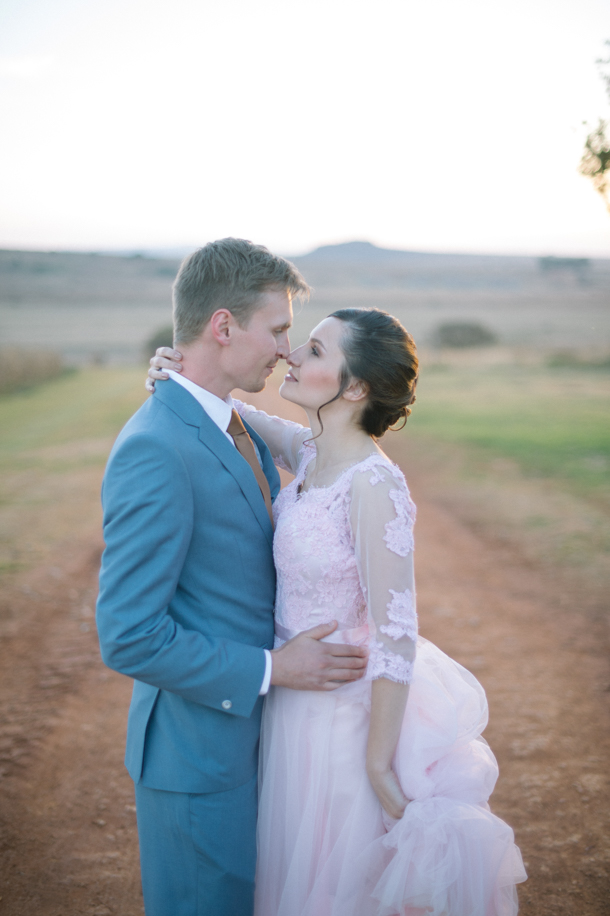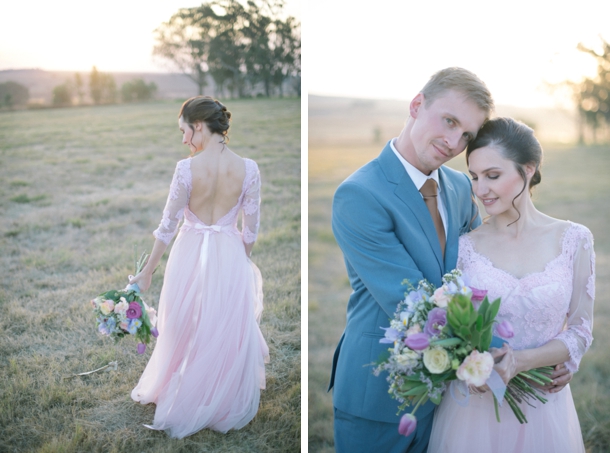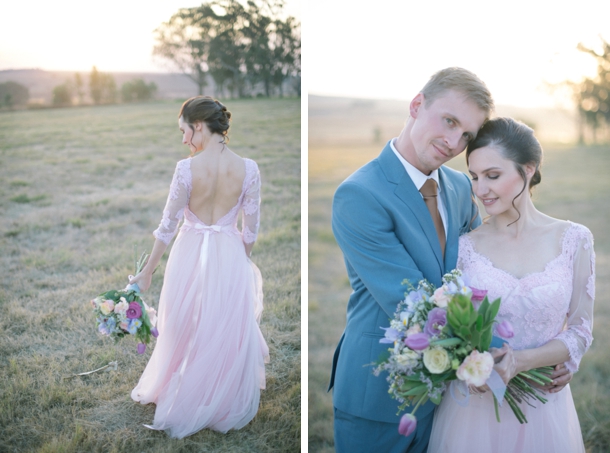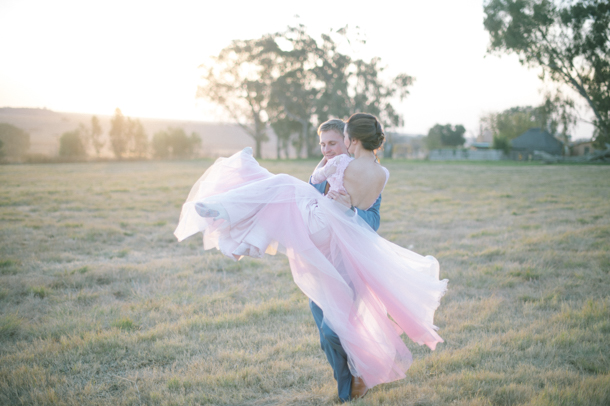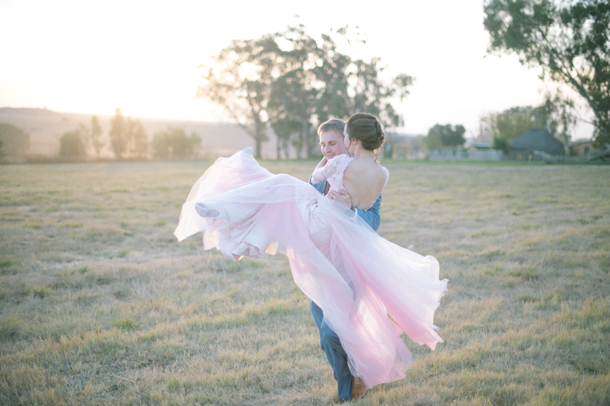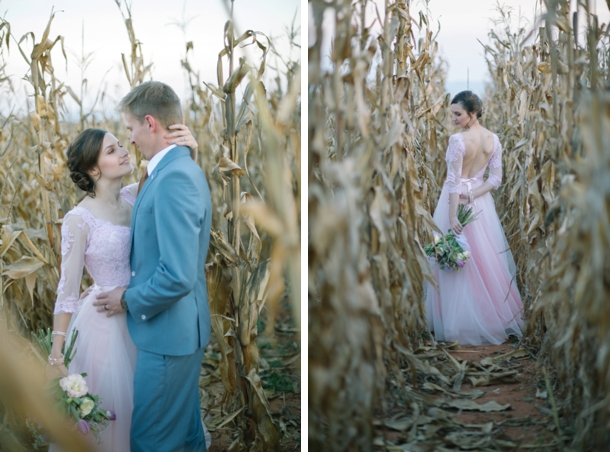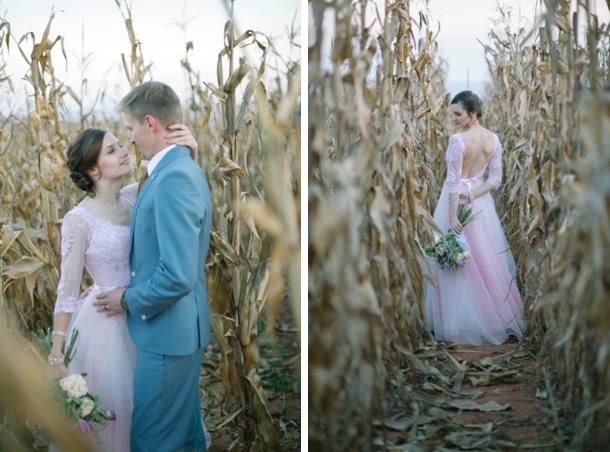 Proudly South African Details
We opted to give our guests Lion matchboxes as a party favour, a brand all South African households are familiar with and grew up with.
The Honeymoon
It was a big surprise, not even my parents knew where we were going until half way there. I asked Emile to keep it local. We have such a beautiful and hospitable country, I couldn't imagine spending our first days as man and wife anywhere else. We spent a week in Central Drakensberg in a beautiful cabin at the Drakensberg Sun and then drove even further into the mountains to a trout farm called Castleburn, where we spent another week relaxing and enjoying each other's company. It was liberating to not feel compelled to be a tourist in a strange country, but to be able to enjoy my husband's company, whilst on walks taking in the grandeur of the Drakensberg. The staff at both locations spoilt us rotten and it's safe to say we will definitely return.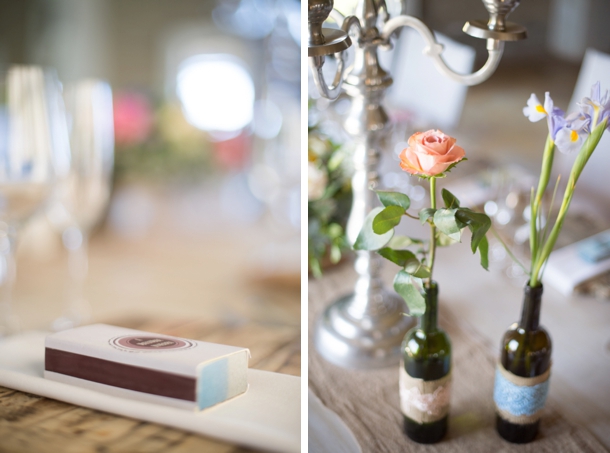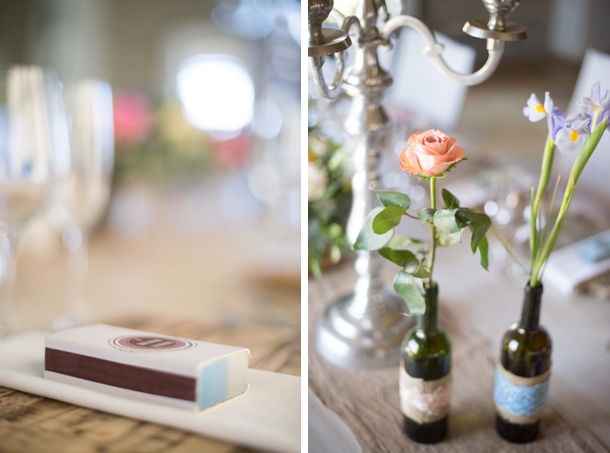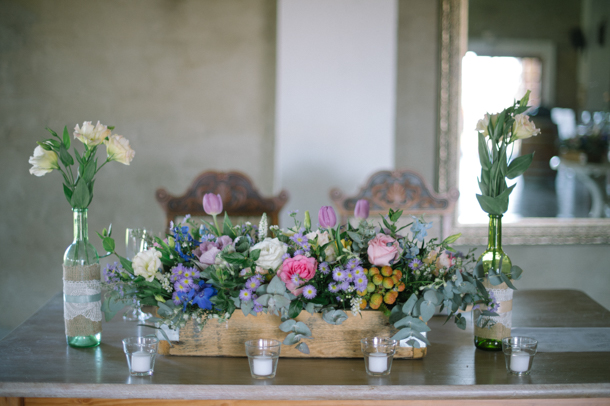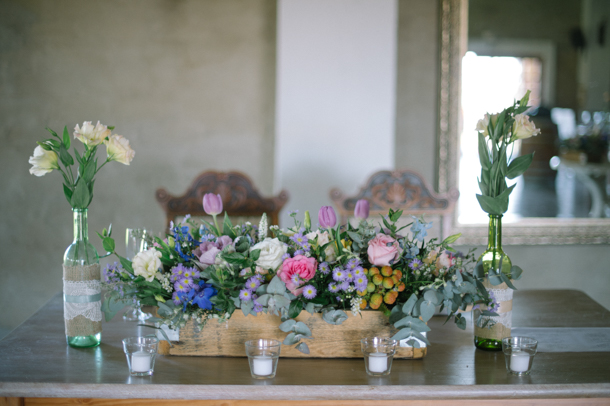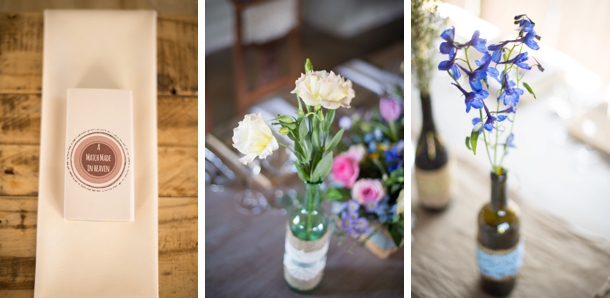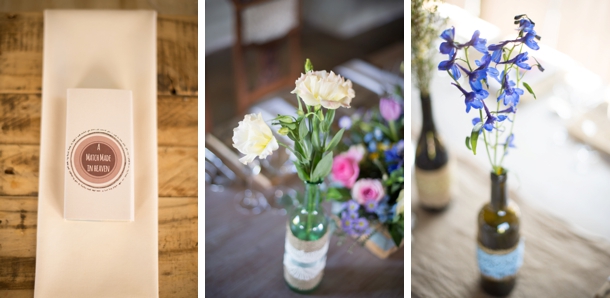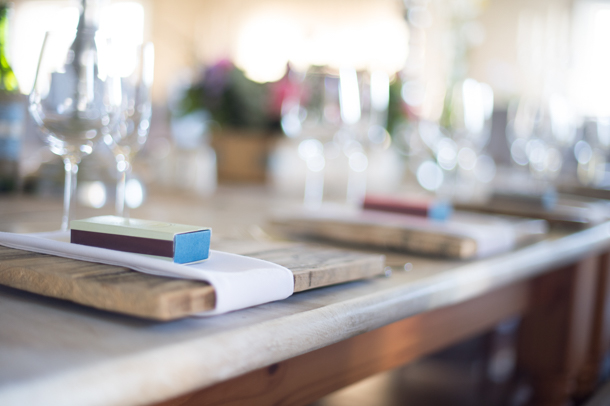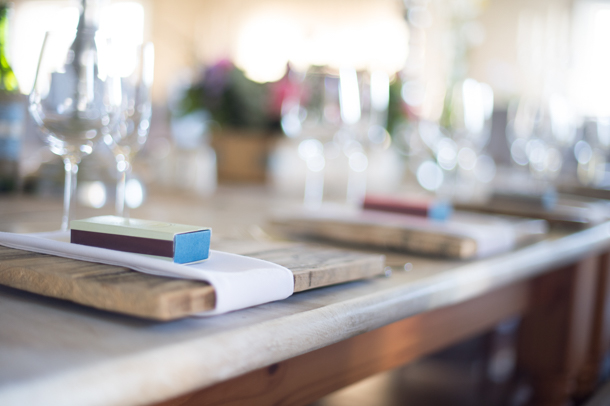 Advice for Future Brides & Grooms
Don't feel compelled to follow trends or fashions if they are not true to your nature or you as couple. Remember why you started putting together your wedding in the first place and don't lose sight of why you are getting married. Sure the day is grand, but what follows is the spectacular part. Don't lend your ears to too many people, but take heed when people say that it is over in a wink, they aren't lying. It goes by in a flash, so find moments to sit down and take it all in. Enjoy your guests, the décor and surroundings. Make sure you dish up first and actually eat a whole plate; you planned so meticulously to set up the menu, you might just as well enjoy it. And memorise the look on your spouse's face – there is something magical about that day, it is almost as if you enter a new dimension, as if the joining of two hearts is visible on your face and boy oh boy, is that a handsome sight.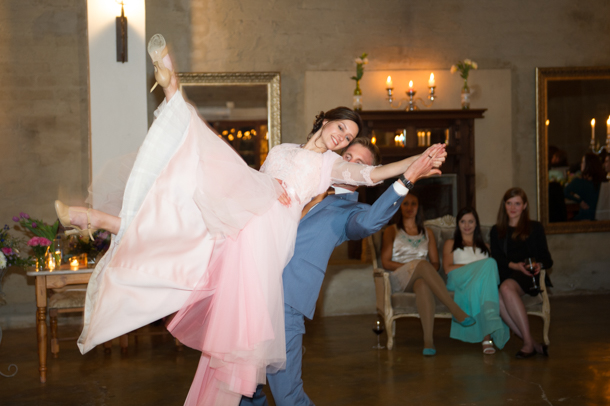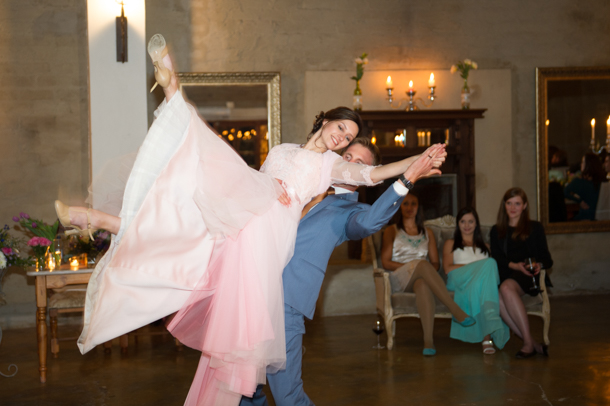 You can see more from this wedding on Laura Jansen's blog.
SERVICE PROVIDERS
Venue, catering & on-the-day co-ordination: Lezar Opstal | Photographer: Laura Jansen | Videographer: Mighty Fine | Flowers & décor: Wena | Bride's dress: Rina from Catherine's Collection | Bride's accessories: Modcloth.com and Kleins | Hair: Carine | Groom's attire: Shadows | DJ: DJ Farmboy (Lezar's in-house DJ)