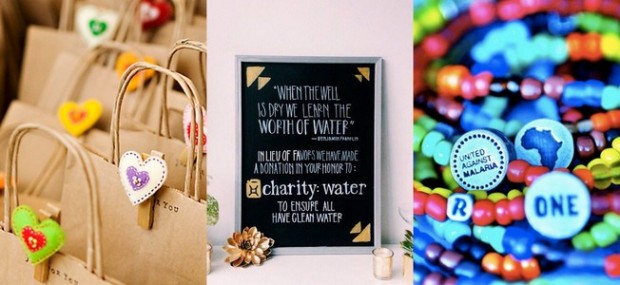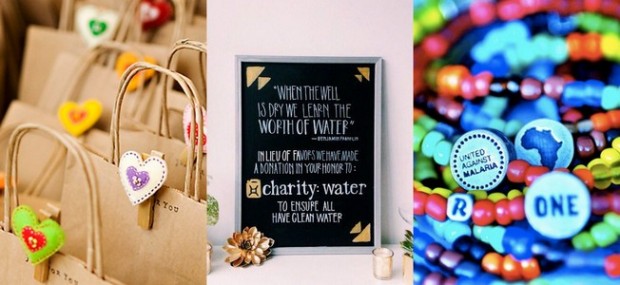 Well, this is one wedding trend that really makes me feel good to be talking about. Because, you know, sometimes when you look around at all the need in the world, it can seem a bit obtuse to spend so much time thinking about napkins and sequins. With all the money spent on a wedding, it's no wonder that so many couples get to wondering if they can share the love beyond the circle of friends and family, and benefit their community or favourite causes. Or perhaps it's a case of paying tribute to the memory of loved ones, including them in your day in a meaningful way. Whatever the motive, wedding favours are an easy way to have a charitable aspect to your wedding. We've all heard stories of brides who spend hours picking out fancy favours, only to find piles of them left behind on the tables – well, this is the perfect way to skip that problem altogether, ensuring that the money you spend on this hospitable tradition ends up doing good somewhere. There are so many lovely ideas out there for charity favours, and it's been awesome to see local companies and charities getting on board and coming up with fresh options. As always, there's so much creativity in real weddings too – I've rounded up some of my favourites to inspire.
Charity favours tend to fall into three broad categories…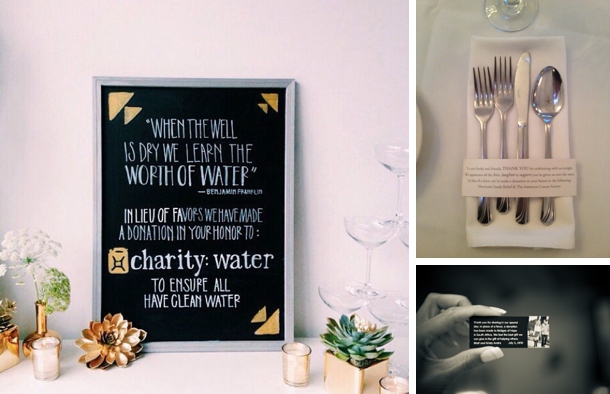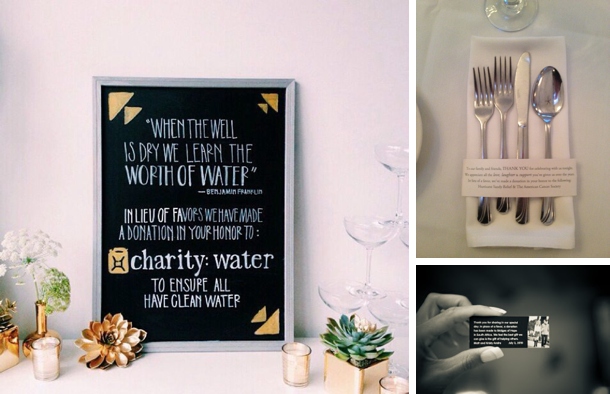 Sources: CarolineRo/Sweetgrass Social via Ruffled (left); via Pinterest (top right); Aaron Young via Brave Bride (bottom right)
1. Donation only
This is the simplest and most straightforward option – simply pick a charity, make a donation, and then choose how you will share this news with your guests. Some charities supply little cards, which you can include in your place settings, or you can design your own to match the rest of your stationery (I know some companies actually offer these for free, as a charity offering of their own). I love the idea of using little MOO cards, or putting a message on a paper napkin ring – both inexpensive but stylish ideas (after all, spending a lot on this detail sort of defeats the purpose). Or why not have a single (eco-friendly) announcement, using a pretty sign in a place that all the guests will notice it before the end of the night? Another idea I've seen is that guests are given tokens and then invited to use them as a 'vote' to choose which (of a few) charities they would like to support by dropping the tokens into named jars (UK-based brides will recognise this as the Waitrose system!). I don't love this idea personally, but it does provide a bit of guest interaction.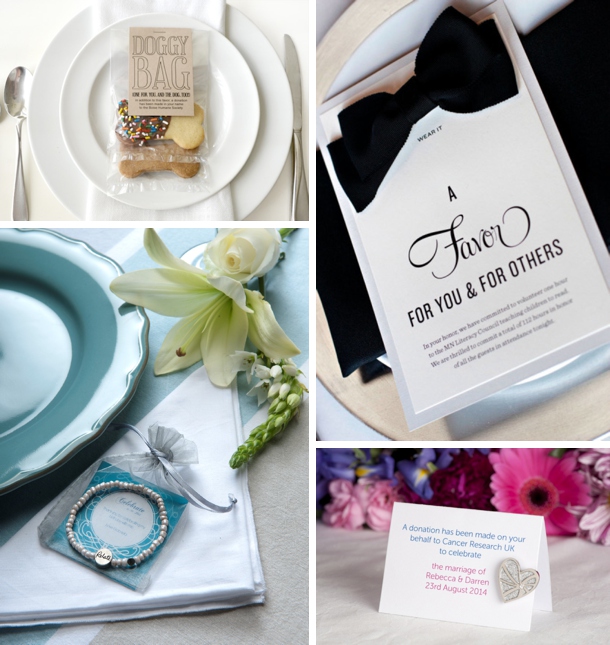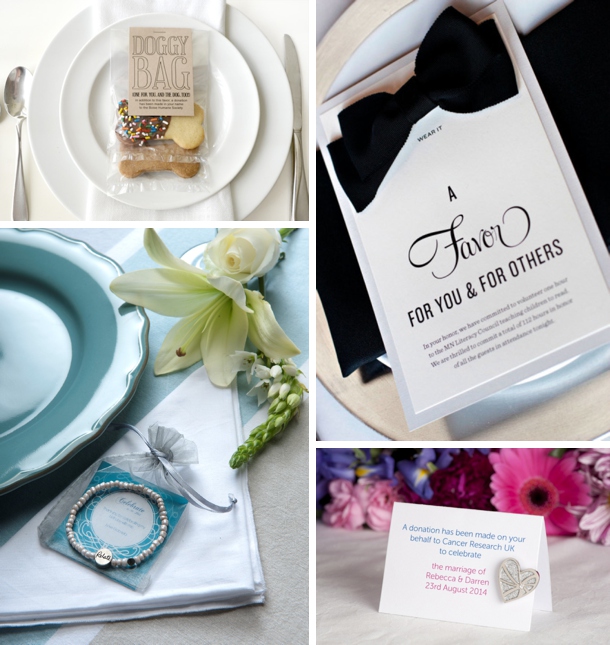 Sources: via Marry This (top left); Erica Loeks Photography/Laura Mullen Event Design via Style Me Pretty (top right); via Relate (bottom left); via Your London Wedding (bottom right)
2. Donation plus token
This is a popular option, because it still makes you feel like you're giving your guests something, but the real gift of course is the donation itself. Again, many charities offer an option here – pin badges are especially popular (and they make a moving tribute to lost loved ones, especially when you see so many of your guests wearing them on the night). Again, you can make a special card, or simply double with the place card. Charity bracelets are another way to go (see our spotlight below for my favourites), or something edible (I especially love the biscuits in a dog or bone shape to signify an animal shelter). I also love the couple who gave their guests bow ties – and what was really special about their idea was that they didn't just give money to a charity, they committed an hour of their time volunteering for each guest who attended the wedding. How much do we love that idea?


SPOTLIGHT: Relate
Relate bracelets are the perfect way to give your guests something pretty (or, er, handsome – they come in styles for men too!) while contributing to an awesome cause. They're already available from a number of charities – supporting endangered wildlife through the EWT, for example, or United Against Malaria. You can also design your own bracelets to complement your decor and wedding design, while supporting a charity of your choice. Whichever you support, you'll also be benefiting elderly members of the local community – each bracelet is beaded by seniors (many of whom support AIDS-orphaned grandchildren) and finished by unemployed adults who are given the opportunity to learn new skills. I've already seen these popping up at a few weddings, and I hope to see more soon.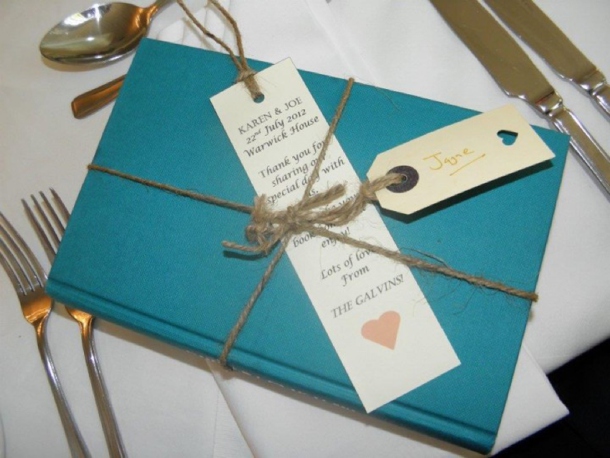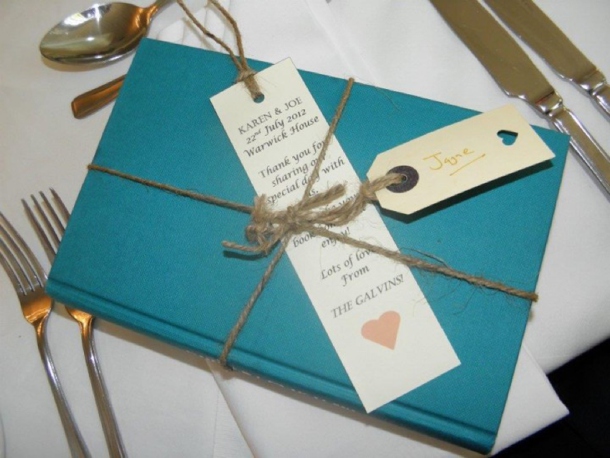 Source: Moonshine Weddings via Boho Weddings
3. Favours from a charitable source
If you really want to have 'proper favours', you can still make it matter by choosing a gift for your guests that has been bought from a charity, ensuring that at least a portion of the cost goes to good. For example, scour charity shops for books and give each of your guests one that relates to them in some way (personal, cheap and charitable – the perfect favour!), or check with your favourite charity to see what gifts they have on offer from their shop. Another similar option is to approach a community workshop and either use some of their existing products or commission something unique utilising their craft skills – this is an option that I especially love in South Africa, where job creation is so important.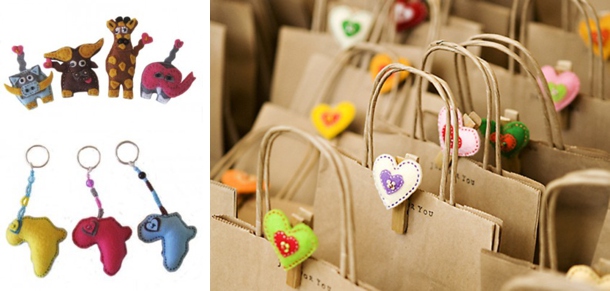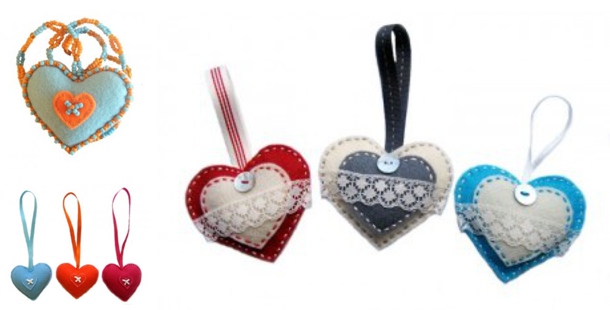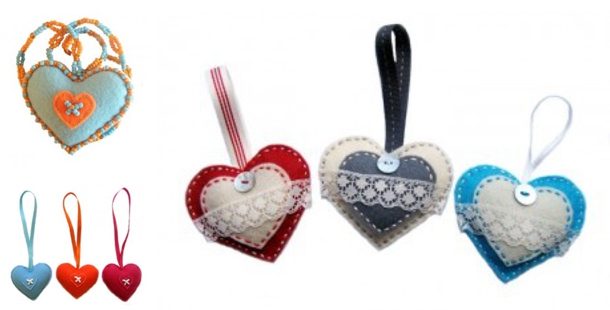 SPOTLIGHT: The Heartfelt Project
Heartfelt is a skills development and job creation project based in Makapanstad, South Africa. They make a gorgeous range of hand crafted products using beading and felt. Ten local women are currently employed, with big dreams for development in place. A portion of sales also goes to the community, to help fight TB, HIV/AIDS or care for children and the elderly. Check out the full range of products here, which can be delivered internationally.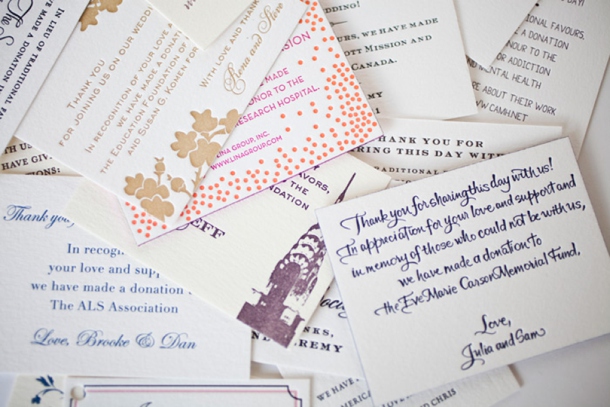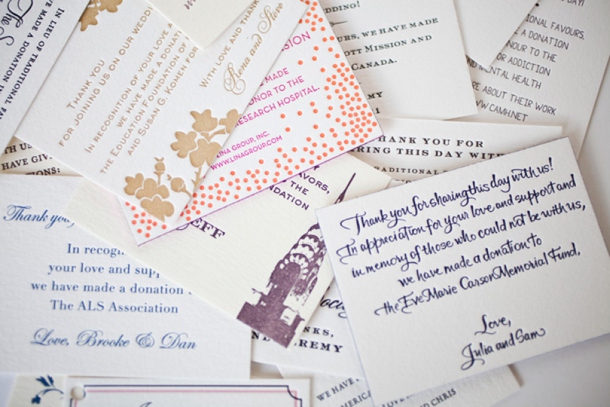 Source: Bella Figura
A note about wording…
In all the research I've done on wedding blogs and forums about charity favours, the only real objection I came across was from people who hated the idea of a donation being made 'in their name' or 'on their behalf' (wording commonly used). While this wouldn't bother everyone, it might be easiest to avoid any offence by using one of the following instead:
In lieu of favours, we have made a donation in your honour to…
In lieu of favours, a donation has been made in honour of our wedding  to…
In lieu of traditional favours, a donation has been made in the name of the wedding party to…
In lieu of favours, a donation was made to… in memory of…
Thank you for sharing this night with us. In recognition of your love and support, we have made a donation to…
To our family and friends, it means the world to have you here with us. Thank you for the support, love and laughter you have brought to our lives. In lieu of favours, we have made a donation to… in honour of the loved ones who could not be here with us on this wonderful day.
Thank you for your love, guidance and support. We are so grateful to have you share this day with us! In honour of our guests on this special day, we have donated to a charity that is close to our hearts…
Other ideas for bringing charity to your wedding…
Donate your wedding or bridesmaid dresses to a charity (or buy your dress from one!)
Raise money from your guests (be careful with this one, as it's on the border of etiquette disaster, but some great ideas I have heard recently were raffling off the roles of witness to guests, and asking guests to make a donation instead of clinking their glasses for the couple to kiss)
Ask for donations in lieu of gifts, or donate all your cash gifts to charity
Have your wedding in a gallery or historic venue – your fees will help towards upkeep and maintenance of a community asset
Arrange for your leftover food to be donated to a shelter after the wedding, and for your flowers to be sent to a hospice so that others can benefit from your celebration.
What ideas do you have for sharing the love? Leave a comment with your suggestions!