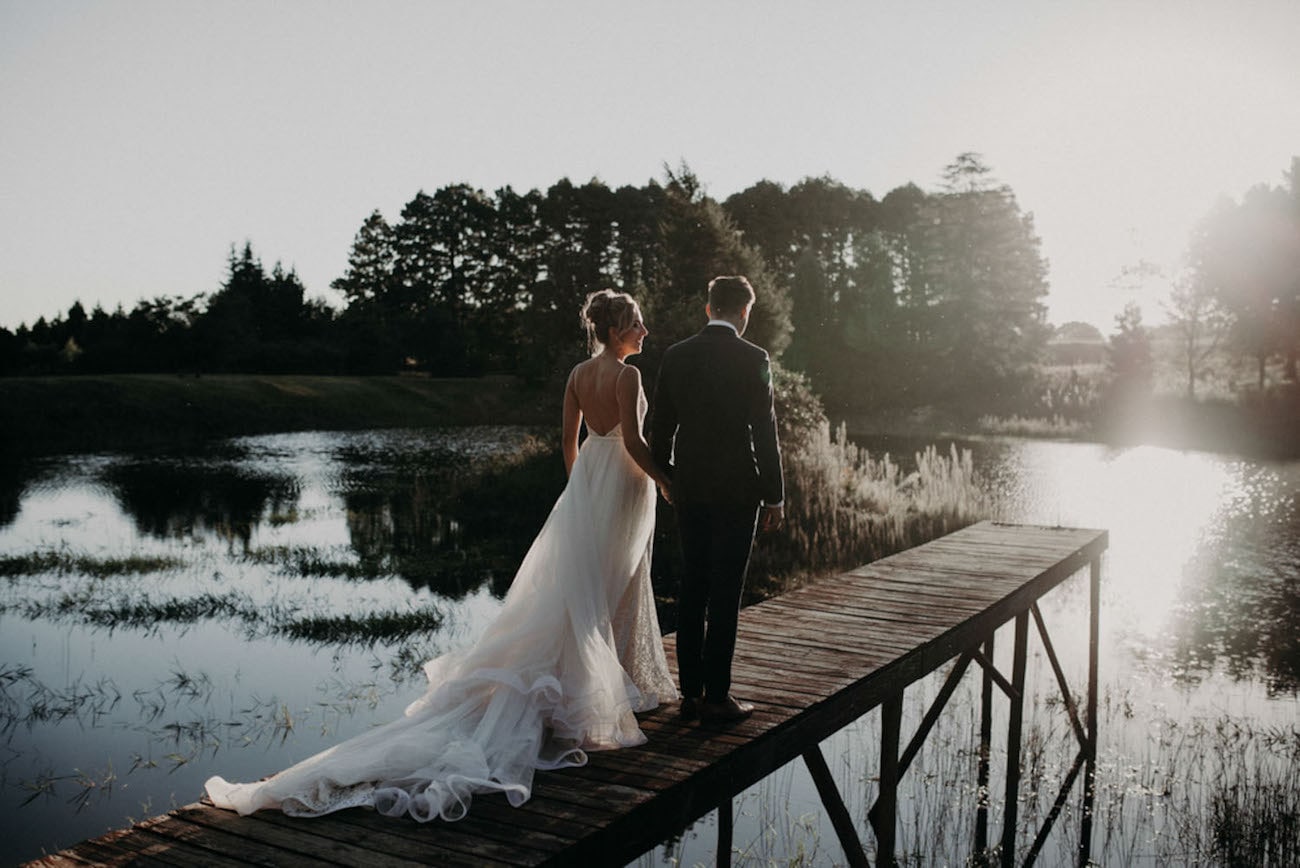 Oh joy! We're kicking off our week with a wedding from SBB fave Fiona Clair, and it's as romantic and beautiful as you might expect! Brittany and JP opted for a Midlands wedding right out of the country classic playbook, adding their own spin with personal details that reflected their history and personalities. With greenery, fairy lights, Kraft paper stationery and the most breathtaking Casey Jeanne gown, you won't be able to help yourself from pinning away! I also love that Brittany took to heart a tip from our friend Jo of Oh Happy Day! here in Durbs, to concentrate on the feeling they wanted to create – such great advice, and the result was an atmosphere of celebration, fun and love. And with Fiona's oh-so-spectacular images, the picture is complete! Sigh.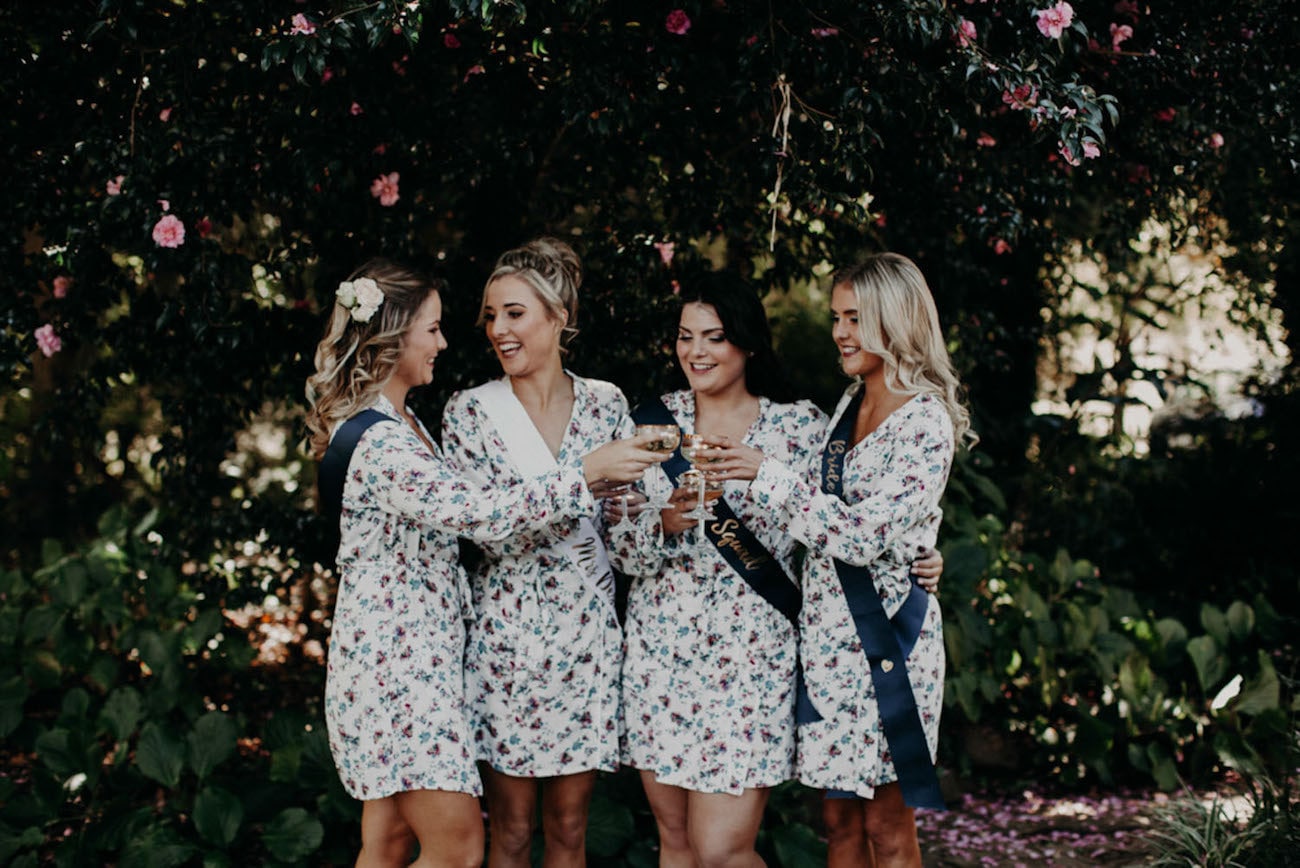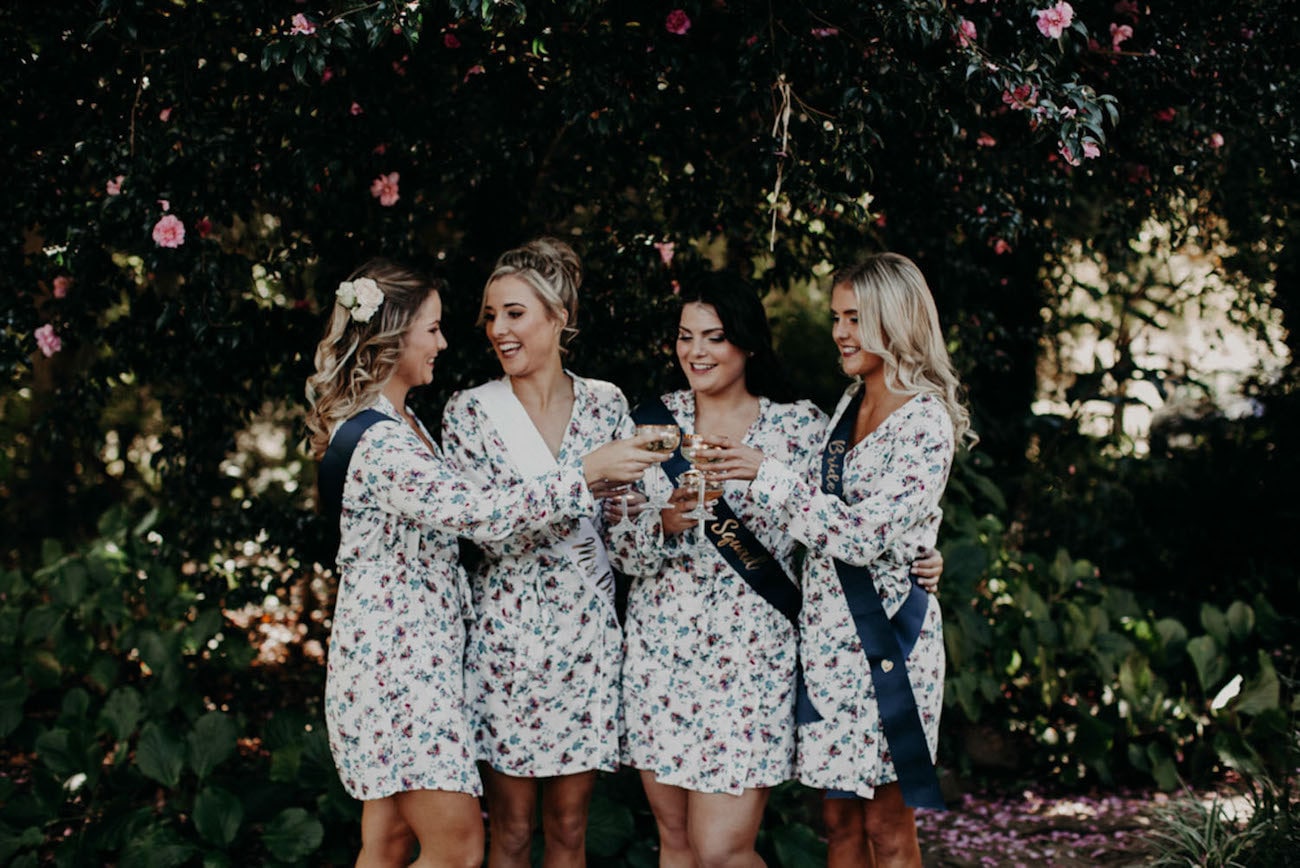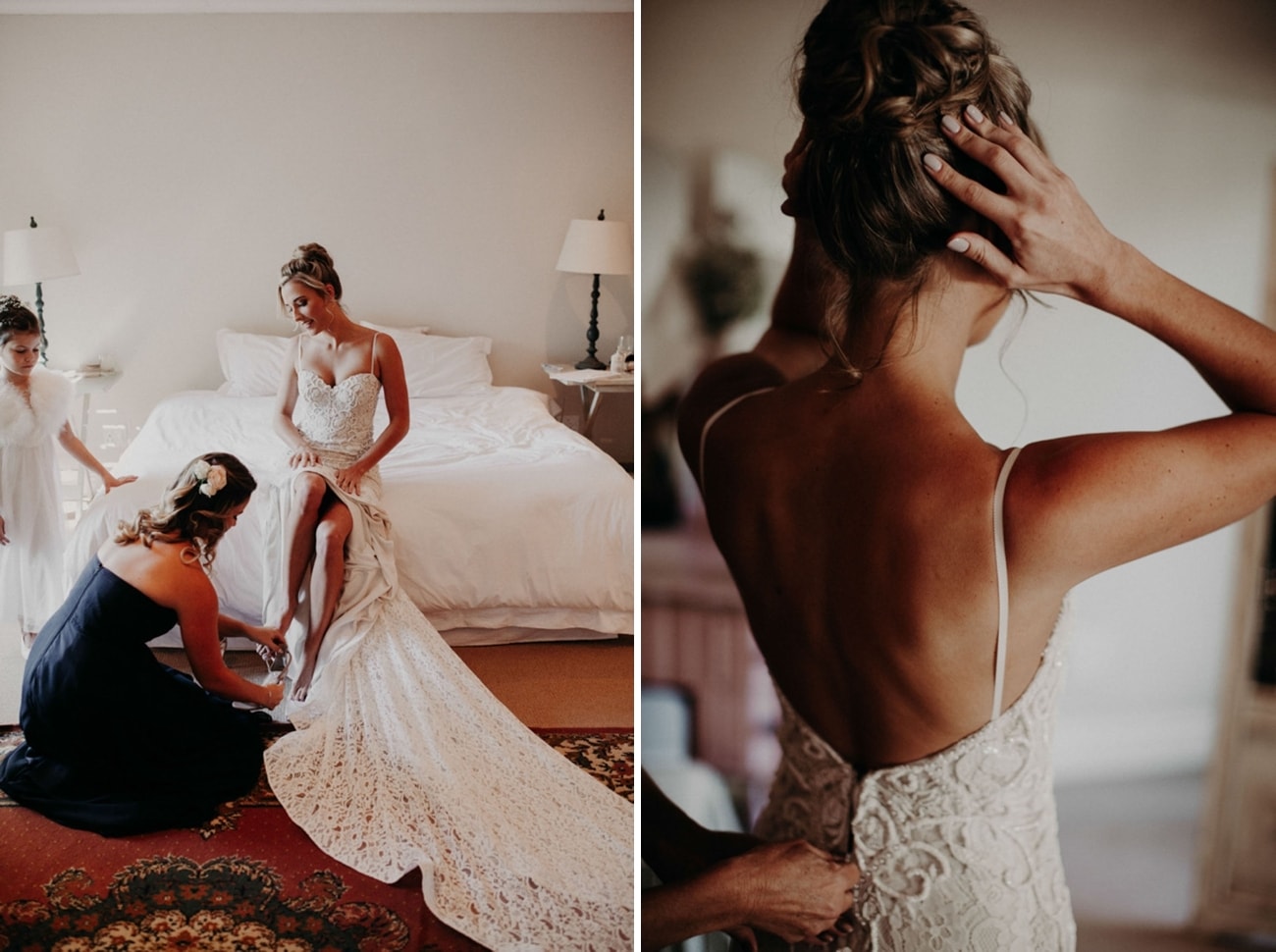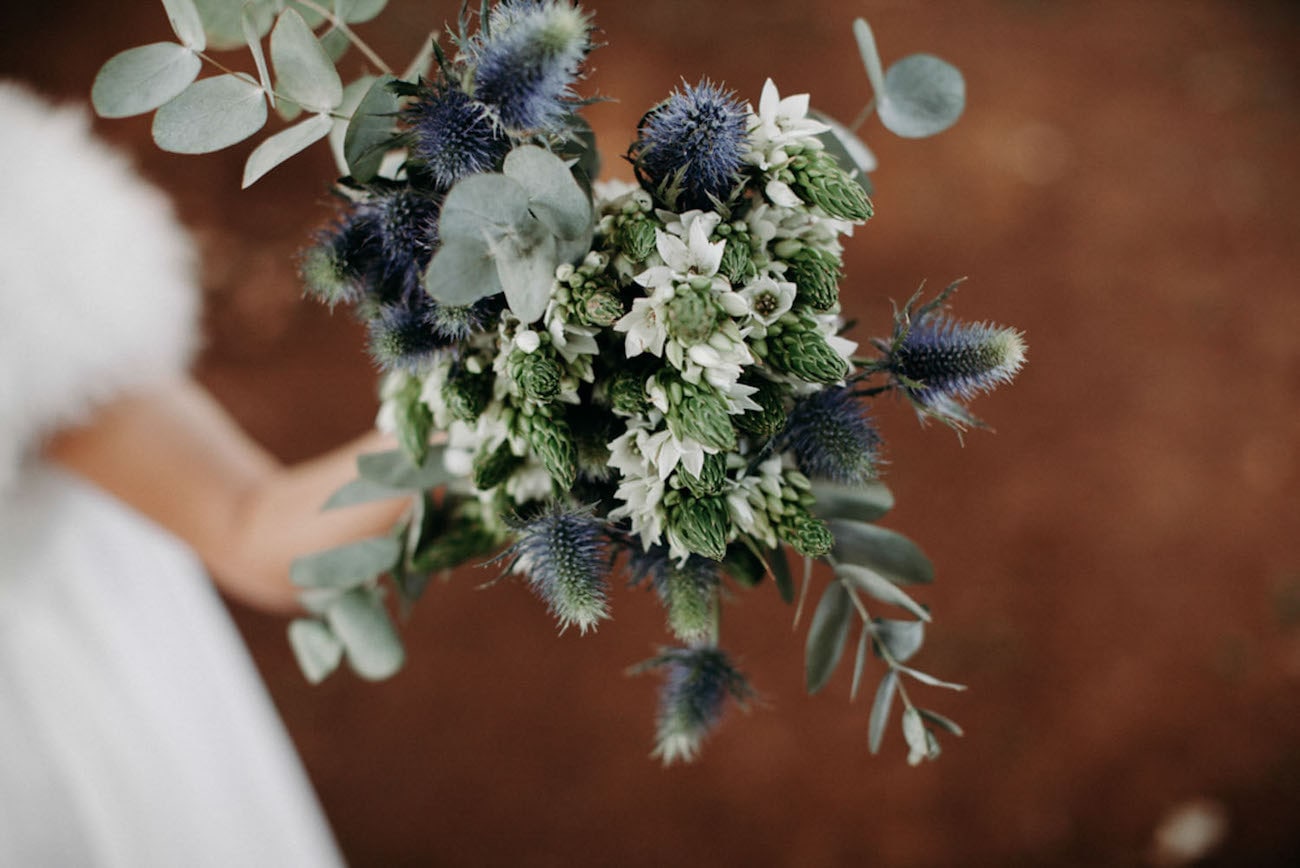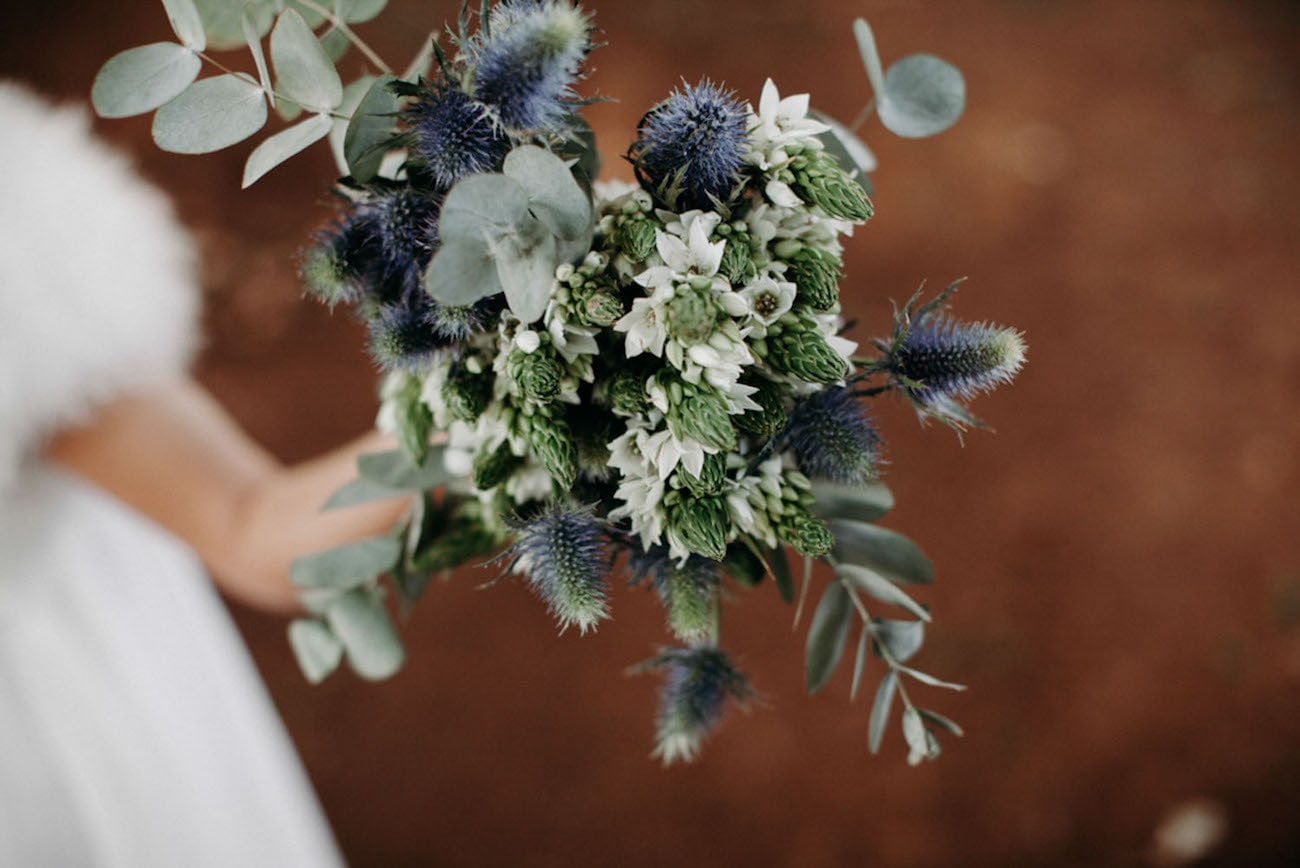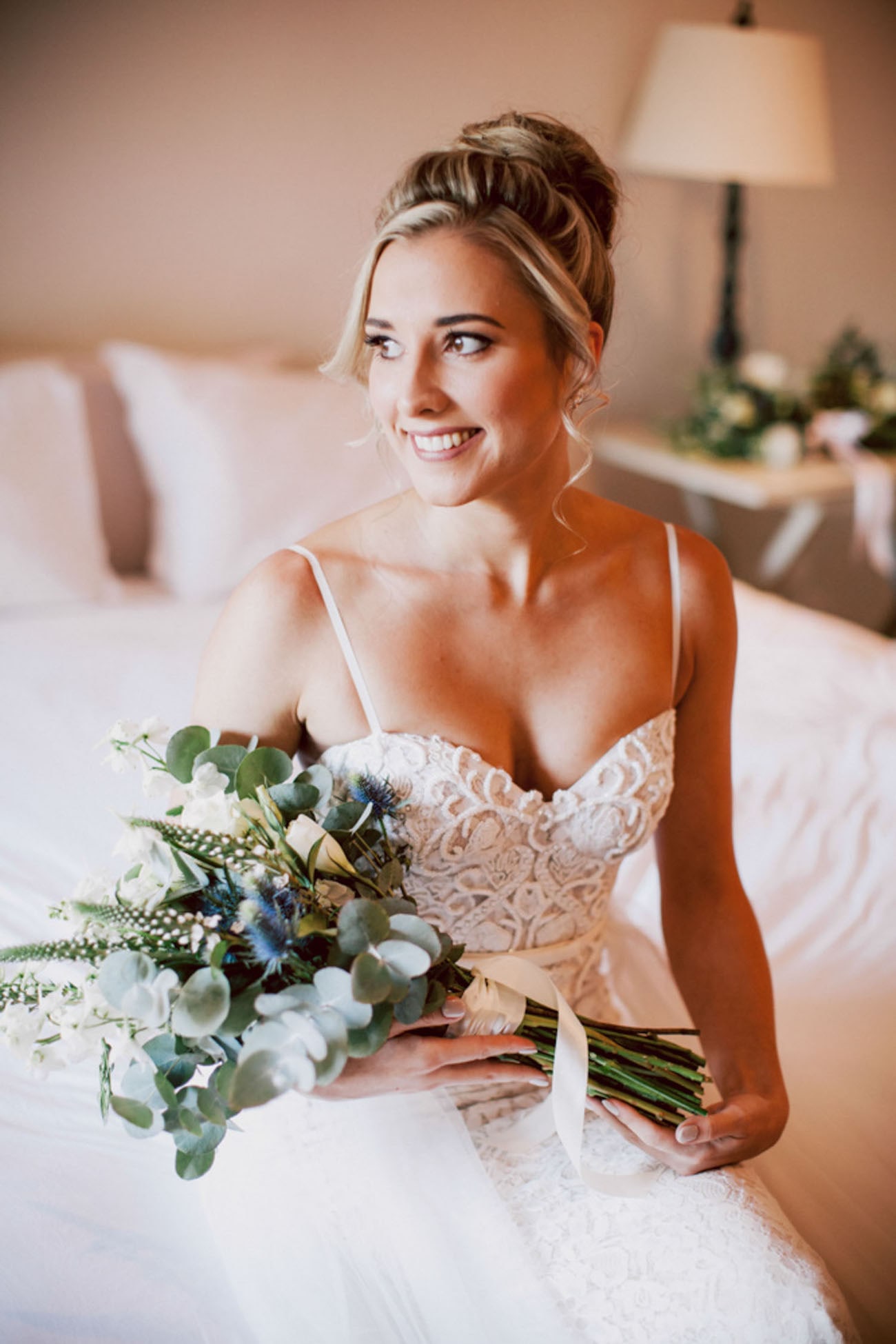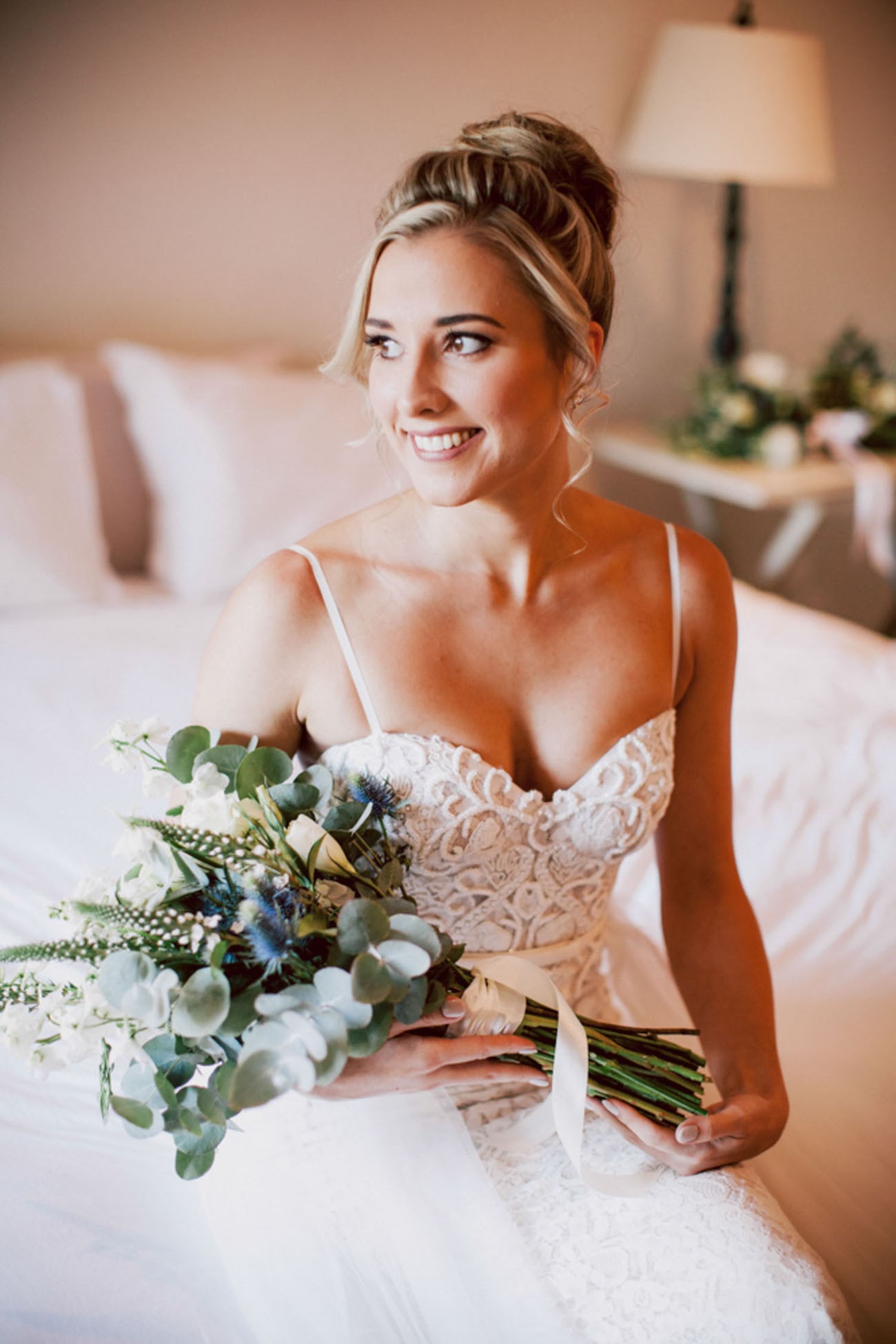 Love Story
I'd had my eye on JP since I was in Matric; we had a lot of mutual friends and were often out at similar places but he didn't even know who I was. I was just drawn to him from the start. I actually showed my mom and sister a Facebook picture of him and said "How gorgeous is this boy, I am going to marry him one day!". In my first year at varsity, whilst JP was on his gap year, I was invited out with a group of friends and his best friend came to pick me up. Bonus: JP was in the car and we officially met! We had our first kiss on 13 February and our first Valentine's breakfast together the next day, and in April he asked me to be his girlfriend. After a lot of laughter, adventures, love and growth, here we are!
The Proposal
After dating for five years, we had a family holiday planned to Europe with all the family from my Dad's side. JP had saved up in his first practical working year as an architect between his studies and was joining us; we were ridiculously excited. The plan was to start off with a few days in Venice with our immediate family, my special cousin (who was a bridesmaid) and JP, and later meet the rest of the crew in Ischgl, Austria for a week of skiing and snowboarding heaven! On New Year's Eve, JP and I were going to go on a little adventure alone to St Giorgio Maggiore Church across the way from St Mark's Square before all getting together for celebrations. We planned to take a ferry across and it was delayed. I had never seen my half-Mauritian now-husband so organised and making another plan to get to that island before the sunset! It was absolutely freezing, but we made it, hopped off and took in the beautiful view of Venice in the presence of the magnificent church in all its glory. JP got down on one knee and asked me to marry him. He had the photographer hiding to capture the moment, the most amazing setting in the calm of a very busy city on NYE and of course, a big YES (or "Ja!" as we like to giggle at) from me. Before we got together with everyone, we strolled around the quiet island, walked through the gardens and looked on to Venice from the church tower. The most memorable evening of my life.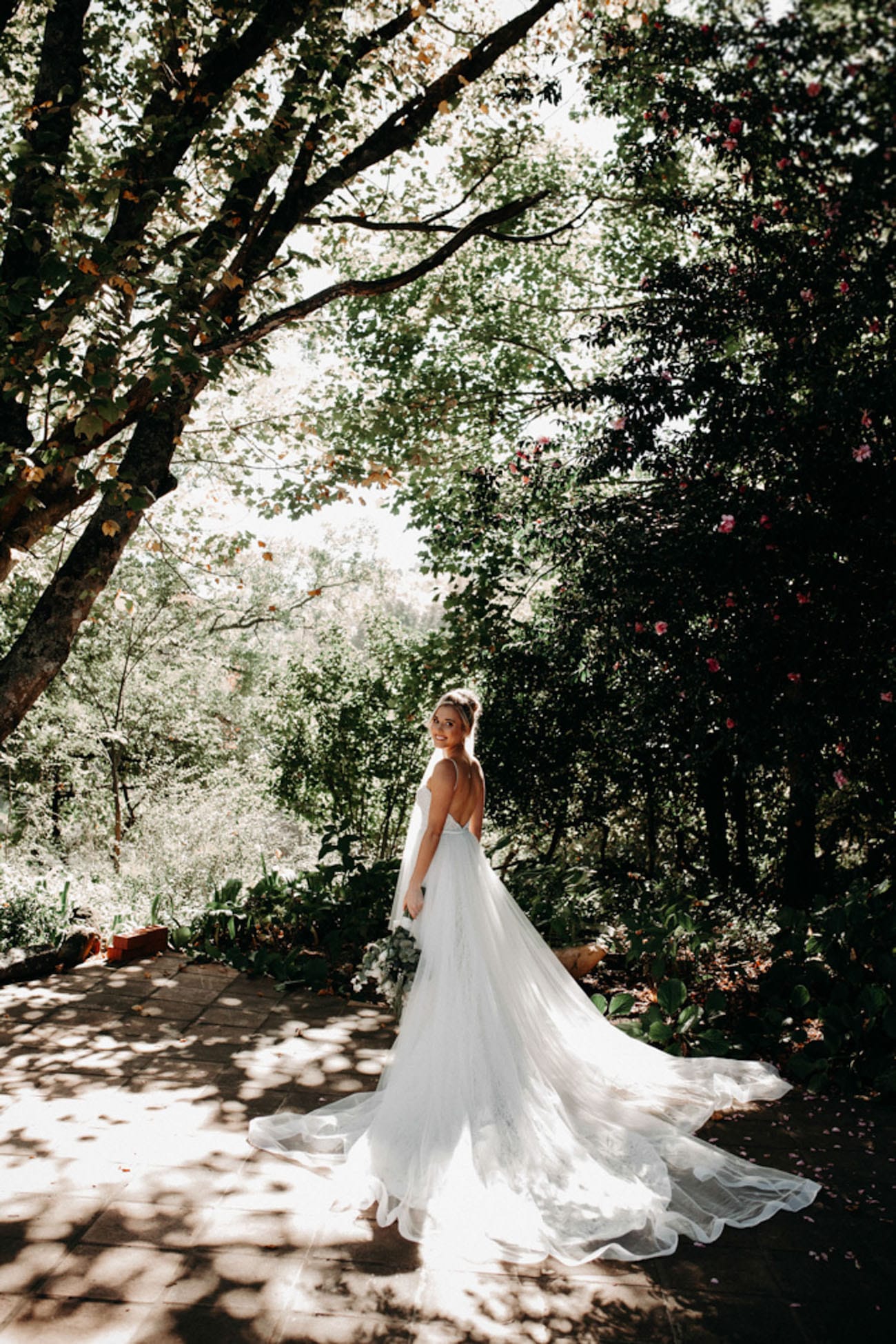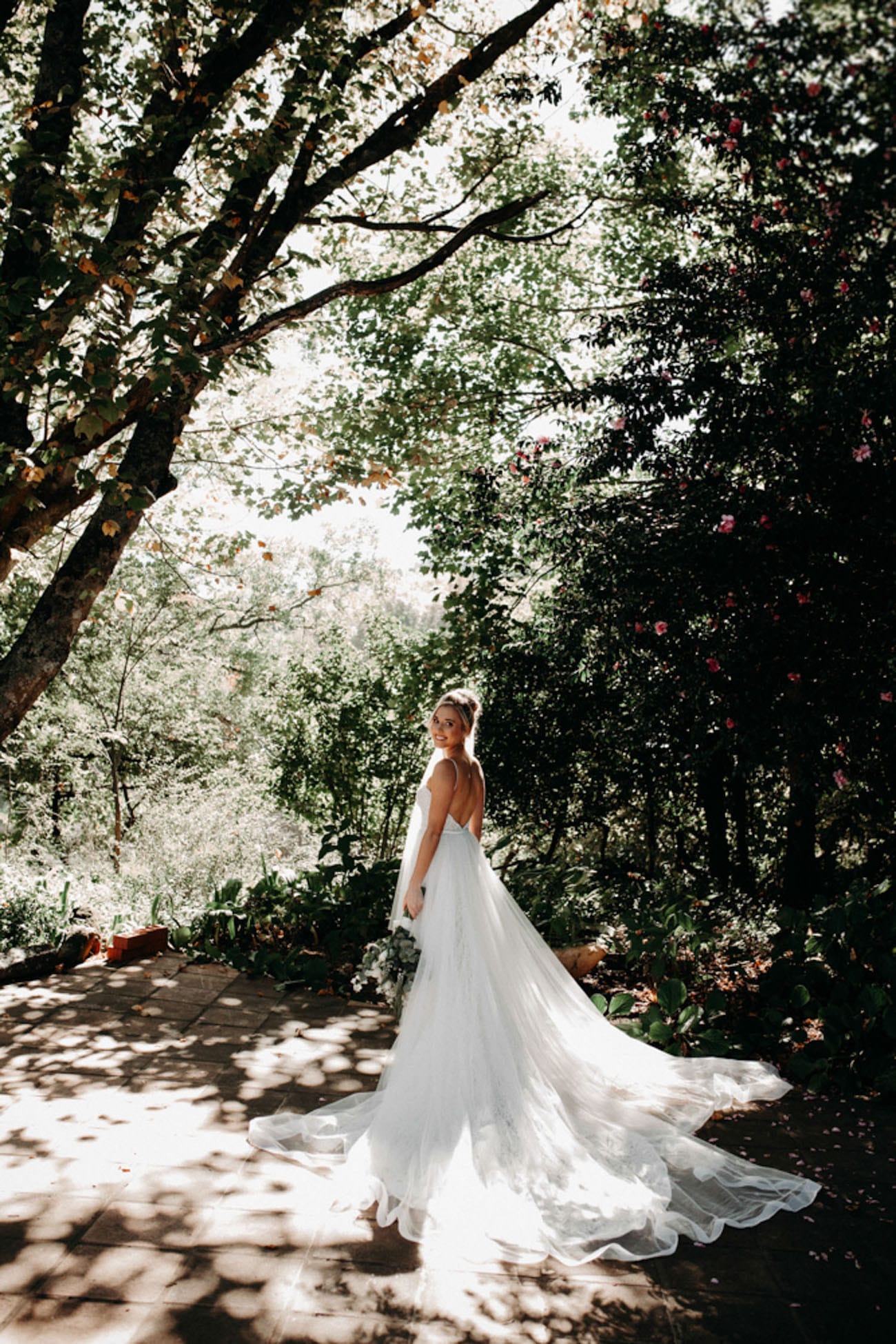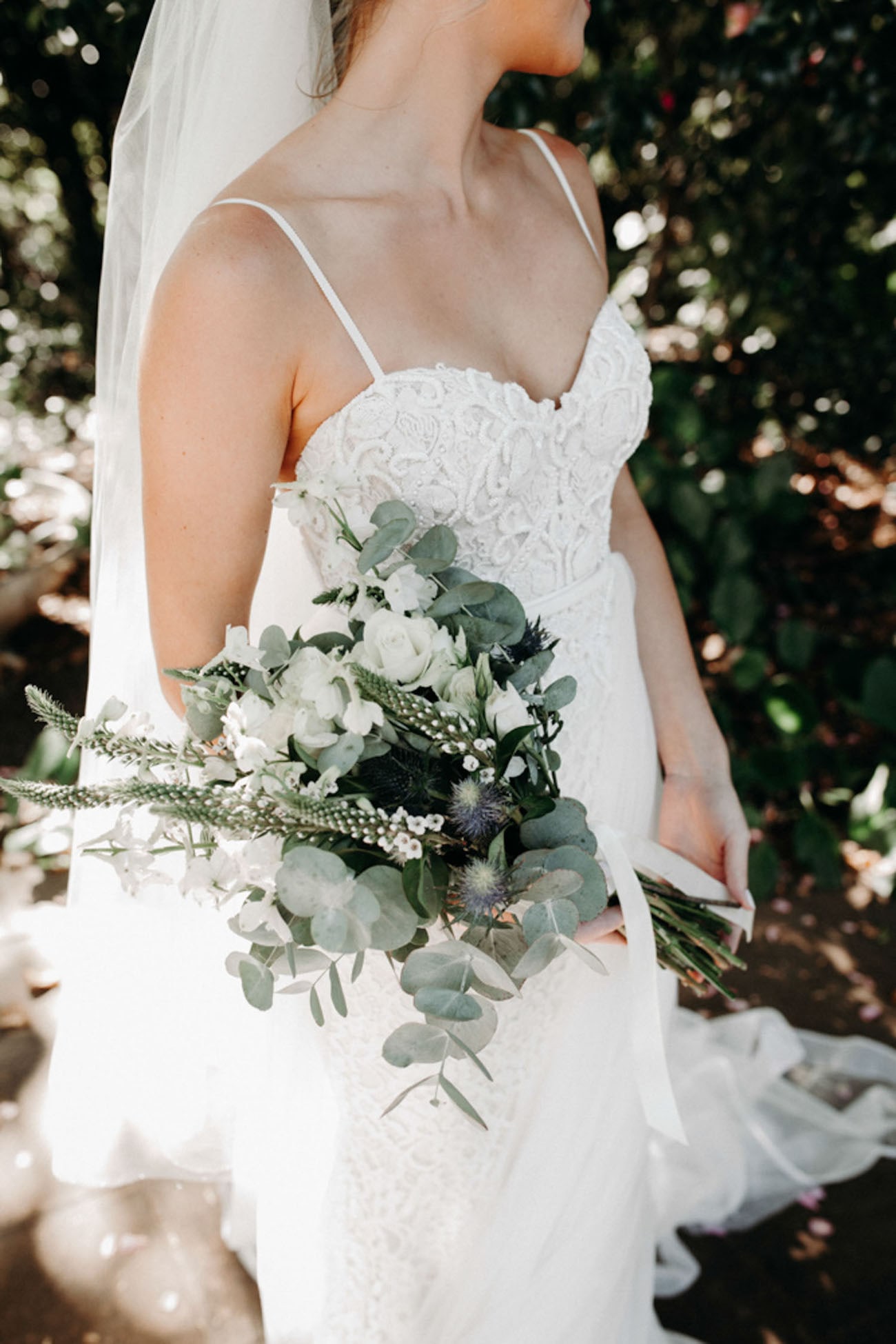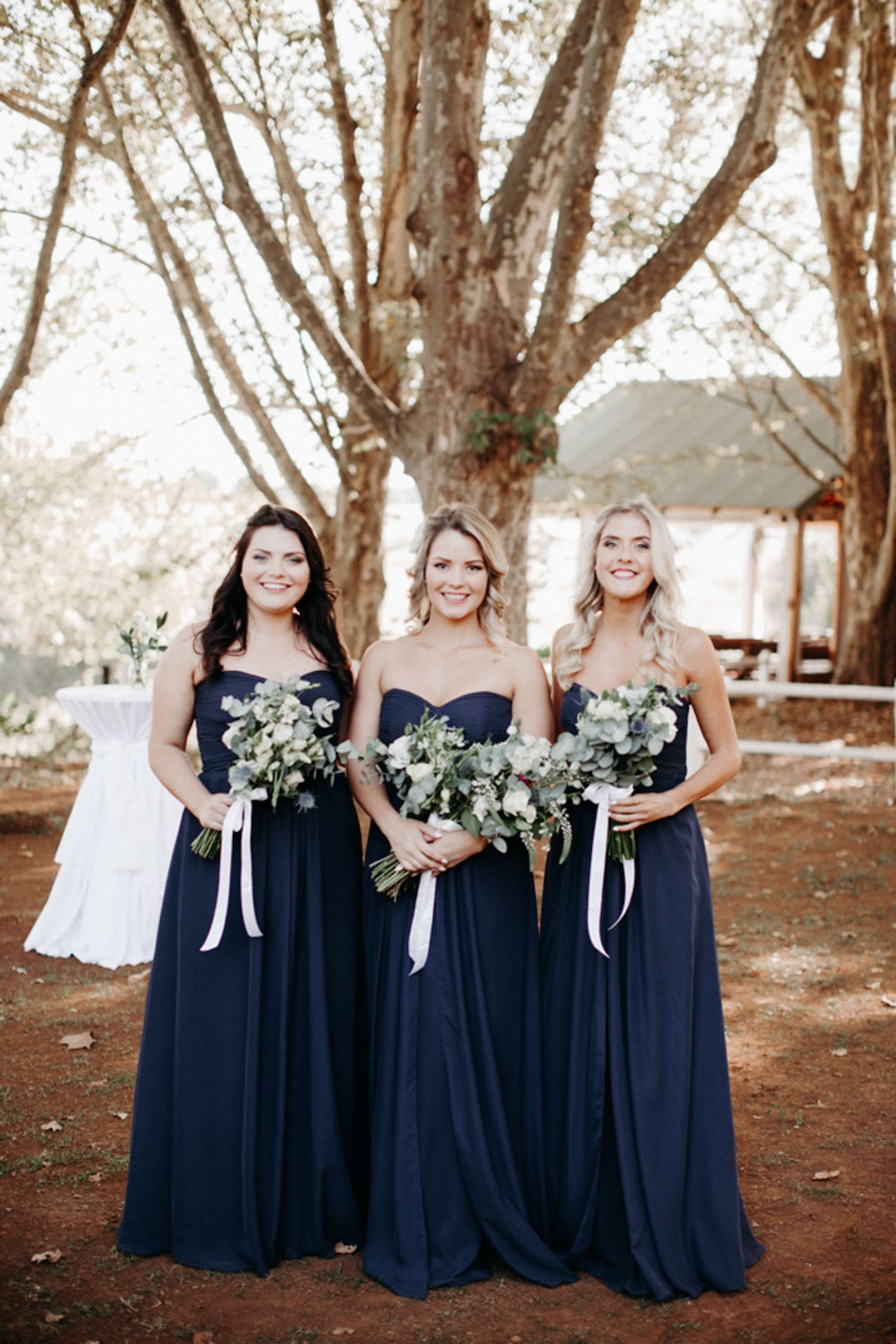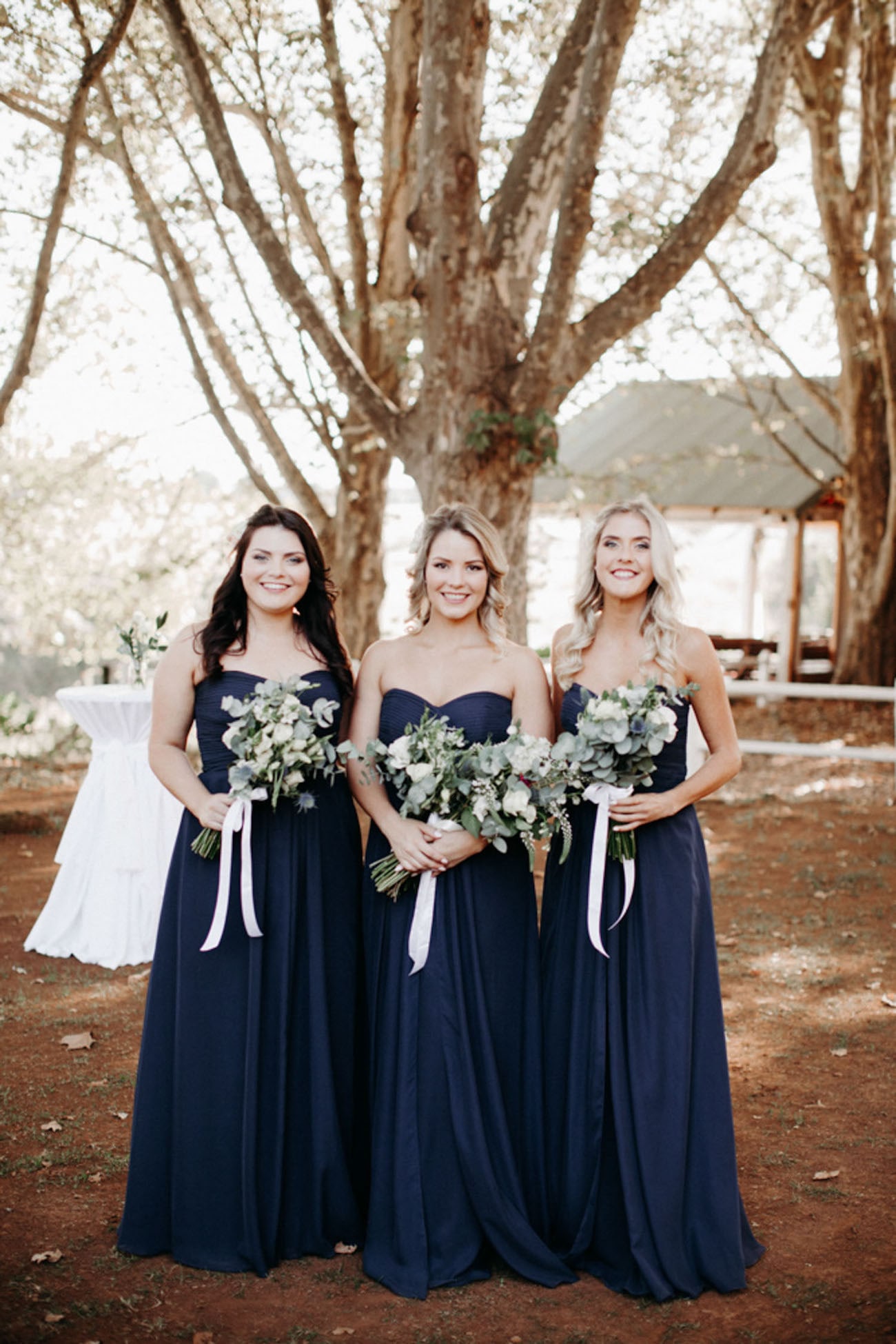 The Venue
After our engagement, we decided to wait until JP had finished his Honours and Master's year before we got married; there was just too much going on and we were quite content. My job involved a lot of local travel so I took the time to slowly view venues on my trips and get a feel for different places. The goal during our first engaged year was to just reserve and find our venue. At the NWJ bridal show with my Mum, we got a discounted trip for the Midlands Marriage Meander tour. Although I wasn't overly keen to get married in the Midlands at the time, we went on the tour and got such a good feel for different vendors, locations and how well-equipped the Midlands is for weddings. I noticed on our tour the lady I had met at the expo wasn't there and we were told it was her wedding day that very day. I asked where she got married (she had to have chosen a really good spot!) and was told it was at The Glades. Although we saw plenty of stunning venues and were now sold on the KZN Midlands, I thought: I have to see this place. On my next work trip, my sister joined me and we squeezed in a visit to The Glades and I just knew. I fell in love with the authenticity of it. It was personal, it wasn't another wedding sausage factory; they only hold limited weddings there a year which makes it special. It is a family farm and the family who run/own it are so warm and easy going, they let you get on with your own thing, and it is all yours over your wedding weekend. They were easy with viewings, the setting was beyond breathtaking and the chapel had an outdoor feel, which is what I wanted, but was covered so we were safe with that. Everything flowed from the chapel to the lawn and the reception, there was plenty of parking and it was easy for guests. There was accommodation for our families, retinue and ourselves at the venue and an abundance of nearby accommodation for guests. That was that, I took JP there with our immediate families and it was decided (almost two years in advance)!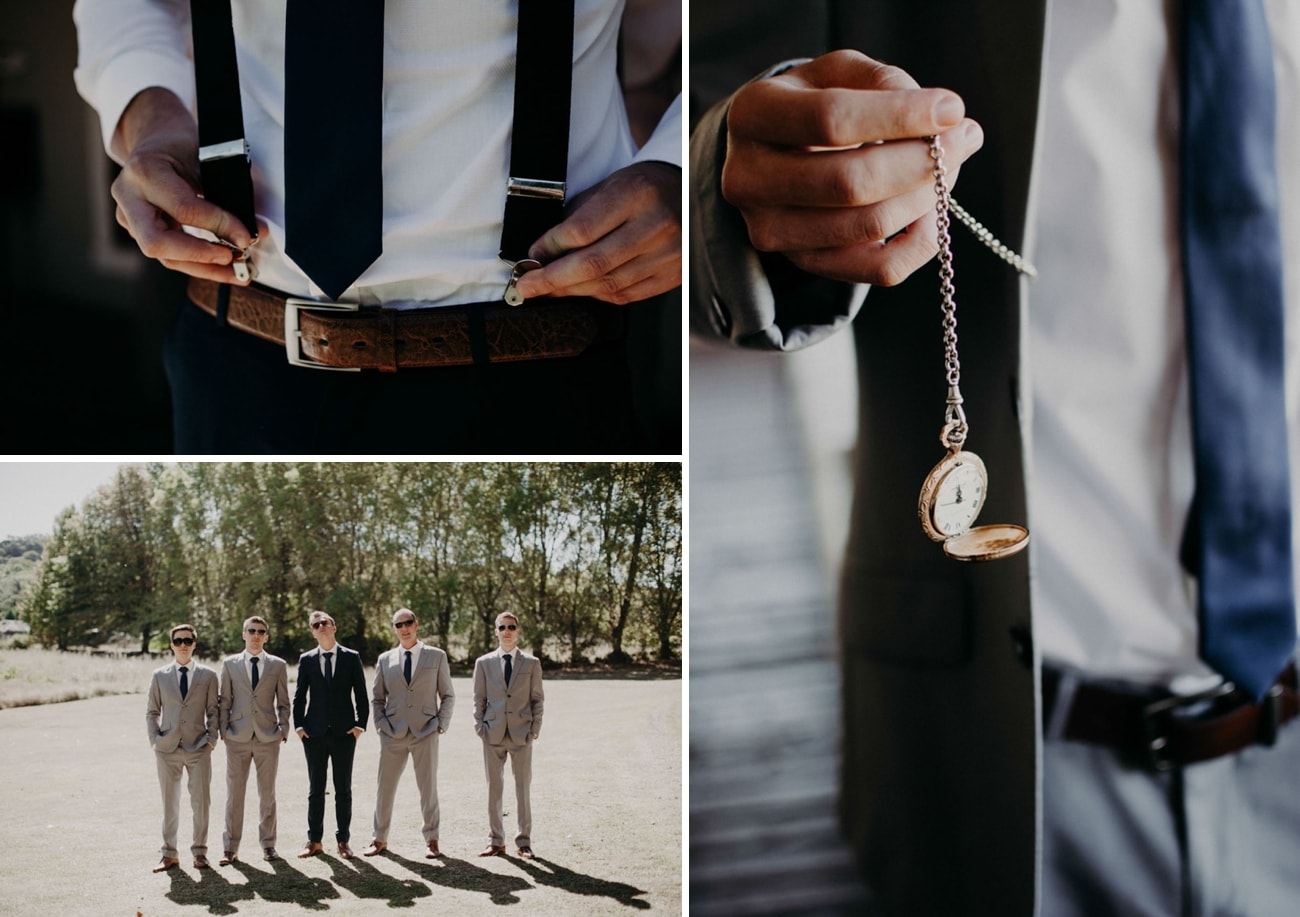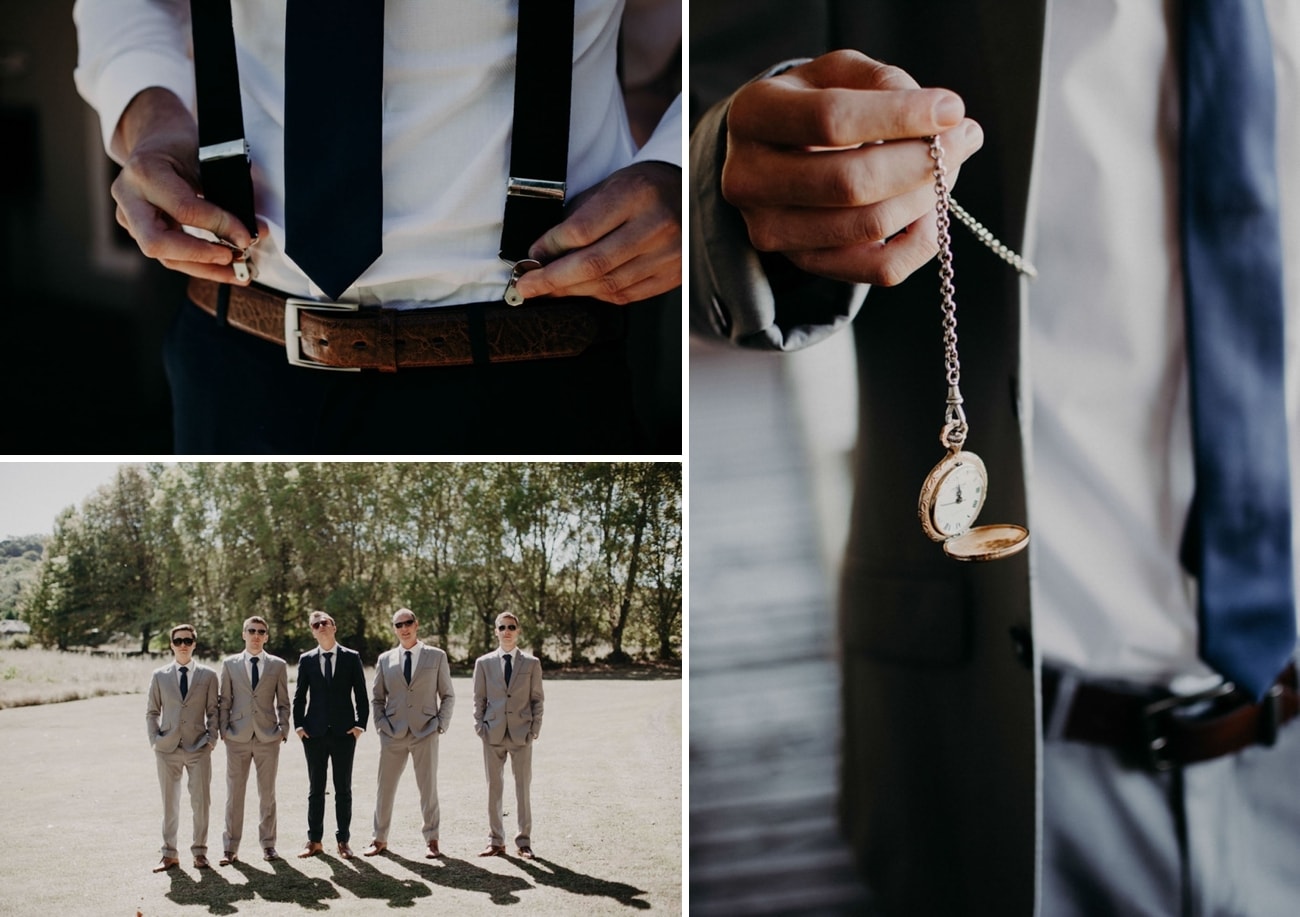 Wedding Style
I wanted a country feel. Shabby chic, but still classy, and with lots of flowers. I wasn't fussy with a colour scheme – a country-style wedding gives you the opportunity to be more natural, and mix and match, so we decided to let the venue set the theme and just complement and dress it up. I found looking at other weddings at our venue helped me see what works there and what look and feel I preferred and then incorporated my own favourite looks and style. We started with our Save the Dates, which my sister helped with and a graphic designer friend picked up on. When we were looking at ideas with my sister, she showed me two love bunnies as a joke (I love bunnies!) – I showed JP and he said "let's do it!". We used the emblem on all our stationery – it was cute and went with the country feel, but mostly it just personalised it for us. From there we created a wedding website which was simple, classy and pretty, and sent e-vites, which conveyed the theme to our families and friends and helped me keep everything in one place. We went with base colours of white and green for flowers and did pops of colour with any in-season blooms to keep costs down, and it worked so well to give a country feel! I also won a session with Jo from Oh Happy Day! – it was fantastic! She told me to choose a feeling for our wedding to set the tone. After being together for seven years, we wanted it to be a celebration of our love, so a lot of the decisions we made regarding the feel of the day went with this idea. Champagne on the lawn after the ceremony, the music was upbeat, vibey and festive, we focused on the order of events flowing well, making sure we and the guests were comfortable, happy and having fun, and we had a photobooth compliments of The Wedding DJ, which everyone loved. We kept speeches to a minimum at five minutes each, and the ceremony short and not overly formal. Our photographer took family pics in front of all the guests, which kept it social! All these small focuses made for a feel-good fun day for all, including us, celebrating our union!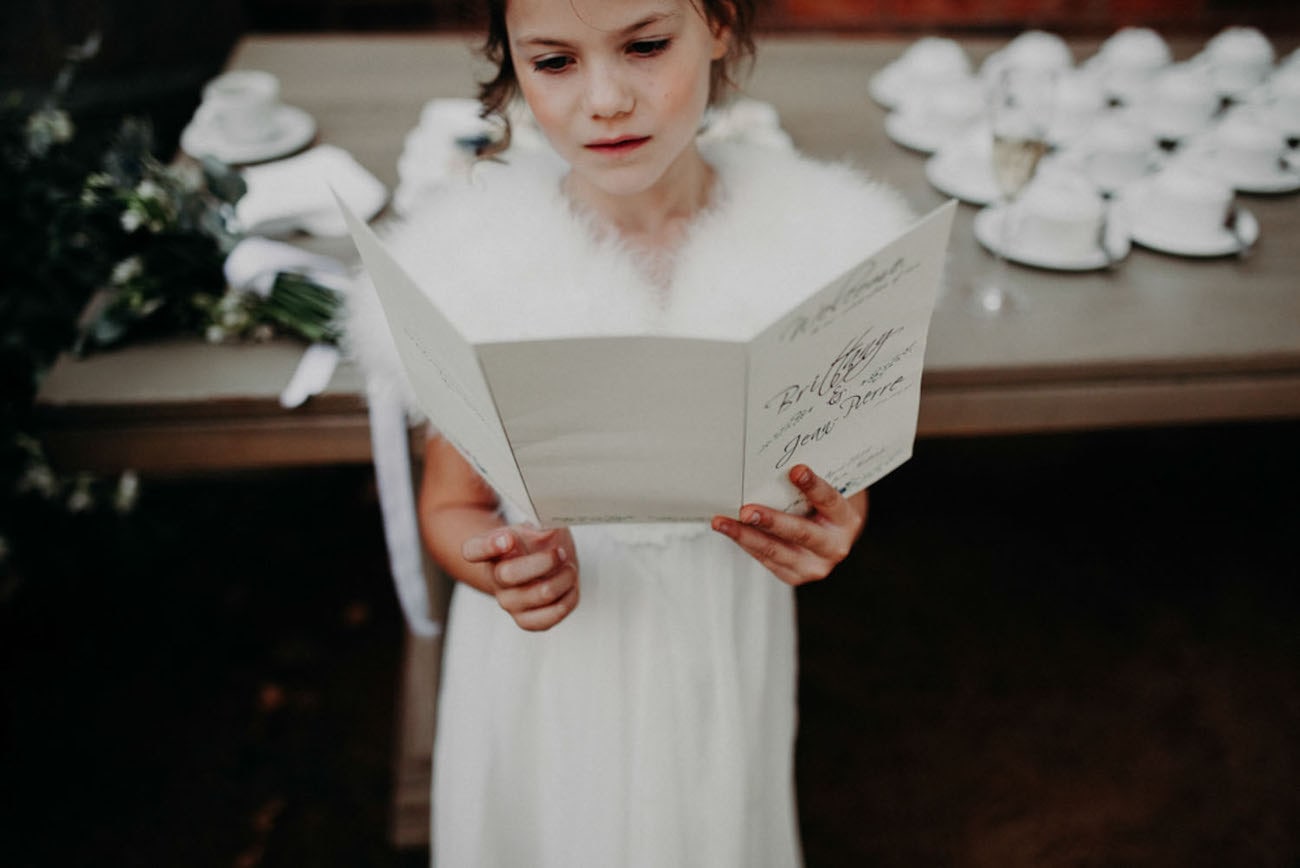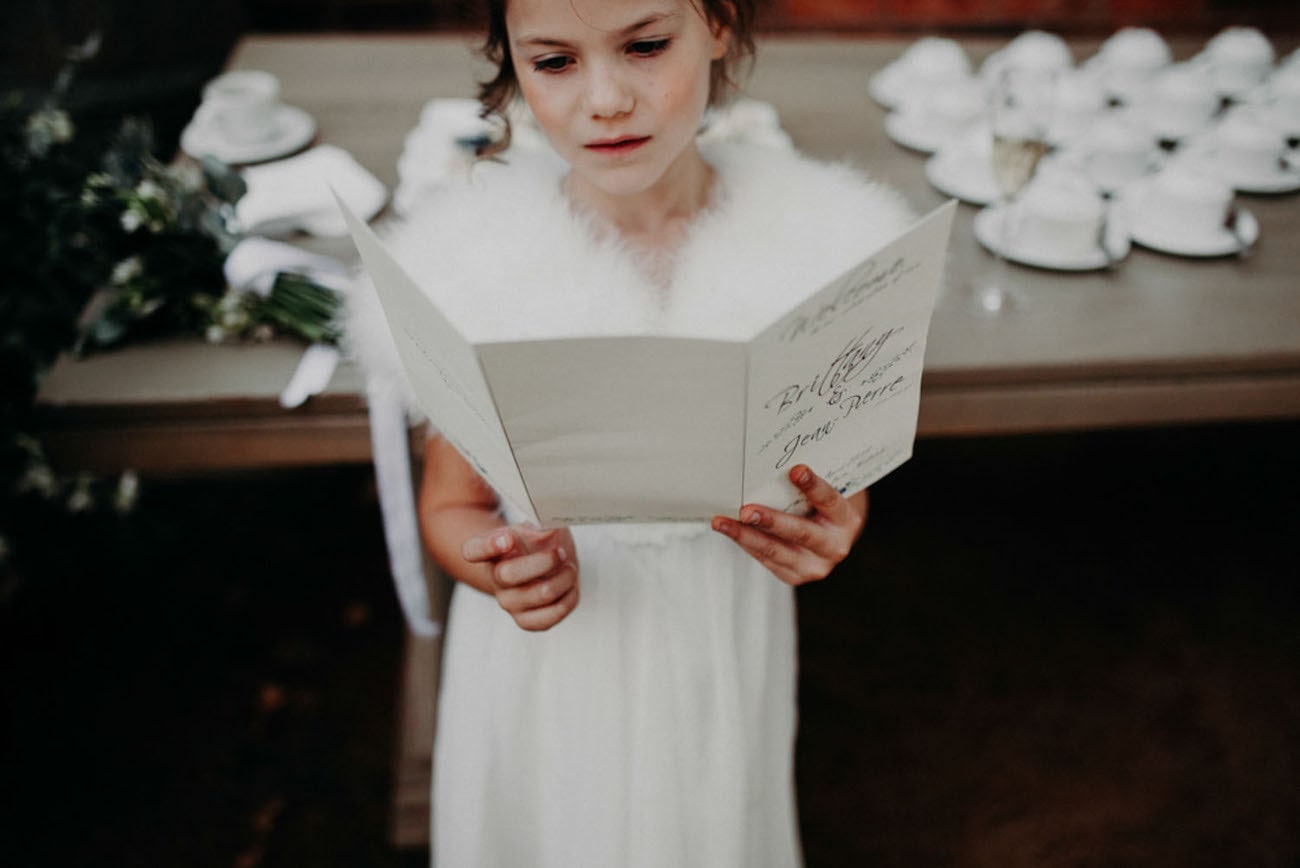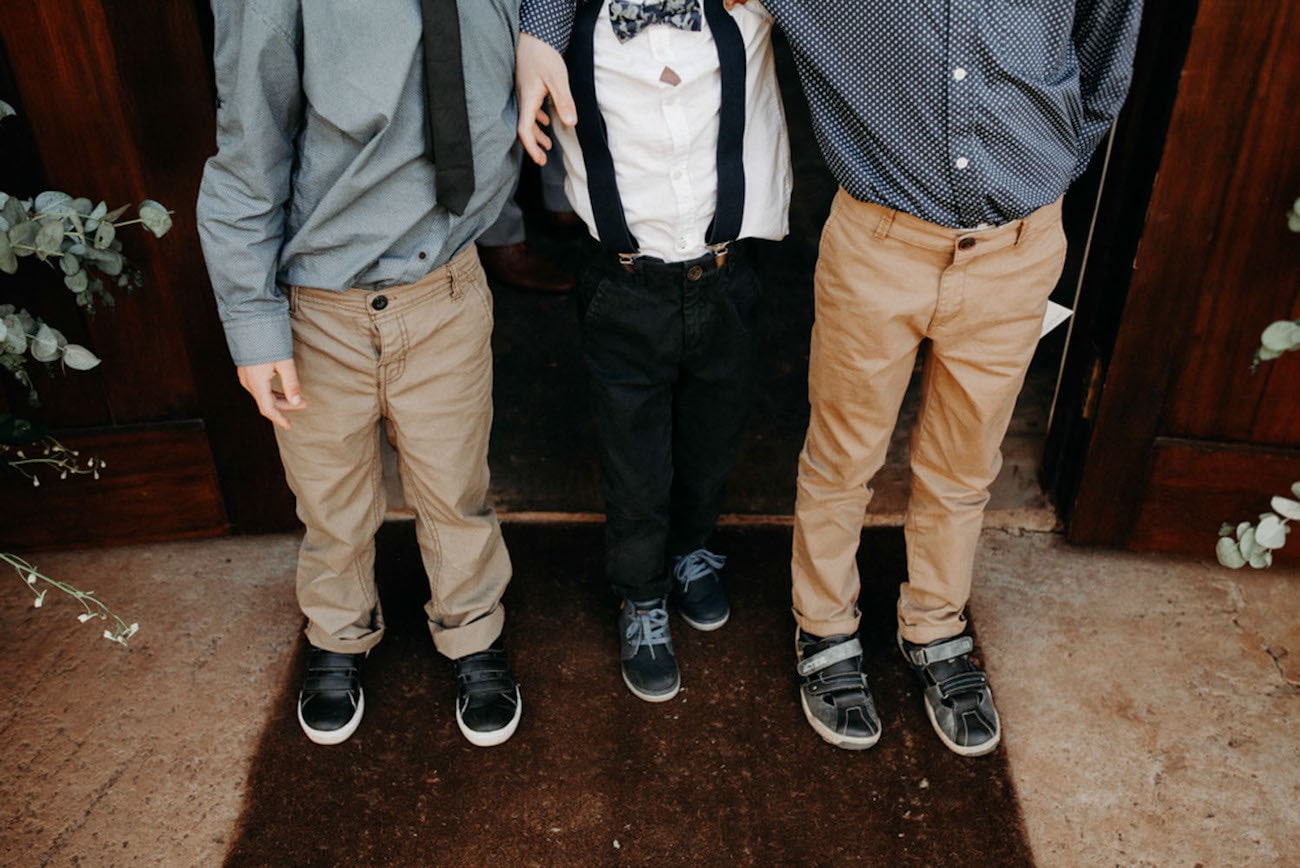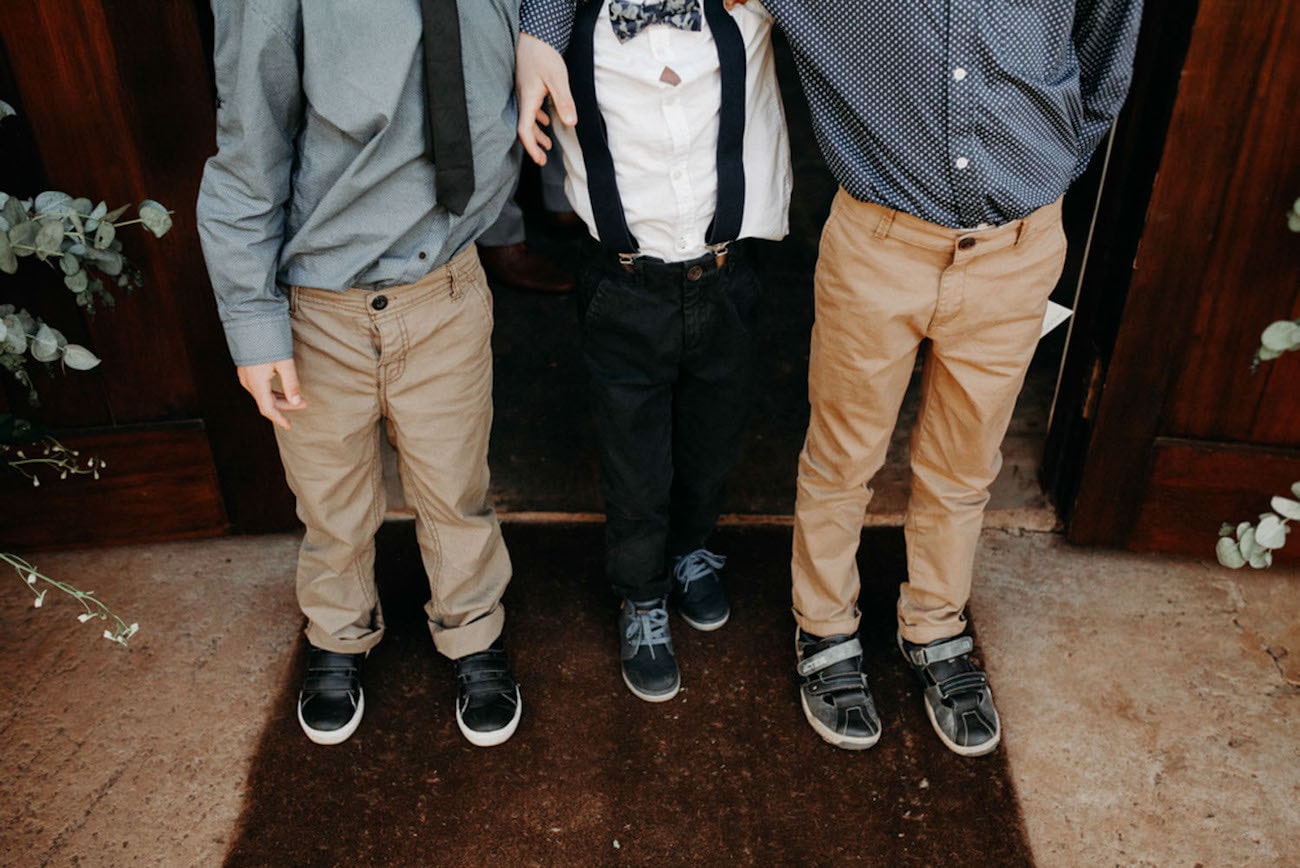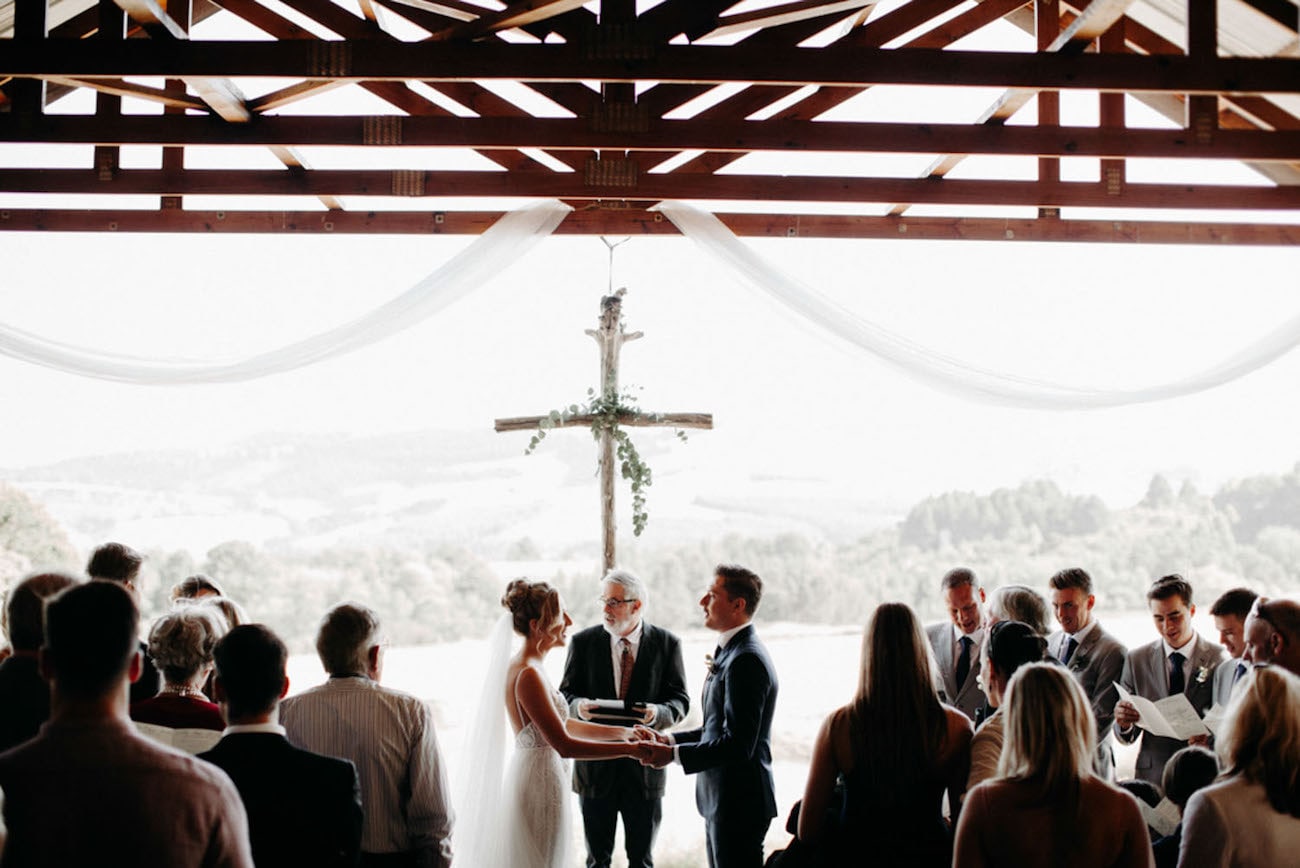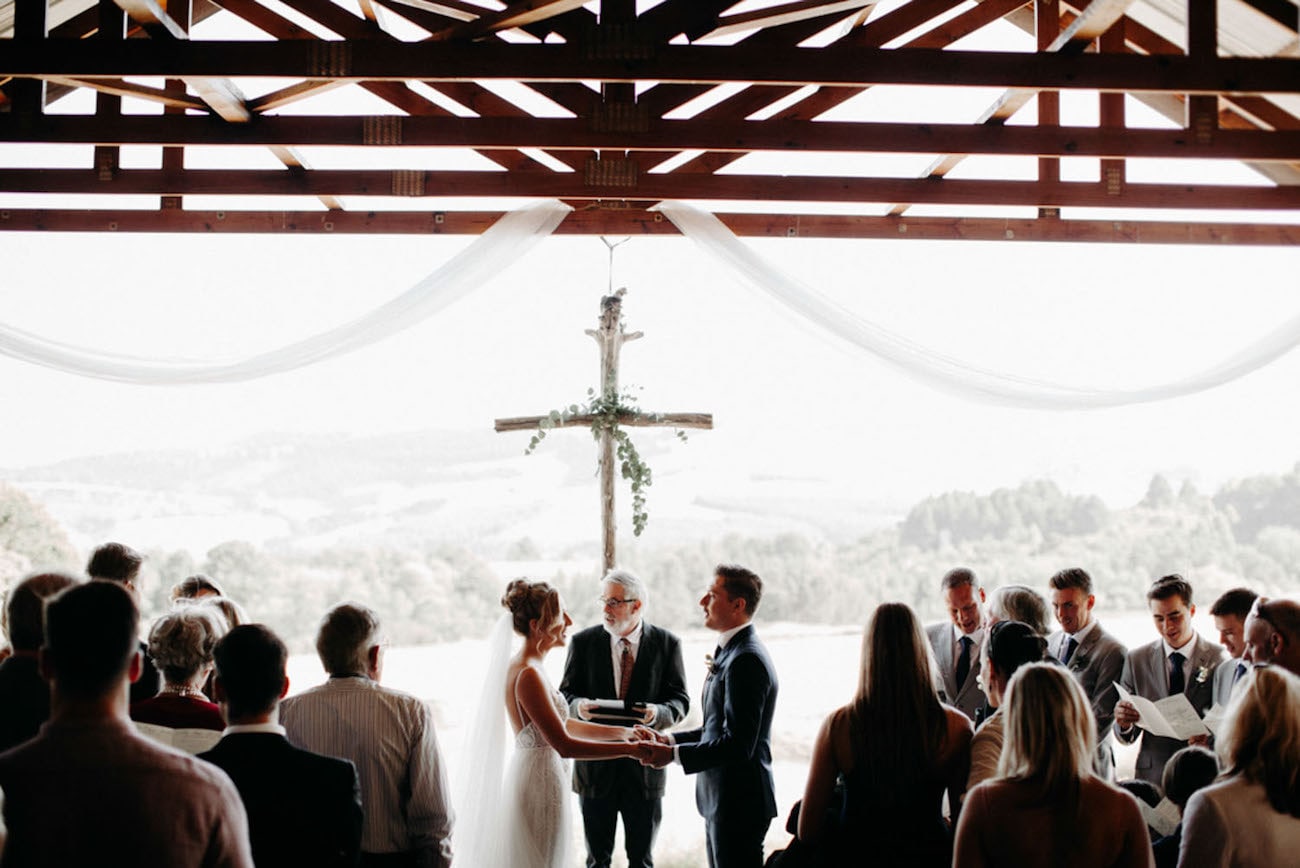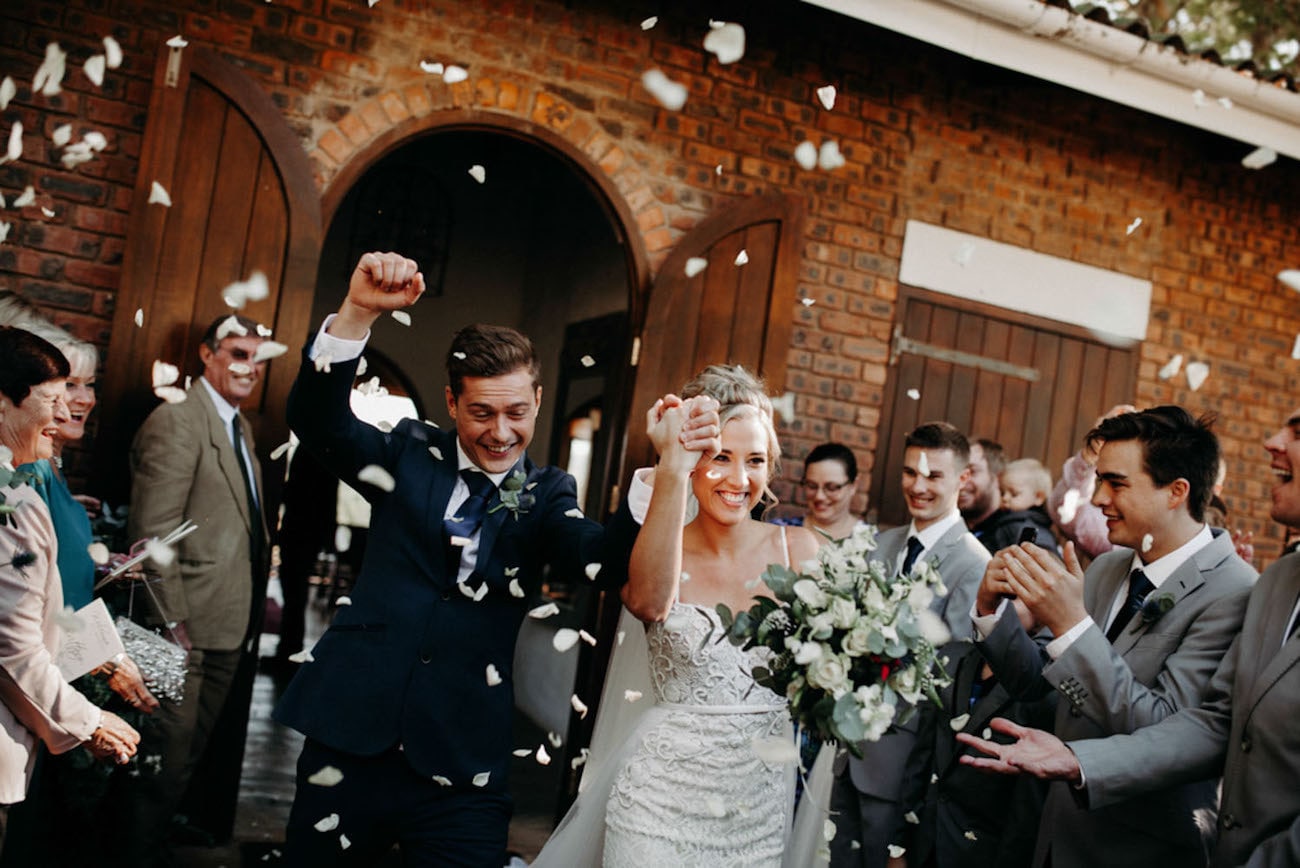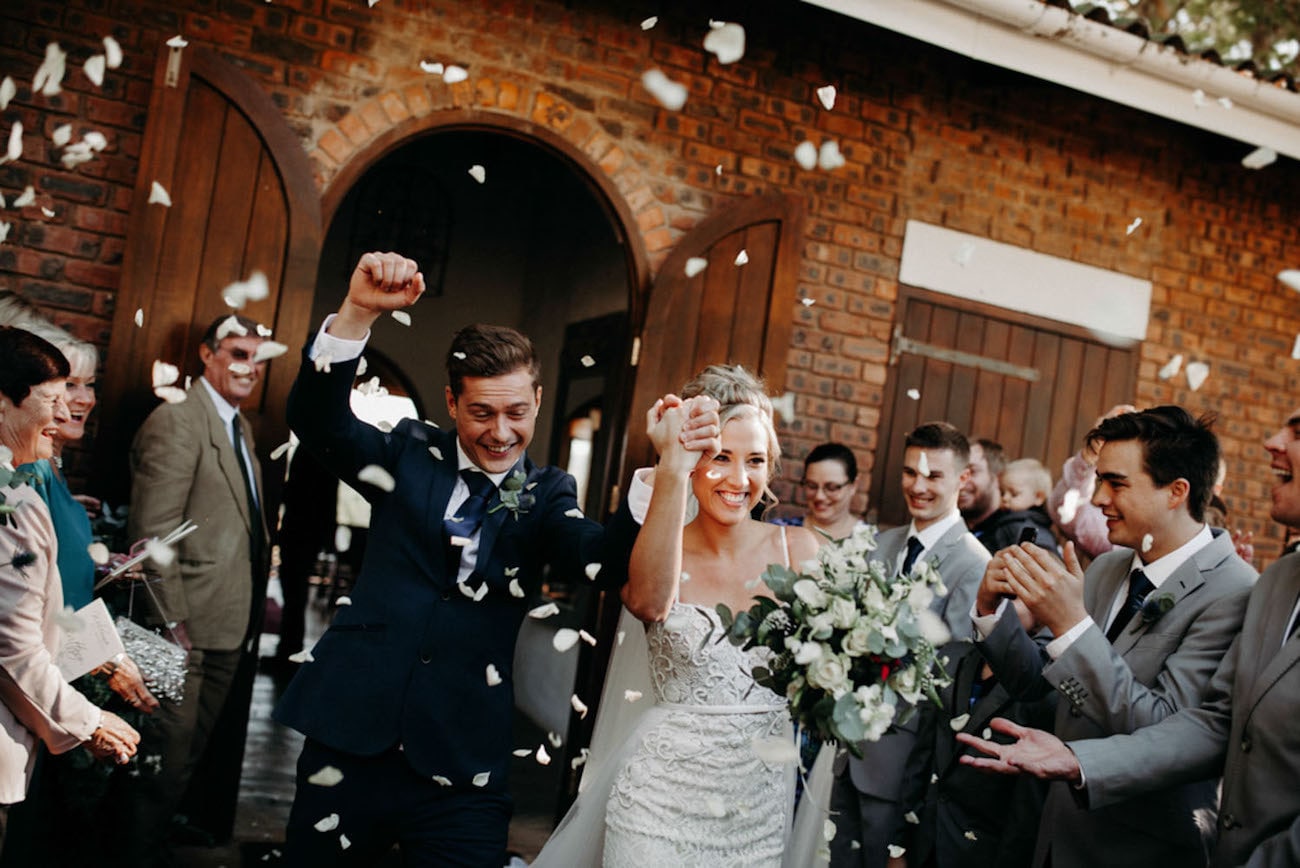 Wedding Details
Our bunny emblem was the best! JP bought me a bunny when we first met and he was our baby (he roamed free and thought he was a pup!) so this was a special part of everything. JP designed our seating plan and presented it as an architectural floor plan which was really special and beautiful. We decided it whilst talking about it; with him being an architect it was the most sensible way for us to do and understand it! He also did mock up table drawings for us to play with to work our seating plan. I would highly recommend using the talents and quirks you have as a couple to personalise your day. My gran beaded the edge of my veil with beautiful delicate pearl beads; she loves beading and it meant the world that we asked her to do this, and it ended up beautifully! It is great to get loved ones involved where you can to make them feel a part of it all. This made it so sentimental and a lifelong keepsake. My mom had the idea of getting baby pics of us as signs for the male and female bathrooms. These were adorable and everyone loved them; they especially made all the parents and grandparents smile!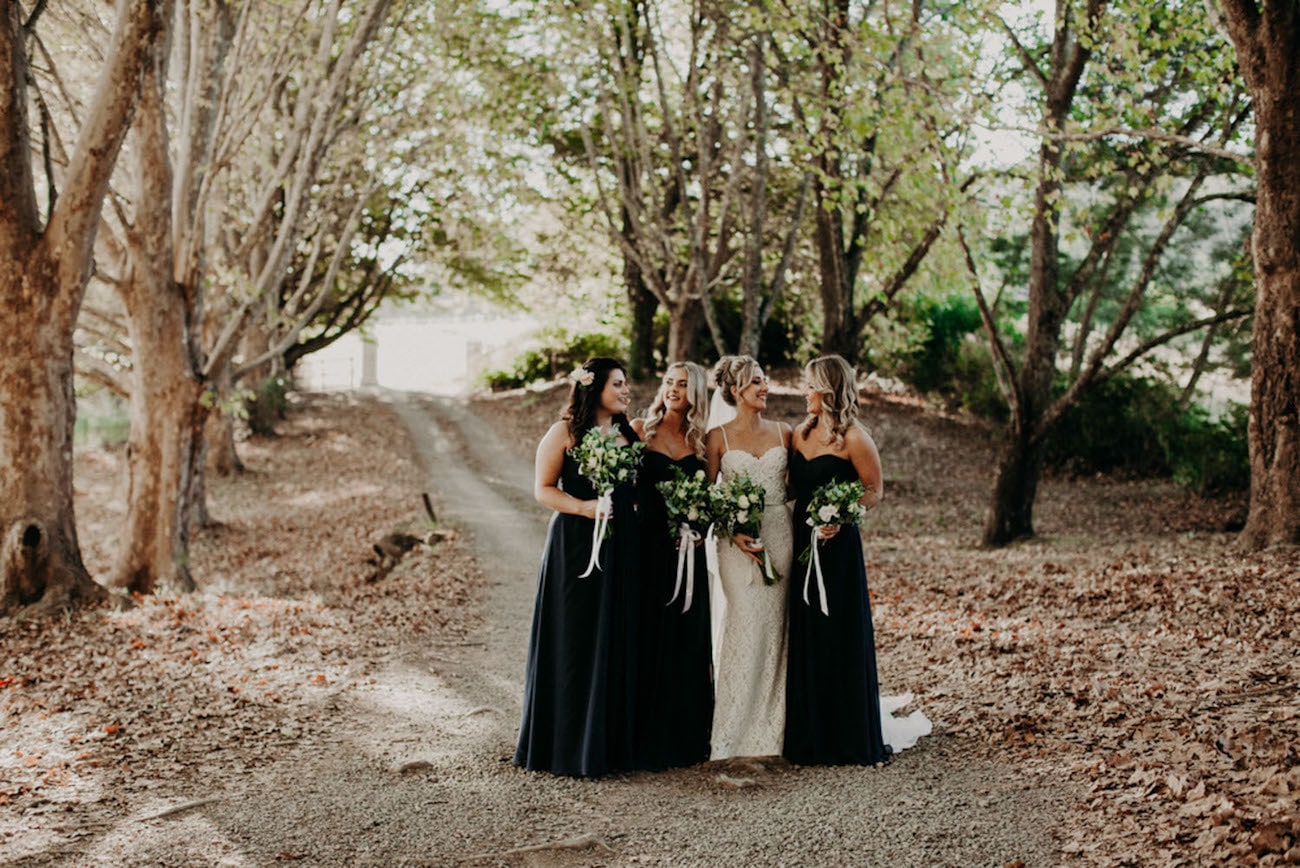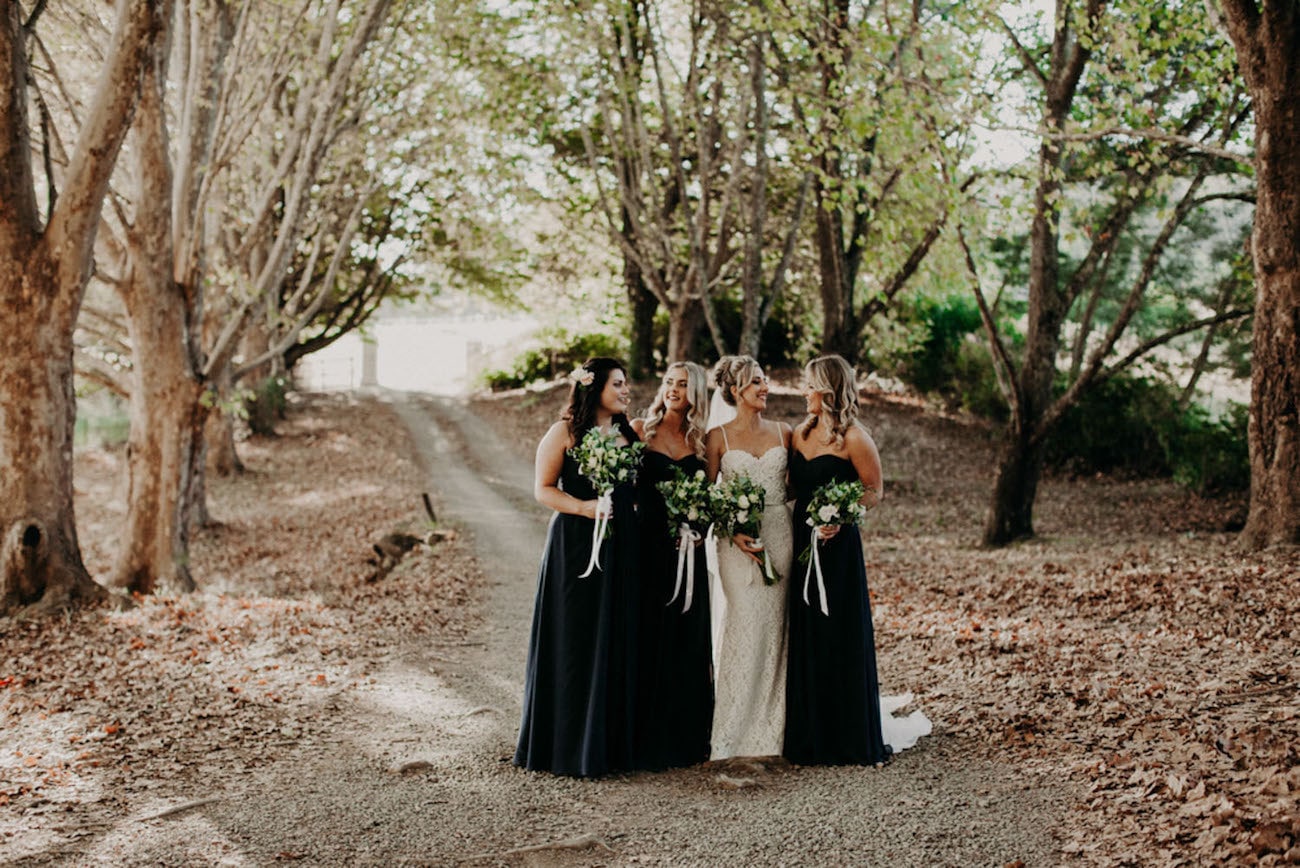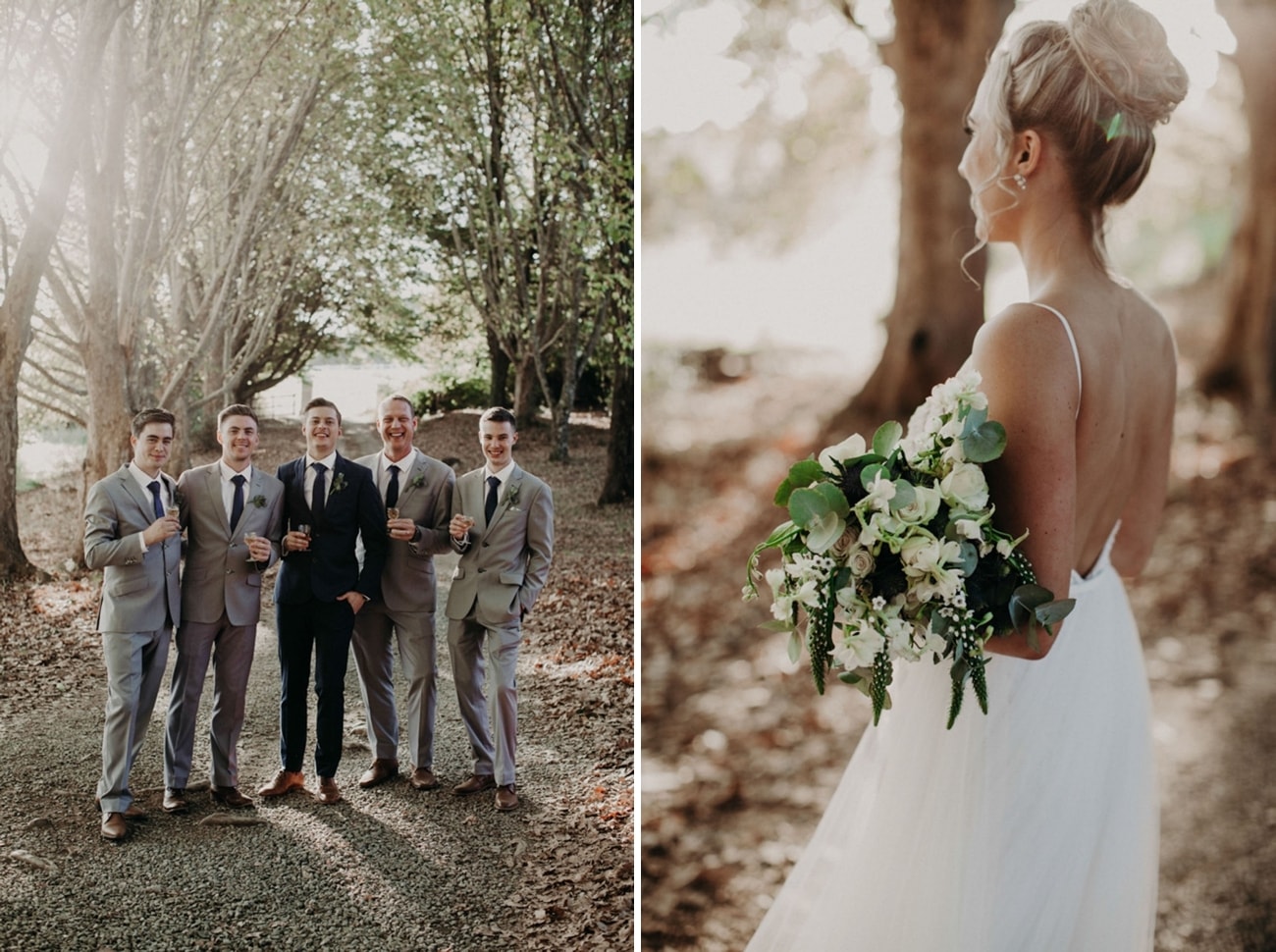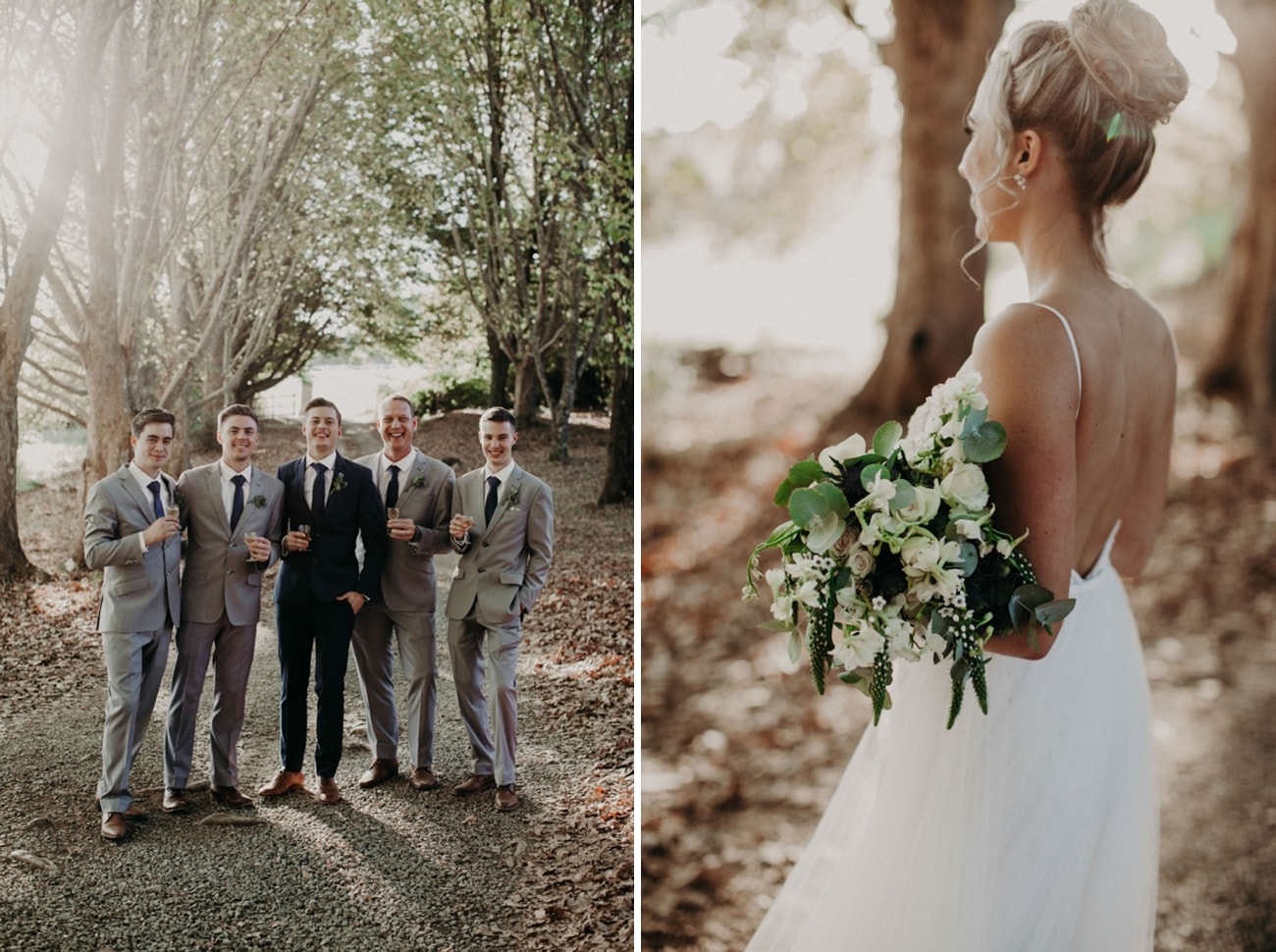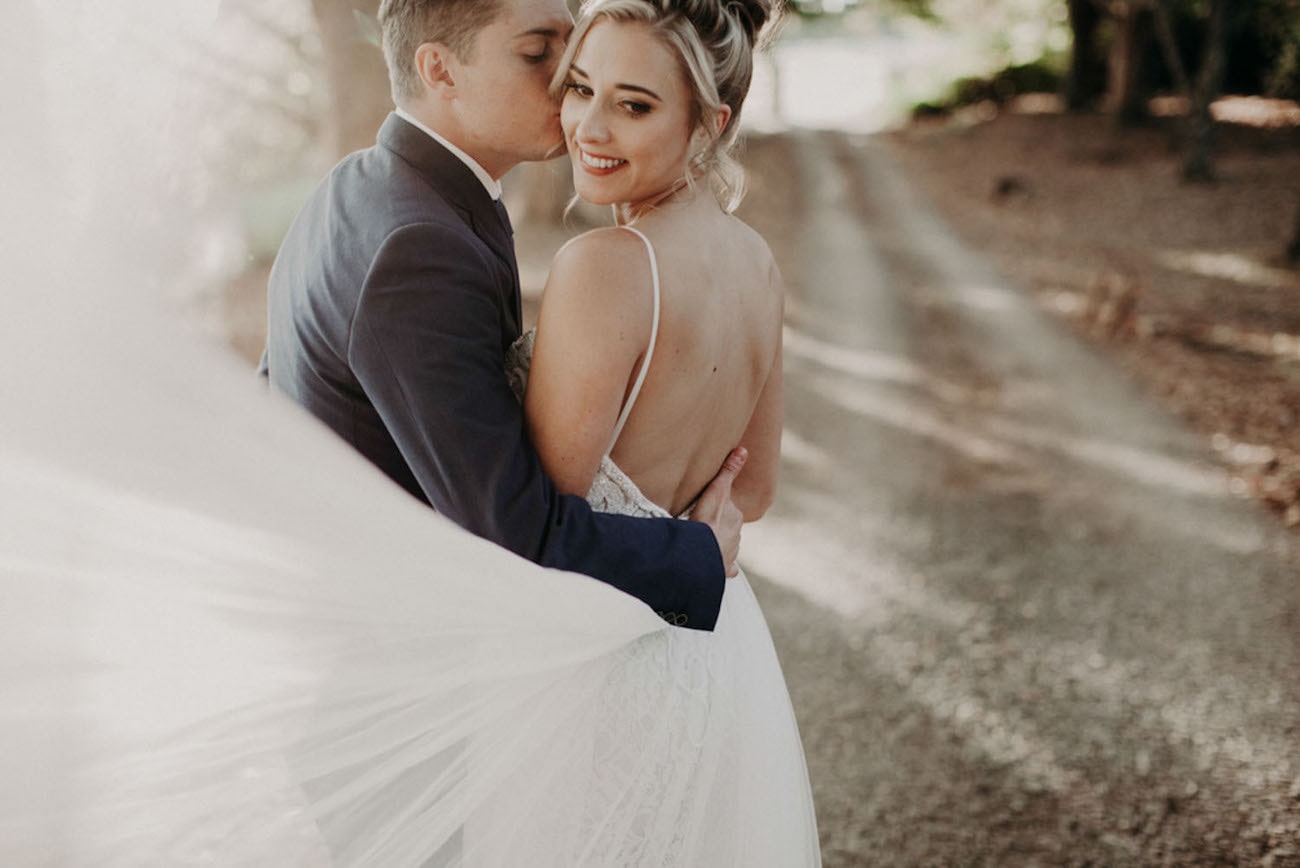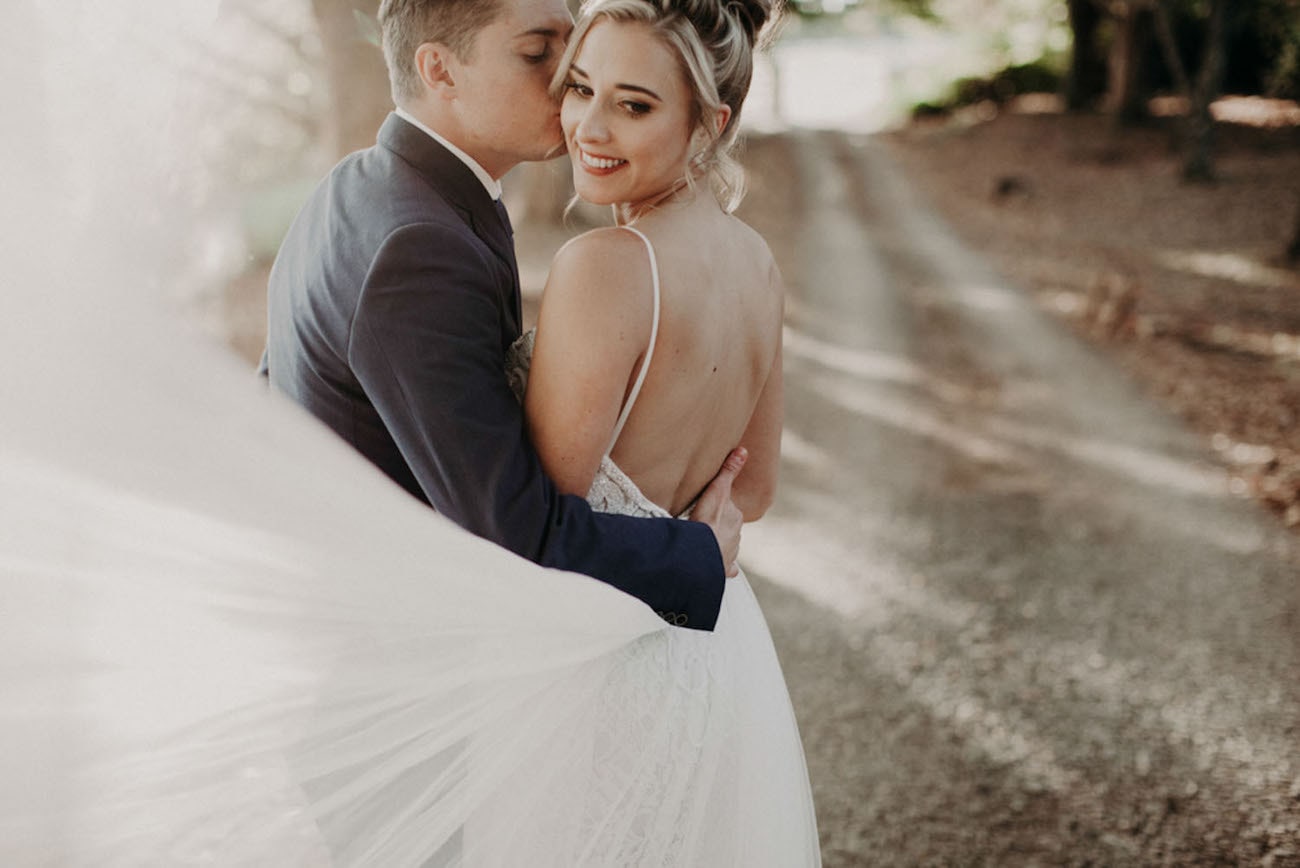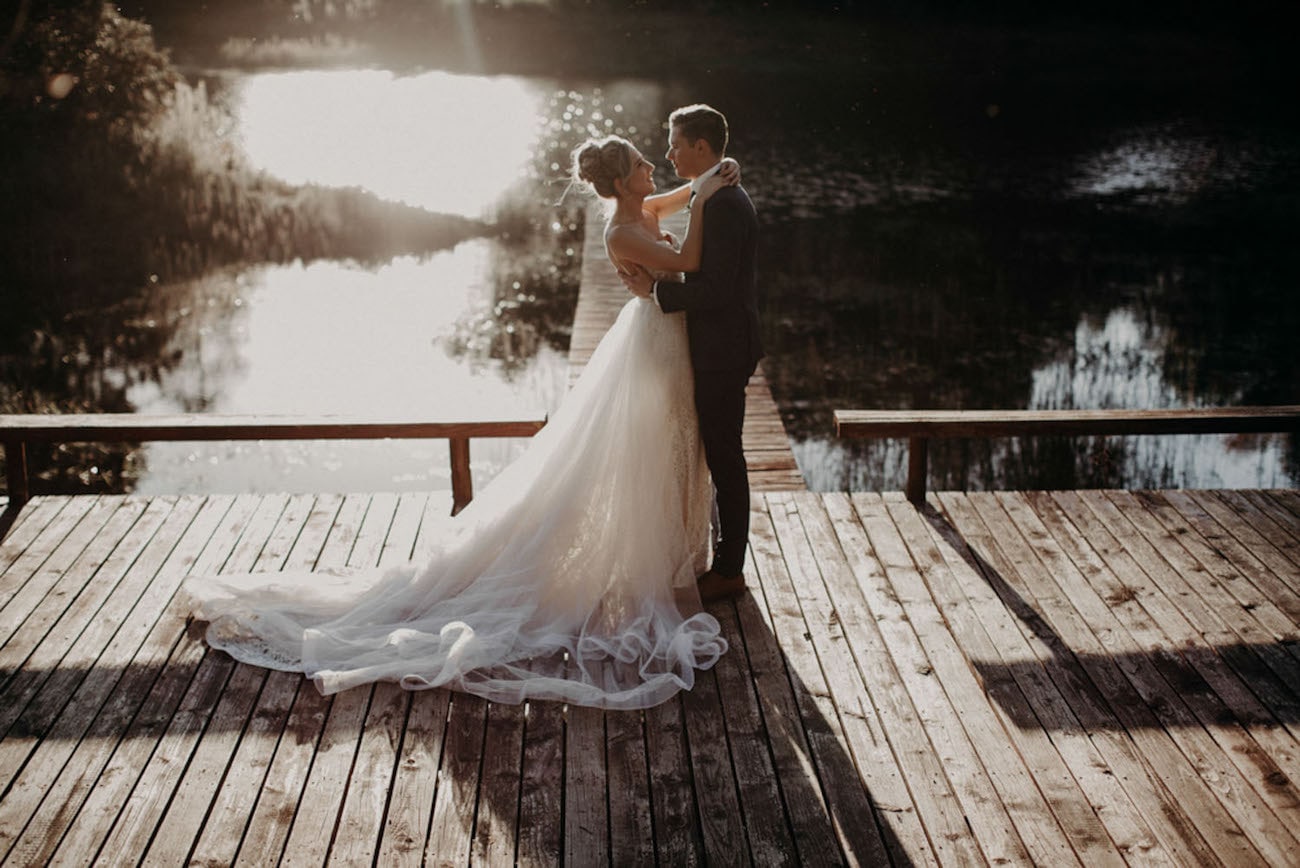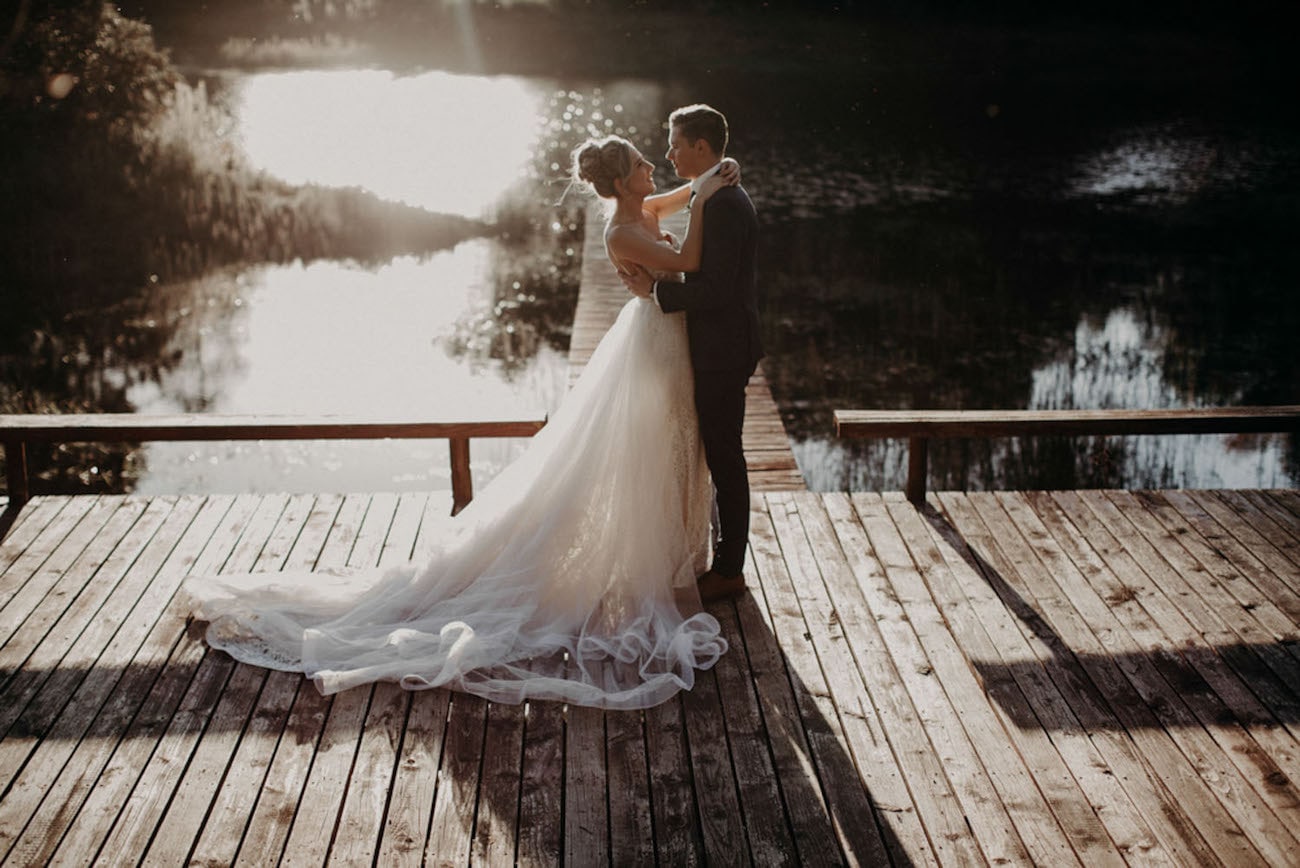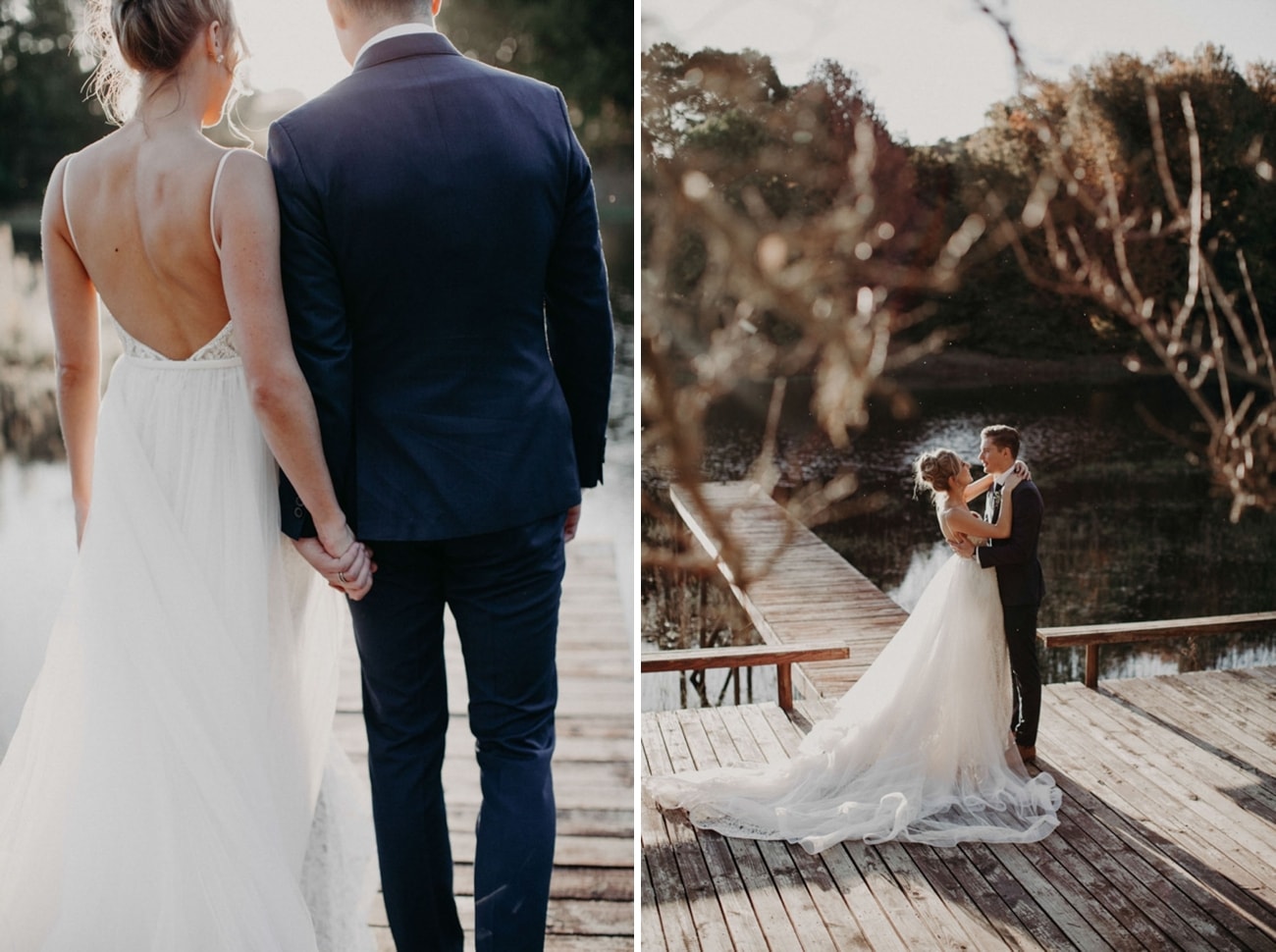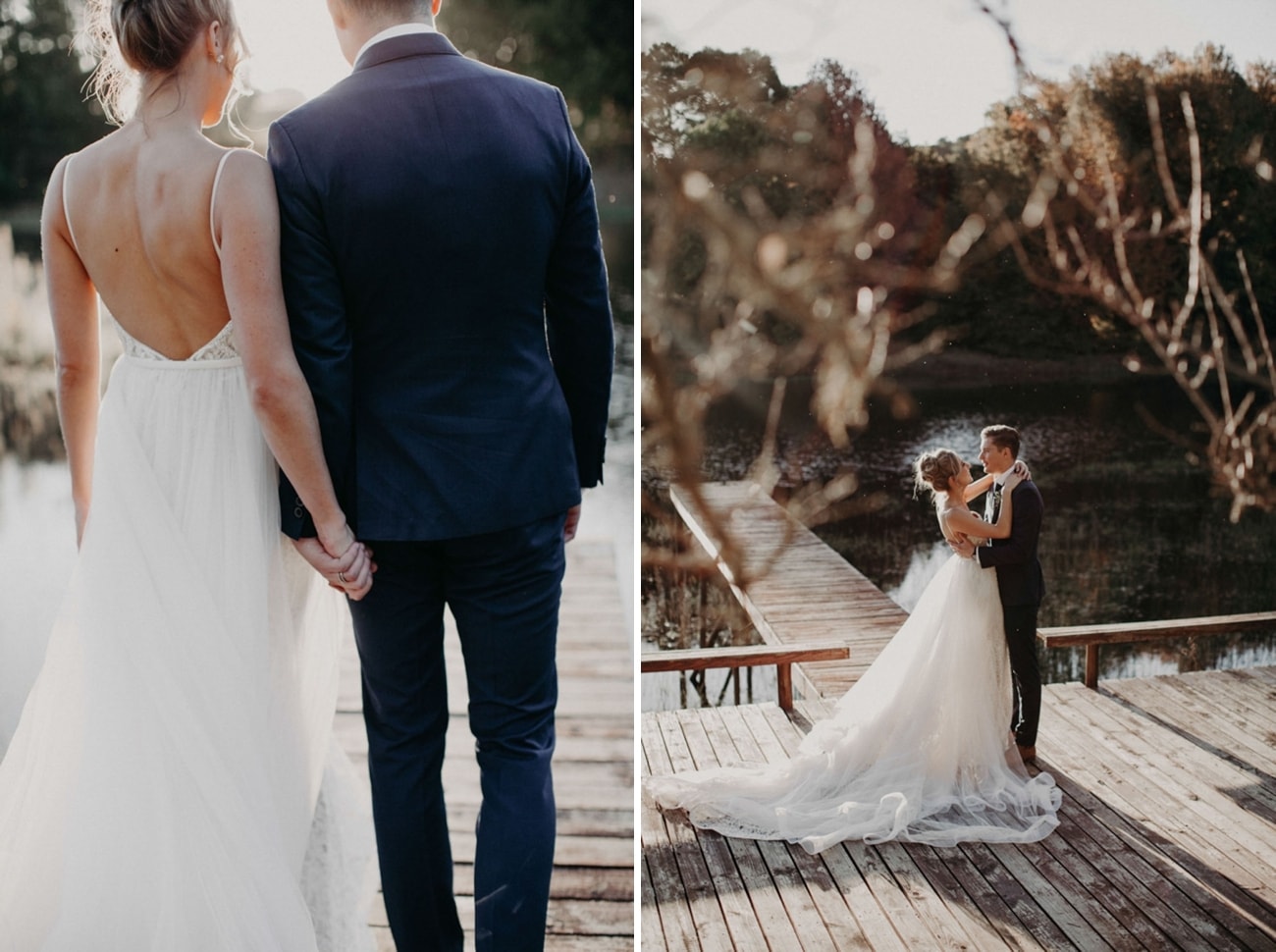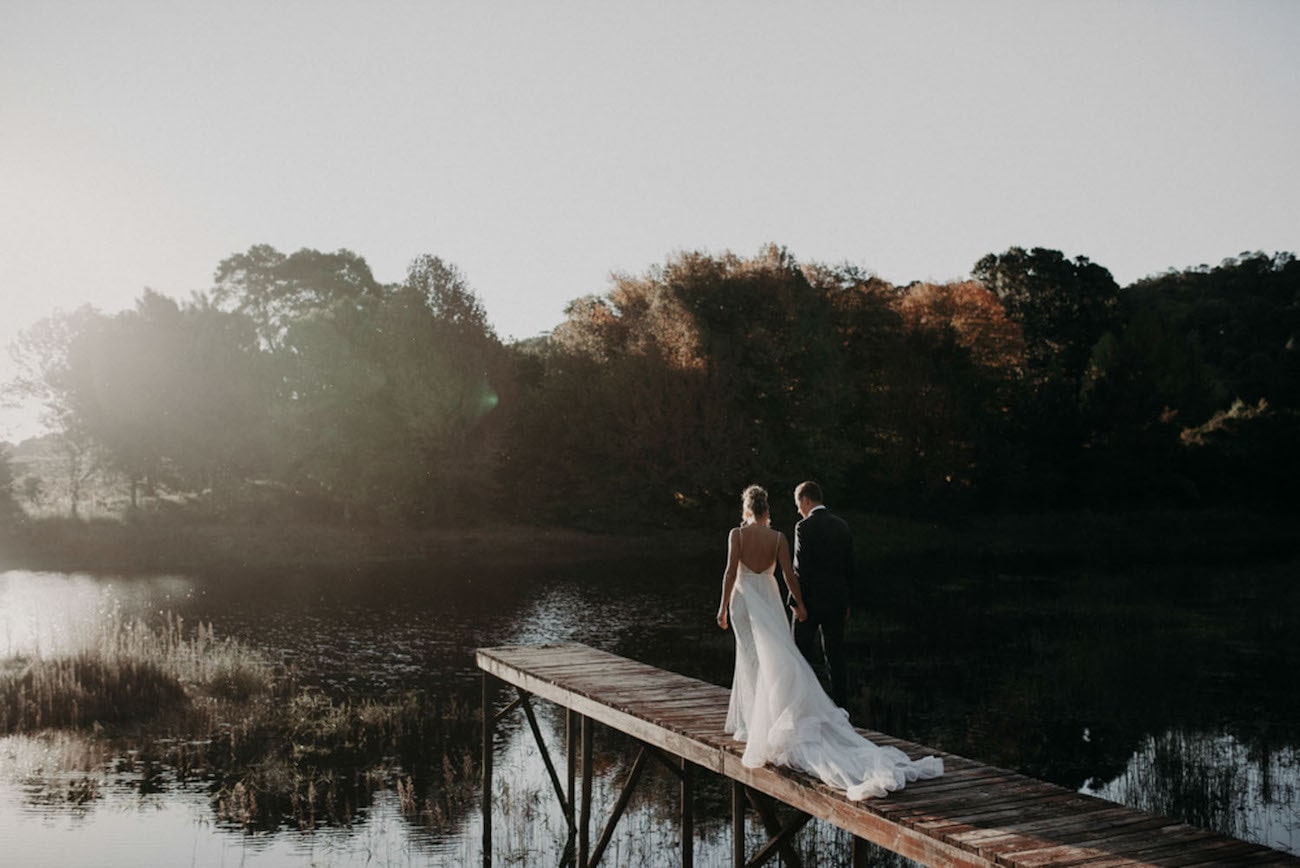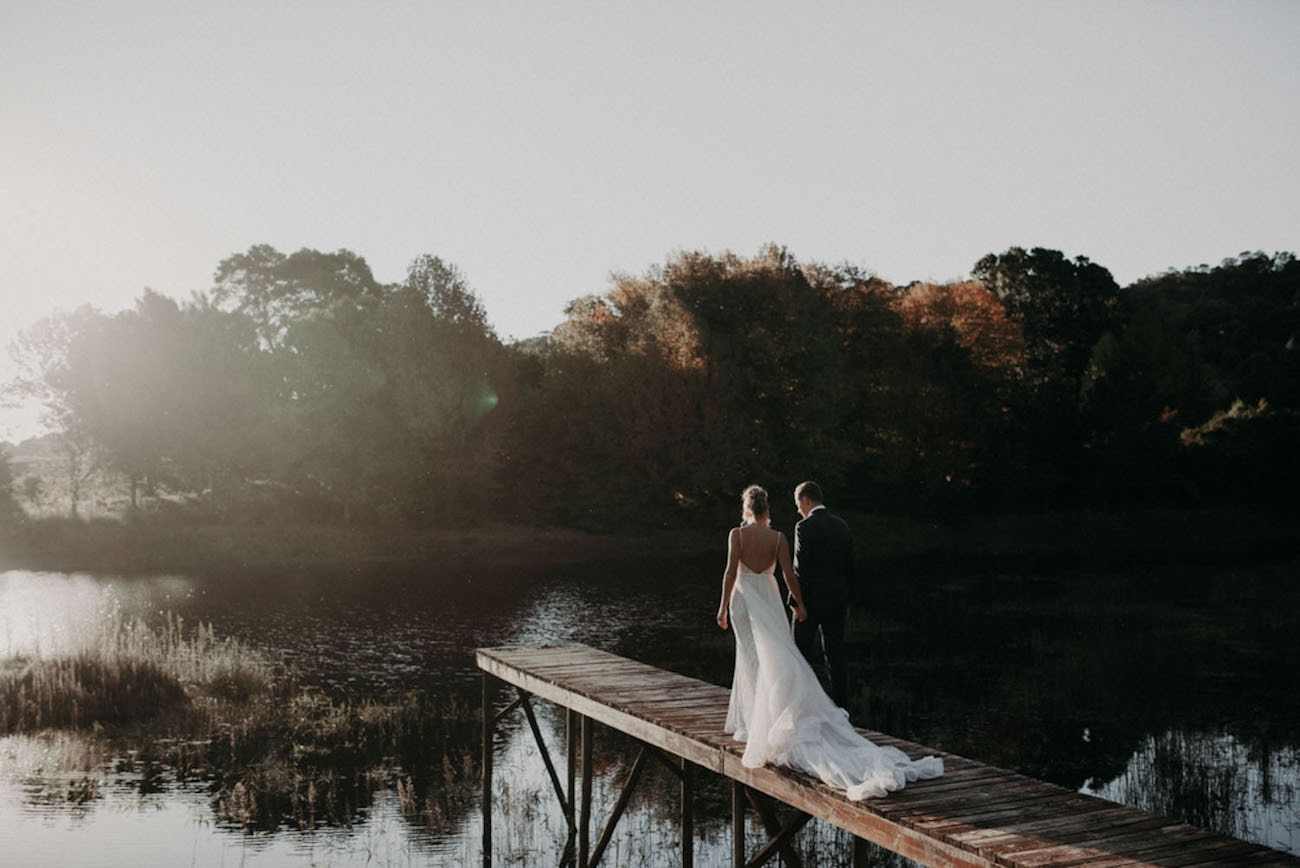 The Dress
I had seen Casey Jeanne's work and long ago decided she would make my dress one day. When we got engaged, one of the first things I did was book an appointment with her to work on a budget for the dress and make sure I had the correct timeline to get exactly what I wanted from my dream dress designer. I tried on a few from her then-current range to get a feel for styles and then got back in touch in the suggested eight months before. I knew I wanted a custom-fit dress My sister is also a designer and made my gorgeous engagement party dress; it was the first time I wore something made for me and I noticed the amazing difference in fit. I am however not a very creative person so one of the many divine things about Casey is that you can go custom design or go with her ready designed range and she will remake that design for your body and measurements. I knew the style I wanted and did look around at two other places but once I put her sample on I was sold again – the quality, design, comfort, and attention to detail is just out of this world with her work. I went with an elegant lace look and wanted an off-white, which we used for the under material. My dress had to be comfortable because I am a comfort queen (and it was!) I ended up going with quite a low neckline, which is different for me but it worked. We also ended up renting a beautiful tulle skirt which was the princess wow factor to the slinky dress and I removed it after the ceremony to sexy it up! There was hand beaded detail on the bust and I absolutely loved it! Casey is a perfectionist and I left there feeling 200% happy with everything about my attire for the big day.
The Bridesmaids
My bridal party was all family. My sister was my MOH and my cousins were my bridesmaids. We have grown up so close and there was no other option. Family is for life and always have your best interests at heart, plus they have to love you no matter what and get every part of you. It was one of the best choices; there was no drama and I felt so comfortable with them through the whole process. With them all being abroad, I got to choose from awesome Aussie design dresses and the two had fun Skyping me and dress shopping together. My other cousin in Edinburgh also voted through our Whatsapp group and although I missed physically being a part of it they were amazing at not making this a worry for me and just got me involved when it came to decision time. I eventually went with a simple design navy boob tube which I thought would suit any body shape, hair colour and skin tone and it did. I wanted tasteful and pretty. I let the girls choose a whole lot of options based on my colour preference and short listed and chose my best. I wanted them to also feel happy and comfortable so their feedback and feelings were an important part of my decision.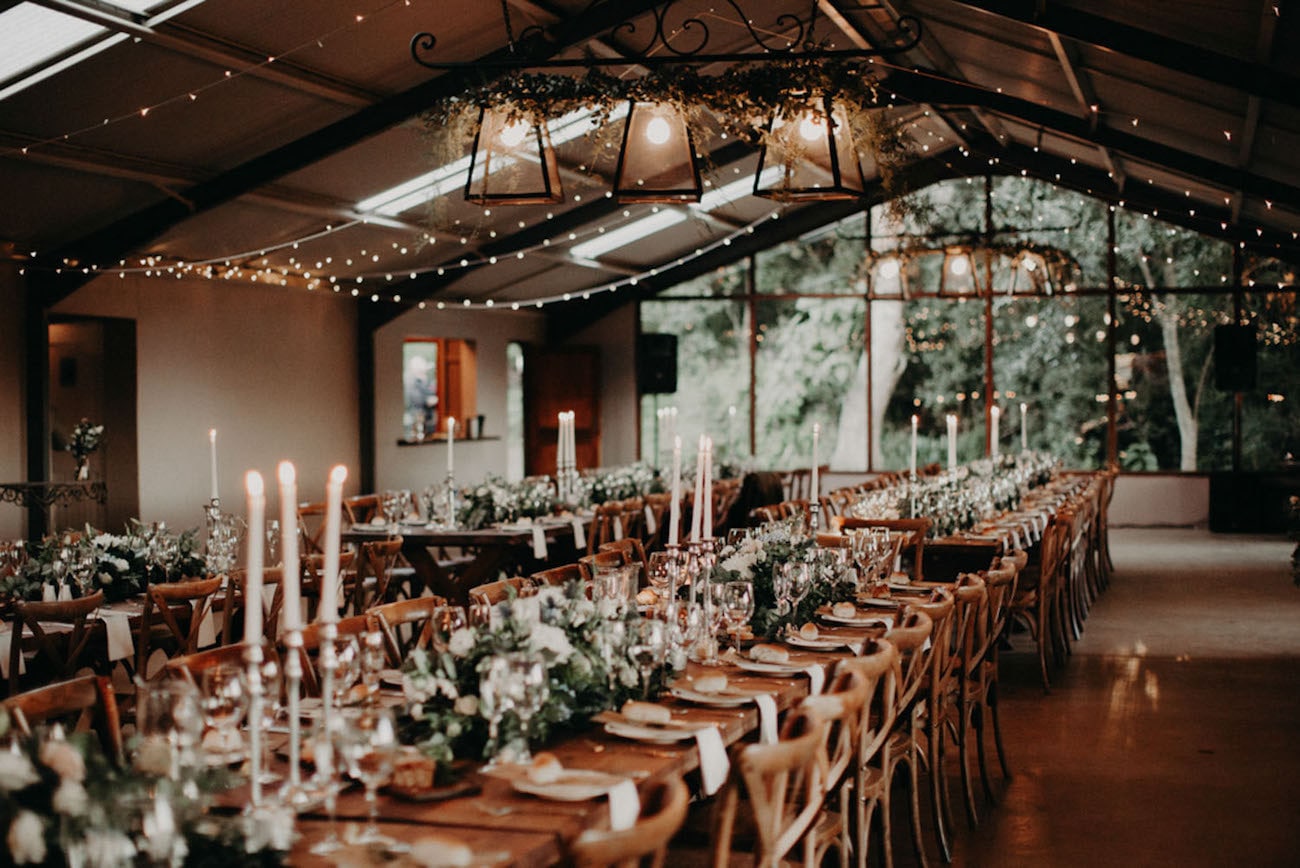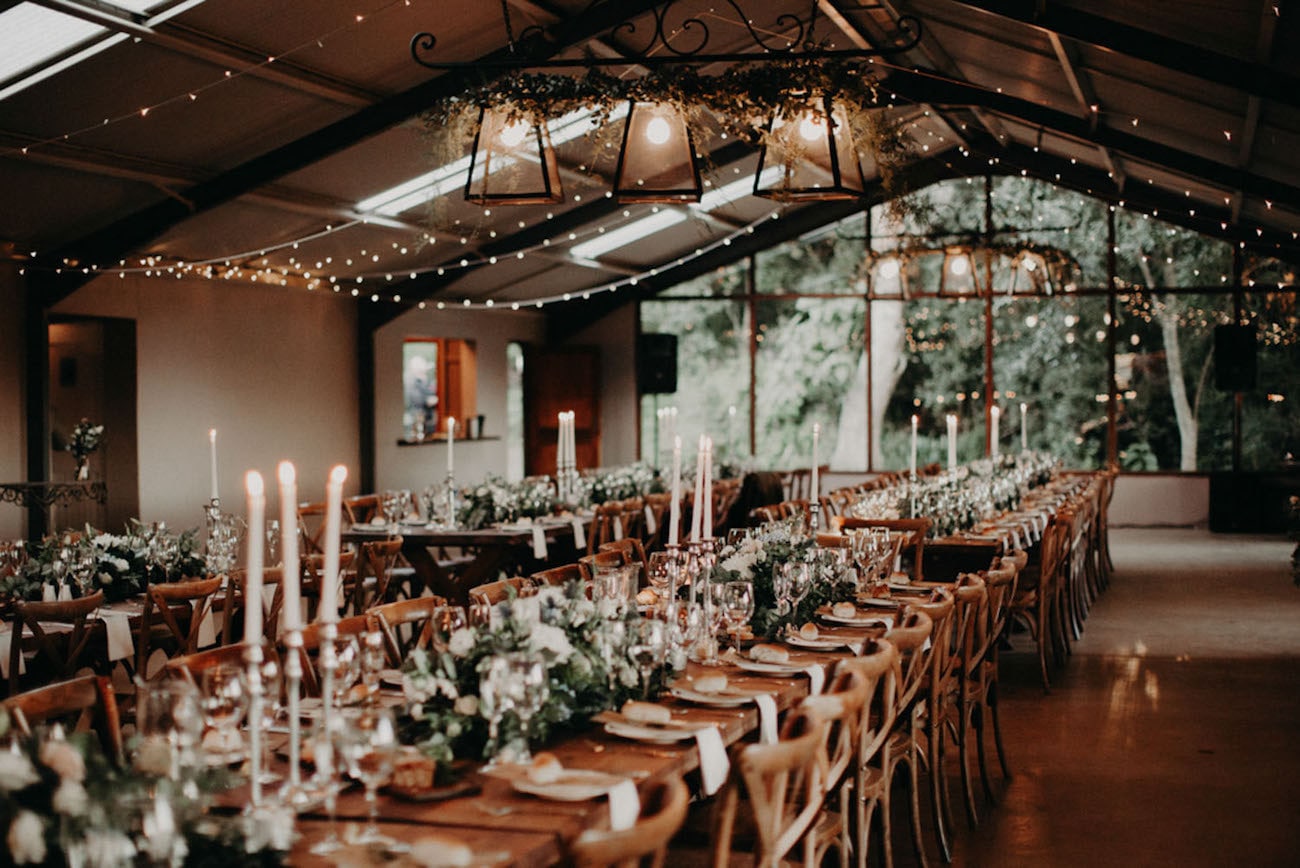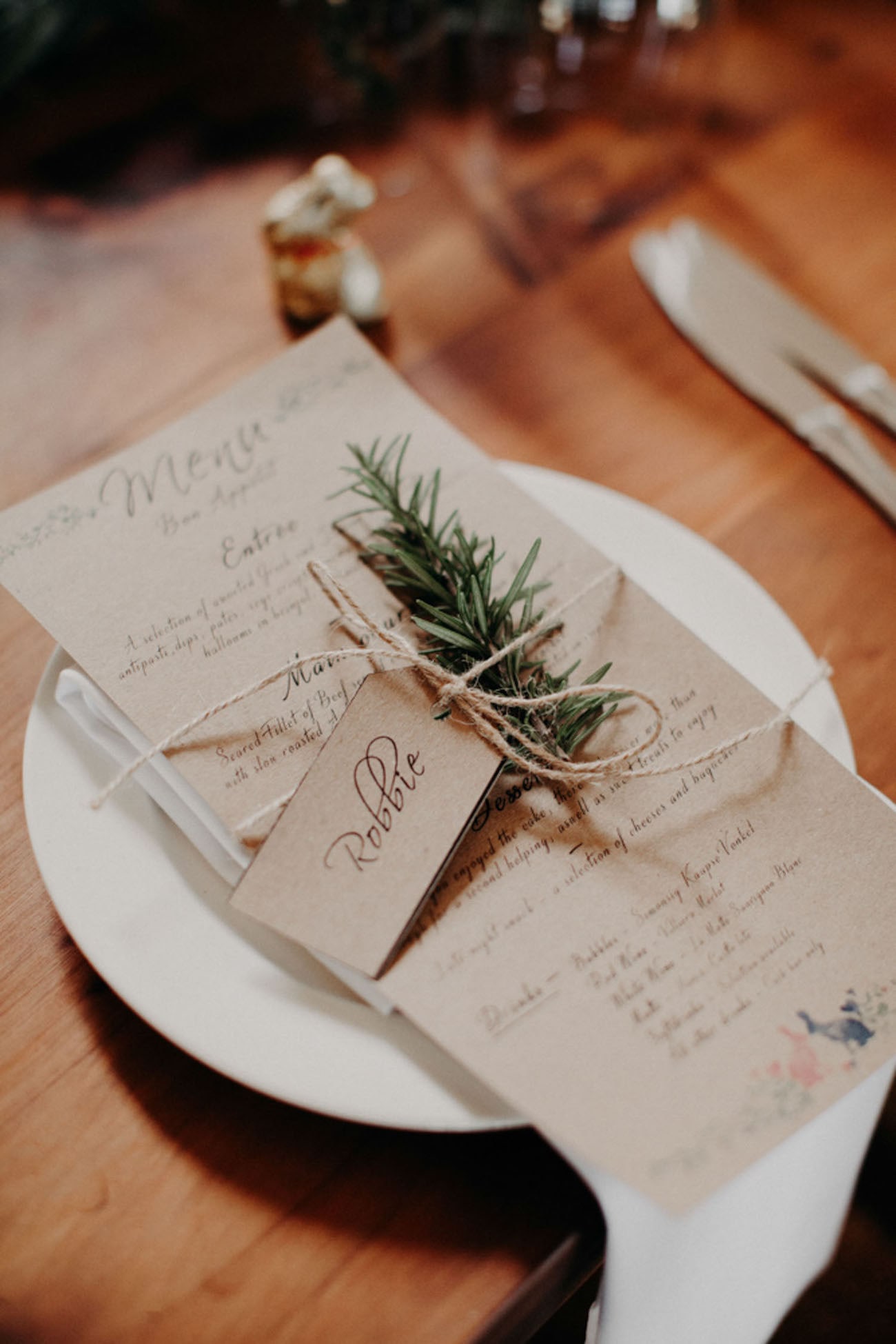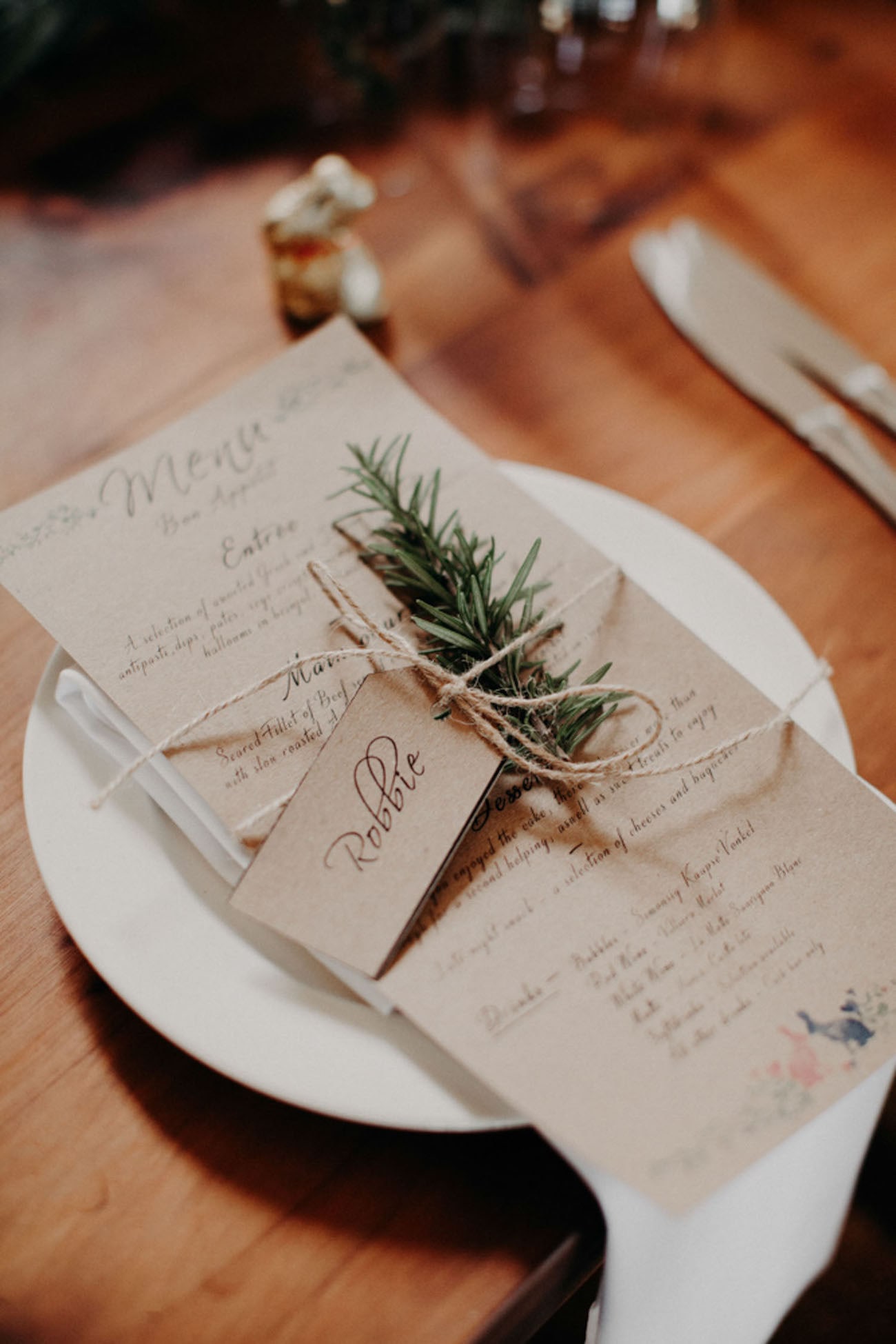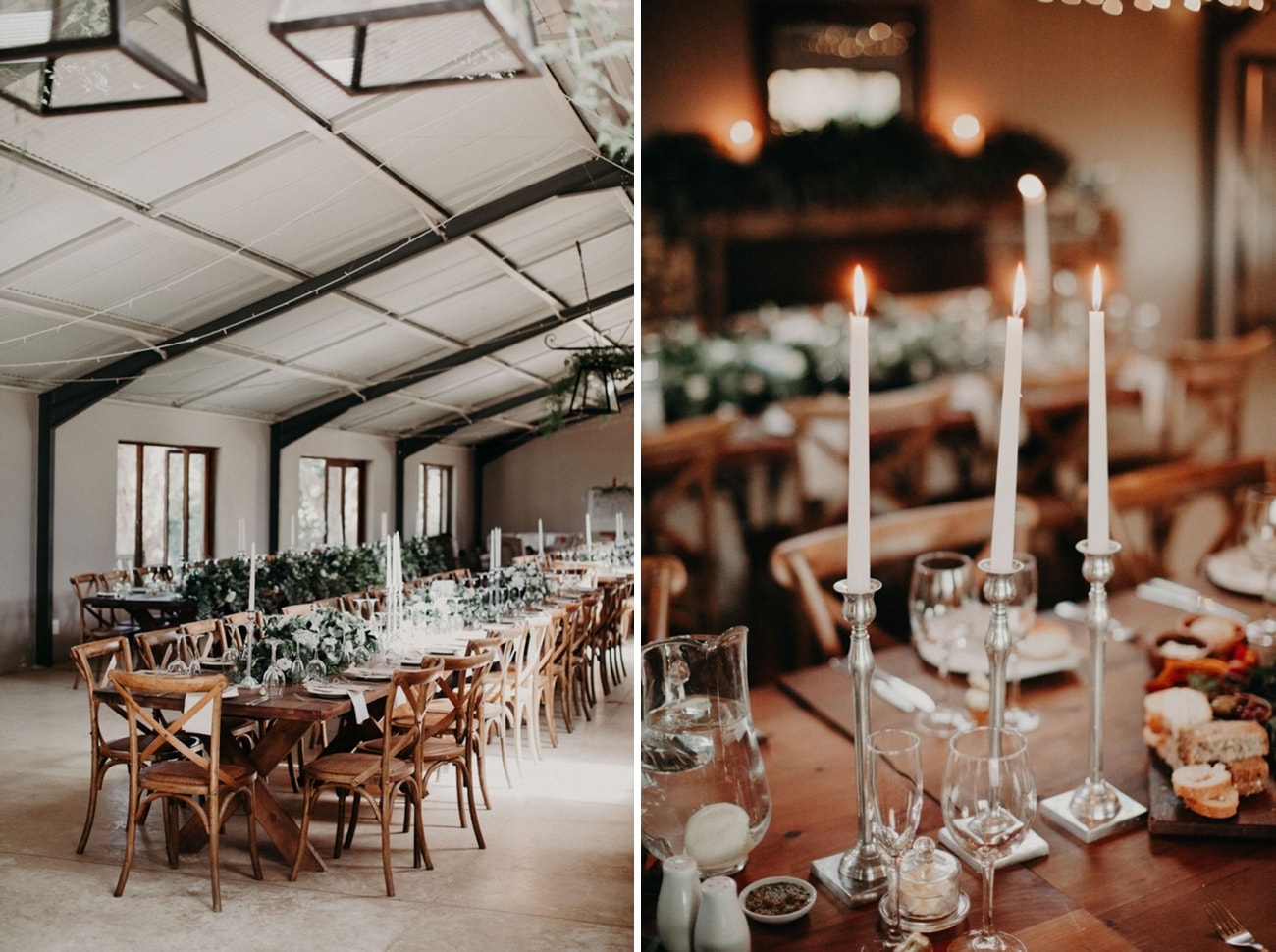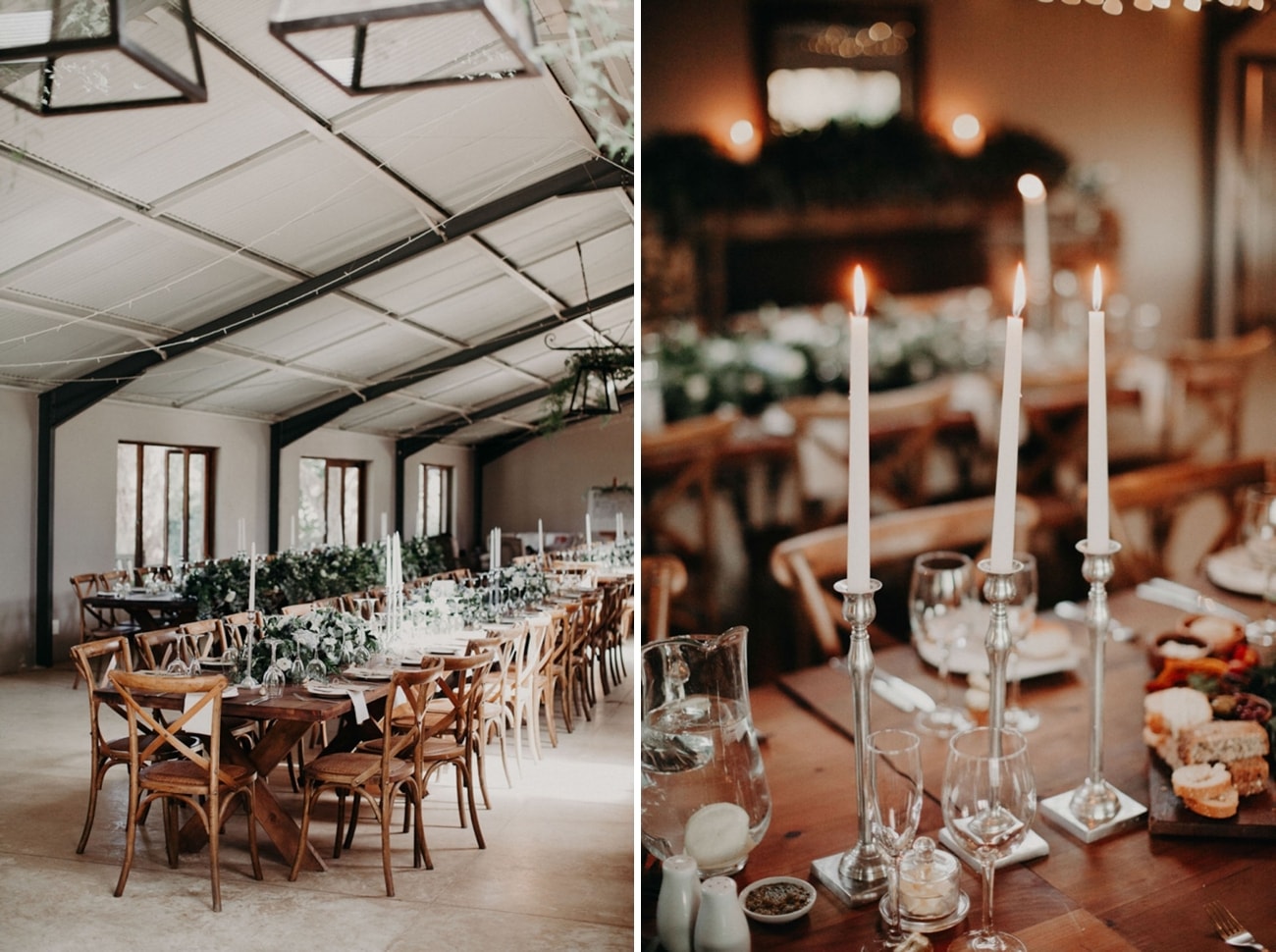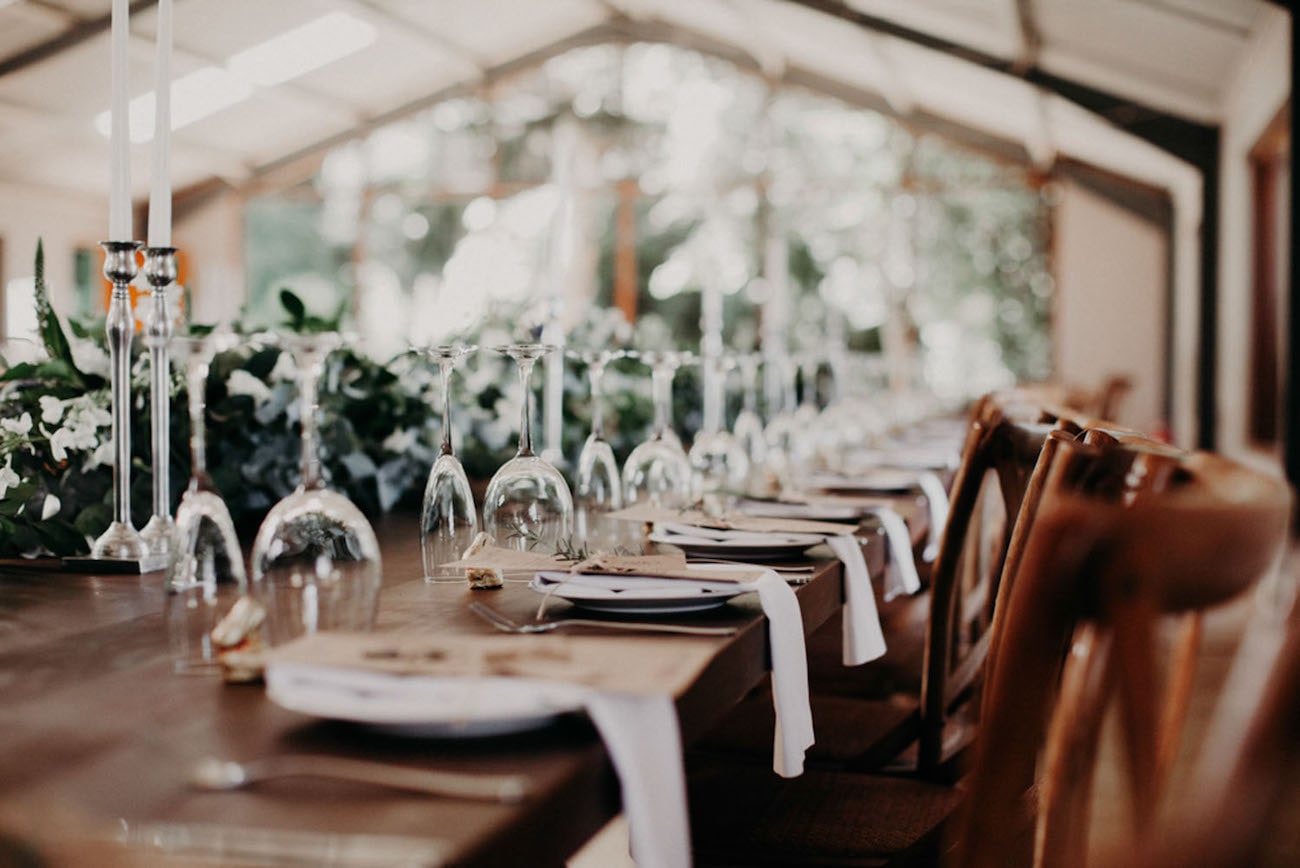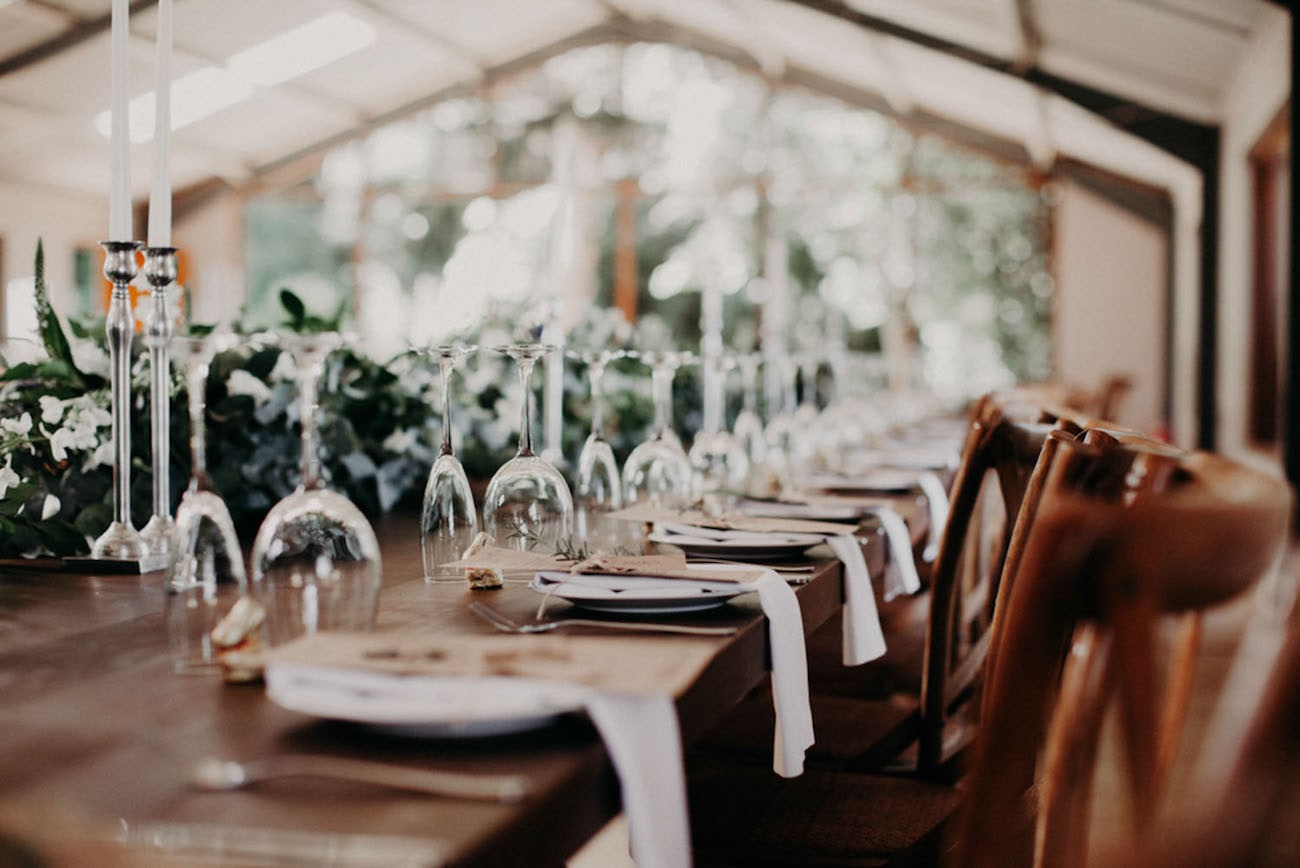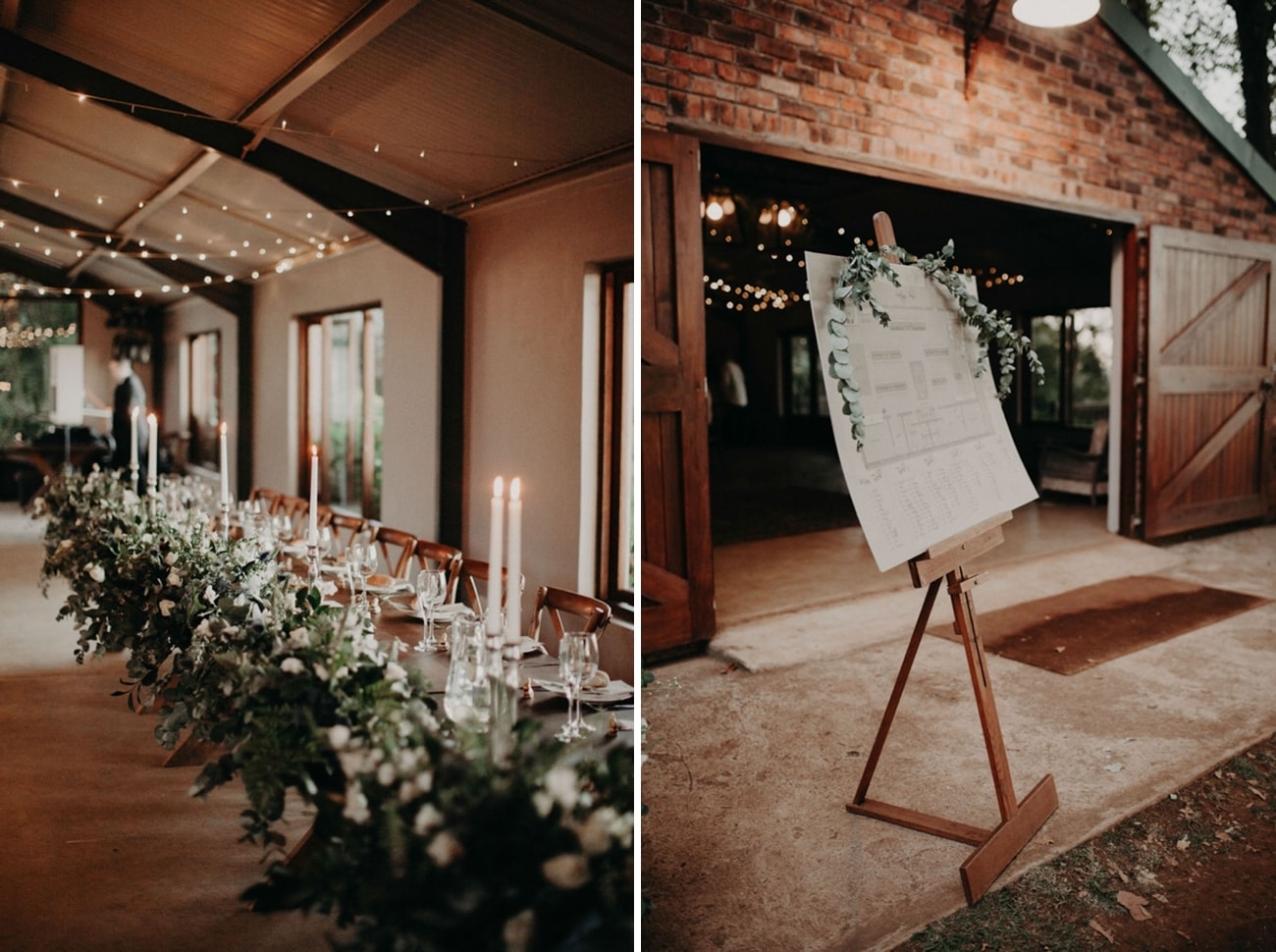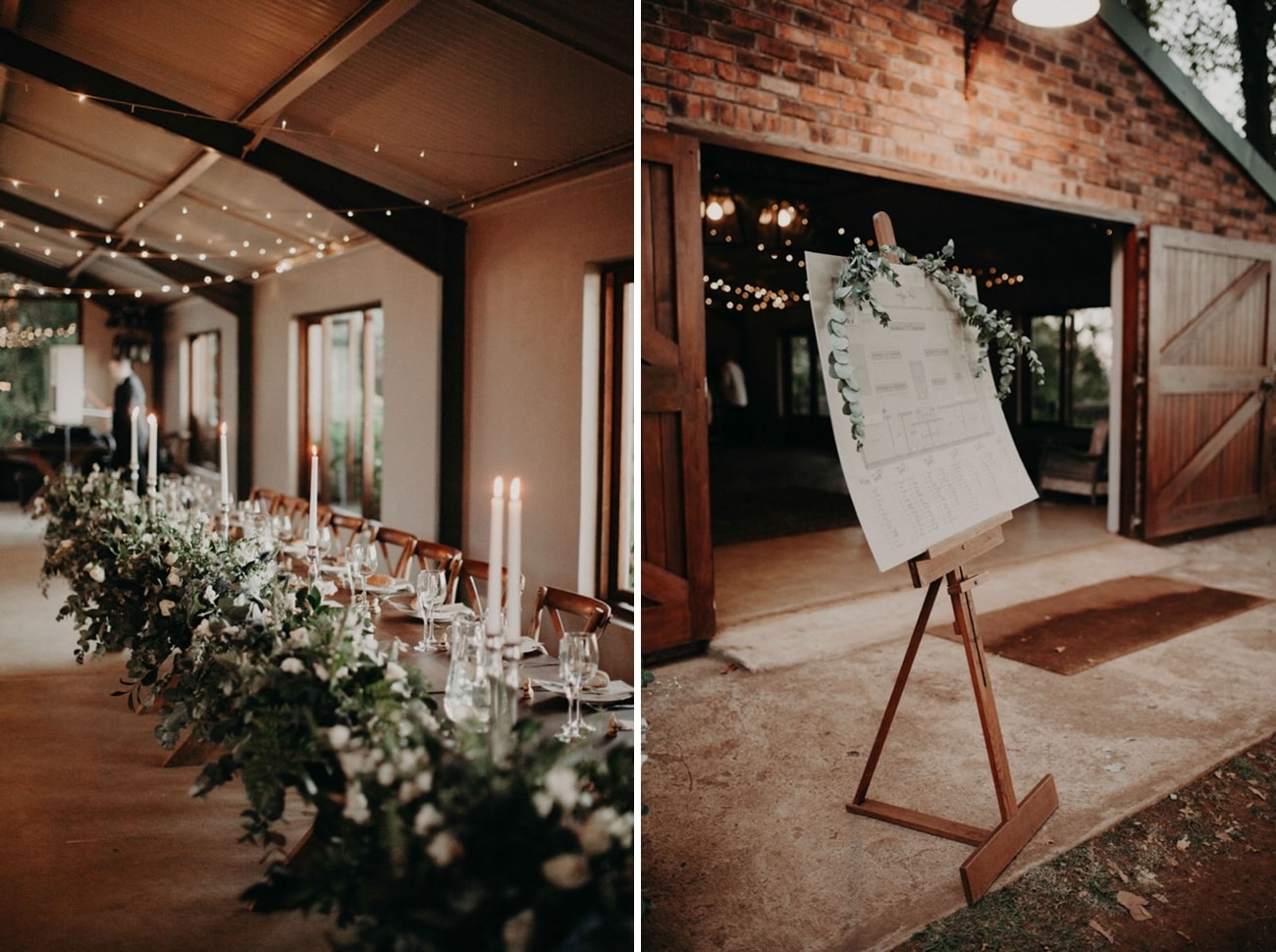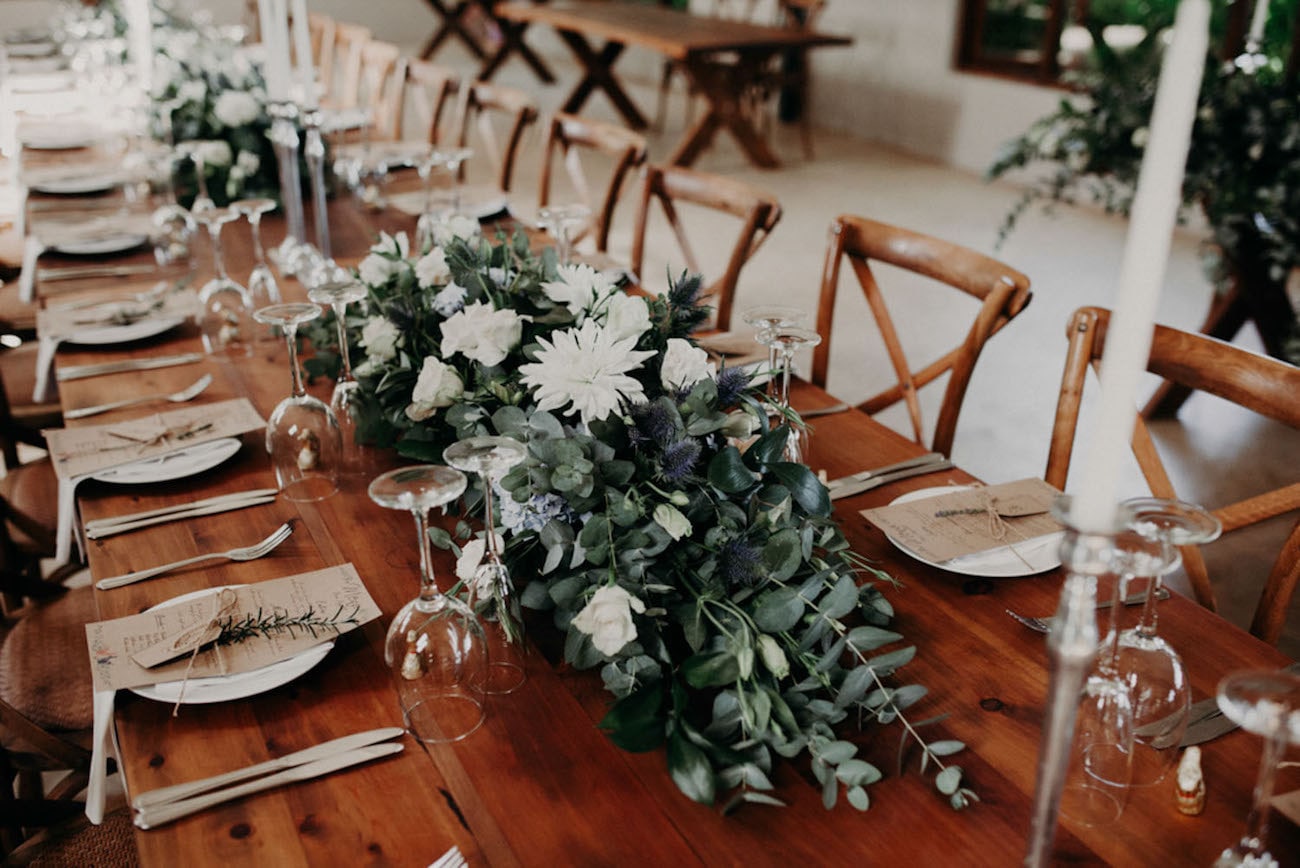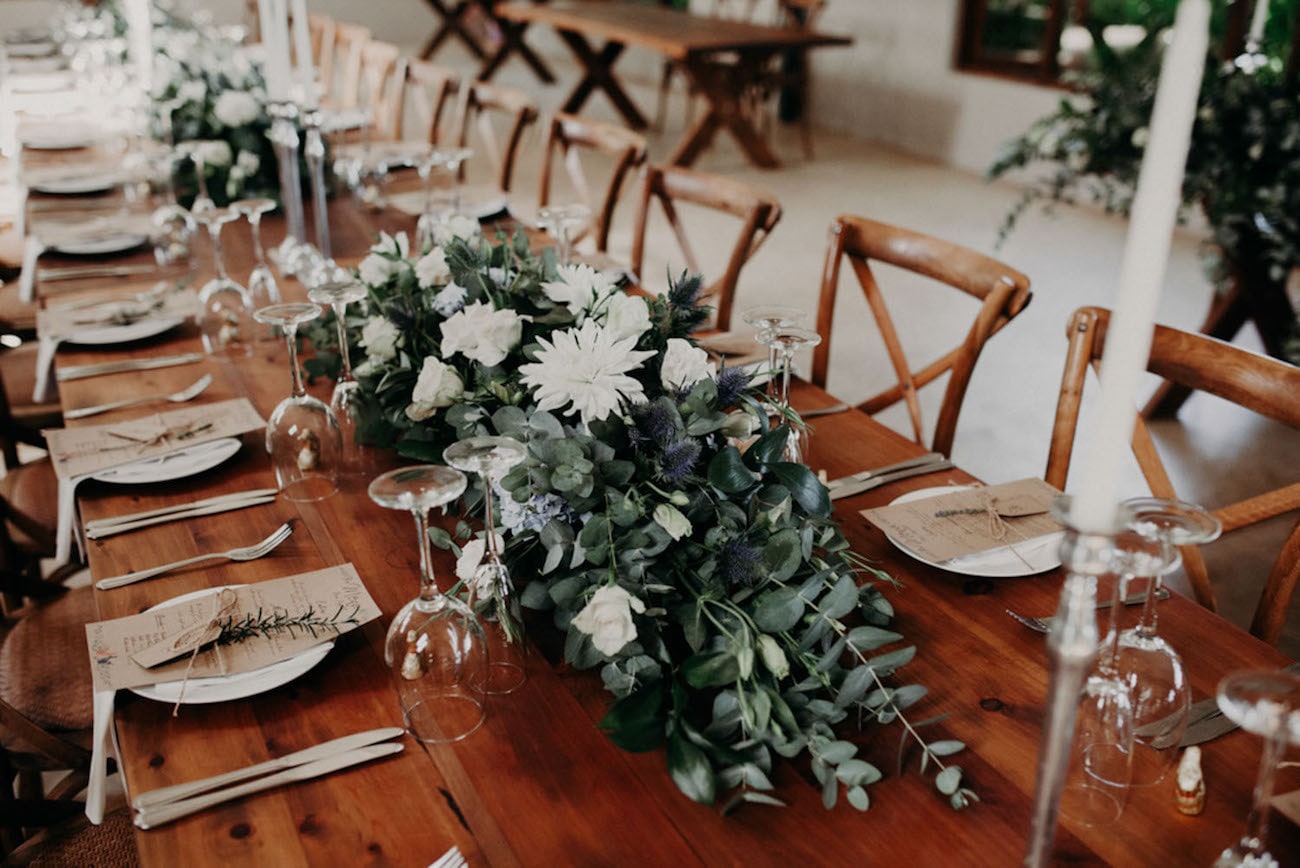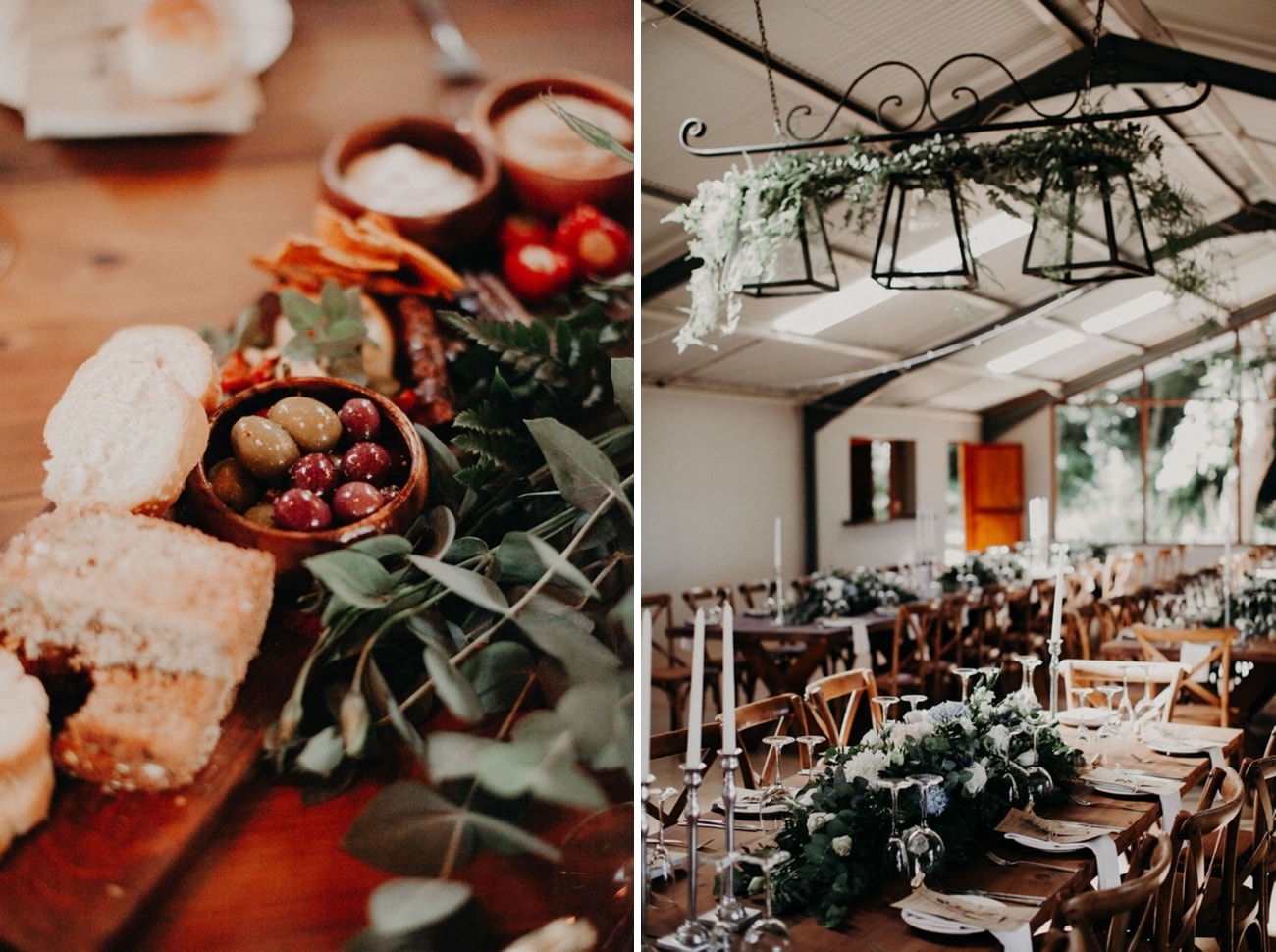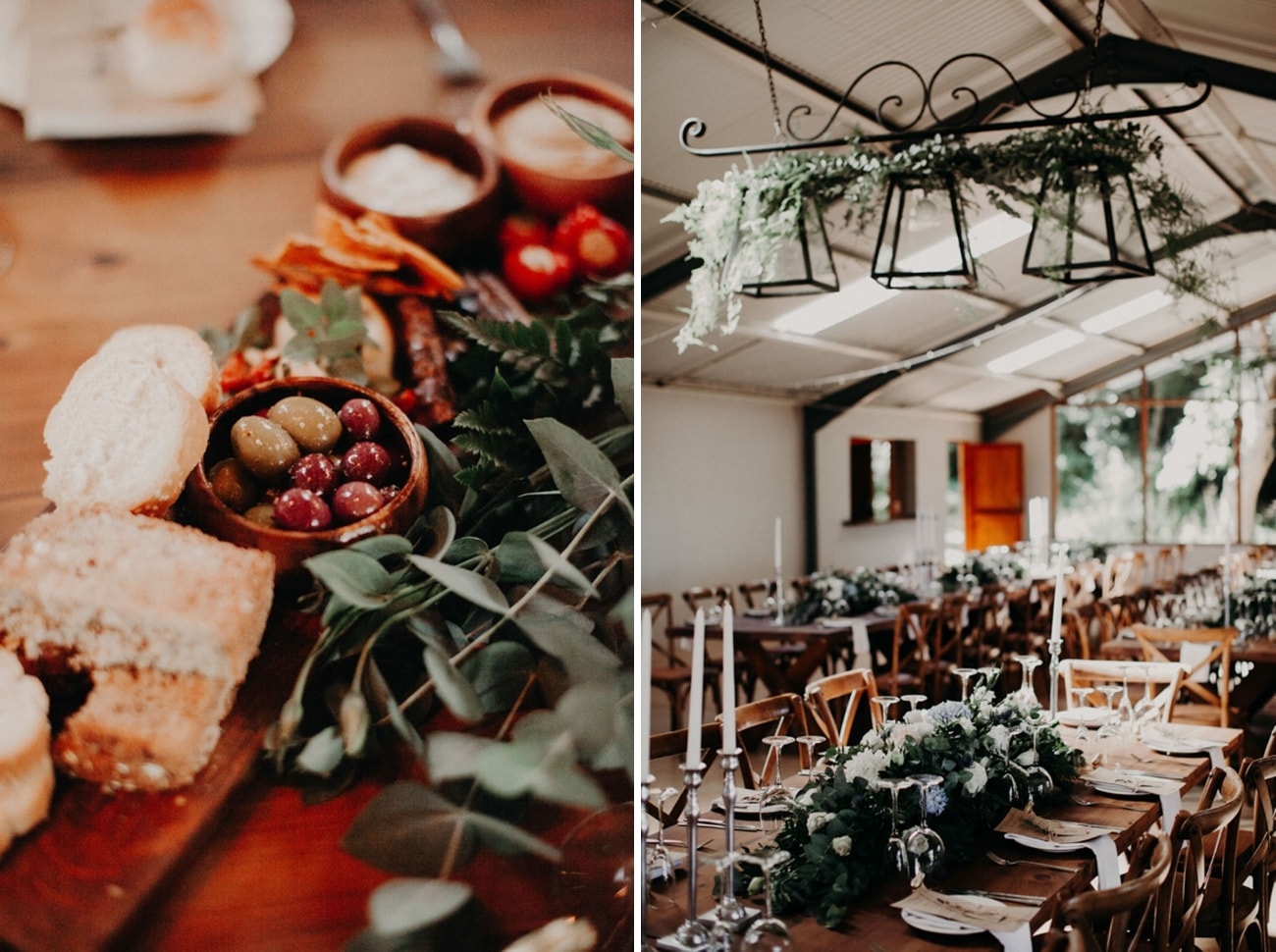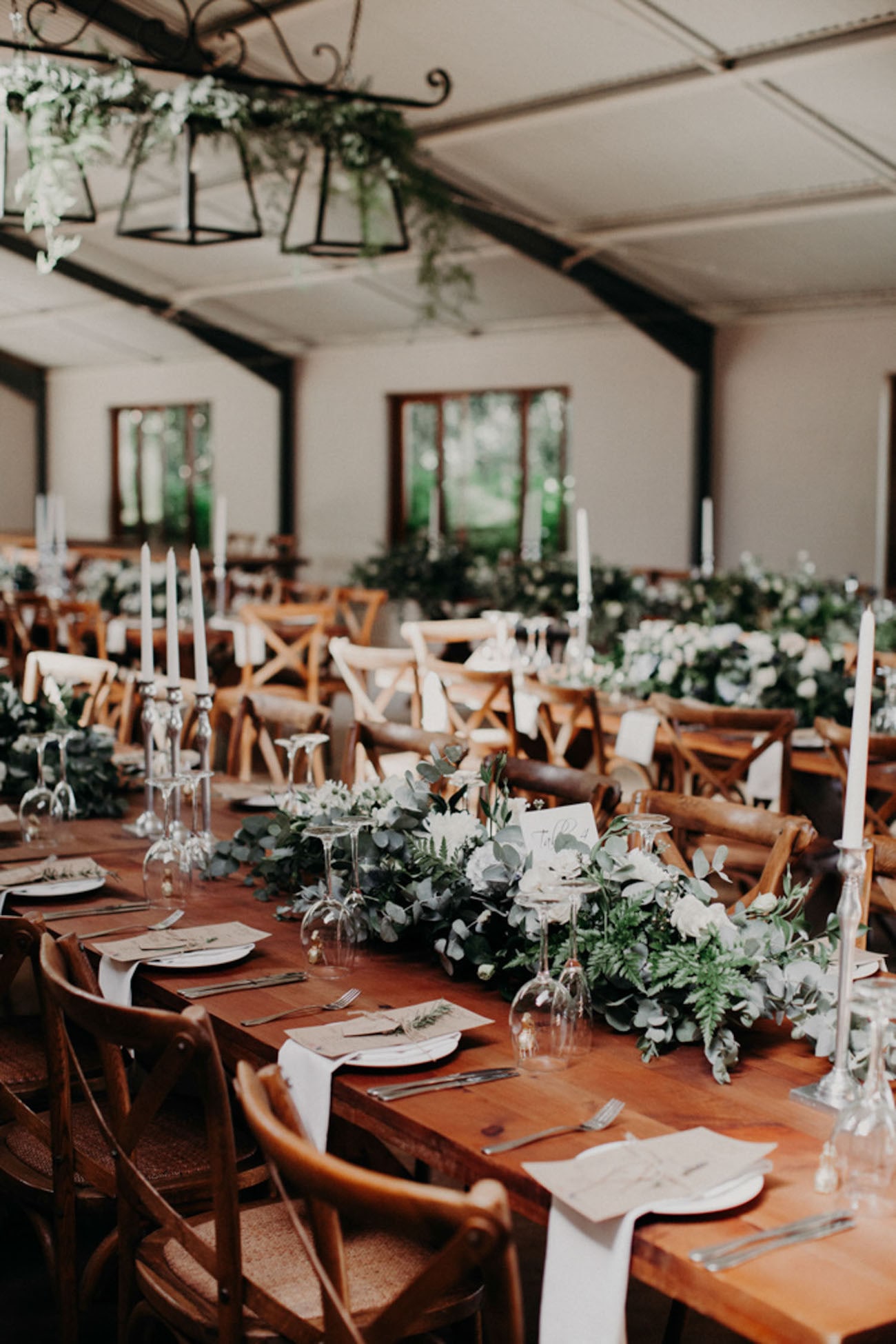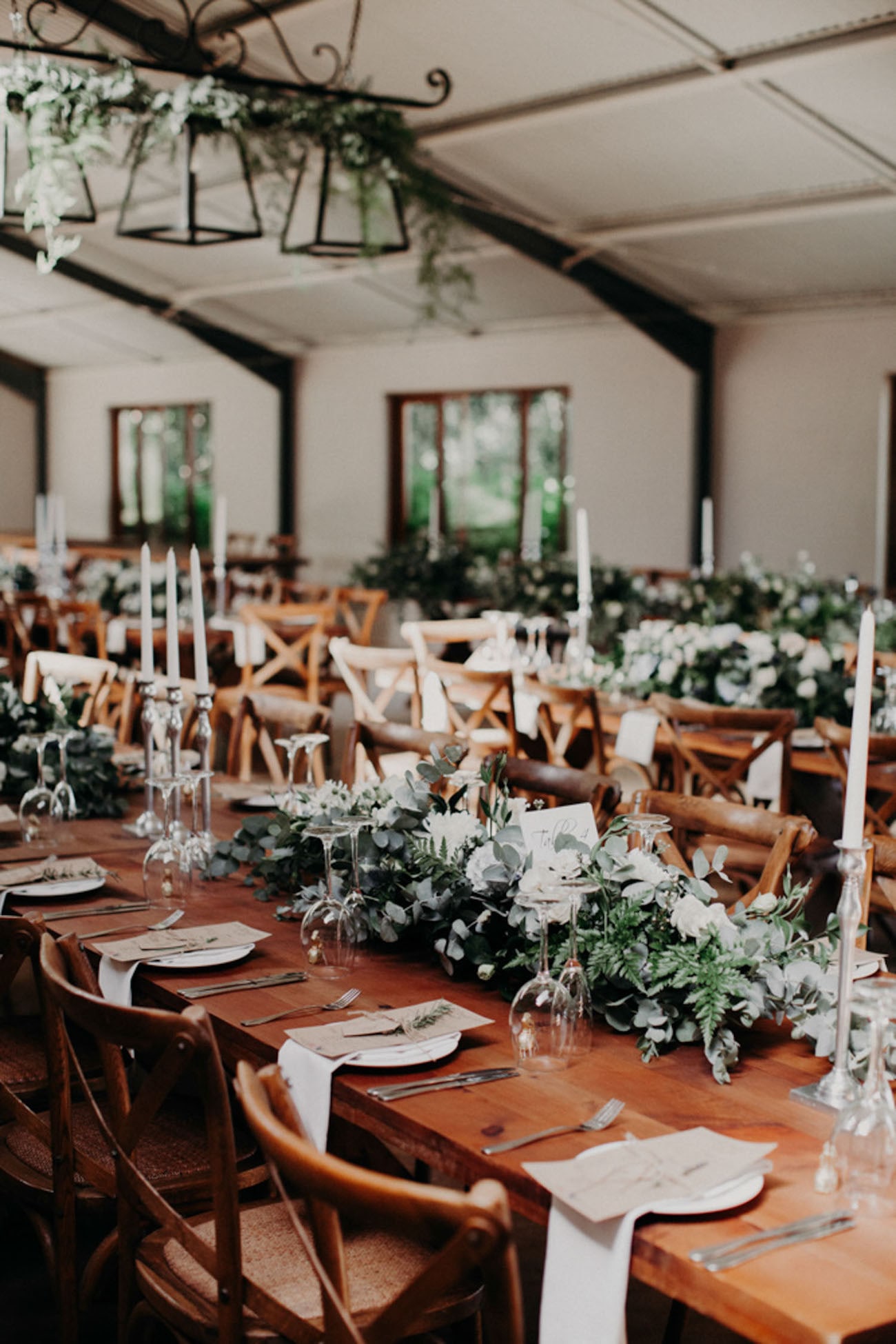 Memorable Moments
It was all magical! We started the morning with a 7 am yoga session with all the girls and my amazing teacher from Durban, Solveig, came through to lead us. From there, I honestly felt like I was floating on a cloud with this amazing sense of tranquillity and content; it just all felt so right. But the bang moment for me would be when I walked down the aisle and all the anticipation was over. I saw my man, had my daddy next to me, my special girls at the front of the aisle, our parents, and grandparents and all the people we love most around us and I felt like here we are. It was incredible! Then we just took it all in and it was such a high. I also enjoyed when we went to take the couple pics with just us and our photographer; it was nice alone time in the busy-ness of the wedding, and we got to be together and connect before we re-joined everyone, our first semi-alone moments as a married couple.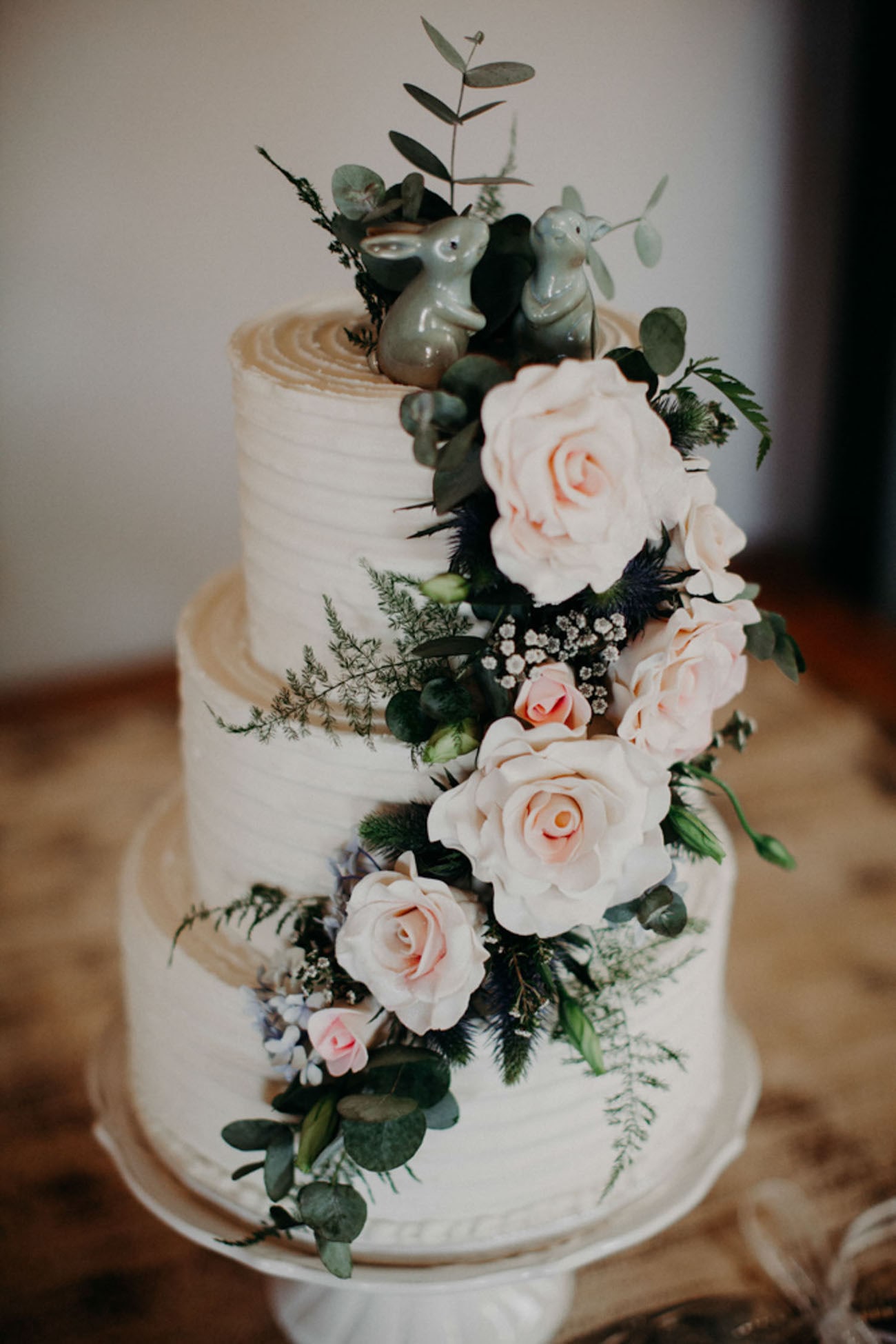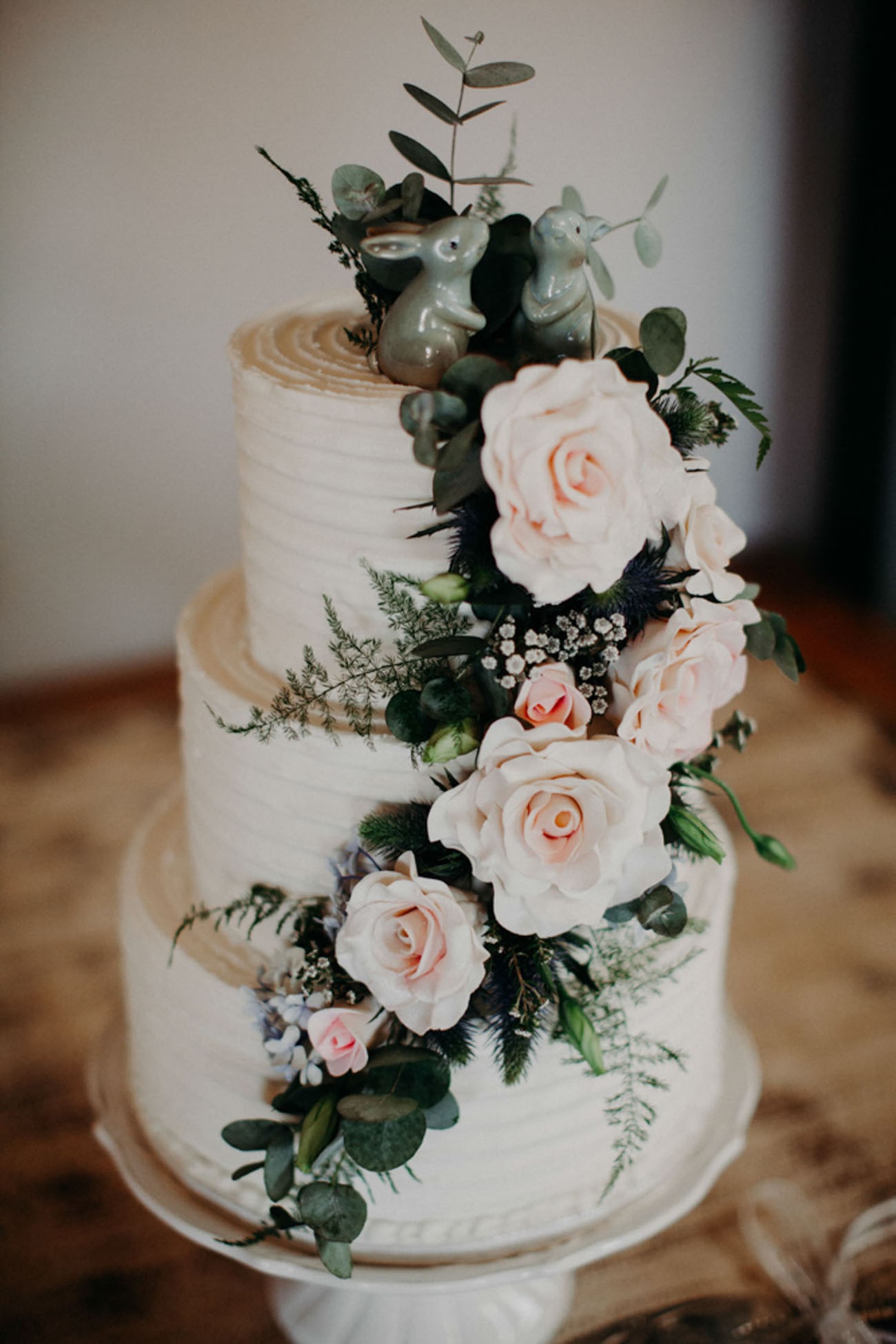 Best Decision
Involving both JP and I in making all the decisions; this made it 'us' and got us both excited about everything.
Advice for Future Brides & Grooms
Firstly, ask for help. People you know who have had a wedding in the area you have chosen are happy to send you a list of their suppliers and references, and this got me kickstarted with references I could trust. Also leave as much as you can to the special people around you; they are there to help and want to feel needed and a part of it. It meant so much to my mom that I let her take the lead on the décor and run the setting up of the reception and let my bridesmaids get involved with fiddly details like organising some platters for us during the retinue pics and assembling families for the family photos, sorting out sourcing bridesmaid dress options and making appointments, etc. We also left the day before to rest and paid an additional fee for the venue staff to do all the gritty work. I have heard a lot of brides say they were exhausted on their wedding day because they spent the night before setting up their venue. I used the day before to chill and be with my family and girls. My mom coordinated everything and I felt completely relaxed and ready for our big day. My key tip is to do everything you can leading up to the day but on the day, rest assured you have done everything you can and just enjoy it. I am an absolute control freak and perfectionist and promised this to myself. It was so worth it and if little things go wrong or not as planned, I promise no one notices and it isn't worth stressing about on the most magical day of your life.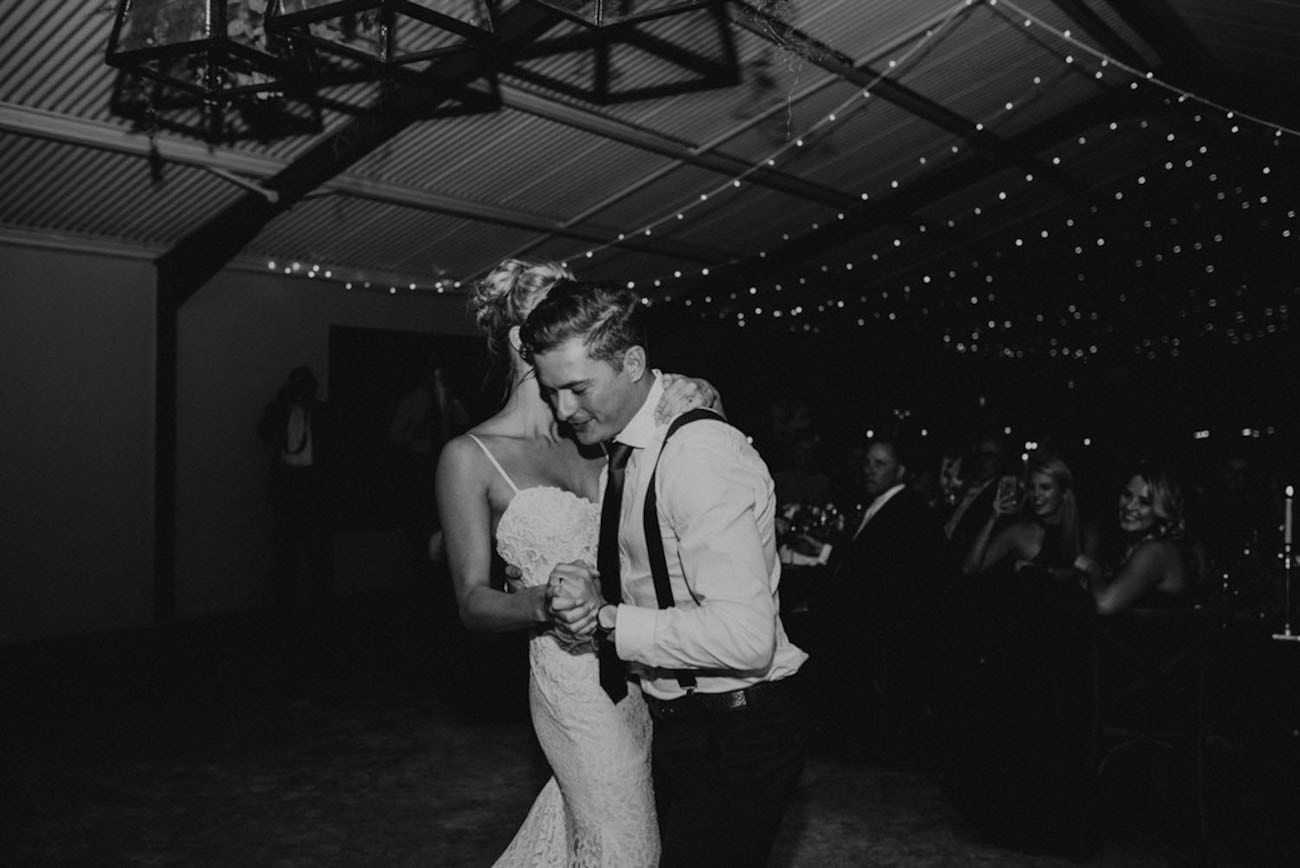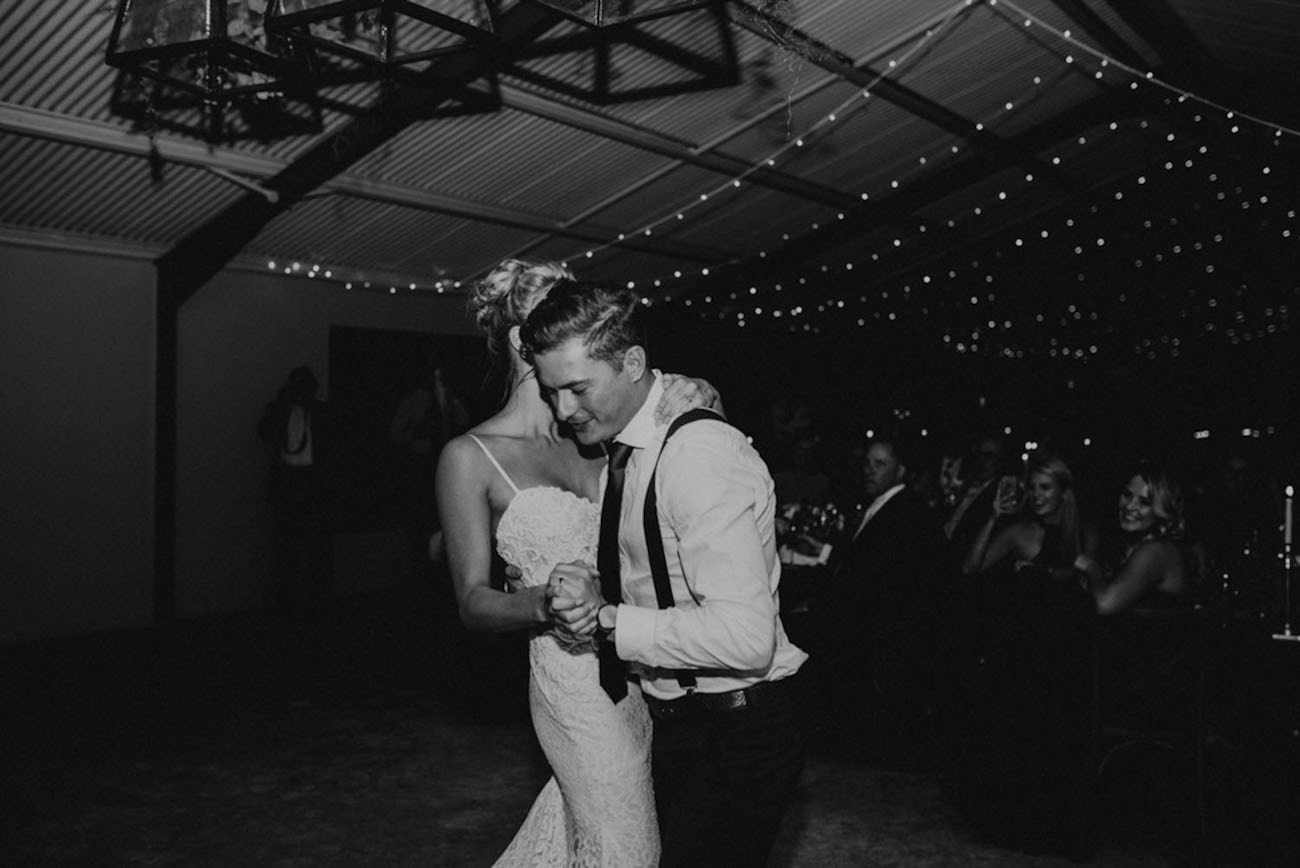 You can see more from this wedding on Fiona Clair's blog.
SERVICE PROVIDERS
Venue: The Glades | Catering: Aubergine Caterers | Photography: Fiona Clair | Floral: Vanilla House | Decor: Midlands Style Events | Cake: Sharyn's Cakes | Bride's dress: Casey Jeanne, Jeannelle la Amour | Bride's accessories: Tales Of Antiquity (earrings) + Wanted Shoes Australia (shoes) + Casey Jeanne (custom garter) | Hair & makeup: Brittany Jane Make Up and Hair | Bridesmaids' dresses: Bridesmaids Only, Australia | Groom's attire: Suit Yourself | Hiring: Midlands Style Events | DJ: Steven Heyns | Music: Melan Blackman (083 785 6988) | Bar service: Thistle Bar Service