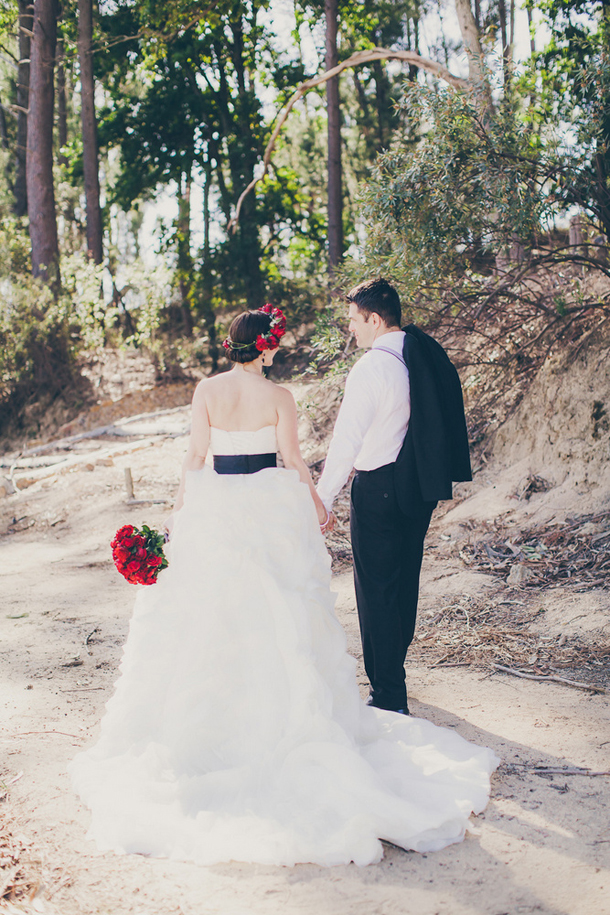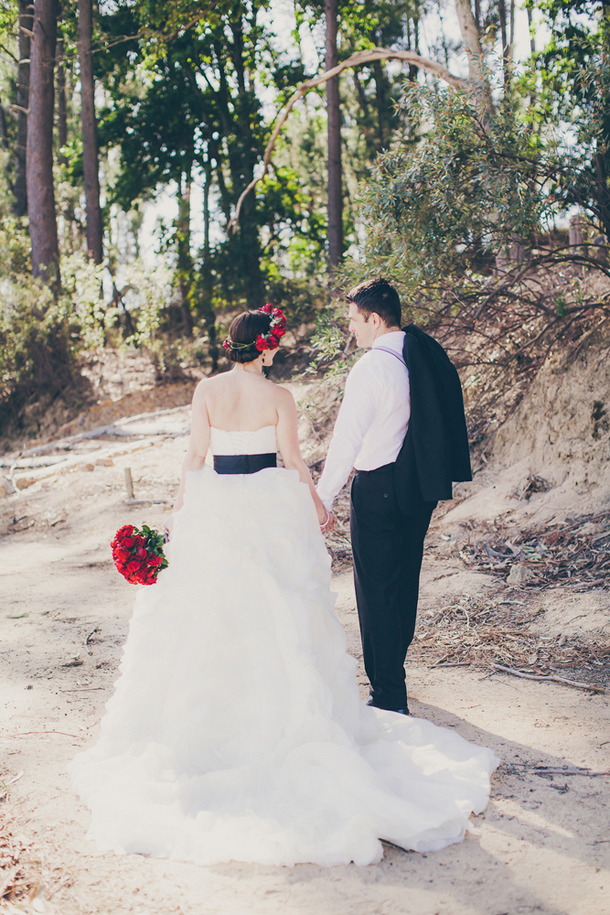 We tend to wait with bated breath for new weddings by Fiona Clair around here. Not only because we loooove Fee's incredible, Vogue-worthy images, but because she connects with the most creative brides. Today's wedding is seriously wow, but what makes it extra extra special, is that Angela happened to be a true SouthBound Bride, and a big fan of the blog while planning her wedding. Well, Angela – we're a huge fan of yours! Everything about this wedding is amazing and the details of Angela and Nick's big day integrate like a beautiful story unfolding – red roses and monogram stripes everywhere (a look the couple charmingly dubbed 'Rose Noir'), fun touches, the most gorgeous wedding dress (topped off with a romantic red rose crown). There's even a bold paper rose photo backdrop. And all of that chic modern style contrasts perfectly with a super romantic alfresco setting. Quite simply, it's my kind of heaven.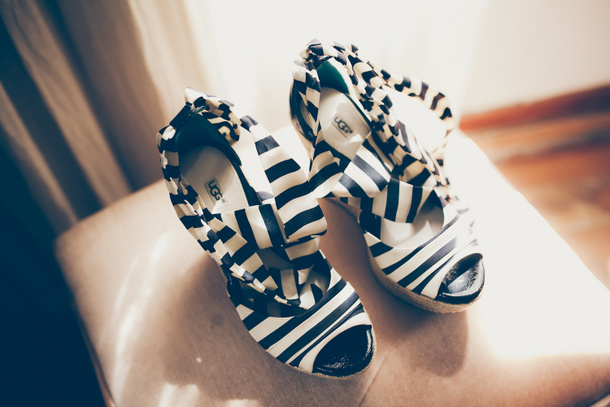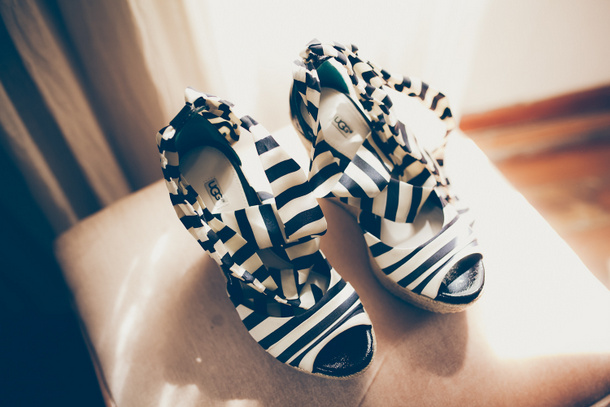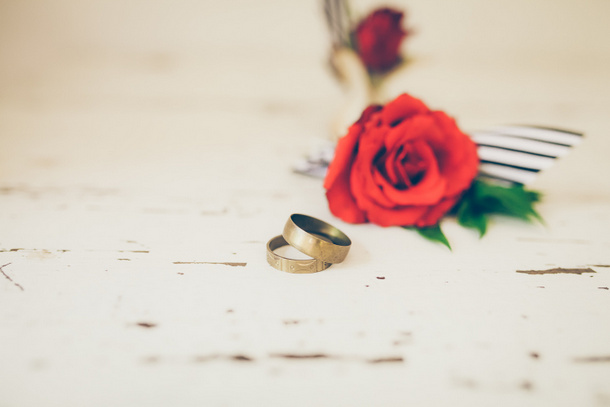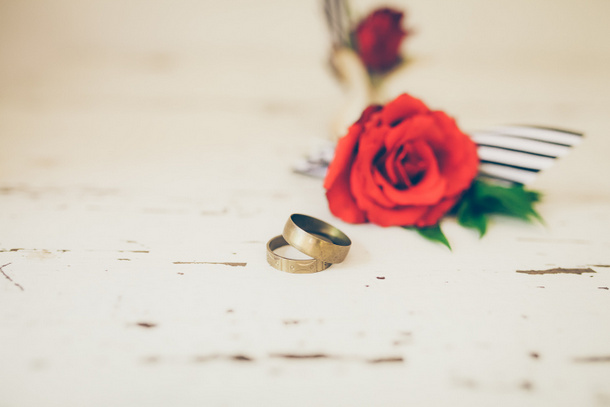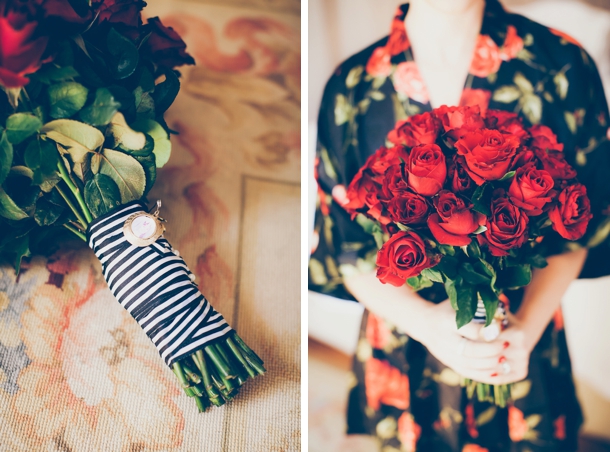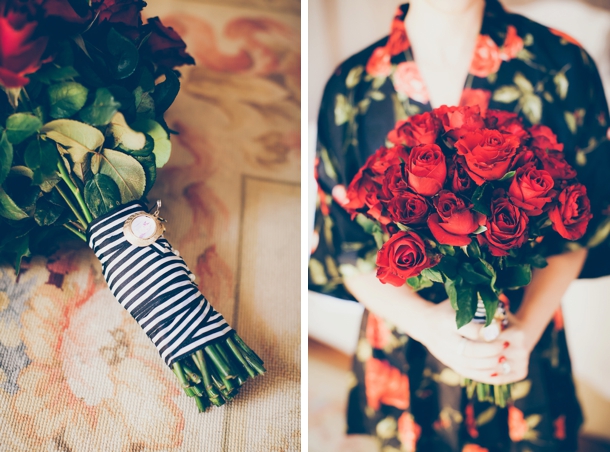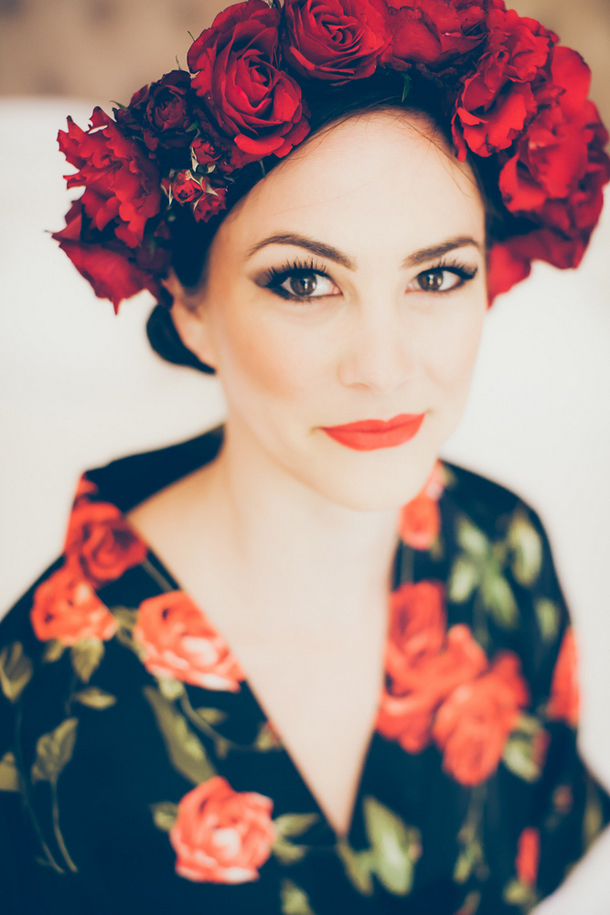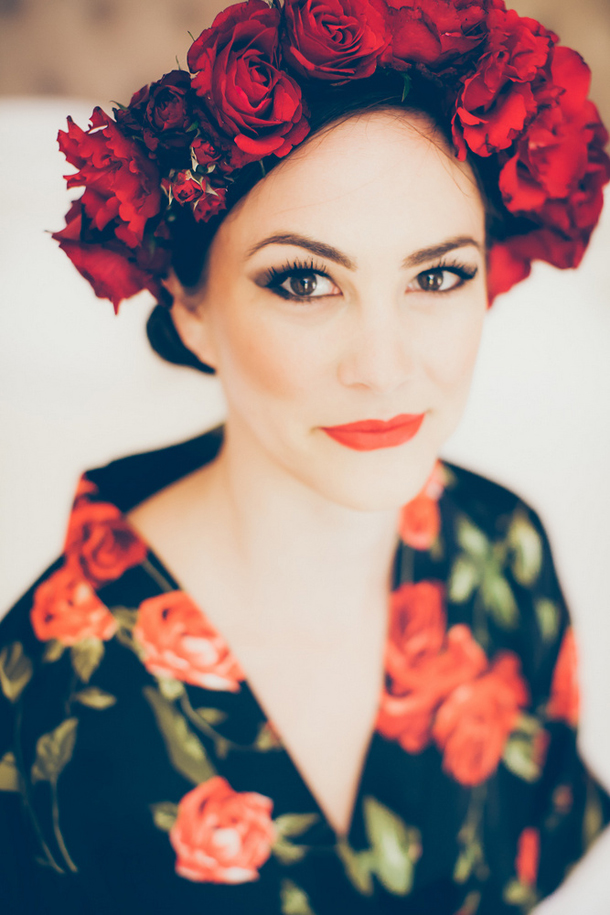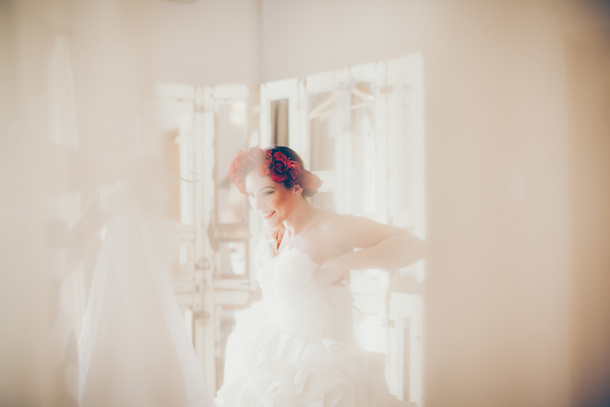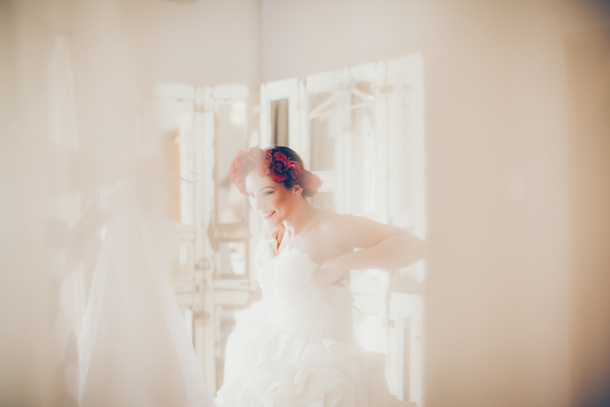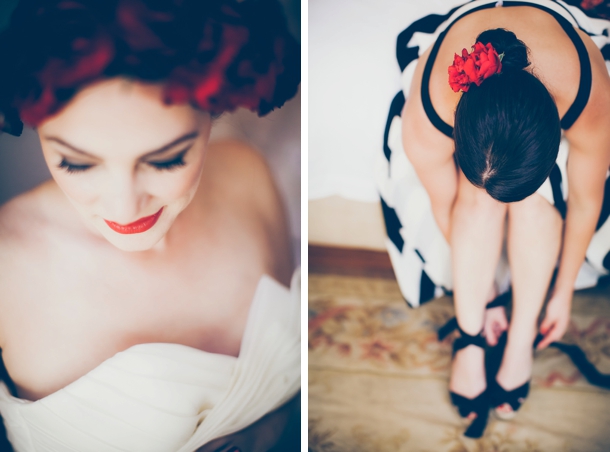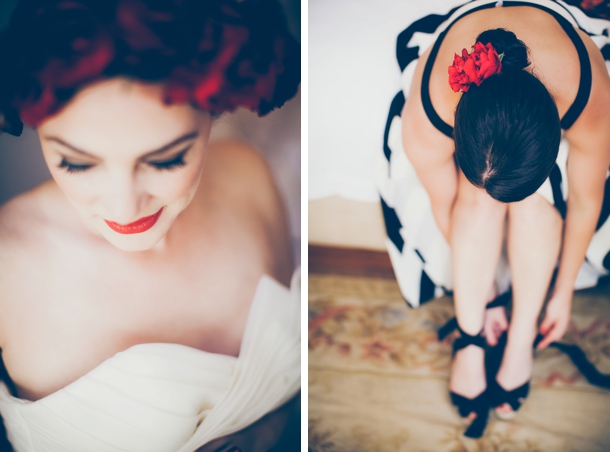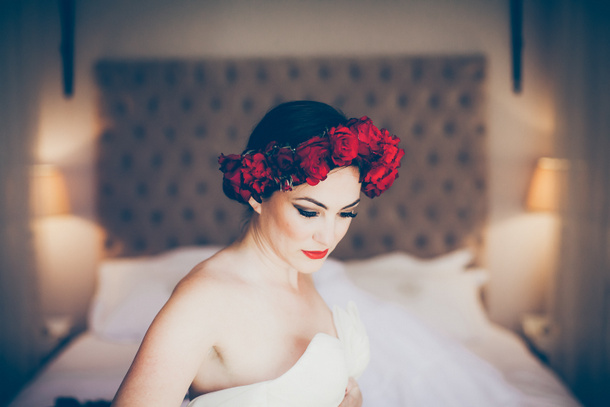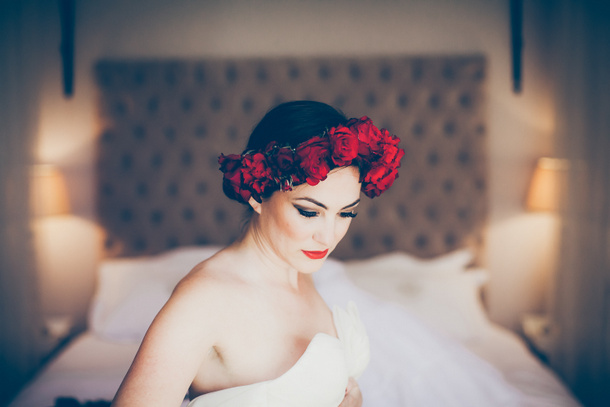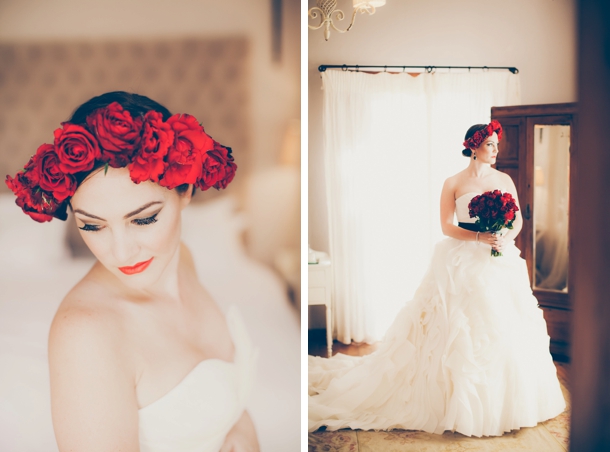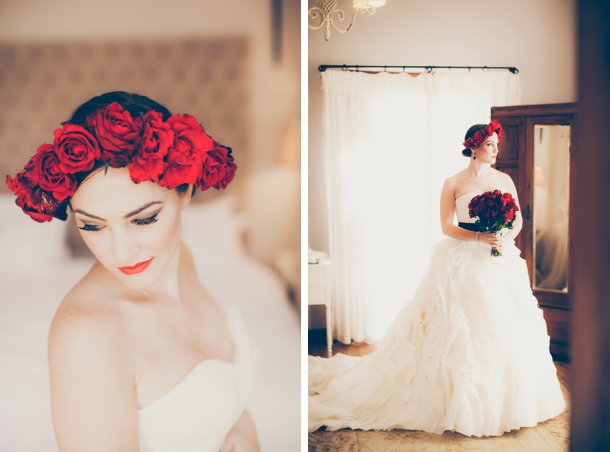 Love Story
The way we met is, in a way, also how we became a couple. In November 2006, Nic's friend brought him to a party at my friend's apartment. We talked for about an hour after we were introduced and got along instantly. After being casual friends for years, the friend that introduced us began putting the "bug in our respective ears" so to speak. Finally she convinced me that perhaps he liked me as well but didn't know that I felt the same, and that I should show some interest and if he didn't respond then she would let it go. Reluctantly, I sent him a short message. To my surprise, he responded saying he was busy that weekend, but free the following. By the middle of the following week, he wrote again asking me to the opera! We have been together ever since.
The Proposal
On St. Patrick's Day two years ago, we went to have a casual brunch in Adams Morgan (Washington, DC). We were the only people in the restaurant not covered in bright green and shamrocks guzzling beer, so we sat upstairs by the window out of the way. We were barely talking as I was upset with Nic that he hadn't showed up the night before at our friend's farewell after his rugby event as he had promised. Instead he had called me saying he was at a bar two blocks away! After much prodding he told me he would tell me later why he hadn't come. This comment was so strange to me and I became worried that something bad must have happened. On our walk home we passed a bench in a small park and Nic sat down. He asked me to sit down next to him. I begged him could we please leave and talk about this later as now I was quite concerned, and wasn't sure if I wanted to know right then. He pleaded with me to sit down so he could explain. Reluctantly I sat down next to him in time for him to say, "I wasn't where I said I was last night." Gulp. Where was he then last night? My mind raced. "I actually went to meet with your father." Huh? I thought. "You know you make me happier than I have ever been." He got down on one knee, and said: "Would you please marry me?" I was so shocked and surprised but managed to say "yes" with tears in my eyes.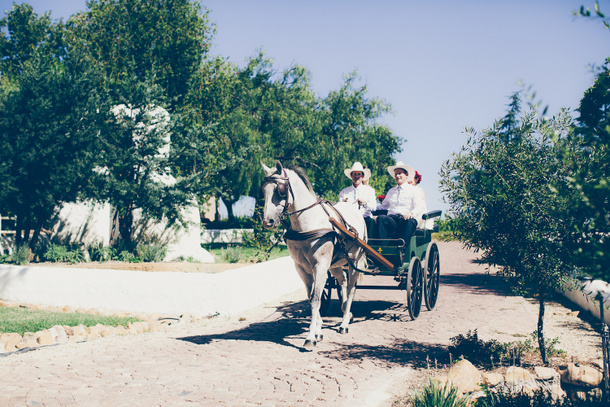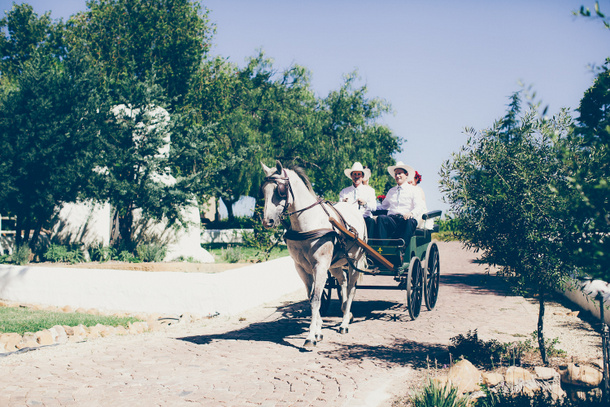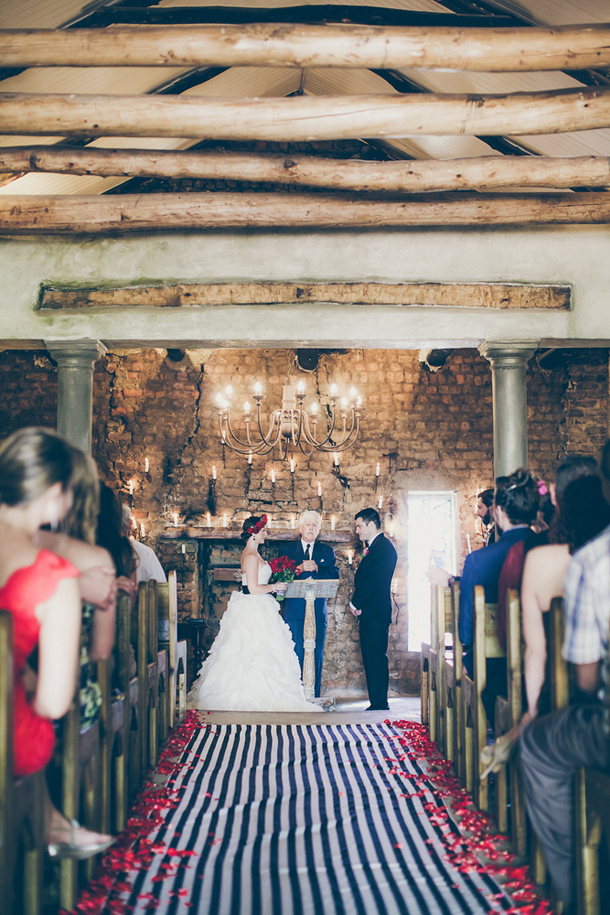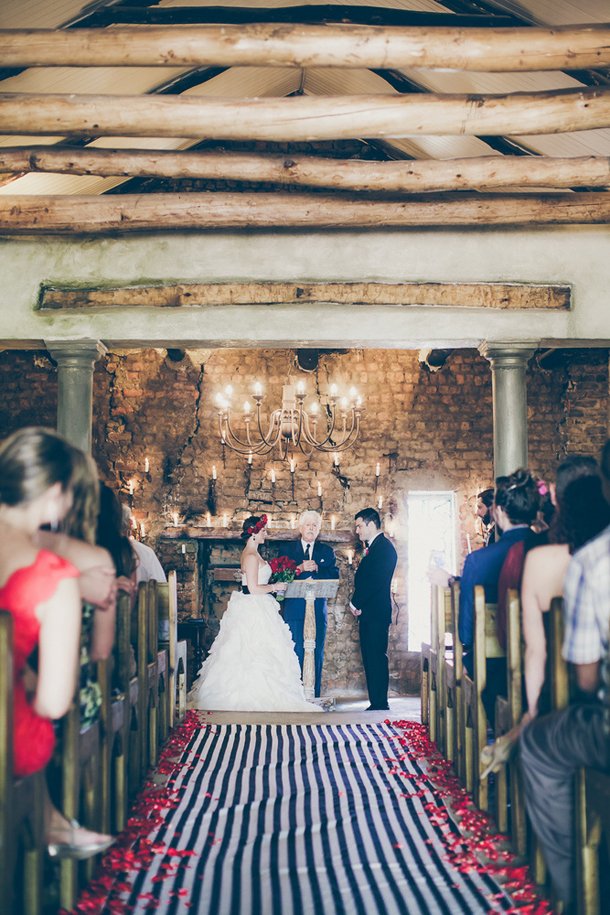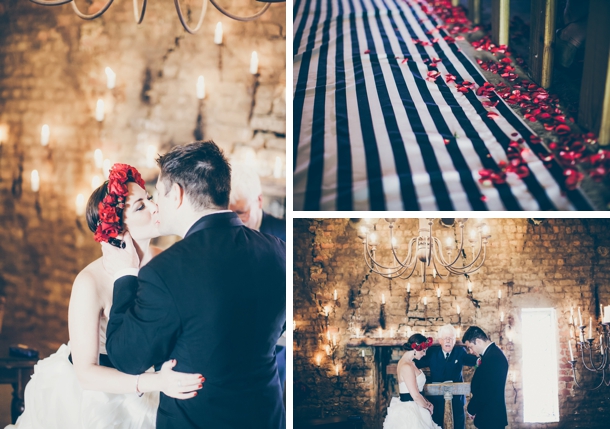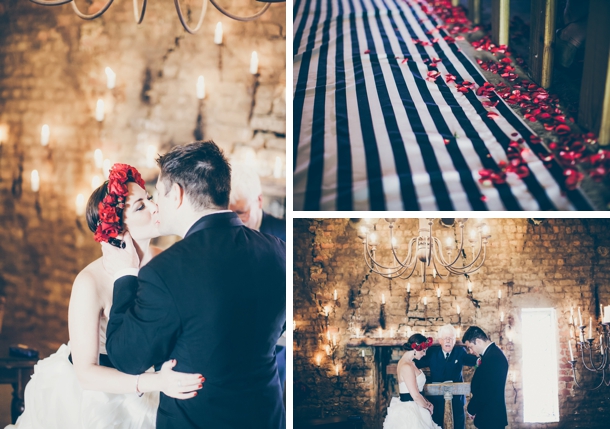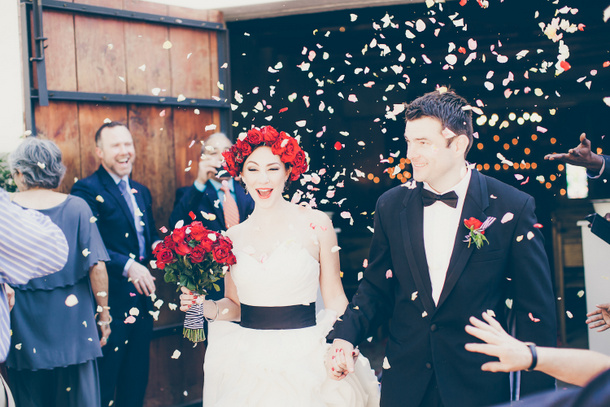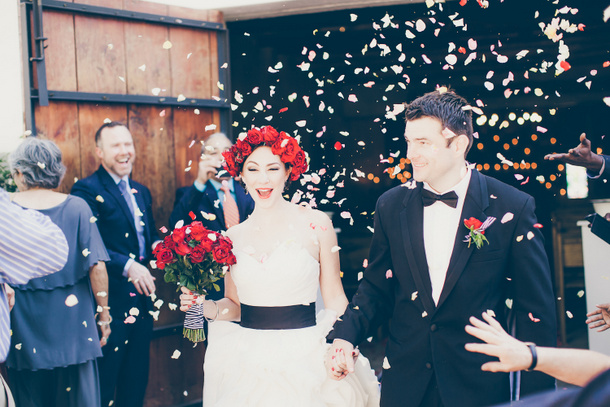 The Venue
We basically picked our venue online, as we had to line up venue visits from abroad to see over our Christmas visit to Paarl. We thought Langkloof would be the one as it looked stunningly beautiful and since it was a rose farm it fit perfectly with our theme! We stepped one foot on the property and we knew we had found the one. The beauty, charm and laid-back feel made it the perfect fit.
Wedding Style
I named our theme Rose Noir. We wanted a rose-inspired wedding with black, white and red as our colours, that was dramatic but fun, classy but laidback, vintage and modern, American and Afrikaans.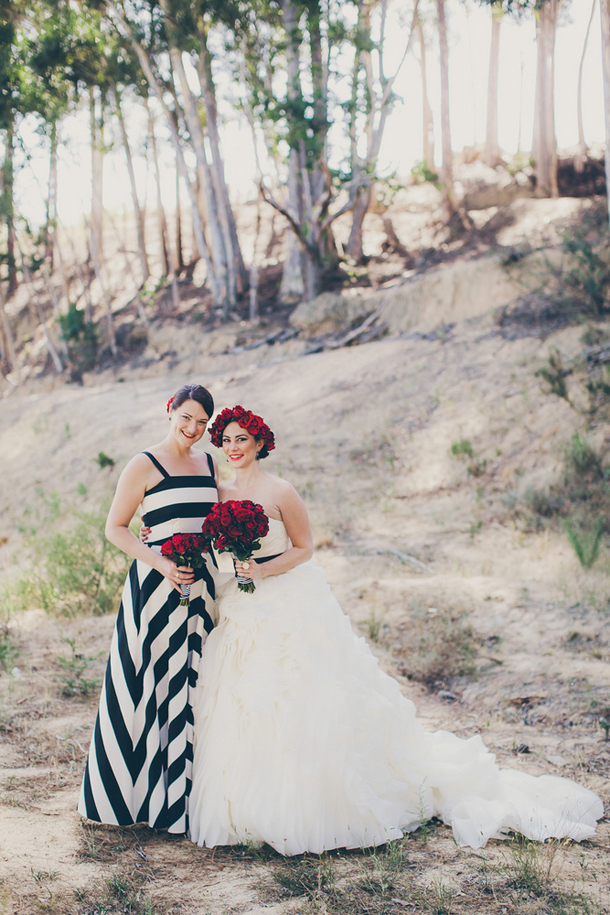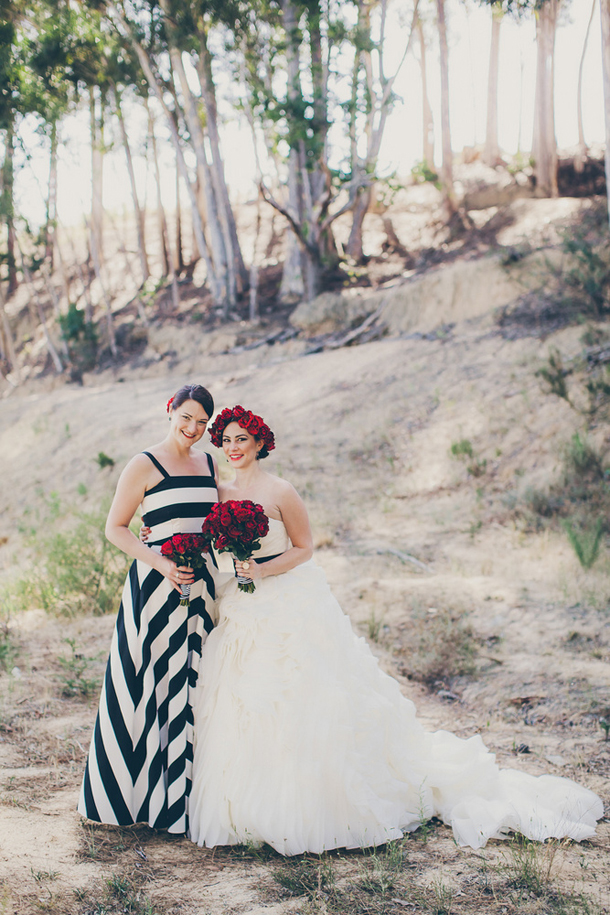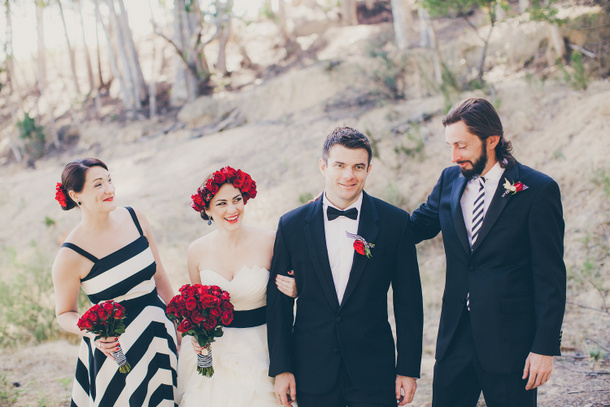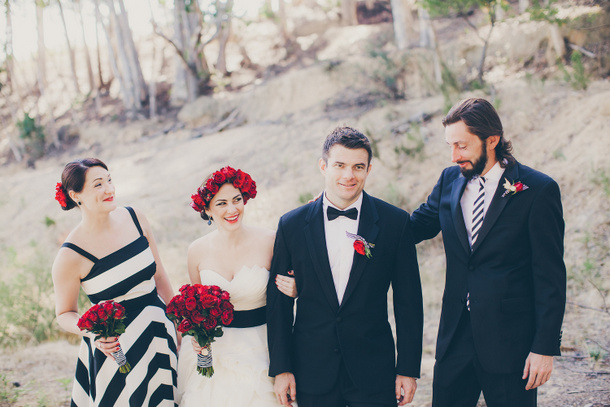 Wedding Details
Almost every aspect and detail reflected us and was a part of us. We really wanted a handcrafted day that reflected our personalities, cultures, our love for each other and the amazing people in our lives. We decided to spare our close friends from having to be in our bridal party, as we each have many close friends from different times in our lives that are sprinkled throughout the world. Instead, we opted for an intimate family approach and asked Nic's sister and my brother to be in our bridal party. Our siblings are very important to us, so it was amazing to share that experience with them. We asked specific friends and family members to help us with different tasks that fit with their interests and talents. Nic's childhood pastor and family friend married us and did the service in English and Afrikaans. Nic and I repeated these phrases that we say to each other, that Nic's father made up and that he used to say to him as a child, as part of our wedding vows. My mother passed away eight years ago and my grandmother wasn't able to make the long trip to the wedding, so to honor them I had pictures of them in lockets from my mother's wedding day mixed with heart charms that I attached to my bouquet. I also wore my mother's wedding ring on my right hand and her bracelet. We had a picture of us with pictures of our parents from their wedding days framed in the chapel. Being a die-hard Tori Amos fan, I decided to walk down the aisle to an instrumental version of "A Sorta Fairytale". Nic's cousin and his friend brought and drove the horse-drawn carriage that I arrived at the chapel in, dressed in white cowboy outfits! Friends and family helped us with everything from dress fittings to décor DIY projects. We had bocce ball and croquet during the pre-drinks to get people interacting and to give the guys something to do. Nic's father made our popcorn stand and chair signs. I have always loved popcorn so we decided to do a stand with different toppings. Nic's brother-in-law was our MC. We skipped the bouquet and garter toss, and did the cake cutting right when we came into the reception so that we had more time for uninterrupted dancing. Our first dance was to 'Special Star' with the guests surrounding us holding sparklers. We chose that song because we love it, but also because we wanted something happy and upbeat that would kick-off a night of lively dancing. We also had wedding-related events the week of the wedding because we wanted to spend more time with everyone as half of our guests came from abroad and we live abroad. To that end, we chose to do one long dinner table with the dinner served as feast-to-table. It worked out really well because many guests had already met each other by the wedding day, so Nic and I got to experience our wish, which was to see all of our loved ones mingling, laughing and dancing together.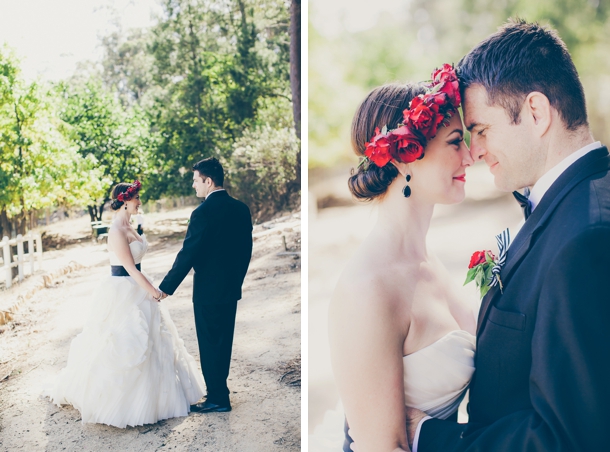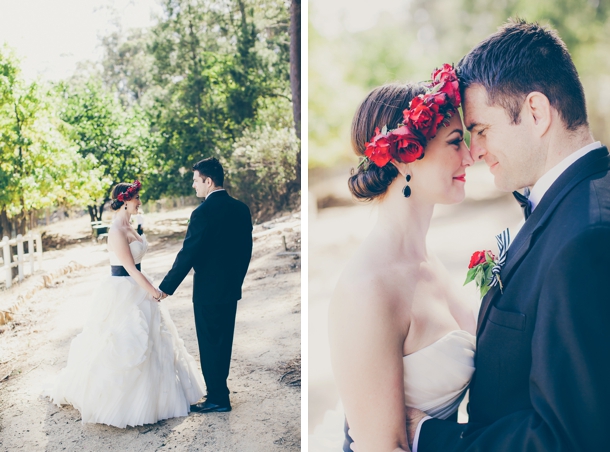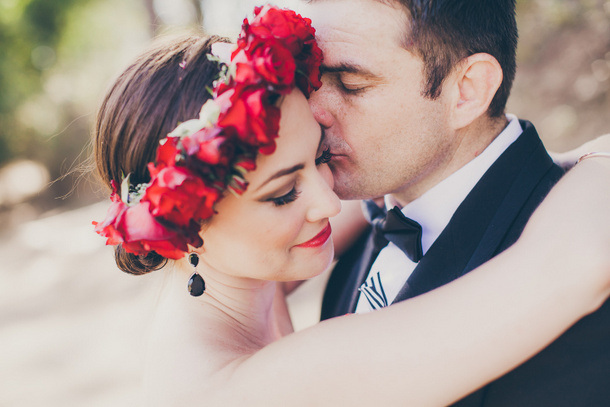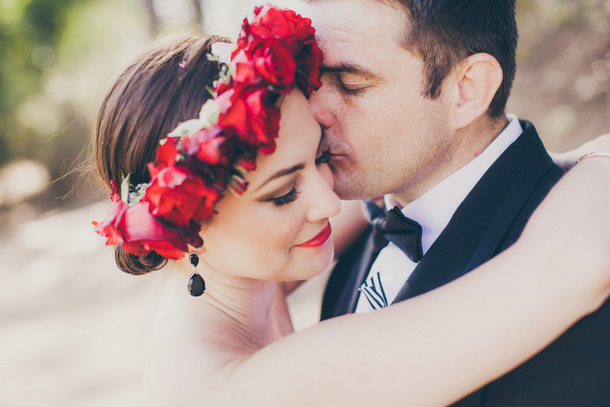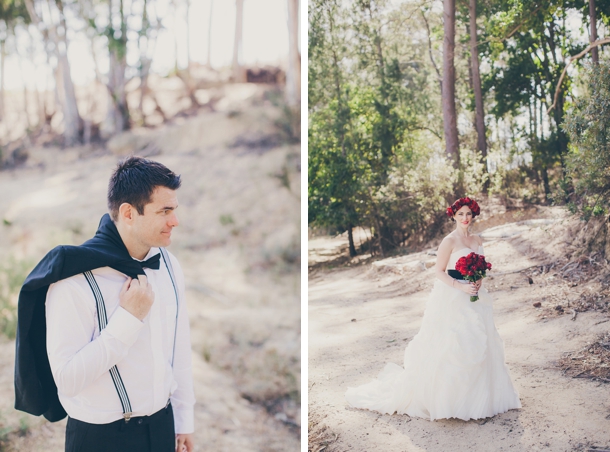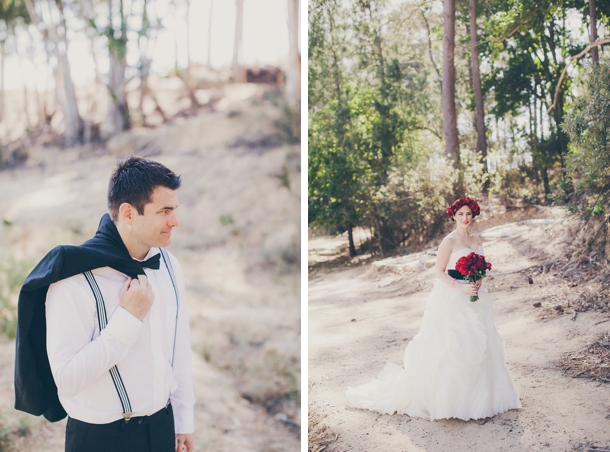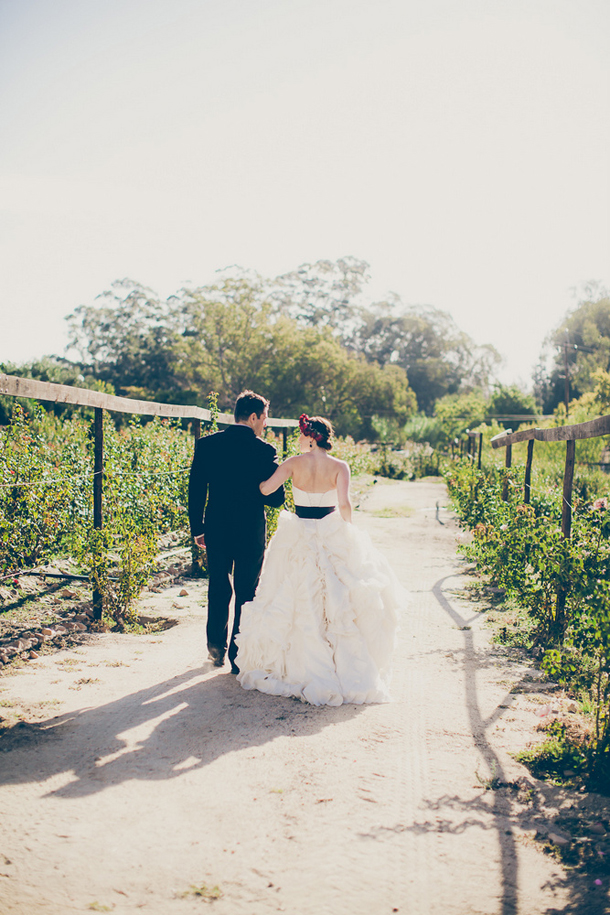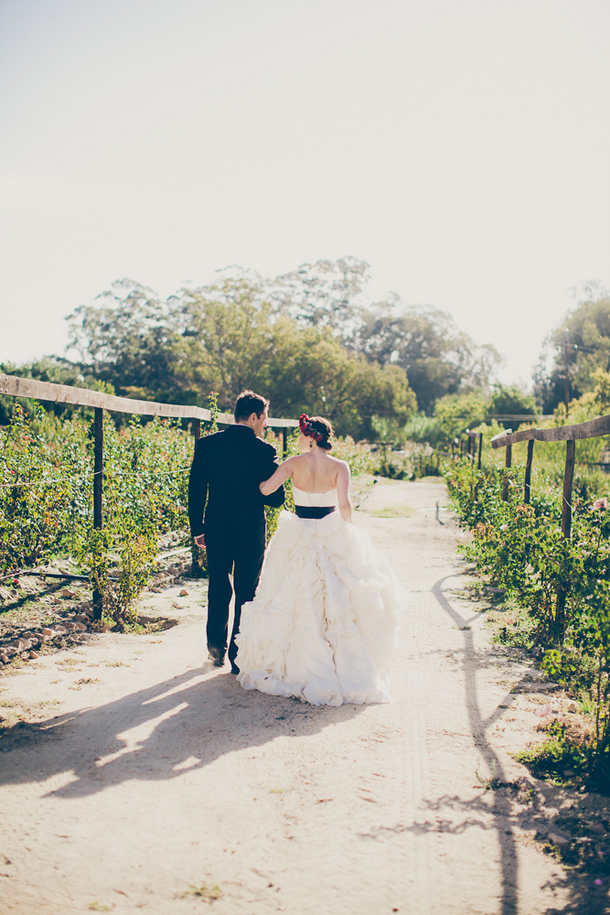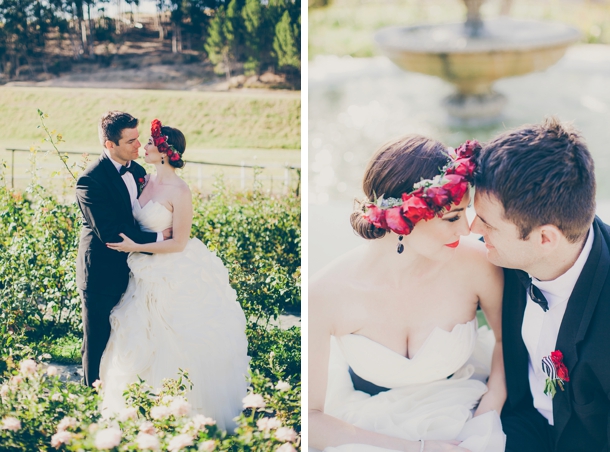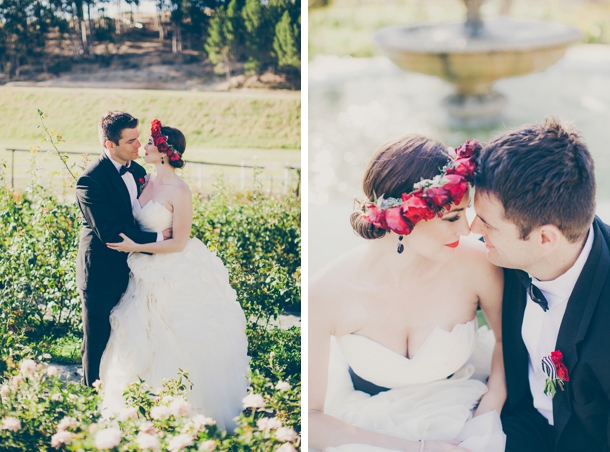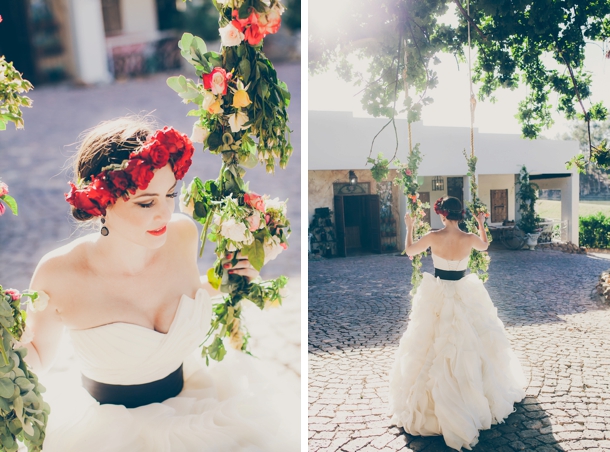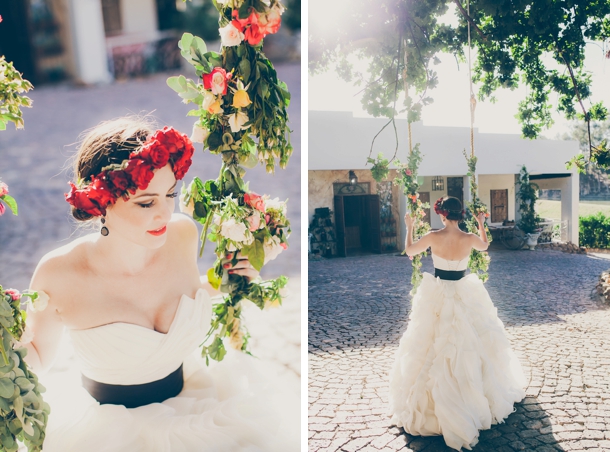 DIY Elements
Together with our friends and families, we handcrafted many aspects of our wedding day, which made it feel more personal and special to us. Our invitations were a very large endeavour, which was all done by hand. From the concept, printing, folding, assembling, cutting, taping, gluing, etc., every aspect was done manually by Nic and I, and two of our close friends, who lucky for us, happen to be a printmaker and a graphic designer. I wrote out all the addresses by hand, which though time-consuming, completed the handmade feel of the invitations. Our escort cards were pinwheels that I made in the US and then helped to assemble in SA with Nic, my brother and my friend. We had miniature pinwheels on toothpicks as well for the pre-drinks canapés that my friend helped me assemble. Also Nic's mother, aunt and I cut out fabric for the jam favours. I printed out the gift tags for the favours using a perforated template. The hangers for my wedding dress and the bridal party were DIYed from wooden hangers that my friend glued bows that she made from the striped ribbon we used in décor touches throughout the venue. The popcorn stand was made by Nic's father (along with the his and hers signs for our chairs) and painted by Nic's sister and her husband. I made the canopy for the stand from the leftover fabric from the favours and glued on the roses. Several décor touches I picked up along the way so we didn't need to hire too much. The black shredded paper that we used in the Bashews crates were scraps from the invitations that my friend shredded for us. Instead of a guest book, we wanted something creative and handmade, so our friend who is an artist, made these awesome rose prints where the guests could add their fingerprints and a message. And lastly, our photo booth was DIY with rented props and a paper rose wall backdrop that took hours and hours to make, but that looked amazing! It was a giant effort, surpassed only by the invitations in the sheer scope of the project, but it was fun to talk and laugh with family and friends while making something together. We honestly couldn't have done it all without the help from these amazing people.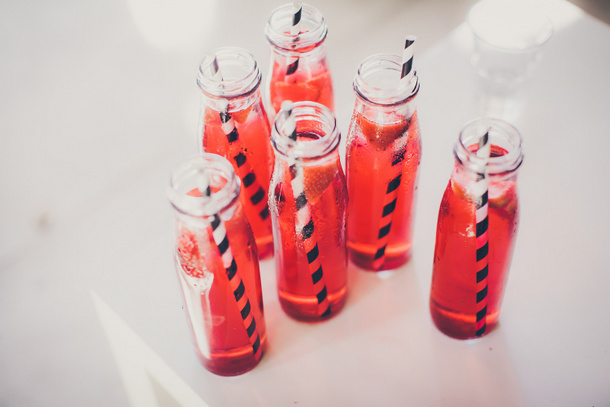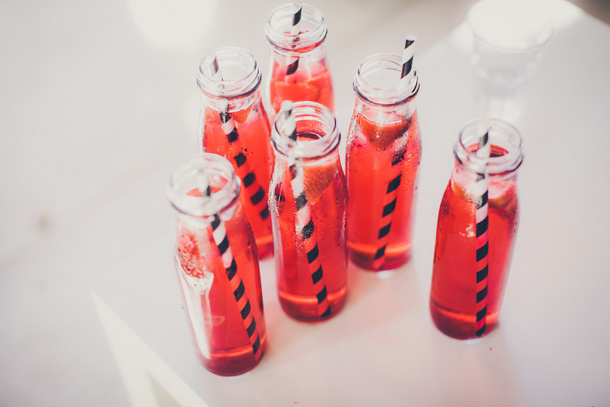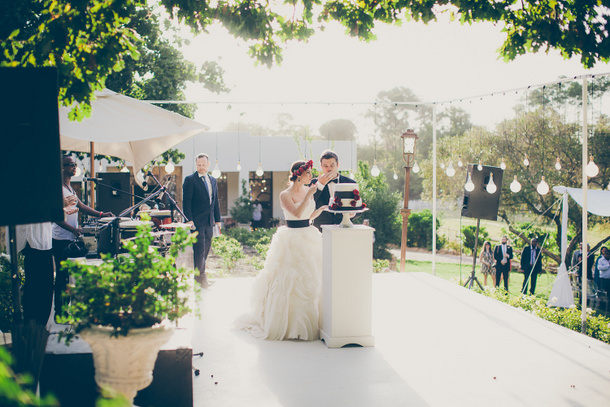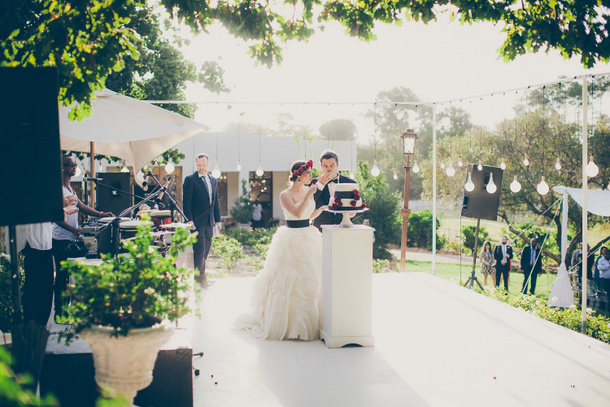 The Flowers
Being that our theme was centered around roses, roses were our only wedding flower, and they were everywhere – just how I dreamed it! Red roses were in my rose crown, the bouquets, the boutonnières, rose petals along the chapel aisle, long-stem roses in bottles for the pre-drinks arrangements, cut red roses in clear glass vases for the centerpieces, mixed rose petal confetti, and mixed roses on the rose swing.
The Dress
My wedding dress was the very first thing I found after we got engaged, even before we had picked which country we would have the wedding in! One day I looked up black and white wedding dresses online and scrolled through the image search for about two hours when I came across my dress. I knew it was the dress for me the second I saw it. After much calling around town, I finally found a store that had one I could try on. Though the floor model dress was many sizes too large, I knew I had found the one. I did try on other dresses for the fun of it, but when you know, you know!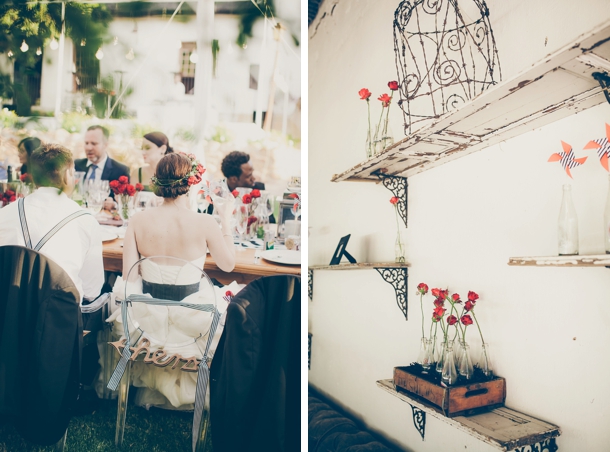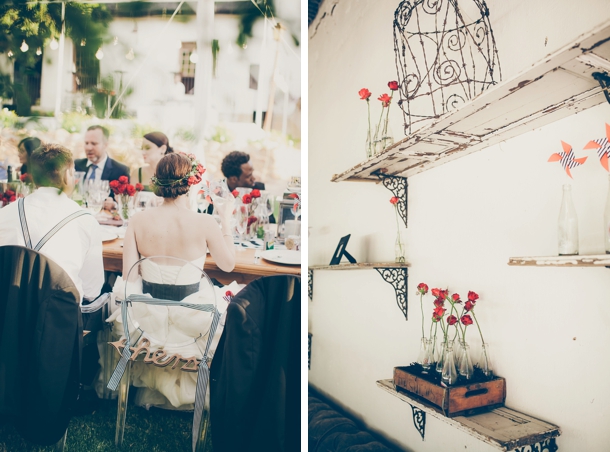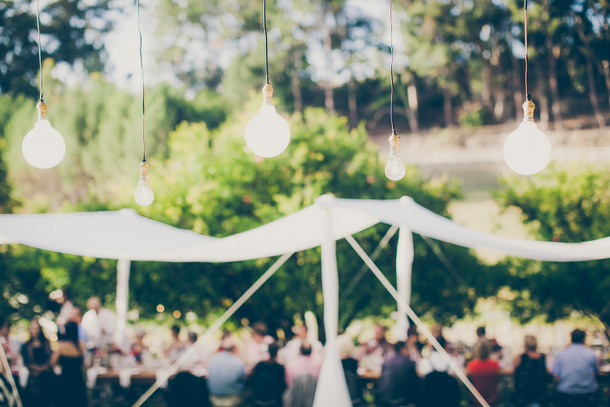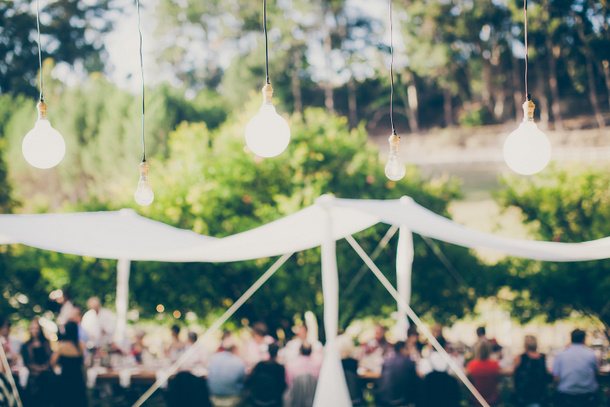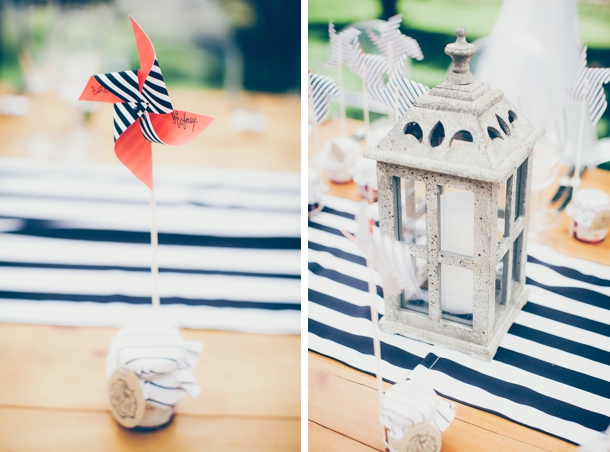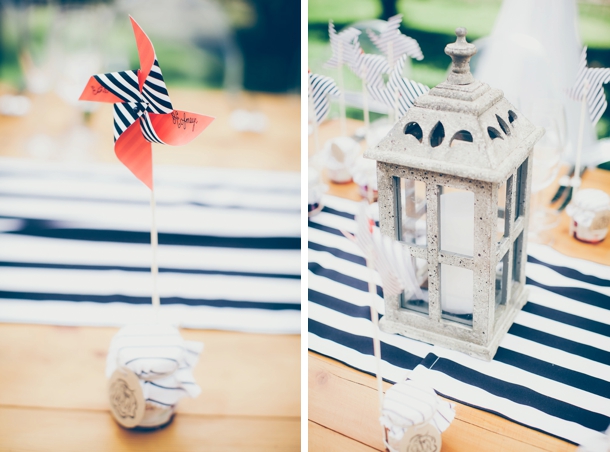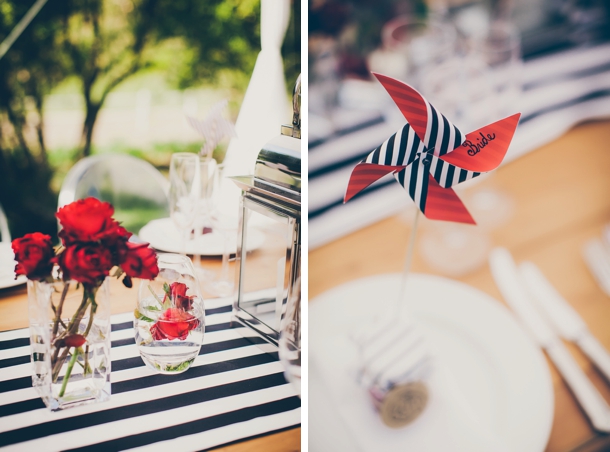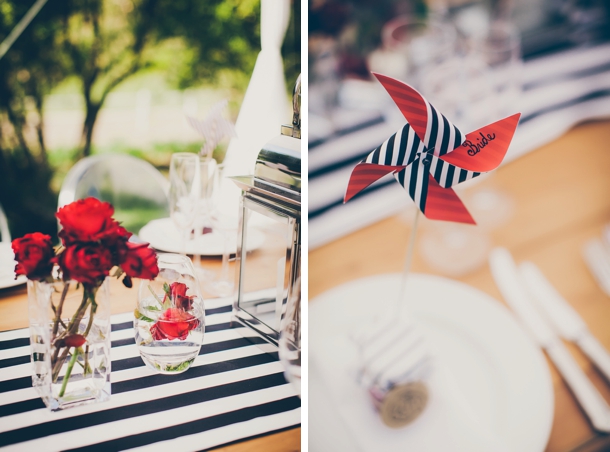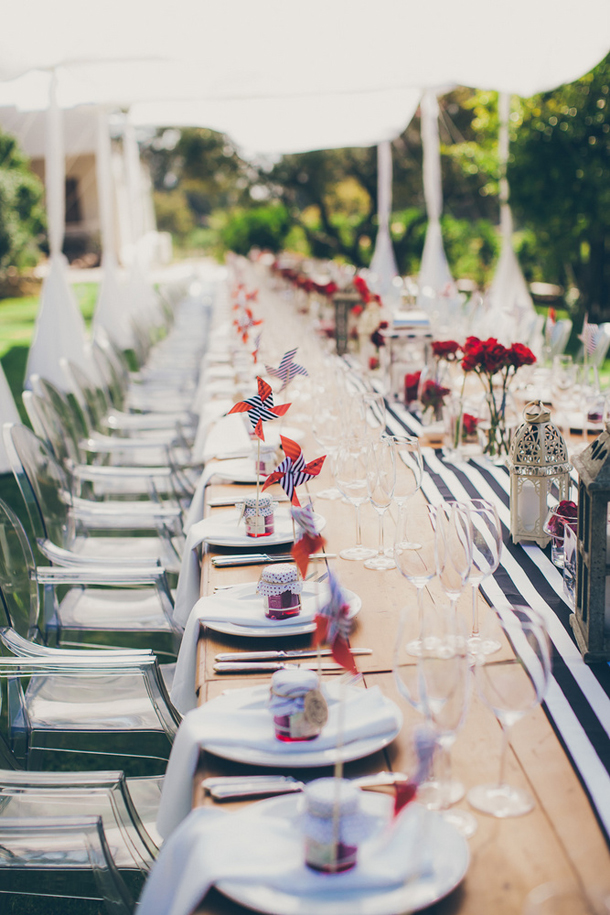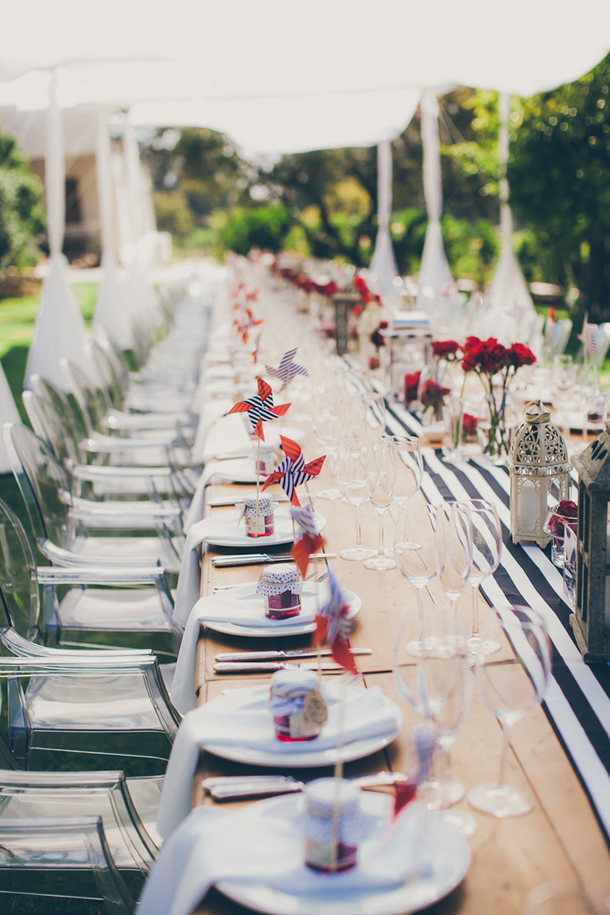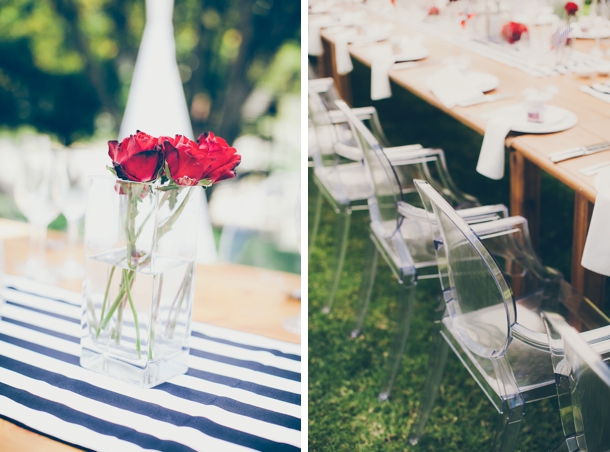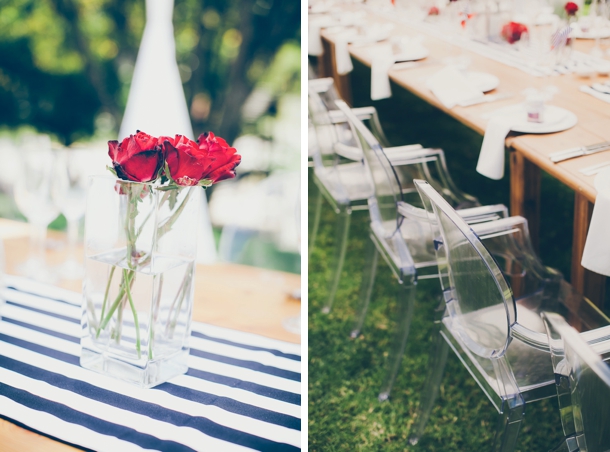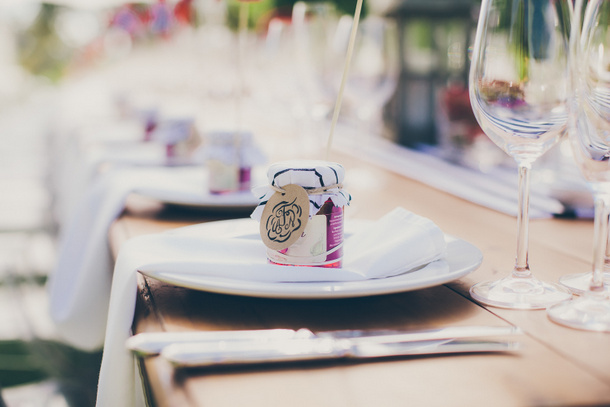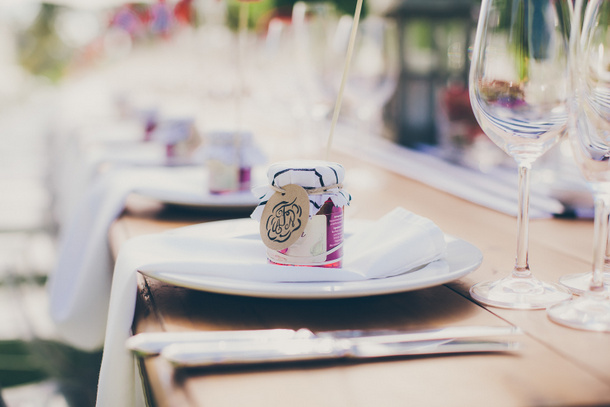 Memorable Moments
Honestly, there were several for me, but walking down the aisle takes the cake. Locking eyes with Nic for the first time, having my brother walk with me down the aisle, walking in to "A Sorta Fairytale" by Tori Amos, seeing the beauty of the chapel and all of the smiling faces of our guests looking at me – it was all super emotional and moving for me and I nearly began to cry the second my foot touched the aisle!
Proudly South African Details
So many! We had a proper braai for all of the guests two days before the wedding at Nic's cousin's farm. Our invitations, signs, menu, gift tags, and the wedding ceremony were in Afrikaans and English to represent both of our languages. Also we had biltong and droewors as part of the pre-drinks canapés, kingklip and lamb for dinner and koeksisters with tea and coffee for dessert. The roses for our pre-drinks were in Bashews bottles and crates, and my favourite one – our first dance was to 'Special Star' by Mango Groove!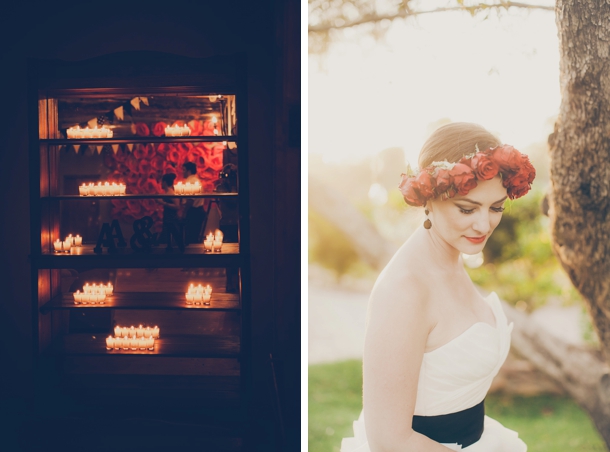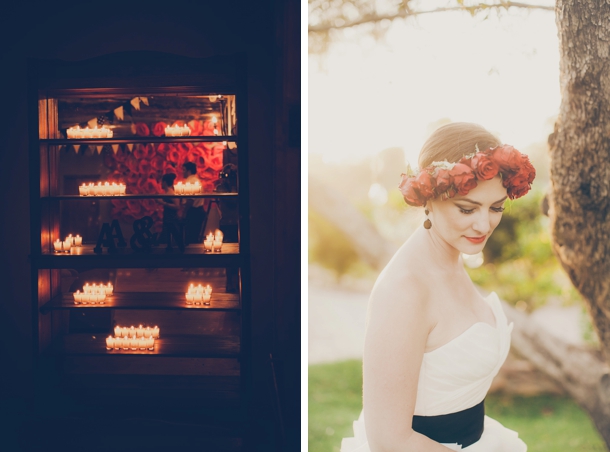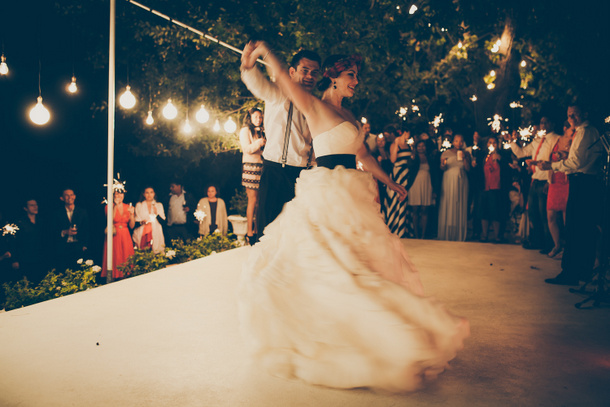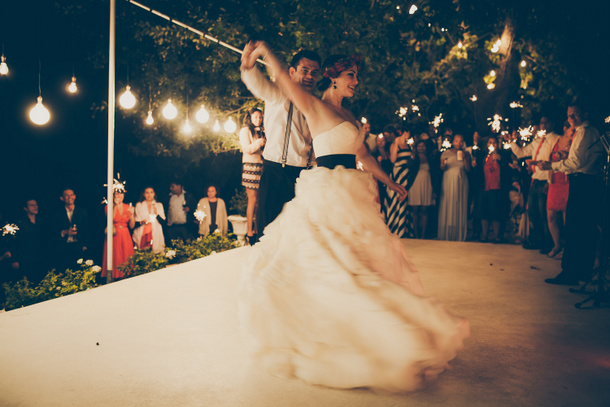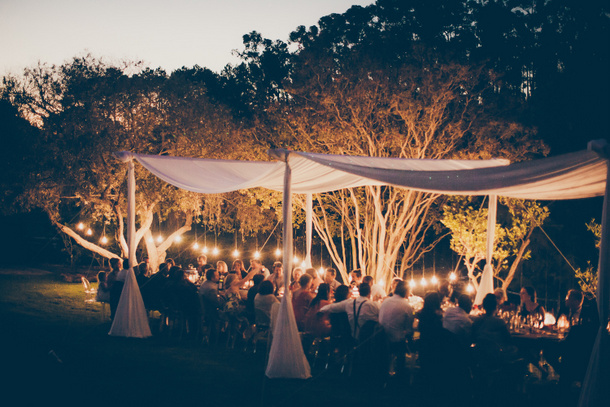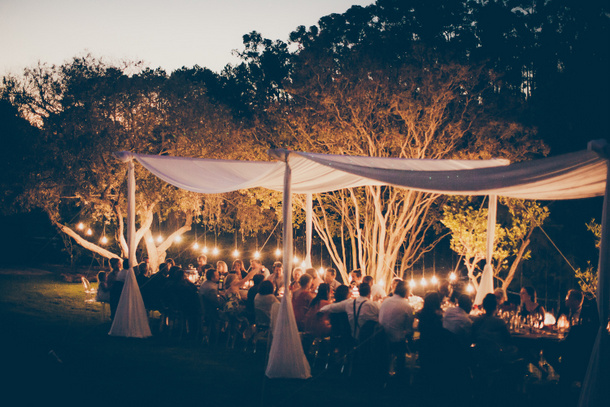 The Honeymoon
We went to Kruger National Park. The destination wasn't a surprise but Nic handled all the bookings, accommodation, etc. so that part was a surprise for me. We decided on a four day "mini-moon" as we had family and friends from overseas still in town that we wanted to spend time with, plus we were exhausted from the wedding week and I had never been to Kruger before. While we still managed to have a great time, it was made interesting by the fact that we both got sick two days before we left and had to visit the doctor in the park! We plan to take a longer trip later once we have saved up a bit.
Advice for Future Brides & Grooms
Everyone tells you the day goes by so fast. It's true! Don't waste a second of it.
Decide early in the planning what aspects are most important to you and plan your day and budget around that. For example, wedding pictures were very important to us but not a wedding video so we hired an amazing photographer and skipped the videographer.
No matter how much planning you do and how organised you are, something will happen that you either didn't anticipate or that wasn't part of the plan. Just roll with it. Once the day comes, you are no longer the organiser, but the bride, and you should enjoy the day with your groom no matter what happens.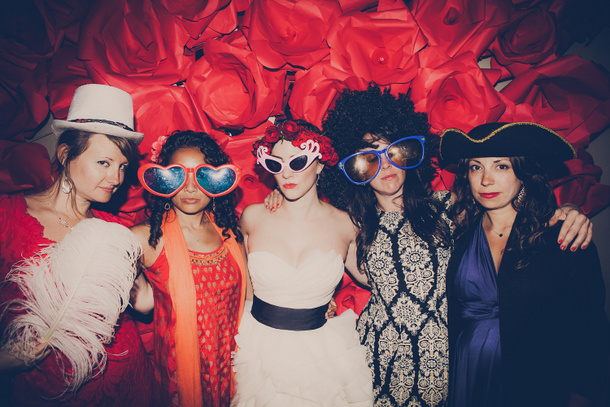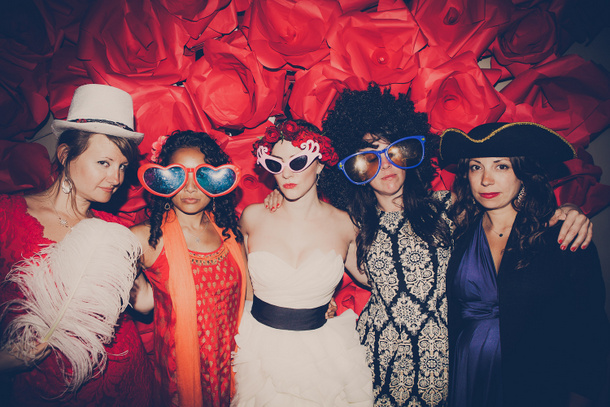 You can see more from this wedding on Fiona Clair's blog.
SERVICE PROVIDERS
Venue, catering, cake, co-ordination & flowers: Langkloof Roses | Photography: Fiona Clair Photography | Wedding website & app: AppyCouple | Stationery: Art Direction by Angela Bain (bride) & Nicolaas Fourie (groom); Graphic Design by Cecilia Reifschneider; Printing by Manuel Navarette; Template by Rich | Bride's dress: Maggie Sottero | Hair & makeup: Elif Tokbay (bride's friend) | Maid of Honor dress: Khokho Designs | DJ: DJ Rene | Popcorn stand and Wooden signs: Jannie Fourie (groom's father); Entabeni Timber Sales