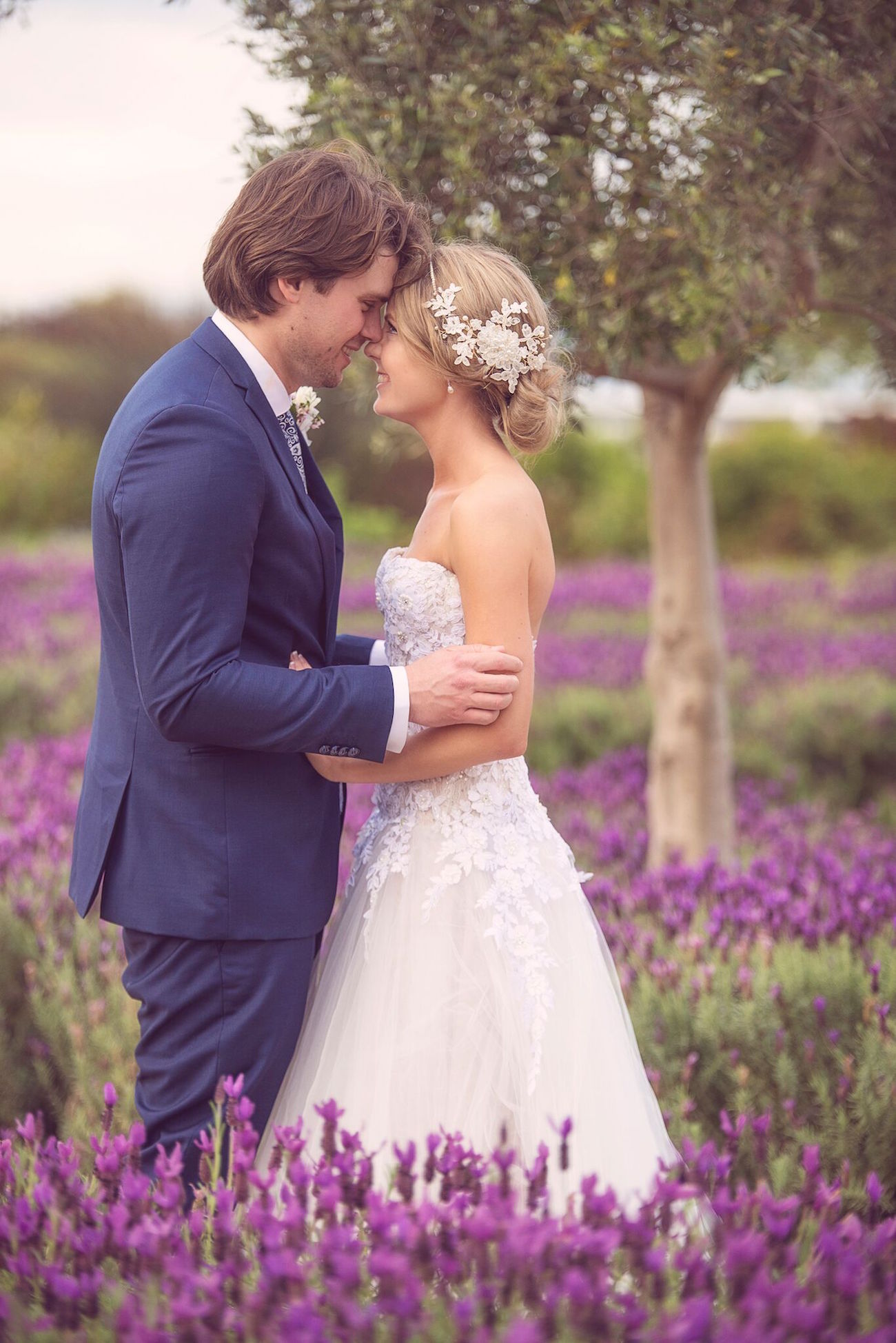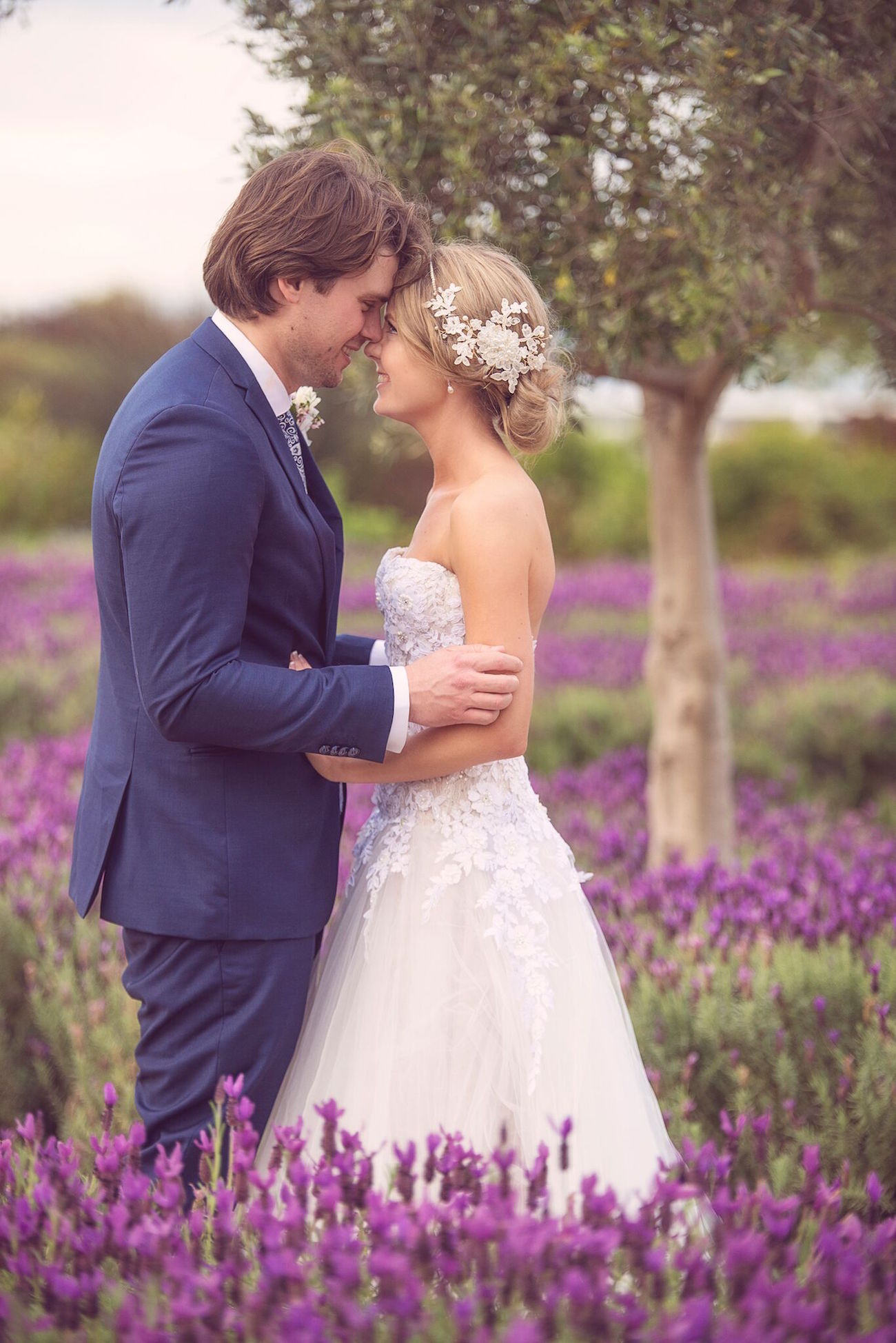 A sweet soiree sprinkled with personal touches that reflect a couple's lives and journey together is a wedding after my own heart, and that's a fact. Kirsty and Brandon's wedding was one of those days. From the Delft touches which not only provided the pretty blue and white colour scheme but reflected their love for Amsterdam, to the favours (a reference to Brandon's proposal) to the table names and flowers, to the recurring mentions of their dogs, everything about it was authentic as well as lovely to look at. And I just have to mention the gorgeous stationery by our friends at Blooming Wonderful because hello, Delft delight! It's the perfect country wedding celebration to sit down with this fine Thursday, captured on camera by Lindy Truter!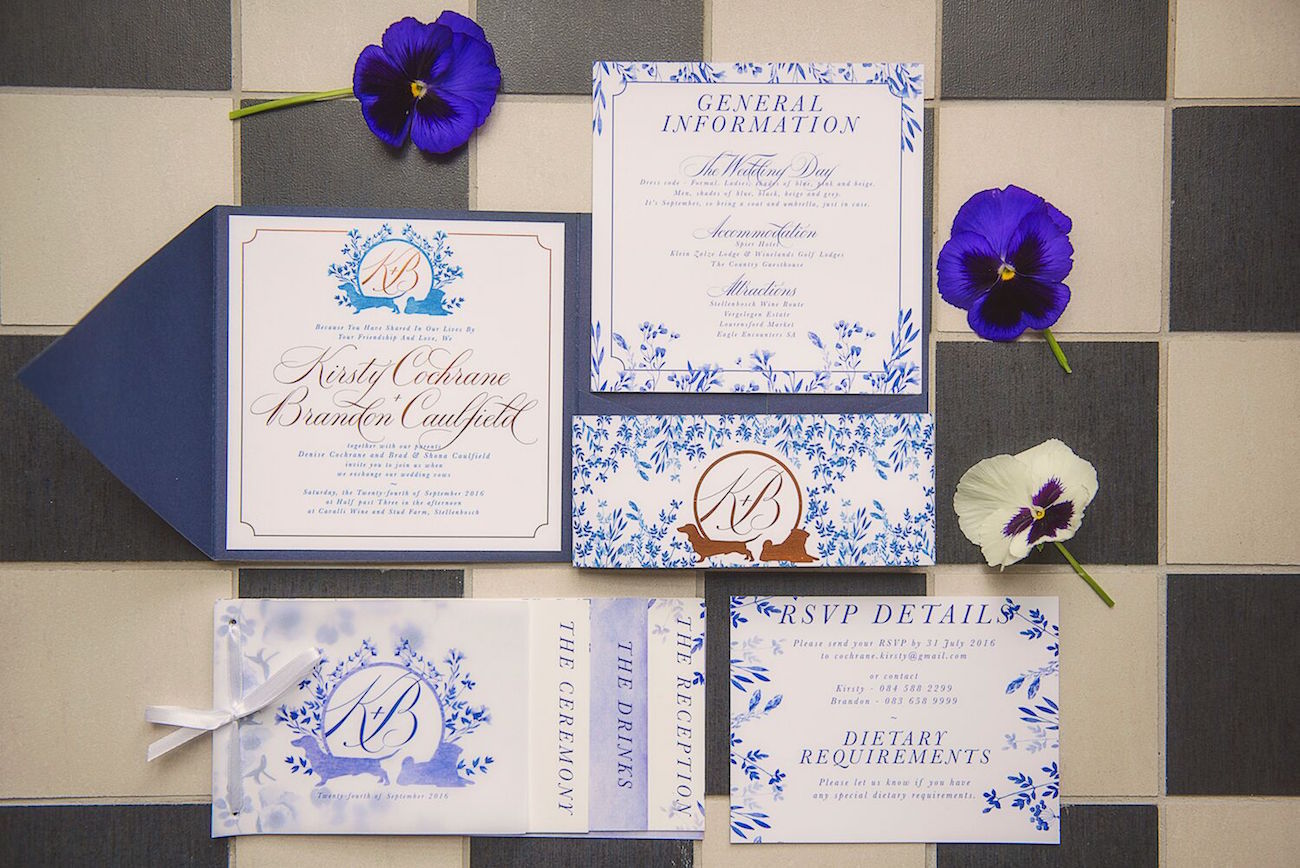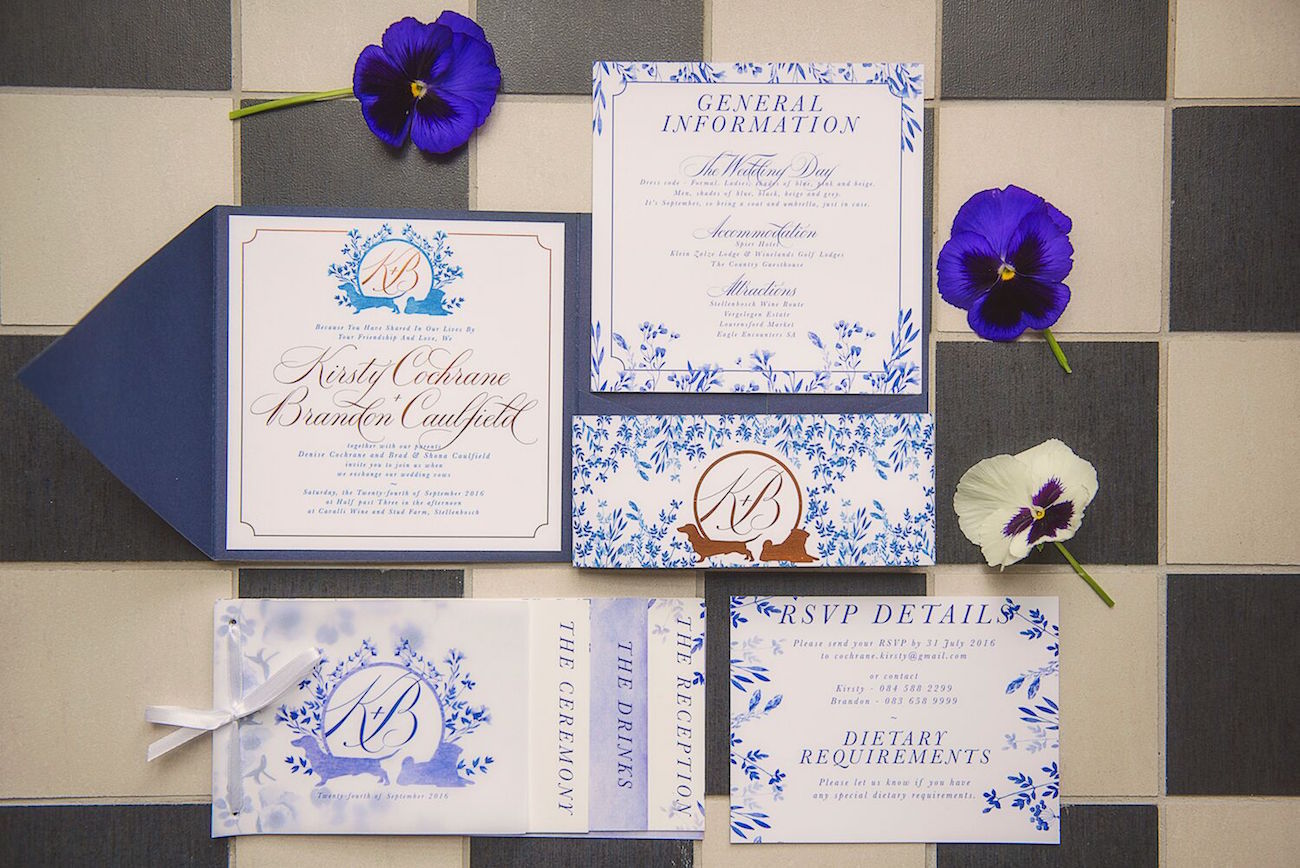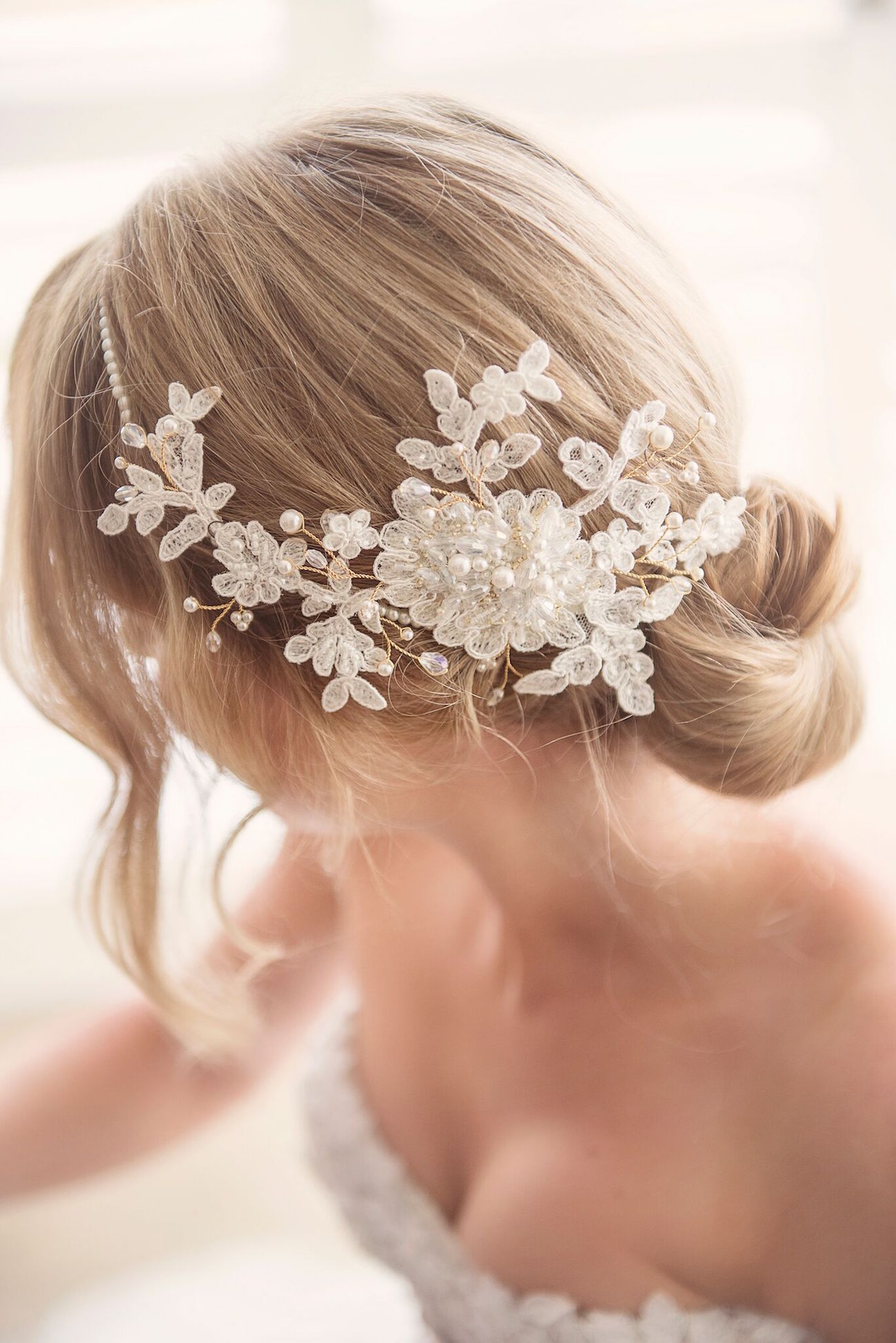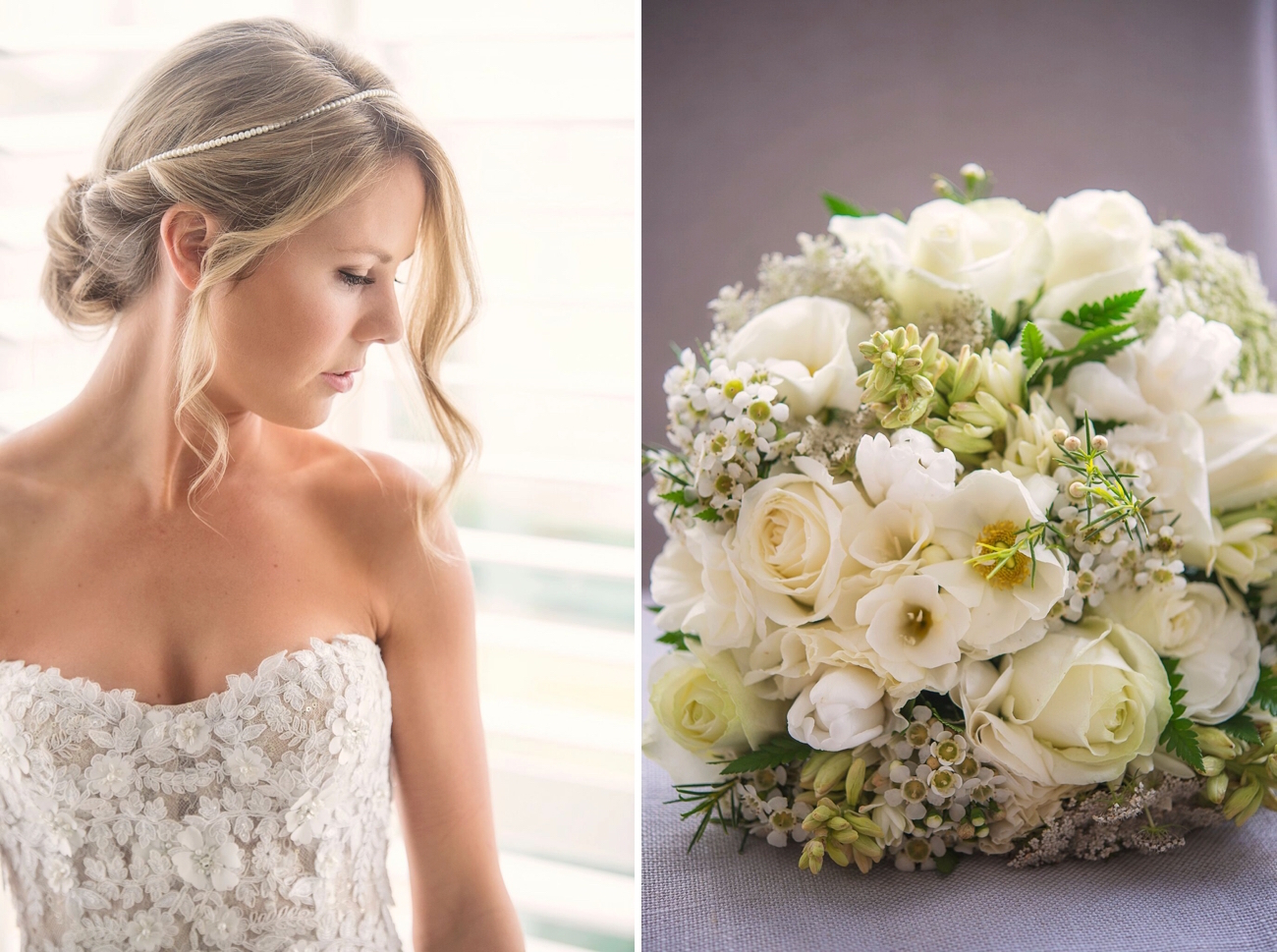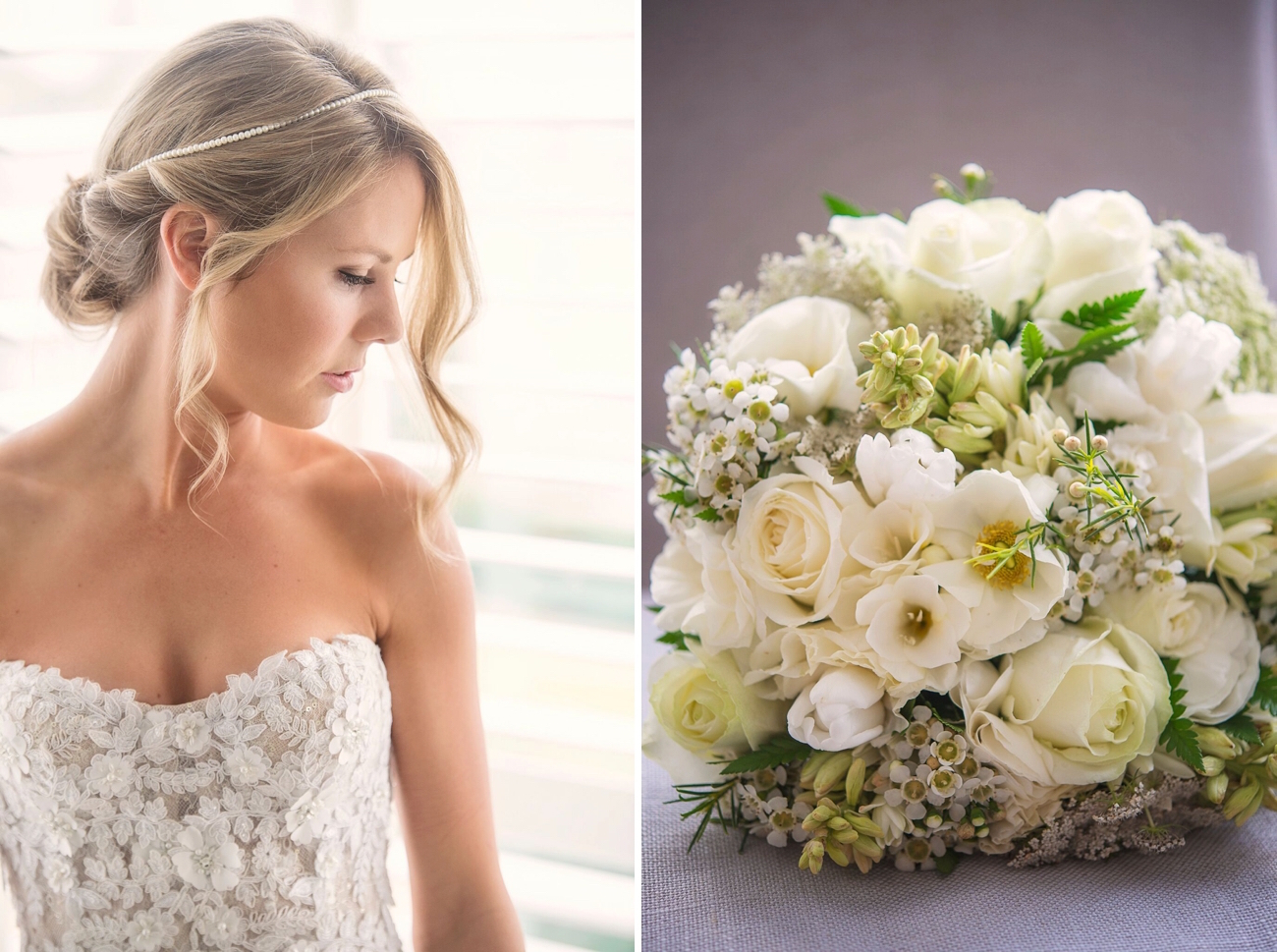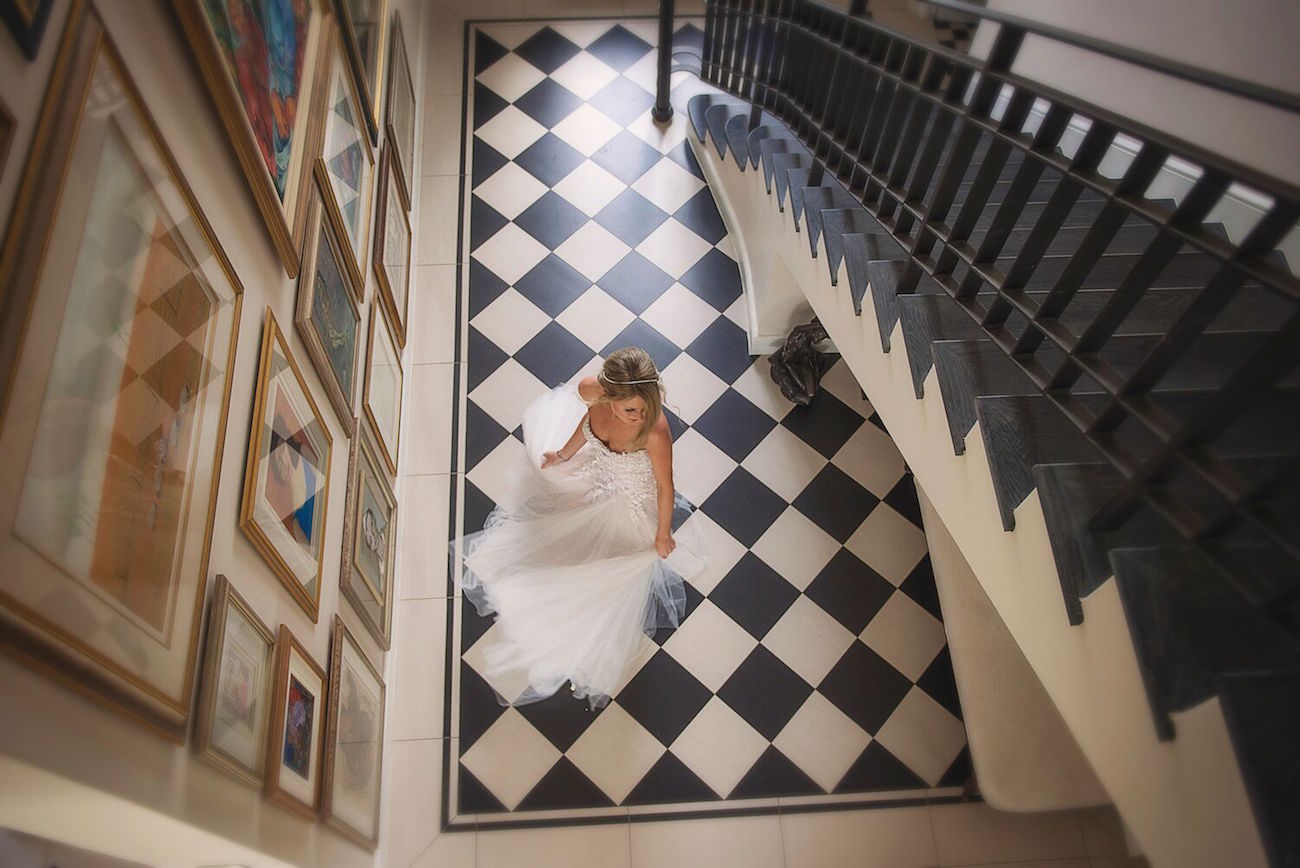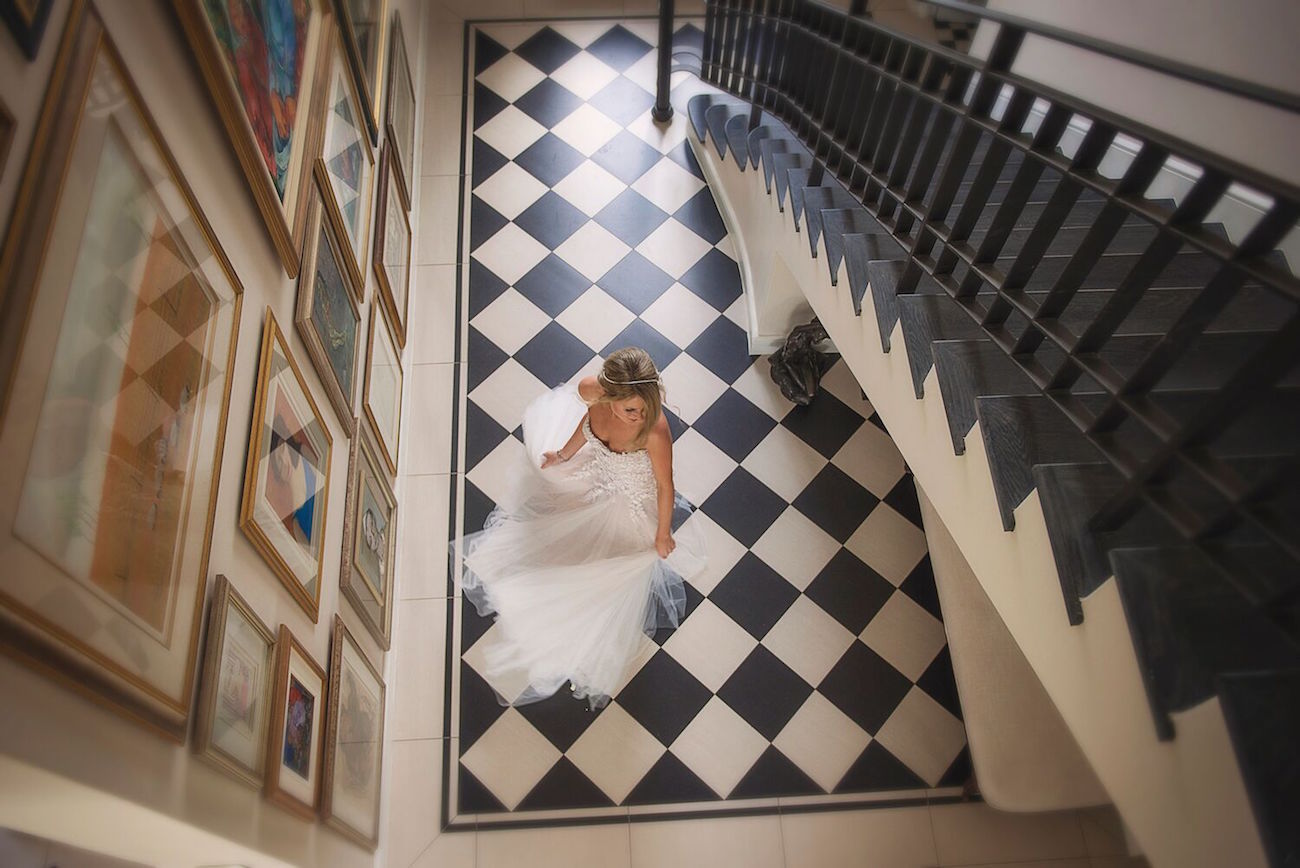 Love Story
We met as teenagers through a mutual friend. After being friends for a few years, Brandon eventually worked up the courage to ask me out, so ten years later, here we are!
The Proposal
The proposal was such a surprise! We had a holiday to Italy planned and everyone was telling me "he'll propose" but I still never saw it coming. On our last morning in Venice, Brandon made me a cup of tea. I kept complaining that this particular cup of tea was taking a really long time to be made! When it eventually arrived, I didn't even notice the ring on the saucer. Eventually I looked up, saw him on one knee, looked down, saw the ring and realised what was going on. There were lots of tears and laughter after that!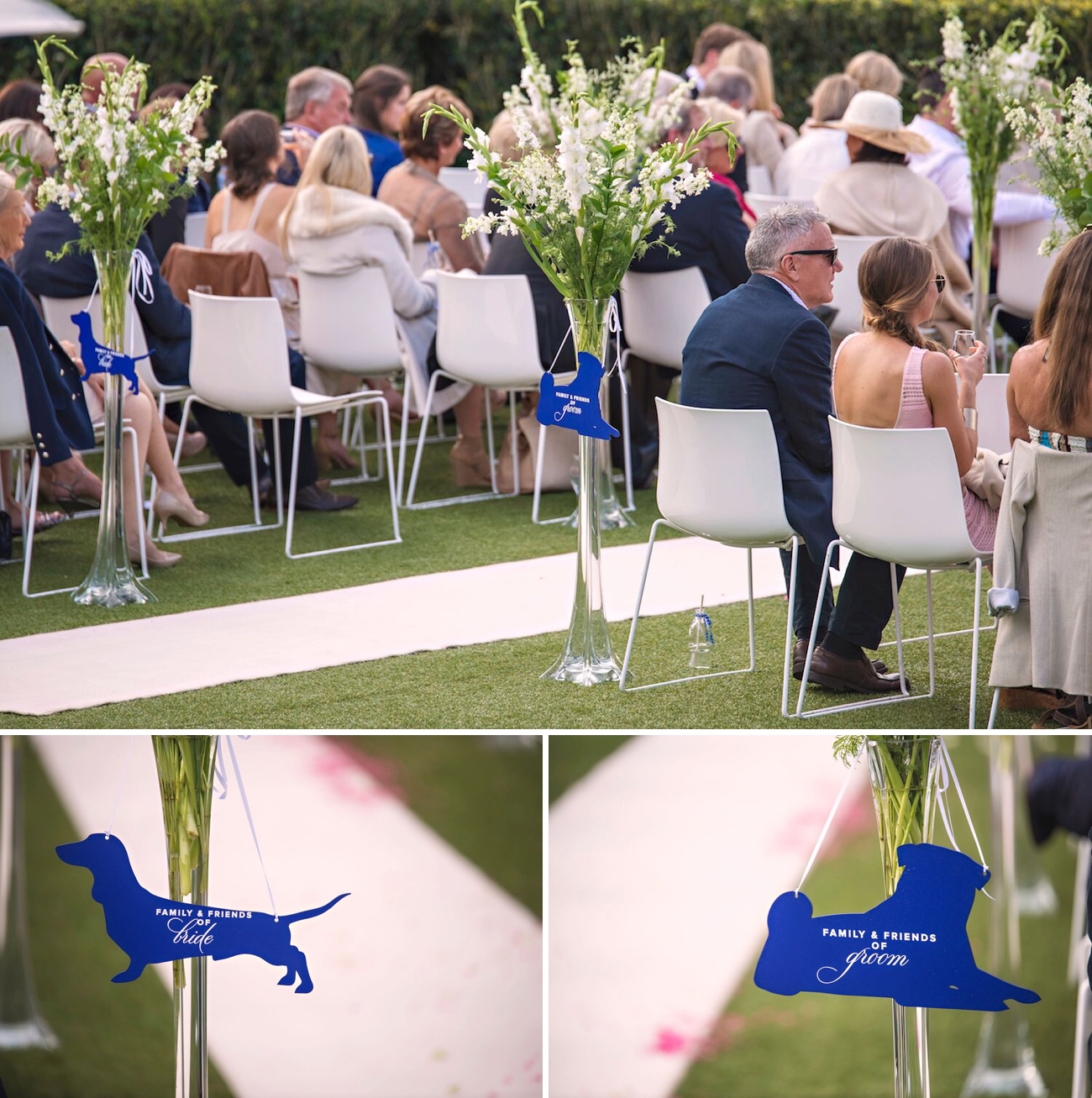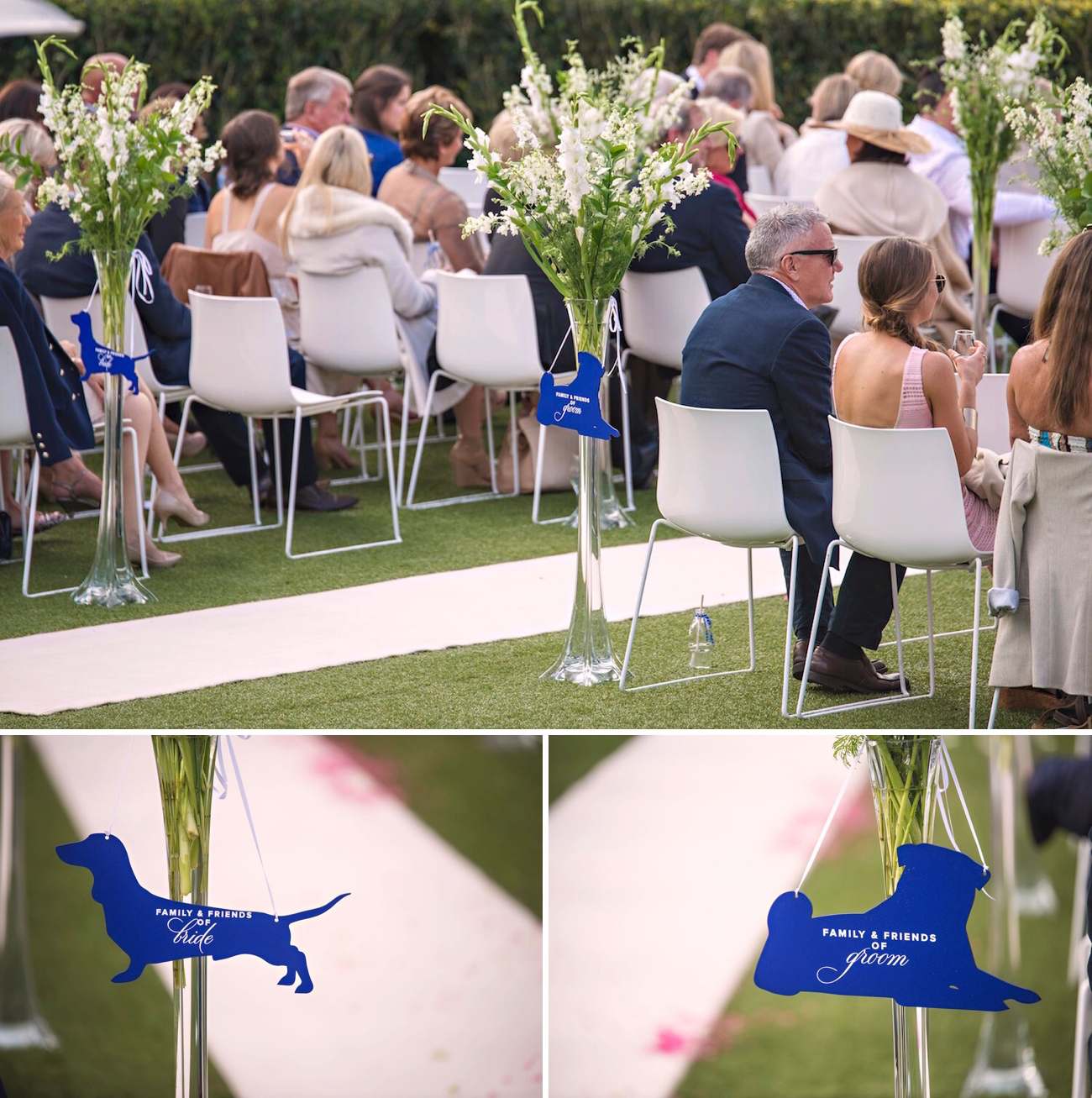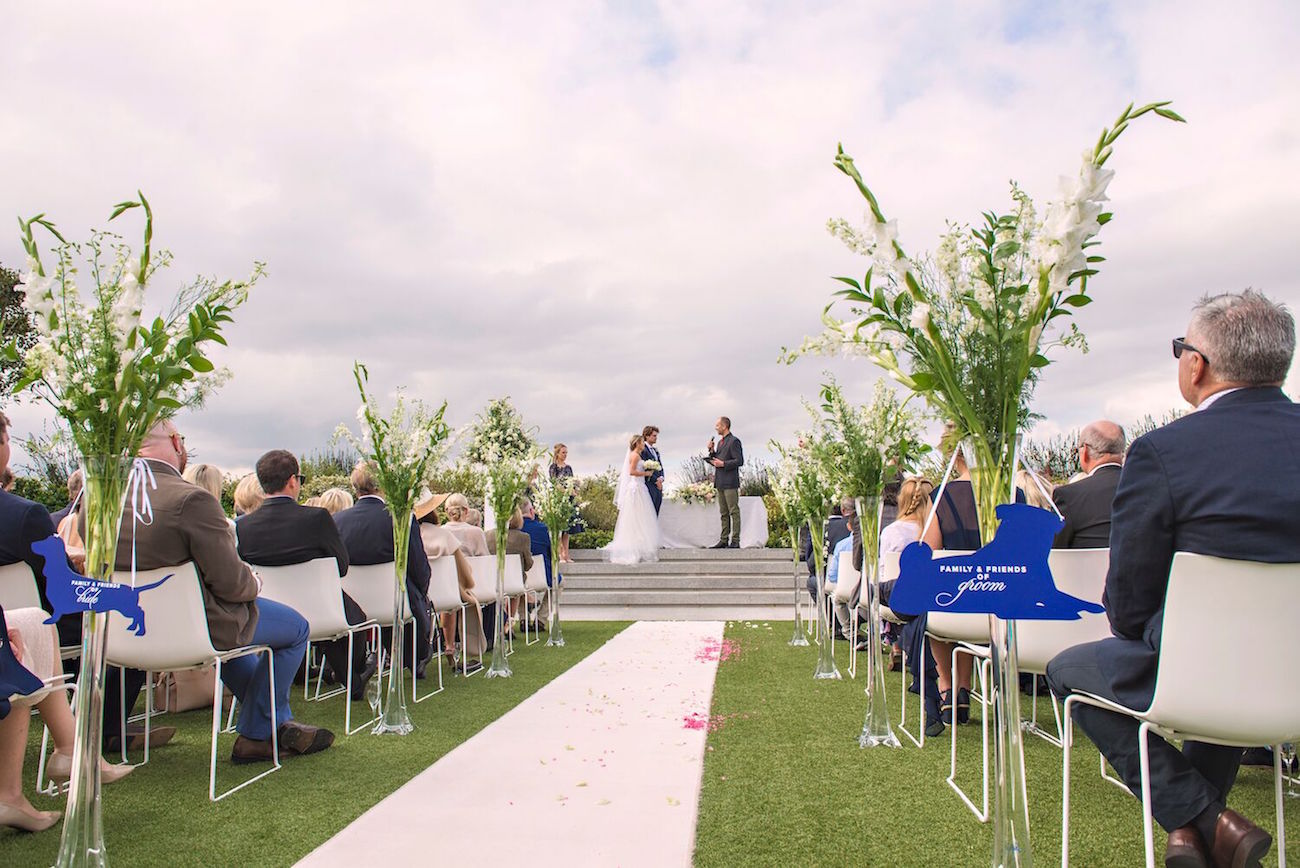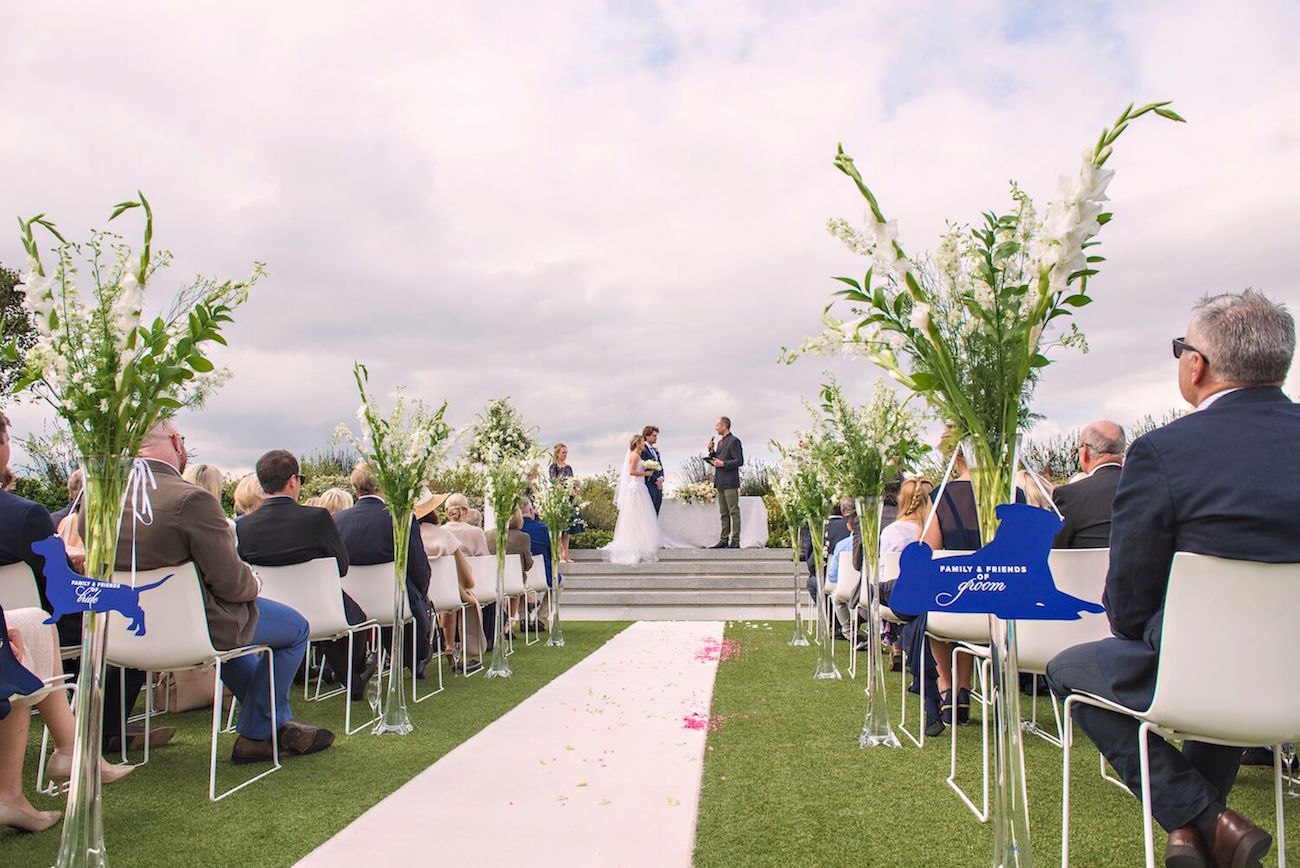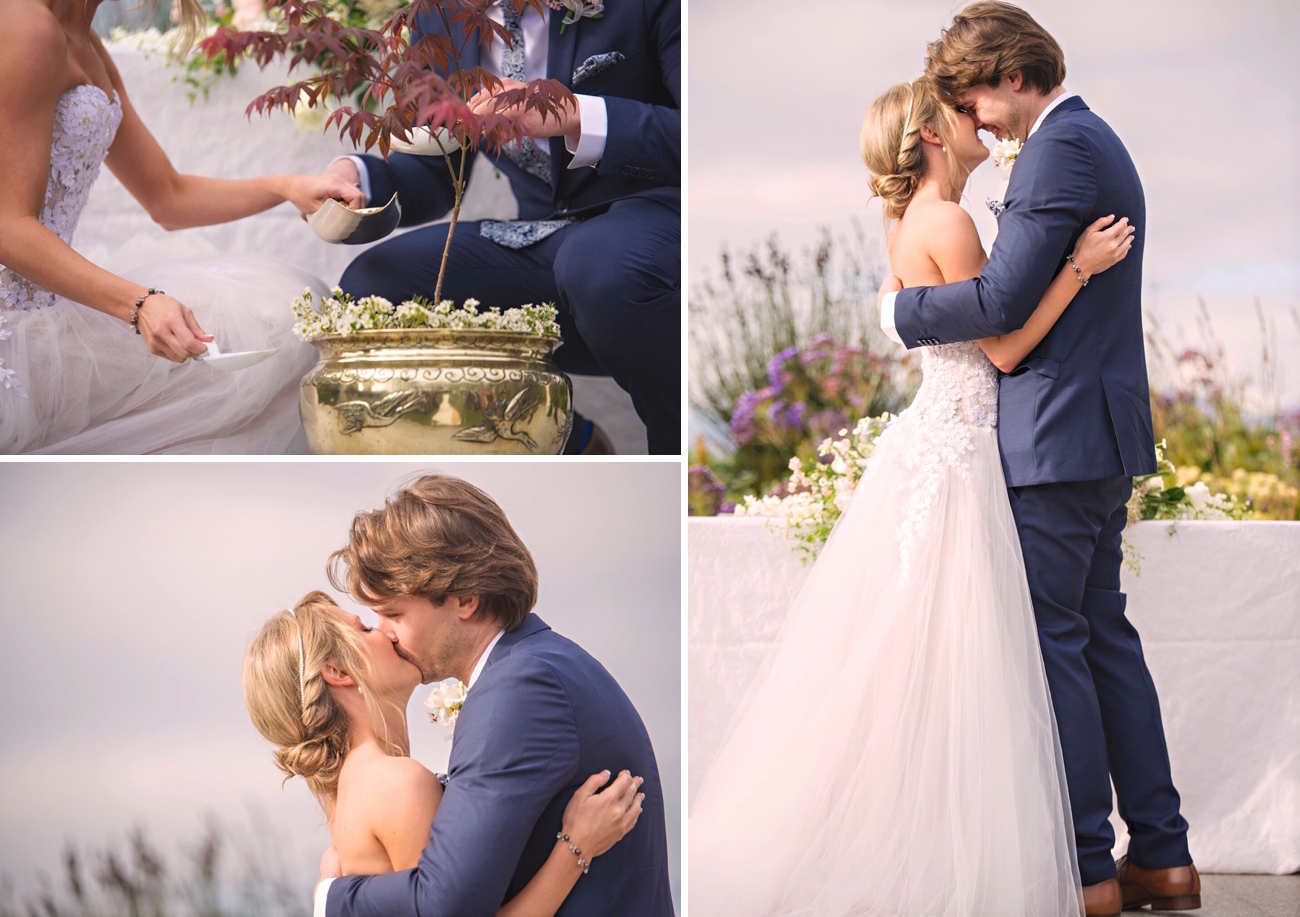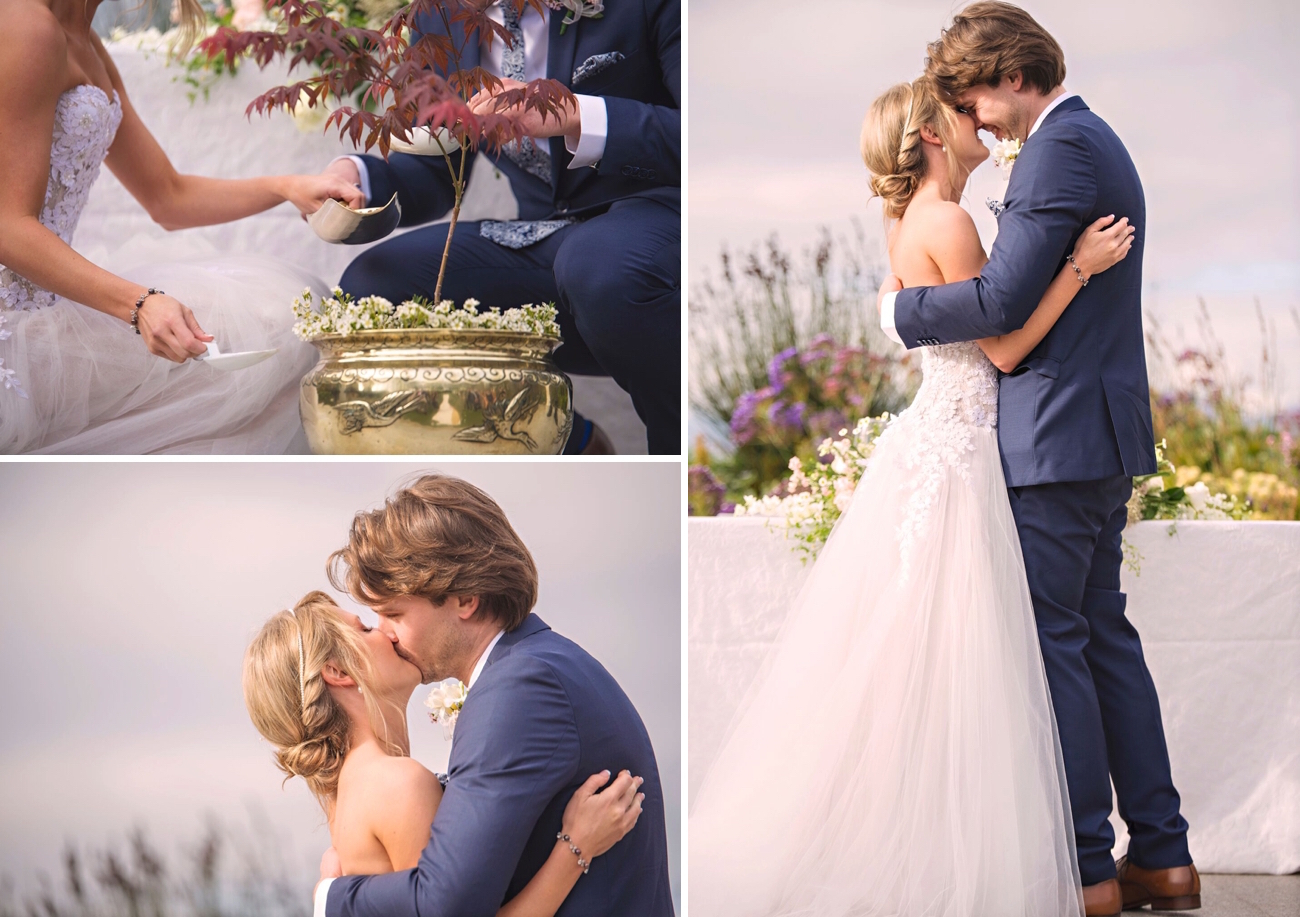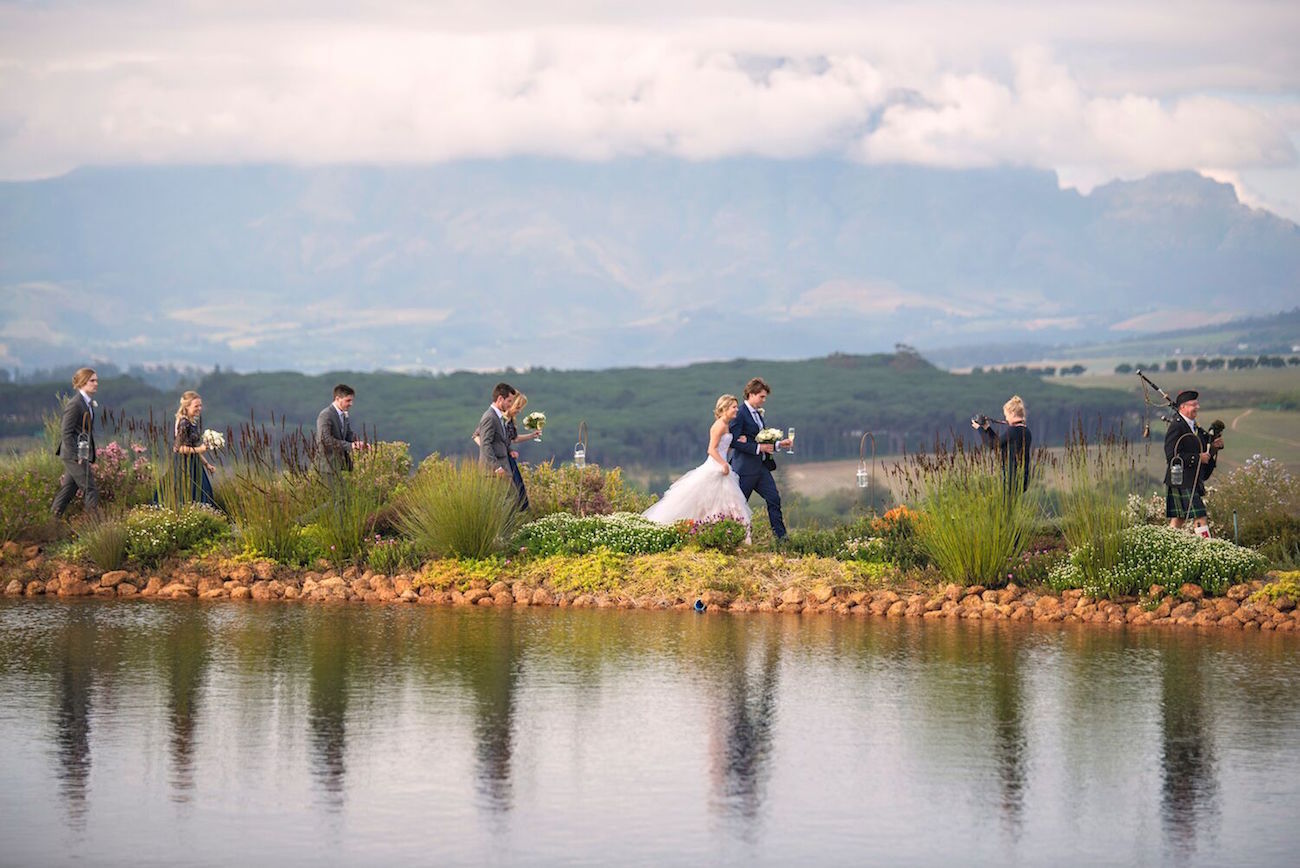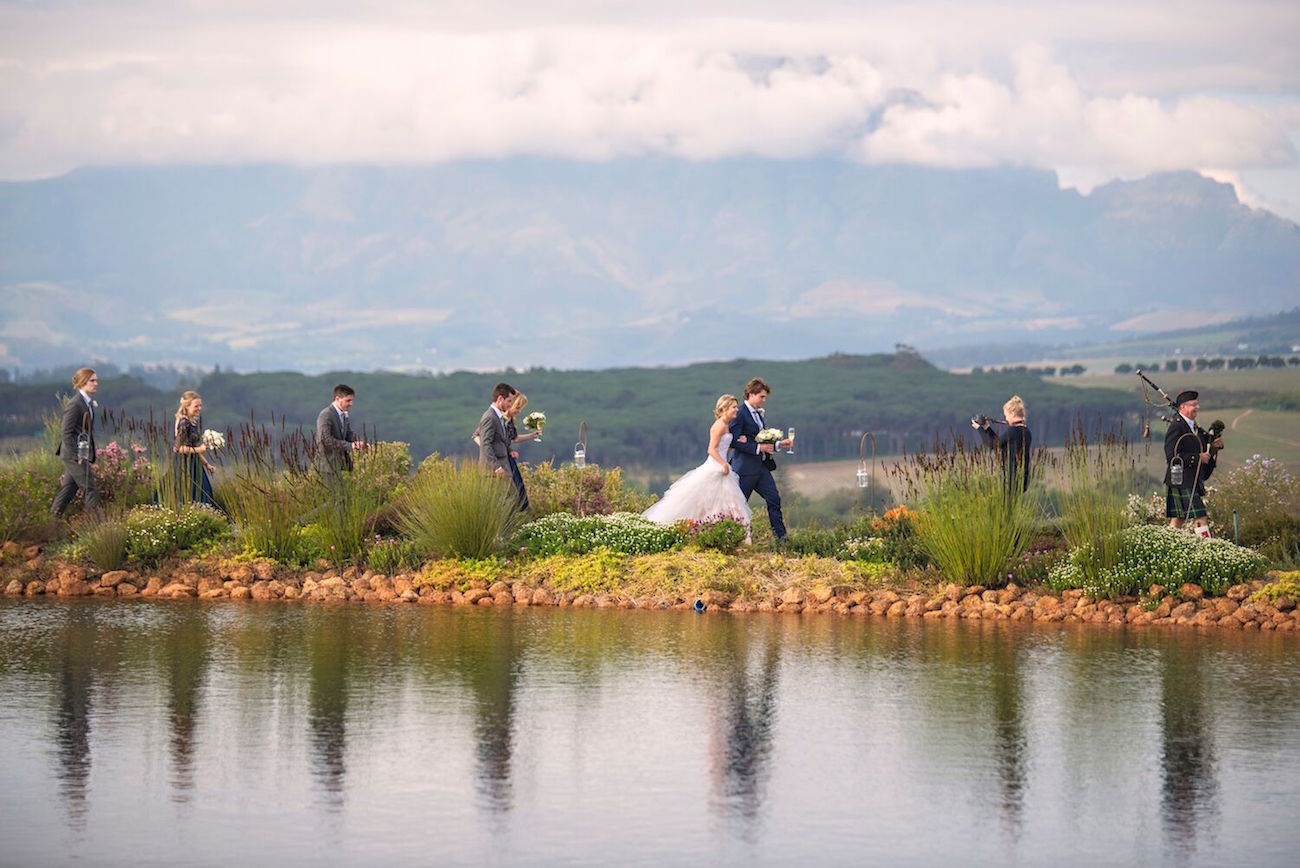 The Venue
Choosing the venue was actually the easiest part. From when Cavalli was being built we always thought it would be a magical wedding venue and absolutely loved their restaurant. I've always loved horses and Brandon is a huge fan of their wine. We looked around a bit but two weeks after the proposal, the venue was booked and the date was set.
Wedding Style
There were many discussions and we looked through more wedding magazines than Brandon knew existed but we saw a beautiful Delft vase at the shops and decide on going with a blue/white theme. The Delft theme also reminds us of Amsterdam, a special place to both our hearts, and the blue echoes the colour of my sapphire engagement ring (something he chose all on his own! I was really impressed).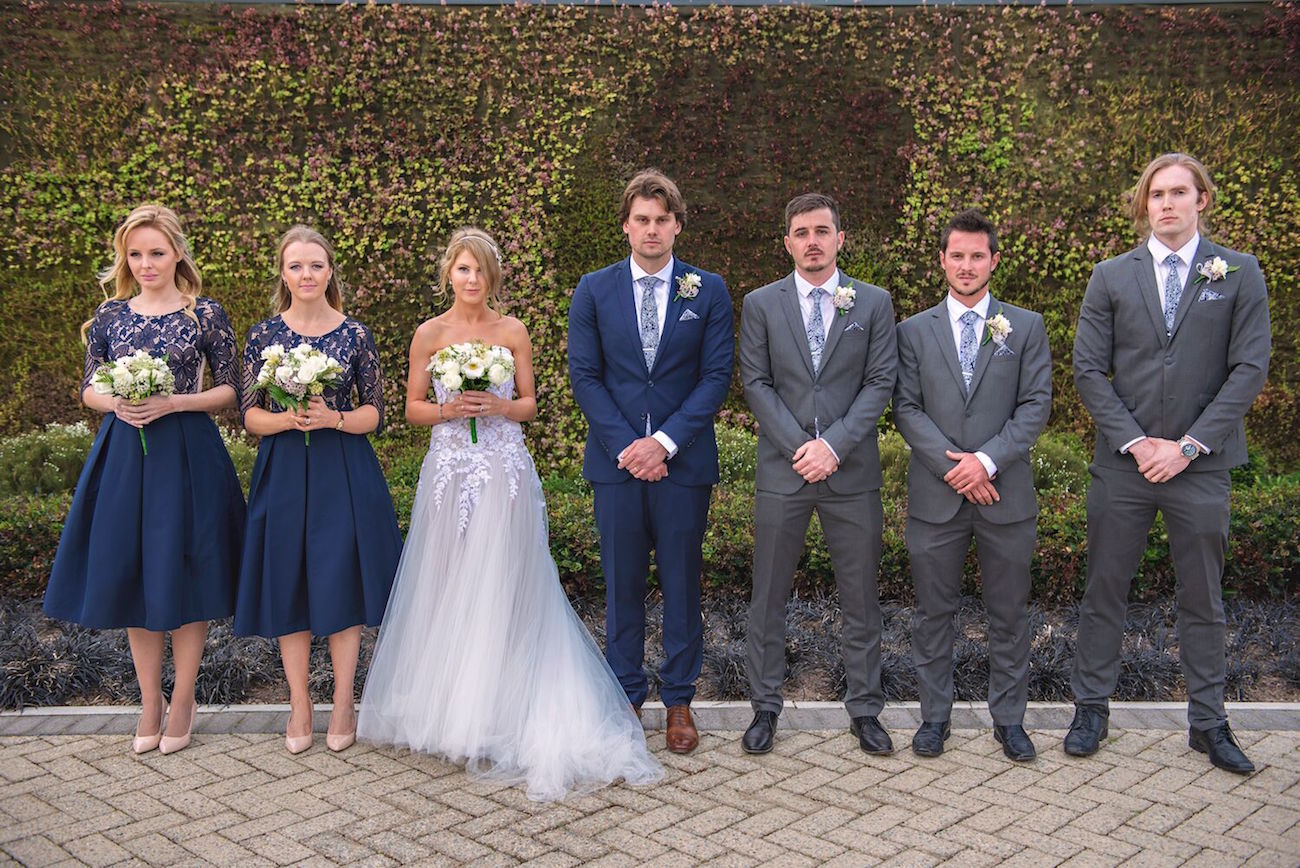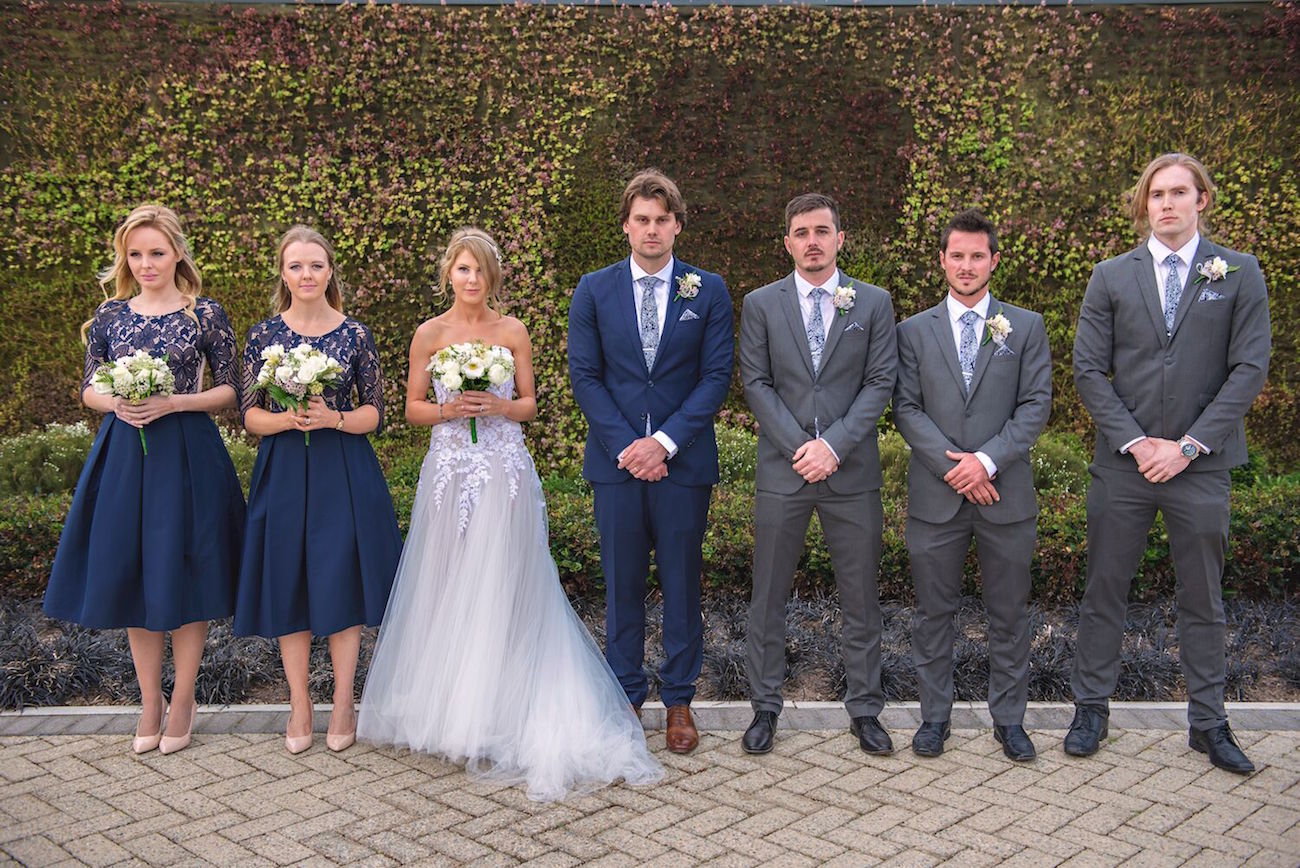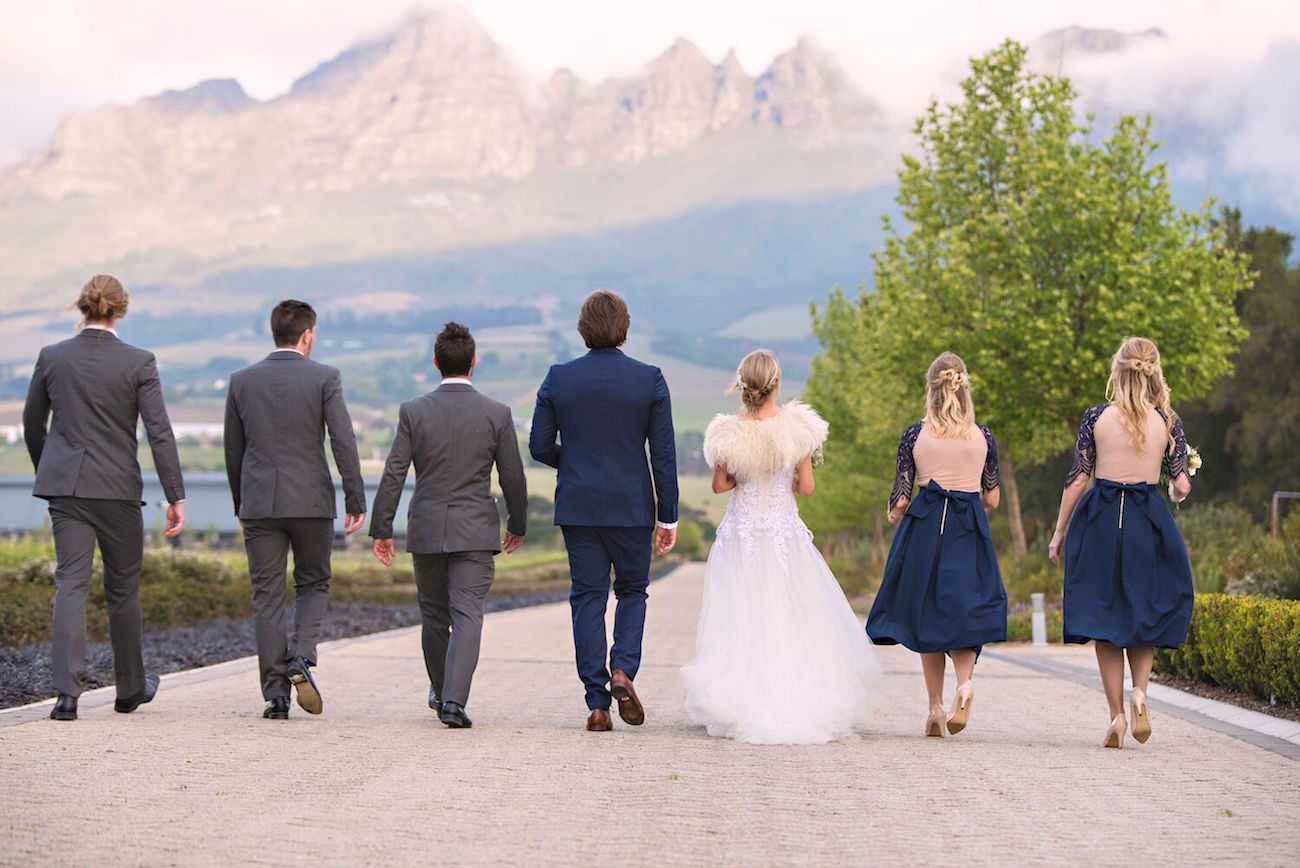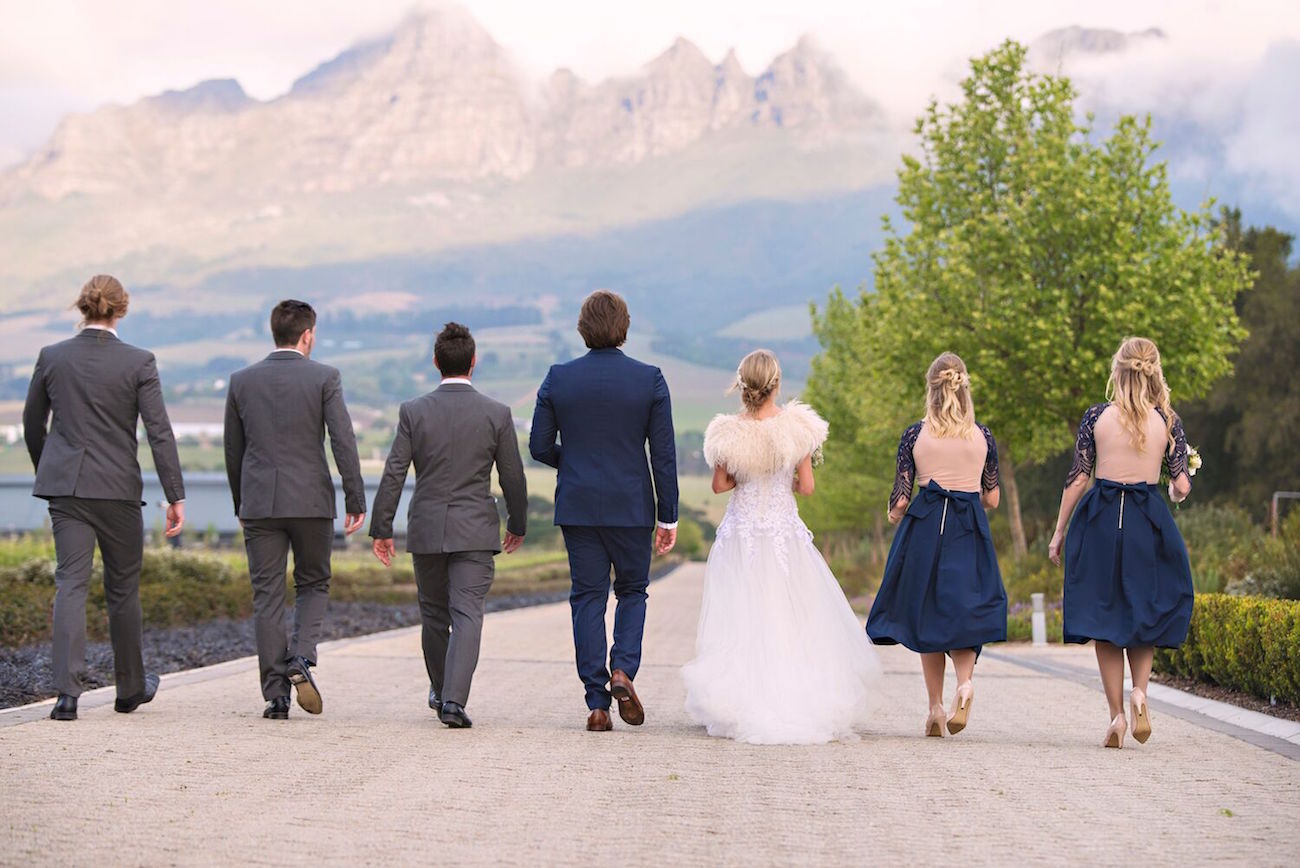 Wedding Details
We tried to bring in lots of personal elements to the wedding. The tables were named after places we'd travelled to together and guests could only figure out where they were sitting if they could figure out what place the picture on the table represented. (I felt sorry for the people that got Mahe!). You might notice that our fur children are also a common theme throughout the wedding which we felt represented our love for our pugs and sausages. I also love gardening and flowers which is why there were plenty of varieties of flowers spread out everywhere in the venue. Our gift to the guests was a Chinese teacup with a muslin cloth teabag inside – this was meant to be symbolic of the way Brandon proposed, which I thought was really special.
DIY Elements
We didn't really make anything ourselves but had a lot of input with everything, from the invitation/stationery design to what types of flowers would be on the tables. We did however spend lots of time assembling our guest gifts/name cards. We mastered the art of an assembly line and were so happy with the result. We also went through all our old photos to find some of ourselves in our favourite places and used these images as our table names.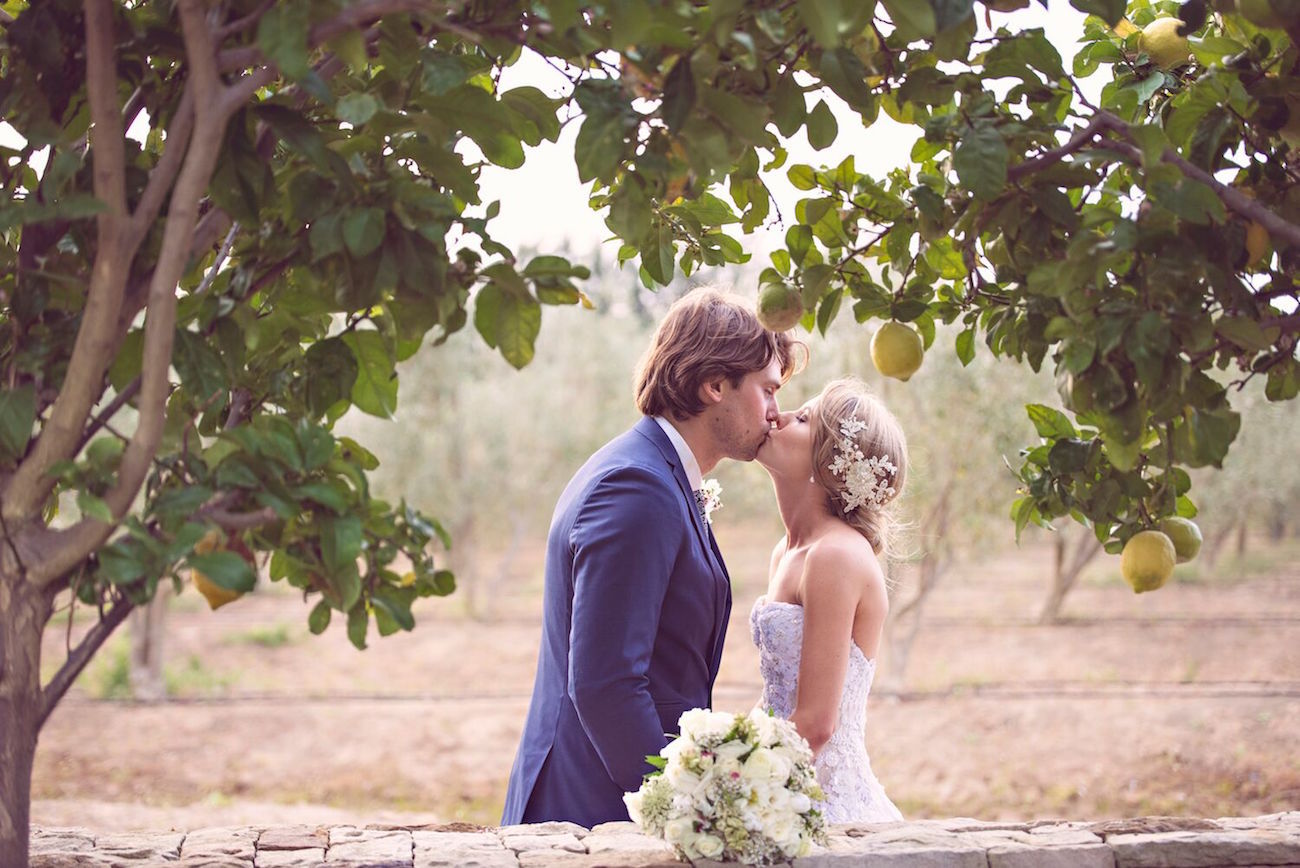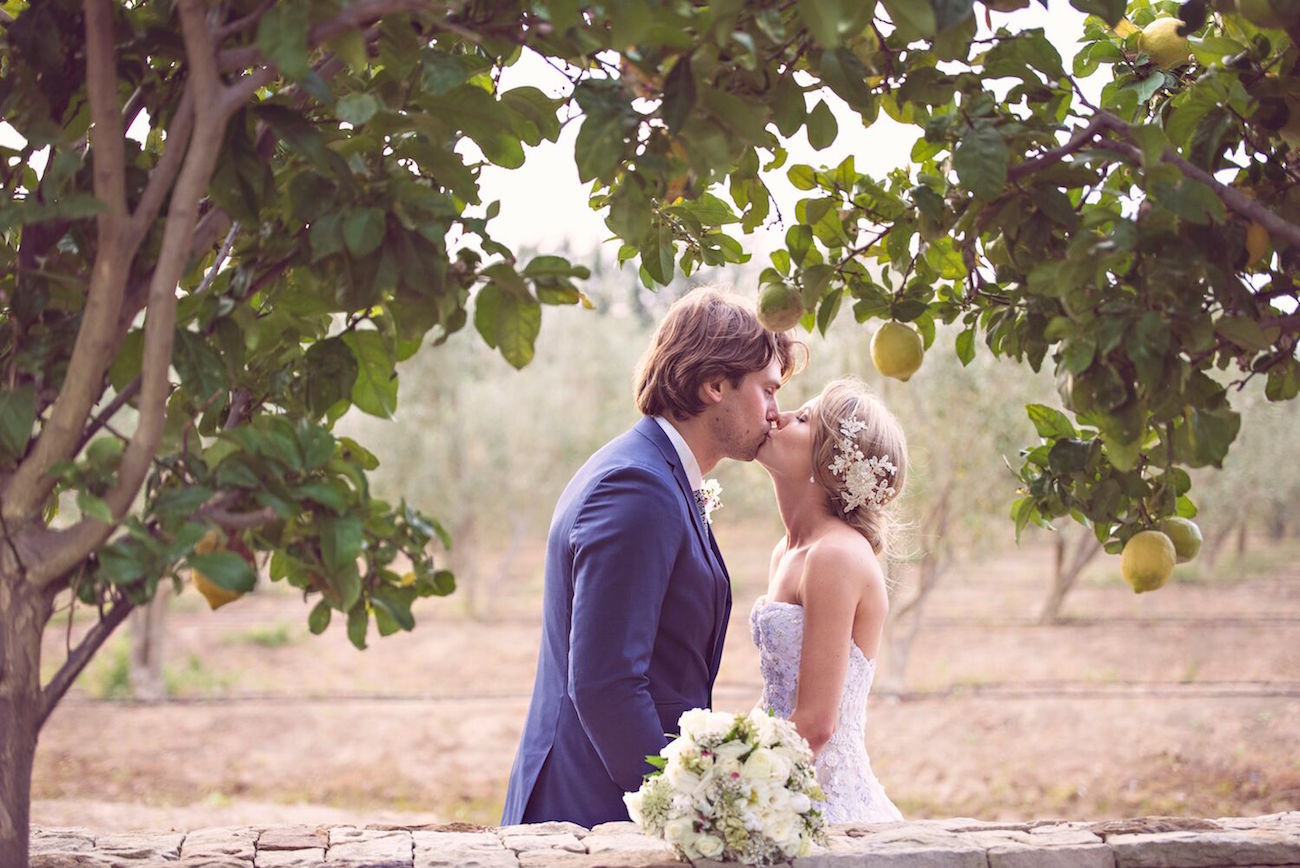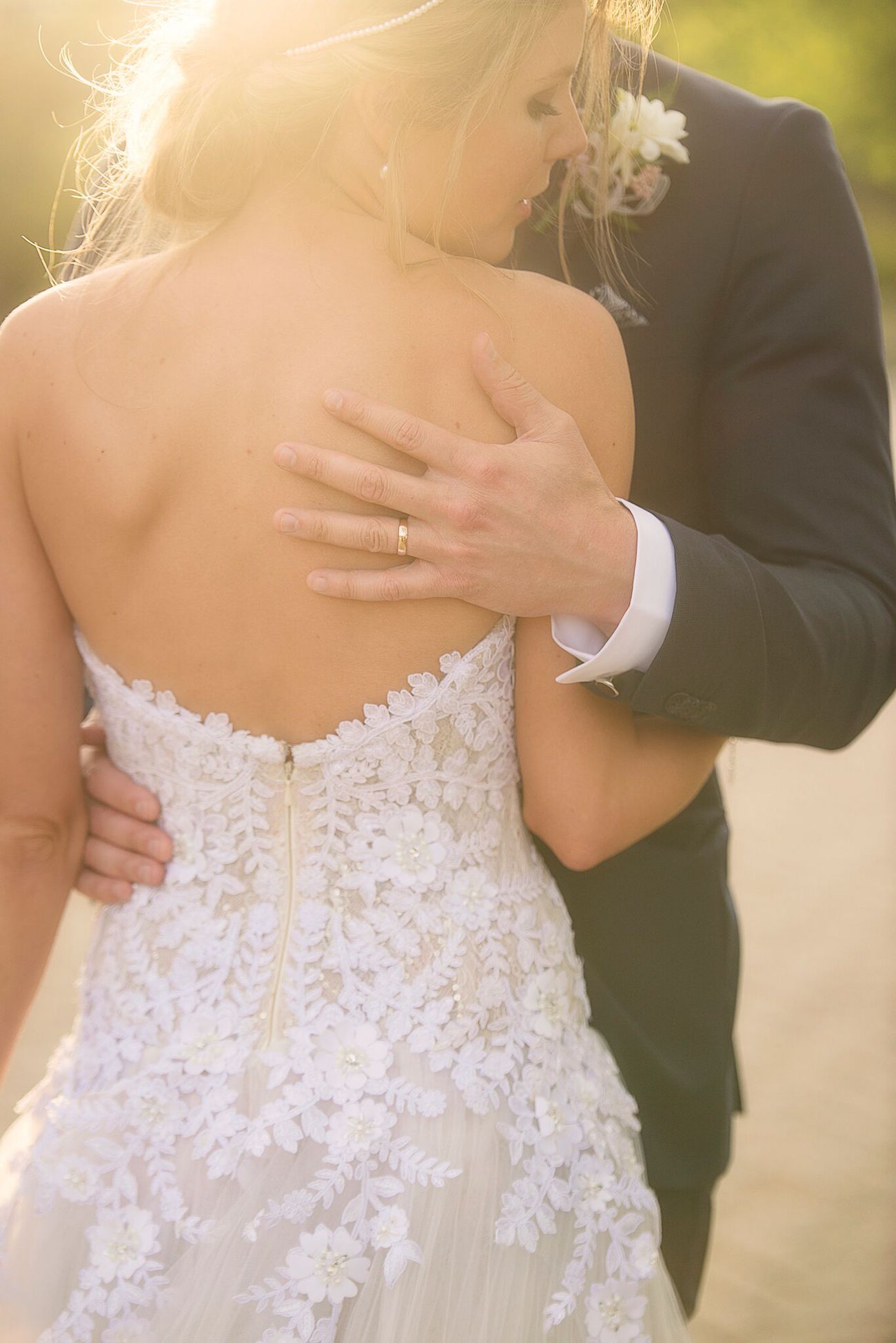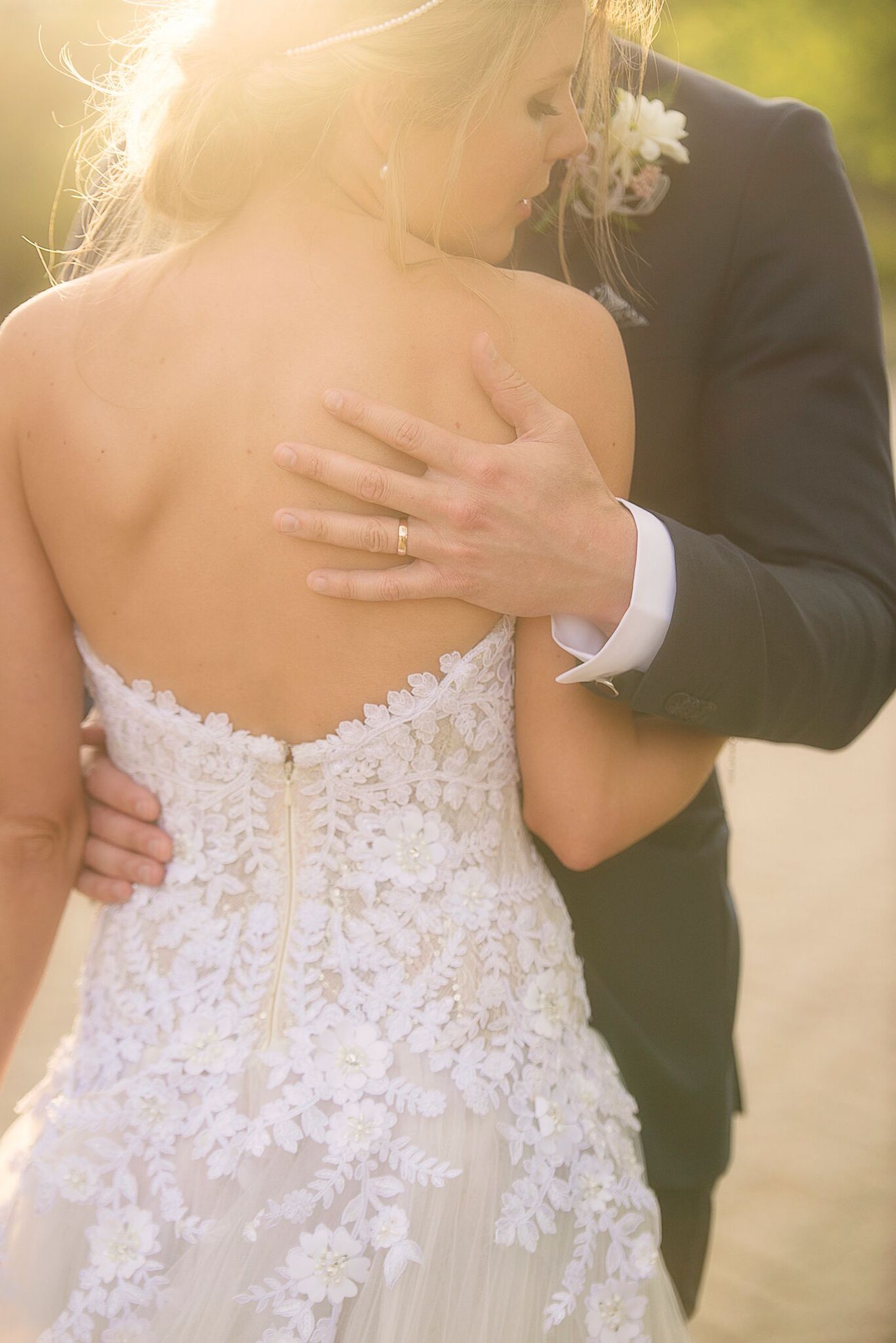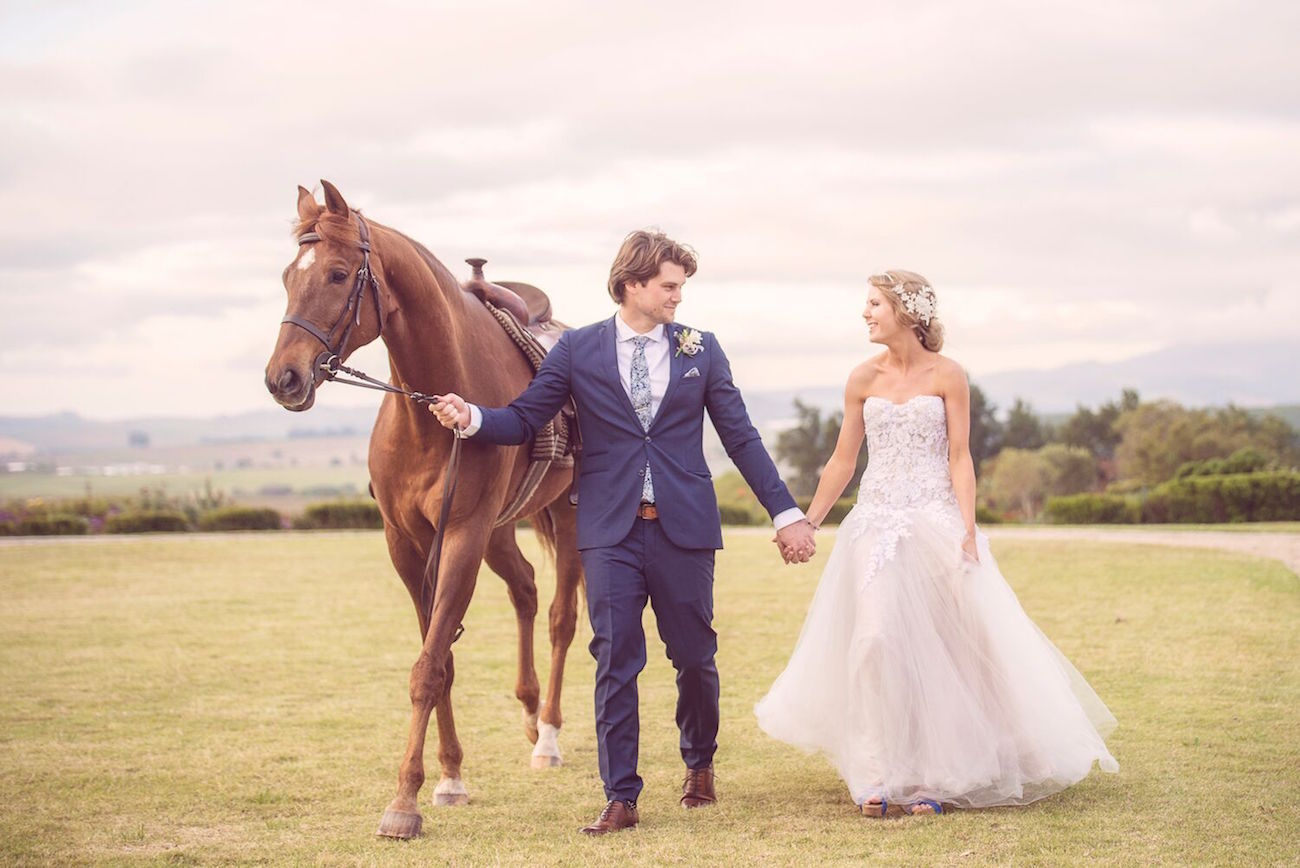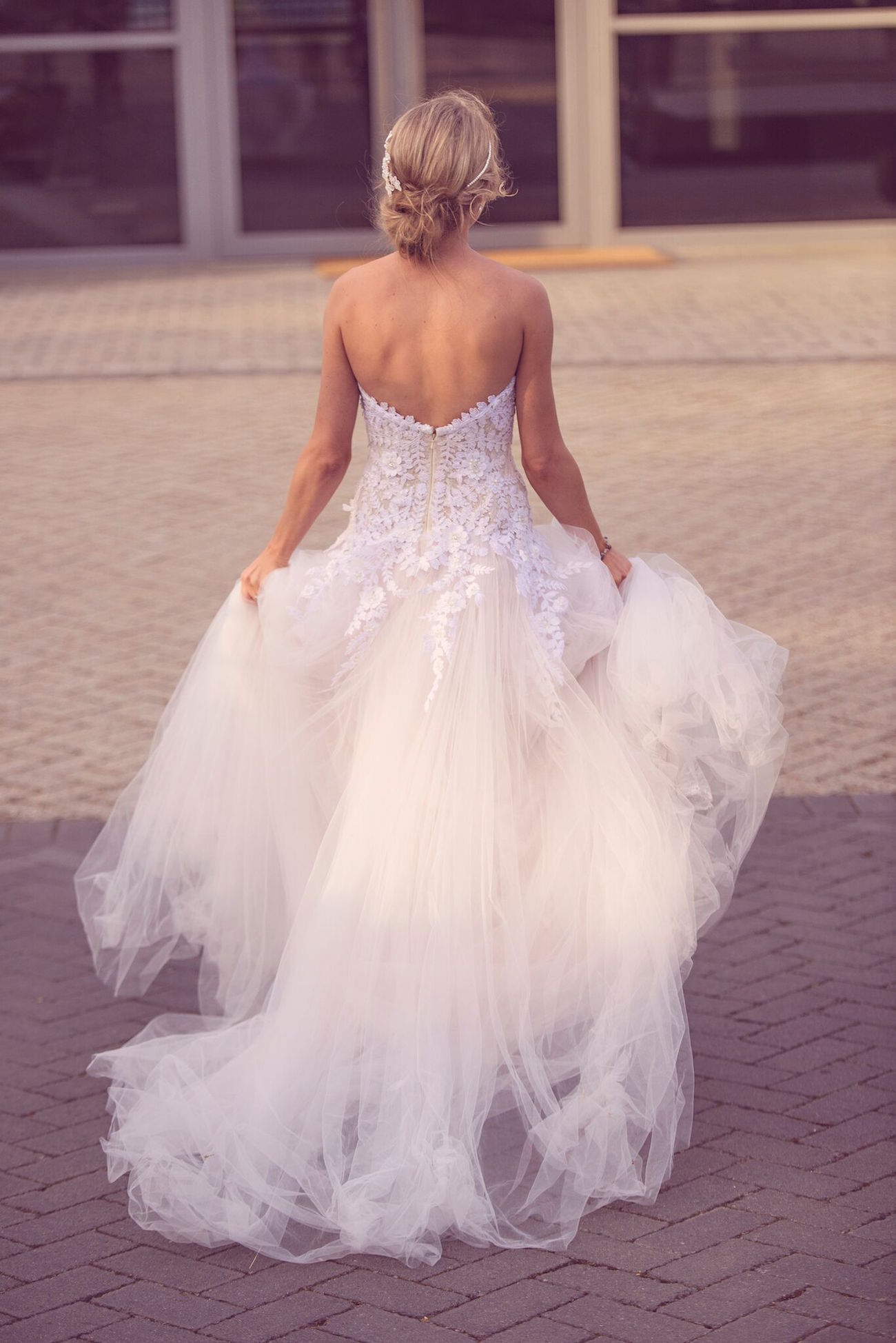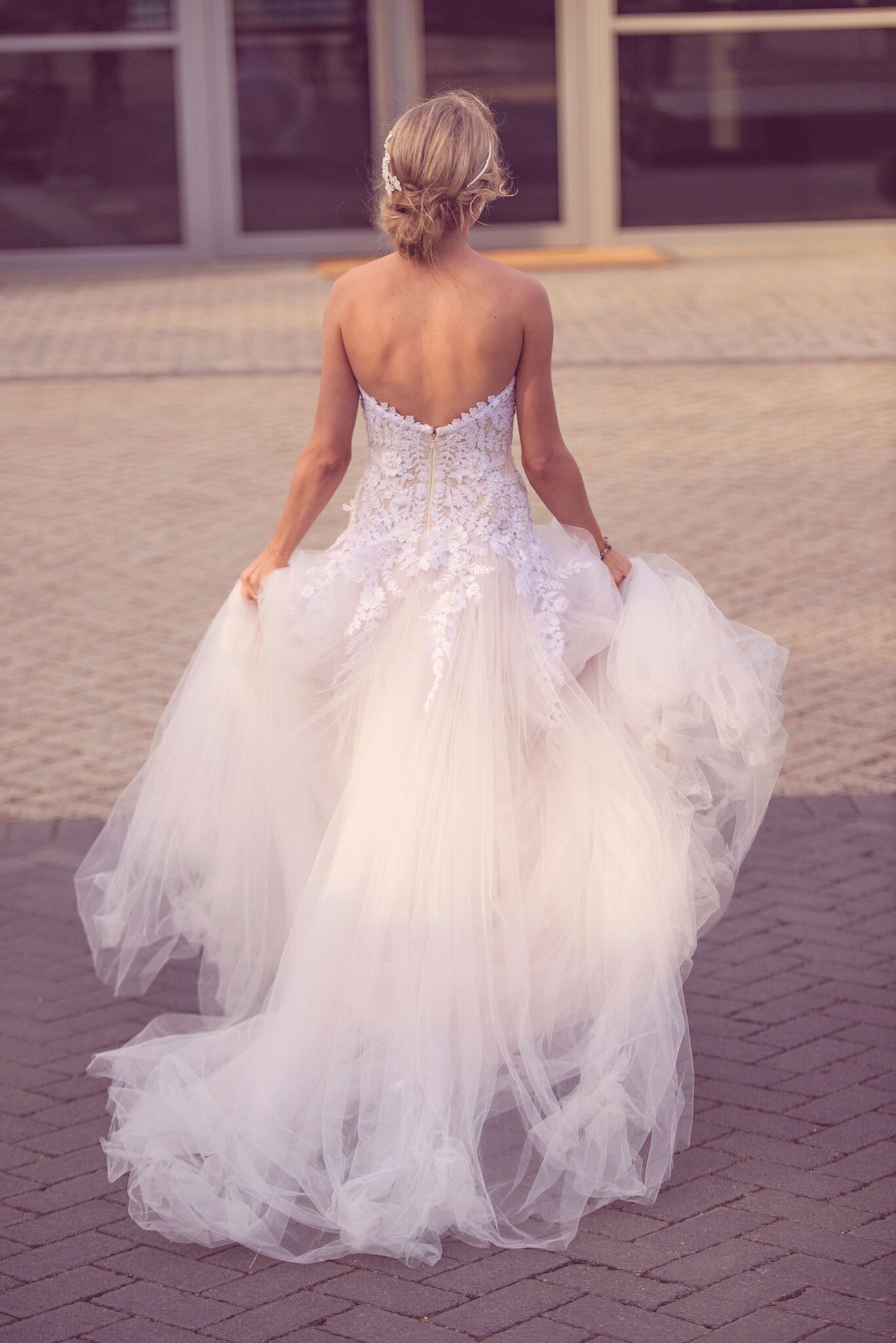 The Dress
I had always loved Kobus Dippenaar dresses, long before I was engaged. I went to Calegra about ten months before the wedding and immediately fell in love with my dress. I looked around a bit after that, thinking that it couldn't be that easy, but kept going back to the Kobus dress. About a month later I said yes to the dress!
The Bridesmaids
I had three bridesmaids. I wanted to go with something modern, flattering and chic. I knew that I wanted them to be in navy and a separate top and skirt, so they might be able to re-use the outfit. While shopping for myself at Forever New, I came across an A-line skirt I thought would be perfect and bought them on the spot. We spent time looking around at various tops and I was so happy with how everyone looked on the day. Tragically, one of my bridesmaids and best friend, Nishta, passed away a few weeks before the wedding, but she was with us in spirit but I know she would've looked beautiful. Her husband was kind enough to give me one of her bracelets to wear, so she also added her personal touch to my wedding outfit.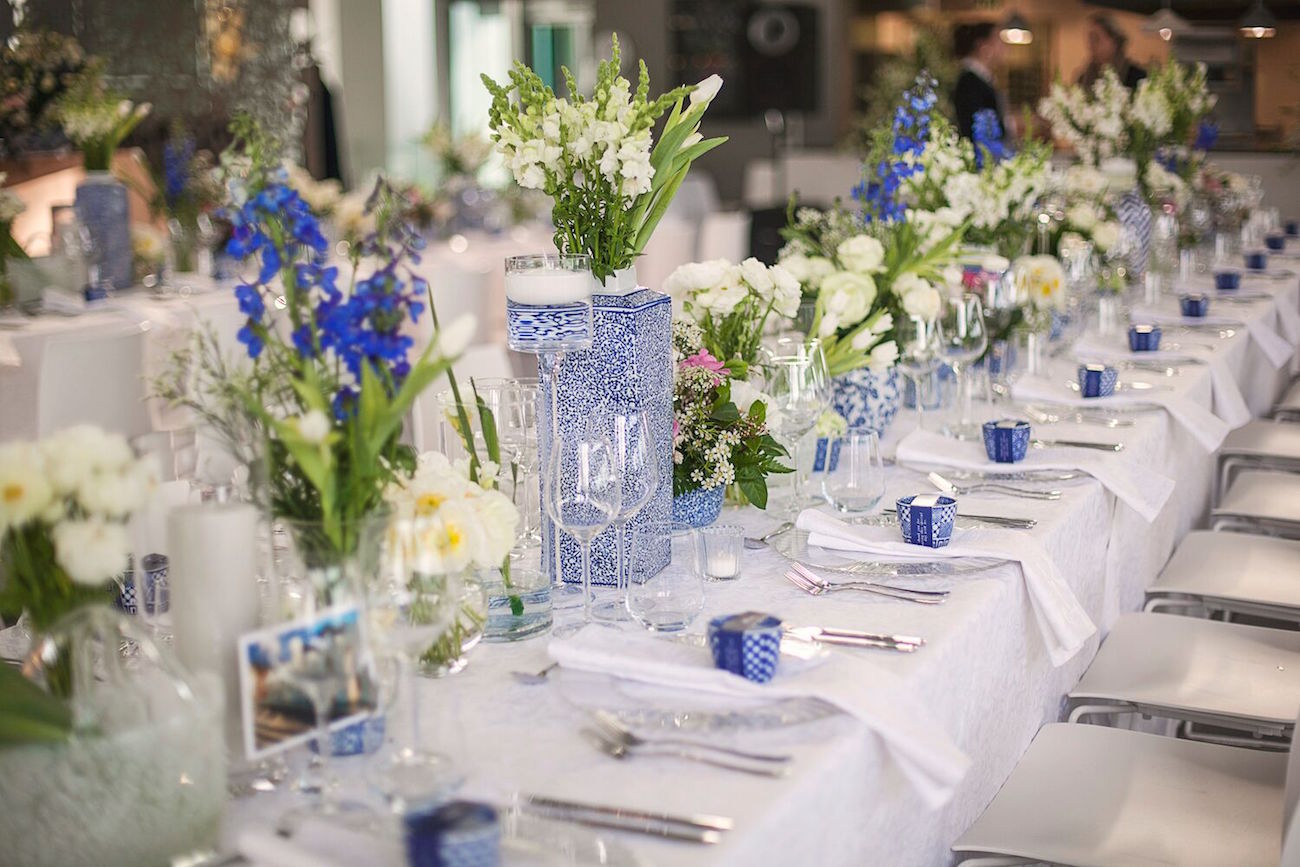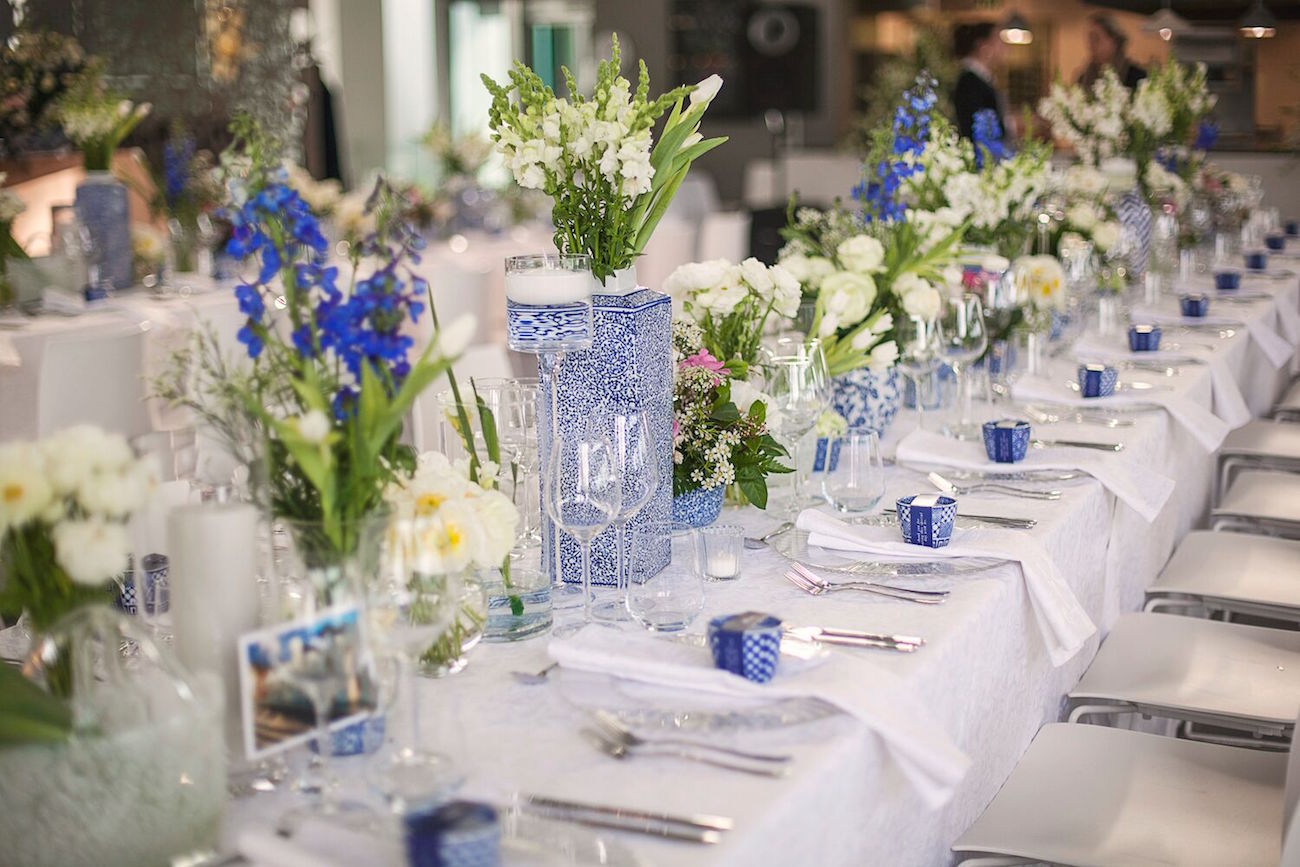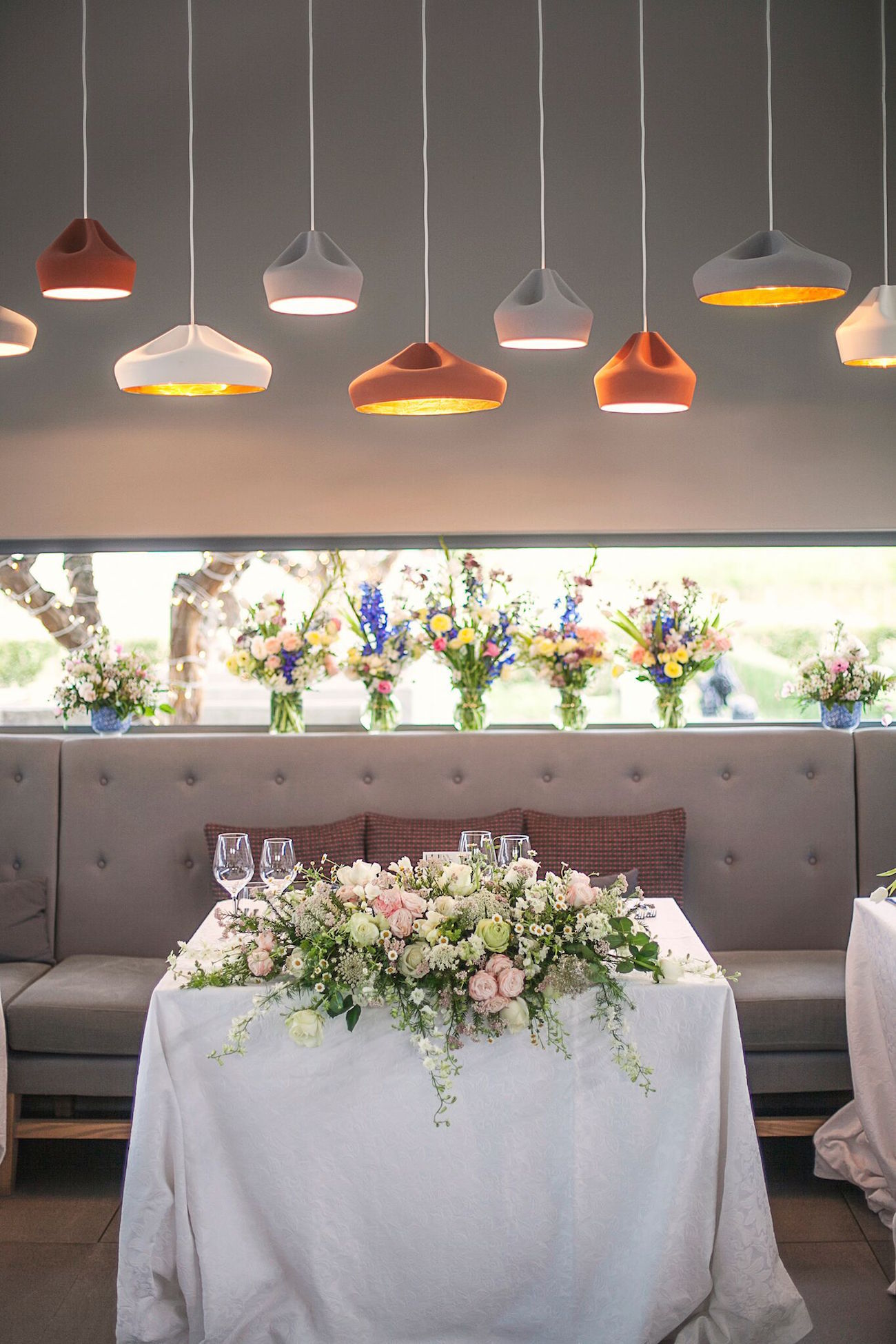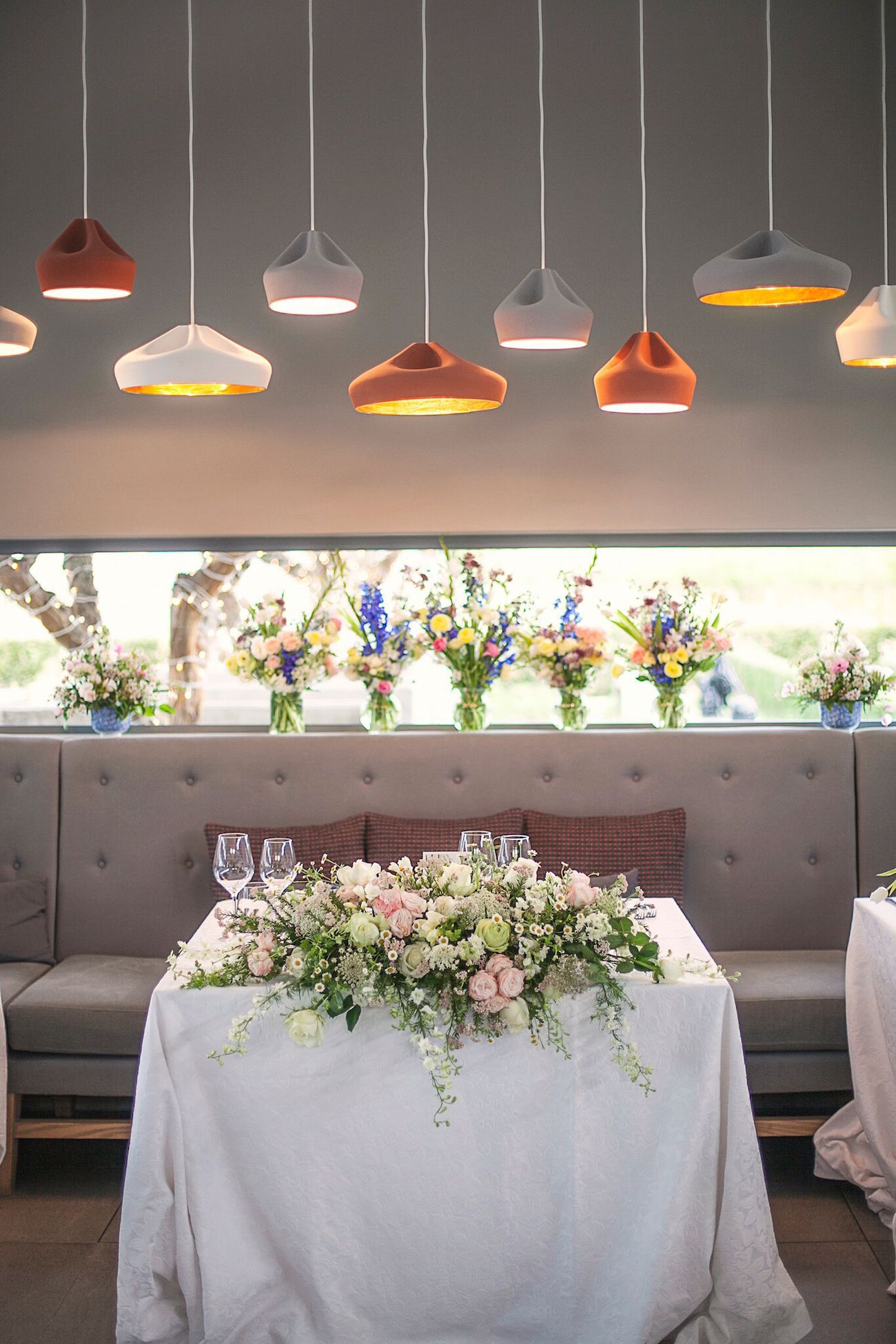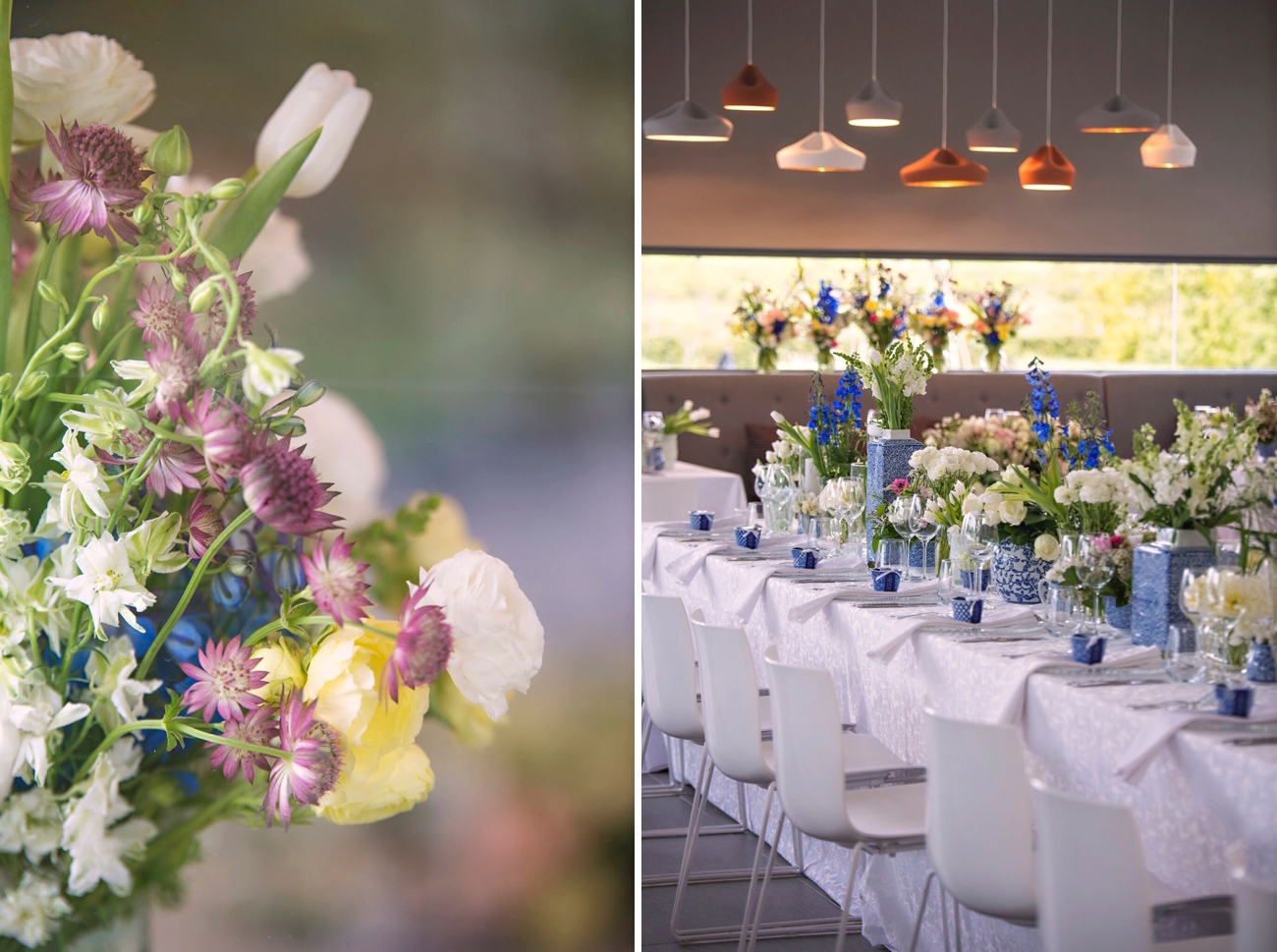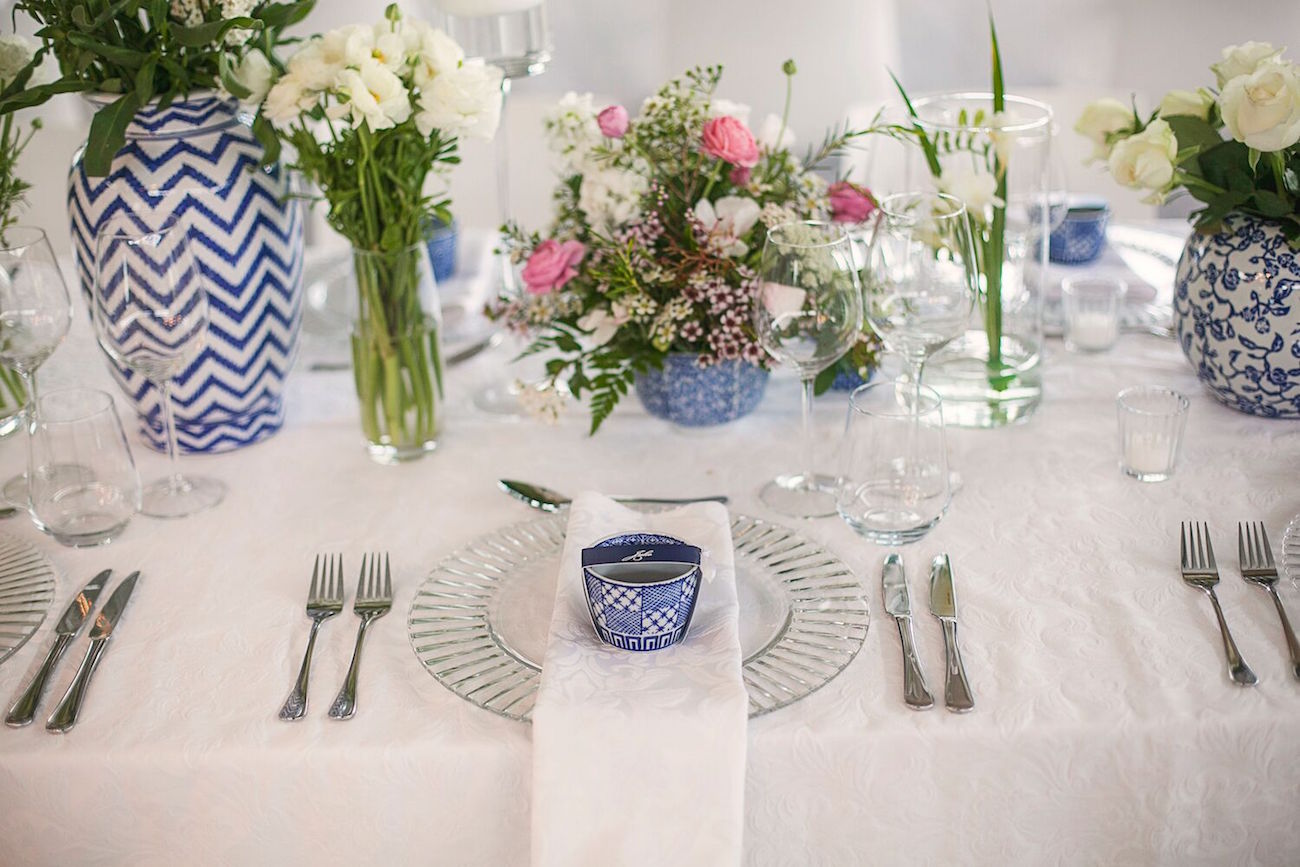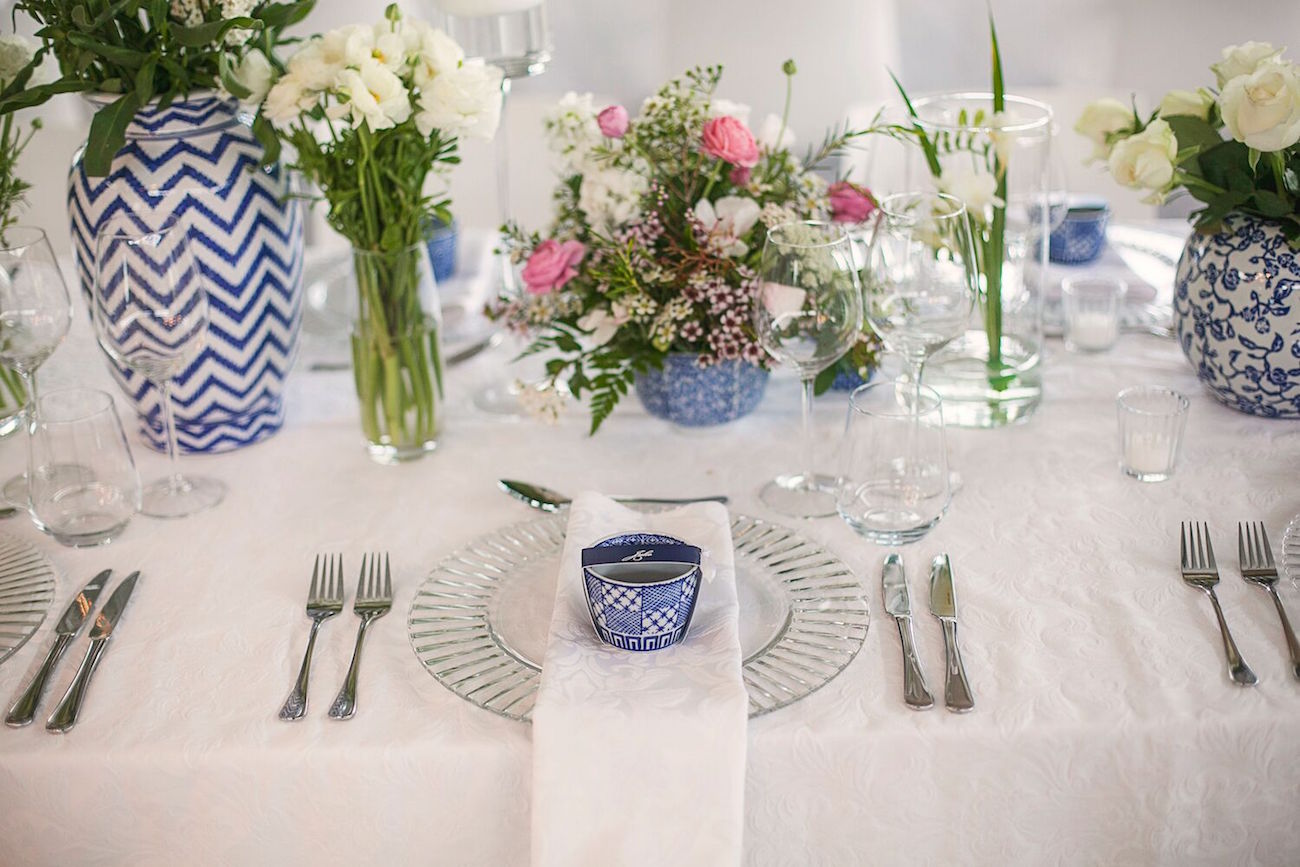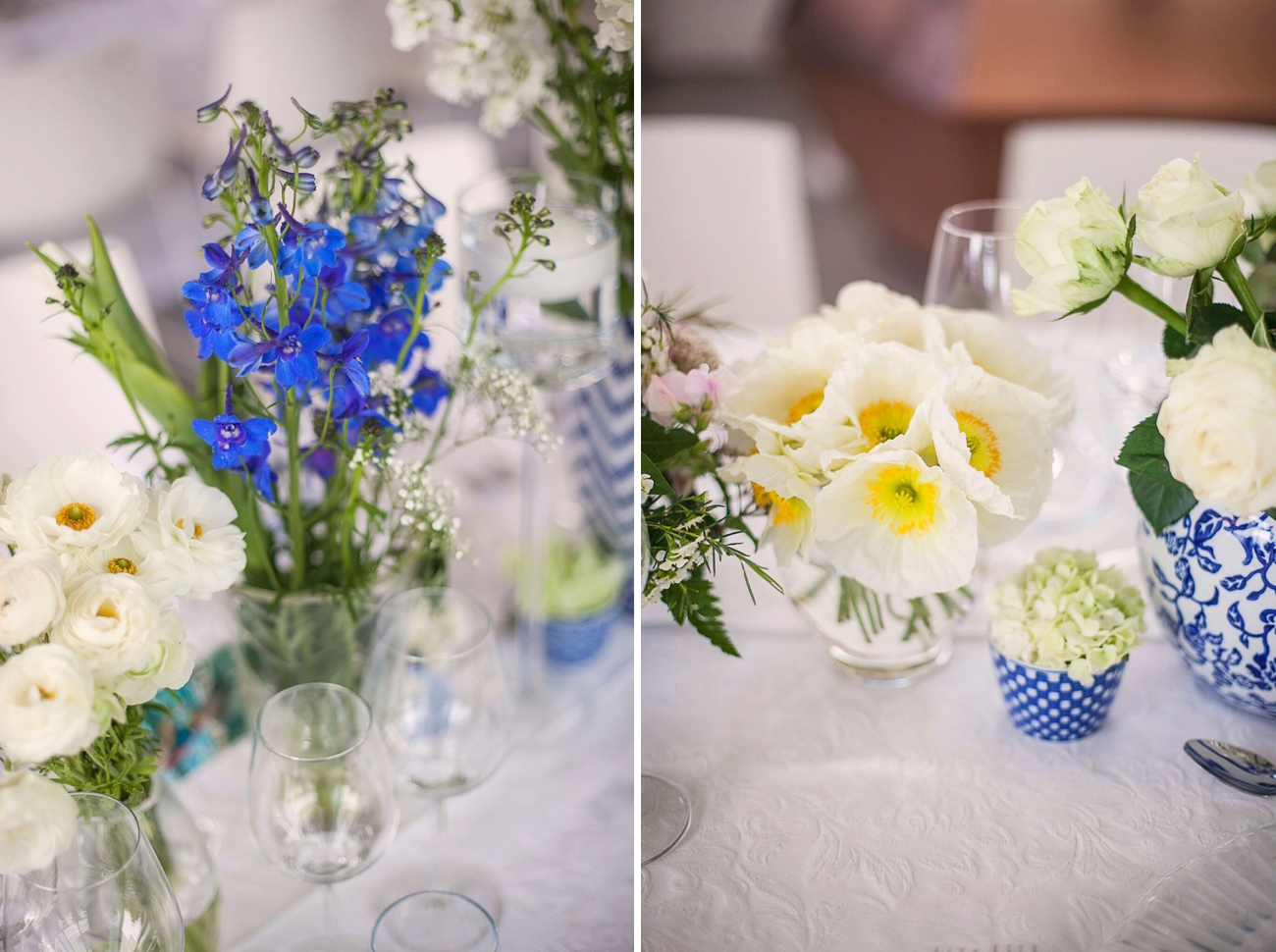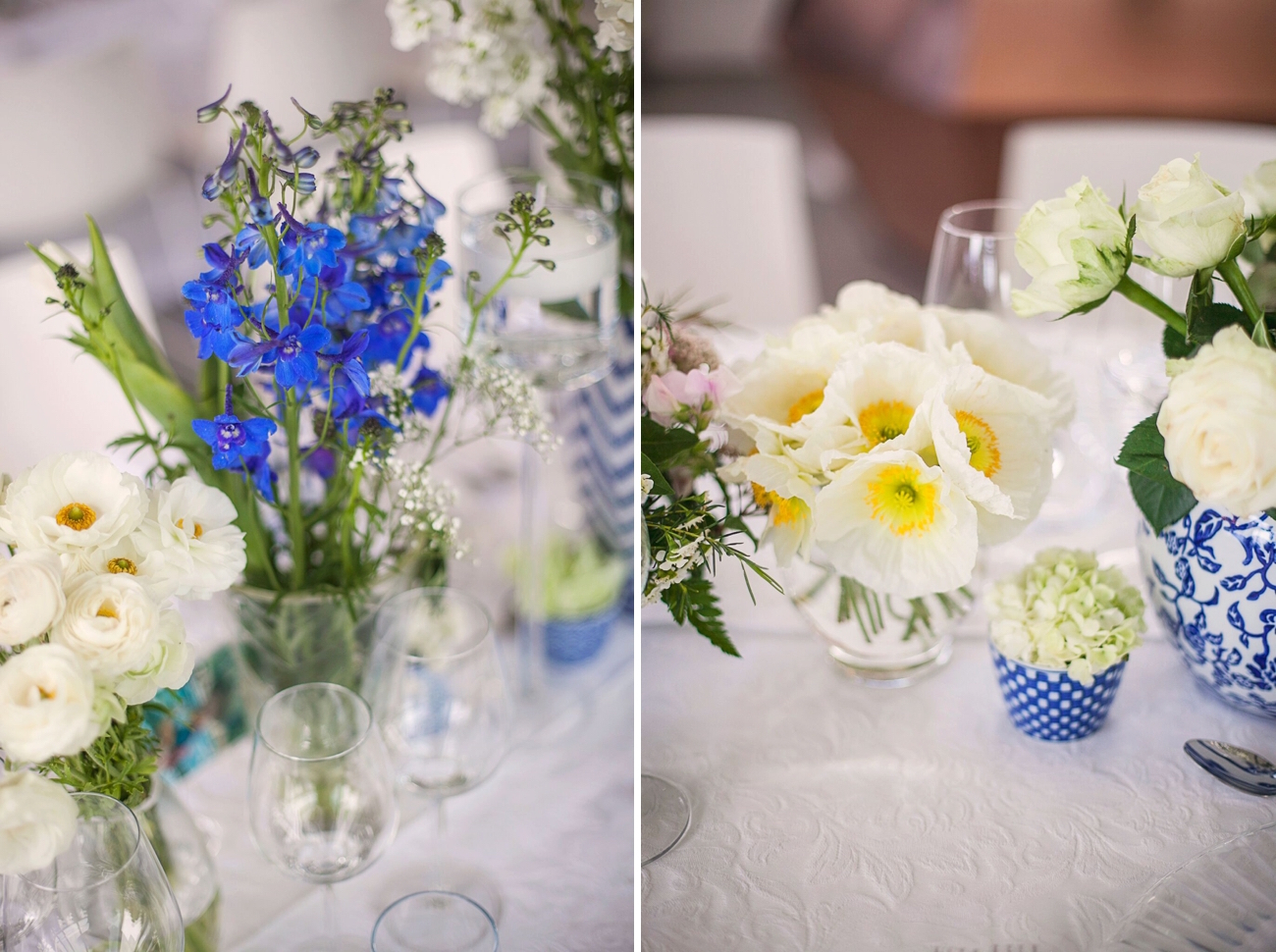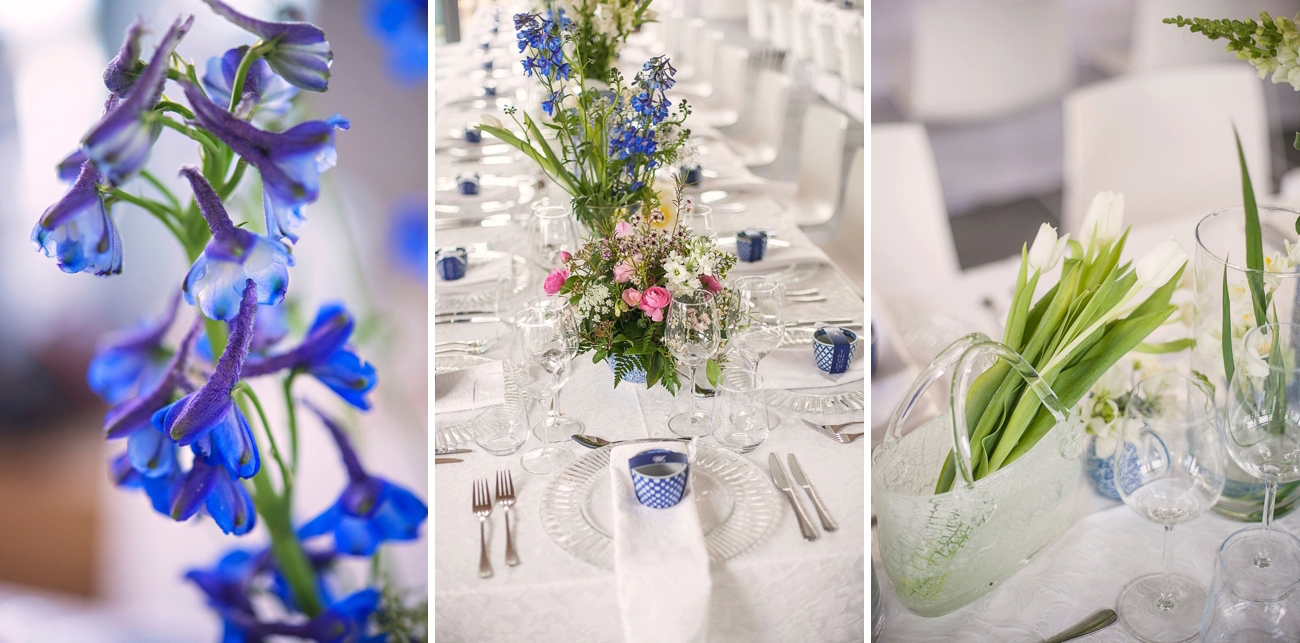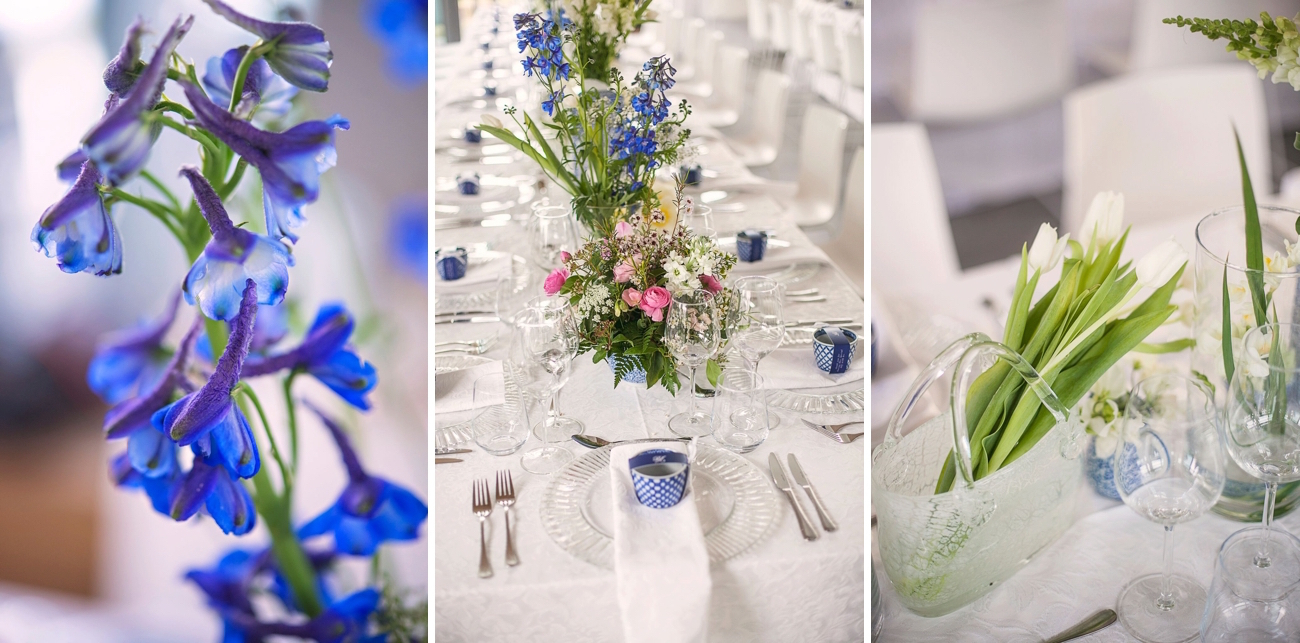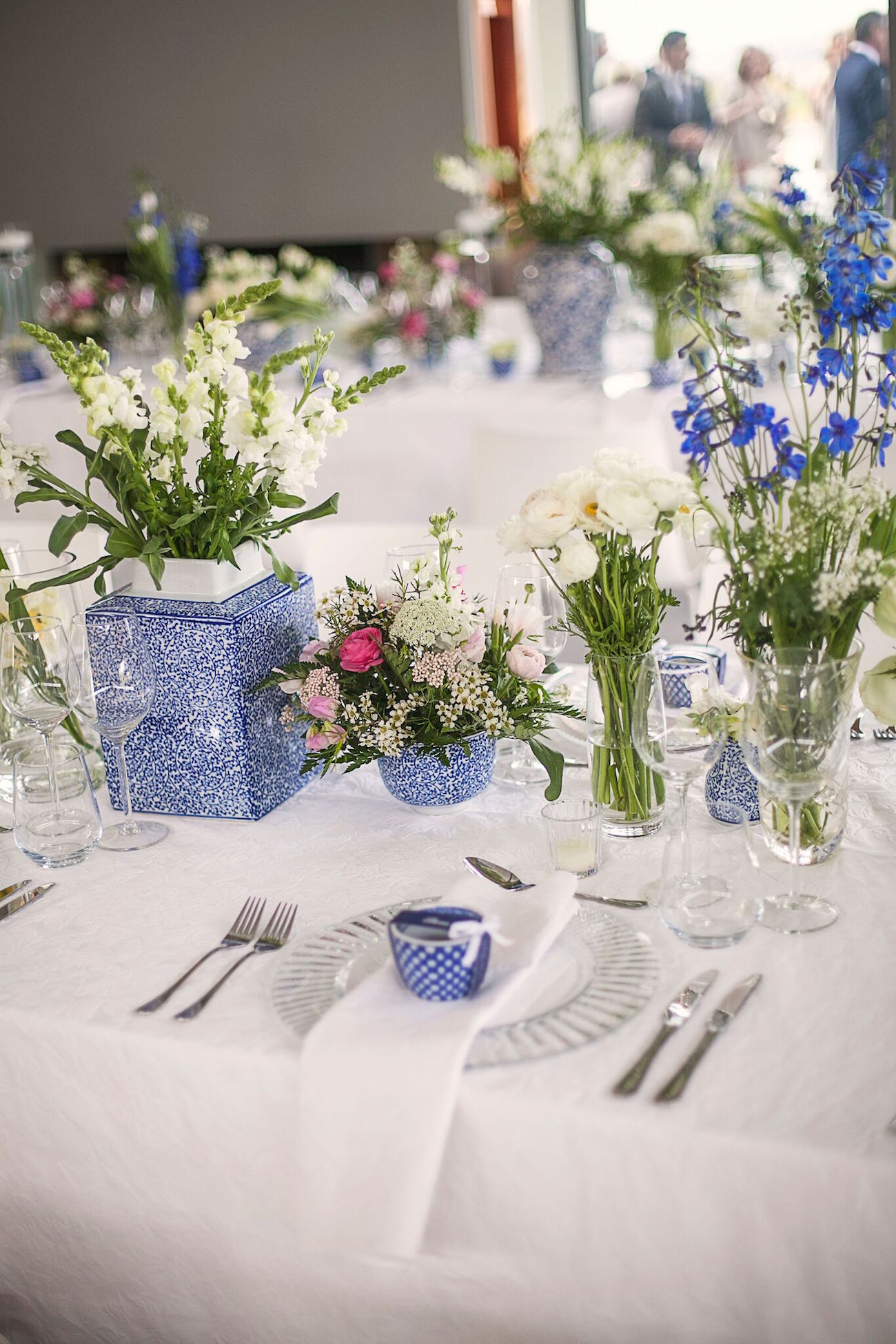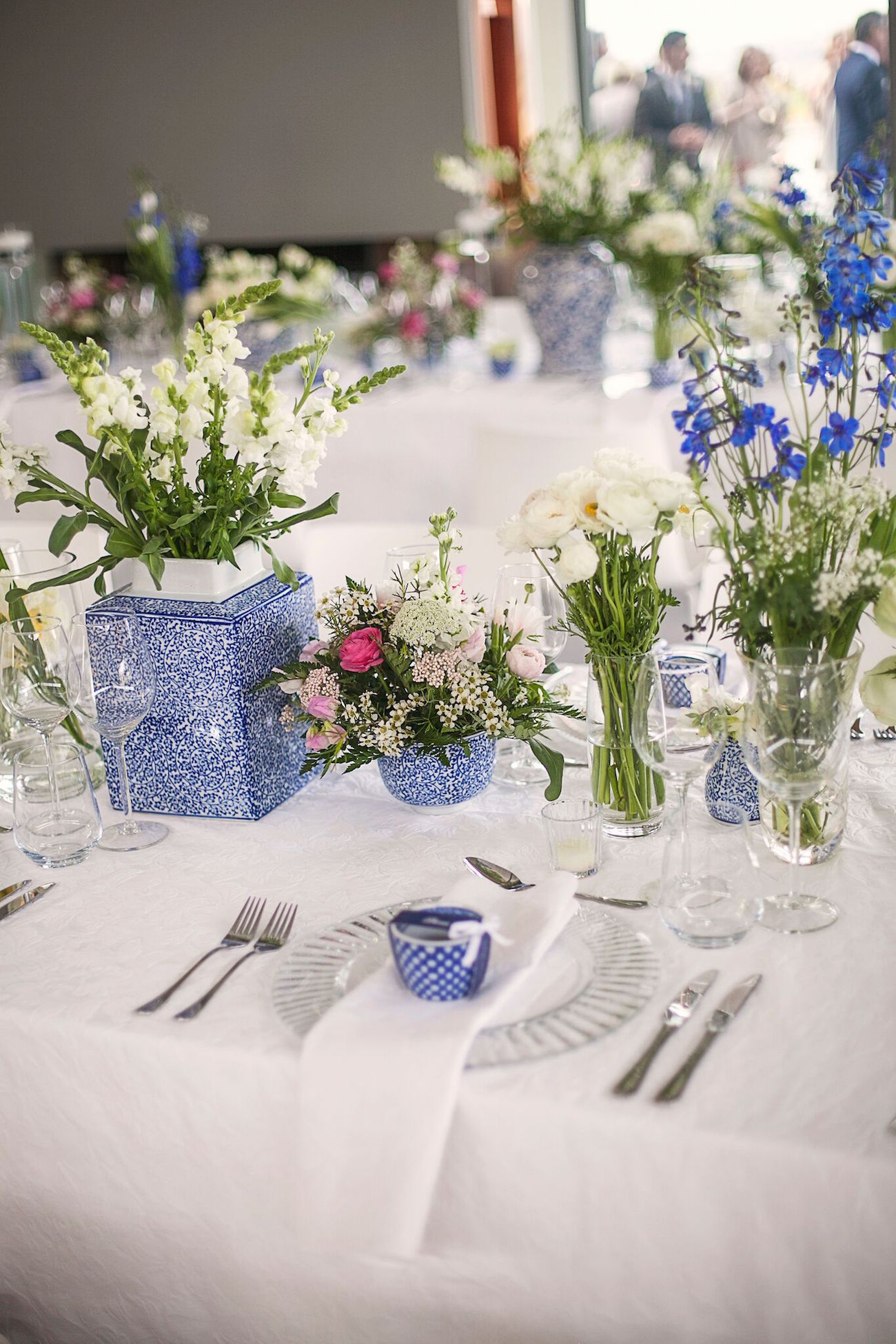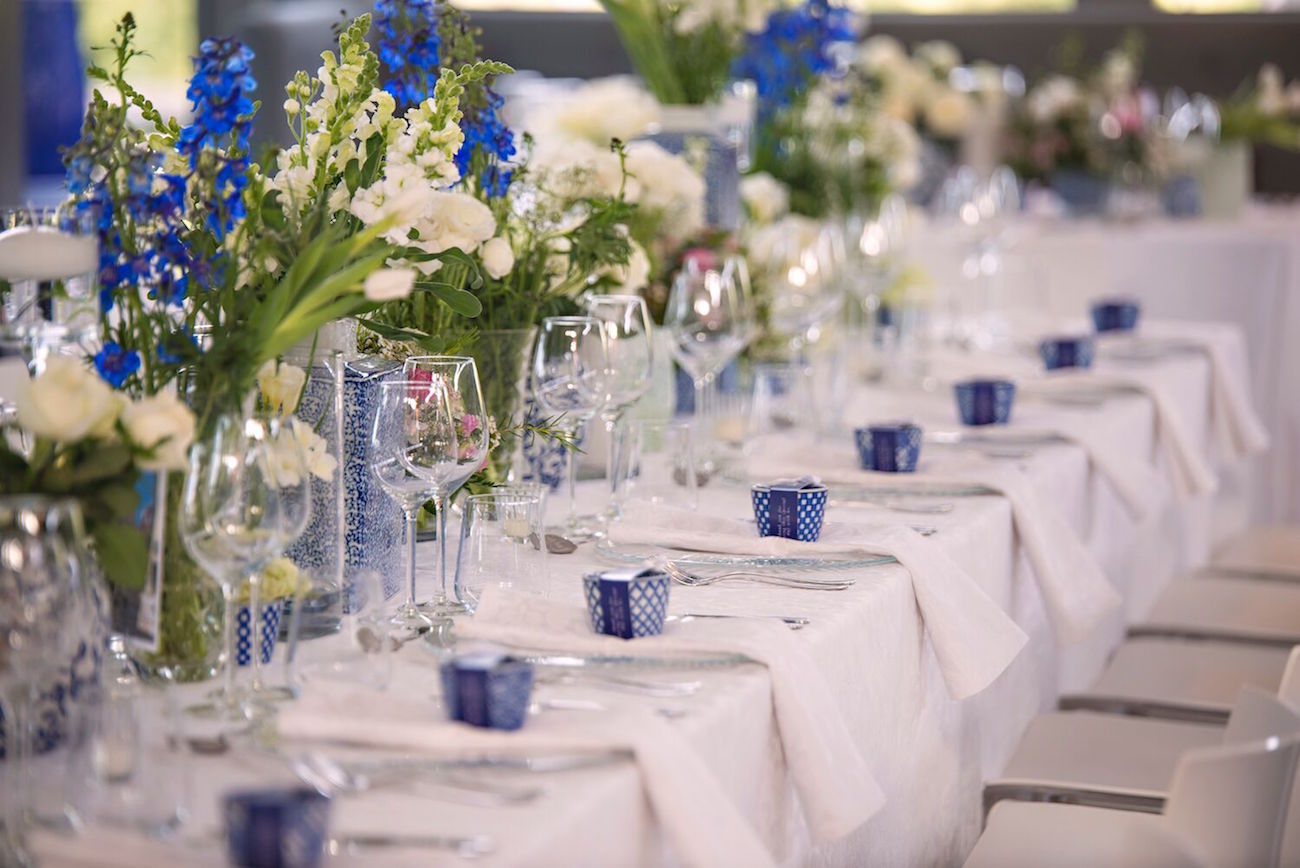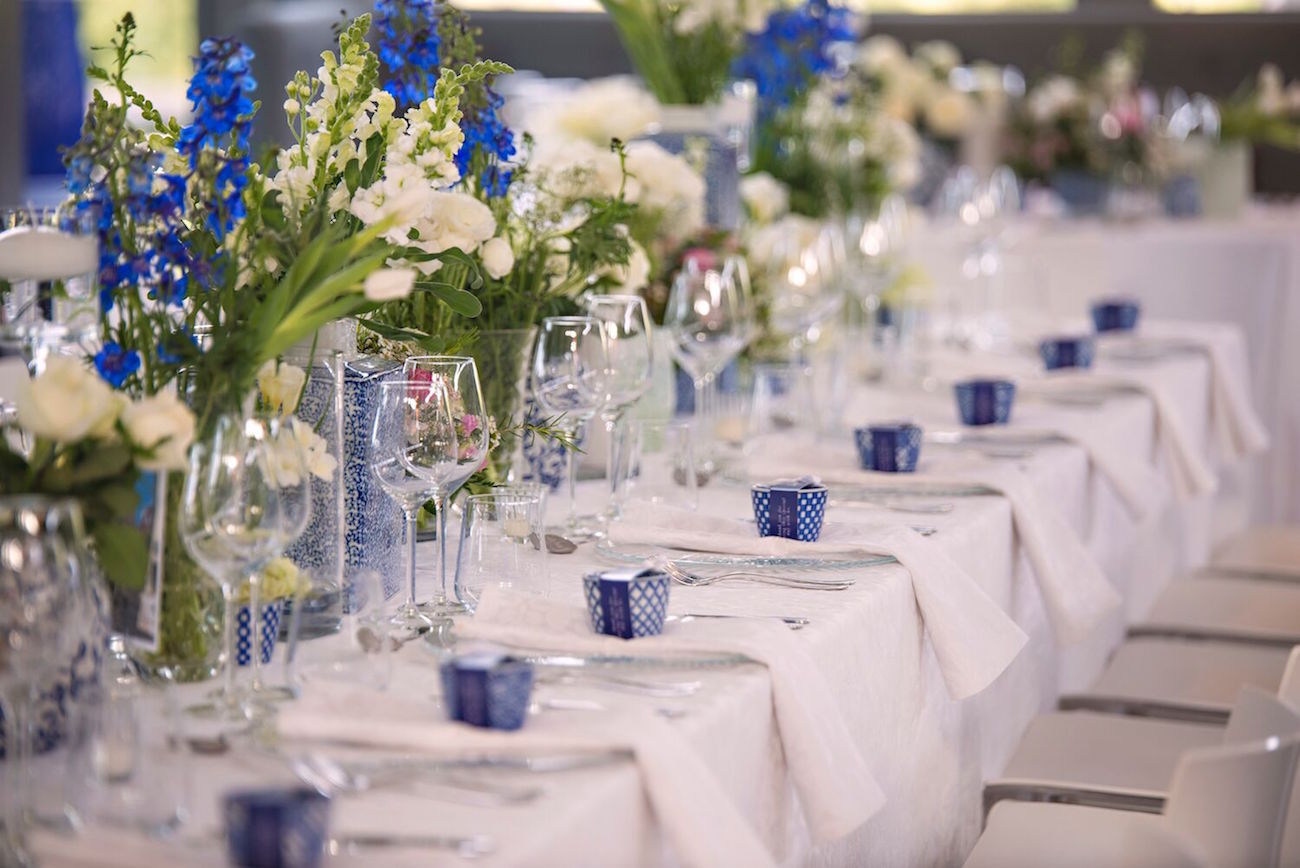 The Flowers
Anything white. Literally! I had so much fun looking at every spring flower that would be available at that time of year. Koos, my florist, was amazing and I think he had as much fun as I did and it couldn't have looked better. The only thing I wish I had had was peonies, but they weren't in season – I should've planned my wedding date around them!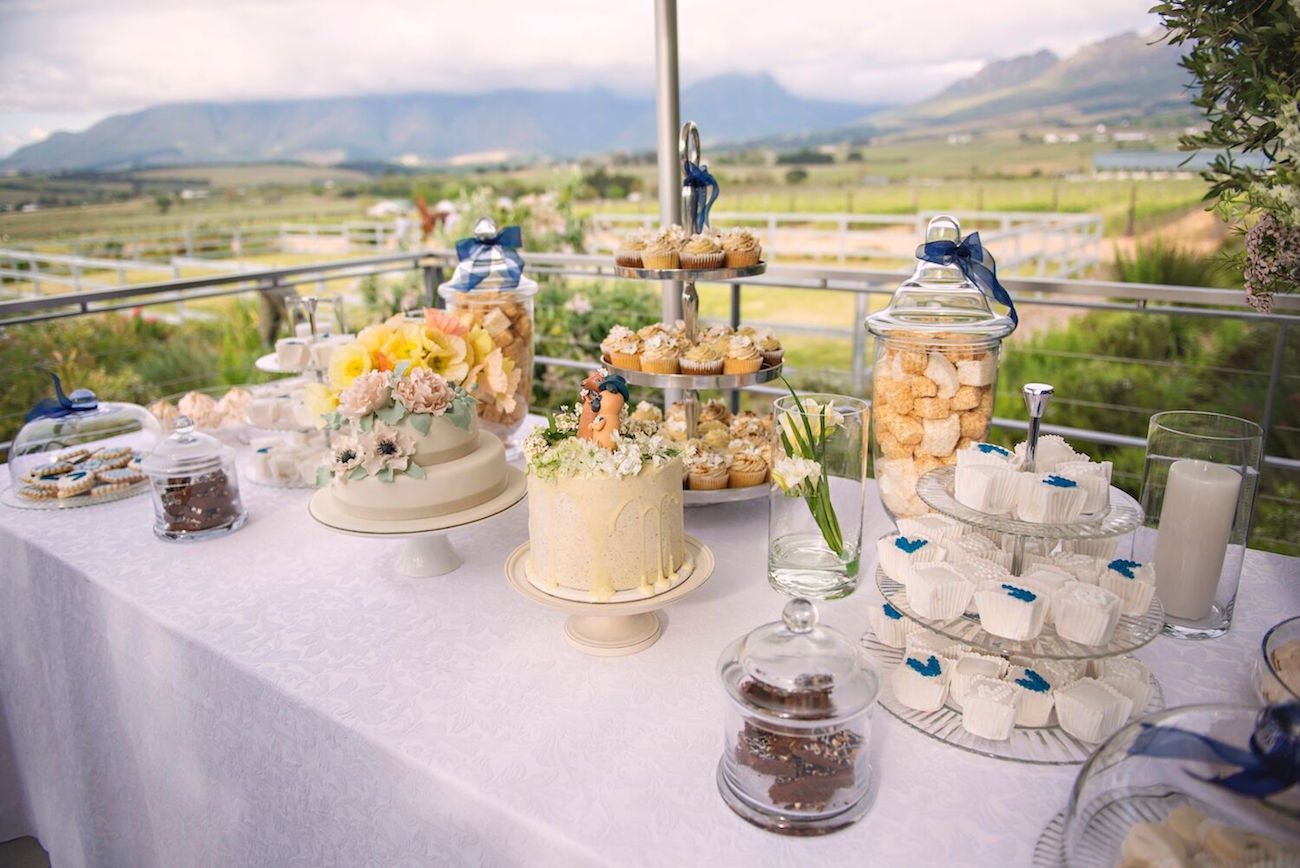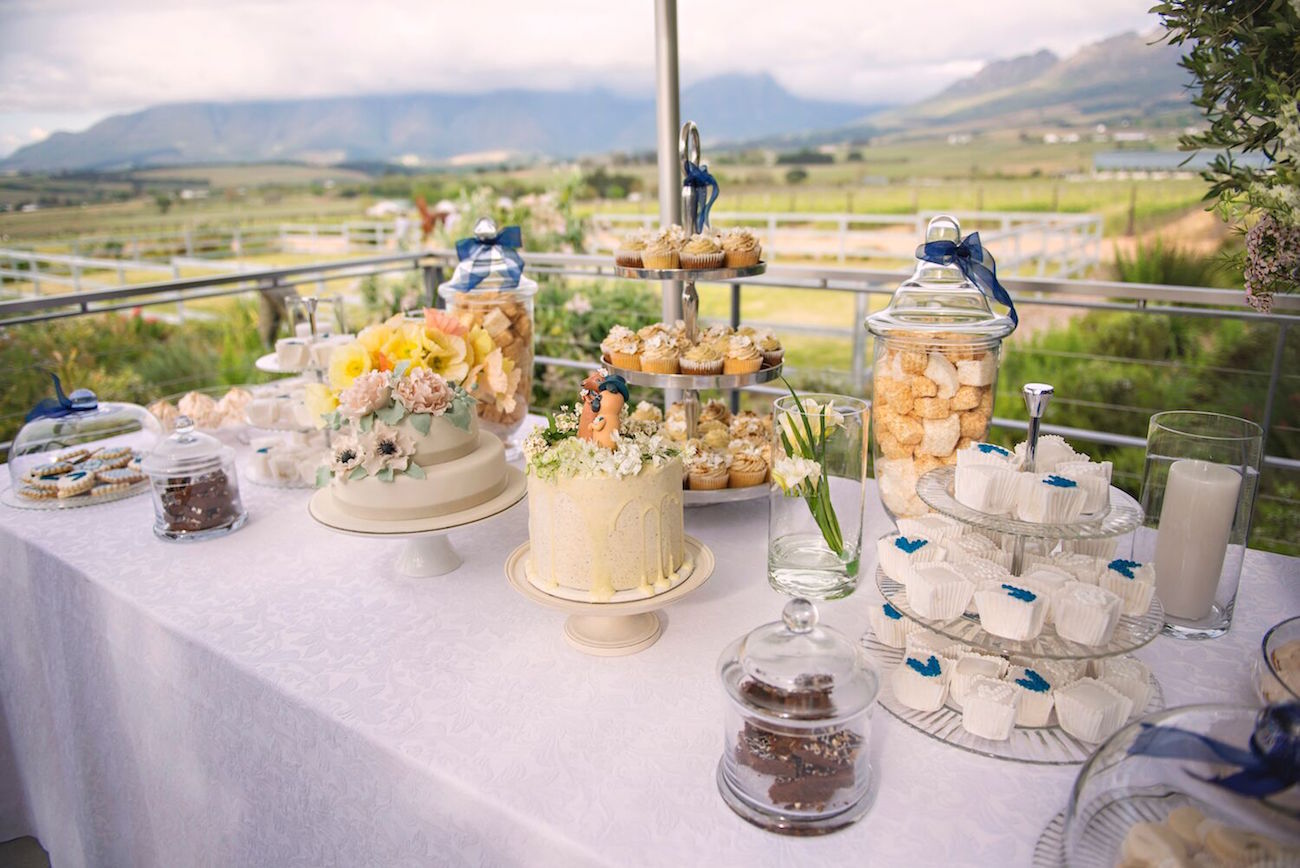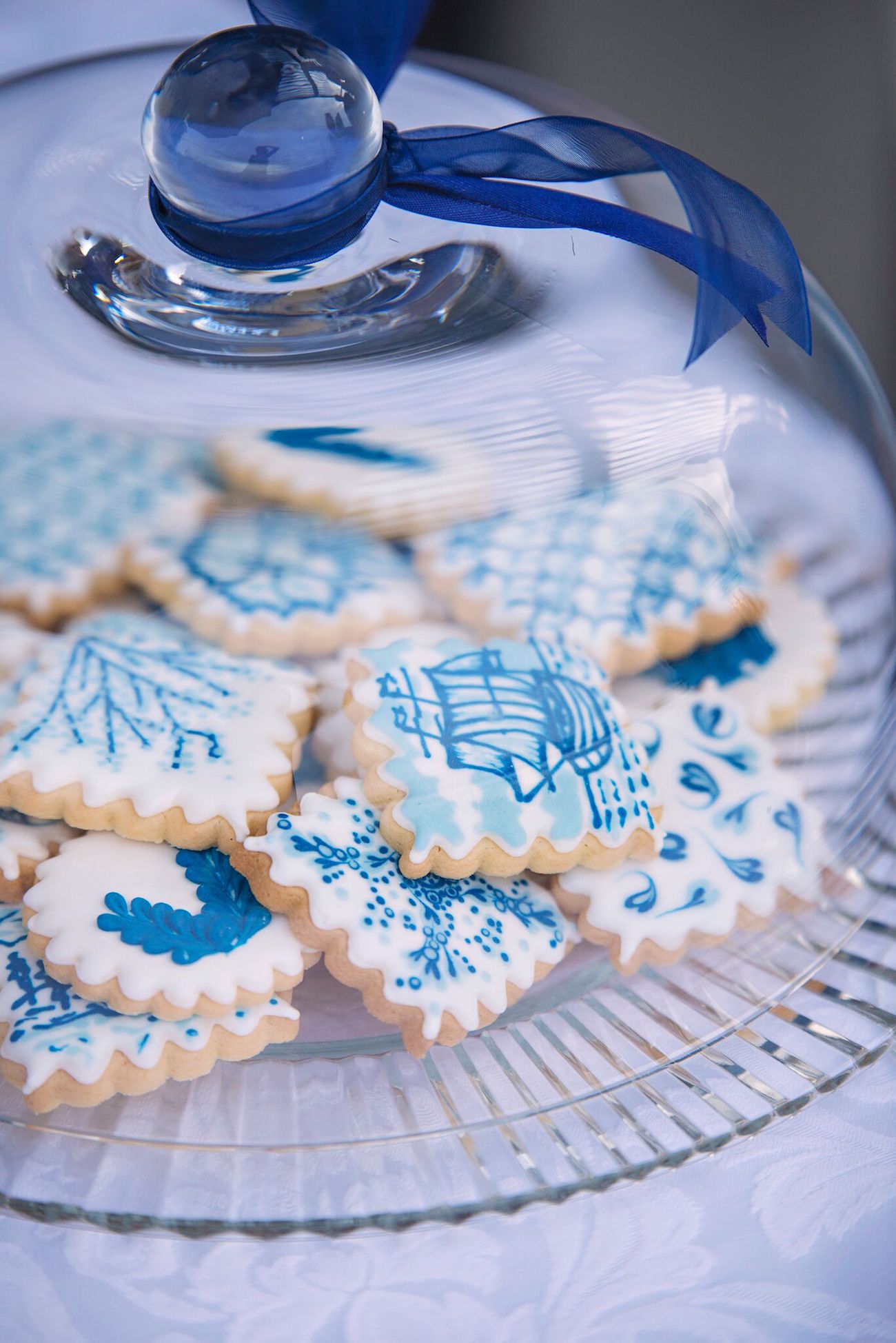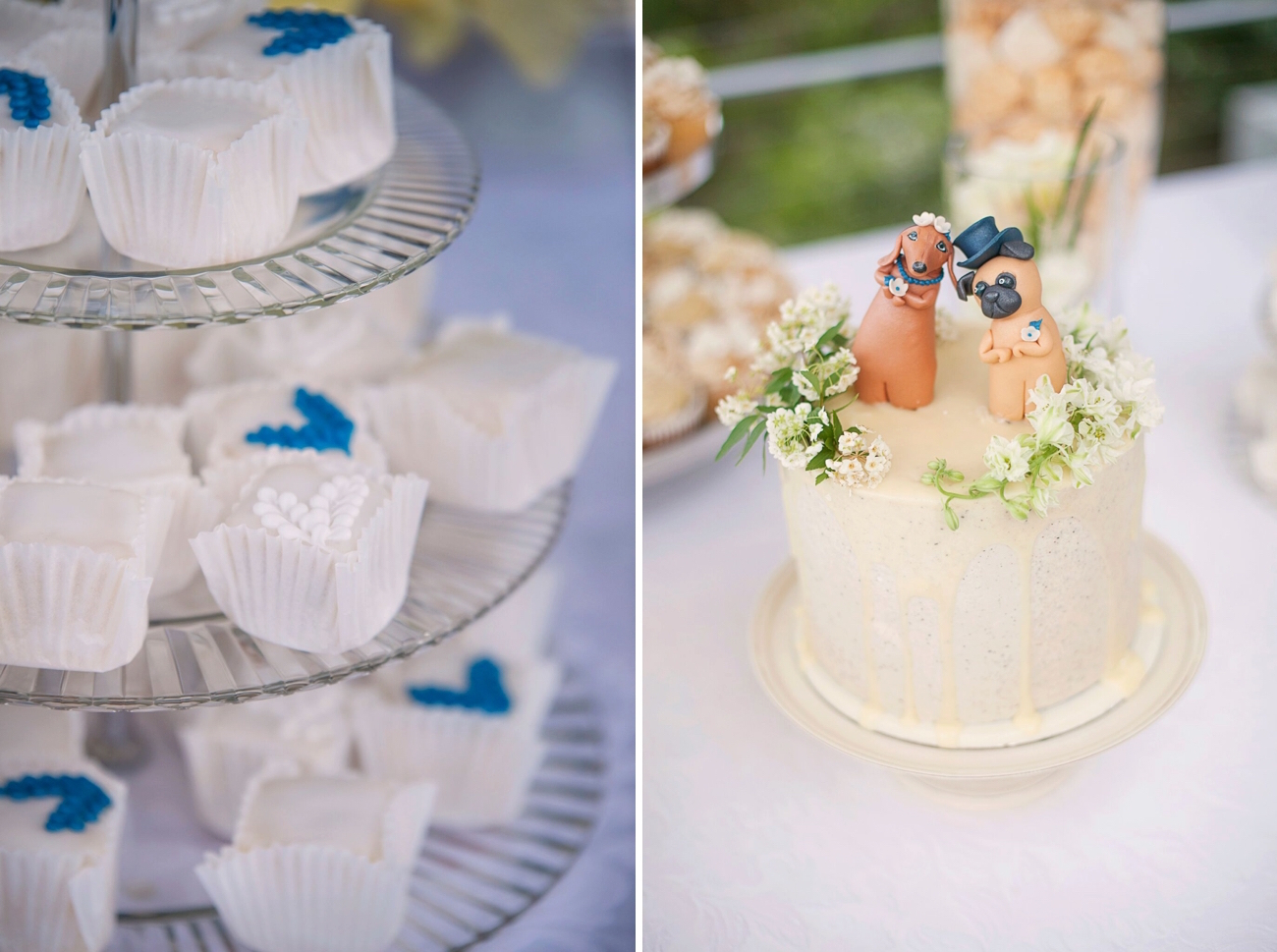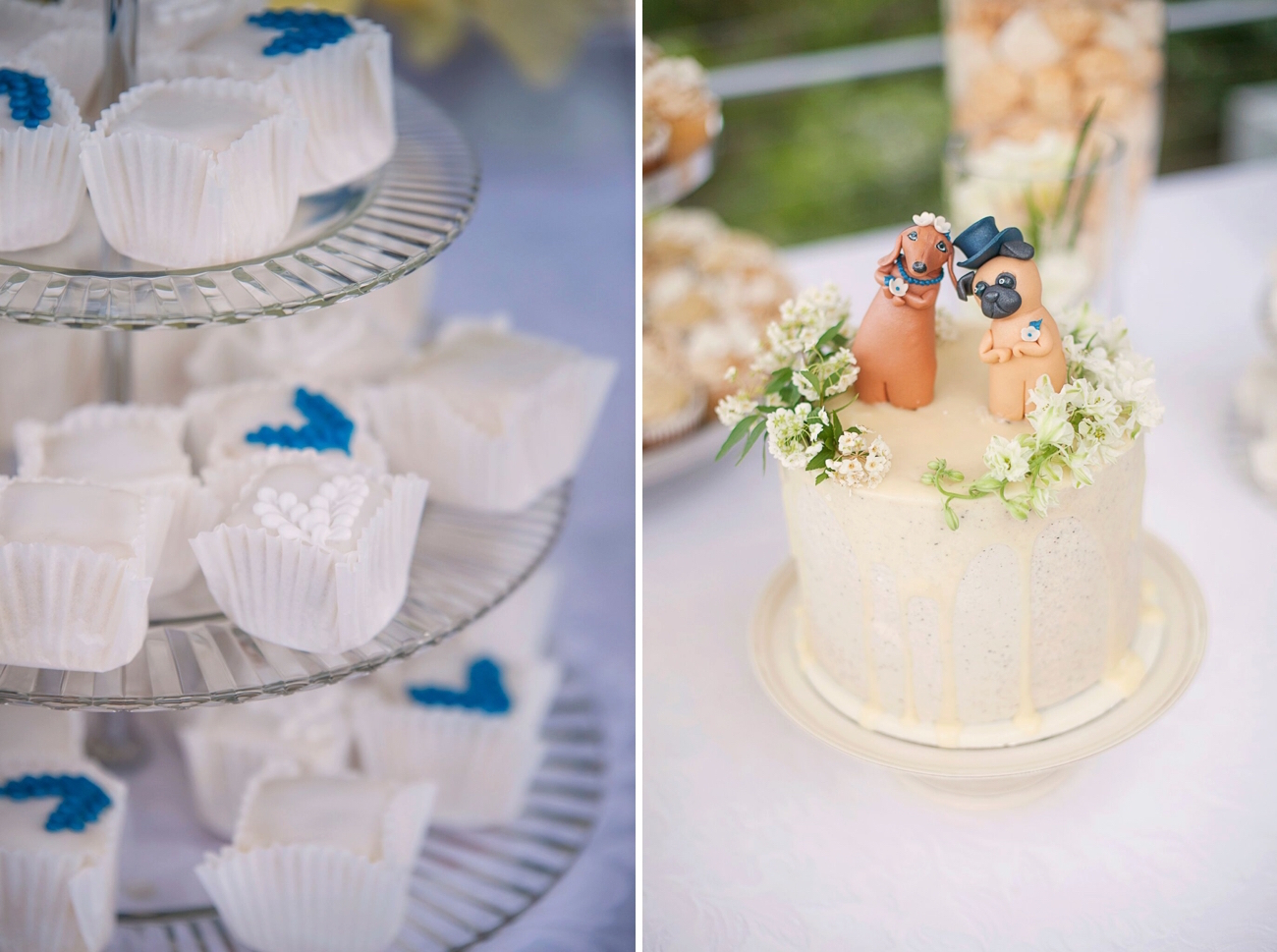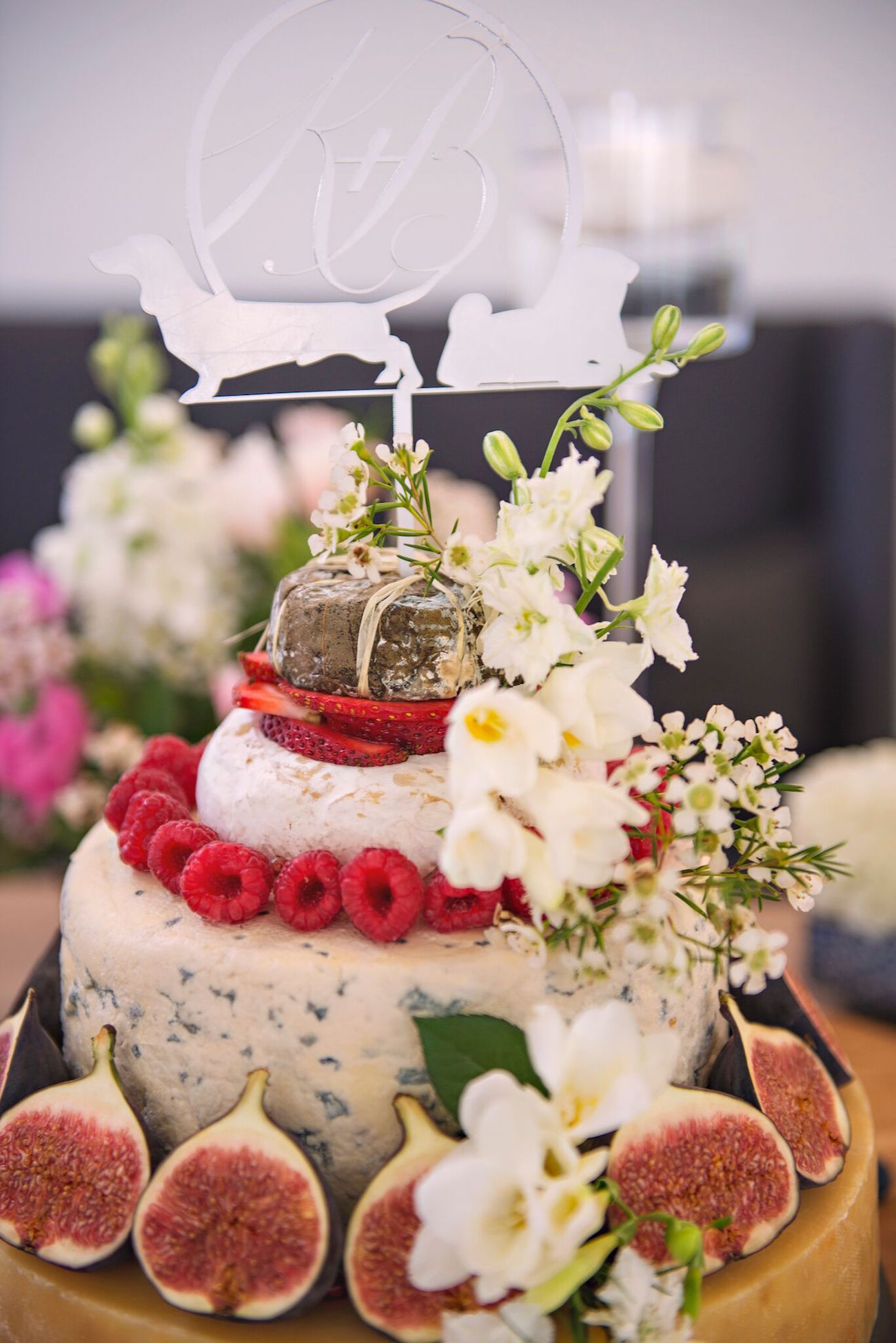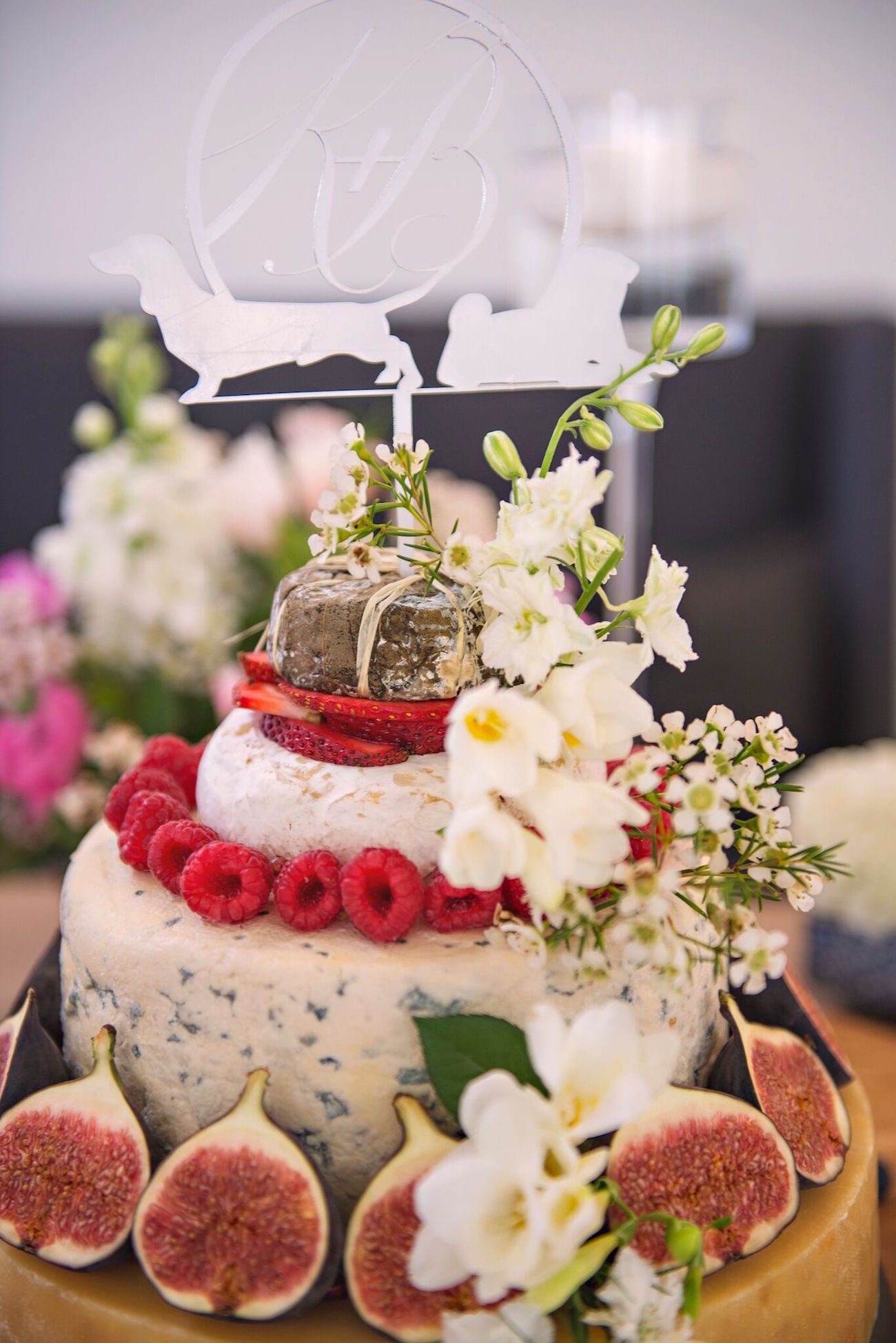 Memorable Moments
Probably the moment when it all sunk in. I was so late and getting really stressed while we were getting ready and it was such a rush getting to the venue but once I was able to relax and heard the bagpipes start to play my wedding march I knew it was a moment I would never forget. The reception was also magical. Actually, everything went off perfectly and I couldn't have asked for a better day! At the reception, my mom, mom-in-law and their friends did a 'flash mob' to Abba's 'Dancing Queen'. It was the perfect way to end off the evening and we absolutely loved it!
Proudly South African Details
Living in Cape Town, is there anything more proudly South African than a good glass of South African wine? We loved Cavalli's wine but also enjoyed shopping around for various options for the bubbly. One weekend Brandon and I went to almost every Pick 'n Pay within a 60km radius of Cape Town to hunt down our chosen bubbly (Morgenhof and Groote Post). It was a fun experience and I think the guests enjoyed the results.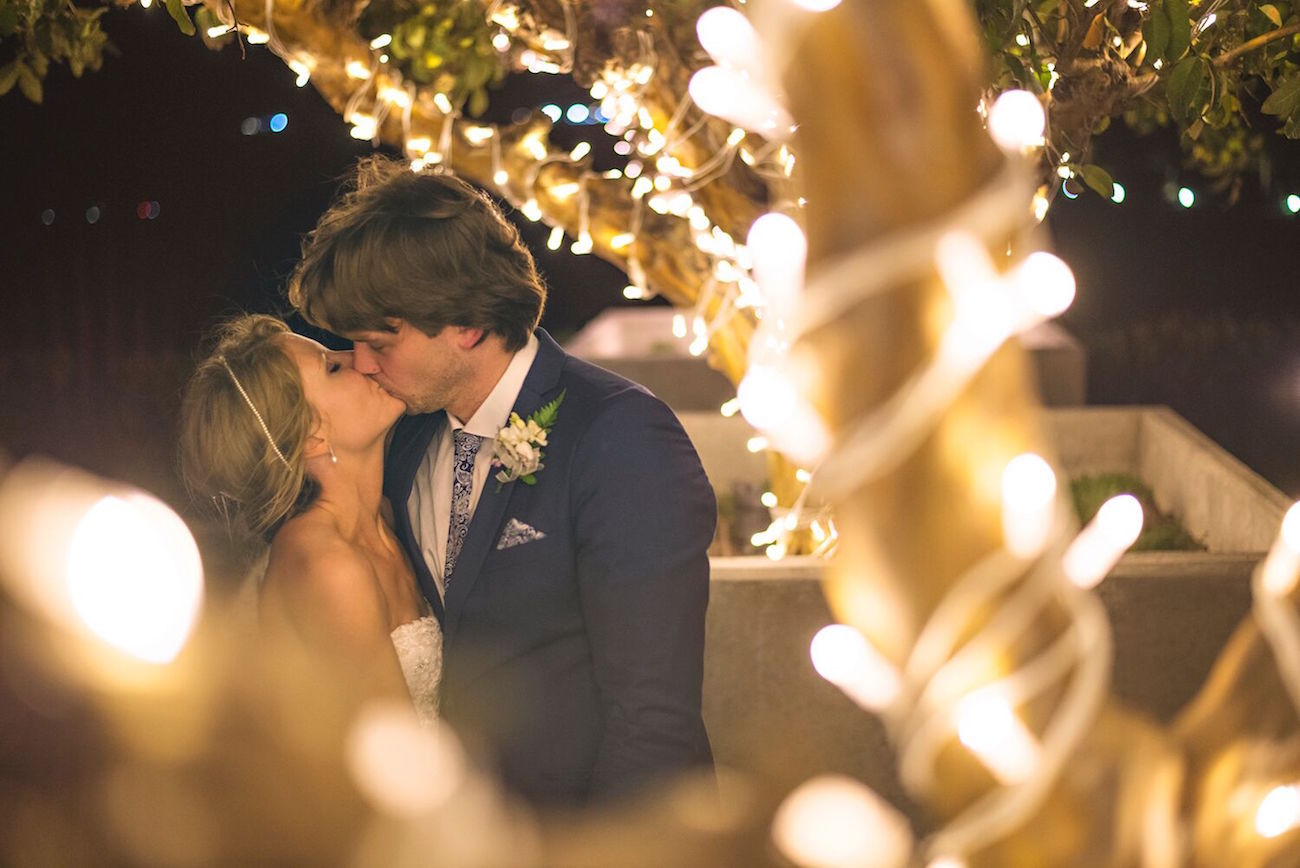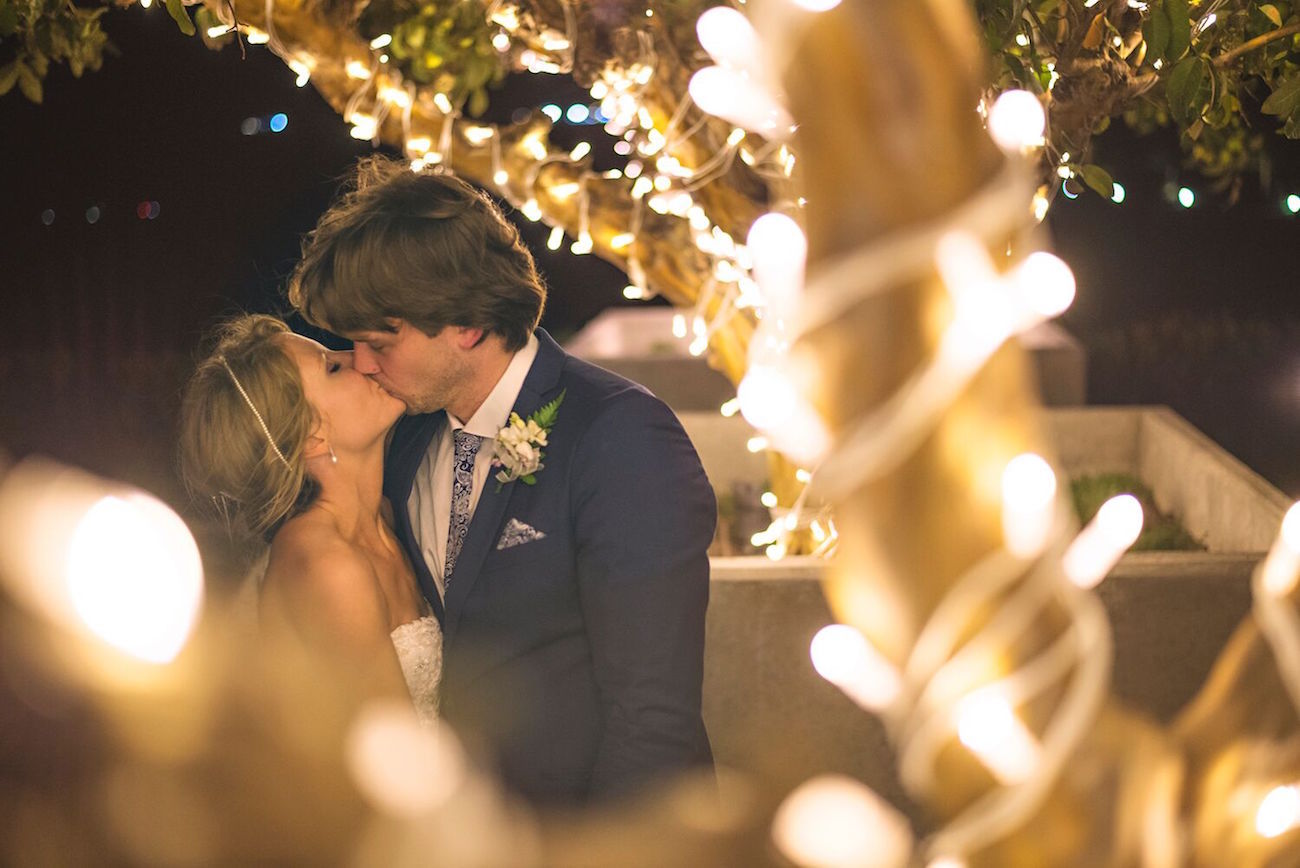 Best Decision
I think giving ourselves lots of time to plan was such a help. We decided what we wanted from very early on and managed to tick off a "to do" box each week so by the time the wedding came, we were organised and ready to go. Each and every element came out just as we envisioned – from the photographer to the music to the flowers, we couldn't have been happier.
Advice for Future Brides & Grooms
Plan ahead and look around. You don't always need to go with the most well known service provider; we mailed so many people for quotes and info and managed to stay in budget yet still have a fabulous wedding day. But most of all, by the time the day comes around, just relax and enjoy it! It doesn't matter if every detail didn't look like it did in your head, this day comes around once so laugh, dance and take a look at the person you married, they're the reason you're there.
You can see more from this wedding on Lindy Truter's blog.
SERVICE PROVIDERS
Venue & catering: Cavalli Wine and Stud Farm | Photography: Lindy Truter | Flowers & décor: Koos Myburgh | Video: Ebert Steyn | Stationery: Blooming Wonderful | Cake: Roxanne Floquet | Bride's dress: Kobus Dippenaar at Calegra | Bride's accessories: Kathleen Barry | Groom's attire: Tiger of Sweden | Hiring: Blooming Wonderful + Koos Myburgh | DJ: Shout Music | Cheese Wheel Cake: Culture Club Cheese