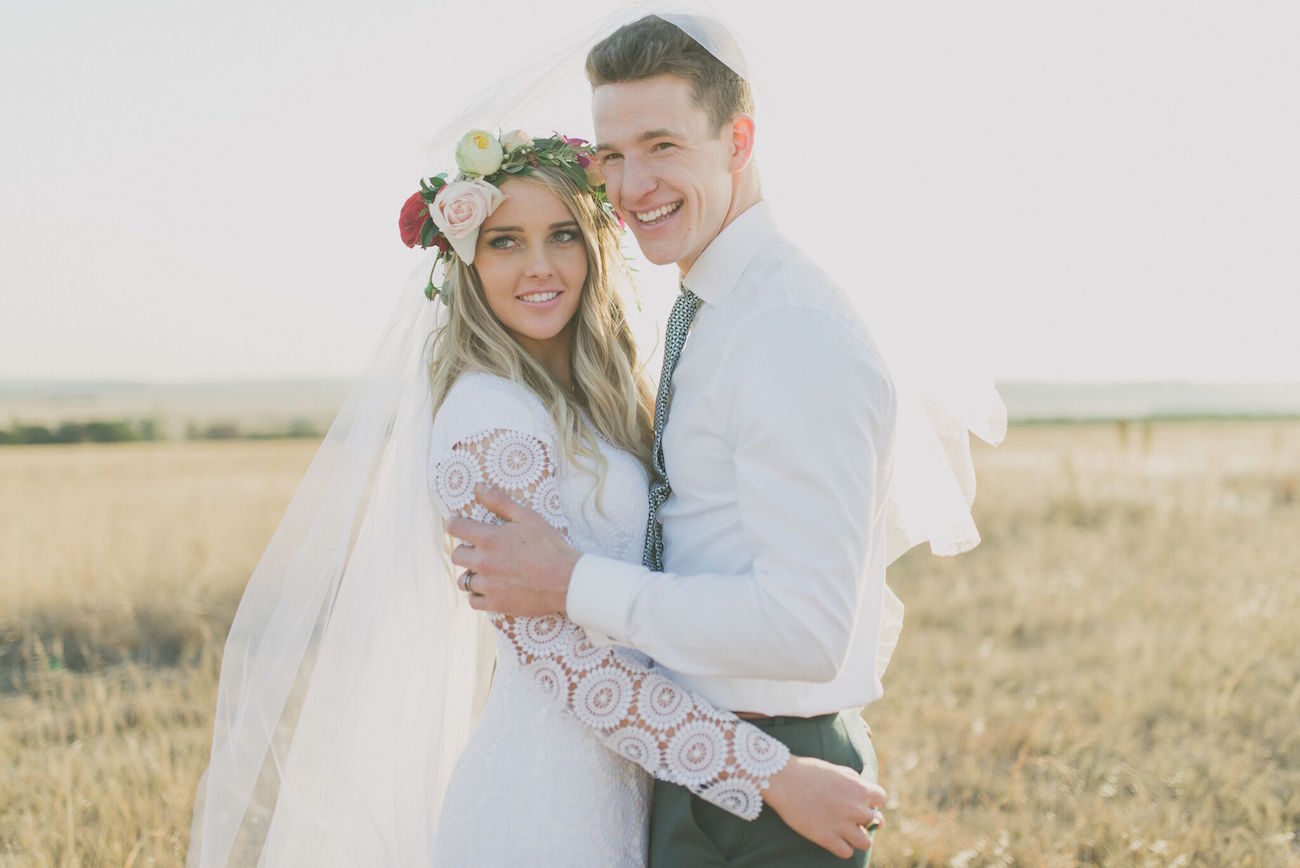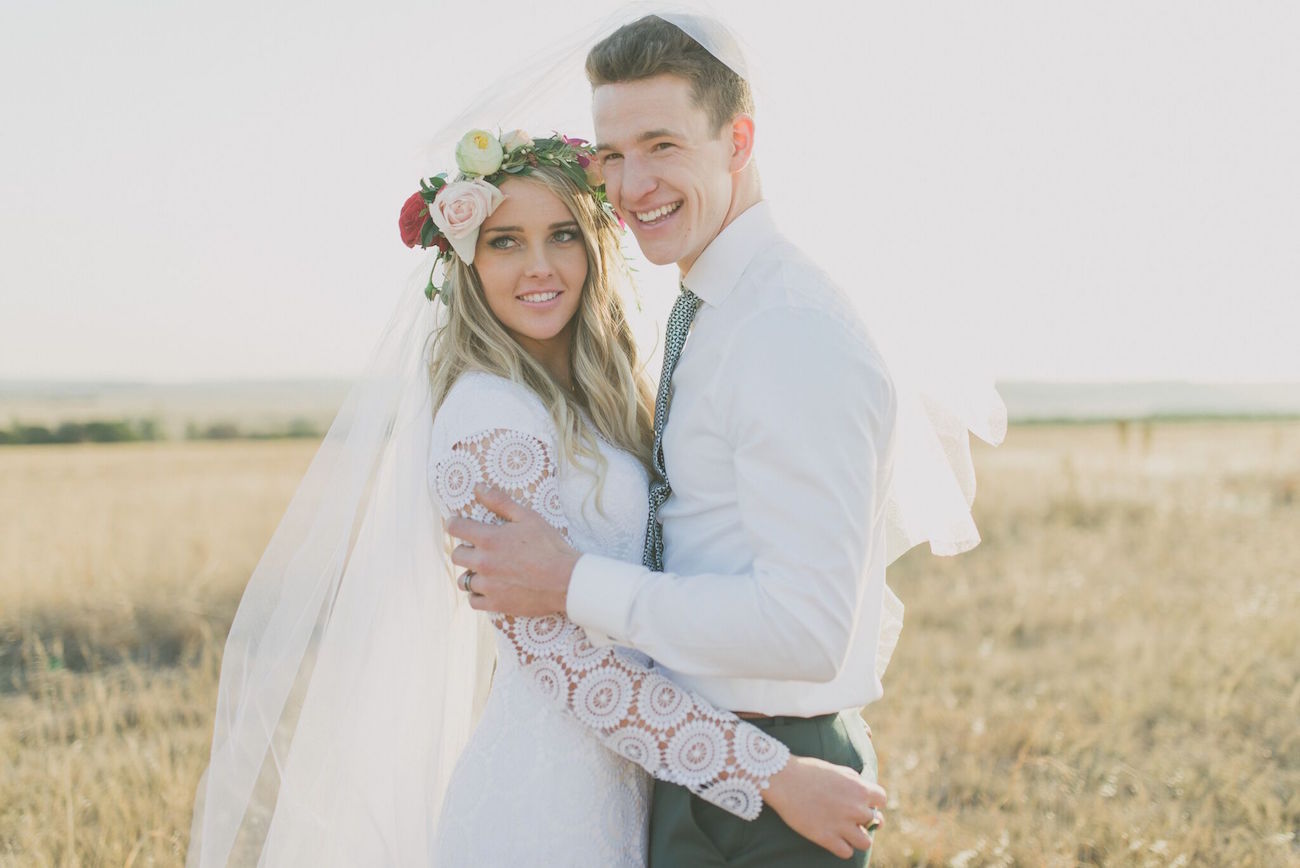 One of the things I love about editing SouthBound Bride is that I get to hear the most amazing love stories from couples, many of whom come from completely different places, and it's like the world conspires to somehow, through a series of events, have them meet and fall in love (what tells you I'm a huge romantic, eh?). Jaydene and David are one of these couples, whose unlikely meeting happened thanks to David's Mormon mission to South Africa, and progressed in the old fashioned way through heartfelt correspondence while Jaydene was on her mission. Together at last, they celebrated the second day of their wedding weekend with family and friends in the proudly South African surroundings of Harmonie Proteas, where Jaydene and her mother built a boho fantasy forest setting for their vows and reception, using some of the bride's favourite things. And goodness, but Jaydene made a gorgeous bride in her custom lace sleeve gown, wow! With bridesmaids also in lace and flower crowns, the perfect rustic setting, and these pretty pics by Vicky Bergallo, it was a day to remember!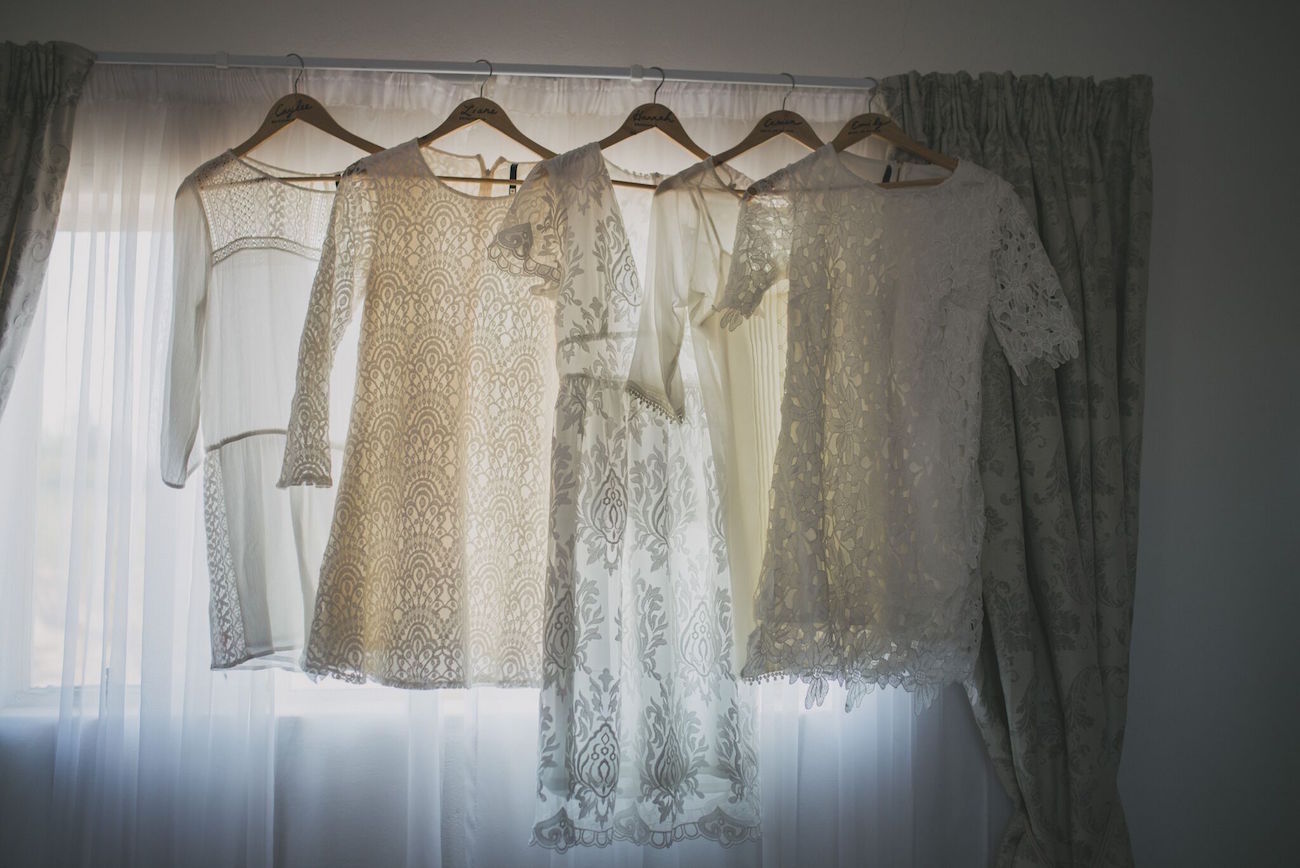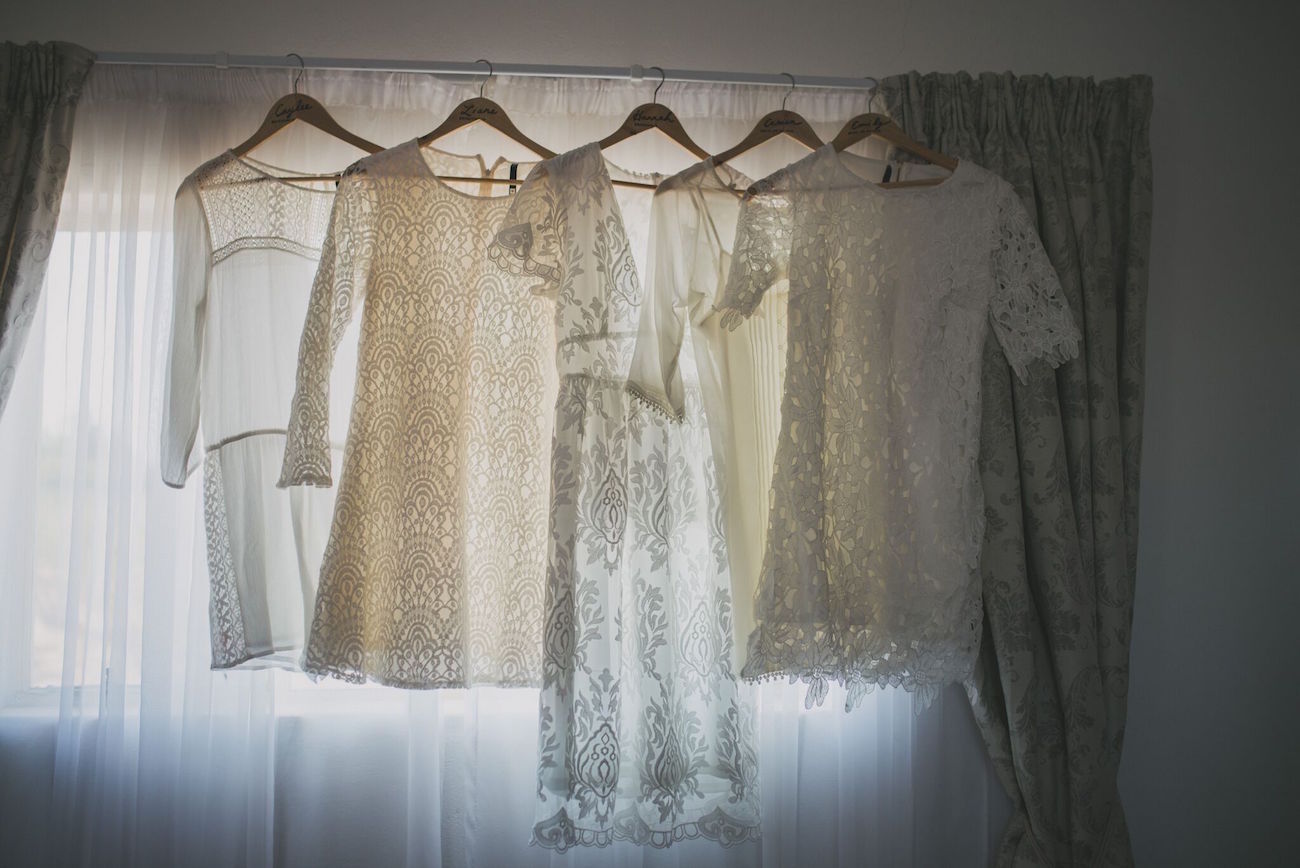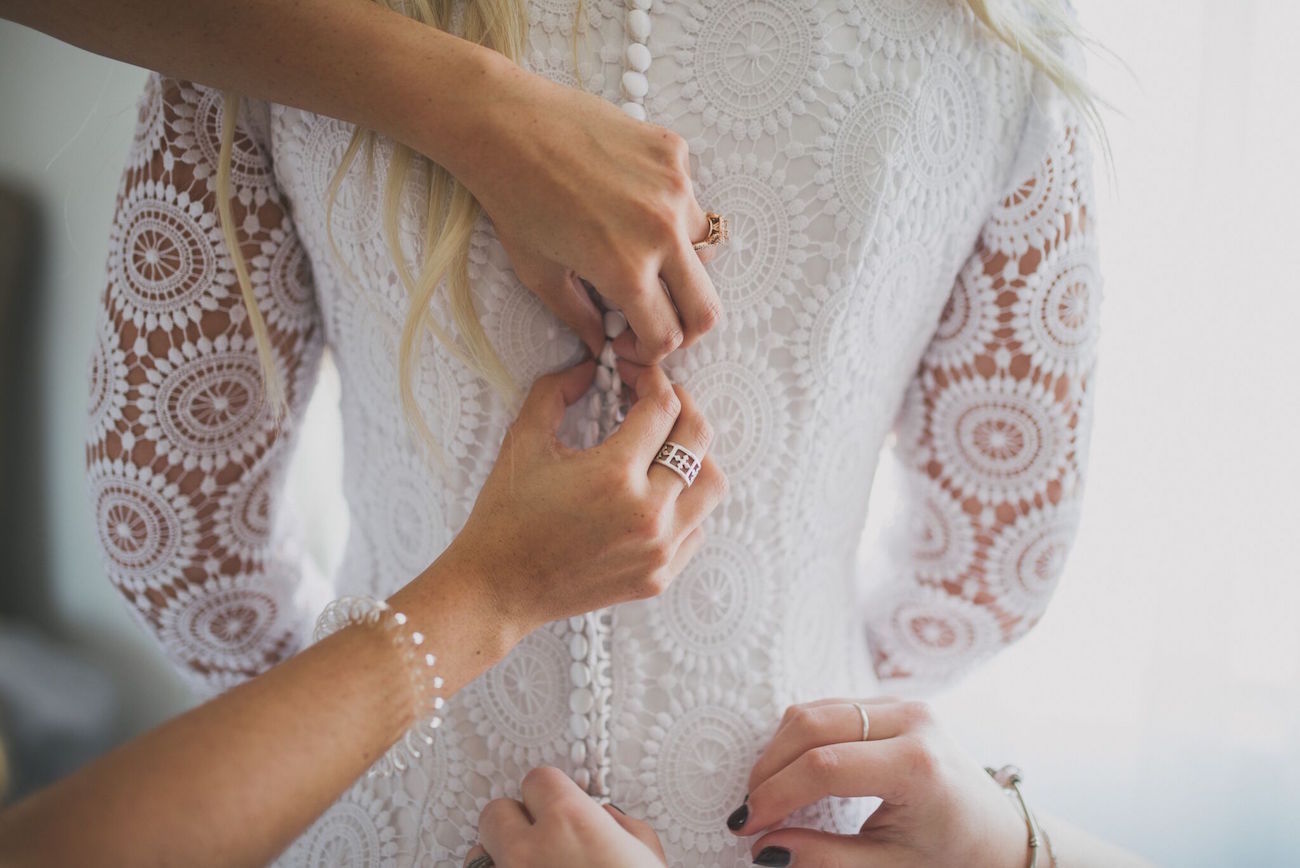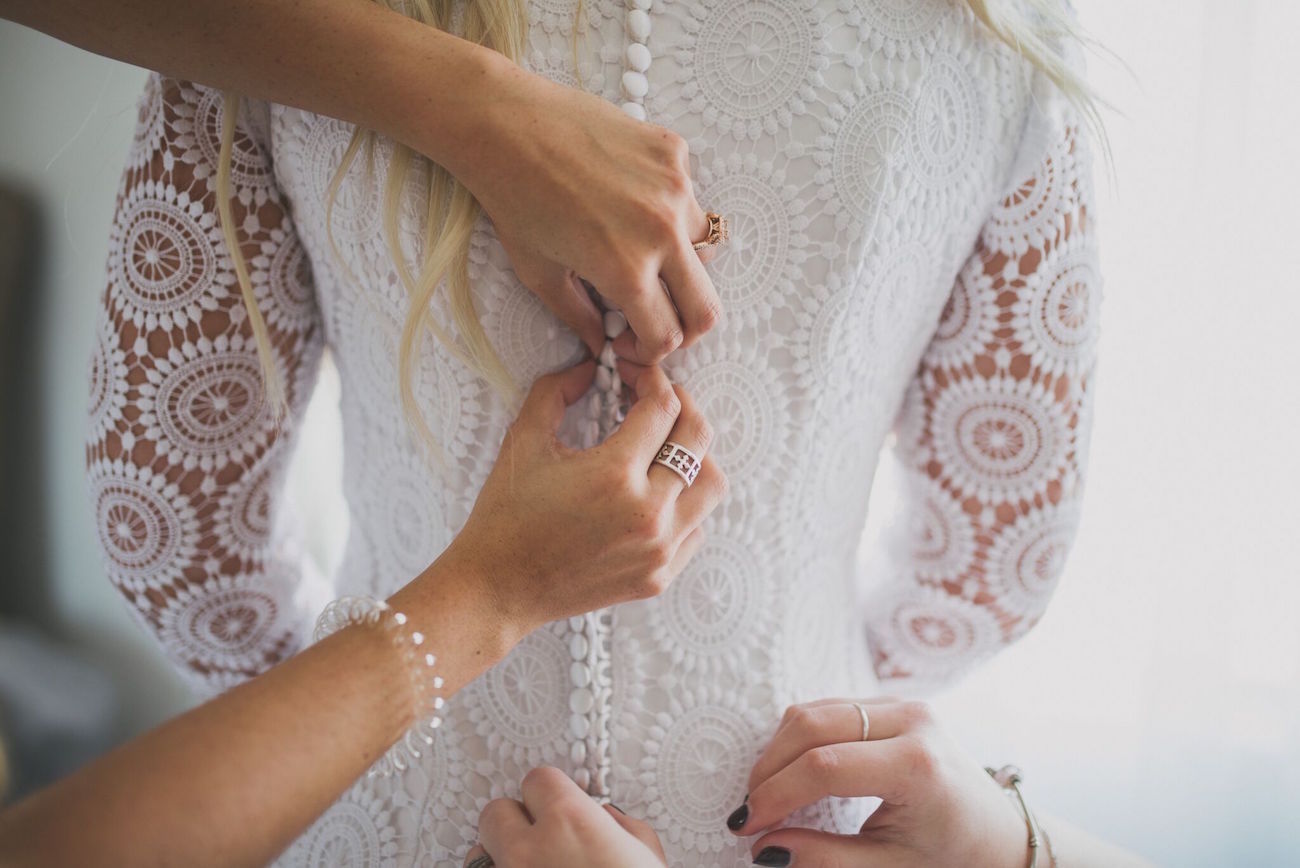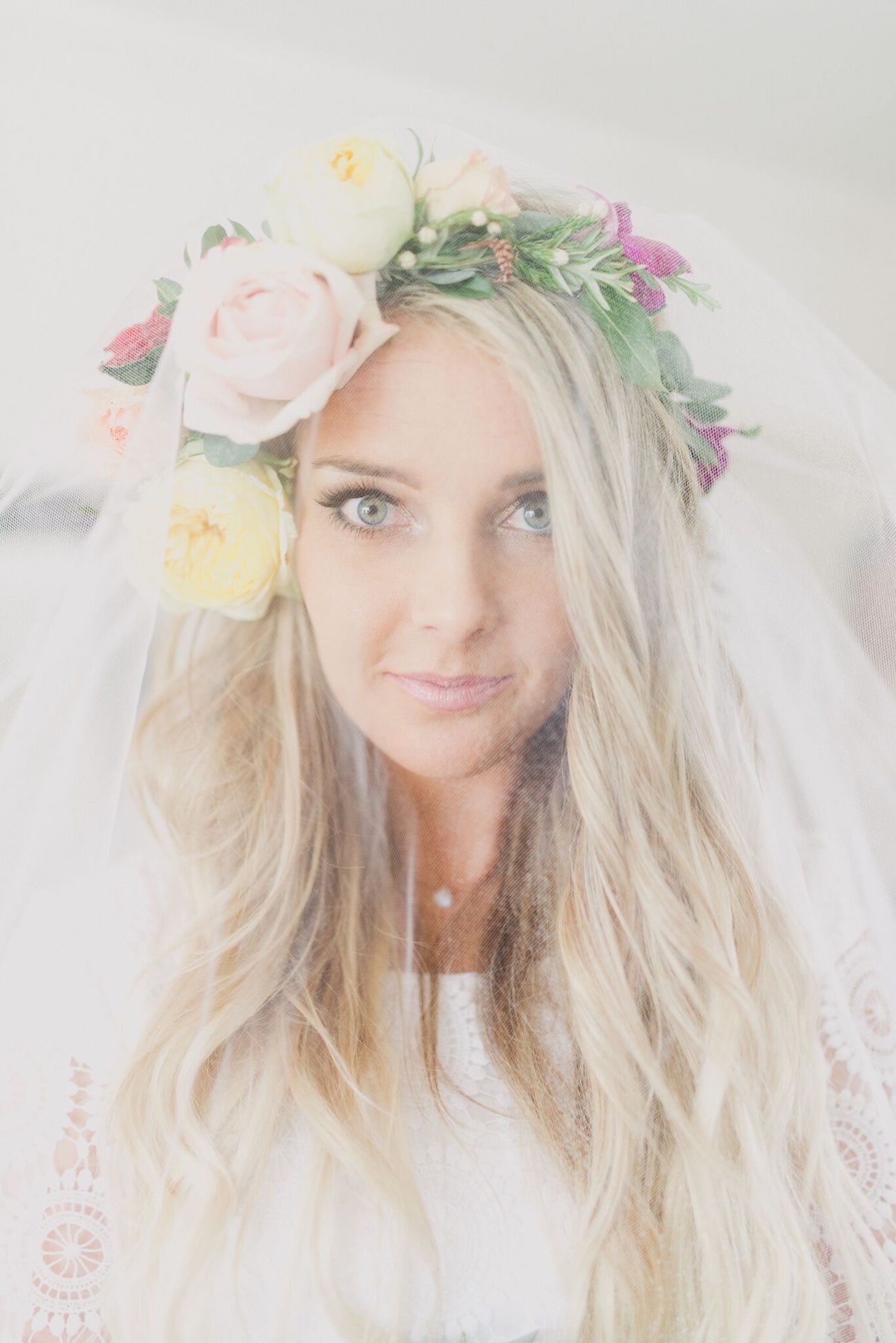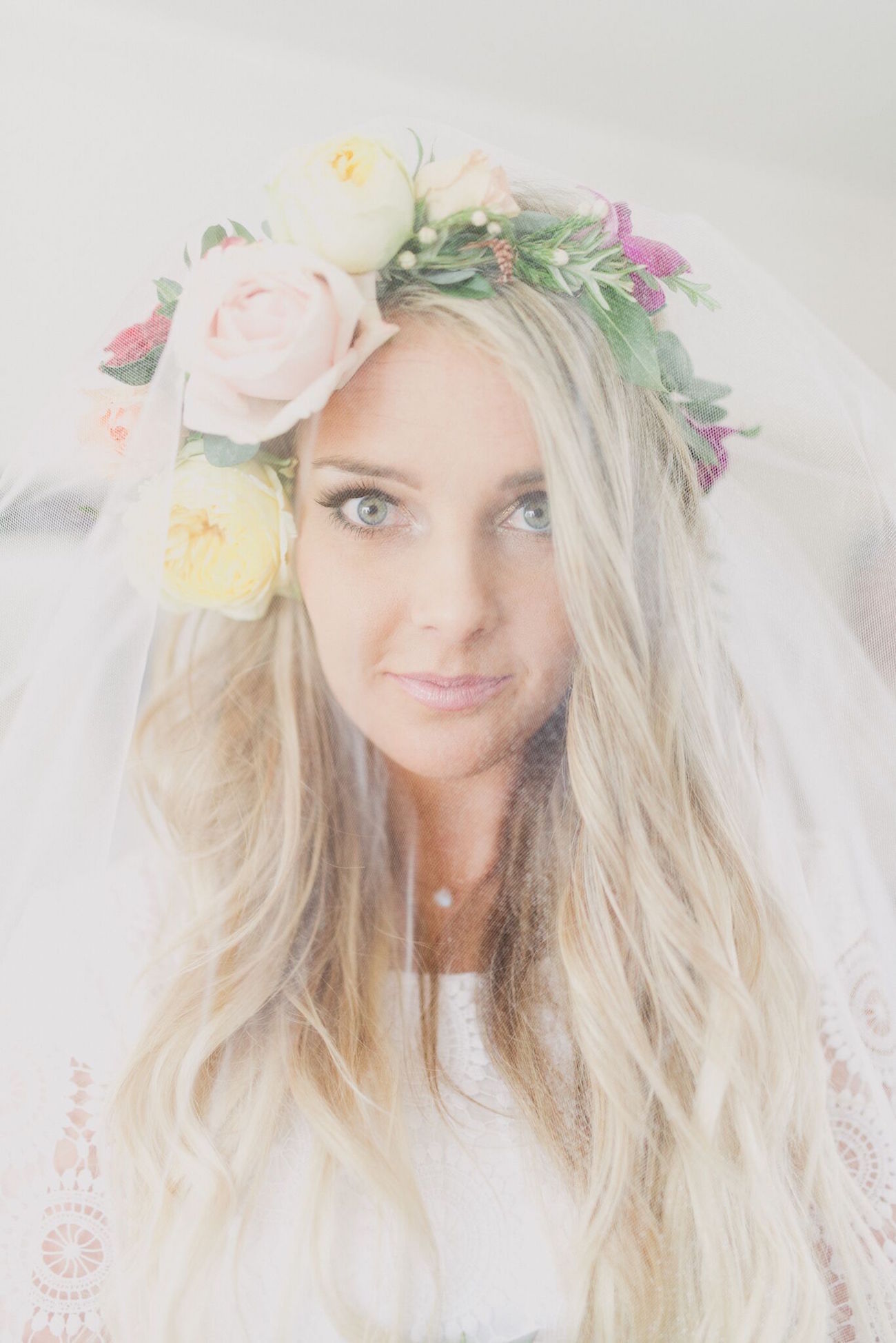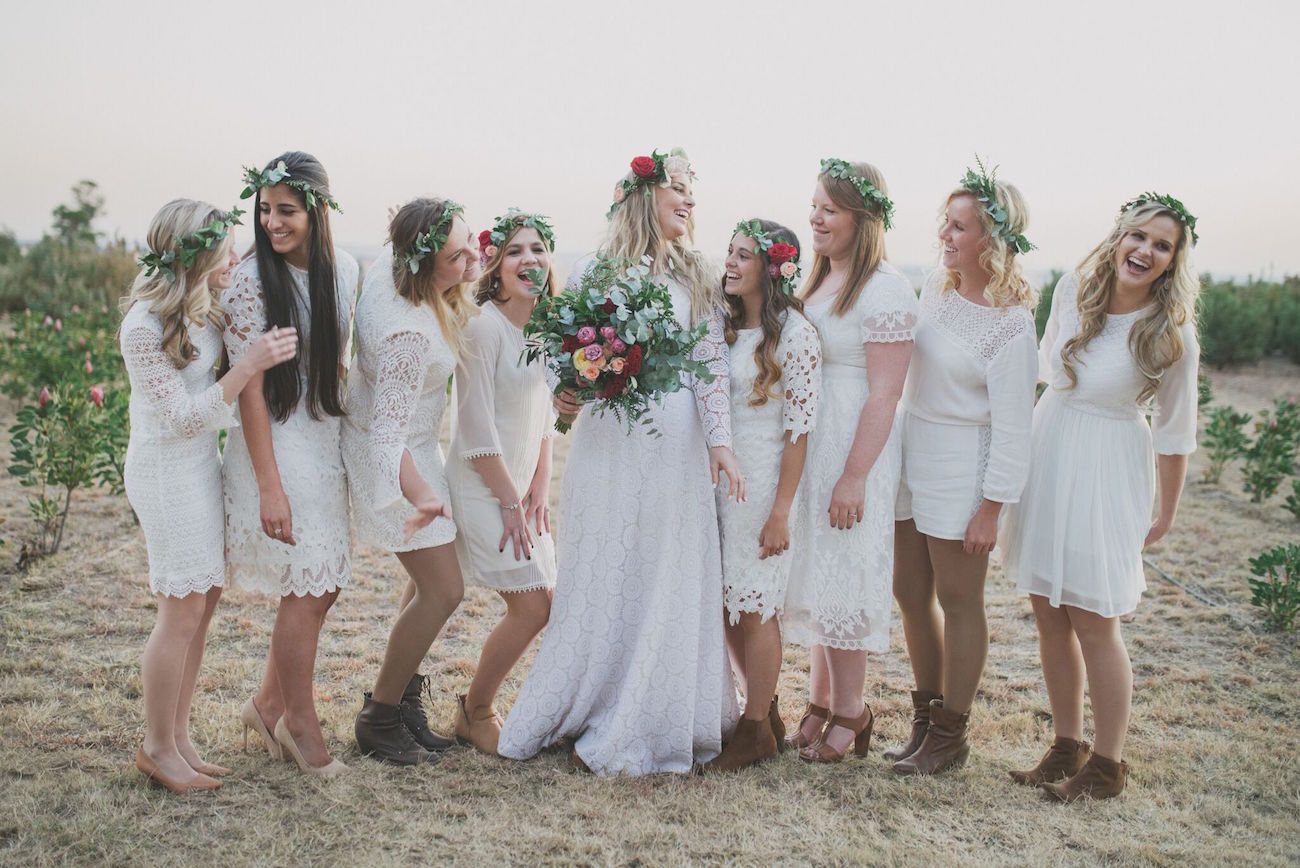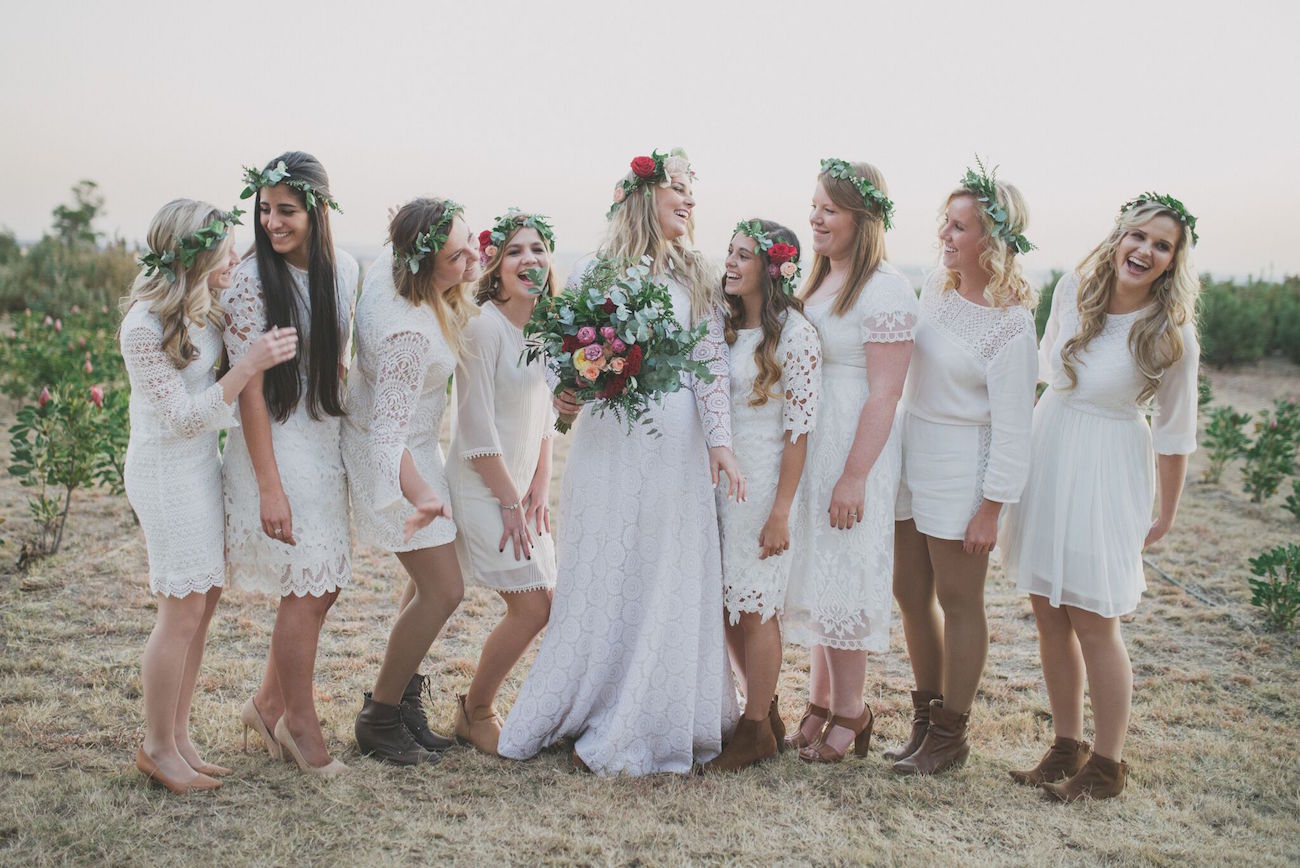 Love Story
David and I believe strongly in serendipity – when seemingly random events coincide to bring you exactly what you need the moment you need it. In 2012, David came to South Africa to volunteer as a missionary for our church, the Church of Jesus Christ of Latter Day Saints. He could have been sent anywhere, but arrived in the area of Johannesburg that I come from. During his two years there, we developed a special friendship. I knew he was different and that I felt a connection to him that I had never felt before – I even told my mom and brother that I was going to marry him one day! His focus was his full time missionary service, so our relationship stayed as a friendship. A few months before he returned to England, I decided to also serve a voluntary mission and was sent to Ohio, USA. During that time, our only communication was emailing once a week, but our feelings grew, and I hoped and prayed it would work out. I came home in November 2015, and a few days later we had our first of many FaceTime calls! A few weeks later, David booked a massively expensive last minute ticket to South Africa to spend his only seven days of leave, and a few days after that we had our long awaited first kiss and could finally tell each other we loved each other. After many teary airport goodbyes and six months of long distance, we had our perfect wedding weekend.
The Proposal
I really admire American Indian culture, so David surprised me by creating my ideal setting. He said we were just going for a walk, but there, in a forest in Northampton, England, he (with the help of family and friends) had a beautifully painted tipi set up next to a stream surrounded by trees, a fire, blankets and pillows, all my favourite snacks, candles and fairylights. With the sun setting, David got down on one knee and asked me to marry him. He gave me a heart ring that had his thumbprint engraved on it, as he wanted to surprise me but still wanted my input into the final ring. After we discussed it, David designed and had my ring custom made, and I ended up seeing it for the first time at the ring ceremony on our wedding day – it was definitely worth the wait!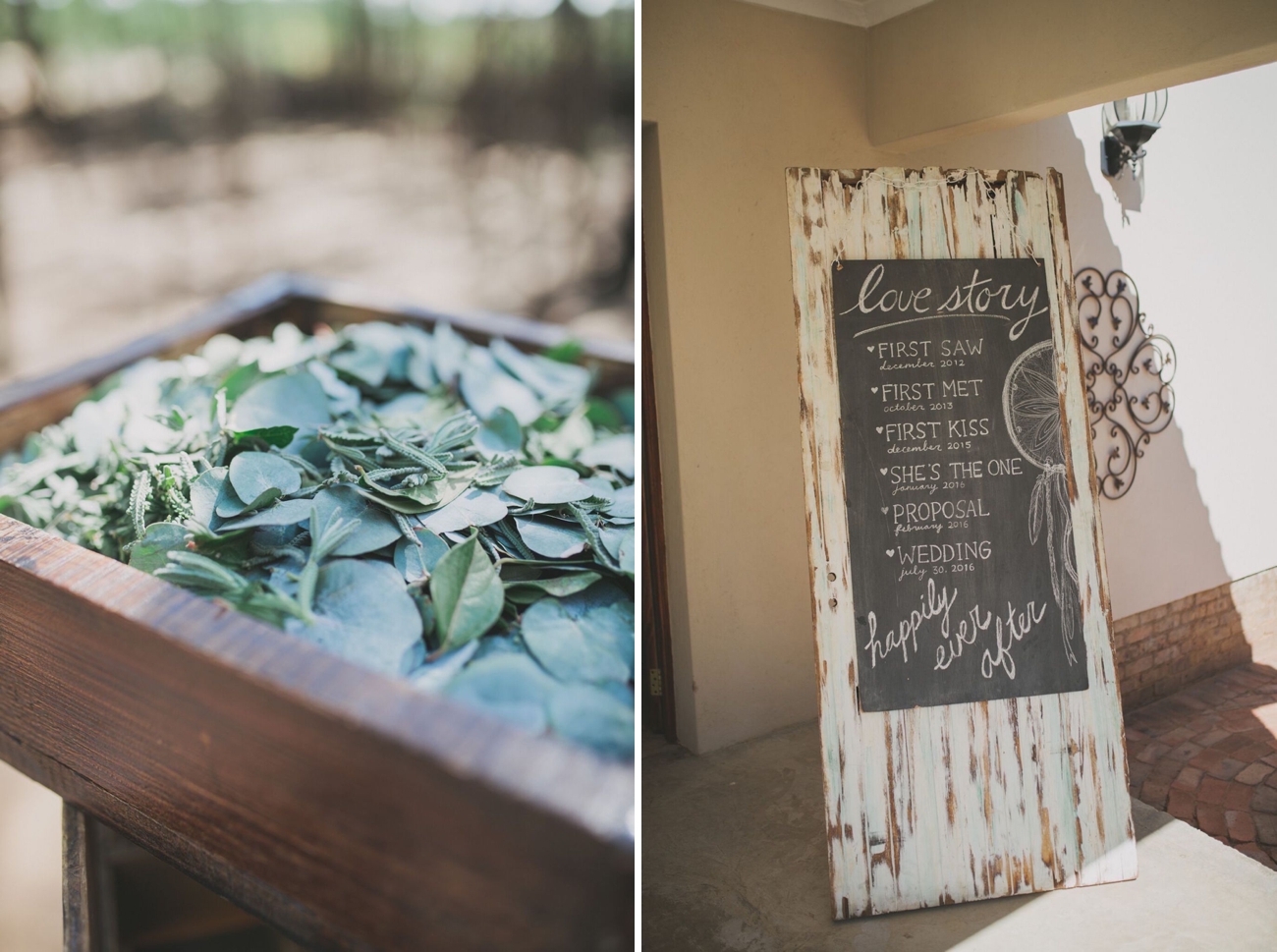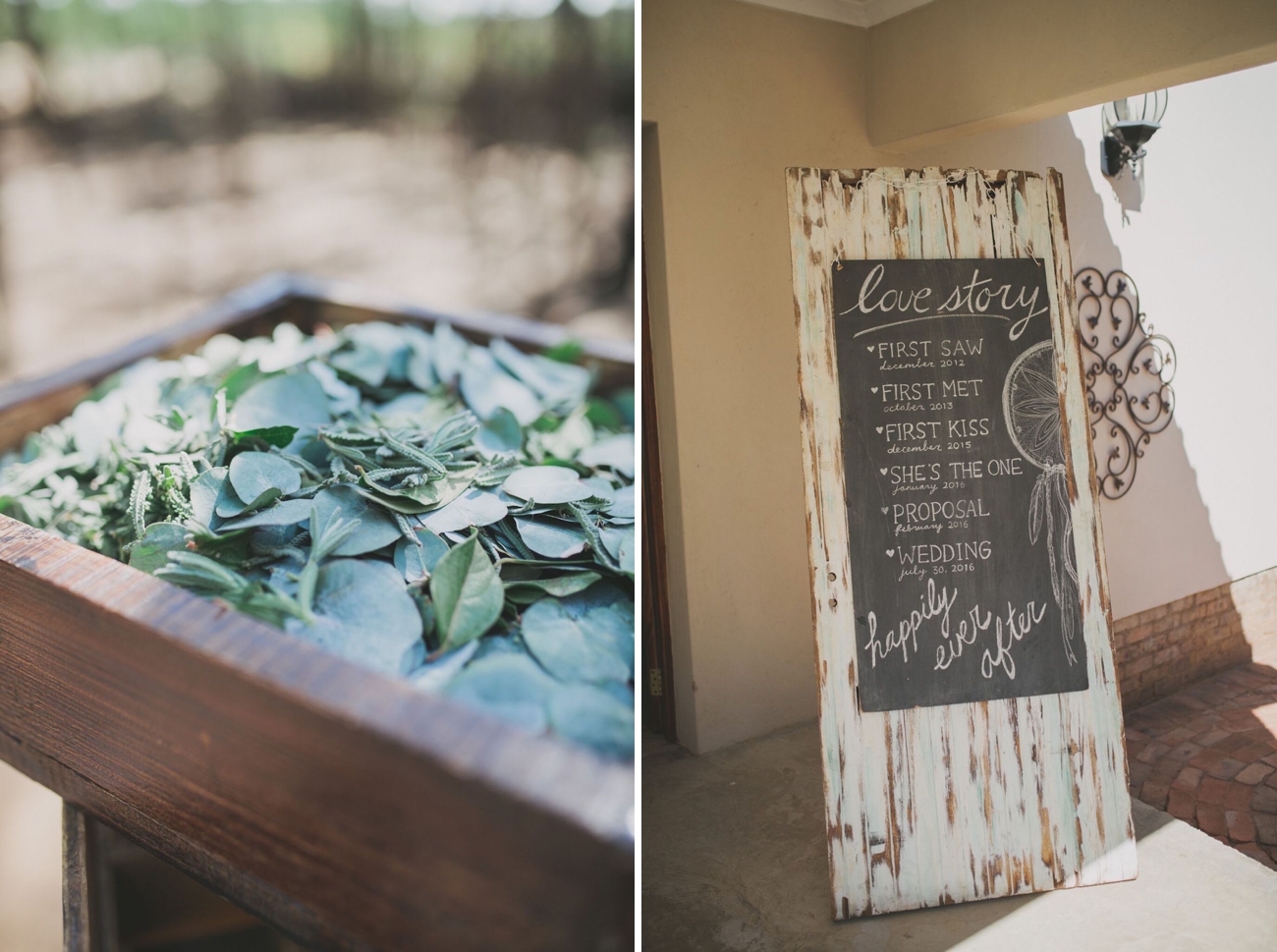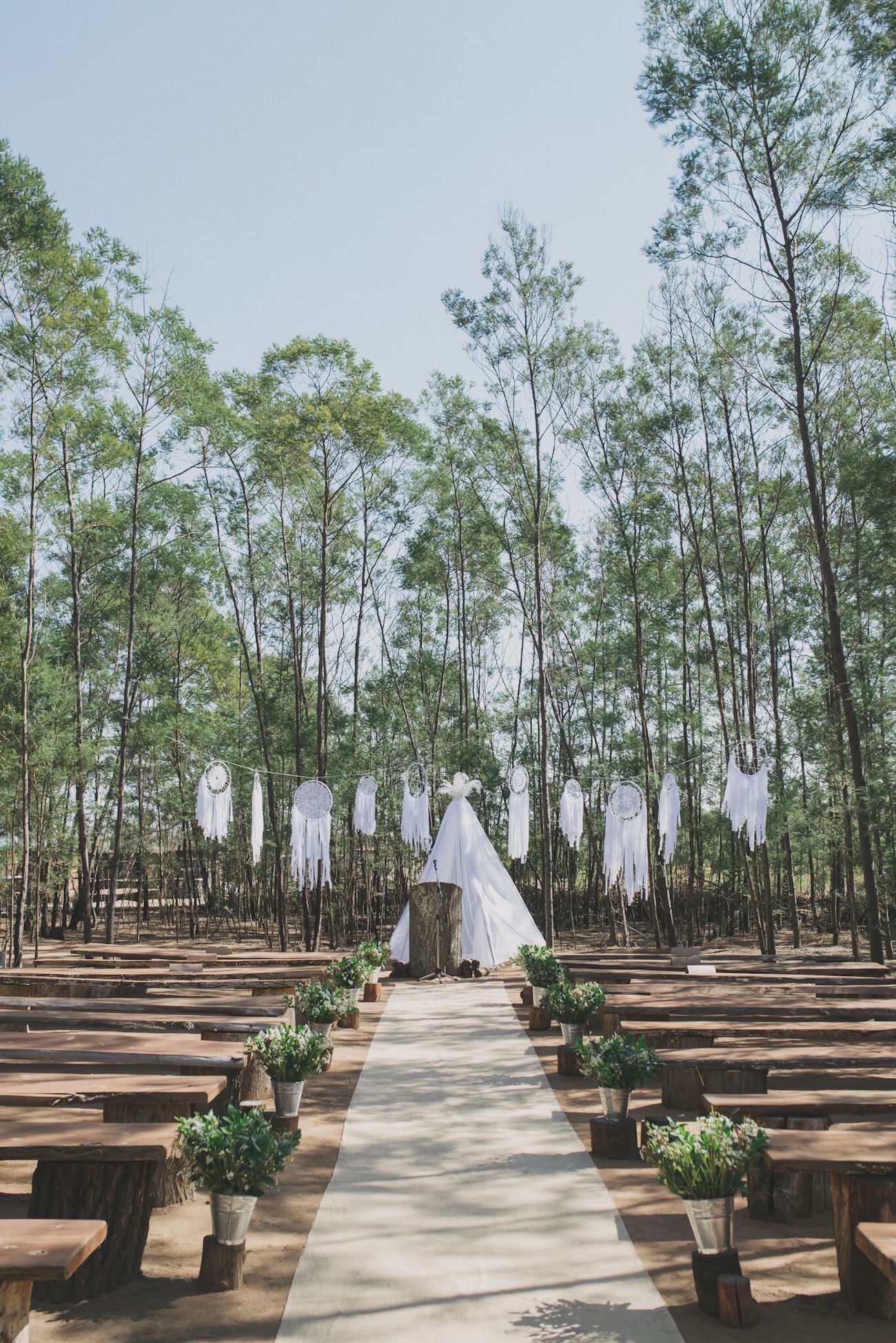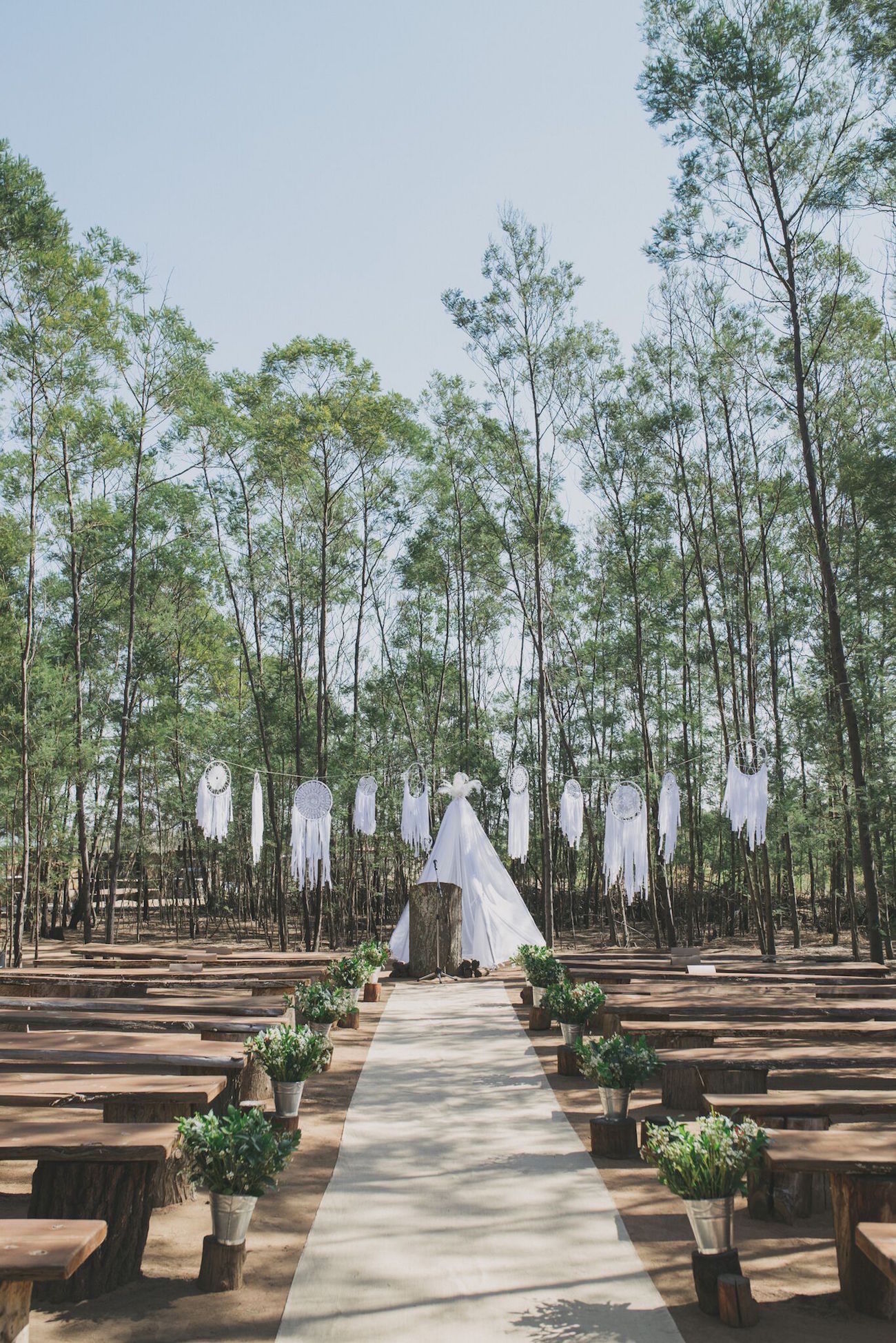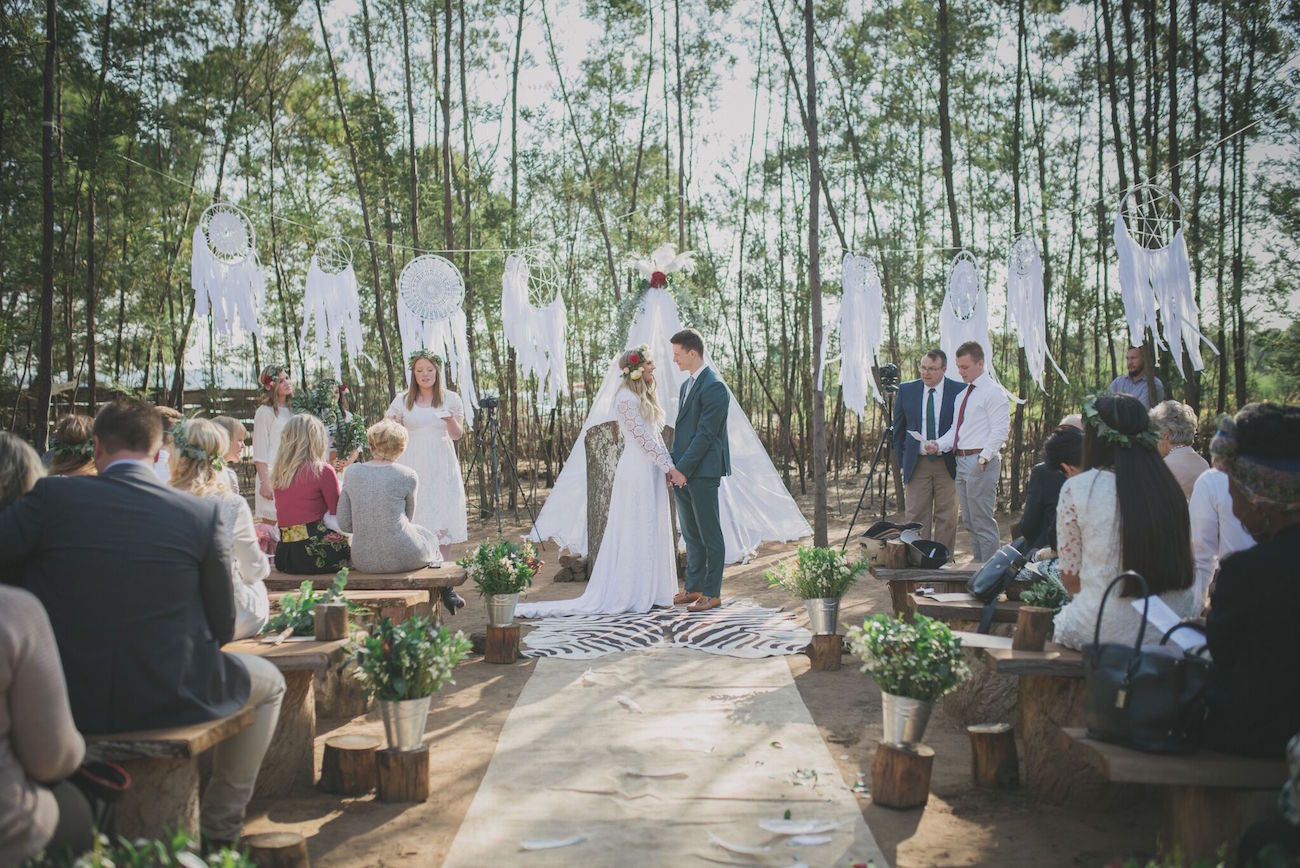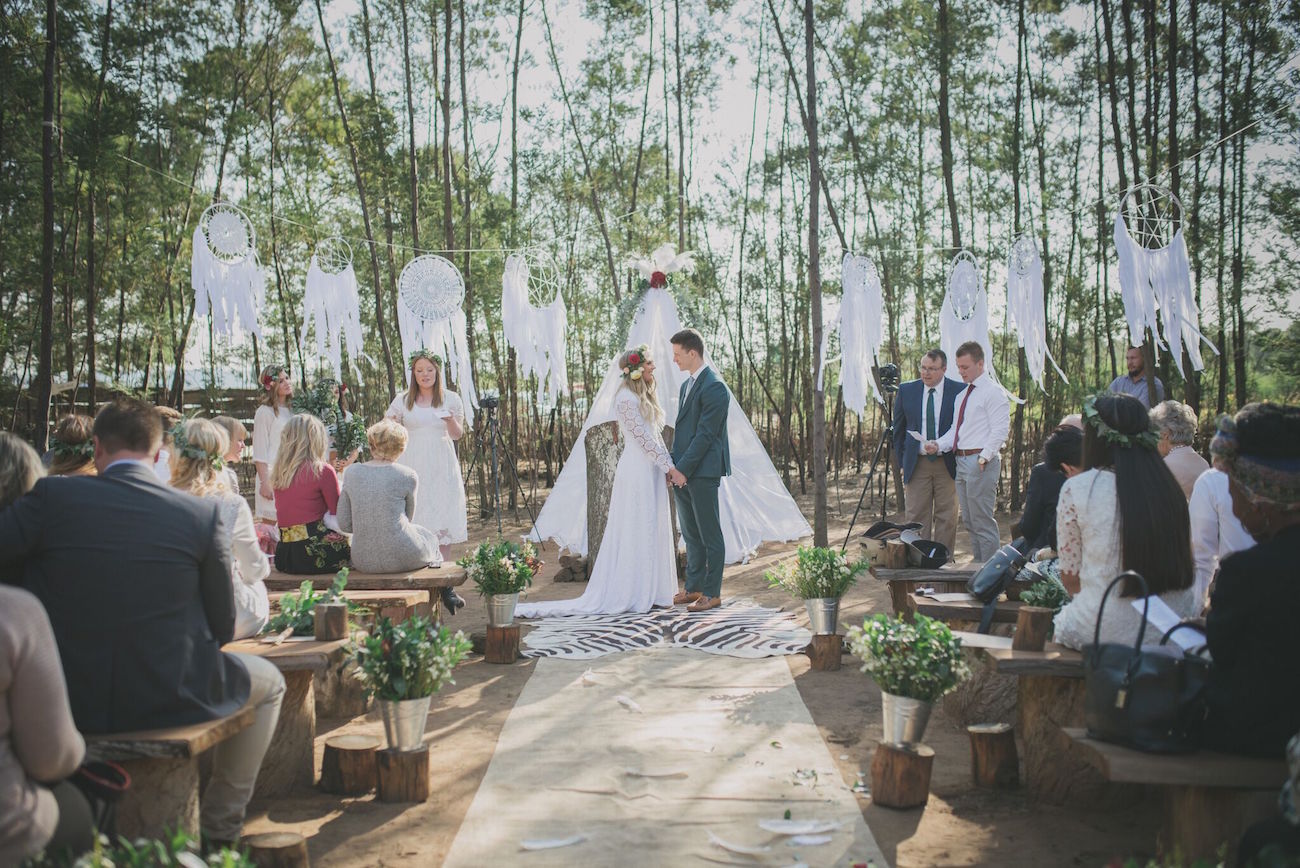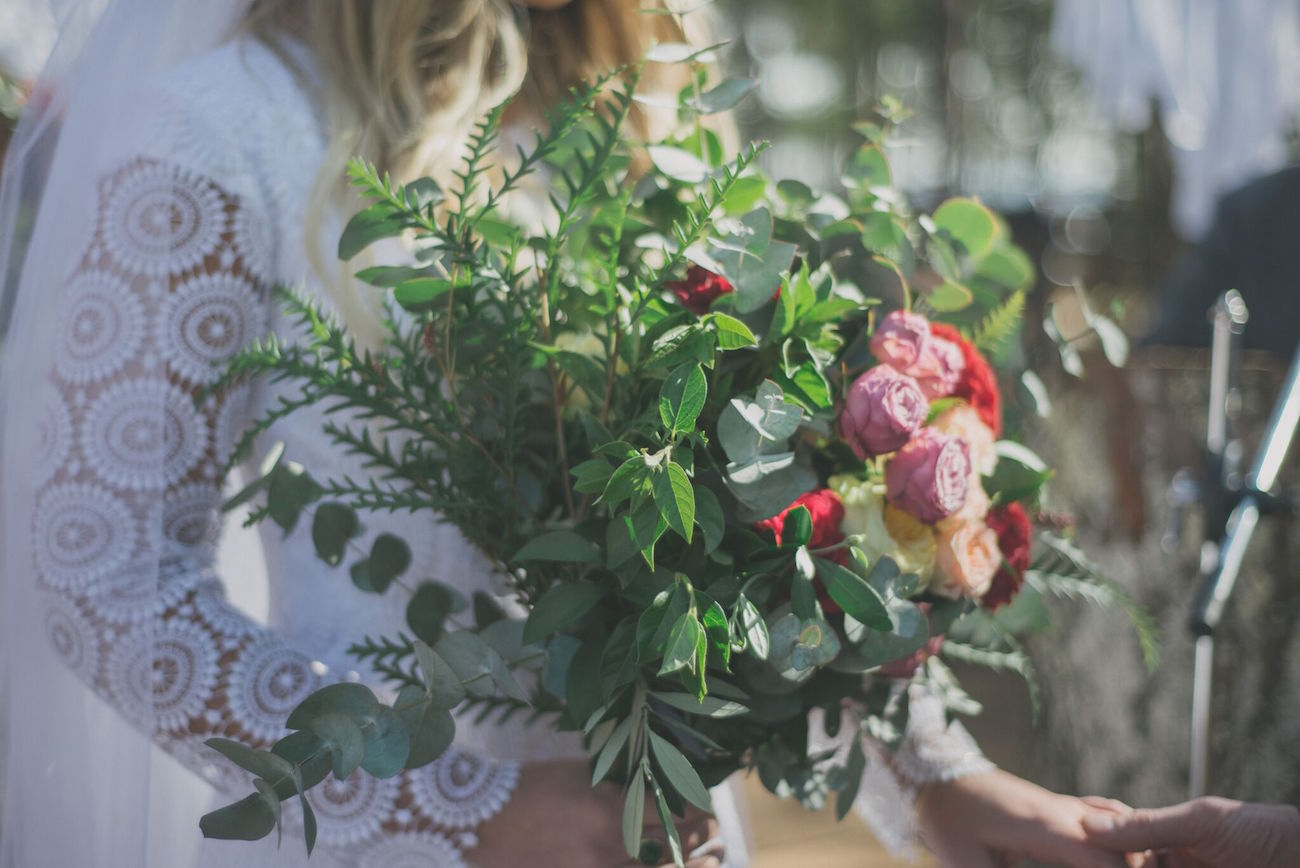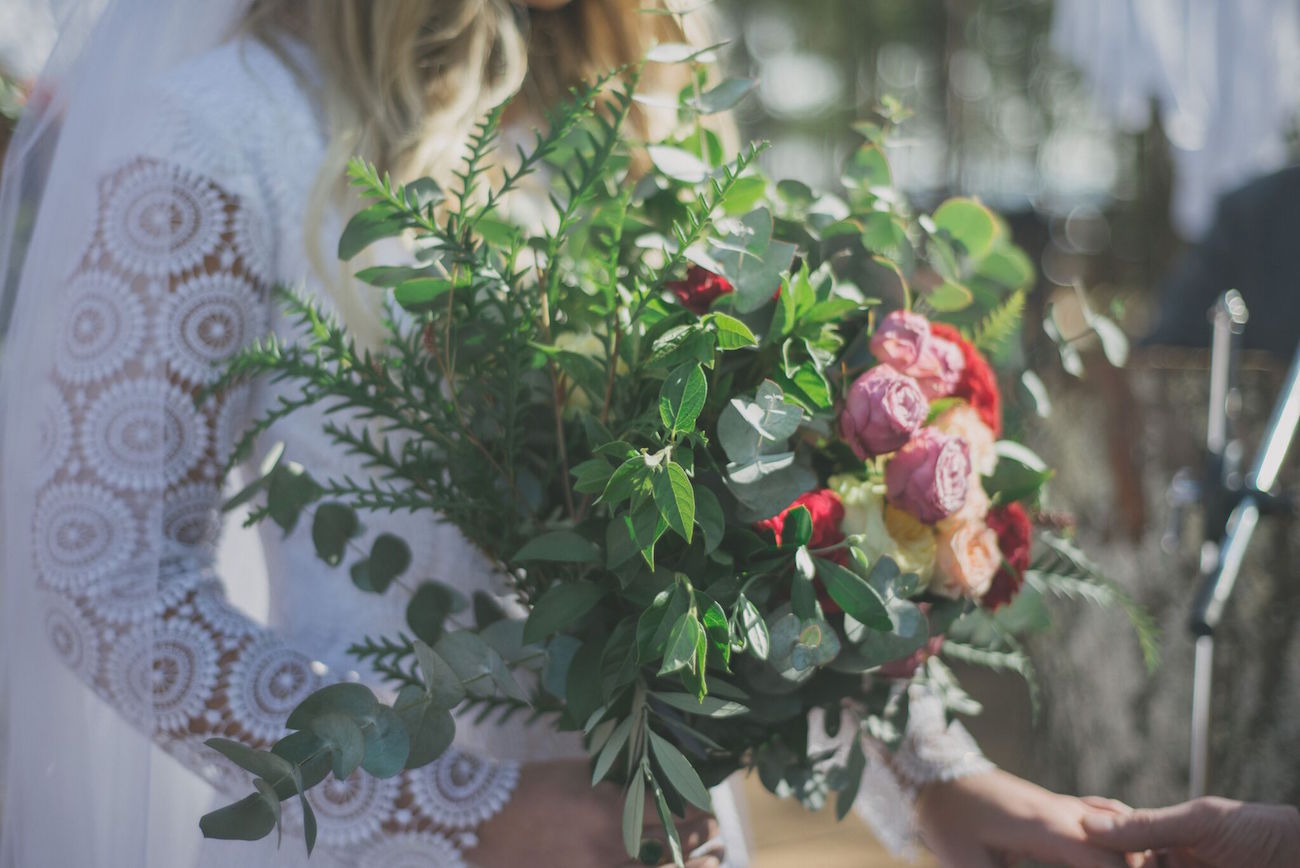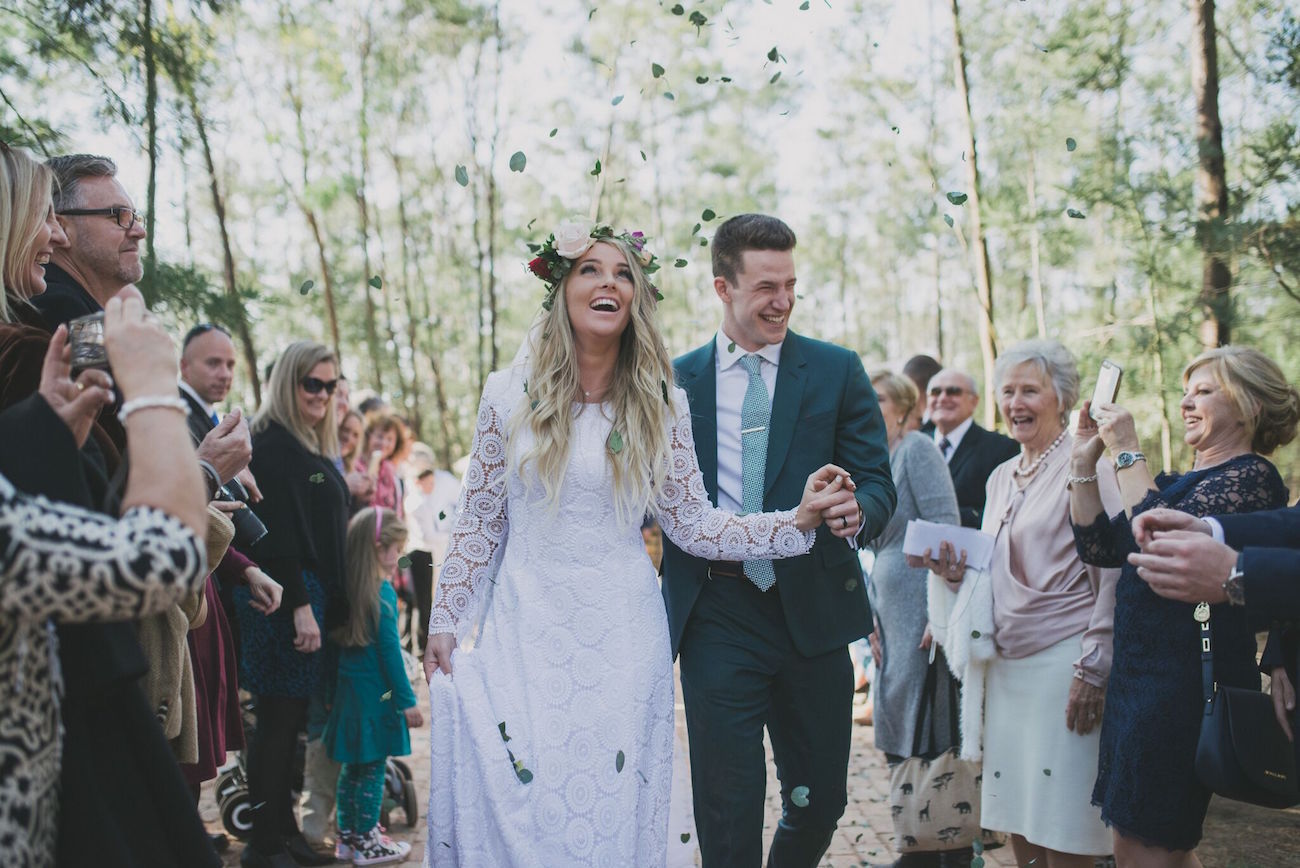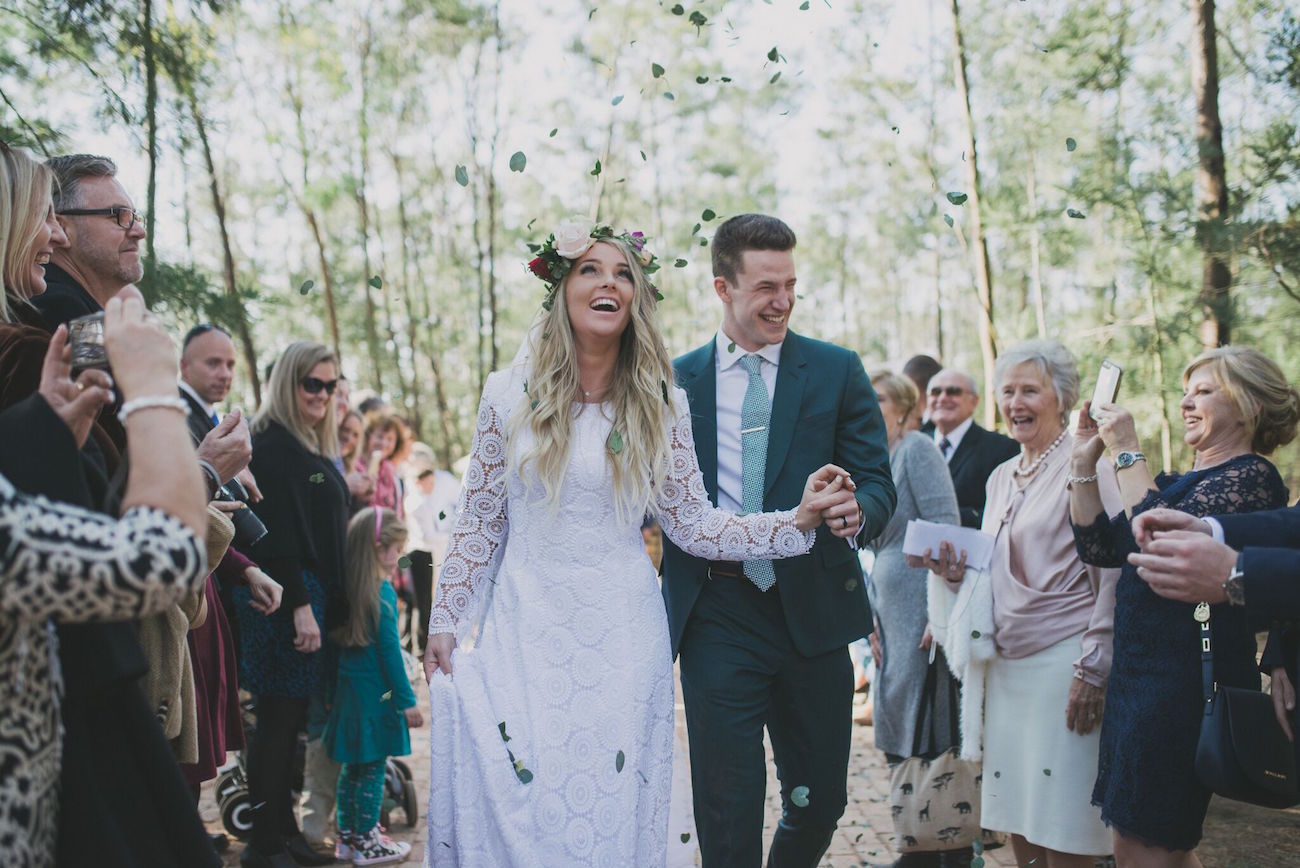 The Venue
David and I were married in the Johannesburg Temple for The Church of Jesus Christ of Latter Day Saints in an intimate and sacred ceremony. We also wanted to celebrate with all our favourite people, but the venue hunt was a struggle. I had one requirement – a forest. I knew the feeling and vibe I was going for and felt it as soon as I arrived at Harmonie Proteas. I was hooked once I saw the forest!
Wedding Style & DIY Details
I often incorporate dreamcatchers, feathers and tipis into my events and so my wedding wasn't going to be an exception. My mom was incredible – she was the mastermind behind the entire thing. It was a family affair for sure – many hands were involved! All the dreamcatchers were made by us (I now sell them). I also wanted to wear both flowers and feathers in my hair, so Love and Lace made me a beautiful flower garland and I made myself a feather crown. All the beautiful handwriting was done by my friend Isa Heckert. My cousin and friend helped me with the wedding stationery.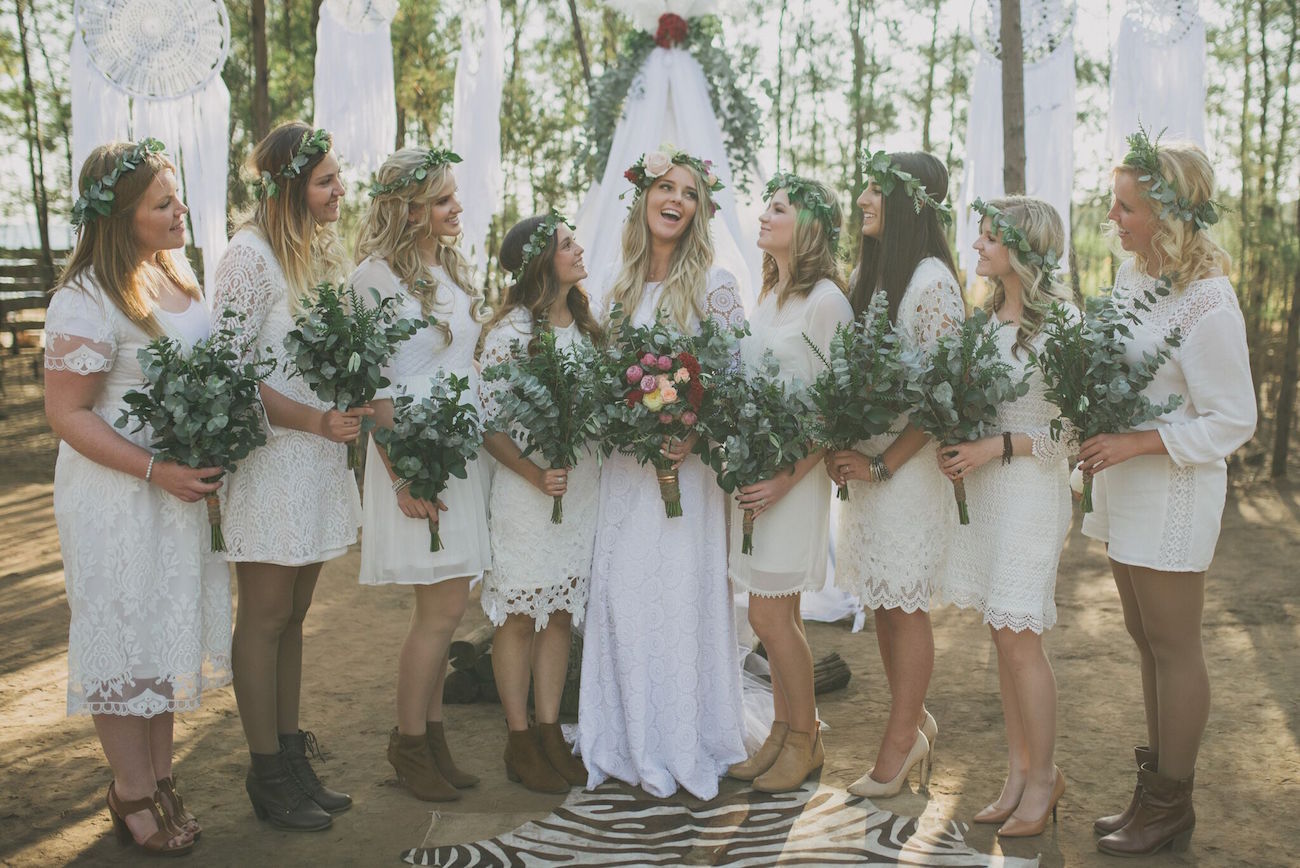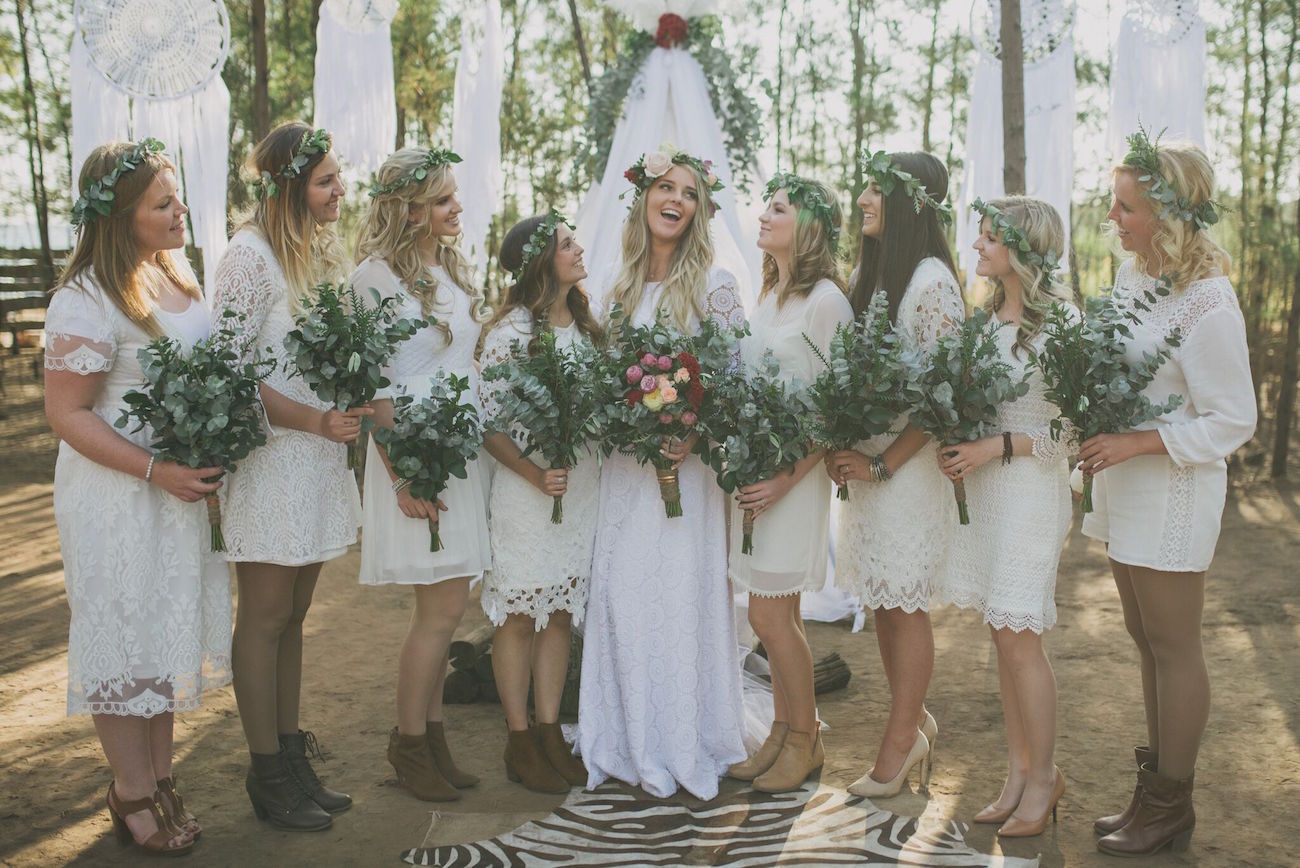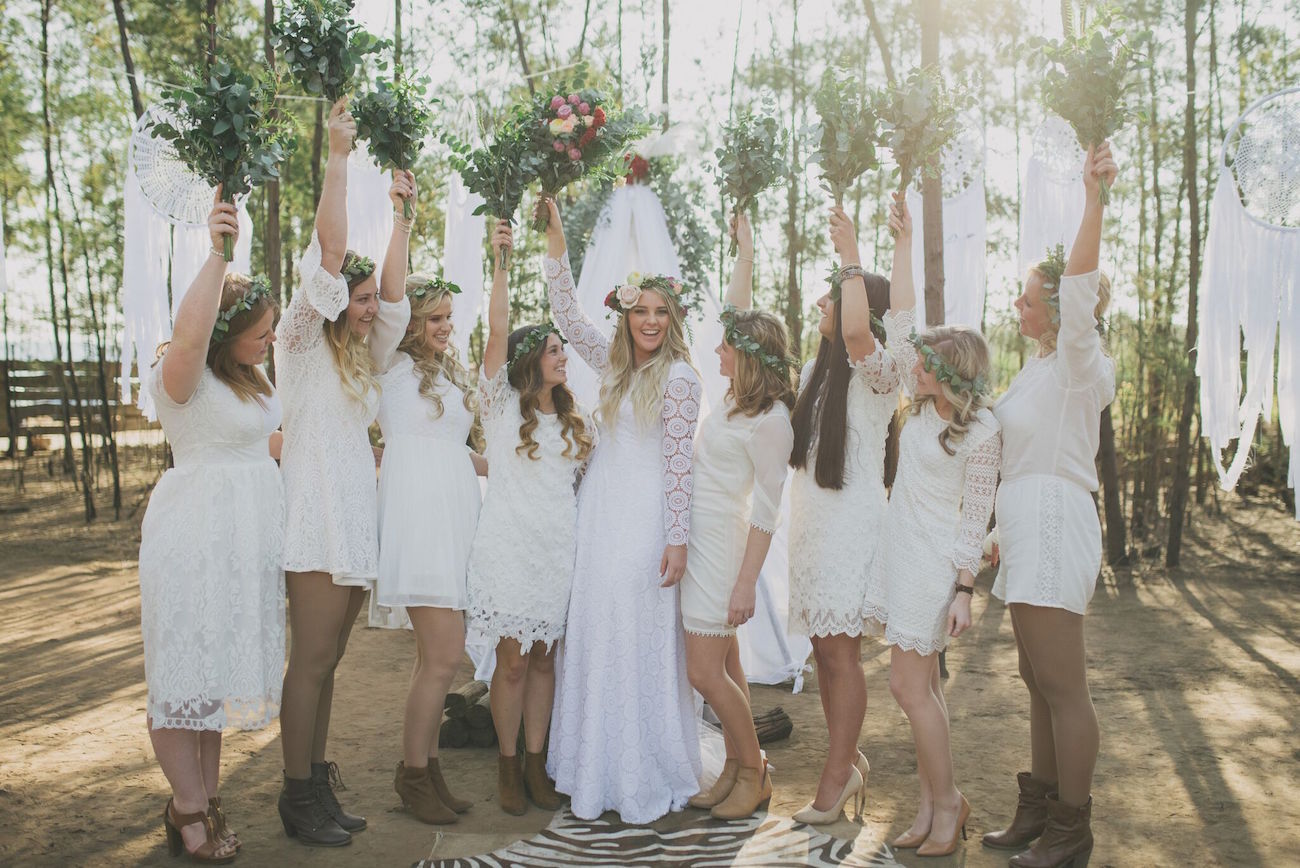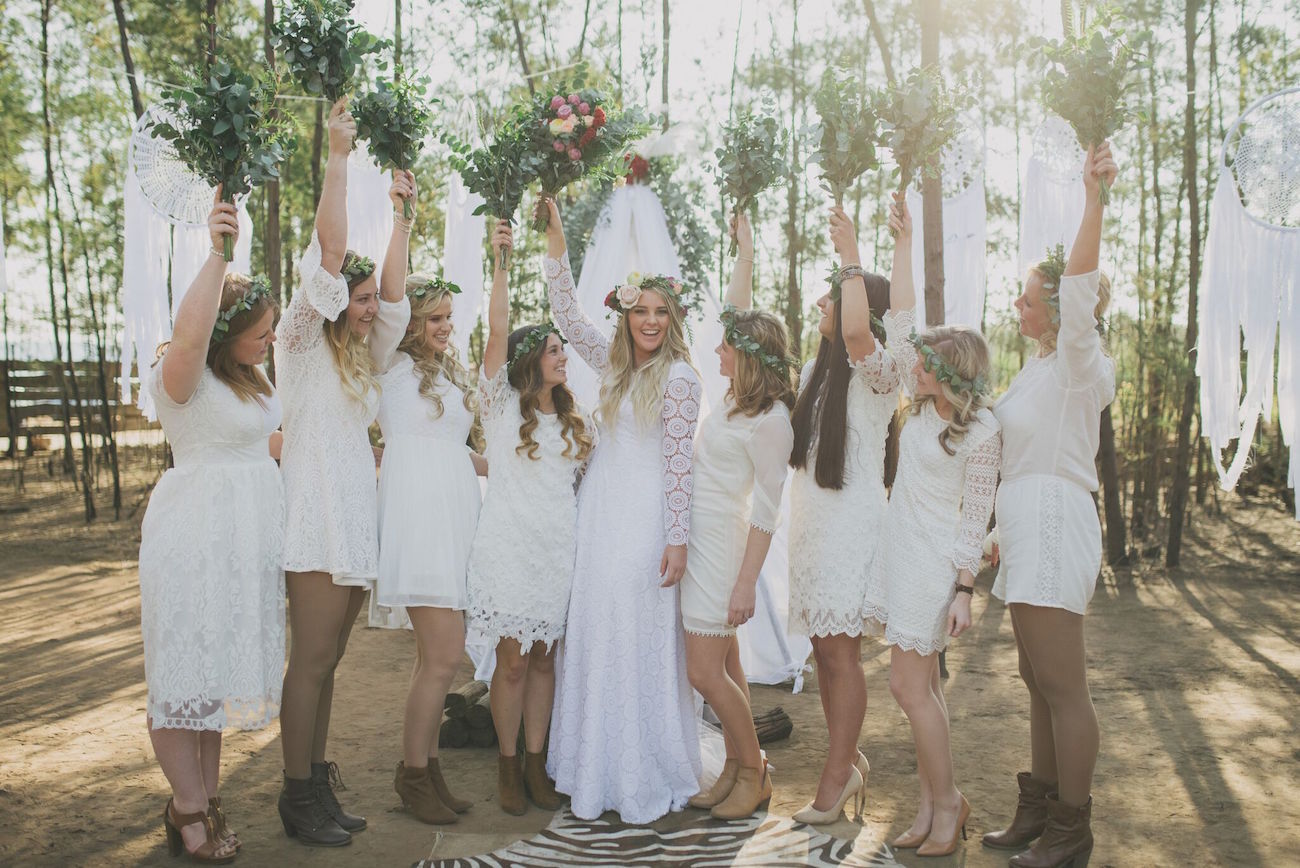 Wedding Details
David and I love popcorn – I got him hooked! – so we had a popcorn bar with all sorts of flavours. The CD I gave David when I left for America, Matthew Mole's 'The Home We Built', has a lot of meaning for us, as one of the songs says, we feel as though we have the same parts and the same heart. His songs were played throughout the day. I surprised my parents by walking down the aisle to the Piano Guys' version of 'I Can't Help Falling in Love with You' – the song my dad sang to my mom at their wedding! Our guestbook was Jenga blocks, a fun way to keep the memory of our guests in our home. The wedding favours came from Bridgewater Candle Company. They have a scent sachet called wanderlust and it had a dreamcatcher, how perfect! So each sachet was tied with tan leather and placed on the tables. And there were gingerbread men to eat on the way home.
The Flowers
Love and Grace did our flowers, and did a wonderful job. I just wanted lots of free dry, messy, natural, fresh, greenery down our long tables. And then we really brought in the colour and the wow on our main table's flowers. I didn't want classic neat arrangements but more free and natural.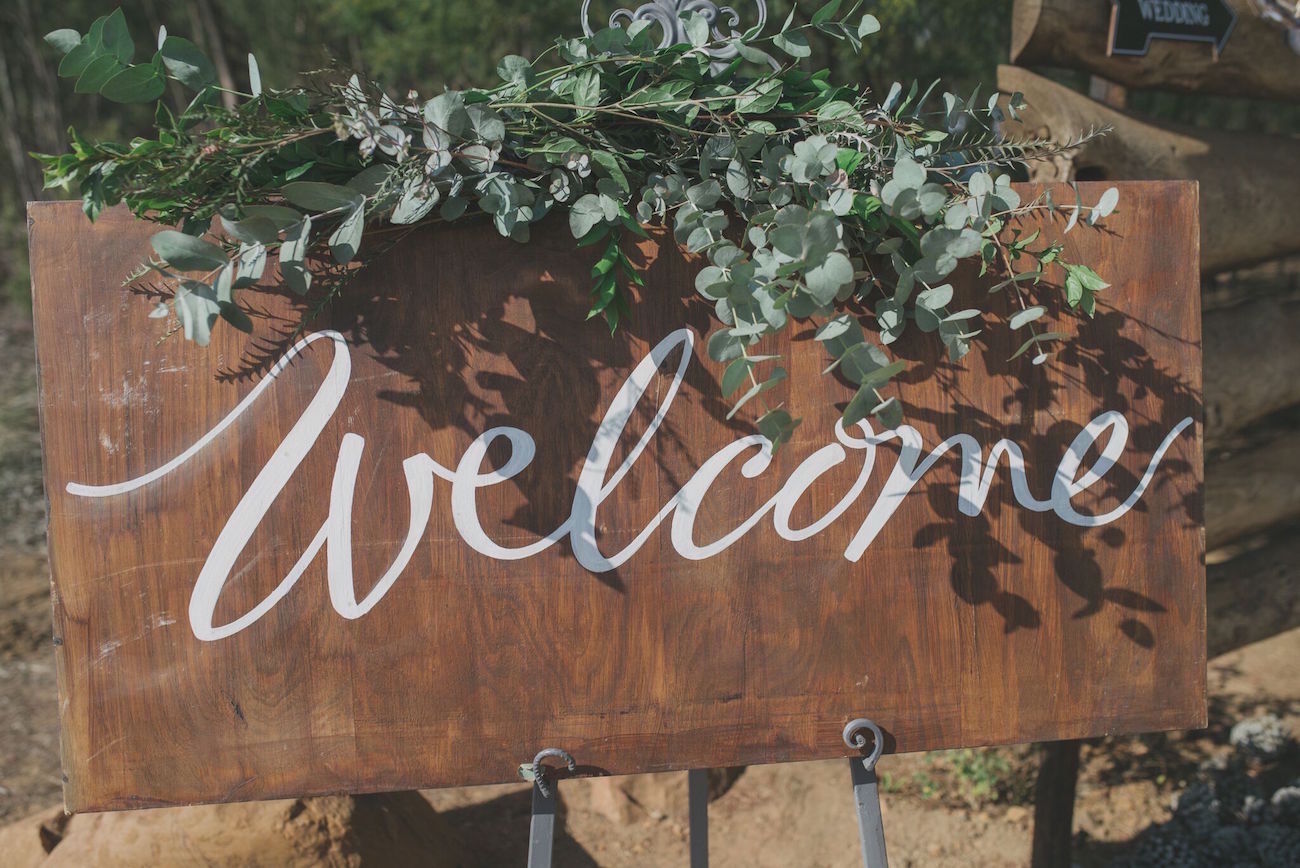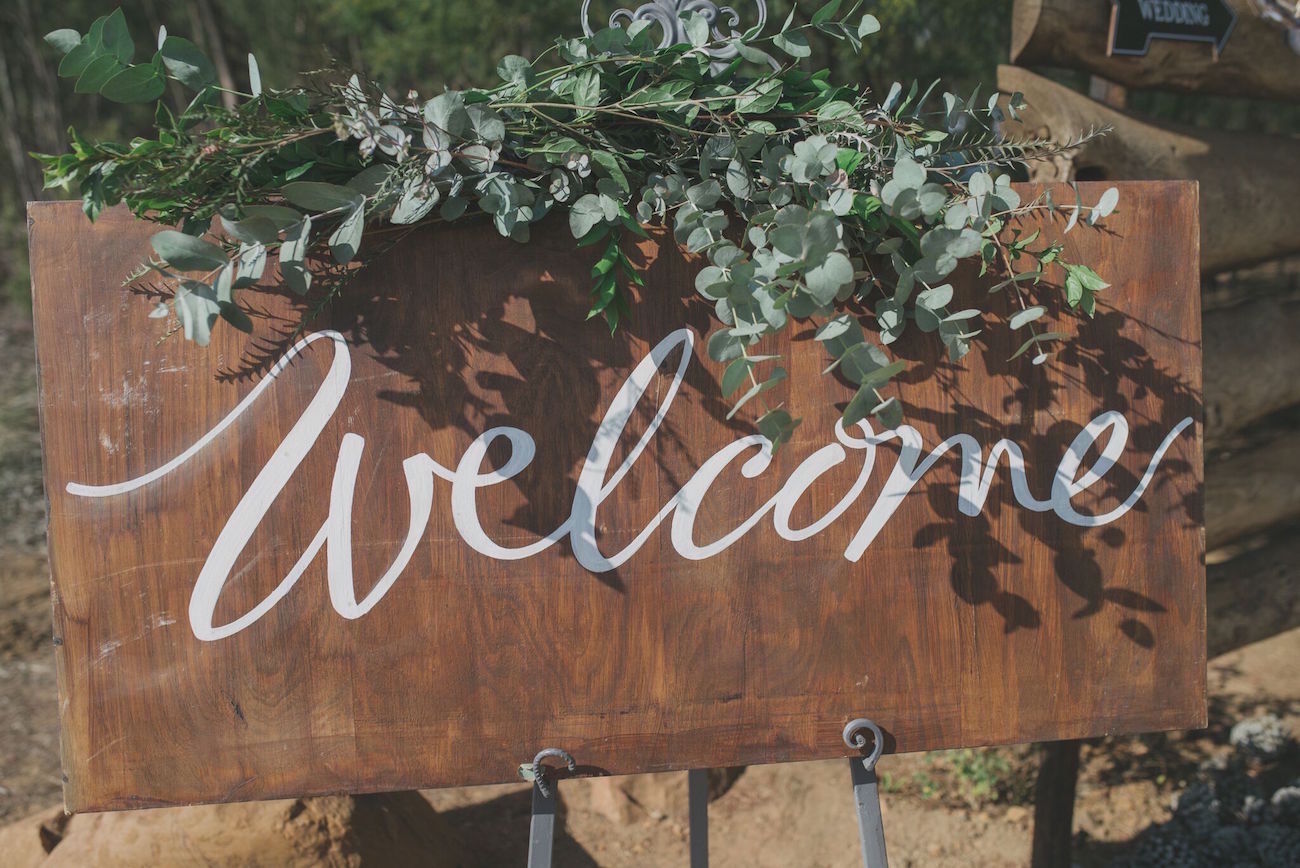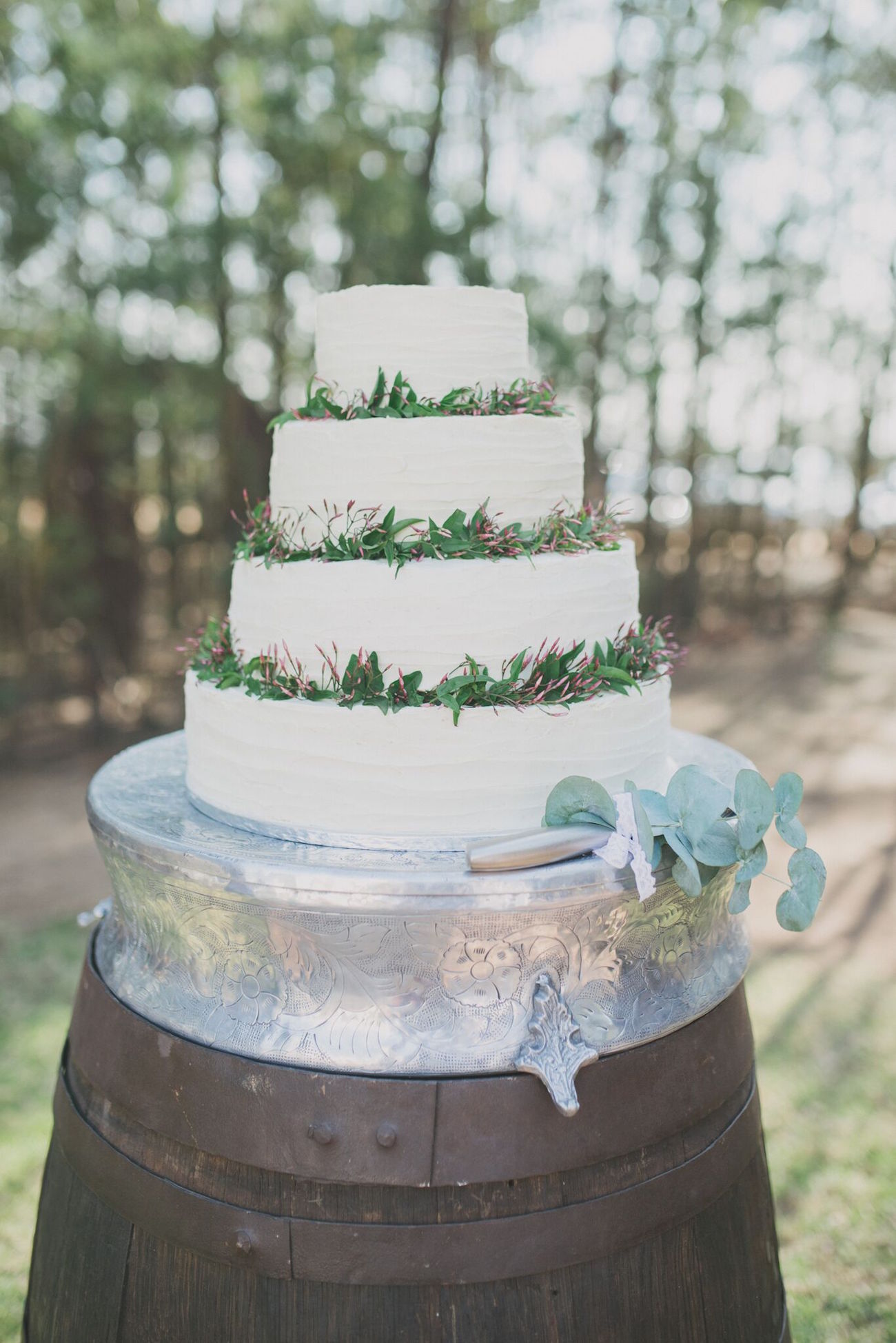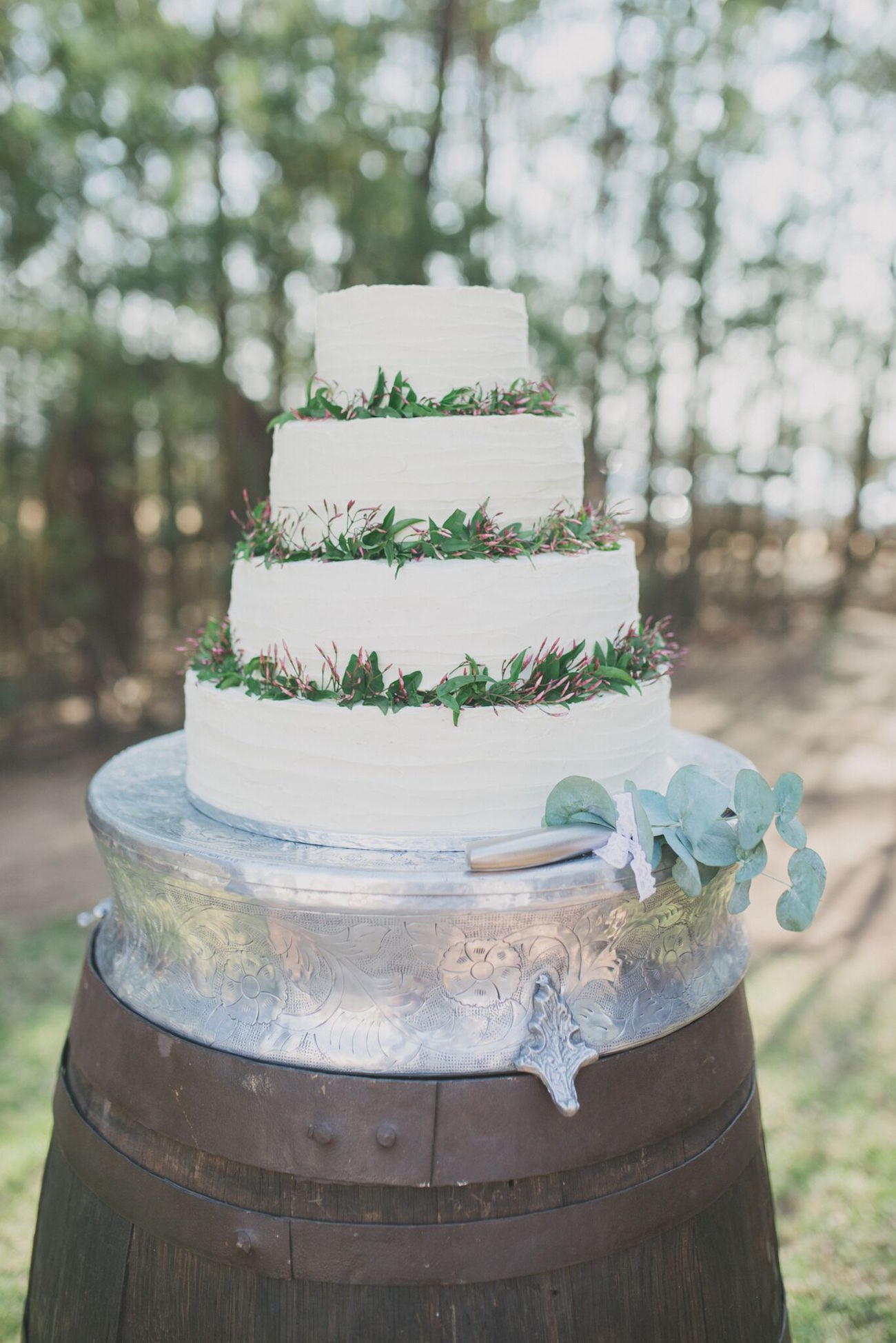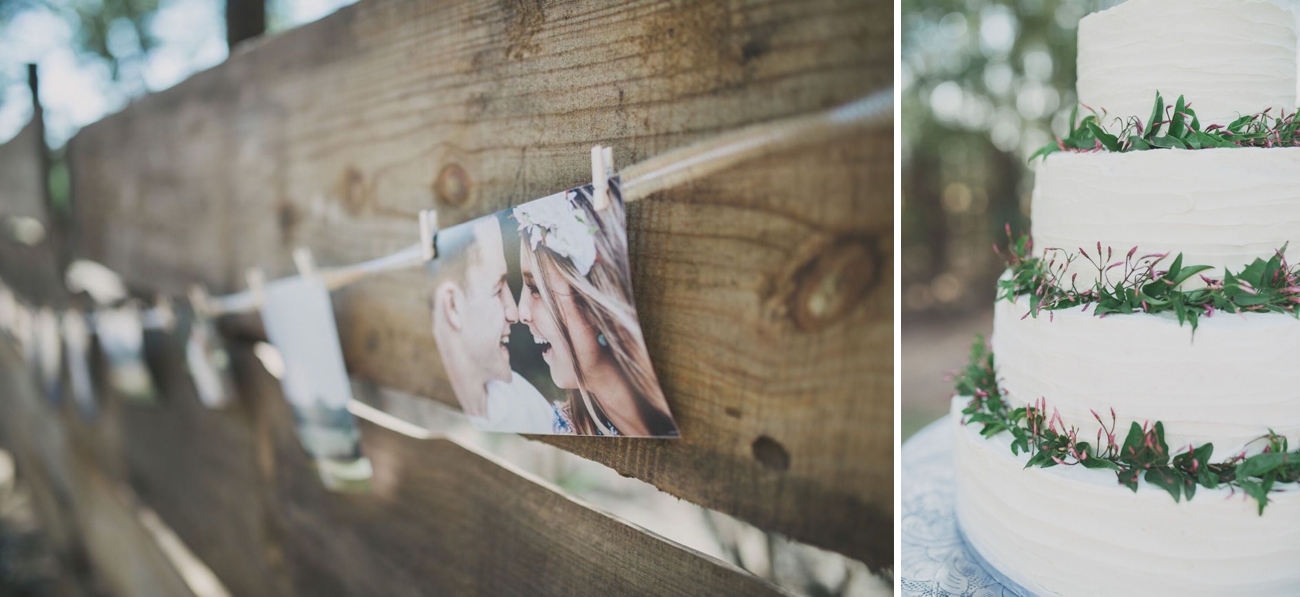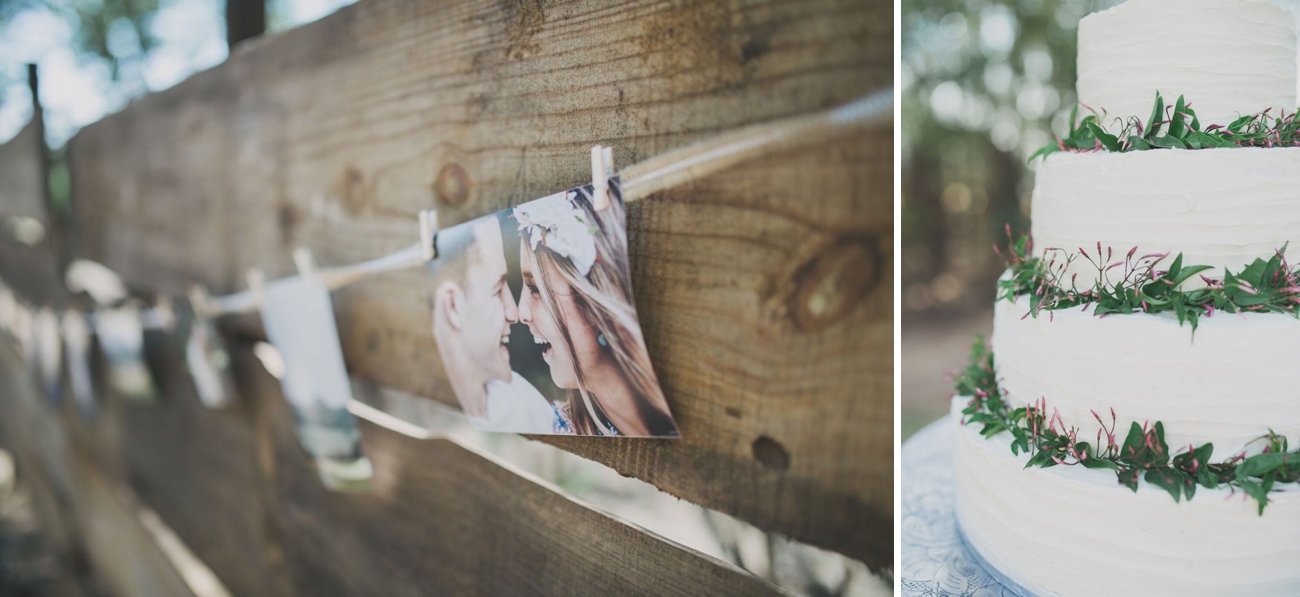 The Dress
This was a very important element to me. I had a very specific look and style in mind, I knew exactly what I wanted but couldn't find anything close at bridal boutiques. I never dreamed I would find the perfect material that even incorporated the dreamcatcher theme, but one day at Chamdor, my mom and I found it! The amazing Zan in Parkhurst was recommended to us to make the dress. She caught my vision and created exactly what I wanted. It was comfortable and truly my dream dress! Tan is probably my favourite colour next to forest green, so tick! tan heels made the perfect final touch, with forest green earrings and a ring from my mom.
The Bridesmaids
I had eight bridesmaids and four feather girls. We found each of my bridesmaids' dresses at different department stores, mainly Woolworths and Truworths. I wanted them in white and mismatched lace dresses. We found my feather girls' dresses at H&M. All of them wore tan brown shoes. The bridesmaids had green leaf crowns , the Maids of Honour had flowers added to their crowns and the feather girls had feather crowns.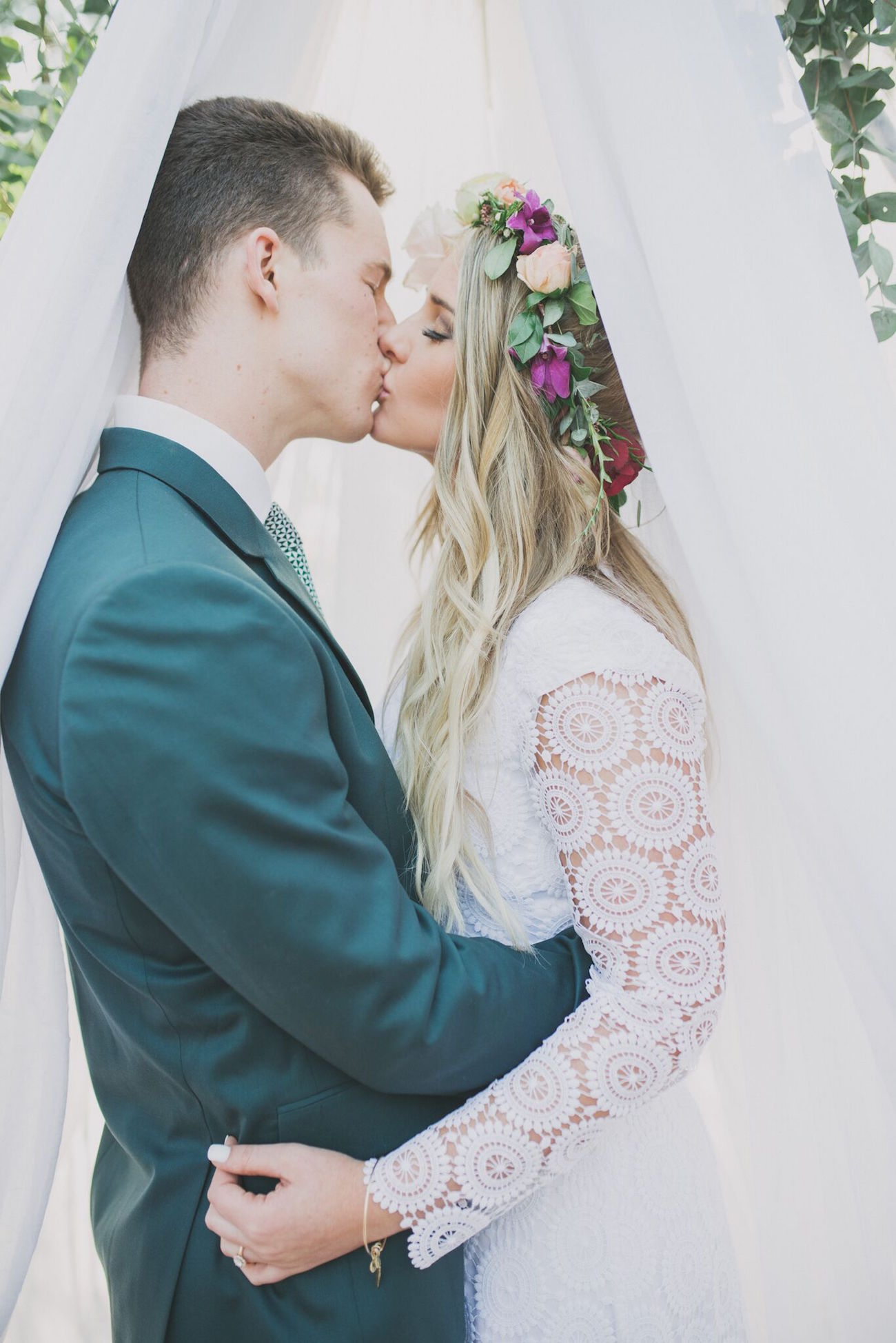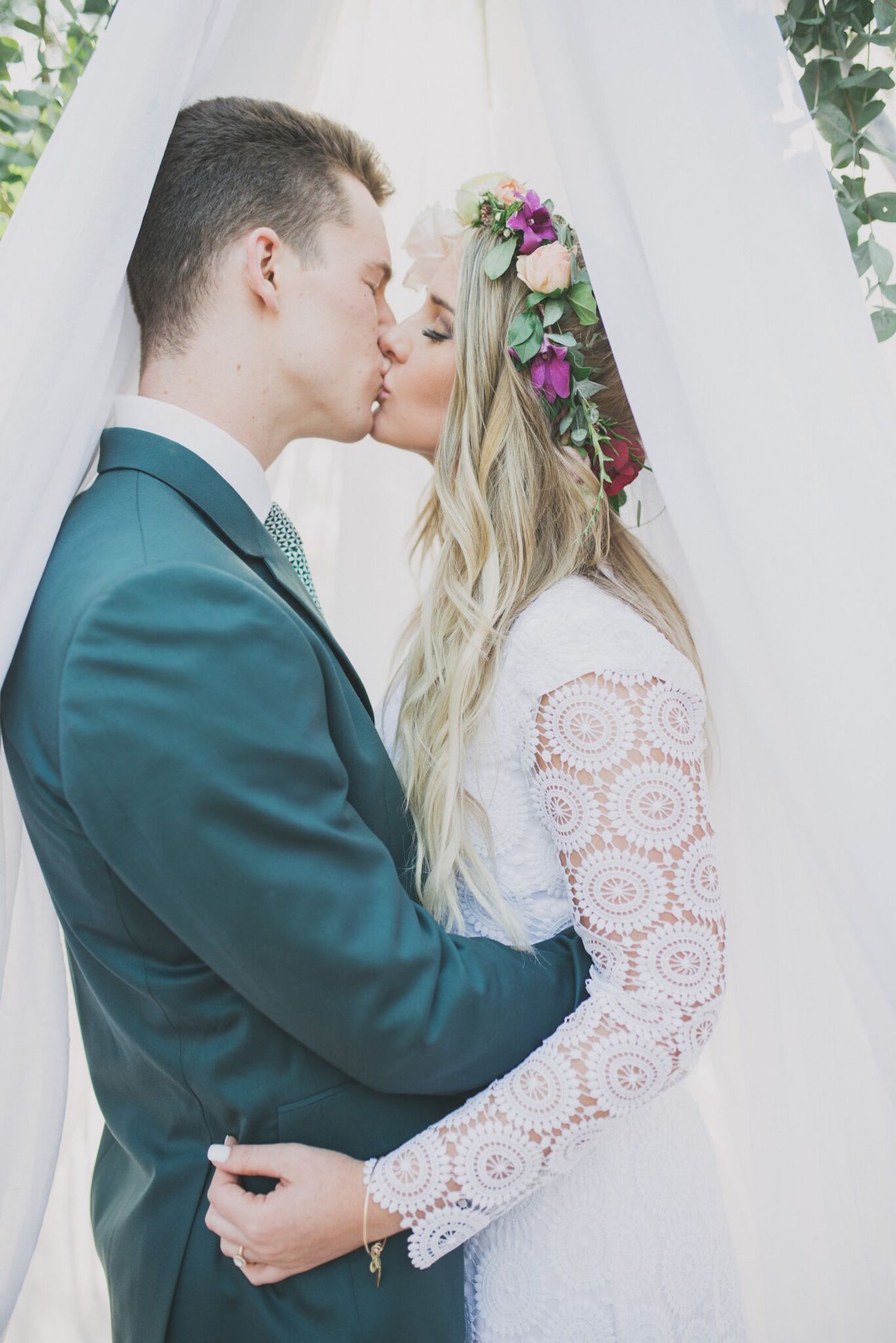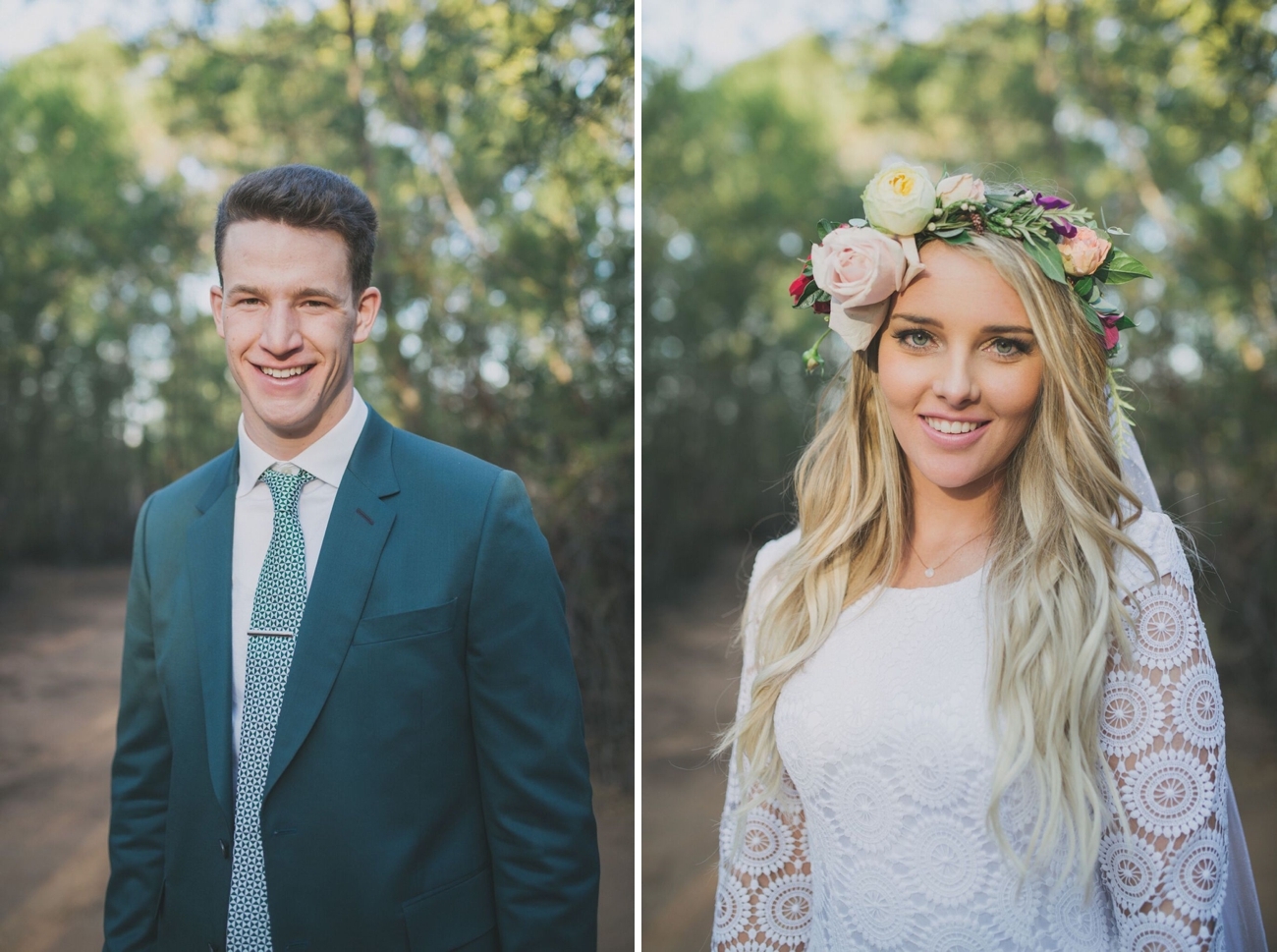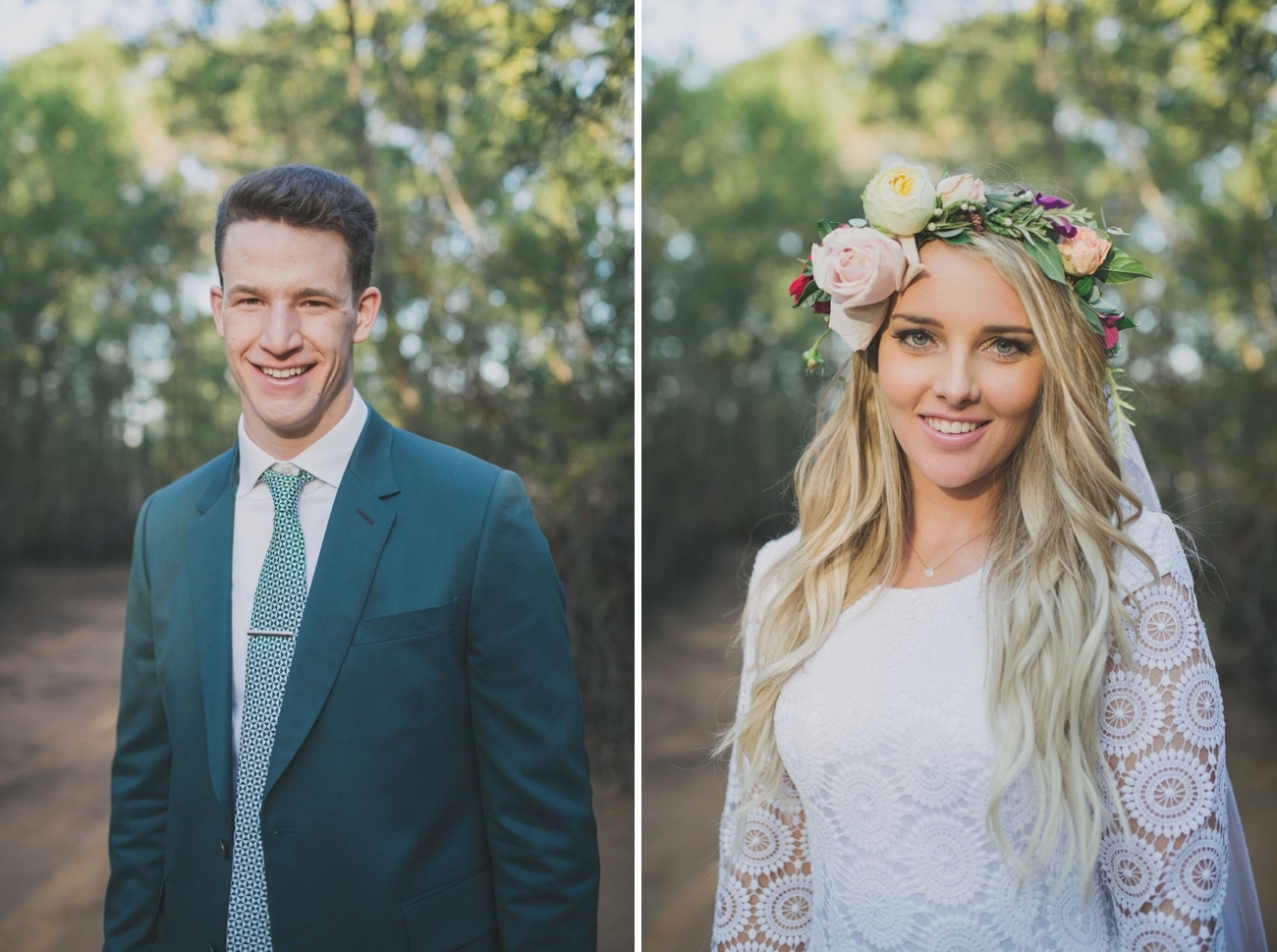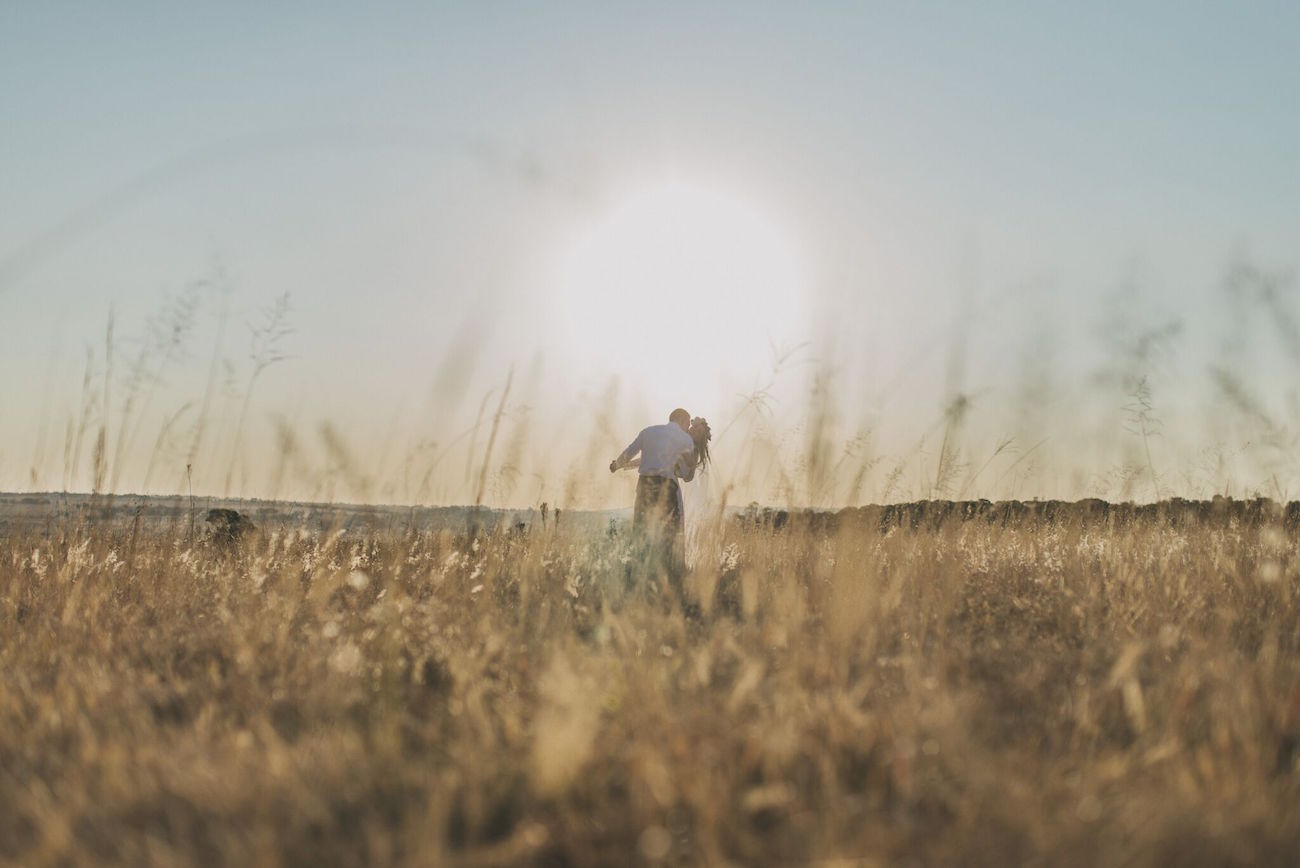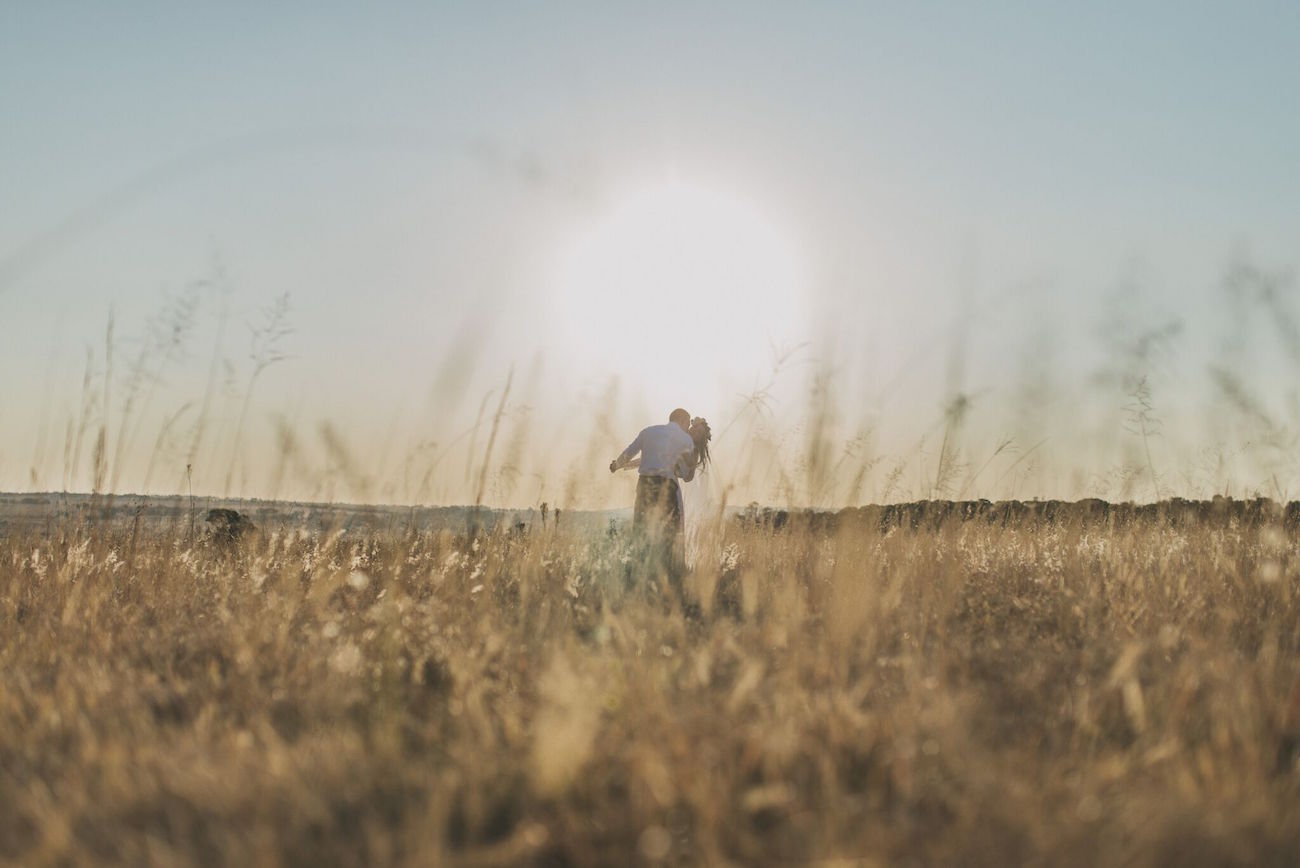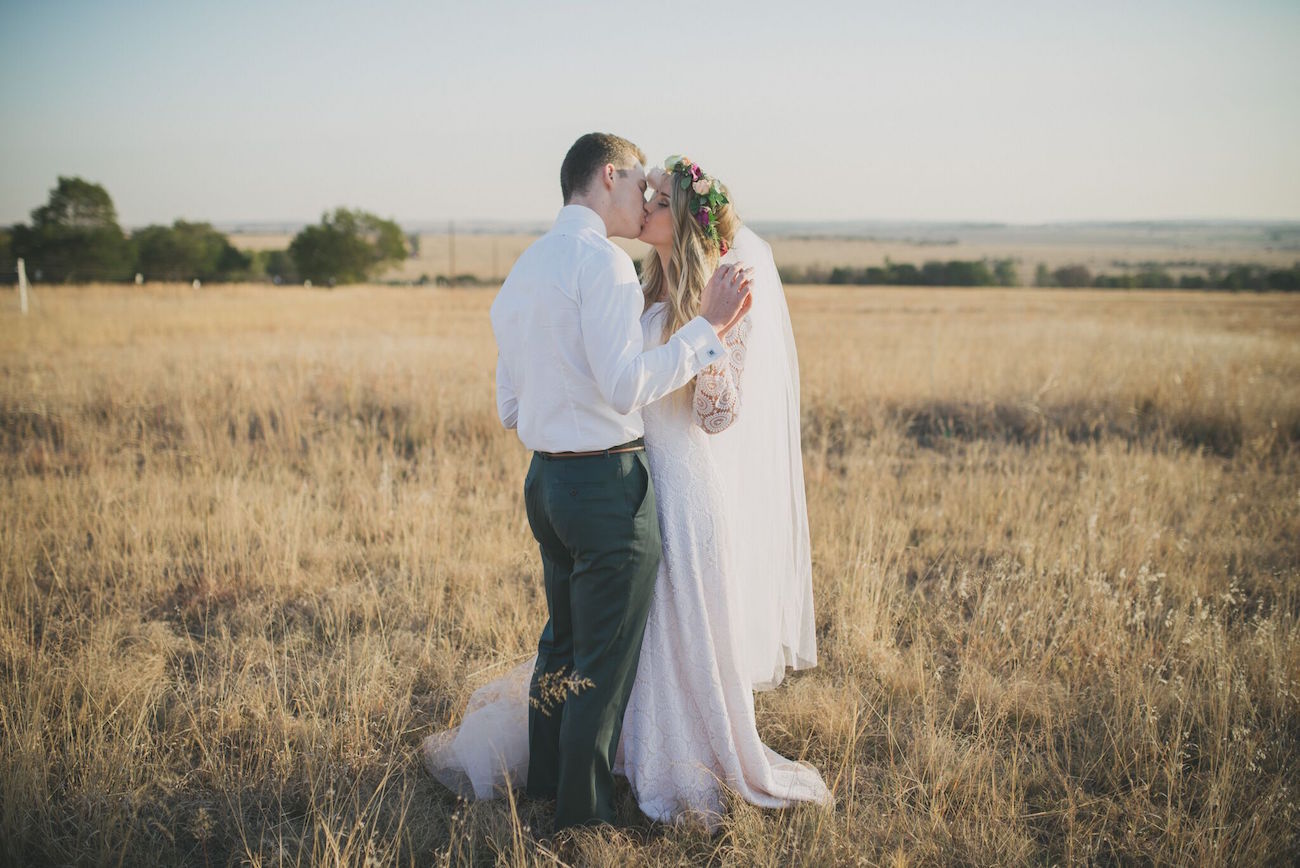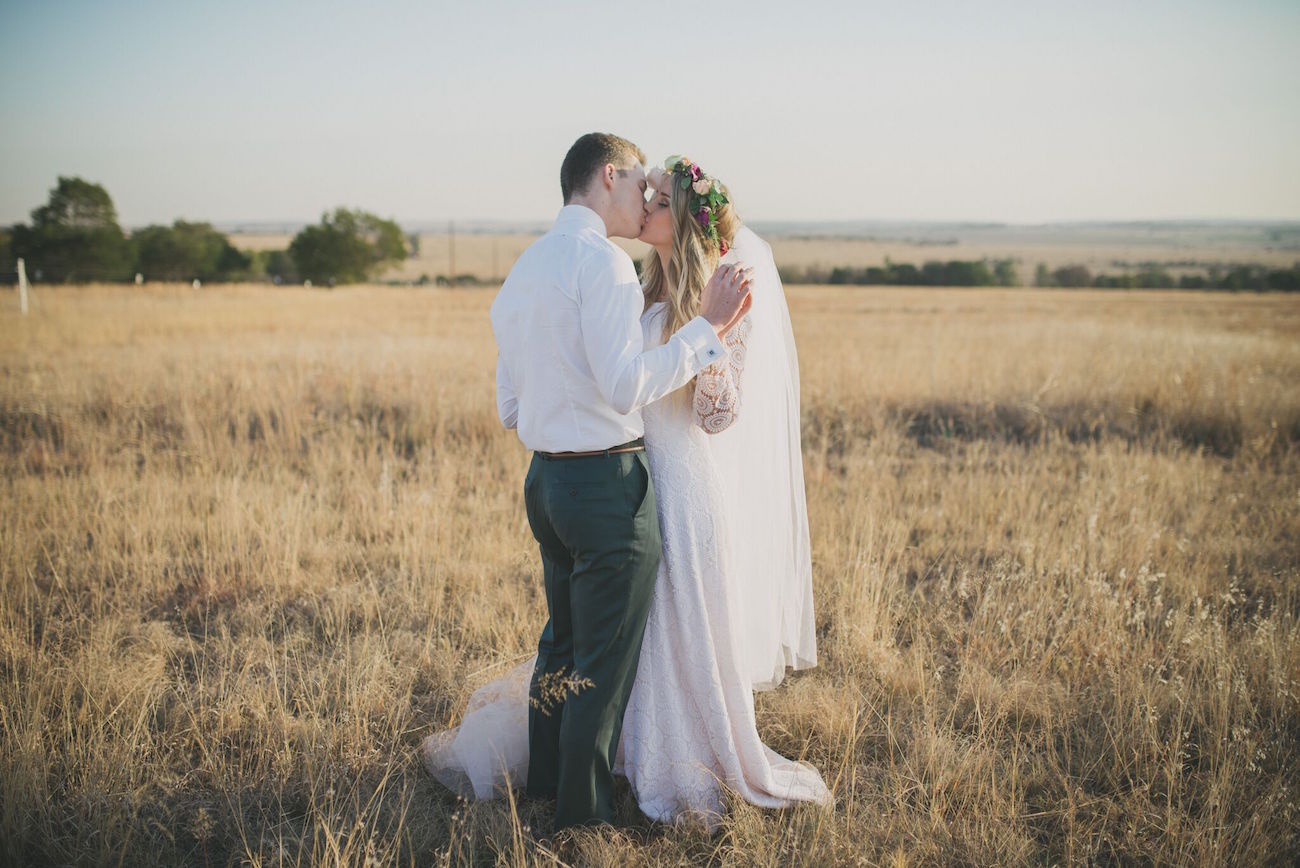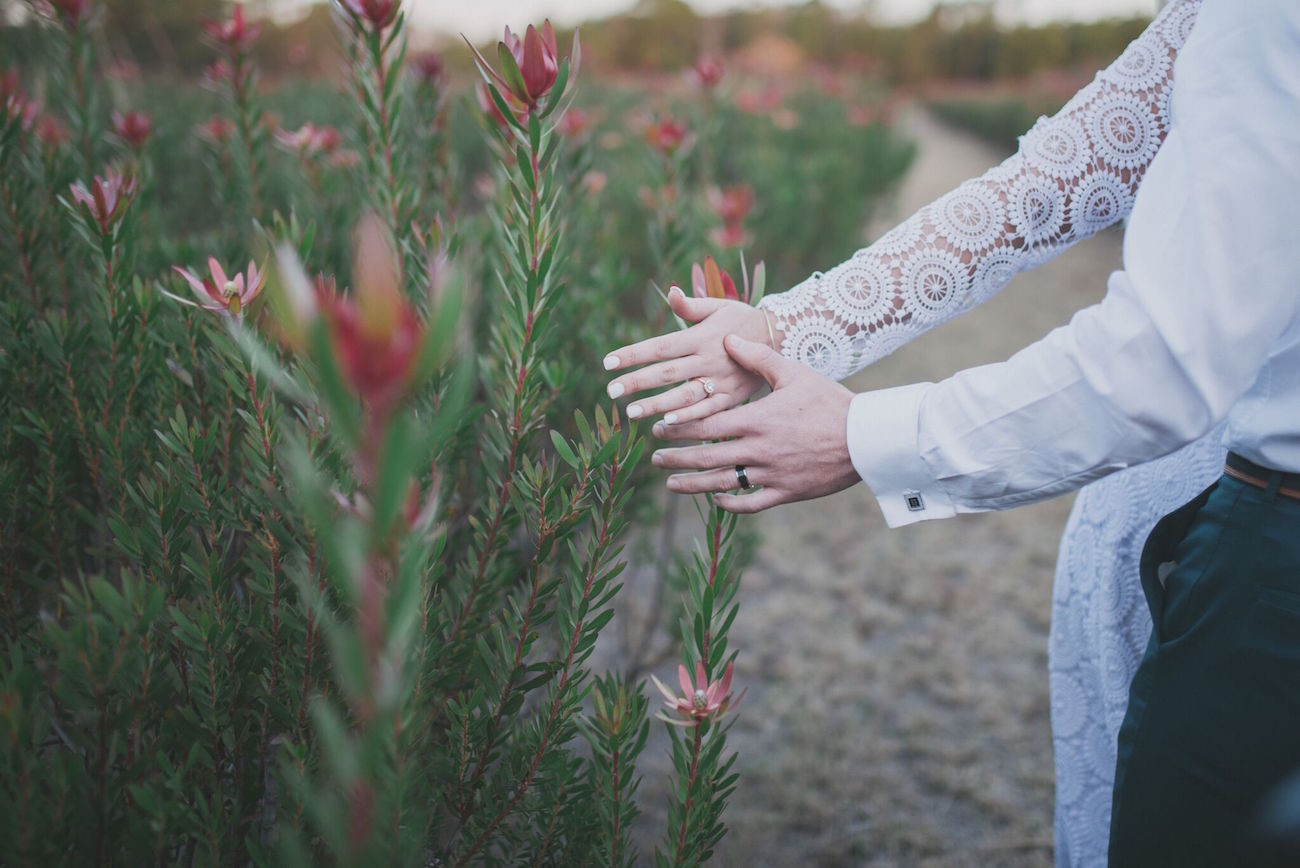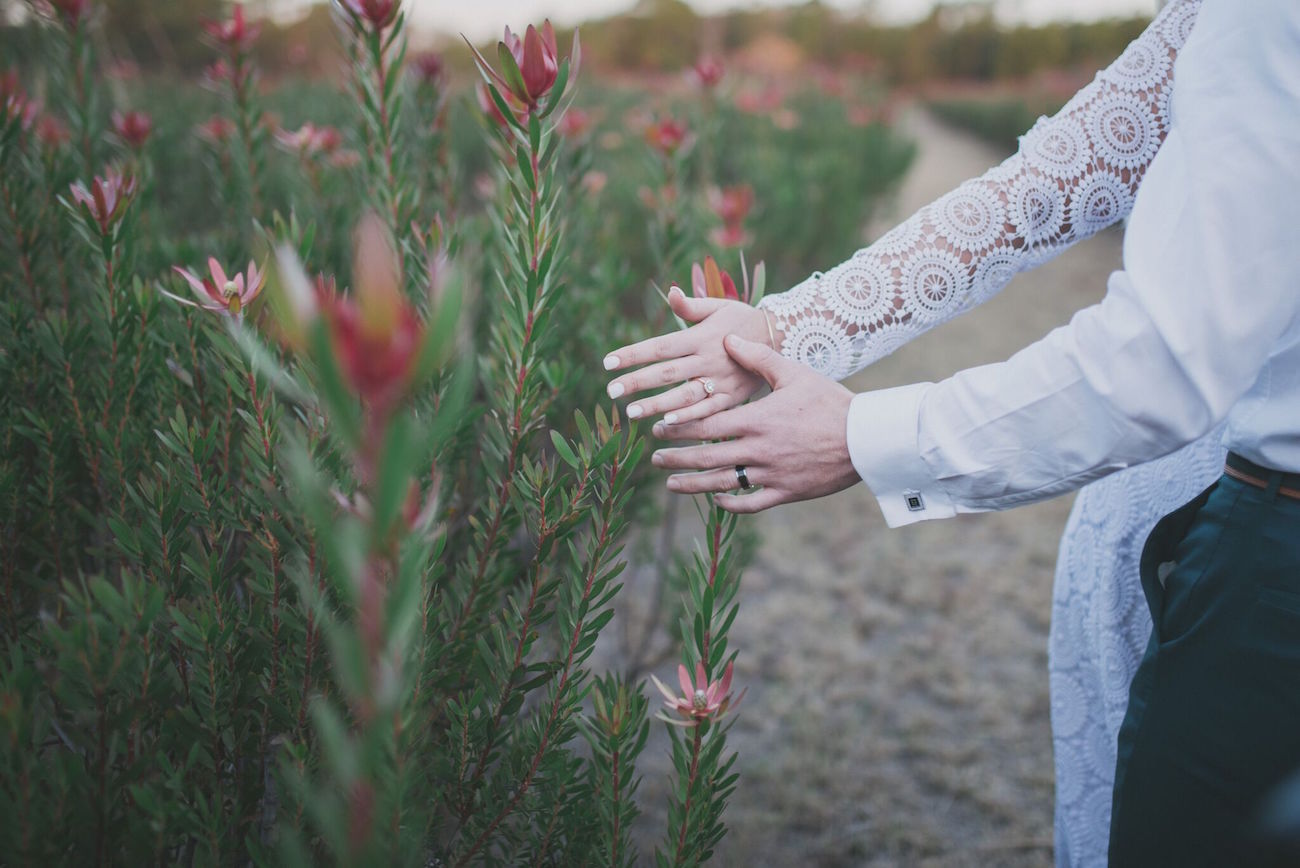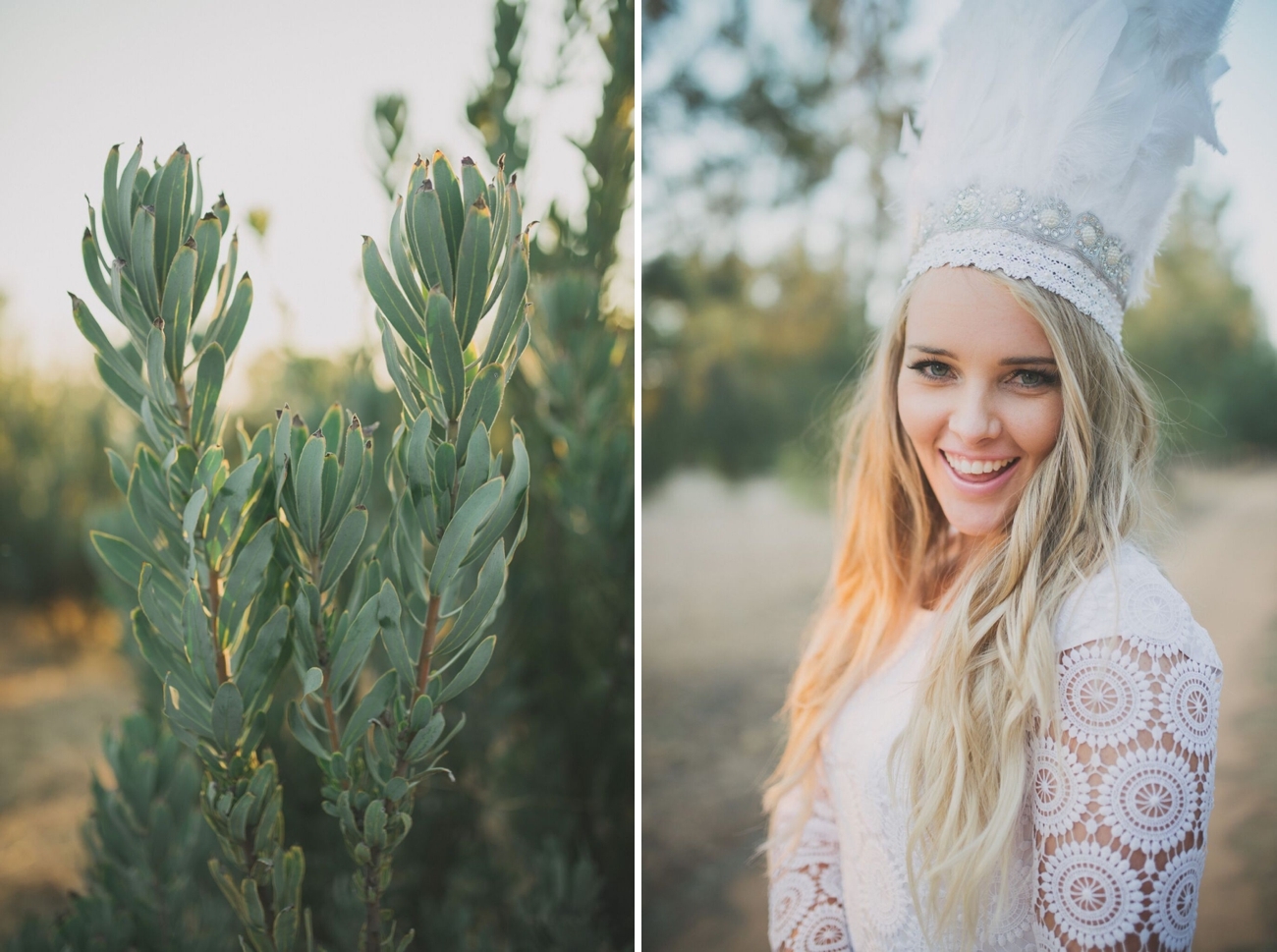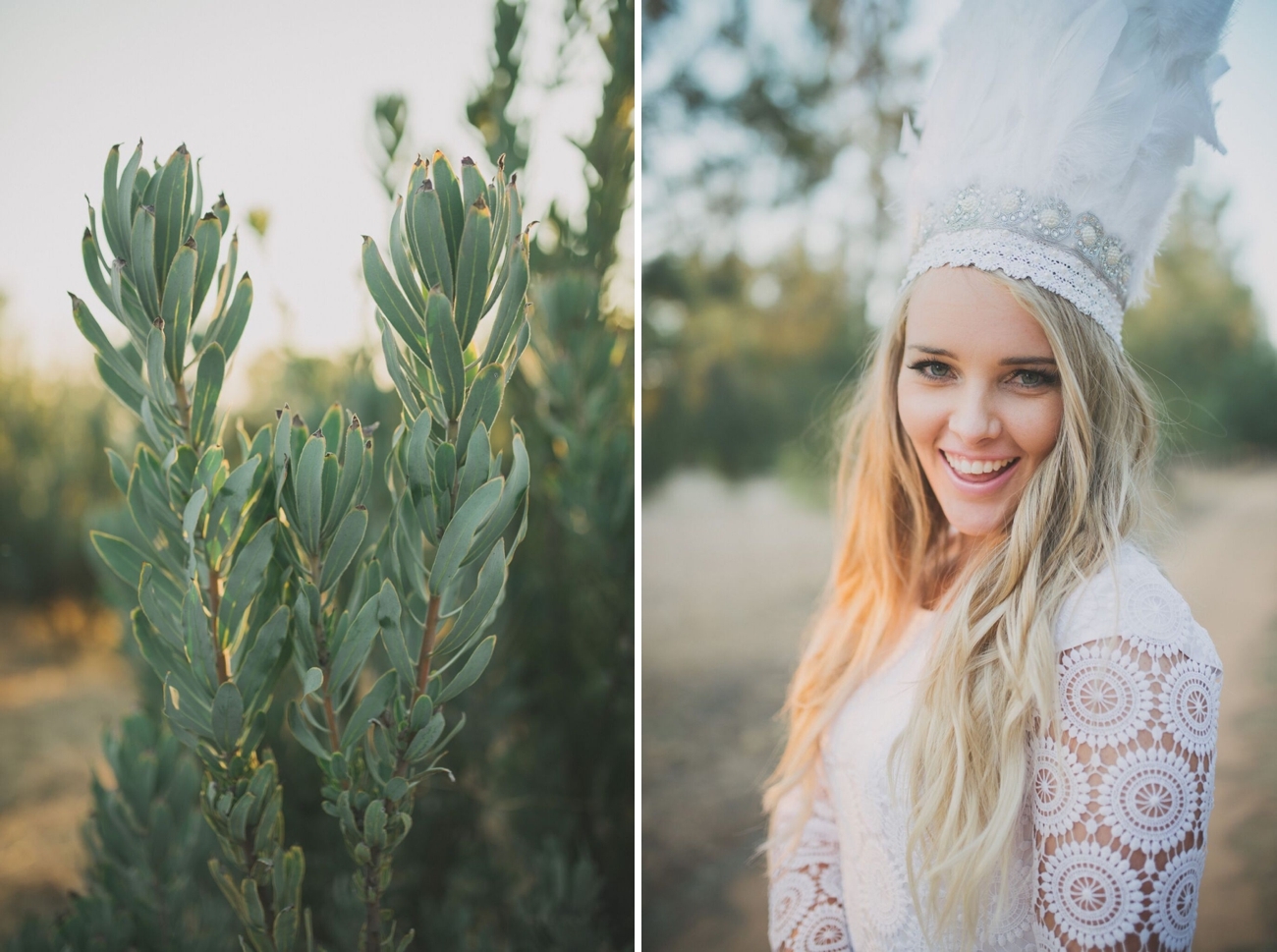 Memorable Moments
It's wildly hard to say what my favourite moment was! One really special part was just after the ceremony when everyone was playing outdoor games eating popcorn, cake and hot chocolate. David and I sat with the perfect packet of salt and vinegar popcorn with smarties in it, just he way I like it, in the forest, my favourite spot, and just took it all in and gave thanks for the beauty and perfection of this day and the once in a life time, heaven-sent friendship and love that we have found.
Proudly South African Details
The food was delicious and South African touches were really enjoyed by all our British and American guests. Matthew Mole and proudly South African music. A beautiful African setting!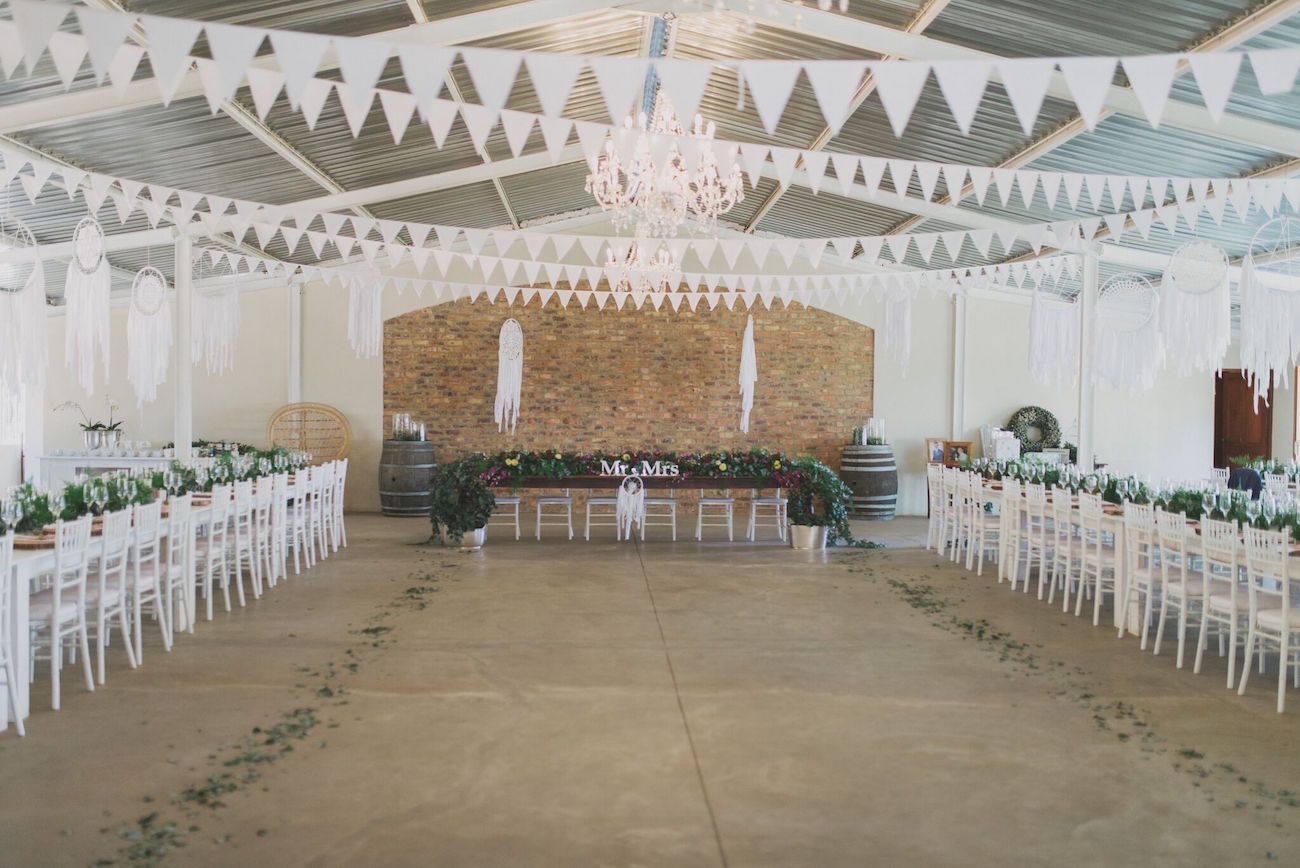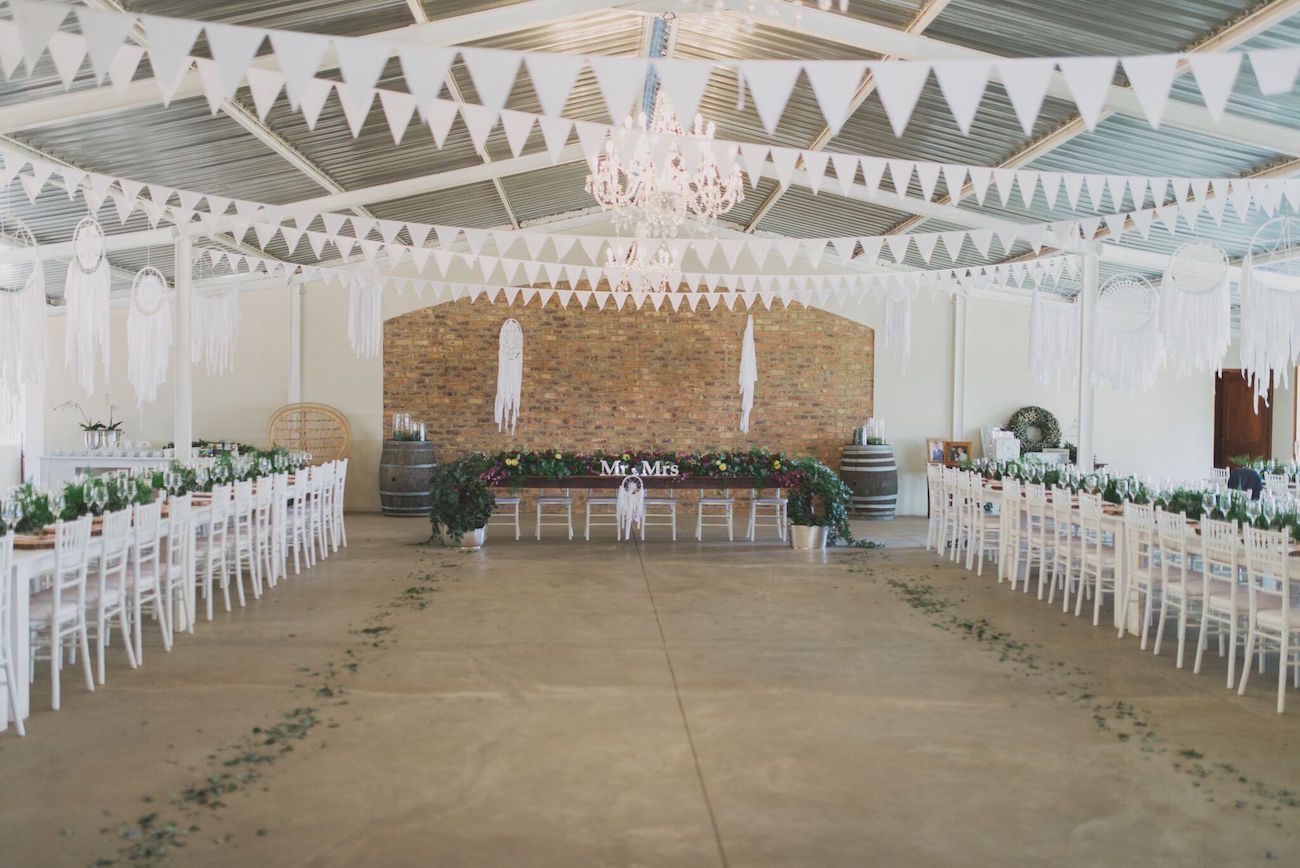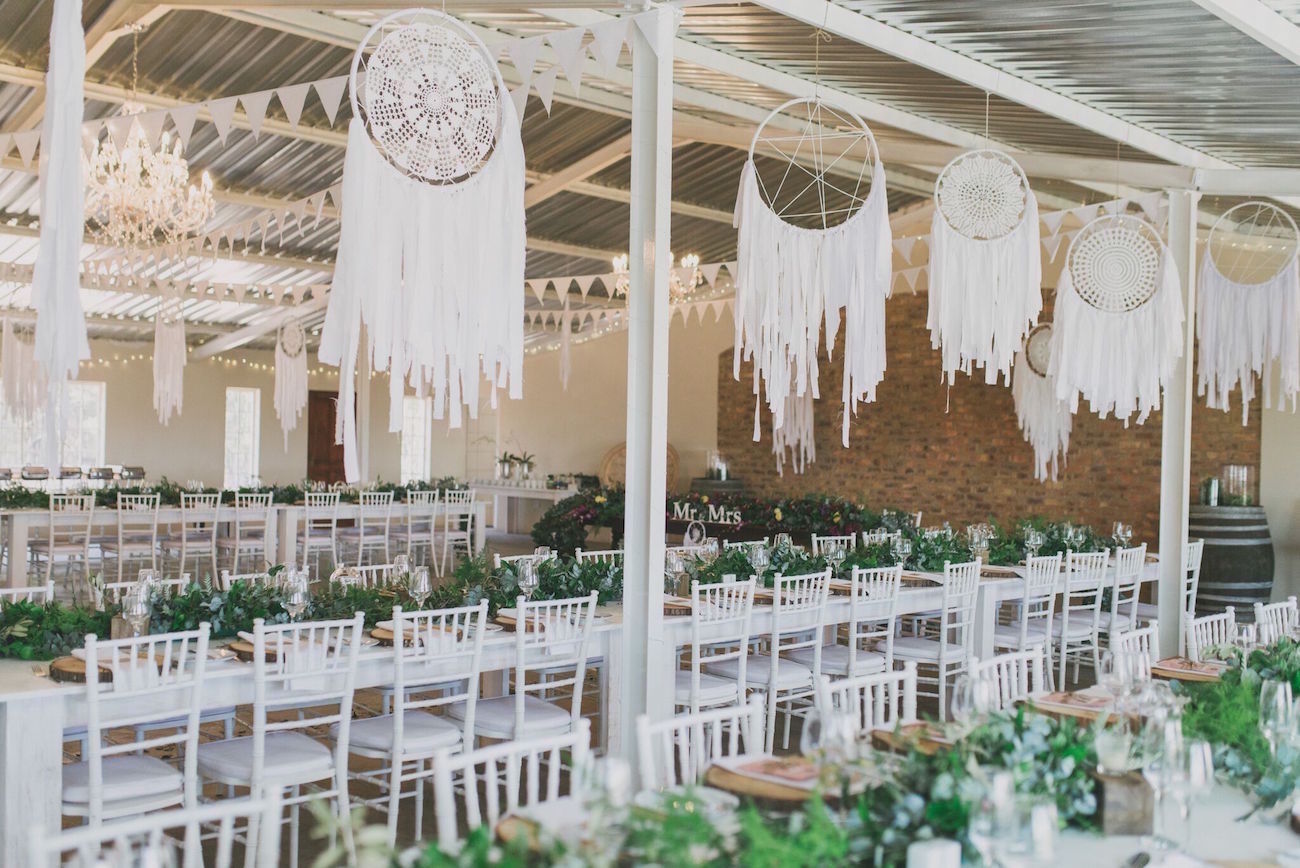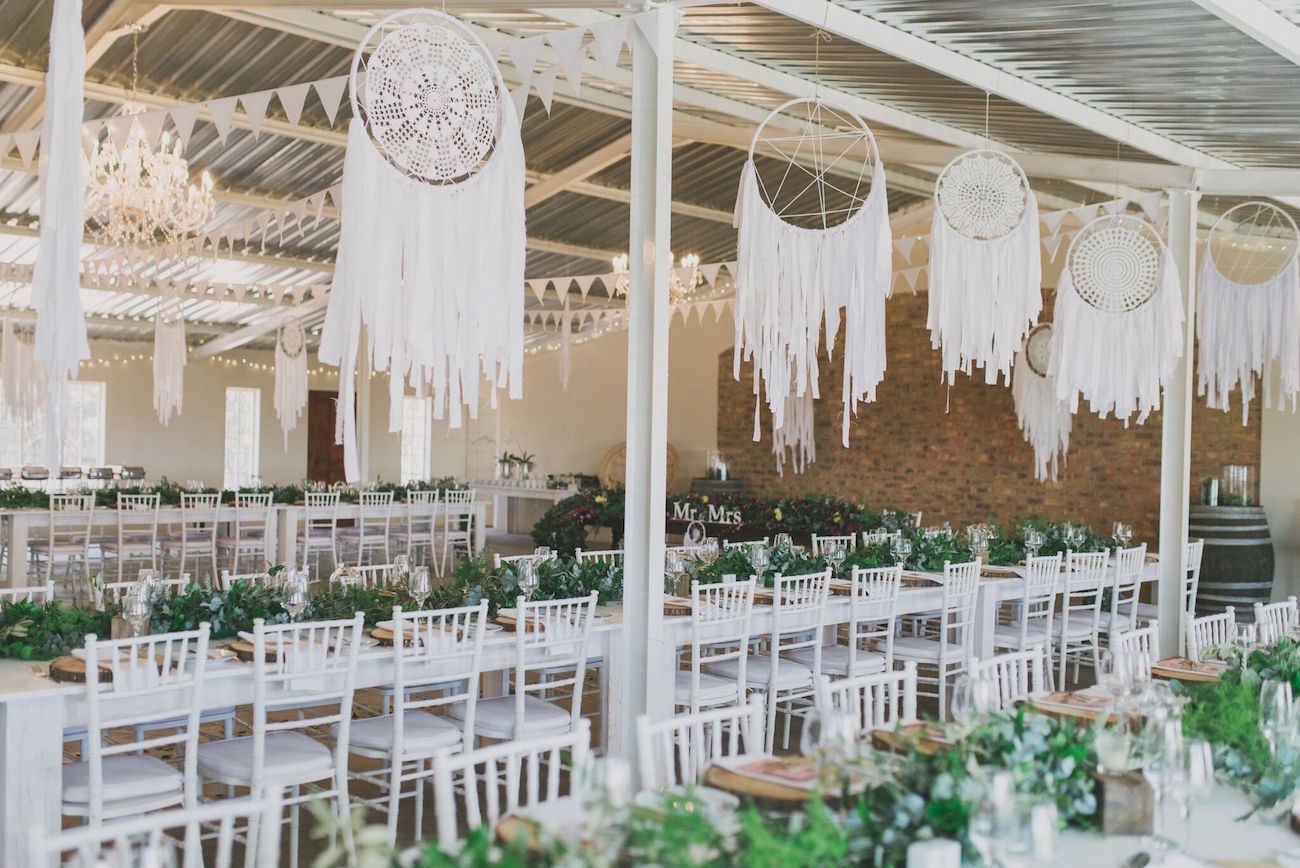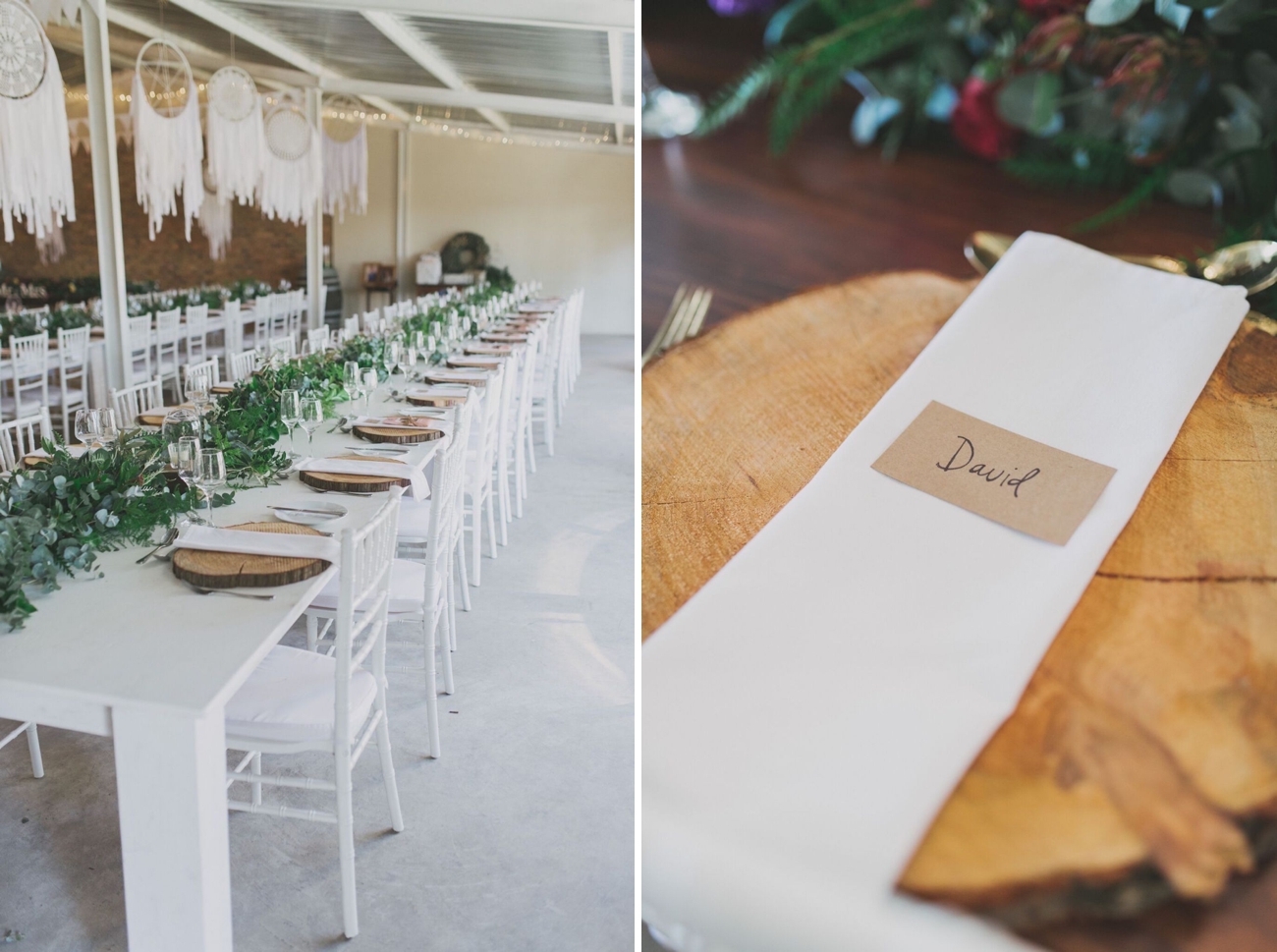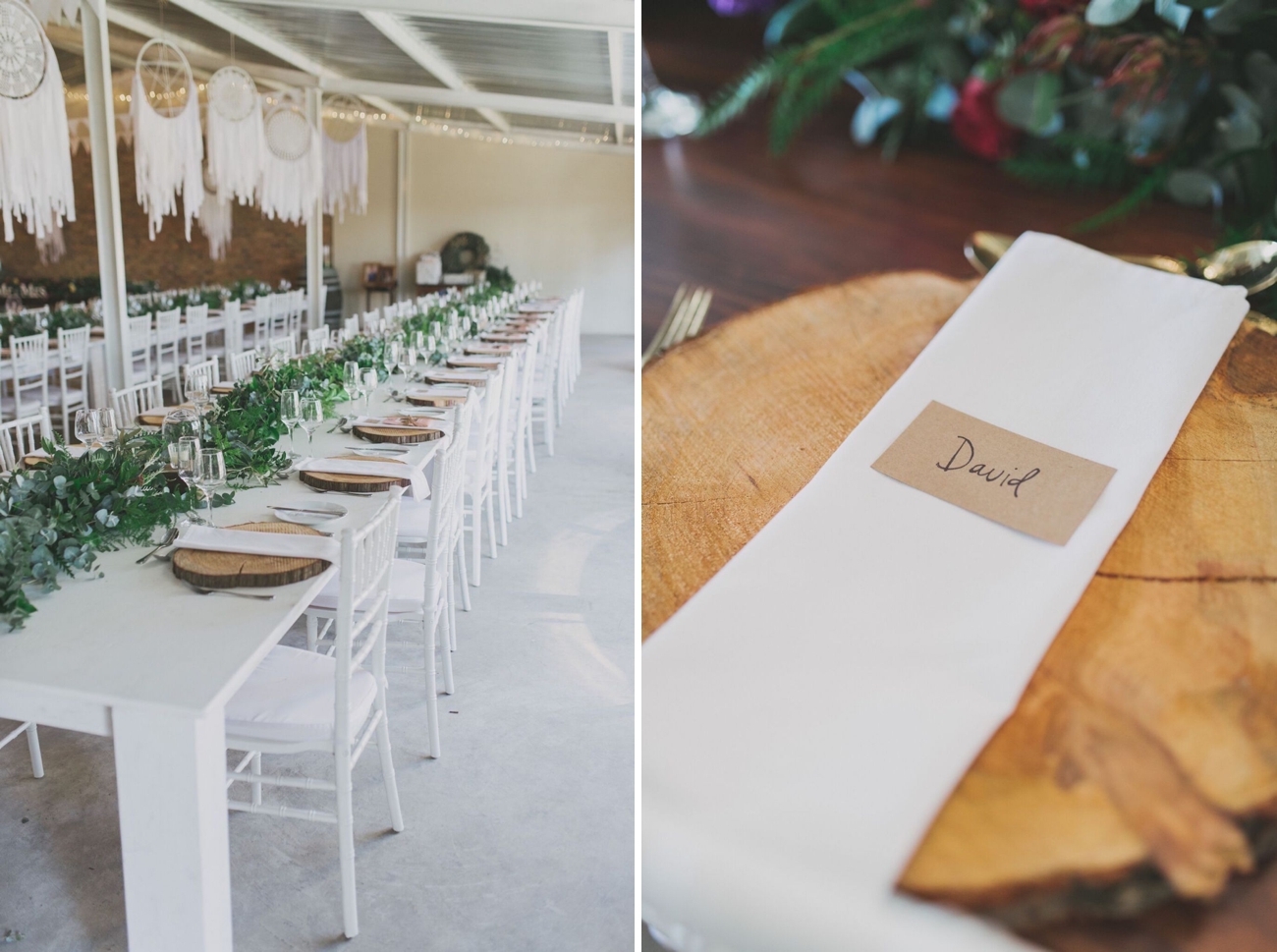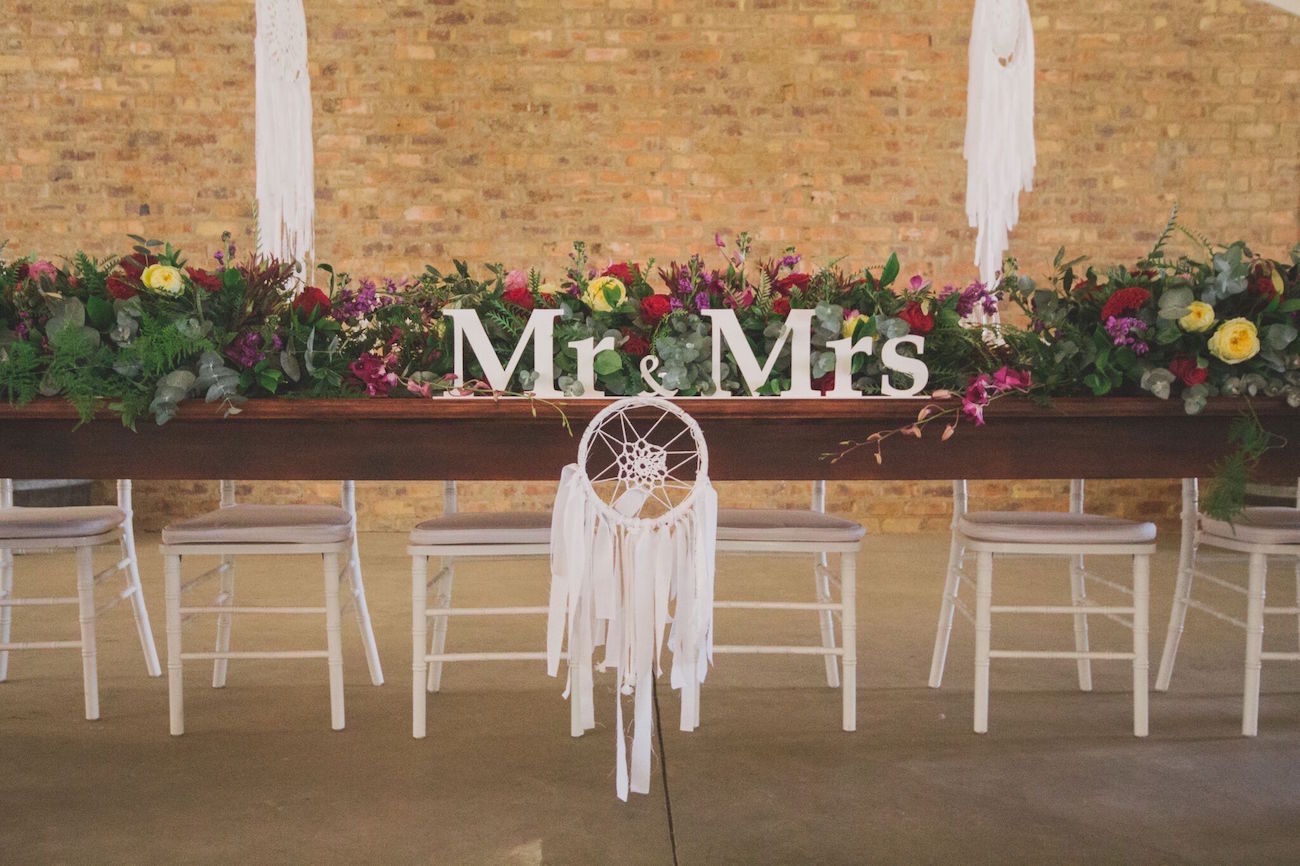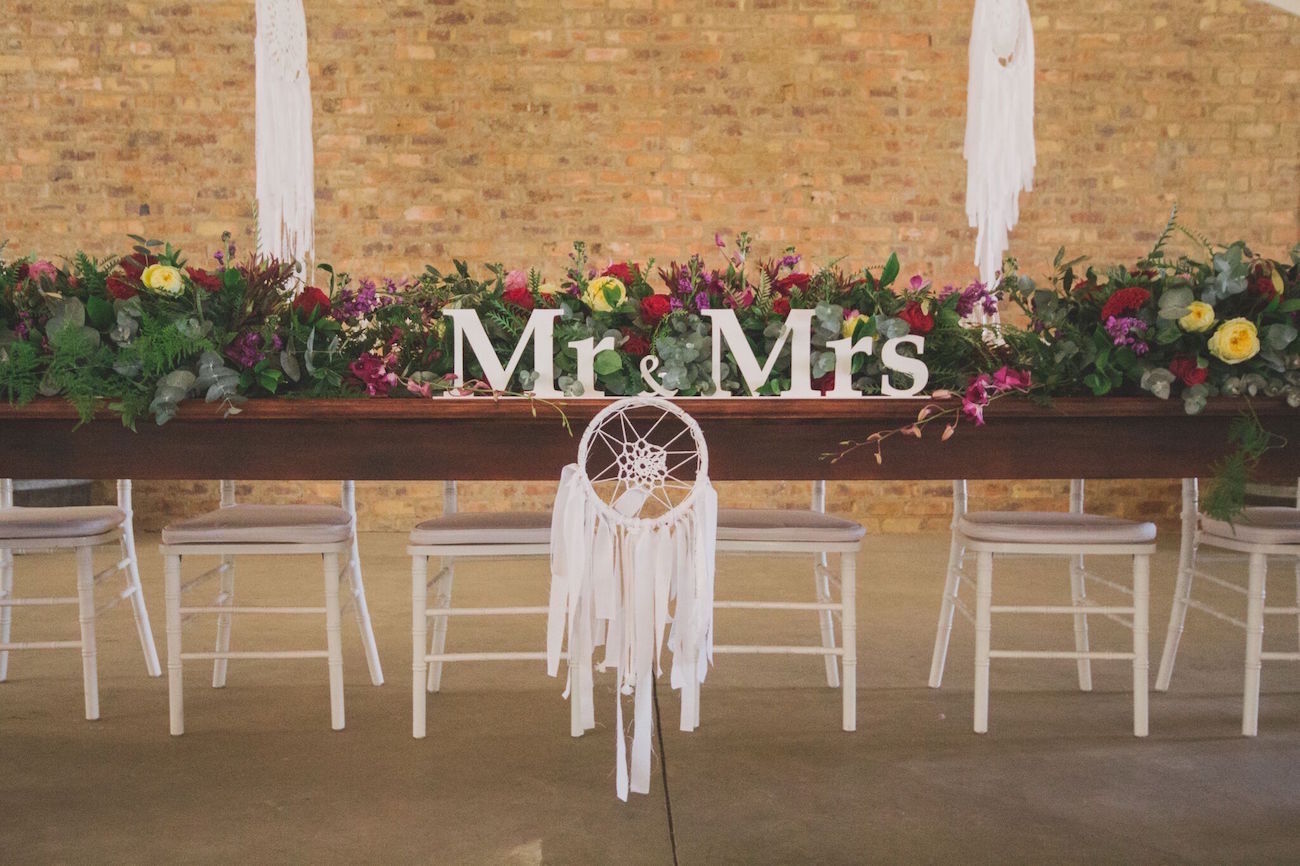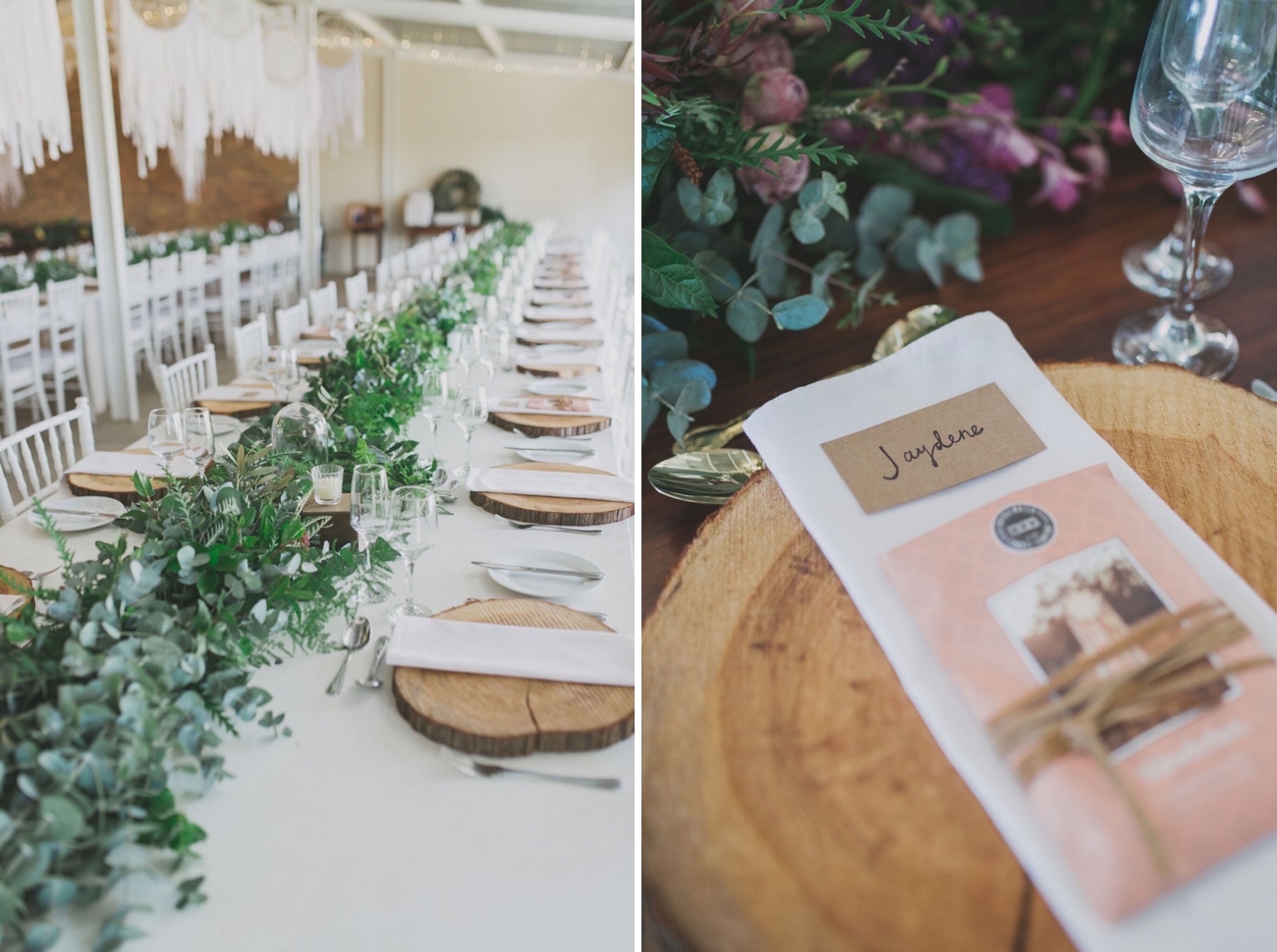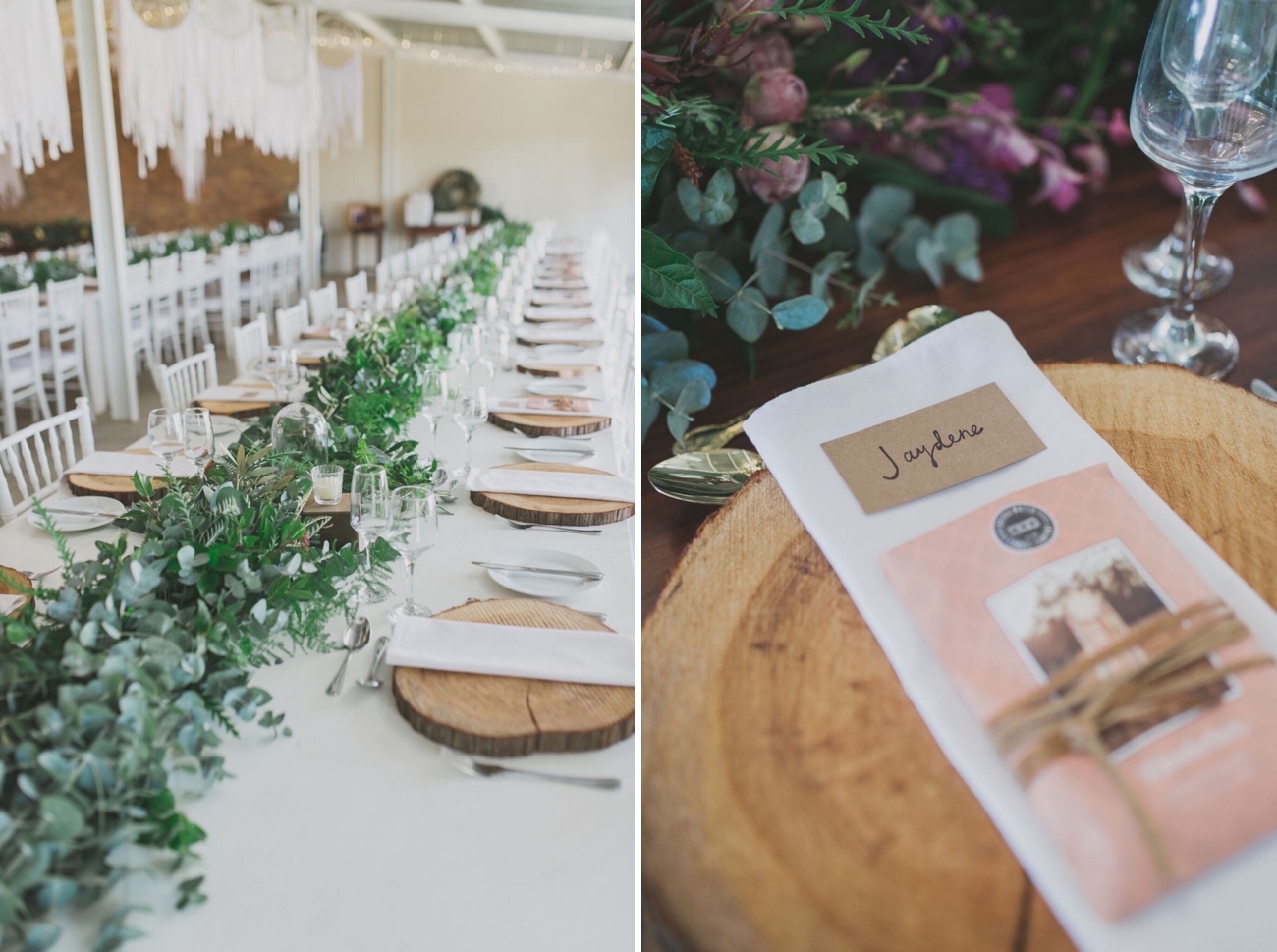 Best Decision
Making it personal, not caring about any traditional wedding rules or the way it's normally done but just creating exactly what I wanted.
Advice for Future Brides & Grooms
It's completely possible to plan your dream wedding on a budget. There are ways to do it – it's hard work but it's fun and so so worth it. Get stuck in; when you do the dirty work it's so much more meaningful. And stay off Pinterest – look and pin but force yourself to stop and plan your vision, not someone else's. There are no rules, so create your day, and do what makes you happy. If you want to wear feathers in your hair do it , if you want your bridesmaid to wear white, let them, no rules :) A wedding is important but not nearly as important as a marriage. If the focus is in the right place, things will fall into place. So don't stress the small stuff, at the end of the day the focus is your marriage, and it's going to be perfect if your love is the focus.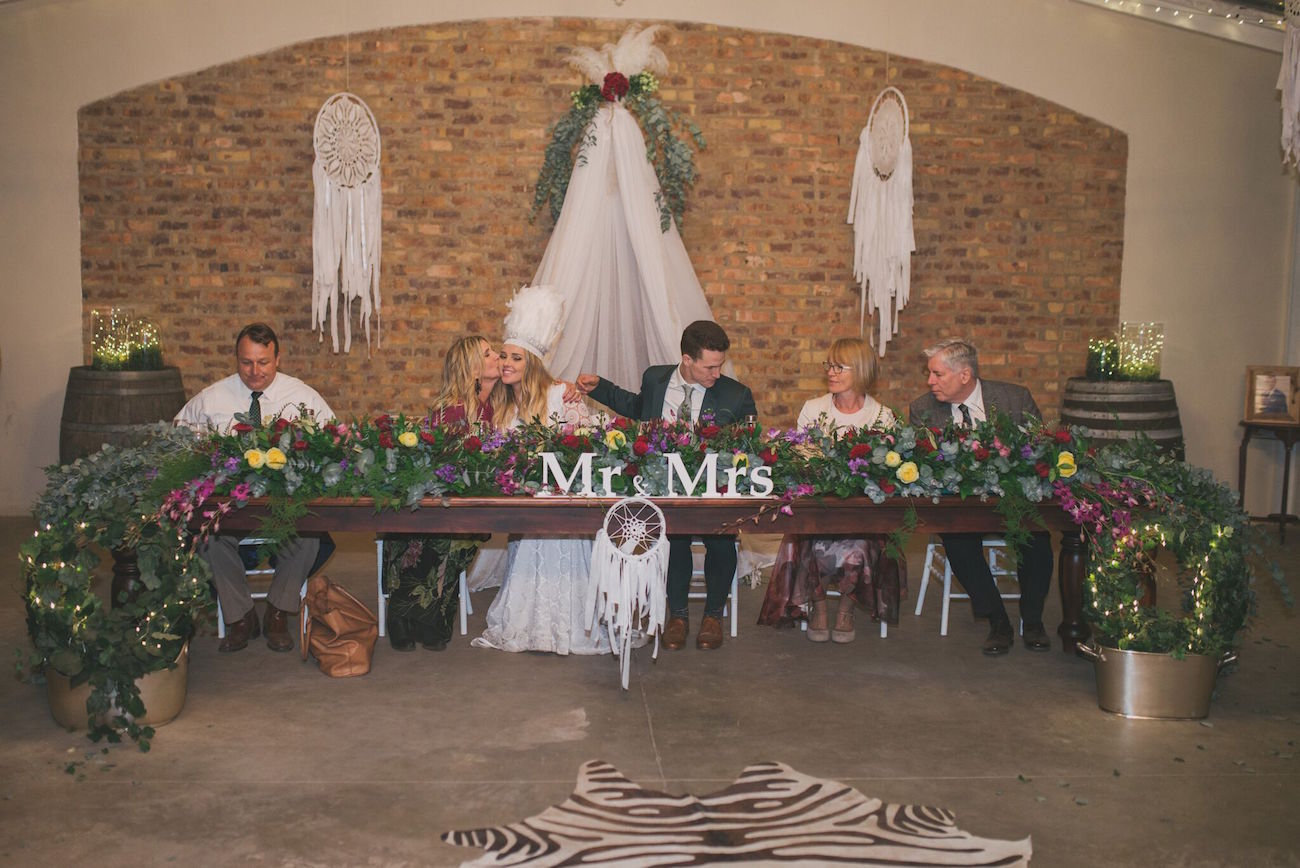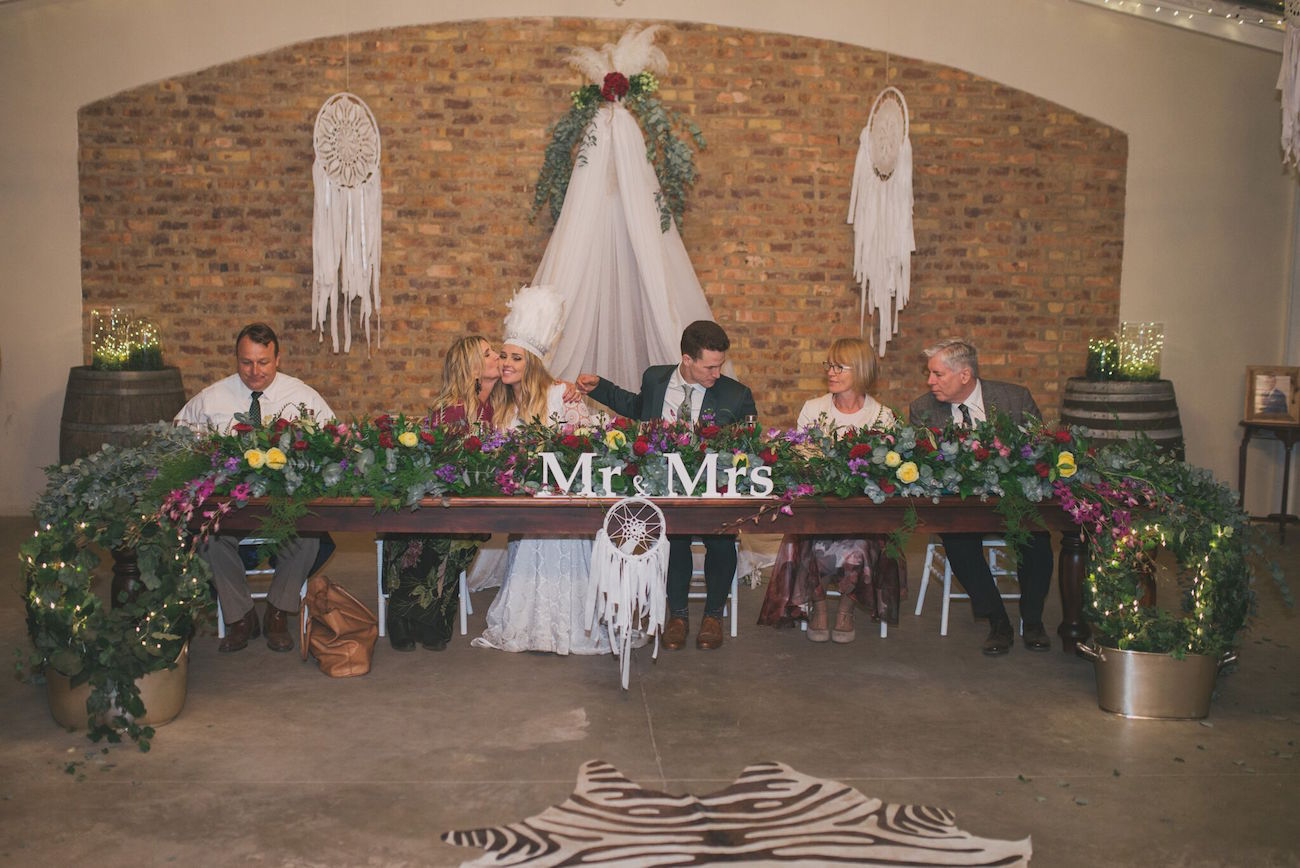 You can see more from this wedding on Vicky Bergallo's blog.
SERVICE PROVIDERS
Venue & catering: Harmonie Proteas | Photography: Vicky Bergallo | Co-ordination: Charnell de Kock (bride's mother) | Flowers & décor: Love and Grace | Video: Barefeet Videography | Stationery: Justin Greyling, Liane van Dyk | Cake: Samantha Milford Young (bride's aunt) | Bride's dress: Zan Koenig (+27 82 332 7307) | Makeup: Gill Snijman (+27 73 260 8314) | DJ: Latter Dance Saints | Singer: Pumi | Dreamcatchers and headdress: Native Legacy | Favours: Bridgewater Candle Company


Save
Save
Save