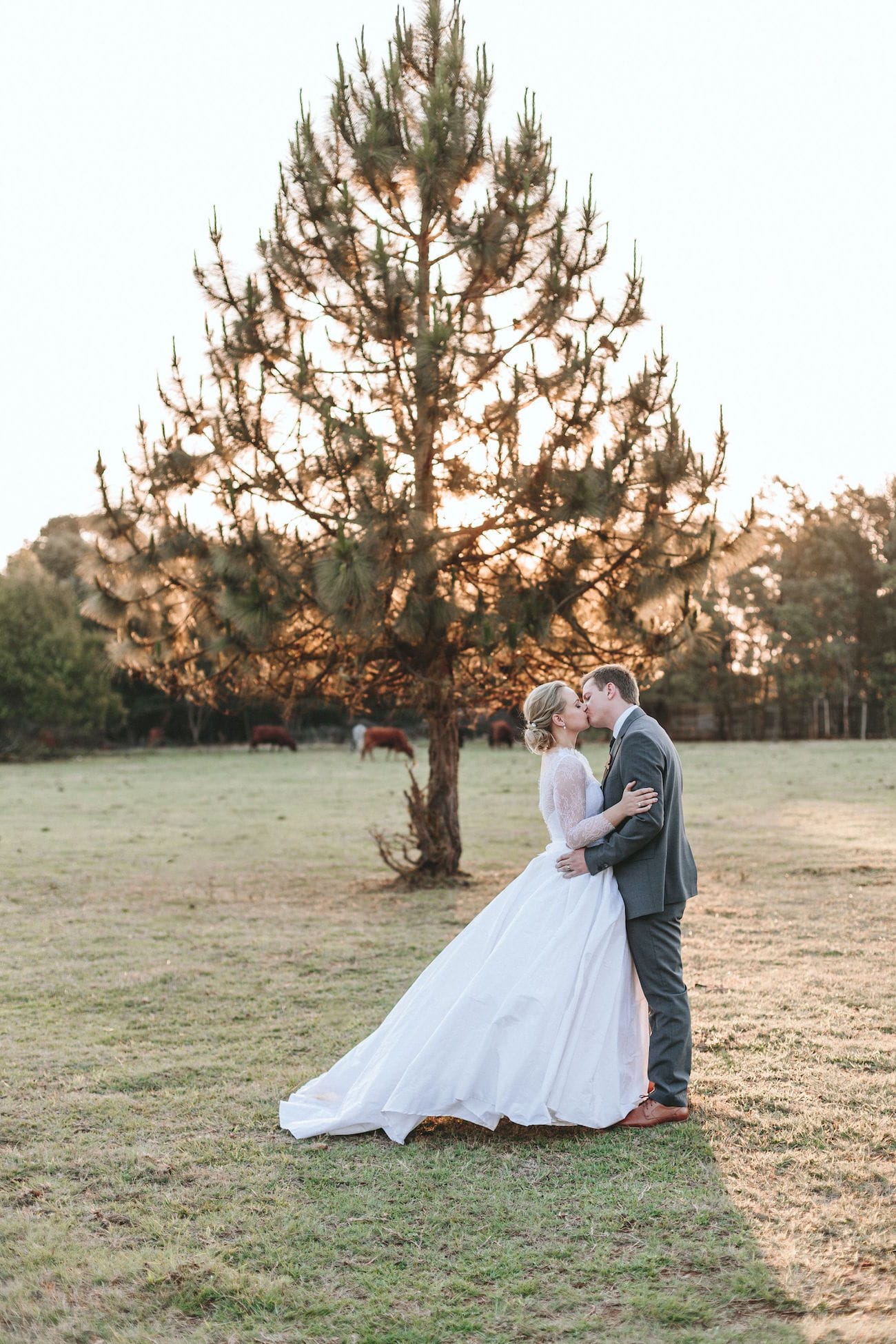 This wedding is all about the pairing of beautiful elements – each lovely on their own, but even better together. Greenery and lace. Rustic and vintage. Bride and groom, Rozanne and Hennie! All a perfect match. I love the simplicity of white lace against the wild succulents, and sweet DIY details like the bridesmaids' wreath bouquets or the miles of pretty lace bunting made by Rozanne's mom. But I think my favourite element is the oh-so-original (and oh-so-South African!) use of vintage wrought iron burglar bars as a base for hanging centrepieces. I mean, seriously. Burglar bars! It's genius! And so pretty. There's loads here to inspire, and with dreamy pictures by Aline Photography, it's the perfect way to start your week.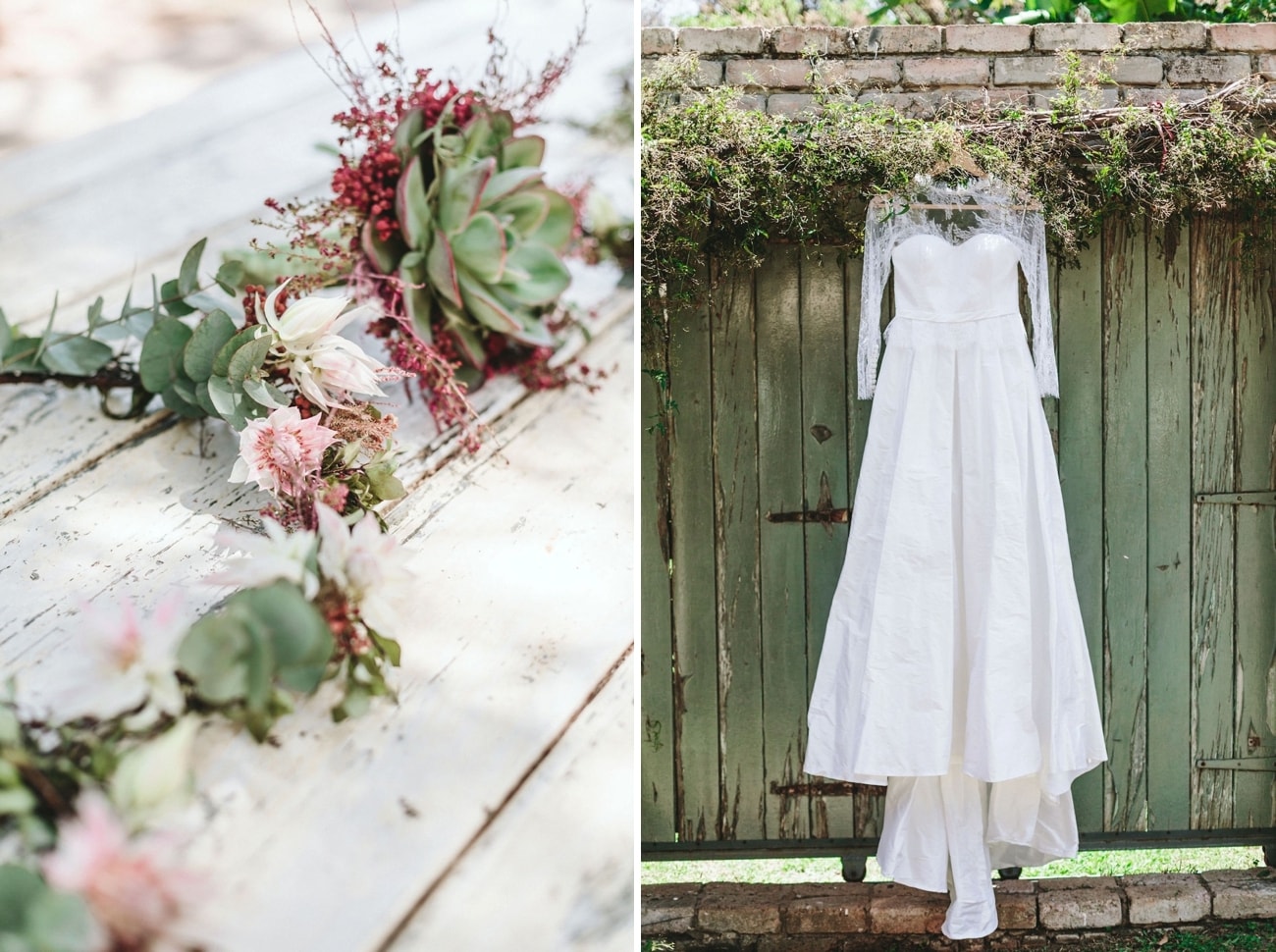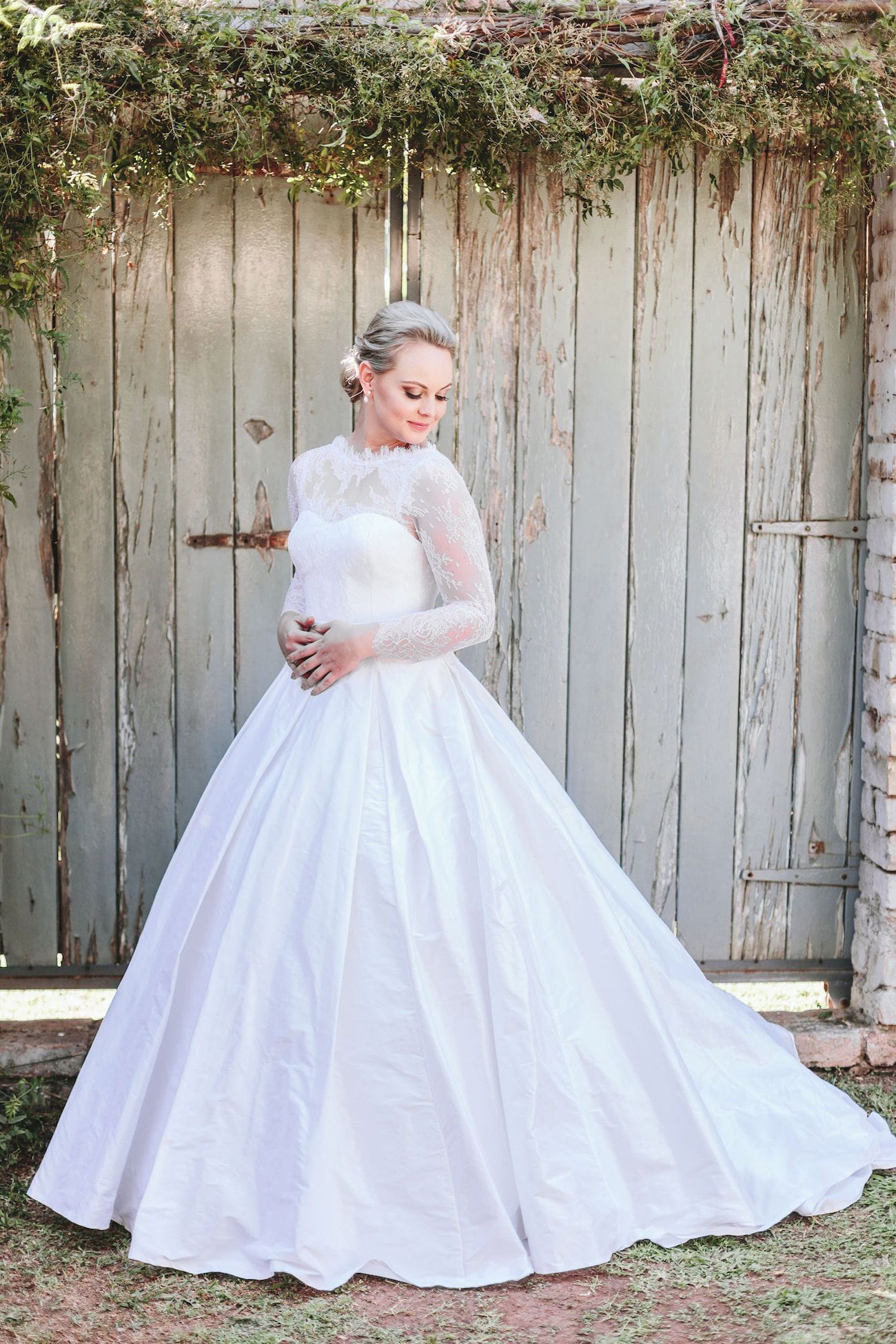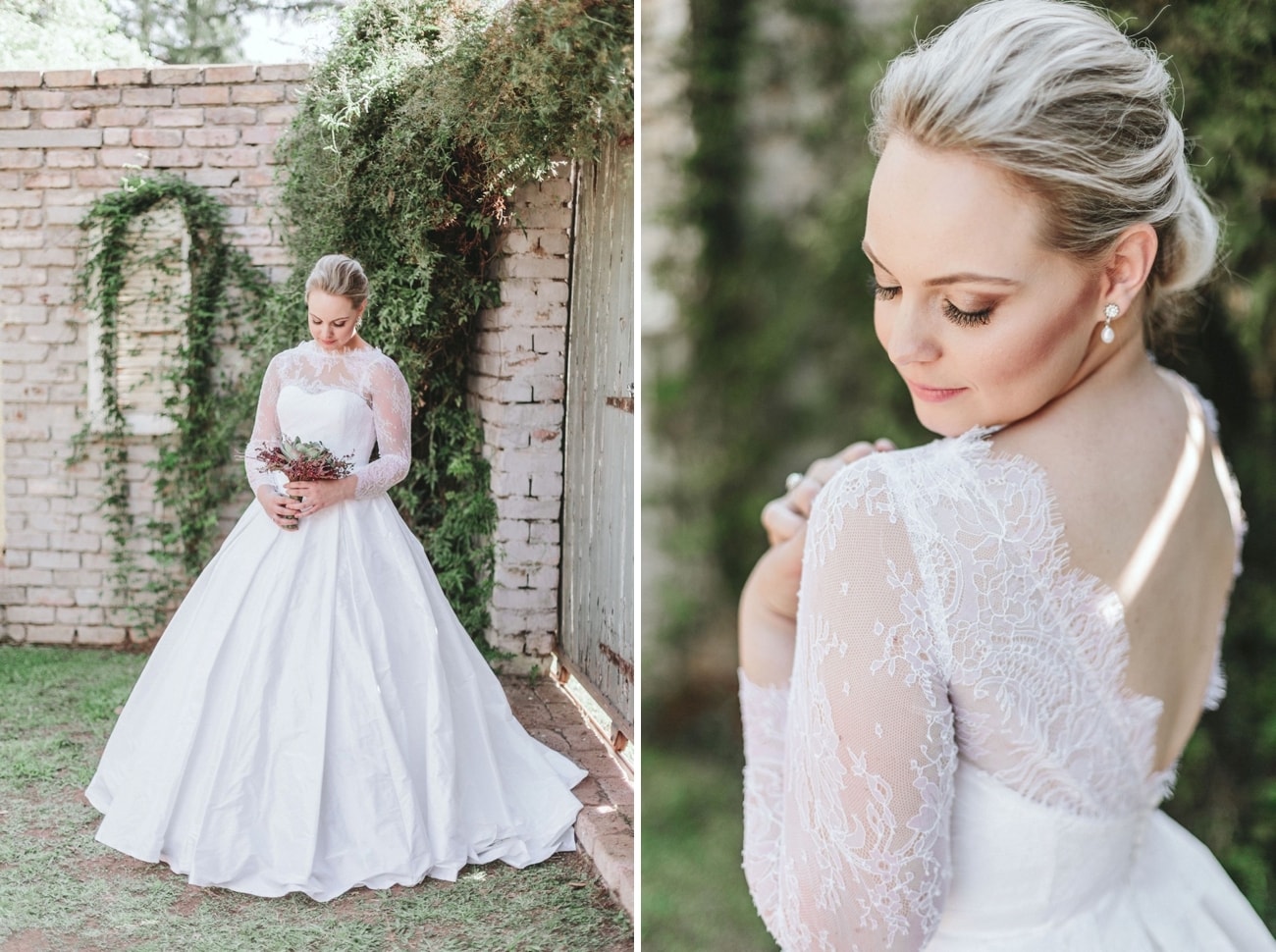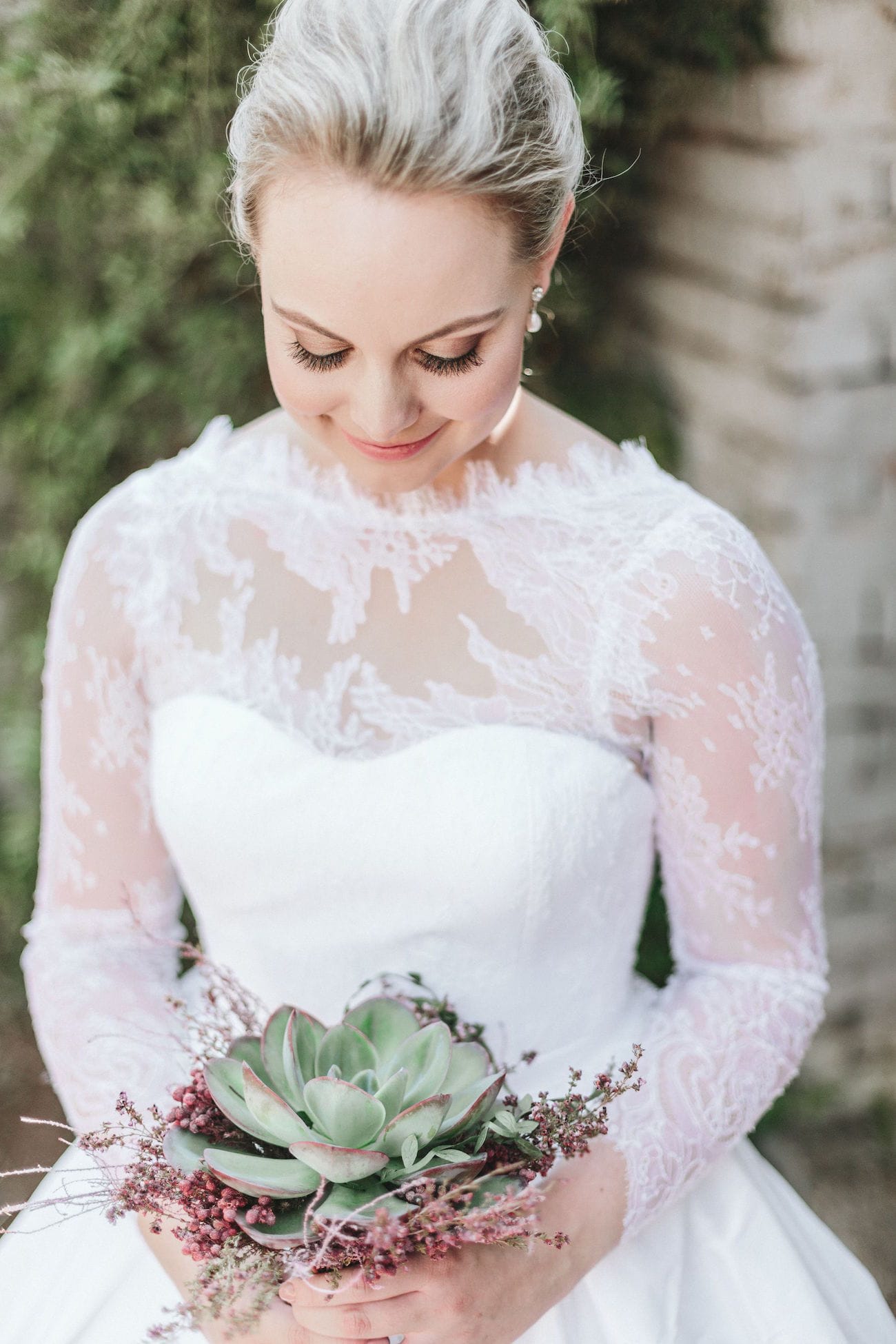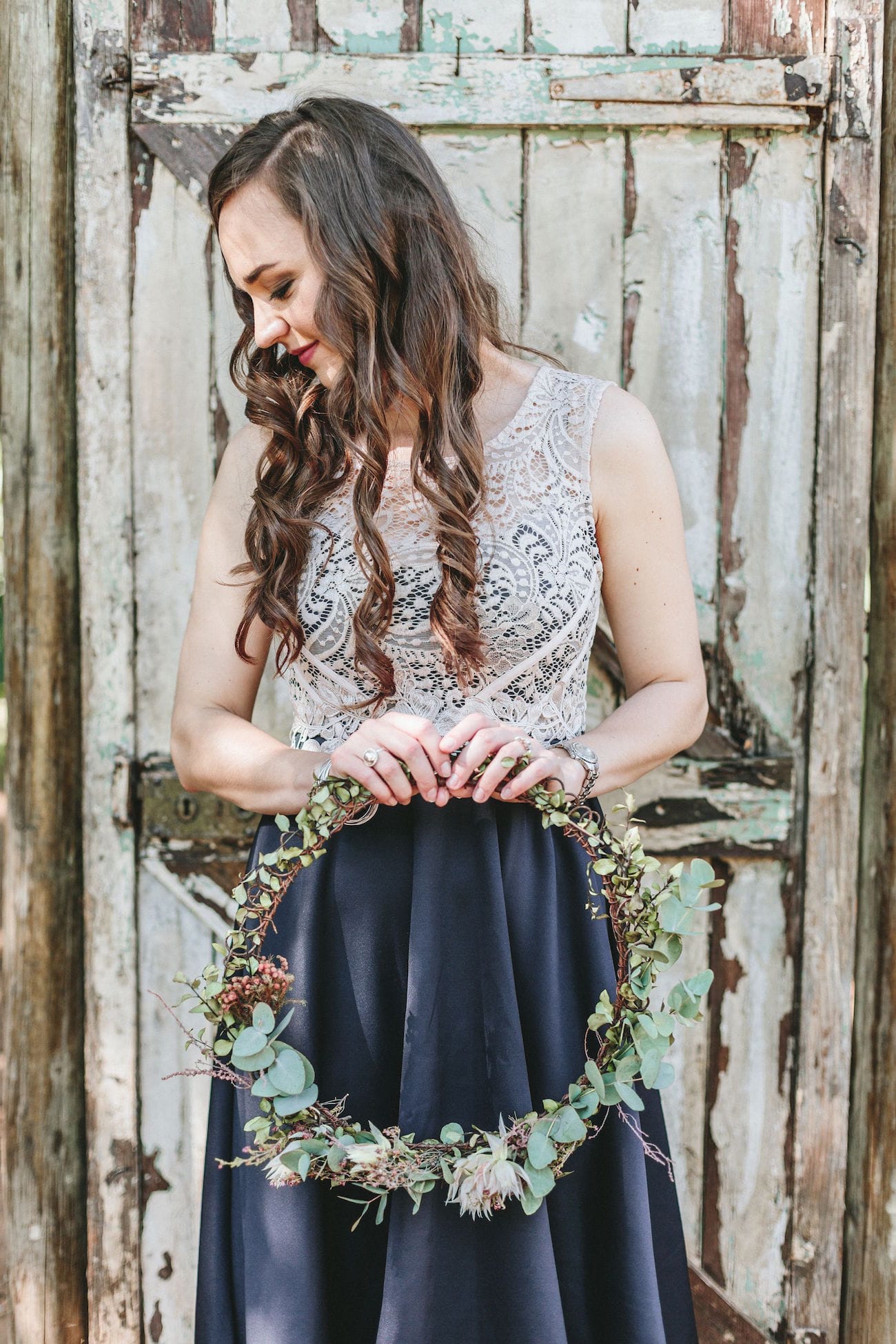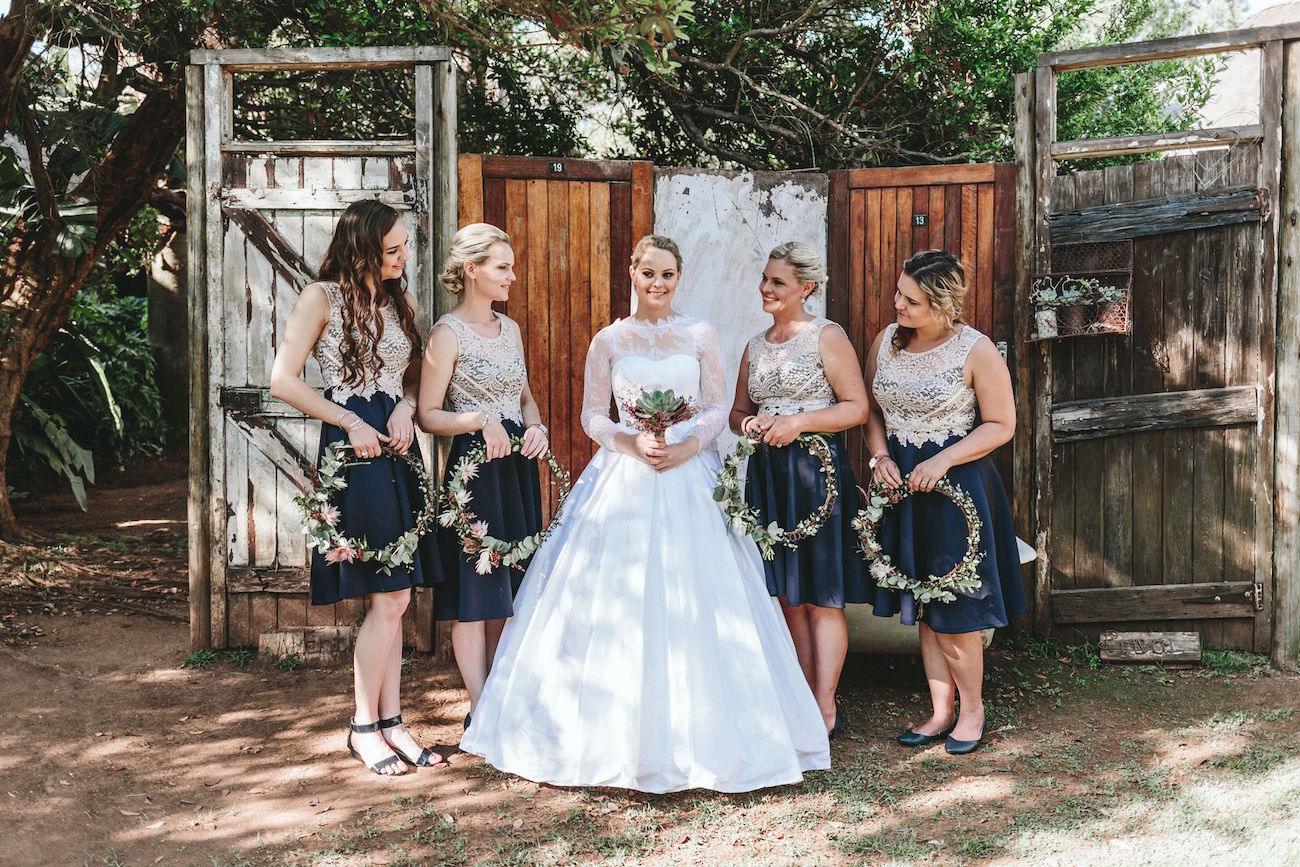 Love Story
After years of missing out on meeting each other after knowing mutual people, we finally met at my cousin's wedding in 2014. He knew the couple from university and I think God knew that it was the right time for us to meet. We had a few dances throughout the night and by the end of the evening his cellphone battery had died, so he couldn't take my number. He actually memorised it and sent me a message later that night when he got home. We went on our first official date two weeks later, where our lunch date turned into a dinner date and life as we knew it was never the same.
The Proposal
We both have a great love for nature and the bushveld and I am more than a little bit in love with Zebula. After acting very secretive the whole week, Hennie asked me to not make plans for the weekend. I think he was meant to blindfold me closer to the elephant sanctuary but the excitement got the better of him. I was excited nonetheless. After having drinks overlooking the waterhole, they brought the elephants out where we could interact with them. I cannot recall when I was as immensely happy as at that moment. Thinking that was the big surprise, I found out that he also booked a safari. About ten minutes in, our guide had us stop. I couldn't understand why the rest of the group had continued on their safari until Hennie took my hand in such a way that I knew something big was coming. We walked into the field a and I saw a picnic basket and wine around one of the bends in the bush. He got down on one knee like a proper gentleman and asked the big question. He never ceases to amaze me and that day was no different. We spent the rest of the weekend at Zebula, before we went home to celebrate with our family.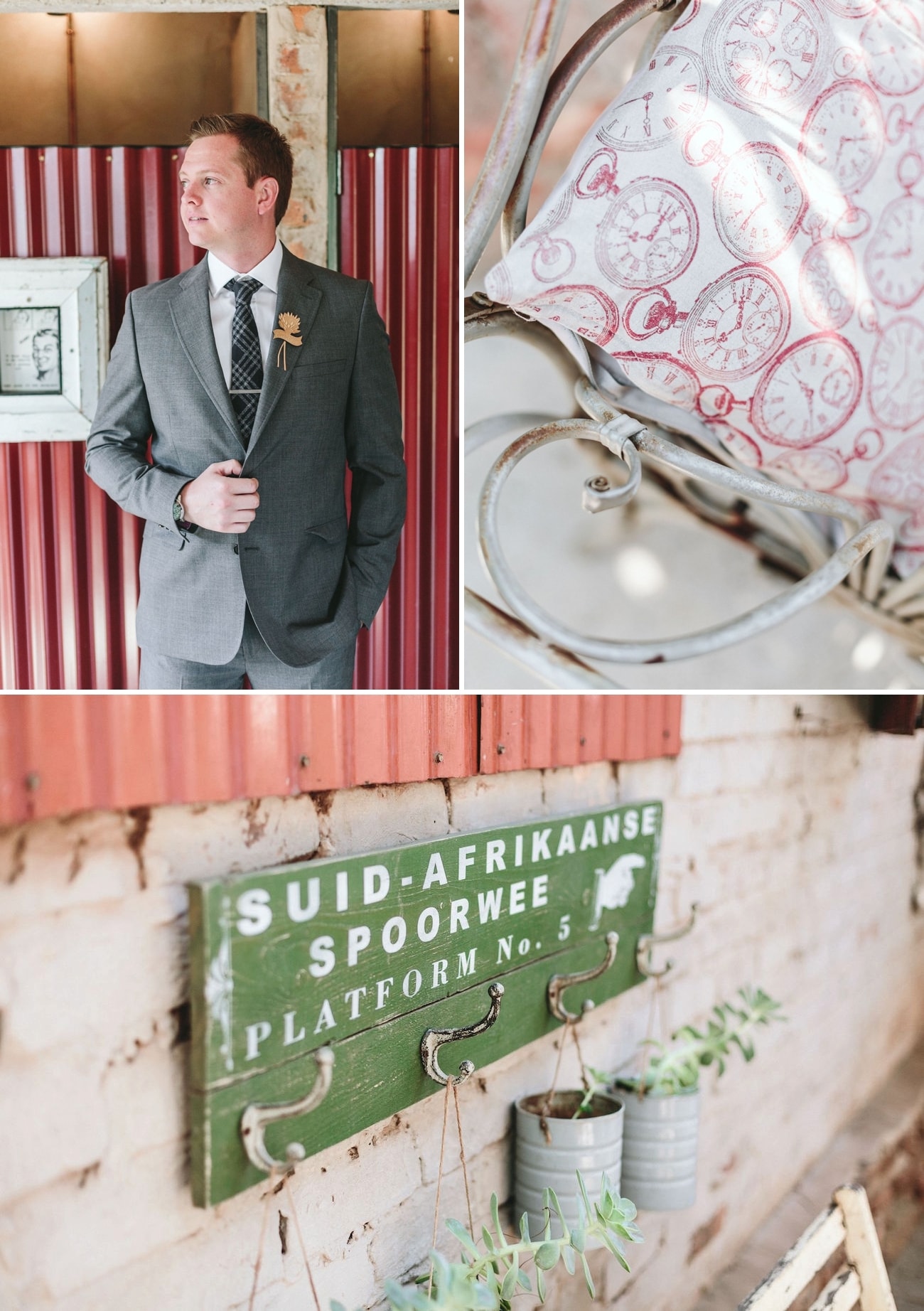 The Venue
We were looking for a place where we both felt comfortable. As soon as we drove through the gates of Imperfect Perfection we both knew that we had to have our big day there. It is an amazing farm-style, rustic venue and ticked all the boxes. Lene and her team have the most amazing set-up there and thought went into every single corner and brick. We immediately fell in love with the atmosphere and would recommend this venue to anyone. The scenery and cows walking around in the field definitely helped seal the deal! The service and involvement at this venue was impeccable.
Wedding Style
We wanted a clean and romantic set-up. Succulents and greenery made up most of the decor along with white lace. We didn't want anything over the top or overwhelming and wanted to keep it simple and elegant.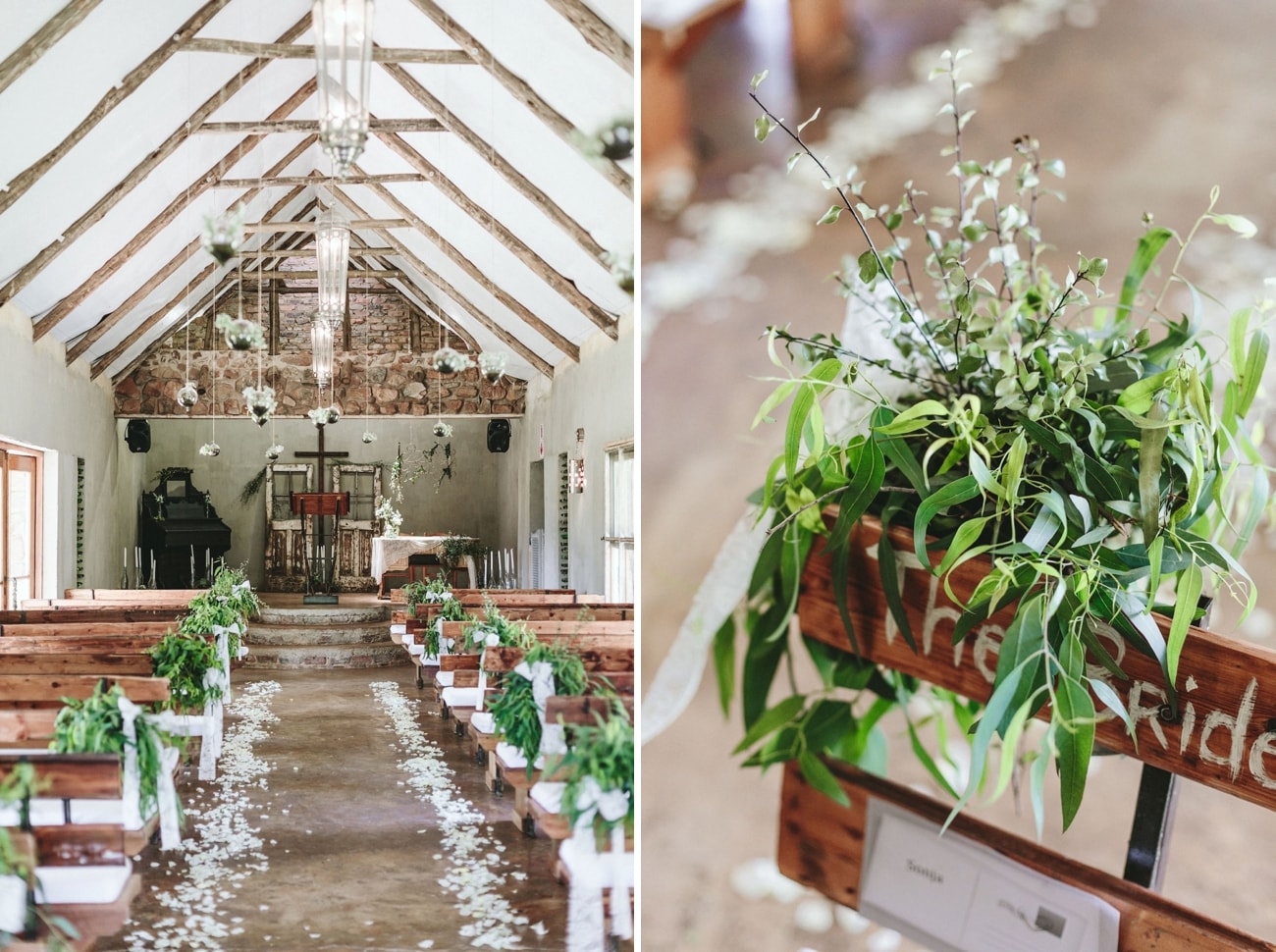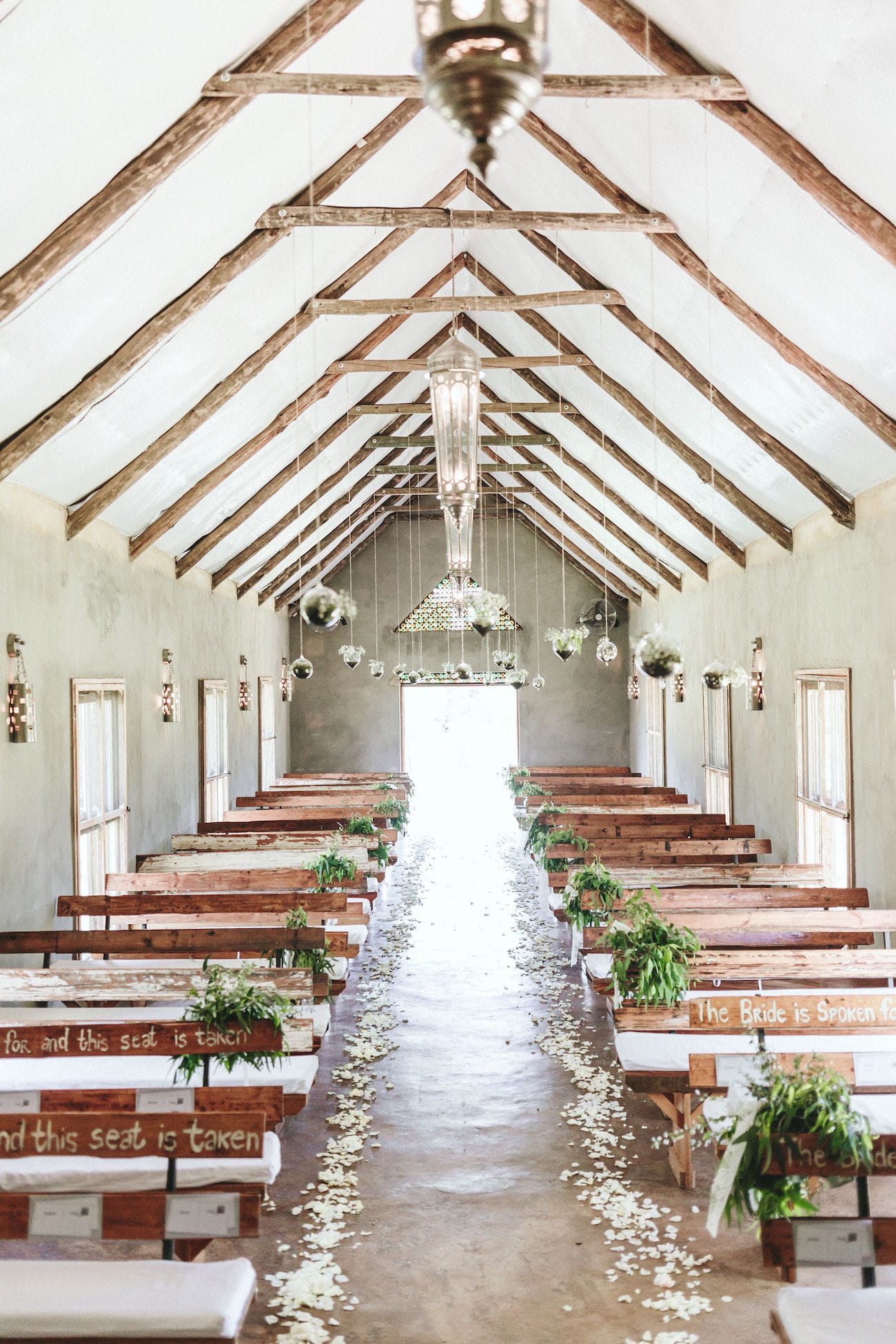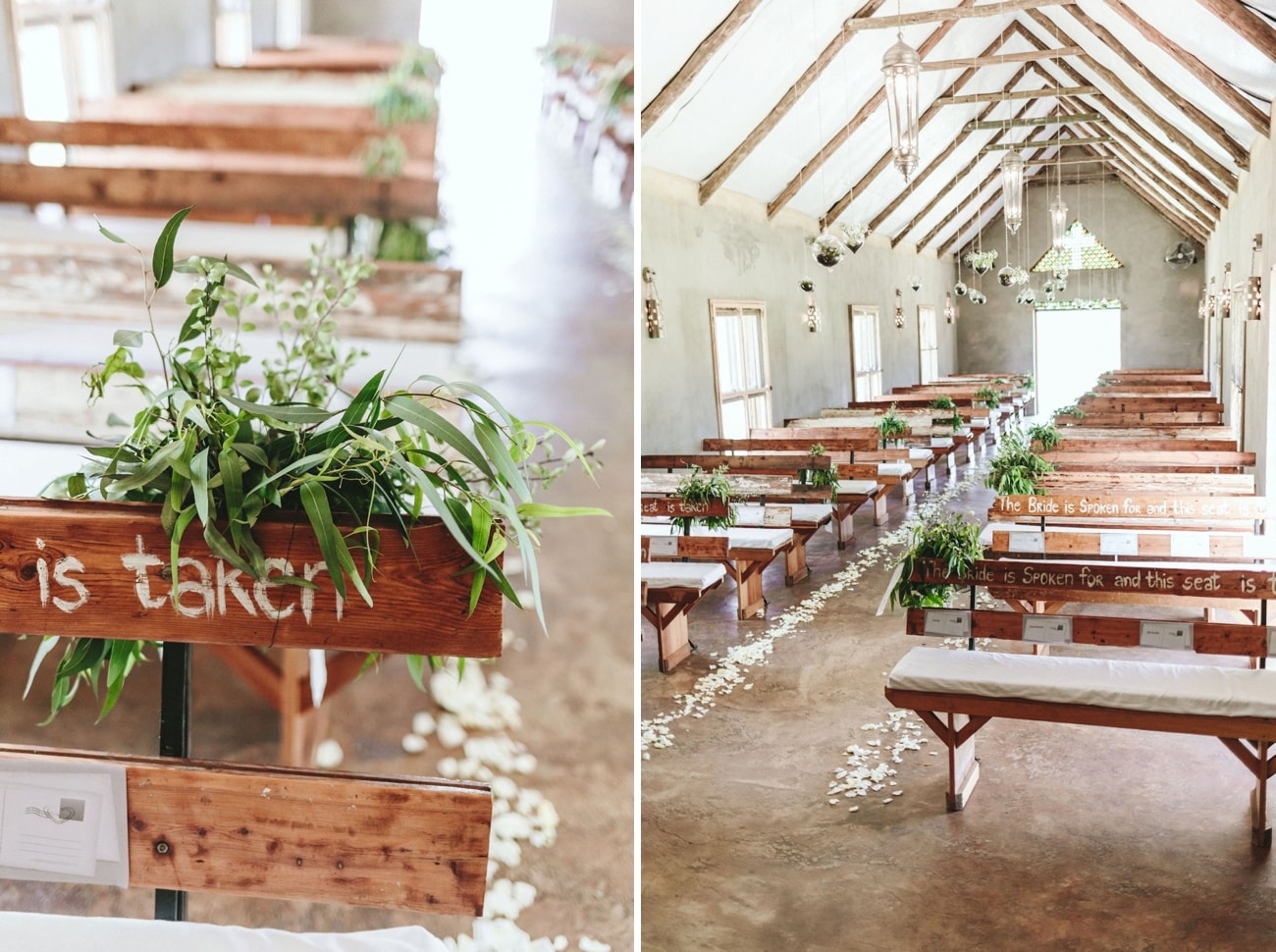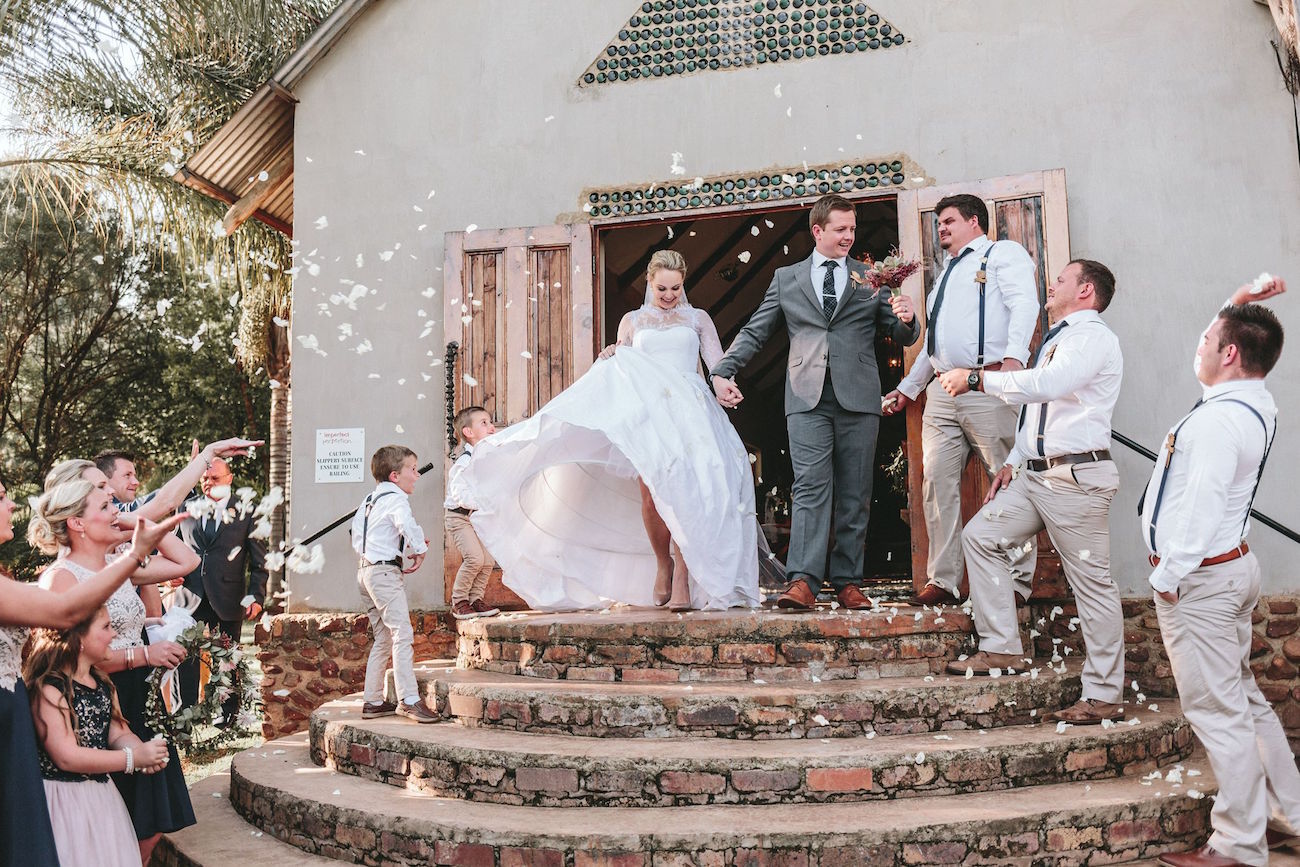 Wedding Details
I chose to have succulents on the tables as they perfectly portray the "a little love goes a long way" saying. The plant also continues to grow regardless of harsh external elements and that is exactly how we live our lives. To respect and love one one another, despite what life throws your way. We also gave every female guest a succulent plant as a wedding favour with our wedding date on the container. We loved our midKnight (playing around with our surname – my husband's idea!) snack paper bags that guest could take home filled with goodies. The bunting hanging from our reception ceiling and the old burglar bars hanging over the tables were definitely some of my favourite wedding details. Gary from Biscuit King Mafikeng made our delicious three tier chocolate wedding cake and I can assure you there was not enough of all that deliciousness!

DIY Elements
We did not make use of a decor company as we wanted to be personally involved in our wedding. We used a lot of decor from the venue and played around with it until we had the perfect match. The majority of the elements were DIY. I designed and made all the stationery myself. My mom worked through nights making our beautiful lace runners and after not being able to find the lace bunting that we wanted my mom cut out 700 flags and sewed them together to make bunting that ended up being over 140m in total. She also made my niece's flower girl dress to tie in with the bridesmaid dresses. Doing most elements yourself is obviously much more stressful, however the end products were all exactly as I imagined them to look.
The Dress
After seeing wedding photos of a girl I went to school with, I contacted her asking her where she bought her dress from, since the lace detail was very similar to what I had in mind. I was so happy to find out it was a Gauteng-based designer! I immediately contacted Estelle Visser to make an appointment. I wanted a dress that would make me feel like royalty and man, did she deliver on that! I never went to try on dresses because I knew I would not find what I wanted in a store. Estelle bought the lace for my dress in Paris on her buying trip and that made it feel even more special. From the onset, she knew exactly what I wanted and I did not doubt for one second that it would turn out anything less that what I expected. She is an amazingly talented designer.

The Bridesmaids
I had four bridesmaids: my two sisters and two of my best friends from high school. I also wanted the lace and romantic style for them and was so lucky to find exactly what I was looking for, an entire year before the wedding! Because we didn't really have a colour, it was easy to make a decision when we bought them. They all looked gorgeous in their dresses. I have to mention Mandri Pietersen, who did makeup and hair for seven people by herself – this girl was an absolute star! She was so calm and collected and made me feel the most beautiful I have ever felt in my life.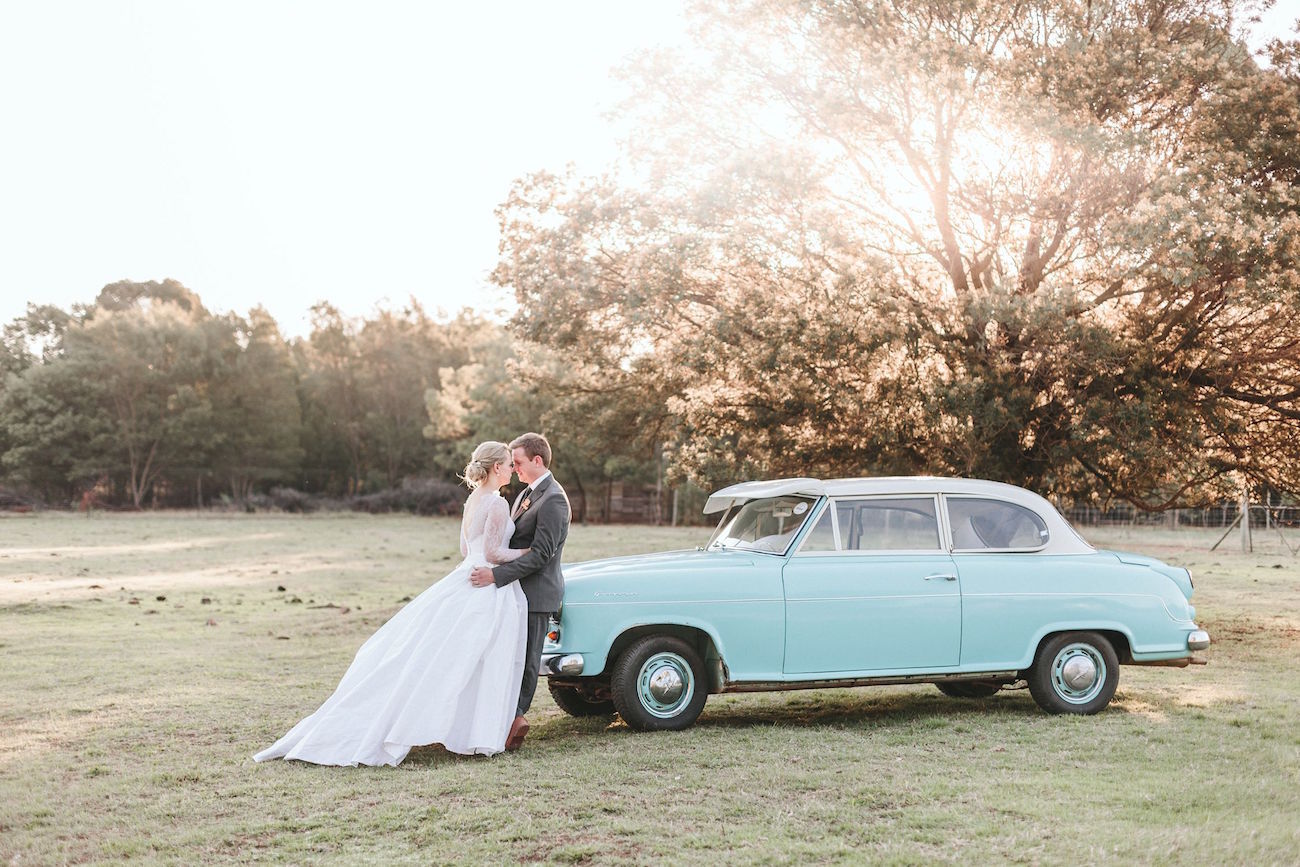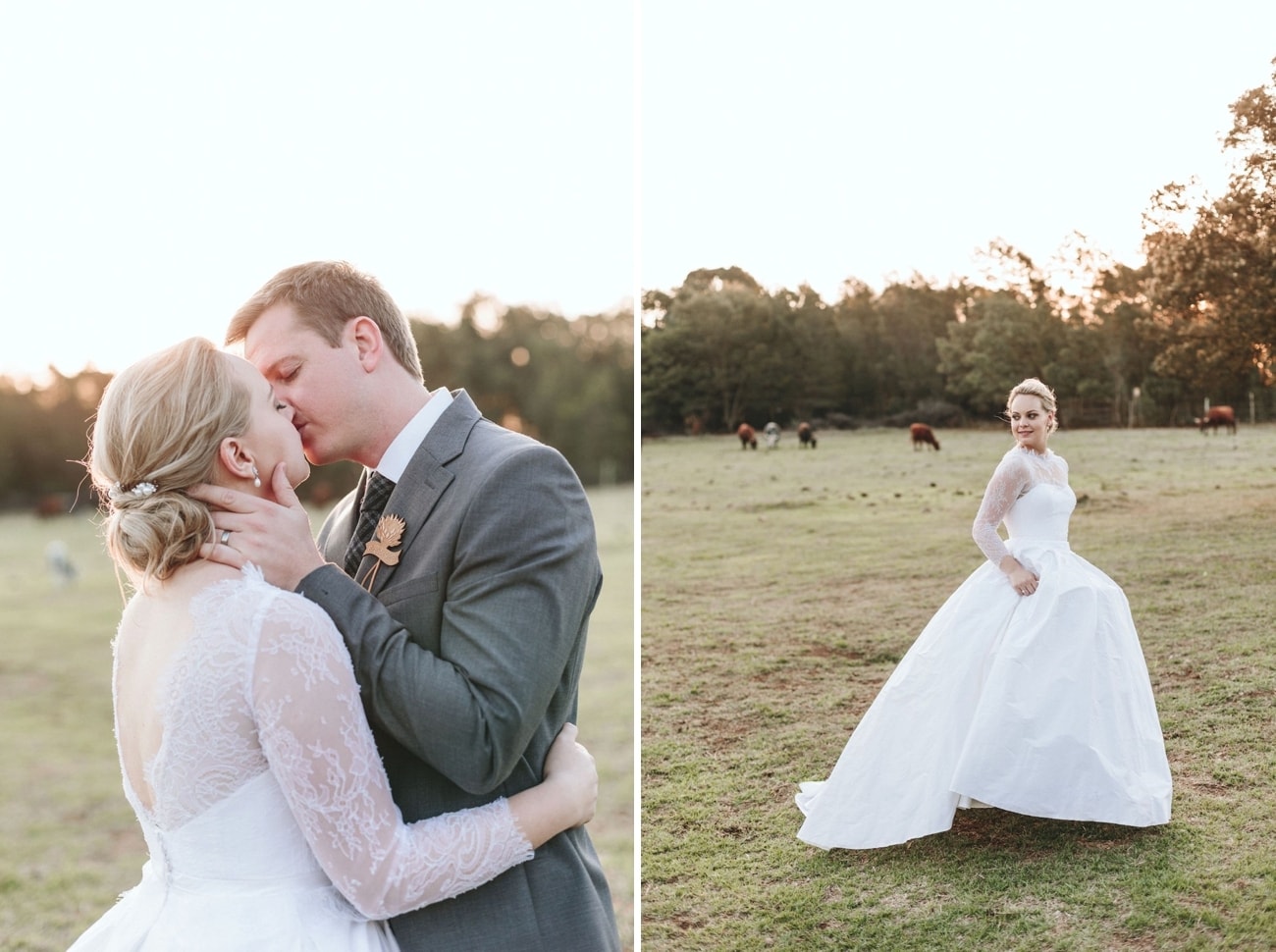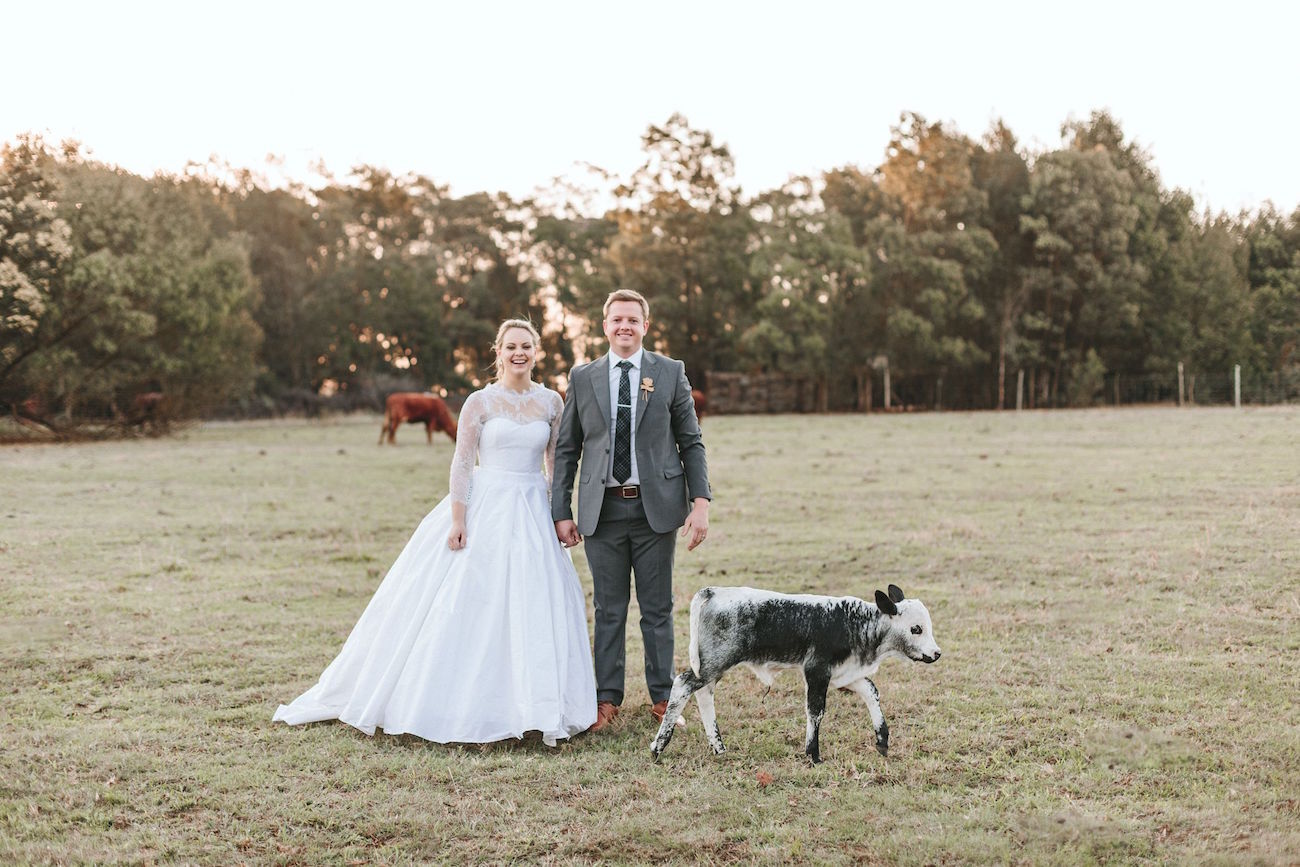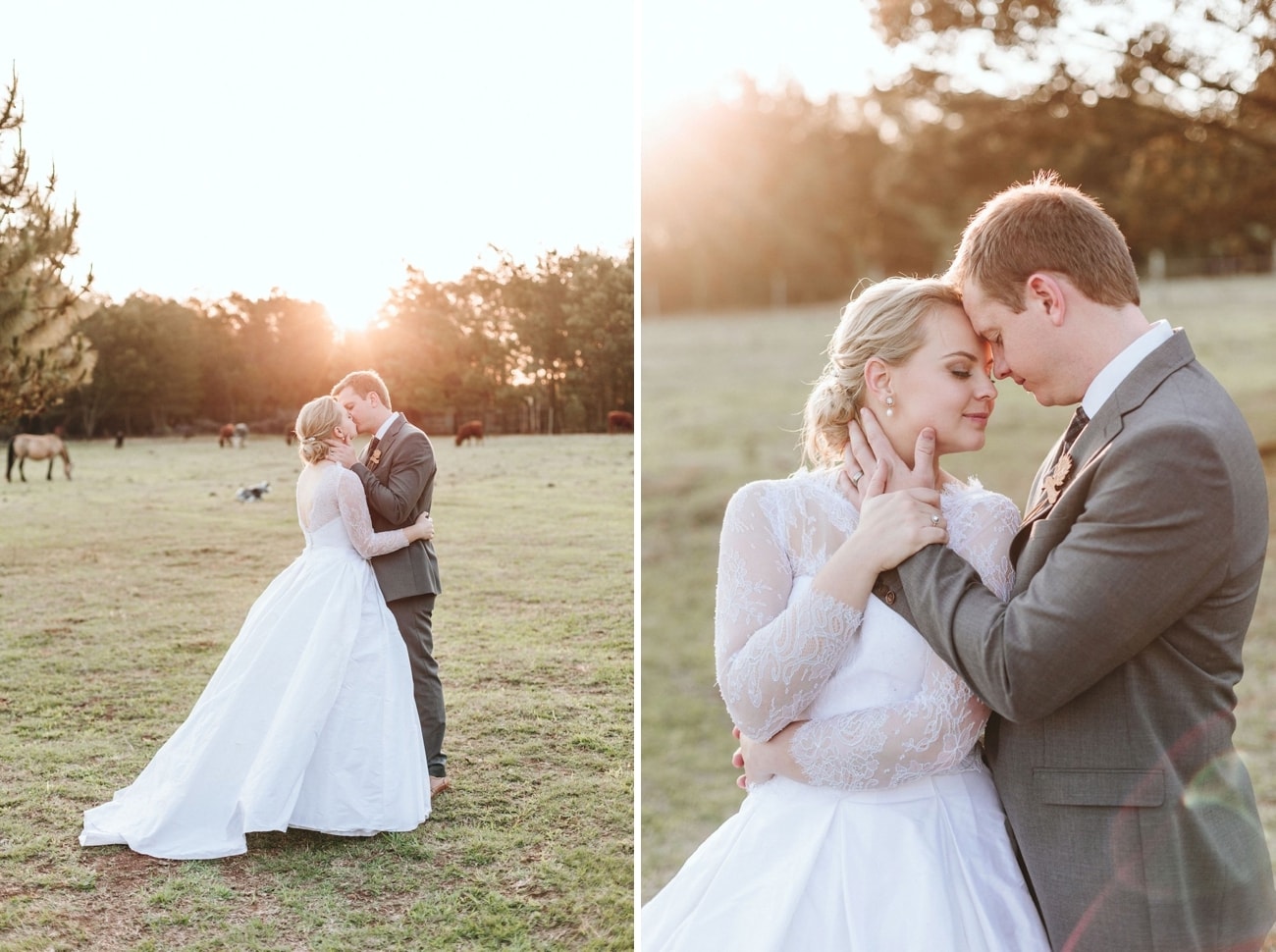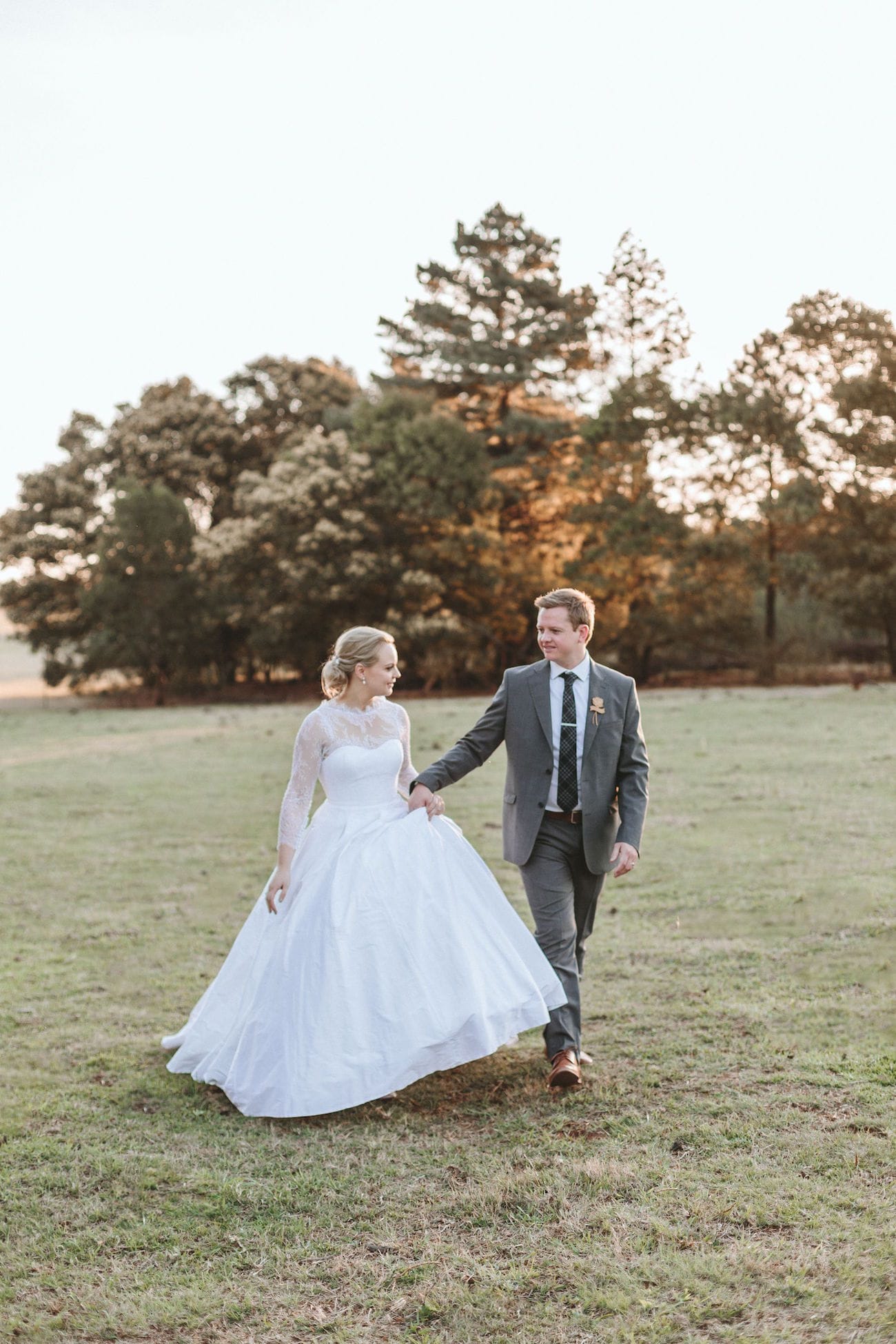 The Flowers
It was very hard to explain to my mom that I didn't want any flowers. I just wanted the succulents and the greenery made into garlands. She humoured me and we ended up with a full blown nursery after seven months of collecting the plants – there were more than 500 individual plants that we used! My mom, aunt and myself did all the flowers while the venue helped with all the hanging elements in the reception hall and chapel. My aunt did my my bouquet for me and I did the bridesmaids' as I wanted a personal touch to each of them. We used different variations of greenery to ensure that it didn't look flat on the tables and it looked so clean and fresh on top of the white lace runners my mom made.
Memorable Moments
Driving in a Bogsward Isabella vintage car to the chapel with my dad, the little one-week-old Nguni calf that helped us have the cutest photos with him, the AMAZINGLY good food we had, and most of all, walking down the aisle to the greatest love I have ever had waiting for me at the end.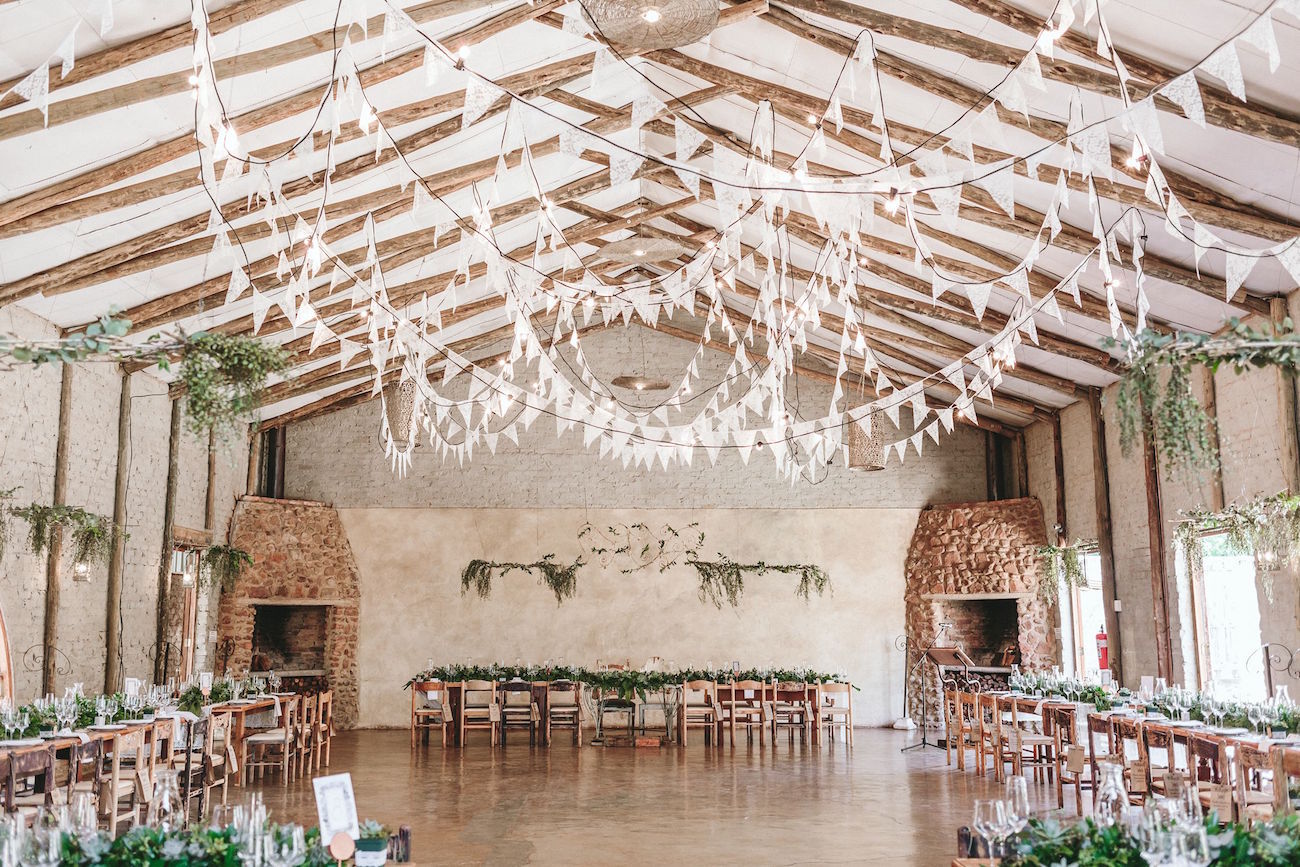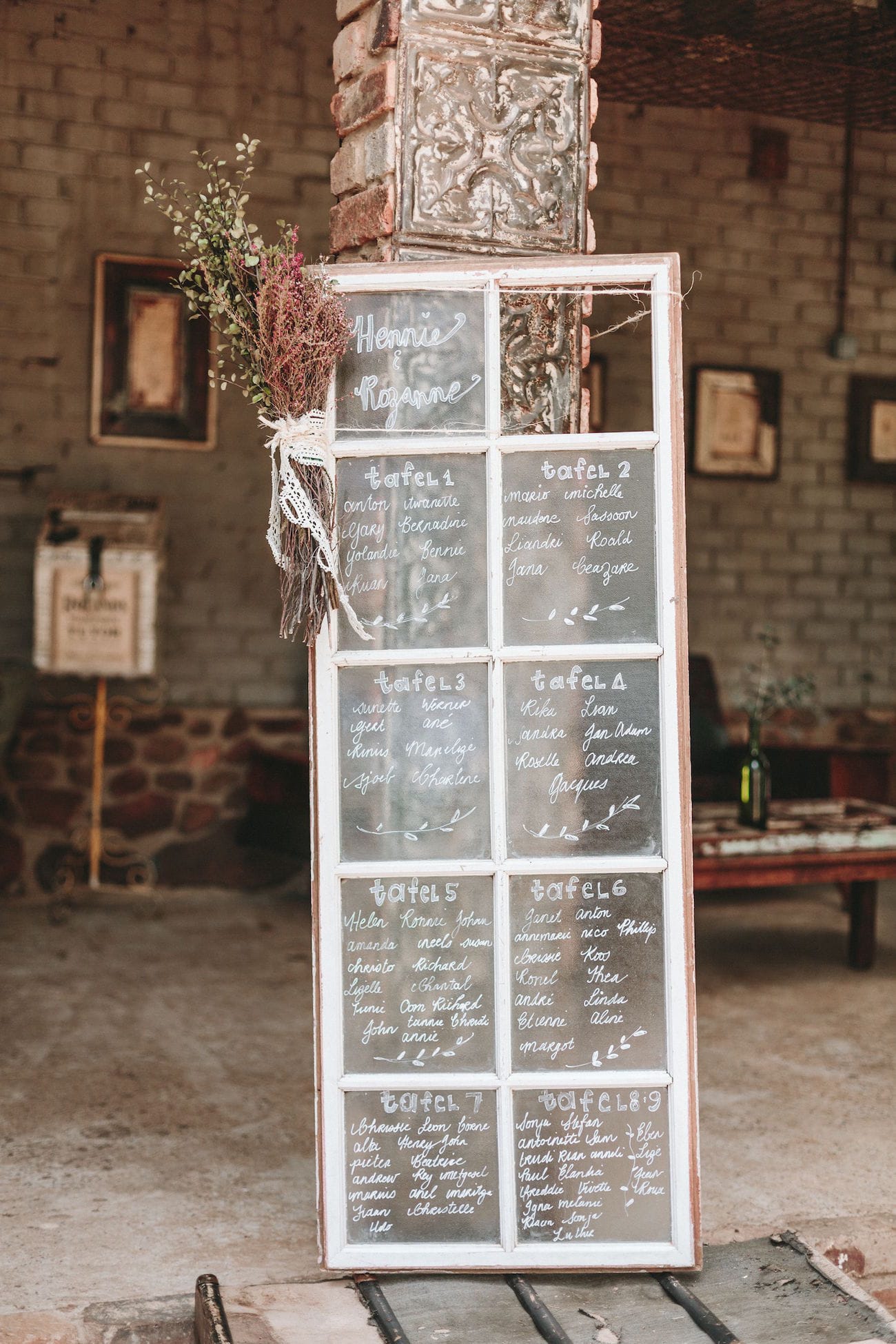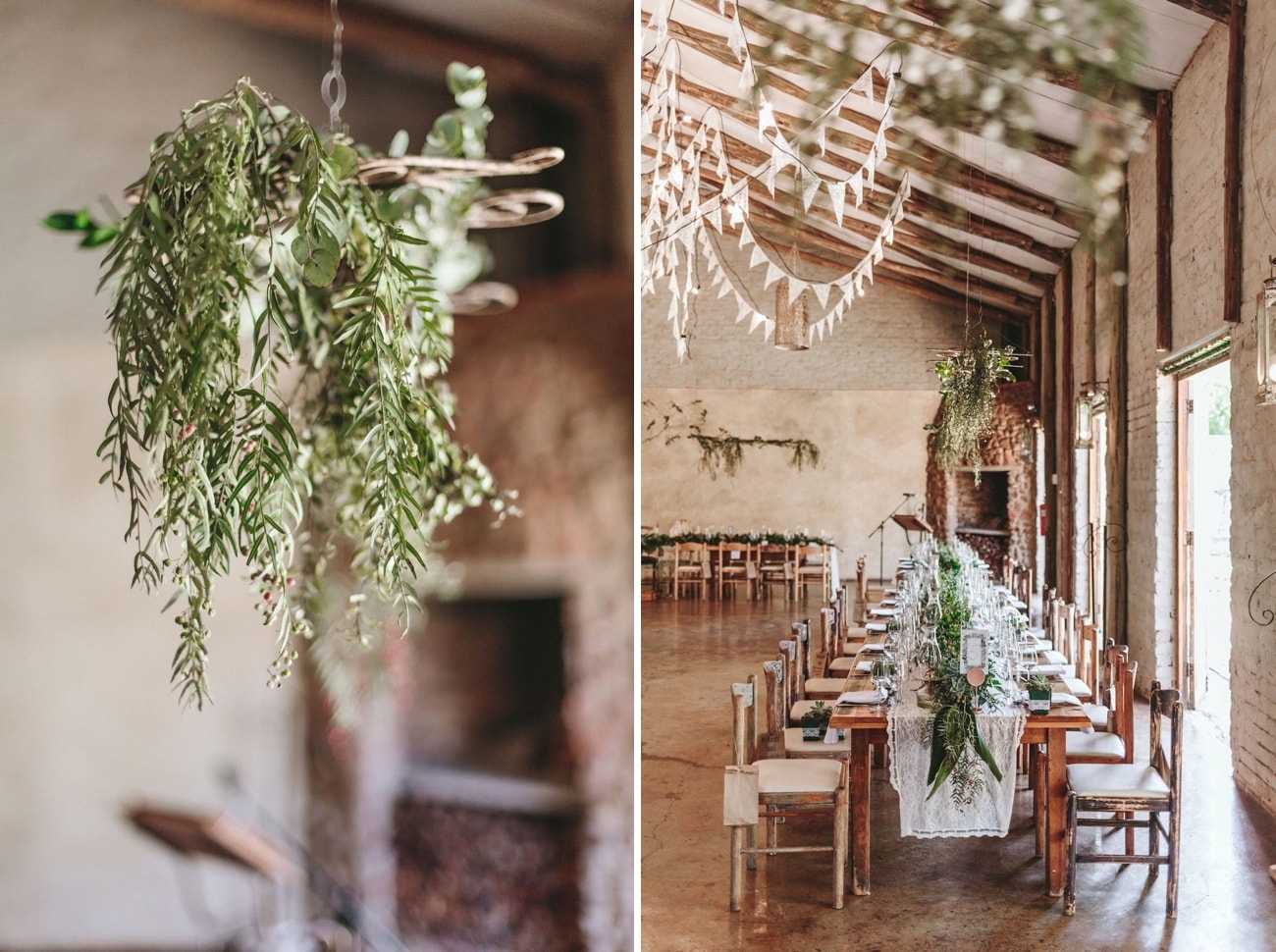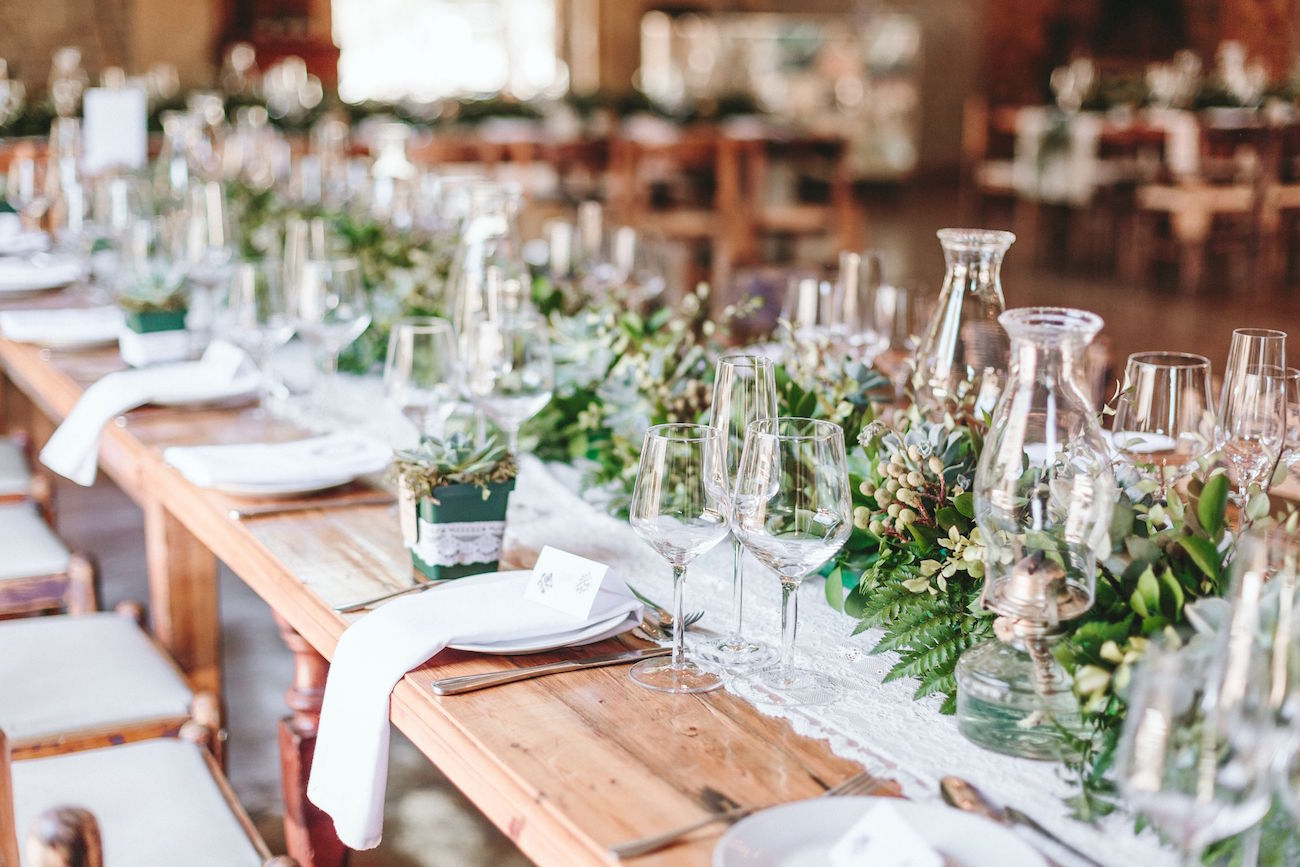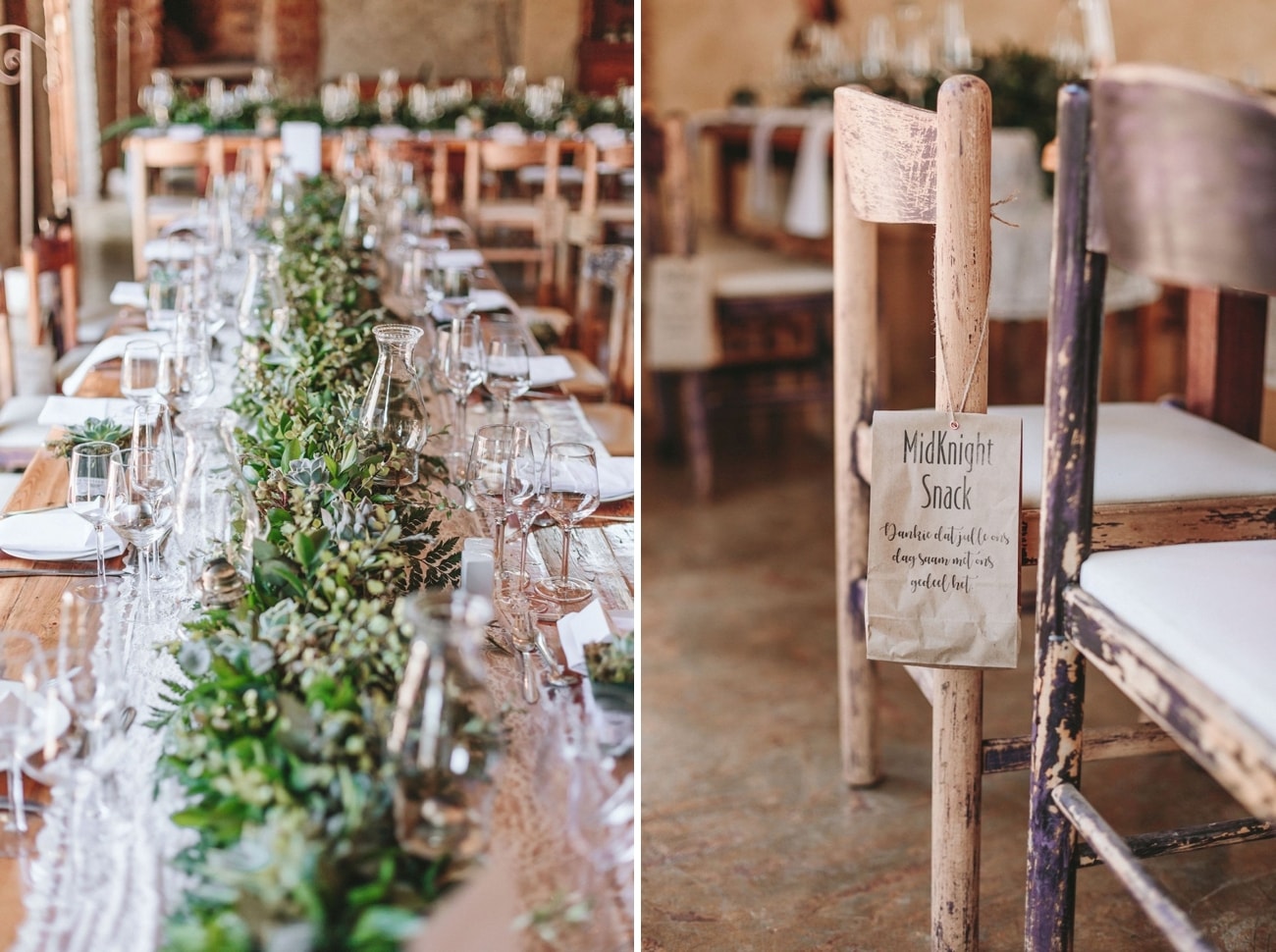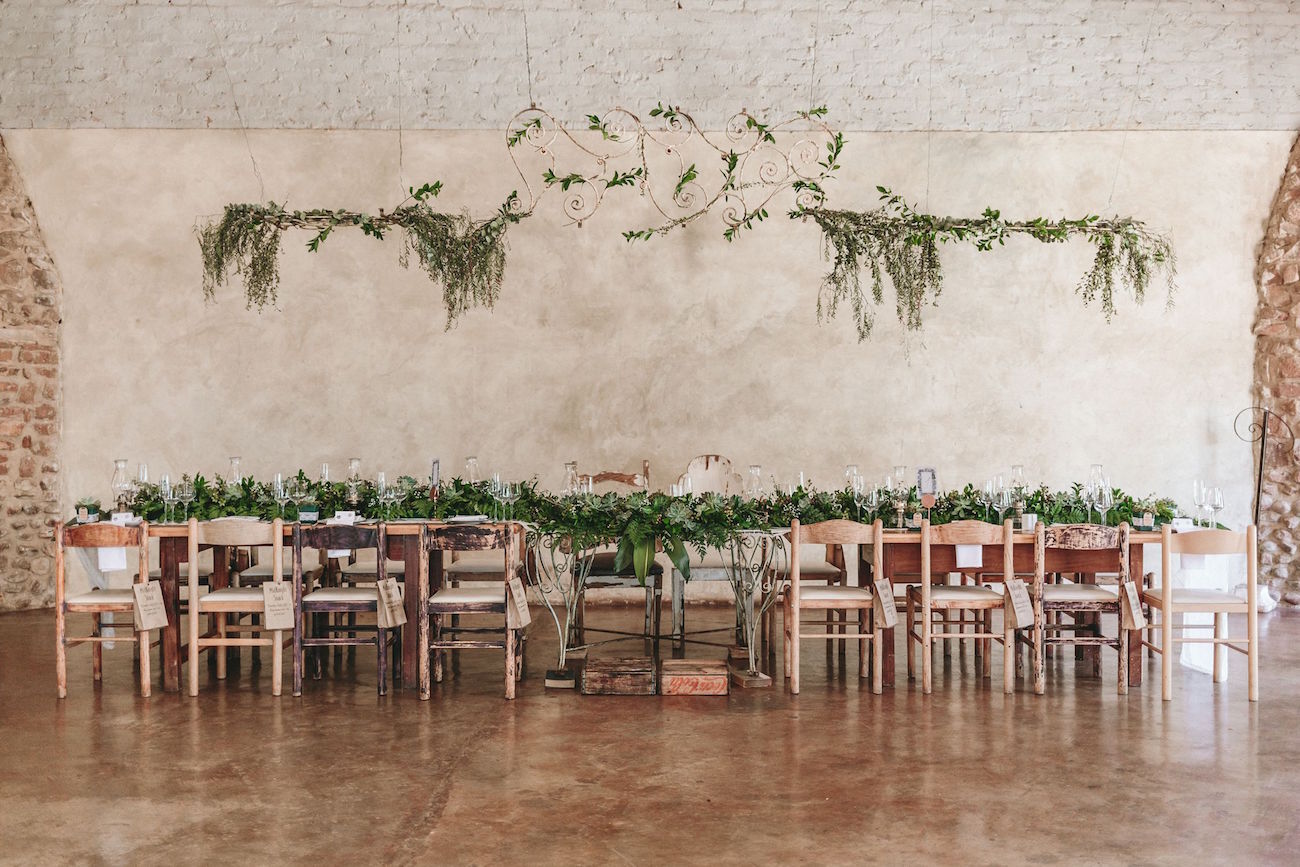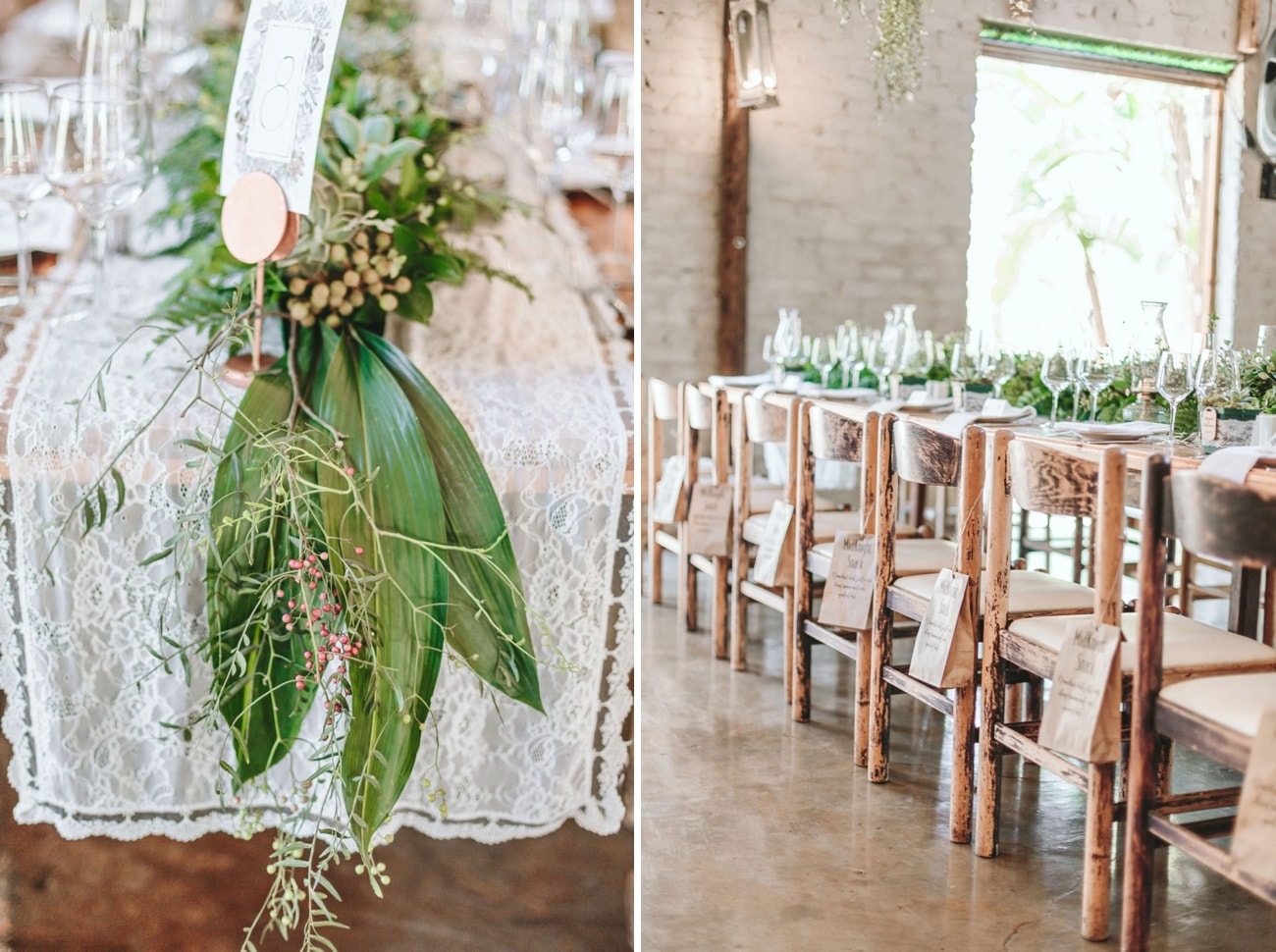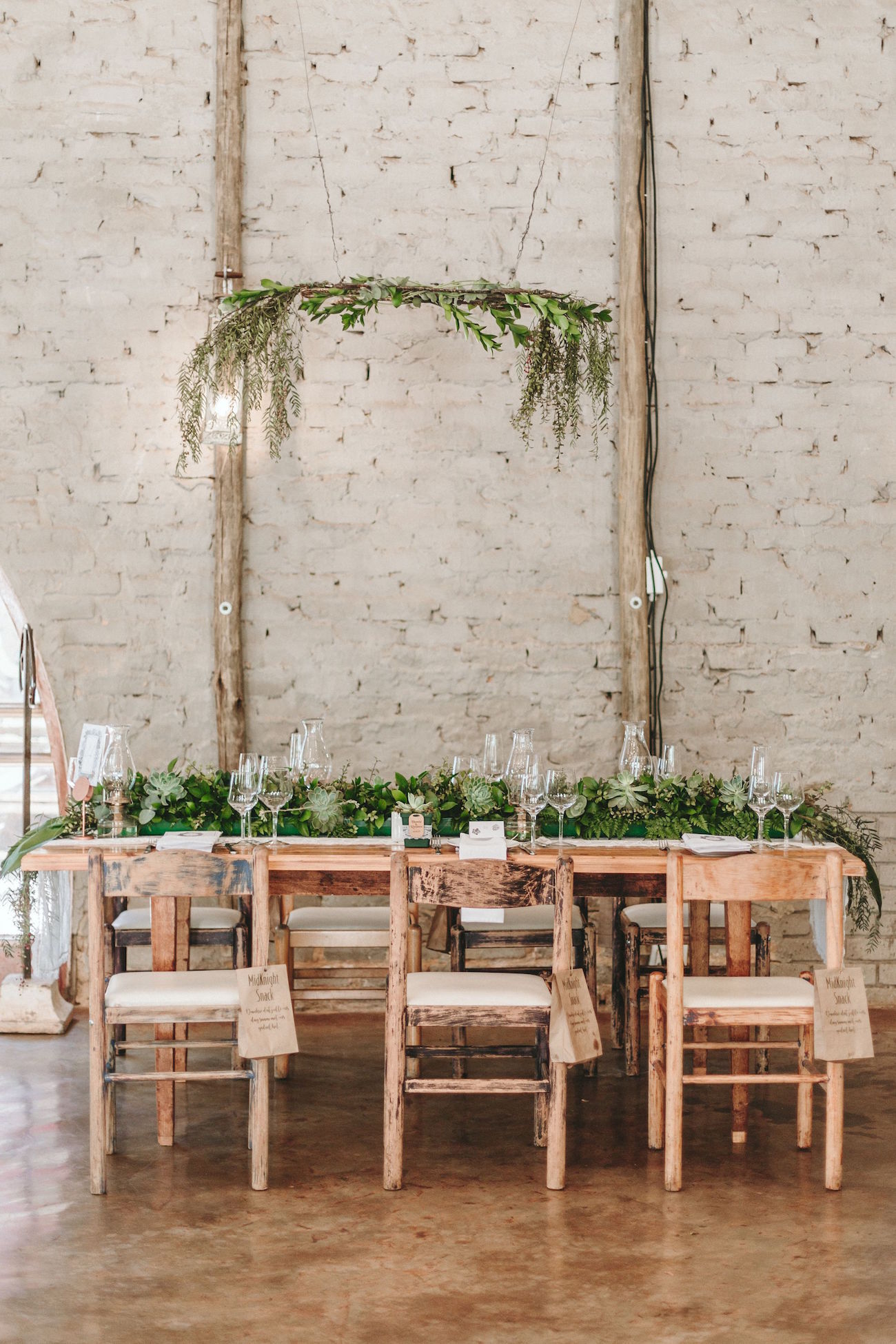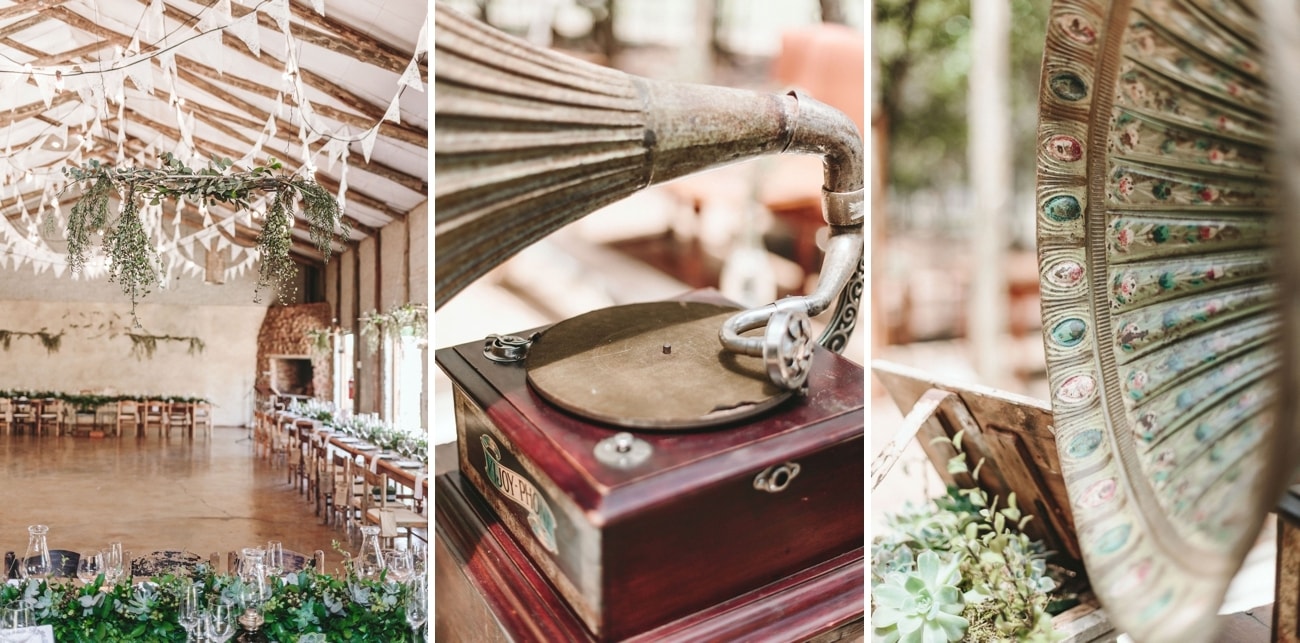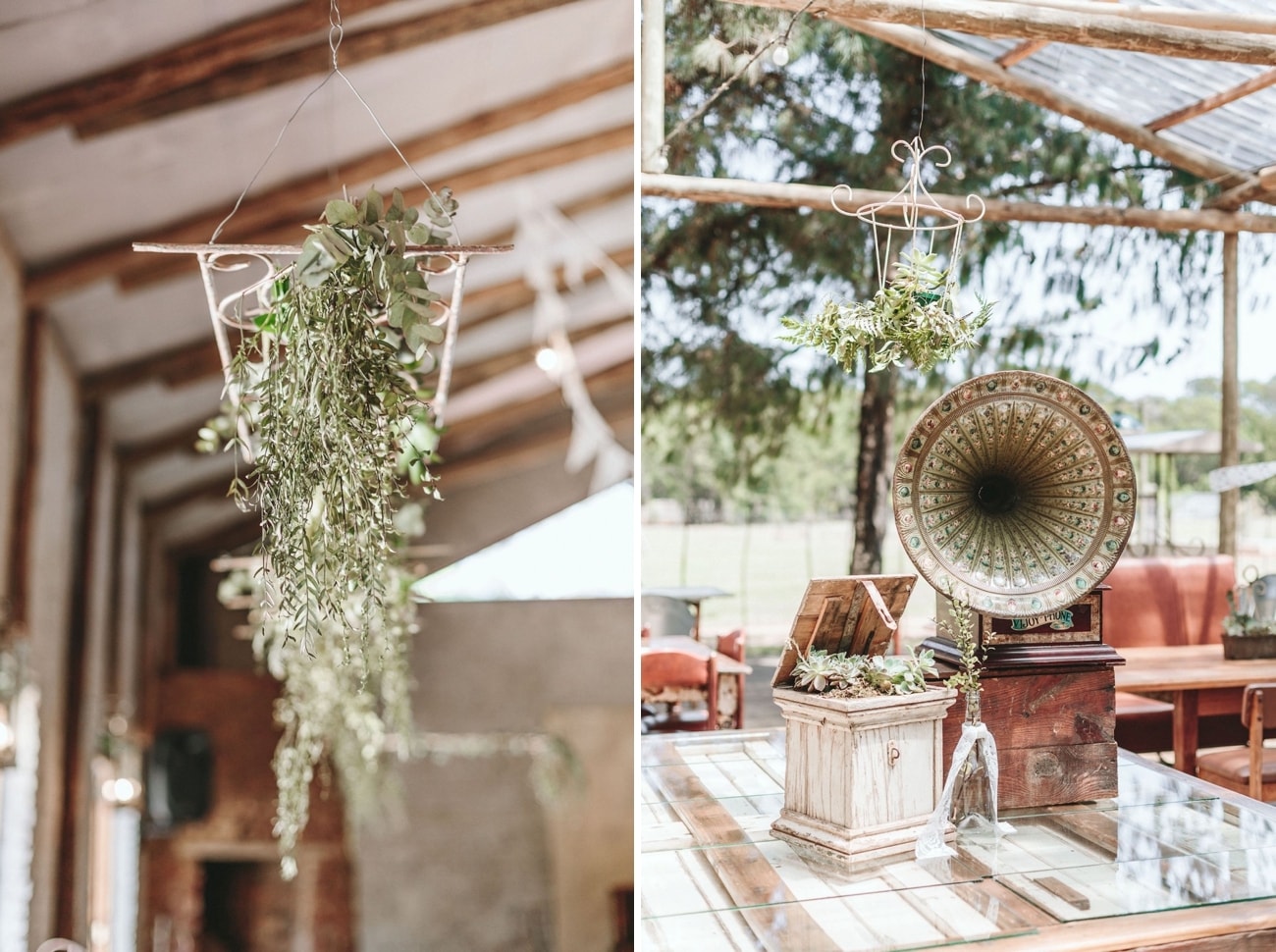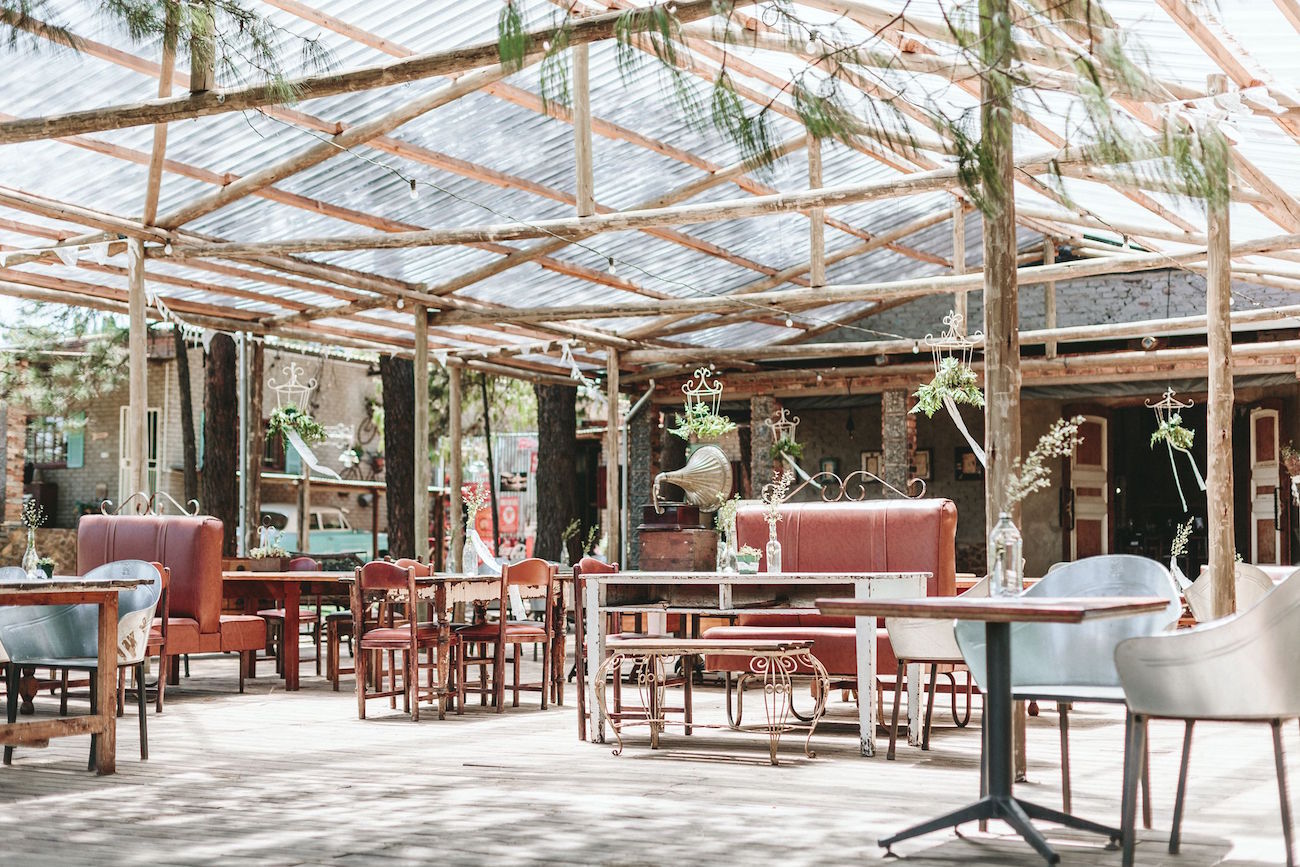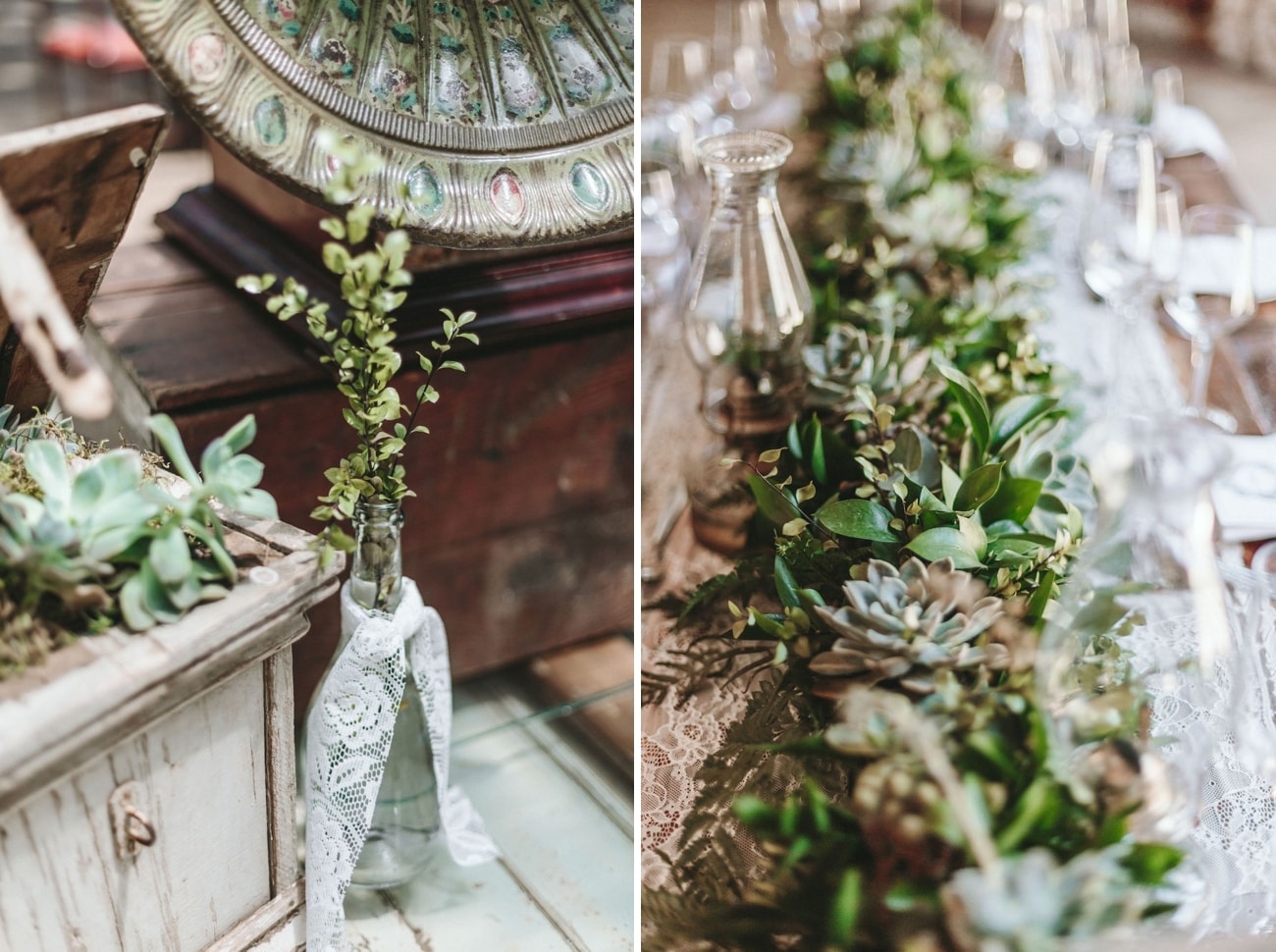 Best Decision
Definitely choosing Aline as our photographer. She is not only a superb and professional photographer, she is an amazing person as well. We still swoon over our beautiful photos, where she was able to capture our love for each other and all the hard work and time that went into this wedding. We also do not regret doing so many things ourselves. It gave us a chance to work closely together and bond in the process and gave a us a great sense of pride pulling all of this together.
Advice for Future Brides & Grooms
It is your day. Don't let other people force their ideas and opinions on you. At the end of the day, no one has dreamed of this day for longer than you have. Enjoy planning this it together and hear each other out. We had such an amazing time planning our wedding together and will be remembering that time for the rest of our lives.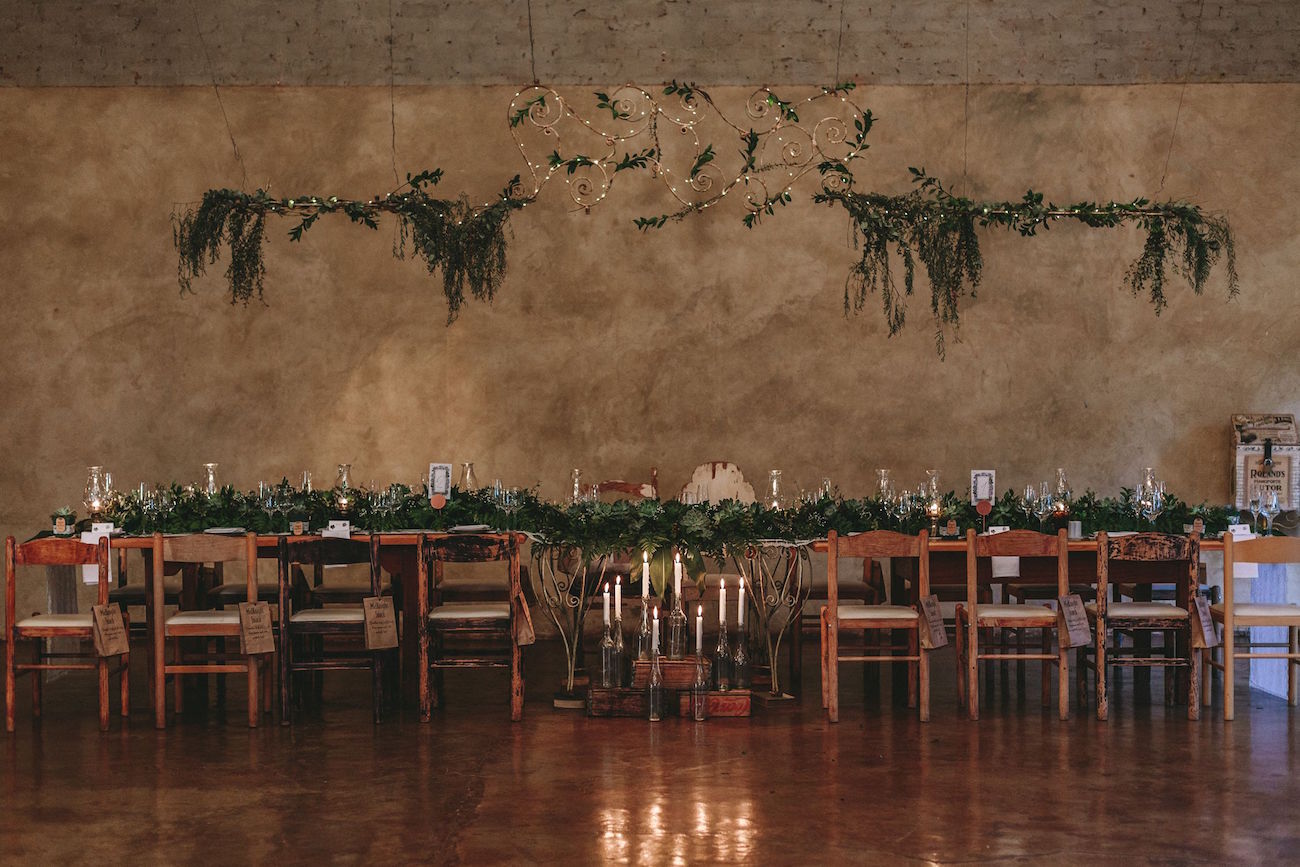 SERVICE PROVIDERS
Venue & catering: Imperfect Perfection | Photography: Aline Photography | Cake: Biscuit King | Bride's dress: Estelle Visser | Hair & makeup: Mandri Pietersen | Bridesmaids' dresses: Truworths | Groom's attire: Woolworths | DJ: Nico Myburgh