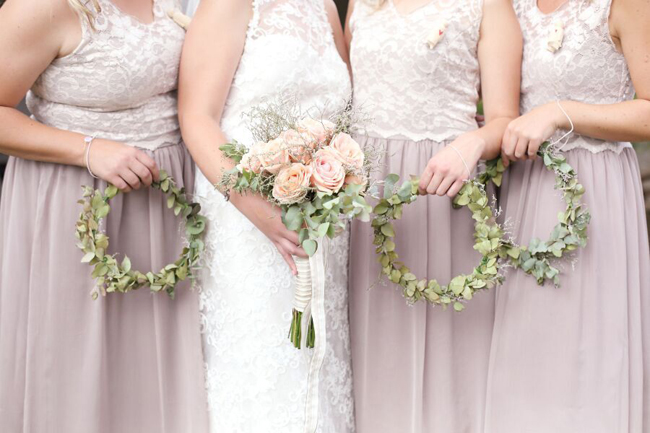 If you're wondering what a sweet as pie, down-home farm wedding looks like – well, this would be it. Set in Die Klipskuur's rustic barn, with a colour palette of blush, sage and cream, and pretty handmade details throughout, Anri and Abri's wedding has all the charm of the farm and little extra magic besides. Details to love include cushions that did double duty as favours and ceremony seating, diagonal drapes on the chairs, a naked brownie cake (YUM!), eucalyptus wreath bouquets for the bridesmaids and teeny tiny veldskoen bouts for the boys (SO adorable!). The wonderful Hello Love Photography, part of the SBB Directory family, was on the scene to capture these darling pictures of the big day.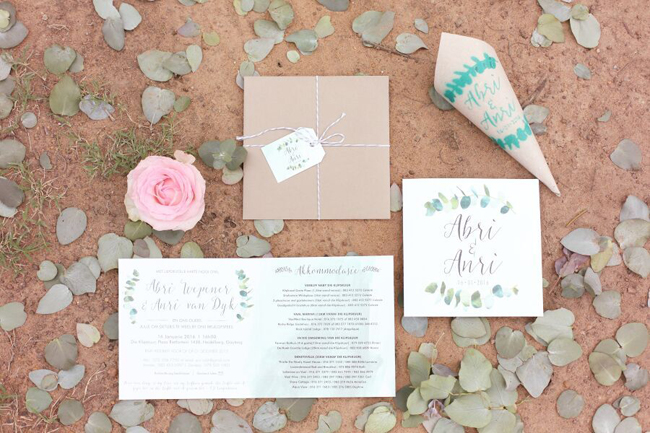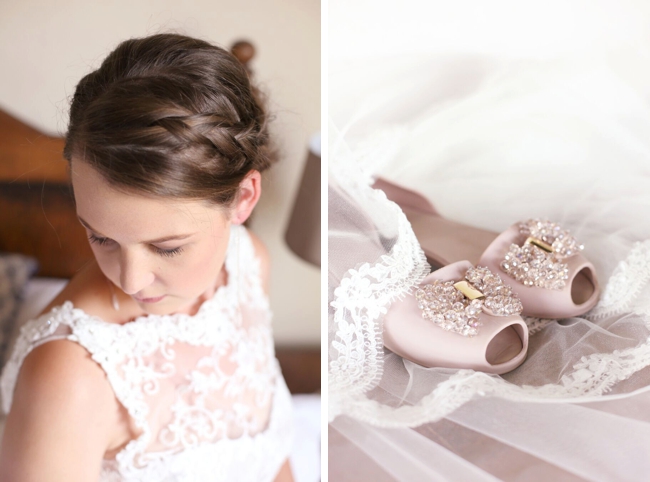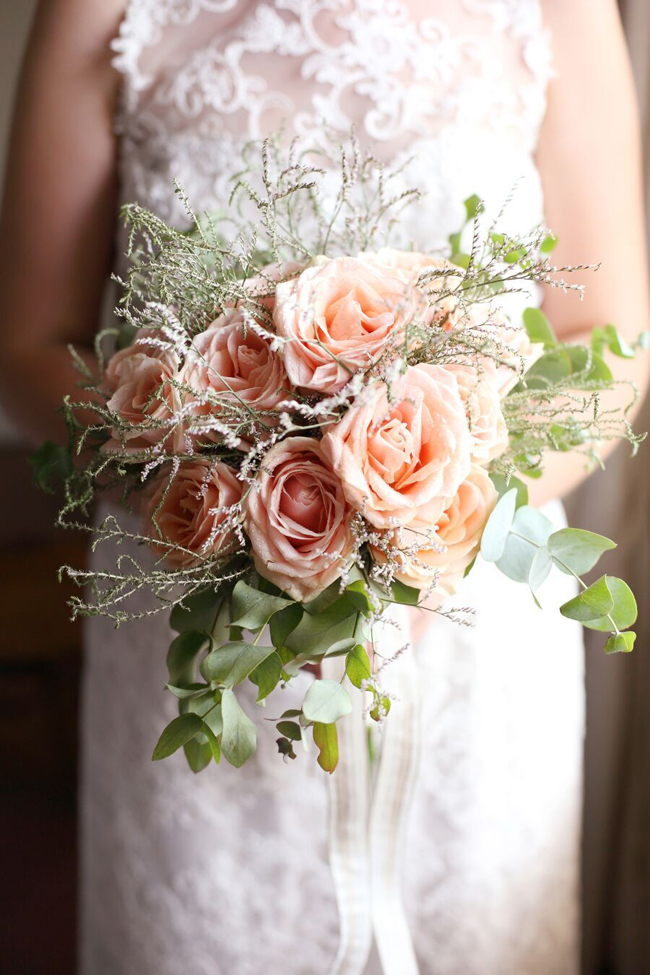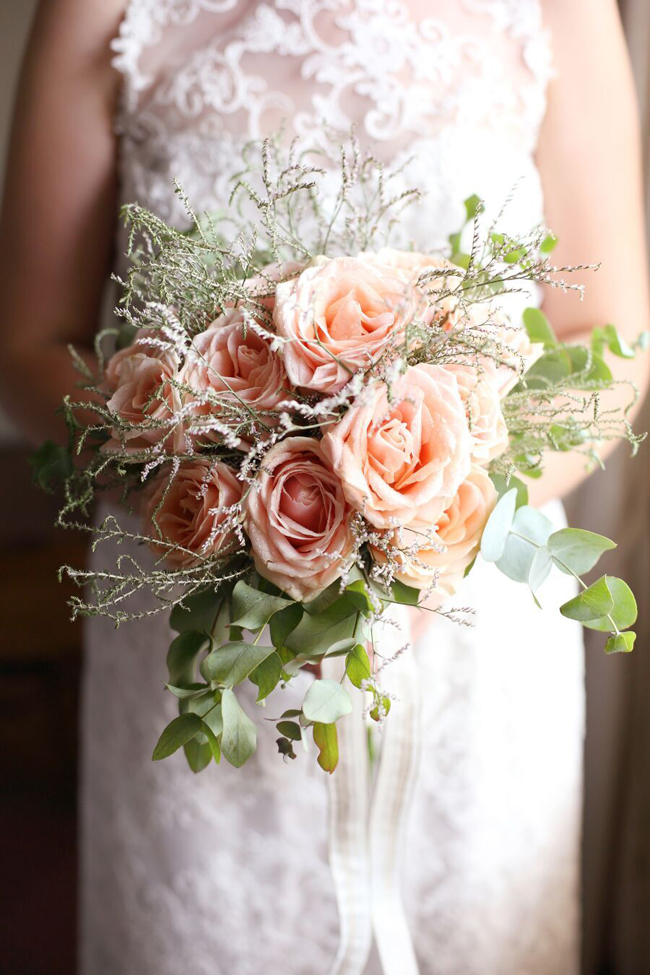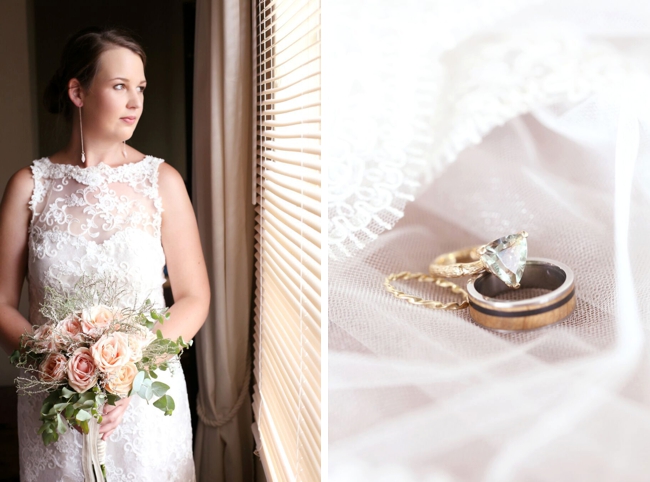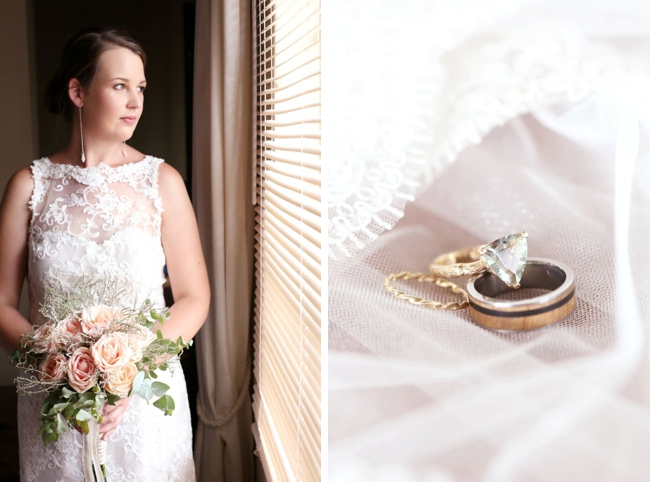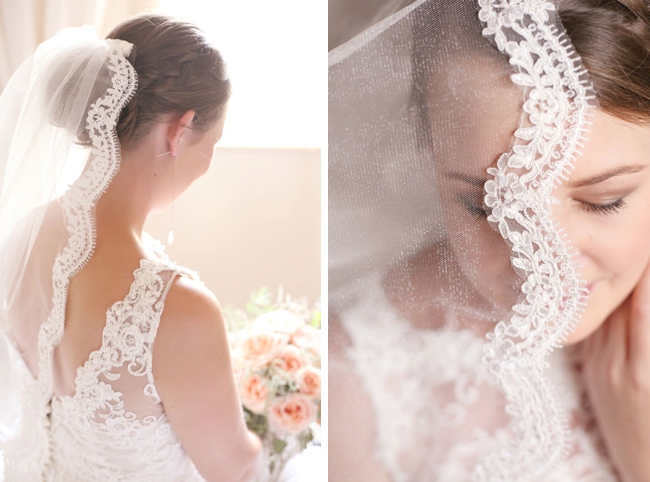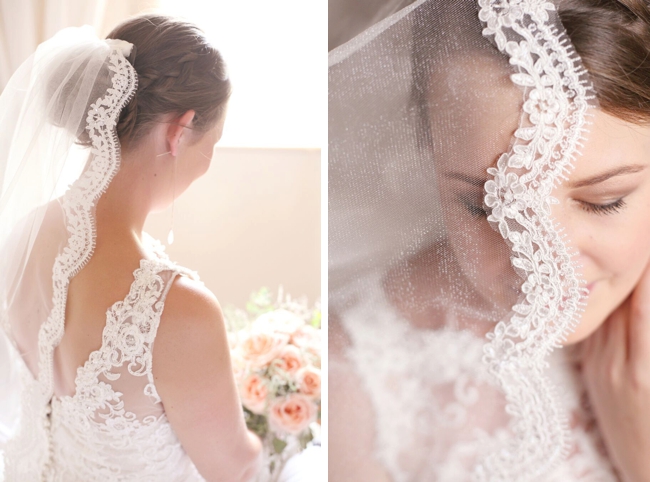 The Venue
Abri and I both love the farm and the outdoors, so when we finally came across Die Klipskuur, we knew it would be the perfect fit for sharing the very essence of who we are as a couple and what we love, with our dearest family and friends. The tranquil forest and rustic old farm shed was exactly what we had in mind for the ceremony as well as reception. Everything about Die Klipskuur embodies the pure, natural and rustic feel that we wanted for our wedding.
Wedding Style
Our wedding theme was mostly rustic with a touch of vintage farm-elements as well as a few modern trends. We both love the farm and outdoors, so we chose the rustic theme because of all the lovely natural and pure elements it added to our special day. We used a mostly neutral and pastel palette, a variety of greens, soft pinks and creams with some burgundy to bring everything together. To complement the rustic theme, we added a few wooden elements and also made use of milk jugs, watering cans and enamel basins as part of our décor.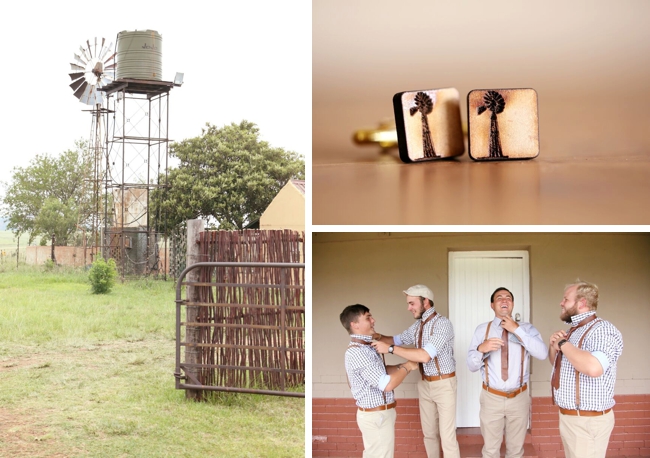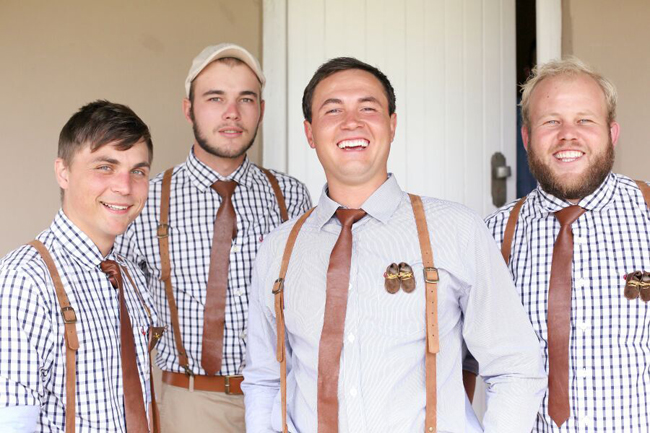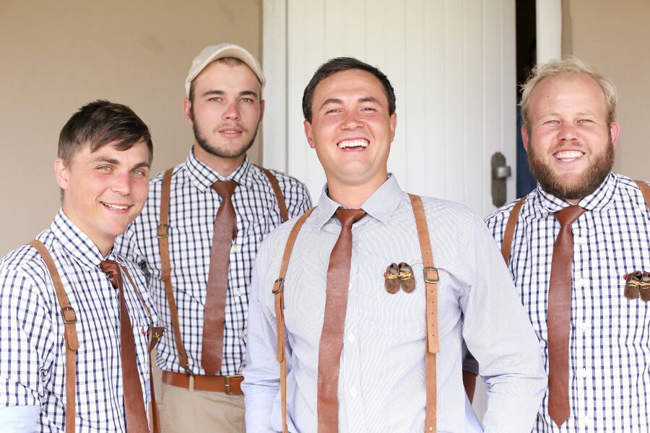 The Ceremony
Our ceremony took place in a tranquil black wattle forest. The entrance of the forest had beautiful rusted gates which were the perfect combination along with the flower arrangements in the old iron milk jugs that were mounted on wooden stands. This flowed into the aisle that was sprinkled with a blanket of leaves to ensure the guests arrived to the calming scent of eucalyptus as they entered the forest. We draped and decorated some of the tree-trunks along the aisle as well as deeper into the forest with bows. At the entrance of the ceremony area we placed vintage ceramic tubs with cold water as refreshments for the guests whilst they anticipated my arrival. The seating consisted of hay bales which were decorated with personalised scatter-cushions that served as the thank-you-gift for each of our guests. I made my way down the aisle as the harp whispered the sounds of Christina Perry's "A thousand years", breathing in the fresh aromas of eucalyptus and excitement that filled the air. During our ceremony we performed a special tradition where we each placed our hands in the other's and vowed our unconditional love and devotion to each other. (This did not form part of our wedding vows.)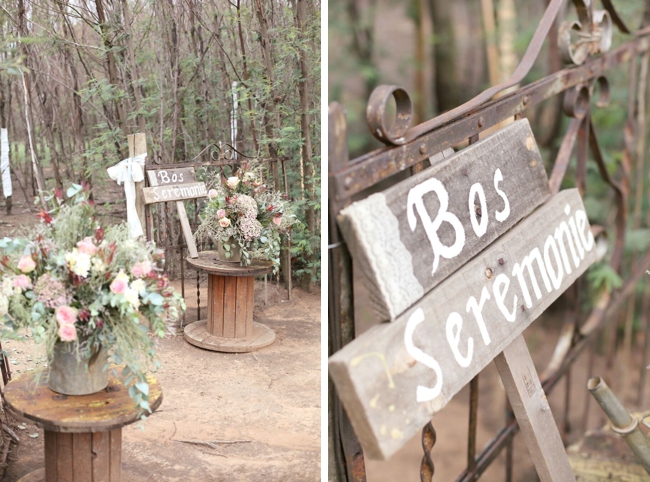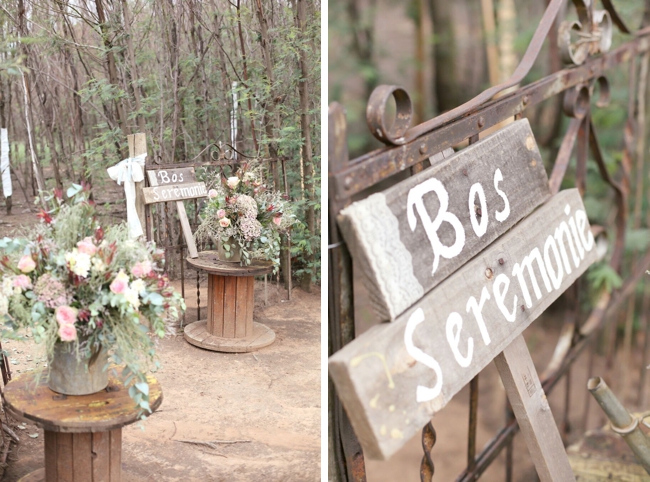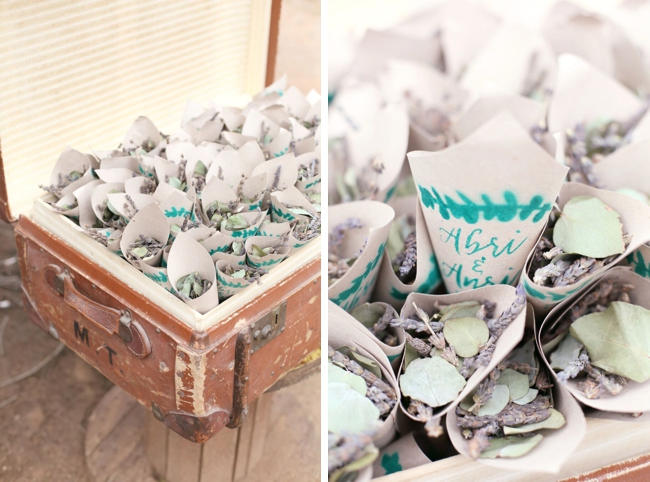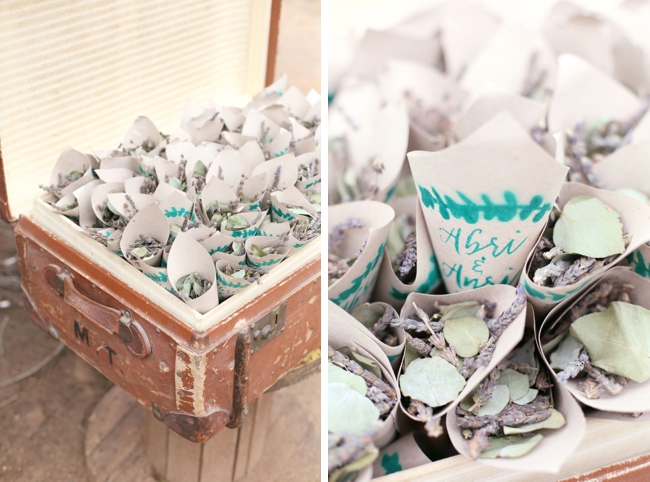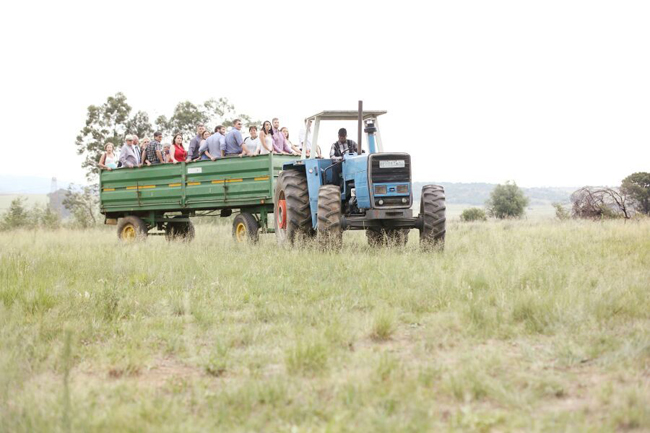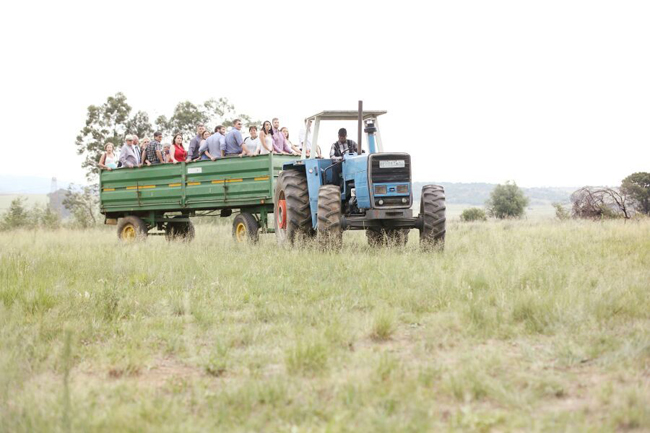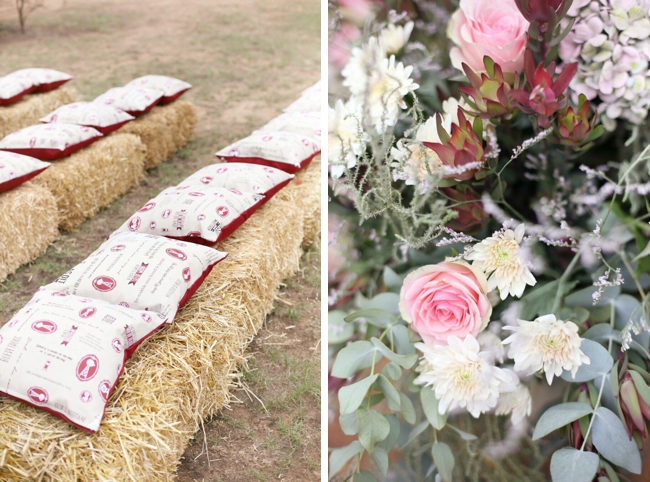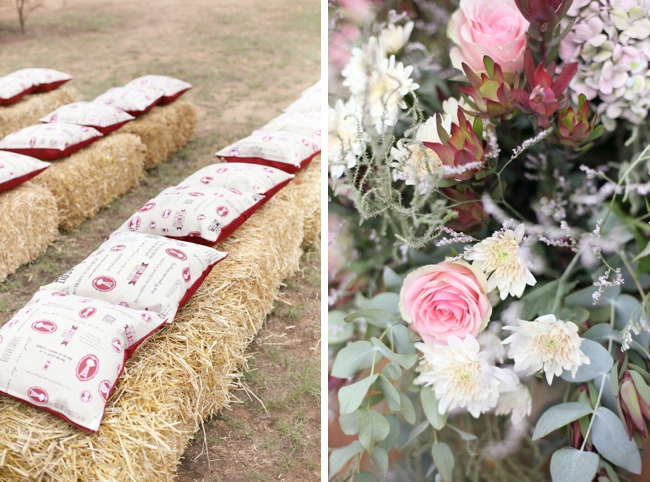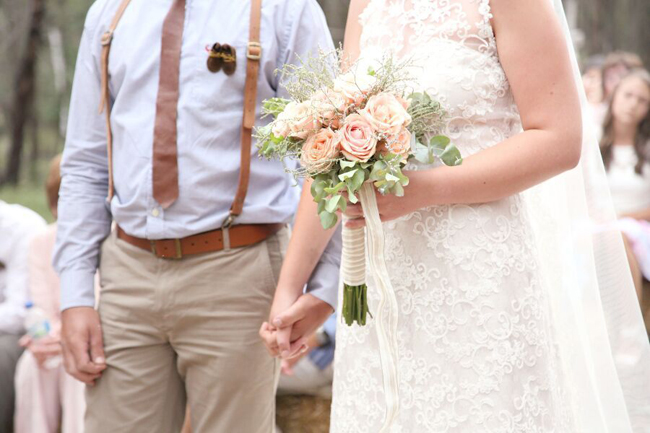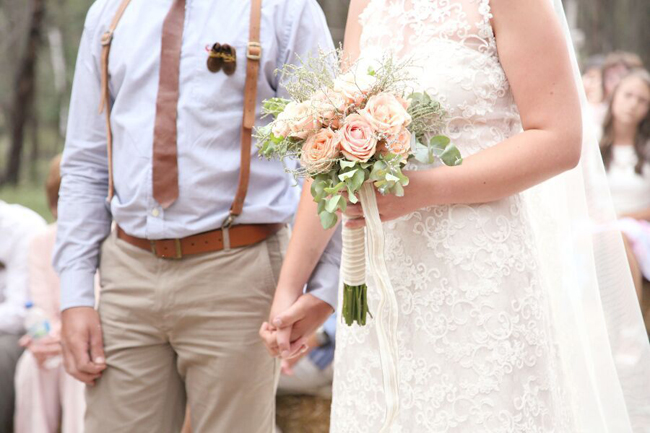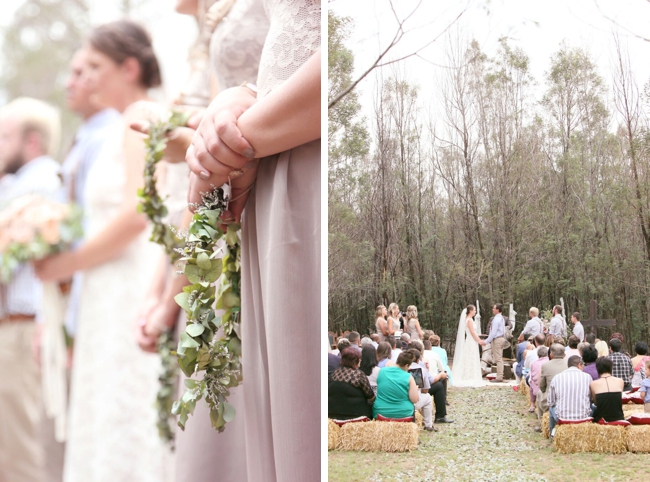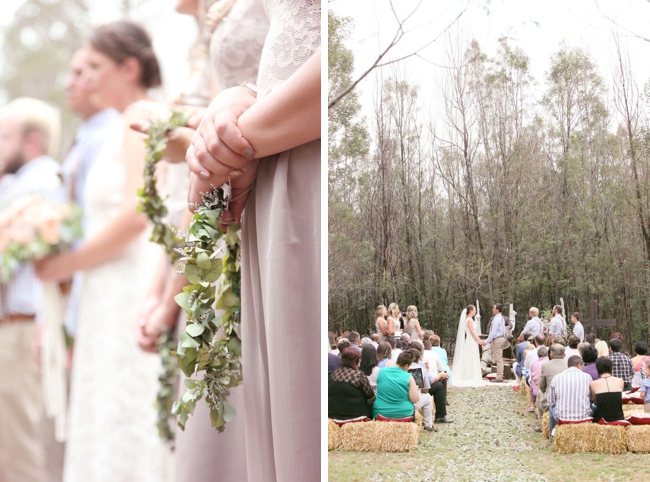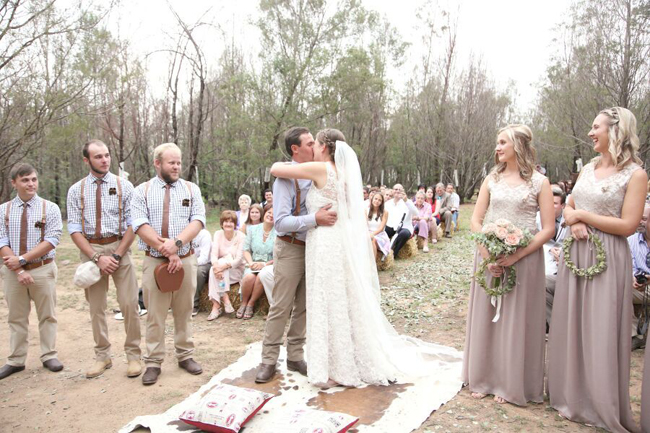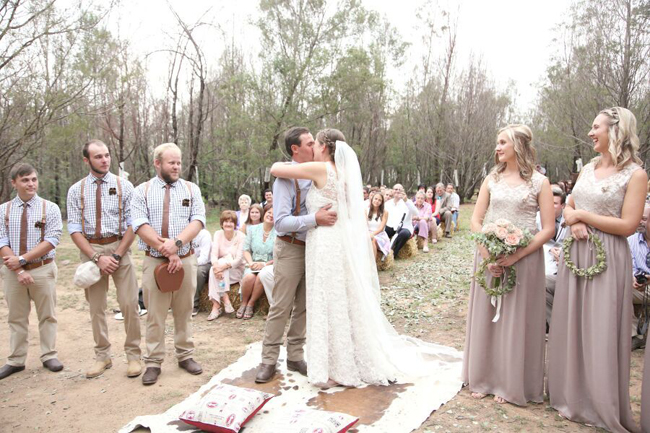 Cocktail Hour
The reception started out with drinks and canapés on the lawn in front of the shed whilst we were busy with our couples-shoot. Ice tea, home-made pink lemonade and a variety of home-made breads, cheeses and patées were served in a festive spread, alongside giant lawn games to keep the guests entertained. We enjoyed the last bit of sundown with our guests before the grand opening of the shed.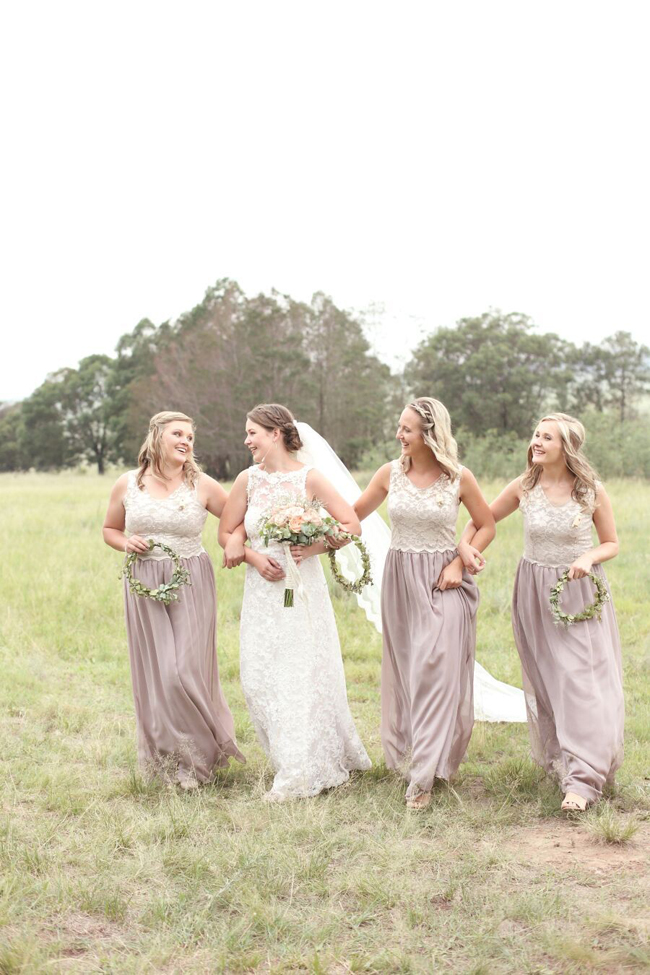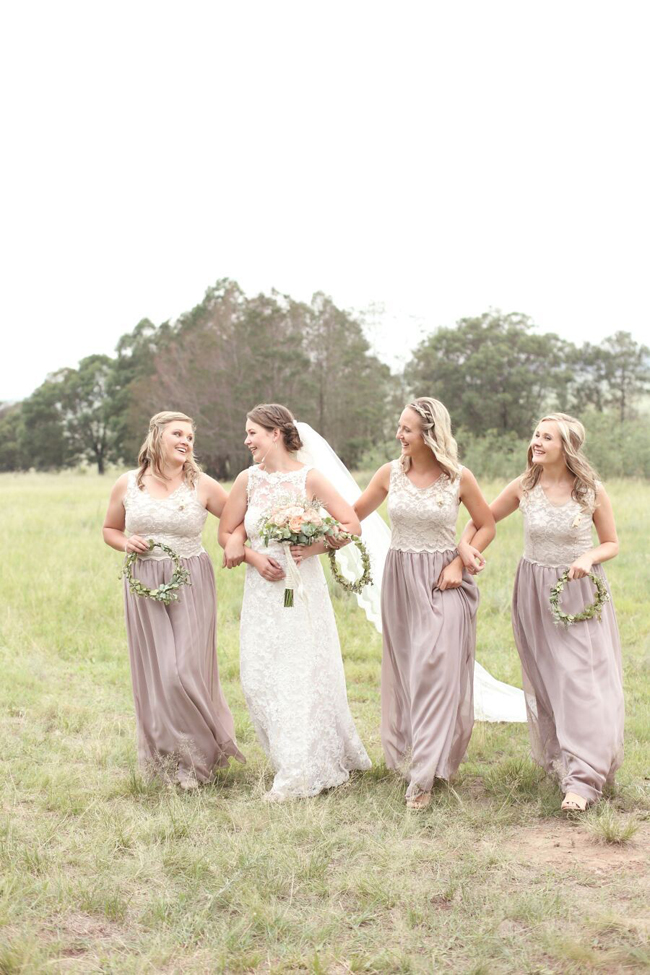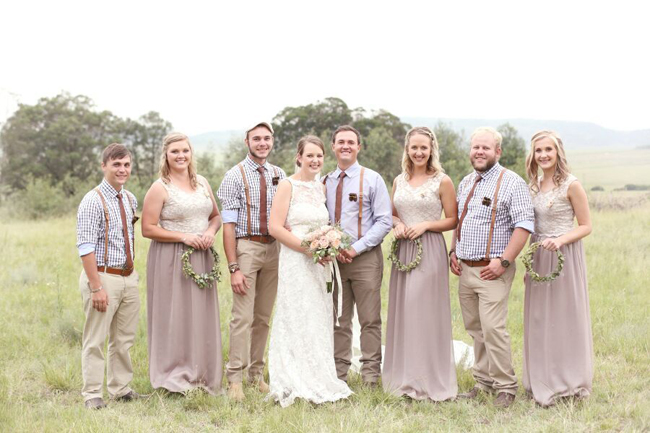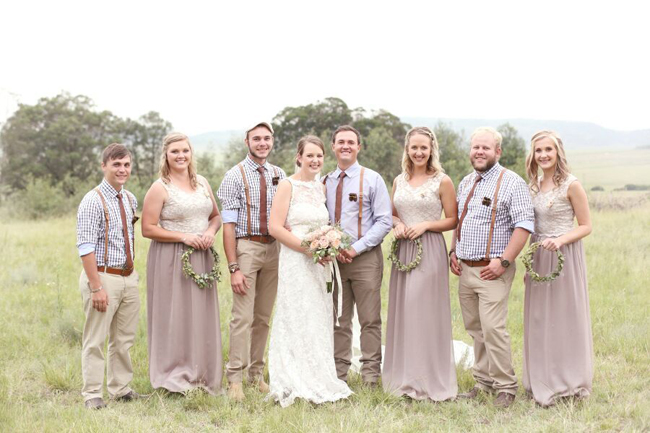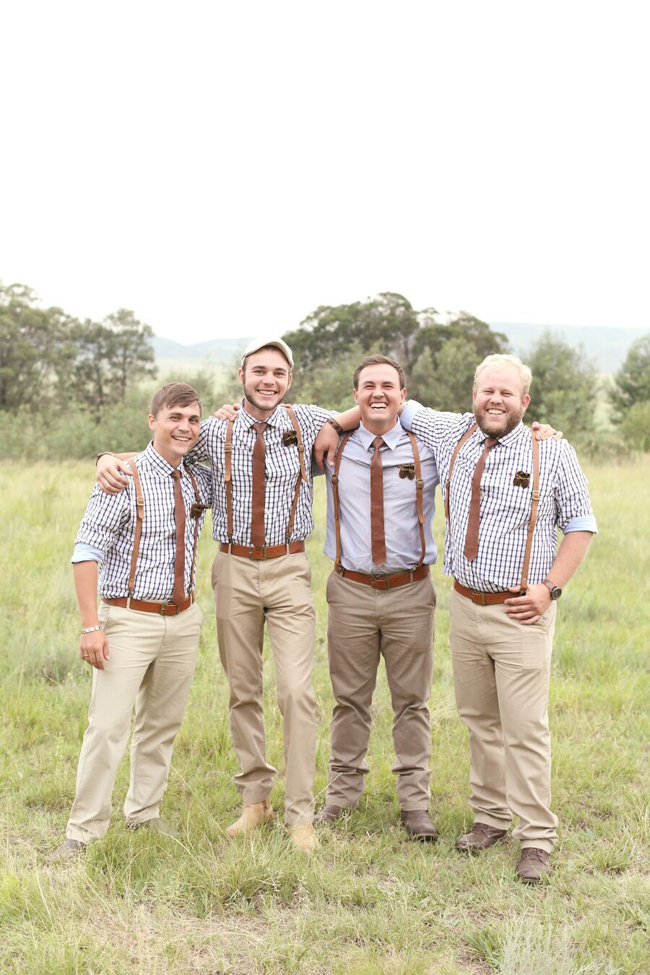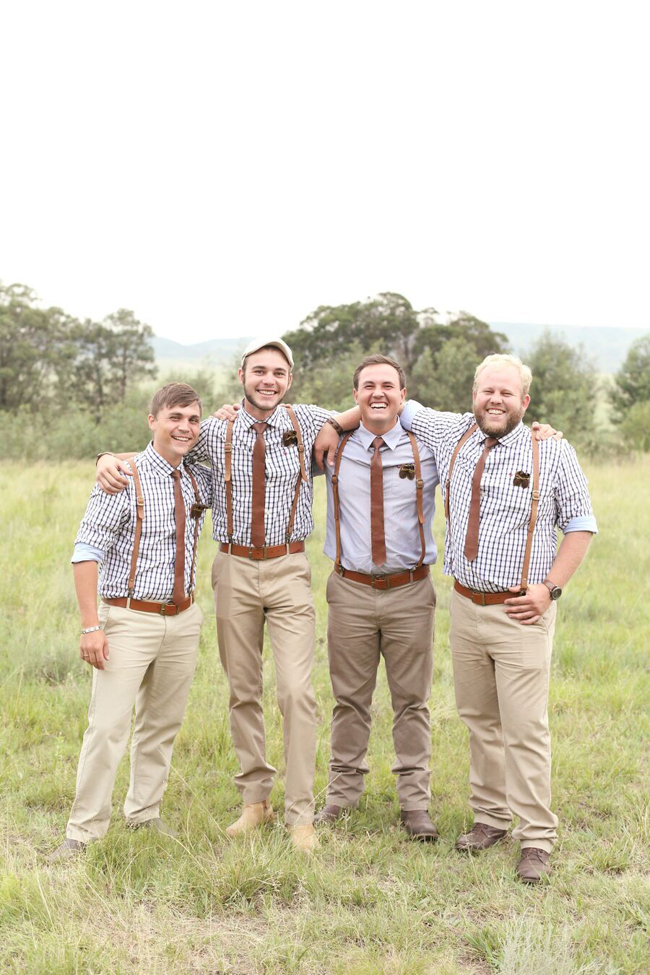 DIY Elements
We wanted to do as much of the preparations and décor ourselves and ensure that our wedding had that extra personal feel to it, so each family member had their list of chores. Menu boards, table runners, chair bows, napkins, confetti cones, welcome and thank-you tags, seating chart and placecards, gift boxes for our retinue and even the pink lemonade were all part of the DIY projects that we were responsible for. If I am to be completely honest, each and every detail of our wedding was incredibly special to me, especially because of each family member who had worked so extremely hard to ensure everything was absolutely perfect! One of the most time consuming tasks we decided to take on, was to build our own wooden tabletops. Although it was quite a challenge, Abri loves giving attention to detail, so naturally he did an excellent job with assembling them, after which I sanded and sealed them to ensure a professional finish.
Another favourite of mine, was our thank-you gifts. My mother worked extremely hard to make each individual pillowcase for each of the guests' scatter cushions, and they were further personalised with a thank-you card, handwritten by myself to convey our gratitude, appreciation and love of each of our guests being there to share in our happiness. Our wedding day was a true example of how dear we, and our families, are to one another!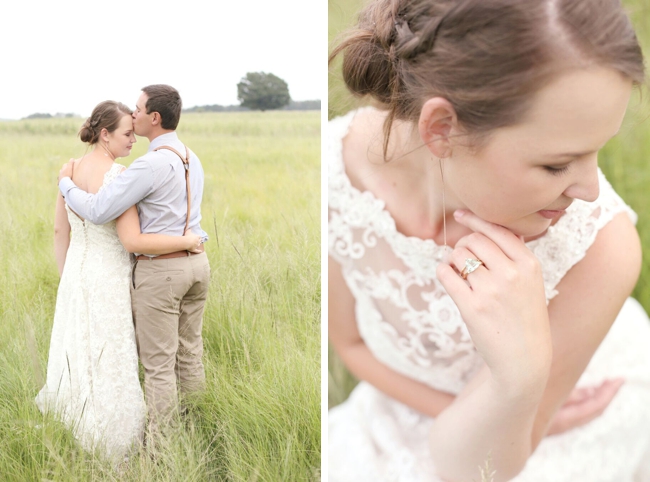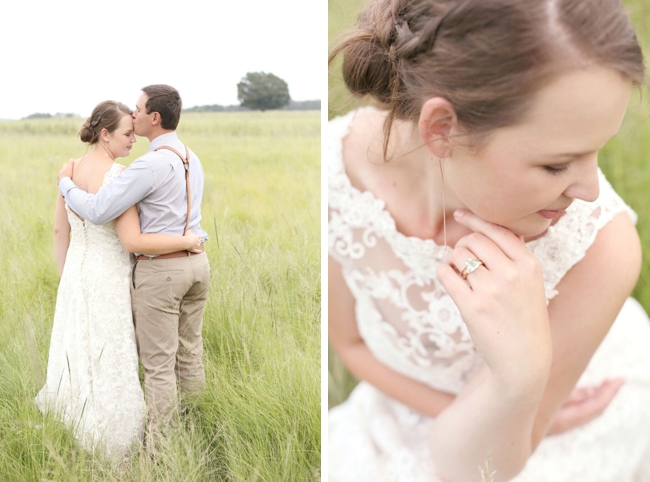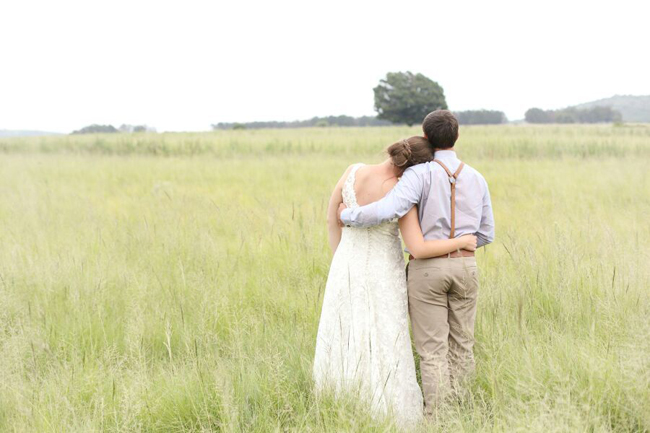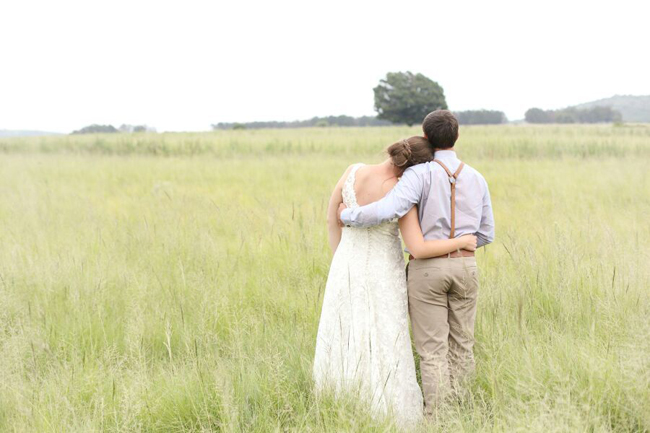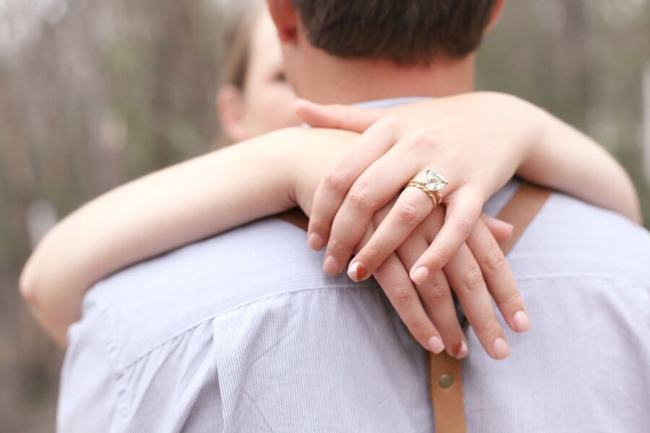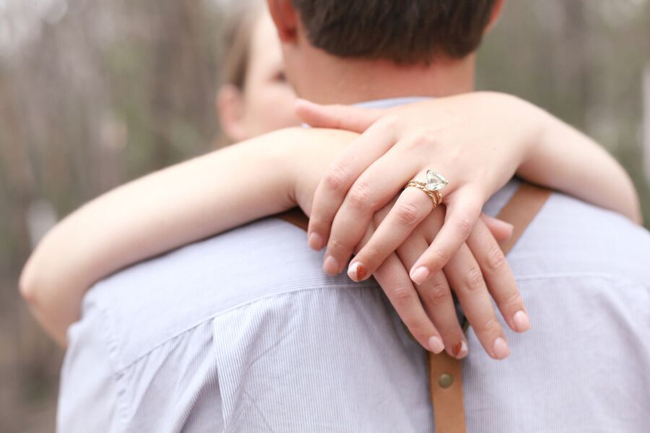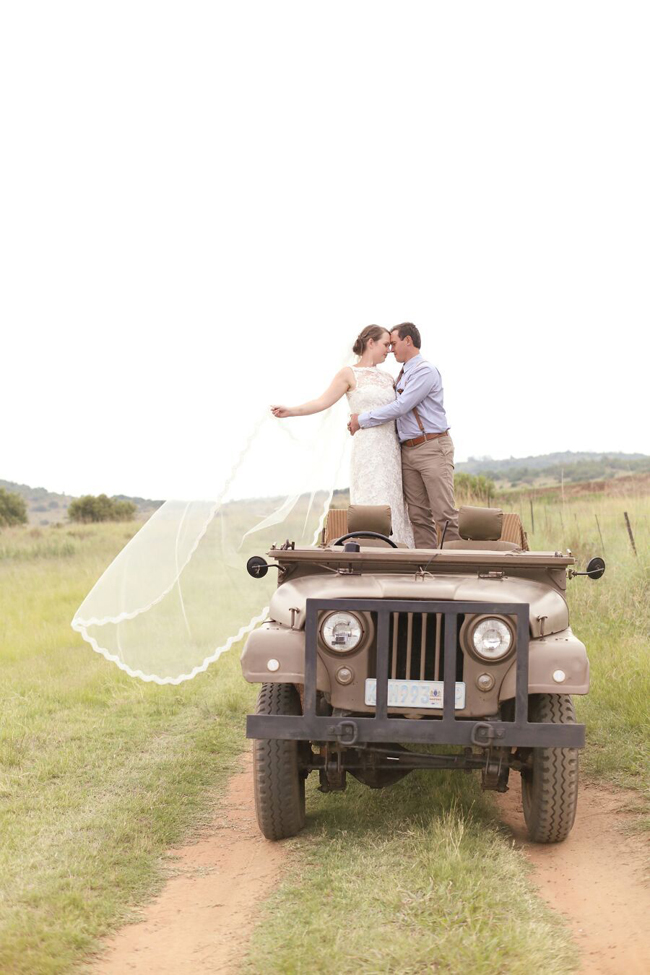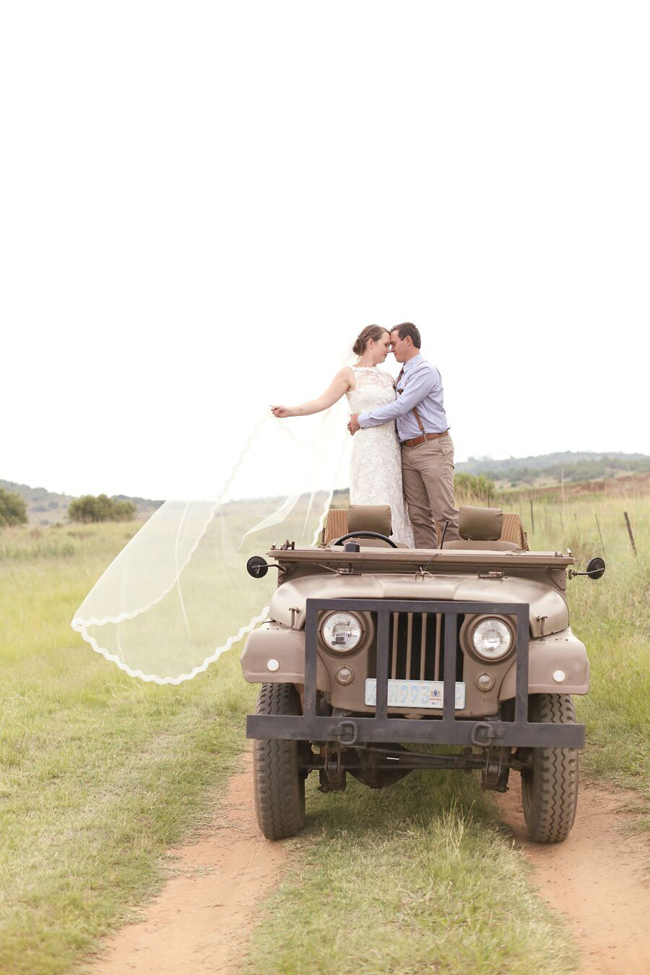 The Dress
It was my dream to have my brother design and make my wedding dress, but due to his extremely busy schedule, I was urged to find another designer. One of my friends introduced me to Marianna, one of her mother's long-time friends. I am a vintage-lover, so to have a lace wedding gown had been close to a life-long dream for me. Initially she helped me design, order and import my dress from Spain, but when it arrived after six weeks, it was not at all what I ordered, or expected. Needless to say I was devastated and wanted to cancel everything… Luckily Marianna is an immaculate seamstress and offered to make my wedding dress herself. She knew exactly what I wanted and my dream dress was born! A simple, yet elegant A-line gown made from two different styles of Chantilly lace, lovingly draped over champagne-ivory silk. My dress had a high-cut sweetheart neckline and a V-shaped open-back which flowed into a small trail to add to my dress' sophistication.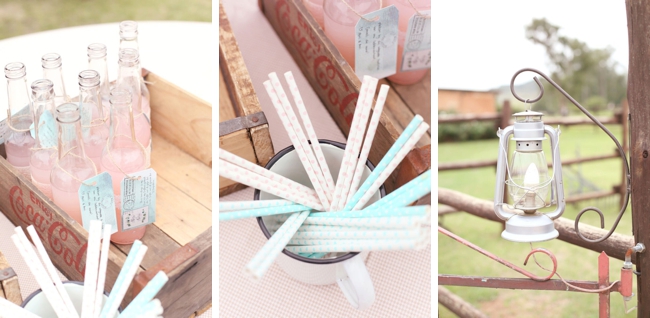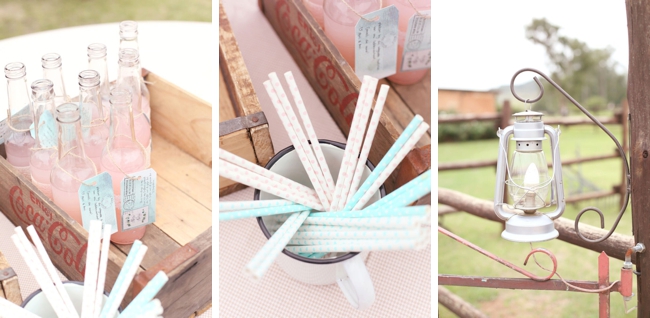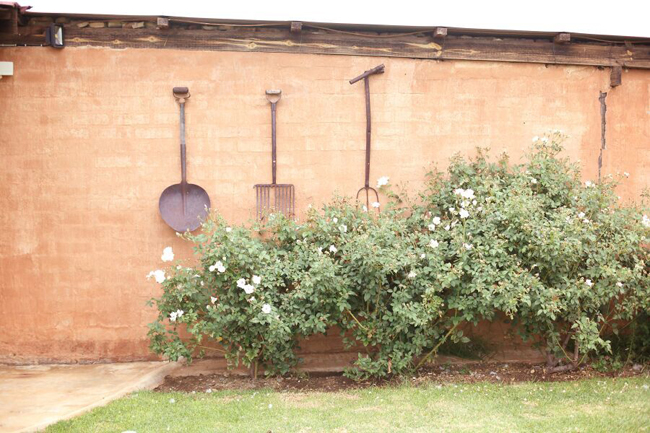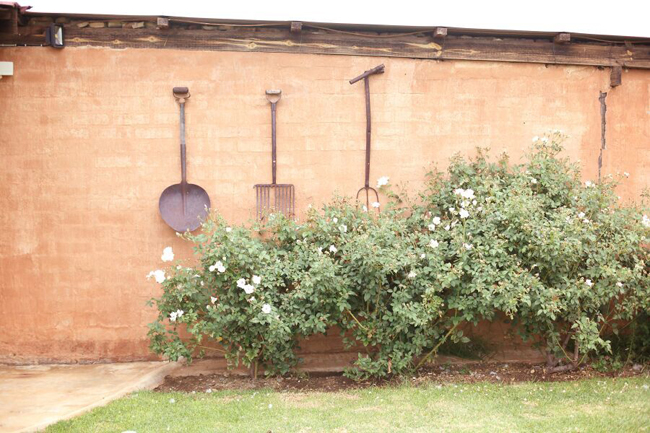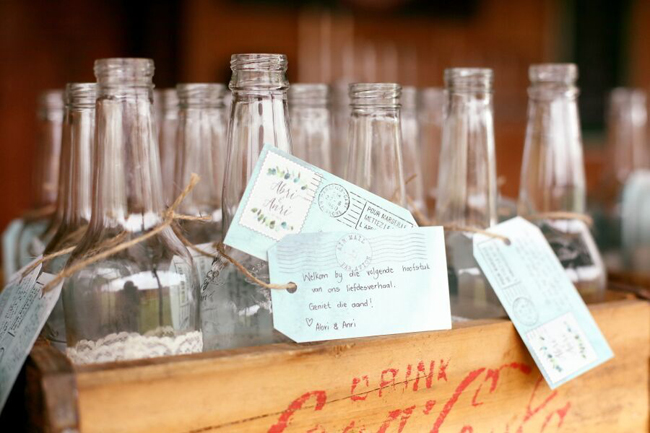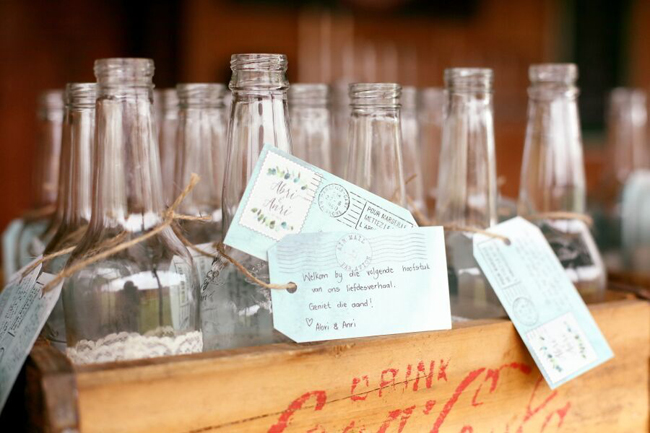 The Bridesmaids
I had three of my best friends as bridesmaids. Their dresses were custom-made according to a very elegant, yet simple style I picked out for them. Their dresses were made from a combination of pearl-white stretch lace to create the bodice and a taupe chiffon for the skirt, personalised with a wooden doll brooch and a feminine bracelet with a pink semi-precious stone to add that extra bit of glamour.
The Flowers
Floral décor consisted of wreaths against the walls, rectangular wooden boxes with mixed flower arrangements that were comprised of soft pink roses, succulents, pink daisies, safari-red fynbos, slangbos and eucalyptus, on the tables. Our lovely chocolate brownie wedding cake was also decorated with roses, succulents, eucalyptus and a wooden couple cake-topper.
My personal bouquet was simple and quite rustic but clean and pure at the same time – a combination of creamy-peach roses, eucalyptus and pink latifolia bunched together with a chunky ribbon. The table arrangements and larger bouquets were a combination of all of the flowers I love, which included soft pink roses, silver brunia berries, succulents, slangbos, safari-red fynbos, pink daisies and hydrangeas. The girls had small wreaths made from eucalyptus to form part of our main theme with the wreaths that symbolised unity and never-ending love.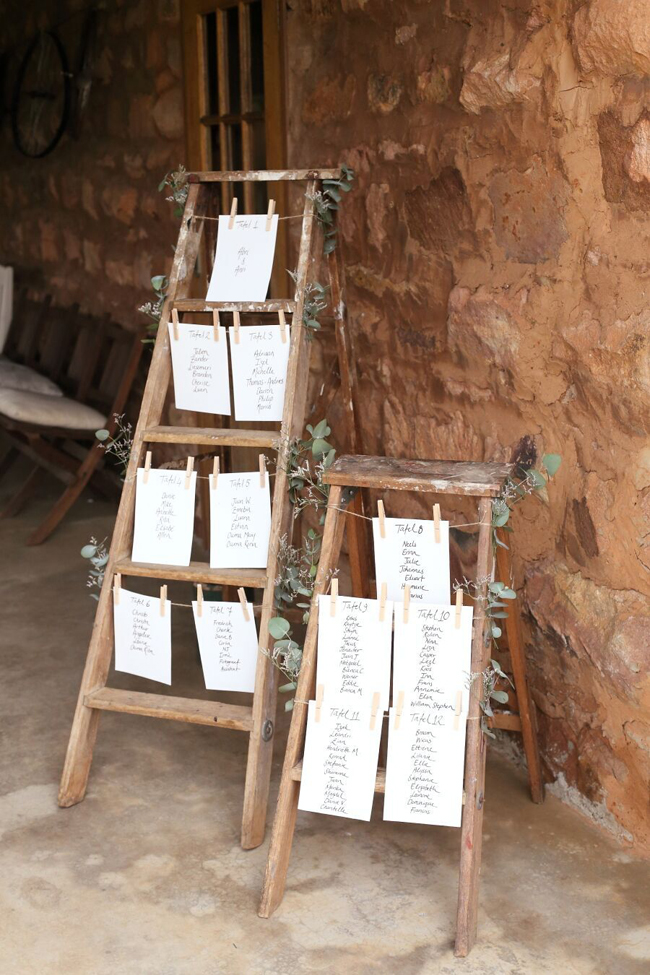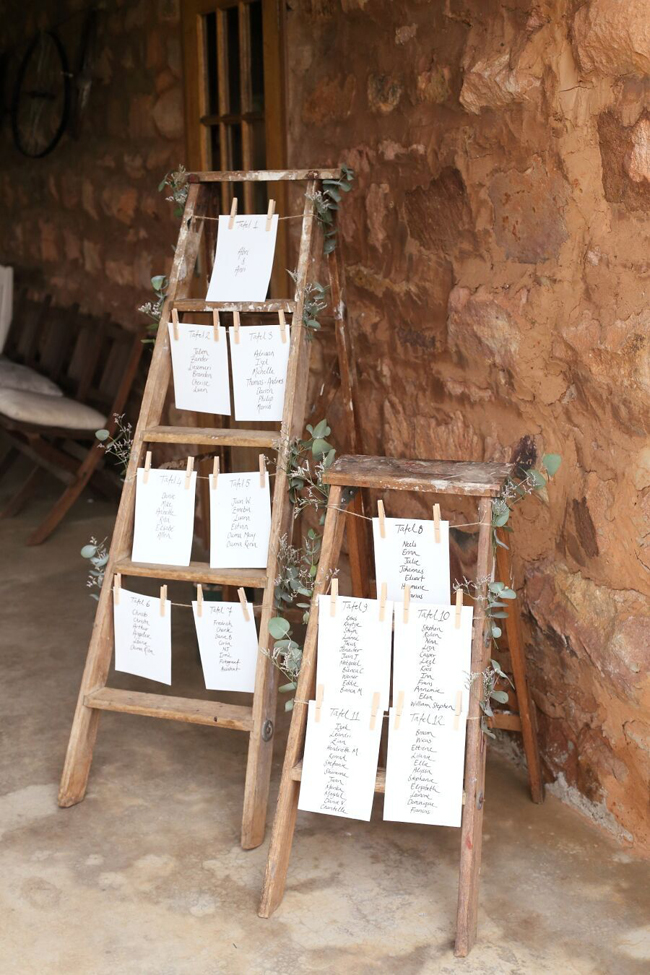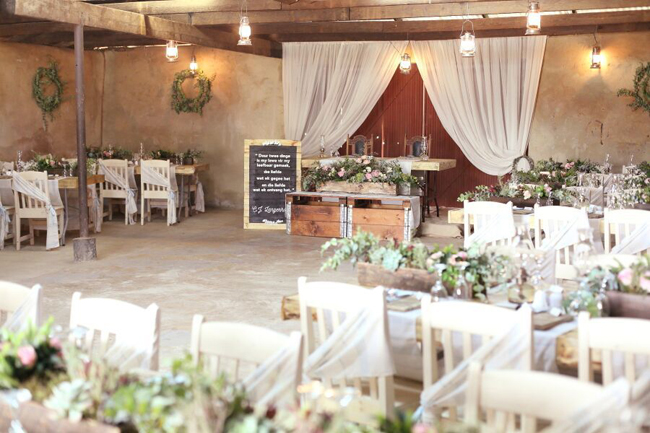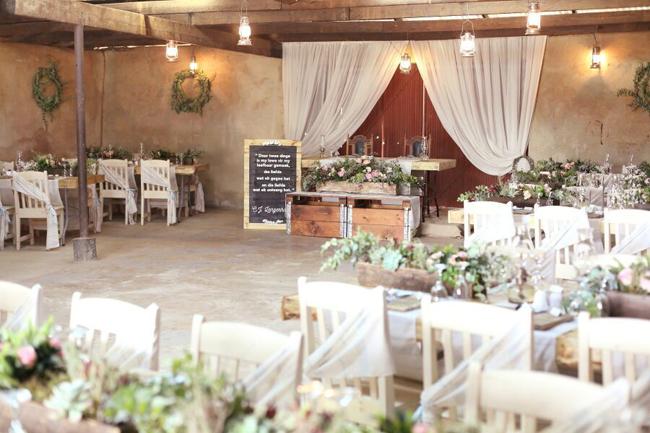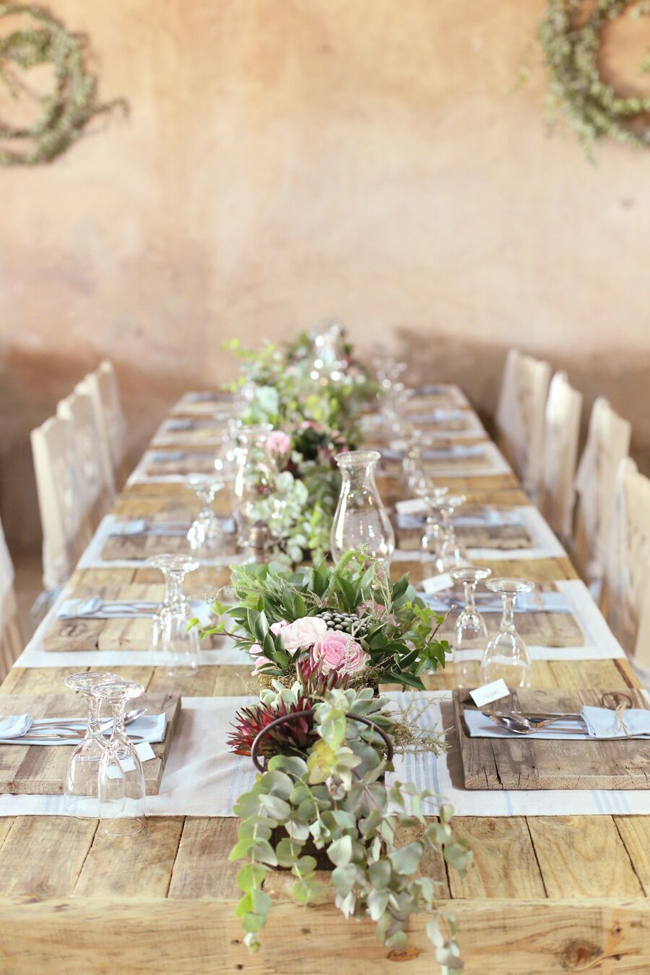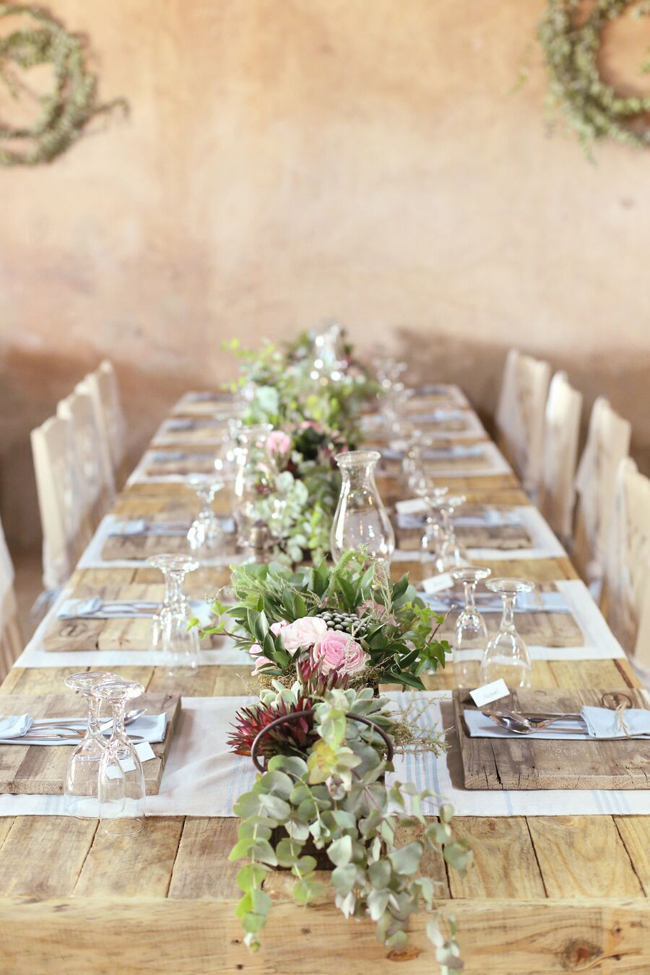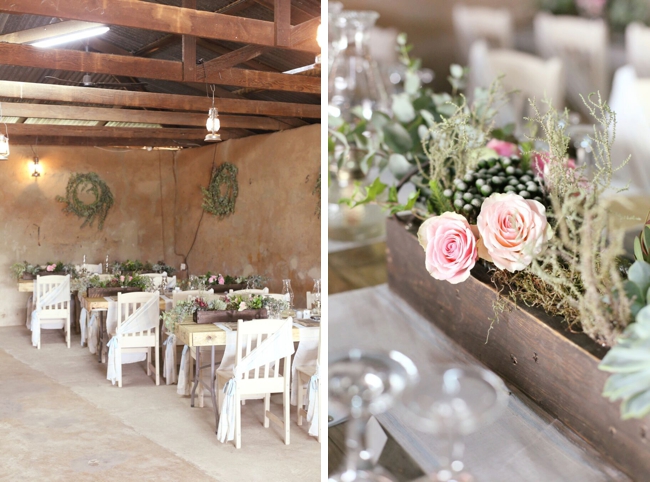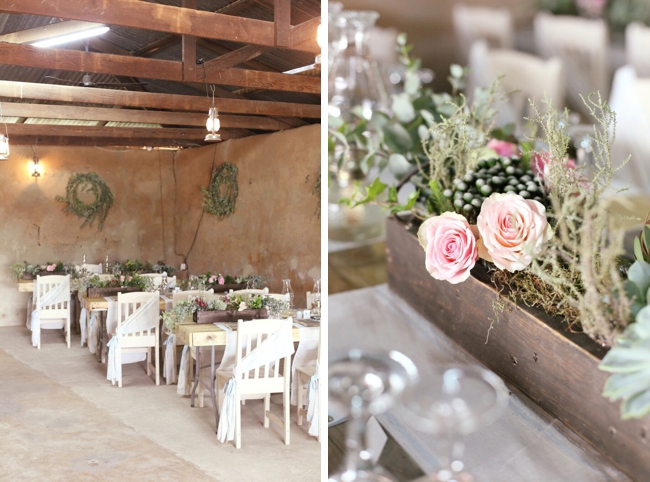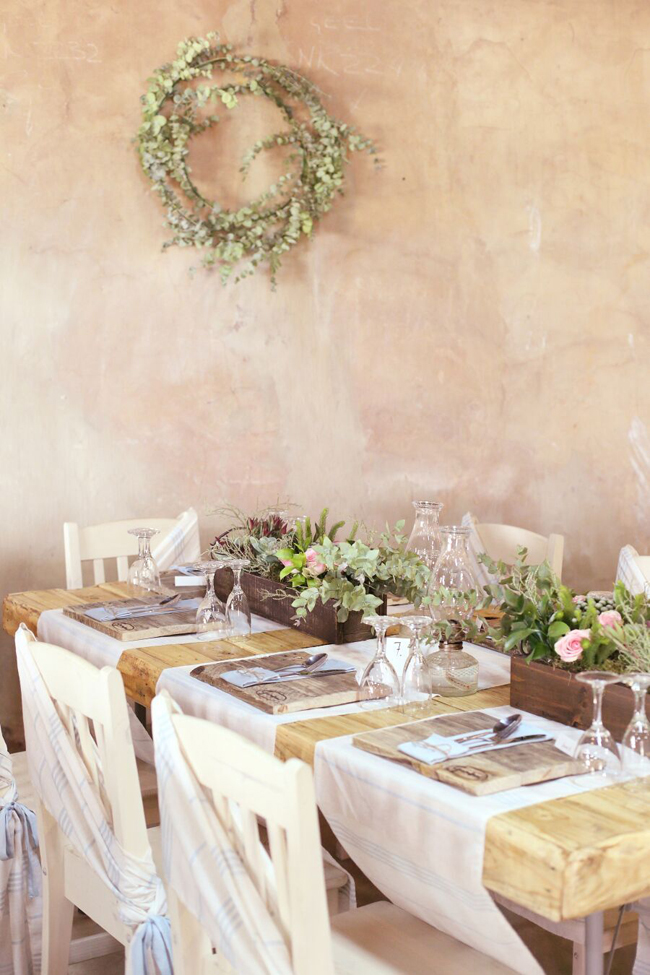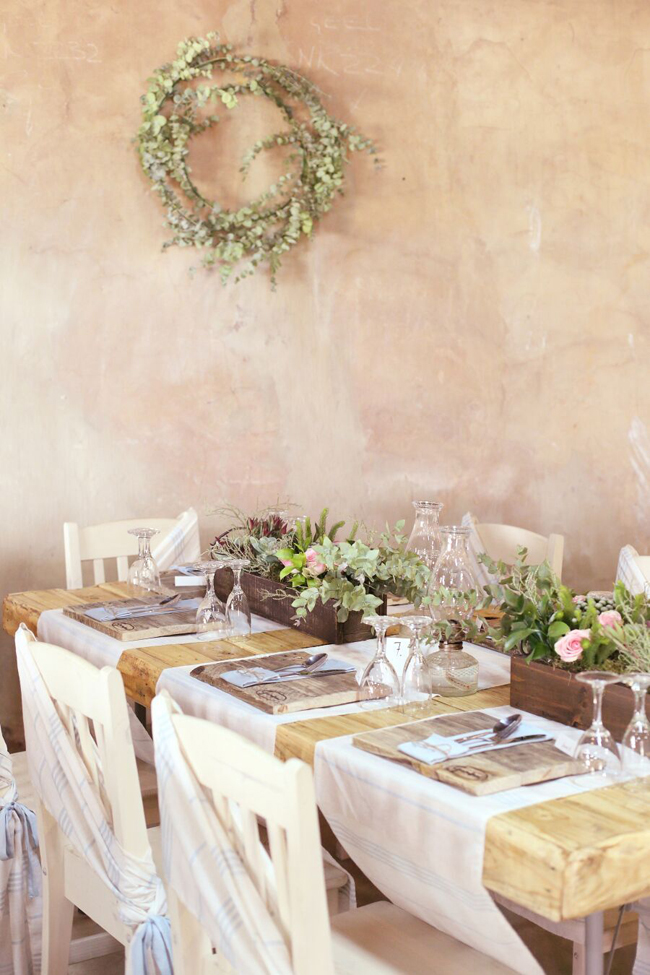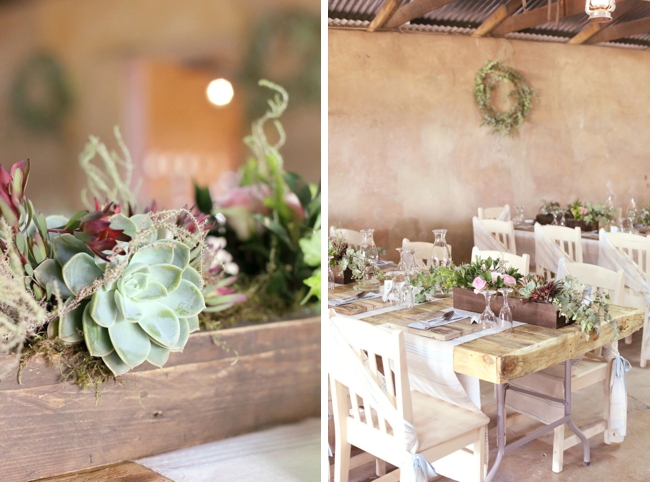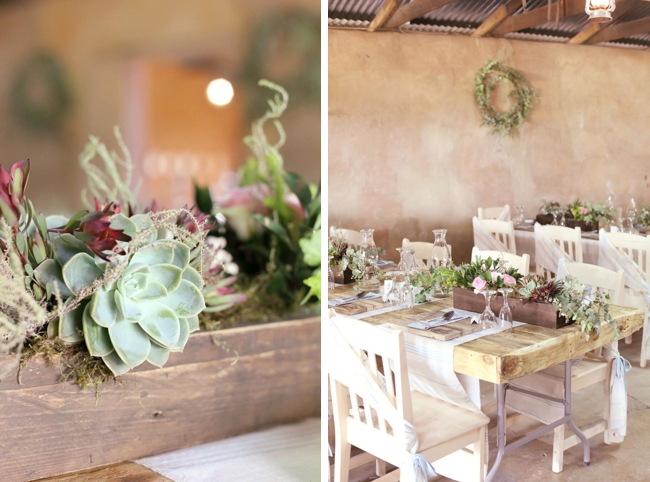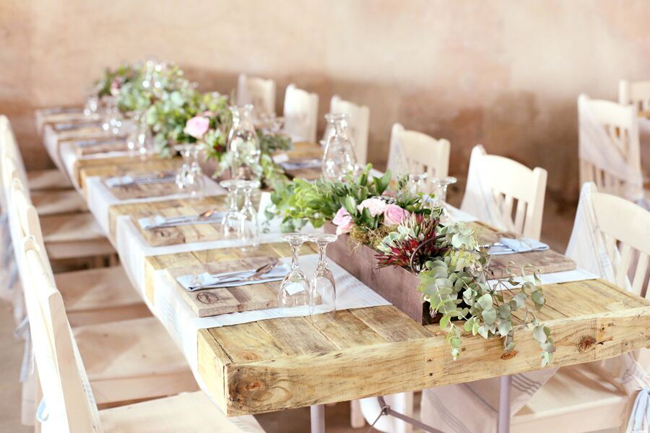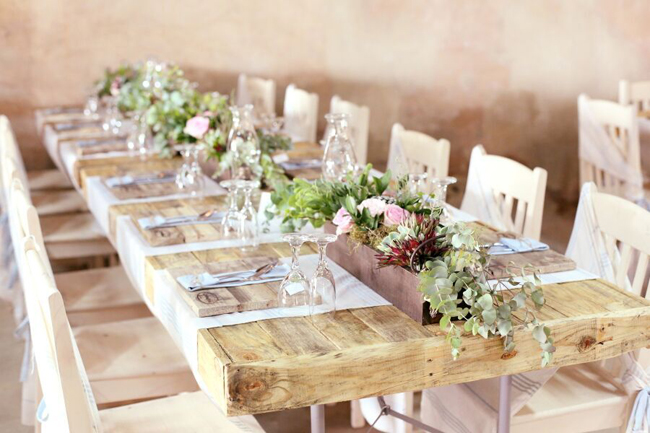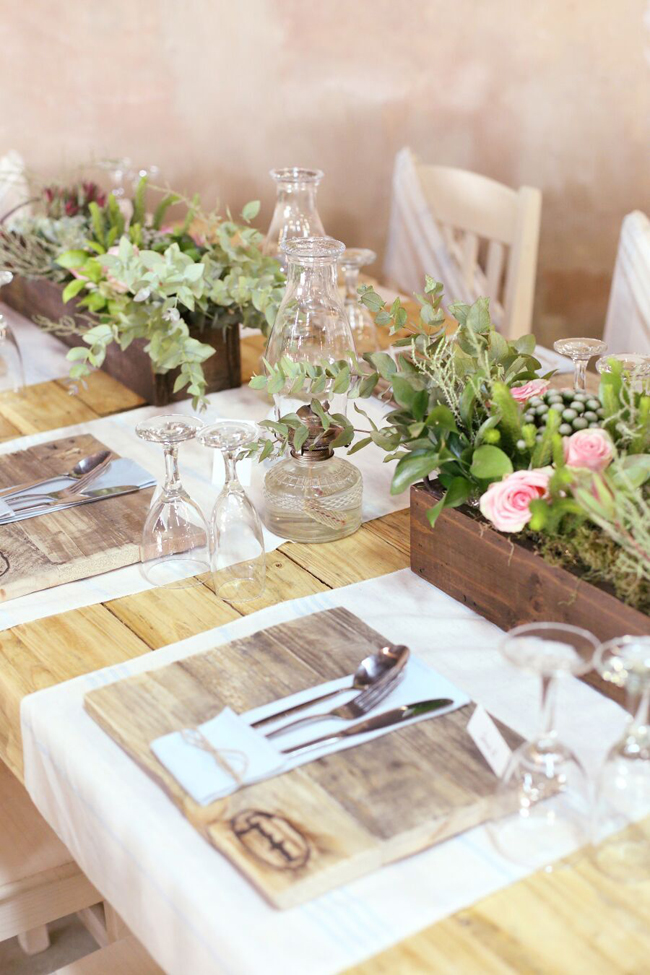 Memorable Moment
As soon as my Dad and I started making our way down the aisle, our little ringbearer, Zian, heard some cattle bellowing in the distance… He carefully put down the box containing our rings and climbed through some of the nearby foliage to investigate the sounds. When we called him back to continue down the aisle, he very seriously notified us: "Hier is leeue" ("there's lions here"). This immediately lifted the initial, very emotional mood. Nonetheless, as soon as I stepped into the the ceremony area and saw those big tears on Abri's cheeks, I struggled to keep my own emotions in check. It was a very emotional, but extremely intimate and blessed day for the both of us.
Proudly South African Details
For our ceremony we had a nguni pelt that was placed beneath our kneeling pillows to emphasize the traditional farm theme of our wedding. During the reception our guests also danced to proudly South African sokkie music from various local artists. Our traditional boerekos buffet was also a proudly South African element.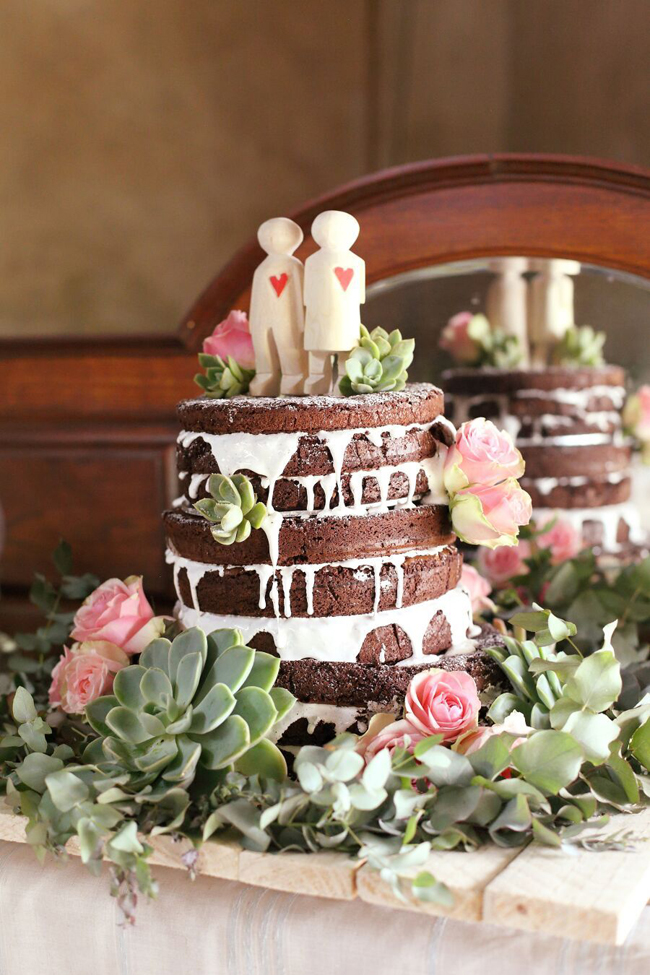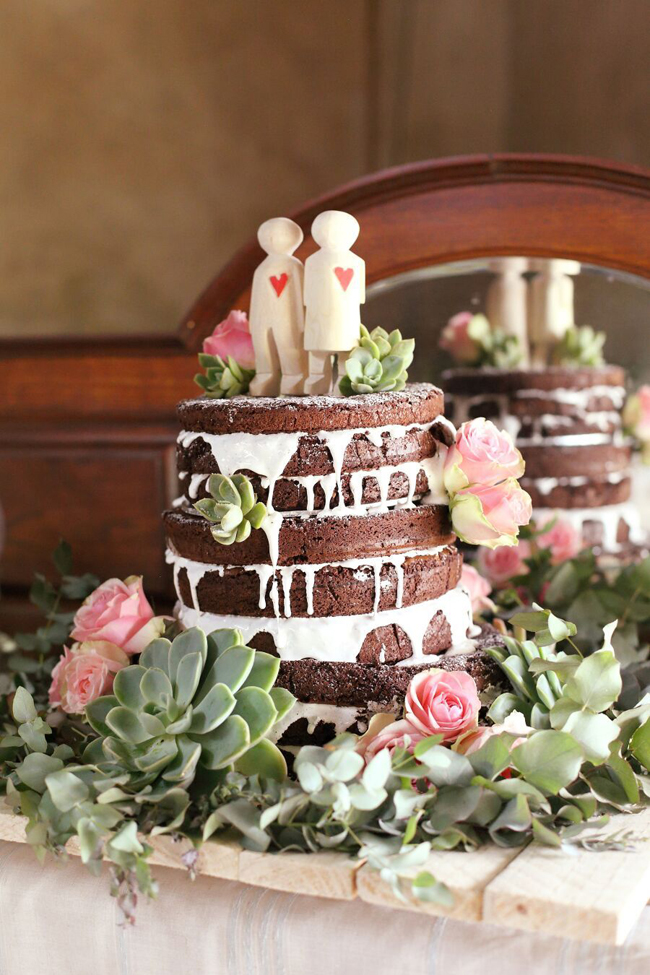 Best Decision
To decide what details about our wedding were most important to us as a couple and to be honest about what we wanted when it came to suggestions from friends and family.
Advice for Future Brides & Grooms
We saved a lot of money by doing most of the décor and preparations ourselves. You don't need all the most expensive décor to make your ideas work. DIY wedding projects are fun and give an extra personal touch to your special day! There is loads of inspiration out there.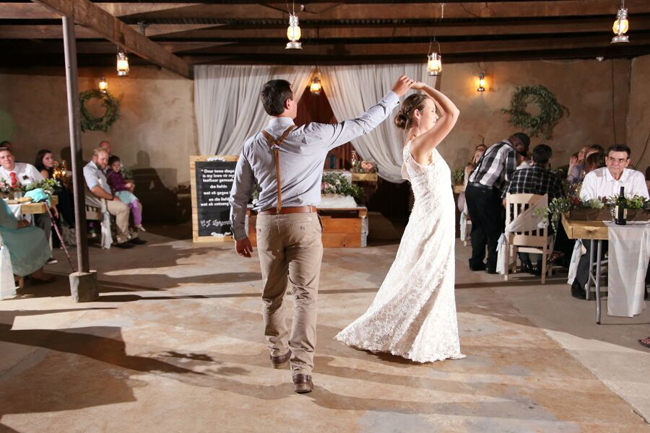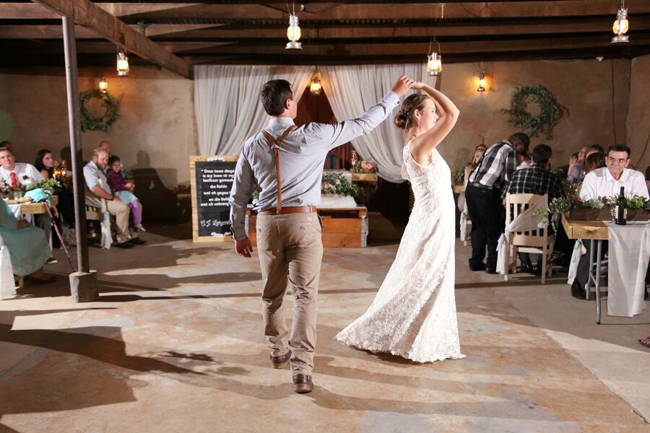 You can see more from this wedding on the Hello Love site.
SERVICE PROVIDERS
Venue & catering: Die Klipskuur | Spitbraai catering: Spitbraai & Hire | Photography: Hello Love Photography | Co-ordination, flowers & decor: Danie Gordon-van Dyk | Lavender confetti: The Restory Retreat | Stationery: Moooi Designs | Stencils: Liqerish | Cake: Annette van Dyk | Bride's dress: Marianna Zwaan Designs (+27 82 461 3292) | Bride's accessories: Lovisa (earrings); L'Afrique Jewellers (wedding ring) | Hair & makeup: Follicle Hair Atelier | Bridesmaids' dresses: Adri du Plessis (+27 83 458 7541) | Groom's attire & accessories: Eden Co.; Lig; Rings & Things | Hiring: Chocolate Turquoise (haybales) | Harpist: Ammarillie Ackerman | DJ: Faan Botha (Die Klipskuur)


Save