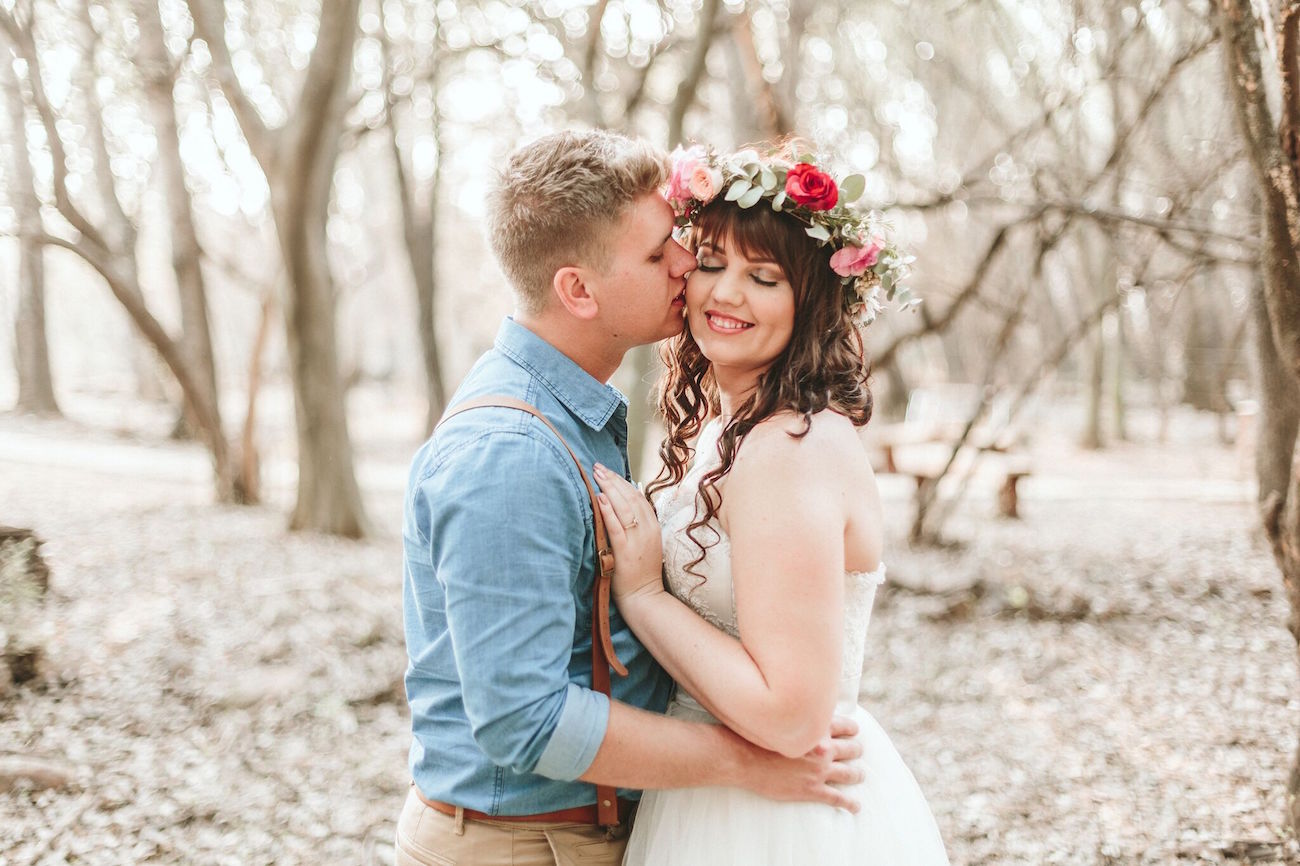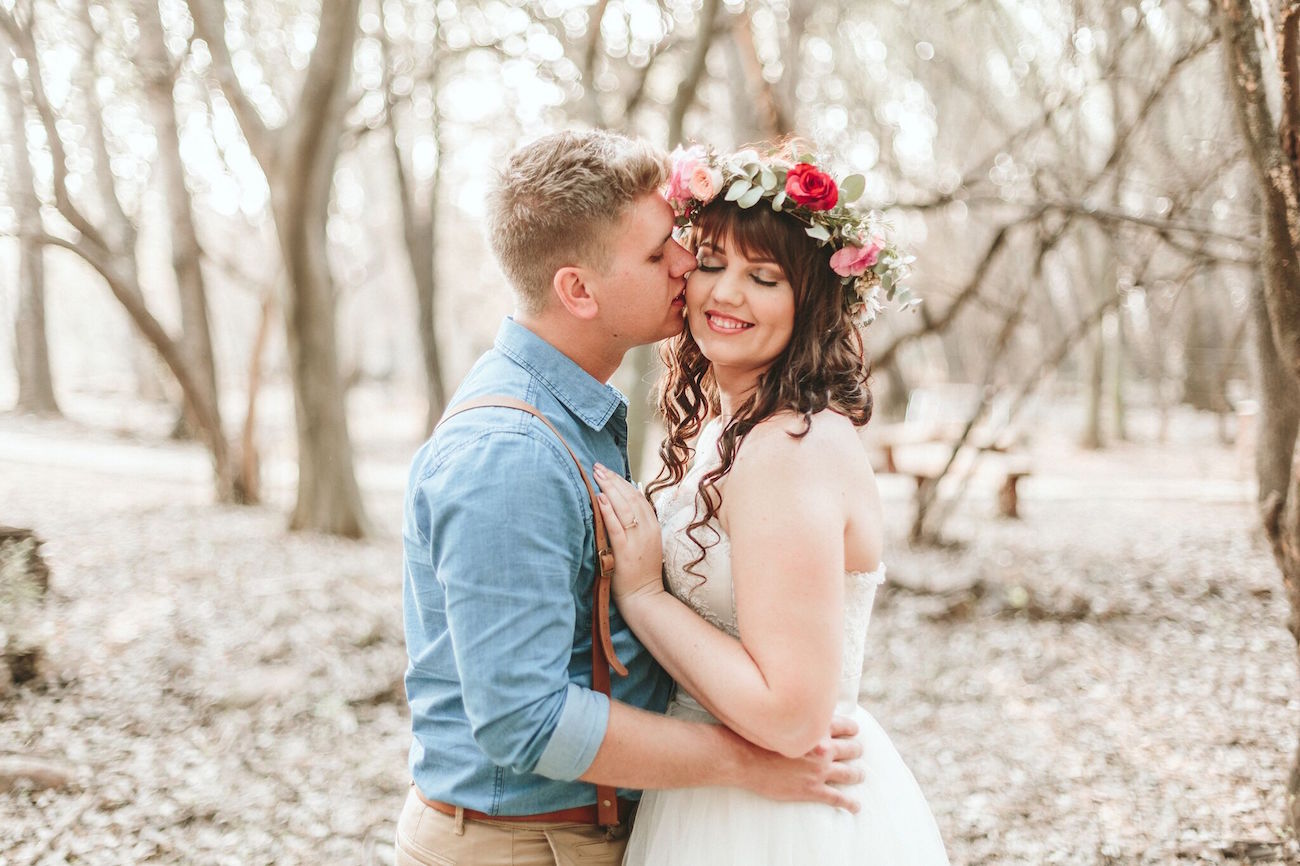 Happy Friday, loves! This whole month, we've been focusing on fairytales, but today we're sharing a wedding that starts like a real life fairytale. Imagine a singer on a stage, looking out over the audience. And there, looking up at him, he sees her. Love at first sight. That's the incredible story of how Hendrik met Claudette, and it culminated in a magical forest wedding (as all good fairytales do) and a rustic reception filled with DIY details and rose gold/copper sparkle. And here's another thing that makes today's wedding, with its gorgeous pics by Aline Photography, stand out – we often hear the story from the bride's perspective, but today it's all Hendrik sharing his perspective. Love that! And love these two cuties and their great big joyous smiles. Look out for lots of pinnable details – a fabulous ceremony area with eucalyptus lined doorway, lace tambourines for extra post-ceremony celebration, a rose gold buttercream cake, sparkly rose gold table numbers… there's even a rose gold bicycle for the cutest reception entrance! All made by the couple and their talented friends and family – amazing!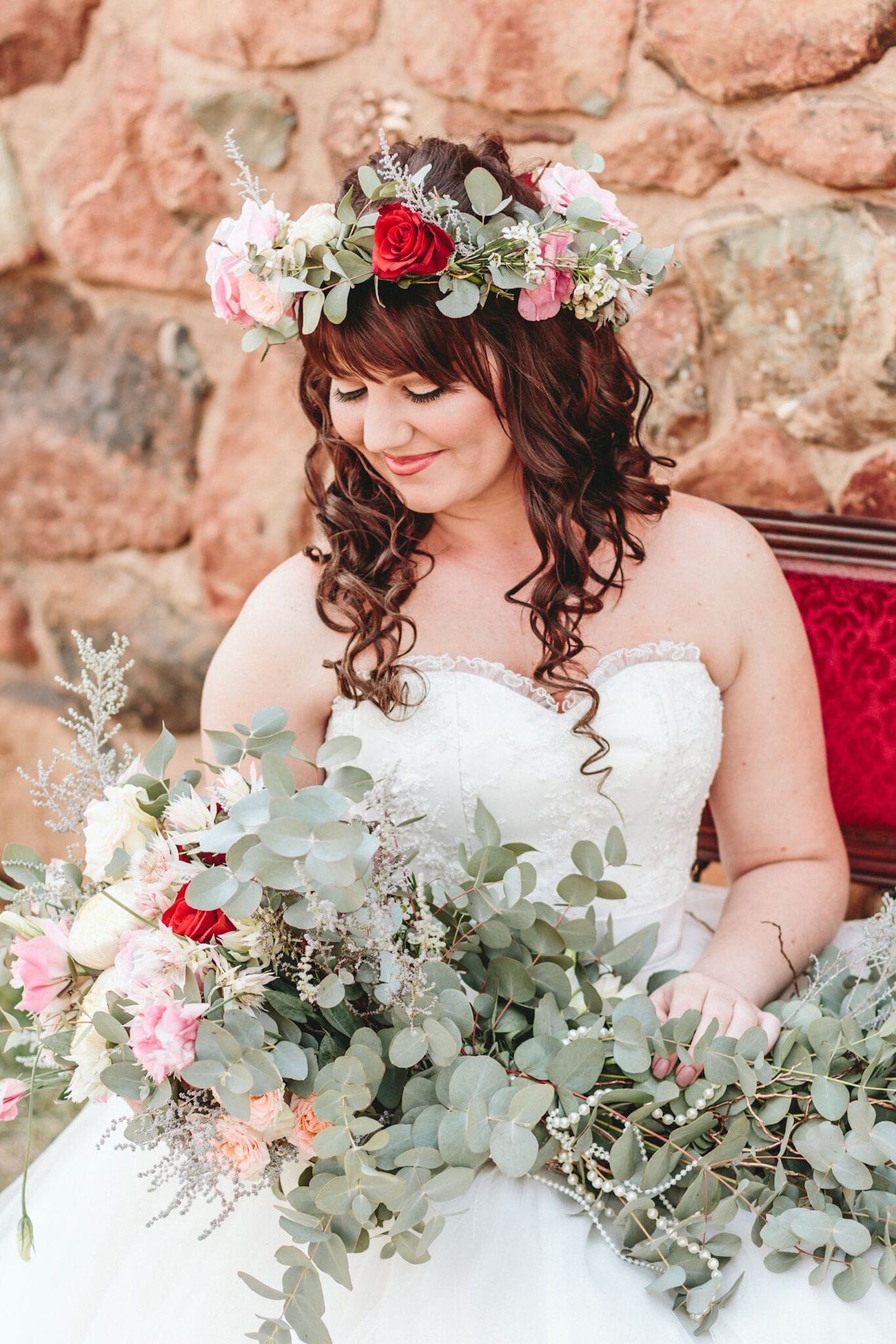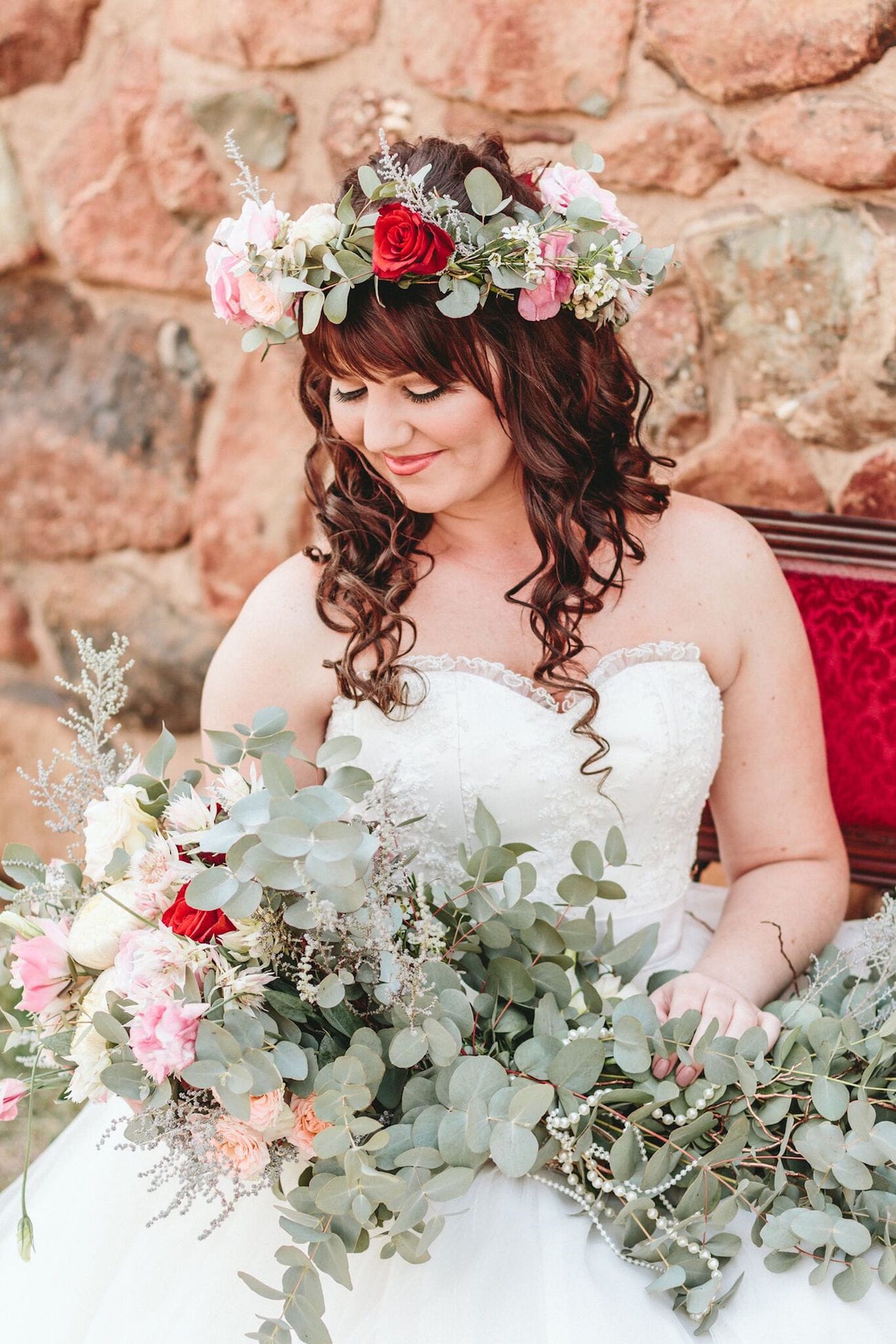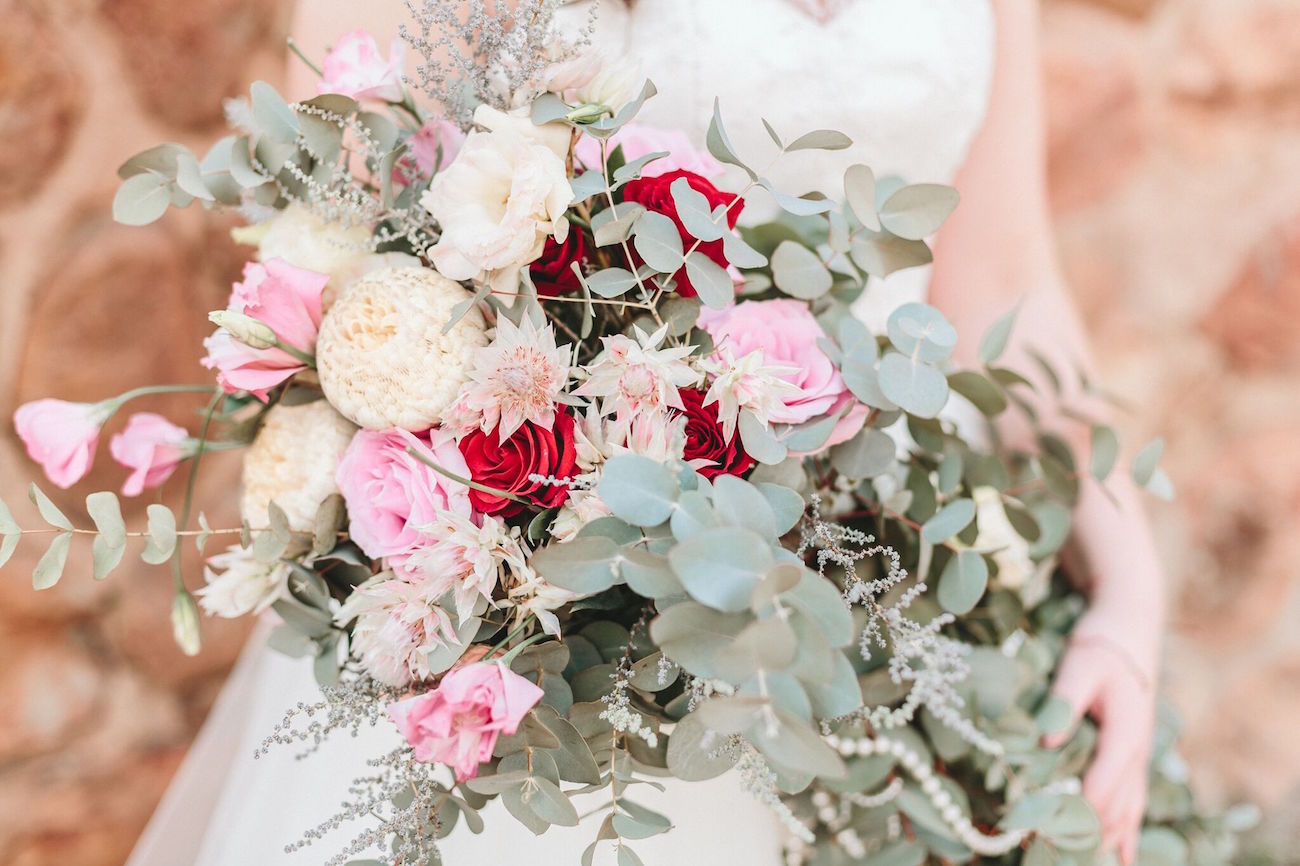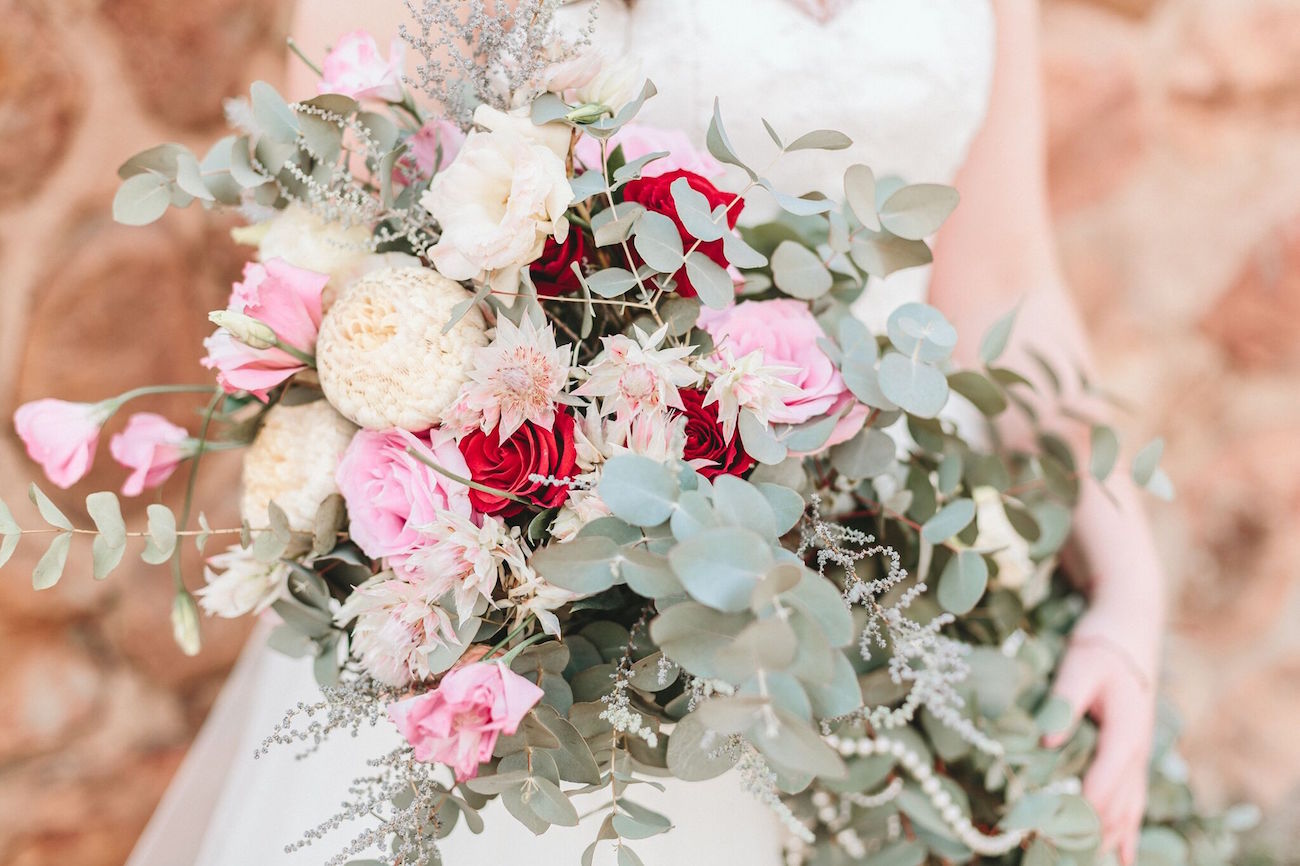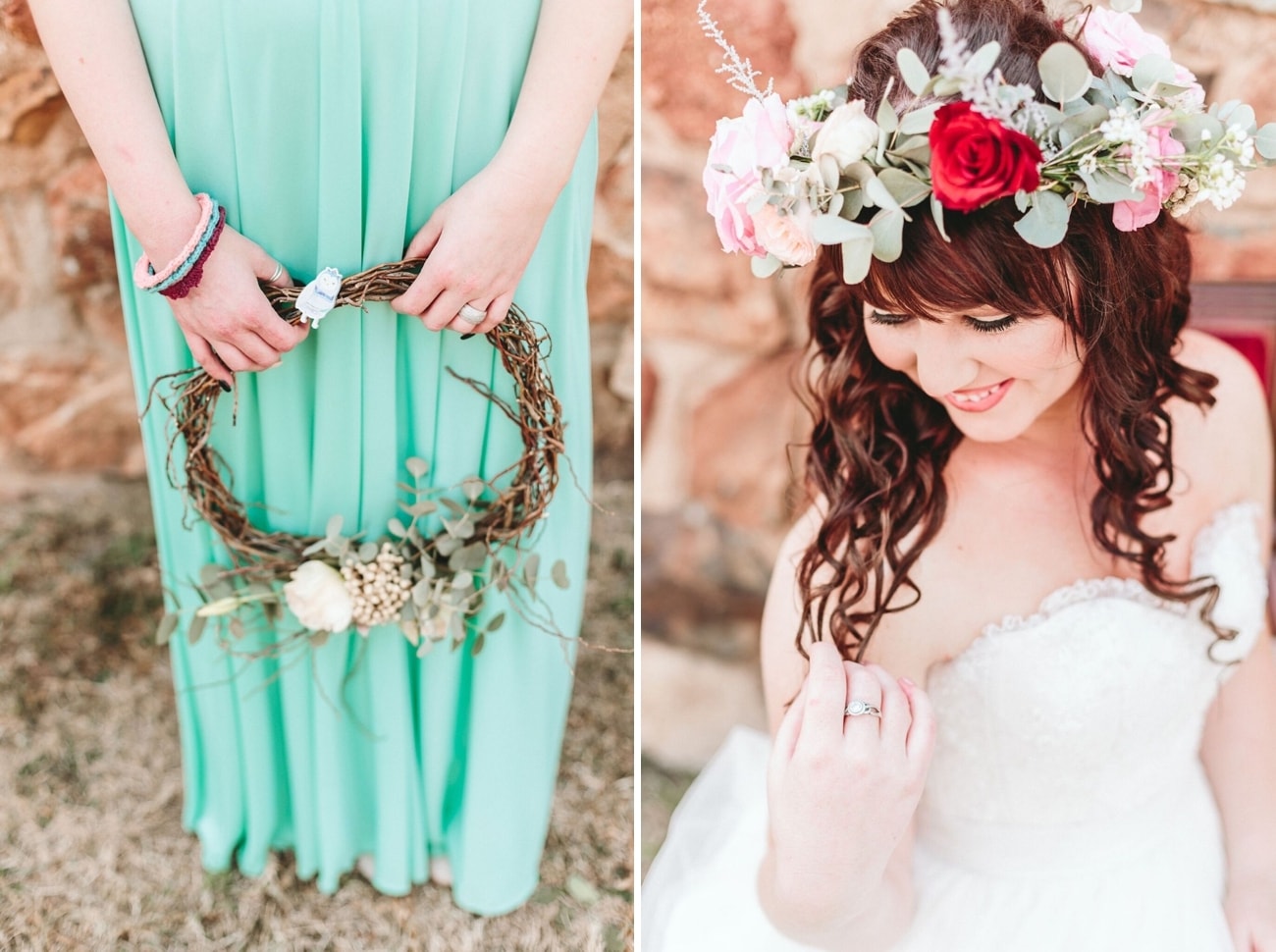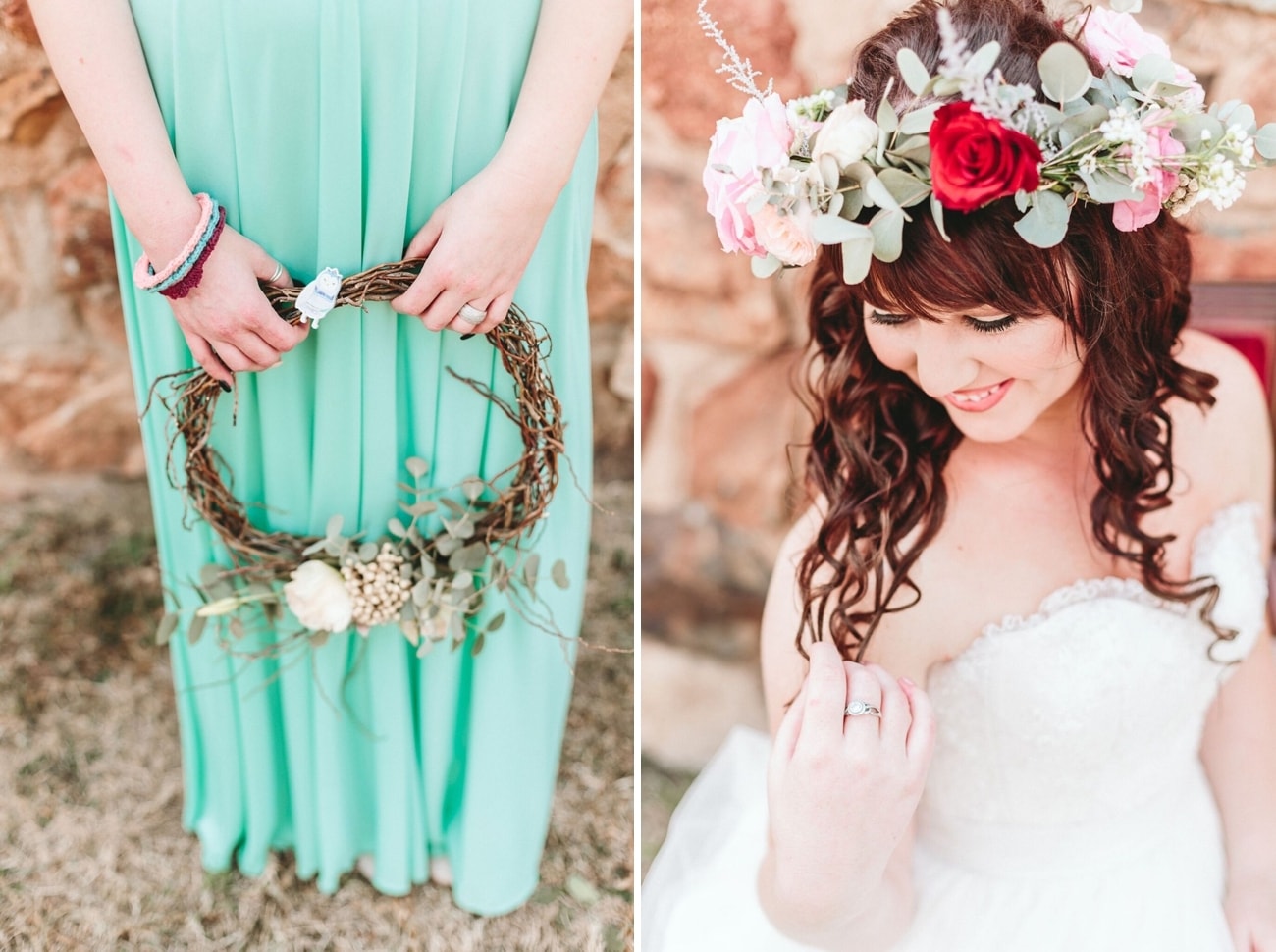 Love Story
I am a local singer in Vanderbijlpark who goes by 'Hendrik die Boertjie'. My wife's friend told her about me, so she came to one of my shows. It was there in the crowd that my eyes fell upon her beauty and I simply knew that she was the one and only.
The Proposal
Well, this is a very interesting story! I arranged with my sister to invite Claudette and I to join them for a picnic in Parys. That morning, she phoned and told her that her mother-in-law had fallen and hurt her head, so they couldn't go anymore, but that since she'd already paid for everything we should still go (I told my sister to make up an excuse, but her's was a little dramatic!). So the whole way to Parys, Claudette kept praying for the lady who had hurt her head, and while comforting her I missed the turn-off to the picnic venue, so ended up driving a 20km detour on a gravel road in my wife's Beatle Bug! Already late, we then found ourselves stuck in a herd of cattle that didn't want to move, resulting in me getting out of the car and trying to clear them. Back on the road, a rock hit the bottom of the car and a little further along, the car seized with a low oil level, and we found that the rock had broken the diff open and all the oil had drained out. Stranded just a few metres from the venue, I phoned the organisers and they came to collect us, and they dropped us off at the most romantic picnic spot next to the river, with blankets and rose petals. Claudette thought it was weird to have a picnic at a spot like this with family. After eating the most wonderful fruit and champagne, we went for a stroll through the trees, where we carved our initials into one of them. While she was busy carving mine, I went down on one knee and asked her to be the love of my life, my wife. After the big "YES", the family joined us for photos… and to tow the Beatle back home!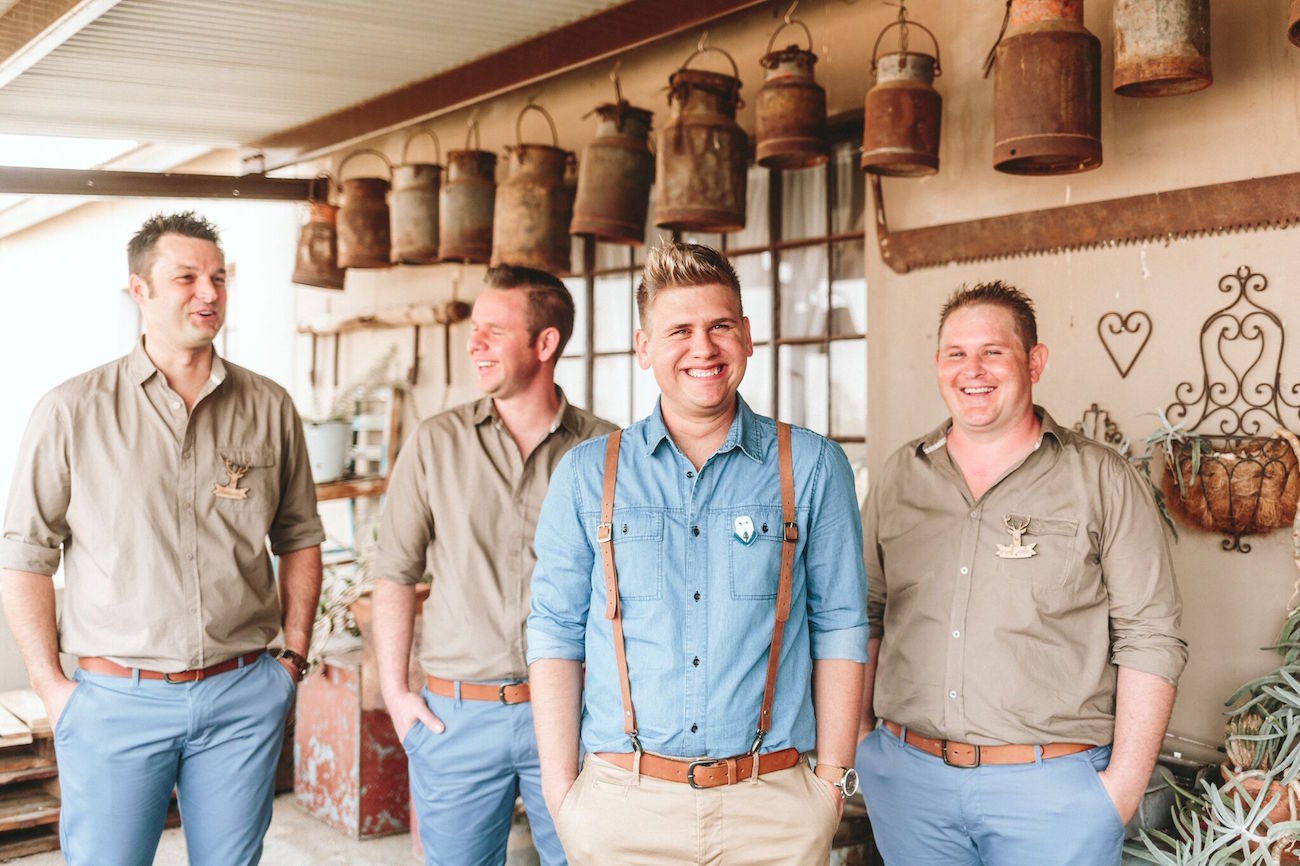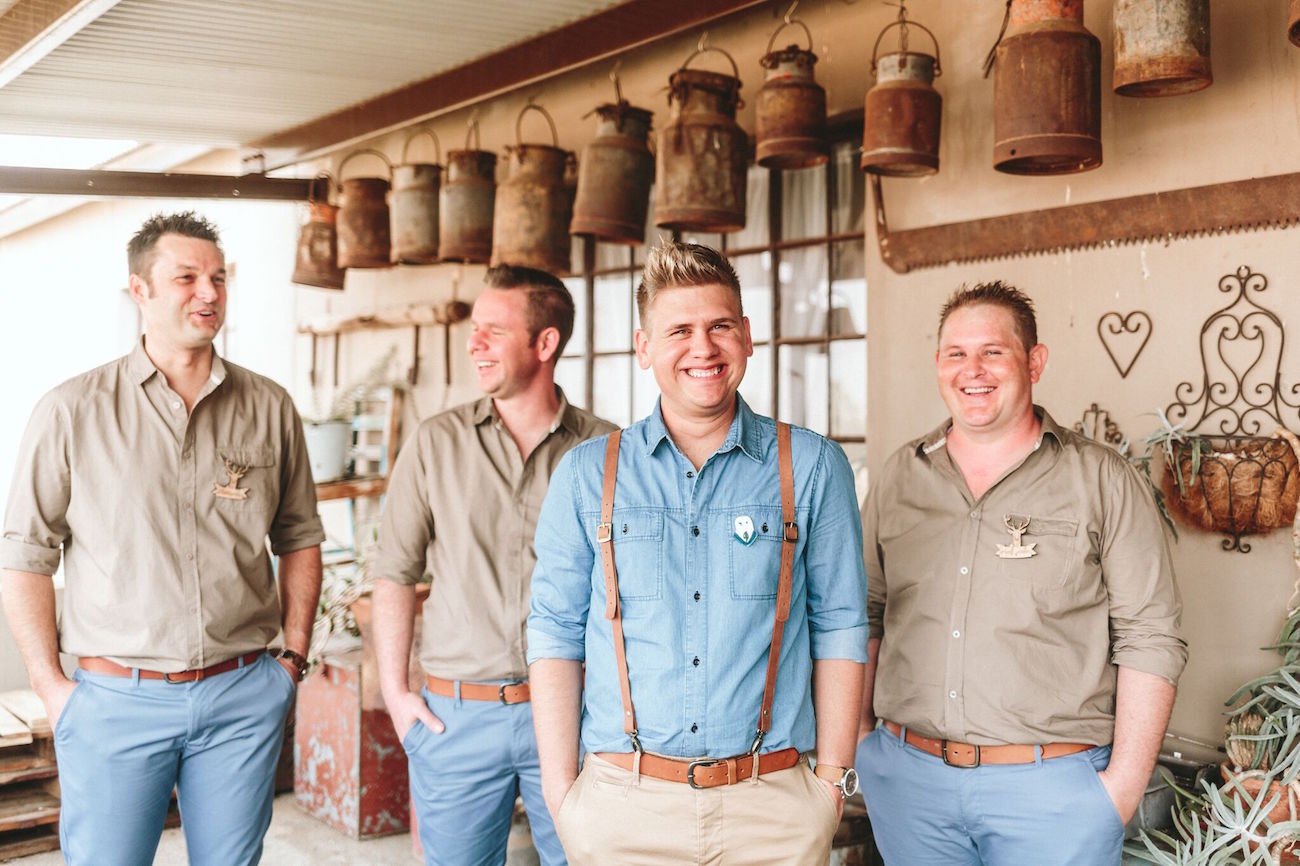 The Venue
Tuin van Eden, Heidelberg. For our wedding venue we chose a rustic brick reception venue with an outstanding view of fields and forest. Claudette had always dreamed of getting married in the forest, so for the ceremony we got married in the forest, with pure nature, where the wind made music through the trees.
Wedding Style
Our wedding theme was rose gold rustic forest. We completed the picture with mint green, coral, blush, and a lot of eucalyptus.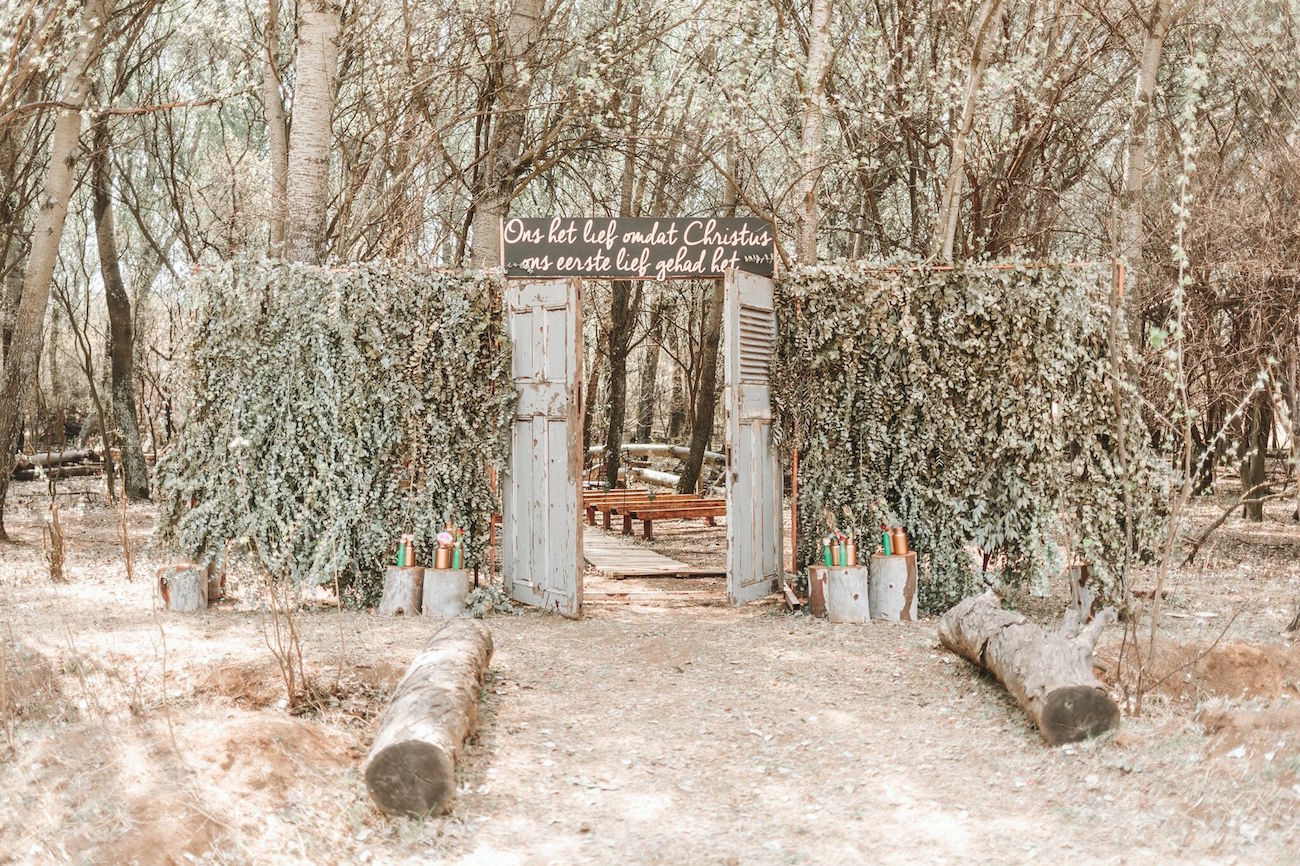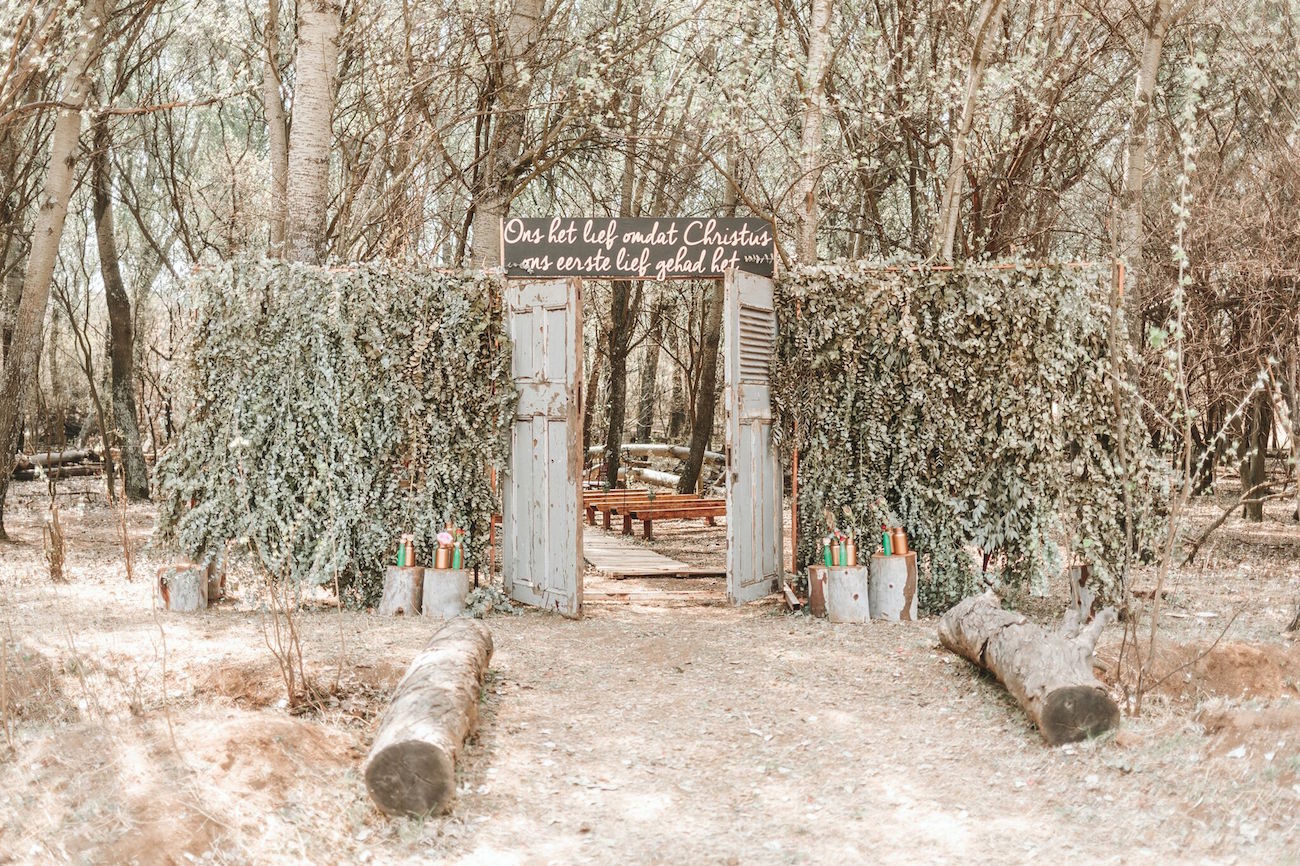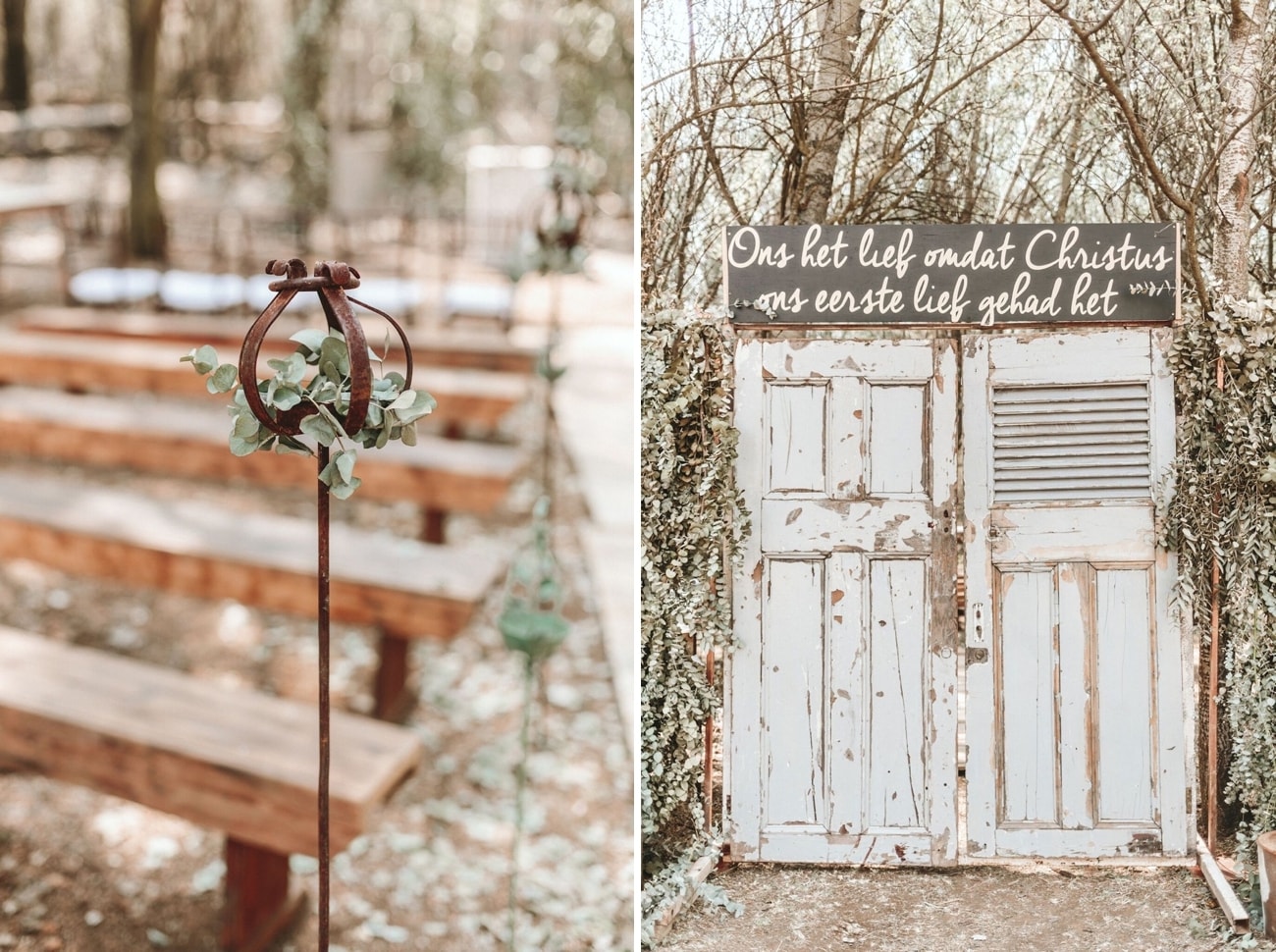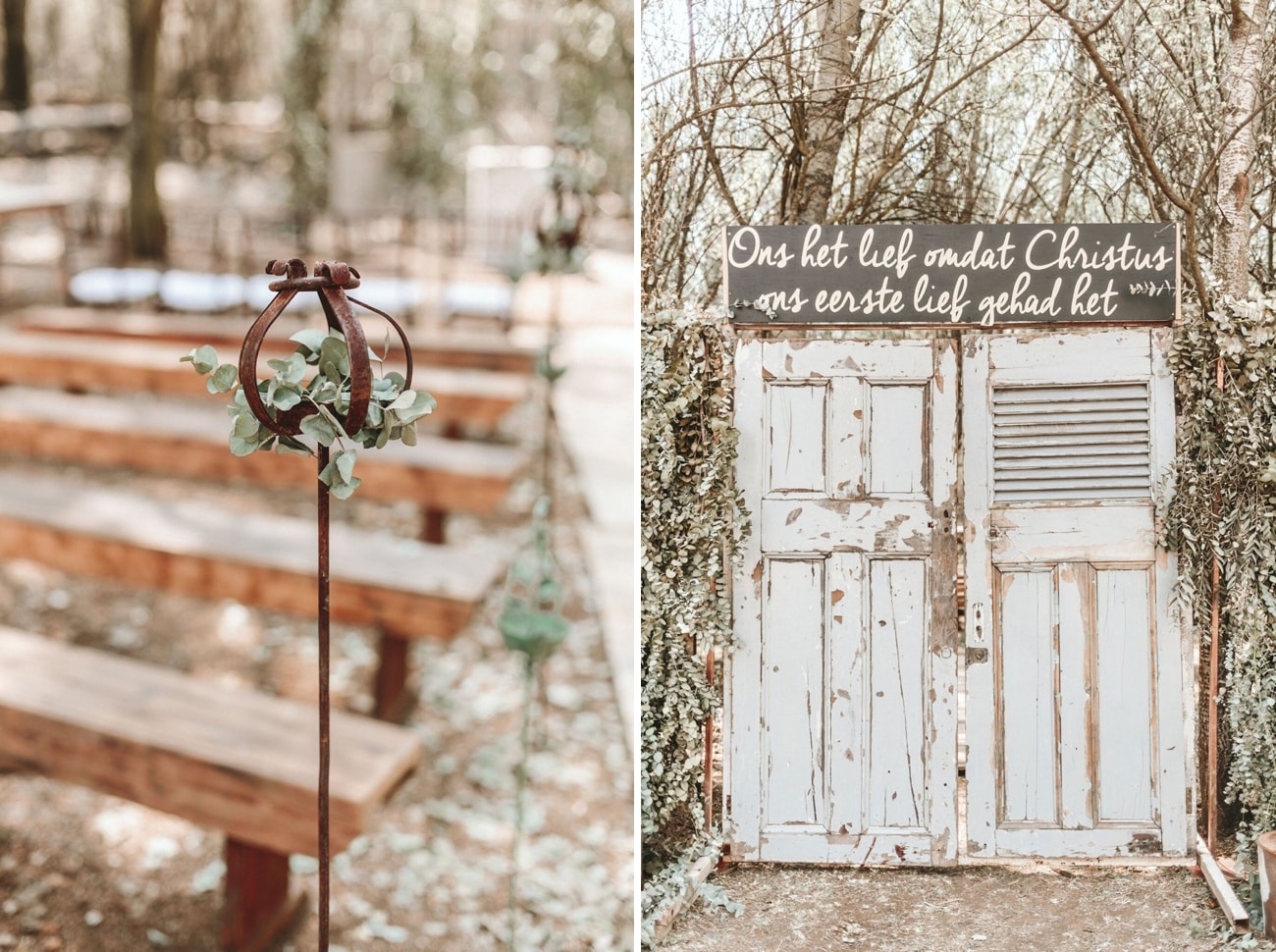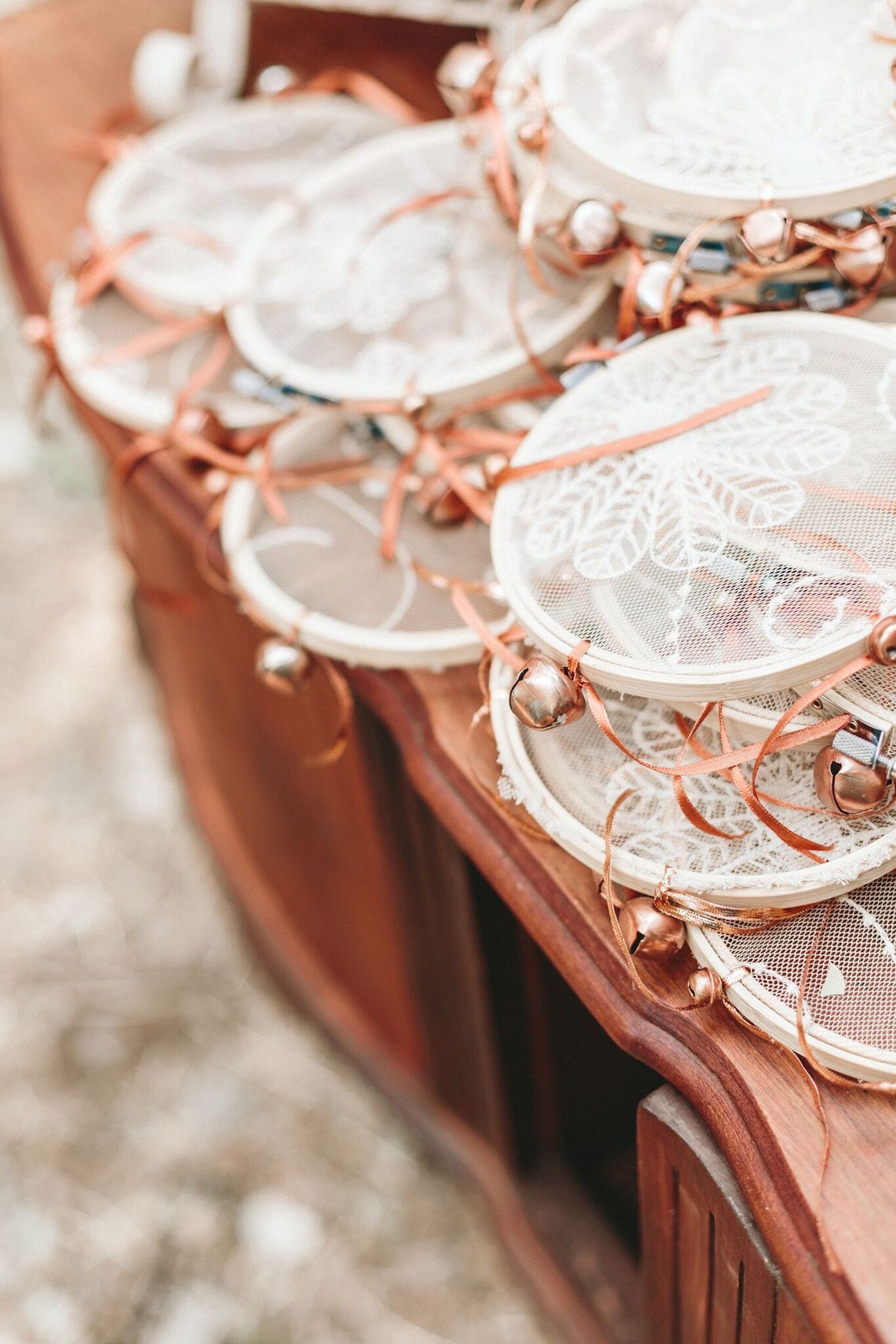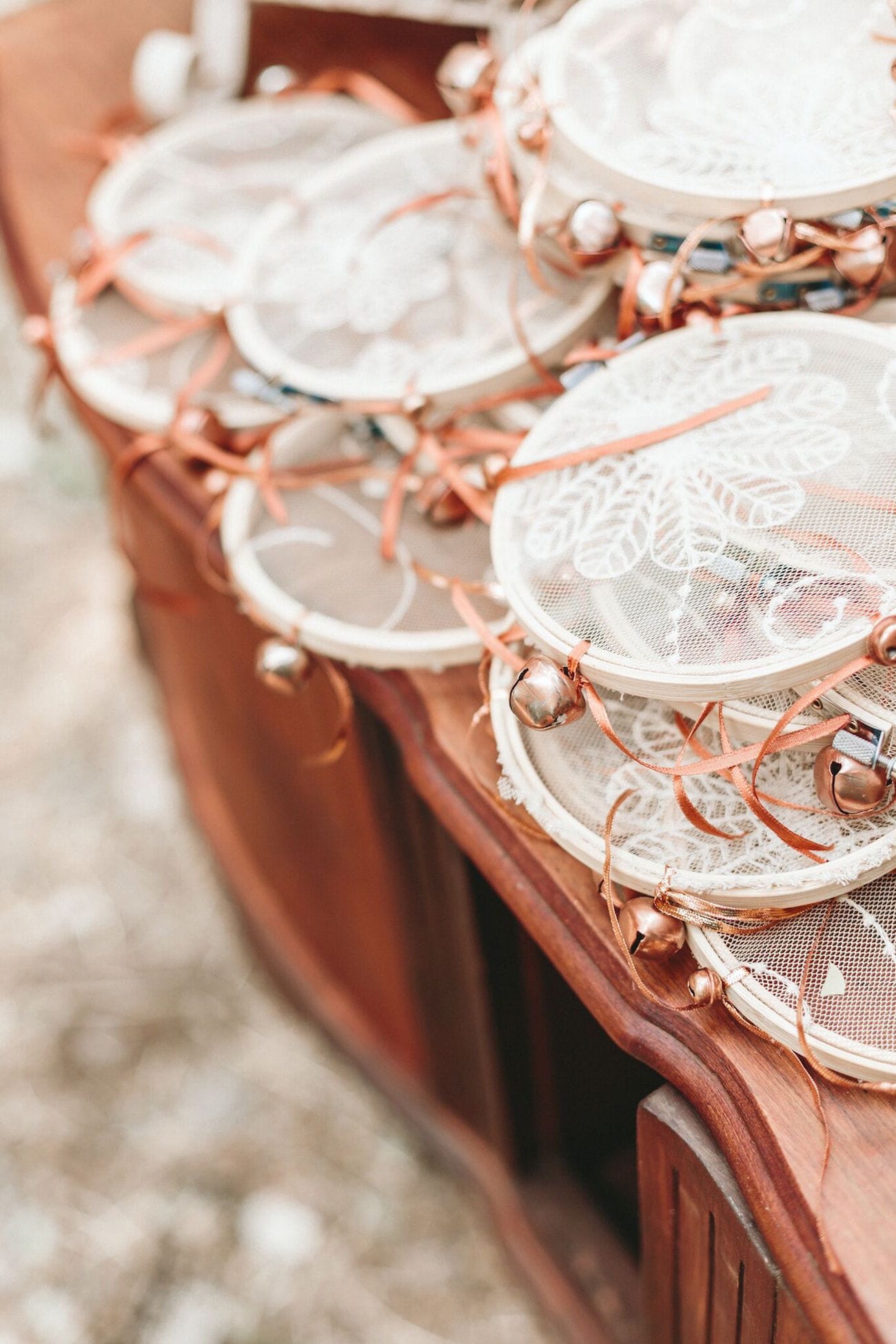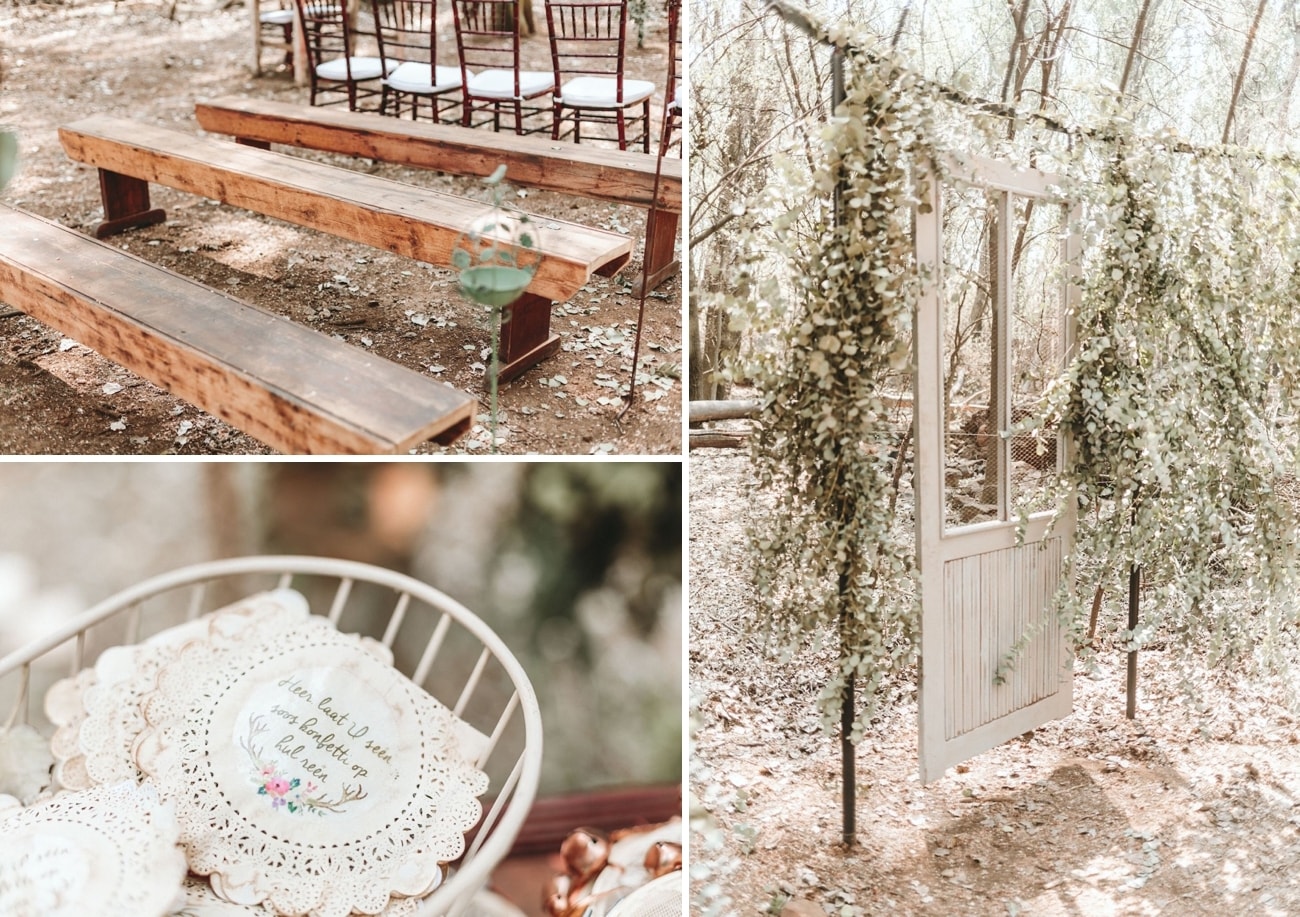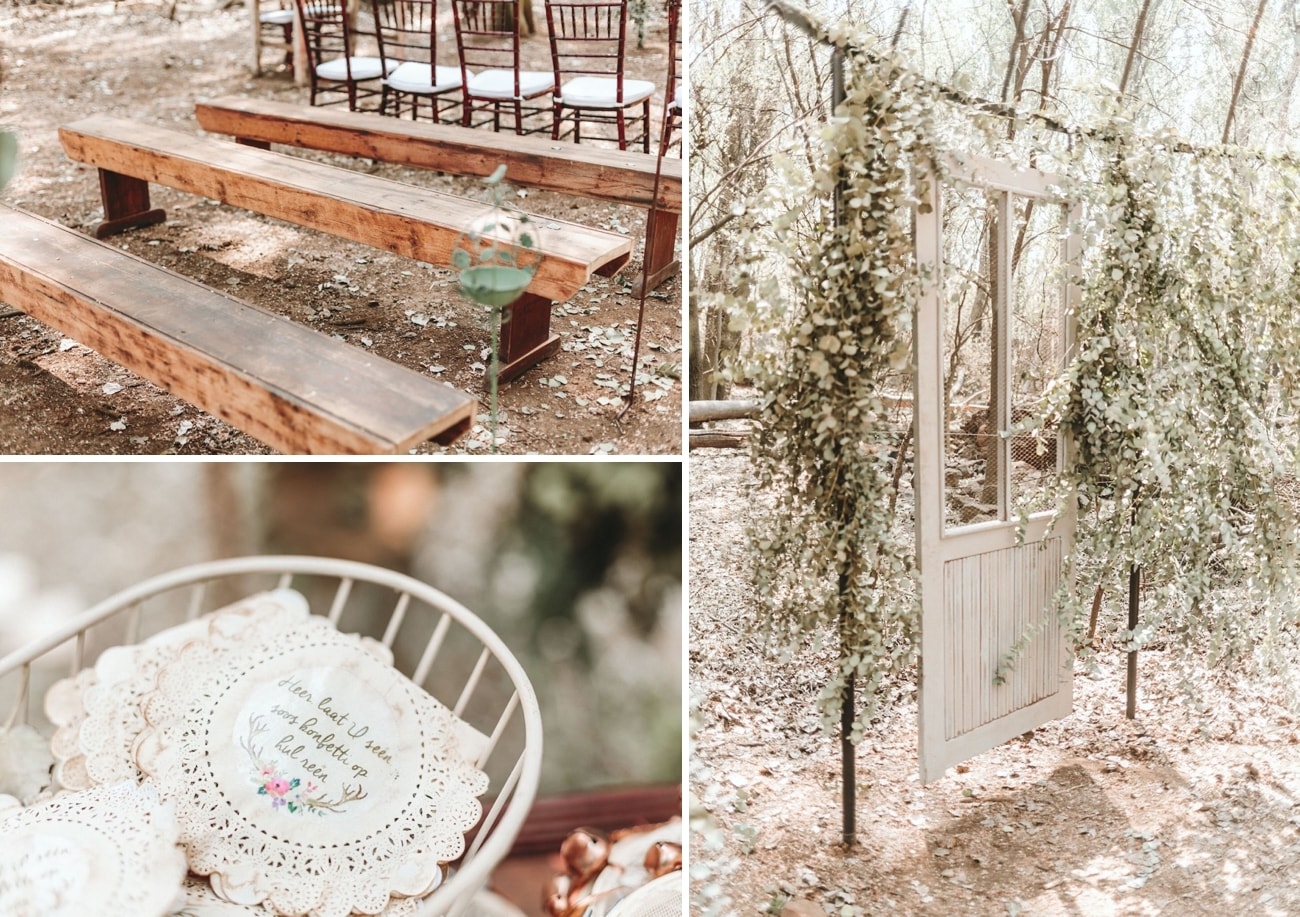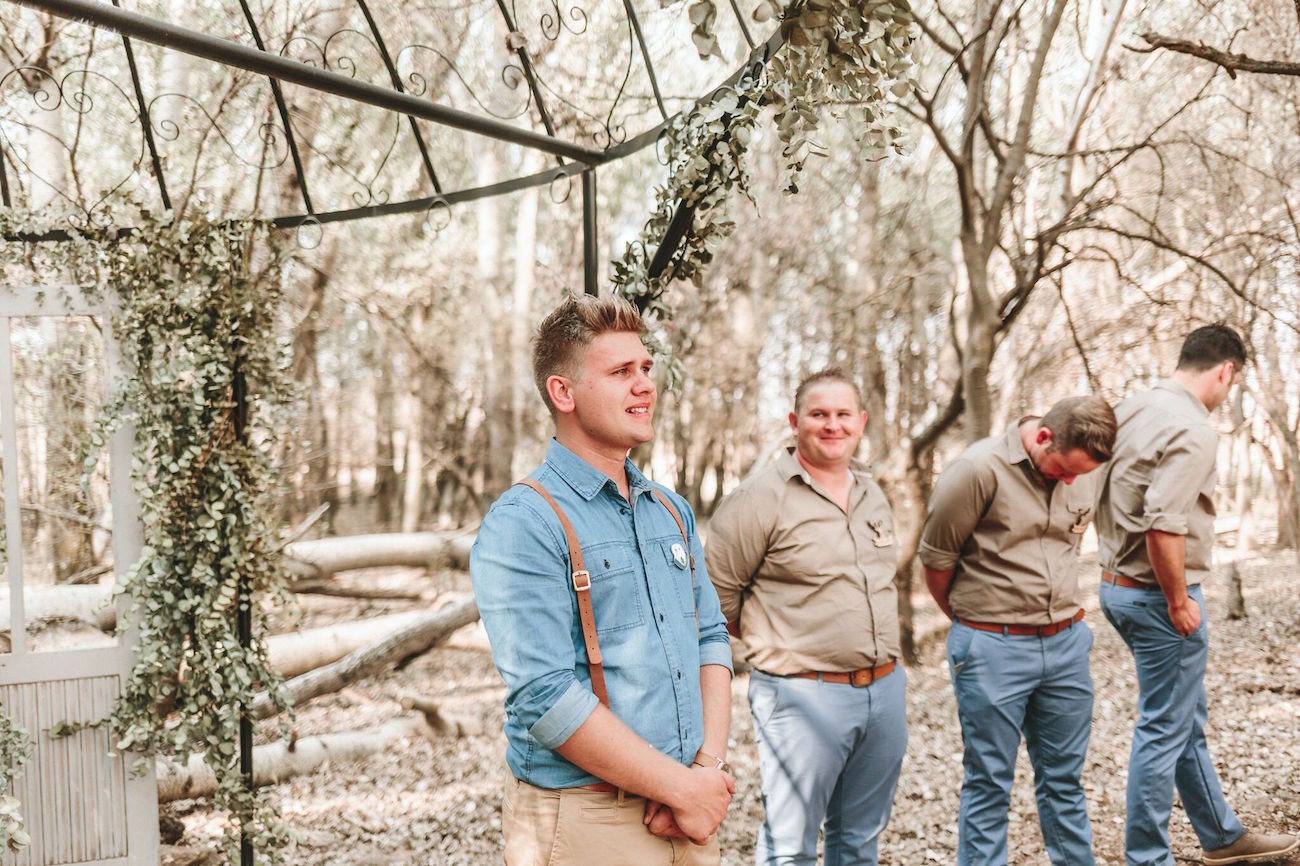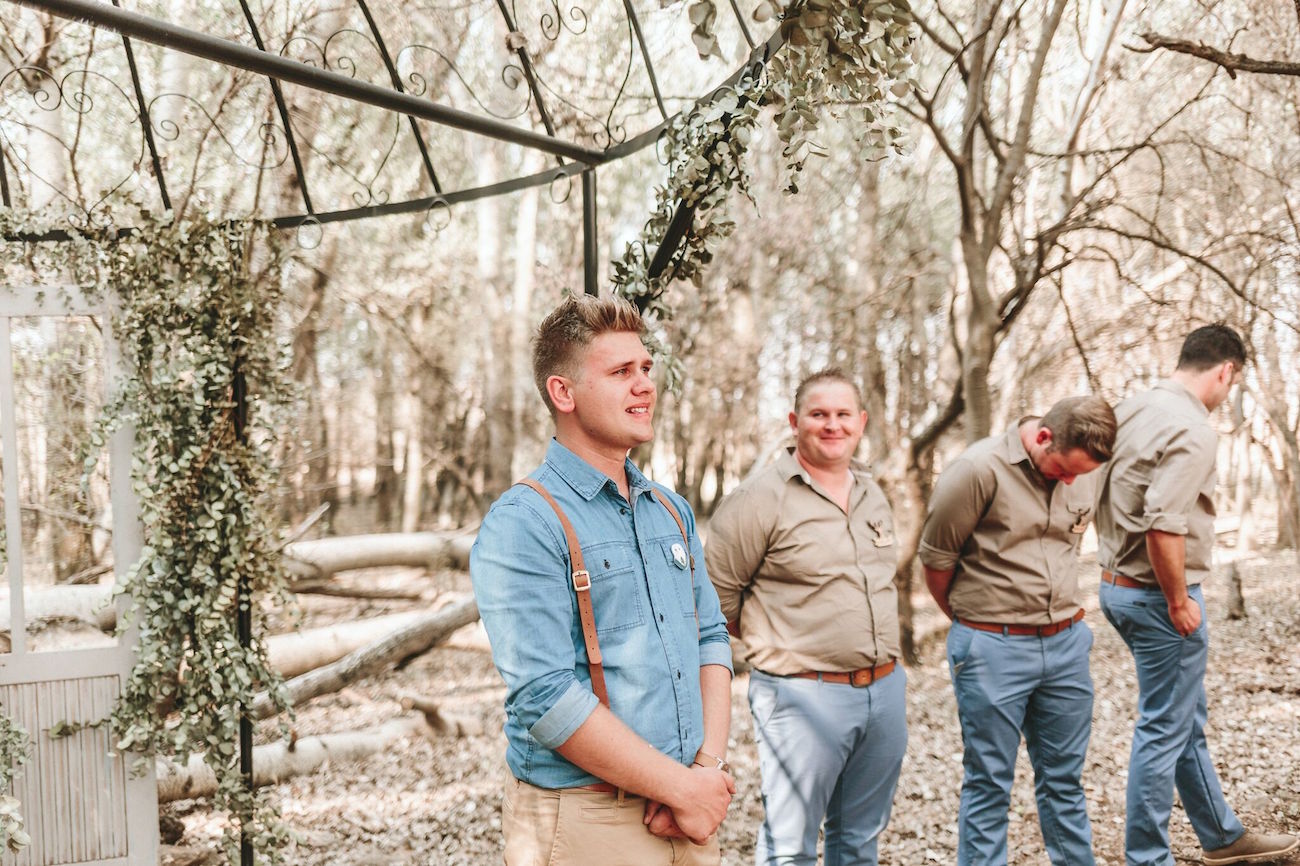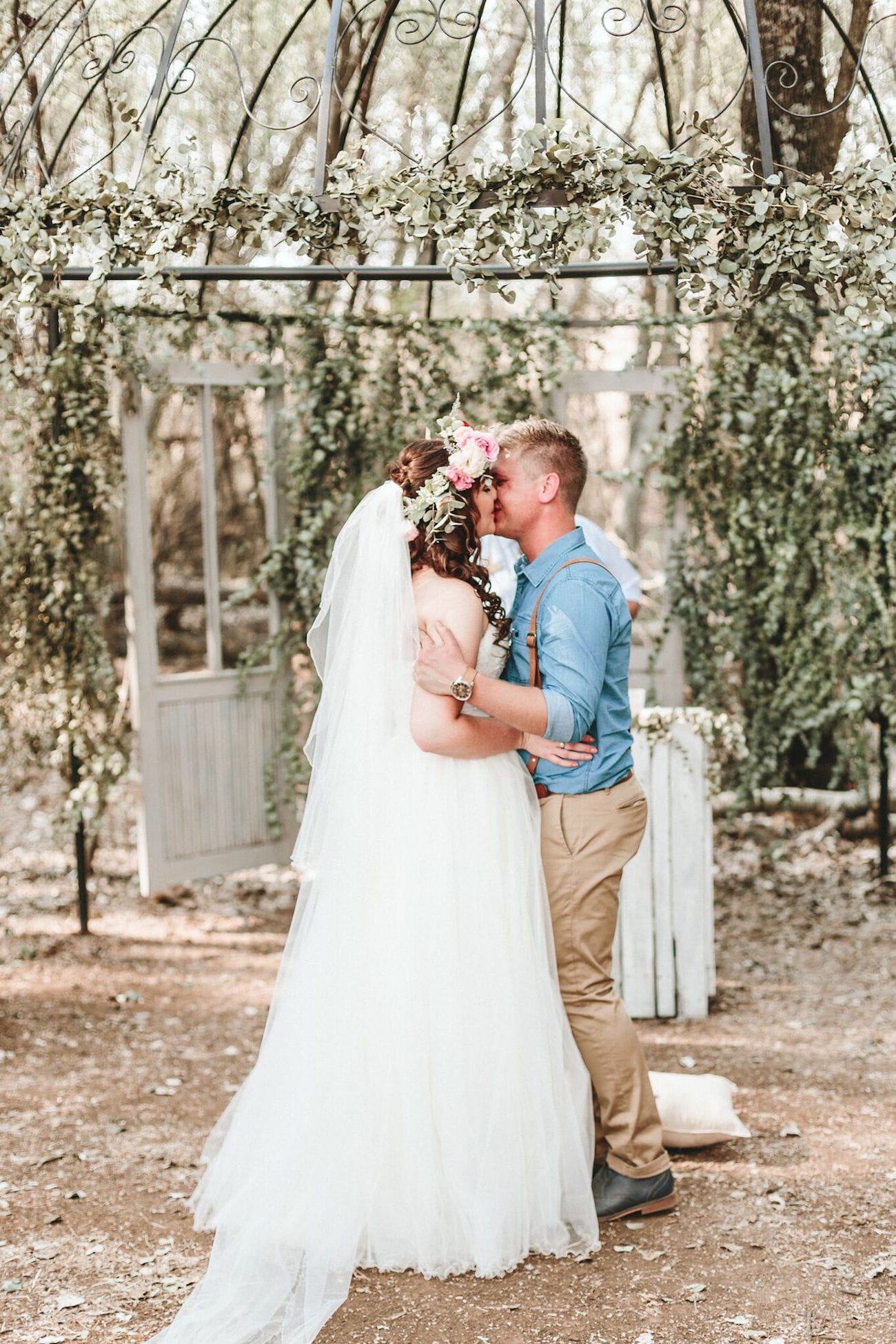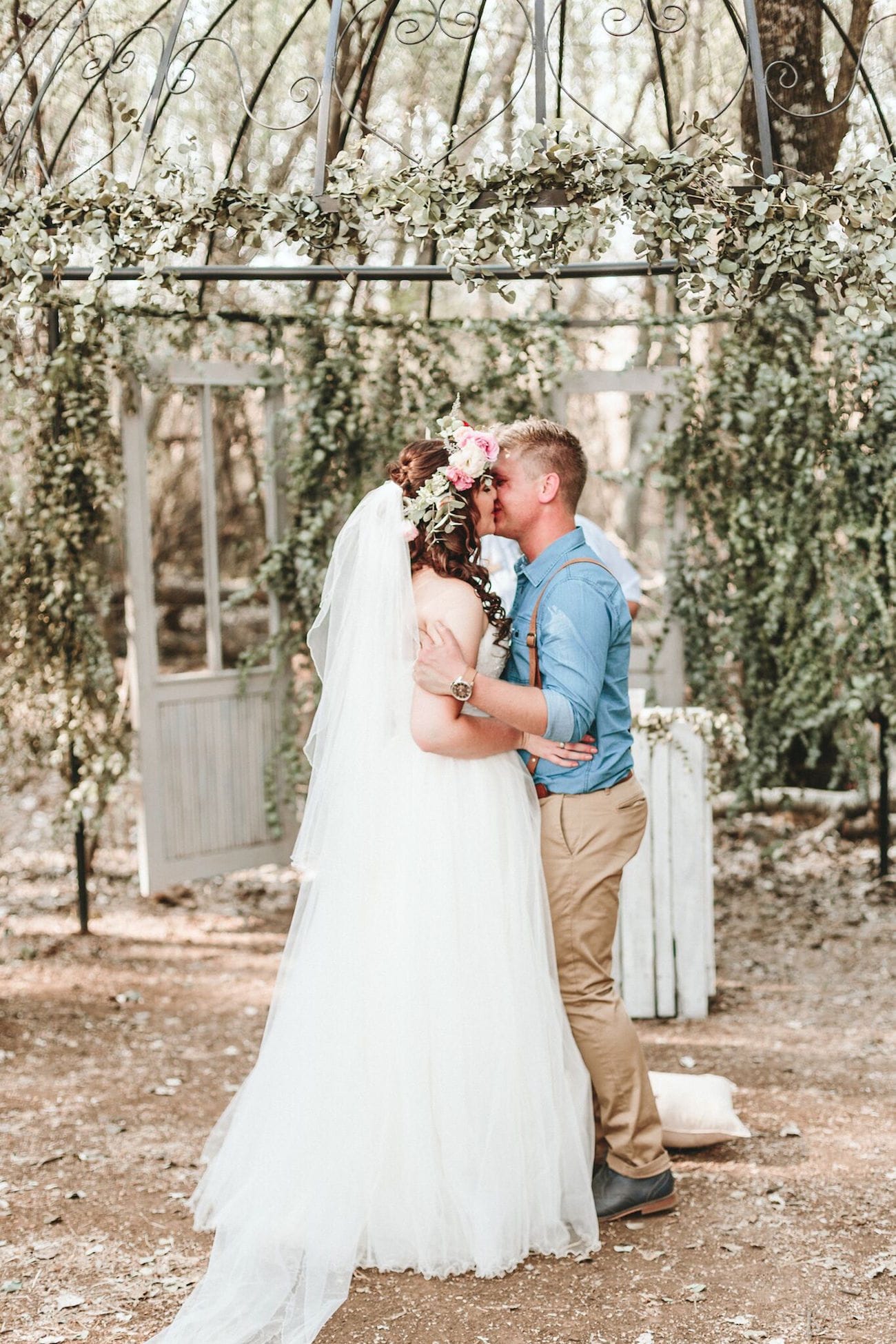 DIY Elements
We have a very creative family and made most of the details ourselves, which made the whole engagement phase fun spending time with my wife. My mother made the bride's gown and bridesmaids' dresses, as well as the napkins. My sister Drinie du Toit from Blissful Events made most of our décor, starting from the ceremony all the way to our rustic reception. She also made all the flower centerpieces. I made most of the table décor, including our rose gold table numbers. As a gift to my bride, I also made her a set of Swarovski earrings to wear on our special day. As a thank you gift to our guests my wife and I made our own anointing oil, infused with eucalyptus and lavender. We are truly blessed to have had so many creative people contributing to our special day.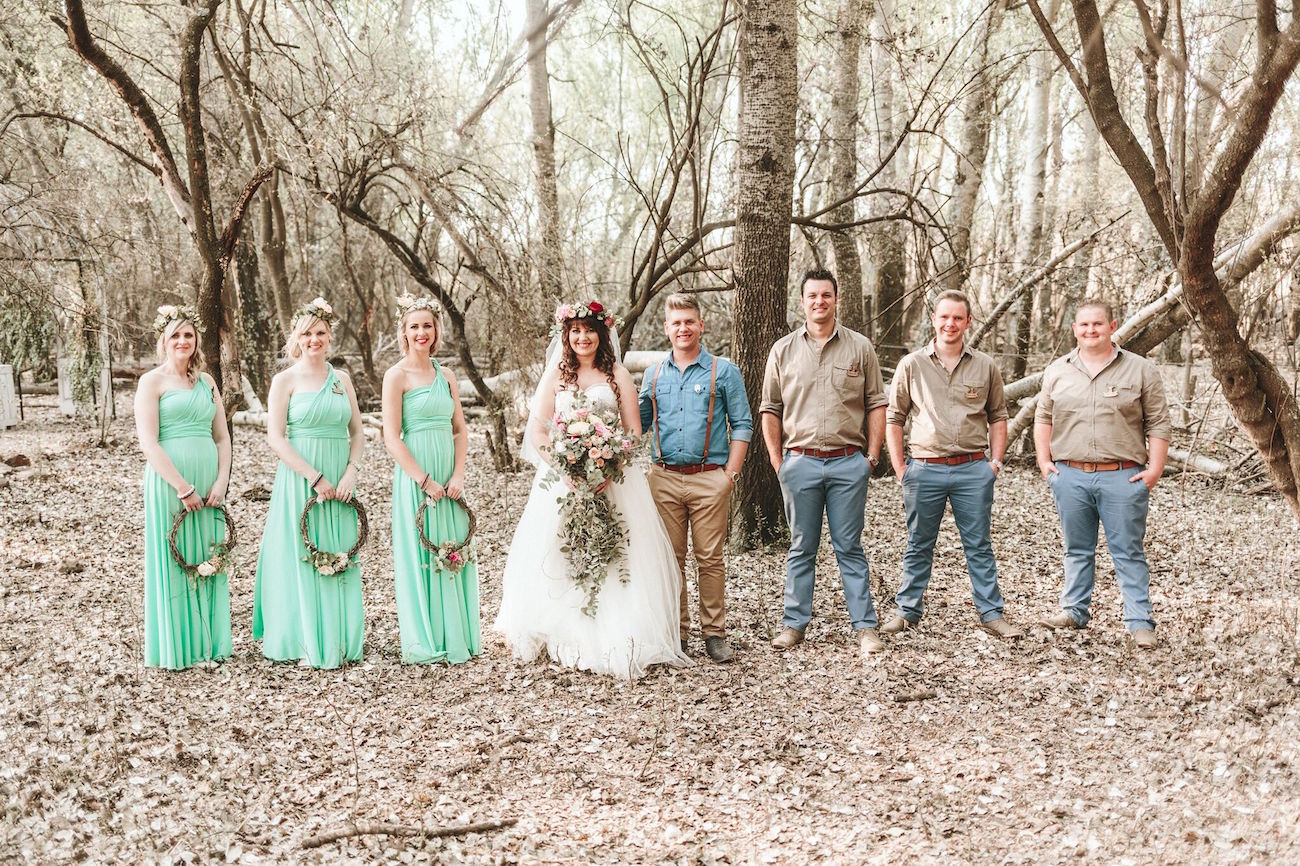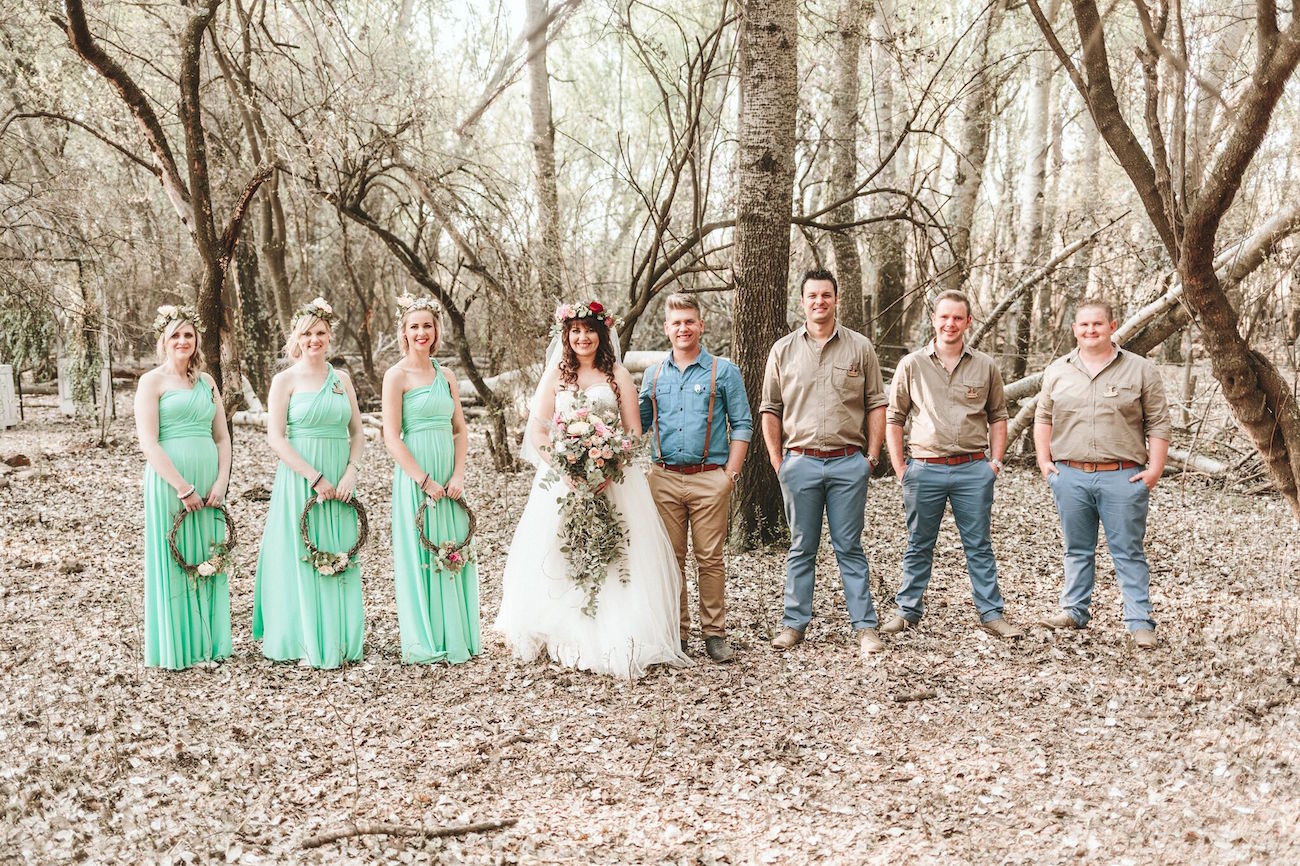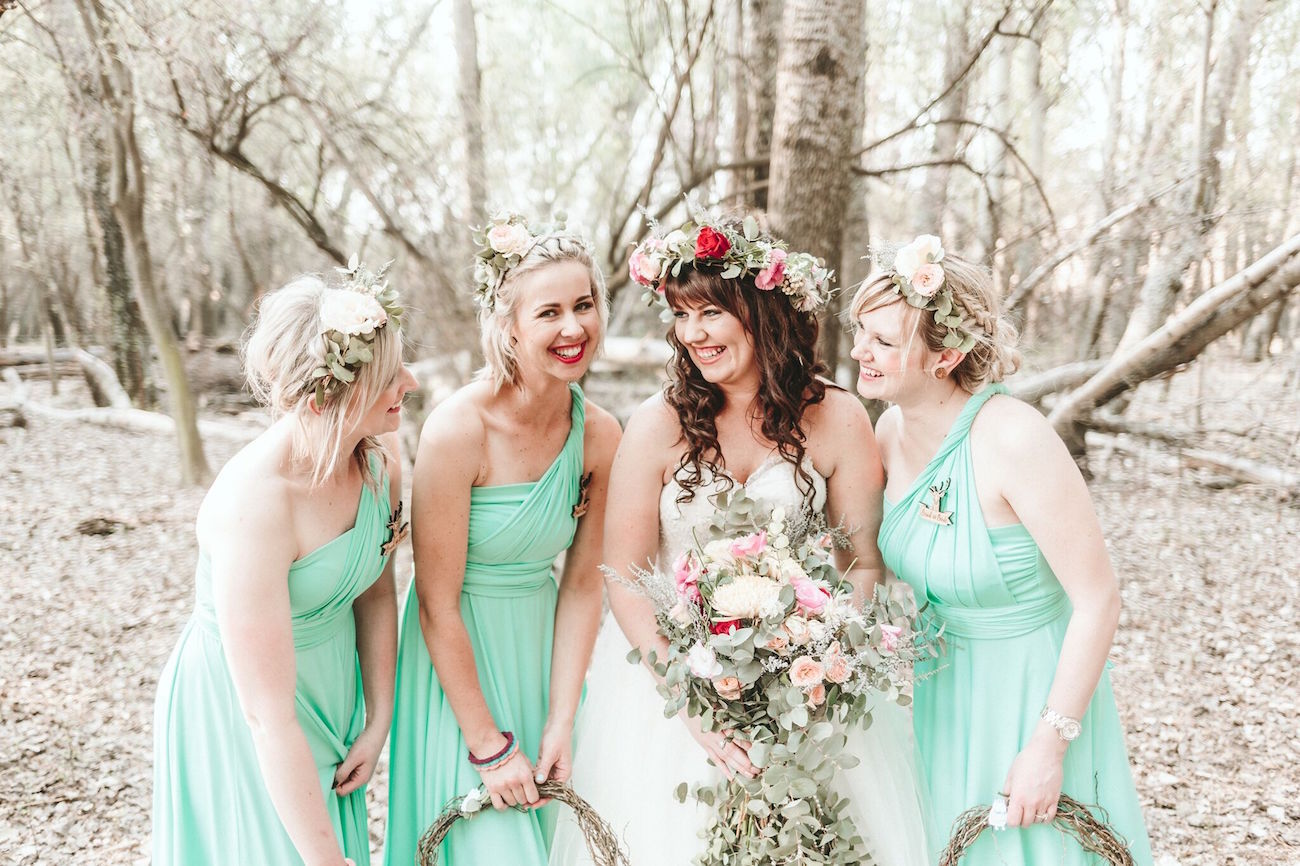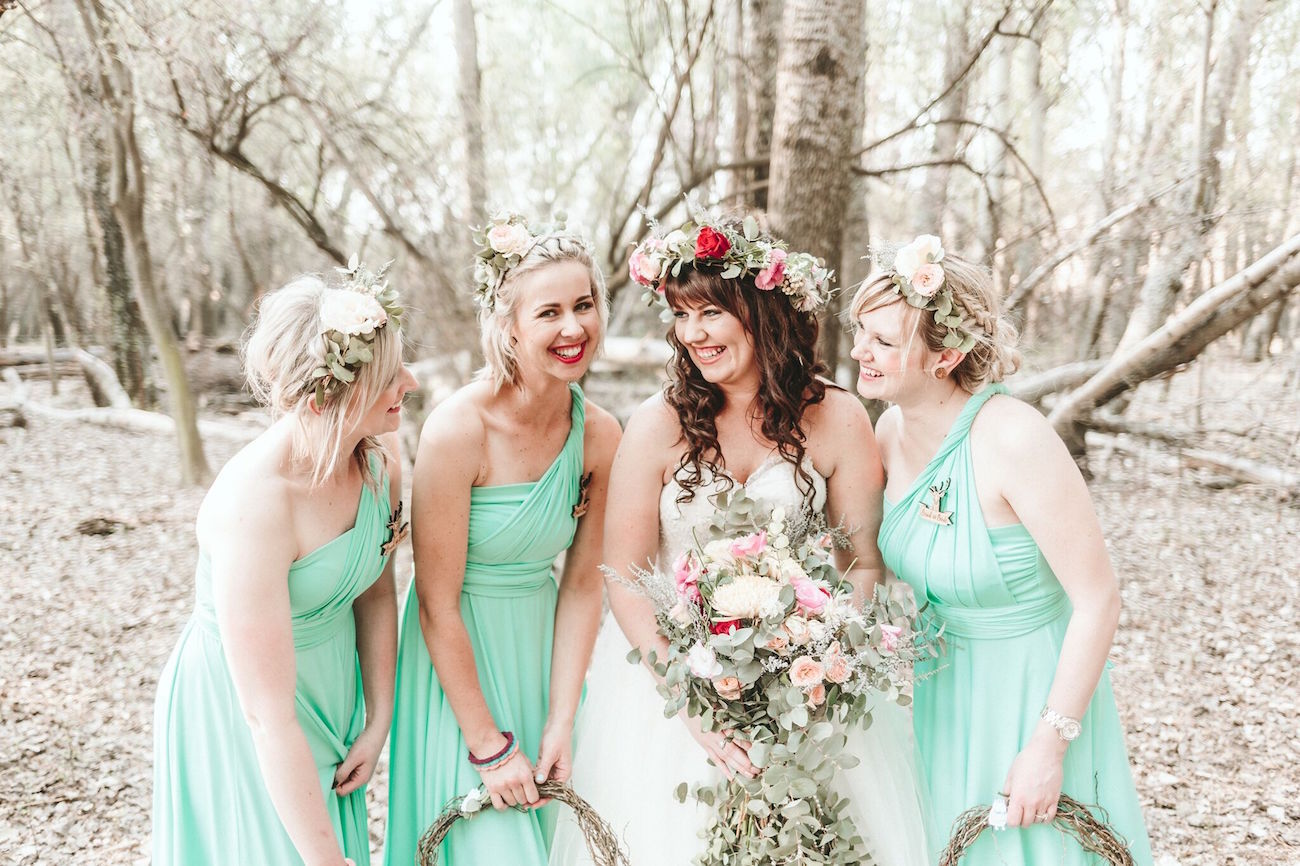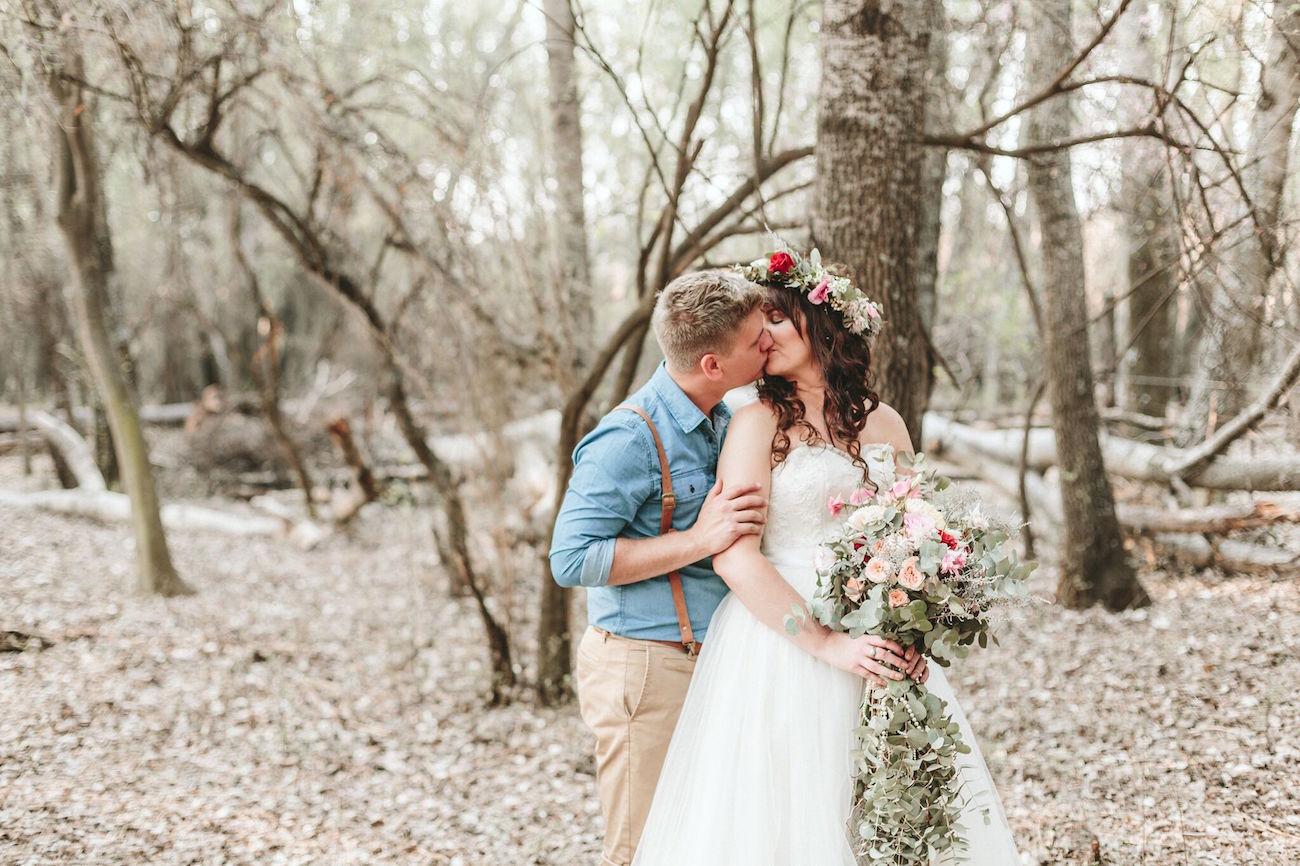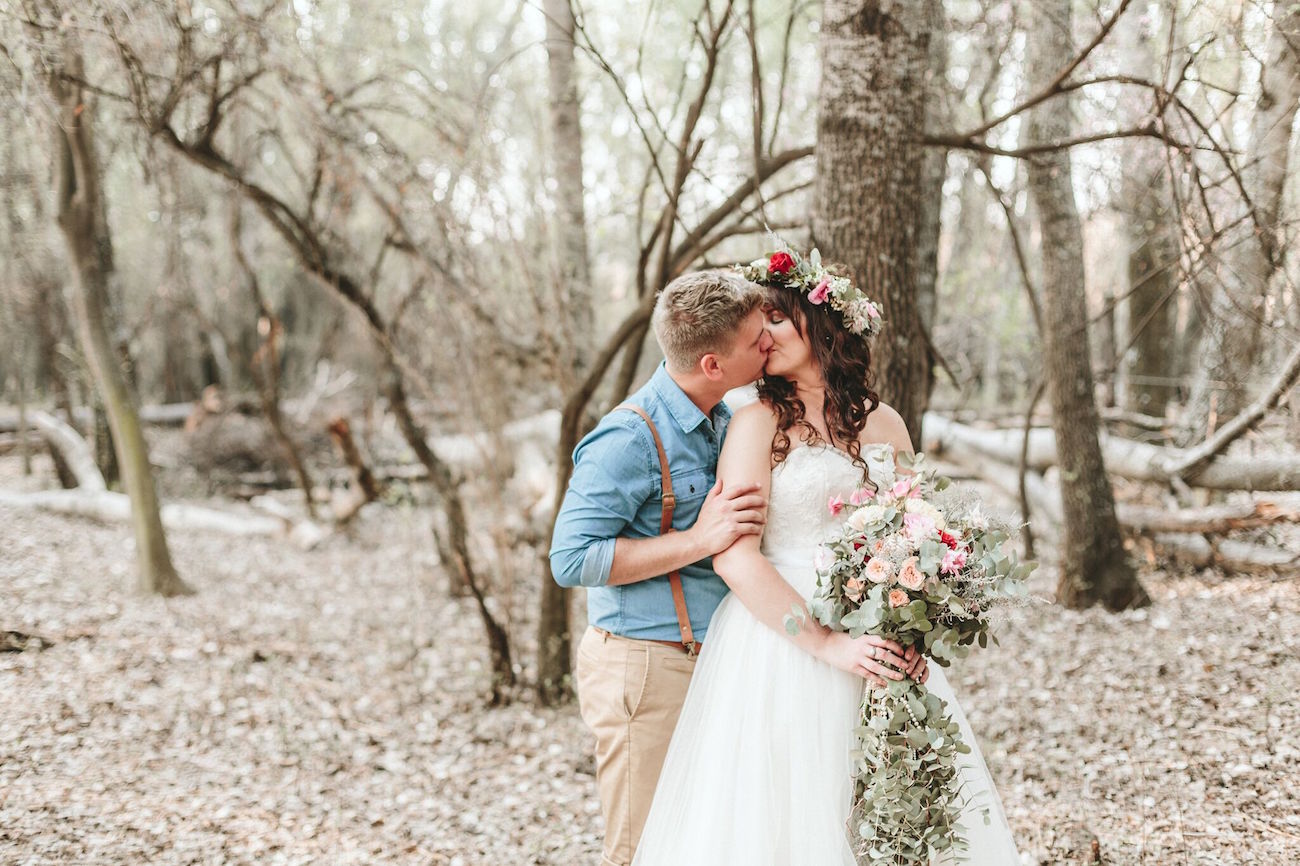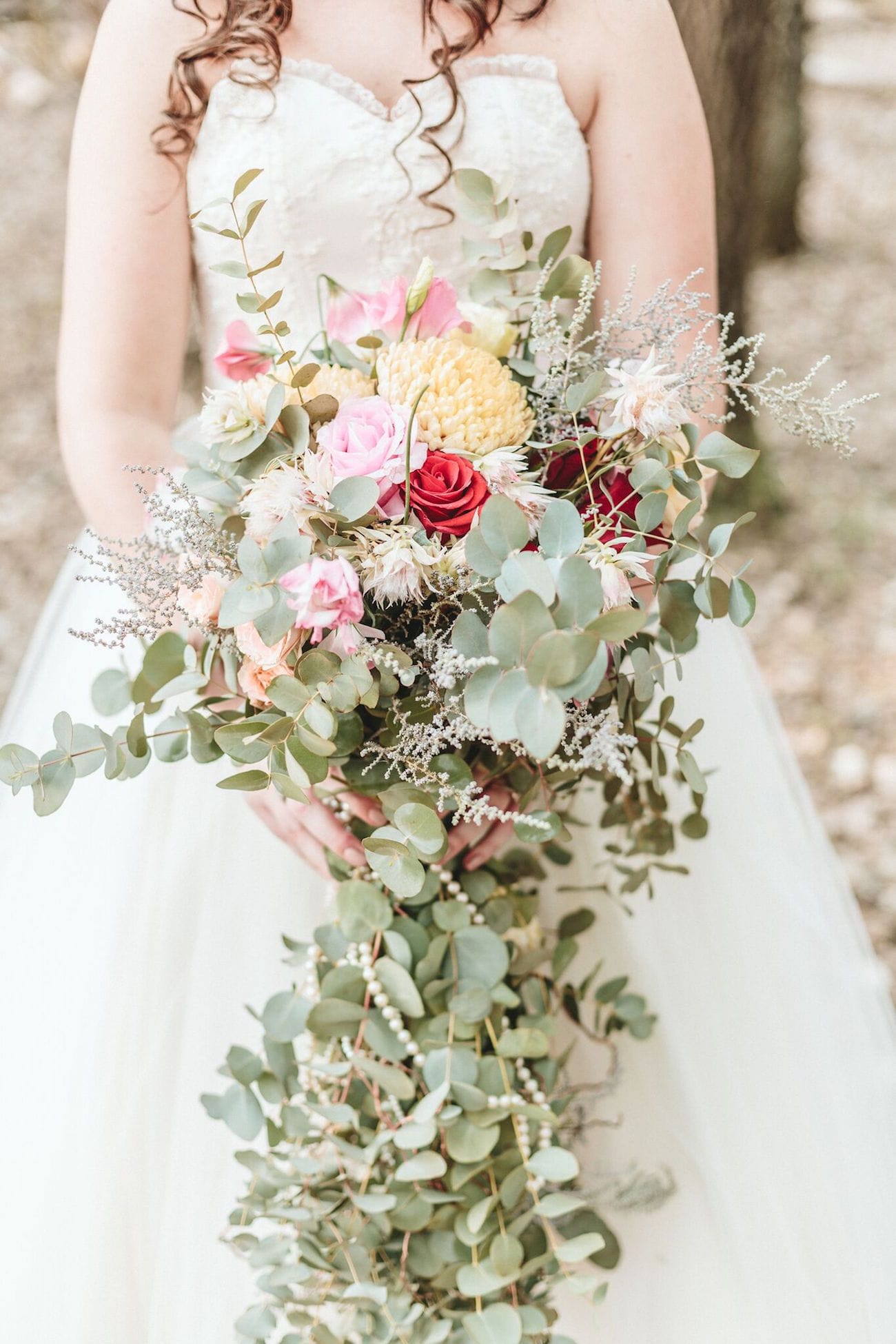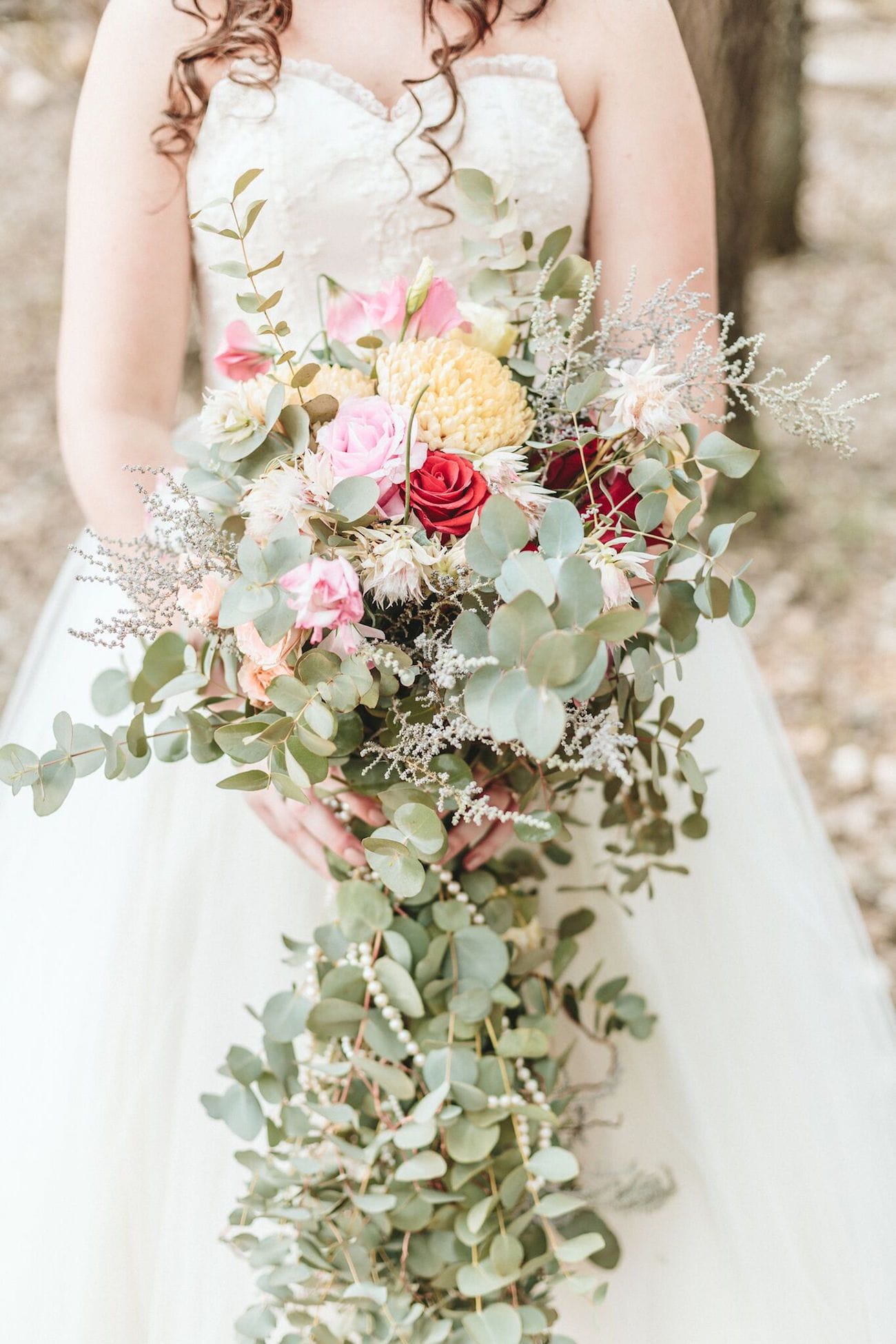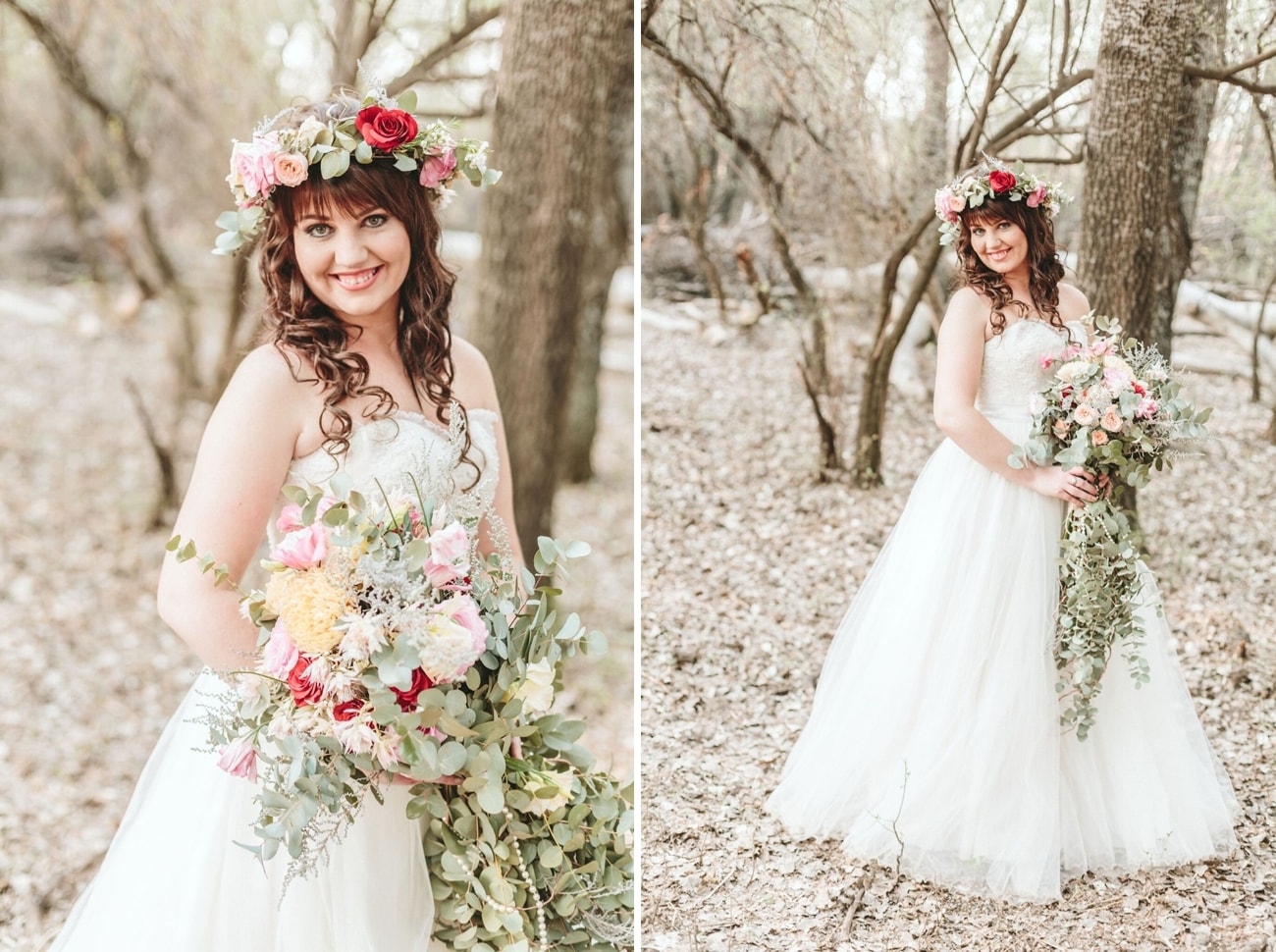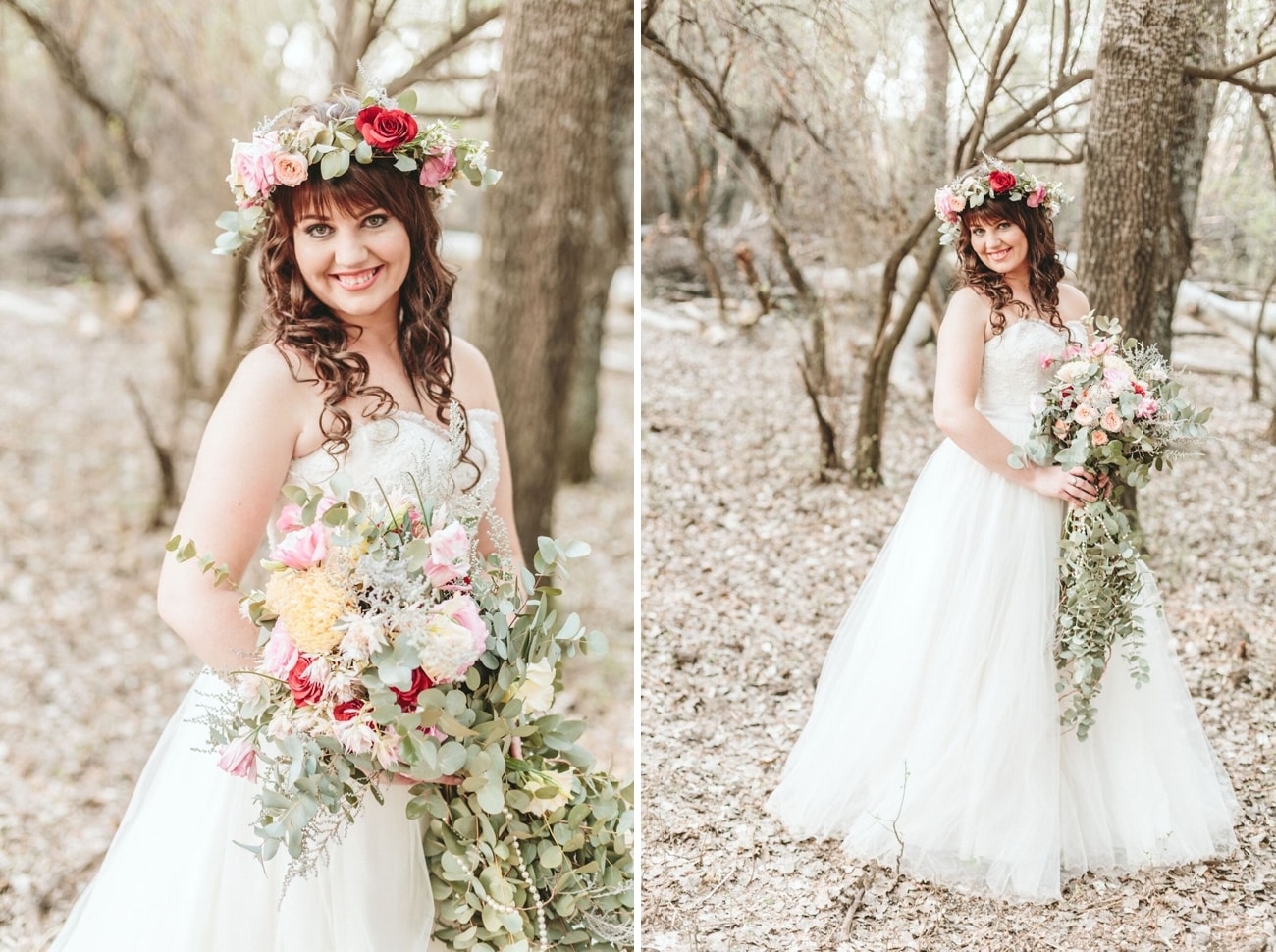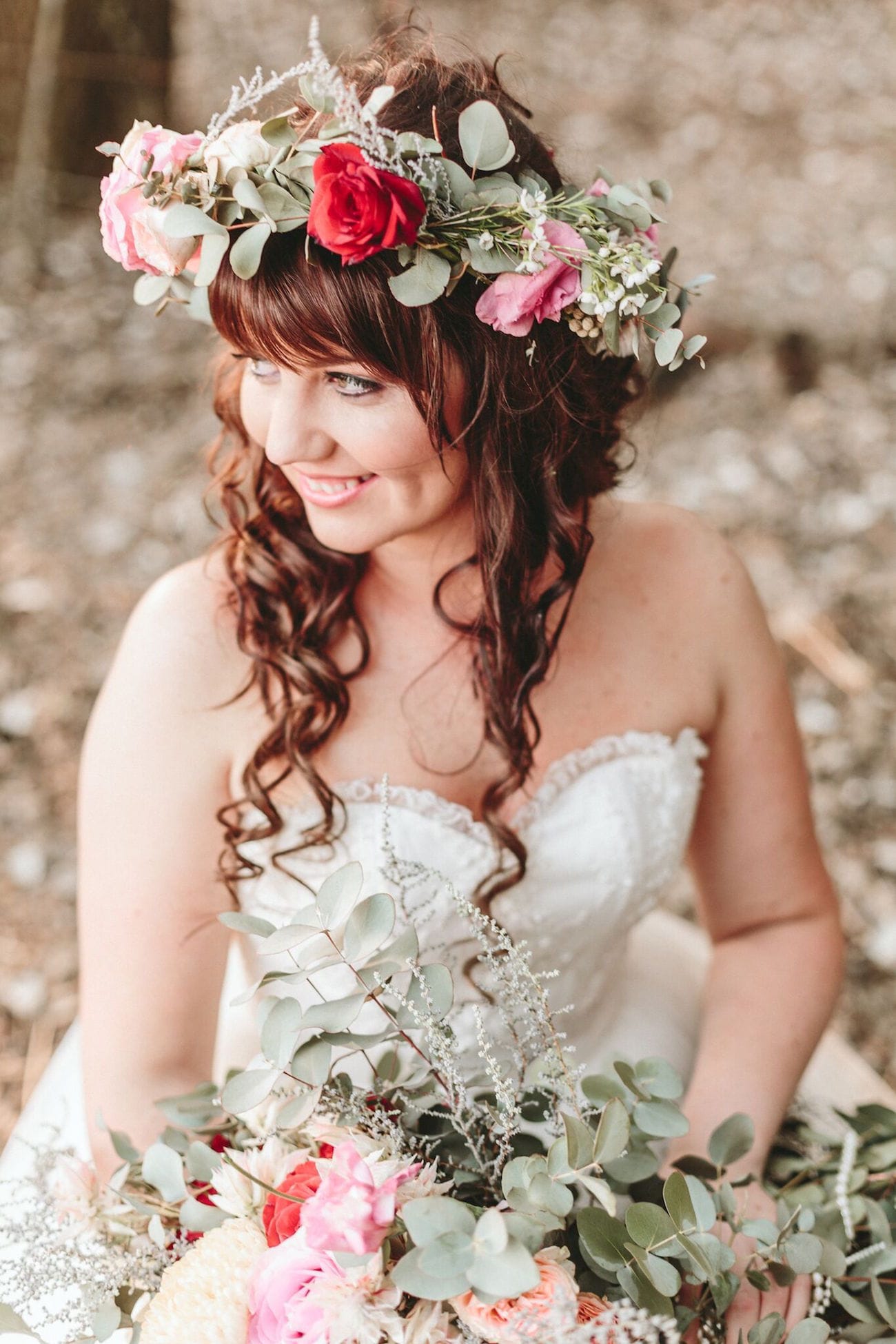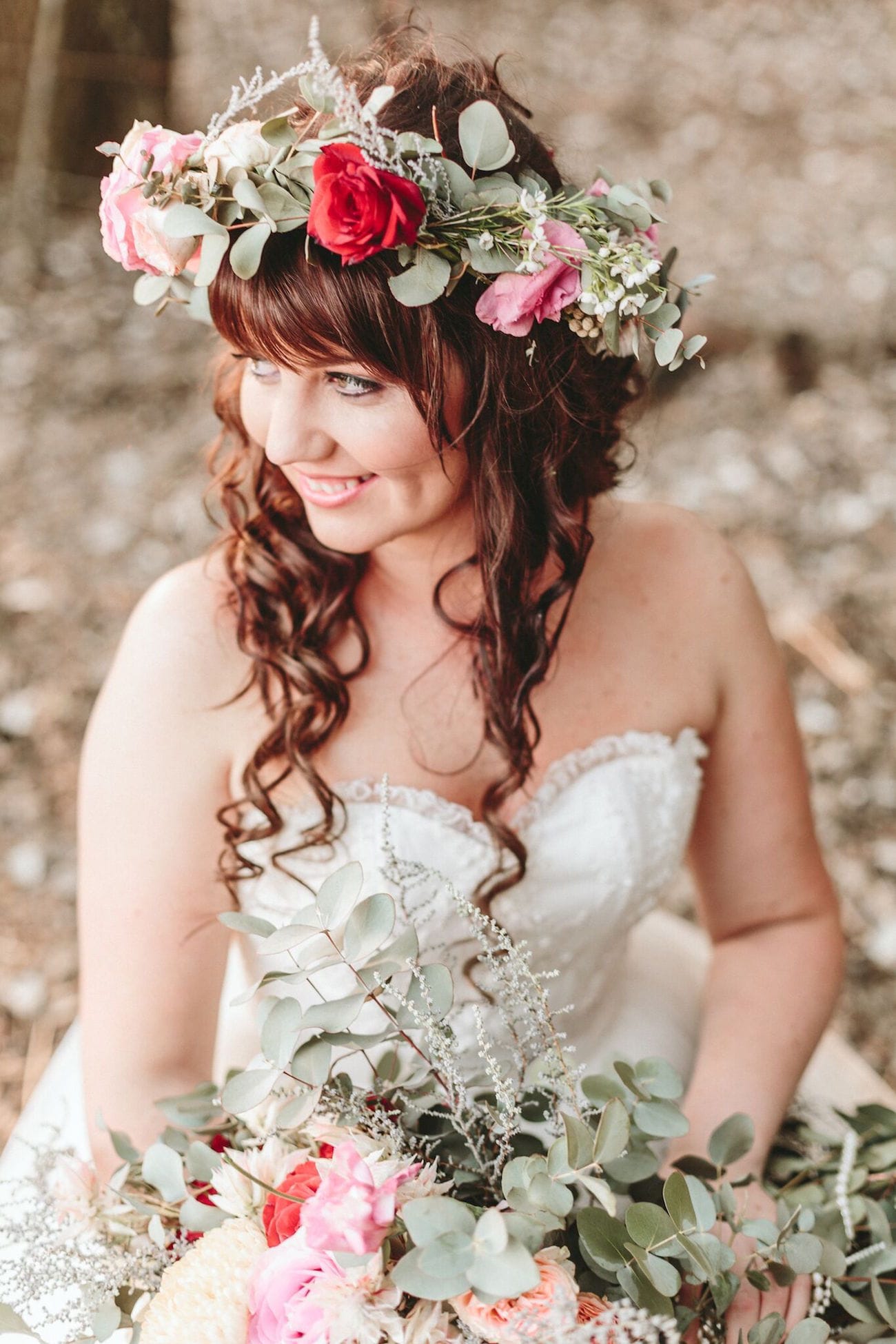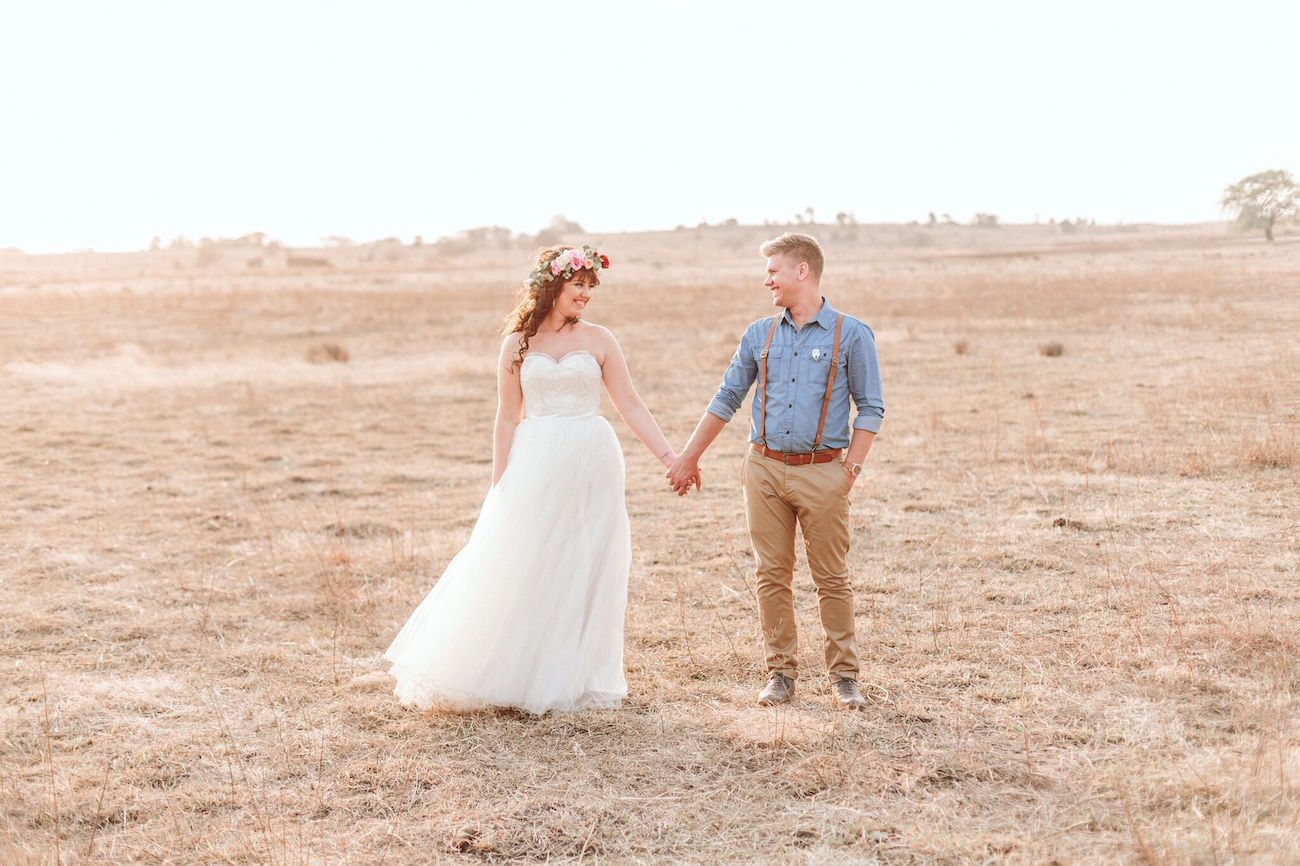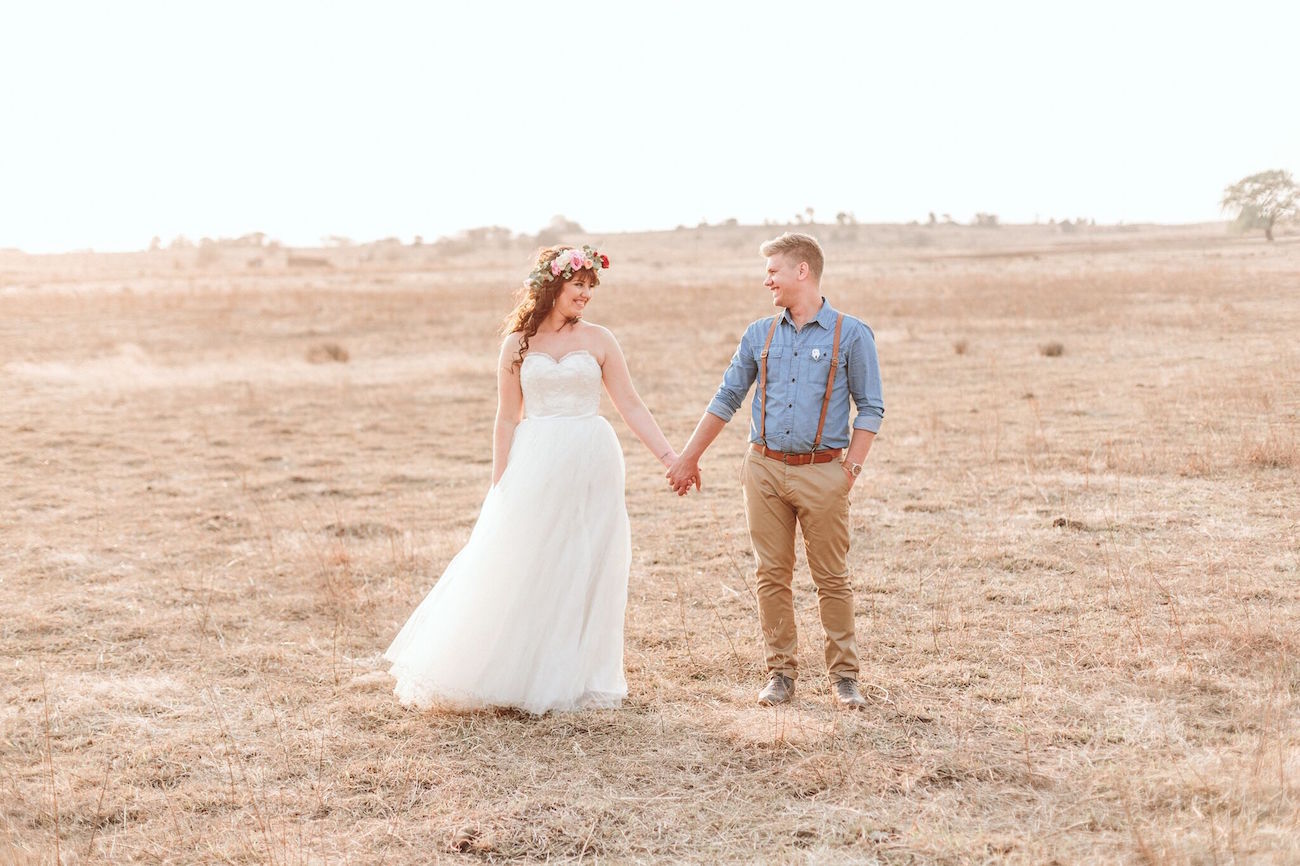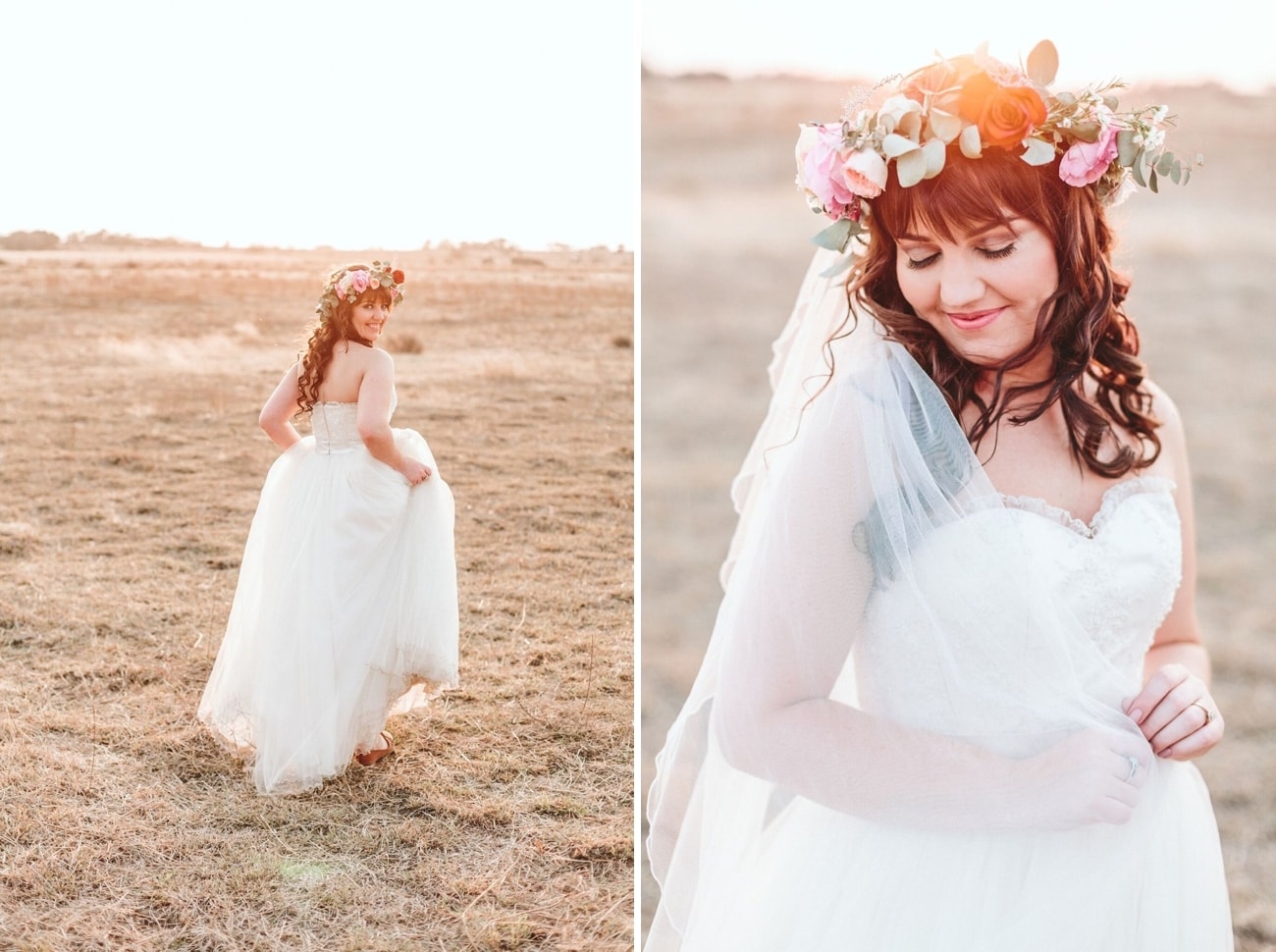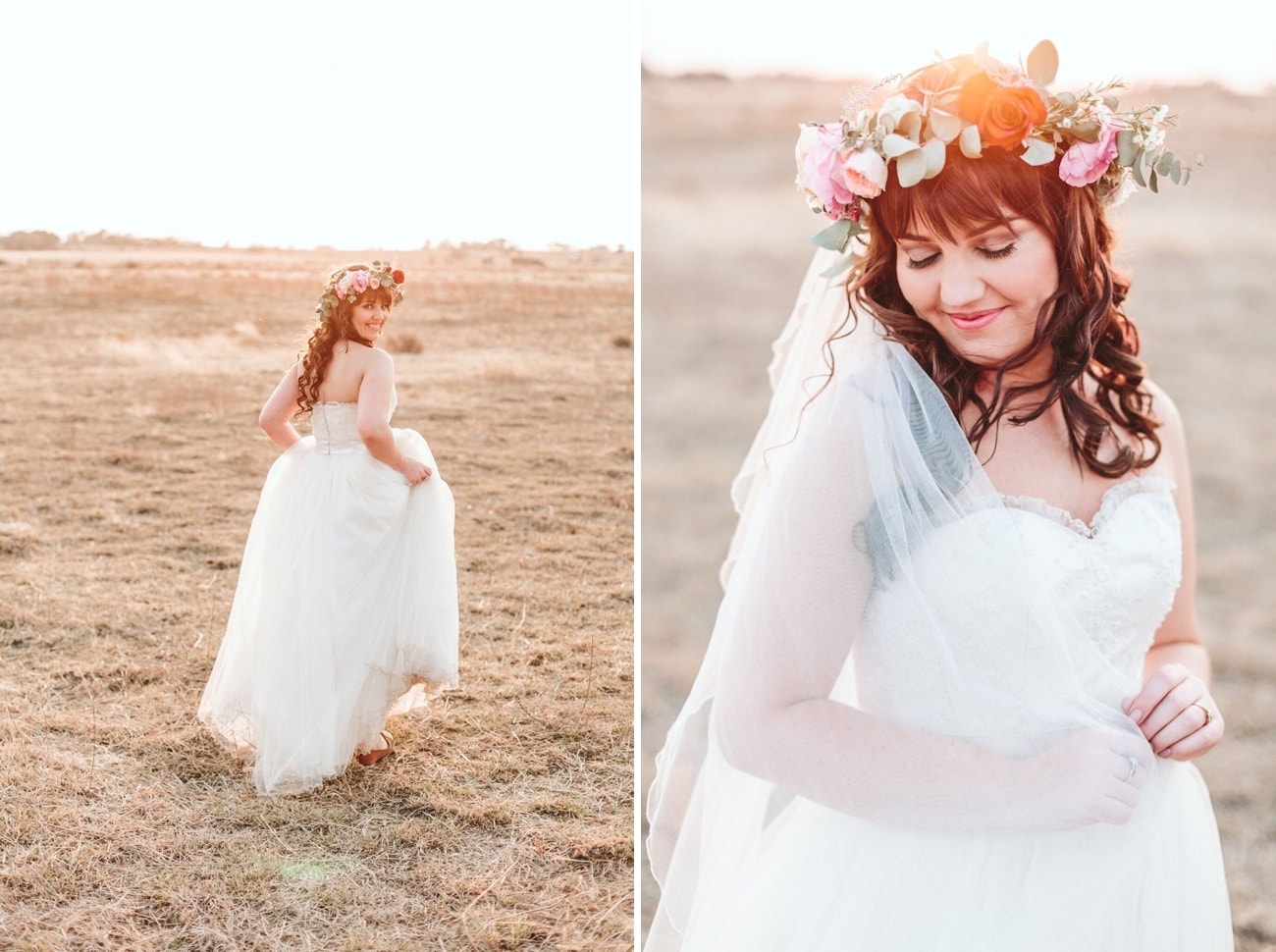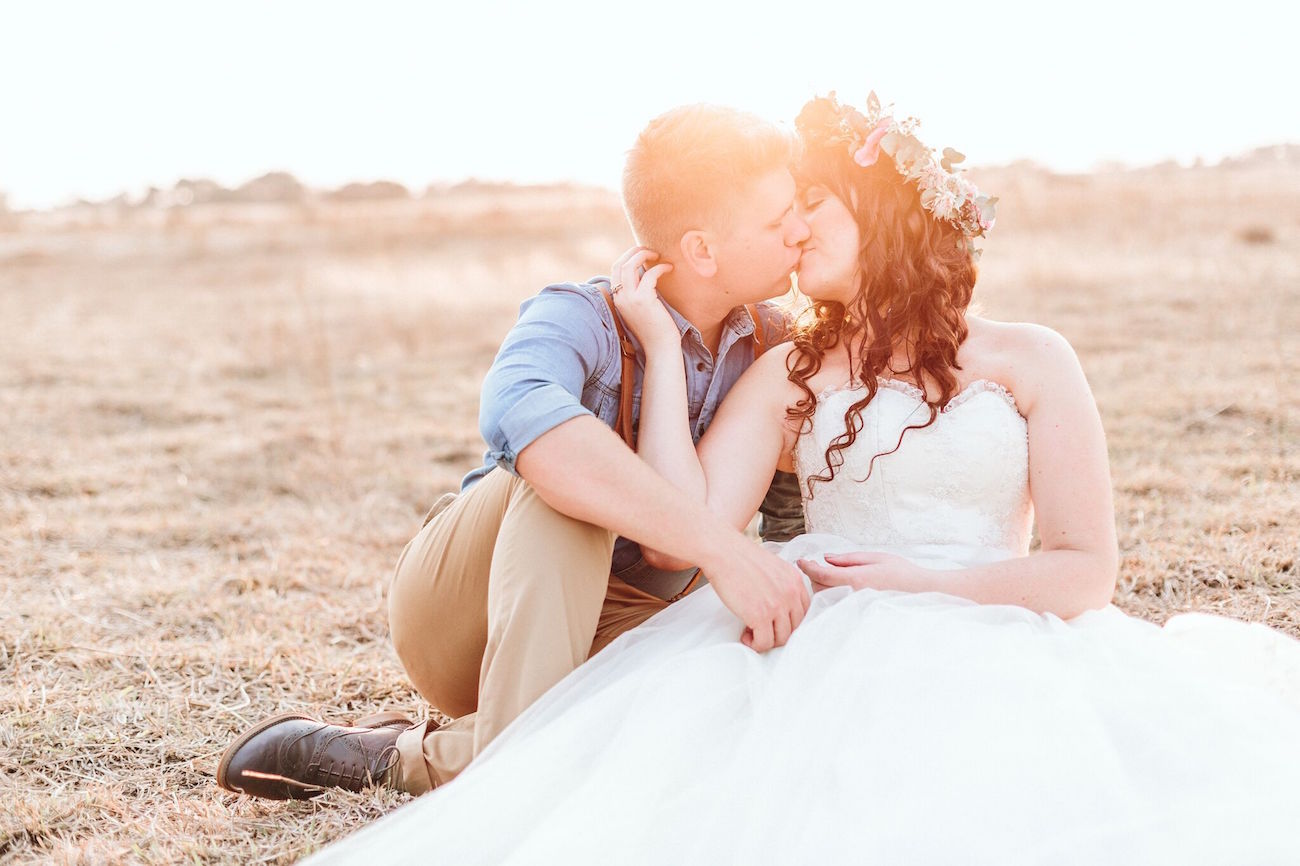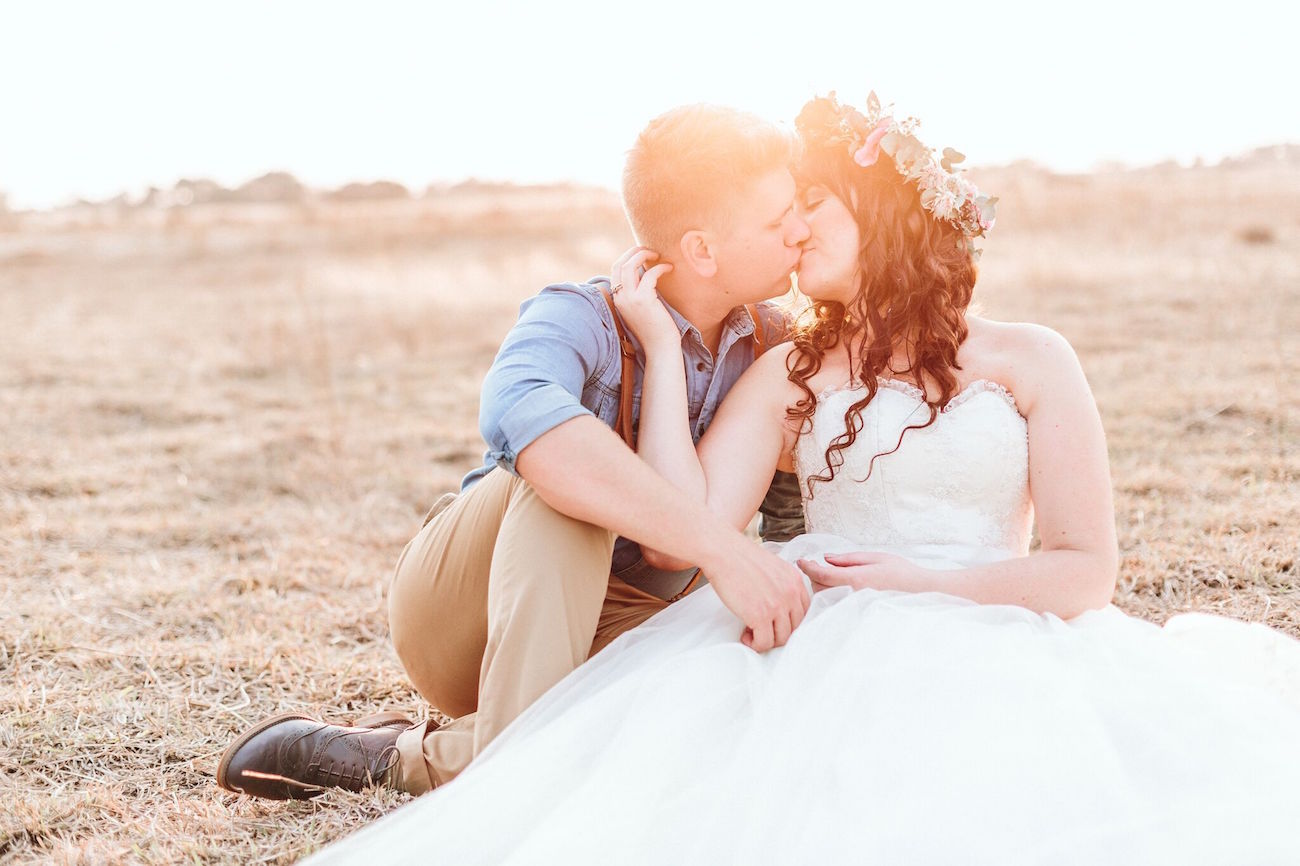 The Dress
My mother made the most wonderful dress for Claudette, with soft netting and lace. She literally took my breath away and her beauty brought tears to my eyes.
The Bridesmaids
For the three bridesmaids, my wife chose mint green wrap dresses, completed with flower crowns.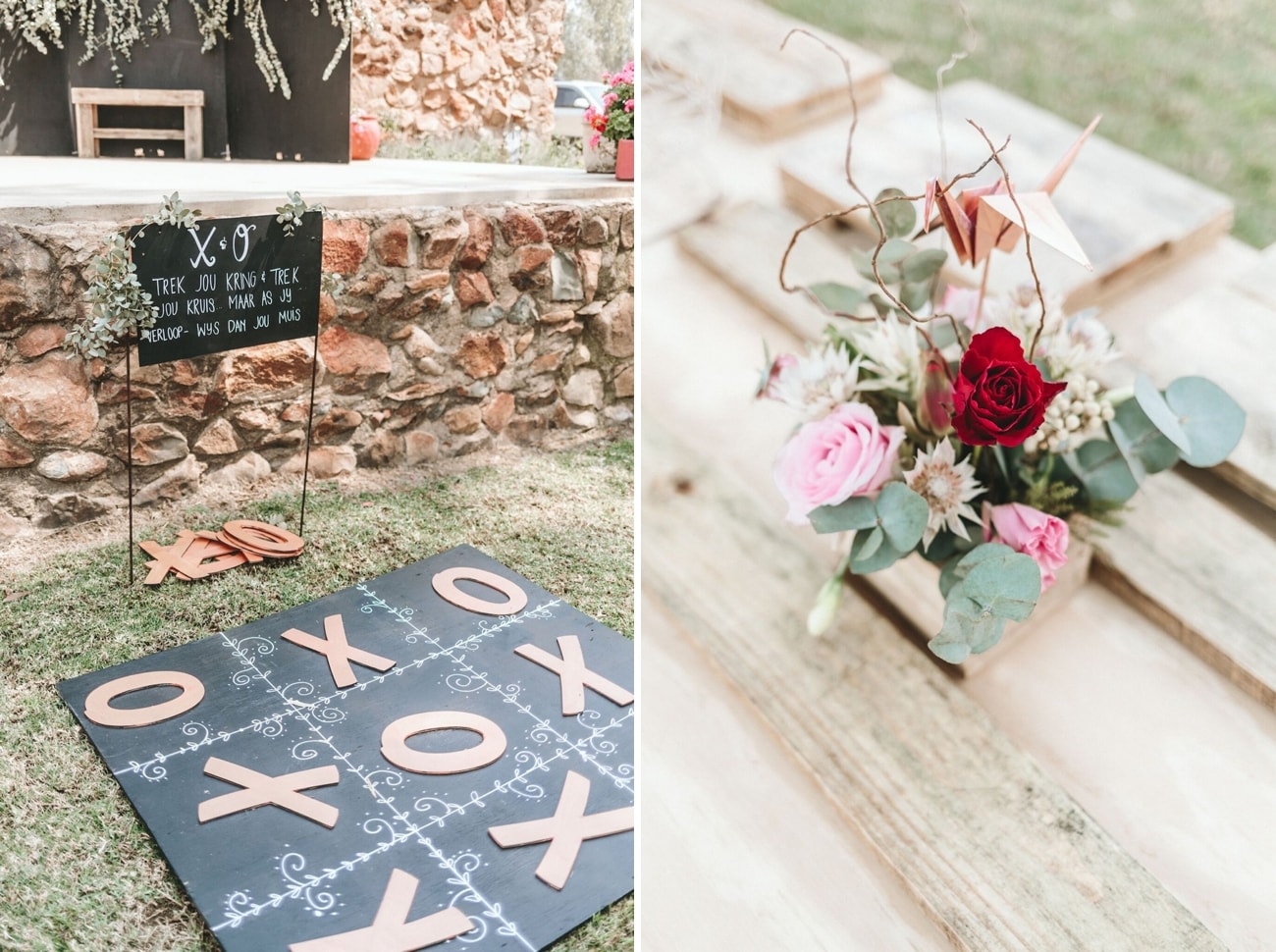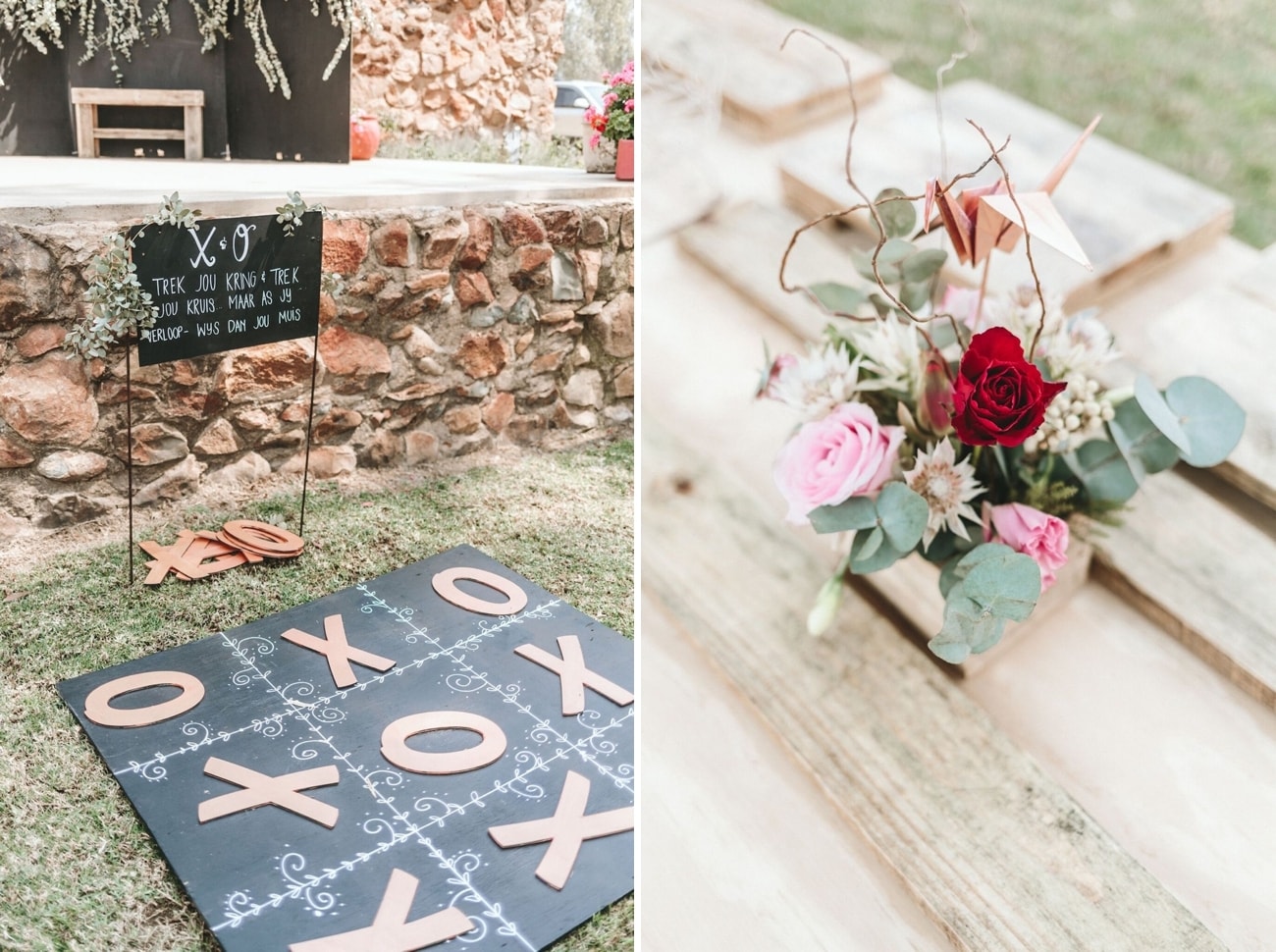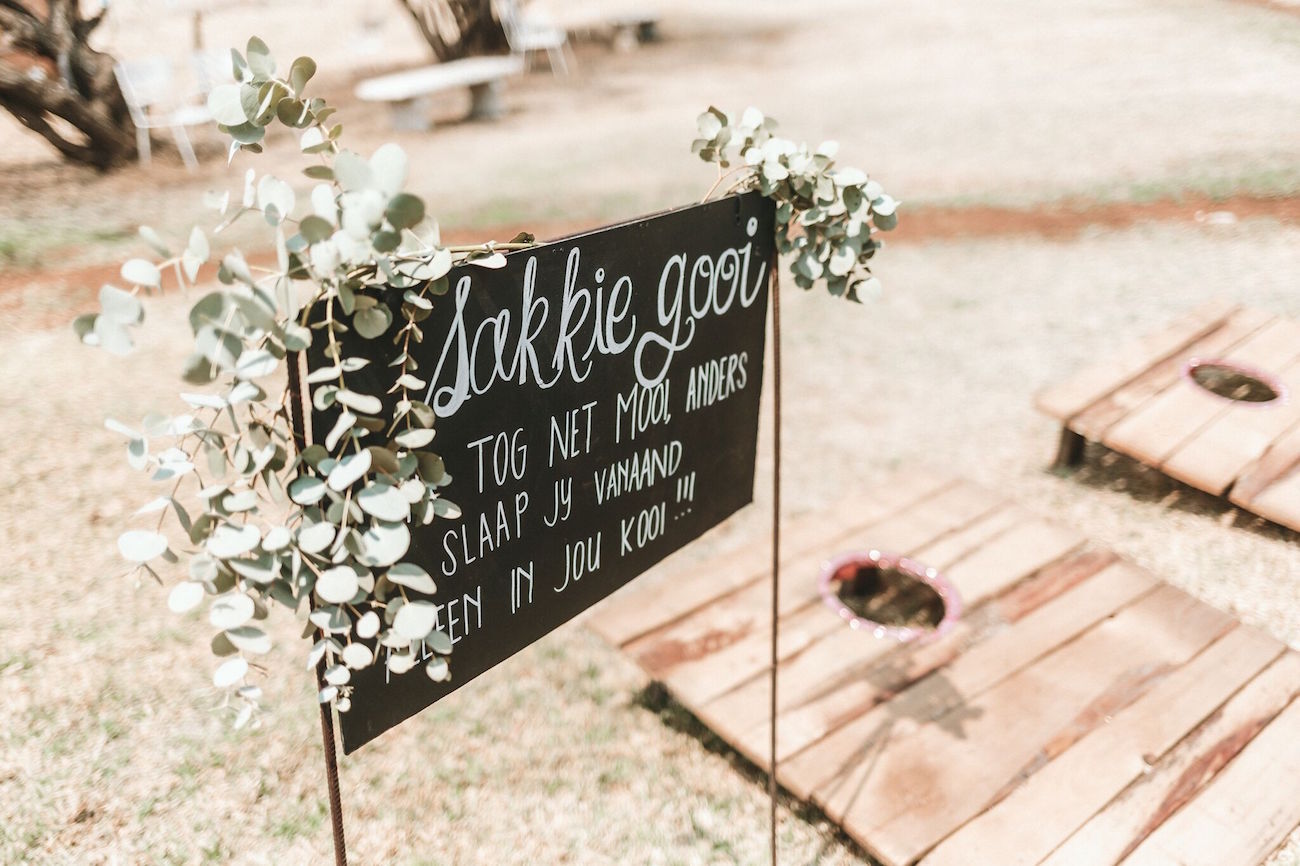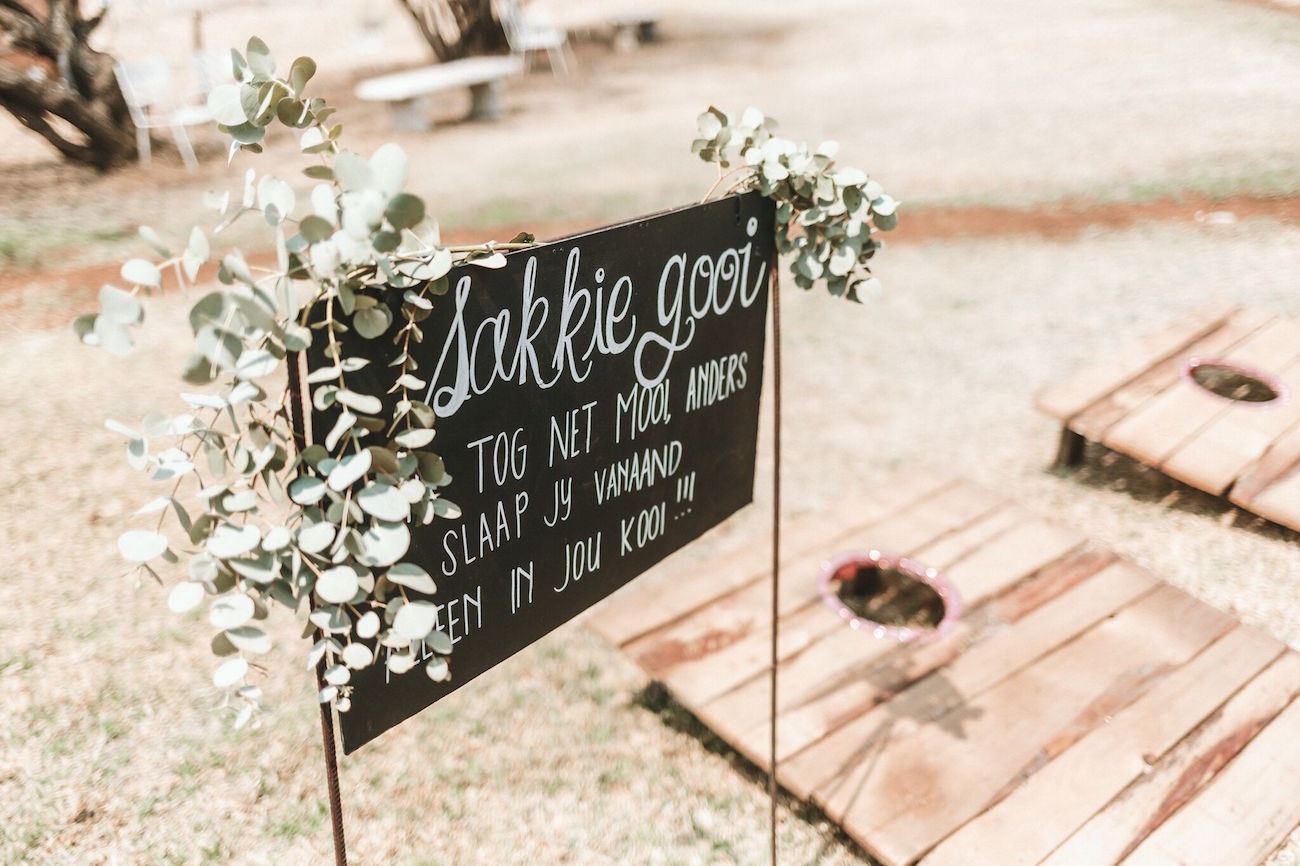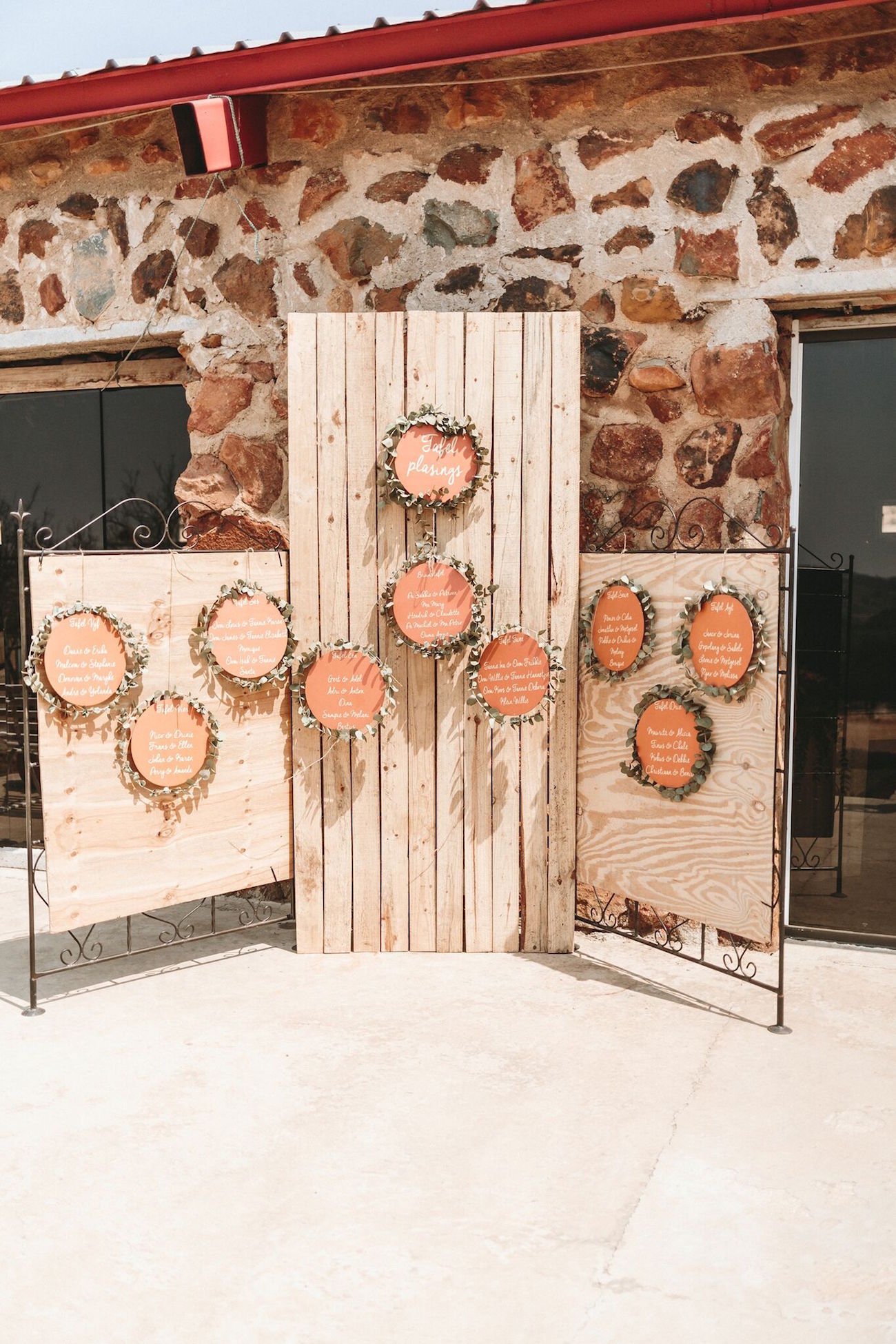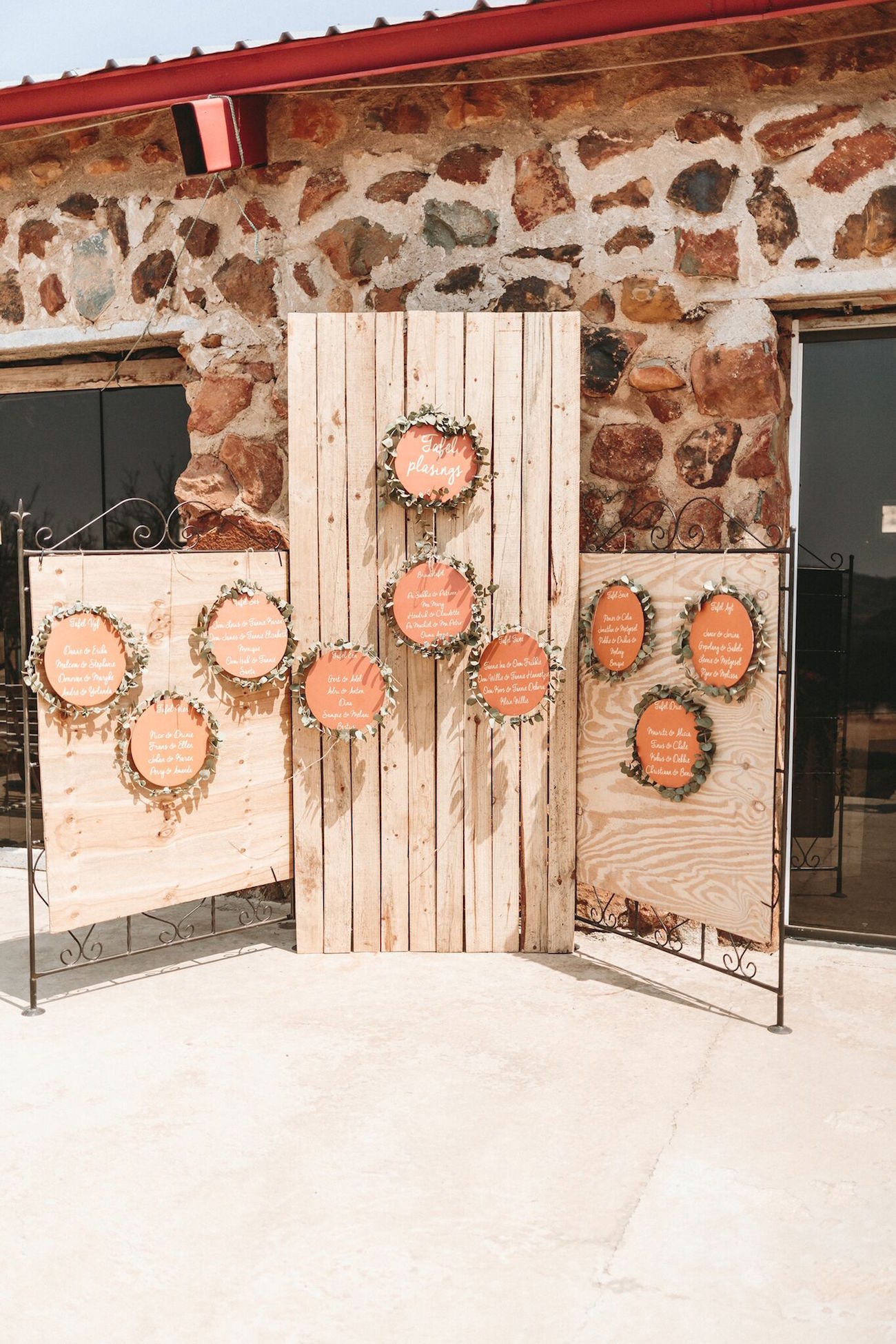 The Flowers
Our wedding flowers started with eucalyptus, basically! We love the smell, texture and beauty of this simple tree, which grows all over South Africa. We also included some maroon, coral and blush flowers.
The Cake
Our rose gold wedding cake was made by Coco Vanilla. The décor on the cake was made by me, and the cake toppers were made by my sister, Drinie.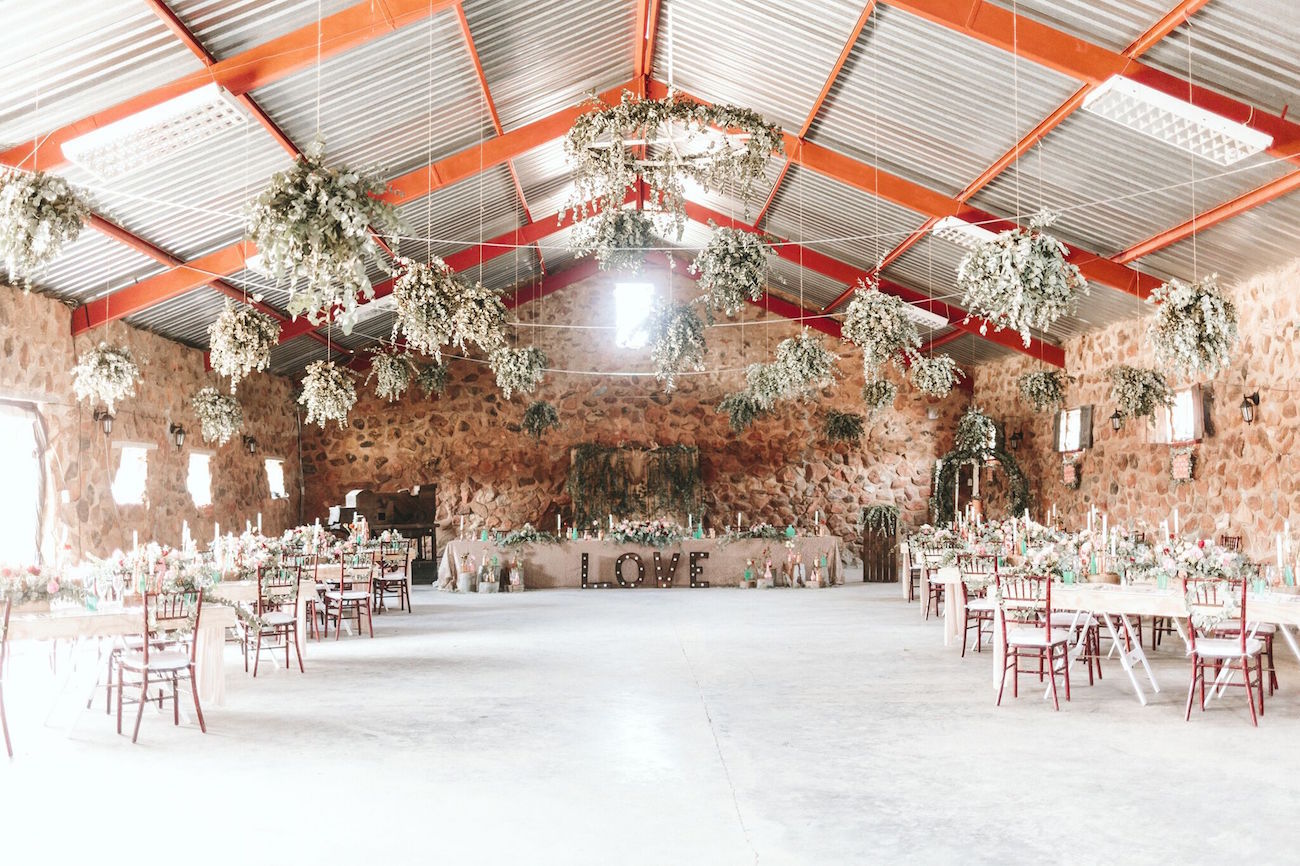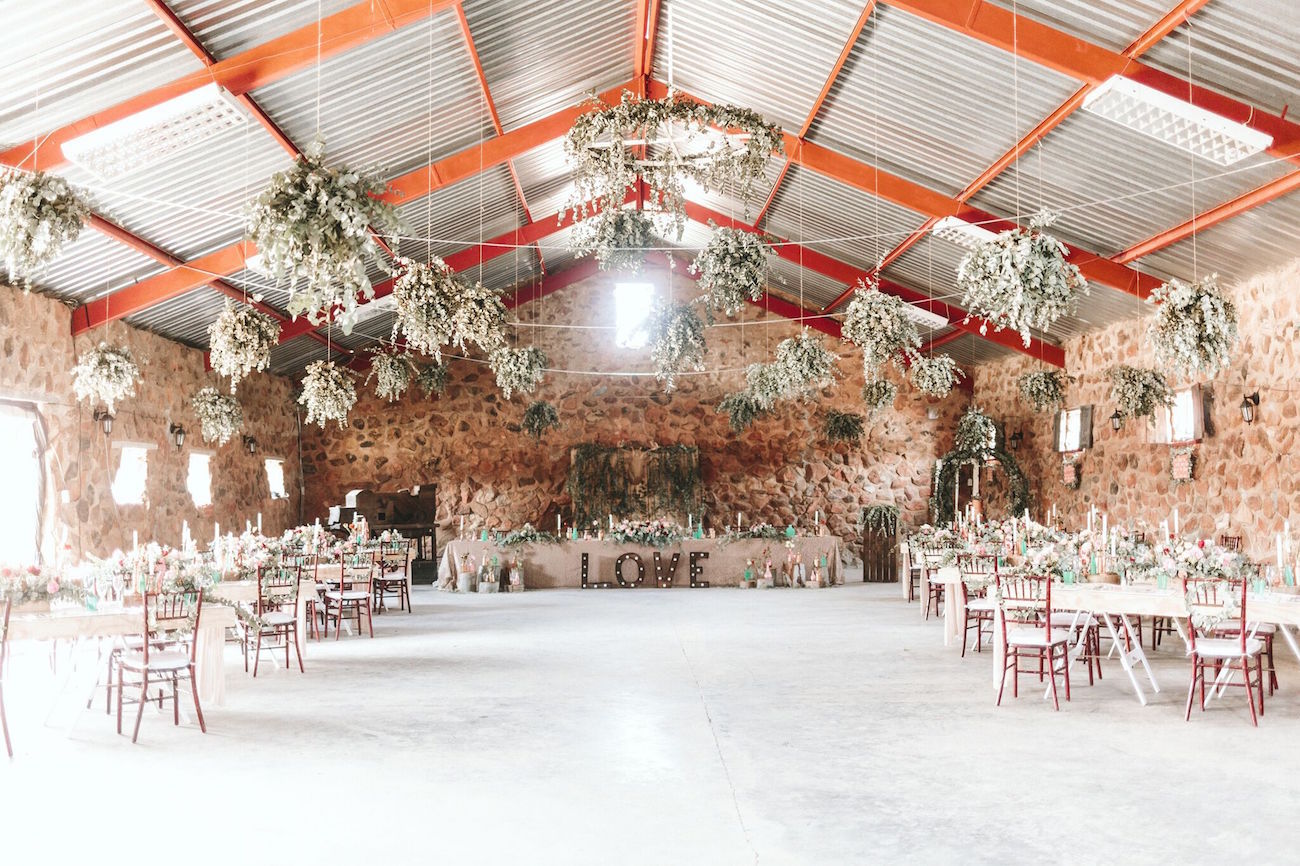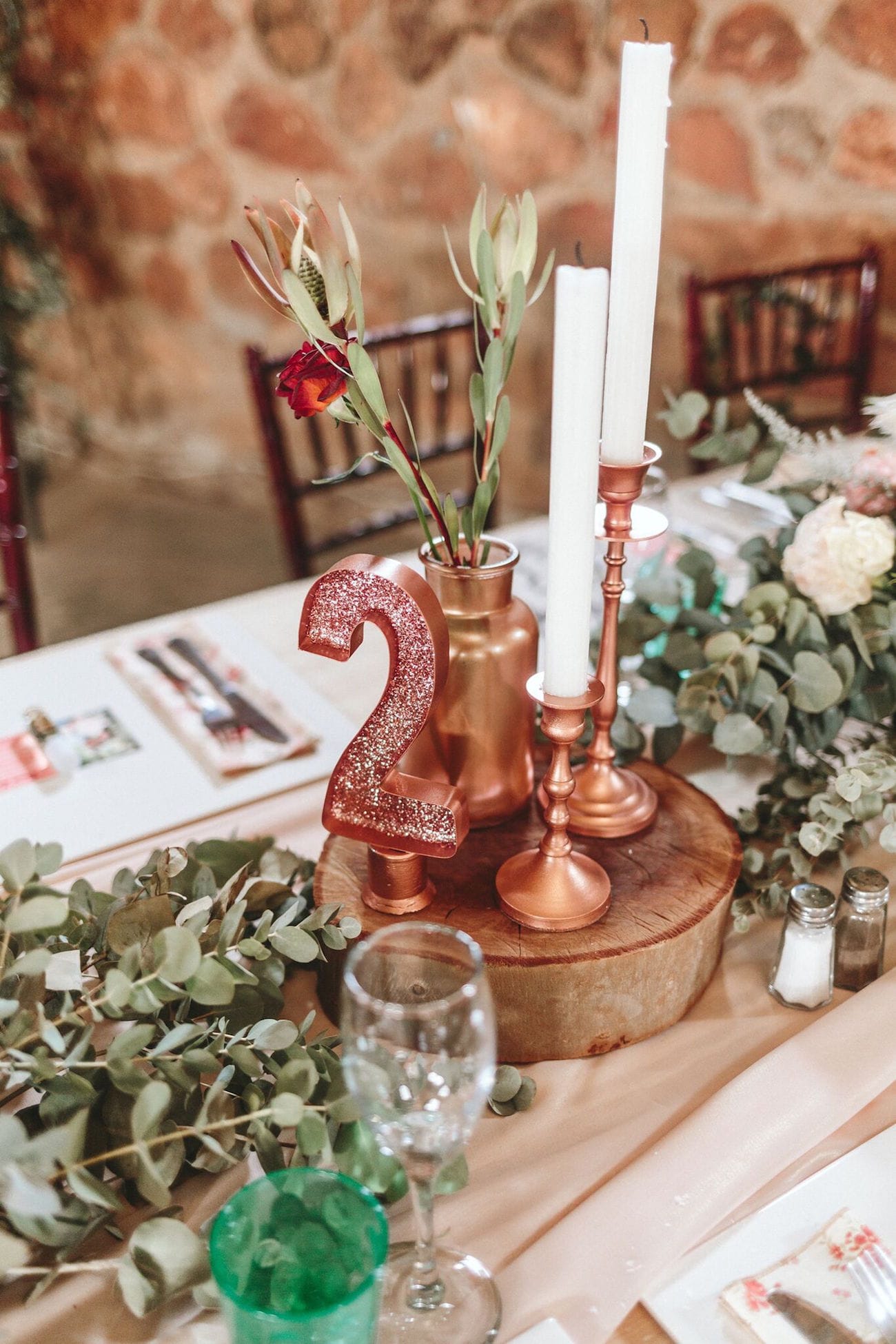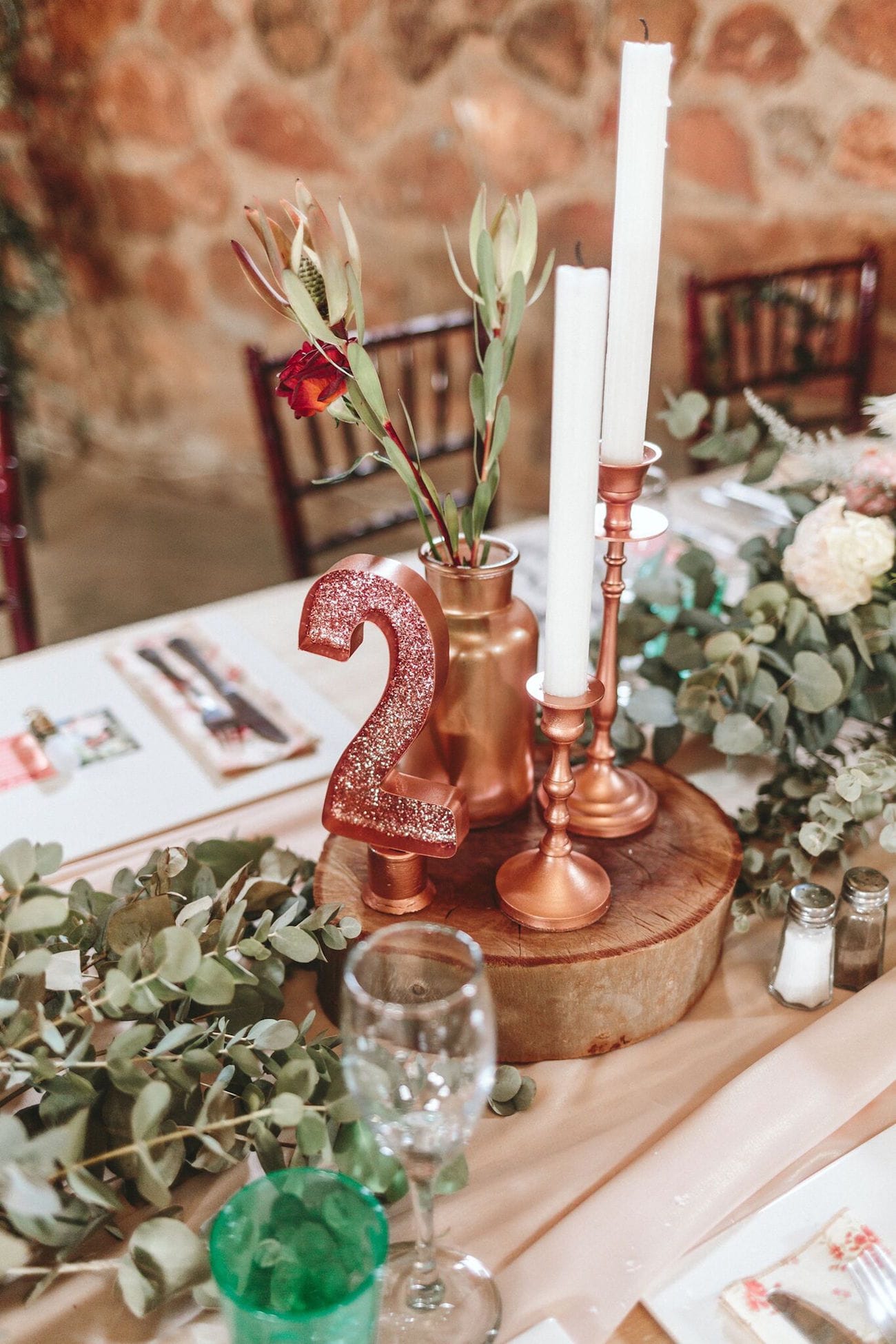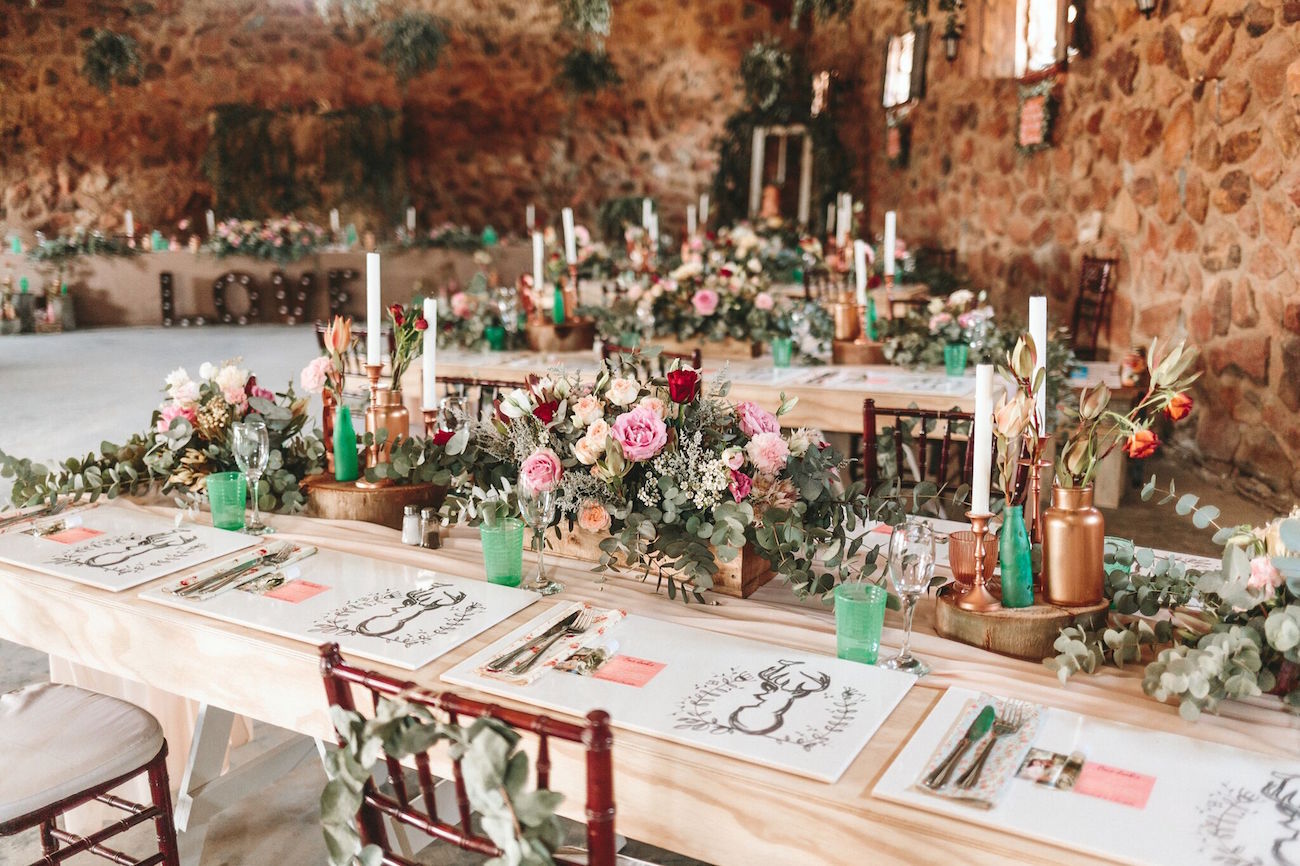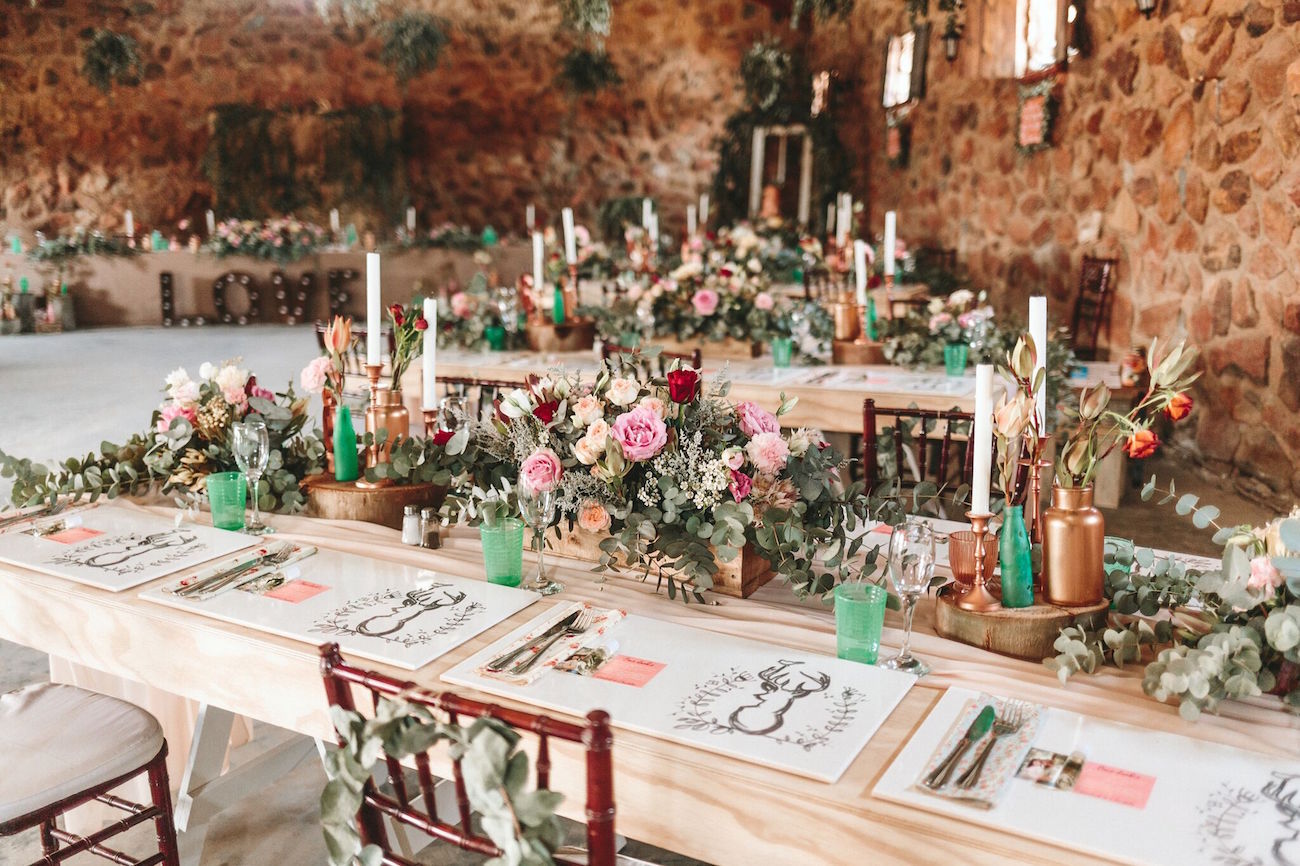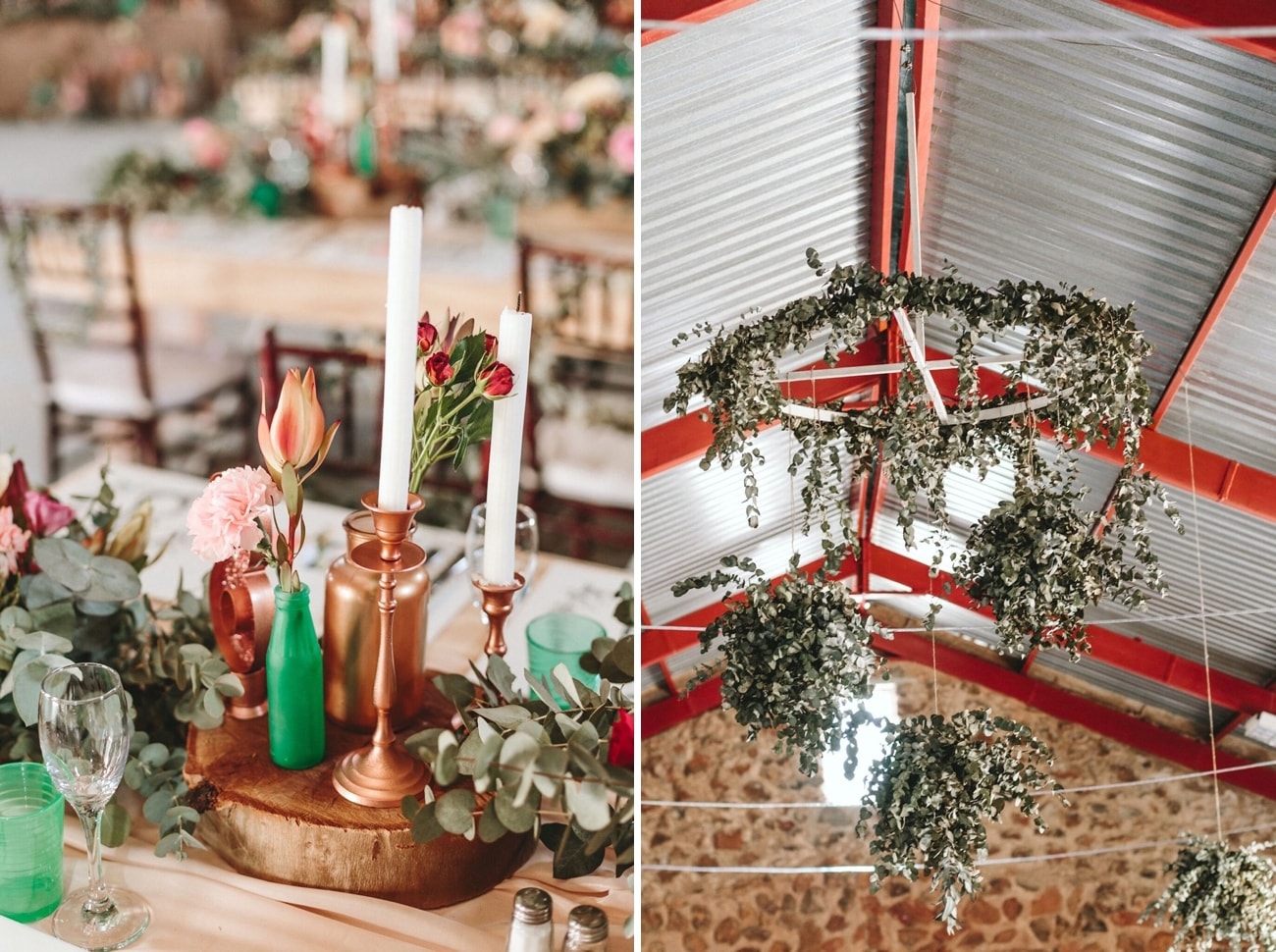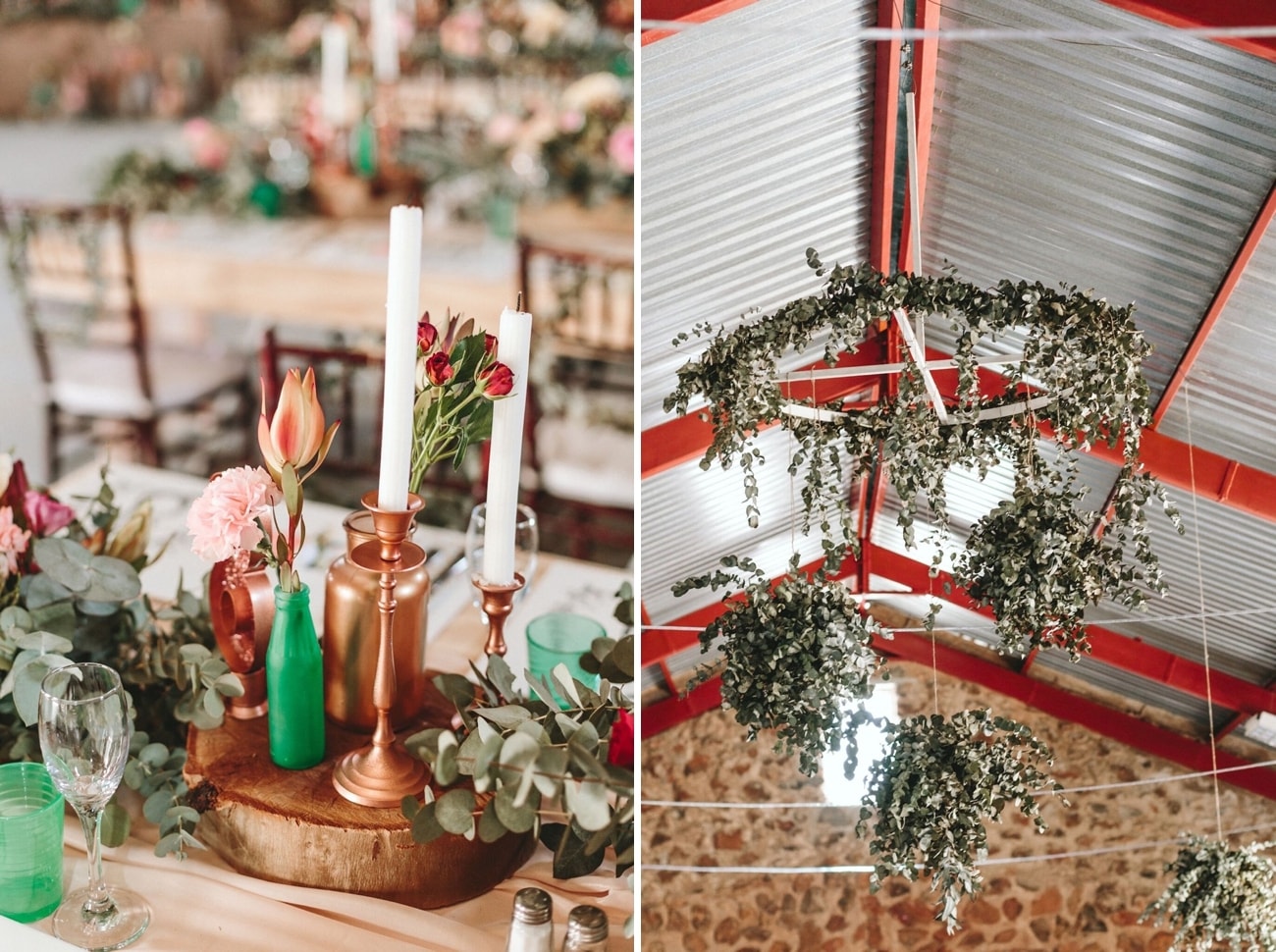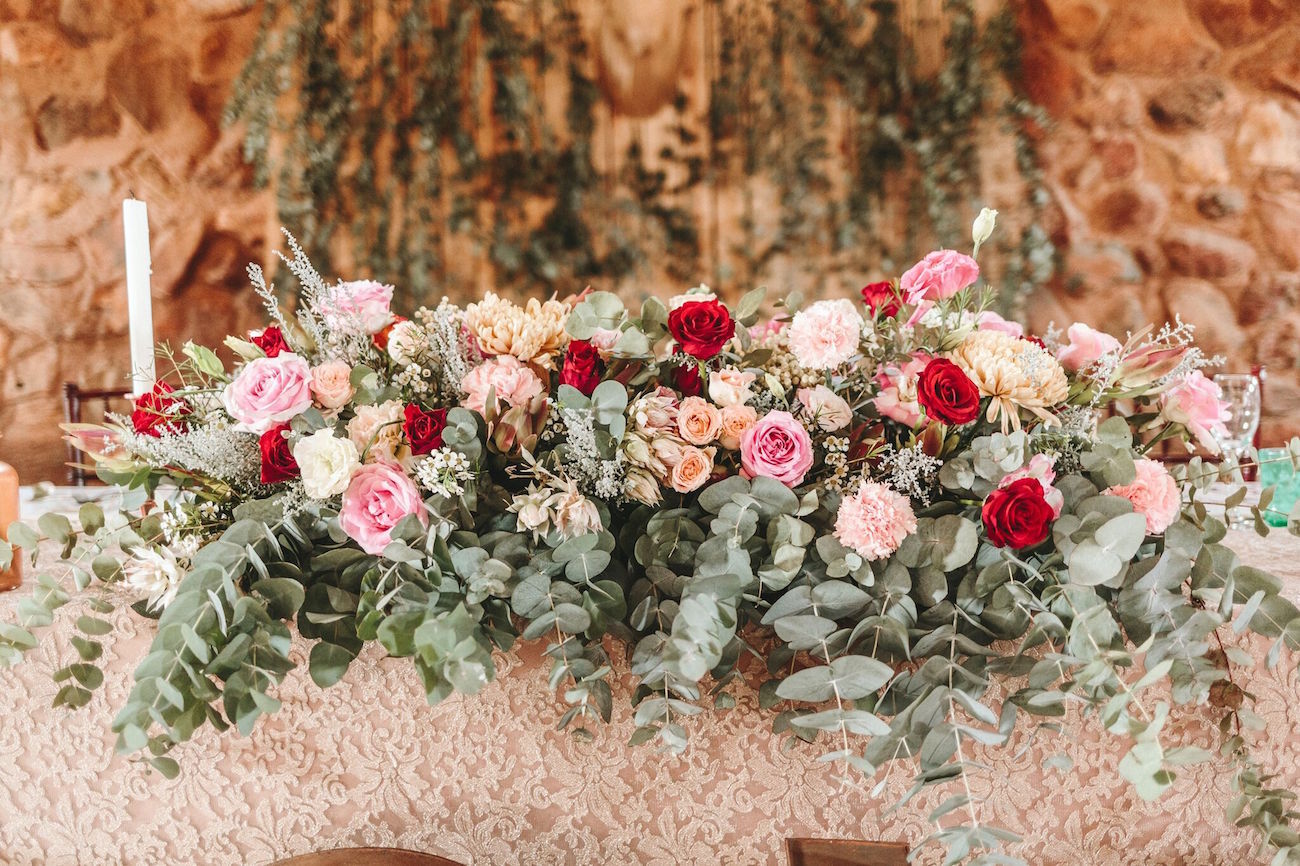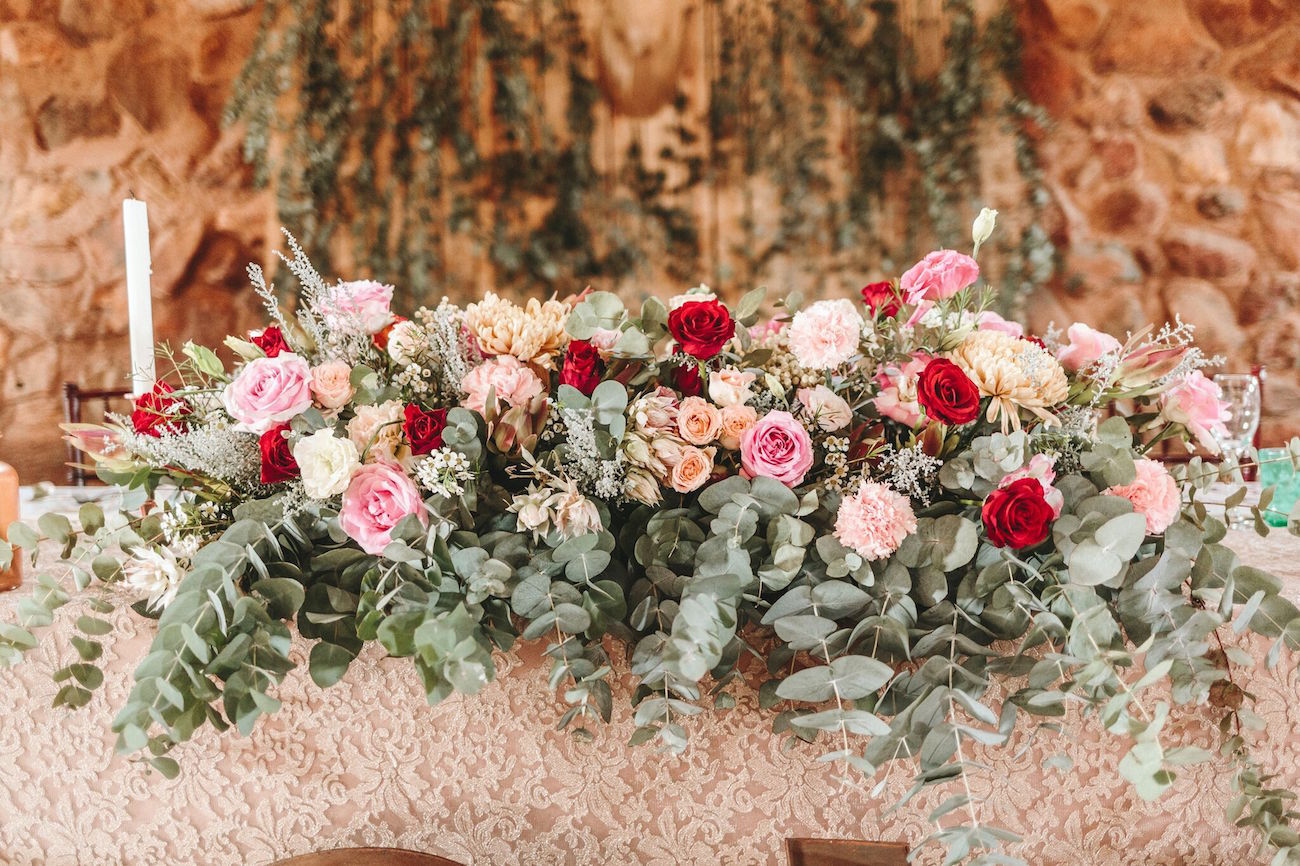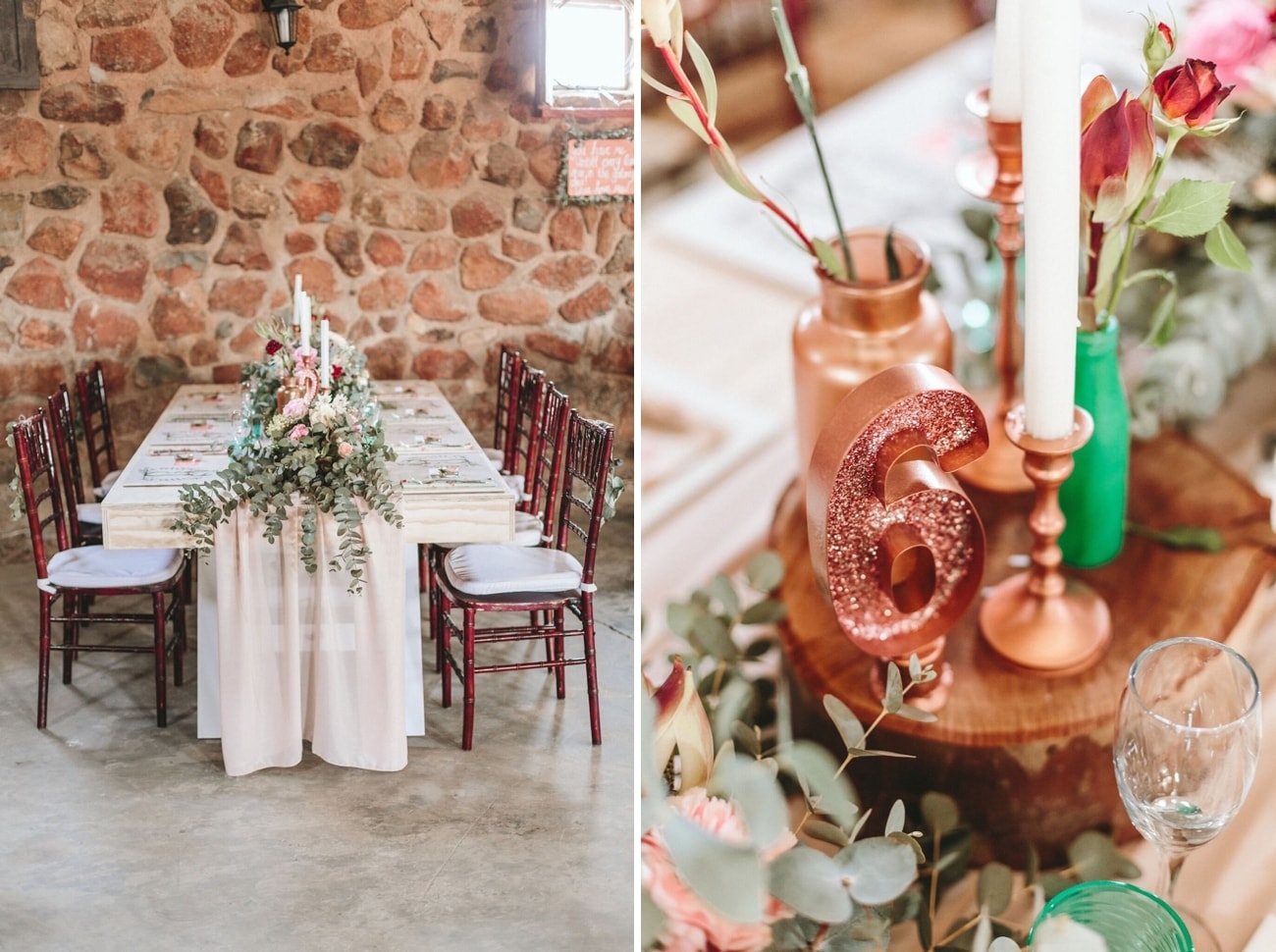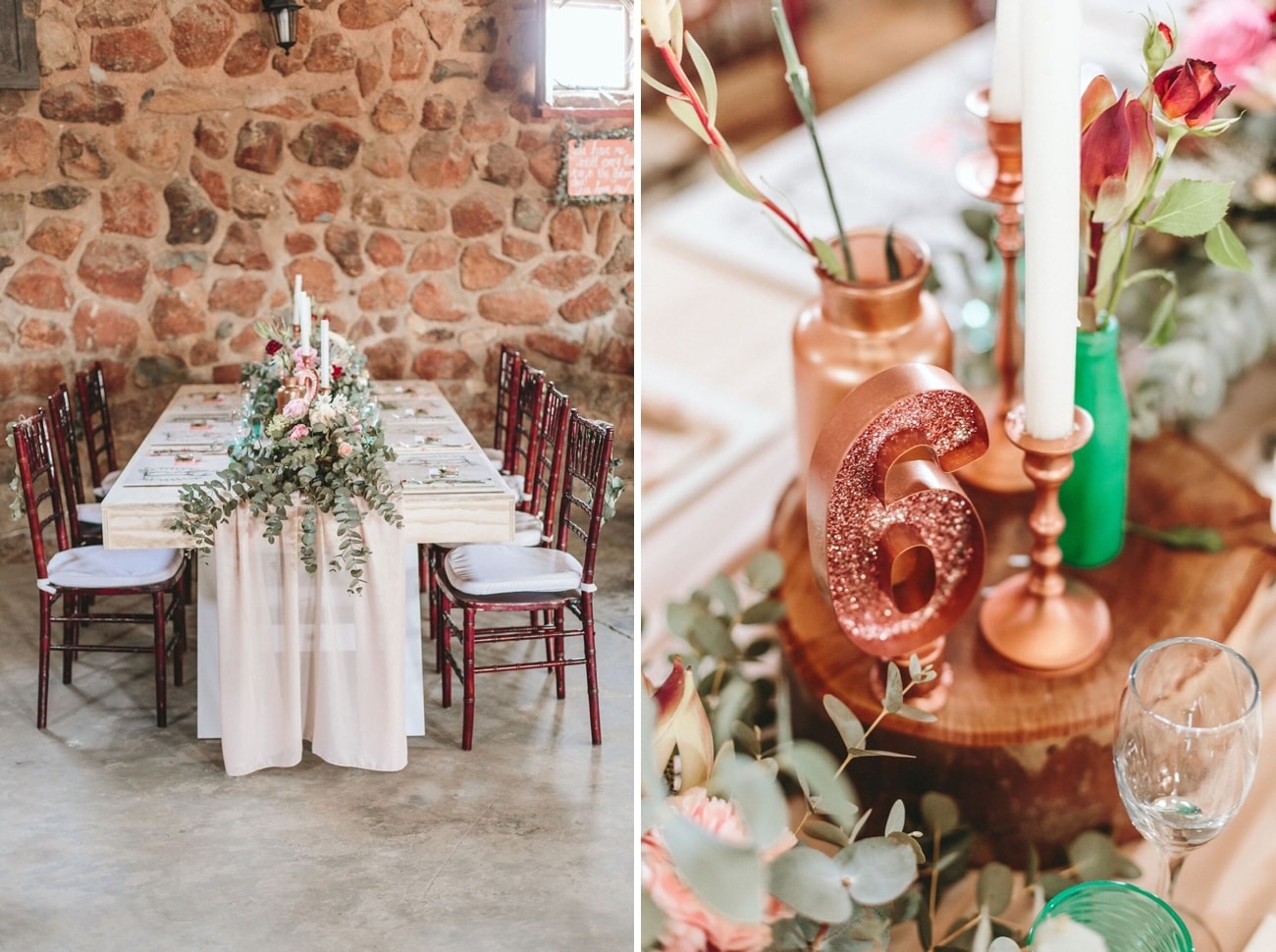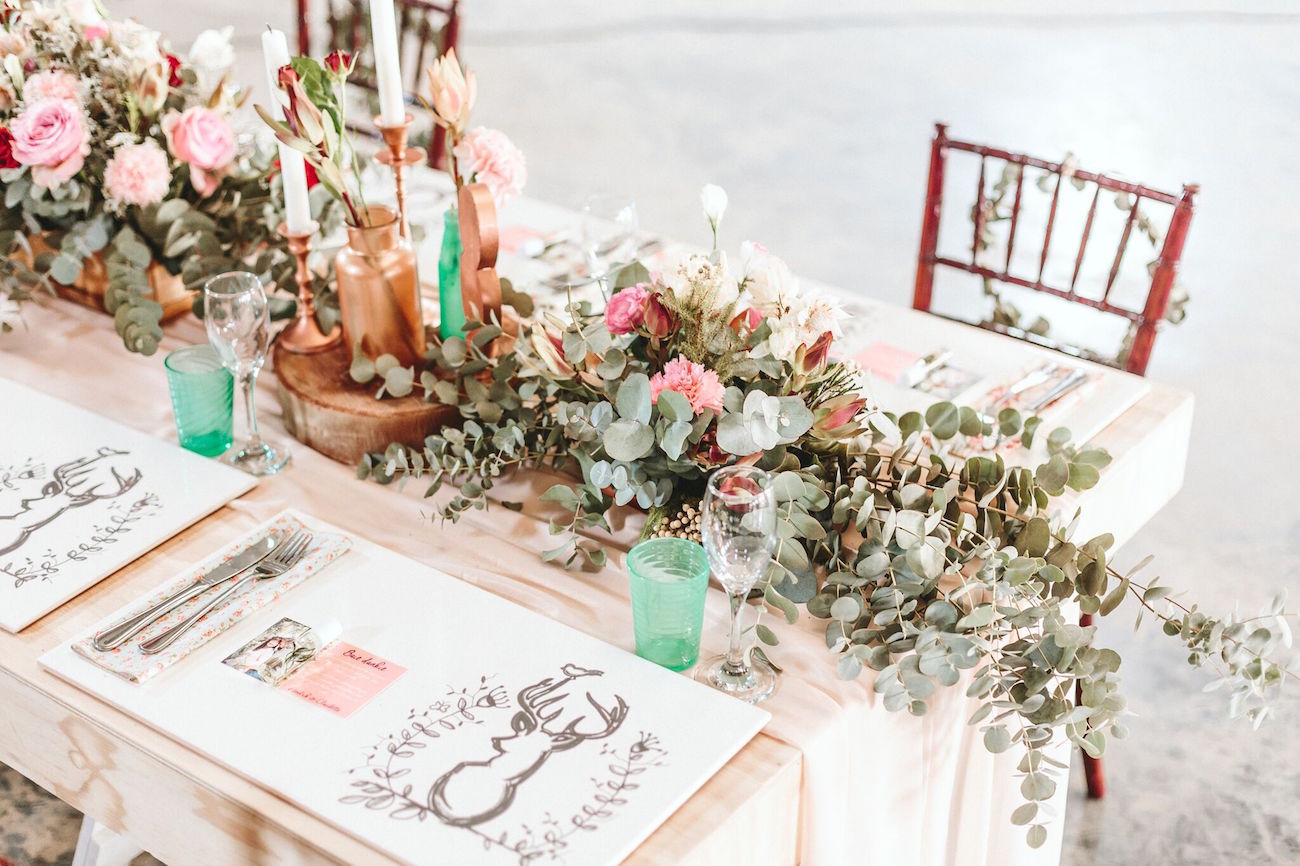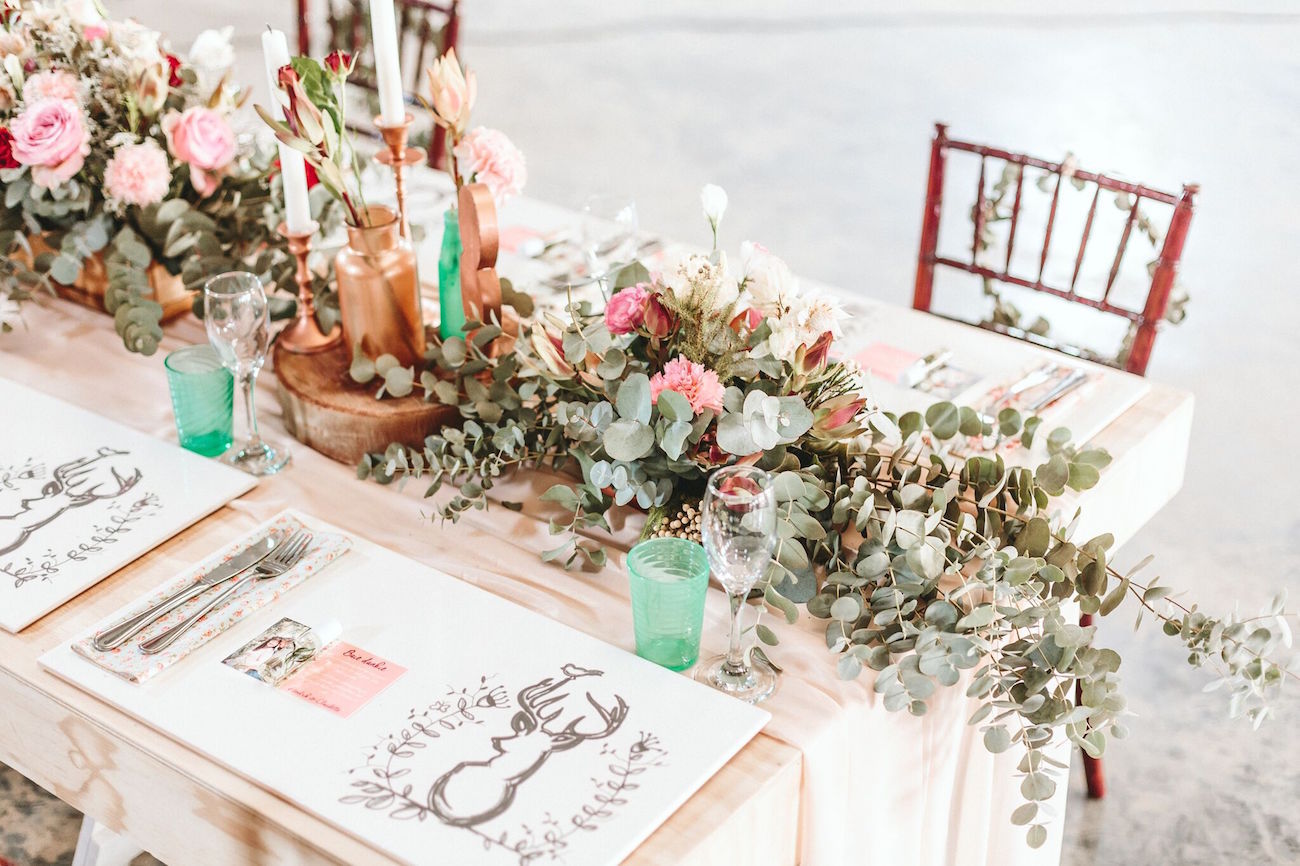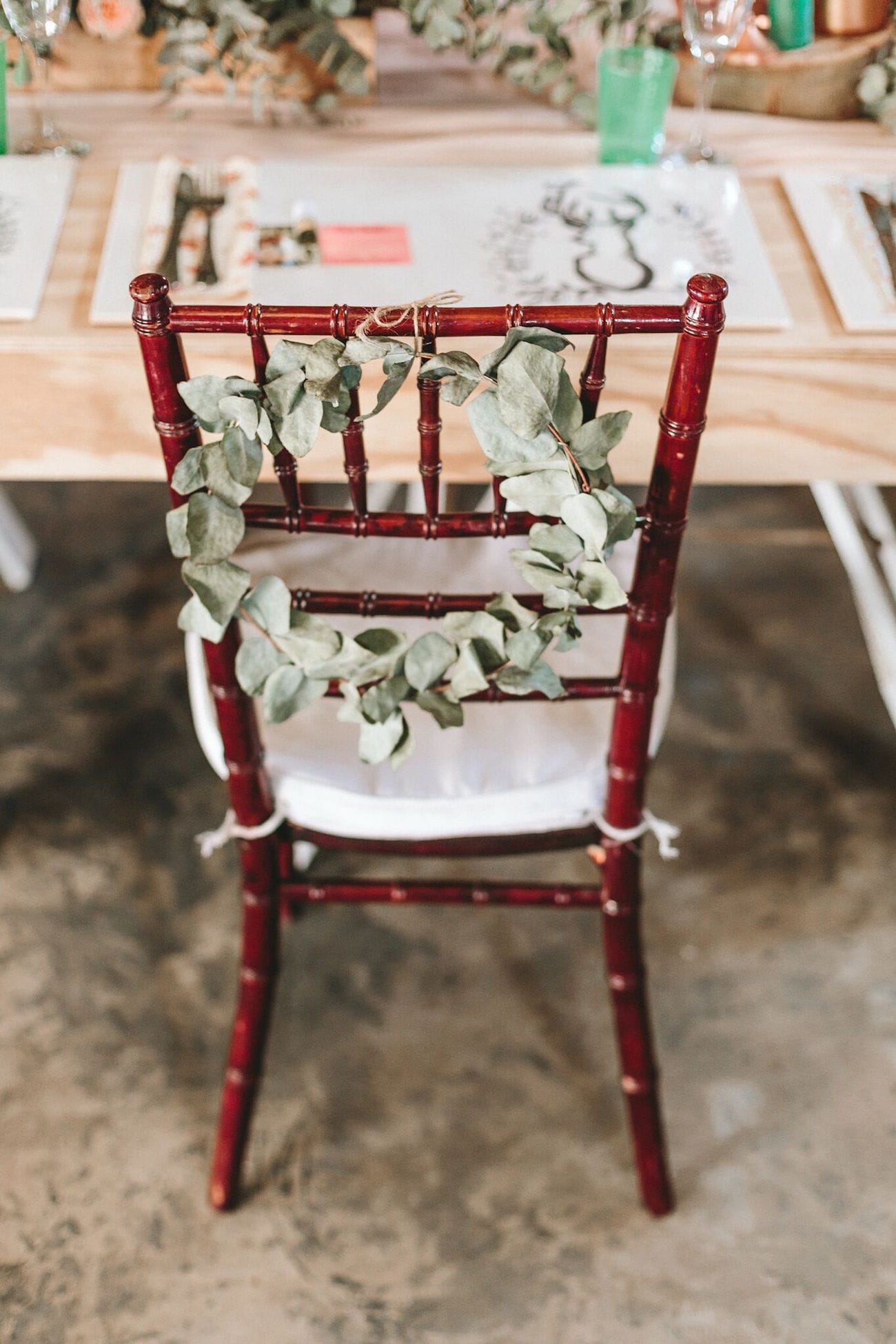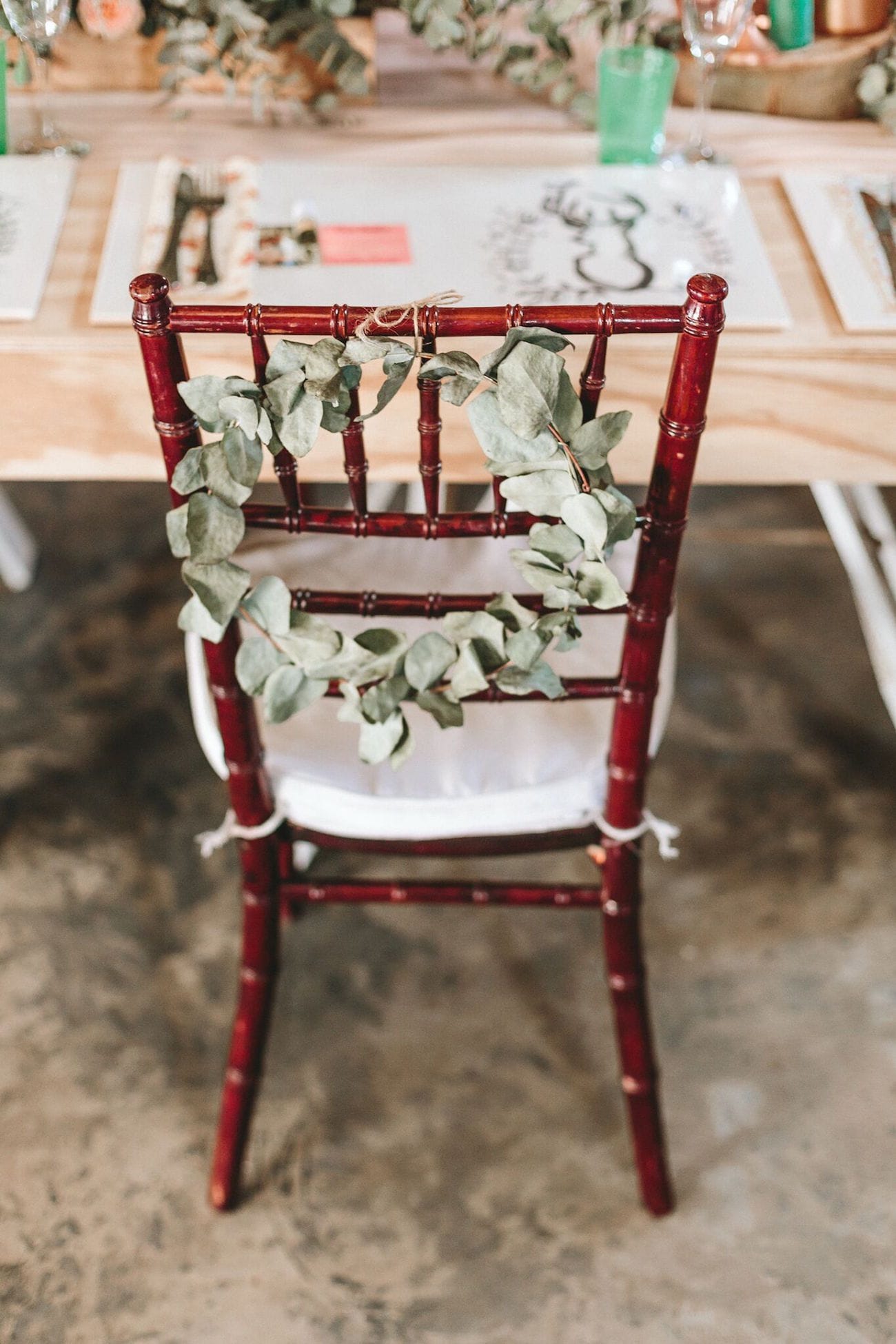 Memorable Moments
My sister, Drinie, married us, with Isak du toit doing the formalities. Also, riding into the reception on our rose gold bicycle to the song "Agter op my fiets"!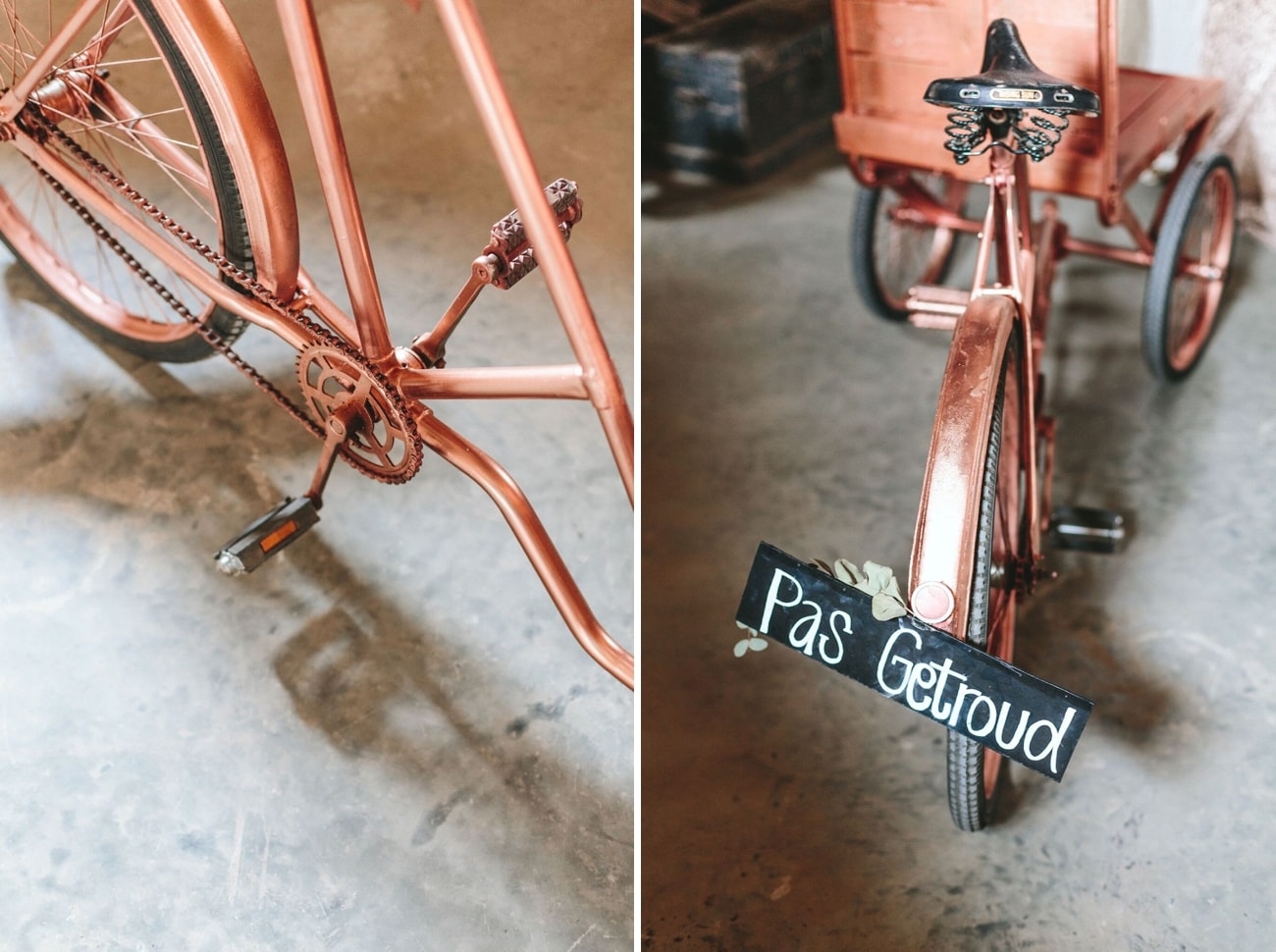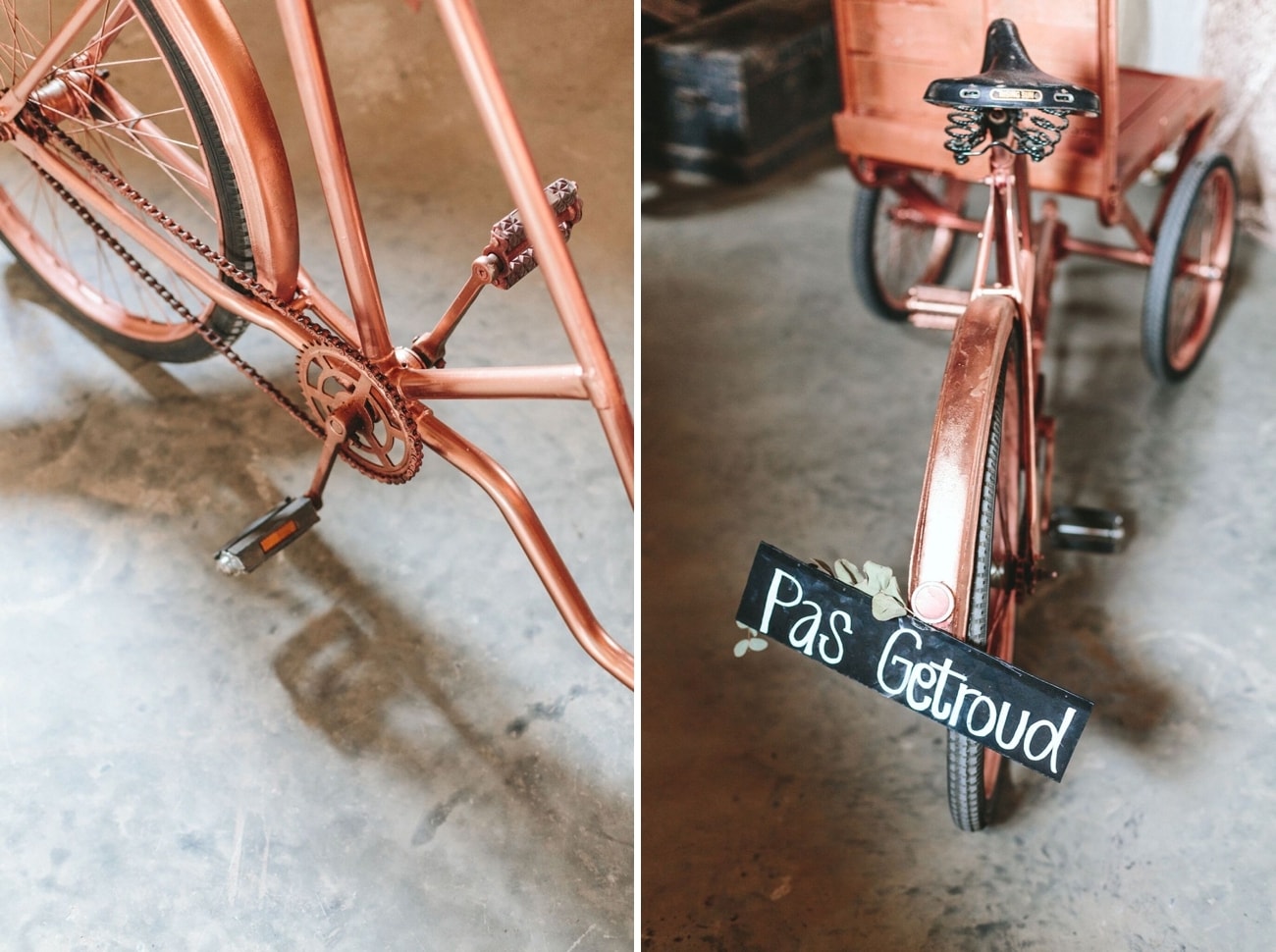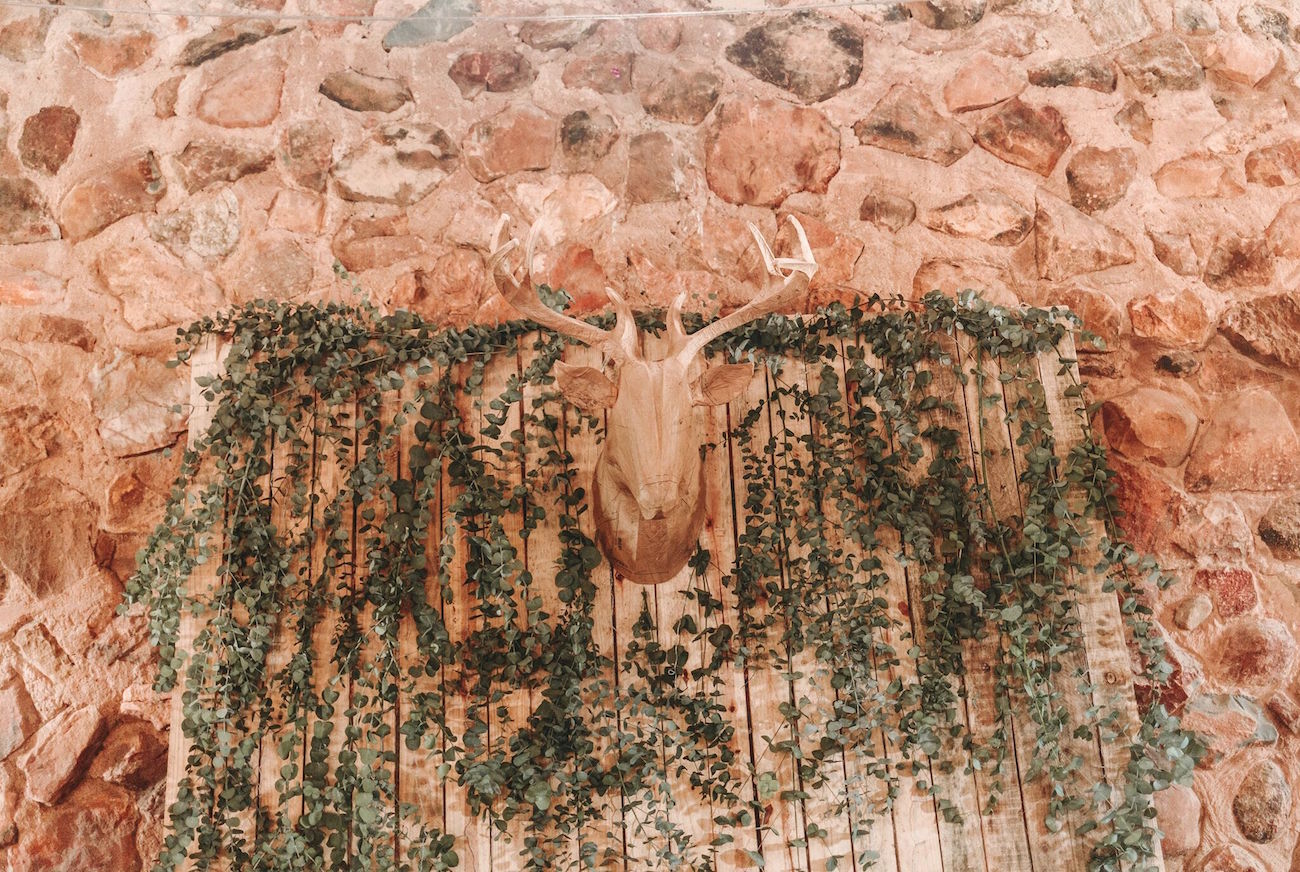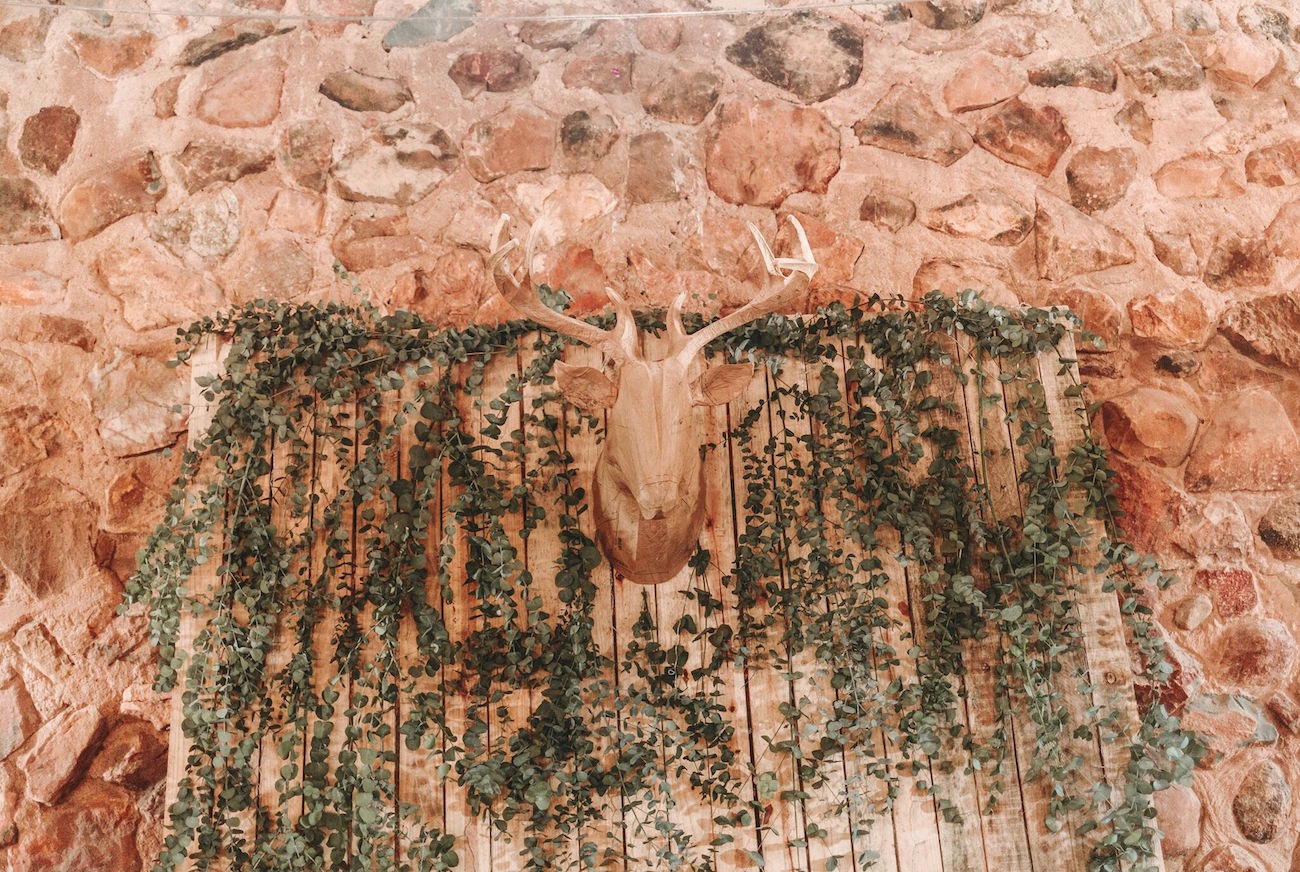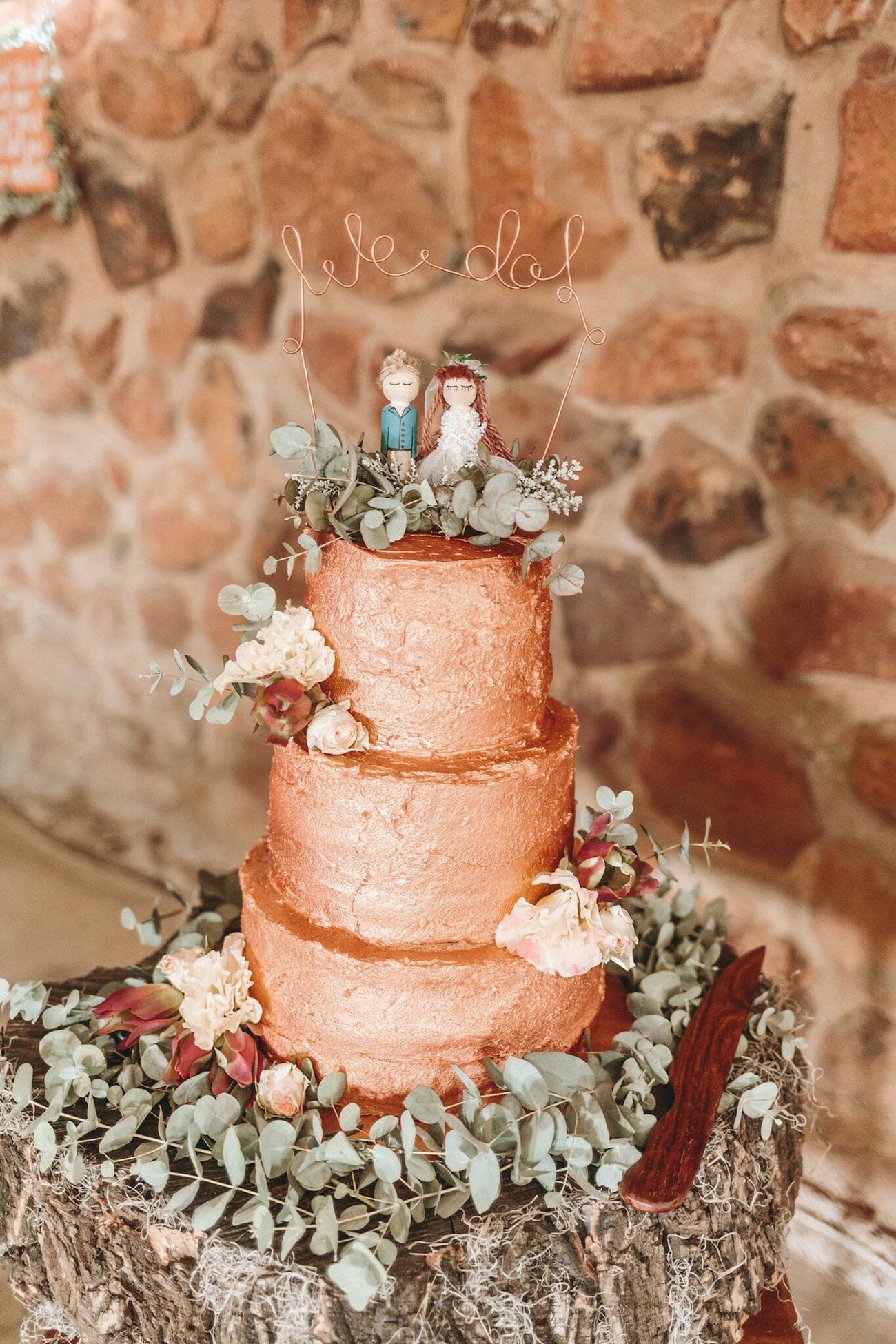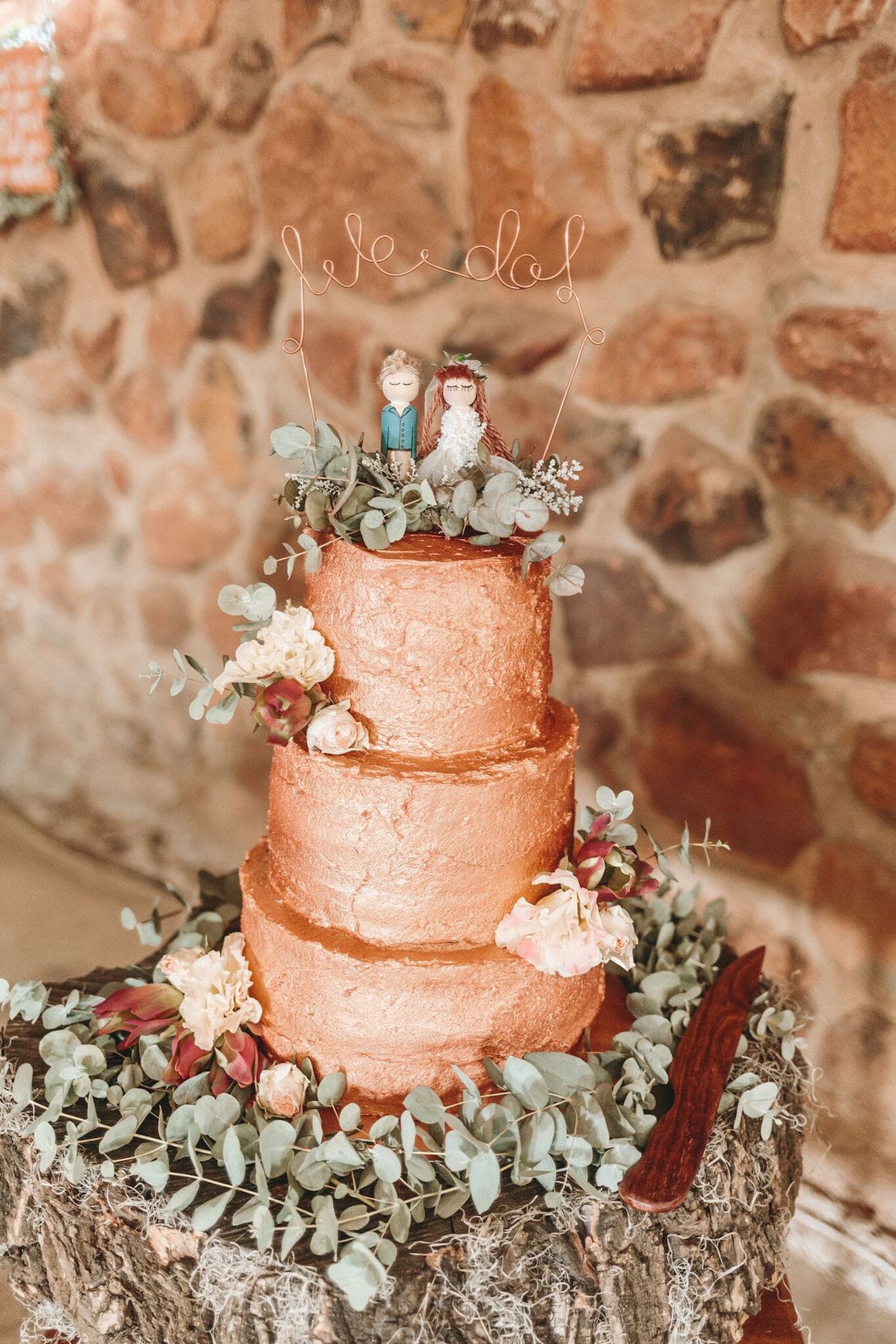 Best Decision
The best decision we made in our wedding planning was paying for everything ourselves. We were engaged for eighteen months, while we saved up all the money, resulting in having a debt-free wedding. This took away a lot of unnecessary stress and made us enjoy our honeymoon in Mauritius fully.
Advice for Future Brides & Grooms
Our advice to all engaged couples out there is to take your time in saving up the cost of the wedding and not to invite too many people.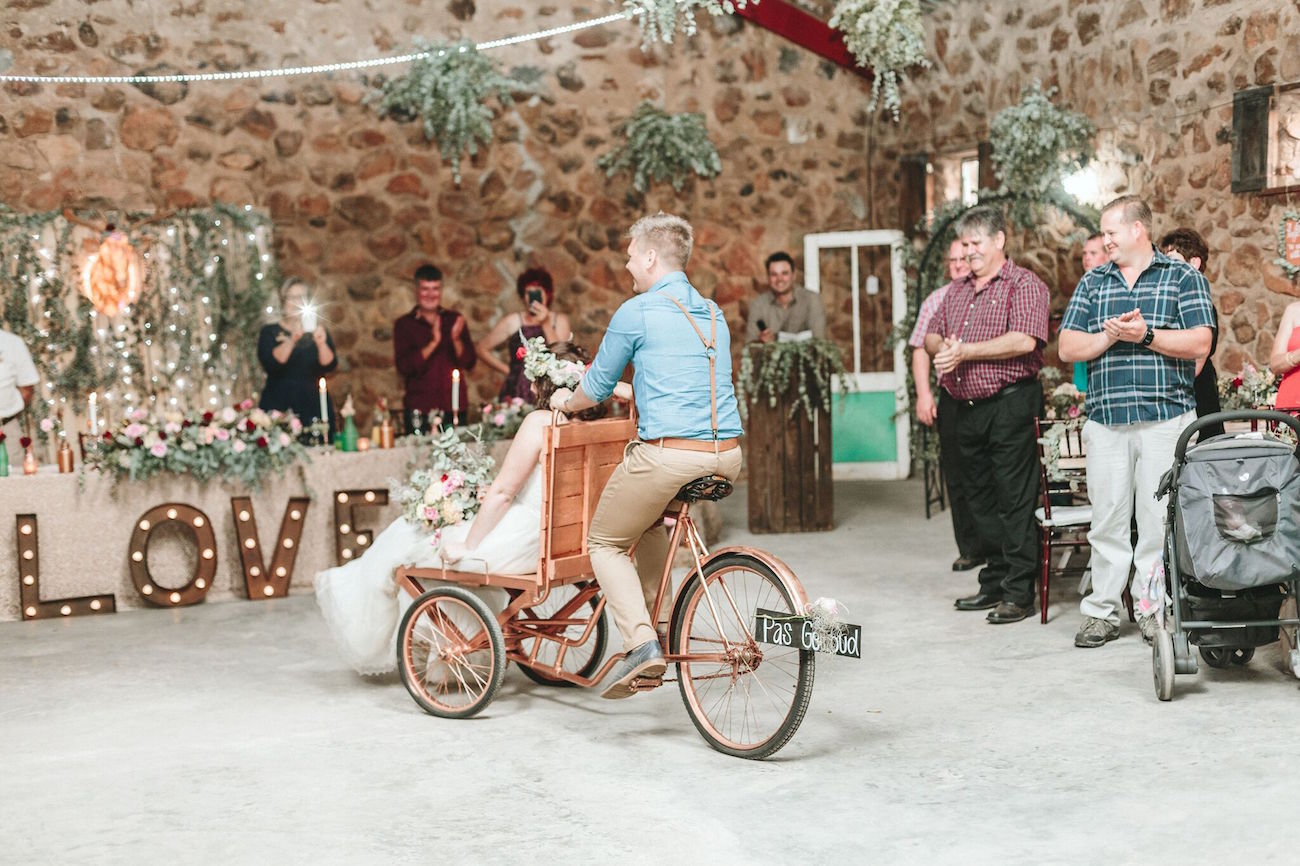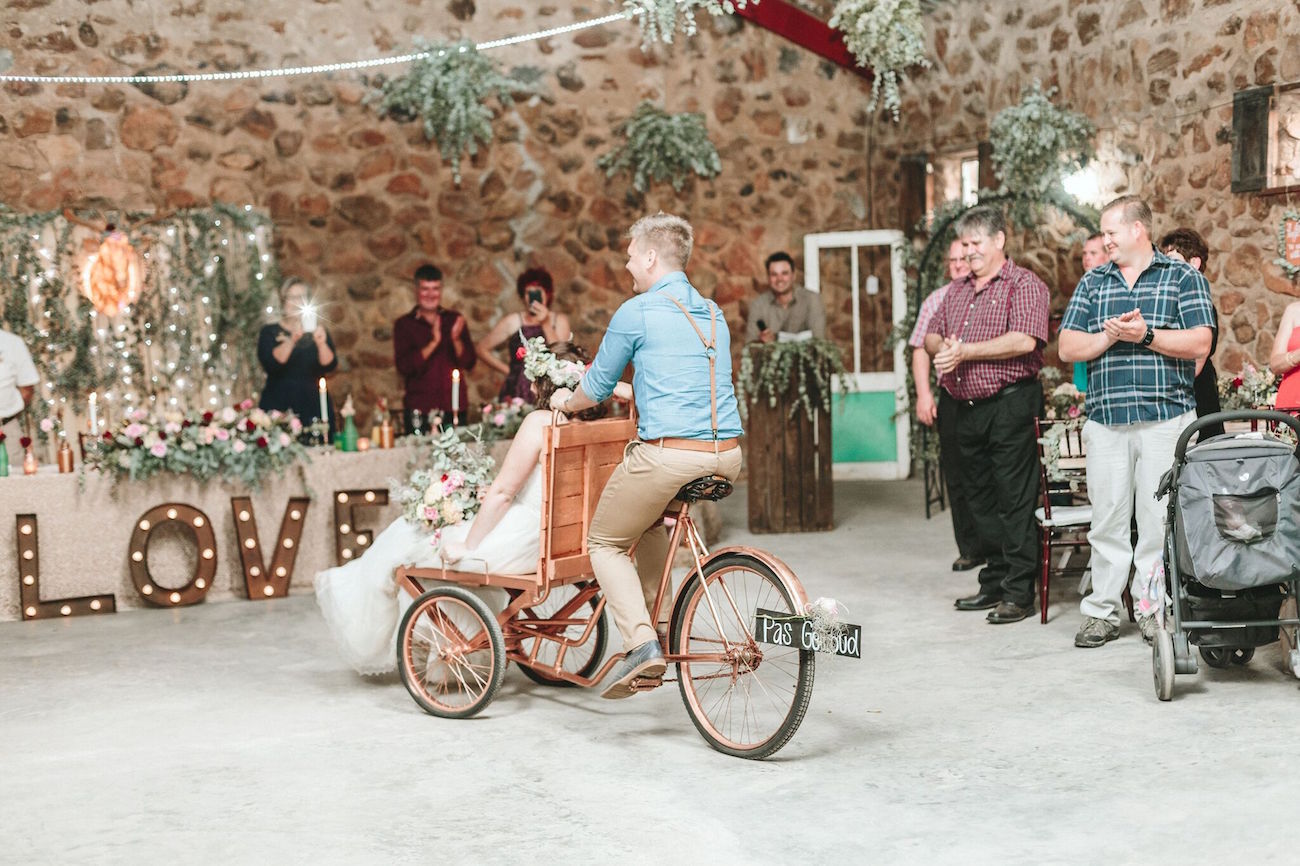 You can see more from this wedding on the Aline Photography blog.
SERVICE PROVIDERS
Venue & catering: Tuin van Eden, Heidelberg | Photography: Aline Photography | Co-ordination, flowers & décor: Blissful Events | Cake: Coco Vanilla
Save