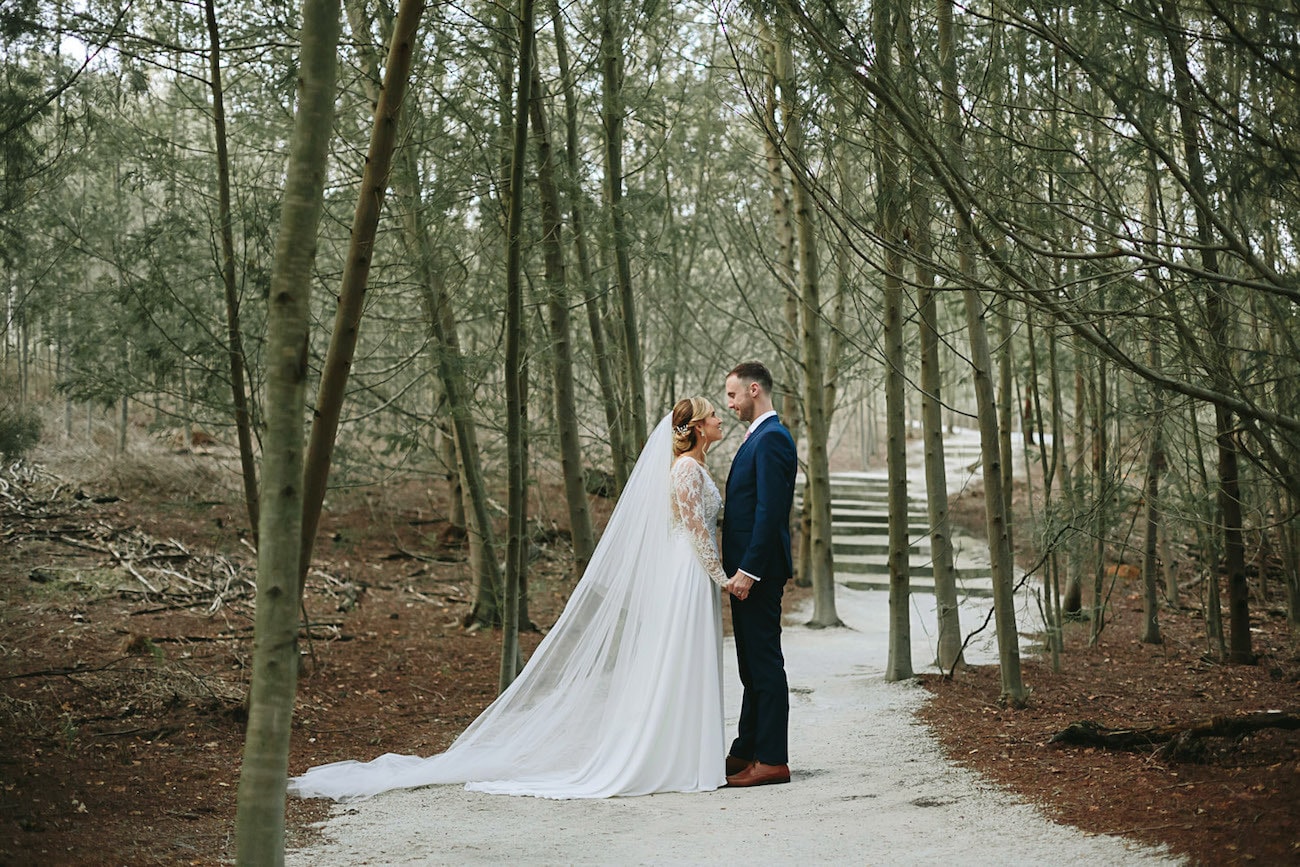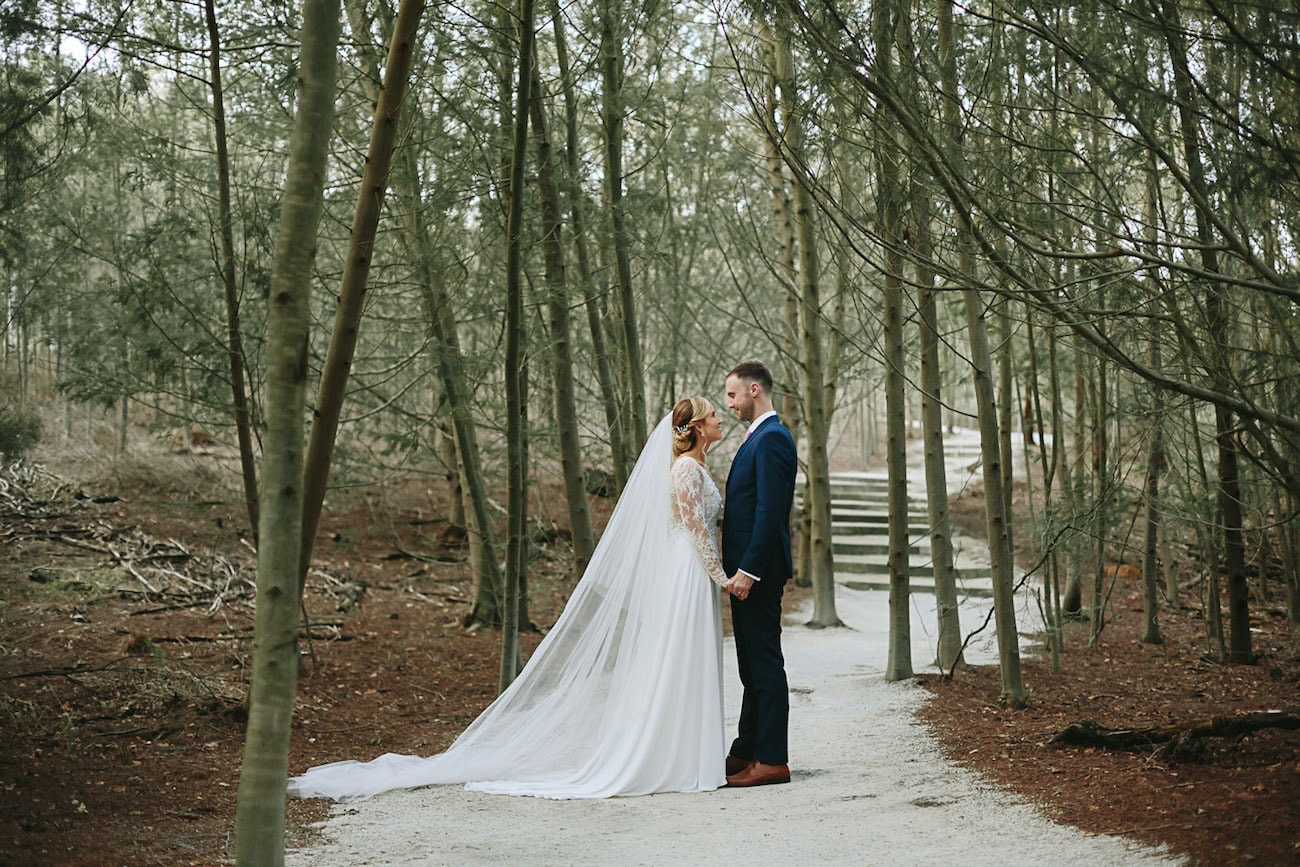 Nature meets luxury in this beautiful forest wedding at Die Woud, which is ending off our week in the prettiest way possible! Paul and Chloë wated an outdoorsy feel to their Cape wedding, and fell in love with Die Woud (who could blame them?). Natural elements like wooden tables and beautiful proteas, contrast with romantic twists like chandeliers and twinkle lights (oh, the lights!) and Chloë's incredible Cindy Bam dress. Music was another super important part of the wedding, from the fun song choices for vital moments, to the bride's dad serenading her (awwww!) to SBB DJ faves Silkmusic pulling out all the stops to get the dancefloor pumping all night long! Let's get up close and personal with all the pretty captured by Jani B. Photography!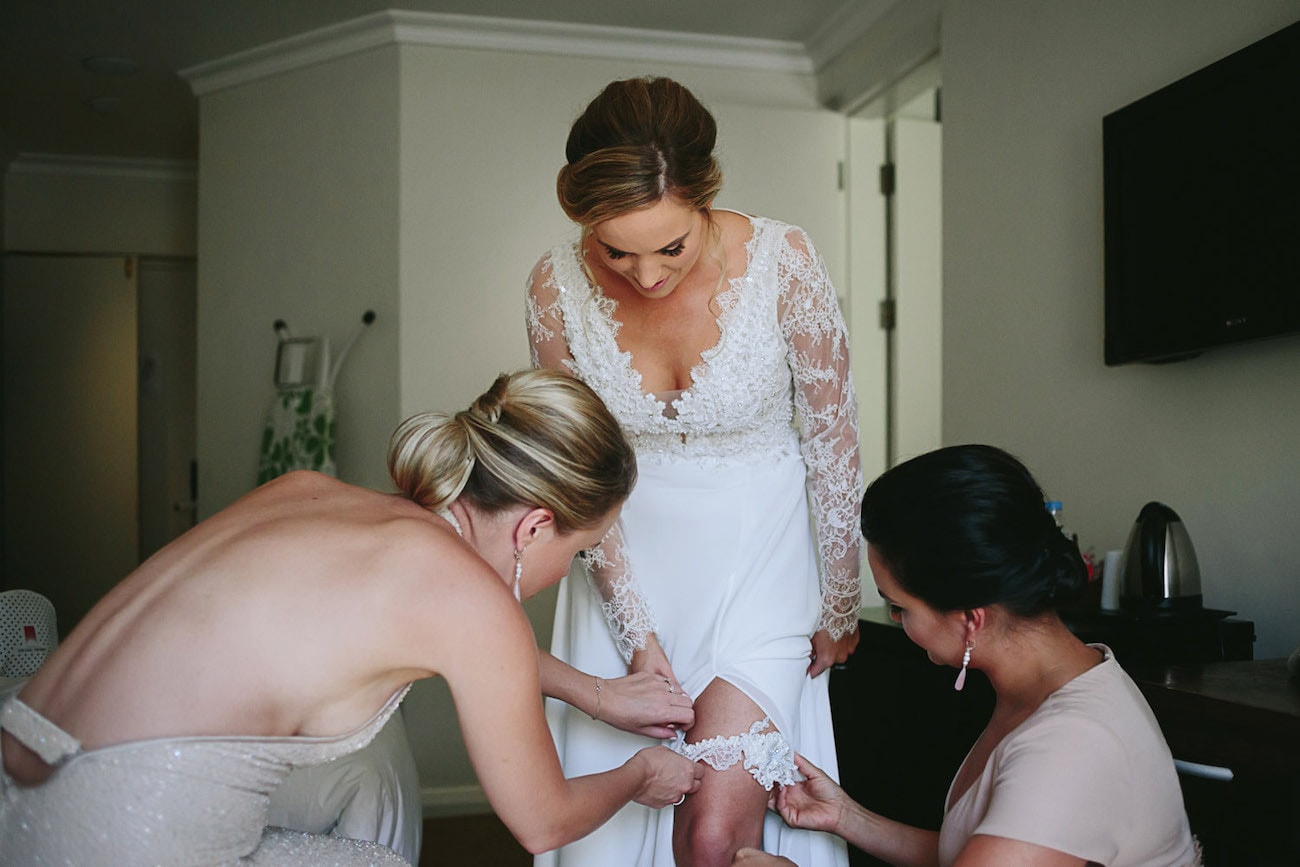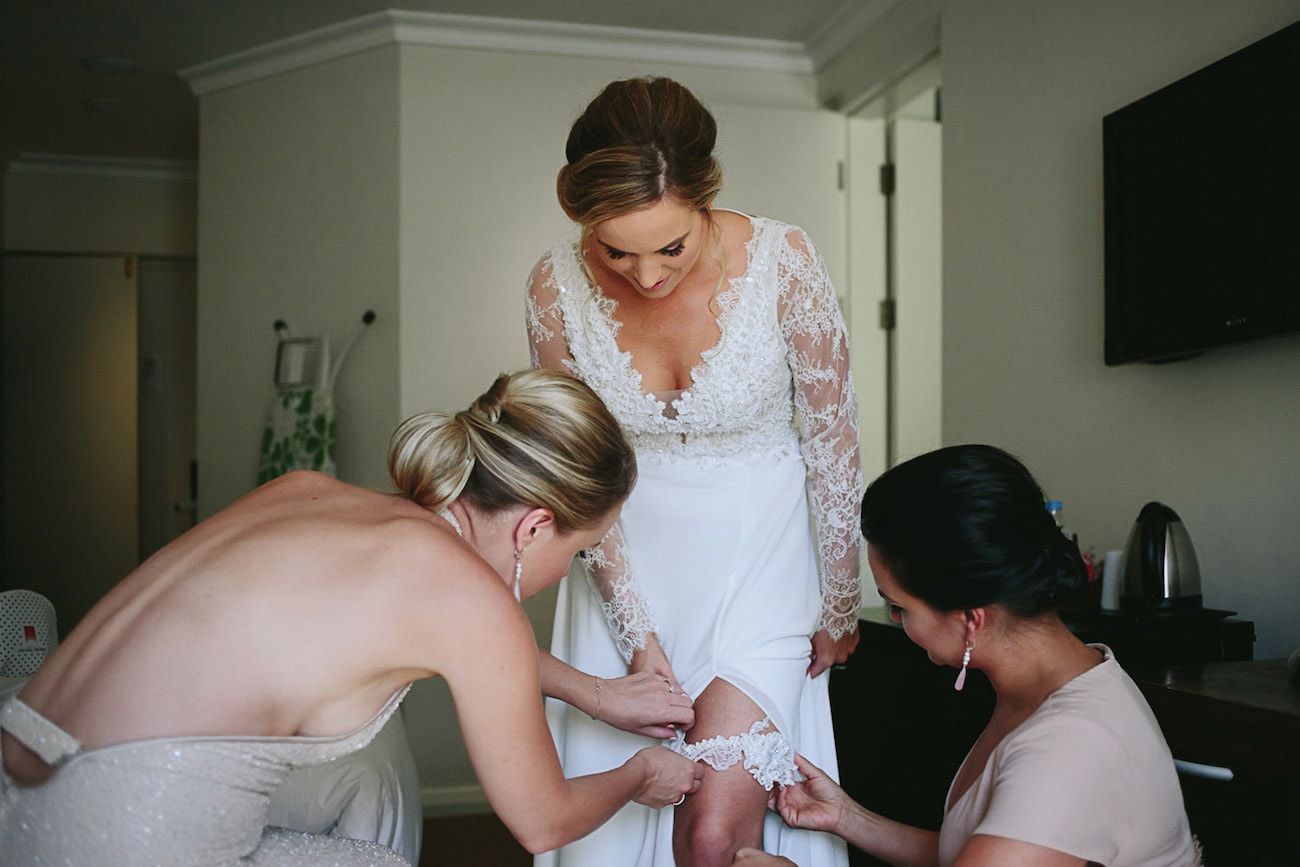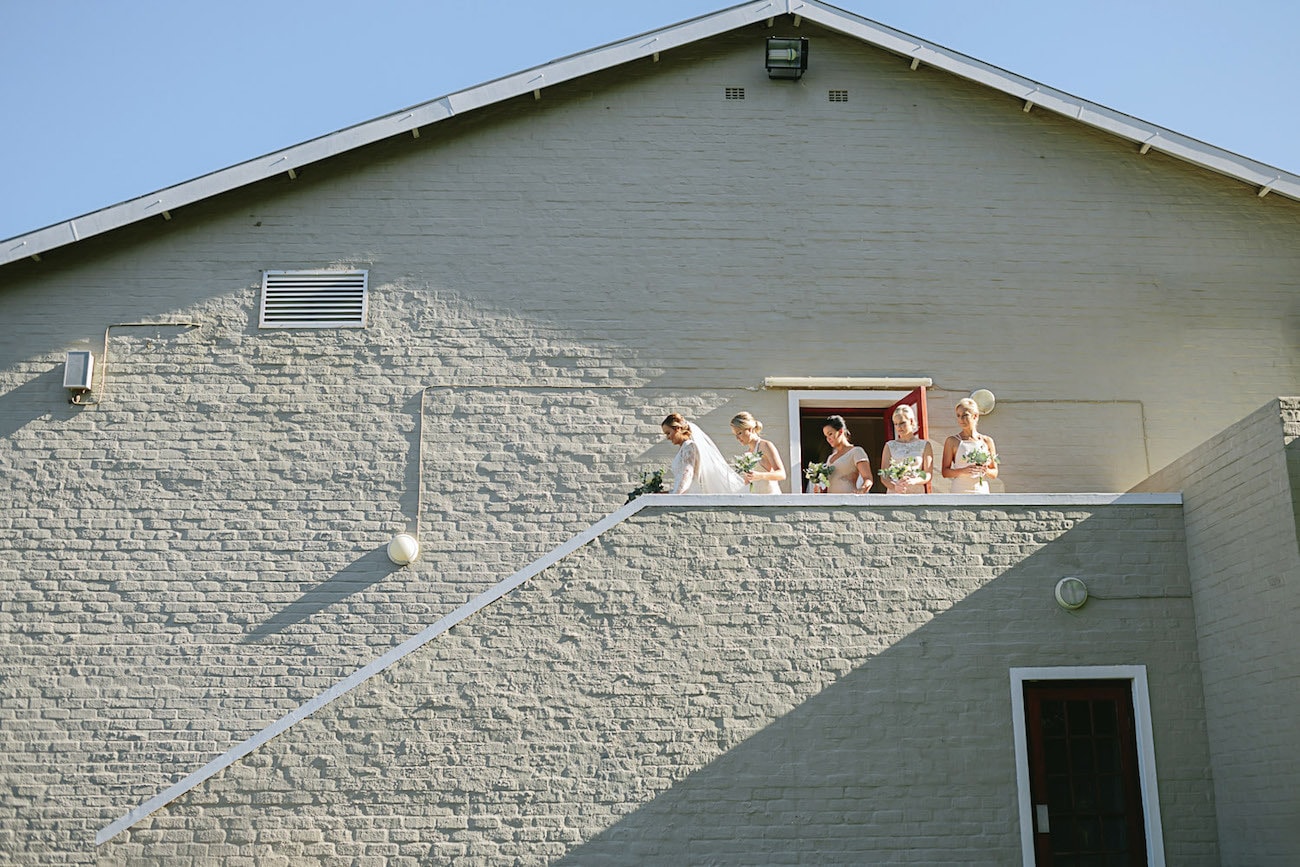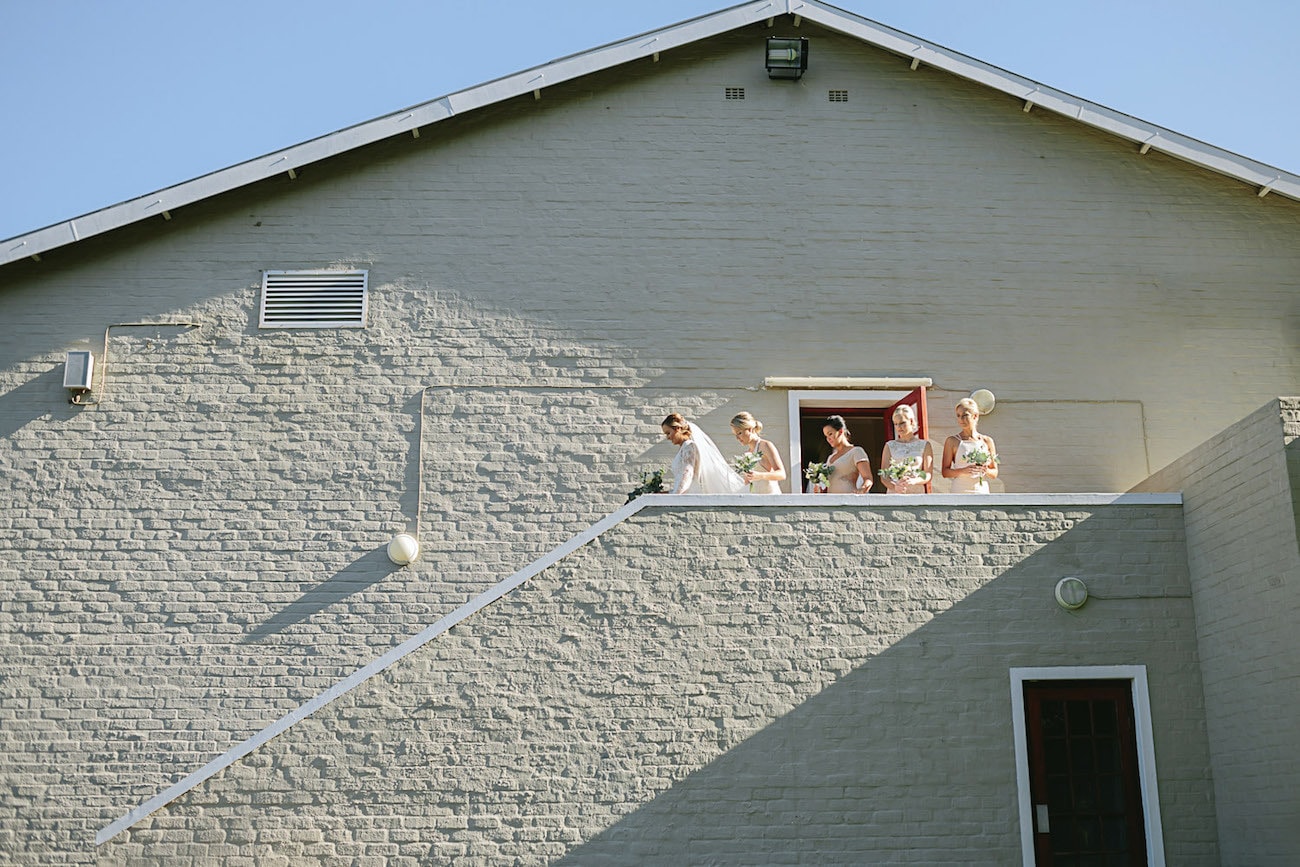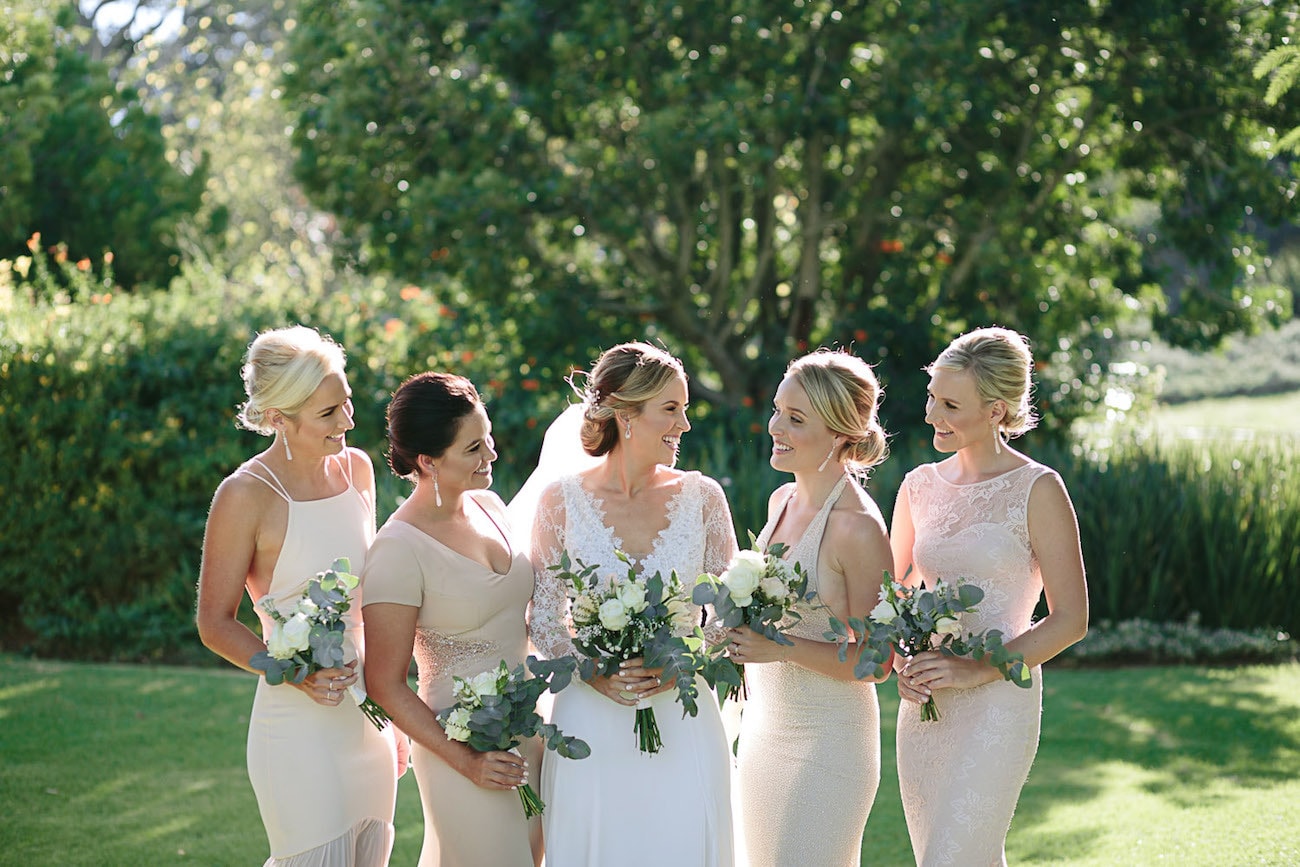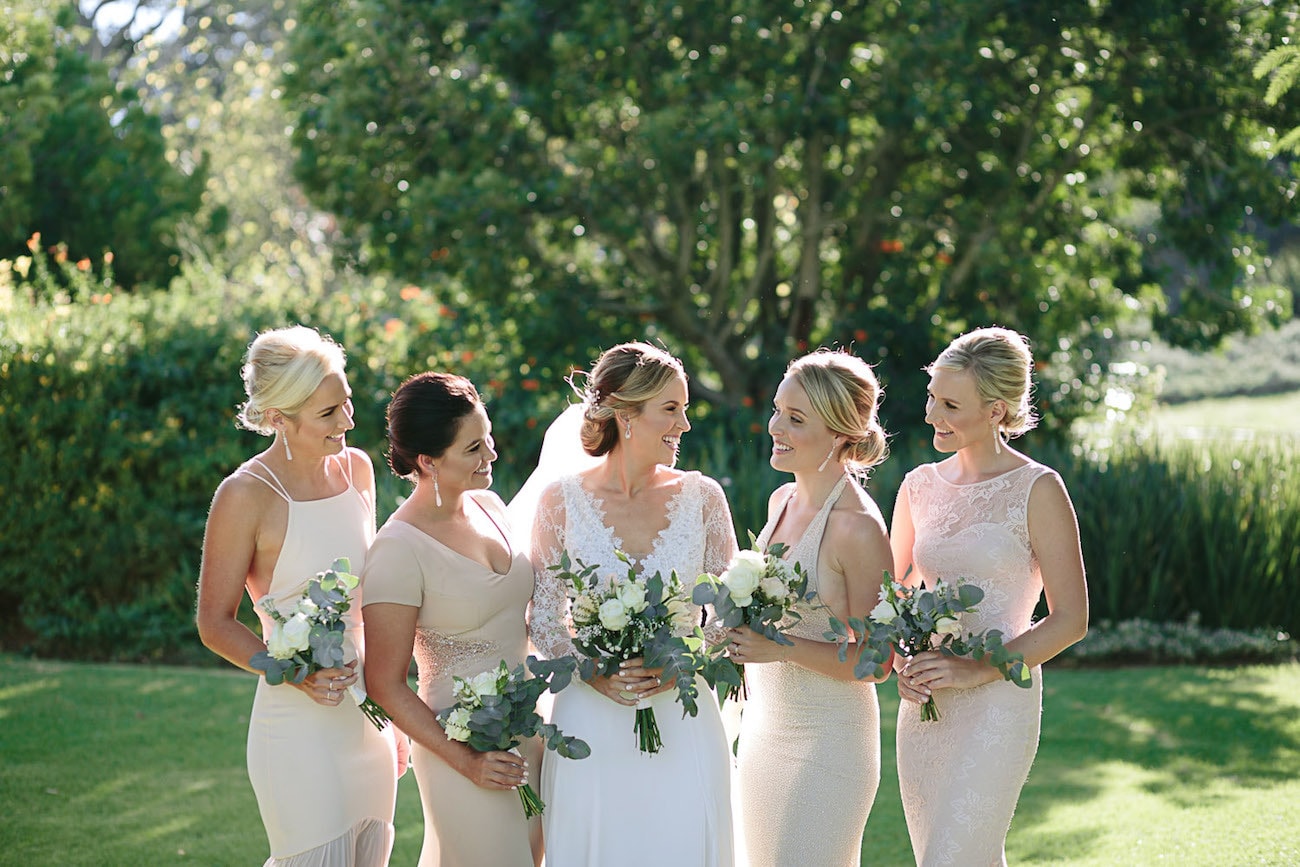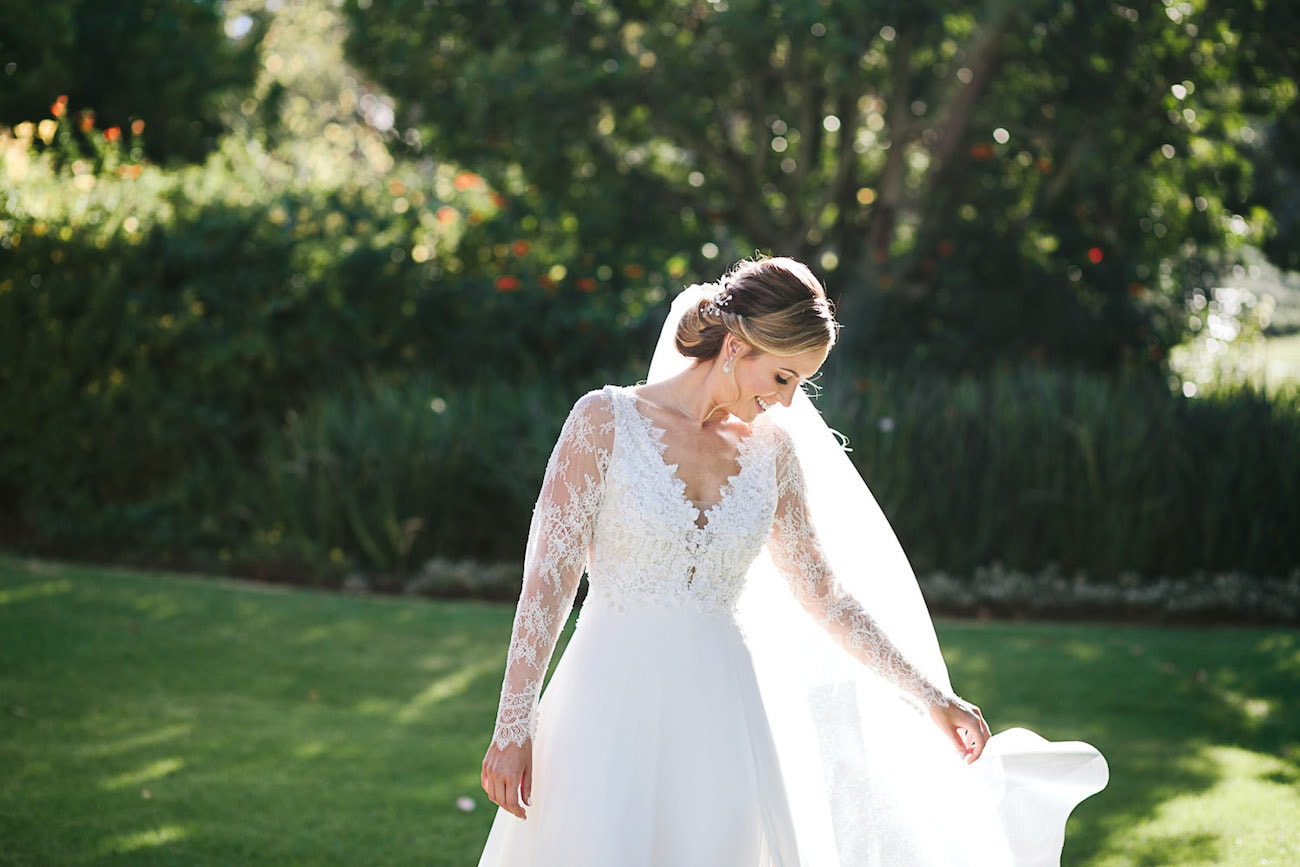 Love Story
We met at a mutual friend's birthday party at Kirstenbosch Gardens at the end of 2010. (Paul said he was drawn to the delicious food my friends and I brought to the picnic!) Paul had planned to go to Thailand to teach English for six months and was leaving the following week. He invited me to his farewell party but I couldn't go, as I still had two final law exams to write. I invited him to join my end of exams celebration instead, which he did, and we shared our first kiss (he kissed me, for the record!). Paul left for Thailand two days later and I was really sad at the thought of having to wait six months to see if something would happen between us when he returned. We kept in touch and had Skype chats about once a week. Then about a month later, just before Christmas, we were chatting and he asked what my plans for New Year's Eve were. I told him and asked as a joke asked if he wanted to join. He replied that he would, as he was actually at the airport on his way home for good! I was so happy! He had realised that teaching in Thailand was not for him and turned the experience into a holiday. I still say that he was in love with me already :) He came back to Cape Town and called me the next day to take me out on our first official date – lunch at the Brass Bell, which turned into afternoon drinks, and then an evening braai… and the rest is history.
The Proposal
It was our five year anniversary and Paul's turn to plan the celebration. He told me we were going away for the weekend and what to pack, then blindfolded me so I couldn't see where I was going. It was a hilarious drive! e went to Whale View Manor, a beautiful boutique hotel in Simon's Town, with a small beach in front of it and stunning uninterrupted sea views. On our first night, Paul managed to lock the ring in our room safe, and was in a panic thinking he wouldn't be able to propose the next day as planned (he told me he had locked his wallet in there). The next morning, the manager helped him open it again while I had my coffee downstairs. We went for a walk up the mountain and then into town, looking at all the little antique and other shops, and after lunch he had booked me in for a massage (he went for a run – later he told me it was to releive his stress!) He suggested we have a G&T in our room before dinner (it was quite windy so the beach wasn't an option). He proposed a toast to our anniversary and suggested we say three things we loved about each other and that I should go first. When it was his turn, he took the drink from my hand and turned it into his proposal. He pulled a ring box from a hidden drawer on the dresser and before I knew it, he was down on one knee with the most beautiful ring, asking me to marry him. I was so overwhelmed and crying like a baby. I said yes! (Of course!) We decided not to tell anyone until the next morning, drank French champagne, and every now and again realised we had just got engaged and jumped up and down holding hands and hugging – we were such nerds. The next morning we woke up super early, completely elated, and told our family and friends. We were showered with love and everyone was so happy for us. It was the most magical time.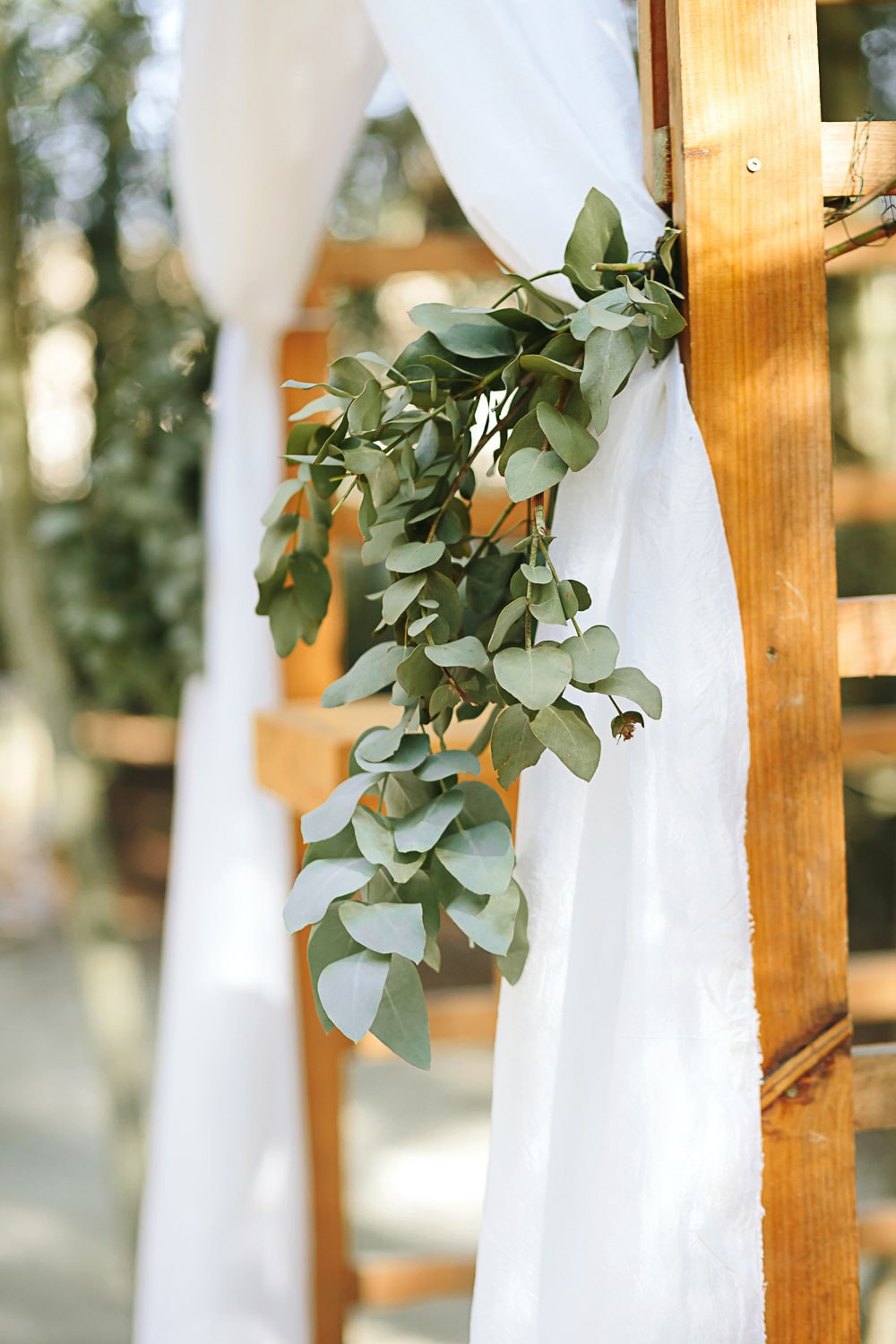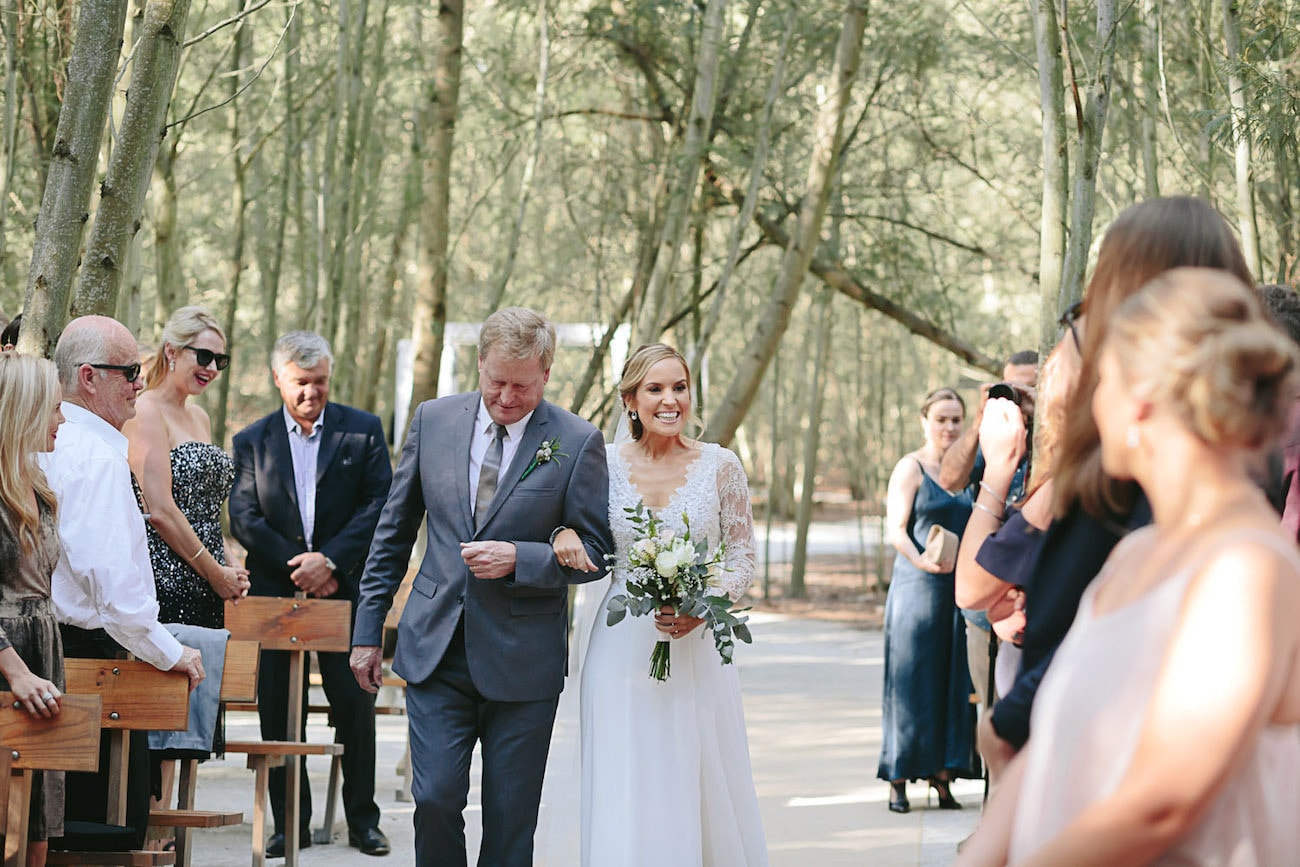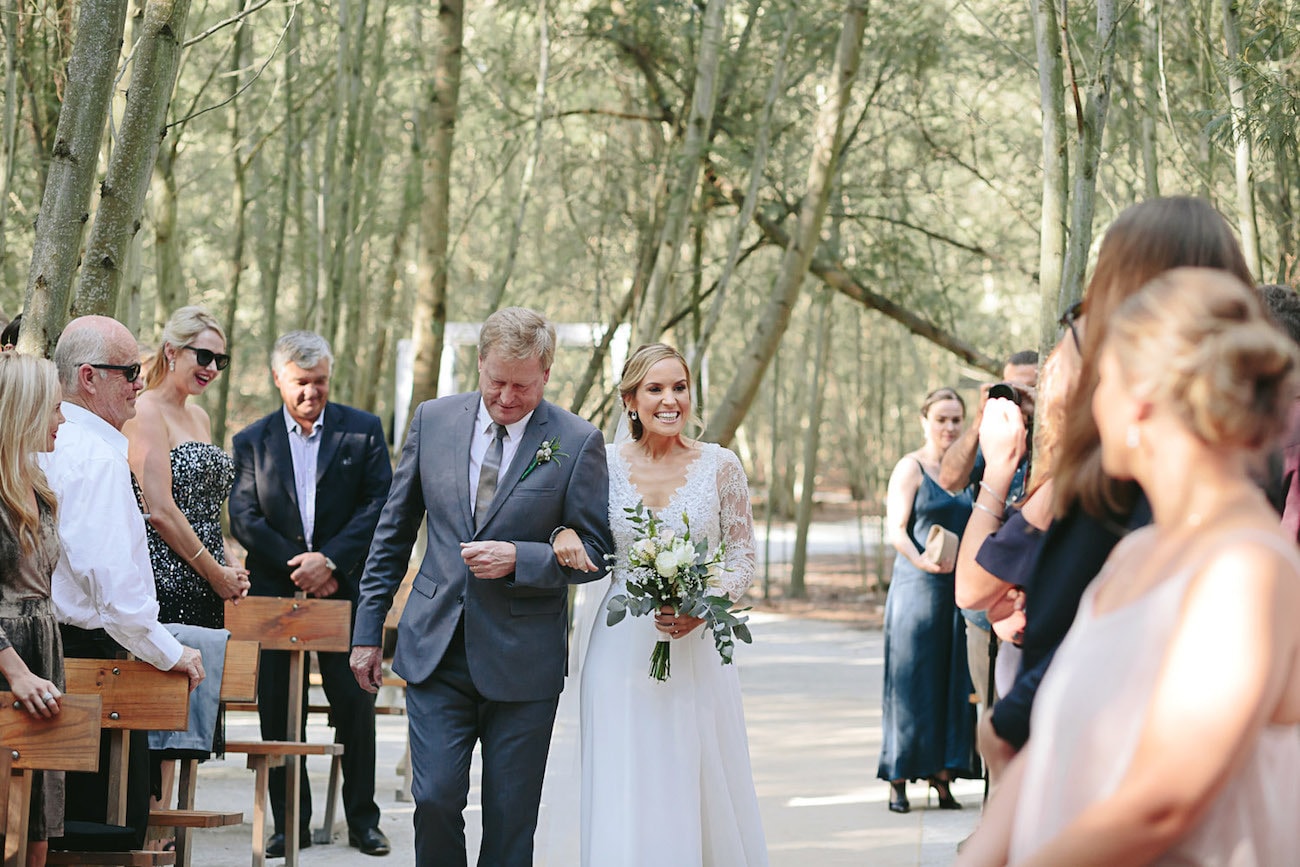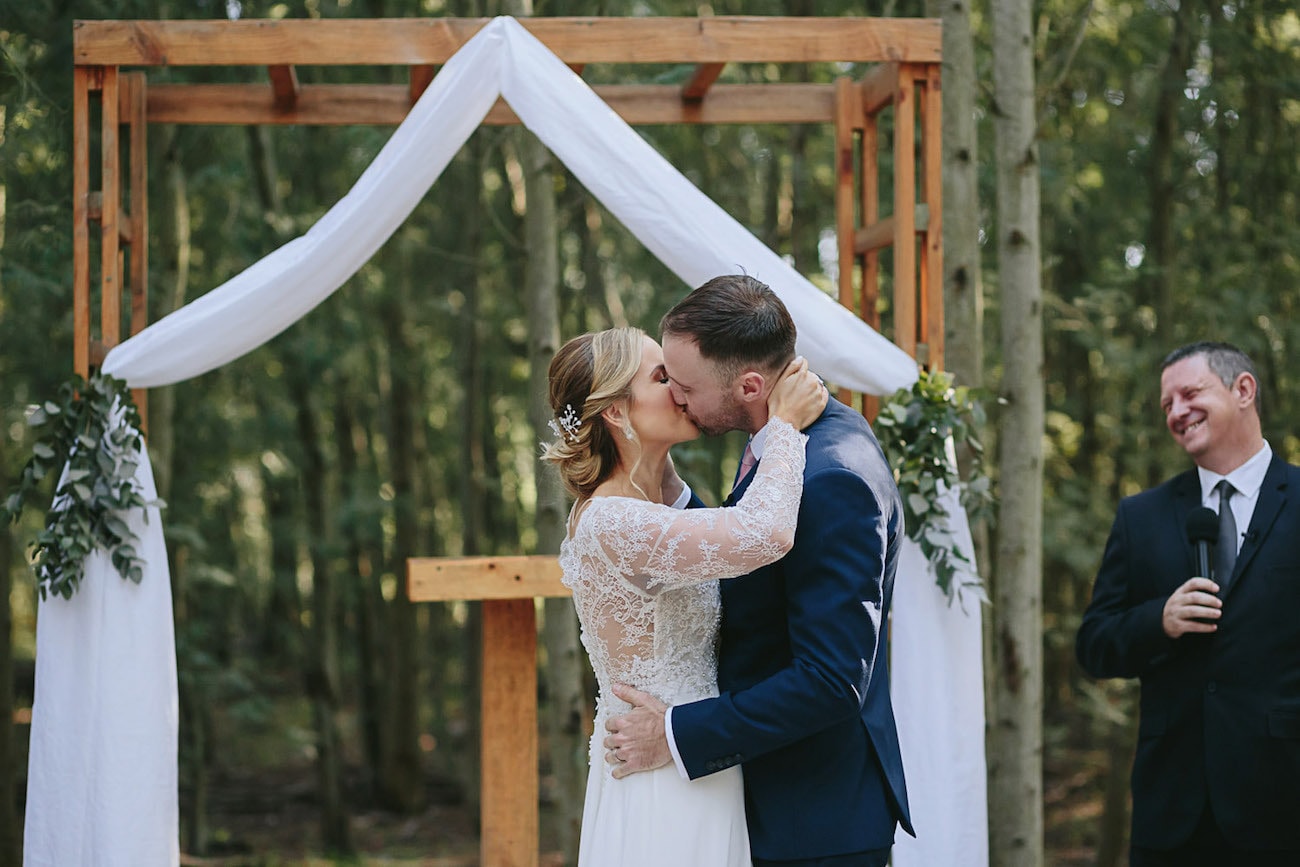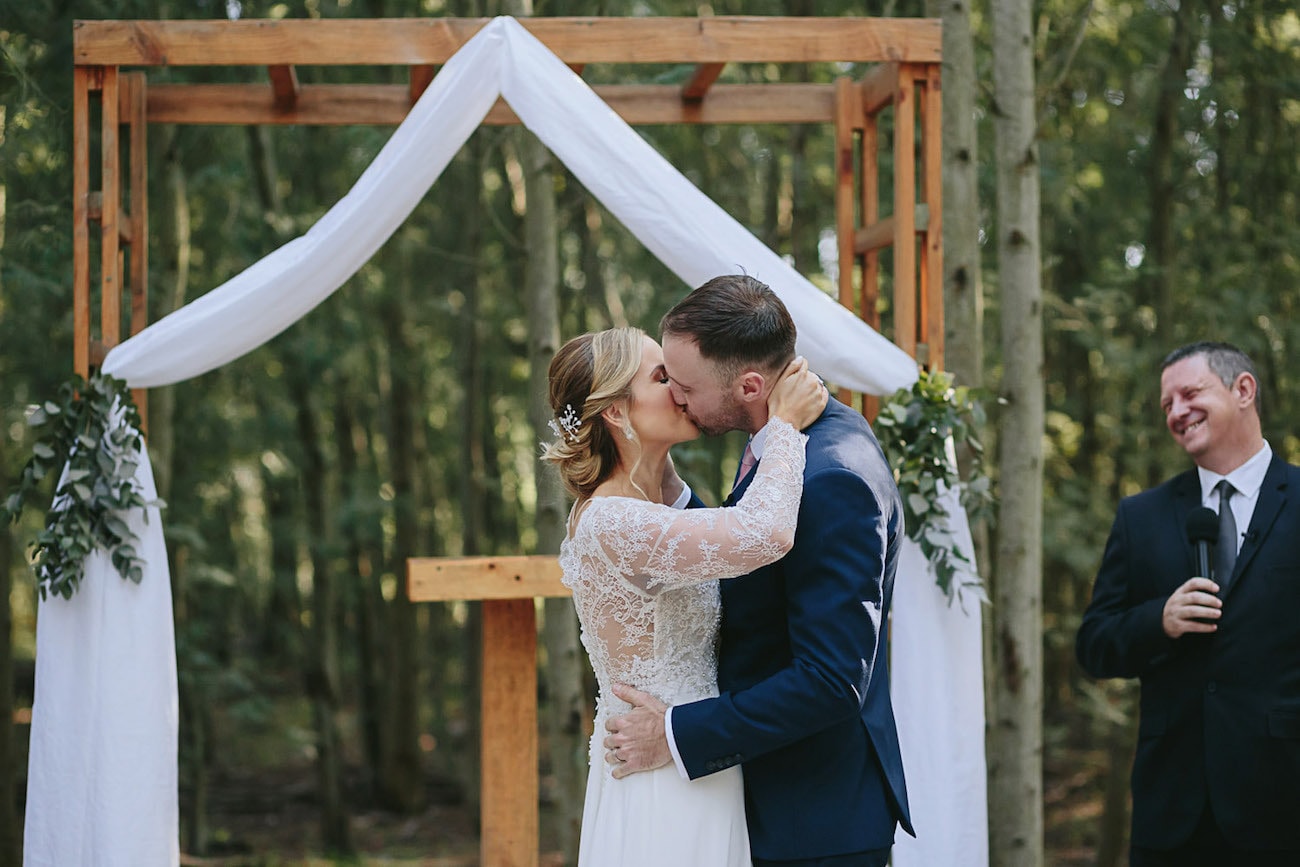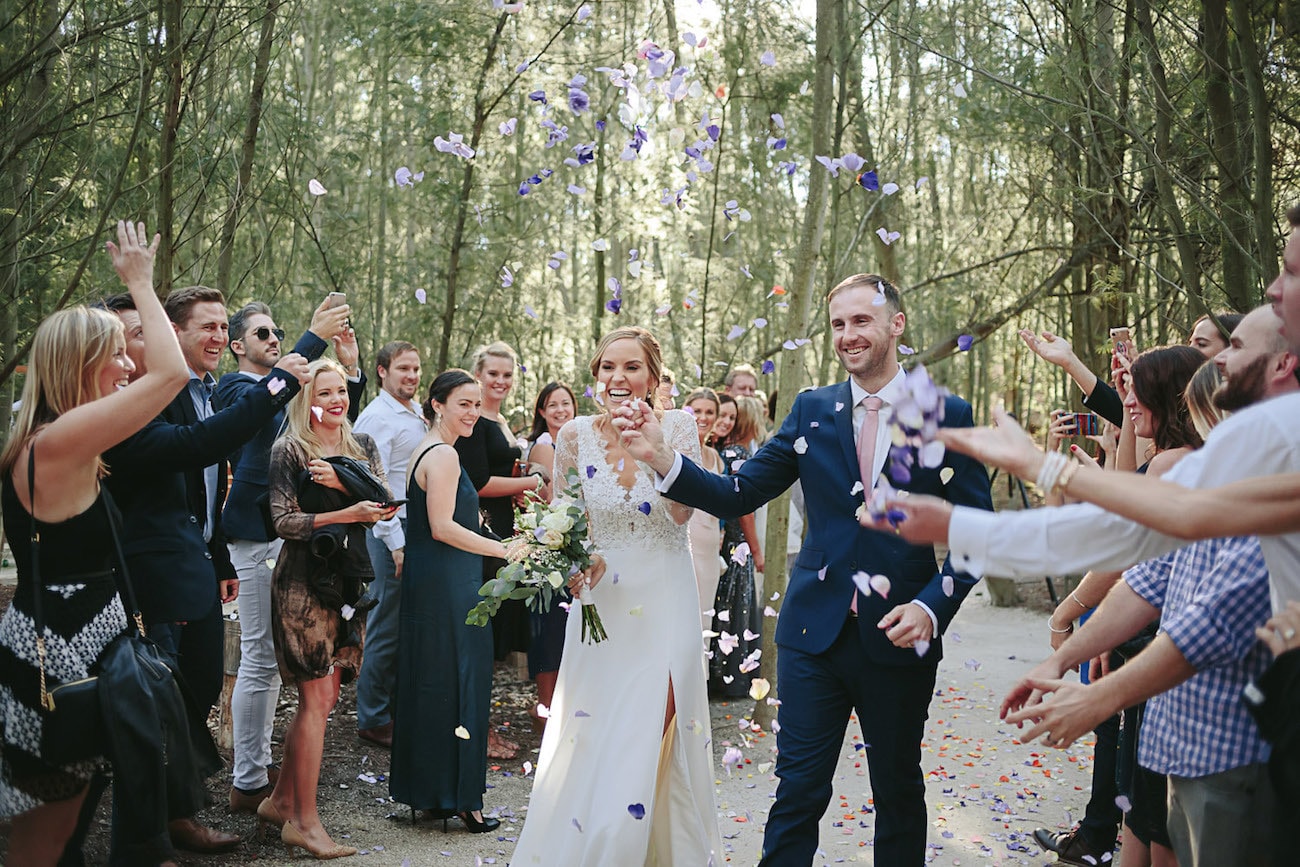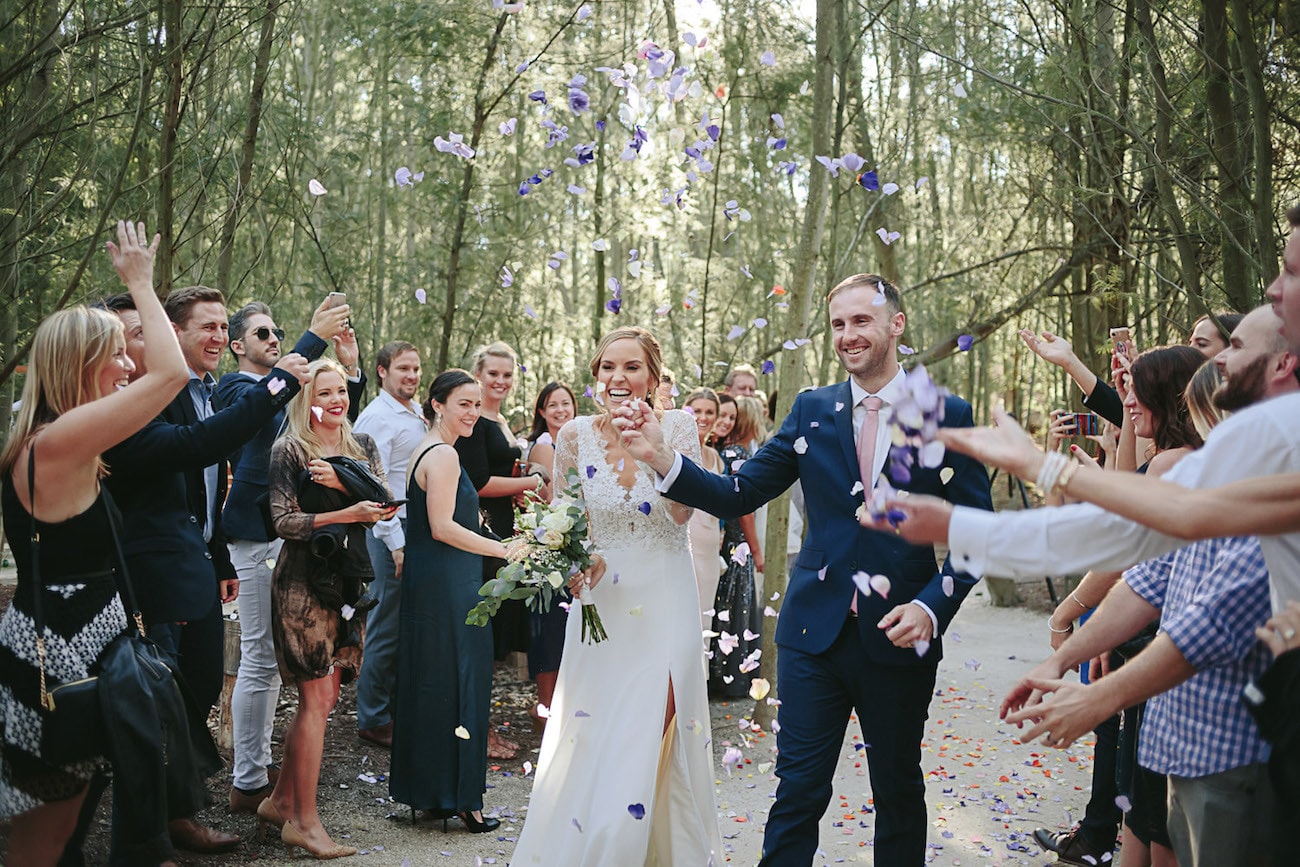 The Venue
We wanted a forest or garden style wedding with an outdoorsy feel. My colleague sent me a link to Die Woud and I fell in love with it. Ideally we had wanted a wedding in Cape Town, but nothing could beat Die Woud, which is in Caledon. When we went to see it we knew immediately it was where we would get married. The venue is spectacular.
Wedding Style
I wanted something rustic and simple that would let the venue show its natural beauty. I had always wanted proteas and indigenous flowers – luckily Paul's dad lives on a protea farm 20 minutes from Caledon so we were able to get all our flowers from his farm. I scanned Pinterest for colours and looks I liked, and decided on a palette of blush, grey and copper/rose gold. Other than that, I was fairly relaxed about the look of the wedding – I circulated a few pictures from Pinterest to my planner (who was also doing the flower arrangements) and let her run with it. I signed off on the big things decor-wise, but there was an element of surprise with the final product, which was really great.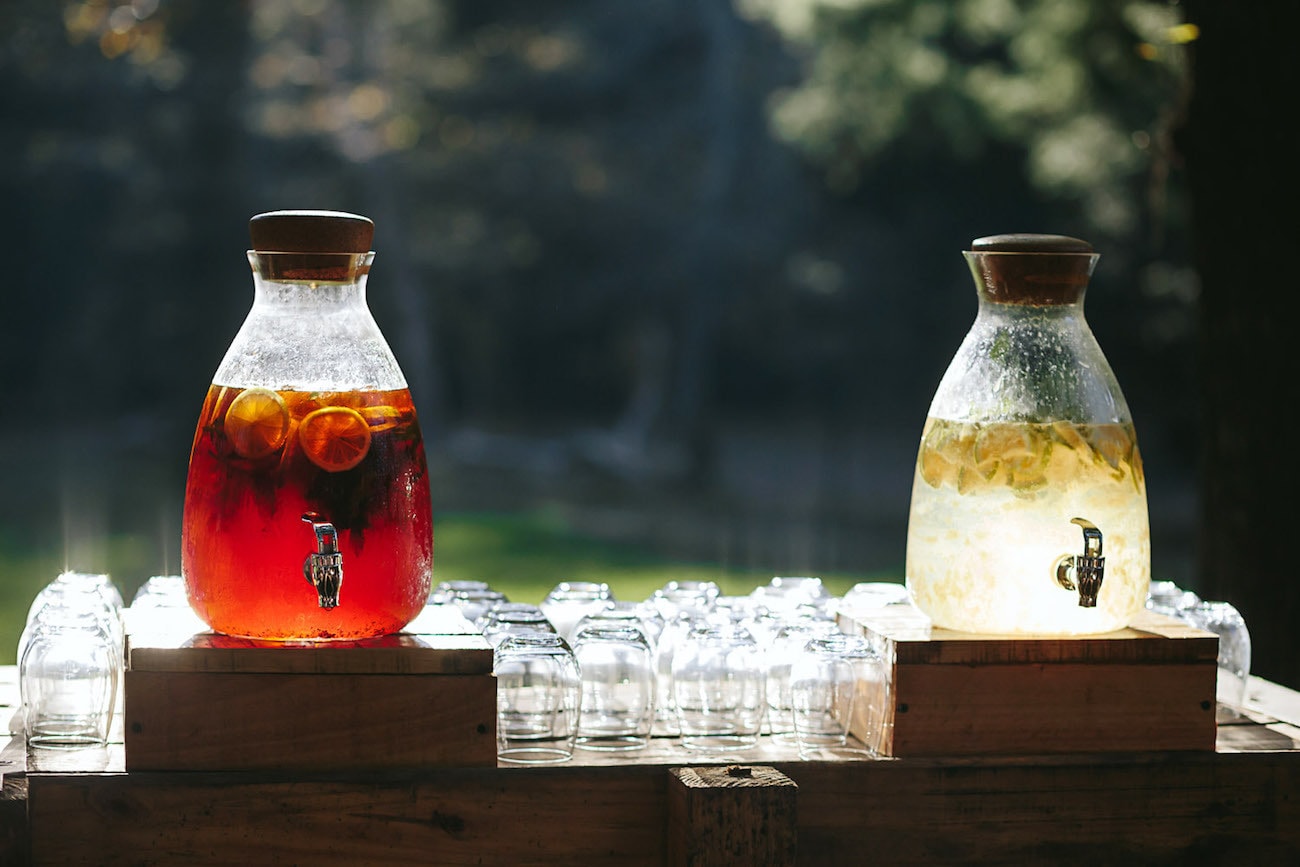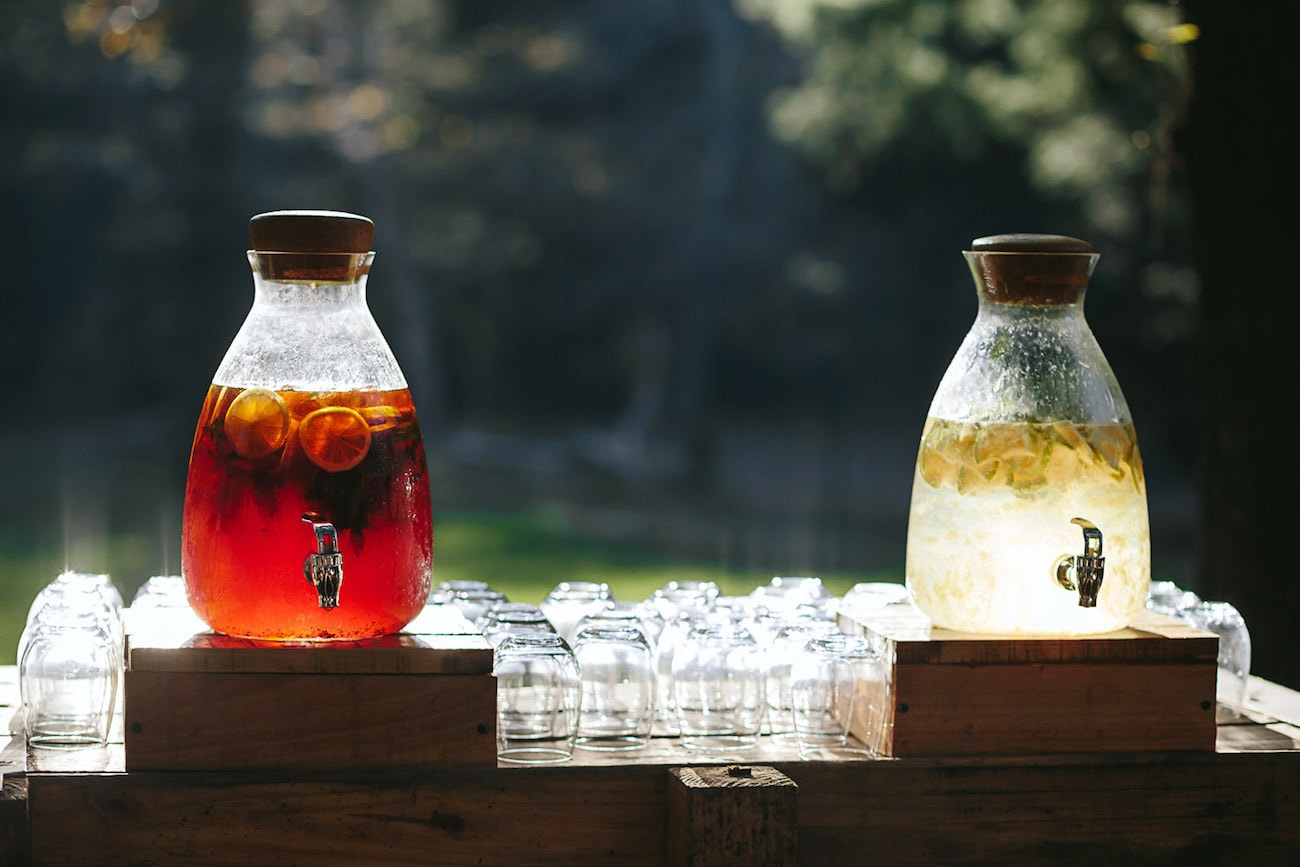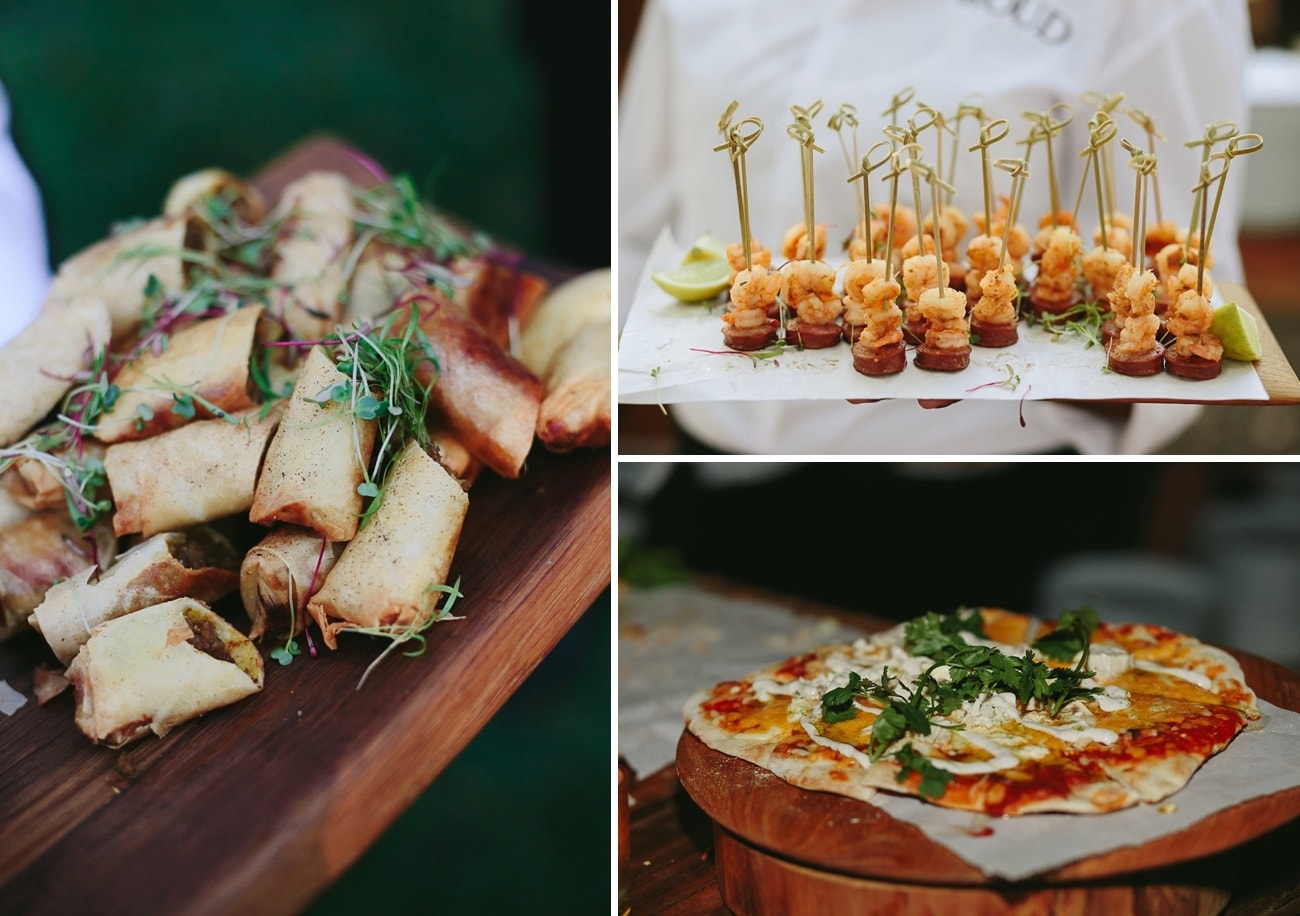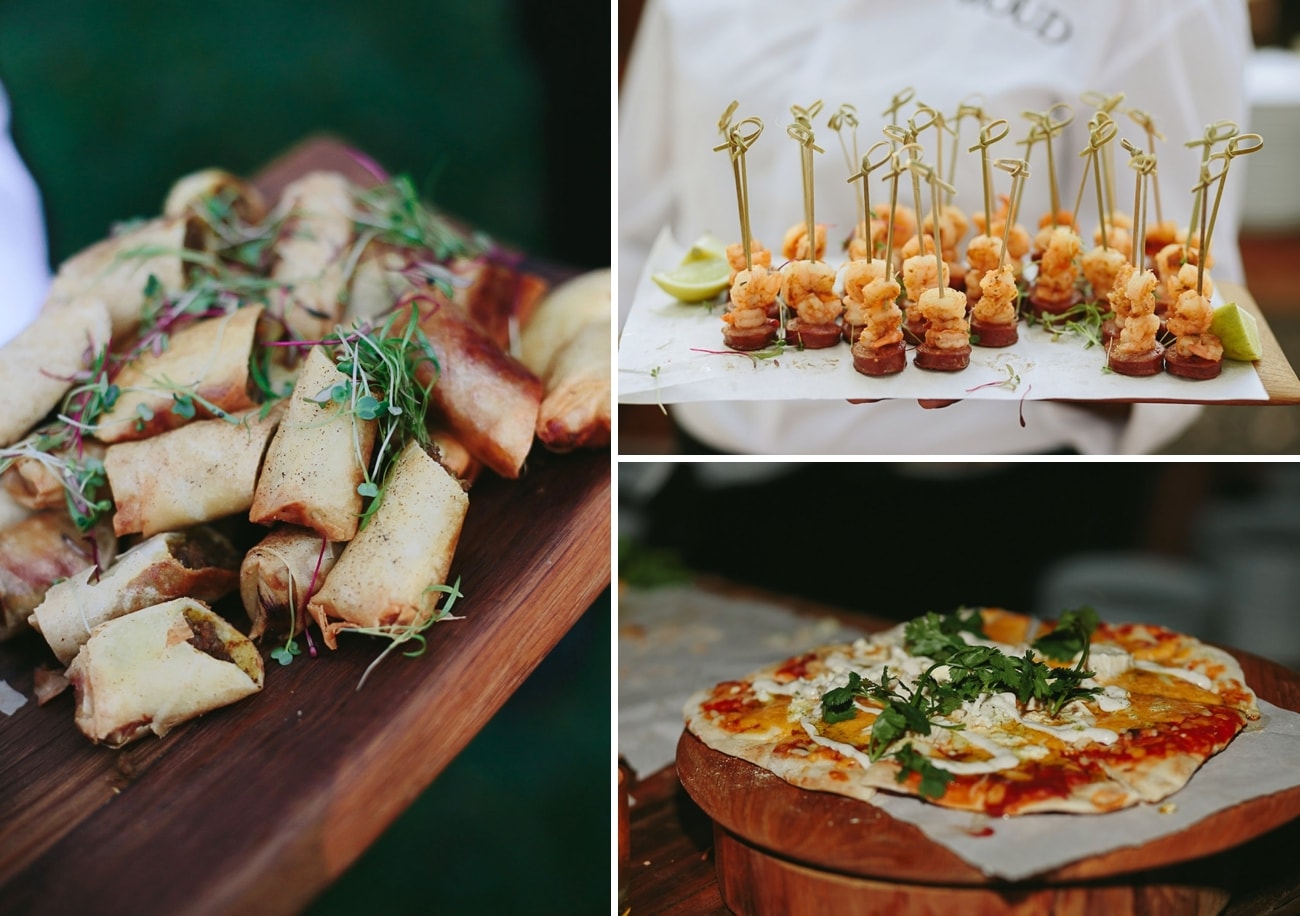 The Music
Paul and I are really social people and we just wanted everyone to have fun at our wedding. Music was very important to us and we love dancing – so the dance floor had to be good. My dad arranged an amazing four-piece band for part of the evening. We used Silkmusic as the DJs. We opened the dance floor early (around 7pm) with our first dance and the band played a half hour set before dinner. Usually at weddings the dancing only starts after dinner, but we wanted to get the party started asap! We had the best music and a lot of classic hip hop (at my request!) – the dancefloor pumped the whole night. Paul and I are happy and positive people and we chose upbeat songs for all of the wedding moments – I walked down the aisle to 'All You Need is Love' by The Beatles, and our first dance was to Marvin Gaye's 'How Sweet it is to be Loved by You'. My dad is also a musician – he is very talented, writes music, plays the piano and sings back-up vocals in various bands. None of my family have ever heard him sing solo. As part of his speech he sang to me – Joe Cocker's 'You Are So Beautiful'. There was not a dry eye in the house!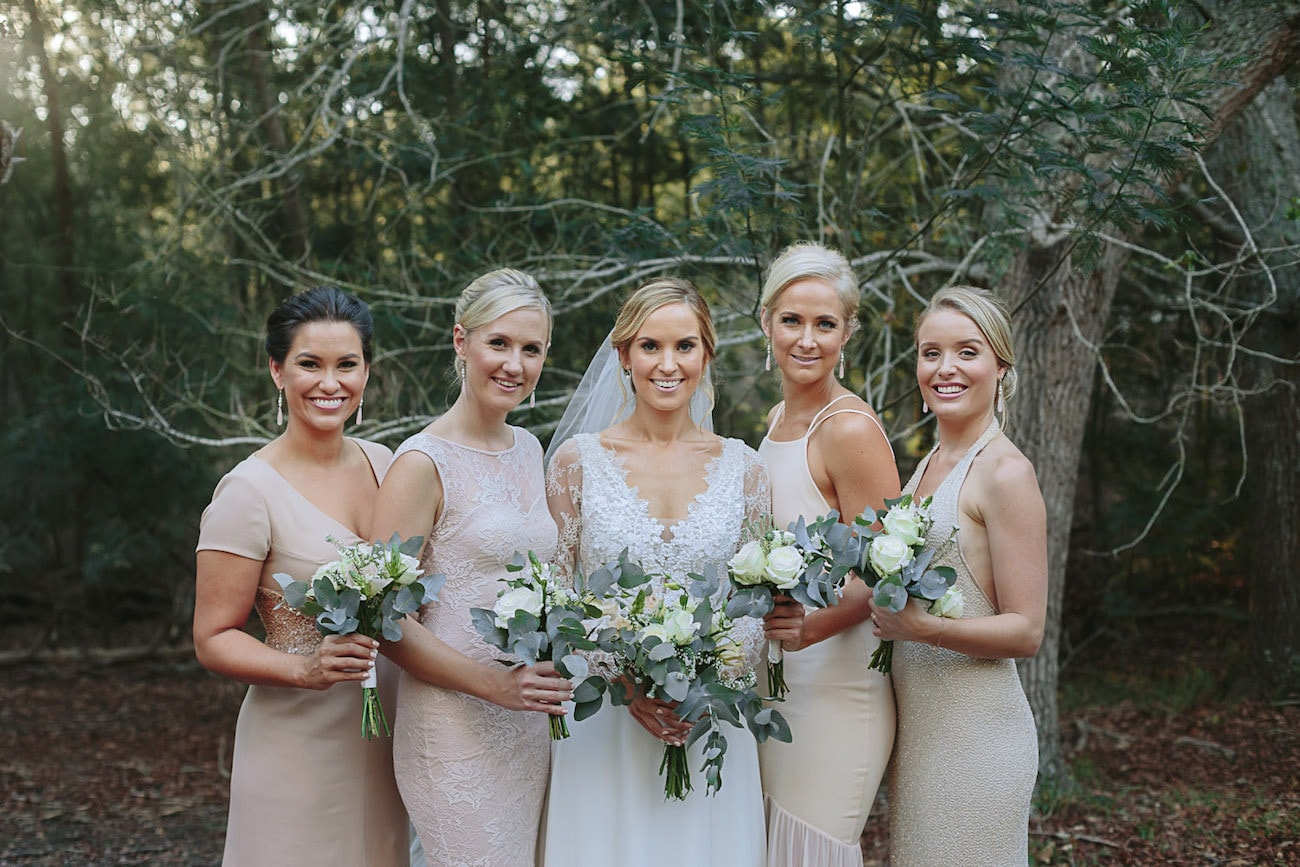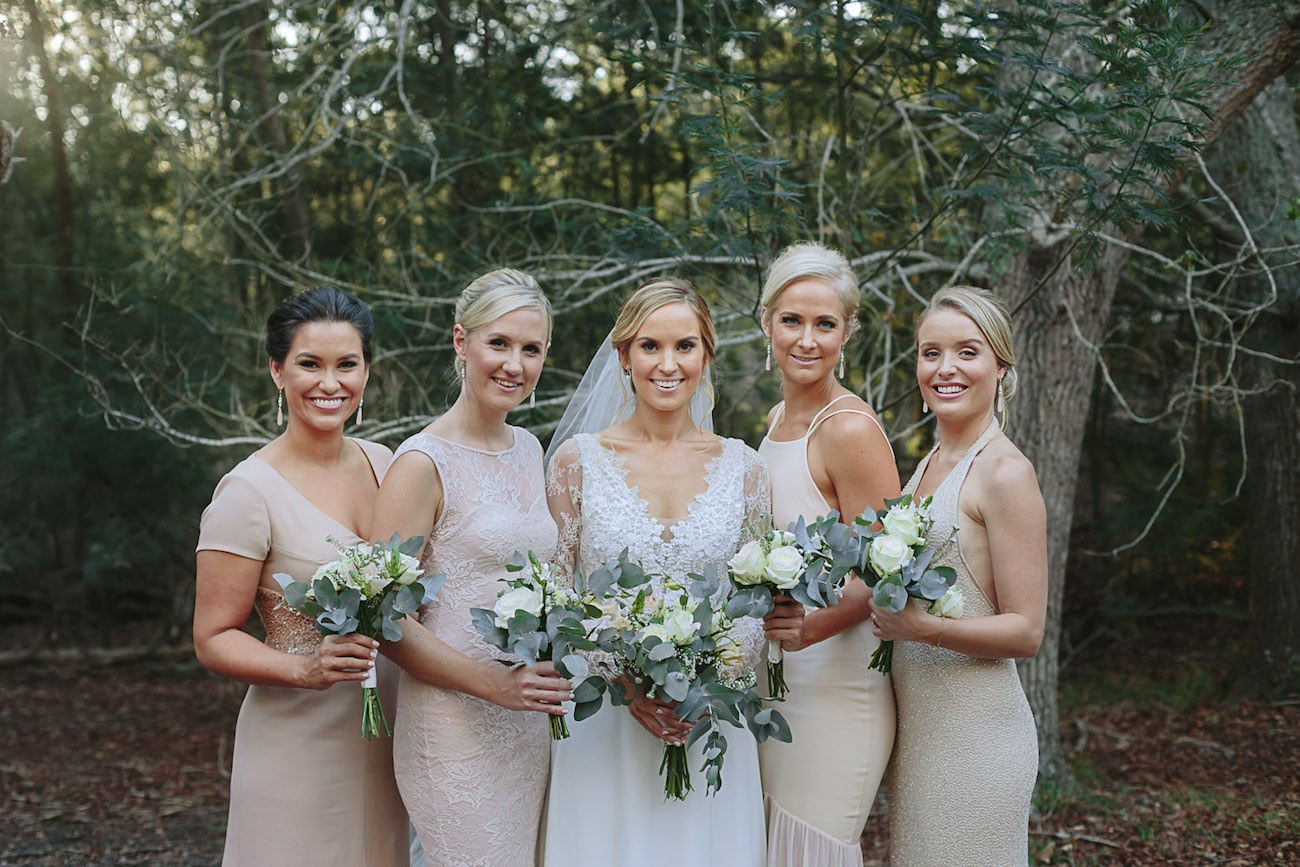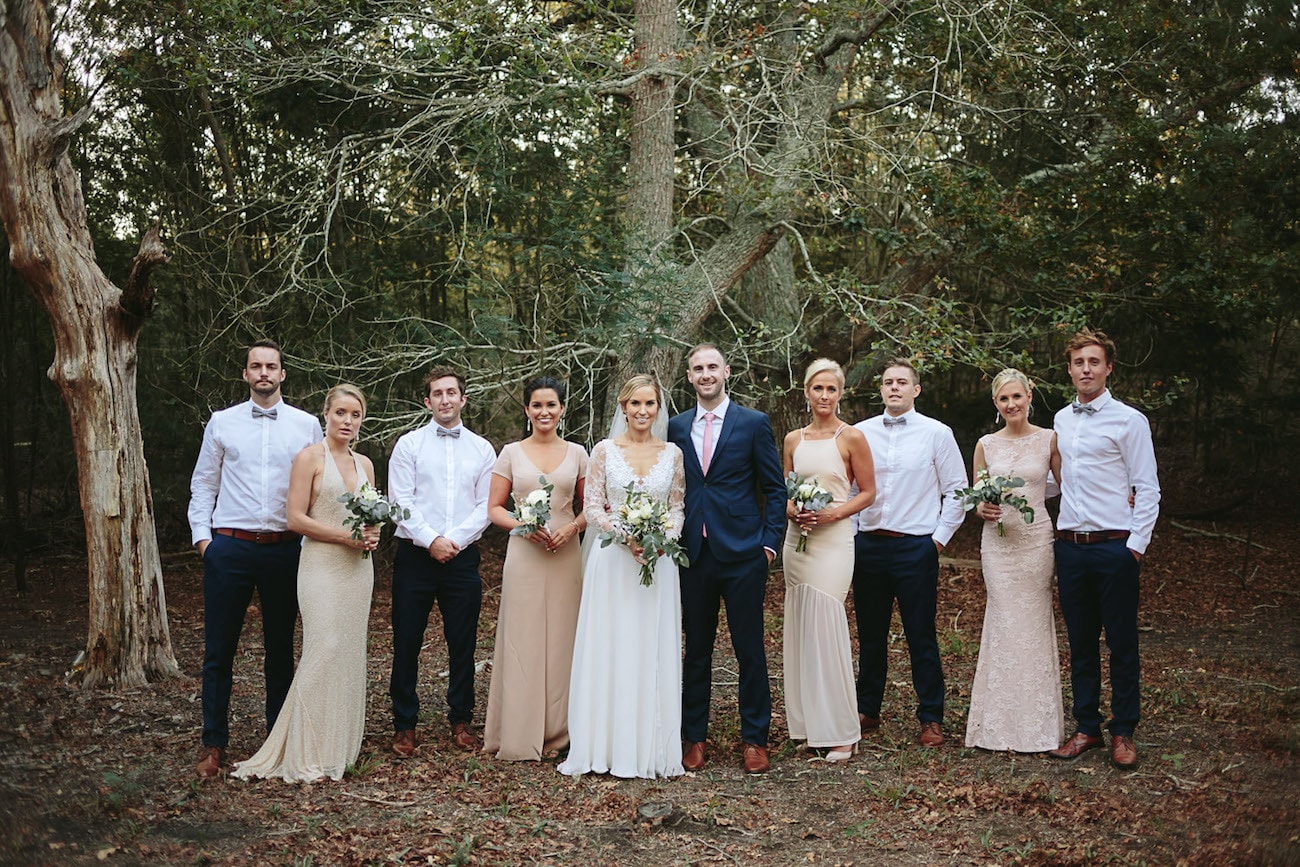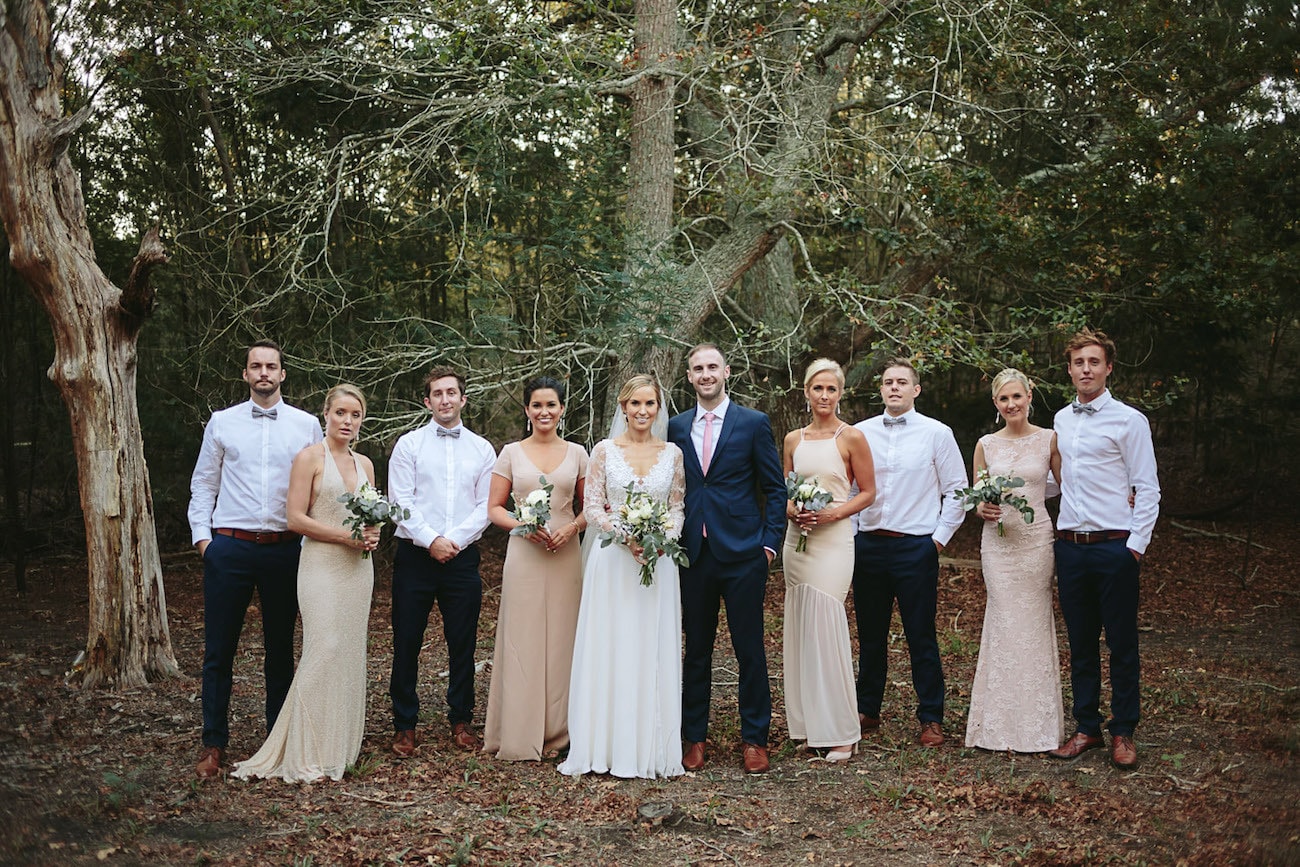 DIY Elements
There was no DIY, but we had some personal touches from those close to us. My cousin (and bridesmaid) designed all our wedding stationery and Paul's dad's partner arranged beautiful Wonki Ware vases for our tables. My mom arranged the most delicious handmade chocolates for the dessert table (she was the most incredible support – no one was more excited about our wedding than she was! She went above and beyond with helping us, arranging special touches to our day.)
The Flowers
My flowers were all from Paul's dad's farm in Tesslarsdal (20 minutes from Caledon). We had Sylvia proteas, a lot of penny gum and other fynbos.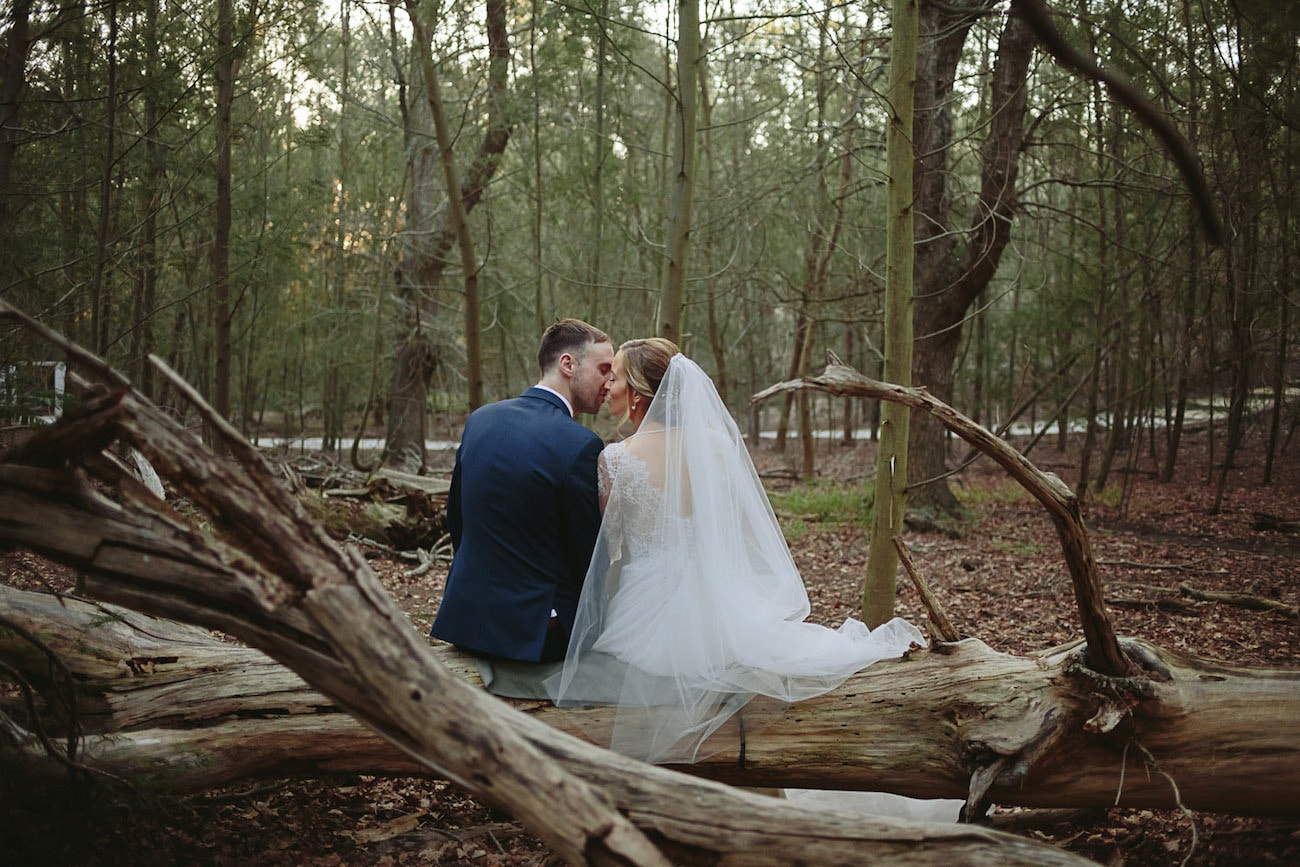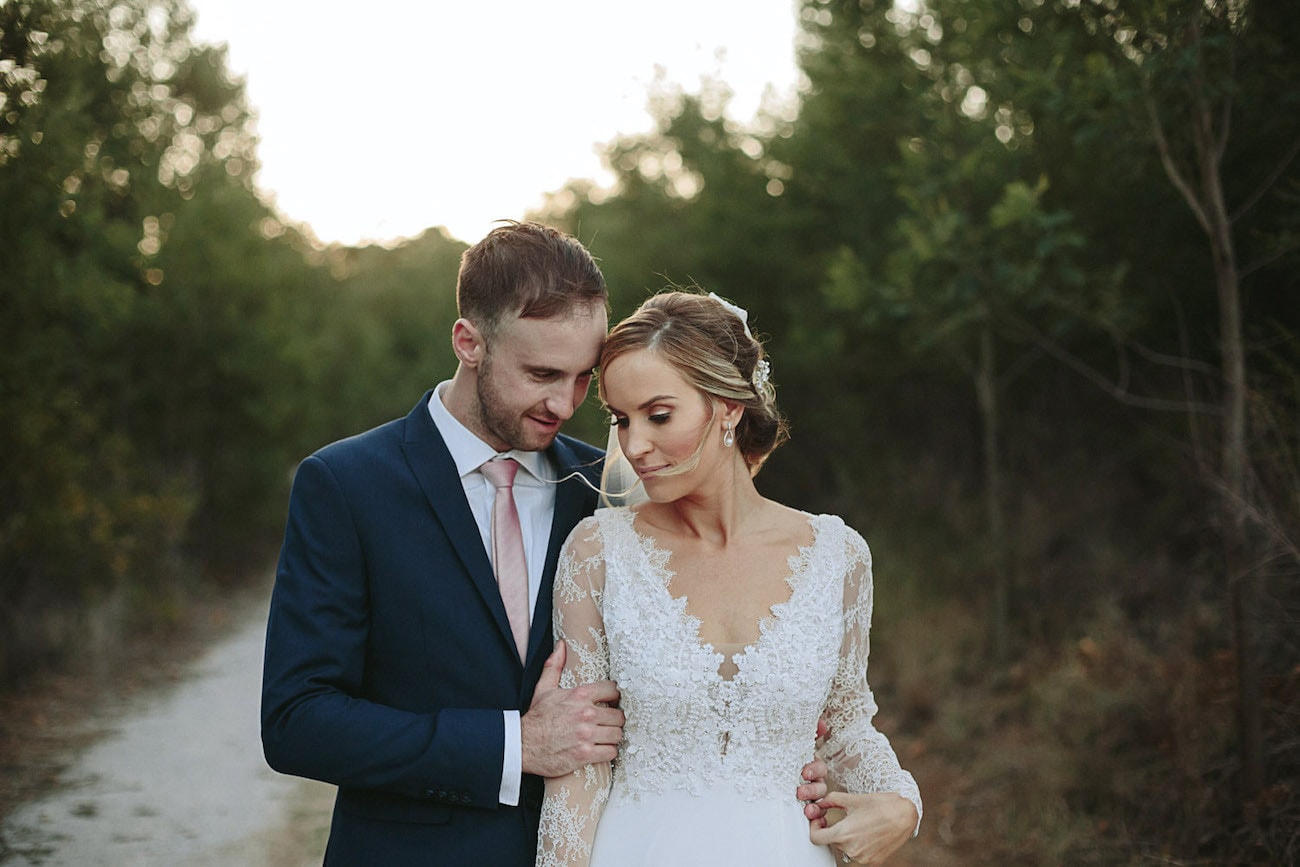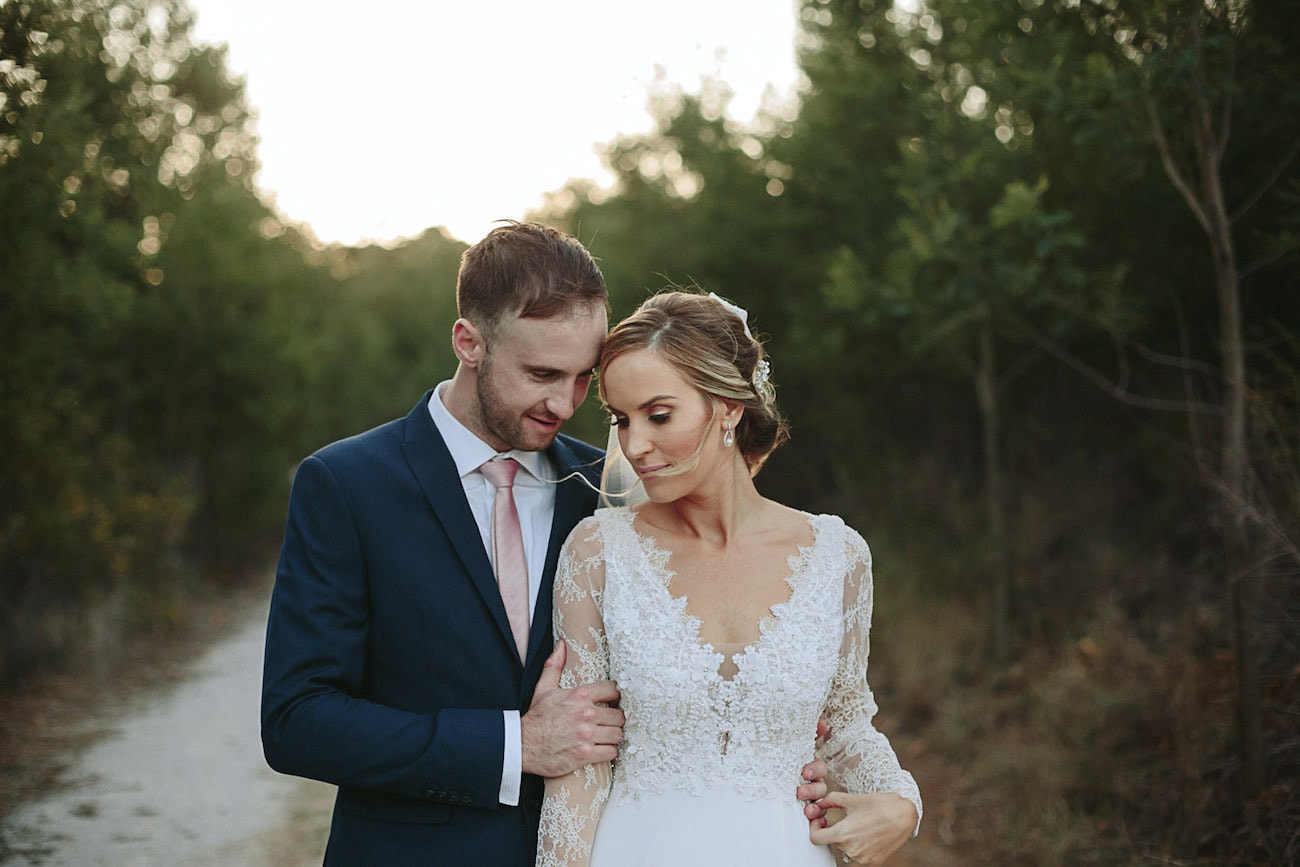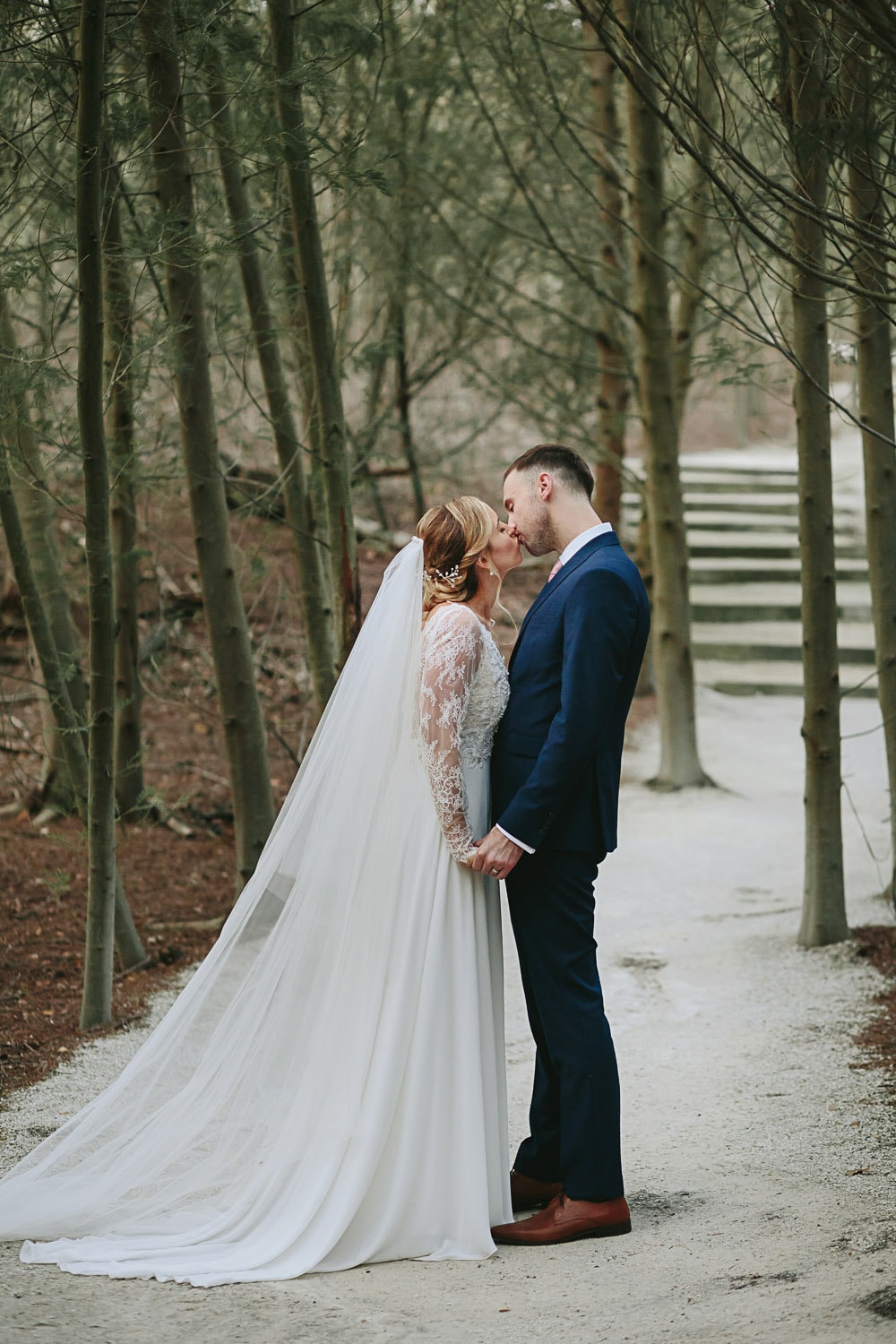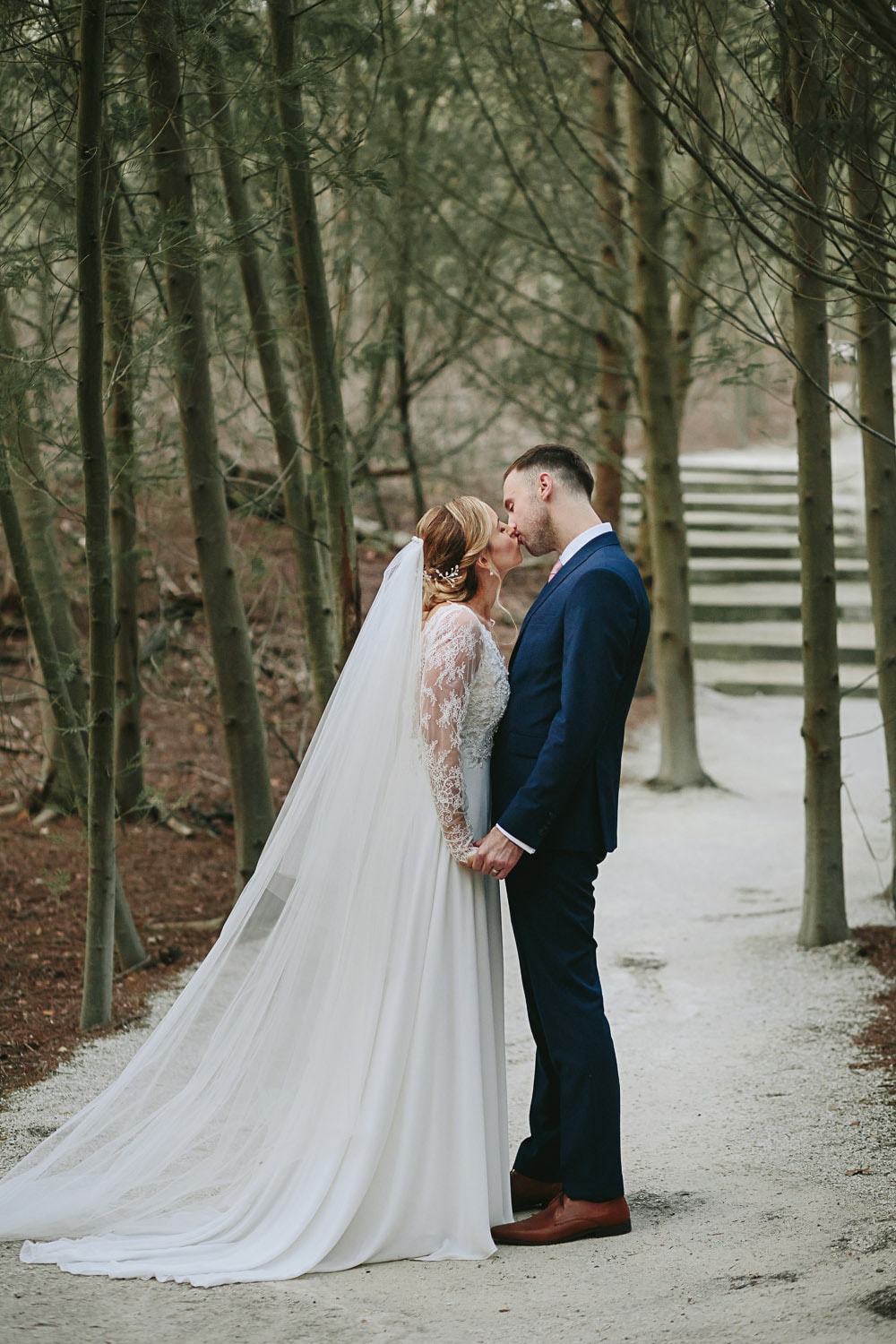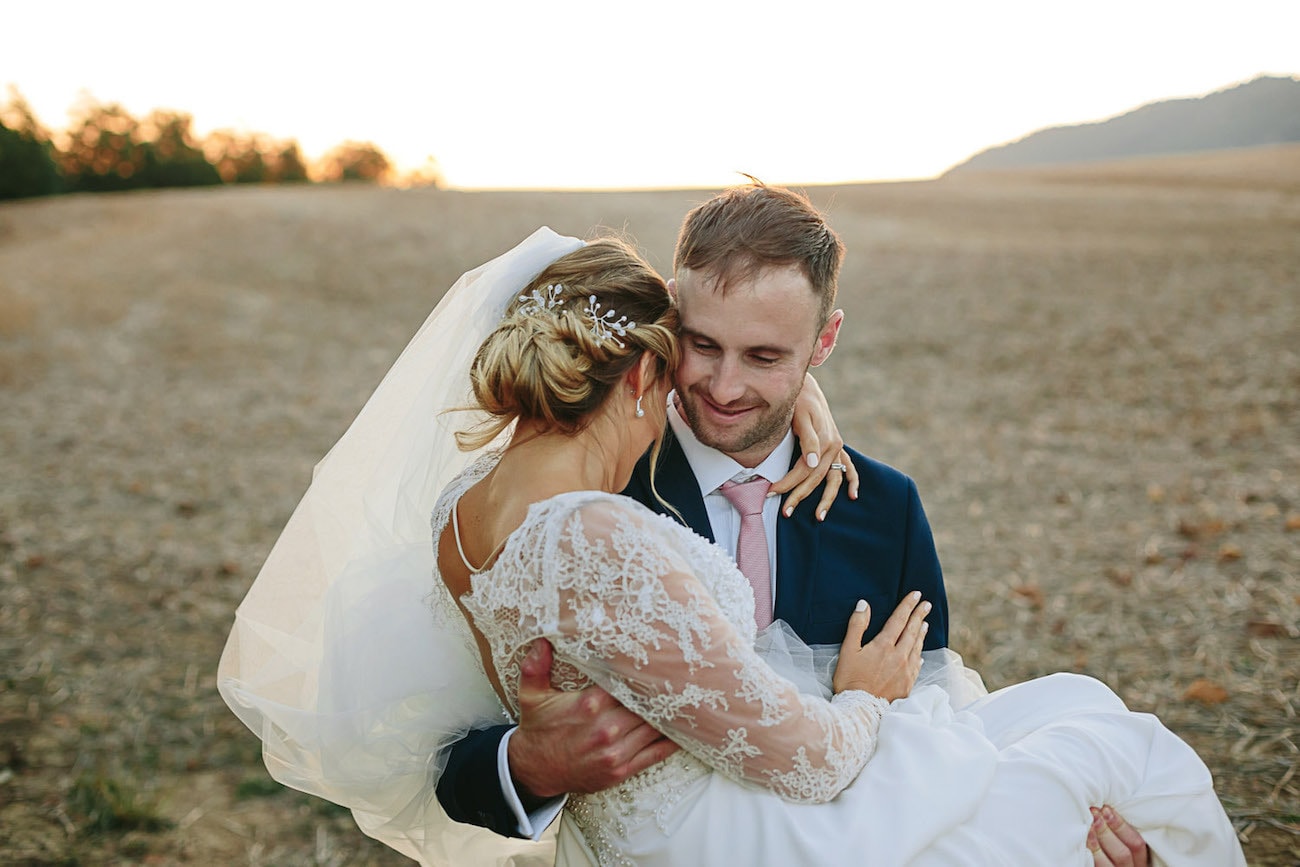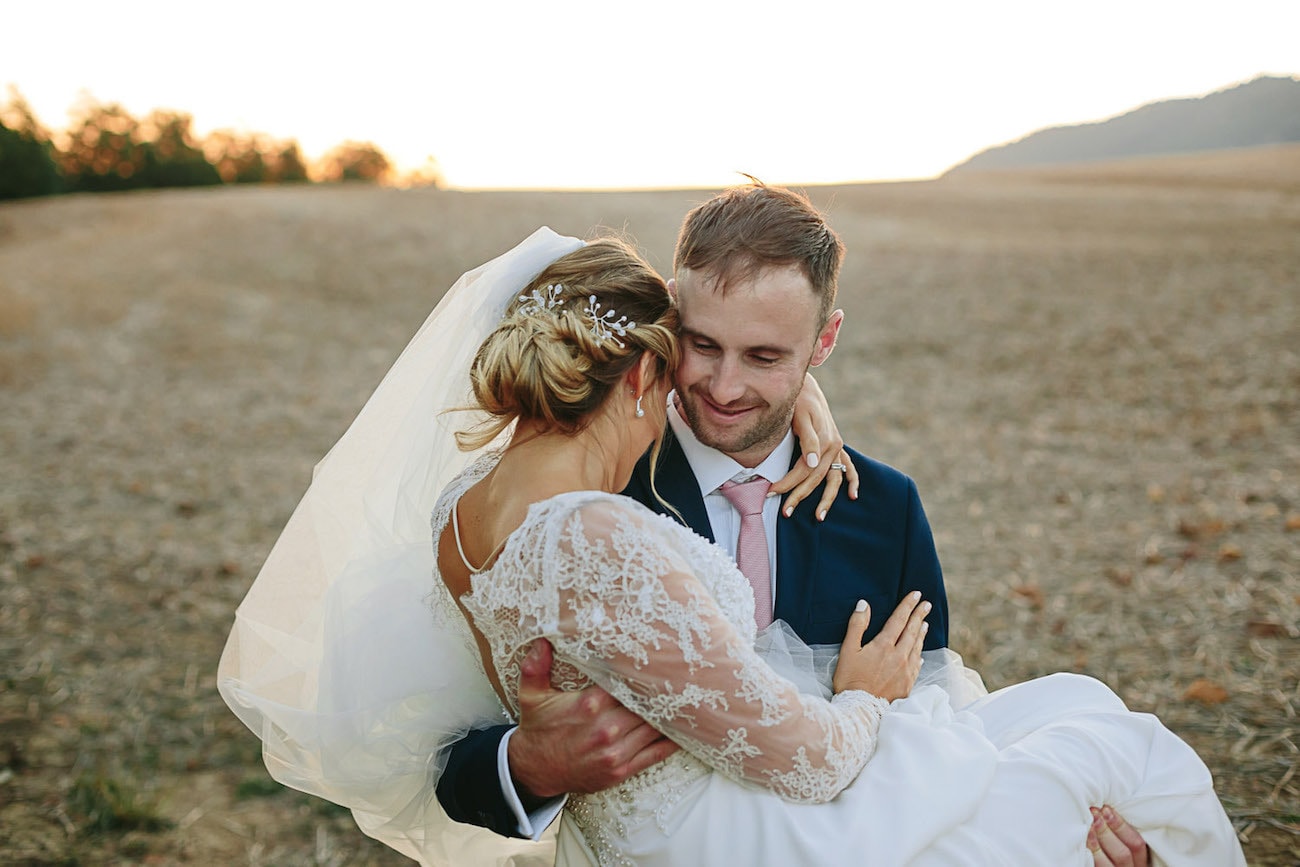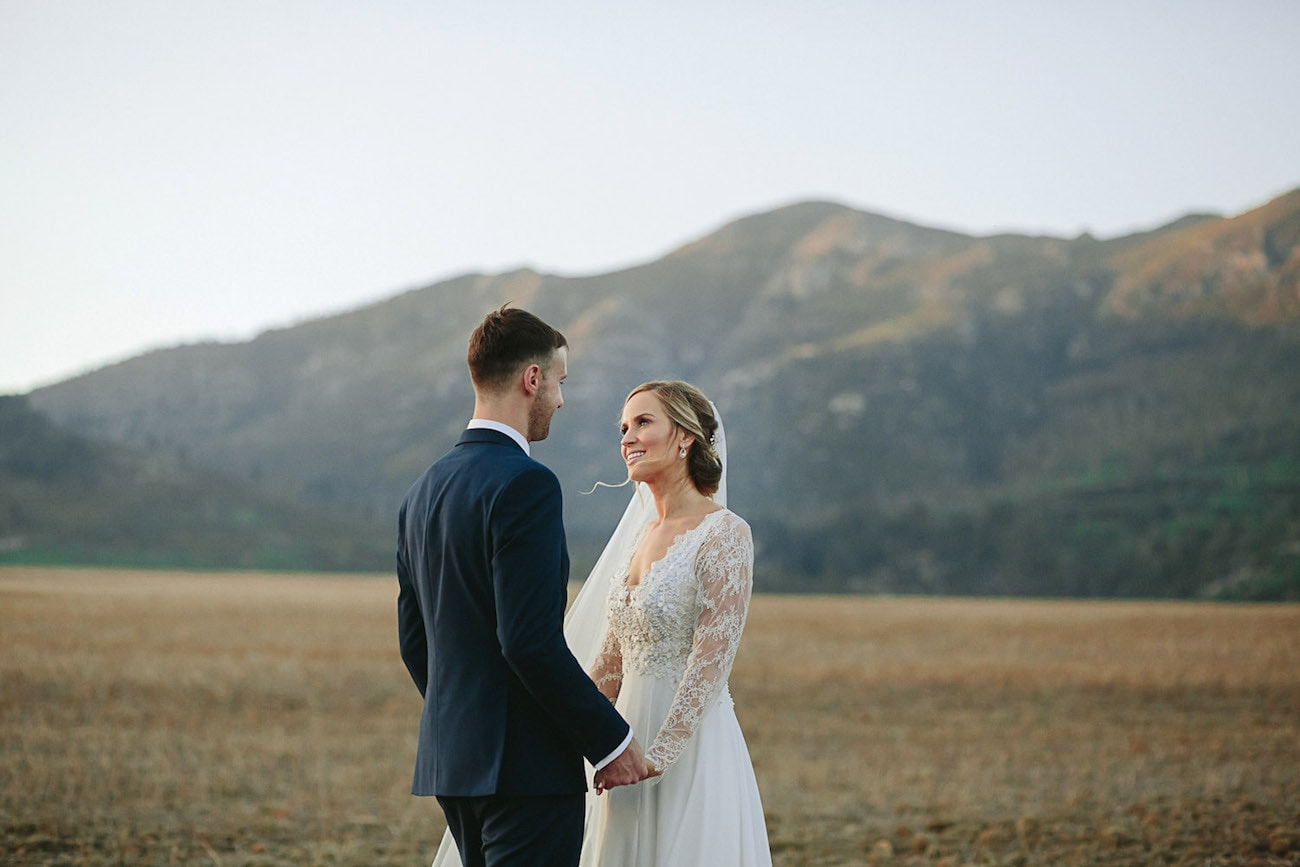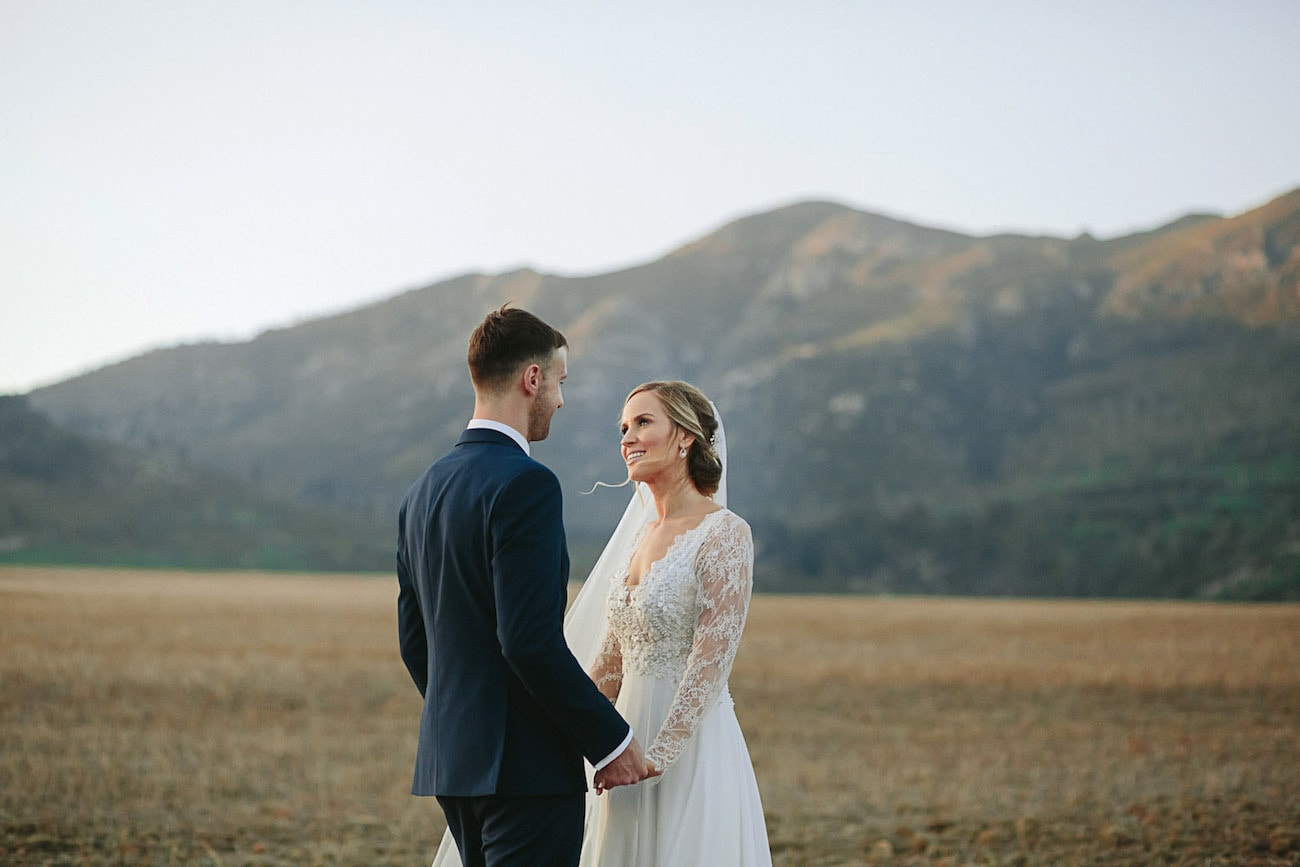 The Dress
My dress was made by Cindy Bam in Loop Street, who was referred to me by a friend. Cindy had a selection of dresses to try on from shoots, and the style I choose was the second dress I tried on – I knew immediately it was the one. Cindy then made the dress from scratch to my measurements and with a few specific details – we included dress pearls from my mother's original wedding dress. It really meant something to me to get married in a gown with a part of my mother's dress. I was so comfortable in my dress and it made me feel beautiful, like a princess. I couldn't have imagined a more perfect dress for me.
The Bridesmaids
I had four bridesmaids, who were the most incredible support to me and spoiled me so much leading up to the big day. My bridesmaids are all very beautiful but with different body types, and I did not want to be prescriptive as to their dresses. I gave them the colour palette (nude/blush/champagne) and said they could choose any dress they wanted – they needed to feel comfortable and fabulous. We decided they should all wear floor length dresses and I just asked that they show me the dress they wanted to wear first before deciding (this wasn't even necessary as they all have great style). I had earrings made for them (which were identical), to give a sense of continuity.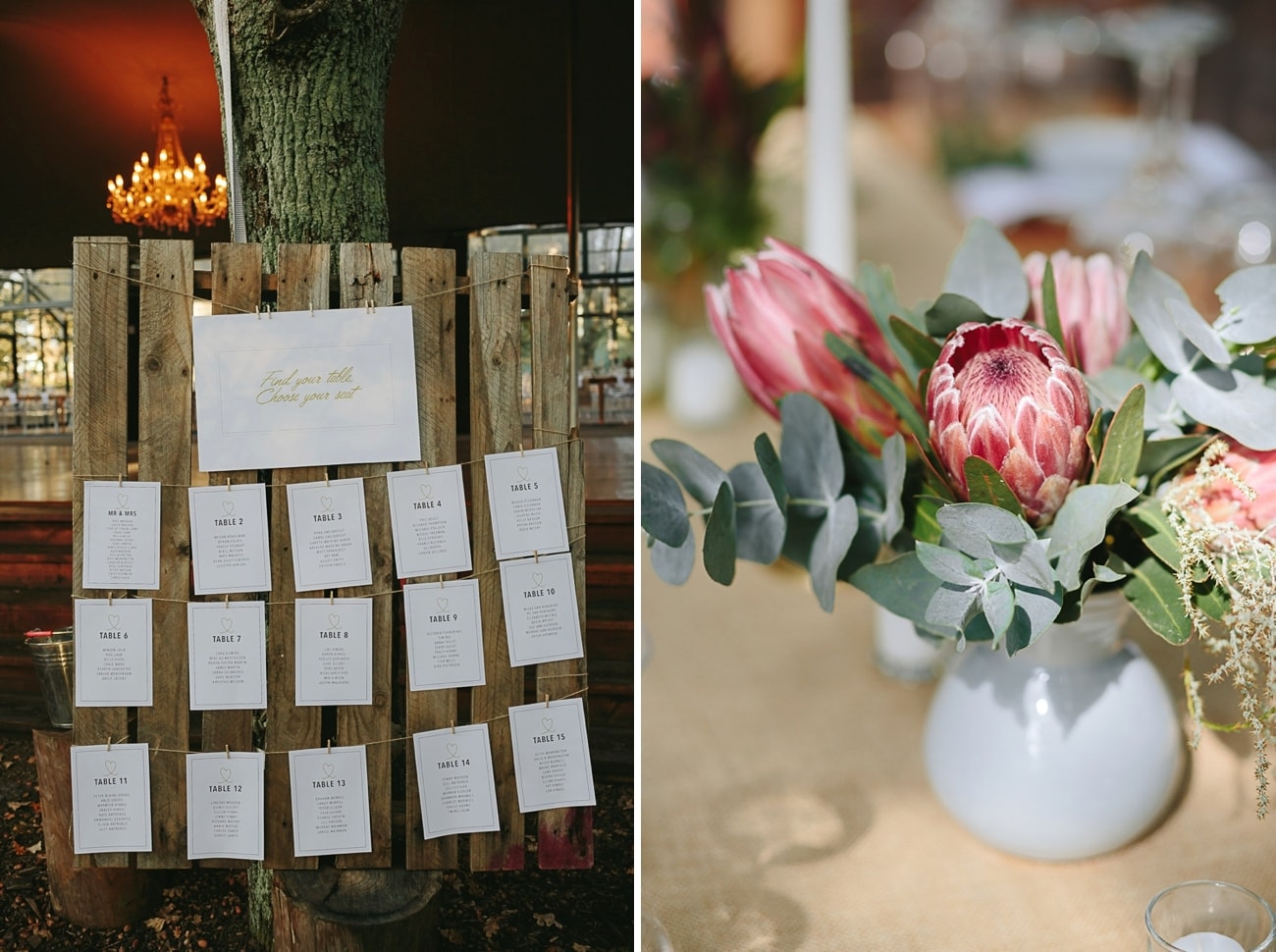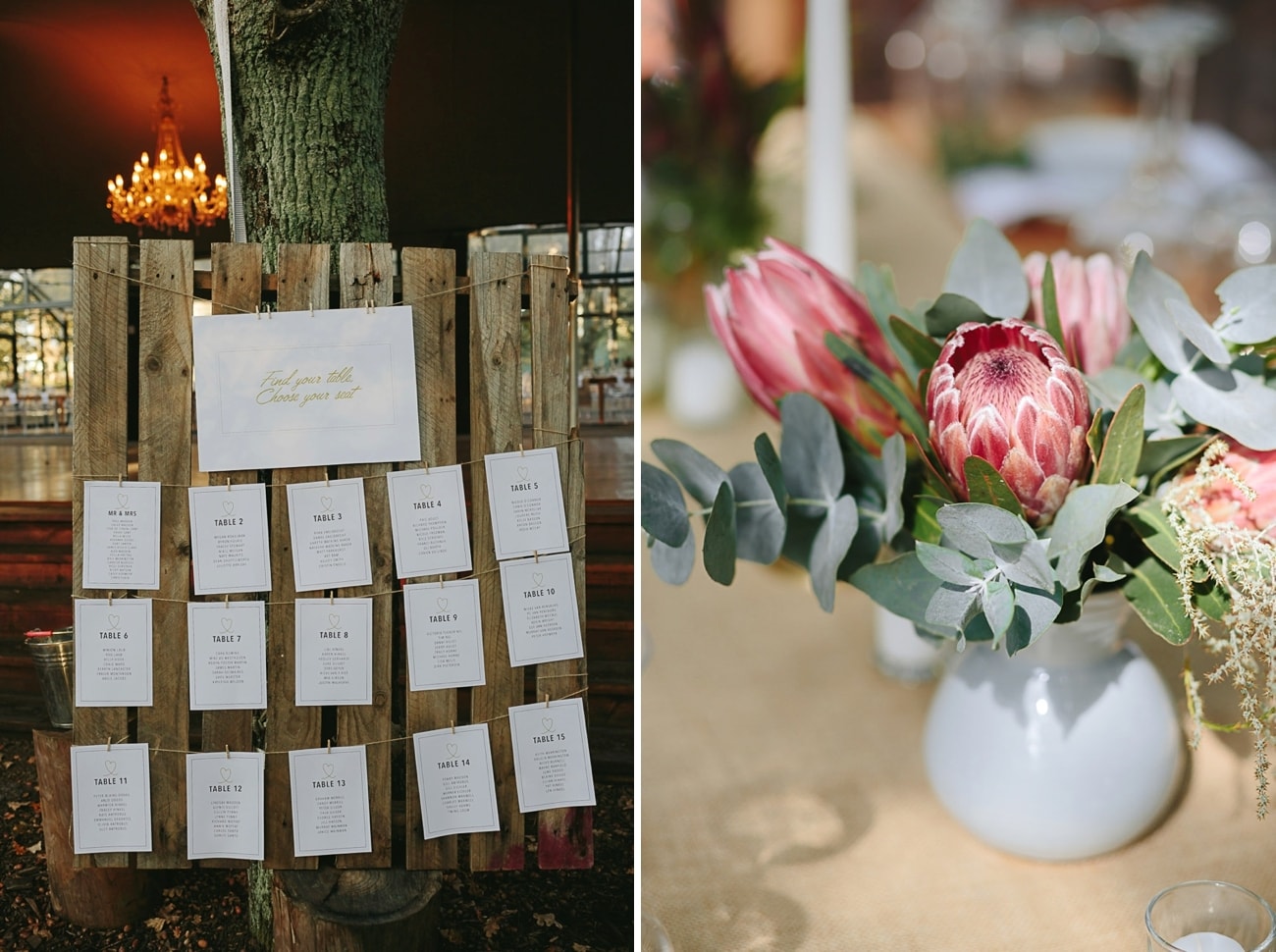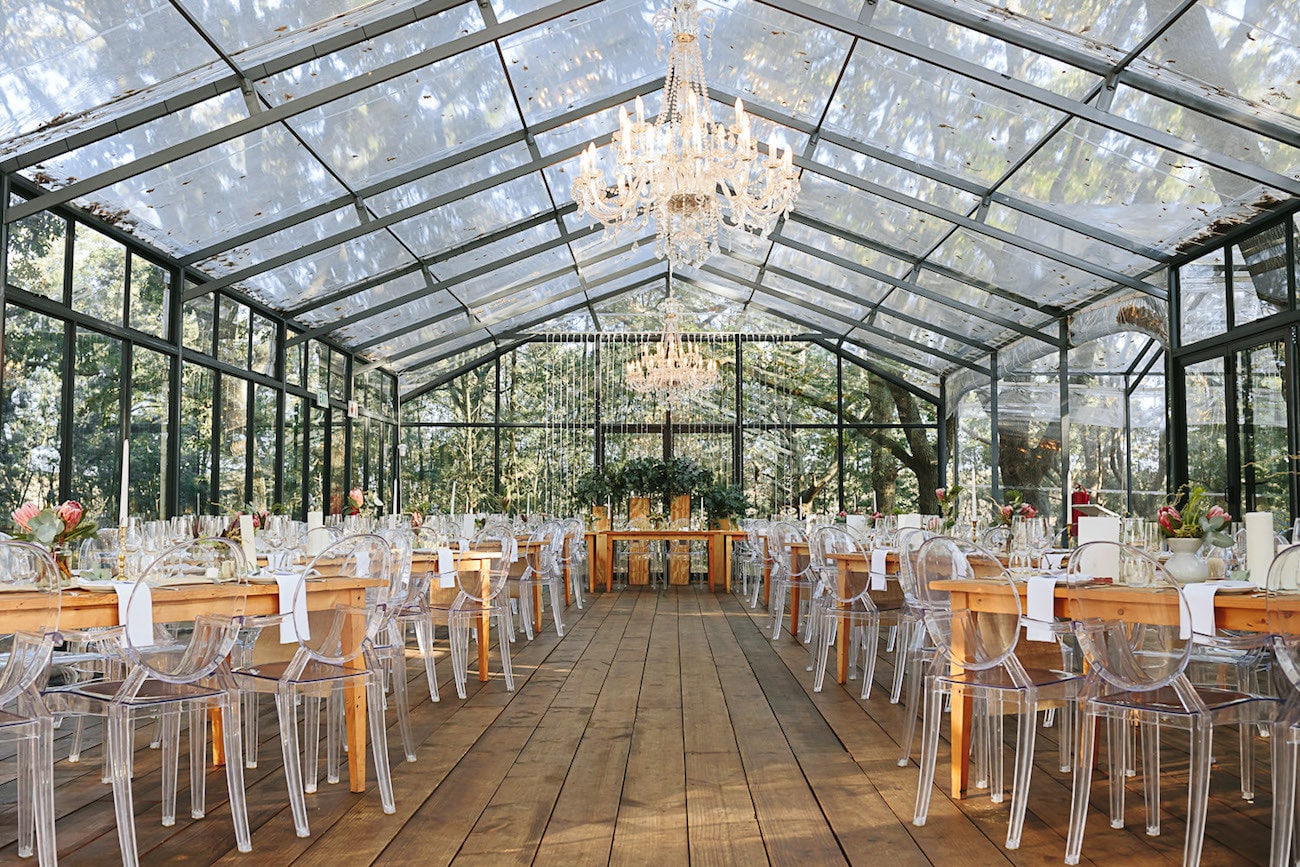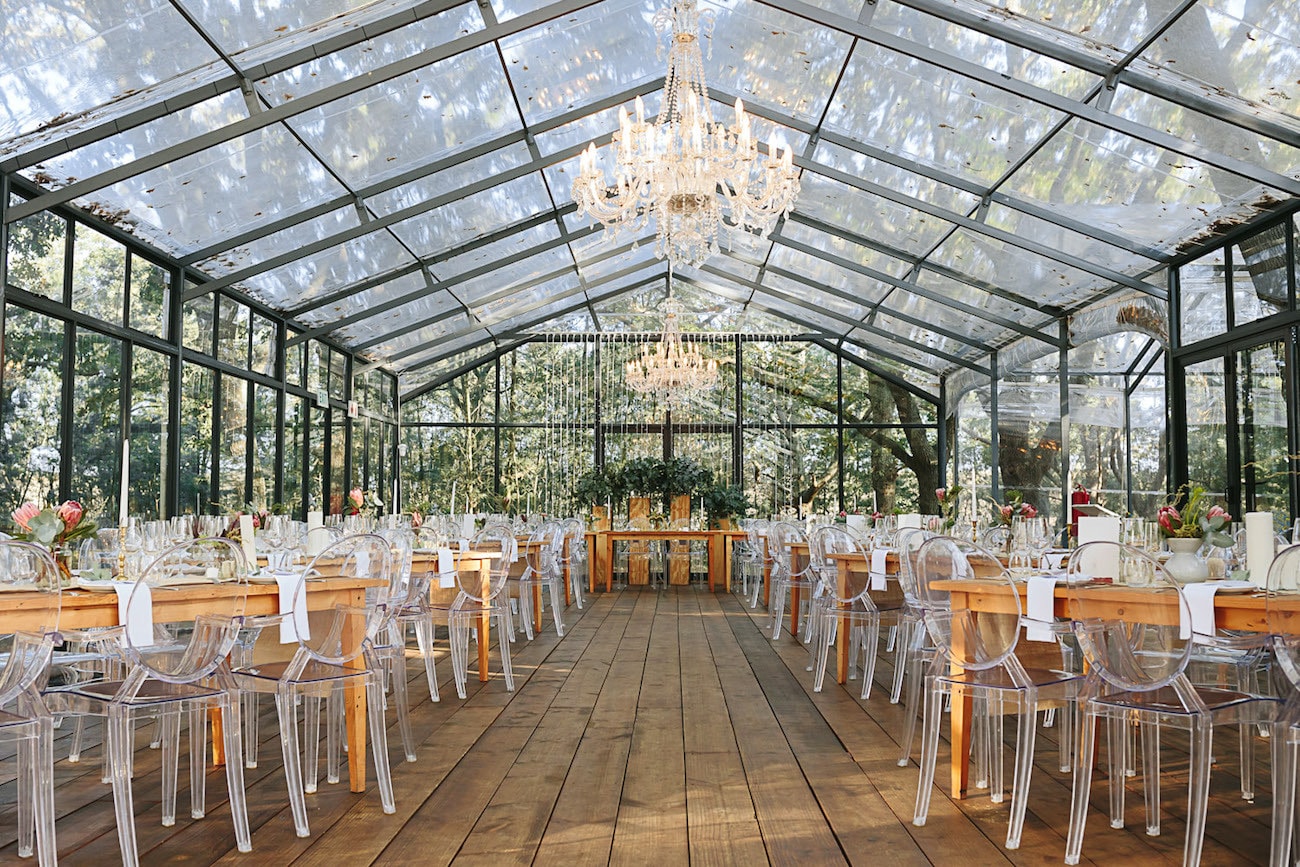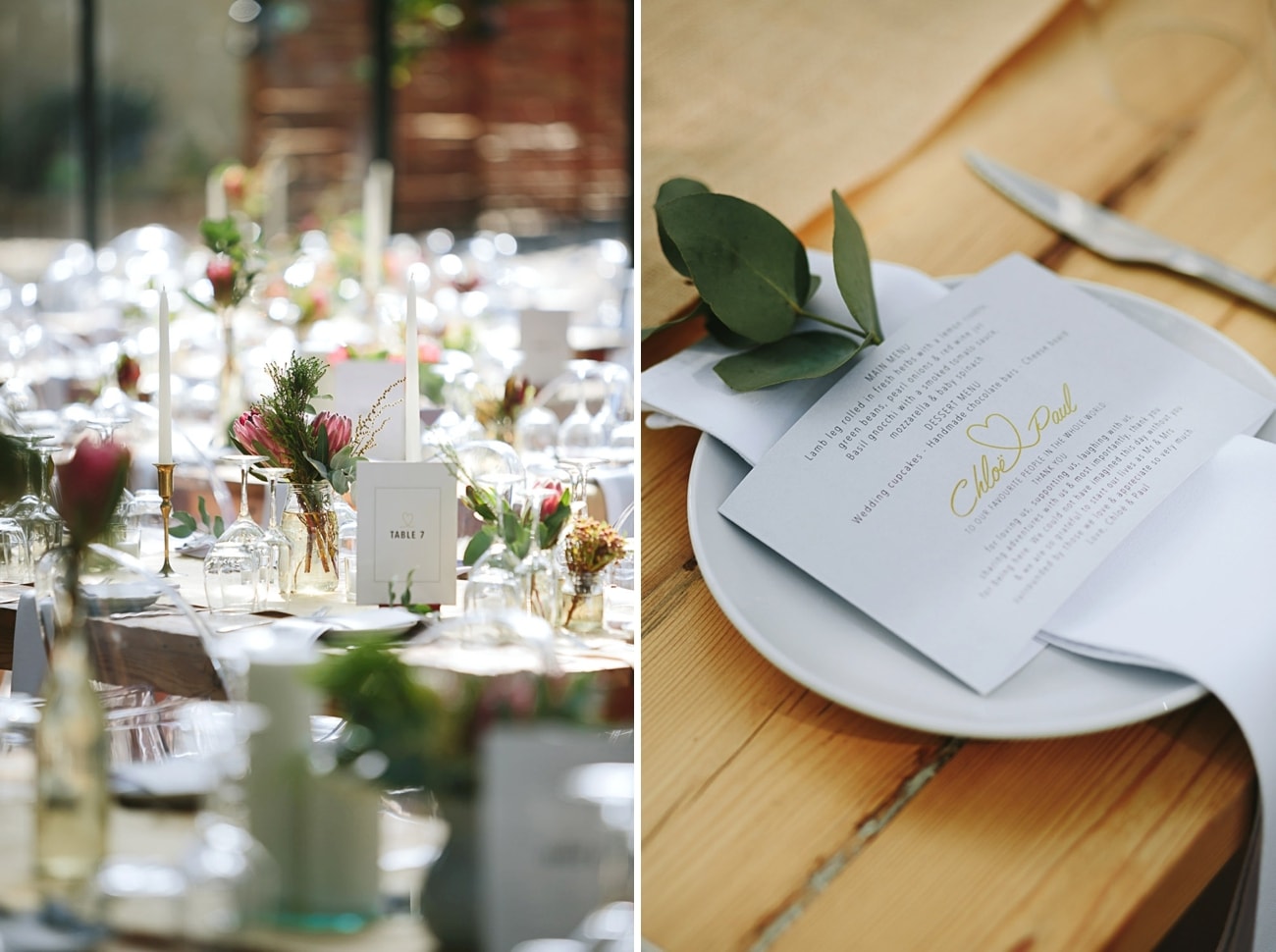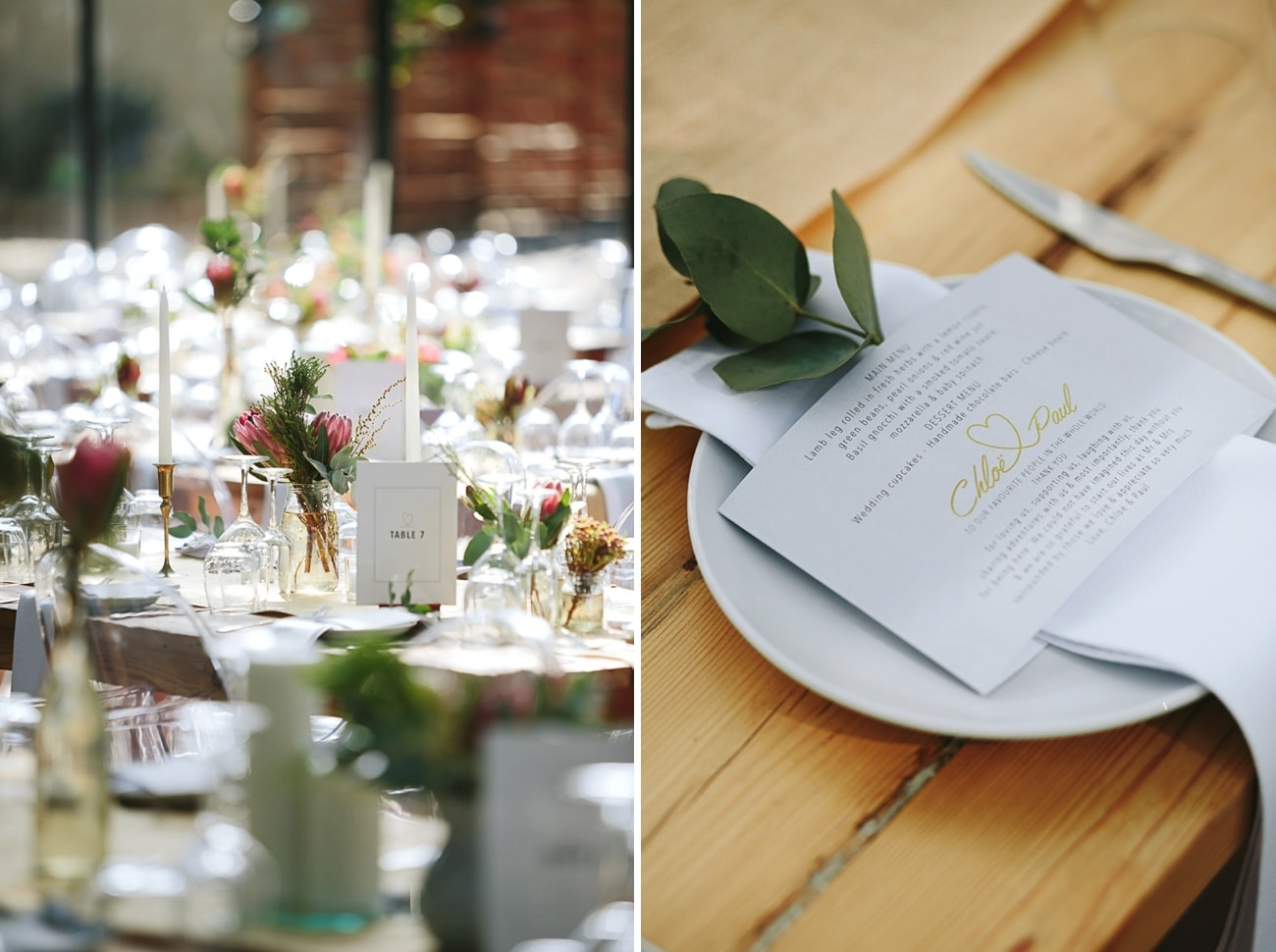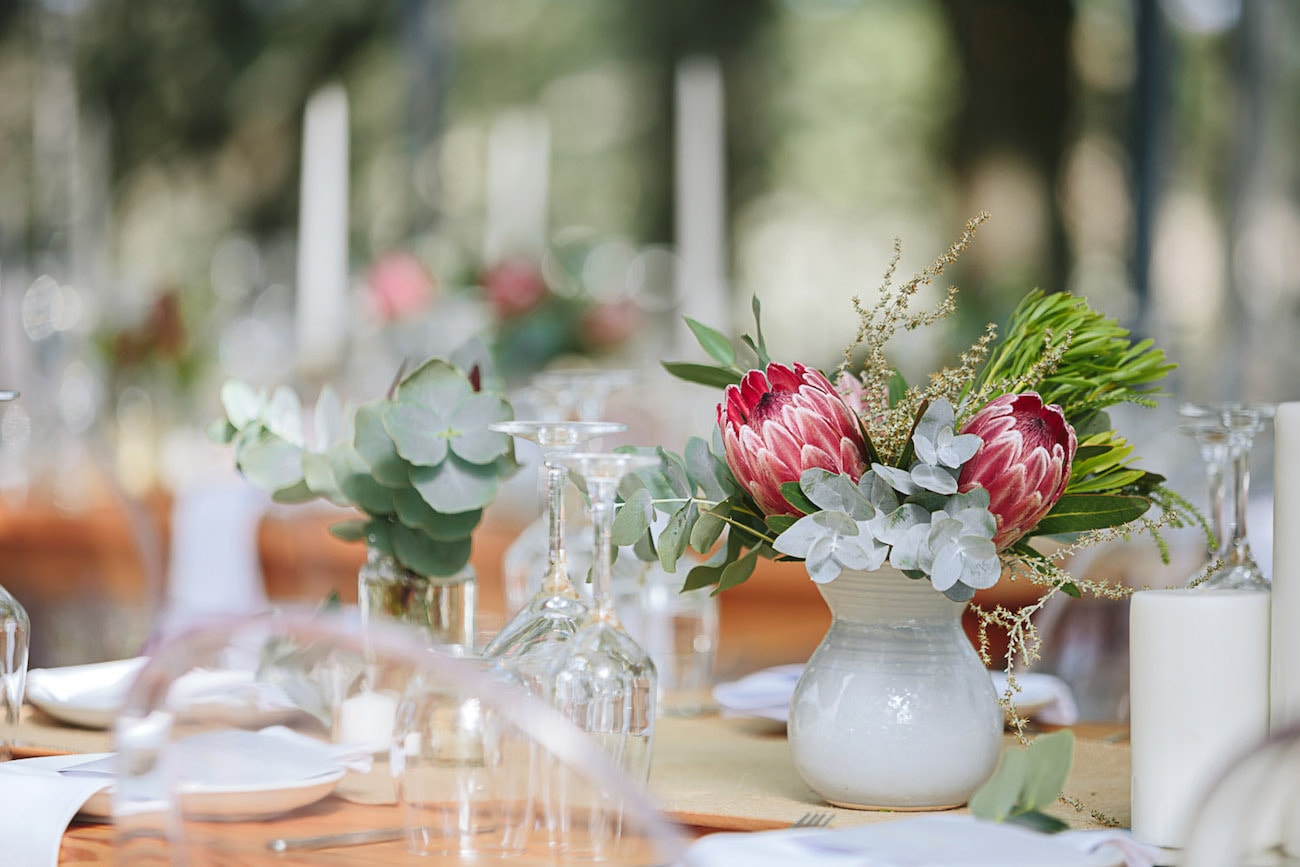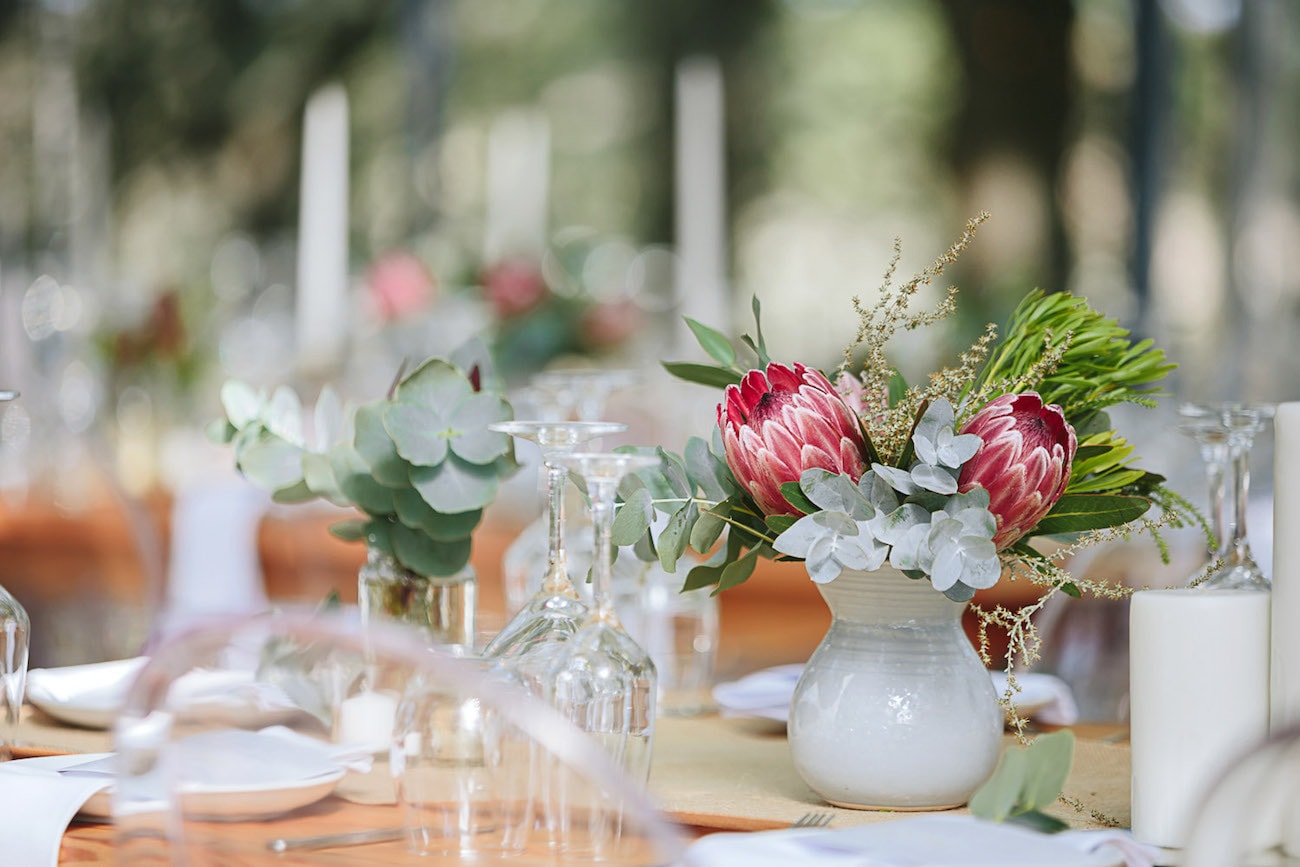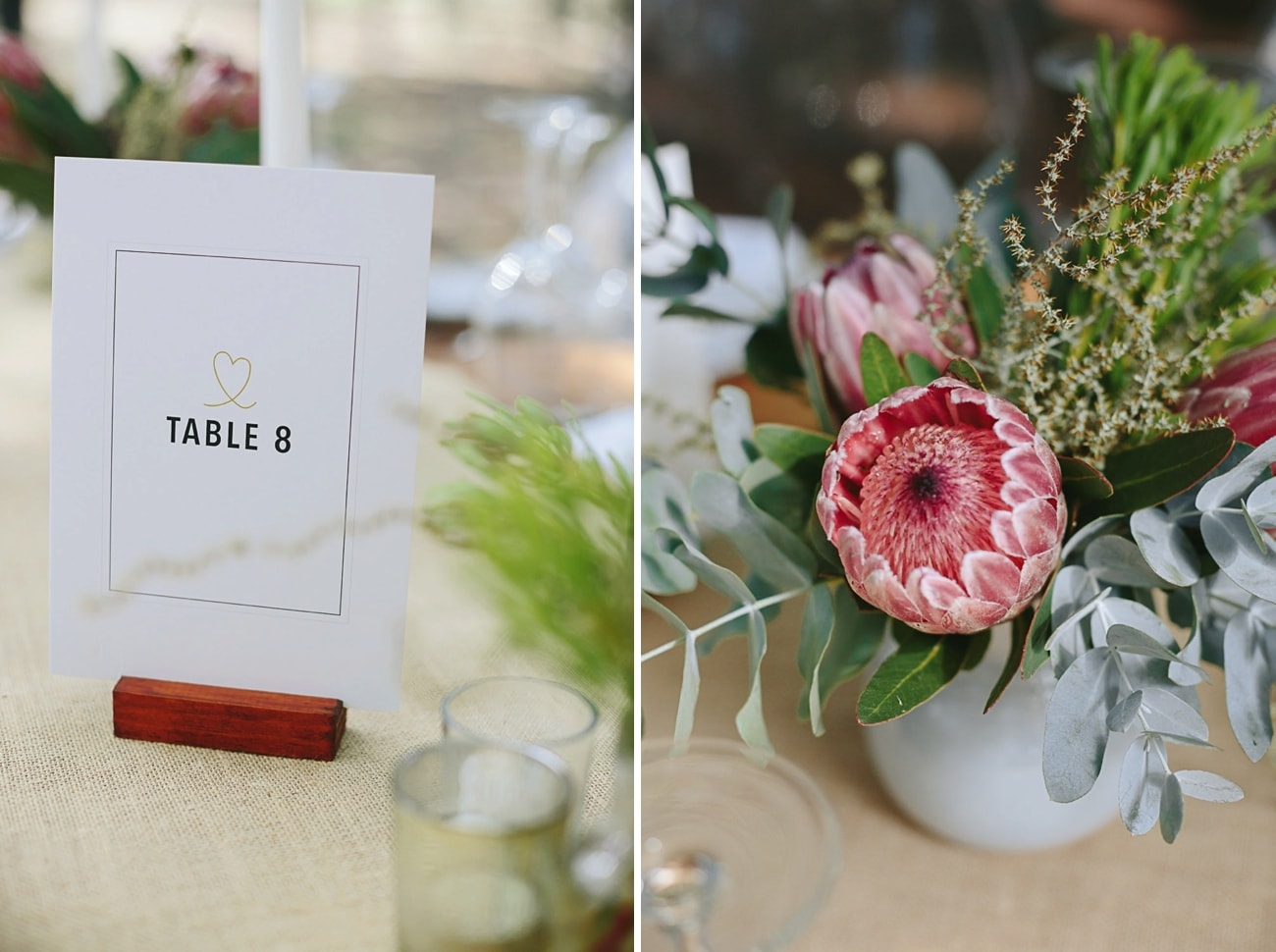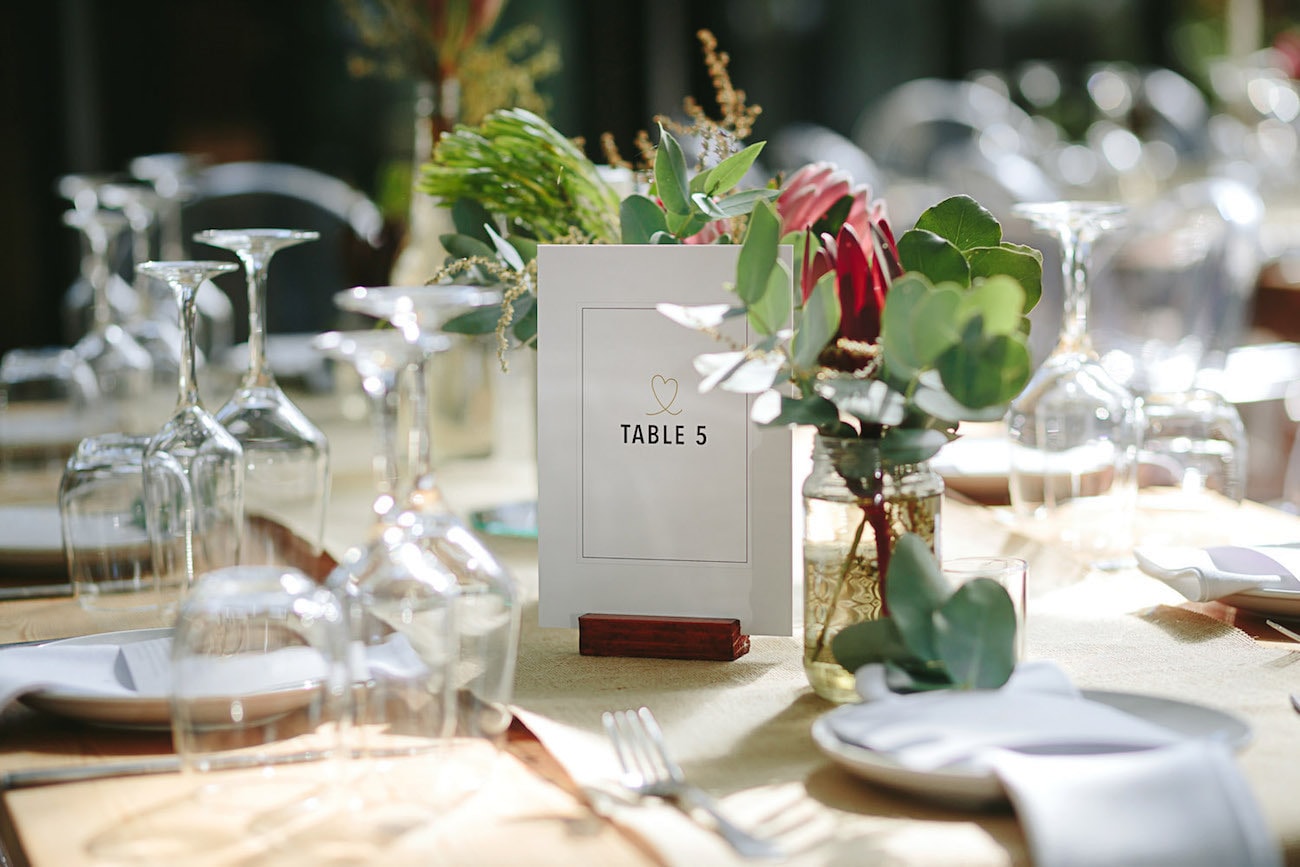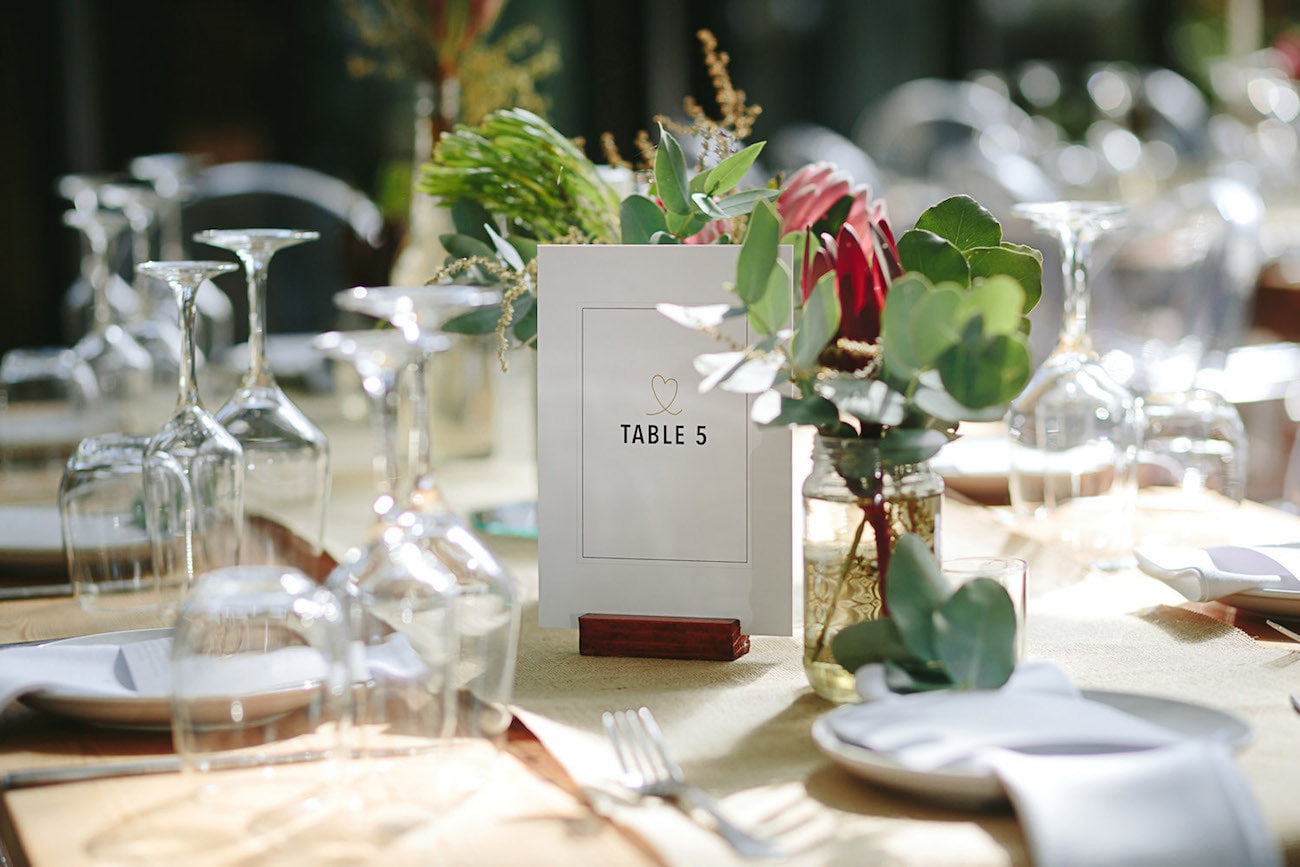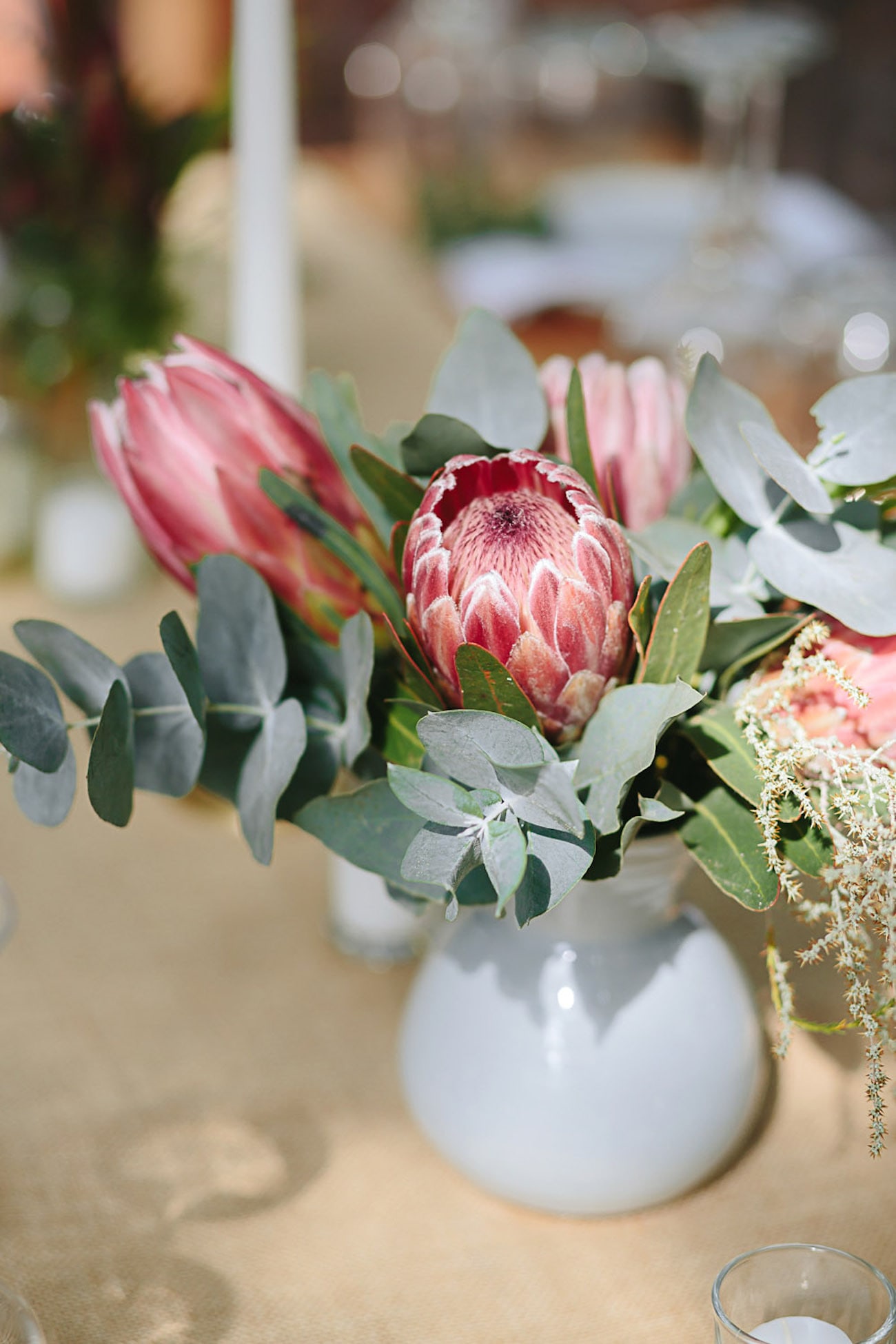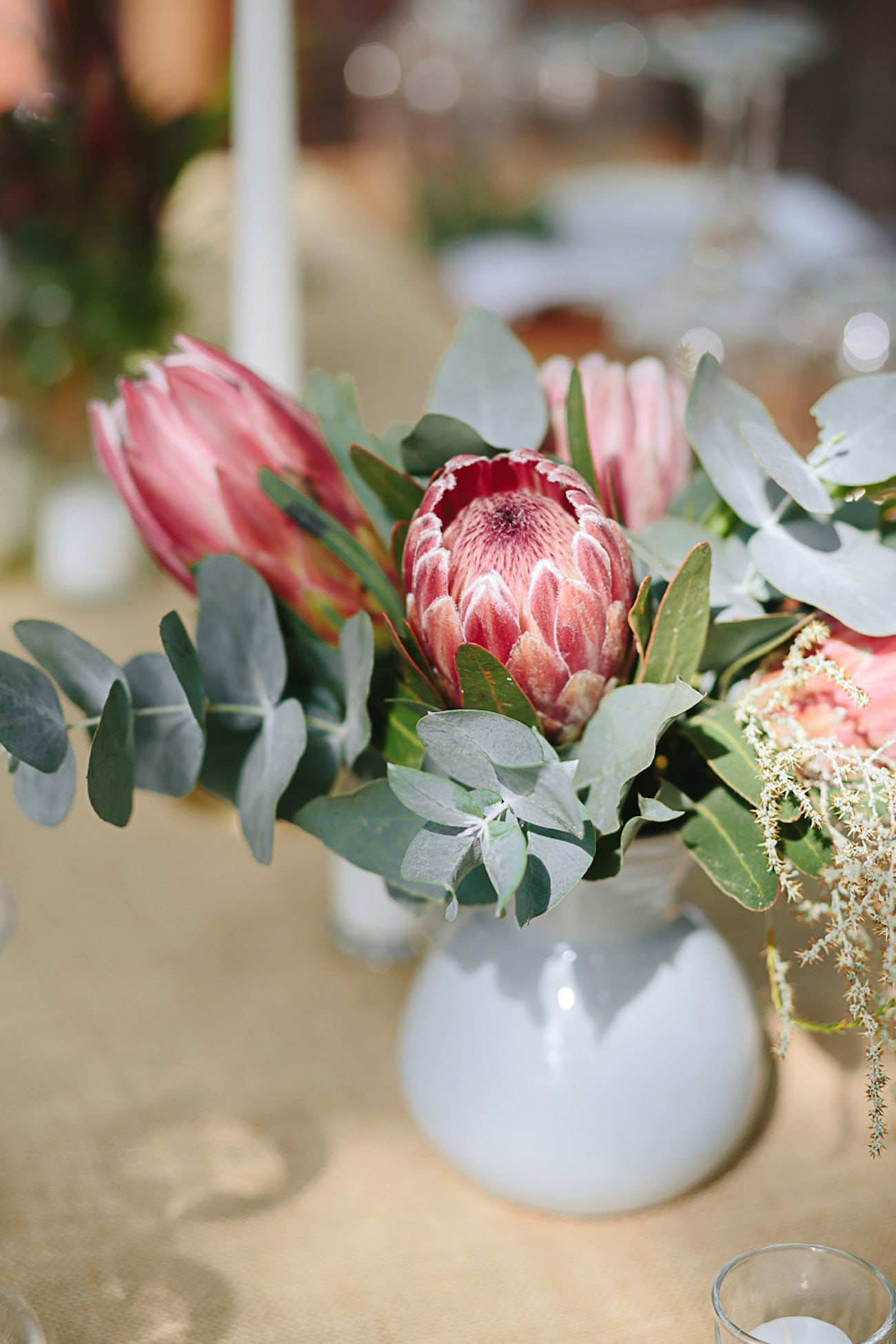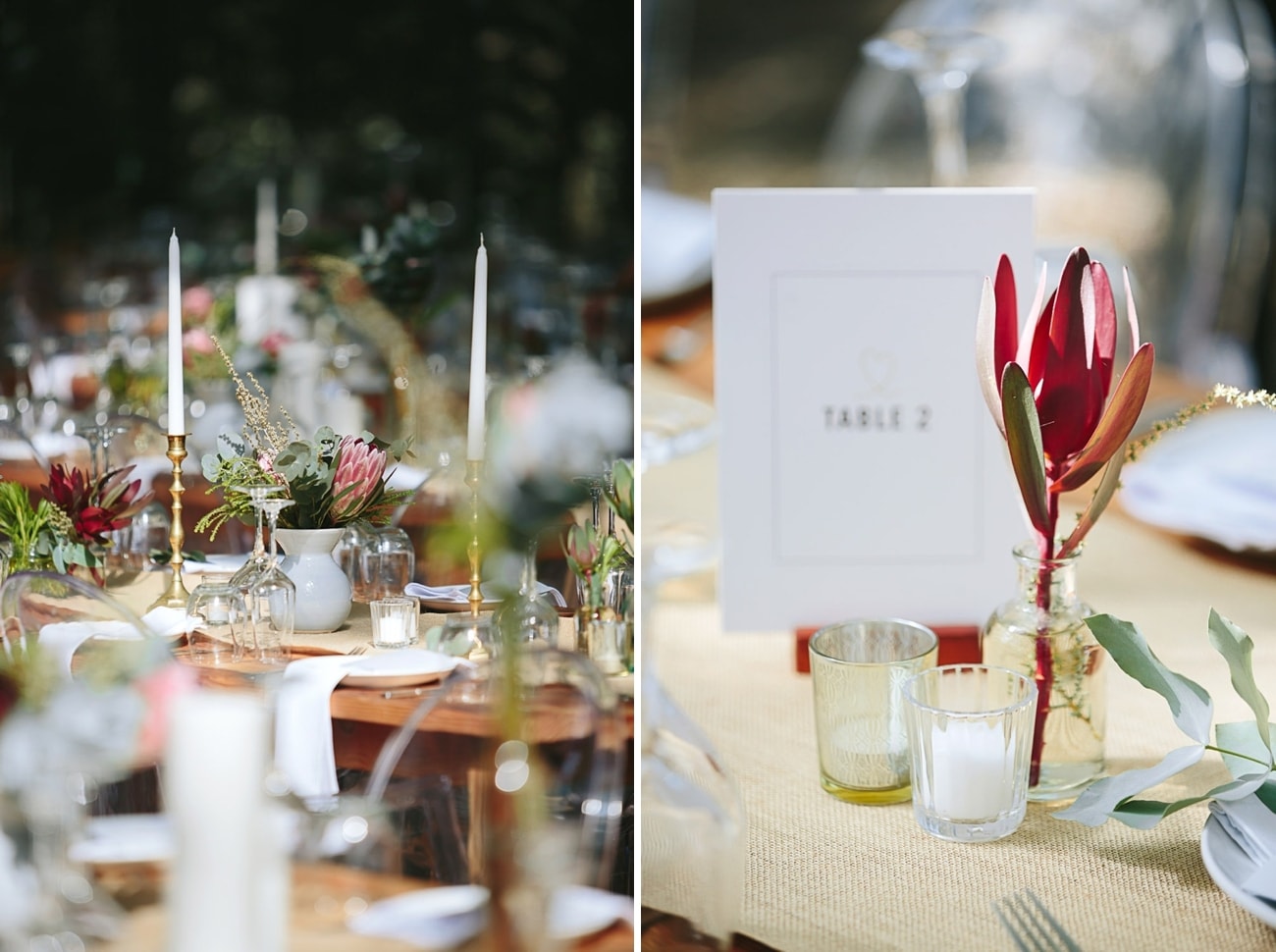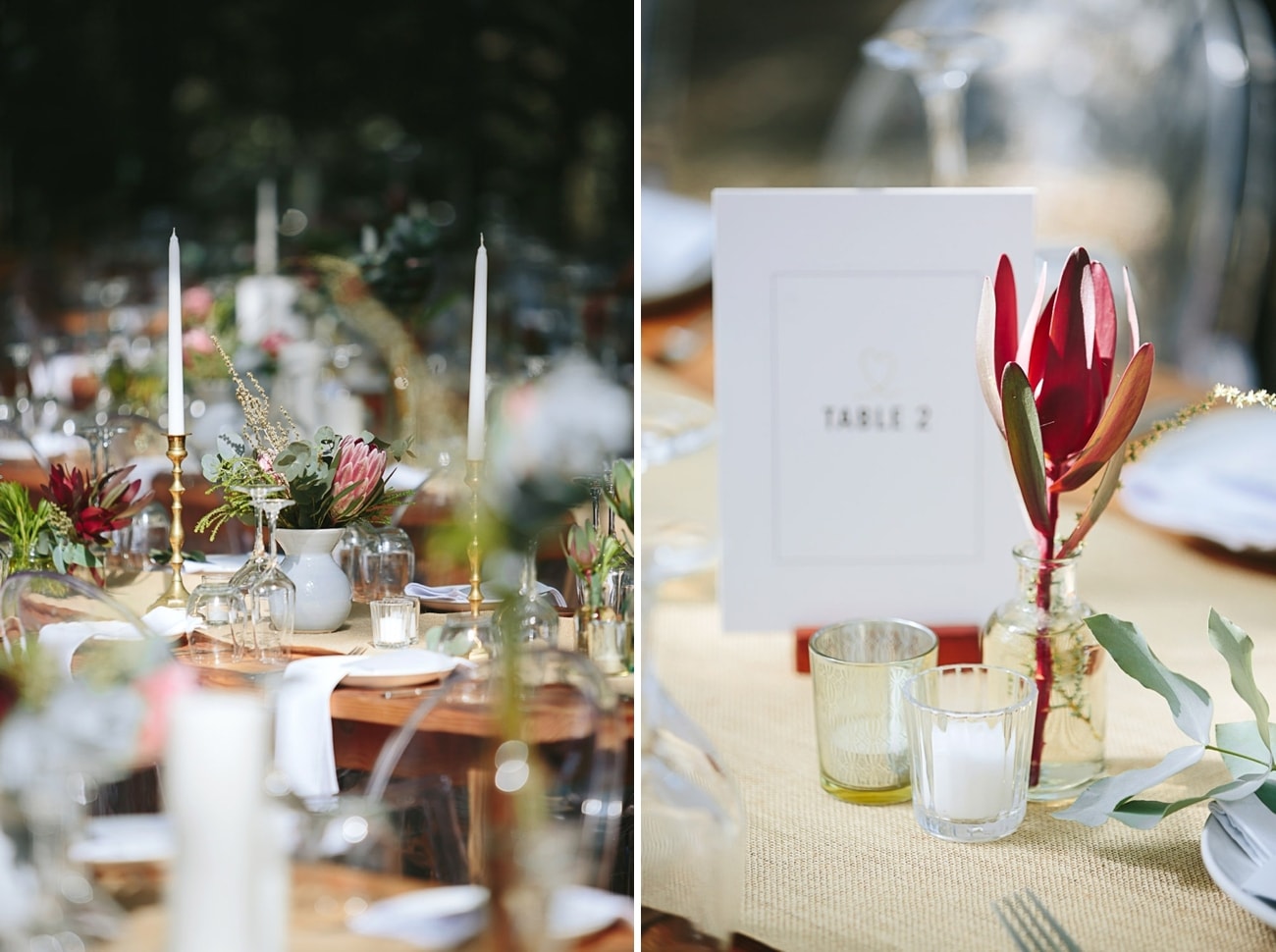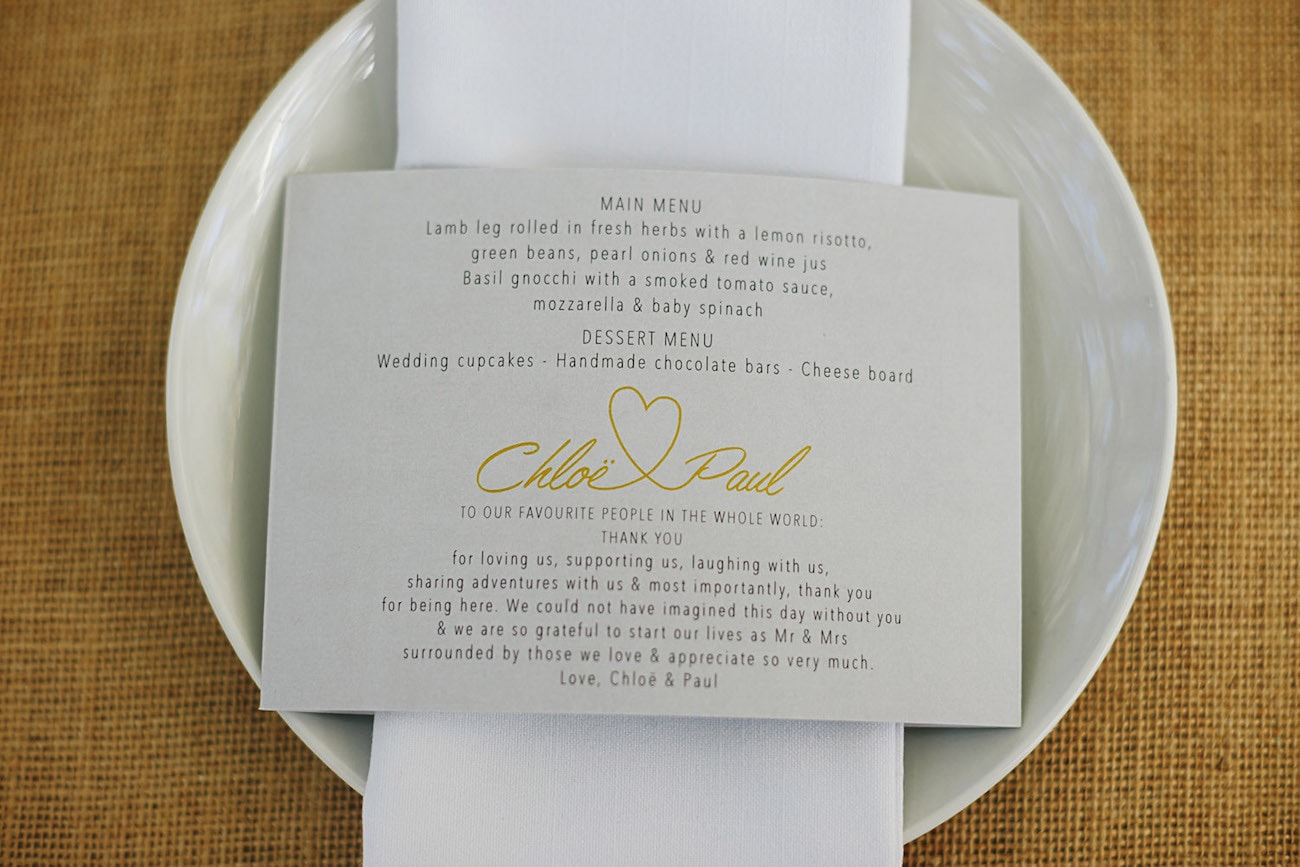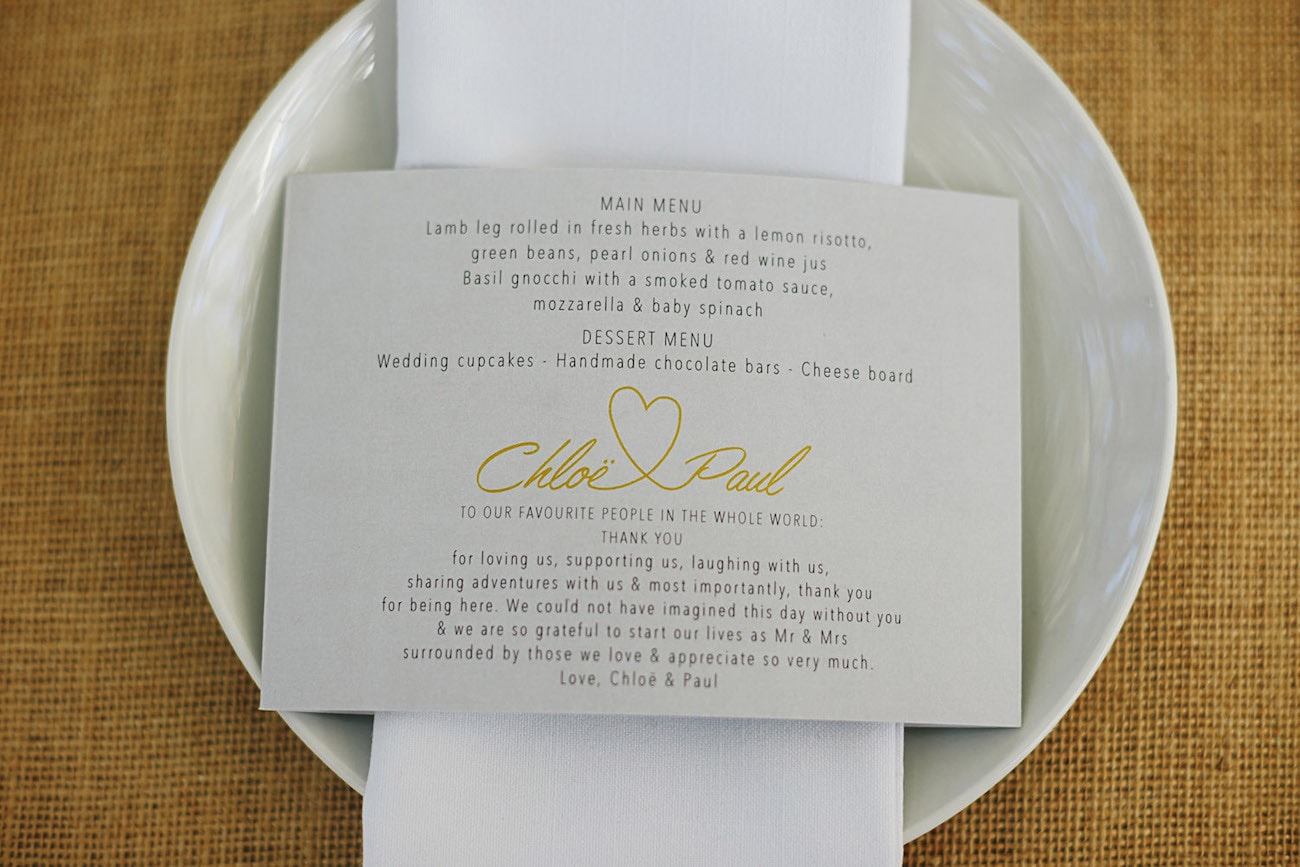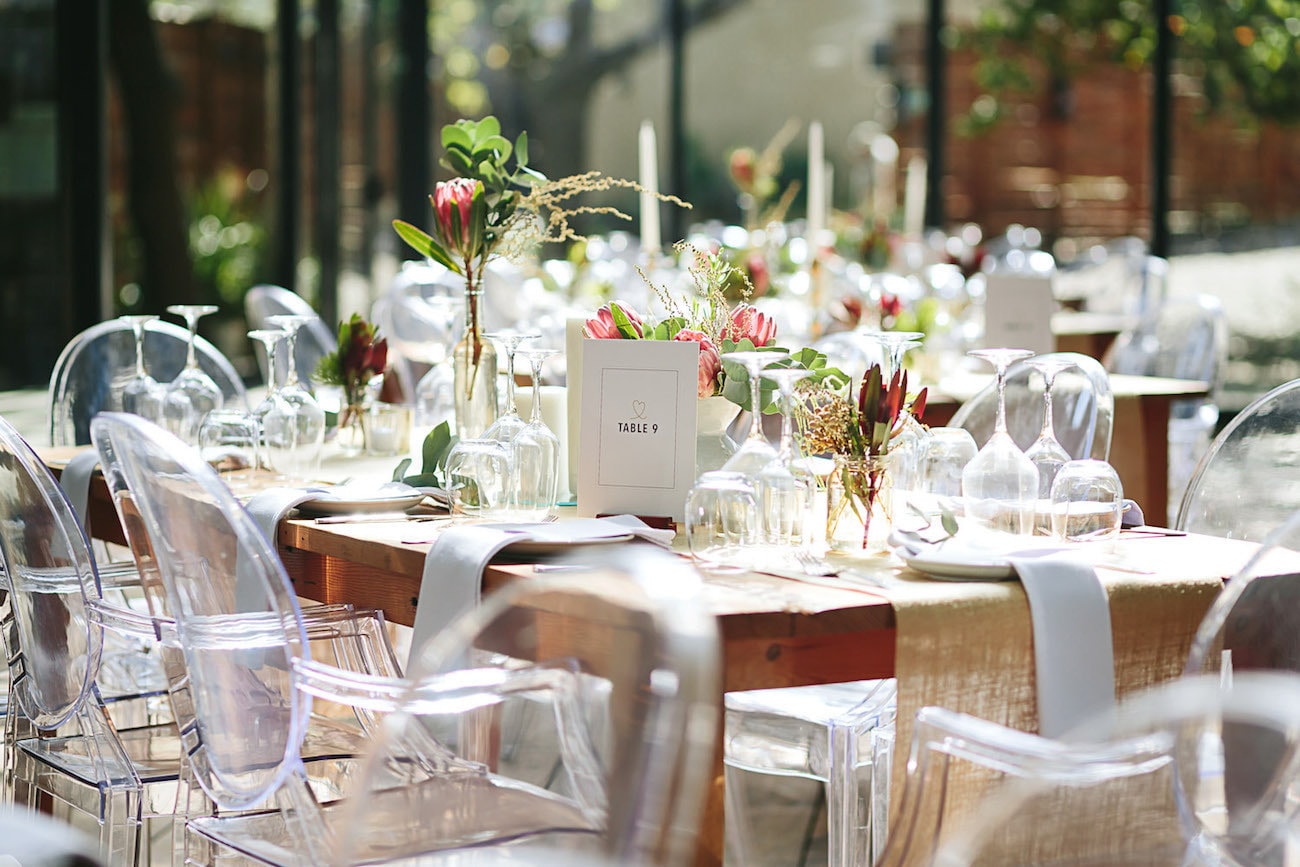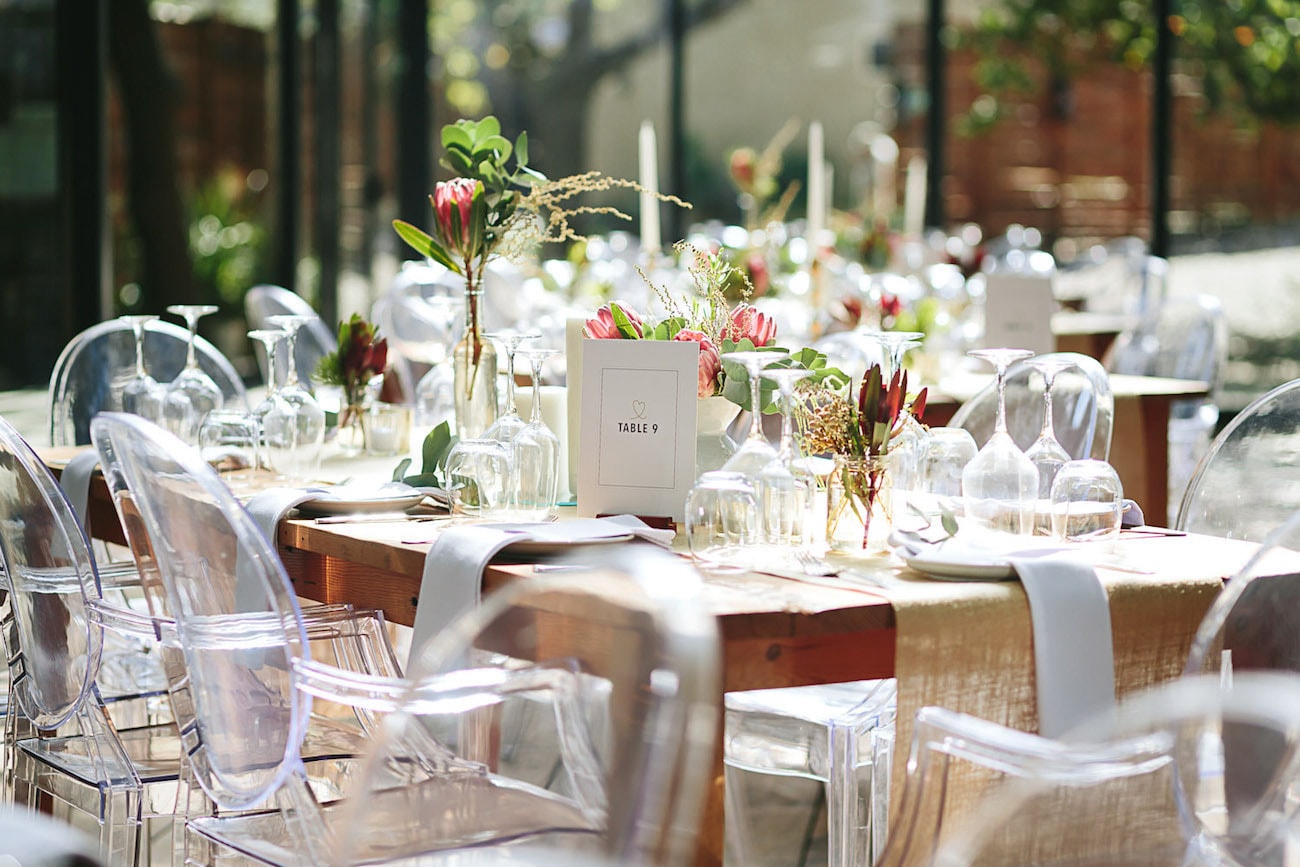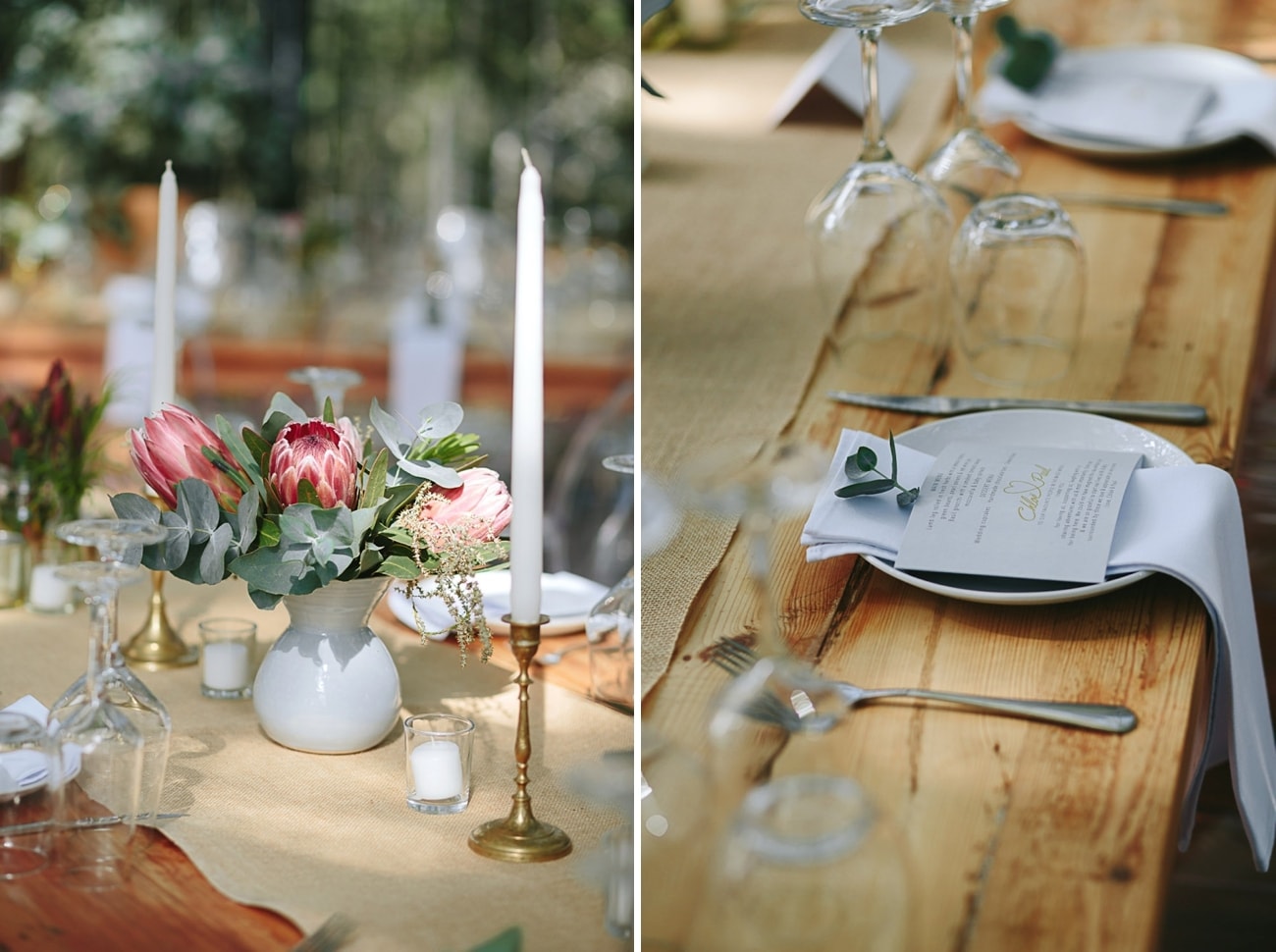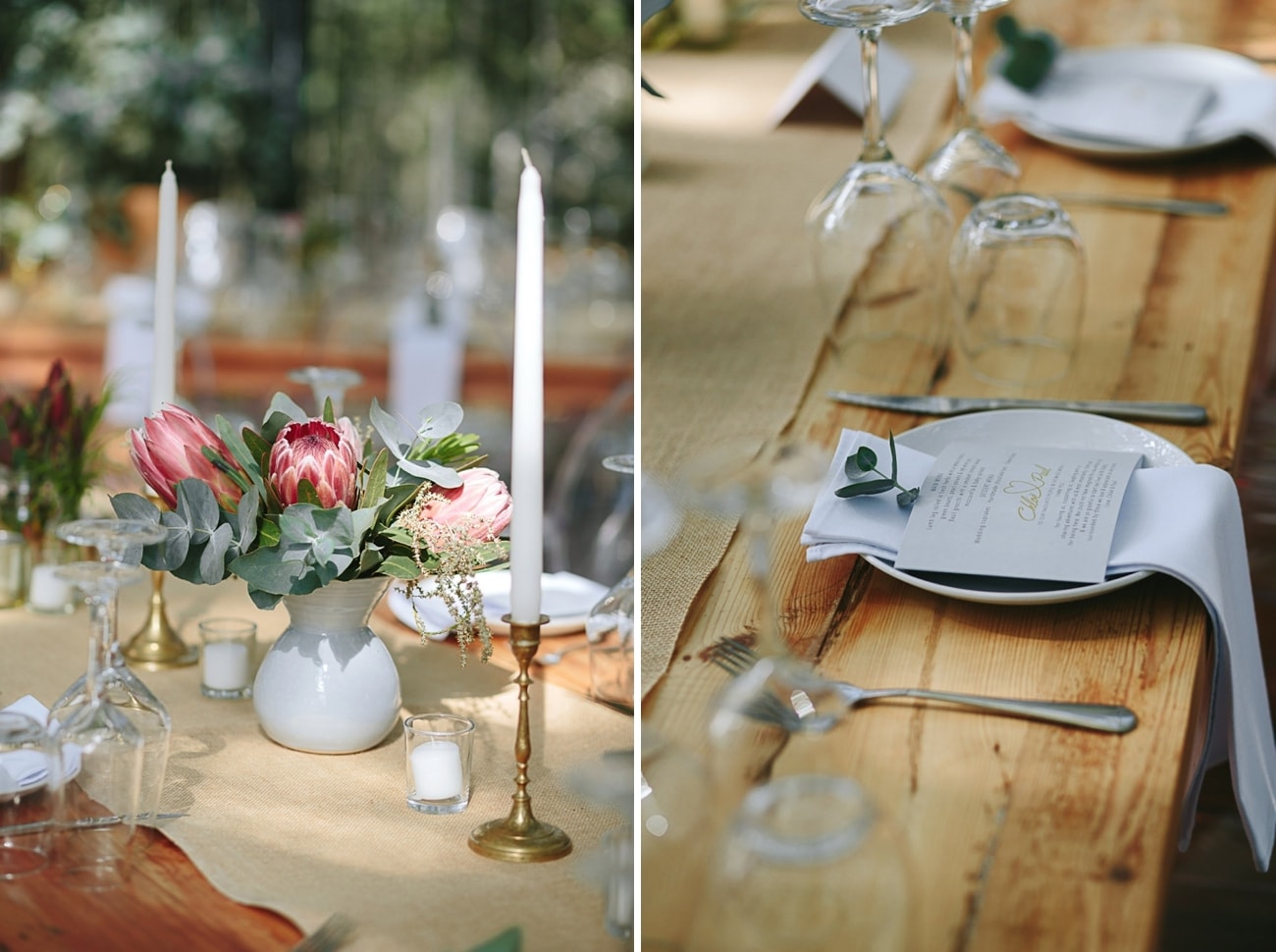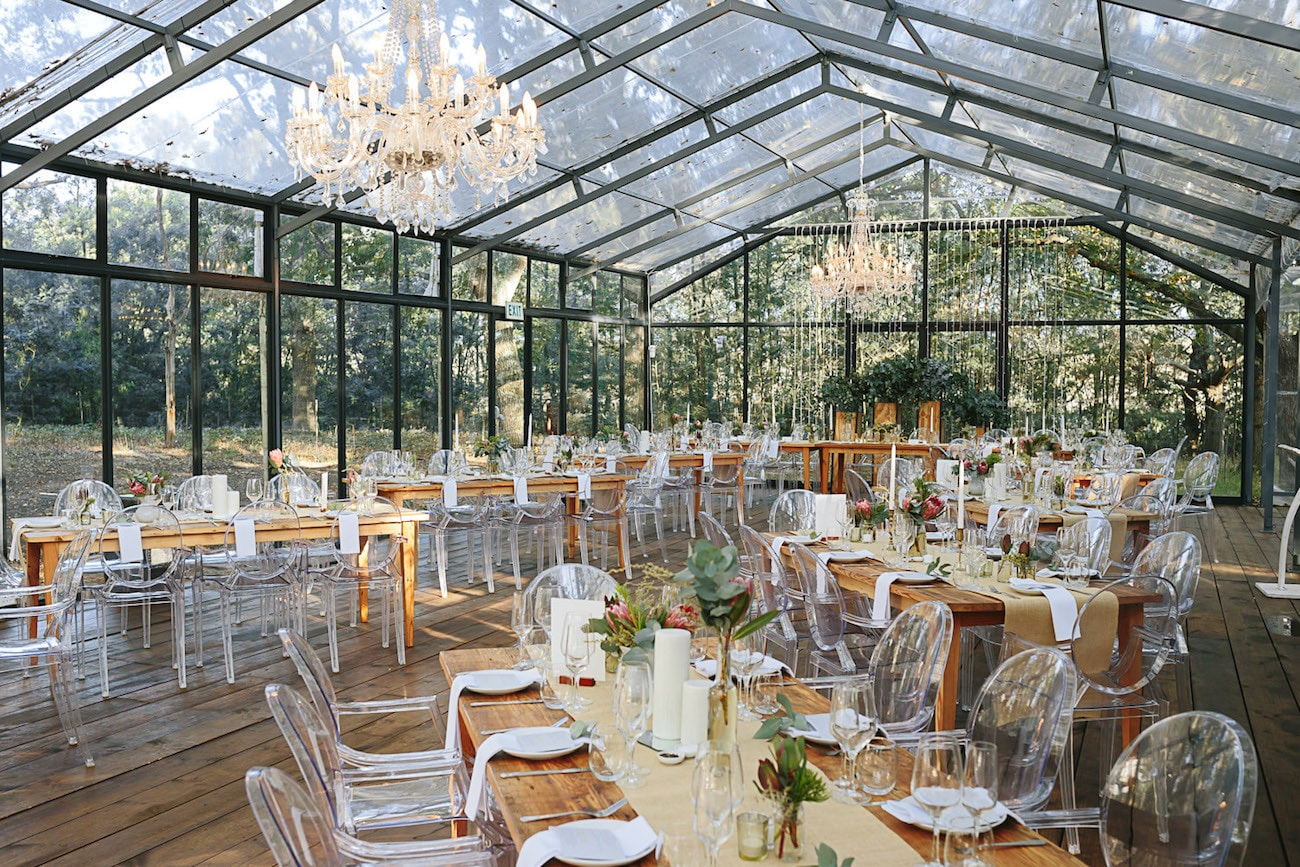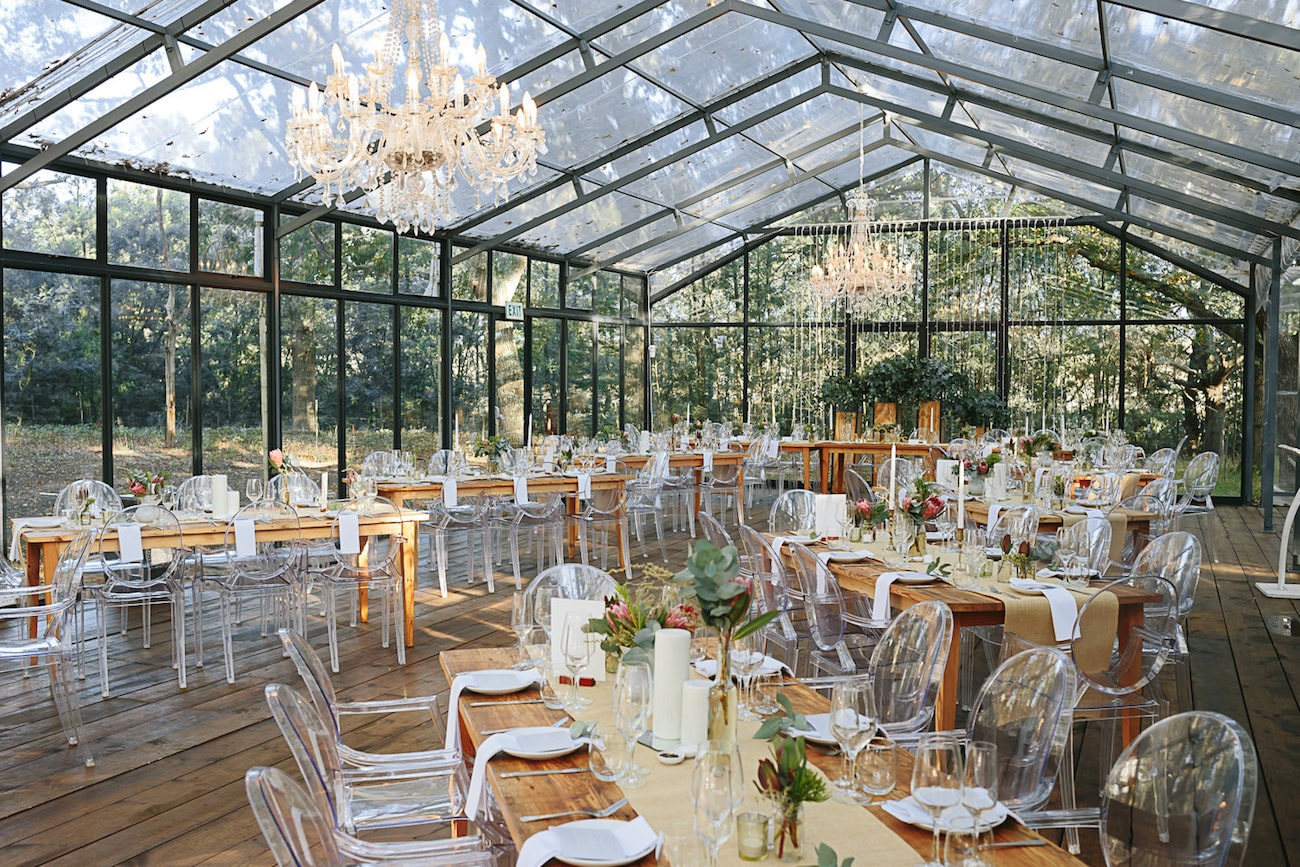 Memorable Moments
Walking down the aisle was the most incredible moment. I had started feeling overwhelmed when getting ready and I was nervous that I would be crying uncontrollably down the aisle (I am a crier!). Our officiant told me that his experience is that the people who are usually emotional tend to keep it together on the day. He was right. When I got out of the car, while my bridesmaids were sorting out my dress and veil, I just felt so excited to get married to the love of my life. It was such a privilege to walk down the aisle with my dad, seeing my family and everyone I love in front of me, with my husband-to-be at the other end.
Proudly South African Details
The indigenous flowers.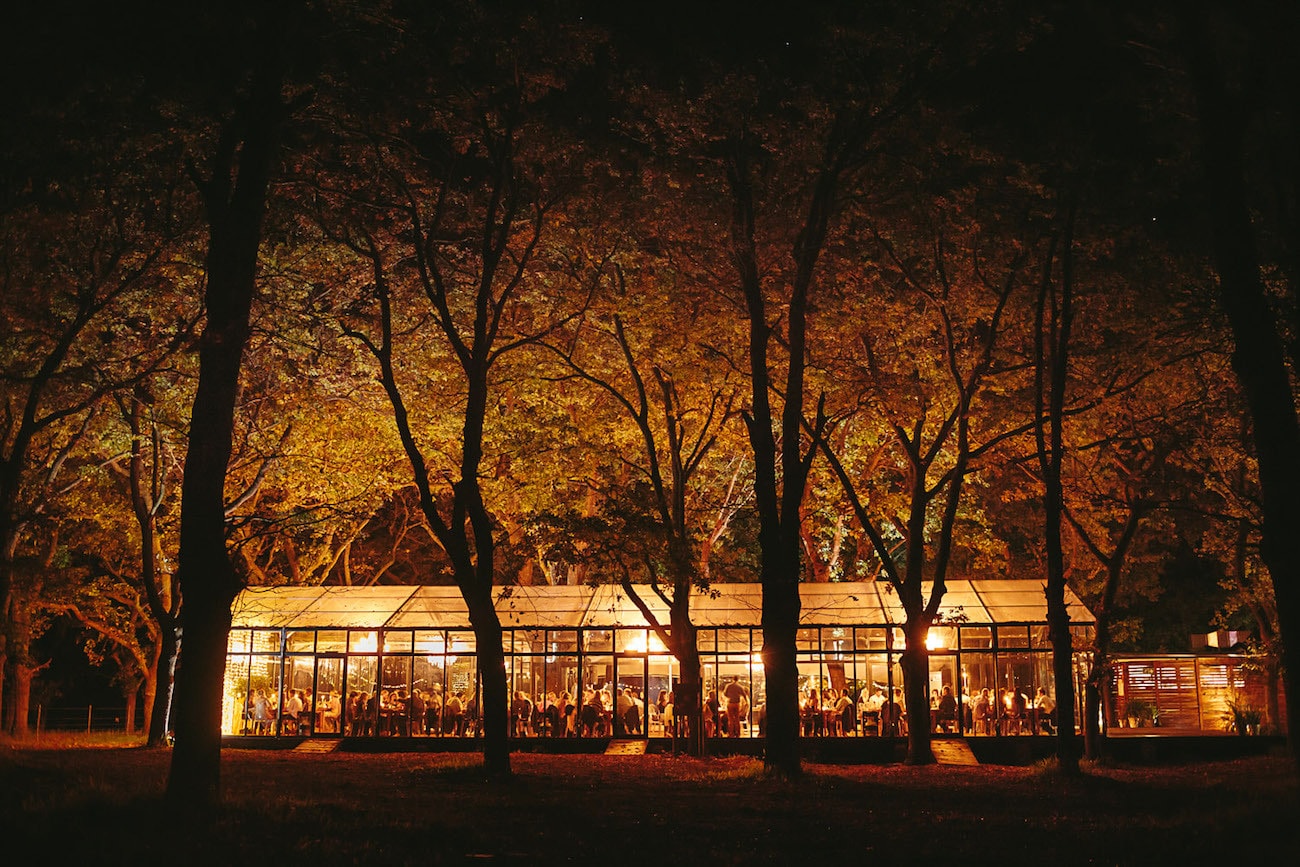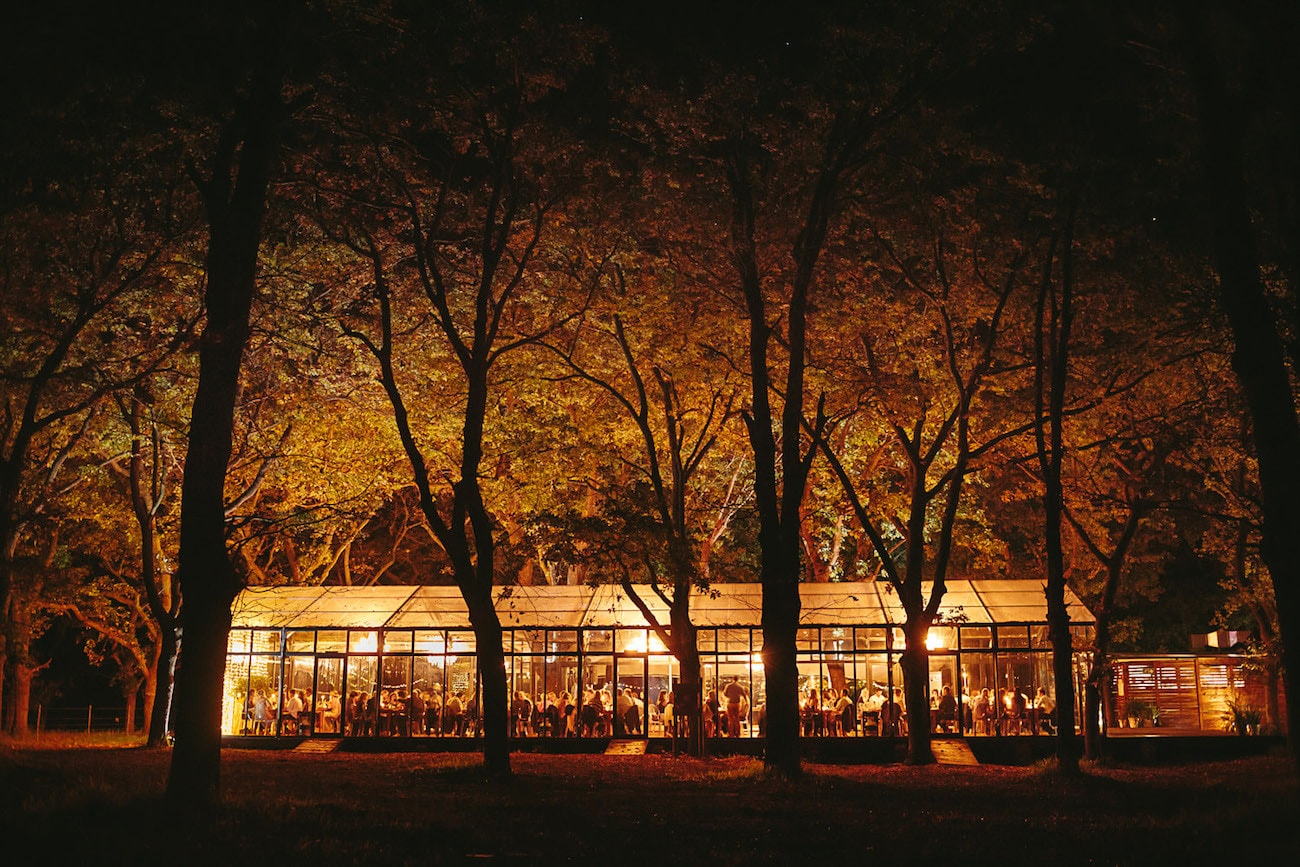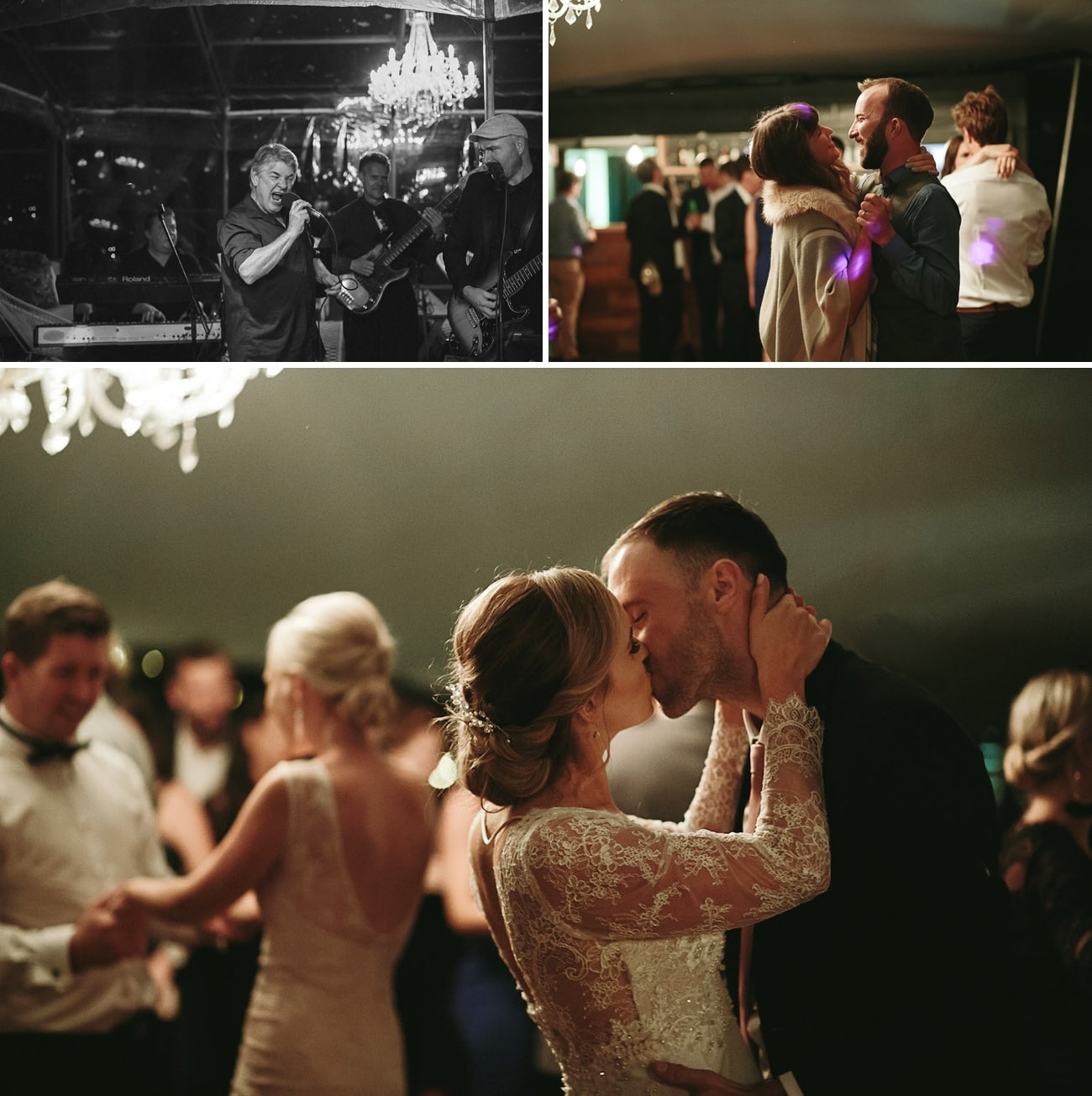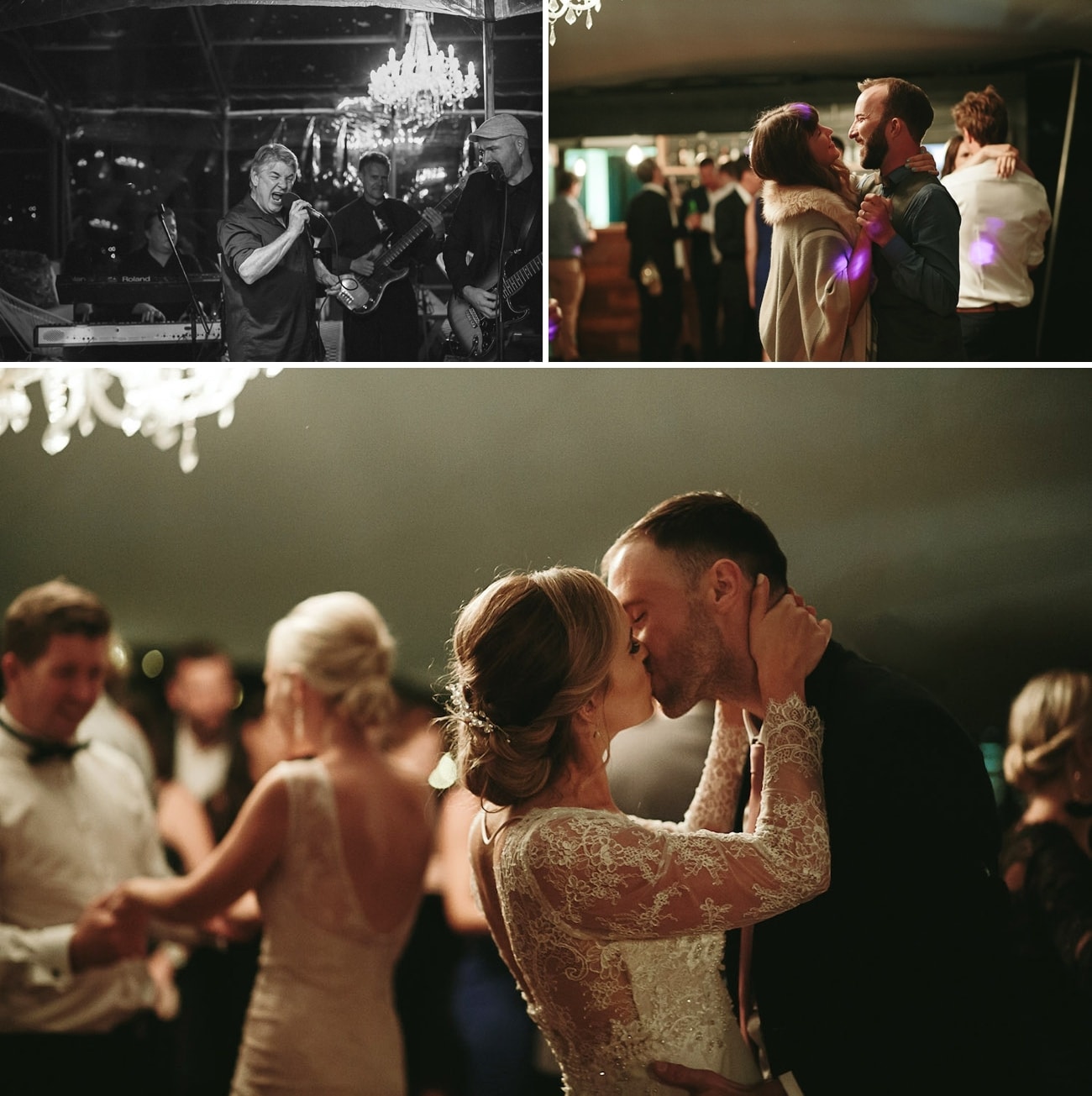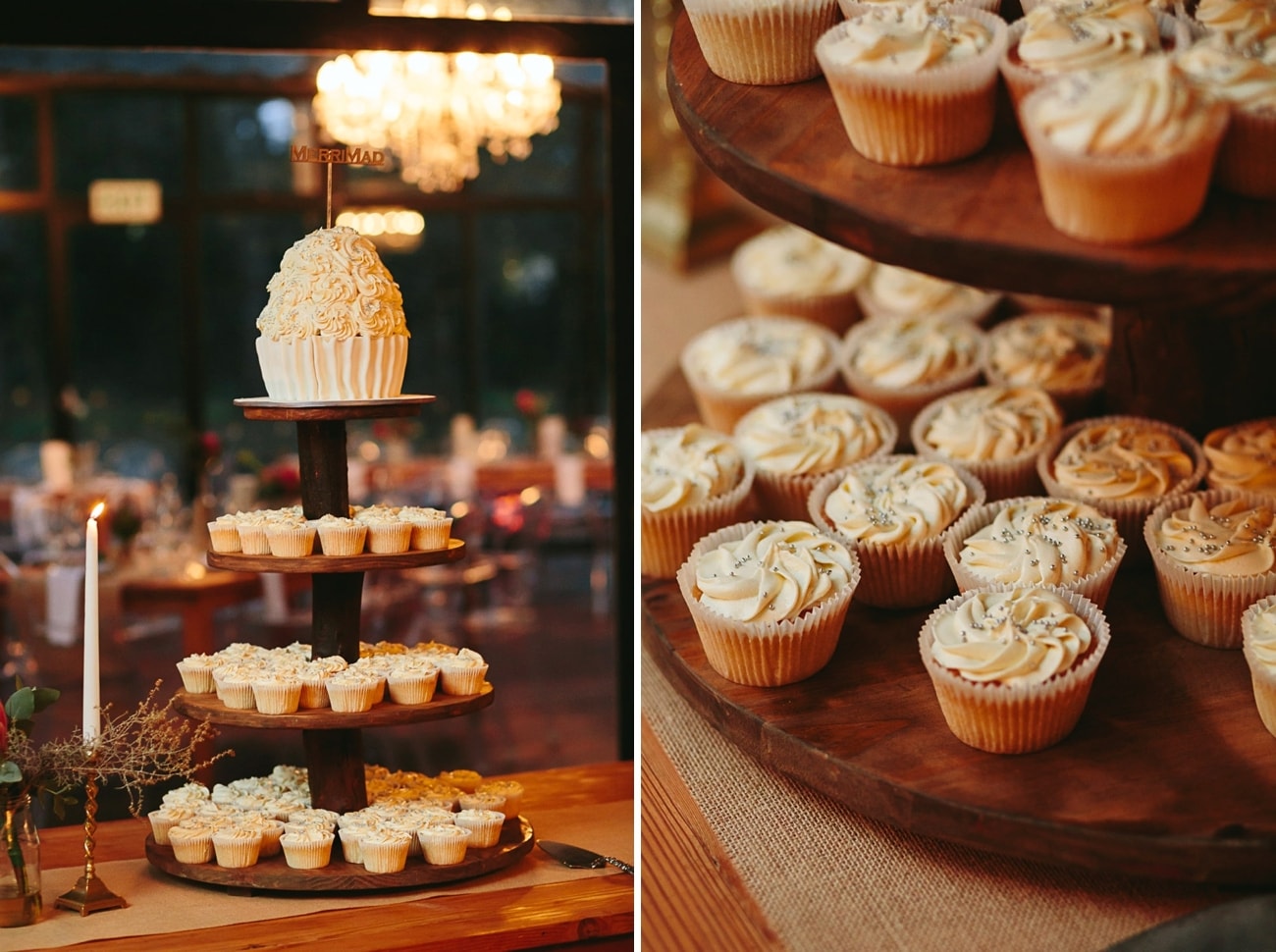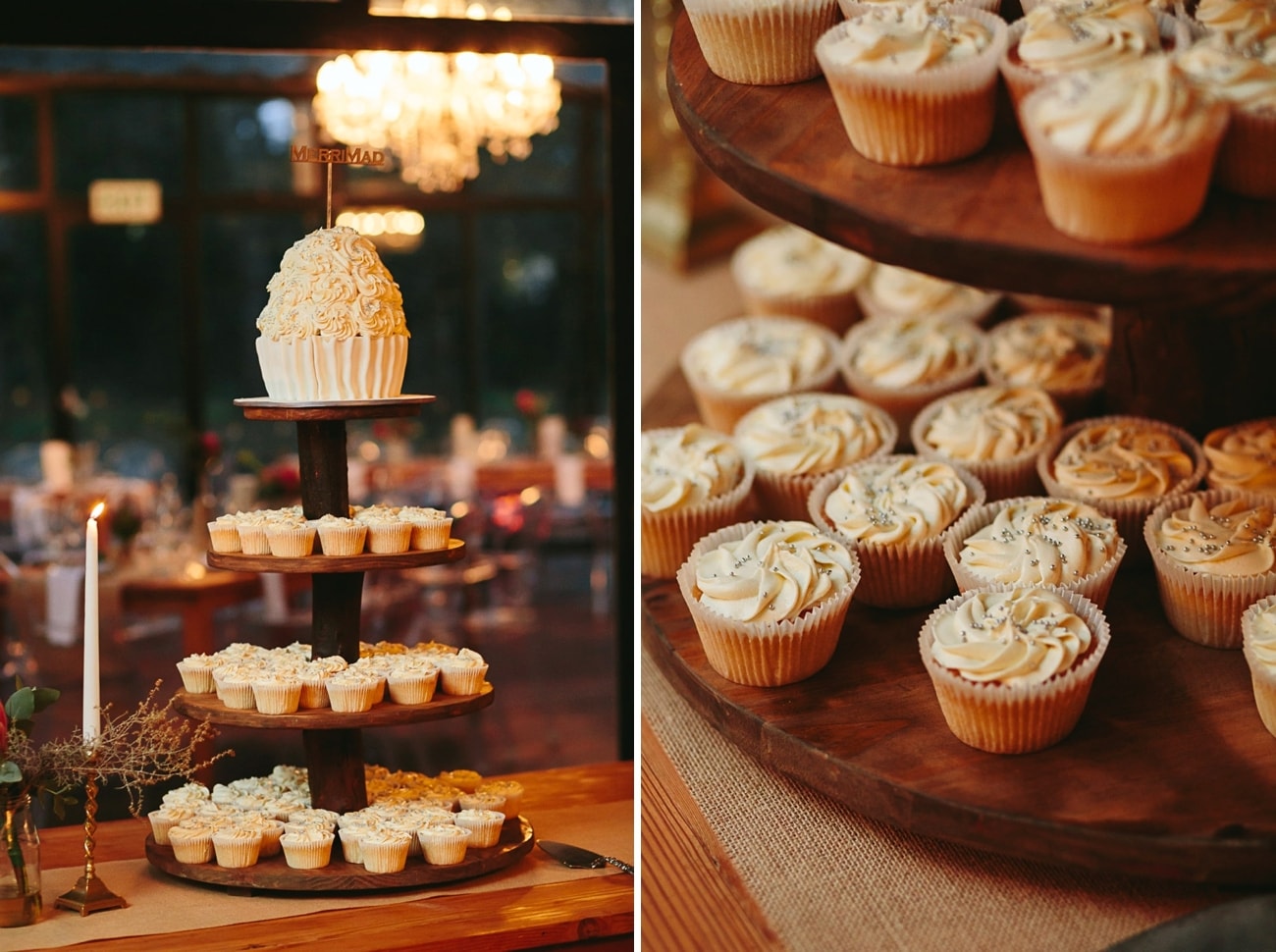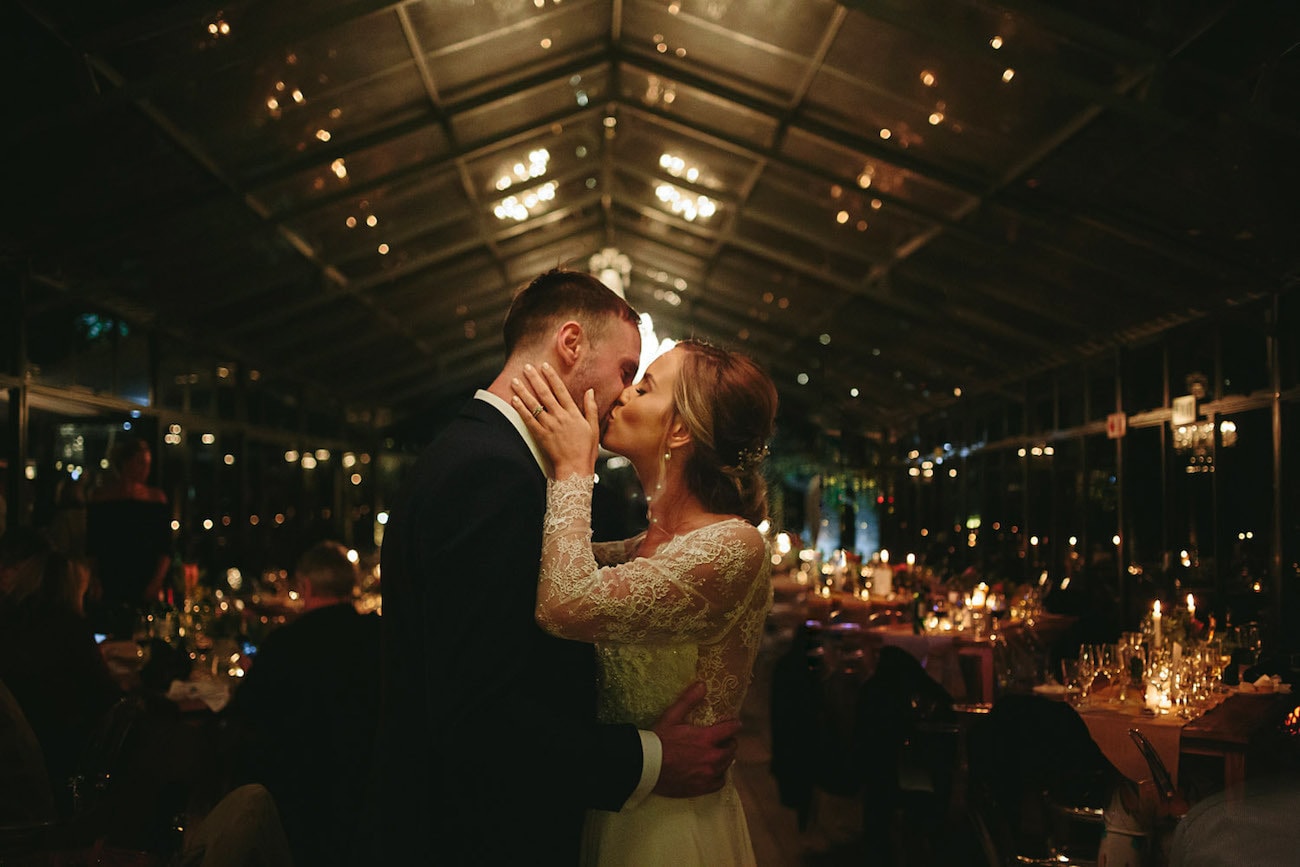 Best Decision
Getting a wedding planner and coordinator! I organised the big items (venue, photographer, videographer, DJ, band, etc). I was not very enthusiastic to organise the decor… about four months before the wedding I got Shannon Lavender (of Lavender Creations) on board – she handled all the decor, the flower arrangements, coordination leading up to the wedding and on the day. Having Shannon involved meant that my family, my bridesmaids and I could relax and enjoy the day without stressing about the details.
Advice for Future Brides & Grooms
It's advice that was given to me by a good friend – as a couple, decide on five things that are non-negotiable for you. Once you do this, you won't sweat the small stuff. Enjoy your engagement and appreciate the love and support of your friends and family.
You can see more from this wedding on Jani B's blog.
SERVICE PROVIDERS
Venue & catering: Die Woud | Photography: Jani B. | Co-ordination, flowers & décor: Lavender Creations | Video: Ant Hoard Films | Cake: Krummels Sugar Art | Bride's dress: Cindy Bam | Bride's accessories: Anella Wedding Shoes (shoes) + Peter Gilder (earrings, engagement ring & wedding bands) | Hair & makeup: Make up and hair by Nadine and Delaney | Groom's attire: David Jones | Hiring: 4 Every Event Hiring | DJ: Silkmusic  | Live band: Sound Image