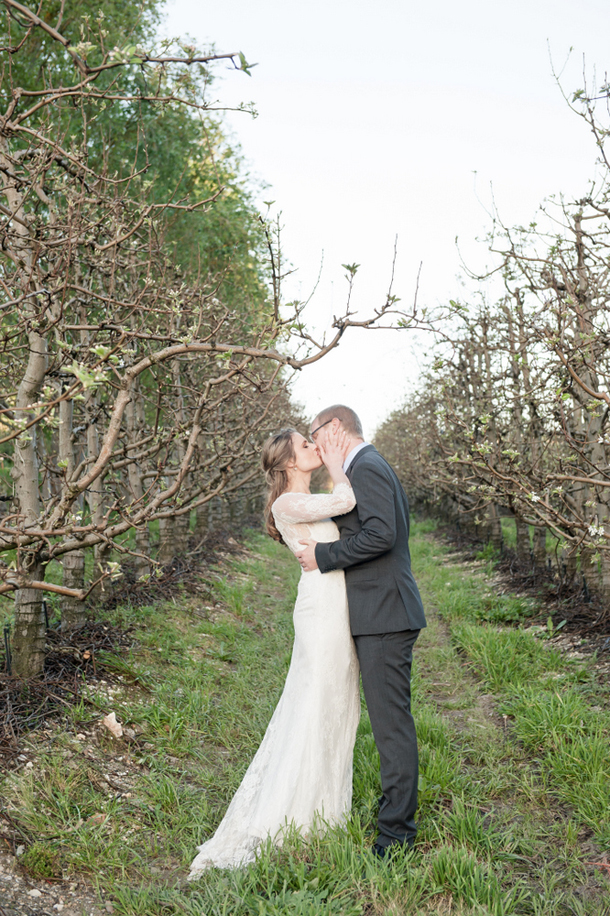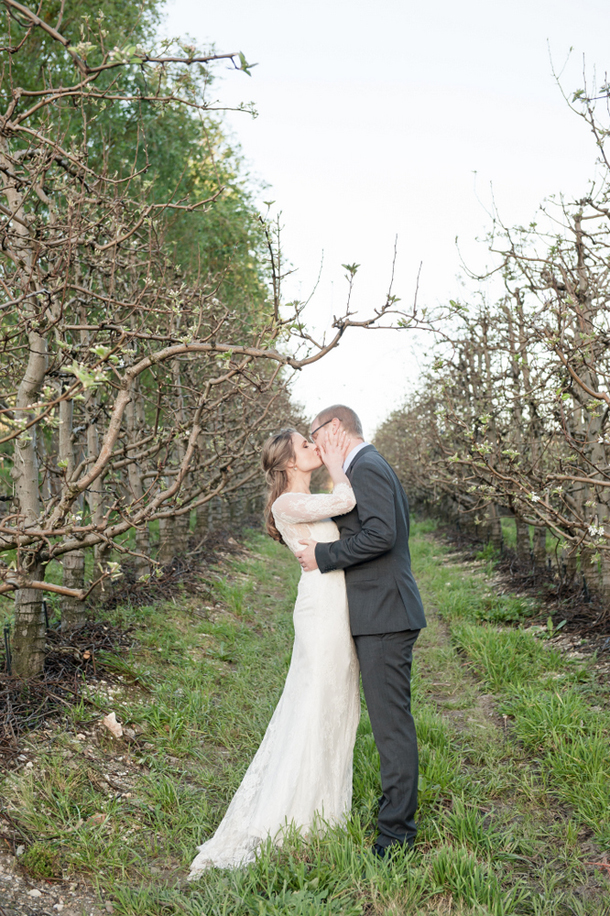 And I'm back! Not quite at a hundred percent, but so much better. As much as I missed sharing pretty weddings with you this week, it was good to have a few days to recover – as a small business owner, it's easy to lose sight of giving yourself some time off (hello, weekends, what are those?). But I couldn't let the whole week go without a wedding, because at the end of the day, sharing these beauties – and more importantly, sharing in the excitement that comes from each bride and groom we feature! – is what makes my job awesome and totally worthwhile. Today's couple are the lovely Melissa & Jürgen, who pulled off a beautiful country wedding brimming over with proteas and pops of colour against the rustic surroundings, all with an eye on keeping things eco friendly, locally sourced, and easy to recycle. It was definitely a case of waste not, want not, since despite the green focus, nothing was wanting in prettiness and atmosphere! Nicole Rich was on the scene, taking these lovely pics.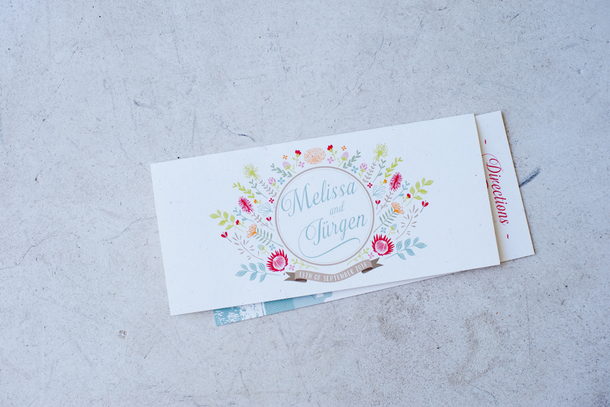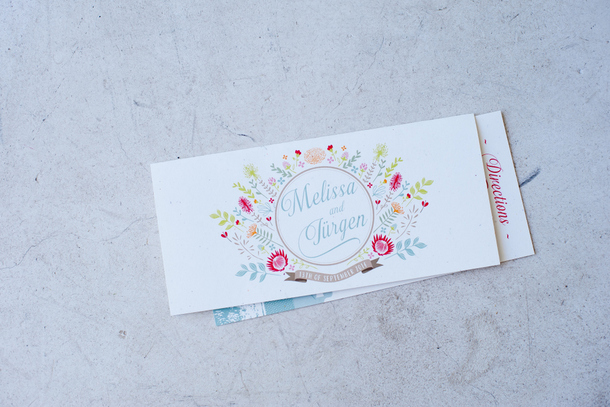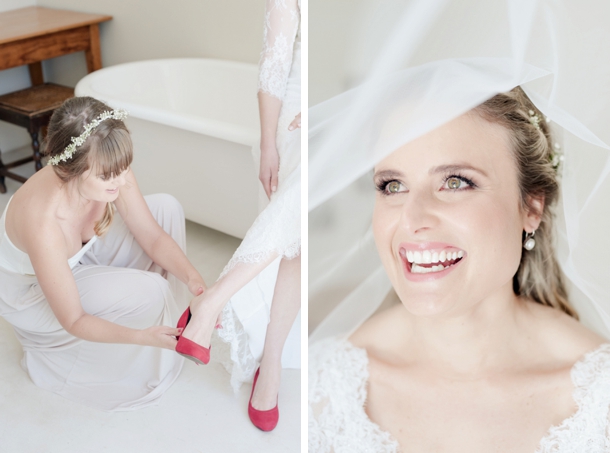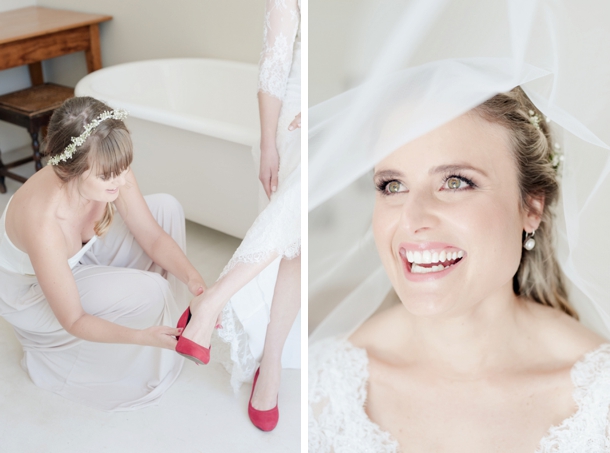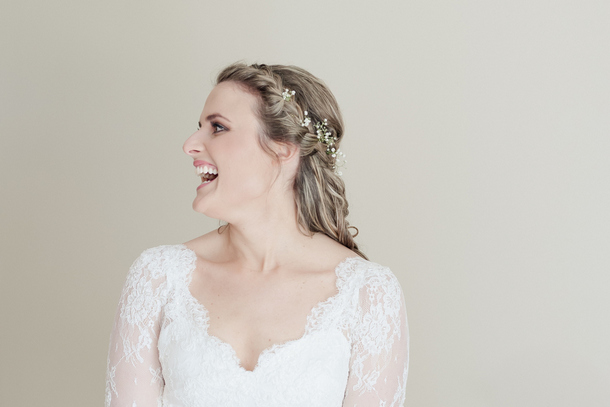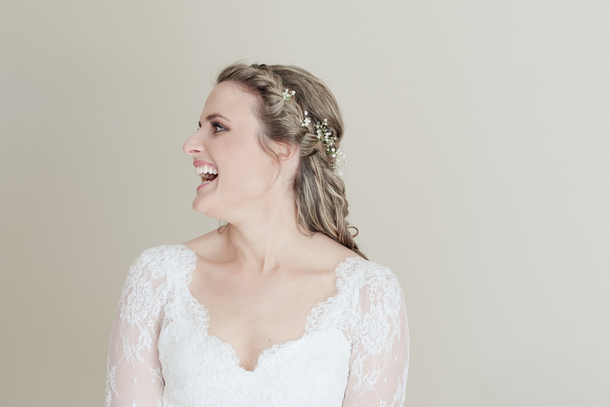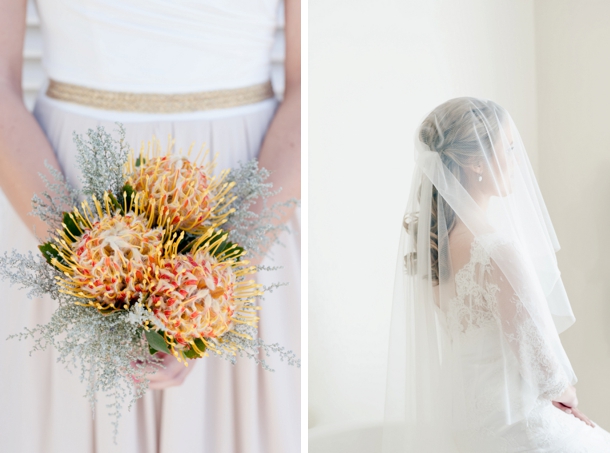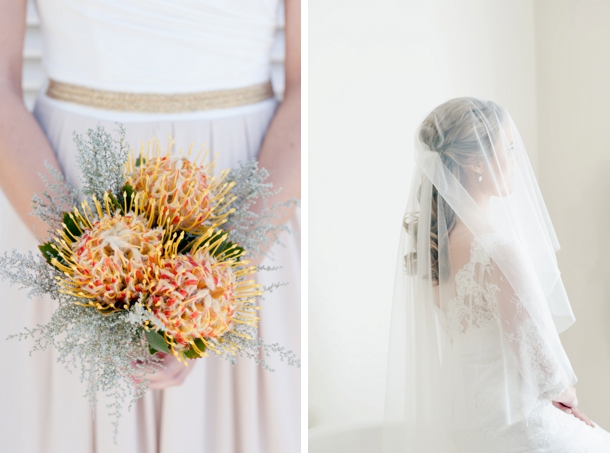 Love Story
One word: university! Jürgen and I studied Geology together – but let me tell you, it was definitely not love at first sight. Somewhere in between the dancing, the whiskey, and the celebrations of having graduated a few hours earlier, we seemingly fell for one another! Strange how things work out – for the three or so years we studied together we only got along about 60% of the time!
The Proposal
Jürgen and I are very down to earth people – I think! – and so was his proposal, and our wedding. Storms were wreaking havoc in Cape Town – roads closed, with torrential rain and mudslides along Chapman's Peak. I was oblivious, but Jürgen was stressing! The skies cleared and he suggested we hike Lions Head that Sunday night as it was a full moon. I had never been up Lions Head before so he suggested we buy a bottle of champagne and just celebrate life. So up we went to watch the sunset and the moon rise. Half way up I noticed Jürgens' grey top was 50 shades greyer – turns out it was nerves and his fear of heights. I thought he wasn't that unfit! He popped the bottle of champagne and we drank it. Of course, this had squashed any suspicions if I had any! We were perched on a rock – as geologists do – when Jürgen mentioned how beautiful Table Mountain looked in the sunset. I turned around to check for myself, and when I turned back I was presented this gorgeous ring in toilet paper! (He explained that carrying a ring box in his pants would have looked very suspicious!) He asked me politely to try calm myself down as it was getting dark, I had had some champagne, still needed to safely get off Lions Head and I had bling on my finger that I didn't want to scratch. Needless to say, if you were on Lions Head that Sunday, you knew I had just gotten engaged!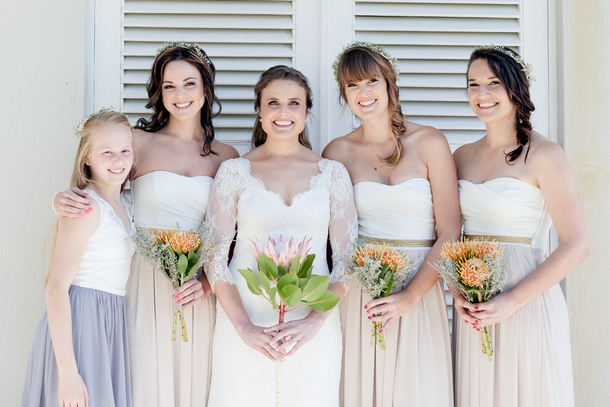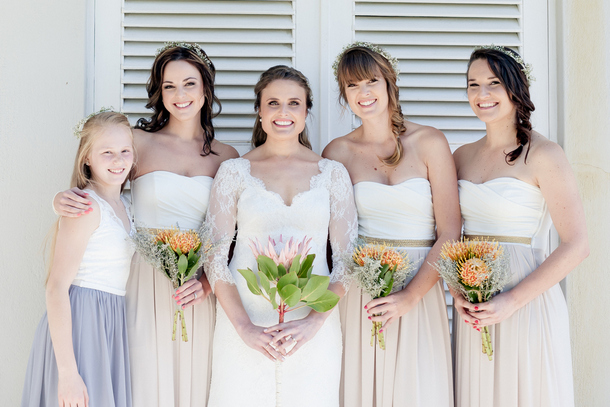 The Venue
I had come across Rockhaven through Googling and instantly fell in love with the pictures I saw. I asked my mom to pop by one Saturday as I was busy – and she booked it right then and there! Jürgen and I decided that September was the best month to get married. We immediately envisioned this magical spring celebration and knew Rockhaven was the only place that suited our style. We are not very churchy people and are both lovers of the outdoors,so getting married in an old boat shed on the dam surrounded by blossoms followed by a celebration in a gorgeous raw brick barn is exactly what we wanted. Of course, we also knew the blossoms would be beautiful in spring, and we both absolutely love the Elgin valley. Rockhaven really is the most exquisite venue – who doesn't love an apple farm? It screams beautiful blossoms and nature!
Wedding Style
SPRING CELEBRATION! We didn't have a colour palette – well, not a fixed one. Everything just really was 'go with the flow'. But if I had to describe a theme, it would be a natural spring celebration. Bursts of colour here and there with a focus on what comes naturally. Rockhaven is the most beautiful raw, natural blank canvas that you don't have to do much to, and we wanted a simple DIY eco and recyclable wedding. About 80% of our wedding was recycled in some way or another – guests took flowers home, paper and glass bottles were recycled too. My very artistic aunt is amazing at reusing and recycling, and she did our beautiful flower table under the big bauble lights. Her house is full of our wedding things!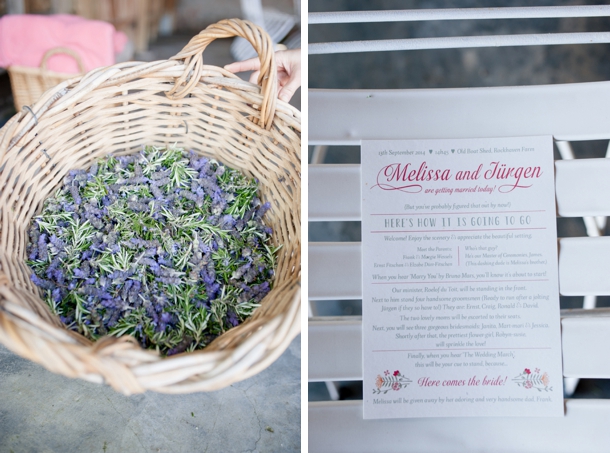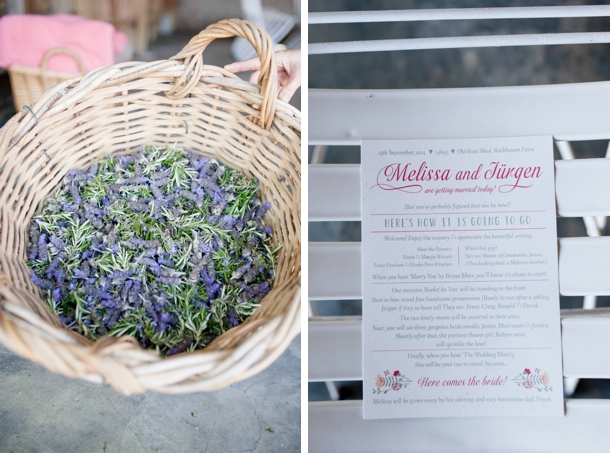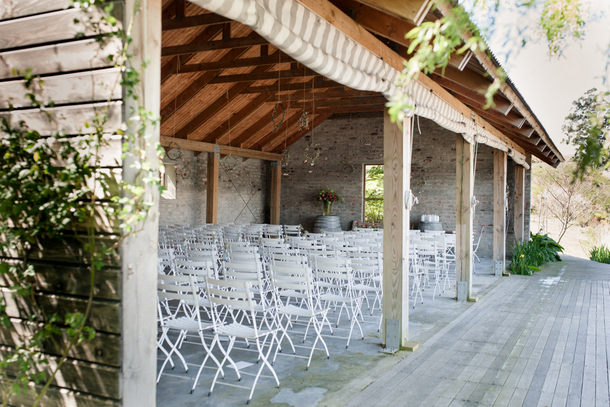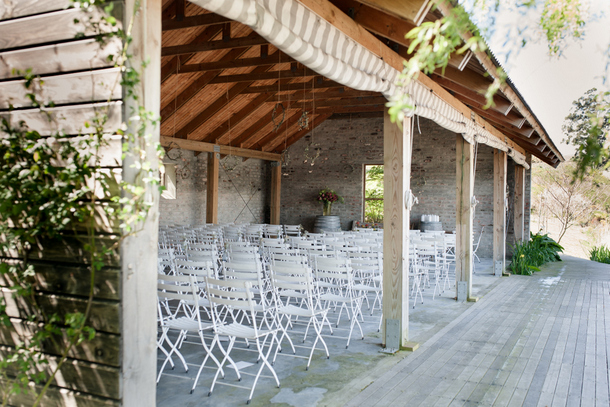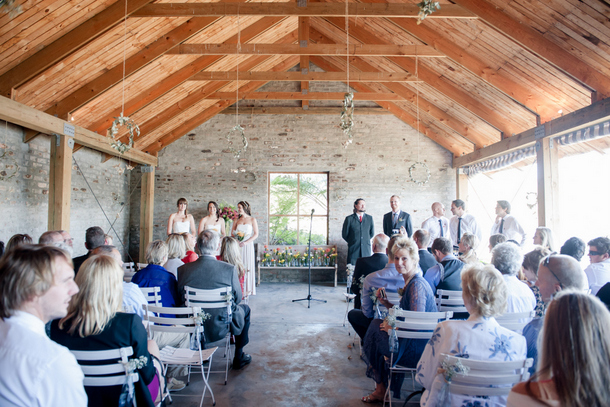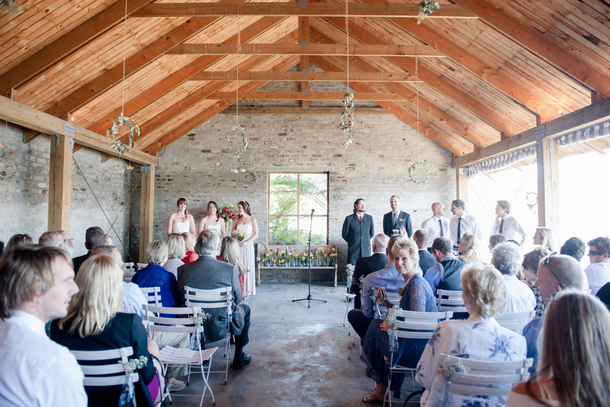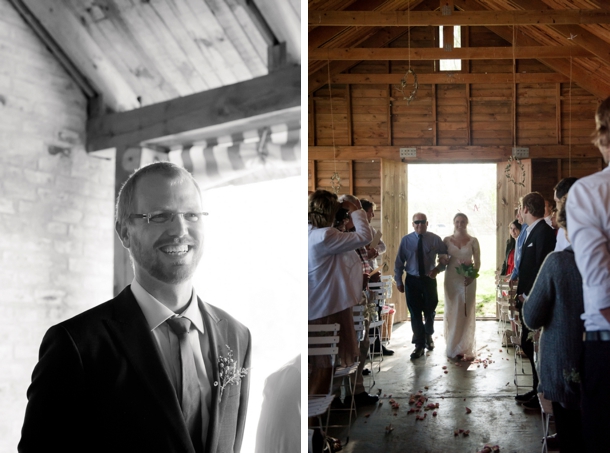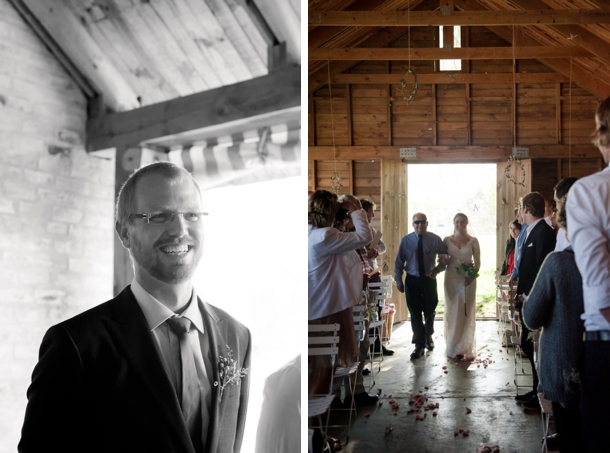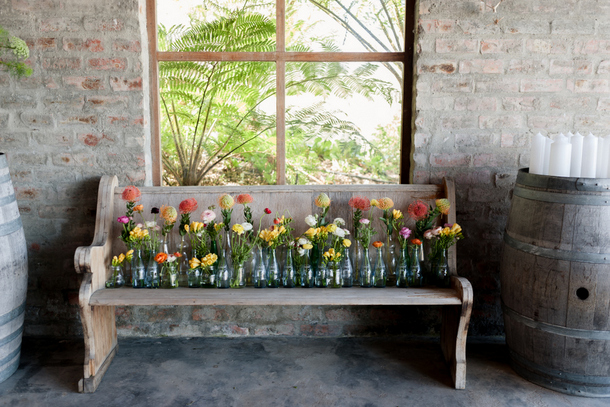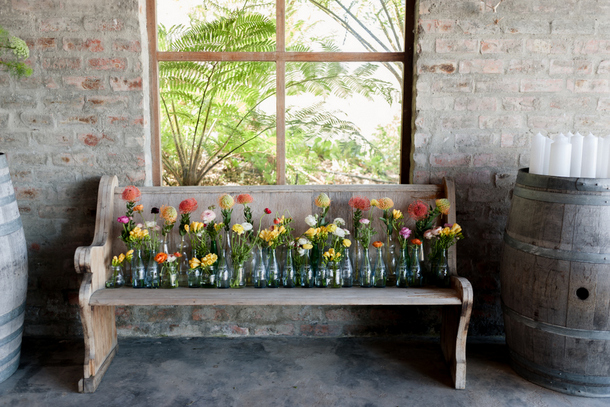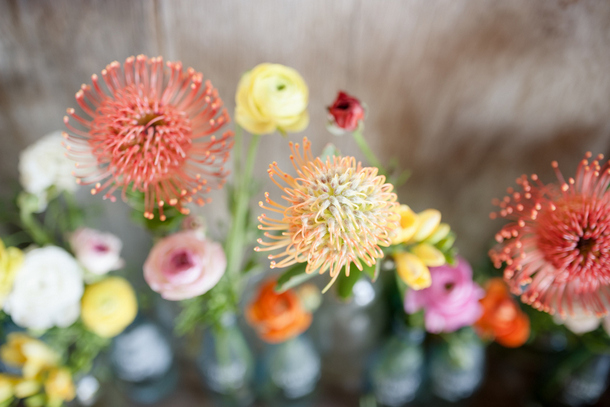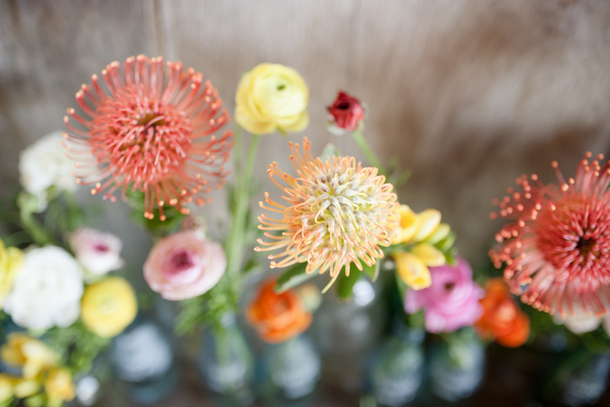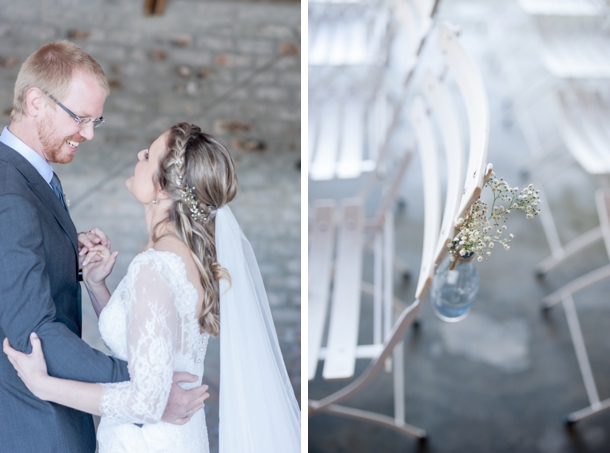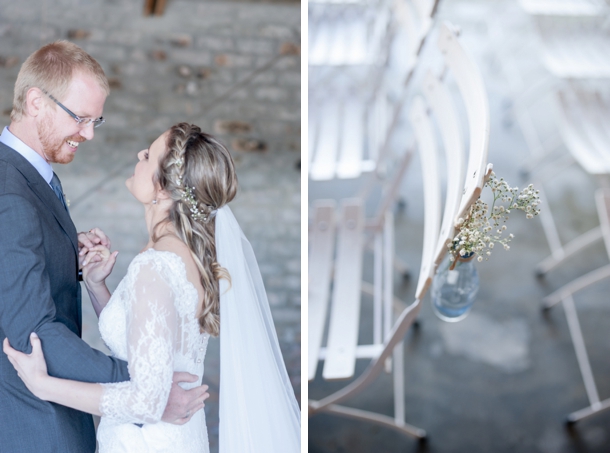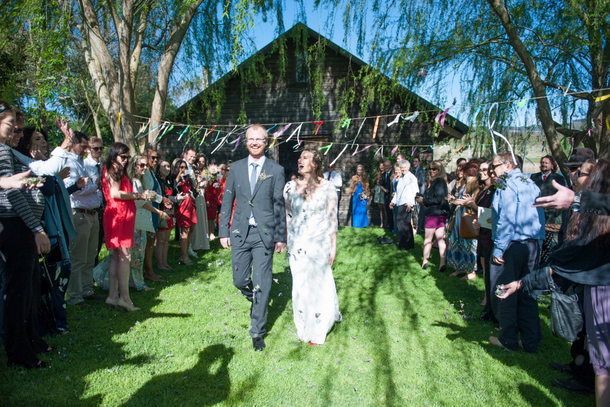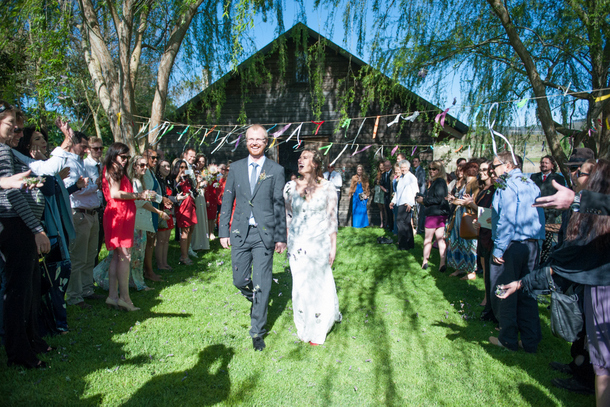 Wedding Details
We wanted the wedding to be very 'us', and it was! We both love nature and the outdoors and hiking, so included details like freshly-cut lavender and rosemary as our confetti, and freshly pressed apple juice. The family collected bits of dead fynbos, which was spraypainted white and used as decor. My husband is German so our wedding favours were Kleine Keilers which we drank when my dad toasted him – let me tell you, I went to the other end of the world and back to get them! We also had Karoo water bottles in the ceremony because every year when I was growing up, our family would head off to the Tankwa Karoo on holidays. The groomsmen each had an action figure painted gold as their place name holder, and superman badges (which they wore every which way!) Finally, we often play rock-paper-scissors when it comes to deciding things, so we played a round to decide who would read their vows first!
DIY Elements
People often ask where we got our inspiration from, and it really was 90% from the heart. Everything was DIY, since we were going for a recyclable DIY budget wedding. We collected jars and tins for months leading up to the wedding and asked family members to collect too. We went to various restaurants and asked them for jars, and also the small Karoo water glass bottles. You'd be surprised how much restaurants collect in a week! We used these jars as vases, and family members and bridesmaids worked hard on the Friday night (over glasses of champagne) putting the flowers into them. My dad spraypainted old toys gold for us to use as name tag holders, my bridesmaid made our name tags and a family member folded oriami for us for the ceremony. My mom drilled holes into old cans and we put tea light candles in these for the evening. We also approached market vendors in Hermanus and rented signs from them for a nominal fee, then gave them back to be sold; our candles also came from a lady who buys them back at a reduced rate per kilo. We only supported local and spent months just gathering together some things and buying random pieces here and there.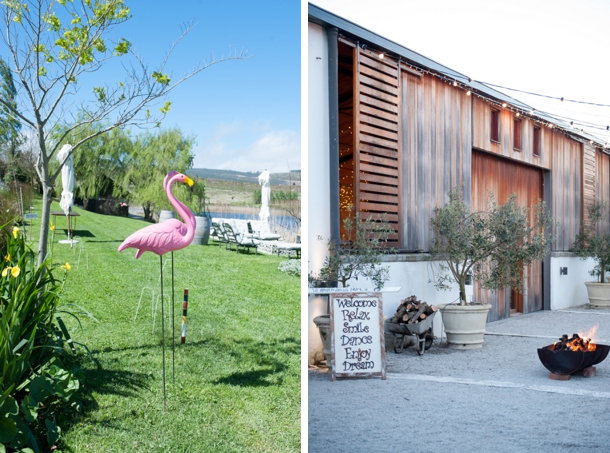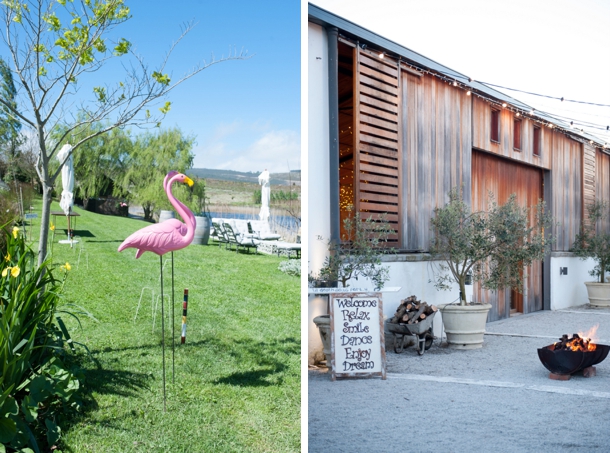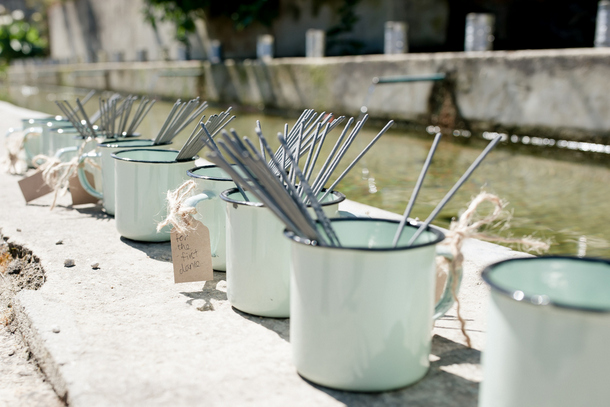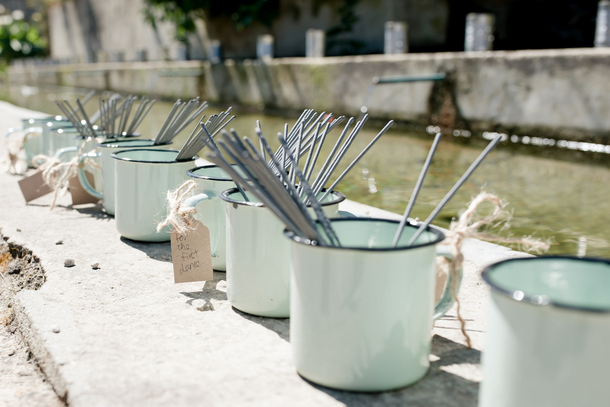 The Flowers
Indescribable! Since our wedding theme was 'spring celebration', that meant flowers. I had an idea of proteas, but after a visit to Oak Valley Flowers, that very quickly escalated. We had sylvia proteas, king proteas, pincushions, lace flowers, gypsophilia, slangbos, baubles, baby's breath, Michelmas daisies and ranunculus! Lots of fresh, fabulous flowers.
The Dress
A dear friend of mine got married the year before me, and she looked so beautiful on her wedding day – so comfortable and oozing excitement. And I knew she was following a budget and didn't want to overspend on something that doesn't need to be overspent on! Behold the magic that is Gayle from Pure Bridal Studio in Gordons Bay. She is petite and beautiful, and made me feel so comfortable! I firmly believe that you need to be very comfortable with someone who is involved with such an important aspect of your wedding day. I had always wanted sleeves and lace – a veil and a little train. We spent hours at a fabric shop working through all the different laces, and over a month or three Gayle pieced together a work of art – and on my wedding day I had honestly never felt more comfortable. Nothing slipped, nothing ripped. It literally fitted me like a glove! And I believe that being so very comfortable in my wedding dress allowed me to enjoy my wedding day that much more – I felt beautiful!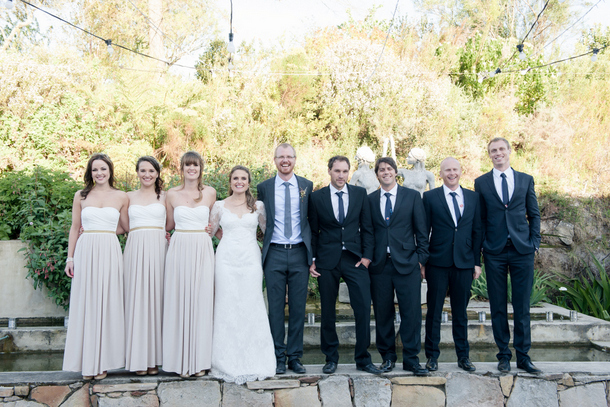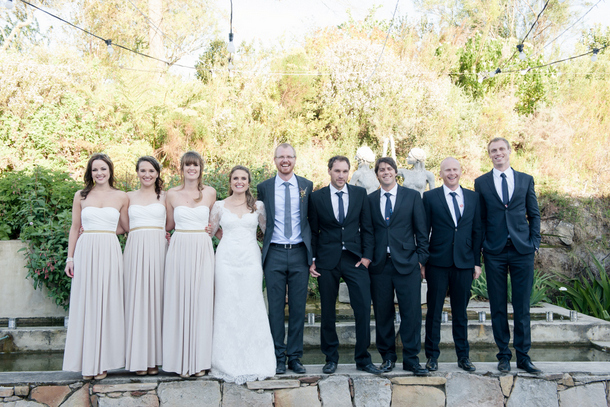 Favourite Detail
The flowers were my favourite detail, especially the ones on the bench in the ceremony and under the bauble lights at the reception. Very unique.
Memorable Moment
It has to be when I was walking down the aisle. Firstly, I carried a mini Bible passed down from generation to generation on my mom's side, wrapped in a little hanky my granny on my father's side had given me some fifteen years ago. The jumpstarted a very special and memorable walk. As a bride, it's 'your' moment, and all eyes are on you. I walked slowly and glanced around, taking it all in and then focusing on Jürgen. The guests were smiling, my dad was crying – my brother too! My mom kept saying "you look beautiful", and Jürgen had the biggest smile I had ever seen (and he has a beautiful big smile!). About three quarters of the way down the aisle, I just stopped and started laughing – I was on such a high!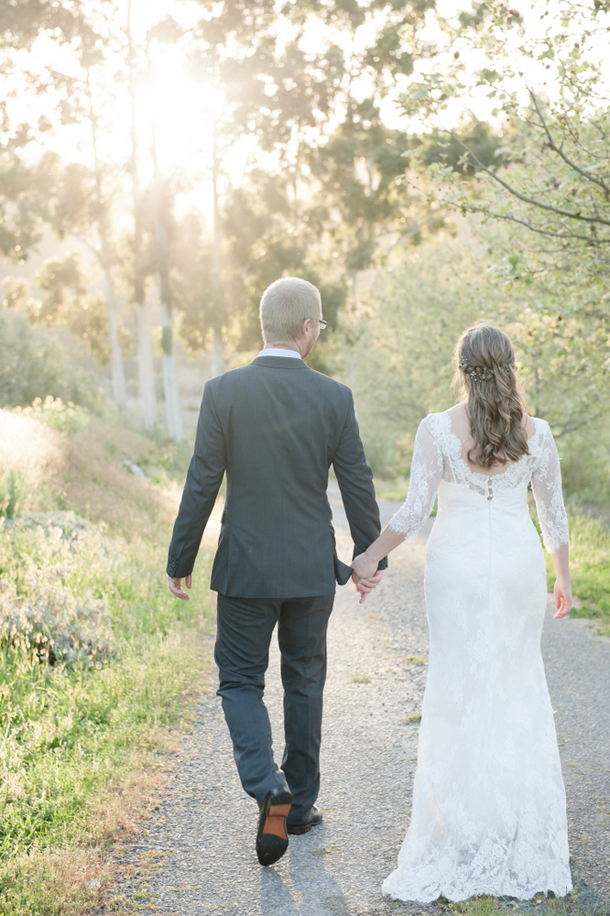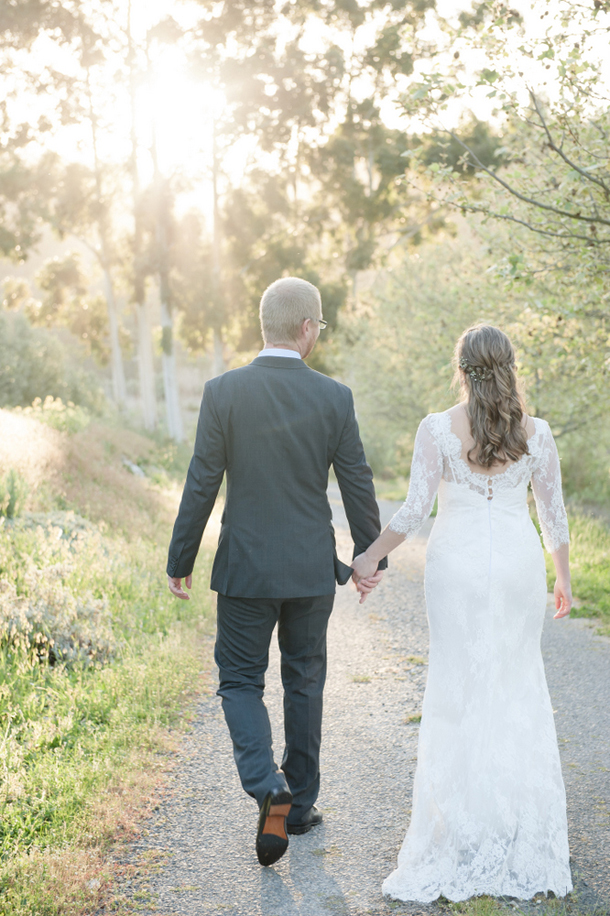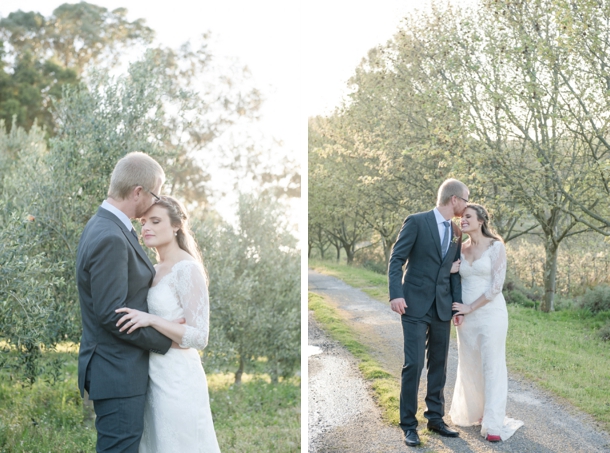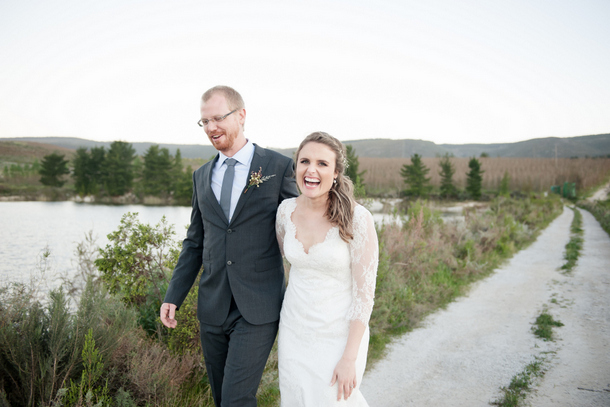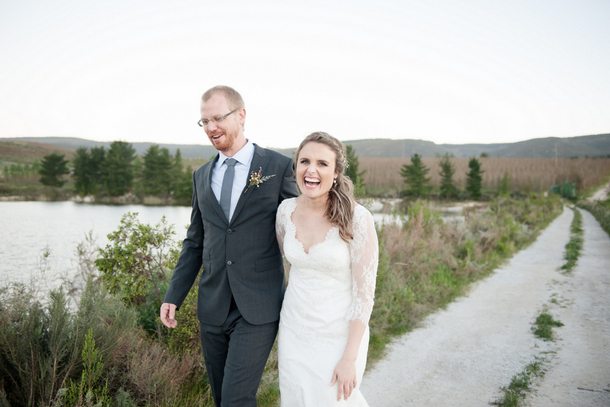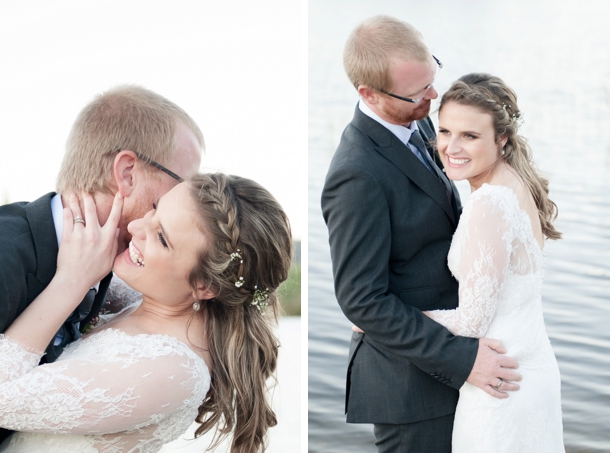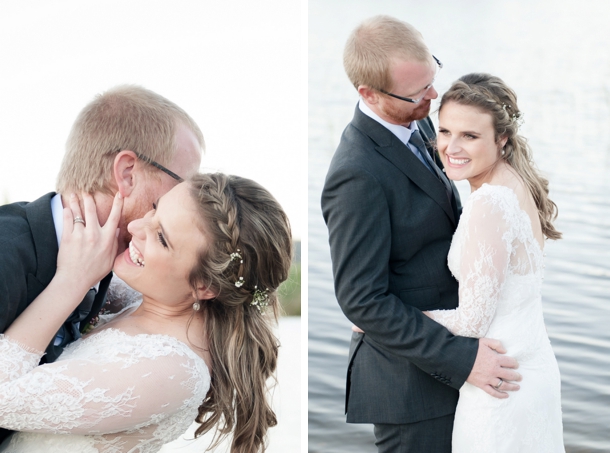 Proudly South African Details
I would like to think that by supporting locally we were proudly South African. Our brownies were delivered to the farm and came from Khayelitsha Cookies, and they were absolutely divine! Our koeksisters came from Oom Arno at N1 city – he is rather famous!
The Honeymoon
Mauritius! I know it feels as if everyone goes there, but there is a good reason for it! We are real beach bums and into our scuba diving, and as we only had a week off, we wanted to go somewhere but did not want to spend hours or days travelling to get there. I do recommend just getting away right after the wedding to relax. It really makes the world of difference!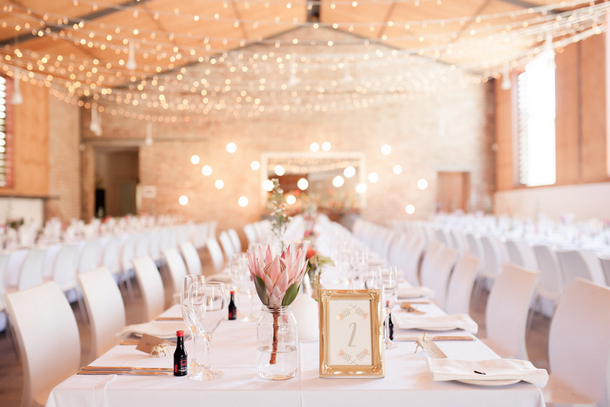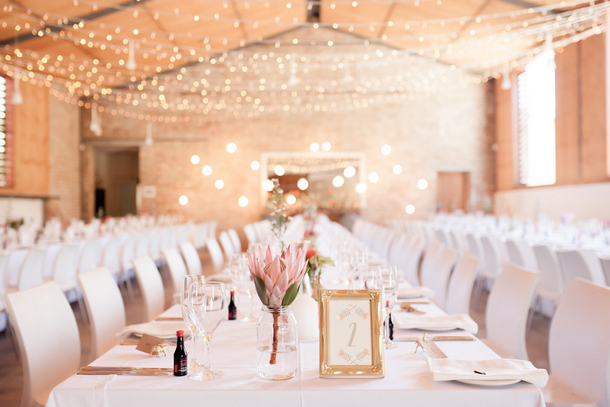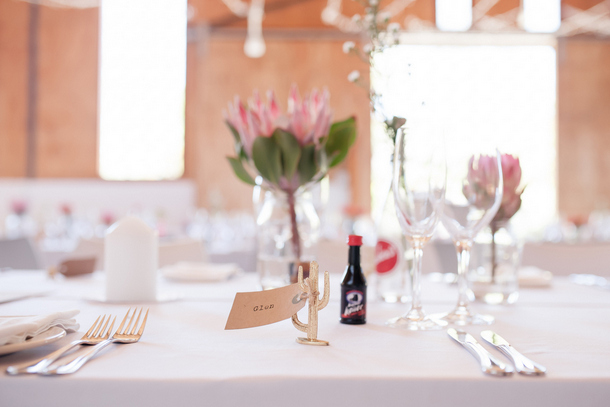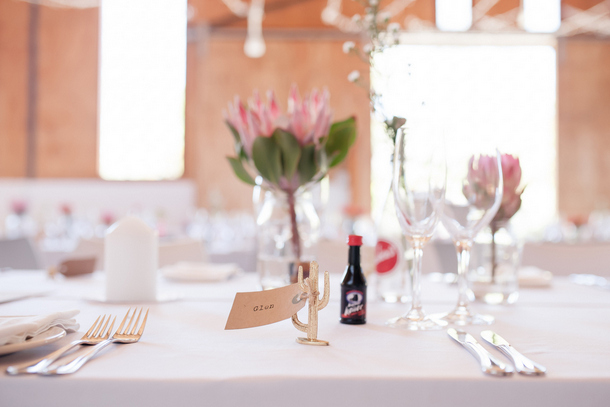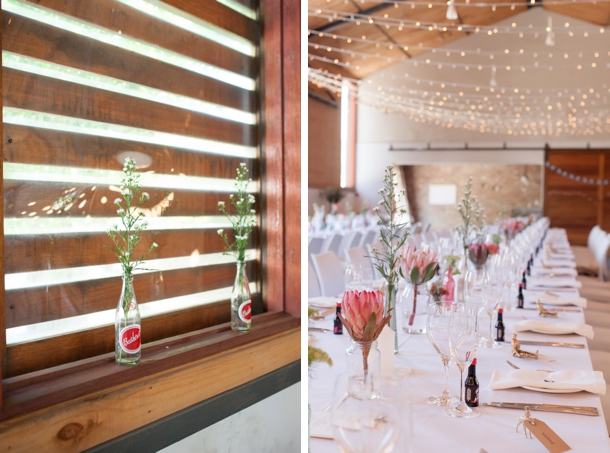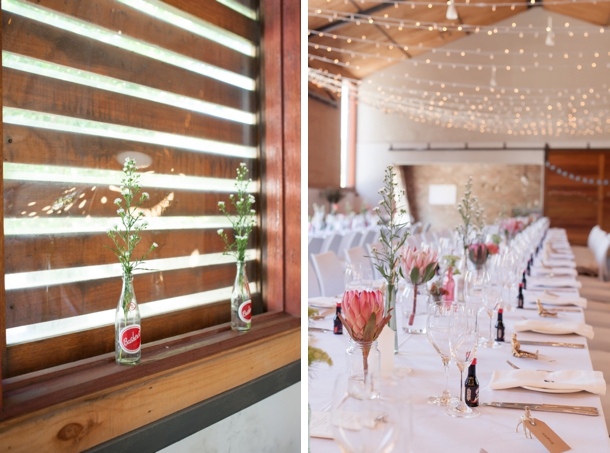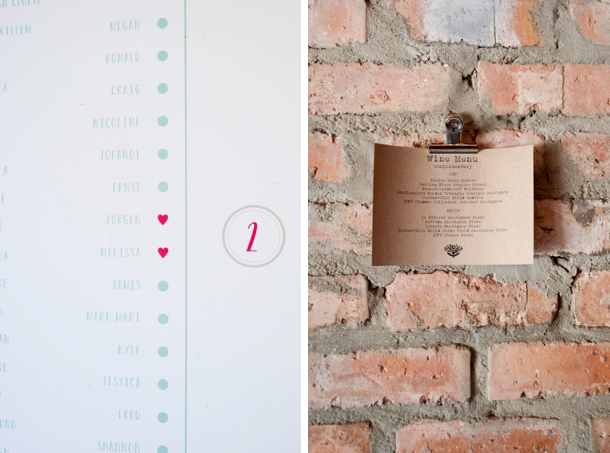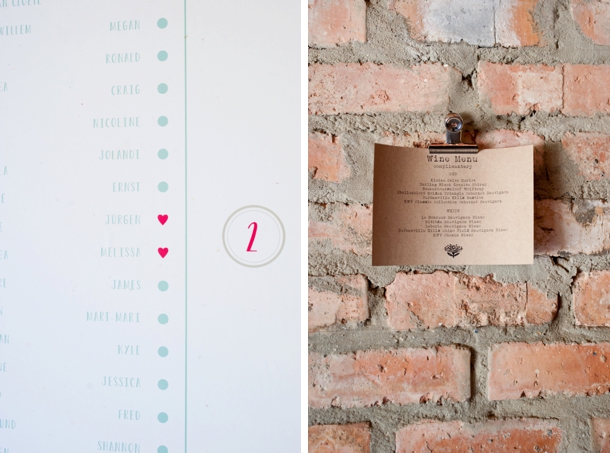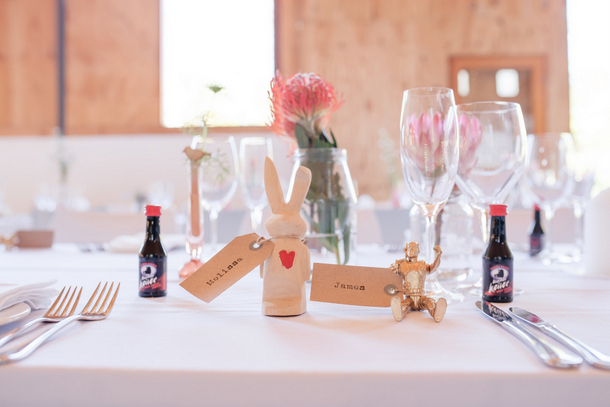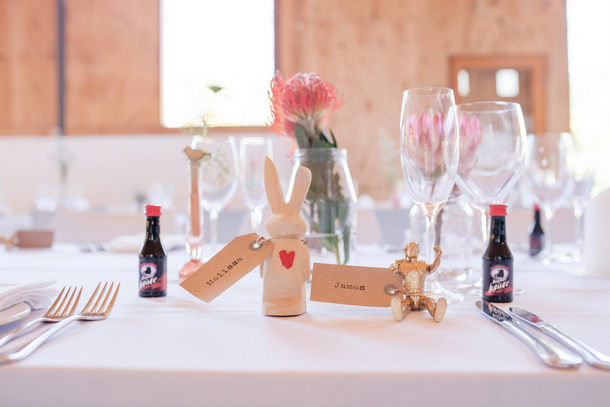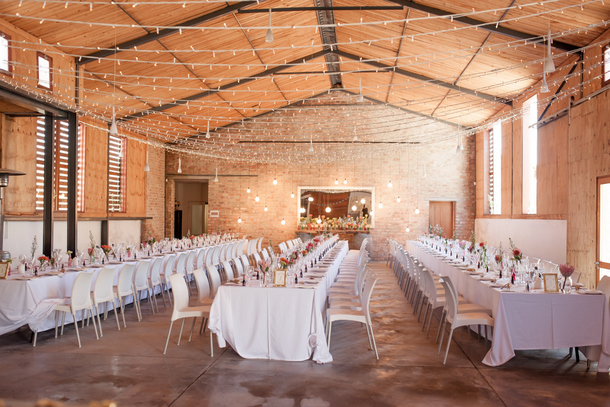 Advice for Future Brides & Grooms
If I had to give one piece of advice, it would be to please not fret the small stuff. You have 100 guests, why have 100 menus? Print one menu between five people, you will save a lot of time and money. Do you really think your guest is going to notice that thing that you spent R1000 on and spent five hours doing and got grey over? NO! Your wedding day is about you and your husband – decide what is important to you and focus on that. If we were guests at a wedding, good food and drinks, music and dancing would be important, so we worked around these as key elements for guests. It was after all our wedding day. For example, apart from dietary/vegetarian requirements, we didn't offer a choice of food – absolute best decision. Lastly, speeches. Ah, the speeches! Say what you will, the speeches will be longer than the fifteen minutes you have bargained for! And it is fine – it is your wedding day, but keep your guests happy too! About half way into the starters being served, our speeches started. By the end of the speeches, the starters were being cleared. Saving time and keeping your guests happy!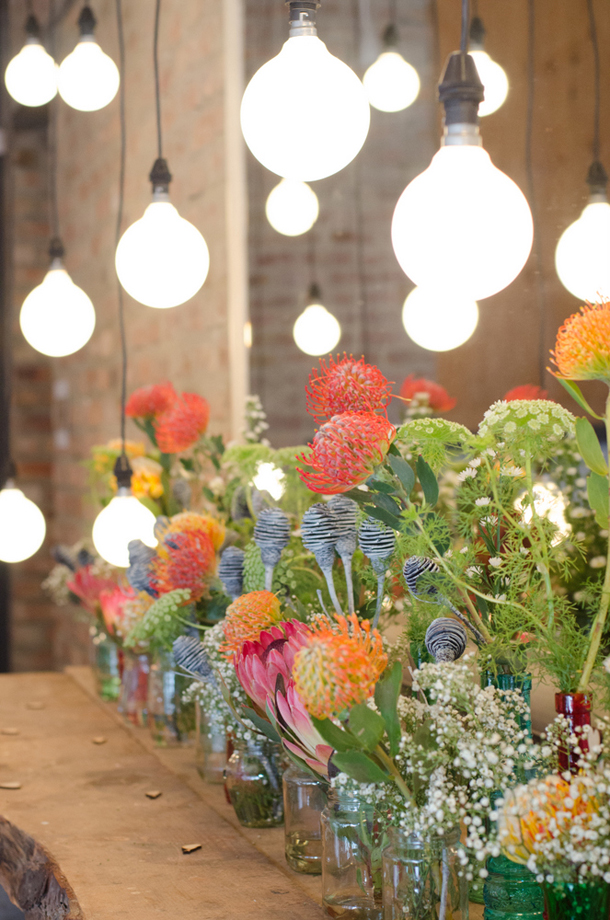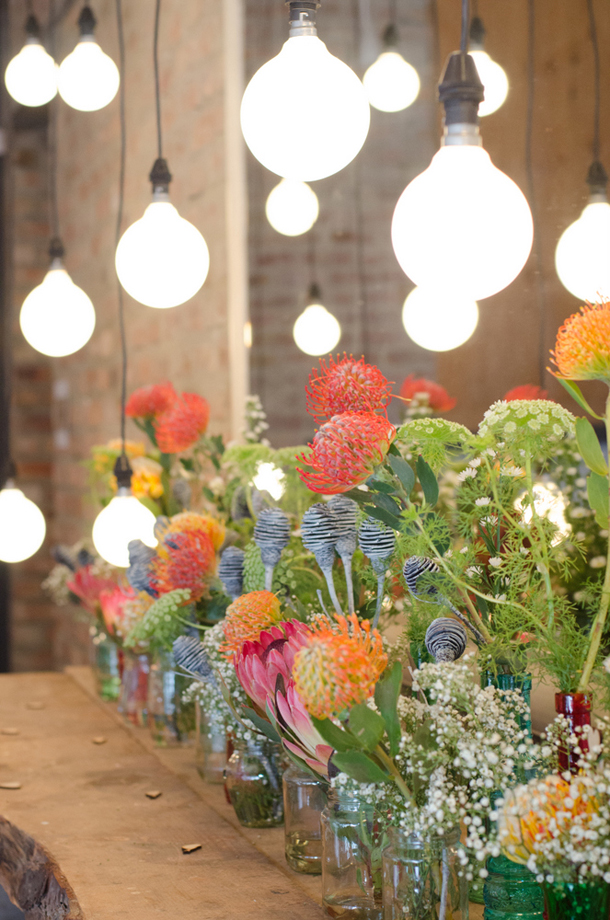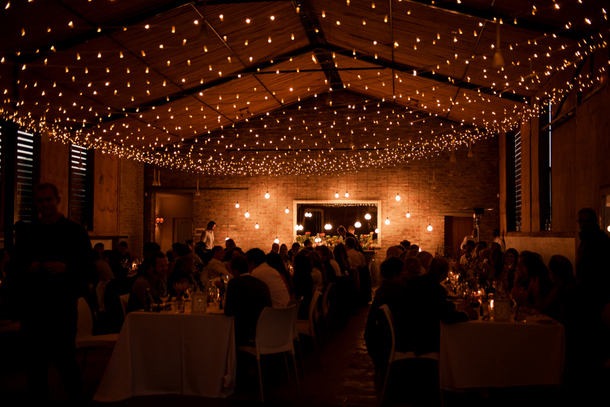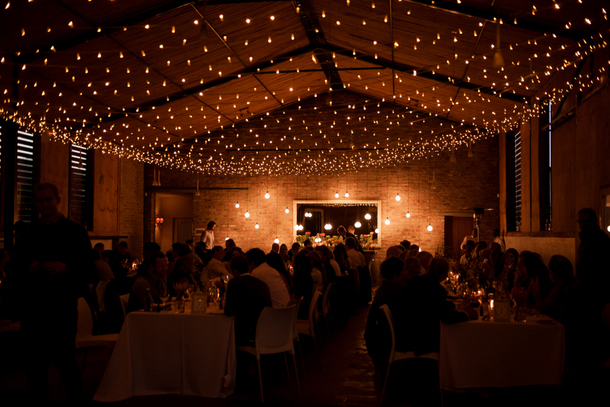 You can see more from this wedding on Nicole Rich's blog.
SERVICE PROVIDERS
Venue & catering: Rockhaven Farm | Photography: Nicole Rich Photography | Cake: DIY cheese cake using Fairview cheeses, plus cutting cake by our friend Chadae | Flowers: DIY, flowers from Oak Valley | Stationery: Jessica Natasha Artist & Janita Steenkamp | Bride's dress: Gayle from Pure Bridal Studio | Hair & makeup: Caren Fourie | Bridesmaids' dresses: YDE | Groom's attire: Trenery, Woolworths | Hiring: 4EveryEvent | DJ: Newton and Co.