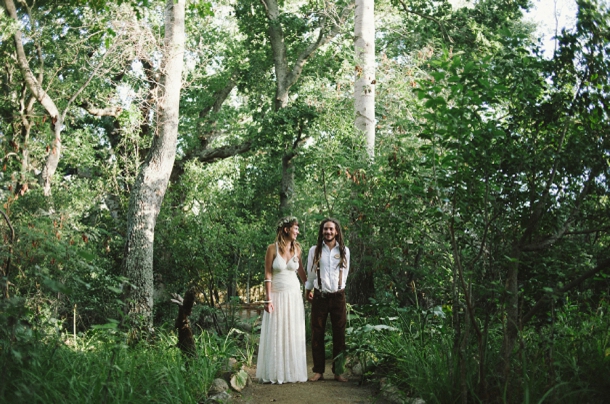 I have such a special wedding to share with you today! We hear a lot about 'boho' weddings, but today's bride and groom really embody the bohemian life, and not just because the bride wore a flower crown on her big day. When they tired of the corporate world and wanted more freedom, they started their own business creating the most beautiful lasercut lights. Groom Alan is also a skateboarder, and spends the rest of his time skating or filming for skate videos and magazines. Nadine signs all her emails 'love and light', and that's exactly the feeling I have when I look at their INCREDIBLE photos from Love Made Visible. Bex and Bruce have outdone themselves with their gentle documentary style that always captures the amazing emotion of a wedding day, and there's so much love and joy throughout Nadine and Alan's forest ceremony and eco chic reception. I love that they did things a little differently, with sack and egg & spoon races instead of throwing the garter and bouquet, and ended their night with their guests around the fire, singing and playing the guitar. Get ready for loveliness!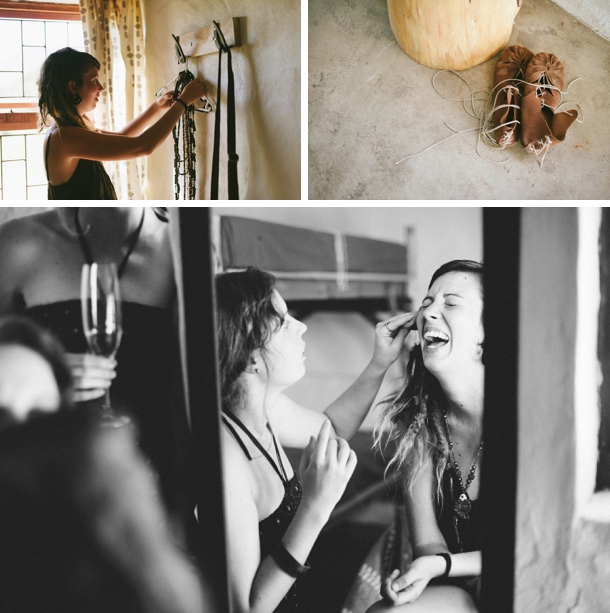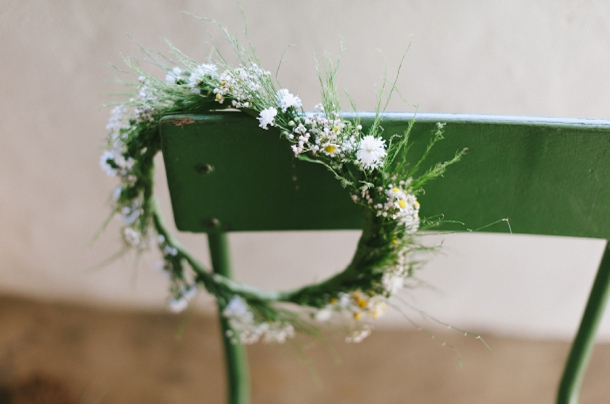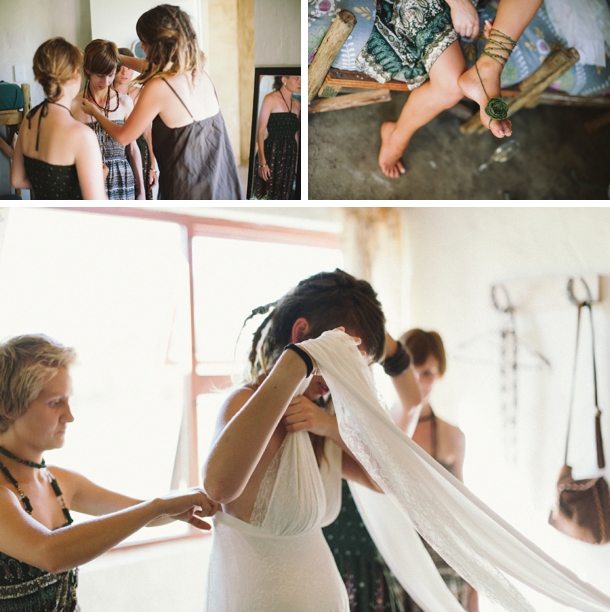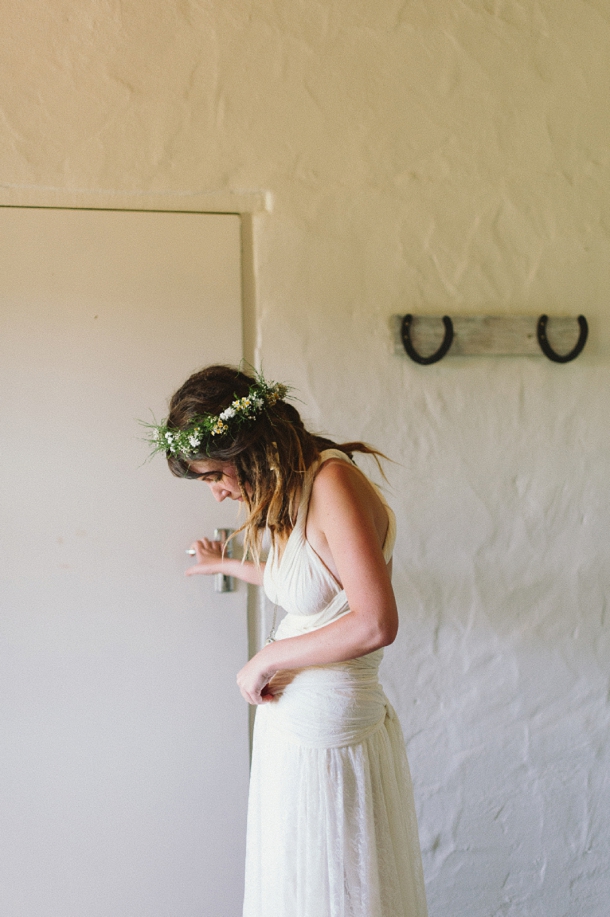 From our bride, Nadine:
Alan and I met when I was in Matric. The first night we met, Alan told his friends that I was his 'trouvrou'. There was an instant connection and we got together without knowing each other – it's now seven and a half years later.
We went camping for my birthday at 22 Waterfalls at Porterville. Alan suggested that afternoon that we should go for a walk up the mountain to watch the sunset. We sat next to the waterfall on top of the mountain, and as the sun set he got really nervous and asked me to marry him. It was picture perfect.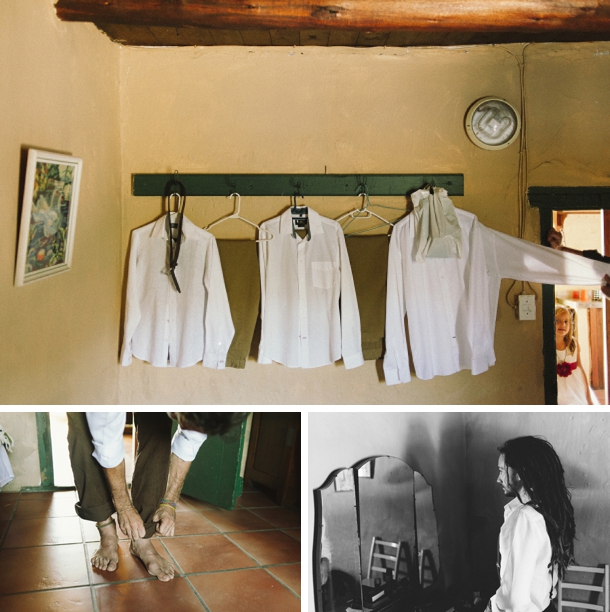 We are both nature lovers so we wanted to keep our wedding as environmentally friendly and close to nature as possible. The most important thing that we wanted was to get married in a forest, so I looked on blogs to find a perfect venue. We were very excited when we found De Uijlenes – we didn't even have a look at other venues. Everything that we wanted was there, and everyone could sleep over – what a bonus! We decided to have a tree-themed wedding, because there is so much symbolism and meaning for us in trees.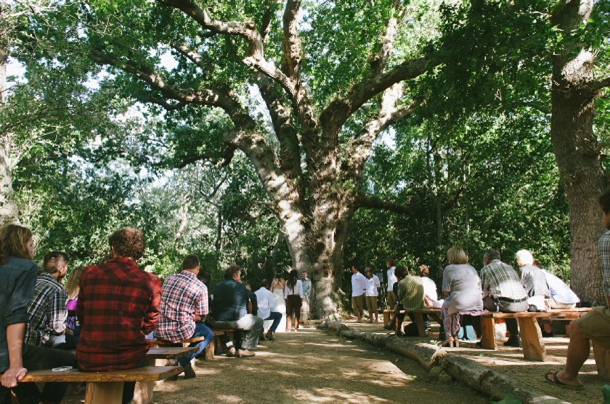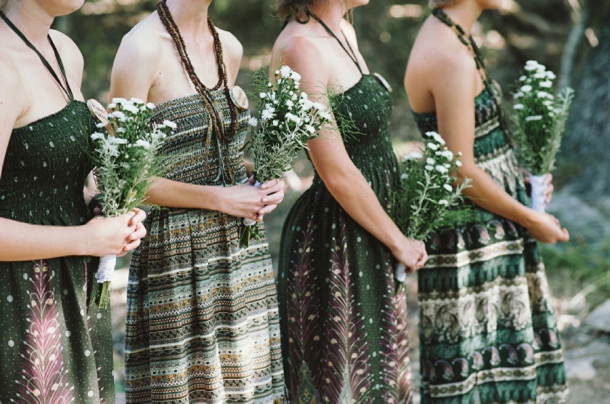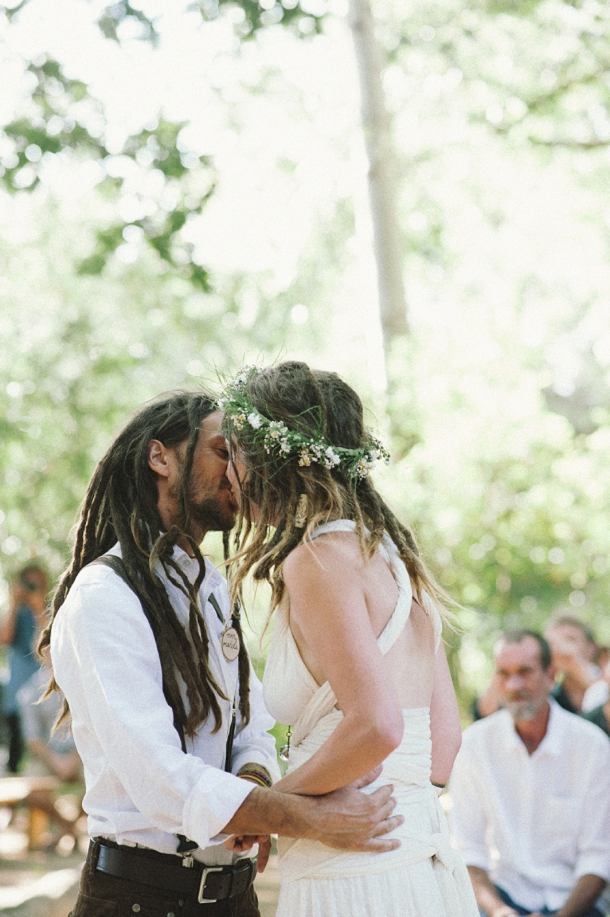 The colours for the wedding were my favorite colours, green and brown, and appropriate for the tree theme. I wanted a bohemian, vintage style, with lots of cotton, lace and herbs instead of flowers. Alan wanted to have a relaxed wedding so we, the best men and bridesmaids all went barefoot. The fireplace outside the venue was just perfect to set a relaxed vibe.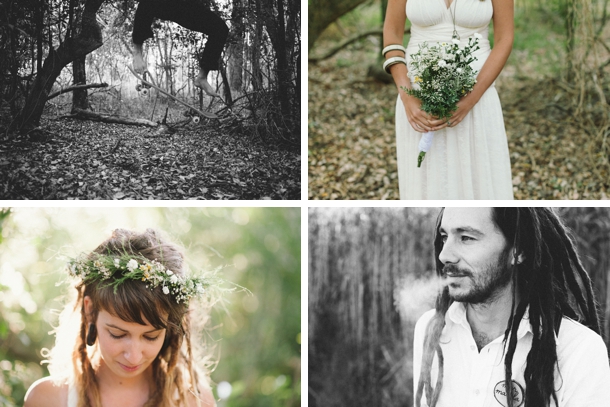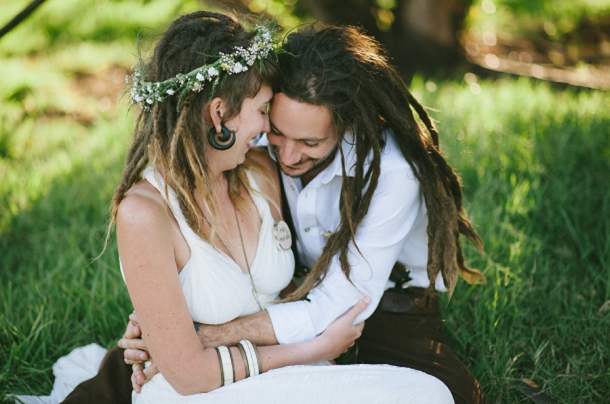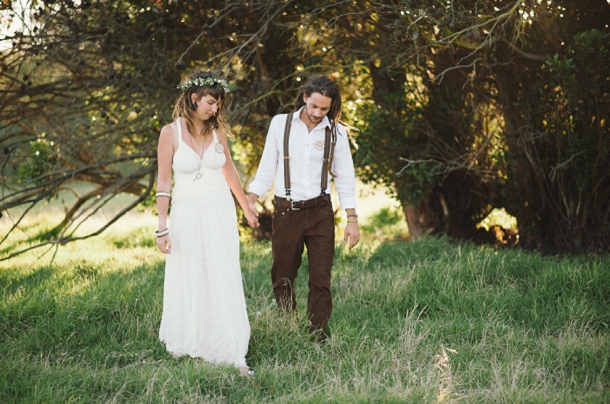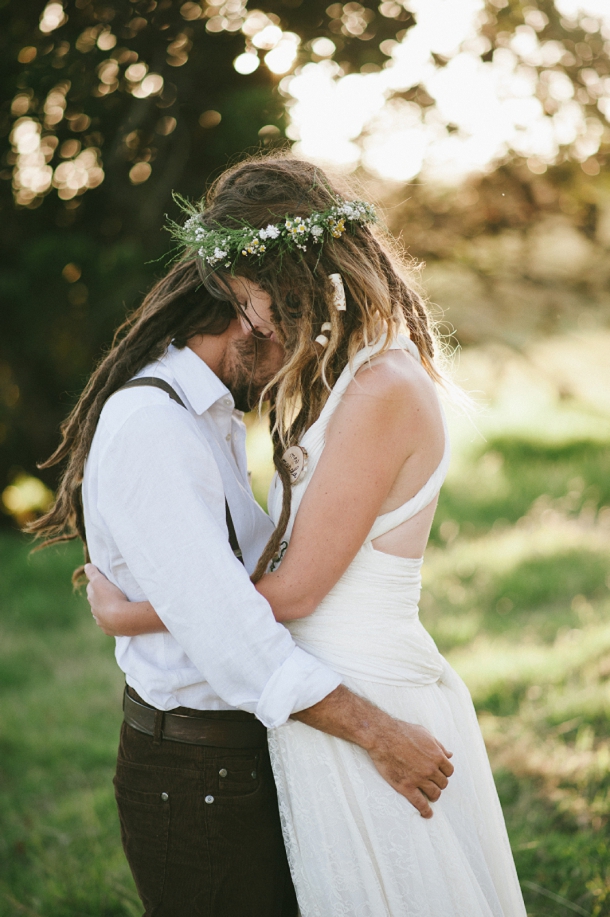 I loved that we did everything ourselves, from the invites (little envelopes with basil or rocket seeds) and decorations, to the bouquets and flower crown. Alan and I went to the venue on the Thursday before to start decorating so that we could do everything the way we wanted it to be. We recycled glass jars and bottles by sticking lace on them for vases, and used herbs from Bloublommetjieskloof instead of flowers. Two trees in our back yard died, as if they sacrificed themselves for the wedding, so we used them to make candle holder and seating names, as well as the cake stand. My dad jumped in to help and sewed the table runners, the cake stand and wine barrel cheeseboards for the picnic in the forest after the ceremony, where my mom and aunt made all the starters we served. One of my friends who loves baking gave us all the cupcakes as a wedding gift. It made our day special knowing that my parents, friends and ourselves had put our heart into making our wedding look beautiful.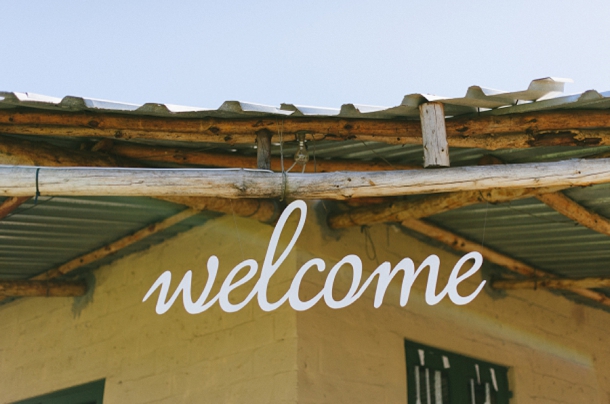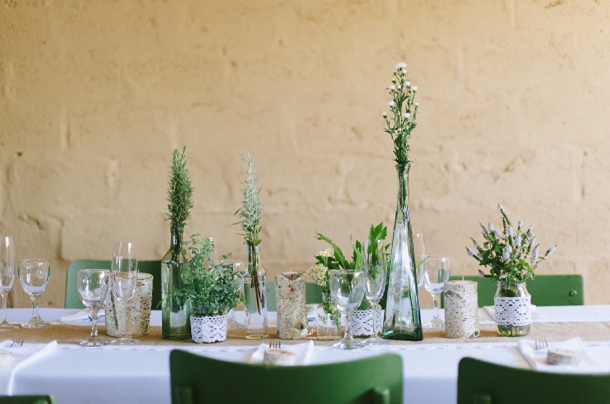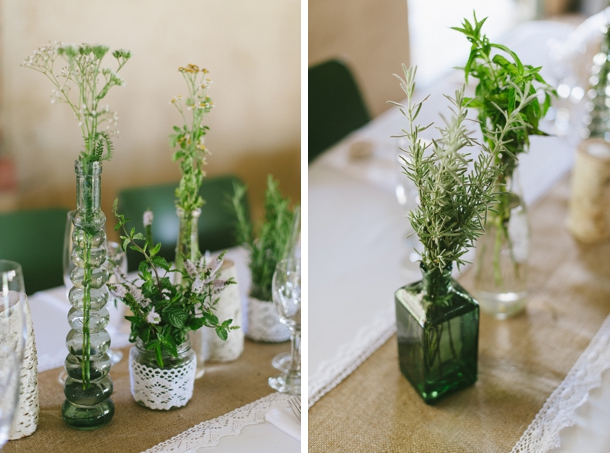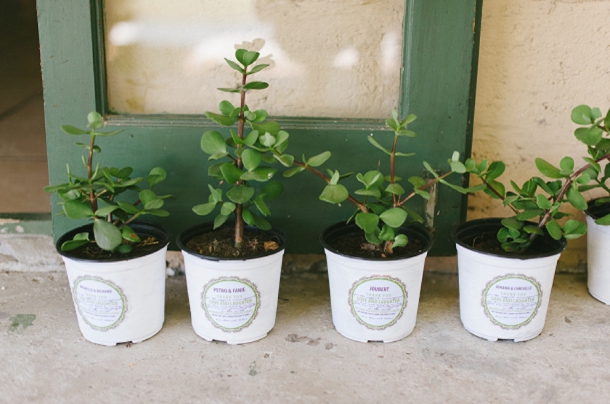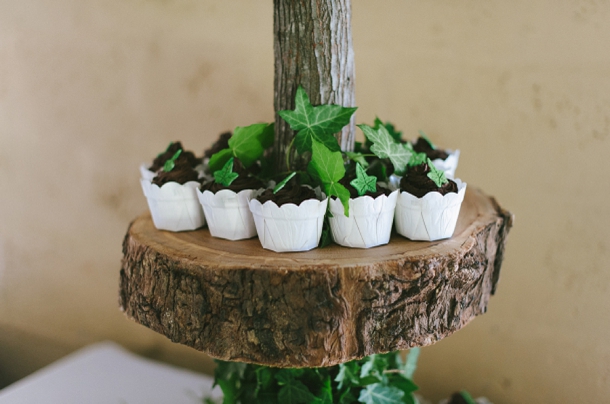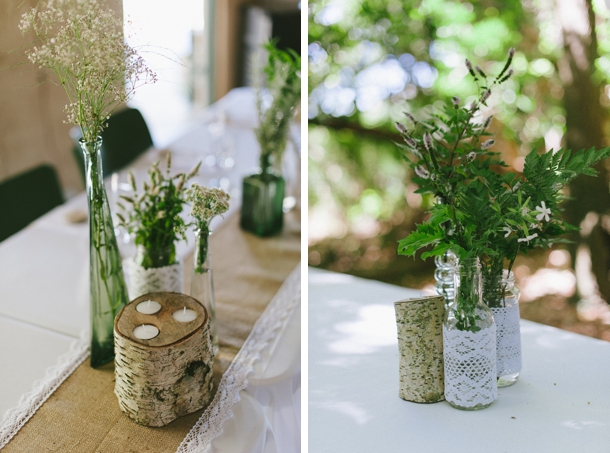 My dad did the ceremony, which made the wedding even more special and intimate. He was able to speak from the heart, because he knows us well. He prepared a beautiful speech, comparing our relationship to trees – that meant a lot to us.
Our friends also made our day special by sharing their talents. Two of them, Elize and Wayne, gave us a Fire Poi show as part of our wedding gift. After the show we all sat around the fire and our other friend Jack Stone played guitar and sang us a few songs. Later we all started singing along. Bongo drums appeared and everybody enjoyed themselves, jamming along on the bongos.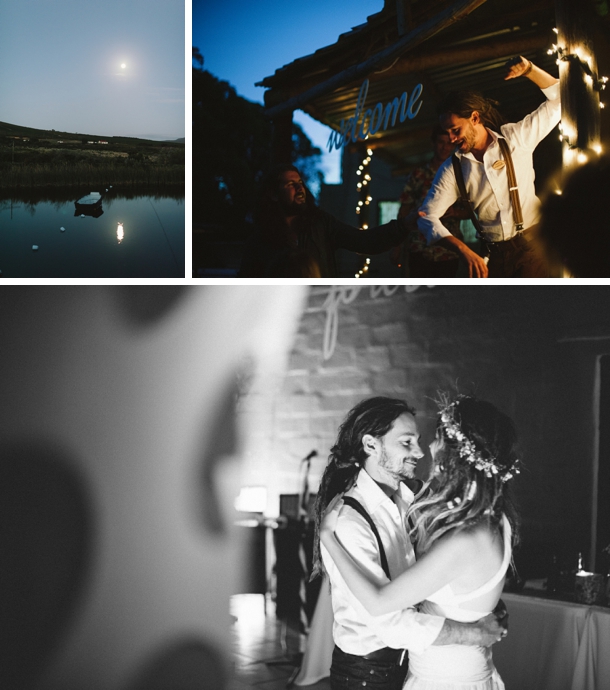 My advice to future brides is that you don't have to spend a lot of money to make your wedding day special. Rather spend your money on the things that will stand out and that will matter at the end of the day, like a good photographer and the venue that you've dreamed of. With the help of family and friends, you can do so much yourself and it will be more meaningful and special in the end because it will reflect who you are. If you do get other people involved just be clear about what YOU want, because it is your day. It is important to start planning ahead of time so that you have enough time to make everything perfect, shop around and gather ideas, especially if you decide to make things yourself. Decide on a theme and look that you want for your wedding and do everything according to your theme. It makes it easier to focus and to search for ideas.
When planning my wedding I looked at a lot of blogs for ideas. People are very creative and have the most amazing ideas for decorations. Blogs that I got inspiration from included: SouthBound Bride, The Pretty Blog, Pintrest, Once Wed and Green Wedding Shoes.
Thanks so much, Nadine and Alan, and wishing you a life as beautiful as your wedding photos. You can see more of these on the fabulous Love Made Visible's website – thanks so much guys!
SERVICE PROVIDERS
Venue: De Uijlenes | Catering: Malita Joubert | Photography: Love Made Visible | Herbs: Bloublommetjieskloof | Bride's dress: Gelique | Bridesmaids' dresses: Ska | Video: Birkenstock Media