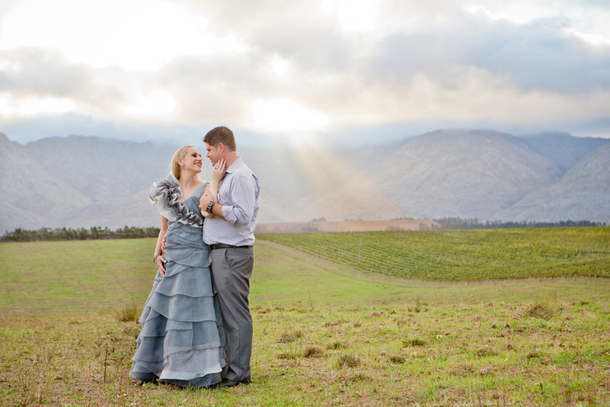 When weddings are what you do for a living, it can feel a little like you've seen it all, and a traditional Big Day is sometimes the last thing you want to plan for yourself. So it's no surprise to find that what happens when two Johannesburg wedding photographers decide to get hitched is a fun-filled, intimate weekend wedding in Cape Town! Dominique (and her company Hello Love Photography) is already a member of the SBB Directory, so when I asked for intimate weddings for April, I thought it was awesome that she submitted her own! Not just because it's fun and relaxed with lots of grey and red handmade details, beautifully captured by Maré Rootman, but because I could pick Dominique's real bride brain, and ask her to give you her words of wisdom on planning an intimate celebration. So be sure to read ahead to the end of he feature, where you'll find her Top 10 Tips! (Be sure also to check out the Hello Love profile in our directory to hear more from Dominique.)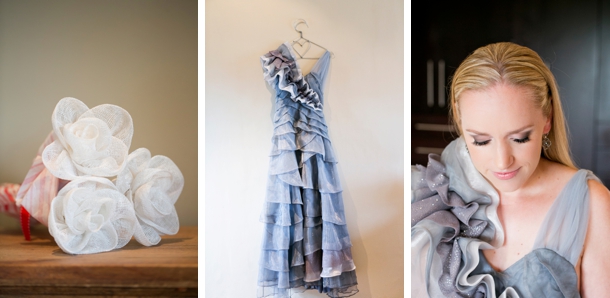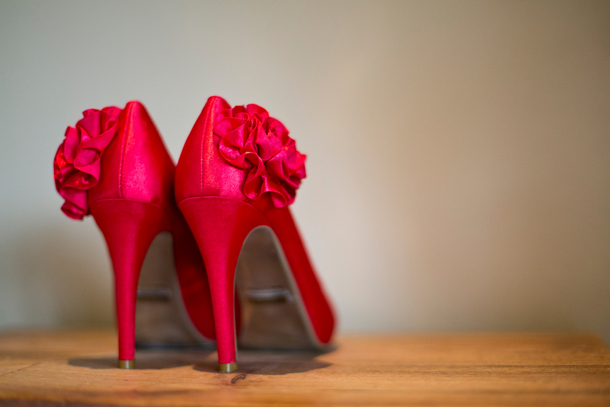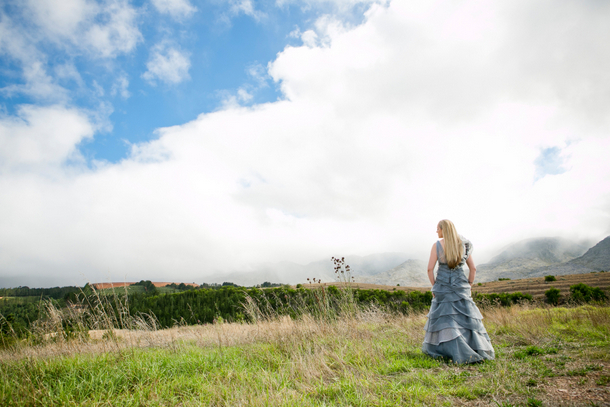 Love Story
Our invitation actually told our love story to our guests (nobody expected the words: "We're getting hitched!" on the inside!):
"Gerrie & Dominique went to school together – he was Mr. Popular, she was the academic – they never met! After high school they both had part-time jobs. He worked at Truworths and did their banking on Saturday mornings. She worked at the Pharmacy and did their banking on Saturday mornings. They saw each other at the bank. He asked "would you like to go for coffee?" She asked "Why?" They didn't go for coffee… but went for orange juice instead. They dated – went to the movies, ate food, became best friends! They fell in LOVE! A few years passed… they started a business, bought a house, moved in together, got two cats and filled up their home: He buys fishing gear – She buys DVDs… He buys remote control planes – She buys DVDs… He buys electronic gadgets – She buys DVDs… They watch a lot of movies together! Gerrie & Dominique knew that they couldn't imagine life without each other."
When we told our family and friends that we were getting married in Cape Town, they were ready to buy their plane tickets! After (what feels like nearly a lifetime together) everything just fell in place – and on our 15 year anniversary as a couple we finally said our "I Do's"!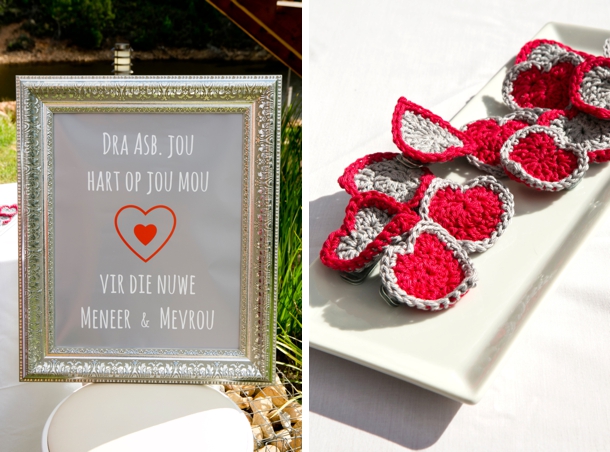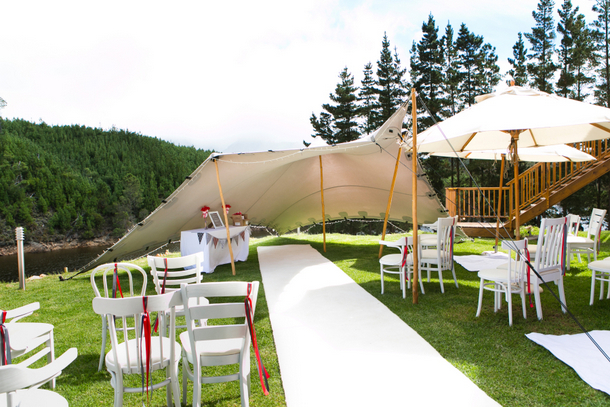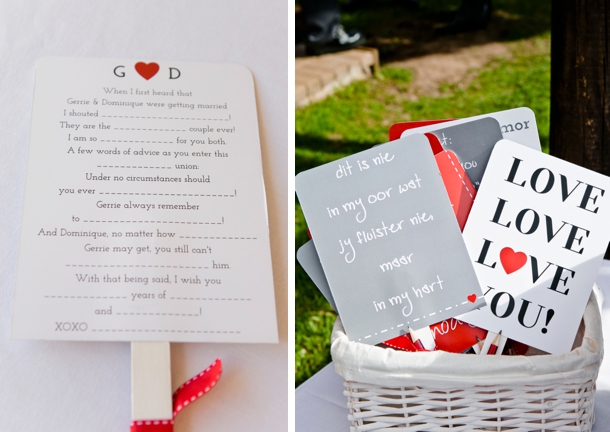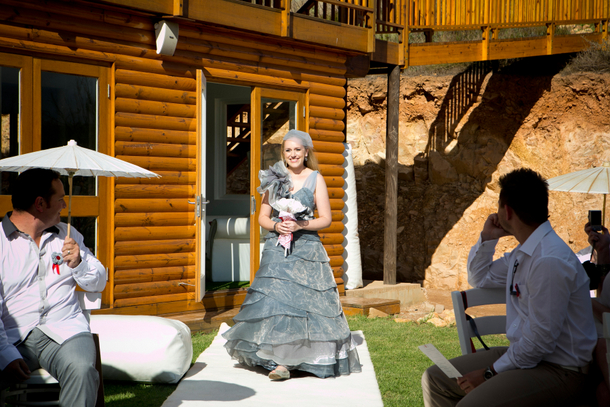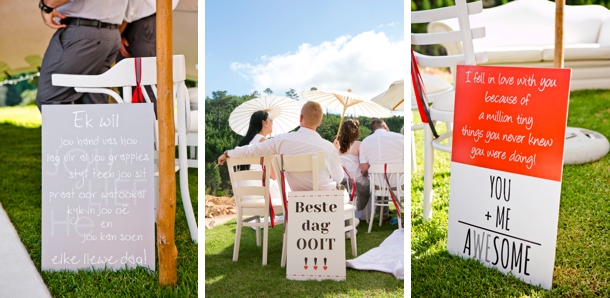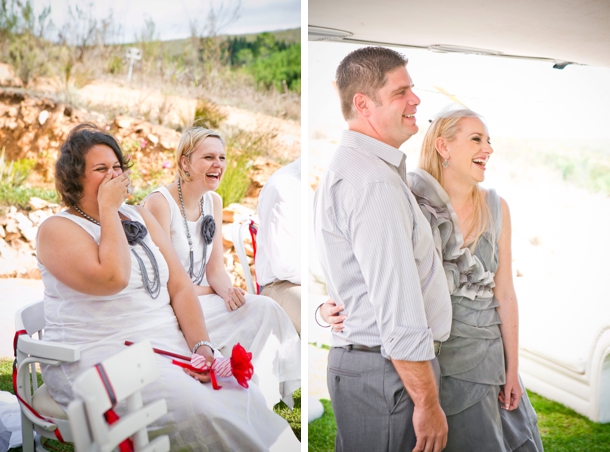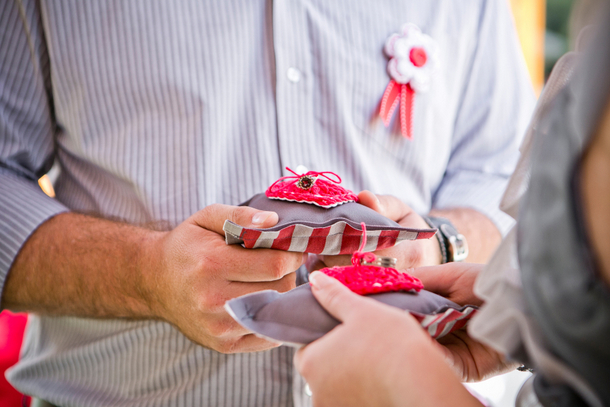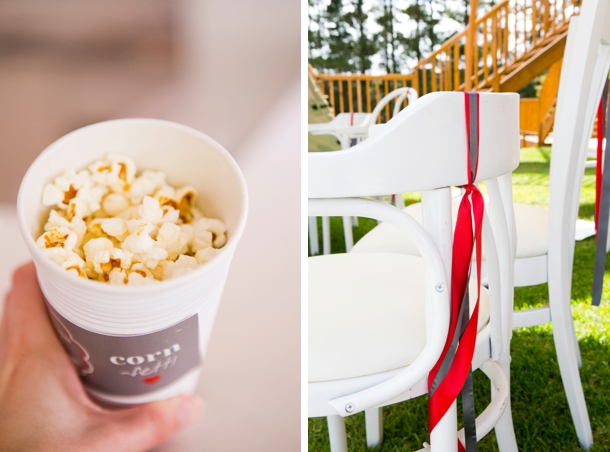 The Venue
I adore the scenery of Elgin Valley, and Gerrie loves fishing (he was immediately taken with the prospect of being able to fish before the wedding ceremony), so we decided on Mofam River Lodge for our wedding.
Wedding Style
As a photographer, I've seen loads of white wedding dresses. And being a little unconventional, I decided to mix things up! My wedding dress would be grey, while our guests would all be dressed in white. Mofam's restaurant is also all white inside – which was perfect for our clean-cut minimalist look. To accent the white and grey, we added dashes of red to our décor.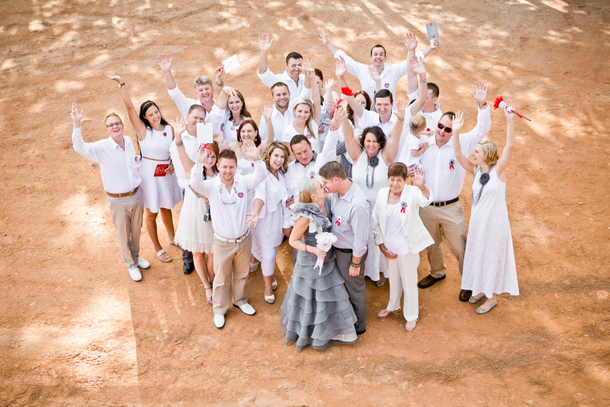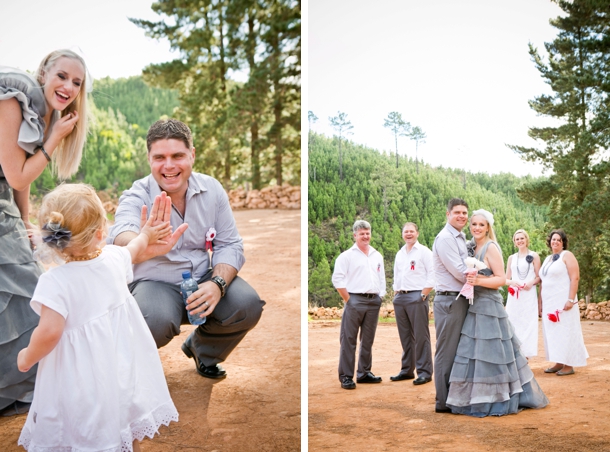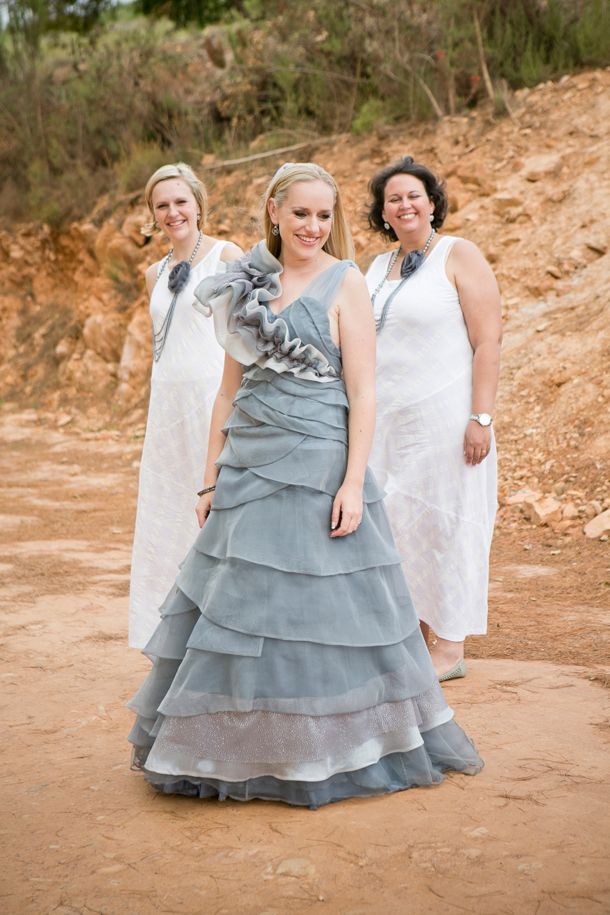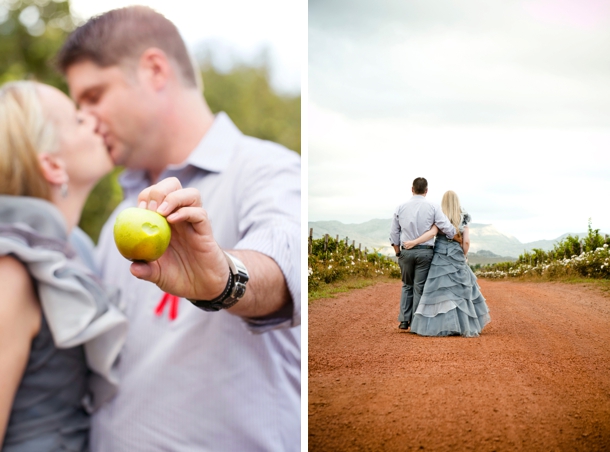 DIY Elements
We designed and printed our invitations and wedding stationery (menus, photocards, etc.) My sister crocheted our boutonnières and serviette rings. She also made our bunting while my mom-in-law made our table runners.
The Flowers
Our flowers for the bouquets and tables were handmade fabric flowers.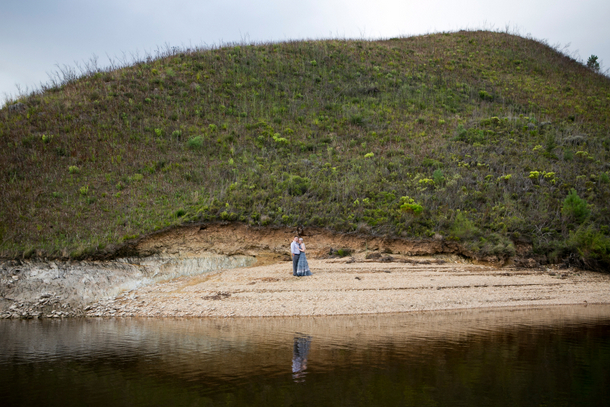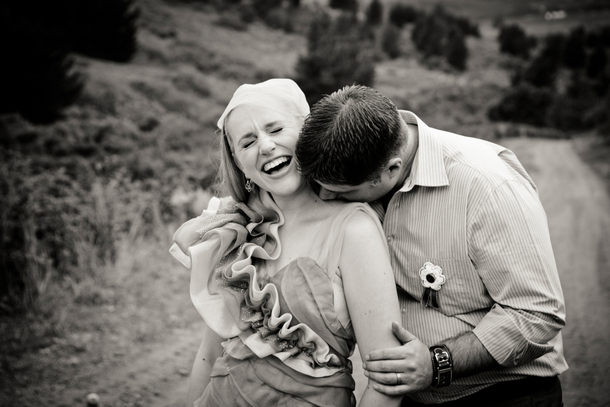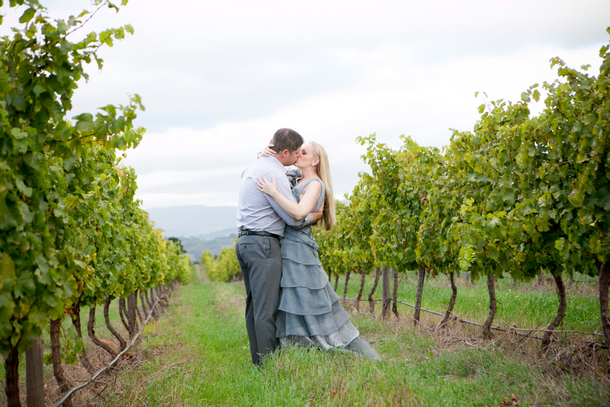 The Dress
Finding a grey dress in which I could move and have fun, was (to say the least) a struggle! I finally ordered a dress from overseas. But when it arrived, it just wasn't me! My sister phoned me a week before the wedding and said that she'd been eyeing a dress that she thought would be perfect for me (but she didn't want to say anything, lest she plant a seed of doubt in my mind about the ordered dress). But when she saw how unhappy I was, she knew she had to convince me to look at the new dress. So the very next day, we visited the designer – and I absolutely fell in love with that dress.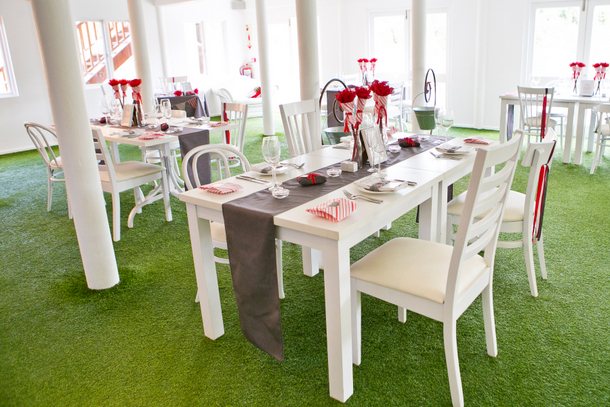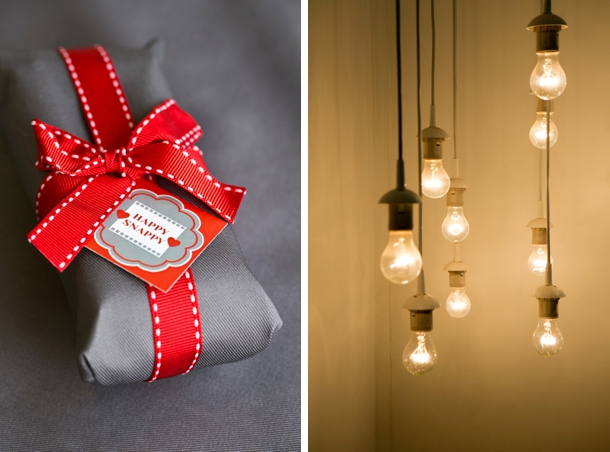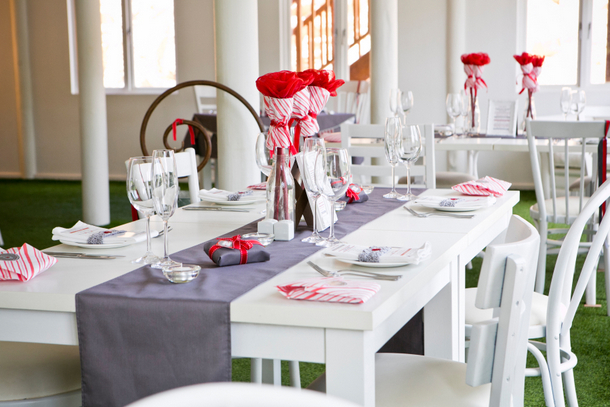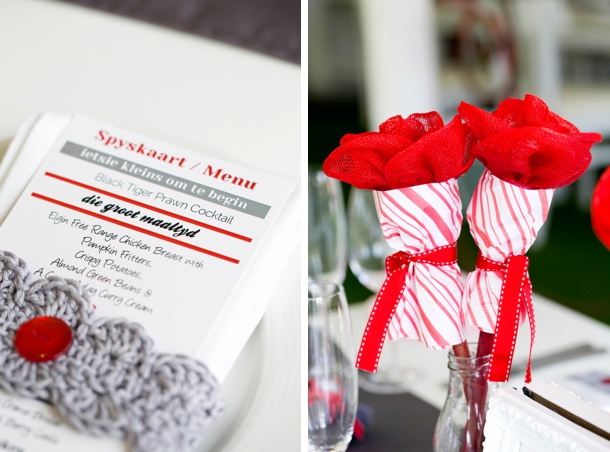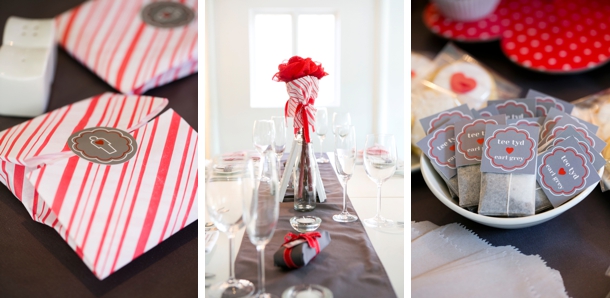 Memorable Moment
Gerrie's huge smile as I walked down the aisle towards him… or maybe the pinch on the bum he gave me during the ceremony (which had our guests in stitches)!
The Honeymoon
We only had a four day honeymoon (in the Mother City) as we had to return home for another wedding we had booked that following weekend. The life of a wedding photographer ;)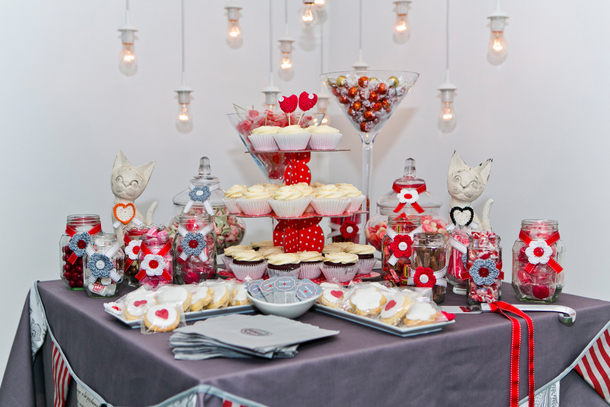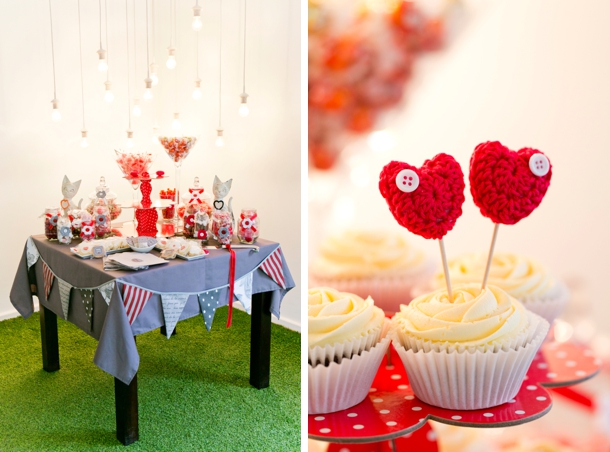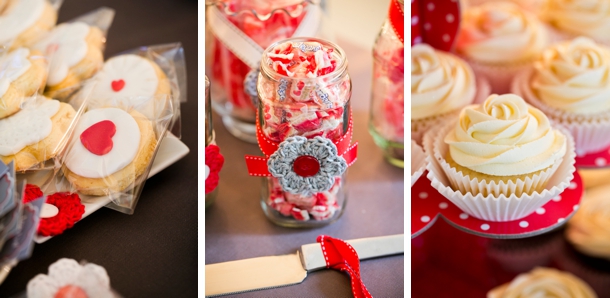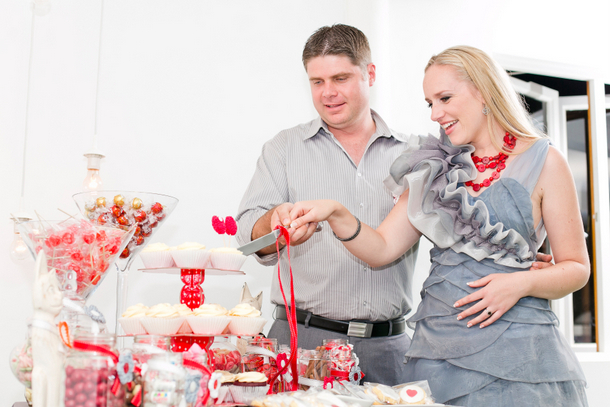 Dominique's Top 10 Tips for Planning an Intimate Wedding
It's your day! Do what makes you happy!
When deciding on our guest list, we were realists. We wanted to LOVE all the people who shared in our special day! So we decided to invite only family and friends that we had seen and visited in the last three months – and ended up with a total of 24 guests. There's no point in having hundreds of guests (half you don't know) simply to please parents.
We wanted our guests to enjoy our wedding day as much as we did! So there was loads of entertainment for them – each guest received a paper fan with a love quote on the front, and fun questions to answer about us as a couple on the back. We had a photobooth to entertain them while we were having our photo session. A variety of snacks and an ice cream bar a little later in the day. As favours we gave the guys red funky glasses, and the ladies received red beads to wear once the party started. It was such a nice pop to see the reds against all the white!
Do your homework – and trust in the vendors you choose. If they are real professionals they will only add to the joy of your day. We chatted to the make-up artists, pastor, even our chef before the wedding – and they were all people we connected with and enjoyed. Being a photographer myself, I looked at loads of photographers before deciding on someone to capture our day. I wanted someone who would not just capture us, but also the beautiful surroundings that the venue offered. And our photographer did an excellent job!! We love all our wedding photos!
Intimate weddings can be more casual. We did not want anything formal, but rather a party that everyone would remember for years to come. As a result our tables only seated four per table and as everyone at the wedding was friends, we left it to them to decide who would be sitting together!
An intimate wedding allows you to spend more of your budget on other things than just food. As a photographer I understand the value of a great make-up artists and photographer. Always remember that your photographer can only capture what's in front of them on the day! So if you spend tons on your dress but little on your make-up, the one will not complement the other on your wedding photos.
With fewer people at the wedding, it's easier to get everyone involved! We asked all our guests to write their wedding wishes to us in the form of a movie quote on speech bubbles that we provided for our photobooth. They were a hoot to read afterwards!
Spend time with your guests. When there are not hundreds of guests, it's easy to do! We had a pizza evening the night before the wedding, fishing for the guys the morning of the wedding, and breakfast on a barge (sailing the Palmiet River that runs through Mofam) the morning after the wedding with all our guests.
Deciding on a destination wedding (on a beach, in the bush, on a mountain) can also contribute to having a more intimate guest list. Destination weddings can also mean that your festivities can be stretched over two or three days!
An intimate wedding does not mean less planning! It's still one of the most important days in your life – so get creative and plan your heart out!
SERVICE PROVIDERS
Venue & catering: Mofam River Lodge | Photographer: Maré Rootman | Cake: A Slice of Nice | Bride's dress: Roxanne Pengilly Design | Make-up: Donna Hay