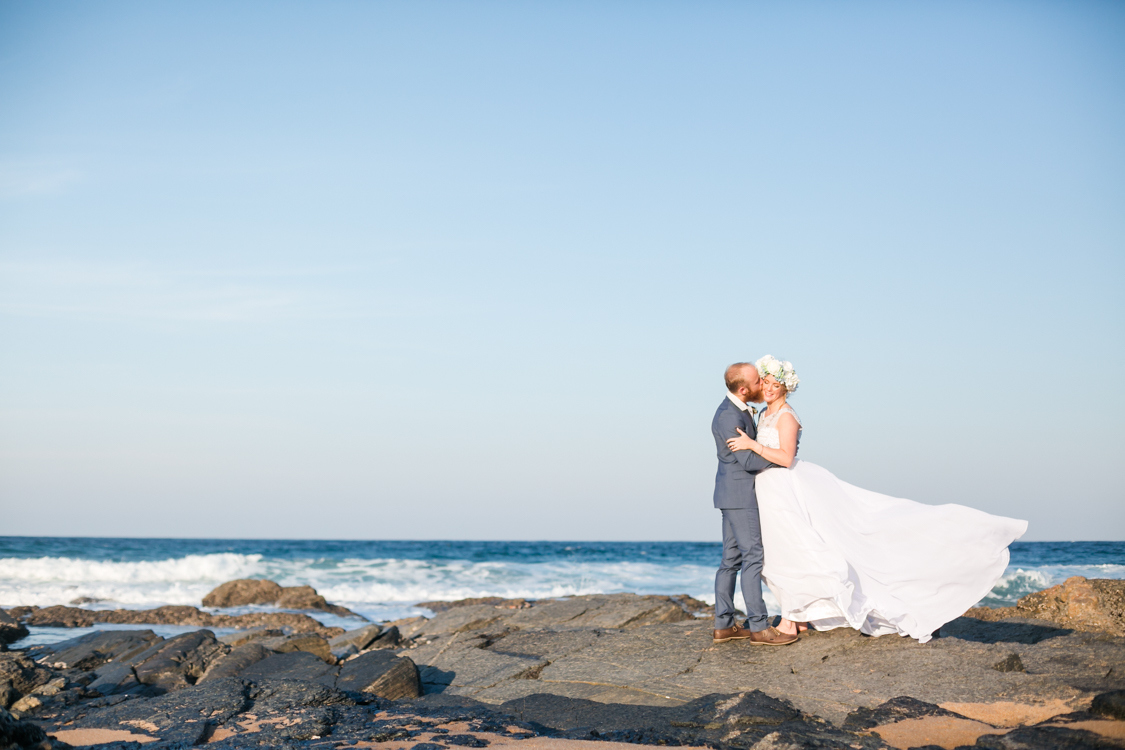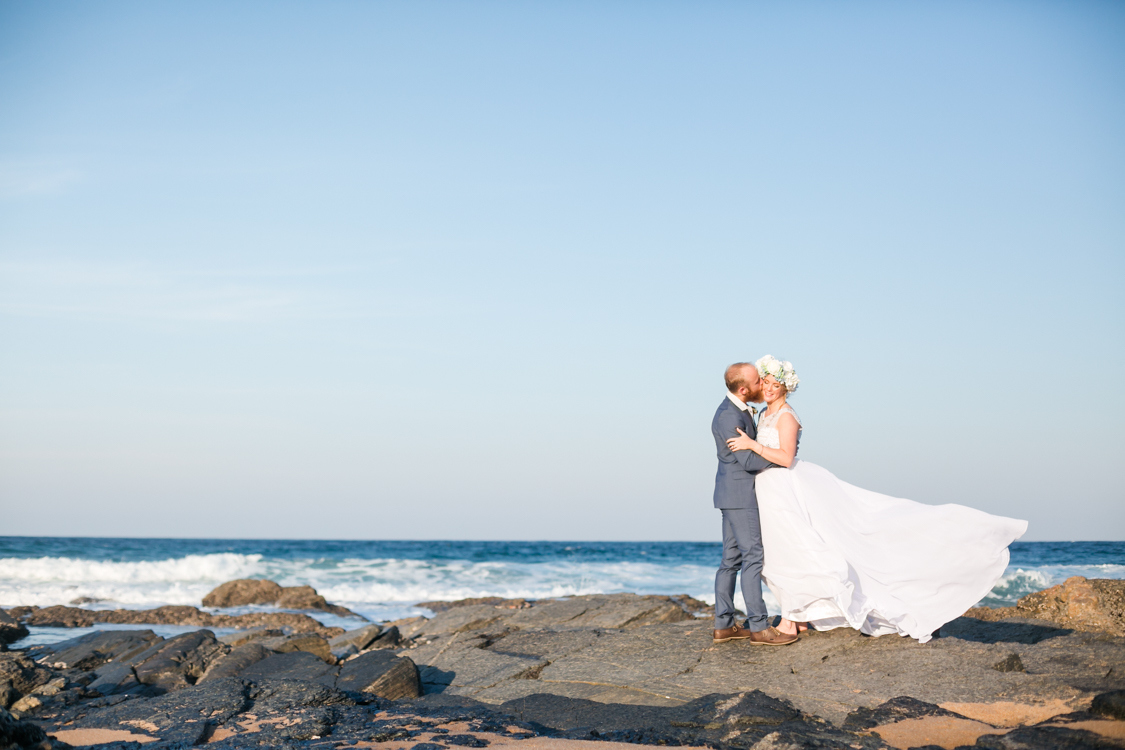 Surf's up! This laid-back, beachy wedding took place at a local surf lodge – the perfect venue for a couple who first started noticing one another during early morning sessions. With this natural coastal setting in place, they set about infusing their 'I do's with soft blooms (including the bride's sweet flower crown!), rustic elements, and nods to their love of sea and sand. With an intimate guest list and long trestles set up under the trees while paper lanterns swung in the breeze, Alice and Joel's wedding has the feeling of a family dinner in the garden rather than a buttoned up formal do, and it's no wonder, as all the details (including the customisation of Alice's dream dress) were a labour of love by the bride's mum and other dear family and friends. It really makes you smile, and happily, Christie Long was there to capture all of the love!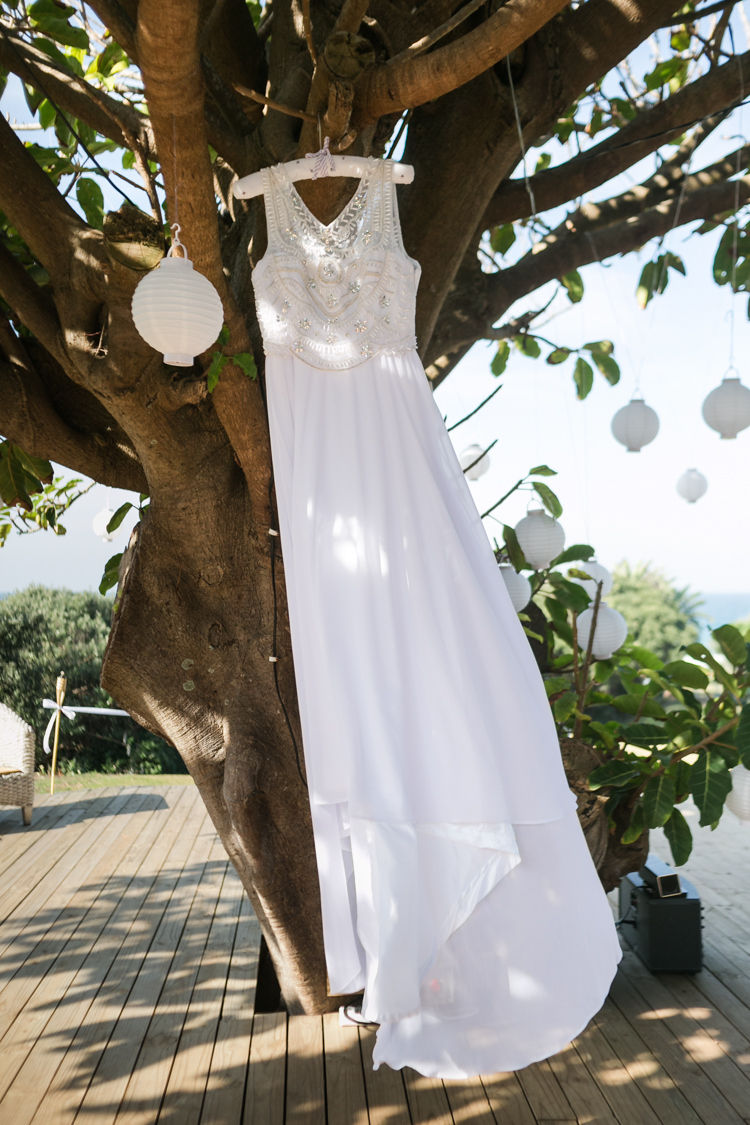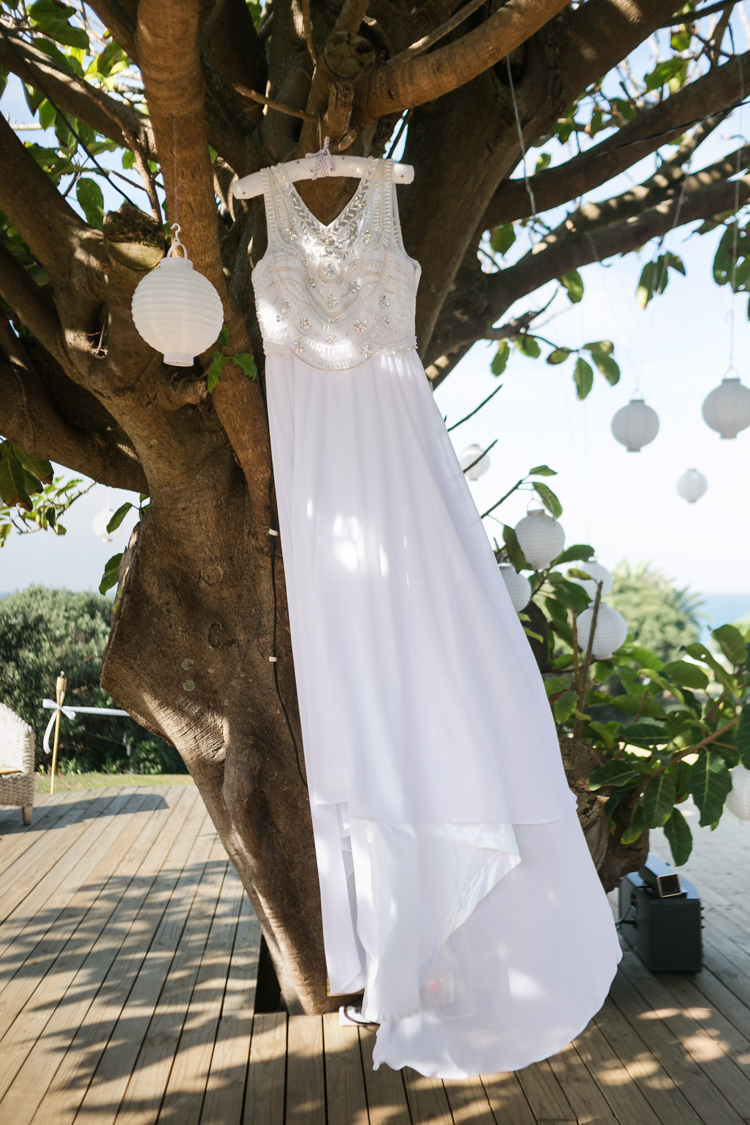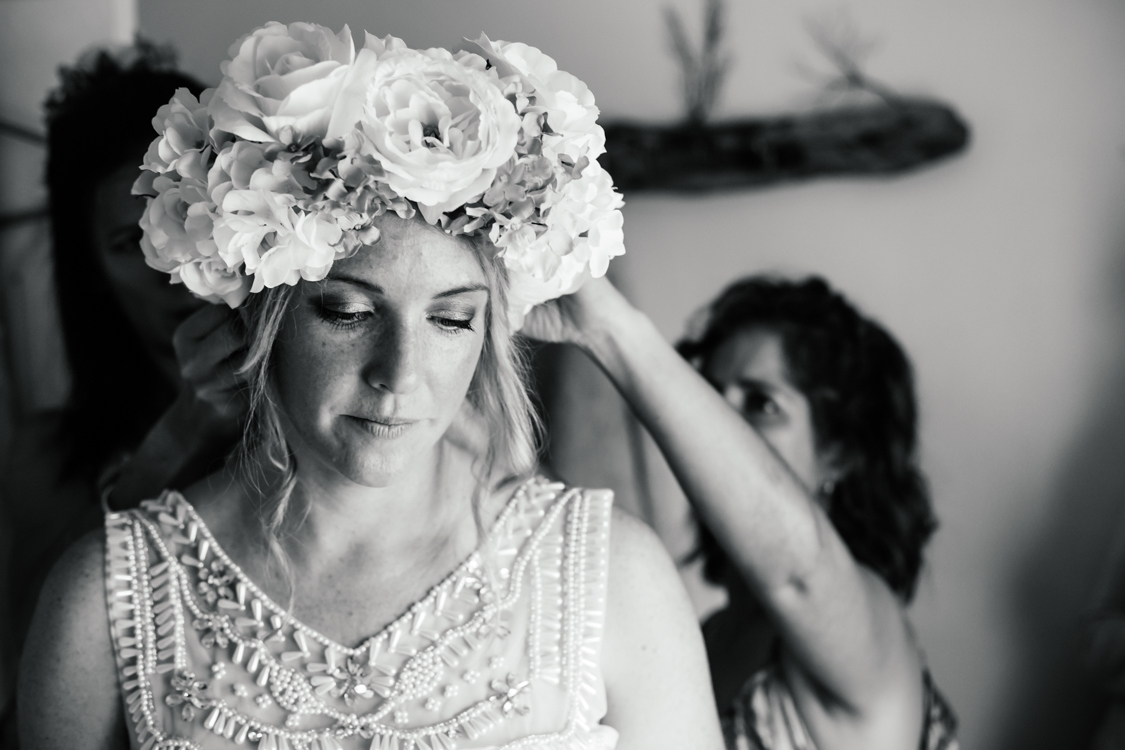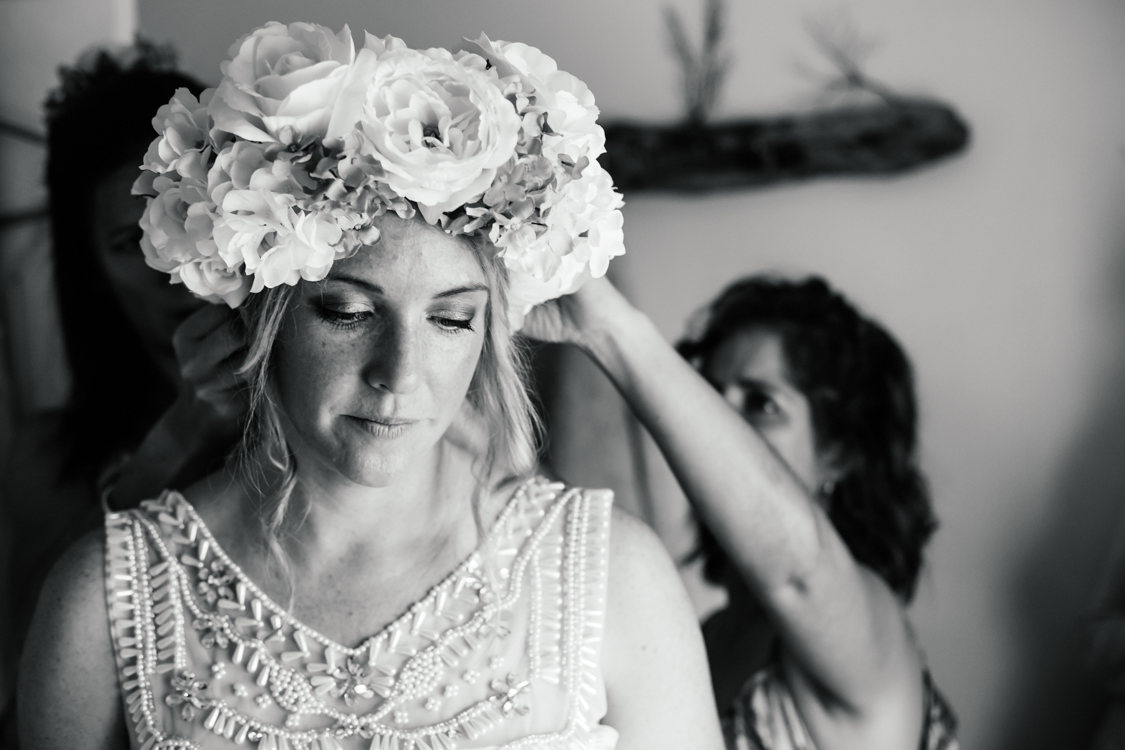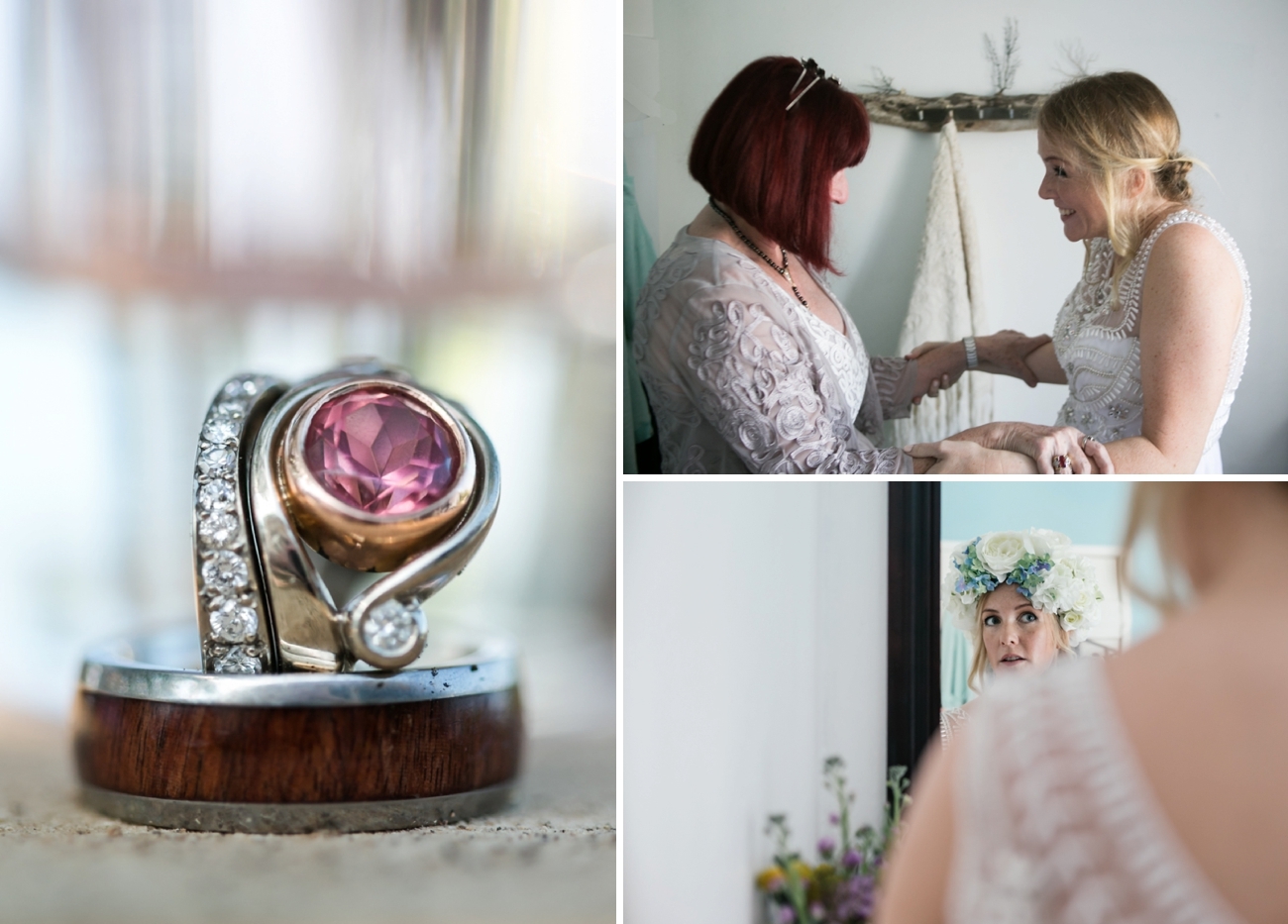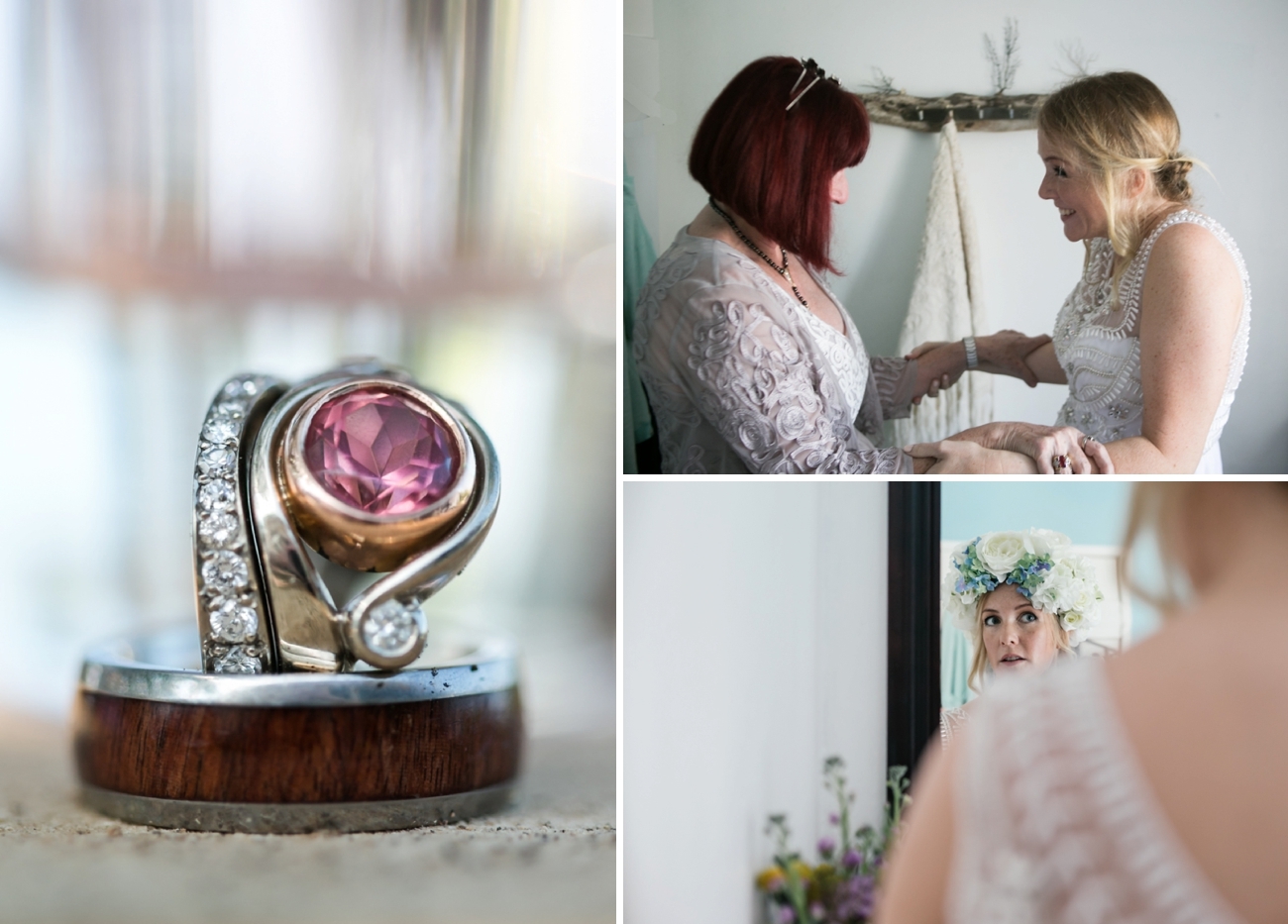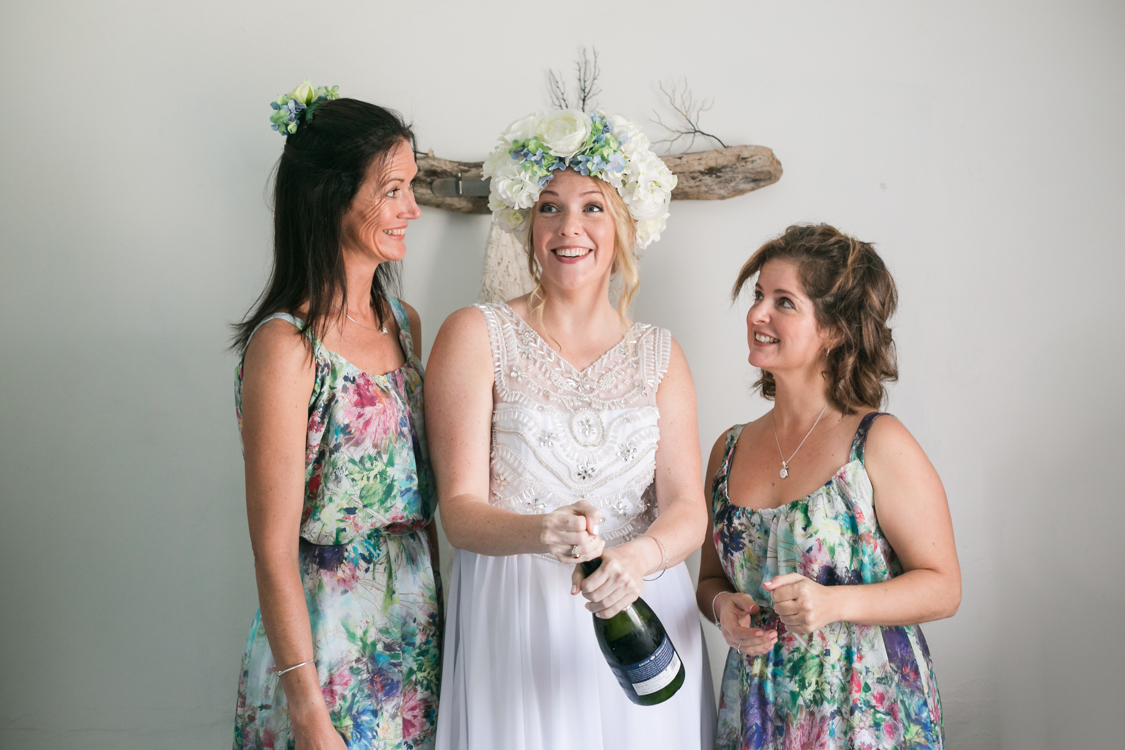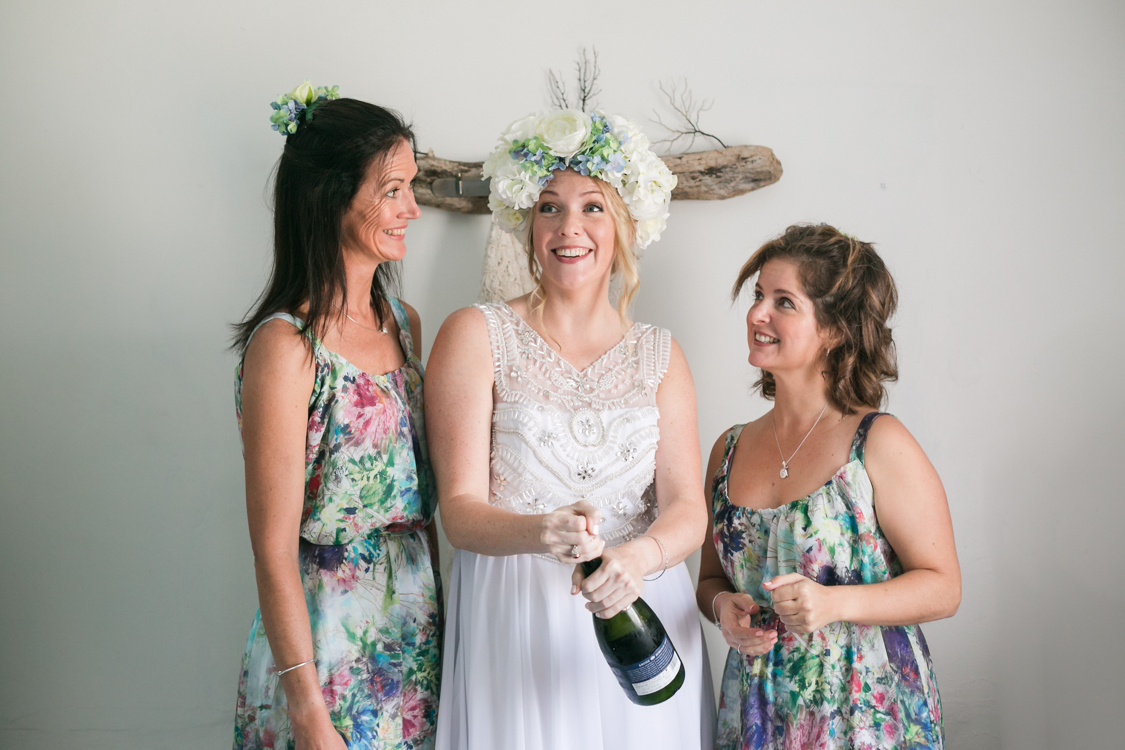 Love Story
I met Joel when I started lecturing at Vega; he was a multimedia lecturer at the time. At first we thought we recognised each other but we weren't sure. Then one morning down at North Beach, we saw each other and realised that's where we 'knew' each other from. It started a trend that we'd meet at the beach, say 'hi', grab a coffee and discuss the morning's surf before heading to work, or if we didn't see each other in the surf, we'd get to work, find the other and discuss the conditions. This also led to afternoon, let's-wait-out-the-traffic discussions on life, love and work. A rumour started via the students and when neither of us denied it, we both realised the other party may be interested. It took one night out later in the year (with some Dutch courage!) for Joel to ask me to make the rumour a reality and the rest just fell into place.
The Proposal
We had just completed our first week back at work and decided to have a 'getaway' weekend to Prince's Grant as my parents have a house there. It was also Valentine's weekend and we knew it would be great to be where other people weren't. That Saturday we had planned on a beach picnic but the weather had other plans, so we headed to the pool, where fifteen minutes in, a gaggle of young boys arrived to begin dive bombing. So we headed back to the safety of the house and the deck where we had our champagne picnic. Then suddenly Joel was up and pacing the deck, I hopped up, wondering what was going on. He dropped to one knee and ta da! I said yes and we couldn't stop laughing.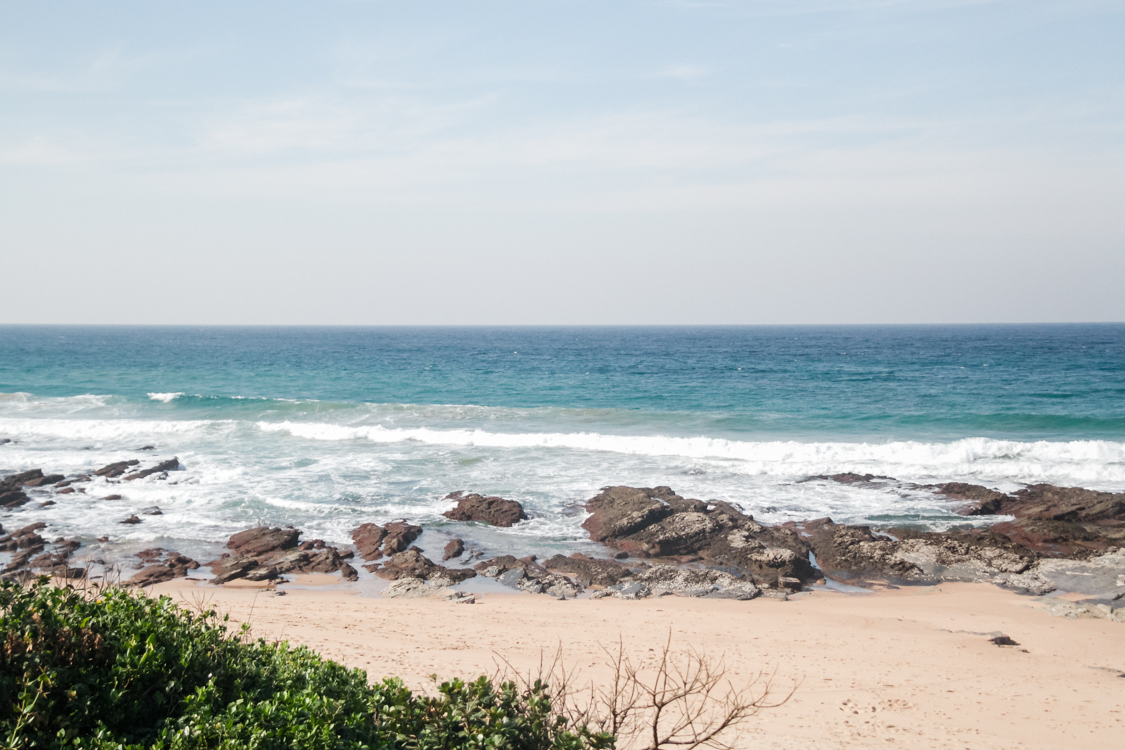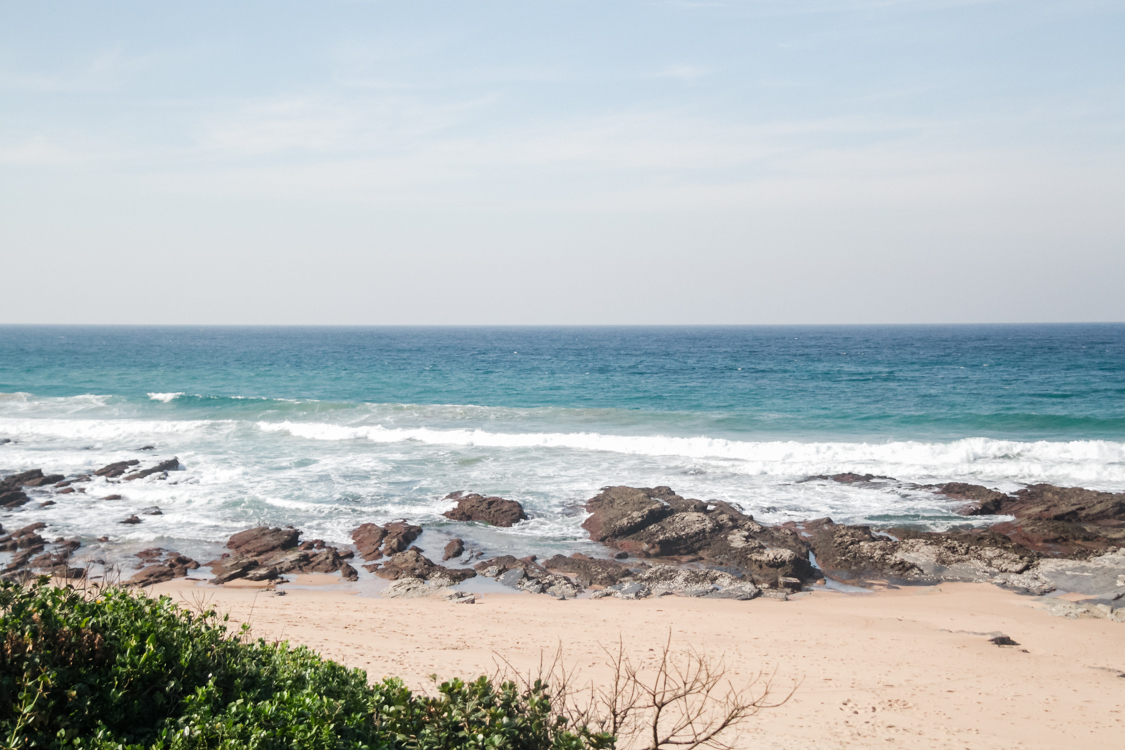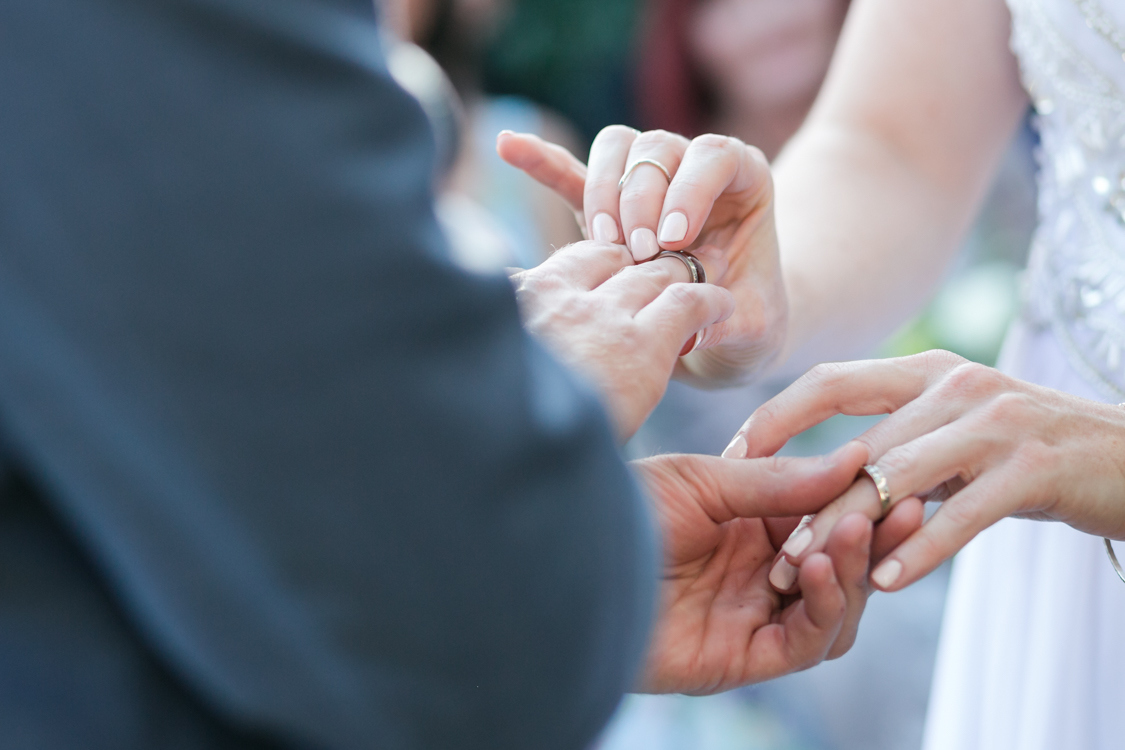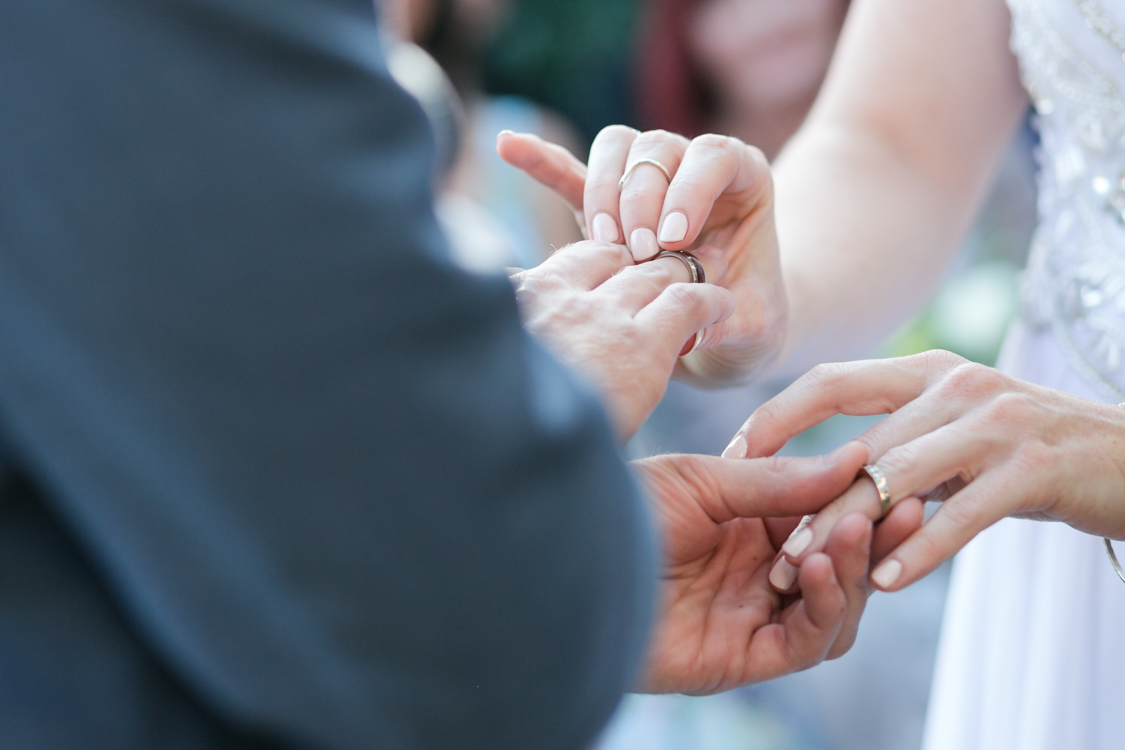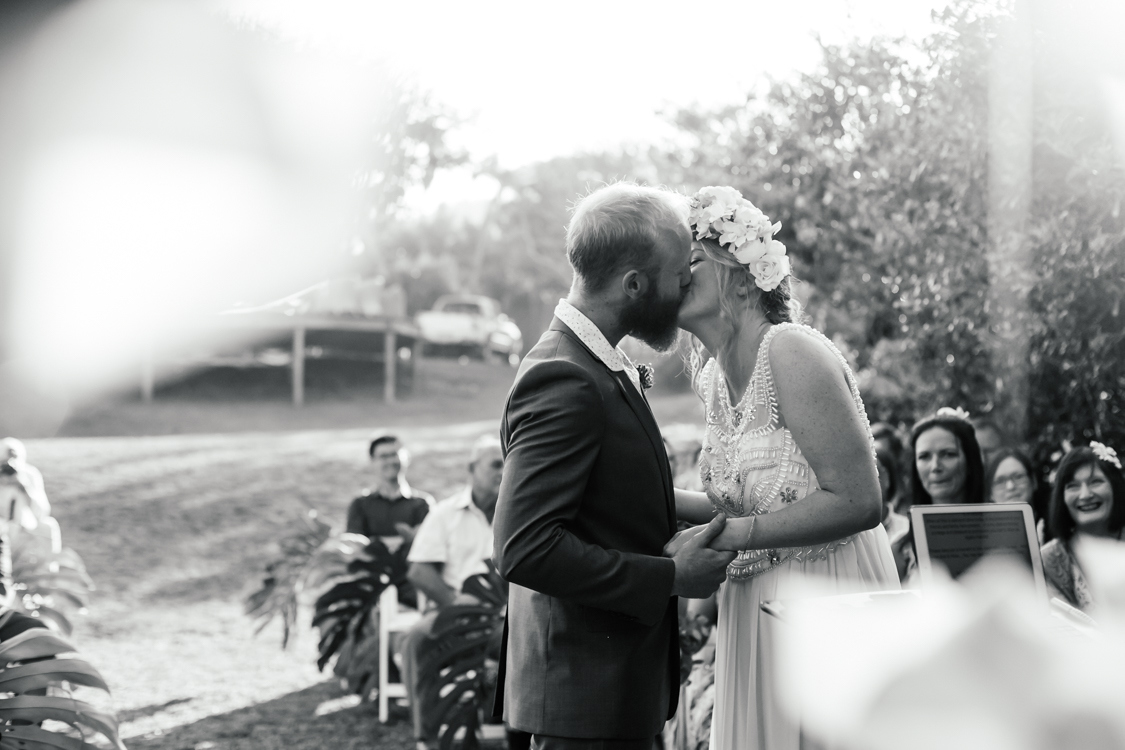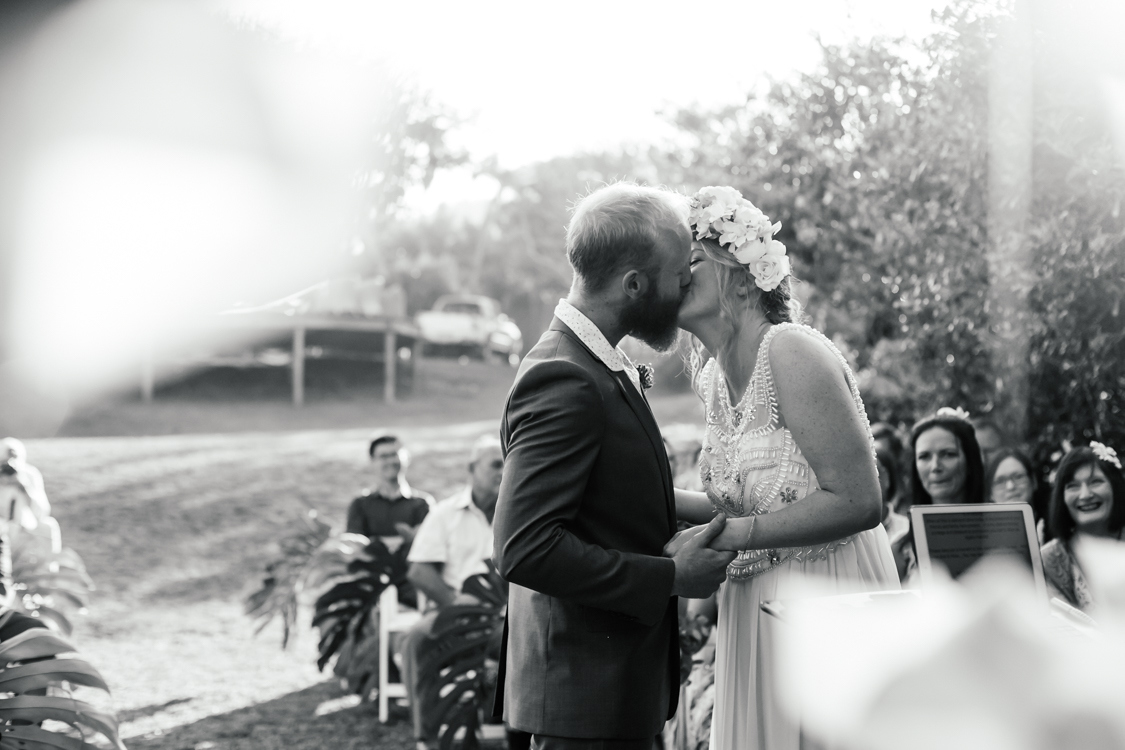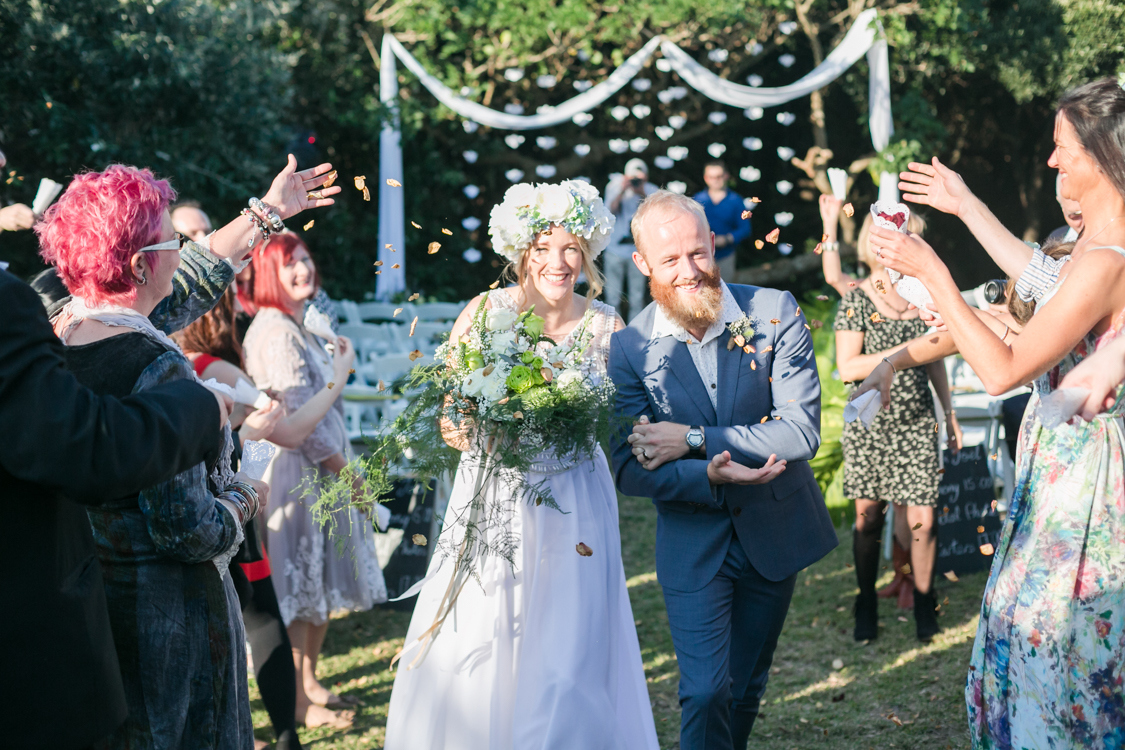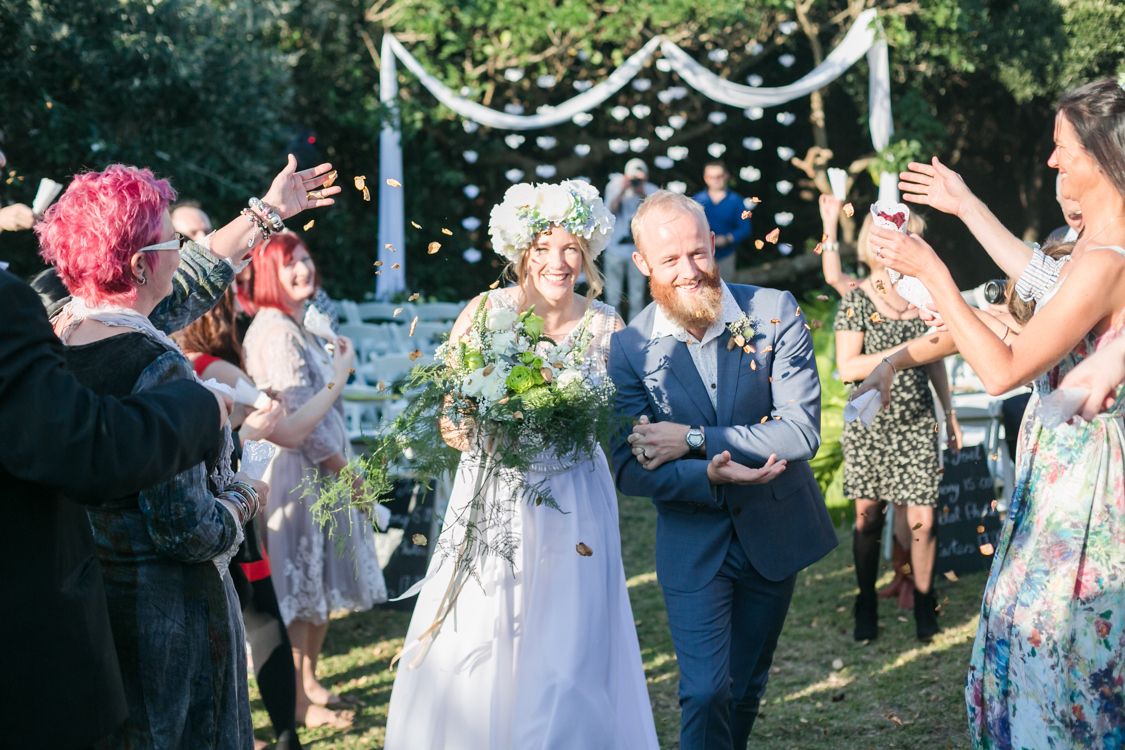 The Venue
Joel and I are both surfers and our lifestyle revolves around going to the beach to surf. We wanted to be somewhere by the sea, but that also had a relaxed garden feel, as many of our family do not share our ocean lifestyle. Umzumbe was a perfect fit as it had a beautiful garden looking out to sea and the feeling of a home away from home.
Wedding Style
The vision was originally inspired by the idea of a Tuscan summer dinner with family. With boho accents of mismatched crockery and glasses, wine flowing and the feeling of celebration. We wanted an outdoor dinner with lights overhead to complete the look. Once we had the venue, we were able to translate the main idea into what we ultimately had. We also worked closely with Lucy Mackeweicz of the Renegade Kitchen. The colour scheme was green and white with hints of rose and yellow, an included rustic features such as wooden trestle tables, and wooden rounds for candles. Soft flowers that added colour but also texture and softness to the table. We used the same chairs for the ceremony and for dinner. It was simple, fun and had a feeling of a family party, which is what we wanted.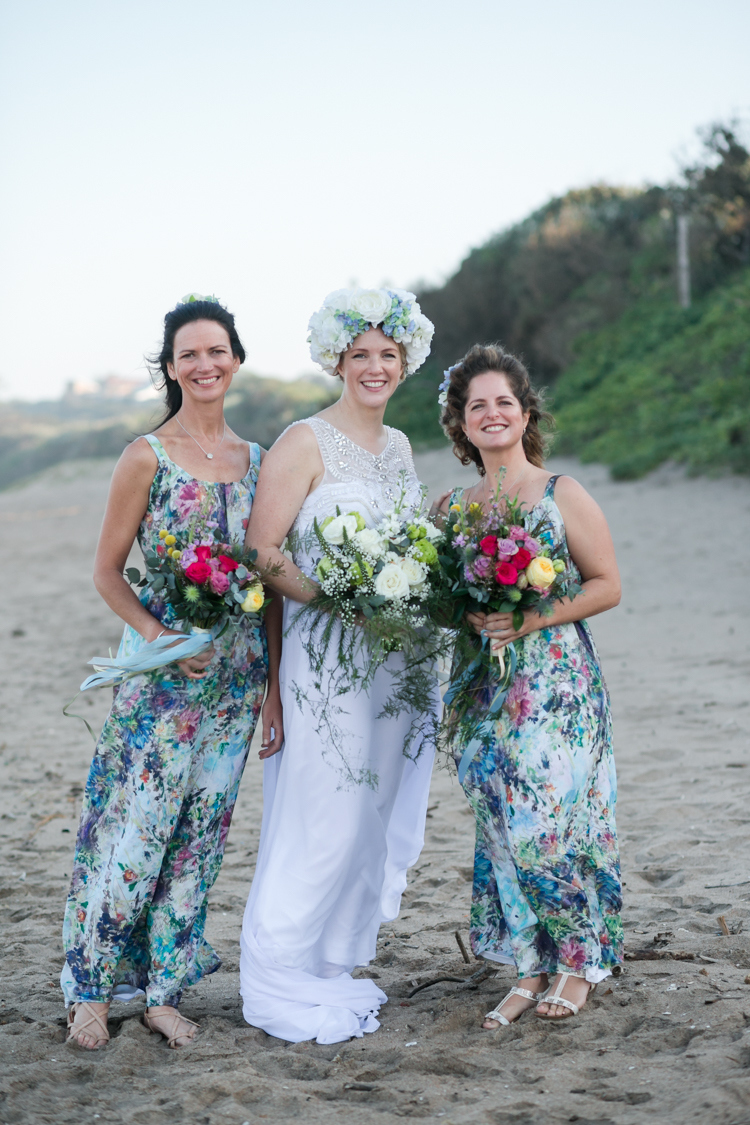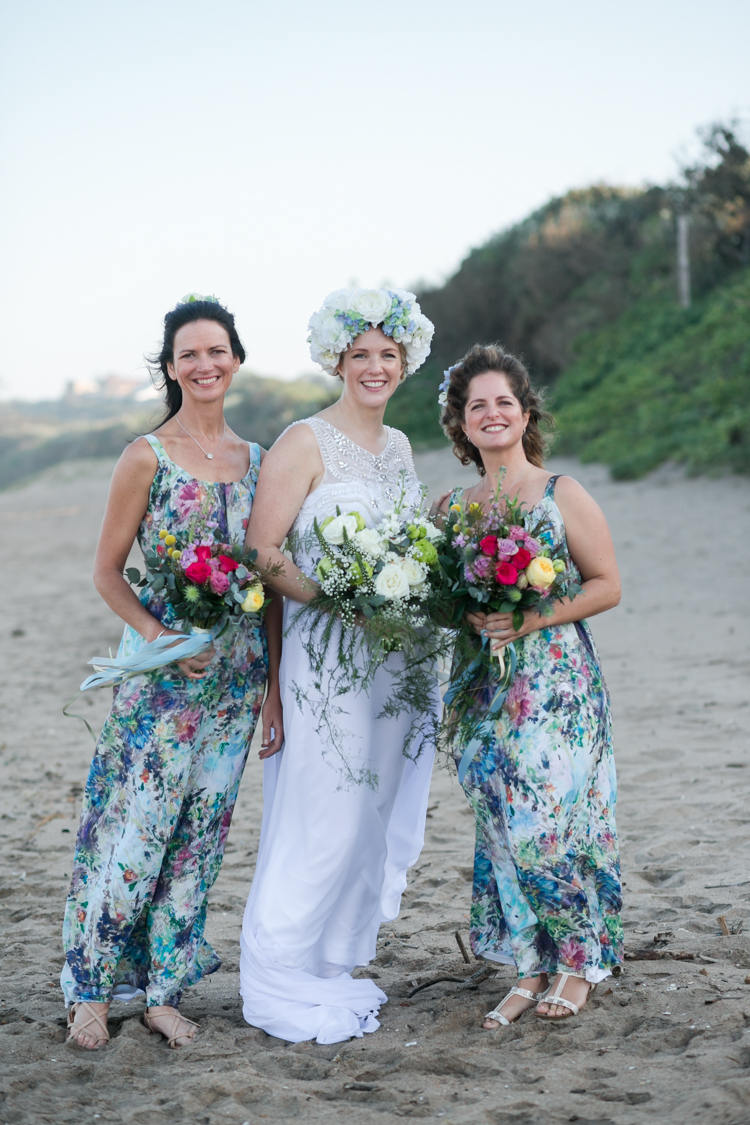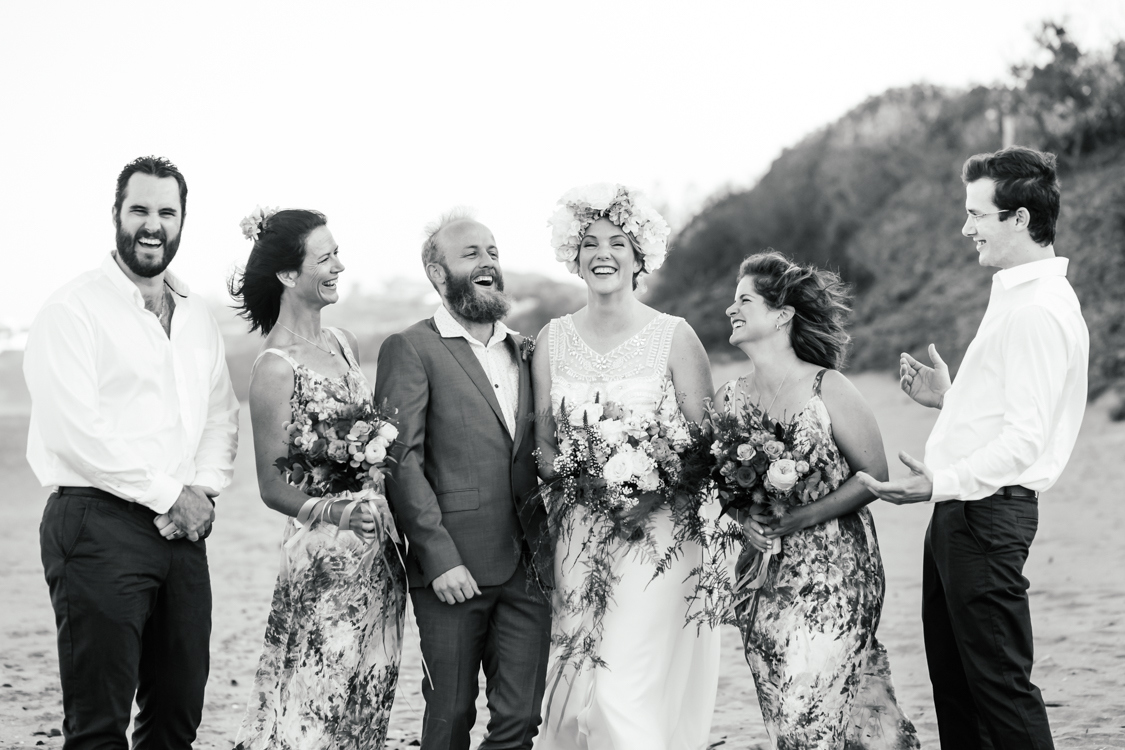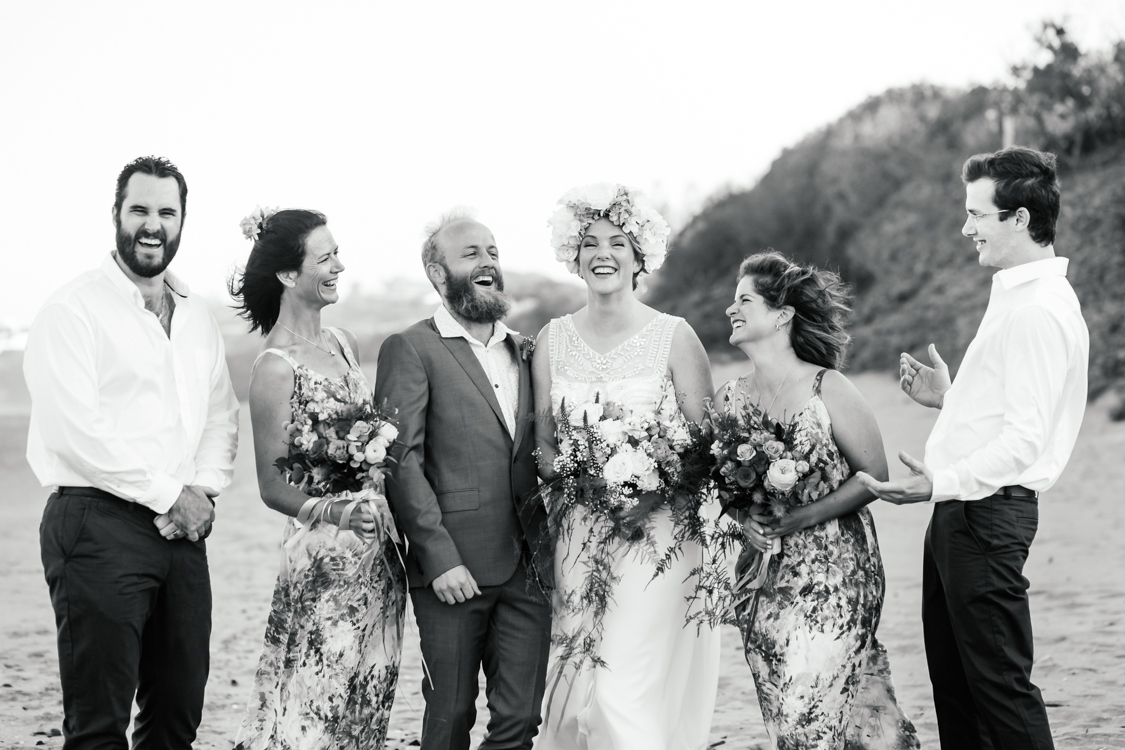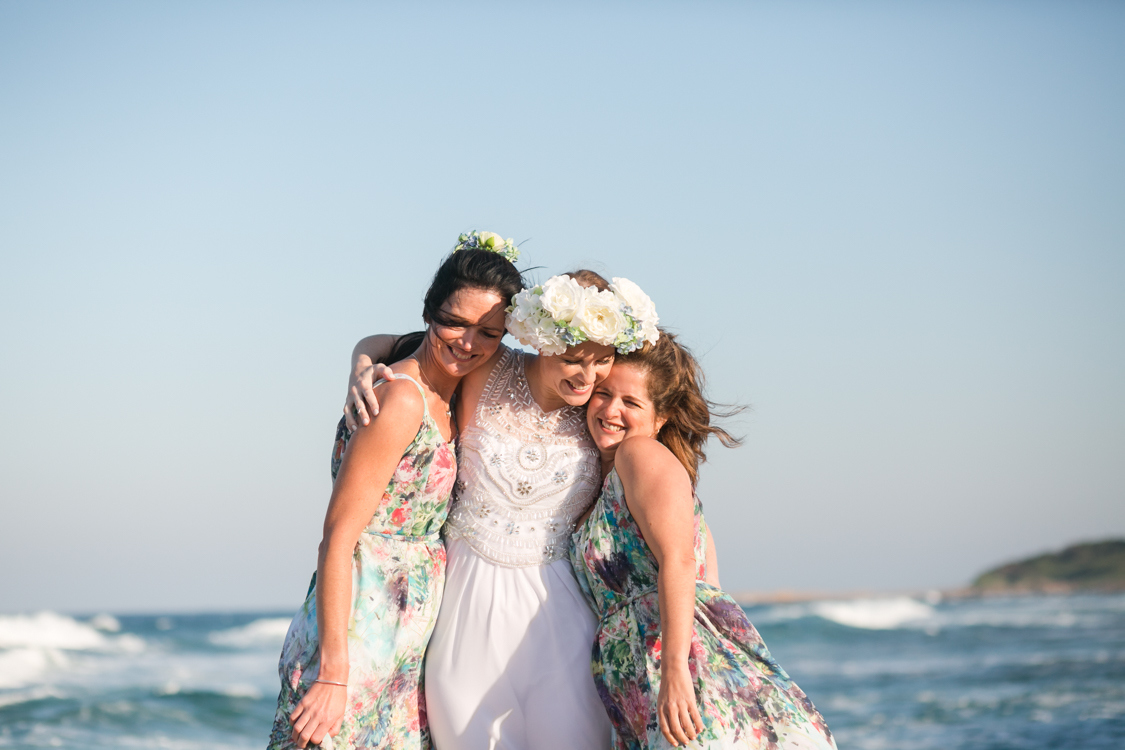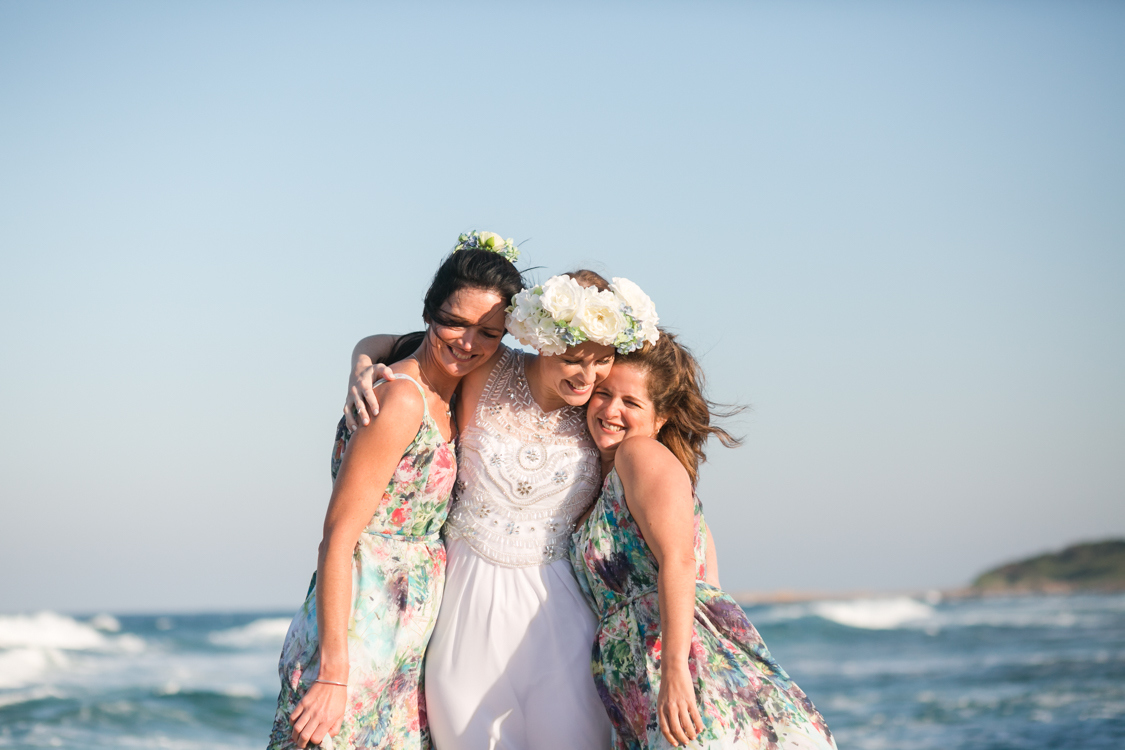 DIY Elements
My mother was the main DIYer. She made the bridesmaids' dresses, my headdress and altered my gown. She dried rose petals for months before the wedding and my gran, Claire (a family friend) and I put them into doily holders for tossing. I created a folded paper backdrop for the ceremony and my mother found material to drape. Joel cut the a tree trunk to create small wooden rounds for the table decorations. My cousin washed 26 bricks for the table as they were to hold the platters. My uncle lent me his sound system and mic so we could have music. One of our best men is a carpenter and he created our 'takeaway gift' of a keyring for all of our guests. All friends and family helped set up and dismantle the wedding.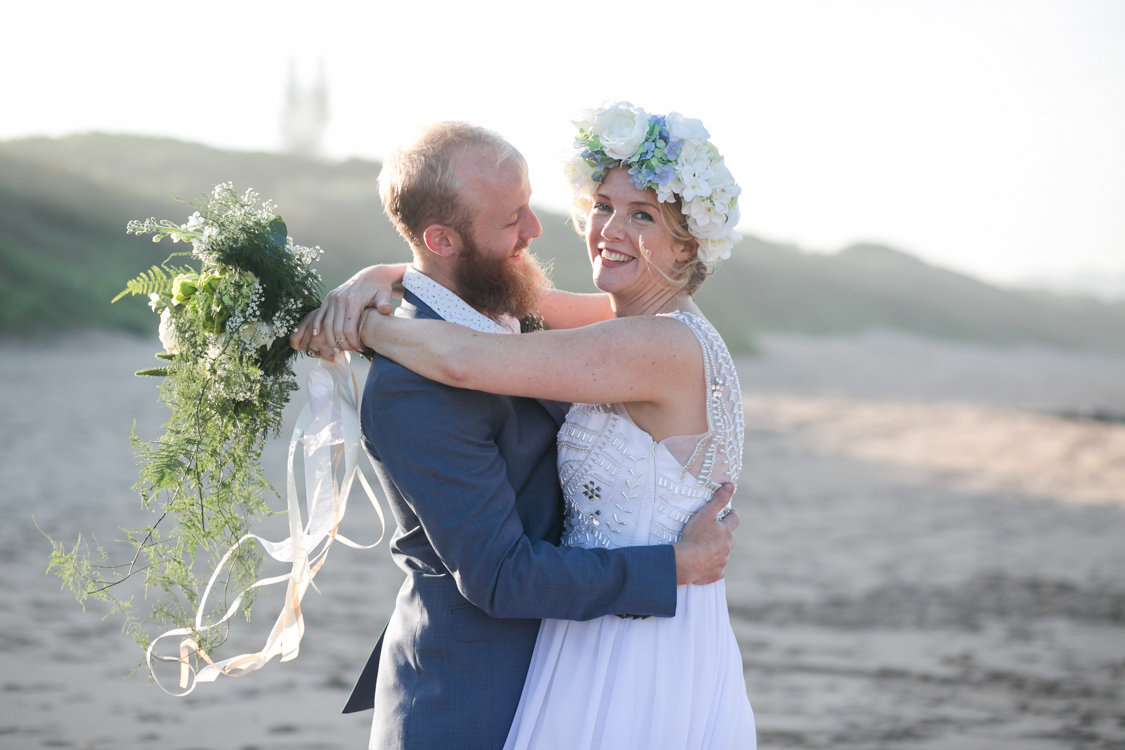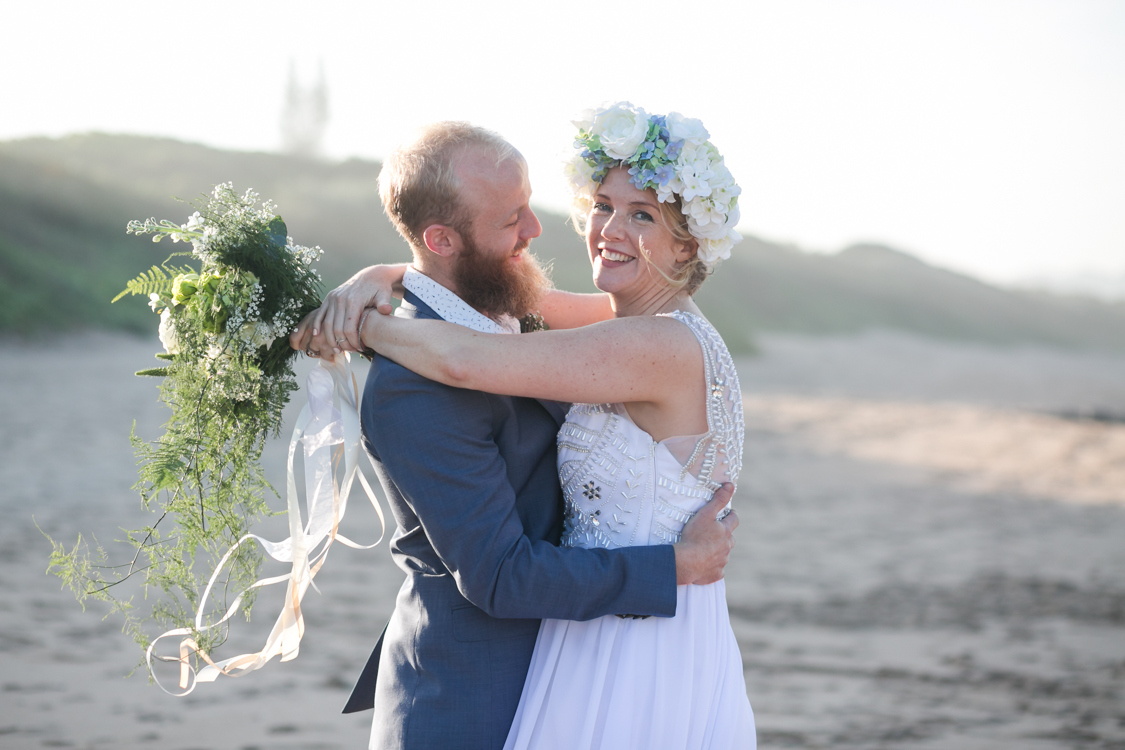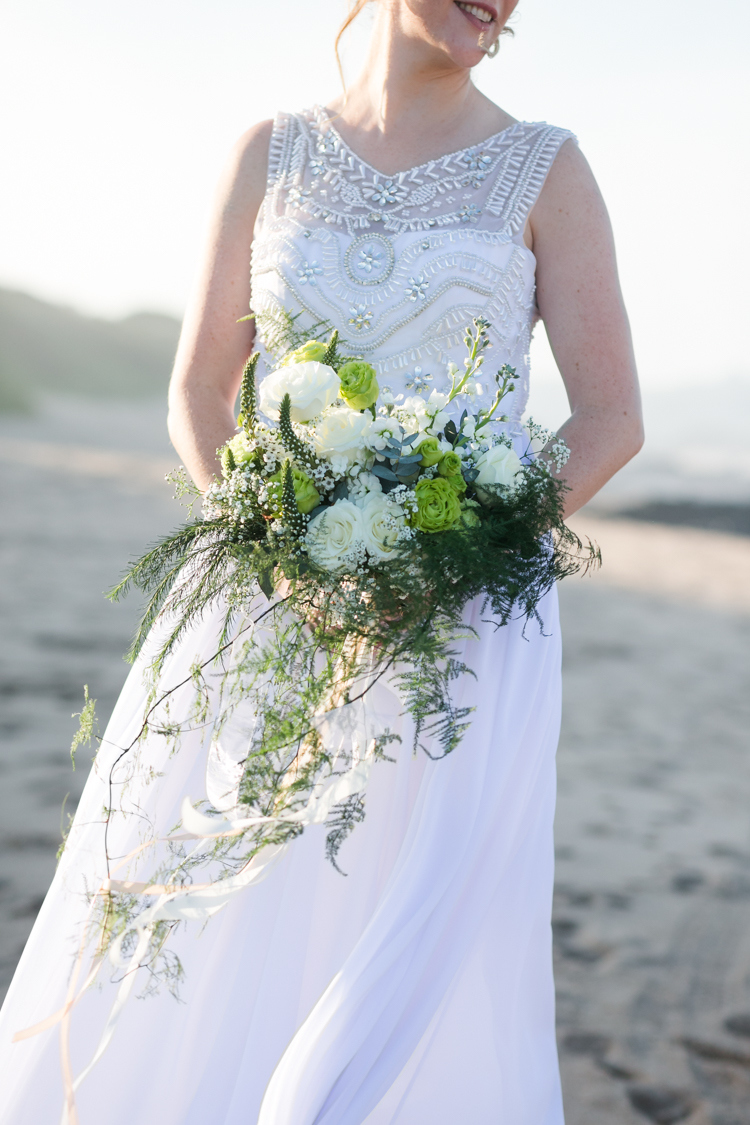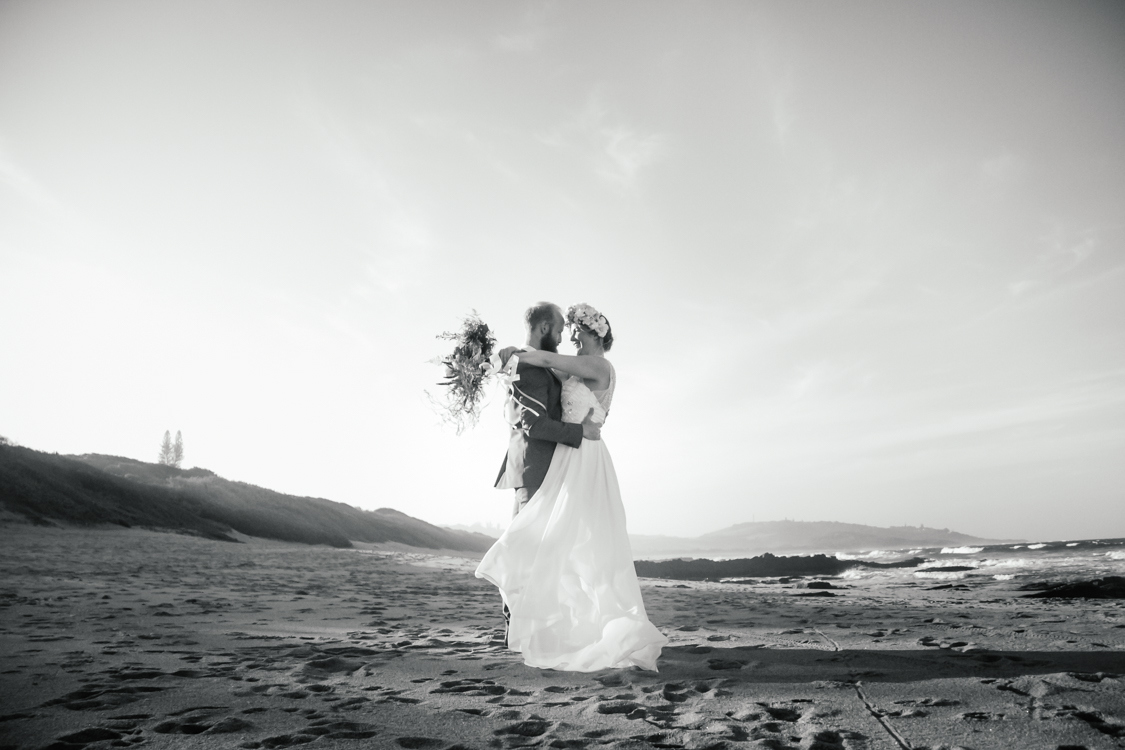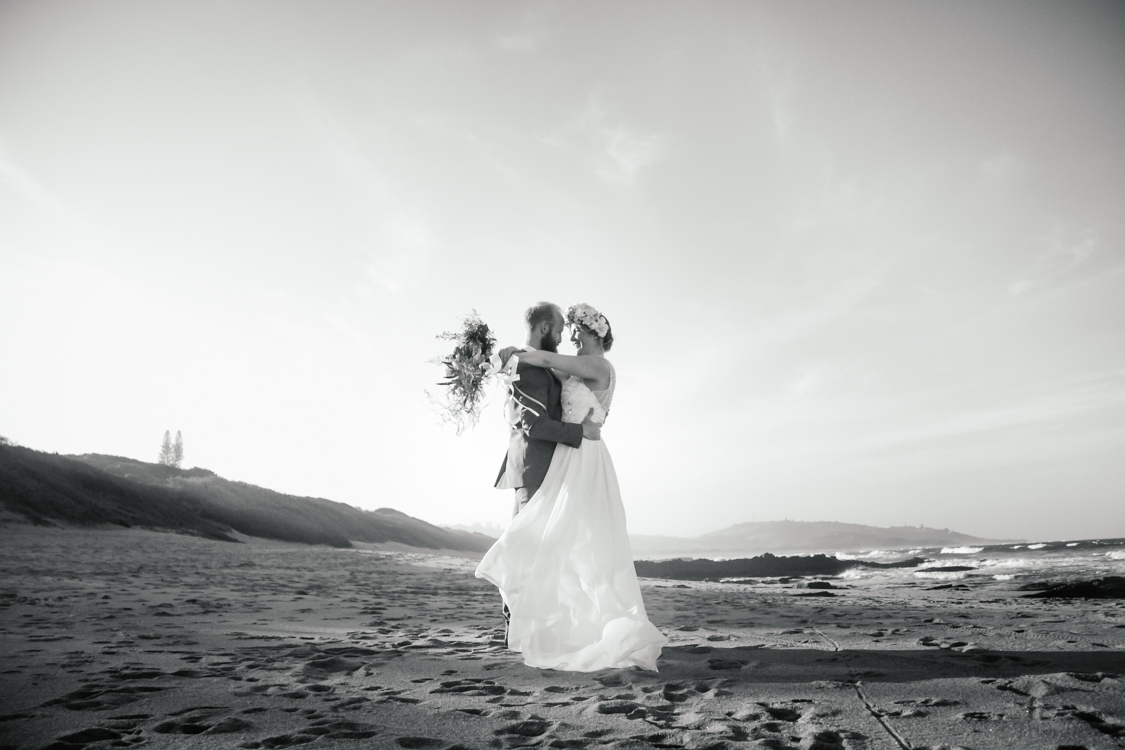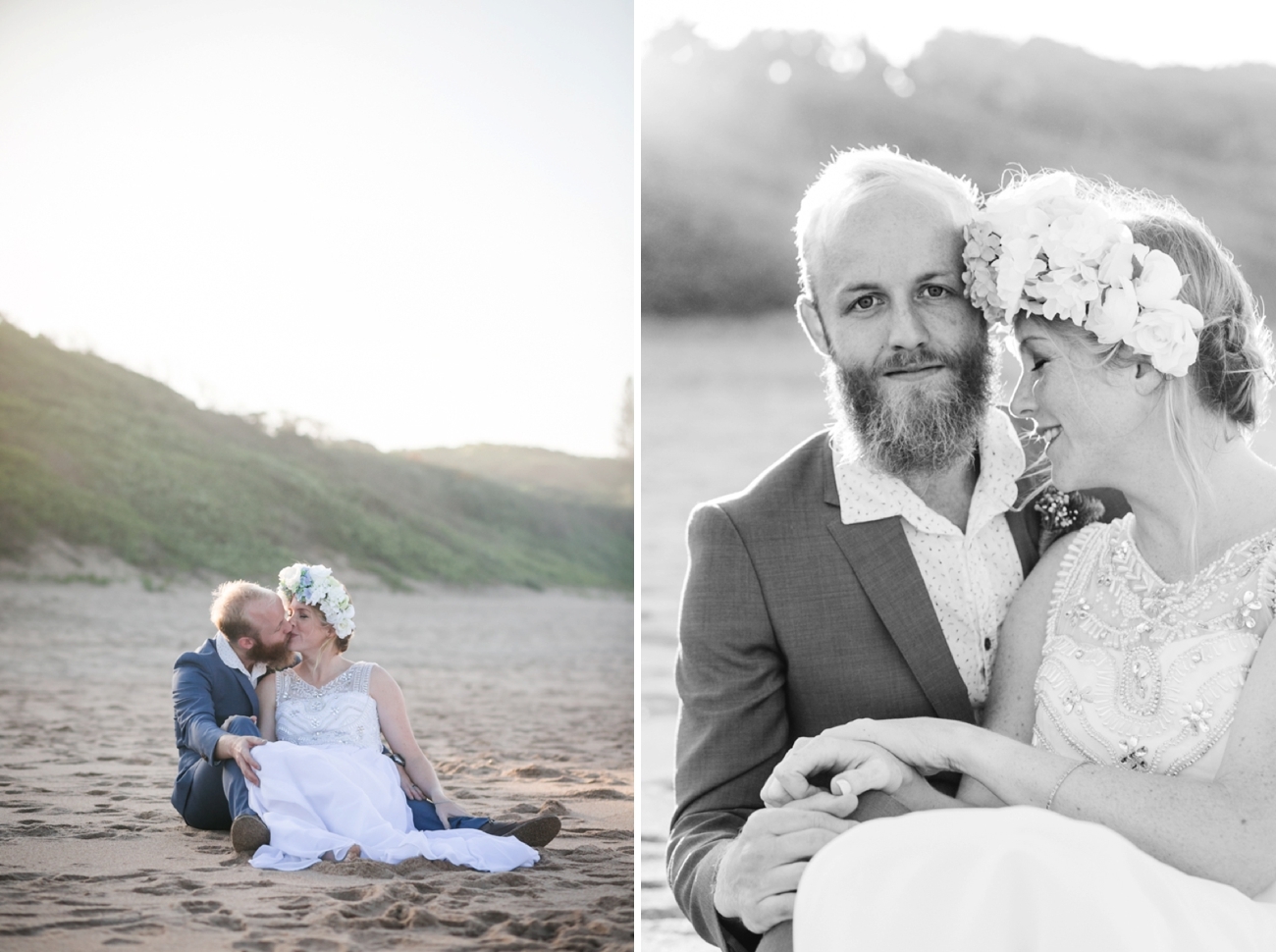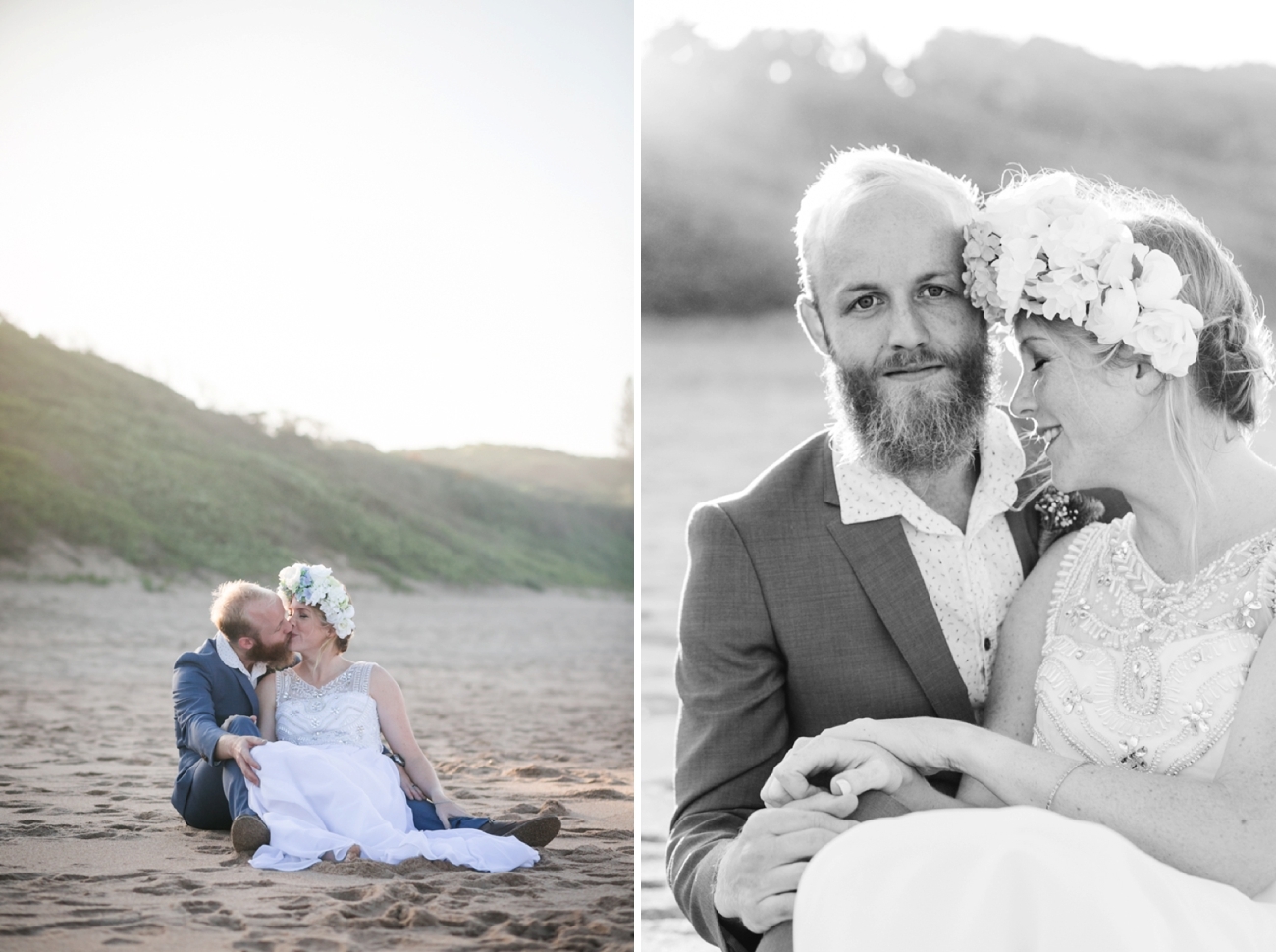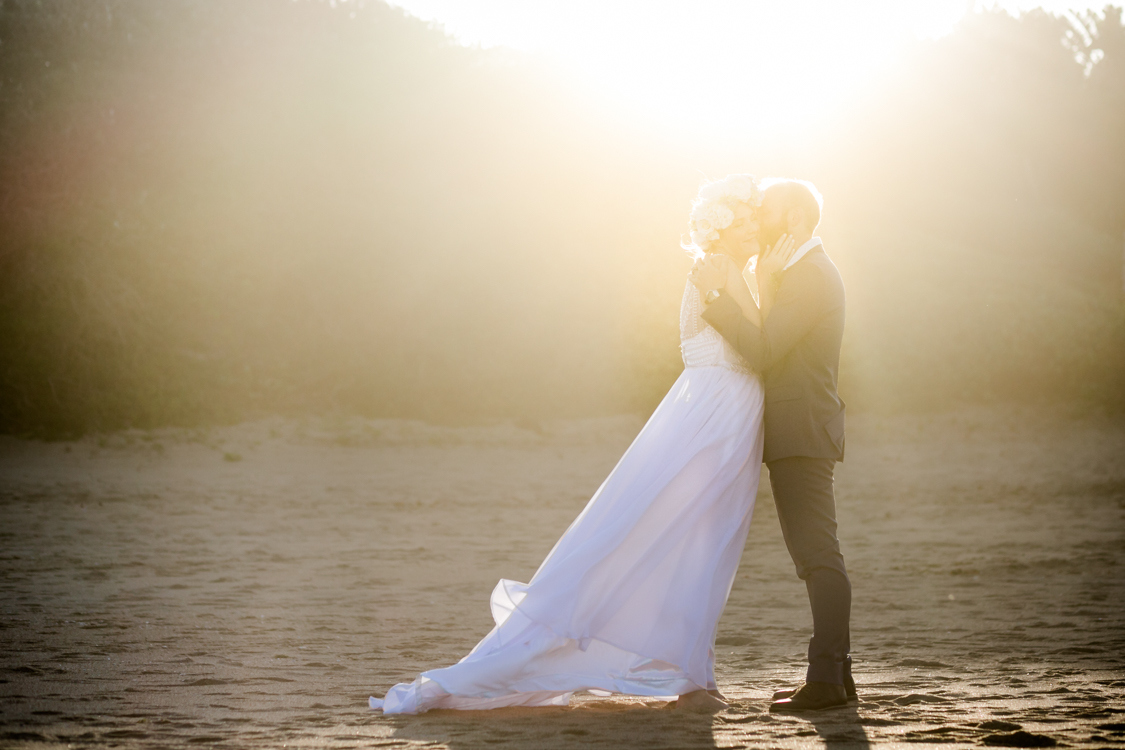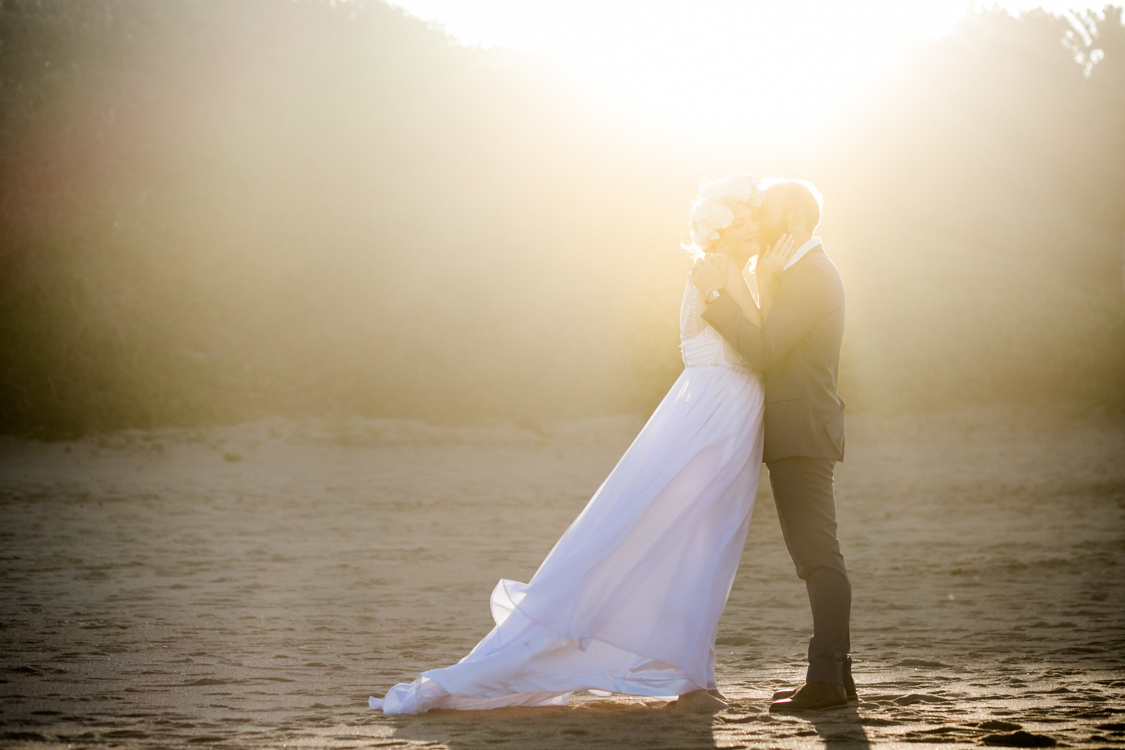 The Flowers
My flowers were done by another surfing friend, Nicole of Buttons and Blooms. We went to the market and she put up with me saying yes to most things. I really love interesting flowers, with odd shapes and textures. I also, like most brides apparently, love peonies, which are super hard to find. Nicole did a wonderful job translating my vision. My bouquet was green and white with a variety of textures and had a waterfall shape to accent my gown but not drown it out. The bridesmaids had colourful bouquets to complement their dresses and the groom's boutonnière had succulents and other greenery. The table flowers were white baby's breath with yellow Billy Buttons and yellow roses as accents, as well as penny gum (eucalyptus) cascades.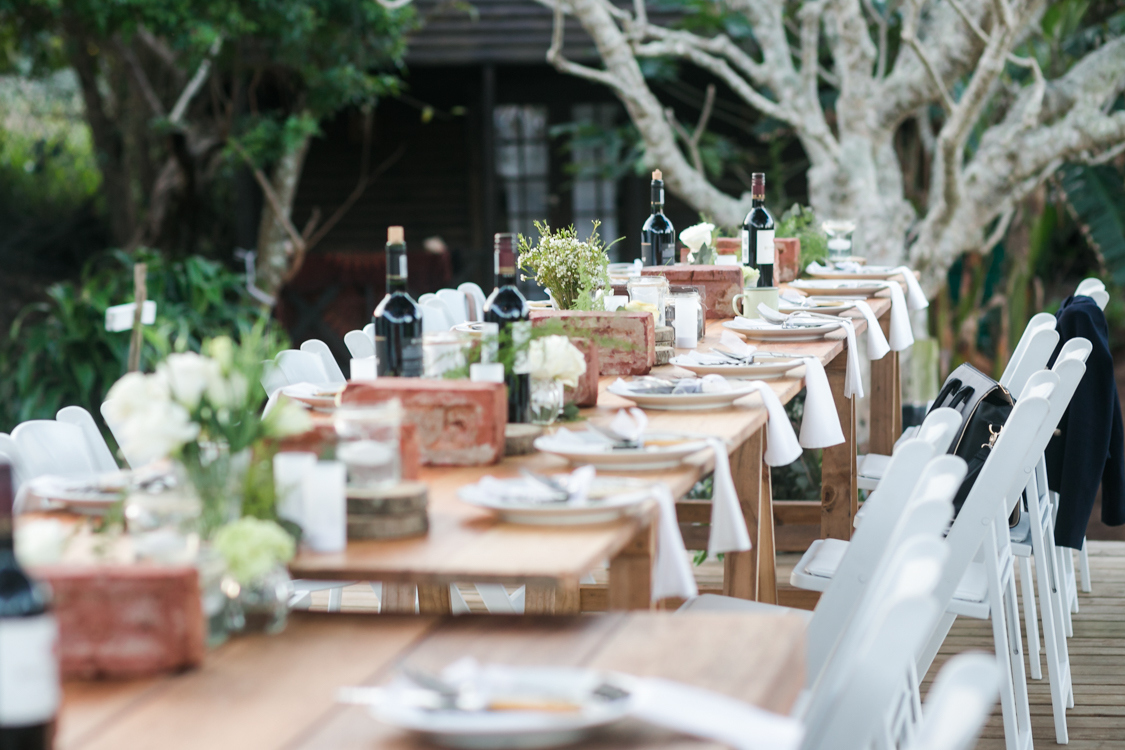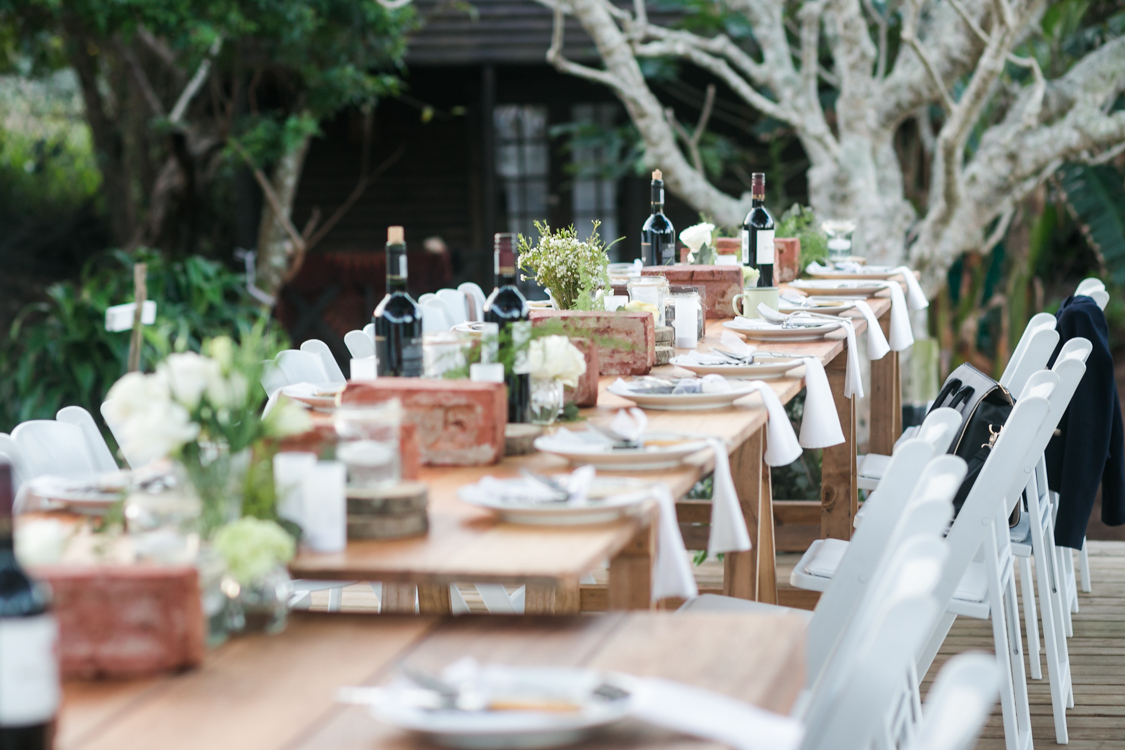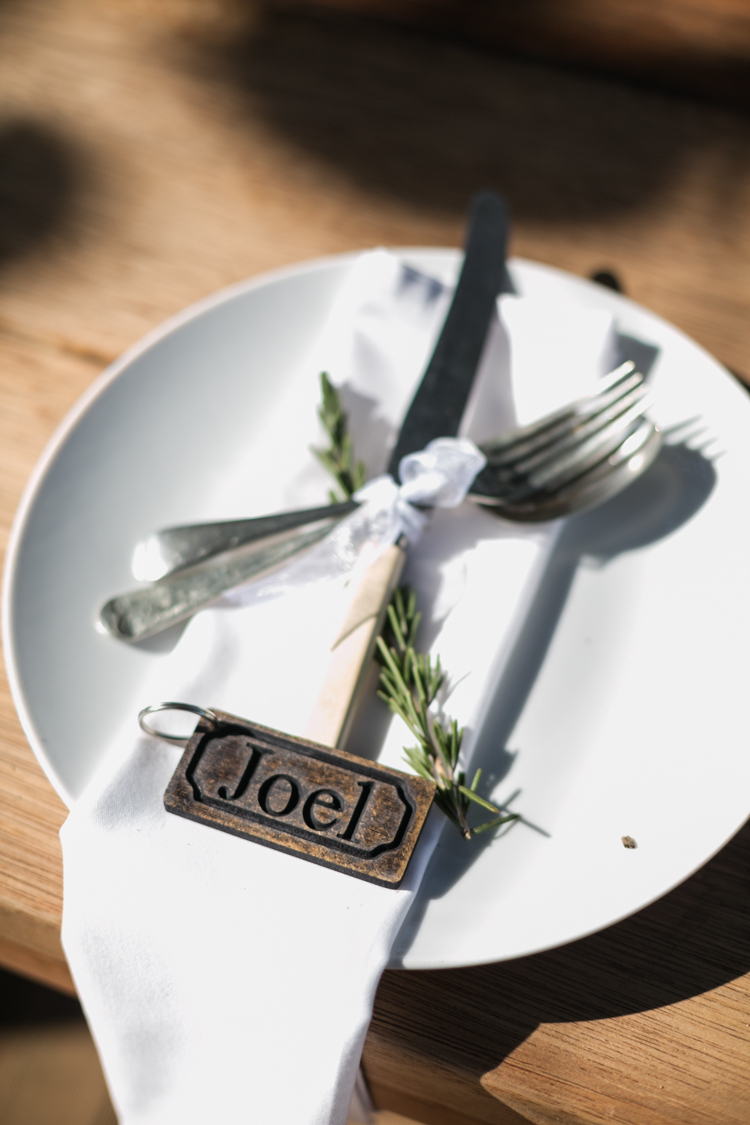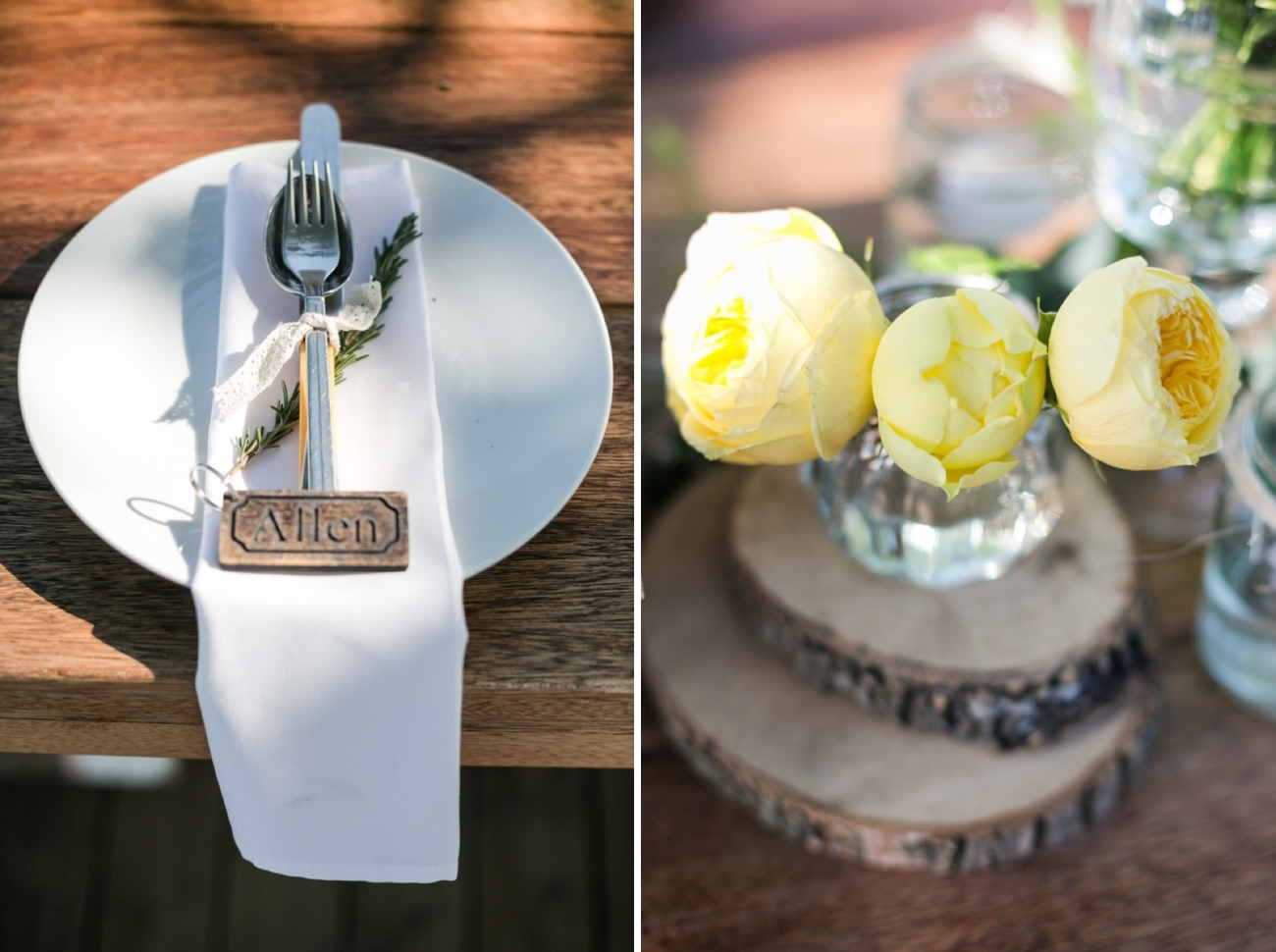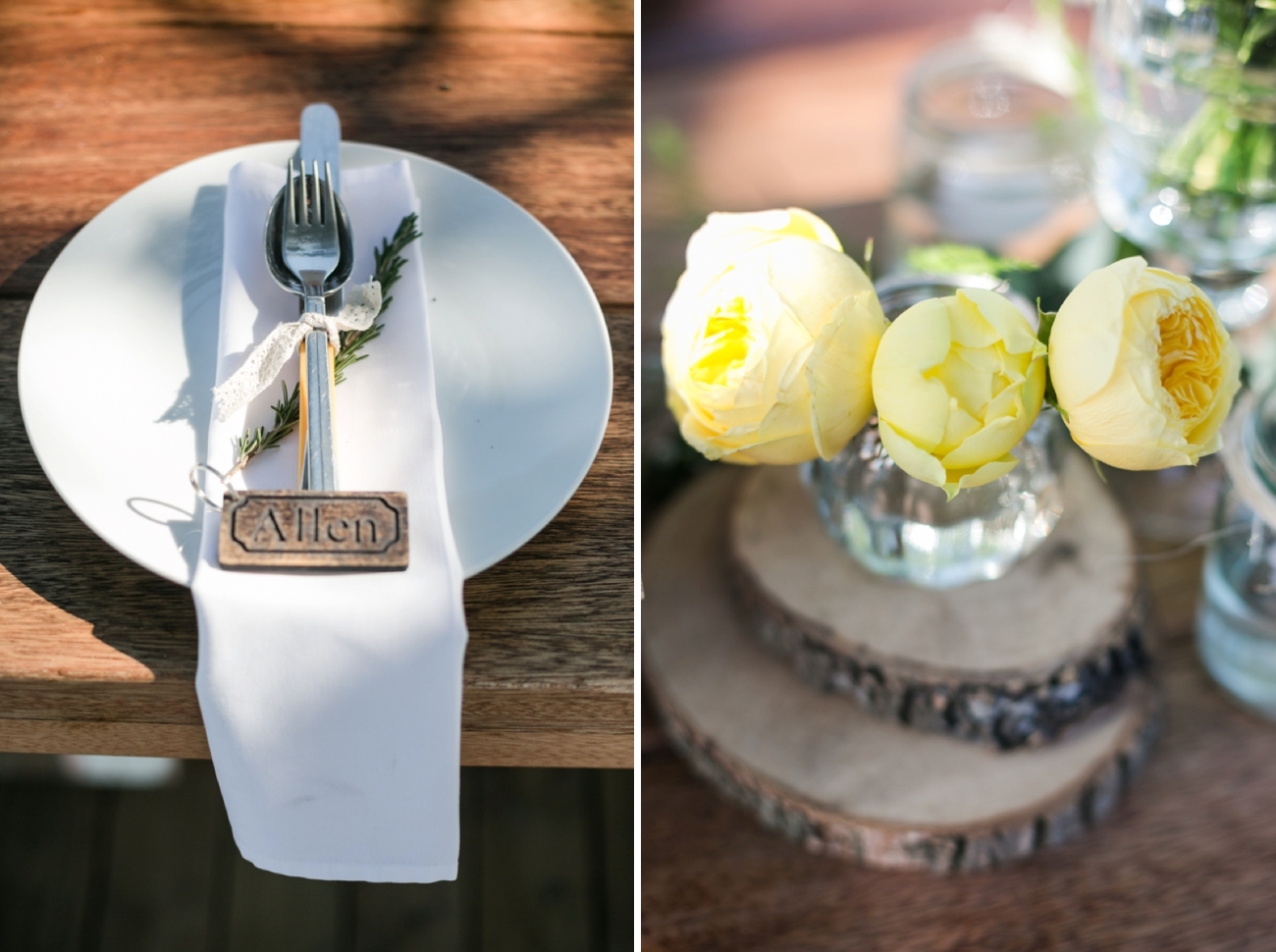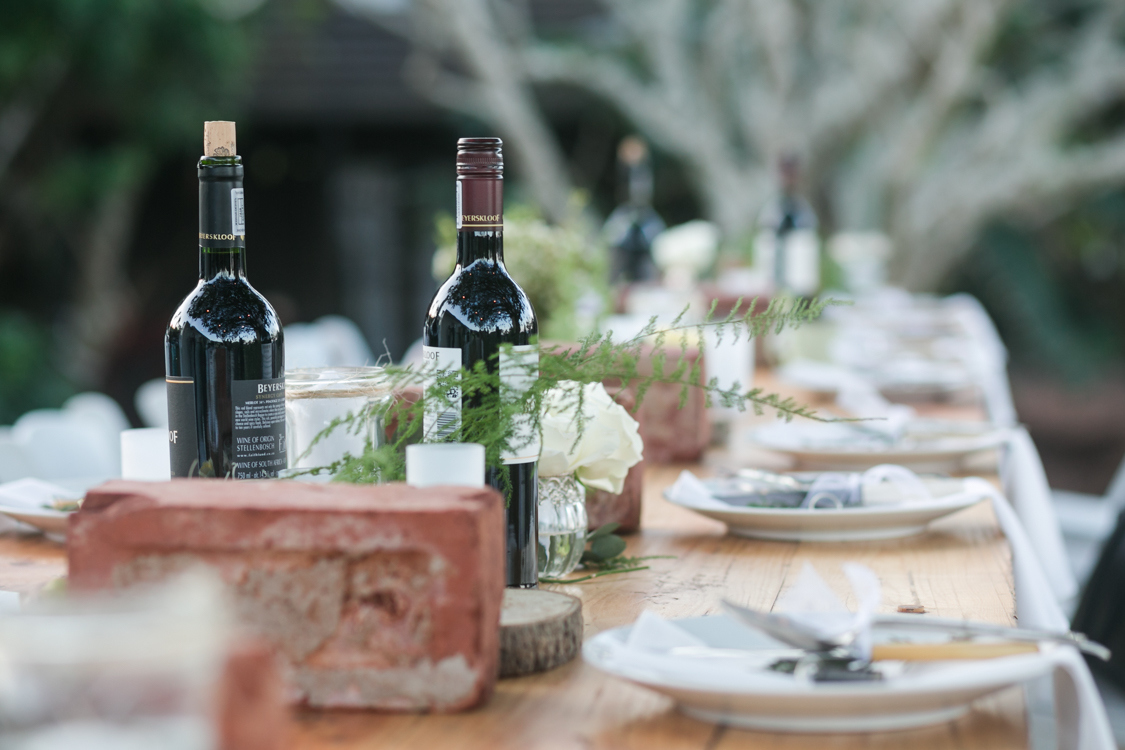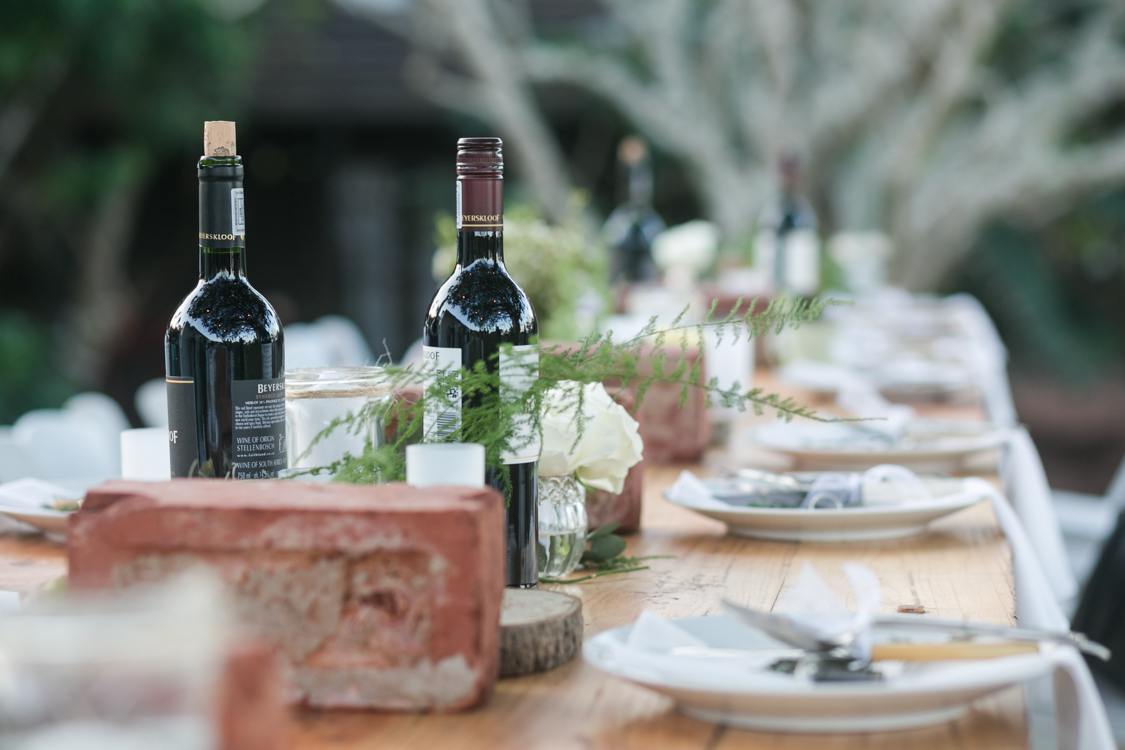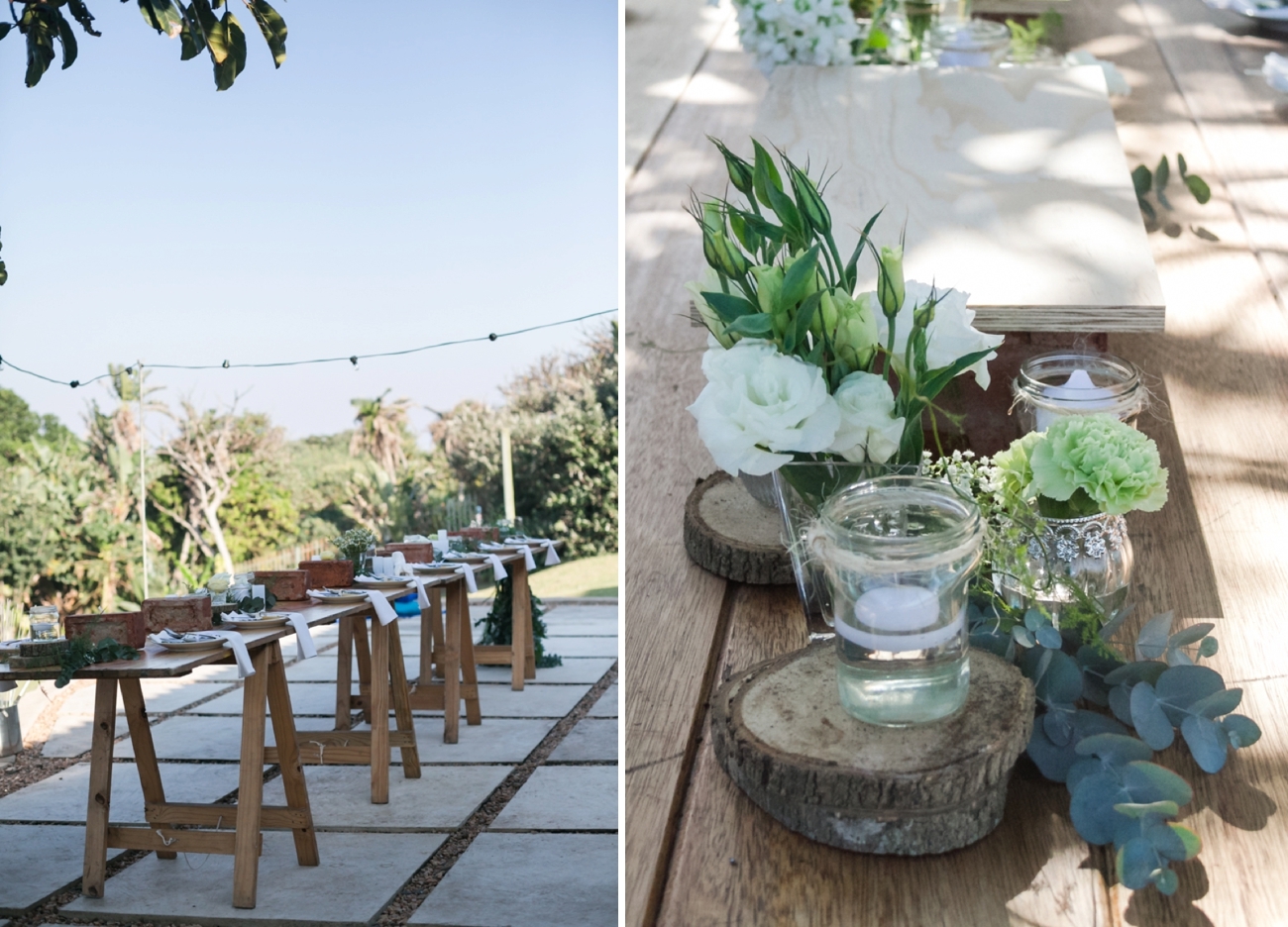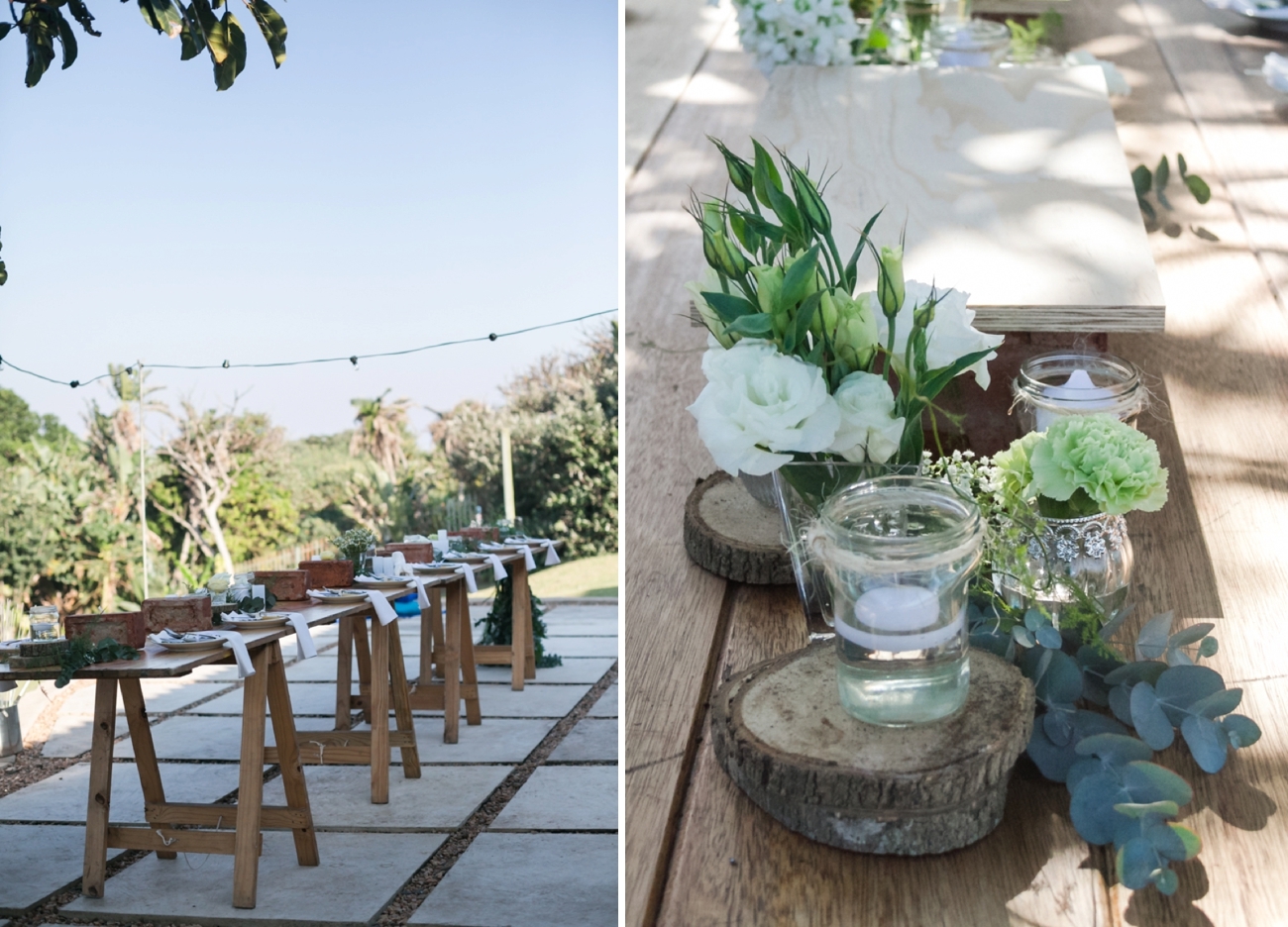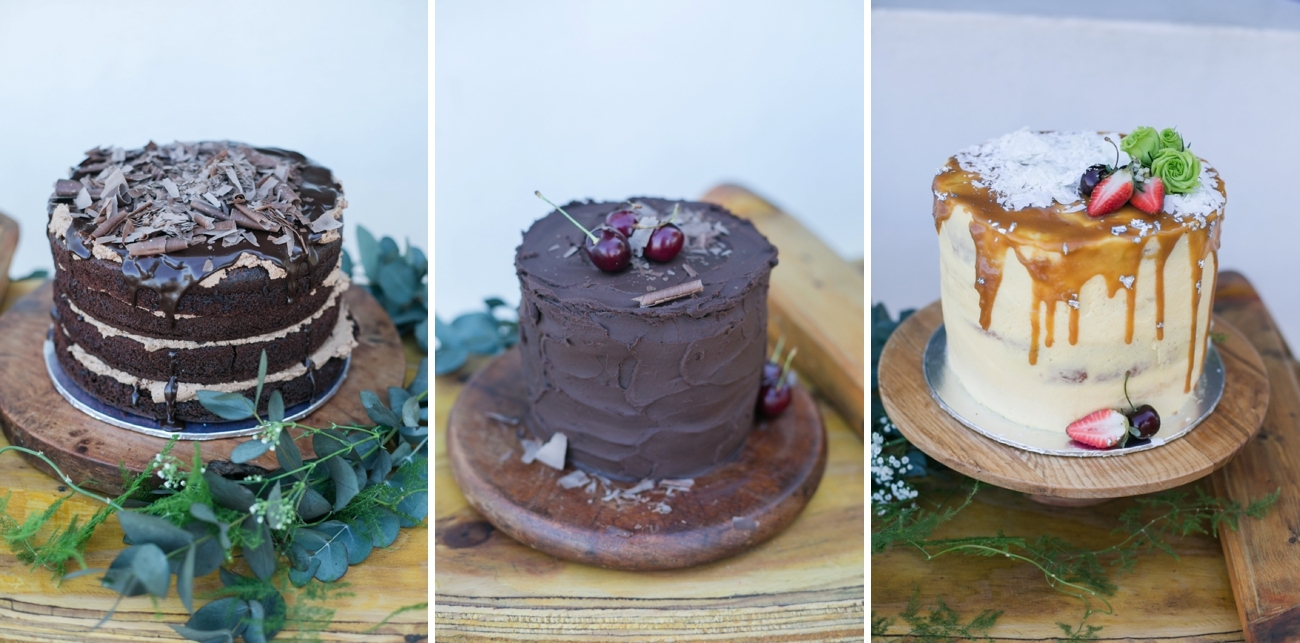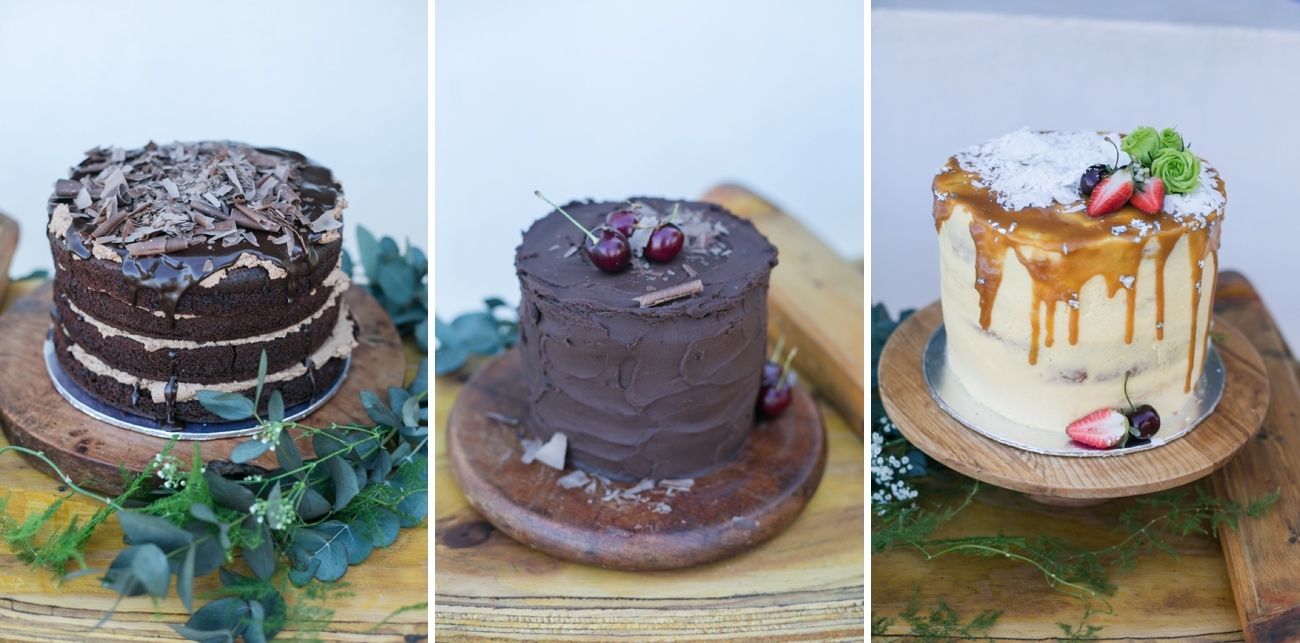 The Dress
I had wanted a beaded chiffon dress found on Pinterest (of course). My mother found a similar one on eBay and when it arrived, I was disappointed. However, my mother is a dab hand at sewing and knew what I was after. So she modified and altered the dress and it became the dress of my dreams! She worked her socks off re-beading, adding details, and changing the neckline and slip until it was perfect.
The Bridesmaids
I had two bridesmaids, who are part of my surfing family, I wanted something that would suit both of them. They both have very relaxed and outdoorsy natures and I wanted them to feel pretty and comfortable. I also wanted them to have colour as I was to be in white with a mostly white and green bouquet. I found the style via Pinterest again and my mother found a similar pattern and the material. She also made soft jersey slips for each dress.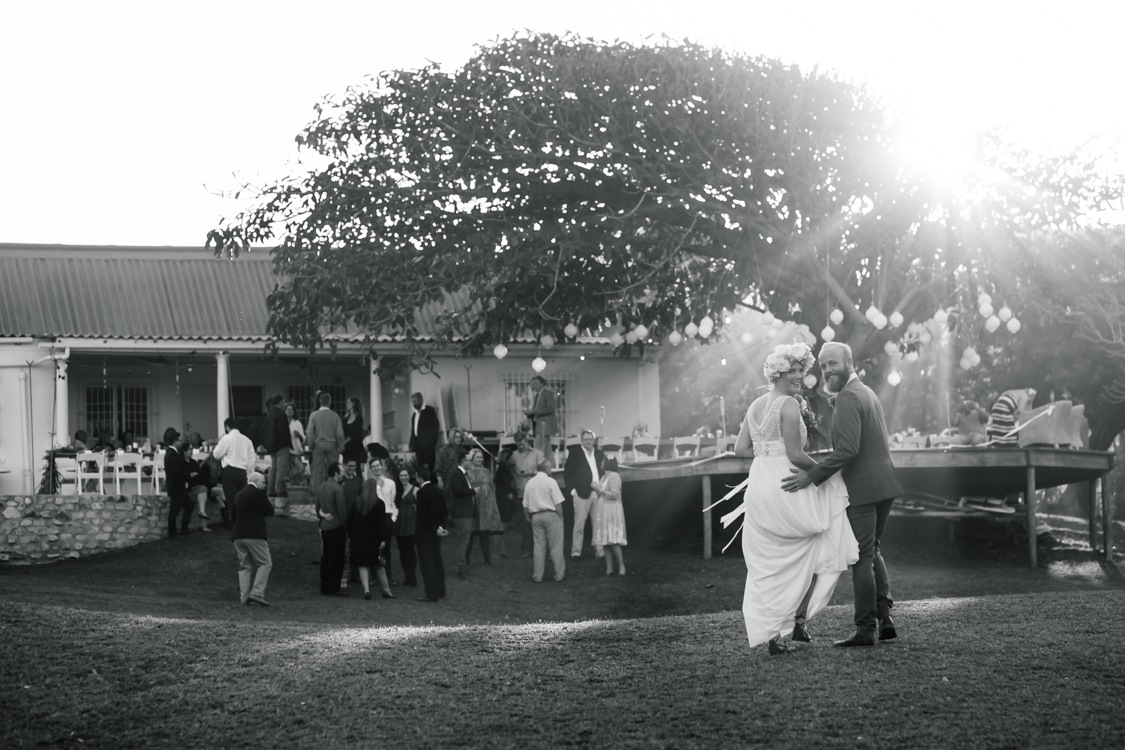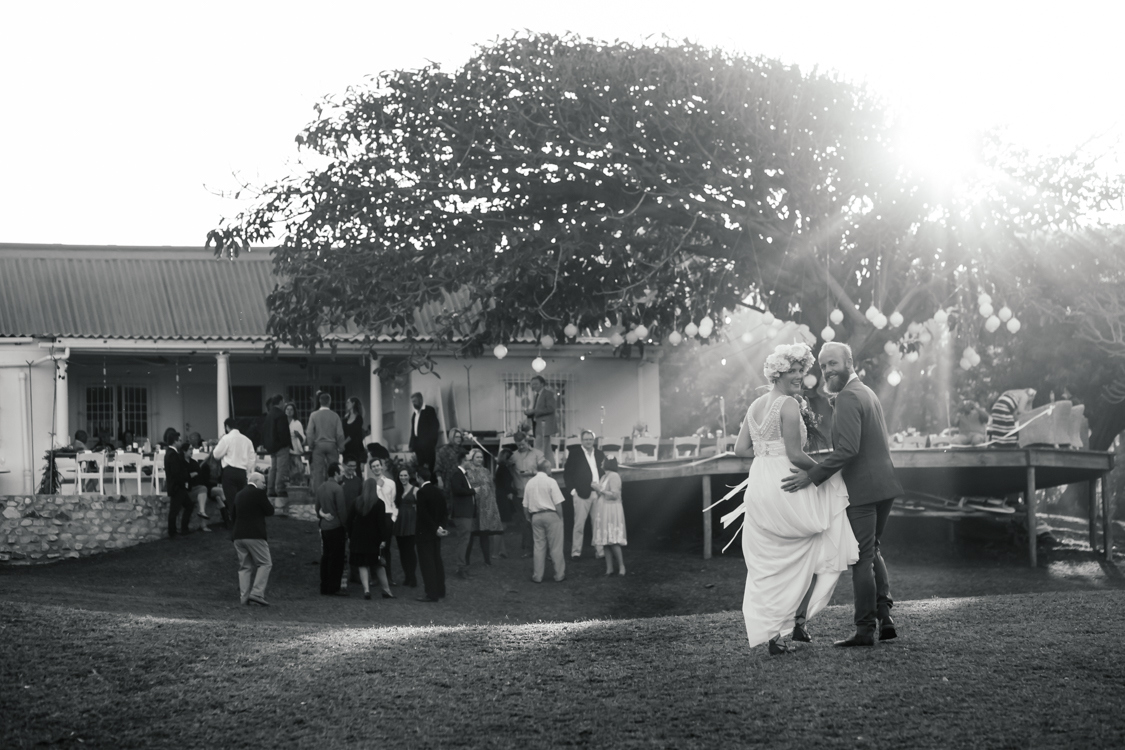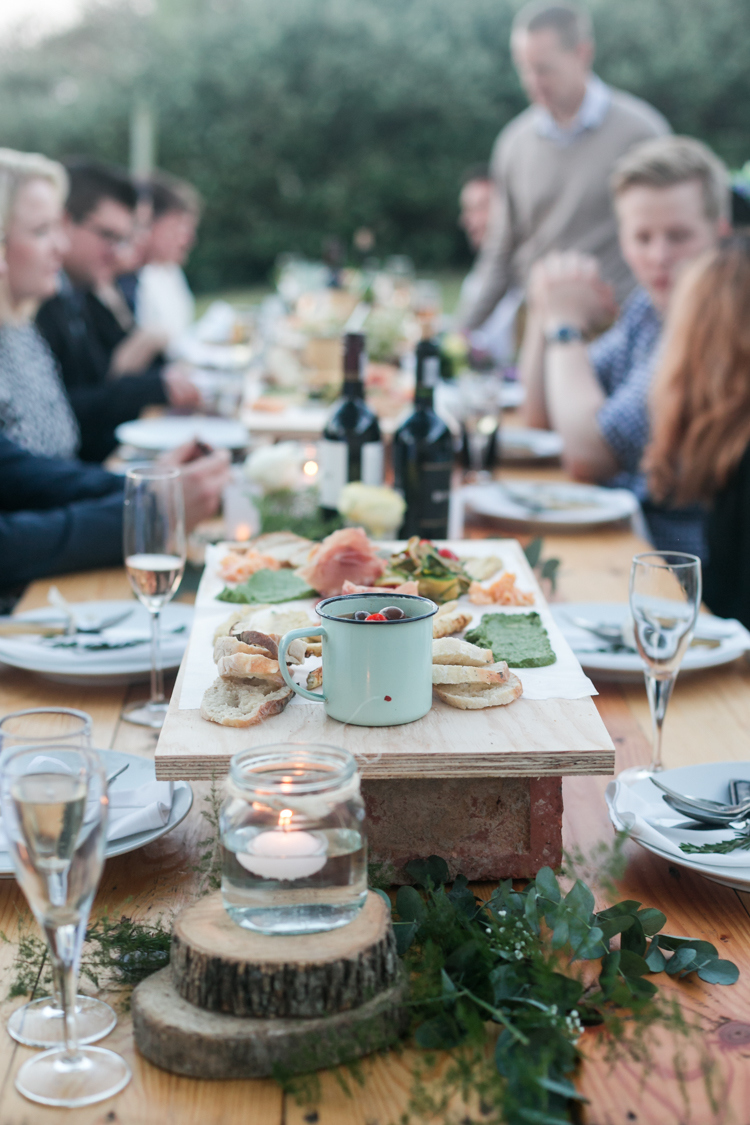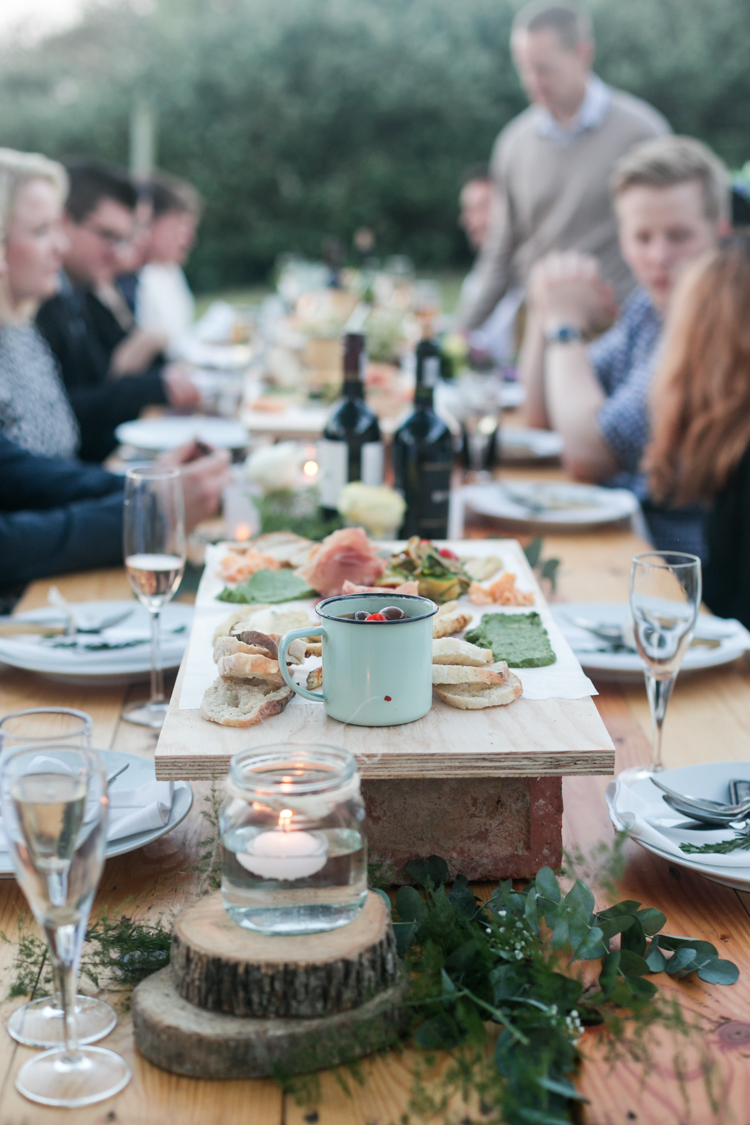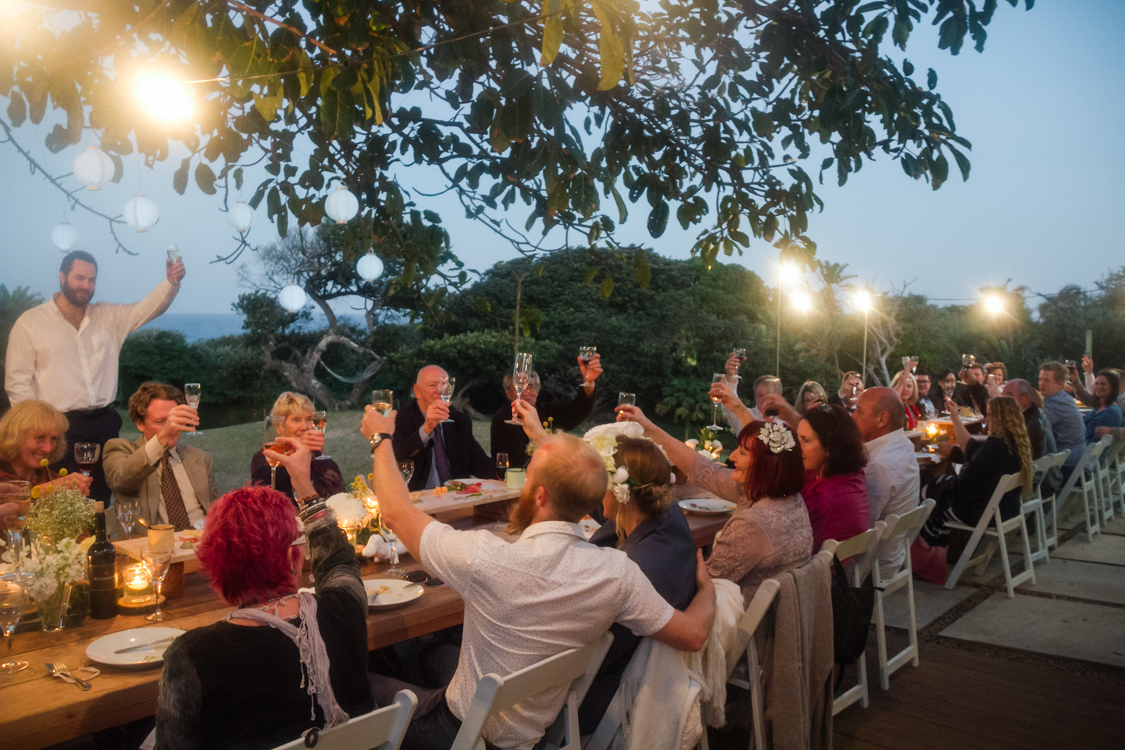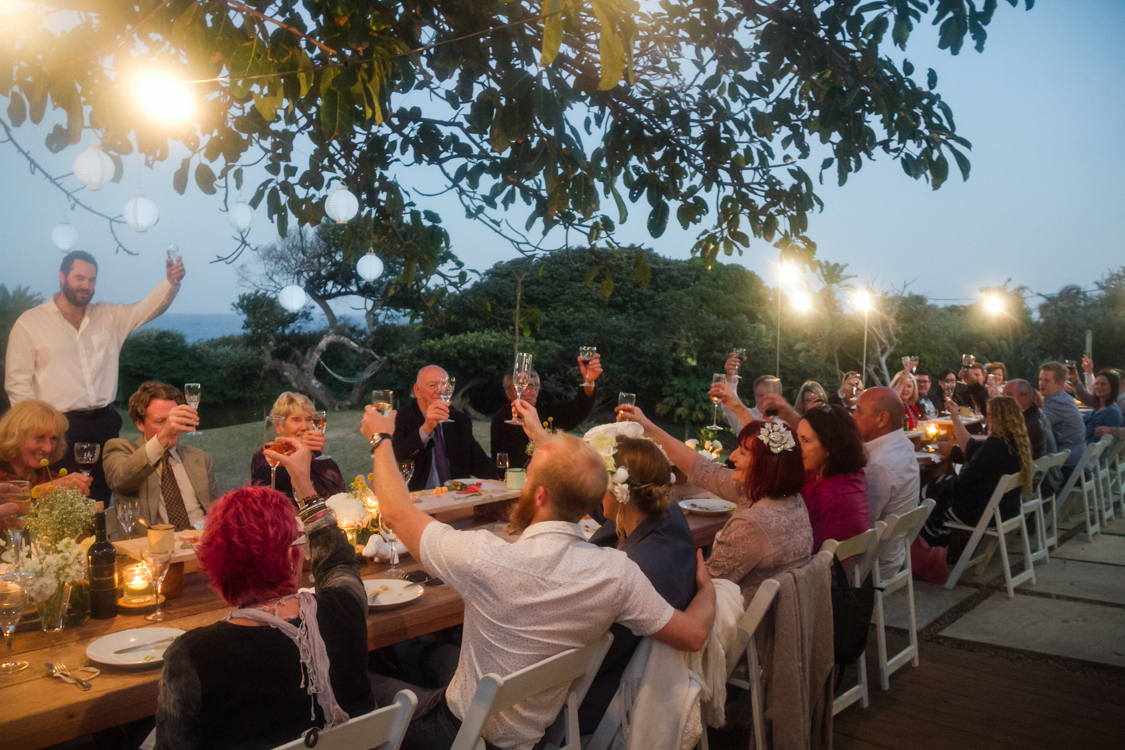 Memorable Moments
For Joel, it was watching me walk down the hill. For me, it was the first dance with Joel and my dance with my mother. Another was actually walking down the hill to the aisle with my mom – I was so happy, she was there and I was going to meet Joel and we were all going to have a wonderful party.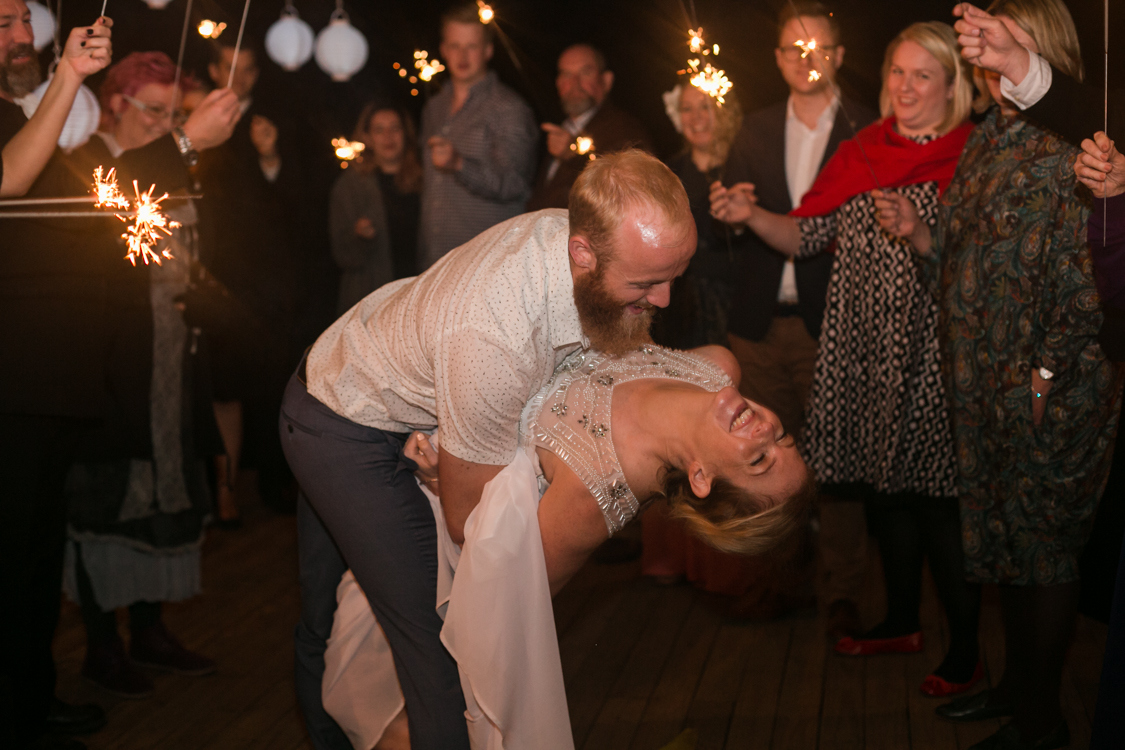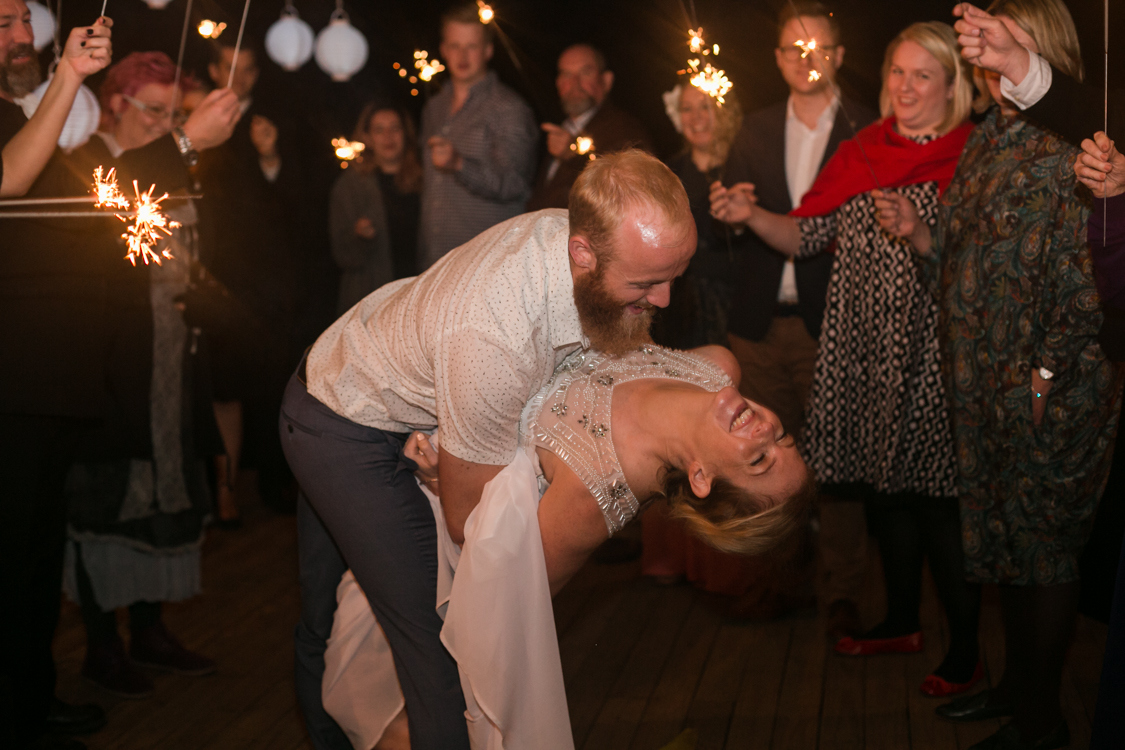 Best Decision
To keep the guest list under 50 people and to choose people who we are close to and who celebrate the people Joel and I are.
Advice for Future Brides & Grooms
Pinterest is your friend and foe. It is stressful but can also be very fun if you let it. You will always look beautiful on your wedding day; I had a spot but I didn't care. Once it starts, the stress stops. Remember to savour it.
You can see more from this wedding on the Long Exposure blog.
SERVICE PROVIDERS
Venue: Umzumbe Surf Lodge | Catering: Renegade Kitchen | Photography: Christy Long for Long Exposure | Flowers & décor: Buttons and Blooms | Video: Addy Studio | Cake: Cakelab | Bride's accessories: Cotton On (sandals) | Hair & makeup: Bride | Bride's flower crown, bride's dress alterations & bridesmaids' dresses: Mother of the bride | Groom's attire: Country Road; Cotton On; Woolworths
Save