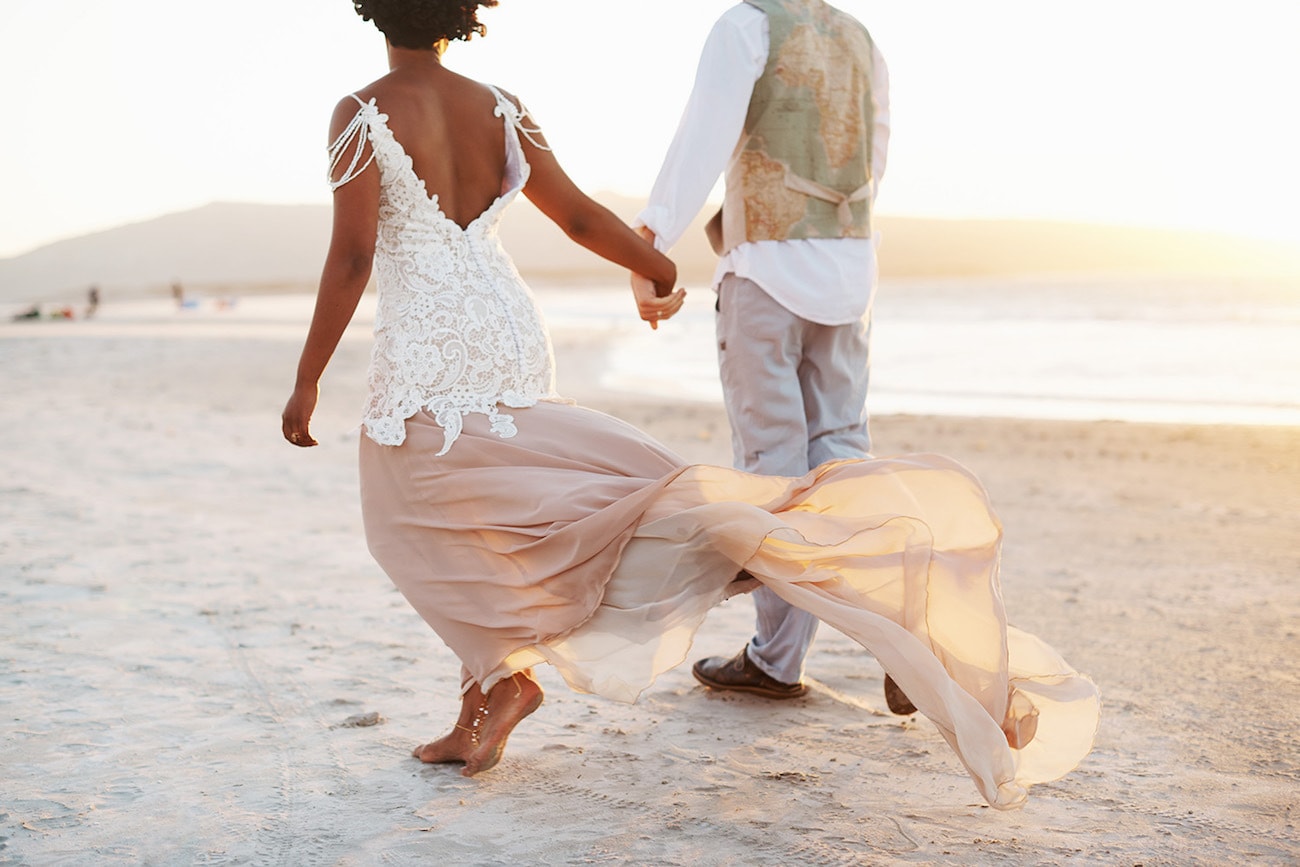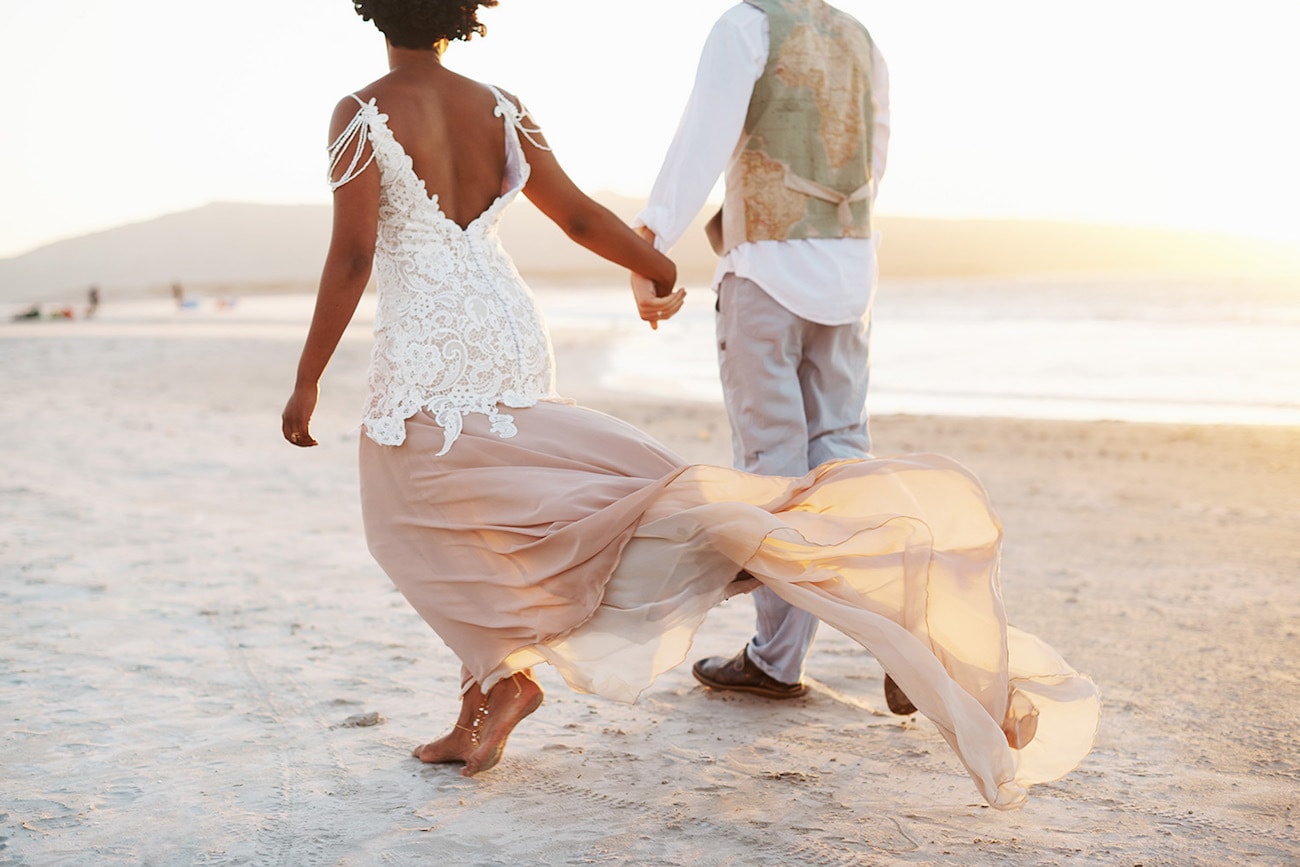 Goodness but this wedding has me LONGING for summer again! Take the classic laid-back, barefoot, West Coast vibe, add in a couple who are just radiant with love, happiness and laughter, all of their favourite people, some adorable DIYs and succulent details, a killer dress, and the cutest flowergirls ever, and you have a wedding that looks like so much fun it almost vibrates with it. Sam and Tracy put all of their relaxed personalities into their big day, choosing a location they loved, making details that fit, and even crafting a ceremony that was 100% them. It's wonderful, and it's captured for us to share by Knit Together. Now hurry up, sunshine! I need to get down to the beach again… 😄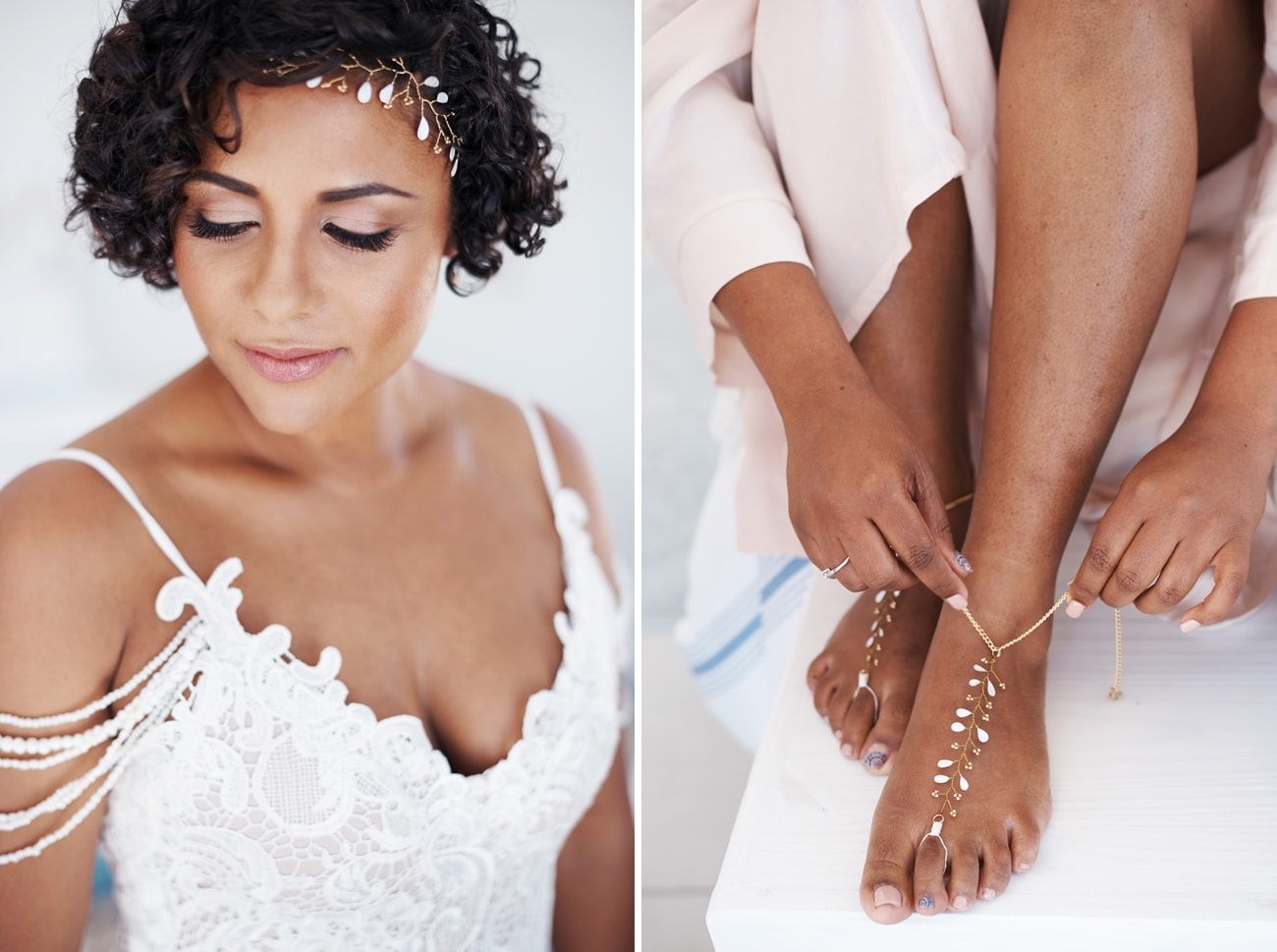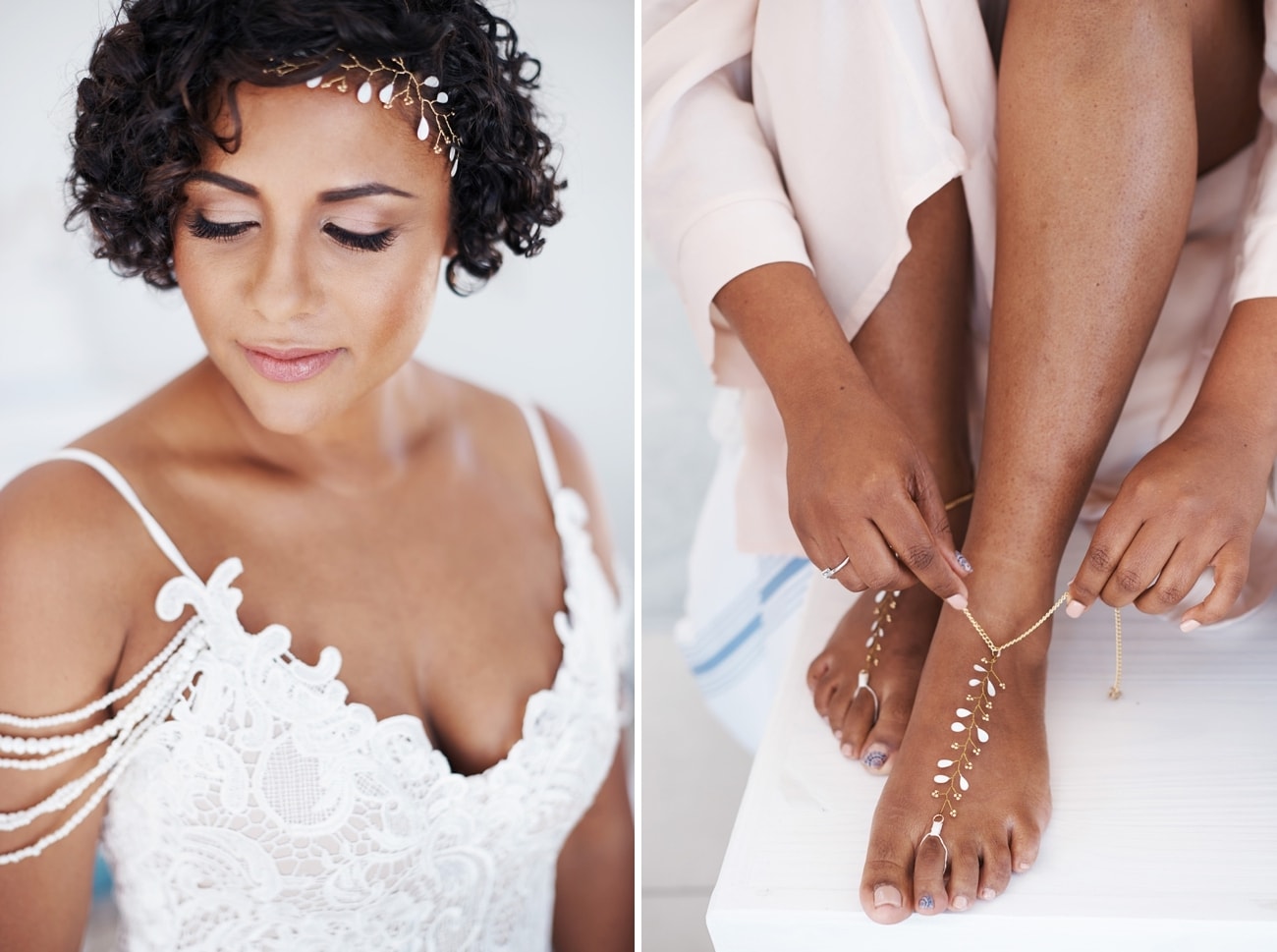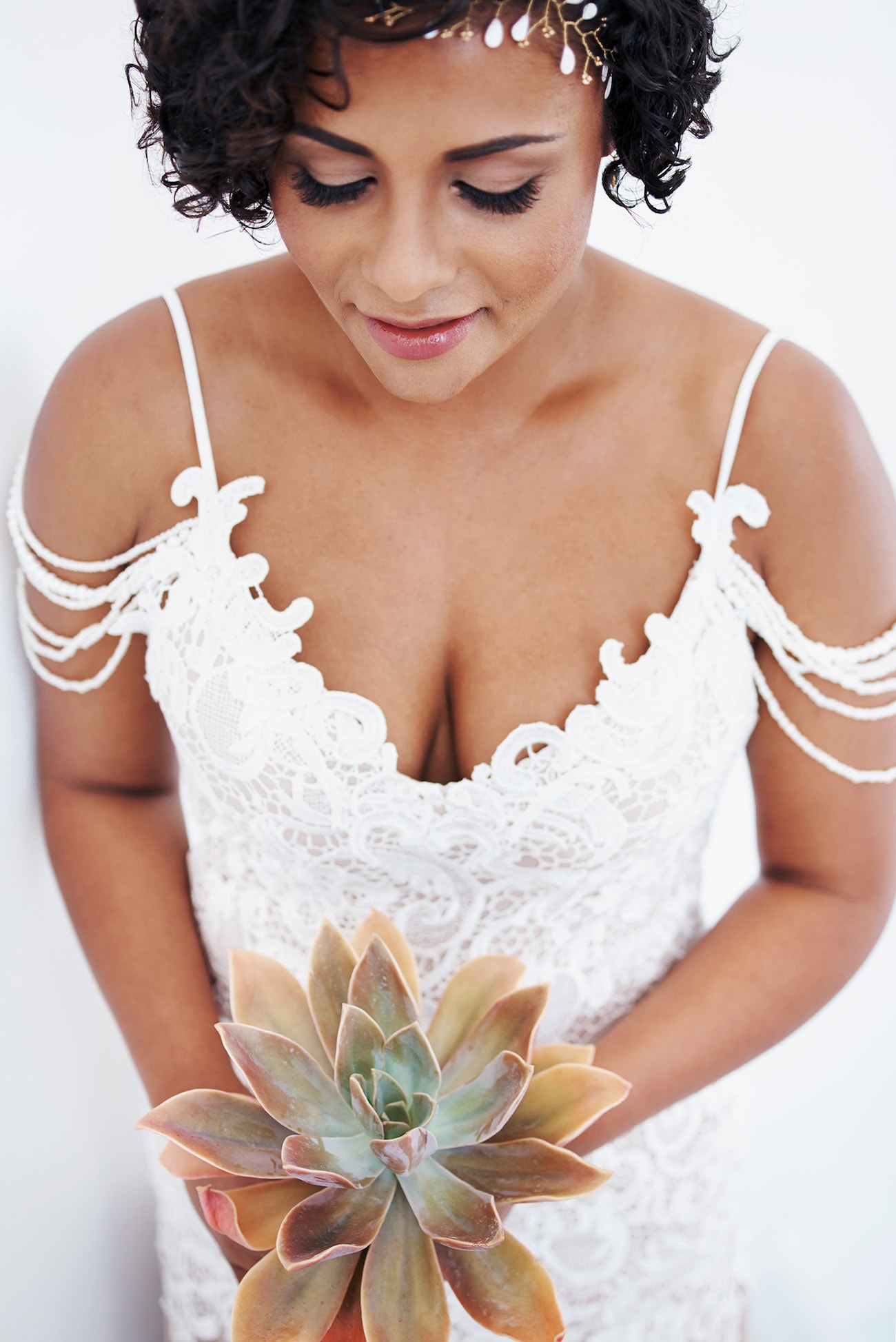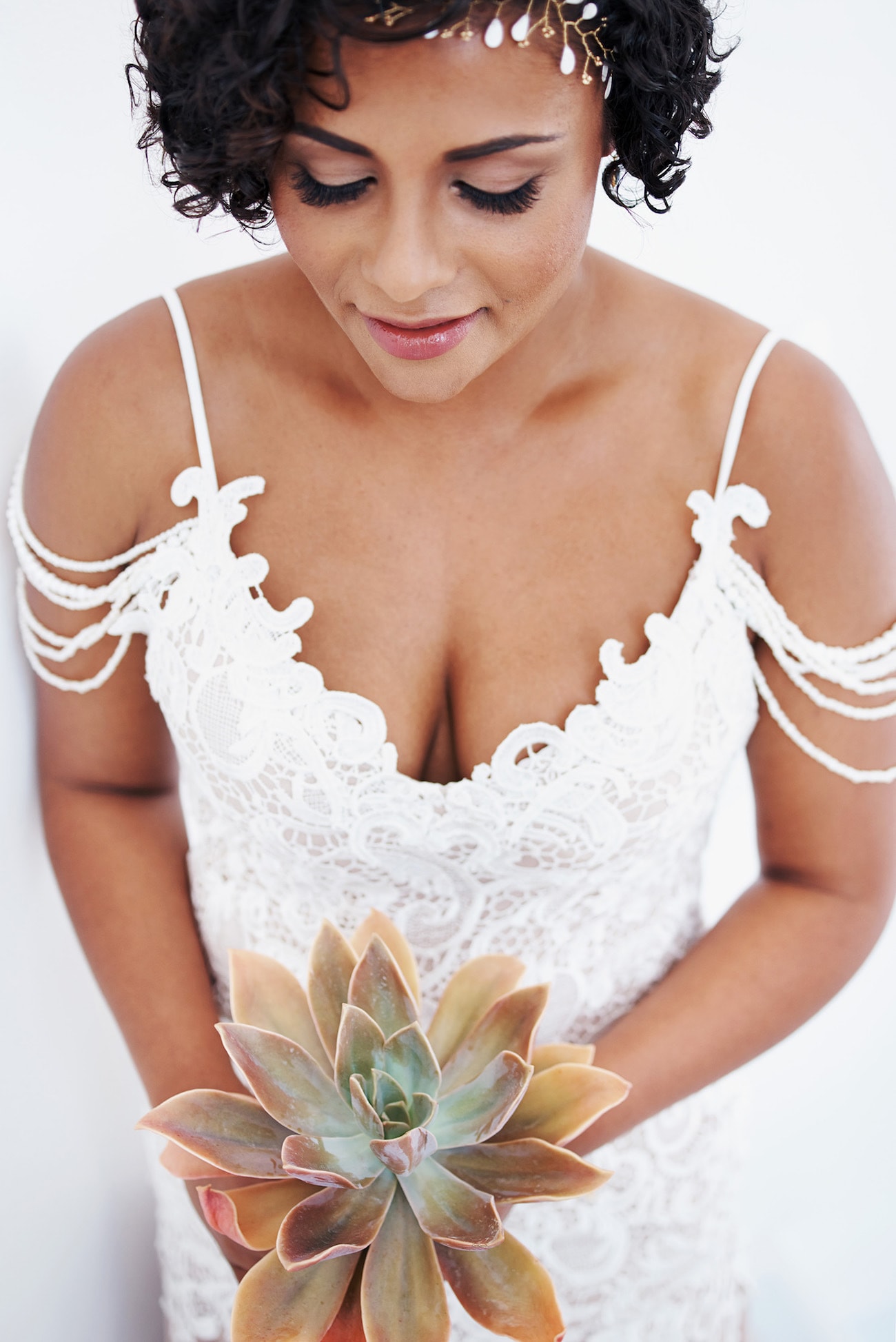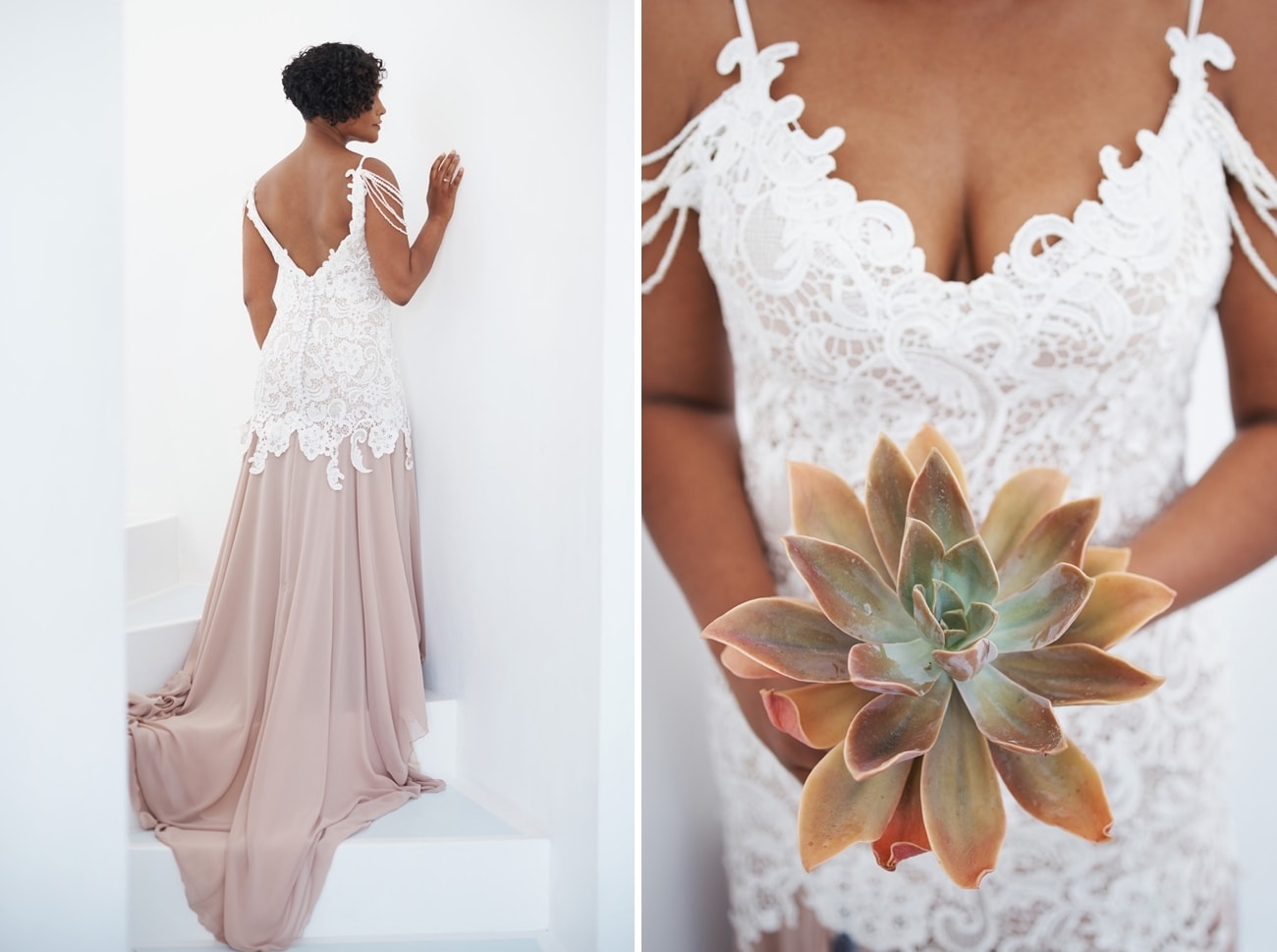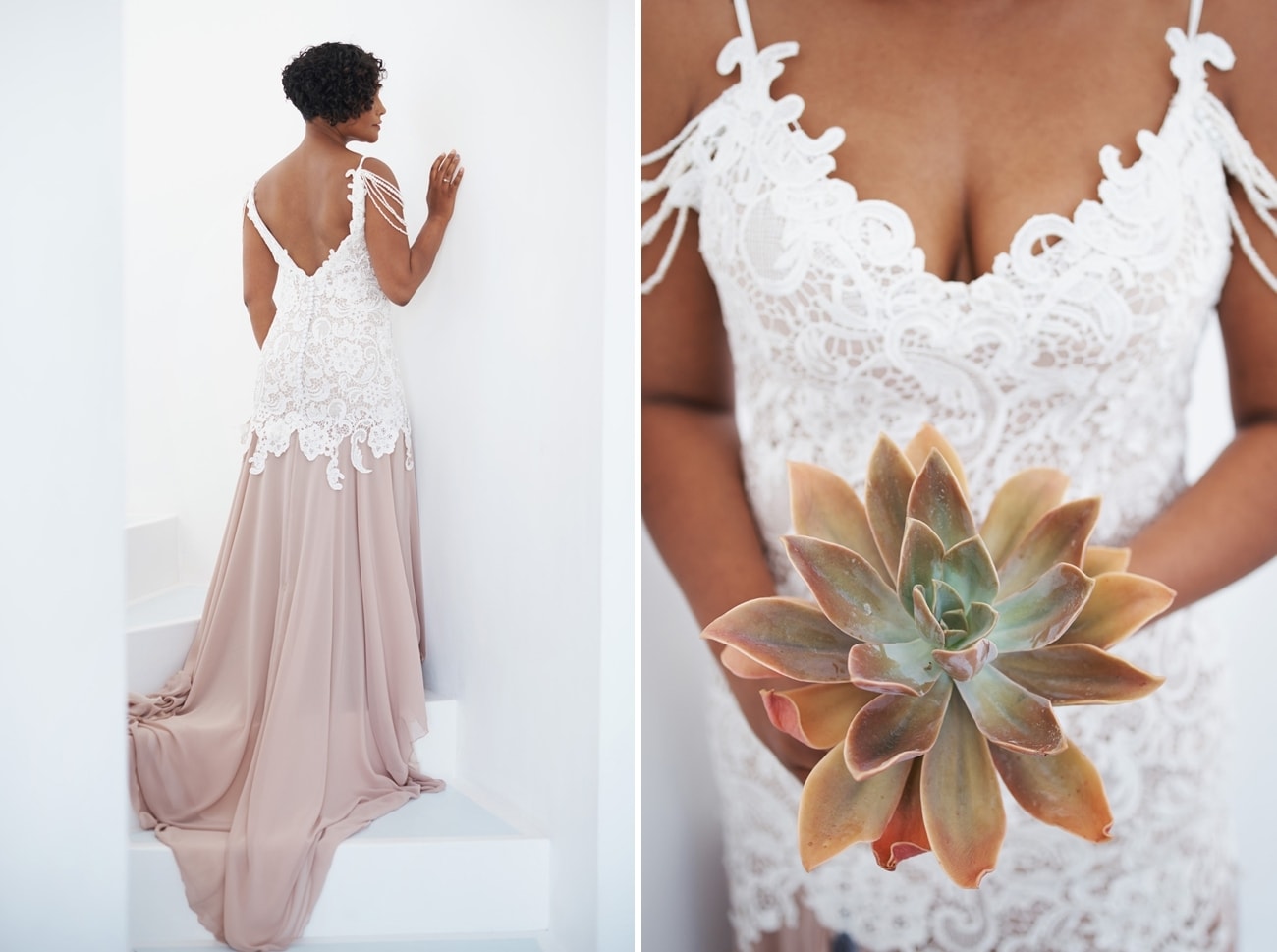 Love Story
Sam: We met online in 2014. Tracy cannily arranged our first meeting to take place at the Seapoint promenade where she was partaking in Sunkissed Salsa. I saw her dance and have been following her around ever since ;) It counted in my favour that, on the way to meet Tracy that first time, I got a flat tyre and didn't hesitate to leave my car on the roadside (the M3 highway) and call a taxi. My sixth sense told me I had to meet this woman without delay. Within eight months we had officially moved in together. A fortnight later we made an offer on a house and it was accepted. The proposal happened a few weeks after moving into our new home.
The Proposal
Sam: I took Tracy for a ride on a Harley Davidson back to the spot where we first met. It was there that I proposed at sunset! Tracy apparently had no inkling of my intention until the very last moment when we embraced and she felt my heart beating furiously! The day turned out perfectly despite an early near-miss when Tracy fell asleep on the back of the Harley as we cruised around Chapman's Peak. I had to pull over and let Tracy complete her siesta with her head in my lap while I gazed out at the Atlantic. The moral of this story is to moderate the fish braai lunch when you're travelling by motorcycle. The proposal incorporated certain traditional elements (e.g. dropping to one knee; copious tears from the maiden) but omitted others, such as the ring. I had begun the search for an engagement ring with an open mind and an open wallet. However, knowing my girlfriend to have very particular and only vaguely predictable taste, I ultimately heeded the sound advice of an experienced jeweller: "Son, do yourself a favour and propose first. If she says yes, bring her here to look for her own ring!" We then had the best time designing the engagement ring and wedding band with Sirkel Jewelry.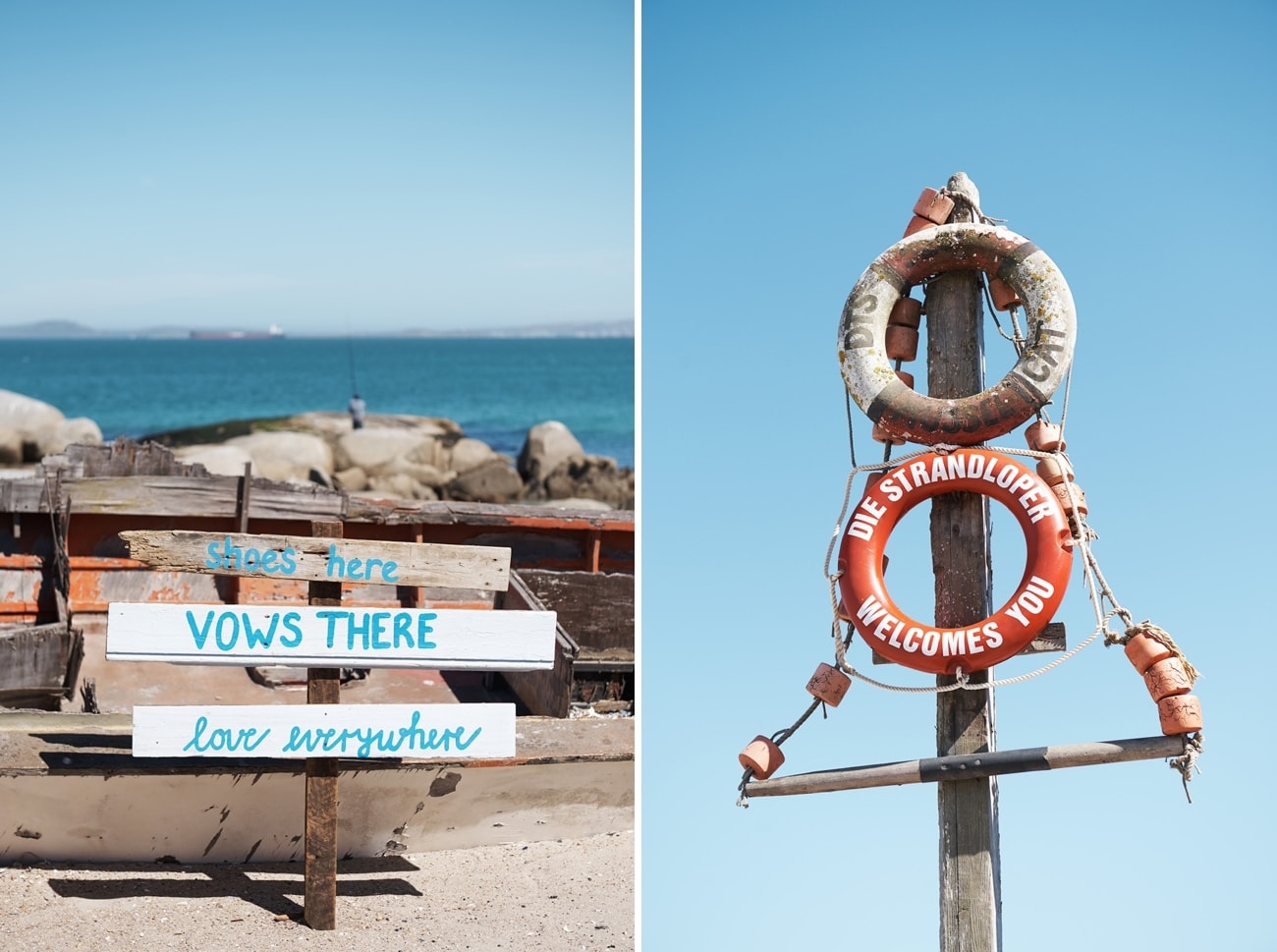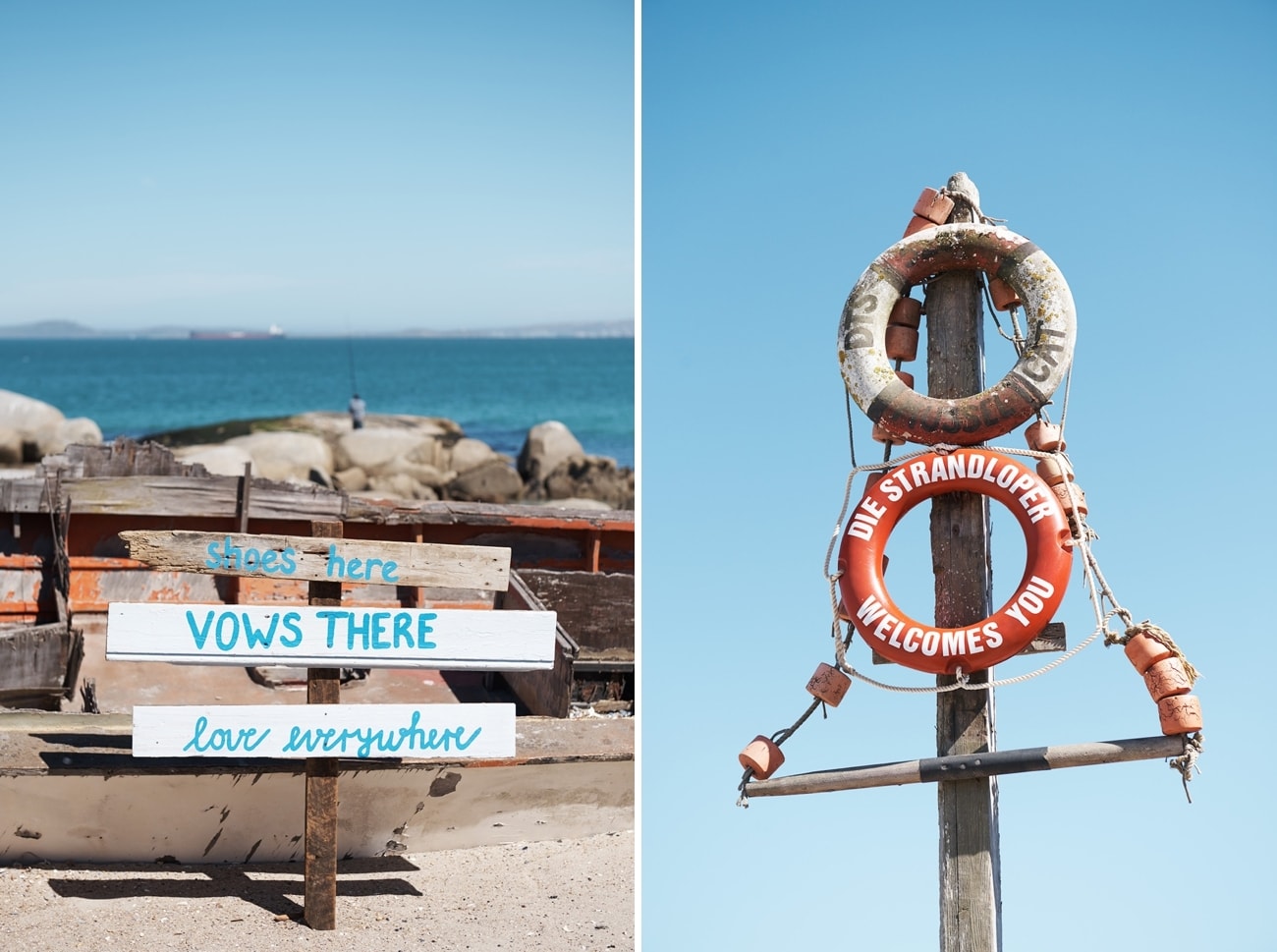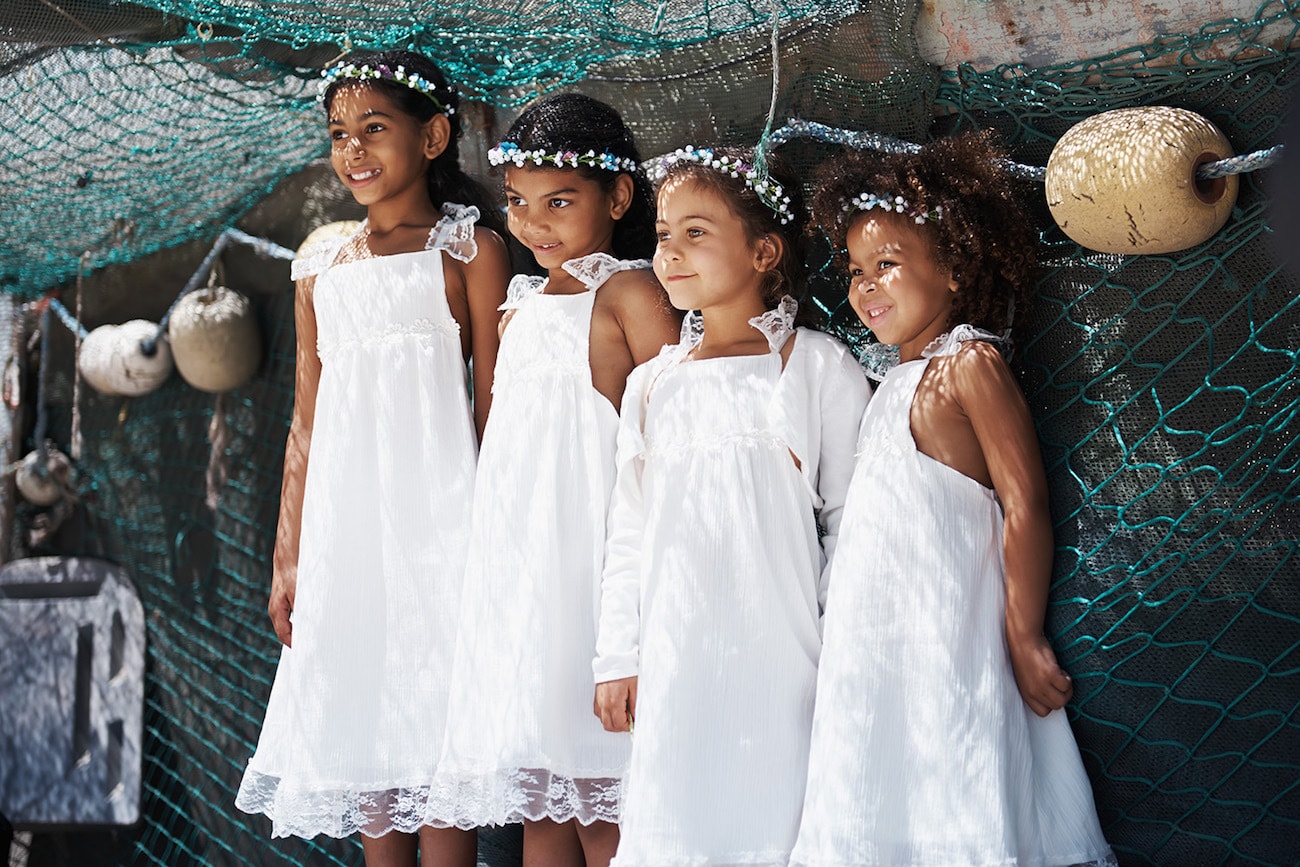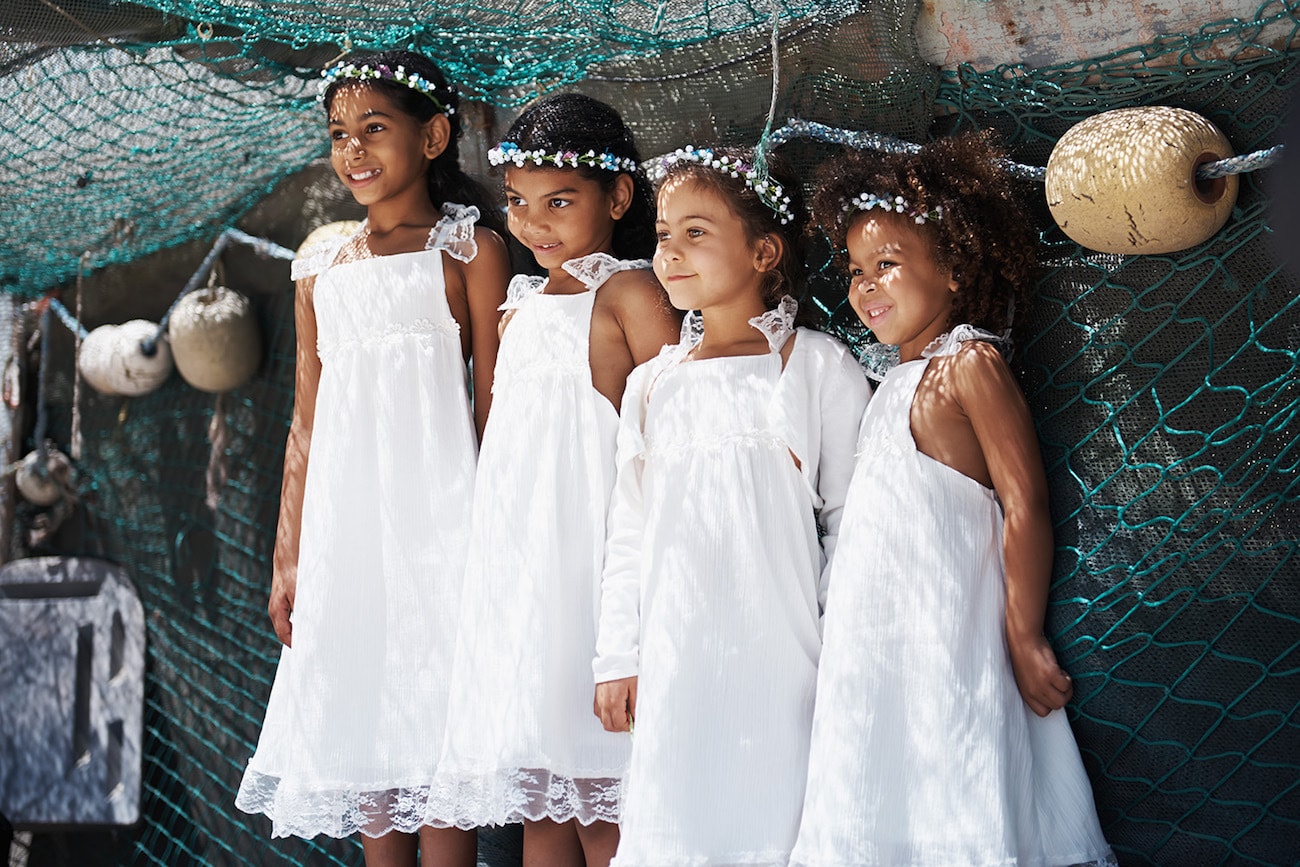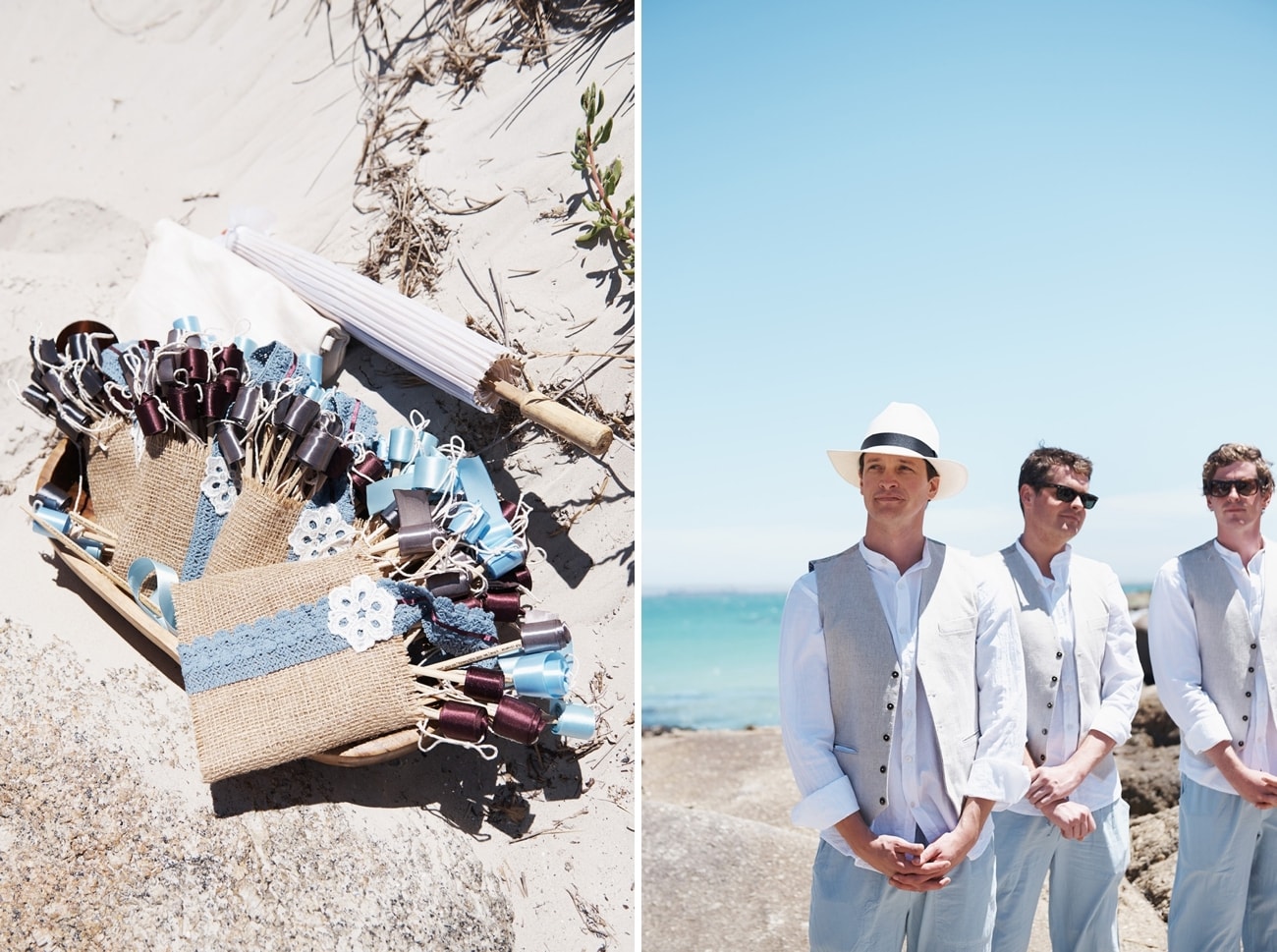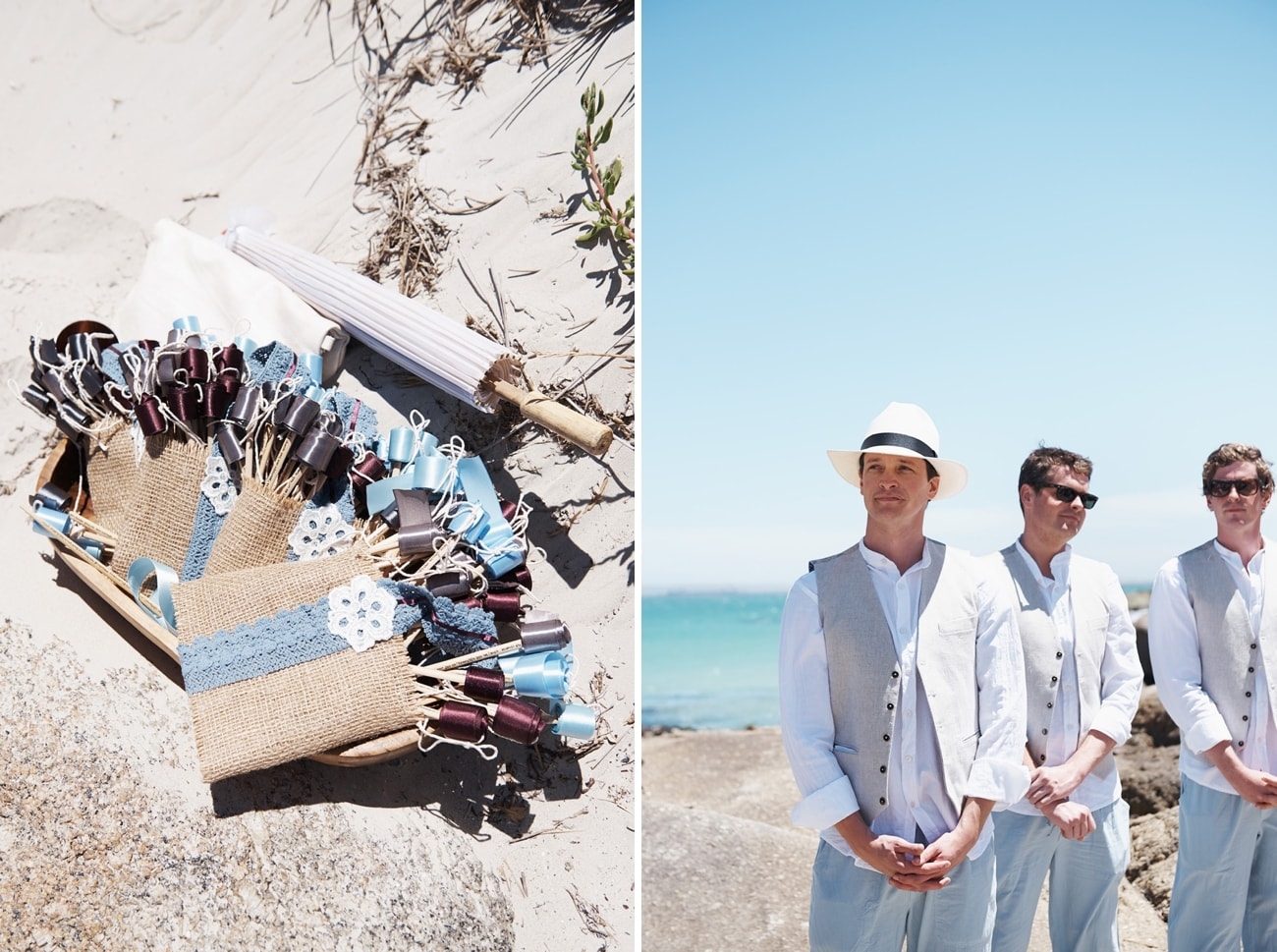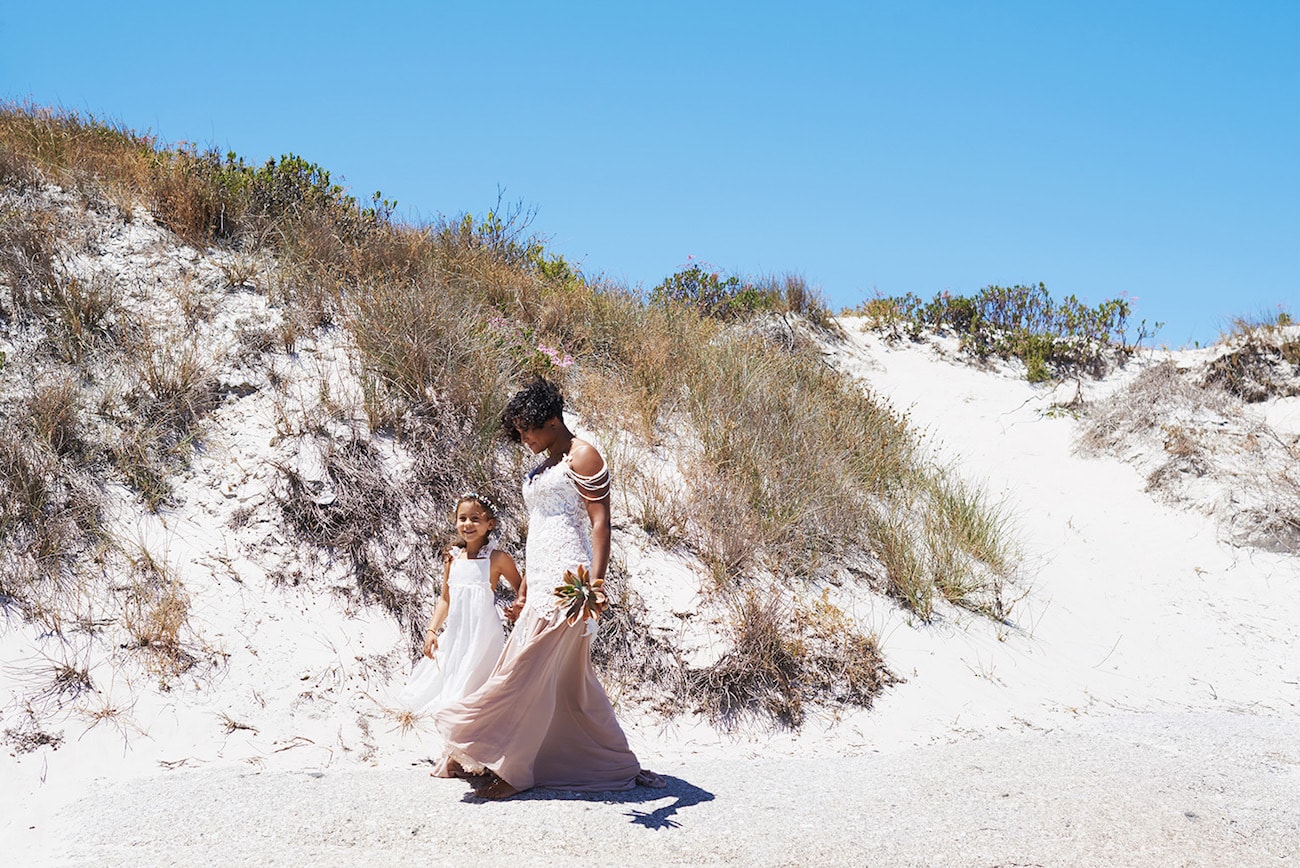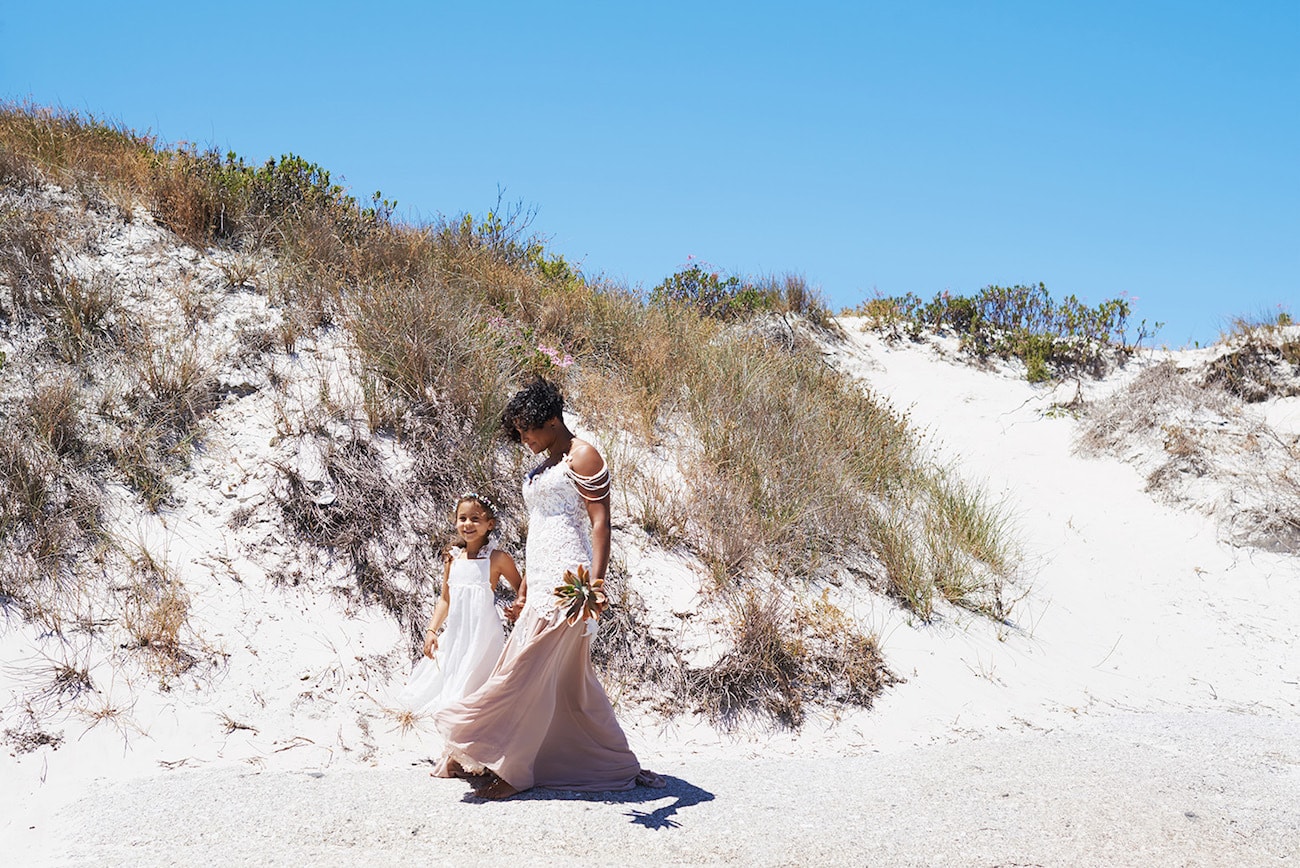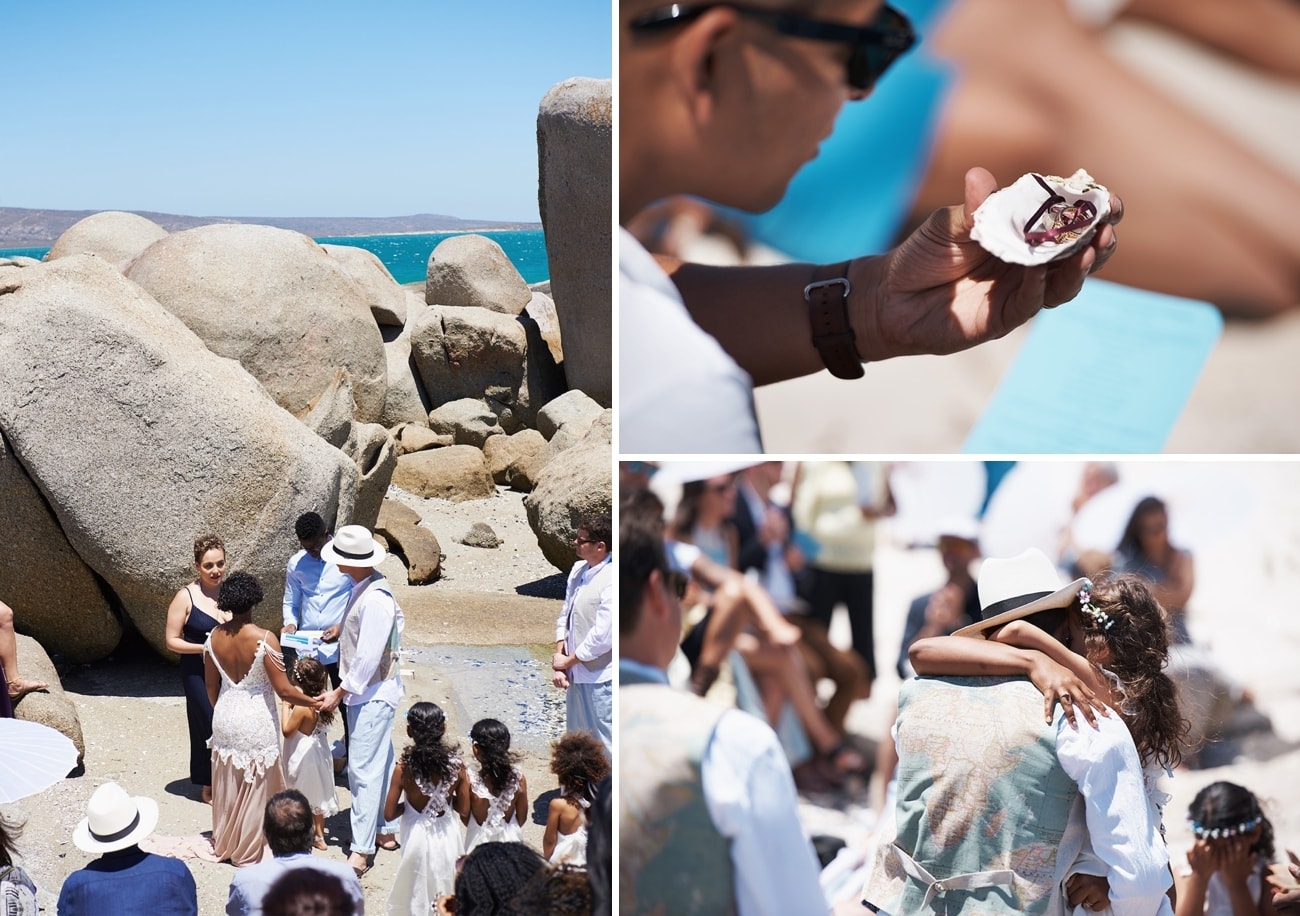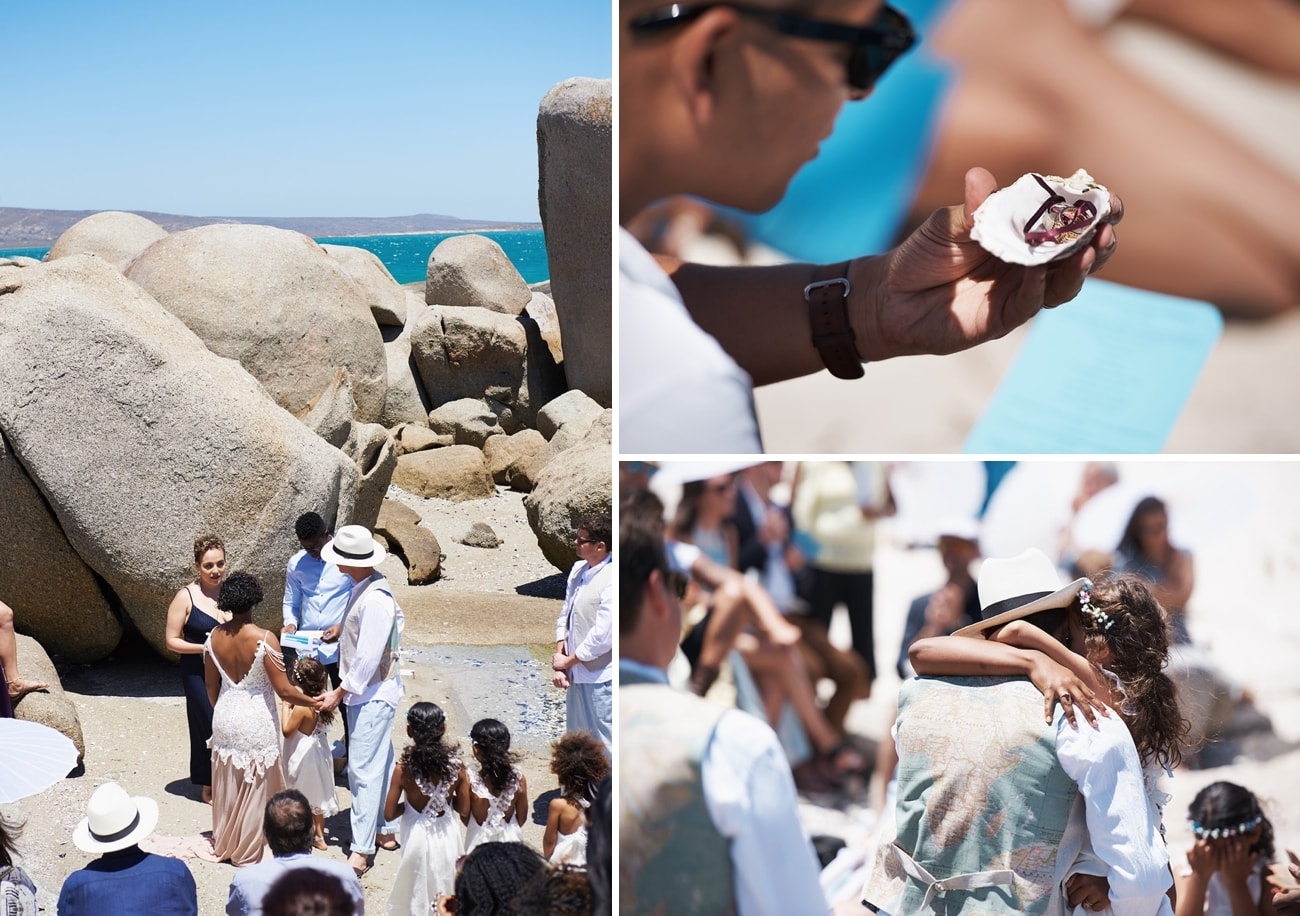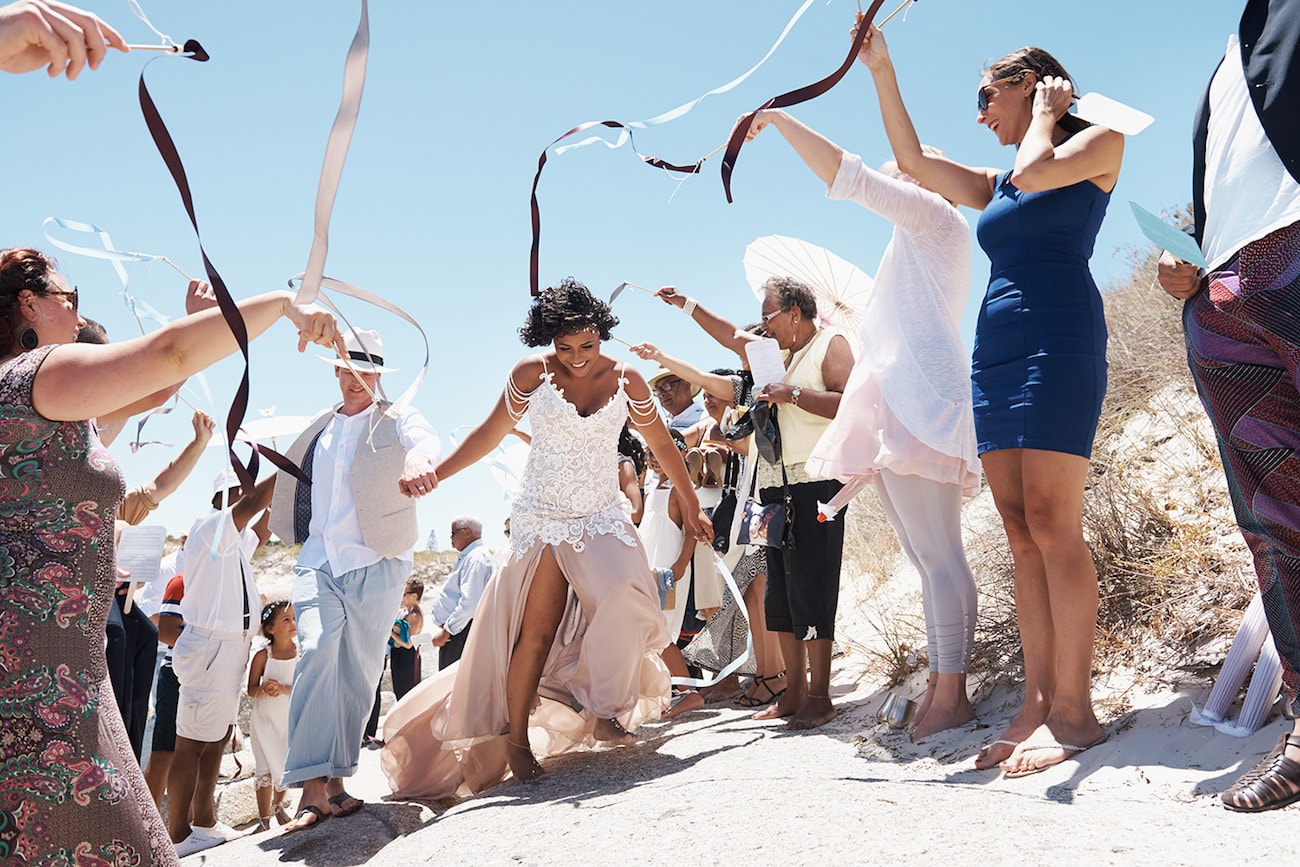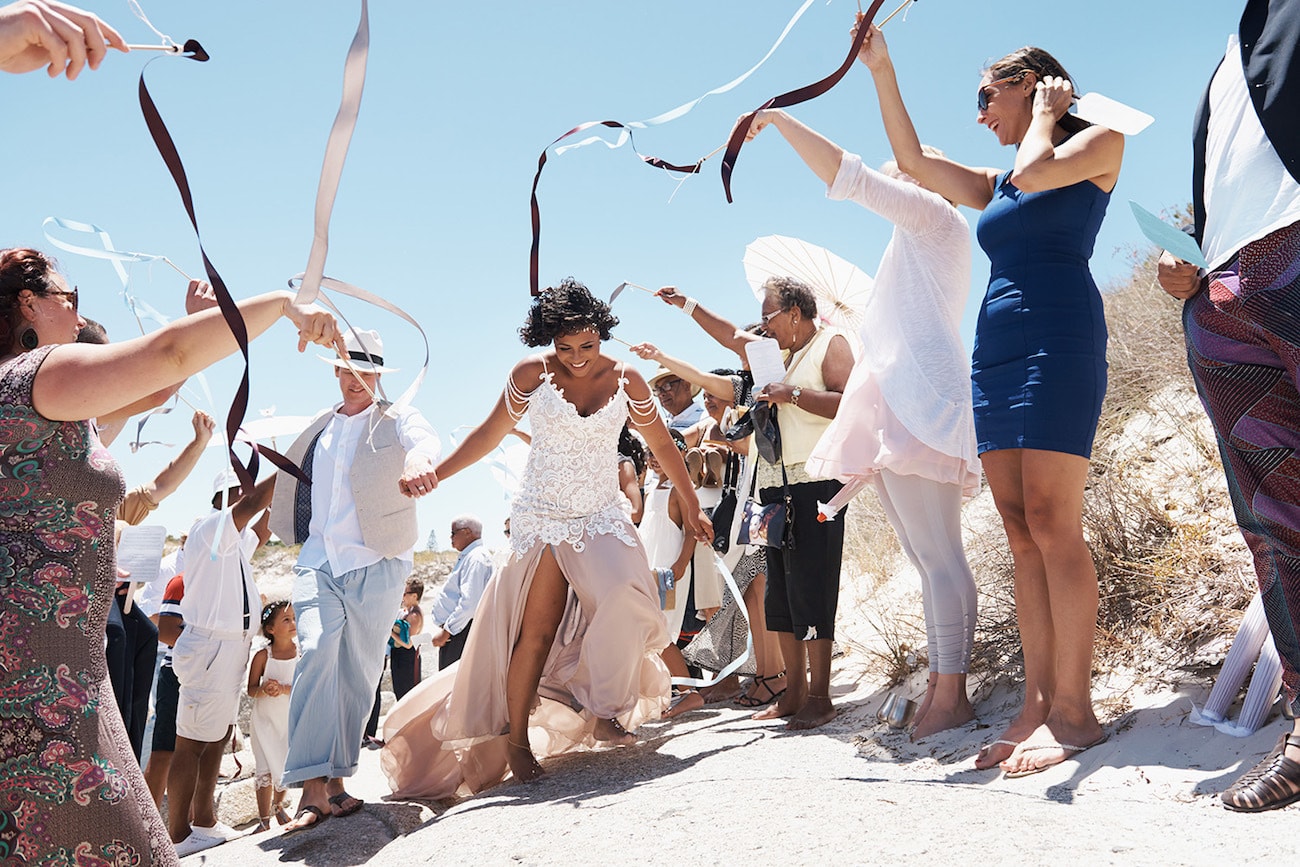 The Venue
We had two venues for the "reception". We ate at Die Strandloper then went on to Friday Island where we listened to live music and danced well into the early hours of the morning. We had been to Die Strandloper in Langebaan for lunch and we loved the seafood and the rustic, sand-between-your-toes feeling. We wanted a very casual setting, not formal at all. So, when a friend mentioned having been to a wedding at Die Strandloper, we had a lightbulb moment. We booked it without having been there in months, but it just felt right. The people working there, especially Danielle (their function coordinator), were so helpful. It's a no-fuss venue. The meal is set (a ten course outdoor seafood braai served on paper plates). The venue is BYOB so we didn't have to pay corkage. They do however have a bar on the premises if that's required. Another advantage of the location is that we had a number of guests travelling to the West Coast from other provinces and overseas (the groom hails from Australia via Europe). Holding the wedding in Langebaan presented loads of cool options for our guests to make a full weekend of the celebrations with us. Others stayed on in the Cape for a few weeks after the wedding. We had also booked out Friday Island for the entire weekend. They were very accommodating and didn't mind the noise on the wedding night. They're also situated right on the lagoon which made for a lovely view at sunset while listening to The Betsies play some tunes. Since we booked out the guest house and used the verandah in front of our rooms as a dance floor, there was no added venue fee.
Wedding Style
Our vision was a simple, DIY, no-fuss wedding that resembled the type of people we are. We also wanted our guests to feel like they were a part of making it happen. We made a promise that as soon as we stopped enjoying the process of planning the wedding, it wouldn't be worth it, so we made sure that the process was as much fun (well almost) as the day itself. The venue lent itself to the rustic beach vibe so we followed that. My favourite colour is blue (coincidently my daughter's name means blue in Sanskrit) and Sam's is purple. We incorporated both of these, as well as grey, in our colour scheme. I love crafting, so the simple part of the vision was reusing things to make decorations and to not have too many elements to think about. All décor was handmade by myself and a few friends (I show love by doing things). The Friday night before the wedding our guests met for a boerie braai at our guest house, Friday Island, and set up fairy lights, hung a bunting and cut up all the fruit for the welcome drink (Pimms and lemonade). Sam and his brothers spent the morning of the wedding day setting up the welcome drinks table and putting together the hand painted signs I had made. It really felt like a community wedding. We both love country music and had Landi and Zelmari, sisters from The Betsie Beers, play their awesome tunes at sunset, while the party continued after the very long lunch. They're a band that we love following and watching live in Cape Town.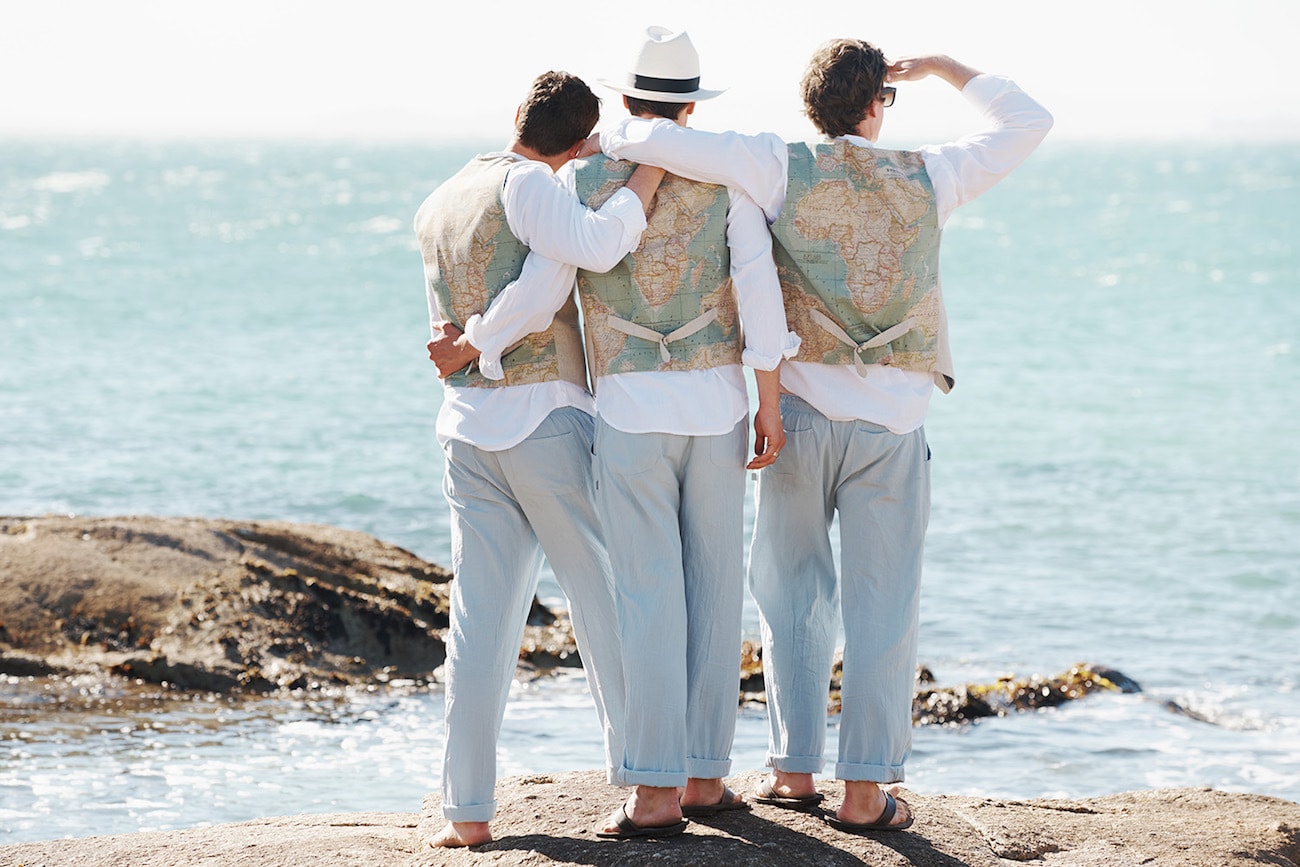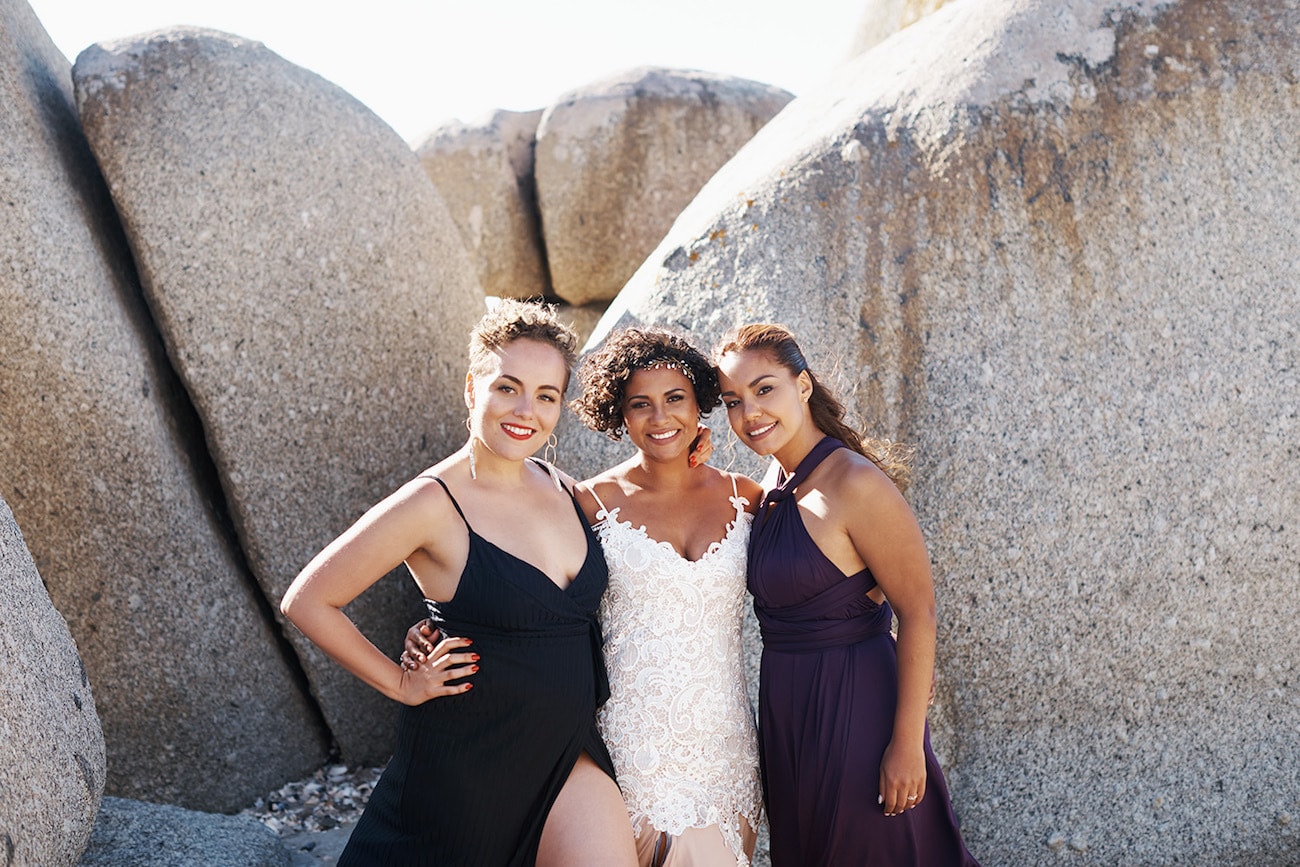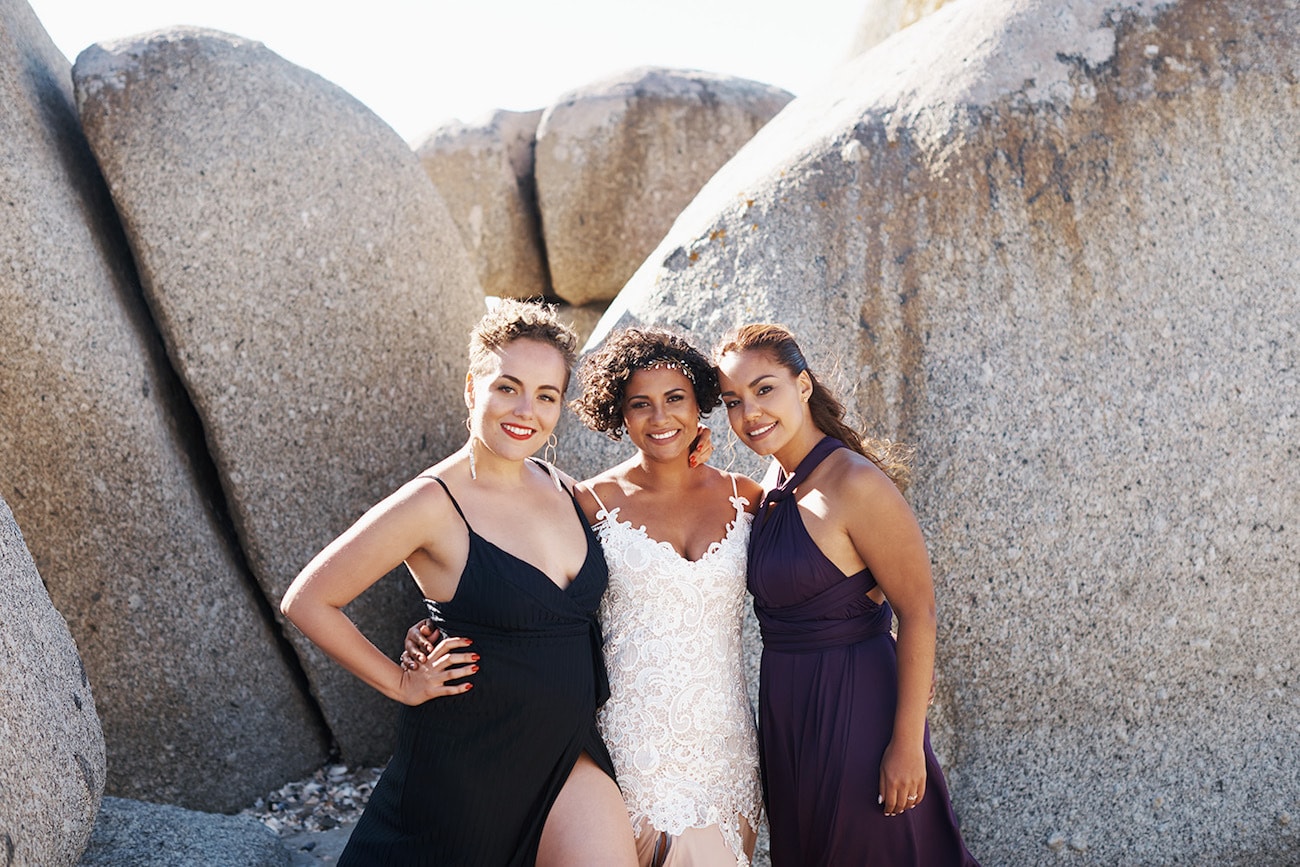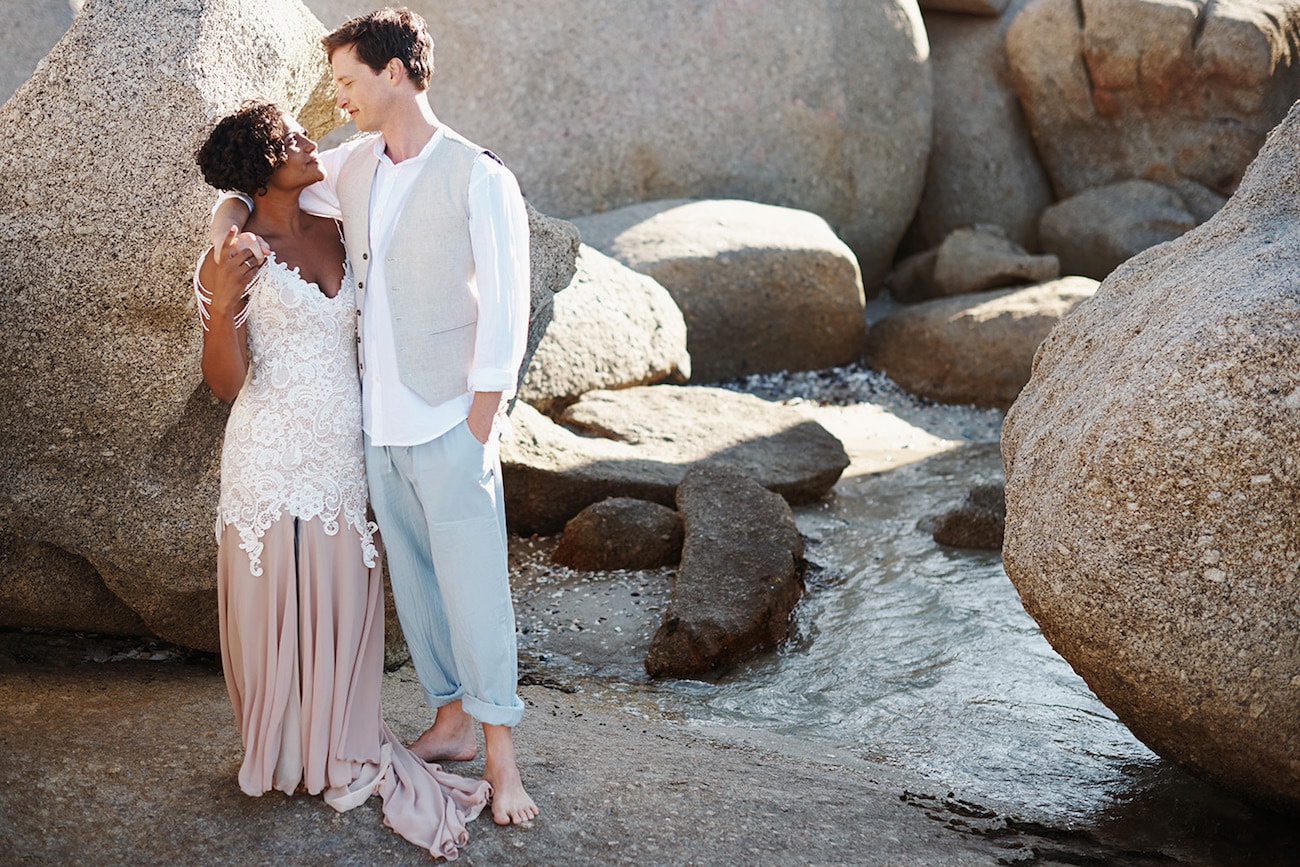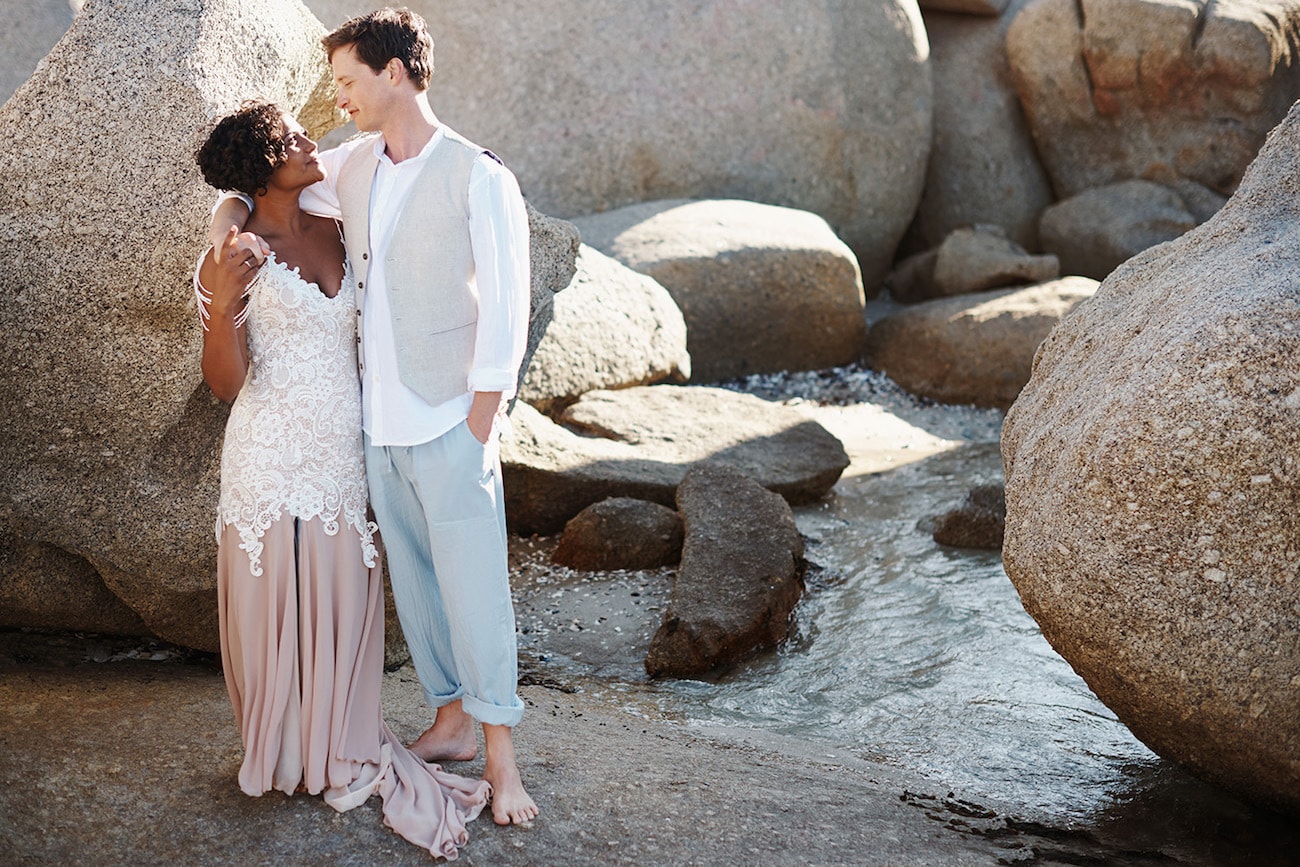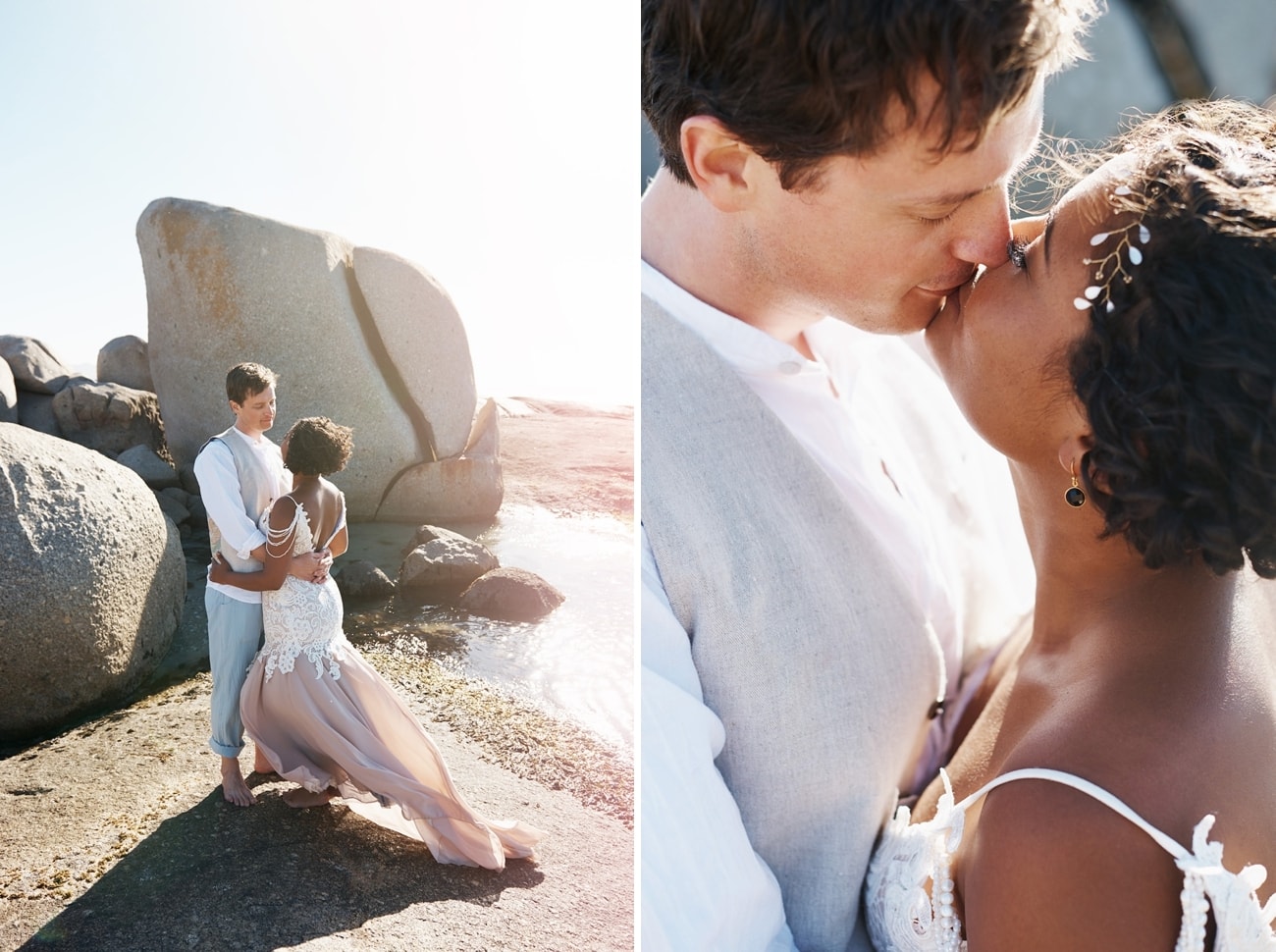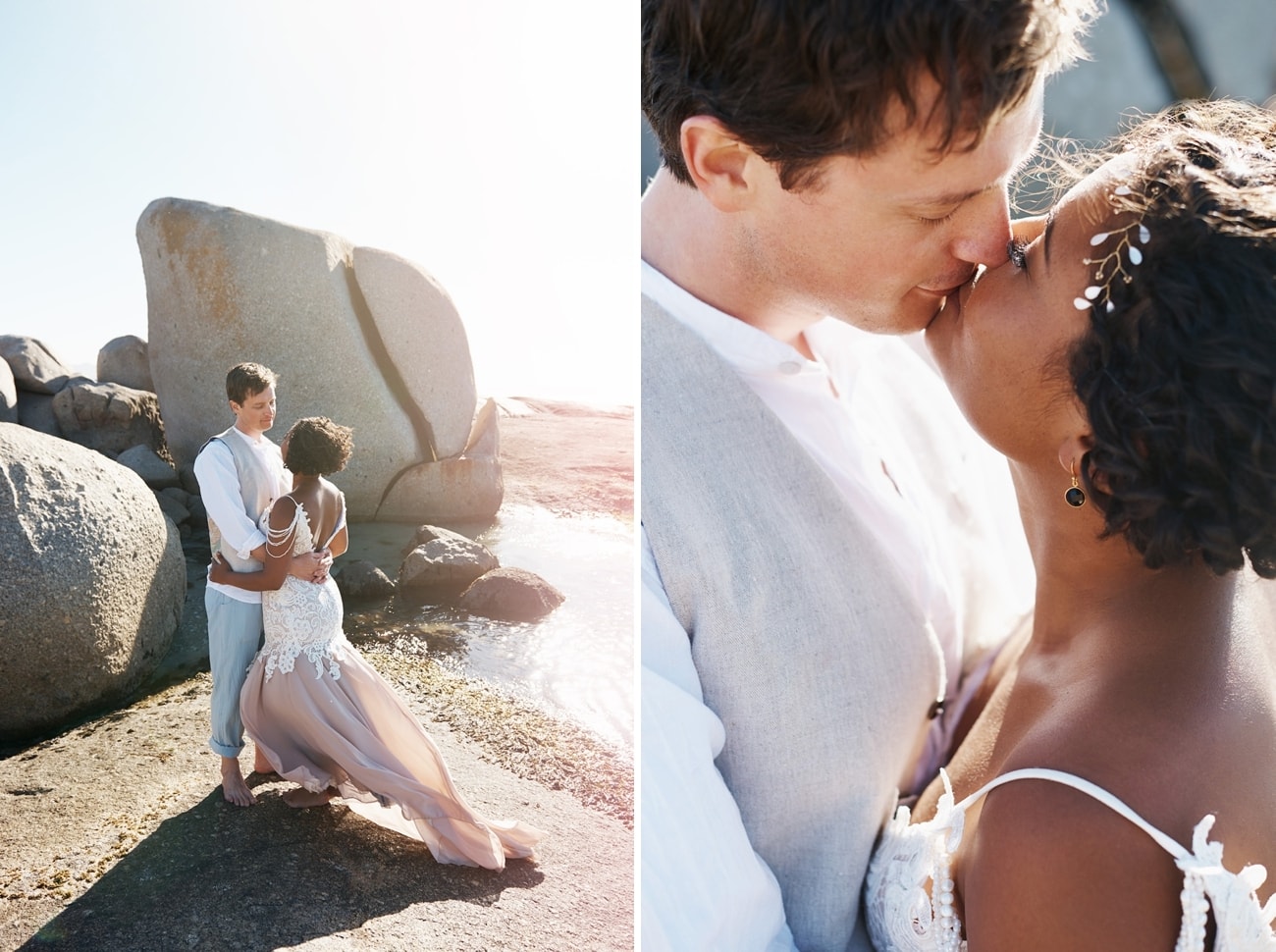 Wedding Details
I chose to walk down the aisle with my then-five-year-old daughter, Nilah. I met Sam when she was three years old. She was so excited about the wedding and we wanted her to feel like she was a big part of the day, apart from being a flower girl. She also came up with the idea of a family hug, where the three of us hug after the big kiss, which was so lovely. I saw the idea of ribbon wands on Pinterest. We wanted a type of confetti that wouldn't litter the beach and that could be reused. I also wanted Sam to know how very special he is to me so I hand wrote on each chopstick (which we had at home and used for the wand part) "And I'd choose you. In 100 different worlds, in 100 different lifetimes, in any version of reality. I'd find you and I'd choose you". 
The Ceremony
We decided that we'd get the legal stuff done at Home Affairs, which was quite a mission in itself (try marrying a foreigner and you'll know what I'm talking about!). This allowed us to ask some of our dearest friends, a couple, Kathleen and Joey, to write and perform our ceremony with us. Kathleen is a wonderful writer and her husband is very charismatic. They live in Johannesburg, so this was done via email and Skype sessions. They sent us a list of questions, asked us about readings, and Kath wrote the most beautiful, and honest ceremony. The two of them performed the ceremony and we absolutely loved every second of sharing that with them. We used the boulders on the beach for seating for our guests which added to the casual nature of the day and provided them with parasols for shade. Our rings were passed around in an oyster shell for each of our guests to silently bless them. Sam and I each chose one reading. His was a poem in Spanish, 'Mereces un amor' by Estefania Mitre. (He lived in Spain for seven years before South Africa and the Spanish language is very dear to him.) His good friend from Spain read the Spanish version and one of his close Australian friends read the English translation. The reading I chose,  'All I need to know I learned in Kindergarten' by Robert Fulghum spoke about very simple rules to live and love by, but would also be understandable to my daughter.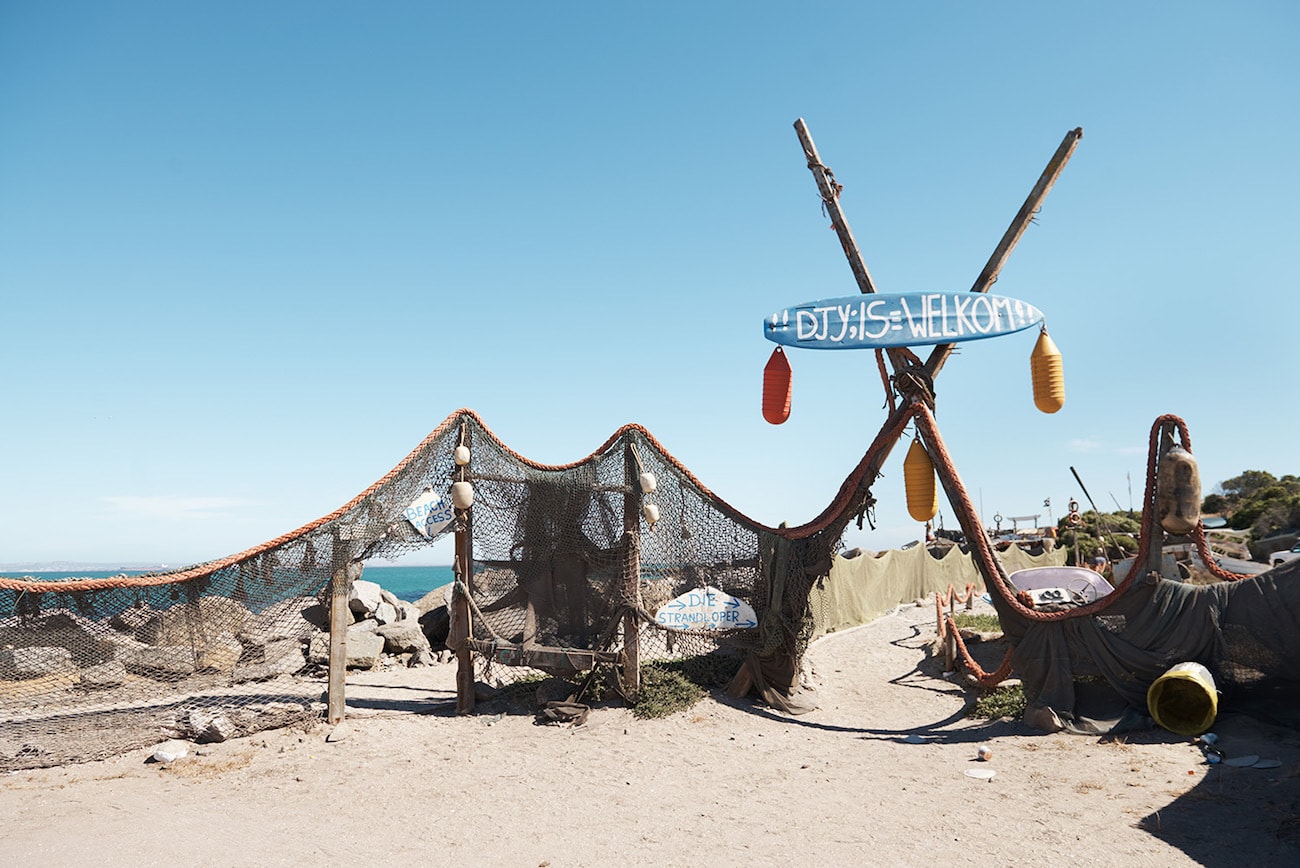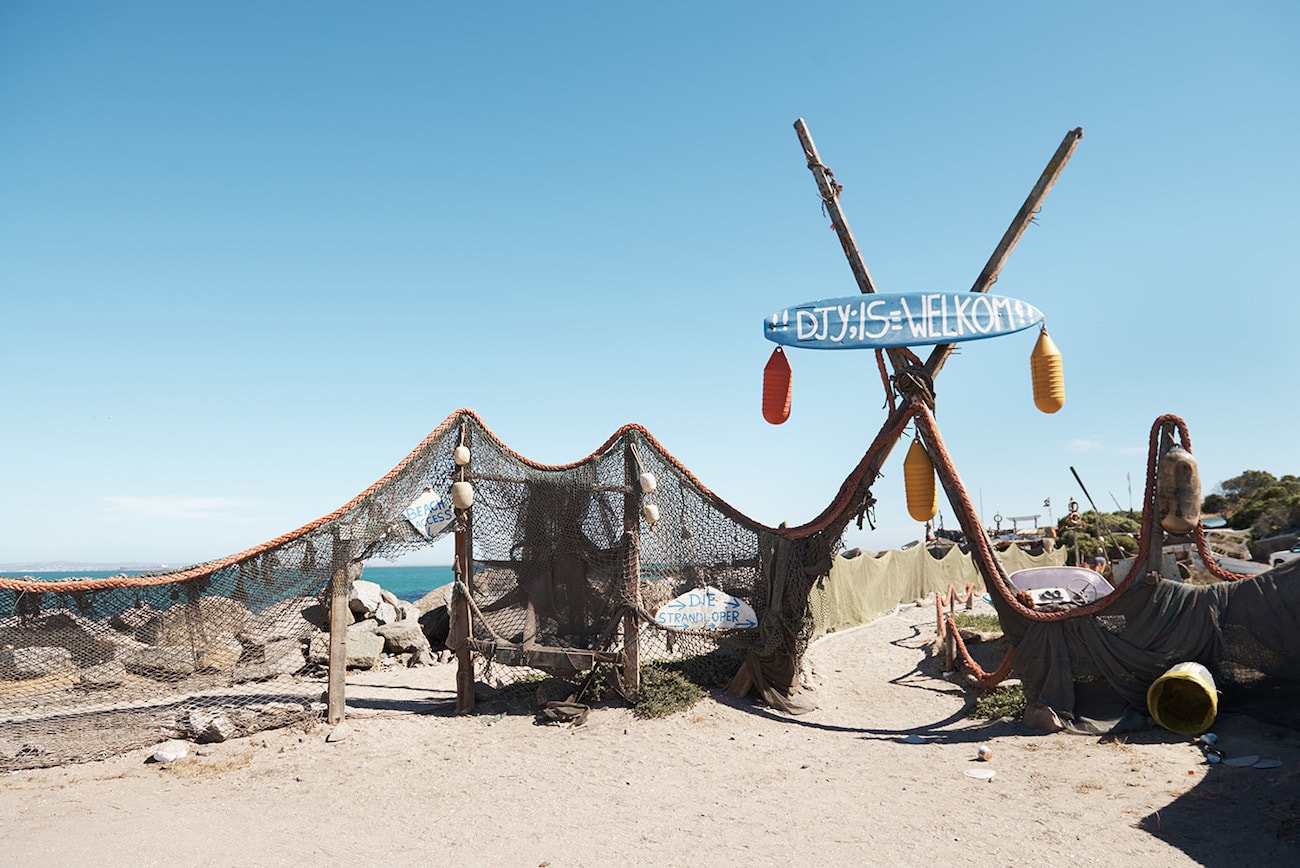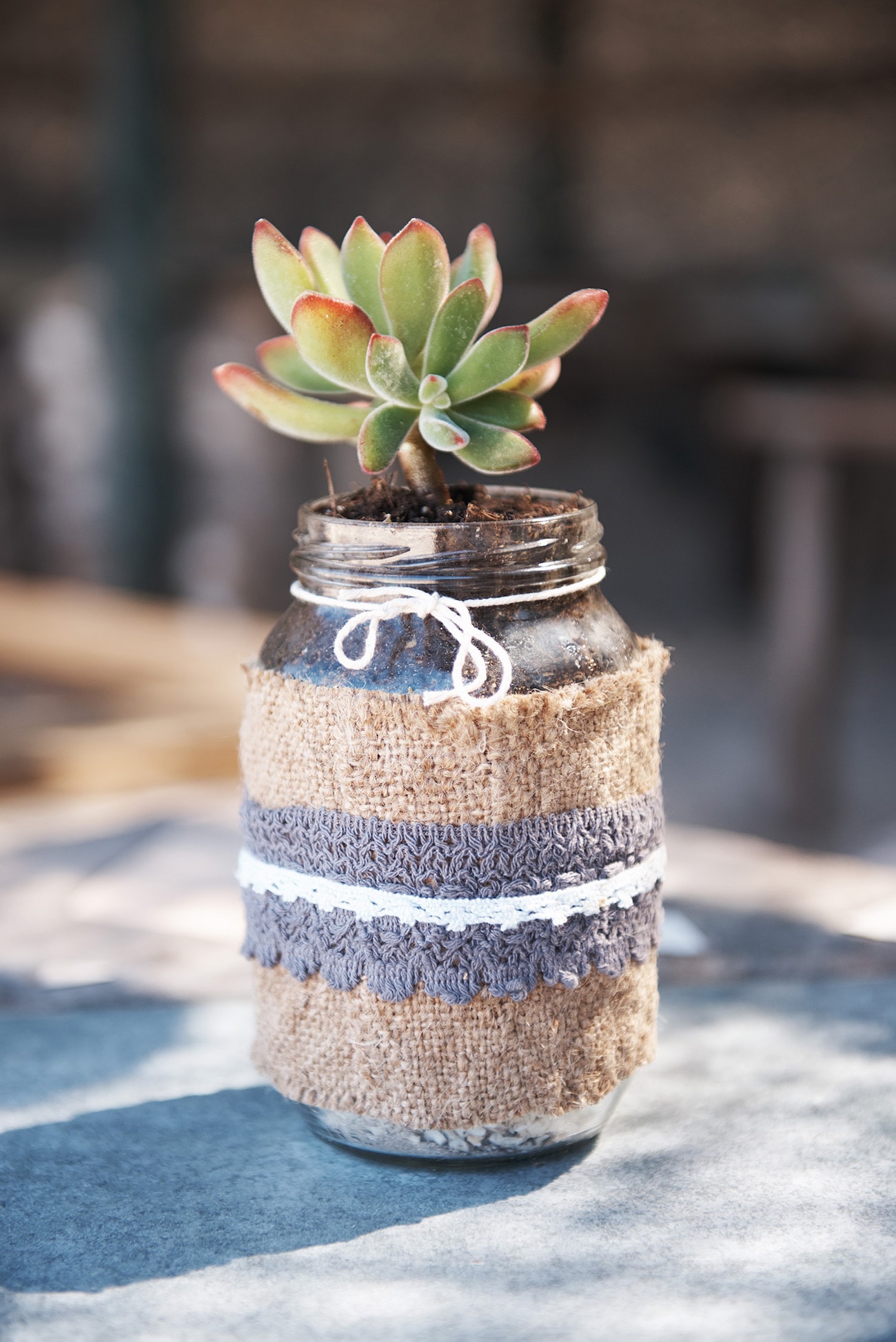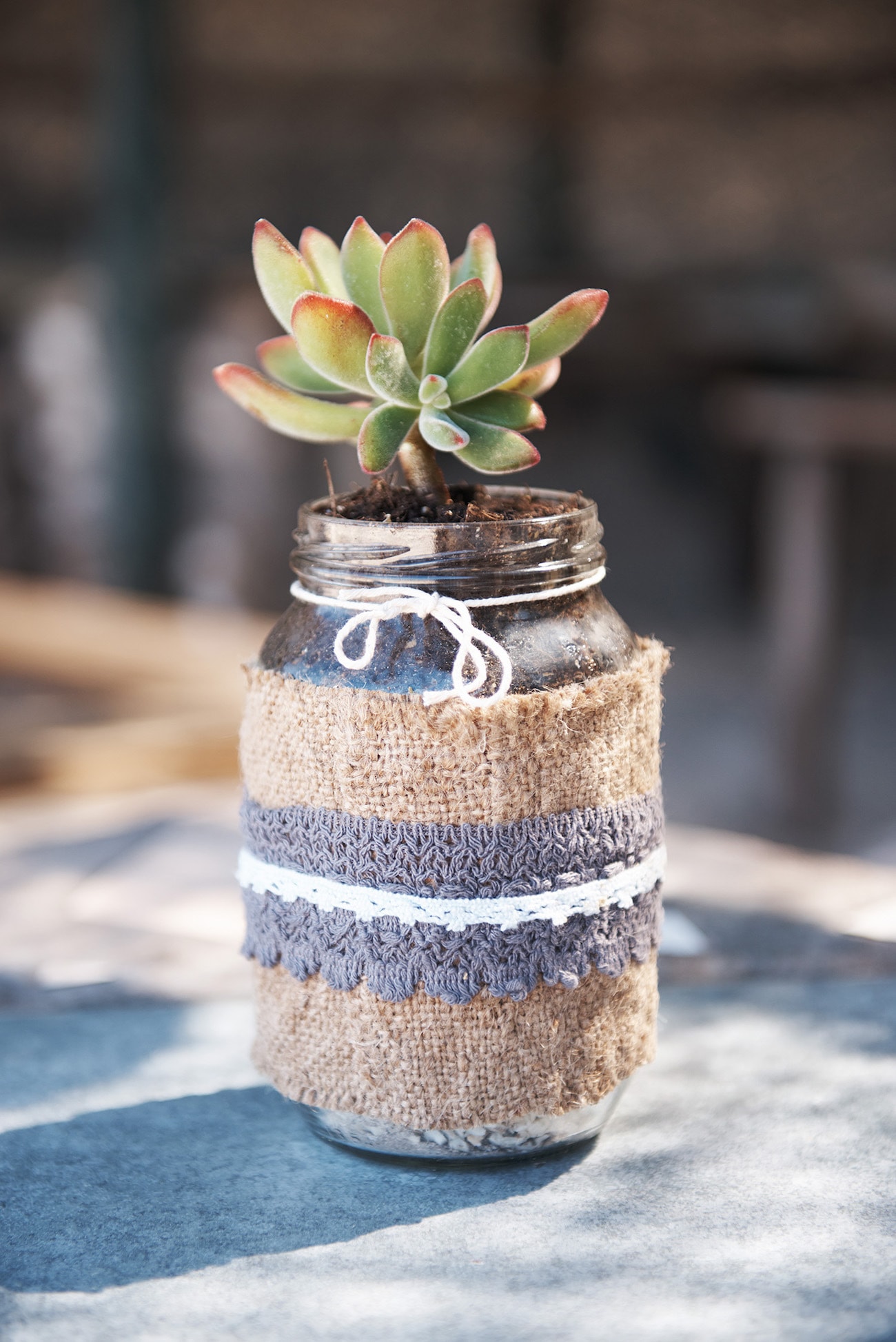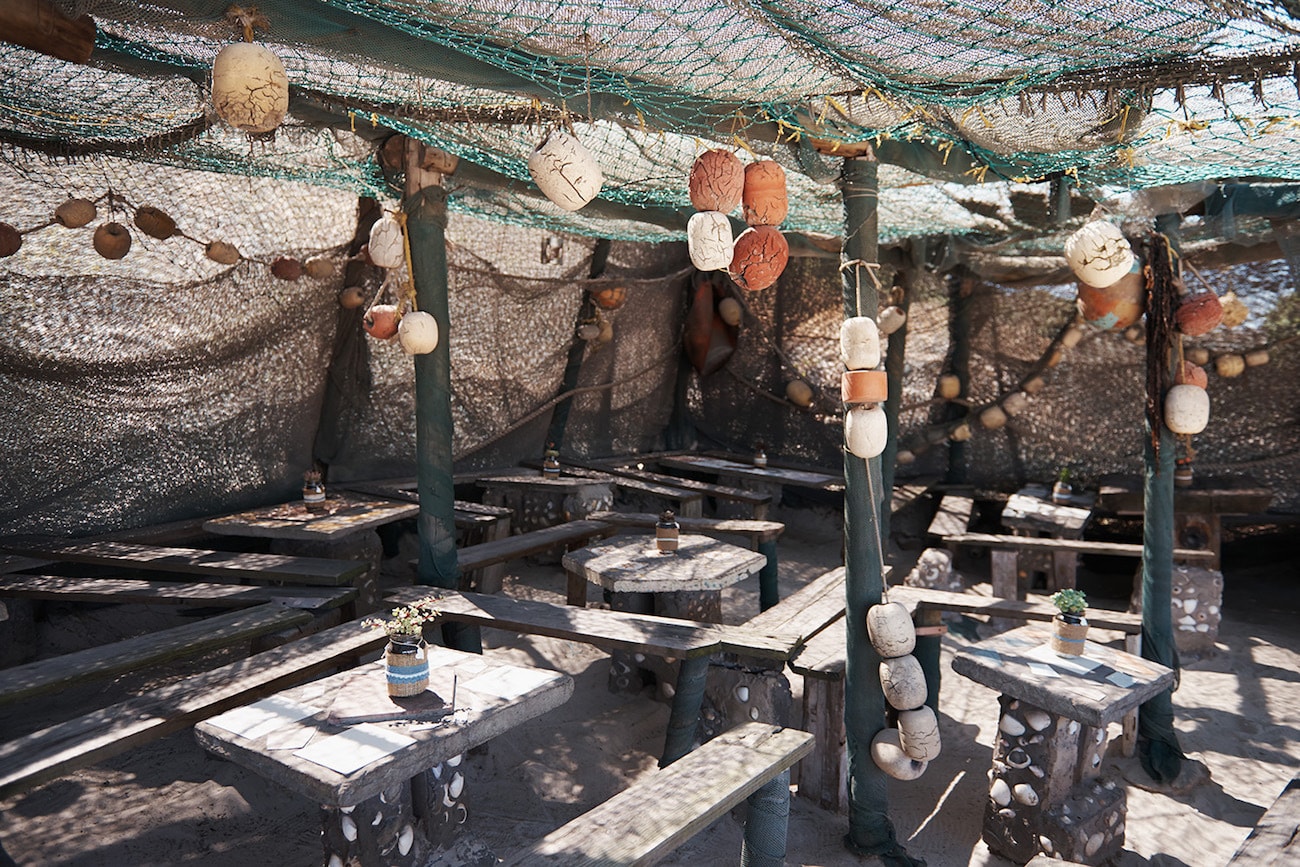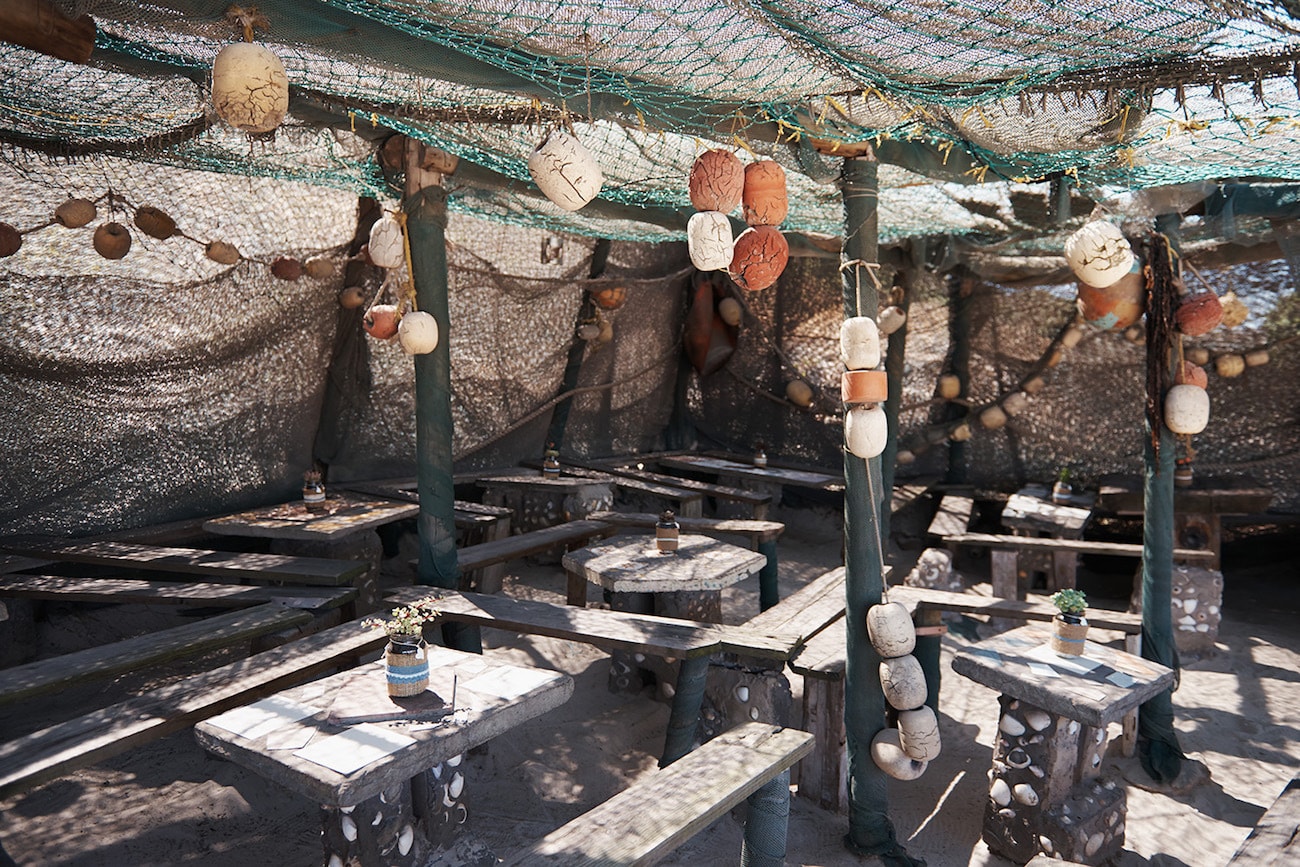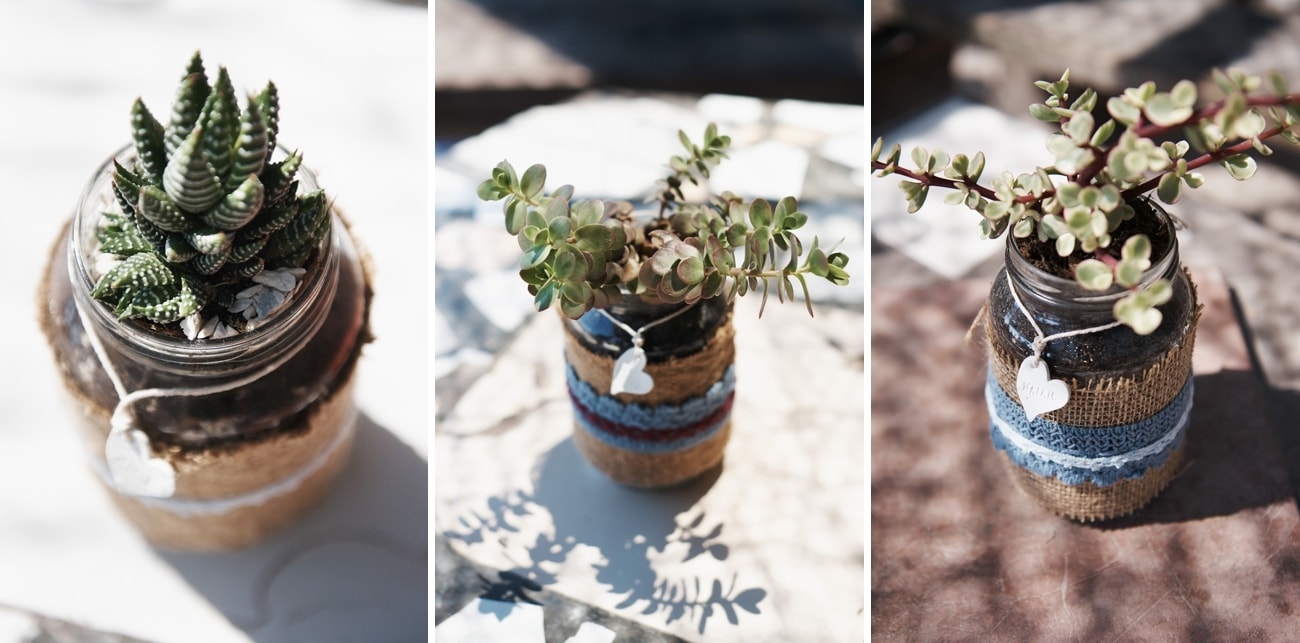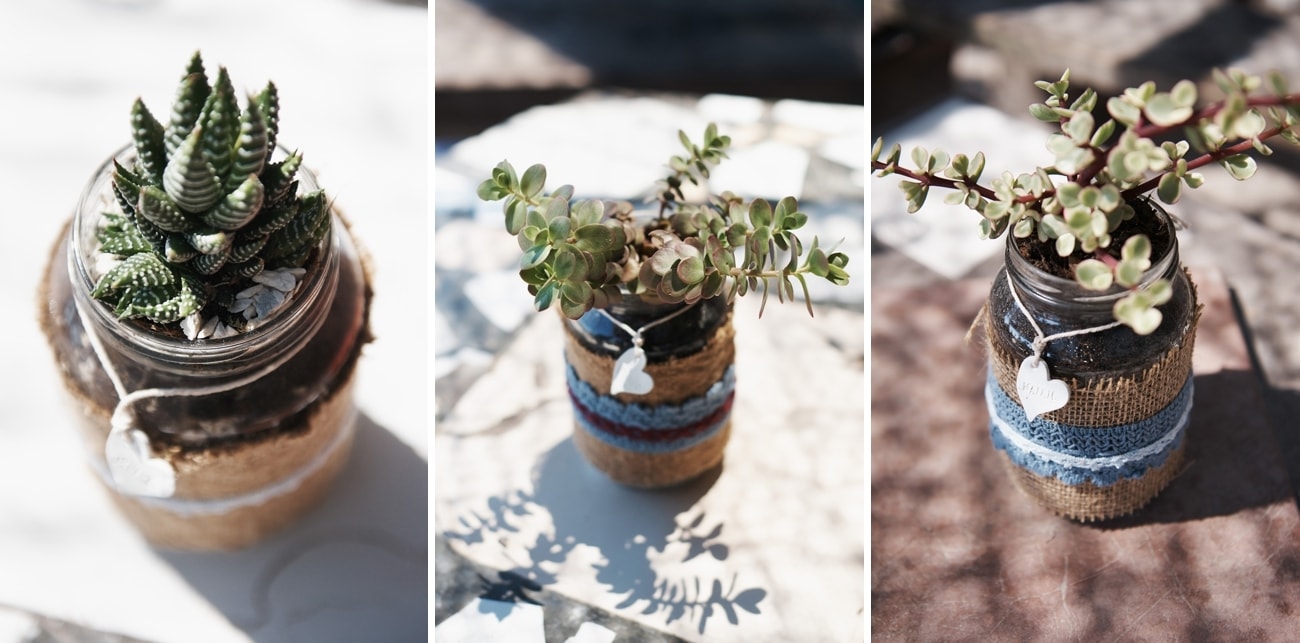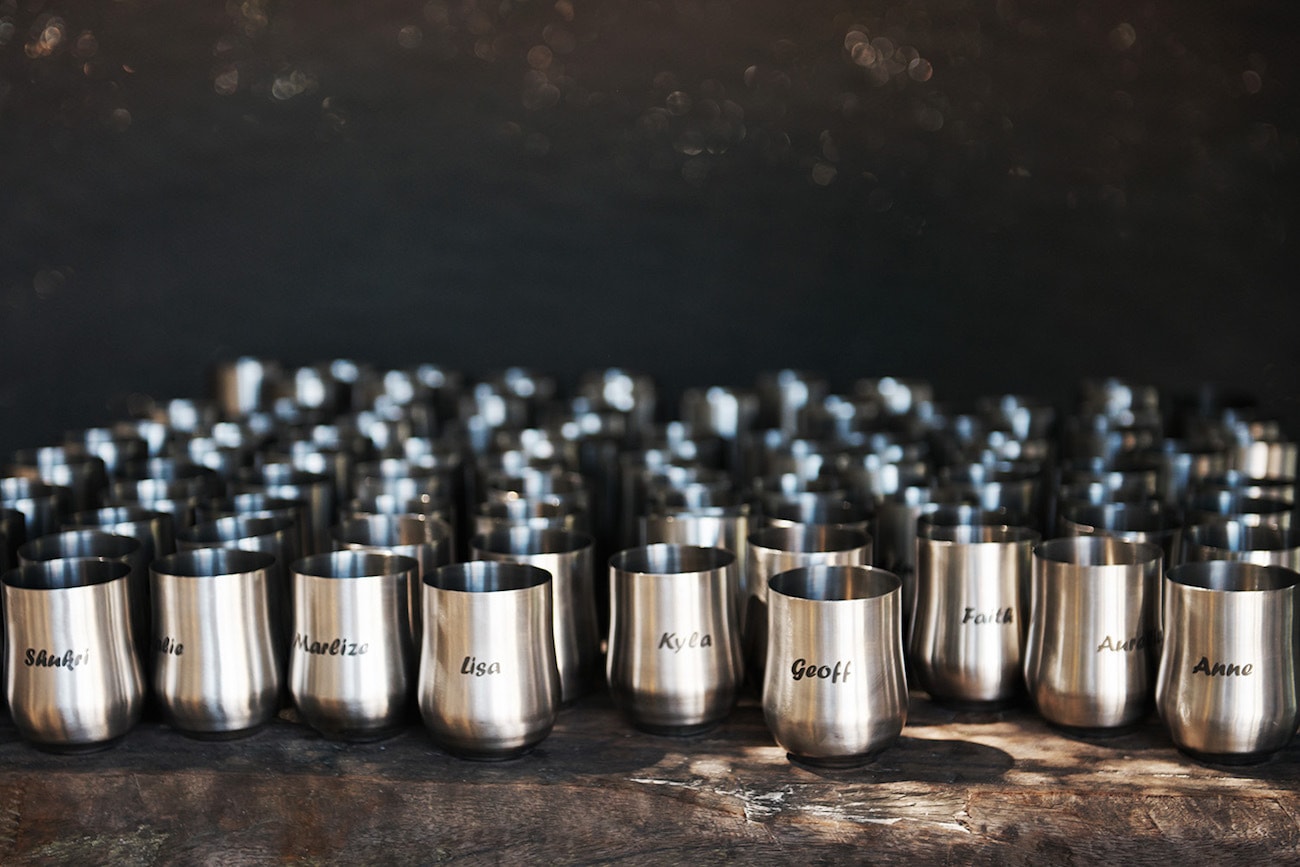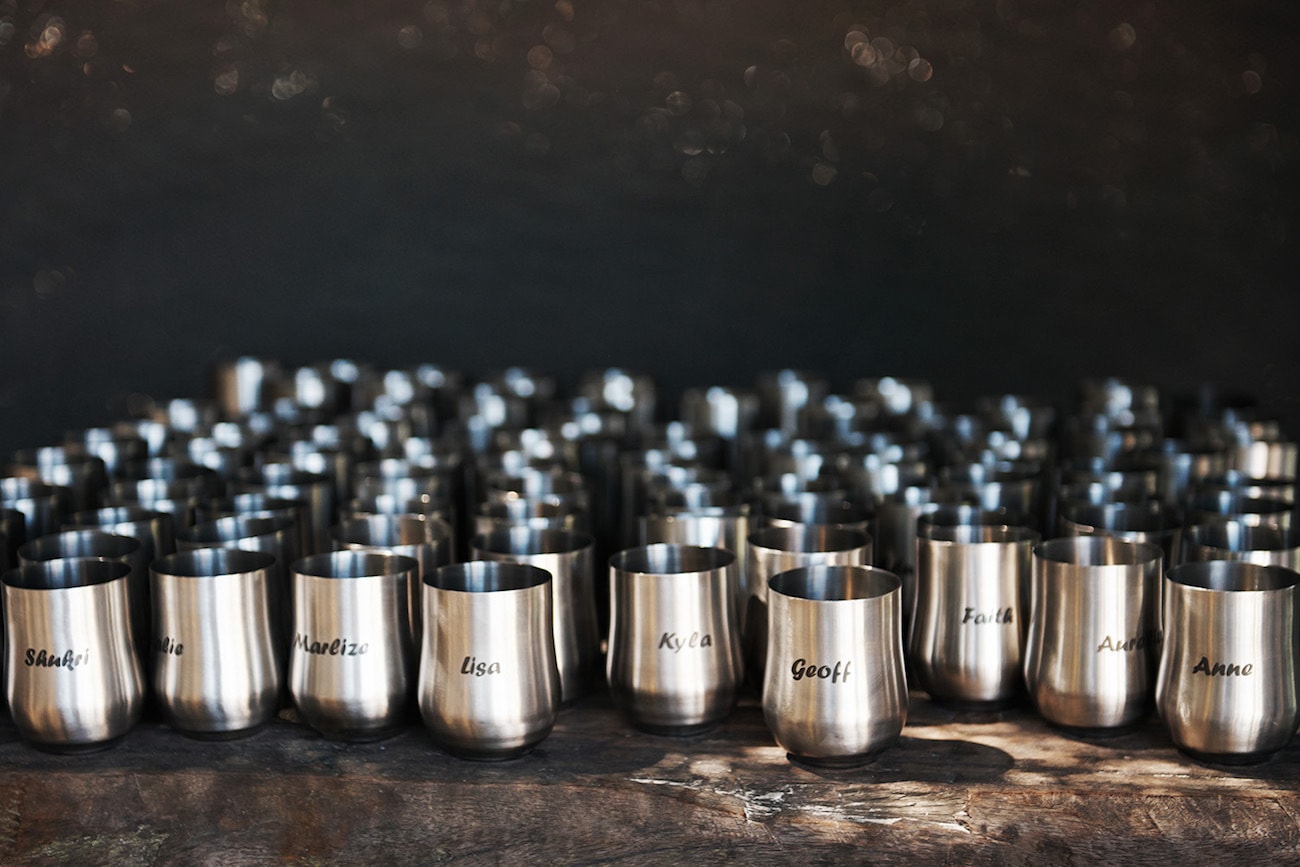 DIY Elements
Sam found old pieces of wood in Woodstock that I painted lettering on to make the three signs we put up at the wedding. Sam and his brothers then assembled the signs on the day of the wedding. For our ring holder, I used an oyster shell and attached a ribbon with a glue gun. I made bunting out of hessian, ribbon and a crochet trim that spelled out the word: 'happiness'. This was hung at the guesthouse. For our ceremony, I decided to print out our readings at home and stick them to wooden paddles to make a fan, so that our guests could follow the readings (in case they couldn't hear them well). I used some of the trimmings from the flower arrangements to decorate them. Our friend, Jet, lovingly volunteered to make our cake. We decided she'd make a small naked sponge decorated with lavender, and mini malva puddings as well as mini pavlovas. The puddings represented the South African and Australian heritage of the bride and groom. She surprised us by making the sponges in our wedding colours, which you could see when we cut the cake!
The Flowers
I was a gifted a beautiful Desert Rose succulent from a friend's garden which I wrapped in hessian on the morning of the wedding day. We didn't do the throwing of the bouquet. Instead we've planted it in a pot and it stands at the front of our house. It has grown so much and has spouted five more little desert roses! We thought that planting the bouquet would be in keeping with our recycle/reuse theme and be a visual reminder of our wedding as well as visual of the growth of our lives together. For our flowers, we eat a lot of Camphill Yoghurt which comes in jars and we ended up with about 24 jars to use as vases. Over more than one glass of wine, a couple of friends and myself decorated them, using hessian (which I found in a second hand store in Observatory where we live) and trims (found at Kwaai Lappies). We bought different types of succulents from the nursery down the road and Sam's brother and his partner planted them in the jars for us.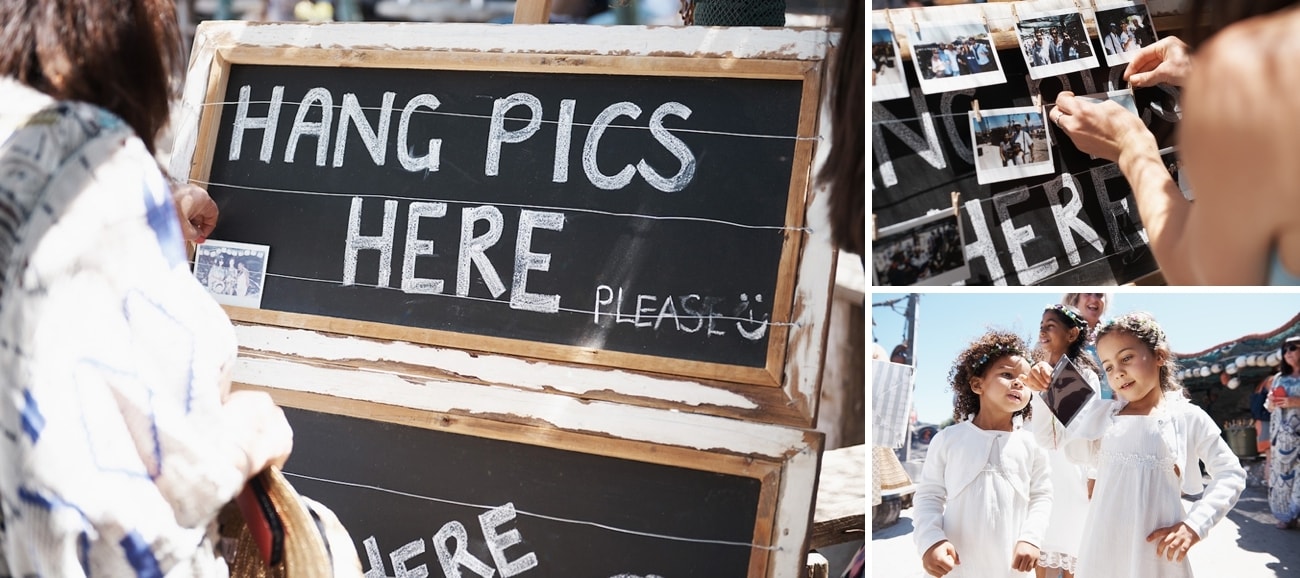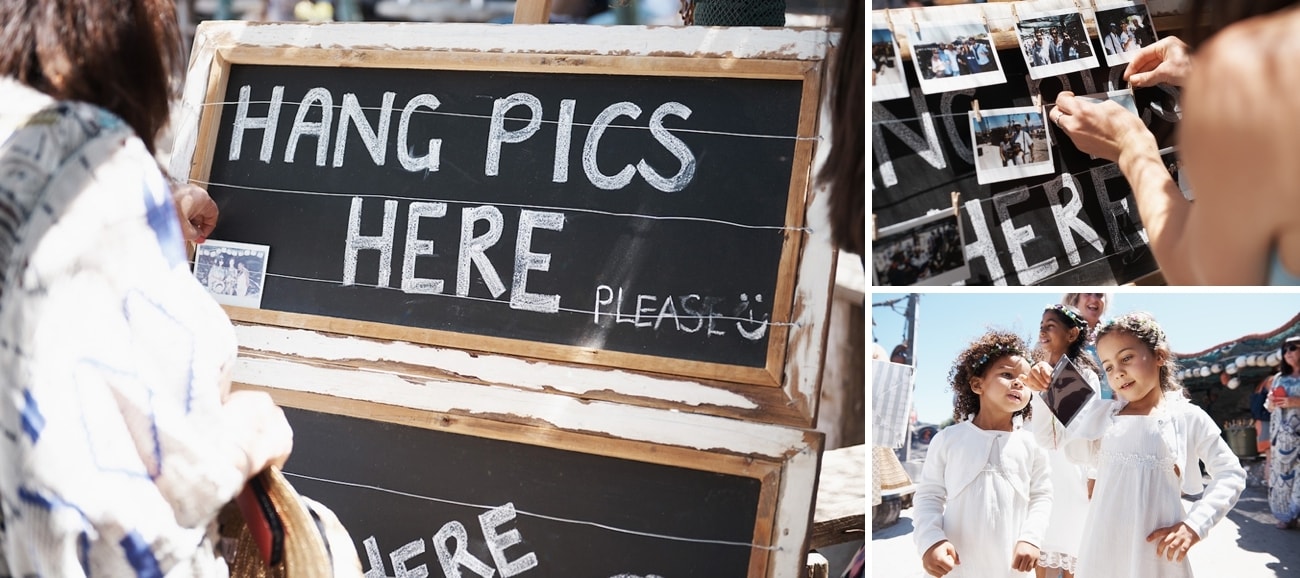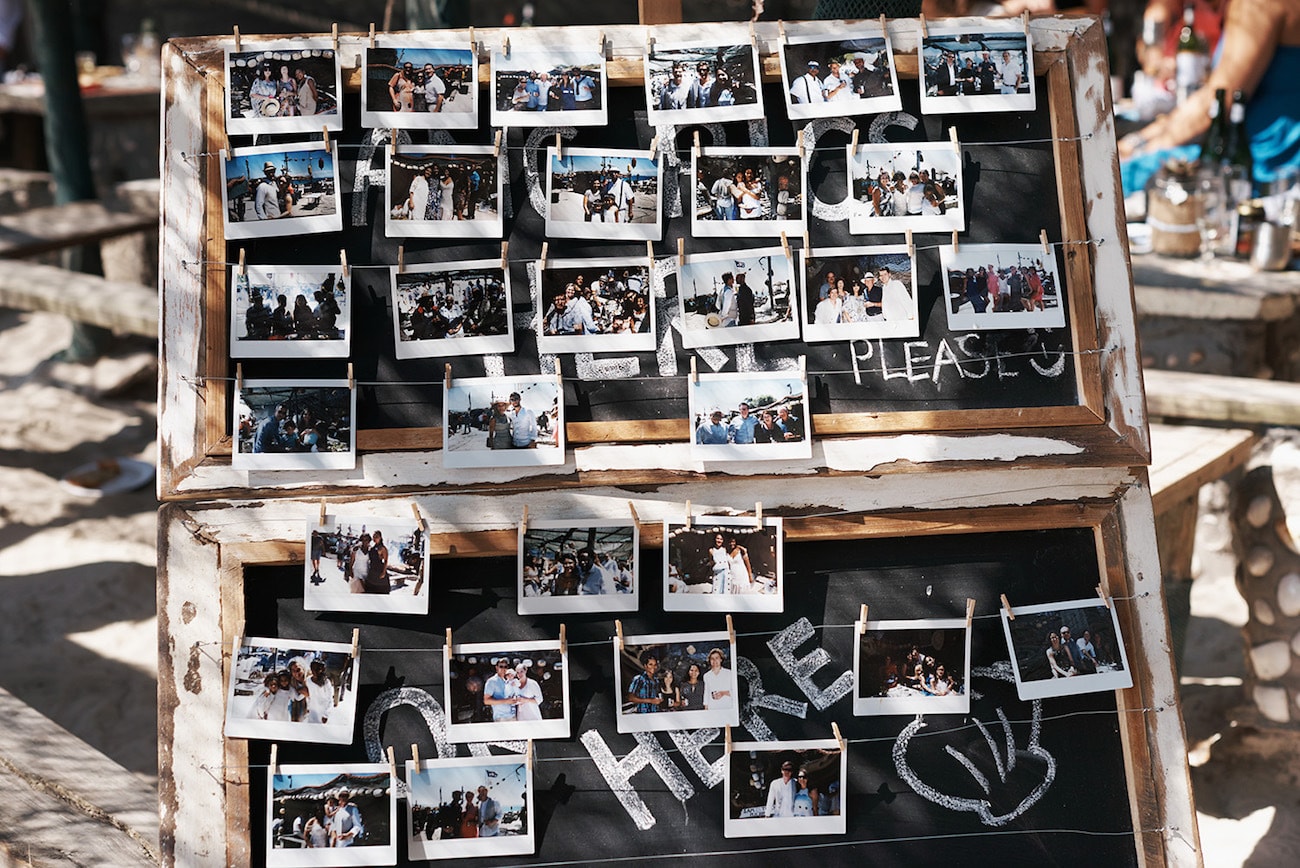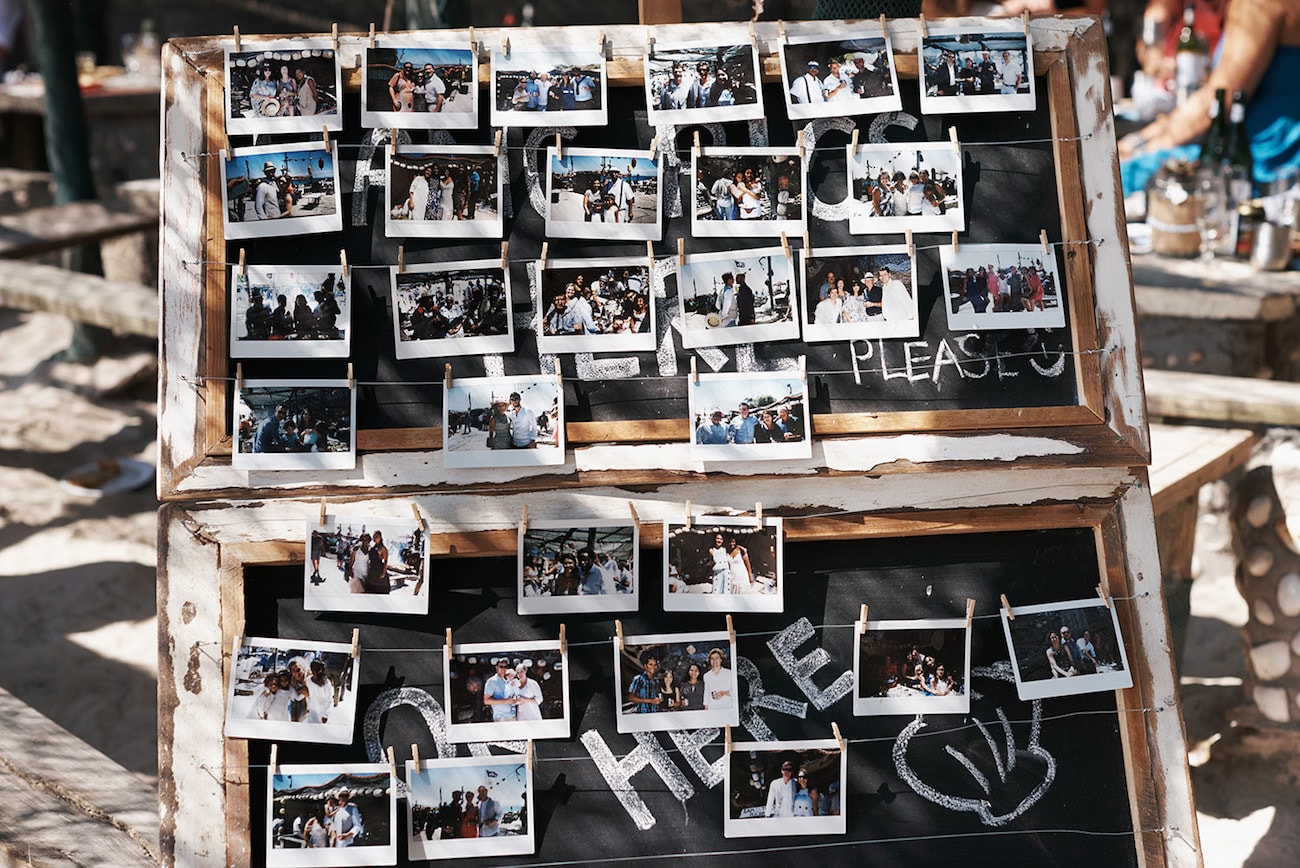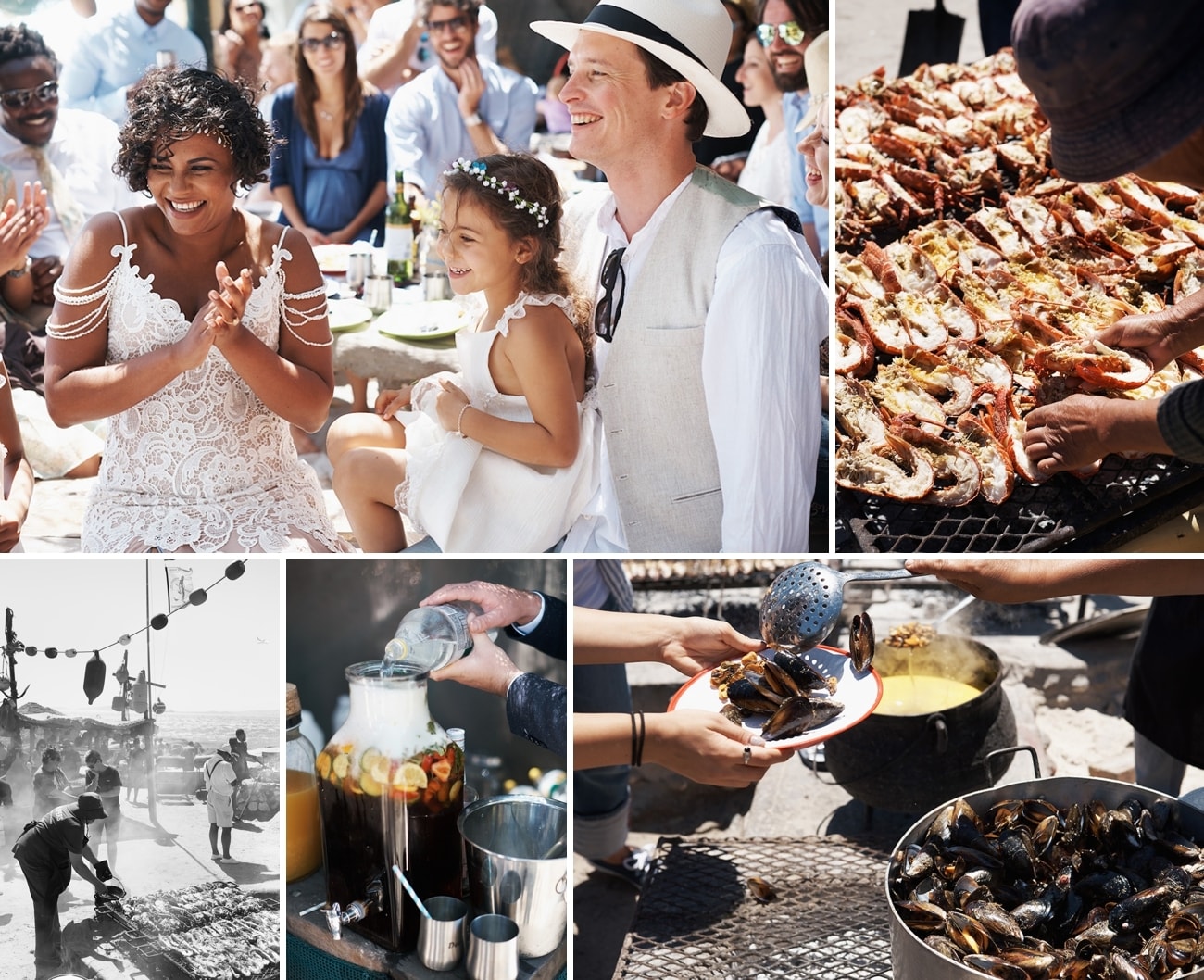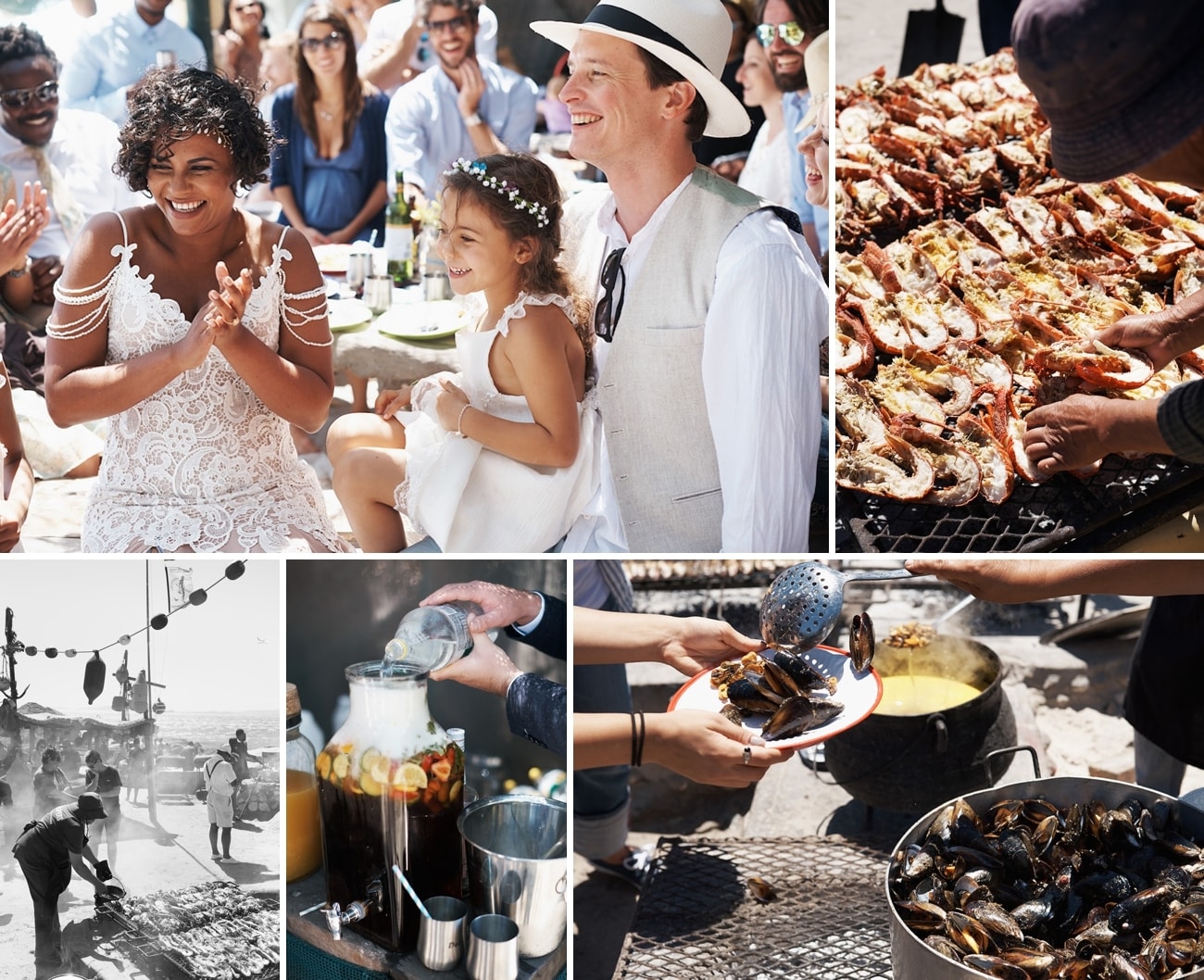 The Dress
My wedding dress was made by the amazingly talented and lovely Janita Toerien. I knew I wanted to get something made and had been looking online for bespoke designers. I came across Janita and immediately fell in love with what she does. She makes every one of her brides, no matter how different in dress design or shape, look beautiful on their wedding day. The entire process with her was fun and exciting and I wish I could do it again (because I enjoyed it so much!).
The Bridesmaids
I had two gorgeous bridesmaids: Kathleen, my bestie from school, and Natalie, my beloved cousin who had to travel from Singapore where she now resides. The bridesmaids were afforded autonomy over their style. I have known them for long enough to trust them in this domain. I had the same foot jewelry made for them, as I had.My daughter handpicked three other special girls to be flowergirls, and we also gave them the job of showing everyone how the ribbon wands worked (which they took on with great delight!). I made each of them a hessian bag the hold the wands in as they handed them out.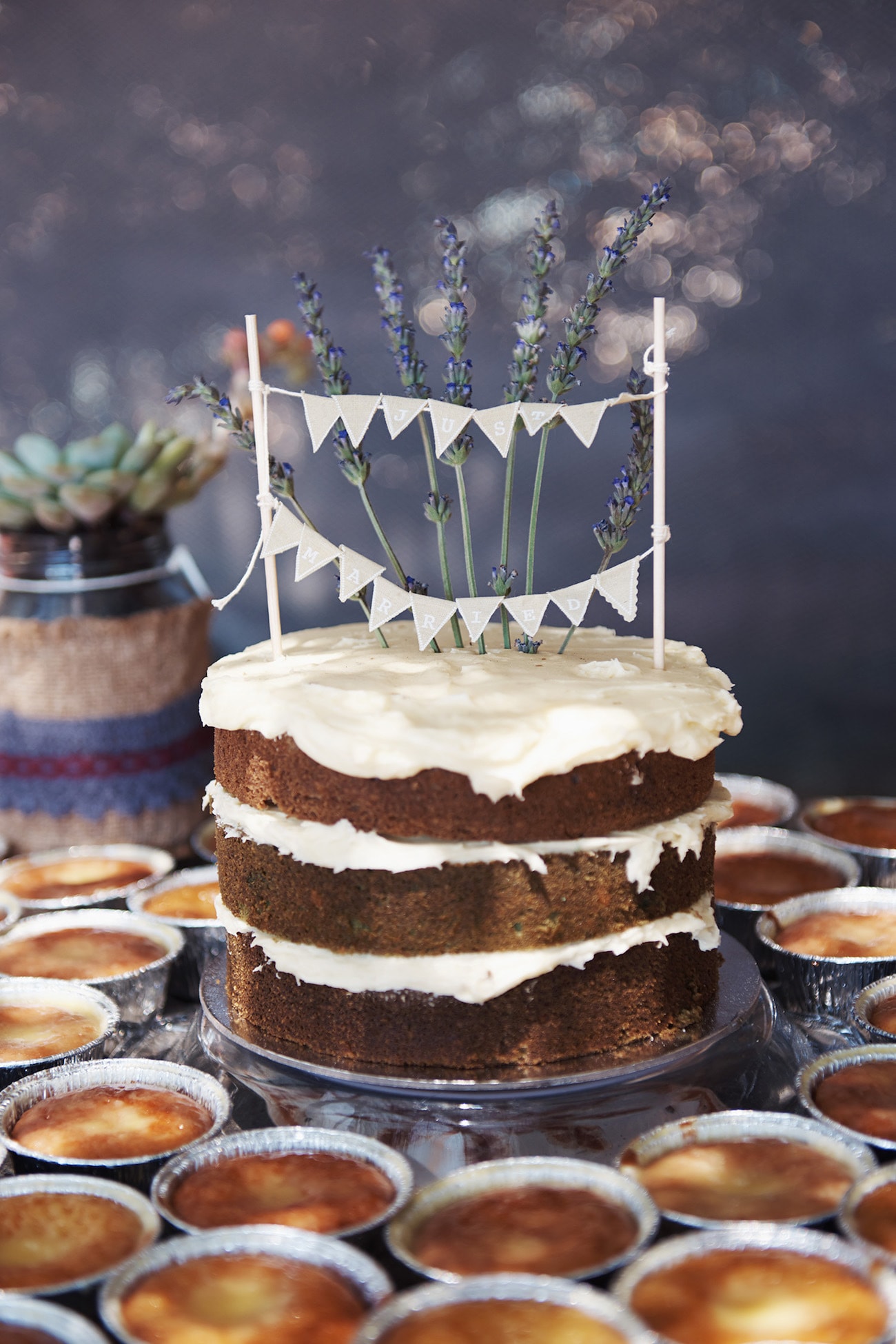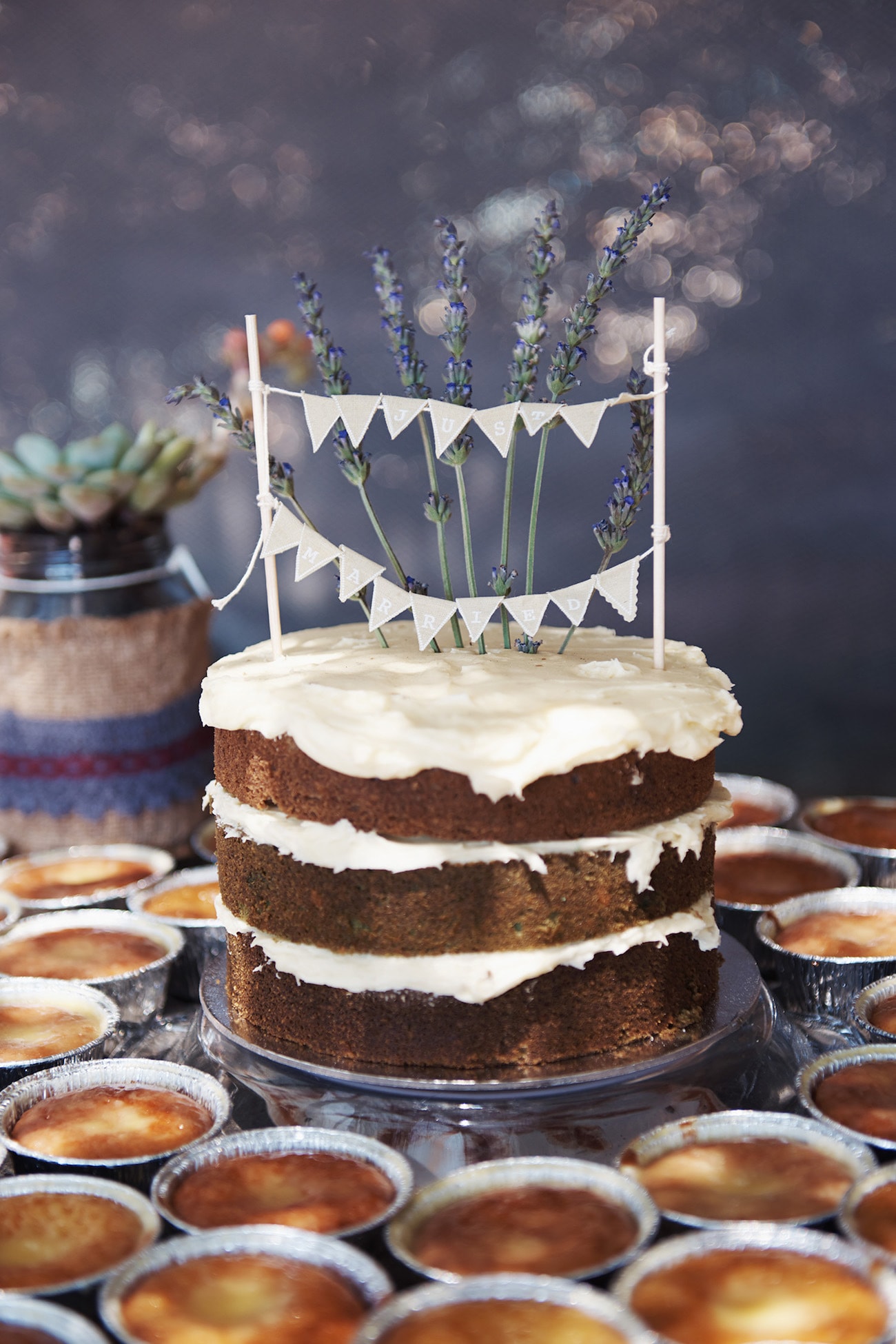 Memorable Moments
So many special memories! Despite a complete lack of planning, our first dance was impromptu, fun, inclusive (bride + groom + sidekick/flowergirl/rainbow rocket) and it felt completely natural. No amount of dance classes could've bettered it. Sam also cherishes the memory of Tracy breaking it down on the dancefloor until after 3am, as well as the short time we spent away from the crowd for photos and a little intimacy along the water's edge. Another highlight was the time spent erecting signs and drinking beers with his brothers before the guests arrived. He also clearly remembers the profound sense of relief when his friend, Oscar, caught his fall at the after-party after his brother inexplicably shoved him off the elevated dance floor after several hours of revelry. Last in chronology, but certainly not in significance, is the memory of a certain bridesmaid losing the key to the apartment where the newlyweds were supposed to spend their first married night together. Although entirely unplanned and fleetingly upsetting for the bride, this mishap set in motion an hilarious series of events and culminated in the newlyweds sleeping in a loft above the bed where the most inebriated groomsman slept with his partner.
Proudly South African Details
Malva puddings, Sam and his brothers' waistcoats made by Swing at Hout Bay Market and shirt and pants made by Just Cruizin' at Hout Bay Market, the bride's handbag lovingly handmade by Elise (bride's friend) of We All Share Roots (an awesome small company that teaches women how to make handbags using African prints), the authentic West Coast cuisine (thanks to Die Strandloper), and lots of local wines.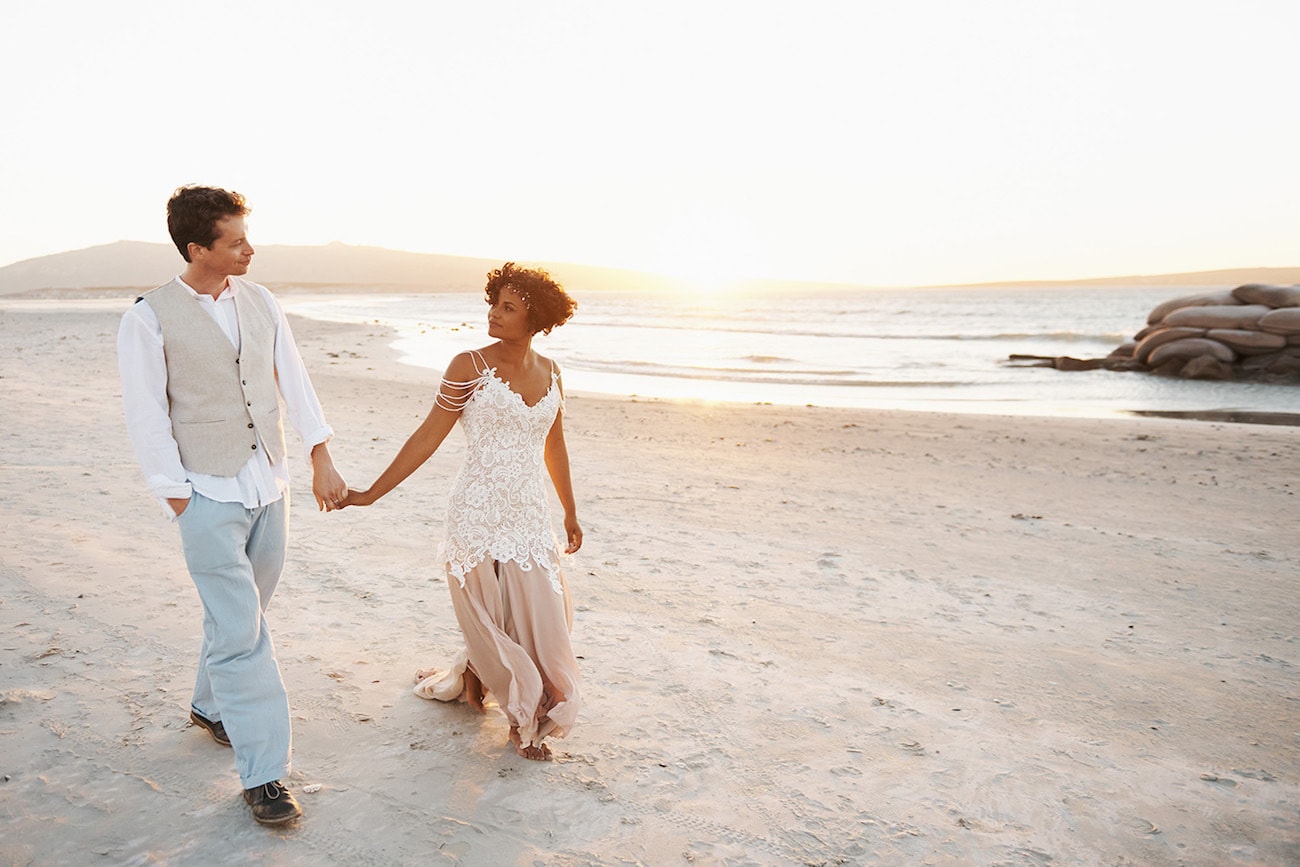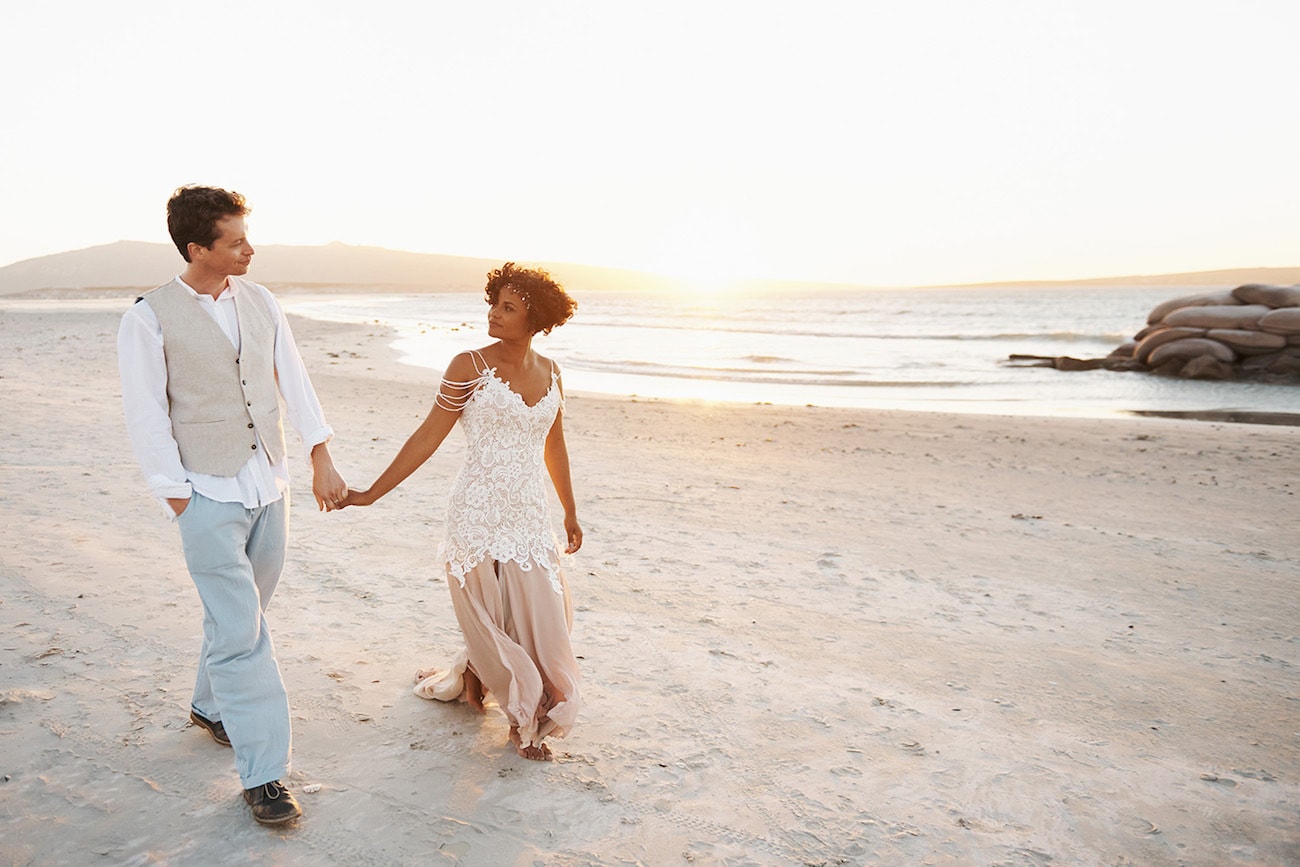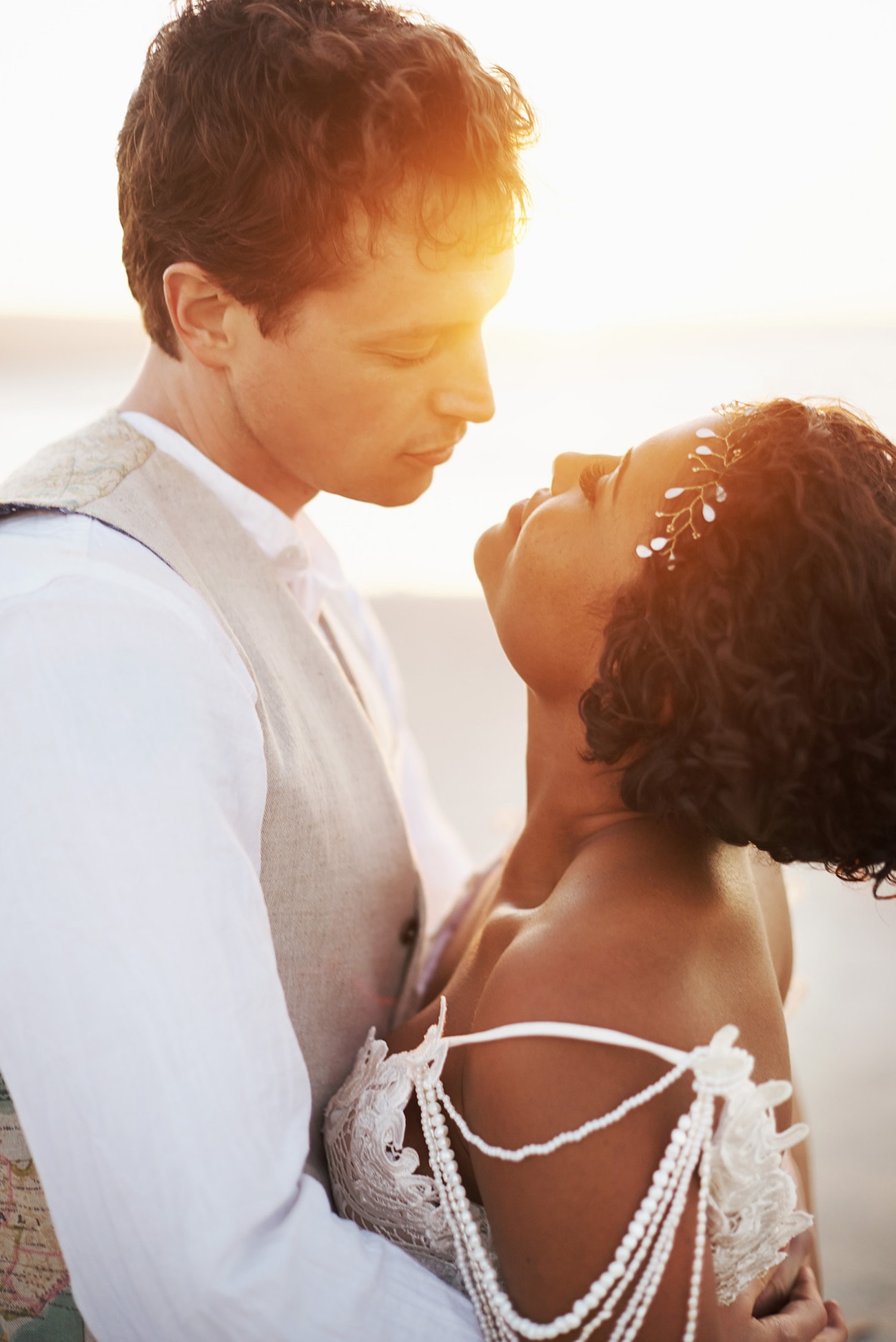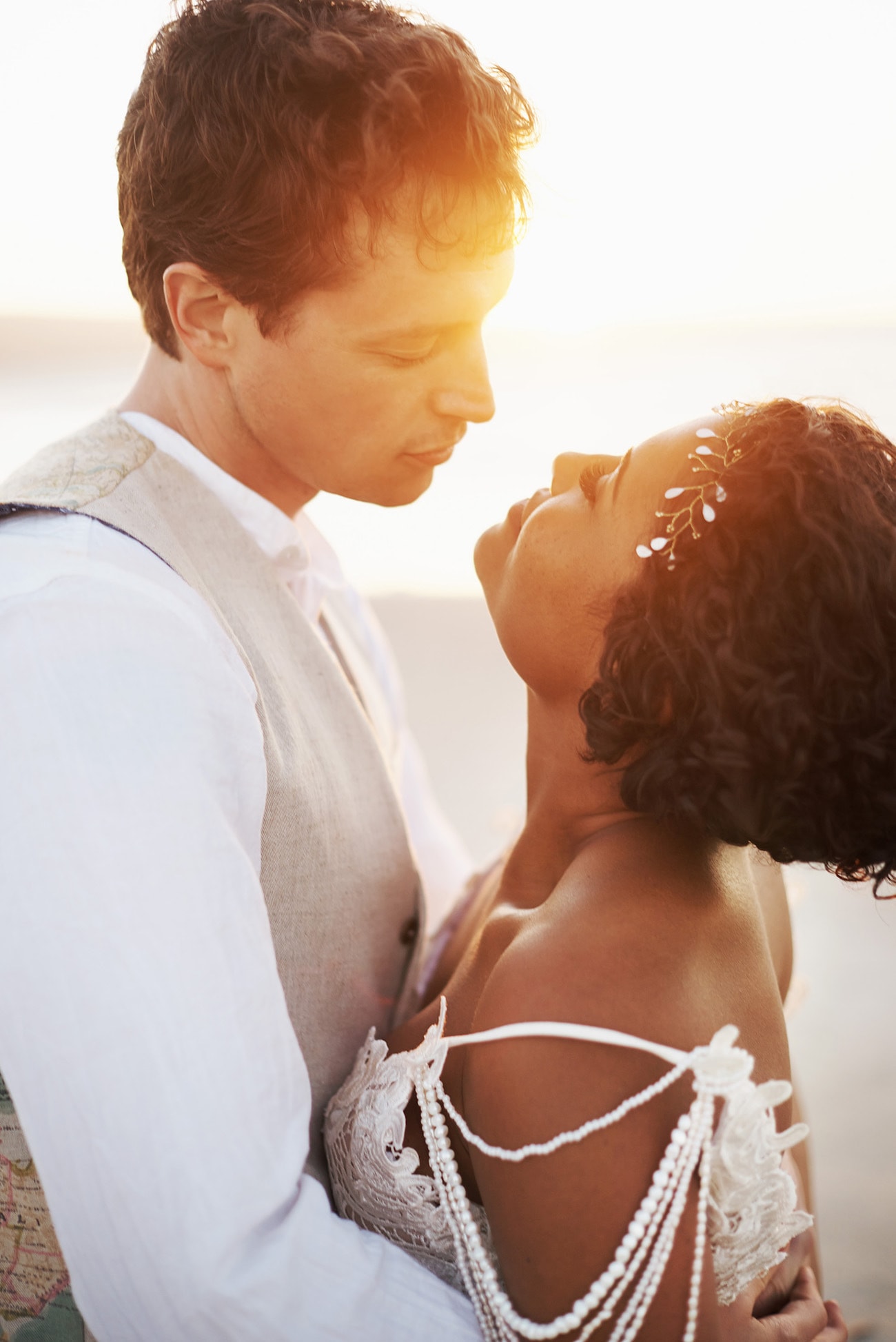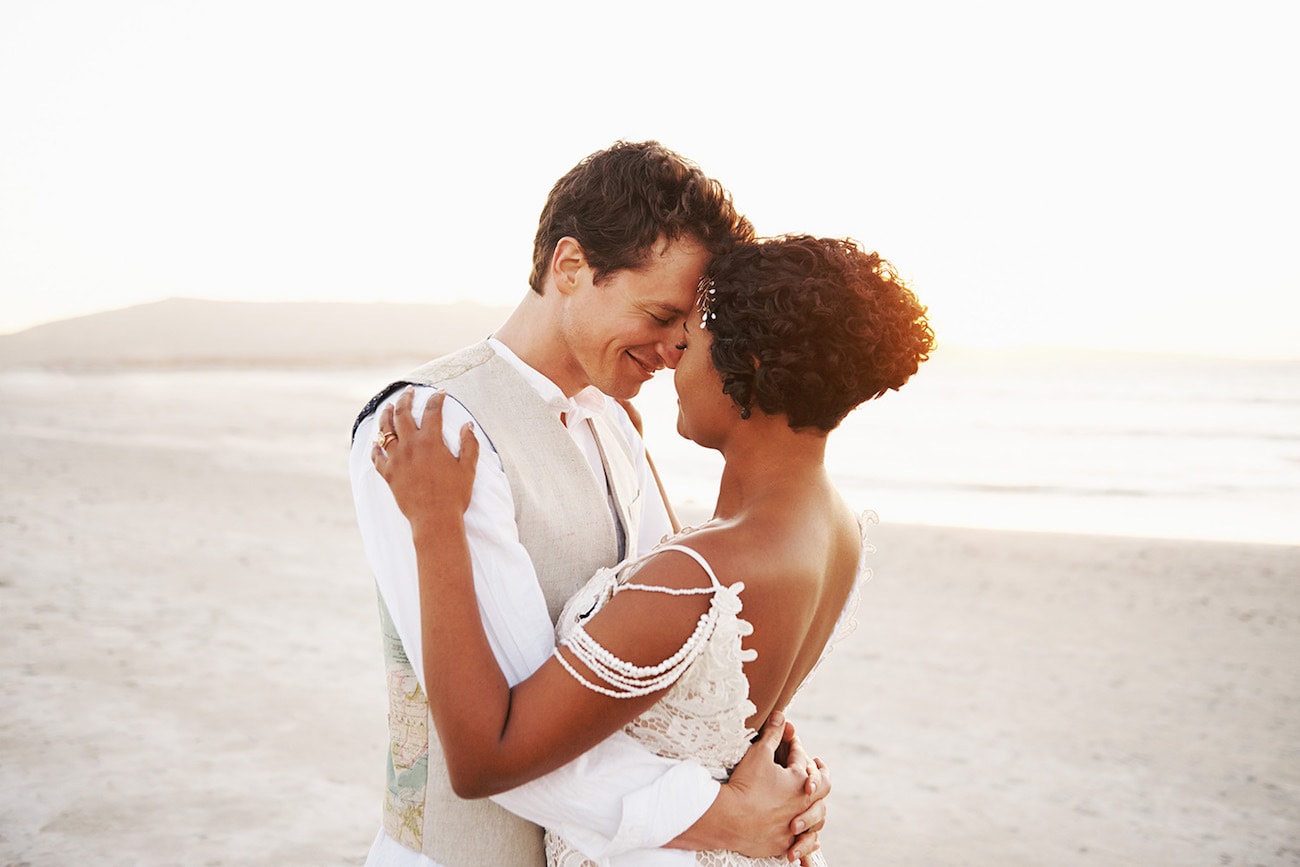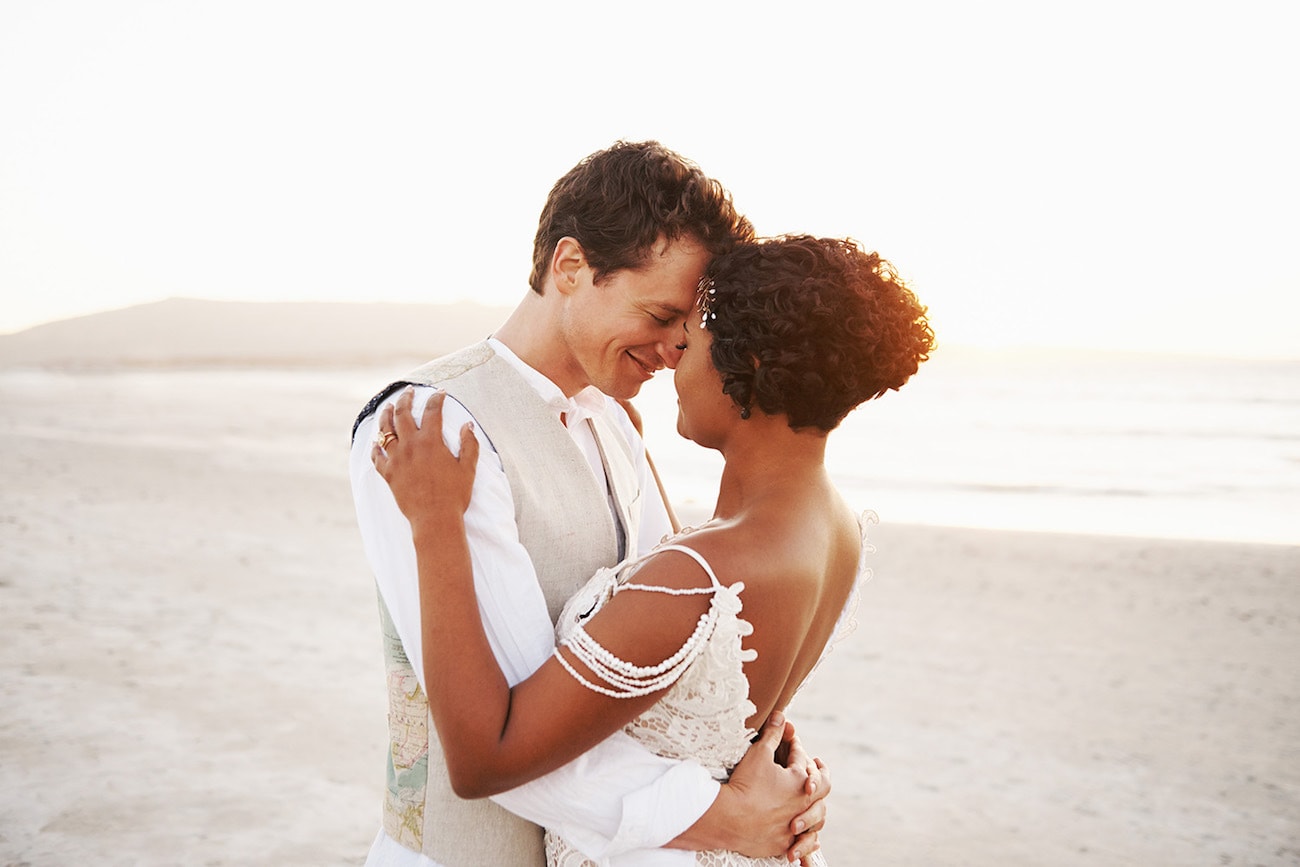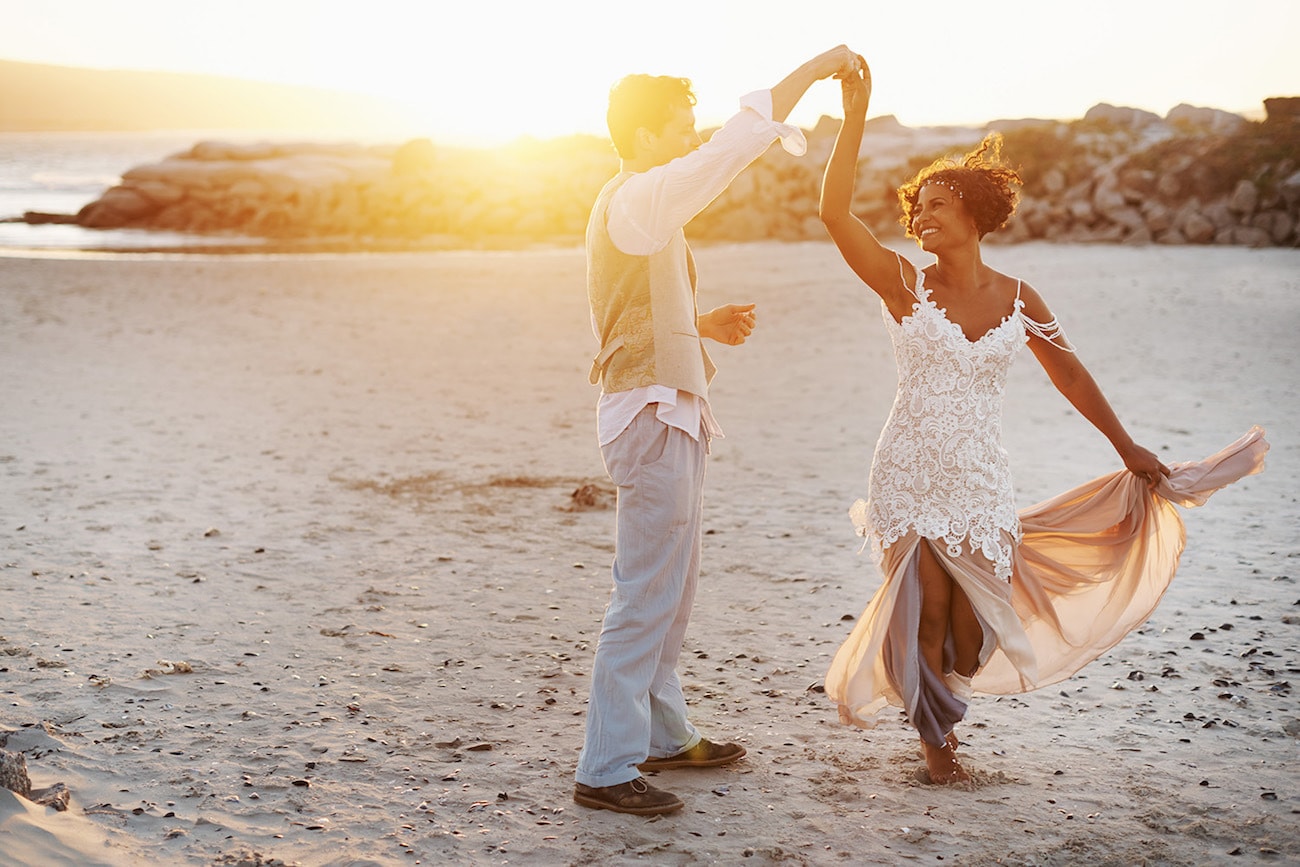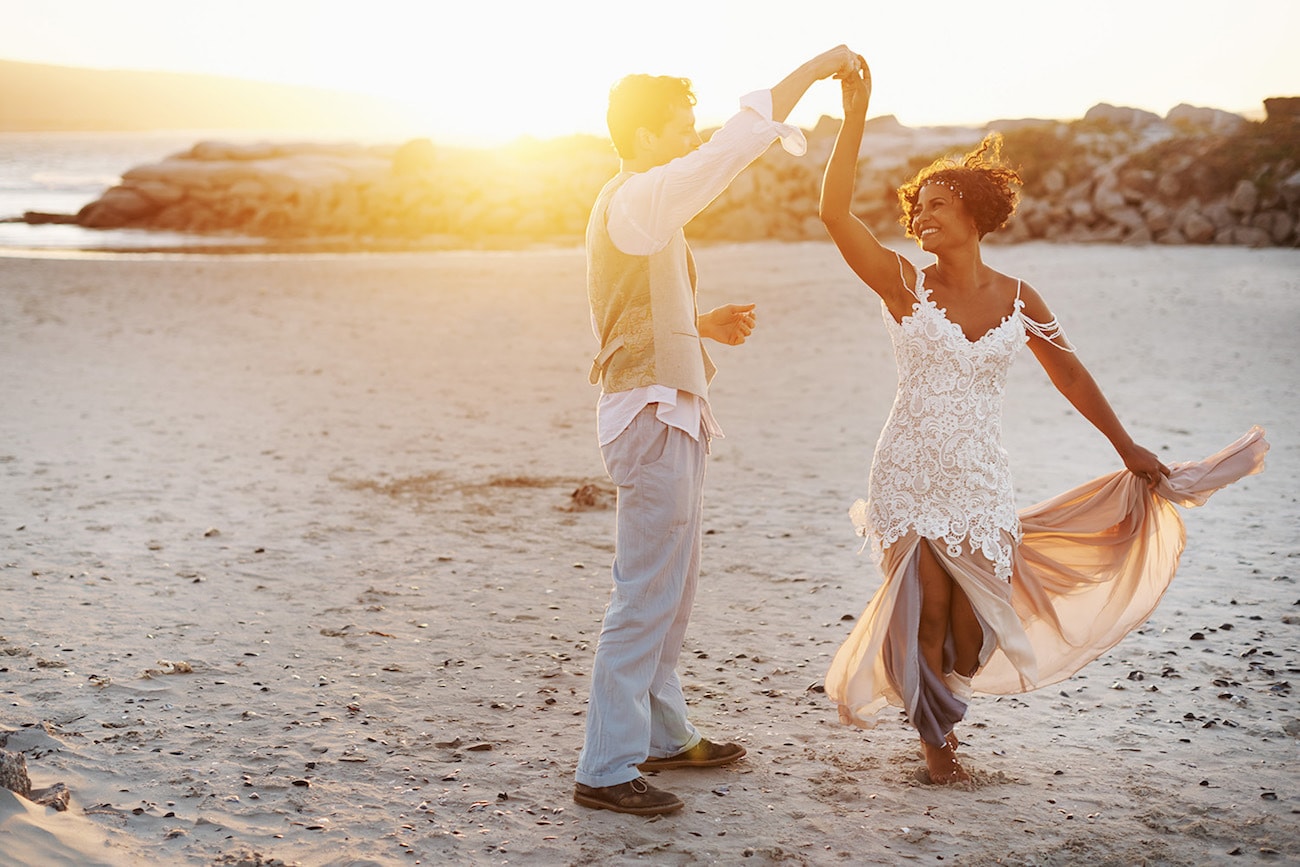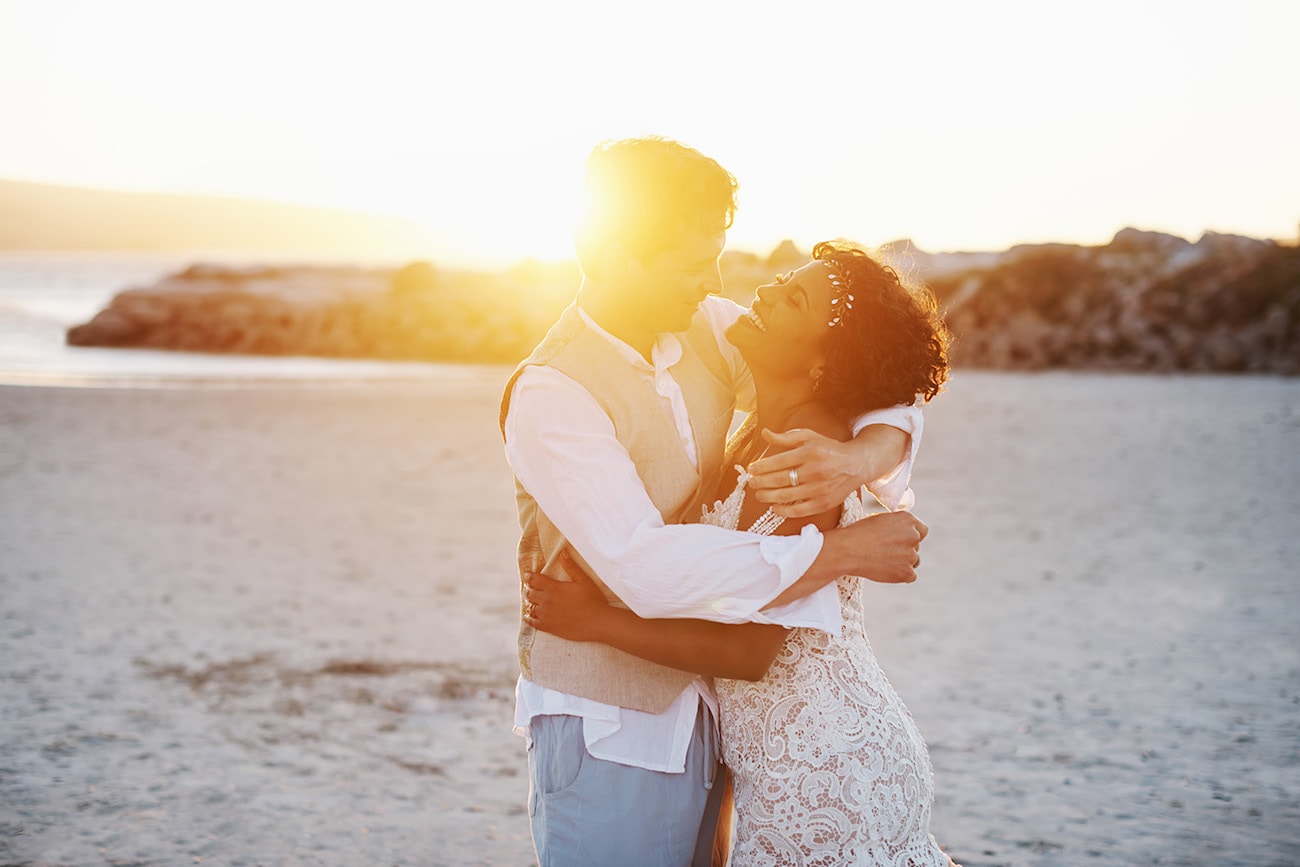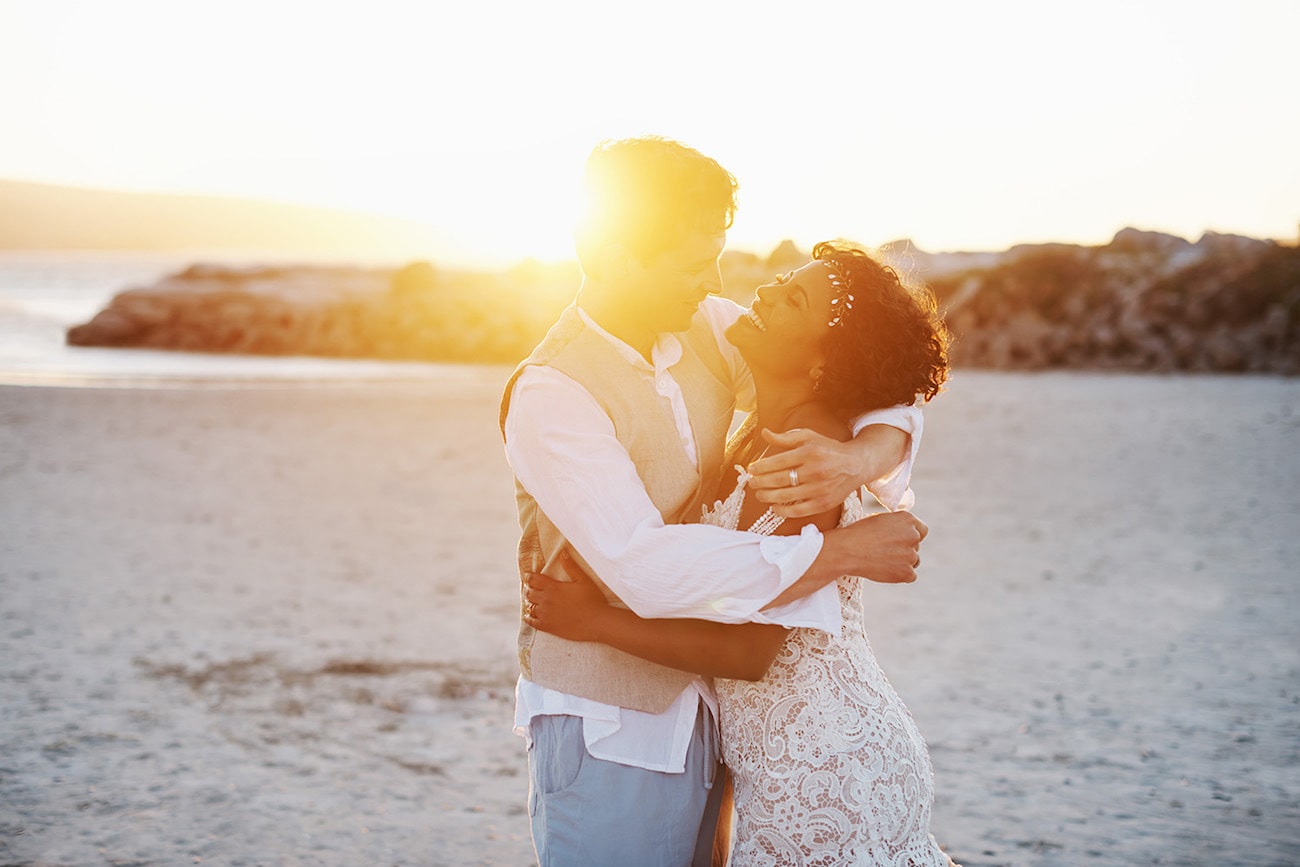 Best Decision
Asking close friends to design and officiate at our beach ceremony. The best personal touch we could've added.
Advice for Future Brides & Grooms
Don't skimp on the photography. Don't try to please everyone else – it's your day. Have fun organizing your wedding, if you're not enjoying it, take a step back and ask yourself why, change what needs to be changed, then get back to enjoying the process!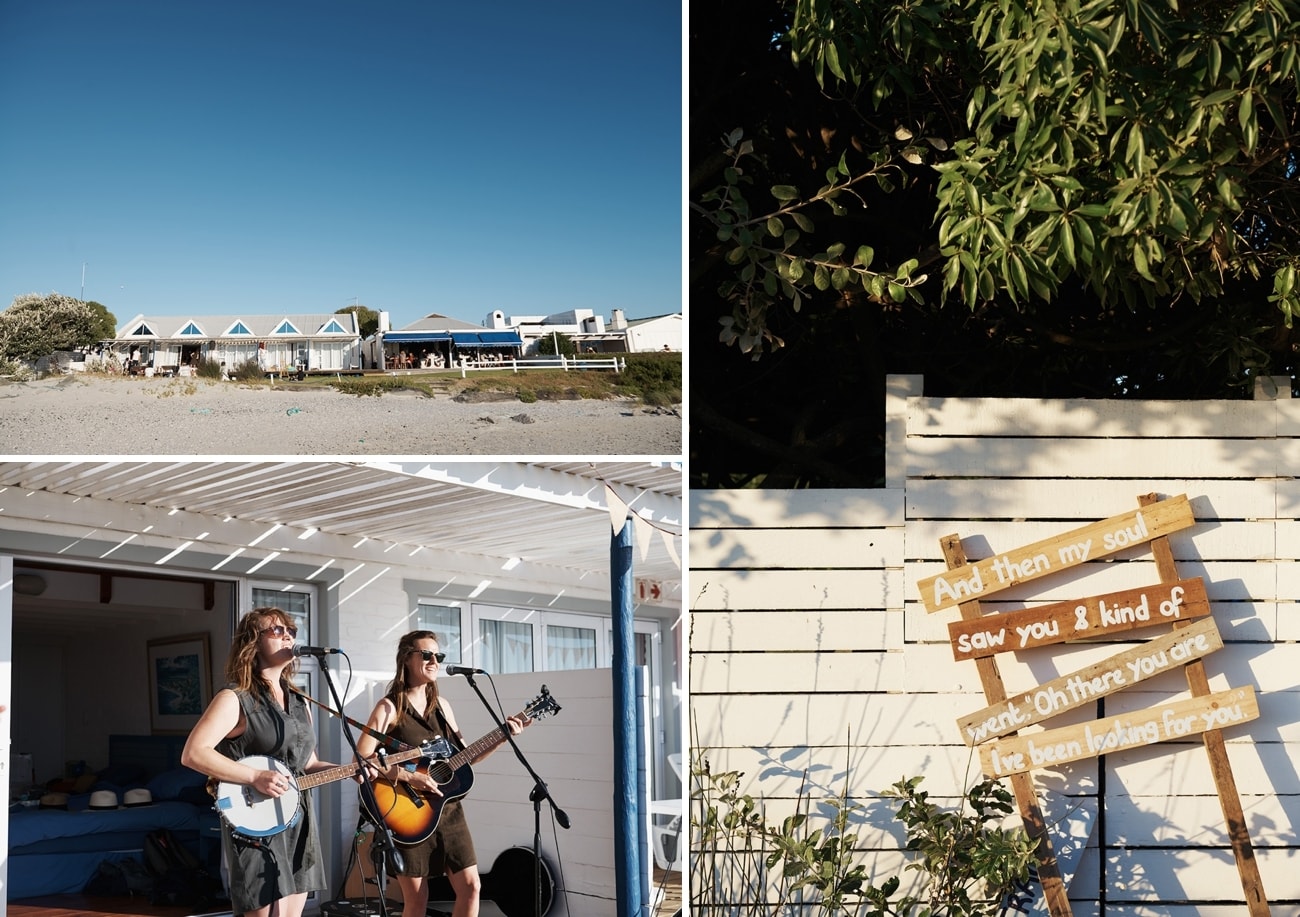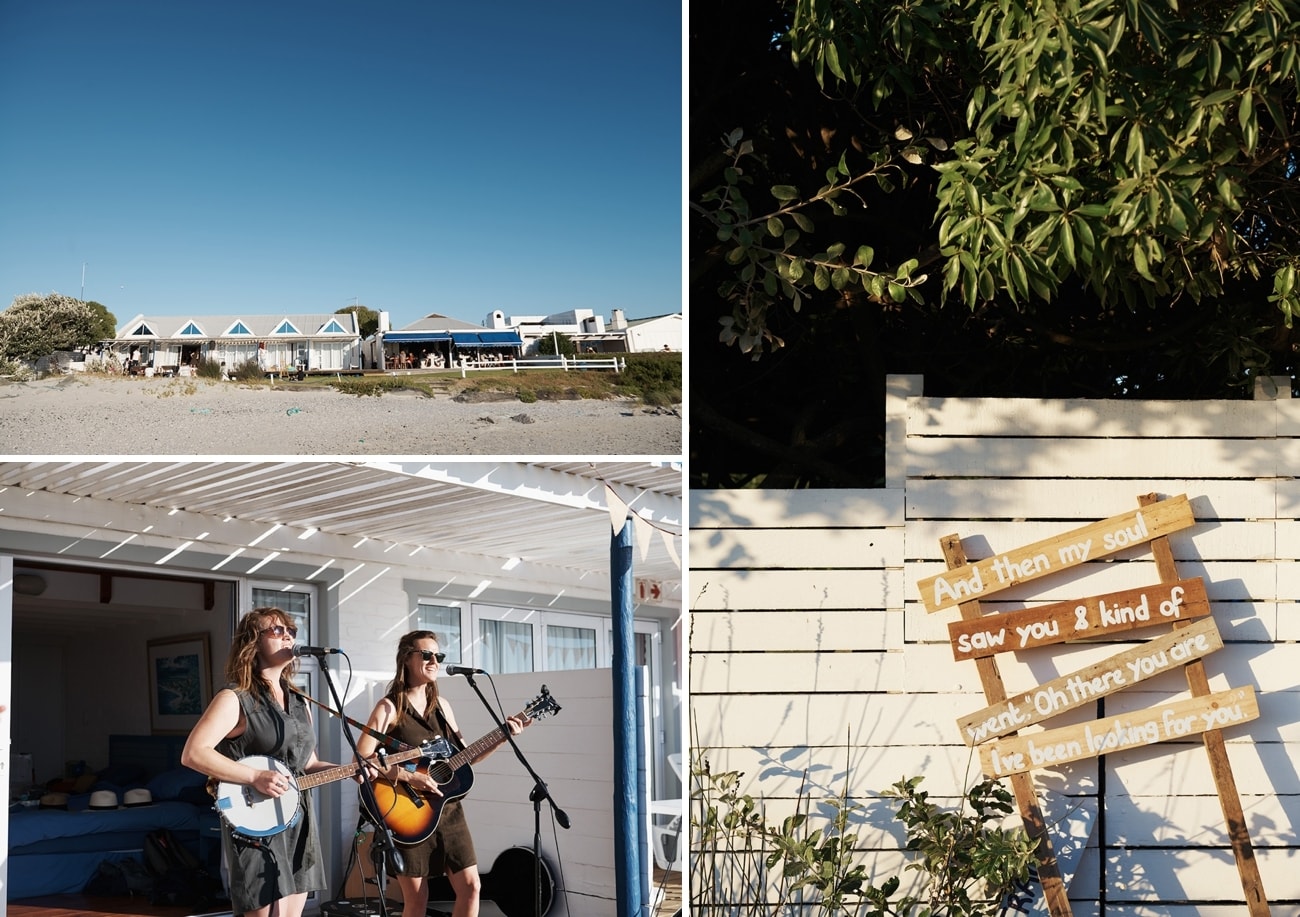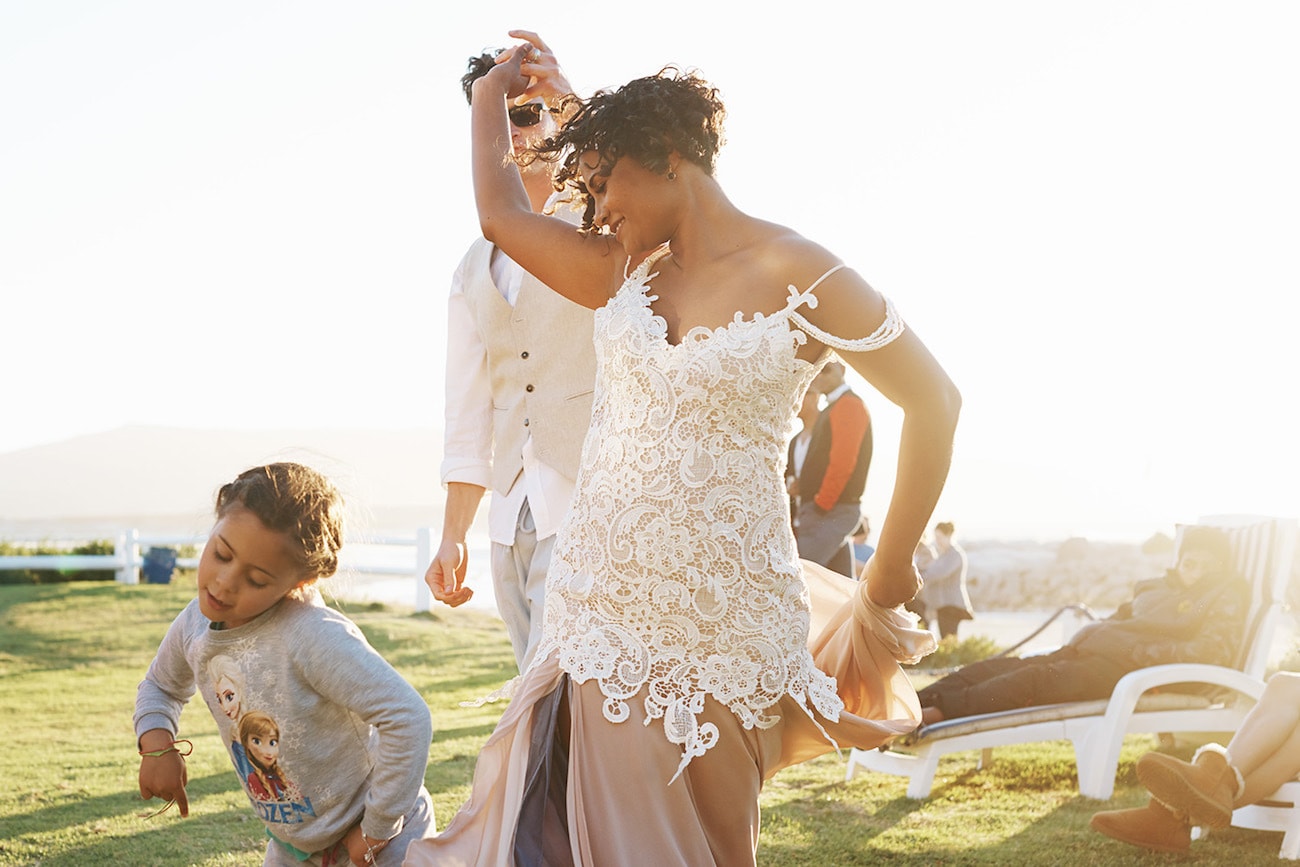 You can see more from this wedding on Knit Together's blog.
SERVICE PROVIDERS
Venue & catering: Die Strandloper | Second reception venue: Friday Island | Photography: Knit Together | Bride's dress: Janita Toerien | Bride's accessories (headpieces & foot jewellery): Bella Chiara | Wedding rings: Sirkel | Makeup: Kathryn Marnewick | Groom's attire: Swing at the Hout Bay Market (waistcoats) + Just Cruizin (shirts & trousers) | DJ: Dear Mrs Panda | Entertainment: The Betsie Beers
Save