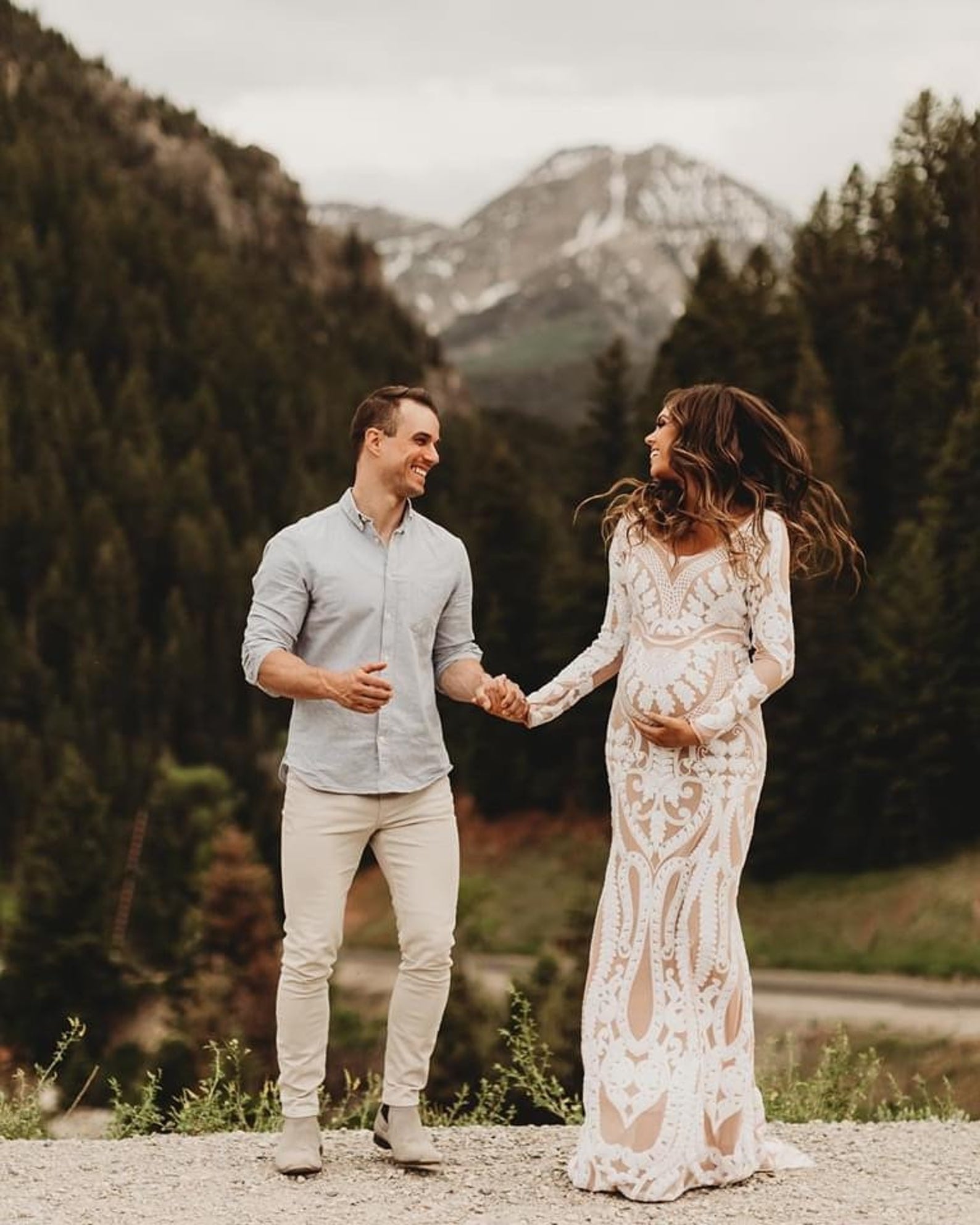 Nude White Sequin Maternity Wedding Dress by Agneshka Maternity
*UPDATED FOR 2021* We talk wedding dresses a lot here on SBB, but there's one type that we've never really covered before, and that's maternity wedding dresses, aka gowns for pregnant brides. Now I think a bride never looks more beautiful than when she has that gorgeous mama-t0-be glow, but at the same time, I imagine it's a bit of a challenge to find the perfect maternity wedding dress when you're not a hundred percent sure what your body is going to be doing between that first try-on and the big day. You're dealing with a whole new body shape, basically, and it's hard enough for us to flatter the one we normally have, right? It's your wedding day, and you want to look amazing, not like you've been swaddled in a big white mumu, or squeezed into something that shows every lump and bump either.  Choosing a maternity wedding dress is definitely a unique challenge, but fortunately help is at hand! Read on as we answer all your questions on finding the gown of your dreams when you're dressing for two.
*Links in bold denote affiliate links. The cost to you remains the same, but SBB may receive a commission for any sales made.
Can I wear a standard wedding dress as a pregnant bride?
Well… maybe. The key factor here is how far along you'll be in your pregnancy when the big day comes. Up to 14 weeks you have a bit more choice, and that can include a gown from a regular collection (although there are lots of gorgeous maternity gowns available, and even in the earlier weeks you may find yourself more comfy in one of them). Past the first trimester though, opting for a standard gown could be a big (and expensive) mistake. Don't assume that simply adjusting the size up will give you the result you want. Remember that your body will look completely different – embrace it, and aim for a style that both accommodates your changing figure and makes you look amazing! Plus, who wants to have tons of alterations and stress?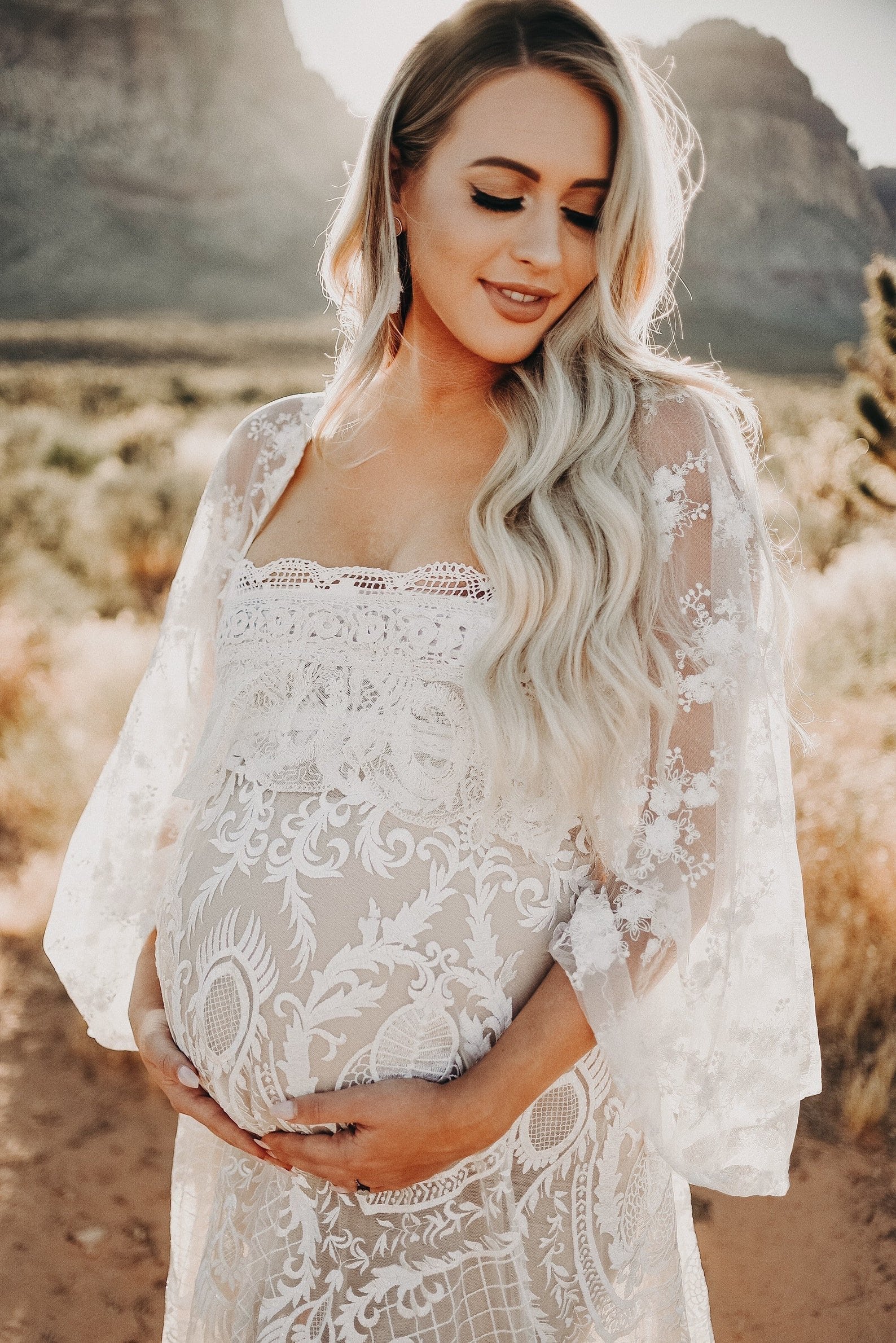 All For Love Gown by We Are Reclamation
Which maternity wedding dress shapes flatter the pregnant figure?
When choosing your bridal silhouette, you have a choice between flaunting your bump, or discreetly masking it a little. You just need to take a look at pregnant celebs on the red carpet to know that either option can look spectacular, so it's really up to you.
Maternity wedding dresses to hide your bump
An empire line dress (often strapless, with a soft tulle overlay) is a classic choice, as the high waistline highlights the smallest part of your torso and allows the fabric to flow beautifully over your bump. Grecian styles work similarly, as do strategically gathered A-line gowns.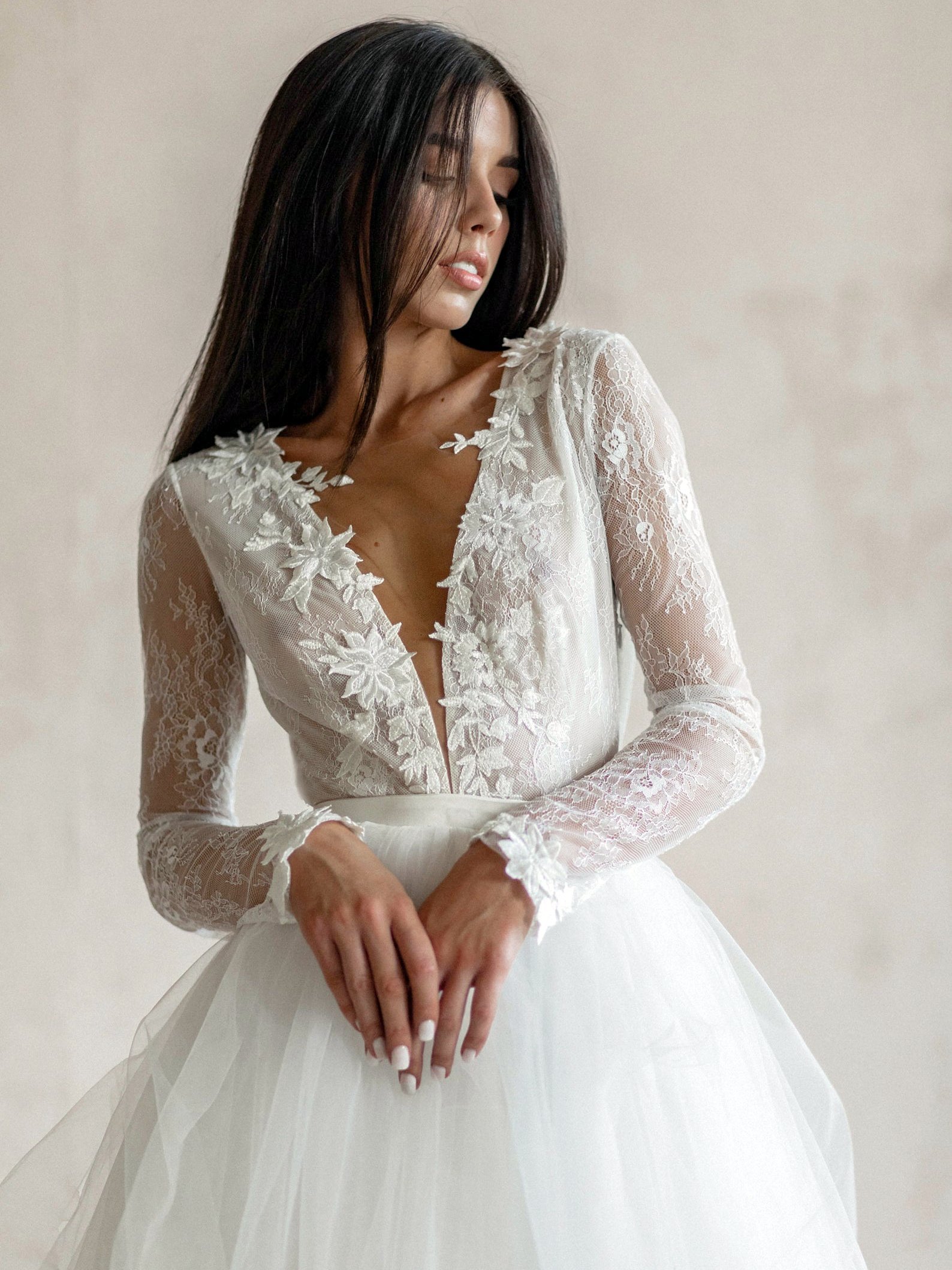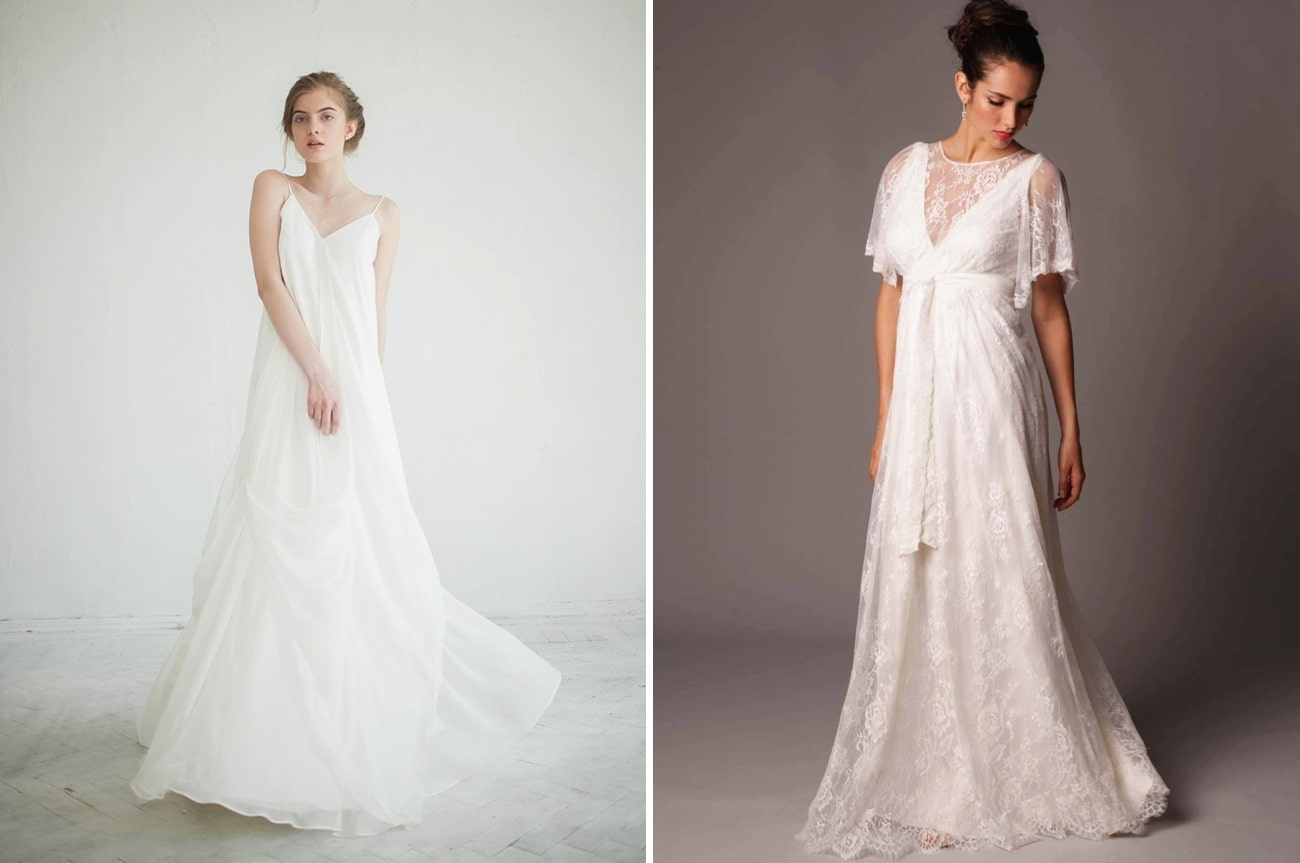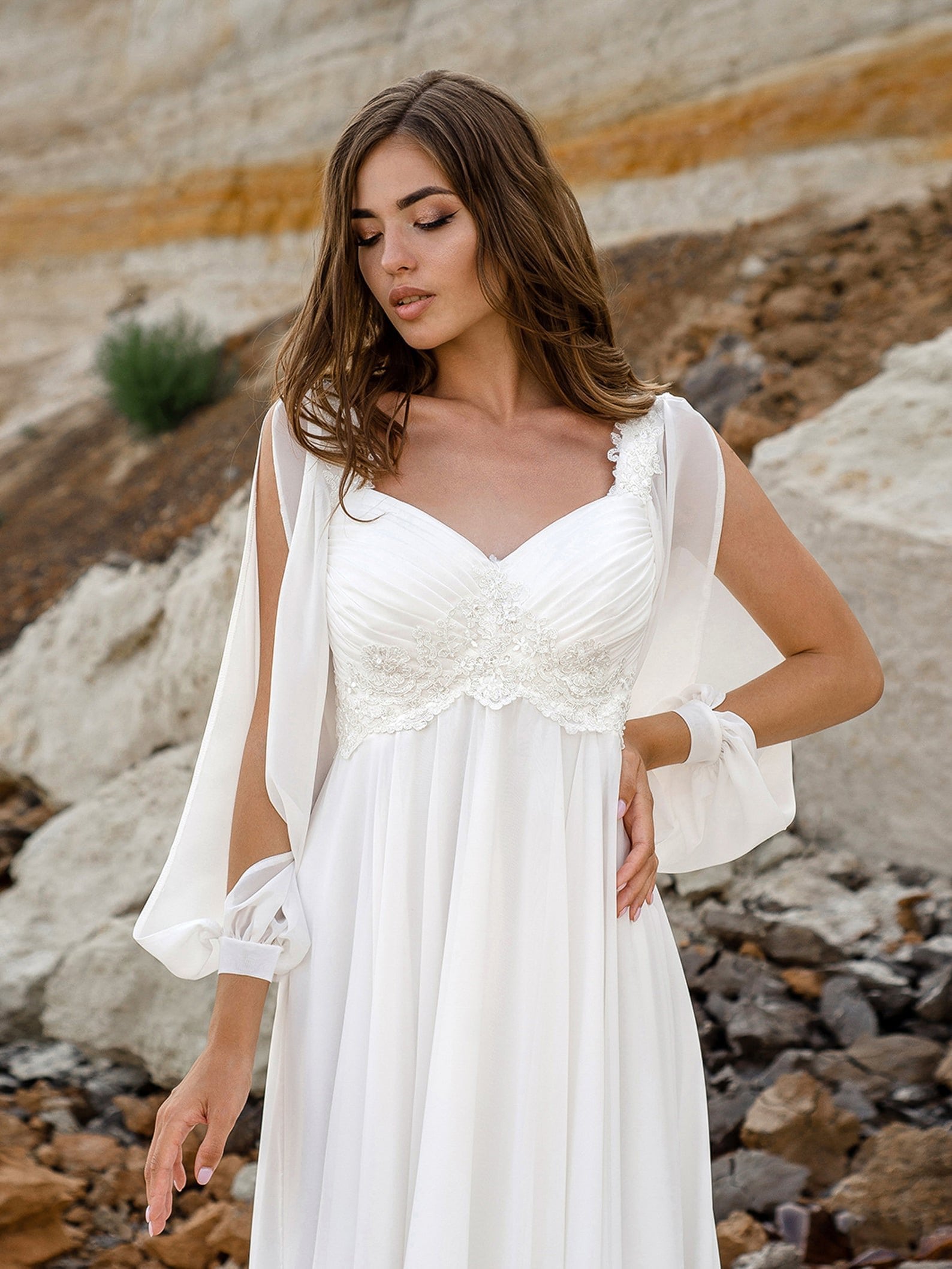 Row 1: Lace & Tulle Wedding Dress with Long Sleeves by Our Stories Bridal | Row 2: Lili Free Fitted Silk Wedding Dress by Mywony Bridal (left); Phoenicia Bohemian Empire Waisted Maternity Lace Wedding Gown by Rebecca Schoneveld(right) | Row 3: Maternity Chiffon Wedding Dress by Love Story Ukraine
Maternity wedding dresses to accentuate your bump
A mermaid or trumpet silhouette will flaunt your bump, especially when paired with a soft elastic fabric, like silk jersey or some stretch laces. Pleats are another pretty option on the skirt, or you could opt for a slinky sheath (especially if you're one of those who carries small, or stays very slender except for the bump). Short dresses are yet another sweet option, especially if you're planning a summer day wedding.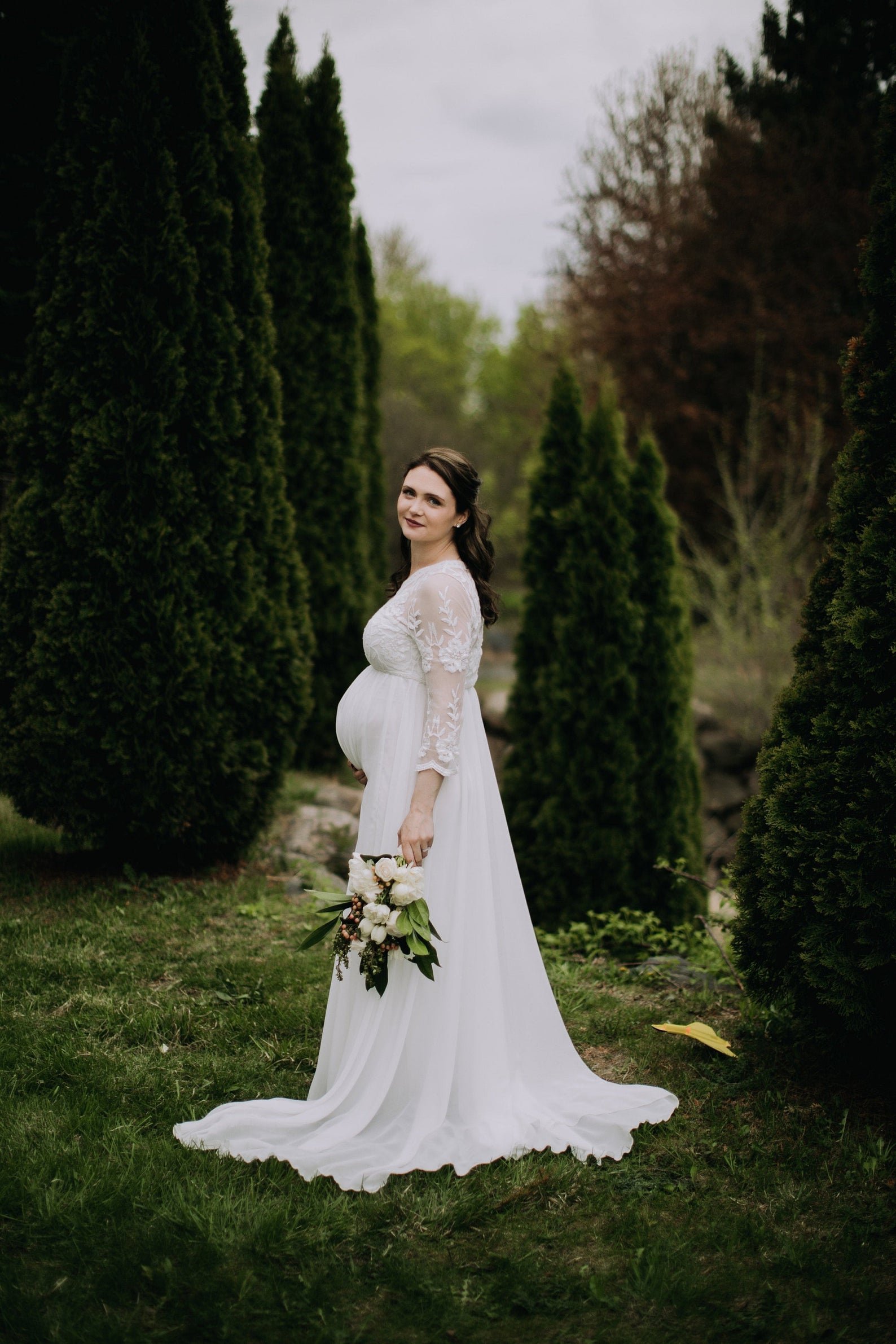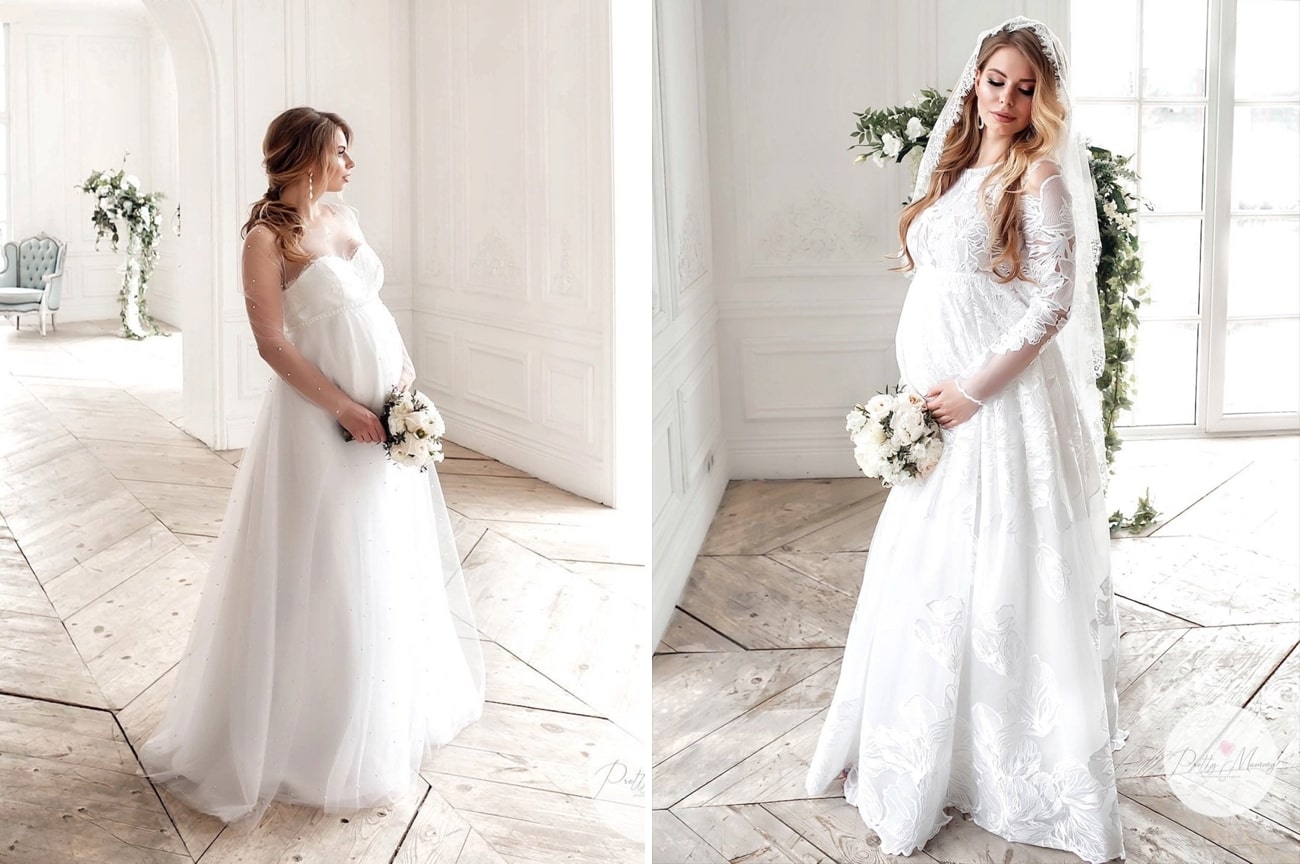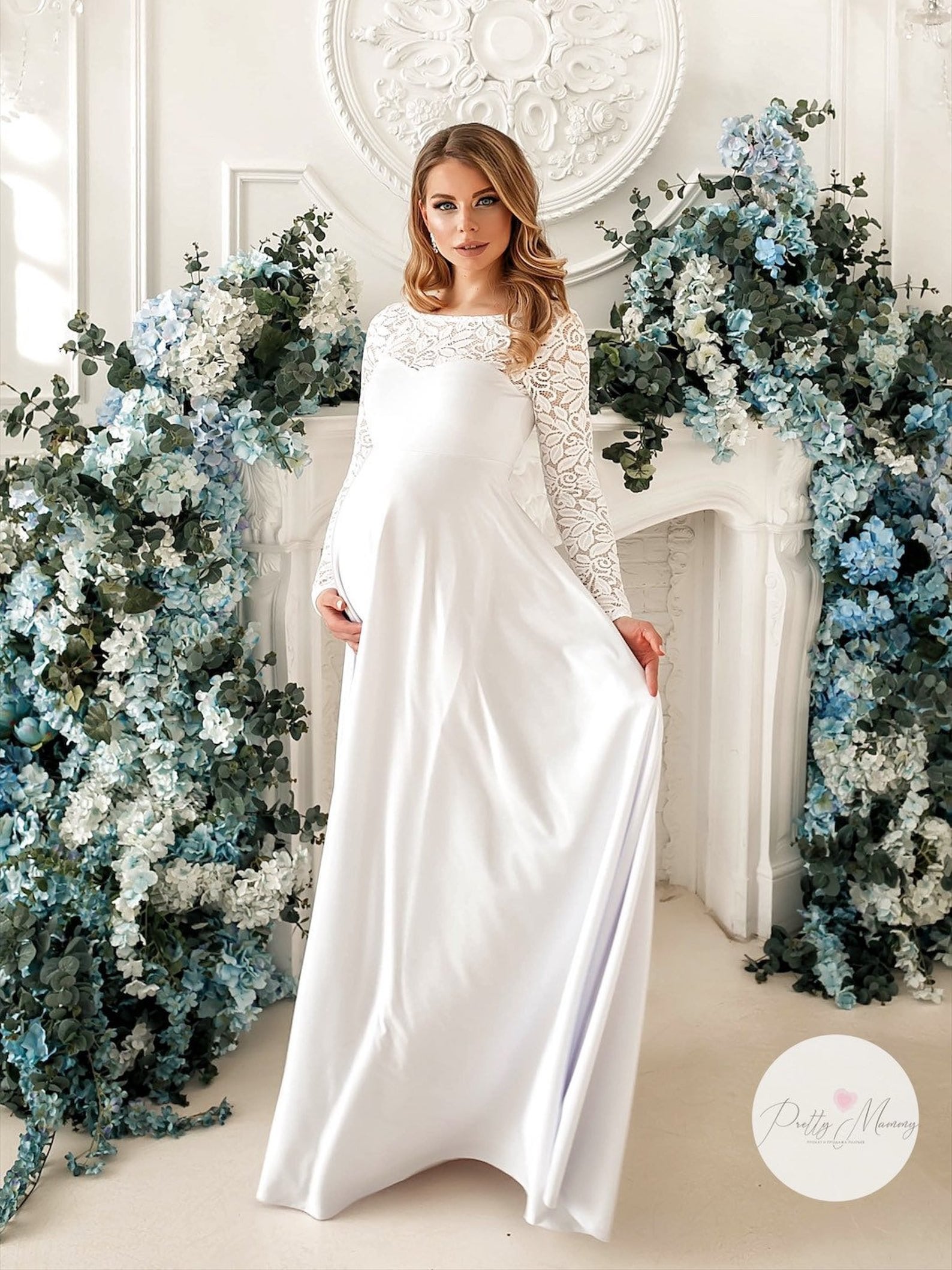 Row 1: Karina Lace Maternity Wedding Dress by J and L Designs Boutique | Row 2: Briel White Maternity Bridal Gown by Pretty Mammy (left); Domenica Long White Lace Maternity Wedding Gown by Pretty Mammy(right) | Row 3: Viola Long Lace Maternity Wedding Dress by Pretty Mammy
Whichever style you choose, make sure you allow for plenty of comfort on the abdominal area. Pick fabrics that are stretchy instead of stiff, and as light and breathable as possible. Remember, pregnant ladies get hot! Think chiffon, silk tulle or charmeuse. Look for boning (just as far as the rib cage, however!) or built-in bust support if you opt for a strapless dress to help support a growing bustline, and consider a V-neckline to flatter your enhanced assets. If larger arms are a problem, opt for cap sleeves or a pretty light jacket or wrap.
Finally, and most importantly, choose a dress that still really feels like 'you', even if it's different to the one you might have imagined you'd wear. It's your day and you want to feel amazing!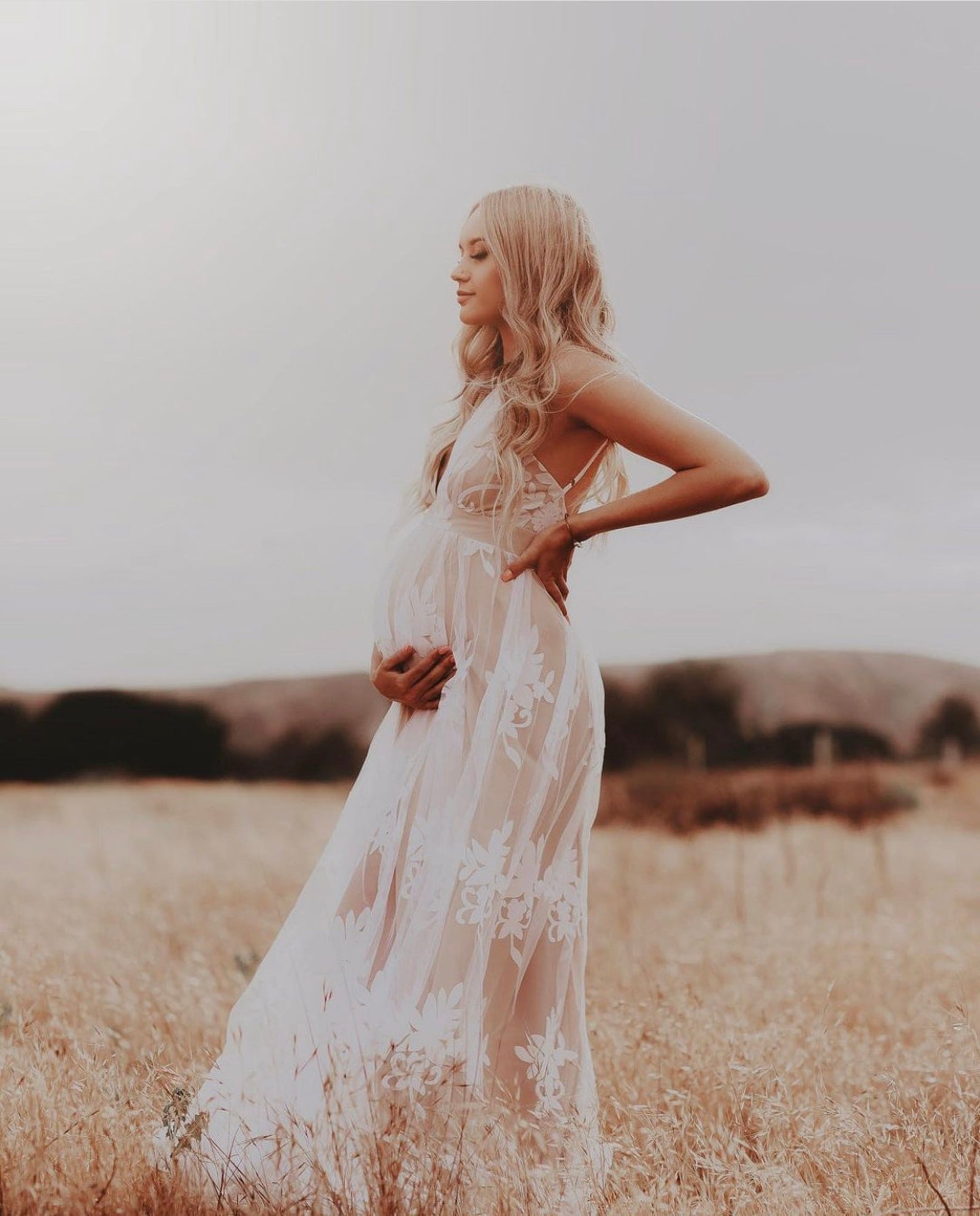 White Maternity Dress by Skaira Maternity
Can I wear white as a pregnant bride?
YES. And don't let anyone tell you differently. The tradition for white wedding dresses only caught on in Western culture when Queen Victoria wore one, and it was symbolic of wealth and affluence (since white fabric was more likely to be ruined) rather than purity. Not that you have to wear white, because ivory dresses can be more flattering and coloured dresses are absolutely gorgeous, but if white is what you want, you go for it.
How do I know what size to order for my maternity wedding dress?
Your bridal consultant is the best person to advise you, but the short answer is that it depends on the range. Some suggest that you add 2.5cm to all your measurements for each month of pregnancy and then round up to the nearest size on the designer's sizing chart, while others will automatically work in proportion to your pre-pregnancy size. A key thing is not to rely on measurements from previous pregnancies if this isn't your first – they can vary a lot! You should also leave at least two weeks for alterations.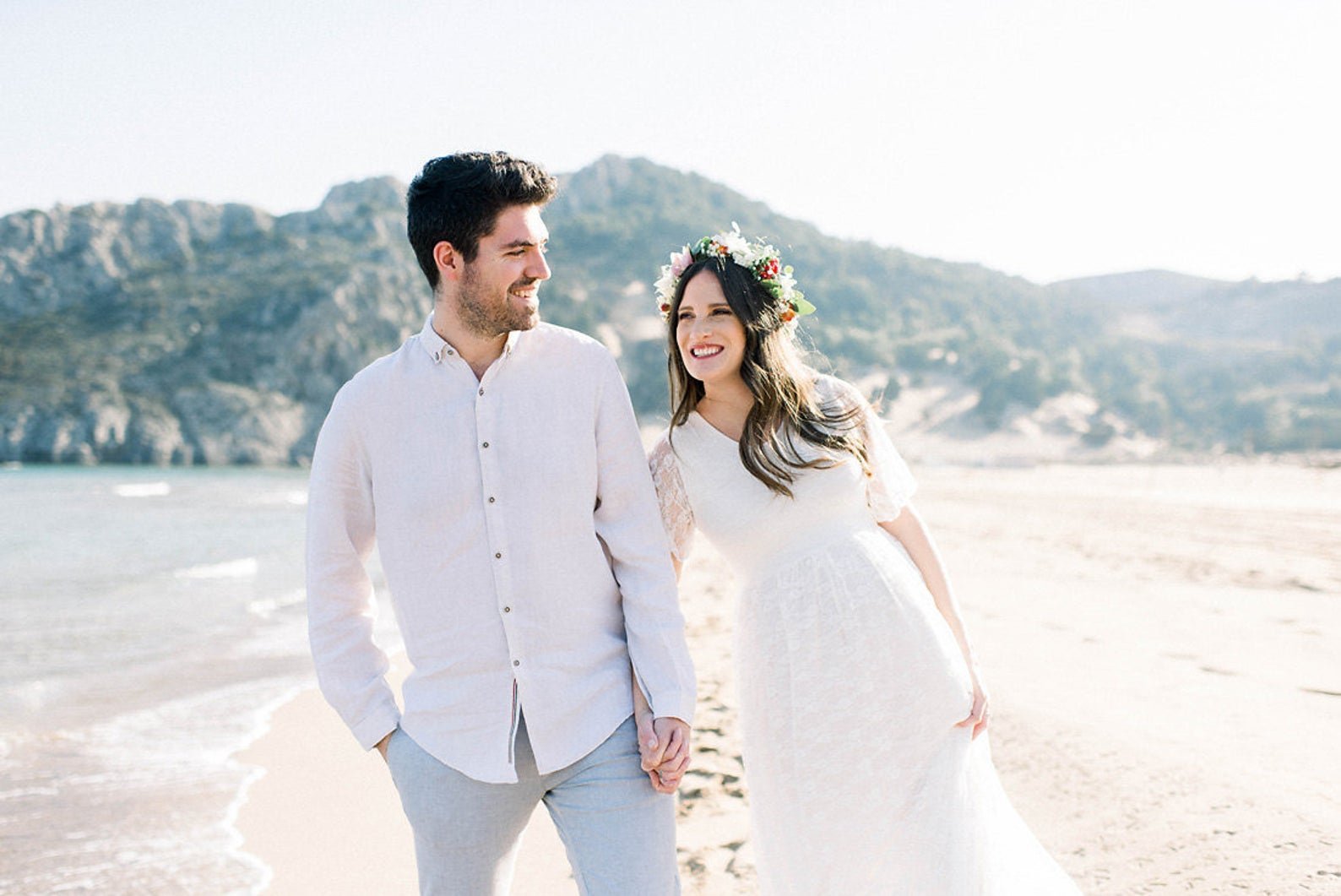 Boho White Lace On Shoulder Modest Maternity Dress by Design by C Maternity
How should I accessorise a maternity wedding dress?
Your bump is the ultimate 'accessory'! Simplicity is the way to go as a result – you want to go for classic rather than fussy, and not compete with the bump (and your natural beauty!) when it comes to your accessories, hair and makeup. Opt for good quality seamless nude underwear. And MOST vital, you want to pick a pair of comfy shoes (yep, sorry, stilettos are out). Buy them in a half size bigger than your usual, to accommodate swelling feet.
Pregnant Celebrity Wedding Dresses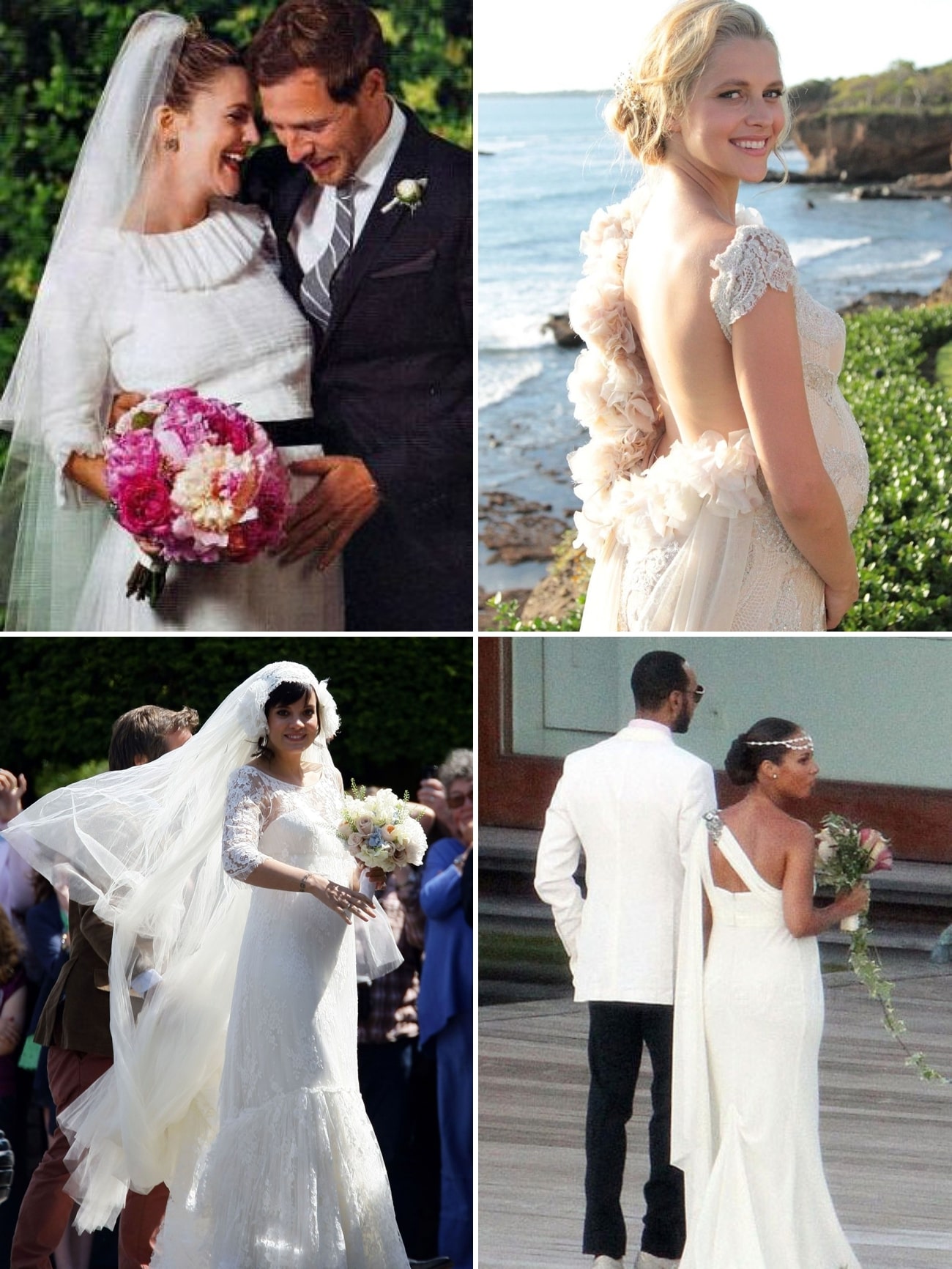 Some of our favourite celebs have rocked a beautiful bump on their wedding day, including Drew Barrymore, Teresa Palmer, Lily Allen, and Alicia Keys. Drew's look is totally my fave – how about you?