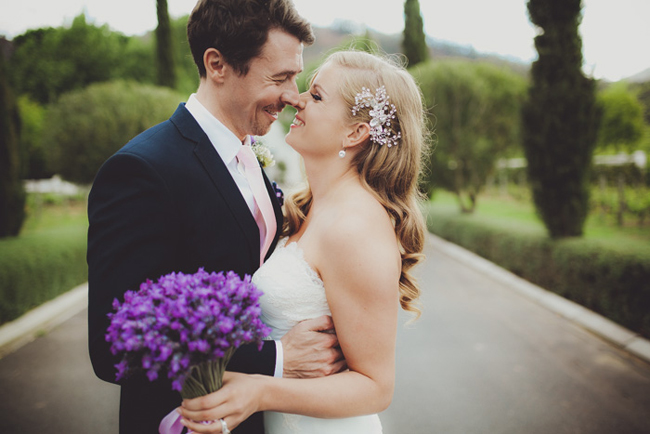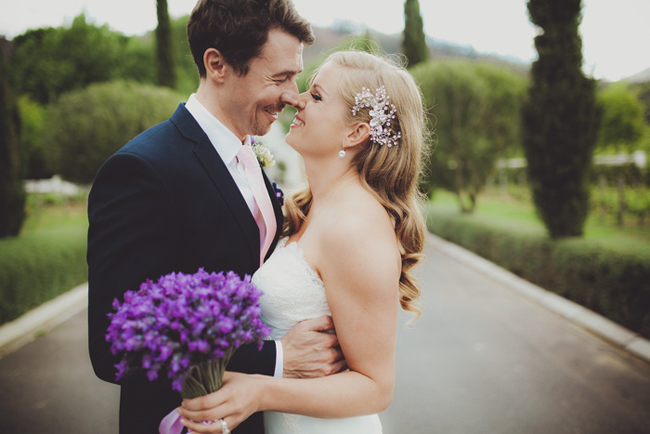 Get those pinning fingers ready, because today's wedding is a fabulous fusion of glamorous and organic, which perfectly suits its Grande Provence setting. After all, this gorgeous estate is as naturally beautiful as it is exclusive. Jessica and David harnessed that natural beauty as the backdrop to their big day, and brought in just the right amount of decor to complement it, including touches of herbs like rosemary at each place setting and lavender (LOVE Jessica's lavender bouquet) and combined that with glam touches like navy blue sequin bridesmaid dresses (dying over these, seriously!), gold chargers and marquee letter lights from our friends at Lights Love. The result is a perfectly chic backdrop to the culmination of a beautiful romance. And the bonus? Our fave Fiona Clair was there to capture it, as only she can!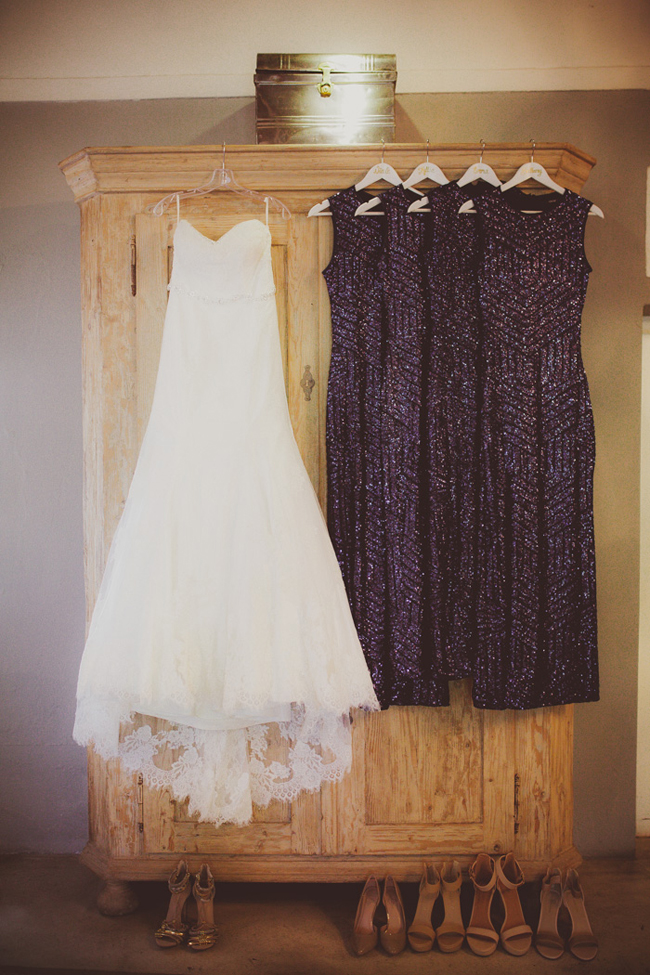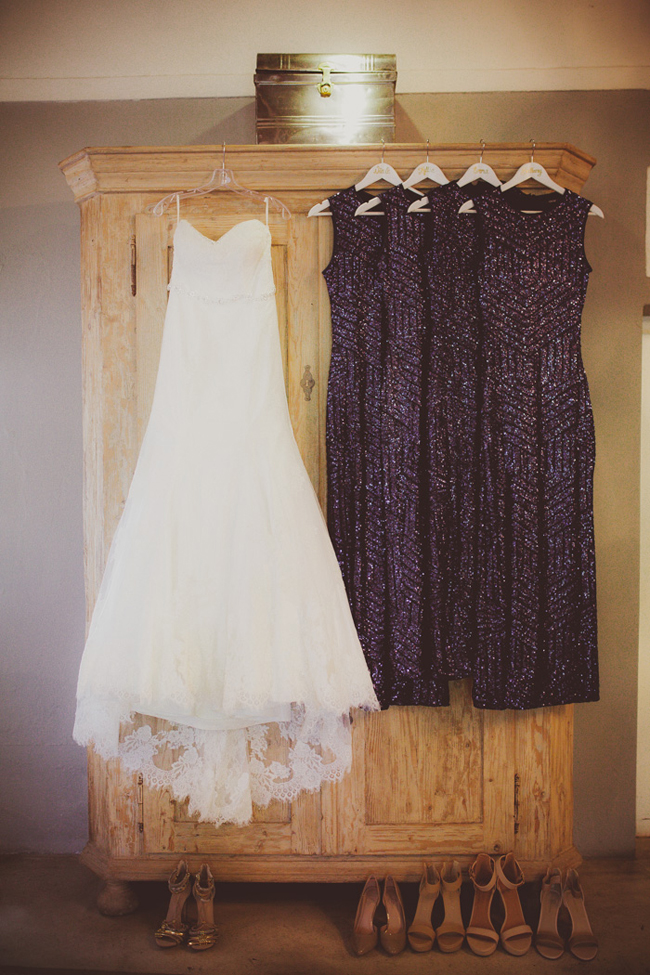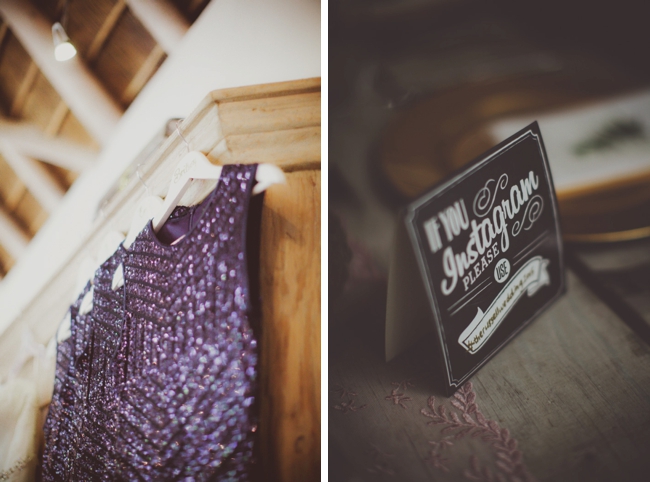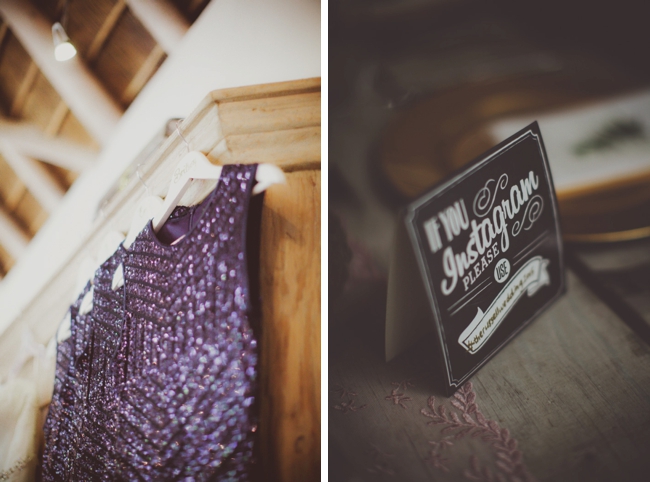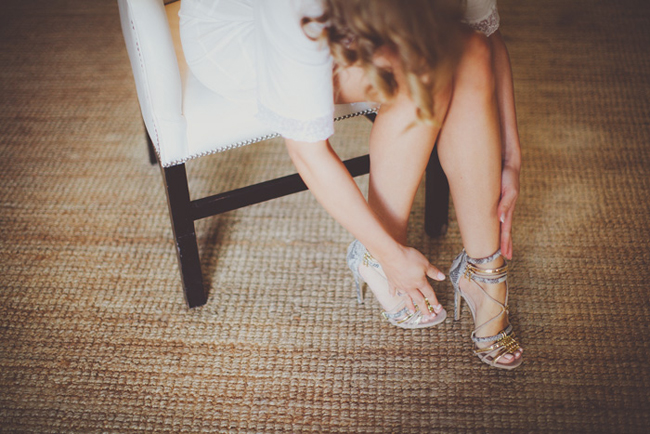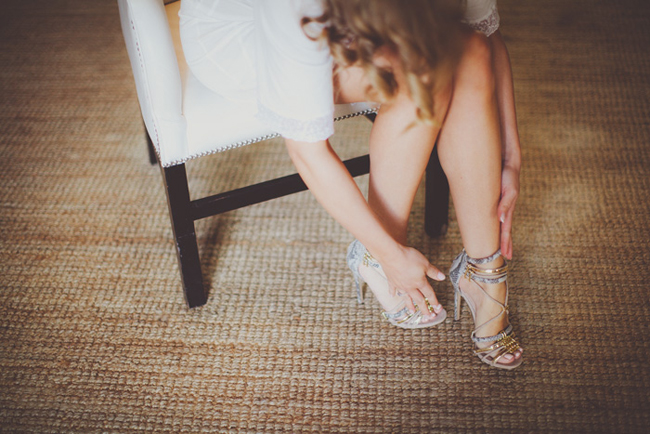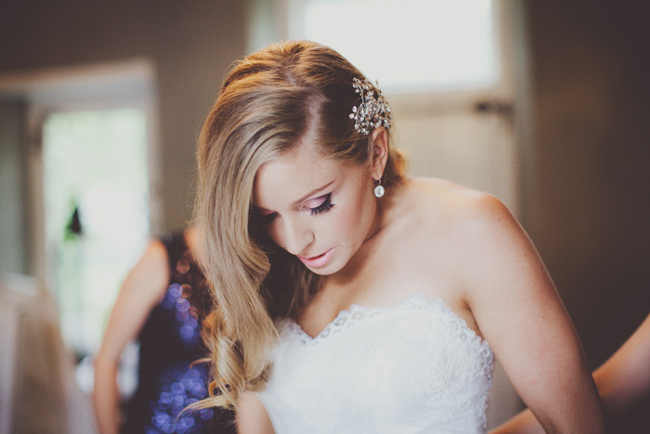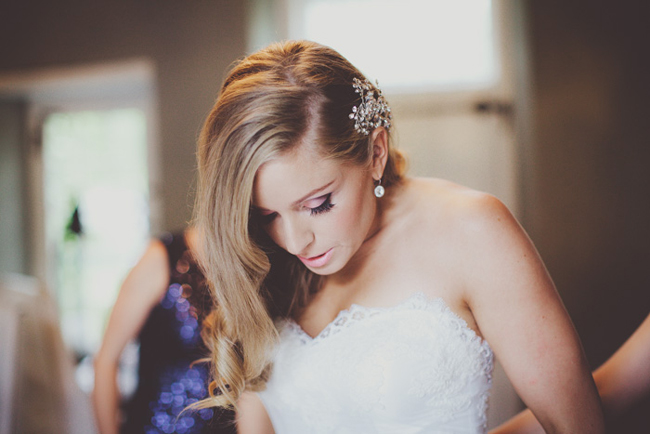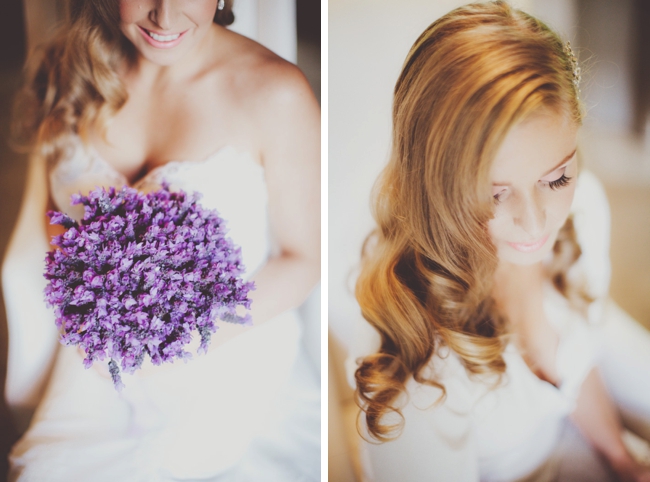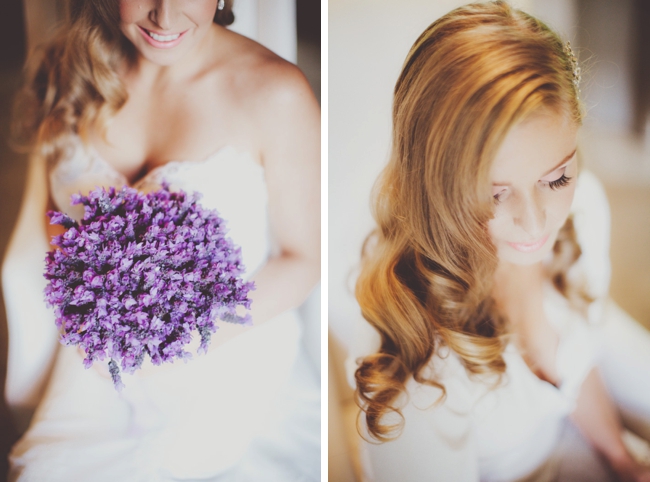 Love Story
I moved to Qatar for a banking recruitment job five years ago; David had already been there for a number of years. My job involved a LOT of cold calls to just about anybody in banking/finance, and a cold call is ultimately what brought us together. As David (who is in finance) famously recounts, his 'gate keeper' PA didn't do her duties as gate keeper on this particular day, and put my call straight through to his line. I rattled off my sales pitch and within two minutes I noticed there was a pause on the other side, and asked if he was making notes. Later I would discover he was Googling my Linkedin profile picture, prior to inviting me to a meeting at his office. We met and immediately hit it off, flirting up a storm, and I returned to my office, dramatically threw my handbag on the desk and announced to anyone and everyone who would listen that I had met my future husband. A week later we bumped into one another again and the flirting continued… unfortunately, he had a girlfriend. Uh oh. I went to South Africa for a friend's wedding and during my trip, David, who was about to board a flight to America to visit said girlfriend decided that in fact I was the one for him. He asked the airline to take his bags off the plane, ended his relationship and asked if he could come and see me in South Africa. At this point I thought I had maybe bagged myself a stalked and declined! But upon my return to Qatar, we picked up where we left off and started a relationship that proved my prediction to be true. Three and a half years later, we said "I do".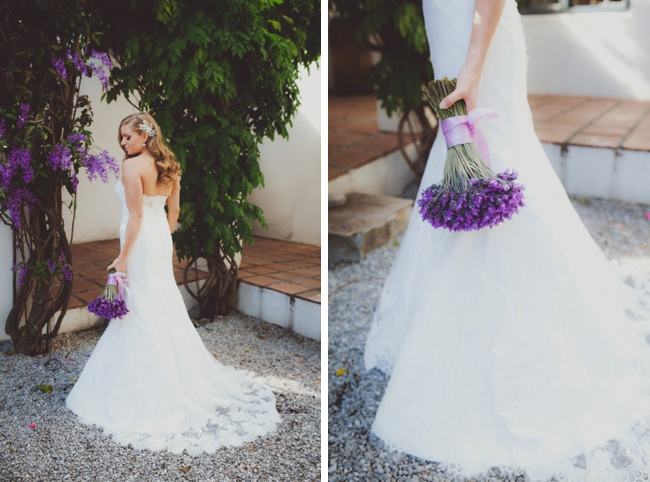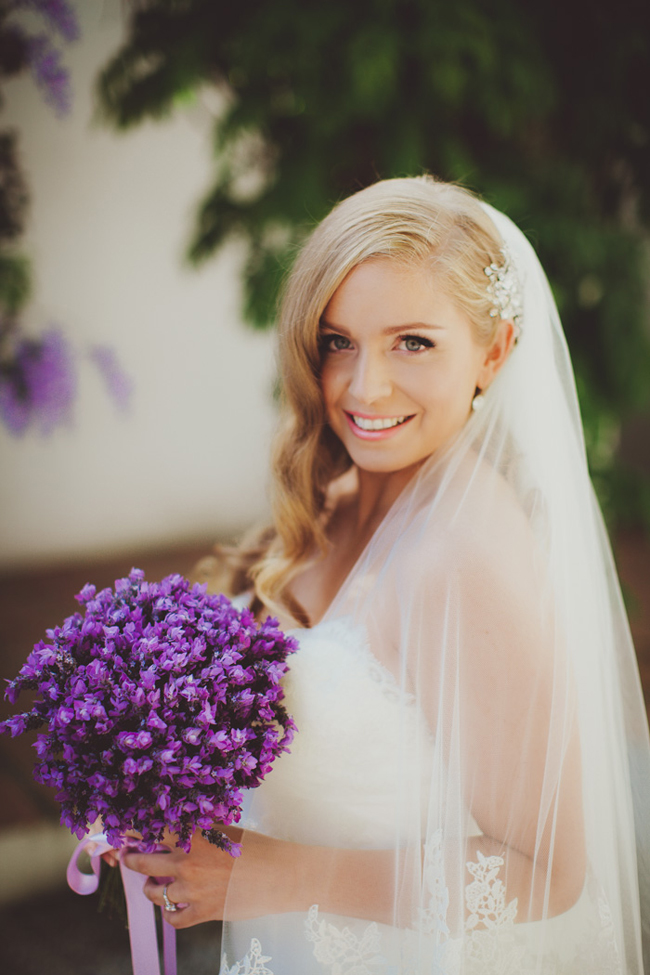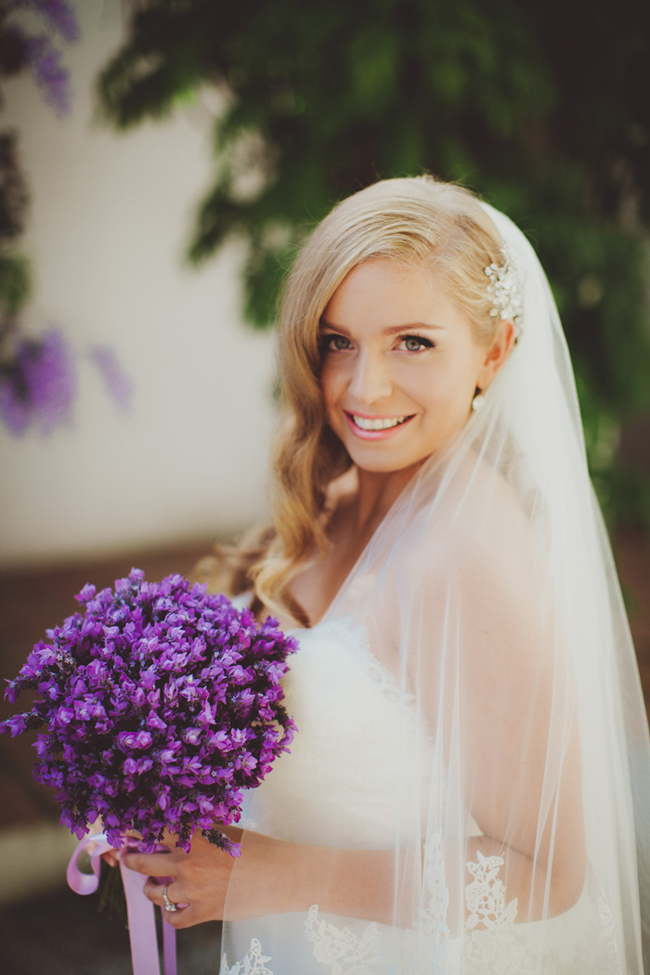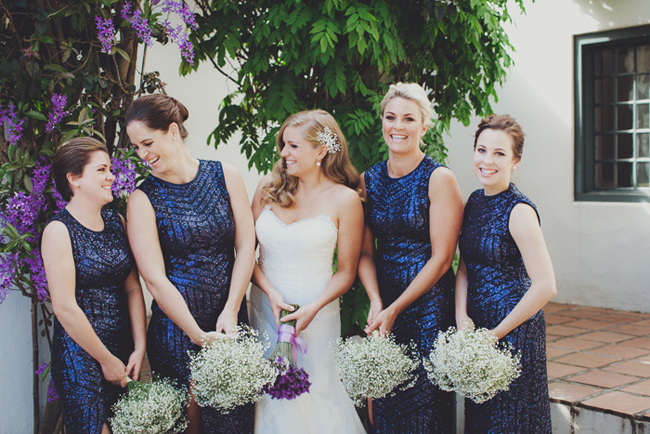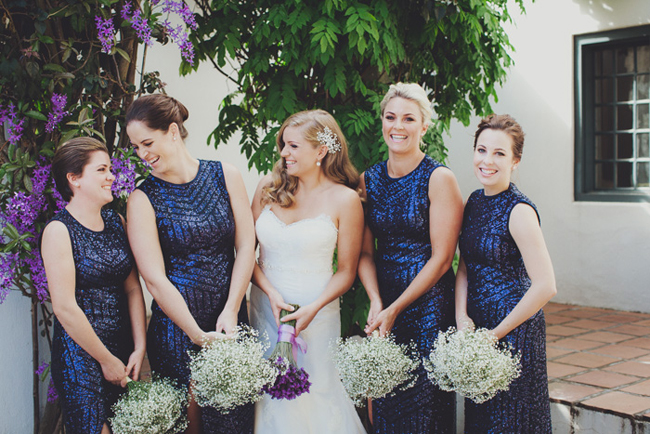 The Proposal
I had always made it (obnoxiously!) clear that I would only wear a ring my dad had made – he was the only jeweller I trusted and I knew it would be special to have something handmade by my dad, chosen by my husband, to have with me forever. Dutifully, David snuck behind my back and called my dad for permission to marry me, followed by "and now you have to make the ring". We had planned a summer of travelling between Europe and America and he decided he would propose at some point on our travels. We arrived in Scotland for our first leg of the journey and drove to his parents' home – it was a beautiful day, which he decided was the perfect sign to propose then and there. He called me into the back garden, his favourite place in the world, and as we walked through, I turned around and there he was on one knee (and in true David style, pulled his tongue at me before asking me to marry him!) Comedy then ensued, in true Russell family style, as we walked back into the house, announced we were engaged, and his dad responded: "Who dragged mud onto the carpets?" To be fair, they were new. The moment he asked me to be his wife, I felt a deep calmness wash over me, and a pure happiness.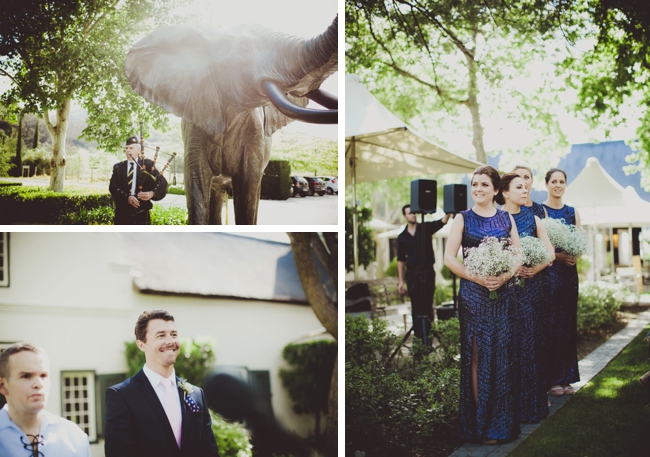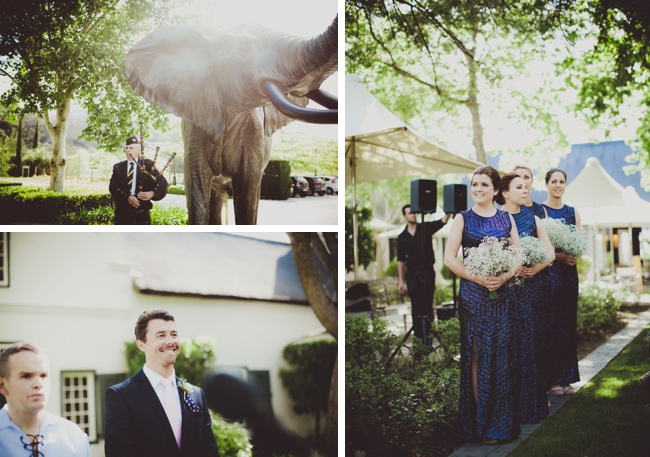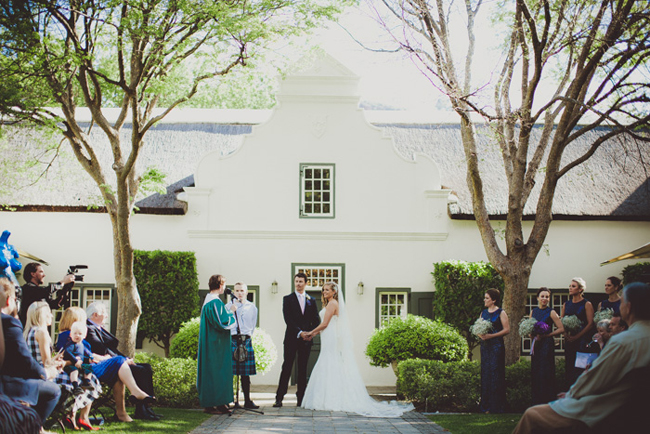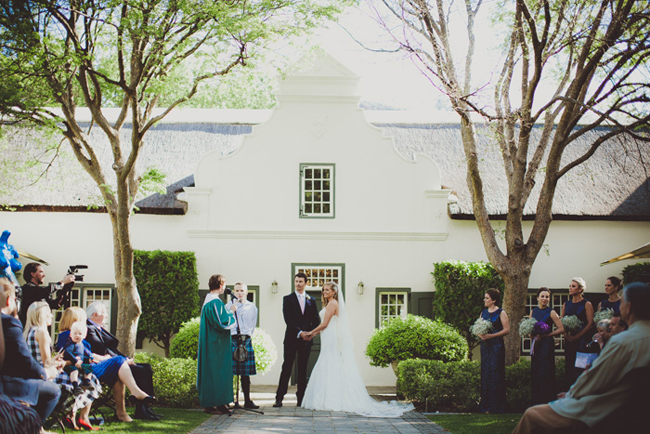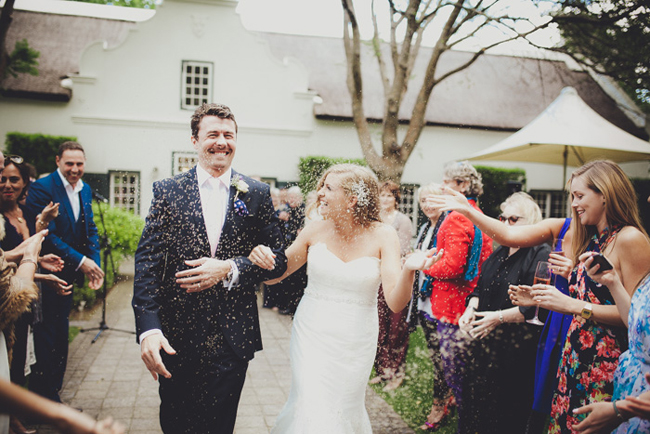 The Venue
I had never grown up as the type of girl who imagined her wedding day, but there was always one thing I thought I would like – to be married under lots of trees, surrounded by flickering lights, like a fairy garden. That was a feeling I got from Grande Provence. My dad and step mother have lived in Franschhoek for more than a decade with a shop on the high street, and it's a town David fell in love with when he came to visit for the first time as it reminded him of Napa. Because I won the battle (not that there was any doubt) of getting married in South Africa, he could choose where. We chose Grande Provence because of how contained the area was, so we wouldn't lose our guests all over the place and of course the big beautiful trees. We had lunch there and of course some wine and just knew it was the one.
I cannot express how incredible the staff of Grande Provence were, in particular, Sumarie. She was there for me in so many ways, and even burst into tears as I stood with my dad waiting to walk down the aisle. She was there from the morning and until the very end, pouring the last drops of champagne and tequila. The waiters, bar staff and kitchen staff were utterly incredible and worked so hard, and we received such amazing feedback about them.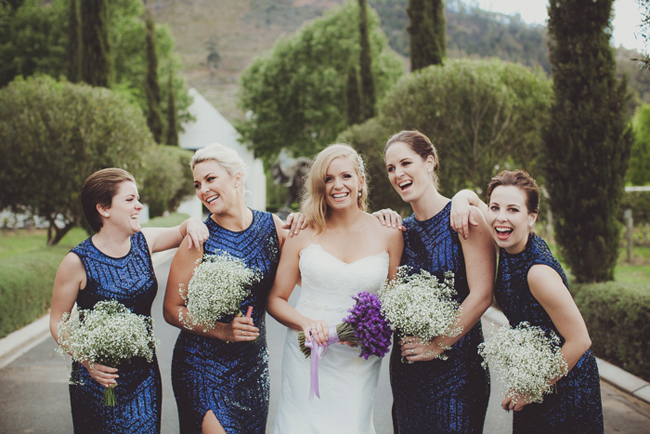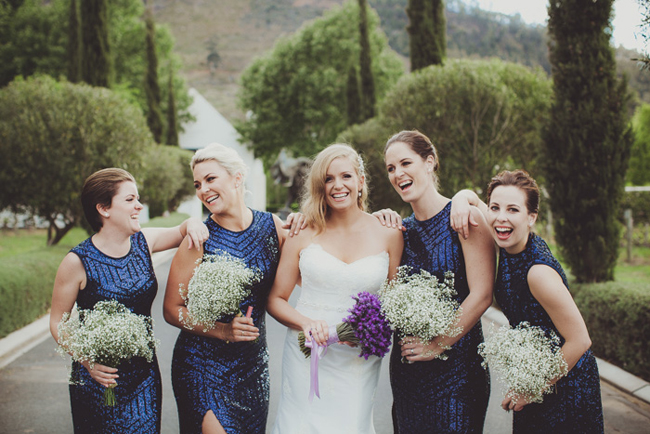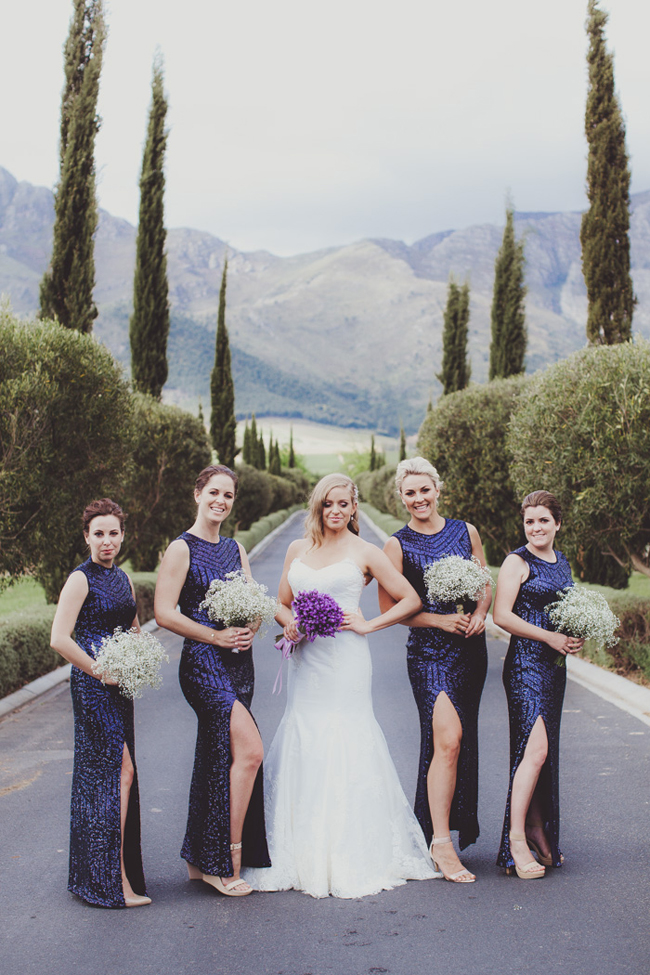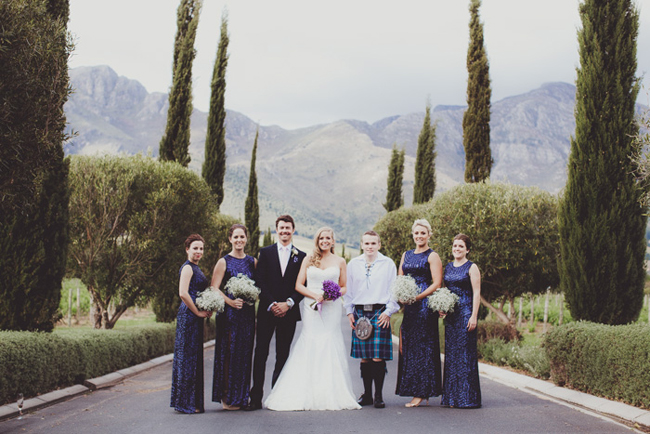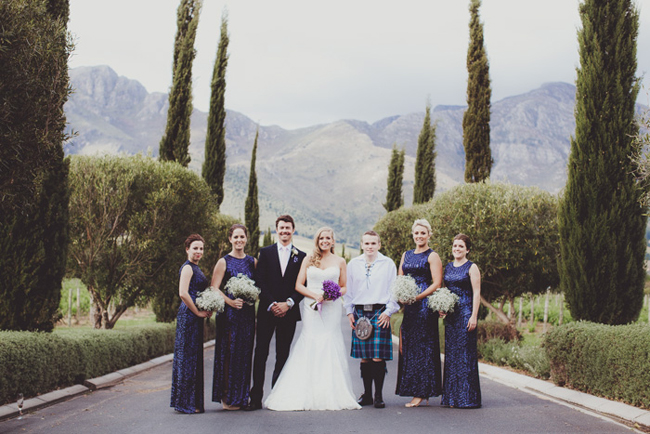 Wedding Style
For my tables I wanted to bring in the fairy garden idea – I wanted a lot of crystal, flickery lights and small garden flowers. I wanted the raw wood of the tables to be visible, only with a lace runner down the middle, and chose to add in some gold for a pop of glamour. Lavender brings back a lot of good memories for me, and reminds me of my mom and my family's house in Hout Bay, so it was something I wanted from day one. I also wanted lots of different heights, and mismatched glass, which Leipzig did perfectly. There is not one thing I would have changed about my tables and I have even framed a picture of them in my house. I just cannot believe how perfect they were, and how grand the chandeliers and candelabras were. For the rest of the wedding theme, in my opinion, the venue spoke for itself and there wasn't much I needed to do. All we did was throw as many fairy lights as we could over every bush and tree. Gold and navy were my original colours, but we had very limited splashes of each, from the bridesmaid dresses, David's suit, pocket scarf and buttoniere, to table numbers, underplates and beer coozies for the boys.
DIY Elements
I made the fairy light and ribbon curtain which hung on the dance floor (with no help from my crazy cat who kept pulling the ribbons!) My bridesmaid Nicole and I were covered head to toe in glitter making the table numbers, glittered initials and direction arrows (which were blown away by the wind). We made our own invites and table numbers with the master skills of my mother on her laptop, and me downloading fonts off Pinterest, and my bridesmaids helped tying rosemary to our menus the night before. This was half the fun of it to be honest. I loved being so involved in it all.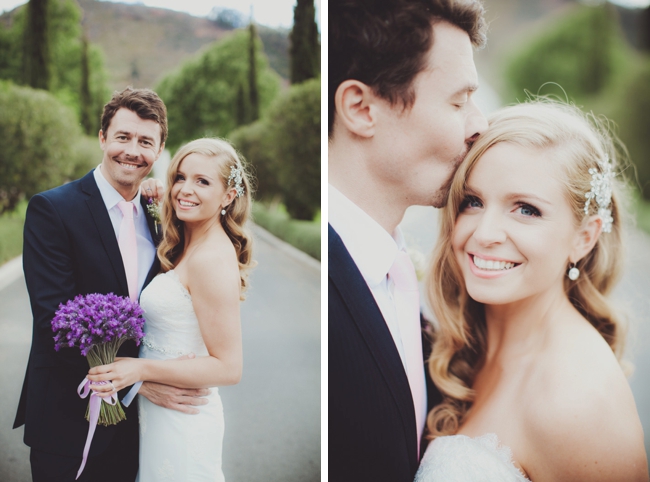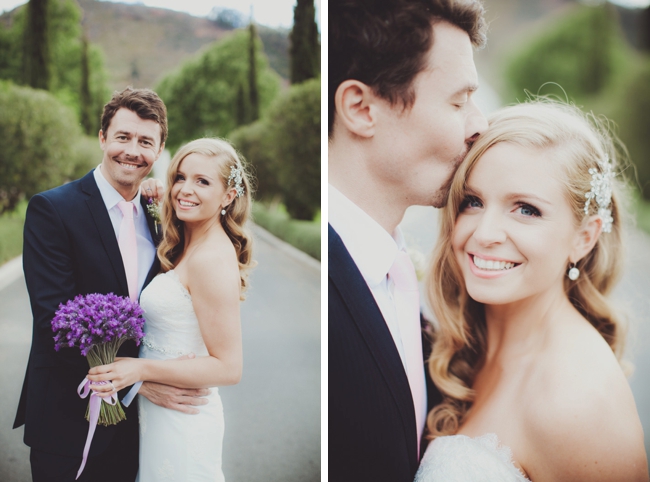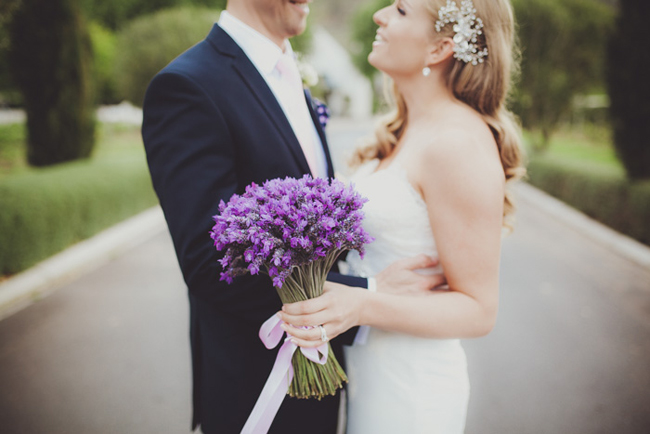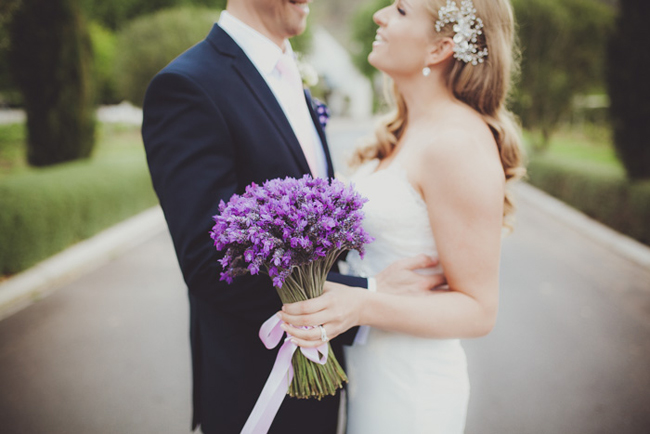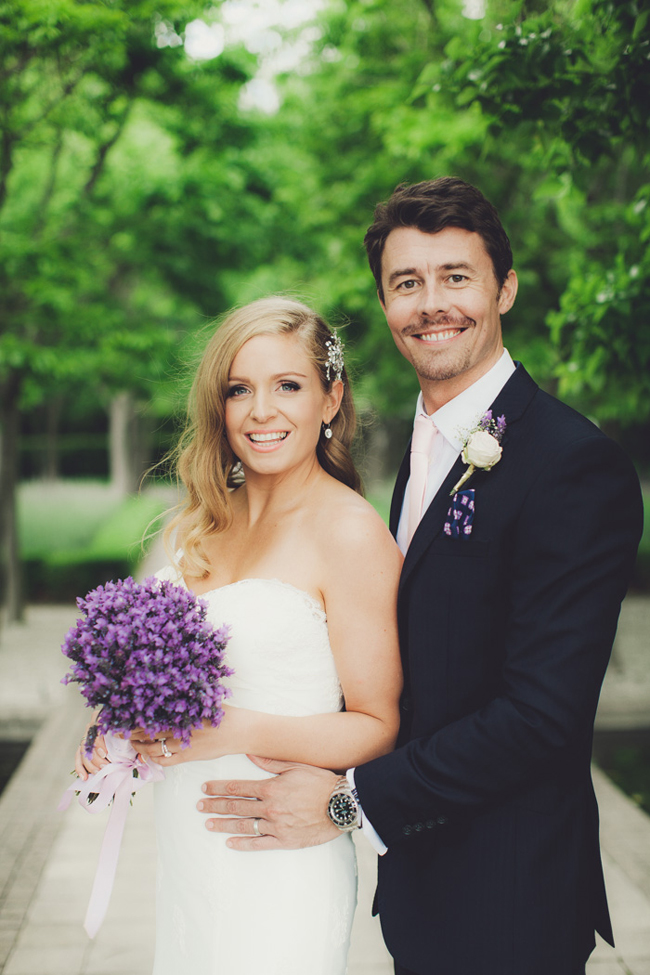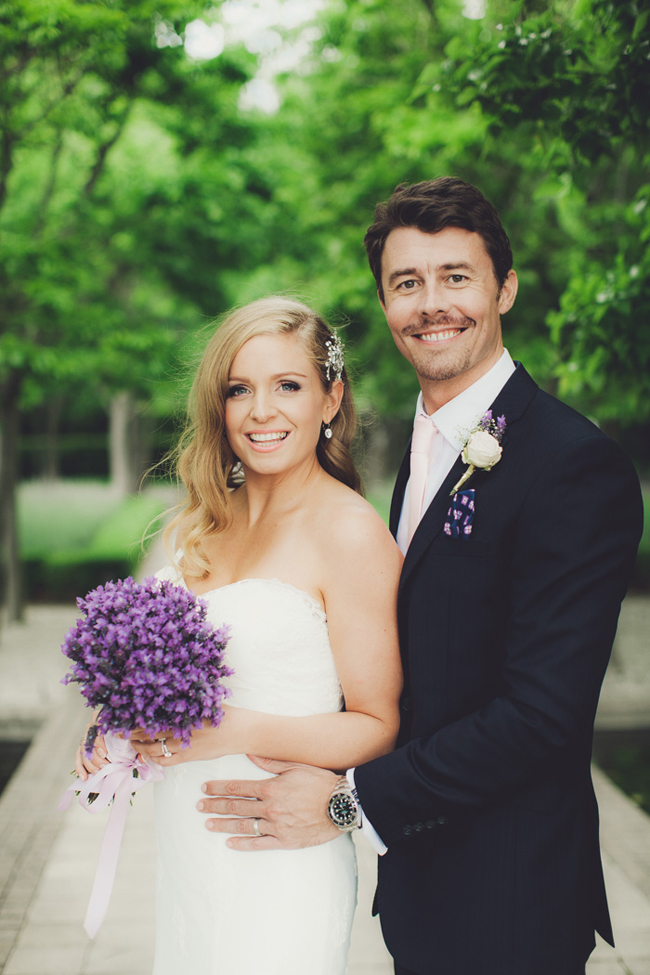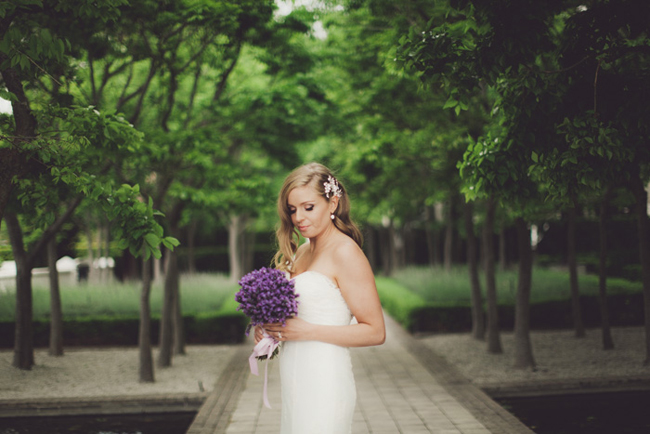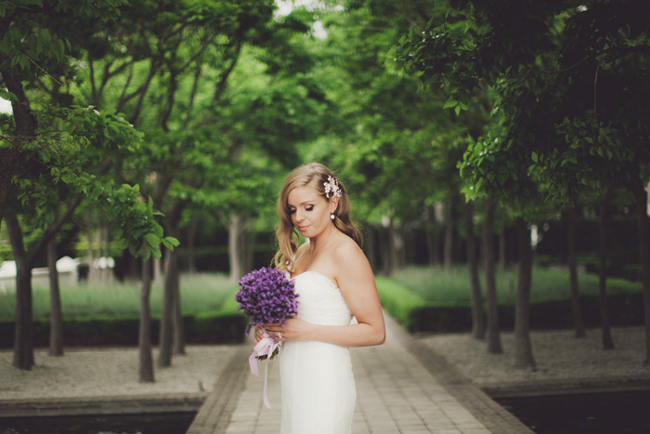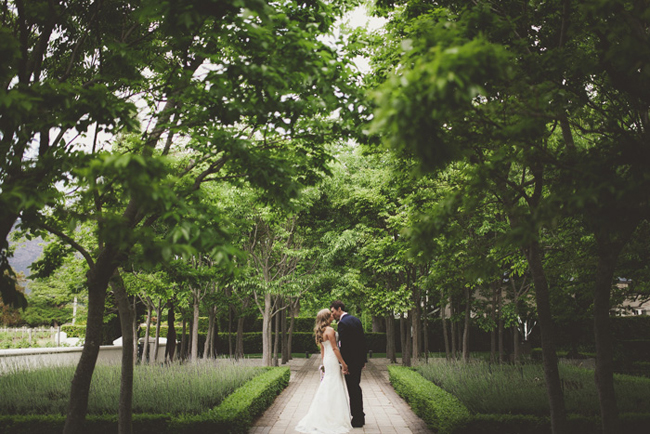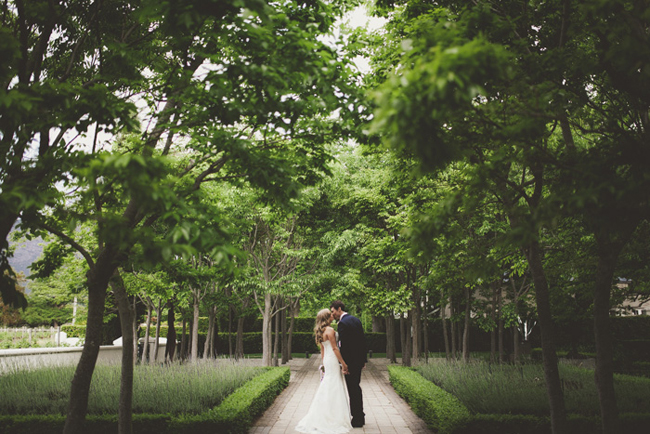 The Dress
A wedding dress had never been something I had ever imagined I would want to wear… until the day I put one on and realised the feeling you get (it doesn't hurt that a wedding dress is a magical figure shaping creation which is how I think all clothes should be designed). Never mind the moment a veil was plopped on my head… that feeling was something I cannot describe. I've always regretted the ridiculous outfits I have worn growing up, just to defy the status quo, and for once in my life I wanted to be classic, and wear something that would transcend time. However, I was in a bit of a predicament, with very limited time to choose a dress in either the UK or South Africa. After trying on dresses with my mum and my mother in law to be without success, I had one last shot. My friend Rachel, a brilliant stylist, had bought her dress from a shop called Marshmallow Bride in St Albans. I happened to be just down the road from it, but wasn't convinced that I would find my dress as none on the rack looked like what I wanted. Until I put on one dress designed by Willow, the exclusive designer for Marshmallow. It was a challenge doing my final fitting amidst moving to Geneva – thank God for the Easyjet pilots who let my dress sit up front with them in the cockpit!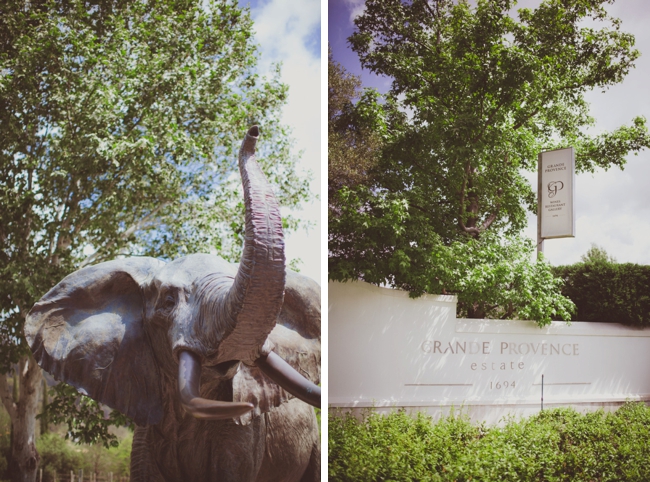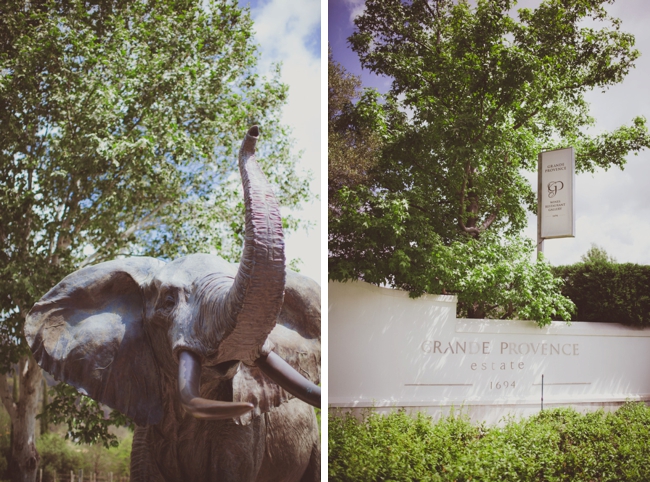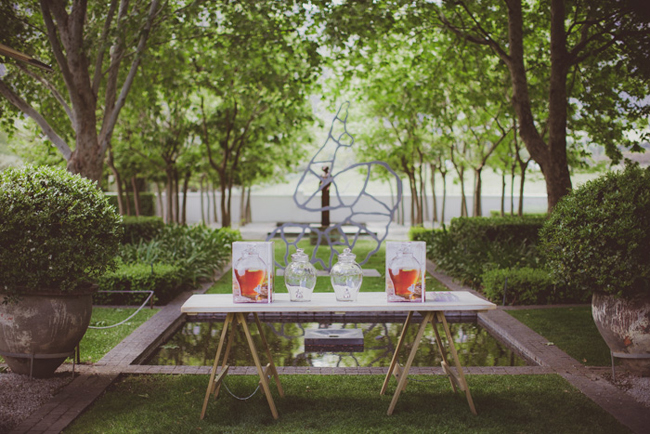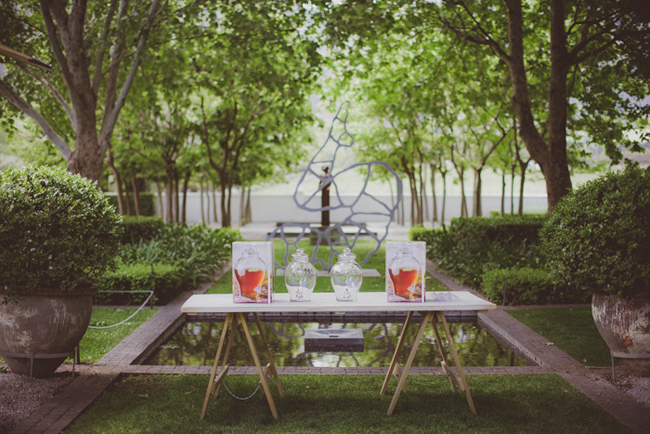 The Bridesmaids
I had four bridesmaids. Personally, I despise the typical bridesmaid dress and it is just not my style. I wanted them to look sexy and glamorous, without a shred of tulle or satin near them, and when they walked down the aisle I wanted everyone to say: "how hot are her bridesmaids!" So I chose full sequined, figure hugging, high slit, navy blue dresses for them. I wanted dramatic eye make up (as they all have beautiful eyes), very simple jewellery (as the dresses were already blingtastic), and nude shoes.
The Flowers
I never really saw the point of a bouquet, and even looked at alternative ideas. But I ultimately went with tradition as I didn't want any regrets. The full lavender bouquet I chose was perfect. I love the rustic feel, the simplicity and the colour combination next to the girls' dresses.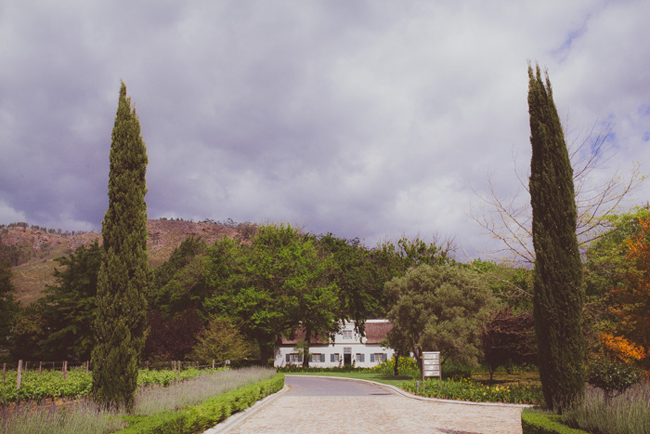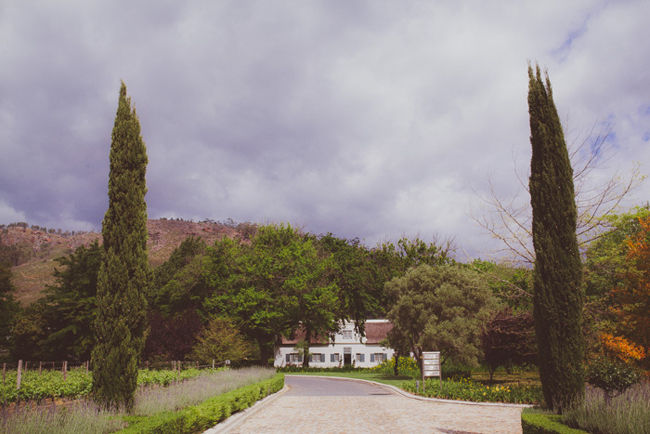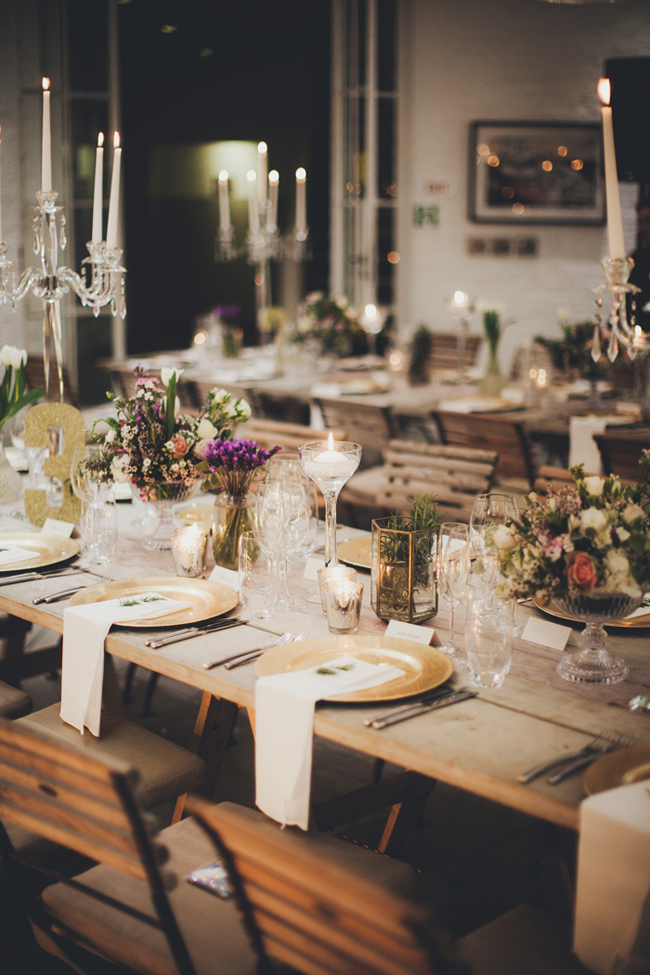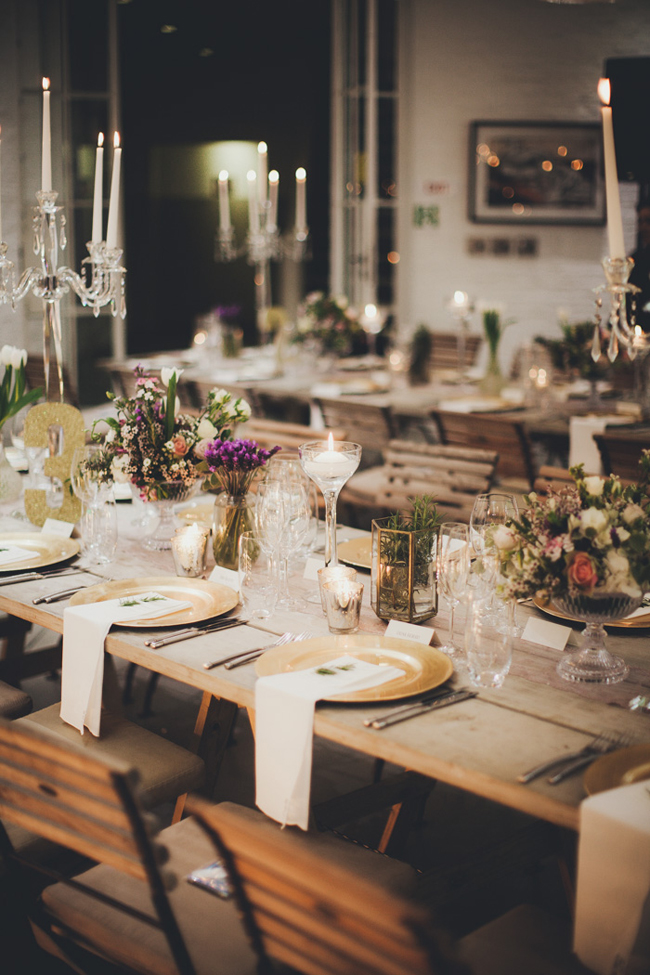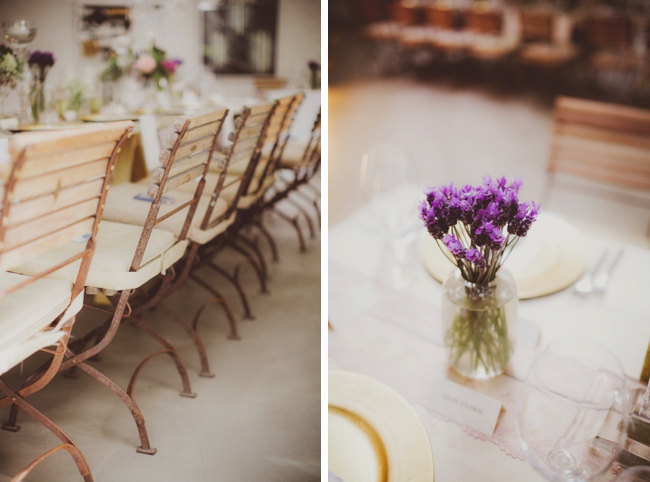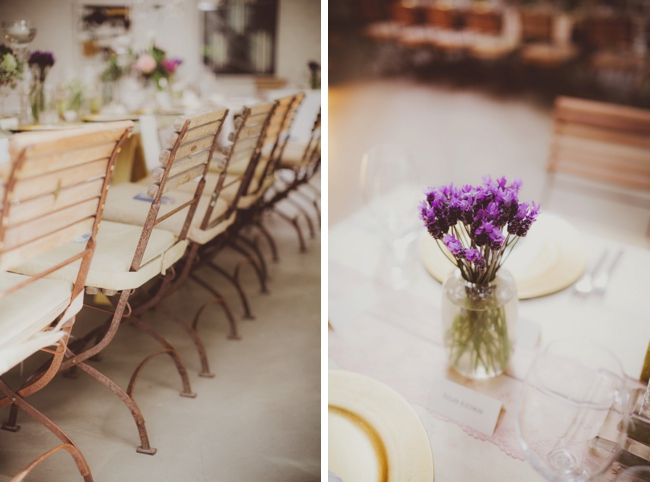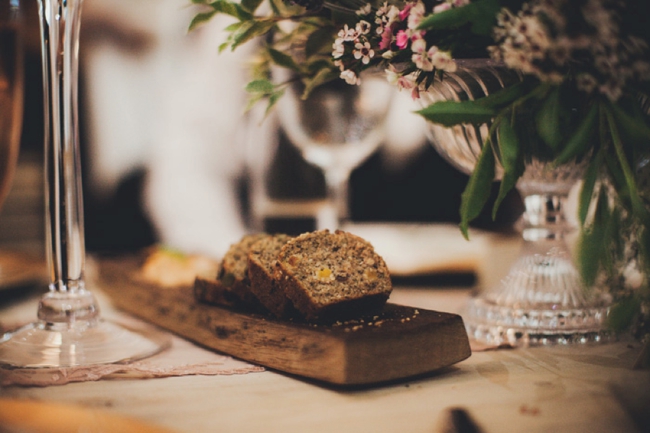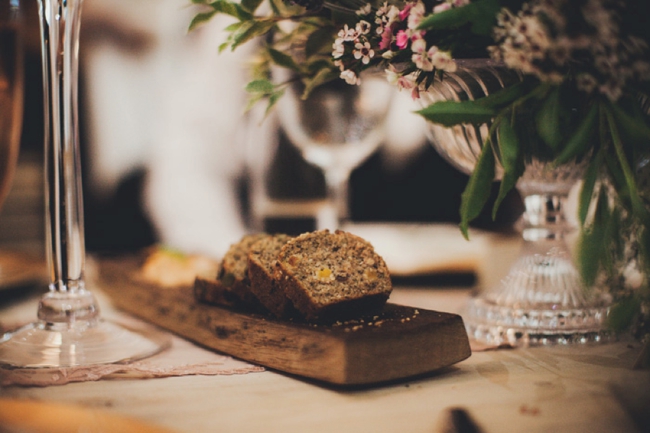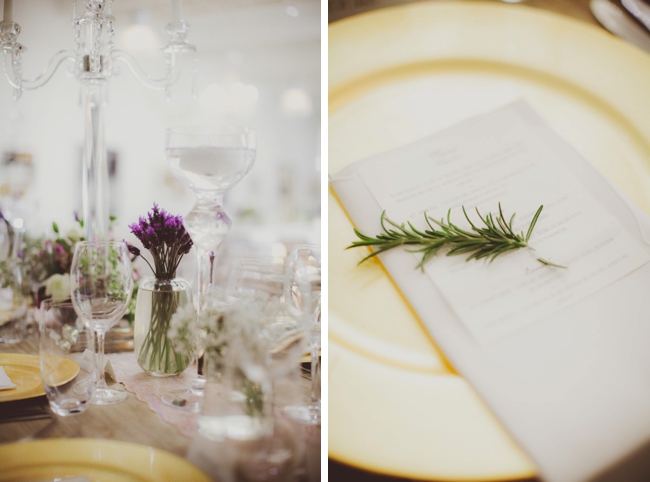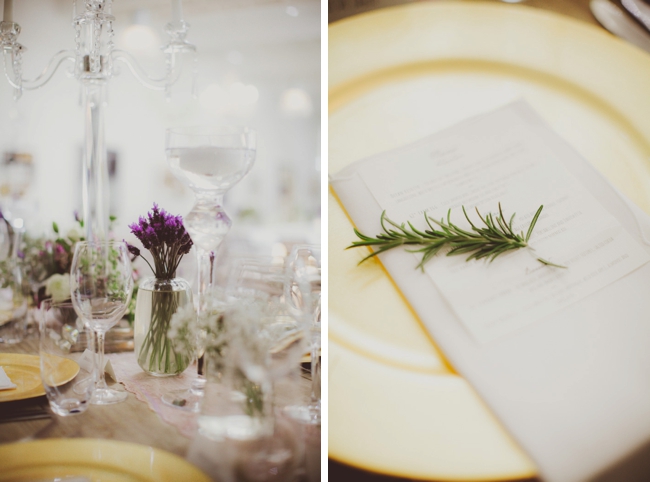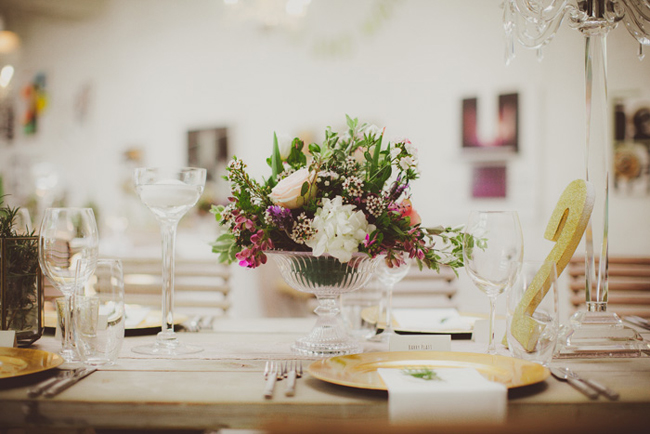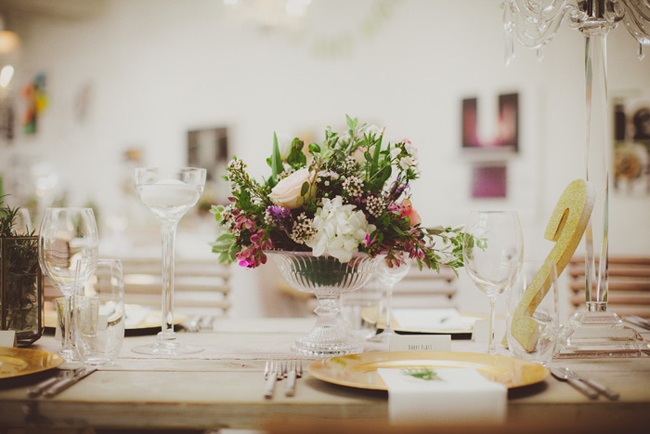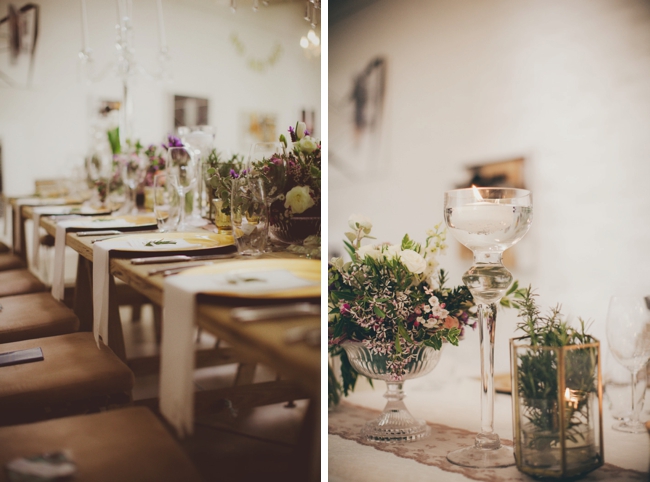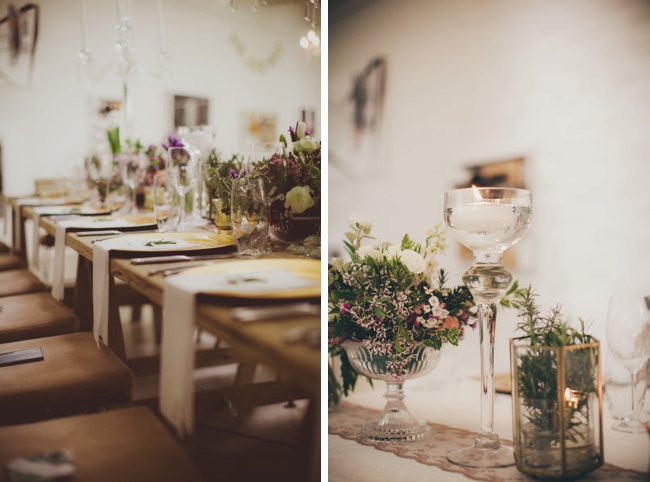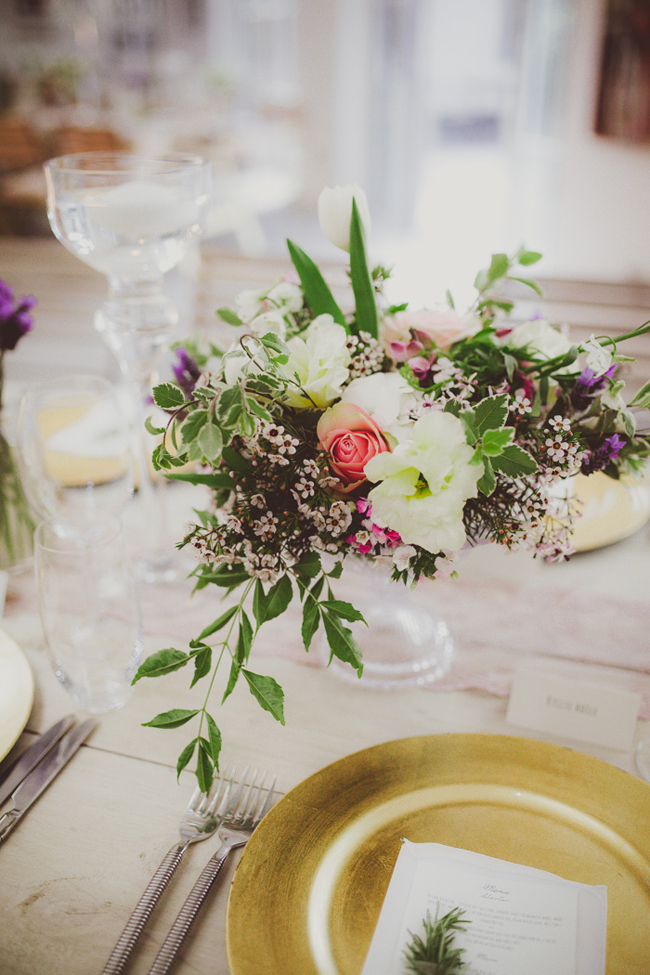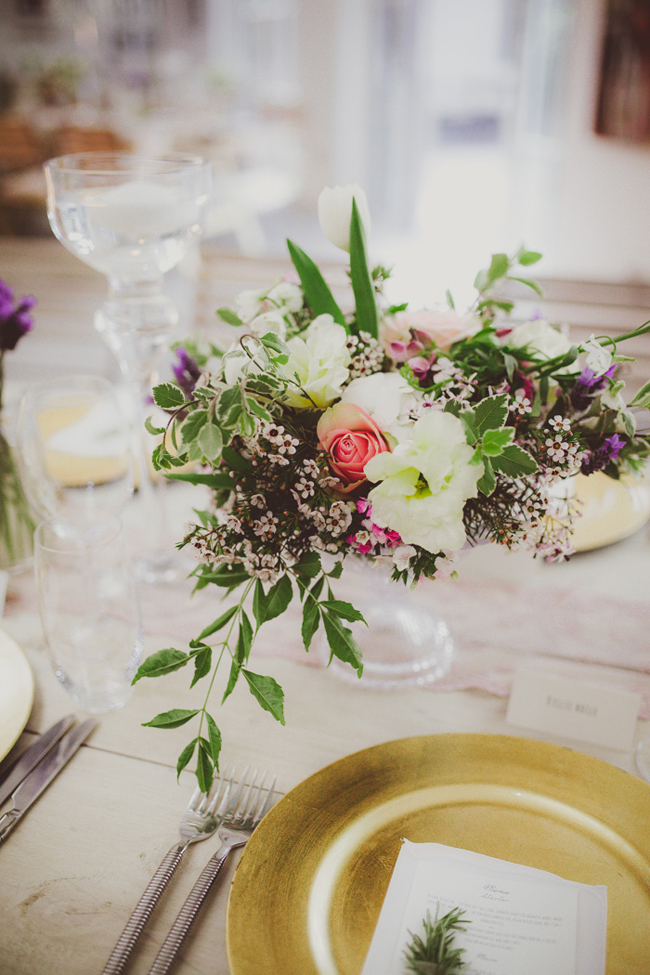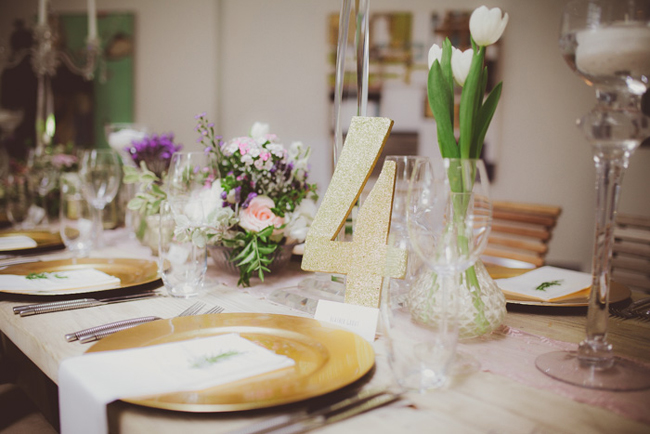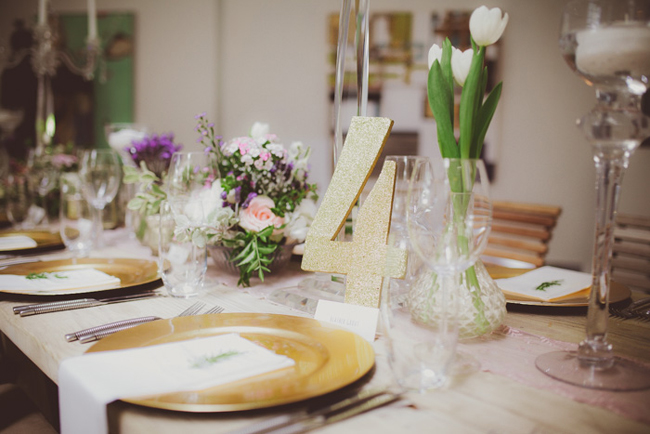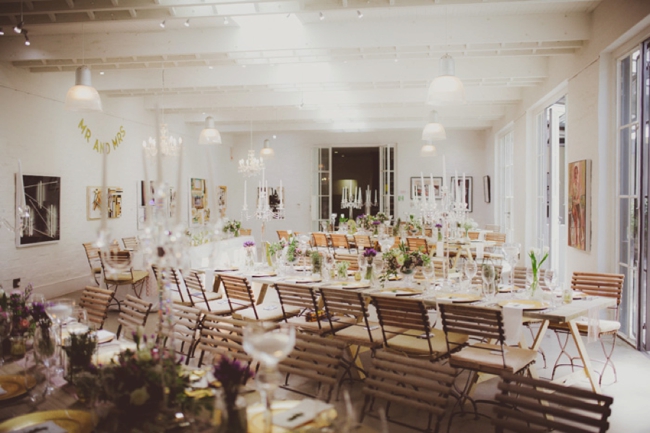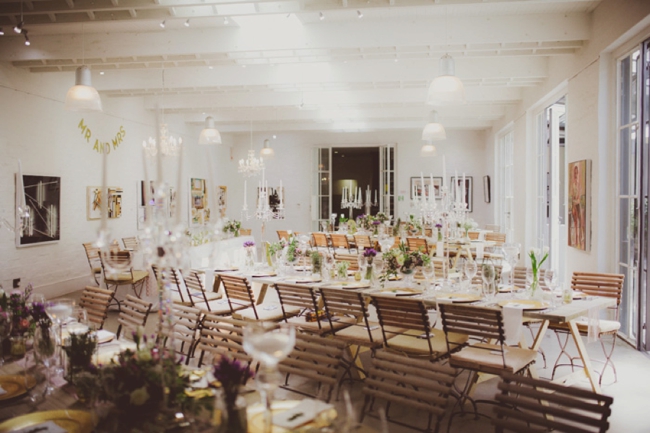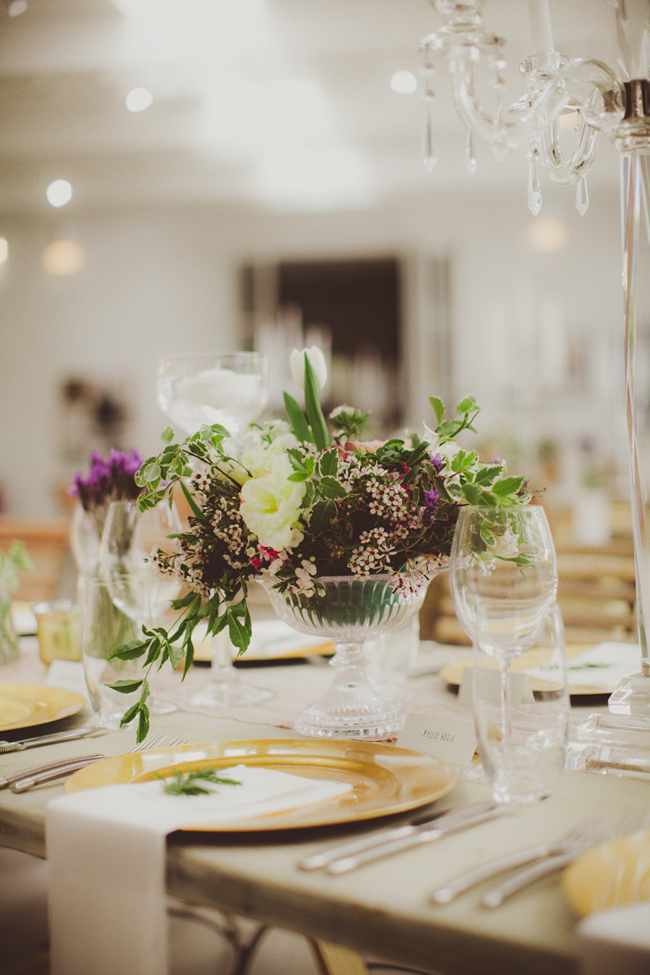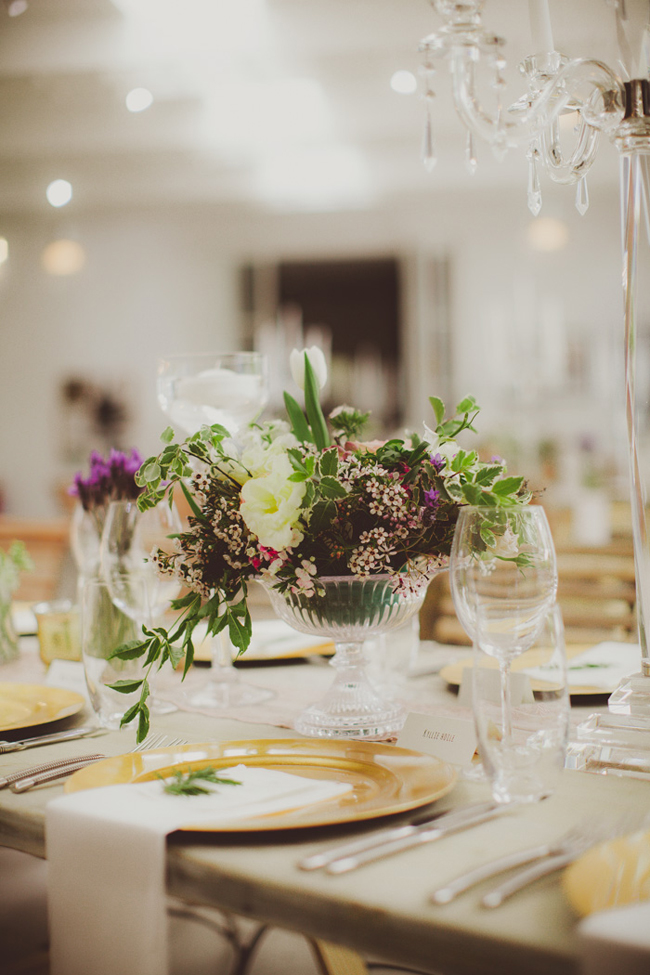 Memorable Moment
Looking at our guests and being so grateful for the journeys made to be with us on our special day. People flew from Australia, UK, Dubai, Qatar, Tanzania and Durban. I echo David's speech when he said that this may be the only time in our lives, that we have everyone dear to us in the same room, and it's truly amazing.
Proudly South African Details
We had gifts for all the ladies from Cape Côte, which were beautiful little coin purses, with designs from the San people and fabric made in South Africa, with 10% of profits donated to helping South African communities. Towards the end of the night, we busted out some African tunes and bridesmaid Emma dragged David's Scottish aunties to the dance floor, and all the waiters joined us for a truly sensational dance off, with the waiters putting us to shame. We also had midnight snacks of boerewors rolls to soak up some of the Graham Beck that had been guzzled all night.
We had some Scottish traditions as well: a bagpiper to welcome guests, 'tying the knot' with tartans from each of our families, and finished the night off with a Scottish dance to Loch Lomand by Runrig.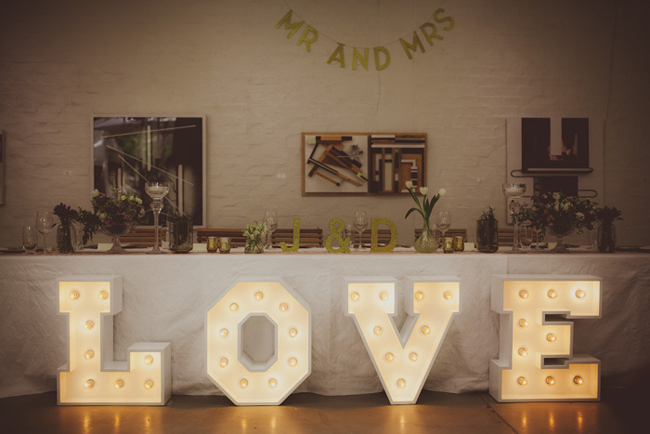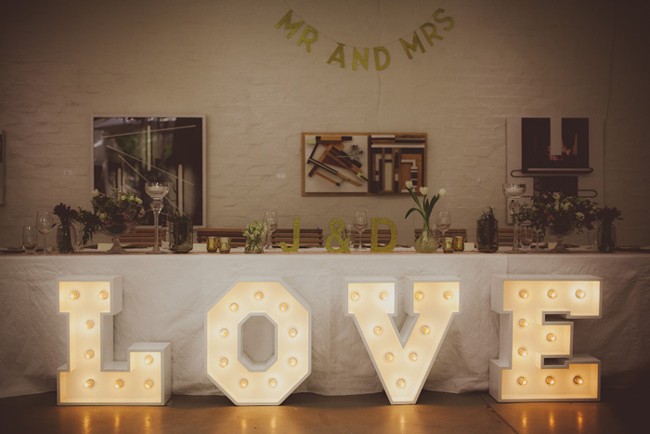 What was the best decision you made?
Choosing a venue that operates as a restaurant, hotel and wine farm, who were able to produce top notch food in larger amounts, had all the available beverages on hand, cleaned up and most of all, fed us the next morning with a beautiful breakfast spread. As well as being a naturally beautiful venue that didn't require a total transformation. It was expensive, but not having to do that all by ourselves took a huge load off.
Advice for Future Brides & Grooms
Excel spreadsheets will save your life; most of the hard work comes the week before; enjoy doing things yourself that are easy; keep it to close friends and family; and most importantly, remember, your wedding day isn't actually just about you and your partner, some of it will be about (whether you want it to or not) those people that have celebrated your relationship from day one, and supported you long before you were a duo. Let people know from the get go, that the week before your wedding will be go go go, and that you appreciate them, but may not be able to spend all your time with them, but if you can… schedule some one on one time with the most important people. Especially when planning from abroad, as this is magnified. One last piece of advice, which helped us, was to get as many payments as we could out of the way as we went. We paid in full for most of our suppliers, and some gave us discounts for doing so. That way you aren't totally stunned the day after your wedding when you get a big fat bill.
Jessica and David's gorgeous wedding video below is by Emdon Video.
You can see more from this wedding on Fiona Clair's blog.
SERVICE PROVIDERS
Venue & catering: Grande Provence Heritage Wine Estate | Photography: Fiona Clair Photography | Flowers & décor: Leipzig | Video: Emdon Video | Bride's dress: Marshmallow Bride | Bride's accessories: Kurt Geiger (shoes); Debenhams (hair piece) | Bride's hair & makeup: Brittany Jane Make Up and Hair (Nixon make up artist) | Bridesmaids' hair & makeup: Natasha Papadopoulos Makeup | Bridesmaids' dresses: Quiz | Hiring: In and Out SA (chandeliers); Styled Functions (candelabras); Quirky Parties (outdoor games & seating chart; Lights Love Cape Town (marquee lights) | Favours: Cape Côte | Wedding rings: Bruce Ackerman, African Touch Franschhoek | Shuttle Service: Shuttle Up | Bagpiper: Terrance