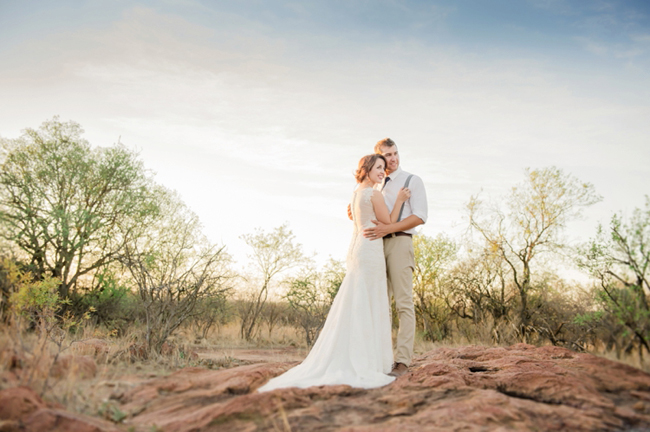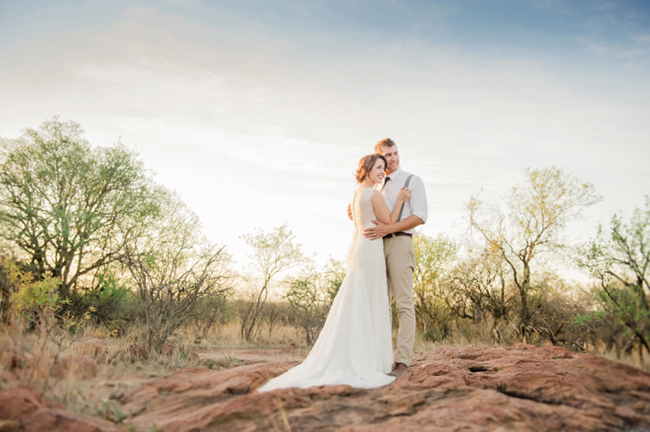 I think we all know by now that the South African bushveld is my happy place – everything about it makes me calm and joyful, and grateful for this beautiful country I get to call home. So safari-style weddings are kind of my wedding happy place too, especially when they're pulled together as beautifully as this one! Chris-Marie and Heinrich chose to marry on the family farm near Pretoria and literally built their venue in the middle of the bush from scratch – laying the floors, making the tables, digging up the aloes that they used as decorations. A little oasis of wedding elegance in the middle of nature – and that's just what their wedding reflects: natural, earthy goodness. There are so many details here to love – the hanging wreaths of greenery, the little stations built to make guests more comfortable (or well-watered) along the way, right down the bridesmaids unique (and gorgeous) skirt and top combos. And as if I couldn't love it all more already, there's a dash of copper glam to complement all those beautiful neutrals in the palette. Rianka's Wedding Photography took these gorgeous pics – and there's a bumper lot of them today! Too many pretty details to narrow down – and why would I? Like I say. Happy place.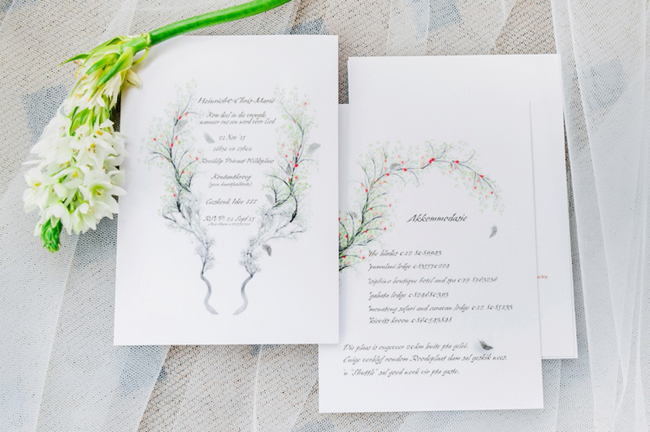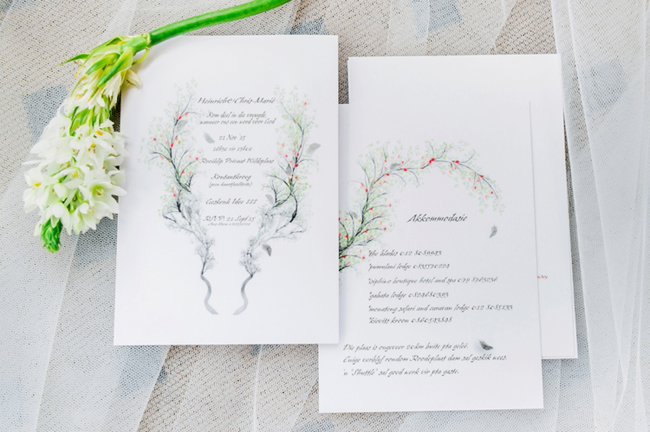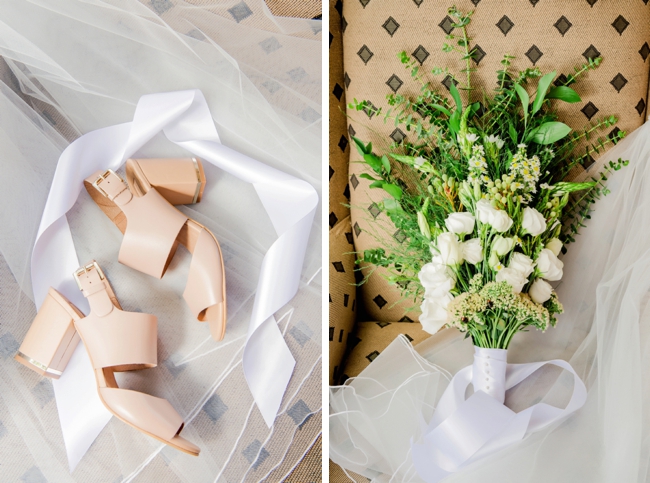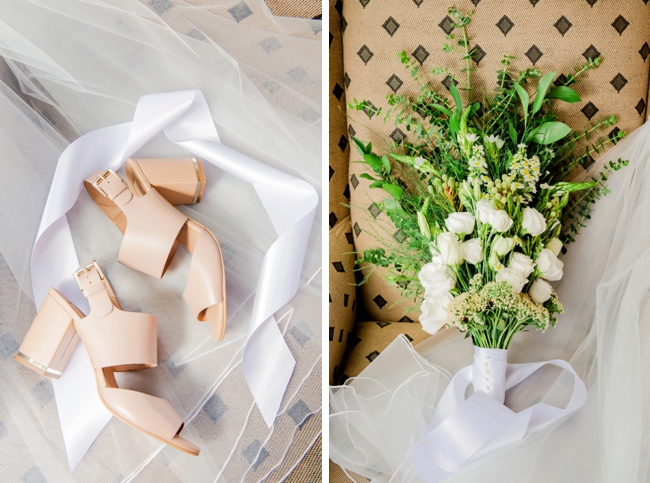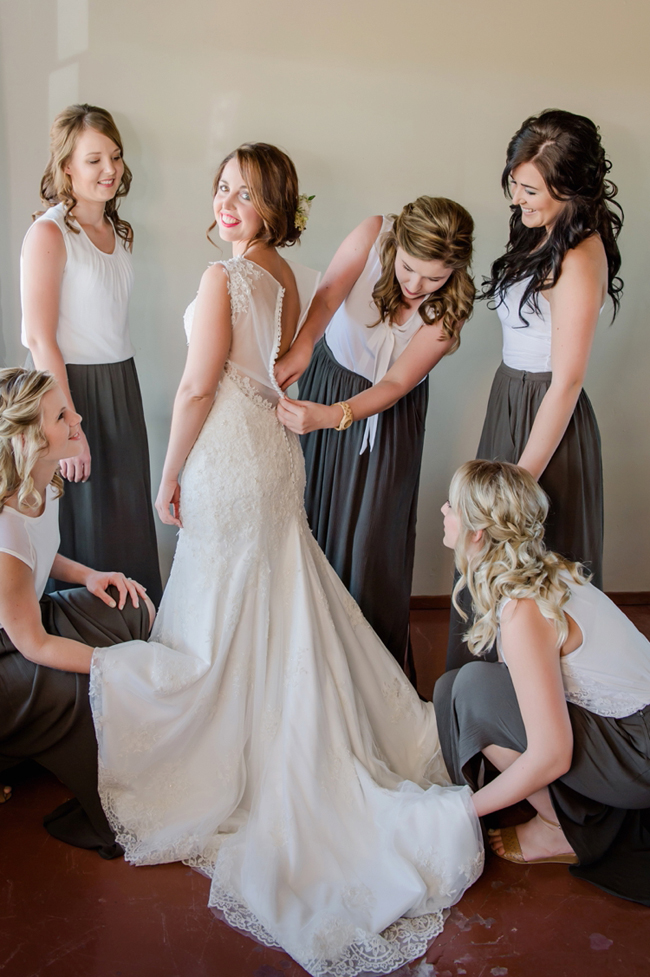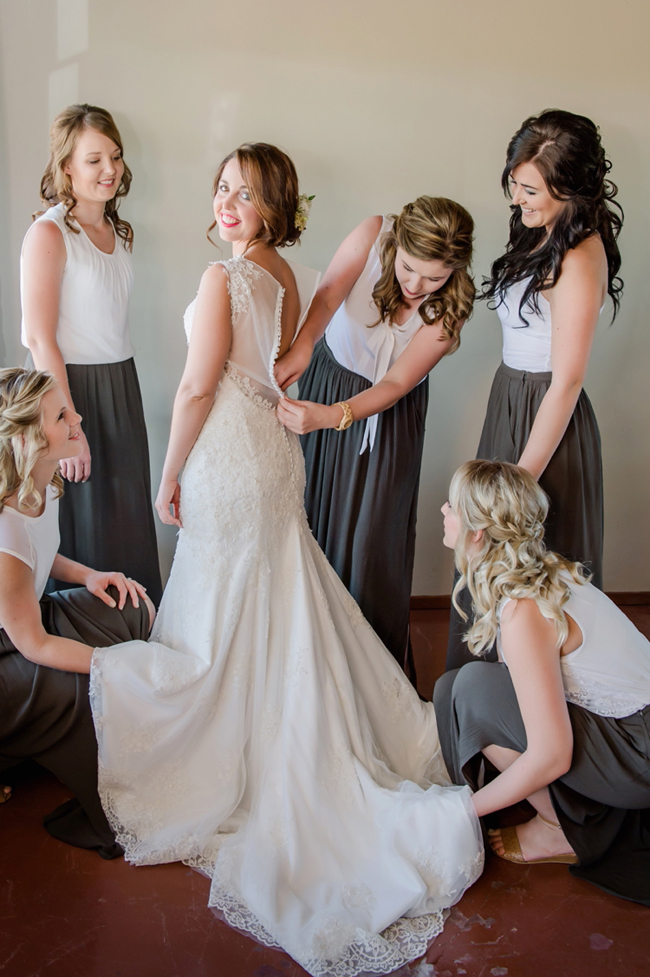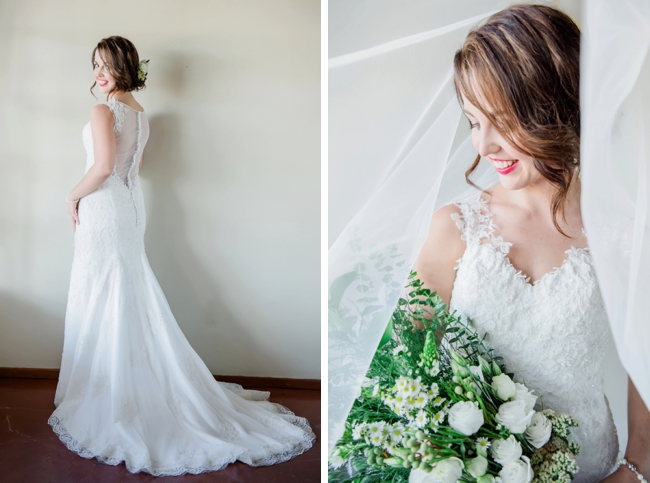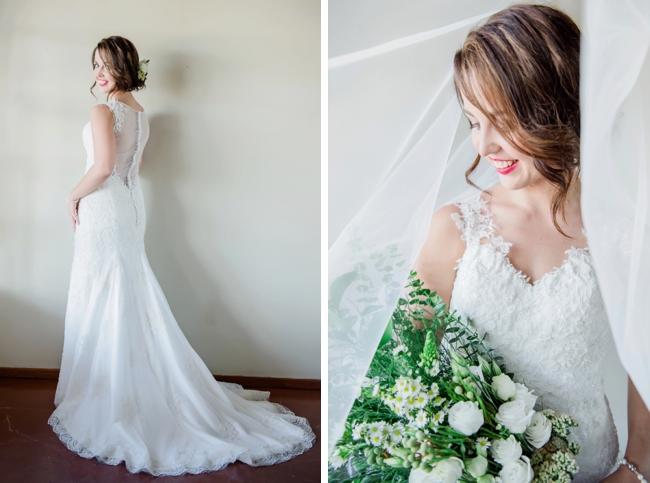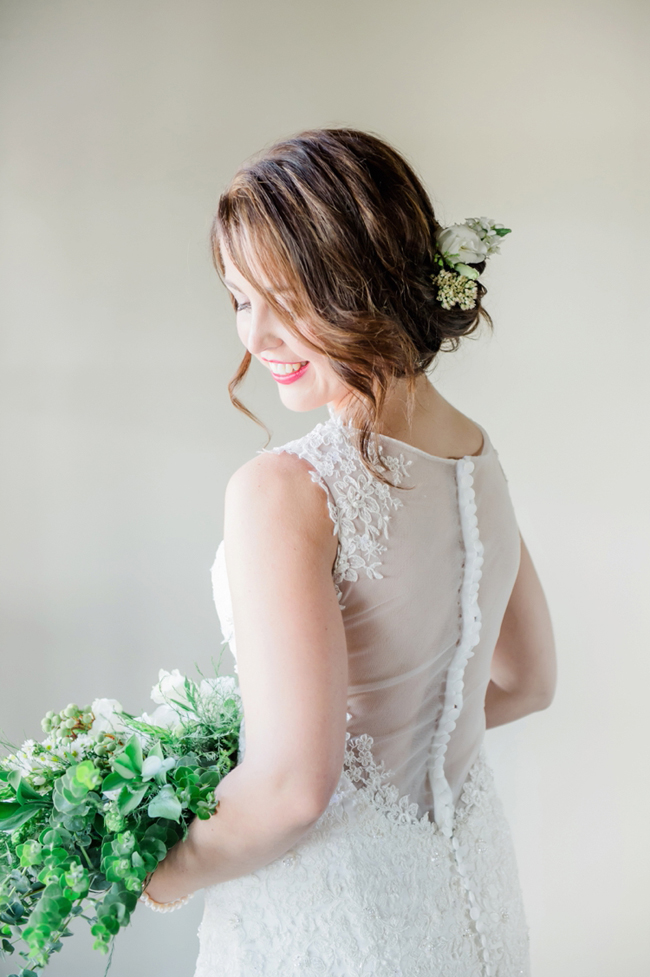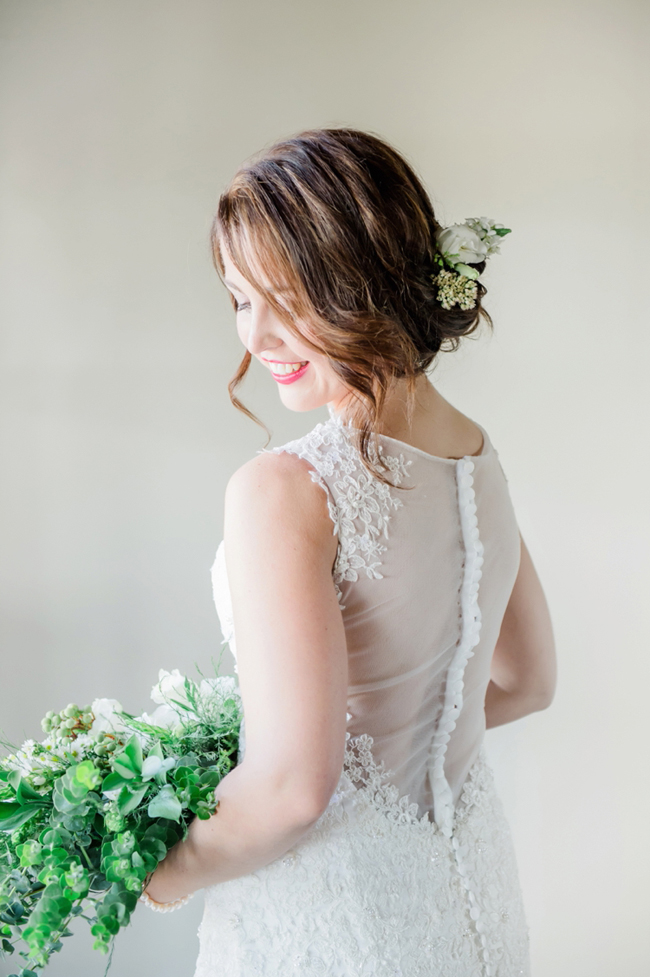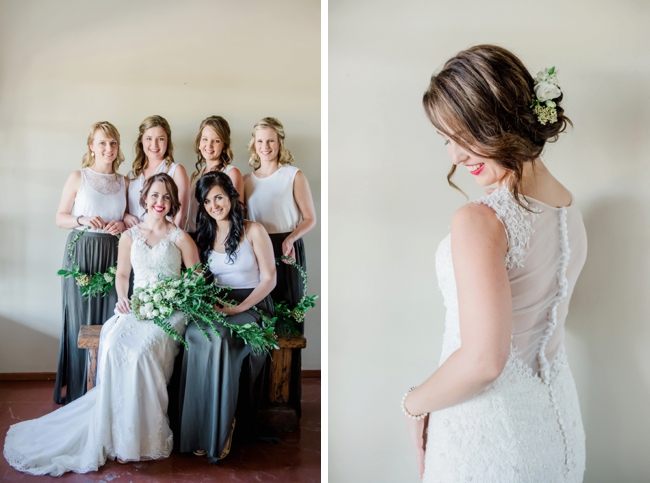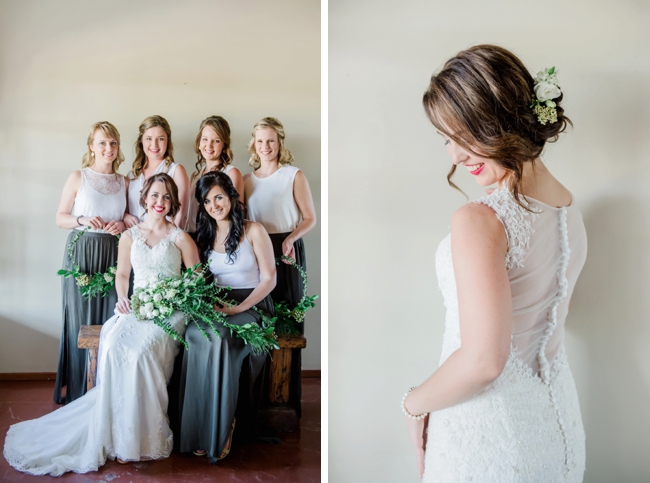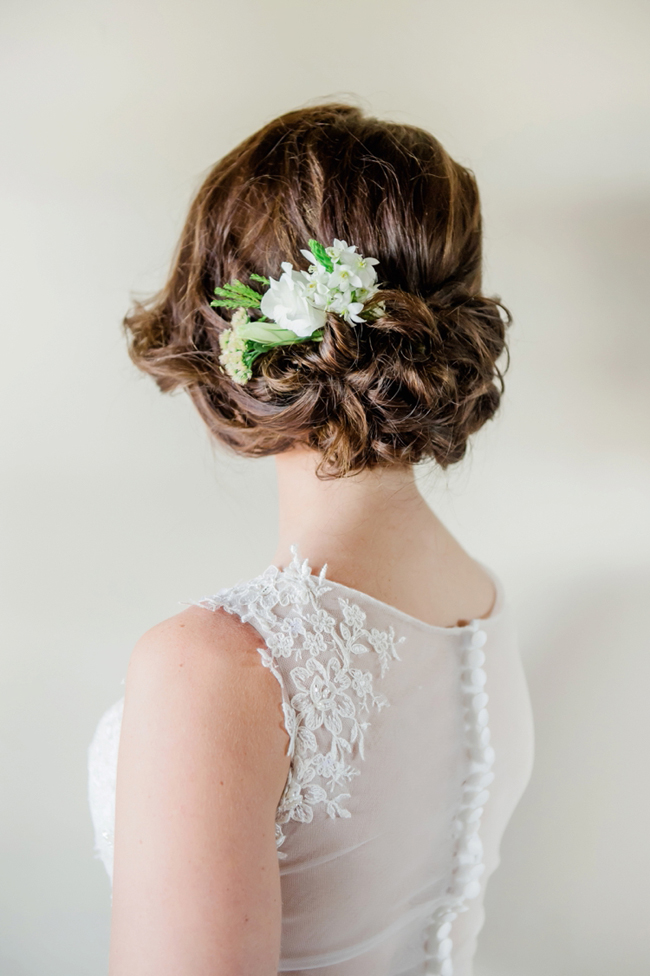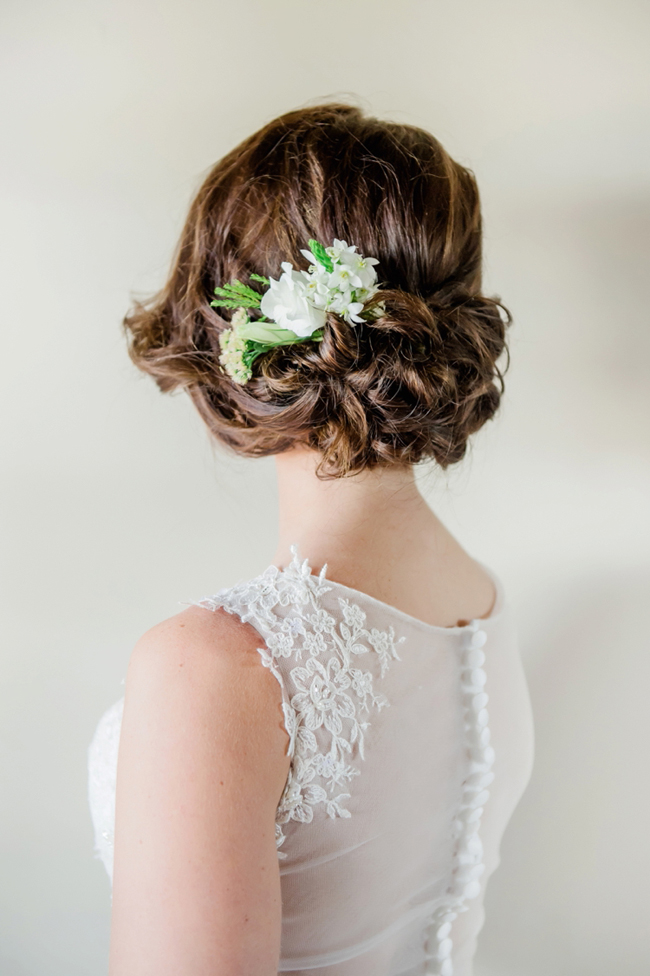 Love Story
We actually went to primary school together. We never dated while in school and we went to separate high schools but still saw each other every now and again. I can't remember exactly how it actually happened but thanks to old school 'mxit' we fell in love over hundreds of messages during our first year out of high school. He moved to Rustenburg and I was still at TUKS so we did long distance for seven years before getting married.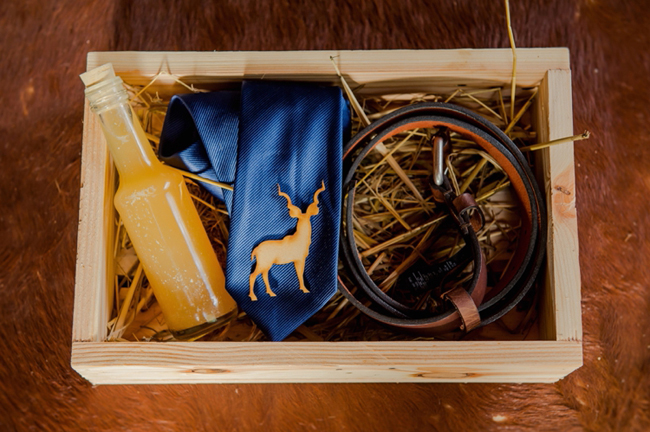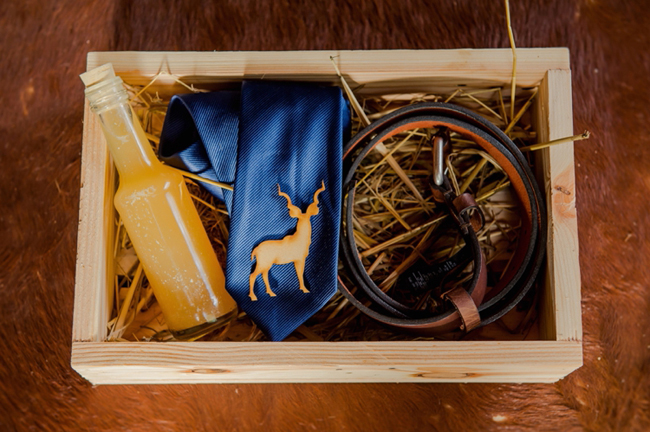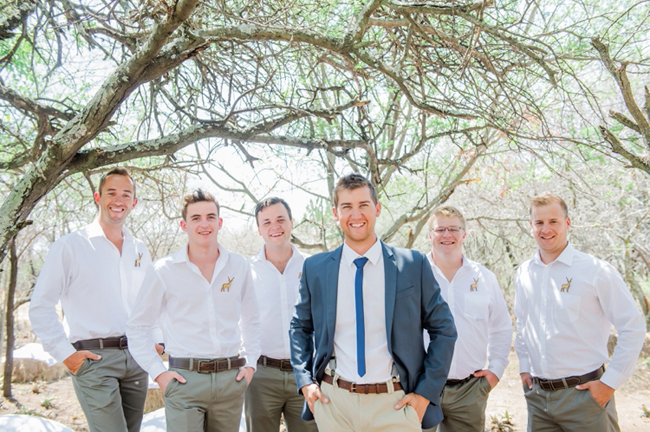 The Proposal
We love the outdoors and being active so what better way to propose than WHILE mountain biking :) It was actually really funny… the terrain was really difficult and at that stage I had already fallen twice so when I heard Heinrich struggling just behind me I made a snotty comment about him dragging me out there and that I won't help him. As I reluctantly looked over my shoulder he was on the bicycle again with a big smile and a box with a shiny diamond ring. Apparently he had a perfect spot where he planned to rest and then propose but he never found the spot while we were riding so he decided the next best thing was to propose on an uphill while on the bicycles.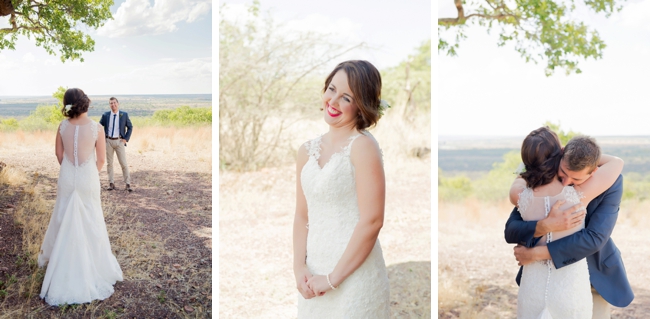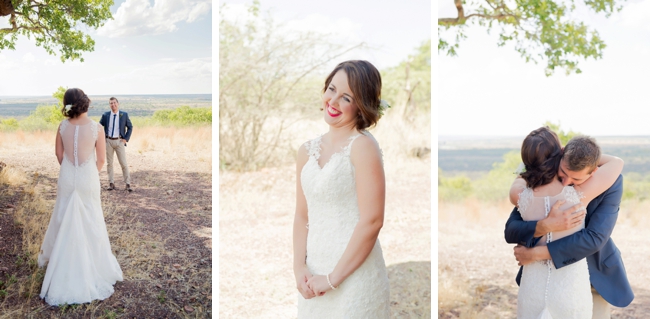 The Venue
We always wanted to get married on our farm.We initially planned to get married on our farm in Mpumulanga but after a month of planning we realised that it was going to be logistically too difficult. We then changed course and province to the farm just outside Pretoria. It was the perfect bushveld setting, which we both love so much.
Wedding Style
Natural, earthy, fresh… We wanted it to be very relaxed and resemble a typical 'plaaskuier'. I wanted the bushveld to be the main focus and to keep it very simple. White and green everywhere with a touch of copper. We didn't have wineglasses but 'blikbekers' and the food was served family style… we wanted it to be as informal as possible.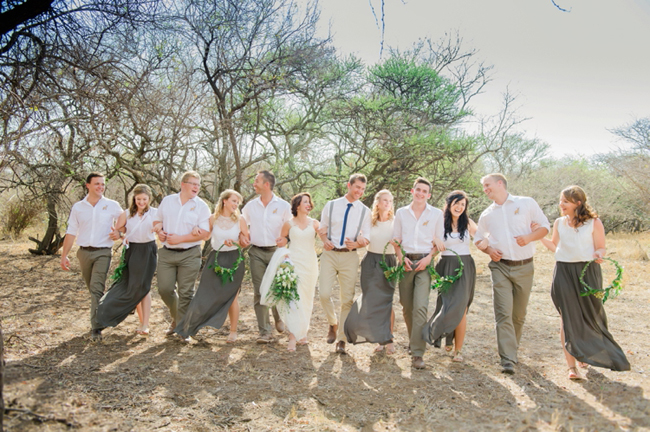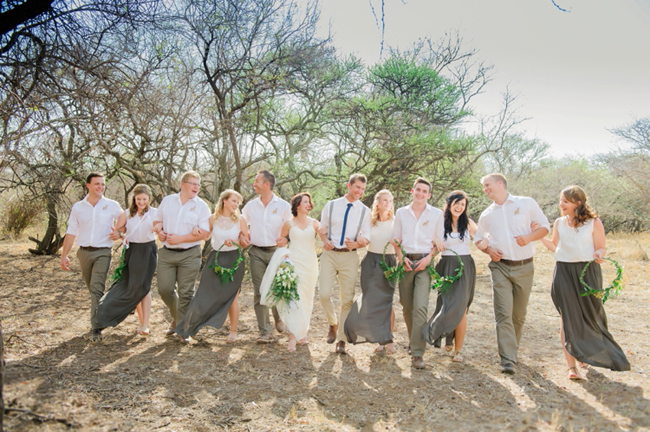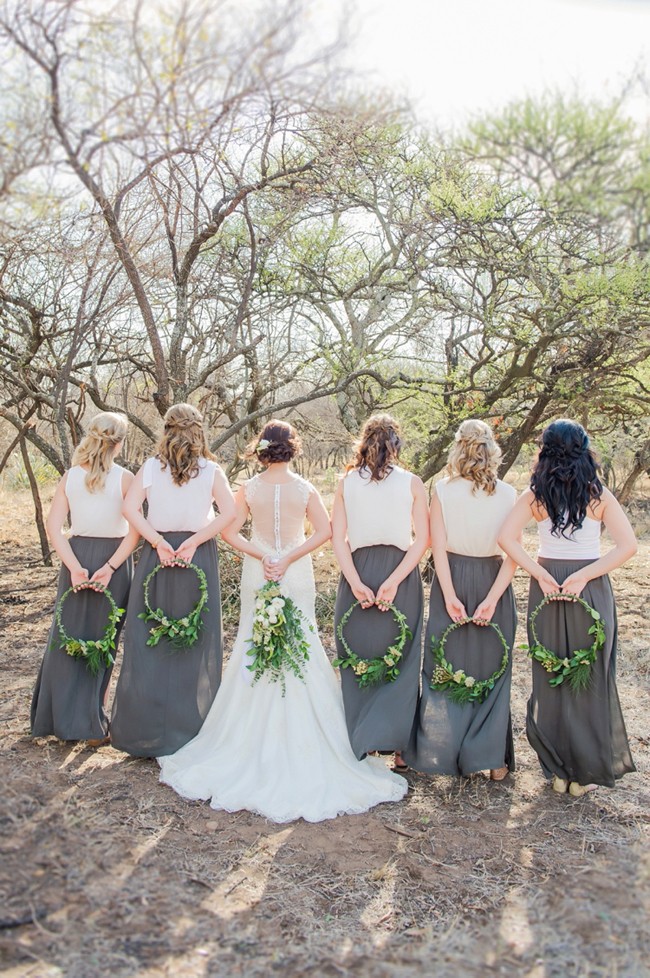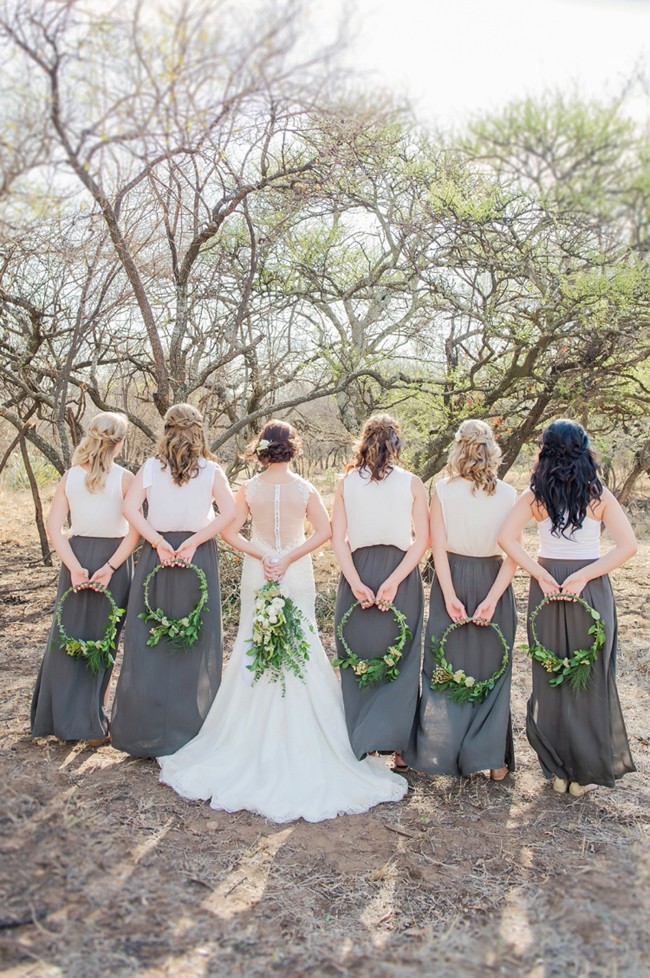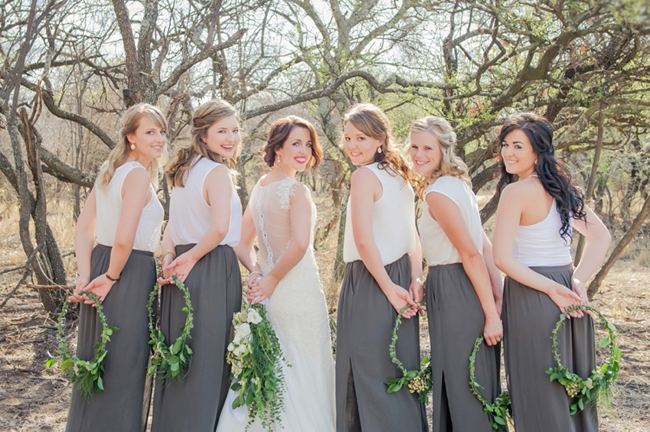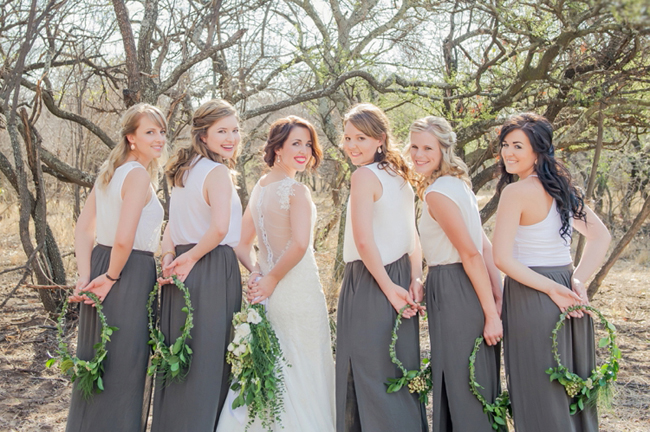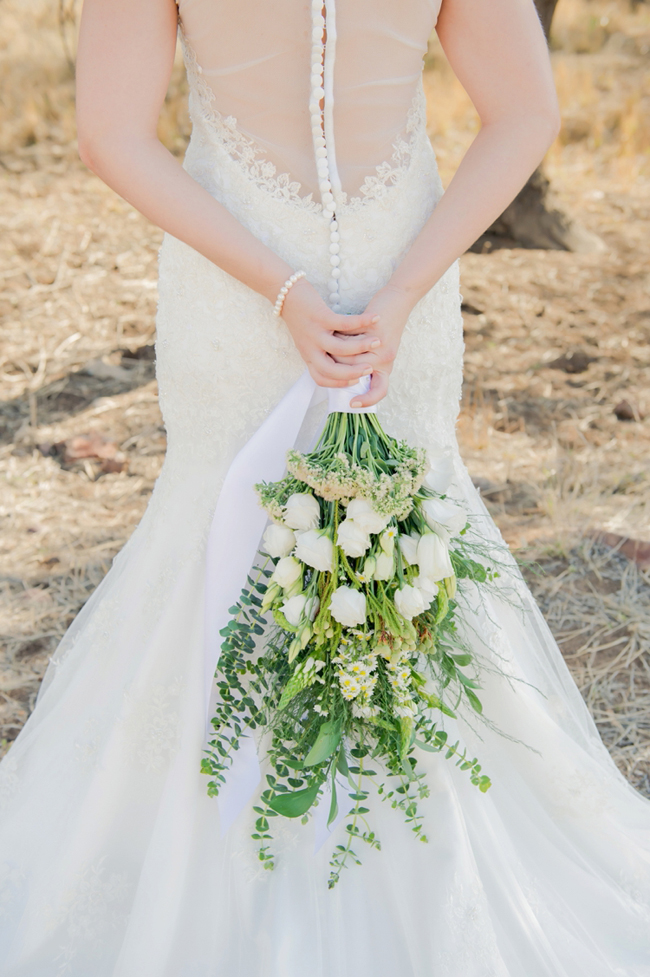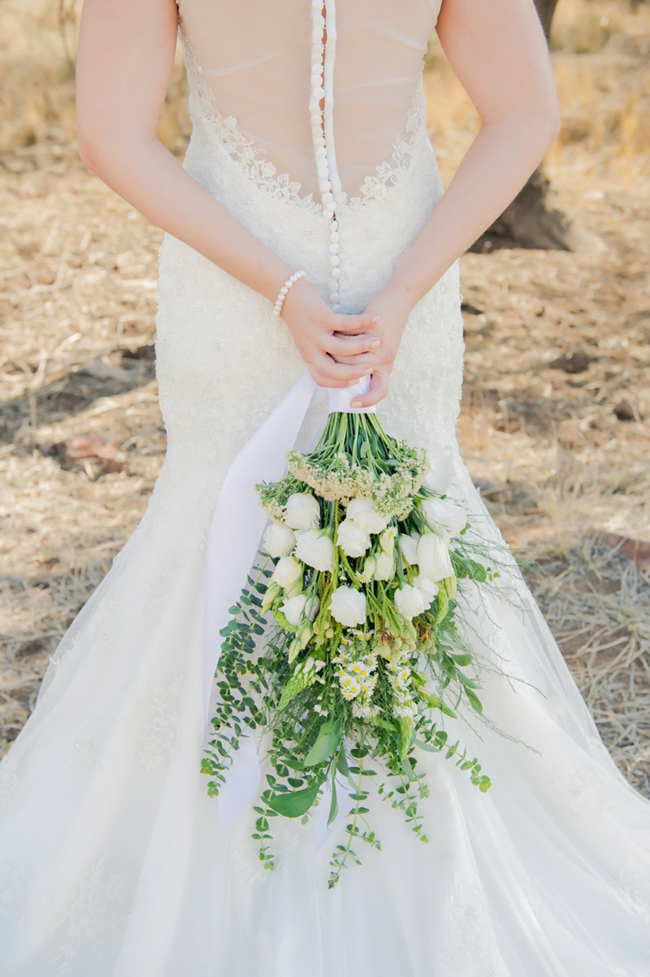 DIY Elements
99.9 % of our wedding was DIY – although it was hard work, I enjoyed weekends on the farm preparing, and my husband and I really bonded! The tables are probably the most special detail, as they were made out of old Oregon pine floorplanks – we now use our wedding table as a dining table! We also did everything from the copper candle holders to laying the concrete floor in the middle of the bush. Thanks to my very handy husband and dad, who cleaned out an area in the middle of the veld, created new walking paths, and planted a small piece of lawn. We built tables, a bar, a bathroom area, signs, and various other decor elements. We really could not have done it without our family's help.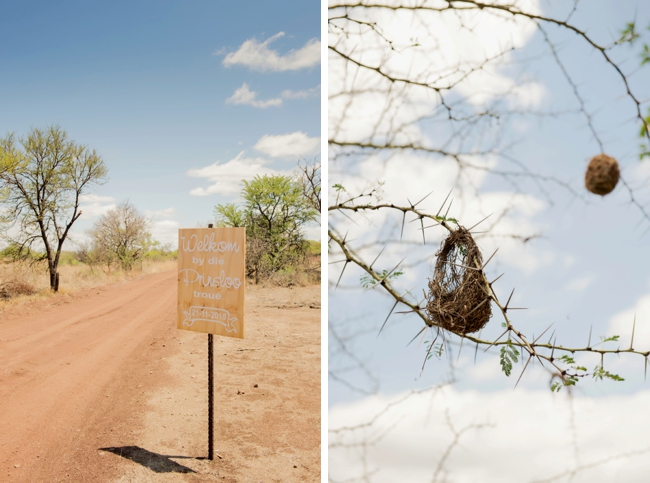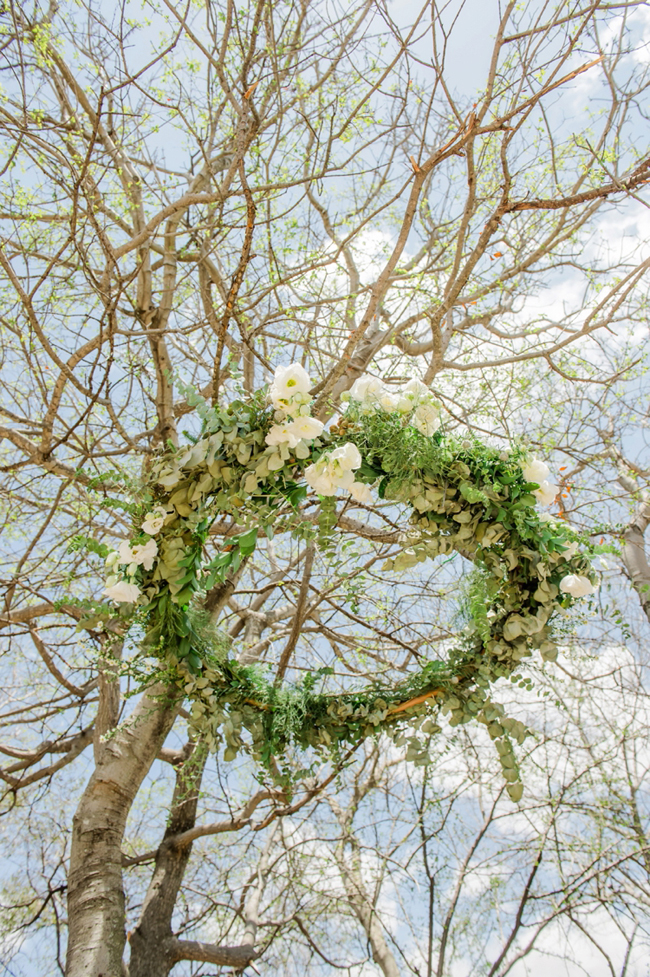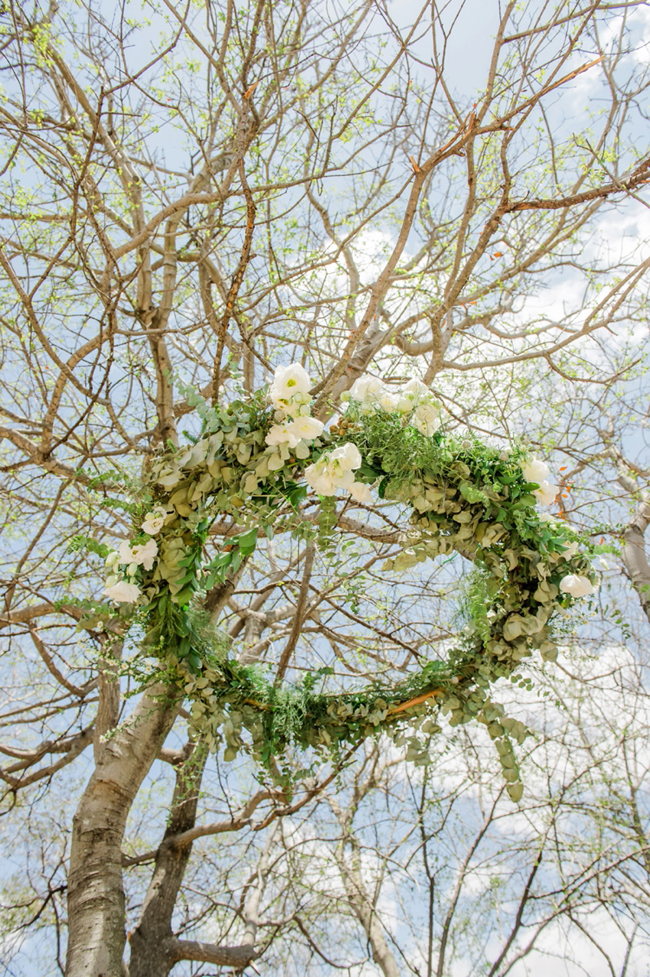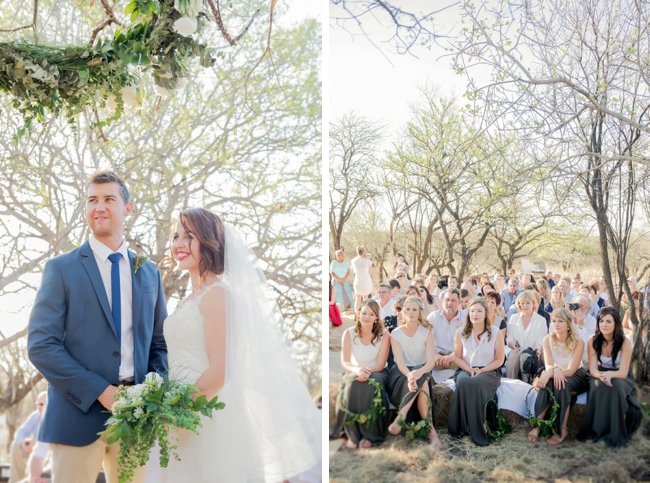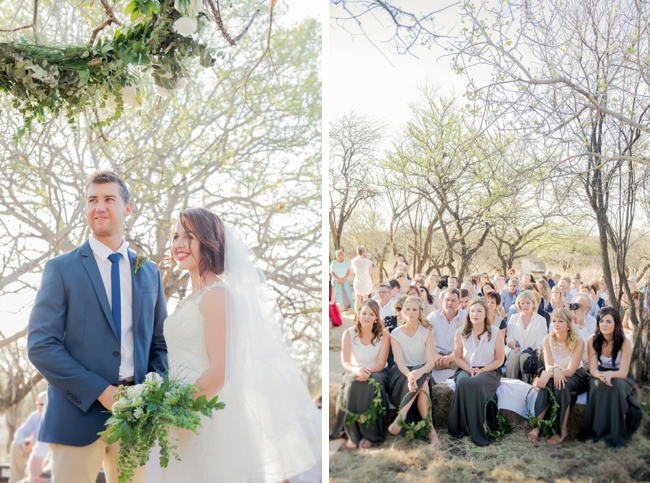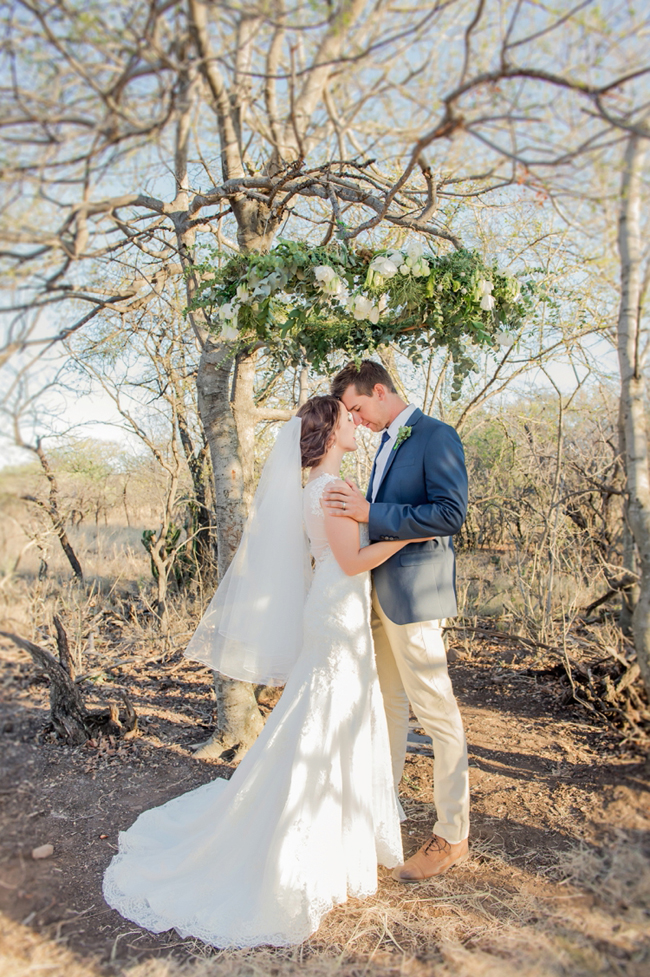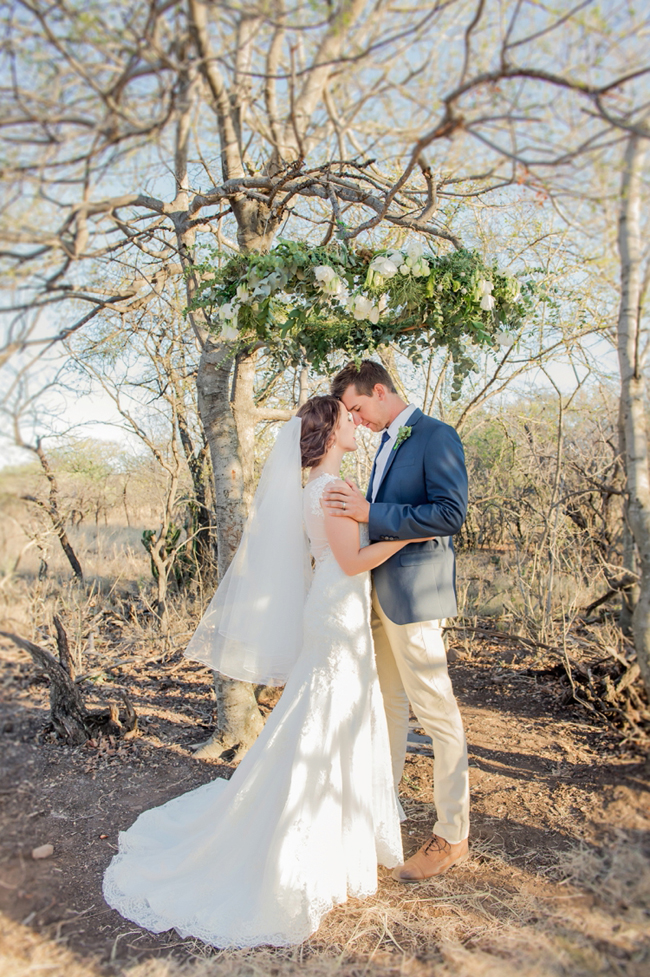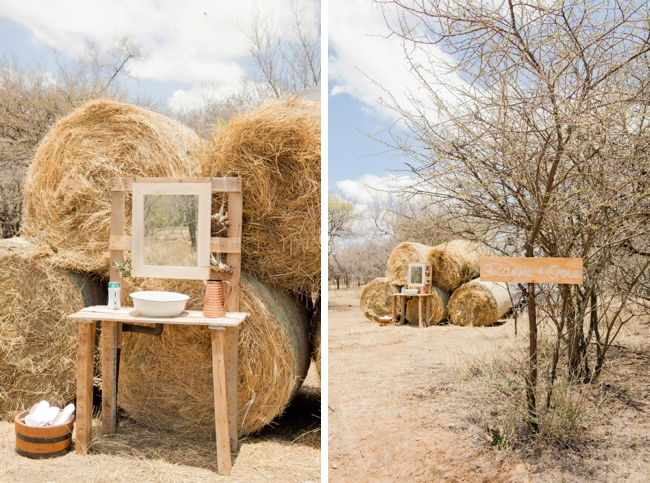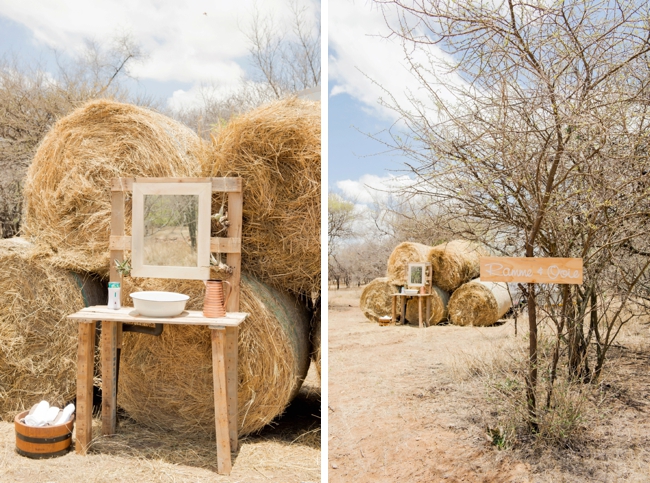 The Dress
My mom lives in George and because it was really important for her to be part of the wedding planning, especially the dress, my first fitting was with her in George. I fell in love with a very simple lace dress but wanted to change some elements. I then had a similar dress made in Pretoria. My favourite part of the dress was the pretty back.
The Bridesmaids
I had five bridesmaids and the day would not have been the same without them. Again very natural. I knew from the start I wanted maxi skirts with white tops… we decided to mix it up with different tops. And of course copper coloured accessories.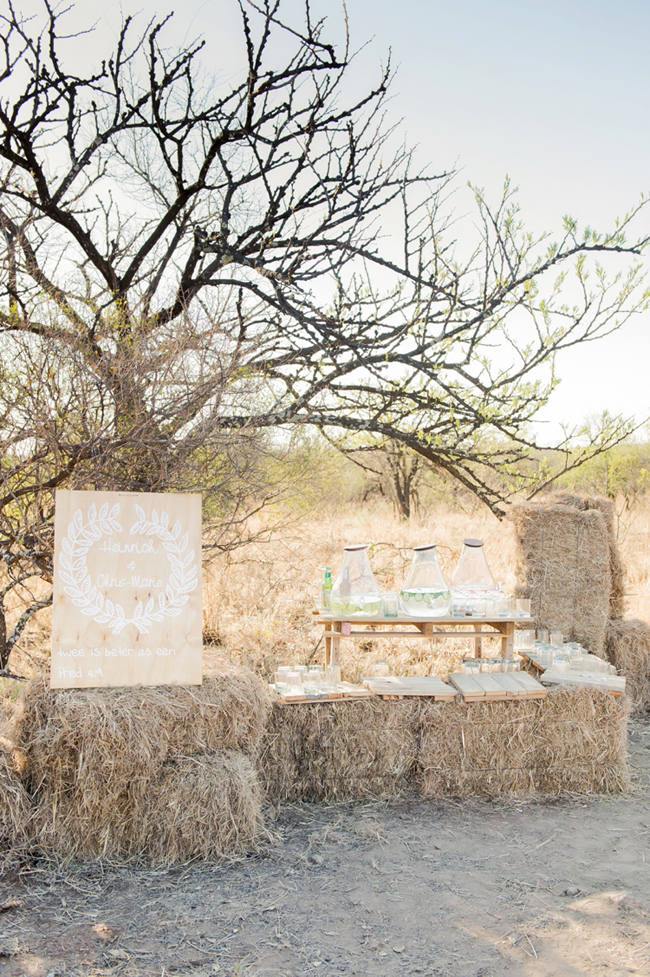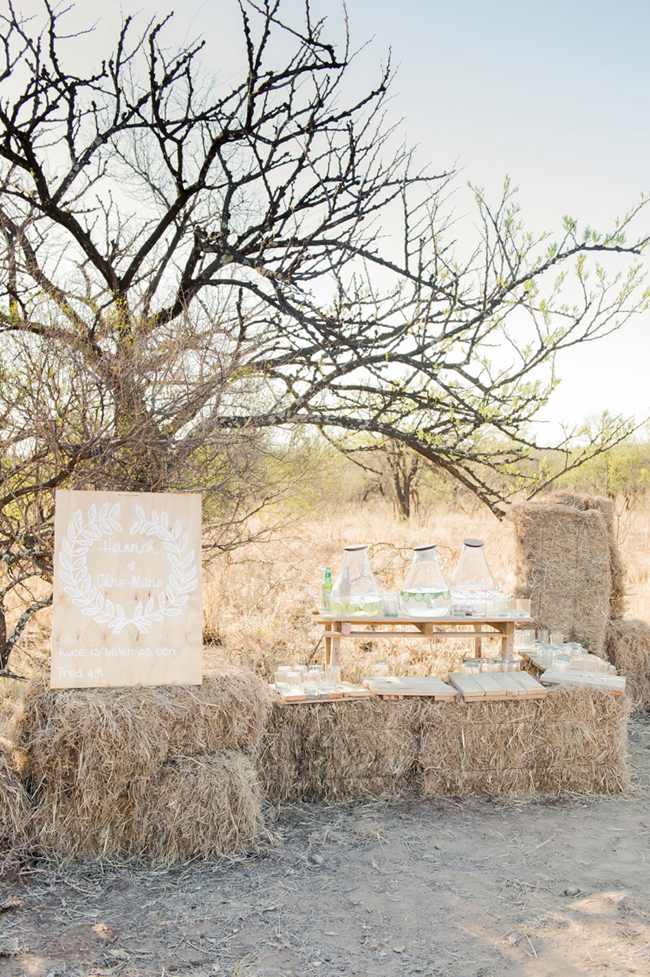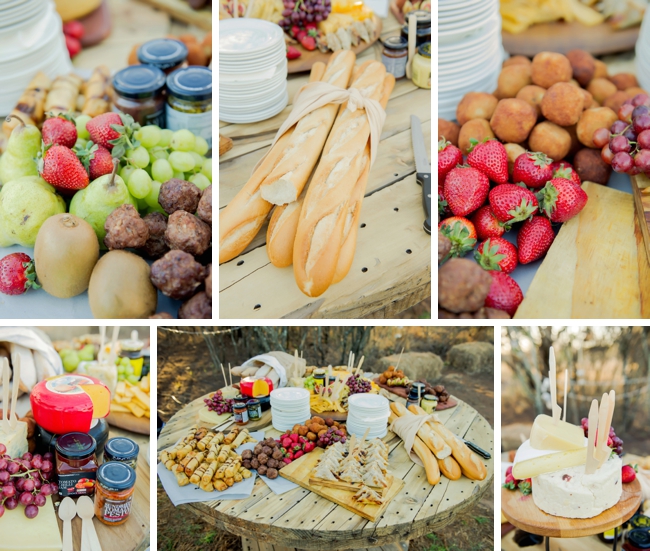 The Flowers
We used aloes from the farm. We literally dug them out of the ground on the Friday before the wedding. My maid of honour and bridesmaid helped to just add some fresh white and greens to the bridal table and my bouquet. We made halos with wild olive branches for the roof of the tent and also a very spectacular halo for the ceremony. My confetti was bougainvillea which I picked months before the wedding, also on the farm.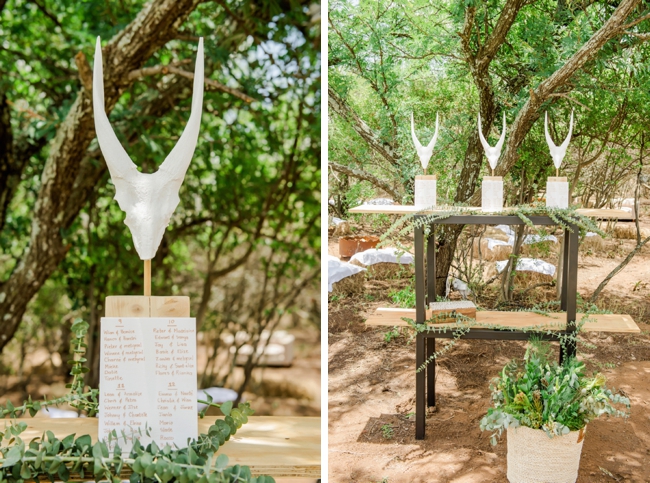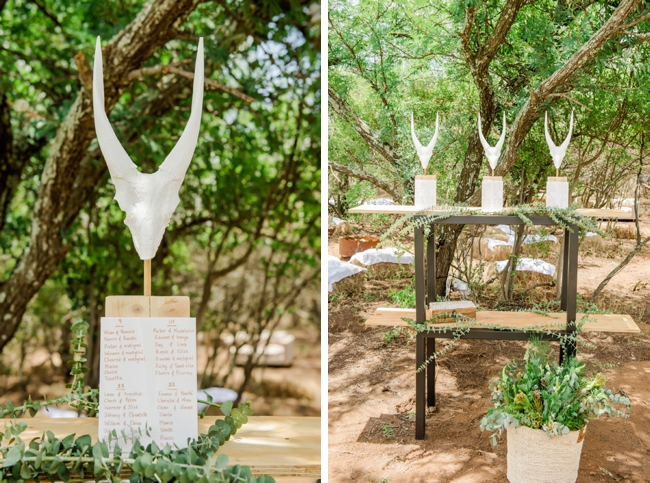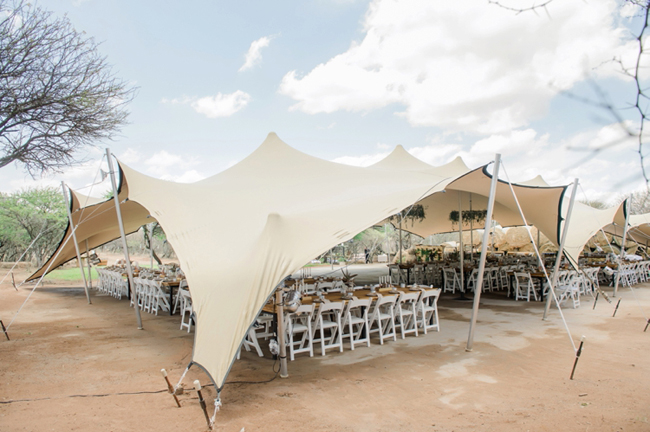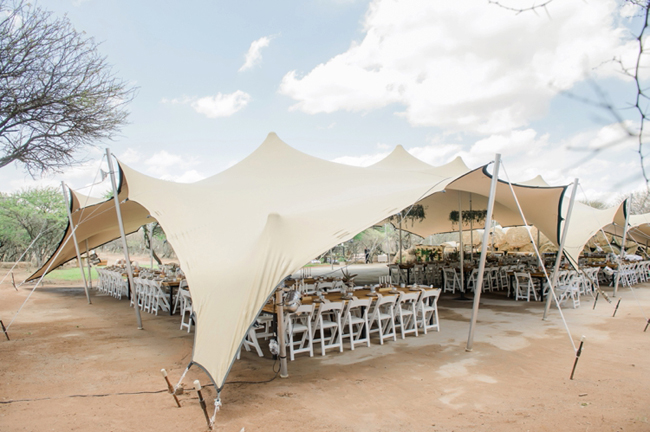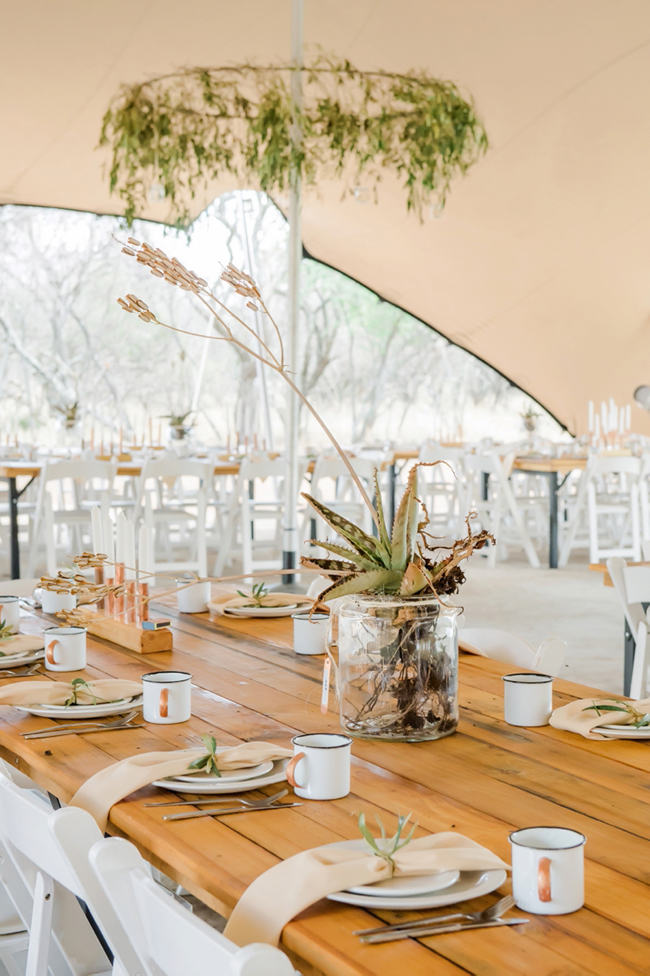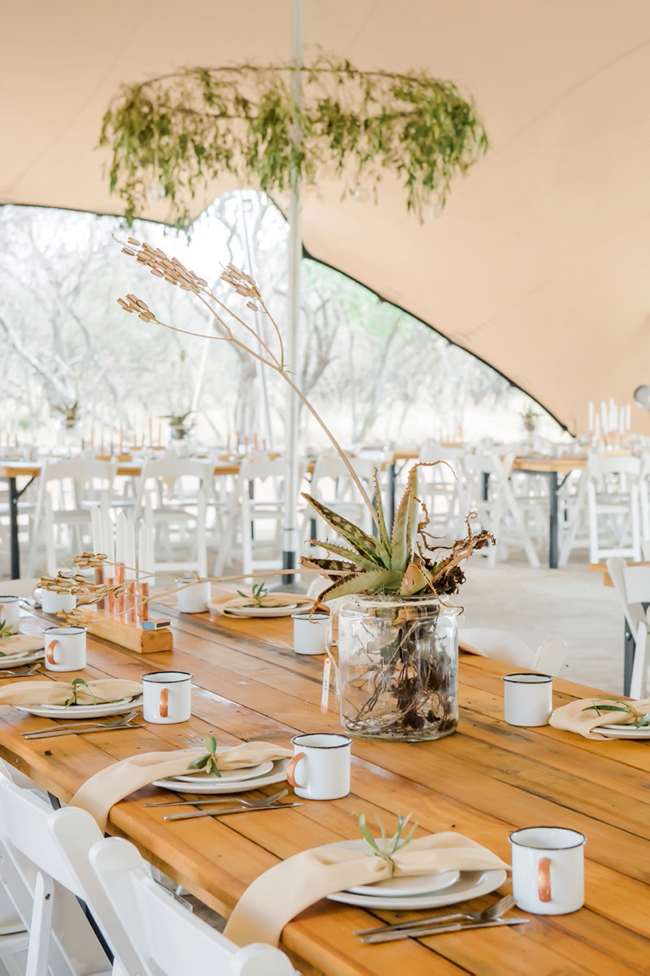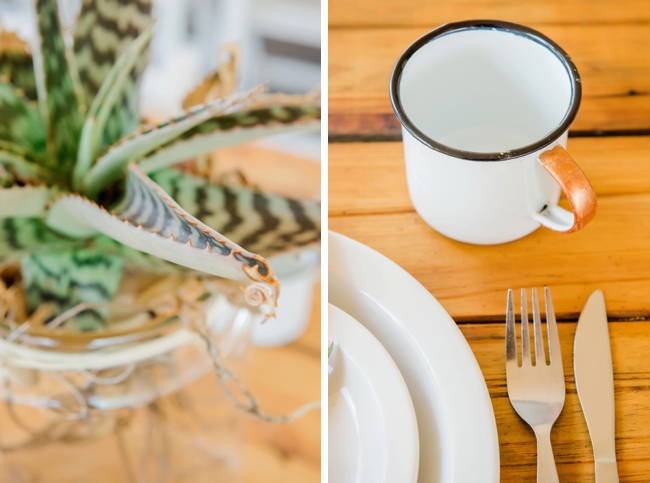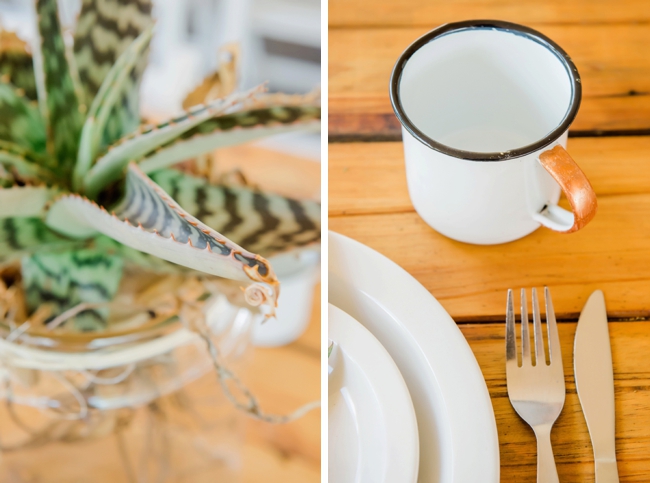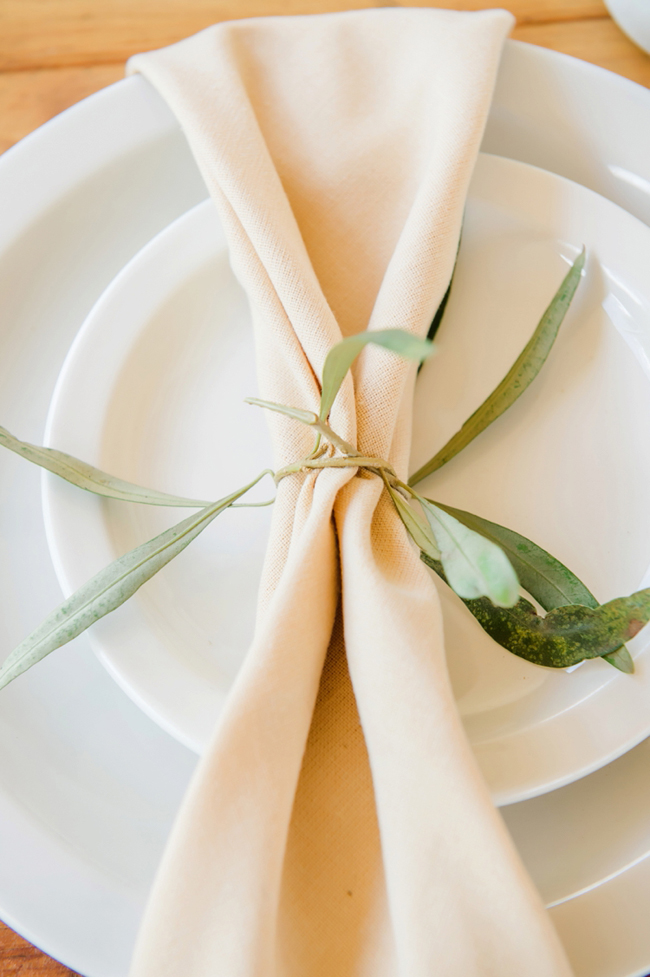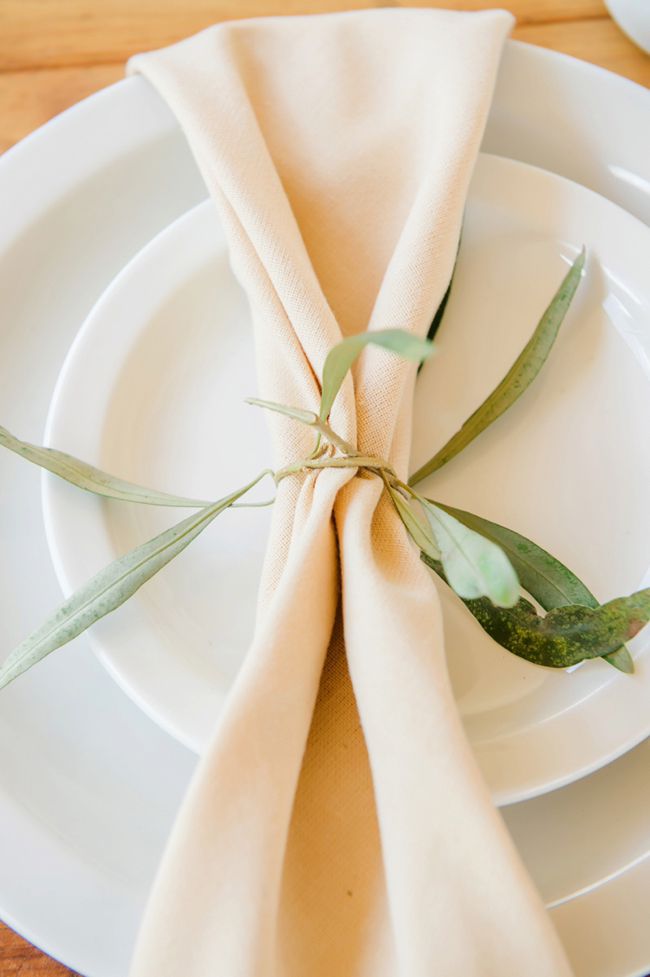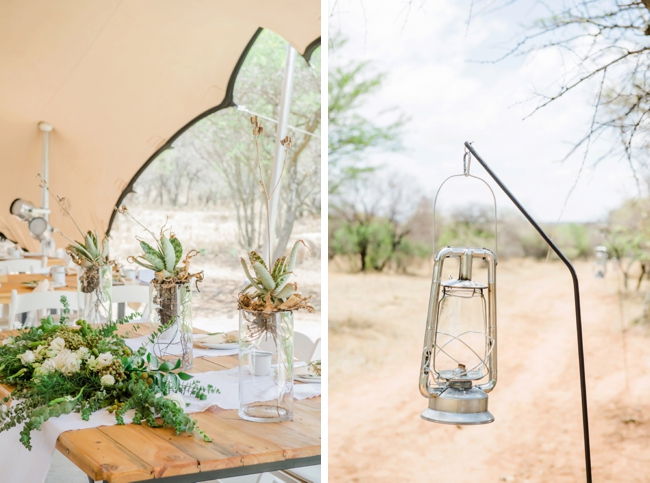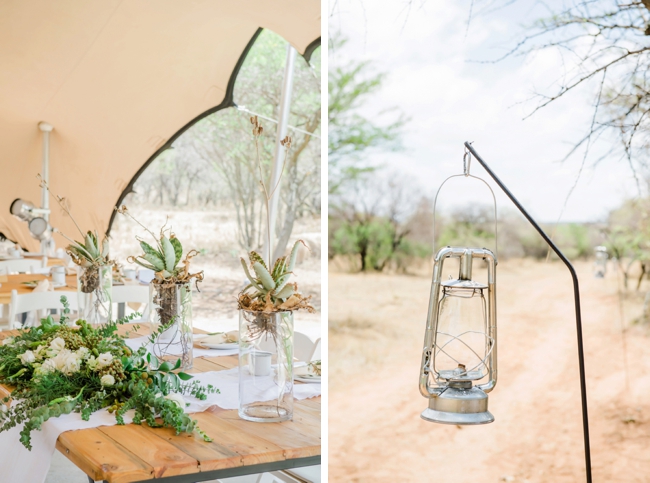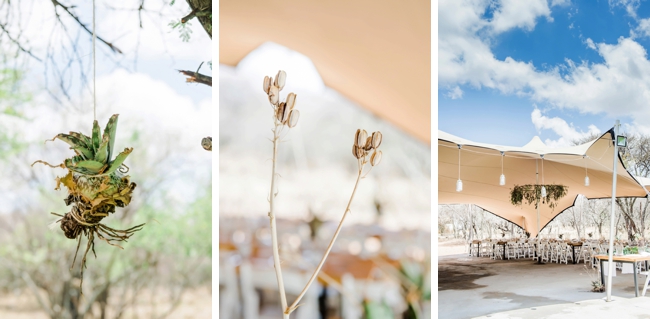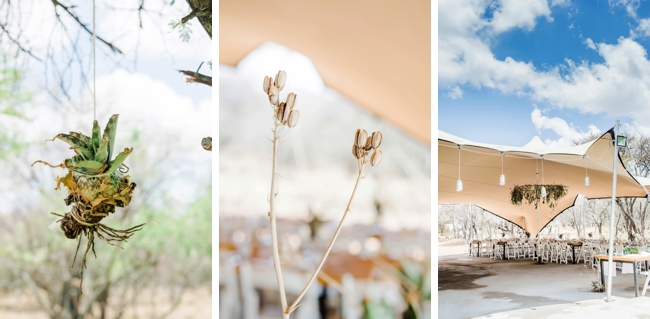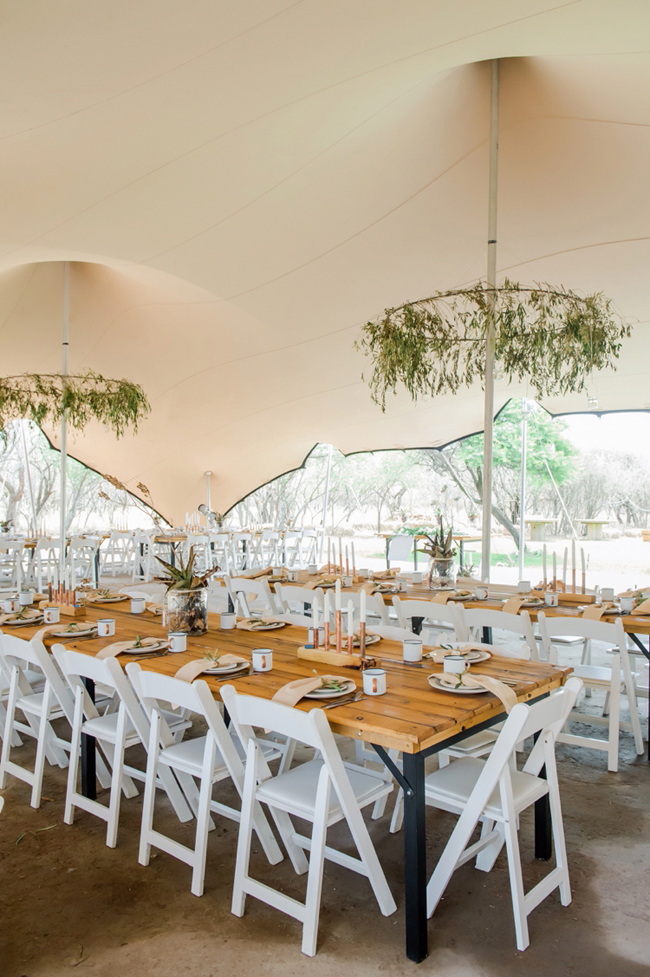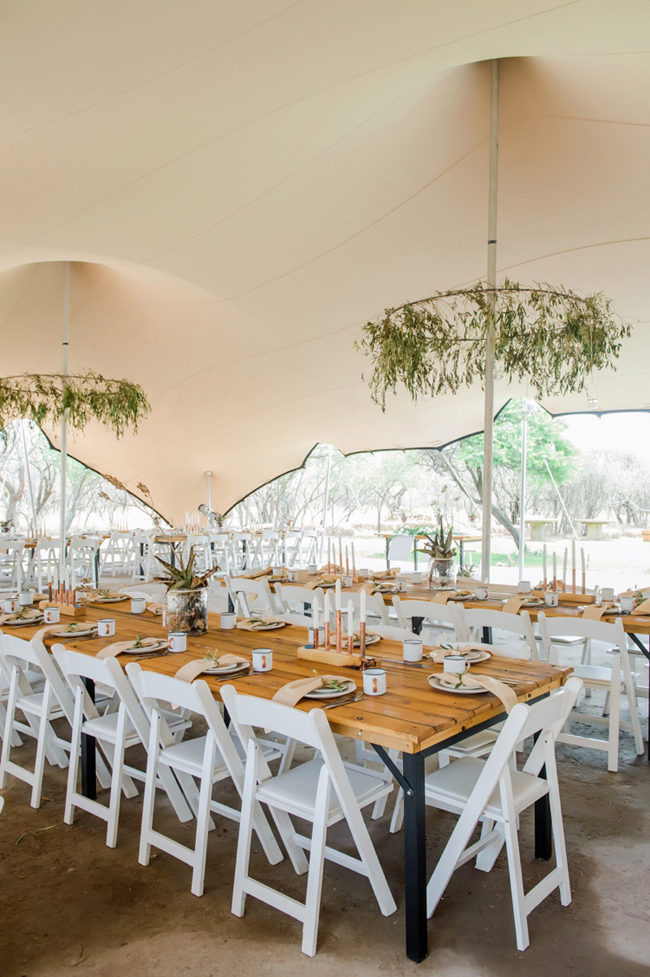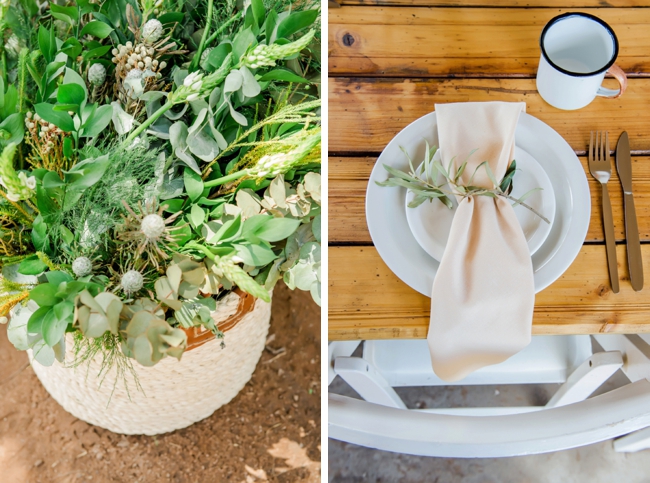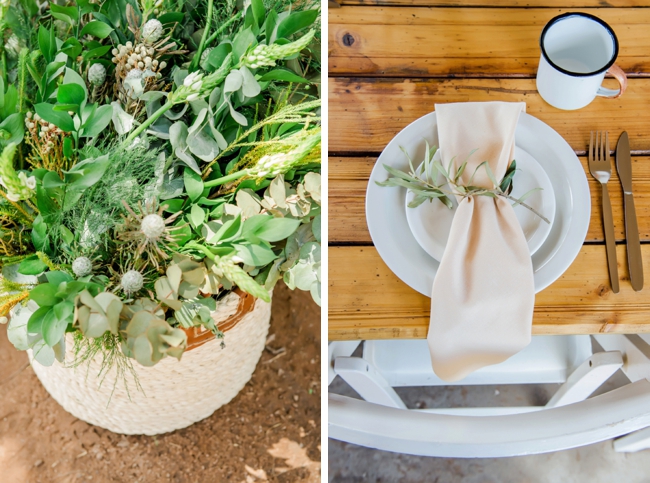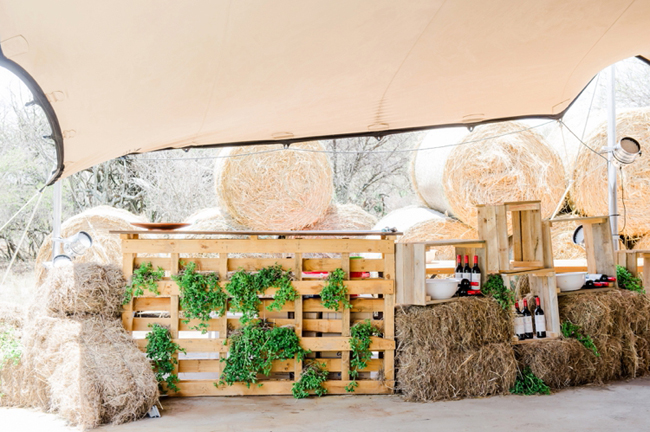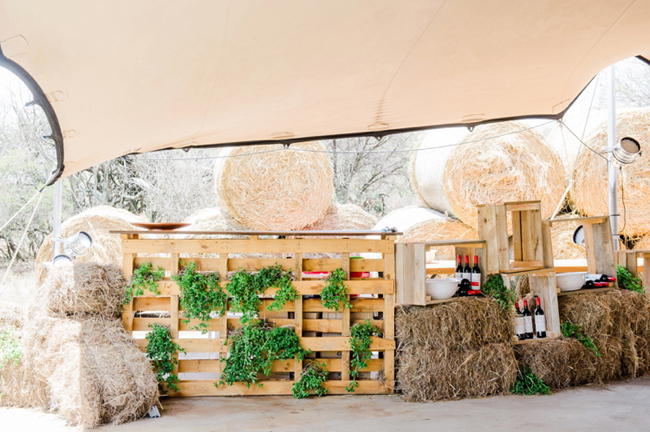 Memorable Moment
Standing under that pretty halo in the middle of the bushveld saying "I do" to my best friend.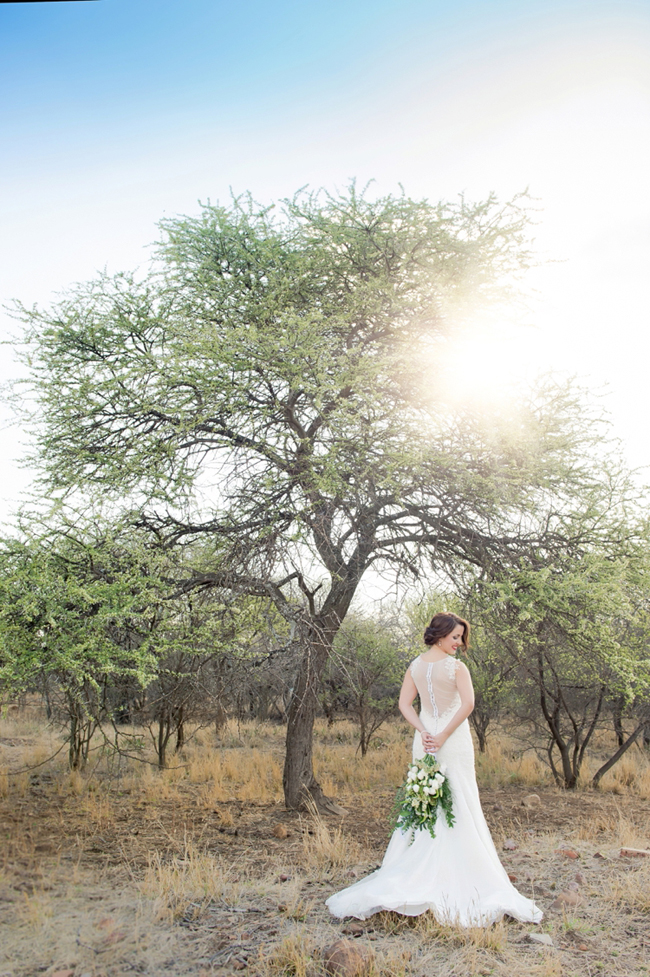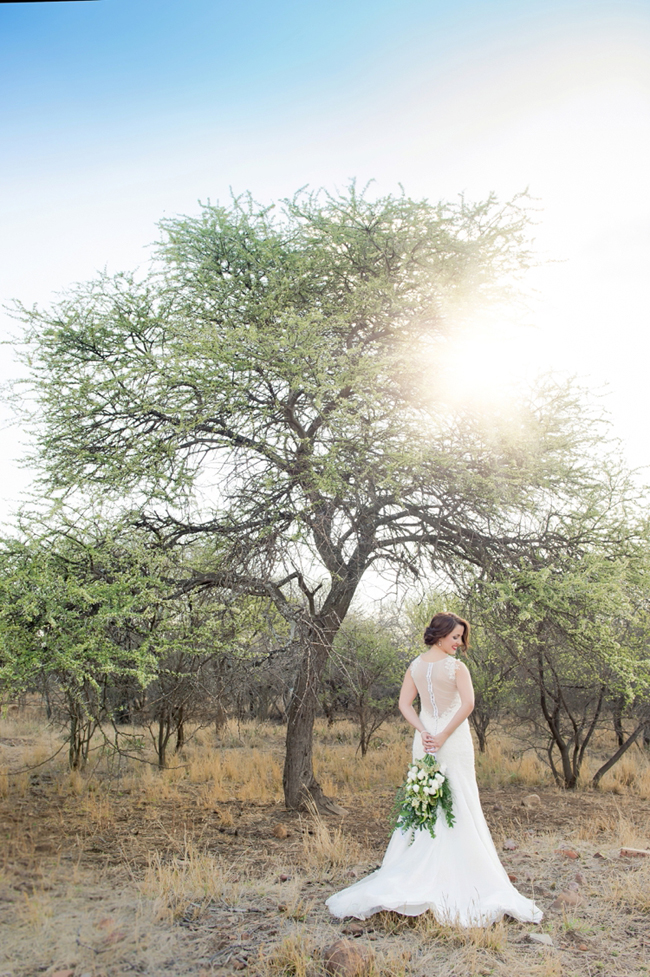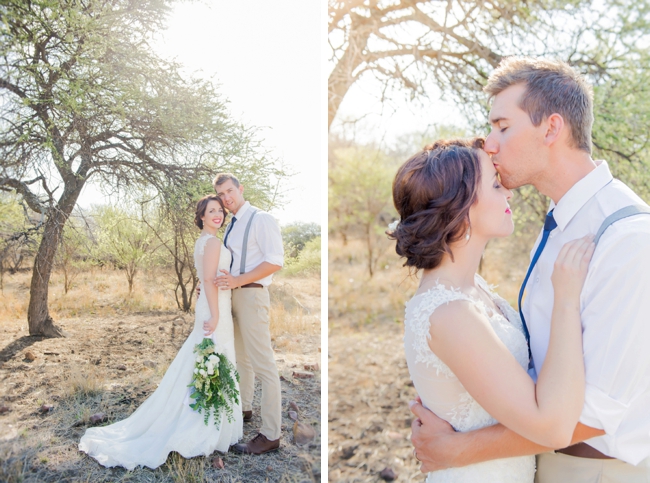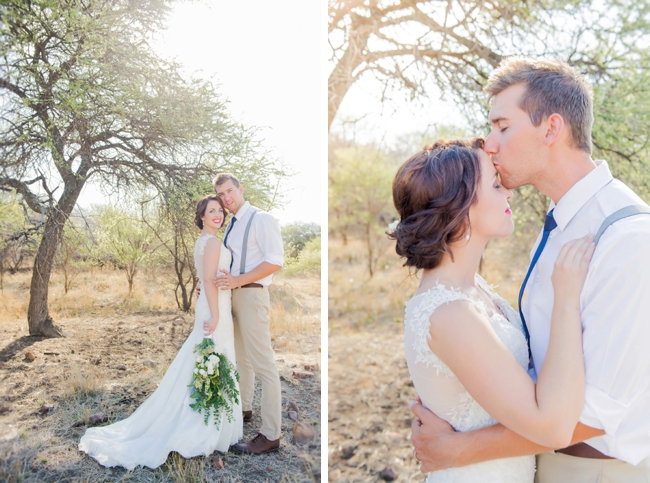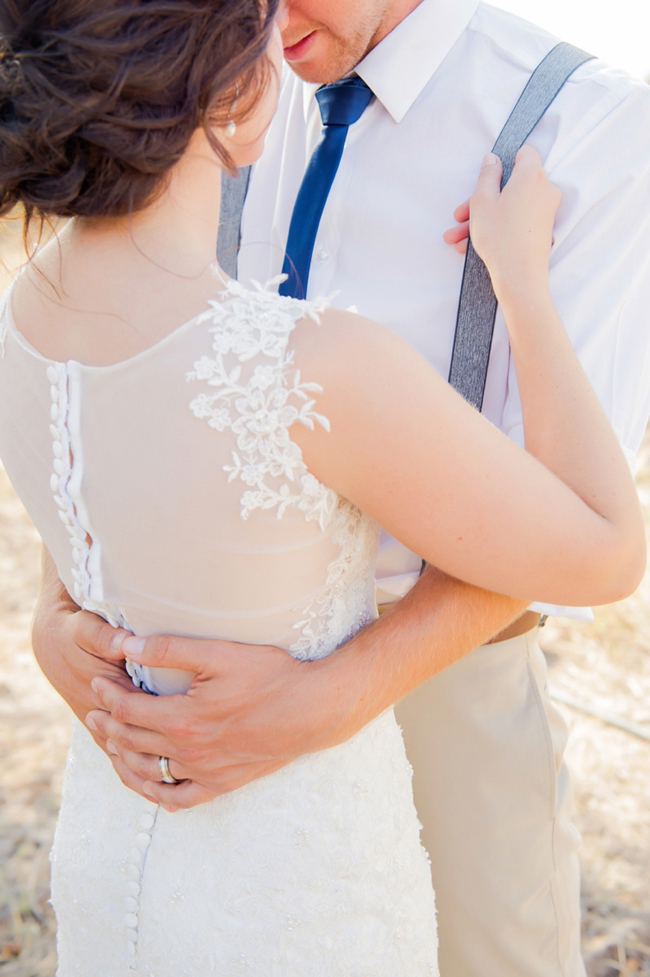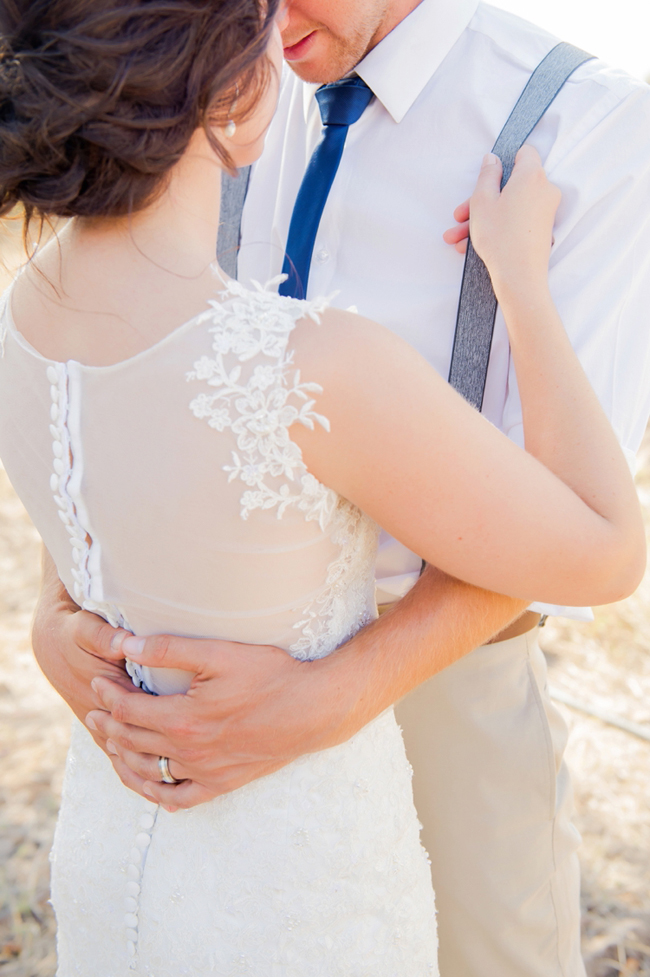 Best Decision
I had doubts about our venue I must admit, as it was extremely hard work and lots of stress. But it was definitely 100% worth it.
Advice for Future Brides & Grooms
Keep it simple! And ask for help – don't try to do everything by yourself.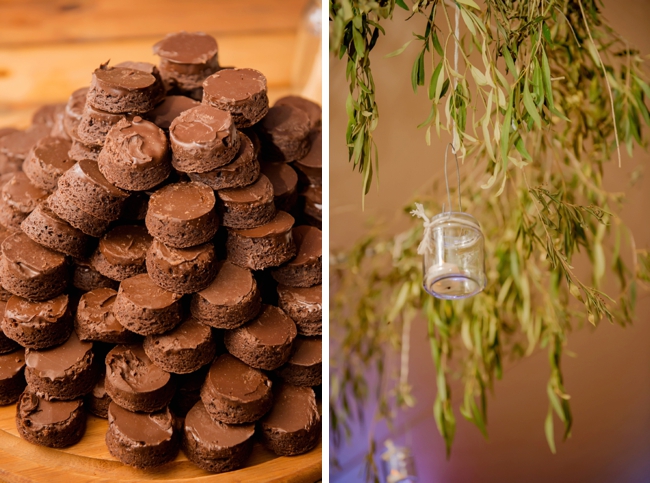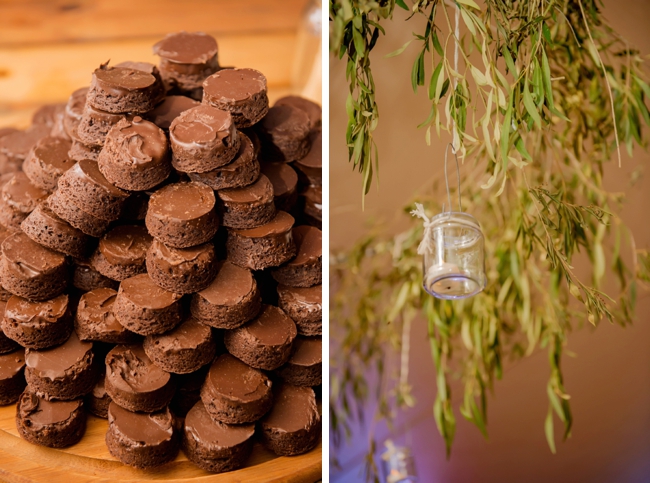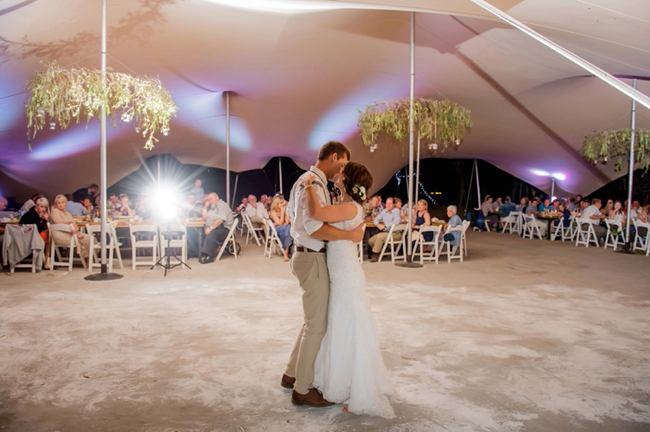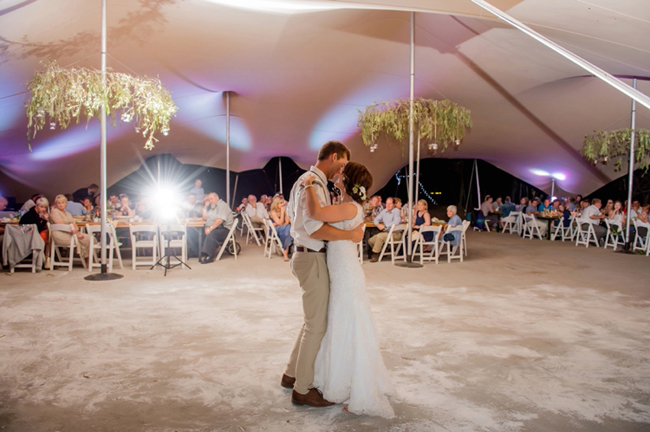 You can see more from this wedding on the Rianka's Wedding Photography blog.
SERVICE PROVIDERS
Venue: Rooiklip Private Gamefarm | Catering: Laughing Chefs | Photography: Rianka's Wedding Photography | Bride's dress: Galli Eveningwear | Hair: Carey Lee Krige | Makeup: Natalie Joy | Bridesmaids' dresses: Woolworths | Groom's attire: Country Road & Woolworths | Hiring: Decor-d-zign; Mazanzi Tents | DJ: Gerrit van Heerden