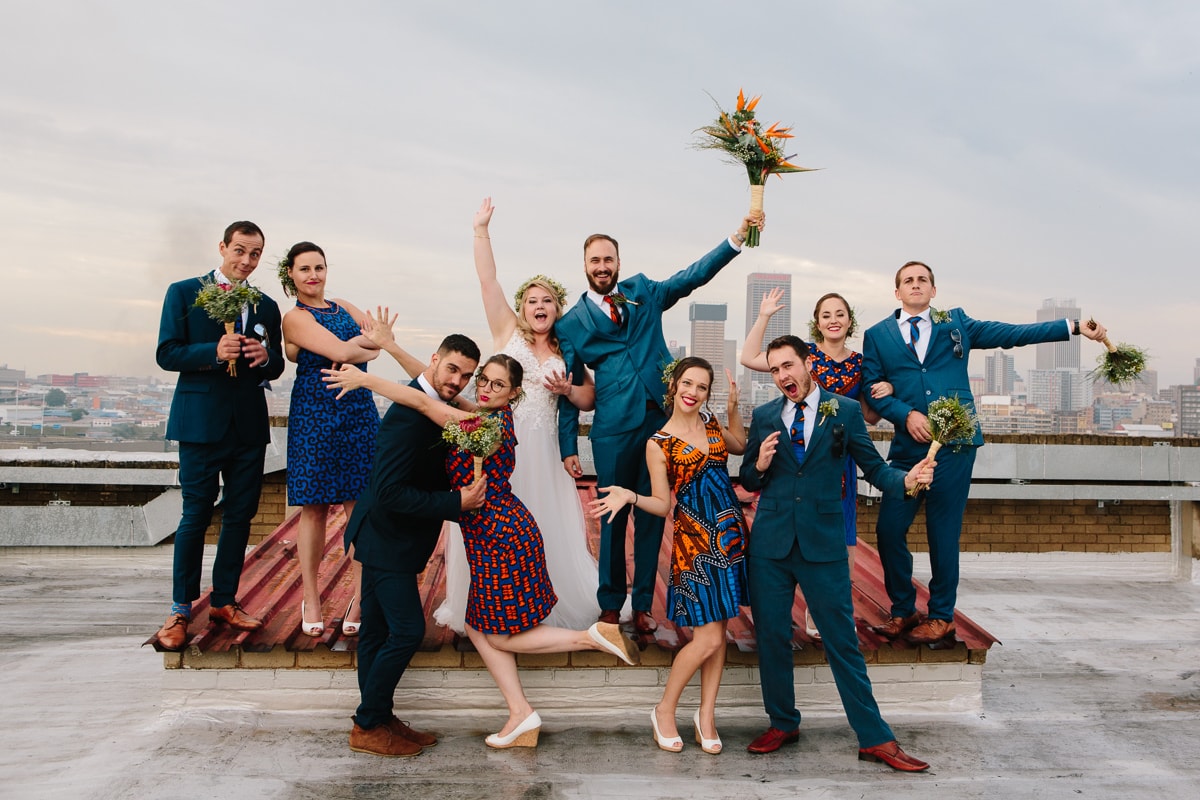 One of my fave things about running SBB is that, even though I love all the beautiful, elegant, ethereal, fine art style weddings and shoots that cross my desk, every now and again, something bright and bold and proudly, uniquely South African lands in my inbox and announces its presence like the happy toot of a vuvuzela. And I LOVE it. Today's wedding is one of these fabulous, colourful creatures, a celebration of everything Jozi and South Africa, full of fun and romance. Bride and groom Samantha and Richard met in Johannesburg, and since it formed such a vital part of their story, they decided to opt for an urban celebration that was pure modern Joburg, from the rooftop ceremony venue with the city skyline on display to the African print bridesmaid dresses and groomsmen's accessories, to florals like proteas and strelizias, right on down to the food (from the couple's favourite Melville restaurant). It's fierce and fun, and totally awesome. Judith Belle captured these images of the big day.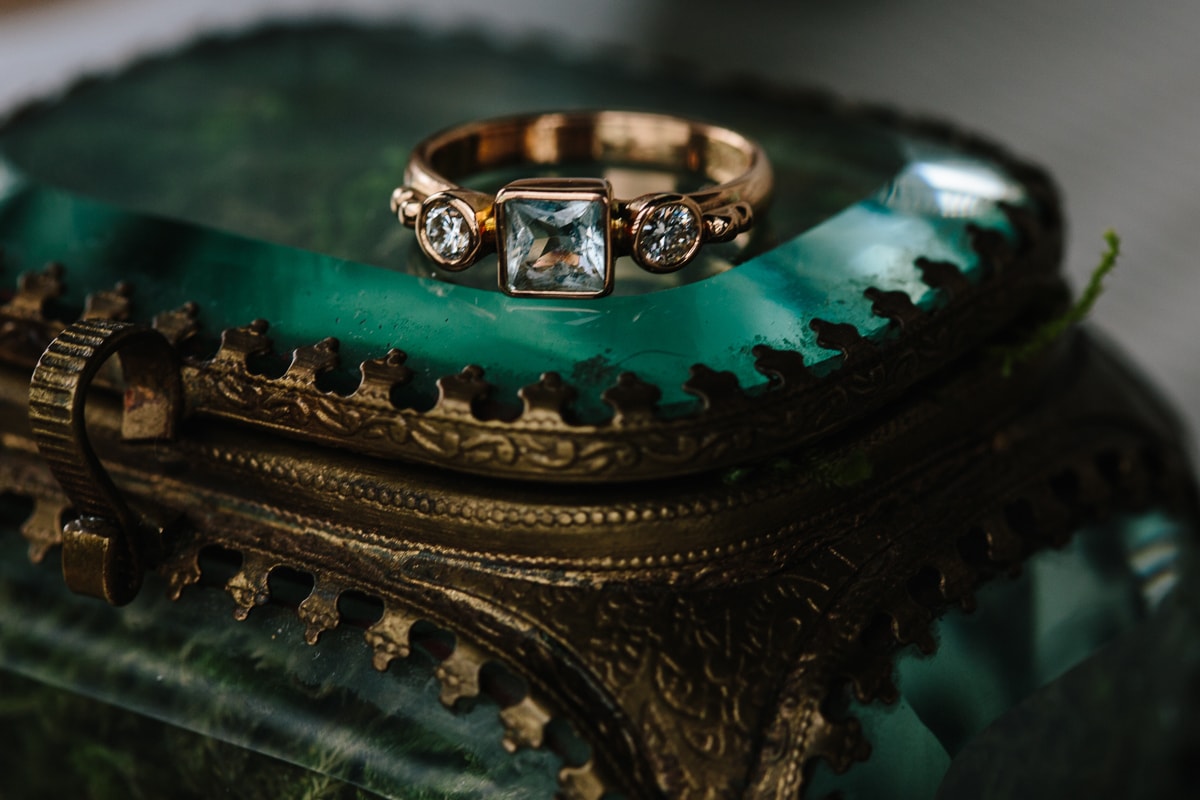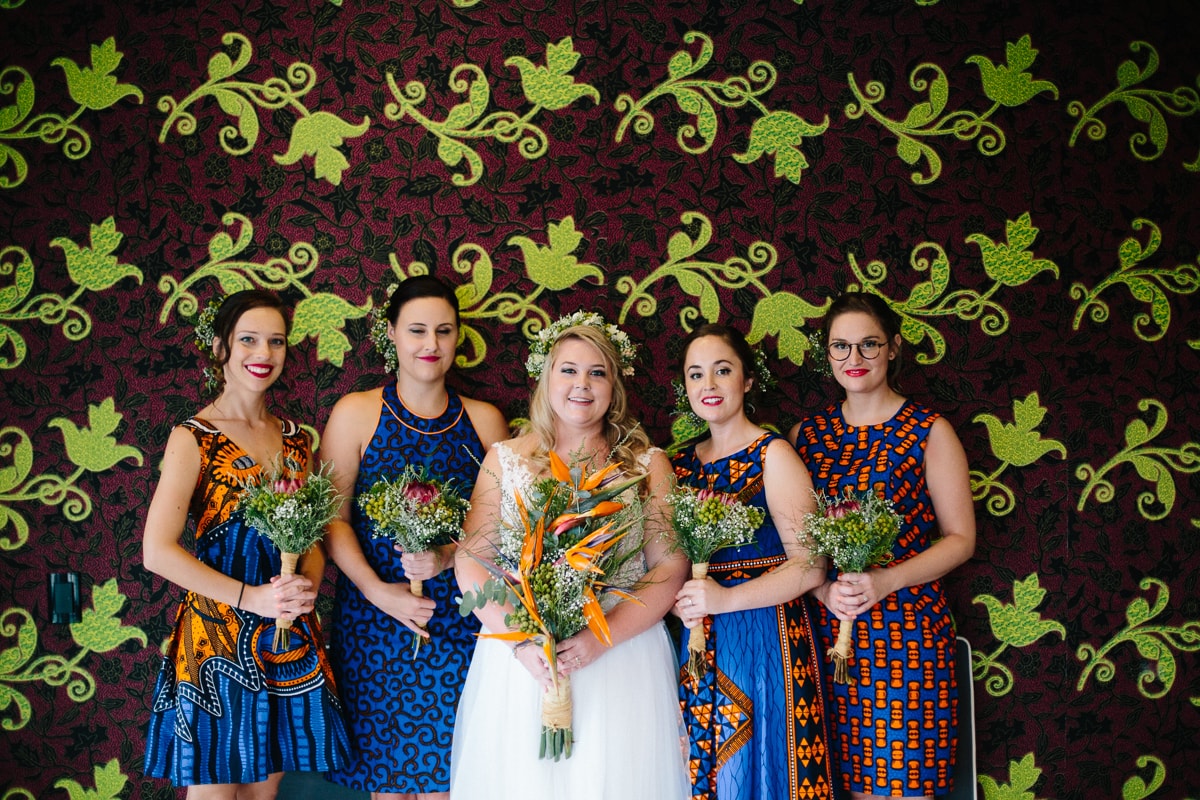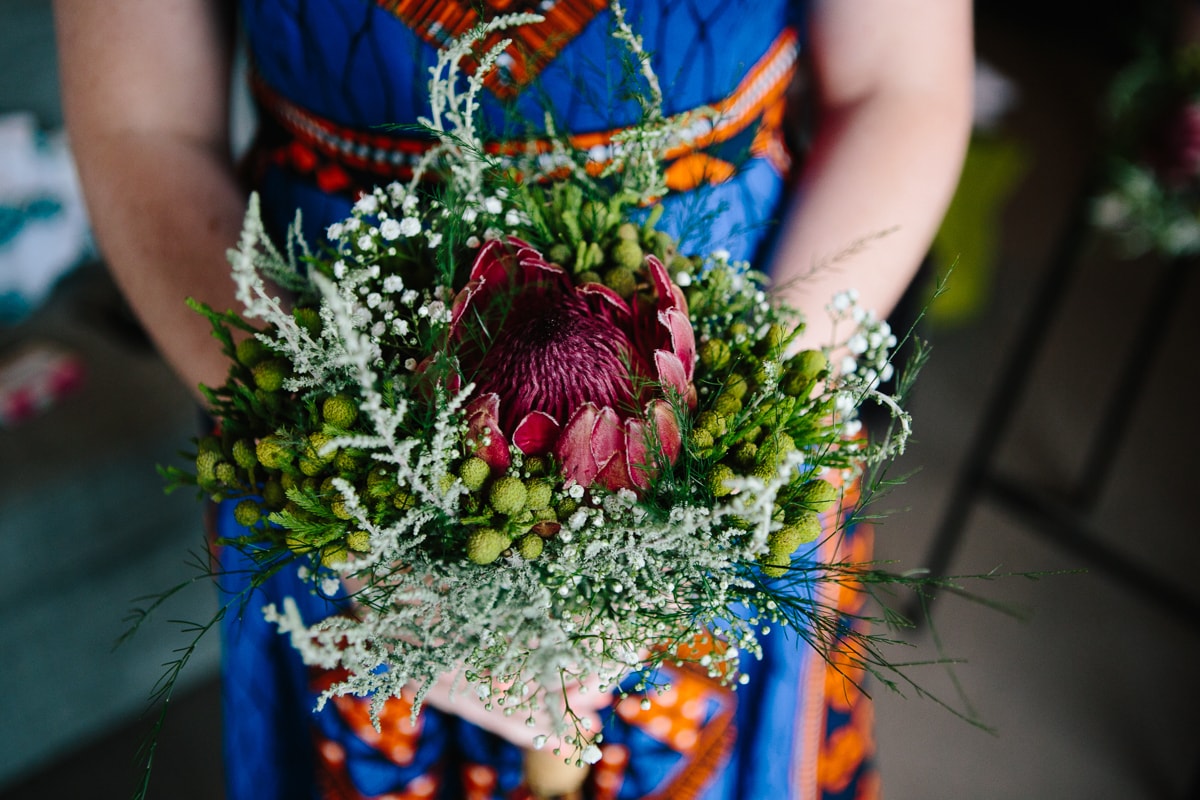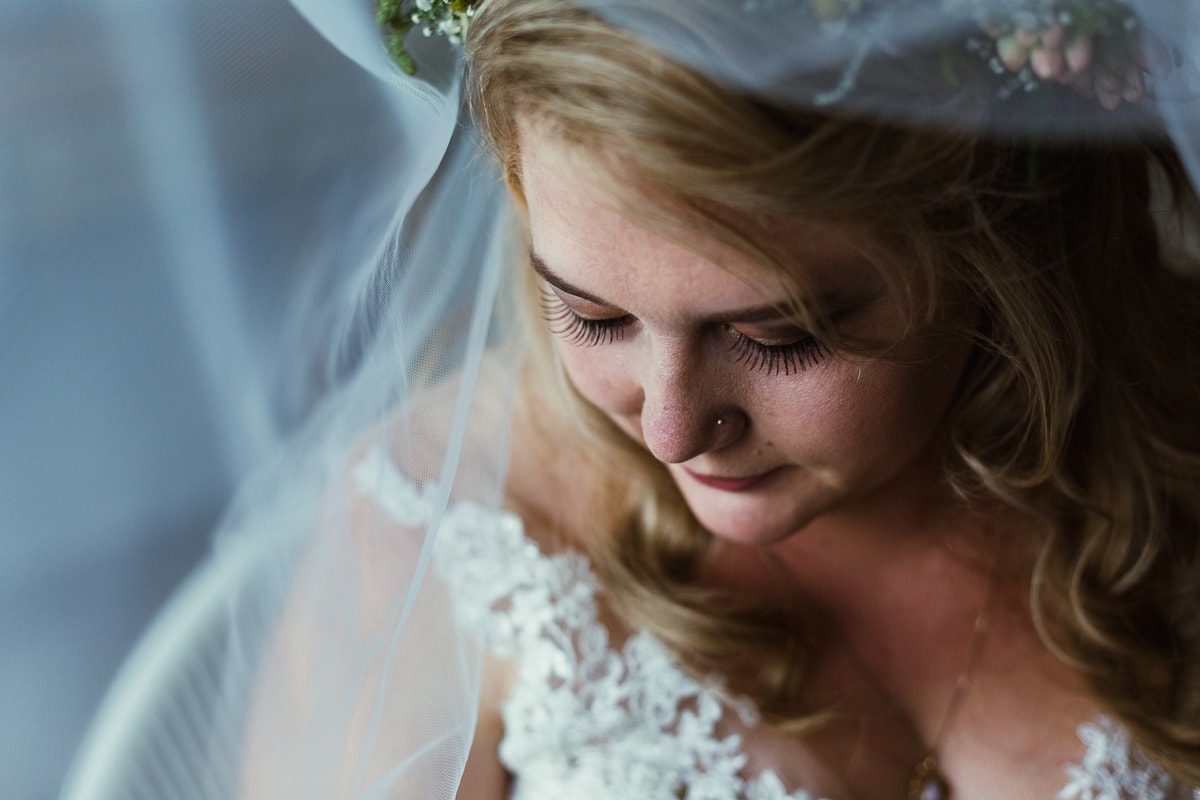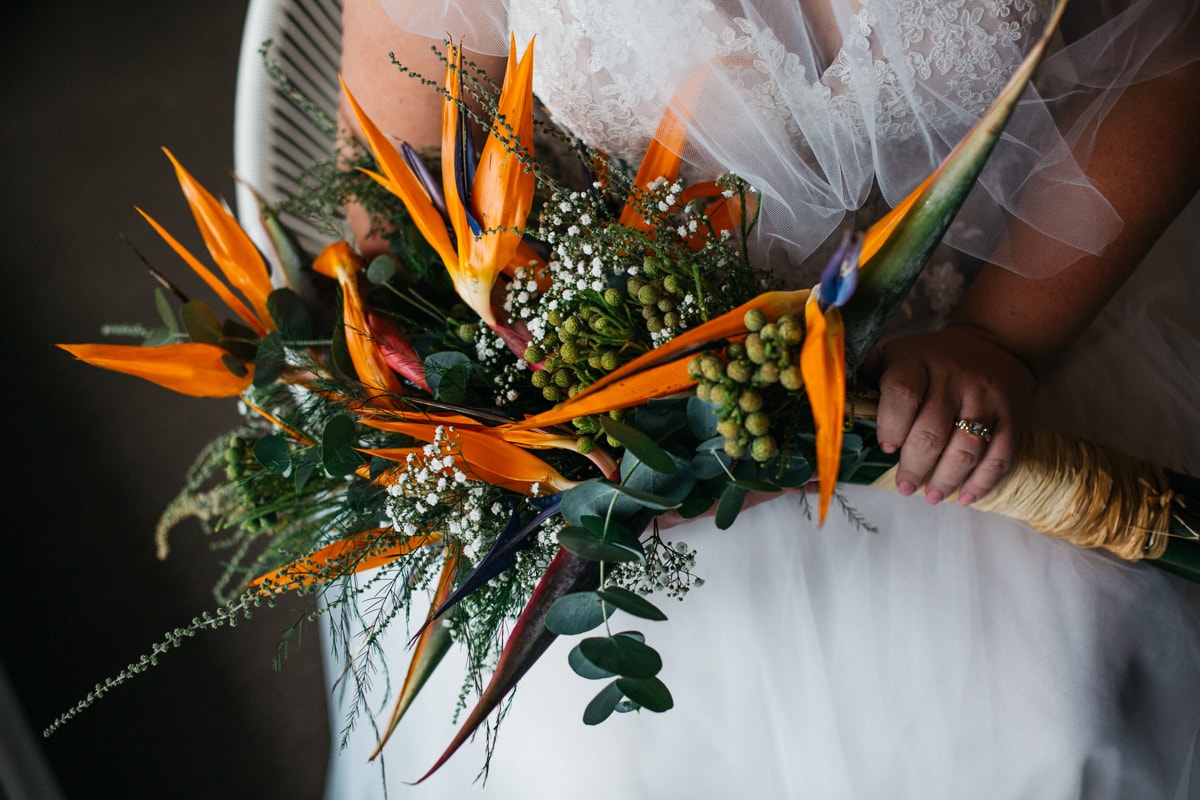 Love Story
We met at a mutual friend's house… but I was sweaty and unshowered after an epic twelve hours in a car, roadtripping up from Cape Town (where I lived) to Joburg (where I was working that week). I was planning to stay with my brother, but when he bailed on me I frantically made a Plan B, and asked a good friend if I could stay with her. She said yes, but warned me she had people over for dinner. I asked my mom, on the way out, if I should shower (I wasn't looking great – 12 hours in a car!) "What if I meet my future husband?" I asked. "Don't be ridiculous!" she said. Needless to say, Richard and I hit it off straight away with sparks flying from our first conversation (despite my grubby attire). I was only up in Joburg for a week, and in that time Richard took me out for our first date – a dinner that turned into a twelve-hour evening with an eclipse, guitar playing (Richard wooed me with Leonard Cohen; we had our first kiss over his guitar) and hours of talking. Two days after that, he drove through to Pretoria to meet me at my mom's house, where I was staying that weekend, and we decided to make it 'Facebook official' before I went back to Cape Town. It was a whirlwind week, and I'm still blown away by how compulsively and totally we committed after knowing each other only a few days.
The Proposal
Little did I know, but Richard had been planning to propose for months! Richard and his band were playing at my mother's 60th birthday party – a big event packed with my family from all over the world, and friends I'd known since childhood. At the end of the set, Richard started to play a truly beautiful and romantic Brad Paisley song, "Then". He started to sing the lyrics (he is primarily a guitarist, so this was amazing, and very moving). My mother suggested I go on stage, and I placated her, not realising what was happening. Suddenly, as he sang the chorus… "And now you're my whole life / Now you're my whole world / I just can't believe the way I feel about you, girl / Like a river meets the sea, / Stronger than it's ever been. / We've come so far since that day / And I thought I loved you then." I turned and saw the whole crowd waving sparklers. At this point, I started crying. Then Richard dropped to one knee, the lead vocalist took over the song, and he asked me to marry him. It was completely magical.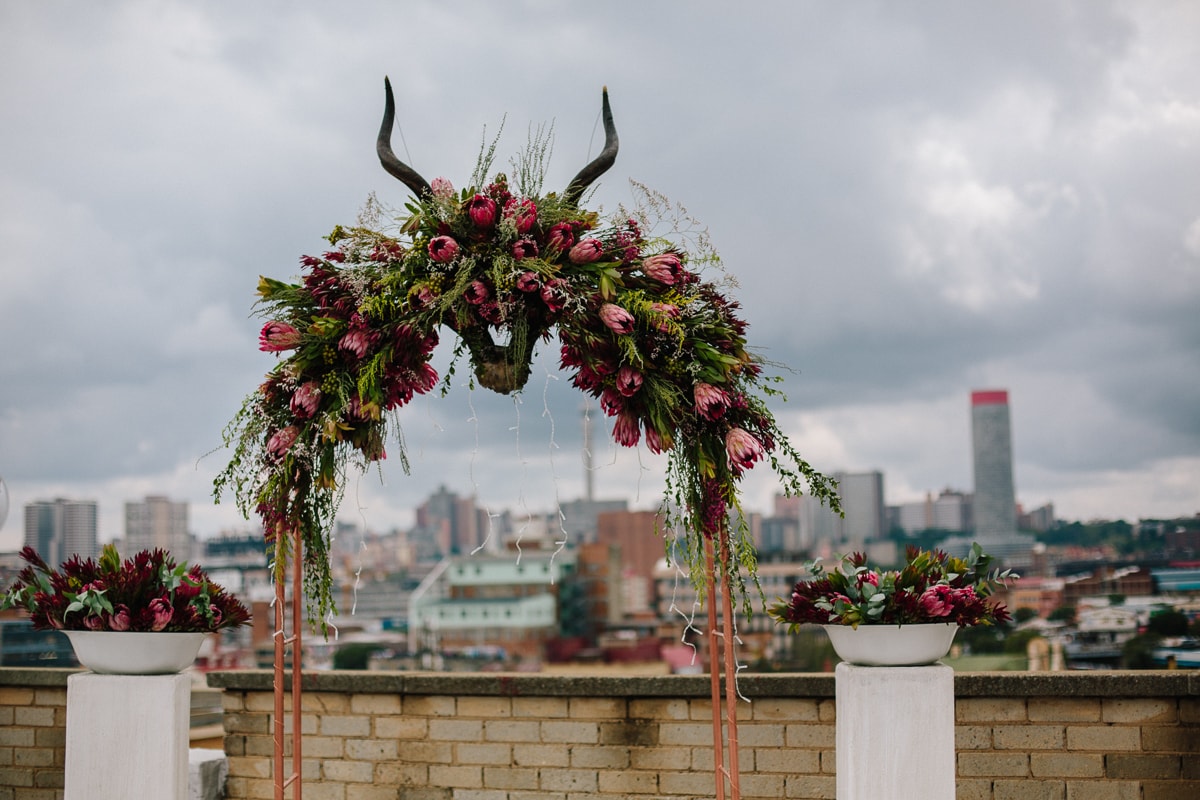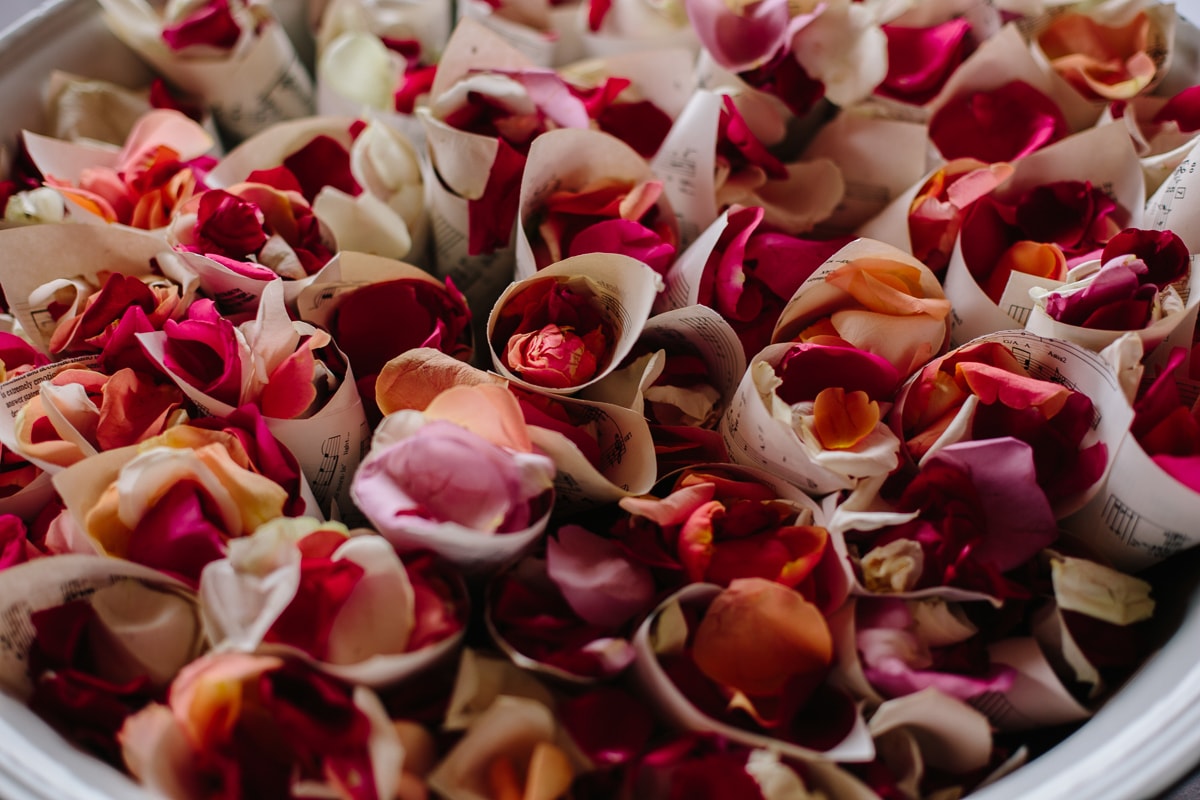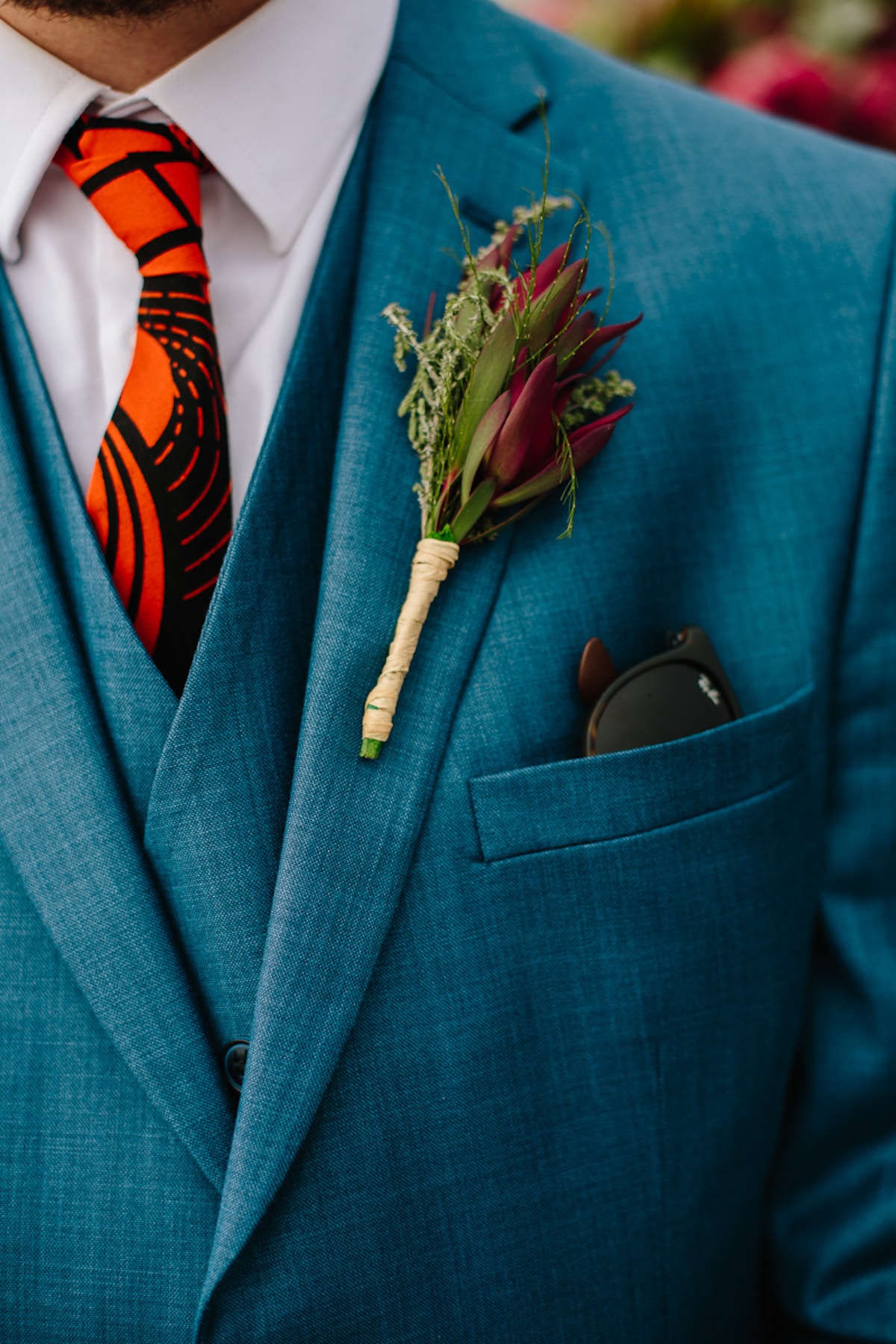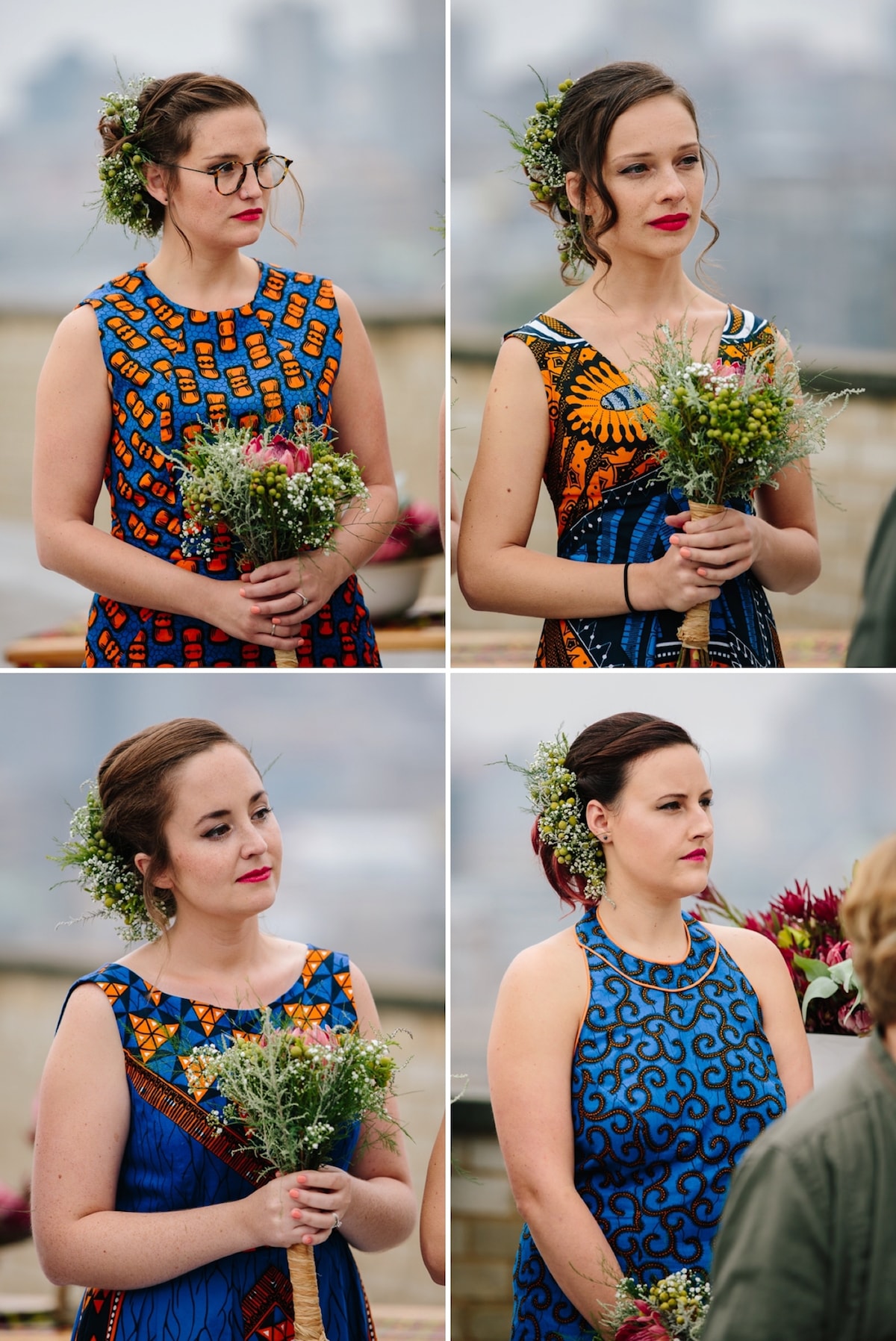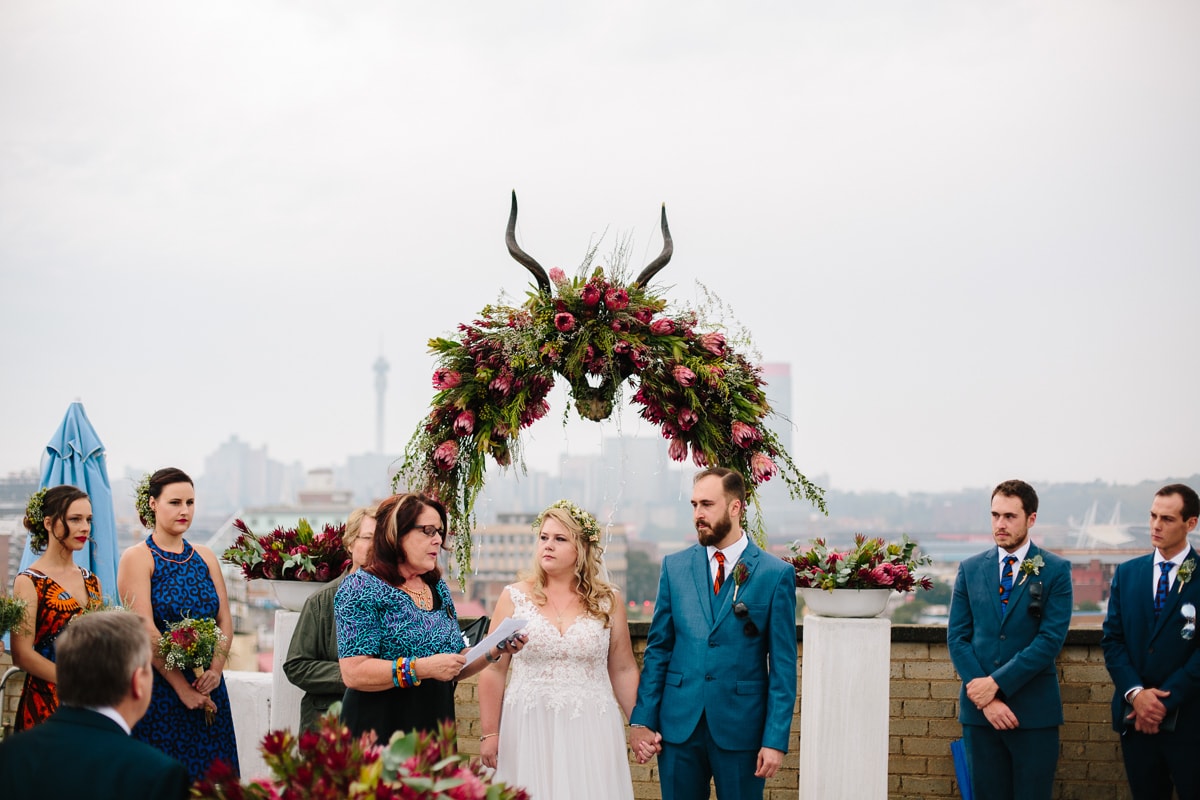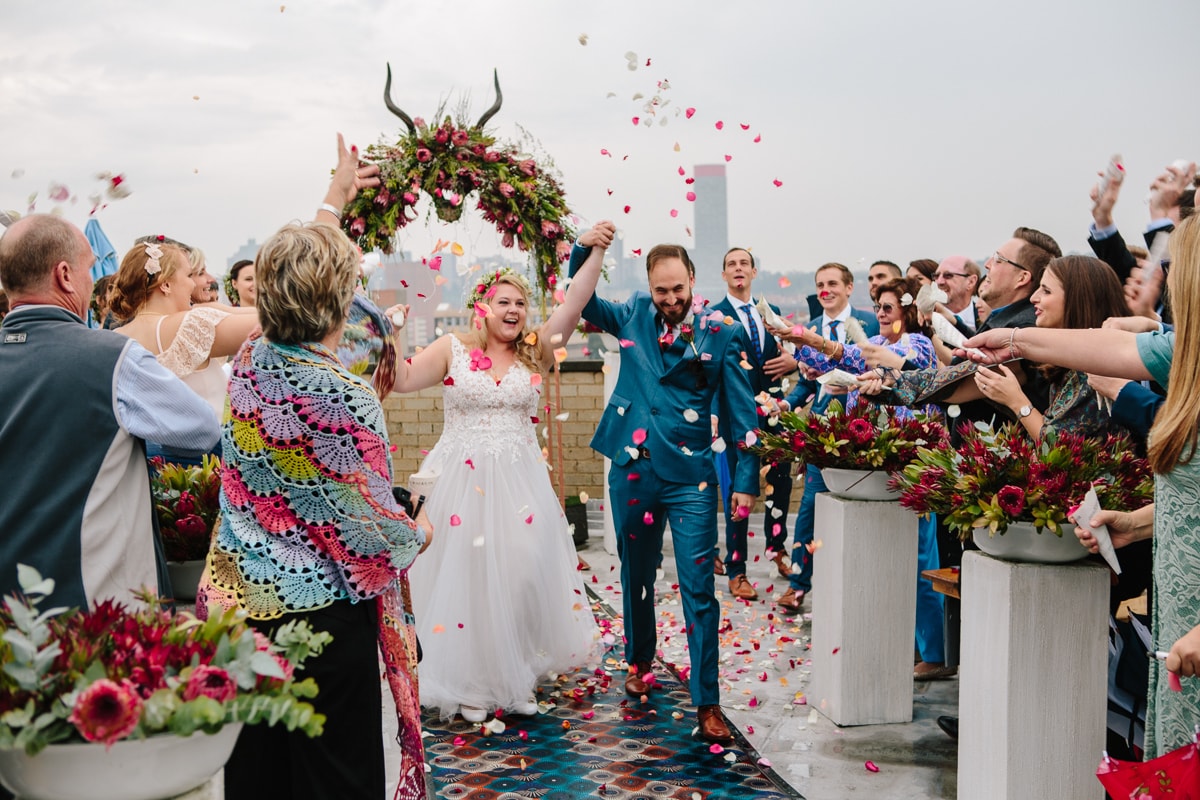 The Venue
Johannesburg was where we fell in love, and including the skyline in our wedding was key to our vision for the day. We wanted an urban rooftop experience, and after having a bad experience with a different venue – who we ended up firing mere months before the wedding – our photographer recommended The Emkhathini in Jeppe, a few blocks from the hotel we'd booked for the wedding party in Maboneng. We loved the 360 degree view it had of the Jozi skyline, the open feeling, and that it had enough flexibility for us to really create the day we wanted.
Wedding Style
Our central vision was to have an urban, Johannesburg wedding. We wanted a rooftop in town, we wanted bright colours, and we wanted very South African elements included – we are very proudly South African and made sure to include local designers every step of the way. We translated these visions in a variety of ways – the primary one being to find the right venue! The Emkhathini was perfect for us – a blank canvas rooftop, with a perfect 360 degree view of the skyline. We brought colours in with bright waxprints and shweshwe (these are some of my favourite fabrics, and come from all over Africa) in the ties, bridesmaids' dresses and tablecloths. We were also inspired by antlers on various wedding Pinterest boards (and my husband has quite the skull collection at home) so we used Kudu horns my mother bought on a roadtrip on our wedding arch, and proteas, fynbos and strelitizias as decor and in our bouquets. We wanted it to look modern, urban and local, and I think we achieved that.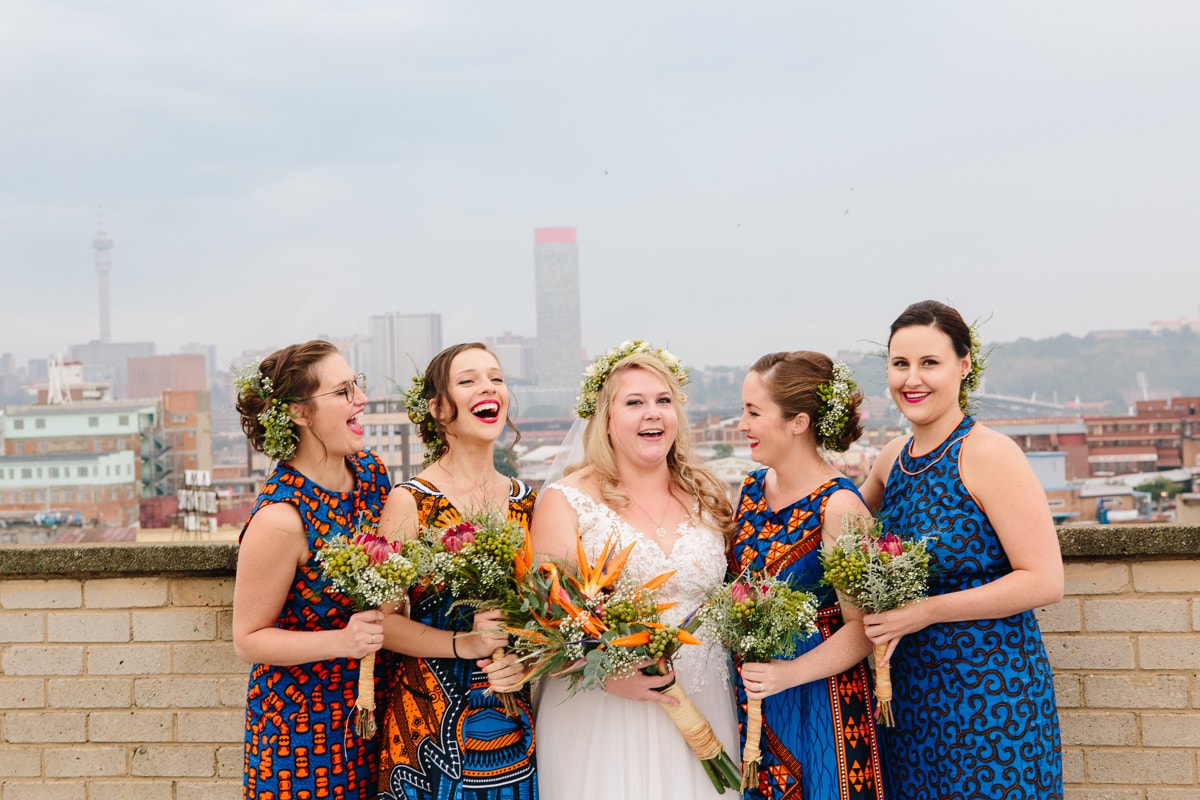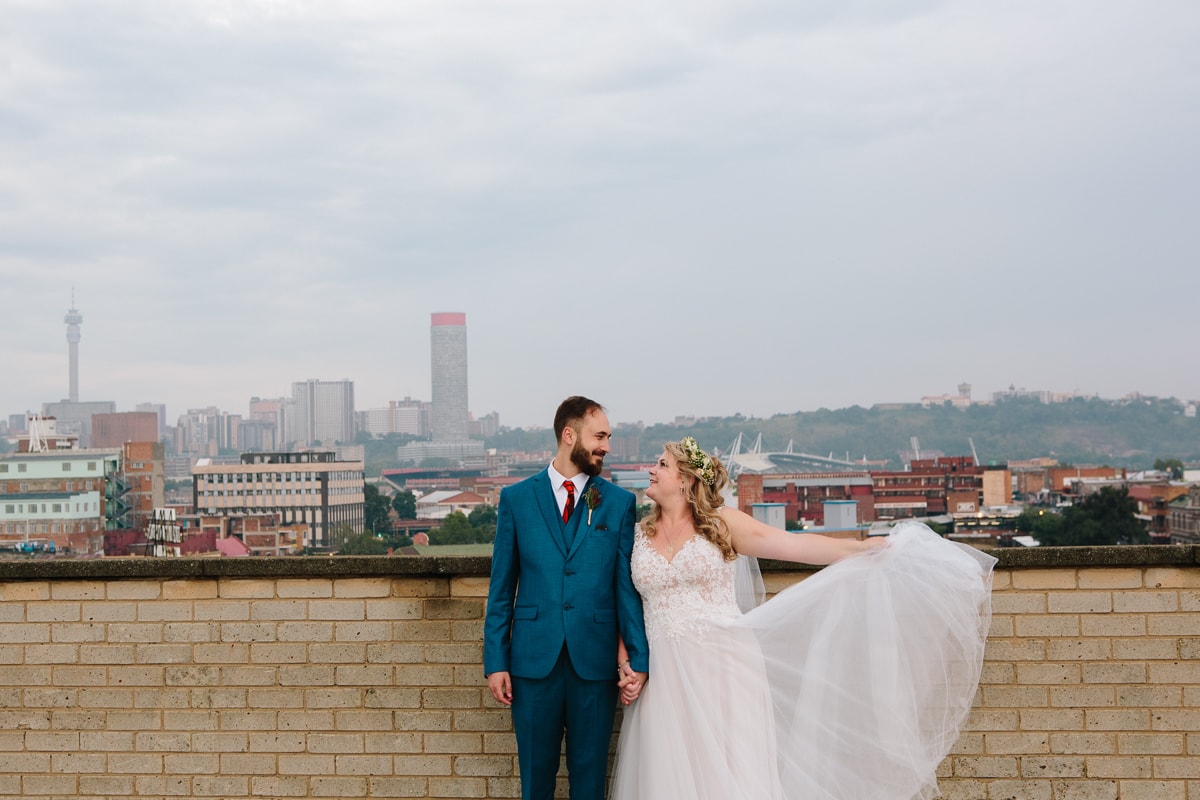 Wedding Details
By far my favourite detail was our wedding arch. The arch really tied together my husband's taste and mine, and was a central visual element in our invitations (as an illustration). It represented him with the kudu horns, and me with the proteas. Proteas are also some of our favourite flowers, and Richard will often buy me a bunch and have them in the house. I also loved our ceremony. We took a great deal of time to plan how we wanted to get married, and it was really important to us that our ceremony was unique and symbolic. We had readings from family members. My husband read a Leonard Cohen song, which was the first song we kissed to, and our first dance was to the song he sang when he proposed. We included a ring blessing, where our rings were passed around and blessed by our guests. We had a carefully selected guest list, so this was very important to us to include them as much as possible. The food was from one of our favourite restaurants in Melville, Hell's Kitchen, where we frequently spend time (we also live in Melville). Many elements were personal and distinctly related to us and our lives together. Our welcome cocktails were named after our doggos, and let us represent them, even though they couldn't attend.
DIY Elements
Most elements were DIY-ed! Our table runners were all hand sewed, as was the bunting, and I, my husband and my mother, spent literally months before the wedding cooking various preserves and making lip balms for our thank-you gifts. Some were made from fruits at my mother's garden, others were bought at the Pretoria Boeremark at 5am, and all were painstakingly made with love.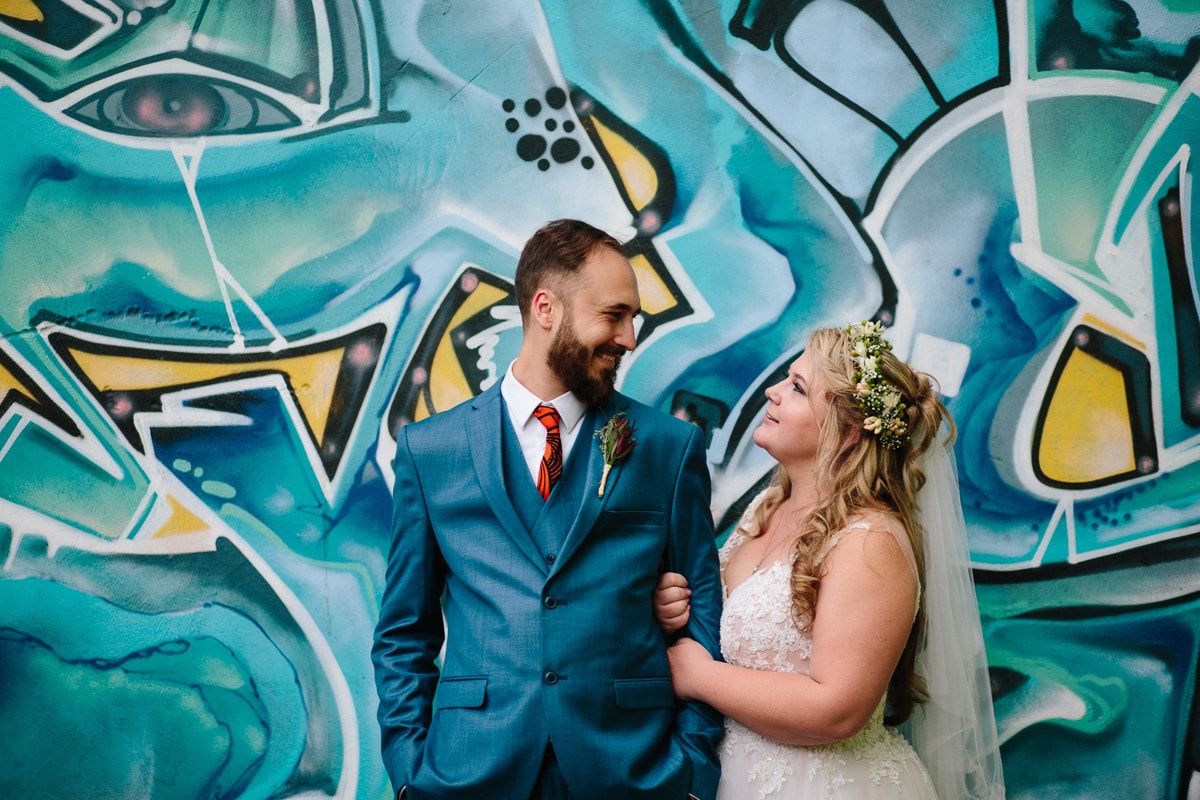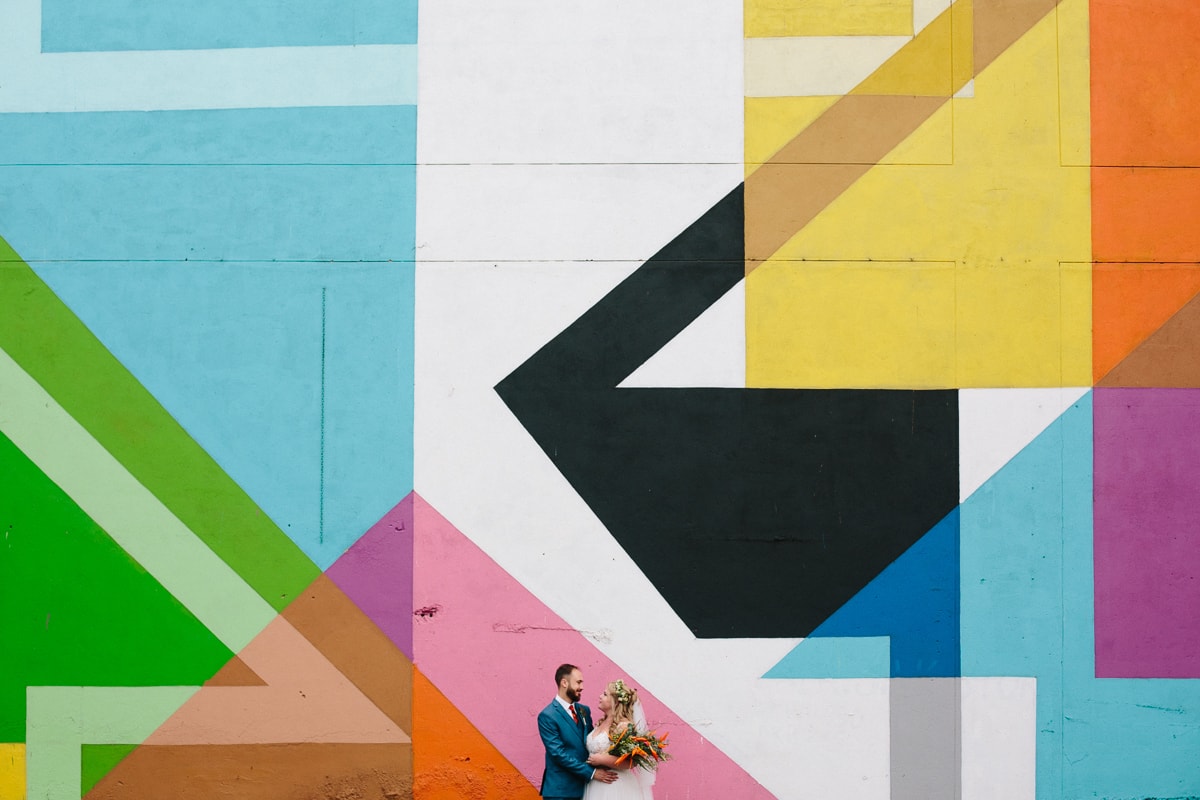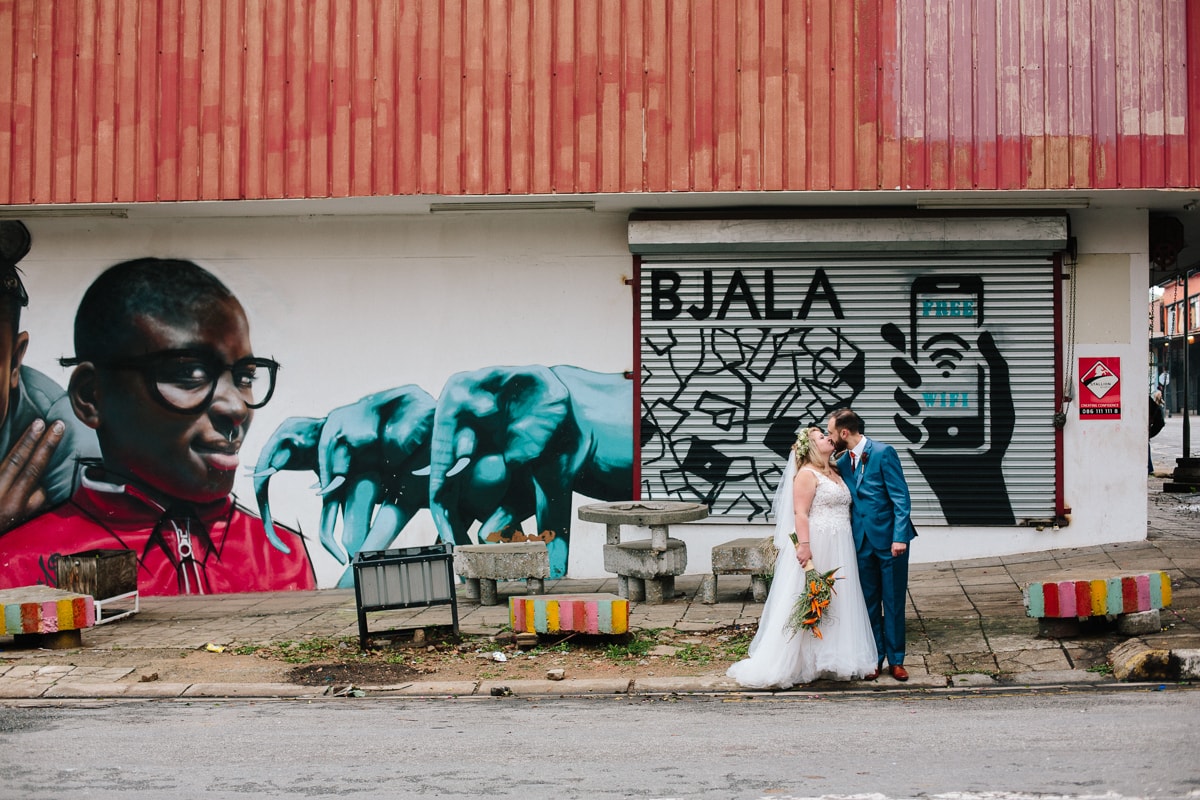 The Dress
The wedding gown was such an emotionally complicated subject for me! I definitely fall into the "plus-sized", "Rubenesque" or "thick girl" category and really struggled to find wedding dress boutiques that could fit me (most only stocked up to a size 10, so I could squeeze into one of their dresses, but had no idea how I would actually look on the day). I had some good experiences, some terrible ones, and ended up having an incredible experience at White Lilly Bridal in Parkhurst. Jaclyn, the designer, really understood my assets from our first wedding and designed a wedding dress very close to my tulle, lace dream from many years ago. She made me feel beautiful, and I loved the way she thoughtfully constructed every element. The dark pink lining flattered my shape, and the lace corset with a beautiful low neckline was both beautiful and a little sexy. The tulle gown was airy and added a dreamy element to my dress. I'd also like to mention our rings – which we designed ourselves and had made by a jeweler that my family has known for many years. My mother had my earrings made by her to match my ring,and my necklace was made from my grandmother's earrings. My mother had a matching necklace.

The Bridesmaids
I had four wonderful bridesmaids and wanted them all to feel beautiful on the day, and not like they were in a uniform. I loved the "mismatched-matched" style and decided on what elements I wanted consistent: the colours in the wax print, the length (knee-length) and the shoes (white). We spent a long time choosing fabrics together, and after I bought the fabrics, I let the bridesmaids have the dresses made in whatever style they wanted. One of my bridesmaids even sewed her own dress! I love that they each looked beautiful, but different, even though they matched.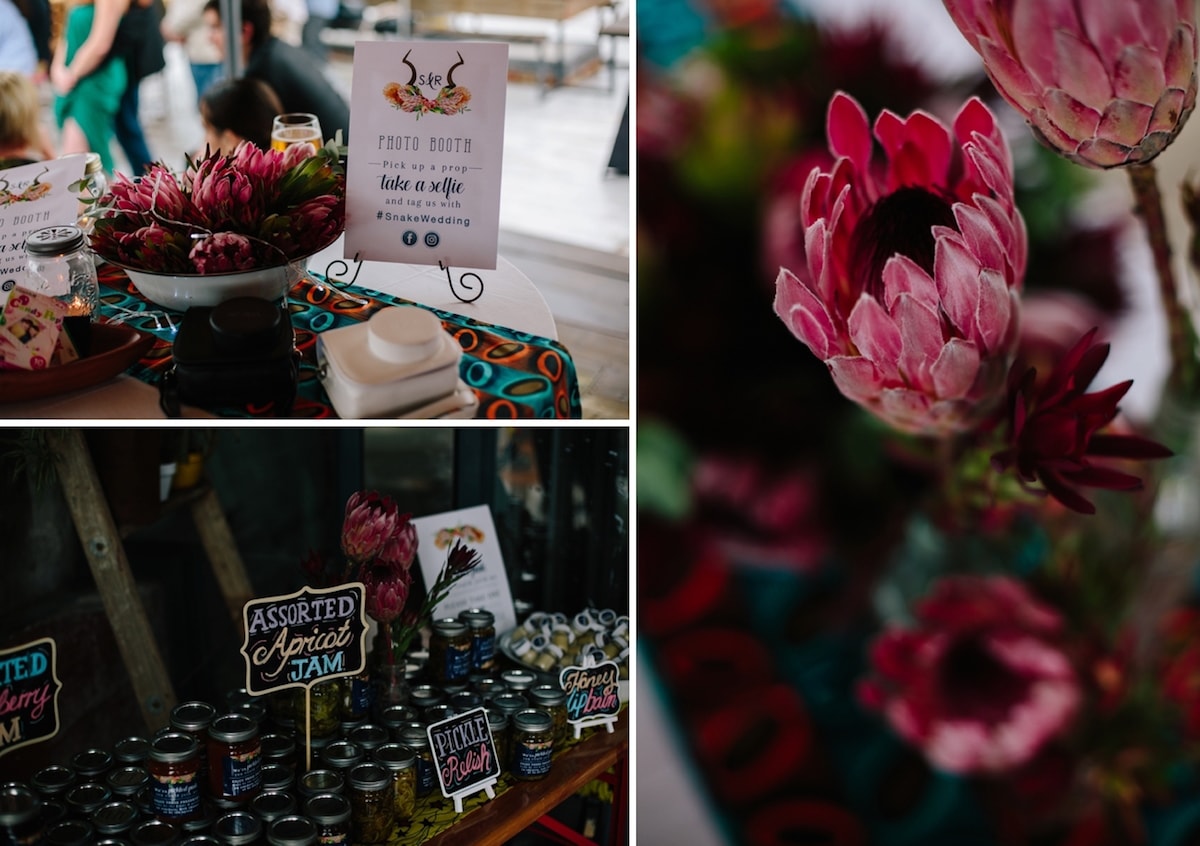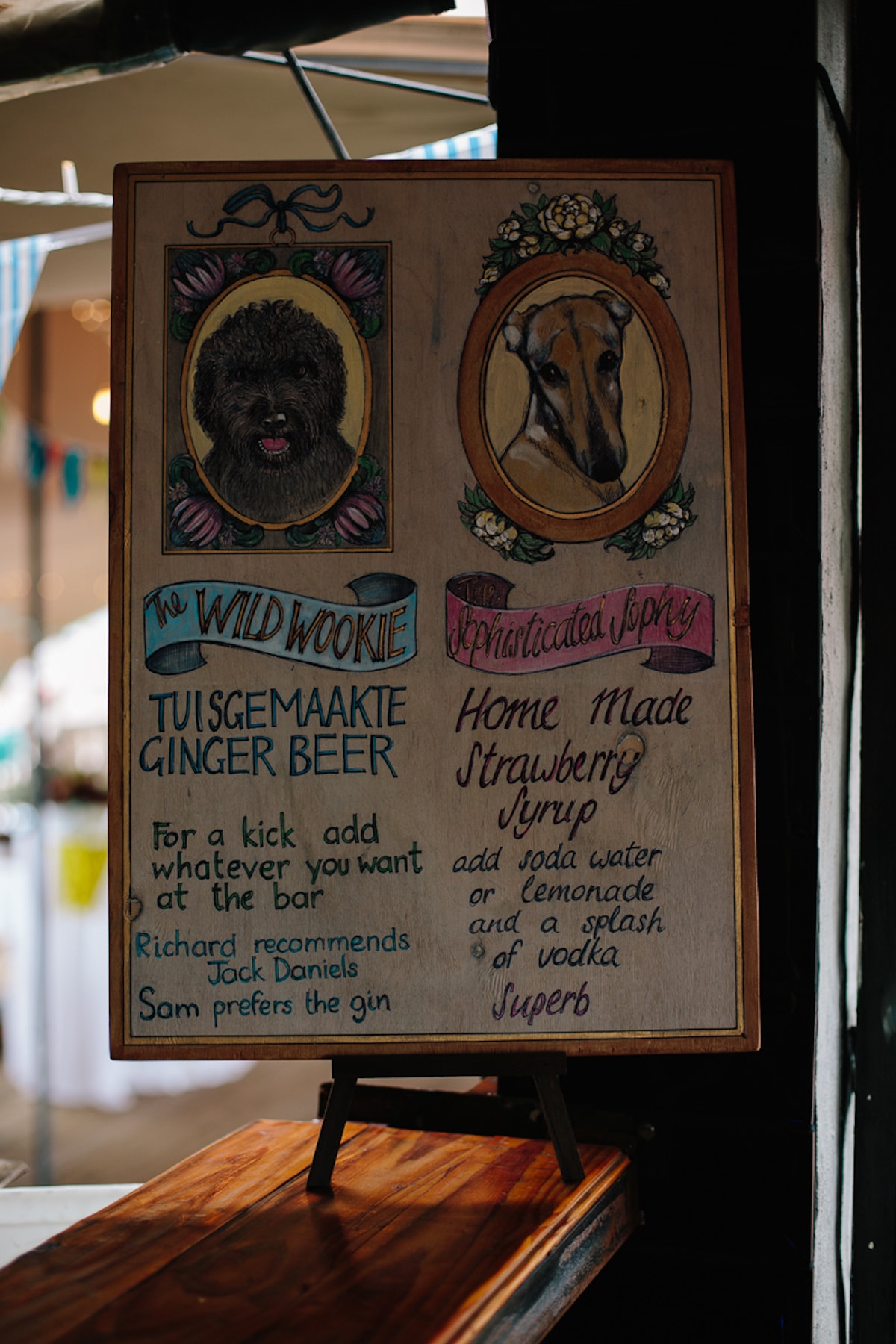 The Flowers
Our decor was all about proteas – a simple bloom that made a strong statement and matched the look we had in our arch and stationery. We kept our decor to proteas and fynbos. The bridesmaids' bouquets had the same theme (and looked beautiful with their dresses!) For my bouquet, I wanted to include some of the colours of the wedding – the blue and orange in the bridesmaids' dresses and the groomsmens' ties, so I selected strelitzias as my South African flower of choice. We all had floral crowns of fynbos, and mine had some beautiful, fragrant white flowers included as well.
Proudly South African Details
Our wedding arch, with its kudu horns and proteas, as well as our flowers – protea bouquets, and my strelitzia bouquet were all South African. Our African fabrics were very significant to us as well – which are in the bridesmaid's dresses, the ties, and our aisle fabric. We also included South African makers every step of the way, from our rings, my earrings (Peta Wells jewellery), to our food (Hell's Kitchen), to my dress (White Lilly Bridal) and our wedding cake toppers as well (made by my aunt, Suzanne du Toit, a Plettenberg Bay artist). Coming from a Frank Zappa song and an inside joke that turned into a nickname, we had snakes as our wedding cake toppers and our hashtag was #SnakeWedding! For years we have called each other "snake" as a reference to that song, but it became a unique term of endearment. My aunt designed the sweetest wedding cake toppers that still live in our home.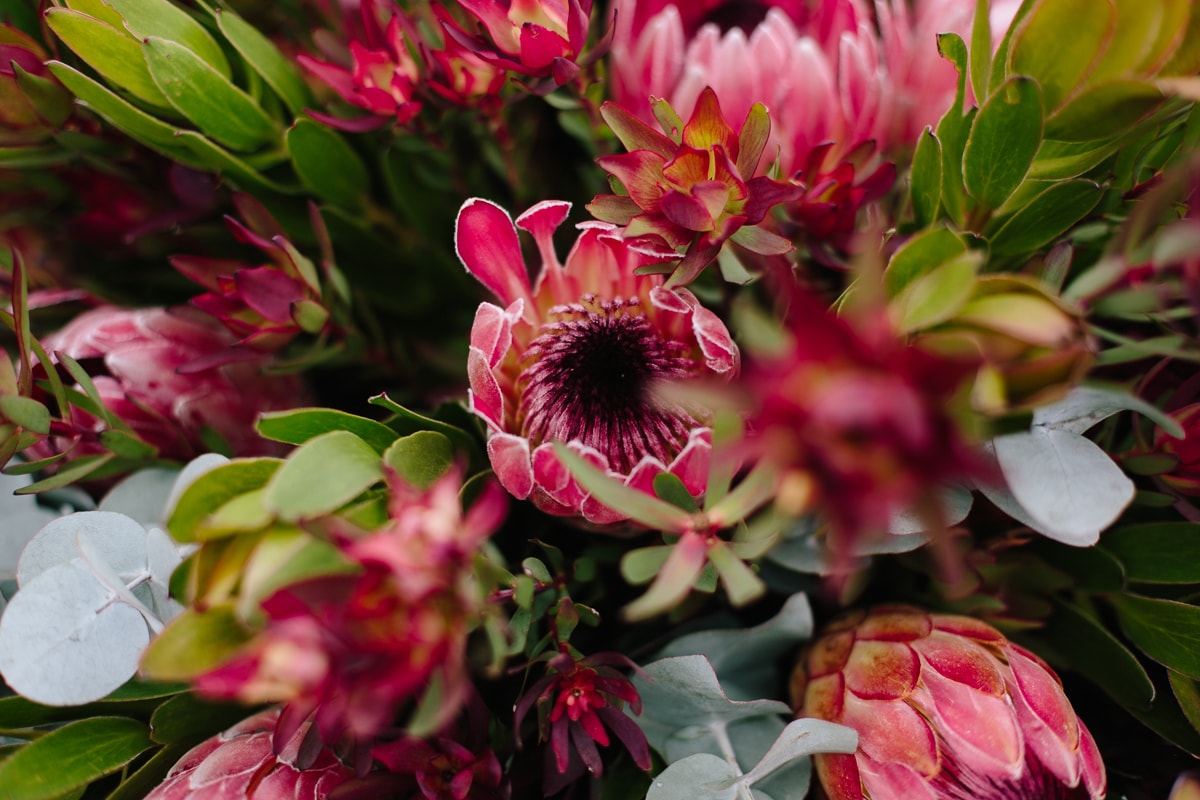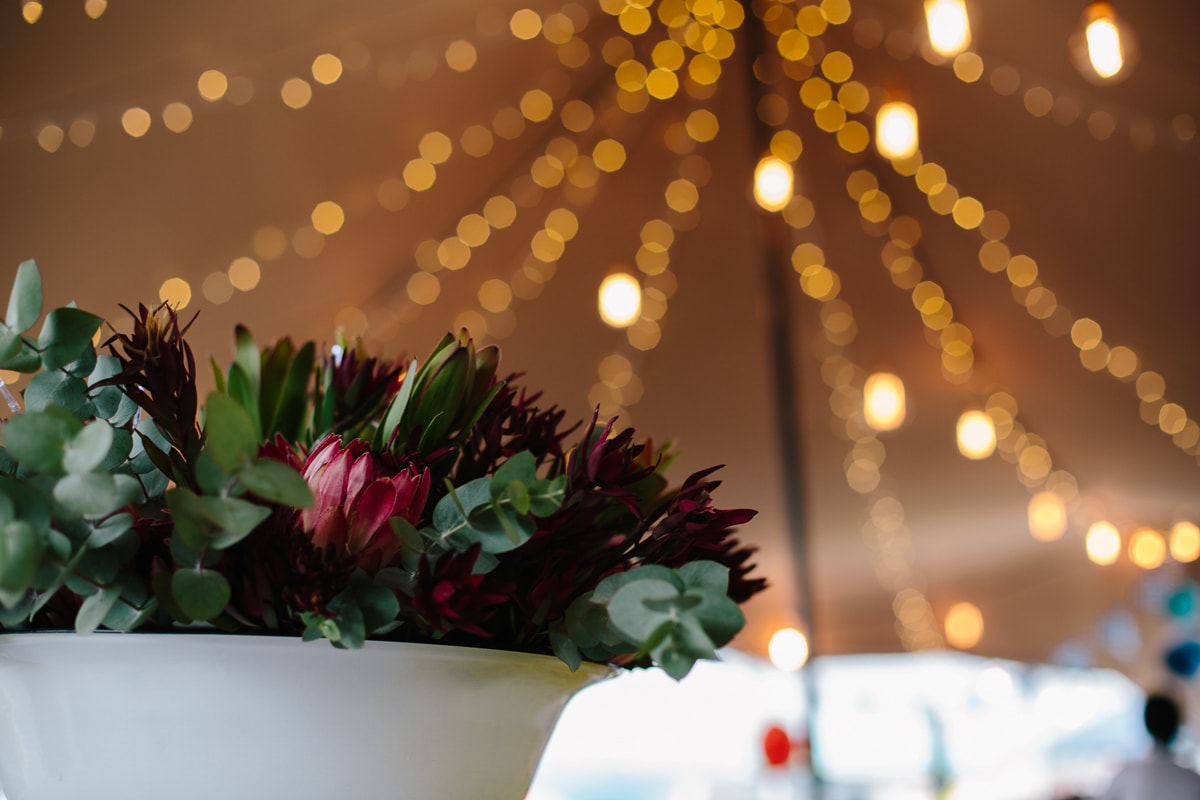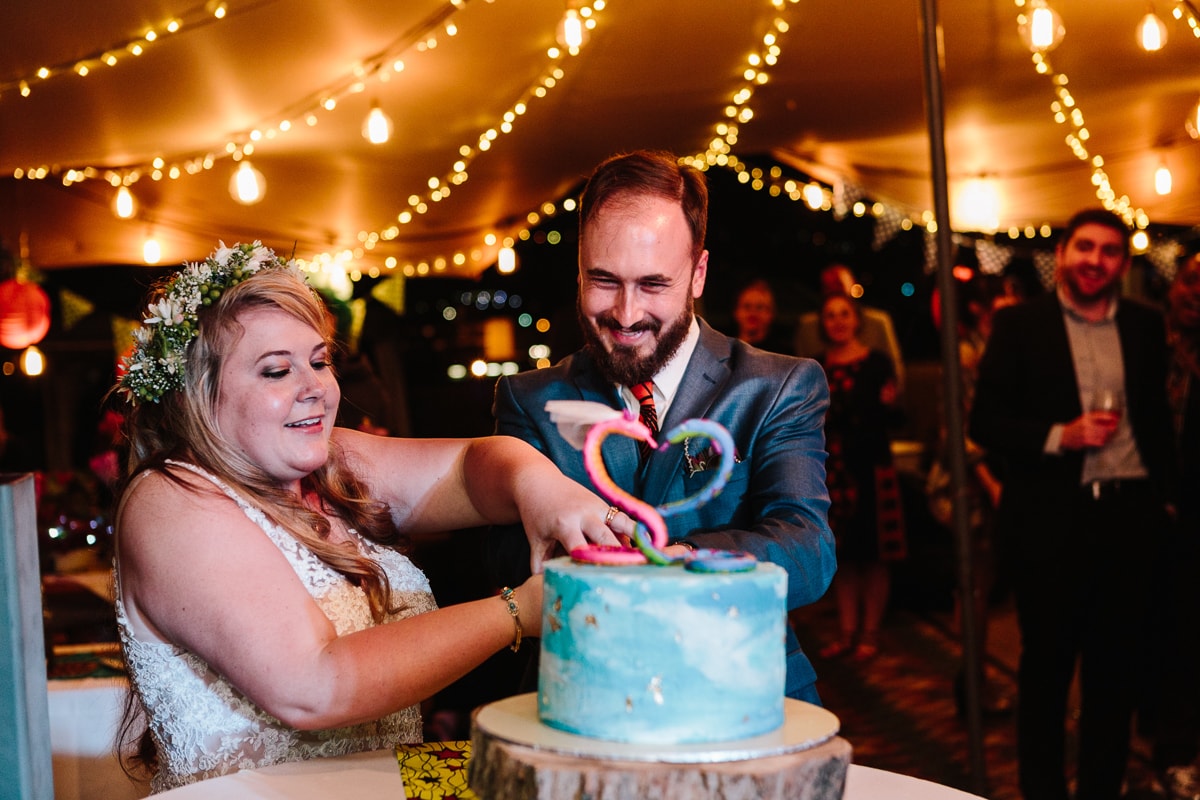 Memorable Moments
There were several. One that stands out for my husband is the rain clearing as I walked down the aisle. During a very dry February, our wedding day was blessed by Hurricane Dineo the day before, and we had thunder, rain and lightning the day of! Our guests all had umbrellas out and we were terrified that my walk down the aisle would be a wet one with no cover – let alone how that would hamper the rest of the night! However, literally as I walked down the aisle, the sky cleared up, and we had a wonderful evening. One of my more memorable moments was at the end of the photoshoot, when we actually got our skyline sunset! With all the rain and clouds we didn't think it would, but it cleared up beautifully and we had a wonderful pink sky to end off our wonderful day.
Best Decision
Our best decision was definitely to choose a venue that resonated with us, and let us create the day we wanted for ourselves and our guests. Our photographer was also wonderful, and her style matched ours, which made for the kinds of photos we wanted. For me personally, it also really helped having a good relationship and really believing in my wedding dress designer. She was a big part of what made the day special for me.
Advice for Future Brides & Grooms
Trust your gut! When you meet that person you're going to work with, make sure that you feel you can work with them. In the end, your relationship with that person is more important than the product or service they offer. You don't want to feel screwed over or like they didn't have your best interests at heart when it comes down to that special day. My other advice is – don't get hung op on the details, and expect things to go wrong … and remember that in the end, it doesn't matter. As long as you and your partner can laugh and smile through it all, you'll have the start to a long and happy marriage.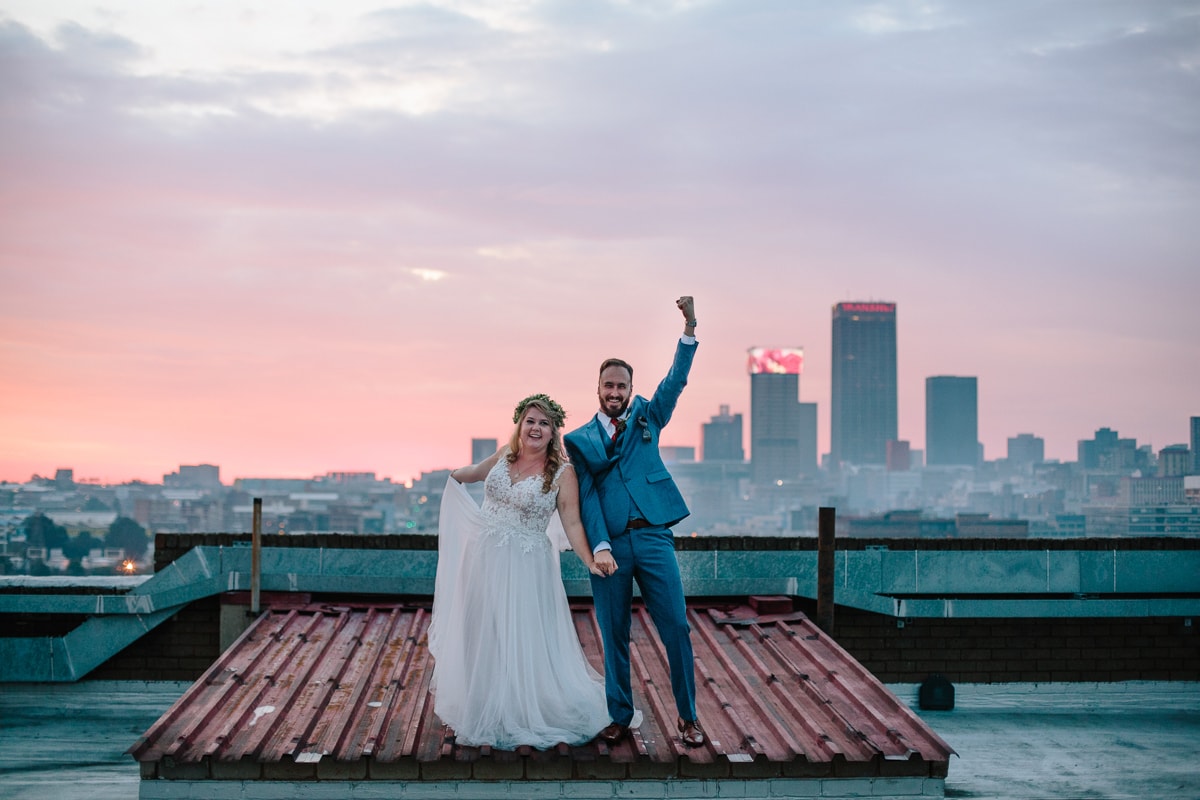 SERVICE PROVIDERS
Venue & catering: The Emkhathini | Catering: Hell's Kitchen | Photography: Judith Belle Photography | Stationery: Pistachio Designs | Cake: Oh My Cake | Bride's dress: White Lilly Bridal | Bride's accessories: Peta Well's Jewelry | Hair: Angels Hair Studio (Sara Kelly) | Makeup: Katy Hues | Groom's attire: Sartoria Milano | Groomsmen's attire: David Jones (Woolworths) and tailored suit from Thailand | Hiring: Prop Stars (lounge pods) + Kate's Party Rentals (tent & furniture) + Draping Worx (lighting) | Flower crowns & bouquets: Castle Walk Florists | DJ: Dave Owen (groom's bandmate) | Bar: Mixmasters