I've never been one to not know what I want. I have almost always had rather specific and clear preferences and ideas about what I do and do not care for. I know what I like and if I cannot find that I can most certainly always find what I do not like to rule things out. I don't like horrors, I don't like skiing, I don't like bubblegum flavoured anything, and I don't like minimalist design. What I do like… well since this is a dress post…
Beautiful luxurious fabrics, layer upon layer of soft, sheer material draped ever so delicately, as if angels have placed it to effortlessly express the femininity of its wearer. Ethereal. A dress that moves as you move, that seems to float as if itself experiencing the lightness of being so superbly and hopelessly in love. In the world of the dress I love Elie Saab, French Chantilly and Alencon lace, creations from the 1920s.. wedding dresses.
There is something about a wedding dress. It somehow isn't just a white dress, or a pretty outfit. It says something. It emanates something. Maybe it's the joy that shines out of the bride herself, or the enchantment of her devotion that gently settles on her cheeks like the snow that creates Evangeline's dress in the movie Nanny Macphee. Maybe it's the way the groom looks at her, which seems to expose and magnify both inner and outer beauty for all to appreciate or maybe it's simply the shared knowledge of the magnitude of what wearing the dress means.
And I guess what I would like most out of my dress is for it to make me feel like a bride. Authentically me, but also special, because the day is special, the moment is special.
Colour-wise I would like it to be ivory – I am completely taken with the creamy look of the dress in this picture!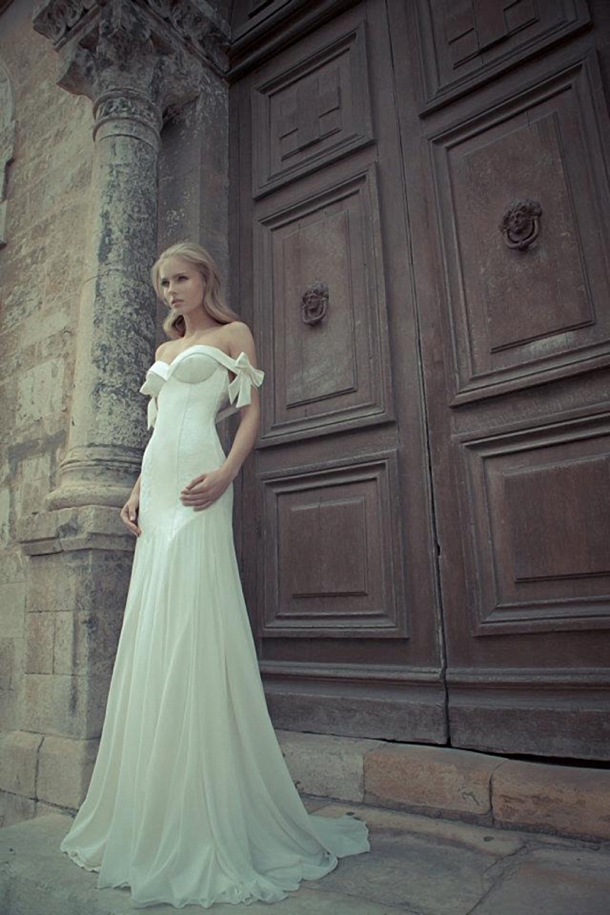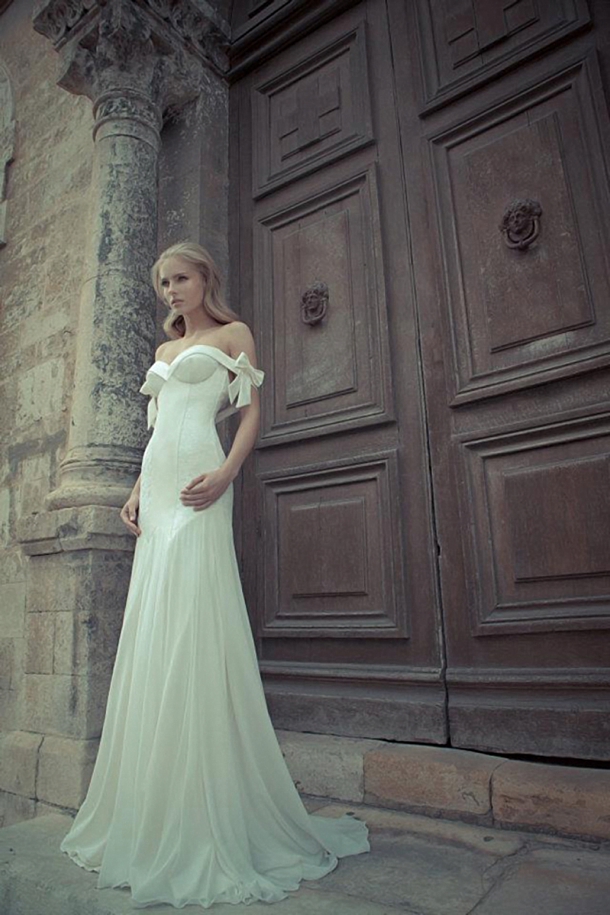 Source: Yaki Ravid via Belle The Magazine
For the rest, I think that when it comes to selecting your bridal gown you have to just know it when you see it. The picture of my dress has been sitting in a box in my mum's office for a few years now waiting for my day to arrive. :) Naturally I'm going to keep it hidden for a little while longer, but here are a few tasters that have made me fall silent, spellbound, thinking up the all vow renewals that may be necessary to wear them…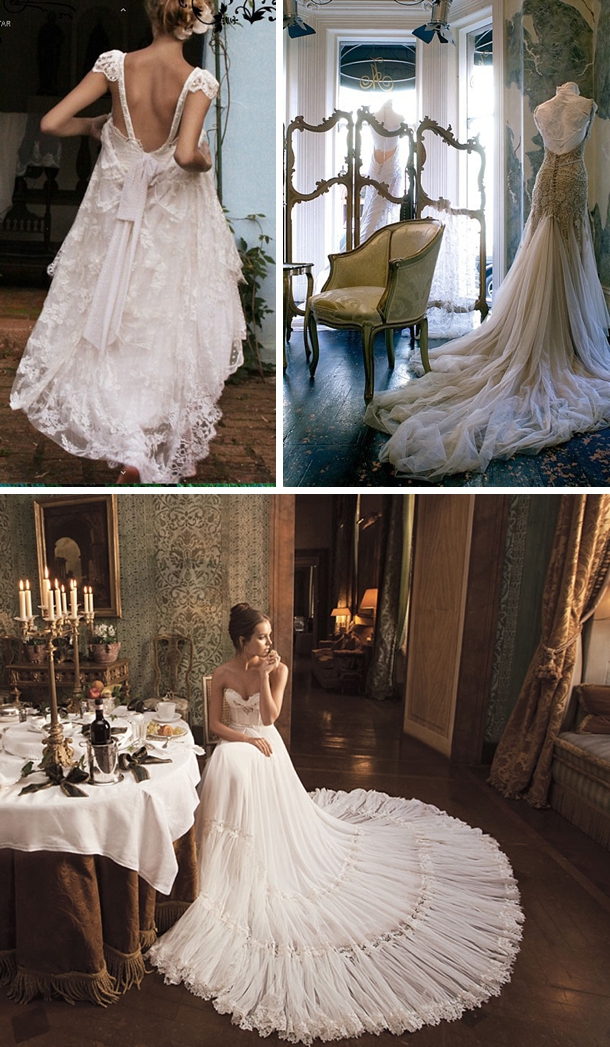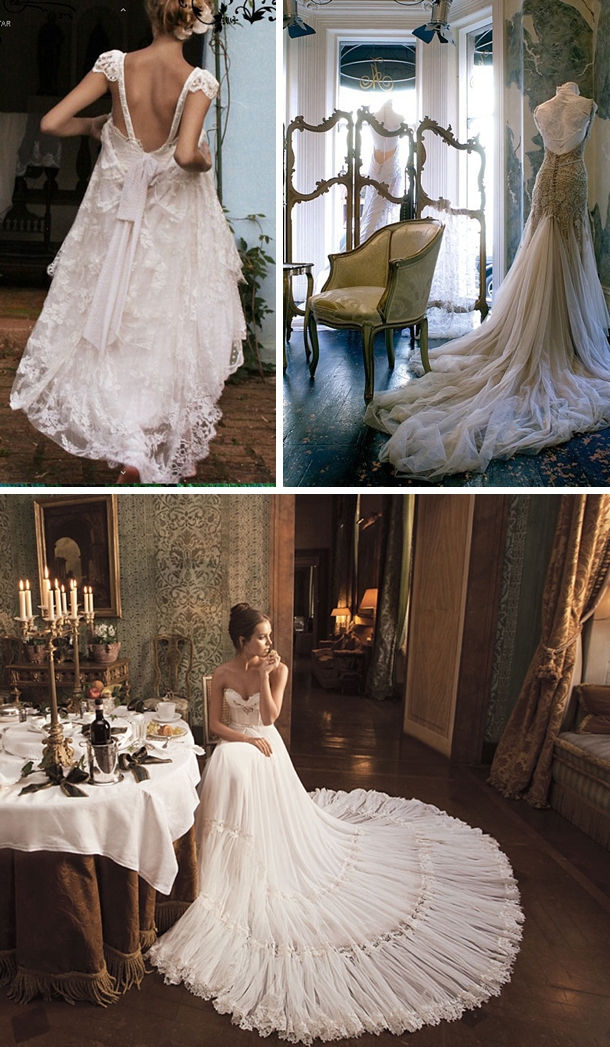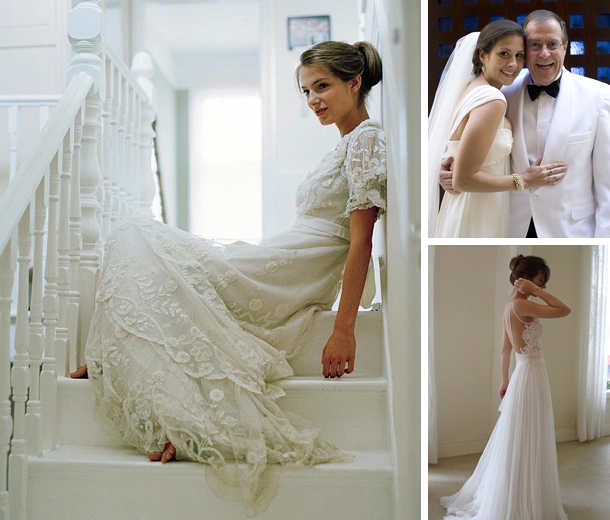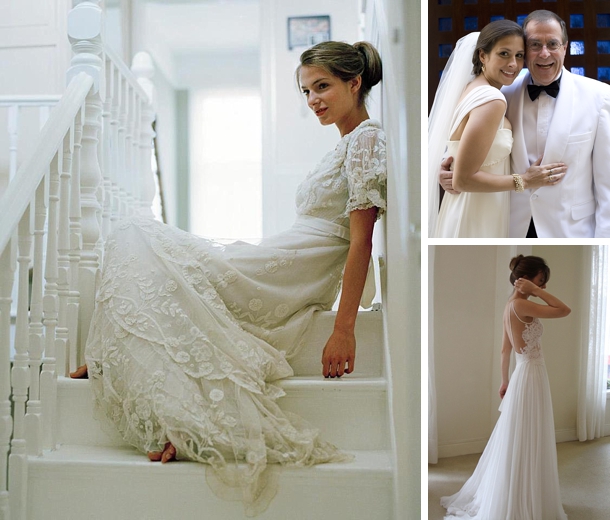 Sources: Row 1 – Emanuelle Junqueira via A Diary of Lovely (left); J'Aton Couture via The Bridal Detective (right); Row 2 – Inbal Dror via Belle The Magazine; Row 3 – The Vintage Wedding Dress Company via Wedding Etc. (left); North on Harper (top right); Wanda Borges via Surf & Sunshine (bottom right)
When I finally put on my dress I hope to smile and dance as if inspired by the familiar sounds of my musical ballerina jewellery box. Happy, content, at home. Beaming with all the wonderful feelings that come with standing on the bridge between my dreams and my reality. :)
Next time: Candice talks decor!
The series so far: The Proposal | The Inspiration | The Venue | The Cake | The Flower Girls