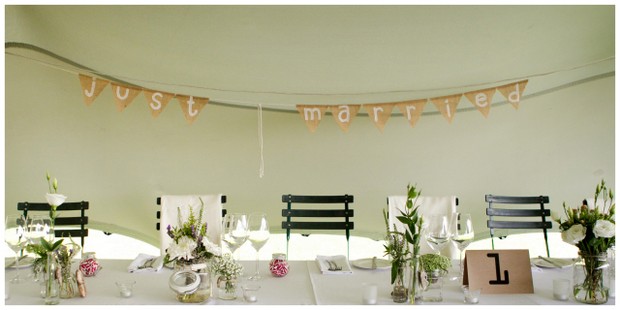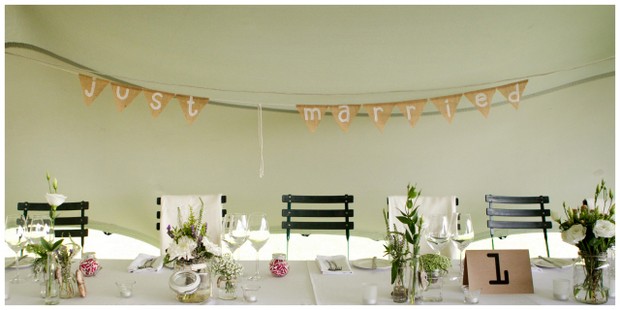 As a wedding blogger, it's sometimes a bit of an odd experience going through someone else's wedding pictures. The ones I tend to leave out (when I've been sent a full set) are the family shots, pictures of the guests, dancefloor pics. Those are personal pics, not really for a blog, but they do give me an amazing insight into a couple. And let me tell you, Nombuso and James have a lot of love around them, not to mention friends and family that really know how to party! There's so much joy and good feeling and even pride on every guest's face, that you just know what an awesome couple they are. Of course, that's not the only reason I love this wedding at Beaumont Wines. I'm a big fan of the English country style they've employed in neutrals, with little pops of pastel and raspberry pink. I'm a big fan of their adorable cake, their old fashioned jars of sweets for favours, their hessian (burlap) bunting. The haybale seating at the ceremony (so cute!). The cool lanterns on their dancefloor (what a lovely alternative to the large round lanterns we usually see.) The bride's shoes – how I do love those Westwoods! All in all, it's a truly lovely wedding, perfectly captured by Glee Photography – enjoy!
From the beautiful bride, Nombuso (doesn't she just have the face of an angel?):
James and I are high school sweethearts. We met back in 2002 with the common love for all things artist, humorist and fun. We both came to Cape Town to study and fell in love with the city, where I now work as an assistant designer for Woolworths homeware and James is an audit clerk at PKF.
James proposed on a relaxing Camps Bay getaway weekend. I did not think anything of the extraordinary weekend as I was being spoilt and pampered. On the Sunday afternoon in a stunning luxury guest house facing the picturesque Camps Bay sea, James suddenly got on his knees and pulled out a red ring box…
I first began looking for the venue for the wedding without any idea of what it was going to look like. The only thing I knew I wanted was a wine farm, but one that was quaint and special, not commercial and overdone. One day during the 'Pink Wine Festival' in Bot River, my family and I went out looking and tasting wine, and Beaumont Wine Farm was the first venue we went to. I fell in love with it straight away. The location was beautiful, unique and peaceful.
Our design concept was based mainly on the colour palette of cream, white and natural green from flowers. The décor had rustic vintage elements, such as the hessian bunting flags which I made myself, the wooden hearts on the tables and around the vases and the wildflowers. My husband wrote our wedding programme (it reflected his personality to a T), and my maid of honour and I made gift tags and hand written signs.
On the day, the decor fitted together perfectly, and our friends and family had a blast! I loved my whole outfit from my wedding dress to makeup (and especially my shoes!), as well as the delicious menu and how everyone was so happy.
Planning a wedding is stressful! But it does all pan out at the end of the day. The most stressful is having people asking you questions you do not yet have the answers to. It's important not to let people around you force you to make decisions quickly if you are unsure. BUT make sure that you can explain your ideas and concepts as much as possible because people don't always see the bigger picture you have in your head. My best buddy became like my twin, and was able to help explain my ideas to others, which helped with the stress! Researching wedding blogs all the time helped me to get ideas and combine different elements.
Congratulations, Nombuso and James! Thank you so much for sharing! A big thank you (and welcome!) to the fab Glee Photography – you can see even more of their great work on this wedding over on their blog.
SERVICE PROVIDERS
Venue: Beaumont Wines | Catering & co-ordination: Zest Catering | Photography: Glee Photography | Florist & decor: Elgin Weddings | Cake: Charly's Bakery | Bride's dress: Marika | Makeup: Shanaaz | Entertainment: Trilogy Music