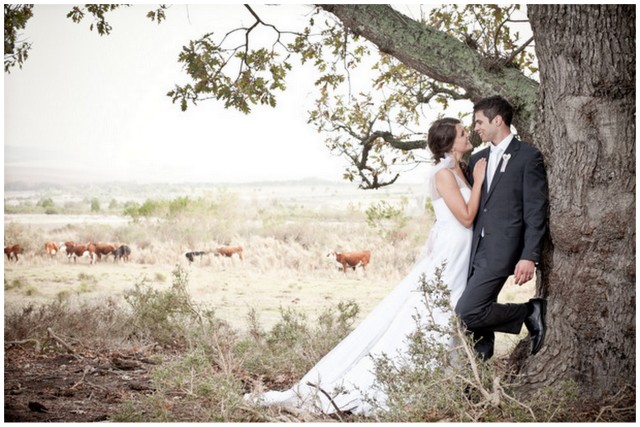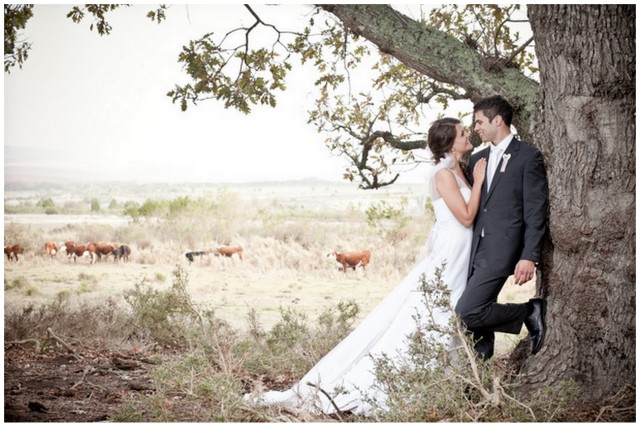 Location, location, location. That's what they say, right? Well, when it comes to weddings, I have to agree. It's not that a spectacular venue is the ONLY way to have a memorable wedding, just that half the work is done for you. Best example: probably my secret favourite wedding of all time (head to 06:31 on the video to see what I mean). Yes, it's from an Australian soap opera. Yes, it is cheese deluxe. But look at that VIEW. There's not a single piece of decor, and yet that would be a dream wedding ceremony, in an unforgettable location. Anyway, location is one thing that today's couple had on their side – Beloftebos, a farm venue with a forest roof so thick that it counts as a natural 'church' under South African law. Very cool. Even cooler is that Shané and Francois didn't stop there – they created a handmade festival of awesome, including stunning bouquets, cute DIY rustic decor, and an amazing attention to detail (look, for example, at the ribbon on the flower girls' feet, the button motif, the paint splashed glass bottles). Photies are by the fabulous Stephan Marais.
From beautiful bride, Shané:
Francois and I met at Stellenbosch while both of us were studying there. The proposal was very romantic – he planned a picnic at Rhebokskloof wine estate in Wellington, where he hung 23 tiny glass bottles from a tree with colourful ribbons. Each contained a love letter. I read all of them and after the last one, he got down on one knee!
The most important aspect of the wedding for us was that it would be a joyous, fun affair. We decided on Beloftebos, simply because we fell in love with the gorgeous outdoor venue that offered a whole experience and not just a place to get married. All the décor and flowers were chosen to enhance the natural beauty of the venue.
Our entire wedding was a DIY project! From the invitations, which my mother helped me to create, to the flowers which friends blessed us with as a wedding gift – every aspect of our wedding was extremely special to us, as the people we loved helped us to create our perfect day. My stepfather made our candleholders, our siblings and cousins were the flower girls and pageboys. My bridesmaids worked laboriously at the décor on the morning of the wedding, friends sang at and facilitated the wedding ceremony. I hand-made the 'button-holes' and Francois and I wrapped the guest favours ourselves. We tried to put our personal stamp on every part of the day.
On our way to the wedding, my bridesmaids and I decided we were going to stop for coffee. We ordered takeaway and sat in the car (fully dressed in my wedding gown!), sipping delicious lattes. This really helped to calm my nerves. Then, when I walked down the aisle, the music we had chosen didn't work! What should have been a disaster turned into an opportunity for me to realise that all the guests waiting there truly loved and cared for us. That was extremely special. And, of course, seeing my husband-to-be waiting for me at the end of the aisle was the most wonderful moment of my life!
The best possible advice I can give future brides is to enjoy every minute! Don't let the little things upset you – this is the one day in your life that you get to do everything as you want it to be. Listen to advice of others and accept help where you feel comfortable. If you are doing a DIY wedding, give yourself enough time and keep comprehensive To Do lists.
Big thank you, Shané and Francois! Wishing you a wonderful life together! And thanks to Stephan – you can see more of this wedding over on his blog.
SERVICE PROVIDERS
Venue, catering & co-ordination: Beloftebos | Photography: Stephan Marais | Flowers & decor: Moondrops | Cake: Cake Couture by Justine | Bride's dress: Robyn Roberts | Bridesmaids' dresses: YDE | Hair & makeup: Sanmarie | Entertainment: Jo Martin Band | Additional decor: Doodles Laser