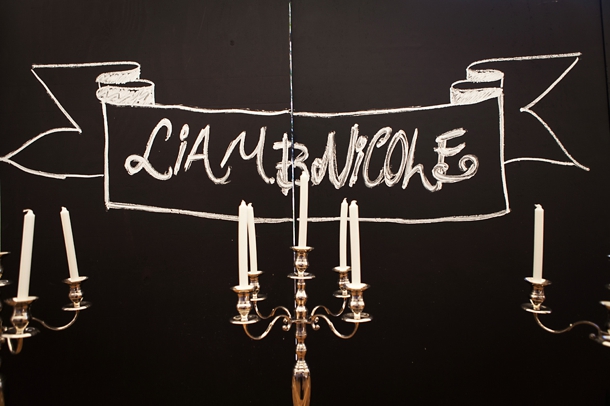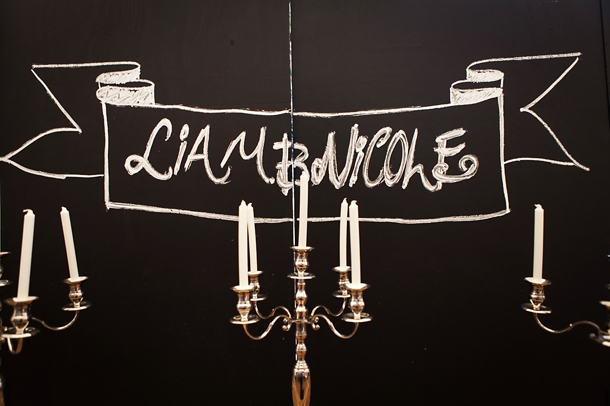 You know, I'll never forget the first time I visited London's Borough Market. I'm embarrassed to say it was many years after I started living here, but maybe that was a good thing, because it also took a few years for me to become more of a foodie and certainly more of a cook, and I'm not sure I would have appreciated it before. There's something so special about a market – the smells, the sights, the sounds and the general happy vibe as people stop here, taste this, buy that. So when market weddings started to become a thing, I was completely on board. Especially because it's a great way to get your guests to mingle and relax, which is something that today's bride and groom understood only too well. They had a big guest list, but they wanted their friends and family to socialise and relax, and they hit upon a brilliant way of making that happen. Starters were served market-style, from the cutest little striped tent stands. C'est adorable. The French stripes continued into the marquee reception, complete with brightly coloured flowers suspended from the ceiling in glass jars and bottles. I absolutely LOVE this look – it's so happy and pretty and fun, and I'm delighted to be sharing it with you today. The fab Drikus Le Roux was on the scene to capture every pretty stripe and smile.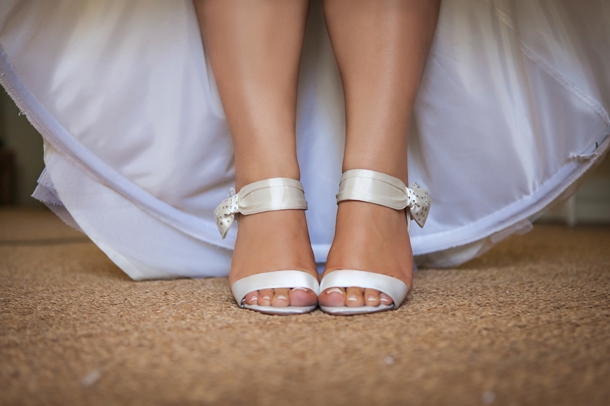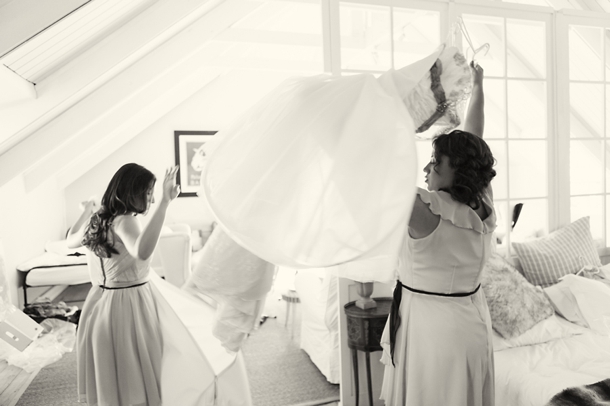 From the lovely Nicole:
Liam and I met when we were in high school – I was actually dating Liam's best friend at the time. After we broke up, Liam and I kept in contact and after about two years started seeing each other. When we finally tied the knot, we had been together for ten years, living together for six years and had a beautiful three-year-old son. In some ways you could say we did things in our own time, and somewhat backwards, but I wouldn't have had it any other way. I suppose you could say we are quite different- Liam is quiet and reserved and I come from a loud, social family, but we just clicked.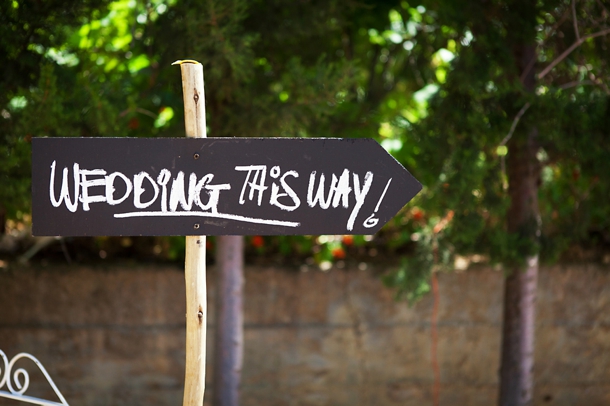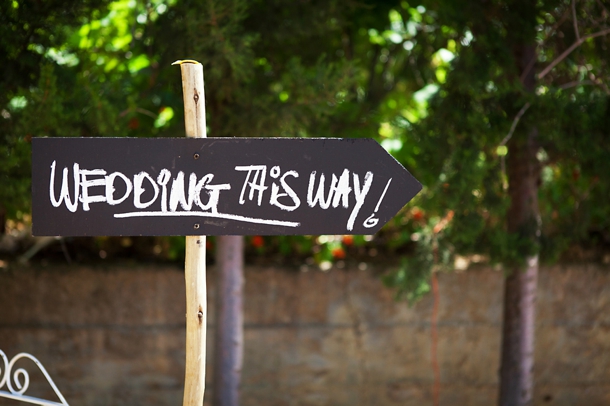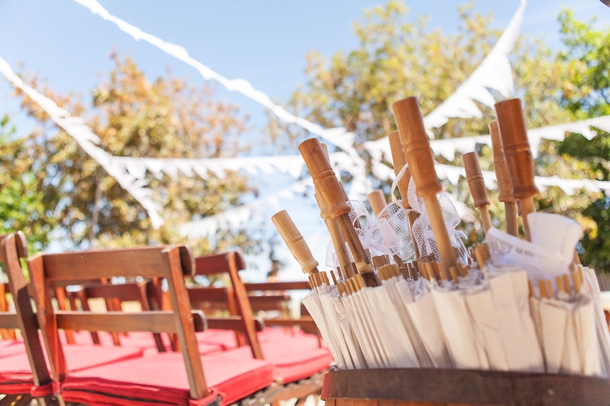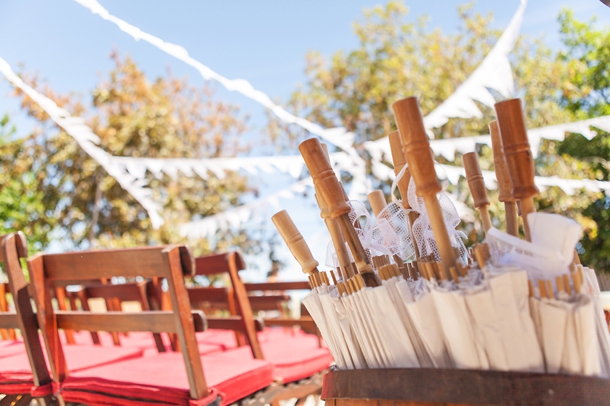 We travelled through Europe in April 2012 and when we were in Berlin, Liam found a restaurant that only had potato on the menu! Seven pages of potato-filled goodness! It was totally awesome because I love potatoes! It was called the "Kartoffel Kellar" and was exactly that- a cellar converted into a restaurant. We walked from the hotel to the restaurant and it took 30-40 minutes, so by the time we got there, I was so irritated. By the end of the evening, we were only one of four tables still occupying the restaurant, and he just brought out the ring and started talking and asked me to marry him. In all honesty, I can't remember what he said exactly, I was just so taken by the surprise and the ring! It was so beautiful. We walked back to the hotel and I burst into tears. I was so overwhelmed. Then we got to calling our parents to tell them the news.
A note from Liam: I didn't plan to propose in Berlin. Paris was where I had hoped to do it but that was the last stop on our trip. Nicole had nearly found the ring on a few occasions so I had to take drastic measures. I wanted to surprise her (she loves surprises) but I also wanted to make sure to ask her father for her hand before proposing. We travelled to Dublin, where her parents live, and the night before we left, I spoke to her father and asked him. That meant a lot to her.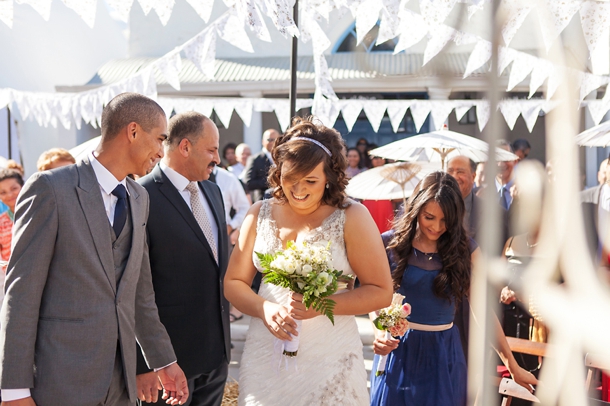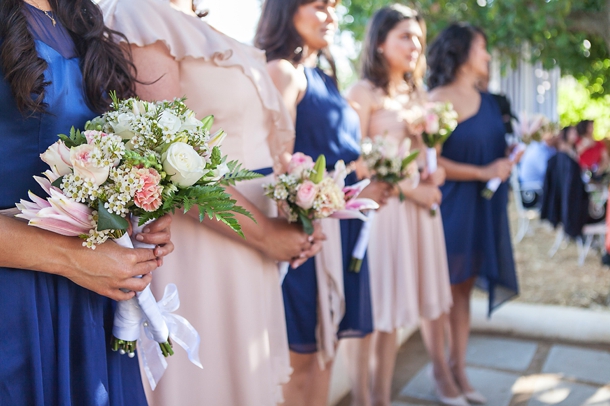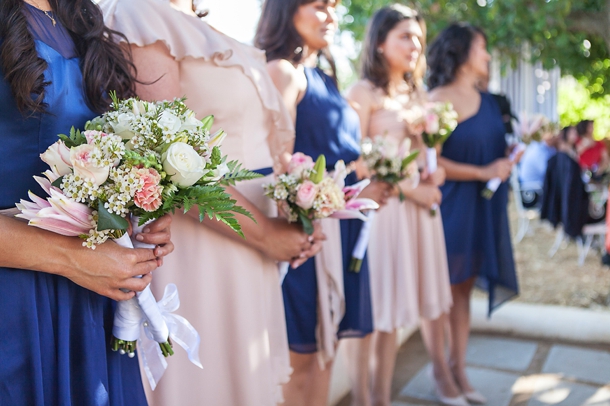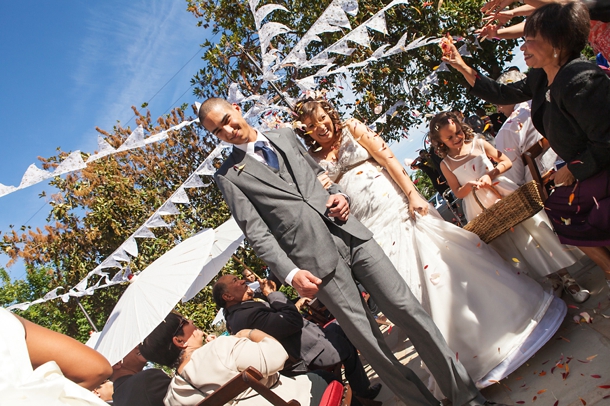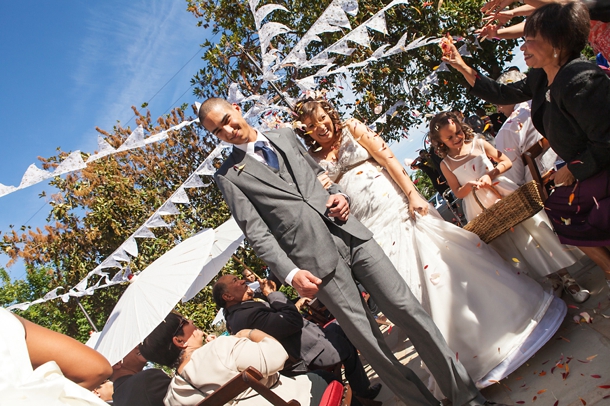 We love food and especially on our travels always find ourselves in amazing markets. We liked the idea of having a food market presence at our wedding – we wanted the starters to be served from market stalls. While rummaging through the internet, we found that Mynhaardt of Baa Baa Black Sheep Restaurant in Riebeek Kasteel had done something similar for another couple. I mailed him and we drove out to meet and discuss our ideas. I loved Mynhaardt and Eugene and their food was amazing, so I was confident I wanted them involved. Shortly after meeting, they left Baa Baa Black Sheep and were reviving their events company, Moerby Kultuur. They suggested looking at a new venue, the De Oude Kerk and Museum in Riebeek Kasteel. The venue was exactly what we wanted, with separate areas for the various stages of the day. Most importantly, it was large enough to accommodate our large guest list.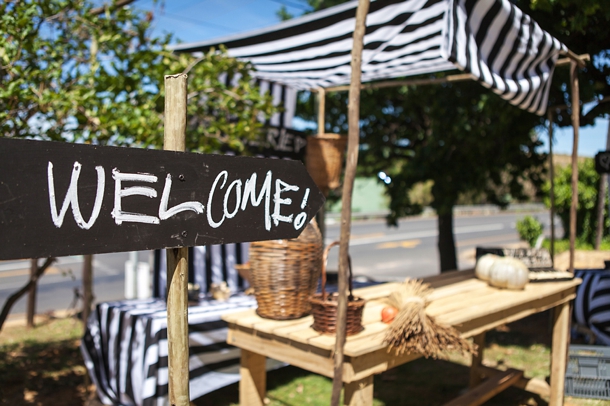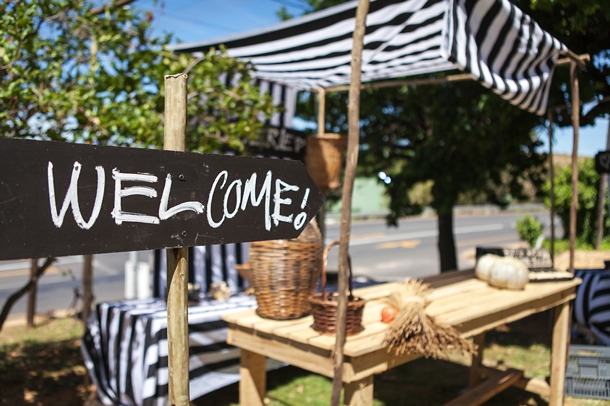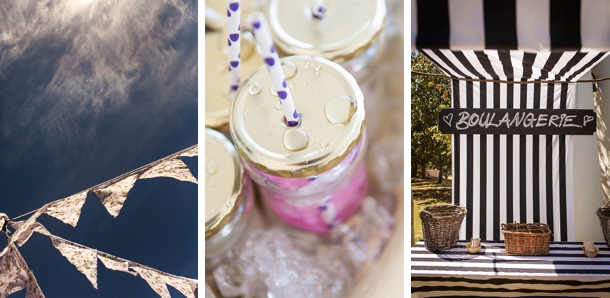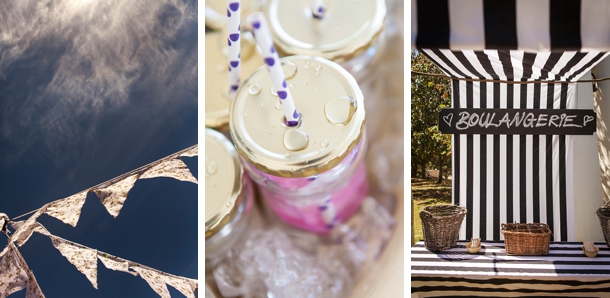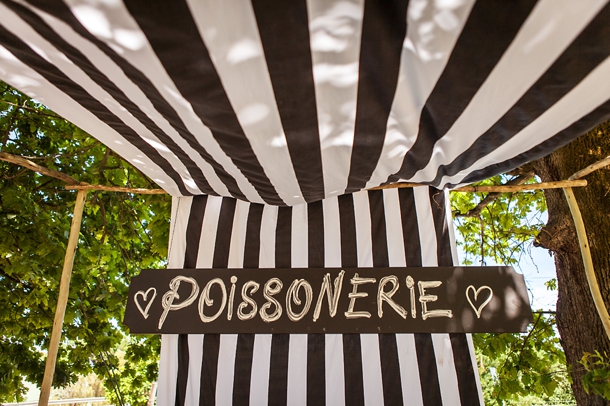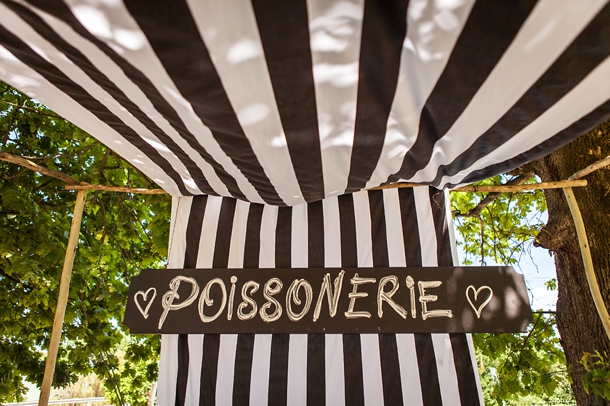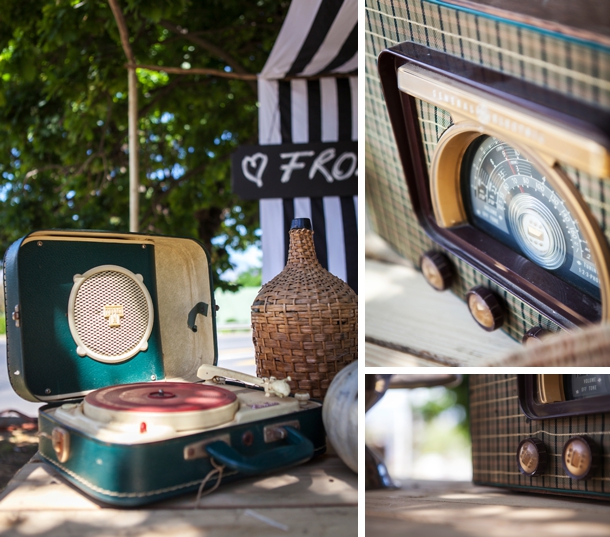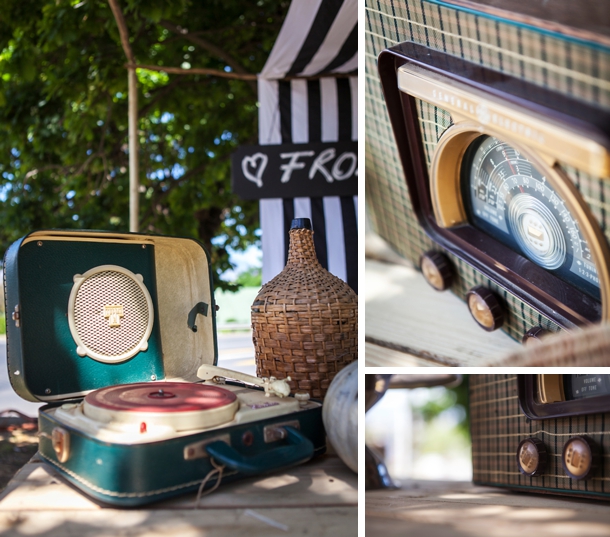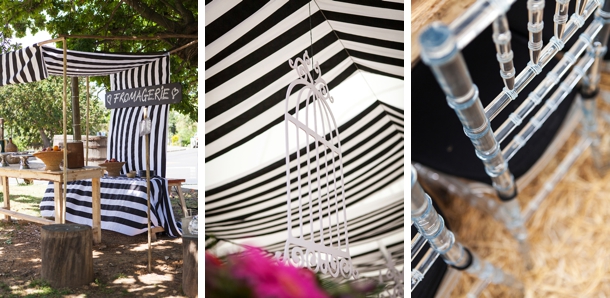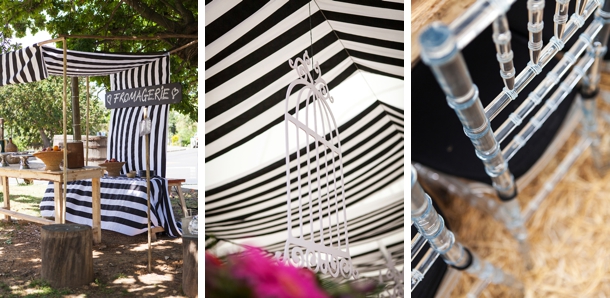 The market stalls ended up being my favourite thing about our wedding design. It was something totally different and we had a guitar and violin duet playing which added to the market feel. I think this really reflected our relationship and I'm so glad it worked out exactly as we had envisaged. We didn't really have a theme per say, or a colour scheme. We wanted an environment that was casual, as we had 200+ guests and wanted people to mingle and be relaxed. Our main goal was that the food had to be marvelous and our guests comfortable and able to enjoy themselves; everything else was a bonus. I will commend Moerby Kultuur on their use of the glass containers for the single flowers which they hung all around in the tent. They collected over 100 glass containers over three months! Visually it was striking to see all that colour and because it was suspended, it didn't clutter the tables.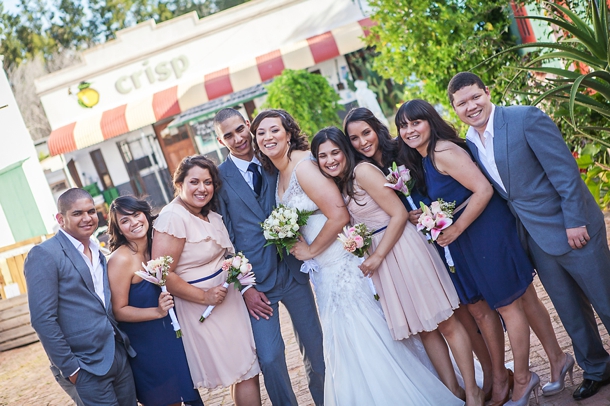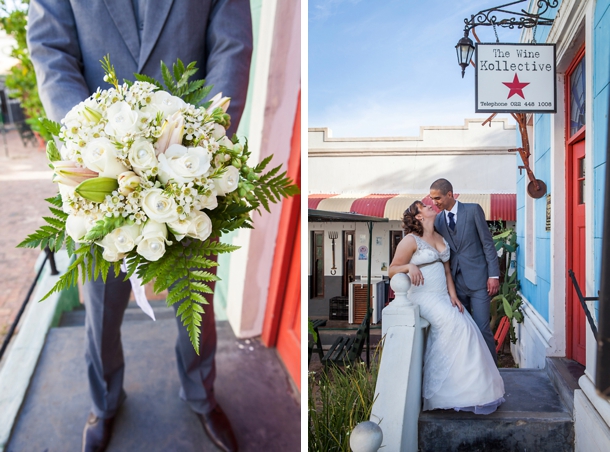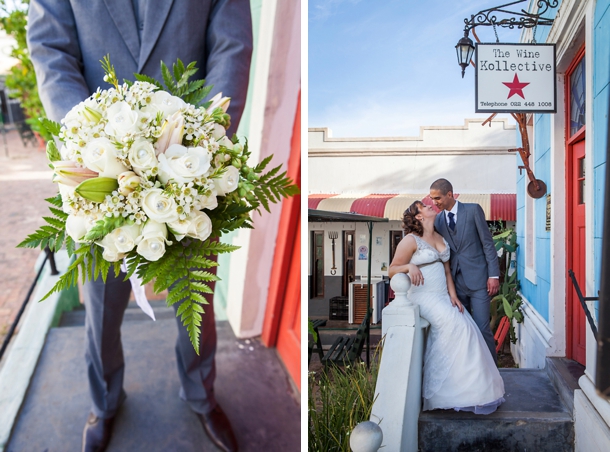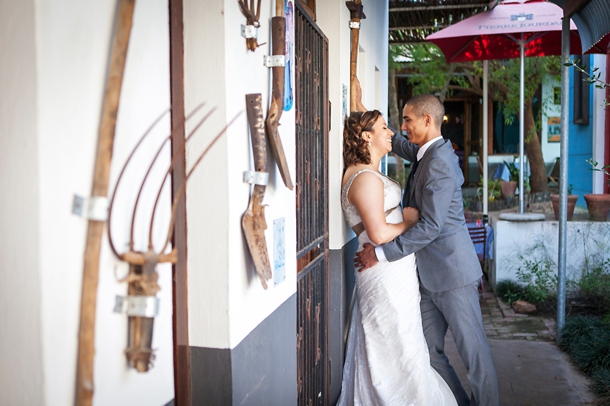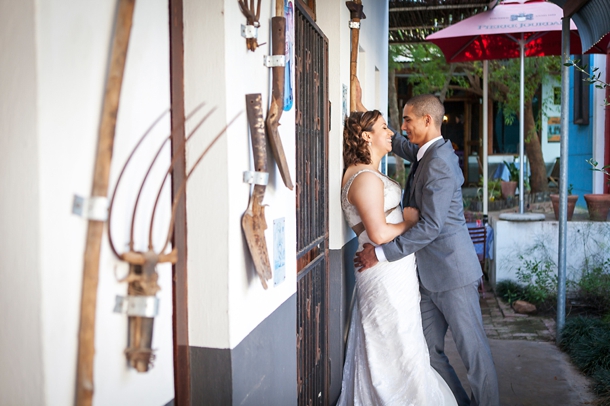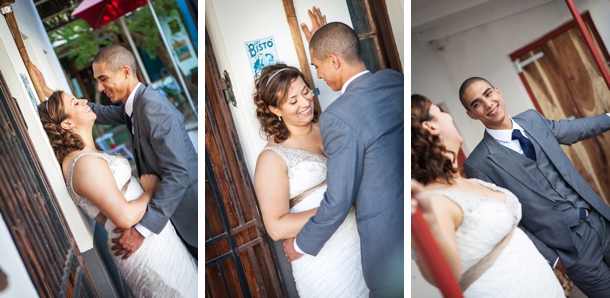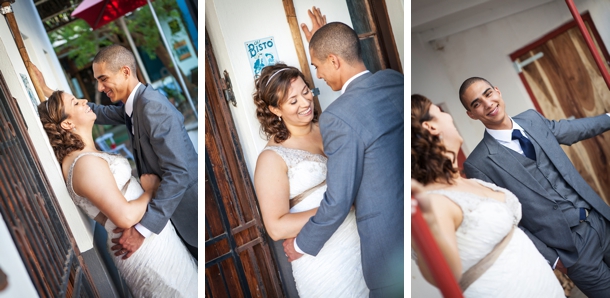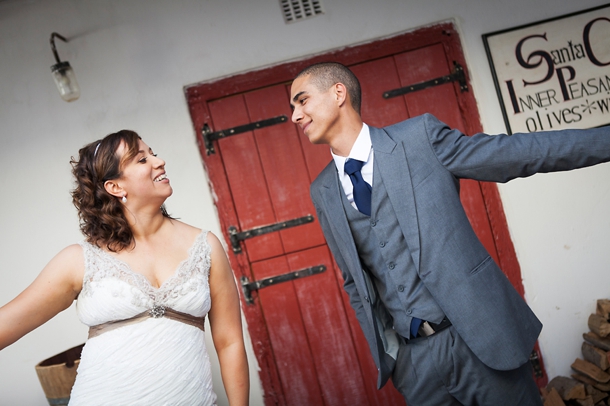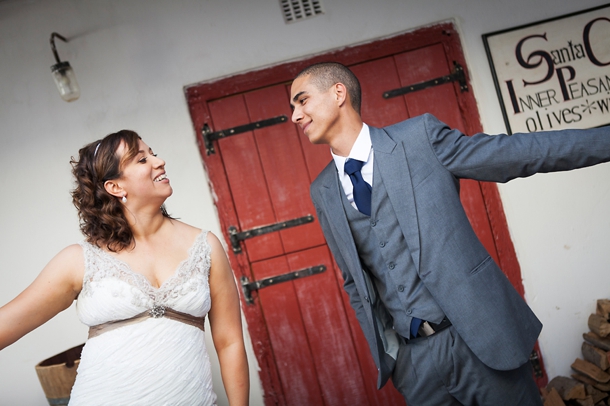 The ceremony initially had been daunting to put together as we have different religious backgrounds, but we wanted to have a ceremony everyone could witness and be present for. We asked the father of a close friend of ours, who is a minister, to perform the ceremony – a short taking of vows and to say a few words. It was wonderfully fitting and we will forever be grateful to him for being so understanding.
I know some people hate speeches but I think it is one of the most wonderful parts of a wedding. I was especially touched by Liam's speech, which he delivered confidently and without fault. Anyone who knows Liam will know how much it took for him to do it, but it was flawless. My father's speech was also particularly touching.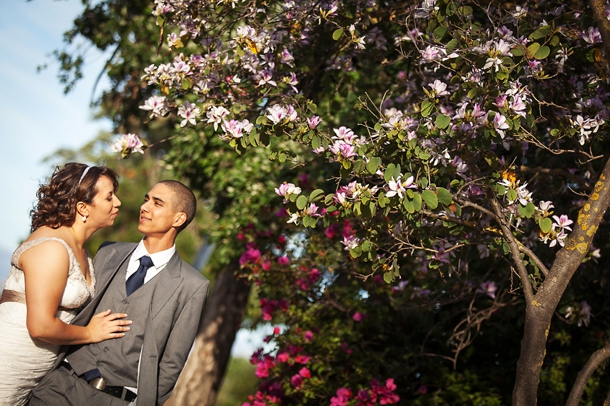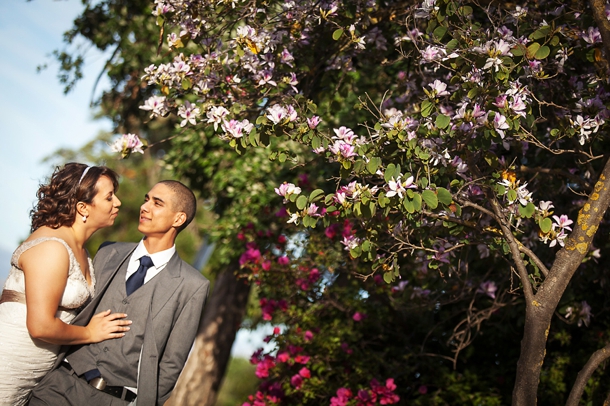 I had jewelry pieces made for the bridesmaids – my little way of showing my appreciation – a gold chain and personalized, handmade pendants with cognac diamonds. I wrote each of them a note and tucked both inside a leather purse which I gave them while we were getting done up. The intention wasn't for them to wear it on the day, but they all loved them and wore them. It was so special.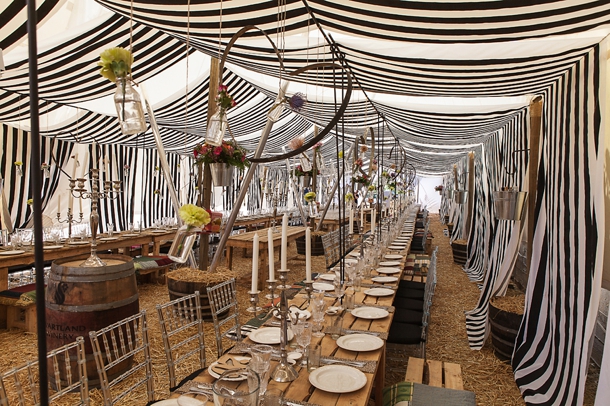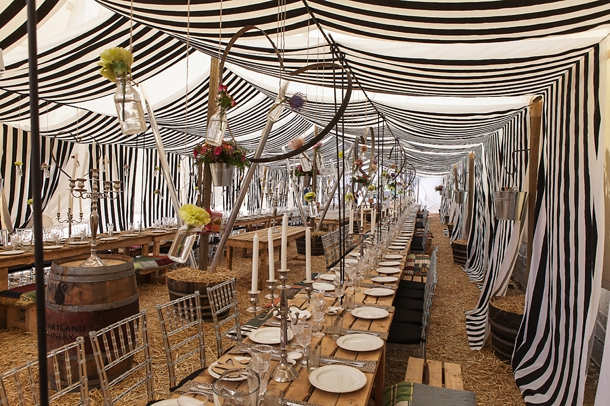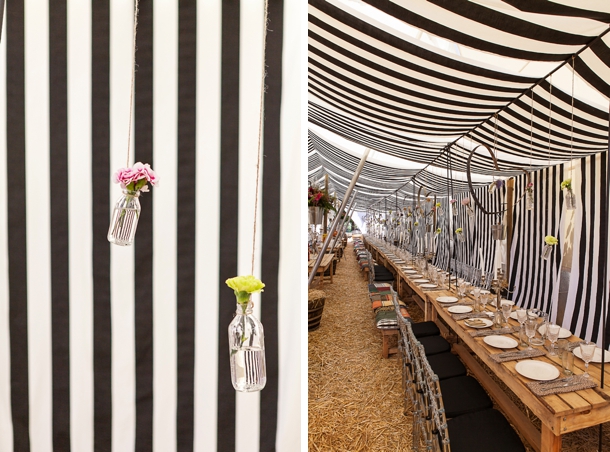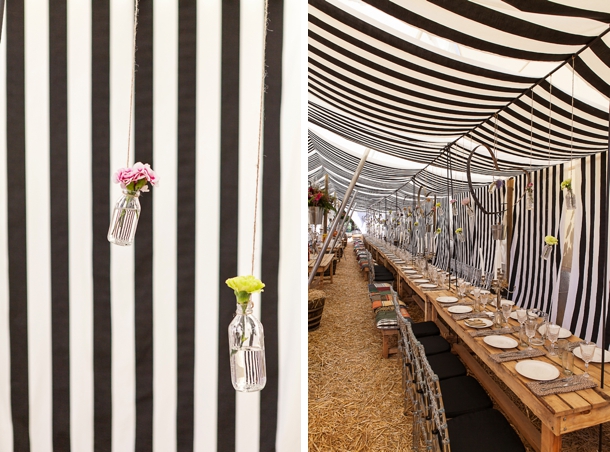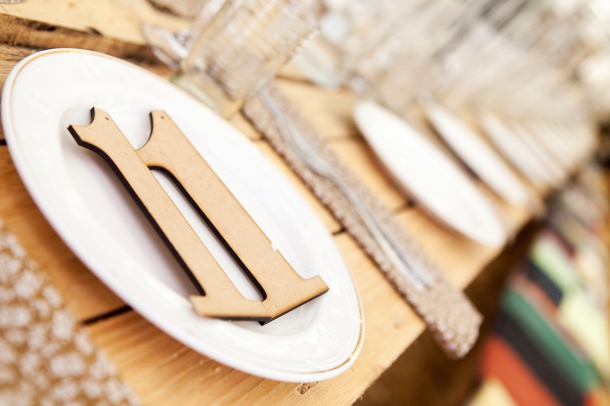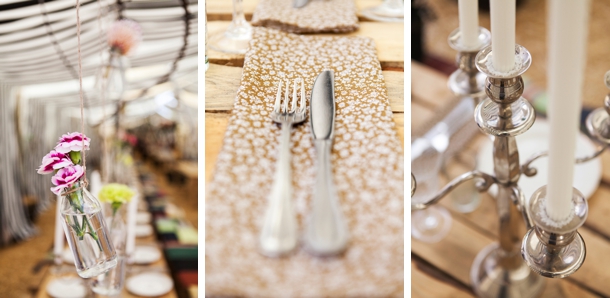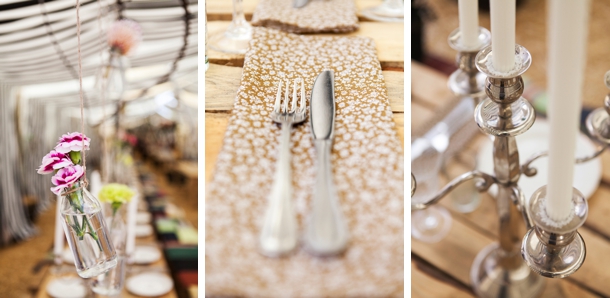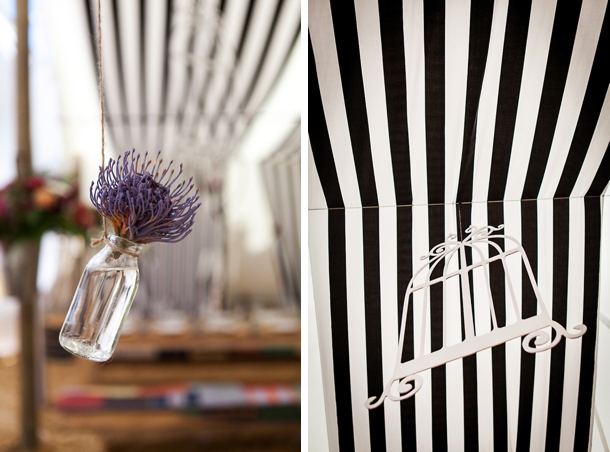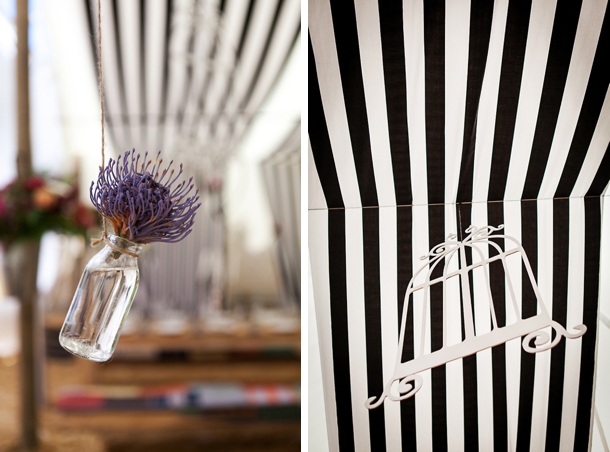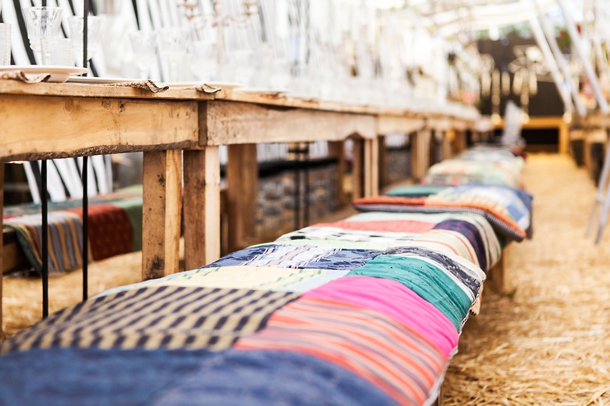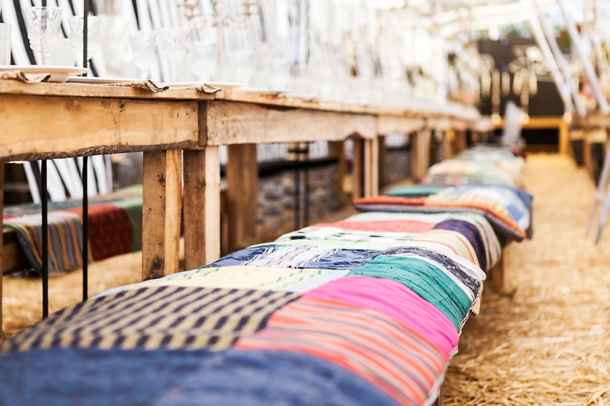 I think it is important to have an idea of what you want. What saved us was not focusing on each and every detail- only certain things were important to us; we gave direction but didn't stress about the rest. Moerby Kultuur were marvellous- most of the design ideas came from them. They shared all their ideas with us prior to going ahead and we were floored by their creativity, but trusted them to bring it together. As our wedding was out of town, it was important for us to have a team we could trust who could do the stressing and running around for us.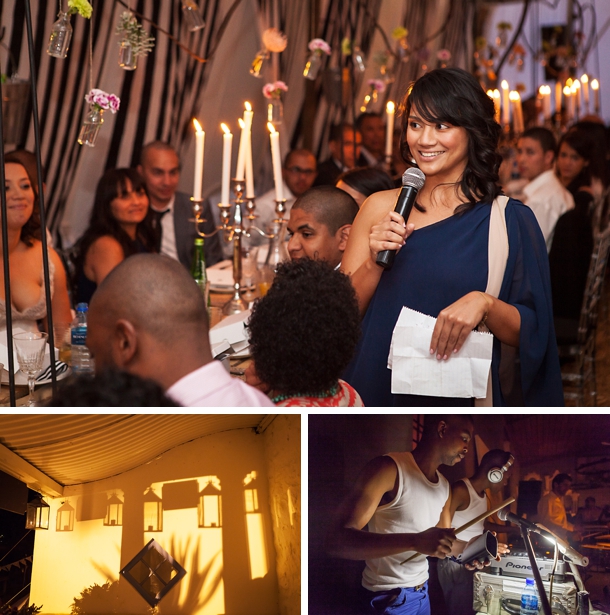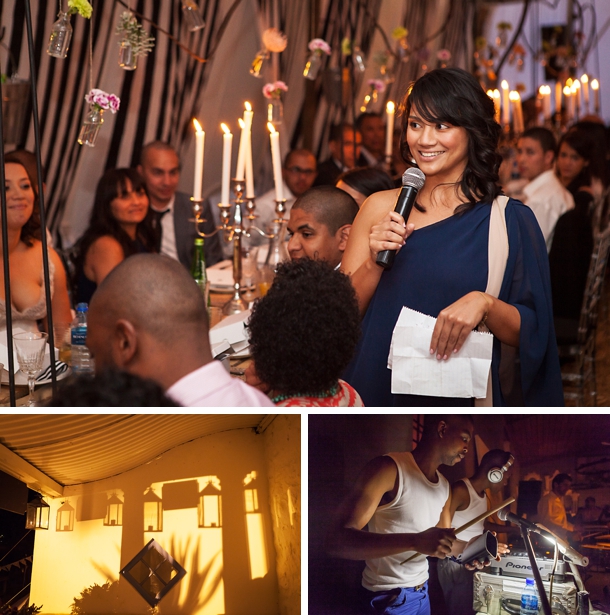 Thank you so much, Nicole and Liam, for sharing your beautiful day! And big love to Drikus – head over to his website for more from Nicole and Liam's big day.
SERVICE PROVIDERS
Venue: De Oude Kerk Museum, Riebeek Kasteel | Catering, co-ordination, flowers & decor: Moerby Kultuur | Photography: Drikus Le Roux | Bride's dress: Elizabeth Stockenström | Bridesmaids' dresses: Robyn Roberts | Hair: Brigitte Blom for Savas Hair | Makeup: Robyn Newman at MAC Tygervalley | DJ: The A Team | Cakes: Lize-Mari Roux (0823345512) | Wedding party accommodation: The Old Oak Manor | Bridesmaids' gifts: Jinn