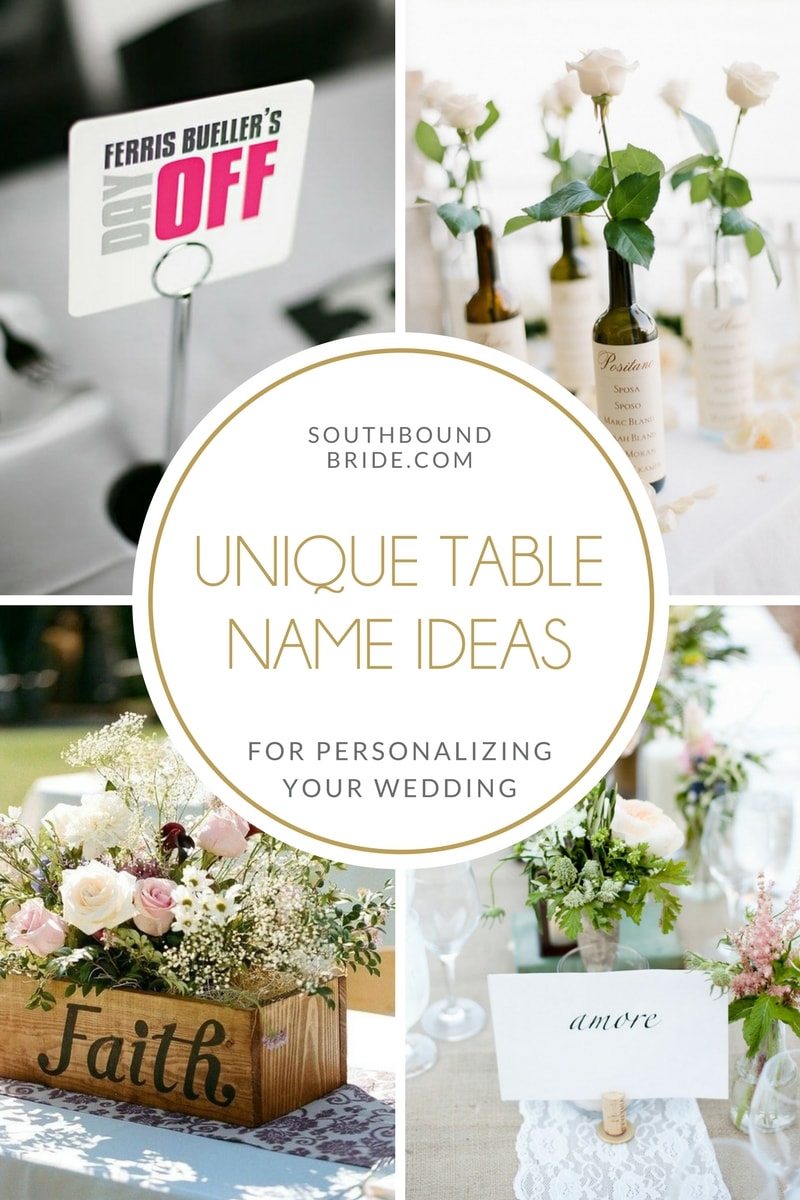 *UPDATED FOR 2021* I'm not going to lie to you: seating arrangements? Not fun. SO not fun. In fact, they will almost certainly suck, and leave you and your bae in a hot sweat of how-on-earth-will-we-get-this-done anxiety. (Don't worry, you'll make it work.) But if there's one part of seating arrangements that is suckage free, it's deciding on your table names. Now, I have nothing against numbers – they're simple, there are a zillion ways to make them look fab, and they're easy to follow. The only disadvantage is that sometimes it can feel like there's a hierarchy (cool people at table 1!), but that's not such an issue. The reason I do like table names as an alternative is that they're another opportunity to personalise your wedding details and tell your story. And you know how much I love that by now! Of course, place names are always good, but they're quite common these days, and you may want something a bit different. So today I have some fun, unique, creative (and, more importantly, completely customisable) wedding table name ideas to share.
*Links in bold denote affiliate links. The cost to you remains the same, but SBB may receive a commission for any sales made.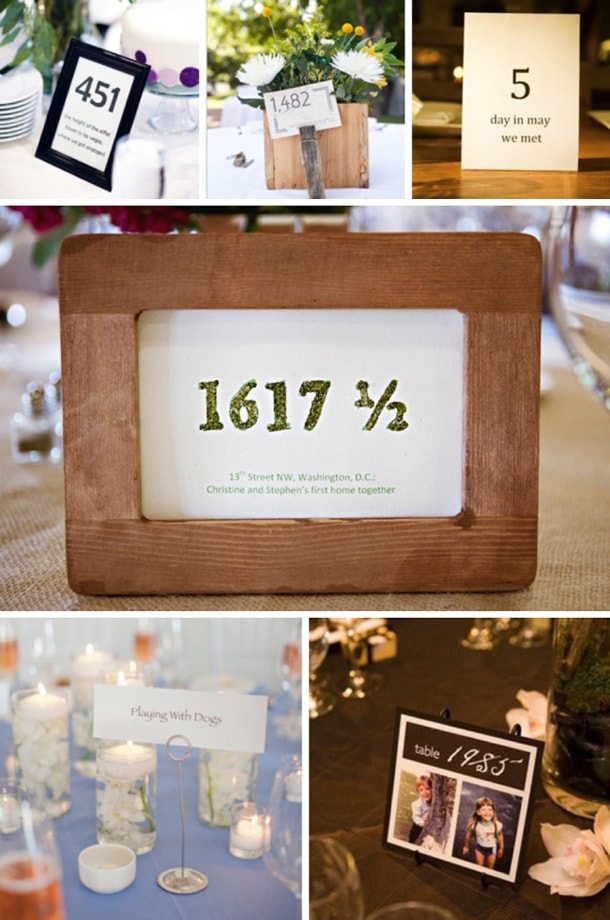 Sources: Studio KH via Minnesota Wedding (top left); Marianne Wilson Photography via Wedding Chicks (top centre); via Bridal Mentor (top right); Sarah Culver via United With Love (centre); Lori Paladino/Kate Stanley Design via Style Me Pretty (bottom left); Kristen Spencer Photography via Project Wedding (bottom right)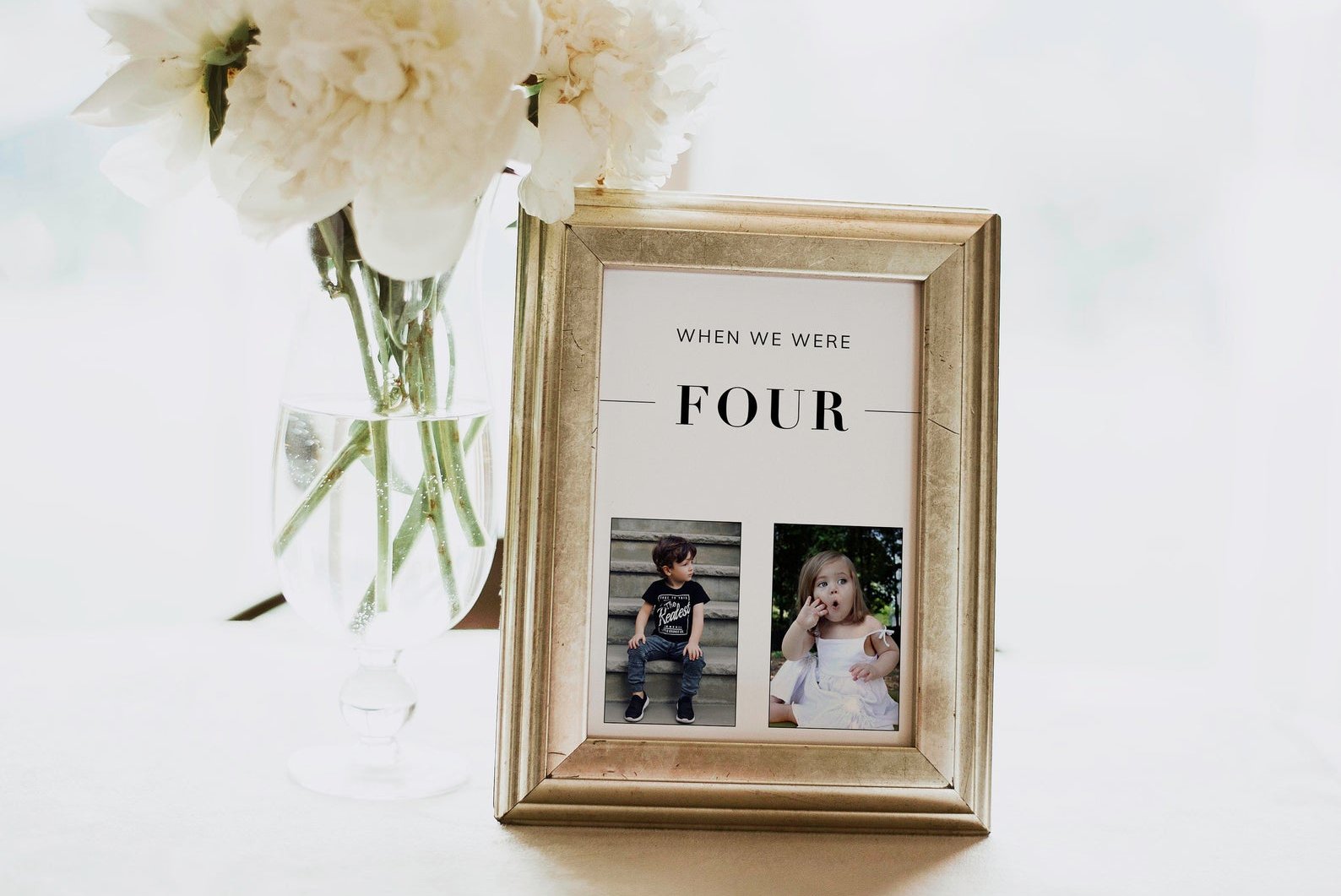 ZARA Minimalist Wedding Age Table Number Template by Morning Blush
1. It's all about you…
Personalised numbers are becoming more popular – either number your tables sequentially or choose completely random (but meaningful) numerals and be sure to add a short explanation to your table number signs.
Name each table after a relationship first – the place you went on your first date, the first movie you saw together, the first holiday you went on, etc.
You could also name tables after things you like doing together, to give your guests a little insight on your me and you time.
Number your tables up from 1 as usual, but include a picture of each of you at that age on the sign – great talking point! Similarly, you could name each table after a year, and have a picture of each of you in that year.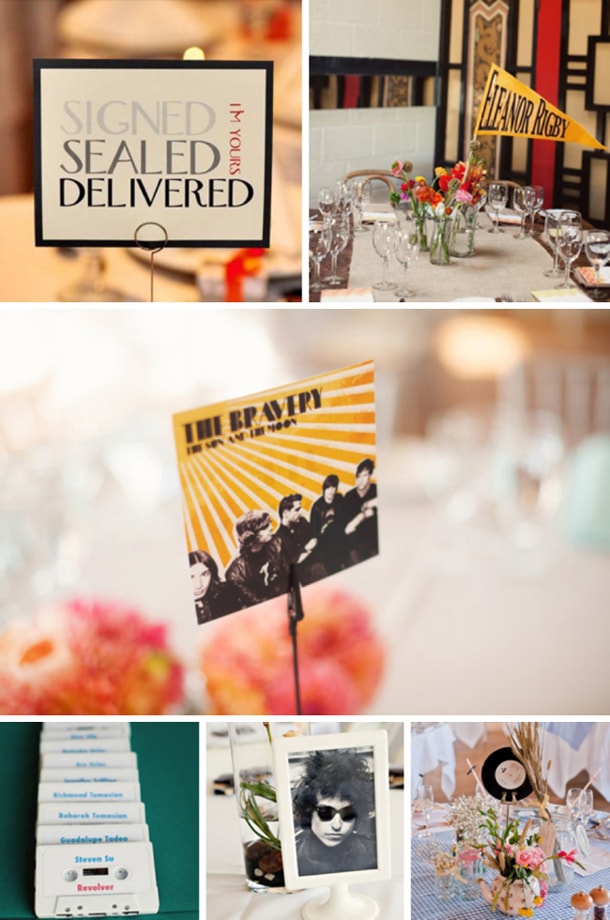 Sources: Ardent Photography via The Knot (top left); Ashley Rose Photography via Green Wedding Shoes (top right); Bryan Rupp/Bridal Bliss via Style Me Pretty (centre); Ashley Rose/Jesi Haack Designs via Green Wedding Shoes (bottom left); Katherine O'Brien Photography via Ruffled (bottom centre); Motif Photography via Rock n Roll Bride (bottom right)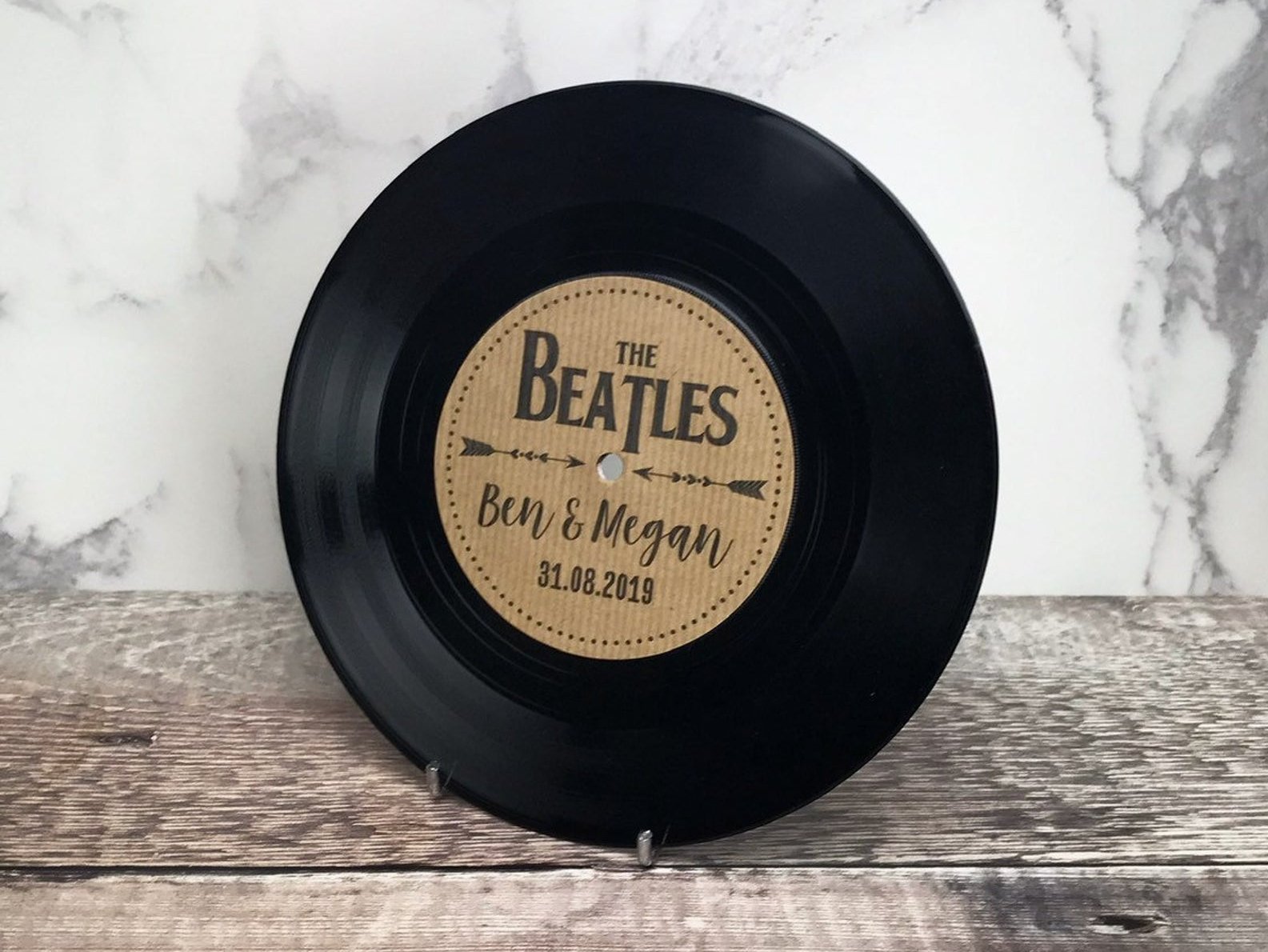 REAL 7″ Vinyl Record Wedding Table Numbers by Love Me Do Design
2. Musical chairs
Music is a passion many couples share, and there are loads of possibilities for using it as part of your table numbers. Pick one artist and use the names of their albums, or name your tables after different musicians, songs, lyrics, musical genres, festivals, or even concerts that you've attended together. Use album covers of vinyls instead of table signs. And if you go for the song option, one cute idea is for the DJ playing that song to be a cue for everyone at the table to get up and dance!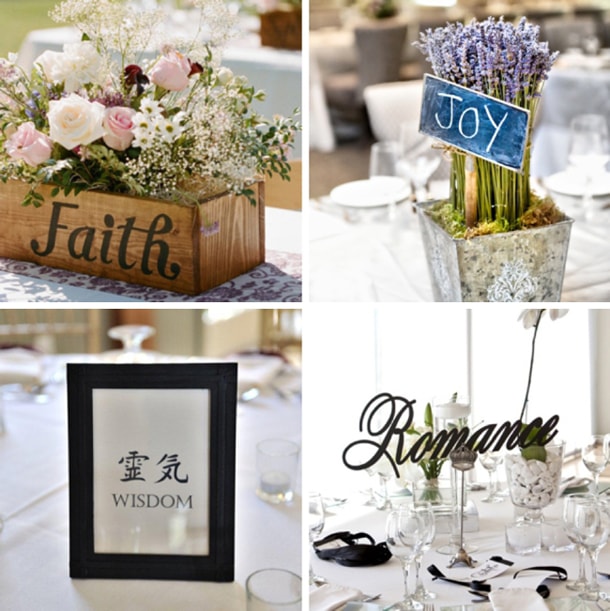 Sources: Erin Hearts Court Photography/Inspired Events via Style Me Pretty (top left); Stephen Elms Photography (top right) ; via Trou Inspirasie (bottom left); Yvette Gilbert (bottom right)

3. Hopes and dreams
For a very romantic and spiritual touch, brainstorm 'what marriage means to us' or the qualities that are important to you in your marriage and in each other, then name your tables after those qualities.

Sources: Micah & Megan Photographers via Wedding Wire (left); Shell De Mar via Hi-Fi Weddings (centre); Haywood Jones Photography/One After Nine (right)

4. Perfect pairings
A fun idea is to have a theme of perfect pairs for your table names. They could be elements that belong together, such as: cats & dogs, bricks & mortar, eggs & bacon, twist & shout, etc. Or you could consider couples – real (e.g. John & Yoko, Will & Kate, etc.) or imaginary, from books or films.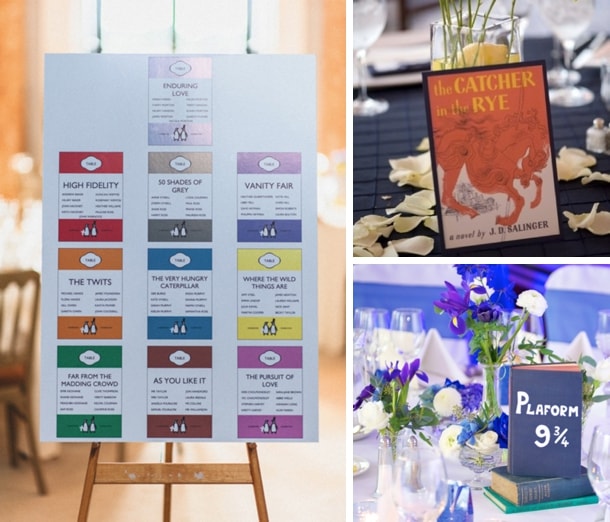 Sources: Rhys Wheatley via Whimsical Wonderland Weddings (left); Freed Photo (top right); Michelle Joubert-Martin (bottom right)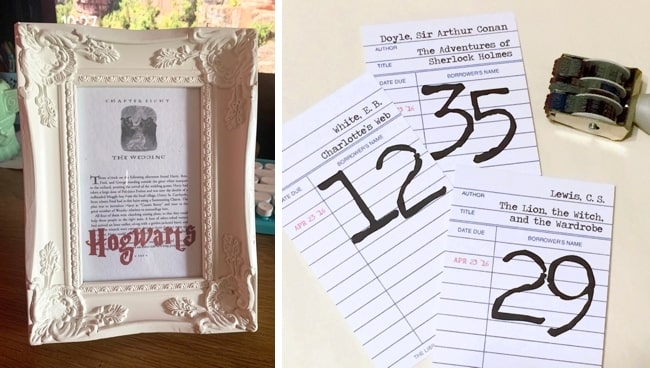 Harry Potter Themed Table Names by Inner Geek Occasions (left) | Library Wedding Borrower's Card Table Number Cards for Literary Wedding by The Bird and the Beard (right)
5. By the book
Speaking of books, there are lots of other possibilities for using a favourite book as a source for table names, even if it isn't the theme of your wedding. Characters, locations and quotes are all good sources. Or you could use a range of book titles, plus book covers make great table signs especially if they're linked (for example, you could use all the vintage covers of James Bond novels, or Penguin classics). This adds a sweet literary touch to any table, and you could even leave a copy of the book on the table for guests to sign – great way to stock up the library.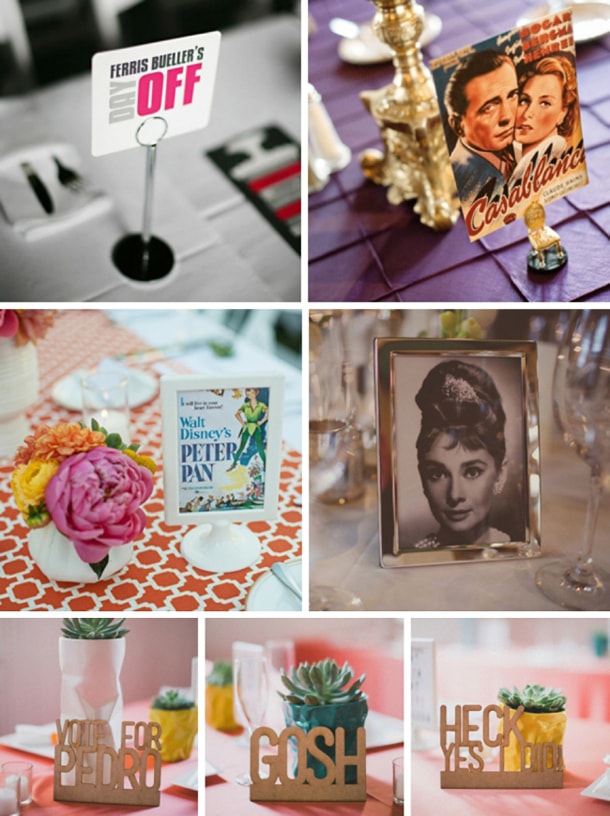 Sources: Riso Studio/Clutch Events via Style Me Pretty (top left); Super Weddings.com (top right); Frenzel Studios/Celebrations of Joy via 100 Layer Cake (middle left); Devlin Photos via Rock My Wedding (middle right); Studio Castillero/Jesi Haack Design via Green Wedding Shoes (bottom)

6. Movie magic
Like books, movies are a great source for table names and you can also choose to use elements of a single film or rather use film titles in general. Or you could look to collections: movie stars from a specific era, Disney movies, or quotes, for example. Be creative! My faves are totally still these Napoleon Dynamite quotable table names at the top of the post – so fun!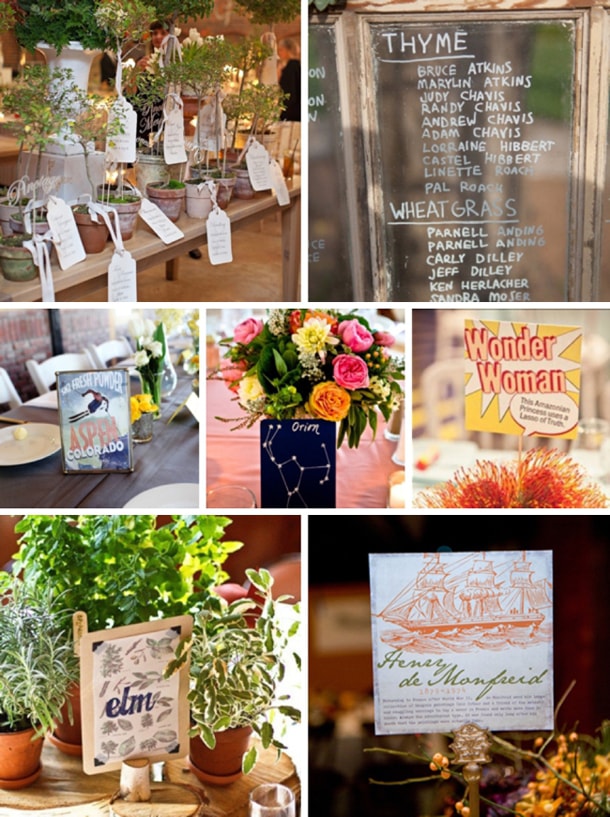 Sources: Christine Meintjes/Absolute Weddings via The Pretty Blog (top left); Carlea J Photography via Style Me Pretty (top right); Cloud 9 Photography (centre left); via Delightfully Engaged (centre middle); Jagger Photography via Bridesmaid.com (centre right); Tyra Bleek Photography via Style Me Pretty (bottom left); via Amorology (bottom right)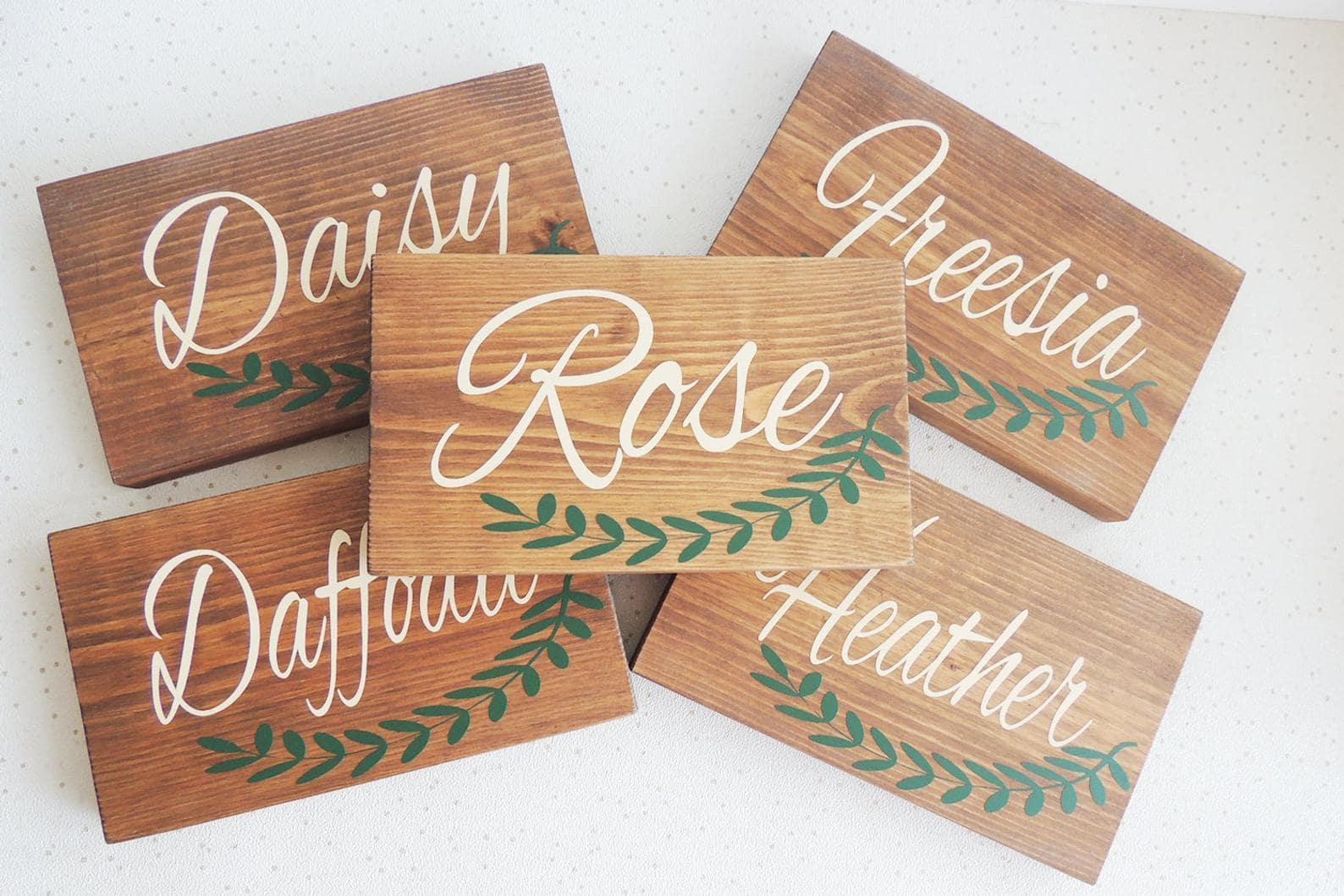 Flower Wedding Table Names by Luxury Grove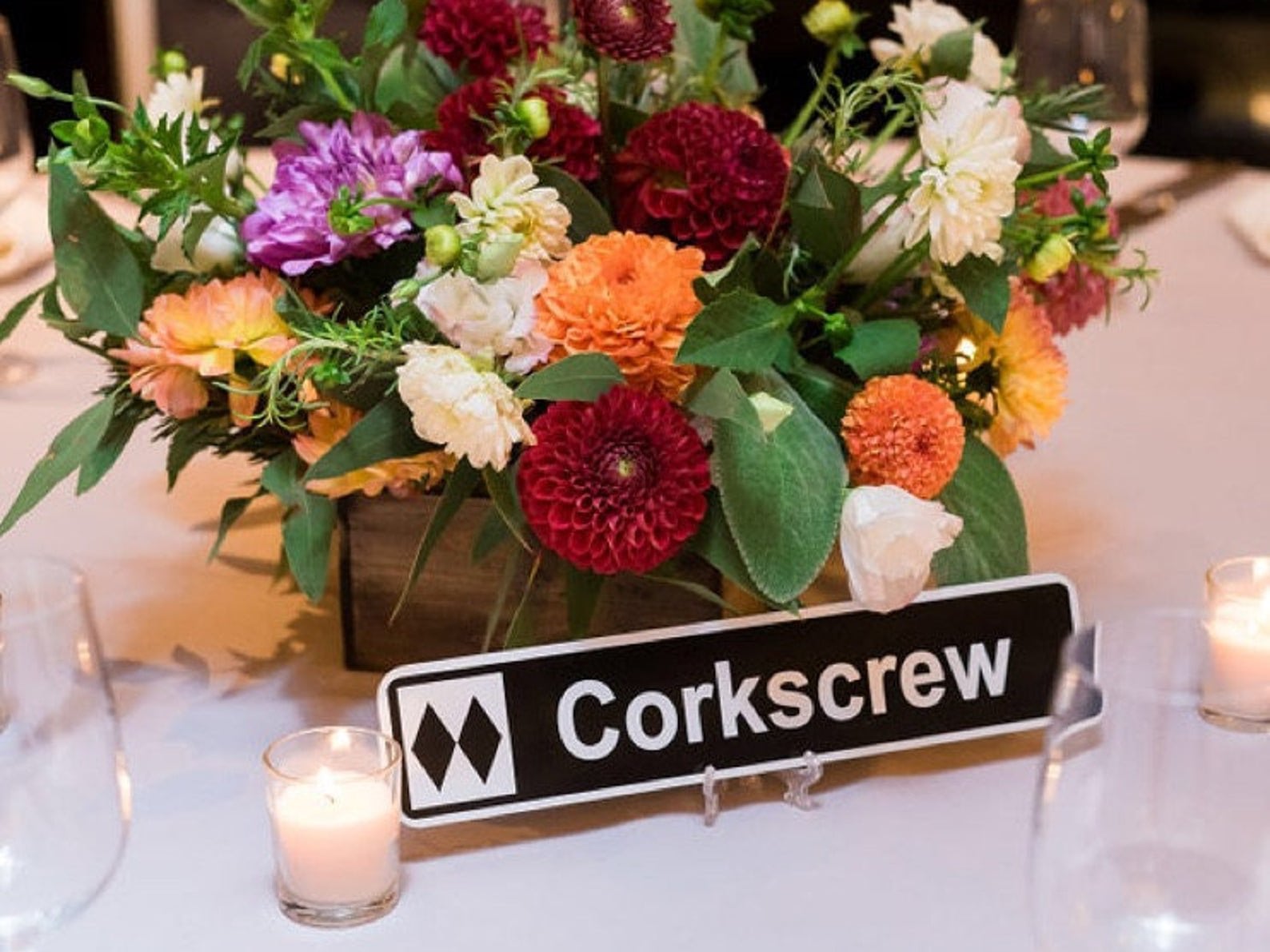 Wedding Table Names Ski Trail Signs by Krazy Signs USA
7. Favourite & famous
Choosing types or examples of something is another idea, and it works particularly well when you want to share something you both love, or have a theme or motif you'd like to bring together. For example, if you're having your wedding on a wine farm, you could name your tables after different types of wine. If you're having a nautical wedding, it could be old ships. Or it could be something relating to how you met. More examples: cheeses, trees, mountains, ballets, golf clubs, rollercoasters, space missions, music festivals, ski resorts, star signs, herbs, flowers, fruits. Or choose people who exemplify your theme, with famous explorers, sports stars, architects, scientists, etc. The possibilities are endless – think about the things you're passionate about, and then play around with a few ideas.

Sources: Kim Fox Photography/Deanna Nash Events via Style Me Pretty (left); sittinginatree/Archibald Photography via Style Me Pretty (centre); Leigh Pearce Weddings (right)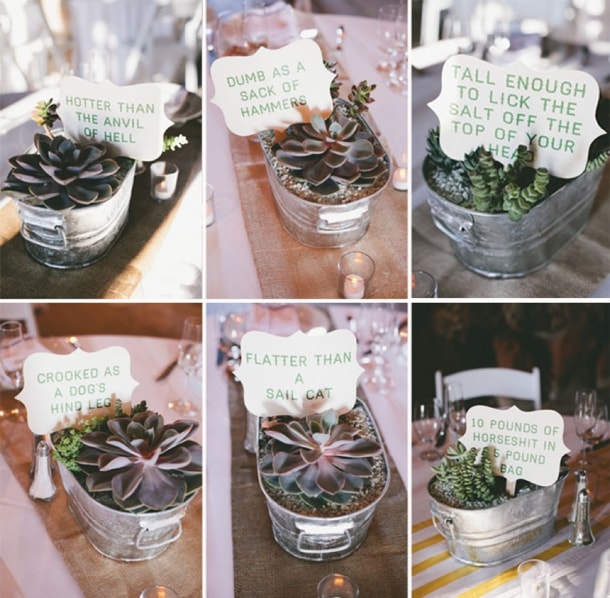 Source: onelove photography/Love & Splendor via Green Wedding Shoes
8. Wordplay
I've seen some really unusual ideas for table names based around words and wordplay. There's the couple who had the word 'love' in various languages (I'd love to see a variation on this in SA with our eleven national languages) – this is a cute way to get across an international theme without doing travel specifically. There's the idea of using words and phrases from a specific language or dialect – a great way to get across one or both of your cultures if you come from different places. And then there are the couples I've seen who used whole phrases, particularly from the American South. Love that! Why not do the same with some Saaf Effricanisms? ;)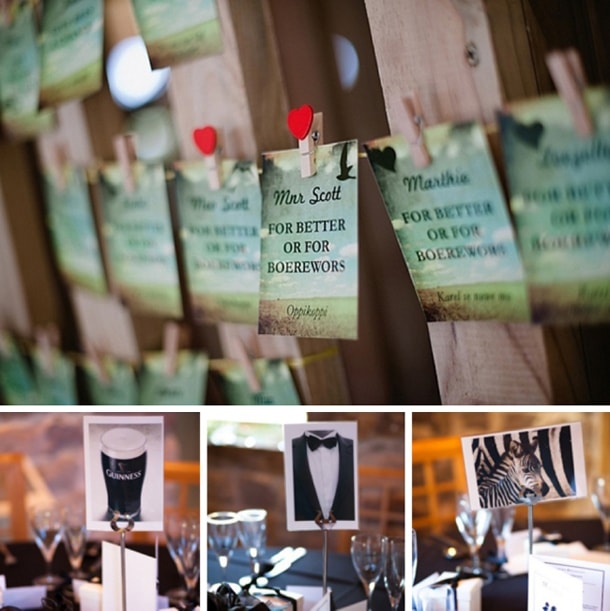 Sources: Love Made Visible on SBB (top row); Stephanie Oakes Photography via Bridal Musings (bottom row)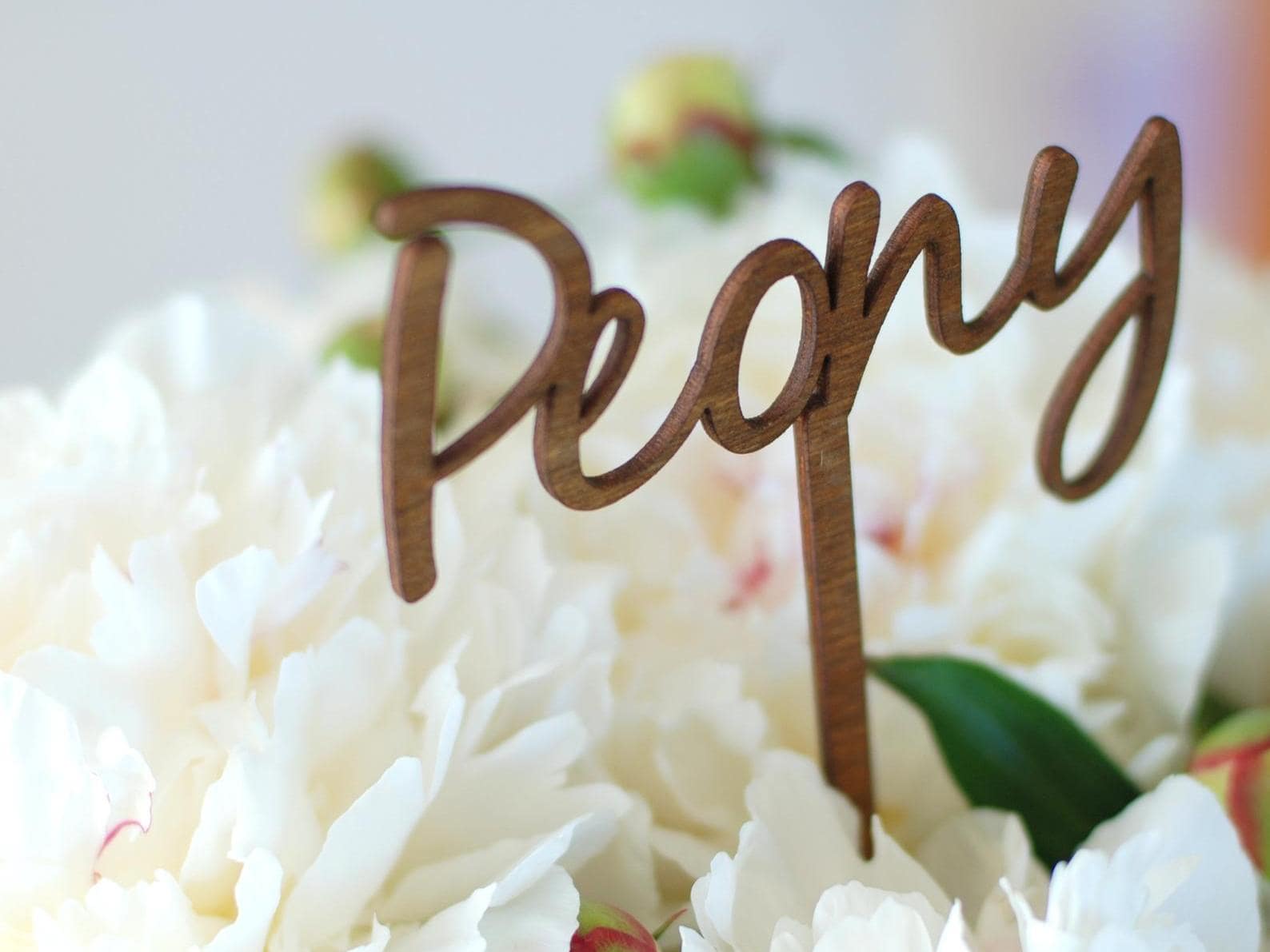 Custom Wedding Table Number Signs on Sticks by Vector Deko
9. Wedding elements
If you're still stumped for ideas, you could always look towards the wedding itself. Name tables after different aspects of your wedding decor (like 'tulle', 'peonies', 'chalkboard') or aspects of your venue. One couple who had a black and white themed wedding named each table after something else that was black and white. One of our SouthBound Brides who got married at Old Mac Daddy named her tables after the trailers at the park, which had the added bonus of being super cute and very South African.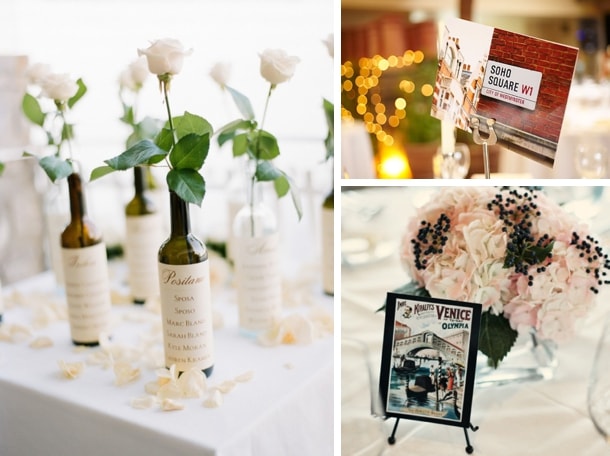 Sources: Kate Murphy Photography via Elizabeth Anne Designs (left); Nikole Ramsay via Snippet & Ink (top right); GH Kim Photography via Style Me Pretty (bottom right)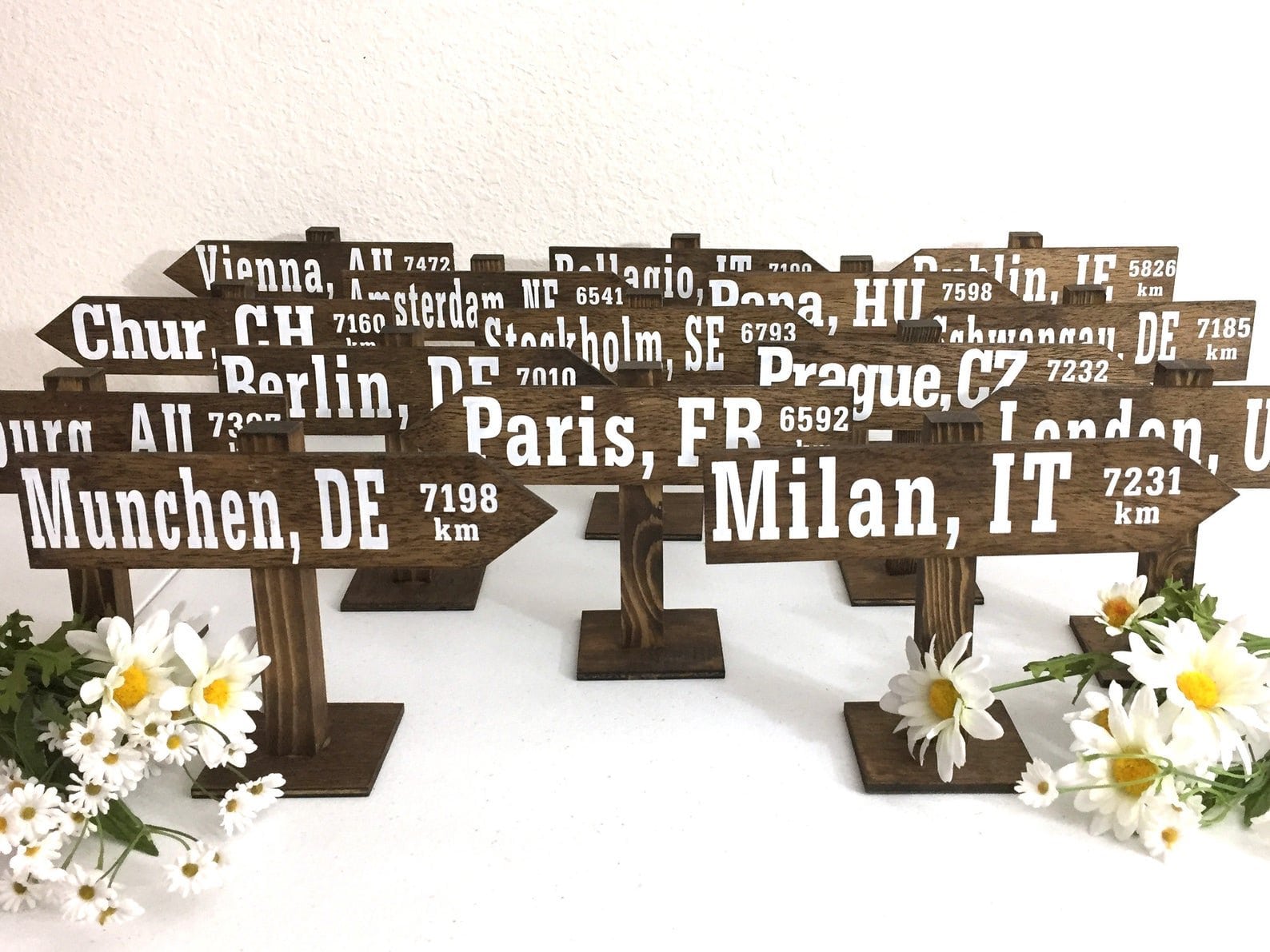 Wedding Signpost Table Names by Narley and Chikki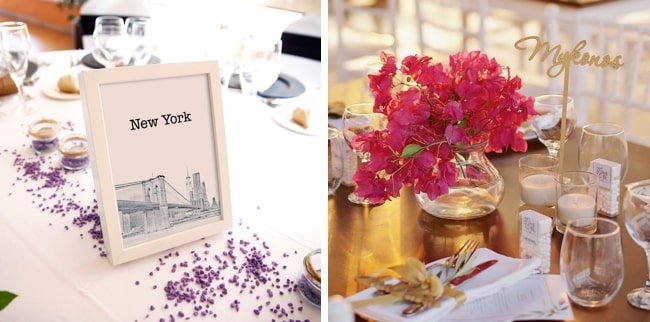 City Wedding Table Name by Wedding Melon (left) | Wedding Table Names Personalised by Wedding Table Number Co (right)
10. Travel
Okay, so maybe you still want to stick with a travel theme for your tables. After all, it's part of your story. Or perhaps you've themed your wedding after a particular place, and it just makes sense to incorporate that into the table names. Here are some lovely ways to do travel-themed table names:
Use vintage postcards of the places as table cards, or framed art deco posters.
Pick a single destination and then use street names from that place.
Or how about street names from your history? Where you've lived, met, visited, etc.? You could also use map co-ordinates in this way.
Another idea if you have a single destination is to use the names of landmarks from that place. For example, if you have a New York theme, you could have the Statue of Liberty, the Empire State Building and Brooklyn Bridge as table names. This is also a lovely way to incorporate your destination if it's somewhere your guests have travelled to for the wedding.
For cities that have public transport systems, you could name your tables after tube/subway/metro stops. I've seen the London tube map turned into a seating chart in some fabulous ways!
More fun ideas…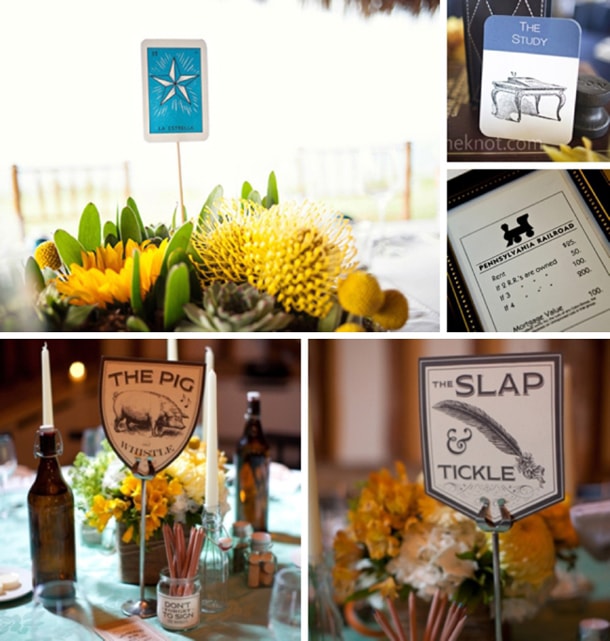 Sources: Row 1: Elizabeth Lloyd Photography/MarWeddings via Jet Fete (left); Millie Holloman Photography/Salt Harbor Designs via The Knot (top right); Photography by Verdi/Bleu Diamond Events via Lucy Dylan Weddings (bottom right); Row 2: Caught the Light Photography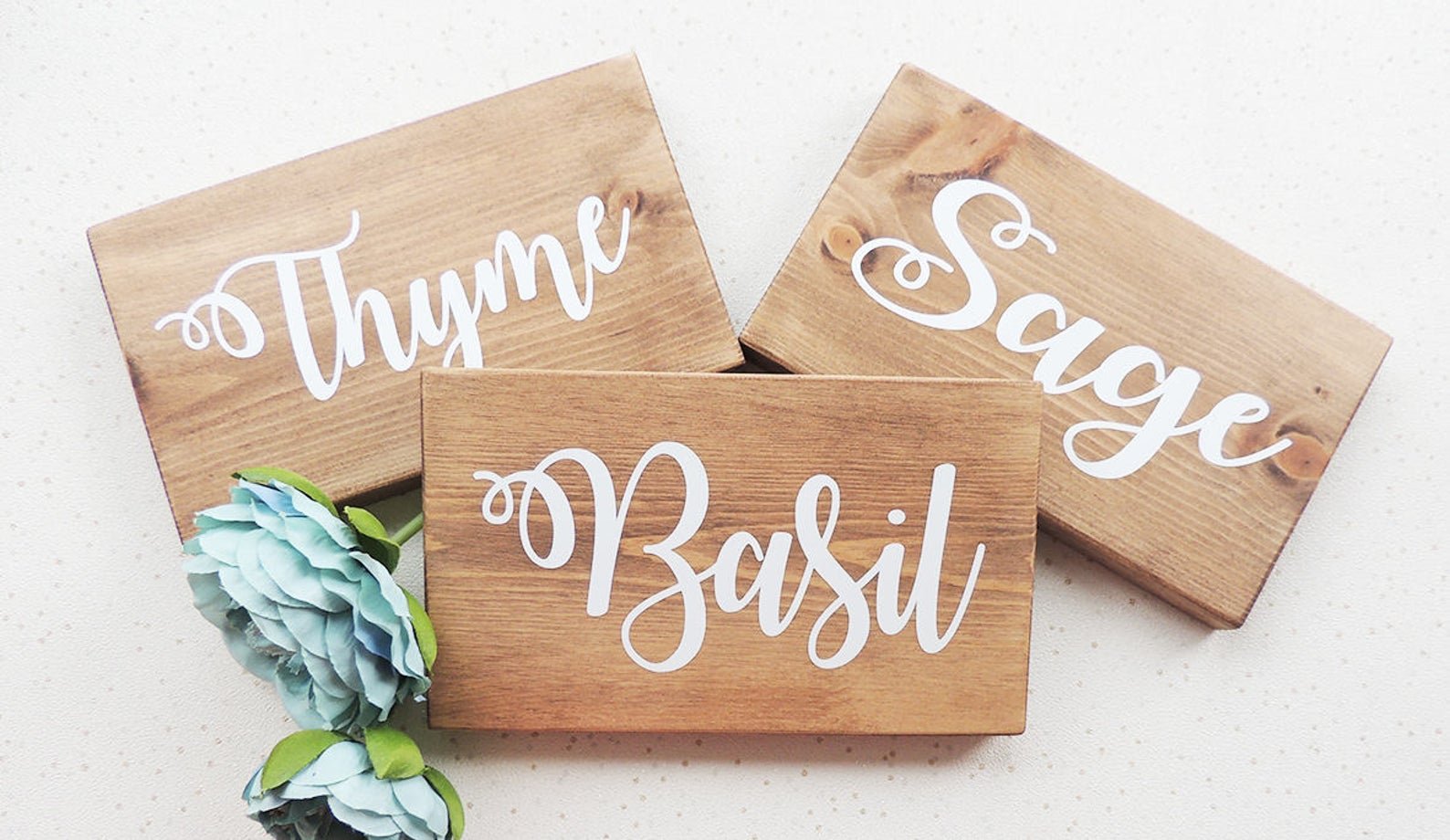 Rustic Wedding Table Names by Luxury Grove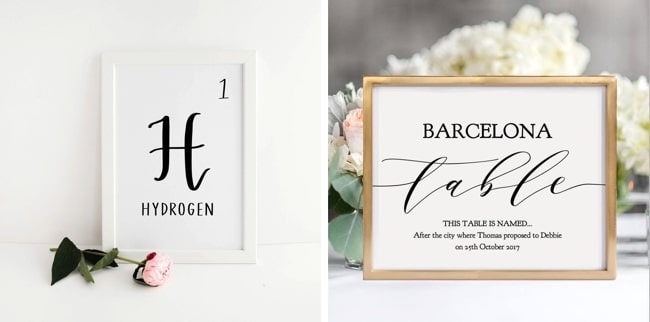 Periodic Table Numbers by Letters By Insia (left) | Printable Reception Table Names by Connie and Joan (right)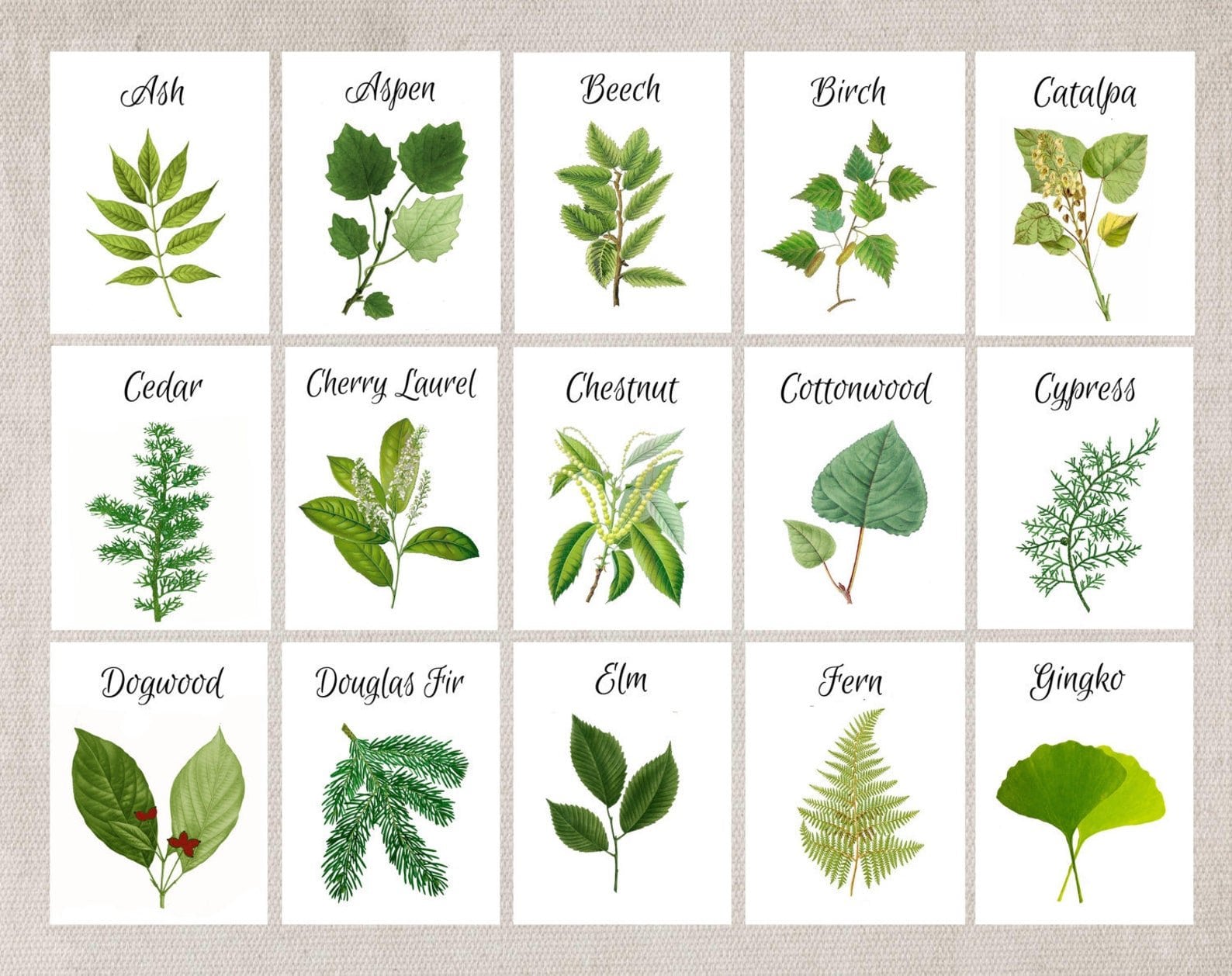 Botanical Wedding Cards by Leaf Décor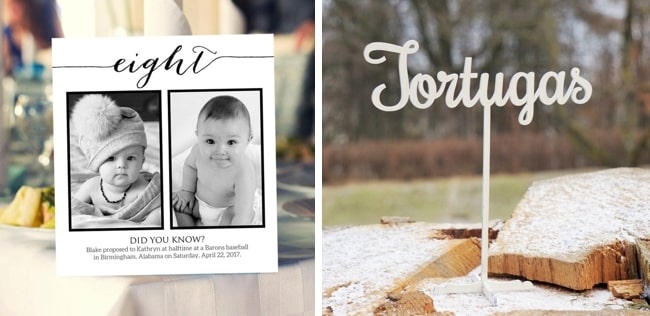 Photo Table Number Cards Templates with Numbers by Cross Vine Designs (left) | Wedding Table Names with Stand by Engrave Celebration (right)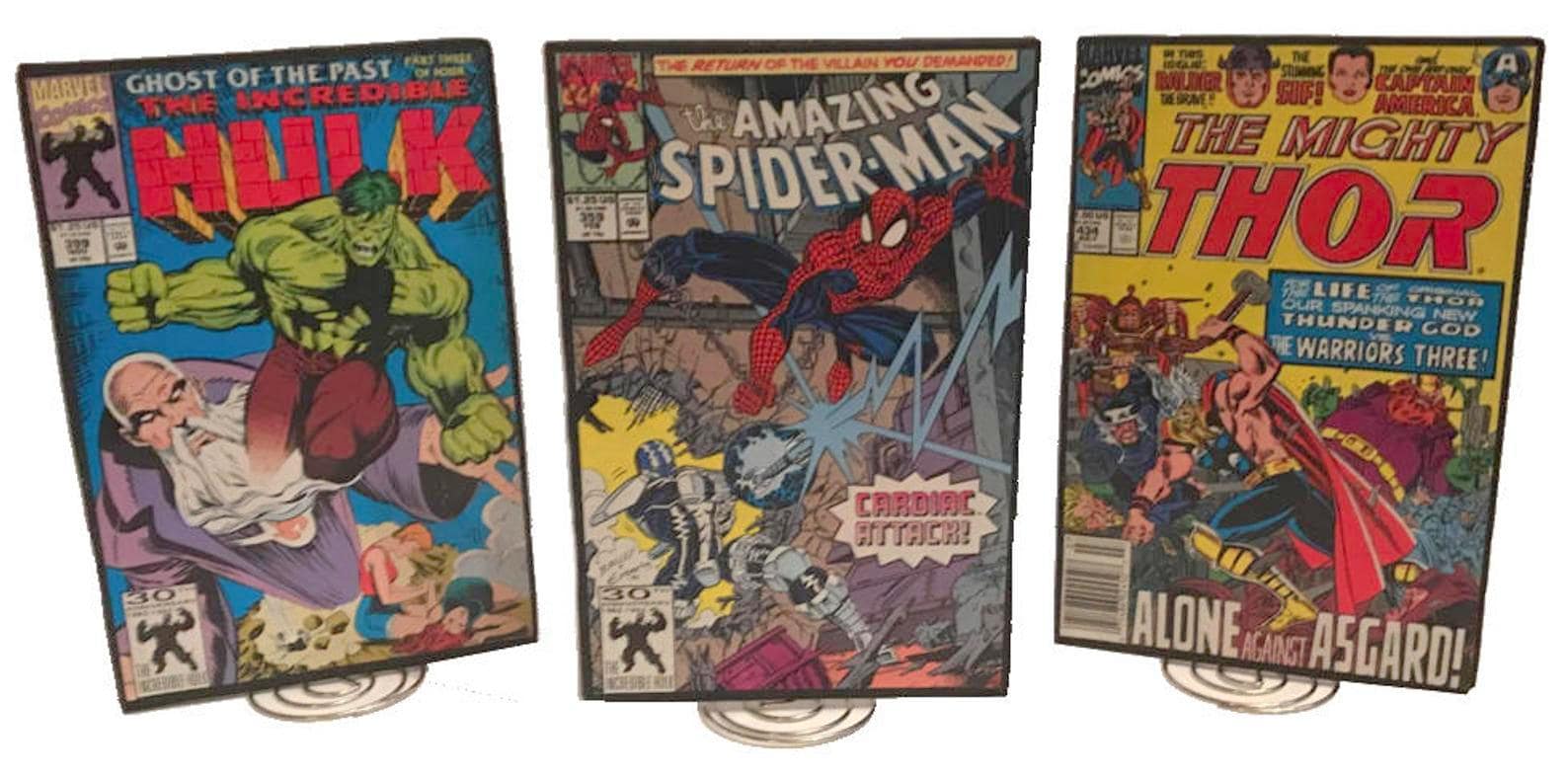 Superhero Wedding Table Name Signs by Carbon Creations UK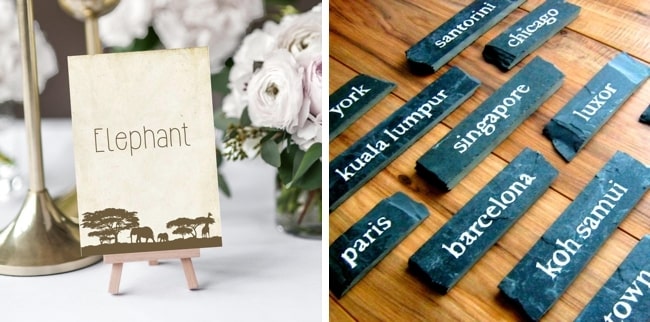 Safari Table Names by Rodo Creative (left) | Custom Wedding Slate Table Name Signs by Edward Bowie Art (right)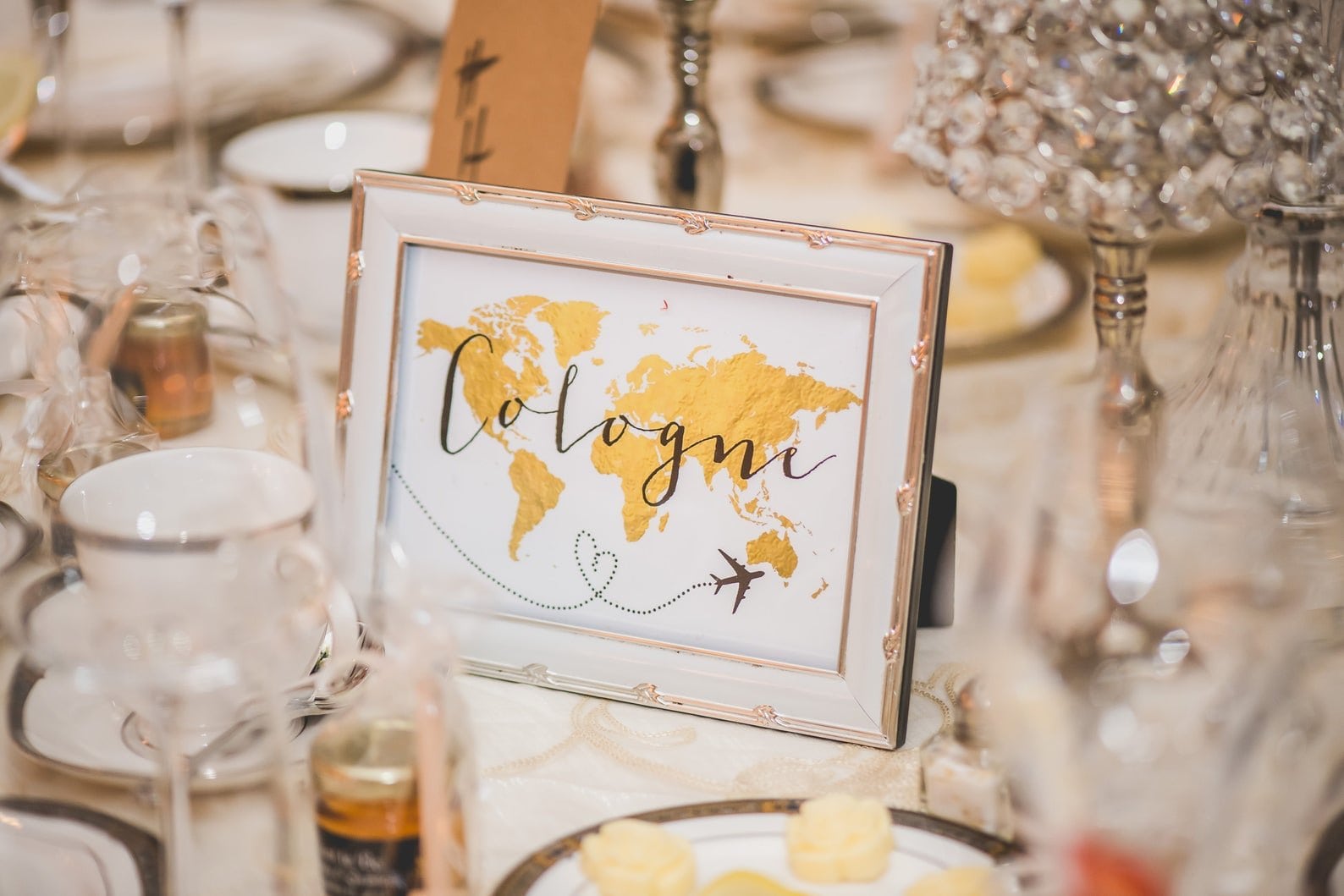 Travel Theme Custom Printable Wedding Table Numbers by Wild Confetti Workshop
Find more table decor ideas on Pinterest: