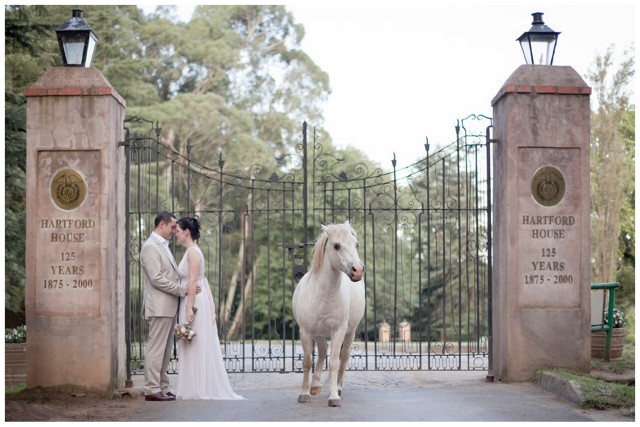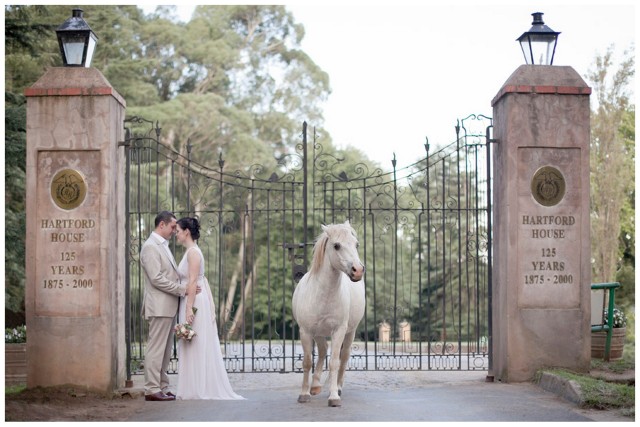 "What's the right amount of time," someone asked me the other day, "to plan a wedding?". And you know what, it's a good question. Traditional wisdom holds that a year is about right, but the fact is, some of the most gorgeous weddings we've featured here on SBB have been pulled together in just a few months. It all depends on what you want, your organisational skills, and your ability to make quick decisions and compromise. And what really helps when you're pushed for time, is to find a GREAT venue, and take your cue from there. That's just what today's bride and groom did. They were already big fans of Zululand's Hartford House, a gem of a boutique hotel that is situated on a country estate and stud farm. Horses and views, what could be more romantic? Mary-Lyn and Rowan didn't try to compete with the aesthetic of the venue, just added pretty touches reminiscent of a wedding in the English countryside. I especially love Mary-Lyn's ballet slippers and their garden ceremony by the fountain. It's super elegant, and so are the photographs by the wonderful Alexis Diack – these pics just feel like they come straight out of a magazine. Sigh.
From the lovely bride:
Rowan and I met on a self-awareness course (and yes, we were very self-absorbed on the course!) and started dating two weeks later. Nine months later, there was a ring, and within three months after that, a wedding. (And now there's a honeymoon baby on the way – no time like the present!)
He proposed over dinner on the first night of a weekend away on a game farm in Madikwe, with a fabulous bottle of French champagne and a magnificent ring.
As soon as we got engaged, we knew we didn't want to wait long to get married, so we called up Hartford House (where we'd spent a romantic night together earlier in the year) on the off-chance that they could fit us in within the next three months, and they could! No more venue hunting.
The venue was so lovely I didn't need a theme. I chose colours and a mood that complemented the place, the setting and reflected the simplicity we wanted for our wedding. The flowers were a mixture of whatever was in season & matched the mood of the country setting (creams, vintage roses, etc.).
I loved that my friends and family all came to share the whole weekend with us. All my young nieces and nephews were involved in the ceremony (because a wedding is not just about the bride and groom), so it was a special occasion for them too. We had excellent food, good quality wine and great music throughout. The chef announced the dinner and spoke to all the guests through each course.
I'd advise future brides to use local resources as far as possible – I used service providers mostly from the Mooi River and Midlands area. Ask the hairdresser for a referral for the makeup artist/florist/hiring firm, and so on – people that they have worked with before and who they know will be good. I felt I could rely on every one of my service providers to do what they did best without interference from me or any of the wedding party. Pay your deposits on time and pay the service providers after the event on time (I didn't want any money changing hands on the day). And, of course, be gracious, as a bride should be!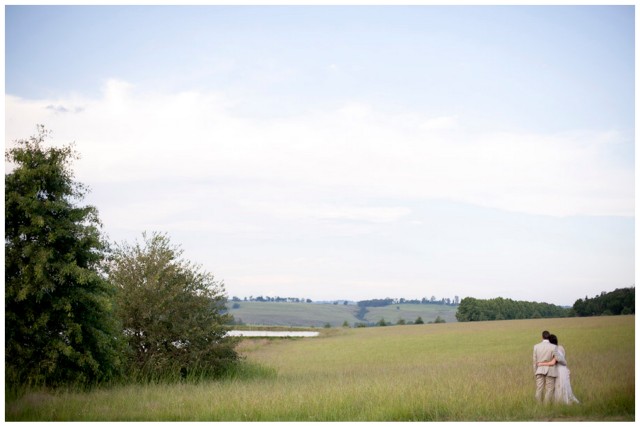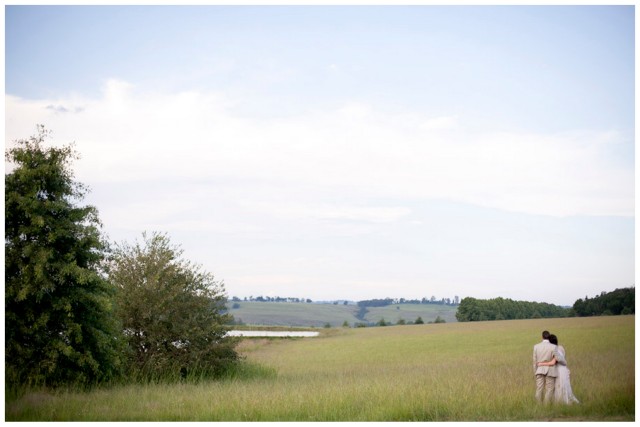 Thank you so much, Mary-Lyn and Rowan, and congrats on having your baby on the way! Big love also to Alexis, and I look forward to seeing more of her work here on SBB. You can catch the rest of this lovely wedding over on her blog.
SERVICE PROVIDERS
Venue & catering: Hartford House | Photography: Alexis Diack | Flowers: Annesta Vermeulen ([email protected]) | Paper for invitations: Le Papier | Bride's dress: Lunar | Bridesmaids' dresses: Zara | Bridesmaids' dresses: Forever New | Hair: Brian from Deco Hair (072 215 7559) | Makeup: Chantelle (071 0908074) | Entertainment: Allegro Strings