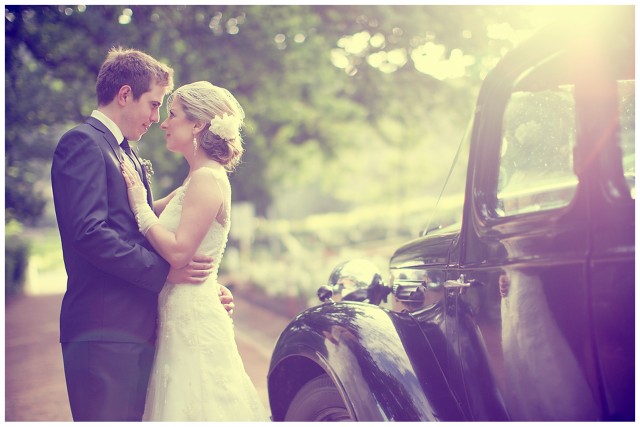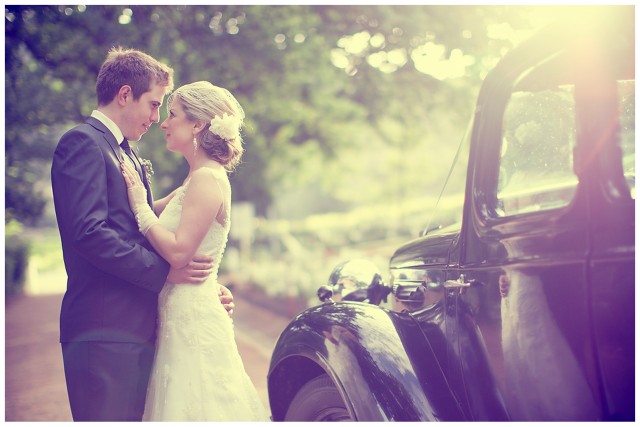 Good morning, SouthBound Brides! Today's wedding at Kronenburg has been waiting in our vaults to come out and play with you for a little while, and I can't wait to share it with you. Think proteas, for one thing. Lots and lots of very luscious proteas. Proteas as favours even – how good is that? Carla and Johann have paired them with the most gorgeous shade of sage green, which is so elegant and really makes the flowers pop (not to mention looks gorgeous on the bridesmaids). One of my very favourite details is the way that on the tables, boards wrapped in wallpaper are used to create a base for the centrepieces – it really adds visual interest and texture, and is such a simple DIY! But I think my favourite thing about this wedding (captured in glorious colour and detail by regular SBB contributor, Bernard Bravenboer) is the way that you can see that laughter is a big part of the bride and groom's relationship – just look at the irrepressible smiles on their faces! And, as somebody called August Wilson once said: "All you need in life is love and laughter. That's all anybody needs. To have love in one hand and laughter in the other." Baie geluk, you two! I hope that sense of joy always stays with you in your marriage.
From Carla:
I met Johann at university in Stellenbosch through mutual friends when we all went away for a weekend in Hermanus. There was an immediate connection and we only had eyes for each other. We became good friends over the weekend. Our first date was to his 'Huisfondsdans' in March 2006 at Eendrag men's residence and five months later he asked me to be his girlfriend! Yippee! :) After we completed our studies, he did his accounting articles in Cape Town and I did my community service year as an occupational therapist in Frankfort (a tiny place in the Free State) – we did the long distance relationship thing over this time, and our relationship only grew stronger.
Then, on a lovely summer Saturday afternoon a year later, after wine tasting with friends at Spier (the same friends that introduced us) Johann surprised me with a picnic. During the tasting Johann and some of the guys had disappeared to "fetch the camera from the car". In that time they got everything ready for the picnic and yes – our engagement! I didn't know about a thing, and suddenly everybody disappeared. Johann told me they went to the bathroom and some of them went to get a picnic spot. Then, when we reached the spot, everything was laid out, but no friends in sight. He went on his knee and asked me to be his wife! I said YES without hesitation!
Our wedding was at Kronenburg outside Paarl. We have a soft spot for the Boland and therefore chose Kronenburg with its magnificent views of the Du Toitskloof mountains. I wanted our wedding to have a vintage and romantic feeling with hearts, lace, candles, pearls and old books. Johann had one request – no pink! I did, however, introduce a splash of pink by using proteas that added to the vintage feel for our wedding. Green is also our favourite colour, so that was an easy decision. During my time in the Free State, I was introduced to Desert Roses – which I absolutely love – so we also decided to incorporate them into our décor.
I really wanted our wedding day to be memorable and special. A lot of planning went into the small detail to achieve this. It was really a team effort and I am very grateful for everybody that helped. There were many people involved in different ways. My mom and I made the hearts that were pinned to the back of each ladies' chair at the reception. This then served as their gift to take home – a souvenir of our wedding day. None of the hearts looked the same as I bought the material over a period of time from different shops. We used different ribbon, lace and buttons for each heart. My mom also made the bunting to help create a vintage feel on the stoep and outside the venue. She made over 30 meters of it! We also made our own seating chart. We used old wedding pictures of our parents and our grandparents for this. My uncle made wire hearts especially for our wedding and brought them from the Karoo – a protea was placed inside each of them. We also borrowed old suitcases from them. Johann asked one of his best men's dad to drive his black 1939 Austin as the wedding car on the day. He loved this old car!
The week before our wedding, my dad went to Porterville and bought a bakkie (Ed: truck, for our American readers!) – over 300 of them! We placed them in baskets outside the venue and all the guests could take as many as they wanted home with them after the wedding. My mom also made the corsages for the best men. Some of the other things we made ourselves included the name tags, napkin decorations, table numbers that we painted with blackboard paint and the save-the-date invites.
The whole day was spectacular! Putting on my wedding dress was amazing, as well as seeing the final picture of the hair, makeup and dress all together. I loved my dress, and Sanmarie did an amazing job with my hair and makeup. We loved having all our friends, family and loved ones with us on our wedding day, and I also loved our first dance, which was to our favourite song by Michael Buble, 'Everything'.
My advice to future brides is that if you see photos on wedding blogs of ideas that you like, save them all in a folder. When you have an appointment with service providers, it is very handy to print these and take it with you. Then they know exactly what you want. Also make sure you involve your fiance in the decisions if he would like to be part of the planning. Take the time, go for a cup of coffee every now and then, and don't speak about anything wedding related! This is necessary for your sanity and relationship. ;) It is very easy to get swept up in all the planning and the "to-do lists"!
At first, Johann was not very keen on a videographer for the day, but it is impossible to take everything in. Now we are very thankful that we got a videographer. It is only afterwards that you see all the small detail. It is also nice to have your vows, speeches, first dance and all of that on a DVD!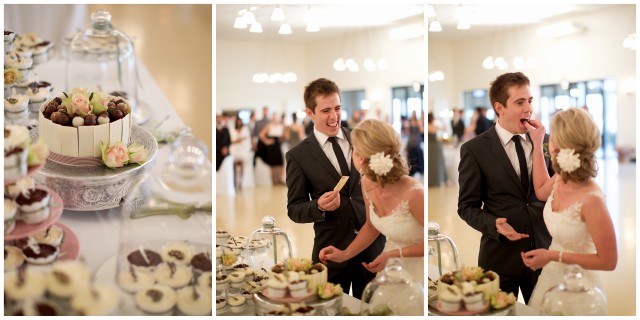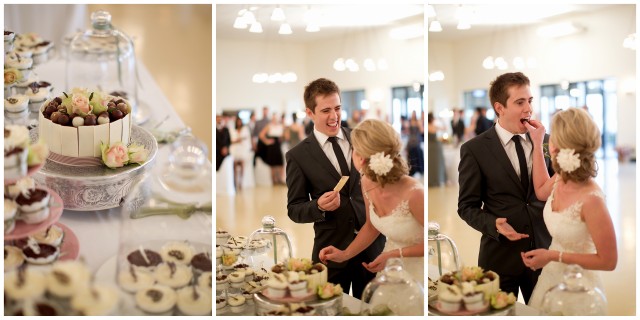 Big thanks to Carla & Johann for sharing their day with us (especially in English! ;) ) and to Bernard for allowing us to feature his lovely photos. Check out his blog for even more from this protea-filled big day.
SERVICE PROVIDERS
Venue: Kronenburg | Catering: Du Toit Catering | Photography: Bernard Bravenboer | Flowers & hiring: Bunches for Africa | Cake: Choc 'n Cherry | Invitations: Adam & Eve | Bride's dress: Ilse le Roux | Bridesmaids' dresses: YDE | Makeup: Sanmarie | DJ: Baha Entertainment