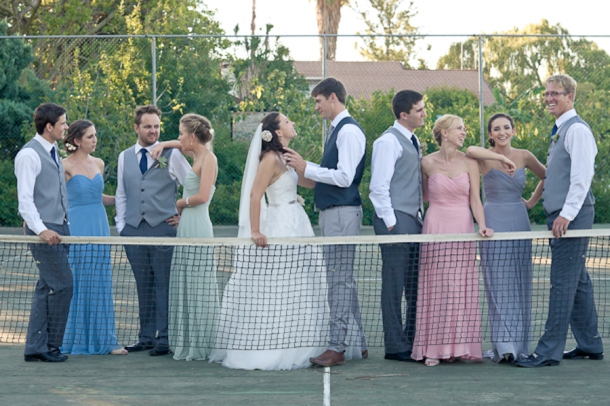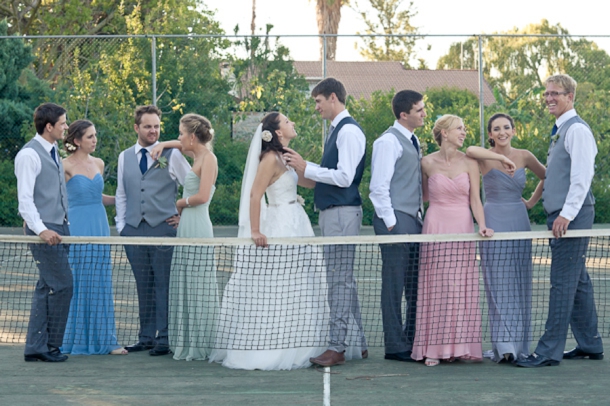 What's the expression – 'we plan and God laughs'? Well, that was certainly true for me this week, when I had a full week of goodness planned for you that got halted by some dodgy code that crept into my beloved little site and shut things down for a bit while I sorted it all out (that's me: owner, editor, office manager and tech support! ;) ). Anyway, I'm trying to be philosophical about it all, and so we'll just have to wait until next week for me to share our lovely real life bride's wedding with you, and I'm sure it'll be all the more awesome for the wait. For this morning though, we have a gorgeous wedding from Abigail K. It was just a couple of weeks ago that I rounded up ice cream pastel bridesmaid dresses, and now here the look is in all its lovely glory – really, I think this might be one of my absolute favourite wedding styles. It's so soft and pretty, and works beautifully with country vintage touches like proteas, lace and antique books. But I think what really makes Bridget and Quinton's wedding stand out for me is the way that they used the space available to them at Nooitgedacht, employing the beautiful drive as a ceremony area, with colourful bunting and lamps strung high across the trees, lending everything a celebratory, festival vibe. So pretty! I also love the bridesmaids' single king protea blooms, tied with pretty ribbon and looking so lovely against their dresses. It all wraps up to be incredibly pretty and colourful in quite a classic way. Enjoy. (Oh, and psst, be sure to stop by this afternoon for some great advice on planning a beach wedding!)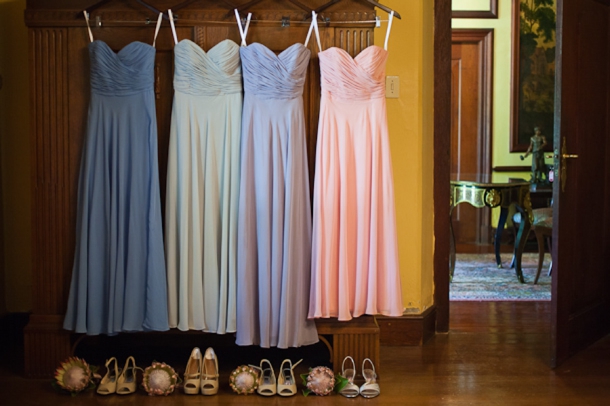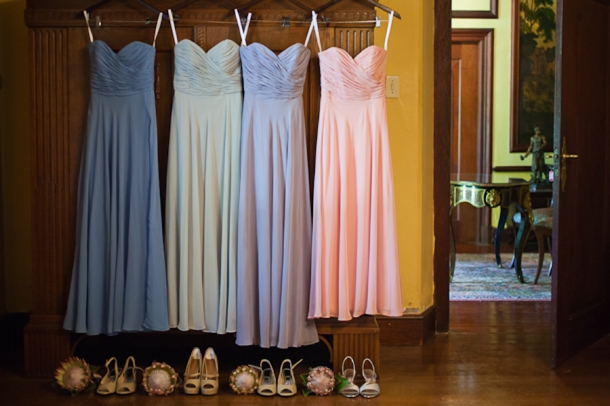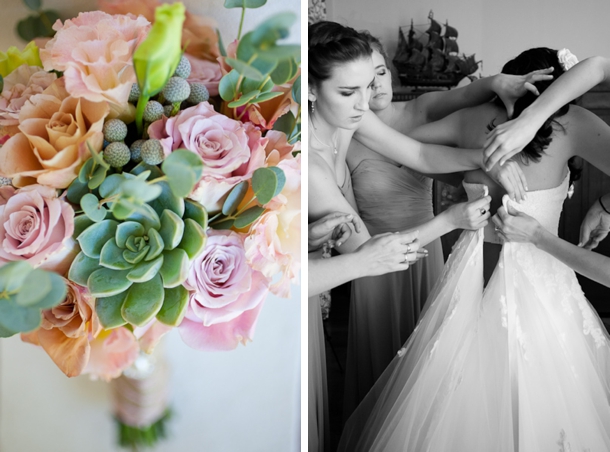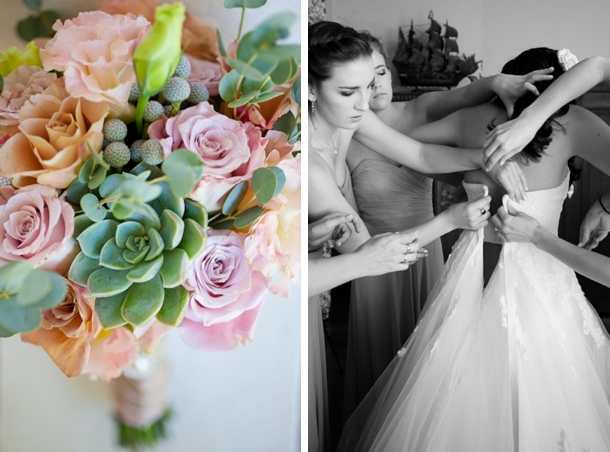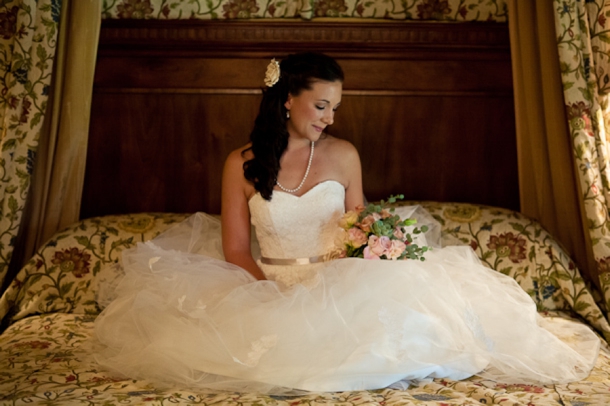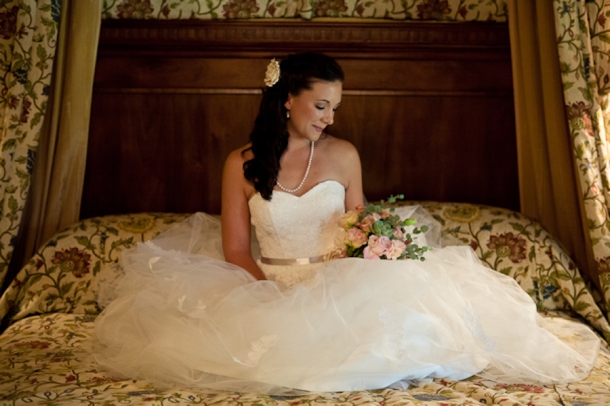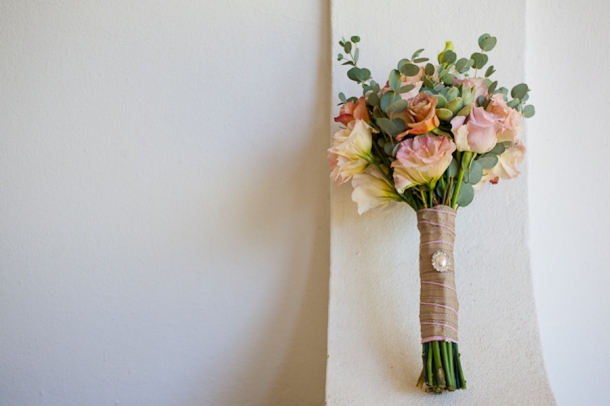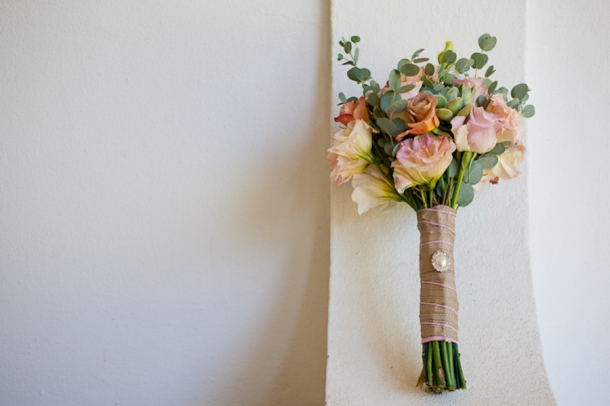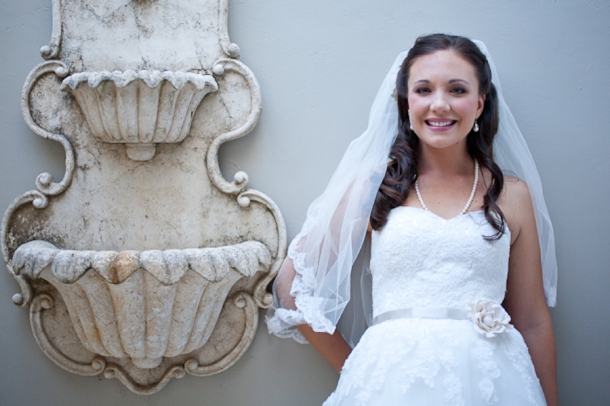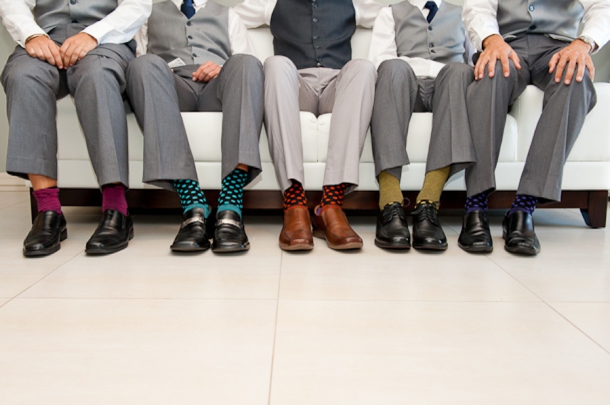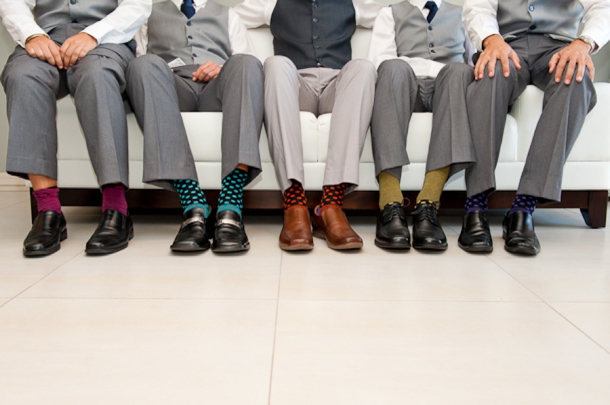 Here's what the lovely Bridget had to say about her big day:
Quinton and I are both Zimbabwean born and bred and both come from farming backgrounds. However, after both of our parents' farms were taken away, they moved into Harare – three doors down from each other (although we didn't realise it then!). The holidays after I'd finished high school and Quinton had completed his first year at Rhodes University, we were both attending the same parties held in Harare over the Christmas period. We spent more and more time with each other and Quint eventually invited me on a fishing weekend. The rest is history. We did two years' long distance dating while I came to Cape Town to study tourism and while Quinton finished his Honours degree in Grahamstown. We both then moved to live and work in London for 18 months, after which the cold weather got to our bones and we decided to travel South East Asia for two months before returning home. We then moved to Cape Town in Feb 2010 and have been here ever since!
We'd been dating for just over eight years when he proposed. He took me on a surprise long weekend to the Franschhoek Valley where we spent the first three days indoors near the fire drinking red wine and playing Scrabble while it poured with rain outside. On our last day, the sun came out and we decided to go for a hike above Haute Cabriere estate. He proposed on bended knee at the top of one of the highest view points in the area.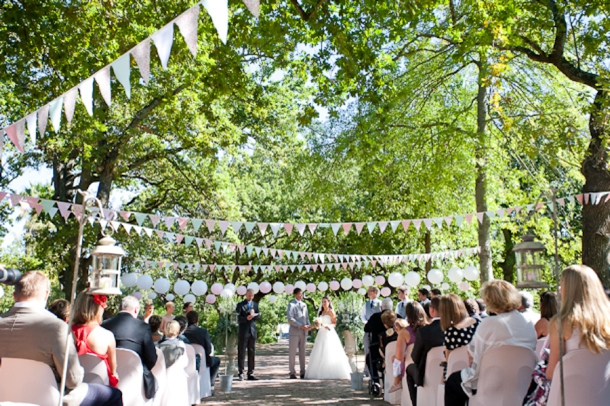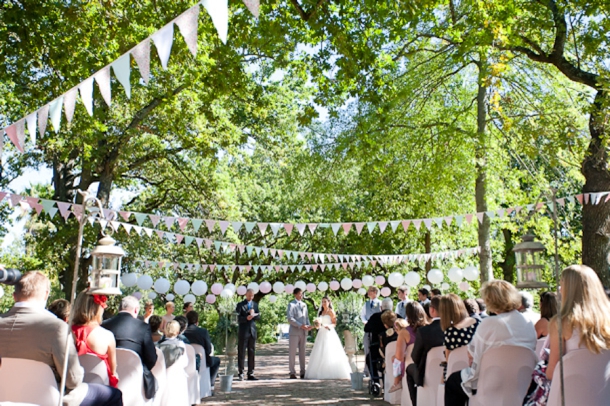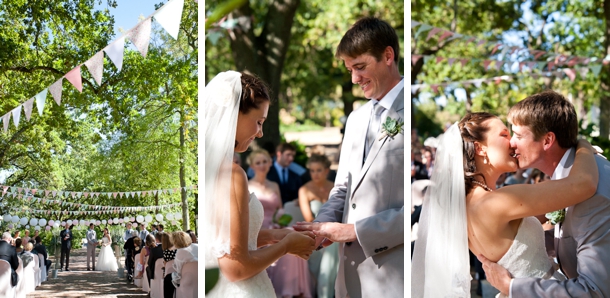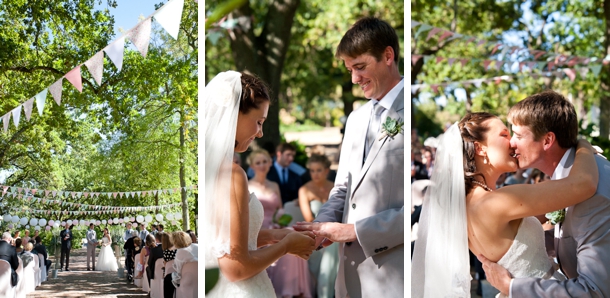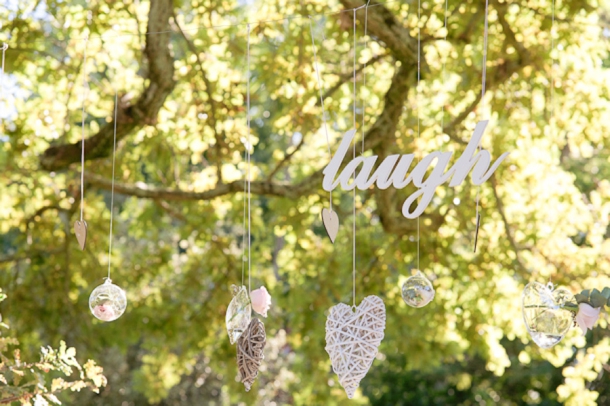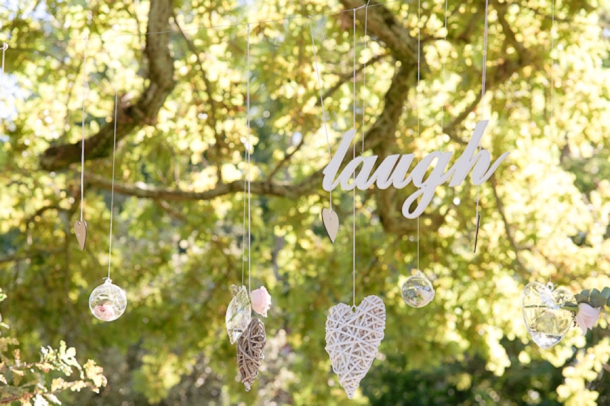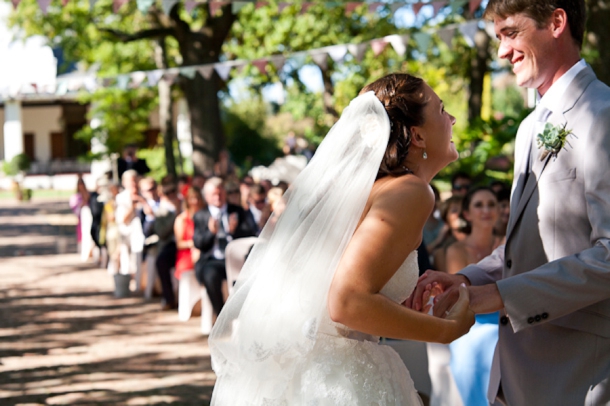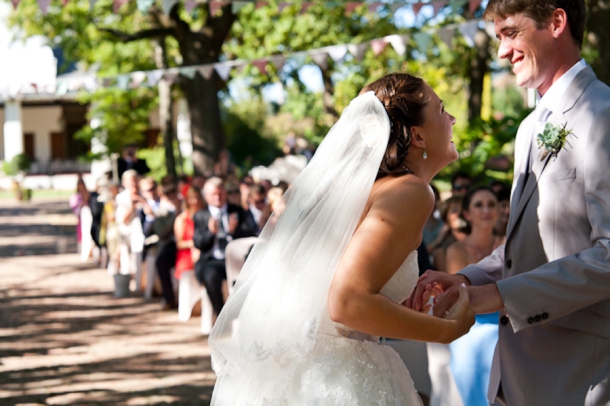 Having both come from farming backgrounds, we knew for certain what we didn't want. We didn't want modern, metro, shiny, crystal, sparkly chandeliers, or clean cut. We wanted a farm-style, old cellar, garden, relaxed affair. So the theme we chose was "romantic garden vintage", or something along those lines. Our colours were pastel shades: blush pink, mint green, pastel blue and grey.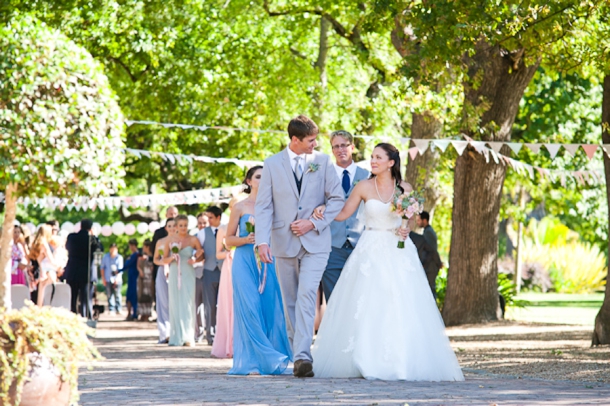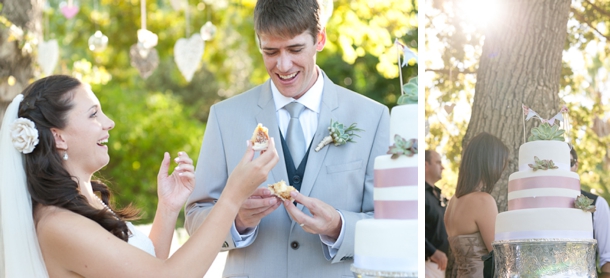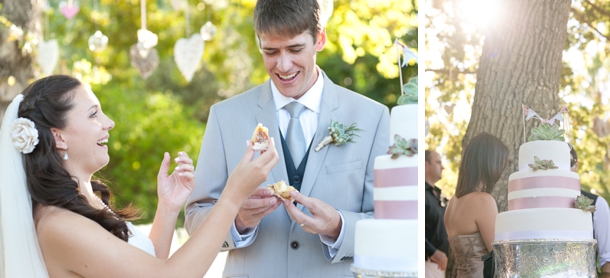 Of course choosing our venue was time consuming as we had a list of specific criteria we were looking for. However, we scouted the internet and followed every wedding blog that is possibly out there to see if we could get ideas on each venue before we went out visiting each one. Slowly and surely, by process of elimination, we came across Nooitgedach Estate in Stellenbosch. It was the LAST venue we visited on our list of not-so-hopefuls and all I can say is WOW. We fell in love with it at first sight.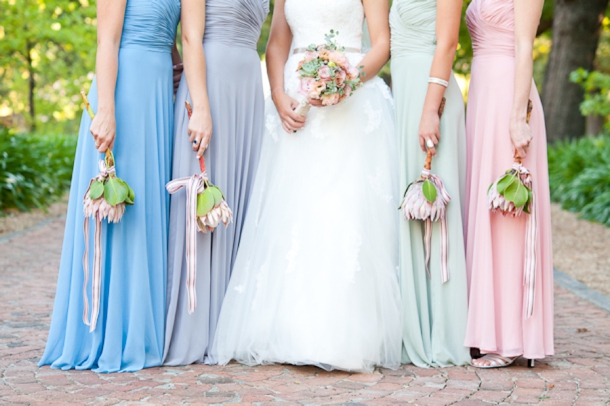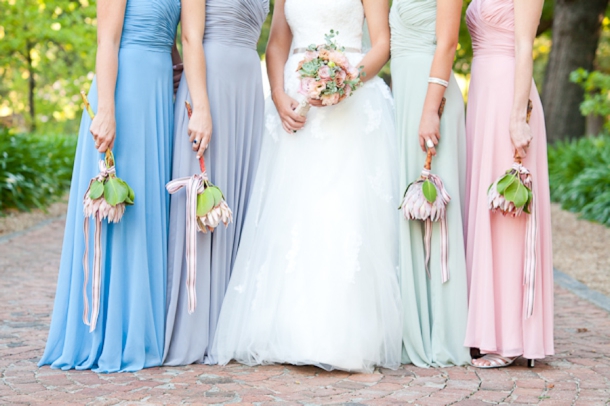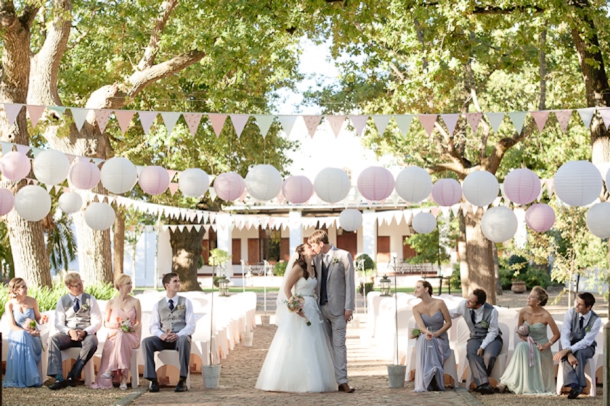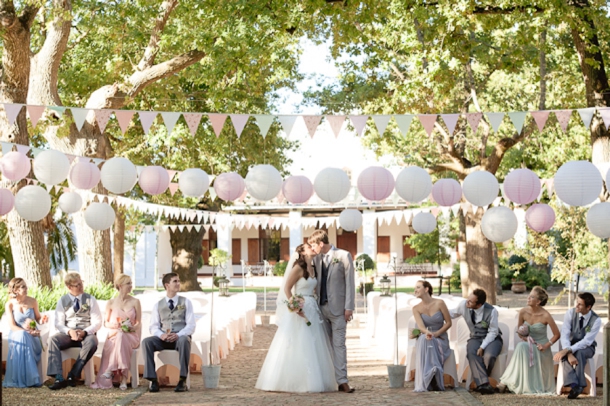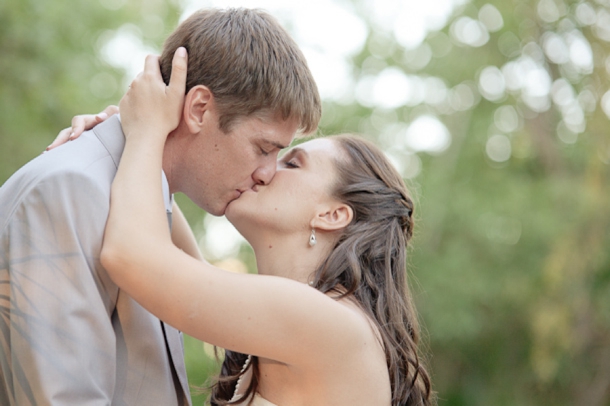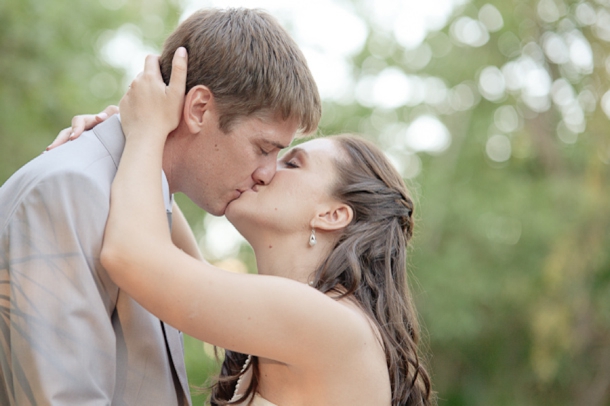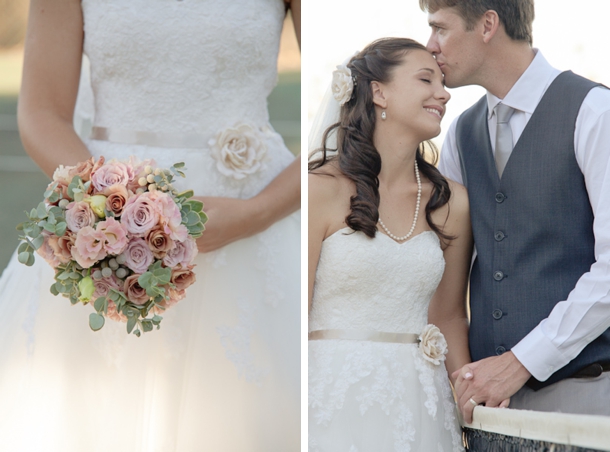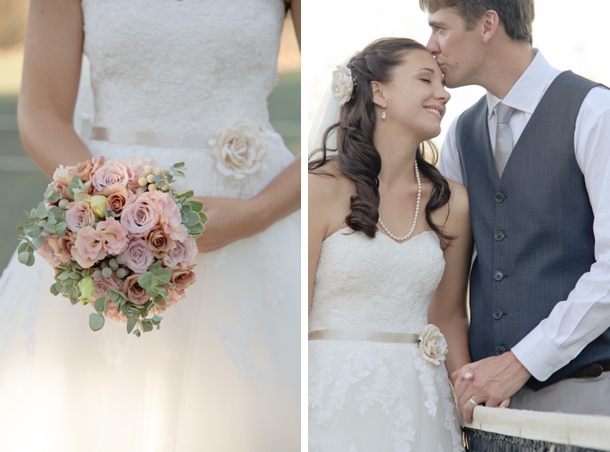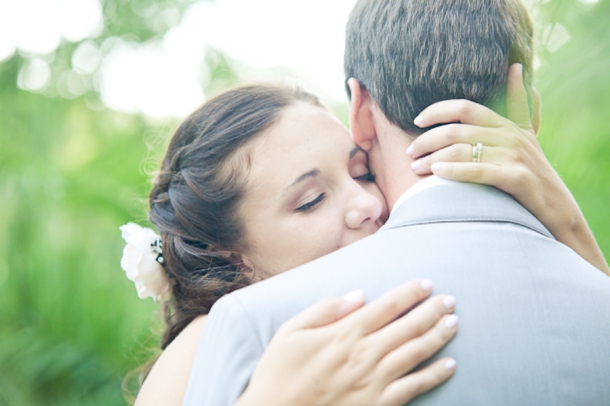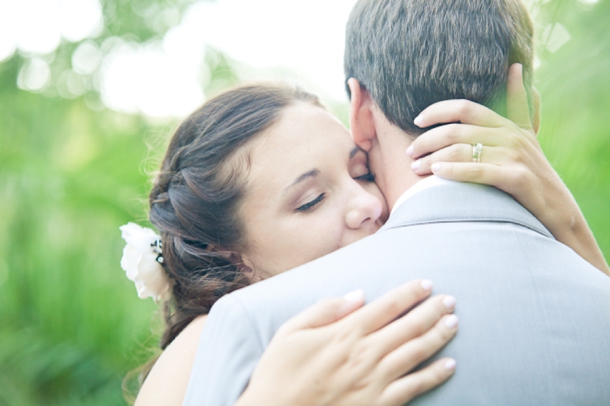 In the lead up to the wedding, Quinton and I made every single wedding invitation and programme. I also hand made over 90 metres of pastel coloured bunting which we strung between the trees over where the ceremony was held. I also hand made the ceramic hearts which were used as place setting name tags on each table. For the rest of the decor, Jade Snyman of Jade Customised Events blew me away with her ability to know EXACTLY the theme I was looking for and fulfilling my expectations 1000 more than I could have ever imagined. The ceremony area, the pre-drinks area and the tables were just mind blowing.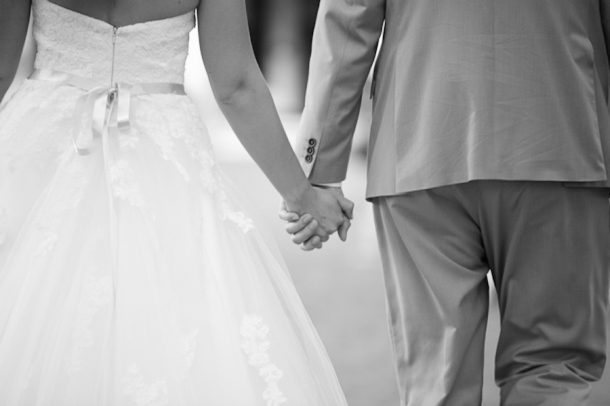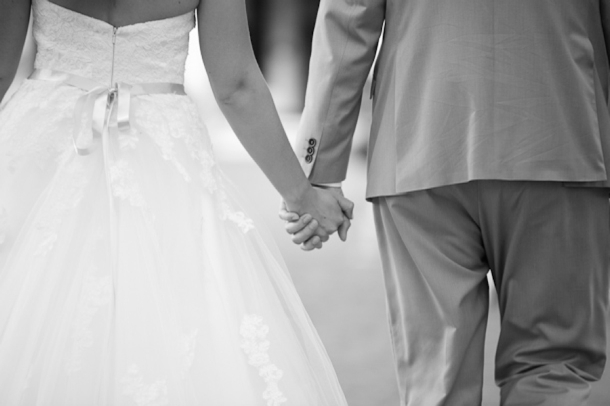 There were too many highlights to choose… Getting ready with my four bridesmaids and Marli Basson doing our makeup and hair. It was such a relaxing morning drinking tea, snacking on yummy things and just having some real quiet time. It was just what I needed after a very busy few days leading up to the wedding. Of course, walking down the aisle with my dad was also SUPER special. I remember him being more nervous than I was but I loved every second of it and only wish I could do it all again. Another great moment was the speeches. Our MC, Best Man, my dad and Quint all said such wonderful, funny, tear-jerking, memorable speeches that meant so much to me!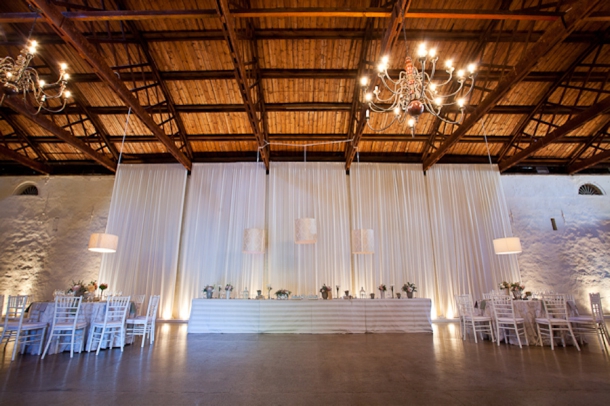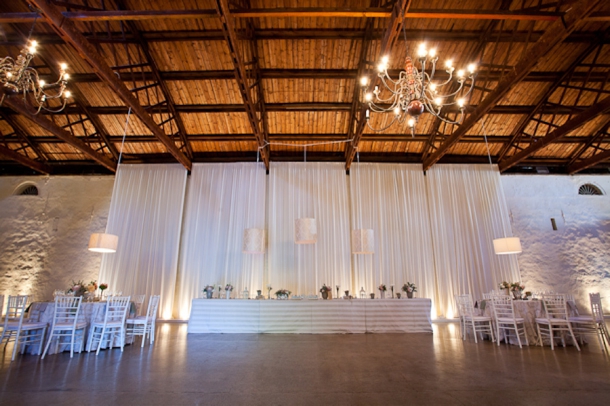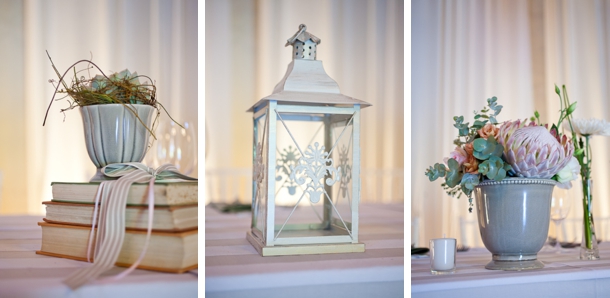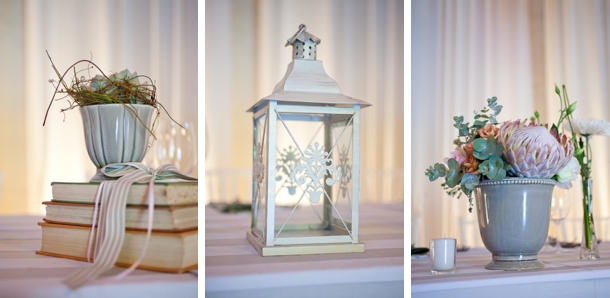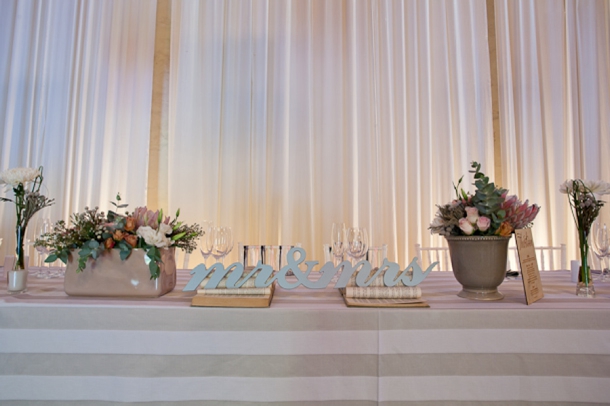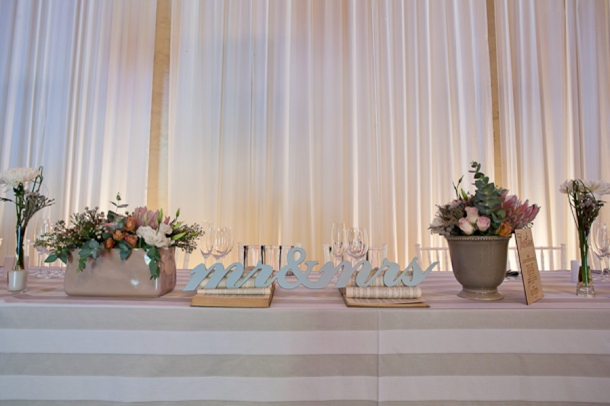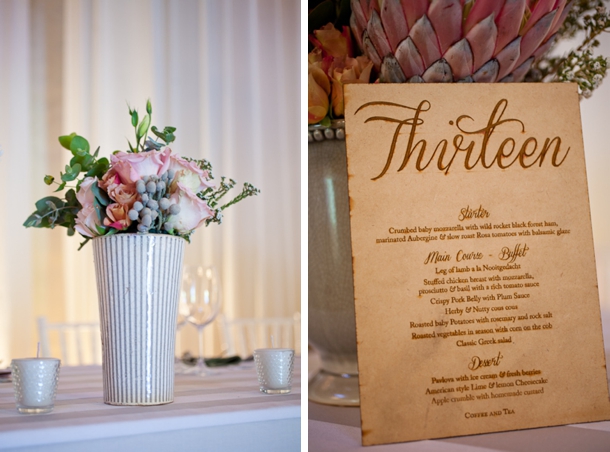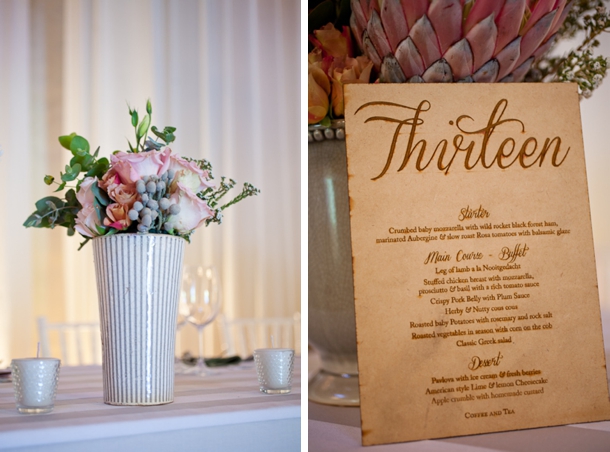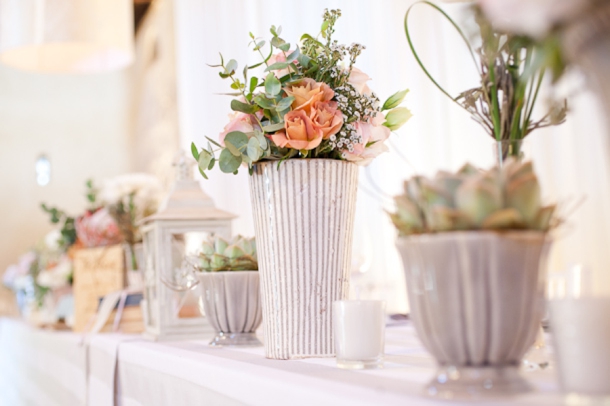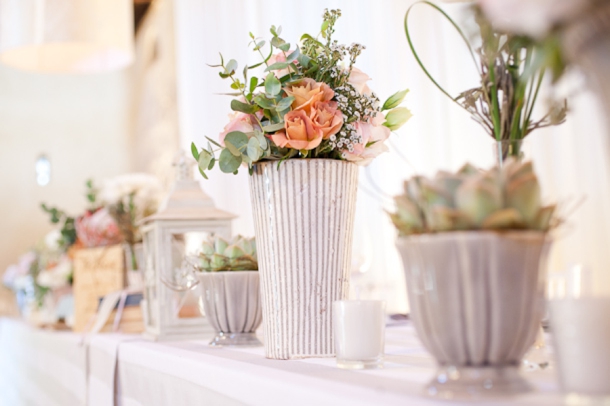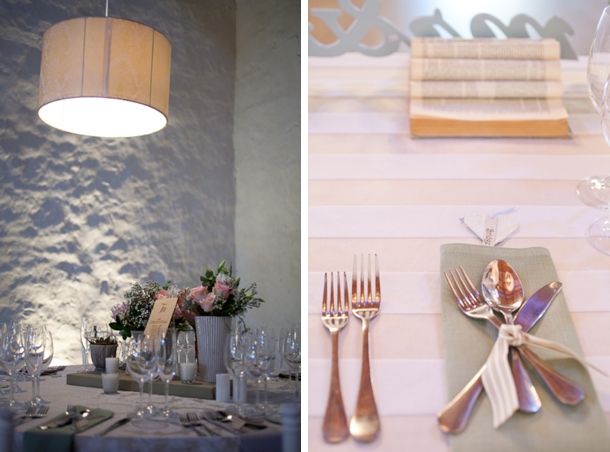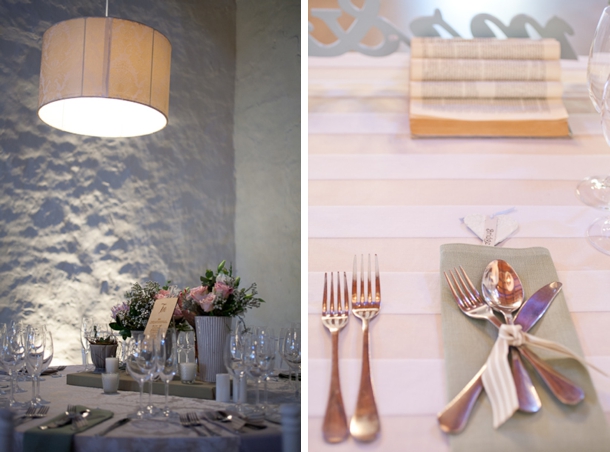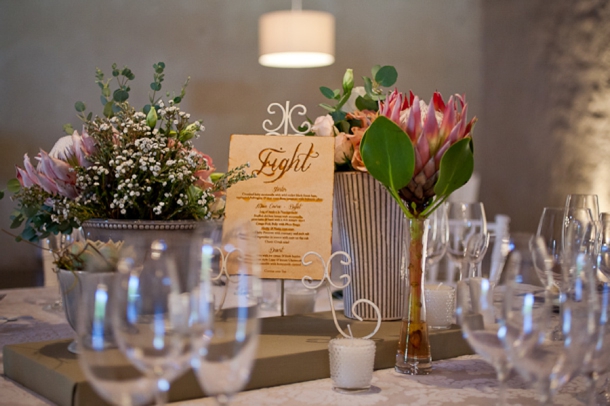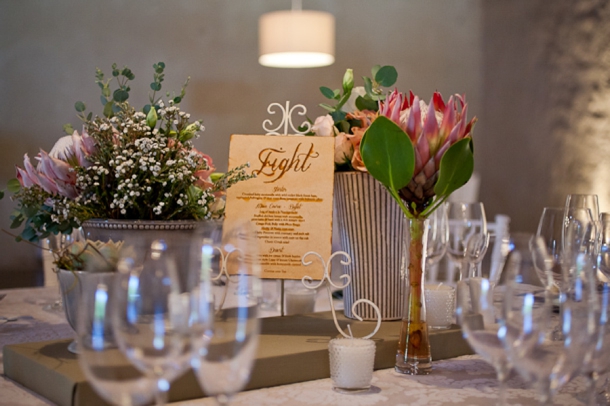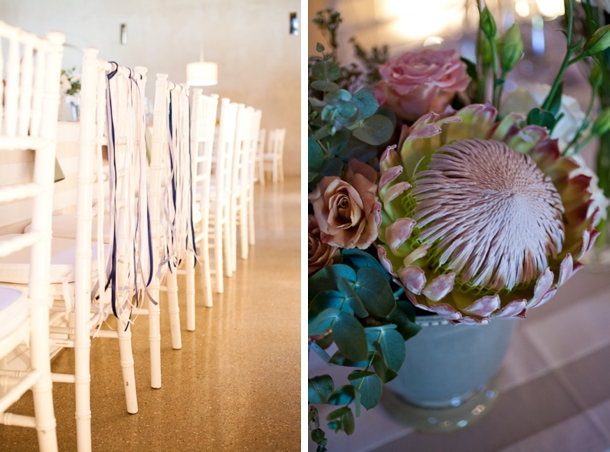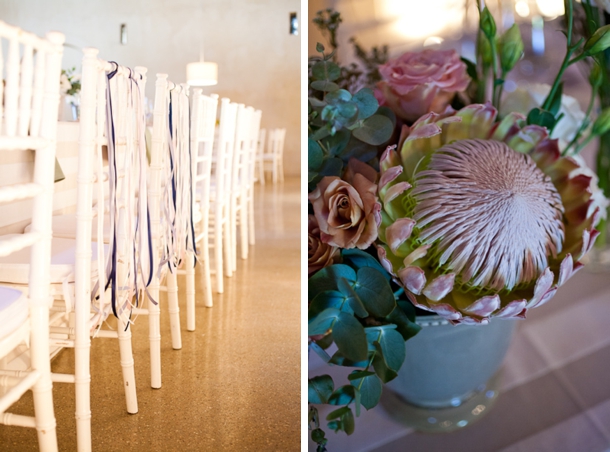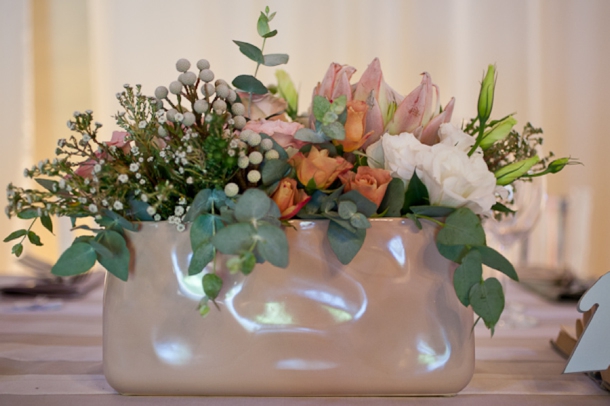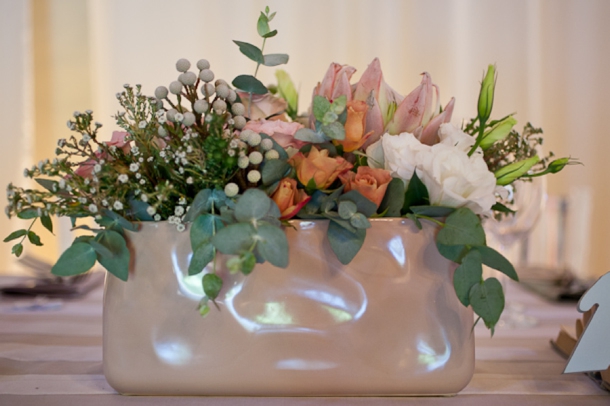 My advice to future brides is: Blogs! Try and follow as many photographer/décor/wedding specialist blogs as you can possibly handle. They all get to be involved in such different weddings every week and there are tonnes of ideas to be shared! Also, Pinterest. Need I say more? Allow your wedding suppliers access to your wedding pin boards so that they too can follow what you're pinning and see all your ideas. Try not to take on too much yourselves. Delegate, delegate, delegate! There is nothing worse than rushing to get all the small details done the day or two before the wedding. Believe me, you're going to need this time to start relaxing and pampering yourself! Finally, there are some fabulous wedding apps out there. Play with a few to find one that you like and stick to it. I also recorded every cent we spent on an Excel spreadsheet and divided our expenditure up into categories like Décor/Clothing/Lighting/Photography/Food/Wine, etc. This helps to track your budget properly and see where the money is going.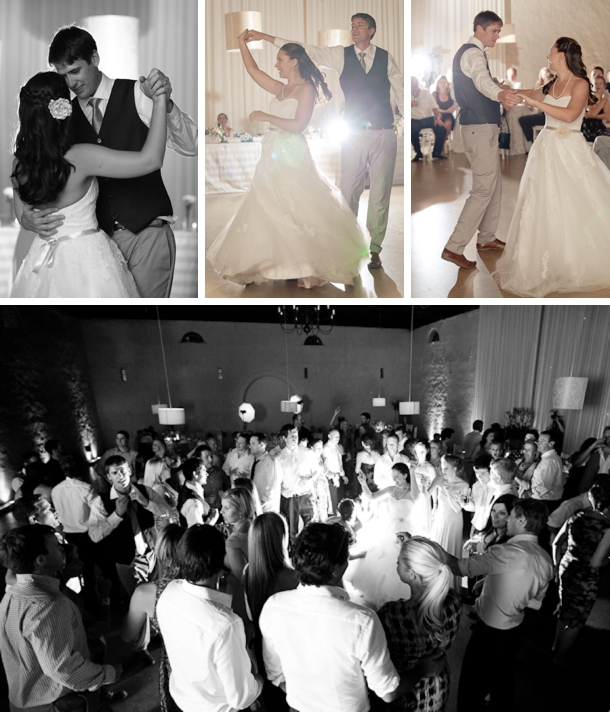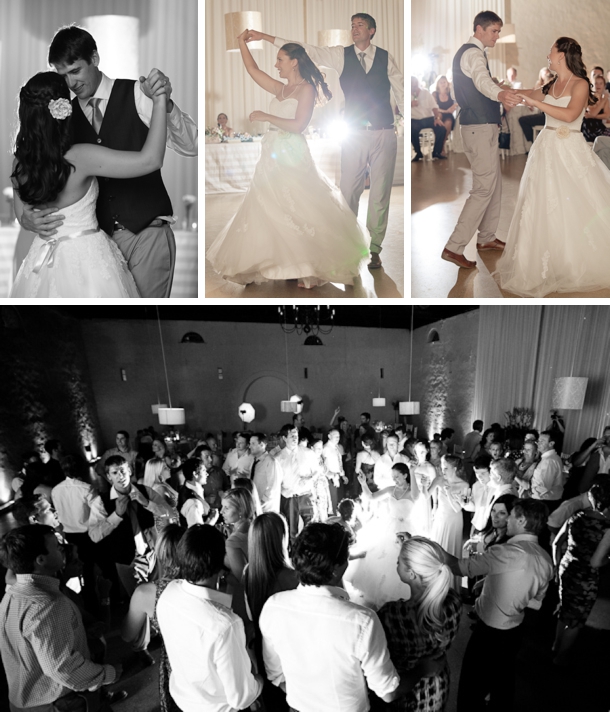 Awesome advice there (especially about the blogs, obvs!) – thanks so much Bridget and Quinton too. And a big thank you to our friend and sponsor Abigail K – head over to her blog to see more from this lovely wedding and others.
SERVICE PROVIDERS
Venue & catering: Nooitgedacht | Photography: Abigail K | Video: BMG Cinema | Flowers & decor: Jade Customised Events | Flowers: Bunches for Africa | Cake: Home Light Kitchen | Menus: Beautiful Day Designs | Bride's dress: The Wedding Boutique | Bridesmaids' dresses: Bridesmaids.com | Hair & makeup: Marli Basson | Hiring: Something Different | Entertainment: Me & Mr Brown