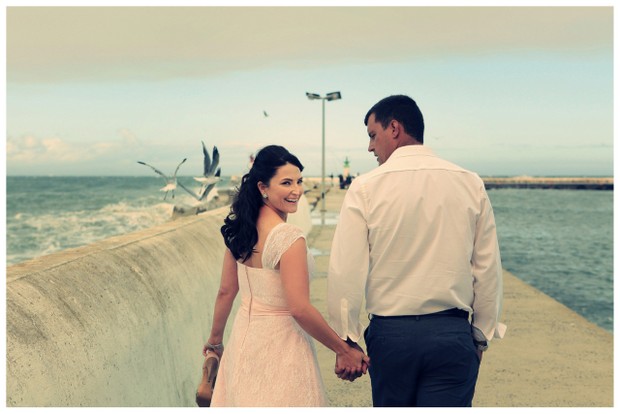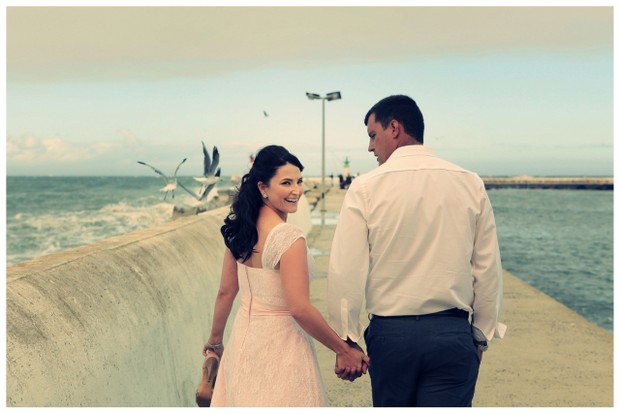 Surprise! That's what today's wedding is, literally. I've always loved the idea of a surprise wedding – there's something that's so heartfelt and quirky about it. So when I heard that one of my favourite wedding and lifestyle bloggers (Vicki of the amazing I Want That and I Want That Wedding brands) had a surprise wedding in favourite spot, Kalk Bay, I just knew I had to feature it. That was before I had even met Vicki properly (PS she's just as fab in real life) and heard her and Justin's story. And yes, heartfelt is definitely the word. The result is a laid back, intimate, special people-oriented wedding and couple shoot rolled into one that feels quintessentially Cape Town and 100% personal. And speaking of personal touches, how much do I LOVE the way Vicki and The Captain customised the 'This is Your Life' poster? It's this kind of detail that makes me love the job I do. I also loved the way Vicki and Justin spent time having pics on their own and with his girls, together with the awesome Lar Leslie,before the big reveal.
From the lovely Vicki:
Justin (aka The Captain – he is a keen sailor) and I have been together for six years. We started out as friends and have many friends in common, his cousin is even married to one of my very best friends (and bridesmaids). While still friends we played regular Scrabble games and the regular phone calls became daily ones, then first in the morning, last at night ones and well, the rest is history.
The proposal was the most romantic thing that has ever happened to me. Without sharing too many details of what was such a personal moment, let's just say it involved the Scrabble board, a hotel that has meaning for us and my absolute ultimate – a diamond eternity band.
We actually planned two weddings. The first was to be a country carnival at Halfaampieskraal for 120 guests – a late luncheon in a rustic barn, after which the crowd would be walked to a spot on the farm by a local band for 'dessert'. The surprise was going to be the opening up of Club Havana, the Cuban-themed bar/lounge and dancefloor venue housed in another barn on the farm. However, very sadly my father-in-law passed away most unexpectedly and we took the hard decision to postpone the wedding despite having paid for everything already.
We then booked a holiday for later in the year for much needed time out and from there our surprise wedding concept began to form – we really just wanted to be married. We invited just 30 people (immediate family and retinue) to a 'lunch' and we organized it in a month, including the dress, venue, etc., all while keeping a straight face. We approached Kenneth at Olympia Café in Kalk Bay, a place where we spent most of the formative years of our relationship, and he planned a supper feast for us in the working part of the bakery. I ordered 30 bunches of pink dahlias, which my mother-in-law tirelessly arranged in jar after jar after we let her and my mom and Justin's girls in on the secret two days before). We didn't have time for major detailing, but copied the well-known 'This is Your Life' manifesto and wrote our own rules for a happy life (we each wrote half) and printed the supper menu on the other side. I also took some of the things I'd been collecting for the original wedding – the sprayed ceramic animals, for example, and transplanted them to our new 'concept', mustered up all the jars I had, ordered loads of paper garlands and balloons from In Good Company, bought a shed-load of fairy lights, drew up the sketch of how it should all look and dropped everything off at Olympia on the morning of our wedding (the bakery is in use until 4pm every day so we couldn't have anything too complex). All while pretending to family and friends that the 'lunch' they were coming to at our house was just to wish us well before our holiday.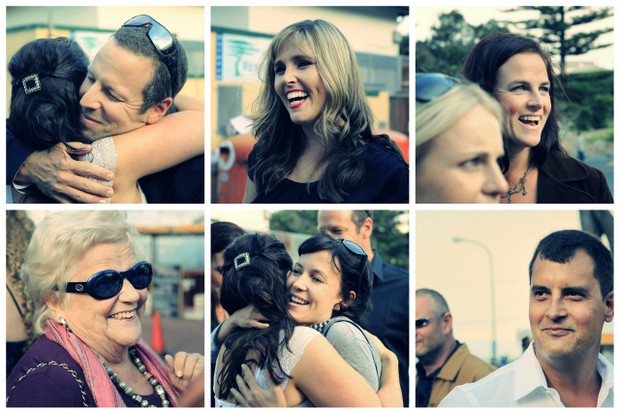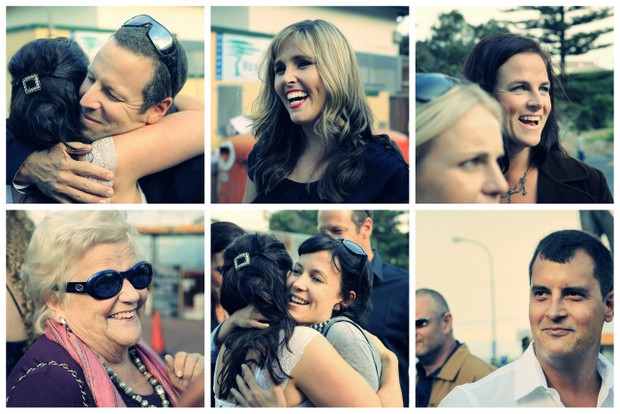 Guests arrived at our place in the afternoon, were given a series of clues they had to follow, and met us on the pier in Kalk Bay where a friend's father was waiting to marry us. There were lots of wobbly chins as we said our vows, which we wrote ourselves. I loved the intimacy and emotion of it all and the feeling of support we felt – that feeling of people being so full of love for you is unlike any other. Two of our friends had guessed that the 'lunch' was a wedding and designed and made a bunch of beautiful button badges for all the guests – it was so thoughtful, especially because I had really wanted to make some for the day and had just run out of time.
I also loved our speeches. We stood up together – he spoke, then I spoke, then we spoke – I spoke to each of the women at the table about what they meant to me and to us, and he did the same for the men at the table. Seeing my stepdaughters' beaming faces through a cloud of tears during the speeches was a wonderful feeling.
The next day we had a drinks do at our house for the original wedding party who were able to make it – almost all were able to! I wore my dress on both days – it was frantically washed on the morning of part 2 of the wedding. It was made of pale pink silk with a lace overlay and a tulle petticoat – I could never have had a long dress, the formality is just not me.
I loved that our wedding was a surprise – it meant that in the run up to the wedding we were very focused on the meaning and relevance of marriage as we weren't distracted by the other stuff. The months before had obviously been very tough and the feeling that life is about seasons and its ebb and flow was a very strong one for us.
Vicki's top tips for brides-to-be:
Create a moodboard to distill your own style using Pinterest and your fave blogs like SouthBound Bride ;)
Try and remember why you are getting married – the drama of it all even for 30 people can be so overwhelming
Consider having your pictures taken before the wedding – this made such a huge difference – we still had the 'reveal' but we had some quiet time just the two of us which was really nice. I also met with our amazing, fantastic photographer Lar Leslie a couple of days before to see what the light is like in Kalk Bay at that time of day and also to discuss some photo concepts – we decided on a 'postcards of Kalk Bay' theme, scouted two or three backgrounds we liked and took it from there.
– I love that quote "a wedding is a celebration, if at the end of the day you are married to the one you love, it was a perfect day". Stuff goes wrong and it will NOT be the end of the day – we got soaked by a wave after our first shots were taken!
Thank you so much for sharing Vicki and Justin – with so much sincerity and love, I think we all 'want that wedding'! Big thanks also to Lar Leslie for allowing me to use the pics.
SERVICE PROVIDERS
Venue & catering: Olympia Cafe & Bakery | Photography: Lar Leslie | Flowers: Helene Spreckley | Decor: In Good Company | Cake: Charly's Bakery | Bride's dress: Debbie Henshilwood | Makeup: Sylvie Hurford