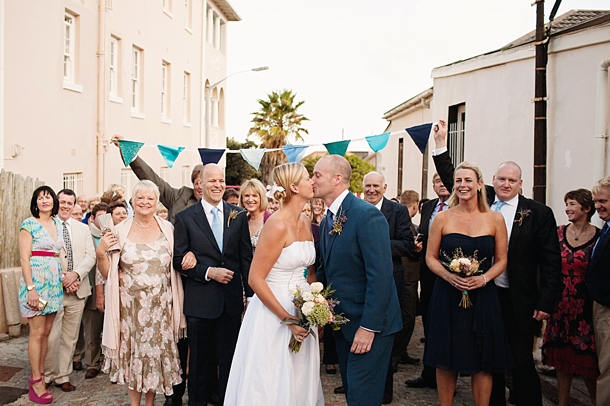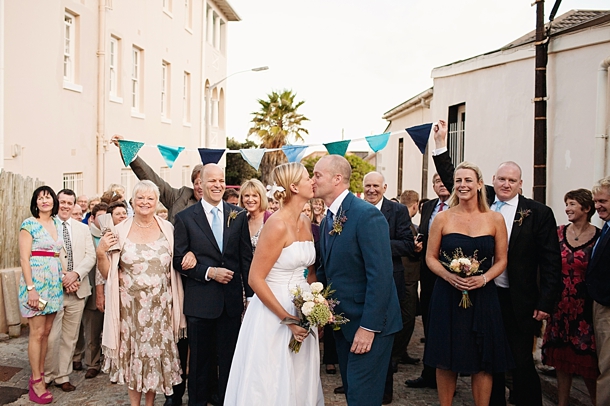 All weddings are lovely, no question. But there are some that seem to have a special kind of glow, where the joy and love seem to radiate from every photograph, on every face. Where I find myself smiling as I'm editing. Today's is one of those. Kate and Steve are clearly made for each other, and they celebrated their union in a day that reminds me a little of a wedding in a French village, with a procession from the church, an open air reception under acres of bunting, sunset toasts and late night dancing. It's just so LOVELY. And it's inspiring, because it makes me want to rush out and discover new, unusual venues like the Chartfield Guest House, that showcase some incredible Cape views but lend themselves to this kind of relaxed celebration with a backyard feel. Even better, US photographer Julie Wilhite was in town to capture every detail as only she can – lucky for us she has a sister in Cape Town, as we just love featuring her work!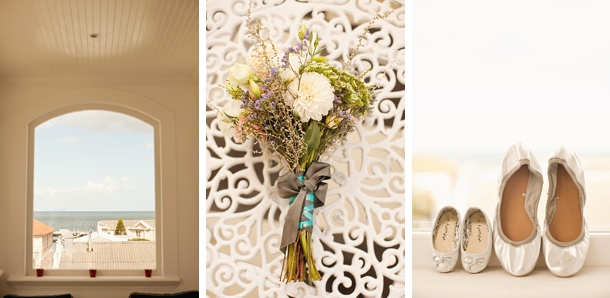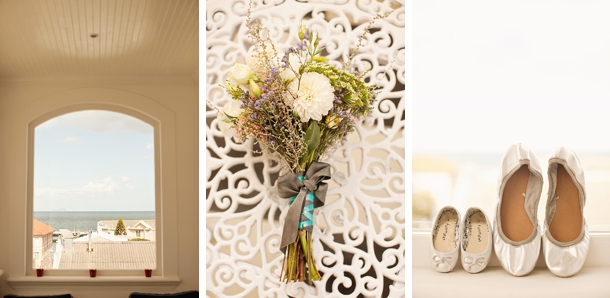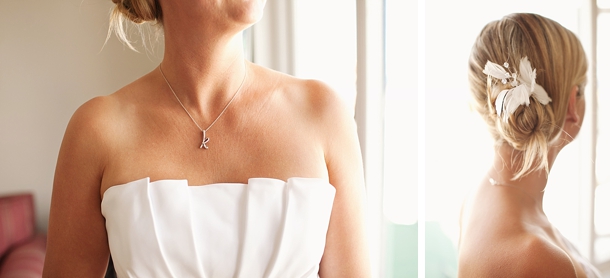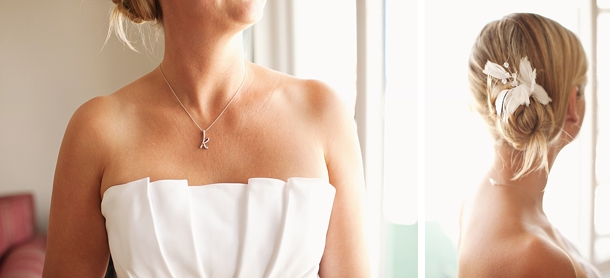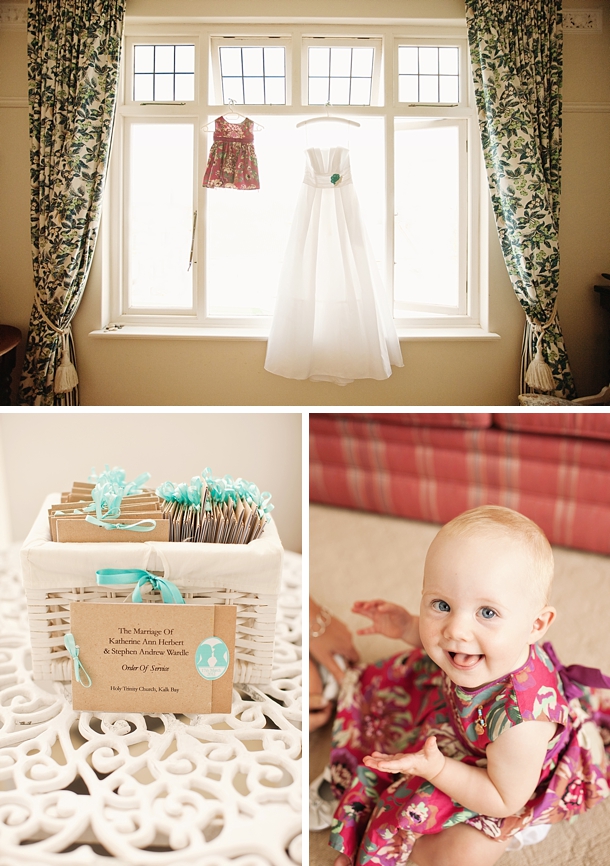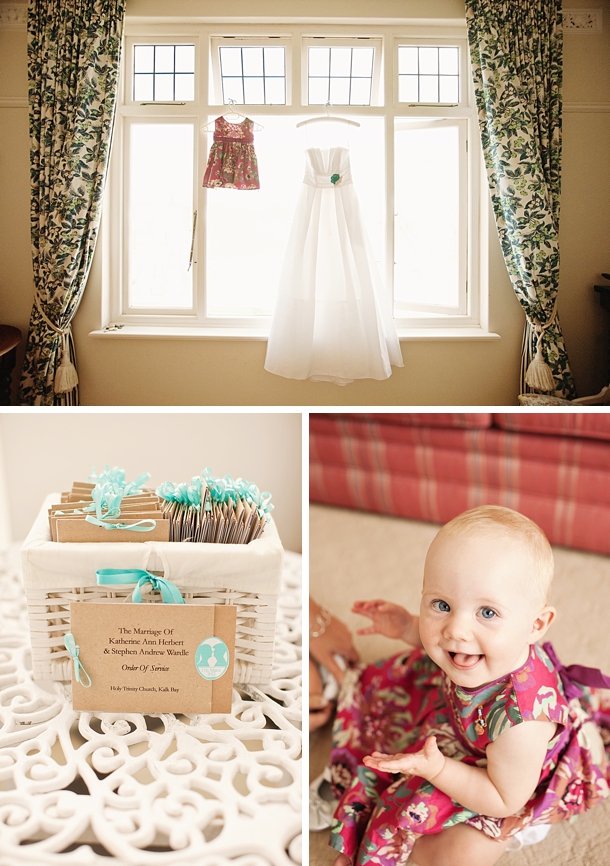 From the lovely Kate:
Steve and I were originally set up on a blind date in London – our mutual friends were sick of us always being single and thought we might hit it off. We got on really well but he thought I was a 'princess' and I thought he was annoying… We didn't speak again until three years later when the same friends (persevering) invited us to their house for dinner. Steve and I had both lived in London for twelve years at that point, but I was in the process of applying to study for an MBA at UCT so was heading back to SA. I wasn't looking for a relationship, so didn't think anything of it when Steve asked me out to the cinema. Nine weeks later I had to move back to CT but by then we were firmly dating and he visited me five times during the year I was studying. Half way through (I blame the World Cup!) I fell pregnant and in October he proposed. We were staying in Hermanus and it was a rainy day – Steve had tried to persuade me to go for a walk but I refused as was reading a good book in bed. Eventually he gave up and proposed! We are now living in Cape Town and our daughter Ella is a year old.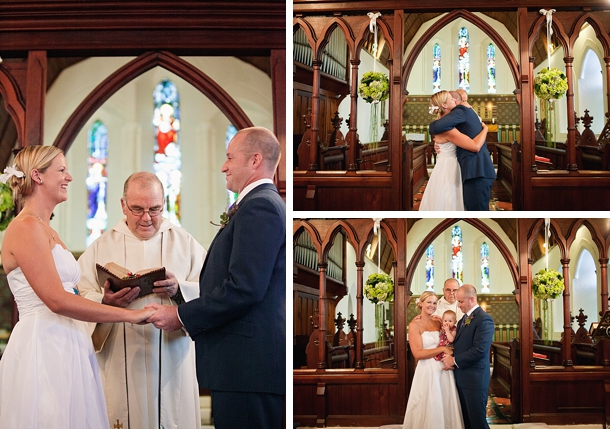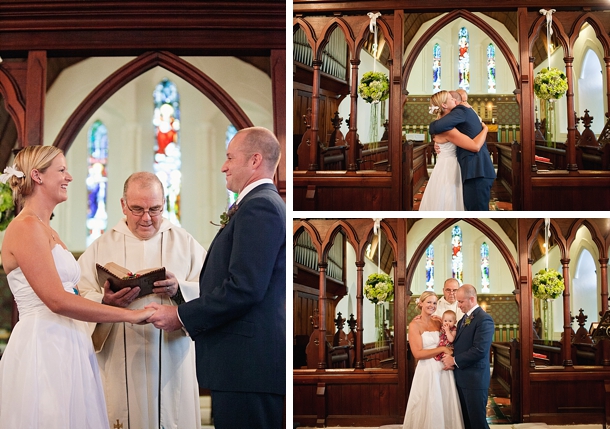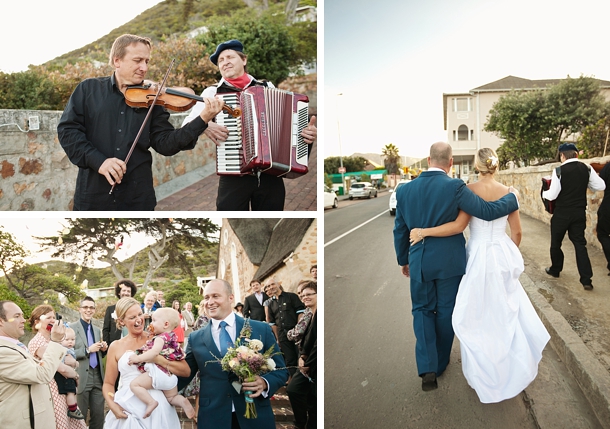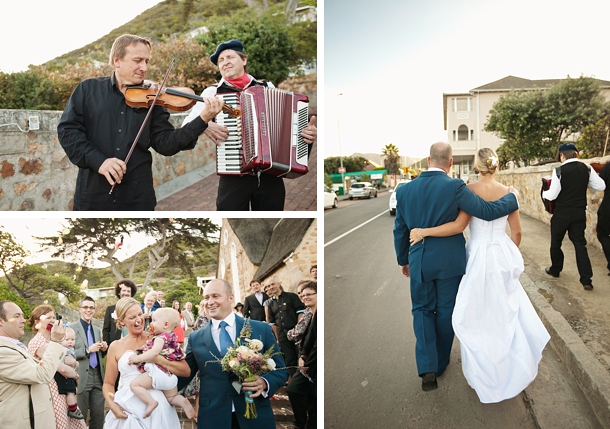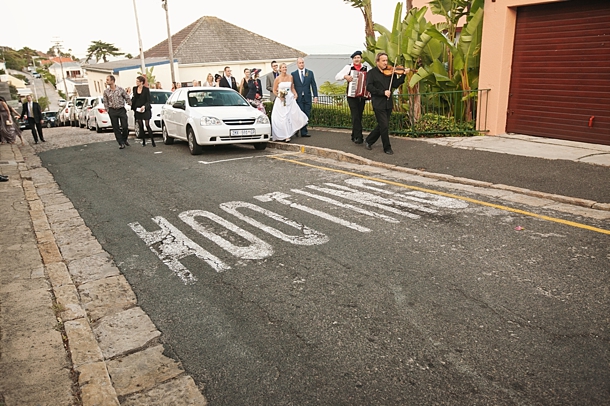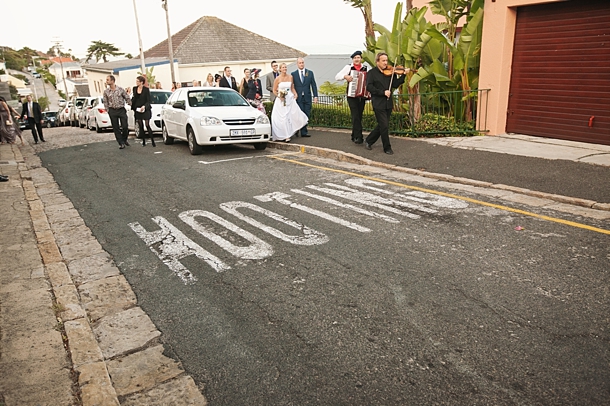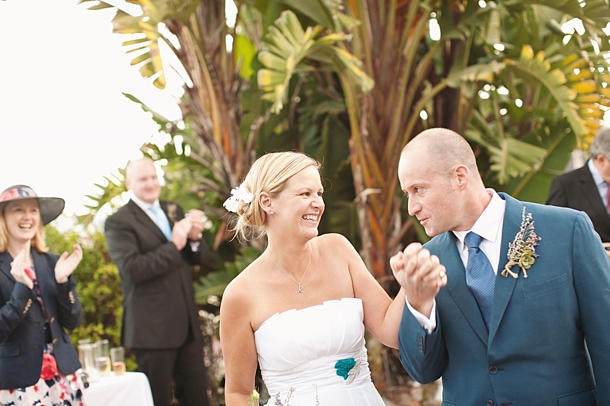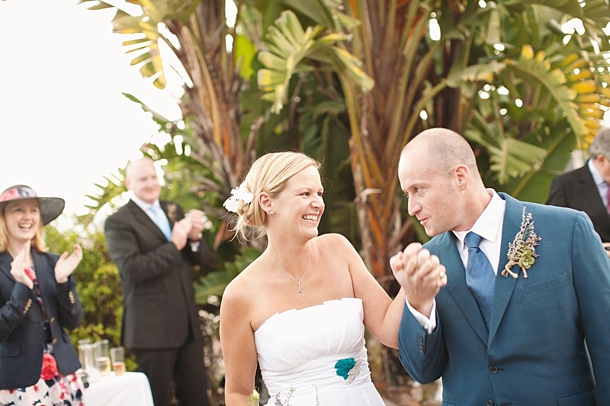 The venue was special to my family. We have been in Kalk Bay now for five generations (Ella being the fifth) and wanted a community feel – the church has always been used by the family and the venue (the Chartfield) was built by a great great uncle of mine. We really wanted to be able to walk from the church to the venue – we didn't want anyone driving anywhere! We hired a violin player and an accordion player to walk with us – that was amazing, everyone enjoyed it and cheered us as we went.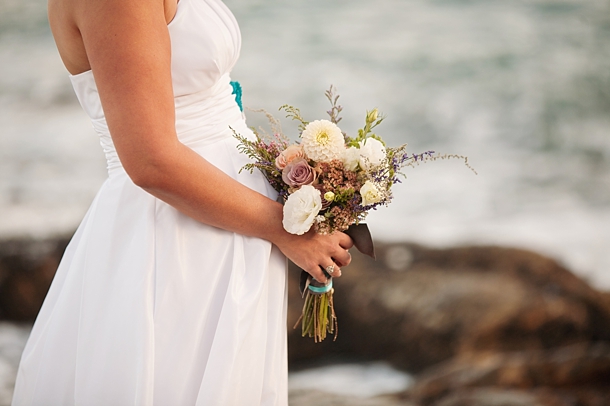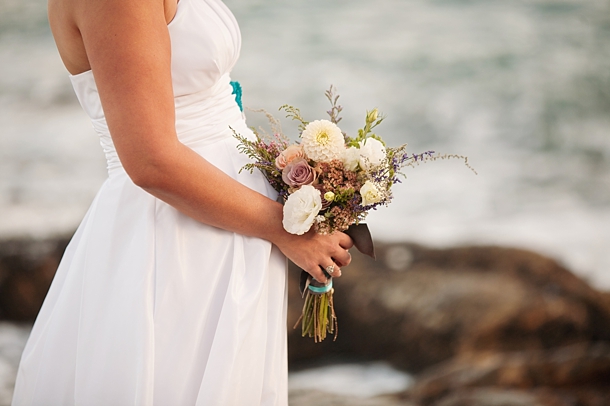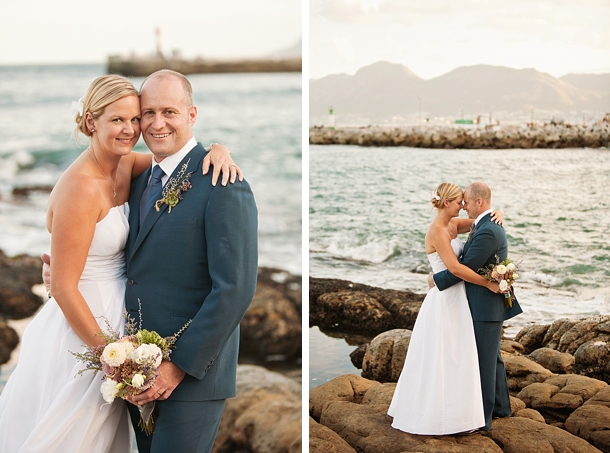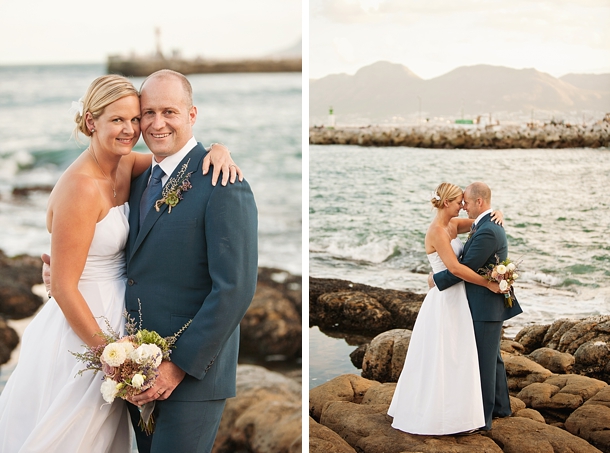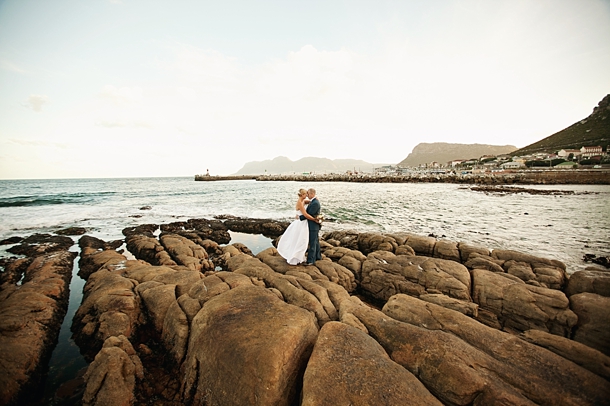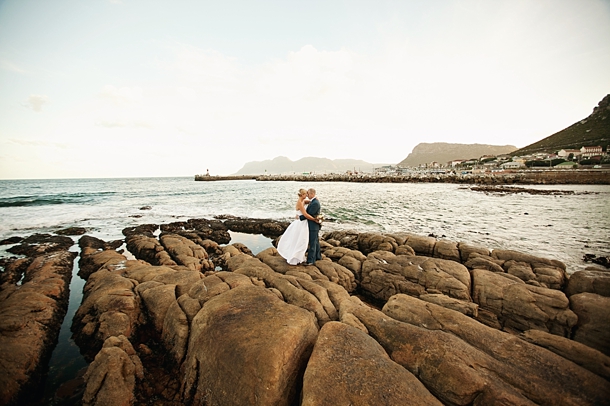 As we already have a baby, we wanted something relaxed but at the same time individual to us. We are pretty relaxed people and didn't want a formal white wedding, so we chose blue as our theme colour and wanted something a bit vintagey. I had spotted the silhouette idea on Martha Stewart Weddings. My brother is a graphic designer and graffiti artist so he took pictures of us and made them into silhouettes, designing programmes, stickers, etc. He also painted a huge canvas of our silhouettes in place of a traditional guest book (guests were invited to 'tag' it) – this now hangs on our living room wall.
We tried to include as many people as possible in the design and concept of the wedding. My friend Cynthia – a very talented lady – made over 40 m of bunting. For the flowers and candles, I collected baby food jars and various others, and friends came over on 'craft evening's to help transform them with ribbon and glue guns. Steve's best friend runs a very cool fabric design company in the Eastern Cape, and printed our table runners. My dad painstakingly wrote out names on stones for each guest as a name tag, and sprayed each with varnish. Many friends helped us set up on the day and our great friend Caroline was a whiz at project managing the entire thing and getting the tables etc. all set up and made it look amazing. I believe this contributed to the relaxed atmosphere.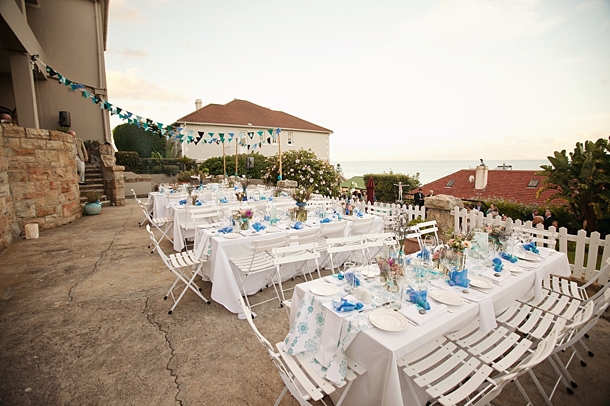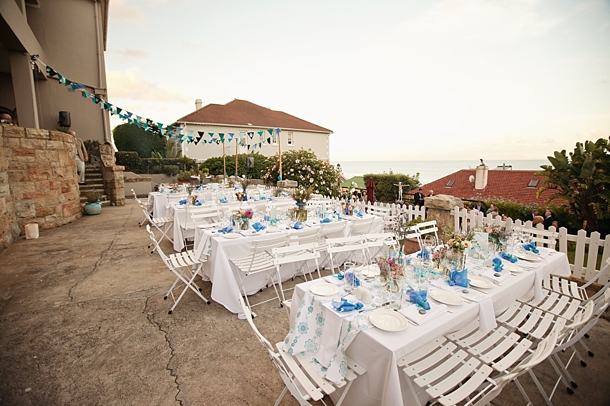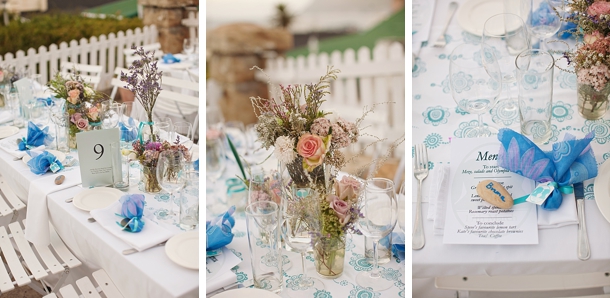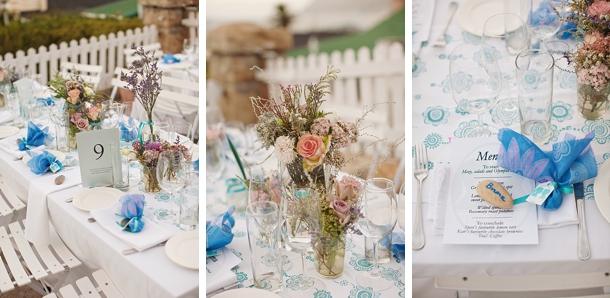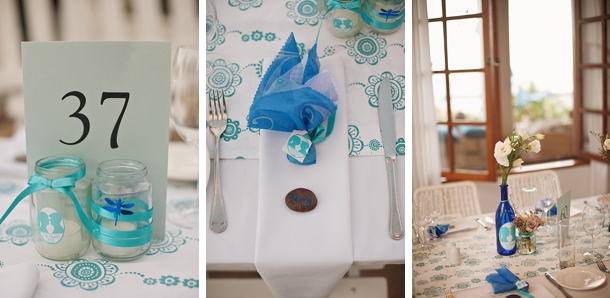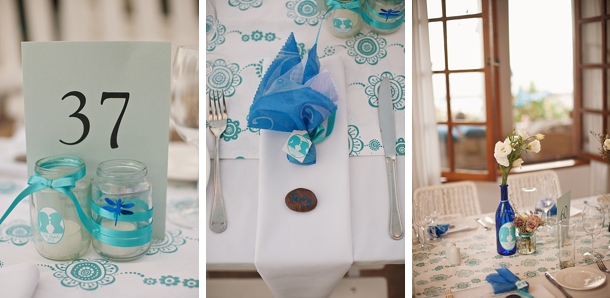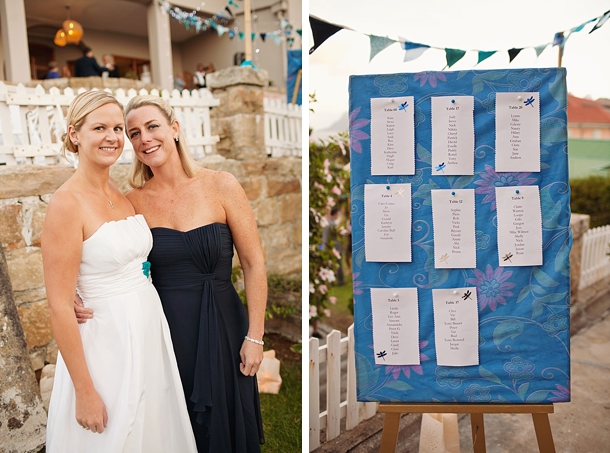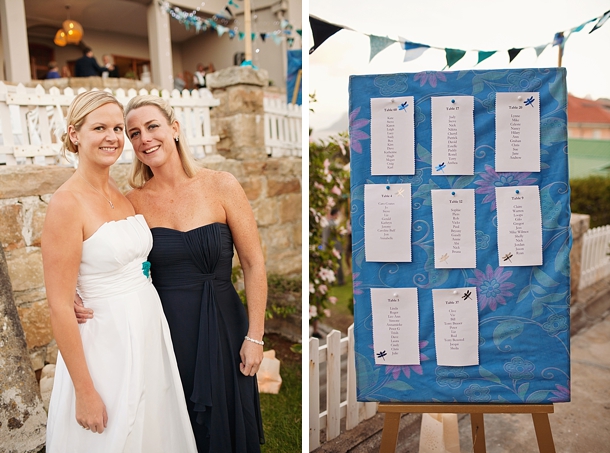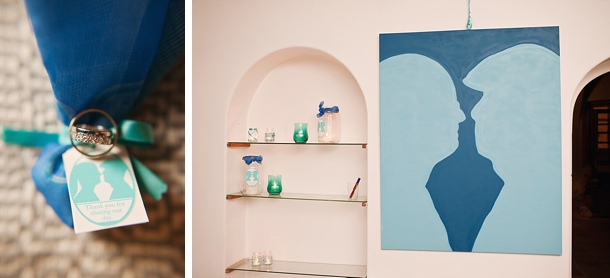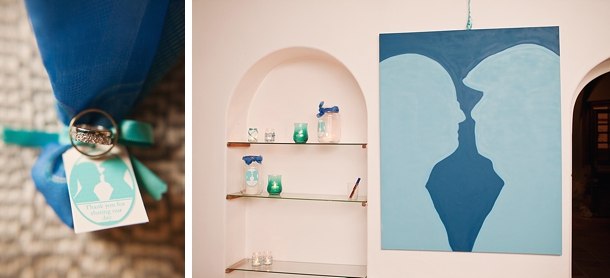 So many people from the UK attended, which meant a lot to us – 40 of our 90 guests flew in from London! Steve's speech was amazing – really moved everyone, it was a knock out. I was slightly too uptight to truly enjoy it as I was speaking next, so I have made him promise to make the speech again on our wedding anniversary. The first dance was also such a blast – we hadn't rehearsed it at all but we had spent ages choosing a song. My uncle and aunt helped us – they are really passionate about music and so we spent many a boozy meal listening to their record collection as my uncle was adamant the first dance had to be special. After a lot of debate – our fave song is 'You've Got the Love' (Florence & the Machine) – we decided it was going to be impossible to dance to! We ended up choosing 'Lets Stick Together' by Bryan Ferry & Roxy Music. We particularly liked the second verse which refers to 'consider the child'! Whenever Steve and I had danced together we'd argued about who was leading – so I was nervous on the night that we'd end up bashing into each other – but for once it worked brilliantly and we danced like champs! Fantastic!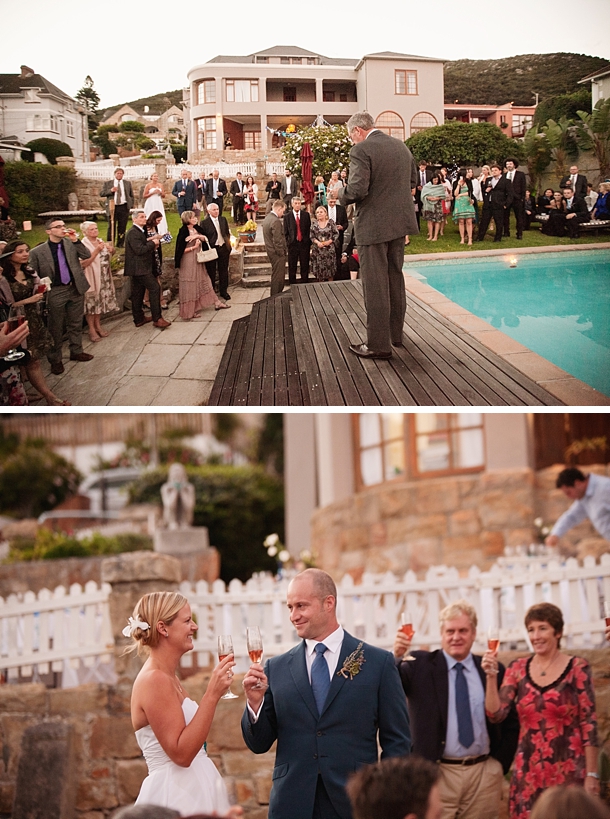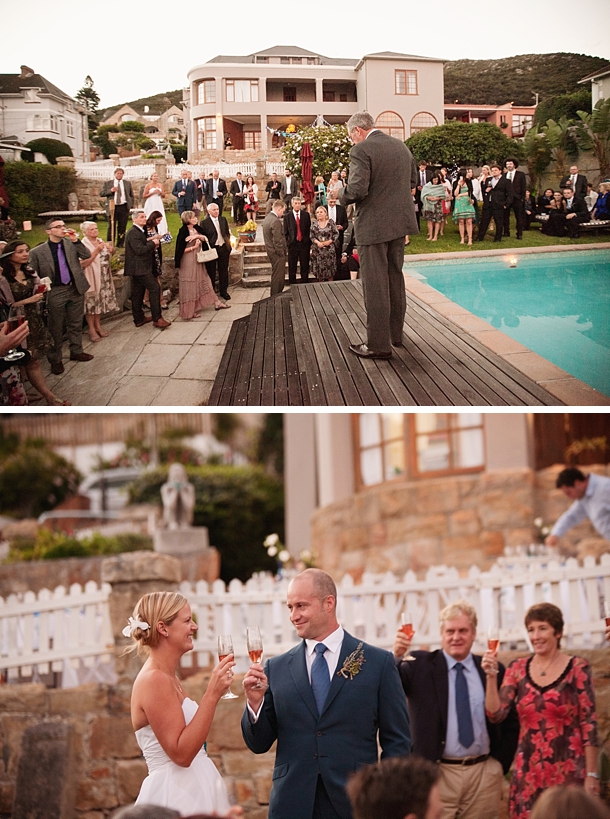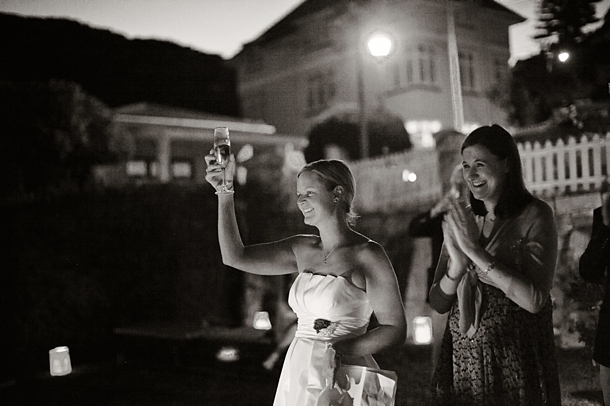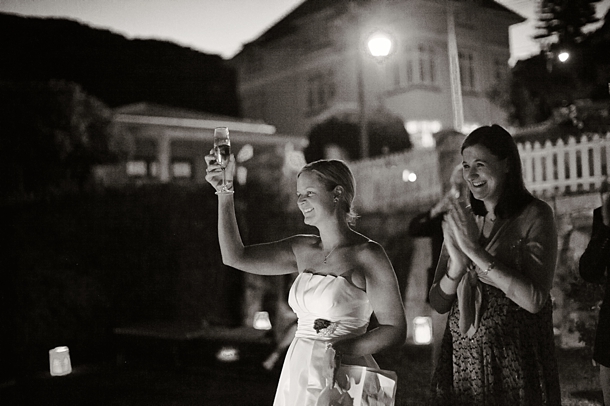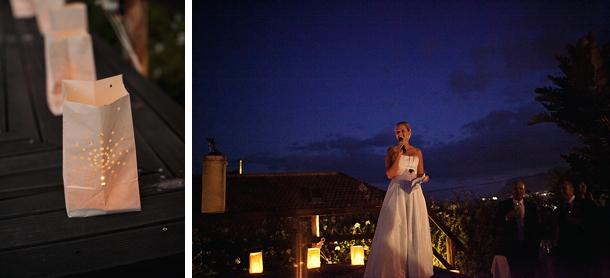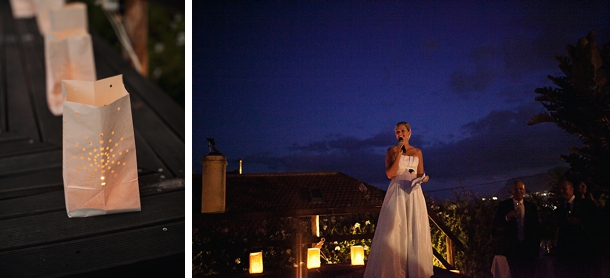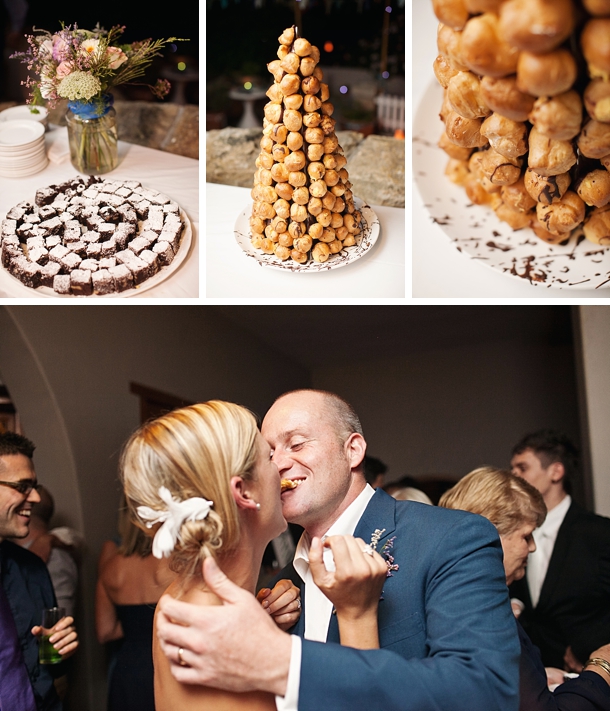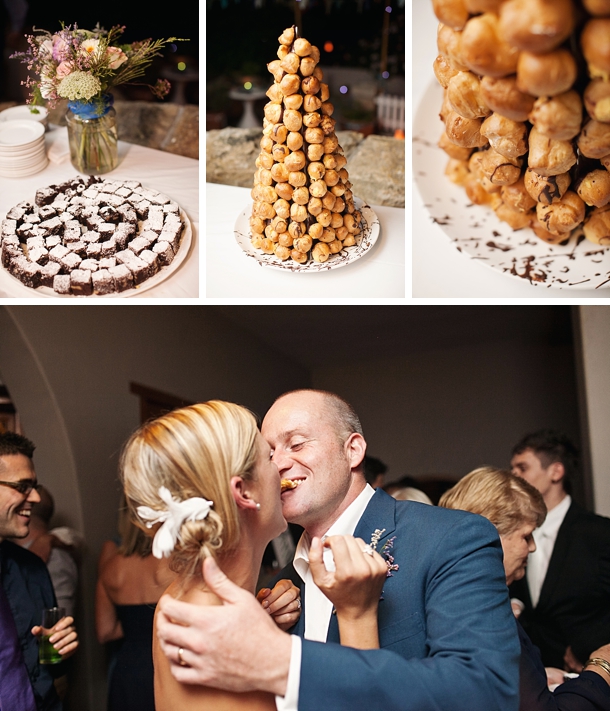 It isn't easy to do but I wish I had relaxed a little bit more the night before. I was so anxious to get all the details right that I ended up not going out with all my friends – this was a mistake, as I ended up not sleeping with nerves til 3 am while everyone else had a great time in the bar down the road! Including my husband! I would also have hired more help with our daughter Ella. It was hard to get ready and juggle looking after her – and during the church service it was quite distracting. I should have thought to ask my aunts, etc. for more help. The best resource for me was Martha Stewart Weddings for ideas, Paperless Post for fantastic invites and Nadia at 4 Every Event for the flowers (I dropped off all the vases and she managed to do the flowers even though she was fully booked with other weddings. What a legend!). If I had had more in my budget, I think I would have delegated a lot more of the décor to Nadia as she is just brilliant!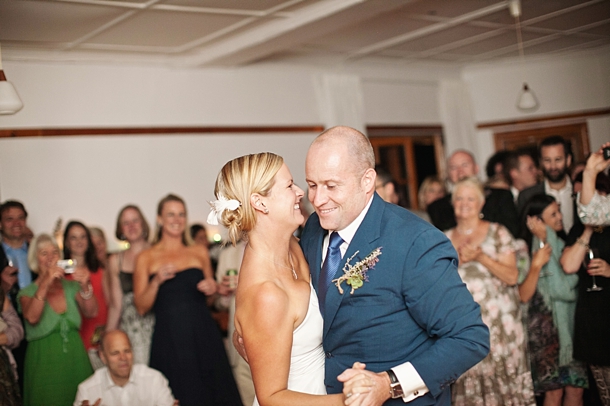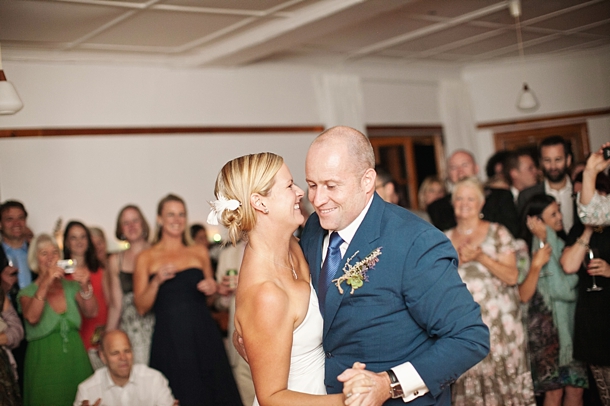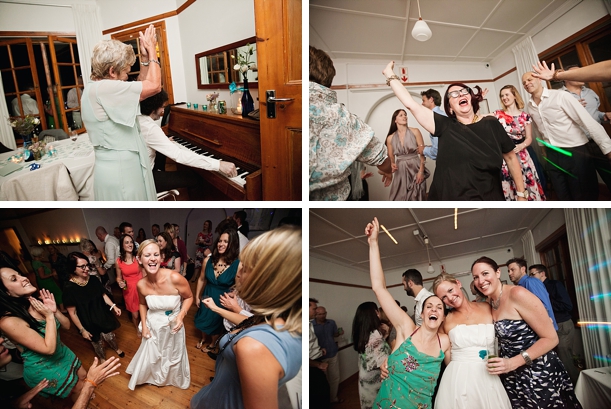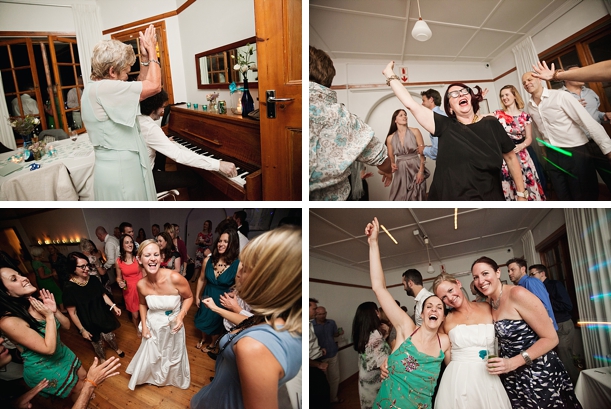 Thank you so much, Steve and Kate (and Ella!) for sharing your wonderful day. And huge love for Julie – thanks so much for sharing your pics! As always, you can see more on Julie's blog.
SERVICE PROVIDERS
Venue: Chartfield Guest House | Catering & cake: Olympia Café and Deli | Photography: Julie Wilhite | Day-of-coordination: Caroline Coates | Flowers: 4 Every Event | Invitations: Paperless Post | Bride's dress: Bride & Co. | Dress accent: Ann Baker | Bridesmaids' dresses: Coast | Makeup: Jo Coates | Hiring: Exclusive Hire | Table runners: Stowe & So. | Accordion: Andre van Vuuren | DJ: DJ Ivan