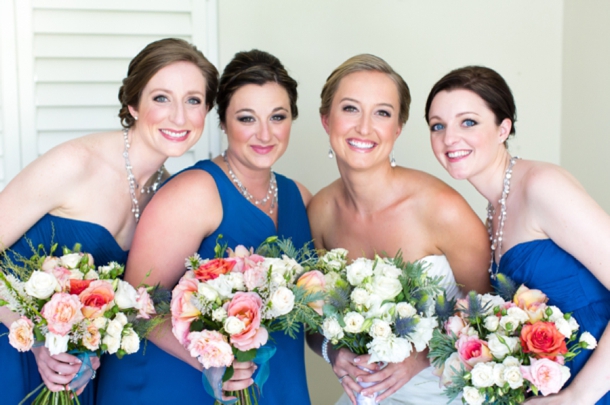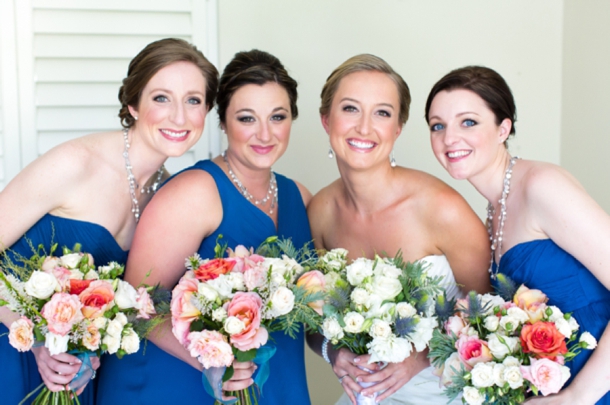 Something I love about my life, and the way that life has turned out for many of my friends, is that we're all kind of… international. Every time I attend a wedding, there's a mix of nationalities there, and many of my friends have married outside the South African circle or spent extended time living overseas. People live all over the place, and they move around. Sure, it makes it harder to see everyone (am I the only one who has total envy of the HIMYM crowd for being able to see their besties at McLaren's all the time?), but it also makes occasions like weddings into reunions and introductions and mixers – a chance not only to spend quality time with wonderful people and re-live old memories, but to make new ones, and meet new people, and get a 360 degree view of a couple's multi-faceted life. The world, vast and strange as it is, is really rather small. Today's couple are evidence of that in more ways than one. Not only was their wedding very much an international affair, the small world part is that Bruce's best man happens to be my cousin. Which is how Emily became a SouthBound Bride, and found her venue and suppliers. It feels a little like I'm celebrating with friends, and it's especially wonderful to be showcasing the great work of some of my favourite suppliers – Theresa Lazarevic of Creation Events, who co-ordinated the whole wedding brilliantly, Catherine Mac who as usual outdid herself with the photos, and Rockhaven, always a picture perfect rustic venue. I could get into how lovely it all is, but Catherine's pics and Theresa's decor really do speak for themselves, so I'll let you get to sighing over it all!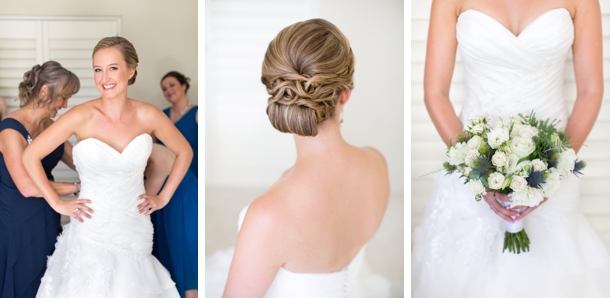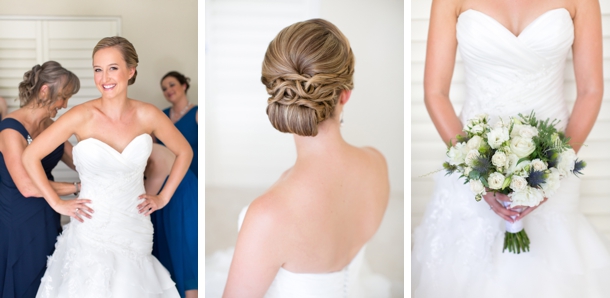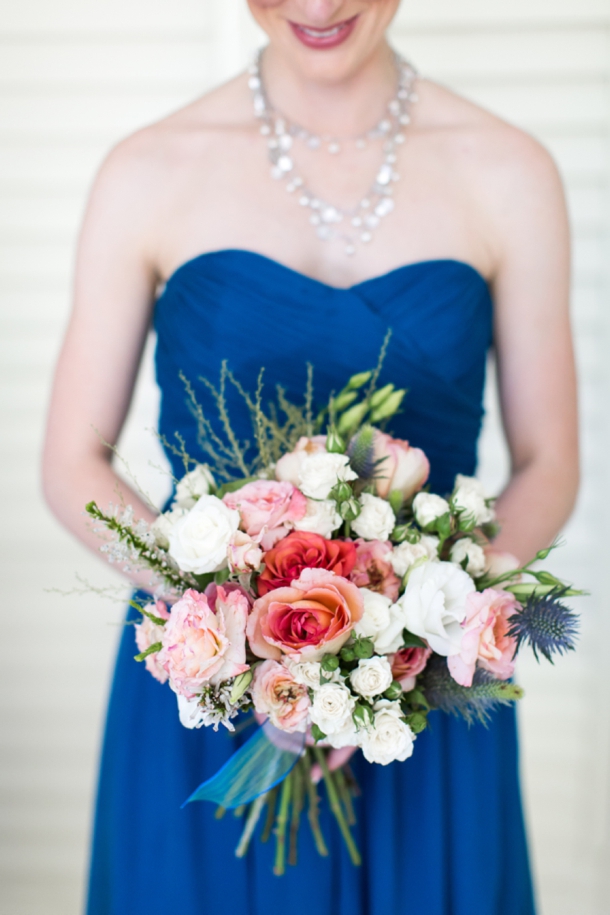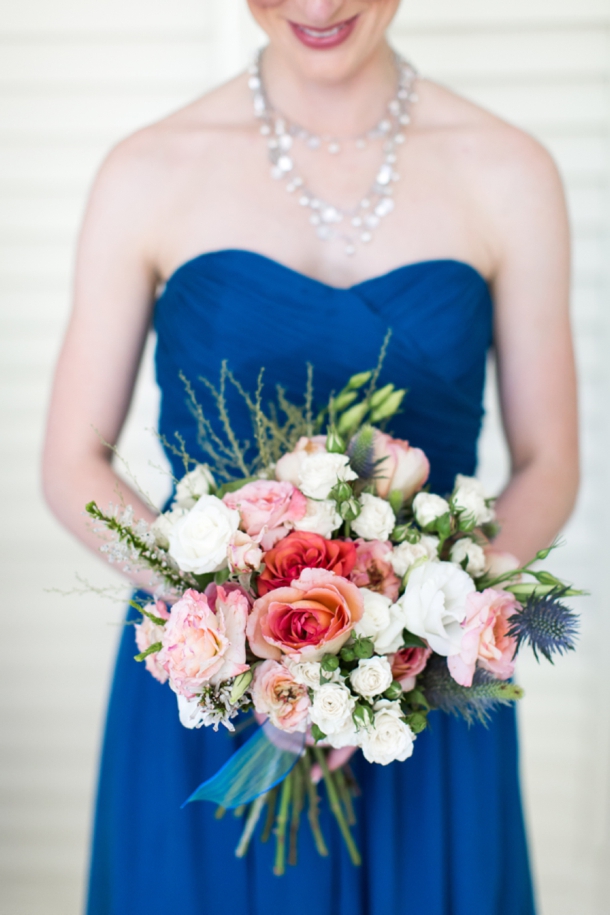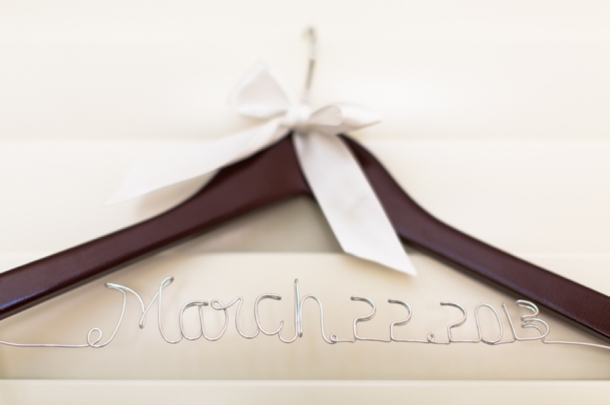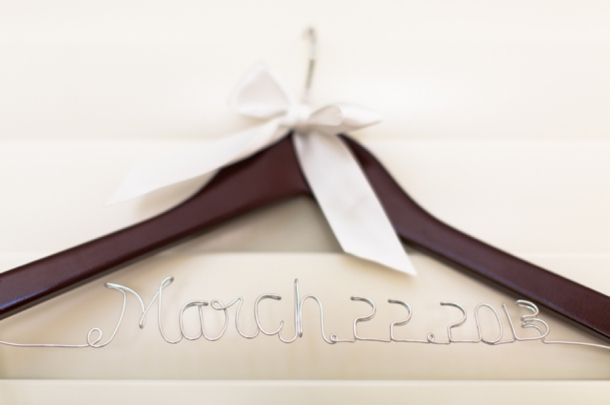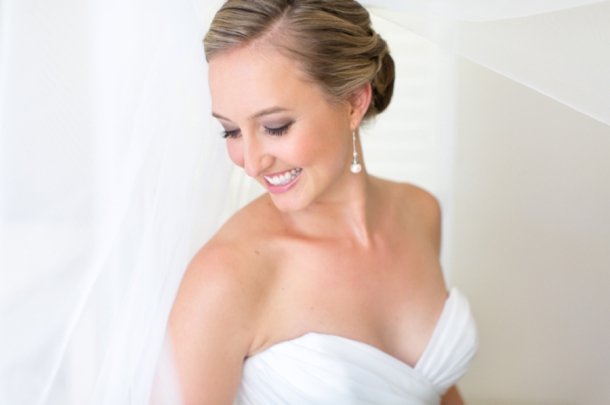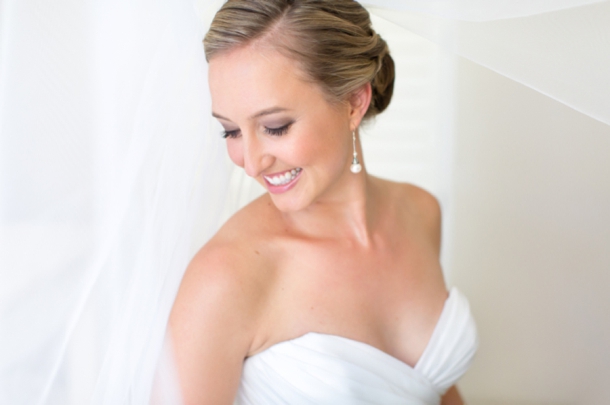 From the very dear Emily:
Bruce and I met at a bar in Hong Kong, where we both live. I'm from the USA originally and Bruce was born and raised in Johannesburg. In our five years together we have been to England every year to visit my grandmother. Before we even got engaged, we had discussed possible wedding destinations and we just weren't quite sure where we would get married. So Bruce decided that in order to include her in some of the excitement (and in case we didn't get married near her), he would propose in England!
We had planned a day out in the city followed by dinner and a stay at a swanky boutique hotel. Bruce planned the evening's events (because he knows London better than I do due to his job as a pilot) and booked us a champagne voyage on the London Eye at sunset. With London spread out for miles beneath us, Bruce got down on one knee and asked me to marry him. I couldn't believe he had been carrying around the gorgeous ring in his suitcase our entire trip! Anyway, I obviously said yes and the following day we headed straight to my grandmother's house (where my parents were also visiting from the USA) for a wonderful family celebration. It was perfect.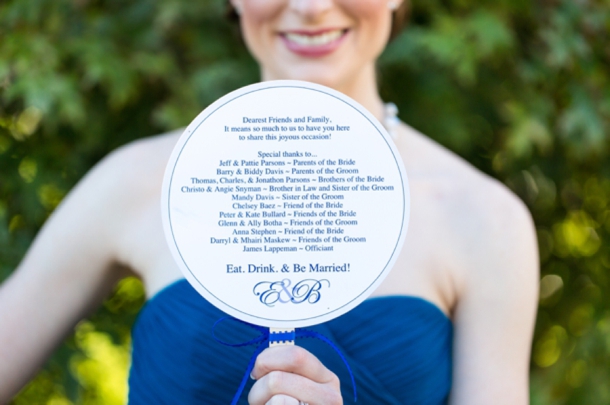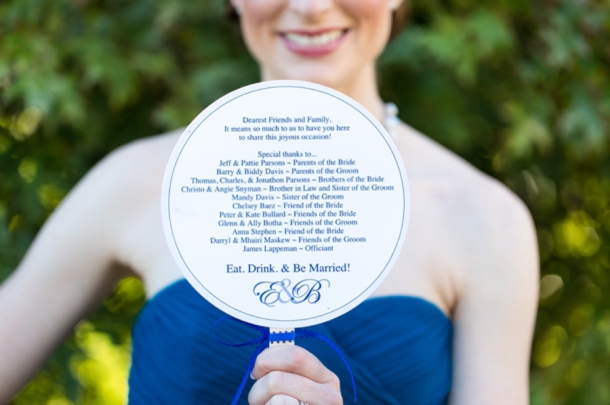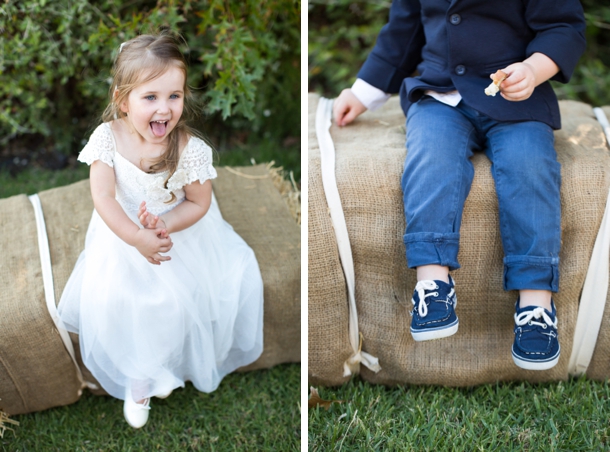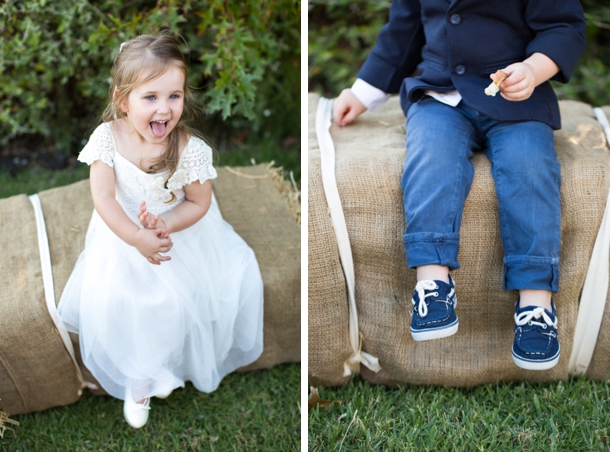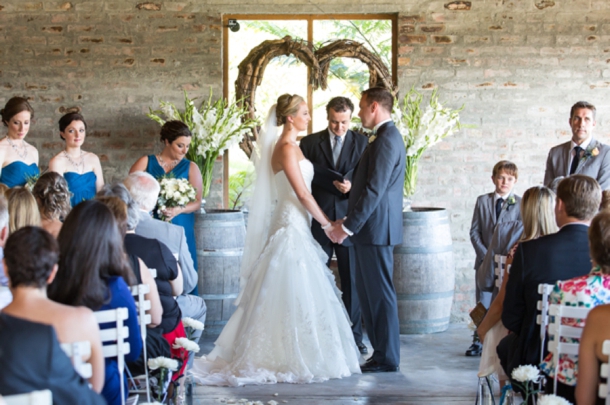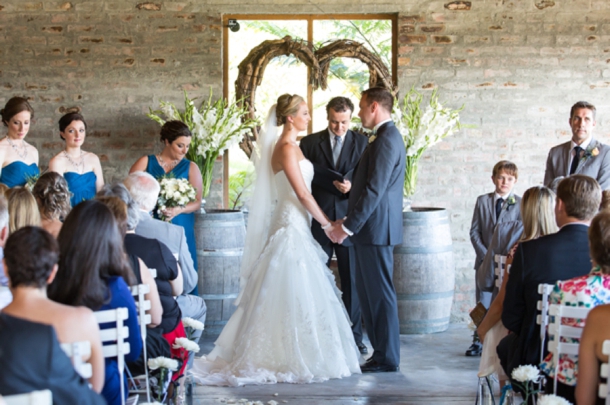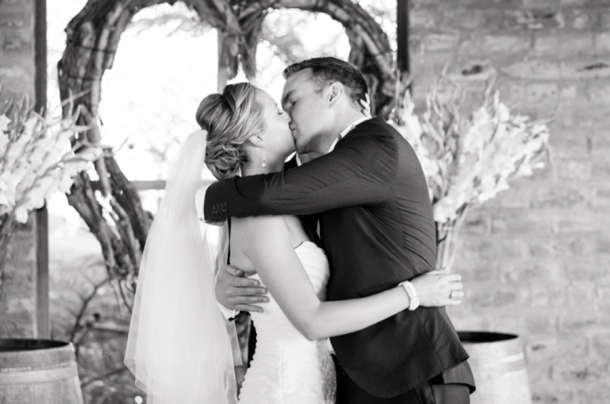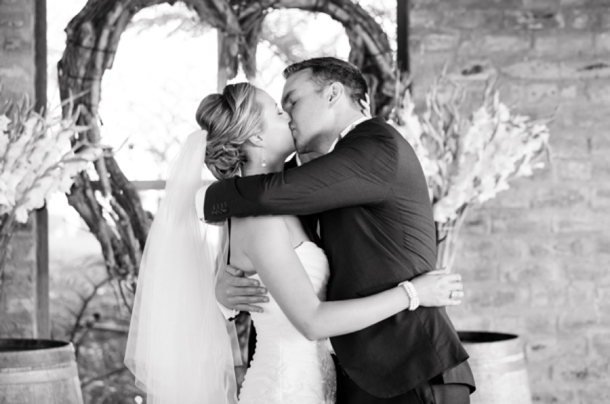 We are all about family, friends & fun! Our ideas for the wedding were just for it to be a fantastic day of love and laughter and a great big party. We knew our guests would be coming from all over the world so we wanted to choose somewhere special. We narrowed down the choices by country first, then area and then venue. So our decision went: South Africa -> the Cape -> Elgin -> Rockhaven Farm! After we decided on South Africa, I spent hours searching blogs and discovered SouthBound Bride through Bruce's best man Darryl. I pored over the photos of real weddings at every Cape venue, and loved the outdoorsy, relaxed feel of Rockhaven that came through even just from photographs. It seemed to fit our idea of a place to have the ceremony and reception all in one spot, the food looked amazing, and every couple's review was exceptional. So we sent our good friends Darryl & Mhairi out to do some recon and soon after, we had booked the venue. The date was set for a year to the day after our engagement.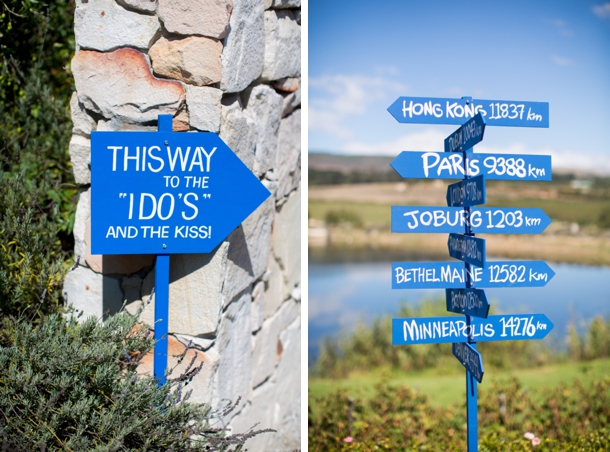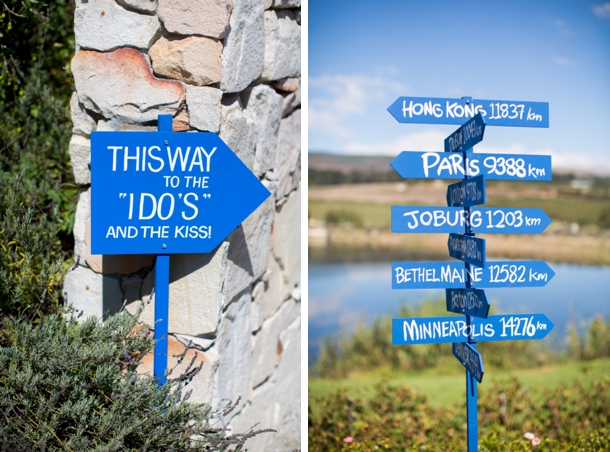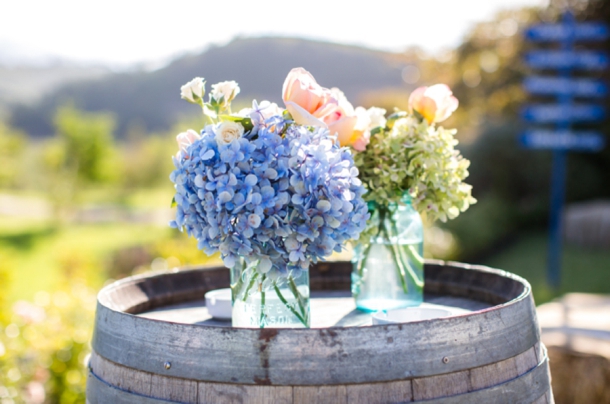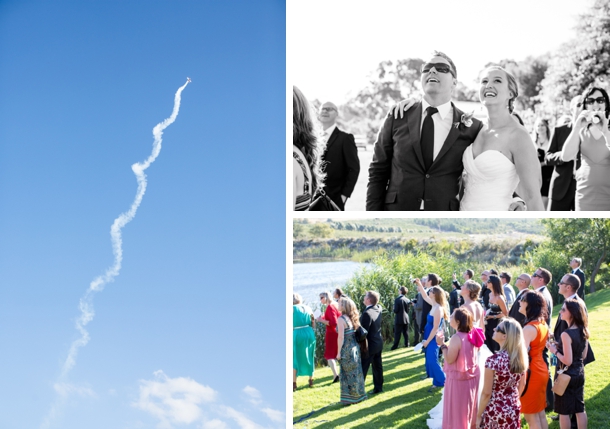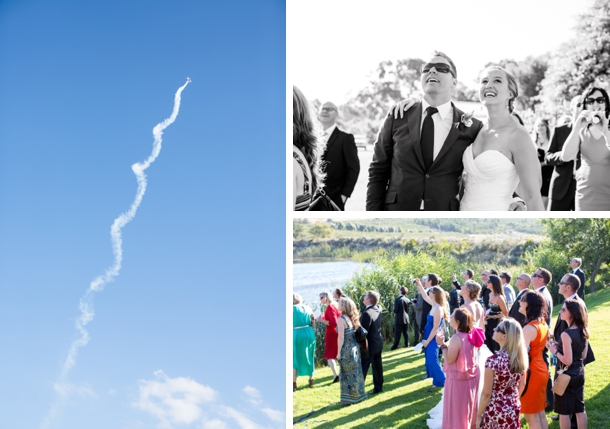 I get teary when I think of how many people took time out of their busy lives to fly or drive all the way to Elgin, South Africa in order to celebrate with us. Of the 97 guests at our wedding, 91 were not from Cape Town! Amazing right!?! It still gives me chills. We had guests from all over the world: Paris, New York, Philadelphia, Boston, Denver, Ireland, many from Hong Kong, and lots from Joburg. Wow. It was just incredible and made us feel so overwhelmed with love and support. Even though we live so far from so many of our loved ones, it doesn't weaken or diminish the community of love and support. We certainly felt the strength of our community that day.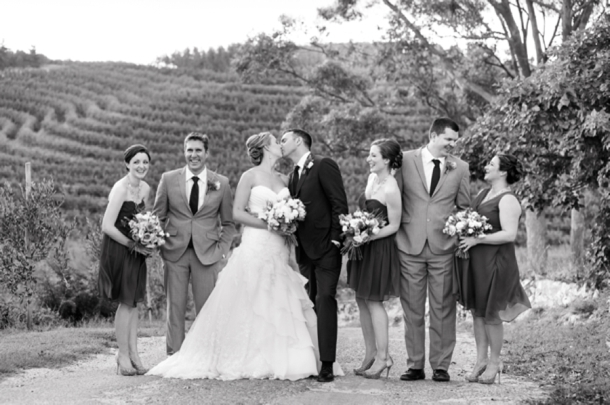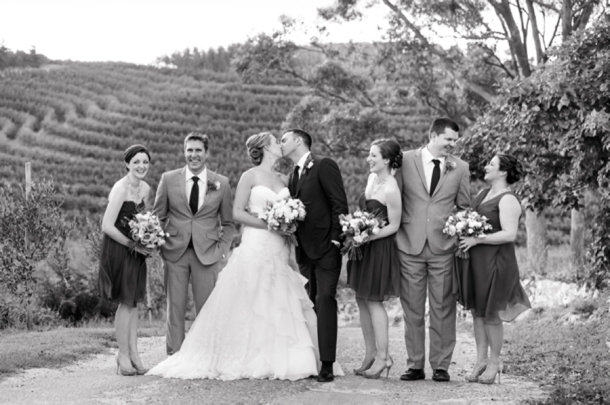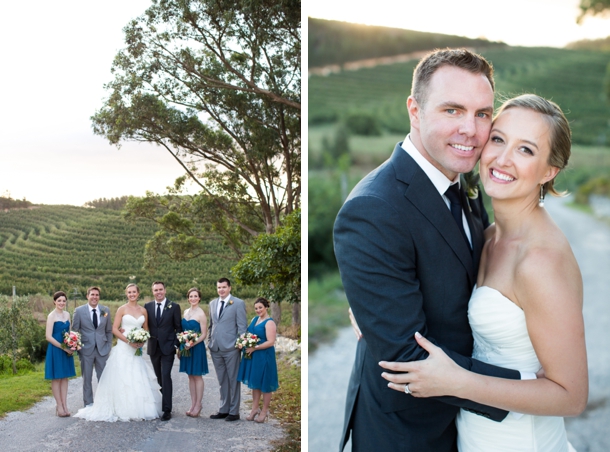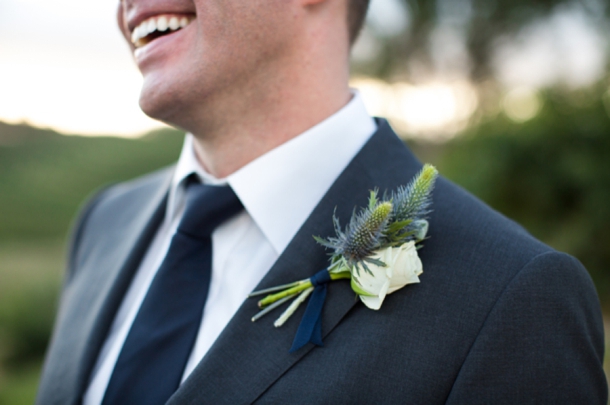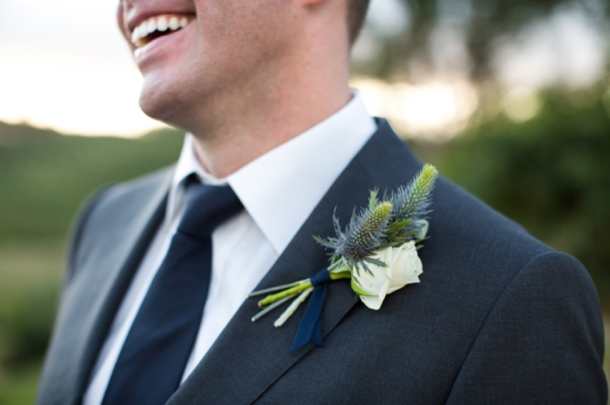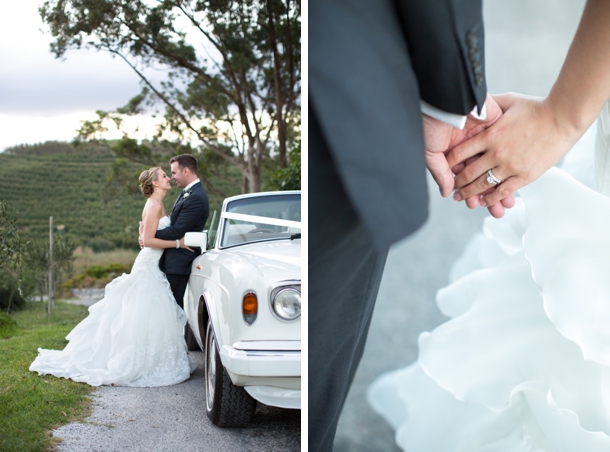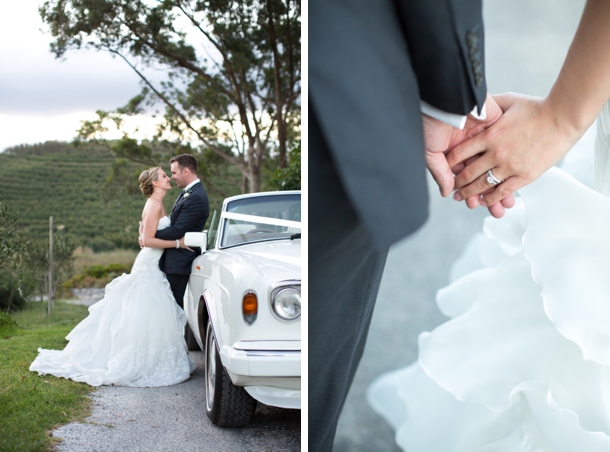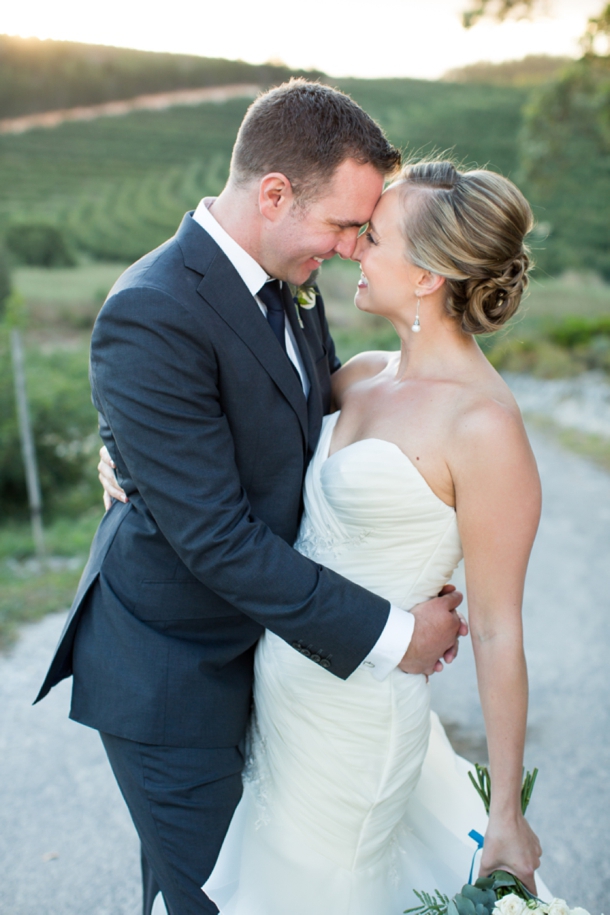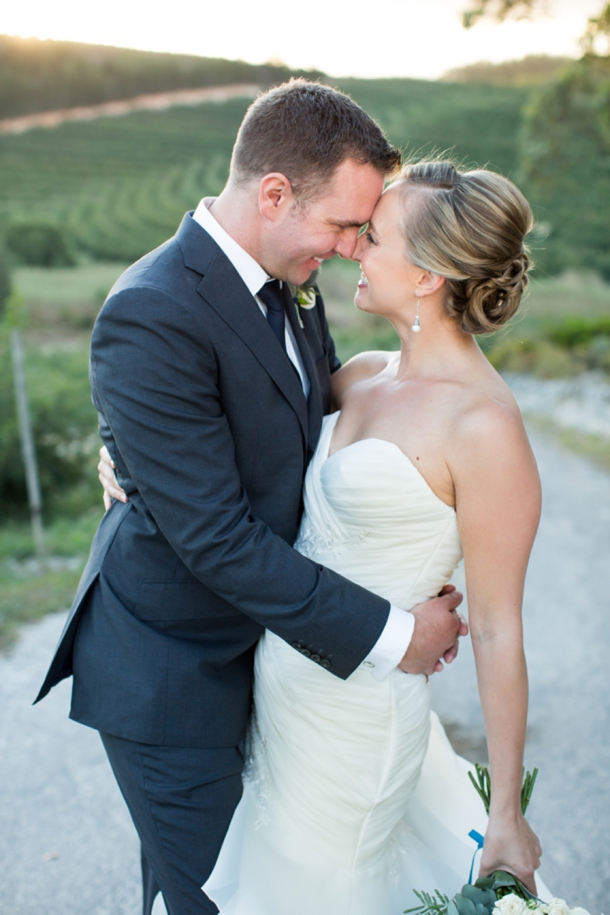 The ceremony is a part of the day that sticks clearly in my mind. I loved walking down the aisle with my dad and seeing Bruce smiling at me. Then, even though I was very much aware of all our friends and family, it still felt like it was just the two of us during the ceremony. It was a funny feeling to be the centre of attention and to feel all the focus on you but somehow you don't really mind because everyone you lock eyes with is someone you love.
Bruce is a pilot and he has loved airplanes ever since he was a little boy. We had a friend with an aerobatics plane in the Cape, so I asked him if he would display for us after our ceremony as a surprise for our guests and for Bruce. Somehow we managed to keep it a complete surprise and everyone was shocked when a plane buzzed right over our heads just minutes after we spilled out onto the lawn post-ceremony! It was a moment I'll never forget! It set the tone for a day filled with excitement and joy. The look on my new husband's face as he watched an incredible aerobatics pilot do flips in the sky surrounded by our family and close friends… well, it can't get much better than that, honestly.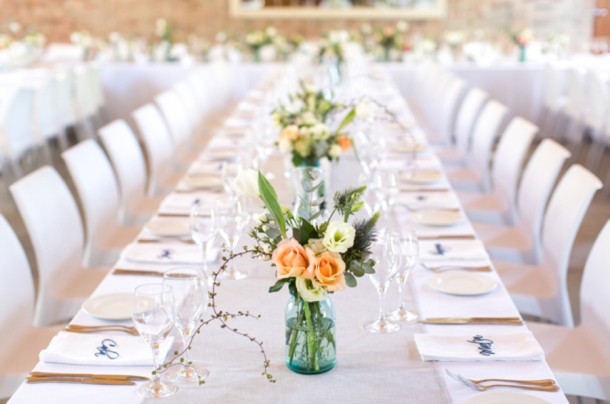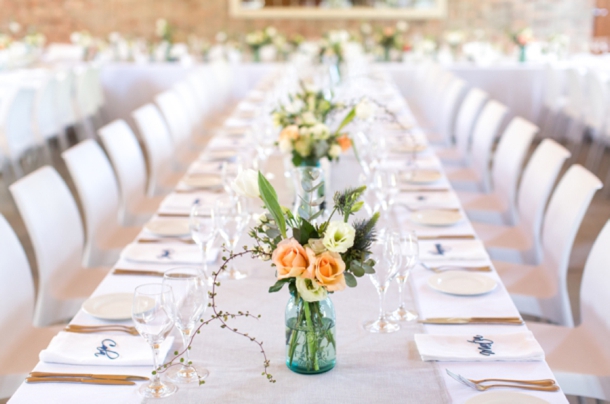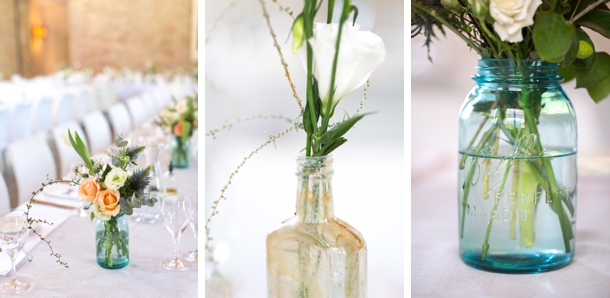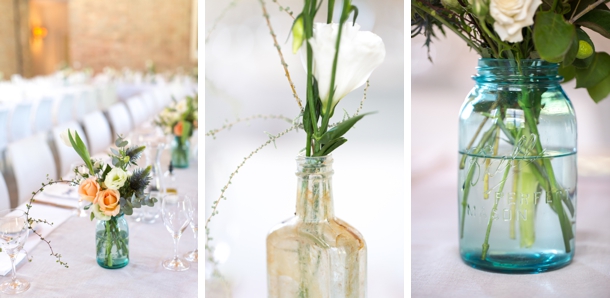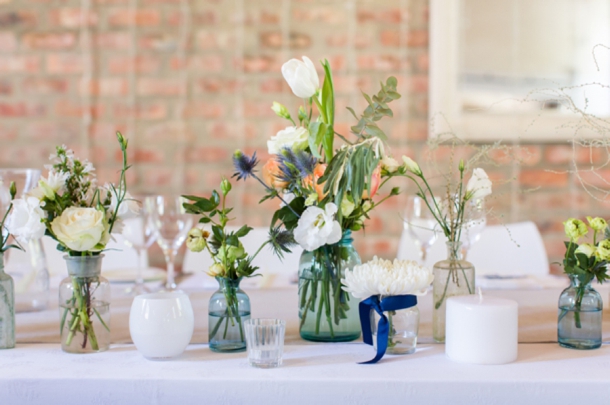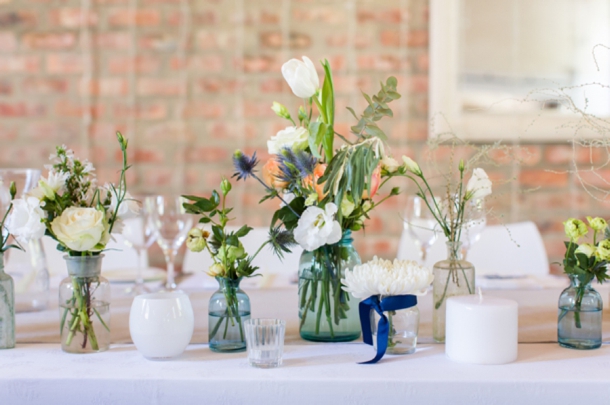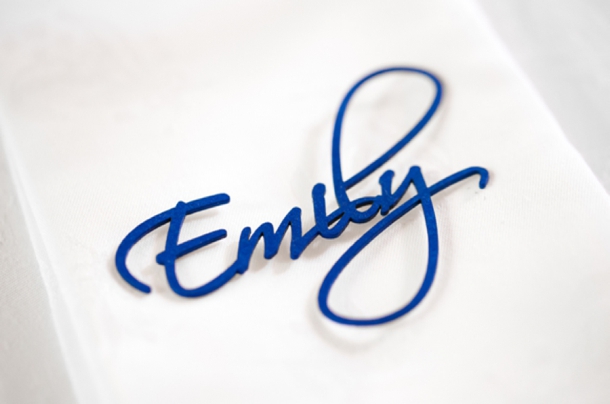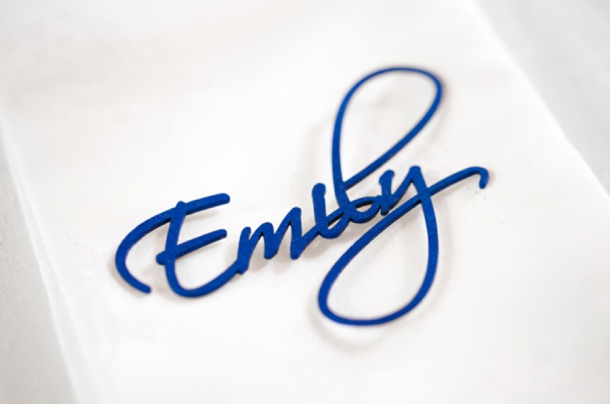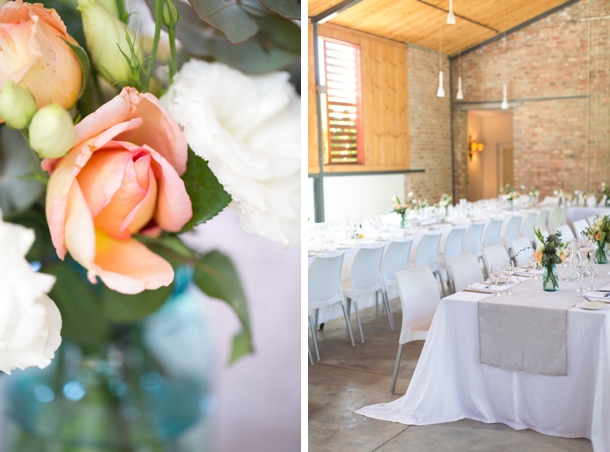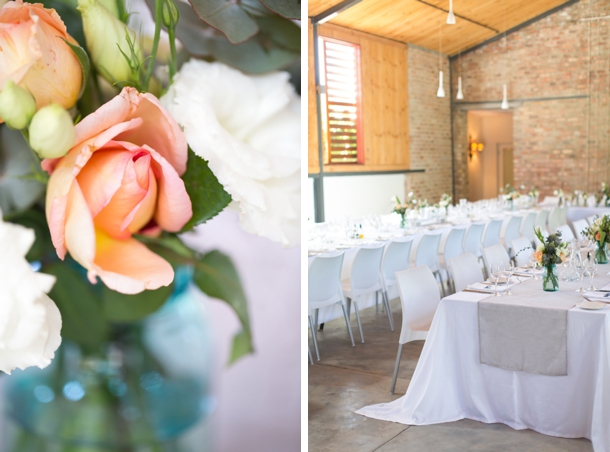 Our fathers also worked hard to add personal touches to our day. My father spent hours putting together a video montage of my childhood "highlights" to which he added baby photos of Bruce and played it in the bar area throughout the night. It was really neat to see old moments flashing for our friends and family to giggle over! My father-in-law painted and did all the design work for the invitations and wooden signs around the wedding. I loved the sign-post with all the cities and distances because it helped highlight the fact that everyone had traveled from so far away. I hope it also allowed them to see how much we recognized and appreciated their effort. It meant so much to us to have everyone there.
During the reception, I really tried to take some deep breaths and "take it all in" (and listen to the advice I'd been given!) One of my favorite moments was when our MC Christo announced a surprise that he, his wife Angie (sister of the groom), and their two children Murray and Roxanne had put together – a studio recorded version of them singing 1,2,3,4 by the Plain White T's! Bruce and I were so touched and everyone loved it!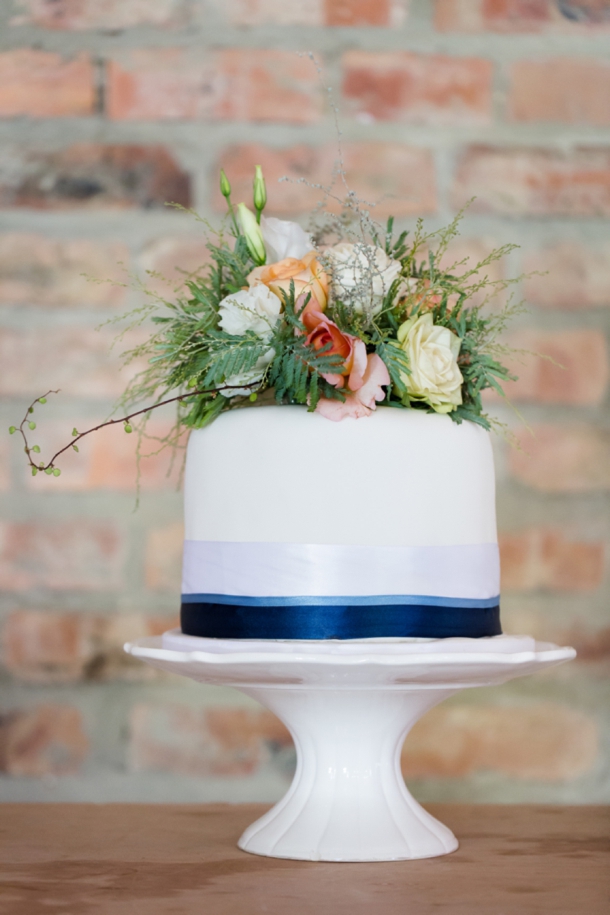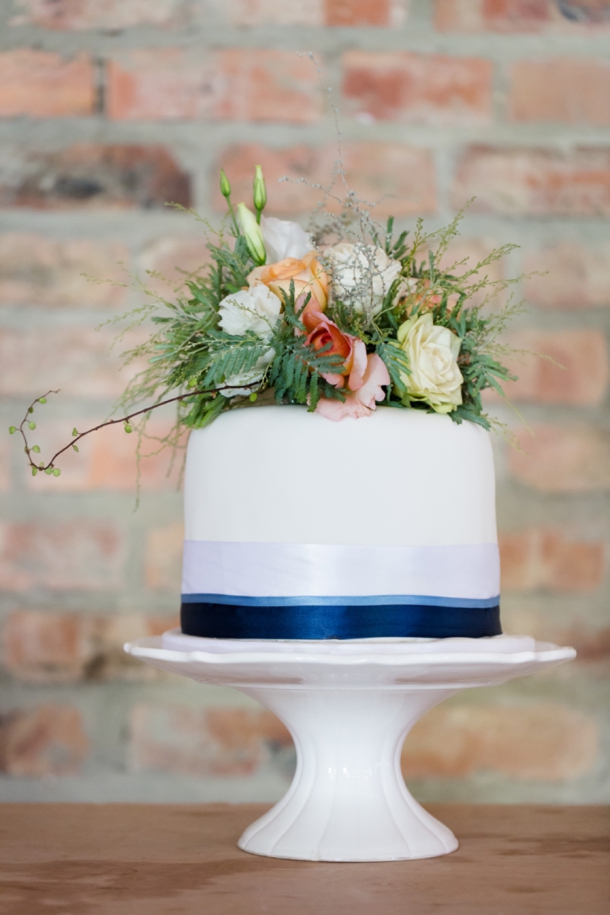 My best advice to future brides is: Get. A. Wedding. Planner. Now. I can't say this enough! Theresa was worth every penny! Bruce and I had very clear ideas of what we wanted to do but with both of us working full time and living in a different country, it would have been extremely difficult to plan an overseas wedding without help. Having a coordinator allowed us to stay relaxed during the time leading up to the wedding, and be free to tour around Cape Town the week before the wedding with our guests.
Also, I loved looking through blogs and saving photos of what I liked. This helped immensely when it came time to explain what your vision was for a particular item (cake, flowers, signage, linens, name cards, etc!) I took many different ideas from all the different real weddings I had seen online to make our wedding "our own". Lots of people came up to us during and after to say they loved how we had a traditional wedding but with lots of different little twists. One of my favorite cool "twists" occurred when, instead of throwing the bouquet and garter, we gave them to the couple that had been married the longest. Another fun idea was the custom-made M&M's I ordered last-minute online – they were a huge hit!
Lastly, let the experts be the experts! For each aspect of our wedding, I tried to explain what I pictured or what our overall theme and vision was and then let the "expert" be creative and have fun! For example, I hadn't seen our cake designs until we went to cut it that night. It was wonderful to be surprised all day long. (I have to give credit to Theresa here, as well, because I know even though I thought I was being relaxed, I'm sure she gave final approval for everything!)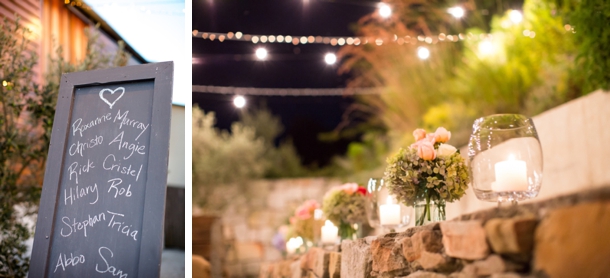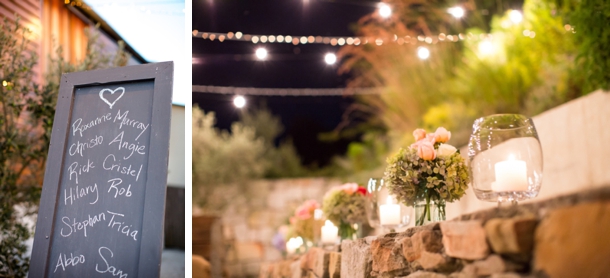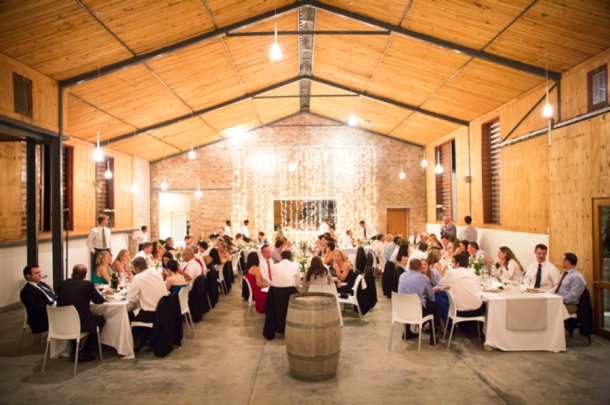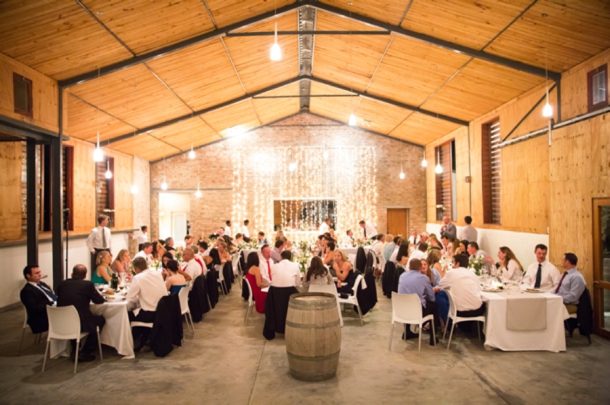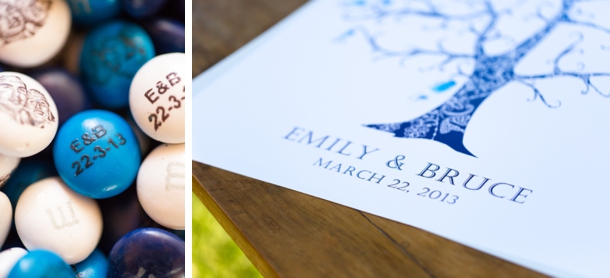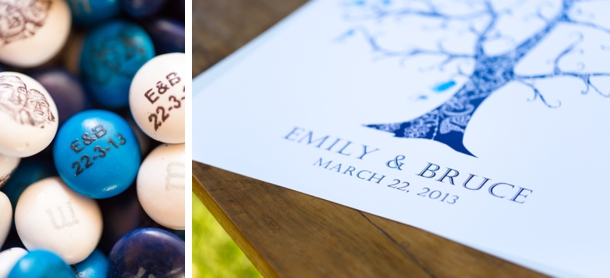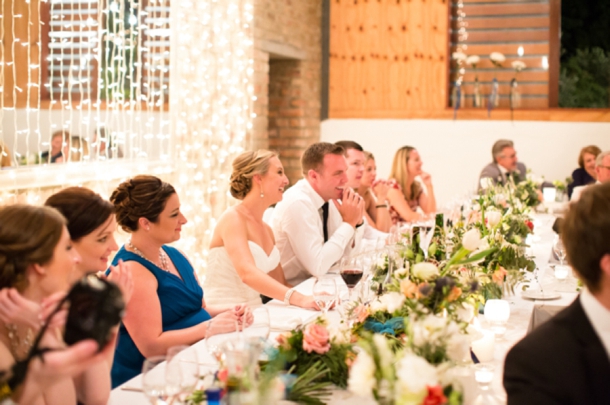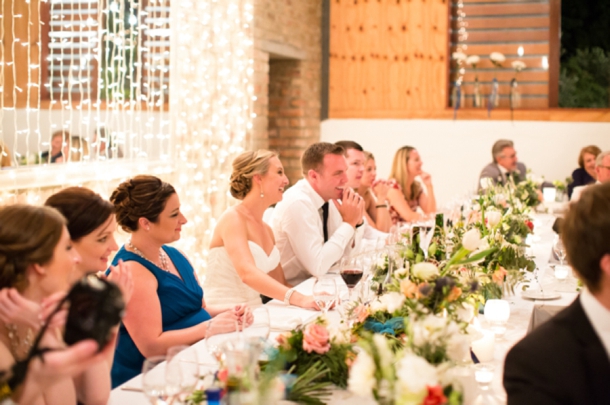 HUGE thanks and congrats to Emily and Bruce for sharing – amazing to see your journey from proposal to beautiful day. Hope to meet you guys one day! And I'd also like to thank Theresa of Creation Events and Catherine Mac for sharing their great work – head to Catherine's blog to see the rest.
SERVICE PROVIDERS
Venue & catering: Rockhaven Farm | Photography: Catherine Mac | Co-ordination: Creation Events | Flowers & decor: Paradiso Flowers | Flowers & decor: Blooming Wonderful | Cake: Limonlu Catering | Stationery: Angie Snyman (Groom's Sister) & Barry Davis (Groom's Father) | Bride's dress: Lady Marmalaide | Bridesmaids' dresses: JCrew | Hair & makeup: Candice Leigh | Hiring: 4 Every Event | Entertainment: Play Music, DJ Preston Roman | Aerobatics display: Mark Sampson & his MX2