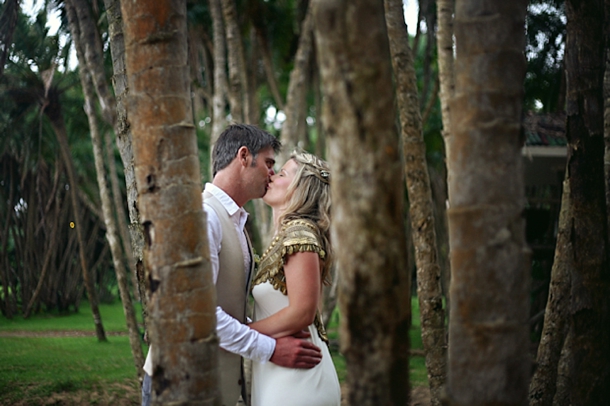 I know many of you out there are probably fans of Paulo Coelho. I have to admit, I'm not, but the first time I read The Alchemist I had just broken up with my first love, and it gave me comfort. Years later, I published an educational edition of the book, so I read it again, and even though this time it wasn't my thing, I did appreciate the whole idea of life being a journey and how sometimes random things conspire to point in a particular direction. It's an amazing feeling when that happens, and I couldn't help being reminded of that story and feeling when I read today's couple's 'how we met' story, which really is like a journey of signs. Very cool. Of course, all love stories end in a celebration, and Anna and Robbie's ended this chapter in a wonderful wedding at Umtamvuna. I adore their laid back style (and Anna's amazing Temperley London dress!) as well as their literary theme (having played Toad of Toad Hall in my younger years I'm particularly delighted by the Wind in the Willows slant!), and especially Andrea Carlyle's epic photographs capturing the stormy skies. So much loveliness.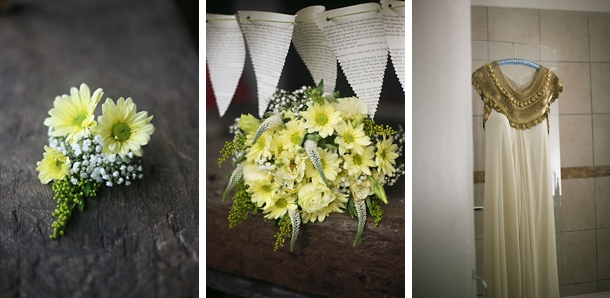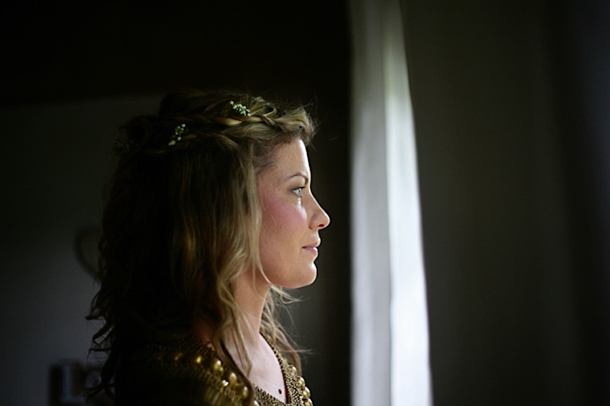 From the lovely Anna:
I had been travelling on and off for a couple of years, mostly in Africa. I then decided to go to Nepal and trek to Everest Base Camp (the plan after that was to do a ski season in New Zealand). There I met an English guy who told me the forthcoming summer in England was going to be a 'heatwave' – the BBQ summer everyone was calling it. I decided that after trekking I'd go home, buy a tent and go and live in Cornwall by the beach and learn to surf. So that's what I did. One night my friend and I were in the pub and I heard a South African accent and looked over to see Robbie – hmmmm, what a hotty I thought, so sidled over to say hello, and the rest as they say is history! My friends all love it because I spent so much time in Africa, then came home and moved so randomly to Cornwall, met a South African and am now Mrs Cornwall!
After we'd been together for about six months, Robbie proposed to me on Christmas Day. He was actually meeting my family for the first time and on Christmas morning was trying to catch a moment with me, but it was so hectic he couldn't get me alone. We were going to a hotel for Christmas lunch so when we got in the car it was the only time we had alone and he gave me my present, which was a cuddly meerkat toy (everyone says Robbie looks like a meerkat!) with a ring between its paws, and asked me if I'd be 'my Mrs Meerkat for ever and ever' – ahhh was so sweet! Of course I said yes and then we announced it over Christmas lunch – it was really really lovely.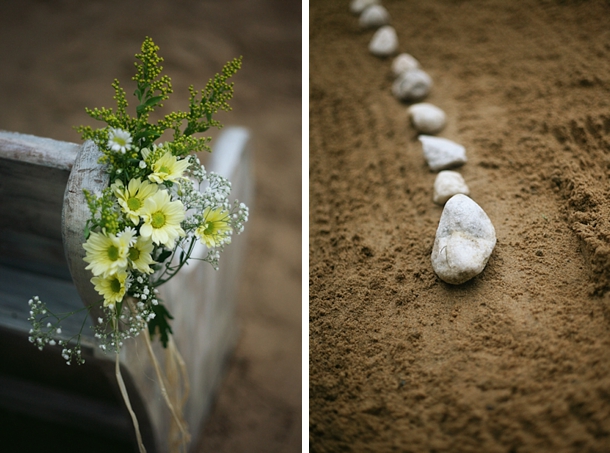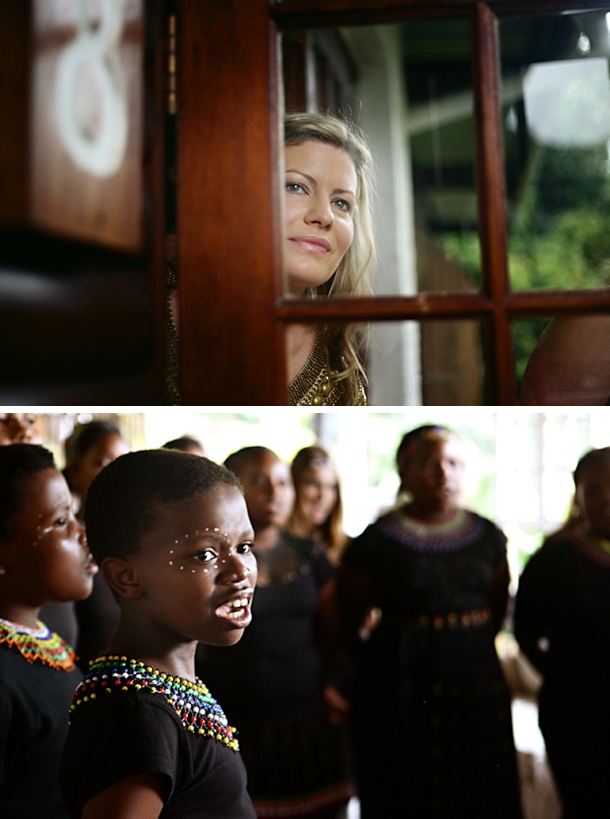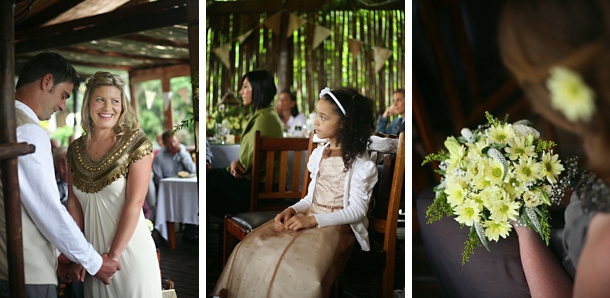 I had been looking for ages at the internet for the perfect venue. I wanted something simple and relaxed and rustic and when I saw Umtamvuna I knew I had found it! I got Robbie's mum and sister to go and have a look for me and I was just praying they'd say it was as beautiful as I thought it would be. Lukily for me they absolutely loved it!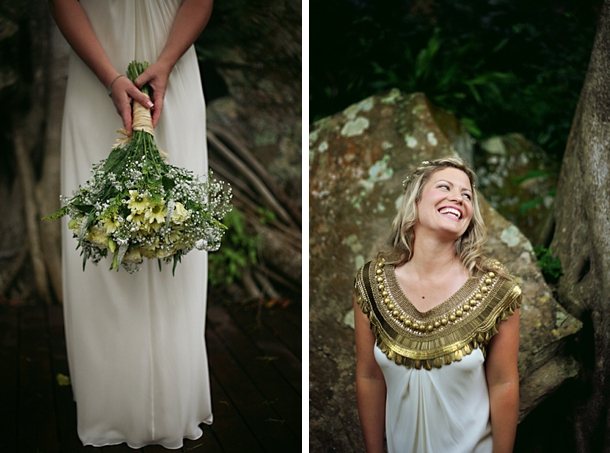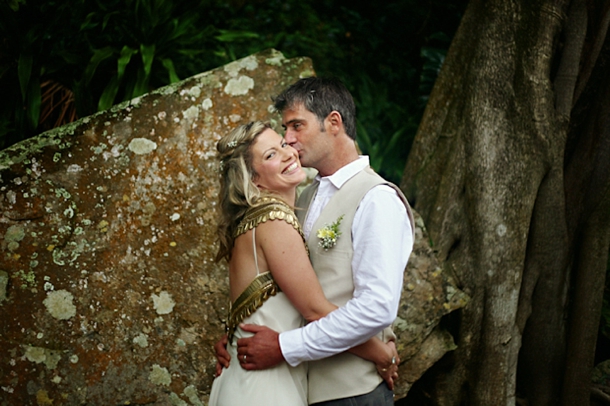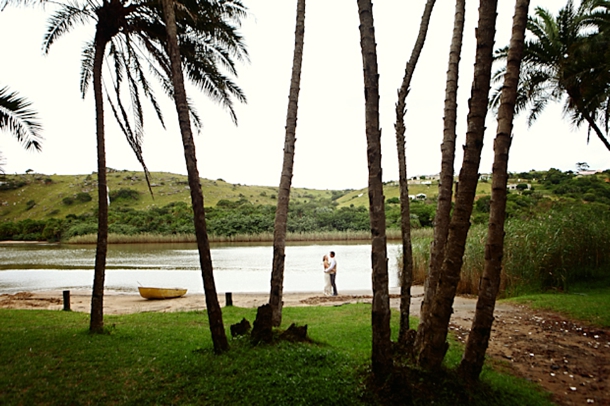 I wanted a really rustic, natural, relaxed wedding. It was hard doing it all from England, but Zoranne from Umtamvuna and I exchanged pics and inspiration over email and I knew we were on the same page from the word go. There was a lovely quote from The Wind in the Willows that I wanted to use: "the river chattered on, a babbling procession of all the best stories in the world… sent from the heart of the earth to be told at last to the insatiable sea". We used it on the invites and it kind of set the tone for the literary theme of the wedding. I am a real bookworm and it turned out Zoranne was too, and that we'd both done our degrees in English Literature, and she and Nicole came up with the idea of having a beautiful little illustration of Mole and Ratty in their little boat printed on the brown paper confetti bags. I loved that – it was like Robbie and I setting off for life's journey in our little rowing boat.
Zoranne and Nicole did such an amazing job on the decor – it was so beautiful and I wouldn't have changed a thing. All the little touches like the vintage books wrapped up in hessian and flowers, which were just so perfect for me being such a bookworm – I really loved that. All the little paper buttons and birds were so beautiful (Zoranne had handmade them all). Also, one of my bridesmaids, Ros, had made a whole load of bunting and brought it over from the UK – the amount she had made just fit perfectly around the room – it looked so lovely!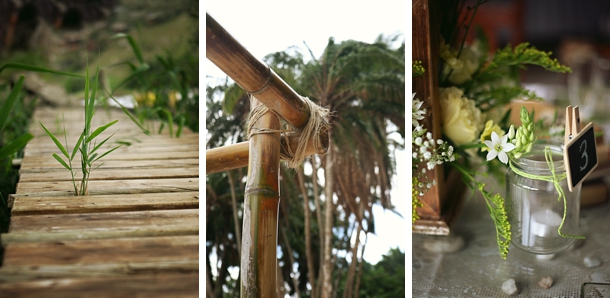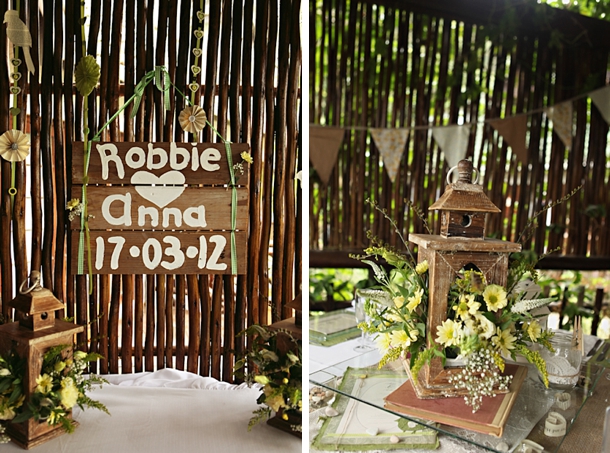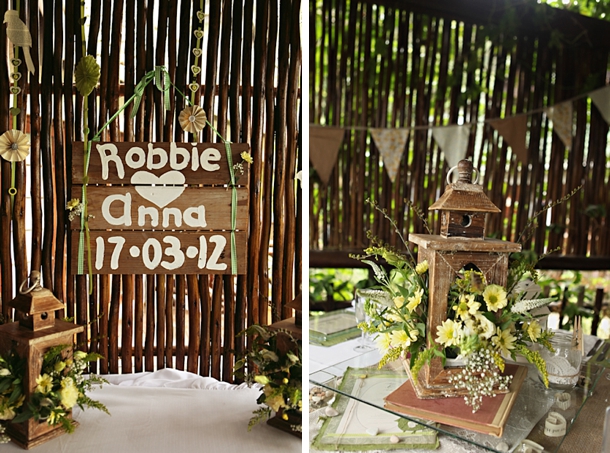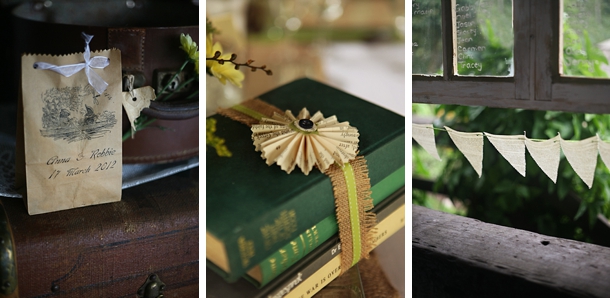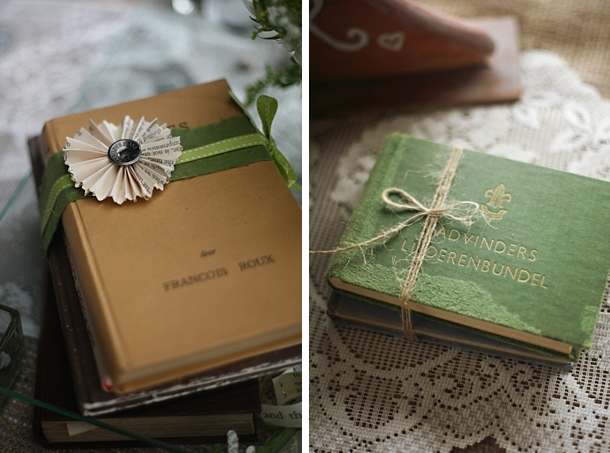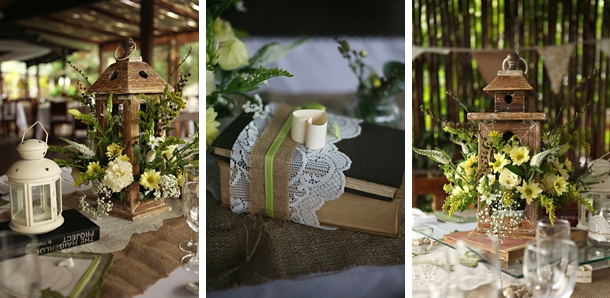 I loved how relaxed the whole wedding was. On the morning, my girls and I had music and champagne and were just having a really good laugh – it was so fun all getting our hair and makeup done together, I loved it! The perfect start to a truly fantastic day! It rained, so we couldn't have the ceremony on the beach as we had planned, but it didn't matter – we just moved it all inside and it was actually really special and intimate to have everyone so close around. I also have to mention the choir, who were absolutely fantastic – they came from the local school and sang a couple of songs for the guests, and then they sang Leonard Cohen's Hallelujah as I came down the aisle… it was just so magical.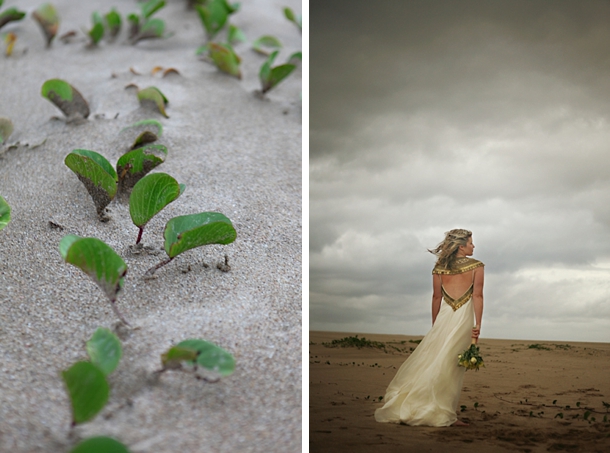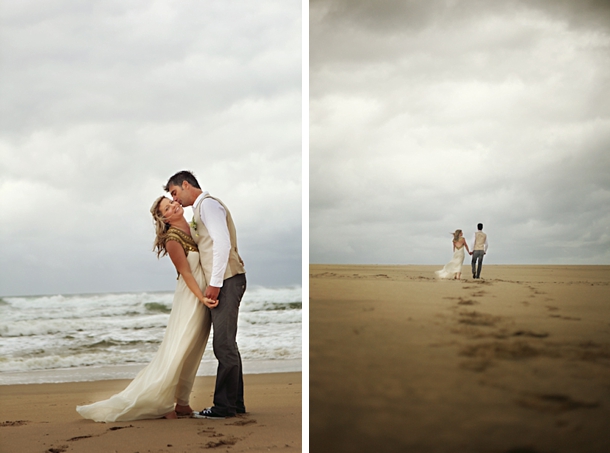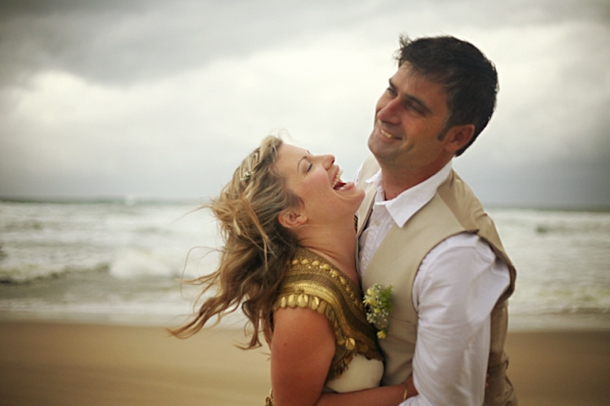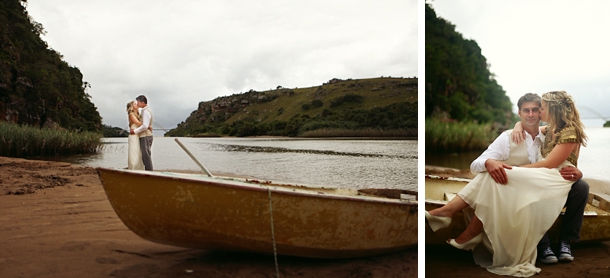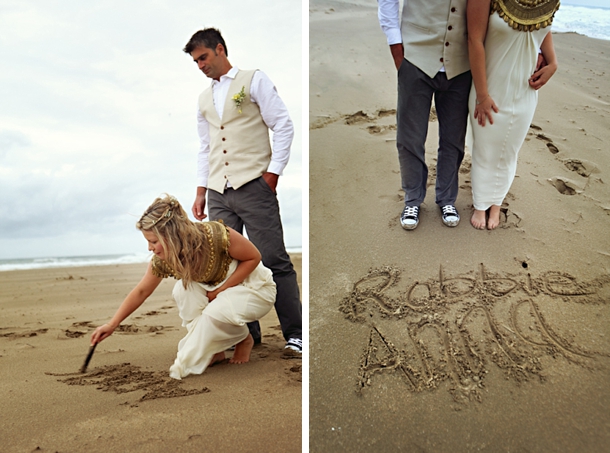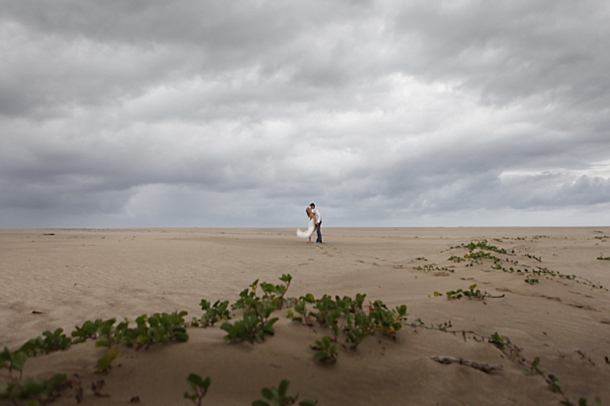 Planning my wedding, I loved all the blogs – although they can be a bit intimidating because all the weddings look so unbelievably perfect! I never thought in a million years mine would be as nice as any of the ones I had seen, but it so was! My advice to future brides is to just relax and don't take everything too seriously – remember what your wedding day is truly about: saying 'I do' to the man you love in front of all your closest family and friends. Everything else should take second place to that.
Awesome advice from Anna! Thanks so much to you and Robbie for sharing, and big thanks to Andrea for sending me these beautiful pics. As always, if you want to see more, you can head over to her blog.
SERVICE PROVIDERS
Venue, catering, co-ordination & decor: Umtamvuna River Lodge | Photography: Andrea Carlyle | Flowers: Twisted Willow (039 3052785) | Cake: Cakes Devine | Bride's dress: Temperley London | Bridesmaids' dresses: All Saints | Makeup: Face Forward | Hair: Hair International | DJ: James Carlson