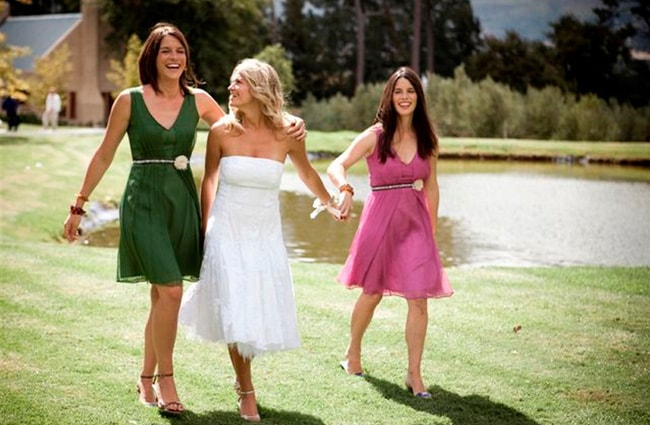 Ah, this wedding… I just want to pack my boxes and live in this wedding. The table settings are exquisite, as is the 'indoors-outdoors' ceremony setting. Pops of bright colour, ribbons floating in the breeze, fedoras, beyond adorable flower girls. I am completely in love with the décor and the atmosphere created by co-ordinator Hannes Loubser from Wedding Concepts (a company I wouldn't expect anything less from than this amount of awesome). But if that's not enough for you, the other thing that really makes this wedding stand out is that it turned the traditional schedule on its head and focused on what was important to the couple, as well as the season and venue. The day started with a relaxed lunch (which meant a total of two amazing meals for the foodie groom), followed by a sunset ceremony (with speeches immediately after) and then dancing and chilling late into the night. Tom and Marguerite: thank you so much for sharing your super-inspiring day with us – may the rest of your lives together be just as sweet!
From Marguerite:
Tom and I met after one of my friends, who had met him through work, invited him to go surfing with us. Tom got hit on the head with his massive surfboard and had to get stitches! I loved the fact that he could laugh at himself, and he looked hilarious with his entire head covered in bandages. We have pretty much been together since then.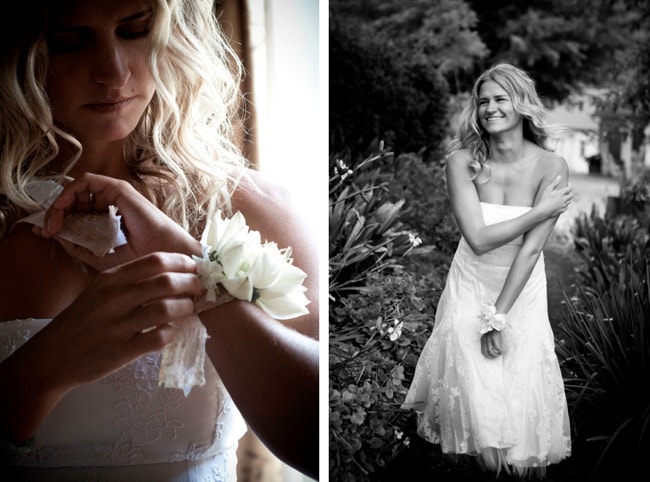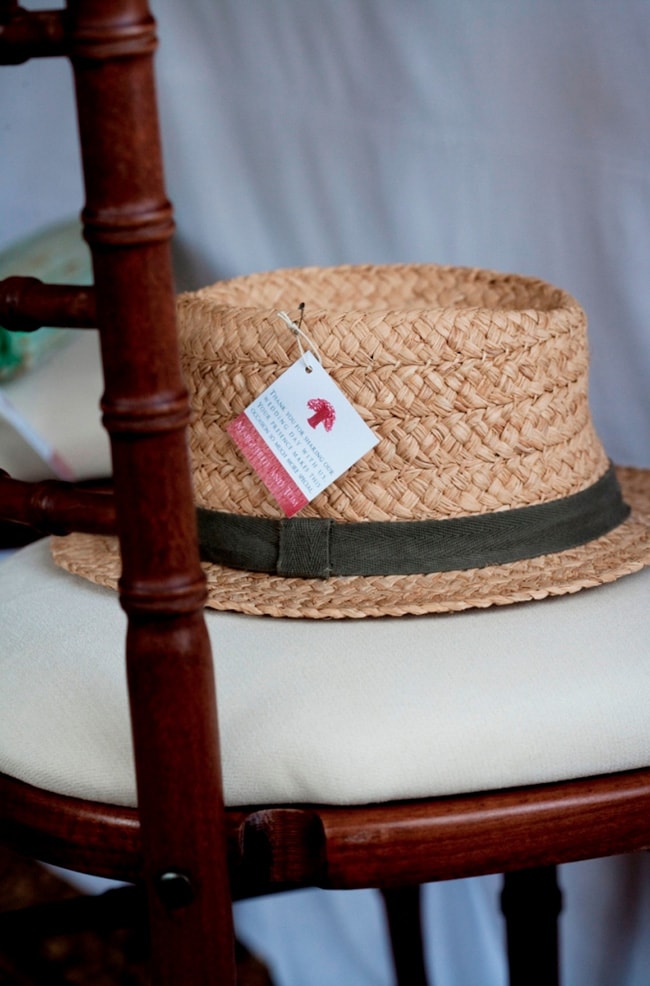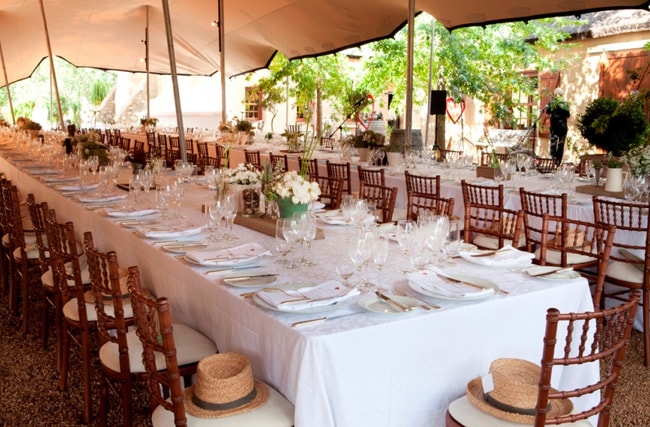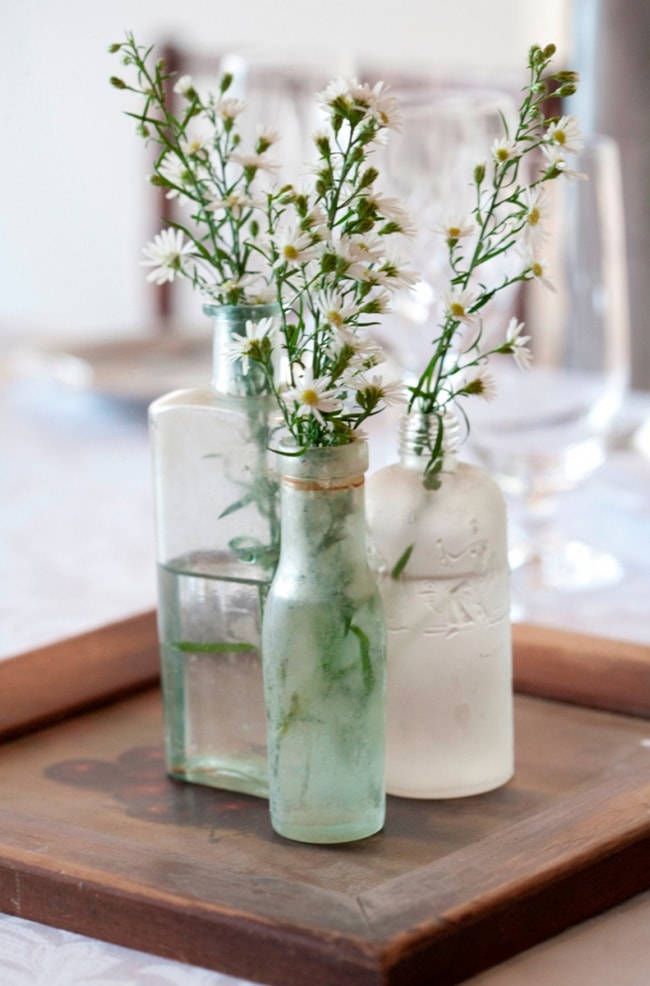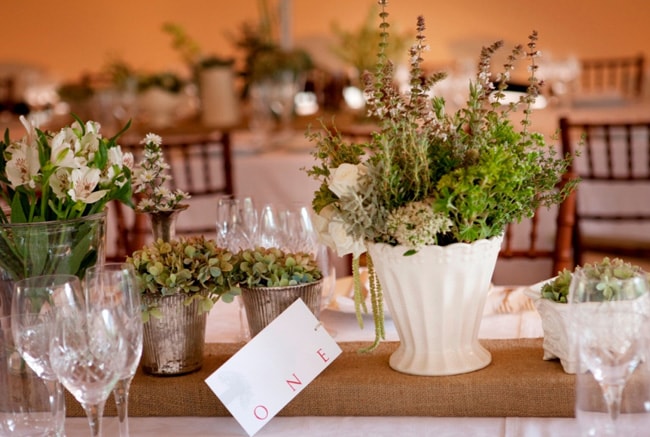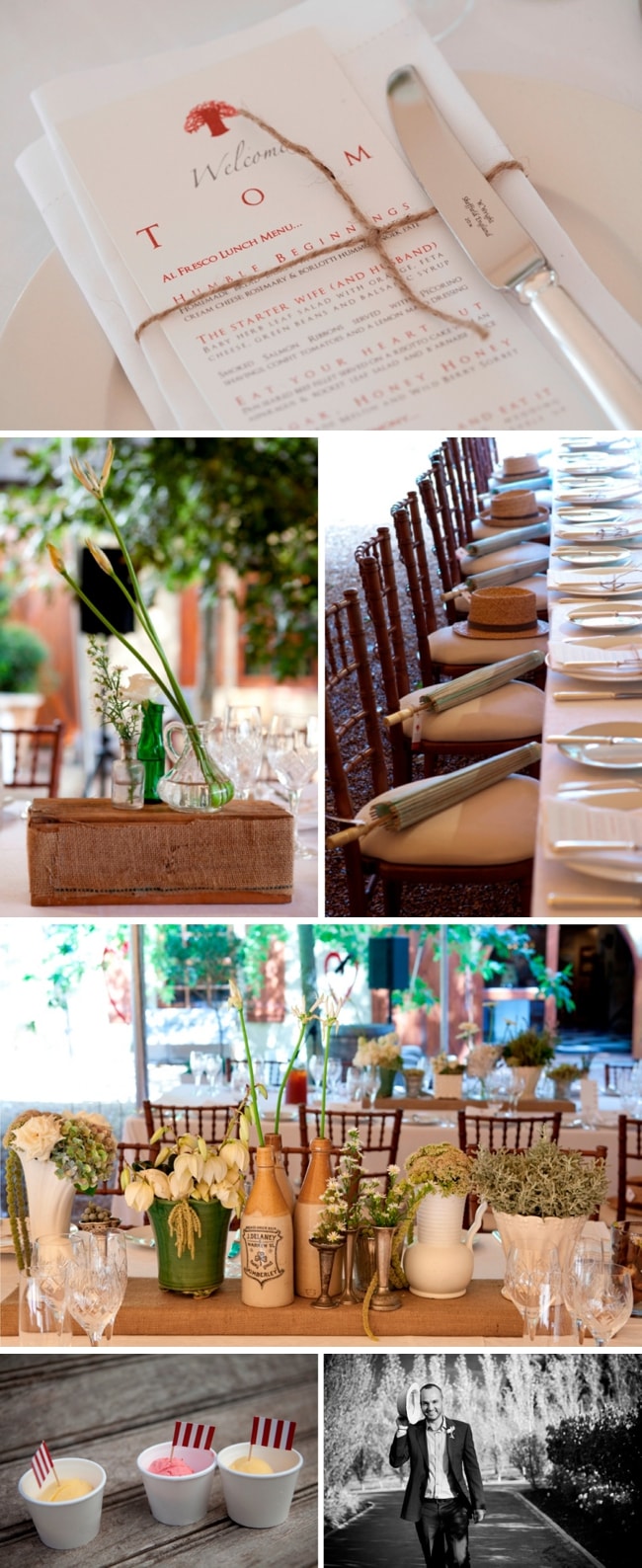 Tom and I had no idea what the "rules" of weddings are and had no preconceived ideas of what we wanted. We just wanted to create a day where our friends and family could be relaxed and have a great time as well as celebrating Africa style! We decided to structure our day a bit differently. We wanted to utilise the beautiful setting amongst the mountains and vineyards and have our "reception" outside under the oak trees during the day so that we could enjoy our surroundings. But we did not want people to fade away after the lunch. So we decided to have our lunch first, then our ceremony as the sun set, and start the dancing and partying straight after the ceremony. It worked out very well.  By the time we had our ceremony, all the guests were very relaxed, and the atmosphere was very special. I walked down the aisle to Finlay Quay's song "Your love gets sweeter every day", and Tom and I wrote our own vows together.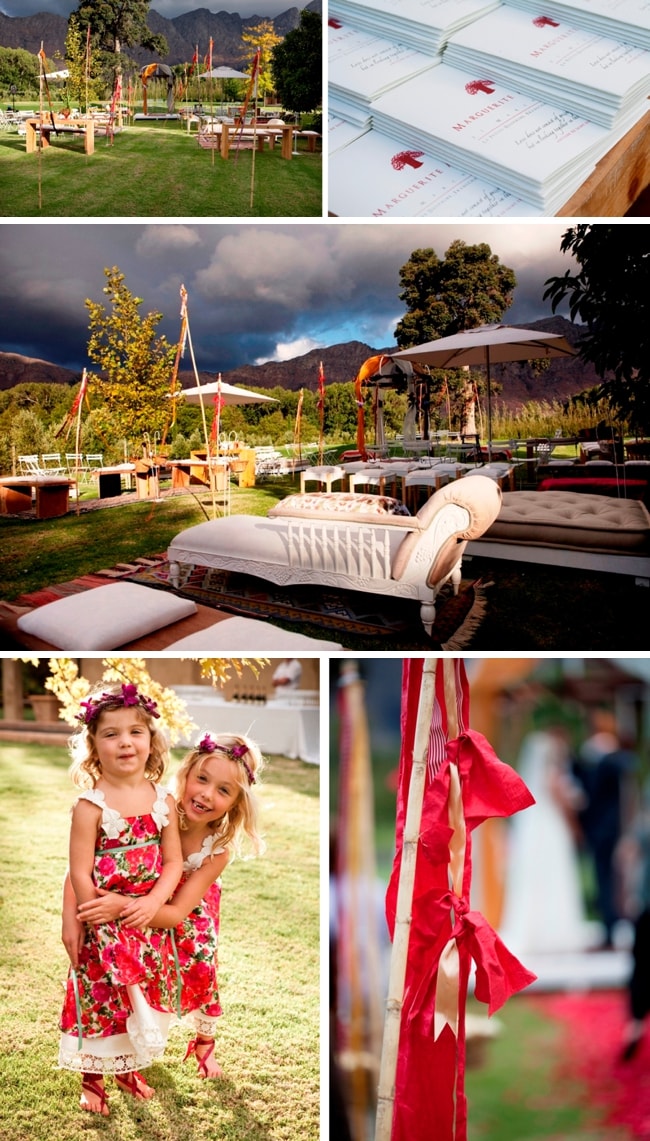 I had two dresses, one for the pre-ceremony drinks and lunch, which was more of a cocktail dress, and then I changed into my wedding dress for the ceremony. I just wanted to feel comfortable and look like myself. And most importantly, I wanted to be able to dance in my dress!
We did our speeches straight after the ceremony. I absolutely loved all of them. My dad made a beautiful speech, as well as Tom's sister, Camilla, my best friend, Rethea, and me and Tom. I felt proud that most of the speeches and all of the readings were done by women and they were incredible. Afterwards, everyone returned to the reception area, (which had been rearranged to create a great party atmosphere) where an African marimba band was waiting for them to get the party started. The dancefloor was packed all night!

Tom and I wanted to keep the focus on the most important thing, that we were confirming our love for each other in front of our closest friends and family. My advice is to keep a sense of humour and don't try to be a perfectionist. Remember that although the wedding itself is a big day in your life, every day afterwards with your new life partner is what is important. Try to focus on the marriage, and enjoy the wedding for what it is, a celebration of the start of a new adventure.
SERVICE PROVIDERS
Venue: La Petite Dauphine | Catering: Café Bon Bon at La Petite Dauphine | Co-ordination: Hannes Loubser for Wedding Concepts | Photography: Adel Ferreira | Minister: Martin Steyn | Decor: Okasie | Stationery: Lara's Designs | Cake: Kanya Hunt – +27 82 375 5200, [email protected] | Bride's dresses: Hip Hop (cocktail dress); Baccini and Hill (wedding dress) | Bridesmaid's dresses: Jigsaw (Melbourne) | Hiring: Urban Tonic | Lighting: Something Different | Music: African Jazz Trio – Shout Music Agency; Amanzi Marimba – Shout Music Agency | DJ: DJ Legwarmer (Ariella Raucher)